MANFLESH BATMAN DOMINATION ARTWORK AND COMIC BOOKS PAGE
The url is man-flesh1.blogspot.com

http://www.man-flesh1.blogspot.com
MANFLESH BATMAN DOMINATION COMIC BOOKS LIST


1 BATNAPPED BY THE MOB PART 1. THE MOB NEED BUMMAN AND THROBIN AS THEY CALL THEM OUT OF THE WAY. CAPTURED THEY WILL TURN THEN INTO SEX SLAVES MAN WHORES USED AND MOB MEETINGS. BATMAN AND ROBIN HAD BEEN GIVEN A MAP BY AN INFORMER SHOWING THE LOCATION OF LARGE DRUG FACTORY. THE MAP SHOWED A WAY IN THROUGH A MAZE OF TUNNELS UNDER AN ABANDONED CHEMICAL FACTORY THE ONLY WAY INTO THE MOB FORTRESS. TO GET TO THE SECRET FACTORY THEY HAVE TO SWIM THOUGH RAW SEWAGE VIA SEWER AND STRIP DOWN TO THEIR UNDERWEAR TO DO SO. WHILE SWIMMING THROUGH THE SEWER THEIR UNDERWEAR IS SUCKED OFF LEAVING THEM NAKED. A HIDDEN CAMERA SPOTS THEM AS THEY FLOUNDER THROUGH THE SEWAGE. WHEN THE DYNAMIC DUE CLIMB OUT OF THE SEWAGE NAKED AND COVER IN RAW SEWAGE THEY ARE ATTACKED WITH WHIPS, TWO WHIPS WRAP AROUND EACH CRIME FIGHTERS NECK. THEIR HANDS ARE SECURED AND THE ONCE MIGHT CRIME FIGHTERS WITH COCK ERECT ARE JUST EXCREMENT COVERED BEASTS. THEY ARE TAKEN TO CELLAR AND MADE TO KNEEL THE CELLAR IS HALF OFFICE AND HALF MEDIEVAL TORTURE CHAMBER. ONE OF THE CRIME CHIEFS TELL THEM THEY ARE TO BE BRANDED ON THE BUTTS WITH BAT SLAVE BRANDS SO ALL WILL KNOW WHO YOU ONCE WERE. BATMAN IS BRANDED FIRST FOLLOWED BY ROBIN BOTH SCREAMING AND PISSING THEMSELVES IN HELPLESS HORROR. THEIR PUBES ARE PULLED OUT WITH STICKY TOFFEE ON A STICK AS THE CRIME LORD WATCHES. THEIR SPIRALLY INTO WHOREDOM HAD BEGUN. HOT SEXY MALE DOMINATION AND HUMILIATION AS BATMAN AND ROBIN ARE ENSLAVED AND TURNED INTO SEX SLAVES MAN WHORES S. €10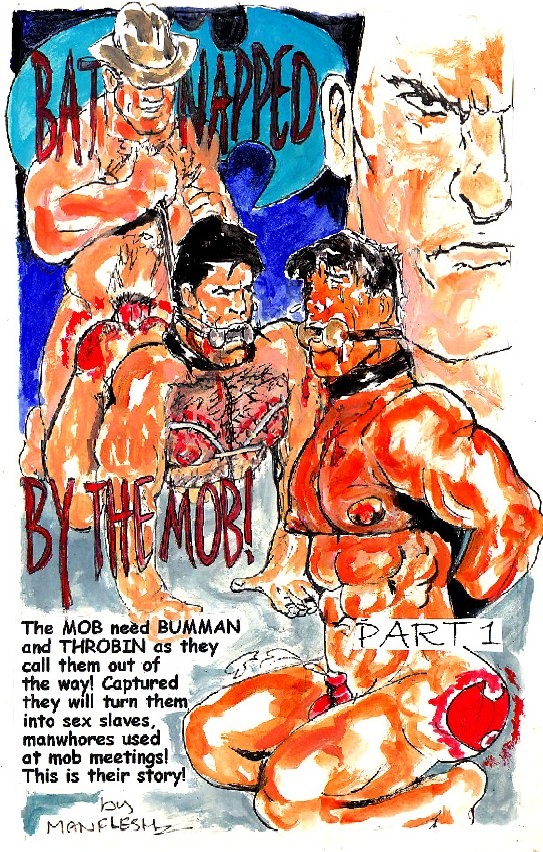 2 BATNAPPED BY THE MOB PART 2 BATMAN AND ROBIN'S ENSLAVEMENT AND DEBASEMENT CONTINUES. FROM NOW ON THE ONCE MIGHTY HERO'S SHOWER IN MOB PISS. THE DAYS OF BEING BATHED TOWELLED OFF BY ALFRED THE BUTLER AND WELL OVER. THE BRANDED ARSED DUO ARE TAKEN TO A SLAVE TRAINING ROOM FOR AN ARSE HOLE WORK OUT. ROBIN LOOKS ON IN HORROR AD BATMAN HAS HIS ARSE THRUST ON A HUGE HUGE RED DILDO. BATMAN AND ROBIN'S ARSE BOTH SUFFER INTENSELY ON THE HUGE RE DILDOS. THEIR SWOLLEN MAN CUNTS ARE RUBBED RAW AND VIAGRA FORCED DOWN THEIR THROATS, THE BASED DUO NO LONGER CONTROL THEIR SEX ORGANS THE MOD DOES.
WITH THEIR MAN CUNTS WELL STRETCHED THE SHAMED DUO ARE BROUGHT BEFORE THE MOB LEADERS TO FACE THEIR FIRST CUNTING AS MOB WHORES. FROM DYNAMIC TO CUNTED DUO THEY ARE FUCK BARE BACK BY THE HOODS. ALL THE HOODS HAD STEEL BALLS UNDER THEIR FORESKINS SO EACH SO EACH THRUST IS RAW AND SORE TO THE WHORED DUO. MOUTHS ARE STRETCHED WIDE TO SERVICE MONSTER COCKS. A VERY SHAMED BATMAN TAKES ALL COCK IN HIS MAN SIZED MOUTH, VIAGRA ADDS TO HIS HOMONISED SEXUAL OVERLOAD. PISS AND CUM ARE NOW PART OF THE DUOS STAPLE DIET. TIDE IN HARNESSES THE BONDAGED DUO ARE BUTT RUDE MUSCLE FLESH TO BREAK FROM COLTS TO FUCK MARES. THE SWOLLEN CUNTED DUO ARE TAKEN TO THEIR NEXT ASSIGNMENT. WHAT NEXT FOR THE DEFAMED DUO? THE MOB WANT THEIR FUCK WHORE AS BIG AS BEARS SO THEY ARE FORCE FED 40 000 CALORIES OF MOB CRUD A DAY. MORE HOT SEXY MALE DOMINATION AND HUMILIATION AS BATMAN AND ROBIN ARE ENSLAVED AND TURNED INTO SEX SLAVES MAN WHORES. €10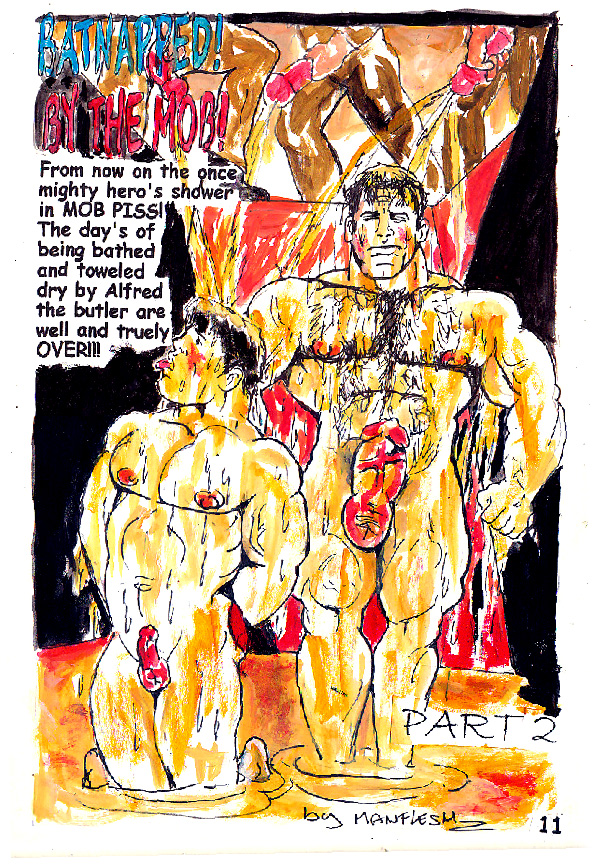 3 BATNAPPED BY THE MOB PART 3. AS POLICE HQ IS AWARE OF THE LOW THE GREAT DUO HAVE FALLEN AND BEEN DEGRADED. THE POLICE TURN AND BLIND EYE TO THEM BEING PARADED IN THE STREET AS USED A FUCK WHORES BY THE MOB. MADE TO WEAR BAT HATS AND SHOCKED WITH A TAZER THEY ARE FORCED ONTO A PLATFORM WHERE A DOUBLE BAT SHAPED STOCKS IS WAITING FOR THEM. THEY ARE PLACED IN THE STOCK THEY HAVE NO ESCAPE FROM THE PUBLIC GANG BANG. CRIMINALS WHO WENT TO PRISON BECAUSE OF THE DYNAMIC DUO NOW FUCK THEM IN PUBLIC. THE BAT HATS ARE TAKEN AND SOLD FOR SOUVENIRS AS THEIR PUBLIC FUCKING BY CRIMINALS CONTINUE. HUNG FROM THE CEILING THE SORE HOLED DUO ARE BATHOLED WITH A HOG HAIRED DILDO. SEEING WHAT IS HAPPENING TO THE HAPLESS DUO IN THE CLUB THE POLICE DECIDE TO ACT. THE POLICE RAID THE CLUB AND TAKE BATMAN AND ROBIN AWAY BUT MAKE NO ARRESTS AND IGNORE THE DUO THANKS. BACK A POLICE HQ BAT MAN AND ROBIN ARE TOLD THEN TOOK THE LAW INTO THEIR OWN HANDS AND FALLEN INTO THE HANDS OF THE MOB. THE POLICE SAID THE DUO MADE THEM LOOK FOOLS SO THEY WILL BE MADE AN EXAMPLE OF WITH HARD LABOUR FOR LIFE. THE SHAMED DUO ARE MADE TO BEND OVER AND TAKE THE STRONG ARM OF THE LAW THEY ARE FISTED. THE NOW CONVICT DUO ARE TAKEN TO A PRISON FORTRESS DEEP IN THE LOUISIANA SWAMP LANDS. STEEL COCK CAGES ARE THEIR ONLY CLOTHING PLACING THEM AT THE BOTTOM OF THE PECKING ORDER. THE HAPLESS CONVICT DUO WONDER IF THEIR LIVES COULD GET ANY WORSE. MORE HOT SEXY MALE DOMINATION AND HUMILIATION AS BATMAN AND ROBIN ARE IMPRISONED AND USED AS SEX SLAVE MAN WHORES. €10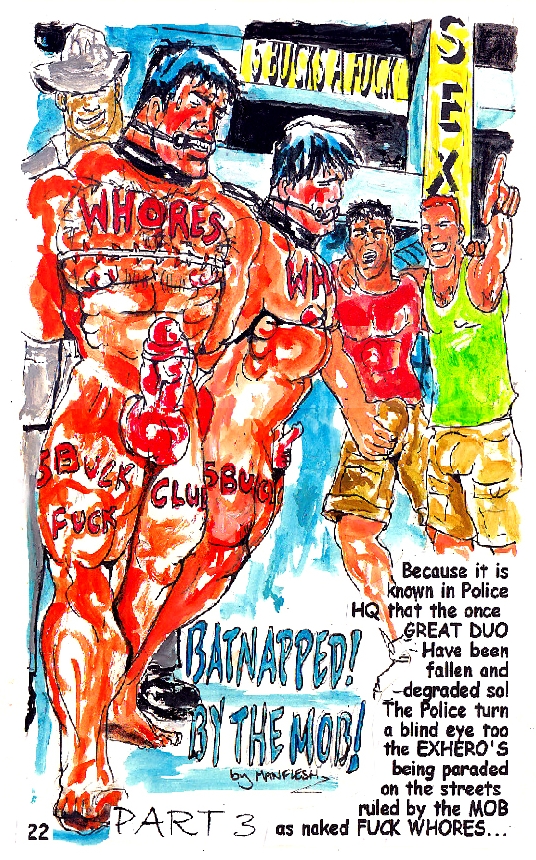 4 BATNAPPED BY THE MOB PART 4 PRISON. ONLY BATMAN AND ROBIN WERE ARRESTED IN THE RAID TO BE MADE AN EXAMPLE OF SENT TO PRISON. THEIR COCKS ARE SEALED IN CHASTITY IRON THEY ARE TO SERVE THE HARD INMATES. AS THE RUDE DUO ARE TAKEN INTO THE CAGE AREA. THE HORNY SEX CRAZED PRISON CONS THRUST OUT THEIR COCKS. YOU COULD FEEL THE SEX IN THE HOT AIR. ROBIN WAS THE FIRST TO BE GRABBED. BATMAN IS ALSO GRABBED AND THEY ARE BRUTALLY SODOMISED WHILE THE GUARD SMILES. THEY ARE BUM BOYS THE LOWEST IN THE PECKING ORDER. THE SORE BUMMED DUO ARE PASSED FROM CELL TO CELL AND REPEATEDLY FILLED WITH CON'S SEED. THEY ARE FUCKED BY THE WHOLE WING BEFORE BEING LED AWAY ON LEADS BY TWO GUARDS. THEY ARE TAKEN TO THE CAGED AREA THE HARD LABOUR CONS ARE KEPT IN LARGE PEN OPEN TO THE BAKING SUN ONLY COVERED WITH BARS. THE ONCE MIGHTY DUO ARE BOTTOM OF THE PECKING ORDER. SEX IS CONSTANT IN THE PEN EACH CON WANTING TO BE THE DOMINANT BULL AND MAKE OTHERS THEIR SISSY CUNTED BITCHES AS THE BUMMED DUO WERE FINDING OUT. BATMAN AND ROBIN ARE FORCED TO SUCK CON COCKS. THE STRONG ARM OF THE LAW NOW SERVER THE STRONG COCKS OF THE LAWLESS. IN THE DAY TIME THE TWO SORE EX HERO'S JOIN THE CHAIN GANG TO BE TURNED INTO NAKED BEASTS THROUGH HARD TOIL AND BRUTISH ANAL SERVITUDE. AS THEY DIG DITCHES UNDER THE SWELTERING SUN, NAKED, OWNED, OWNING NOTHING. SOBBING UNDER THE LASH IS THIS THE END OF THE ONE TIME DYNAMIC DUO. MORE HOT SEXY MALE DOMINATION AND HUMILIATION AS BATMAN AND ROBIN ARE ENSLAVED AND TURNED INTO NAKED BEASTS. €12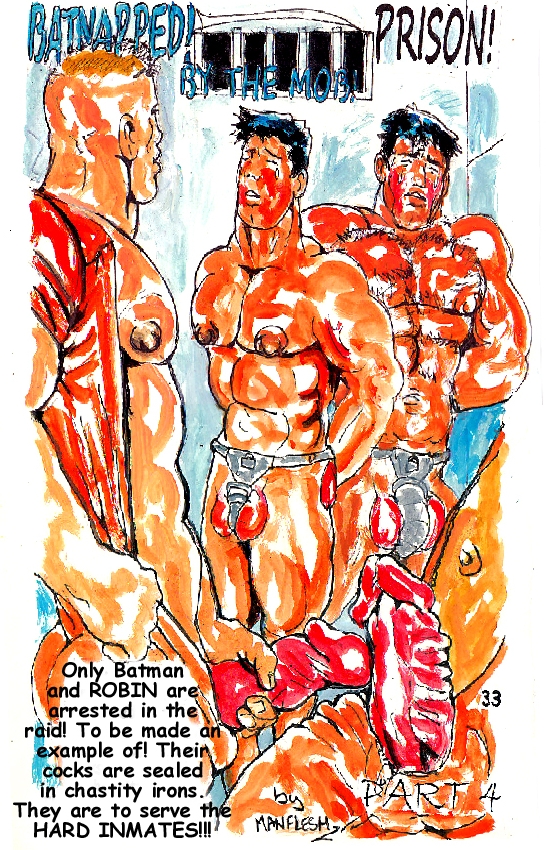 5 BATMAN AND ROBIN FUCK FIGHTS PART 1, ROBIN IS MISSING ABDUCTED. HOLY COW, THE BOY WONDER FIGHTING NAKED, ENSLAVED, FUCK FIGHTS. A SLAVE IN ARABIA, OWNED BY AND ARAB MASTER. CAN BATMAN RESCUE ROBIN OR WILL HE BE ENSLAVED AS WELL. ROBIN LIKED A BIT OF SIRFISTICATION. SUPPOSEDLY GOING TO EVENING CLASSES, BATMAN DID NOT KNOW WHAT KIND OF PLACES OR DIVES, BOY WONDER HAD BEEN GOING TO UNTIL. DRUGGED ROBIN WAS ABDUCTED. BRUCE, BATMAN DISCOVERED THE NEXT DAY THAT ROBIN'S BED HAD NOT BEEN SLEPT IN. A MONTH LATER BATMAN GOT A PHONE CALL, ROBIN WAS IN.
A MONTH PREVIOUSLY, A CARGO PLANE USED FOR LIVE STOCK WAS HEADING ACROSS THE ATLANTIC, HEADING EAST. HOLY CRAP, BOY WONDER NAKED, CHAINED, SITTING ON A CHAMBER POT IN THE CARGO PLANE. YOU ARE SLAVE NOW, OWNED BY AN ARAB MASTER, ITS FUCK FIGHTS FOR YOU, YOU CAN'T SPEAK BECAUSE A METAL PLATE HAD BEEN INSERTED IN YOUR MOUTH PRESSING DOWN ON YOUR TONGUE, ROBIN WAS TOLD BY AN ARAB SLAVER. ROBIN WAS CONVINCED THAT BATMAN WOULD RESCUE. "PISS WATER IS GOOD ENOUGH FOR YOU, NO WATER WILL BE WASTED ON YOU", THE ARAB SLAVER SAID AS HE MADE ROBIN DRINK HIS PISS. IT WAS THE CRIME BOSSES OF GOTHAM CITY THAT HAD TAKEN AND SOLD TO ARAB MASTERS. THEY WANTED BATMAN OUT OF THE WAY, ROBIN WAS THE TRAP, TO RID THEM OF THE MIGHTY DUO. OTHER LADS WERE PART OF THEIR FLESH TRANSACTION, FLESH FOR FUCK FIGHTS. THE PLANE LANDED UNDER A BLISTERING SUN, NAKED AND IN A CHAIN WITH OTHER YOUTHS, ROBIN WAS ANGRY AND IN FEAR, BUT MOSTLY IN FEAR.
THE TOWN OF ZAMISA, WAS A WARREN OF TWISTING STREETS OF MUD BRICK HOUSES. KNOWN FOR ITS STONE FIGHT FORTRESS STABLE ATTACHED TO AN ANCIENT ROMAN AMPHITHEATER. AS THEY WERE PARADED THROUGH THE STREETS NAKED AND ENSLAVED, THE NATIVE YOUTHS JEERED AND SPAT ON THEM. ROBIN SOBBED, WHERE WAS BATMAN. THE FUCK FIGHTER SLAVE AUCTION WAS HELD IN THE AMPHITHEATER A JOINING THE FIGHT STABLE. WHERE THE LORDS OF THE DESERT COULD BUY THE FUCK FIGHTERS. ROBIN AND THE OTHERS HAD TO JOG AROUND, ALL THEIR FLESH ON DISPLAY. ROBIN WAS SHOWN AND THE BIDDING BEGAN, ROBIN WAS SOLD FOR TWO HUNDRED THOUSAND DOLLARS.
THE NEXT DAY ROBIN WAS OILED ALONG WITH HIS ADVERSARY, WHO HAD BEEN A FUCK FIGHTER FOR TWO MONTHS, AND HAD WON MANY FIGHTS. ROBIN HAD NOT CHOICE BUT TO FIGHT, IF HE LOST HE WOULD BE TRULY FUCKED, FOR SURE. ROBIN WAS NAKED AND FIGHTING FOR HIS VIRGINITY, BUT FOUND IT HARD TO GET A PUNCH IN, WITHOUT THE SUPPORT OF BATMAN BESIDE HIM. ROBIN MANAGED TO LAND A PUNCH ON HIS OPPONENT, BUT HE DID NOT HAVE THE BARE KNUCKLE SKILLS. SUFFERING TWO BLACK EYES ROBIN WAS UNABLE TO BEAT HIS OPPONENT. THE CROWD SHOUTED FOR THE BLOND BRUISER TO FUCK THE FALLEN ROBIN THE CROWD WHOOPED AS THEY WATCHED ROBIN BEING FUCKED ALTHOUGH THEY DID NOT KNOW WHO HE WAS. ONLY THE LORDS OF THE DESERT KNEW THAT. LIKE ALL FUCK FIGHTERS ROBIN HAD A METAL BAR ACROSS HIS TONGUE SO HE COULD ONLY GRUNT IN PAIN LIKE A BEAST AND NOT MAKE WORDS. MORE SUPER HEROS ABDUCTED, ENSLAVED AND FORCED TO FIGHT. MALE ON MALE DOMINATION AND FIGHT ACTION. €15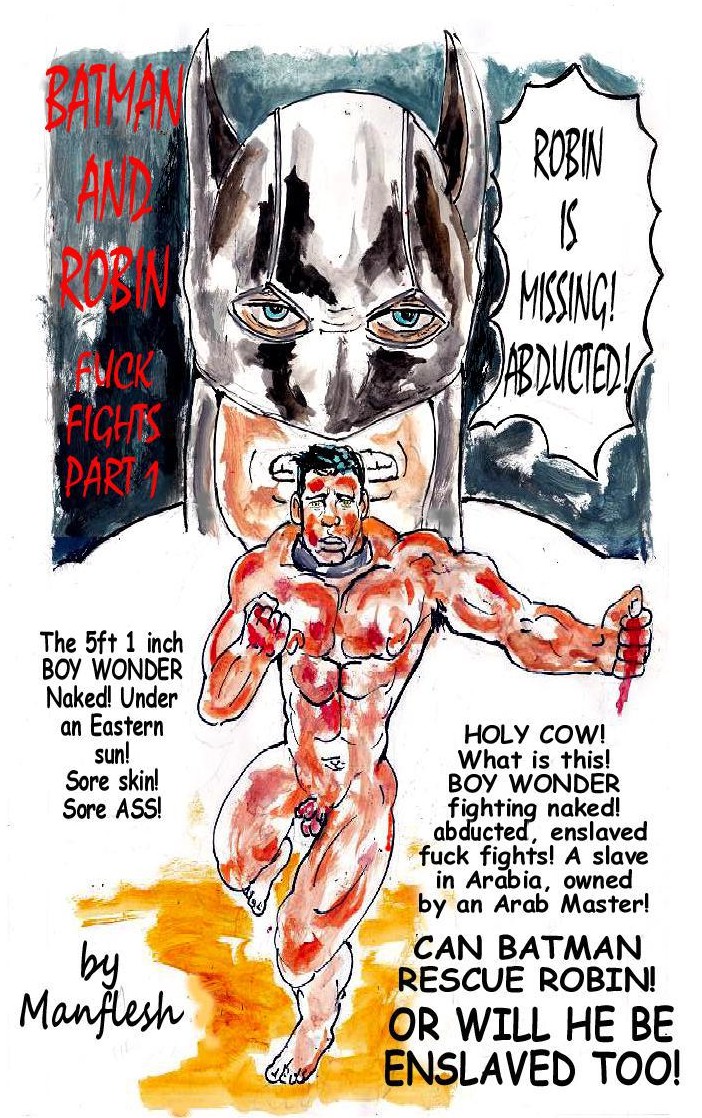 6 BATMAN AND ROBIN FUCK FIGHTS PART 2 BATMAN CUMMITH. IT WAS A MONTH AFTER ROBIN'S ABDUCTION. BATMAN HAD BEEN GIVEN AND ANONYMOUS LEAD, THAT ROBIN WAS IN ARABIA IN THE TOWN OF ZAMISA, SURROUNDED BY SAND. SO THINKING BEACH WEAR BATMAN DRESSED TO BLEND IN WITH THE NATIVES, A CAPE AND DRAWS. BATMAN REALISED HIS MISTAKE AS HE WALKED THROUGH THE TOWN AND EVERYONE LOOKED AT HIM. THE TOWN GUARDS QUICKLY SAW THROUGH BATMAN'S DISGUISE AND HE HAD TO RUN FOR IT. BATMAN THREW OFF HIS ROBE AS A BILLOWING CAPE WOULD HINDER HIS ESCAPE. BATMAN MANAGED TO HIDE FROM THE PURSUING GUARDS IN AN ALLEY WAY. BUT A GANG OF YOUTHS SPIED HIM THERE. BATMAN WAS GRABBED AND QUICKLY BOUND BY THE GANG OF NATIVE YOUTHS. THEY STRIPPED HIM OF HIS BOOTS AND DRAWS THAT THEY INTENDED TO SELL. THE YOUTHS ALERTED THE GUARDS. "HERE WE HAVE HIM", ONE SHOUTED. "YER WE CAUGHT HIM FOR YOU", ANOTHER SHOUTED. "HE WILL BE A SLAVE FOR THE FUCK FIGHTS, WE WILL ALLOW YOU TO WHIP HIM THROUGH THE STREETS", ONE OF THE GUARDS REPLIED. "MAKE SURE ITS ARSE IS RED AND SORE", HE ADDED HANDING THE YOUTHS HIS WHIP. THE NAKED WESTERNER WAS PARADED THROUGH THE STREETS WHIPPED BY THE YOUTHS. THE NATIVES LIKED TO SEE WESTERN SLAVES RUDELY DISPLAYED. THEY SPAT ON HIM TO SHOW THEIR SUPERIORITY. SUCH PUBLIC EXPOSURE AND RUDENESS HAD SUPERMAN'S COCK HARD AND LEAKING CUM.
BATMAN FINALLY ARRIVED AT THE SLAVE ENTRANCE TO THE FIGHT STABLES. HE WAS TAKEN TO THE FORGE. HE COULD ONLY WATCH AS A BRUTE OF AN IRON WORKER FORGED A STEEL BAR. WHAT COULD IT BE FOR. THE BAR OF STEEL WAS PUT IN SUPERMAN'S MOUTH, ACROSS HIS TONGUE. BATMAN WAS TIED TO AN X CROSS MADE OF BARED WIRE FOR A SOUND WHIPPING. THE SOUND WHIPPING BEGAN. AS BATMAN WAS WHIPPED HE SQUIRMED CAUSING THE BARBED WIRE TO CUT HIM. THE WHIP MASTER AND TOTAL CONTROL. HE QUICKLY TURNED THE ONCE MIGHTY BATMAN INTO A SOBBING CUM SPLATTERED BEAST. FEARING MORE WHIPPINGS ON THE BARBED WIRE X CROSS, BATMAN DID WHAT HE WAS TOLD. HE SUCKED ARAB COCK AND BALLS. ARAB PISS WOULD BE HIS DRINK FROM THEN ON. "DRINK MY PISS", A GUARD DEMANDED BRANDISHING HIS HUGE NAKED COCK. SUPERMAN WAS FORCED TO OBEY.
A MONTH PASSED. THE SLAVE ONCE KNOWN AS BATMAN HAD BEEN FILLED WITH STEROIDS, AND FORCED TO DO HARD LABOUR UNDER A BURNING SUN. HE HAD NOT SEEN ROBIN, WHO WAS OWNED BY ANOTHER DESERT LORD AT A NEARBY TOWN. BATMAN'S FIRST FIGHT WAS TOMORROW. BATMAN SAW HIS OPPONENT STRIDING TOWARDS HIM IN THE ARENA AS HE WAITED TO ENTER. HIS OWNER WAS WATCHING . HIS OPPONENTS OWNER WAS ALSO WATCHING WHO OWNED ROBIN AS WELL. ROBIN'S OWNER WANTED I OWN BATMAN TOO. BATMAN'S OWNER THOUGHT BATMAN WOULD WIN, AS HE ALWAYS DID FIGHTING CRIMINALS IN GOTHAM CITY. "I OWN ROBIN AND I WANT BATMAN TOO, SO THE WINNER OWNS BOTH SLAVES", ROBIN'S OWNER SAID MAKING A WAGER. "DONE, IF BATMAN WINS, I OWN YOUR SLAVE AND TEN BARS OF GOLD OR NO DEAL", BATMAN'S OWNER REPLIED. BATMAN;S SONIC HEARING ALLOWED HIM TO HEAR EVERY THING THE TWO OWNERS SAID. BATMAN REALISED IF HE WON HE MAY NEVER SEE ROBIN AGAIN. WILL BATMAN LOSE AND BE FUCKED SO HE CAN SEE ROBIN. BATMAN ABDUCTED, ENSLAVED AND FORCED TO FIGHT. MALE ON MALE DOMINATION AND FIGHT ACTION. €15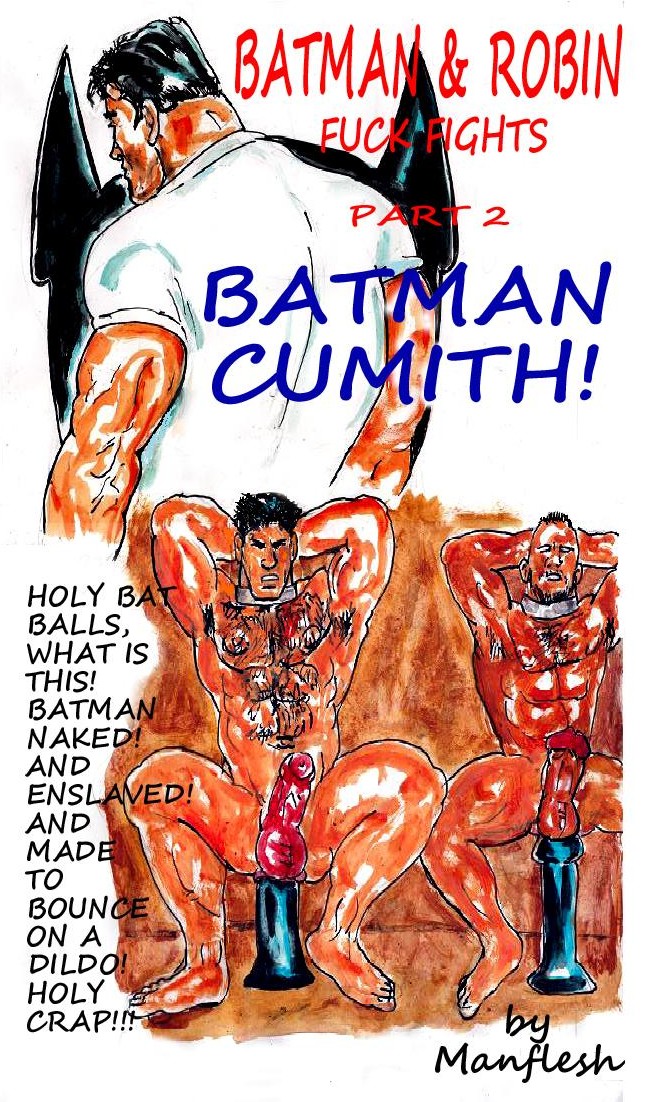 7 BATMAN AND ROBIN FUCK FIGHTS PART 3 ASS UP. BATMAN'S DILEMMA, WHAT COULD HE DO, DID IT MEAN TO SEE ROBIN AND PLAN A RESCUE THAT HE WOULD HAVE TO BE DEFLOWERED IN PUBLIC. BATMAN HAD TO LOSE AND GET FUCKED SO HE WOULD BE OWNED BY A NEW MASTER, THE ONE THAT OWNED ROBIN. FIRST BATMAN HAD TO SHOW HE WAS GOOD FIGHTER, SO THE FIGHT WOULD NOT BE STOPPED. BATMAN TOOK THE FIGHT TO HIS OPPONENT, THEN DROPPED HIS GUARD TO LET HIS OPPONENT GET A COUPLE OF HARD PUNCHES IN. HIS OPPONENT NEEDED TO LOOK LIKE A HARD FIGHTER WELL. IT WAS TIME TO SHOW HIS FIGHTING SKILL, ALL PART OF THE SHOW, TO GET WHERE ROBIN WAS. HE FLOORED HIS OPPONENT WITH A HIGH KICK. THEN BATMAN DELIBERATELY TOOK A HARD PUNCH TO THE JAW. HE FELL DAZED AND AWAITED THE FATE TO COME. THE MASTERS ARGUED OVER THE RESULT. "I DON'T LIKE THE WAY THIS HAS GONE", BATMAN'S MASTER SAID ANGRILY. "ITS OK, I WILL GIVE YOU TEN BARS OF GOLD AND MY WINNING SLAVE, BUT BATMAN IS MINE", ROBIN'S MASTER REPLIED. BATMAN FELT THE THRUST AND PAINFUL ENTRY, AS HIS OPPONENT THRUST HIS COCK DEEP, HIS ARSE WAS A CUNT NOW. BATMAN COULD ONLY REMAIN PASSIVE AND ENDURE THE PUBLIC LOSS OF HIS MANLINESS. BATMAN WAS FUCKED IN EVERY LEWD WAY IN FRONT OF THE CHEERING CROWD. BATMAN WAS MADE TO BOUNCE ON THE WINNERS COCK FOR ALL TO SEE. BUT HE HAD SUCCEEDED HE WAS NOW OWNED BY ROBIN'S MASTER.
BATMAN WAS CHAINED TO THE DESERT LORDS PALANQUIN, A SLAVE BEAST TO A NEW LORD. SWEAT DRIPPED OFF BATMAN'S NAKED FLESH, AS HE AND THE OTHER MUSCULAR SLAVES CARRIED THE HUGE BULK OF THEIR OWNER, MASTER, LORD. THE DESERT LORD TRAVELLED WITH JEEPS MANNED BY HIS GUARDS, TRUCKS FULL OF FOOD. ALSO A TENT ON A HUGE SLEDGE PULLED BY NAKED SLAVES. WHEN THEY STOPPED FOR THE NIGHT, BATMAN WAS MILKED, CREAM FOR THE DESERT LORDS COFFEE. BY THE EIGHTH MILKING, BATMAN'S COCK WAS RED RAW, SO THE GUARDS FUCKED HIM, TO GET OUT EVERY LAST DROP. THE NEXT DAY BATMAN SAW THE DESERT LORDS FORTRESS CITY AT LAST, WHERE ROBIN WAS. IT WAS OUT OF THE FRYING PAN AND INTO THE FIRE. BATMAN ENSLAVED AND FORCED TO FIGHT AND BE FUCKED WHEN HE LOST. MALE ON MALE DOMINATION AND FIGHT ACTION. €15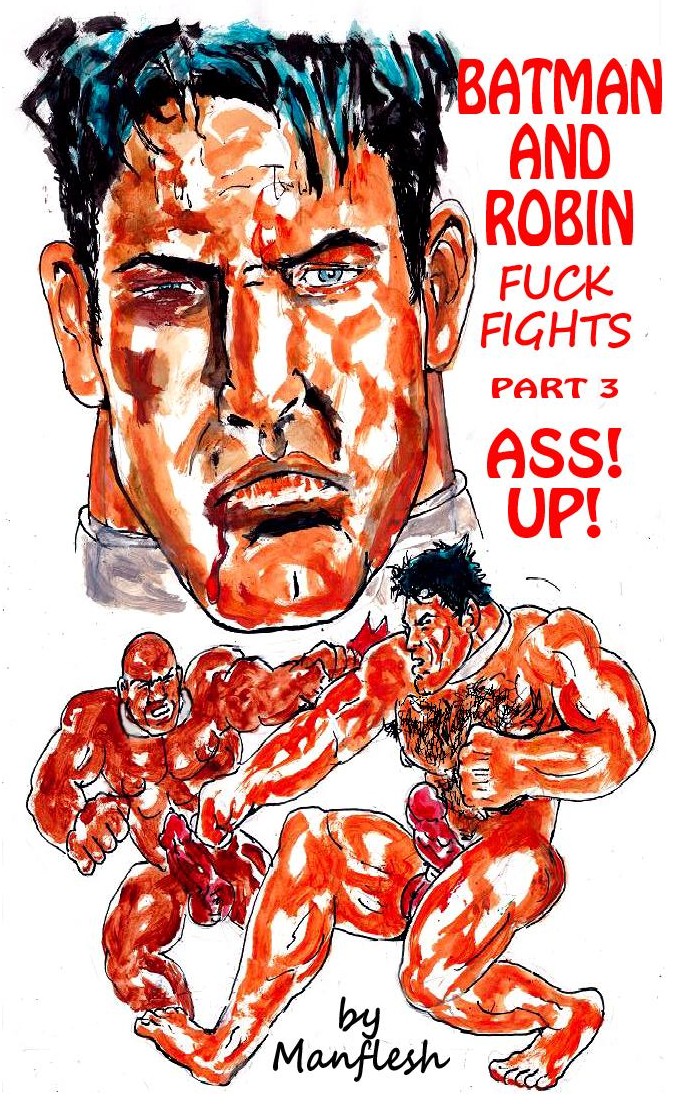 8 BATMAN AND ROBIN FUCK FIGHTS PART 4 BROKEN. AS BATMAN ENTERED THE COURTYARD OF THE PALACE, ROBIN WAS THERE BEING MILKED. ROBIN'S ARSE RIM WAS SWOLLEN AND STRETCHED, BODY TANNED ALL OVER. HIS SMALL COCK WAS SPURTING OUT BALL JUICE CREAM FOR HIS MASTERS COFFEE. BATMAN'S COCK SPURTED AT THE RUDE, HOT SIGHT OF THE FUCKED ARSE OF HIS WARD ROBIN. BATMAN WAS MET BY HIS NEW MASTER THE DESERT LORD. ROBIN WAS PRONE TO FITS OF YOUTHFUL TEMPER, AND WAS QUICK TO JUDGE. HE WAS ANGRY WITH BATMAN FOR BEING NAKED, RUDE, ENSLAVED, AND UNABLE TO FREE HIM. THE MASTER WANTED TO SHOW ROBIN BATMAN'S LOWLY STATE. SHOW ROBIN THAT BATMAN WAS OWNED JUST LIKE HIM BY THE DESERT LORD. THE DESERT LORD ORDERED BATMAN TO SUCK HIS COCK IN FRONT OF ROBIN. BATMAN KNELT AND OBEYED, HE HAD NO CHOICE, OR ROBIN WOULD BE WHIPPED. BATMAN HAD TO SHOW ENTHUSIASM AND JOY AS HE SUCKED OFF THE MASTERS COCK. THE LARGE MEMBER HAD PEARLS INSERTED UNDER THE SKIN. HOW COULD BATMAN BE SO SHAMEFUL, ROBIN THOUGHT TO HIMSELF IN HORROR. BATMAN WAS SHOWN THE FUCK CHAIR THAT CONSISTED OF A WOODEN BASE WITH A LARGE HEAVY SPRING, WITH A HUGE DILDO ATTACHED TO IT. "YOU WILL SIT ON THE FUCK CHAIR, AND BOUNCE UP AND DOWN AS YOU WATCH ROBIN BEING FUCKED", THE DESERT LORD SAID LOUDLY. "IF YOU DO NOT THRUST HARD UP AND DOWN WITH JOY ON THE FUCK CHAIR, ROBIN WILL GET TWO HUNDRED LASHES", THE DESERT LORD WHISPERED TO BATMAN. HANDS TIED BEHIND HIS BACK, BATMAN SAT ON THE CHAIR. BATMAN BOUNCED UP AND DOWN ON THE FUCK CHAIR AS HE WATCHED ROBIN'S BUBBLE BUTT BEING ENTERED BY ONE OF THE GUARDS HARD, BROWN COCKS. AS THE GUARD THRUST INTO ROBIN'S ARSE, ROBIN MOANED AND PISSED HIMSELF. AS BATMAN BOUNCED UP AND DOWN AND WAS MADE TO CUM, HE COULD ONLY WATCH HELPLESSLY AS ROBIN WAS FUCKED HARD. BATMAN WAS REMOVED FROM THE FUCK CHAIR AND PUSHED TOWARDS ROBIN'S ARSE. BATMAN WAS ORDERED TO SUCK THE CUM OUT OF THE BOY WONDERS ROUND ARSE CHEEKS. HE HAD NO CHOICE BUT TO OBEY. "SUCK, SUCK", THE DESERT LORD ORDERED AND BATMAN RELUCTANTLY OBEYED.
THE DESERT LORD HAD ORGANISED A PRIVATE FUCK FIGHT. BEFORE IT STARTED BATMAN WAS MADE TO CRAWL AROUND DRINKING PISS FROM THE GUARDS COCKS. HE WAS FORCED TO COCK HIS LEG UP AND WEE LIKE A DOG. ROBIN WAS STRUNG UP SPREAD-EAGLE ON A WOODEN FRAME IN FRONT OF THE DESERT LORD, SO THE DESERT LORD COULD PAW HIS FLESH INSIDE AND OUT. BATMAN HAD TO FIGHT FOUR OPPONENTS, ALL SLAVES, WESTERNERS, IN THEIR LATE TWENTIES. ALL ENSLAVED FOR TEN YEARS, AND TURNED INTO THICKLY MUSCLED DUMB BRUTES. SOMETHING THE DESERT LORD INTENDED TO DO TO BATMAN. THE FOUR FIGHTERS ATTACKED BATMAN. BATMAN ATTACKED, ONE OF THEM TAKING HIM DOWN WITH A RUGBY TACKLE, THEN DOWNED A SECOND WITH A HIGH KICK TO THE BRUTES HEAD. BUT AS HE DEALT WITH THE FIRST TWO, THE SECOND TWO CLOSED IN. BATMAN COULD NOT COMPETE WITH FOUR BRUTES HITTING HIM FROM EVERY ANGLE. BATMAN COULD NOT STOP THE FOUR BRUTES GETTING THE UPPER HAND. HE WAS PUSHED AROUND LIKE A RAG DOLL. BATMAN BRUISED WAS WEAKENING. THEY KNOCKED HIM TO THE GROUND AND KICKED THE FIGHT OUT OF HIM. AS HIS ARSE WAS PAWED ROBIN COULD ONLY WATCH, BATMAN'S ARSE WAS NOW A CUNT. THE FOUR COCK FIGHTERS TOOK TURNS FILLING HIS ARSE WITH THEIR SEED. BATMAN AND ROBINS SUFFERING HAD INTENSIFIED AND WAS SURE TO GET WORSE. BATMAN AND ROBIN ENSLAVED AND FORCED TO FIGHT AND BE FUCKED WHEN THEY LOST. HIT MANFLESH MALE ON MALE DOMINATION AND FIGHT ACTION. €15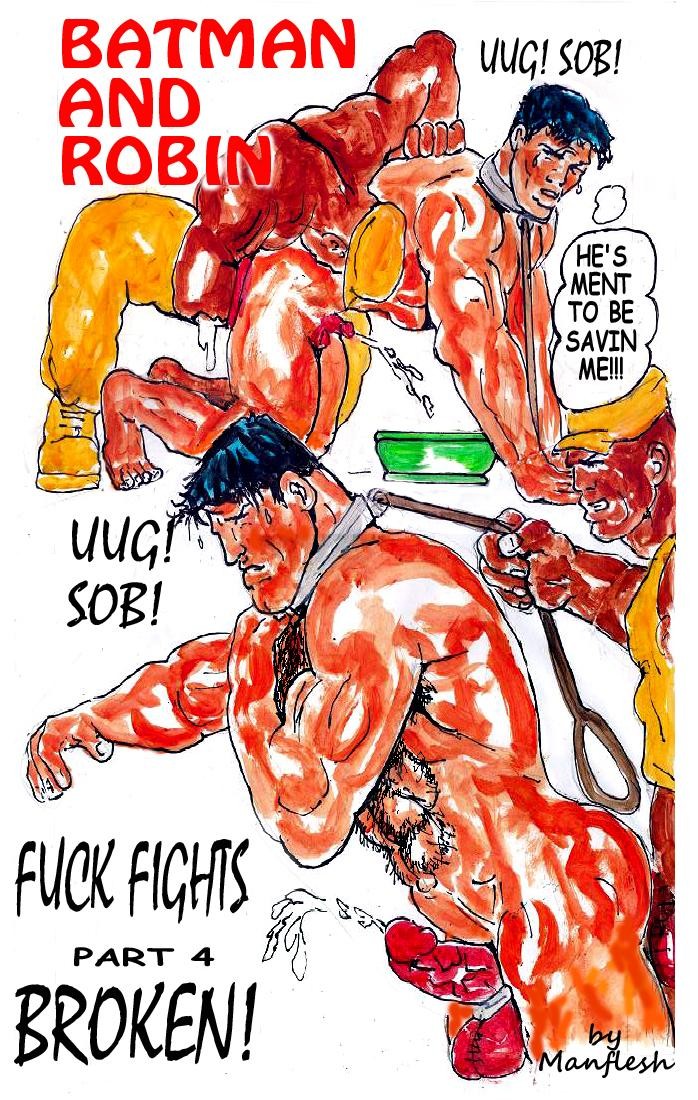 9 BATMAN SLAVE OF BANE PART 1, DEFEAT OF THE DARK KNIGHT. ALFRED WAS A PRISONER OF BANE AND BATMAN HAD NO CHOICE BUT TO BECOME HIS SLAVE. HE WAS TO BE BROKEN IN MIND, BODY AND ARSE, BIT BY BIT.
BATMAN CAME BACK FROM A NIGHT OF CRIME FIGHTING. HIS BAT SUIT WAS TORN FROM THE ARKHAM ASYLUM BREAK OUT, HE FELT WEAK AND NEEDED TO REST. BATMAN CRAWLED WEARILY UP THE STAIRS FROM THE BAT CAVE. HE TOOK OFF HIS MASK AND CAPE, THEN SENSED HE WAS NOT ALONE. BANE STEPPED OUT OF THE SHADOWS, A MEAN FIGHTING MACHINE. BATMAN PUNCHED BANE AND NEARLY BROKE HIS HAND ON BANE'S JAW. BANE SMILED HE FLICKED A FINGER AGAINST BATMAN'S FOREHEAD, THAT MADE BATMAN COLLAPSE AT BANE'S FEET. "YOUR MINE?", BANE SAID, AS HE PLAYED WITH HIS COCK. "I'M HARD, HARD AND READY TO UNPACK MY PROPERTY", BANE SAID, AS HE STARED DOWN AT BATMAN. BANE GOT TO WORK AND STRIPPED THE ONCE SUPER HERO NUDE AND RUDE. "SHIT YOUR AS HAIRY AS THE TOY TEDDY, I FUCK IN BED", BANE SNEERED, AS HE STRIPPED BATMAN NAKED. THERE WERE MANY TUNNELS UNDER THE BAT CAVE, TOTALLY UNKNOWN TO THE ONCE MIGHTY BATMAN. BANE HAD BROKEN THOUGHT INTO THE WARREN OF TUNNELS AND PREPARED SOME ROOMS, ONE A DUNGEON FOR BATMAN.
BANE CARRIED BATMAN, NOW NAKED, TO THE DUNGEON. THE WERE TWO LARGE CHAINS AND MANICALS HANGING FROM THE CEILING. WHEN BATMAN AWOKE, HE FOUND HIMSELF NAKED AND HANGING BY WRIST CHAINS. BANE STOOD IN FRONT OF BATMAN, WHO WAS HANGING, NUDE AND RUDE, SLIGHTLY OFF THE FLOOR, HIS HAIRY COCK ERECT. "I'M COCK READY?",BANE SAID, AS HE REMOVED HIS MASK. BANE'S EXCITED COCK, WAS BULGING IN HIS TROUSERS. BANE SMILED, AS HE SLIPPED BEHIND BATMAN. HE TOOK HIS HARD COCK OUT, ALL EIGHTEEN INCHES OF IT. BANE RUBBED IT OVER BATMAN'S HAIRY ARSE. BANE LIFTED AND SPREAD BATMAN'S LEGS, MAKING HIS HAIRY MAN CUNT OPEN, EXPOSED AND VULNERABLE. BANE BRUTALLY PENETRATED, BATMAN'S, VIRGIN ARSE. BATMAN YELLED FIRST IN SHOCK, THEN PAIN, EVENTUALLY PLEASURE. BANE FUCKED BATMAN LONG AND HARD, UNTIL HE WAS MOANING IN PLEASURE, BEGGING FOR MORE. BANE GAVE HIM IT, PUMPING LOAD AFTER LOAD, THINKING OF THE PAIN AND PLEASURE HE WILL INFLICT, ON EX BATMAN, EX SUPER HERO, IN THE FUTURE. "I'M GOING TO MAKE MY SEED STAY IN YOUR BLOATED STOMACH", BANE SAID, WHEN HE FINISHED SEEDING BATMAN. BANE THRUST A WOODEN DILDO UP BATMAN'S BUTT HOLE, TO KEEP HIS STOMACH BLOATED AND FULL. BATMAN WAS BROKEN, EMPTY OF ENERGY. BATMAN DID NOT HAVE THE STRENGTH TO LIFT HIS HEAD. BANE LIFTED BATMANS HEAD AND LEERED AT HIM. "YOU ARE MY SLAVE NOW", BANE SAID, AS HE SHOOK BATMAN'S HEAD.
BATMAN STARED IN SHOCK AND HORROR AT THE COMPUTER SCREEN. THERE ON IT WAS ALFRED, BOUND NAKED AT THE MERCY OF THREE OF BANE'S HENCH MEAN, TROGG, ZOMBIE, AND BIRD. "WHO ARE YOU", BANE ASKED AS HE TURNED BATMAN'S HEAD TOWARDS THE SCREEN. BATMAN DEFEAT COULD ONLY WHISPER IN TEARS, "I AM BANE'S SLAVE". "BEND OVER", BANE ORDERED. "NOT ONLY GOTHAM IS MINE, BATMAN IS MINE FOREVER", BANE SAID TRIUMPHANTLY. BATMAN GROANED. HE WONDERED WHAT HE WOULD BECOME AND ABOUT ALL THE SUFFERING AND HUMILIATION HE WOULD SUFFER. BATMAN ENSLAVED AND PHYSICALLY AND SEXUALLY ABUSED. HOT MANFLESH SUPER HERO DOMINATION ACTION. €15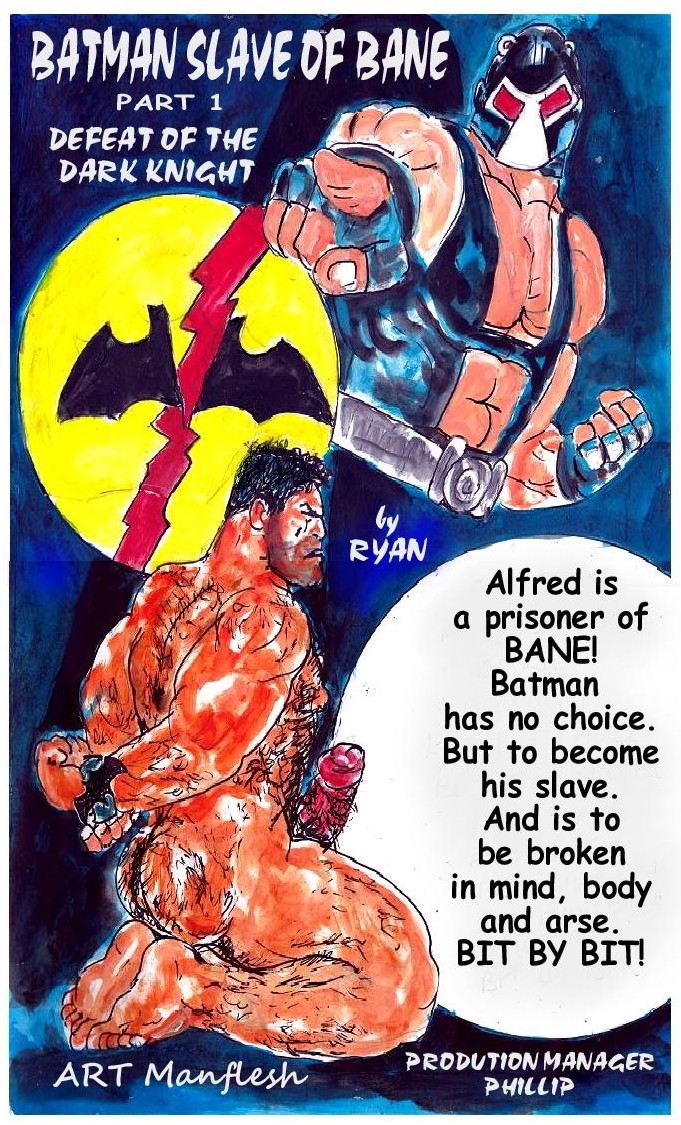 10 BATMAN SLAVE OF BANE PART 2 DEFEAT OF THE DARK KNIGHT PART 2, SHAMED, ABUSED AND OWNED. IN ARKHAM ASYLUM, NIGHT WING AKA ROBIN, AKA DOGG CUMMINGS, WAS BEING FUCKED BY TONY ZUCCO. AT THE SAME TIME, IN THE BAT CAVE, BANE HAD ENSLAVED BATMAN. THE STORY CONTINUES IN THE BAT CAVE.
IN THE BAT CAVE, BATMAN WAS BENT OVER, NAKED AND CUFFED WITH HIS OWN BAT CUFFS. BANE LET HIS MEN GROPE BATMAN, AND REMOVE THE DILDO FROM HIS SORE ARSE. THEY THEN TOOK TURNS, FUCKING BATMAN. "I'M BUGGERING THE BUGGER, THAT PUT ME INSIDE", ONE OF BANE'S JUBILANT MEN SAID, AS HE FUCKED BATMAN. BANE JOINED IN THE FUN AND DEBASEMENT. HE THRUST HIS EIGHTEEN INCH COCK, INTO BATMAN'S MOUTH AND PUMPED IN PINTS OF HIS CUM, STRETCHING BATMAN'S GUT, TO THE SIZE OF A FOOTBALL. TO SHAME BATMAN EVEN MORE, BANE GOT HIS MEN TO SHOOT ALL OVER, THE EX LAW ENFORCERS NAKED FLESH, COVERING IT WITH THEIR CUM. "THRUST THIS INTO MY SLAVES ARSE?", BANE TOLD, ONE OF HIS MEN, AS HE HANDED HIM A BANE HEADED DILDO. THE END OF THE DILDO WAS SHAPED LIKE HIS BANE MASK. THE MAN RAMMED THE BANE HEADED DILDO. UP BATMAN'S ARSE. "YOU WILL OBEY ME, OR ALFRED GETS IT?", BANE WARNED, HIS NEW SLAVE, BATMAN. "YES MASTER", BATMAN REPLIED, SOBBING FROM THE PAIN AND THE SHAME. BATMAN WAS GUT PUNCHED REPEATEDLY BY THE THUGS, HE PUT IN PRISON, WHO WERE GETTING THEIR OWN BACK. THEN SLAVE BATMAN WAS MADE TO LICK BANE'S BOOTS, FOR A GOOD SPIT AND SHINE. IT WAS HOT IN THE BAT CAVE AND BANE REMOVED HIS TOP. "ENOUGH, YOU HAVE GOT YOUR FUCKING PAY BACK?", BANE TOLD HIM MEN, ORDERING THEM TO STOP. THE ONCE GREAT CRIME FIGHTER, WAS DRAGGED TO ANOTHER ROOM. A ROOM FOR PLEASURE, BUT FOR WHO.
THE OTHER ROOM WAS THE SEX TRAINING ROOM. BANE WAS SAT ON WHAT, WAS BATMAN'S CHAIR. HE WAS NAKED, LEGS RAISED UP TO HIS PECS, SMOKING A CIGAR, AS HE WATCHED THE SHOW. BANE GRINNED, SPORTING AN EIGHTEEN INCH HARD ON. ONE OF THE THUGS COUNTED SLOWLY TO HUNDRED, EVERYONE A REP, AS HE THRUST, THE BANE HEADED DILDO, IN AND OUT OF BATMAN'S ANUS. BATMAN HAD HIS ARSE RAISED OFF THE FLOOR, TO ALLOW BANE'S THUG, TO RAPE HIM WITH THE BANE HEADED DILDO. AT THE SAME TIME TWO MORE OF BANE'S THUGS WERE MAKING BATMAN, SUCK BOTH THEIR COCKS, AT THE SAME TIME. PUTTING ON A SEX TRAINING SHOW, FOR BANE THEIR LEADER. BANE ORDERED HIS MEN TO MAKE BATMAN PERFORM HEAVY WEIGHT LIFTING WITH LARGE DUMB BELLS, OVER HIS HEAD WITH BOTH ARMS. WHILE BATMAN LIFTED THE WEIGHTS, TWO OF BANE'S THUGS, FUCKED BATMAN UP THE ARSE, BOTH AT THE SAME TIME. A THIRD THUG, FUCKED BATMAN'S SCREAMING MOUTH. BANE AROUSED BY THE SEX TRAINING SHOW, STROKED HIS HUGE EIGHTEEN INCH COCK AND CUM WITH SADISTIC PLEASURE. BATMAN WAS MADE TO WORK OUT, WITH WEIGHTS, ON SEX TOYS AND COCKS, TILL HE BULKED UP, MUSCLES SWOLLEN, BUT HIS IQ BEGAN TO FAIL. IT WAS DUE TO THE CUM PROTEIN MIXED WITH BANE'S VENOM DRUG, AS BATMAN NOW BANE'S SLAVE, WAS MADE TO SUCK BANE'S EIGHTEEN INCH COCK AND SWALLOW HIS COME DAILY. SLAVE BATMAN'S ARSE WAS SO RAW, BECAUSE BANE FUCKED IT SO HARD. THE RAW FLESH OF BATMAN'S BUM HOLE, SUCKED UP, ALL THE BANE CUM, IN HIS SYSTEM. BANE LIKED TO, FUCK BATMAN RAW, WHILE HIS THUGS PUNISHED BATMAN WITH PADDLES AND WHIPS. AFTER TWO MONTHS OF THE PLEASURE, PAIN TRAINING, BATMAN WAS THE SAME SIZE AS BANE, IN MUSCLE AND COCK SIZE. EXCEPT HE WAS NOW DUMB. HE HAD NO POWER TO RESIST, JUST OBEYED BANE, LIKE A PUPPY. "READ THIS?", BANE TOLD BATMAN, HOLDING UP A SIGN, WITH 'I AM BATMAN' WRITTEN ON IT. "ME NO READ, MASTER", BATMAN REPLIED FEEBLY.
BANE ORDERED HIS THUGS TO REMOVE ALL OF HIS NEW SLAVE, BATMAN'S BODY HAIR. "REMOVE ALL ITS HAIR?", BANE ORDERED. BATMAN'S BODY WAS SMEARED WITH A BLUE PASTE AND IT WAS RUBBED ALL OVER HIS PELT. THEN BANE TOLD HIS MEN TO RINSE OFF THE HAIR REMOVER, WITH THEIR PISS. THE THUGS GLADLY COMPLIED, PISSING ALL OVER BATMAN'S NAKED, SLAVE BODY. THIS LEFT THE ONCE MIGHTY BATMAN'S FLESH TOTALLY HAIRLESS. ALFRED WAS DRAGGED IN, NAKED, SAVE FOR A BOW TIE AND SOME TORN REMNANTS OF HIS CLOTHES. "DO YOU RECOGNISE THIS OLD MAN?", BANE ASKED, BATMAN HIS SLAVE, WHILE HE CUM ON BATMAN'S, BALD HEAD. "NO, LET THEM HAVE HIM MASTER", BATMAN REPLIED. "OH SIIIRRR", ALFRED, SIGHED IN SHOCK. BANE MADE HIS SLAVE BATMAN, SUCK HIS EIGHTEEN INCH COCK. "TELL ME WHO OWNS YOU FOREVER?", BANE ASKED. "YOU MASTER, SUCK YOU", BATMAN SLURPED IN REPLY, AS HE GREEDILY SUCKED BANE'S COCK. THEY WERE INTERRUPTED BY ZOMBIE, ONE BANE'S LEADING THUGS. "IT BETTER BE GOOD ZOMBIE", BANE GROWLED. "OR MY PUP, WILL FUCK YOUR BRAINS OUT", BANE ADDED. "MASTER", ZOMBIE SAID SHOWING BANE HIS I PAD. BANE TOOK THE I PAD THEN SMILED. "MY, MY, BATMAN HAD NIGHT WING UNDERCOVER, IN ARKHAM ASYLUM, AS DOGG CUMMINGS, WE MUST COLLECT AND STEAL HIM", HE TOLD ZOMBIE, LAUGHING LOUDLY. BATMAN ENSLAVED AND PHYSICALLY AND SEXUALLY ABUSED. MORE HOT MANFLESH SUPER HERO DOMINATION ACTION. €15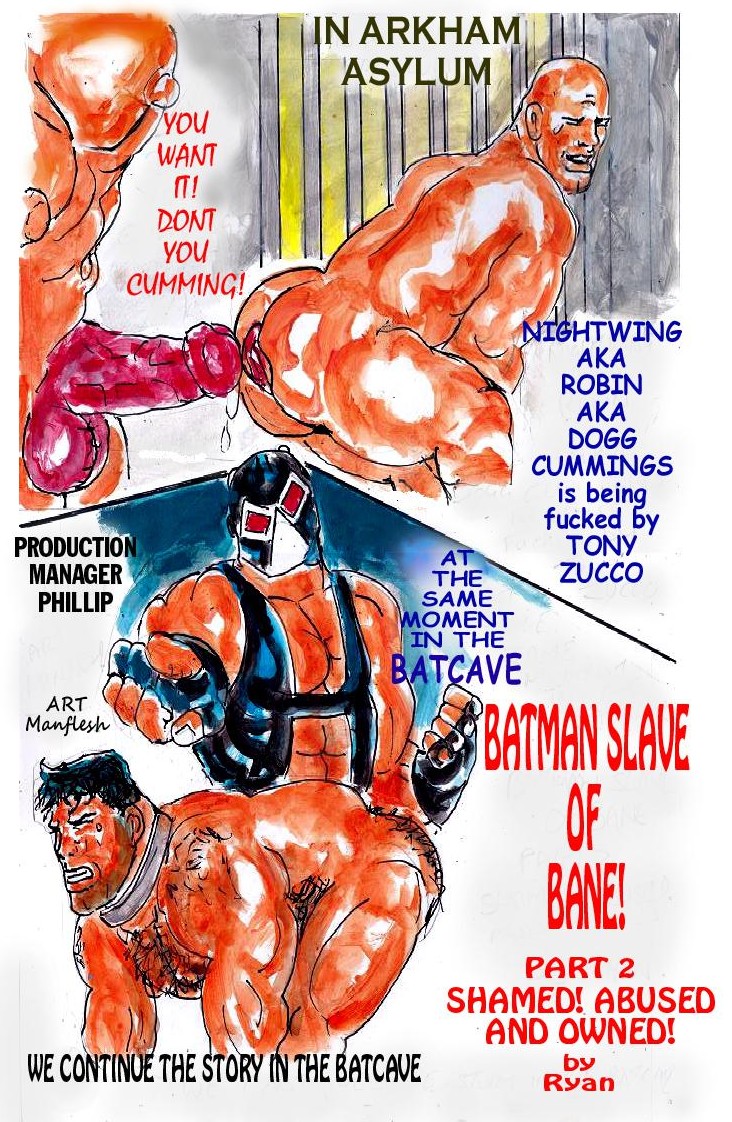 11 BATMAN SLAVE OF BANE PART 3 DEFEAT OF THE DARK KNIGHT PART 3 BANE DICTATOR OF GOTHAM. BANE WAS NOW THE DICTATOR OF GOTHAM AND HE RULED GOTHAM WITH AN IRON FIST. SOME TIME WITH IT UP BATMAN'S ARSE. THE DYNAMIC DUO WERE NOW BANE'S PLAY THINGS.
THREE MONTHS HAD PASSED. BANE WAS NOW THE ABSOLUTE RULER OF ALL GOTHAM. HE RULED FROM BATMAN'S MANSION. HE HAD, ALL THE PRISONERS FREED, TO SERVE, AS HIS UNDERLINGS. THE GOTHAM POLICE FORCE AND ALL INNOCENT MEN OF GOTHAM, WERE FORCED TO BE NUDE, RUDE, SLAVES. ANY WHO FAILED TO OBEY, WERE SOLD TO ARAB MASTERS, IN THE MIDDLE EAST. THUGS WERE PISSING IN THE FACE OF NAKED COP, NAKED SAVE FOR HIS CAP. HE WAS FORCED TO KEEP ARMS SECURED BEHIND HIS BACK AND WEAR A DOUGHNUT RING, ON HIS COCK AND BALLS, TO KEEP HIS COCK HARD AND PERMANENTLY DISPLAYED. BANE SAT NAKED ON BATMAN'S THRONE, WITH THE COMMISSIONER, AS HIS SLAVE, NAKED IN A SLAVE COLLAR. BANE FUCKED THE COMMISSIONER, IN FRONT OF HIS OWN COPS. HIS COPS COULD ONLY WATCH, HELPLESS, AND IN SHAME, THEIR OWN COCKS HARD.
BANE HAD STOLEN EX NIGHTWING, FROM TONY ZUCCO. BANE WAS ON BATMAN'S THRONE, WITH HIS COCK UP BATMAN'S ARSE. BATMAN ALSO HAD A BANE HEADED DILDO IN HIS MOUTH, BATMAN WAS DUMB AND GRINNING LIKE A HALF WIT. EXNIGHTWING ENTERED HE WAS NAKED WITH A STEEL SLAVE COLLAR ON AND HIS HANDS SECURED BEHIND HIS BACK SPORTING AN ERECTION. EXNIGHTWING STARED IN SHOCK AND HORROR AT BATMAN. BANE CUM IN BATMAN'S ARSE, MAKING BATMAN SHRIEK, LIKE A GIRL, AS HE CAME AGAIN AND AGAIN. BANE THEN NOTICED EXNIGHTWING. "YOU ARE MY SLAVE NOW AND VERY SOON TO BE DUMB, LIKE BATMAN", BANE TOLD EXNIGHTWING. "TELL HIM", BANE ORDERED. DUMB EXBATMAN SMILED SADISTICALLY, AND POINTED AT EXNIGHTWING. "MASTER IS GOOD, WORSHIP MASTER", EXBATMAN, TOLD NIGHT WING. "YES I AM BANE'S SLAVE NOW", EXNIGHTWING REPLIED MEEKLY. BANE GRINNED, AS HE WATCHED, HIS DUMB SLAVE EXBATMAN, TELL THE ONCE BOY WONDER, TO OBEY. BANE ALLOWED HIS MEN AND DUMB EX BATMAN TO GROPE AND FUCK THE DEFEATED EXNIGHTWING, READY FOR BANE TO PLOUGH HIM. THEY ALSO MADE HIM, SUCK THEIR COCKS. BANE STEPPED IN AND STARTED TO FUCK EXNIGHTWING HARD. AT THE SAME TIME DUMB EXBATMAN FUCKED HIS MOUTH, WHILE BANE'S MEN COVERED EXNIGHTWING WITH THEIR CUM. "GET YOU TRAINED", BANE SAID AS HE FUCKED EXNIGHTWING HARD. BANE THEN ORDERED HIS TWO SLAVES. EXNIGHTWING AND EXBATMAN, TO PERFORM LEWD ACTS SEX ACTS, ON EACH OTHER. THIS WAS TO DEMONSTATE HIS POWER AND THEIR FALL FROM GRACE. THEY SUCKED AND FUCKED EACH OTHER, WATCHED BY BANE AND HIS MEN, ALL HARD AND HORNY. BANE MADE THEM POSITION THEMSELVES, UPSIDE DOWN, BACK TO BACK, THEN HE FISTED THE SLAVES ARSES, WHILE MAKING THEM DRINK THEIR OWN PISS. "HAIL THE MIGHTY BANE, ALL HAIL THE MIGHTY BANE", HIS MEN CHANTED, AS HE FISTED, HIS TWO SLAVES. BANE MADE EXBATMAN KNEEL ON ALL FOURS, THEN EXNIGHTWING CLIMBED ASTRIDE EXBATMANS LOWER BACK. BANE THEN TOOK A BIRCH TO THEIR NAKED BUTTOCKS. EXBATMAN JUST GRINNED, BUT EXNIGHTWING STILL ABLE TO THINK CLEARLY, NOT DUMB YET, DID NOT. BEING RUDELY NAKED AND BIRCHED, MADE EXNIGHTWINGS COCK EMBARRASSINGLY HARD, AND HE SPURTED IN SHAME.
BANE ORDERED THE EX DYNAMIC DUO TO FIGHT. EXBATMAN AND EXNIGHTWING, SQUARED UP TO EACH OTHER. DUMB EXBATMAN GRINNED AND PUNCHED EXNIGHTWING. THEY BOTH EXCHANGED PUNCHES, DRAWING BLOOD. THEN BANE HAD AN IDEA. THEY WERE MADE TO HAVE A HARD PISS FIGHT, PISSING ALL OVER EACH OTHER. BANE THEN HAD THEIR HANDS, CUFFED BEHIND THEM. HE THEN MADE THEM DRINK, EACH OTHERS PISS. BANE MADE THEM TRAIN TOGETHER. EXNIGHTWING WAS MADE TO USE TWICE THE WEIGHT, THAT EXBATMAN USED. AS THE TRAINING PROGRESSED, THE MUSCLES PILED ON. THE CUM FROM BANE'S COCK, MADE EXNIGHTWING, AS DUMB, AS EXBATMAN. EXNIGHTWING HAD BECOME A MUSCLE BRUTE, WITH THE MUSCULARITY AND AN EIGHTEEN INCH COCK SIZE, THE SAME AS BANE. EXNIGHTWING WAS MADE TO DO HARD AEROBICS, SIT UPS, ON BANE'S, HUGE COCK. IT WAS FILMED AND SENT TO ALL THE TV STATIONS IN GOTHAM. BANE'S TWO EXCRIME FIGHTERS, DUMB MUSCLE NOW, WERE ORDERED TO FUCK FOR HIM. EXBATMAN FUCKED ALFRED HIS BUTLER. EXNIGHTWING FUCKED AN ENSLAVED TONY ZUCCO. THE DUMB COCK LUSTING DUO, WERE MADE TO DO A WALK OF SHAME, THROUGH THE STREETS OF GOTHAM, IN FULL BONDAGE, TO THE DELIGHT, OF THE LEERING, GROPING, CROWDS. EVEN MORE HOT MANFLESH SUPER HERO DOMINATION ACTION. €15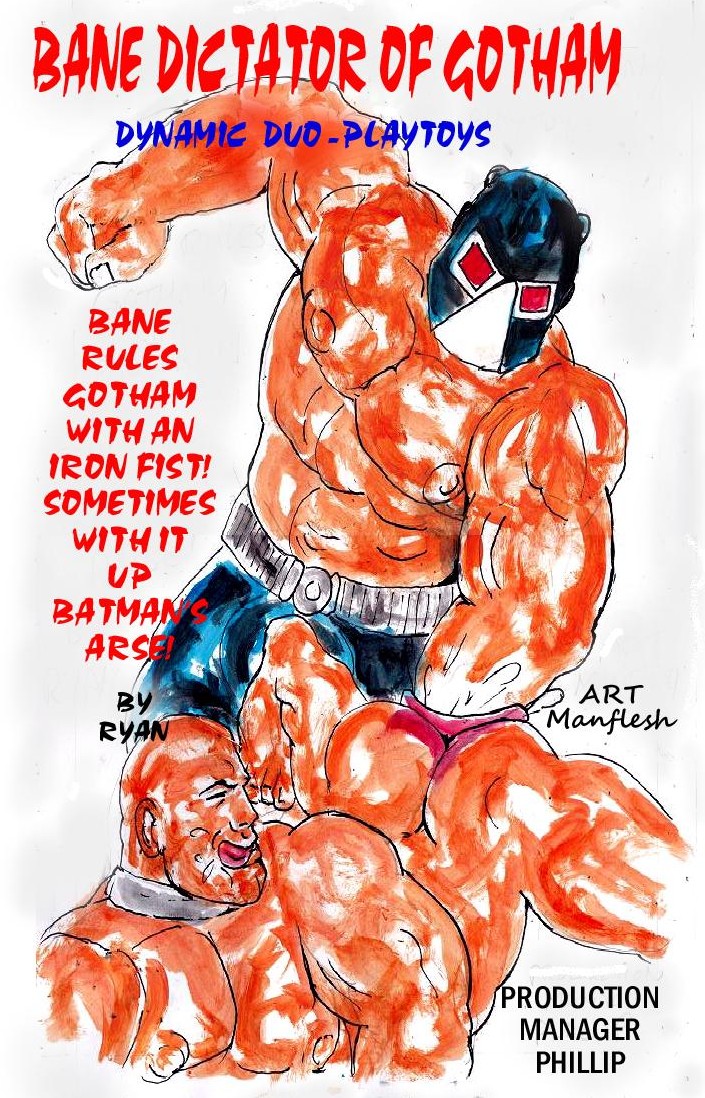 12 BLACK BATMAN IN ANCIENT EGYPT. THE IMP WAS PLAYING WITH BATMAN. BATMAN WOKE UP, TO FIND HIMSELF IN ANCIENT EGYPT, AS A NUBIAN SLAVE. HE NOW HAD BLACK SKIN AND A BIGGER COCK AND BALLS, HIT BUTT, WAS AS BIG AS FOOTBALLS, HE WAS NAKED, HE WAS SCREWED.
BATMAN WOKE UP FEELING DIZZY WONDERING WHY, THEN HE HAD A GREATER SHOCK. BATMAN THEN REALISED HE WAS SECURED IN AN IRON NECK RING, ALSO IRON WRIST AND ANKLE CUFFS. HE WAS EVEN MORE SHOCKED BY HIS BLACK SKIN. WHEN BATMAN LOOKED AROUND HE SAW HE WAS NOT ALONE. HE WAS IN A PIT WITH OTHER BLACK NAKED SLAVES, IN SLAVE IRONS LIKE HIMSELF. WHEN HE LOOKED INTO A BUCKET OF WATER, THE REFLECTION OF HIS BLACK FACE, MADE HIM GASP. "SHIT I'M BLACK", HE SAID IN SHOCK. "NO MUST BE A NIGHTMARE", HE ADDED IN DESPERATE HOPE. BATMAN PINCHED HIMSELF, SLAPPED HIMSELF. HE EVEN PUNCHED HIMSELF, HOPING IT WOULD MAKE HIM WAKE UP, BUT NOTHING HAPPENED, IT WAS ALL REAL. THERE WAS A SHORT SHENDYT, A KILT LIKE GARMENT, MORE OF A RAG REALLY, ON THE FLOOR. BATMAN GRABBED IT AND WRAPPED IT AROUND HIS WAIST. TRYING TO COVER HIS NAKEDNESS, IT WAS ONLY PARTIALLY SUCCESSFUL, IT LEFT PART OF HIS HUGE COCK, THE HEAD SHOWING. THE OTHER NUBIAN SLAVES WHO NEVER WORE CLOTHING, LOOKED AT HIM AND SHOOK THEIR HEADS.
THE METAL BAR DOOR, OVER THE PIT WAS OPENED. THE EGYPTIAN GUARDS BARKED ORDERS FOR THE SLAVES TO ASSEMBLE IN LINE. WHEN THEY OBEYED, THEY WERE LINKED TOGETHER, BY NECK CHAINS. "STRIP THE SLAVE NAKED", ONE OF THE GUARDS ORDERED, WHEN HE SAW BATMAN WEARING THE SHENDYT. "I'M NO SLAVE", BATMAN SAID DEFIANTLY. BATMAN TRIED TO PUNCH HIS WAY OUT. BUT HE WAS KNOCKED DOWN, BY THE GUARDS, SPEAR STAFFS. HE WAS QUICKLY OVER POWERED, REMOVED FROM THE CHAIN, THEN STRIPPED NAKED. THE GUARDS PRODDED BATMAN WITH THE ENDS OF THEIR SPEAR STAFFS, AS HE LAY PROSTRATE ON THE GROUND. ONE EVEN FORCED THE END OF HIS SPEAR STAFF, INTO BATMAN'S ANUS. BATMAN WAS RE-CHAINED TO THE LINE OF OTHER SLAVES. HE WAS MADE TO JOG WITH THEM, TO THEIR WORK PLACE. THE HEAT MADE HIM SWEATY AND MUSKY. SEEING THE SWEATY BLACK SLAVES BODIES, WITH HARD COCKS, MADE HIM HARD AS WELL. THEY ARRIVED AT THE BASE OF THE PYRAMID, WHERE THEY WERE UNCHAINED AND PUT TO WORK. THEY WERE MADE TO HAUL, ONE OF THE TWO AND A HALF TON BLOCKS UP A RAMP, TO THE TOP OF THE PYRAMID. BATMAN HAD NO CHOICE, BUT TO PULL, STILL NAKED AND HORNY. NEXT THE ENSLAVED BATMAN AND THE NUBIANS, WERE MADE TO BREAK THE LIME STONE, INTO PYRAMID BLOCKS. SLAVE BATMAN WAS ALSO MADE TO PLACE SMALL BLOCKS ON A SLED, TO BUILD THE RAMPS.
AFTER A DAY OF NAKED TOIL, BATMAN'S BODY ACHED ALL OVER. HE WAS GIVEN FOOD, THEN WATER. HE FELT WOOZY, THE WATER WAS DOPED. HE WAS TAKEN TO THE PHARAOH. BATMAN HAD HIS LEGS SPREAD WIDE OPEN, IN LEWD FASHION BEFORE THE PHARAOH, BY TWO OF THE PHARAOH'S GUARDS. "PHARAOH THIS IS THE ONE", HIS MEN SAID. "SO THIS IS THE ONE THAT CAUSED TROUBLE?", THE PHARAOH REPLIED, AS HE SAT NAKED ON HIS THRONE, HIS HUGE COCK ERECT. THE PHARAOH ORDERED HIS MEN TO TAKE THE SLAVE TO HIS TRAINING CHAMBER, BENEATH HIS THRONE ROOM. BATMAN EYED THE PHARAOH'S EIGHTEEN INCH COCK AND MOANED, KNOWING HE WAS IN FOR A HARD TIME. "HE BABBLES IN SOME BEASTS TONGUE, SOON HE WILL ONLY MOAN AND DRAWL", THE PHARAOH SAID. "NO, I'M A MAN, I'M BATMAN", BATMAN PROTESTED, STRUGGLING HARD. WHEN HE ENTERED THE TRAINING CHAMBER, NUBIAN BATMAN, WAS SHAVED OF ALL HIS HEAD AND BODY HAIR, WITH RAZORS. HIS BODY WAS NOW SILKY SMOOTH, ALL OVER. HIS HAIR, GONE, HOW PHARAOH LIKED HIS BITCHES. PHARAOH LIFTED AND SPREAD BATMAN'S LEGS WIDE, BEFORE PLUNGING HIS HARD COCK, IN HARD AND FUCKING BATMAN. "I WILL MAKE YOU MY NUMBER ONE WHORE?", THE PHARAOH SAID, AS HE CUM IN BATMAN'S VIRGIN ARSE. BATMAN ONCE THE ENFORCER, WAS NOW THE SUCKER, AS HE WAS FORCED TO SUCK THE PHARAOH'S COCK. BATMAN WAS PUT IN THE LEWDEST POSITIONS, BY THE PHARAOH AND HIS MEN, TO SUCK COCKS AND BE FUCKED.
BATMAN HAD HIS ARMS CHAINED TO THE CEILING ABOVE HIS HEAD, WITH HIS FEET ON TWO PEDESTALS AND A PHARAOH SIZED DILDO UP HIS ARSE, THE PHARAOH WANTED HIM TRAINED, AS HIS EXCLUSIVE MANCUNT. I CAN FEEL MY ARSE HOLE, SUCKING UP HIS CUM, ABSORBING IT INTO MY BODY, BATMAN THOUGHT TO HIMSELF IN HORROR. HE WONDERED DESPERATELY HOW HE COULD ESCAPE FROM THIS. MORE GRAPHIC BATMAN DOMINATION ACTION. €15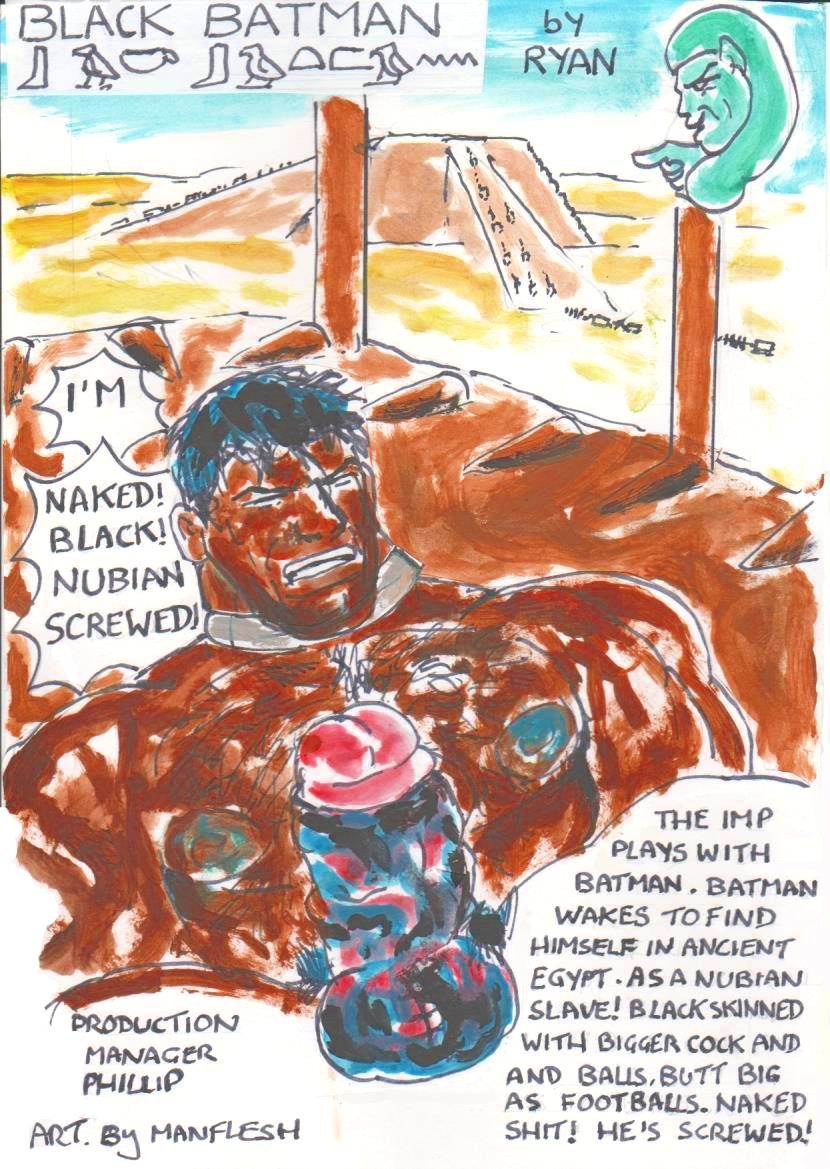 BLACK BATMAN PART 1 HAS THE FEATURE OF SIDE BY SIDE PAGES, THAT CREATES A PANORAMIC IMAGE. THE DOUBLE PANORAMIC IMAGES PAGES IN BLACK BATMAN PART 1 ARE PAGES 4 AND 5 AND 10 AND 11.
PAGES 4 AND 5 FEATURES BLACK BATMAN IN A LINE OD NAKED BLACK SLAVES. GUARDS ORDERED BATMAN TO REMOVE THE SHENDYT HE HAD PUT ON. HE REFUSED TELLING THEM HE WAS NOT A SLAVE.
PAGES 10 AND 11 FEATURES BLACK BATMAN BREAKING LIME STONE IN TO PYRAMID BLOCKS AND THEN LOADING SMALLER ROCKS ONTO SLEDS TO MAKE THE RAMPS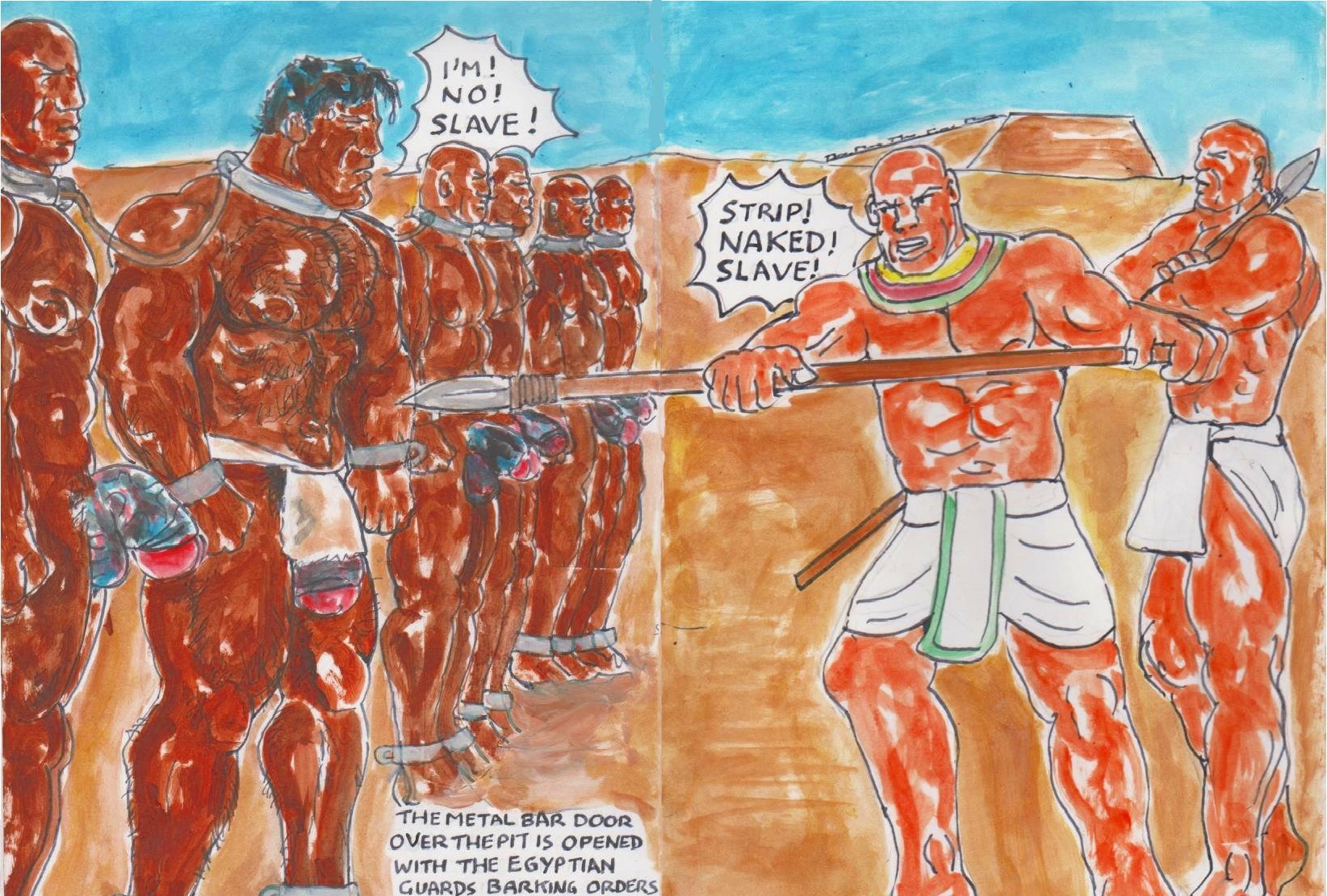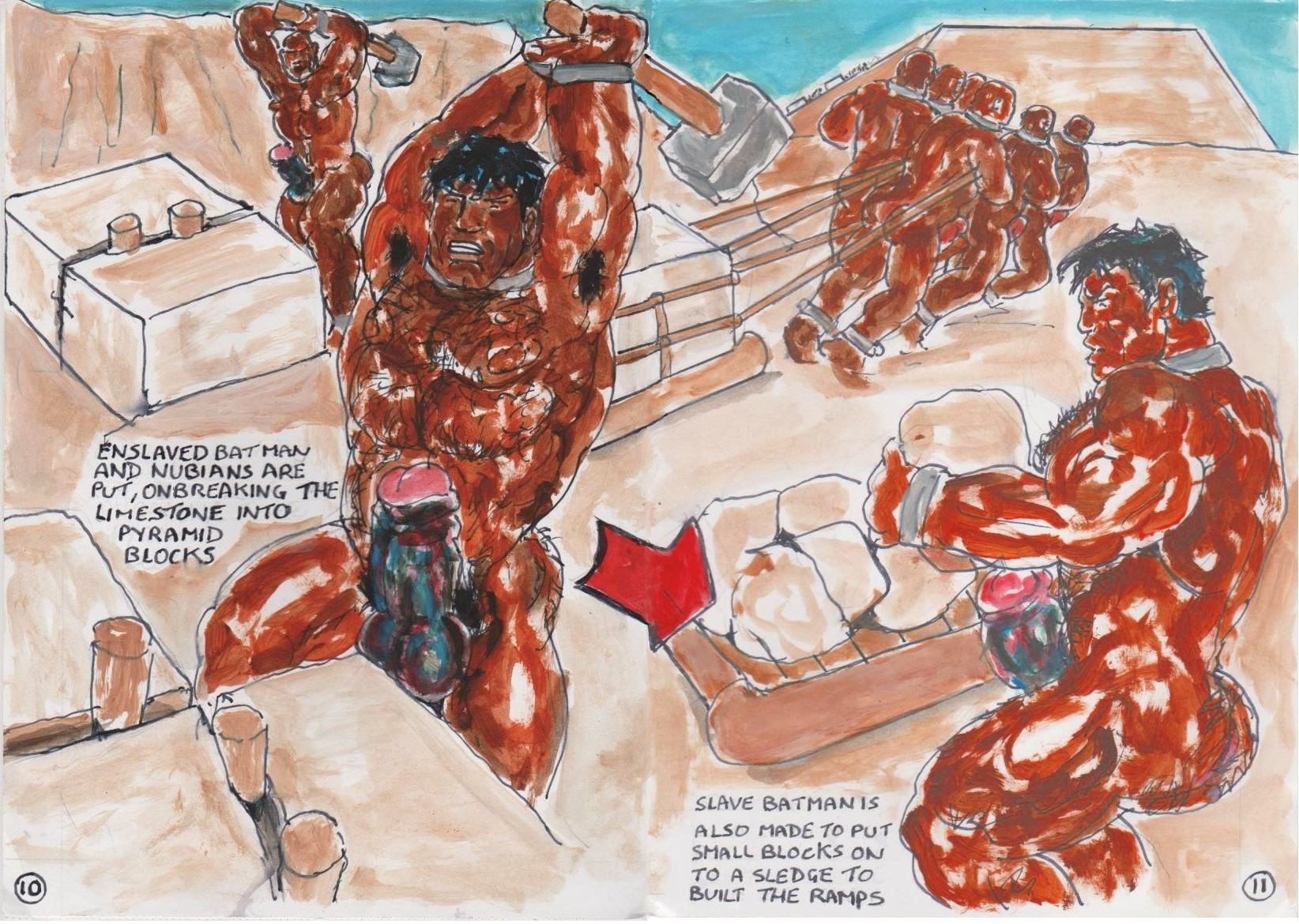 Panoramic images formed by pages 4-5. 10-11
ALL OF THESES DOUBLE PAGES HAVE BEEN MADE INTO PANORAMIC IMAGE FILES,
AND WILL BE SENT WITH COPIES OF THE COMIC BOOK, WHEN ORDERED.
13 BRUCE WAYNE GANGSTER PART 1. BRUCE WAYNE WAS NAKED AND BLEEDING, HIS MEMORY LOST IN A GANG ATTACK. USED AND ABUSED, THE AMNESIAC BRUCE WAYNE, WAS MOULDED INTO A GANG MEMBER. IT HAPPENED AT A PARTY BRUCE WAYNE ATTENDED, IT STARTED WITH A SPIKED DRINK. BRUCE WAYNE WAS AT ONE HIS FAVOURITE CHARITY FUND RAISING PARTIES, FOR BATS ALOUD IN THE BELFRY. THE SPIKED DRINK MADE BRUCE WAYNE DIZZY AND HE STUMBLED TO THE JOHN, WHERE WATER AND GANG MEMBERS, WERE WAITING. BRUCE WAS HIT HARD ON THE HEAD AND DRAGGED OUT OF THE BUILDING. OUT COLD, BRUCE WAS BUNDLED INTO THE BACK OF A VAN. AT THE GANGS HEAD QUARTERS, THE GANG BOSS SAID. "STRIP HIM NAKED AND TIE HIM TO THE TABLE LEGS", THE GANG BOSS ORDERED. "WITH HIS LEGS SPREAD WIDE", HE ADDED. BRUCE WAYNE WAS TIED FACE DOWN, SPREAD EAGLE, ON THE TABLE. WITH BRUCE SECURED TO THE TABLE, THE GANG MEMBERS STRIPPED. BRUCE WAS STILL DAZED FROM THE KNOCK ON THE HEAD. THE THUGS WERE NAKED, HARD AND READY, FOR FUN WITH BRUCE. THEY ALL FUCKED THE BIG HAIRY ARSE, OF THE ONCE MIGHTY BATMAN. THEY ALSO THRUST THEIR COCKS, DEEP INTO HIS THROAT, BRINGING TEARS TO HIS EYES.
BRUCE WAYNE KNELT NAKED AND CHAINED, HIS COCK ERECT IN FRONT OF THE GANG. "WHO AM I?", BRUCE WAYNE ASKED. "HE'S LOST HIS MEMORY", THE GANG BOSS SAID. "YOU ARE A HOMO WHORE, WHO WANTS TO JOIN OUR GANG", THE GANG BOSS TOLD BRUCE WAYNE. "BUT FIRST, YOU HAVE TO BE TRAINED, WITH HARD, DAILY SPANKINGS", HE ADDED. "YES BOSS", BRUCE WAYNE REPLIED. THE BOSS AND THE GANG MEMBERS, TOOK TURNS SPANKING BRUCE WAYNE'S ARSE WITH A WOODEN PADDLE.
WEEKS PASSED. BRUCE WAYNE WAS CONSTANTLY FUCKED AND MADE TO SUCK COCK, UNTIL IT BECAME SECOND NATURE TO HIM. EVEN WHEN HE WAS EATINGN HE WOULD BE FUCKED. BRUCE WAYNE AKA BATMAN, LOST MEMORY DID NOT RETURN. BRUCE WAYNE AKA BATMAN, EVENTUALLY BECAME ONE OF THE GANG AND HE WAS GIVEN GANG CLOTHING, WITH ONE DIFFERENCE. HIS COMBAT TROUSERS, HAD A ZIP AT THE REAR, ALLOWING QUICK ACCESS TO THE OTHER GANG MEMBERS COCKS. HE WAS ALSO GIVEN A NEW NAME, SUGGS. BRUCE WAYNE AKA BATMAN, NOW SUGGS, BECAME A BAD BOY, AS BAD, AS THE OTHER GANGSTER MEMBERS OF THE GANG. THIS WAS THE START OF HIS NEW LIFE, AS BRUCE WAYNE GANGSTER. GREAT PHYSICAL AND SEXUAL ABUSE OF A FALLEN SUPER HERO MANFLESH STYLE. €15
BRUCE WAYNE GANGSTER PART 1 HAS THE SIDE BY SIDE PAGE FEATURE, THAT CREATES PANORAMIC IMAGES. BRUCE WAYNE GANGSTER PART 1 HAS 4 SETS OF DOUBLE PAGES, THAT CREATE PANORAMIC IMAGES. THEY ARE PAGES 4 AND 5, 6 AND 7, 8 AND 9, 10 AND 11
PAGES 4 AND 5 FEATURES BRUCE WAYNE BEING STRIPPED AT THE GANGS HEAD QUARTERS AND TIED NAKED TO A TABLE TOP, TO BE FUCKED BY THE GANG AND MADE TO SUCK THE GANGS COCKS
PAGES 6 AND 7 FEATURES BRUCE WAYNE BEING FUCKED BY THE GANG MEMBERS AND SUCKING THEIR COCKS.
PAGES 8 AND 9 FEATURES BRUCE WAYNE WONDERING WHO HE WAS, AS HE HAD LOST HIS MEMORY. THE GANG BOSS TOLD HIM HE WAS A HOMO WHORE, WHO WANTED TO JOIN THEIR GANG. FIRST HE WOULD BE TRAINED WITH DAILY SPANKINGS.
PAGES 10 AND 11 FEATURES BRUCE WAYNE'S SPANKING TRAINING. BEING SPANKED BY THE BOSS AND OTHER GANG MEMBERS, UNTIL HIS ARSE WAS RED RAW AND HE WAS MADE TO CUM.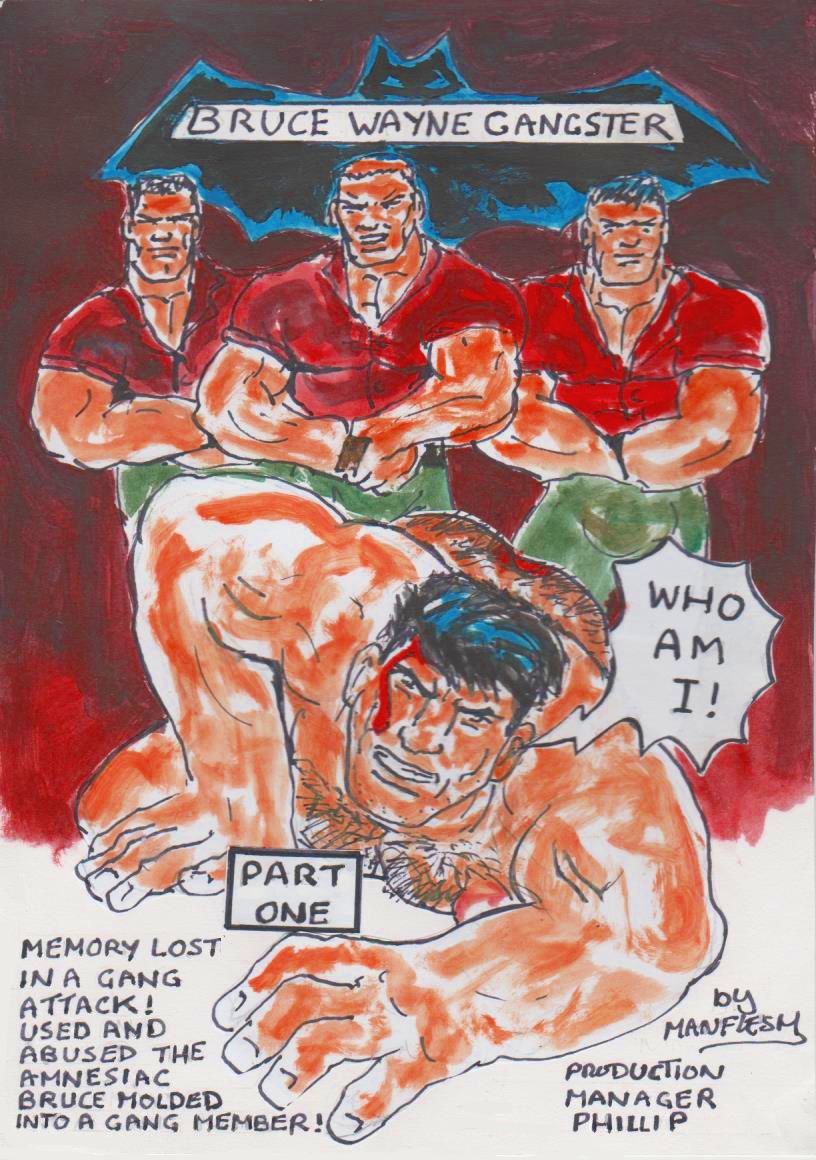 Cover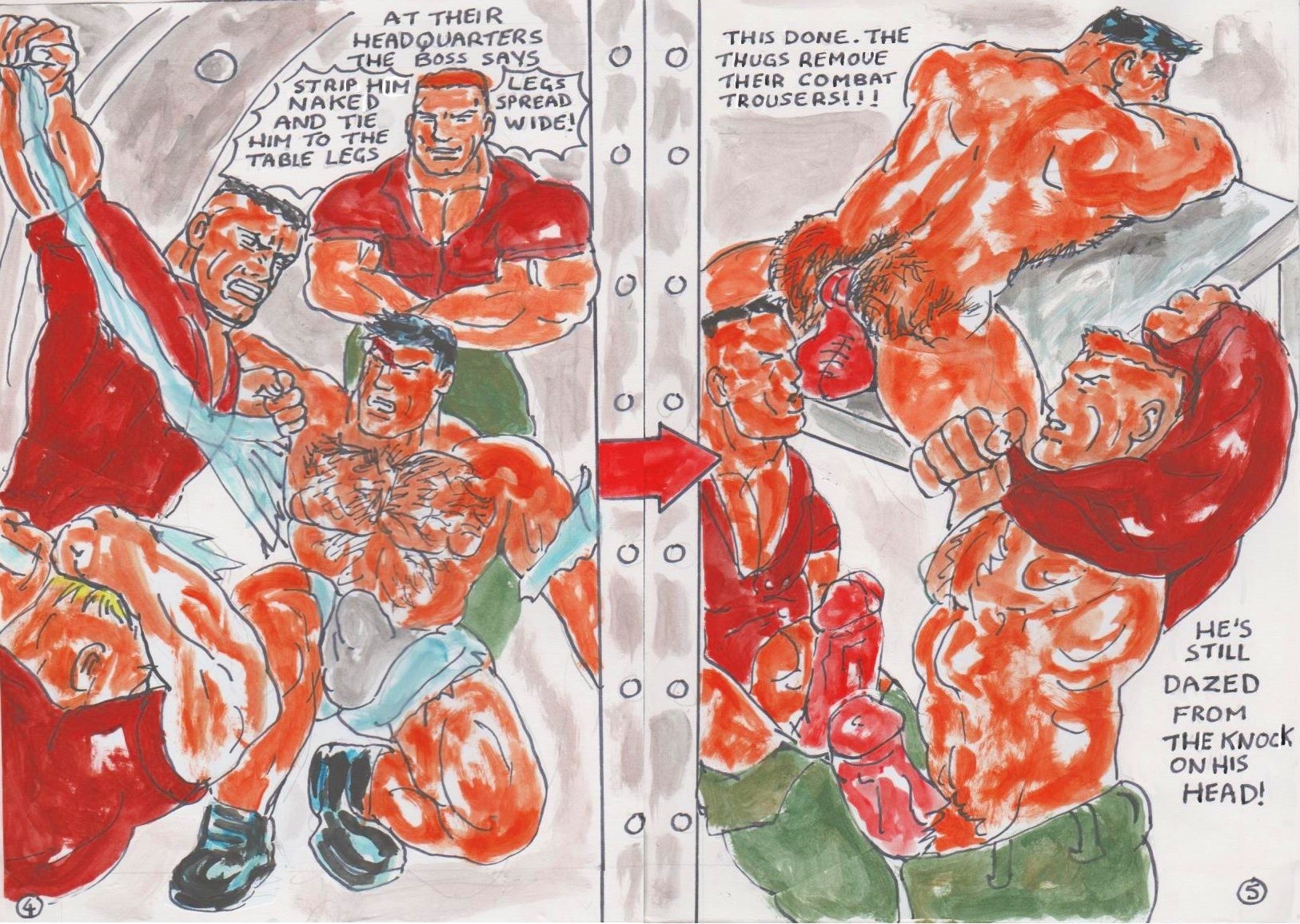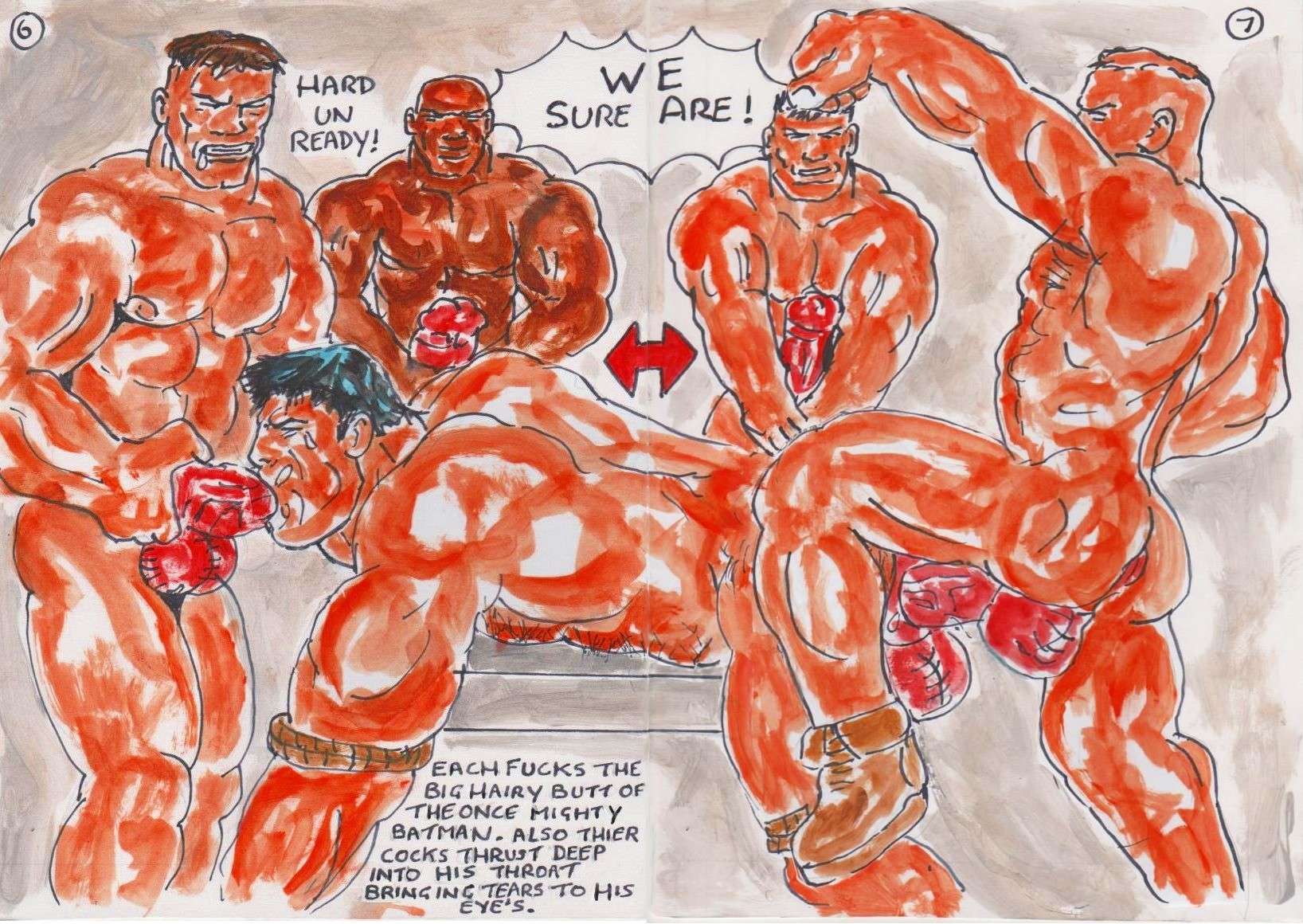 Panoramic images formed by pages 4-5. 6-7
ALL OF THESE DOUBLE PAGES HAVE BEEN MADE INTO PANORAMIC IMAGES, THAT WILL SENT WITH THE COMIC BOOK WHEN ORDERED.