15. SQUIRT. MIXED TEENAGE WRESTLING AND BOXING. TEENAGE BOY GETS PAINFUL AND SEXY COMEUPPANCE. AT THE HANDS OF TOM BOY COUSIN HE USED TO BULLY. €3.00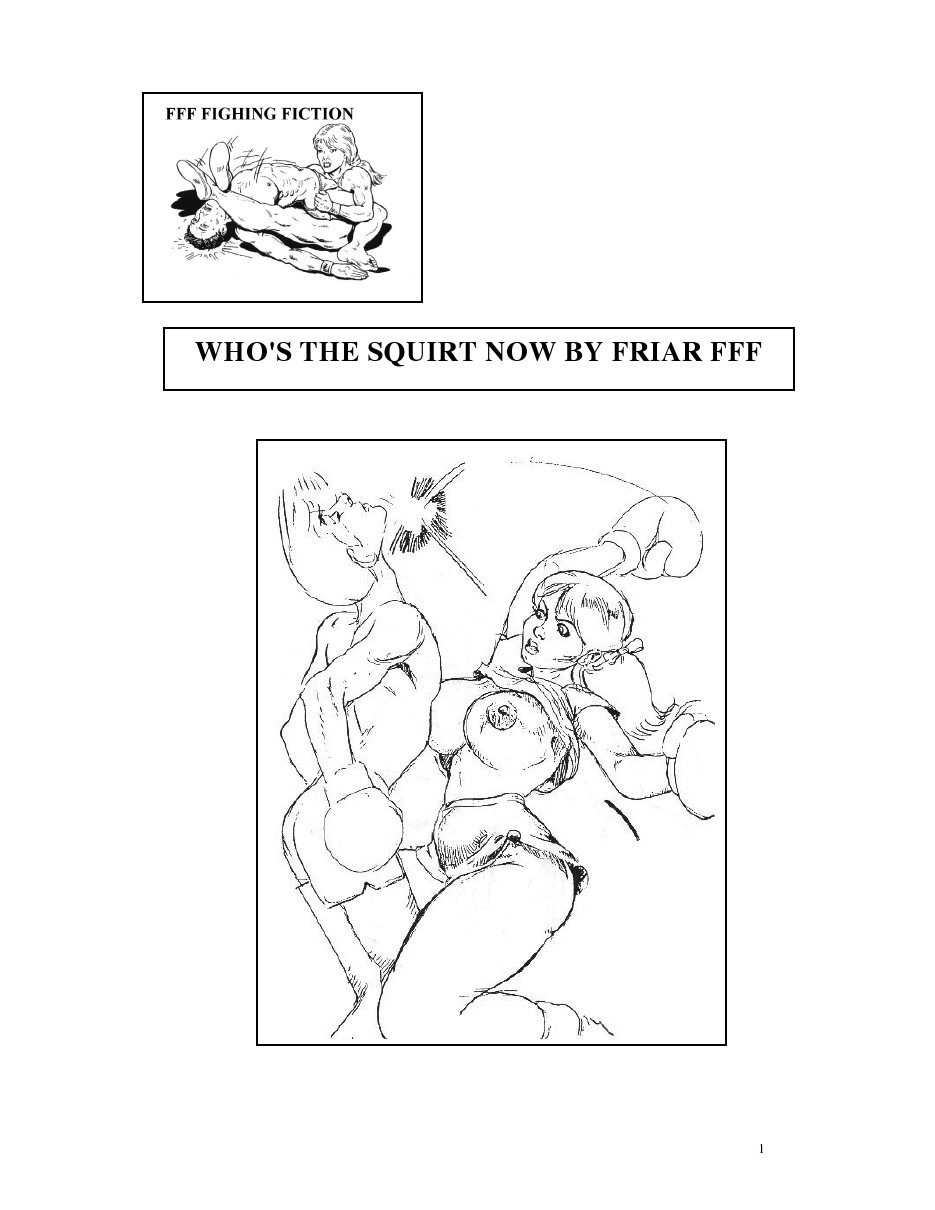 16. UNEXPECTED SURPRISE. TWO HUSBANDS ARE TRICKED INTO WRESTLING EACH OTHER BY THEIR WIVES AFTER WATCHING THEIR WIVES WRESTLE. €2.00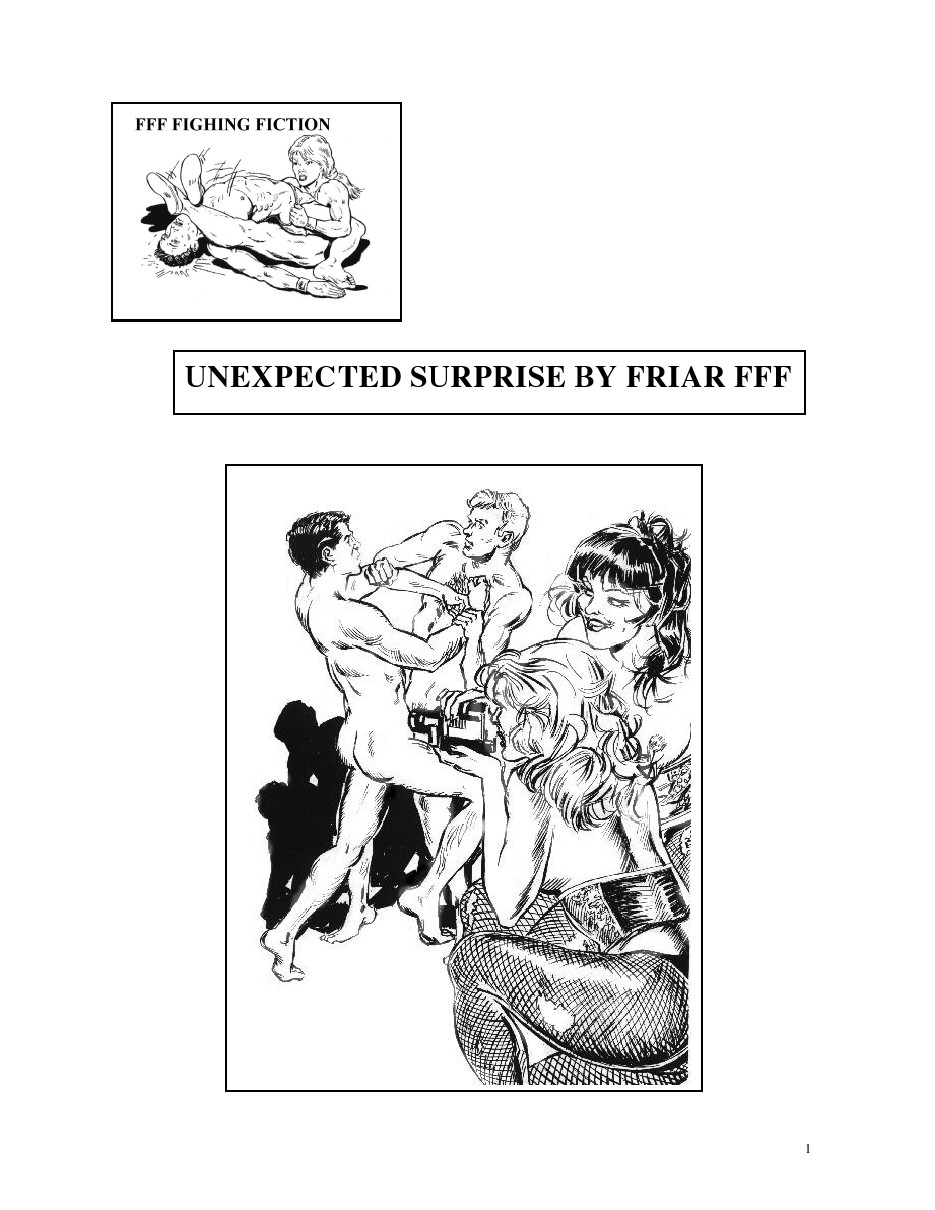 17. SHADOWS OF THE PAST PART 4. MORE VIOLENT BOXING AND KICK BOXING ACTION. JEFF GETS DOUBLE BEATING AT THE HANDS OF SAMANTHA AND JENNY. €4.50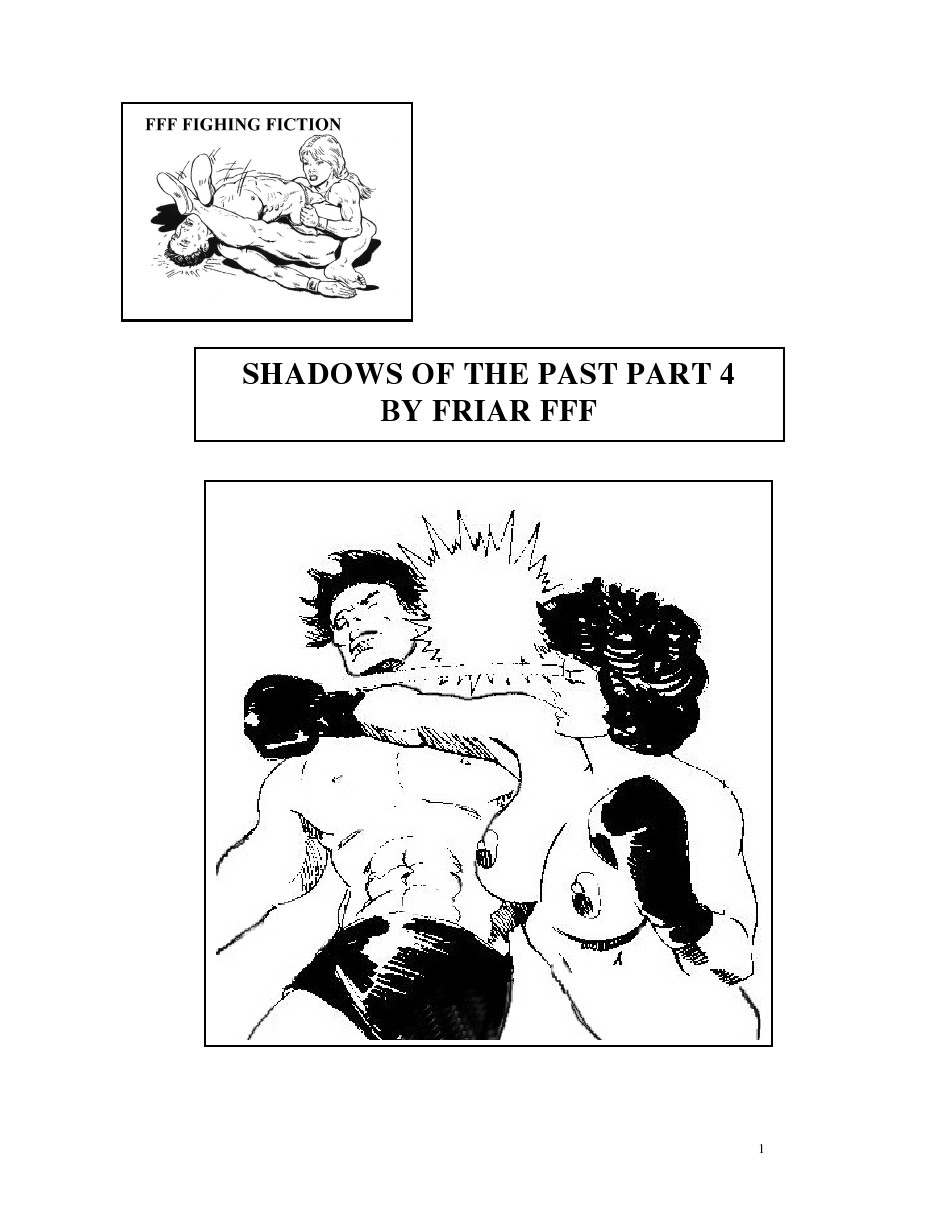 18. CATFITE PART 2. THE GIRLS MAKE THE BOYS FIGHT AGAIN. THEN DECIDE TO TRAIN TO FIGHT A MARATHON BATTLE. MIXED AND MALE ACTION. €4.50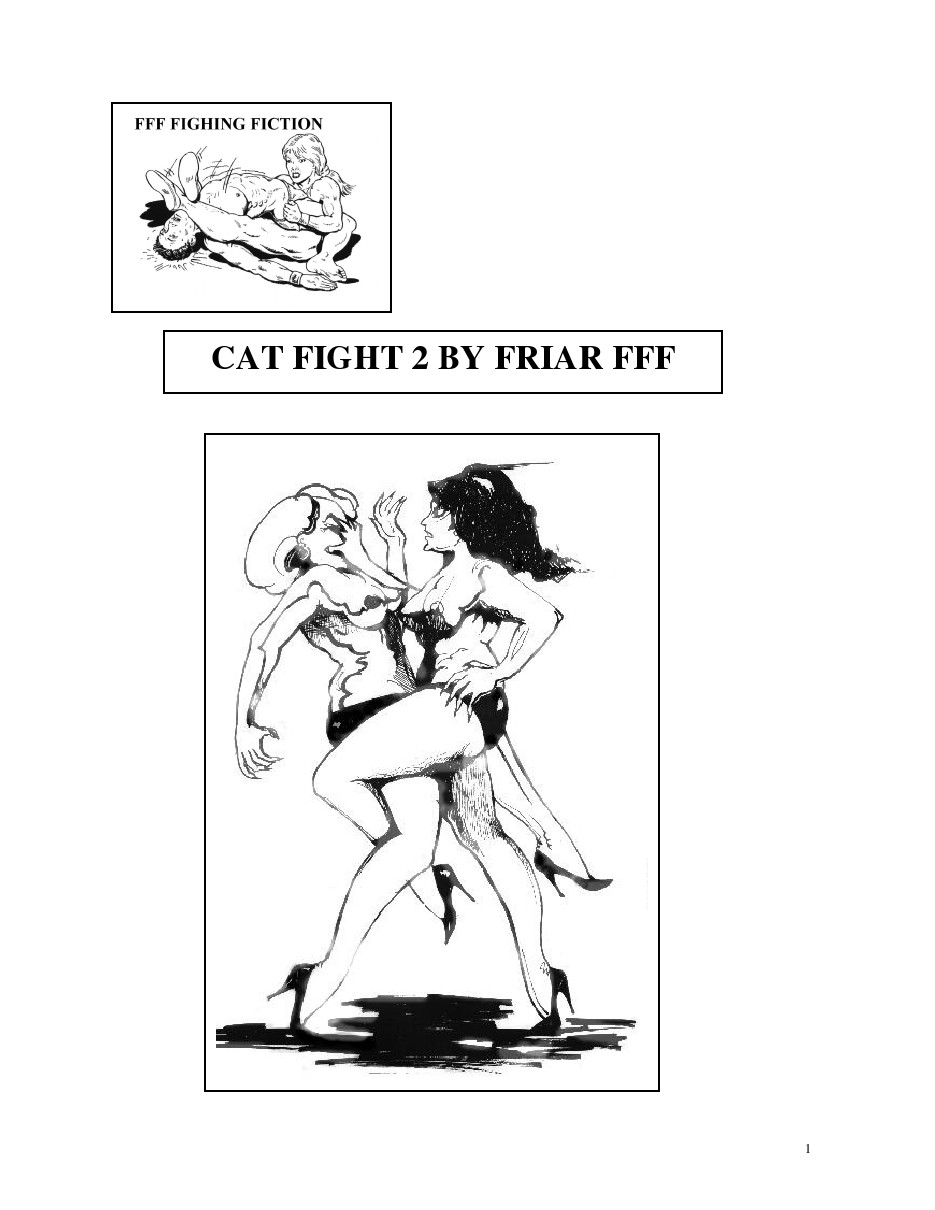 19. CATFITE PART 3. WITH THE LONG HARD TRAINING OVER THE EPIC FEMALE BATTLE BEGINS. LONG HARD SEXY FEMALE FIGHT WITH THE LOSER FORCED TO ORGASM. MIXED AND FEMALE ACTION. €4.50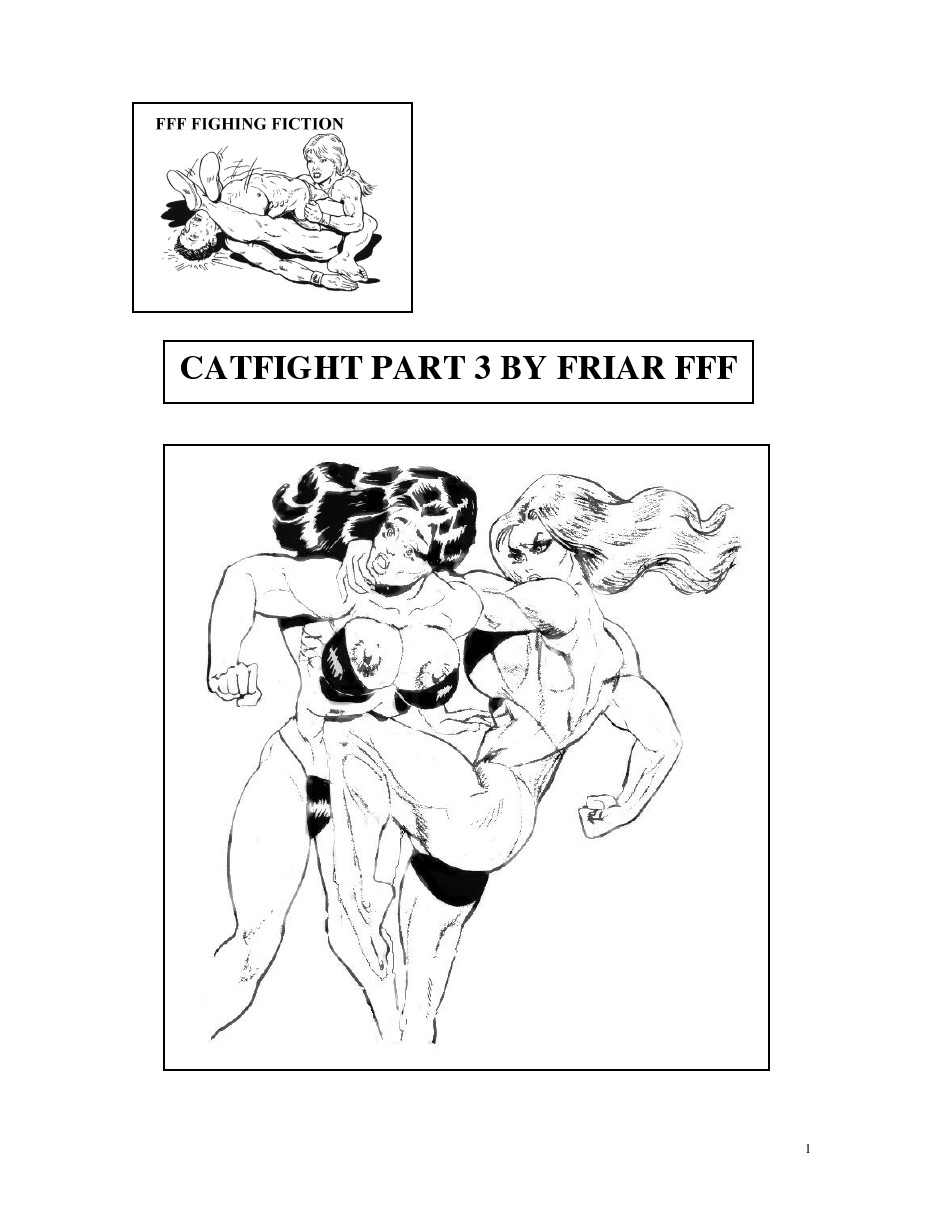 20. MEXICAN MAELSTROM PART 1. THE ADVENTURES OF AN ENGLISH TOURIST IN MEXICO. MALE TOURIST IS KIDNAPPED AND FORCED TO FIGHT MEXICAN GUY AND HIS VIOLENT GIRL FRIEND. MIXED AND MALE ACTION WITH LOST OF PHYSICAL AND SEXUAL ABUSE. €3.50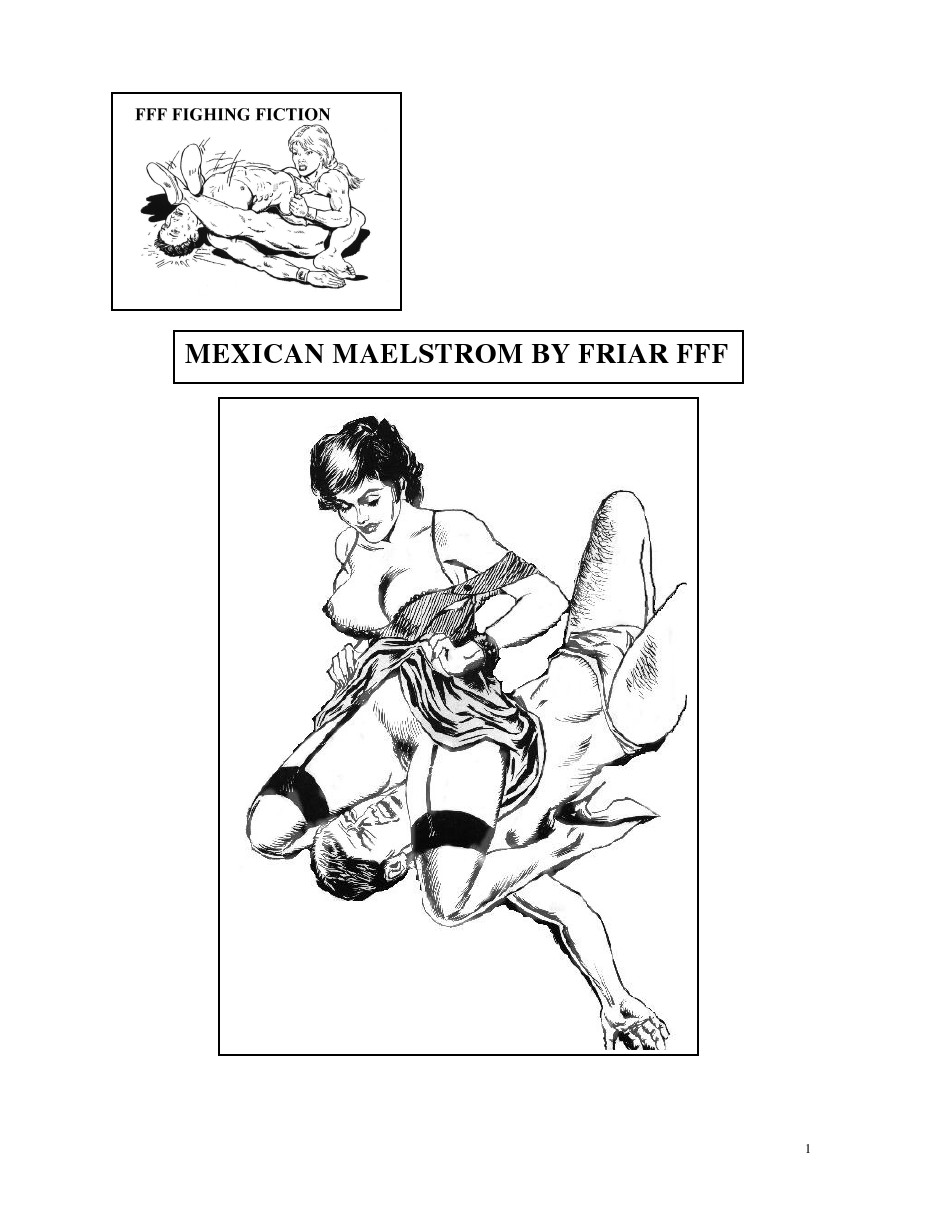 21. DAY TRIP TO ADVERSITY. TWO ENGLISH SCHOOL GIRLS AND THEIR OLDER BROTHER ARE ATTACKED BY TWO GYPSY GIRLS O A DAY TRIP INTO YUGOSLAVIA. GOOD FEMALE V FEMALE ACTION PLUS MIXED FIGHTING. THE THREE TEENAGERS ARE ROBBED AND STRIPPED BY THE GYPSY GIRLS. €4.00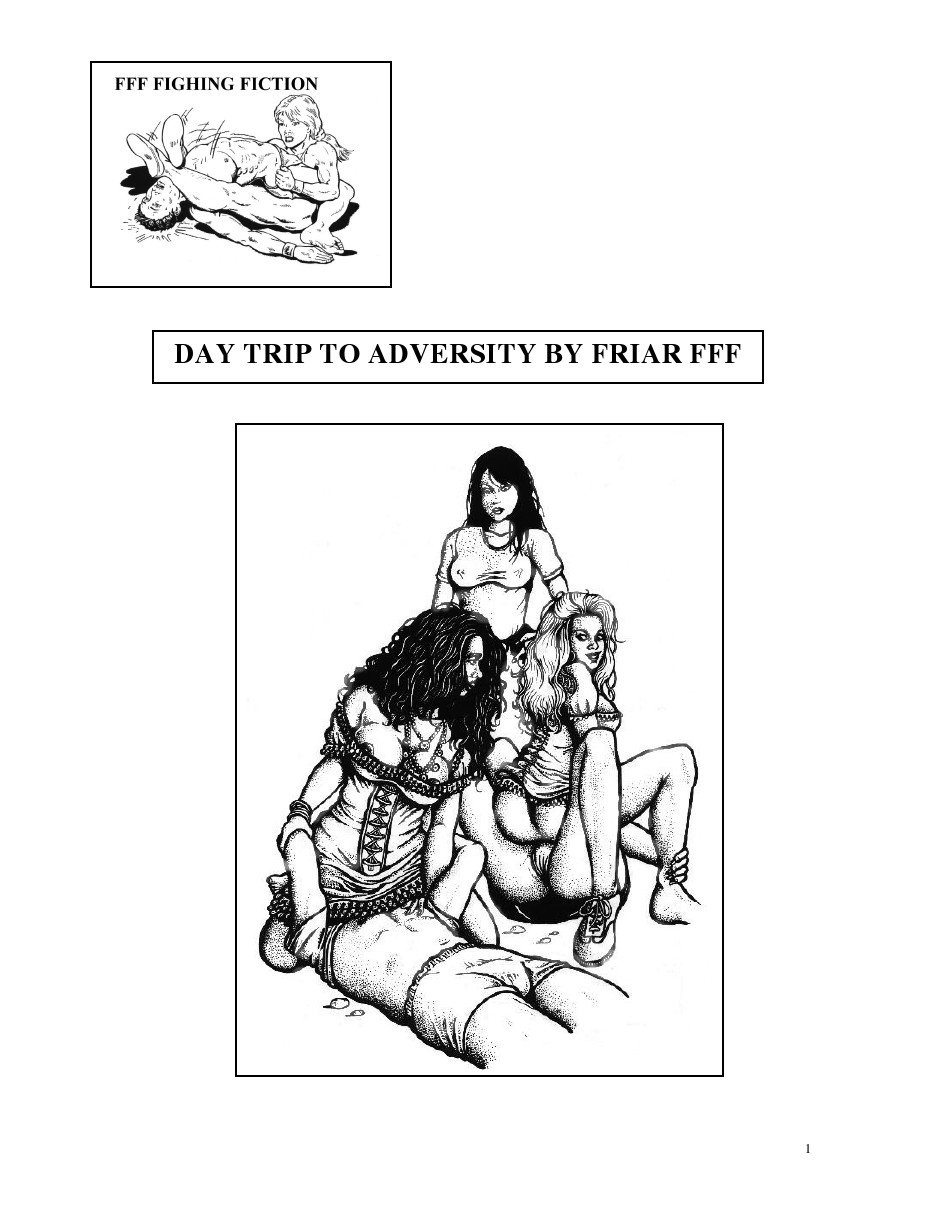 22. SHADOWS OF THE PAST PART 5. THE TOUGH SEXY WRESTLING, BOXING AND KICK BOXING ACTION CONTINUES. SAMANTHA, JENNY AND GARY TAKE A TRIP TO WAYNE AND RICHARD'S COUNTRY HOUSE. THEY TAKE ON THE TWO BROTHERS AND THEIR GIRL FRIENDS. GOOD HARD SEXY FEMALE AND MIXED ACTION. €4.00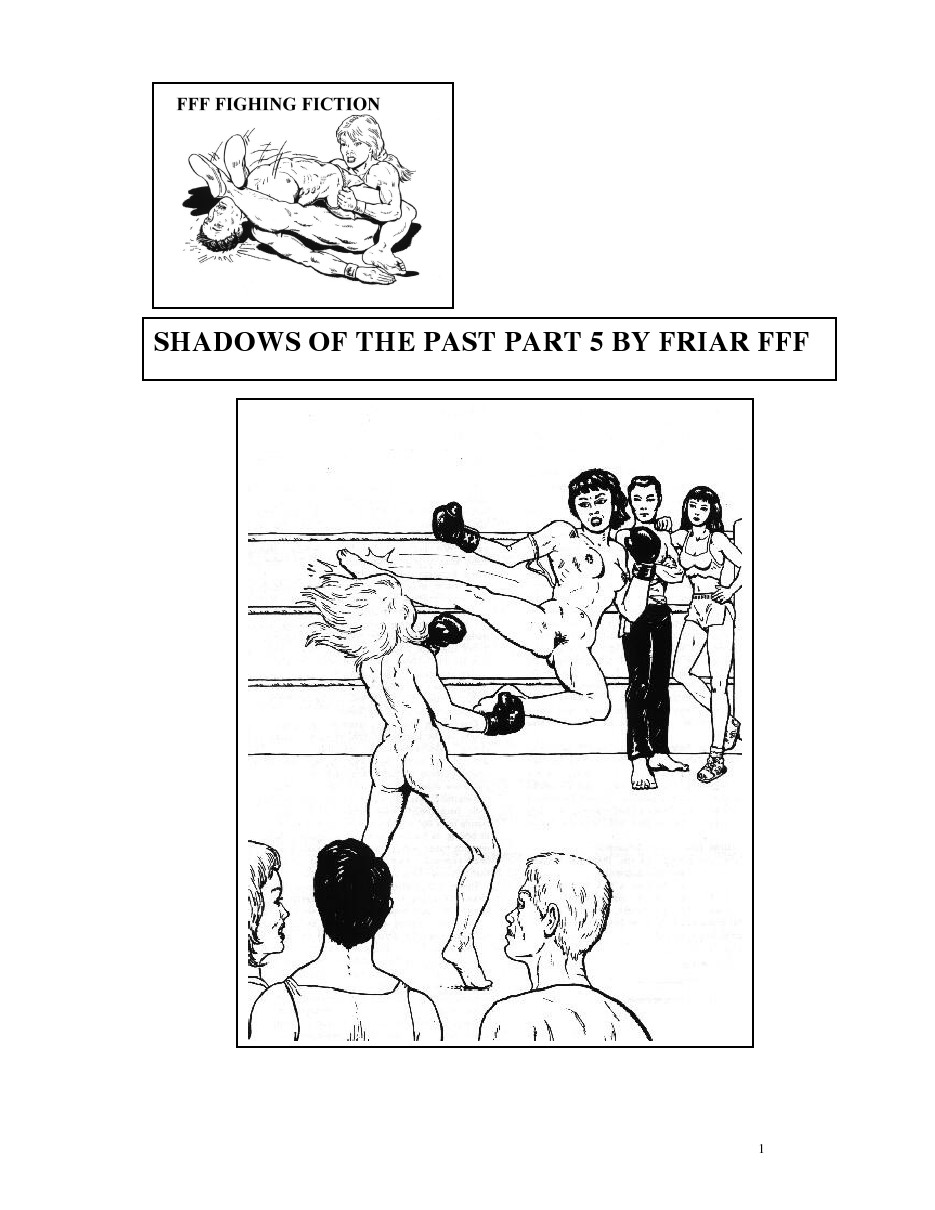 23. DUPED MALE PART 2. RICHARD SUFFERS MUCH MORE ABUSE AT THE HANDS OF JUDY AND GEMMA. TOUGH VIOLENT AND SEXY MIXED ACTION. AS THE SINGLE MALE SUFFERS AT THE HANDS OF TWO TOUGH SEXY FEMALES. €3.50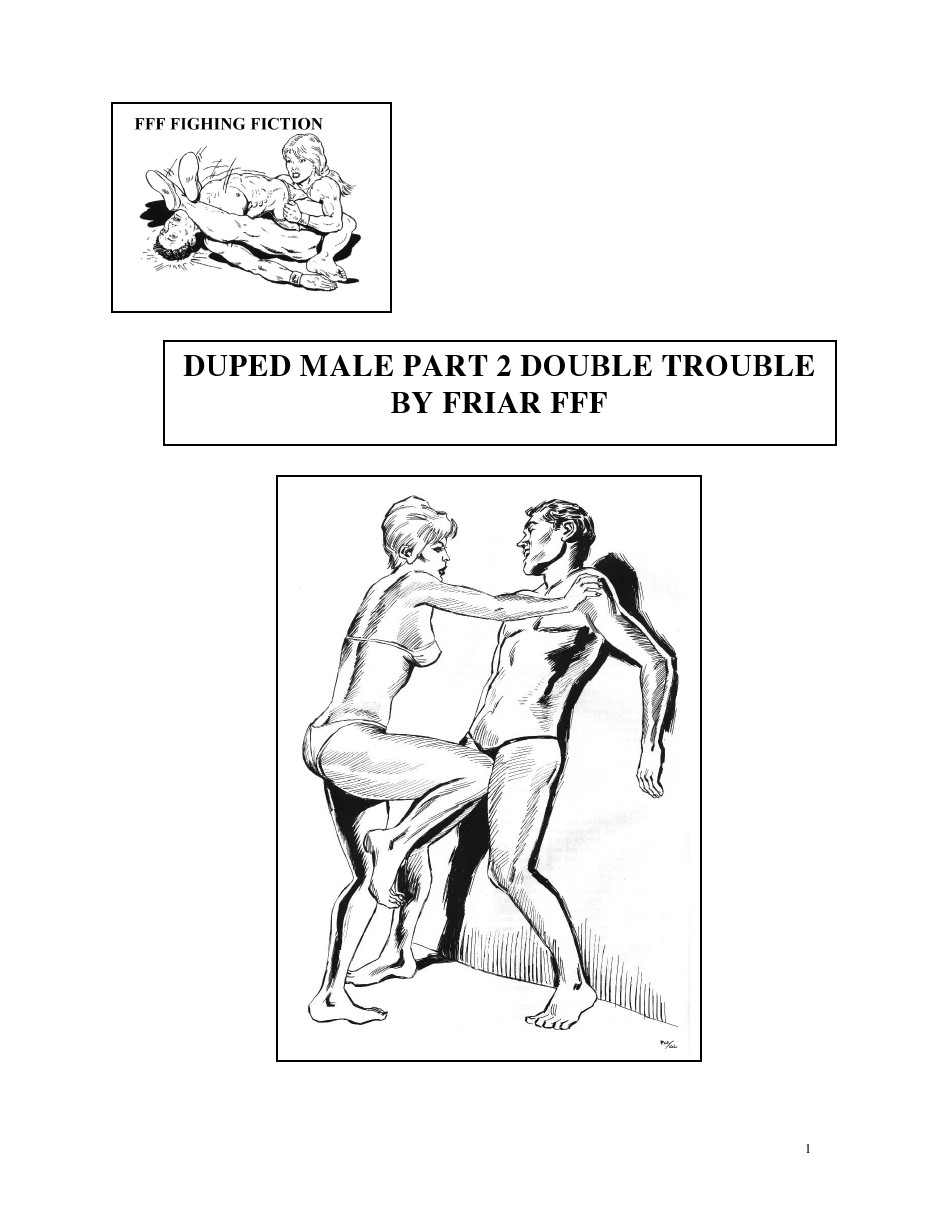 24. CHALLENGE ACCEPTED PART 1. WRESTLING CORRESPONDENCE BETWEEN TWO MALE WRESTLERS LEADS TO A CHALLENGE BEING ISSUED AND ACCEPTED. THE GUYS MEET AND HAVE A HARD EXCITING GRAPHIC BATTLE. HARD MALE ACTION IN LONG TOUGH SEXY COCK FIGHT. €5.00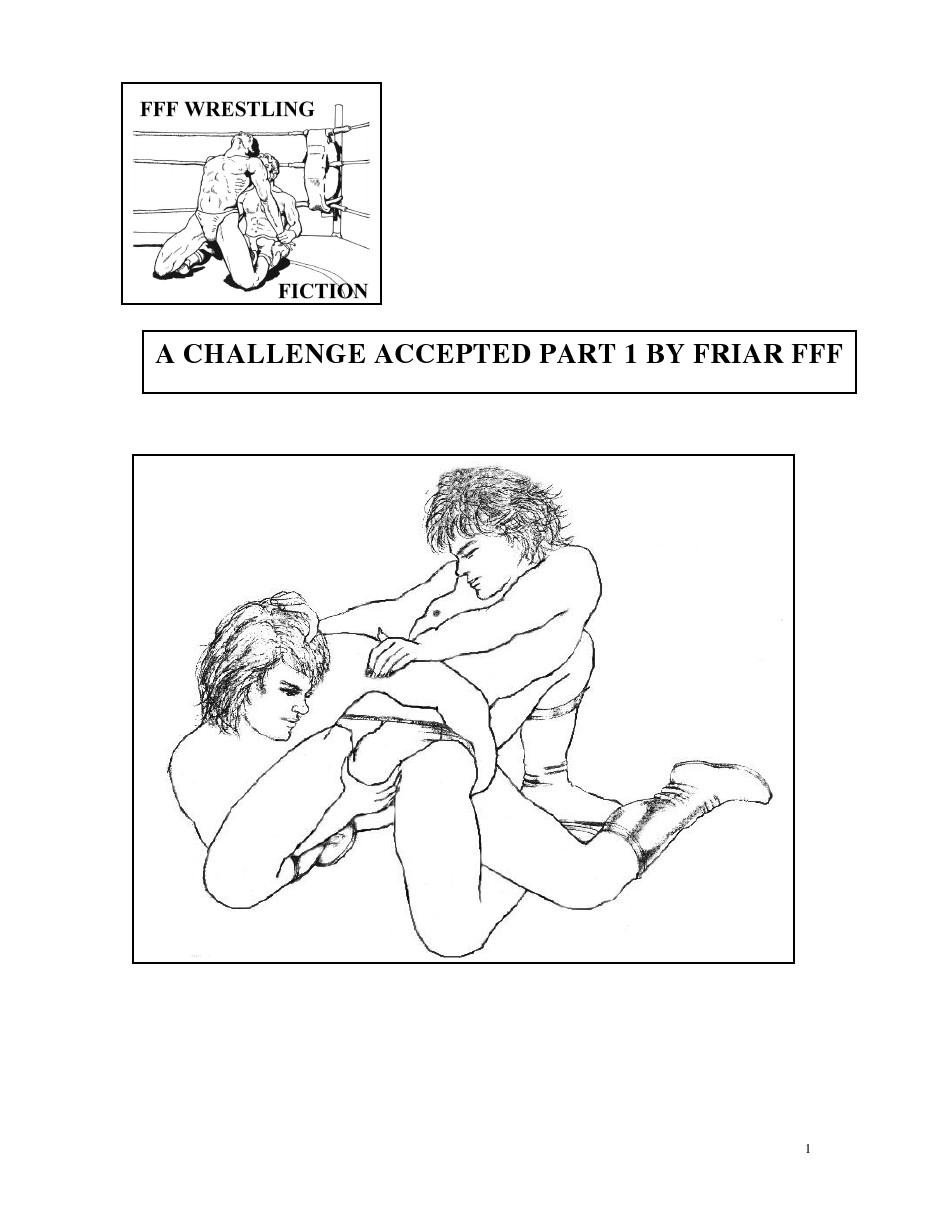 25. CHALLENGE ACCEPTED PART 2. THE TWO MALE WRESTLERS SUFFER AT THE HANDS OF THEIR GIRL FRIENDS OUCH! THEY THEN MEET AGAIN FOR ANOTHER HARD AND HORNY COCK FIGHT. WHERE THEY ARRANGE FOR THEIR GIRL FRIENDS TO HAVE A MATCH. €5.00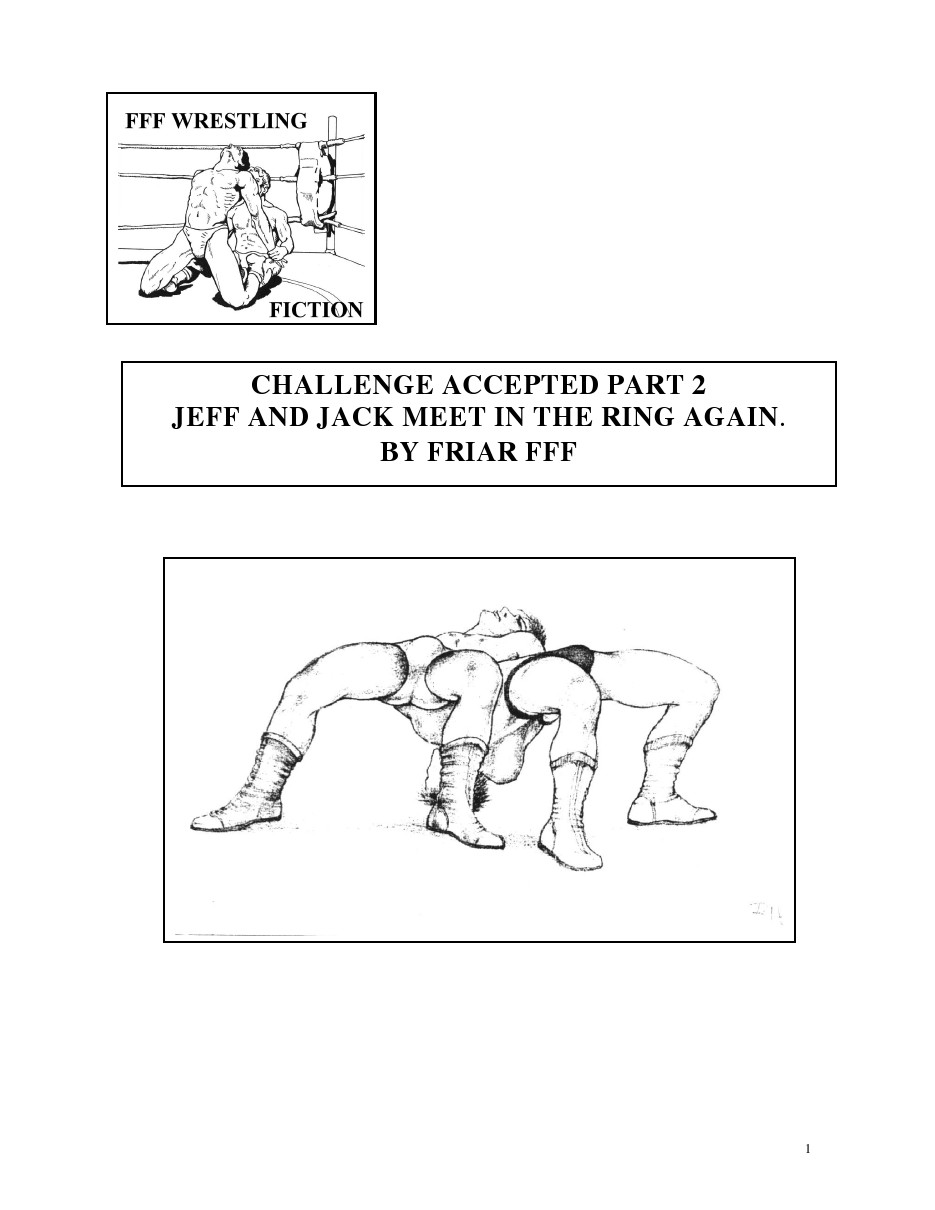 26. CHALLENGE ACCEPTED PART 3. THE TWO COUPLES COME TOGETHER FOR SOME VERY TOUGH SEXY ACTION. EXCITING MIXED, FEMALE AND MALE ACTION. STUNNING COCK AND CAT FIGHTS SEX WRESTLING AT ITS BEST. YOU WILL ENJOY READING THIS STORY AS THESE FOUR SEXY WRESTLERS TEAR EACH OTHER APART. €5.00


 
27. THE THREE AGES OF A DOMINANT WOMAN. PART 1 THE AWAKENING. A YOUNG TEENAGE GIRL WITNESSES HER PARENTS FIGHTING NAKED IN THE BASEMENT OF HER HOUSE. SHE SEES HER MOTHER BEAT AND DOMINATE HER FATHER. THAT EXPERIENCE CHANGES THE GIRLS LIFE FOREVER. SHE DECIDES TO BE LIKE HER MOTHER AND DOMINATE THE MALES IN HER LIFE FROM THEN ON. THE GIRL STARTS WITH HER YOUNGER BROTHER. TOUGH MIXED ACTION WITH PHYSICAL AND SEXUAL ABUSE OF THE MALE. €4.00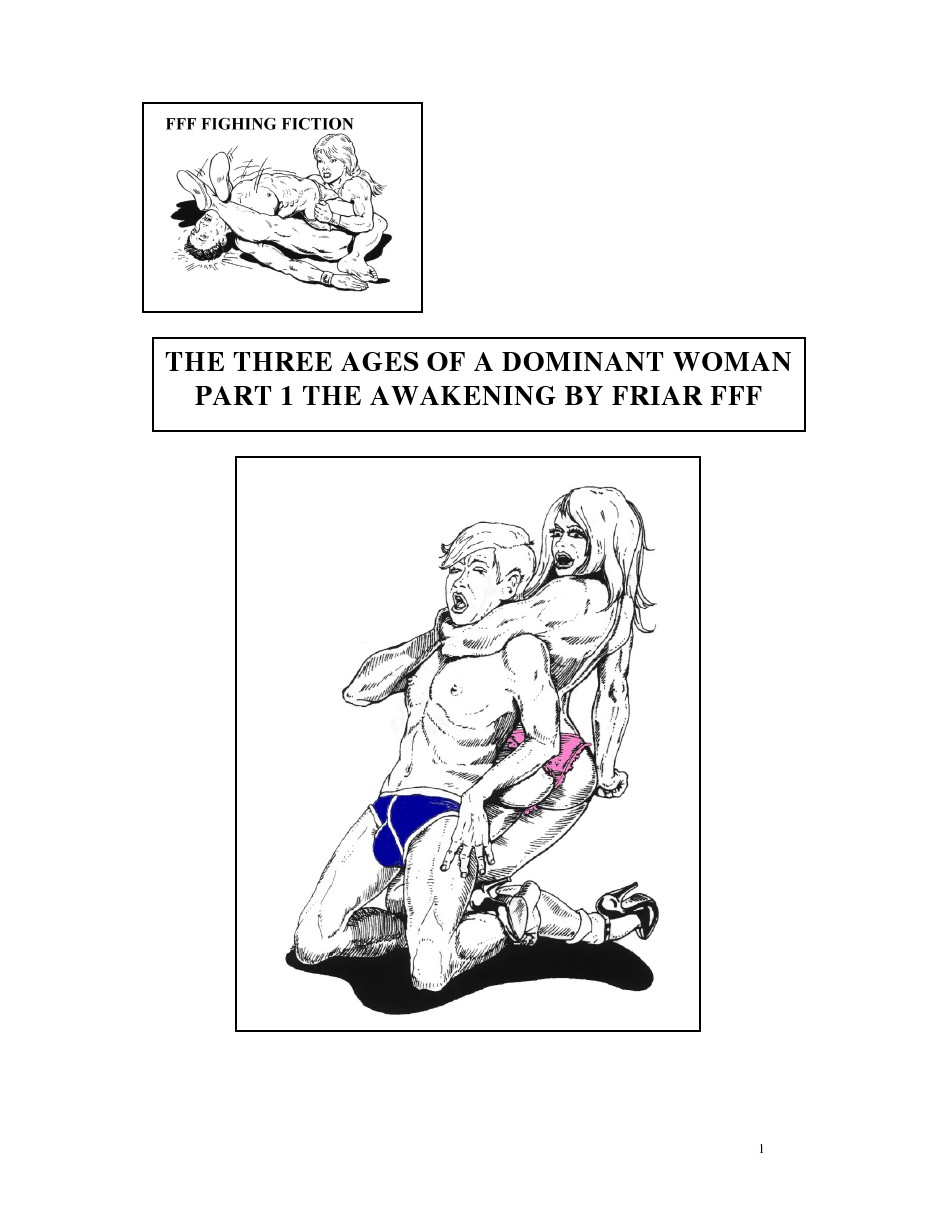 28. THE THREE AGES OF A DOMINANT WOMAN PART 2. THE COMING OF AGE. AN OLDER AND MORE CAPABLE TEENAGER GIRL NOW FIGHTS AND BEATS BOYS AT HER SCHOOL. TOGETHER WITH OTHER GIRLS SHE FORMS A GIRLS FIGHTING CLUB. THE NEW CLUB MEMBERS BEAT AND INTIMIDATE THE BOYS AT THEIR SCHOOL. GRAPHIC MIXED ACTION WITH THE BOYS BEING HUMILIATED PHYSICALLY AND SEXUALLY. €4.00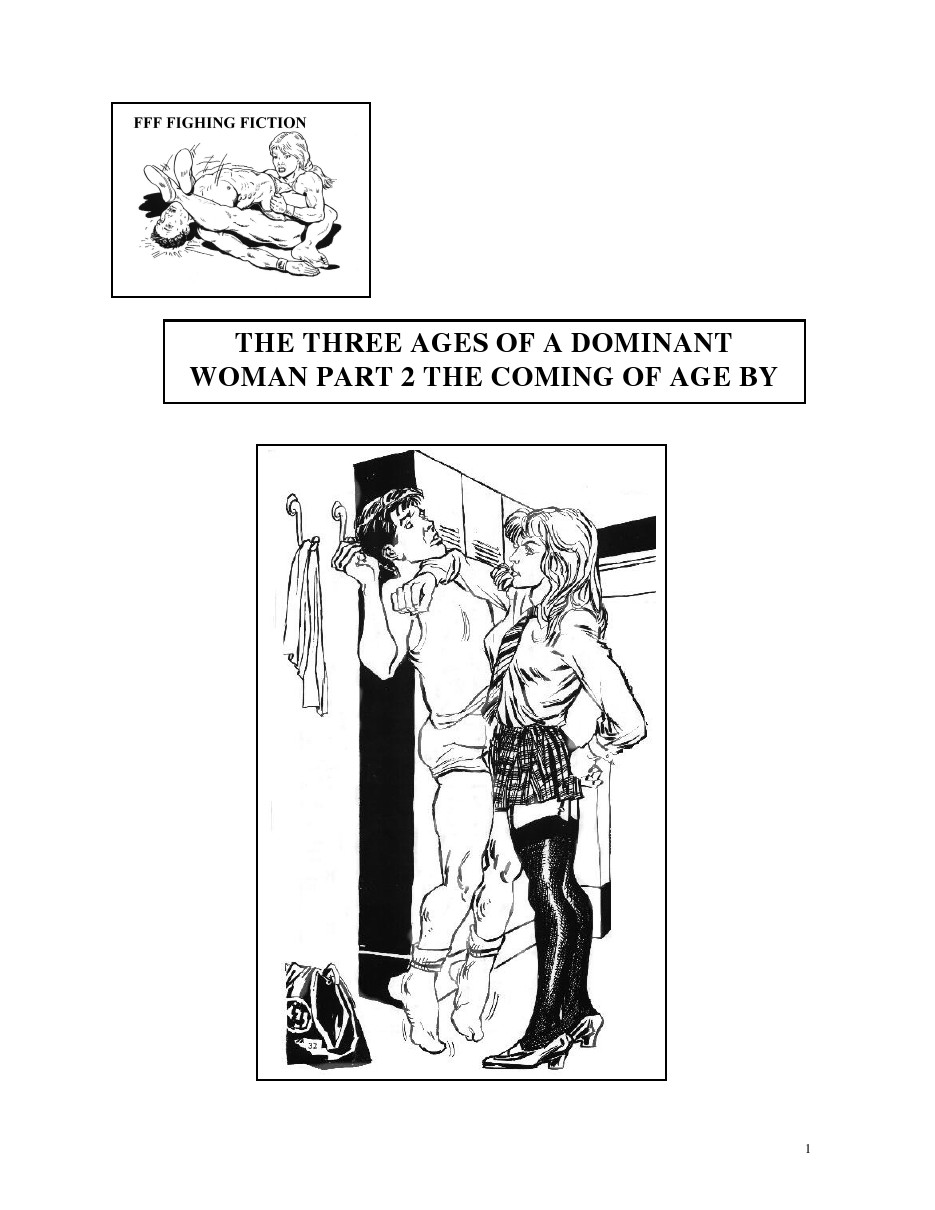 29. THE THREE AGES OF A DOMINANT PART 3. MASTERY. MELISSA NOW EIGHTEEN FINDS HER HUSBAND, ENSNARES AND MARRIES HIM. ENJOY THE SLOW DELIBERATE SEDUCTION OF DALE MELISSA'S HUSBAND AS SHE SLOWLY DOMINATES HIM. IT CONCLUDES AFTER A TORRID AFFAIR IN A BATTLE OF THE SEXES IN THE BASEMENT OF THEIR NEW HOME. READ HOW MELISSA ACHIEVES MASTERY OVER DALE. HARD MIXED ACTION WITH THE FEMALE IN THE DOMINANT ROLE. €4.00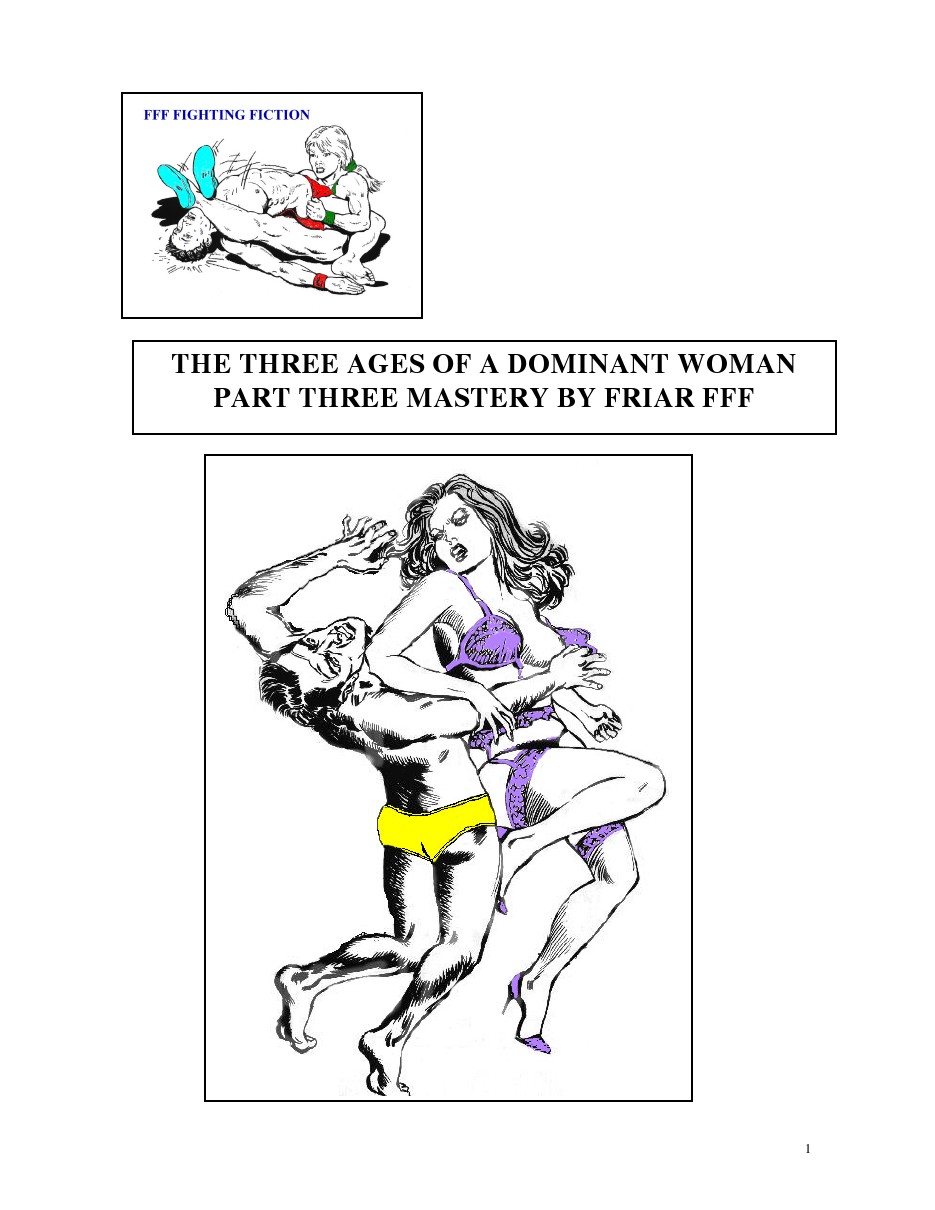 30. EXTRACTS FROM THE DIARY OF AN AMERICAN BUSINESS MAN. AN AMERICAN BUSINESS MAN RECALLS HIS TIME IN LONDON AS A TEENAGE IN THE 1970'S. HOW HE WRESTLED WITH OLDER WOMEN AND A GIRL HIS OWN AGE. MIXED WRESTLING WITH EQUAL GIVE AND TAKE ACTION. €4.50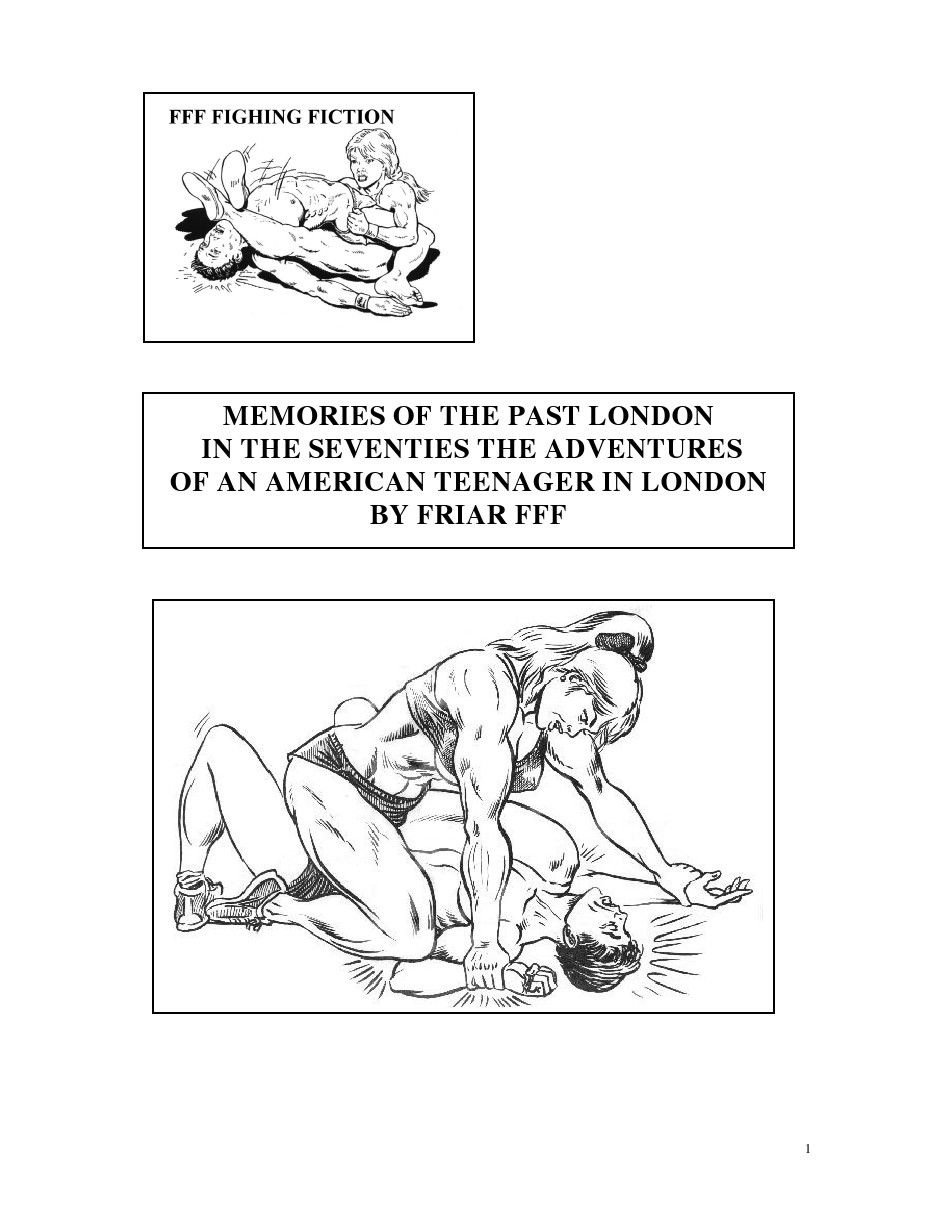 31. WHEN PAST THOUGHTS SPRING TO MIND. THE EXPLOITS OF A TEENAGE AMERICAN WRESTLER IN LONDON. THE EXPLOITS OF THIS TEENAGE WRESTLER AS HE GROWS UP IN LONDON. MIXED WRESTLING ACTION AS HE WRESTLES WITH A VARIETY OF GIRLS AND OLDER WOMEN. LIGHT SEXY MIXED WRESTLING ACTION. €5.00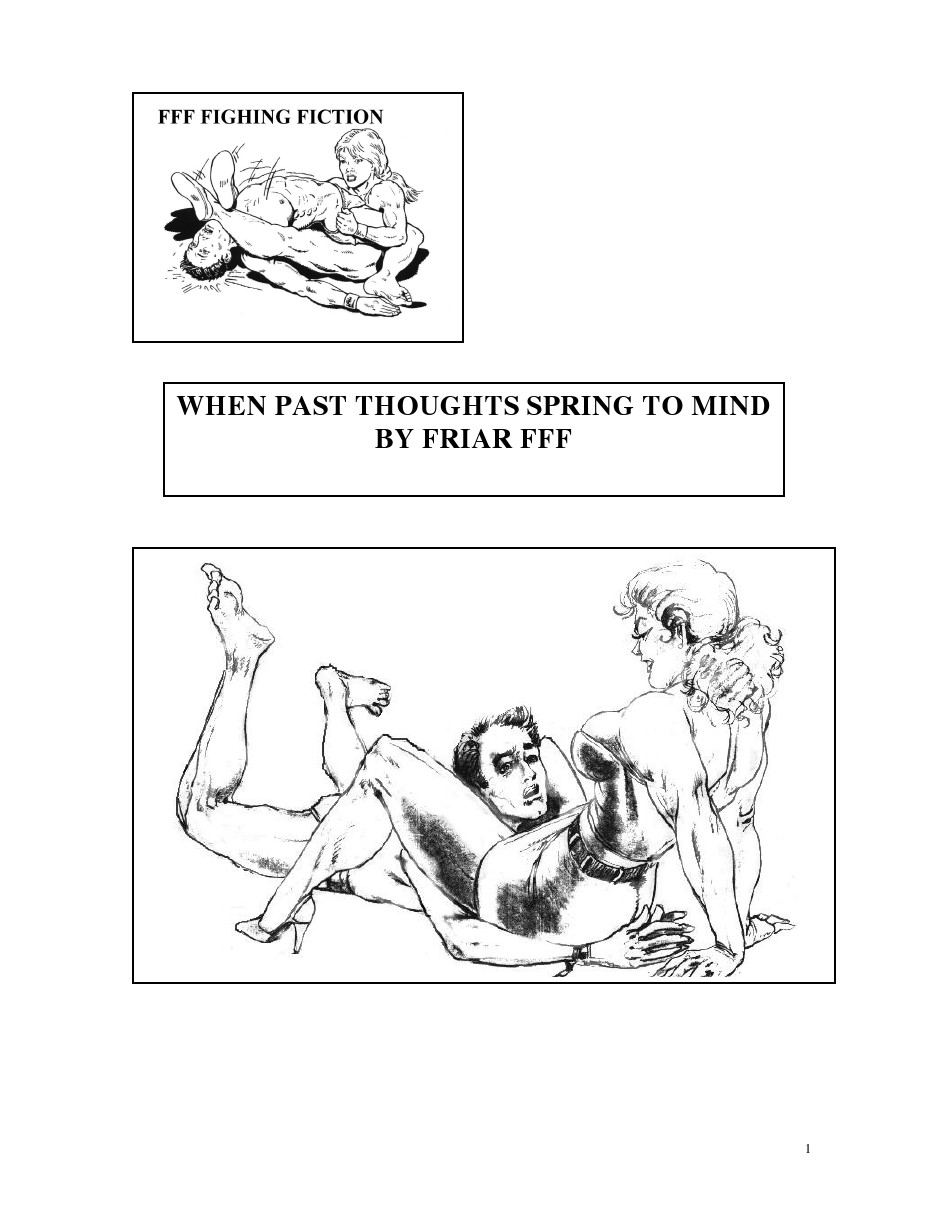 32. MALLORCAN ESCAPADES PART THREE. READ ABOUT WHAT HAPPENS TWO OUR WRESTLING FOUR SOME WHEN THEY MEET TO SPANISH SISTERS AND THEIR BOTHER WHO LIVE IN THE NEXT VILLA. LOTS OF MIXED FEMALE AND MALE ACTION. SEXY GRAPHIC WRESTLING AT ITS BEST. €5.00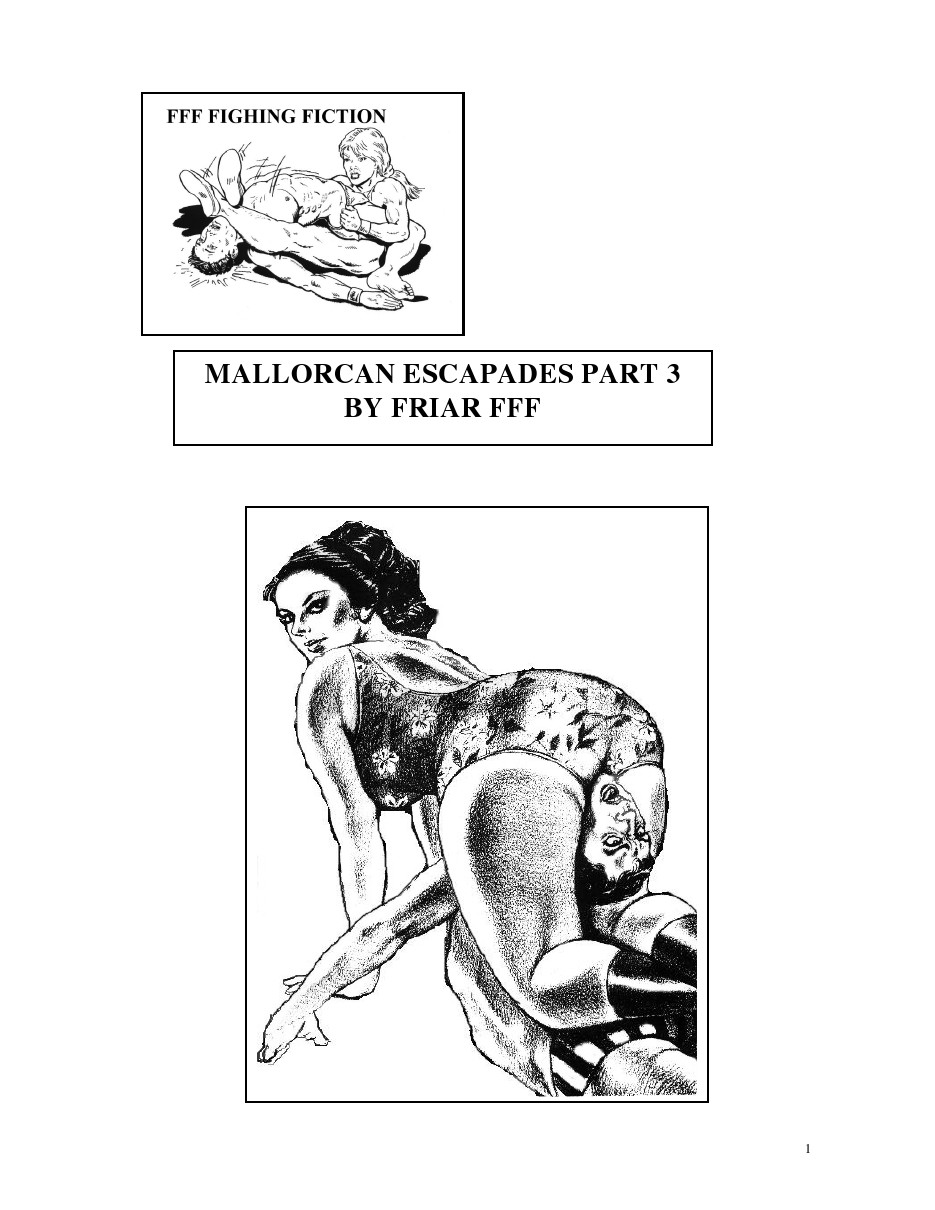 33 BALEARIC BATTLES. A CATFITE ENTHUSIAST AND HIS FRIEND GO ON HOLIDAY TO MALLORCA. THEY MEET FOUR GIRLS TWO FROM MANCHESTER AND TWO FROM LONDON. THE WITNESS A SERIES OF CATFITES BETWEEN THE NORTHERN AND SOUTHERN GIRLS. THEY ALSO SEE THE NORTHERN GIRLS WRESTLE AND DOMINATE A YOUNG BLOND GUY. THEY END THEIR PERFECT HOLIDAY WRESTLING BOTH NORTHERN GIRLS. GOOD TOUGH AND SEXY CATFIGHTING ACTION, ALSO GOOD MIXED ACTION WITH THE GUYS BEING WORKED OVER BY THE TWO NORTHERN
GIRLS. €5.00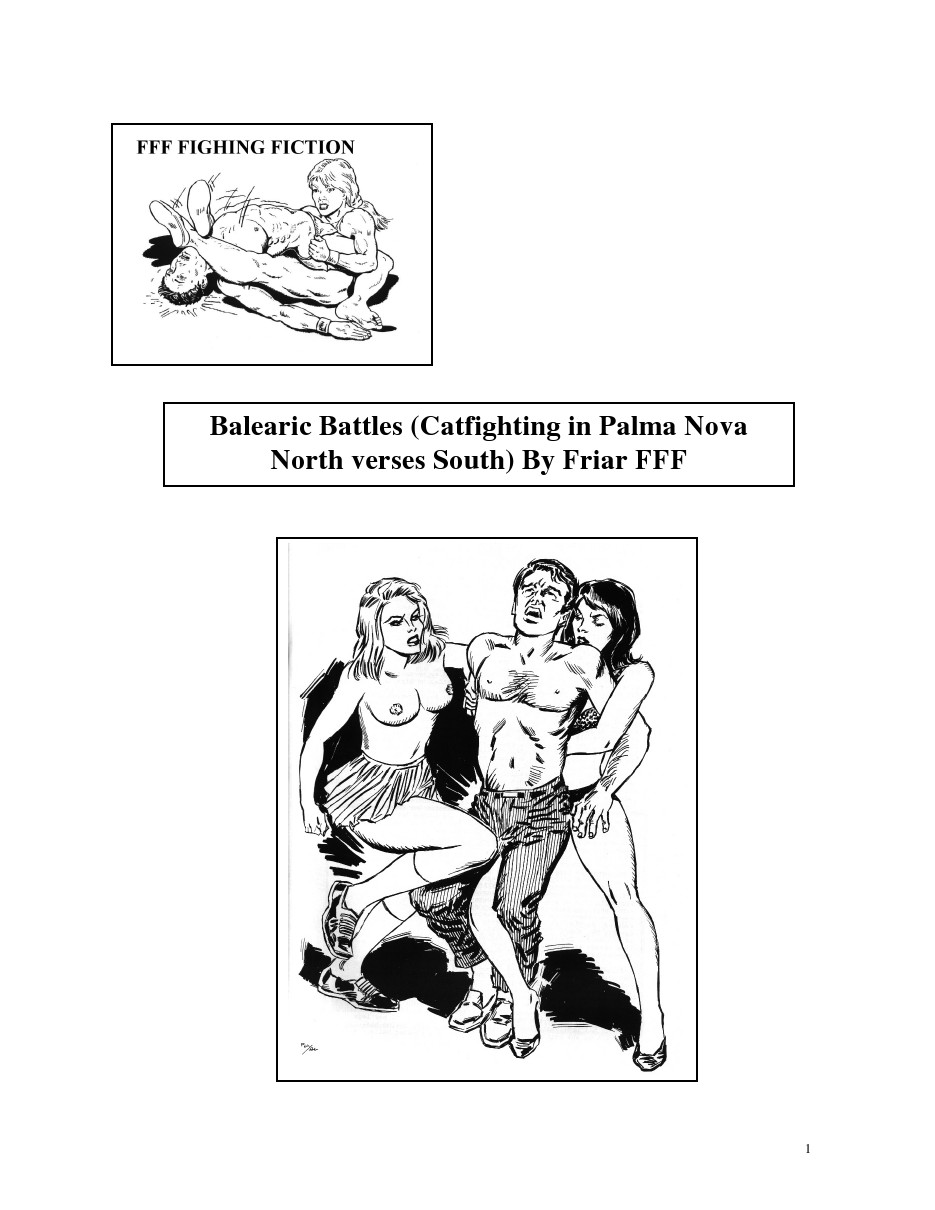 34. BOYS WRESTLING TEAM V THE GIRLS WRESTLING TEAM. (BATTLE OF THE SEXES TEEN STYLE). ST MARYS HIGH SCHOOL BOYS AND GIRLS WRESTLING TEAMS ARE GIVEN AN ULTIMATUM THAT ONE OF THE TEAMS MUST DISBAND. THE TWO TEAMS HAVE TO BATTLE IT OUT TO SEE WHICH TEAM WILL BE THE ONE TO CONTINUE. BOTH TEAMS PICK ONE MEMBER TO SETTLE THE MATTER. BOY WRESTLER V GIRL WRESTLER IN LONG TOUGH SEXY MIXED ACTION. DURING THE HEAT OF THE MATCH WRESTLING GEAR IS BET AS AN EXTRA STAKE ACTION. THE TWO EXCITED WRESTLER EXPLORE EACH OTHER BODIES AS THEY FORCE SEVERAL PAINFUL SUBMISSIONS FROM EACH OTHER. THE GIRL WRESTLER WINS AFTER ALONG HARD BATTLE. €5.00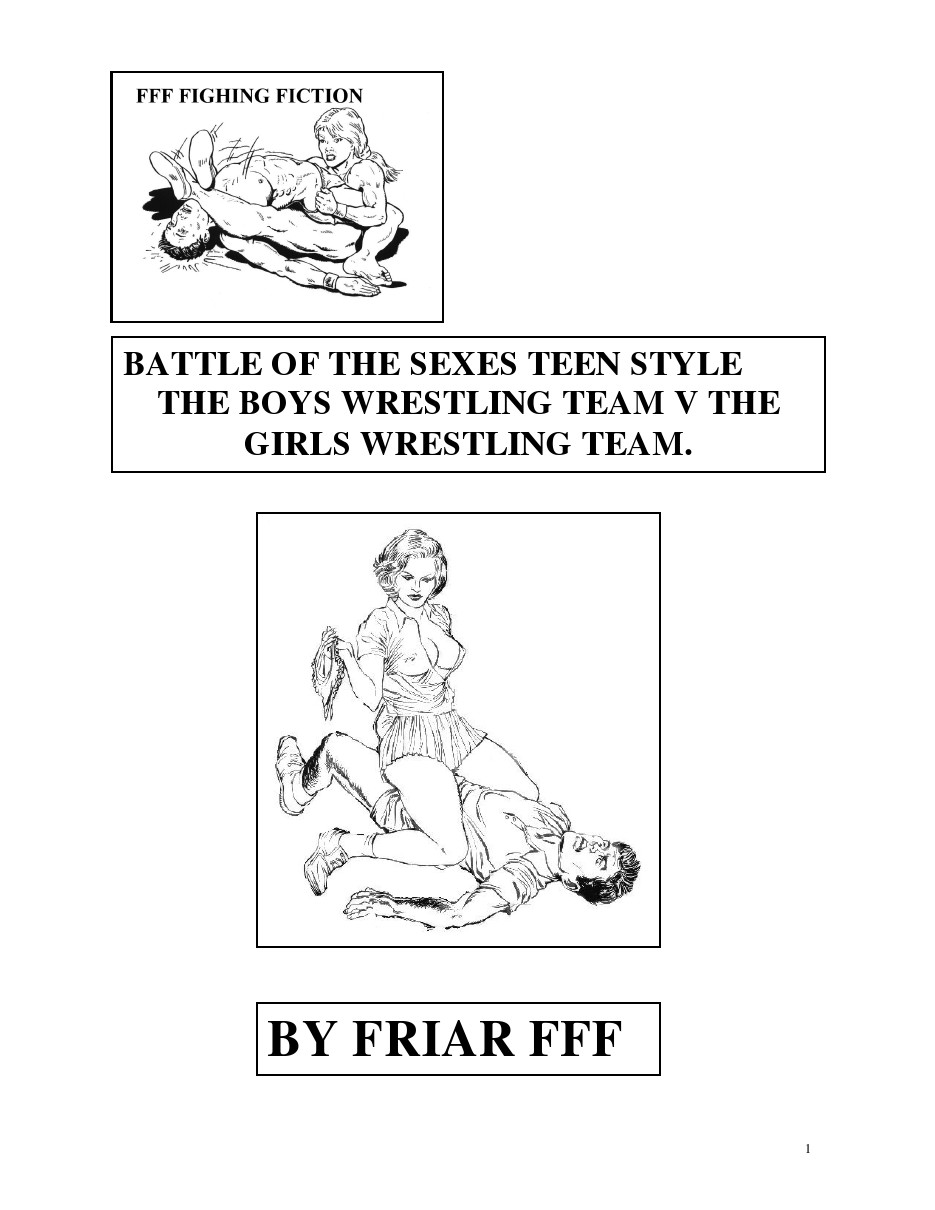 35. COMPUTER AIDED WRESTLING PART 4 DOUBLE TROUBLE. MARK SUFFERS ANOTHER DOUBLE TEAMING ENDURANCE MATCH AGAINST ANNE AND AMANDA. AMANDA WRITES A NEW PROGRAM TO LET HER AND ANNE BOTH WORK MARK OVER. MARK AGREES TO THE GAME AND THE TWO WOMEN REALLY WORK HIM OVER UNTIL HE SURRENDERS. THEY THEN DOUBLE TEAM HIM SOME MORE, MAKING HIM SERVICE THEM WITH HIS TONGUE. WHILE THEY WICKEDLY MAKE HIM CUM AGAIN AND AGAIN. TOUGH BRUTAL ACTION WITH THE MALE BEING PHYSICALLY AND SEXUAL ABUSED.
€
5.00

36. RECOLLECTIONS OF MIXED WRESTLING PART 1 SCHOOL DAYS. GREG, AN AMERICAN, LOOKS BACK TO HIS CHILDHOOD SPENT IN ENGLAND, AND THE MIXED WRESTLING ADVENTURES HE HAD. GREG RELATES HIS WRESTLING EXPERIENCES WITH GIRLS AND OLDER WOMEN. €5.00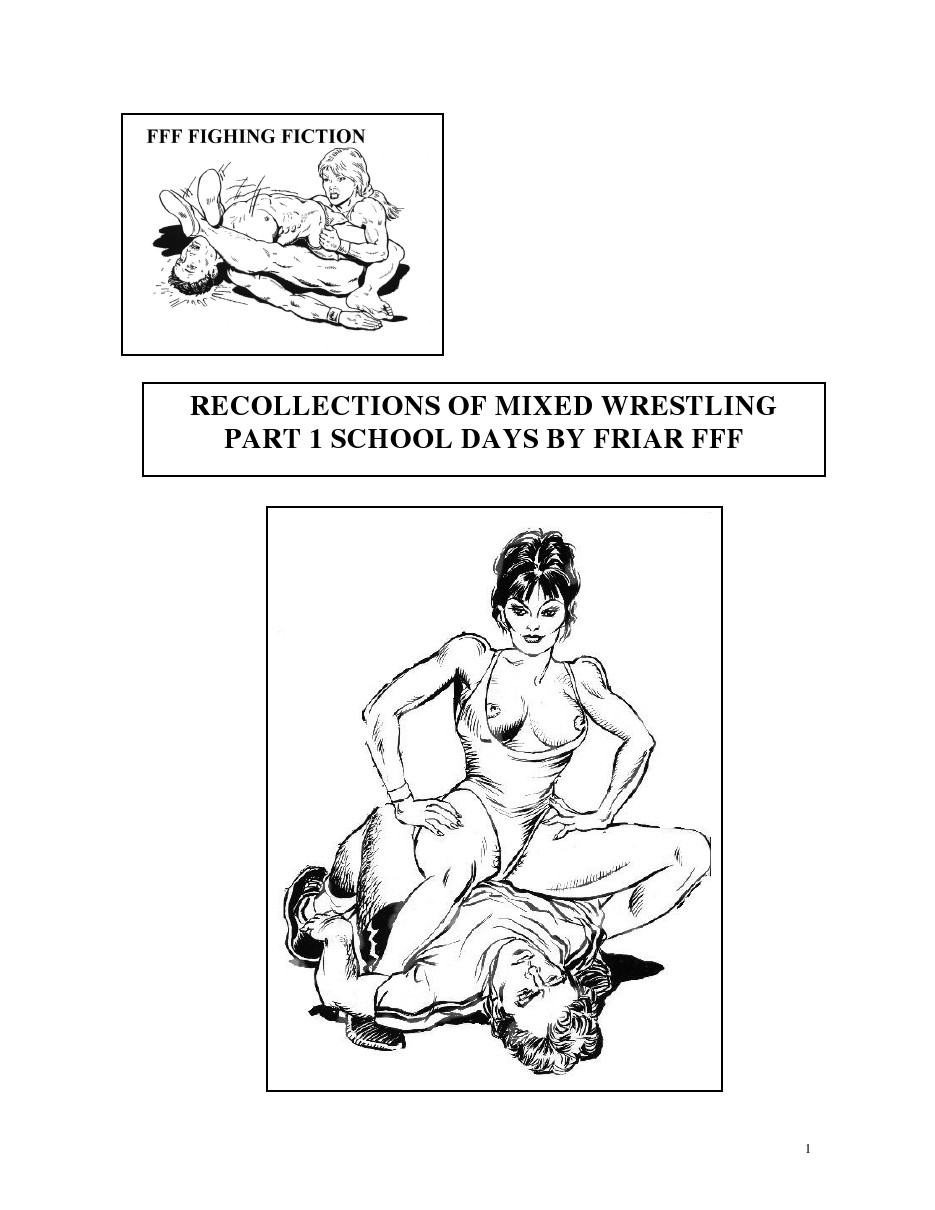 37. RECOLLECTIONS OF MIXED WRESTLING PART 2 UNIVERSITY DAYS. GREG'S WRESTLING ADVENTURES CONTINUE WHEN HE GOES TO UNIVERSITY. HE REMEMBERS THE FUN HE HAD WRESTLING OTHER STUDENTS OLDER AND YOUNGER THAN HIMSELF.
€
5.00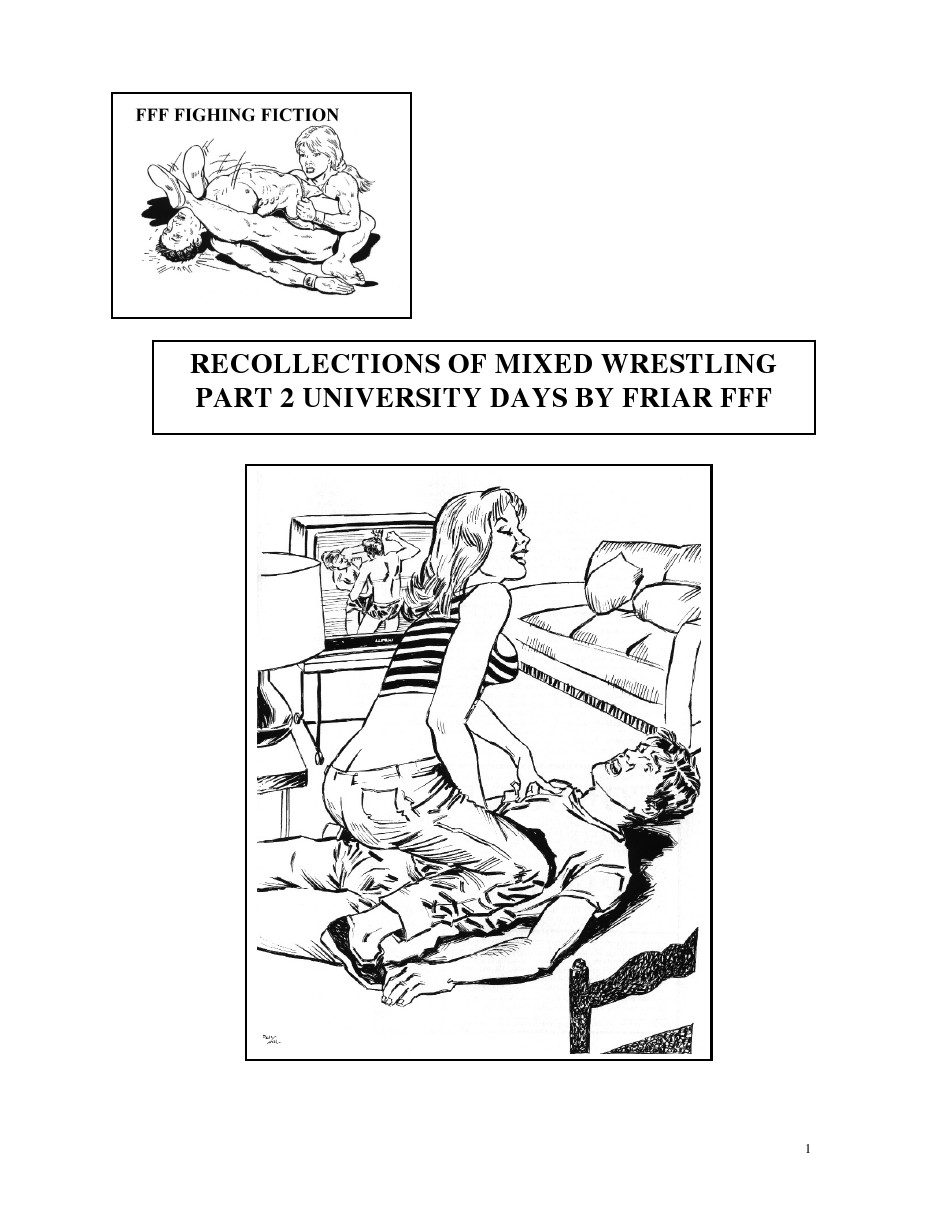 38. MIXED GRUDGE MATCH PART 1. A BRUTAL MIXED TAG MATCH. PRETTY BOY STEVE BECKS AND NASTY BOY STEVE DEVINE, INTERFERE WITH A RIVAL PROMOTERS FEMALE TAG TEAM AND CAUSE THEM TO LOSE AN IMPORTANT MATCH. THE FEMALE TAG TEAM, LISA HOSAKA AND ROCKING KELLY PARADISE PLOT REVENGE FOR THEIR DEFEAT. THEY TRICK 'PRETTY AND NASTY' INTO ACCEPTING THEIR CHALLENGE A MIXED NHB MATCH TO THE GIRL RULES AND CONDITIONS. PRETTY AND NASTY TAKE ON LISA HOSAKA AND ROCKING KELLY PARADISE IN A RIGGED MATCH. THE MEN SUFFER AT THE HANDS OF THEIR FEMALE OPPONENTS IN THE BRUTAL FIRST ROUND. TOUGH BRUTAL NHB FIGHTING WITH NO QUARTER. THE GUYS ARE ABUSED PHYSICALLY AND SEXUAL IN THE TOUGH BATTLE OF THE SEXES. THEY HAVE TO ENDURE PAINFUL AND HUMILIATING FORFEITS WHEN THEY LOSE. €5.00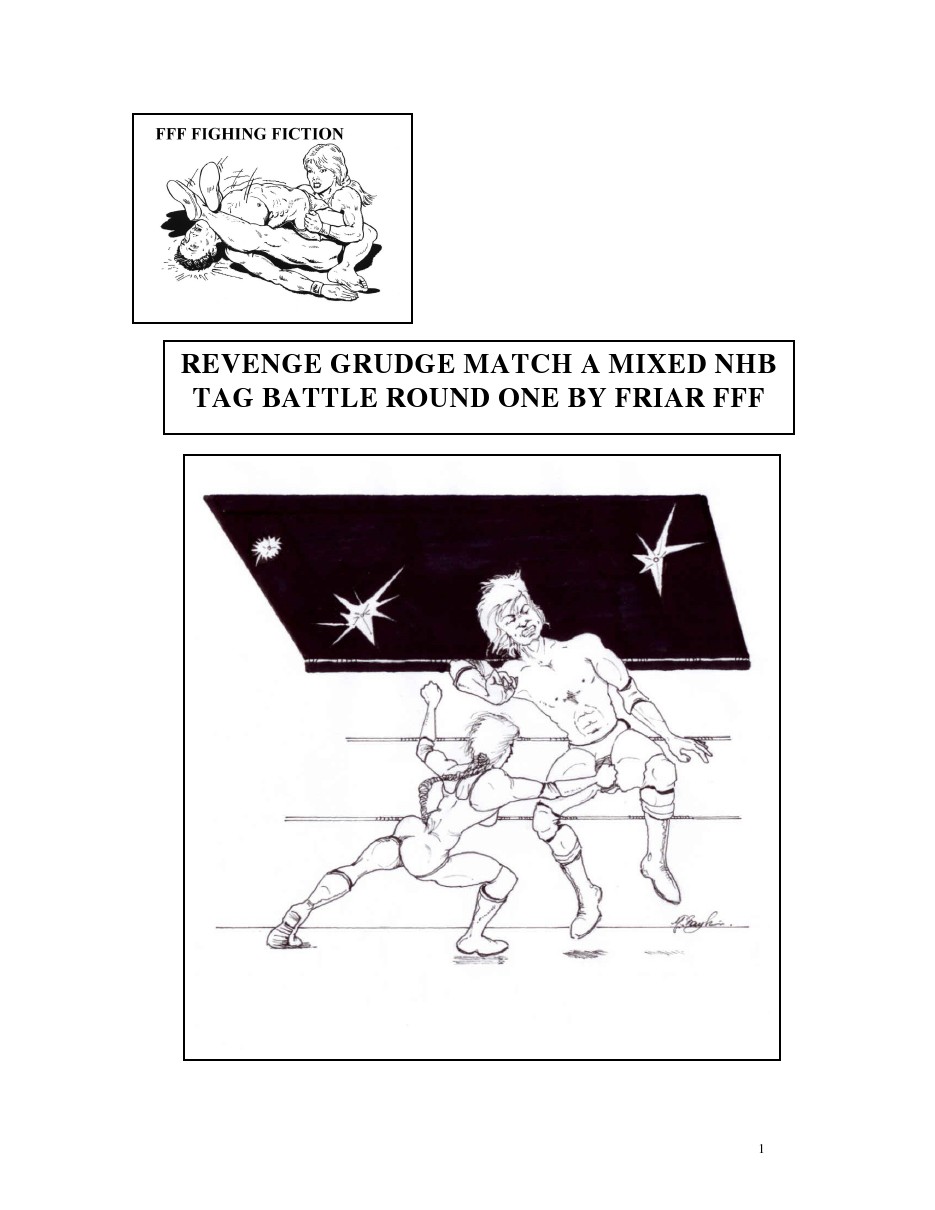 39. MIXED GRUDGE MATCH PART TWO. ROUND TWO OF THE BRUTAL NHB MIXED TAG MATCH. PRETTY BOY STEVE DEVINE AND NASTY BOY STEVE BECKS DIDN'T DO VERY WELL IN THE FIRST ROUND TAKING A GOOD PASTING. THEY FARE LITTLE BETTER IN ROUND TWO TAKING ANOTHER VICIOUS PASTING. MORE HUMILIATION AND ABUSE FOLLOWS THEIR DEFEAT AT THE HANDS OF THE OPPONENTS AND THE OTHER FEMALE WRESTLERS IN THE AUDIENCE. THE MALES SUFFER ABUSE WHILE TIED NAKED IN THE ROPES AS THE FEMALE WRESTLERS IN THE AUDIENCE JOIN IN ON THE FUN.
€
5.00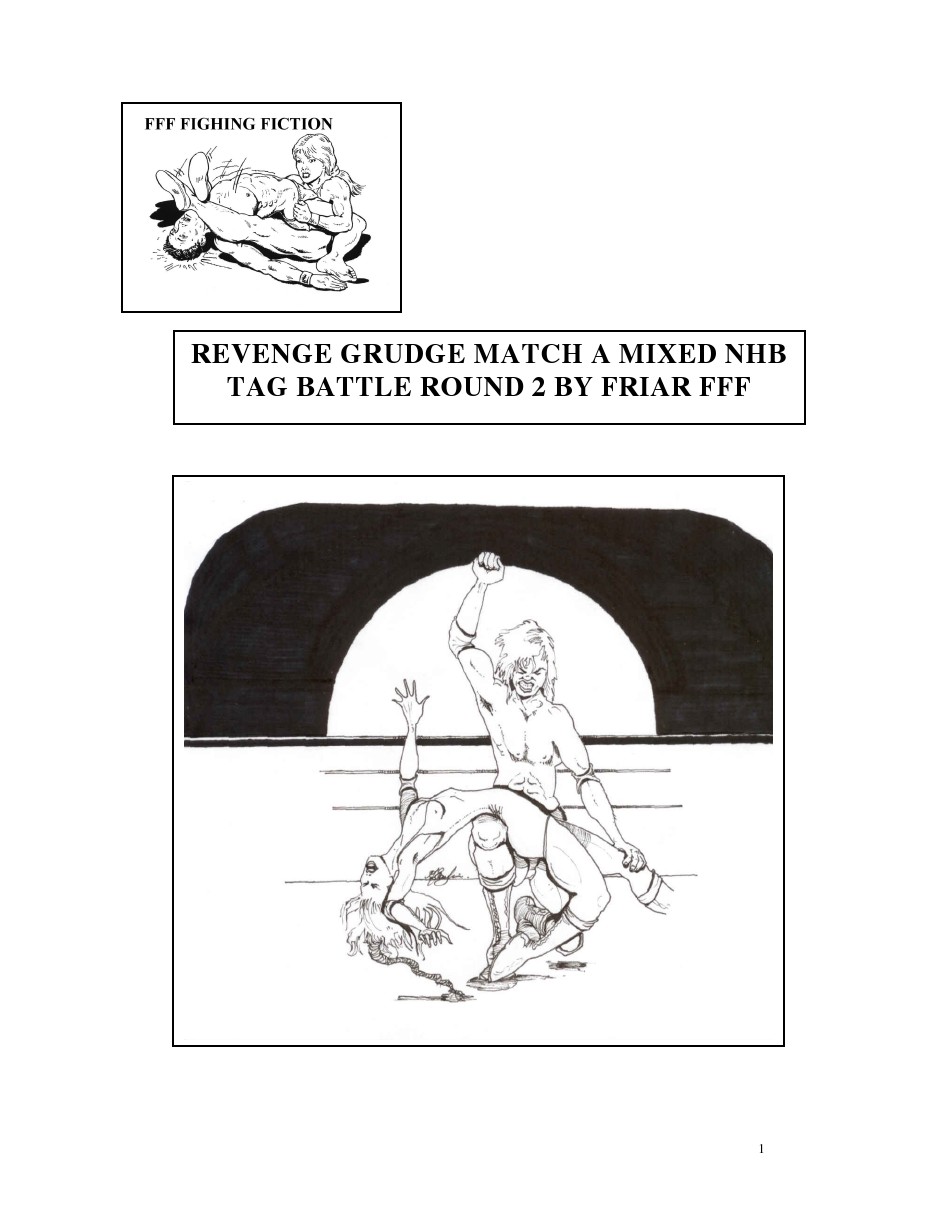 40. MIXED GRUDGE MATCH PART THREE. ROUND THREE OF THE BRUTAL NHB MIXED TAG MATCH. PRETTY BOY STEVE DEVINE AND NASTY BOY STEVE BECKS TOOK ANOTHER SEVERE HAMMERING IN ROUND TWO OF THIS EPIC AND VICIOUS MIXED TAG MATCH. THEY ARE BESTED AGAIN BY LISA HOSAKA AND ROCKING KELLY PARADISE. THE GIRLS REALLY WORK THE TWO MALE WRESTLERS OVER IN THE FINAL ROUND. THERE IS MORE AUDIENCE PARTICIPATION RESULTING IN HUMILIATION AND SUFFERING FOR THE TWO MALE WRESTLERS. PRETTY BOY STEVE DEVINE AND NASTY BOY STEVE BECKS ARE BEATEN INTO THE GROUND BY THE FEMALES AND TH SOME MORE. PLENTY OF BODY BREAKING BALL BUSTING ACTION AS THE TO MALE ARE DESTROYED BY THEIR FEMALE OPPONENTS. €5.00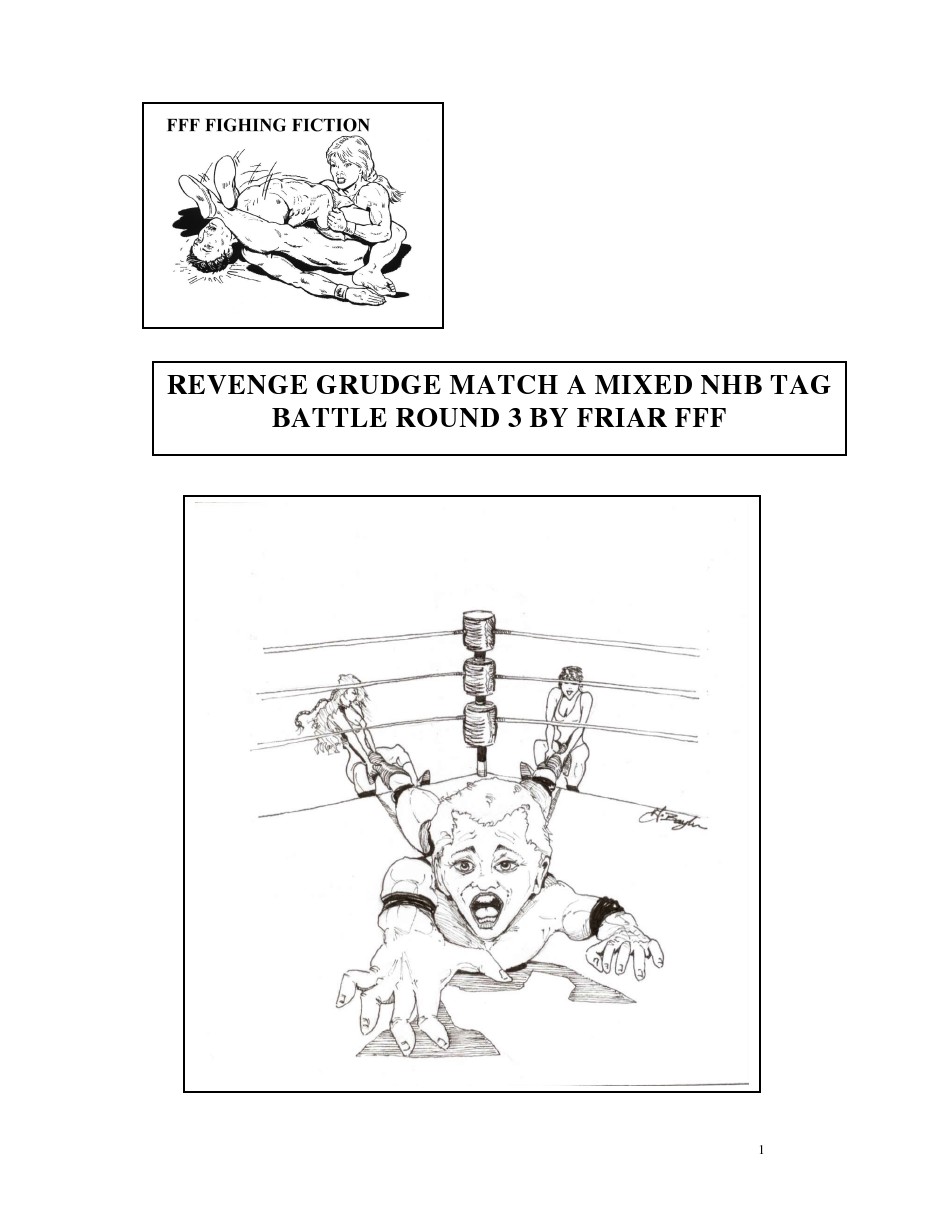 41. THE PERIL OF A WRESTLING AUTHOR. FRIAR GETS WORKED OVER BY MERYL AFTER CO-WRITING A FICTIONAL MATE BETWEEN HER AND CONSORT'S US CHAMPION JEANNIE THAT JEANNIE. MERYL WAS NOT HAPPY AT LOSING EVEN IN A FICTIONAL MATCH AND ASKED FRIAR TO WRITE A REMATCH AND TO MAKE SURE SHE BEAT JEANNIE THIS TIME. FRIAR AGREED BUT NEVER GOT ROUND TO WRITING IT SO MERYL CALLED ON FRIAR TO PERSUADE HIM TO WRITE THE RE-MATCH. MERYL WORKED FRIAR OVER WELL MAKING HIM SUFFER A HUMILIATING DEFEAT.GOOD MIXED ACTION WITH MERYL PUNISHING FRIAR WITH LOTS OR CRUEL, PAINFUL AND HUMILIATING HOLDS.
€
4.00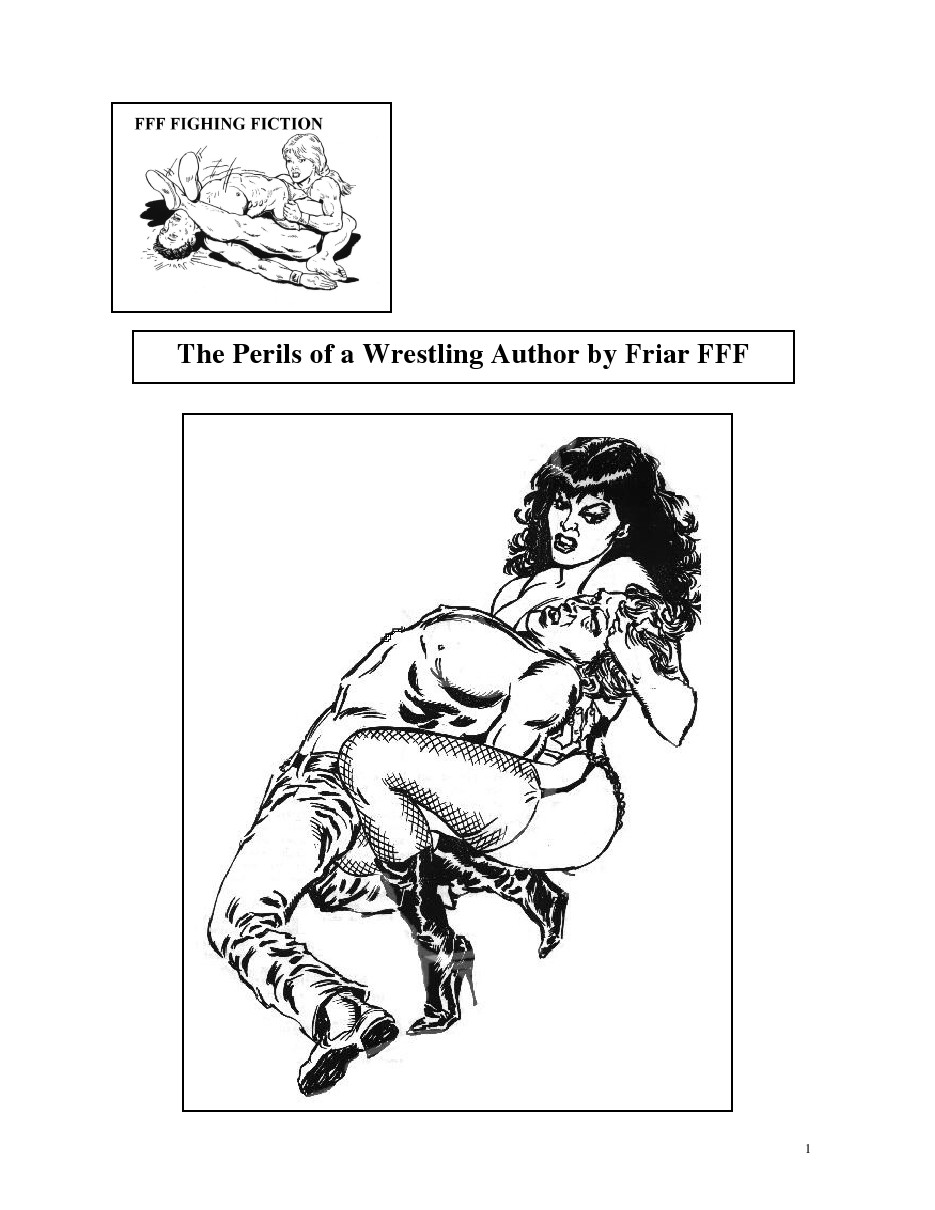 42. AN EVENING OF SEXY MIXED WRESTLING AT A LONDON CO-ED WRESTLING CLUB PART 1. THE LCWC ARRANGE A CELEBRATION MIXED WRESTLING TOURNAMENT TO CELEBRATE ITS TEN YEAR HISTORY. THEY ARRANGE A MIXED TOURNAMENT BETWEEN 10 MALE AND 7 FEMALE WRESTLERS OF VARYING AGES AND EXPERIENCE. THE TOURNAMENT WAS RECORDED ON VIDEO AND SHOWN LIVE ON THE INTERNET. TOUGH MIXED SEXY ACTION WITH BOTH SIDES GIVING AND TAKING. WRESTLERS ARE ALLOWED TO STRIP AND MAKE THEIR OPPONENTS COME TO SCORE MORE POINTS. AFTER A LONG GRUELLING SEXY AND SOMETIMES BRUTAL BATTLE WITH THEM MEN'S TEAM TAKING THE LEAD IN THE FIRST FEW BOUTS .THE WOMEN'S TEAM MAKES A COME BACK IN THE NEXT TWO MATCHES TO TAKE THE LEAD AT THE INTERVAL. FIRST PART OF A LONG STORY ABOUT A TOUGH BATTLE OF THE SEXES, CONTINUED IN STORY No 43. €5.00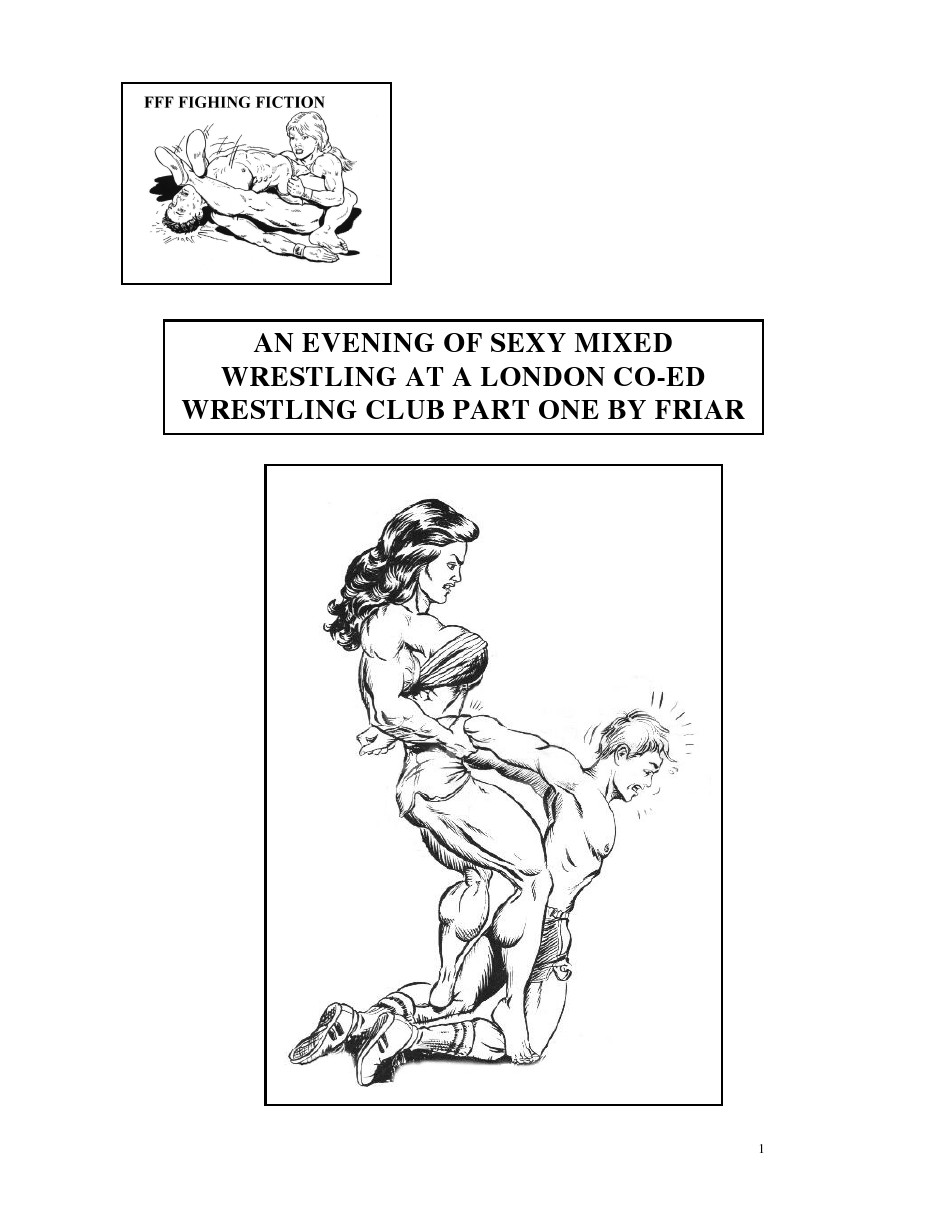 43. AN EVENING OF SEXY MIXED WRESTLING AT A LONDON CO-ED WRESTLING CLUB PART 2. THE TOUGH SEXY MIXED WRESTLING TOURNAMENT CONTINUES AFTER THE INTERVAL. THE MEN'S TEAM ARE TRAILING THE WOMAN'S TEAM AS THE SECOND HALF STARTS. THE MEN FIGHT BACK TO REGAIN THE LEAD ONLY TO HAVE IT SNATCHED AWAY AT THE END. AFTER A LONG GRUELLING SEXY AND SOMETIMES BRUTAL BATTLE .THE WOMEN'S TEAM TRIUMPHS IN THE END AGAINST THE ODDS TO BEAT THE MEN'S TEAM CONVINCINGLY. A GREAT CONCLUSION TO A LONG STORY ABOUT A TOUGH BATTLE OF THE SEXES. €5.00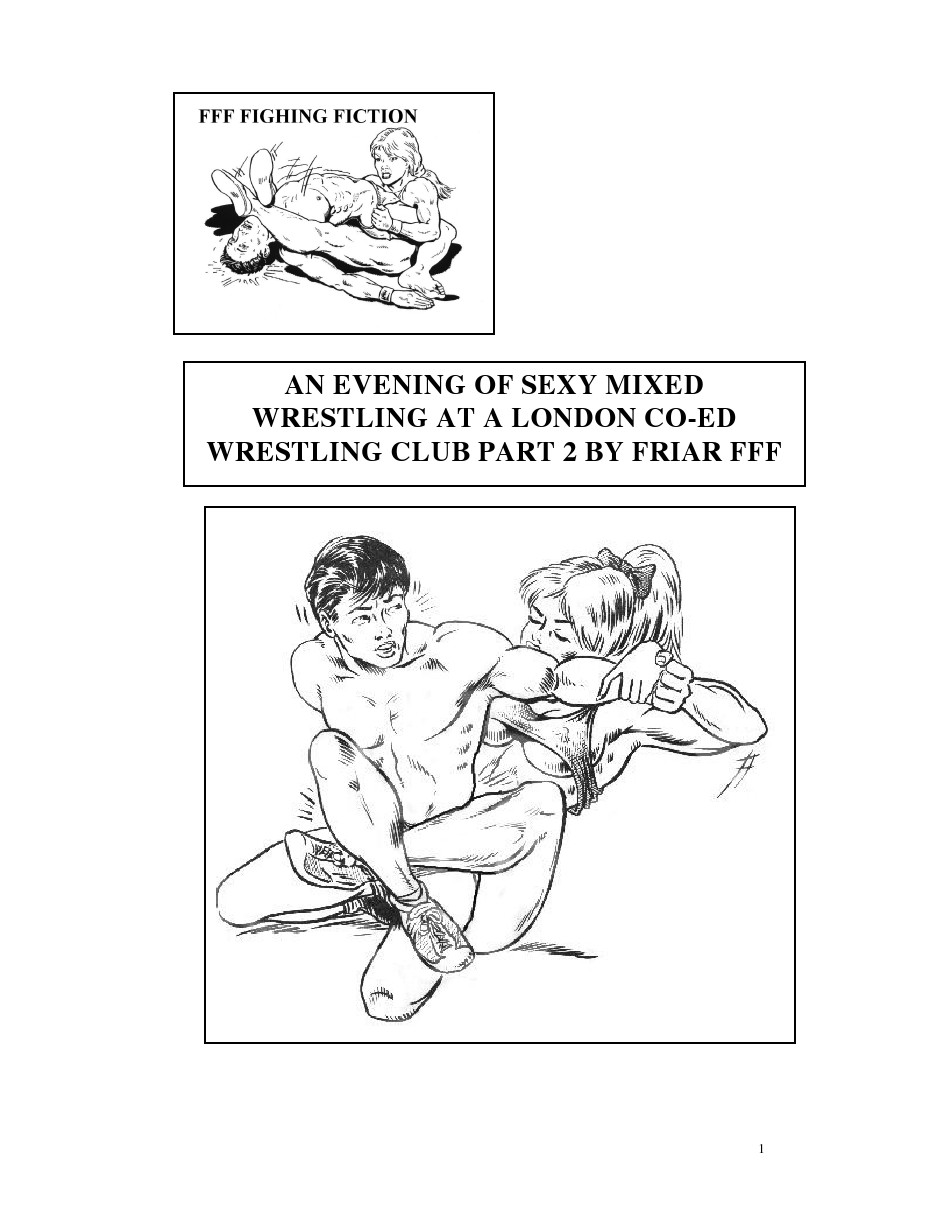 44. BOYS WRESTLING TEAM V THE GIRLS WRESTLING TEAM. (BATTLE OF THE SEXES TEEN STYLE) PART TWO. IN PART ONE JULIE BROOKES FOR THE GIRLS TEAM BEAT MARK NOBLE FOR THE BOYS TEAM IN MATCH ARRANGE TO SEE WHICH TEAM WOULD BE THE NEW TEAM FOR THE SCHOOL AS THERE COULD ONLY BE ONE. INSTEAD OF DISBANDING THE BOYS TEAM IT WAS DECIDE TO FORM A CO-ED TEAM. SO ST MARYS HIGH SCHOOL FOR BOYS AND GIRLS NOW HAS A CO-ED WRESTLING TEAM. THEY ARRANGE A TOURNAMENT AT THE NEXT TRAINING EVENING TO DECIDE WHOM FROM THE BOYS AND GIRLS JUNIOR AND SENIOR TEAMS, WILL BE IN THE NEW CO-ED TEAMS. SOME TOUGH MIXED MATCHES DECIDE THE NEW TEAM MEMBERS. TOUGH MIXED ACTION WITH BOYS AND GIRLS SUFFERING ALIKE. €5.00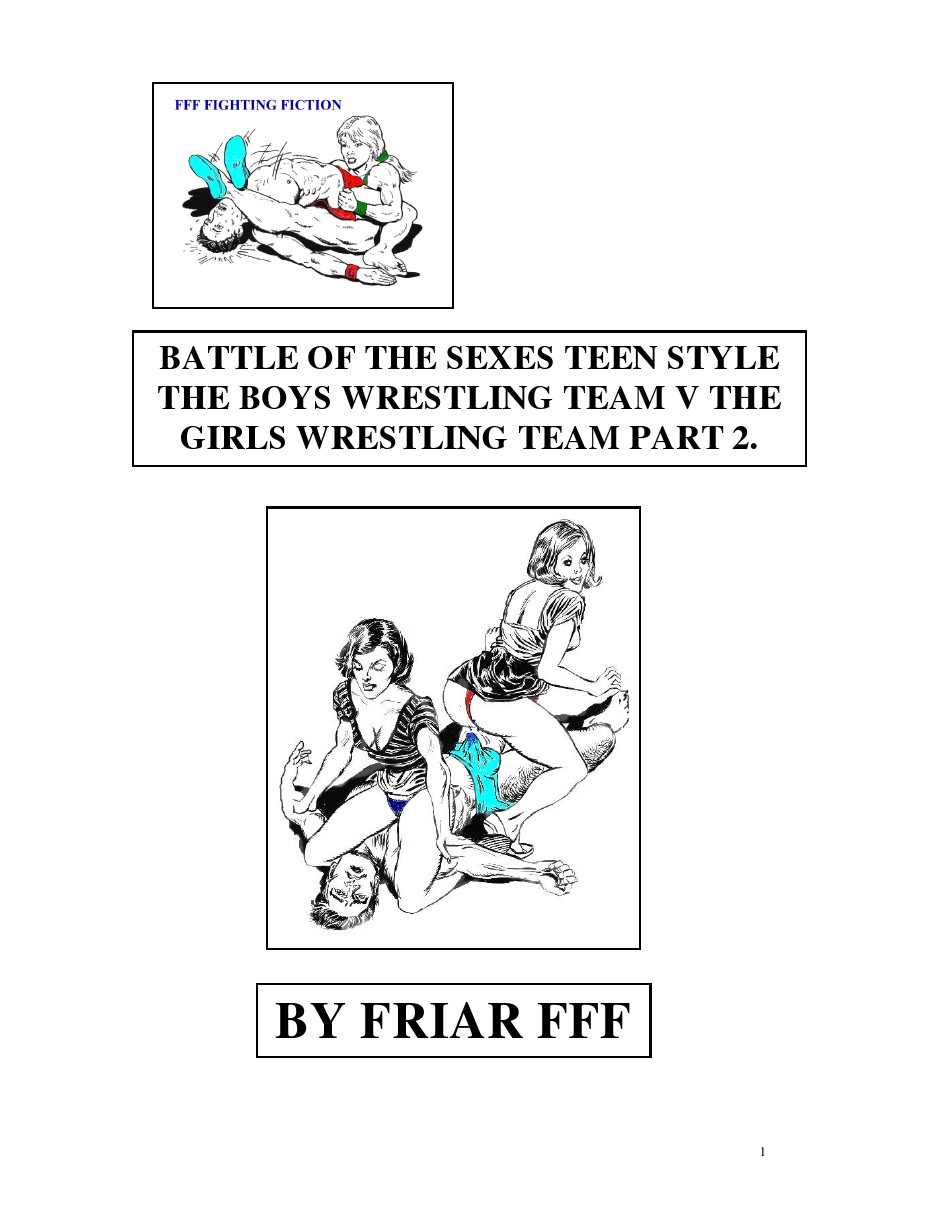 45. DEMISE OF THE MALE ONLY FIGHTING CLUB. THE ROUND HOUSE FIGHTING CLUB IN LONDON WAS STRICTLY MALE ONLY NO FEMALE WELCOME. THEY BOASTED ABOUT MALE SUPERIORITY AND FEMALE INFERIORITY. THE CLUB CHALLENGED ANY FEMALE WHO THOUGHT THAT THEY WERE CAPABLE OF JOIN THE CLUB TO PASS THE TEST OF FIGHT THREE MATCHES ON THE SAME NIGHT. THE FEMALE CHALLENGE HAD TO FIGHT AND BEAT A WRESTLER A BOXER AND A KICK BOXER. A TOUGH EXPERIENCE STREET FIGHT AMERICAN FEMALE FIGHTER ANSWERED THE CHALLENGE AND AGREED TO FIGHT THE THREE MATCHES. SHE EVEN UPPED THE ANTI WITH THE CLUB'S FOUNDER A WORLD CHAMPION KICK BOXER TO A DEATH MATCH BETWEEN THEM. THE FEMALE CHALLENGER EASILY BEAT THE WRESTLER AND REALLY PUNISHES THE MAN SO HE HAS TO BE CARRIED OUT OF THE RING ON A STRETCHER. SHE WINS THE SECOND MATCH BEATING THE BOXER TO BLOODY BRUISED AND BROKEN PULP. LEAVING HIM OUT COLD IN THE RING. THE FEMALE CHALLENGER IS SPECTACULARLY VICTORIOUS IN THE LAST MATCH THE KICK BOXING MATCH. SHE KICKS AND PUNCHES THE CLUBS FOUNDER AND CHAMPION KICK BOXER TO DEATH IN THE RING. SHE REALLY MAKES HIS SUFFER BEFORE FINALLY KILLING HIM.TOUGH BRUTAL AND BLOODY MIXED FIGHTING ACTION WITH FEMALE GIVING THE MALES HELL. €5.00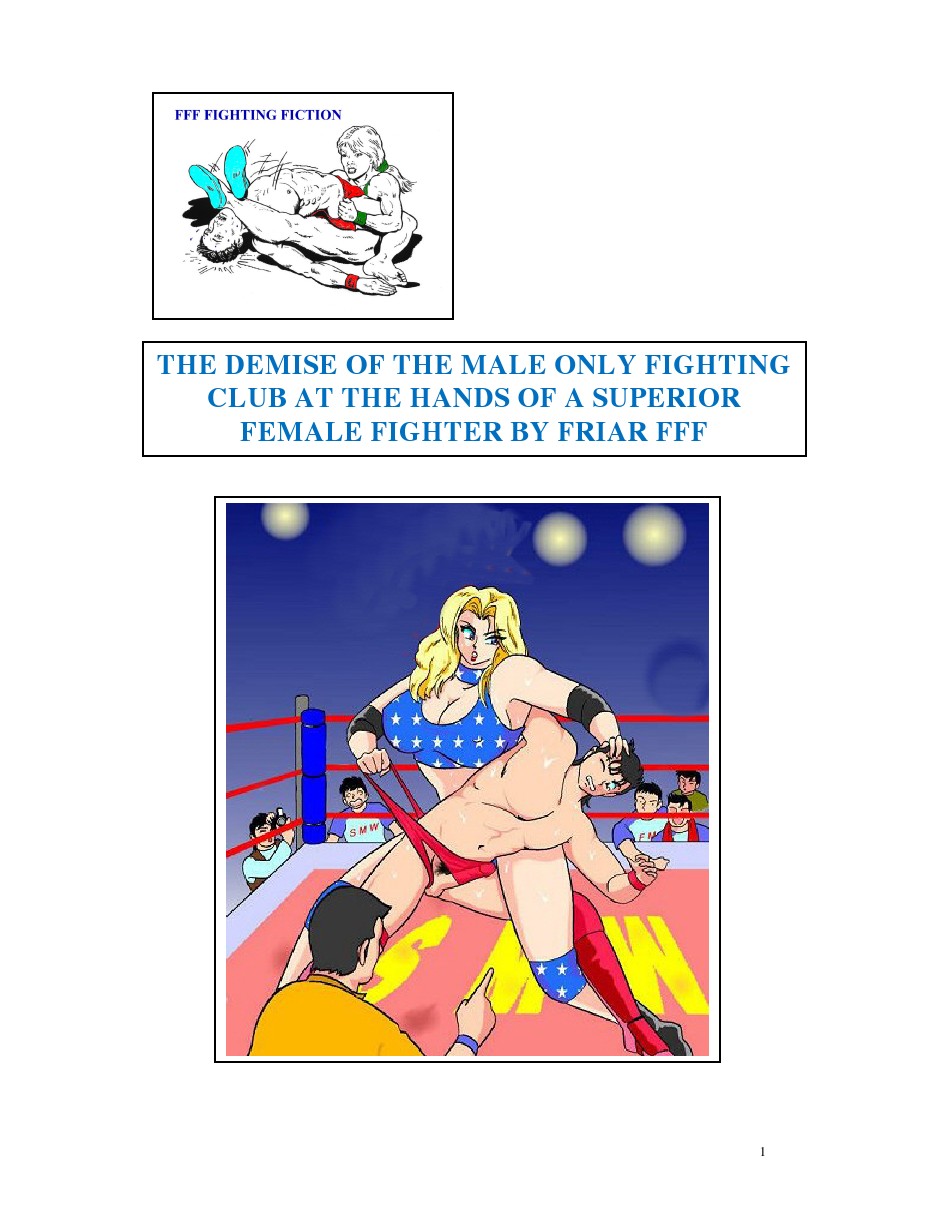 46. THE UK MAGNIFICENT AND MEAN MIXED WRESTLING TOURNAMENT BOOK 1 THE BATTLE BEGINS. RICHARD DRAYFUSS THE ORGANISER OF MIXED GRUDGE MATCH, STORIES 46,47, AND 48 AND THE TWO FEMALE WRESTLERS, LISA HOSAKA AND ROCKING KELLY PARADISE, ORGANISE MIXED WRESTLING TOURNAMENT IN THE UK. IT WILL BE SHOWN LIVE ON THE WEB JUST LIKE MIXED GRUDGE MATCH WAS. THE UK MAGNIFICENT AND MEAN MIXED WRESTLING TOURNAMENT PITS A FEMALE WRESTLING TEAM AGAINST A MALE WRESTLING TEAM, IN AN ALL NHB MIXED WRESTLING TOURNAMENT. VIEWERS ON-LINE CAN VOTE FROM A LIST OF MATCH OPTIONS, ALSO CHOOSING WRESTLERS ATTIRE. RULES ARE THE SAME AS IN MIXED GRUDGE MATCH. ONE POINT FOR A SUBMISSION OR PIN, TWO POINTS FOR A KO, AND THREE POINTS FOR A TKO (FORCED EJACULATION) WITH ONE POINT DEDUCTED FROM THE LOSING TEAM. THE FIRST PART INVOLVES A NAKED MIXED NHB MATCH BETWEEN THE TWO TEAM CAPTAINS MARK MEADOWS THE MACEDONIAN WARRIOR, V LISA HOSAKA. TOUGH MIXED SEXY ACTION WITH MALE WRESTLER SUFFERING PHYSICAL AND SEXUAL ABUSE AT THE HAND OF HIS FEMALE OPPONENT. ITS A LONG HARD EXCITING MATCH WITH THE MALE WRESTLER BEING BEATEN AND FORCE TO ENDURE A FORFEIT. €5.00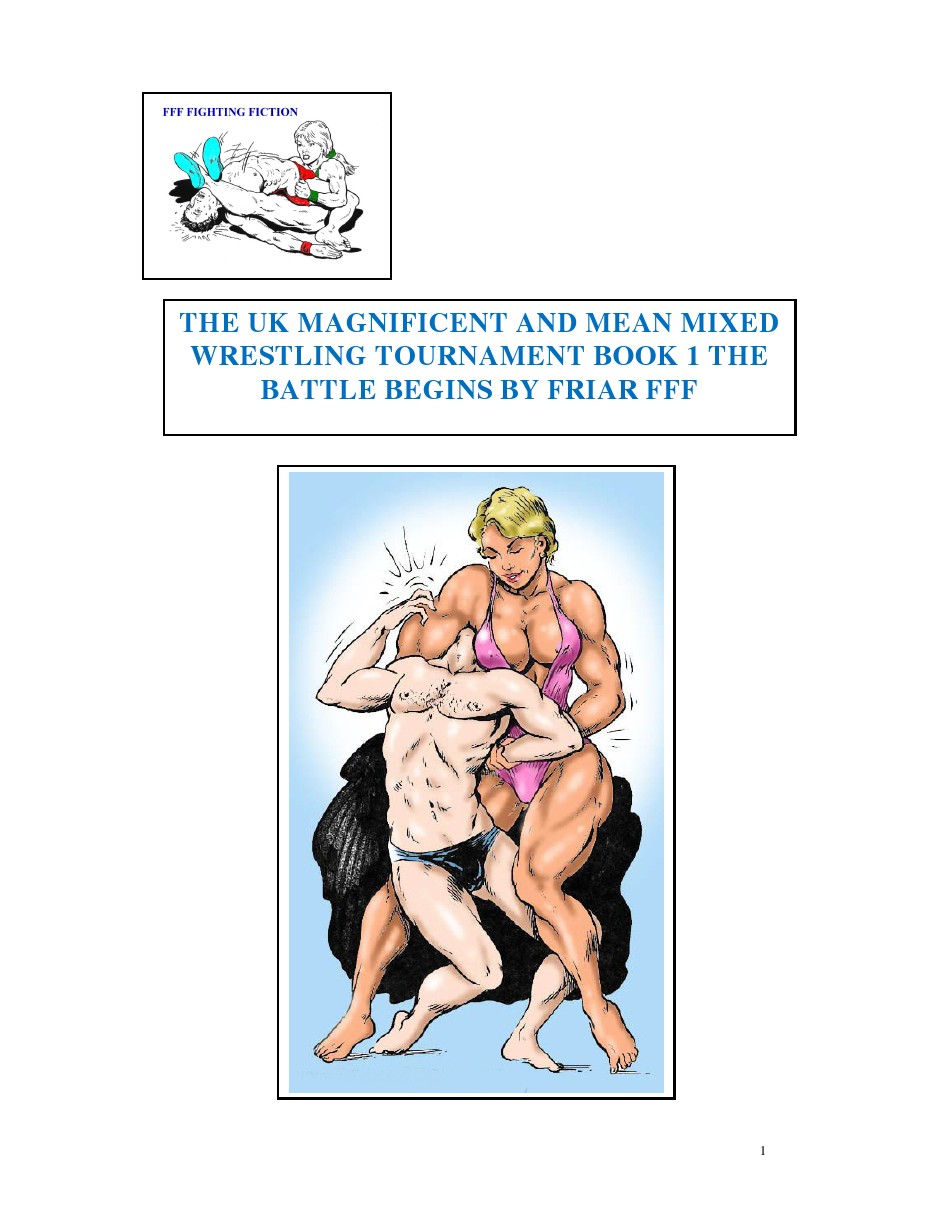 47. THE UK MAGNIFICENT AND MEAN MIXED WRESTLING TOURNAMENT BOOK 2 THE BATTLE CONTINUES. BOOK TWO CONTINUES WHERE BOOK 1 (STORY 66) LEFT OFF. THE AFTERMATH OF THE EXCITING NAKED CAPTAIN MATCH. THE LIST OF MATCH OPTIONS IS VOTED ON AGAIN AND THIS TIME A NHB MIXED CHAIN MATCH IN SKIMPY THONGS AND BOOTS IS CHOSEN. WRESTLERS CAN AND DO USE THE CHAIN AS A WEAPON AGAINST EACH OTHER. WAYNE AND HARRIS THE STREET BRAWLER TAKES ON ROCKING KELLY PARADISE. A TOUGH BRUTAL MIXED BATTLE OF ATTRITION TAKES PLACE WITH BOTH WRESTLER WINNING AND CONCEDE POINTS. WAYNE THE STREET BRAWLER IS STRIPPED OF HIS THONG EARLY ON IN THE MATCH BATTLES ON NAKED TO BE DEFEATED BY ROCKING KELLY PARADISE. HE SUFFERS LOTS OF PHYSICAL AND SEXUAL ABUSE AT KELLY'S HANDS. THE THIRD MATCH CHOSEN IS THE TOUGHEST OR MOST EXPERIENCED FEMALE WRESTLER V YOUNGEST OR LEAST EXPERIENCED MALE WRESTLER. THIS MATCH PITS A YOUNG SEVENTEEN YEAR OLD MALE WRESTLER ROSS CURTIS POCKET BATTLE BOY AGAINST RHODA AN OLDER AND MUCH MORE EXPERIENCED BEAUTIFUL BUT DEADLY BLACK FEMALE WRESTLER. ITS AN ALL NHB ANNIHILATION MATCH. ROSS WRESTLES IN BLACK THIN BRIEFS AND BOOTS. RHODA WRESTLES IN RED LEATHER STUDDED BRA AND PANTIES, RED LEATHER, CALF HIGH BOOTS WITH POINTED TOES AND SPIKED HEELS. RED LEATHER STUDDED KNEE PADS, AND RED LEATHER STUDDED NINJA GLOVES. RHODA DOMINATES THE MATCH FROM THE VERY START REALLY WORKING ROSS THE POCKET BATTLE BOY OVER. ROSS SUFFERS PHYSICAL AND SEX DEFEAT AGAINST RHODA THE SUPERIOR FEMALE WRESTLER. HE SUFFERS SEVERAL FORCED EJACULATIONS A TKO AND NUMEROUS KO'S AS RHODA PLAYS WITH HER YOUNGER WEAKER DEFEATED MALE OPPONENT. TWO, ROUGH, TOUGH, SEXY MATCHES WITH THE MALE WRESTLERS COMING OFF WORST. €5.00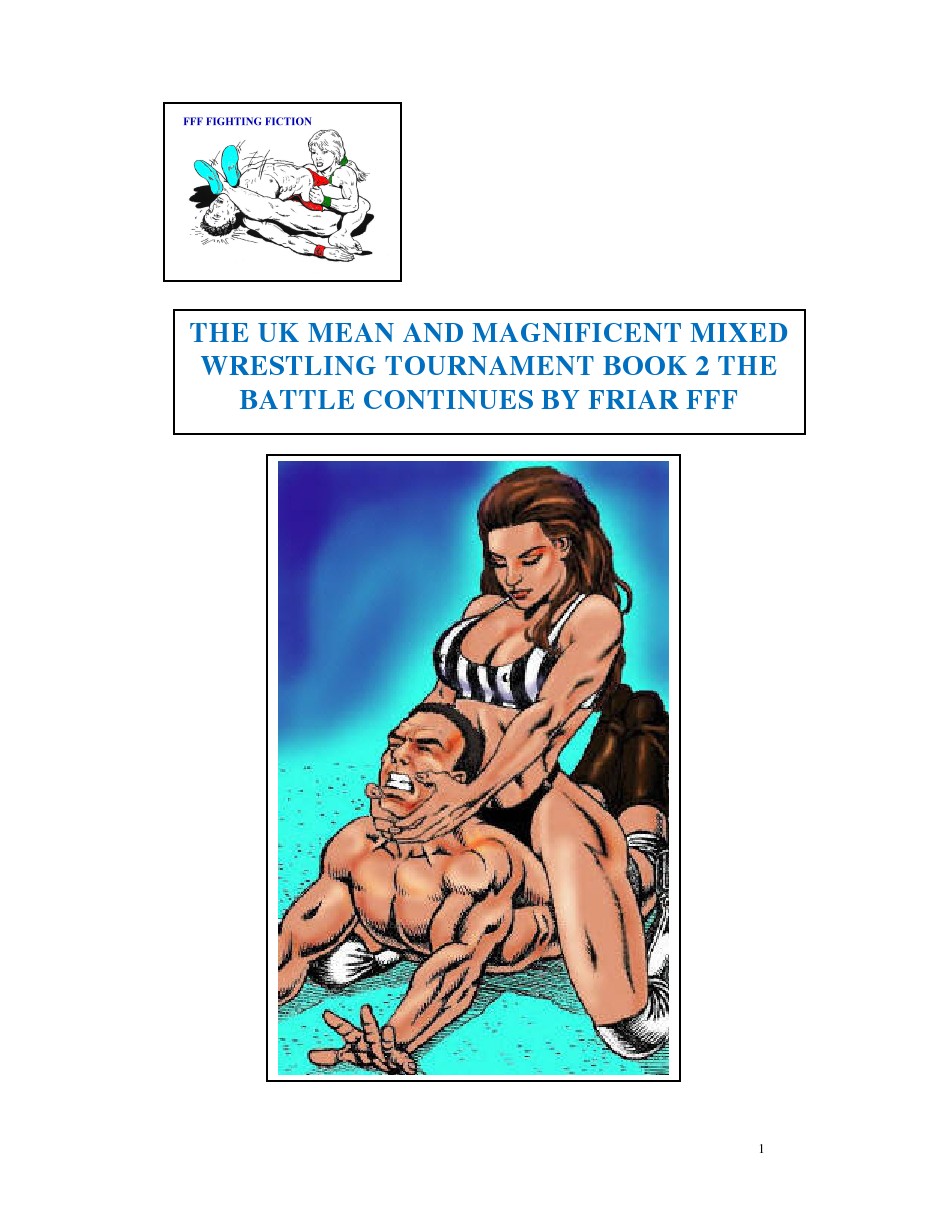 48. SUZY V MARK. SUZY TEENAGE WANNABE FEMALE WRESTLER WHO IS JUST GETTING OVER A TROUNCING BY A OLDER FEMALE RAMBLER MEETS MARK AN OLD SCHOOL FRIEND ON THE BEACH AT BROADSTAIRS. SUZY RECOUNTS HER STORY TO MARK AND TOLD HIM SHE WAS TRYING TO BE A BETTER WRESTLER AND SHE ALWAYS ADMIRED HIS SKILL ON THE BOYS TEAM AT SCHOOL. MARK WHO WAS NOW A PART TIME PROFESSIONAL WRESTLER OFFERED GIVE SUZY SOME WRESTING LESSONS. SUZY LIKE THE IDEA AS SHE LIKED TO LOOK OF MARK'S SEXY LEAN BODY IN HIS BRIEF BLACK SPEEDOS. SUZY DIDN'T TAKE UP MARKS OFFER FOR A COUPLE OF WEEKS UNTIL SHE HAD MET ANOTHER OLD SCHOOL FRIEND SHARON. SHARON WAS A STUNNING VERY FIT LOOKING ATHLETIC BLACK TEENAGER. SHARON WAS VERY FIT AND ATHLETIC AT SCHOOL AND SUZY USED TO WRESTLE SHARON AT SCHOOL AND ALWAYS LOST. SHARON NOW LOOKED EVEN FITTER AND MORE CAPABLE. SHARON CHALLENGED SUZY TO A MATCH FOR OLD TIMES SAKE. SUZY ACCEPTED, THEN AFTERWARDS WISHED SHE HADN'T. HOWEVER SHE REMEMBERED MARK'S OFFER AND DECIDED TO TAKE IT UP. MARK WRESTLED WITH SUZY ON A HOT SUNNY AFTERNOON IN HIS BACK GARDEN DRESSED IN HIS TIGHT BLACK SPEEDOS. HE SHOWED SHARON MOST OF THE MOVES AND HOW TO APPLY THEM ALSO HOW TO GET OUT OF THEM THEN LET SUZY PRACTICE THEM ON HIM. SUZY QUICKLY PICKED UP HOW T WRESTLE. THE CLOSE CONTACT WITH THE SEMI-NAKED MARK BROUGHT OUT THE KILLER INSTINCT IN HER. SHE TOOK ADVANTAGE OF MARK ALLOWING HER TO PRACTICE HOLDS AND USING HER HEIGHT AND WEIGHT ADVANTAGE SHE PUT HIM THROUGH A SERIES OF PUNISHING HOLD. TO SUZY'S SURPRISE AND JOY MARK FAR FROM ANNOYED AT HER ACTIONS WAS SEXUALLY AROUSED BY THEM. SHE MAKES HIM COME MORE THAN ONCE AS SHE WORKED HIM OVER PHYSICALLY AND SEXUALLY. GOOD MIXED ACTION WITH FEMALE WORKING MALE OVER TO MULTIPLE EJACULATIONS €1.50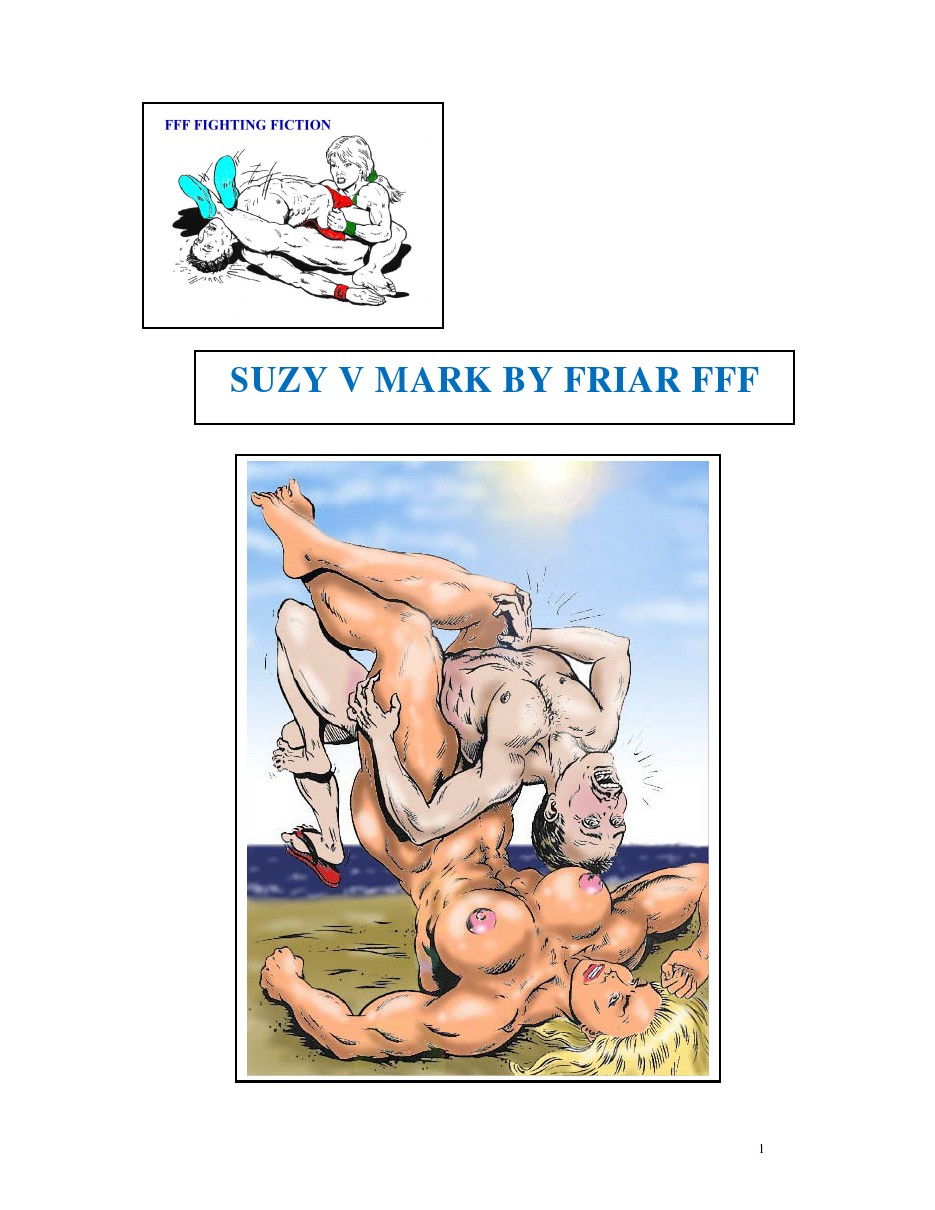 49. THE UK MAGNIFICENT AND MEAN MIXED WRESTLING TOURNAMENT BOOK 3 THE BATTLE CONTINUES. BOOK THREE CONTINUES THE LONG EPIC BATTLE OF THE SEXES WRESTLING STARTED IN BOOKS 1 AND 2. (STORY 66 AND 67) ROSS'S SUFFERING CONTINUES AT THE HANDS OF HIS FEMALE NURSE AND PHYSIOTHERAPIST, AFTER BEING TOTALLY DEFEATED AND HUMILIATED IN BOOK 2. THE FOURTH MATCH IS VOTED ON AND A HANDICAP MATCH IS CHOSEN, ONE MALE AGAINST ONE FEMALE. IN ROUND ONE THE MALE WRESTLER IS BLINDFOLD AND FEMALE WRESTLER HAS HER ARMS TIDE BEHIND HER BACK. HANDICAPS ARE REVERSED IN ROUND TWO. JAN THE FLEMISH FIGHTER TAKES ON SHARON TATE THE WARRIOR PRINCESS. IN ROUND ONE ALTHOUGH SHARON HAD HER HANDS SECURED BEHIND HER BACK, JAN HAD THE GREATEST HANDICAP BEING BLINDFOLD. SHARON WAS QUICK TO EXPLOIT JAN'S VULNERABILITY AND REALLY MAKES HIM SUFFER LONG AND HARD. INTENSE PHYSICAL AND SEXUAL ABUSE FOLLOW FORCING A KO, FIRST BLOOD, STRIPPED, BALL BUSTING, AND TKO (FORCED EJACULATION) FROM THE BADLY BRUISED AND BATTERED FLEMISH FIGHTER. IN ROUND TWO JAN HOPED TO MAKE A COME BACK, AS SHARON HAS THE GREATEST HANDICAP THIS TIME. HOWEVER HE FELT VULNERABLE NAKED FROM THE WAIST DOWN, WITH HIS ARMS SECURED BEHIND HIS BACK. JAN STARTED OFF WELL MAKING SHARON SUFFER BUT HE DIDN'T KNOW THAT THERE WAS SMALL SPEAKER HIDDEN IN SHARON'S HOOD AND LISA HER TEAM CAPTAIN WAS DIRECTING HER. SHARON QUICKLY TURNS THE TABLES ON JAN AND MAKES HIM SUFFER EVEN MORE. SHARON VIRTUALLY DESTROYS JAN PHYSICALLY AND SEXUALLY BEFORE TAKING THE MATCH WITH A SECOND TKO. SHARON CONTINUED TO ABUSE JAN PHYSICALLY AND SEXUALLY AFTER HIS DEFEAT AND TOTAL SURRENDER. THE GIRLS TEAM WAS AWARDED A FORFEIT AGAINST THE BOYS TEAM FOR HAVING SUCH A LARGE POINTS LEAD OVER THE BOYS TEAM. THEY CHOOSE TO HAVE WAYNE HARRIS THE STREET BRAWLER USED AS A HUMAN PUNCH BAG. HE IS ABUSED BY STACY AND STELLA TWO YOUNG SEXY AND VERY CAPABLE FEMALE BOXERS FORM THE US. STACY AND STELLA'S GLOVED FIST ALMOST DESTROY WAYNE LEAVING HIM BADLY BEATEN AND PHYSICALLY AND SEXUALLY DRAINED. WAYNE SUFFERS TWO BRUTAL FORCED EJACULATIONS AT STACY AND STELLA'S HANDS. FOR THE FIFTH MATCH, ONE NAKED FEMALE WRESTLER TAKES ON TWO CLOTHED MALE WRESTLERS. JODIE MARCHENT THE BLACK QUEEN TAKES ON CRAIG ANDREWS THE RED SLAYER AND DEAN SMITH THE GOLDEN BOY. DEAN AND CRAIG ARE CONFIDENT AS THEY OUT NUMBER JODIE AND CAN TAG AND DOUBLE TEAM. CRAIG AND DEAN, BEST JODIE IN THE OPENING PART OF THE BOUT, MAKING HER REALLY SUFFER AND TAKING A TKO FROM HER. JODIE IS TOUGH AND VERY SKILLED AND USING HER SKILL DETERMINATION AND RUTHLESS KILLING INSTINCT SHE TURNS THE TABLES OF BOTH MALE WRESTLERS. SHE REALLY ABUSES DEAN AND CRAIG, SLOWLY STRIPPING THEM OF THEIR CLOTHES, DIGNITY, AND VICTORY. CRAIG IS LEFT KO'D, DRAINED PHYSICALLY AND SEXUALLY. DEAN IS TOTALLY MASTERED BY JODIE AND DOESN'T RESIST IN THE LAST SESSION LETTING HER DOMINATE HIM AND MAKE HIS SUFFER TERRIBLY. MIXED FIGHTING AT HITS BEST, PHYSICAL SEXY AND ABOVE ALL BRUTALLY GRAPHIC. MALE WRESTLERS SUFFERING AT THE HANDS OF SUPERIOR HIGHLY SKILLED AND MERCILESS FEMALE WRESTLERS. €5.00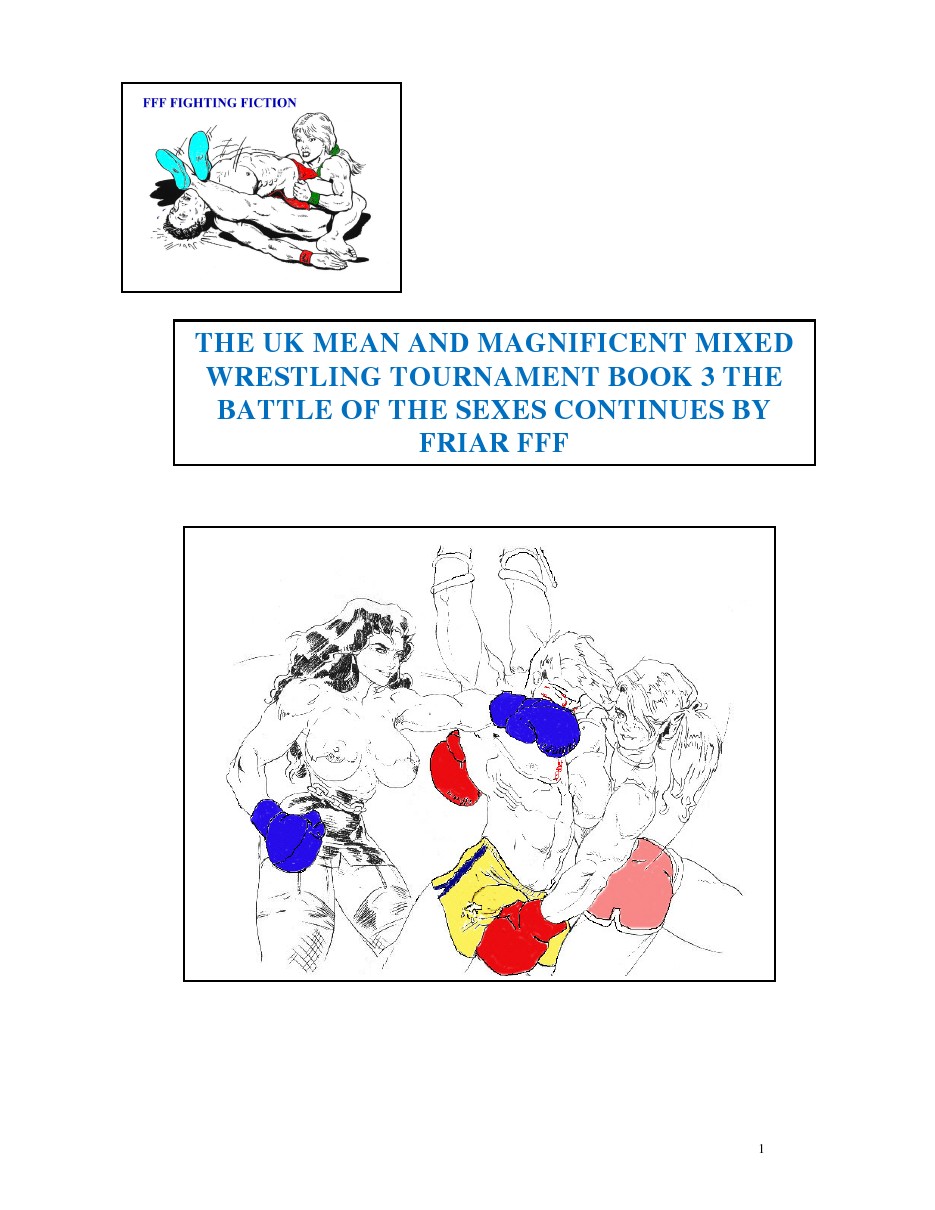 50. SQUIRT II. MIXED TEENAGE WRESTLING AND BOXING CONTINUES FROM SQUIRT PART 1. SUSAN TEENAGE GIRL TOMBOY CONTINUES TO DOMINATE HER TEENAGE BOY COUSIN ROGER USING WRESTLING AND BOXING TO BEST HIM PHYSICALLY AND SEXUALLY. SHE ALSO SEDUCES A OLDER BUT SMALLER YOUNG WELSH MALE FARMER DYLAN, AND PROMISES TO WRESTLE HIM WHEN SHE RETURNS FROM VISITING HER MOTHER IN CARDIFF. LOTS OF MIXED WRESTLING ACTION WITH THE YOUNGER FEMALE DOMINATING OLDER MALES, PHYSICALLY AND SEXUALLY. €400.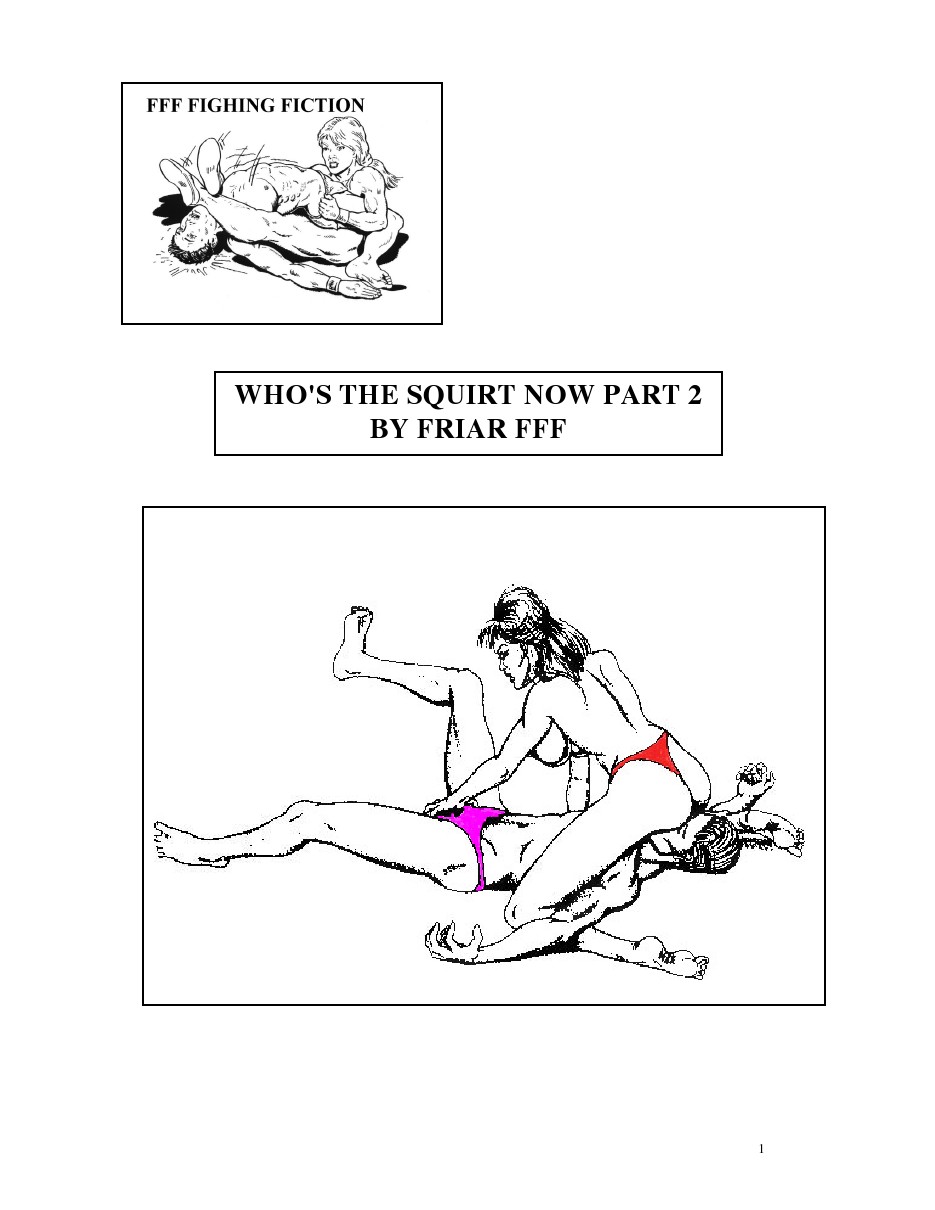 51. DESPERATE CHALLENGE OF THE NON CONTENDERS PART1. NASTY BOY STEVE DEVINE AND PRETTY BOY STEVE BECKS FROM THE THREE PREVIOUS MIXED STORYBOOKS REVENGE GRUDGE MATCH PARTS 1,2, AND 3 RETURN TO CHALLENGE THEIR OLD FEMALE ADVERSARIES ROCKING KELLY PARADISE AND LISA HOSAKA TO ANOTHER MATCH. THEIR CHALLENGE IS SPRUNG ON ROCKING KELLY PARADISE AND LISA HOSAKA BY RICHARD DRAYFUSS DURING PART 4 OF THE PREVIOUS MIXED STORYBOOKS THE UK MEAN AND MAGNIFICENT MIXED WRESTLING TOURNAMENT. PARADISE AND HOSAKA INITIALLY REFUSE THE CHALLENGE INFURIATING NASTY AND PRETTY ISSUING A BADLY WORDED CHALLENGE OF ANY CHALLENGE, ANY TIME, ANYWHERE, THE GIRLS CHOSE. PARADISE AND HOSAKA ACCEPT THE BOYS CHALLENGE AND TELL THEM TO RETURN TWO WEEKS LATER. NASTY BOY STEVE DEVINE AND PRETTY BOY STEVE BECKS RETURN TO THE ARENA TWO WEEKS LATER EXPECTING TO WRESTLE ROCKING KELLY PARADISE AND LISA HOSAKA. BUT TO THEIR ANGER AND DISMAY THEY ARE TOLD THEY WERE NOT GOING TO WRESTLING PARADISE AND HOSAKA AS LOSING THEIR LAST MATCH AGAINST PARADISE AND HOSAKA THEY WERE NOW NOT CONTENDERS. THEY WOULD BE WRESTLING AGAINST YOUNG AND UPCOMING FEMALE WRESTLERS CHOSEN BY PARADISE AND HOSAKA. NASTY AND PRETTY PROTESTED BY WHEN THERE CHALLENGE OF ANY CHALLENGE, ANY TIME, ANYWHERE, WAS THROWN BACK I THEIR FACES THEY HAD TWO CHOICE ACCEPT OR CHICKEN OUT AND LOOSE FACE ON THE PROFESSIONAL WRESTLING CIRCUIT. MATTERS GOT WORST FOR NASTY AND PRETTY WHEN THEY WERE TOLD THEY WOULD BE IN A TAG MATCH AGAINST THREE YOUNG FEMALE OPPONENTS. NASTY PROTESTED AGAIN AND THERE SECOND THEY HAD BROUGHT ALONG RAMPANT RYAN STORM WAS CO-OPTED INTO THE BOYS TEAM, WITH THE TEAM NOW EVEN THEY HAD EVEN LEES CHOICE THEN TO ACCEPT. AS BAD AS THIS SEEMED TO THE BOYS TEAM THERE WERE GOING TO BE SIX FEMALE WRESTLERS POSING AS LUMBERJACKS ROUND RINGSIDE. TWO REFEREES WERE APPOINTED TO KEEP ORDER ONE IN THE RING AN EXPERIENCED FEMALE WRESTLER AND A MALE WRESTLER CRAIG ANDREWS THE RED SLAYER FROM THE STORYBOOKS THE UK MEAN AND MAGNIFICENT MIXED WRESTLING TOURNAMENT. NASTY BOY STEVE DEVINE, PRETTY BOY STEVE BECKS AND RAMPANT RYAN STORM BATTLE IN A NO HOLDS BARRED ANYTHING GOES BATTLE OF THE SEXES IN FRONT OF A BAYING FEMALE G CROWD. THE GIRLS TEAM AIDED BY THE FEMALE LUMBERJACKS OVERWHELMED THE BOYS TEAM PARTAKING IN DOUBLE AND TRIPLE TEAMING, ABUSING THEM PHYSICALLY AND SEXUALLY. EVEN THE SECOND REFEREE CRAIG ANDREWS THE RED SLAYER IS ABUSED BY THE LUMBERJACKS. A LONG STORY OF HOT SEXY AND DOWN RIGHT PAINFUL MIXED WRESTLING ACTION WITH THE BOYS' TEAM COMING OFF MUCH WORST. €5.00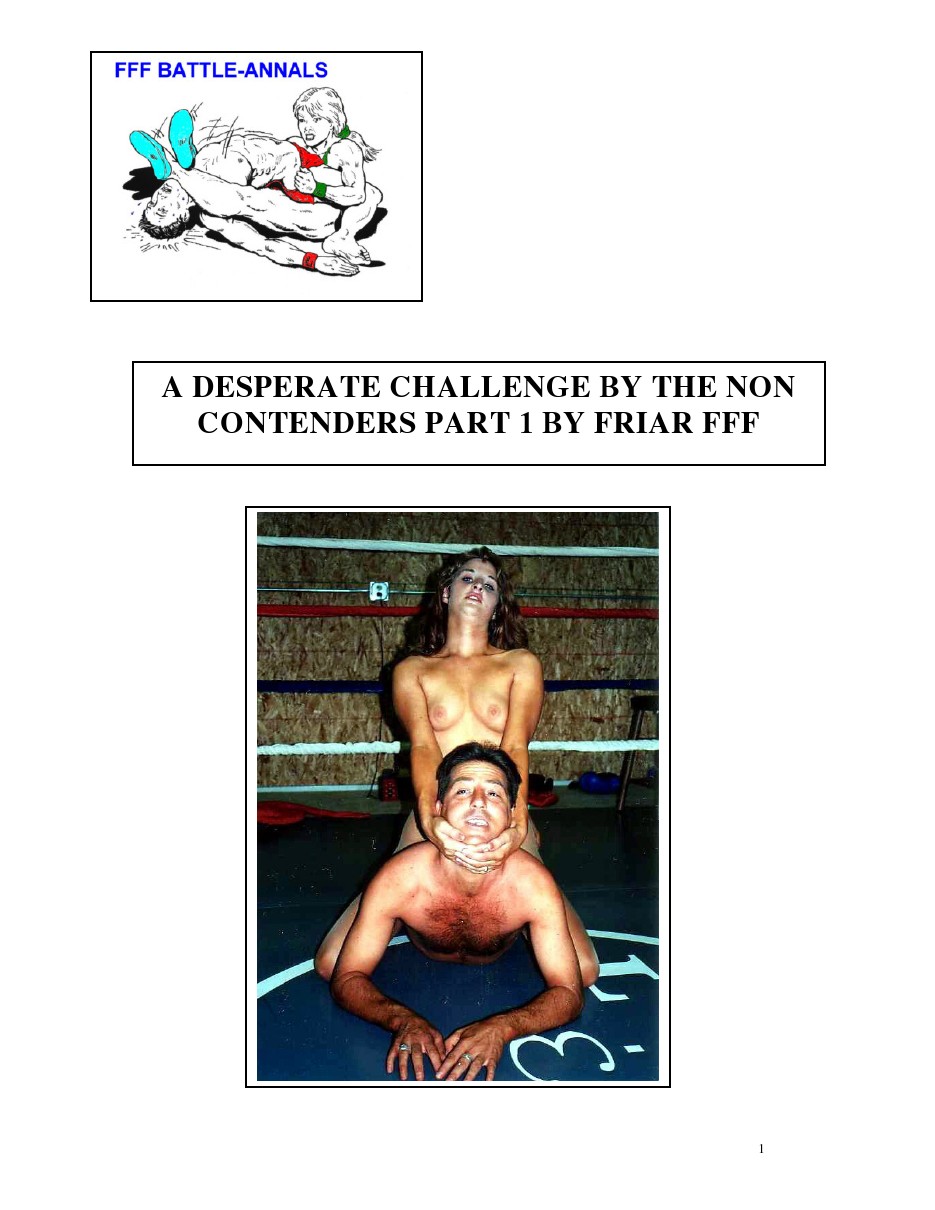 52. DESPERATE CHALLENGE OF THE NON CONTENDERS PART 2. NASTY BOY STEVE DEVINE, PRETTY BOY STEVE BECKS AND RAMPANT RYAN STORM CONTINUE THERE TOUGH MIXED BATTLE AGAINST ROCKING KELLY PARADISE AND LISA HOSAKA'S FEMALE WRESTLERS. AS THE BOYS' TEAM DID SO BADLY IN THE FIRST HALF KELLY AND LISA RE-ARRANGE TO GIRLS' TEAM. THEY FIELD A MUCH LESS EXPERIENCED AND CAPABLE TEAM FEATURING MICHELLE MEAN MADISON, KELLY SPARKS, AND TRACEY RINGER. THEY ADD CRAIG ANDREWS THE RED SLAYER TO STRENGTHEN THE BOYS' TEAM. THIS WAS SUPPOSEDLY TO MAKE IT EASIER FOR THE BOYS' TEAM TO WIN BUT IN REALITY IT WAS TO HUMILIATE THEM EVEN MORE WHEN THEY LOST. THE LUMBERJACKS WERE DISBANDED AND THE REFEREES CHANGED. ALETA TATE WAS TO BE THE NEW FIRST REFEREE IN THE RING AND MELISSA LOHEART A SPECIAL GUEST FEMALE WRESTLING AND FIGHTING CHAMPION REPLACED CRAIG ANDREWS THE RED SLAYER AS THE SECOND REFEREE OUTSIDE THE RING. ALTHOUGH THE BOYS OUT WEIGH AND OUT NUMBER THE GIRLS THEY STILL LOSE. ITS ANOTHER LONG TOUGH MIXED TAG WRESTLING MATCH WITH BOYS COMING OFF WORST AGAIN BEING BEATEN AND HUMILIATED PHYSICALLY AND SEXUALLY BY THE GIRLS TEAM. MELISSA LOHEART HAS SURPRISE AND STING IN THE TAIL FOR THE SPONSOR AND ORGANISED RICHARD DRAYFUSS AT THE END. IF YOU LIKED PART 1 AND YOU LIKE TOUGH BRUTAL AND EROTIC MIXED FIGHTING WITH BOYS COMING OFF WORST THEN THIS STORYBOOK IS FOR YOU.
€
5.00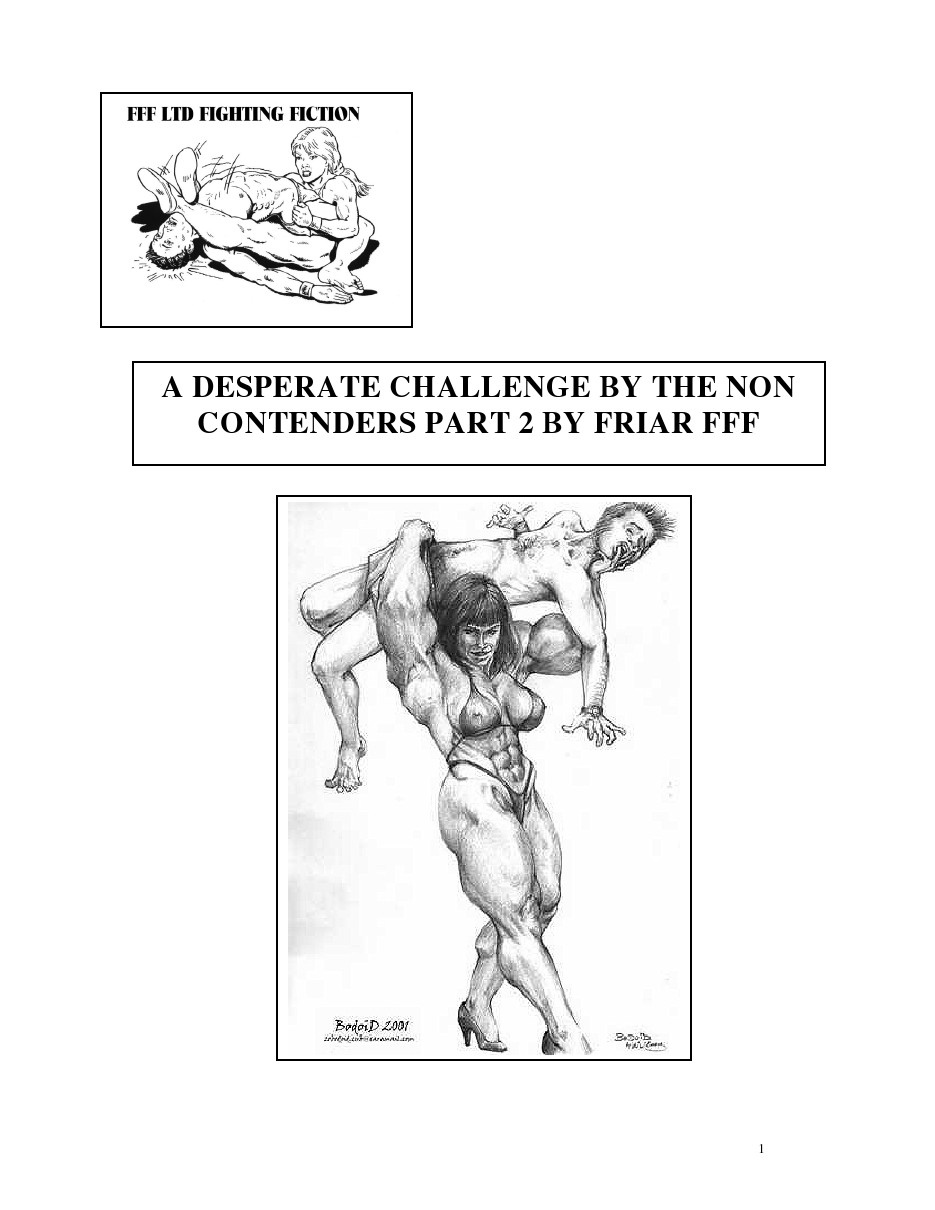 53. SQUIRT 3. MIXED TEENAGE WRESTLING AND BOXING CONTINUES FROM SQUIRT PART 2. SUSAN TELLS ROGER 'SQUIRT' ALL ABOUT WHAT SHE DID IN CARDIFF TO MARCUS HER MOTHER'S WEALTHY MALE SEX SLAVE. SHE DESCRIBED ALL THE WAY SHE WATCHED AND SOMETIMES HELPED HER MOTHER PUNISH MARCUS AND MAKE HIS CUM LEARNING NEW WAYS TO ABUSE AND EXCITE THE MALE BODY USING NEW TOYS AND IMPLEMENTS. THEN DEMONSTRATES SOME ON SQUIRT USING SOME OF THE NEW TOYS HER MOTHER GAVE HER MAKING ROGER SUFFER AND MAKING HIM CUM AS WELL.
ROGER THEN TOLD SUSAN WHAT HE'D BEEN DOING WHILE SHE WAS IN CARDIFF. HE TOLD HER HE HAD TWO WRESTLING MATCHES HE'D HAD WITH DYLAN DESCRIBING HOW HE BEAT DYLAN TWICE WINNING TOW SETS OF HIS UNDERWEAR. SUSAN WHO WAS GOING TO WRESTLE DYLAN LATER THAT EVENING THEN USED ROGER TO PRACTICE HER HOLDS ON MAKING HIM SUFFER AND CUM AGAIN.
LOTS OF FEMALE PHYSICAL AND PAINFUL PUNISHMENT OF THE HELPLESS MALE BODY ALSO SOME GOOD TOUGH MALE ON MALE NO HOLD BARRED WRESTLING. €5.00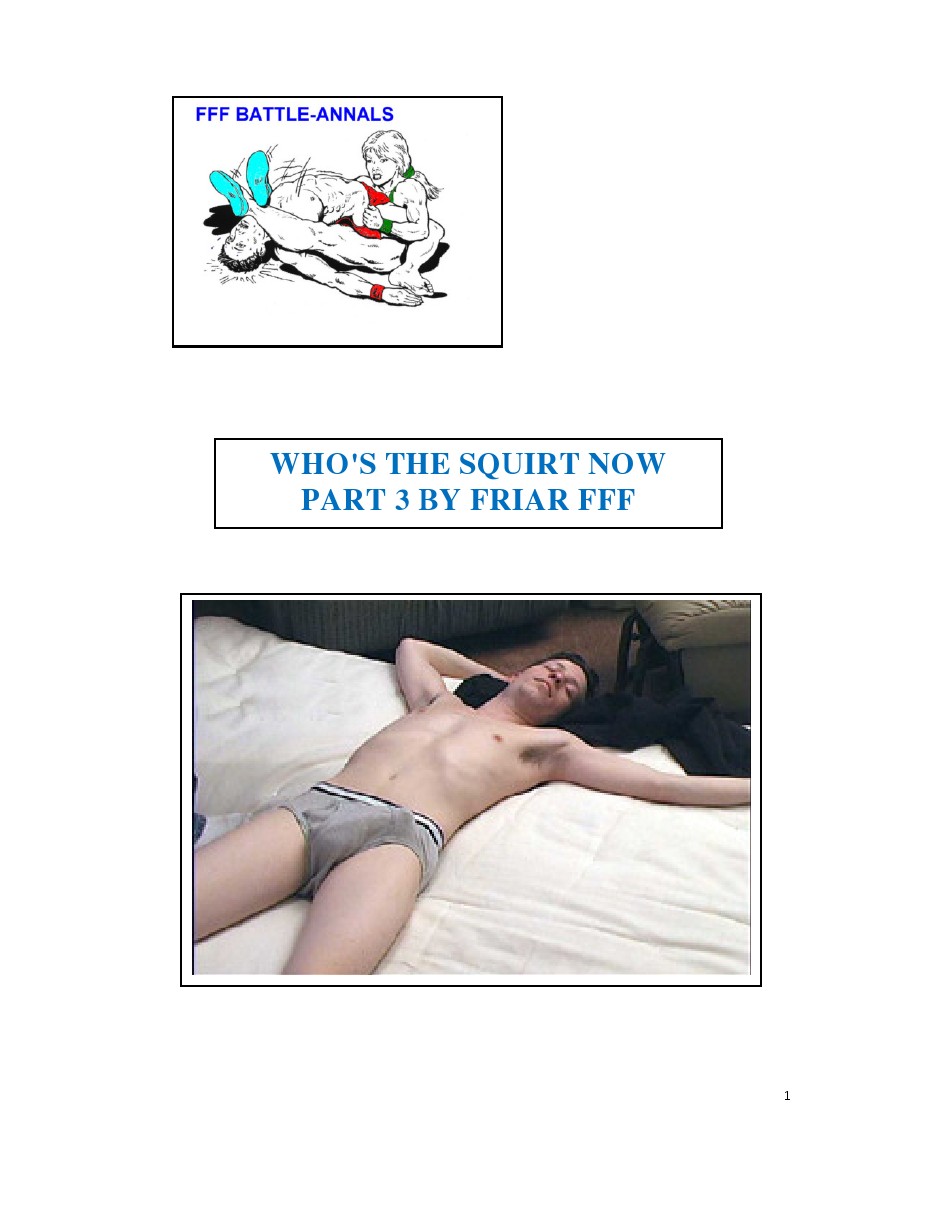 54. SQUIRT 4. SUSAN WRESTLES DYLAN AN OLDER BUT SMALLER MAN WHO ROGER HAD PREVIOUSLY DEFEATED TWICE WATCHED BY ROGER. SUSAN COMPLETELY TROUNCED DYLAN DESPITE HIS CLAIM HE WOULD BEAT HER. SHE REALLY BEAT AND HUMILIATED DYLAN BOTH PHYSICALLY AND SEXUALLY. THE FOUGHT BY SUSAN'S RULES AND FOR STAKES. SUSAN WON DYLAN'S UNDERWEAR THEN WITH ROGER'S HELP SEXUALLY ABUSED DYLAN USING SOME OF HER SEX TOYS ON HIS VIRGIN ARSE. SUSAN MADE DYLAN AGREE TO MEET THEM AT THE LAKE THE NEXT DAY SO SHE COULD WATCH DYLAN AND ROGER BOXING. SUSAN MADE THEM BOX NUDE AND AFTER A TOUGH BOUT DYLAN WHO PROVED TO BE THE BEST BOXER WON. DYLAN MADE ROGER SUFFER IN A PAINFUL FORFEIT ABUSING HIS COCK AND BALLS UNTIL HE CUM. SUSAN'S FORFEIT WAS VEY HUMILIATING FOR ROGER SHE SHAVED HIS UPPER BODY AND PUBIC HAIR. THAT EVENING SUSAN BOXED WITH DYLAN AND GAVE HIM A LONG SUSTAINED POUNDING EASILY BEARING HIM. HER FORFEIT WAS SHAVING HIS BODY HAIR OFF AND PHYSICALLY ABUSE HIS COCK AND BALLS. TOUGH MIXED FIGHTING STORY WITH GOOD FEMALE V MALE ACTION WITH LOTS OF HORNY PAINFUL ABUSE OF THE MALE BODY BY A FEMALE AND ALSO SOME GOOD MALE V MALE FIGHTING AND BODY ABUSE. €5.00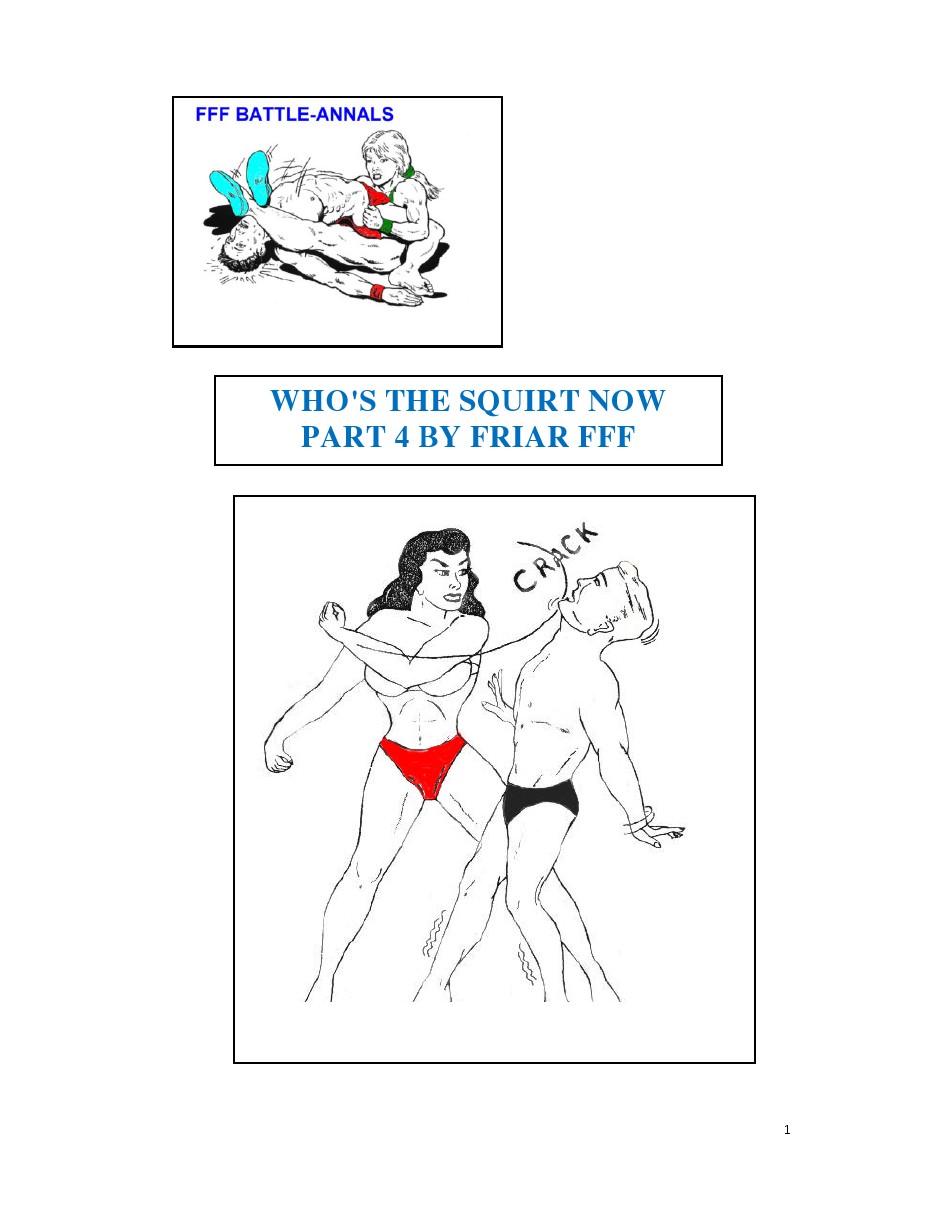 55 SQUIRT 5. THE NEXT DAY SUSAN AND ROGER COULDN'T GO TOT HE LAKE AS IT WAS S RAINING. SO SHE MADE THE PLAY A TOUGH GIRLS GAME FROM HER SCHOOL AN ENDURANCE PUNISHMENT GAME DECIDED BY THE ROLL OF A DICE. SUSAN TOTALLY TROUNCED ROGER AT THE GAME. USING SEVERAL PAINFUL IMPLEMENTS ON HIS BODY. SUSAN ABUSED ROGER'S BEATEN EXHAUSTED BOYD MAKING HIM CUM. SHE THEN MADE HIS HARD AGAIN AND RODE HIS COCK TO MULTIPLE ORGASMS BEFORE MAKING HIM EJACULATE ONCE MORE BEFORE PASSING OUT,
AFTER TEA WHEN DYLAN ARRIVED. HE HAD DYLAN PLAY ANOTHER GIRLS GAME FORM HER SCHOOL HANDICAP WRESTLING. FIRST DYLAN WAS BLINDFOLD AND SUSAN WAS HANDCUFFED. TEN THEY SWAPPED PLACES. SUSAN EASILY BEAT DYLAN BOTH TIME AND THEN SHE GOT ROGER TO HELP HER DOUBLED TEAM DYLAN. SHE MADE ROGER WANK DYLAN'S COCK TILL HE MADE DYLAN CUM
THE NEXT DAY THE WEATHER WAS STILL BAD AND ROGER AND SUSAN PLAYED MORE GIRLS GAMES. THEY PLAYED THIGH WRESTING IN THE MORNING AND SUSAN WON CONVINCINGLY KEEPING ROGERS THIGHS WIDE WHILE HE COULD OPEN HERS AT ALL. SUSAN MAD ROGER SUFFER IN A GRAPEVINE FOR LOSING THEN RODE HIS COCK OFF AGAIN ENJOYING MORE MULTIPLE ORGASMS. IN THE AFTERNOON THE PLAYED GLOVE WRESTLING WHICH IS WRESTLING WITH BOXING GLOVES ON. SUSAN BESTED ROGER POUNDING HIM WITH HER GLOVES EVERY TIME SHE GOT HIM PINNED. SUSAN FINALLY WON BY GETTING ROGER'S UNDERPANTS DOWN AND WANKING HIS COCK WITH HER BOXING GLOVE UNTIL HE EJACULATED.
THAT EVENING SHE MADE DYLAN PLAY A BREATH GAME WITH HER AND THEY TOOK TURNS AT SMOTHERING EACH OTHER. WHEN DYLAN WAS UNABLE TO MATCH HER SHE MADE HIS PLAY ROGER AND ROGER WAS EASILY BEATING DYLAN UNTIL HE TRIED TO LAST TO LONG TO IMPRESS THEM BOTH. ROGER LOST BY FORFEIT FOR PASSING OUT AND WAS DOUBLE TEAMED BY SUSAN AND DYLAN. SUM MADE DYLAN WANK ROGER UNTIL HE EJACULATED. AFTER DYLAN LEFT SUSAN USED ROGER AS HER HUMAN DILDO TO GET MORE MULTIPLE ORGASMS FROM HIM. GREAT MIXED AND MALE WRESTLING ACTION WRESTLING, WITH THE MALE SUFFERING AT HE SADIST HANDS OF A DOMINANT GIRL EVEN BEING MADE TO MAKE EACH OTHER CUM GREAT WRESTLING AND DOMINATION ACTION. €5.00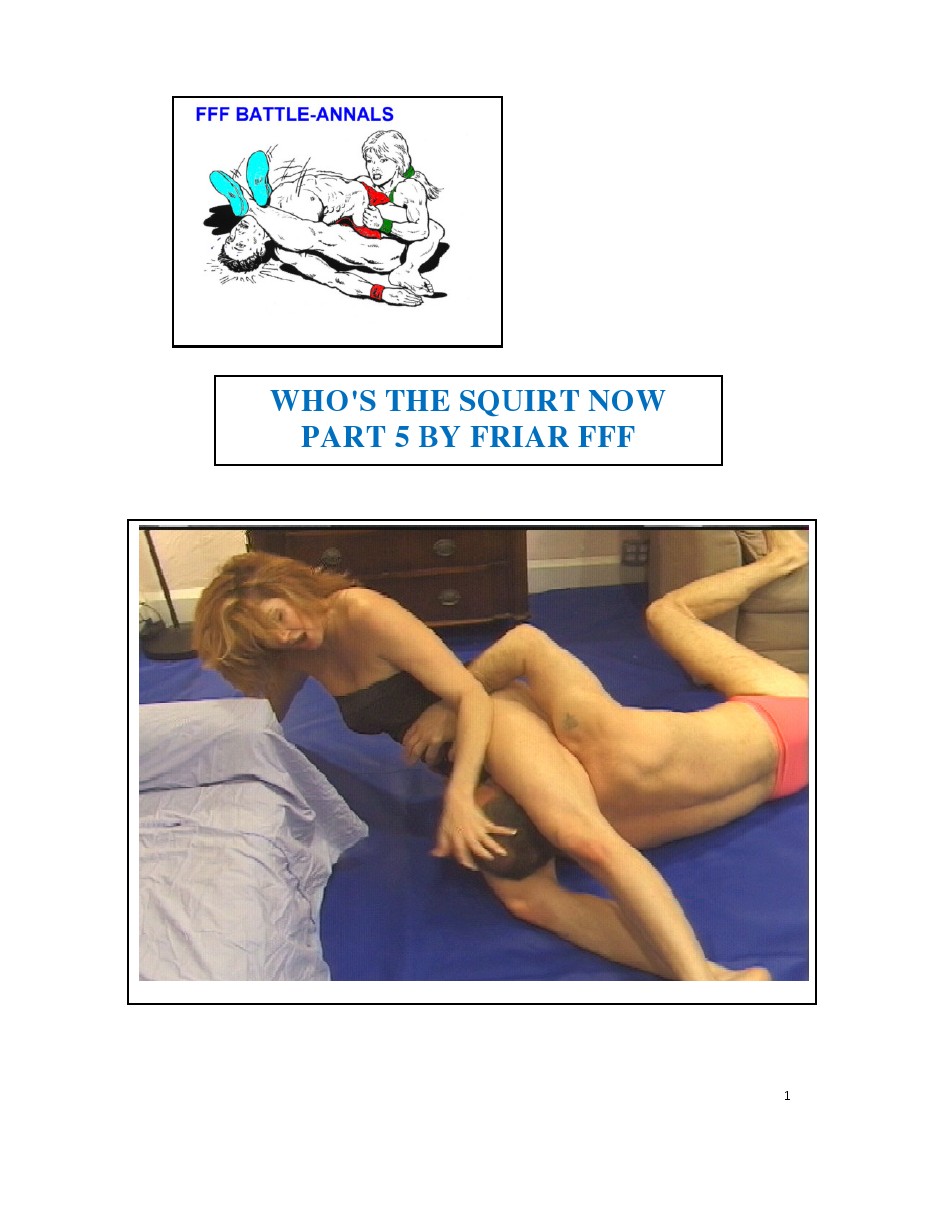 56 THE TOUGH GIRL PART 1 WRESTLING REMINISCING. ZACK A TWENTY THREE YEAR OLD MALE WRESTLER IS WRESTLING HIS FIFTEEN YEAR OLD COUSIN BILLY AND HAD COMPLETELY FORGOT HE INVITED AN OLDER WOMAN SHARON TO WRESTLE WITH HIM THAT AFTERNOON TO HELP HER LEARN SUBMISSION WRESTLING. ZACK HAD GOT THE DATES WRONG AND DIDN'T REALISE HE HAD INVITED SHARON ON THE SAME DAY WHEN HE WAS WRESTLING BILLY. SHARON TWENTY FIVE WAS OLDER HEAVIER AND TALLER THAN ZACK AND HAD CONTACTED HIM TO SEE IF HE WAS WILLING TO SHOW HER HOW TO SUBMISSION WRESTLE. ZACK APOLOGISED AND LET SHARON IN AND SHE WAITED AND WATCHED ZACK FINISH HIS MATCH WITH BILLY. ZACK HAD JUST BEEN ON THE POINT OF GETTING HIS THIRD SUBMISSION FROM BILLY WHEN SHARON ARRIVED. WHEN THEY RESTARTED BILLY TURNED THE TABLES ON ZACK CATCHING HIM OUT WITH SOME HARD KNEES TO THE BELLY ALLOWING BILLY TO TRAP ZACK IN A BOSTON. ALTHOUGH UNABLE TO FREE HIMSELF ZACK REFUSED TO SUBMIT AND WAS MADE TO SUFFER BY BILLY IN FRONT OF SHARON AND BEING SO HELPLESS AND IN PAIN IN FRONT OF SHARON GAVE ZACK AND EMBARRASSING ERECTION. BILLY EVENTUALLY FORCED ZACK TO SUBMIT AND WAS REALLY PLEASED HE GOT HIS FIRST SUBMISSION FROM ZACK AND IN FRONT OF A GIRL.
WHILE BILLY SHOWERED SHARON TOLD ZACK HOW SHE STARTED WRESTLING AFTER MEETING AN AMERICAN SERVICE MAN VINCE WHO SHOWED HER HOW TO WRESTLE AMATEUR COLLEGIATE US STYLE. SHARON TOLD ZACK SHE WRESTLED WITH VINCE MANY TIMES SLOWLY GETTING BETTER UNTIL THE LAST TIME THEY MET AS VINCE HAD BEEN POSTED BACK TO THE US SHE BEAT HIM THREE PINS TAP OUT SUBMISSION TO NIL. SHARON TOLD ZACK SHE REALLY WANTED TO WRESTLE SUBMISSION STYLE LIKE THE OLD WORLD OF SPORT BRITISH STYLE AGAINST MALE OPPONENTS THAT'S WHEN SHE CONTACTED HIM AND WAS GLAD HE HAD AGREED TO SHOW HER HOW. ZACK TOLD SHARON ABOUT HIS TWO MATCHES AGAINST FEMALE OPPONENTS. THE FIRST WAS AGAINST AND OLDER COUPLE RICHARD AND JUDY AND THEIR HOME. ZACK HAD TO WRESTLE BOTH RICHARD AND JUDY HE WERE BOTH LARGER AND STRONGER THAN HIM FRO THREE FALLS OR SUBMISSIONS. ZACK TOLD SHARON HOW RICHARD FORCED THREE STRAIGHT PAINFUL AND EMBARRASSING SUBMISSIONS OUT OF HIM IN FRONT OF HIS WIFE JUDY. JUDY ENCOURAGED HER HUSBAND TO REALLY MAKE ZACK SUFFER AND FORCE HIM TO SUBMIT CLEARLY ENJOYING ZACK'S SUFFERING. ZACK TOLD JUDY HOW EXCITED HE GOT WRESTLING AND BEING SO EASILY DOMINATED AND DEFEATED BY RICHARD WHILE JUDY SHOUTED ENCOURAGEMENT SUGGESTING ALL TYPES OF PAINFUL HOLDS AND PINS TO USE ON ZACK. ZACK THEN TOLD SHARON ABOUT HIS MATCH WITH JUDY WHO ALSO FORCED THREE PAINFUL AND EMBARRASSING SUBMISSIONS FORM HIM WHILE EAGERLY ENCOURAGED BY RICHARD HER HUSBAND.
ZACK THEN TOLD SHARON OF HIS WRESTLING EXPERIENCE WITH A SLIGHTLY OLDER WOMAN CALLED RACHEL WHO HE MET BY ACCIDENT IN A PUB IN SOHO. RACHEL AND EX GYMNAST TOLD ZACK HOW MUCH SHE LIKED THE IDEA OF WRESTLING WITH A GUY AND HOW SHE USED TO WRESTLE HER BOTHER YEARS AGO. ZACK AGREED TO WRESTLE WITH RACHEL AND WENT BACK TO HER FLAT. ZACK TOLD HOW IN THEIR INITIAL WRESTLING HOW HE BEAT RACHEL. RACHEL ENJOYED THERE TUSSLE BUT SAID SHE WANTED TO KNOW HOW TO WRESTLE BETTER SO ZACK AGREED TO SHOW HER HOW TO APPLY HOLDS AND LET HER PRACTICE THEM ON HIM. RACHEL WHO USED TO ENJOY BEATING AND MAKING HER BROTHER SUFFER YEARS EARLIER EAGERLY ACCEPTED ZACK'S OFFER. RACHEL TOOK ADVANTAGE ZACK'S OFFER MAKING HIM SUFFER IN IN THE HOLDS HE SHOWED HER AND ALLOWED HER TO PRACTICE ON HIM MAKING HIM SUBMIT AND AND SUFFER JUST LIKE SHE USED TO DO TO HER BROTHER.
AFTER LISTENING TO ZACK'S TWO FEMALE WRESTLING ENCOUNTERS SHARON KNEW SHE HAD CHOSEN THE RIGHT MALE TO SHOW HER HOW TO SUBMISSION WRESTLE AS HE CLEARLY ENJOYED BEING MADE TO ENDURE PAINFUL HOLDS AND PINNED AND THAT IS WHAT SHE WANTED TO DO TO MALE OPPONENTS MAKE THEM SUFFER AND SUBMIT JUST LIKE THE OLD BAD GUY WRESTLERS DID IN THE WORLD OF SPORT DAYS AS SHARON FANCIED HERSELF AS A FEMALE BAD WORLD OF SPORT WRESTLERS.
BILLY ZACK'S COUSIN LEFT AFTER SHOWERING LEAVING ZACK AND SHARON FREE TO WRESTLE. SHARON KNEW SHE WAS GOING TO DO HER BEST AGAINST ZACK AND ALSO THAT AFTER LISTENING TO HIS STORIES WAS GOING TO GET HIM TO SHOW HER HOLDS AND AND LET HER PRACTICE THEM ON HIM AND MAKE HIM SUFFER JUST AS MUCH AS RACHEL HAD OR EVEN MORE. GREAT FEMALE ON MALE AND MALE ON MALE WRESTLING ACTION WITH MALES SUFFERING AT THE HANDS OF FEMALES AND MALE A LIKE. €2.00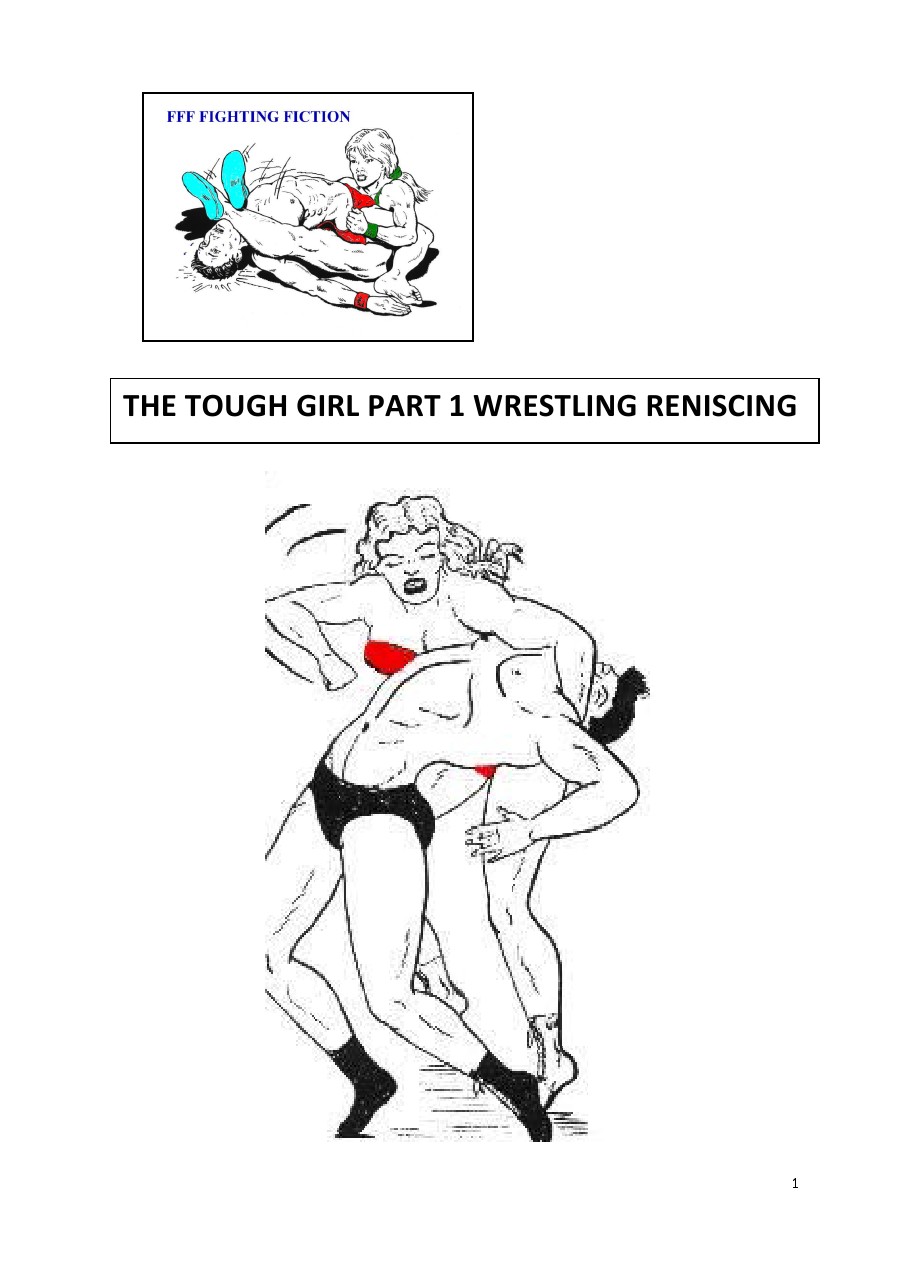 57 THE TOUGH GIRL PART 2 PRACTISE MAKES PERECT. WITH BILLY GONE AND THEIR REMINISCING OVER ZACK AND SHARON GET DOWN TO SOME WRESTLING. KNEELING THEY LOCKED SHOULDERS AND GRAPPLED HARD TRYING TO FORCE EACH OTHER DOWN TO THE MATS. SHARON TURNED OUT MUCH STRONGER THAN ZACK AND IT TOOK HIM SOME TIME AND ALL HIS SKILL AND EXPERIENCE TO GET HER DOWN TO THE MATS AND PIN HER ARMS AND SHOULDERS. WHEN THEY STARTED AGAIN ZACK TOLD SHARON TRY TRY AND GET HIM DOWN AND PIN HIM. ANOTHER LONG TOUGH STRUGGLED ENSUED BUT SHARON FINALLY MANAGED TO GET ZACK DOWN AND PINNED. SHE KEPT ZACK PINNED UNTIL SHE COULD KEEP HIS SHOULDERS DOWN FOR A THREE COUNT AND GET HIM TO ADMIT SHE HAD PINNED HIM. AFTER A SHORT BREAK THEY STARTED AGAIN AND SHARON WAS ABLE TO GET ZACK DOWN AND AND PIN HIM BUT ZACK STRUGGLED ON REFUSING TO ACCEPT THE PIN AND EVENTUALLY GET OUT OF IT. THEN SHARON GOT ZACK IN BEAR HUG AND DESPITE DESPERATE EFFORTS TO ESCAPE ZACK COULD NOT. SHARON ENJOYED PUNISHING ZACK WITH THE BEAR HUG EVEN MORE THAT SHE DID WITH THE SCHOOLBOY PIN. ALTHOUGH SUFFERING ZACK GOT EXCITED AND IN THE END HAD TO SUBMIT TO END HIS HUMILIATING PUNISHMENT. SHARON DROPPED ZACK ONTO HER KNEE WHEN HE SUBMITTED SLAMMING HIS BALLS INTO THE THIGH. WHILE HE WAS DOWNED WITH HIS ACHING BALLS SHARON THE STARTED ON HIS RIGHT ARM TRAPPING IT IN A VERY PAINFUL ARM LOCK THAT WAS SO PAINFUL IT MADE HIS SUBMIT. SHE THEN APPLIED SEVERAL VARIATIONS OF THIS ARM LOCK GETTING MORE SUBMISSIONS FROM THE BATTER BUT HIGHLY EXCITED MALE WRESTLER. SHARON BROUGHT HER LEGS INTO PLAY TO APPLY AN EVEN MORE PAINFUL ARM LOCK COMBINATION AROUND HIS NECK. THE COMBO HOLD MADE IT HARD TO BREATHE HAND THREATENED TO BREAK ARM SHOULDER AND NECK FORCING HIM TO SUB AGAIN.
AFTER ANOTHER BREAK SHARON WANTED TO PRACTICE THE SCHOOLBOY PIN AND CROTCH SMOTHER. ZACK DEMONSTRATED ON SHARON HOW TO DO BOTH THEN THEY SWAPPED PLACES. SHARON GOT ZACK PINNED UNDER HER AND IT WAS HIS JOB TO TRY AND FREE HIMSELF AND HER JOB TO KEEP HIM PINNED. ZACK STRUGGLED HARD BUT COULD NOT UNSEAT SHARON EVEN AFTER HER TAUNTS. WHEN ZACK COULD FREE HIMSELF SHARON SWITCHED TO THE CROTCH SMOTHER AND PRESSED HER CROTCH INTO ZACK'S FACE PREVENTING HIM FROM BREATHING. ZACK STRUGGLED HARD TO ESCAPE BUT SHARON JUST KEPT HIM SMOTHERED UNTIL HE PASSED OUT. SHARON STRIPPED ZACK NAKED AND THEN STRIPPED NAKED HERSELF TRAPPING HIM A PAIN GRAPEVINE RODE HIS COCK USING IT TO PLEASURE HERSELF TO SEVERAL ORGASMS UNTIL SHE SLUMPED WEAKLY ON TOP OF ZACK. THEY THEN LAY SIDE BY SIDE NAKED AS SHARON WANKED ZACK'S COCK MAKING HIM EJACULATE HARD. THEIR FIRST TRAINING AND PRACTICE SESSION ENDED AND THEY AGREE TO HAVE ANOTHER ONE IN TWO WEEKS TIME.
SHARON AND ZACK MEET AGAIN A COUPLE OF WEEKS LATER FOR SOME MORE WRESTLING PRACTICE AND TRAINING. SINCE THEIR LAST SESSION SHARON HAS PURCHASE SOME DOC MARTIN BOOTS INSPIRED BY SEEING ZACK'S COUSIN BILL WEARING THEM. WHEN THEY START TO WRESTLE BEFORE PRACTISING AND TRAINING SHARON CHRISTENED HER DOC MARTINS ON ZACK'S GENITALS AND BODY SHE REALLY ENJOYED STICKING THE BOOT IN IT APPEALED TO HER SADIST NATURE AND DOMINANT PERSONALITY PARTICULARITY WITH REGARD TO MALE OPPONENTS. WHEN THEY GRAPPLED AGAIN SHARON GAVE ZACK ANOTHER HARD LONG WORK OVER PUNISHING HIM THE WAY SHE LIKED TO PUNISH MALE OPPONENTS. WHEN THEY STARTED TO PRACTISE SHARON INSISTED ON ZACK SHOWING HER BACK PUNISH HOLDS AND PINS. ZACK STARTED WITH THE CAMEL CLUTCH DEMONSTRATING IT ON SHARON THEN LETTING HER TRY IT ON HIM. SHARON QUICKLY GOT THE HOLD RIGHT AND APPLIED IT MERCILESSLY TO ZACK REALLY MAKING HIM SUFFER PARTICULARLY ENJOYING TRAPPING HIS ARMS OVER HER THIGHS RENDERING HIM HELPLESS ALLOWING HER TO APPLY IT EVEN HARDER. SHARON RELEASED ZACK WHEN HE AGREED SHE HAD MASTERED THE CAMEL CLUTCH BUT ONLY TO GET HIM IN IT AGAIN AND THIS TIME TO PUNISH HIM UNTIL HE SUBMITTED.
AFTER ANOTHER BREAK ZACK SHOWED SHARON THE ABDOMINAL STRETCH THEN THE BODY WRECKER SHARON PRACTISED AND PERFECTED BOTH HOLD MERCILESSLY ON ZACK MAKING HIM SUBMIT NUMEROUS TIMES. SHARON ENJOYED THEIR PRACTISE SESSION AND PUNISHING A MALE WRESTLER MADE IT EVEN MORE SATISFYING FOR HE BUT SHE REALLY WANTED TO PRACTICE THE BOSTON CRAB SO ZACK GREED TO SHOW HER THAT NEXT. ZACK SHOWED SHARON HOW TO APPLY THE FULL BOSTON CRAB THE SEMI BOSTON CRAB AND THE SINGLE BOSTON CRAB THEN LET HER PRACTICE THEM ON HIM. SHARON WAS EVEN MORE MERCILESS WHEN PRACTISING AND PERFECTING THE THREE VARIATIONS OF THE INFAMOUS BOSTON CRAB. SHE REALLY MADE ZACK SUFFER KNOWING HOW MUCH HE LIKE TO BE TESTED AND ABUSED PARTICULARLY BY A FEMALE WRESTLER. BY THE TIME THEY FINISHED ZACK WAS COMPLETELY EXHAUSTED AND UNABLE TO DEFEND HIMSELF. SHARON FINISHED HIM OFF WITH A CROTCH SMOTHER KEEPING HIM IN UNTIL HE PASSED OUT. SHE STRIPPED ZACK WHILE UNCONSCIOUS AND UNDRESSED HER SELF SO SHE COULD USE HIS COCK TO PLEASE HERSELF AGAIN LIKE SHE DID AFTER OVERCOMING HIM THEIR FIRST SESSION. TO MAKE ZACK LAST LONGER SHE PUT A COCK RING ON HIS COCK AND FORBID HIM TO EJACULATE UNTIL SHE TOLD HIM HE COULD ON THE FEAR OF LOSING HIS BALLS. SHARON RODE ZACK'S COCK LIKE A DEMON ENJOYING NUMEROUS ORGASMS DELIBERATELY PUSHING CLOSER AND CLOSER TO EJACULATION. IN THE END SHARON DIDN'T TELL ZACK HE COULD CUM SHE USED HER CUNT MUSCLES TO MAKE HIM EJACULATE. IT HAD BEEN AND EVEN MORE EXCITING SESSION FOR HER FULFILLING MANY FANTASY'S OF BEATING, PUNISHING AND HUMILIATING A MALE OPPONENT. SHARON HAD TAKEN MULTIPLE SUBMISSIONS TAKING HIS MALE PRIDE AND HIS SPUNK MASTERING HIM AND HIS COCK MAKING THEM SUBSERVIENT TO HER. SHARON TOLD ZACK SHE WANTED THEIR NEXT MEETING TO BE A COMPETITIVE MATCH AND HE AGREED TO TRY AND BOOK A MAT ROOM HE KNEW ABOUT IN LONDON. MORE GREAT FEMALE ON MALE BRUTAL PHYSICAL AND EROTIC ACTION WITH THE MALE SUFFERING AT THE HANDS OF TOUGH DOMINANT FEMALE. €3.00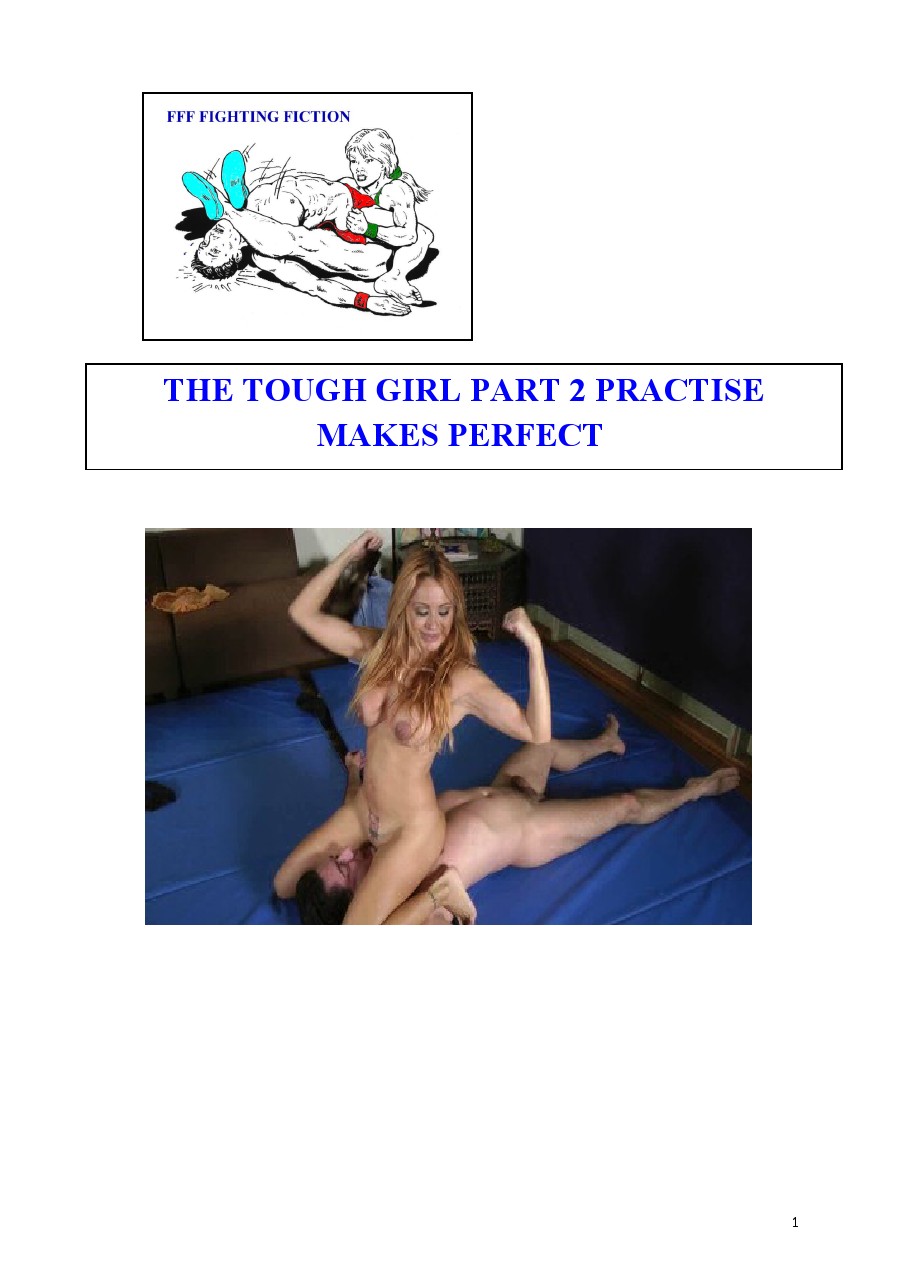 58 SQUIRT 6. ONE HIS WAY HOME FROM AN EVENING OF WRESTLING WITH SUSAN AND ROGER DYLAN COMES ACROSS A YOUNG AMERICAN MAN ON WALKING HOLIDAY. BRETT THE YOUNG AMERICAN ON A WALKING HOLIDAY WAS LOST AND SOAKED TO THE SKIN BY THE TORRENTIAL RAINS DURING THE THUNDER STORM SO DYLAN TAKE BRETT TO FARM HOUSE COME BB WHERE SUSAN AND ROGER ARE STAYING WITH THEIR GRAND MOTHER. AS IT IS RAINING THE NEXT DAY BRETT WAS FORCED TO REMAIN AT THE FARM HOUSE. BRETT ENDS UP JOINING IN THE WRESTLING ACTIVITIES WITH SUSAN AND ROGER. BRETT HAD MET BOTH OF THEM BEFORE BREAKFAST, WALING IN ON ROGER IN THE SHOWER AND THEN BEING CAUGHT NAKED IN THE SHOWER BY SUSAN. AFTER BREAKFAST SUSAN AND ROGER TOLD HIM ABOUT THEIR WRESTLING AND BOXING ACTIVITIES AND AFTER SOME TAUNTING FROM SUSAN EH AGREED TO WRESTLE WITH HER. BRETT WAS A GOOD WRESTLE BUT DIDN'T KNOW WHAT HE WAS LETTING HIMSELF IN FOR WHEN HE AGREE TO WRESTLE SUSAN USING GIRLS RULES. HE DIDN'T REALISE UNTIL IT WAS TOO LATE THAT SUSAN WAS NOT JOKING WHEN SHE DESCRIBED GIRLS WRESTLING AS ALL IN ANYTHING GOES, WITH THE WINNER PHYSICALLY AND SEXUALLY DOMINATING AND ABUSING THE LOSER.
BRETT STARTED WELL BUT LOST THE FIRST SUBMISSION TO SUSAN. HE MADE A GOOD COME BACK TAKING THE SECOND AND EQUALISING POINT WITH A PIN. AFTER ANOTHER HARD FIGHT HE SOUNDLY TROUNCED BY HER AFTER WHICH SHE FORCED A FOURTH A TOTAL SUBMISSION OUT OF HIM ALLOWING HER TO PRACTICE HOLDS ON HIM LATE WHEN SHE PROMISED TO SUBJECT BRETT TO ALL KINDS OF PHYSICAL AND SEXUAL ABUSE. WITH BRETT SPENT AND EXHAUSTED SUSAN TURNED HER ATTENTION TO ROGER MAKING HIM PLAY A VERY PHYSICALLY AND SEXUAL DEMANDING CHALLENGE GAME WITH HIM. BRETT WAS JUST IN HIS BOXER SHORTS WHEN HE LOST AGAINST SUSAN AND HAD TO LET HER PRACTICE HOLDS ON HIM. AS PROMISED SUSAN PRACTISED SEVERAL PHYSICALLY PAINFUL AND HUMILIATING HOLDS ON BRETT, SUBJECTING BRETT TO ALL KINDS OF PHYSICAL AND SEXUAL ABUSE FINALLY GETTING ROGER TO REMOVE HIS BOXER SHORTS. WHEN BRETT WAS NAKED SUSAN SUBJECTED HIM TO SOME INTENSE SEXUAL ABUSE MAKING HIM EJACULATE HELPLESSLY
IN THE AFTERNOON AFTER LUNCH OF SANDWICHES AND ORANGE JUICE SUSAN CHALLENGED BRETT TO SOME ARM WRESTLING AND THIGH WRESTLING. AS BRETT WAS FAMILIAR WITH ARM WRESTLING BUT NOT THIGH WRESTLING SUSAN DEMONSTRATED HOW THIGH WRESTLING WORKED ON ROGER. SHE DEMONSTRATED HOW TO WIN BY FORCING ROGER'S LEGS AND THIGHS WIDE WITH HER OWN AND KEEPING THEM WIDE. THE PAINFUL, EASY AND EMBARRASSING DEFEAT MADE ROGER EXCITED AND SUSAN PLAYED MERCILESSLY WITH HIS COCK UNTIL SHE MADE HIM CUM VERY HARD STILL KEEPING THIGHS SPREAD WIDE. BRETT LOST THE ARM WRESTLING AFTER A HARD FOUGHT BATTLE AGAINST SUSAN. HE WAS ALSO NO MATCH FOR HER IN THIGH WRESTLING GOING FIRST HE WAS UNABLE TO FORCE SUSAN'S THIGHS APART FAR ENOUGH TO MAKE IT PAINFUL FOR HER AND EVEN THOUGH HE STRUGGLED ON FOR A LONG TIME COULD STOP HER FORCING HIS LEGS CLOSED BETWEEN HERS. SUSAN QUICKLY FORCED BRETT'S THIGHS PAINFULLY WIDE EVEN EASIER THAT SHE HAD ROGER'S AND KEPT THEM PAINFULLY WIDE ABUSING HIM PHYSICALLY AND SEXUALLY UNTIL HE CONCEDED.
AS HER REWARD FOR WINNING AND BRETT'S FORFEIT FOR LOSING BRETT WAS HANDCUFFED NAKED AND HELPLESS TO SUSAN'S BED. SHE THEN ABUSED HIM COCK MAKING HIM EJACULATE HARD TWICE DRAINING HIS BALLS BY SODOMISING HIM THE SECOND TIME VIRTUALLY RAPING HIS COCK AND HIS ARSE. SUSAN THEN RODE HIS COCK LIKE HUMAN DILDO FOR SEVERAL EXCITING FIERCE ORGASMS. THEY ALL THEY RESTED UNTIL TEA TIME AFTER WHICH DYLAN WOULD ARRIVE AS SUSAN HAD PLAYS FOR ALL OF THEM. MORE GREAT MIXED AND MALE WRESTLING ACTION WRESTLING, WITH MALES SUFFERING AT THE SADIST HANDS OF A DOMINANT GIRL EVEN BEING MADE CUM HELPLESSLY BY HER. GREAT WRESTLING AND DOMINATION ACTION. €5.00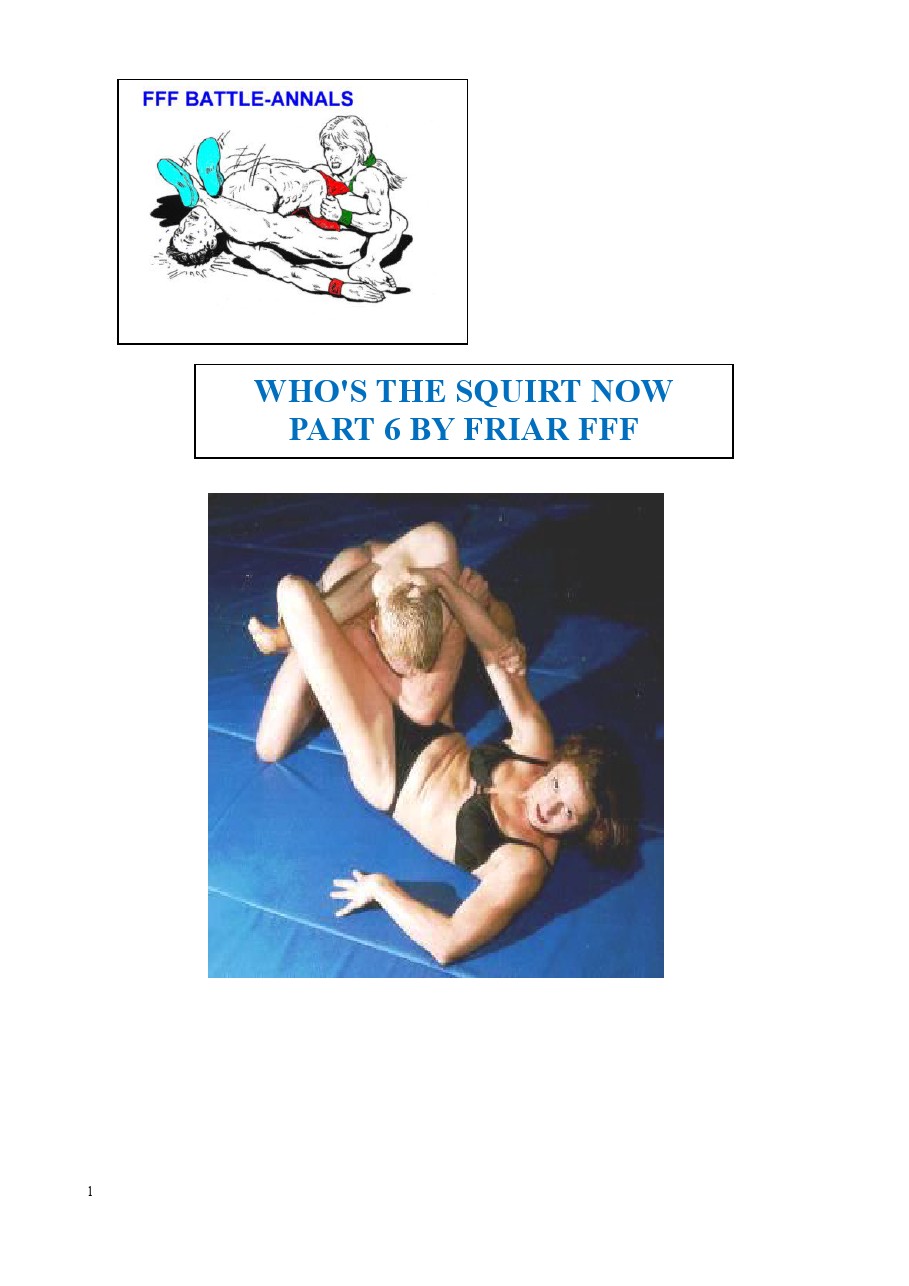 59 SQUIRT 7. HAVING RESTED AFTER THEIR AFTERNOON OF HOT HORNY WRESTLING, SUSAN, ROGER AND BRETT HAVE TEA THEN RUSH BACK UP TO THE ATTIC TO WAIT FOR DYLAN TO ARRIVE. AFTER ASKING BRETT WHAT HE THOUGHT ABOUT GIRLS UNREALISTIC RULES SUSAN SUGGESTED AND SHORT GLOVE WRESTING MATCH BETWEEN ROGER AND BRETT TO PASS THE TIME WHILE THEY WAITED FOR DYLAN. THEY EXPLAINED THE RULES TO BRETT THAT IS WAS WRESTLING WITH BOXING GLOVES ON AND THAT YOU WERE ALLOWED TO PUNCH THE OPPONENT WHEN YOU HAD THEM PINNED OR IN A HOLD. BRETT AND ROGER SLIPPED BOXING GLOVES ON AND PREPARED TO WRESTLE THE WINNER BEING THE ONE WHO GOT THE FIRSTS SUBMISSION. THE KNELT IN THE MIDDLE OF THE CARPET AND BRETT PLACED HIS HANDS ON ROGER'S SHOULDER READY TO WRESTLE BUT ROGER DID NOT DO THE SAME. WHEN BRETT CHALLENGED HIM ROGER PUT HIS LEFT HAND ON BRETT'S SHOULDER THEN MOVED IT TO BEHIND HIS NECK BEFORE SLAMMING HIS RIGHT GLOVE INTO BRETT'S BELLY. ROGER HELD ONTO BRETT'S NECK AND DELIVERED AND TWO PUNCHED TO BRETT'S BELLY THEN KNOCKED HIM DOWN WITH A RIGHT UPPERCUT. ROGER JUMPED ON TOP OF BRETT AND BATTLE TO PIN HIS ARMS DOWN WHILE BRETT FOUGHT TO STOP HIM. UNABLE TO PIN BRETT'S ARMS ROGER BOUNCED UP AND DOWN ON BRETT DRIVING HIS BUM INTO BRETT'S BELLY UNTIL BRETT WAS UNABLE TO STOP ROGER PINNING HIM. ROGER INCHED HIGHER AND SMOTHERED BRETT WITH HIS CROTCH. ROGER KEPT THE SMOTHER ON UNTIL BRETT WAS CLOSE TO PASSING OUT.
ROGER DID NOT MAKE BRETT PASS OUT BY INCHED BACK DOWN HIS CHEST AND STARTED TO PUNCH BRETT'S HEAD WITH HIS GLOVES. ROGER PEPPERED BRETT'S FACE WITH LEFT RIGHT COMBINATIONS INTENDING TO MAKE HIM SUBMIT. BRETT REFUSED TO SUBMIT AND ROGER ASKED IF SUSAN WANTED HIM TO MAKE BRETT SUBMIT AND SUSAN SAID YES AND MAKE HIM CUM HE IS SO HARD SHE ADDED. IT TOOK QUITE FEW MORE LEFT RIGHT COMBINATIONS BEFORE ROGER MADE BRETT SUBMIT BY WHICH TIME BRETT'S FACE WAS RED AND HIS COCK EVEN HARDER IN HIS BOXERS. ROGER DID NOT RELEASE BRETT HE STARTED TO PUNCH BRETT'S CHEST TURNING IT RED AND MAKING HIM GROAN. ROGER MOVED LOWER AND STARTED TO POUND BRETT'S BELLY. ROGER CONTINUED TO PUNCH BRETT;S BELLY CHEST AND FACE FORCING HIM TO SUBMIT AGAIN. THE ROGER SAT ON BRETT'S HARD COCK AND PRESSED HIS BUM INTO IT MAKING BRETT SQUIRM AS HE STRUGGLED NOT TO CUM. ROGER GAVE BRETT'S BELLY SOME MORE PUNCHES AND RELEASED HIM ENJOYING HIS WIN OVER BRETT AND SUSAN'S CONGRATULATIONS.
AS DYLAN WAS DRAINED DRY AND EXHAUSTED SUSAN FINALLY ALLOWED HIM TO TAG WITH BRETT. BRETT DIDN'T WAIT BUT ATTACKED SUSAN STRAIGHT AWAY. SHOWING THE SAME SPEED HE HAD USED EARLIER IN THE DAY BRETT JUMPED ON SUSAN AND KNOCKED HER DOWN. WHEN SUSAN TOLD BRETT THAT SHE WASN'T READY AND ROGER HAD NOT SAID START YET AS BRETT STRUGGLED TO PIN SUSAN'S ARMS DOWN. BRETT TOLD HER THAT AS SHE HAD TOLD HIM EARLIER THERE WERE NO RULES IN GIRLS WRESTLING. AS BRETT CONTINUED TO TRY AND PIN SUSAN SHE LURCHED UP AND THREW BRETT OFF FLIPPING HIM OVER HER HEAD. NICE TRY DWEEB SUSAN TOLD BRETT AS HE GOT TO HIS KNEES. WHEN BRETT CHARGED AGAIN SUSAN BLOCKED HIM WITH HER SHOULDER SO HIS CHEST SLAMMED INTO HER SHOULDER. THE IMPACT OF THE BODY CHECK SLIGHTLY WINDED BRETT ALLOWING SUSAN TO GRAB HIS SHOULDERS. SUSAN DROVED HER KNEE INTO BRETT'S BALLS THANKING HIM FOR REMINDING HER THEIR WERE NO RULES AND HE CRUMPLED TO THE CARPET. SUSAN ROLLED BRETT ONTO HIS BACK HE WAS STILL CLUTCHING HIS ACHING BALLS AND MOANING. SHE SAT BEHIND HIS HEAD AND TRAPPED HIS HEAD IN BETWEEN HER THIGHS. SUSAN CRUSHED BRETT'S HEAD BETWEEN HER SOLID THIGHS MAKING HIM SQUIRM HELPLESSLY. THE KNEE TOT HE BALLS HAD WINDED HIM AND IT WAS QUITE SOME TIME BEFORE HE GOT HIS VOICE BACK AND WAS ABLE TO SUBMIT.
SUSAN KEPT BRETT IN THE HEAD SCISSOR AND CONTINUED TO CRUSH HIS HEAD UNTIL HE CLAWED WEAKLY AT HER SOLID THIGHS. SUSAN GRABBED BRETT'S ARMS AND STRETCHED THEM OUT TIGHT OVER HIS HEAD ADDING TO HIS SUFFERING. SHE GOT ANOTHER SUBMISSION QUITE QUICKLY FROM BRETT. SUSAN INVITED ROGER FOR SOME MORE DOUBLE TEAMING AND TOLD ROGER TO PUNCH BRETT IN THE BALLS AND KNACKER HIM. ROGER EAGERLY PUNCHED AND KNACKERED BRETT'S BALLS MAKING HIM GROAN IN AGONY. ROGER IGNORED BRETT'S REPEATED SUBMISSIONS UNTIL SUSAN TOLD HIM TO STOP AND GET BRETT'S BOXERS OFF SO SHE COULD SEE HOW RED HIS BALLS WERE. SUSAN THEN TAGGED ROGER AND TOLD HIM TO GET A SUBMISSION FROM BRETT. BRETT GRABBED HIS BALLS AND ROLLED OVER ONTO HIS BELLY WHEN SUSAN RELEASED HIS HEAD. ROGER CLIMBED ON BRETT'S BACK FACING HIS FEET AND TRAPPED BRETT IN A BOSTON CRAB. ROGER APPLIED THE BOSTON AS HARD AS HE COULD BUT STILL COULDN'T GET BRETT TO SUBMIT
IT UNTIL SUSAN SUGGESTED HE USE HIS BODY WEIGHT AS A COUNTER BALANCE TO APPLY THE HOLD EVEN HARDER. THE EXTRA PRESSURE WORKED AND ROGER MADE BRETT SUBMIT BUT ROGER DIDN'T NOT FREE HIM FROM THE BOSTON. ROGER CLAMPED BRETT'S LEGS UNDER HIS ARMS FREEING HIS HANDS. ROGER GRABBED AND SQUEEZED BRETT'S BALLS HARD UNTIL HE MADE BRETT SUBMIT AGAIN. SUSAN WAS PLEASED WITH ROGER FOR GETTING TOW SUBMISSION AND JOINED HIM FOR SOME MORE DOUBLE TEAMING. SUSAN TOOK OVER ABUSING BRETT'S BALLS AND QUICKLY GOT ANOTHER SUBMISSION. SUSAN AND ROGER HAD WON THE TAG WRESTLING IT WAS NOW TIME FOR HER TO DECIDE BRETT AND DYLAN'S FORFEIT FOR LOSING.
ROGER AND SUSAN LAY BRETT ON HER BED AND HANDCUFFED BRETT TO HER BED STEAD. THEY THEN LAY DYLAN ON ROGER'S BED AND HANDCUFFED HIM TO THE BED STEAD. SUSAN AND ROGER SLIPPED ON THEIR BOXING GLOVES AND SUSAN CLIMBED ON TOP OF BRETT AND ROGER CLIMBED ON DYLAN'S CHEST. BRETT AND DYLAN'S NAKED BODIES WERE NOW COMPLETED EXPOSED AND DEFENCELESS. SUSAN PUNCHED BRETT'S HEAD TILL SHE MADE BLOOD TRICKLE FROM HIS NOSE THEN POUNDED HIS BELLY. SUSAN THEN GRABBED AND SQUEEZED BRETT'S HARD EXCITED COCK WITH HER GLOVES AND WANKED HIM MERCILESSLY UNTIL HE BEGGED HER TO MAKE HIM CUM. THE SHE STARTED TO TAP BRETT''S BALLS WITH HER GLOVES WHILE WANKING HIS COCK UNTIL SHE MADE HIM CUM. ROGER POUNDED DYLAN'S BELLY WITH HIS GLOVES. A FEW HARD PUNCHES TO DYLAN'S SOLAR PLEXUS WINDED HIM. THE ROGER STATE TO BOUNCED UP AND DOWN ON DYLAN DRIVING HIS BUM INTO DYLAN'S BELLY. ROGER CLIMBED HIGHER UP ONTO DYLAN;S CHEST AND PRESSED HIS BULGING BRIEFS INTO DYLAN;S FACE SMOTHERING DYLAN WITH HIS HARD COCK. ROGER KEPT THE CROTCH SMOTHER ON UNTIL TILL DYLAN PASSED OUT. ROGER TURNED ROUND TO FACE DYLAN'S FEET AND LAY FULL LENGTH ON TOP OF HIM. ROGER TRAPPED DYLAN'S HEAD IN A REVERSE HEAD SCISSORS AND WAITED FOR HIM TO COME ROUND.
ALTHOUGH DYLAN WAS OUT COLD HIS COCK STAYED HARD AND ROGER SQUEEZED AND STROKED IT STILL WITH HIS BOXING GLOVES ON. ROGER USED THE THUMB OF HIS BOXING GLOVE TO TEASE DYLAN'S BALLS AND PERINEUM. WHEN DYLAN CAME ROUND ROGER SQUEEZED HIS HEAD HARDER AND CONTINUED TO PLAY WITH HIS COCK AND BALLS INTENT OF MAKING DYLAN EJACULATE. IT DIDN'T TAKE LONG BEFORE HE PUSHED DYLAN OVER THE EDGE AND MADE HIM CUM. ROGER CONTINUED TO WANK DYLAN'S COCK ENSURING DYLAN HAD A LONG DRAINING EJACULATION. THE INTENSITY OF HIS FORCED EJACULATION MADE DYLAN PASS OUT AGAIN AND ROGER LEFT HIM LYING ON HIS BED. SUSAN CONGRATULATED ROGER ON WHAT HE HAD JUST DONE TO DYLAN AND ROGER SE BY THE STATE OF BRETT THAT SUSAN HAD BEEN EQUALLY MERCILESS WITH HIM. SUSAN RELEASED BRETT'S ARMS AND TOLD HIM TO HAVE A SHOWER. WHEN EH DIDN'T MOVE SHE ROLLED HIM OVER AND SPANKED HIS NAKED ARSE TO ENCOURAGE HIM. AFTER BRETT HAD STUMBLED DOWN TO THE SHOWER SUSAN AND ROGER BROUGHT DYLAN ROUND AND FREE HIM AS WELL. THEY LEFT HIM LYING OF ROGER'S BED TO RECOVER BEFORE HIS SHOWER.
TO PASS THE TIME WHILE THEY WAITED FOR BRETT TO RETURN AND AS THEY WERE BOTH SO EXCITED SUSAN DECIDE TO PRACTICE SOME HOLDS ON ROGER. SHE MADE HIM LAY ON HER BED AND THEN SHE GOT ON TOP OF HIM. SUSAN STARTED WITH A SCHOOL BOY PIN AND WOULD NOT LET ROGER RESIST OR STRUGGLE UNTIL SHE HAD HIM WELL PINNED. ROGER STRUGGLED AS HARD AS HE COULD BUT ONLY WORE HIMSELF OUT. WHEN ROGER'S STRUGGLES WEAKENED SUSAN GRABBED AND SQUEEZED HIS HARD EXCITED COCK. SUSAN KEPT ROGER ON THE BRINK OF EJACULATION BUT HE SOME HOW MANAGED TO RESIST AND LASTED NEARLY HALF AN HOUR UNTIL BRETT RETURNED FROM THE SHOWER. AS HE WAS VERY WEARY BRETT RETRIEVED HIS BOXER SHORT AND WENT TO BED. SUSAN GAVE ROGER A SHORT BREAK WHILE SHE WOKE DYLAN AND SENT HIM DOWN FOR A SHOWER. WHEN DYLAN HAD GONE SUSAN RE-APPLIED THE SCHOOL BOY PIN AND GRABBED ROGER'S HARD EXCITED COCK. SUSAN SQUEEZED ROGER'S COCK GAIN PUSHING HIM TOWARDS EJACULATION. SHE THEN CHANGED THE SCHOOLBOY PIN TO A CROTCH SMOTHER. SUSAN KNEW ROGER SMOTHERED AND UNABLE TO BREATHE WOULD MAKE HIM EJACULATE BUT SHE WASN'T GOING TO LET HIM OFF THAT EASILY. SUSAN FREE ROGER AND ORDER HIM TO TURN OVER AND FACE THE OTHER WAY.
SUSAN SAT ON ROGER'S BACK PRESSING HIS HARD EXCITED COCK INTO THE BED AND APPLIED A CAMEL CLUTCH. SUSAN WORKED ROGER'S NECK, SHOULDERS AND LOWER BACK OVER WITH THE CAMEL CLUTCH STRETCHING HIM AND RAISING HIS UPPER BODY HIGH OFF THE BED,WHILE PRESSING HIS HARD EXCITED COCK INTO THE BED. SUSAN RELEASED ROGER FROM THE CAMEL CLUTCH AND APPLIED A DOUBLE REVERSE ARMS STRETCH USING IT TO WORK HIS ARMS AND LOWER BACK THIS TIME STRETCHING HIM AND RAISING HIS UPPER BODY OFF THE BED. SUSAN PUSHED ROGER TO THE BRINK OF EJACULATION AGAIN THEN RELEASED HIM. SUSAN GOT OFF THE BED AND MOVED THE CARPET AND WAITED FOR ROGER TO CRAWL THERE. SUSAN TRAPPED ROGER IN A CROSS KNEE BACK BREAKER PUNISHING HIS ALREADY ABUSED AND ACHING BACK MERCILESSLY PUSHING HIM TO THE BRINK OF EJACULATION AGAIN. THIS TIME SUSAN DID NOT STOP AND MADE ROGER EJACULATE HELPLESSLY. SUSAN LEFT ROGER LYING SPENT AND EXHAUSTED ON THE CARPET AND WENT AND LAY ON HER BED TO WAIT FOR DYLAN TO RETURN. ROGER WAS STILL LYING THERE FIVE MINUTES LATER WHEN DYLAN RETURNED. SUSAN STRIPPED AND HEAD FOR THE SHOWER AND ALSO VERY WEARY DYLAN DRESSED AND STAGGERED DOWN STAIRS TO GO HOME TO BED. MORE GREAT MIXED AND MALE WRESTLING ACTION WRESTLING, WITH MALES SUFFERING AT THE SADIST HANDS OF A DOMINANT GIRL EVEN BEING MADE CUM HELPLESSLY BY HER AND BY OTHER MALES. GREAT WRESTLING AND DOMINATION ACTION. €5.00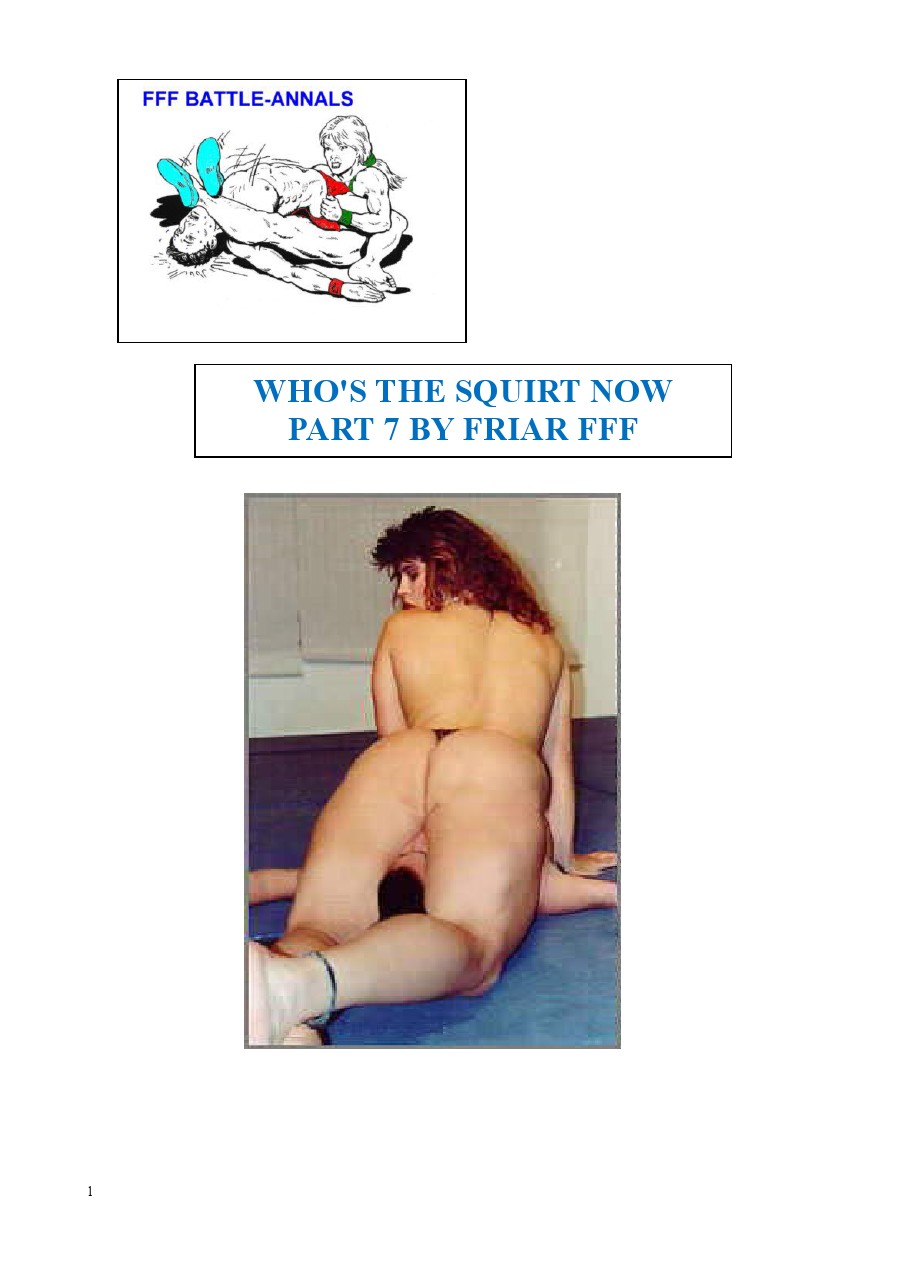 60 THE TOUGH GIRL PART 3 BIRTH OF THE BLACK WIDOW. ZACK WAS EAGER TO MEET UP AND WRESTLE SHARON COMPETITIVELY IN THE MAT ROOM BUT NO SATURDAYS WERE FREE BUT FOUND FREE SPOT ON A FRIDAY EVENING. INITIALLY SHARON COULD NOT MAKE THAT FRIDAY EVENING TIME SLOT AS SHE WAS DUE TO MEET MARCUS ONE OF ZACK'S MAKE WRESTLING PARTNER ON THE SATURDAY MORNING. BUT SHE QUICKLY AGREED WHEN ZACK OFFERED T PUT HER UP FOR THE EVENING TO SAVE THE EXPENSE OF TWO TRAIN TRIPS TO LONDON. SHARON TOLD ZACK SHE HAD NEW DOC MARTIN BOOTS SHE WANTED TO TRY OUT AS PART OF HER UNIFORM TO BECOME THE BLACK WIDOW. ZACK KNEW THAT SHARON WANTED A BLACK SINGLET TO COMPLETE HER BLACK WIDOW UNIFORM SO HE DECIDED TO GIVE HER A BLACK SINGLET OF HIS OWN VERY CLOSE TO WHAT SHE WAS LOOKING FOR. SHARON WAS PLEASED WITH HER NEW BOOTS AND ZACK'S SINGLET AND THAT THE BLACK WIDOW HAD BEEN BORN.
SHARON CELEBRATED THE BIRTH OF THE BLACK WIDOW BY GIVING ZACK THE TOUGHEST WRESTLING WORK OVER HE HAD EVER HAD. IT WAS THE BLACK WIDOW FEMALE HEEL, VERSES ZACK THE MALE JOBBER IN WHITE BOOTS AND SPEEDOS. IT WAS A COMPLETE FEMALE ON MALE WORK OVER AND SQUASH JOB. SHARON AS THE BLACK WIDOW REALLY MADE ZACK SUFFER BOTH PHYSICALLY AND SEXUALLY, WITH NUMEROUS BRUTAL, SADISTIC AND EROTIC HOLDS AND PINS. THE BLACK WIDOW TOOK MULTIPLE SUBMISSION FROM ZACK REALLY PUNISHING HIM PHYSICALLY AND SEXUALLY. ZACK HAD UNWITTINGLY CREATED A MONSTER WHO TURNED ON HIM AND DEVOURED HIM. MUCH MORE GREAT FEMALE ON MALE BRUTAL PHYSICAL AND EROTIC ACTION WITH THE MALE SUFFERING AT THE HANDS OF TOUGH DOMINANT FEMALE THE BLACK WIDOW KICK MALE ARSE. €3.00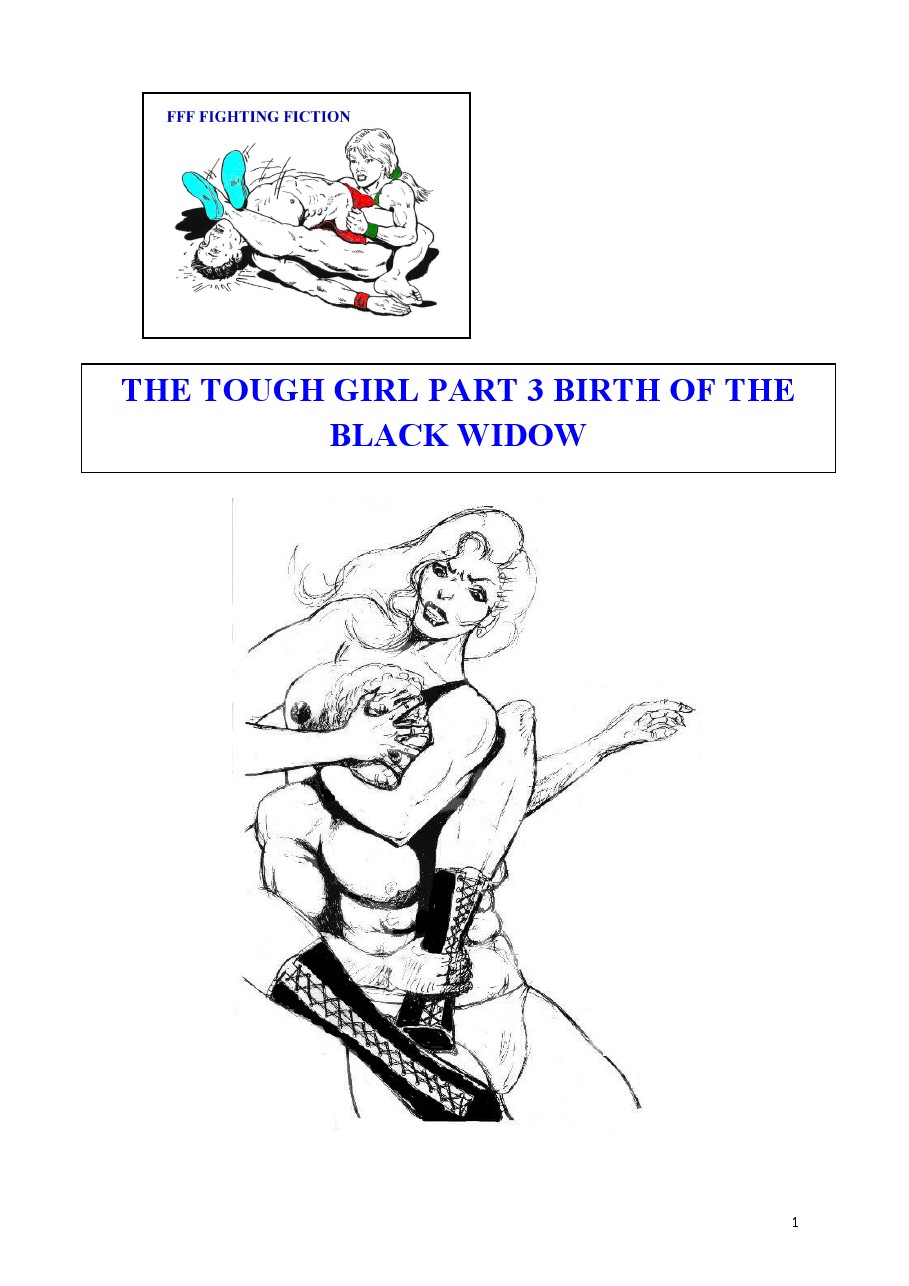 61 ADVENTURES OF A CORRESPONDENCE WRESTLER PART 3 MOTHER DAUGHTER ACT. LUKE GETS HIS THIRD MATCH VIA HIS ADD THIS TIME AGAINST TWO LARGE HEAVY BUILT FEMALES BRENDA AND CHANTEL A MOTHER AND DAUGHTER. LUKE WRESTLES THE MOTHER BRENDA FIRST AND GETS WORKED OVER AND ABUSED BY HER TURNING HIM MATCH INTO A SQUASH JOB. SHE PUNISHES LUKE PHYSICALLY AND SEXUALLY WITH MULTIPLE SUBMISSIONS AND KNOCK OUTS. HE THEN HAS TO WRESTLES CHANTEL THE DAUGHTER AND IS EASILY BEATEN AND ABUSED BY HER TO SEVERAL SUBMISSIONS ALSO ABUSING HIM PHYSICALLY AND SEXUALLY. BRENDA AND CHANTEL THEM DOUBLE TEAM LUKE MAKING HIM SUFFER AGAIN AT THEIR PUNISHING HANDS. MALE JOBBER AND SUBMISSIVE BEATEN AND ABUSED BY TWO FEMALE HEELS AND DOMINANTS. €3.00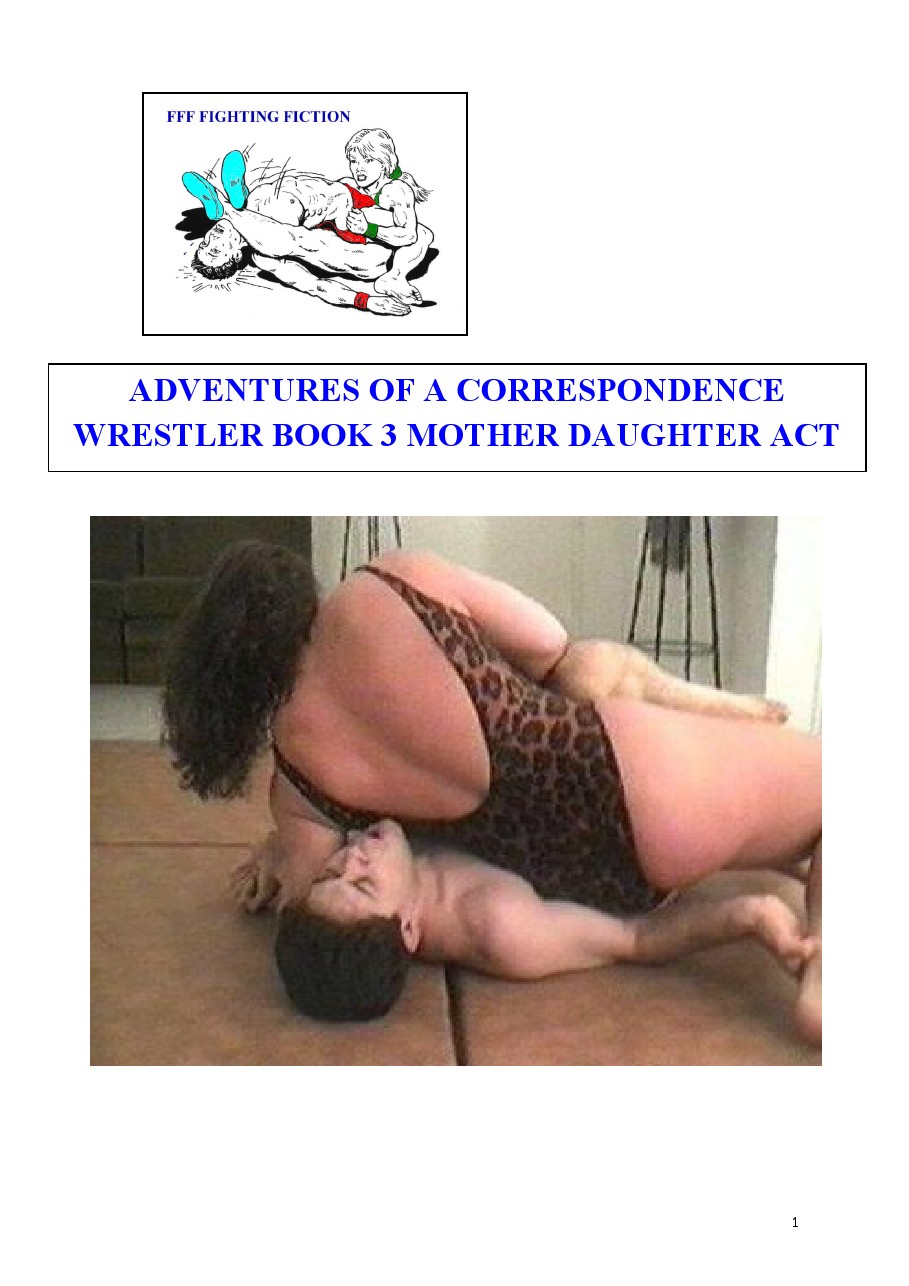 62 THE TOUGH GIRL PART 4 THE BLACK WIDOW DEVOURS. AFTER BEATING AND ABUSING ZACK WHO HELPED SHARON BECOME THE BLACK WIDOW BY GIVING HER A BLACK SINGLET, SHARON THE BLACK WIDOW TAKES ON MARCUS A GAY WRESTLING FRIEND OF ZACK'S. MARCUS WHO WAS MUCH SMALLER THAN LIGHTER THAN SHARON WAS NOT SURE ABOUT WRESTLING A FEMALE FOR THE FIRST TIME, AS THERE WAS NO SEXUAL ATTRACTION IN IT FOR HIM. ONCE ON THE MATS WITH THE BLACK WIDOW HER REALISED IT WAS A MISTAKE BUT BY THEN IT WAS TOO LATE. THE BLACK WIDOW WAS ABLE TO OVER POWER MARCUS FROM THE START AND GIVE HIS A HARD WORK OVER BOTH PHYSICALLY AND SEXUALLY. SHARON TOOK GREAT DELIGHT IN MAKING MARCUS SURRENDER TO HER AND BECOME HER PLAY THING. HER SADISTIC PLEASURE SEEMED UNTAMEABLE RAPING HIS COCK AND ANUS MAKING CUM REPEATEDLY EVEN THOUGH HE GOT NO SEXUAL PLEASURE OUT OF WRESTLING A WOMAN. MARCUS WAS TOTALLY DEVOURED BY THE BLACK WIDOW. MORE GREAT FEMALE ON MALE BRUTAL PHYSICAL AND EROTIC ACTION WITH THE MALE SUFFERING AT THE HANDS OF TOUGH DOMINANT FEMALE THE BLACK WIDOW KICKING GAY MALE ARSE. €3.00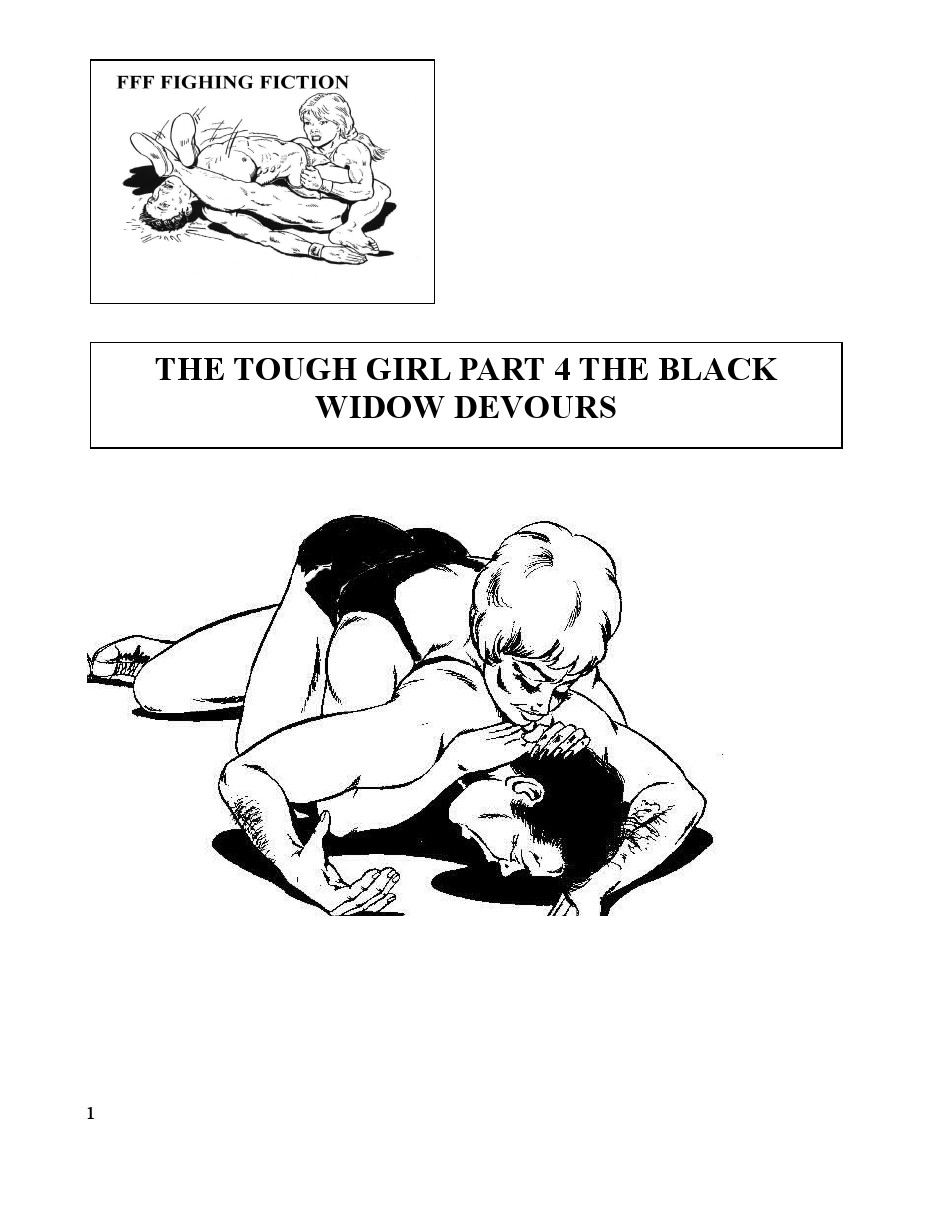 63 VACATION CHALLENGES PART 3. (CONTINUED FROM VACATION CHALLENGES PART 1 AND 2 ON THE MIXED ILLUSTRATED WRESTLING STORY BOOKS LIST. JEFF, ANNE, JACK, AND INGRID FOUR WRESTLING FRIENDS HAD GONE TO IBIZA ON HOLIDAY AT SOME WRESTLING FRIENDS VILLA. THERE FIRST HOLIDAY AWAY TOGETHER THE VILLA HAD WRESTLING MATS AND THEY ENJOYED SOME GOOD WRESTLING FUN BETWEEN THEMSELVES. THEY ALSO MET EARL AND STEPHANIE AND A BLACK AMERICAN COUPLE OF WRESTLERS, FRIENDS OF THE VILLA OWNERS. THEY HAD SOME GOOD WRESTLING EXPERIENCES WITH THEM. THEN THEY HAD RUN IN WITH FOUR GERMANS STAYING AT ANOTHER VILLA OVER TOWELS ON SUNBEDS. ANNE DUMPED THEIR TOWELS IN THE POOL AND WAS CHALLENGED BY ONE OF THE FEMALES TO A FIGHT. IT WAS A TRICK TO GET HER TO THEIR VILLA WHERE SHE WAS WORKED OVER BY ALL FOUR OF THEM. JEFF WAS ALSO WORKED OVER BY THEN WHEN HE WENT IN SEARCH OF ANNE. ANNE, JEFF, JACK, AND INGRID WANTED REVENGE FOR ANNE AND JEFF. EARL VOLUNTEERED TO GOT AND SEE THE FOUR GERMANS TO ARRANGE A FOUR WAY MATCH BETWEEN THE TWO ENGLISH AND GERMAN COUPLES TO SETTLE THE BAD FEELING.
EARL WENT TO THE GERMAN'S VILLA AND ENDED UP WRESTLING AND BEATING THE TWO GERMAN MALES CURT AND RANDAL BEFORE HE COULD ARRANGE THE FOUR WAY MATCH AT ENGLISH COUPLES APARTMENT. EARL TOLD THE ENGLISH COUPLE HE HAD ARRANGED THE FOUR WAY MATCH FOR THEM THE SAID STEPHANIE WAS MEETING A SPANISH GUY CALLED SEBASTIAN WHO HAD WANTED TO WRESTLE WITH HER FOR YEARS AND WAS COMING TO MEET HER AND ASKED IF THEY COULD USE THE MATS IN THEIR APARTMENT. THE ENGLISH COUPLE AGREED AND WERE ABLE TO WATCH STEPHANIE WRESTLE WITH SEBASTIAN. IT WAS TOUGH EXCITING MATCH WITH SEBASTIAN TAKING THE FIRST POINT BUT WITH STEPHANIE COMING BACK TO TAKE THE NEXT TWO POINTS AND THE MATCH.
WHEN THE FOUR GERMAN'S CURT, HELENA, RANDAL, AND VALMA ARRIVED FOR THEIR FOUR WAY MATCH AGAINST ANNE, JEFF, JACK, AND INGRID, EARL AND STEPHANIE ACTED AS REFEREES. THE FOUR COUPLES AGREED TO FOUR BOUTS OF NO-HOLDS BARRED FIGHTING WITH THE WINNERS TAKING ALL. THE WINNERS COULD DO WHAT THEY LIKED TO THE LOSERS. ANNE TOOK ON HELENA FIRST IN A BRUTAL AND SEXY FIGHT TO THE FINISH. ANNE BEAT HELENA THEN ABUSED HER PHYSICALLY AND SEXUALLY IN FRONT OF THE OTHER GERMANS AND THE TWO AMERICANS, TO MAKE HER REVENGE MORE SATISFYING. INGRID THEN TOOK ON RANDAL. IT WAS TOUGH BRUTAL MIXED FIGHT WHICH INGRID WON CONVINCINGLY. INGRID AND JACK THEN SUBJECTED RANDAL TO PHYSICAL AND SEXUAL ABUSE IN FRONT OF THE OTHER GERMANS AND THE TWO AMERICANS. THE TWO ENGLISH WOMEN HAD WON THEIR FIGHTS NOW IT WAS UP TO THE TWO ENGLISH MEN TO TRY AND DO THE SAME. SOME GOOD TOUGH MIXED FIGHTING FOLLOWED BY MORE TOUGH PHYSICAL AND SEXUAL NHB ACTION ALL THE WAY. €4.00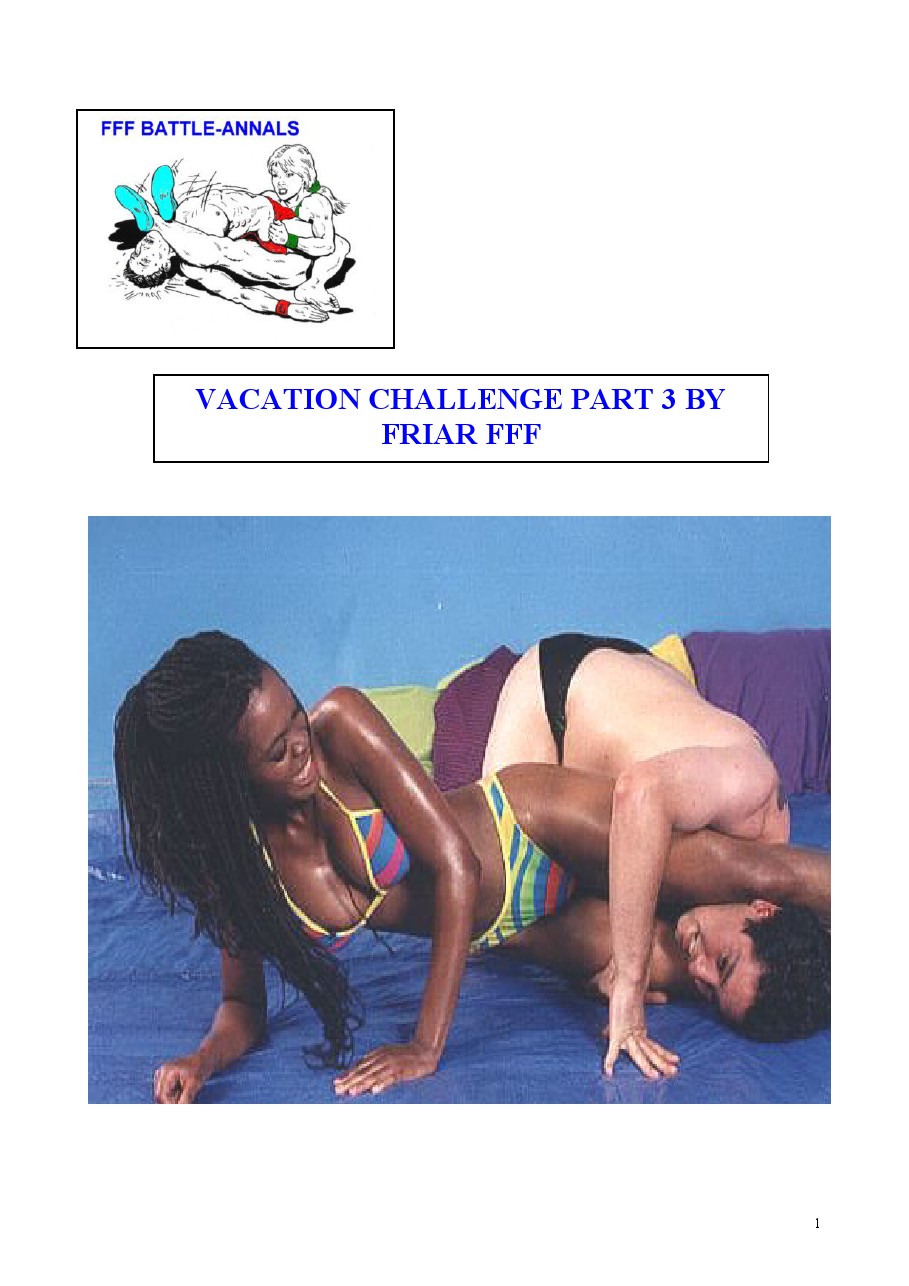 64 VACATION CHALLENGES PART 4 (CONTINUED FROM VACATION CHALLENGES 4) IN THE FIRST HALF OF THE FOUR WAY MATCH OF GERMANY V ENGLAND, ANNE, JEFF, JACK, AND INGRID. AGAINST HELENA, CURT, VALMA, AND RANDAL. THE MATCHES REFEREES WERE EARL AND STEPHANIE TWO AMERICAN WRESTLING FRIENDS. ANNE TOOK ON AND BEAT HELENA THEN ABUSED HER PHYSICALLY AND SEXUALLY AS IT WAS THE AGREED THE WINNER COULD DO WHAT THEY LIKED TO THE LOSER. INGRID THEN TOOK ON RANDAL AND BEAT HIM AND WITH THE HELP OF JACK ABUSED HIM SEXUALLY AND PHYSICALLY. NOW IT WAS UP TO JACK AND JEFF TO TAKE ON THE TWO REMAINING GERMANS VALMA AND CURT.
JACK WRESTLED VALMA FIRST AND TOOK THE FIRST POINT AND HER BIKINI. VALMA HIT BACK AND TOOK THE SECOND AND EQUALISING POINT AND JACK'S SPEEDOS. JACK MANAGED TO GET THE THIRD AND WINNING POINT AFTER A TOUGH FIGHT. HE WAS REWARDED WITH BEING ABLE TO ABUSE VALMA PHYSICALLY AND SEXUALLY WITH INGRID AND ANNE'S HELP. JEFF TOOK ON CURT LAST AND AFTER A TOUGH FIGHT HE GOT THE FIRST POINT, BUT QUICKLY LOST THE SECOND AND EQUALISING POINT AND HIS SPEEDOS TO CURT WHO TOOK A BRUTALLY PAINFUL SUBMISSION FROM HIM. JEFF THEN PUT UP A BRAVE BATTLE BUT WAS SLOWLY OVERCOME AND MADE TO SUBMIT TO ANOTHER BRUTALLY PAINFUL SUBMISSION. JEFF WAS THEN PHYSICALLY AND SEXUALLY ABUSED BY ALL THE FOUR GERMANS. SOME SOME GOOD TOUGH MIXED FIGHTING FOLLOWED BY MORE TOUGH PHYSICAL AND SEXUAL NHB ACTION ALL THE WAY. €3.00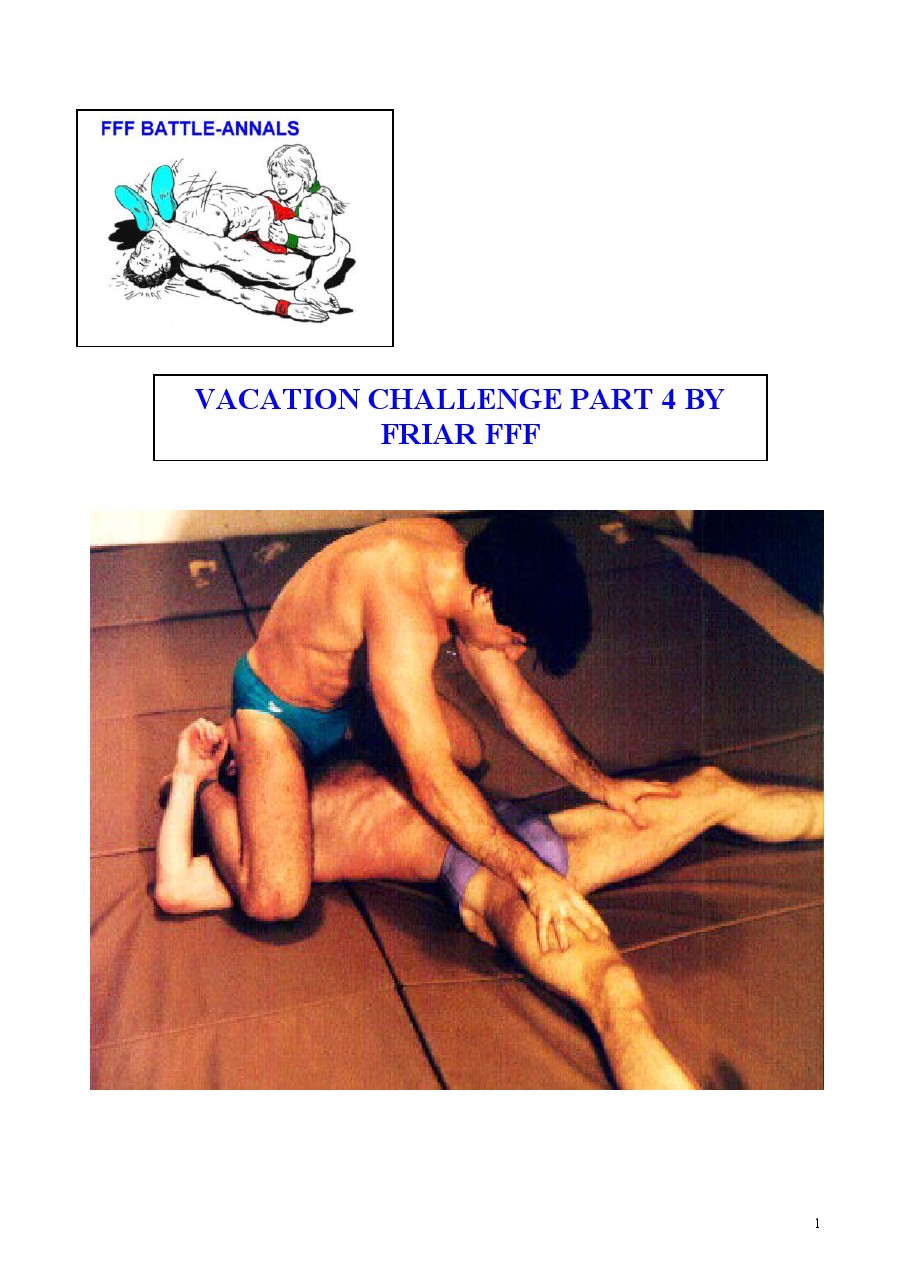 65 FEMALE WRESTLING ENDURANCE SQUASH JOB. BRUCE A BISEXUAL WRESTLER MET A FEMALE FAN OF MALE V MALE AND MIXED WRESTLING ON GAY MALE WRESTLING SITE. JACKIE HAD ALWAYS WANTED TWO WATCH TWO MEN FIGHT INVOLVING GUT PUNCH AND A LOW BLOW DIRTY MOVES. SHE HAD TRIED TO GET TWO MALE WRESTLERS TO FIGHT FOR HER BUT COULD ONLY FIND ONE A WRESTLER NAMED DREW. SO JACKIE ASKED BRUCE IS HE WOULD FIGHT DREW FOR HER WHILE SHE WATCHED. IT WAS AGREED AND A DATE SET FOR THE MATCH AT HER HOUSE WHILE HER HUSBAND DONALD WAS AWAY ON BUSINESS. UNFORTUNATELY DREW HAD TO CANCEL TWO DAYS BEFORE WHEN HE CAME DOWN WITH SHINGLES. JACKIE AND BRUCE WERE BOTH DISAPPOINTED AND DID NOT WANT TO WASTE THE DAY THAT HAD BEEN ARRANGED FOR A LONG TIME. BRUCE SUGGESTED ENDURANCE STRIP WRESTLING, JACKIE WOULD OUT HOLDS ON HIM TO MAKE HIS SUBMIT, SLOWLY STRIPPING HIM EACH TIME HE DID AS HE WAS NOT ALLOWED TO RESIST. JACKIE EAGERLY AGREED WARNING BRUCE SHE WOULD USE GUT PUNCHING ON HIM AND LOW BLOWS AND DIRTY MOVES.
HE TRAVELLED TO JACKIE'S HOUSE AND THEY A LONG AFTERNOON OF TOUGH ENDURANCE WRESTLING. JACKIE TURNED OUT TO BE A SADISTIC HEAL AND THE SESSION A COMPLETE SQUASH JOB. JACKIE REALLY WORKED BRUCE OVER WITH A VARIETY OF PINS AND SUBMISSION HOLDS UNTIL SHE HAD STRIPPED HIM NAKED AND OBTAINED HIS COMPLETE SURRENDER. JACKIE THEN CONTINUED HER PHYSICAL AND SEXUAL ABUSE OF BRUCE USING HIS AS HER VIRTUAL BODY SLAVE AND SEXUAL PLAY THING. TOUGH FEMALE ON MALE PHYSICAL AND SEXUAL ABUSE, INCLUDING CFNM, CBT, GUT PUNCHING, SPANKING AND MILKING. €4.00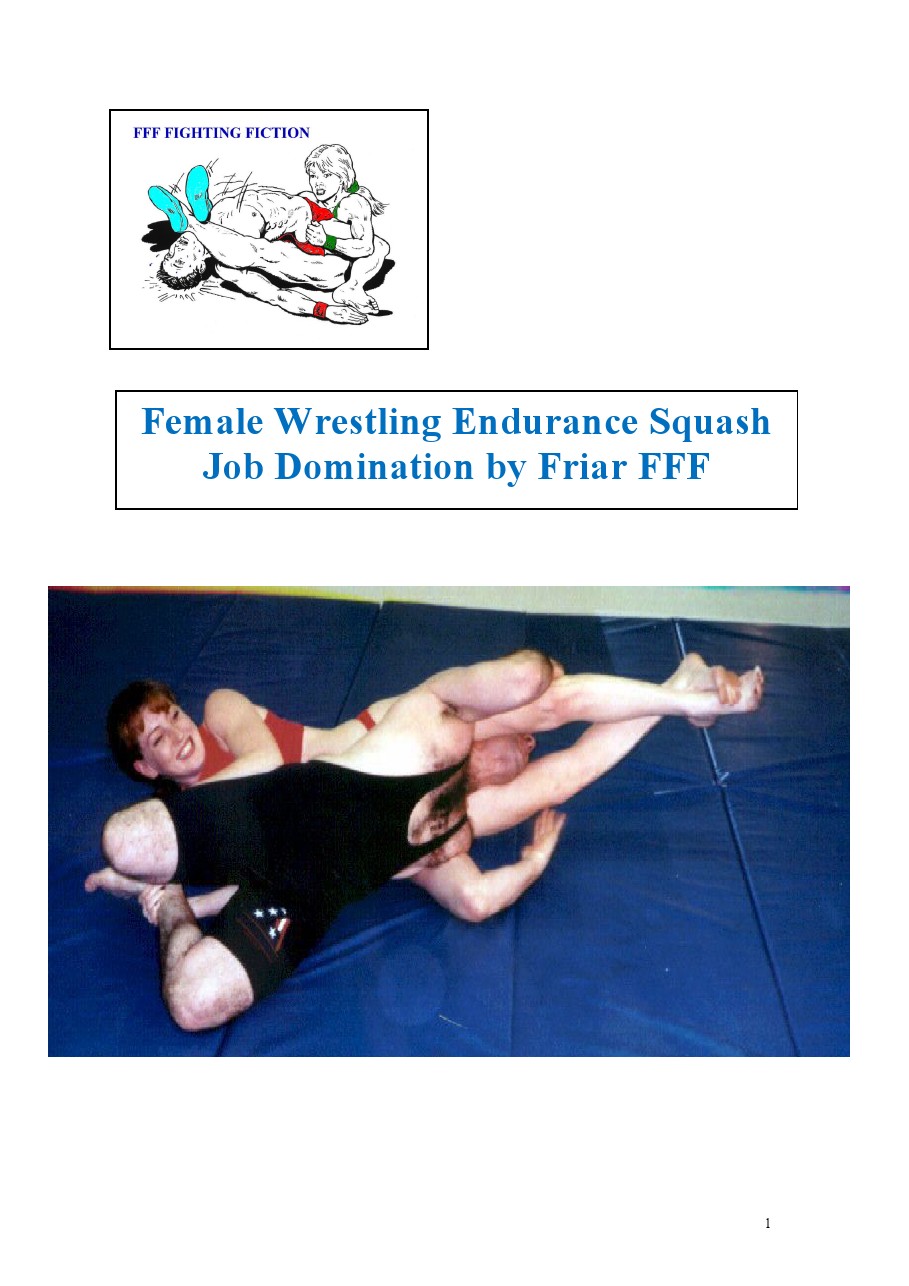 66 THE TOUGH GIRL PART 5 DOUBLE DEMOLITION FOR THE BLACK WIDOW. HAVING TAKEN ON AND BEATEN ALL THREE KINDS OF MALE WRESTLERS, SHE WONDERED WHO TO WRESTLE NEXT MAYBE A FEMALE OPPONENT, IT CERTAINLY WOULD BE A NEW CHALLENGE. THEN SHE REMEMBERED ZACK'S STORY ABOUT WRESTLING AN OLDER COUPLE FROM HORN CHURCH, RICHARD AND JUDY. TAKING ON A COUPLE THAT WOULD BE DIFFERENT AND HER FIRST MATCH AGAINST A FEMALE. SHARON ARRANGED A HAVE A MATCH WITH BOTH OF THEM AT THERE HOME. AS RICHARD AND JUDY WRESTLED IN UNDERWEAR ONLY THEY WERE NOT HAPPY WITH SHARON AS THE BLACK WIDOW WEARING BOOTS. THEY ONLY AGREED WHEN SHARON TOLD THEM THEY COULD TAG, TAKING TURNS AGAINST HER.
SHARON TOOK ON JUDY FIRST, EAGER TO GET TO GRIPS WITH ANOTHER FEMALE FOR THE FIRST TIME. JUDY WAS HEAVIER THAN SHARON AND SHE INITIALLY STRUGGLED WHEN SHE WRESTLED JUDY. FINDING JUDY HEAVIER AND JUST AS STRONG IF NOT STRONGER THEN SHE WAS SHARON DECIDED TO US TACTICS AGAINST JUDY INSTEAD OF TRYING TO MATCH HER STRENGTH AND WEIGHT. SHARON LET HERSELF APPEAR TO BE PUSHED BACK AND DOWN BUT AT THE LAST MOMENT FLIPPED JUDY HEAD OVER HEELS TO THE MATS. THINGS WENT RIGHT DOWN HILL FOR JUDY AFTER THAT. SHARON WEAKENED HER WITH A BOSTON CRAB AND THEN KEPT HER SUBDUED WITH STOMPS PUNCHES AND KICK. THEN SHARON TRIED TO PIN JUDY AND ONLY AFTER SEVERAL PAINFUL BUM DROPS COULD SHE GET JUDY'S ARMS DOWN. SHARON PINNED AND SMOTHERED JUDY UNTIL SHE WAS CLOSE TO KO. BUT SHARON LET HER GO AND TAG RICHARD SO SHE COULD WRESTLE WITH HIM. RICHARD FARED EVEN WORSE THAN JUDY AGAINST SHARON. SHARON BOOTS MADE SHORT WORK OF HIM WITH BOOTS AND STOMPS AND FULL WEIGHT TRAMPLES. SHARON EASILY GOT RICHARD DOWN AND PINNED HIM THEN TOOK PLEASURE IN SMOTHERING HIM UNTIL HE WAS UNABLE TO RESIST. SHARON SWITCHED TO A REVERSE FACE PIN AND ABUSED HIS HELPLESS NIPPLES, BELLY AND BALLS UNTIL HE WAS FORCED TO SUBMIT. SHARON STRIPPED RICHARD OF HIS BRIEFS BEFORE SHE ALLOWED HIM TO TAG JUDY. SHARON DROPPED JUDY TO THE MATS AND USED HER BOOTS TO WEAKEN HER ENOUGH TO GET JUDY IN A CAMEL CLUTCH. SHARON PUNISHED AND WEAKENED JUDY WITH THE CAMEL CLUTCH BEFORE RELEASING HER AND SWITCHING TO A BODY SCISSORS. SHARON USED HER CRUSHING BODY SCISSORS TO BREAK JUDY'S RESISTANCE AND MAKE HER SUBMIT. SHARON CLAIMED JUDY'S WHITE BAR AND PANTIES BEFORE SHE LET HER TAG RICHARD.
RICHARD WHO HAD ALREADY BEEN MADE TO SUBMIT BY SHARON WAS NOW AT AN EVEN GREATER DISADVANTAGE OF BEING NAKED. ANGERED RICHARD LEAPT AT SHARON HOPING TO BOWL HER OVER, BUT WITH A LUCKY INSTINCTIVE RAISED KNEE SHARON CAUGHT HIM IN THE BALLS AND DROPPED HIM TO THE MATS. SHARON USED HER BOOTS TO STOMP AND TRAMPLE RICHARD INTO THE MATS. SHARON THEN TRAPPED RICHARD IN A BOSTON AND PUNISHED HIS BACK WITH THE PAINFUL HOLD. SHARON KEPT THE HOLD ON UNTIL SHE MADE RICHARD SUBMIT, THEN WENT FOR ANOTHER SUBMISSION PUNISHING HIS BACK AGAIN WITH A CAMEL CLUTCH. HE DREW ANOTHER EMBARRASSING AND PAINFUL SUBMISSION FROM RICHARD IN FRONT OF HIS WIFE JUDY. HAVING BEATEN AND MADE RICHARD TO SUBMIT TWICE AND MADE JUDY ALSO SUBMIT SHARON ASSUMED THE WRESTLING WAS OVER FOR THE DAY. BUT ANGRY AT BEING SO EASILY BEATEN JUDY CHALLENGED SHARON TO A NAKED WRESTLE WITH HER WITHOUT HER BOOTS AS SHE WAS CONVINCED SHARON'S BOOTS HAD GIVEN HER AN UNFAIR ADVANTAGE. SHARON ACCEPT THE CHALLENGE BUT INSISTED ON WRESTLING RICHARD FIRST AS NO TAG HAD BEEN MADE.
SHARON EASILY OVER COME WEAKENED AND ABUSED RICHARD MAKING HIM SUFFER WITH A REVERSE HEAD SCISSORS. SHARON CRUSHED RICHARD'S HEAD WITH HER THIGHS AND PUNCHED AND SQUEEZED HIS BALLS DRAWING ANOTHER SUBMISSION AND A TOTAL SURRENDER FROM HIM. SHARON LET RICHARD CRAWL AND TAG JUDY, THEN THEY LOCKED UP ARMS AND SHOULDERS IN A TEST OF ARM STRENGTH. SHARON SLOWLY FORCED JUDY'S ARMS BACK THEN MADE HER RETREAT ACROSS THE MATS. WHEN JUDY'S BELLY WAS COMPLETELY EXPOSED BY HER BENT BACK UPPER BODY SHARON DROVE HER KNEE INTO IT HARD, QUICKLY FOLLOWED BY A KNEE TO JUDY'S NAKED CUNT. AS JUDY DROPPED TO THE MATS ON PAIN SHE PUNCHED SHARON IN THE CUNT DROPPING HER TO HER KNEES. PAINED AND ANGERED SHARON HIT BACK WITH SLAPS TO JUDY'S FACE AND PUNCHED TO HER LEFT BREAST AND BELLY. WHEN JUST WAS DOWN SHARON APPLIED A HAMMER LOCK TO JUDY'S RIGHT ARM, AND DRAGGED HER UP BY IT THEN KNEED JUDY IN THE RIGHT BREAST. SHARON GOT THE WINNING SUBMISSION FROM JUDY WITH A CRUSHING HEAD SCISSORS. SHARON THEN SWITCHED TO A REVERSE HEAD SCISSORS TO CONTINUE TO CRUSH JUDY'S HEAD AND ALLOW HER TO ABUSE JUDY'S TITS AND CUNT. WHEN SHARON HAD ABUSED JUDY'S TITS AND CUNT SHE SPUN BACK ROUND AND USED HER HARD EXCITED NIPPLES AND HARD PUBIC MOUND TO SEXUALLY DOMINATE JUDY TO SEVERAL ORGASM BEFORE FINALLY CUMING HARD HERSELF. GREAT FEMALE ON MALE AND FEMALE ON FEMALE WRESTLING, PHYSICAL ABUSE AND SEXUAL ABUSE, TOUGH EROTIC MERCILESS WRESTLING. €3.00.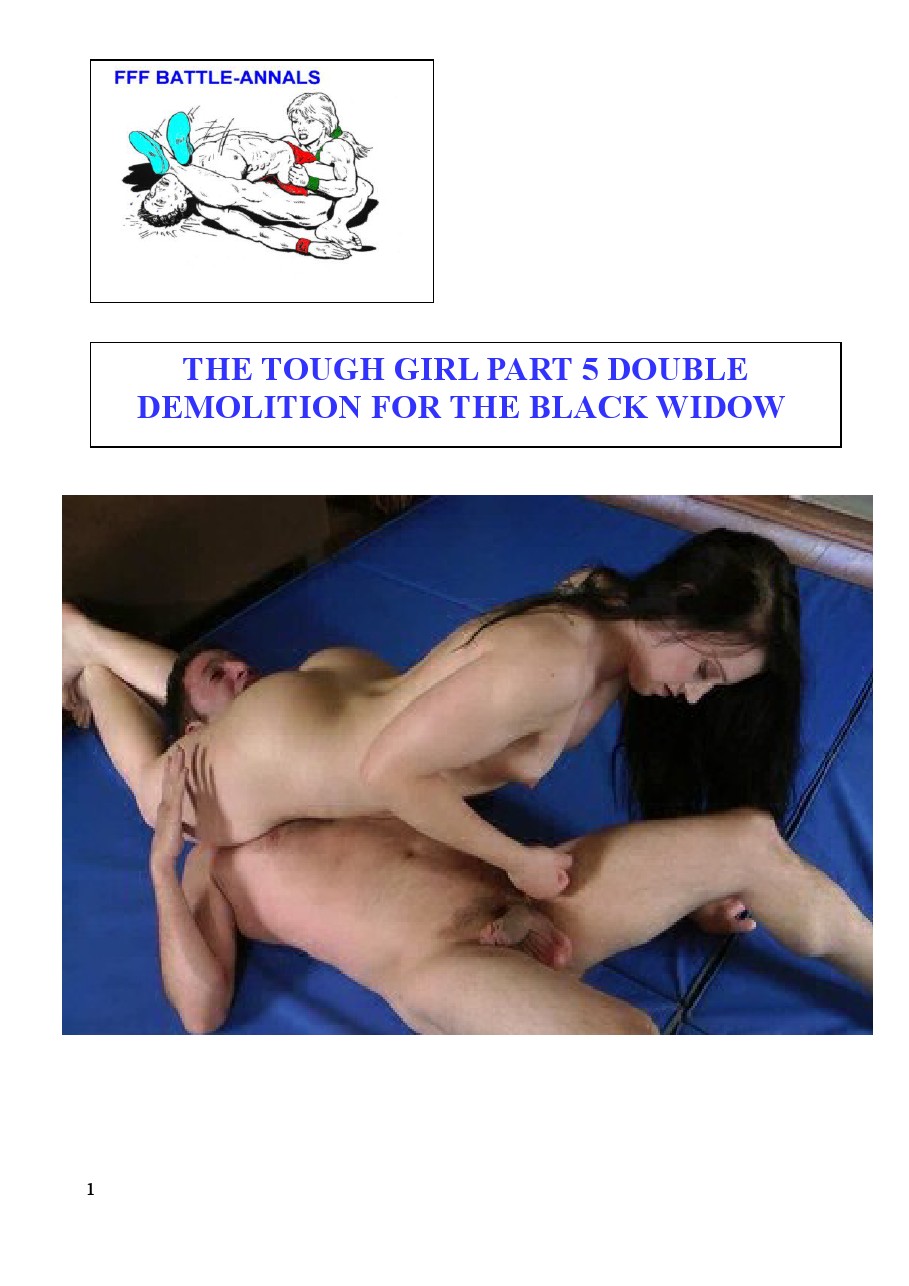 67 COCK CRUNCH SQUASH JOB. AARON WAS A THICK SET, AVID MIXED WRESTLER, IN HIS MID FIFTIES, HE HAD NEVER LOST AGAINST A FEMALE OPPONENT. ALTHOUGH HE CAME CLOSE TO A DRAW ONCE. HE LIKED A TOUGH MATCH WITH A FEMALE OPPONENT, EVEN TO BE TEST TO THE LIMITS, BUT THE EVENTUALLY TRIUMPHANT IN THE END, WHEN WOULD FUCK HIS FEMALE OPPONENT, AS THE WINNER. HE'D HAD A DOZEN VICTORIES UP TO THIS POINT, AND HE WAS INTERESTED IN MEETING A FEMALE OPPONENT, THAT PROMISED TO BE MORE THAN A MATCH FOR HIM. AARON'S RING NAME WAS THE SHAVED BULL, DUE TO HIS STOCKY, SLIGHTLY CHUBBY, BUILD AND SHAVED BODY AND PUBES. AARON WAS 5' 11" 105 KG, HIS CHEST AND PUBES WERE SHAVED CLEAN. THE FEMALE OPPONENT, HE WAS INTERESTED IN CALLED HERSELF RACHEL IRON THIGHS. RACHEL WAS RACHEL WAS 6'1", 125 KG, WITH LONG BROWN HAIR. RACHEL STATED THAT HER TWO MAIN WEAPONS WERE HER LARGE SMOTHERING BREASTS AND HUGE IRON HARD THIGHS. THEY WERE USED TO DESTROY ANY MALE OPPONENT THAT WOULD DARE TO TAKE HER ONE. RACHEL LOOKED EVERY PART OF IT, IN HER PROFILE PHOTO. LIKE AARON SHE WAS UNBEATEN AGAINST MALE OPPONENTS. THEY DECIDED TO HAVE A CAM SESSION ON SKYPE TO CHECK THEY WERE LIKE THEIR PROFILE PHOTOS. RACHEL WAS EVEN MORE IMPRESSIVE ON CAM THAN HER PHOTOS SHE WAS JUST IN HER UNDERWEAR AND HER LARGE HEAVY BODY, WAS FULLY DISPLAYED. RACHEL MADE AARON WHO WAS FULLY DRESSED, STRIP THIS UNDERWEAR, SO SHE COULD SEE HIM PROPERLY. THEY WERE BOTH SATISFIED THAT THEY WERE LIKE THEIR PROFILES AND AGREED TO A BOUT TO SEE WHO WOULD WIN AND RETAIN THEIR UNBEATEN RECORD, AGAINST THE OPPOSITE SEX. THE TERMS OF THEIR BOUT WHERE WRESTLING ALL IN, WITH NO RULES, NO QUARTER, AND WINNER TAKES ALL.
AARON TO RACHEL'S FLAT FOR THEIR BOUT. WHEN HE ARRIVED SHE WAS ALREADY DRESSED IN HER WRESTLING GEAR. AFTER SHOWING AARON ROUND HER FLAT. RACHEL MADE AARON STRIP TO HIS UNDERWEAR IN FONT OF HER, THAT WAS HOW HE HAD AGREED TO WRESTER HER. THEY THEN WENT TO HER MAT ROOM, THE SECOND BEDROON IN HER FLAT FOR THE BOUT. IN THE FLESH RACHEL WAS VERY IMPRESSIVE, SHE WAS TALLER HEAVIER THAN AARON AND HE WAS NOT A SMALL MAN BY ANY MEANS. THAT WAS WHEN AARON REALISED THAT THIS WAS GOING TO BE HIS TOUGHEST MATCH EVERY. WHEN THEY STARTED HE WAS NOT MISTAKEN. RACHEL WAS SO STRONG AND HEAVY AARON COULD MAKE NO IMPRESSION ON HER AND HE KNEW HE WAS IN TROUBLE. THINGS WENT DOWN HILL RAPIDLY FOR AARON AT THIS POINT, AND HE WAS MADE TO QUICKLY SUBMIT AND THEN KO'D. THE BOUT WAS LOST THEN AND THERE, THAT QUICKLY, HIS RECORD GONE. BUT THE MATCH WAS FAR FROM OVER. RACHEL TOOK GREAT PLEASURE IN EXTRACTING MORE SUBMISSIONS AND KO'S FROM AARON, WITH PAINFUL PUNISHING AND EMBARRASSING HOLDS. RACHEL STUCK TO THE AGREED TERMS OF THE BOUT, WRESTLING ALL IN, WITH NO RULES, NO QUARTER, AND WINNER TAKES ALL. WHEN RACHEL HAD TOTALLY SUBDUED AARON, SHE TOOK HIM TO HER BEDROOM TO HAVE MORE FUN WITH HIM, ABUSING HIM PHYSICALLY AND SEXUALLY FOR HER OWN PLEASURE. SHE RAPED HIM ANALLY AND THEN USED HIS DRAINED COCK, AS HUMAN DILDO, TO EXPERIENCE SEVERAL SHATTERING ORGASMS. THE LAST ONE WAS SO INTENSE, SHE GOT SO EXCITED, HER HUGE BULK, CRUNCHED AARON'S COCK, LEAVING HIM WITH A PENILE FRACTURE.
AARON'S WAS DEFEAT BY RACHEL, IT CHANGED HIS WRESTLING LIFE FOREVER. AFTER GETTING OUT OF HOSPITAL FOR AN OPERATION IN HIS FRACTURED PENIS, HE WAS LEFT WITH PERMANENT CURVATURE OF HIS PENIS, THIS MADE SEX DIFFICULT AND PAINFUL. AS HIS UNBEATEN RECORD WAS GONE, COUPLED WITH A BURIED MASOCHISTIC STREAK THAT CAME TO THE FORE AFTER HIS HUMILIATING DEFEAT BY RACHEL, AARON STILL WRESTLED FEMALE OPPONENTS, BUT NO LONGER TO WIN. NOW HE OFFERED HIMSELF AS A JOBBER, TO LOSE TO THEM AND WAS VERY POPULAR, EVEN MORE POPULAR WITH THEM, THAN WHEN HE FOUGHT TO WIN. HE CHANGED HIS PROFILE NAME FORM THE SHAVED BEAR, TO THE SHAVED JOBBER BEAR. INTENSE MIXED FIGHTING ACTION, WITH GRAPHIC FEMALE ON MALE PHYSICAL AND SEXUAL ABUSE. €3.00.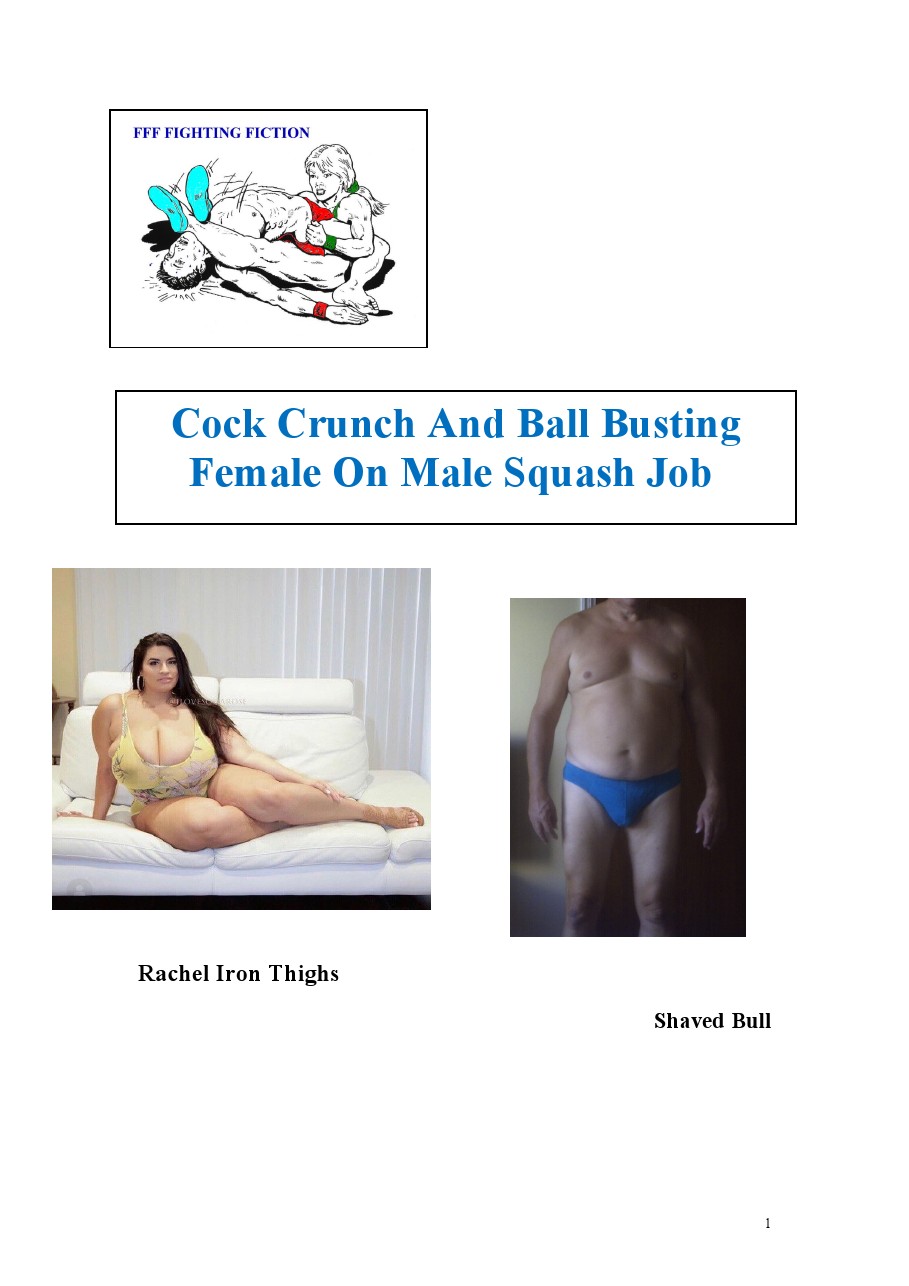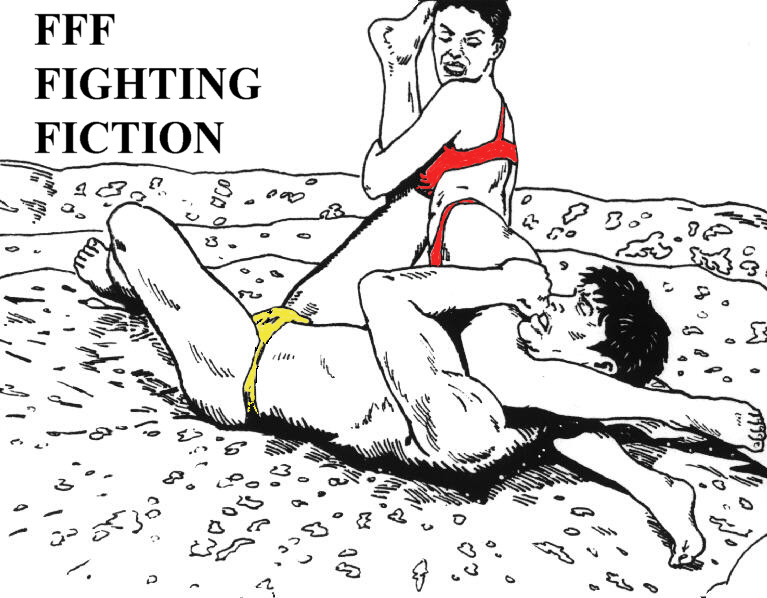 JG ARTWORK