SAPPER JUNIOR GUEST WRITER STORYBOOK PAGE
1. LIFE UNDER JACINDA. A BATTLE OF THE SEXES BETWEEN AN AUSTRALIAN POSTMAN AND POSTWOMAN DOUG AND JACINDA. JACINDA AND DOUG ARE RIVAL AT WORK AND REALLY DISLIKE EACH OTHER. DOUG IS THE UNION REP FOR THE POSTAL WORKERS AND JACINDA DOESN'T BELIEVE IN UNIONS OR SEE THE NEED FOR THEM. DOUG HAS NOTHING BUT SCORN FOR JACINDA AND THE FEELING IS MUTUAL. DOUG ALSO HAD A GIRLFRIEND MABEL WHO IS ALSO A POSTAL WORKER.
EVERYONE IS SURPRISED WHEN JACINDA ASKED DOUG TO HELP HER LAY A NEW GARDEN PATH, AND EVEN MORE SURPRISED WHEN DOUG ACCEPTED. JACINDA USED THE OCCASION TO SEDUCE DOUG BOTH SEXUALLY AND PHYSICALLY, BY DOMINATING HIS SEXUALLY AND BEATING HIM AT BOXING. JACINDA KEEPS DOUG A PRISONER IN HER HOUSE WITH THE HELP OF HER COUSIN JENNY SHE CONTINUES TO BEAT HIM AT BOXING AND DOMINATING HIM SEXUALLY. HER GOAL WAS TO SUBJUGATE HIM COMPLETELY AND MAKE HIM HER SUBMISSIVE HOUSE BOY A VIRTUAL FEMALE.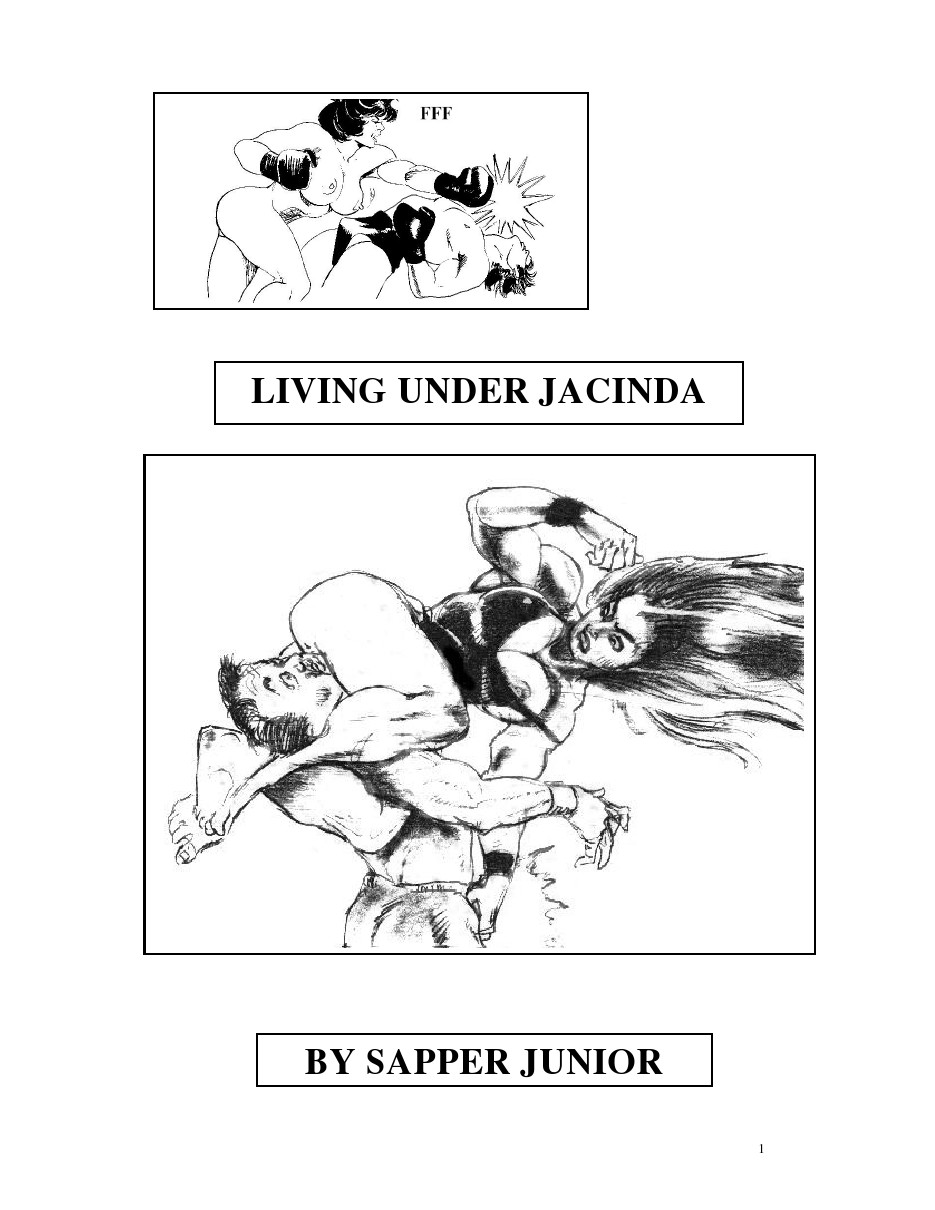 2. BOSSES BOSSY DAUGHTER. THE BARR FAMILY BOB, MARY AND RICHARD ATTEND A SOCIAL EVENT IN GERMANY HOSTED BY HER GUNTER THE CONTROLLING GERMAN OWNER OF GUNTER SPORTS, THE ENGLISH SPORTS SHOPS WERE RUN BY BOB BARR. RICHARD DIDN'T WANT TO BE THERE AND LOATHED KLAUS GUNTER'S DAUGHTERS FIFTEEN STEFKA JUTTA. MARY BARR RICHARD'S MOTHER ALSO DIDN'T WANT TO BE THERE AND SHE REALLY DISLIKED HANNA GUNTER KLAUS' WIFE. BUT AS THE KLAUS GUNTER WAS THE BOSS THEY HAD NO CHOICE.

THE CHILDREN SET UP AM IMPROMPTU BOXING RING AND START BOXING. THIS SOON TURNS INTO A TOURNAMENT INSTIGATED BY STEFKA AND JUTTA. SEVERAL BOUTS AND FOUGHT GIRL V GIRL AND GIRL V BOY UNTIL ONLY STEFKA GUNTER AND KRISTEN A DUTCH BOY ARE LEFT IN THE FINAL.

A FUN BOXING MATCH HAD TURNED DEADLY SERIOUS INTO A GERMANY V HOLLAND FINAL. AFTER ALONG TOUGH BLOODY BOXING MATCH STEFKA FINALLY BEAT KRISTEN. RICHARD ALONG WITH THE DUTCH BOYS PARENTS HAD CHEERED FOR KRISTEN AGAINST ALL THE OTHERS THERE BEING GERMAN CHEERING FOR STEFKA.

HE WAS SURE STEFKA HAD CHEATED TO WIN AND CONFRONTED STEFKA WITH T HE FACT. STEFKA CHALLENGES RICHARD TO A BOXING MATCH AND ANOTHER LONG HARD GIRL V BOY BOXING MATCH, STEFKA V RICHARD ENSUES. STEFKA BEATS RICHARD TO THE DISMAY OF HIS PARENTS PARTICULARLY MARY BARR.

BEING BEATEN DOMINATED BY STEFKA LEFT RICHARD DAZED AND CONFUSED. HE IS THEN VIRTUALLY SEDUCED BY JUTTA STEFKA'S YOUNGER SISTER. THE DISAPPEAR INTO THE WOOD TO WRESTLE ALTHOUGH JUTTA IS SMALLER AND MUCH YOUNGER THAN RICHARD SHE BEATS HIM AND WRESTLING AND DOMINATES HIM EVEN MAKING HIM CUM. THEY EMERGE LATER FROM THE WOOD WITH RICHARD ONLY IN HIS UNDERPANTS AND JUTTA ON HIS SHOULDERS.

WHEN THE GET THE GUNTER'S HOUSE AND REJOIN THEIR FAMILIES MARY BARR'S DISLIKE FOR HANNA GUNTER BOILS OVER WHEN SHE SAW RICHARD HER SON WHO HAD ALREADY LOST TO ONE GUNTER DAUGHTER STEFKA, BEING DOMINATED AND VIRTUALLY NAKED WITH THE GUNTER'S SECOND DAUGHTER JUTTA ON HIS SHOULDERS. SHE ENDED UP FIGHTING HANNA GUNTER IN LONG HOT AND SOMETIMES BRUTAL CAT FIGHT.

HANNA EASILY BEAT AND DOMINATED MARY PHYSICALLY AND SEXUALLY. BOB TRIED TO HELP HIS WIFE BUT WAS ATTACKED BY AND BEATEN DOWN TO THE FLOOR BY STEFKA. THE STORY ENDS WITH THE WHOLE BARR FAMILY BEING PINNED UNDER A GUNTER FEMALE, RICHARD UNDER JUTTA BOB HIS FATHER UNDER STEFKA AND MARY HIS MOTHER UNDER HANNA. A GREAT MIXED FIGHTING STORY WITH GIRLS AND WOMEN OUT BOXING AND WRESTLING BOYS AND MEN.

€

6.00

 

7. MORE OF LIZ'S GIRL. LIZ STRONGER, ATHLETIC, WILFUL, SPUNKY TEENAGE GIRL CONTINUES TO BEAT AND HUMILLIATE HER OLDER MALE COUSIN BILLY. SHE DOMINATES HIM PHYSICALLY AND SEXUALLY ROBBING HIM OF HIS MALE IDENTITY. SHE COMPLETELY DEFEATS AND HUMILLIATES HIM IN FRONT OF HIS GIRL FRIEND JULIE CAUSING PHYSICAL AND MANTAL INJURIES. LIZ DOESN'T GET IT ALL HER OWN WAY AND GETS HER COMEUPPANCE FOR GOING TOO FAR FROM HER MOTHER A SPANKING IN FRONT OF BILLY AND JULIE. CLASSIC FEMINISATION OF A WEAKER MALE FROM SAPPER JUNIOR. €3.50

(This Sapper junior classic story has been used to create a fully illustrated colour comic book by battle-annals guest author and artist Peters1967. Part 1 has 124 pages with over 200 colour images, story number four on the peters1967 comic strip female fighting stories list on the peters1967 fighting page.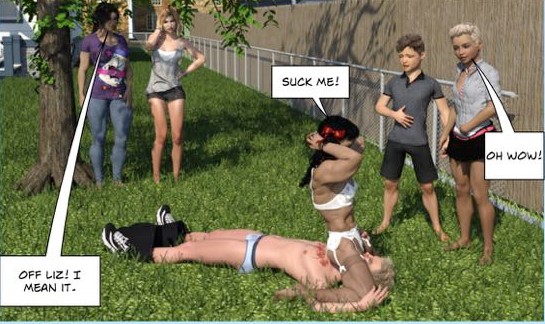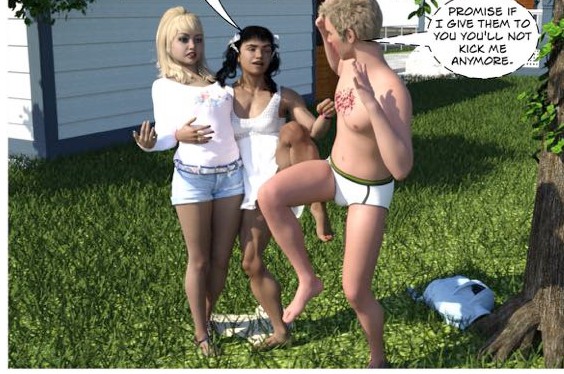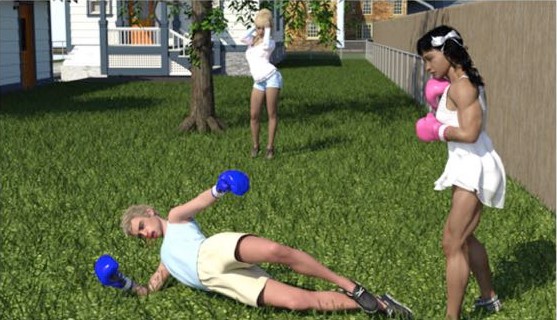 Images from Peters1967 More of Liz's girl comic strip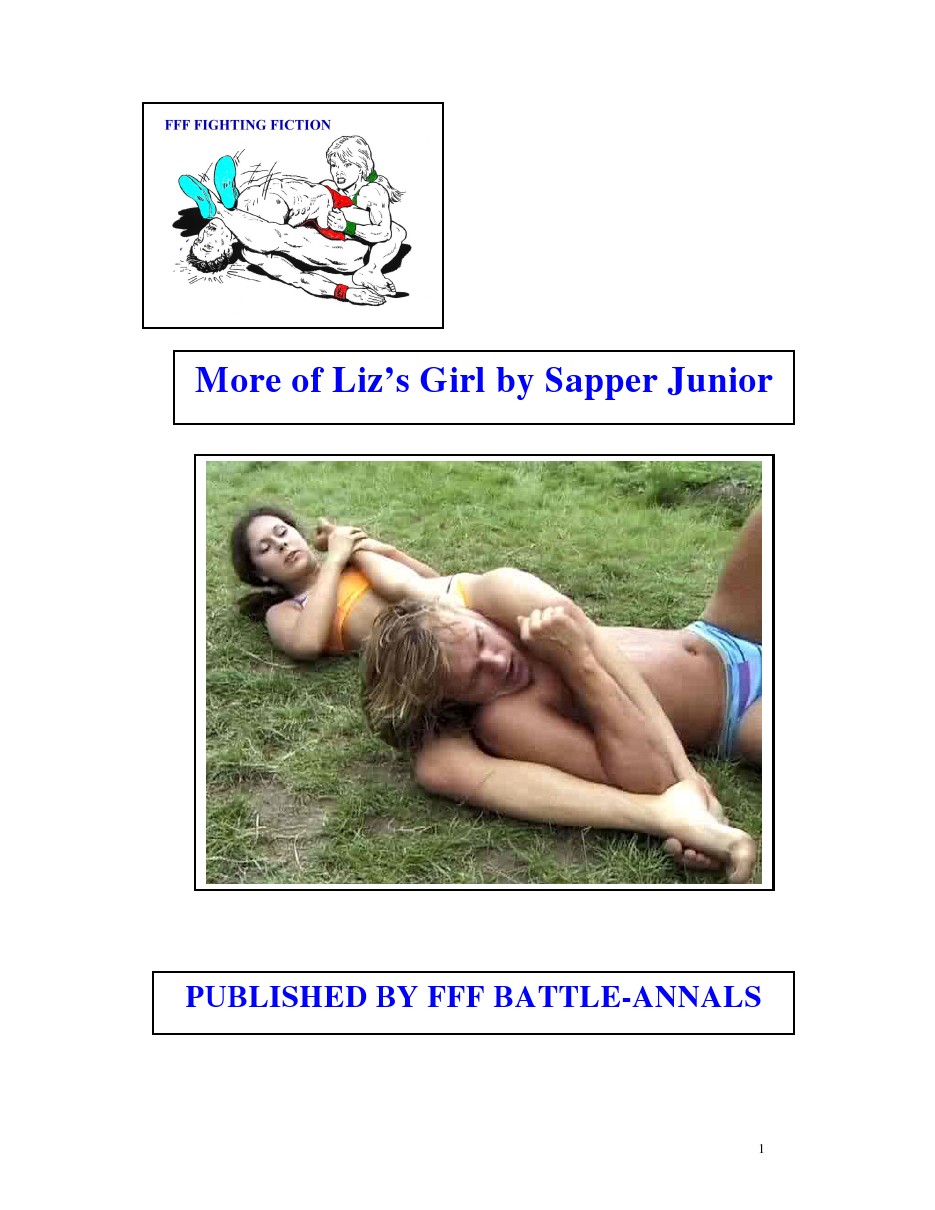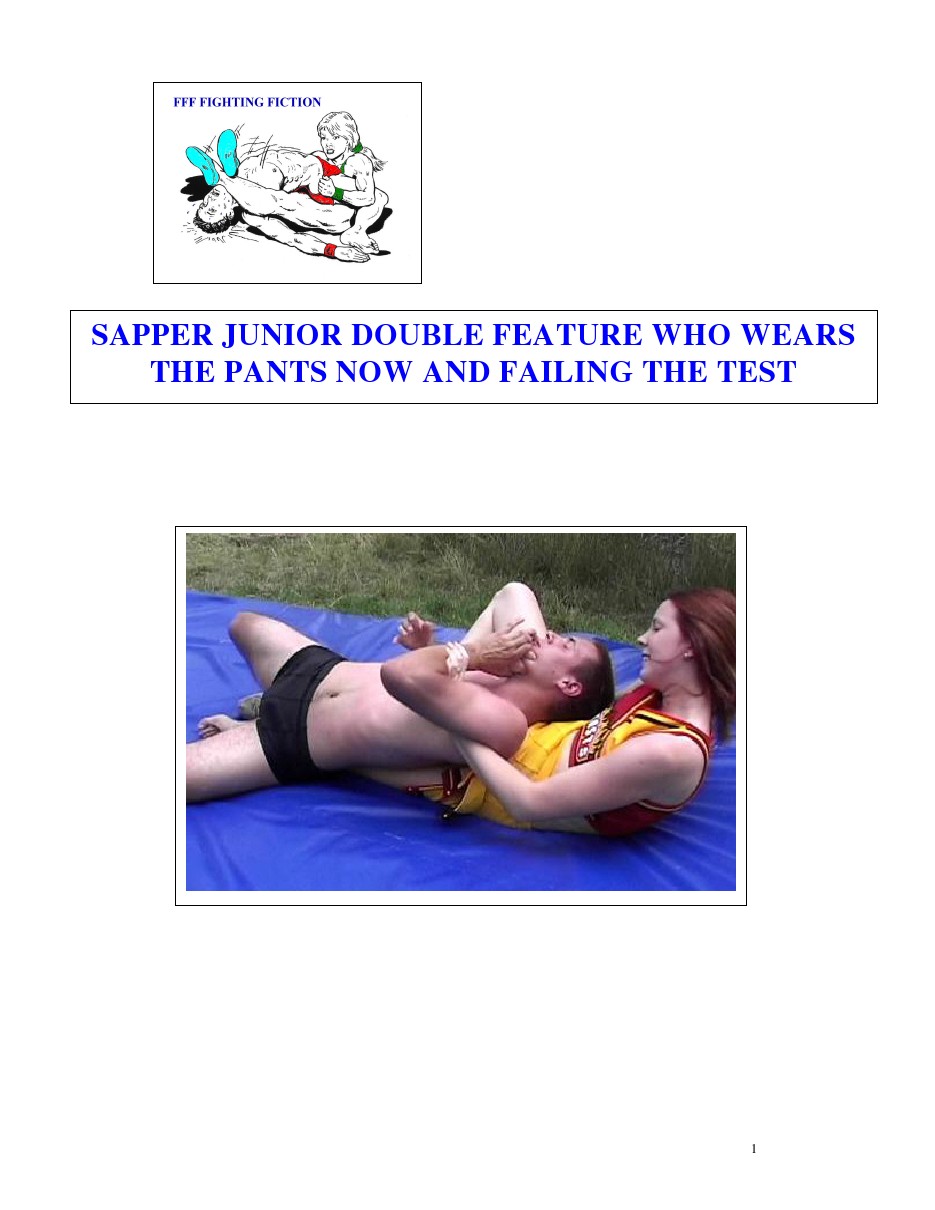 23. SAPPER JUNIOR DOUBLE STORYBOOK 3. BEATEN BY A GIRL AND THE GIRL NEXT DOOR.
€
5.00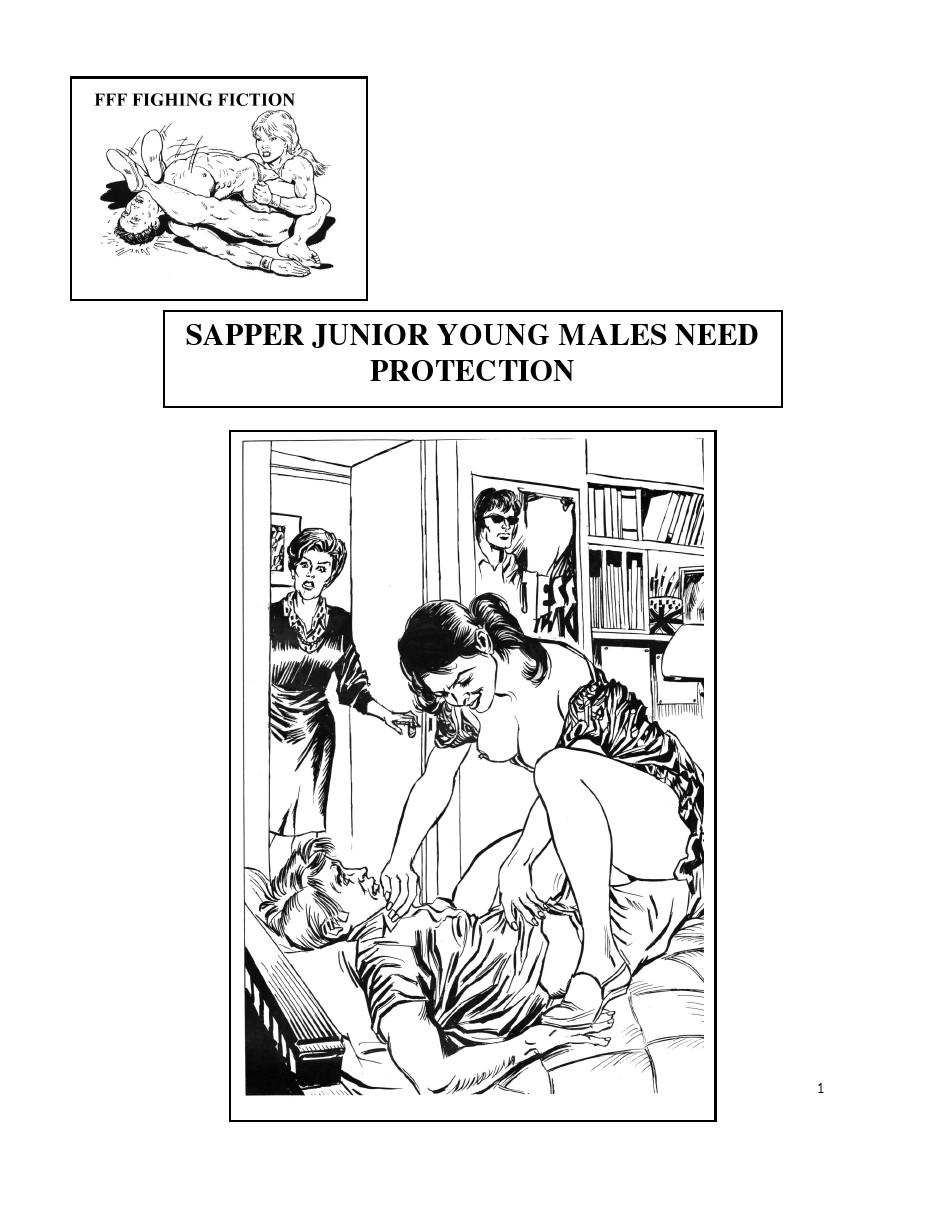 26 WHAT THE BUTLER SAW FEMALE V FEMALE ILLUSTRATED WRESTLING STORY. JOAN ANDERSON FEMALE SCHOOL TEACHER AND ANTI HUNT PROTESTOR GOES TO CONFRONT LADY TASH GREAVELEIGH MASTER OF THE HUNT. OVER AFTERNOON TEA THEY CHAT ABOUT GYMKHANAS AND TASH SHOWS JOAN A COPY OF CLAWS AND THEY THEN REMINISCE ABOUT SCHOOL GIRL FIGHTS THEY HAD A SCHOOL THEY WERE BOTH EXCITED AT THE PROSPECT OF FEMALE WRESTLING . TASH INVITES JOAN TO STAY FOR DINNER. JOAN BRINGS UP THE SUBJECT OF HUNTING AND THE LAST ANTI HUNT PROTESTS. TASH CHALLENGES JOAN TO A WRESTLING MATCH WITH STAKES. IF TASH LOSES SHE HAS TO GIVE UP HUNTING IF JOAN LOSES SHE HAD TO JOIN THE HUNT. THE TWO WOMEN WRESTLE HARD WITH FIRST ONE THEM THE OTHER IN COMMAND. TASH FINALLY SUBDUES JOAN AND FORCES HER TO JOIN THE HUNT MUCH TO THE AMAZEMENT AND ANNOYANCE OF THE OTHER ANTI HUNT PROTESTORS. GOOD FEMALE V FEMALE WRESTLING ACTION ILLUSTRATED BY POYUL. €3.00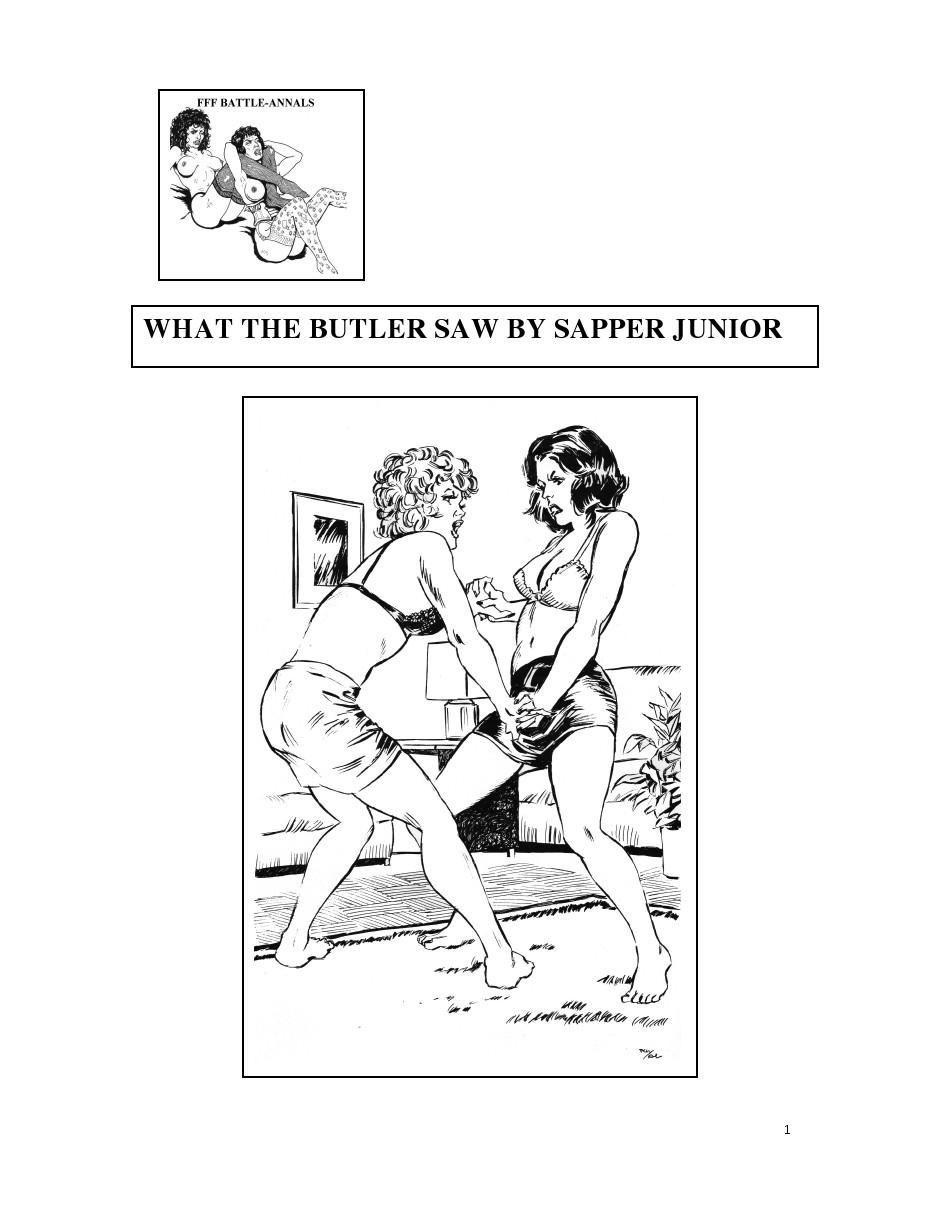 Imgae from Knickers Rule The Garden Bt JG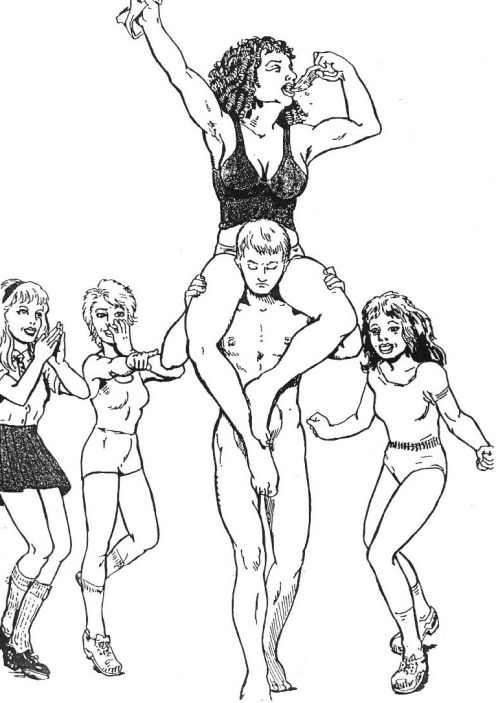 Image from To Be A Good loser By JG