8 PANKRATION ALL WAR GAMES PART 1. YOUNG PRIAPUS PLOWMAN HAD BEEN ENTERED IN THE OLYMPIC GAMES SACRED WAR GAMES BY HIS MASTER PHALLUS OF SPARTA. PRIAPUS TRAINS AS HE WORKS IN THE FIELDS NAKED PROUD TO BE A MALE FIGHTER. PRIAPUS FUCKS HIS BEATEN OPPONENTS HARD. PRIAPUS'S MATERS TEL HIM HE HAD BEEN ENTERED IN THE OLYMPIC GAMES IN FRONT OF THE GODS AND ORDER HIM TO FIGHT ANOTHER OPPONENT GUYAN. PRIAPUS HAD TO FIGHT GUYAN IN THE MUD PIT. GUAN TEEL PRIAPUS THAT WHEN HE IS SPENT HE WILL FUCK HIM RAW. THEY COVER THEMSELVES IN MUD THE LORD NEEDED A FIT TEAM TO WIN AND WINNING THE GAMES WAS EVERYTHING. PRIAPUS AND GUYAN FIGHT PANKRATION IS BOXING WRESTLING AND EVERY OTHER FORM OF FIGHTING COMBINED. PRIAPUS GRAB GUYAN'S HAIR AND THROWS HIM OVER HIS SHOULDERS AND THE BATTLE RAGES.
THREE HORS LATER THEY ARE STILL FIGHTING. PRIAPUS DOES NOT KNOW THE MEANING OF GIVING IN. PRIAPUS BEATS GUYAN AND IS ORDERED TO FUCK HIM BY PHALLUS. PRIAPUS THRUSTS HIS CO KIN GUYAN BUT IS SO WEARY HE NEARLY PASSES OUT. PHALLUS ORDERS PRIAPUS AND GUYAN ON THE ALTER AND HIS MEN TO PUT ON THEIR WARM HELMETS AND HARD WEAPONS VOWING THE MAKE TO MAKE PRIAPUS CUM. PHALLUS THRUSTS HIS COCK INTO PRIAPUS AND MAKES PRIPUS'S HARD COCK FUCK GUYAN. ALL THE FIGHTING MEN ARE ALLOWED TO SEED PRIAPUS'S WHOLE GIVING IT A GOOD WORK OVER. THE ORDEAL MAKES PRIAPUS FEEL GOOD HIS MUSCLES PUMPED HIS ARSE PUMPED WITH WARRIOR SEED MORE THAN READY TO DO BATTLE AT THE WAR GAMES IN OLYMPUS BEFORE THE GODS. FIFTEEN PAGES OF HOT COLOUR GRAPHIC MALE FIGHTING AND SEXUAL DOMINATION MANFLESH ACTION. €12
 
9 PANKRATION ALL WAR GAMES PART 2. PRIAPUS AND HIS FRIEND CLITRUS A RUNNER MAKE THEIR WAY TO OLYMPIA TO COMPETE IN THE WAR GAMES HEATS THAT ARE SET BY THE JUDGES OVER A TWO MONTH PERIOD. WHEN THEY ARRIVE IN OLYMPIA THEY SIT ON THE HUGE BRONZE PHALLUSES AND MAKE THEIR OFFERING OF SPUNK TO THE GOD DIONYSUS. THEY MOUNT THE HUGE BRONZE PHALLUSES AND MAKE A HUGE OFFERING OF SPUNK TO THE GOD DIONYSUS MUCH TO THE DELIGHT OF THE CROWD. THEY DECIDE TO SLEEP IN THE HOPLITODROMIAN. THE HOPLITODROMIAN'S ARE WARRIORS THAT RUN NAKED AND HARD IN ARMOUR. THEIR COCKS ARE IRON HARD FROM SO MUCH RAPING AND PILLAGING THEY ARE COVERED IN WARTY LUMPS THE BOYS ARE IN FOR A HARD TIME. WHEN THE HOPLITODROMIAN'S DISCOVER PRIAPUS AND CLITRUS THEY FUCK THEM HARD AND LONG. THE HARD SEX MAKES PRIAPUS MORE THAN READY FOR THE TRIALS. WHEN PRIAPUS ENTERS THE PALAESTRA HIS FOR HIS FIRST FIGHT HE IS TOLD HE IS FIGHTING PHAROS AND TO OIL UP. WHEN THE FIGHT STARTS PHAROS KNOCKS PRIAPUS SO HARD THAT PRIAPUS IS IMPALED ON THE HUGE COCK OF A VICTORY STATUE. PRIAPUS FIRED UP LEAPS OFF THE BRONZE COCK INTO THE ATTACK. PRIAPUS BEATS PHAROS TO WIN BUT DOES NOT STOP WHEN ORDERED. PRIAPUS IS WHIPPED BY THE JUDGES FOR FAILING TO OBEY. HOWEVER PRIAPUS WAS STILL ALLOWED TO FUCK PHAROS THE LOSER AND WINING IS EVERYTHING. FOURTEEN PAGES OF HOT COLOUR GRAPHIC MALE FIGHTING AND SEXUAL DOMINATION MANFLESH ACTION. €12
 
10 CAGE FUCK PART 1. WITH LIMITED OPPORTUNITIES TO MAKE MONEY TRAILER TRASH JOCKS ARE FORCED TO MAKE CASH IN THE FLESH UNDERGROUND FIGHT IN CAGE FUCK WHERE WINING EARNS YOU MONEY AND LOSING GETS YOU FUCKED. TRAILER TRASH JOCK JOE HICKS OWES THOUSANDS OF DOLLAR IN BACK RENT ON HIS TRAILER AND FORCED TO FIGHT IN CAGE FUCK OR BE FORCED IN SLAVE GANGS FOR LIFE. ALL CAGE FUCK FIGHTS ARE IN THE NUDE AND JOE IS FORCED TO STRIP AND REMAIN NAKED. HE HIS HELD DOWN WHILE A COCK RING FITTED WITH A TRACKING DEVICE IS FORCED ONTO HIS COCK USED TO LOCATE AND RECAPTURE ANY BEASTS THAT TRY TO ESCAPE. NEXT HICKS IS TAKEN TO THE SMITHY WHERE A STEEL RING IS INSERTED IN HIS COCK HEAD WHILE TIED DOWN HE SCREAMS IN PAIN. HICKS IS THEN TAKEN TO THE STABLING ROOM WHERE THE USE OF THE RING IN HIS COCK HEAD IS MADE OBVIOUS. OTHER CAGE FUCK BEASTS WITH THEIR ARMS SECURED BEHIND THEIR BACK HAVE THE COCKS TETHERED VIA THE STEEL COCK HEAD RINGS TO A RING IN THE FLOOR. BEFORE CAGE FUCK FIGHTS TAKE PLACE PUNTERS ARE ALLOWED TO CHECK THE MERCHANDISE. SECURED LIKE THE OTHER CAGE FUCK BEASTS HICKS CANNOT STOP THE RICH KIDS PAWING HIM BET ON HIM TO SHOW THEIR POWER OVER LOW LIFE TRASH.
HICKS IS TAKEN TO THE CAGE DEEP IN THE CENTRE OF THE STABLE COMPLEX. IT HAS HEAVY STEEL BARS LIKE A MAXIMUM SECURITY PRISON. IT IS HOT LIT BY AN AMBER TINGED LAMP. HICKS DOES NOT LIKE THE LOOK OF HIS OPPONENT WHO IS A SEASON FIGHTER. HIS OPPONENT DOES NOT WASTE TIME ATTACKING HICK AND DRAWING FIRST BLOOD. KNOCKED DOWN HICK IS ROLLED OVER AND LEWDLY WANKED IN FRONT OF THE BAYING CROWD. HICK IS FORCED TO LEARN FAST OR BECOME CUNT FODDER. HICK IS ABLE TO GRAB AND THROW HIS OPPONENT AS HE GROPES HIS HARD EXCITED COCK. BUTE FORCE AND A KNEE TO THE HEAD ENSURE HICKS IS TAKEN DOWN. STUNNED HICKS COMES AROUND WITH A JOLT AS HE FEELS A HARD WEAPON THRUST INTO HIS MAN CUNT. SOBBING IN SHAME HICKS IS CUNTED IN FRONT OF THE BAYING CROWD ONLY A SMALL PART OF THE PAIN TO COME. THRITEEN EXCITING PAGES OF HOT COLOUR GRAPHIC MALE FIGHTING AND SEXUAL DOMINATION MANFLESH ACTION. €12
 
13 BOXER PART 1. WITH ALL THE GANGS OF DELINQUENT YOUTHS ON THE STREET IT WAS ONLY A MATTER OF TIME BEFORE THE POLICE CAPTURED THEM AND SOLD THEM OF THE RICH ARABS FOR THEIR NAKED FIGHT FUCK STABLES. THIS IS JONNY'S STORY. JONNY RAPID UP FOR ASSAULT. HE HAS SPENT THE LAST SIX MONTHS USING THE PRISON GYM, HIS FOOD FULL OF STEROIDS. MAKING HIM MORE AGGRESSIVE AND MUSCULAR. HE HAS MADE THE GRADE. UNBEKNOWN TO HIM HE IS READY FOR SALE TO A ARAB FIGHT STABLE. A GUARD TOLD JONNY TO REMOVE HIS PRISON CLOTHS AS HE WAS GOING ON A LONG JOURNEY. THE GUARD KNOCKS JONNY TO THE GROUND AND CUFFS HIS ARMS BEHIND HIS BACK AND PUT A SLAVE COLLAR ON HIM. THE GUARD GAGS JONNY TO KEEP HIM QUIET AND LEAD HIM THROUGH THE PRISON TO THE HELIPAD ON THE ROOF. JONNY IS ANXIOUS AT BEING TOTALLY NAKED. ABOARD THE HELICOPTER THE GUARD MAKES JONNY SUCK HIS COCK. THE GUARD TELLS JONNY HE HAD BETTER GET USE TO BEING ORDERED ABOUT. WHERE HE IS GOING IF HE DISOBEYS AND ORDER HE WILL GET A HUNDRED LASHES.
THEY LAND AT A DESERT RUNWAY CONTAINING A LARGE TRANSPORT PLANE. JONNY IS PUSHED INTO THE CARGO HOLD WITH OTHER FELONS. JONNY SAW SOMETHING THAT MADE HIM TREMBLE WITH FEAR. JONNY AND THE OTHER FELONS ARE FORCED ONTO HUGE RUBBER DILDO. THEY ARE LOCKED IN LEG IRONS TO KEEP THEM IN PLACE. THIS WAS THEIR SEATING FOR THEIR FLIGHT TO THE MIDDLE EAST IT WILL BE ONE HELL OF A SORE RIDE. AS THE PLANE TOOK OFF THE VIBRATIONS FROM THE ENGINES MADE THE HUGE DILDOS QUIVER. JONNY AND THE OTHER PRISONERS MOAN AND EJACULATED AGAIN AND AGAIN. OUTSIDE THE AIRPORT IN THE CITY OF QINTAR THEY ARE HERDED THROUGH THE STREETS NAKED. AN OGLING CROWD WATCH THE NEW BATCH OF FUCK FIGHTERS EAGERLY. THE THREE NEW SLAVE FIGHTERS ARRIVE AND ARE INSPECTED ALL OVER. UNCUFFED AND UNGAGGED THE THREE ARE TOLD TO DO AS THEY ARE COMMANDED OR FACE A HUNDRED LASHES. THEY ARE UP FOR SALE. WHEN THE SALE STARTS THEY ARE ORDER TO FLEX SO ALL THEIR MUSCLES ARE VISIBLE. JONNY IS GRABBED BY A HUGE BRUTE WHO BROUGHT HIM. HE IS THE OVERSEER OF A NAKED FIGHT STABLE OWNED BY A WEALTH SHEIKH. JONNY IS TIED NAKED TO THE ROOF OF A JEEP SPREAD WIDE A NEW NAKED FIST FIGHTER FOR ALL TO SEE. WHEN THEY ARRIVE JONNY IS MAN HANDLES INTO THE FIGHT STABLE HIS LIFE AND HOME FROM NOW ON. HOT EROTIC ACTION WITH THE ABUSE OF A MALE SLAVE FORCED TO FIGHT. €12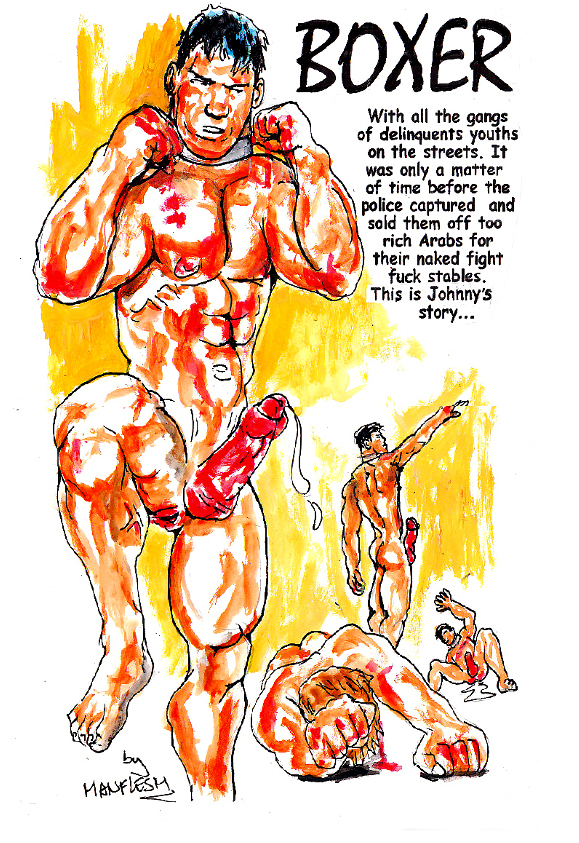 14 BOXER PART 2. JONNY RAPID WILL BE KEPT LIKE A PRIZED COLT. EACH PRINCE BEST THOUSANDS OF DOLLARS A FIGHT. THE FIRST REQUIREMENT WAS TO REMOVE JONNY'S PUBIC HAIR, HIS MASTER THE SHEIKH LIKES TO SEE HIS SLAVES SEX ORGANS FULLY EXPOSED. A HAIR REMOVER JELL IS APPLIED FOR GOOD MEASURE. COCONUT OIL IS APPLIED TO JOHNNY'S BODY. THE STICKY OIL MAKES HIS COCK ROCK HARD. JONNY IS READY NOW FOR A TRAINING MATCH. JONNY GOT THE FIRST BLOW IN DETERMINED THAT NO DUDE WAS GOING TO BEST HIM. BUT AS FAST AS LIGHTNING HIS OPPONENT HEAD BUTTED HIM HARD. WINDED JONNY IS SAT ON AND HIS FACE SUED AS A PUNCH BAG. THE GLOATING STUD THEN SHOVES HIS COCK IN JOHNNY'S MOUTH. BUT JONNY BITES HIS OPPONENTS COCK HARD. THE OVERSEER AND ONE OF THE OVER TRAINERS RUSH OVER. JONNY IS DRAGGED OUT INTO THE FIGHT STABLES COURT YARD. HE IS TIED TO A POLE FOR A HARD CANING. FEAR AND PAIN WILL TEACH HIM HE IS OWNED. BITING IS NOT ALLOWED, FIGHT WITH FISTS, FEET AND COCK THE OVERSEER TELLS JONNY. THE OVERSEER GIVES JONNY A HARD CANING. BUM ON FIRE COVERED IN WELTS, JONNY IS LEFT ALL DAY HANGING UNDER THE A BURNING SUN.
ONE MONTH LATER JONNY HAS BEEN BROUGHT TO ONE OF THE PALACES FOR HIS FIRST FIGHT. HIS OPPONENT IS A GERMAN SLAVE BUCK. THEY GLARED AT EACH OTHER, BOTH HAND BEEN PUMPED FULL OF STEROIDS. LED INTO THE SANDY FLOOR OF THE FIGHT AREA THEY ENGAGE AT ONCE. AS THEY FIGHT SWEAT MIXED WITH THE OIL ON THEIR BODIES ADDS TO THE ALREADY STICKY DIRT FLOOR. EACH NEEDS TO WIN AS THE LOSER GETS FUCKED. WHILE THEY HIT AND GRAPPLED. THEY ARE BOTH AWARE THEY ARE OWNED. AS SOME OF THEIR FELLOW FIGHTERS ARE MADE TO GRATIFY THE COCKS OF THEIR ARAB MASTERS. JONNY'S OPPONENT USES HIS FISTS, KNEES AND FEET AT THE SAME TIME. JONNY IS KNOCKED DOWN WINDED AT HIS OPPONENTS MERCY. HIS FIRST FIGHT IS NOT GOING VERY WELL AT ALL. MORE HOT EROTIC ACTION WITH THE ABUSE OF A MALE SLAVE FORCED TO FIGHT AND TO WIN OR BE FUCKED. €12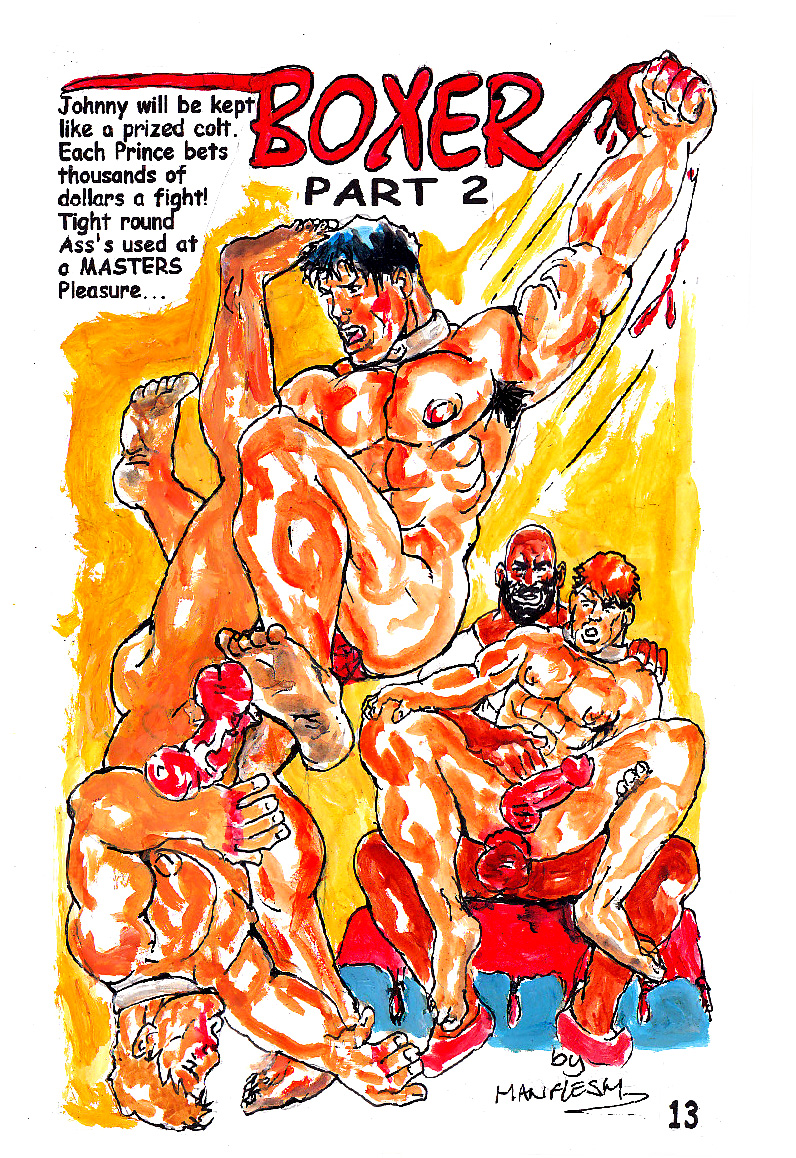 15 THE PUGILIST PART 1. THE TWENTY THIRD CENTURY A HOT HARSH WORLD. A WORLD WHERE THE STRONGEST TRIBE TAKES ALL. WARRIORS FIGHT OTHER TRIBES WARRIORS FOR THEIR CAMEL MEAT AND MILK. THIS PUGILIST ZAK'S STORY. THE DISPLAY STOCKS ARE MADE OF ELEPHANT BONES. PUGILISTS LIKE ZAK ARE NOT SLAVES. THEY ARE DISPLAYED AS DANGEROUS BEASTS. AS THEY HAVE ANIMAL STRENGTH. ZAK IS PROUD TO BE TOTEM OF HIS TRIBE. OTHER MEMBERS OF THE TRIBE FEED ZAK THEIR SEED TO GIVE HIM THEIR POWER FOR THE FIGHT TO COME, AND FEED ON THEM ZAK DOES. ZAK LAPS UP THE TRIBES CUM KNOWING IT WILL FEED HIS MUSCLES. MALE STRENGTH IS WHAT MATTERS IN THIS POST MACHINE WORLD. HE MATTERED. ON THE WAY TO THE ARENA ZAK'S TRIBE ENCOUNTERS ANOTHER TRIBE. THERE IS CONFRONTATION AND CONTACT. BOTH TRIBES WARRIORS RUB THEIR HARD COCKS TOGETHER MIXING THEIR SEED. MASTURBATING AND MIXING OF SEED SHOWS MATSHIP IT IS LESS COSTLY THAN WAR. ALL THE TRIBES CONVERGE ON THE ARENA, SACRED GROUND. "SEE THE ARENA, FIGHT, WIN, MAKE OUR TRIBE POWERFUL AND RICH", ZAK'S CHIEF TELLS HIS AS THEY SIGHT THE ARENA. IN THE ARENA THE MEN OF ZAK'S TRIBE DRINK FERMENTED CAMELS MILK. BELOW IN A ROOM UNDER THE ARENA ZAK'S NAKED FLESH IS OILED READY FOR HIS FIRST FIGHT.
ZAK STRODE INTO THE BAKING HEAT OF THE ARENA. FROM ANOTHER ENTRANCE CAME HIS OPPONENT. ZAK COULD SEE THAT HE HAD ONE MORE RING ON HIS COCK. MEANING HE HAD WON ONE MORE FIGHT THAN ZAK. THE MORE RINGS ON A WARRIORS COCK MEANS THE MORE FIGHTS HE'S WON. THE WARRIORS ATTACK THEY BOTH SLAM INTO EACH OTHER FOR A BRUTAL NO HOLD BARED FIGHT. LOSING IS NOT AN OPTION. ANYTHING IS ALLOWED AS THEY FIGHT TO SMASH EACH OTHER INTO THE GROUND. SPITTING SCRATCHING TO WIN AT ANY COST. FISTS ARE SUED EVERYWHERE TO THE HOOTS OF THE CROWD. HOW WILL ZAK FARE IN HIS ARENA FIGHT. HOT EROTIC ACTION WITH HUNKY EROTIC MALE WARRIORS FORCED
TO FIGHT. €12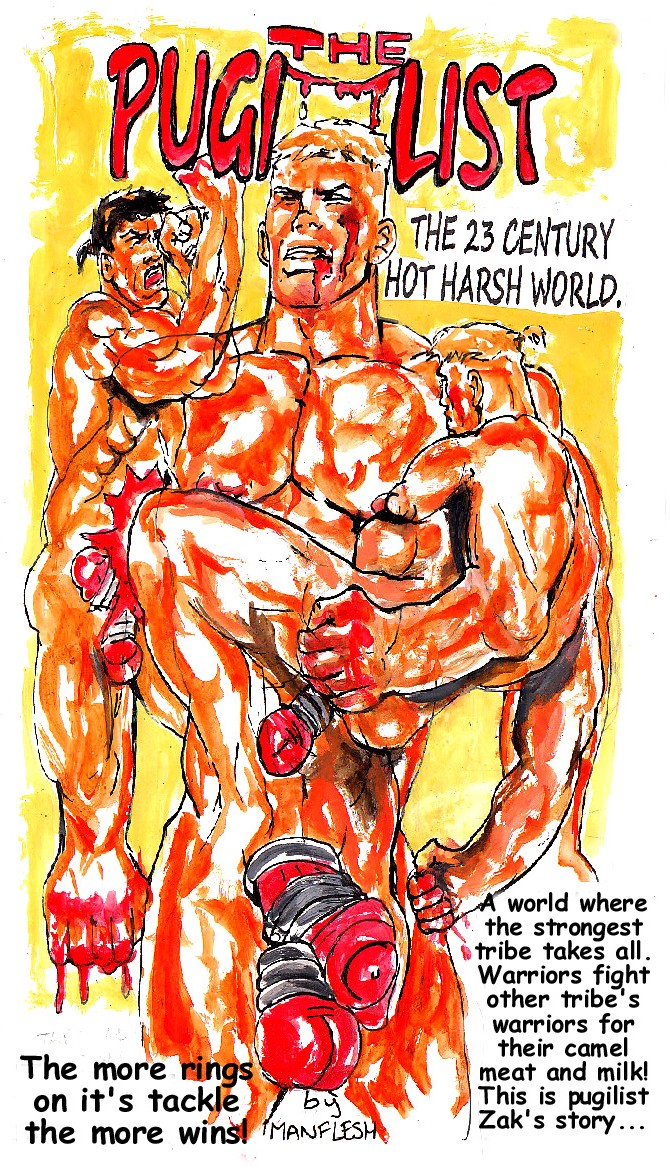 16 RUGBY BULLS 2230. BY THE YEAR 2230 RUGBY HAD BECOME A GLADIATORIAL SPORT. MALES LAVE SPECIALLY BRED FOR THEIR MUSCLE MASS HAVE THEIR BALLS ENLARGES AS THEY, PLAY, FIGHT, AND BATTLE NAKED. OWNED BY THE DOMINARES (WAR LORDS), THIS IS CLIT'S STORY. GROWN IN A SPORTS STABLE CLIT HAS NO SURNAME, AND WILL SOON HAVE ONLY A NUMBER (264). OVER THE NEXT TWO YEARS BULL GENETICS ARE INJECTED INTO HIS COCK AND BALLS. HIS BALLS ENLARGE TO THE SIZE OF GRAPE FRUITS. CLIT WAS READY FOR THE NEXT STAGE.
CLIT HAD BEEN SELECTED AS HE WAS THE BEST IN HIS POD. NOW CLIT ENTERED A HARDER, ROUGHER ANIMAL STABLE. CLIT'S MANHOOD WAS TESTED TO SEE IF HE HAD WHAT IT TAKES. "I AM YOUR TRAINER, I WILL MILK YOU UNTIL YOU ARE EMPTY?', HIS TRAINER TOLD CLIT. THE TRAINER MILKED CLIT UNTIL HE COULD GIVE NO MORE. THEN THE TRAINER FISTED CLIT TO GET OUT THE LAST SLUGS OF HIS CUM. THE STABLE COMPLEX BACKED ONTO THE COLOSSEUM AREA. WHERE FL4SH BATTLED FLESH, MUSCLE AGAINST MUSCLE, WHERE THE WINNERS BECOME HERO'S OF THE MOD. WHERE THE DOMINARES CONTROL ALL. "WIN AND YOU WILL BE OWNED BY A DOMINARE, BECOME A STAR", THE TRAINER TOLD CLIT.
THE TRAINER INTRODUCE CLIT TO OTHER PLAYERS. "HE IS A NEW PLAYER INITIATE HIM", THE TRAINER ORDERED. "TIME FOR BEDDING?', THE TRAINER ORDERED AFTER THE PLAYERS HAD INITIATED CLIT. CLIT WAS TAKEN A LARGE RUBBER MAT WHERE THE RUGBY BULLS SLEEP. CLIT KNEW WHAT WAS COMING NEXT, EACH RUGBY BULL EAGER TO SHOW HIS HARDNESS. THE OTHER RUGBY BULLS NEEDED TO MAKE SURE CLIT WAS HARD INSIDE. CLIT IS FORCED TO SUCK THEIR COCK WHILE OTHERS FUCK HIM. 2230 GLADIATORIAL RUGBY BALLS ARE MADE OF STEEL WITH A STEEL SPIKE. UNDER THE RULES MORE POINTS ARE SCORED IF THE SPIKE IS SHOVED UP AN OPPOSING PLAYERS ARSE.
THE PLAYERS LINE UP AS THE DOMINARES WATCH FROM THEIR BOX FOR THE GAME TO BEGIN. THE BALL WAS RELEASED AND THE GAMES BEGAN. CLIT GRABBED THE BALL AND PUSHED HIS WAY THROUGH THE OTHER TEAM, BUT CLIT DID NOT HOLD THE BALL FOR LONG. AN OPPONENT SHOVES THE STEEL SPIKE UP CLIT'S ARSE AS A DOMINARE WATCHED INTENTLY. DOMINARE TYRON WAS INTERESTED IN CLIT NUMBER 264. CLIT REGAINED THE BALL BUT IS ATTACKED ON ALL SIDES IN MID FIELD AND MADE AS IF TO DROP THE STEEL BALL. THEN FLEXING LIKE A COILED SPRING MUSCLES, CLIT LASHED OUT. TWO GLADIATORS WERE KNOCKED OUT AND CLIT HEADED FOR THE NEXT MAN BULL. CLIT SUCCESSFULLY ATTACKED THE MAN BULL. WITH HIS COCK UP THE BULL MAN'S ARSE AND THE SPIKE THRUST INTO HIS MOUTH THAT EARNED TEN POINTS, CLIT WON THE GAME FOR HIS FELLOW BEASTS. HE WOULD NEXT ENCOUNTER THE DOMINARE AND ALL THE BRUTAL HARDNESS THAT ENTAILED. HOT AND BRUTAL FIGHTING RUGBY PLAY GLADIATORIAL STYLE OF THE TWENTY SECOND CENTURY. €12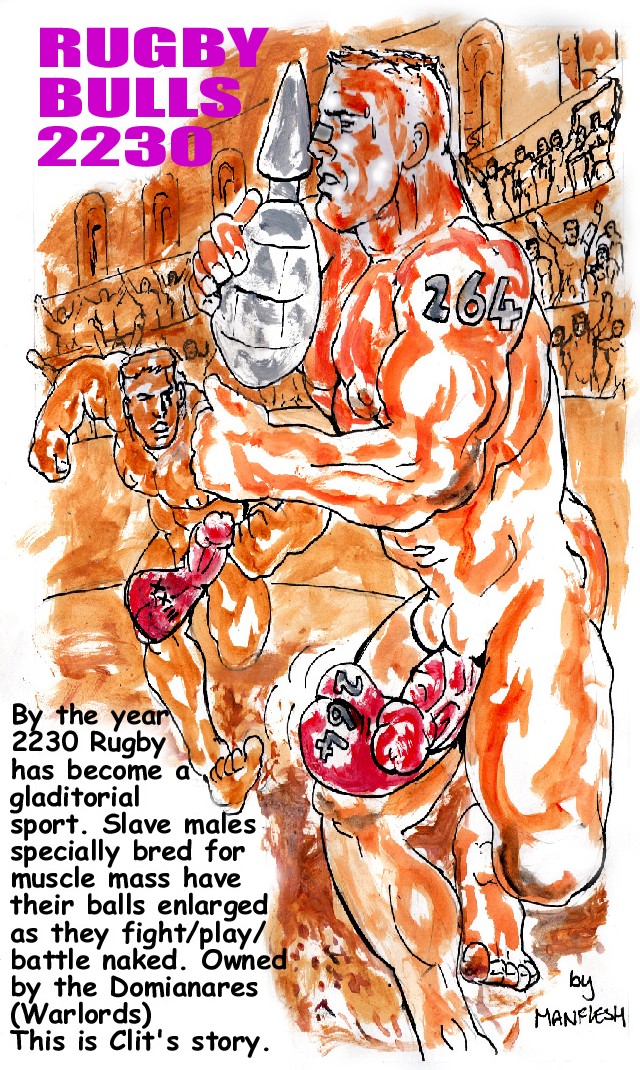 17 GANG WHORE FAIR PART 1. IN THE UNDER GROUND WARREN OF A EUROPEAN CITY, A CITY UNDER A CITY. HOT PRIMEVAL MUSCLES RULES. JARRO SECOND IN COMMAND HOPES HE WILL BE THE MASTER SOME DAY. BUT ANOTHER GANG HAS TAKEN OVER THE SECTOR. JARRO'S LIFE IS ABOUT TO GET HARDER. THE GANGS POWER IS FUEL, COAL, COAL IS POWER. THEY HAVE SEAMS DEEP UNDER THEIR DOMAIN. IT IS SO DEEP AND HOT THEY MUST WORK NAKED. THE COAL USED TO HEAT THEIR FURNACES IS ALSO USED TO BARTER FOR FOOD, JEANS AND BOOTS. THE BOSS BULL CAN SHAG ANY OF THE GANG AND HE DOES. IN THE PECKING ORDER ONLY THE BULL CAN FUCK JARRO AND HE DOES. THEY ARE ALL MAN SEXED HARD ARSE HUNGRY FUCKERS.
AT THE END OF THEIR SHIFT THEIR PELTS ARE COVERED IN COAL DUST MIXED WITH SWEAT. THE GANG TAKE THEIR COAL UP TO THEIR HAUNT. THE BULL CONFRONTS JARRO IN THE SHOWERS BEFORE THE WATER IS TURNED ON. BULL TOLD JARRO HE WOULD FUCK HIM IN FRONT OF THE MEN. JARRO TOLD THE BULL HE WOULD FIGHT HIM FOR TOP DOG. BULL ATTACKS FIRST A BARE KNUCKLE FIGHTER AS HARD AS NAILS. THOUGH THE SHOWERS ARE NOT ON THE FLOOR HAS AN INCH OF DIRTY WATER ON IT. BULL IS THE BETTER BRAWLER BUT JARRO IS FASTER AND GETS IN A HEAD BUT TO THE GUTS. BULL IS WINDED AND JARRO STRIKES OUT WITH HIS FOOT TO BULL'S NECK. BUT AS JARRO KICKS, BULL CRASHES DOWN ON JARRO'S LEG WITH HIS ELBOW. BULL THE GANG LEADER WAS BUILT LIKE A SILVER BACK GORILLA. HE CAN WEAR ANY MAN DOWN AS JARRO HAS FOUND TO HIS COST. NOW JARRO IS ABOUT TO PAY THE PRICE. LIKE SOME SAVAGE APE BULL ASSERTS HIS AUTHORITY UP JARRO'S ARSE. THE GANG MEMBERS ENJOY WATCHING AN ALPHA MALE GETTING FUCKED.
JARRO KNEW WHAT WAS COMING NET, TWO OF THE GANG WANT TO REPLACE JARRO AS SECOND IN COMMAND. JARRO WAS ABOUT TO SHOW HIS FIGHTING SKILLS. USING HIS FEET JARRO KNOCKS DOWN HIS OPPONENTS. HE MAY NOT BE TOP DOG BUT HE IS SECOND IN COMMAND. AS THE WATER COMES ON JARRO IS WASHED BY THE OTHER MEN TOP ALPHA DON'T HAVE TO WASH THEM SELVES. AS THE SHOWER A RIVAL GANG IN TUNNELING INTO THEIR WARREN. THE TWO TOP APLHA MALES ARE ABOUT TO FIND THEY ARE AT THE SORE BOTTOM OF THE PECKING ORDER. TOUGH BRUTAL GANG LIFE WITH HOT BRUTAL FIGHTING AND SEX. €12