Manflesh original artwok for sale. Each set of orginal comic book artwork, contains 16 pages of water colour, colour images, on card, drawn by the artist Manflesh.
1 Superman Living Statue
AN ARAB MASTER WANTED A LIVING STATUE OF THE FARNESE HERCULES, HE WANTED SUPERMAN AS HIS FARNESE HERCULES. SUPERMAN ENSLAVED BECAME THE ARAB MASTERS FARNESE HERCULES LIVING STATUE, WITH HIS MAN HOOD REDUCED TO THE SIZE OF GREEK STATUES MAN HOOD.
SUPERMAN WAS CONTACTED BY AN ARAB RULER. "I WANT TO BRING MY PEOPLED OUT OF SLAVERY INTO THE WORLD. I WANT TO PHOTOGRAPH YOU IN FRONT OF AN ANCIENT STATUE", THE ARAB RULER TOLD SUPERMAN. SUPERMAN WAS HAPPY TO OBLIGE AND FLEW TO THE MIDDLE EAST. SUPERMAN DID NOT REALISE WHAT WAS IN STORE FOR HIM, AT THE HANDS OF THE ARAB RULER. SUPERMAN LANDED IN THE COURT YARD OF THE ARAB RULERS PALACE AND MET WITH THE ARAB RULER. SUPERMAN WAS ATTACKED FROM BEHIND. A WHIP WHIRLED THROUGH THE AIR, AND WRAPPED SEVERAL COILS AROUND SUPERMAN'S NECK. THE WHIP WAS COATED WITH GREEN KRYPTONITE. "MINE" THE ARAB RULER GLOATED AS THE WHIP CHOKED SUPERMAN AND THE GREEN KRYPTONITE, STRIPPED HIM OF HIS SUPER POWERS. WEAK, NO POWERS, SUPERMAN THOUGHT, AS HE CRUMPLED TO THE GROUND. SUPERMAN WAS DRAGGED AWAY. IT WAS THE ARAB RULER THAT NOW HAD POWER OVER SUPERMAN. SUPERMAN WAS DRAGGED TO AN OPERATING THEATRE. SUPERMAN WAS TIED TO THE OPERATING TABLE, WITH CUFFS COVERED WITH GREEN KRYPTONITE. THE GREEN KRYPTONITE COVERED WHIP THONGS, WERE STILL WRAPPED, TIGHTLY ROUND HIS NECK. WIHOUT HIS SUPER POWERS SUPERMAN WAS JUST A BIT OF A DUMB JOCK. AN ARAB SURGEON STOOD READY, A SCALPEL IN HIS HAND. THE HORRIFIED MAN OF STEEL WAS STRIPPED NAKED, HIS CLOTHES CUT AWAY, BY THE ARAB SURGEON, LEAVING HIS MIGHTY COCK, RUDELY ERECT. "NO, … NO, NO", SUPERMAN SOBBED, AS THE ARAB SURGEON STARTED TO OPERATE ON HIS MIGHTY COCK. THE ARAB SURGEON GOT TO WORK REMOVING MOST OF SUPERMAN'S ONCE FOURTEEN INCH COCK. SUPERMAN CONTINUED TO SOB, NOW HIS COCK AND BALLS WERE, AS SMALL, AS A NEW BORN BABIES. HE WAS DRAGGED TO A CELL TO RECOVER.
TWO WEEKS LATER. SUPERMAN MAN, HIS NOW TINY COCK AND BALLS HEALED. HE NOW HAD A TINY ONE INCH ERECTION. THE ARAB RULER WAS VERY PLEASED WITH THE RESULTS. "YOU ARE NOW MY LIVING STATUE". HE TOLD SUPERMAN. THE ONCE MIGHTY MAN OF STEEL, NOW NAKED, SHAMED. HE WAS ABOUT TO SHOW THE ARAB PEOPLE, THE POWER THEIR RULER HAD, AND SHOW THIS WHITEE SLAVE, WITH A TINY COCK, BEING USED AS A PONY. SUPERMAN WAS FORCED TO PULL THE ARAB RULER, IN A PONY CART, AS HIS HUMAN PONY SLAVE. SHAMED, CAN IT GET ANY WORSE, SUPERMAN THOUGHT TO HIMSELF IN HORROR, AS HE WAS PARADED THROUGH THE STREETS, AS THE ARAB RULERS PONY SLAVE. ONLY MEN WERE ALLOWED ON THE STREETS. WHEN THEY SAW THE WESTERNER, THEY ALL WANTED TO GROPE ITS RUDE FLESH AND MORE. THEIR BROWN COCKS LUSTING FOR ITS THICK BUTT CHEEKS. SUPERMAN SQUIRMED IN FEAR AND DISGUST, AS ARAB HANDS GROPED HIM ALL OVER. OH NO I'M BEING WANKED SUPERMAN, THOUGHT AS ONE ARAB GRABBED AND WANKED HIS TINY COCK. "SEE MY COCK IS A HUNDRED TIMES BIGGER", THE ARAB SNEERED, AS HE WHIPPED HIS OWN HARD COCK OUT.
EVERY NIGHT SUPERMAN'S ARMS WOULD BE MANACLED TO THE WALL IN THE ARAB THE RULERS BEDROOM. EVERY NIGHT THE ARAB RULER WOULD FUCK HIS LIVING STATUE HARD. UNLIKE WESTERNERS THE ARABS REGARDED SLAVES AS ANIMALS, SO THE ARAB RULERS GUARDS, WERE ALLOWED TO WATCH HIM FUCK HIS NEW SLAVE. SUPERMAN WAS HORRIFIED THAT THE GUARDS COULD WATCH, AS HE WAS FUCKED AND MADE TO CUM, BY THE ARAB RULERS HUGE COCK. THE RULER NASIR ALSO LET HIS GUARDS FUCK HIS NEW SLAVE. HE ENJOYED THE SPECTACLE OF SEEING SUPERMAN, FUCKED BY HIS GUARDS, AS HE ALSO HAD TO SUCK THE GUARDS COCKS. ONLY NASIR AND HIS OVERSEER, KNEW THE NEW SLAVE WAS SUPERMAN. HE'D HAD THE ARAB SURGEON, LIQUIDATED, AFTER OPERATING ON SUPERMAN. AT A BANQUET THE RULER DISPLAYED HIS LIVING STATUE, ALONG SIDE THE MARBLE ONE, THE FARNESE HERCULES, TO ALL HIS HONOURED GUESTS. SUPERMAN THE LIVING STATUE, HAD A WATER PIPE THRUST IN HIS MOUTH, ALLOWING THEM TO WATCH IT PEE, AS IF IT WAS A LIVING FOUNTAIN AS WELL. SUPERMAN ENSLAVEMENT AS A LIVING SATUE HAD JUST BEGUN, HE NOW FACED MORE SEXUAL AND PHYSICAL ABUSE, BY HIS ARAB MASTER. SIXTEEN PAGES OF GRAPHIC SUPERMAN DOMINATION A4 ARTWORK €200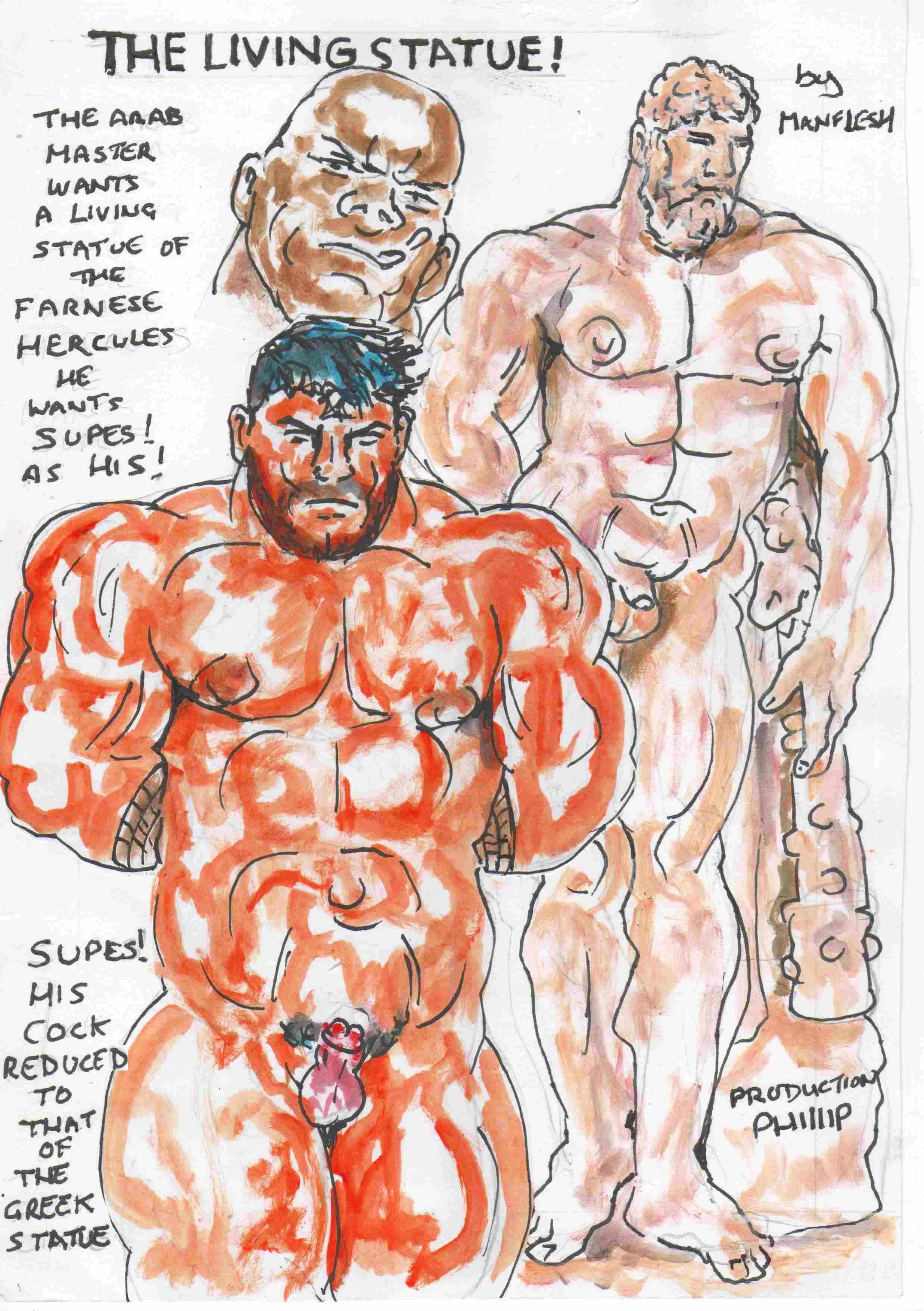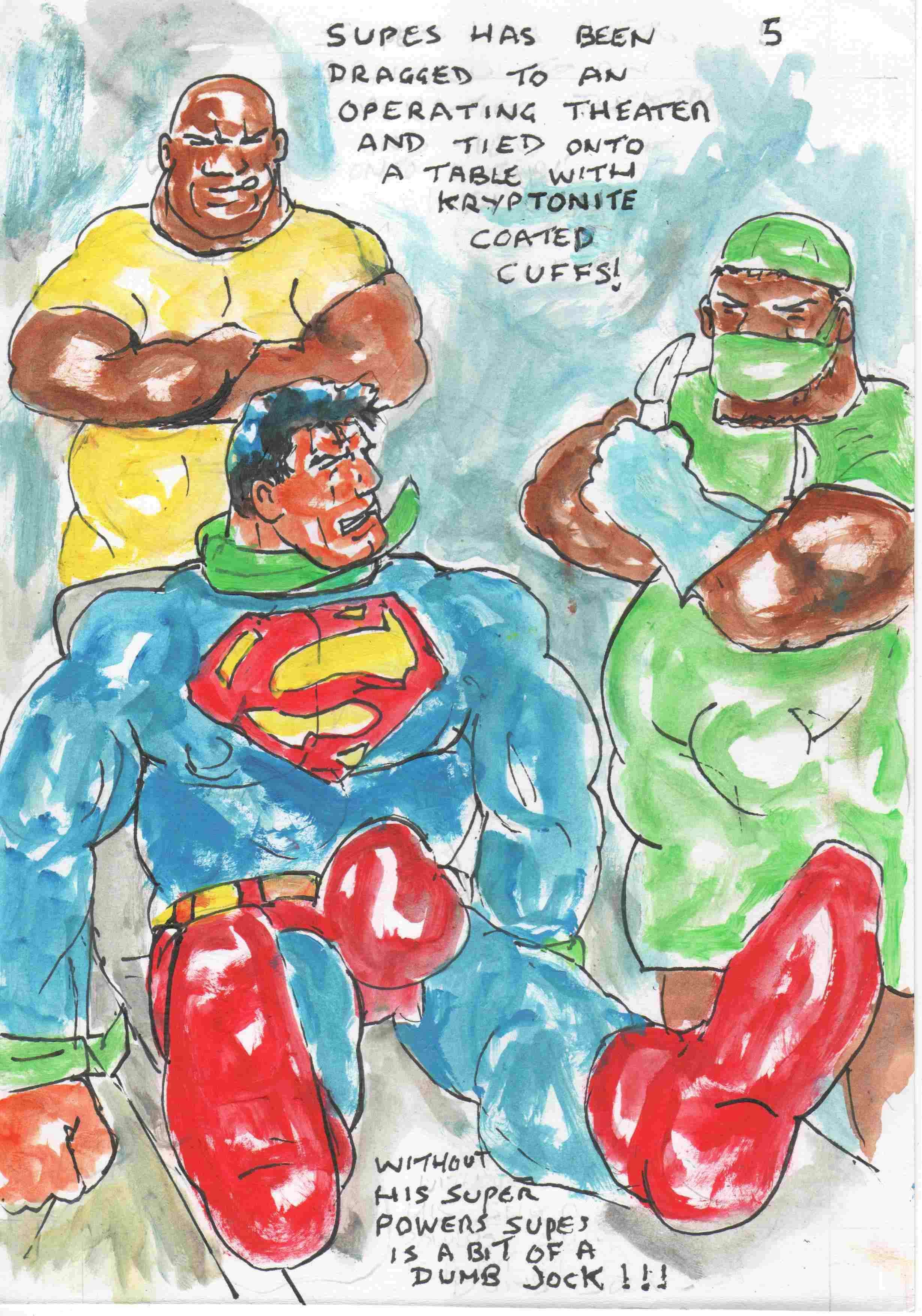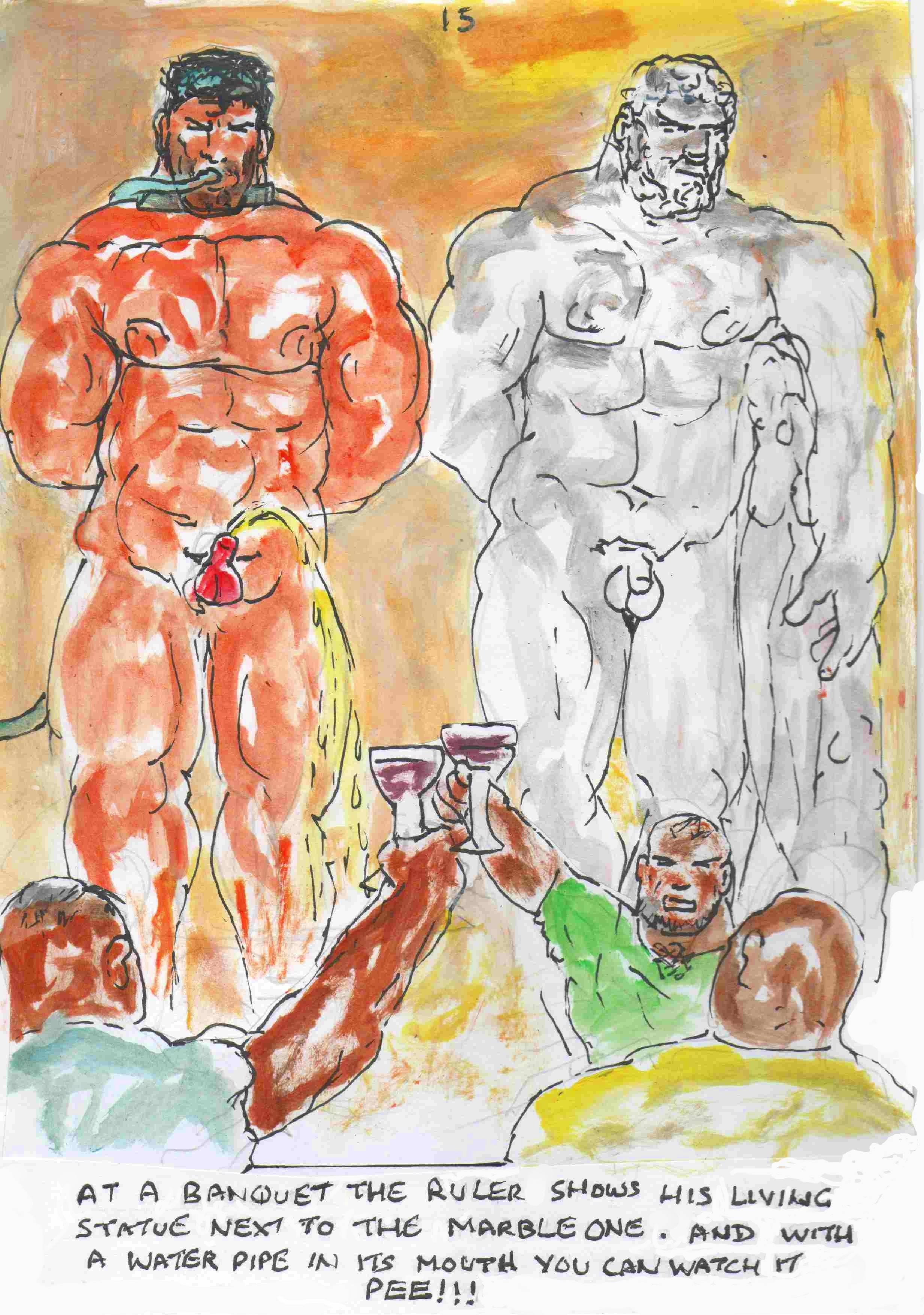 Cover, page 5 and page 15, of Superman Living Statue
2 Reformatory Part 1
REFORMATORY PART 1. IT WAS TIME TO GET TOUGH ON BOY RACERS AND HOOLIGANS, AS TERRY DUGGINS WAS ABOUT TO FIND OUT.
TERRY DUGGINS A BAD BOY RACER, A DRUGS SELLER, WAS PULLED OVER BY THE POLICE AND SHAKEN DOWN. THEY CUT OPEN THE BACK OF HIS JOGGING PANTS TO CHECK HIS ARSE, FOR ILLEGAL DRUGS. "YES HEROINE UP ITS ARSE", THE COP SEARCHING, TERRY'S ANAL CAVITY, SAID, ON FINDING THE DRUGS. YOU WON'T NEED CLOTHES WHERE YOU ARE GOING, THE COPS SPECIAL REFORM UNIT", THE COP TOLD TERRY. STRIPPED NAKED, DRUG SELLER TERRY, WAS PUT IN THE BACK OF THE TRANSPORTER, FOR THE TWELVE HOUR DRIVE SOUTH, TO THE REFORMATORY. IT WAS PECOS IN THE HOT DESERT. TERRY WAS IMPALED ON LARGE STAINLESS STEEL DILDO, MOUNTED TO THE FLOOR OF THE TRANSPORTER, HIS LEGS WERE HELD UP AND SPREAD WIDE, BY STRAPS HANGING FROM THE ROOF. WHEN THEY ARRIVED THE NAKED BAD LAD, WAS TAKEN INTO THE MAIN FACILITY. TERRY WAS TAKEN TO THE WARDEN. THE WARDEN ORDERED TERRY TO SUCK TWO COPS DICKS. "FUCK NO?", TERRY SAID AND TOLD THE WARDEN TO FUCK OFF. NOT A WISE THING TO DO. THE WARDEN USED A ZAPPER ON TERRY, TO STUN HIM, WITH ELECTRIC SHOCKS. THE ELECTRIC SHOCKS, CHANGED TERRY'S MIND AND HE SOON ,WAS DEEP THROATING, TWO COPS AT ONCE.
AFTERWARDSTERRY WAS CUFFED TO A PUNISHMENT STAND, KNEELING WITH HIS ARMS SPREAD AND HELD WIDE, TIGHTLY SECURED BEHIND HIS BACK, LEAVING HIM COMPLETELY EXPOSED AND HELPLESS. THE WARDEN STOOD BEHIND TERRY AND STRIPPED OFF HIS SHIRT, FOR ACTION. SHIT, SHIT, TERRY THOUGHT TO HIMSELF FEARFULLY. "YOU NEED PROPER SCHOOLING, SIXTY LASHES OVER ONE HOUR?", THE WARDEN SAID, AS HE LASHED TERRY'S NAKED, BUTTOCKS HARD. AFTER THE SIXTY LASHES, TERRY WAS FREED FROM THE PUNISHMENT STAND AND MADE TO KNEEL IN FRONT OF THE WARDEN. HE HAD TO SUCK THE WARDEN'S COCK. "SUCK COCK OR MORE LASHES?", THE WARDEN WARNED, BRANDISHING HIS WHIP. TERRY OBEYED DUTIFULLY SUCKING THE WARDEN'S COCK. IN THE VETERINARY OFFICE A GREEN PASTE WAS RUBBED INTO TERRY'S GROIN. IT WAS A DEFOLIATE, NO MAN HAIR FOR THE REFORMATORY CONVICT. ALL PART OF HIS BEING BROKEN IN. THERE AS BARE A NEW BORN BABY?", THE VET SAID. THEN TERRY'S COCK WAS SQUEEZED INTO A TINY COCK CAGE. TERRY WAS TAKEN TO THE WARDEN, TO SHOW THE WARDEN HIS DEPLETED PUBES AND NEW COCK CAGE. "TAKE HIM TO THE WORK YARD", THE WARDEN ORDERED.
TERRY WAS TAKEN OUT TO ONE OF THE WORK YARDS. WHERE OTHER NAKED LADS, WITH COCKS CAGED, TOILED PUSHING AN AGGREGATE CRUSHER. AS TERRY TOILED HIS SORE, CLENCHED BUTTOCKS, WERE BURNT BY THE HOT, DESERT SUN. WHILE HE TOILED HE WAS WATCHED BY THE WARDEN, WHOSE COCK WAS ROCK HARD. AFTER A LONG DAY TOILING THE LADS ARE FED THEIR MUSH FROM A TROUGH. AS THE LADS ATE THEIR MUCH THE GUARDS FINGERED THEIR BUM HOLES. IT WAS ALL PART OF THE GUARDS PERKS. "THEY SURE LIKE THEIR CUNNY HOLES FINGERED?", ONE GUARD SAID, AS HE FINGERED ONE LADS ANUS. "FISTED TOO", ANOTHER GUARD REPLIED, AS HE FISTED TERRY'S ARSE. FOLLOWING HIS FEEDING AND LEWD MISS HANDLING, TERRY WAS SECURED TO A STEEL RESTRAINT FRAME, THAT LEFT HIM BENT OVER, WITH HIS ARMS AND LEGS RESTRAINED, LEAVING HIS ANUS EXPOSED AND READY TO BE RAVAGED. "BOY I'M GUNNA TEACH YOU RESPECT FOR THE LAW?", THE WARDEN SAID, AS HE STRIPPED NAKED TO RAVAGE TERRY, WITH HIS HUGE, HARD COCK. OH SHIT OH NO, TERRY THOUGHT IN HORROR, AS HE WATCHED THE WARDEN, STRIP NAKED. "SAY THANK YOU TO THE STRONG ARM OF THE LAW?", THE WARDEN SAID, AS HE POUNDED TERRY'S ARSE. "THANK YOU SIR", TERRY GASPED, SOBBING IN PAIN AND SHAME. HOT AND GRAPHIC MALE ON MALE PHYSICAL AND SEXUAL DOMINATION, OF YOUNG HOLIGANS, WHO ARE MADE TO SERVE HARD TIME. SIXTEEN A4 PAGES OF GRAPHIC MALE ON MALE DOMINATION ARTWORK €200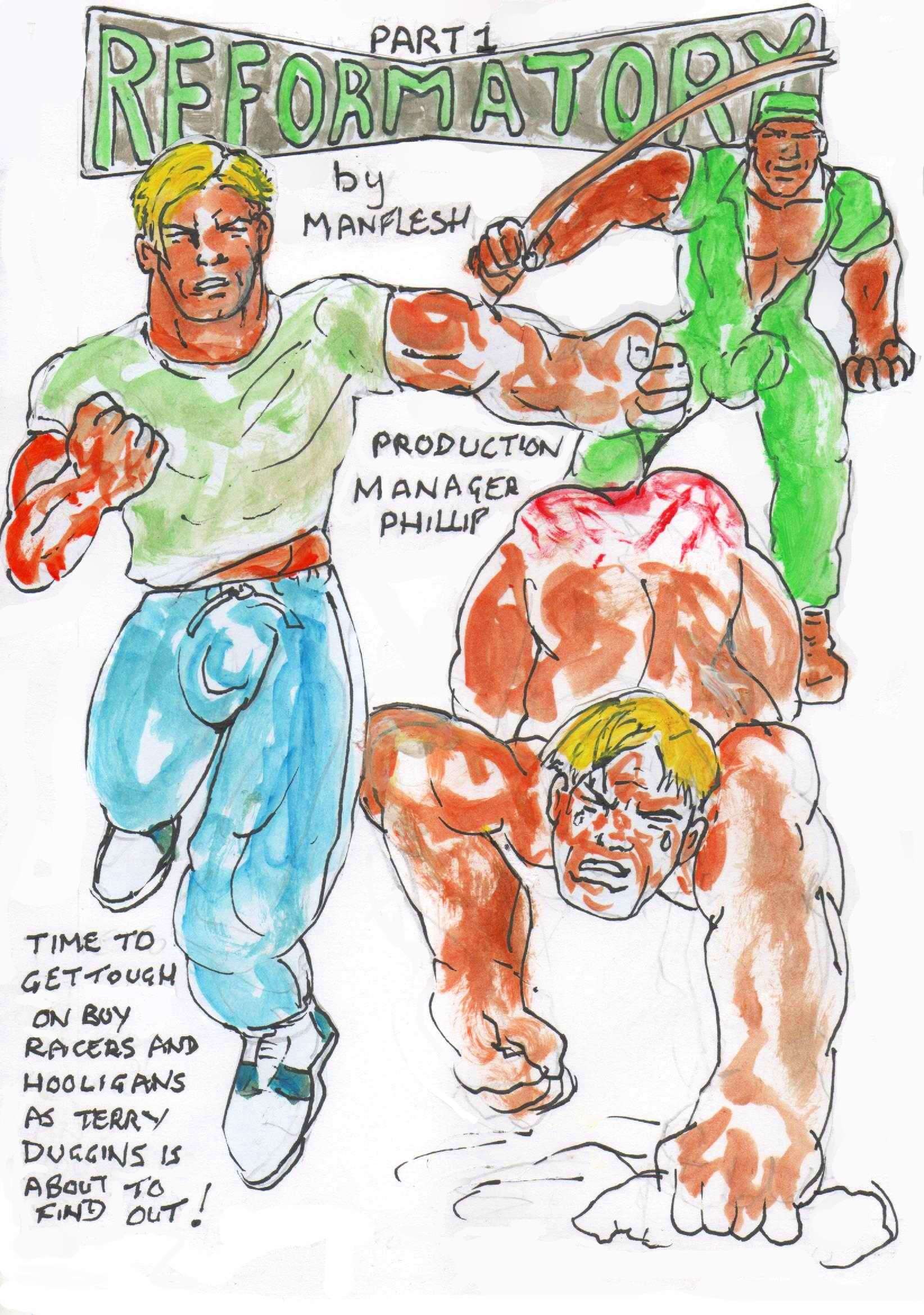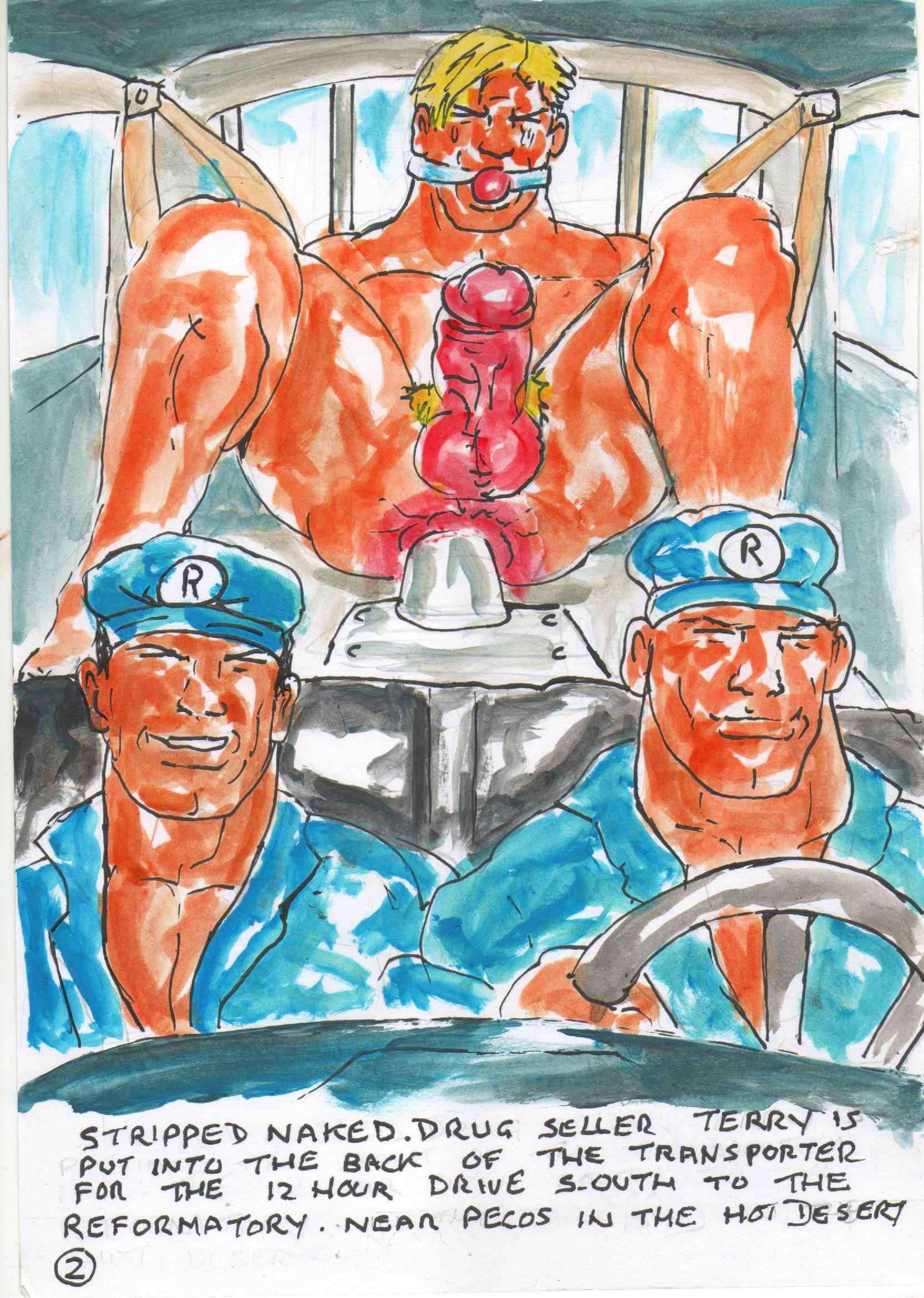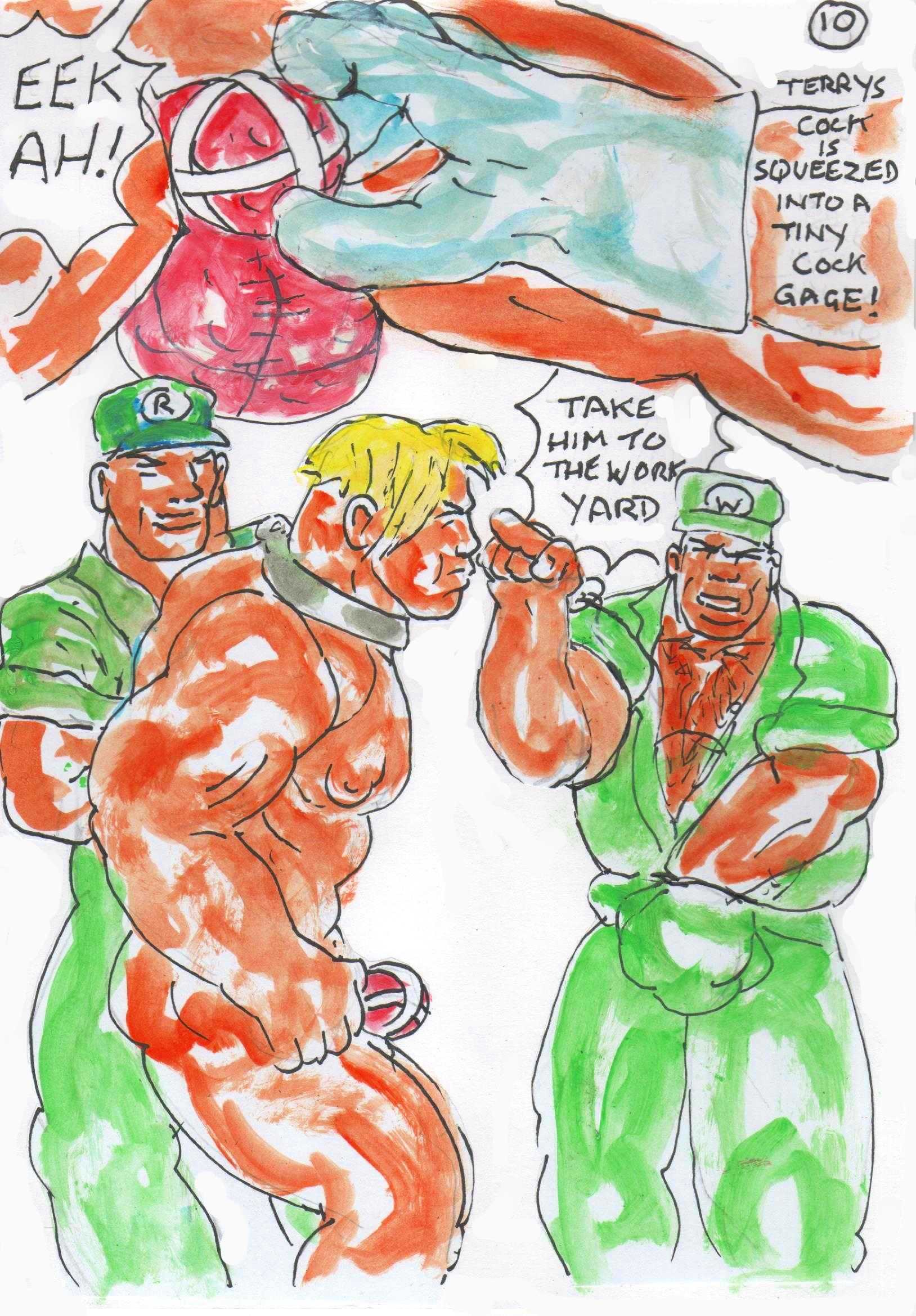 Cover, page 2 and page 10 of Reformatory Part 1
3 Thor Phallus Part 1
THOR PHALLUS PART 1. THE ONCE MIGHTY THOR, WAS NAKED AND ENSLAVED. HE HAD BEEN THROWN THROUGH A TIME SLIP, TO 900 AD, INTO THE ARABIAN SEA. THIS IS HIS SORE BESTIAL SAGA.
THOR WAS AT SEA IN A LONG SHIP, WHEN THERE WAS A RIP IN TIME. THOR AND HIS LONG SHIP WERE PULLED INTO THE TIME SLIP, WITH A SHATTERING OF WOOD. THEY WERE BLASTED INTO A NEW TIME, 900 AD. IT SMASHED HIS SHIP AND RIPPED HIS CLOTHES, LEAVING THOR FLOATING NEARLY NAKED, ON SOME WRECKAGE, THE ONLY SURVIVOR. AFTER FLOATING HELPLESSLY FOR AGES, THOR SPOTTED A SAIL ON THE HORIZON. GOOD A BOAT, THOR THOUGHT TO HIMSELF. THE BOAT AN ARAB VESSEL, SAW THE SHIP WRECK VICTIM AND PICKED HIM UP. "HI I'M THOR, MY SHIP GOT SMASHED", THOR TOLD THE ARAB SAILORS, AS HE CLIMBED ABOARD. "YOU ARE A SLAVE", THE SHIPS CAPTAIN DRESSED IN ARMOUR TOLD THOR. "FUCK YOU I AM THOR, SON OF ODIN, NO SLAVE", THOR PROTESTED. THE CAPTAIN HAD HIS SAILORS GRAB AND SUBDUE THOR. WHEN HE CAME THROUGH THE RIFT, THOR LOST HIS GOD LIKE POWERS. WITHOUT HIS GOD LIKE POWERS, THOR WAS EASILY OVER POWERED, BY THE SAILORS, HIS LAST REMAINING BIT OF CLOTHING, WAS RIPPED OFF. THIS EXPOSED HIS FOOT LONG PHALLUS. SUBDUED AND NOW NAKED THOR AND HIS ARMS SECURED BEHIND HIS BACK AND A COLLAR TIED TO HIS NECK WITH A LEASH ON IT. THE LEASH WAS FASTENED TO THE MAST. HE WAS TIED TO THE MAST BY THE COLLAR. THE SHIP OWNER, HIS NEW MASTER, STOOD LOOKING AT THOR, THINKING DEEPLY. THE MASTER COULD SEE THAT THOR HAD A HUGE PHALLUS, AND HE COULD DECIDE TO CUT IT OFF AND HANG IT ROUND HIS NECK, AS THOR WAS NOW ONLY A SLAVE. I'M A GOD, HOW DARE THEY, THOR RAGED, HELPLESSLY TIED TO THE MAST. SLAVES WERE NOT PERMITTED TO HAVE CROTCH HAIR, THEY WERE NOT MEN. SO USING A STICK COVERED WITH STICKING HONEY, THOR'S CROTCH HAIR, WAS PULLED OUT. BUT THINGS WERE ABOUT TO GET WORSE. THOR WAS MADE TO SUCK THE CREWS COCKS, ONE BY ONE. WHEN I REGAIN MY POWERS THEY WILL PAY, GROVEL AT MY FEET, TERROR STRICKEN AND WORSHIP ME, THOR THOUGHT, ANGRILY TO HIMSELF. UNTIL A SLAVE WAS SOLD, NO MAN WAS ALLOWED TO FUCK THEM. BUT AS THE CABIN BOY WAS NOT A MAN, HE WAS ALLOWED TO FUCK THOR, WITH HIS LARGE COCK. HE WAS WATCHED BY, LEERING MEMBERS OF THE CREW. "THE BOY SURE HAS A HUGE PHALLUS", ONE CREW MEMBER SAID, AS HE WATCHED. AS BEING FUCK BY A BOY, DID NOT COUNT AS BEING DEFILED, THE BOY WAS ENCOURAGED TO FUCK THOR. THE ARABS WANTED THE BIG BLOND BROKEN IN, OR AT LEAST SHAMED, A LOW BEAST TO HIS MASTERS.
THE ARABS LANDED AT TARFAYA, THE ONCE MIGHTY NORTHMAN NOW A SLAVE, WAS TAKEN THROUGH THE TOWN TO THE AUCTION. NAKED YOUTHS, BEAT, HIS BROAD, PINK BUTT CHEEKS, THAT WERE LEAKING CUM FROM ONE OF THE CABIN BOYS. AT THE AUCTION, THOR WAS TAKEN OUT IN FRONT OF A ROARING CROWD. TO ADD TO HIS SHAME, HE WAS LEWDLY WANKED, BY THE AUCTIONEER, TO SHOW THE CROWD, HIS THICK SPUNK. THEN THE AUCTIONEER BENT THOR OVER AND ALLOWED MEMBERS OF THE CROWD, TO FINGER THOR'S ANUS. OH SHIT THEY, ARE FINGERING MY ARSE, THOR THOUGHT IN HORROR. THE AUCTION ENDED AND THE LOCAL WAR LORD, HAD CLAIMED THOR. HE SENT HIS SLAVE MASTER TO FUCK THOR, TO DEMONSTRATE HIS OWNERSHIP. THE CROWD WATCHED IN DELIGHT, AS THE WAR LORDS, SLAVE MASTER, HELD THOR UPSIDE DOWN, WHILE HE FUCKED HIM HARD. THE SLAVE THOR WAS TAKEN THROUGH THE DESERT, TO THE WAR LORDS FORTRESS, A NINE DAY MARCH. THOR WAS BEASTED AT EVERY OPPORTUNITY. ANOTHER GREAT SUPER HERO DOMINATION STORY WITH THOR ENSLAVED AND SEXUALLY AND PHYSICALLY ABUSED BY ARAB MASTERS. SIXTEEN PAGES OF A4 GRAPHIC COLOUR ARTWORK, OF SUPER HERO THOR, BEING SEXUALLY AND PHSICALLY ABUSED BY ARAB MASTERS. WITH THREE SETS OF DOUBLE PANORAMIC PAGES €200
 
THOR PHALLUS PART 1 HAS NEW FEATURE, DOUBLE ,SIDE BY SIDE PAGES, THAT CREATES A PANORAMIC IMAGE. THE DOUBLE, PANORAMIC IMAGE, PAGES IN THOR PHALLUS PART 1, ARE, PAGES 4 AND 5, PAGES 8 AND 9, PLUS PAGES 10 AND 11. THE TWO PAGES UNFOLD TO CREATE THE PANORAMIC IMAGE.
PAGE 4 AND 5 FEATURES THOR BEING STRIPPED IN FRONT OF THE SHIPS CAPTAIN AND HIS NEW MASTER THE SHIP OWNER. THEN BEING SECURED NAKED AND AROUSED TO THE MAST, WHILE HIS NEW MASTERS PONDERS WHETHER TO REMOVE HIS HUGE PHALLUS.
PAGES 8 AND 9 FEATURES THOR BEING FUCKED BY A CABIN BOY, WHILE SECURED TO THE MAST, AS THE WHOLE CREW WATCH AND ENJOY.
PAGES 10 AND 11 FEATURES THOR NAKED AND BOUND, BEING WHIPPED THROUGH THE STREETS OF TARFAYA, BY LOCAL YOUTHS,
WITH THE CABIN BOYS SPUNK LEAKING FROM HIS ANUS.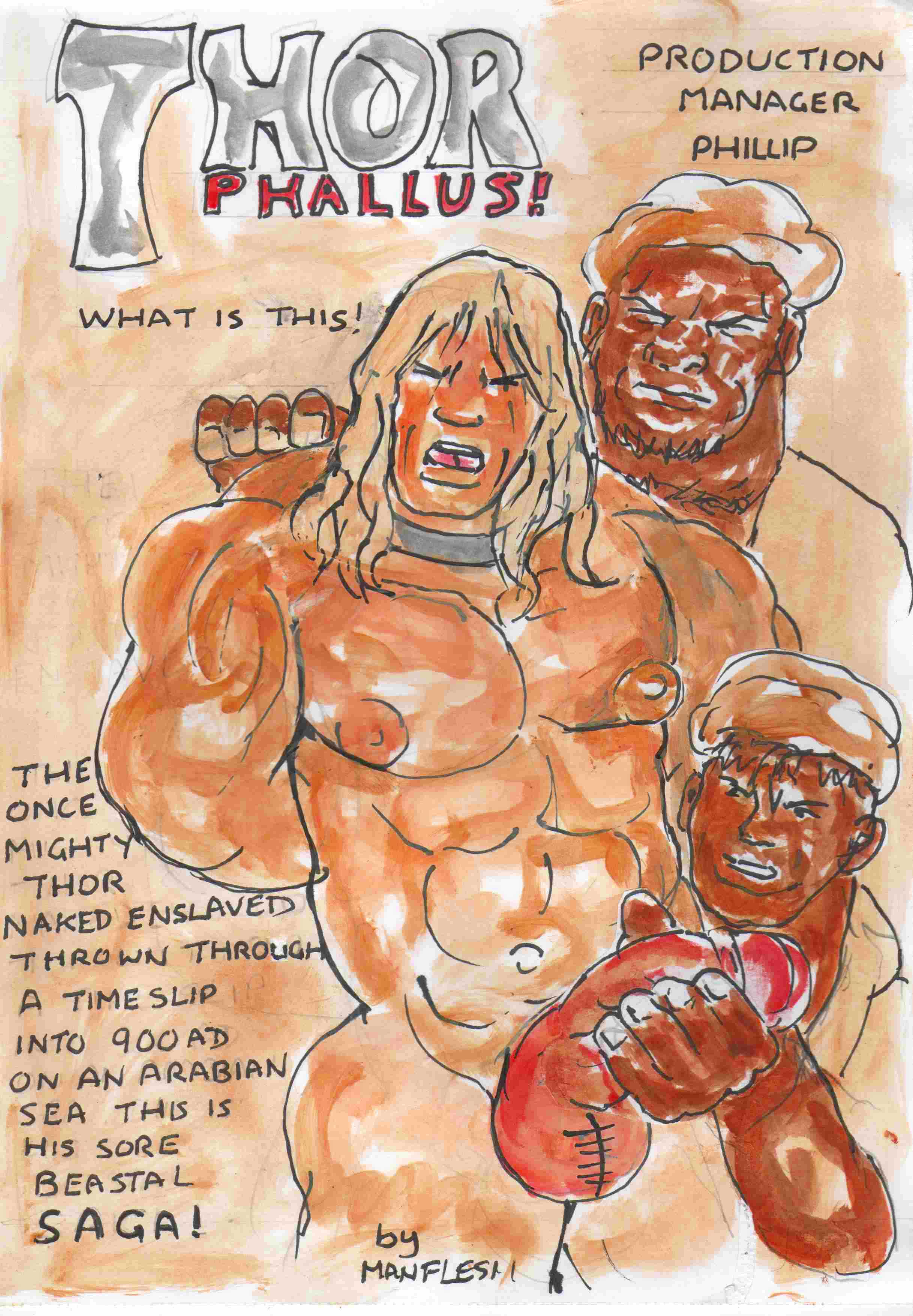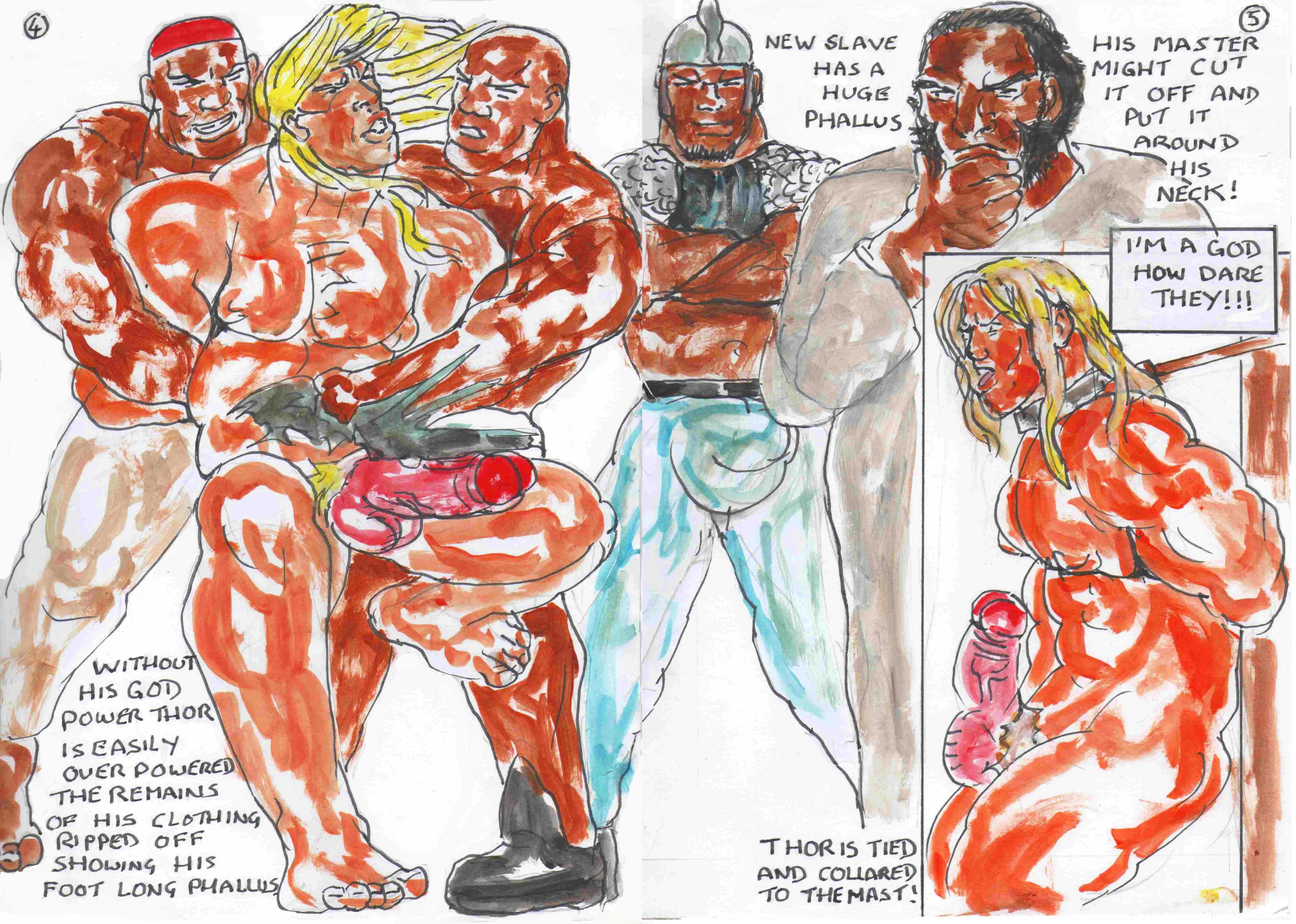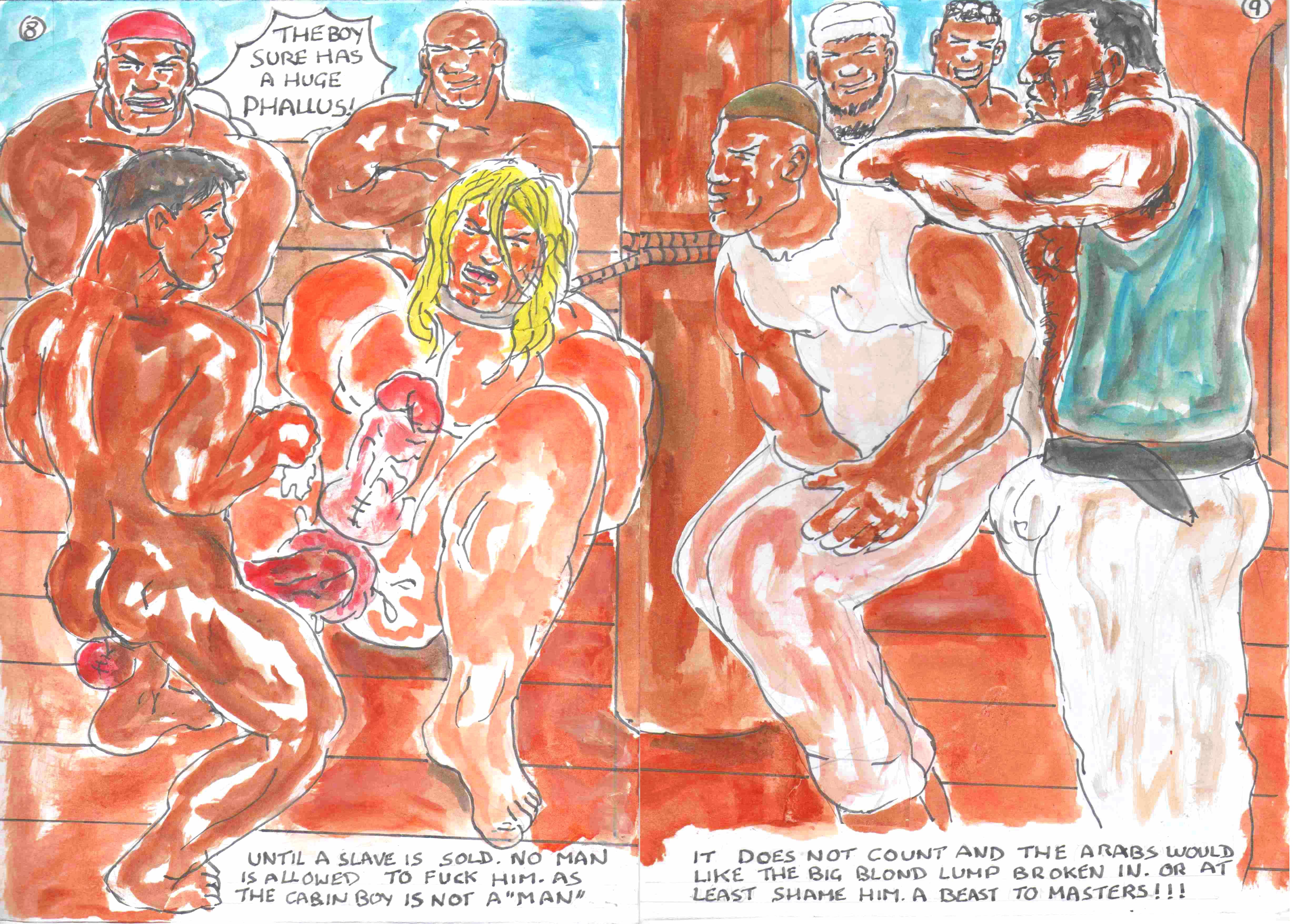 Cover, panoramic pages 4 and 5, panoramic pages 8 and 9 of Thor Phallus part 1



4 REFORMATORY PART 2 HOW LONG WILL TERRY BE IN NAKED SERVITUDE, AS THINGS WERE ABOUT TO GET WORSE. AS DAWN BROKE THE WARDEN FUCKED TERRY AGAIN. "FUCK YOUR ARSE BOY, SHOW THE POWER OF THE LAW, SAY THANK YOU SIR", THE WARDEN SAID. "THANK YOU SIR", TERRY GROANED, WITH TEARS IN HIS EYES, AS TERRY WAS FUCKED ON THE WARDENS BED. TERRY WAS TAKEN TO THE PRISON SHOWER BLOCK AND CHAINED SPREAD EAGLE IN A FRAME, BY HIS ARMS AND LEGS. TERRY WAS HOSED DOWN LIKE THE BEAST HE WAS. "RIGHT IN HIS STRETCHED BUM HOLE, FULL OF THE WARDENS SPUNK", ONE GUARD SAID, AS HE AIMED THE HOSE. "YES WITH COLD WATER", THE OTHER REPLIED. IT WAS TIME FOR TERRY'S MORNING FEED. TERRY COULD STILL FEEL WHERE THE WARDENS COCK, HAD BEEN IN HIS SORE ARSE. TERRY WONDERED IN FEAR, WHETHER THE WARDEN, WOULD FUCK HIM AGAIN TONIGHT. AS THE LADS ATE, TERRY TRIED TO BOAST ABOUT HIS NIGHT WITH THE WARDEN, BUT HE COULD NOT CONCEAL HIS REAL FATE, AT THE WARDENS HAND. "I FUCKED THE WARDEN HARD YEAH?", TERRY TOLD THE OTHERS. "WE ARE ALL COCK CAGED TOSSER, WE ALL HEARD YOU SCREAM, AS THE WARDEN BITCH YOU BUM", THE LAD BESIDE HIM SNEERED. "YOU'LL FIND THAT ALL PART OF YOUR TRAINING", HE ADDED. EVERY SATURDAY NIGHT THE LADS WERE FORCED TO FIGHT, FOR THE GUARDS ENTERTAINMENT. TERRY WAS NOT USE TO NAKED LAD ON LAD COMBAT, HAD TO PAY THE PRICE FOR LOSING. THE LOSER GOT FUCKED BY THE GUARDS. THE GUARDS WERE HARD AND READY AND FUCKED TERRY, MAKING HIM SUCK THEIR COCKS, AS WELL.
A YEAR PASSED, TERRY WAS NINETEEN AND IN GREAT SHAPE. IT WAS TIME TO SELL HIM TO THE HIGHEST BIDDER. SO HE WAS PHOTOGRAPHED IN EVERY POSITION. A CERTAIN AFRICAN DICTATOR PURCHASED TERRY, ONE LESS HOOLIGAN IN THE USA. TERRY WAS PUT ABOARD A TRANSPORT AIRCRAFT HEADING FOR AFRICA, CHAINED TO A BOLT IN THE FLOOR. BUT EVEN AFTER A YEAR, TERRY STILL HAD SOME FIGHT IN HIM. SCARED HE TRIED TO ESCAPE, BUT COULD BREAK HIS CHAINS. ON THE STREETS OF MACARBA, TWO OF THE DICTATORS SLAVES, GROPED TERRY. HE WAS NOW LOWER THAN THE TWO BLACK SLAVES. TERRY WAS FINGERED AND THE NATIVES WERE ALLOWED TO LICK HIS ARSE HOLE JUICES. TERRY WAS TAKEN TO THE DICTATORS PALACE. ALTHOUGH THE PALACE LOOKED TO BE MEDIEVAL, ITS SECURITY WAS HIGH TECH, LETHAL AT THE TOUCH OF A BUTTON. THE DICTATOR LICKED TERRY'S CAGED COCK, WHILE HE PLAYED WITH HIS HUGE BLACK DICK. AS THE DICTATOR GOT READY TO FUCK TERRY, HE ALLOWED TWO OF HIS SPUNKERS TO WARM UP TERRY'S ARSE. "I'M CUMING", THE FIRST SPUNKER SAID, AFTER FUCKING TERRY HARD. "I'M NEXT", THE SECOND ONE REPLIED. THEN TERRY WAS FUCKED BY THE AFRICAN DICTATOR, TAKING FOURTEEN INCHES, UP HIS STRETCHED ARSEHOLE. BUT AT LEAST THE DICTATOR HAD REMOVED HIS COCK CAGE. MORE HOT AND GRAPHIC MALE ON MALE PHYSICAL AND SEXUAL DOMINATION, OF YOUNG HOLIGAN, WHO WAS MADE TO SERVE HARD TIME AND AN AFRICAN DICTATOR. €15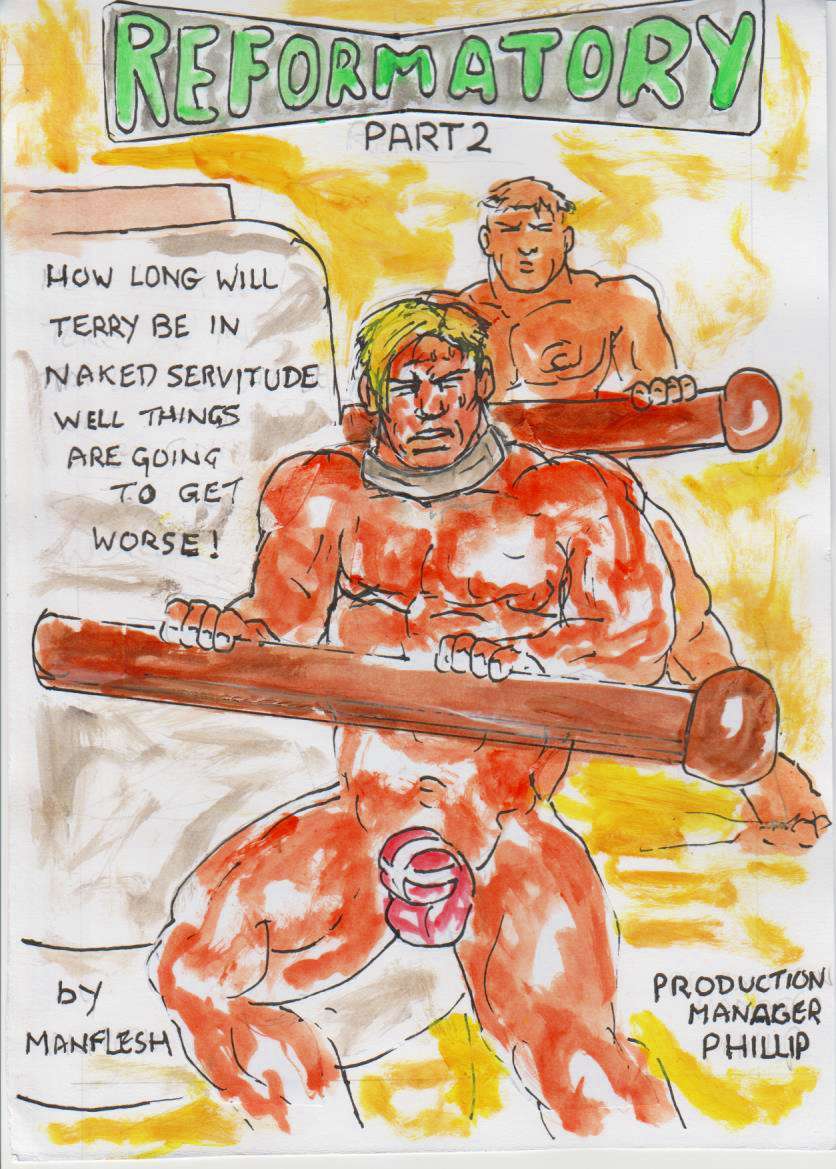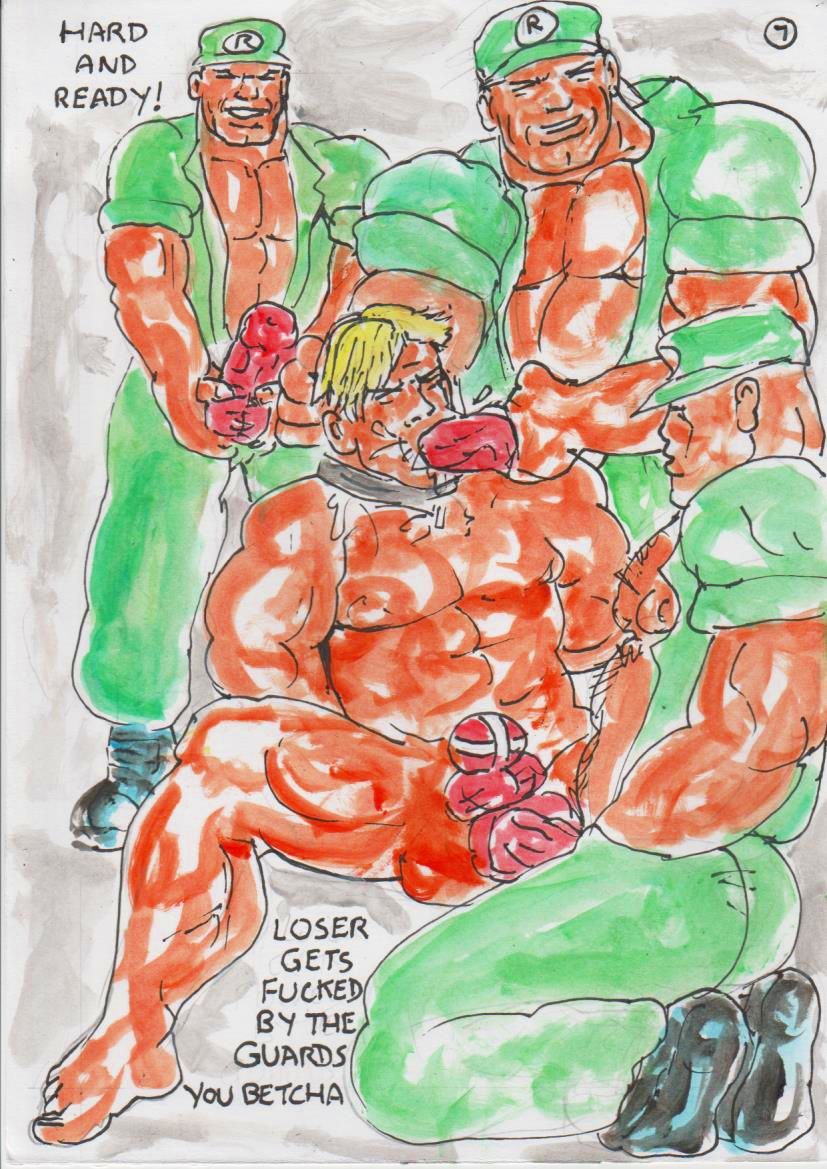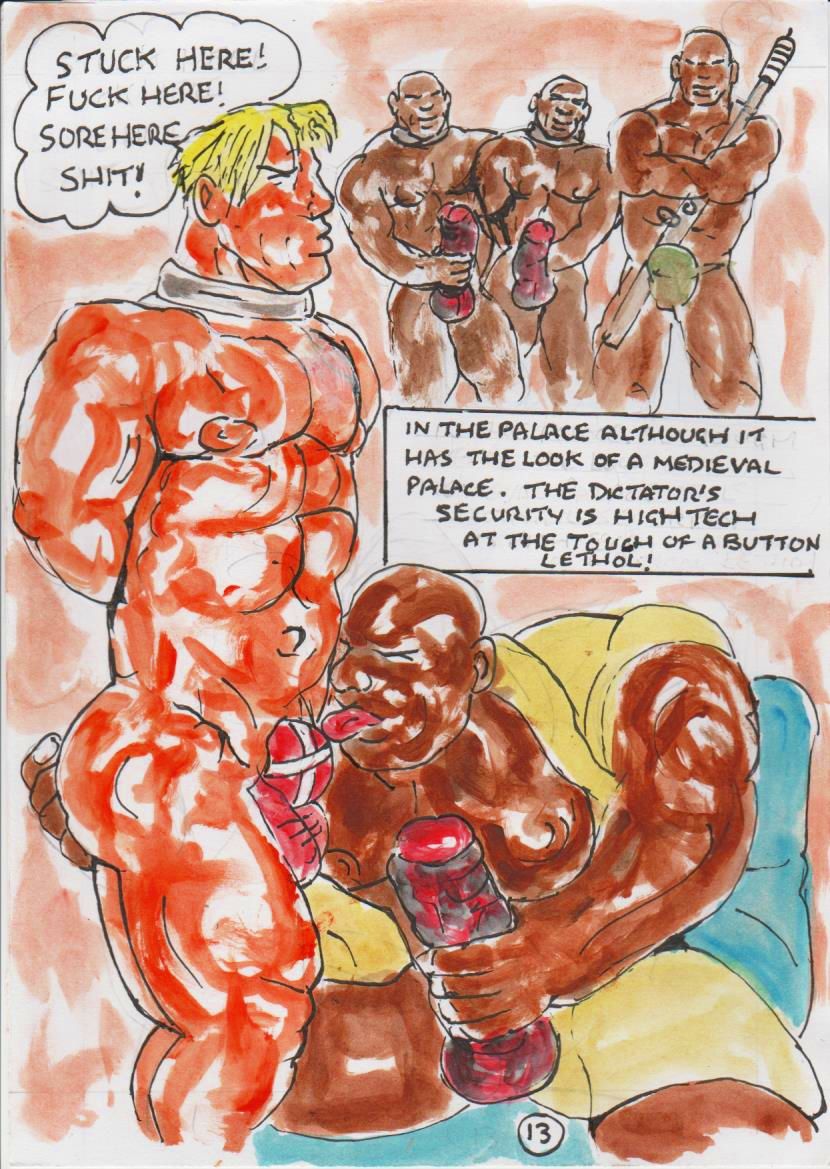 Cover, page 7 and page 13 of reformatory part 2