Manflesh original artwok for sale. Each set of orginal comic book artwork, contains 16 pages of water colour, colour images, on card, drawn by the artist Manflesh.
1 Superman Living Statue
AN ARAB MASTER WANTED A LIVING STATUE OF THE FARNESE HERCULES, HE WANTED SUPERMAN AS HIS FARNESE HERCULES. SUPERMAN ENSLAVED BECAME THE ARAB MASTERS FARNESE HERCULES LIVING STATUE, WITH HIS MAN HOOD REDUCED TO THE SIZE OF GREEK STATUES MAN HOOD.
SUPERMAN WAS CONTACTED BY AN ARAB RULER. "I WANT TO BRING MY PEOPLED OUT OF SLAVERY INTO THE WORLD. I WANT TO PHOTOGRAPH YOU IN FRONT OF AN ANCIENT STATUE", THE ARAB RULER TOLD SUPERMAN. SUPERMAN WAS HAPPY TO OBLIGE AND FLEW TO THE MIDDLE EAST. SUPERMAN DID NOT REALISE WHAT WAS IN STORE FOR HIM, AT THE HANDS OF THE ARAB RULER. SUPERMAN LANDED IN THE COURT YARD OF THE ARAB RULERS PALACE AND MET WITH THE ARAB RULER. SUPERMAN WAS ATTACKED FROM BEHIND. A WHIP WHIRLED THROUGH THE AIR, AND WRAPPED SEVERAL COILS AROUND SUPERMAN'S NECK. THE WHIP WAS COATED WITH GREEN KRYPTONITE. "MINE" THE ARAB RULER GLOATED AS THE WHIP CHOKED SUPERMAN AND THE GREEN KRYPTONITE, STRIPPED HIM OF HIS SUPER POWERS. WEAK, NO POWERS, SUPERMAN THOUGHT, AS HE CRUMPLED TO THE GROUND. SUPERMAN WAS DRAGGED AWAY. IT WAS THE ARAB RULER THAT NOW HAD POWER OVER SUPERMAN. SUPERMAN WAS DRAGGED TO AN OPERATING THEATRE. SUPERMAN WAS TIED TO THE OPERATING TABLE, WITH CUFFS COVERED WITH GREEN KRYPTONITE. THE GREEN KRYPTONITE COVERED WHIP THONGS, WERE STILL WRAPPED, TIGHTLY ROUND HIS NECK. WIHOUT HIS SUPER POWERS SUPERMAN WAS JUST A BIT OF A DUMB JOCK. AN ARAB SURGEON STOOD READY, A SCALPEL IN HIS HAND. THE HORRIFIED MAN OF STEEL WAS STRIPPED NAKED, HIS CLOTHES CUT AWAY, BY THE ARAB SURGEON, LEAVING HIS MIGHTY COCK, RUDELY ERECT. "NO, … NO, NO", SUPERMAN SOBBED, AS THE ARAB SURGEON STARTED TO OPERATE ON HIS MIGHTY COCK. THE ARAB SURGEON GOT TO WORK REMOVING MOST OF SUPERMAN'S ONCE FOURTEEN INCH COCK. SUPERMAN CONTINUED TO SOB, NOW HIS COCK AND BALLS WERE, AS SMALL, AS A NEW BORN BABIES. HE WAS DRAGGED TO A CELL TO RECOVER.
TWO WEEKS LATER. SUPERMAN MAN, HIS NOW TINY COCK AND BALLS HEALED. HE NOW HAD A TINY ONE INCH ERECTION. THE ARAB RULER WAS VERY PLEASED WITH THE RESULTS. "YOU ARE NOW MY LIVING STATUE". HE TOLD SUPERMAN. THE ONCE MIGHTY MAN OF STEEL, NOW NAKED, SHAMED. HE WAS ABOUT TO SHOW THE ARAB PEOPLE, THE POWER THEIR RULER HAD, AND SHOW THIS WHITEE SLAVE, WITH A TINY COCK, BEING USED AS A PONY. SUPERMAN WAS FORCED TO PULL THE ARAB RULER, IN A PONY CART, AS HIS HUMAN PONY SLAVE. SHAMED, CAN IT GET ANY WORSE, SUPERMAN THOUGHT TO HIMSELF IN HORROR, AS HE WAS PARADED THROUGH THE STREETS, AS THE ARAB RULERS PONY SLAVE. ONLY MEN WERE ALLOWED ON THE STREETS. WHEN THEY SAW THE WESTERNER, THEY ALL WANTED TO GROPE ITS RUDE FLESH AND MORE. THEIR BROWN COCKS LUSTING FOR ITS THICK BUTT CHEEKS. SUPERMAN SQUIRMED IN FEAR AND DISGUST, AS ARAB HANDS GROPED HIM ALL OVER. OH NO I'M BEING WANKED SUPERMAN, THOUGHT AS ONE ARAB GRABBED AND WANKED HIS TINY COCK. "SEE MY COCK IS A HUNDRED TIMES BIGGER", THE ARAB SNEERED, AS HE WHIPPED HIS OWN HARD COCK OUT.
EVERY NIGHT SUPERMAN'S ARMS WOULD BE MANACLED TO THE WALL IN THE ARAB THE RULERS BEDROOM. EVERY NIGHT THE ARAB RULER WOULD FUCK HIS LIVING STATUE HARD. UNLIKE WESTERNERS THE ARABS REGARDED SLAVES AS ANIMALS, SO THE ARAB RULERS GUARDS, WERE ALLOWED TO WATCH HIM FUCK HIS NEW SLAVE. SUPERMAN WAS HORRIFIED THAT THE GUARDS COULD WATCH, AS HE WAS FUCKED AND MADE TO CUM, BY THE ARAB RULERS HUGE COCK. THE RULER NASIR ALSO LET HIS GUARDS FUCK HIS NEW SLAVE. HE ENJOYED THE SPECTACLE OF SEEING SUPERMAN, FUCKED BY HIS GUARDS, AS HE ALSO HAD TO SUCK THE GUARDS COCKS. ONLY NASIR AND HIS OVERSEER, KNEW THE NEW SLAVE WAS SUPERMAN. HE'D HAD THE ARAB SURGEON, LIQUIDATED, AFTER OPERATING ON SUPERMAN. AT A BANQUET THE RULER DISPLAYED HIS LIVING STATUE, ALONG SIDE THE MARBLE ONE, THE FARNESE HERCULES, TO ALL HIS HONOURED GUESTS. SUPERMAN THE LIVING STATUE, HAD A WATER PIPE THRUST IN HIS MOUTH, ALLOWING THEM TO WATCH IT PEE, AS IF IT WAS A LIVING FOUNTAIN AS WELL. SUPERMAN ENSLAVEMENT AS A LIVING SATUE HAD JUST BEGUN, HE NOW FACED MORE SEXUAL AND PHYSICAL ABUSE, BY HIS ARAB MASTER. SIXTEEN PAGES OF GRAPHIC SUPERMAN DOMINATION A4 ARTWORK €200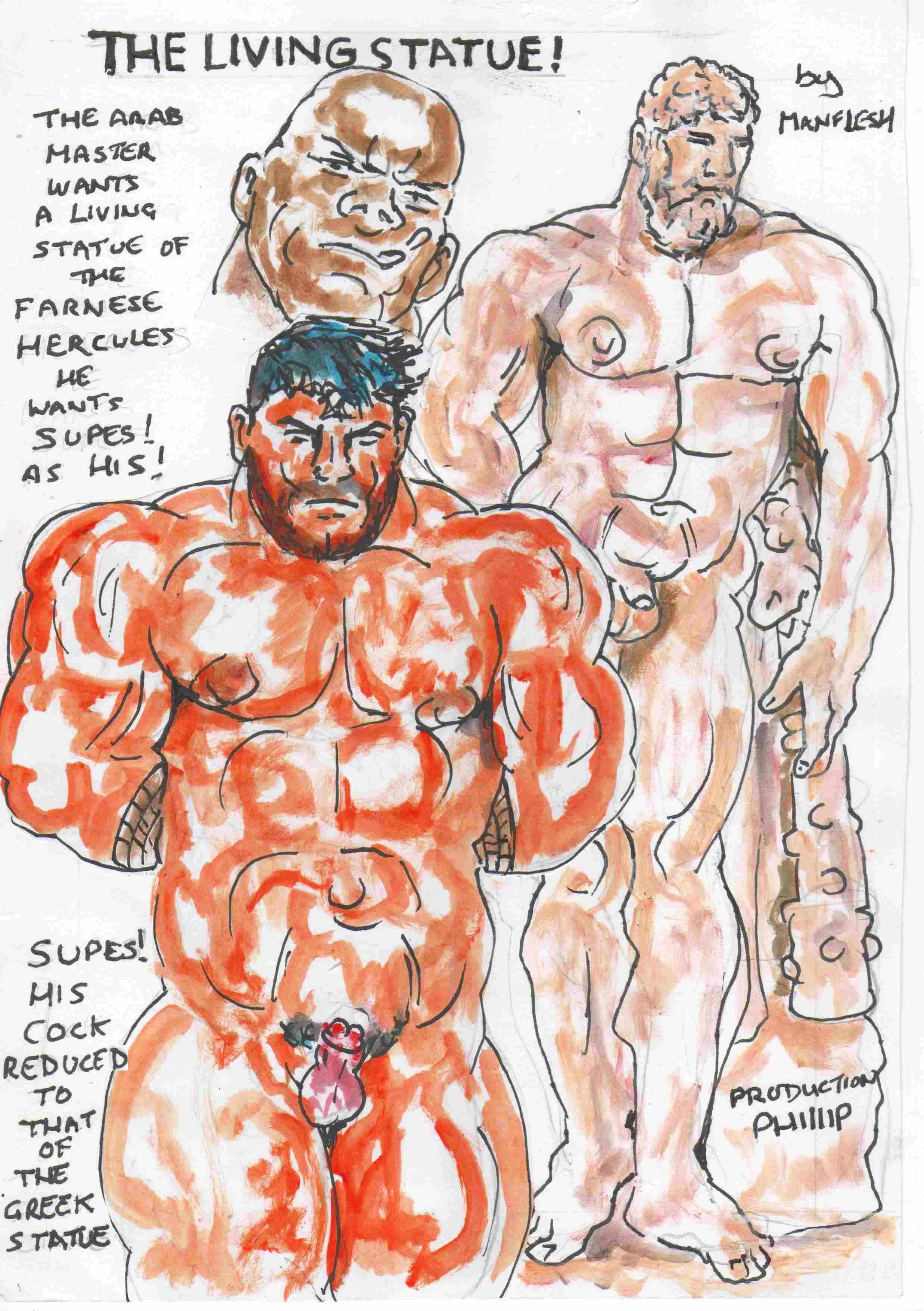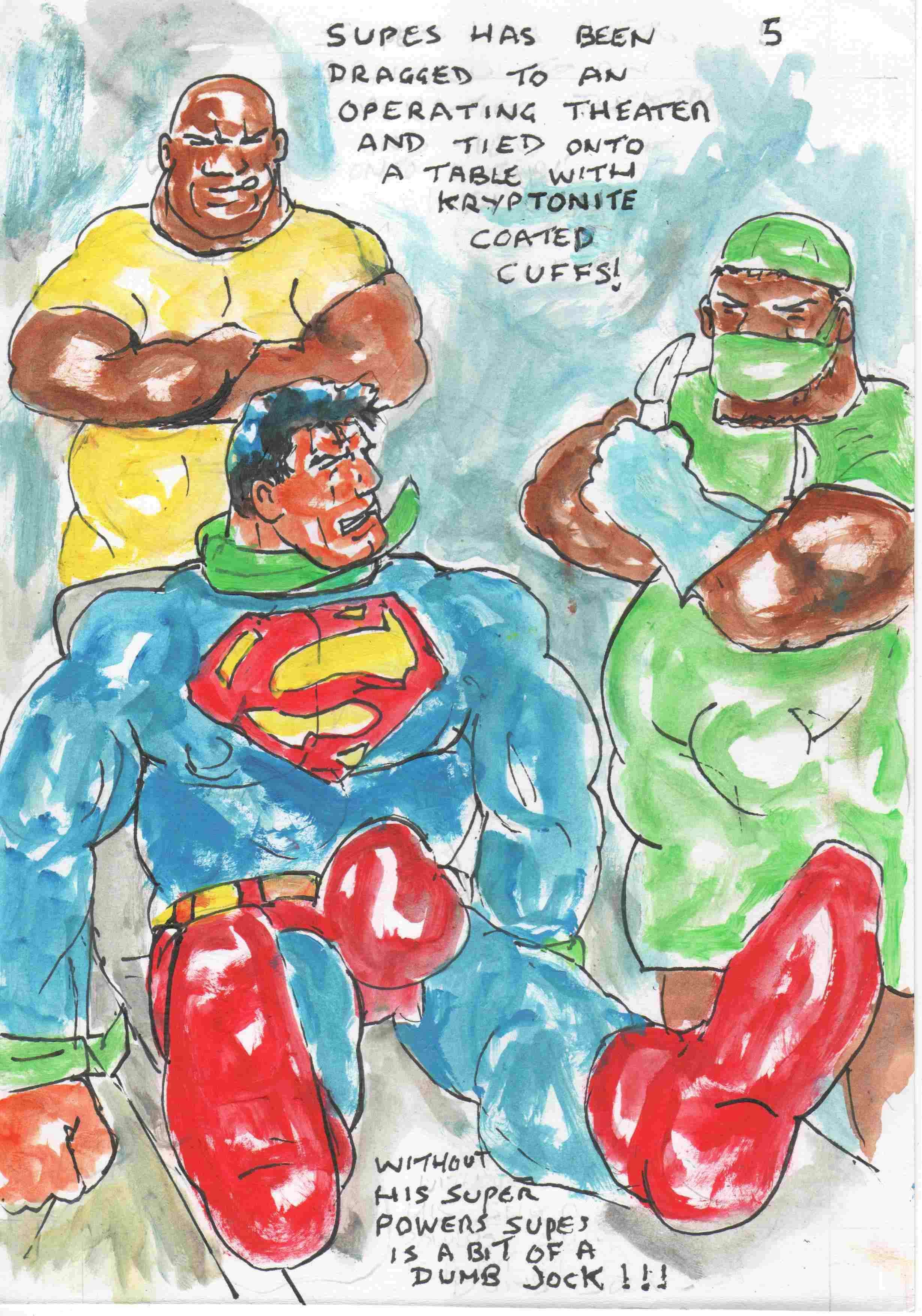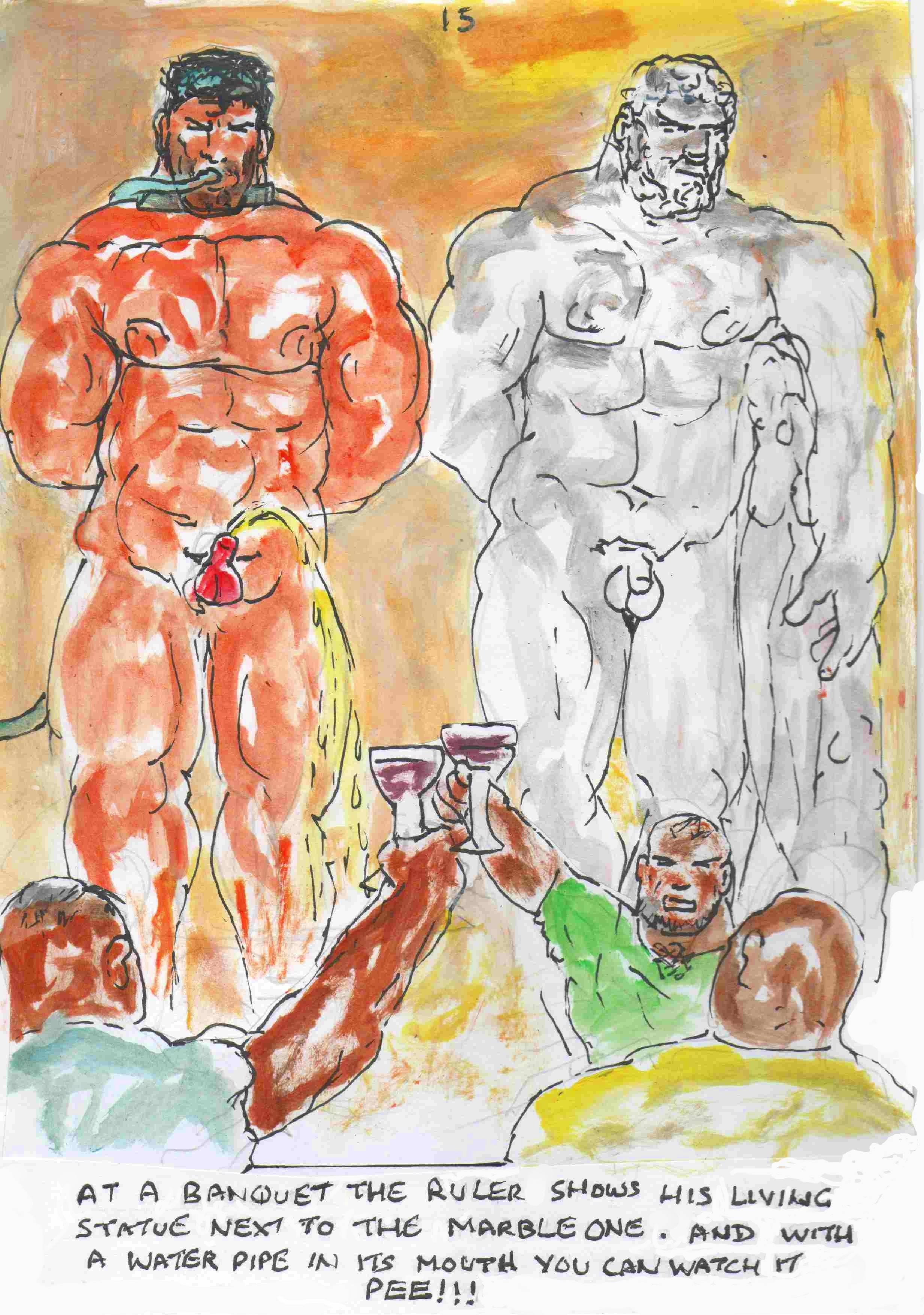 Cover, page 5 and page 15, of Superman Living Statue
2 Reformatory Part 1
REFORMATORY PART 1. IT WAS TIME TO GET TOUGH ON BOY RACERS AND HOOLIGANS, AS TERRY DUGGINS WAS ABOUT TO FIND OUT.
TERRY DUGGINS A BAD BOY RACER, A DRUGS SELLER, WAS PULLED OVER BY THE POLICE AND SHAKEN DOWN. THEY CUT OPEN THE BACK OF HIS JOGGING PANTS TO CHECK HIS ARSE, FOR ILLEGAL DRUGS. "YES HEROINE UP ITS ARSE", THE COP SEARCHING, TERRY'S ANAL CAVITY, SAID, ON FINDING THE DRUGS. YOU WON'T NEED CLOTHES WHERE YOU ARE GOING, THE COPS SPECIAL REFORM UNIT", THE COP TOLD TERRY. STRIPPED NAKED, DRUG SELLER TERRY, WAS PUT IN THE BACK OF THE TRANSPORTER, FOR THE TWELVE HOUR DRIVE SOUTH, TO THE REFORMATORY. IT WAS PECOS IN THE HOT DESERT. TERRY WAS IMPALED ON LARGE STAINLESS STEEL DILDO, MOUNTED TO THE FLOOR OF THE TRANSPORTER, HIS LEGS WERE HELD UP AND SPREAD WIDE, BY STRAPS HANGING FROM THE ROOF. WHEN THEY ARRIVED THE NAKED BAD LAD, WAS TAKEN INTO THE MAIN FACILITY. TERRY WAS TAKEN TO THE WARDEN. THE WARDEN ORDERED TERRY TO SUCK TWO COPS DICKS. "FUCK NO?", TERRY SAID AND TOLD THE WARDEN TO FUCK OFF. NOT A WISE THING TO DO. THE WARDEN USED A ZAPPER ON TERRY, TO STUN HIM, WITH ELECTRIC SHOCKS. THE ELECTRIC SHOCKS, CHANGED TERRY'S MIND AND HE SOON ,WAS DEEP THROATING, TWO COPS AT ONCE.
AFTERWARDSTERRY WAS CUFFED TO A PUNISHMENT STAND, KNEELING WITH HIS ARMS SPREAD AND HELD WIDE, TIGHTLY SECURED BEHIND HIS BACK, LEAVING HIM COMPLETELY EXPOSED AND HELPLESS. THE WARDEN STOOD BEHIND TERRY AND STRIPPED OFF HIS SHIRT, FOR ACTION. SHIT, SHIT, TERRY THOUGHT TO HIMSELF FEARFULLY. "YOU NEED PROPER SCHOOLING, SIXTY LASHES OVER ONE HOUR?", THE WARDEN SAID, AS HE LASHED TERRY'S NAKED, BUTTOCKS HARD. AFTER THE SIXTY LASHES, TERRY WAS FREED FROM THE PUNISHMENT STAND AND MADE TO KNEEL IN FRONT OF THE WARDEN. HE HAD TO SUCK THE WARDEN'S COCK. "SUCK COCK OR MORE LASHES?", THE WARDEN WARNED, BRANDISHING HIS WHIP. TERRY OBEYED DUTIFULLY SUCKING THE WARDEN'S COCK. IN THE VETERINARY OFFICE A GREEN PASTE WAS RUBBED INTO TERRY'S GROIN. IT WAS A DEFOLIATE, NO MAN HAIR FOR THE REFORMATORY CONVICT. ALL PART OF HIS BEING BROKEN IN. THERE AS BARE A NEW BORN BABY?", THE VET SAID. THEN TERRY'S COCK WAS SQUEEZED INTO A TINY COCK CAGE. TERRY WAS TAKEN TO THE WARDEN, TO SHOW THE WARDEN HIS DEPLETED PUBES AND NEW COCK CAGE. "TAKE HIM TO THE WORK YARD", THE WARDEN ORDERED.
TERRY WAS TAKEN OUT TO ONE OF THE WORK YARDS. WHERE OTHER NAKED LADS, WITH COCKS CAGED, TOILED PUSHING AN AGGREGATE CRUSHER. AS TERRY TOILED HIS SORE, CLENCHED BUTTOCKS, WERE BURNT BY THE HOT, DESERT SUN. WHILE HE TOILED HE WAS WATCHED BY THE WARDEN, WHOSE COCK WAS ROCK HARD. AFTER A LONG DAY TOILING THE LADS ARE FED THEIR MUSH FROM A TROUGH. AS THE LADS ATE THEIR MUCH THE GUARDS FINGERED THEIR BUM HOLES. IT WAS ALL PART OF THE GUARDS PERKS. "THEY SURE LIKE THEIR CUNNY HOLES FINGERED?", ONE GUARD SAID, AS HE FINGERED ONE LADS ANUS. "FISTED TOO", ANOTHER GUARD REPLIED, AS HE FISTED TERRY'S ARSE. FOLLOWING HIS FEEDING AND LEWD MISS HANDLING, TERRY WAS SECURED TO A STEEL RESTRAINT FRAME, THAT LEFT HIM BENT OVER, WITH HIS ARMS AND LEGS RESTRAINED, LEAVING HIS ANUS EXPOSED AND READY TO BE RAVAGED. "BOY I'M GUNNA TEACH YOU RESPECT FOR THE LAW?", THE WARDEN SAID, AS HE STRIPPED NAKED TO RAVAGE TERRY, WITH HIS HUGE, HARD COCK. OH SHIT OH NO, TERRY THOUGHT IN HORROR, AS HE WATCHED THE WARDEN, STRIP NAKED. "SAY THANK YOU TO THE STRONG ARM OF THE LAW?", THE WARDEN SAID, AS HE POUNDED TERRY'S ARSE. "THANK YOU SIR", TERRY GASPED, SOBBING IN PAIN AND SHAME. HOT AND GRAPHIC MALE ON MALE PHYSICAL AND SEXUAL DOMINATION, OF YOUNG HOLIGANS, WHO ARE MADE TO SERVE HARD TIME. SIXTEEN A4 PAGES OF GRAPHIC MALE ON MALE DOMINATION ARTWORK €200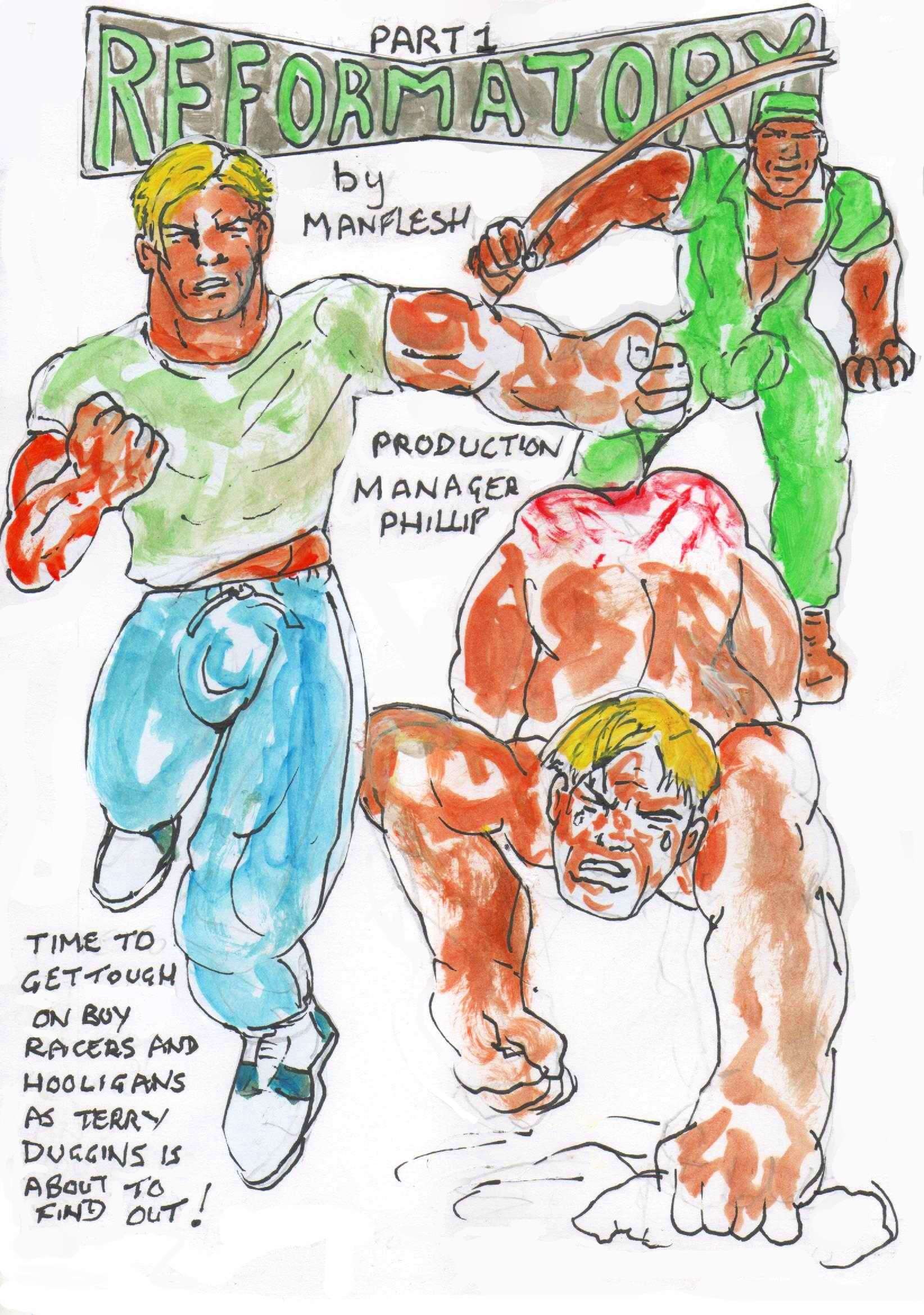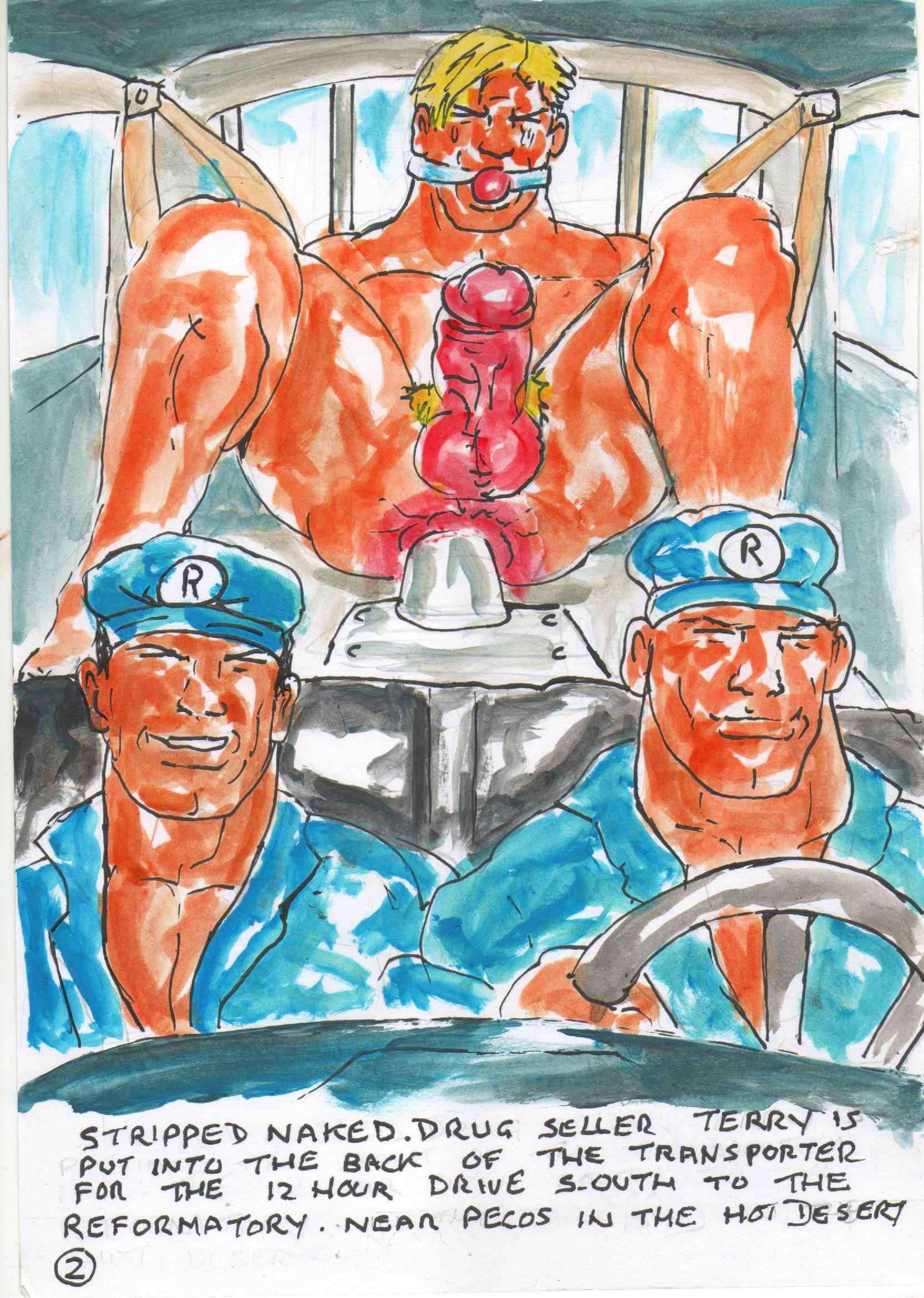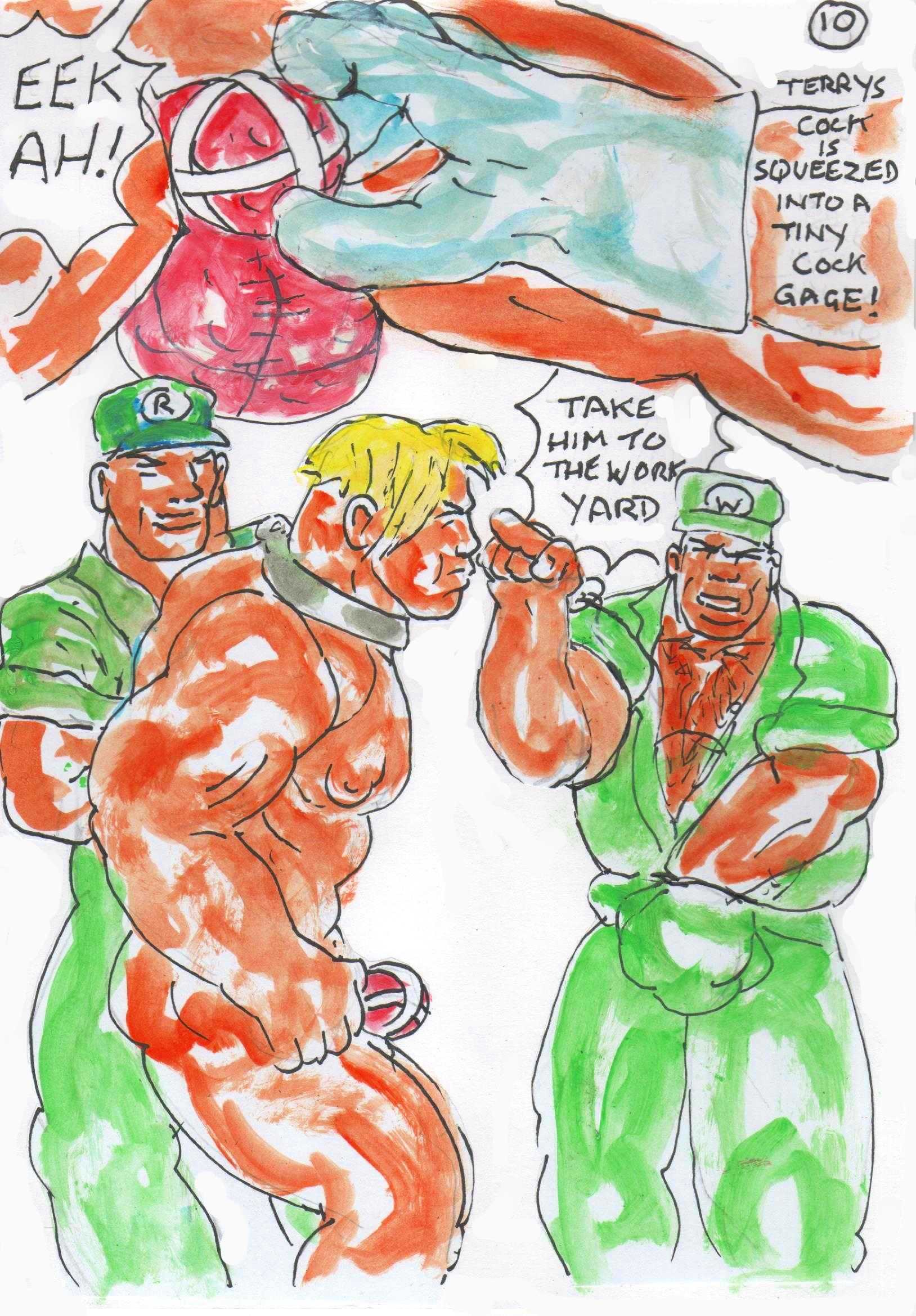 Cover, page 2 and page 10 of Reformatory Part 1
3 Thor Phallus Part 1
THOR PHALLUS PART 1. THE ONCE MIGHTY THOR, WAS NAKED AND ENSLAVED. HE HAD BEEN THROWN THROUGH A TIME SLIP, TO 900 AD, INTO THE ARABIAN SEA. THIS IS HIS SORE BESTIAL SAGA.
THOR WAS AT SEA IN A LONG SHIP, WHEN THERE WAS A RIP IN TIME. THOR AND HIS LONG SHIP WERE PULLED INTO THE TIME SLIP, WITH A SHATTERING OF WOOD. THEY WERE BLASTED INTO A NEW TIME, 900 AD. IT SMASHED HIS SHIP AND RIPPED HIS CLOTHES, LEAVING THOR FLOATING NEARLY NAKED, ON SOME WRECKAGE, THE ONLY SURVIVOR. AFTER FLOATING HELPLESSLY FOR AGES, THOR SPOTTED A SAIL ON THE HORIZON. GOOD A BOAT, THOR THOUGHT TO HIMSELF. THE BOAT AN ARAB VESSEL, SAW THE SHIP WRECK VICTIM AND PICKED HIM UP. "HI I'M THOR, MY SHIP GOT SMASHED", THOR TOLD THE ARAB SAILORS, AS HE CLIMBED ABOARD. "YOU ARE A SLAVE", THE SHIPS CAPTAIN DRESSED IN ARMOUR TOLD THOR. "FUCK YOU I AM THOR, SON OF ODIN, NO SLAVE", THOR PROTESTED. THE CAPTAIN HAD HIS SAILORS GRAB AND SUBDUE THOR. WHEN HE CAME THROUGH THE RIFT, THOR LOST HIS GOD LIKE POWERS. WITHOUT HIS GOD LIKE POWERS, THOR WAS EASILY OVER POWERED, BY THE SAILORS, HIS LAST REMAINING BIT OF CLOTHING, WAS RIPPED OFF. THIS EXPOSED HIS FOOT LONG PHALLUS. SUBDUED AND NOW NAKED THOR AND HIS ARMS SECURED BEHIND HIS BACK AND A COLLAR TIED TO HIS NECK WITH A LEASH ON IT. THE LEASH WAS FASTENED TO THE MAST. HE WAS TIED TO THE MAST BY THE COLLAR. THE SHIP OWNER, HIS NEW MASTER, STOOD LOOKING AT THOR, THINKING DEEPLY. THE MASTER COULD SEE THAT THOR HAD A HUGE PHALLUS, AND HE COULD DECIDE TO CUT IT OFF AND HANG IT ROUND HIS NECK, AS THOR WAS NOW ONLY A SLAVE. I'M A GOD, HOW DARE THEY, THOR RAGED, HELPLESSLY TIED TO THE MAST. SLAVES WERE NOT PERMITTED TO HAVE CROTCH HAIR, THEY WERE NOT MEN. SO USING A STICK COVERED WITH STICKING HONEY, THOR'S CROTCH HAIR, WAS PULLED OUT. BUT THINGS WERE ABOUT TO GET WORSE. THOR WAS MADE TO SUCK THE CREWS COCKS, ONE BY ONE. WHEN I REGAIN MY POWERS THEY WILL PAY, GROVEL AT MY FEET, TERROR STRICKEN AND WORSHIP ME, THOR THOUGHT, ANGRILY TO HIMSELF. UNTIL A SLAVE WAS SOLD, NO MAN WAS ALLOWED TO FUCK THEM. BUT AS THE CABIN BOY WAS NOT A MAN, HE WAS ALLOWED TO FUCK THOR, WITH HIS LARGE COCK. HE WAS WATCHED BY, LEERING MEMBERS OF THE CREW. "THE BOY SURE HAS A HUGE PHALLUS", ONE CREW MEMBER SAID, AS HE WATCHED. AS BEING FUCK BY A BOY, DID NOT COUNT AS BEING DEFILED, THE BOY WAS ENCOURAGED TO FUCK THOR. THE ARABS WANTED THE BIG BLOND BROKEN IN, OR AT LEAST SHAMED, A LOW BEAST TO HIS MASTERS.
THE ARABS LANDED AT TARFAYA, THE ONCE MIGHTY NORTHMAN NOW A SLAVE, WAS TAKEN THROUGH THE TOWN TO THE AUCTION. NAKED YOUTHS, BEAT, HIS BROAD, PINK BUTT CHEEKS, THAT WERE LEAKING CUM FROM ONE OF THE CABIN BOYS. AT THE AUCTION, THOR WAS TAKEN OUT IN FRONT OF A ROARING CROWD. TO ADD TO HIS SHAME, HE WAS LEWDLY WANKED, BY THE AUCTIONEER, TO SHOW THE CROWD, HIS THICK SPUNK. THEN THE AUCTIONEER BENT THOR OVER AND ALLOWED MEMBERS OF THE CROWD, TO FINGER THOR'S ANUS. OH SHIT THEY, ARE FINGERING MY ARSE, THOR THOUGHT IN HORROR. THE AUCTION ENDED AND THE LOCAL WAR LORD, HAD CLAIMED THOR. HE SENT HIS SLAVE MASTER TO FUCK THOR, TO DEMONSTRATE HIS OWNERSHIP. THE CROWD WATCHED IN DELIGHT, AS THE WAR LORDS, SLAVE MASTER, HELD THOR UPSIDE DOWN, WHILE HE FUCKED HIM HARD. THE SLAVE THOR WAS TAKEN THROUGH THE DESERT, TO THE WAR LORDS FORTRESS, A NINE DAY MARCH. THOR WAS BEASTED AT EVERY OPPORTUNITY. ANOTHER GREAT SUPER HERO DOMINATION STORY WITH THOR ENSLAVED AND SEXUALLY AND PHYSICALLY ABUSED BY ARAB MASTERS. SIXTEEN PAGES OF A4 GRAPHIC COLOUR ARTWORK, OF SUPER HERO THOR, BEING SEXUALLY AND PHSICALLY ABUSED BY ARAB MASTERS. WITH THREE SETS OF DOUBLE PANORAMIC PAGES €200
 
THOR PHALLUS PART 1 HAS NEW FEATURE, DOUBLE ,SIDE BY SIDE PAGES, THAT CREATES A PANORAMIC IMAGE. THE DOUBLE, PANORAMIC IMAGE, PAGES IN THOR PHALLUS PART 1, ARE, PAGES 4 AND 5, PAGES 8 AND 9, PLUS PAGES 10 AND 11. THE TWO PAGES UNFOLD TO CREATE THE PANORAMIC IMAGE.
PAGE 4 AND 5 FEATURES THOR BEING STRIPPED IN FRONT OF THE SHIPS CAPTAIN AND HIS NEW MASTER THE SHIP OWNER. THEN BEING SECURED NAKED AND AROUSED TO THE MAST, WHILE HIS NEW MASTERS PONDERS WHETHER TO REMOVE HIS HUGE PHALLUS.
PAGES 8 AND 9 FEATURES THOR BEING FUCKED BY A CABIN BOY, WHILE SECURED TO THE MAST, AS THE WHOLE CREW WATCH AND ENJOY.
PAGES 10 AND 11 FEATURES THOR NAKED AND BOUND, BEING WHIPPED THROUGH THE STREETS OF TARFAYA, BY LOCAL YOUTHS,
WITH THE CABIN BOYS SPUNK LEAKING FROM HIS ANUS.

SOLD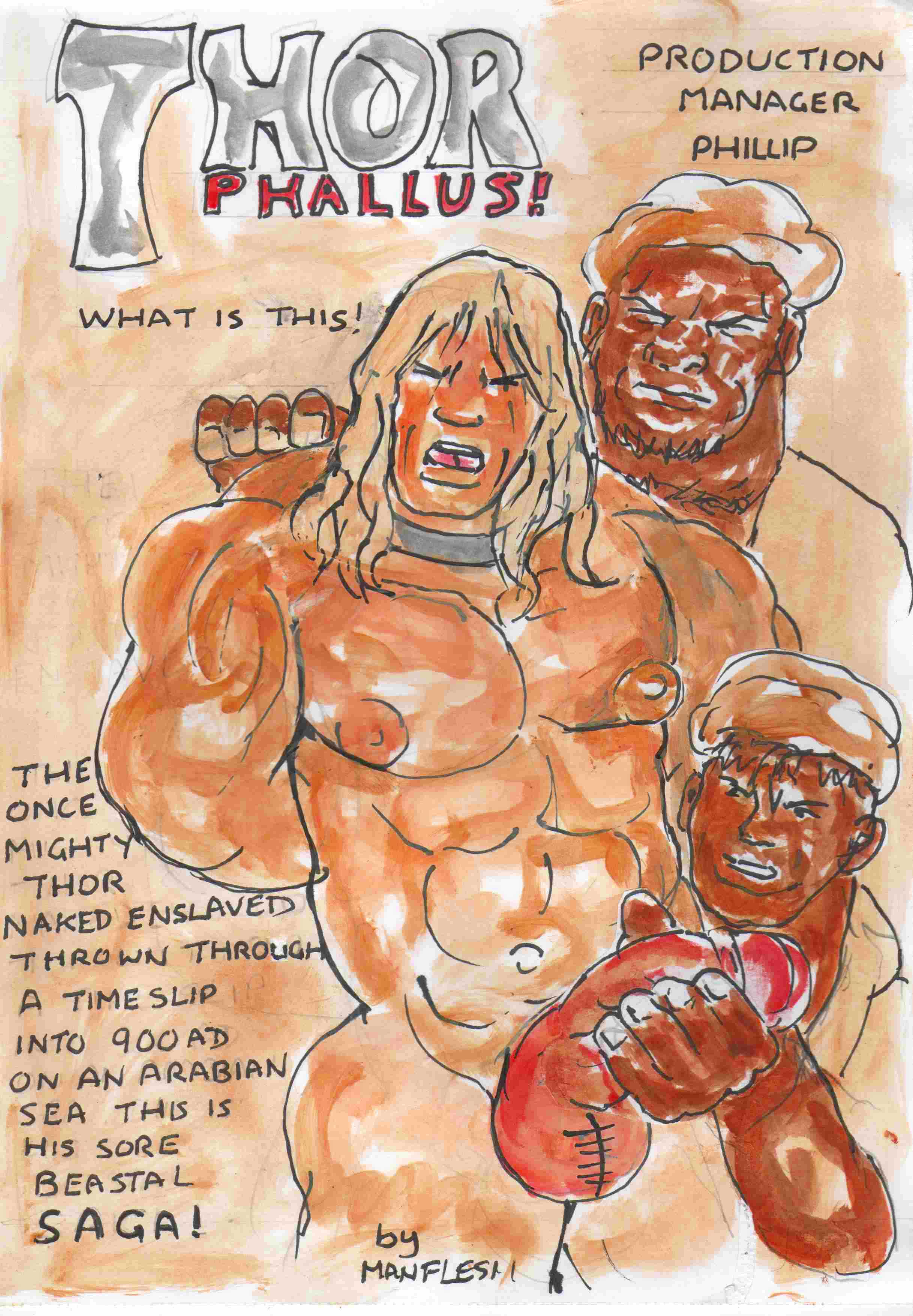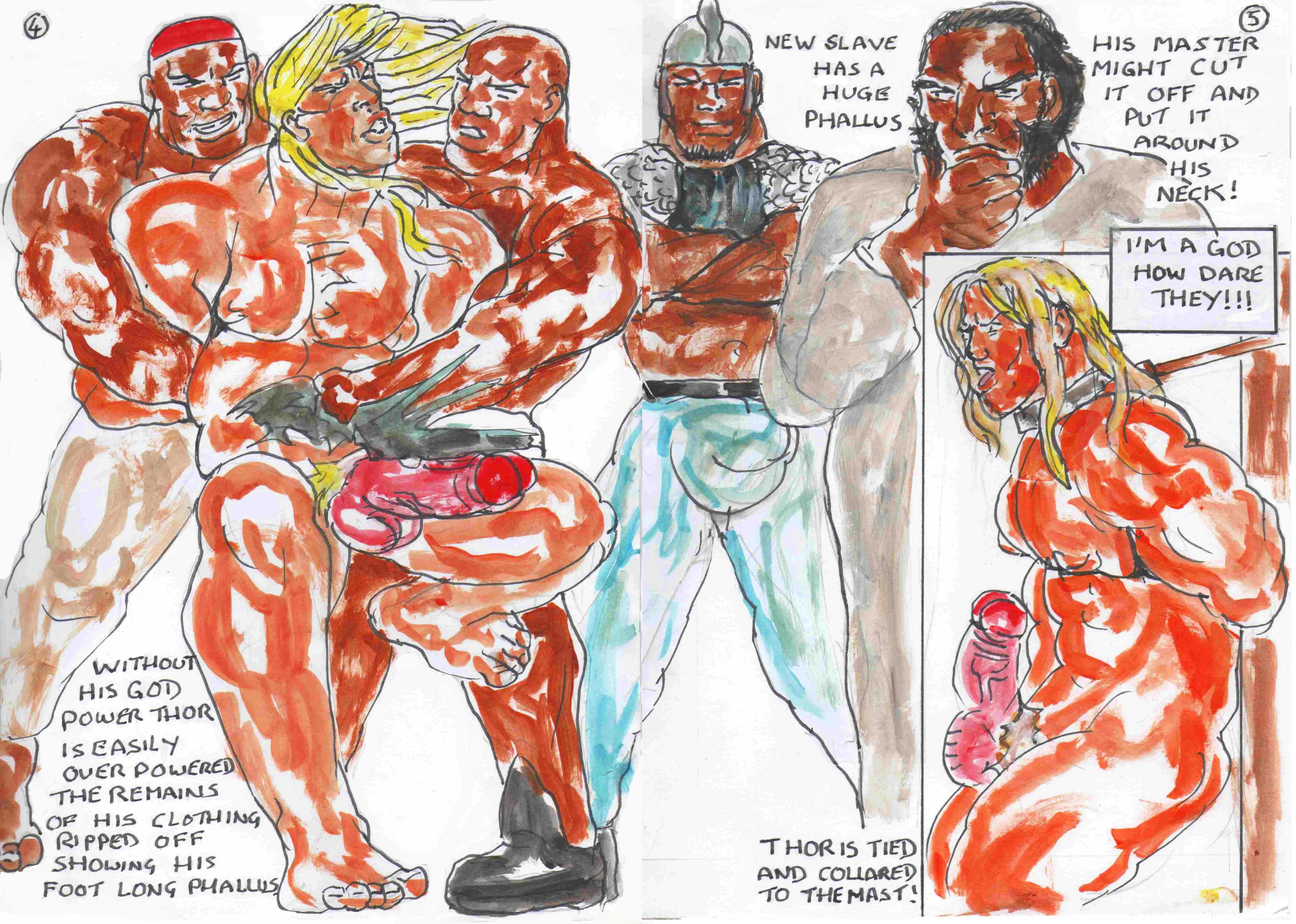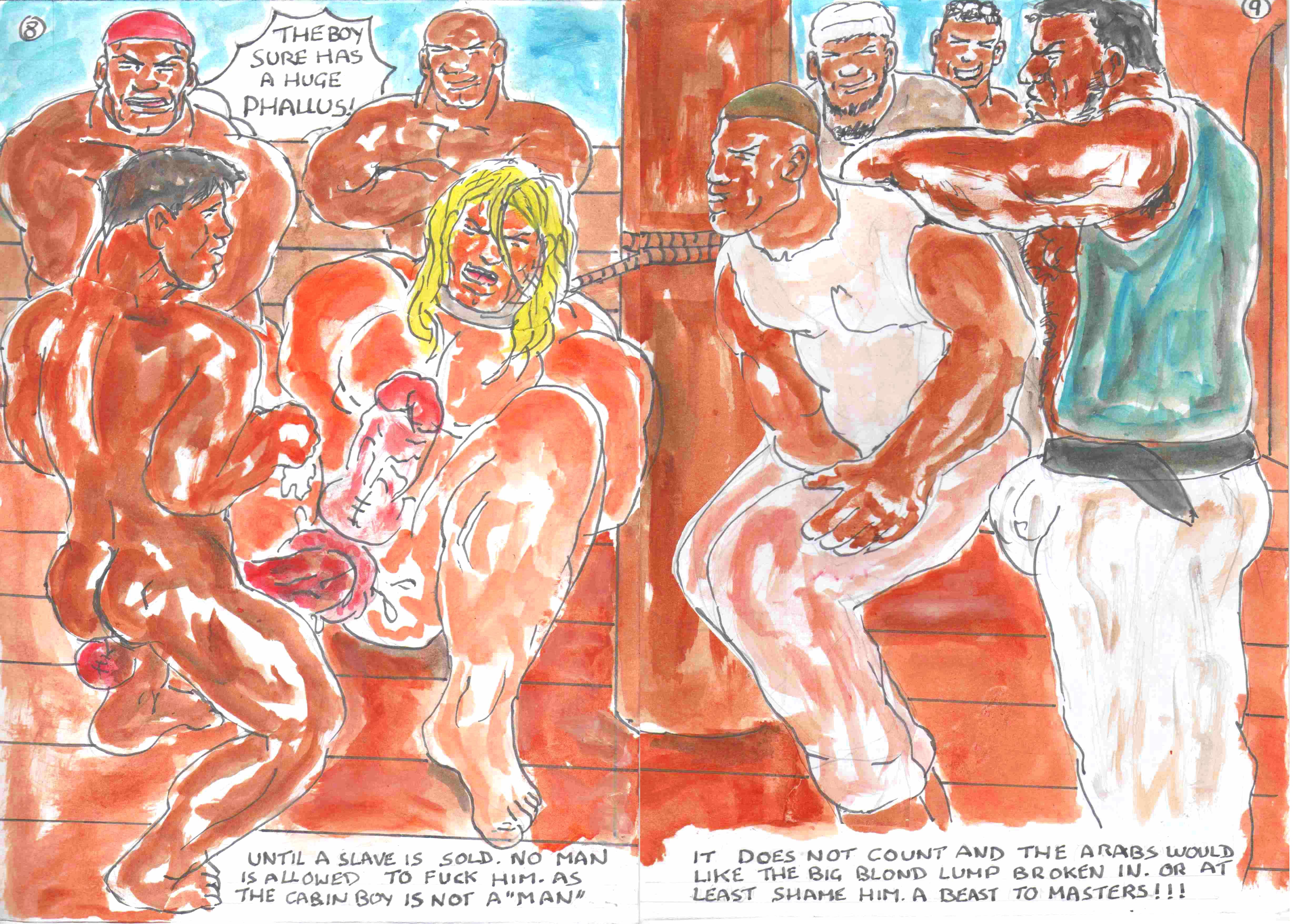 Cover, panoramic pages 4 and 5, panoramic pages 8 and 9 of Thor Phallus part 1



4 Feformatory part 2

REFORMATORY PART 2 HOW LONG WILL TERRY BE IN NAKED SERVITUDE, AS THINGS WERE ABOUT TO GET WORSE. AS DAWN BROKE THE WARDEN FUCKED TERRY AGAIN. "FUCK YOUR ARSE BOY, SHOW THE POWER OF THE LAW, SAY THANK YOU SIR", THE WARDEN SAID. "THANK YOU SIR", TERRY GROANED, WITH TEARS IN HIS EYES, AS TERRY WAS FUCKED ON THE WARDENS BED. TERRY WAS TAKEN TO THE PRISON SHOWER BLOCK AND CHAINED SPREAD EAGLE IN A FRAME, BY HIS ARMS AND LEGS. TERRY WAS HOSED DOWN LIKE THE BEAST HE WAS. "RIGHT IN HIS STRETCHED BUM HOLE, FULL OF THE WARDENS SPUNK", ONE GUARD SAID, AS HE AIMED THE HOSE. "YES WITH COLD WATER", THE OTHER REPLIED. IT WAS TIME FOR TERRY'S MORNING FEED. TERRY COULD STILL FEEL WHERE THE WARDENS COCK, HAD BEEN IN HIS SORE ARSE. TERRY WONDERED IN FEAR, WHETHER THE WARDEN, WOULD FUCK HIM AGAIN TONIGHT. AS THE LADS ATE, TERRY TRIED TO BOAST ABOUT HIS NIGHT WITH THE WARDEN, BUT HE COULD NOT CONCEAL HIS REAL FATE, AT THE WARDENS HAND. "I FUCKED THE WARDEN HARD YEAH?", TERRY TOLD THE OTHERS. "WE ARE ALL COCK CAGED TOSSER, WE ALL HEARD YOU SCREAM, AS THE WARDEN BITCH YOU BUM", THE LAD BESIDE HIM SNEERED. "YOU'LL FIND THAT ALL PART OF YOUR TRAINING", HE ADDED. EVERY SATURDAY NIGHT THE LADS WERE FORCED TO FIGHT, FOR THE GUARDS ENTERTAINMENT. TERRY WAS NOT USE TO NAKED LAD ON LAD COMBAT, HAD TO PAY THE PRICE FOR LOSING. THE LOSER GOT FUCKED BY THE GUARDS. THE GUARDS WERE HARD AND READY AND FUCKED TERRY, MAKING HIM SUCK THEIR COCKS, AS WELL.
A YEAR PASSED, TERRY WAS NINETEEN AND IN GREAT SHAPE. IT WAS TIME TO SELL HIM TO THE HIGHEST BIDDER. SO HE WAS PHOTOGRAPHED IN EVERY POSITION. A CERTAIN AFRICAN DICTATOR PURCHASED TERRY, ONE LESS HOOLIGAN IN THE USA. TERRY WAS PUT ABOARD A TRANSPORT AIRCRAFT HEADING FOR AFRICA, CHAINED TO A BOLT IN THE FLOOR. BUT EVEN AFTER A YEAR, TERRY STILL HAD SOME FIGHT IN HIM. SCARED HE TRIED TO ESCAPE, BUT COULD BREAK HIS CHAINS. ON THE STREETS OF MACARBA, TWO OF THE DICTATORS SLAVES, GROPED TERRY. HE WAS NOW LOWER THAN THE TWO BLACK SLAVES. TERRY WAS FINGERED AND THE NATIVES WERE ALLOWED TO LICK HIS ARSE HOLE JUICES. TERRY WAS TAKEN TO THE DICTATORS PALACE. ALTHOUGH THE PALACE LOOKED TO BE MEDIEVAL, ITS SECURITY WAS HIGH TECH, LETHAL AT THE TOUCH OF A BUTTON. THE DICTATOR LICKED TERRY'S CAGED COCK, WHILE HE PLAYED WITH HIS HUGE BLACK DICK. AS THE DICTATOR GOT READY TO FUCK TERRY, HE ALLOWED TWO OF HIS SPUNKERS TO WARM UP TERRY'S ARSE. "I'M CUMING", THE FIRST SPUNKER SAID, AFTER FUCKING TERRY HARD. "I'M NEXT", THE SECOND ONE REPLIED. THEN TERRY WAS FUCKED BY THE AFRICAN DICTATOR, TAKING FOURTEEN INCHES, UP HIS STRETCHED ARSEHOLE. BUT AT LEAST THE DICTATOR HAD REMOVED HIS COCK CAGE. MORE HOT AND GRAPHIC MALE ON MALE PHYSICAL AND SEXUAL DOMINATION, OF YOUNG HOLIGAN, WHO WAS MADE TO SERVE HARD TIME AND AN AFRICAN DICTATOR. €200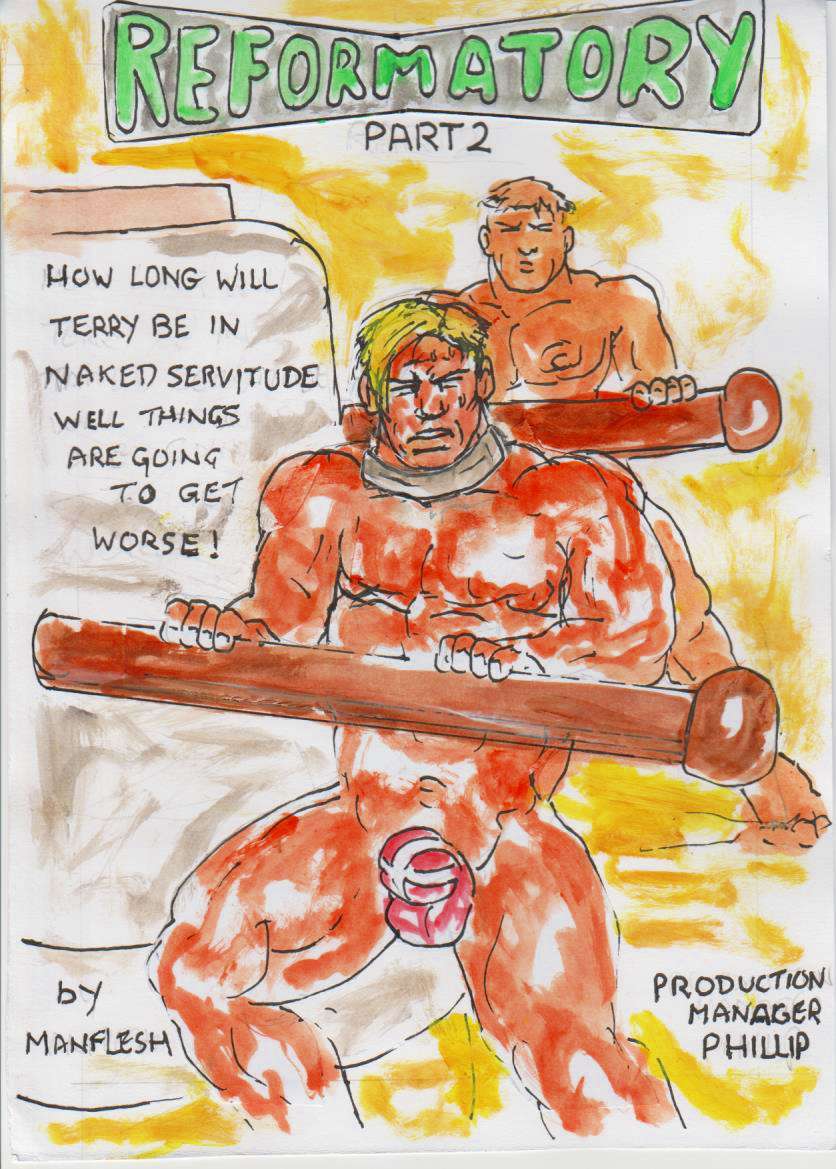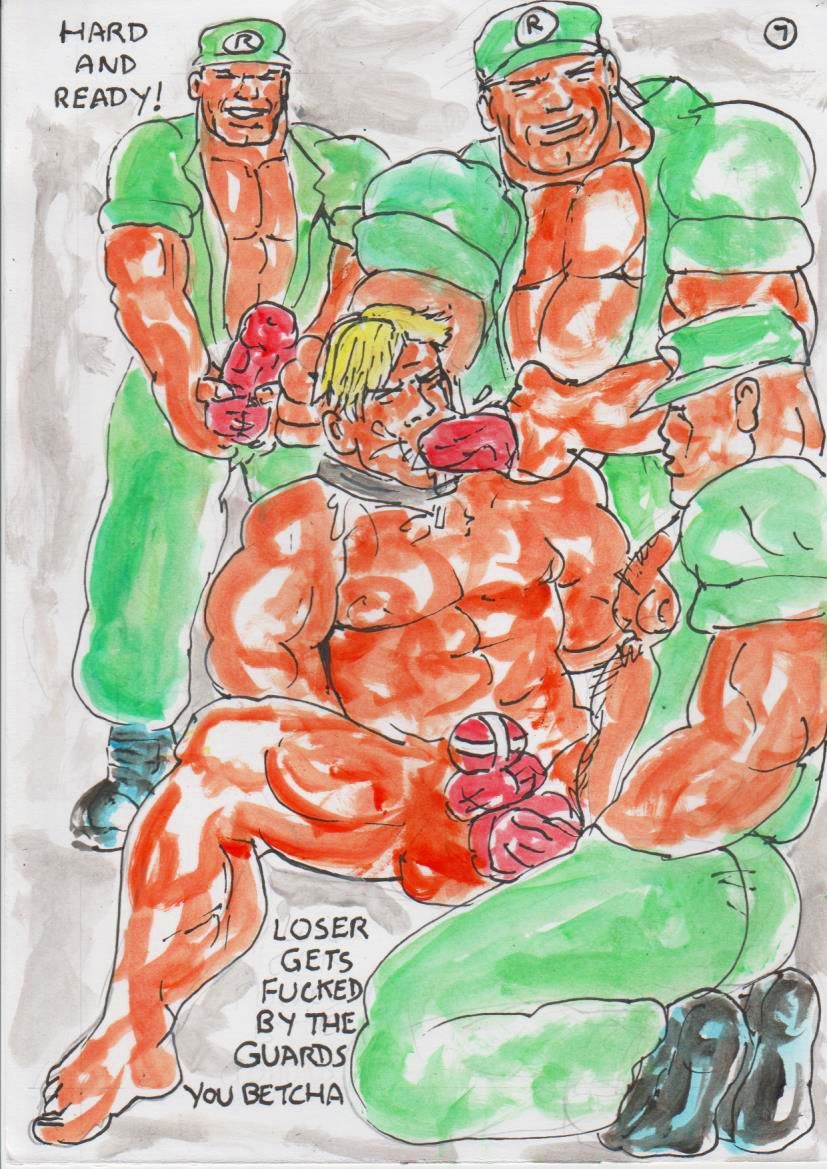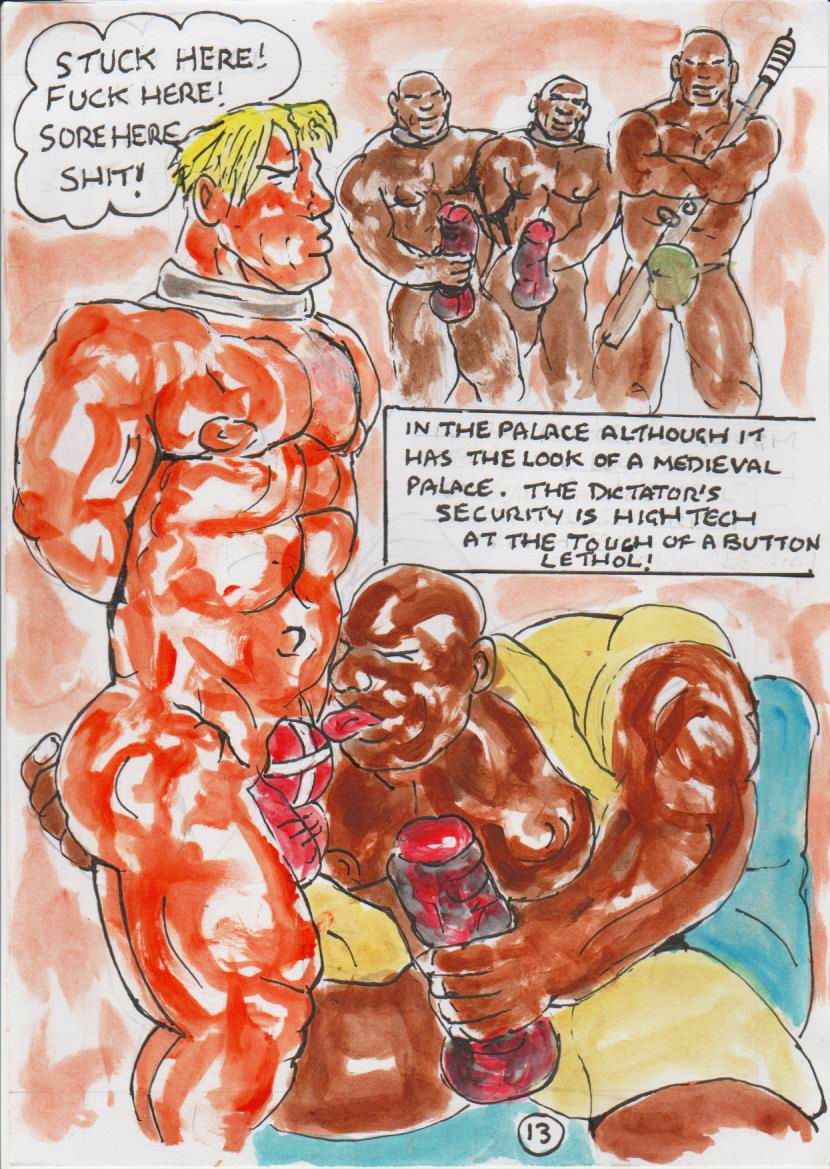 Cover, page 7 and page 13 of reformatory part 2




 
4 Green Lantern Slave

GREEN LANTERN SLAVE. THE COLLECTOR WAS COLLECTING YOUNG MEN. SO HE COULD MOULD THEM INTO HUNKS OF OPTIMUM MUSCLE SIZE, IN ALL THEIR NAKED GLORY. HE CAPTURED GREEN LANTERN AND WOULD MAKE HIM PERFECT, WHAT EVER THE COST, NO PAIN, NO GAIN.
KYLE THE GREEN LANTERN WAS TAKING A BREAK FROM EARTH AND SEARCHING FOR A PLANET TO RELAX ON. A BEAM FROM A DESERT PLANET, TRAPPED KYLE AND DREW HIM TOWARDS THE SURFACE. THE BEAM WAS OPERATED BY THE COLLECTOR. THE COLLECTOR AN EVIL GREEN ALIEN BEING, BLASTED KYLE WITH A RED FLASH. THE COLLECTOR TOOK AWAY GREEN LANTERNS POWERS AND DESTROYED HIS CLOTHES, LEAVING HIM NAKED. MY RING IS GONE, KYLE THOUGHT IN HORROR, AS HE WAS DRAWN DOWN TO THE PLANET. THEN HE REALISED HIS CLOTHES HAD GONE AS WELL. AS HE SAW THE EVIL ALIEN COLLECTOR FOR THE FIRST TIME. KYLE WAS LEFT SUSPENDED NAKED AND SPREAD EAGLE, IN THE COLLECTORS RED POWER BEAM. THE COLLECTOR SMILED, LICKING HIS LIPS, WITH HIS LONG GREEN TONGUE, AS HE GROPED KYLE, NOW HIS NAKED SLAVE, ALL OVER. THE COLLECTOR FINGERED KYLE'S ANUS AND LICKED HIS NAKED BODY. KYLE WAS LEFT SPREAD EAGLE IN THE HEAT OF THE SUN. A LARGE RED SUN, KEPT THE PLANET AT NINETY DEGREES. FIRSTLY THE COLLECTOR REMOVED KYLE'S COCK HAIR, FOREVER. WHEN KYLE'S COCK AND BALLS WERE TOTALLY SMOOTH, THE COLLECTOR WANKED KYLE'S COCK MERCILESSLY, MILKING HIM DRY. HE GREEDILY DEVOURED, ALL OF KYLE'S SPUNK.
KYLE WAS TAKEN OUT SIDE TO WORK IN THE QUARRY, WITH OTHER SLAVES. HE WAS INTRODUCED TO THE OVERSEER, WHO WAS NOT IMPRESSED. "BOSS, HE'S A BIT SCRAWNY", THE OVERSEER SAID. "IN THREE MONTHS HE WILL BE SIXTY POUNDS HEAVIER", THE COLLECTOR REPLIED. "HIS BUTT CHEEKS THE SIZE OF FOOT BALLS, TO FUCK", THE COLLECTOR ADDED. A MONTH OF TOIL PASSED FOR KYLE. THREE OVERSEERS, WATCHED KYLE, CARRYING A HUGE BOULDER. KYLE WAS DEFINITELY PUTTING ON MUSCLE. "THE BOSS WAS RIGHT, THIRTY POUNDS OF MUSCLE IN A MONTH", ONE SAID. "THOSE BUTT CHEEKS?", THE SECOND SAID. "SURE LOOKS GOOD", THE THIRD AGREED. THAT NIGHT IN THEIR CELL, KYLE SPOKE TO THE OTHER SLAVES. KYLE TRIED TO ORGANISE A FIGHT BACK. "GUYS WE MUST FIGHT BACK?", KYLE TOLD THEM. THE OTHER SLAVES IGNORED HIM, IT SEEMED, THEY LIKED BEING THERE. "WE LOVE BEING HERE", ONE SAID, AS THEY GANGED UP ON KYLE. HE WAS MADE TO SUCK THEIR COCKS WHILE BEING FUCKED. "YOU WELL GET TO LOVE MUSCLE FUCKING", HE WAS TOLD. WITH THEIR FOOD LACED WITH STEROIDS AND VIAGRA IT WAS ONLY A MATTER OF TIME BEFORE KYLE SUCCUMB TO THE INEVITABLE.
THREE MONTHS WENT BY. KYLE, THE ONCE MIGHTY GREEN LANTERN, WAS SIXTY POUNDS HEAVIER. HE WAS GLORYING IN HIS LEWD MUSCULAR SLAVE STATE. HE EASILY CARRIED HUGE BOULDERS IN THE QUARRY. "IT IS SURE READY FOR THE PARTY?", ONE OVERSEER SAID, AS THEY WATCHED KYLE LABOUR. "YES, THE BOSS WILL FUCK IT FIRST, THEN US", ANOTHER REPLIED. KYLE'S BRAIN, NOW ONLY THOUGHT OF MUSCLE SIZE, POSING, BEING ADMIRED, INSIDE AND OUT. "SEE ME FLEX?", KYLE BOASTED, HIS EYES GLASSY, AS HE WAS FUCKED BY THE COLLECTOR. AFTER THE COLLECTOR HAD FUCKED A MUSCLE SLAVE, HE LIKED TO WATCH HIS MEN FUCK THEM A LOT. FUCK THEM A LOT HIS MEN DID, PARTICULARLY KYLE. ANOTHER GREAT SUPER HERO DOMINATION STORY WITH GREEN LANTERN ENSLAVED AND SEXUALLY AND PHYSICALLY ABUSED BY THE COLLECTOR AND HIS MEN. €200
GREEN LANTERN SLAVE ALSO FEATURE DOUBLE, SIDE BY SIDE PAGES, THAT FORM PANORAMIC IMAGES. THE DOUBLE PANORAMIC PAGES IN GREEN LANTERN SLAVE ARE 6 AND 7, 10 AND 11, PLUS 12 AND 13.
PAGES 6 AND 7 FEATURE, KYLE NOW A MUSCLE SLAVE OF THE COLLECTOR, BEING TAKEN TO THE QUARRY WHERE HE SEES OTHER MUSCLE SLAVES TOILING AND IS INTRODUCED TO AN OVERSEER.
PAGES 10 AND 11 FEATURES, KYLE BEING FUCKED AND MADE TO SUCK THE OTHER MUSCLE SLAVES, AFTER TRYING TO GET THEM TO REBEL AGAINST THE COLLECTOR. THEY REFUSED AS THEY WERE TOO FAR GONE, ON THEIR STEROID AND VIAGRA ADDICTION, THAT THEIR FOOD WAS LACED WITH.
PAGES 12 AND 13 FEATURES, KYLE THREE MONTHS IN, NOW SIXTY POUNDS HEAVIER AND LOST TO THE VIAGRA AND STEROIDS, LIKE THE OTHER MUSCLE SLAVES, NOW GLORYING IN HIS LEWD MUSCULAR STATE. OVERSEERS WATCHED AND DISCUSSED THE NEW MUSCLE SLAVE, NOTING HE WAS READY AND WOULD BE FUCKED BY THE BOSS. THEY WERE LOOKING FORWARD TO THEIR CHANCE TO FUCK HIM AS WELL.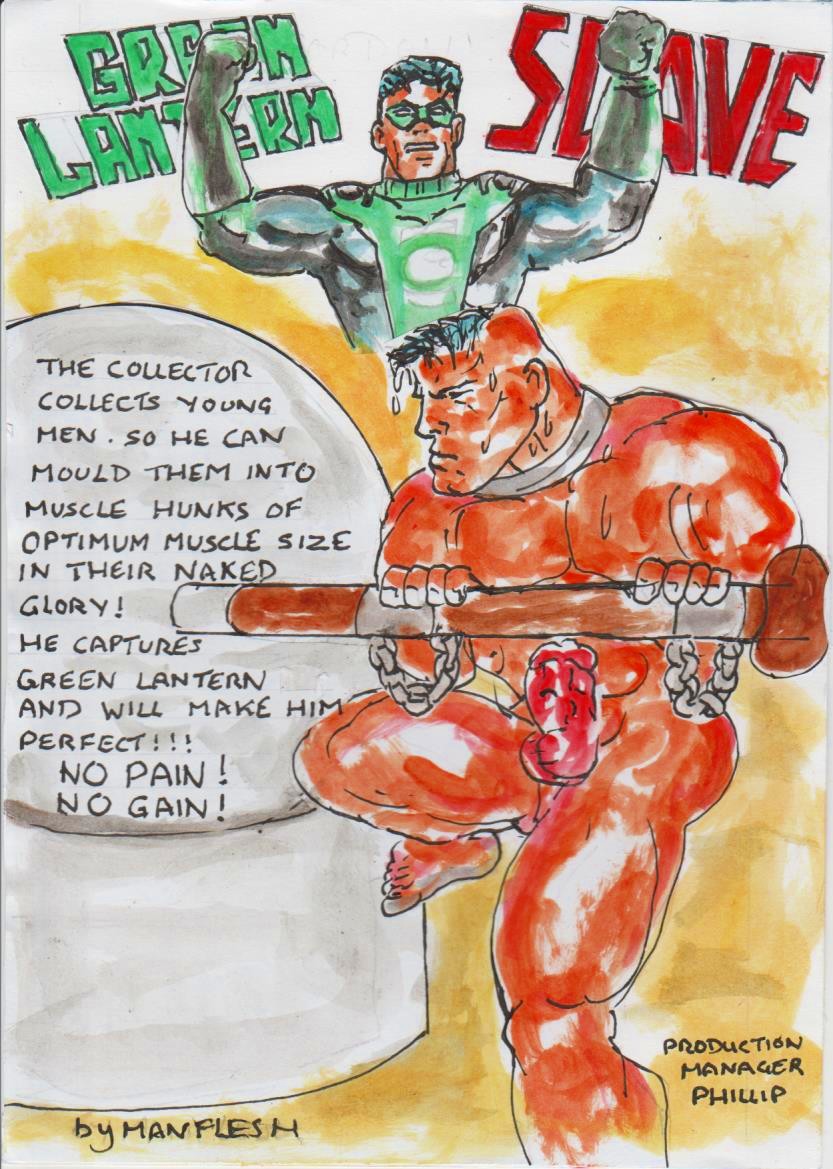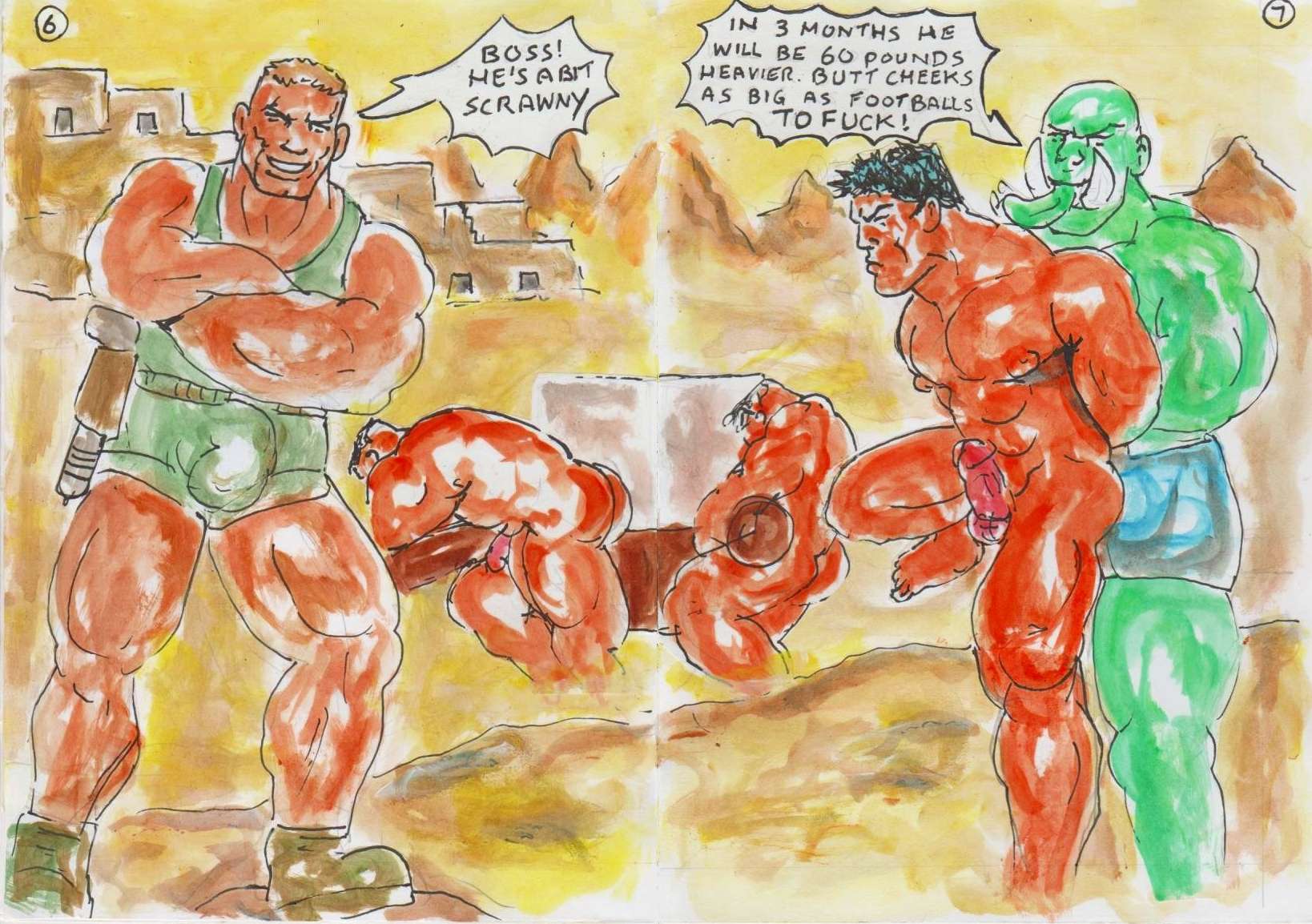 Cover, panoramic pages 6 and 7, panoramic pages 10 and 11 of Green Lantern Slave



 
5 Angus Highlander to LowLander Part 1

ANGUS, HIGH LANDER, TO LOW LANDER, PART 1. IT WAS IN THE TIME, LONG BEFORE THE WRITTEN WORD. ANGUS WAS A HIGH LANDER, A TWENTY THREE YEAR OLD WARRIOR. THE BEST IN HIS CLAN. CACLAN KING OF THE LOW LANDERS, HAD ANGUS CAPTURED, AND MADE THE NAKED, FUCKED SLAVE, OF THE LOW LANDERS, THE LOWEST.
ANGUS OF THE HIGH LANDERS CLAN, WAS WELL KNOWN, AS ONE OF THE BEST WARRIORS IN THE HIGH LANDS. HE EASILY DEFEATED HIS LOW LANDER ENEMIES, PUTTING THEM TO THE SWORD. CACLAN KING OF THE LOW LANDERS, INSTRUCTED HIS WARRIORS. "I WILL TAKE SOME POWER FROM THE HIGH LANDERS, CAPTURE ANGUS?", KING CACLAN TOLD HIS WARRIORS. "I WANT HIM ENSLAVED", HE ADDED. "YES LORD", HIS WARRIORS REPLIED. ANGUS SPIED A POOL, AFTER A LONG DAY TRAINING WITH HIS MEN, HIS MUSCLES ACHED. HE NEEDED AN INVIGORATING BATH, AND STRIPPED OFF BY THE POOL. BUT HE WAS BEING WATCHED, BY CACLAN KING OF THE LOW LANDERS MEN. ANGUS REMOVED HIS WEAPON BELT, CLAYMORE AND KILT, AS THE KING CACLAN'S MEN, CREPT UP ON HIM, FROM BEHIND. THE LOW LANDERS ATTACKED ANGUS WHO HAD ONLY HIS BARE KNUCKLES TO FIGHT THEM WITH, WHILE THEY WERE ARMED WITH WAR CLUBS. HIT FROM EVERY ANGLE, DUNCAN WAS BEATEN TO THE GROUND. WITH ANGUS NOW UNCONSCIOUS ON THE GROUND, THE LOW LANDERS, EAGERLY GROPED HIS FLESH. THEY STARTED TO WANK HIS MANHOOD, FORCING THE UNCONSCIOUS ANGUS, TO GET HARD. THEY ALSO TOOK TURNS, FUCKING HIS MOUTH. THEN THE LOW LANDERS TOOK TURNS, RIDING THE FALLEN HIGH LANDERS COCK, WHILE FINGERING HIS ARSE HOLE, TO ENSURE THE UNCONSCIOUS HUNKS, COCK STAYED ROCK HARD. THEN THEY ALL CUM AND PISSED ALL OVER, HIS STILL UNCONSCIOUS BODY. ANGUS STILL UNCONSCIOUS, WAS TAKEN TO THEIR STONE FORTRESS, THE ENTRANCE HIDDEN BY A CAVE. THE FORTRESS WAS BUILT BY HIGH LANDER SLAVES AND FOREIGN SLAVES, OVER MANY YEARS OF TOIL.
IN THE FORTRESS ANGUS WAS PLACED UNCONSCIOUS BEFORE CACLAN, THE LOW LAND KING. LATER WHEN DUCAN CAME ROUND AND WAS SHOCKED TO BE NAKED, IN FRONT OF CACLAN, THE LOW LAND KING. SHOCKED BY CACLAN'S HUGE COCK, THE SIZE OF A FOREARM WHEN ERECT. "LOW LANDERS OWN YOU NOW, SOON YOU WILL BE ONE OF US?", CACLAN SAID, AS HE GRASPED THE FIVE O'CLOCK SHADOW, ON DUNCAN'S CHIN. CACLAN HOISTED DUNCAN UP AND IMPALED DUNCAN'S ANUS ON HIS HUGE COCK. CACLAN FUCKED DUCAN HARD, MAKING HIM SCREAM. THE LOW LANDERS CHEERED, AS CACLAN THEIR KING, FUCKED DUNCAN THE HIGH LANDER HARD, IN FRONT OF THEM. "LOW LANDERS RULE, ALL HAIL KING CACLAN", THE LOW LANDERS CHANTED, AS CACLAN CONTINUED TO FUCK DUNCAN. EVENTUALLY DUNCAN WAS TAKEN OFF THE KINGS MANHOOD. HE STRUGGLED DEFIANTLY, IN VAIN, TO NO AVAIL, AS THE LOW LANDERS PIERCED HIS TITS AND MANHOOD. HE WAS THEN BOUND TO A WALL, ON A X FRAME, TO PERFORM SLAVE LABOUR, LATER WITH OTHER SLAVES, WHO WERE ALSO BOUND TO THE WALL, ON X FRAMES. OHH MY POOR BUT HOLE, IS SO SORE AND INFLAMED, DUCAN THOUGHT, AS HE HUNG FROM THE X FRAME. HE WONDERED HOW LOW HE WOULD BECOME THERE, SOMEHOW HE KNEW, HE NEEDED TO ESCAPE. HUNKY TOUGH HIGH LAND WARRIOR, CAPTURED AND ENSLAVED. GREAT MANFLESH MALE DOMINATION ACTION, FEATURING PHYSICAL AND SEXUAL ABUSE. €200
DUNCAN HIGH LANDER TO LOW LANDER PART ONE, INCLUDES THE NEW FEATURE OF SIDE BY SIDE OR PANORAMIC IMAGE PAGES. DUNCAN HIGH LANDER TO LOW LANDER PART ONE FEATURES ONE DOUBLE PANORAMIC IMAGE PAGE, USING PAGES 10 AND 11. WHERE DUCAN WAS TAKEN TO THE LOW LANDER HIDDEN STONE FORTRESS, WITH IMAGES OF SLAVES, WORKING TO CONSTRUCT, THE STONE FORTRESS, OVER MANY YEARS.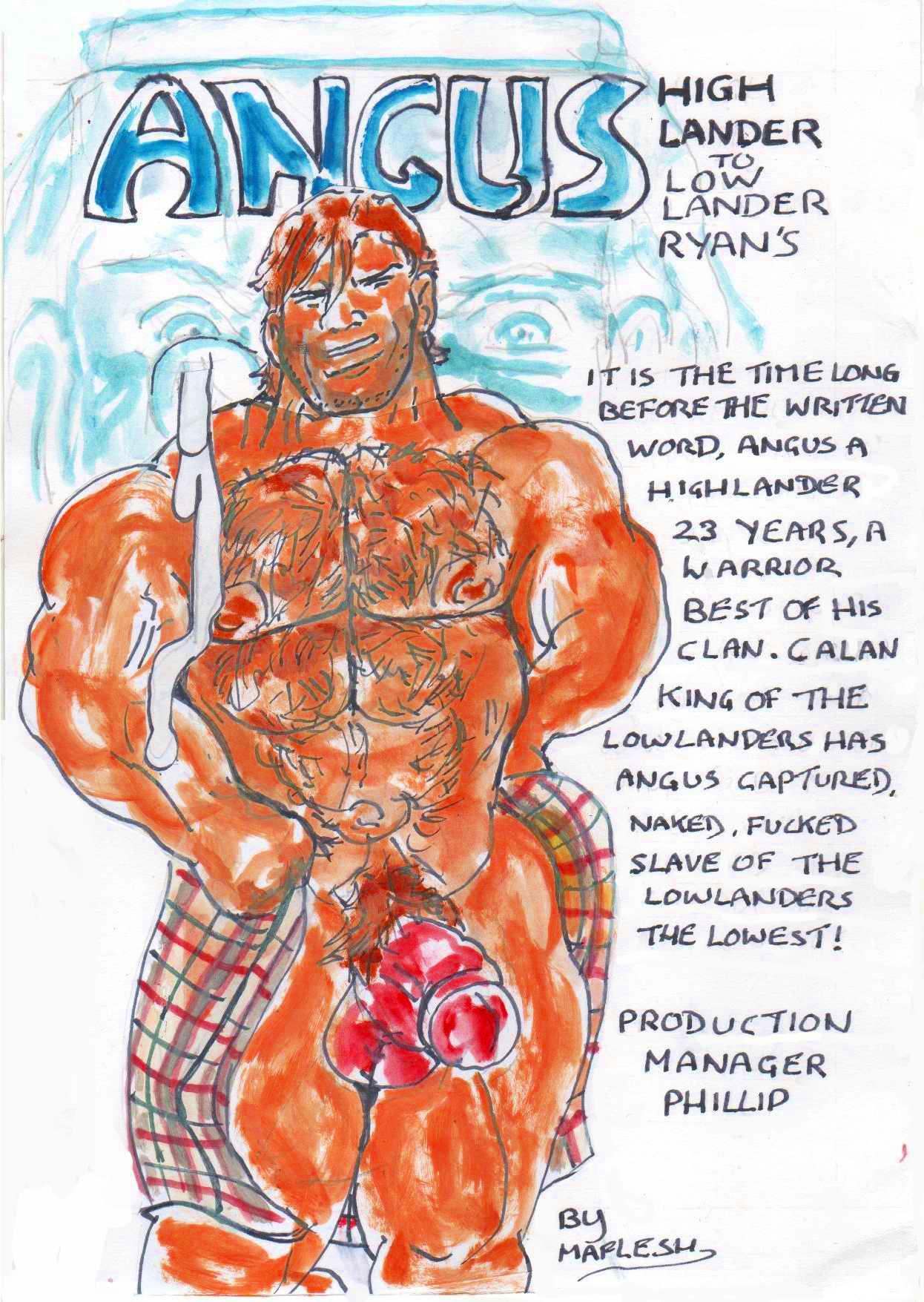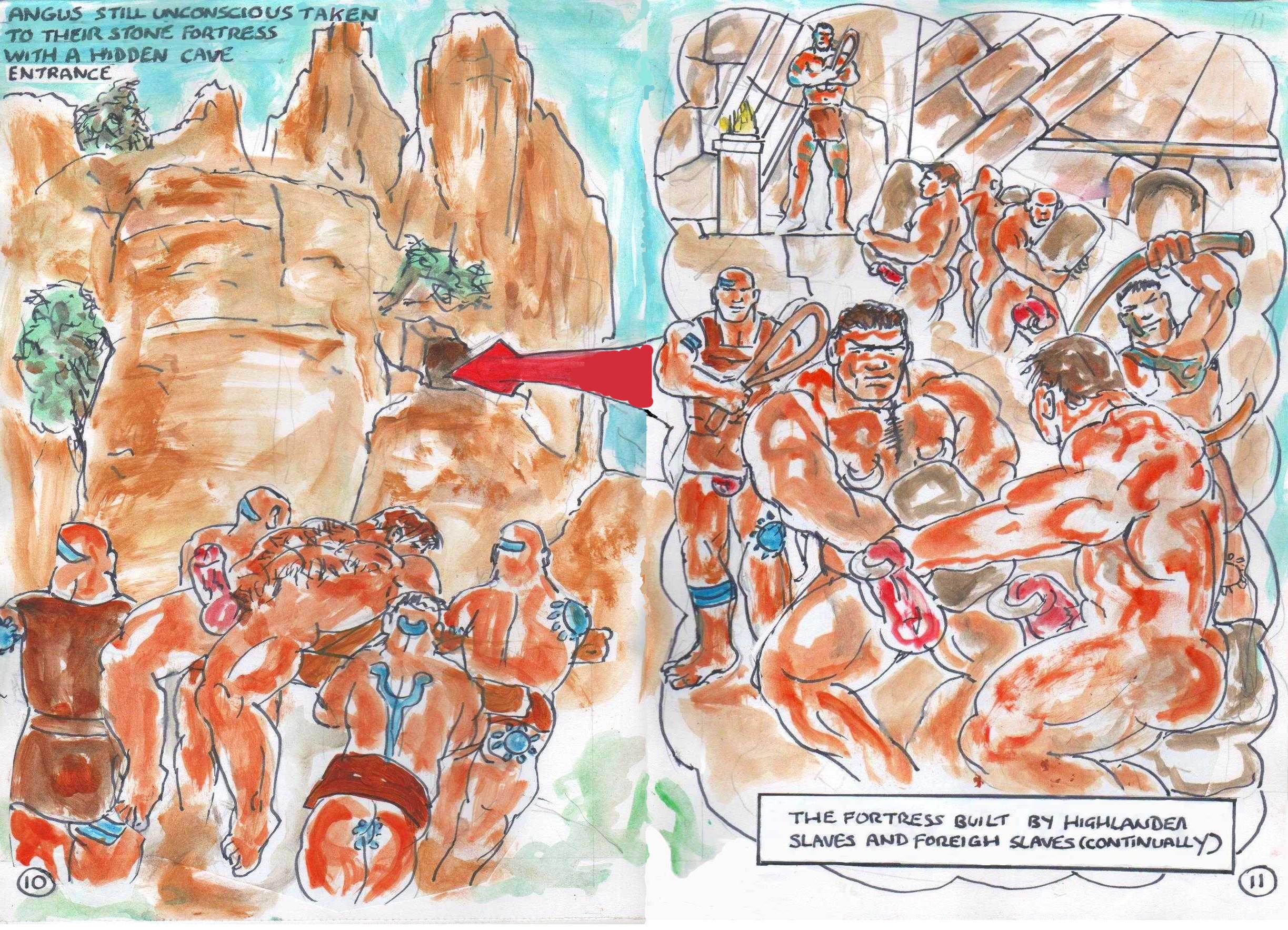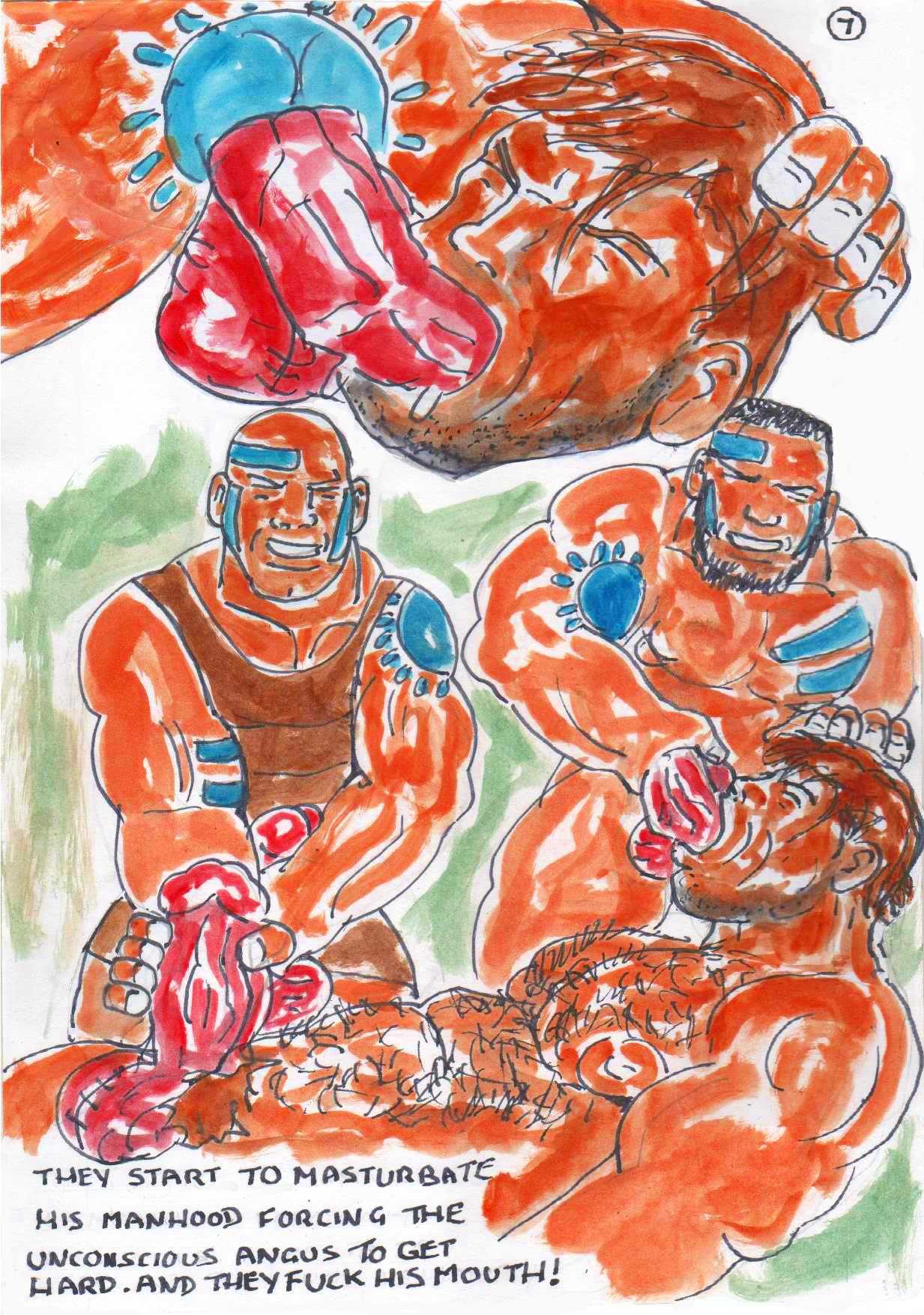 Cover, panoramic page 10 and 11, and pages 7 of Angus High Lander to Low lander part 2




 
6 Thor Phallus part 2 Thor to Whore

THOR PHALLUS PART 2 THOR TO WHORE. THOR WAS NO GOD NOW, AS HE TRUDGED NAKED, HIS BUTT FUCKED RAW. HIS MUSCLES LIKE HIS FUCKED BUTT, OWNED. HIS MIND TO BE BROKEN TO THAT OF A BEAST, BY A WAR LORD MASTERS EIGHTEEN INCH WEAPON.
THOR WAS NOW A BLOND SLAVE BEAST. AFTER THE LONG DAYS TRUDGING, HIS NAKED SORE ARSE FUCKED. THE ONCE GOD, ENTERED THE WAR LORDS FORTRESS. "TAKE IT TO THE MINES, I WANT IT, THE BEAST COVERED IN DIRT AND SWEAT, BEFORE I FUCK IT", THE WAR LORD COMMANDED. MINUTES LATER THOR ARRIVED AT THE MINE AND SAW ALL THE OTHER SLAVES, TOILING HARD. STRAIGHT AWAY THOR WAS PUT IN HIS PLACE, AS A NAKED TOILING BEAST. "GET TO WORK BEAST?", ONE OF THE GUARDS ORDERED, USING HIS WHIP ON THOR'S NAKED BODY. AFTER A LONG DAYS TOIL, THOR WAS TAKEN BACK TO THE WAR LORD. THE WAR LORD TOOK THOR TO BED AND FUCKED HIM, THINKING HE WAS SULLEN AND HAD TO BE WATCHED. THE WAR LORD MADE THOR RIDE ON HIS HUGE COCK. "BOUNCE HARDER BITCH?", THE WAR LORD ORDERED, AS THOR WAS FORCED TO RIDE HIS HUGE COCK. DURING THE MEAL BREAKS, THOR TRIED TO INCITE REVOLUTION, USING SIGN LANGUAGE, TO THE OTHER BEASTS. THE OTHER BEASTS ADMIRED THE MANLY BLOND GIANT.
THE WAR LORD SUMMONED THE SMITH TO HIS THRONE ROOM. "SMITH I WANT YOU TO DO A COCK HIDING, ON THE BLOND BEAST HE NEEDS TO BE SHAMED", THE WAR LORD TOLD HIS SMITH. "YES LORD, IT WILL BE AS IF IT IS COCK LESS", THE SMITH REPLIED, AS HE KNELT AT THE WAR LORDS FEET. THOR WAS TAKEN TO THE FORGE TO MEET THE SMITH. THE WAR LORD WATCHED THOR'S TRANSITION. THE SMITH WORKED ON THOR'S SEX ORGANS INFLICTING PAIN AND DRAWING SOBS FROM HIM. "THIS WILL PUT HIM LOW ON THE PECKING ORDER?", THE WAR LORD SAID, PLEASED WITH THE SMITHS WORK. THE SMITH HAD FITTED A STEEL COCK RING TO THOR'S COCK HEAD AND A SMALLER STEEL RING JUST BELOW THOR'S ANUS. WITH THE SMITH'S WORK COMPLETE, THOR STOOD IN THE FORGE, HIS COCK NOW HAD A RING ON ITS HEAD, THAT HAD BEEN STRETCHED BETWEEN EACH OF HIS BOLLOCKS, TO A RING JUST BELOW HIS ANUS. THIS KEPT THOR'S COCK STRETCHED BACK, TIGHT BETWEEN HIS LEGS. WITH COCK AND BALLS SO MODIFIED, HE WAS PUT TO WORK AGAIN IN THE HOT SUN. HE WAS NO LONGER THE MIGHTY WELL COCKED, SUPERIOR SLAVE. HE WAS IN THE EYES OF THE OTHER SLAVES, NOW THE LOWEST, AND AS SUCH COULD EXPECT HARD NIGHTS. THEY LICKED THEIR LIPS AND LEERED, AS THEY WATCHED HIM TOIL. THOR THE FORMER GOD WAS PLACED WITH ALL THE OTHER SLAVES FOR THE NIGHT. AS THE BEAST WITH NO ERECT COCK, THOR WAS THEIR WHORE FOR THE NIGHT TIMES. THE OTHER SLAVE BEASTS, ENJOYED DOUBLE FUCKING HIM HARD, BOTH THEIR COCKS RAPING HIM AT ONCE.
THOR WAS FUCKED WITH COCK AND TONGUE BY THE WAR LORD. HE WAS HELD UPSIDE DOWN, WITH HIS ARMS TIED BEHIND HIS BACK, BY THE WAR LORD. WHILE THE WAR LORD SUCKED THOR'S ANUS, WITH HIS TONGUE. AT THE SAME TIME THOR WAS MADE TO SUCK THE WAR LORDS, HUGE COCK. FINALLY THE WAR LORD FUCKED THOR WITH HIS HUGE COCK. WHILE THE WAR LORD FUCKED THOR, HE ORDERED ONE OF HIS MEN, TO BRING HIM THE COCK AND BALL CUTTERS. THE MAN APPROACHED THEM, HOLDING THE FEARSOME LOOKING STEEL CUTTERS. THOR GULPED IN FEAR, AS THE MAN HANDED THE STEEL CUTTERS TO THE WAR LORD. AT THAT MOMENT, A RIP IN TIME OPENED AND THOR WAS SUCKED OFF THE WAR LORDS HUGE COCK AND THROUGH THE TIME RIP. THE RIP IN TIME HAD SAVED THOR FROM THE LOSS OF HIS MANHOOD. ITS UP TO THE READERS TO WRITE THE NEXT STORY, SO GET WRITING.
ANOTHER GREAT SUPER HERO DOMINATION STORY WITH THOR CONTINUED TO BE ENSLAVED AND SEXUALLY AND PHYSICALLY ABUSED BY ARAB MASTERS. €15
THOR PHALLUS PART 2 THOR TO WHORE HAS NEW FEATURE, OF DOUBLE ,SIDE BY SIDE PAGES, THAT CREATES A PANORAMIC IMAGE. THE DOUBLE, PANORAMIC IMAGE, PAGES IN PART 2 THOR TO WHORE, ARE, PAGES 2 AND 3, PAGES 10 AND 11.
PAGES 2 AND 3 FEATURES THOR BEING TAKEN TO THE MINES WHERE HE SEES THE OTHER SLAVES BEASTS TOILING. THOR WAS MADE TO WORK AS A TOILING BEAST UNDER THE WHIPS OF THE WAR LORDS MEN.
PAGES 10 AND 11 FEATURES THOR TOILING IN THE MINES WITH HIS COCK CONFINED BETWEEN HIS LEGS, AS OTHER SLAVE BEASTS LEER AND LICK THEIR LIPS CONSIDERING HIM TO BE THE LOWEST. MEANING THOR WOULD BE FACING HARD NIGHTS.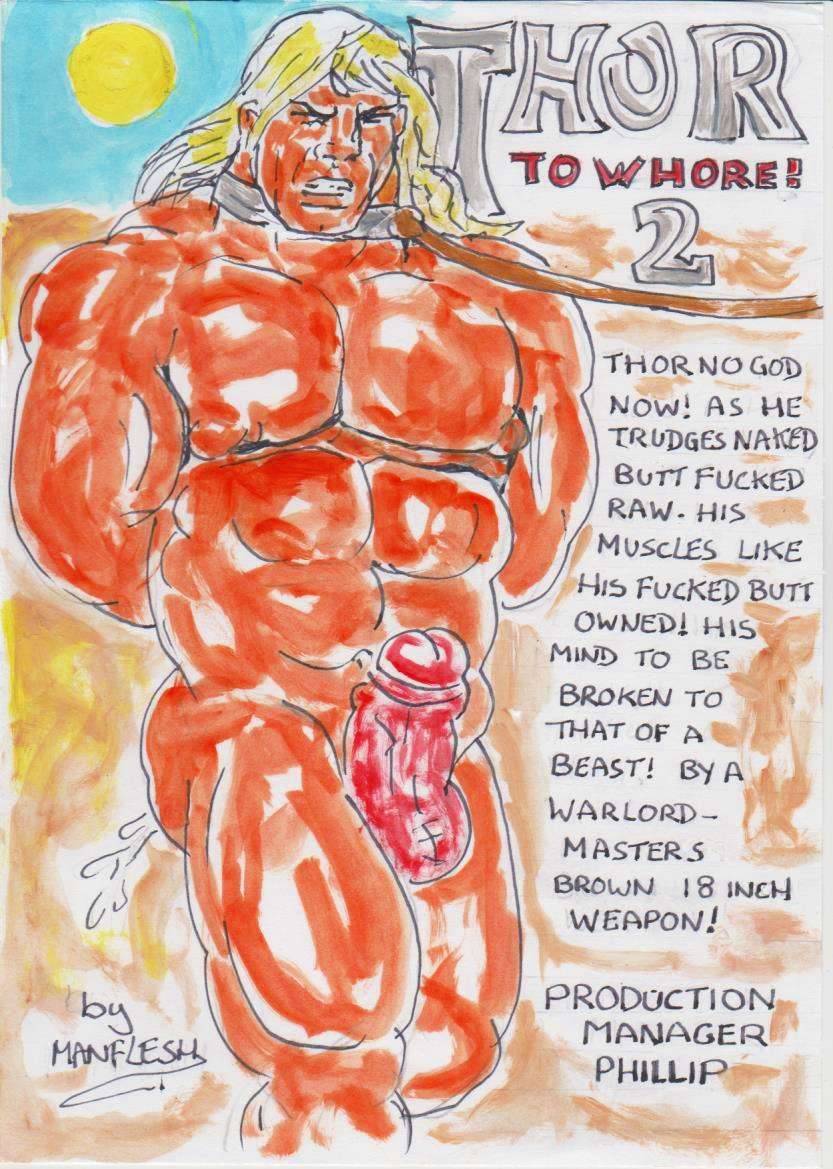 Cover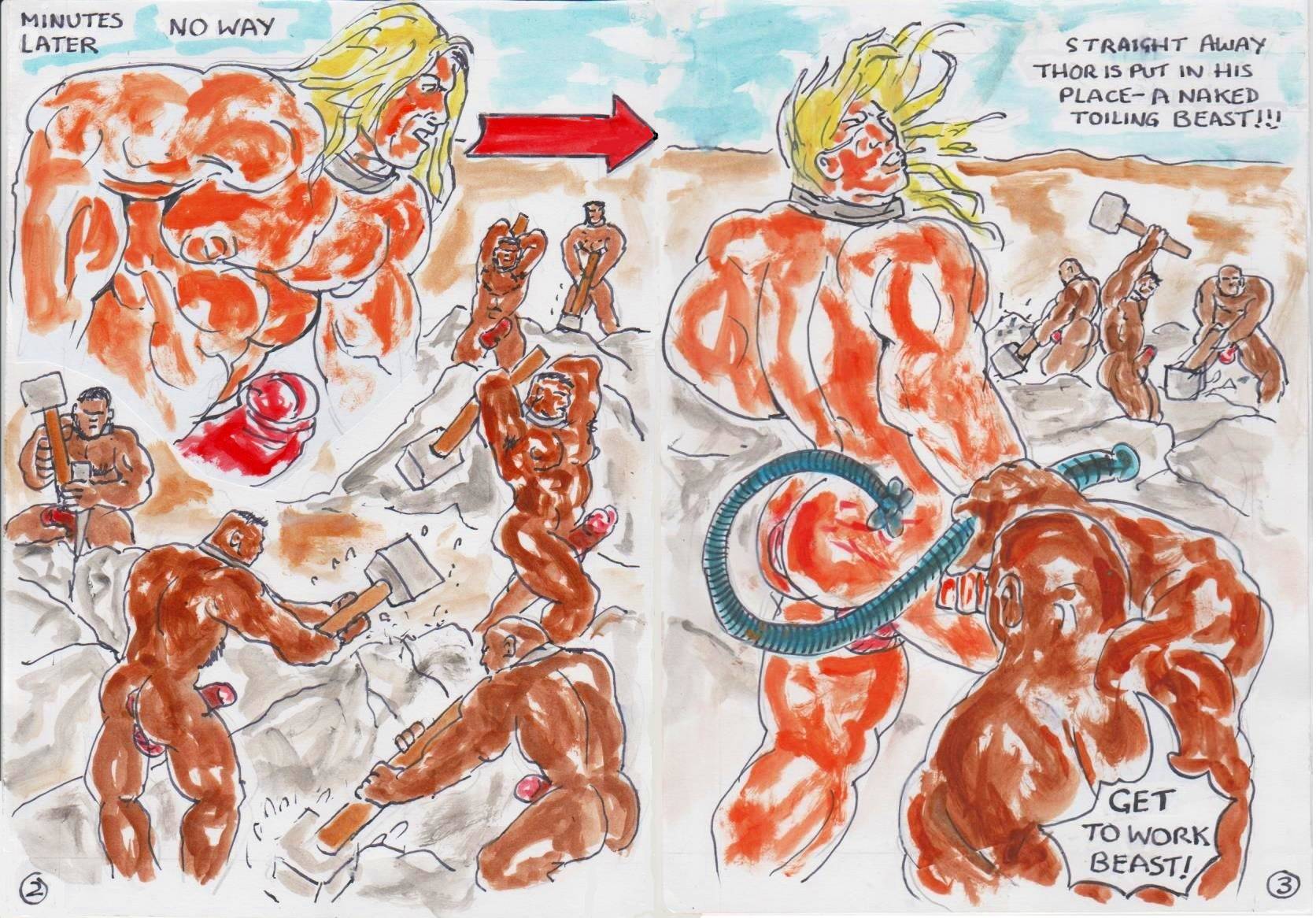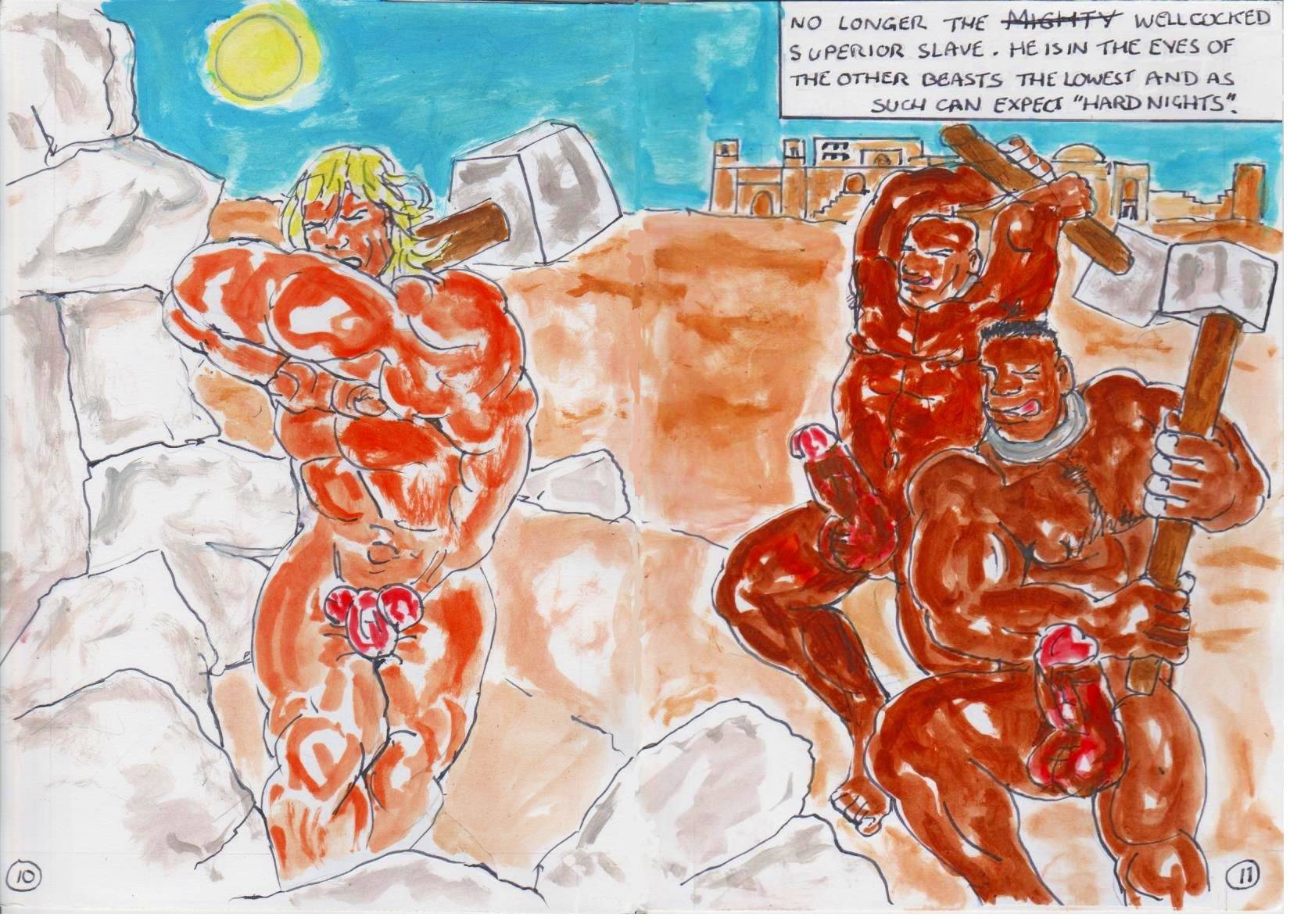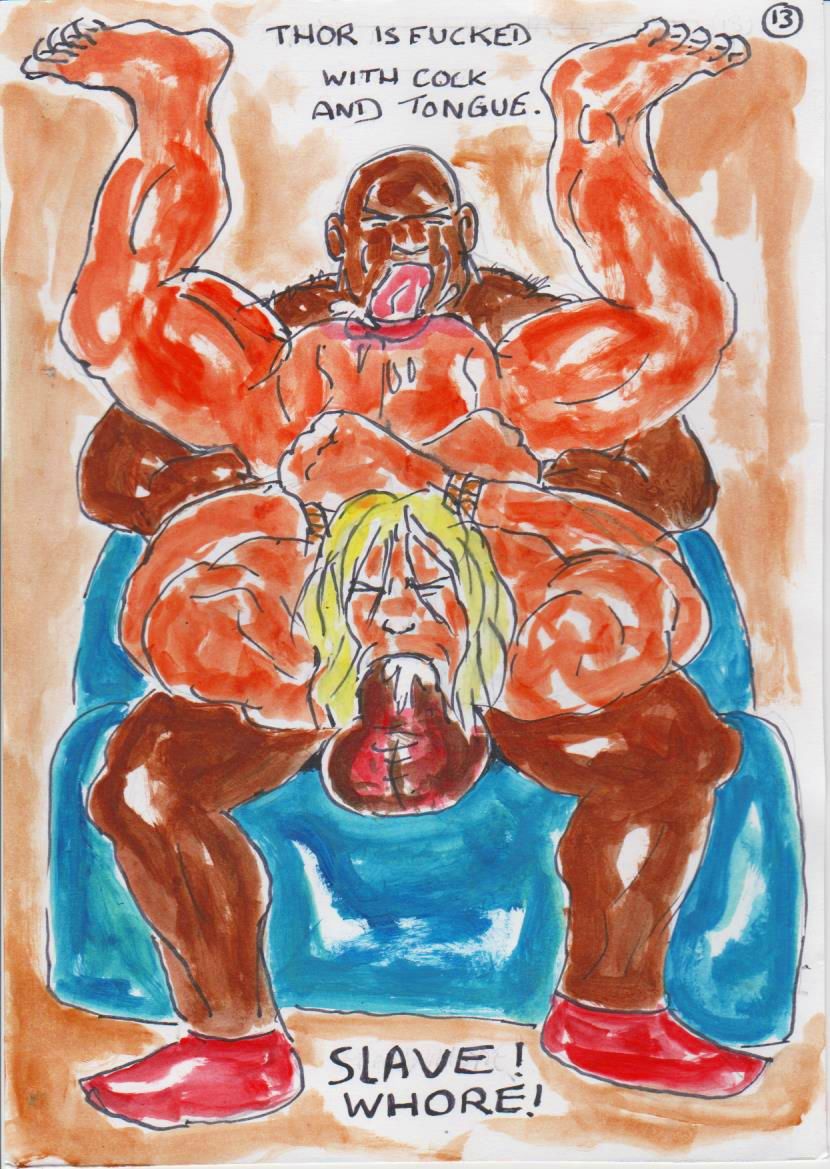 Panoramic pages 2 and 3 and 10 and 11 and page 13 Thor Phallus part 2 Thor to Whore




 
7 COP STACEY BAR CODE SLAVE

COP STACEY, BAR CODE SLAVE PART 1. COP STACEY WAS ONLY FIVE FOOT, TWO INCHES, TALL, BUT HE HAD THE MUSCLE MASS, OF A SIX FOOTER. THE MOB HAD WANTED HIM OUT OF THE WAY. THEY GOT THEIR WAY, HE NOW HAD A SLAVE BAR CODE TATTOOED, ON THE BACK OF HIS NECK. THIS WAS THE STORY OF HIS DOWN FALL.
COP STACEY WAS IN THE GYM, ADMIRING HIMSELF, AFTER A WORK OUT. I'M LOOKING DO GOOD, HE THOUGHT TO HIMSELF. SO BIG, AS HE FELT HIS HARD COCK. HIS COCK WAS NOT, AT FOUR INCHES. HIS HEIGHT WAS NOT TALL, BUT HE WAS AS WIDE, AS A SIX FOOT, SIX INCH, MUSCLE MAN, WITH A BUTT, AS THICK AND WIDE. THE MOB NEEDED TO GET RID OF STACEY. HE WAS ABOUT TO GIVE EVIDENCE IN COURT, ON MOB, KING PINS. THEY KNEW HE WAS A BODY BUILDING FANATIC, AND MADE THEIR PLANS ACCORDINGLY. THE MOB HAD FINGERS IN THE GYM AND COULD ARRANGE FOR OTHER MEMBERS OF THE GYM, TO VACATE THE GYM, SO THEIR MEN COULD CARRY OUT THE PLAN. AFTER A HARD WORK OUT COP STACEY GLOWED IN THE PUMP, FROM HIS TRAINING. HE WAS UNAWARE OF WHAT WAS ABOUT TO HAPPEN. THREE OF THE MOBS, HUGE THUGS, ENTERED THE LOCKER ROOM, BEHIND COP STACEY. THEY ATTACKED, HUGE FISTS FLYING. THEY OVER WHELMED COP STACEY. THEY KNOCKED HIM OUT, THE MOB RULED, IT WAS LIGHTS OUT, FOR COP STACEY. THE THUGS STRIPPED COP STACEY NAKED, AND PUT HIS CLOTHES IN A BAG, TO BE DESTROYED. "SHIT, THE SIZE OF HIS BUTT, THE SIZE OF TWO FOOTBALLS", ONE OF THE THUGS SAID, WHEN THEY HAD COP STACEY NAKED. HE WILL SURE GET SOME HAMMERING", ANOTHER ONE SAID. NAKED COP STACEY WAS TAKEN OUT THE BACK DOOR OF THE GYM, INTO ONE OF THE MOBS LIMOS. STACEY WAS NOW NO LONGER A COP, AND HE WOULD NO LONGER WEAR CLOTHES. IN THE LIMO THE EX COP WAS MAN HANDLED BY THE MOBSTERS, IT WAS SOMETHING, HE WOULD HAVE TO GET USE TO. STACEY WAS PUT ON HIS BACK ON THE FLOOR OF THE LIMO AND HIS LEGS LIFTED UP HIGH AND BENT RIGHT OVER, TO EXPOSE HIS NAKED BUTT. "WELCOME THE MOB SLAVE", ONE OF THE MOB BOSSESS, SAID, AS HE TOTED A MACHINE GUN. "BOSS HE SURE HAS A THICK COCK LOVING BUTT", ONE OF THE MOBSTERS SAID, POINTING AT STACEY'S SWOLLEN BUTT HOLE. AS THE OTHER ONE, HELD STACEY'S RAISED AND LEGS BENT BACK, OVER HIS HEAD.
STACEY WAS TAKEN TO THE OLD ASBESTOS FACTORY, NOW THE MOBS HEAD QUARTERS. THE MOBSTERS FROG MARCHED STACEY, DOWN INTO THE DEPTHS. STACEY WAS SECURED NAKED AND FACE DOWN, TO A STEEL TABLE, BY HIS ARMS AND LEGS. THEN A BAR CODE WAS TATTOOED TO THE BACK OF HIS NECK. "YOUR A SLAVE NOW?", THE MOB BOSS, TOLD STACEY, AS HE WATCHED THE BAR CODE, BEING TATTOOED TO THE BACK OF STACEY'S NECK. STACEY NOW A BARE CODED SLAVE, WAS MADE TO WORK OUT IN FRONT OF THE MOB BOSS AND OTHER MOBSTERS. HE WAS MADE TO PUMP HEAVY WEIGHTS ON EACH REP AND LOWERED HIMSELF, HE WAS IMPALED ON A MOBSTERS COCK. "BOYS SHAG IT HARD, IT WILL GET MORE AND WORSE, WHERE IT IS GOING", THE MOB BOSS SAID. "YOU BETCHA BOSS", THE MOBSTERS REPLIED EAGERLY, THEIR COCKS ALL HARD AND RARING TO GO. THE MOBSTERS ALL TOOK TURNS IMPALING STACEY ON THEIR COCKS, WHILE ONE STOOD IN FRONT OF STACEY, WANKING HIS HUGE COCK, UNTIL IT SPUNKED ALL OVER STACEY'S FACE. THE MOB BOSS ENJOYED THE SHOW, AS COP STACEY, NOW A SPUNKED SLAVE, WAS GIVEN A HARD FUCKING, WORK OUT.
STACEY WAS TAKEN SOUTH, TO THE SLAVE MARKETS, TO BE SOLD. FELONS WITH BAR CODES ON THEIR NECKS, WERE SLAVES FOR LIFE. ONCE STACEY ARRIVED HE WAS PARADED IN FRONT OF THE WARDEN. "TAKE IT TO HAVE ITS COCK HAIR REMOVED AND FOR DELOUSING", THE WARDEN ORDERED. STACEY WAS HUNG BY HIS ARMS AND LEGS BY CHAINS, FROM A STEEL RAIL, SPREADING HIS ARMS AND LEGS, SO HIS GROIN WAS EXPOSED. STACEY WATCHED SOBBING, AS A GUARD APPLIED SOME BURNING GREEN PASTE, TO STACEY'S PUBIC HAIR. IT WOULD DESTROY HIS MAN BUSH FOR GOOD. THIS WAS DONE TO ALL THE SLAVES. MOST OF THE SLAVES NEVER SHOWERED, THEY SWEATED TO CLEAN THEIR PELTS. THEN STACEY WAS TAKEN TO THE AUCTION, TO BE SOLD. THE GUARDS PLACED STACEY IN SEVERAL LEWD POSITIONS, AS THE BIDDING BEGAN, MAKING THE BIDS FOR HIM FIERCE. SLAVE STACEY WAS SOLD AND RENAMED SUCK. HE HAD BEEN SOLD TO A MISTER REAMER, A BUILDER SUPPLYING CONSTRUCTION MATERIALS. ON THE DRIVE TO HIS NEW HOME, SLAVE STACEY, WAS CLAMPED IN STEEL FRAME, PART OF AND ADAPTED FRONT SEAT.STACY LAY BETWEEN HIS NEW OWNERS LEGS AND WAS FORCED TO EARN HIS NEW NAME, BY SUCKING HIS NEW OWNERS COCK, ALL THE WAY HOME. PLENTY OF MALE ON MALE SEXUAL AND PHYSICAL ABUSE, MANFESH STYLE. €15
COP STACEY COP HAS THE NEW FEATURE OF SIDE BY SIDE PAGES, THAT FORM A PANORAMIC IMAGES. THE PANORAMIC PAGES IN COP STACEY ARE 6 AND 7 AND 10 AND 11.
PAGES 6 AND 7 FEATURE COP STACEY NAKED IN THE MOBS LIMO, BEING OGLED AND ABUSED BY THE MOBSTERS.
PAGES 10 AND 11 FEATURE COP STACEY FORCED TO DO WEIGHT LIFTING WITH A HEAVY BAR. WHILE MOBSTERS TOOK TURNS FUCKING HIS ARSE. ONE MOBSTER STOOD IN FRONT OF COP STACEY, TAUNTING COP STACEY, WITH HIS HUGE, HARD COCK, UNTIL HE CUMS IN COP STACEY'S FACE. THIS WAS ALL WITNESSED BY THE MOB BOSS.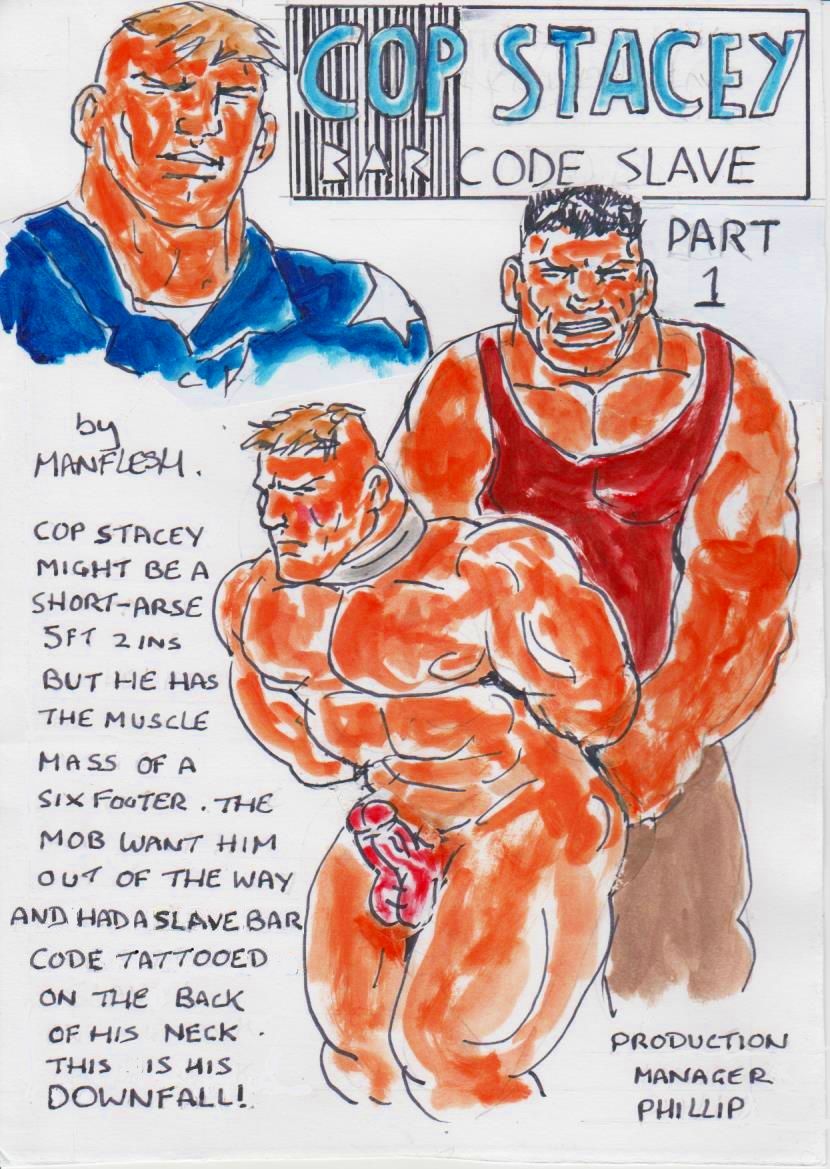 COVER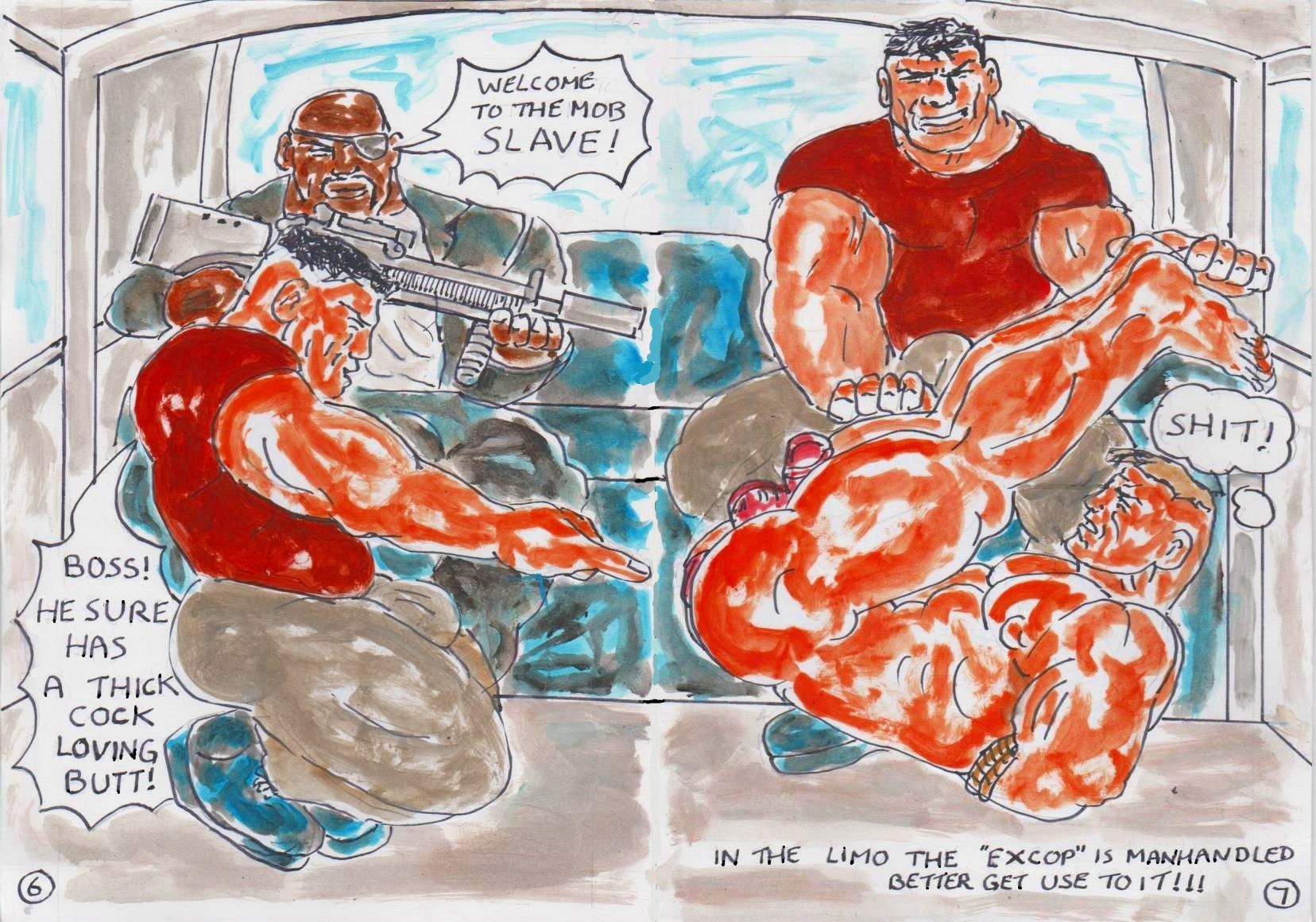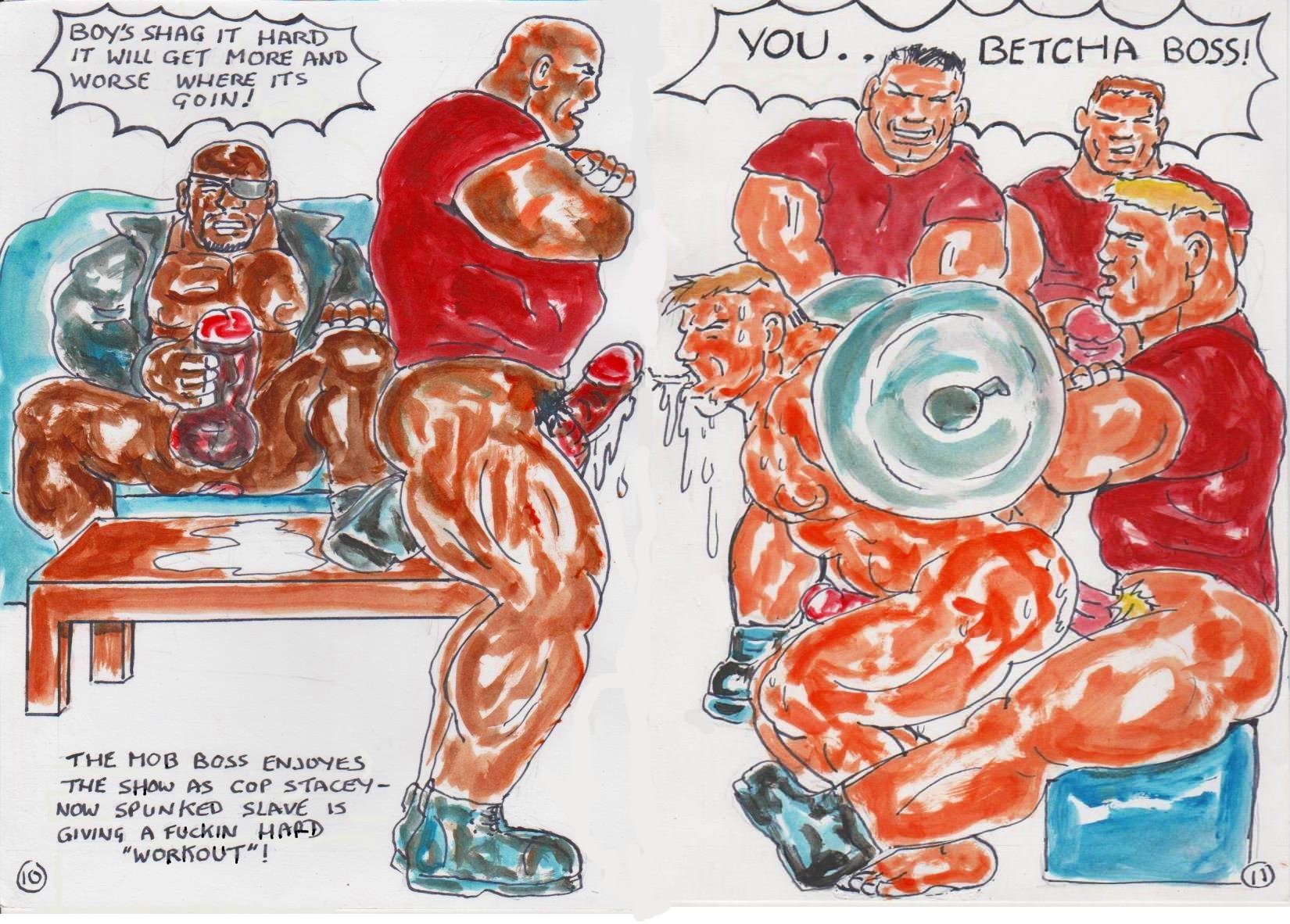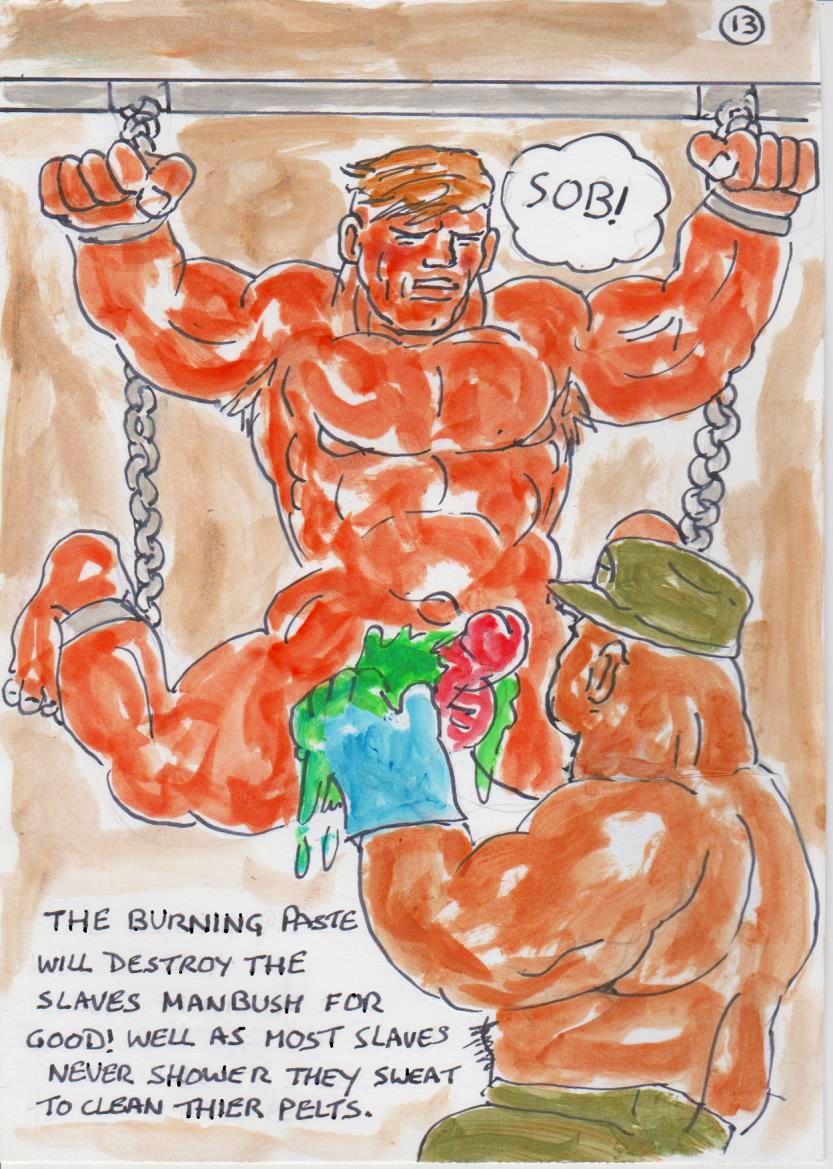 Panoramic pages 2 and 3 and 10 and 11 and page 13 Cop Stacey Bar Code Slave


 
8 CAPTAIN AMERICA CATACOMB PART 1.

TRAPPED IN THE CATACOMB CAPTAIN AMERICAN WAS ABOUT TO FIND OUT THAT HE WAS NOT THE BIGGEST KNOB IN THE SUBTERRANEAN PRISON, WHERE COCK SIZE COUNTED. WHILE IN PURSUIT OF A FELON CAPTAIN AMERICA FELL INTO THE CATACOMB. LIKE A MOUSE TRAP, DOORS OPENED BENEATH HIM, THEY OPENED ONLY ONE WAY. ONCE IN THE CATACOMB, THERE WAS NO WAY OUT. CAPTAIN AMERICA WAS BATTERED, AS HE FELL HUNDREDS OF FEET AND HE LOST HIS SHIELD IN THE FALL. AT LAST CAPTAIN AMERICA HIT THE GROUND. HE FOUND HIS POWERS WERE GONE AND HIS CLOTHES WERE IN TATTERS. DOWN IN THE HOT TUNNELS OF THE CATACOMB, NAKED BEAST LIKE MEN, CAME OUT OF THE SHADOWS. THEY WERE FULL OF LUST, COCKS HARD. THE BEAST LIKE MEN, ATTACKED CAPTAIN AMERICA AND RIPPED OFF HIS TATTERED CLOTHES. "NO CLOTHES HERE PRETTY BOY", ONE BEAST LIKE MAN SAID. "OUR SLAVE NOW?", ANOTHER WHITE, BEAST LIKE MAN SAID. "SELL YOUR ARSE A HUGE BLACK, BEAST LIKE MAN, SAID, AS HE CRUSHED AND LICKED CAPTAIN AMERICA'S, HARD NAKED COCK. "FUCKING BEASTS, SHIT", CAPTAIN AMERICA GASPED, IN SHOCK AND PAIN, AS HE WAS STRIPPED AND ABUSED, BY THE BEAST LIKE MEN. NOW BUCK ARSE NAKED, THE ONCE SUPER SOLDIER WAS CONFRONTED BY A HUGE HULK OF A MAN, SPORTING A TWENTY INCH LONG, FOREARM THICK, OF FUCK MEAT. KING PHALLUS. "ALL HAIL KING PHALLUS", THE BEAST LIKE MEN SHOUTED, AS CAPTAIN AMERICA, WAS CONFRONTED BY KING PHALLUS. "WELL, WELL, LOOK WHAT WE HAVE HERE?", KING PHALLUS SAID, AS HE PUNCHED CAPTAIN AMERICA. "I WILL MAKE YOU RAW, SORE AND A WHORE", KING PHALLUS ADDED, AS HE KNOCKED CAPTAIN AMERICA DOWN. CAPTAIN AMERICA WAS FORCED TO KNEEL NAKED, WHILE KING PHALLUS MOVED HIS HUGE DRIPPING COCK, MENACINGLY TOWARDS CAPTAIN AMERICA. A BEAST LIKE MAN, GRABBED CAPTAIN AMERICA'S HAIR TO STOP HIM MOVING. THIS COULD NOT BE RIGHT BUT EX CAPTAIN AMERICA WAS GOING TO HAVE TO TAKE IT LIKE A MAN, OR MORE LIKE A WHORE.
"HAIL PHALLUS THE BEAST LIKE MEN SHOUTED AS THEY WATCHED KING PHALLUS FUCKING CAPTAIN AMERICA WITH HIS HUGE COCK. "YOU NO MAN HERE, YOU LIKE OTHERS OF YOUR KIND SLAVES", KING PHALLUS TOLD CAPTAIN AMERICA. TWO THUGS THEN FUCKED CAPTAIN AMERICA, AT THE SAME TIME. AFTER BEING RAVAGED BY KING PHALLUS'S HUGE COCK NOW WITH A FIST SIZE HOLE, THE EX CAPTAINS STRETCHED ANUS, NOW A MAN CUNT, CAN EASILY TAKE TWO THUGS AT A TIME. AFTER BEING FUCKED OVER THIRTY TIMES, SLAVE CAP, WAS PISSED ON BY THE BEAST LIKE MEN. IT WAS SOMETHING HE WOULD HAVE TO GET USE TO. WHAT NEXT CAPTAIN AMERICA WONDERED.
CAPTAIN AMERICA WAS FORCED TO PUSH A CAPSTAN WITH OTHER SLAVES, AS THE BEAST LIKE MEN WATCHED AND ENJOYED. "WHAT THE HELL HAPPENED HERE?", CAPTAIN AMERICA ASKED, ONE OF THE OTHER SLAVES, AS THEY PUSHED THE CAPSTAN. "THERE WAS A BIG RIOT, AND THE BEASTS TOOK OVER", THE SLAVE REPLIED. "WE GUARDS BECAME THE PRISONERS", HE ADDED. "THE STATE FOUND IT BETTER TO JUST POUR BASIC FOOD LIKE WHEAT, DOWN THE ONE WAY SHAFT, BUT THEY ALSO LET GANGS ABOVE, PUT STEROIDS AND OTHER DRUGS DOWN THE SHAFT", HE STATED. "WE GET FUCKED ALL THE TIME, BETTER GET USE TO IT CAPTAIN", HE ADDED. "THERE ARE FIVE HUNDRED CONVICTS, SO LIKE ANIMALS WE CALLED THEM BEASTS, AND ONLY THIRTY OF US, THAT MEANS THAT EVERY EX GUARD HAS TO SERVE, AT LEAST SIXTEEN OF THEM", THE OTHER SLAVE CONTINUED. "NOW YOU ARE HERE, YOU WILL SERVE NEAR THE SAME, TAKE YOUR SHARE", HE ADDED.
TO BREAK IN THE ONCE MIGHTY, CRIME FIGHTER, HE WAS INJECTED WITH STERIODS, UP TO TEN SHOTS, FOUR TIMES A DAY. ALL THE SYRINGES MADE THE EX CAPTIANS BUM, LOOK LIKE A PIN CUSHION. AS A SLAVE, THE CAPTAIN WAS MADE TO PUT ON A SHOW. TO TAKE PART IN FUCK FIGHTS, BUT THERE WAS A TWIST. HE HAD BEEN ORDERED TO LOSE, EVERY FIGHT, OR THE ENSLAVED GUARDS WOULD BE WHIPPED. THE BEAST LIKE MEN, ENJOYED TAKING TURNS TO DEFEAT HIM. WHEN EVER THE CAPTAIN LOST A FUCK FIGHT, HE WAS FUCKED BY THE WINNER. THE CAPTAIN WAS FORCED TO BEG FOR MORE COCK, OR THE EX COPS WOULD SUFFER. THE EX COPS WERE MADE TO WATCH, TO DEMONSTRATE THEY COULD NOT GET HELP, FROM THE SHAMEFUL, COCK CRAVING, EX SUPER HERO. €15
CAPTAIN AMERICA CATACOMB PART 1 HAS THE NEW FEATURE, OF DOUBLE ,SIDE BY SIDE PAGES, THAT CREATES A PANORAMIC IMAGE. THE DOUBLE, PANORAMIC IMAGE, PAGES IN CAPTAIN AMERICA CATACOMB PART 1 , ARE, PAGES 6 AND 7, PAGES 10 AND 11.
PAGES 6 AND 7 FEATURES CAPTAIN AMERICA BEING FUCKED BY KING PHALLUS WHILE THE OTHER BEAST LIKE CHEER AND LEER.
PAGES 10 AND 11 FEATURES CAPTAIN AMERICA CHAINED NAKED TO A GRAIN GRINDING CAPSTAN, WITH OTHER EX GUARD SLAVES. THE EX GUARD NEXT TO CAPTAIN AMERICA EXPLAINED HOW THE CONVICTS TOOK OVER CONTROL AND ENSLAVED THE GUARDS.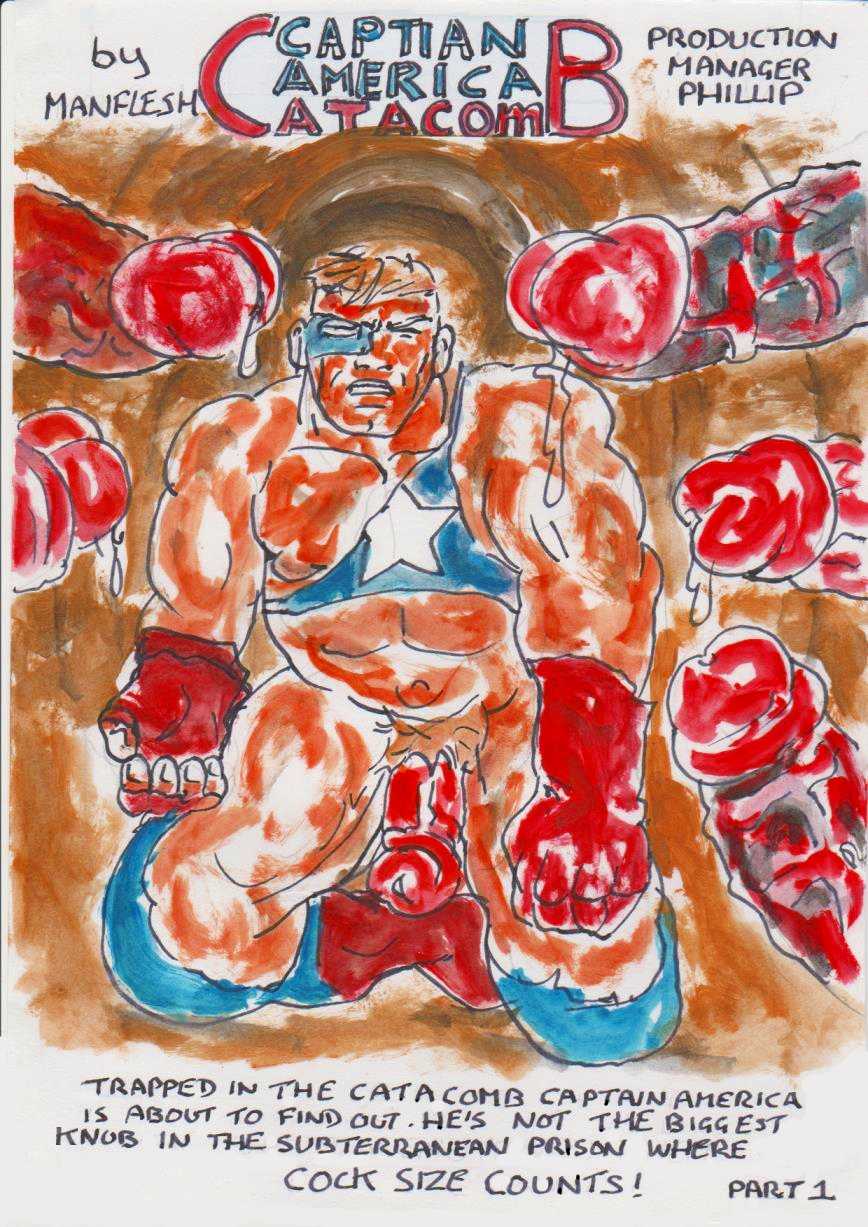 Cover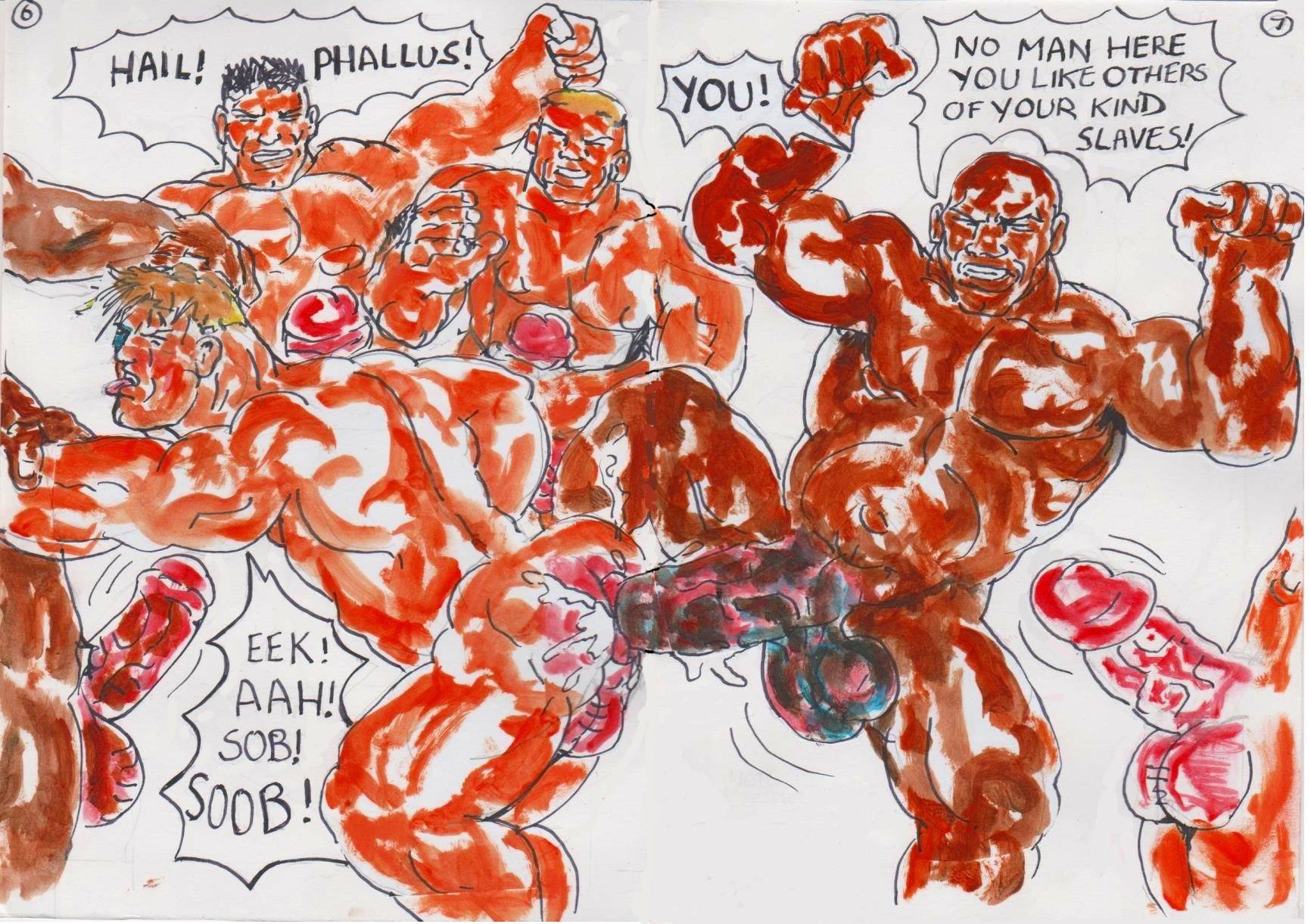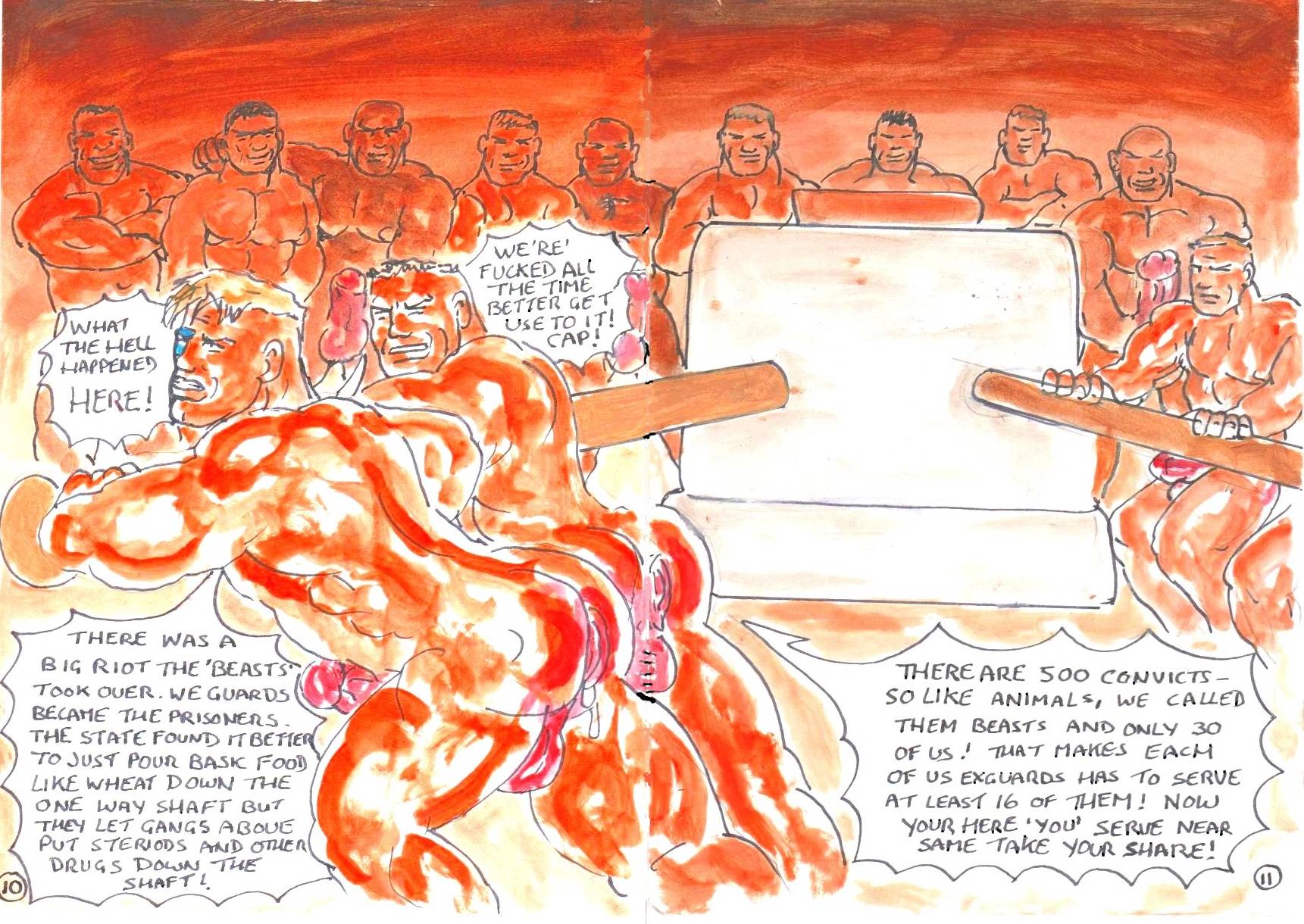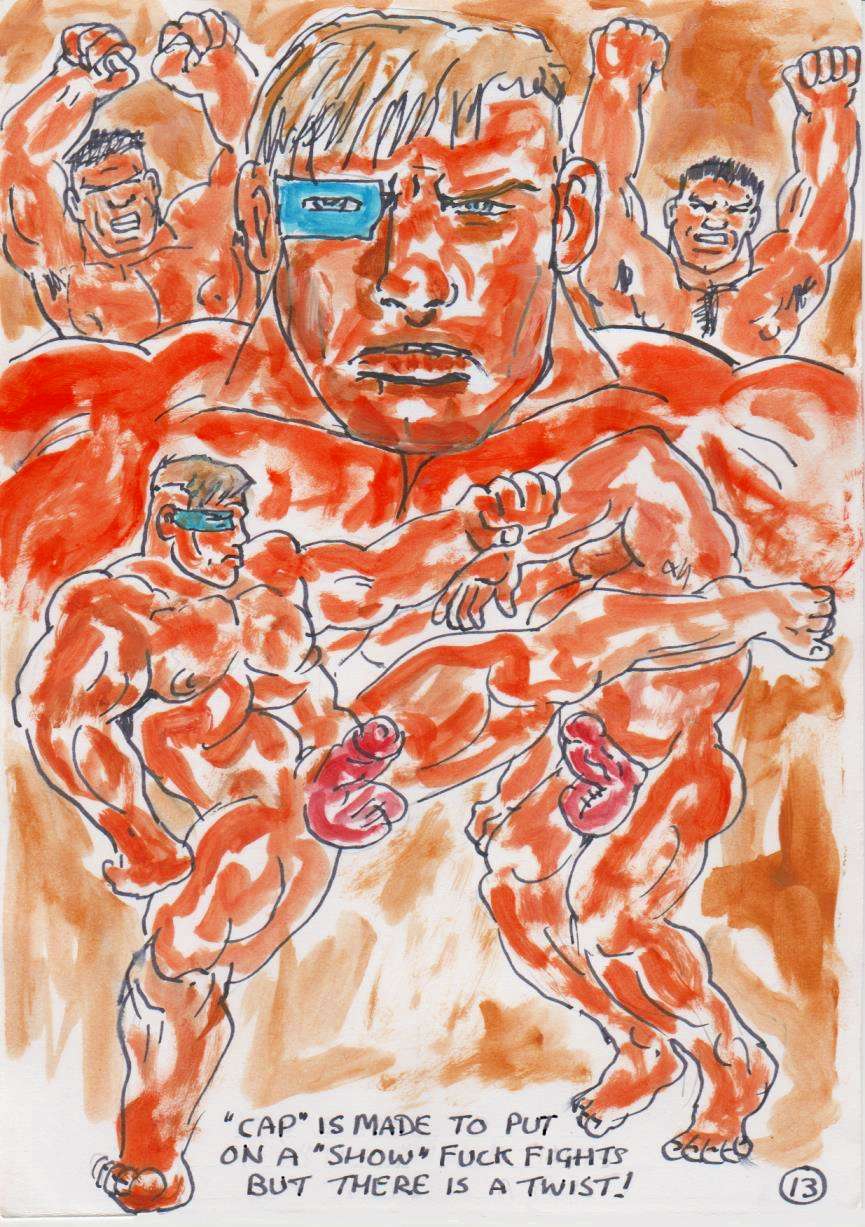 Panoramic pages 6 and 7 and 10 and 11 and page 13 Captain America Catacomb part 1