MANFLESH GUEST ARTIST AND AUTHOR PAGE 2
The url is man-flesh1.blogspot.com
http://www.man-flesh1.blogspot.com
MALE ON MALE DOMINATION LIST
1 RUGBY LION TO CORRALLED BEAST. INTERNATIONAL RUGBY STAR DIA JONES IS KIDNAPPED IN FRANCE WHILE TRAINING FOR A MATCH THERE. HE IS CAPTURED BY A BIG GAME BOUNTY HUNTER ON THE ORDERS OF AN AFRICAN RULER WHO COLLECTS NAKED MALE SAVE BEASTS. DIA IS ENSLAVED AND IS NO LONGER CONSIDERED HUMAN. DIA IS THROWN INTO THE CORRAL AND RAVISHED BY THE OTHER ONCE MEN BEASTS. THE RULER EMPLOYS A CRUEL BLONDE SWEDE OVERSEER WHO GETS THE BEAST TO FUCK EACH OTHER WITH LARGE IRON PHALLUSES ARE TO ARSE. TO TEACH DIA HIS ANIMAL SLAVE STATUS HIS MADE TO PERFORM EVERY LEWD DEPRAVED HOMOSEXUAL ACT ON OTHER BEASTS WHILE THEY DO THE SAME TO HIM. THE BLOND SWEDE OVERSEER ANGERS THE RULER BU REFUSING TO FUCK THE NEW SLAVE DIA. THE SLAVE BEASTS ARE MADE TO PULL A CARRIAGE DRIVEN BY THE BLOND SWEDE WHO ENJOYS PLYING THE WHIP TO THEIR NAKED BODIES ON THE WAY TO THE QUARRY WHERE THE SLAVE WILL TOIL ALL DAY. WHEN THEY REACH THE QUARRY IS STRIPPED AND ENSLAVED BY THE GUARD ON THE RULERS ORDERS. THE BLOND SWEDE IS MADE TO TOIL ALONG WITH DIA AND THE OTHER BEASTS AND IS SUBJECTED TO SAME PHYSICAL AND SEXUAL ABUSE FROM THE GUARDS AS TH OTHER BEASTS. DIA AND THE SWEDE ARE FORCED TO WORK SIDE BY SIDE IN THE HOT AFRICAN SUN. THE BROKEN AND FALLEN WHIP MASTER IS FORCED TO PULL THE CARRIAGE BACK WITH THE OTHER BEAST AND IS WHIPPED MERCILESSLY. ONCE BACK AT THE COMPOUND THE RULER ENJOYS SEEING THE BLONDE SWEDE MATED BY THE OTHER BEASTS. DIA GET HIS REVENGE BY CATCHING AND FUCKING THE BLOND SWEDE FIRST. 23 PAGES OF HOT GRAPHIC MALE ACTION ARTWORK BY MANFLESH. €12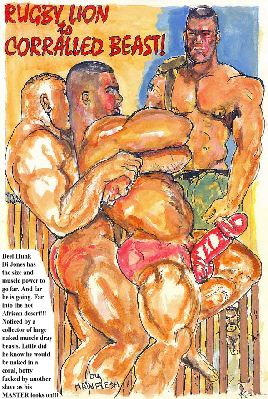 2 TWO BEASTS RUGBY LION 2. DIA JONES AND THE BLONDE SWEDE BOTH NOW SEX BEASTS ARE ORDERED TO BE SENT TO STUB FOR THE DAY THE AFRICAN RULER.. THE SLAVE MASTERS SECURE THE TWO BEAST AND REMOVE THEIR UNWANTED PUBIC HAIR AND FORESKINS. THE BEASTS HAVE THE LARGE BEAST HOLES WASHED CLEAN AND THEY A FORCE FED 12 VIAGRA TABLES EACH. THE TWO BEASTS ARE THEN PUT ONLY DISPLAY FOR PROSPECTIVE PUP BUYING CUSTOMERS TO INSPECT. WHILE THEY FUCK WAITING BOUND FEMALE SLAVES. TWO BIG BLACK BUCKS FUCK DAI AND THE BLONDE SWEDE AS THEY FUCK THE FEMALE SLAVE MAKING THE BEASTS FUCK THEM HARDER. AFTER HOURS OF BEING FUCKED AND FUCKING THE FEMALE SLAVES THE BEAST CUM SOCKED COCK ARE REMOVED AND PHYSICALLY INSPECTED BY PROSPECTIVE CUSTOMERS CHECKING OUT THE SIZE OF THE MANHOOD AND THE THICKNESS OF THE SEED.
SECURED WITH MOUTH WIRED OPEN TO STOP THEM BITING CUSTOMERS THE BEASTS ARE TAKEN TO THE AUCTION PLATFORM. ON THE PLATFORM THE BEATS HAVE THEIR BODIED AND BEAST HOLES OILED IN FRONT OF THE BAY CROWD. THE TWO BEASTS ARE FORCED TO FUCK HUGE IRON DILDO TO SHOW THE CROWD THEIR ANAL SKILLS. TWO YUNG BLACK BUCKS ARE SELECTED FROM THE CROWD TO FACE FUCK THE BEASTS FILING THEM MOUTHS. THEN THE BEASTS ARSES ARE SPREAD OPEN WITH ARSE SPREADERS AND THE CROWD INVITED TO TEST THE COCK SUCKING ABILITIES OF THE ARSES. ALONG LINE OF CUSTOMERS FUCK THE BEATS LONG AND HARD. AFTER THIS DISPLAY THE BIDDING FOR THE BEAST IS INTENSE THEY ARE PURCHASED FOR A SMALL FORTUNE BY A LOCAL WARLORD. THEY ARE FORCED TO RUN BEHIND THE WARLORD'S JEEP FOR FIVE DAY THROUGH THE DESERT SUN. WHEN THEY REACH HIS FORTRESS THEY ARE WELCOMED BY A SHOWER OF PISS BY HIS A WARRIORS AS THEY ENTER THE GATES. AND THIS IS ONLY THE START OF EVEN MORE DEGRADATION AND SUFFERING. TWENTY HOT GRAPHIC COLOUR PAGES OF MANFLESH ARTWORK CONTINUING THE STORY STARTED IN RUGBY LION TO CORRALLED BEAST. €12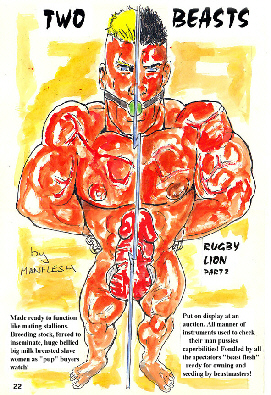 3 OWNED BY A BLACK MASTER. MARINE SERGEANT CHET IS ABDUCTED FROM HIS BASE STRIPPED OF HIS UNIFORM AND TAKEN BOUND INTO THE BLACK AUTONOMOUS TERRITORIES WHERE A WHITE MAN IS LEGALLY A SLAVE. WHEN CHET REACHES HIS DESTINATION HE I STRIPED BY A BLACK MASTER. CHET IS TIED DOWN AND HIS ARSE IS MERCILESSLY BEATEN UNTIL HE ADMITS HE IS A AN OWNED SLAVE BOY. CHET HAS TO SUCK THE BLACK MASTERS COCK. HIS COCK IS THEN RINGED THROUGH THE HEAD AND HE JOINS OTHER SLAVES ROPED TOGETHER BY THEIR COCKS THEY ARE ALL FORCED TO WORK BY BLACK GUARDS. FOR COUPLE OF MONTHS CHET IS WORKED AND THE FACT THAT HE IS A NAKED BEAST UNTIL HE IS READY FOR BREAKING IN BY HIS MASTER. CHET IS FUCKED BY HIS MASTER IN FRONT OF THE GUARDS. CHET IS TRANSFORMED INTO THE BITCH OF THE SLAVE POD. HIS ARSE IS FILLED WITH SEEDS THAT ARE THEN FERTILISED BY SPERM FROM BLACK COCKS THAT HIS SOS FORCED TO SOW IN THE GROUND HE HAD BECOME AND OWNED BEAST OF BURDEN. SEVERAL PAGES OF GRAPHIC MALE SEXY EROTIC DOMINATION COLOUR ARTWORK BY MANFLESH. €10.00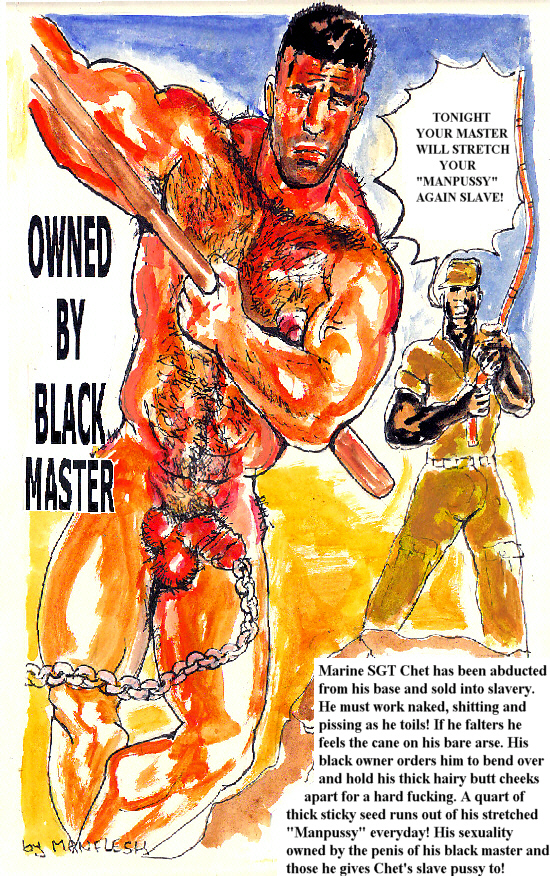 4 INDEE CRAB JONES AND THE STING OF THE BLACK MAMBAS. ARCHAEOLOGIST COME ART THIEF IS IN THE MIDDLE EAST AND HEARS ABOUT A GOLD PHALLUS COVERED WITH JEWELS OWNED BY A SULTAN WITH A CITY DEEP IN THE SAHARA. AFTER A TWO DAY CAMEL RIDE INDEE ENTERS A BAR. AL EYES N HIS HOT MALE BODY AS HE ORDERS A WHISKY AND TRIES TO GET SOME INFORMATION. BUT BEFORE INDEE COULD LEARN ANYTHING HE WAS ATTACKED BY A LOCAL ROUGH NECK. AFTER BELLY BLOW INDEE TRIES TO FIGHT BACK BUT HAS NOT CHANCE. BEATEN INDEE IS DUMPED ON A TABLE AND STRIPPED. INDEE IS TIED TO THE TABLE READY TO BE FUCKED BY THE HARD EAGER NATIVES. INDEE IS FUCKED HARD BY EVERY MALE IN THE BAR AND HE IS RAPED FOR DAYS. AFTER DAYS OF RAPE BY ANYONE COMING IN THE BAR HE TRIES TO ESCAPE. WITH NOTHING BUT HIS HAT HE ESCAPES NAKED FROM THE BAR RUNNING IN THE BURNING HOT SUN. BUT INDEED IN CONFRONTED BY ONE OF THE SULTANS GUARDS WIELDING A WHIP. USING THE WHIP TH GUARD SUBDUES AND CAPTURES INDEE. INDEE IS CARRIED OFF THE SULTAN'S PALACE ON THE GUARDS SHOULDER. MANFLESH HOT MALE SEXUAL AND PHYSICAL ABUSE AT IS BEST €10.00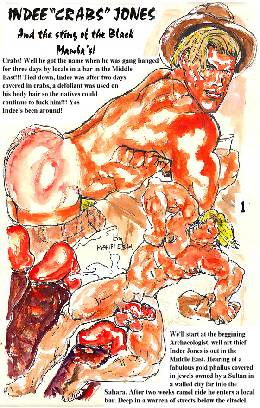 5 SPANK PENITENTIARY PART 1 JAS'S TALE. YOUNG VIOLENT OFFENDERS ARE SENT TO SPANK PENITENTIARY WHERE THEY ARE KEPT NAKED AND BROKEN IN WITH CONSTANT HARD SPANKING AND ANAL REAMING. THE TRAINED AND REFORMED OFFENDERS ARE THEN SOLD TO RICH MEN AS BIMBO BUM SLAVES. A UNIQUE AND EFFECTIVE REMEDY FOR ANTI SOCIAL BEHAVIOR.
JAS A YOUNG THUG IS TAKE TO AT SPECIAL FACILITY DEEP IN THE DESERT. THE GUARDS STRIP THE PRISON UNIFORM OFF JAS TELLING HIM HE HAS NOT RIGHTS. JAS IS GIVEN A SHORT BACK AND SIDE AND HIS PUBES ARE SHAVED OFF. THE GUARDS THEN SECURE JAS'S ARMS AND BEAT HIS ARSE RED RAW WITH A LEATHER PADDLE. ONE GUARD THROWS JAS OVER HIS KNEE SPANKS HIS RED RAW ARSE UNTIL HE BAWLS LIKE A BABY. THE GUARDS THEN RAPE HIM FUCKING HIS ARSE UNTIL IT IS RAW INSIDE AS WELL. JAS IS MADE TO RIDE THE GUARD'S COCK WITH HIS ARSE USING HIS HOMO ARSE LIPS TO MILK THEIR COCKS.
A WEEK LATER JAS' S HAIR IS RIGHTLY CROPPED GIVING A REAL SLAVES HAIR CUT AND HE IS WHIPPED BY THE GUARDS. THREE MONTHS ALTER AFTER CONSTANT TRAINING AND ABUSE JAS IS READY FOR AUCTION A FULLY BOTTY TRAINED AND CERTIFICATED SLAVE BOY. JAS AND OTHER SLAVE ARE SOLD AT THE AUCTION AMONGST FRANTIC BIDDING. JAS WAS BROUGHT BY AN ARAB RULER AS A PONY TRAP SLAVE. THE ARAB RULER SPANKS JAS'S ARSE AS HE PULL THE PONY TRAP SO THE SHEIK CAN SEE HIS RED GLOWING ARSE BOUNCE AS HE RUNS. THIRTEEN PAGES OF GRAPHIC COLOUR MANFLESH MALE PHYSICAL AND SEXUAL HUMILIATION. €12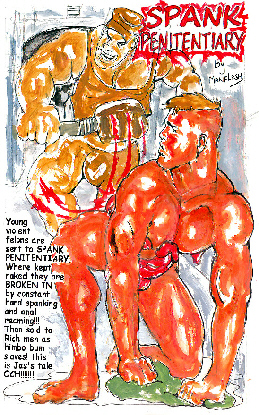 6 WHIP MASTER MASTERED. SVEN IS A BLOND SWEDISH WHIP MASTER FOR WEALTHY ARAB RULER. THE RULERS NEPHEW AZAN CRAVES FOR THE BLOND SWEDE. AZAN IS IN HIS CARRIAGE DRAWN BY NAKED SLAVES AND ACCOMPANIED BY SVEN THE WHIP MASTER. AZAN ORDER SVEN TO RUN NAKED SVEN REFUSES SO AZAN ARRANGES TO HAVE SVEN TAKEN. THEY LEAVE THE PALACE AND SVEN IS ARRESTED WHILE RUNNING WITH THE SLAVES PULLING AZAN'S CARRIAGE BY TWO SOLDIERS. THE SOLDIERS STRIP SVEN AND HOLD HIM FOR AZAN. SVEN IS TIED TO THE FRONT BAR OF THE CARRIAGE THAT SPORTS A PENIS POLE THAT IS FORCED UP HIS ARSE HE IS THEN FORCED TO NAKED RUN PULLING THE CARRIAGE WITH THE OTHER SLAVES THROUGH THE TOWN. THE BLACK SMITH REMOVES SVEN'S COCK HAIR. THE BLACK SMITH FITS A STEEL COCK RING THROUGH HE HEAD OF SVEN'S COCK. AZAN INVITED THREE LOCALS TO BE THE FIRST ONES TO FUCK HIS NEW SLAVE SVEN. BACK AT THE PALACE SVEN IS SECURED NAKED TO A PUNISHMENT POLE AND FUCKED BY ON OF THE LOCALS. AZAN THEN ORDERS THE OTHER TWO LOCAL TO FUCK SVEN'S ARSE AT THE SAME TIME. SVEN IS RAPED BRUTALLY MAKING HIM SCREAM. SVEN NOW A SLAVE HAS TO PULL AZAN CARRIED AND IS REGULARLY SODOMISED BY AZAN AS HE DOES. THIRTEEN PAGES OF GRAPHIC COLOUR MANFLESH MALE PHYSICAL AND SEXUAL HUMILIATION.
€
12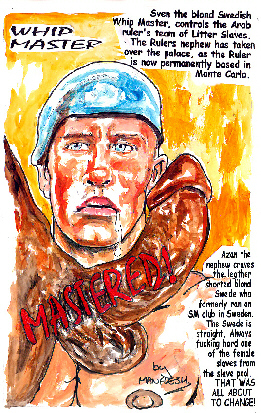 7 CHAIN GANG. EX MARINE TY AND MUSCLE HUNK FALLS FOUL OF THE SOUTHERN STATES OF CALIFORNIA AND NEVADA SECRET AGREEMENT WITH THEIR POLICE FORCES TO KIDNAP MUSCLE HUNKS FROM GYMS ON TRUMPED UP CHARGES OF STEROID ABUSE. THE HUNKS ARE PUT TO WORK ON CHAIN GAIN SAVING THE STATES MUCH NEEDED MONEY ON EXPENSIVE WORKERS AND MACHINERY IN A RECESSION. TY IS INTRODUCED TO HIS NEW HOME BY THE GUARDS ALONG WITH OTHER PRISONERS. THE GUARDS ORDER THE PRISONERS TO STRIP OUT OF THEIR ALREADY REVEALING AND LEWD BOILER SUITS READY FOR THEIR RINGING. TY HAS HIS COCK HEAD PIERCED AND A RING ATTACHED TO IT WHERE A CHAIN CAN BE ATTACHED TO THE RING TETHERING THE PRISONERS TOGETHER TO FORM THE CHAIN GANG.
A ROPE IS PASSED THROUGH TY'S COCK RING AND THROUGH A RING IN A WHIPPING POST. HIS COCK IS PULLED TIGHT AGAINST THE POST AND THEN TY IS WHIPPED TO SHOW HIM WHAT HAPPENS IF HE DISOBEYS THE GUARDS. ONE OF THE GUARDS THEN FUCK HIS SORE BEATEN ARSE. THE GUARD TELL TY HI ARSE IS NOW A CUNT AS HE FUCKS HIM. TY AND THE SLAVE ARE THEN FED LIKE DOGS FORM A BOWL THE WORK ON THE CHAIN GANG STARTS IN THE MORNING. AS THE NAKED PRISONERS TOIL ON THE HOT SUN MALE DRIVERS GAWP AT THEIR NAKED HUNKY BODIES .A FATHER AS SON ARE DRIVING BY AND THE SON TELLS HIS FATHER HE NEEDS A PISS AND THE FATHER TOLD HIS SON HE HAD AN IDEA AND WOULD ASK THE SLAVE DRIVER. THE FATHER PAYS THE GUARD AND TY SI FORCED TO DRINK THE SON'S PISS USING TY AS A HUMAN TOILET. THE FATHER THEN PAYS THE GUARD TO LET HIS SON FUCK TY TO FUCK HIS FIRST WHORE. TY IS FORCER ION THE GROUND WITH HIS UP AND APART AND IS FUCKED BY THE SON. THIS IS TY'S FIRST DAY AND ITS NOT GOING WELL AT ALL! MORE PAGES OF GRAPHIC COLOUR MANFLESH MALE PHYSICAL AND SEXUAL HUMILIATION. €10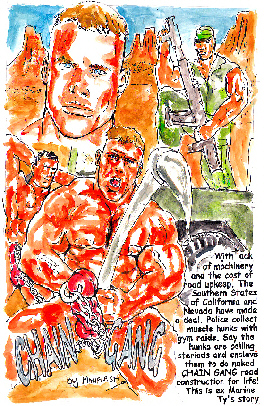 8 THE SLAVER PART 1 NASH IS A MODERN DAY SLAVER WHO COLLECTS MANFLESH FOR WEALTHY CLIENTS. NASH'S LATEST TARGET IS WRESTLER CALEB PERFECT SLAVE ANIMAL STOCK. NASH HAD BEEN WATCHING CALEB AND KNEW HE TRAINED LATE ON FRIDAY NIGHTS. HE WAITED TILL CALEB FINISHED AND FOLLOWED HIM ON HIS WALK BACK TO HIS TRAILER. NASH SNEAKS UP BEHIND CALEB AND SUBDUES HIM WITH A RAG SOAKED IN KNOCK OUT DROPS. NASH STRIPS CALEB OF HIS SINGLET AND CARIES HIM ON HIS SHOULDERS OUT OF THE COLLEGE GROUNDS TO HIS VAN PARKED IN THE WOODS. THE INSIDE OF NASH'S VAN IS MODIFIED FOR SLAVE TRANSPORT AND A SLAVES FIRST LESSON ENSLAVEMENT. CALEB IS TIED ONTO A LARGE DILDO MOUNTED ON SPRINGS. AS THE VAN MOVES ALONG CALEB BOUNCES UP AND DOWN ON THE LARGE SPRINGY DILDO MAKING HIM HARD AND HORNY. THE BOUNCING MOTION AND FUCKING ACTION OF THE SPRINGY DILDO MADE CALEB CUM AND CUM. WHEN NASH ARRIVES AT THE SLAVE COMPOUND AND OPENED THE DOOR OF THE TRUCK HE WAS PLEASED TO SEE THE VAN SPLATTERED WITH SPUNK FORM HIS NEW SLAVE.
. NASH CONTINUES CALEB'S INTRODUCTION TO SLAVER HE ATTACHES A STEEL COCK RING TO CALEB'S COCK HEAD. CALEB IS TETHERED TO A POST BY HIS COCK RING FOR SOME DISCIPLINE. NASH WHACKS CALEB'S ARSE UNTIL CALEB WILLING SUCK HIS COCK TAKING TO IT LIKE A PRO. CALEB'S SLAVERY AND SUFFERING HAS JUST BEGAN. MORE EXCITING PAGES OF GRAPHIC COLOUR MANFLESH MALE PHYSICAL AND SEXUAL HUMILIATION. €10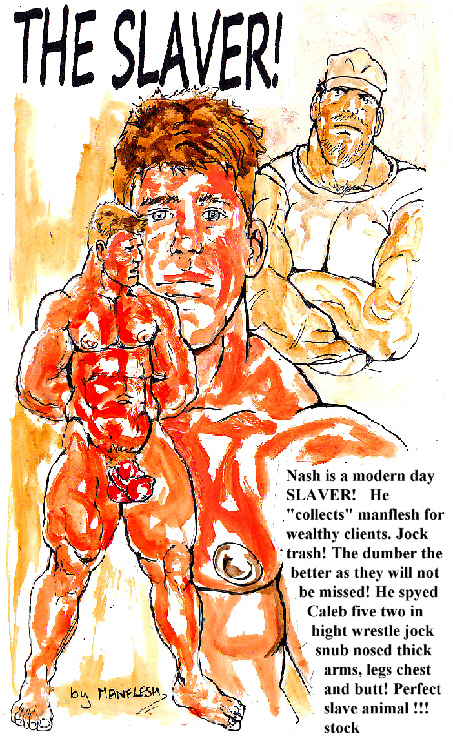 9 WINNER FOR LIFE. GOLD MEDAL WINNING POWER SWIMMER JESS BRYCE SIX FOOT THREE NINETEEN YEARS OLD IS KIDNAPPED TWO WEEKS AFTER WINNING HIS GOLD MEDAL HE IS PULLED OUT OF STEEL BOX BY TWO LARGE NUBIANS IN A DISHELLVED AND IRATE STATE. JESS STRUGGLES IN THE GRIP OF THE NUBIANS AND SWEARS AT AN ARAB MAN WATCHING. THE ARAB IS IN CHARGE AND TELL JESS HE NEEDS TO LEARN MANNERS. JESS IS STRIPPED AND TIED SPREAD-EAGLE IN A FRAME. JESS IS NOW HELPLESS AND NAKED AT THE ARAB MANS MERCY. THE ARAB MAN USE AND ELECTRO PROD ON JESS FILING HIS BODY WITH PAIN MAKING HIM SCREAM AND THRASH. JESS IS THEN HUNG UPSIDE DOWN FOR AN HOUR LONG BRUTAL SPANKING THAT MAKE HIS LOSE CONTROL OF HIS BLADDER AND HE PISSES HIMSELF.
JESS IS THEN CAGE AND MADE TO DRINK PISS WATER AND MEAT THAT LOOKS LIKE DOG FOOD OR FACE ANOTHER TOW HOURS SPANKING. THE NEXT MORING JESS IS DRAGGED BY THE NUBIAN TO A WORK SHOP AND TIED DOWN. A METAL WORKER ATTACHES A GOLD OLIVE VICTORY WREATH TO JESS'S HEAD WITH RIVETS MAKING JESS SCREAM IN PAIN AS IT IS RIVETED TO HIS EARS. JESS SEES ANOTHER MAN APPROACHING AND FEELS A CUTTING JARRING PRICK IN HIS BODY AS TATTOO ARTIST STARTS WORK ON HIS BODY. THE PAIN GOES ON AND ON AND MAKES JESS PASS OUT BUT A NEW TATTOOIST TAKES OVER EVERY HOUR TO TATTOO JESS BODY IN ONE GO. JESS HAD AN OLIVE LEAF TATTOOED AROUND HIS HAIRLESS COCK AND ON HIS ARSE. SWIM PANTS WERE TATTOOED ON HIS LEGS TURNING HIM INTO A STABLE WORK HORSE FOR HIS ARAB MASTER.
JESS IS TETHERED TO A SLAVE TREADLE THAT PROVIDES ELECTRICITY FOR THE COMPLEX. A TETHER PLUG IS PUT UP HIS ARSE THAT GIVES HIS PROSTATE AND ELECTRIC SHOCK IF HE STOPS MOVING THE TREADLE. GUARD ALSO USE WHIPS TO ENCOURAGE HIM. JESS TOILS ON THE TREADLE UNTIL HIS TATTOO SCABS FALL OFF AND HE IS READY TO JOIN THE HERD. JESS IS TAKEN TO A WORK SITE AND MADE TO WORK AS A NAVVY WITH OTHER OLYMPIAN SLAVES. AS AN OLYMPIC SLAVE HIS LIFE IS SIMPLE AFTER WORKING HARD HE IS FORCED WITH THE OTHERS TO RAU AROUND A CINDER TRACK TO SWEAT OT THE DIRT ANIMALS DO NOT SHOWER. THE HARD REGIME BUILDS JESS'S MUSCLE SO HE LOOKS MORE LIKE A WEIGHT LIFTER THAN A SWIMMER. AT NIGHT JESS IS CAGED WITH THE OTHER BEASTS AND IS RAPED AND FILLED WITH THEIR SEED. THEY ALL TAKE TURNS FUCKING AND SEEDING HIM. MORE EXCITING PAGES OF GRAPHIC COLOUR MANFLESH MALE PHYSICAL AND SEXUAL HUMILIATION. €12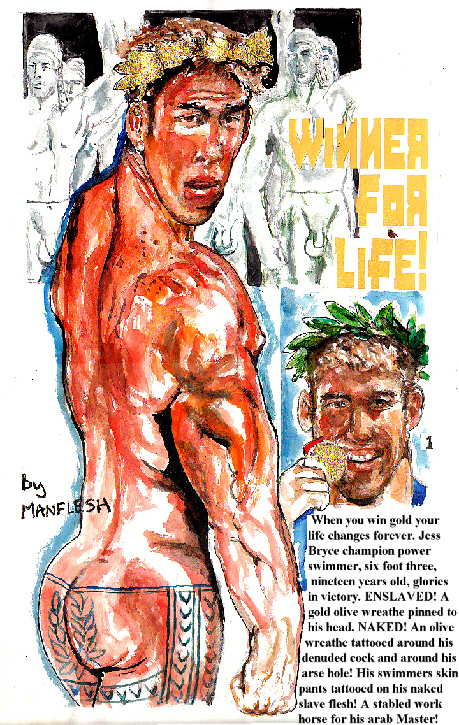 10 THE SLAVER PART 2. CALEB'S ENSLAVEMENT CONTINUES HE IS MADE TO EAT FROM DOG BOWLS ALONG WITH THE OTHER SLAVES TO MAKE THEM AWARE OF THEIR ANIMAL STATUS. NASH THE SLAVER NEEDS CALEB AND THE OTHERS TO KNOW THEIR ANUSES ARE NOW MANGINA'S FOR A MASTERS PLEASURE. THEY ARE GIVEN EXERCISES TO BE ABLE TO TAKE THE LARGEST COCKS. CALEB IS WORKED HARD PULLING SLEDGES OF ROCKS TO KEEP HIS PUP MUSCLES BULGING.
PROSPECTIVE OWNERS ARE ALLOWED TO VISIT AND SEE THE STOCK. SLAVERY IS LEGAL IF THE YOUTH IS HOMELESS JOBLESS MONEY LESS AFTER SIXTY DAYS AND A FEE PAID TO THE SHERIFF FOR AN ENSLAVEMENT BOND SLIP. IN HIS EARLY DAYS CALEB DOES NOT ACCEPT HIS ENSLAVEMENT BUT THE WHIP AND PADDLE TAMES HIM BY BEING SPANKED AND WANKED FOUR TIMES A DAY. AFTER FIFTY DAYS OF ENSLAVEMENT CALEB'S SPIRIT SAPPED HIS IS DOCILE ALLOWING NASH TO MASTURBATE HIM WITHOUT A STRUGGLE.
THE SLAVES ARE NOW ACCUSTOMED TO DRINKING A MASTER'S PISS WATER AND BASIC SLAVE COMMANDS AND DRILLED INTO THEM. AS AUCTION DAY LOOMS CALEB AND THE OTHER SLAVE HAD THEIR HIDDEN FROM THEIR BUYERS. PUBIC HAIR REMOVED SO NO PART OF THEIR BODIES IS HIDDEN FROM THEM. ON AUCTION DAY NAKED AND OILED CALEB IS FED SIX VIAGRA GIVING HIM A WAGGING TAIL OF A STIFFY FOR THE LUSTING CROWN OF BUYERS FROM ALL AROUND THE WORLD TO LEER AT. THE NEXT PART OF CALEB NEW SLAVE LIFE IS ABOUT TO BEGIN. MORE EXCITING PAGES OF GRAPHIC COLOUR MANFLESH MALE PHYSICAL AND SEXUAL HUMILIATION. €10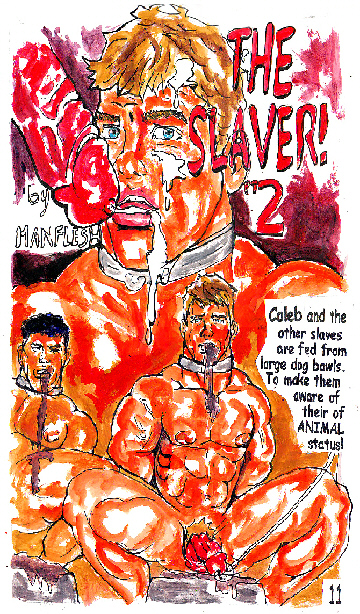 11 RUGBY CONS PART 1. IN THE YEAR 2150 GLADIATOR RUGBY IS ALL THE RAGE FEATURING NAKED CONVICTS WITH THEIR STRIPPED PRISON PANTS TATTOOED ON THE LEGS. THE LOSERS ARE FUCKED BY THE WINNERS MALE WHORES RENTED OUT FOR PRIVATE FUCK PARTIES THIS IS BUCK RIGGZ'S STORY. BUCK IS DRAGGED INTO A UTILITY ROOM BY PRISON GUARDS AND TIED TO A FRAME AND LEFT HANGING. THE GUARD STRIP OFF HIS PRISON PANTS THEN SHAVE HIS ARSE. FORE THE NEXT THREE DAYS BUCK HAS HIS LEGS AND ARSE TATTOOED WITH BLUE STRIPES TO LOOK LIKE PRISON PANTS TURN HIM INTO A RUGBY CON.
BUCK IS THEN THROWN INTO THE TRAINING PEN. RUGBY GLADIATORS ARE ANIMALS ON SHOW ALL THE TIME FORCED TO PERFORM DAILY SHOWS WANKING FOR THE PUBLIC BUCK HAS NOT CHOICE URGED OB BY A CATTLE PROD. BUCK WITH THE OTHER RUGBY GLADIATORS IS FORCED TO PRACTICE SCRUM BUFFERING LOCKED TOGETHER COCK IN ARSE ONE AFTER THE OTHER PUSHING FORWARD
BUCK WAITS FOR HIS FIRST MATCH. NAKED AND HARD LIKE ALL THE OTHER RUGBY GLADIATORS. TAKING THE BALL BUCK FORCES HIS WAY THROUGH THE RIVAL TEAM. THE OBJECT IS TO SCORE BETWEEN THE RIVALS GOAL POST. FIVE EXTRA POINTS ARE SCORED IF A PLAYED THRUST THE SPIKE ON THE BALL UP A RIVALS ARSE WHILE IN THEIR HALF. BUCK SCORES FIVE POINT THRUSTING THE SPIKE UP A RIVALS ARSE. BUT BUCK IS JUMPED ON AND FUCKED BY ANOTHER RIVA PLAYER. THE REFEREE CALLS FOUL BUT THEM LETS THEM CARRY ON AS THE CROWD ARE ENJOYING THE SHOW.
BUCK GETS THE BALL WHEN PLAY RESUMES AND SCORE ANOTHER FIVE POINTS SHOVING THE SPIKE UP ANTHER RIVALS ARSE. MEN IN THE CROWD ARE SO EXCITED THEY VOW TO FUCK BUCK. BUCK TEAM WINS AND AS THE PLAYER OF THE MATCH HE IS ALLOWED TO FUCK LOSING TEAM FIRST WHO ARE TIED HELPLESSLY TO POSTS WHILE THE ROARING CROWD WATCH. WHAT BUCK DOES NOT REALISE HE WILL LEARN WHAT SORENESS IS WHEN HIRED OUT AS A STUD MARE. THIRTEEN PAGES OF GRAPHIC COLOUR MANFLESH MALE PHYSICAL AND SEXUAL HUMILIATION. €12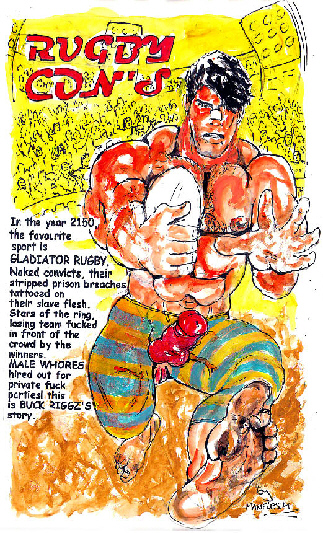 12 SLAVE FATHER SLAVE SON. CLINT WHOREN MANUAL LABOURER HAD IS IN DEEP DEBT SO DEEP HE IS ENSLAVED AND HIS ASSETS ARE SOLD INCLUDING HIS SON ZACK WHO IS TAKEN OUT OF SCHOOL TO THE INDENTURED LABOUR FARM. ZACK'S LIFE CHANGED WHEN HE WAS STRIPPED NAKED AND TAKEN FROM SCHOOL AND PULLED BEHIND A STATE ENSLAVEMENT TRUCK TO THE INDENTURED LABOUR SPORTING AN EMBARRASSING ERECTION THAT HIS FOOT BALL TEAM MATES JEERED AT. HOURS BEFORE ZACK'S FATHER TAKEN INTO ENSLAVEMENT. .
AT THE FARM ALL THE SLAVES ARE NAKED LIKE ZACK. ZACK SEES HIS FATHER STANDING AT NAKED SLAVE ATTENTION IN A BARRED ENCLOSURE. YOU HAVE RUINED MY LIFE ZACK SCREAM AT HIS FATHER. THE GUARD TELLS ZACK HE IS A SLAVE AND SLAVES HAVE NO LIVES AND ORDERS ZACK TO SUCK HIS FATHER'S COCK. THE GUARD HELD ZACK'S ARMS WHILE HIS FATHER FORCED HIS COCK INTO ZACK'S MOUTH AND ZACK WAS FORCED TO SUCK HIS COCK. TO BREAK ZACK'S SPIRIT IS FATHER IS MADE TO FUCK HIS ARSE. ZACK IS THEN FORCED TO FUCK HIS FATHER.
SUSPENDED BOUND IN A SIXTY NINE POSITION FATHER AND SON ARE BRANDED WHILE THEY ARE FORCED TO SUCK EACH OTHERS COCKS. PHOTOS ARE TAKEN OF FATHER AND SON TO POST ON THE INTERNET FOR FOREIGN BUYERS THEIR ASSETS. THE DAY OF THE AUCTION ARRIVES AND FATHER AND SON ARE TO BE SOLD AS A PAIR WHERE WILL THE END UP? THIRTEEN EXCITING PAGES OF GRAPHIC COLOUR MANFLESH MALE PHYSICAL AND SEXUAL HUMILIATION. €12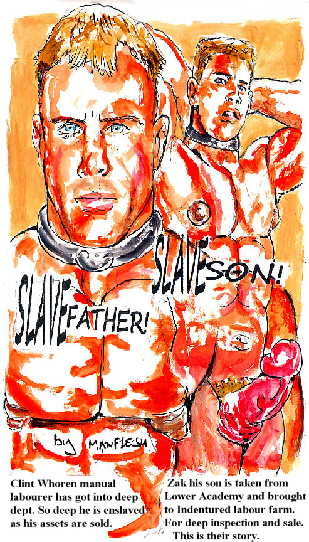 13 THE DUMB MULES ARE MADE TO FUCK EACH OTHER RUT IN FRONT OF A PAYING CROWD. ENZO AND TRENT HUMILIATE THEMSELVES IN FRONT OF ENZO'S EX CLITORIS AND HER BOY FRIEND JOCK CLINT. ENZO AND TRENT PULL HEAVY CARTS AND USED AND BAGGAGE MULES FOR FRUIT AND VEGETABLES. ENZO AND TRENT DISLIKE THE TOWN RUNS THE MOST BRING FRESH PRODUCE FROM THE MULE FARM. WHILE IN TOWN THEY ARE REPEATEDLY FUCKED BY YOUNG JOCK AND AS MULES THEY HAVE NO RIGHTS. ENZO IS SHAMED WHEN CLINT HIRES HIM TO PULL HIS PROM CART AND ORDER ALL OF ENZO'S HAIR REMOVED. MULES ARE FITTED WITH TONGUE BARS PREVENTING ENZO FROM SPEAKING FORCING HIM TO LISTEN TO CLINT AND CLITORIS HIS EX SEXUAL CHAT AND PLAY AS HE TAKES THEM BY CART TO THE PROM. ENZO CAN ONLY STARE IN THROUGH THE WINDOW AS CLINT AND CLITORIS ENTER THE PROM. ENZO IS FORCED TO ENDURE MORE LOVE TALK FORM CLINT AND CLITORIS ON THE WAY TO CLINT'S PAD. TETHERED OUT SIDE CLINT'S PAD ENZO CAN HEAR THEIR LOUD LOVE MAKING AND GETS SHAMEFULLY ERECT. AFTER AN HOUR CLINT COMES OUT SPORTING A HUGE ERECTION AND FUCK ENZO'S ARSE TELLING ENZO IT HAD CLITORIS'S CUNT JUICE ON IT. ENZO'S HUMILIATION IS COMPLETE WHEN CLINT'S CUMS IN HIS ARSE AND HE SHOOTS HIS LOAD. HOT SEXY MALE DOMINATION AND HUMILIATION AS TWO YOUNG FOOTBALL JOCKS ARE ENSLAVED AND TURNED INTO MULES. €12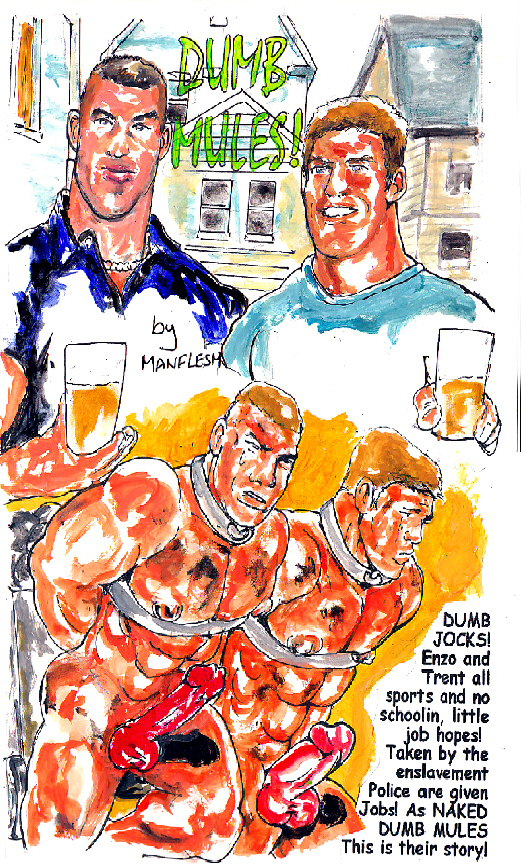 14 DONG TO DONKEY. FADED PORN STAR DONG RYKER HAS CRASHED HIS TRUCK FOR THE THIRD TIME AND IS JAILED. IT WAS DECIDED TO SAVE HIMSELF FROM HIMSELF AND TO BE USEFUL AND PROTECT SOCIETY FROM HIM, HE IS TO TOIL AS A DONKEY. AS A THIRD TIME OFFENDER DONG RYKER HAD NO RIGHTS AS HIS MUG SHOT DEMONSTRATES. AFTER HIS MUG SHOT A PRISON GUARD ORDERS TO STRIP AND SHOWER AS HE HAD A LIVESTOCK AUCTION TO ATTEND. TO HIS DISMAY THE GUARD STRIPS DOWN TO TIGHT SPEEDOS AND WASHES DONG RYKER DOWN GROPING HIM LIKE HE WOULD A WHORE. THE GUARD DEEPS FISTS RYKER FORCING HIM TO ORGASM LIKE A SCREAMING WHORE. RYKER'S HUMILIATION CONTINUES AFTER HIS SHOWER HE IS PUT IN CHAIN AND LED NAKED TO THE LIVESTOCK AUCTION. RYKER COULDN'T BELIEVE WHAT WAS HAPPENING STOOD NAKED ON A PLATFORM WHILE BEING LEERED AT BY A GROUP OF REDNECKS.
JEB RAMERS A REDNECK AT THE AUCTION NEEDED A NEW TRUCK FOR HIS PIG FARM AND DECIDED A DONKEY WOULD BE CHEAPER AND BETTER TO FUCK THAN THE PIGS. JEB BUYS RYKER AND TELLS HIM HE IS A WORKING DONKEY NOW. HARNESSED TO A NEW DONG CART HOG FARMER JEB MAKES RYKER PULL HIM BACK TO HIS FARM. AT THE HOG FARM RYKER IS TIED TO STEEL POLE BY THE PIG PEN. JEB TELLS RYKER HE NEEDS TO BREAK HIM IN SHOW HIM WHO MASTER AND TEACH HIM SOME RESPECT. A SORE BUM INSIDE AND OUT WILL SHOW YOU WHO IS BOSS JED TELLS RYKER AS HE WHIPS HIS ARSE. JED THEN FUCKS RYKER'S ARSE TEACHING THE ONCE PORN STAR TOP HIS NEW LOW STATUS. WHEN NOT SHACKLED TO THE FARM CART OR TAKING HIS MASTERS COCK UP THE ARSE THE FALLEN START IS MADE TO SHOVEL PIG SHIT FROM THE PENS WITH HIS ONCE MIGHTY COCK. HOT SEXY MALE DOMINATED AND HUMILIATED AND TURNED INTO A DONKEY. €12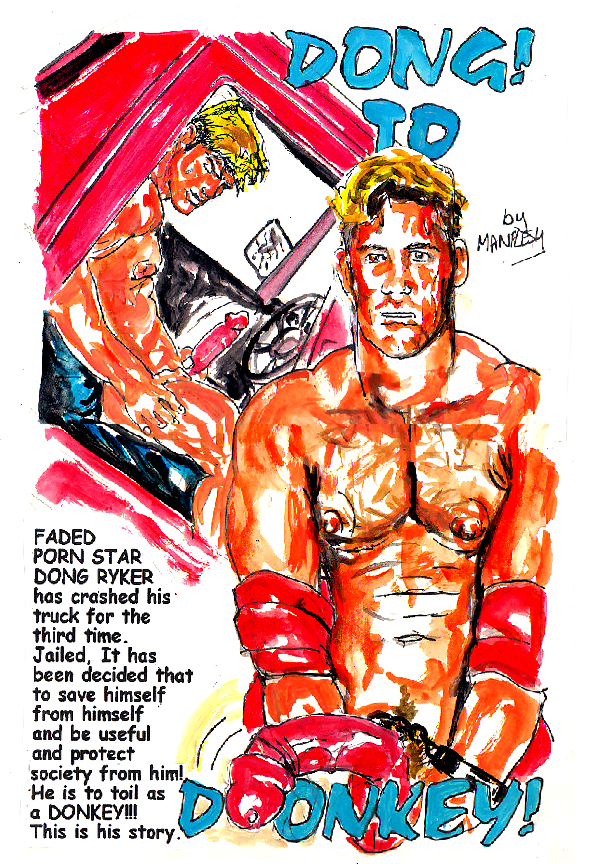 15 PENAL GYM DECAHEDRON PART 1. YOUTHS ARE CHOSEN FROM JAIL MUG SHOTS THAT HAVE THE LOOKS AND THE MUSCLES POTENTIAL AND ARE LIKELY TO RE-OFFEND ARE SENT TO THE PENAL GYM. WHERE THEY ARE TRAINED NAKED, ROIDED AND READY TO BE USED AS MAN WHORES FOR RENT. JUDD BUTTRAMER IS IN FOR STEALING CARS, VIOLENT ASSAULT AND DRAG SELLING. WITH NO FAMILY TO SPEAK OF HE IS IDEAL FRO THE PENAL GYM PROGRAM. JUDD US TAKEN STRAIGHT FROM THE SHOWERS STILL NAKED TO TO THE PRISON COMMANDERS OFFICE. THE PRISON COMMANDER INFORMS JUDD HE IS BEING SENT TO A SPECIAL TRAINING INSTALLATION AS HE IS NAKED. AFTER ALONG JOURNEY SOUTH AN ANXIOUS JUDD IS TAKEN IN THE TRAINING FACULTY. JUDD IS TAKEN THE OFFICE OF THE TRAINER IN CHIEF AND HE FEELS FEAR FOR THE FIRST TIME IN HIS LIFE. THE TRAINED GRABS JUDD BY THE THROAT AND LIFTS HIM OFF HIS FEET TELLING JUDD HE WILL TRAIN HIS HARD AND MAKE HIM SORE INSIDE AND OUT. ON YOUR KNEES THE TRAINER ORDERS. JUDD'S FIRST LESSON IS TO SUCK THE TRAINERS COCK. THE TRAINER OUT MUSCLED JUDD AND WAS IN FULL CONTROL HE WAS THE BOSS AND JUDD KNEW IT. THE TRAINER TOLD JUDD IT WAS HIS FIRST PROTEIN DRINK AND HE AND THE OTHER PENAL HUNKS WOULD BE MADE TO SUCK EACH OTHERS COCK FOUR TIMES A DAY.
AFTER A PINT OF HIGH PROTEIN CUM JUDD IS TAKEN TO GYM THAT IS FULL OF NAKED SWEATING PENAL HUNKS WITH ERECT COCKS. JUDD KNEW HE WOULD HAVE TO SUCK THEIR COCKS AND THEY WOULD HAVE TO SUCK HIS. THE TRAINING IS HARD ALL SEAT AND HARD PAIN ALL OVER JUDD'S BODY. AFTER THREE MONTHS OF SWEATING PAINFUL TRAINING THE NEW PENAL HUNK IS READY FOR PROSTITUTION. ONE MORNING JUDD IS GIVEN A CLEANING THEN HE IS TAKEN FOR WHORING. PUT IN A PENAL TRANSPORTER, JUDD WEARS A PRISON WHORE PINK STRAP THONG. HE IS FONDLED BY THE GUARDS AND MUSCLE WHORE JUDD IS TAKEN TO HIS FIRST CLIENT. HOT SEXY YOUNG MALE DOMINATED AND HUMILIATED AND TURNED INTO A PRISON WHORE. €12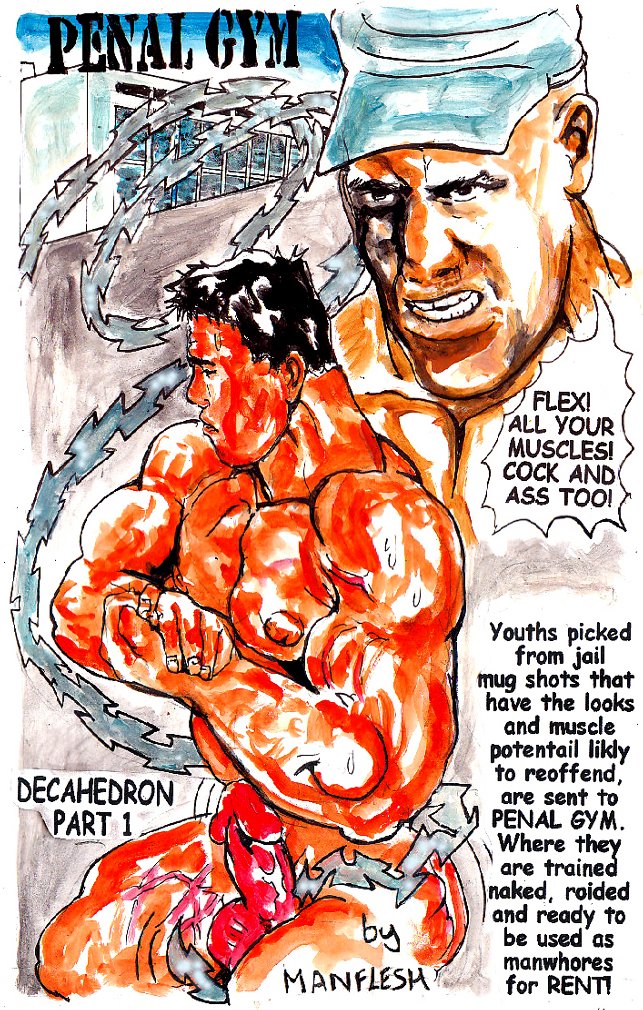 16 OWNED BY A BLACK MASTER 2. ENSLAVED NAKED FLESH OWNED BY A BLACK MASTER. ALL HIS WESTERN REFINEMENTS COUNT FOR NOTHING. JOSH WYLER HIS BARE BOTTOM QUIVERS, A BLACK PHALLUS IS TO BE ITS POSSESSOR. JOSH WYLER ON HIS GAP YEAR WAS BACK PACKING FROM TANGIER TO MARRAKESH. JOSH WAS ENJOYING THE HIKE EXERCISING HIS MUSCLES. AFTER FOUR HOURS OF THE SUN BEATING DOWN HE IS SOAKED IN SWEAT. A JEEP APPEARS OUT OF THE HAZE AND JOSH IS HOPEFUL OF A LIFT TO THE NEXT OASIS. JOSH ASKS FOR A LIFT TO THE NEXT OASIS WHEN THE JEEP STOPS. HE SHOCKED AND SURPRISED WHEN THE OCCUPANTS GRAB HIM GUERILLAS GRAB HIM. PULLED INTO THE BACK OF THE JEEP JOSH'S CLOTHES ARE RIPPED OFF. AS JOSH'S BRIEFS ARE PULLED OPEN A HARD BONER POPS OUT TO THE DELIGHT OF THE GUERILLAS TROUPE. JOSH'S BRIEFS ARE RIPPED OFF NO CLOTHING FOR HIM FROM NOW ON. THE REMAINS OF JOSH'S BRIEFS ARE USED AS A GAG TO SMOTHER HIS MOANS WHILE HE IS ROUGHLY GROPED.
AFTER SEVERAL HOURS THE JEEP APPROACHES THE CITADEL HOME OF THE WAR LORD. JOSH IS BROUGHT BEFORE THE WAR LORD ON A MOST DEBAUCHED AND COARSE WAY. TIE HIM TO THE IRON POST FOR A TASTER THE WAR LORD ORDERS. YOU ARE MY SLAVE ANY TIME YOU DO NOT OBEY MY COMMANDS YOU WILL FEEL THE LASH. UNDER THE BURNING SUN JOSH'S NAKED FLESH FEELS THE BITING PAIN. AS THE CRACKING WHIP TURNS HIS ARSE A FIERY RED. HE SCREAMS THE SCREAMS OF AN ANIMAL IN PAIN. THE WAR LORD ORDERS ONE OF HIS GUERRILLAS TO CHEW JOSH'S ARSE LIPS UNTIL THEY ARE SWOLLEN LIKE JUICY PLUMS SO HE CAN PIERCE THEM WITH HIS MIGHTY BLACK WEAPON. THE FIRST GUERILLA STARTS TO CHEW AND SUCK JOSH'S MAN CUNT. THE SENSATION MAKES JOSH'S COCK ERECT AND SHOOT OUT HIS FIRST FORCED EJACULATION. BOSS THE JUICY MAN CUNT IS READY THE GUERILLA TELLS THE WAR LORD. THE WAR LORD GROPES JOSH'S SWOLLEN FLESHY HOLE THAT IS RIPE FOR A HARD FUCKING. JOSH CAN ON SQUEAL KNOWING HE'S ABOUT TO BE IMPALED. AN ENSLAVED PIECE OF WHITE FLESH MUST PLEASE ALL SUPERIOR BLACK COCK MEAT. IT APPEARS THAT JOSH IS FORE FILLING HIS GAP YEAR ITINERARY. WITH A GAPING ARSE HOLE TO PROVE IT. ITS ONLY THE START OF HIS MISADVENTURE. HOT SEXY YOUNG MALE DOMINATED AND HUMILIATED AND TURNED INTO A WHITE SLAVE MEAT. €12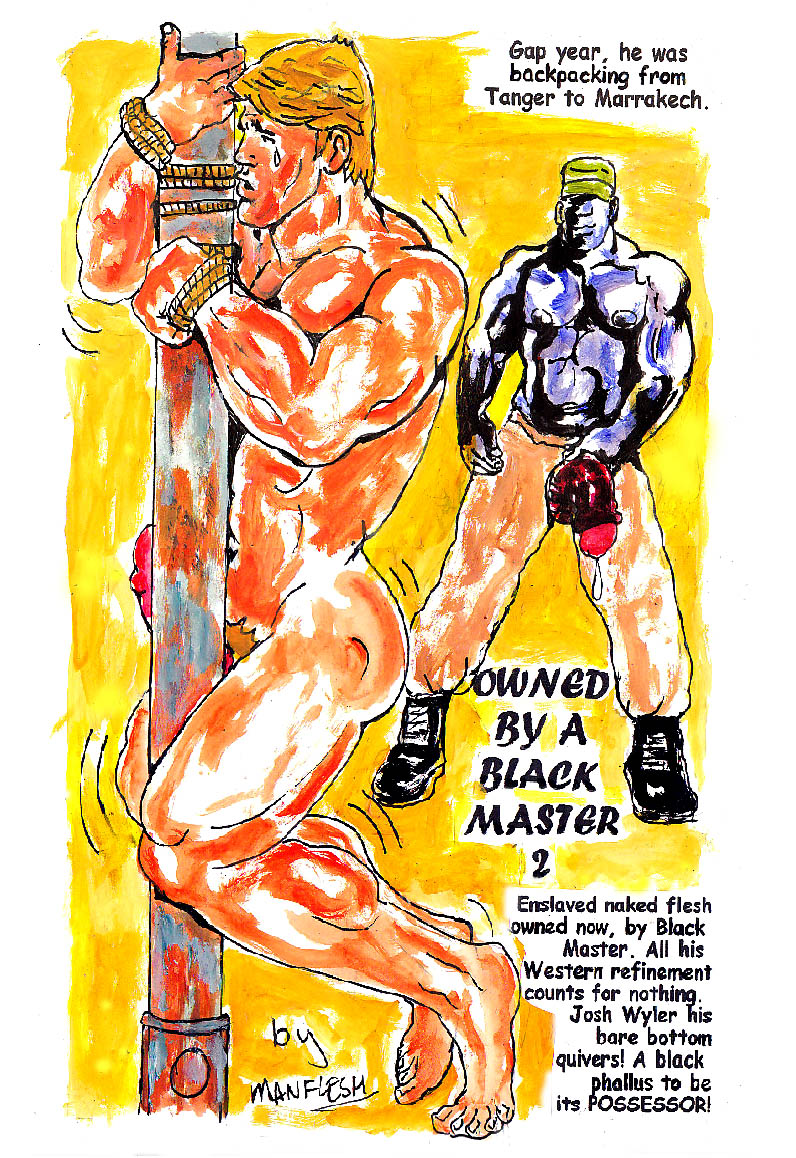 17 INDENTURED PART 1. TWENTY FIVE YEAR OLD STU JENKINS IN DEBT WAS INDENTURED BY LAW. HE IS OWNED BY A SMALL CONSTRUCTION COMPANY, OWNED AND RUN BY REMUS BAREBACK. THE RULES ARE INDENTUREDS WORK NAKED AND EAT HOUND FOOD. STU CAN GO TO A BAR BUT MUST SUCK COCK FOR A BEER AS HE CANNOT HANDLE MONEY, THIS IS STU'S STORY. IT WAS A WEEK EARLIER WHEN STU WAS STOPPED AT A CHECK POINT SET UP BY THE BY THE INDENTURED POLICE, WITH A LIST OF DEBTORS AND STU WAS ON THE LIST. THE POLICE ARRESTED STU AND HE STRUGGLED BUT TO NO AVAIL, AND HE WAS STRIPPED NAKED IN PUBLIC. HE WAS NOW A SECOND CLASS CITIZEN, AND INDENTURED MALE BEAST. PACKED IN A TRANSPORT WITH OTHER FOR THE EIGHT HOUR JOURNEY TO THE STOCK STABLE, NAKED AND SCARED THEY ARE ALL TAKEN FOR PROCESSING.
NEW ARRIVALS ARE PUT IN THE STOCKS AND WITH THE BUZZ OF TATTOO GUNS, THEIR INDENTURED NUMBERS ARE TATTOOED ON THEIR BUTTOCKS. STU GROANS WITH ALL THE OTHERS THEY NOW ALL HAVE THEIR INDENTURED NUMBERS RIGHT ACROSS THEIR BUMS. THE INDENTURED SERVICES WERE PROUD OF HOW THEY TAUGHT NEW MAN BEASTS IN THEIR CHARGE THE RULES OF INDENTURE. THE GUARDS TELL THEM ITS TIME FOR THEM TO LEARN HOW TO SERVE AS THE BEASTS THEY ARE. IMPALED ON STEEL DILDOS STU AND THE OTHER ARE IN FOR MANY HOURS OF COCK SUCK SERVICE. STU AND THE OTHERS SPEND WEEKS IN NAKED HARD SWEATING LABOUR. THEY ARE DRILLED FOR HOURS. THE GUARD TELLS THEM WHEN WORKING AT A BUILDING SITE YOU WORK NAKED SO STRIP. STU AND THE OTHER BEASTS ARE MADE TO TAKE THEIR SHORTS OFF TIME AFTER TIME, UNTIL STRIPPING BY COMMAND BECOMES SECOND NATURE.
STU AND THE OTHER INDENTUREDS ARE FARMED OUT ON YEARLY CONTRACTS. STU IS PURCHASED BY A BUILDER REMUS BAREBACK, AFTER A LONG CHECK OUT OF STU'S MUSCLES. STU IS GRABBED AND THROWN LIKE A PIECE OF LIVE STOCK INTO THE BACK OF HIS TRUCK. STU NAKED SAVE FOR HIS WORKING BOOTS IS MADE TO DO ALL THE HEAVY DONKEY WORK. THE COCK HARD BUILDERS LIKED WHAT THEY SAW. ONE BUILDER ASKED REMUS IF HE WAS TAKING THE BEST TO THE BAR AND REMUS REPLIED YOU BETCHA. WHEN ENTERING A BAR INDENTURES HAVE TO REMOVE THEIR SHORTS, AS THEY CANNOT HANDLE MONEY THEY HAVE SUCK A FREE MAN'S COCK FOR A BEER. RULES ARE IF YOU WANT A BEER YOU HAVE TO SUCK FOR IT ON YOUR KNEES REMUS ORDERS. STU KNEELS NAKED AND ASKED THE OTHER MEN IN THE BAR IF HE CAN SUCK THEM FOR A BEER. STU SUCKS COCK AND MUST DRINK HIS BEER FOR A DOGS BOWL LIKE ALL THE OTHER INDENTUREDS. SOME OF THE BUILDERS OFFER REMUS FREE BEER ALL NIGH IF THEY CAN FUCK HIS BEAST AND HE AGREES. STU'S TROUBLES ARE ONLY JUST BEGINNING. HOT EROTIC ACTION AS STU IS ENSLAVED AND MADE TO WORK FRO AND SERVICE FREE AS AN INDENTURED MALE BEAST. €12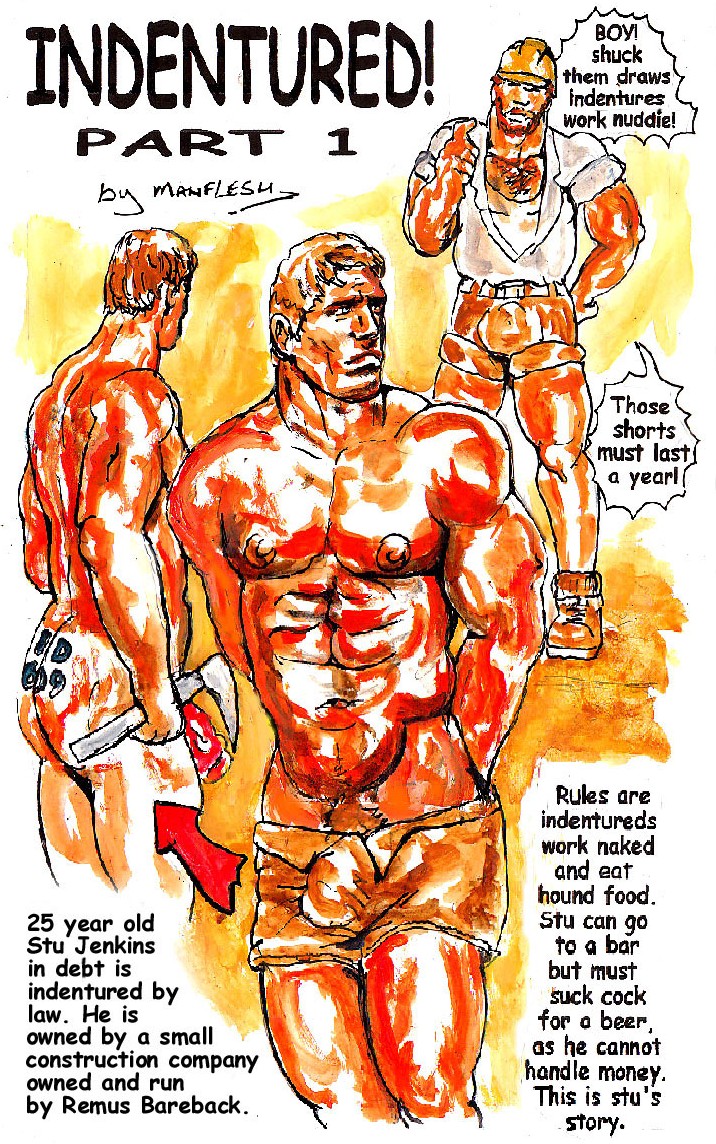 18 WEREWOLF'S BITCH PART 1. FOREST RANGER TRENT TYLER IS OUT ON PATROL IN THE NATIONAL PARK IN CALIFORNIA. HE GETS OUT OF HIS JEEP AS THE SUN IS GOING DOWN, FOR A PEE. HE IS ATTACKED, HE IS STRIPPED, HIS IS CUNT AND HE IS INSEMINATED. HIS LIFE WILL NEVER BE THE SAME AGAIN. ANOTHER DAY IS NEARLY OVER FOR RANGER TRENT AND HE WOULD SOON BE HEADING BACK TO HIS RANGER CABIN, HIS HOME FOR THE LAST TWO YEARS. HE DID NOT NOTICE DARK HAIRY SHAPES CLOSE IN ON HIM. TRENT IS ATTACKED, HIS CLOTHES ARE RIPPED, THE MONSTERS EAGER TO GET AT HIS HUNKY FLESH. LIFTED IN THE AIR AND THROWN DOWN, TRENT'S CLOTHES ARE RIPPED FROM HIS MUSCULAR FRAME. THE NIGHTMARE CREATURES SHOW THEIR DOMINANCE OVER HIS A PARK RANGER, NOW CONTROLLED BY BEASTS. THE WEREWOLF'S DOG FUCK THE RANGER BRUTALLY BOTH ENDS FOR HOURS, HE IS SORDIDLY DEBASED. AFTER FOUR HOURS OF BEASTING HE IS THROWN TO THE GROUND. TRENT LEAPS UP AND RUNS AWAY PISSING ALL THE WAY. REACHING HIS HOME TRENT SLAMS THE DOOR SHUT.
HE HAD BEEN HOMED FUCKED BY BEASTS AND HIS ARSE IS ON FIRE. TRENT IS SO SORE HE CANNOT SLEEP. HE HAS TO PUT HIS SWOLLEN ANUS IN A BOWL OF ICE. OVER THE NEXT FEW DAYS CHANGES BEGIN TO HAPPEN TO TRENT'S BODY. HIS SWOLLEN ANUS RETURNED TO NORMAL BUT, TRENT NIPPLES SWELLED AND BEGAN TO LACTATE A MILKY OOZE. HIS COCK SHRIVELLED AND RETRACTING INTO A MANGINA CAVITY. ON HEAT HE TOOK TO GOING NAKED DEEP IN THE WOODS AT NIGHT TO FIND THICK BRANCHES TO MOUNT. FOUR KILOMETRES FROM HIS CABIN THE HORNY RANGER FOUND WHAT HE NEEDED. A BIG GAME HUNT REB SCOTT SEES THIS CREATURE. HE THINKS IT MUST BE A CROSS BETWEEN A ANIMAL AND MAN, LIKE BIG FOOT. REB DARTS IT.
AT THE CAMP OF THE BIG GAME HUNTER TRENT AWAKES A MOUTH STRETCHER AND A WOODEN TROPHY MOUNT. "NOT ONLY DO A I HAVE A LIVE TROPHY BUT MY OWN ON HEAT FUCK BEAST", REB TOLD TRENT. "I BET YOU EAT WORMS AND RODENTS AS WELL AS NUTS AND BERRIES", RED SAID OFFERING TRENT A LARGE WORM. IT HAD BEEN A MONTH SINCE TRENT HAD BEEN BITTEN. IT IS A FULL MOON AGAIN, AS TRENT IS FUCKED RED EYED BEASTS ARE WATCHING. A HUNKY MALE SEXUALLY AND PHYSICALLY ABUSED BY WEREWOLF BEASTS WHOSE BITES TRANSFORM HIM INTO A HYBRID FEMALE WEREWOLF. HE IS THEN CAPTURED AND ABUSED BY A BIG GAME HUNTER BUT THE WEREWOLF'S ARE NOT FINISHED WITH HIM. €12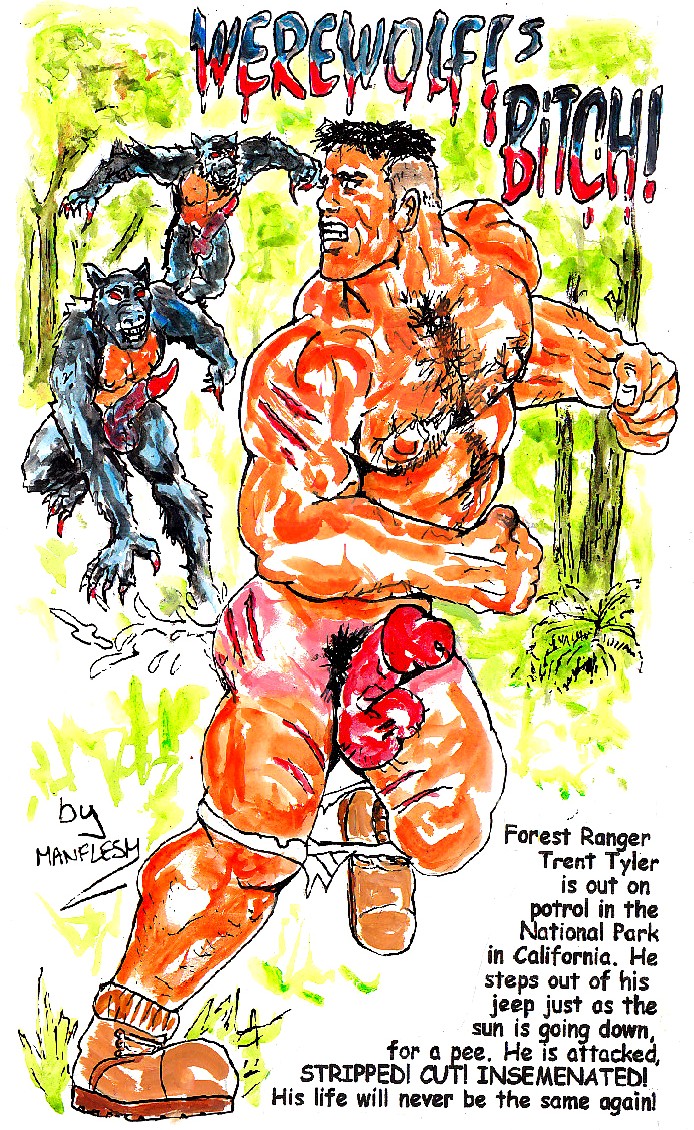 19 OWNED BY A BLACK MASTER OWNER OWNED PART 1. BEN CLAYTON OWNS A SLAVE PLANTATION ON THE ISLAND OF COSTA RICO. HE IS ABOUT TO FIND OUT WHAT IT IS LIKE TO BE OWNED BY A BLACK MASTER. ALL OF BEN CLAYTON'S SLAVES ARE BIG BLACK MUSCLE BUCKS. HE LIKES TO SHOW HIS SUPERIORITY AND CONTROL OVER THEM IT MAKES HIS COCK ROCK HARD. ONE BIG BUCK, THE ALPHA MALES OF SLAVES, CLAYTON WANTED TO BELITTLE. HE MADE HIM DRINK HIS PISS IN FRONT OF THE OTHER TOILING SLAVES. TO HUMILIATED THE BIG BUCK EVEN MORE CLAYTON WOULD USE HIS AS HIS PONY FOR TRIPS INTO TOWN. THE LESS PRIVILEGED WOULD LOOK ON AT THE FINE PIECE OF SLAVE MEAT HE OWNED.
ON A HOT NIGHT CLAYTON IS AS HORNY AS HELL. CLAYTON NEEDS TO FUCK, BUT FIRST HE NEEDS TO MAKE THE BIG BUCK SCREAM. "HEAT YOUR BLACK BITCH BUTT", CLAYTON TOLD THE BIG BUCK AS HE BULL WHIPPED HIS ARSE. "GOING TO BREED YOU, PUT MATER'S SEED UP YOUR ARSE", CLAYTON ADDED AS HE STRIPPED FOR ACTION. CLAYTON FORCES HIS COCK IN DEEP, AROUSED BY HIS MASTERY. "I OWN EVERY PART OF YOU EVEN YOU SEXUALITY", CLAYTON SAID AS HE WRAPPED THE BULL WHIP AROUND THE BIG BUCKS NECK. BY THROTTLING THE BIG BUCK AS HE FUCKS HIM. THE BIG BUCK IS FORCED TO CUM AGAIN AND AGAIN. "SEE HOW YOU CUM ON MY COMMAND", CLAYTON SAID. EVEN AS CLAYTON SAUNTERED BACK TO HIS BED, EVENTS WERE HAPPENING ON THE MAIN LAND. CREOLE FORCES TAKE OVER THE GOVERNMENT, SLAVES ARE FREE. THE SLAVES PROMISE THE WESTERN POWERS THAT SUGAR CANE AND COTTON WILL BE SENT TO THEM AT THE SAME PRICES, FARMED BY FELONS. THE STRONGEST EX-SLAVES WILL RUN THE PLANTATIONS AND KEEP ORDER THE NEW MASTERS.
THE NEXT MORNING AS CLAYTON OPENS HIS DOOR HE IS SMASHED IN THE FACE. THE SLAVES NOW FREE STRIP HIM. THE BIG BUCK AND ANOTHER BIG EX SLAVE MANHANDLE CLAYTON AND DRAG HIM TOWARDS THE STOCKS FOR HIS FIRST LESSON GLOATING AT HIS HARD COCK. "FIRST I WILL PADDLE YOUR ARSE TILL IT IS ON FIRE", THE BIG BUCK TELLS CLAYTON WHO IS LOCKED IN THE STOCKS. THE BIG BUCK MERCILESSLY BEATS CLAYTON'S ARSE AND ORDERS ANTHER EX-SLAVE TO FETCH A RESIN STICK. THE EX-SLAVE USES A STICK TO APPLY THE STICKY RESIN TO EX-MASTERS COCK HAIR, THEN TWISTS AND PULLS REMOVING CLAYTON'S COCK HAIR. CLAYTON MOANS WHEN HE SEES WHAT IS COMING, THE BIG BUCK WITH A BRANDING IRON. BRANDED, HE SOBS, SHITTING HIMSELF, AS HE BRANDED FOR LIFE. CRUEL AND SADISTIC WHITE PLANTATION OWNER AND MASTER HAS THE TABLES TURNED ON HIM AND IS ENSLAVED BY HIS EX-SLAVES AND FINDS OUT WHAT IT IS LIKE TO BE A OWNED BY A BLACK MASTER. AN OWNER OWNED. LOTS OF MANFLESH MALE ON MALE PHYSICAL AND SEXUAL ABUSE AND HUMILIATION. €12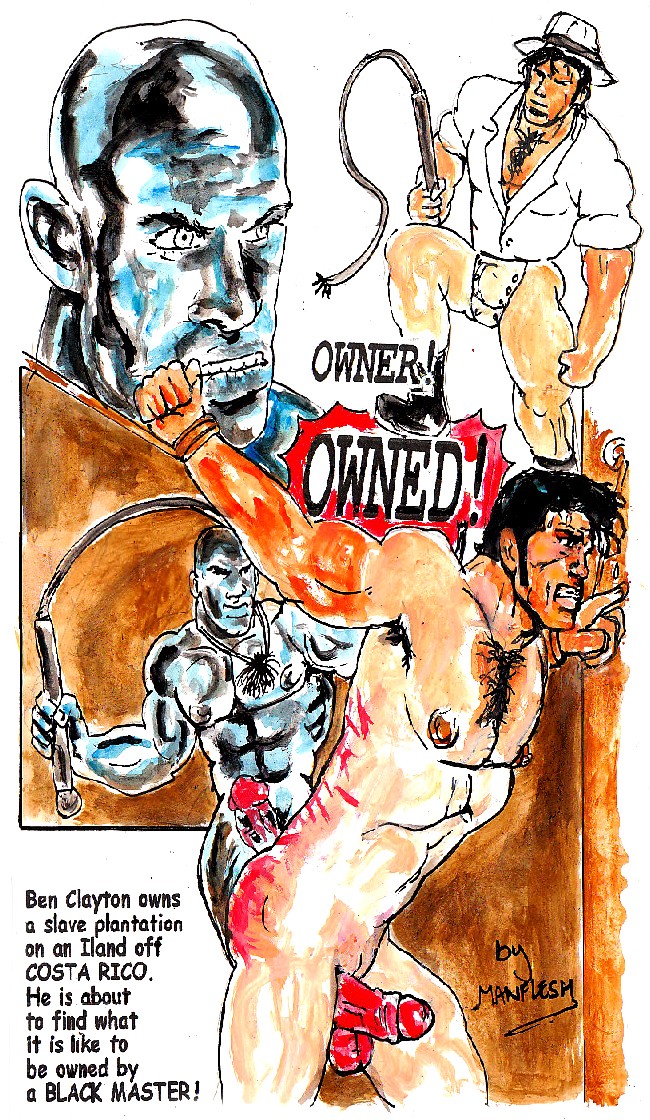 20 RUGBY BULL TO HALTERED BRUTE. YOU LOOK BIG AND BUTCH, BUT IF YOU DON'T SCORE THE TRY'S YOU ARE EXPENDABLE. THAT HAS HAPPEN TO MIKE DOZER, HE IS SOLD TO BE AUCTIONED FOR DRAYING. MIKE HAD JUST SHOWERED AFTER PLAYING BADLY IN YET ANOTHER RUGBY GAME. THE TEXAS BULLS ARE BOTTOM OF THEIR LEAGUE. THE TEAM LACKED MONEY, SO THEY NEEDED TO SELL A PLAYER INTO SLAVERY. "YOU'RE BEING TRANSFERRED NOW AND YOU WON'T NEED THAT TOWEL", THE COACH TOLD MIKE. "THE CLUB WILL GET TOP DOLLAR FOR YOU", HE ADDED AS TWO BURLY GUARD DETAIN MIKE. MIKE'S BIG MUSCLES WITH SELL FOR BIG BUCKS. MIKE'S TAKEN OUT OF THE STADIUM INTO THE STREETS. HE WILL NEVER WEAR CLOTHES AGAIN. HE IS HALTERED AS HE WILL BE A HEAVY WEIGHT HAULAGE BEAST. MIKE IS TAKEN TO THE SLAVE AUCTION FACILITY. LIKE ALL SUCH PLACES IT IS ON THE EDGE OF TOWN. LIKE ANY FARM YOU CAN SMELL THE TURDS OF THE NAKED BEASTS AS YOU ENTER.
MIKE IS THROWN IN A CAGE WITH OTHER NAKED BEASTS AND A WEEK GOES BY. MIKE LEARNS AS AN ANIMAL HE MUST SHIT AND CRAP LIKE THE DUMB BEAST HE HAS BECOME. MIKE IS GRABBED BY TWO OF THE GUARDS AND COCK RINGED. ALL MUSCLES BEASTS WHO ARE FOR DRAYAGE ARE RINGED. HEAVY PETTING FROM THE GUARDS GETS THE BEAST USE TO BEING HANDLED BY REAL MEN. AT FIRST HE IS FORCE FED, BUT SOON ACCEPTS SLAVE MUSH FROM A BOWL. MIKE IS TAUGHT TO DRINK PISS, AS THIS IS THE BEVERAGE A DRAYAGE ANIMAL MUST TAKE FROM ITS NEW MASTERS. THIRSTY UNDER A HOT SUN HE HAS NO CHOICE. ON THE DAY OF THE AUCTION, MIKE IS DRAGGED NAKED ONTO THE PLATFORM. HE IS NUDE, RUDE AND FULL OF SHAME. MIKE IS PURCHASED BY THREE BROTHERS WHO RUN A CATTLE AND PIG SLAUGHTER HOUSE. HE WILL LOAD UP A CART AND PULL THE BLOODY MEAT TO THE BUTCHERS SHOPS. IN THE SLAUGHTER HOUSE, THE HIGHLY SEXED BROTHERS FUCK BEAST MIKE ON THE CUTTING TABLE FOUR TIMES A DAY. SO HIS MAN CUNT IS DRIPPING ALL DAY LONG. HOT YOUNG SEXY MALE DOMINATED AND HUMILIATED AND TURNED INTO A DRAY BEAST. €12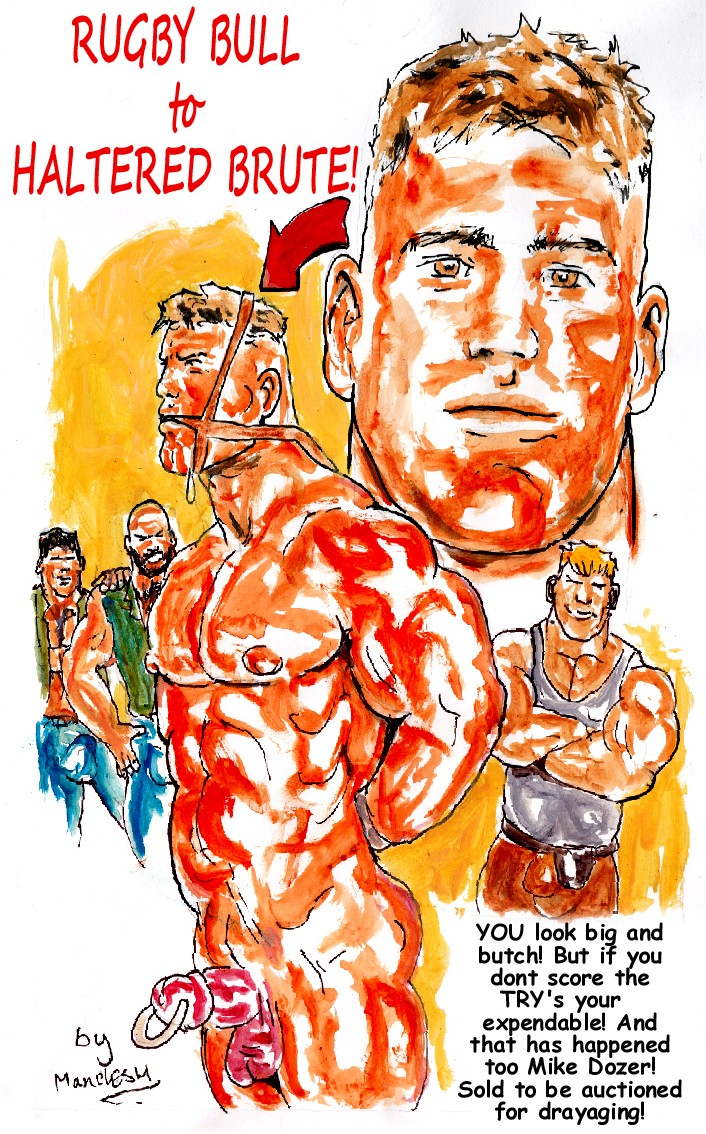 21 WEREWOLF'S BITCHS PART 2. BOTH RANGER TRENT TYLER AND BIG GAME HUNTER REB SCOTT ARE IN FOR A RIP ROARING TIME. WILL THEY ESCAPE FROM THE WEREWOLF'S CLUTCHES, THE STORY CONTINUES. THE WEREWOLF BEAST CLOSE ON ON REB THE BIG GAME HUNTER CAUGHT NAKED AND UNARMED AS HE FUCKED THE HYBRID RANGER TRENT TYLER. THE HUNTER BECOMES THE HUNTED. THE WEREWOLF'S HAVE FRESH MEAT TO FUCK. THE WEREWOLF'S ONLY SEEM INTERESTED IN THE HUNTER. IGNORED THE RANGER MANGES TO REMOVED THE TROPHY MOUNT AND THE MOUTH STRETCHER. TRENT WONDERS IF THE HUNTERS COCK WILL TURN TO A MUFF LIKE HIS AS HE WATCHES THE WEREWOLF'S FUCK THE HELPLESS HUNTER. THE WEREWOLF'S WERE CONCENTRATING ON FUCKING THE HUNTER ALLOWING THE RANGER TO SNEAK INTO THE HUNTER'S TENT. TENT DISCOVER THE KNOCK OUT DARTS AND REALISES HE WILL HAVE TO THROW THEM AT THE WEREWOLF'S AS THERE IS NO TIME TO RELOAD THE HUNTER'S RIFLE. ARMED WITH THREE TRANQUILLIZER DARTS, TWO UP HIS ARSE WITH THE POINTS OUTWARDS READY TO USE OF THE OTHER TWO WEREWOLF'S, TRENT ATTACKS.
TRENT DOWN ONE WEREWOLF WITH THE FIRST DART. TRENT THEN BENDS OVER WITH ONE OF THE DARTS STILL IN HIS ARSE. THE WEREWOLF'S SEES TRENT'S TICK BUTT AND CHARGES. THE POINT OF THE DART IN TRENT'S ARSE SCORES A BULLSEYE ON THE WEREWOLF'S COCK. TWO DOWN ONE BEAST TO GO. TRENT WITH ONE WEREWOLF TO KNOCK OUT JUMPS ON THE THIRD WEREWOLF'S BACK AND DRIVES THE DART HOME. "I'M THE PARK RANGER CUNTED, BUT ALL MAN", TRENT SAID AS HE DRIVE THE DART HOME. THE HUNTER THANKS THE RANGER. THE HUNTER'S SEX ORGANS START TO CHANGE BUT NOT LIKE THE RANGERS. HE DEVELOPS A WEREWOLF COCK "WOW DIDN'T KNOW YOU WERE THE RANGER?", THE HUNTER TOLD TRENT. "YOU ARE A GOOD FUCK", HE ADDED. "MY CABIN IS NOT FAR AWAY WE WILL BE SAFE COMFORTABLE THERE", TRENT REPLIED. THEY ARRIVE BACK AT THE RANGERS CABIN AND SAFETY, BOTH ON HEAT. THE RANGER IS HOT FOR THE DOGGED HUNTERS COCK AND WANTED HIM TO FUCK HIM FOREVER. "NO BROAD WOULD EVER WANT ME WITH A COCK LIKE THIS", THE HUNTER TELLS THE RANGER. "STAY HERE MY MAN PUSSY CAN TAKE ALL YOU CAN GIVE", THE RANGER REPLIED AND THE HUNTER LIKED THE IDEA.
THEY STRIP THE CABIN OF FURNITURE, LEAVING ONLY A RUBBER MATTRESS, DOG BOWLS AND HEAVY WEIGHT LIFTING EQUIPMENT. THEY HUNT FOR RAW FOOD AND HAVE RAW ANIMAL SEX FOUR TIMES A DAY. THEY FENCED OF THE PART OF THE PARK WITH THE WEREWOLF'S. THEY PATROL NAKED, THEY ARE TOP DOG AND BITCH, IN THE PARK LAND, READY FOR ACTION, HORNY AND ARMOURED. MORE SEX AND FIGHT ACTION BETWEEN HYBRID HUMANS AND WEREWOLF'S. €12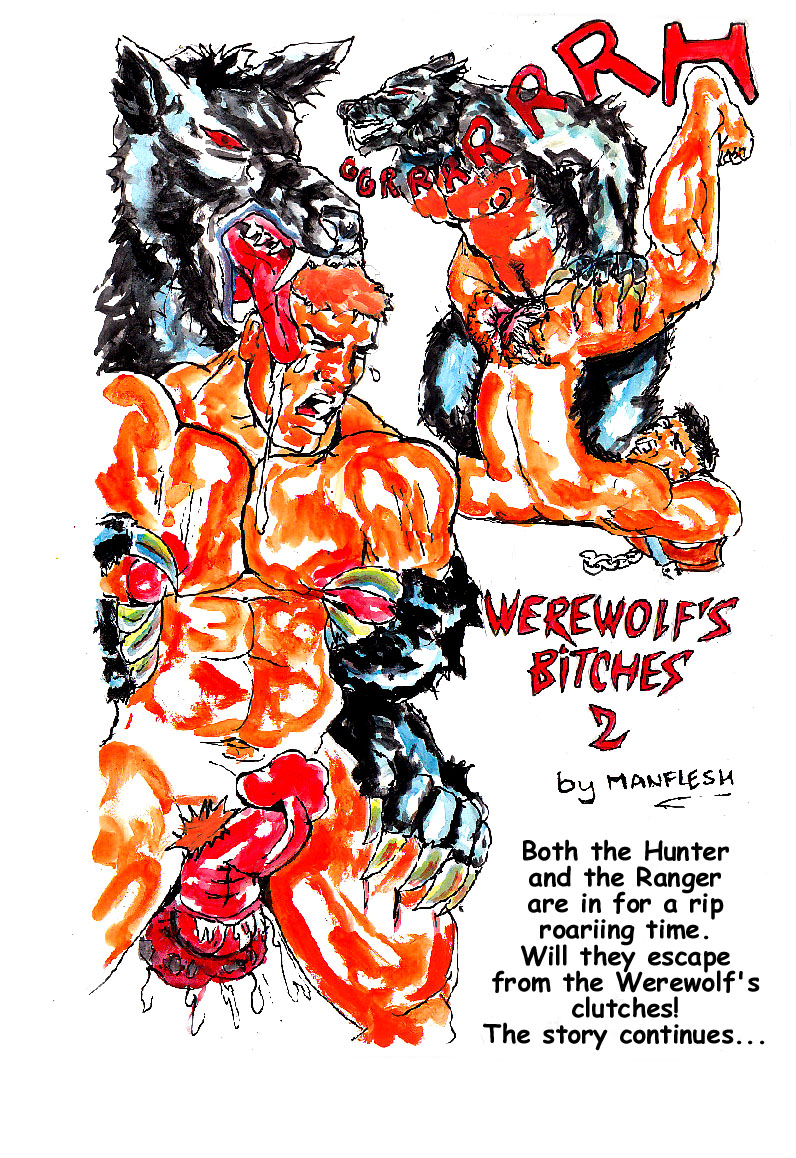 22 ROUGH TRADE TO SLAVE TRADE. JOSEPH ROUGH, NO EDUCATION, HIS ONLY ASSET HIS HARD MUSCLES AND BLOND HAIR. UNEDUCATED JOSEPH WAS IDEAL FLESH FOR TURNING INTO A FUCK PONY IN THE MIDDLE EAST. THIS IS HIS STORY. JOSH WORKED AT ROIDS GYM IF YOU CAN CALL IT WORKING, OWNED BY BUCK CRABS. JOSH LIVED AT THE GYM. BUCK FED JOSH AND GAVE HIM ROIDS. JOSH LET BUCK SUCK HIS COCK AND HE CALLED BUCK A FAG. JOSH MADE MANY DEMANDS OF BUCK TO ALLOW BUCK TO SUCK HIS COCK. JOSH SET HIMSELF UP ON A PEDESTAL AND BELIEVED HE SHOULD HAVE EVERYTHING HE WANTED, BUT HE WAS HEADING FOR A FALL. THE ONE THING JOSH WORKED HARD AT WAS HIS BODY BUILDING. JOSH LOVED HIMSELF AND WANTED EVERYONE ELSE TO WORSHIP HIM AND PAY HIM FOR IT. INSTEAD OF CLEANING THE GYM JOSH WOULD GO LOOKING FOR GUYS TO HUSTLE.
JOSH WAS ALWAYS ON THE HUNT TO GET MONEY FROM THE VISITORS, WHEN HE APPROACHED A RICH MIDDLE EASTERN VISITOR AN ARAB SHEIK HE WAS ABOUT TO GET MORE THAN HE BARGAINED FOR. THE RICH ARAB SHEIK TOLD JOSH HE HAD A PLEASURE CRUISER WHILE HE SUCKED JOSH'S COCK. HE PROMISED JOSH ALL THE DESIGNER CLOTHES AND WATCHES HE COULD EVER WANT, IF THE TOOK A TRIP TO HIS PALACE IN AFRICA AND HE NEED ONLY WEAR HIS JOCK STRAP. HE PROMISED JOSH HIS OWN WATER BED AND BUTLER. HOWEVER ONE ABOARD THE CRUISER JOSH IS CONFRONTED BY THE SHEIK'S MEN. "MEET YOUR TRAINERS SLAVE", THE SHEIK SAID. THE TWO GUARDS GRAB AND STRIP JOSH. "TAKE THE MUSCLE SLAVE BITCH TO MY BONDAGE ROOM", THE SHEIK ORDERED AND JOSH IS DRAGGED AWAY NAKED BY THE GUARDS. IN THE BONDAGE ROOM JOSH HAS IS ARMS SECURED AND HE IS HUNG FROM THE CEILING. THE SHEIK'S TWO TRAINERS WHIP JOSH MERCILESSLY, FORCING HIM TO SUCK THEIR COCKS. TO MAKE SURE THEY DO NOT CUT THE SKIN OF THE NEW SLAVE AND RUIN THE SHEIK'S PROPERTY, THEY DIP THEIR LEATHER WHIP IN WATER. THE TRAINERS LIKE TO WORK NAKED, COCKS HARD, AS THEIR COCKS ARE USED AS WEAPONS AS WELL.
JOSH WAS TIED TO THE PROW OF THE CRUISER AS NAKED ERECT FIGURE HEAD. HE HAD BEEN MADE TO SWALLOW TEN VIAGRA TABLETS TO KEEP HIS MAN HEAT HARD AND ACHING. AS THE CRUISER PLOWS THROUGH THE SEA EAST TO AFRICA, JOSH WOULD BE PLOWED HARD BY THE SHEIK. ON THE FIRST EVENING THE SHIEK FUCKED JOSH'S SLAVE ANUS CUNT FOUR TIMES. IT WOULD TAKE EIGHT DAYS TO REACH THE LAND OF THE SHEIK, WHERE SLAVERY, MEN WORKING NAKED WAS THE NORM. "YOU WON NOTHING YOU ARE OWNED INSIDE AND OUT, YOU WILL NEVER WEAR CLOTHES AGAIN", THE SHEIK TOLD JOSH AS HE FUCKED HIM. "NO PART OF YOUR FLESH WILL BE HIDDEN FROM YOUR MASTER", HE ADDED. THE CRUISER ARRIVED AS THE PORT OF THE SHEIKS LAND, TWO HUNDRED MILES OF DESERT, FILLED WITH WELLS THAT PUMP WATER AND OIL WORKED BY NAKED MUSCLE SLAVES. WATER FOR CROPS AND OIL TO SELL TO THE USA. JOSH SAW THAT ALL THE SLAVES WERE NAKED WHITE MEN. DUMB MUSCULAR MALES KIDNAPPED, STRIPPED AND ENSLAVED FOR THE PLEASURE AND PROFIT OF ARAB MASTERS. €12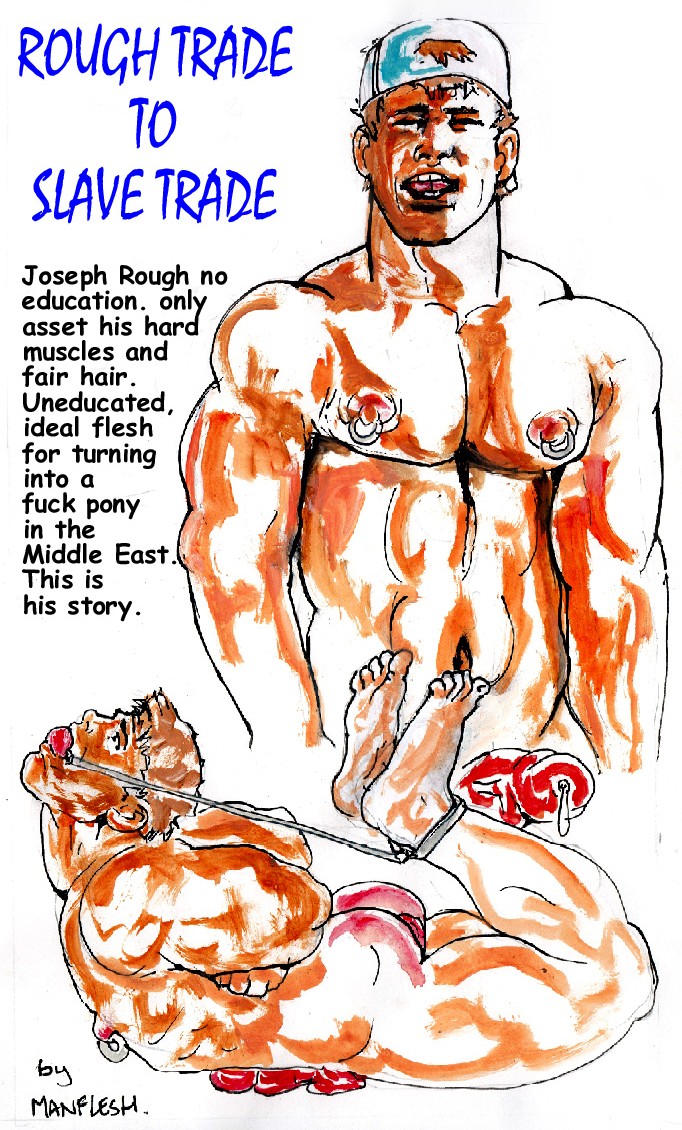 23 BARE BACK MOUNTAIN. THREE COLLEGE STUDS ON A SPRING BREAK DECIDED TO GO CUNT HUNTING IN HICK COUNTRY. BUT IF YOU GO DOWN IN THE WOODS TO PLAY YO ARE IN FOR A BIG SURPRISE. THREE HUGE HILL BILLY BROTHERS ARE HARD AND WAITING FOR THEM. THE JOCKS ARE OF THE APPALACHIAN MOUNTAINS NORTH OF GREENVILLE. HIGH ON MALE TESTOSTERONE THEY SHOW OF MUSCLES AND BUMS ON THE WAY. LOST THE THREE END UP ON A DIRT TRACK. THEY THREE HUNKY JOCKS FIND A LAKE. THEY PUT UP THEIR TENTS, STRIP NAKED AND WASH. BUT THEY ARE BEING WATCHED. AS THE JOCKS SETTLE IN FOR THE NIGHT AND DREAMS OF PUSSY. THE MOUNTAIN MEN RETURN WITH ROPE TO THE JOCKS ENCAMPMENT, THEIR HUGE COCK SWAY ROCK HARD. IN THE TENTS THE JOCK ARE IN FOR A RUDE AWAKENING. THE HUGE MOUNTAIN MEN RIPPED OPEN THE TENTS AND PULLED THE NAKED JOCK OUT. THEY WERE NO MATCH FOR THE HUGE MAN BEASTS THEY ARE TIED UP AND ROPED TOGETHER. FOR THE THREE JOCKS, BLOND JAMIE, BLACK HAIRED CONRAD AND BROWN HAIRED DECKLAND, THE PRIMAL FOREST HAS TAKEN ON A DARK NIGHTMARISH FEELING.
ENSLAVED THE JOCKS ARE FORCED TO PUSH THEIR JEEP INTO THE SWAMP. THEIR JEEP TENTS AND CLOTHES END UP IN THE SWAMP. "YOU WILL BE NAKED FOREVER", ONE OF THE HILL BILLY BOTHERS TELL THEM. THE THREE JOCKS ARE GIVEN A HARD RIDE TO THE HILL BILLY'S FARM ON THE HILL BILLY'S HUGE COCKS, AND FAIL TO APPRECIATE THE SPECTACULAR SCENERY. THEY ENTER A VALLEY HEMMED IN BY SHEAR CLIFFS, CONTAINING THE MOUNTAIN MEN'S HOMESTEAD. "YOU WORK BEASTS, YOU WORK OUR LAND AND COCKS, TRY TO ESCAPE AND WE CUT OFF YOUR COCK AND BALLS", ONE OF THE HILL BILLY'S TOLD THEM. AS THESE JOCKS WANKED AT LEAST FOUR TIMES A DAY AND NOT WANTING TO LOSE THEIR COCK AND BALLS THEIR MOST PRIZED POSSESSIONS,THEY WERE FORCED TO OBEY. THEY ARE MADE TO WORK HARDER THAN ANY FOOTBALL CAMP. THEY ARE PUT TO WORK ON THE WHEEL AND THE WATER SCREW. TETHERED BY COCK RINGS, THEIR JOCK PELTS GLOW WITH THE EFFORT AND CANNING, COCKS HARD FROM THEIR RUDE STATE. AFTER A HARD TIME TOILING ARE EXHAUSTED HUNKS ARE FED AND BROUGHT INTO THE HILL BILLY'S BED CHAMBER, FOR FEEDING UP THE ARSE. THEY HAD NO CHOICE BUT TO TAKE IT LIKE A BITCH. THE HARD FRICTION MAKES THE BALLS CHURN AND FILL WITH SEED AND SPUNK SHOT OUT OF THE BITCHED JOCKS COCKS. THREE YOUNG MALE FOOTBALL JOCKS ENSLAVED AND ABUSED BY THREE HUGE BEAR LIKE HILL BILLY MOUNTAIN MEN. €12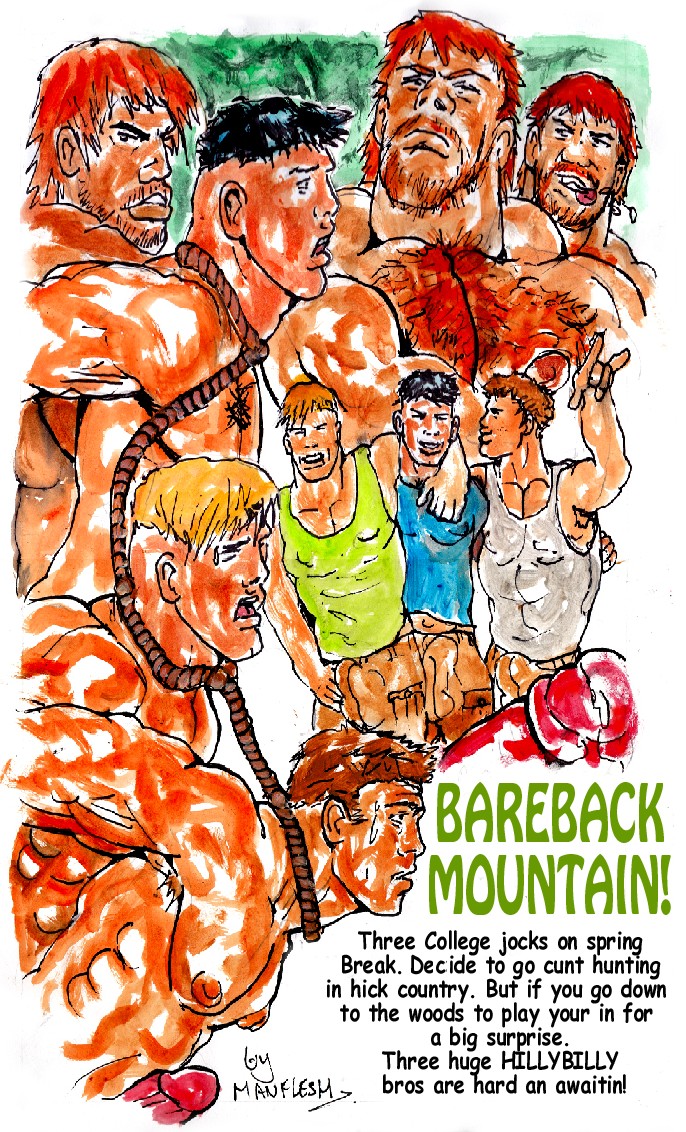 24 MEAT BUS PART 1. RUGBY TEAM ON A TOUR THROUGH EASTERN AMERICA. THE DRINK HEAVILY AND SHOW OFF THEIR NAKED BODIES AS THE BUS TRAVELS DEEP INTO THE MOUNTAINS. SLAVERS STOP THE BUS AND ENSLAVE THE NAKED TEAM BUNDLING THEM INTO A SLAVE TRANSPORT. THE BUS ENDED UP IN A SCRAPYARD. THE TEAM WILL EARN A HIGH PRICE AS DRAFT ANIMALS IN THE MIDDLE EAST. THEIR THICK ARSES WILL BE SORE FROM ARAB COCK.
RED ONE OF THE TEAM DRIVES THE BUS ALLOWING THE OTHER TO SKYLARK AND SPUNK TO THEIR HEARTS CONTENT. BEING ROWDY MEANT BEING MANLY, AND SPUNKING OVER ALL EVERYTHING PROVED THEY WERE MEN. SUDDENLY THE ROAD WAS BLOCKED BY A HUGE ARMOURED TRANSPORTER. THE SLAVERS ENTERED THE BUS AND EASILY OVER POWERED THE DRUNKEN, NAKED RUGBY TEAM. DRAGGED FROM THE BUS THE NAKED RUBY HUNKS HAD THEIR HANDS CUFFED BEHIND THEM. LOADED ONTO THE ARMOURED CARRIER THEY ARE SPED ON THEIR WAY. THEIR HIGHLY PRIZED MUSCLE MEAT IS HUNG UPSIDE DOWN LIKE MEAT IN A BUTCHERS SHOP. THE HEAT FROM SO MANY BODIES MADE THEM SWEAT LIKE PIGS. THEY WERE TAKEN TO THE SLAVERS AIRSTRIP AND PUT ABOARD A TRANSPORT PLANE FOR THE MIDDLE EAST. THEY LAND AFTER A LONG FLIGHT AND THE NAKED RUBY HUNKS FEEL THE BAKING HEAT OF THE SUN ON THEIR NAKED SKIN."NEVER HAVE I SEEN SUCH MUCH MUSCLE ON WHITES, THEY WILL FETCH A HIGH PRICE", AN ARAB SLAVER SAID. "YOU CAN WORK THEM LIKE OXEN AND TAME THEM WITH ARAB COCK", ONE OF THE SLAVERS TOLD THE ARAB SLAVER.
IN THE SLAVE PREPARATION ROOMS AT THE AUCTION COMPLEX, THE RUGBY HUNKS GET A TASTE OF WHAT IT IS TO BE A SLAVE. THEIR PUBES WERE REMOVED BY A STICK AND HOT RESIN. THEY WERE GIVEN THEIR FIRST SLAVE DRINK OF PISS AND SPIT. THE RUGBY HUNKS ARE FED VIAGRA TO MAKE THE COCK RUDELY STIFF. THEY ARE THEN TAKEN TO THE AUCTION PLATFORM TO FACE THE WAITING CROWD. THE RUGBY HUNKS HAD ALREADY BEEN PURCHASED BY THE EMIR, BUT HE WANTED THE CROWDS TO SEE WHAT HE OWNED. THE EMIR ALLOWED THE CROWD TO FINGER THE DRAY AND THE DRAYS HAD TO GET USE TO THE IDEA THEY WERE OWNED. THE RUGBY TEAM NO LONGER HAD THE FEELING OF SUPERIORITY AND CRY AND MOAN AS FISTS PISTONED THEIR MAN CUNTS. EVERY BEAST IS BRANDED WITH THE WORDING LARGE DUMB ANIMAL, IN ARABIC. TO PREVENT THE DRAY FROM TALKING TO EACH OTHER AND PLOTTING ESCAPE THEIR TONGUES ARE FIXED TO THEIR BOTTOM JAWS. THEY WERE NO LONGER CAPABLE OF HUMAN SPEECH. THE DRAYS WERE TAKEN THE EMIR'S FORTRESS PALACE SEVENTY MILES INTO THE DESERT, WHERE HE HAD GOLD. WATER FOR THEIR TRIP WAS PROVED IN THE FORM OF PISS BY WATER PROVIDERS. THE HUNKS HAD TO SUCK PISS FROM THE WATER PROVIDERS COCKS TO QUENCH THEIR RAGING THIRSTS. HOT MUSCULAR MALES KIDNAPPED, STRIPPED AND ENSLAVED FOR THE PLEASURE AND PROFIT OF ARAB MASTERS. €12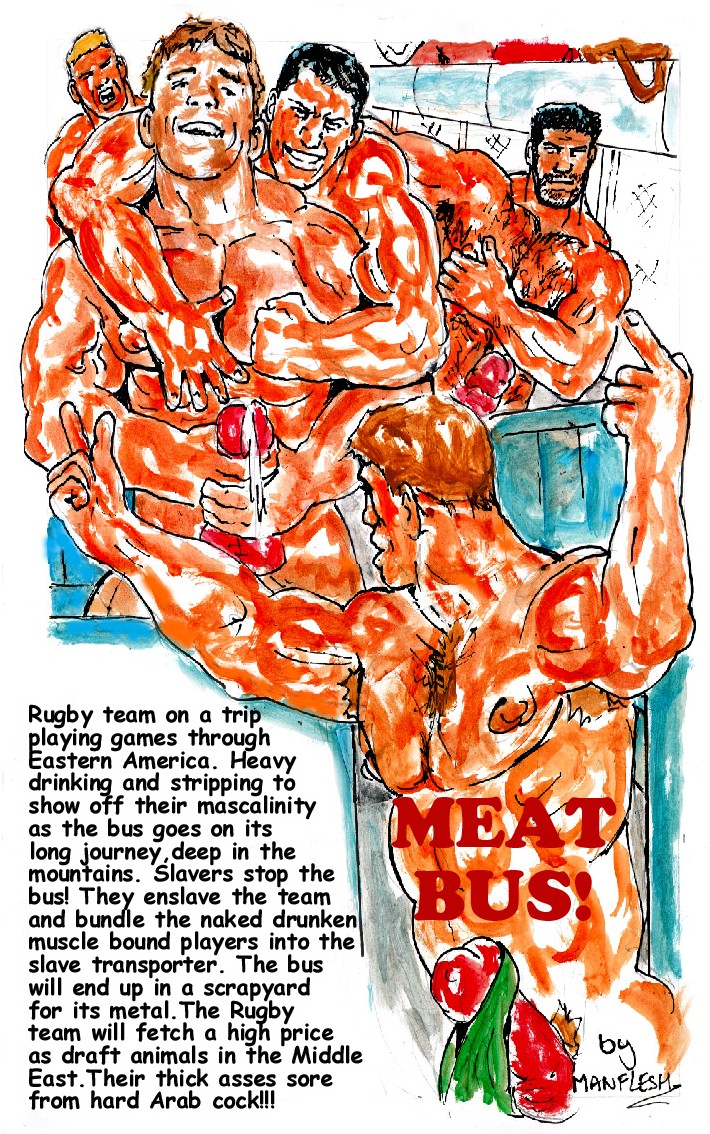 25 MUSCLE SEMEN. IN THE ADVERTS MUSCLE MEN LIKE TRAVIS BATEMAN WERE PROMISED HIGH PAID JOBS RUNNING GYM IN THE MIDDLE EAST. THE REALITY IS THEY END UP ENSLAVED AS NAKED HARD LABOUR BULLS, TOILING IN THE HOT SUN. MILKED OF THEIR STEROID RICH SEMEN EIGHT TIMES A DAY. THIS IS TRAVIS'S STORY.
TRAVIS WAS TOLD HE NEED ONLY TAKE AN OVER NIGHT BAG AS EVERYTHING WOULD BE PROVIDED FOR. TRAVIS ARRIVED AT THE AIR PORT WITH HIS SHIRT IN HIS OVER NIGHT BAG. HE WANTED TO SHOW OFF HIS MUSCLES TO THE RICH GOVERNOR WHO OWNED THE GYM, BUT NO GYM EXISTED. A MUSCLE MEAT SEMEN FARM WAS HIS DESTINATION. TRAVIS COULD NOT BELIEVE IT HE WAS GRABBED AND STRIPPED NAKED ON THE STREET WHILE LOCALS WATCHED AND SMILED. TRAVIS'S COCK BUSH WAS PULLED OFF, HE WAS BONDAGE BOUND WITH ROPES. TRAVIS WITH HIS COCK ERECT DREW A LUSTING CROWD. TRAVIS WAS HUNG LIKE A SLAB OF MEAT ON A HOOK FROM A STEEL YARD ARM PROTRUDING FROM THE BACK OF A TRUCK. TRAVIS FELT SO HELPLESS SO RUDE. HIS COCK SWELLED UP AND HE KNEW HE WAS GOING TO ORGASM. HER ORGASMED SIX TIMES ON THE WAY TO THE MILK FARM.
TRAVIS WAS UNLOADED AT THE SEMEN FARM. IT WAS SURROUNDED BY AN ELECTRIC FENCE AND THERE WAS NO ESCAPE. TO HIS DISMAY HE IS CONFRONTED WITH OTHER WESTERN BODY BUILDERS, LIKE HIM NAKED, TOILING AND BEING BUM FUCKED. TRAVIS WAS GIVEN HIS FIRST MILKING THERE AND THEN IN FRONT OF THIS FELLOW SLAVES. HE WOULD QUICKLY LEARN NO PART OF HIS BODY WAS HIS WON. TRAVIS WAS PUSHED TOWARD A GROUP SMASHING ROCKS AND ORDERED TO WORK HIS MUSCLES HARD. HE JOINED THE OTHER NAKED BODY BUILDERS SWEATING UNDER THE HOT SUN. BEING NAKED AROUND OTHER NAKED MAN FLESH GAVE THEM LL HARD ONS. EVERY THREE HOURS THE BEEF MILK HERD IS MILKED. JUT LIKE ALL THE OTHER HE HAD A METAL BAR FITTED PINNING DOWN HIS TONGUE. ALL HE CAN SAY IS "UGGH", AS A COCK IS PRESSED AGAINST HIS ARSE. EACH MUSCLE BRUTE WAS CHAINED TO A POLE. THEIR COCK ATTACHED TO A SUCTION TUBE, AND AND A FUCK MACHINE UP THEIR ARSE. WHEN ALL WERE ATTACHED THE MILKING MACHINES WERE SWITCHED ON. NO LONGER IN CONTROL, TRAVIS COULD ONLY WATCH AS THE MACHINE MASTURBATED THE CUM OUT OF HIM WITH ALL THE OTHERS. EVEN WHEN HE HAS EJACULATED A LOAD THE MACHINE CONTINUES UNTIL HIS BALLS ARE EMPTY AND SORE.
IN THE EVENING THE MUSCLE HUNKS ARE EXHAUSTED FROM THE HARD LABOUR, THEIR BALLS SWOLLEN AND SORE FROM THE MILKING. AFTER A DAY TOILING THE HERD OF MUSCLE BEASTS WERE MADE TO CRAWL ON ALL FOURS TO THEIR CATTLE PEN FOR THE NIGHT. CHAINED IN THE BEAST PEN, THE BEASTS ARE FUCKED HARD BY THE GUARDS, A PERK OF THE JOB. HOT MUSCULAR MALES DUPED, STRIPPED AND ENSLAVED TO TOIL A MUSCLE BEAST SEMEN MILK SLAVES FOR THE PLEASURE OF ARAB
MASTERS. €12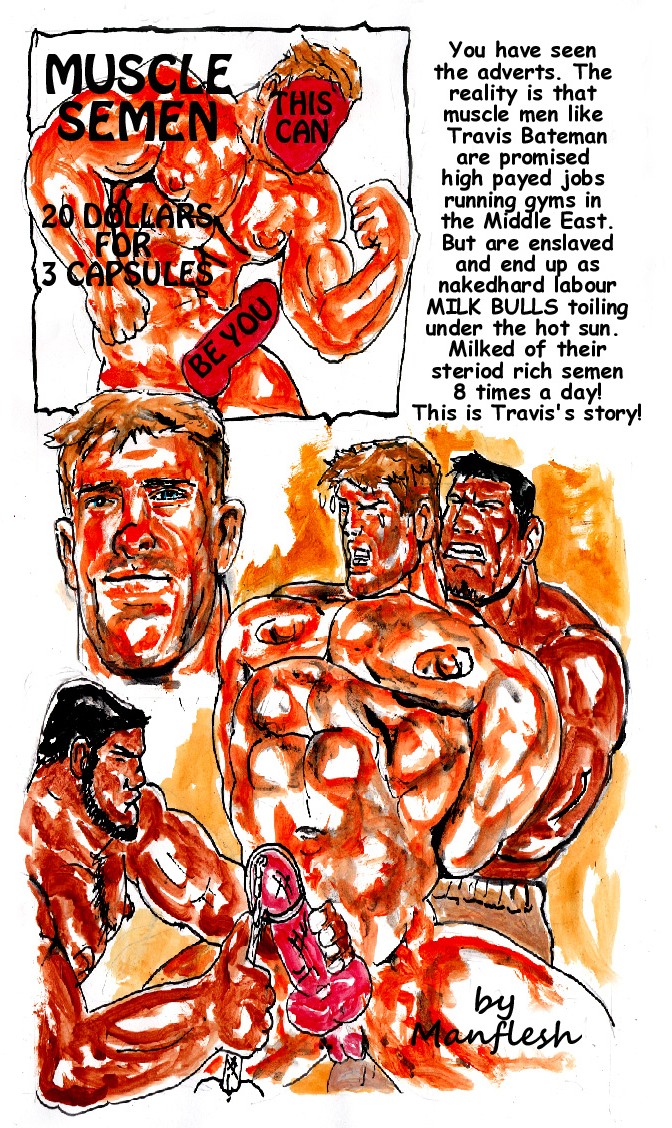 26 SUPER SEMEN MUSCLE SLAVE PART 1. DUKE WANTED TO BE A MUSCLE STAR. LUKE TRAVELLED TO THE BIG CITY, TO MAKE IT BIG WITH HIS GOOD LOOKS AND BODY. DUKE HAD THE BONE STRUCTURE, THE LOOKS. HE WANTED MUSCLE SIZE, THE HIGH PROTEIN SUPER SEMEN AND A SPONSOR. HE TRIED HIS LUCK IN BUCK'S GYM. I NEED A JOB BOARD AND BE A MUSCLE STAR, DUKE TOLD BUCK. BUCK SHAGGER OWNER OF BUCK'S GYM TOLD DUKE HE COULD GIVE A JOB AND BOARD AND MAKE HIM A BIG STAR. DUKE WAS GOING TO FIND OUT BEING A MUSCLE STAR HE WOULD SORE INSIDE AND OUT. "GET NAKED NEED TO SEE ALL OF YOU", BUCK TOLD DUKE STRIPPED BELIEVING BUCK THOUGHT HE MUST HAVE WHAT IT TOOK TO GET TO THE TOP. "GOOD I WILL TRAIN YOU GOOD", BUCK SAID LIKING WHAT HE SAW. BUCK WOULD TRAIN DUKE BEND HIM TO HIS WILL, MAKE HUGE BUCK FROM HIS BODY. "I'LL TEST YOUR DICKLET FOR THICKNESS OF CUM, THAT IS A SURE SIGN OF MUSCLE CAPABILITY", BUCK SAID AS HE WANKED DUKE'S COCK. "MAKE IT MY DUTY TO CHECK YOU EACH DAY", BUCK ADDED. BUCK WAS PLEASED TO SEE THAT LUKE'S SEED WAS GOOD AND THICK STAR MATERIAL. DUKE WAS IMPRESSED THINKING BUCK KNEW AL ABOUT MUSCLE, AND THOUGHT HE WAS SO LUCKY. BUCK HAD FULL CONTROL OF DUKE AND WOULD TRAIN HIM GOOD, MAKE BIG BUCKS.
DUKE STARTED WORK HE HAD TO CLEAN AND PUT OUT CLEAN TOWELS. A BOW TIE AND SEE-THROUGH JOCK WERE HIS WORK CLOTHES. THE GYM MEMBERS OGLED DUKE'S BODY AND HE REVELLED IN IT. BUCK HAD TOLD THE MEMBERS THAT THEY WERE NOT ALLOWED TO HAVE THEIR WAY WITH DUKE UNTIL HE HAD BROKEN HIM. DUKE TRAINED AT THE END OF THE DAY AND WAS GIVEN SUPER SEMEN AND DISCOVERED ITS MUSCLE BUILDING PROPERTY AND WAS HOOKED. BUCK SMILED, DUKE WAS READY FOR BREAKING IN. BUCK TOLD DUKE HE WOULD LET HIM SLEEP IN HIS BED AND GIVE HIM MORE SEMEN BY INJECTION. DUKE WAS PLEASED WANTING MORE HARD MUSCLE GROWTH. "DEEP IN YOUR ARSE IS A PAIR OF LIPS THAT CAN SUCK MUSCLE BUILDING SEMEN STRAIGHT INTO YOUR MUSCLES", BUCK TOLD DUKE AS HE STRIPPED. "UP YOUR ARSE IS THE PROSTATE BALL WITH LIPS THAT NEED SEEDING TO GROW BIG MUSCLES", BUCK SAID AS HE FUCKED DUKE. DUKE'S ARSE ACHED AND HIS COCK LEAKED MILK. "NO PAIN DO GAIN HE ADDED AS HE POUNDED DUKE'S ARSE. DUKE WAS INFORMED BY BUCK TO BE A TOP BODY BUILDER HE MUST TRAIN HARD LIKE AN ANIMAL BECOME AN ANIMAL. HE HAD TO TRAIN, SUCK SEMEN, FUCK SEMEN UP HIM. A STEEL BAR PINNING HIS TONGUE TO HIS LOWER JAW, NO TALKING AT ALL, JUST TRAINING. DUKE WAS SOON DOING REP AFTER REP WITH HEAVY WEIGHTS, BOUNCING UP AND DOWN HIS MUSCLES PUMPED WITH BLOOD. HIS ASS SUCKING THE CUM OUT OF THE GYM MEMBERS AS HE RODE THEIR COCKS.
A YEAR LATER, DUKE HAD WON MANY CONTESTS. HIS MUSCLES HAD BEEN NOTICED BY A BILLIONAIRE WHO MADE AND OFFER TO BUCK THE GYM OWNER, AND OFFER HE COULDN'T REFUSE. DUKE WAS FLOWN TO THE MIDDLE EAST. ON A SUN BAKED PLATFORM LUKE POSED FOR A GROUP OF LUSTING ARABS. ON THE ORDERS OF ONE OF THE ARABS DUKE WAS GRABBED BY TWO BRUTISH GUARDS. THEY STRIPPED DUKE OF HIS POSING POUCH LEWDLY EXPOSING HIS MAN MEAT. ALL DUKE COULD DO WAS GRUNT AS BUCK HAD NOT REMOVED TO PIN ON HIS TONGUE. DUKE WAS MASTURBATED IN FRONT OF HIS NEW OWNER. BUCK HAD SOLD DUKE TO THE RICH ARAB AND IT WAS THE START OF DUKE'S NEW LIFE. HOT DUMB MUSCLE JOCK HOOKED ON MUSCLES SEMEN TRAINED AND PUMPED UP WITH SUPER SEMEN UNTIL HE WAS IN PERFECT CONDITION FOR HIS NEW RICH ARAB OWNER. €12





 
27 SCALPED. WAGON TRAIN SCOUT CHUCK WALKER TOOK A DIP ON A HOT DAY, THEN STARTED TO WANK HIMSELF. A BUNCH OF NAKED SAVAGES ARE SPYING ON HIM. INSTEAD OF KILLING THE WHITE MAN, THEY WANTED HIM AS THEIR MAN SQUAW. HIS HAIRY BUTT SPEARED BY THEIR HARD WARRIOR COCKS.
CHUCK WAS PLEASED HE HAD FOUND A RIVER CROSSING FOR THE WAGON TRAIN. THE DAMMED HEAT WAS GETTING TO HIM AND HE KNEW HE SHOULD NOT LEAVE THE WAGON TRAIN BUT WHAT THE HECK. FINDING A SMALL CREEK UP RIVER, AND STRIPS NAKED. HE HAD A HARD AND NEEDED A WASH AND A WANK. AS CHUCK PLEASURED HIMSELF UNBEKNOWN TO HIM, A GROUP OF MOHAWK BRAVES ARE WATCHING HIS SPUNKING. NAKED AND PROUD, THEIR RED MEAT ERECT, AND LUSTING FOR WAR AND WHORING. THEN CHUCK SAW THE INDIANS CHARGING TOWARDS HIM. UNARMED AND NAKED CHUCK COULD ONLY RUN. HIS COCK AND BALLS SLAPPED AGAINST HIS POUNDING THIGHS. HE WAS AS NAKED AS THEM IN THEIR WORLD OF SAVAGE MALENESS. CHUCK RAN TO ESCAPE THEIR WORLD. A WELL AIMED TOMAHAWK KNOCKED THE SCOUT TO THE GROUND. CHUCK WAS GRABBED AND SPREAD EAGLE OVER A LOG. HE WAS SCALPED OF HIS MAN BUSH, PAINFULLY PULLED OUT ROOTS AND ALL. IT WOULD NEVER GROW BACK.
CHUCK WAS TURNED OVER AND HIS ARMS AND LEGS STAKED OUT WIDE. TERRIFIED HE PISSES HIMSELF AND THE BRAVES COCKS GOT EVEN HARDER. CHUCK WAS SPEARED BY THE BRAVES COCKS WITH NO WAY OF STOPPING THEM. CHUCK'S ARSE WAS SMASHED, THE DEBAUCHED SCOUT SOBBED IN PAIN AND SHAME. CHUCK WAS UNTIED FROM THE LOG, HIS SORE ARSE STRETCHED, HAD HIS ARMS TIED BEHIND HIS BACK. ONE BUCK JUMPED ON HIS BACK WHILE ANOTHER PIERCED CHUCKS MAN TITS WITH COUGAR CLAWS. CHUCK WAS PULLED BY HIS TITS WITH AN INDIAN ON HIS BACK AND FUCKING HIS ARSE. HE WAS BEING TAKEN THE THE BRAVES COMPOUND IN A MOST LEWD MANNER.
"YOU ON OUR LAND, WE OWN YOU SQUAW", THE CHIEF TOLD CHUCK. HE WAS THEIR PROPERTY, NOW, THEIR BEAST, THEIR SQUAW. CHUCK WAS TIED TO THE BISON THRONE, WITH HIS LEGS SPREAD, HE KNEW WHAT WAS COMING. CHUCK'S LEGS WERE SPREAD BETWEEN TWO BISON HORNS. THE HUGE INDIAN CHIEF THRUST HIS WEAPON DEEP INTO CHUCK'S THE NOW MAN SQUAWS MAN CUNT MAKING HIM MOAN. THIS WAS ONLY THE START OF HIS ORDEAL. WHITE COWBOY CAPTURED AND ENSLAVED BY SAVAGE INDIANS. HIS NAKED BODY IS PHYSICALLY AND SEXUALLY ABUSED FOR THEIR PLEASURE AS THE MAN SQUAW. €12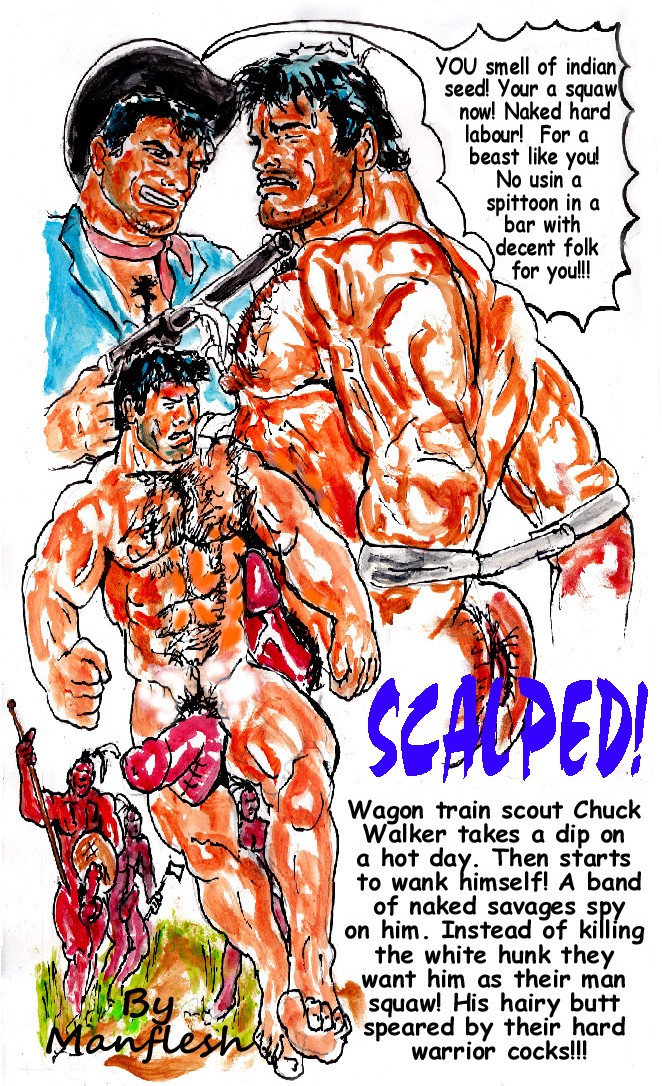 28 THE VAMPIRE LORD PART 1 SUCKER FOR JOCKS. WITH THE COMING OF THE AGE OF THE SELFIE, BEINGS LIKE THE VAMPIRE LORD COULD WERE ABLE TO SCAN THE NET FOR THEIR DESIRES. HE FOUND A JOCK HE CRAVED. HE SENT A LETTER WITH AND OFFER AND PLANE TICKETS. AT TRENT BUTTKINS DOSS HOLE, TRENT WAS PLEASED TO RECEIVE THE LETTER WITH AN OFFER OF A TWENTY THOUSAND DOLLAR MONTHLY SALARY AS A PERSONAL TRAINER. TRENT THOUGH IT WAS ACE, NO MORE SCHOOL AND HE COULD AFFORD FAST CAR AND CHICKS.
AFTER A LONG FLIGHT AND TRAIN RIDE SOUTH TO URANJE IN SOUTH SERBIA. TRENT HAD BEEN TOLD TO ASK AT THE STATION FOR DIRECTIONS TO THE MONOLITH AT THE CROSS ROADS. WHERE HE WAS TO BE PICKED UP. HE DID NOT KNOW IT WAS TEN KILOMETRES AND THE SUN WAS SO HOT HE STRIPPED DOWN TO HIS UNDERPANTS. HE HOPED ANY CHICK SEEING HIM WOULD WANT A CUNTING. THINKING OF PUSSY MADE HIM ROCK HARD. HE FINALLY ARRIVED AT THE MONOLITH AND PUT HIS CLOTHES ON AND WAITED FOR HIS RIDE. TRENT WAS SURPRISED WENT A BULLOCK CART ARRIVED. "YOU ARE FOR THE MASTER?", THE HUGE DRIVER SAID. TRENT WAS GIVEN A PIGSKIN FULL OF WATER AND HE GUZZLED ON THE THIRST QUENCHING LIQUID. THE WATER WAS DRUGGED AND TRENT COLLAPSED. HANUS THE COUNTS MAN SERVANT, LIKED TO BE NAKED, SO HE STRIPPED OFF AND GOT TO WORK. HANUS STRIPPED THE MASTERS NEW SLAVE, IT WAS TIME TO TEACH IT ITS LOWLY STATION. TRENT WOK NAKED AND TETHERED TO THE CART INSTEAD OF THE BULLOCK. "YOU ARE OWNUS BY COUNT NOW, WILL NERE WEAR CLOTHES AGAIN, YOUR POSSESSIONS ARE MINE TO SELL", HANUS SAID IN BROKEN ENGLISH. "I TRAIN YOU HARD, A BEAST NEEDS DISCIPLINE", HANUS ADDED. "PULL NOW", HANUS ORDERED. "SHIT, NO, FUCK", TRENT CURSE STRUGGLING IN THE HARNESS. TRENT SOON LEARNT TO PULL THE CART AFTER A FEW LASHES OF THE BULL WHIP. DESPITE HIS RUDE ALARMING SITUATION, TRENT HAD THE BIGGEST BONER OF HIS LIFE. IT WAS TWILIGHT WHEN THE NAKED ENSLAVED JOCK TRENT SAW THE FORBIDDING MASS OF THE COUNTS CASTLE. WOULD THERE BE REFRESHMENTS SERVED HE WONDERED.
TENT WAS CARRIED INTO THE CASTLE IN A MOST LEWD MANNER AND STRUNG UP NAKED BY HIS ARMS. "YOU ARE READY FRO THE MASTER, AND WILL FEEL THE BITE OF OWNERSHIP", HANUS TOLD HIM. FUCK, NO CHICKS, TRENT THOUGHT TO HIMSELF. A FIGURE CAME OUT OF THE GLOOM AND FLOATED DOWN FROM THE HALL BALCONY,, AMONG A CLOUD OF BATS. ONE OF THE BATS SUCKED BLOOD FROM THE NAKED, SQUIRMING, JOCK HUNK. "YOU WILL NIT REMEMBER ANYTHING BEFORE YOU REACH THE MONOLITH", THE VAMPIRE LORD TOLD TRENT AS HE SANK HIS FANGS IN TRENT'S NECK. THE VAMPIRE LORD USE MIND CONTROL ON HIS VICTIMS AND SLAVES. "YOU WERE HATCHED FROM AN EGG IN A TEST TUBE, AN ANIMAL FOR FUCKING AND FANG FEEDING"THE VAMPIRE LORD SAID USING HIS MIND CONTROL POWERS TO MAKE TRENT BELIEVE AND OBEY. HAVE BEEN MADE TO OBEY, TRENT THOUGHT AS HE ATE FROM HIS FOOD BOWL. HANUS THE MAN SERVANT HAD ADDED HIS CUM TO THE SLUDGE OF MEAT, FISH, FRUIT, VEGETABLES IN TRENT'S FOOD BOWL. THE VAMPIRE LORD FINISHED HIS EVENING WITH A COCK TAIL SINKING HIS FANGS IN TRENTS COCK. HE ALLOWED HIS MAN SERVANT TO FUCK TRENT'S MOUTH, FILLING TRENT'S GUTS WITH WADS OF CUM. HANUS FOUND MANY WAYS TO USE TRENT AS A FARM ANIMAL. ONE WAY HE HAD TRENT ARSE IMPALED ON THE PLOUGH AND USED IT TO PLOUGH ONE OF THE COUNTS FIELDS. EVERY JOLT KEPT TRENT'S COCK ROCK HARD AND FULL OF BLOOD. JUST AS THE VAMPIRE LORD LIKED IT. YOUNG HOT MUSCLE JOCK ENSLAVED AND MIND CONTROLLED BY THE VAMPIRE LORD TO FEAST ON HIS BLOOD. HOT MALE PHYSICAL AND SEXUAL ABUSE. €12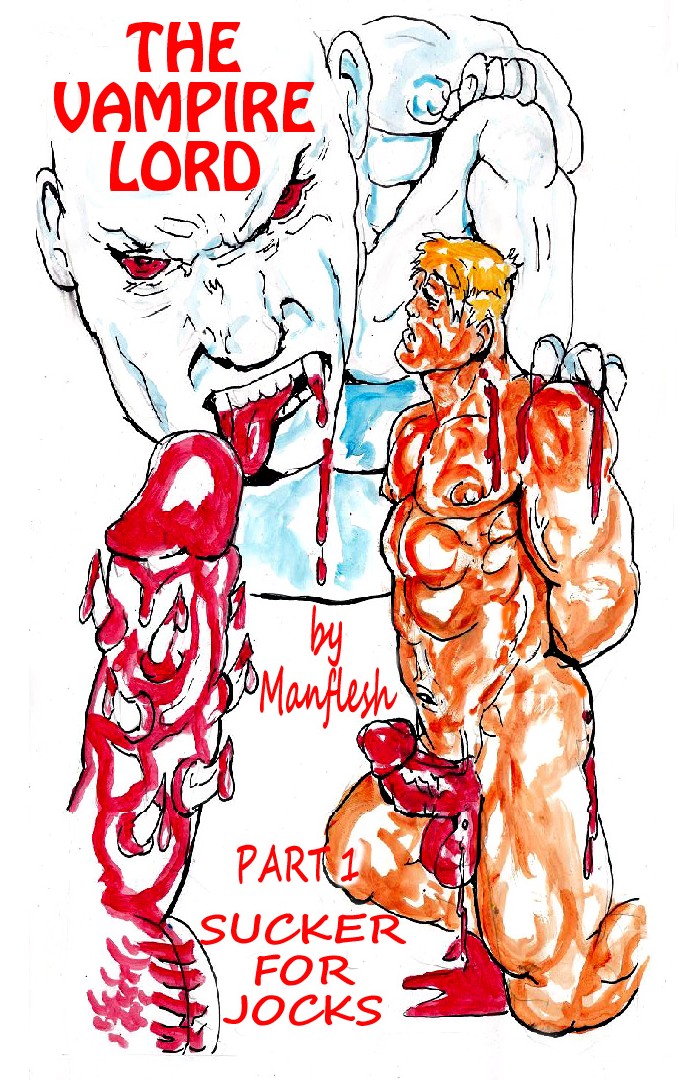 29 THE VAMPIRE LORD PART 2 THE MUSCLE FLESH GYMS OF NEW YORK. THE VAMPIRE LORD HAD TRAVELLED TO BROOKLYN NEW YORK. HOME TO MUSCLE FLESH GYMS, HIS AIM WAS TO TAKE THEM ALL OVER. TO BUILD A MUSCLE FLESH EMPIRE, WITH A READY SUPPLY OF MUSCLE RICH BLOOD FOR DRINKING. AT ROYD'S GYM RYOD WENT TO THE STOREROOM TO GET SOME ROIDS FOR A MEMBER. HE IS SHOCKED TO MEET THE VAMPIRE MASTER. "WHO THE FUCK ARE YOU", RYOD DEMANDED. "YOUR MASTER", THE VAMPIRE MASTER REPLIED. THE VAMPIRE LORD ATTACKED USING A HARD PUNCH TO SUBDUE RYOD. THE GYM OWNER STOOD NO CHANCE, THE VAMPIRE LORD STRIPPED HIM FOR A FANGING AND ARSE POUNDING AND MIND CONTROL. "I OWN YOUR GYM, I'M YOUR BOSS, .. YOUR MASTER", THE VAMPIRE LORD SAID AS HE FANGED AND FUCKED RYOD. "YES MASTER", RYOD REPLIED OBEDIENTLY.
THE VAMPIRE LORD USED HIS MIND CONTROL ON THE GYM MEMBERS. HE HAD THEM EATING OUT HIS HAND, SO TO SPEAK. STRIPPED NAKED SUCKING THEIR OWN UNDERWEAR. NO CLOTHES WERE ALLOWED IN HIS DOMAIN. ONLY ONE MEMBER WAS NOT UNDER THE VAMPIRE LORDS SPELL, COP, LIEUTENANT MATT BUNNS. "SHIT THEY ARE ALL POSSESSED", MATT BUNNS SHOUTED IN FEAR AS HE RAN FROM THE GYM WRAPPED IN JUST A TOWEL CHASED BY THE SPELL BOUND GYM MEMBERS. LIEUTENANT BUNNS LOST HIS BALANCE AND TUMBLED TO THE GROUND. SURROUNDED THERE WAS NO ESCAPE. THEIR LORD AND MASTER WOULD BE PLEASED. LIEUTENANT BUNNS WAS TAKEN BACK TO THE GYM WITH HIS LEGS STRETCHED WIDE. LIEUTENANT BUNNS WAS CHAINED TO A STONE IN THE BASEMENT EASY PREY FOR THE VAMPIRE LORD. "I WILL TURN YOU INTO A PRIZE EXHIBIT", THE VAMPIRE LORD SAID AS HE FANGED LIEUTENANT BUNS. FROM THE CELLAR BELOW CAME MOANS FROM LIEUTENANT BUNNS. THE MESMERISED MASS OF NAKED MUSCLES TRAINERS TOOK NO NOTICE.
LIEUTENANT BUNNS MOANED AND MOANED AS HE WAS INJECTED WITH GROWTH HORMONE AND FORCED TO TRAIN. AFTER A MONTH HE WAS A MUTTON HEADED HULK OF MUSCLE. HIS PAST LIFE WAS JUST A DIM HAZE. THE VAMPIRE LORD HAD ARRANGED FOR OTHER GYM OWNERS IN THE AREA. HE MIND CONTROLLED THEM AND NOW OWNED THEIR GYMS. HE BROUGHT OUT LIEUTENANT BUNNS AS ENTERTAINMENT FOR THEIR LUSTS. THE GYM OWNERS MIND CONTROLLED BY THE VAMPIRE LORD MADE GOOD USE OF LIEUTENANT BUNS SPUNKING HIS ARSE REAL HARD. THE VAMPIRE LORD NOW OWNED SIX GYMS AND ALL THE MUSCLE HUNKS WHO TRAINED IN THEM WITH ALL THE FRESH BLOOD. MORE YOUNG HOT MUSCLE JOCKS AND GYM OWNERS ENSLAVED AND MIND CONTROLLED BY THE VAMPIRE LORD TO FEAST ON THEIR BLOOD. MORE HOT MALE PHYSICAL AND SEXUAL ABUSE. €12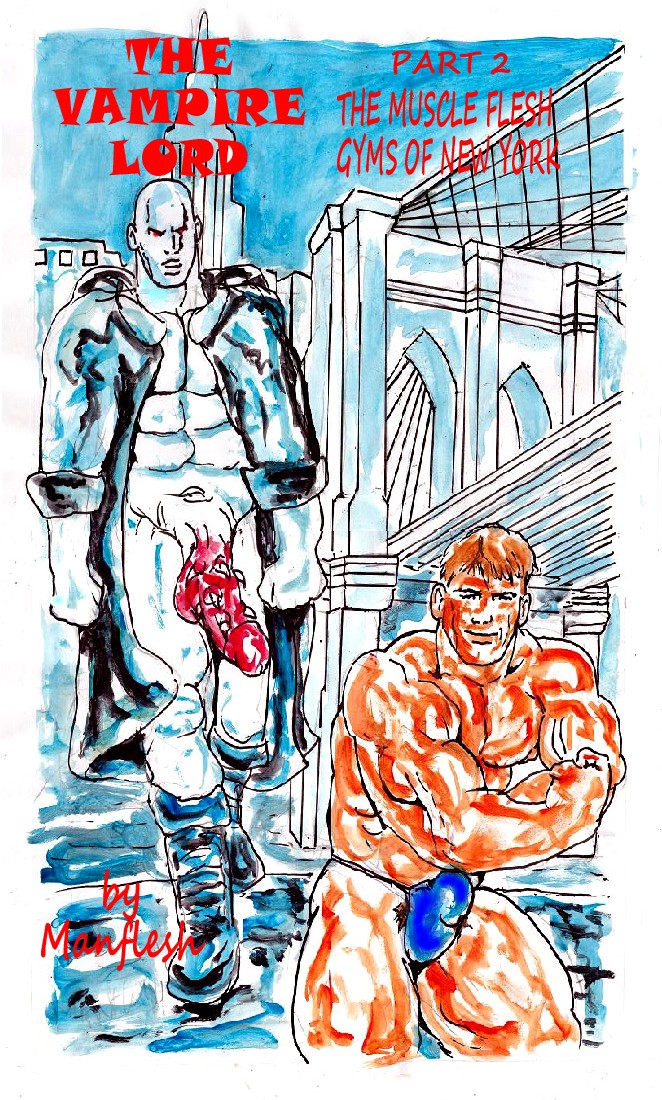 30 DEVIL BUSTER. JOEL BELAMIS NEOPHYTE PRIEST, HAD BEEN CHARGED AND NOT FOR THE FIRST TIME WITH LEWD ACTS WITH THE SWISS GUARDS. HE WILL BE WHIPPED NAKED. HIS SEX PART EXAMINED. THEN SENT TO THE BELOW WORLD OF THE CATACOMB AS A DEVIL BUSTER. JOEL NEOPHYTE WAS TAKEN BEFORE MONSIGNOR FELLATIO AGAIN. "NOT AGAIN", THE MONSIGNOR SAID. THE MONSIGNOR DECIDED HE WANTED TO GET TO THE BOTTOM AND THE NUTS AND BOLTS OF WHAT HAD BEEN GOING ON. "SHOW ME WHAT HE WAS DOING", THE MONSIGNOR SAID. THE GUARDS DROPPED THEIR TROUSERS AND BRIEFS AND PULLED OPEN THE BOTTOM OF JOEL'S VESTMENTS. "CARRY ON", THE MONSIGNOR ORDERED. THE GUARDS MADE JOEL SUCK THEIR COCKS. "MONSIGNOR HE TOOK ADVANTAGE OF OUR WEAPONS", ONE OF THE GUARDS TOLD THE MONSIGNOR AS THEY MADE JOEL SUCK THEIR COCKS IN TURN. THEN HE STRIPPED NAKED AND BENT OVER", THE GUARD ADDED. "YES, SHOW ME YOUR NAKED CHASTITY", THE MONSIGNOR REPLIED. JOE; OF COURSE HAD TO TAKE THE BLAME AS AN UP AND COMING PRIEST, AND SHOULD NOT HAVE GOT CAUGHT AGAIN. EAGER TO USE THEIR WEAPONS, THE GUARDS STRIP JOEL NAKED. "YES, I CAN SEE, SO FULL OF TEMPTATION", THE MONSIGNOR SAID. "NOW SHOW ME WHAT HE CAJOLED YOU INTO DOING AGAINST YOUR WILL?", THE MONSIGNOR ADDED. JOEL WAS MADE TO SUCK ONE GUARDS COCK WHILE THE OTHER FUCKED HIM UP THE ARSE. "DON'T HOLD BACK ON MY PART, FUCK HIM HARD", MONSIGNOR SAID AS HE WATCHED INTENTLY. "I'LL PLAY ALONG, THEN I WILL HAVE ENOUGH ON HIM TO GET A PROMOTION, JOEL THOUGHT TO HIMSELF AS HE PERFORMED IN FRONT OF THE MONSIGNOR.
"WHIP THE PRIDE OUT OF HIM, GIVE HIM PAIN", THE MONSIGNOR ORDERED AFTER EXAMINING THE DAMNING EVIDENCE. JOEL COULD TAKE WHAT WAS COMING, MORE AMMUNITION TO GET WHAT HE WANTED, AS HE WAS TAKEN TO THE PALAZZO DUNGEON. JOEL WAS TIED SPREAD, HIS LEWD STATE ONLY MADE HIS COCK HARDER. THE GUARDS WERE PLEASED TO HAVE A SUPERIOR OR AT LEAST A NEOPHYTE PRIEST TO WHIP. OF COURSE HE HAD SUCKED AND CUNTED WITH THEM, BUT HE WAS NOT ONE OF THEM. THEY WILL ENJOY HUMBLING HIM. EVERY PART OF JOEL'S NAKED FLESH WAS KISSED BY THE GUARDS WHIPS. AFTER THE WHIPPING, STINGING NETTLES WERE ATTACHED TO A STICK AND THRUST UP JOEL'S ARSE. WITH THE NETTLES, RUBBING, SWELLING, BURNING HIS ANUS. THE DOG COLLARED CLERIC WAS FORCED TO ORGASM AGAIN AND AGAIN.
DRESSED AFTER HIS UNFROCKING. JOEL ENTERED THE MONSIGNORS OFFICE AND GAVE HIM AN ULTIMATUM. "OK, YOU WILL GET WHAT YOU DESERVE", THE MONSIGNOR TOLD JOEL. "GUARDS", THE MONSIGNOR SHOUTED. THE GUARDS PULLED THE BUTTONS OF JOEL'S VESTMENTS SAVE FOR THE ONE AT THE TOP. THEY THEN RIP OFF HIS UNDERWEAR. JOEL WAS DROPPED INTO THE CITY BELOW ROME, THE CATACOMBS. A LAWLESS PLACE WHERE MUSCLE STRENGTH RULED. WITH MUSCLE YOU COULD RULE A GANG, THE STRONGEST GANG RULED ALL. THEY WORSHIP THE DEVIL. THIS WAS THE PLACE JOEL HAD BEEN LOCKED IN. HOT MANFLESH MALE PHYSICAL AND SEXUAL ABUSE OR A YOUNG ROMAN CATHOLIC PRIEST. €12.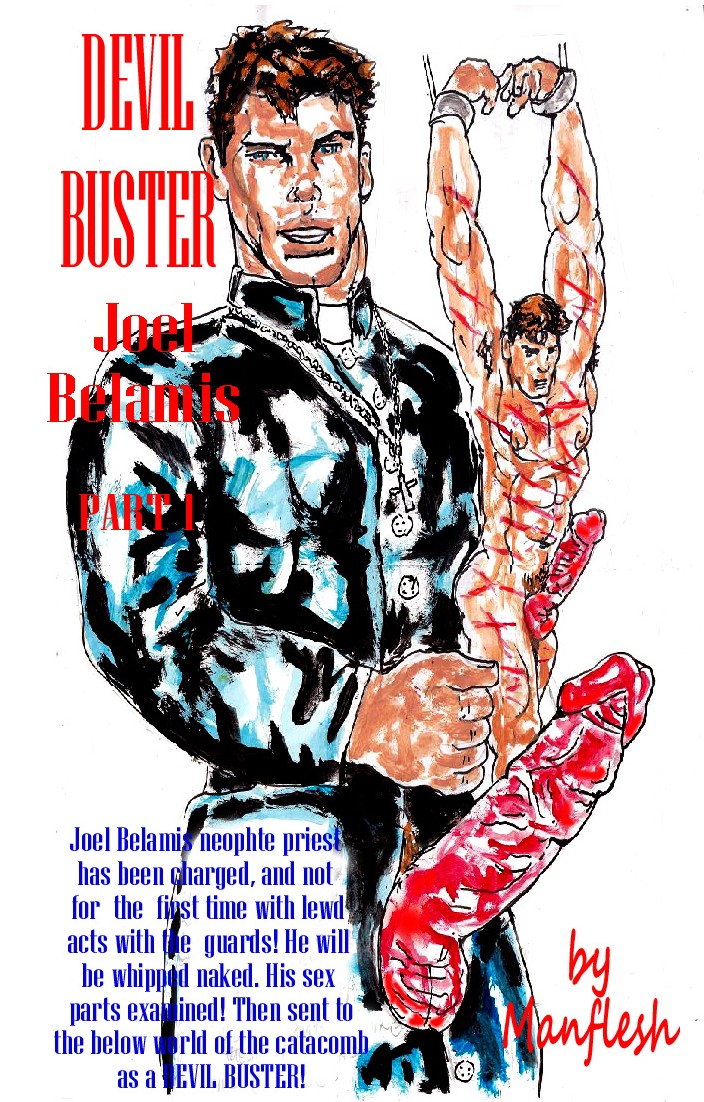 31 THE CONSTRUCTION WORKER PART 1. JON PATRIC WAS A CONSTRUCTION WORKER, IN THE CONSTRUCTION INDUSTRY THAT HAD TOO MANY LABOURERS FOR TOO LITTLE WORK. HE HAD JUST LEFT HIS DIGS WITH FIFTY DOLLARS ON HIS POCKET, WHEN HE NOTICED AN ADVERT FOR WORK IN THE MIDDLE EAST FOR FOUR HUNDRED DOLLAR A WEEK, BUT APPLICANTS HAD TO BE SUPER FIT. JON KNEW HE FIT THE BILL AS HE WAS COVERED IN SLABS OF MUSCLE, SO HE PHONED FOR AN INTERVIEW. HIS FATE NOW AWAITED HIM. THE INTERVIEWER AT MUSCLE CONSTRUCTION TOLD JON THAT THE ARABS LIKED THEIR CONSTRUCTION PEOPLE TO BE STRONG, THEY DIDN'T WANT WEAK GUYS. THE INTERVIEWER TOLD JON TO TAKE HIS TOP OFF AND POSE.HE NEEDED TO TAKE PICTURES FOR THEIR APPROVAL. JON REMOVED HIS TOP AND POSED FOR THE CAMERA. THEN THE INTERVIEWER MADE JON STRIP TO HIS UNDERWEAR AND POSE. JON WAS PLEASED WHEN THE INTERVIEWER GOT A CALL BACK TO SAY THAT HE HAD BEEN ACCEPTED. THE INTERVIEWER SHOWED JON INTO A ROOM WHERE HE COULD REST AND WAIT UNTIL HIS PASSPORT WAS READY FOR HIS FLIGHT IN THE MORNING. THERE WAS FOOD AND WATER ON A TABLE BY THE BED. THE WATER WAS DOPED AND MADE JON PUNCH DRUNK. HE WAS HORNY AND DOPEY, READY FOR HIS FLIGHT TO THE MIDDLE EAST ON AN ANIMAL TRANSPORT. THE INTERVIEW PHONED TO TELL THE TRANSPORT THAT THE NEW CONSTRUCTION WORKER WAS ON HIS WAY. THEN HE CARRIED A SEMI CONSCIOUS JON TO A GREEN VAN WITH DOG POUND PRINTED ON THE HOOD. THE VAN SPED JON OUT OF THE CITY TO A PRIVATE AIR FIELD WHERE A PLANE WAS WAITING. JON ALONG WITH THE REST OF THE MEAT, OTHER NEW CONSTRUCTION WORKERS WAS LOADED ABOARD THE TRANSPORT. BY THE MORNING IT HAD REACHED THE OCEAN HEADING EAST.
SOMEWHERE IN ARABIA THE TRANSPORTER OF MEAT OR NEW CONSTRUCTION WORKERS LANDED. A GROUP NAKED CONSTRUCTION WORKERS, SLAVES, WITH THEIR HANDS TIED STEPPED OUT OF THE PLANE. IT DROPPED THE LIVE STOCK OFF AND TOOK OFF BACK FOR THE USA. JON MOANED IN SHOCK WHEN HE SAW HE WAS NAKED AND WHAT HAD HAPPENED TO HIM. "YOU SLAVE, DO NOT SPEAK", A GUARD SAID AS HE WHIPPED JON. "WE WILL SOON RECTIFY THAT", HE ADDED AS HE DELIVERED ANOTHER LASH OF THE WHIP. AFTER A FIVE KILOMETRE TRUDGE WITH THE BLAZING SUN BURNING THEIR NAKED FLESH, THE CONSTRUCTION WORKERS ARRIVED AT A TOWN WITH A GREAT FORTRESS, WHERE THEY WERE TO TOIL. THE NAKED CONSTRUCTION WORKERS WERE TAKEN TO THE FORGE FOR SOME ENSLAVEMENT ADORNMENTS. IN THE FORGE WAS AN ANVIL WITH A STRANGE PHALLUS LIKE ATTACHMENT ON THE TOP. THE BLACK SMITH ORDERED JON TO GET ON THE ANVIL AND MOUNT THE PHALLUS. JON REFUSED SAYING TO THE BLACK SMITH, "NO, FUCK YOU". "THIS WILL STOP YOUR JABBERING", THE BLACK SMITH SAID ANGRILY SLAPPING JON. TWO GUARDS GRABBED JON AND THRUST HIM ONTO PHALLUS ON THE ANVIL. THE BLACK SMITH INSERTED A STEEL BAR IN JON'S MOUTH PINNING DOWN HIS TONGUE. IT STOPPED JON FROM SPEAKING AS HE COULD ONLY MAKING GRUNTING NOISES. THE BLACK SMITH FITTED AND IRON SLAVE COLLAR AROUND JON'S NECK. HE THEN USED A STICKY PASTE TO REMOVE JON'S PUBIC HAIR. IT NOT ONLY REMOVED THE HAIR BUT ALSO KILLED THE ROOTS. A STEEL COCK AND BALL RING WERE ATTACHED NEXT DISPLAYING THE BEASTS SEX ORGANS.
JON WAS MADE AN EXAMPLE OF TO TEACH THE OTHER NEW CONSTRUCTION WORKERS AND SLAVES THEIR PLACE. HE WAS DRAGGED OUT AND LOCKED BENT OVER IN SOME STOCKS, LEAVING HIS BUTTOCK EXPOSED FOR THE GUARDS WHIPS. TWO GUARDS USED BULL WHIPS ON JON'S ARSE. THE BITE OF THE WHIP SENT FIERY PAIN FROM JON'S BUTTOCKS TO HIS BRAIN. FEAR OF THE LASH WOULD HELP TO TAME THE WORKER BEAST. FIVE OF THE BIGGEST GUARDS WITH HUGE COCKS APPROACHED JON STILL LOCKED IN THE STOCKS, IN JUST THEIR HATS AND BOOTS. THEY WERE GOING TO TAME THE SLAVE WORKER WITH A GOOD MOUNTING. JON GRUNTED IN PAIN AS THE FIRST GUARD FORCED HIS HUGE COCK UP JON'S ARSE. MALE PHYSICAL AND SEXUAL ABUSE AS WESTERN MUSCULAR CONSTRUCTION WORKERS ARE ENSLAVED BY ARAB MASTERS. €15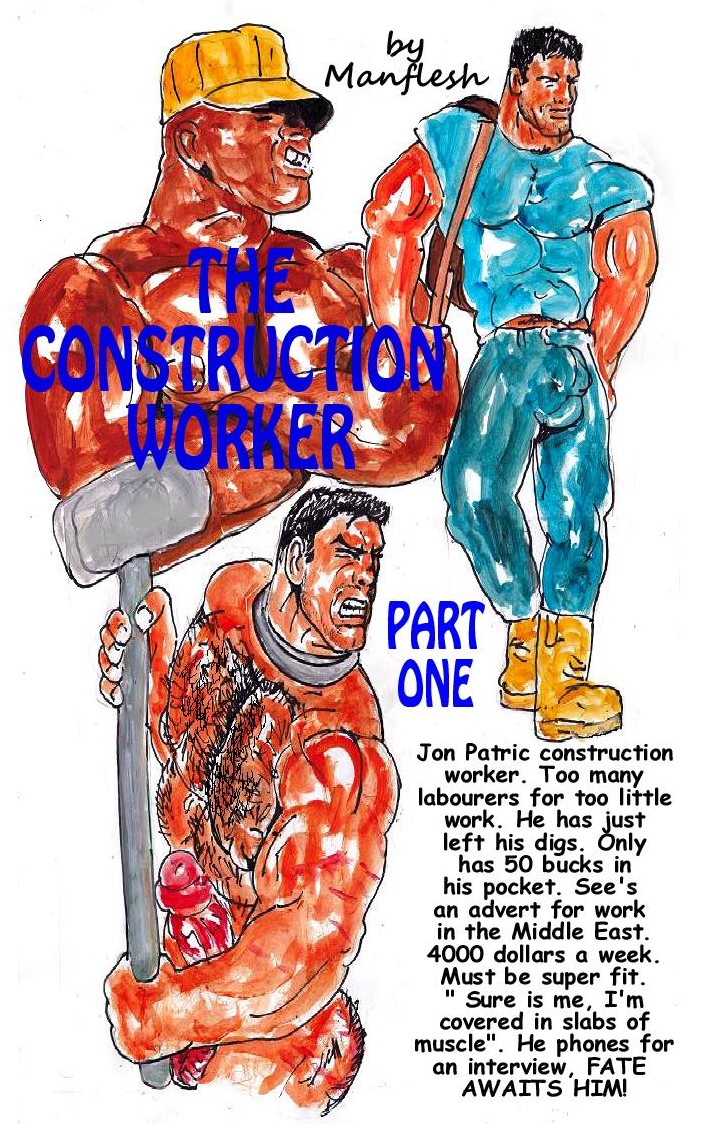 32 SLAVE BULL SLAVE WHELP PART 1 THE FATHERS TALE. PARKER WILLIAMS AND HIS SON JUSTIN WERE ENSLAVED. PARKER WAS A RED NECK IN CONSTRUCTION. BUT THE WORK HAD DRIED UP AND HE HAD HUGE GAMBLING DEBTS. ONE MORNING HE WAS TAKEN BY THE SLAVE POLICE. HE WAS STRIPPED NAKED. HIS SON WAS ALSO WAS ALSO TAKEN FROM SCHOOL, STRIPPED NAKED, AS PART OF HIS ASSETS, AND ENSLAVED AS WELL. PARKER WILLIAMS WAS AT HOME, HAVING A FEW BEERS AND FUCKING A BLOW UP DOLL. SOME THING HE DID FOUR TIMES A DAY, WHEN THE SLAVE POLICE ARRIVED. THE SLAVE POLICE BURST IN WHEN HE WAS HALFWAY THROUGH FUCKING THE BLOW UP DOLL. THE SLAVE POLICE WERE USE TO HANDLING SLAVE FLESH, AND THEY SOON HAD THE DEBTOR STRIPPED TO ITS ANIMAL STATE. NAKED, CUFFED AND WEARING A REGULATION SLAVE COLLAR, PARKER WILLIAMS WAS TAKEN OUT INTO THE STREET. FOR ALL TO SEE. HE WAS NOW AN ANIMAL. HANDS TIED BEHIND HIS BACK, PARKER WAS MADE TO RUN BEHIND THE SLAVE POLICE JEEP. AS A NAKED BEAST, HIS ERECT CUM SPURTER, FOR ALL UPSTANDING CITIZENS TO GAWK AT. PARKER SHIT HIMSELF AS HE ENTERED BRUNT AND SCRAGGS SLAVE AUCTION FACILITIES.
THE FIRST THING THAT HAPPENED TO A MAN WHEN HE BECAME A SLAVE AT BRUNT AND SCRAGGS, THEY HAD THEIR COCK BUSH REMOVED. A SLAVE OWNED BY THE AUCTION HOUSE, REMOVED PARKER'S BUSH WITH SOME DEBILITATING PASTE. AT BRUNT AND SCRAGGS MUSCLES MEANT BIG MONEY, SO MUSCLES WERE TRAINED HARD. "DO A HUNDRED PUSH UPS, THEN SUCK MY COCK, SLAVE", A GUARD TOLD PARKER, AS HE SPAT IN HIS FACE. PARKER OBEYED AND SUCKED THE GUARDS COCK. MUSCLE SLAVES LIKE PARKER WERE WELL USED. A SLAVE HAD TO BE A GOOD COCK SUCKER. NEXT, WAS BUT FUCKING, WITH HEAVY WEIGHTS. PARKER WAS MADE TO SQUAT WITH HEAVY BAR BELLS, EACH TIME HE BENT HIS KNEES AND LOWERED HIMSELF, A LARGE DILDO FIXED TO THE FLOOR, IMPALED HIS ANUS. ALL PART OF THE TRAINING AND ALL ON THE FIRST DAY. "YOU, SLAVE, ARE COMING WITH ME", A GUARD TOLD PARKER. PA PARKER WAS THEN DRAGGED TO ANOTHER PART OF THE FACULTY. PARKER WAS SHOCKED TO SEE HIS SON, JUSTIN, NAKED AND HANDS BOUND, WEARING A SLAVE COLLAR, MAN BUSH SHAVED, CLEARLY A SLAVE, LIKE HIMSELF. "THIS IS ALL YOUR FAULT PA I HATE YOU", JUSTIN SAID ANGRILY. "SON, I", PARKER STAMMERED, LOST FOR WORDS. JUSTIN WAS PISSED OF WITH HIS PA AND WANTED TO GET HIS OWN BACK. "ON YOUR KNEES", THE GUARD SAID FORCING PARKER DOWN TO HIS KNEES. "YOU WILL SUCK YOUR WHELP'S COCK", THE GUARD ORDERED. "YEAH, YOU SUCK ME OFF PA, YOU BETCHA", JUSTIN SAID. PARKER WAS FORCED TO SUCK HIS SON'S COCK, IN FRONT OF THE GUARD. "YEAH, WHOSE THE DADDY NOW", JUSTIN SAID GLOATING AS HE CUM IN HIS PA'S MOUTH. HOWEVER, THE GUARD THEN MADE JUSTIN KNEEL AND SUCK HIS PA'S COCK, UNTIL HIS PA CUM IN HIS MOUTH.
THE PAIR FATHER AND SON, BULL AND WHELP, WERE TAKEN TO THE AUCTION FOR SALE. BULL AND WHELP WERE COLLARED TOGETHER AND DISPLAYED ON THE AUCTION STAGE. THEIR ORDEAL HAD ONLY JUST BEGAN. RED NECK FATHER AND SON, BULL AND WHELP SOLD INTO SLAVERY FOR THE FATHER DEBTS. GOOD PHYSICAL AND SEXUAL MALE ON MALE ABUSE €15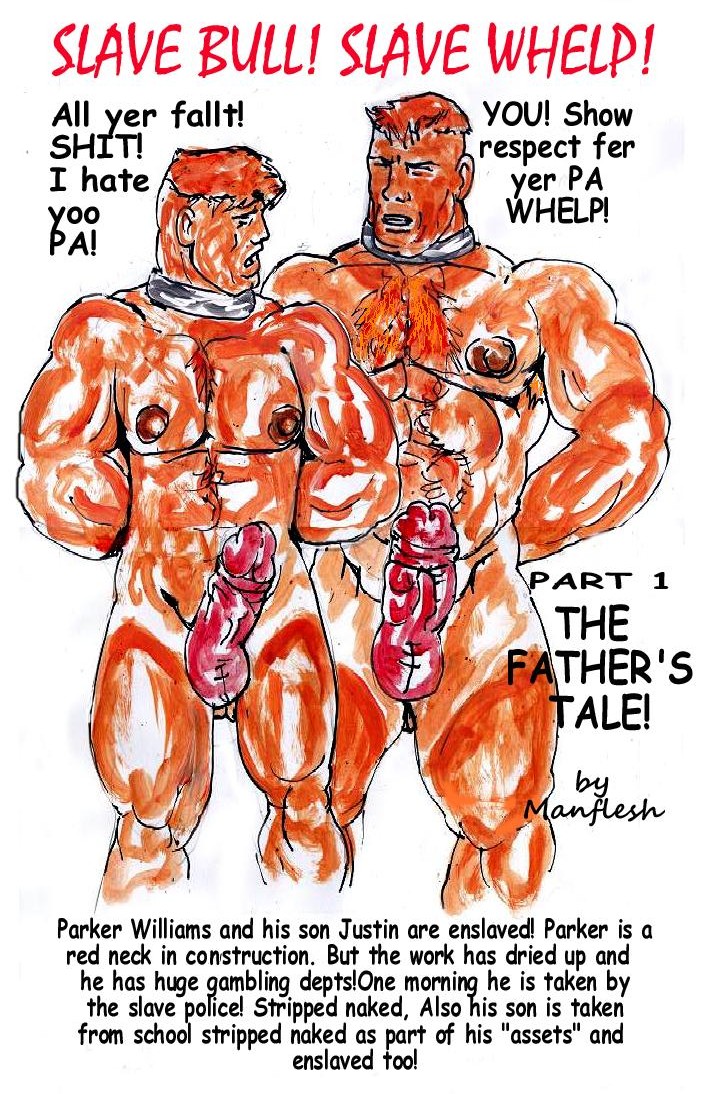 33 SLAVE BULL SLAVE WHELP PART 2 THE SON'S TALE. PARKER WILLIAMS, SON JUSTIN, WAS A STUDENT AT MACKINLLEY HIGH, A POOR ONE, HE COULD BARLEY READ OR WRITE, BUT HE WAS TOP JOCK, SCORER FOR THE MACKINLLEY HIGH FOOTBALL TEAM. HOWEVER ONE DAY HE GOT A RUDE AWAKENING, WHEN THE SLAVE POLICE, CALLED AT THE SCHOOL, AND STRIPPED HIM NAKED. THEY TOOK HIM, TO JOIN HIS FATHER, AT THE BRUNT AND SCRAGGS, SLAVE AUCTION, HOUSE.
JUSTIN WAS ON THE FOOTBALL FIELD PLAYING FOOT BALL. HE WAS ALWAYS ON THE FOOTBALL FIELD, NEVER DOING ANY SCHOOL WORK. THE SLAVE POLICE ARRIVED, AND RAN ONTO TO THE PITCH, HEADING FOR JUSTIN. THEY STARTLED JUSTIN, WHO MADE A RUN FOR IT. JUSTIN WAS GRABBED AND STRIPPED NAKED BY THE SLAVE POLICE, AS HIS FORMER TEAMS MATES LOOKED ON AND JEERED. "HAA, SLAVE TRASH", ONE SHOUTED. "NOT ONE OF US NOW", ANOTHER SNEERED. JUSTIN WAS DRAGGED NAKED THROUGH THE PLAZA, THE CENTRE OF THE SCHOOL CAMPUS. HIS RUDE SLAVE STATUS, FULLY DISPLAYED. FREE, YOUNG, CITIZENS, MOCKED AND JEERED, THE FALLEN HERO, AS HE WAS LED AWAY, NAKED AND BOUND. OUT ON THE STREETS, JUSTIN WAS DRAGGED BEHIND THE SLAVE POLICE JEEP. UPSTANDING CITIZENS, SPAT ON HIS NAKED FLESH, DISPLAYING HIS INFERIOR, ANIMAL STATUS.
WHEN JUSTIN ENTERED, THE BRUNT AND SCRAGGS, AUCTION COMPLEX, HE COULD SEE THERE WAS NO WAY OF ESCAPE, AS THERE WERE GUARDS EVERYWHERE. HE WAS TAKEN TO BE PROCESSED. "TAKE IT, FOR SHAVING, ONE OF THE GUARDS ORDERED. JUSTIN HAD HIS MAN BUSH REMOVED BY ANOTHER SLAVE OF BRUNT AND SCRAGGS, SUPERVISED BY GUARDS, WITH GUARD DOGS. JUSTIN'S LOW PLACE IN THE PECKING ORDER, WAS DEMONSTRATED, BY THE GUARD DOGS PISSING ON HIM. ONE OF THE GUARDS, ORDERED JUSTIN, TO SUCK HIS COCK. "I AIN'T, SUCKING NO COCK", JUSTIN REPLIED. ONE OF THE GUARDS, STUCK AN ELECTRIC ZAPPER, IN JUSTIN'S ARSE, AND QUICKLY MADE JUSTIN, OPEN HIS MOUTH. IN PAIN FROM THE ELECTRIC ARSE ZAPPING, JUSTIN HAD NO CHOICE BUT TO SUCK THE GUARDS COCK, JUSTIN QUICKLY LEARNT HOW TO GOBBLE, LIKE A SLAVE SHOULD.
JUSTIN WAS TAKEN TO HIS ENSLAVED FATHER, IN THE BULL AND WHELP SECTION OF THE SLAVE FACULTY, WHO WAS NAKED AND BOUND LIKE HIMSELF. "SON", PARKER SAID IN SURPRISE, WHEN HE SAW HIS SON, JUSTIN NAKED AND BOUND WITH THE GUARDS. "PA, ALL YOUR FAULT, I HATE YOU", JUSTIN SAID ANGRILY WHEN HE SAW HIS NAKED, ENSLAVED, FATHER. INCENSED, JUSTIN KICKED HIS FATHER IN THE BALLS. "HEY, NO SLAVE, HITS ANOTHER SLAVE, UNLESS WE ORDER IT", ONE OF THE GUARDS SAID ANGRILY. "YOUR BULL, WILL PUNISH YOU WHELP", THE GUARD ADDED. BULL, FATHER WAS UNCUFFED AND MADE TO PUT HIS WHELP OVER HIS KNEE, FOR A SPANKING. HIS SON'S ACTIONS NEEDED TO BE BEATEN OUT OF HIM. "SPANK THE WHELP FOR A FULL HOUR", ONE OF THE GUARDS ORDERED. PARKER STARTED TO SPANK JUSTIN'S BUTTOCKS HARD. JUSTIN WITH HIS BUTTOCKS RED AND SORE, WAS MADE TO SUCK HIS FATHERS COCK, AND SWALLOW HIS MANLY SEED. THEN PARKER WAS MADE TO SUCK HIS SON, JUSTIN'S COCK, WITH JUSTIN IN A NON SUPERIOR POSITION, HANGING FROM HIS FATHERS SHOULDERS, WITH HIS LEGS EITHER SIDE OF HIS FATHERS HEAD. JUSTIN NEEDED TO KNOW HE WAS A SLAVE.
THE DAY OF THEIR AUCTION, FOUND BULL AND WHELP SLAVES, ON THE AUCTION BLOCK READY TO BE SOLD. THERE WAS GREAT INTEREST IN THEM FROM THE MIDDLE EAST. RED NECK FATHER AND SON, BULL AND WHELP WERE BEING SOLD INTO SLAVERY FOR THE FATHER DEBTS. GOOD PHYSICAL AND SEXUAL MALE ON MALE ABUSE €15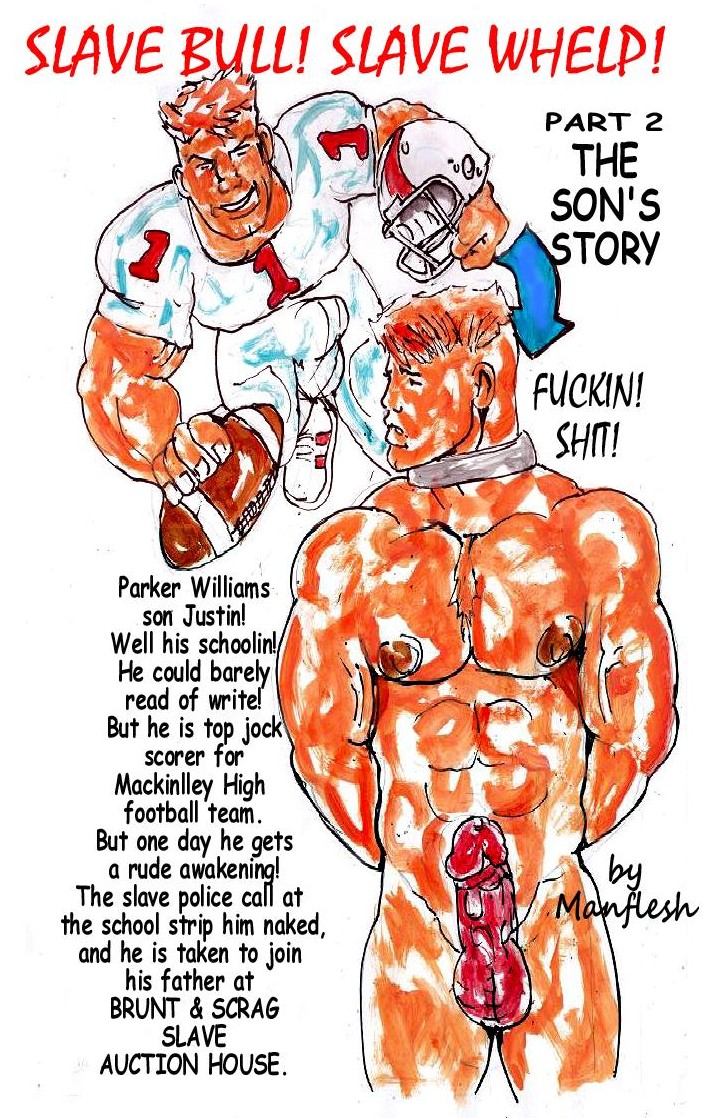 34 HAYDEN'S WHEELS OF SISYPHUS PART 1 THE BEGINNING. TORQUE HAYDEN WAS FOUND GUILTY OF DRINK DRIVING. THAT DAMN BOTTLE OF SPIRIT, NOW THE CRIME OF DRUNK DRIVING AND A HEAVY SENTENCE, WERE TORQUE'S THOUGHTS OF REGRET AS HE STOOD IN COURT. HE WOULD NORMALLY FACE A HEAVY SENTENCE, BUT NOW THERE WAS A NEW SOLUTION THAT TORQUE COULD TAKE. FIVE YEARS IN PRISON OR THE SOLUTION, WHERE THE TWO OPTIONS OFFERED BY THE COURT. TORQUE WILLINGLY TOOK THE SOLUTION OFFER.
TORQUE FOUND HIMSELF ON A PRISON BUS GOING WAY SOUTH, TO WHERE AND WHAT HE WONDERED. HE ALSO WONDERED WHY HE WAS THE ONLY ONE ON THE BUS. THE FACT THAT HE WAS NOT IN PRISON UNIFORM, WAS A CONSOLING THOUGHT. WHEN HE ARRIVED AT THE FACILITY AS IT WAS CALLED, IT WAS QUITE SMALL UNLIKE ANY OTHER PRISON HE HAD SEEN, BUT THE ACCOMMODATION AREA WAS IN TWO WINGS UNDER GROUND AND UNSEEN FROM GROUND LEVEL. AS HE ENTERED THE FACILITY, TORQUE COULD HERE THE HUM OF THE AIR CONDITIONING. HE WAS ESCORTED BY TWO ARMED GUARDS, THROUGH THE COMPLEX, IN A LONG CORRIDOR, TOWARDS TWO SWING DOORS. "WHERE ARE WE GOING?", TORQUE ASKED. "TO SEE THE GOVERNOR", ONE OF THE GUARDS REPLIED. TORQUE HAD HIS ARMS CUFFED BEHIND HIM, BEFORE THEY ENTERED A RECEPTION ROOM. HE WAS PRESENTED TO THE GOVERNOR, CHIEF WARDEN, AND A SENATOR, THE ONE WHO HAD THE FACILITY BUILT. "YOU ARE HERE FOR REFORM", THE GOVERNOR SAID. "YES SIR", TORQUE REPLIED. "YOU WILL DO NICELY NUMBER TWO, NUMBER ONE DID NOT MAKE THE GRADE", THE GOVERNOR STATED. "TAKE HIM BELOW TO THE SHOWERS", HE ORDERED.
HE WAS TAKEN DOWN TO LEVEL THREE, WHERE TWO BRUTISH GUARDS, STRIPPED TO THE WAIST, BECAUSE OF THE HEAT, WERE WAITING FOR HIM. "WHERE THE HELL IS THIS PLACE?", TORQUE ASKED, AS THE SHIRT LESS GUARDS TOOK HIM TO THE SHOWERS. THE GUARDS DID NOT REPLY. IN THE SHOWER ROOM TORQUE'S HAND CUFFS WERE LEFT ON, BUT HIS CLOTHES WERE RIPPED OFF. NOW NAKED TORQUE'S COCK HAIR WAS REMOVED, DENUDED OF PUBES. HE WAS PLACED IN THE SHOWER BASIN. A ROUGH SOAP WAS APPLIED ALL OVER HIS BODY, ON HIS COCK AND UP HIS BUM. THE GUARDS ROUGH HANDS, FORCED TORQUE TO CUM. AFTER THE RUDE SOAPING, TORQUE'S PELT WAS RINSED UNDER THE SHOWER. THE SOAP WAS WASHED AWAY, ALONG WITH HIS LOSS OF DIGNITY. TORQUE WONDERED WHERE ALL OF THIS WAS HEADING. TORQUE WAS DRAGGED INTO A STEEL LINED ROOM, CONTAINING A LARGE CAPSTAN WHEEL WITH LARGE STEEL POLE, ATTACHED TO IT. THERE WAS A SET OF STOCKS HANGING ON CHAINS, WITH, CONVICT 2, CRIME DRUNK DRIVING, ENGRAVED ON IT IN LARGE LETTERS. THE GUARDS LOCKED TORQUE, IN THE STOCKS. "NOW GRIP THE POLE", ONE OF THE GUARDS ORDERED, AS HE WHIPPED TORQUE. TORQUE GASPED IN PAIN, AS THE CHAINS OF THE STOCKS, WERE CONNECTED TO THE POLE. "YOU ARE SENTENCED TO TWO MILLION REVOLUTIONS", THE SECOND GUARD SAID. "FUCK NO, YOU BASTARDS", TORQUE SAID IN HORROR. TORQUE WAS ORDERED TO PULL AND HIS HARD LABOUR BEGAN. HE PULLED THE WHEEL ROUND ONE REVOLUTION, ONLY ONE MILLION NINE HUNDRED AND NINETY HUNDRED THOUSANDS TO GO. I THINK THE BEAST NEEDS A HELPING HAND", ONE OF THE GUARDS SAID, APPLYING HIS WHIP.
TORQUE WAS FORCED TO PULL AND TURN WHEEL UNDER THE STING OF THE GUARDS WHIPS. HE WAS IN PAIN FROM THE STRAIN OF PULLING. IN PAIN FROM THE STING OF THE LASH. TORQUE WAS FORCED TO USE ALL HIS NAKED STRENGTH. EVERY TWENTY MINUTES WATER WAS RELEASED FROM MULTI SHOWER HEADS, IT COOLED HIS PELT AND ALLOWED HIM TO DRINK AS HE TOILED. IT ALSO WASHED AWAY HIS PEE AND CRAP. THE HEAT BETWEEN THE DOUSING, WAS LIKE A SWEAT BOX. ONE OF THE GUARDS WAS SMOKING A CIGAR. HE USED THE BURNING END TO SINGE THE ENBEASTED TORQUE'S BALLS. AFTER EIGHT HOURS OF TOILING, IT WOULD BE FOURTEEN HOURS TOILING FROM THEN ON. TIRED, SORE, WITH BLOODY WELTS ON HIS BACK, TORQUE HAD TO CRAWL TO A DEVICE AT THE BACK OF HIS CELL. THEY WERE METAL STOCKS. TORQUE WAS LOCKED INTO THE STOCKS, HIS ARMS AND LEGS LOCKED TOGETHER BEHIND HIM IN A KNEELING POSITION, WITH HIS ARSE ON SHOW. HE WAS MADE TO EAT THE SLUDGE, MADE OF MEAT OFFAL, FISH, VEGETABLES, FRUIT AND STEROIDS. AS HE WOLFED DOWN THE SLUDGE, THE TWO GUARDS STRIPPED OFF FOR A LITTLE R AND R. ONE OF THE ADVANTAGES OF HANDLING NAKED, BEASTS, WAS THAT THEY HAD NO RIGHTS. SO THE GUARDS COULD USE THEIR FUCK HOLES TO GET THEIR ROCKS OFF, AND THEY SURE DID. "TWO MILLION REVOLUTIONS AND LOADS OF FUCKS", ONE OF THE GUARDS SAID. "YES IT COULD TAKE FIVE YEARS, IF HE SURVIVES", THE OTHER REPLIED. GOOD PHYSICAL AND SECUAL ABUSE OF A MALE CONVICT FORCED TO LABOUR FOR HIS CRIMES. €15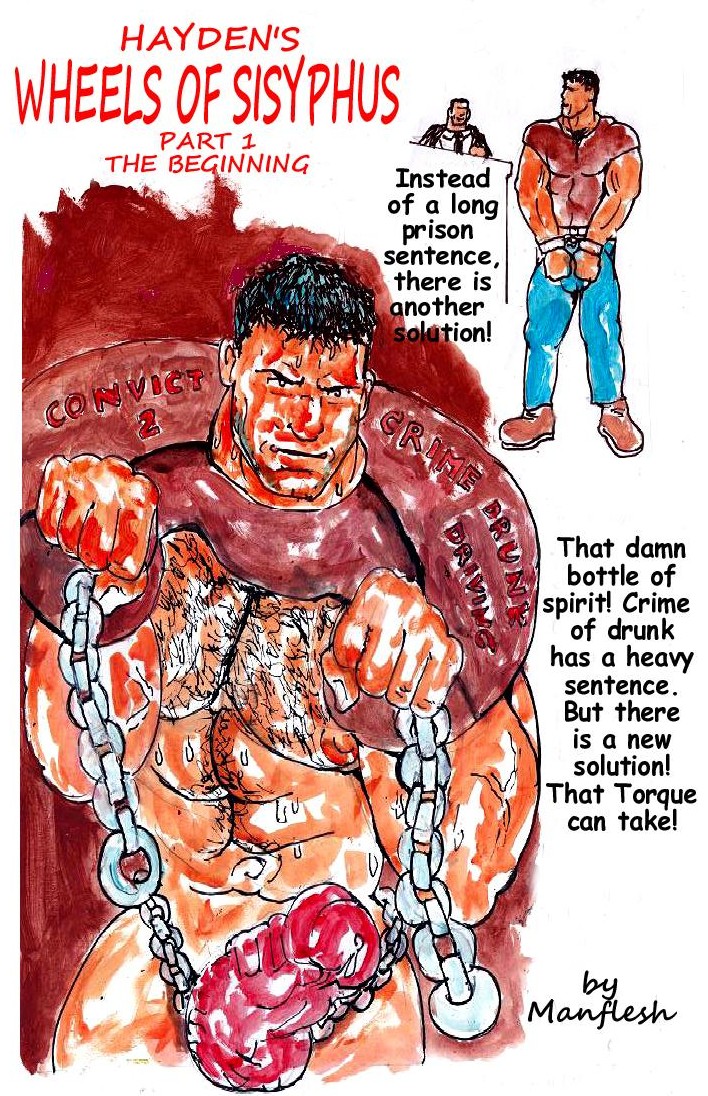 35 SLAVE BULL SLAVE WHELP PART 3 BONDAGE. FATHER AND SON SLAVES HAD BEEN AUCTIONED AND SOLD TO AN EMIR FROM THE MIDDLE EAST. THEY WERE FLOWN BY CARGO JET TO THE MIDDLE EAST. THEY WERE MARCHED BY THE EMIRS GUARDS IN THE BURNING SUN. "YOU ARE TO WALK THROUGH THE TOWN, TO THE EMIRS PALACE", ONE OF HIS GUARDS ORDERED. NOW SLAVES, WITH THEIR HANDS, FIXED TO THEIR COLLARS, BEHIND THEIR NECKS, THEY HAD NO CHOICE BUT TO OBEY. THE NATIVES CROWDING THE STREET AS THE WALKED PASSED, WERE ALLOWED TO GROPE, THE NAKED, ENSLAVED, WESTERNERS. THE WESTERN SLAVES, WERE AS FAR BELOW THESE NATIVES, AS THE NATIVES WERE BELOW THE, MIGHTY EMIR. THE GUARDS STOPPED THEM ON ROUTE, AND THE FATHER WAS FORCIBLY MILKED BY ONE OF THE GUARDS IN FRONT OF THE EXCITED NATIVES. THE SON WAS FORCED TO KNEEL AND SWALLOW HIS FATHER'S CUM, IN FRONT OF THE WHOOPING AND JEERING CROWD. THE NATIVES WERE BETTER THAN THEM. WESTERNERS WHO WOULD WHORE, AND BE USED FOR HARD LABOUR, SHAMED, NAKED AND SORE. THE SLAVE FATHER WAS MADE TO SUCK OFF THE NATIVE YOUTHS OF THE TOWN, WHILE HIS ENSLAVED, SHAMED, SON LOOKED ON. "YOU WILL SUCK OF, ALL OF THEM", THE GUARD ORDERED.
LATER THE SLAVES ENTERED THE EMIRS PALACE AND WERE TAKEN TO THE SLAVE QUARTERS. NAKED, ONLY COCONUT OIL WOULD BE APPLIED TO THEIR FLESH AFTER THEIR BATH. THE EMIR WATCHED ON HIS SCREEN, VIA HIDDEN CAMERAS. IN THE BATHS ALL THEIR HAIR, EXCEPT ON THE TOP OF THEIR HEADS WAS REMOVED WITH DEFOLIATE. THE TWO SLAVES WERE TAKEN BEFORE THE EMIR, WHO HAD HIS MAN FLESH HARD AND ERECT, TO GREET HIS NEW PROPERTY. "I AM YOUR MASTER, YOUR OWNER, YOU ARE MY DOG AND PUPPY, TO OWN AND TRAIN", THE EMIR TOLD THEM. "WORSHIP YOUR MASTERS COCK", THE EMIR ORDERED, GRABBING THEM BY THE NECK AND HOLDING THEIR FACES, EITHER SIDE OF HIS HUGE ERECT COCK. ORDERED TO SUCK THEIR MASTERS COCK THEY HAD TO OBEY AND DID. WHELP THE NAME THE SON WAS GIVEN HAD TO WATCH HIS FATHER SUCKING THE MASTERS COCK. WHILE HE THE PUP WAS WANKED BY THE MASTER. THE MASTER THEN FUCKED THE SON AND FILLED THE SON'S BUTT FULL OF HIS SEED. THE SON WAS THEN MADE TO SHOW HIS FATHER HIS CUM FILLED MANCUNT. "GUARDS FUCK THE SLAVES", THE EMIR ORDER. AS SLAVE FATHER WAS MADE TO LICK THE CUM FROM HIS SLAVE SON'S ARSE, THE GUARDS STARTED TO STRIP. THE GUARDS STARTED TO FUCK THE SLAVE FATHER AND SLAVE SON'S ARSES HARD. "FUCK THEM HARDER", THE EMIR ORDERED. FUCKED HARDER THEY WERE. THEY HAD TO LEARN THAT THEY WERE OWNED INSIDE AND OUT.
BULL AND WHELP WERE GIVEN THE DIRTIEST JOBS. TAKING THE SLURRY FROM THE HUMAN AND ANIMAL WASTE PITS. THEN PUTTING IT ON THE SOIL AS A FERTILISER, FOR THE CROPS. THEY WERE BOTH ORDERED TO SUCK OFF THE EMIRS PRIZE STALLIONS. FOR THE RICH PROTEAN THEIR SEED HAD. THE FATHER OBEYED, SUCKING ONE THE STALLION'S HUGE COCK. THE SON ONLY LICKED HIS STALLIONS HUGE COCK. "PUT IT IN YOUR MOUTH LIKE YOUR FATHER", AN ANGRY GUARD ORDERED. THEIR NEXT JOB WAS PULLING ORE CARTS, TO PUT MUSCLE ON THE BEASTS. THEY WERE TETHERED SIDE BY SIDE, TO PULL THE ORE CART. FATHER AND SON HAD NEVER BEEN SO CLOSE, TWO NAKED BEASTS WORKING TOGETHER. WHEN THEY WERE NOT PULLING THE ORE CARTS THEY WERE USED AS SEX OBJECTS. THE FATHER FUCKED BY THE EMIR, WHILE THE SON HAS TO SUCK OFF HIS GUARDS. LIFE FUCKS AND SUCKS FOR THEM BOTH. MORE GOOD PHYSICAL AND SEXUAL MALE ON MALE ABUSE €15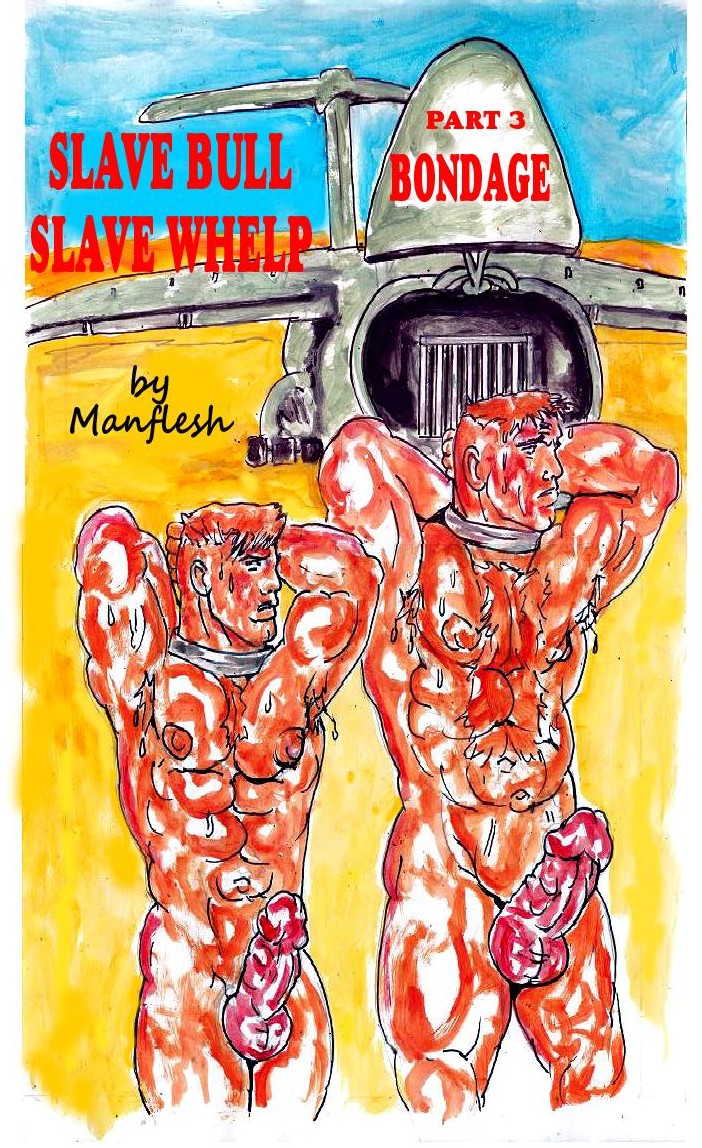 36 SOUTH OF THE RIVER PART 1, WHITE SLAVES, BLACK MASTERS. FOLLOWING THE COLLAPSE OF THE ECONOMY, THE US HAD REVERTED TO ITS PRE CAR OIL LESS STATE. NORTH AND SOUTH WERE SPLIT, WITH BLACK RULE IN THE SOUTH AND WHITE RULE IN THE NORTH. SLAVE LABOUR, NOW RAN BOTH ECONOMIES. THEREFORE THE NORTH HAD BLACK SLAVES AND THE SOUTH HAD WHITE SLAVES. IT WAS LANDON KNOX, SON OF A PLANTATION OWNER, WHO WAS ABOUT TO FIND OUT WHAT BEING A SLAVE SOUTH OF THE RIVER WAS LIKE. LANDON WHO WAS A CLOSET GAY, GOT HIS JOLLIES BY LATE NIGHT BUGGY RIDES, IN JUST HIS UNDIES. WATCHING THE BIG BLACK BUCKS, NAKED ARSES, HE DREAMT OF BEING FUCKED UP THE ARSE BY THEM. AS HE RODE ALONG, LANDON STOOD UP, PULLED HIS DRAWS DOWN AND STARTED TO WANK. HIS SEED EVENTUALLY SPURTED OVER THE MASS OF NAKED BLACK MUSCLE.
LANDON WAS CALLED TO HIS FATHER'S OFFICE. "YOU NEED TO MAN UP", LANDON'S FATHER SAID. LANDON'S FATHER TOLD HIM HE NEEDED TO MAKE SOMETHING OF HIMSELF. THE HE HAD THREE OTHER RED BLOODED SONS LIKE HIMSELF. HE TOLD LANDON THERE WAS A PLANTATION ABOUT TWO HUNDRED MILES SOUTH OF THERE. IT WAS LANDON'S CHALLENGE TO RUN IT. HE TOLD LANDON NOT TO CONTACT HIM UNTIL LANDON HAD MADE SOMETHING OF HIMSELF IN A YEARS TIME. HE HAD TO MAN UP, HE WAS ON HIS OWN.
THE JOURNEY SOUTH WAS A LOT FURTHER AS LANDON'S FATHER AND FABRICATED THE DISTANCE TO THE PLANTATION. IT WAS ABOUT SEVEN HUNDRED MILES SOUTH, ON THE EDGE OF THE WHITE MANS DOMAIN. THEY REACHED THE RIVER AFTER ABOUT TWENTY DAYS, AND LANDON SAW THE ISLAND, WITH THE PLANTATION, WHERE HE WAS MASTER OF ALL. LANDON ORDERED HIS BACK SLAVE TO CROSS WITH ALL THEIR BAGGAGE. LANDON RODE ACROSS THE RIVER ON THE SHOULDERS OF ONE OF HIS BLACK SLAVES. HE HAD REMOVED HIS TROUSERS AND DRAWS TO KEEP THEM DRY. LANDON GOT AROUSED AT BEING THE MASTER OF A PLANTATION OF BLACK SLAVES, AND SPUNKED ON THE SLAVES HEAD. LANDON TOOK A BATH AFTER THE LONG JOURNEY, THEN LEWDLY USED HIS SLAVES. ONE STOOPED BY HIS BATH, TUB ARMS BEHIND HIS HEAD, SOAP ON A ROPE HANGING FROM HIS HUGE ERECT BLACK COCK. ANOTHER KNELT ON HIS HANDS AND KNEES IN FRONT OF THE BATH TUB, HIS ARSE RAISED WITH LANDON'S BACK BRUSH STICKING OUT OF HIS ARSE, IN EASY REACH. LANDON'S MIND LUSTED OVER BLACK COCKS, HE SHOWED HIS POWER OVER THEM. THEY COMPLIED, KNOWING NO BETTER, BEING SLAVES FROM BIRTH.
SOUTH OF THE RIVER, SOME TWENTY MILES FROM LANDON'S PLANTATION, WAS THE PLANTATION OF OLUWA (OUR LORD), ITS BLACK MASTER, RULED OVER NAKED WHITE SLAVES. LEARNING OF LANDON'S OWNERSHIP OF THE ISLAND, HE SENT HIS LIEUTENANT, KONO, TO FIND OUT LANDON'S STRENGTHS AND WEAKNESSES, PARTICULARLY HIS WEAKNESSES. LORD OLUWA GRINNING, CONTINUED TO PUT THE NAKED WHITE, BOUND SLAVE, AT HIS FEET, THROUGH INTENSE TRAINING. AFTER FOUR DAYS TRAVEL KONO REACHED THE PART OF THE RIVER, WHERE THE ISLAND CONTAINING THE PLANTATION, OWNED BY LANDON WAS. KONO STRIPPED NAKED AND CROSSED THE RIVER TO THE ISLAND. KONO SPIED ON LANDON AND HIS SLAVES. KONO SAW BLACK SLAVES WORKING. HE ALSO SAW LANDON CARRIED ON THE SHOULDERS OF ONE OF HIS BLACK BUCKS. LANDON WAS BOTTOM LESS AND AROUSED. LANDON'S STIFF COCK WAS PRESSED AGAINST THE BUCKS SKULL. KONO NOTED THERE WERE NO GUARDS. KONO WATCHED AS LANDON REPOSITIONED HIMSELF, SO HE WAS HANGING ON THE BUCK'S NECK, WITH HIS LEGS CLAMPED TO THE BUCKS WAIST. LANDON WAS RUBBING HIS HARD COCK OVER THE SLAVES BACK. LANDON ORDERED THE BUCK TO FLEX HIS MUSCLES, AND THAT MADE LANDON CUM. THIS WHITEE WILL MAKE LANDON LORD OLUWA A WORTHY BITCH, KONO THOUGHT TO HIMSELF, AS HE SNIGGERED.
THAT NIGHT KONO CREPT TOWARDS THE SLAVES LOCK UP, HE SAW THE KEYS TO THE DOORS AND THE SLAVES CHAINS, HANGING ON HOOKS, ON THE SIDE OF THE LOCK UP. HE TOOK THE KEYS AND FREED LANDON'S SLAVES. "BE FREE, THE OWNER OF THE PLANTATION I AM FROM IS BLACK", KONO TOLD THE SLAVES. "IT HAS BLACK GUARDS AND THE SLAVES ARE WHITE, THERE YOU WILL BE THE MASTERS", HE ADDED. KONO AND THE FREED SLAVES BURST INTO THE MANSION AND CAUGHT LANDON PREPARING TO CUM ON A BLACK BUCKS ARSE. LANDON WAS GRABBED VIOLENTLY BY TWO OF THE EXSLAVE BLACK BUCKS AND TAKEN OUT OF THE MANSION. OUT SIDE LANDON'S HANDS WERE TIED, AS HE WAS PULLED AWAY. HE COULD ONLY WATCH AS HIS MANSION WAS SET ALIGHT, IT WAS THE END OF HIM BEING MASTER. ON HIS WAY TO LORD OLUWA'S PLANTATION, LANDON NOTICED THAT ALL THE SLAVES WERE NAKED WHITEES. HE WAS FILLED WITH DREAD, WAS THIS TO BE HIS FUTURE. THE EXSLAVE BLACK BUCKS, WERE GIVEN CLOTHES AND LANDON WAS TAKEN BEFORE LORD OLUWA, IN HIS PLANTATION MANSION. GOOD GRAPHIC MALE ON MALE DOMINATION ACTION WITH BLACK ON WHITE DOMINATION. €15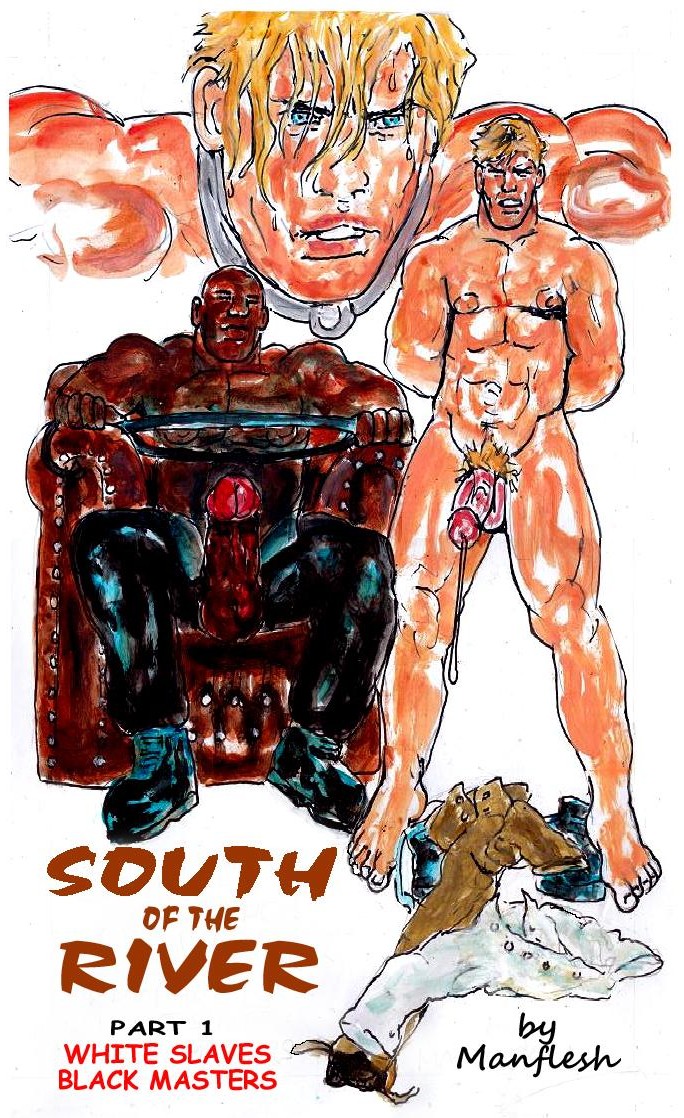 37 PUNISHER PUNISHED PART 1. THE PUNISHER WAS A ONE MAN ARMY AND ONE MAN POLICE FORCE, FIGHTING THE MOBS OF DRUG TRAFFICKING AND PROSTITUTION. THE PUNISHER WAS HIGHLY SUCCESSFUL AT DEALING WITH THE MOBS, SO MUCH SO, THAT THE MOB MASTERS DECIDED HE HAD TO GO. "WE NEED TO DEAL WITH THIS MEDDLE SOME MILITARY ENFORCER, THE PUNISHER", ONE MOB MASTER SAID. "WE HAVE THE MUSCLE, TO STRIP HIM NAKED, TORTURE HIM, AND MAKE HIM A WHORE", ANOTHER SAID. WITH NODS OF AGREEMENT THEY SET THEIR PLAN IN MOTION. A HEAT FILLED PLANET, NEW YORK, WAS NOW HOME TO GANGS RUNNING DRUGS AND PROSTITUTION. THEY WERE OPPOSED BY A ONE MAN ARMY THE PUNISHER. THE PUNISHER FOUND A POOL TO WASH IN, AND A FOUNTAIN TO DRINK FROM. HE STRIPPED AND WASHED, THEN WANKED AND EJACULATED, MARKING HIS DOMAIN WITH HIS SPUNK.
THE PUNISHER ONLY KILLED THOSE WHO COMMITTED MURDER. THOSE THAT RAN PROSTITUTION RACKETS, HE BEAT TO A PULP. THE PUNISHER WAS MAKING SHORT WORK OF THE PROSTITUTION RACKETS, HOODS, WITH HIS FISTS. THE GANGS MASTERS DECIDED IT WAS TIME TO USE THEIR MASTER PLAN. THEIR MASTER PLAN WAS TO DEPLOY SOME HUGE ROUND IRON BOLAS THE SIZE OF CANNON BALLS, LINKED BY ANCHOR CHAINS, AGAINST THE PUNISHER. IN THE MIDDLE OF A FIGHT, THE BOLAS WERE FLUNG TWIRLING THROUGH THE AIR AT THE PUNISHER, AND THE ANCHOR CHAINS WERE WRAPPED AROUND HIS NECK, BY THE TWIRLING CANNON BALL SIZED BOLAS. ONCE THE CHAINS WERE WRAPPED ROUND THE PUNISHER'S NECK, THE HEAVY STEEL BOLAS DROPPED DOWN KEEPING THEM IN PLACE AND WEIGHING THE PUNISHER DOWN. THE PUNISHER WAS UNABLE TO FIGHT UNDER THE WEIGHT OF THE BOLAS AND WAS CAPTURED. YOUNG MEAN EAGER TO JOIN THE GANGS, WERE ENCOURAGED TO CUT THE CLOTHES OFF THE ONCE MIGHTY LAW MANS BODY. NAKED AND SHAMED, THE PUNISHER WAS LED THROUGH THE STREETS. THE YOUNG TOUGHS WERE ALLOWED TO LEAD THE EXCOP, WITH ITS BIG NAKED BUM FOR ALL TO SEE.
NAKED AND STILL TRAPPED IN THE BOLAS, THE PUNISHER WAS TAKEN TO SEE THE BOSS. "BOSS WE HAVE HIM UNWRAPPED AND READY FOR BREAKING", ONE OF THE GANG MEMBERS SAID. "A MOUTH ZAPPER TO LOOSEN YOUR MOUTH", THE BOSS SAID, USING THE ZAPPER TO STRETCH THE PUNISHER'S MOUTH WIDE ENOUGH TO TAKE HUGE COCKS THE PUNISHER WAS THEN FREED FROM THE BOLAS AND TIED TO A CHAIR, NAKED WITH HIS LEGS SPREAD. HIS FORESKIN WAS LEWDLY STRETCHED WITH AN EXPANDER. THE BOSS DROOLED, AS HE STRETCHED THE PUNISHER'S FORESKIN WITH THE EXPANDER. THE PUNISHED SCREAMED IN PAIN, BEGGING THE BOSS TO STOP, BUT THE BOSS IGNORED HIM. BY THE TIME THE BOSS WAS FINISHED THE PUNISHER'S NOB HAD SWOLLEN TOT HE SIZE OF A COCONUT. THE PUNISHER WONDERED IN HORROR IF IT WOULD EVER GO DOWN, OR REMAIN LIKE IT FOREVER. A LARGE RUBBER BAND WAS TIED AROUND BOTH OF THE PUNISHER'S LEGS, THEN STRETCHED BEHIND HIS SHOULDERS. THIS SPREAD THE PUNISHER'S LEGS WIDE AND EXPOSED HIS ANUS. THEN AN ANUS EXPANDER WAS INSERTED INTO THE PUNISHER'S ANUS, AND USED TO STRETCH HIS ANUS WIDE. "ITS CUNT IS OPEN BOSS", ONE OF THE GANG MEMBERS SAID. SYNTHOL WAS INJECTED INTO THE PUNISHER'S STRETCHED ANUS, SO HIS SWOLLEN ANUS WOULD STAY PUFFED UP AND TIGHT. "TIME I MAKE YOU SORE INSIDE", THE BOSS SAID. HE STARTED TO FUCK THE PUNISHER, WITH HIS HUGE COCK. AFTER THE BOSS HAD FINISHED, THE GANG MEMBERS TOOK OVER AND FUCKED THE PUNISHER, HE WAS ALSO MADE TO SUCK THEIR COCKS, TWO AT A TIME. THE FUTURE NOW LOOKED GRIM FOR THE ONCE MIGHTY PUNISHER. GREAT MALE ON MALE DOMINATION, WITH GRAPHIC PHYSICAL AND SEXUAL ABUSE, MANFLESH STYLE. €15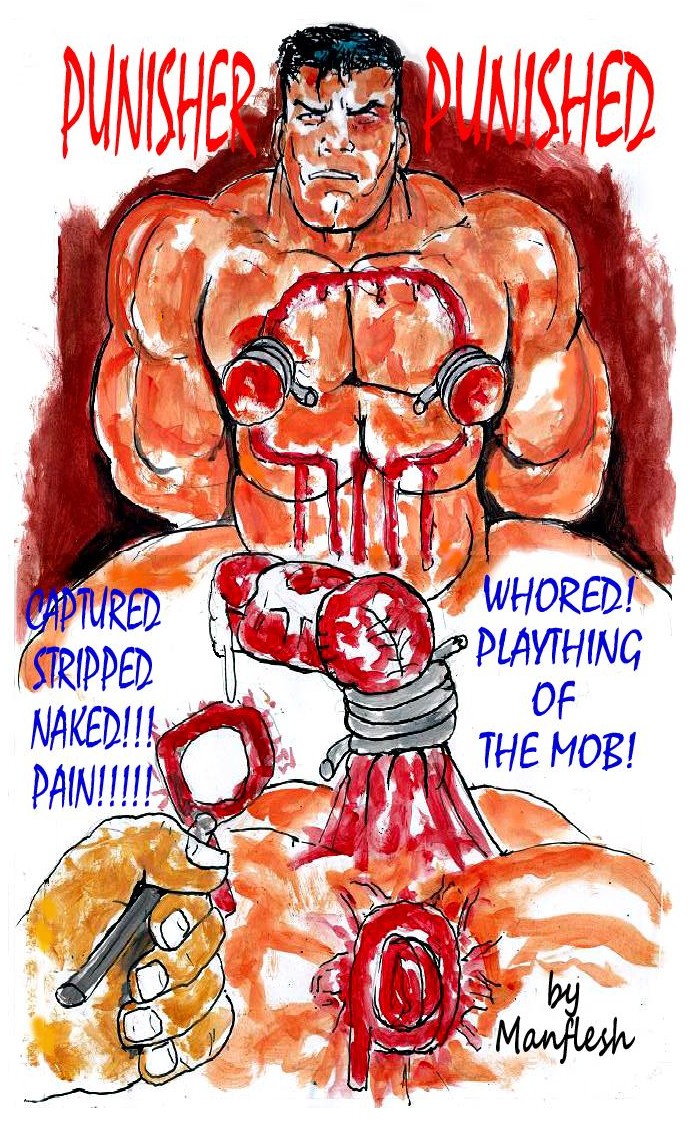 38 SOUTH OF THE RIVER PART 2 MANDONGO. LANDON WAS NOW IN LORD OLUWA'S PLANTATION. LANDON WAS FORCED TO STAND LIKE A MENIAL, WHILE HIS EX SLAVES CALLED HIM NAMES. "GONNA BE A WHITE BITCH", ONE SLAVE SAID. "SOON GONNA HAVE YER LIPS ON MA COCK", ANOTHER SAID. "MINE TOO", A THIRD SAID. "HAVE YOU GET UNDER THE TABLE AND SUCK MA COCK", THE FOURTH ONE SAID. LANDON HAD A BONER, AS HE WAS FORCED TO WATCH IN A SUBSERVIENT MANNER. EVEN THE OTHER HOUSE SERVANTS, WERE WHITE SLAVES AND NAKED. SHIT, HE WAS TURNED ON, SHIT HE WAS LEAKING COPIOUS AMOUNTS OF PRECUM. A BOWL OF FOOD WAS BROUGHT FOR LANDON TO EAT. IT WAS A SLUDGE OF MEAT, FISH, FRUIT, OFFAL AND STEROIDS. THE FUTURE SLAVE NEEDED MORE MUSCLES FOR THE HARD WORK AHEAD, TO TOIL AND BE FUCKED. LANDON RAVENOUS, GULPED DOWN THE SLUDGE. AS TWO BLACK BUCKS PISSED ON HIM.
LORD OLUWA GRABBED HOLD OF LANDON'S SHIRT AND HOISTED OFF HIS FEET. "I AM YOUR MASTER", LORD OLUWA SAID. "YOU ARE MY SLAVE, SPEAK IN SLAVE TALK", LORD OLUWA ORDERED. "AM BE SLAVE MASSA, YES, M MASSA I IS", LANDON REPLIED. "SHUCK YOUR CLOTHES, WHITEE SLAVES, ARE NAKED WORK BEASTS", LORD OLUWA ORDERED. "YES MASSA", LANDON REPLIED, FEELING SO SHAMED AND HORNY, AS HE REMOVED HIS SHIRT. "NOT FAST ENOUGH, MY CANE", LORD OLUWA, SAID ANGRILY PICKING UP HIS CANE. LANDON WAS GIVEN A GOOD BEATING, AND AS A SLAVE IT CERTAINLY WOULDN'T BE HIS LAST. QUICKLY LANDON UNDID HIS BOOT LACES, HIS SLAVES USE TO DO THAT FOR HIM. "YER CLOTHES WILL GO TO BLACK BUCKS, WHITEE SLAVES ARE NAKED. "YES MASSA", LANDON REPLIED, AS HE REMOVED HIS BOOTS. "BREECHES OFF", LORD OLUWA ORDERED, FORCING LANDON TO REMOVE HIS TROUSERS. "OFF WITH YOUR DRAWS", LORD OLUWA ORDERED. LANDON WAS FORCED TO REMOVE HIS BULGING UNDERWEAR. LANDON'S DECENT INTO SLAVERY, STARTED WITH FORCED NUDITY. LONDON HAD NO CHOICE AND SHUCKS HIS DRAWS. LANDON TRIED TO COVER HIS PINKIEE, WITH HIS HANDS. "NO COVERING, DISPLAY NOW", LORD OLUWA ORDERED. LANDON WAS NOW A SLAVE AND SLAVES ARE OWNED BEASTS, THEIR SEX ORGANS HAD TO BE PERMANENTLY DISPLAYED. LANDON OBEYED, PUTTING HIS HANDS ON HIS HEAD LETTING ALL OF THEM SEE HIS HARD EXCITED COCK. "BEND OVER AND SPREAD YOUR ARSE WIDE OPEN", LORD OLUWA ORDERED. HORRIFIED, LANDON BENT OVER AND SPREAD HIS ARSE CHEEKS WIDE. HIS EXSLAVES ALL POINTED AT HIS TIGHT HOLE AND SMILED. LORD OLUWA, STUCK TWO OF HIS MASSIVE FINGERS UP HIS NEW WHITE SLAVES ARSE, THEN A THIRD, MAKING LANDON, MOAN AND GASP. "CONTROLLED BY YOUR MASSA", LORD OLUWA SAID. ALTHOUGH PAINFUL IT EXCITED LANDON AND THE SAP IN HIS COCK STARTED TO RISE, AGITATED BY HIS MASTER'S THICK BLACK FINGERS. LANDON COULD NOT HELP HIMSELF AND HE EJACULATED IN AN ORGASMIC FRENZY. LANDON'S EXSLAVES WERE NOW ALLOWED TO FINGER AND FIST FUCK, HIS ENSLAVED WHITE ARSE.
LORD OLUWA SENT FOR HIS STABLE MASTER. THE STABLE MASTER WAS HUGE, MUSCLED BLACK BUCK, IN LEATHER THONG AND LEATHER BOOTS, HE WAS CARRYING A LEATHER SLAVE COLLAR AND LEASH. LORD OLUWA ORDERED THE STABLE MASTER TO PROCESS THE NEW SLAVE. "YES LORD", THE STABLE MASTER REPLIED. THE STABLE MASTER BUCKLED THE SLAVE COLLAR AROUND LANDON'S NECK. LANDON WAS NOW COLLARED NAKED SLAVE BEAST, BEING TAKEN TO THE STABLE BLOCK, FOR SLAVE PROCESSING. MORE GOOD GRAPHIC MALE ON MALE DOMINATION ACTION WITH BLACK ON WHITE DOMINATION. €15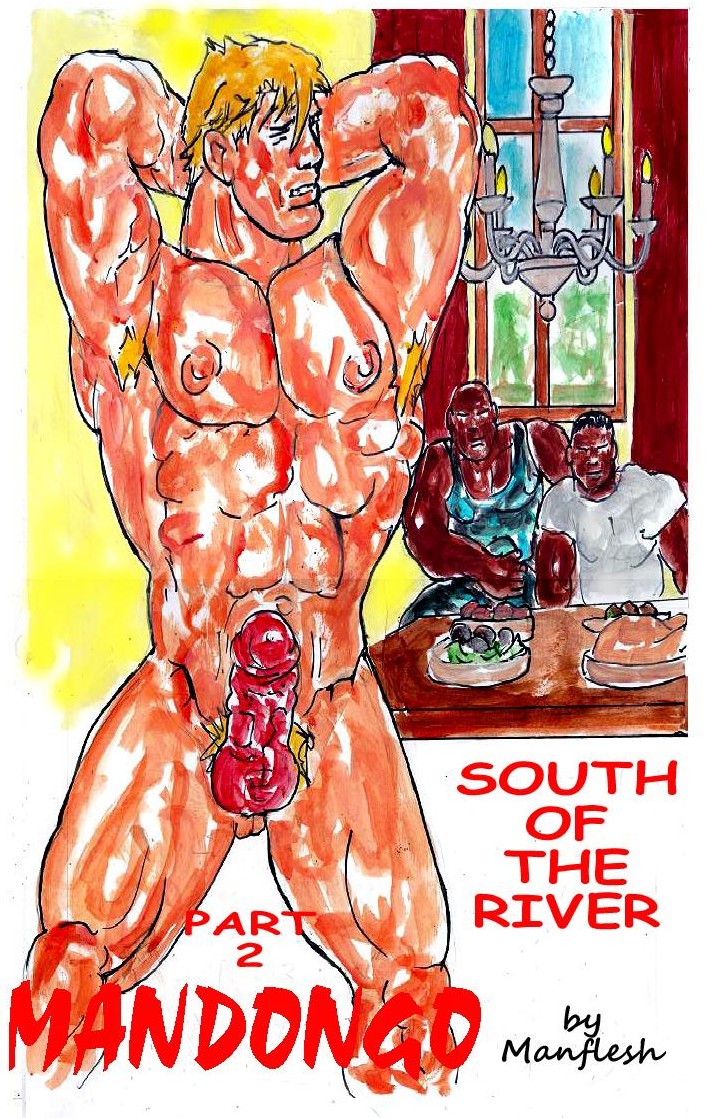 39 PUNISHER PUNISHED PART 2 NOWHERE TO RUN. AFTER BEING CAPTURED, TORTURED AND RAPED BY MOB. THE PUNISHER HAD ENDURED TWO DAYS OF PUNISHMENT, AT THEIR HANDS. HE WOULD BE AWAKENED WITH A FIST TO THE HEAD. THEN ALL THE MORNING THE PUNISHER'S NIPPLES WERE SQUEEZED AND PULLED, UNTIL THEY RED AND SORE. THEN SANDPAPER WAS APPLIED HIS RED SORE NIPPLES, TO MAKE THEM EVEN MORE SORE. "TIME TO WHORE THE WHORE, GET HIS LEGS UP", ONE OF THE MOBSTERS SAID. A GIANT THICK BLACK RUBBER BAND WAS TIED AROUND THE PUNISHER'S ANKLES, THEN STRETCHED AND POSITIONED BEHIND HIS NECK. THIS RAISED THE PUNISHER'S LEGS AND SPREAD THEM WIDE, LEAVING HIS ANUS EXPOSED FOR FUCKING. THE MOBSTERS TOOK TURNS FUCKING THE PUNISHER UNTIL HE WAS SORE BUT TO HIS SHAME HE CUM. HE WAS A FUCKED IN THE ARSE, A FUCK FILLED, FUCK UP. BY THE END THE PUNISHER HAD BEEN WELL FUCKED OUT BY THE MOBSTERS.
A FEW HOURS LATER THE DOOR TO THE CELL THE PUNISHER WAS IN, NAKED AND TIED TO A CHAIR OPENED. THE GANG BOSS ENTERED AND SMILED, WHEN HE SAW THE DRIPPING MAN CUNT OF THE ONCE SUPER HERO. HE WAS HOLDING A KNIFE. "TIME FOR A LITTLE ARTWORK", THE GANG BOSS SAID, BRANDISHING HIS KNIFE. "SCUM, JUSTICE WILL PREVAIL", THE PUNISHER SHOUTED DEFIANTLY. GRINNING, THE GANG BOSS PRICKED THE PUNISHER'S MUSCULAR CHEST, DRAWING BLOOD. WITH A SLASH, THE GANG BOSS SLICED INTO THE HARD MUSCLES OF THE PUNISHER'S CHEST. THE PUNISHER DID NOT HOWL, HE JUST GRUNTED. IT WAS ONLY AFTER ALL THE CUTTING WAS DONE, WHEN THE GANG BOSS GROPED AND SQUEEZED SLICED OPEN CHEST, THAT THE PUNISHER GROANED AND PASSED OUT.
WHEN THE PUNISHER CAME AROUND, HE NOTICED HIS CELL DOOR WAS NOT FULLY CLOSED. EMPLOYING ALL HIS STRENGTH, THE PUNISHER BROKE THE CHAIR, HE WAS TIED TO. HE WAS UNABLE TO BREAK THE HAND CUFFS. ONCE OUT SIDE THE CELL, HE DECIDED THAT FOLLOWING THE PIPES TO THE SEWERS, WAS HIS BEST CHANCE OF ESCAPE. ONLY THEN WOULD HE TRY TO FIND SOMEWHERE TO REMOVE THE HAND CUFFS. THE PUNISHER MADE HIS ESCAPE VIA THE SEWERS. HOWEVER WHEN HE EXITED THE SEWER COMPLEX, HE WAS SEEN BY A BLACK MUSCLE GANG WHO WERE RACKETEERS FOR STEROIDS AND MUSCLE SLAVE FLESH. THE HARD COCKED BLACK GANG CHASED AFTER THE PUNISHER. UNFORTUNATELY THE PUNISHER TRIPPED AND FELL, AND HE WAS CAPTURED BY THE HARD COCKED, BLACK MUSCLES, GANG. THE CAPTURED PUNISHED WAS BENT OVER A DUSTBIN AND HIS LEGS SPREAD WIDE. THE PUNISHER WAS ABOUT TO GET FUCKED, ON THE BLACK MUSCLE GANGS TURF, WHERE THE PUNISHER'S ARSE GOT ITS FIRST TASTE OF BLACK COCK. THE GANG BOSS WAS FIRST FUCKING THE PUNISHER HARD, AND THE ALL THE GANG TOOK TURNS. HE WAS NOW A BLACK GANGS WHORE. THEY REALLY FILLED HIS HOMOED ARSE.
THE WELL FUCKED PUNISHER WAS DRAGGED TO THE BLACK MUSCLE GANGS HEAD QUARTERS. THEN TO THE BLACK SMITH SHOP. THE PUNISHER'S ARMS WERE TIED AND STRETCHED OVER HIS HEAD, LEAVING HIS BODY HELPLESS AND ALLOWING THE BLACK SMITH TO DO HIS WORK. THE BLACK SMITH COILED STEEL STRIPS AROUND THE PUNISHER'S NIPPLES THAT WERE STILL RED, SORE, AND TO A HUGE SIZE. THEN A THIRD WAS COILED AROUND THE BASE OF THE PUNISHER'S COCK AND BEHIND HIS BALLS, TO FORM A DOUGHNUT RING AND KEEP HIS COCK HARD AND HIS BALLS STRETCHED AND PREVENT THEM FROM ESCAPING INTO HIS BODY. "LIKE YOUR EMBELLISHMENTS", THE BLACK SMITH, SNEERED WHEN HE FINISHED FITTING THEM. THE PUNISHER WITH HIS ARMS STILL SECURED OVER HIS HEAD WAS GIVEN A HARD WHIPPING. ALL PART OF HIS SLAVE TRAINING, THE WELTS TO REMIND HIM OF HIS LOWLY ANIMAL STATE. WOULD THE BLACK MUSCLE GANG SELL THE PUNISHER TO THE ARABS AS A SLAVE. THE ARABS NEEDED OIL AND USED NAKED SLAVE LABOUR, SLAVE MUSCLES TO EXTRACT THE OIL RICH ROCK AND SLUDGE. WOULD THE BULK OF MUSCLES ONCE KNOWN AS THE PUNISHER END UP, IT COULD ONLY BE HOPED SO. EVEN MORE GOOD GRAPHIC MALE ON MALE DOMINATION ACTION WITH BLACK ON WHITE DOMINATION. €15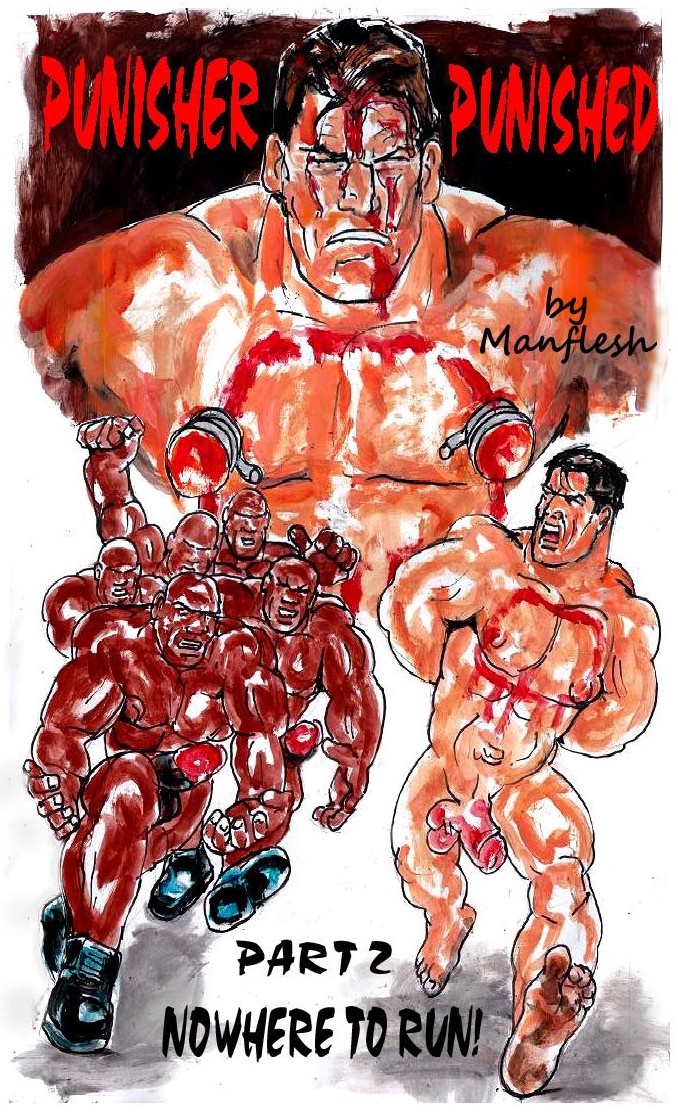 40 SOUTH OF THE RIVER PART 3 WHITE ARSE BLACK COCK. LANDON ONCE A PLANTATION OWNER AND MASTER OF BLACK SLAVES, WAS NOW A WHITE SLAVE TO A BLACK MASTER AND PLANTATION OWNER LORD OLUWA. LANDON HAD BEEN WAITING FOR AN HOUR IN HIS MASTER'S BEDROOM, HOLDING A POT OF PIG GREASE AND A PIG PAW. HE WAS ABOUT TO GET PLUGGED BY HIS MASTER'S COCK.
EARLIER, LANDON WAS MADE TO STAND OUT SIDE IN THE HOT SUN, AS HIS SLAVE COLLAR WAS FORGED, BEFORE BEING FIXED IN PLACE WITH A HOT RIVET. NEXT LANDON'S COCK HAIR WAS REMOVED WITH A DEFOLIANT, IT WOULD NEVER GROW AGAIN. THIS WAS TO ALLOW A STEEL PENILE DEPRESSANT HARNESS TO BE FITTED TO HIS COCK AND BALLS. IT CONSISTED OF TWO STEEL RINGS LINKED TOGETHER BY A SHORT AND THIN STEEL BAR. THE LARGER OF THE TWO STEEL RINGS, FITTED OVER THE BALLS AND THE BASE OF THE COCK. THE WEARER'S COCK, WAS FED THROUGH THE SMALLER RING, THAT BENT THE COCK BACK ON ITSELF. IT WAS PAINFUL AND EFFECTIVE CHASTITY DEVICE. SLAVE LANDON WAS THEN ORDERED TO RUN ON THE SPOT, WHILE KONO THE CHIEF OVERSEER WATCHED. KONO ORDERED LANDON TO PICK HIS LEGS UP HIGHER. STILL NOT PLEASED, KONO TOOK A WHIP FROM THE BARN. "YOU ARE NOT USING ALL YOUR ENERGY, YOU NEED HELP?", KONO SAID, AS HE WHIPPED LANDON. ALTHOUGH EXHAUSTED LANDON HAD NO CHOICE BUT TO INCREASE HIS SPEED. FINALLY SATISFIED, KONO STOPPED WHIPPING LANDON AND LET HIM STOP.
A BUGGY WAS BROUGHT OUT OF THE BARN PULLED BY A NAKED, WHITE, MALE ,SLAVE PONY. KONO CLIMBED INTO THE BUGGY AND INVITED ONE OF LANDON'S EXSLAVES, NOW AN OVERSEER HIMSELF, TO JOIN HIM. LANDON WAS TETHERED TO THE SLAVE PONY FOR A NAKED RUN. THIS WAS TO DEMONSTRATE TO LANDON, HIS NAKED BEAST STATUS. THEY SET OFF WITH LANDON'S EXSLAVE ENJOYING THE VIEW OF HIS ONCE OWNER, NOW A NAKED BEAST, WITH THICK ARSE CHEEKS. THE EXSLAVE WAS VERY KEEN TO SHAG LANDON'S FUCK HOLE, HARD. BUT HE KNEW PLANTATION MASTER LORD OLUWA, WOULD BEAST HIM IT FIRST. AS THEY APPROACHED PART OF THE RIVER NEAR THE PROPERTY, LANDON SAW NAKED WHITE BUCKS, TOILING, AS THEY OPERATED A WATER WHEEL. THEY STOPPED AT THE WATER WHEEL AND LANDON WAS UNHITCHED FROM THE MALE PONY SLAVE. HE WAS CHAINED TO THE CAPSTAN OPERATING THE WATER WHEEL IN PLACE OF ONE OF THE OTHER WHITE SLAVES. THE BUGGY DEPARTED LEAVING LANDON TO TOIL ON THE WATER WHEEL. LANDON TOILED AWAY ON THE WATER WHEEL ENCOURAGED BY WHIP. A WEEK TURNED INTO THREE WEEKS AND THEN THREE MONTHS. THREE MONTHS LATER LANDON'S BODY HAD THIRTY POUNDS MORE MUSCLE AND NEW SLAVE HAIR CUT. WITH HIS THREE MONTHS TRAINING ON THE WATER WHEEL COMPLETE, LANDON WAS HITCHED TO A PONY TRAP AND HE HAD TO PULL IT BACK TO THE RESIDENCE. ON THE WAY HE SAW WHITE SLAVE BEASTS, TOILING IN THE FIELDS. ONCE BACK IN THE RESIDENCE, LANDON WAS TAKEN TO THE BARN, AND GIVEN A HARD SCRUB, BY THREE BLACK OVERSEERS. "THE BOSS WANTS THE SLAVE SCRUBBED RAW, FOR HIS DEFLOWERING", ONE OF THEM SAID SMILING, AS THEY SCRUBBED LANDON'S NAKED BODY.
BACK NOW TO WHERE LANDON WAS WAITING IN HIS MASTERS BEDROOM. LANDON HAS USED JELLIED PIG TROTTER ON HIS ANUS OPENING IT UP AND LUBRICATING IT. LORD OLUWA ENTERED AND STRIPPED, HIS FUCK WEAPON WAS HARD AND READY. LORD OLUWA GRABBED LANDON AND SHOVED HIM ONTO THE BED. LORD OLUWA RAISED LANDON'S LEGS HIGH AND SPREAD THEM WIDE. LORD OLUWA THRUST HIS HUGE MAN MEAT, UP TO THE HILT IN LANDON'S SLAVE WHORE, ARSE. LORD OLUWA POUNDED LANDON HARD. AS LORD OLUWA FUCKED THE SLAVE, HE MADE HIM GO DOWN STAIRS ON HIS HANDS. IT WAS A TRICKY TASK AND EVEN MORE DIFFICULT, WITH LORD OLUWA'S HUGE MAN MEAT POUNDING HIS ARSE. ONCE DOWN STAIRS, LORD OLUWA INVITED LANDON'S EXSLAVES TO FILL HIS WHITE SLAVE HOLES. THEY LINED UP EAGER TO USE HIS SLAVE MOUTH AND ARSE, HUGE, BLACK, COCKS, ROCK HARD. EVEN MORE GOOD GRAPHIC MALE ON MALE DOMINATION ACTION WITH BLACK ON WHITE DOMINATION. €15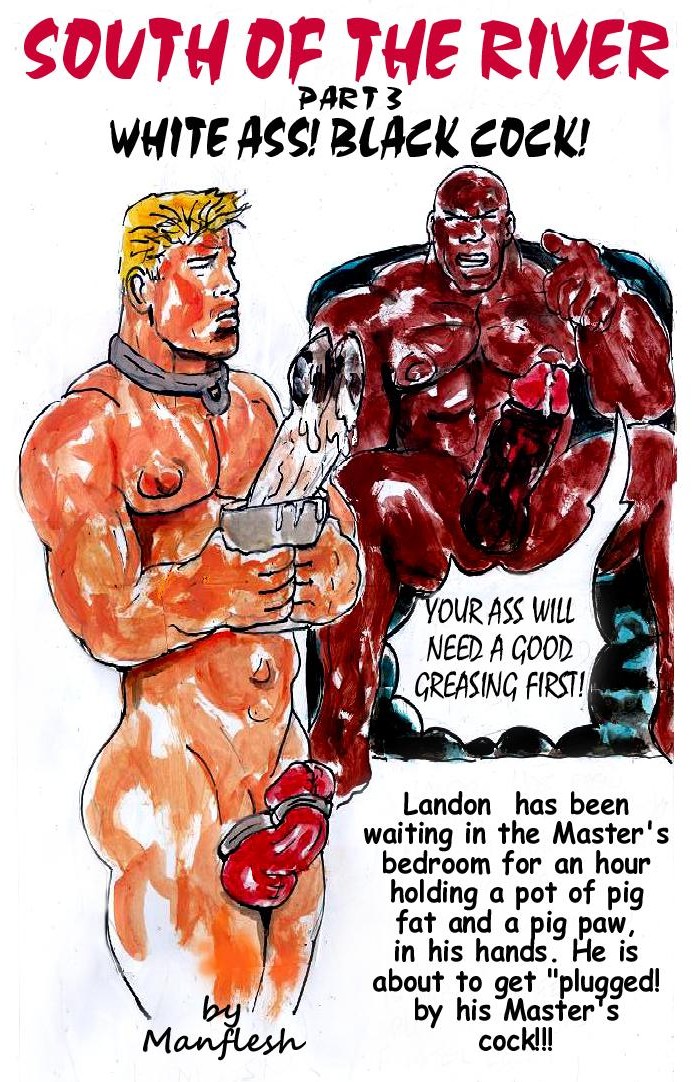 41 SLAVE ISLAND PART 1. JOSH HAD BEEN ABDUCTED. JOCKS WITH LOW GRADES AND NO FIXED ABODE LABOURERS, WERE IDEAL FOR THE SLAVE ISLAND. SLAVE ISLAND WAS BASED ON ANCIENT ROME, WHERE THE RICH AND POWERFUL OWNED SLAVES.
ON A HOT SUMMER EVENING IN LOS ANGELES, JOSH WAS RETURNING TO HIS LODGINGS, FROM A CONTRUCTION JOB. WHEN HE WAS ATTACKED FROM BEHIND AND KNOCKED OUT WITH A CLUB. JOSH CAME ROUND ON A SHIP BOUND FOR SLAVE ISLAND. IN THE HOLD, IN A CAGE, AMONG, FOOD SUPPLIES, TIMBER, CLOTH AND LIVESTOCK, WERE TWO NAKED MUSCLED ANIMALS SLAVES, JOSH WAS ONE OF THEM. THE BOAT CARRYING JOSH AND THE OTHER SLAVE ZACK, HAD ALL THE MOD CONS, A POWERFUL ENGINE, RADAR COMPUTERS, BUT WAS MADE TO LOOK LIKE AN ANCIENT ROMAN SHIP. NOTHING MODERN, WAS ALLOWED TO BE ON SLAVE ISLAND. THE GUARDS WHO HAD BEEN IN MILITARY STYLE UNIFORMS, HAD CHANGED INTO ANCIENT ROMAN DRESS. NO MODERN CLOTHING, WAS ALLOWED TO BE WORN ON SLAVE ISLAND. JOSH AND ZACK WERE DRAGGED NAKED AND BOUND, THOUGHT THE STREETS OF THE ANCIENT ROMAN STYLE, PORT CITY. ALTHOUGH EMBARRASSED AT BEING NAKED, JOSH AND ZACK WERE AMAZED AT THE SITE OF ALL THE HUSTLE AND BUSTLE OF A TEAMING ANCIENT ROMAN STYLE CITY. THEY WERE BEING TAKEN TO THE SLAVE AUCTION HOUSE. AT THE SLAVE AUCTION HOUSE, THEY WERE THROWN NAKED, INTO A CAGE. THEIR TRAINER, A BURLY MAN, ORDERED THEM TO POSE LIKE SLAVES. "POSE, HANDS BEHIND YOUR HEADS, YOU ARE SLAVES BEASTS NOW", HE BARKED. "DO AS I SAY, OR YOU WILL BE WHIPPED", HE WARNED THEM. JOSH AND ZACK WERE FORCED TO OBEY, FLEXING THEIR BICEPS.
GRACCUS OWNER OF THE SLAVE AUCTION HOUSE, CHECKED OUT THE NEW MERCHANDISE. THICK MUSCLES, THICK COCKS, THICK BRAINS, GOOD, GRACCUS THOUGHT TO HIMSELF. HE WAS PLEASED WITH HIS PRIZE CATTLE, SURE THEY WOULD SELL WELL IN THE AUCTION. ALSO LORD VITELLIUS WOULD ATTEND THE AUCTION AND WOULD HONOUR THE AUCTION HOUSE, WITH A VISIT IN TWO DAYS, TO INSPECT THESE TWO NEW BEASTS. THE NEXT DAY JOSH AND ZACK WERE TAKEN TO THE SMITHY. THE SMITH A TRUSTEE, OWNED BY THE AUCTION HOUSE, SMIRKED AT THE TWO HUNKY SLAVES, READY FOR HIS IRON. "THIS ONE FIRST?", GRACCUS SAID, POINTING TO JOSH. JOSH WAS STRAPPED DOWN TIGHT, ON THE SLAVE HORSE. JOSH STARED BACK, IN FEAR, AS THE SMITH APPROACHED, WITH HIS RED HOT BRANDING IRON. THE BURNING PAIN OF THE BRANDING IRON, ON HIS BUTTOCK MADE JOSH GROAN AND SOB. BOTH SLAVES HAD BEEN TOLD THAT THEY COULD NOT SPEAK, UNLESS A MASTER TOLD THEM TO, IF THEY DID THEY WOULD GET THIRTY LASHES. HOWEVER, THEY WERE PERMITTED TO MOAN AND SOB. "YOUR NEXT BEAST?", GRACCUS TOLD ZACK, WHO GASPED IN SHOCK, AFTER WATCHING JOSH, BEING BRANDED. ZACK WAS STRAPPED DOWN AND BANDED AND IT WAS HIS TURN TO GROAN AND SOB. IT WAS A SORE, SOBBING, AND PISSING JOSH, THAT WAS HELPED BACK TO HIS CAGE. THE NEXT DAY THE NEWLY BRANDED SLAVES WERE MADE TO KNEEL NAKED, IN FRONT OF GRACCUS AND A SCRIBE. THE SCRIBE TOLD THEM, THEY HAD NEW ROMAN NAMES. JOSH'S NEW NAME WAS, PRIPUS, AND ZACK'S NEW NAME WAS, BUTTUS. "SAY YOU NEW NAMES?", GRACCUS ORDERED. "PRIPUS MASTER", JOSH REPLIED. "BUTTUS MASTER", ZACK REPLIED.
THE NEXT DAY FOUND PRIPUS AND BUTTUS TIED NAKED TO POSTS, FOR LORD VITELLIUS'S VISIT. LORD VITELLIUS WAS ACCOMPANIED BY RAMUS, A HUGE NAKED BLACK BUCK. "MAGNIFICENT BEASTS RAMUS?, OF COURSE WE WILL PROBE THEM FULLY", LORD VITELLIUS SAID, AS HE INSPECTED THE TWO NEW SLAVES. "YES MASTER, BUT NOT WITH YOUR MIGHTY COCK MASTER", RAMUS REPLIED. LORD VITELLIUS AND RAMUS, BOTH FONDLED AND PROBED THE TWO NAKED SLAVES LEWDLY, WATCHED BY GRACCUS. GOOD, HE WILL FIGHT FOR THEM AT THE AUCTION, GREAT PROFIT FOR THE AUCTION HOUSE, GRACCUS THOUGHT, AS HE WATCHED HIS TWO NEW SLAVES, FONDLED AND PROBED LEWDLY, BY LORD VITELLIUS AND RAMUS, WHO WERE BOTH REALLY ENJOYING THE EXPERIENCE. LORD VITELLIUS AND RAMUS DID NOT STOP UNTIL THEY HAD MILKED THE NEW SLAVES, NOT ONCE, TWICE, OR THREE TIMES, BUT FIVES TIMES. SATISFIED, LORD VITELLIUS WOBBLED OFF WITH RAMUS. "YOU ARE TRULY MAGNIFICENT MASTER?", RAMUS TOLD LORD VITELLIUS. THE TWO SLAVES WERE LEFT MILKED DRY, THEIR COCKS SWOLLEN RED RAW. GOOD GRAPHIC MALE ON MALE DOMINATION ACTION, ANCIENT ROMAN STYLE. €15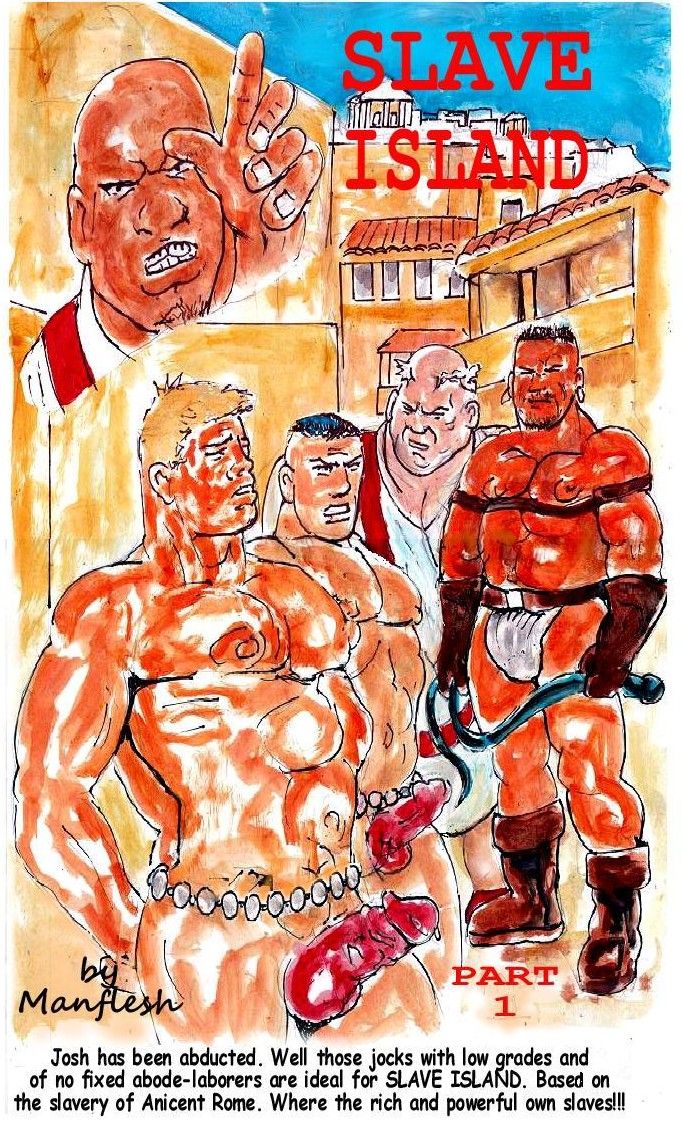 42 SLAVE ISLAND PART 2 GROPING HANDS. BEFORE THE AUCTION STARTED, THE CROWD WERE ALOUD TO CHECK OUT AND GROPE THE MERCHANDISE, COME MEAT. THAT IS EXACTLY WHAT HAPPENED TO PRIPUS AND BUTTUS, THEIR NAKED BODIES WERE GROPED ALL OVER, PARTICULARLY THEIR COCK AND BALLS.
ON SLAVE ISLAND, SLAVES WHERE MADE TO EAT FROM A DOG BOWL, LIKE THE BEASTS THEY WERE. PRIPUS AND BUTTUS WERE NO EXCEPTION. PRIPUS AND BUTTUS WERE DESTINED FOR SOME HARD GROPING, SO THEY WERE OILED ALL OVER, SO THEIR FLESH DIDN'T CHAFE. AS THEY WERE OILED. THEY WERE BOTH TERRIFIED OF WHAT WOULD BECOME OF THEM. FUCK TOY?, NAKED LABOURER?, A CARRIAGE NAKED POLE SLAVE ?". TO THEIR HORROR, THEIR ANUS'S WERE WELL OILED, AS WELL. LATER, PRIPUS WATCHED FROM HIS CAGE AS, YOUNG SLAVE CALLED ANUS, WAS TAKEN OVER TO A TAVERN OWNER. ANUS WAS IN TEARS, AT BEING DISPLAYED NAKED TO THE TAVERN OWNER. "HOW DARE HE CRY, WHIP HIM AND MAKE HIM CRAWL TO ME", THE TAVERN OWNER, SAID ANGRILY. A HARD WHIPPING QUICKLY MADE ANUS, READY TO SUCK THE TAVERN OWNER. ANUS WAS MADE TO KNEEL AND SUCK THE TAVERN OWNER DEEPLY. AS PRIPUS AND BUTTUS BOTH WATCHED FROM THEIR CAGE, THEY WERE MADE TO STAND WITH THE ARMS ON THEIR HEADS, WHILE THEY WERE WANKED OFF THROUGH THE BARS BY GROPING HANDS. A LEATHER DILDO WAS FORCED UP ANUS'S ANUS, FOR GOOD MEASURE, AS THE TAVERN OWNER CAME IN HIS MOUTH.
THE TAVERN OWNED BOUGHT ANUS. HE WOULD WORK, TAKING JARS OF PISS, TO THE FULLERS, FOR DYEING CLOTH. HE WOULD WEAR A TUNIC, THAT ONLY REACHED TO JUST BELOW HIS WAIST, HIS ARSE, COCK AND BALLS, ON PERMANENT DISPLAY. THE TAVERN OWNER INTENDED TO MAKE ANUS, POLE DANCE AT NIGHT, FOR THE TAVERN CUSTOMERS. HE WOULD SELL HIS ARSE, FOR DRACHMAS, TO PAYING CUSTOMERS, WHO WANTED HIS ARSE. ANUS WAS SOLD TO THE TAVERN OWNER. THE TAVERN OWNER DRAGGED ANUS, NAKED THROUGHT THE STREETS. MEANWHILE PRIPUS AND BUTTUS WERE MADE TO SUCK SPECTATORS AND CUSTOMERS COCKS, THEY DARED NOT REFUSE, OR THEY FACED A HARD WHIPPING. SUCKING COCK, SURE MADE THE TWO SLAVES COCKS, ROCK HARD. THEN PRIPUS AND BUTTUS WERE ORDERED TO BEND OVER AND PUSH THEIR ARSE'S THROUGH THE BARS, FOR THE SPECTATORS AND CUSTOMERS, TO FIST THEM. THEIR HARD COCKS WERE SOON DRIPPING PRE-CUM, MUCH TO THE DELIGHT OF THE SPECTATORS AND CUSTOMERS. A RICH CLIENT, ASKED FOR A PRIVATE VIEWING OF PRIPUS. "OH YES?", THE RICH CLIENT SAID, WHEN PRIPUS POSED BEFORE HIM, NAKED HANDS ON HIS HEAD. A LEATHER DILDO WAS FORCED UP PRIPUS'S ARSE, MAKING HIM HARD. IT EXCITED THE RICH CLIENT, WHO STROKED HIS HARD COCK. PRIPUS WAS FUCKED WITH THE DILDO AND IT SOON HAD HIM EJACULATING WADS OF THICK SPUNK, DEMONSTRATING HIS ANIMAL VIRILITY. "SUCK MY COCK SLAVE", THE RICH CLIENT ORDERED. "HANDS BEHIND YOU HEAD", HE BARKED. PRIPUS OBEYED AND STARTED TO SUCK THE RICH CLIENT'S, LARGE COCK. "THAT IS IT SLAVE, SUCK A REAL MAN'S COCK", THE RICH CLIENT SAID. AFTER MAKING THE RICH CLIENT CUM IN HIS MOUTH, PRIPUS WAS TAKEN BACK TO THE CAGES, PULLED BY HIS HARD COCK. IT WAS ALL PART OF HIS TRAINING FOR THE NEXT PART. PRIPUS WOULD BE SOLD, LIKE THE DUMB BEAST, HE HAD BECOME. MORE GOOD GRAPHIC MALE ON MALE DOMINATION ACTION, ANCIENT ROMAN STYLE. €15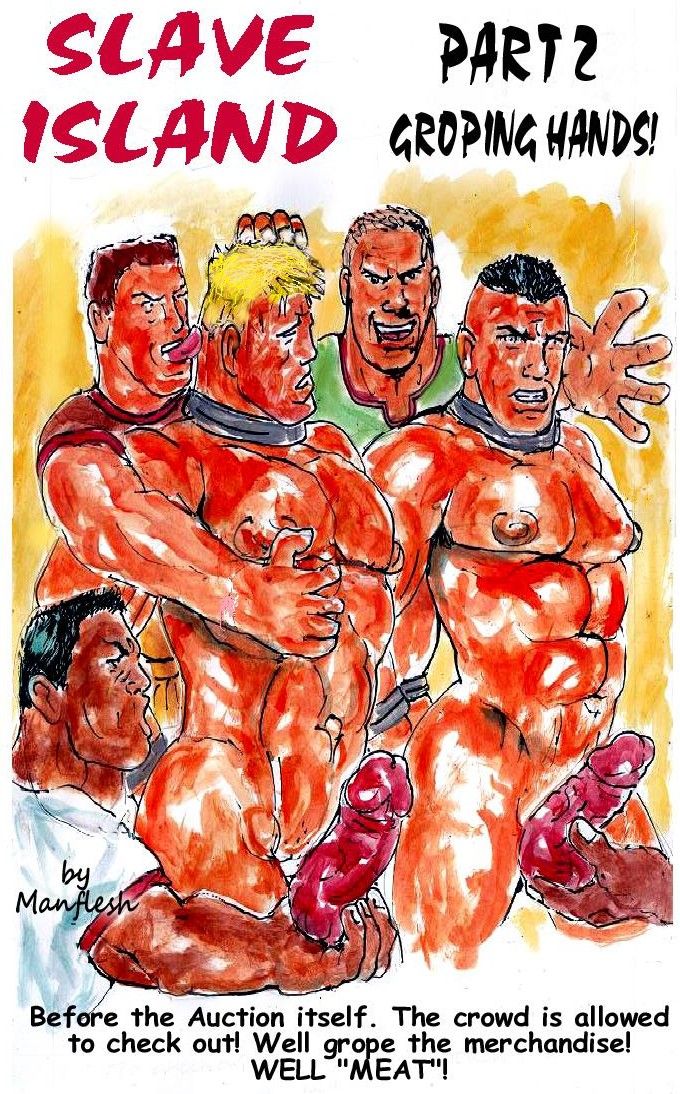 43 BAD BOY RACER TO SLAVE TROTTER. DUE TO THE INCREASE, OF BAD BOY RACERS IN THE UK. THE POLICE CAME UP WITH A GREAT WAY TO GET THEM OFF THE STREETS, AND OUT OF THE COUNTRY. THEIR FATE WAS TO BE NAKED SLAVES AND PULL RICKSHAWS FOR WEALTHY ARAB MASTERS. THIS IS RYAN'S STORY. THERE WOULD BE NO MORE DRUG SELLING, CAR STEALING, THEY WOULD BE ENSLAVED NAKED FOR LIFE. RYAN WAS STOPPED AND FRISKED BY THE POLICE, IN SEARCH OF ILLEGAL DRUGS. "YOU ARE NICKED?", ONE OF THE POLICE OFFICERS TOLD RYAN. "YOU CAN'T TOUCH ME I'M SEVENTEEN", RYAN PROTESTED, AS HE WAS THROWN AGAINST THE POLICE CAR, TO BE FRISKED. "RULES HAVE CHANGED", THE POLICE OFFICE SAID. "FUCK YOU PIG", RYAN REPLIED. "I BET THE KRAK IS UP HIS ARSE?", THE OTHER POLICE OFFICER SAID, AS HE PULLED RYAN TRACKIES DOWN AND PROBED HIS ANUS. PART OF THE NEW ORDERS, WERE THAT BAD BOY RACERS, WERE TO BE STRIPPED NAKED, AND THE DRUGS PULLED FROM THEIR BUMS. CAUGHT AND ARRESTED, RYAN WILL NEVER WEAR CLOTHES AGAIN. RYAN WAS STRIPPED AND CUFFED BY THE POLICE OFFICERS. "NOT SO COCKY NOW, NICKED AND KNICKERLESS", ONE OF THE POLICE OFFICERS SAID, AS HE CUFFED RYAN. "NICE ARSE", THE OTHER SAID, AS HE SLAPPED RYAN'S NAKED BUTTOCKS. "SHIT NO", RYAN MOANED IN DISBELIEF. RYAN WAS STRAPPED INTO THE BACK OF THE POLICE CAR, WITH HIS LEGS RAISED AND SPREAD WIDE, LEAVING HIS ARSE LEWDLY ON DISPLAY. HE COULD NOT HELP WETTING HIMSELF, INTO THE TRAY HE SAT ON. HE WAS DRIVEN TO THE POLICE STATION. THE POLICE STATION WAS A FORMER POWER STATION AND WAS SURROUNDED BY, A HIGH BARBED WIRE FENCING.
RYAN WAS TAKEN DOWN STAIRS TO THE PRISON OR HOLDING SECTION. RYAN WAS LOCKED NAKED IN A CELL. IT WAS VERY HOT DOWN THERE, IT WAS THE CATCHMENT FOR BAD BOY RACERS. "A HUGE PRISON GUARD CAME INTO RYAN'S HOLDING CELL. THE GUARD ORDERED RYAN TO BEND OVER. THE GUARD THEN STRIPPED DOWN TO HIS DRAWS AND LICKED HIS LIPS, AS HE LOOKED AT RYAN AND MADE RYAN, SPREAD HIS ARSE CHEEKS, WIDE. "MAYBE YOU HAVE DRUGS IN YOUR MOUTH?", THE GUARD SAID, AS HE EXPOSED HIS HUGE HARD COCK. "MY PROBE WILL FIND ANY DRUGS AND FLUSH THEM OUT", HE ADDED, GLANCING DOWN AT HIS HUGE HARD COCK. "OH SHIT NO", RYAN MOANED IN FEAR, BUT HE HAD NO CHOICE BUT TO SUCK THE GUARDS COCK. SHIT I'M A COP, COCK SUCKER, RYAN THOUGHT TO HIMSELF IN HORROR, AS HE SUCKED THE GUARDS COCK. IT WAS JUST THE START OF TAMING OF THE BAD BOY RACER. RYAN WAS MADE TO SUCK ALL THE GUARDS COCKS, TO SHOW HIM HE WAS A COLT, CONTROLLED BY MASTERS COCKS, WHILE THEY SUCKED HIS COCK. CONTINUOUS SUCKING, WOULD IMPRINT IN HIS THICK HEAD, THAT IS WAS NORMAL TO SUCK COCK AND HAVE YOUR COCK SUCKED. EVERY NIGHT ONE OF THE GUARDS ENTERED HIS CELL, NOT TO FUCK HIM. BUT TO GET HIM USE TO MALE ON MALE FLESH, BY LAYING NAKED ON TOP OF RYAN AND RUBBING THEIR BODIES TOGETHER.
FOR THE THREE MONTHS RYAN WAS KEPT IN THE PRISON. HE WAS FORCED TO WORK OUT WITH GREAT INTENSITY, WITH LONG SESSIONS ON THE RUNNING MACHINE. THOUGH HE DID NOT KNOW IT, HE WAS BEING TOUGHENED AND MADE MORE MUSCULAR, TO BECOME A SLAVE PONY. THE ONLY TIME HE SAW OTHER BAD BOY RACERS, WAS IN THE TWO HOUR HEAVY TRAINING SESSION, EACH DAY. THEY WERE NOT ALLOWED TO SPEAK AND WERE CLOSELY WATCHED. BY HOLDING RYAN IN DIFFERENT POSITIONS, WHEN HE WAS FED, MADE HIM KNOW, HE WAS BEING HANDLED, TO HELP TAME THE BEAST. THE ARAB RULER WAS SENT A VIDEO OF RYAN'S DEVELOPMENT. HE WOULD SOON SEND FOR HIM. BUT THE GUARDS HAD BEEN MAKING VIDEOS OF THEIR OWN, OF EACH OTHER, TO SEND TO CHICKS ON THE INTERNET. SOMEHOW THE ARAB RULER BUYING RYAN GOT HOLD OF ONE OF GUARD BRAD. THE ARAB RULER MADE A DEAL TO BUY GUARD BRAD AS WELL. RYAN AND EX GUARD BRAD WERE BOUND AND GAGGED NAKED, IMPALED ON LARGE DILDOS, IN A CARGO PLANES HOLD, FOR A SORE FLIGHT, TO THEIR BUYER THE ARAB RULER. DRAGGED OFF THE PLANE, BY ROPES TIED TO THEIR GENITALS, THAT MAKE THEM HARD. THE TWO NAKED WHITE SLAVES, ATTRACT A CROWD OF JEERING ARAB NATIVES, WHO TAUNT, THE RUDE BEASTS. EVEN LARGER CROWDS, LINE THE STREETS OF THE TOWN. THE TWO SLAVE FEEL TOO RUDE WITH THEIR ROCK HARD, COCKS, DISPLAYED TO THE LEERING CROWD. YOUNG WHITE MALE DELINQUENTS ENSLAVED AND TURNED INTO PONY SLAVES FOR RICH ARAB MASTERS. €15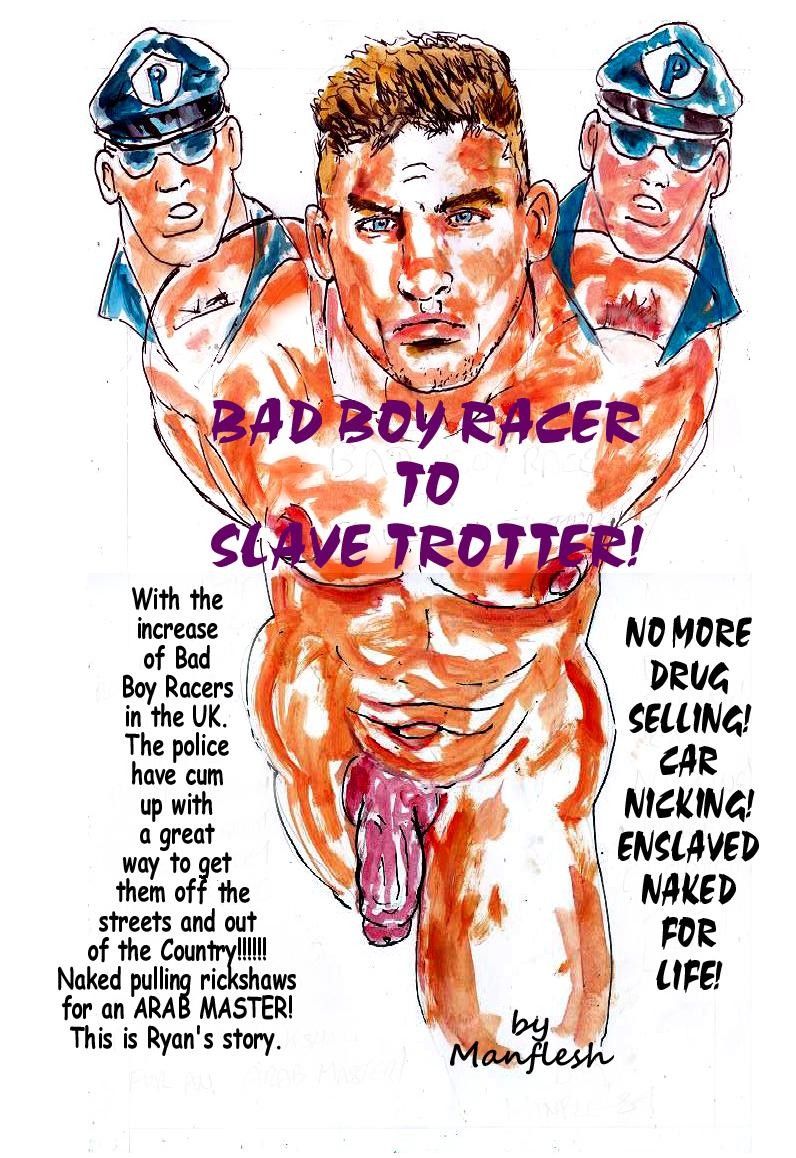 44 NAKED MALE BODY BUILDING FEDERATION NMBF. THE NAKED MALE BODY BUILDING FEDERATION, HAD STRICT RULES. NO CONTESTANT SHOULD HAVE AN IQ OF OVER 60. THEY MUST HAVE SPENT ALL THEIR TIME AT SCHOOL TRAINING. THEY SHOULD NOT BE ABLE TO READ AND WRITE. JOCKS ONLY. THE MUST UTILISE CATTLE DRUGS, TO INCREASE THEIR COCK AND BALLS SIZE. BY CONTEST TIME THEY WERE REQUIRED TO BE 12 INCHES, ROCK HARD. THEY WILL END UP OWNED BY RICH ARABS, LIKE A RACE HORSE. WHEN THEY CEASE TO WIN, NO MONEY FOR FAST CARS, ROLEX WATCHES THEY WOULD NOW BECOME WORK HORSES. THIS WAS BUCK'S STORY.
BUCK WAS POSING WITH HIS KNICKERS PULLED DOWN, IN FRONT OF THE JUDGES. FOR ENTRY INTO THE NAKED MALE BODY BUILDING FEDERATION. THE ONLY OTHER OPTION OPEN TO HIM WAS LABOURING. IF HE GOT SPONSORED BY NMBF, HE WOULD BE HOUSED AND FED. TRAINED AND GET THE DRUGS, PLUS LOTS OF MONEY. "YOU WILL LIVE WITHIN THE STABLE TRAIN, HARD AND NAKED ALL THE TIME, SO WE CAN CHECK YOUR PROGRESS", ONE OF THE JUDGES TOLD BUCK. "FIRST WE PHOTOGRAPH YOU ALL OVER, TO SEND TO A SPONSOR", THE OTHER JUDGE TOLD BUCK. "YEAH I'LL DO ALL I'M TOLD", BUCK SAID, AS HE POSED NAKED AND HARD, FOR THE PHOTOS. THE FEDERATION WAS HIDING A DIRTY SECRET. NMBF ALSO MEANT NAKED BODY BUILDING FENCE, SUPPLYING NAKED MUSCLE FOR THE ARAB MARKET. BUCK WAS INJECTED AND TRAINED HARD FOR THREE MONTHS. HE WAS VIDEOED CONSTANTLY EVERY WEEK, TO RECORD HIS PROGRESS. ABDUL HAZA WAS A MEGA RICH ARAB RULER, WHO COLLECTED MUSCLE FLESH. HE WAS PAYING FOR BUCK'S TRAINING. HE WATCHED HIS VIDEOS AND LUSTED AFTER HIM. THE DRUGS NOT ONLY MADE HARD MUSCLE MASS, CONTESTNATS, BUT HUGE COCKS AND FREQUENT EJACULATIONS DURING TRAINING.
TO STOP THE SLAVE BEASTS FROM TALKING TO EACH OTHER AND TO ENSURE THEY CONCENTRATED ON THEIR TRAINING. A TONGUE SUPPRESSOR WAS FITTED, TO ALL THEIR MOUTHS. ALL NMBF CONTESTANTS WERE MILKED FOUR TIMES A DAY. THEIR MILK WAS SOLD, AS A HIGH PROTEIN DRINK. BUCK ALONG WITH ALL THE OTHER BEAST, WAS INJECTED WITH BULL STEROIDS FOUR TIMES A DAY, BY A VETERINARY, WHO HAD BEEN STRUCK OFF, FOR SUPPLYING STEROIDS, TO BODY BUILDERS. THE VETERINARY WAS IN HIS ELEMENT, THE JOB PAID BETTER AND HE GOT TO GROPE THE BULLS. BUCK FOUND HE COULD HUMP MORE AND MORE WEIGHT AND WAS GETTING MORE AND MORE MUSCLE MASS. ABDUL COULD ACCESS LIVE FOOTAGE, OF HIS NAKED BEAST WHENEVER HE DESIRED. HE OWNED HIM INSIDE AND OUT AND WAITED TO HAVE HIM THE FLESH. THE BEASTS GOT VERY SWEATY AND DIRTY WHILE TRAINING HARD AND WHEN THE SESSION WAS OVER, THEY WERE HOSED DOWN BY THE GUARDS. THE BEASTS HAD TO STAND WITH ARMS RAISED AND BEHIND THEIR HEADS, LEGS SPREAD, HARD COCKS, STANDING TO ATTENTION AS THEY WERE HOSED DOWN. BATH TIME WAS FAVOURITE TIME FOR SPONSORS TO WATCH. AFTER LONG TIME TRAINING THE DAY OF THE COMPETITION ARRIVED AND ALL THE BEASTS WERE MADE TO PARADE AND PERFORM, STRIKING POSES, WHILE THE JUDGES WATCHED AND ACCESSED THEM. AN EXCITED CROWD LEERED AND LUSTED AFTER THEIR NAKED MUSCLE FLESH. WHEN THE RESULTS WERE ANNOUNCED, ABDUL MASTER OF HIS HUGE ARAB STATE, WAS FURIOUS, THAT BUCK, HIS BEATS HAD NOT WON. BUCK ONLY MANAGED FIFTH PLACE.
"YOU LOST A CUSTOMER", AN ANGRY GUARD TOLD BUCK. "ITS DUTY FOR YOU NOW, YOU WORK", HE ADDED. HIS DUTY WOULD BE TO THE FANS OF THE NMBF BEASTS AND SHOWS. THE FANS COME MUSCLE GROPE LOVERS, WERE ALWAYS EAGER TO BE SUCKED AND SUCK THE MUSCLE MEAT. READY TO PAY FOR THAT PRIVILEGE. SO BUCK HAD TO SUCK AND BE SUCKED BY THE FANS. BUCK WAS SUSPENDED UPSIDE DOWN BY HIS LEGS WITH HIS HANDS TIED BEHIND HIS, AND MADE TO SUCK THE FANS, WHILE THEY SUCKED HIM, THE GROPERS PAID GOOD MONEY FOR HANDS ON ACTION WITH BUCK. AS BUCK WAS A NON WINNER, HE WAS ALSO FORCED TO DO SLEEP OVERS. THIS ENTAILED BEING GROPED ALL NIGHT. AS HIS ARSE WAS OWNED BY HIS MASTER, IT WAS PROTECTED BY A STRAP ON DILDO, WITH AN ATTACHED BUT PLUG FITTED TO BUCK'S ANUS. DURING SLEEP OVER BUCK WAS SUCKED AND GROPED ALL NIGHT, AND MADE TO SUCK THE PAYING FANS.
HIS ARAB MASTER HAD PAID HANDSOMELY FOR BUCK'S MUSCLE FLESH, EVEN SENDING HIS PRIVATE JET, TO COLLECT HIS BEAST. AFTER A LONG FLIGHT, HIS MASTER WAS THERE TO MEET HIM UNDER THE BLAZING SUN. HIS MASTER HAD A HUGE ERECTION, AS HE INSPECTED HIS NEW MUSCLE BEAST. BUCK WAS NAKED, HANDS SECURED, A MASK OVER HIS NOSE AND MOUTH, HIS COCK LEWDLY ERECT. THERE WAS ALSO A RICK SHAW, COME HAND CART, WAITING FOR HIM. NAKED BUCK CUTLER, WAS ABOUT TO ENTER HIS NEW LIFE. A LIFE OF HARD SERVITUDE. YOUNG WHITE MALE DUMB MUSCLE J OCKS, ENSLAVED AND TURNED INTO MUSCLE BEASTS FOR RICH ARAB MASTERS. €15