| | | |
| --- | --- | --- |
| | | |
MANFLESH MALE COP DOMINATION ARTWORK AND COMIC BOOKS PAGE
MALE COP DOMINATION STORIES
1 LITTER PIGS PART 1. A BILLIONAIRE ARAB PRINCE WANTED A SET OF NAKED HUGE MUSCLED LITTER BEARERS AND HE WANTED THEM TO BE AMERICAN COPS. SO HE PLACED AN ADVERT FOR COPS WANTING BIG WAGES WITH HUGE MUSCLES TO BE GUARDS FOR THE PRINCE. FOUR COPS ANSWERED THE ADVERT DWANE AND HIS UNCLE BUTCH, AND DILLION AND CORY, WHO SENT PICTURES TO THE PRINCE, SHOWING THEY HAD THE MUSCLES FOR THE JOB. HAVING BEEN SELECTED BY THE PRINCE THE FOUR COPS TRAVELLED TWELVE HOURS TO THE MIDDLE EAST. IN THE MIDDLE EAST A TRANSPORTED TOUCHED DOWN ON A BAKING RUNWAY. THEY WERE TOLD THEY WOULD NEED NO LUGGAGE, THEY HAD BEEN PROMISED THE BEST CLOTHES, BEST ROOMS, BEST CARS, AND HUGE SALARIES. THEY WERE MET BY A STRETCH LIMOUSINE. AS THE STRETCH LIMOUSINE SPED THROUGH THE DESERT ON A 75 KILOMETRE TRIP, THE FOUR COPS WHOOP IT UP. FINALLY THEY ARRIVED AT A FORTRESS WITH A SMALL TOWN BESIDE IT.
"THE PRINCE EXPECTS YOU", A GUARD TOLD THEM. BEFORE THEY MET THE PRINCE THEY WERE GIVEN REFRESHMENTS. THAT WERE SPIKED WITH MIND CONTROLLING DRUGS, ROIDS AND VIAGRA. THE FOURSOME BECAME LIGHT HEADED AND STONED, ROBBING THEM OF THEIR CAPABILITY TO THINK STRAIGHT. THEY WERE TAKEN TO THE PRINCE. THEY GASPED THE HUGE BODIED PRINCE WAS SAT ON A NAKED WESTERN YOUTH. THE COPS COULD NOT REMEMBER MUCH, WAS THIS NORMAL. "I AM THE PRINCE YOUR MASTER, I WANT TO SEE YOUR BODIES IN THOSE NOW", THE PRINCE SAID. "STRIP AND PUT THESE ON", A GUARD ORDERED HOLDING FOUR TINY THONGS. STONED AND WITH BLANK MINDS THE COPS DO AS THEY WERE ORDERED. "I WANT YOU TO PLAY A GAME OF CUFF", THE PINCE STATED. THE GAME BEGAN AND THE WINNER OF THE FIRST CUFF WRESTLE WAS BUTCH, THE CUFFED LOSER WAS CORY. THE NEXT CUFF WRESTLE MATCH WAS DWANE AND DILLION. DWANE WAS A CHAMPION WRESTLER HIS BEST SCHOOL GRADE, IN FACT HIS ONLY SCHOOL GRADE. SO DILLION LOST AND WAS CUFFED. THE THIRD CUFF MATCH WAS BETWEEN BUTCH AND HIS NEPHEW DWANE. LOCKED TOGETHER FLESH ON FLESH MADE THEIR COCKS DRIP PRE-CUM. AFTER TWENTY MINUTES OF STRUGGLE DWANE WAS CUFFED, MAKING BUTCH THE WINNER.
BUTCH WAS GRABBED BY THE GUARDS AND CUFFED HIS THONG WAS RIPPED OFF. IT BEGAN TO DAWN ON THEM THAT ALL WAS NOT RIGHT. WITH THE DRUGS WORN OFF, LEWDLY NAKED AND CUFFED, THE ONCE PROUD COPS WERE FORCED TO EAT PIGS SWILL, HEAVILY LACED WITH CRUDE STEROIDS AND VIGARA. AFTER THEIR FORCED FEEDING, THE FOUR ENSLAVED COPS WERE LOCKED IN AN IRON CAGE IN THE COURT YARD FOR THE NIGHT. THEY WERE SQUASHED IN TIGHT FLESH ON FLESH. THE SQUIRMING HUNKS FULL OF VIAGRA MOANED AS RUBBING NAKED MUSCLE ON NAKED MUSCLE KEPT THEM IN A STATE OF AROUSAL AND SHAME. FOUR HOT MUSCULAR MALE COPS DUPED, STRIPPED AND ENSLAVED TO TOIL AS MUSCLED LITTER BEARING BEASTS, FOR THE PLEASURE OF THE ARAB PRINCE THEIR MASTER. €12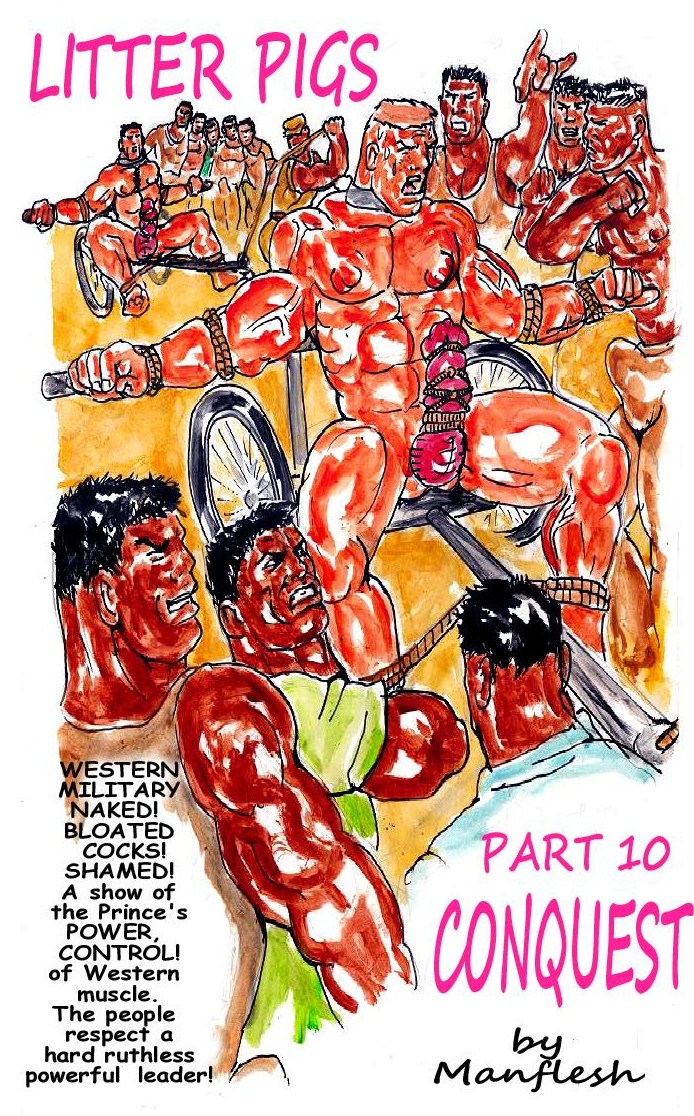 2 LITTER PIGS PART 2 SUCKING PIGS. THE EX US COPS NIGHT MARE CONTINUED AS MUSCLED LITTER BEARING SLAVE BEASTS. THEY WERE TREATED LIKE ANIMALS BY THE GUARDS AND HAD NO LATRINES, THEY HAD TO SHIT OPEN. THEY WERE TAKEN TO THE FORGE, WHERE METAL BITS ARE WEDGED AND PINNED IN THEIR MOUTHS, PREVENTING THEM FROM SPEAKING, THEY COULD ONLY GRUNT. ALL FOUR PIGS HAD THEIR COCK BUSHES REMOVED WITH AN ELECTRO HAIR REMOVER. THEY ALL LOOKED IN DESPAIR AT THEIR BALD CROTCHES. IT MADE THEIR SMALL COCKS LOOK EVEN SMALLER. THEIR USE OF LARGE AMOUNTS OF ROIDS WHILE WORKING OUT OF THE GYM FOR LARGE MUSCLE SIZE IS WHAT HAD CAUSED THEIR SMALL COCKS. THEY WERE COLLARED, WITH HEAVY IRON COLLARS WEIGHING FOUR POUNDS. IT MADE THE ENSLAVED COPS FEEL THEIR ENSLAVED STATE EVERY MINUTE OF THEIR WORKING HOURS.
THE NAKED COLLARED SLAVES WERE PARADED IN THE TOWN. THE PRINCE WANTED TO SHOW HIS POWER OVER THE WESTERNERS AND HIS STRENGTH TO HIS PEOPLE. THE YOUTHS OF THE TOWN WERE ENCOURAGED TO PISS ON THE NAKED WESTERN SLAVES. THE YOUTHS WERE ALLOWED TO BEAT THE WESTERNER'S ARSE RED RAW WITH STICKS, TO DEMONSTRATE THEIR SUPERIORITY. NEXT THE YOUTHS WERE TOLD TO FIST THE PIGS, MAKING THE PIGS SQUEAL REAL LOUD. THE YOUTHS WERE THEN TOLD TO STRIP DOWN AND USE THE EX-COPS AS SUCKING PIGS. THE PIGS WERE MADE TO SUCK ALL THE YOUTHS COCKS. ALL THAT SUCKING MADE THE PIGS PEE PEES ROCK HARD AND EXPAND TO THEIR FULL LENGTHS OF TWO INCHES. THE PIGS WERE THEN MADE TO SIXTY NINE EACH OTHER. THEY HAD TO SUCK EACH OTHERS PEE PEES WHILE THE CROWDS JEERED. HOMO MAN SEX WOULD BE THEIR ONLY SEX FROM THEN ON. FINALLY THE FOUR SLAVE PIGS WERE TAKEN BACK TO THE FORTRESS, WITH SORE ARSES AND STOMACHS FULL OF ARAB SEED. THEY WERE NOW FEARFUL OF WHAT THE NEXT DAY WOULD BRING. FOUR HOT MUSCULAR MALE DUPED COPS, DEBASEMENT AND PREPARATION TO BE LITTER BEARING BEASTS, FOR THE PLEASURE OF THE ARAB PRINCE THEIR MASTER CONTINUED. €12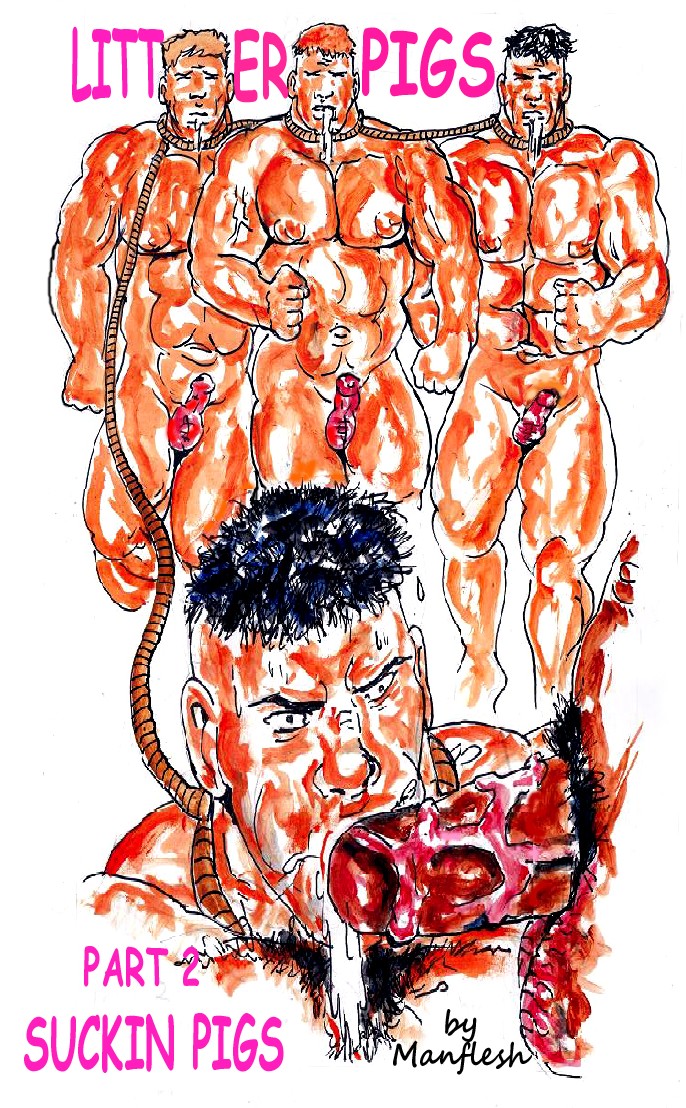 3 LITTER PIGS PART 3 POKED PIGS. BEFORE THEY COULD BECOME PROPER LITTLE PIGS THEY HAD TO PRACTICE FOR WEEKS WITH A HEAVY IRON FRAME. THEY ALSO HAD TO BE BROKEN IN WITH ARAB COCKS, THEY WERE NOT IN KANSAS ANY MORE. THE NEXT DAY AFTER BEING FED THEY WERE BROUGHT OUT INTO A YARD CONTAINING NAKED ARAB GUARDS WIT HUGE COCKS. YES THE PRICED WANTED DUMB ASS PIGS, BUT HE WANTED THEM TAMED AND BROKEN. THAT TOOK TIME AS COULD BE SEEN AND AS THEY FELT. THEY WERE SECURED BOUND ARMS AND LEGS BENT OVER READY TO BE FUCKED BY THE NAKED ARAB GUARDS. THE SLAVE HOGS WERE GIVEN THEIR FIRST TASTE OF BEING TOTALLY DOMINATED AND HOMOED FOR THE REST OF THEIR LIVES AS THEY FUCKED HARD BY THE ARAB GUARDS. FUCKED BY THE GUARDS UP TO FOUR TIMES A DAY. THEIR PIGGY ARSE HOLES SOON HAD THE PUFFY SWOLLEN LOOK OF WELL USED WHORES. THEY WERE ABOUT TO FIND OUT THEIR REASON FOR BEING ENSLAVED. THE PAIN, TOIL AND SWEAT THAT WILL FILL THEIR LIVES FROM NOW ON. ALL FOUR OF THE SLAVE PIGS WERE GIVEN STEEL CURLY PIG TAILS THAT WERE INSERTED IN THEIR ARSES AND ONLY TAKEN OUT BY THE GUARD WHEN THEY WANTED TO FUCK THE PIGS. THERE WAS ALONG CHANNEL ALONG THE INSIDE SHAFT THAT ALLOWED THEIR POO TO OOZE OUT.
"I AM YOUR LITTER MASTER, LIFT UP THE TRAINING FRAME PIGS", THEIR ARROGANT RUSSIAN BONDAGE MASTER ORDERED. THE PRICE LIKED HIS CV HE WAS JUST THE JOB. THE PRINCE HAD PLANS TO TURN HIM INTO FUCK SLAVE, WHEN HE FORE FILLED THE URGE TO BREAK THE RUSSIAN. THE PIGS WERE SUBJECTED TO HARD GRUELLING MARCHES THROUGH THE HOT BAKING DESERT THAT SURROUNDED THE PRINCE'S PALACE. MUSCLES ACHED AS SWEAT POURED FROM THEM UNDER A BURNING SUN, ENCOURAGED BY THE LITTER MASTERS WHIP. THE PIGS WERE TRAINED TO DRINK PISS WATER. THERE WAS NO CHOICE THEY HAD TO GET USE TO IT. WHEN THE PIGS WERE OUT ON A LONG SESSION, WATER BODY RAN TOWARDS THEM. THEY WERE NAKED ARAB YOUTHS, THEIR BIG COCK AND BALLS BURSTING FULL OF PISS. WHILE THE PIGS SUCKED THE PISS OUT OF THE ARAB YOUTHS COCK. THE LITTER MASTER WAS SERVED A DRINK OF ICE COLD WATER. THE LOCAL LADS WERE PAID BY THE PRINCE AND ENJOYED GETTING THEIR COCK SUCKED BY THE WESTERN SLAVE PIGS. EVERY NIGHT BEFORE THEY WERE ALLOWED TO SLEEP. THE PIGS WERE MADE TO CUM USING ONLY THEIR MOUTHS AND RUBBING AGAINST EACH OTHER. ONLY WHEN THEY EJACULATED COULD THE SLABS OF ANIMAL MUSCLE FALL INTO AN EXHAUSTED SLEEP. FOUR HOT MUSCULAR MALE DUPED COPS, DEBASEMENT AND PREPARATION TO BE LITTER BEARING BEASTS, FOR THE PLEASURE OF THE ARAB PRINCE THEIR MASTER CONTINUED UNDER THE WHIP AND INSTRUCTION OF THE ARROGANT RUSSIAN LITTER MASTER. €12




4 LITTER PIGS PART 4 RINGED. ANOTHER DAY OF CAPTIVITY DAWNED AND THE LITTER PIGS WERE TAKEN TO THE SMITHY. THE LITTER MASTER WATCHED GRINNING AS PIG DWANE WAS THE FIRST TO GET RINGED. HE WAS HELD FAST BY A SHIRT LESS GUARD WHILE A HEAVY SNOUT RING WAS INSERTED AND CLAMPED MAKING HIS NOSE BLEED. THAT WAS WHY THE GUARD WAS SHIRT LESS. NIPPLE RINGS WERE INSERTED AND CLAMPED NEXT MAKING DWANE'S NIPPLES BLEED. THE LITTER MASTER ATTACHED A ROPE TO DWANE'S SNOUT RING AND TUGGED HIM ALONG BY IT. BUTCH WAS NEXT TO HAVE THE SNOUT RING INSERTED IN HIS NOSE. "NOW FOR YOUR TITS PIG", THE LITTER MASTER TOLD BUTCH AS HE WATCHED HIM HAVE HIS SNOUT RING CLAMPED TO HIS NOSE. NIPPLE RINGS WERE CLAMPED TO BUTCH'S NIPPLES, SOBBING FROM THE PAIN AND SHAME ALL OF BUTCH'S SWAGGER WAS LONG GONE. IT WAS PIG DILLON'S TURN NEXT. "TONIGHT I WILL TIE YOU BY YOUR SNOUT TO MY BED", THE LITTER MASTER TOLD DILLON, HIS NIPPLES WERE RINGED. THEN DILLON WAS MADE TO SUCK THE LITTER MASTERS COCK. FINALLY IT WAS CORY'S TURN, AND HIS SNOUT RING WAS INSERTED AND CLAMPED. "SOON YOU WILL BE FULLY RINGED PIG", THE LITTER MASTER TOLD CORY. CORY'S NIPPLES WERE RINGED WHILE THE LITTER MASTER WATCHED. ALL RINED THE FOUR PIGS WERE TAKEN FOR THEIR NEXT REVAMP. THE FOUR RINGED PIGS WERE GIVEN SEVERE CONVICT HAIRCUTS. ALSO HAIR DEFOLIANT WAS APPLIED TO THE SIDES OF THEIR HEADS TO STOP REGROWTH, WHILE THEY SAT ON GUARDS COCKS.
THAT NIGHT PIG DILLON WAS TAKEN TO THE LITTER MASTERS BEDROOM. DILLON'S STEEL BUT PLUG WAS REMOVED MAKING HIS ARSE CUNT READY FOR THE LITTER MASTERS COCK. "SHIT, HE HAS STEEL BALLS IN HIS COCK SHAFT", DILLON THOUGHT TO HIMSELF IN HORROR AS HE LOOKED AT THE NAKED LITTER MASTER ON HIS BED. THE PRINCE HAD THE WHOLE PALACE MONITORED WITH CCTV AND HE WATCHED THE LITTER MASTER RUTTING, HE HAD PLANS FOR HIM. THE FOUR HOT MUSCULAR MALE DUPED COPS, DEBASEMENT AND PREPARATION TO BE LITTER BEARING BEASTS, FOR THE PLEASURE OF THE ARAB PRINCE THEIR MASTER CONTINUED THEIR BODIES BEING MODIFIED WITH STEEL SNOUT AND NIPPLE RINGS WITNESSED BY THE ARROGANT RUSSIAN LITTER MASTER. €12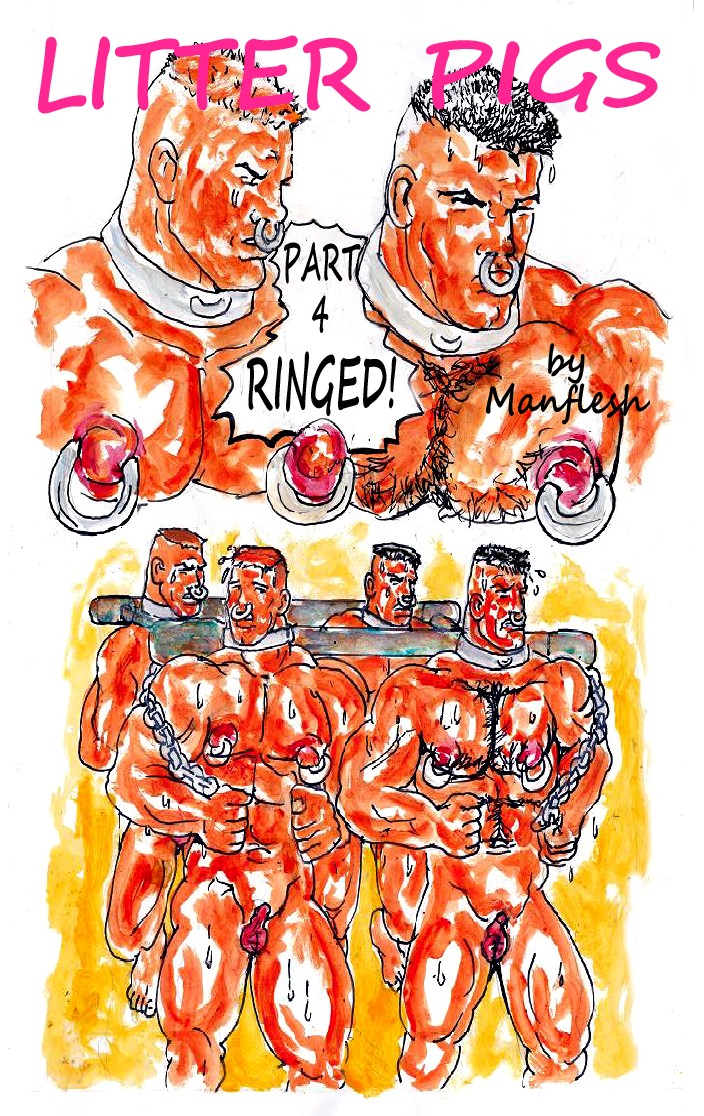 5 LITTER PIGS PART 5 PARTY ANIMALS. AFTER THREE MONTHS ON A SATURDAY NIGHT THE SIX FOOT FOUR INCH SLABS OF ANIMAL MUSCLE WHERE TAKEN INTO THE PALACE. THE SOFT CARPET FELT WEIRD ON THEIR NAKED ANIMAL FEET. "BEASTS, IF YOU DO NOT PLEASE THE PRINCE AND HIS GUESTS, YOU WILL BE MEAT FOR THE GUARD DOGS", A GUARD WARNED THEM. "NOT INVITED TO THE BANQUET", THE LITTER MASTER SHOUTED, HE WAS NOT HAPPY AND SMASHED UP HIS ROOM. THE SERVANTS CAN CLEAR UP THE MESS", HE RAGED. THE WESTERN PIGS WERE TAKEN INTO THE BANQUET HALL AND PARADED IN FRONT OF THE PRINCE AND HIS GUESTS. "ITS COCK IS AS SMALL AS A RATS?", OF THE GUESTS SAID AS HE TOOK HOLD OF ONE THE PIGS TINY COCKS. "NOT MANLY LUKE US", ONE OF THE OTHERS SAID. THE PIGS PIG TAIL BUTT PLUGS WERE REMOVED AND THE GUESTS WERE ALLOWED TO FILL THE PIGS ARSES WITH FRUIT. THEY WERE NOW STUFFED PIGS. THEIR PIG TAIL BUTT PLUGS ARE THEN REPLACED AND ALL FOUR OF THEM FORCED TO DRINK, FILLING ALREADY BLOATED, MUSCULAR GUTS. THE FOUR PIGS WATCHED IN CONFUSION AS A TREAD MILL WAS BROUGHT INTO THE BANQUET HALL. THE FOUR WESTERN PIGS WERE MADE TO CARRY A HEAVY LITTER FRAME ON THE TREAD MILL. THE SHAMED WESTERN PIGS RAN, THE MUSCLE FLESH POURING WITH SWEAT. THE WESTERN PIGS WERE MADE TO RUN UNTIL THEY COLLAPsED WITH EXHAUSTION.
THE PRINCE AND HIS GUESTS WERE ALL HARD, READY FOR A PARTY BANG. THE PIGS WERE PURGED BY THE GUARDS, THEIR ARSES CLEANED OUT WITH HOSES, READY FOR SOME HARD PARTYING. THE FOUR WESTERN PIGS WERE GIVEN A HARD POKING BY THE PRINCE AND HIS GUESTS. WHEN THE PRINCE AND HIS GUESTS WERE FINISHED, THE SORE ARSED WESTERNERS WERE TAKEN TO THEIR CAGE. FROM TOMORROW THEY WOULD TOIL AS LITTER BEARERS, CARRYING THE HUGE BULK OF THE PRINCE UNDER THE SEARING DESERT SUN. THE FOUR HOT MUSCULAR MALE DUPED COPS TRAINING AND DEBASEMENT CONTINUED. THEY WERE USED AS PARTY FUCK ANIMALS BY THE PRINCE AND HIS GUESTS AT A BANQUET, WHERE THEY LEARNED THEIR FATE TO BE HIS LITTER BEARERS. €12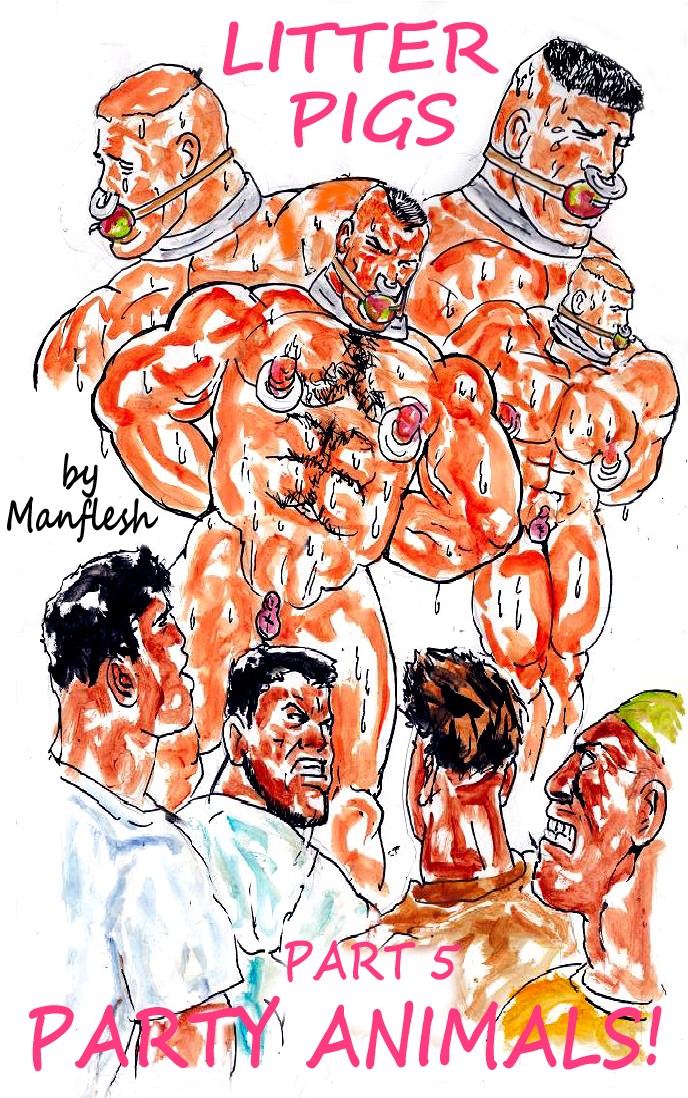 6 LITTER PIGS PART 6 TOIL. THE NEXT DAY THE LITTER PIGS WAITED UNDER THE HOT BLAZING SUN FOR THE PRINCE TO APPEAR. THE FOUR WESTERN PIGS WERE CHAINED TO THE LITTER WHEN THE PRINCE ARRIVED. "MORE ROIDS IN THEIR FOOD", THE PRINCE ORDERED AS HE INSPECTED THE FOUR WESTERN PIGS. "I WANT THEIR MUSCLES BIGGER AND THEIR COCKS THE SIZE OF FLY MAGGOTS", THE PRINCE ADDED. THE LITTER MASTER APPEARED. THE PRINCE COULD SEE THAT THE LITTER MASTER SVEN WAS ENRAGED AT NOT BEING AT THE BANQUET. THE PRINCE SMILED AS HE PICTURED SVEN NAKED, GRIMY, SWEATING AND TOILING, CARRYING A PIG SKIN FULL OF PISS FOR THE LITTER PIGS.
THE LITTER PIGS STARTED THEIR PROPER TOIL UNDER A BAKING SUN. THEY WERE BEASTS, ANIMALS, LOWER THAN THE MEANNESS ARAB PEASANT, EVEN THEIR DONKEYS. THE PRINCE ORDERED THE LITTER MASTER TO TAKE THEM INTO THE TOWN BELOW THE FORTRESS PALACE. THE PRINCE WANTED TO SHOW HIS PEOPLE THE POWER HE HAD OVER THE WESTERNERS. HOW HE OWNED THEM AS SLAVES. A POWERFUL RULER WITHOUT WEAKNESS COULD CONTROL HIS PEOPLE. THE PRINCE BARKED AN ORDER IN ARABIC TO THE YOUNG MEN IN THE CROWD. THAT TRANSLATED INTO, YOU MAY GROPE THE WESTERN PIGS. THE CROWD OF YOUTHS SUDDENLY RUSHED FORWARD, BARGING THE LITTER MASTER AND MAKING HIM DROP HIS WHIP. TO THEM HE HAD NO POWER, NOT STATUS WHAT SO EVER. SVEN COULD ONLY WATCH FEELING POWERLESS. HE WAS A MASTER AT CONTROLLING PEOPLE, BUT HIS AUTHORITY HAD BEEN DENTED. SVEN COULD NOT TAKE THAT HE WAS NOT IN CONTROL, SHIT HE WAS THE MASTER OF DISCIPLINE. NOT IN CONTROL, I'M THE LITTER MASTER, NOT ARAB SCUM, SVEN THOUGHT ANGRILY. THE PRINCE WATCHED AND GRINNED. THE LITTER MASTER TOLD THE PRINCE THAT HIS WHIP HAD BEEN STOLEN, TO HIS HORROR THE PRINCE TOLD SVEN THAT THAT WAS OK, AND HE COULD CARRY THE PIGS BUTT PLUGS INSTEAD AND TOLD HIM I DO SO.
THE PRINCE ORDERED THE LITTER OFF THE ROAD INTO THE DESERT. THE GUARDS OF COURSE KEPT WATCH FROM A SHORT DISTANCE. TRUNDLING THROUGH THE SOFT SAND MADE SVEN HOT AND BOTHERED. AS THE SUN BECAME HOTTER THE WATER BOYS ARRIVED. AT LAST, THE WATER CARRIERS, ICE WATER OUT OF A CHAMPAGNE GLASS FOR ME, SVEN THOUGHT TO HIMSELF WITH RELIEF. THE PRINCE WAS SERVED WITH ICE COLD WATER, BUT THERE WAS NOT FOR SVEN. "MY WATER?", SVEN ASKED THE PRINCE. "FORGOTTEN, YOU WILL HAVE TO DRINK THE PISS WATER", THE PRINCE REPLIED. SVEN WAS SO THIRSTY, HE HAD NO CHOICE. SVEN THE LITTER MASTER HAD TO DRINK PISS UNDER THE FIERCE EASTERN SUN. THE PRINCE WATCHED, THIS WAS ONLY THE START OF THE BREAKING OF THE LITTER MASTER. THE FOUR HOT MUSCULAR MALE DUPED COPS TRAINING AND DEBASEMENT CONTINUED. THEY WERE WERE NOW THE PRINCE'S OFFICIAL LITTER BEARERS AND THEY WOULD TOIL FOR HIM UNDER THE BLAZING SUN, HIS SLAVES HIS ANIMALS. €12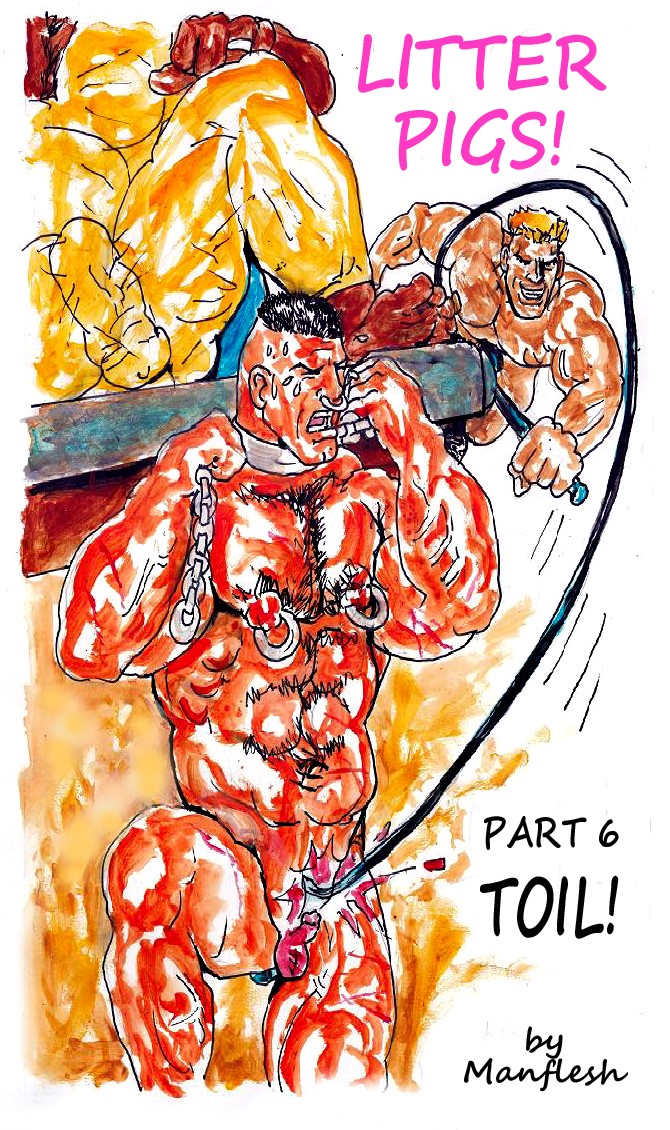 7 LITTER PIGS PART 7 ARROGANT FALL. THE NEXT MORNING AFTER LOSING HIS DIGNITY AND WHIP TO EXCITED ARAB YOUTHS, SVEN EMERGED CARRYING A NEW WHIP IN A LEATHER JOCK STRAP. WELL THE BONDAGE MASTER HAD MORE THAN ONE IN HIS INSTRUMENTS OF PAIN COLLECTION. "I WANT YOU TO WORK NAKED LIKE THE PIGS", THE PRINCE TOLD SVEN. "FUCK NO, I'M THE LITTER MASTER", SVEN PROTESTED. THE PRINCE COMMANDED HIS GUARD TO STRIP THE LITTER MASTER. A SHOCKED SVEN WAS GRABBED BY ONE OF THE PRINCE'S GUARDS, WHILE ANOTHER RIPPED HIS LEATHER JOCK OFF. AS THEY WATCHED SVEN BEING STRIPPED THE LITTER PIGS HAD SMILES ON THEIR FACES. ONE OF THE PRINCE'S GUARDS CLAMPED A STEEL COLLAR AND CHAIN AROUND SVEN'S NECK AS HE KNELT NAKED IN FEAR. SHOCKED, ANGRY AND ABOVE ALL FRIGHTENED, SVEN PISSED HIMSELF.
THE PRINCE AND THE LITTER PIGS WATCHED AS THE LITTER MASTER HAD HIS COCK HAIR REMOVED WITH A LASER TAZER. A TONGUE STOPPER WAS FORCED INTO SVEN'S MOUTH TO STOP HIM SPEAKING. FITTED WITH A COLLAR AND TONGUE STOPPER SO HE COULD NOT SPEAK ONLY GRUNT, ENSLAVED SVEN WAS FORCED TO SHOW HIS MANCUNT TO THE PRINCE. THE PRINCE COMMANDED AND SVEN WAS GRABBED BY A GUARD. HE INSERTED A METAL BUT PLUG UP SVEN'S ARSE AND LOCKED IT IN PLACE WITH A STEEL BELT AROUND SVEN'S WAIST. THE STEEL BELT AND BUT PLUG WERE CONNECTED BY A CHAIN THE THE LITTER, SVEN WAS NOW SECURED TO THE LITTER. SVEN WAS NOW THE LEAD LITTER PIG. HE WAS IN CONTROL OF THE DIRECTION OF THE LITTER, BUT NOT IN THE WAY HE WOULD OF LIKED. A LASH I SVEN'S NAKED BUT ENCOURAGED HIM TO MOVE IN THE RIGHT DIRECTION.
THE PRINCE HAD A NEW DELIVERY. A COLLEGE JOCK, NOW A BED BUCK WHORE, FOR THE PRINCE'S USE EVEN WHILE TRAVELLING. ON THE ORDERS OF THE PRINCE SVEN WAS UNHITCHED FROM THE LITTER, AND WHIPPED THROUGH THE STREETS NAKED, BY NATIVE YOUTHS. HE WAS TAKEN TO A YARD CONTAINING A PUNISHMENT STOCK. SVEN WAS LOCKED IN THE STOCKS AND HAD TO SUCK ALL THE ARAB'S COCKS AND ENDURE THEM ALL FUCKING HIS ARSE.
THE PRINCE HAD SOMETHING THE WEST NEEDED BADLY OIL AND METAL ORES. THE PRINCE WANTED MILITARY GRUNTS AS SLAVES. THE WEST SENT A REPRESENTATIVE TO SIGN THE DEAL. THE PRINCE HAD SENT HIS PRIVATE JET I COLLECT THE ENVOY. HE HAD INSISTED ON A VIDEO TAKEN BY SECRET CAMERA, BEING SENT VIA THE INTERNET OF THE BEST MUSCULAR LIEUTENANTS SHOWERING SO HE COULD PICK HIS FAVOURITE. IT WAS ALL PART OF THE DEAL AND SIGNED WITH LIEUTENANT'S SEMEN. "LIEUTENANT BRETT BUTT WESTERN DEPARTMENT MILITARY AT YOUR SERVICE", LIEUTENANTS BRET BUTT SAID SALUTING THE PRINCE AS THE PRINCE AND HIS LITTER MET THE LIEUTENANT AS HE DISEMBARKED THE PLANE. THE DEBASEMENT AND ENSLAVEMENT OF WESTERN MALES CONTINUED AT THE HANDS OF THE ARAB PRINCE. THE LITTER MASTER JOINING AND BECOMING JUST ANOTHER LITTER PIG. €12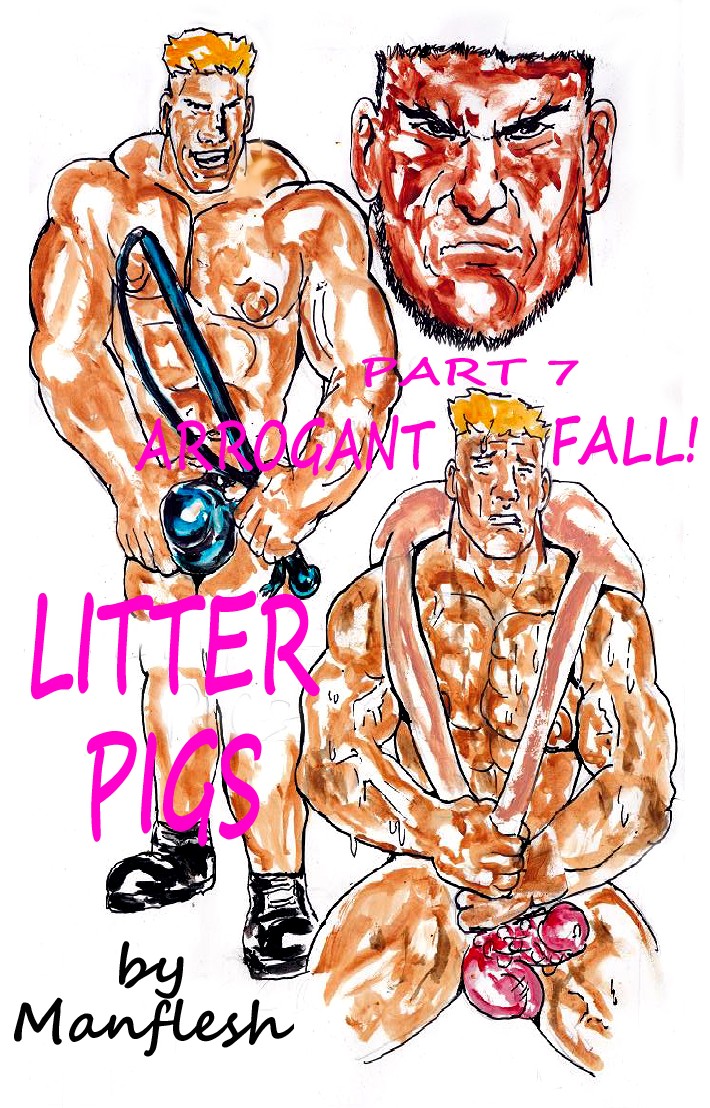 8 LITTER PIGS PART 8 DEALING WITH THE ENEMY. AS LIEUTENANT BRET BUTT TRAVELED WITH THE PRINCE IN HIS LITTER, HE NOTICED THAT THE LITTER BEARERS WERE NAKED WESTERN MALES. "SIR, PRINCE YOUR BEARERS LOOK WESTERN AND ARE BUTT NAKED", BRET TOLD THE PRINCE. "HERE THAT IS NORMAL", THE PRINCE REPLIED. "YOUR MILITARY MASTERS WANT YOU TO PLEASE ME", HE ADDED AS A REMINDER. "WE ARE ABOUT TO GO THROUGH THE TOWN?", THE PRINCE SAID AS HE STARTED TO REMOVE BRET'S SHIRT. "NO, BUT, BUT", BRET PROTESTED AS HIS SHIRT WAS PULLED OFF. "WE MUST REMOVE YOUR WESTERN CLOTHES", THE PRINCE SAID. "IF MY PEOPLE SEE YOU ARE WESTERN MILITARY, THEY WILL RIOT", THE PRINCE ADDED. THE LIEUTENANT COULD ONLY LOOK ON IN DISMAY AS THE PRINCE REMOVED HIS TROUSERS. "SIR, PRINCE, NOT MY UNDIES AS WELL", BRET PLEADED AS THE PRINCE YANKED HIS BRIEFS DOWN. "WESTERNERS CANNOT WEAR CLOTHES HERE", THE PRINCE REPLIED AS HE RIPPED BRET'S UNDERWEAR OFF. THE PRINCE THREW THE LIEUTENANT'S WESTERN CLOTHES OUT INTO THE DESERT. LIEUTENANT BUTT SAT THERE NAKED SHIVERING FROM SHOCK AS HE TRIED TO HIDE HIS RUDENESS. BUT IT ONLY MADE HIS COCK ROCK HARD. JUST BEFORE THEY ENTERED THE TOWN, GUARDS APPROACHED BEARING A STEEL AND WOODEN HORN TO FIX ON THE FRONT OF THE LITTER.
AS THEY ENTERED THE TOWN, CROWDS OF NATIVES YOUTHS BEGAN TOO GATHER. THE PRINCE ISSUED A COMMAND AND LIEUTENANT BUTT WAS GRABBED BY TWO OF HIS GUARDS. THE LIEUTENANT WAS THRUST ONTO THE STEEL ERECTION AND THEN HIS HANDS WERE THEN CUFFED BEHIND HIM. SEEING LIEUTENANT BUTTS IMPALED ON THE STEEL ERECTION EXCITED THE CROWDS OF NATIVE YOUTHS. THE PRINCE SPOKE TO THE CROWD. "I AM YOUR LORD, YOU ARE HIS SUPERIORS, YOU CAN THRASH HIM", THE PRINCE SAID. THE NATIVE YOUTHS EAGERLY WHIPPED THE NAKED IMPALED LIEUTENANT. WHIPS MADE OF HEMP ROPE WERE USED ON EVERY PART OF THE LIEUTENANT'S NAKED FLESH. THE PRINCE WATCHED FROM HIS SEAT ON THE LITTER. HE LOVED CONTROL OF WESTERN NAKED MUSCLE, AND POWER OVER HIS PEOPLE. AFTER LEAVING THE TOWN AND ENTERING THE DESERT, WATER CARRIERS APPROACHED. AS THE PRINCE DRANK HIS CHAMPAGNE WITH ICE. THE LIEUTENANT WAS GIVEN HIS FIRST TASTE OF PISS WATER, BY ONE OF THE WATER CARRIERS. THE WATER CARRIER WAS THE ONCE ARROGANT SWEDE. NOW A SWEAT DRIPPING BEASTIED, BEAST. AS THE PRINCE'S BUM WHORE, LIEUTENANT BUTT WAS MADE TO WEAR PINK SATIN, AND A STEEL HOLLOW ROD WITH A BELL, INSERTED IN HIS PISS HOLE, SO HIS COCK WAS ERECT ALL THE TIME. THE SHAME OF IT, THE LIEUTENANT WAS FUCKED IN THE OPEN BY THE PRINCE IN THE LITTER.
A DRONE SPOTTED ONE OF THE PRINCE'S MINES WHERE NAKED WESTERN MALE MUSCLE SLAVES TOILED. SPYING WAS NOT WELCOME AND PRICE WOULD HAVE TO BE PAID. THE DEBASEMENT AND ENSLAVEMENT OF WESTERN MALES CONTINUED AT THE HANDS OF THE ARAB PRINCE. LIEUTENANT BUTTS ENSLAVED AS THE PRINCE'S BUM WHORE. €12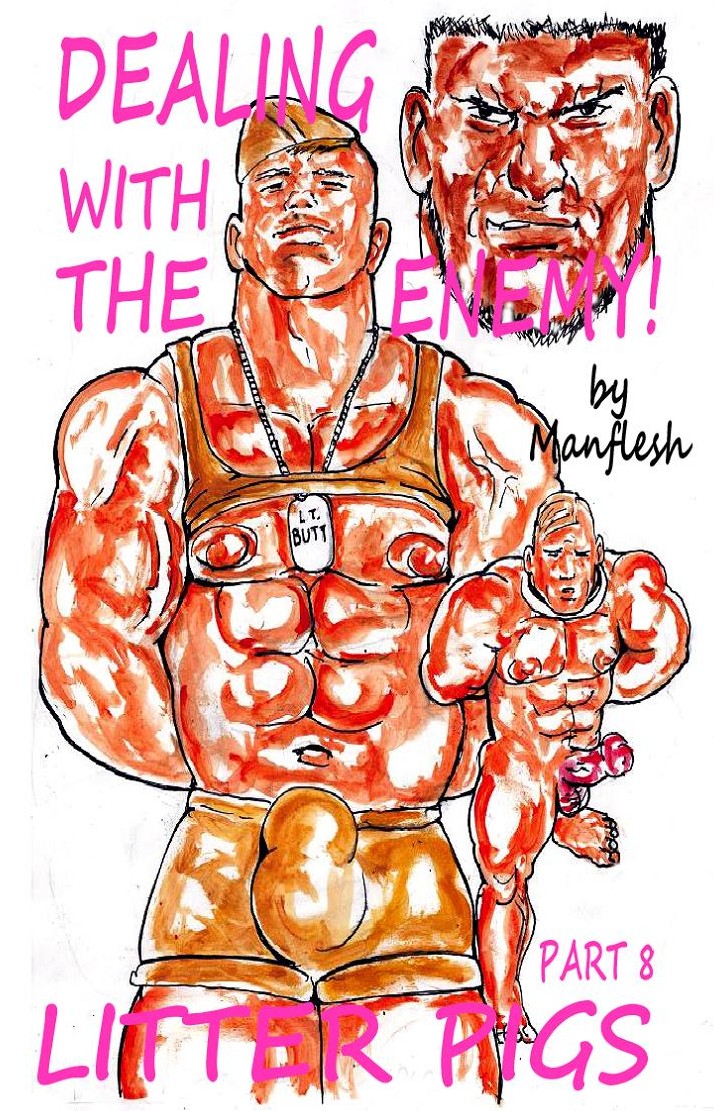 9 LITTER PIGS PART 9 THE MINES. "SIR I SENT A DRONE OVER THE PRINCE'S KINGDOM AND HE HAS WESTERNERS SLAVING NAKED", CORPORAL BUCK BURKEN TOLD HIS SUPERIORS. CORPORAL BUCK BURKEN HAD SENT A DRONE OVER THE PRINCE'S KINGDOM WITHOUT AUTHORISATION. HE WAS CAUSING CONCERN OVER MOUTHING HIS VIEWS. THE PRINCE HAD COMPLAINED ABOUT THE INVADING OF HIS KINGDOM. CORPORAL BUCK BURKEN WAS ABOUT TO SWAP HIS ARMY UNIFORM FOR NAKED TOIL.
"SIR IS THERE ANY NEWS ON THE MISSION TO RESCUE WESTERN SLAVES, SIR?", CORPORAL BUCK BURKEN ASKED HIS COMMANDER. MEDDLING FOOL, HIS NOSE WHERE IT DON'T BELONG, THE PRINCE IS ANNOYED AND WE NEED HIS ORE, BURK IS GOING ON A ON WAY MISSION, THE COMMANDER THOUGHT TO HIMSELF. "I'M GOING TO SEND YOU ON A RESCUE MISSION, WITH A BAND OF STRAPPING GRUNTS IN YOUR CHARGE", THE COMMANDER REPLIED. CORPORAL BURK ADDRESSED THE MEN HE WAS TO TAKE ON THE MISSION, WHO WERE ALL CHOSEN FOR THEIR HUGE MUSCLES. "WE HAVE THE MUSCLE I TAKE THE MINE AND FREE THE WESTERNERS", CORPORAL BURK TOLD HIS MEN. THE MISSION BEGAN AND THE FLIGHT WAS FULL OF TESTOSTERONE MANFLESH READY TO FIGHT. "THEIR ON THEIR WAY", THE COMMANDER TOLD THE PRINCE BY PHONE. "GOOD, MORE MUSCLE", THE PRINCE REPLIED. THE PLATOON OF MUSCLE MEN JUMP FROM THE PLANE AND PARACHUTE DOWN TO THE DESERT BELOW. "MY GUN IS, LOCKED SEALED, CHECK YOUR WEAPONS", CORPORAL BURK TOLD HIS PLATOON. "MINE TOO", THEY ALL REPLIED. "ITS A SET, UP FUCK WE ARE SCREWED", CORPORAL BURK SAID ANGRILY THROWING AWAY HIS GUN. THE PLATOON WAS WITHOUT WEAPONS. IT DAWNED ON THEM THAT THEIR OWN COMMANDERS HAD SET THEM UP.
JUST AS THEY WERE THINKING OF WHAT TO DO NEXT, THEY WERE SURROUNDED BY THE PRINCE'S GUARDS. "STRIP NAKED NOW", THE PRINCE'S GUARDS ORDERED. WHAT CHOICE DID THEY HAVE, NO WEAPONS, NOTHING. NOW THEY WERE BEING MADE TO STRIP NAKED UNDER THE BAKING DESERT SUN. THEIR HANDS WERE ROPED BEHIND THEM AND THEY WERE TIED COCK TO COCK IN A LINE. THE ONCE PROUD MUSCLE BOUND MARINES, PULLED TO THE MINES LIKE NAKED BEASTS. IN THE MINES PROCESSING PLANT THE MARINES WERE HUNG LIKE SLABS OF MEAT. THEY WERE COLLARED AND HAD THEIR MAN BUSHES REMOVED WITH A BURNING JELL. WITHIN SIX HOURS OF PARACHUTING INTO THE PRINCE'S REALM. THE HUNKY MARINES WERE NAKED TOILING BEASTS UNDER THE LASH. BASHING STEEL SLEDGE HAMMERS INTO THE ORE FILLED ROCK. TO FURTHER INGRAIN INTO THEM THEIR SLAVE STATUS, THE GUARD MADE THEM INGEST ARAB COCK PISS, THEIR ONLY DRINK FROM NOW ON.
THE PRINCE NEEDED TO DEMONSTRATE HIS POWER. THERE WAS A RUMOUR THAT A WESTERN ARMY PLATOON HAD LANDED. HE HAD AN IDEA THAT WOULD SCOTCH THE RUMOURS. HE HAD THE BATCH OF MARINE SLAVES FILLED WITH VIAGRA. WHEN THEIR COCKS WERE HARD, THEY WERE THEN INJECTED WITH COLLAGEN. MOANING WITH THEIR COCKS SWOLLEN TO THE SIZE OF A MAN'S FOREARM, THEIR COCKS WERE THEN ROPED SO THAT THEY STAYED THAT WAY FOR GOOD, THEY WERE NOW READY. MORE WESTERN MILITARY MUSCLE HUNKS ENSLAVED AND ABUSED BY THE ARAB PRINCE AND HIS GUARDS. €12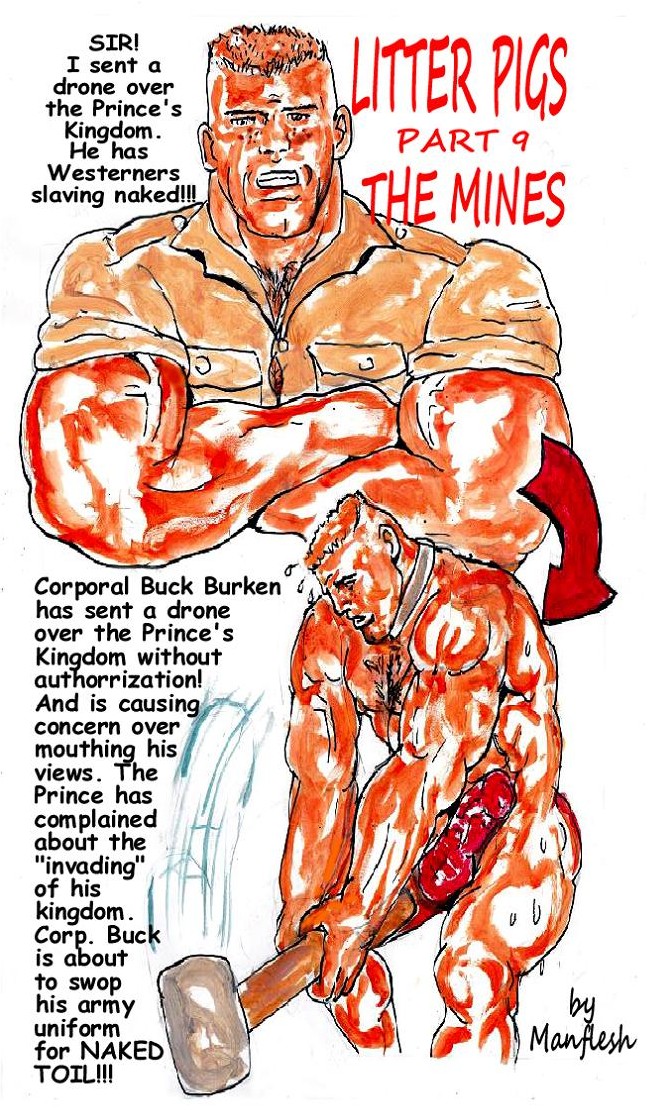 10 LITTER PIGS PART TEN CONQUEST. WESTERN MILITARY NAKED, BLOATED COCKS SHAMED IN A SHOW OF POWER OF THE PRINCE'S POWER CONTROL OF WESTERN MUSCLE. THE PEOPLE RESPECT A HARD, RUTHLESS, POWERFUL LEADER. THE MARINES RESCUE TEAM, NOW LITTER PIGS, THEIR HUGE BOUND COCK STIFFENING IN THE AIR WERE CONFRONTED WITH STEEL CARTS. THE PRINCE'S MINES WERE FIFTEEN KILOMETRES AWAY FROM THE TOWN. THE ENSLAVED MARINES WERE MADE TO PULL THE CARTS ALL THE WAY, CARRYING A GUARD UNDER THE BAKING SUN. AS THE SUN BEAT DOWN THE SEVEN SUN ROASTED NAKED MARINES PULLED THE CARTS, HAVING NO CHOICE WITH SWEAT COVERING THEIR BODIES. .THE GUARDS HAD A VIEW OF THEIR THICK NAKED BUTTS THAT THEY WOULD SCREW IN THE DAYS TO COME. THE SLAVE MARINES WERE UNTIED FROM THE FRONT OF THE CARTS AND THEN TIED TO THE SEATS OF THE CARTS FOR THEIR SHAMED ENTRY INTO THE PRINCE'S TOWN. AS THEY ENTERED THE TOWN THE NATIVE YOUTHS WERE READY AND WAITING. THEY SPAT AND THREW DUNG ON THE SLAVE MARINES NAKED FLESH. THE YOUTHS GOT THEIR COCKS OUT AND PISSED ON THE WESTERNER'S NAKED FLESH, ARAB WAS SUPERIOR.
THE SHAMED MARINES WERE TAKEN TO THE HAMMAN BATHS AND EXERCISE AREA COME GYM. THE CART POLES WERE REMOVED AND POLES OF HARD ARAB MEAT WERE THRUST INTO THE SLAVE MARINES HOLES. THE CARTS WERE DISMANTLED, ONLY THE POLES SECURING THE SLAVES ARMS WERE LEFT IN PLACE. THEIR ARSES WERE CONTINUALLY POUNDED BY THRUSTING ARAB COCKS. DEMONSTRATING THAT EVEN THE PEASANTS COULD OWN A PIECE OF WESTERN SLAVE ARSE TO PUT THEIR SEED IN. THE NATIVE YOUTHS RODE PIGGY BACK THE MARINES FUCKING THEM THROUGH THE STREETS.
THE SLAVES WERE FITTED WITH HUMBLERS,PULLING THEIR BALLS OUT BEYOND THEIR BACK SIDES. IT WAS VERY EASY TO CONTROL THEM WITH JUST A FEW LASHES TOO THEIR BOLLOCKS. CORPORAL BURKS TOILED WITH HUNDREDS OF KILOMETRES OF DESERT BETWEEN HIM AND FREEDOM. HE HAD NO CHOICE. NAKED, HIS BALLS SWOLLEN, ARSE STRETCHED, HE HAD TO GRATIFY HIS MASTERS EVERY COMMAND. "NEW MANFLESH TO TOIL AND BE FUCKED", TWO GUARDS SAID AS A CONTAINER LORRY ARRIVED. IT WAS JUST THE BEGINNING. HOT WESTERN MILITARY MUSCLE HUNKS ENSLAVED AND ABUSED BY THE ARAB PRINCE AND HIS GUARDS. €12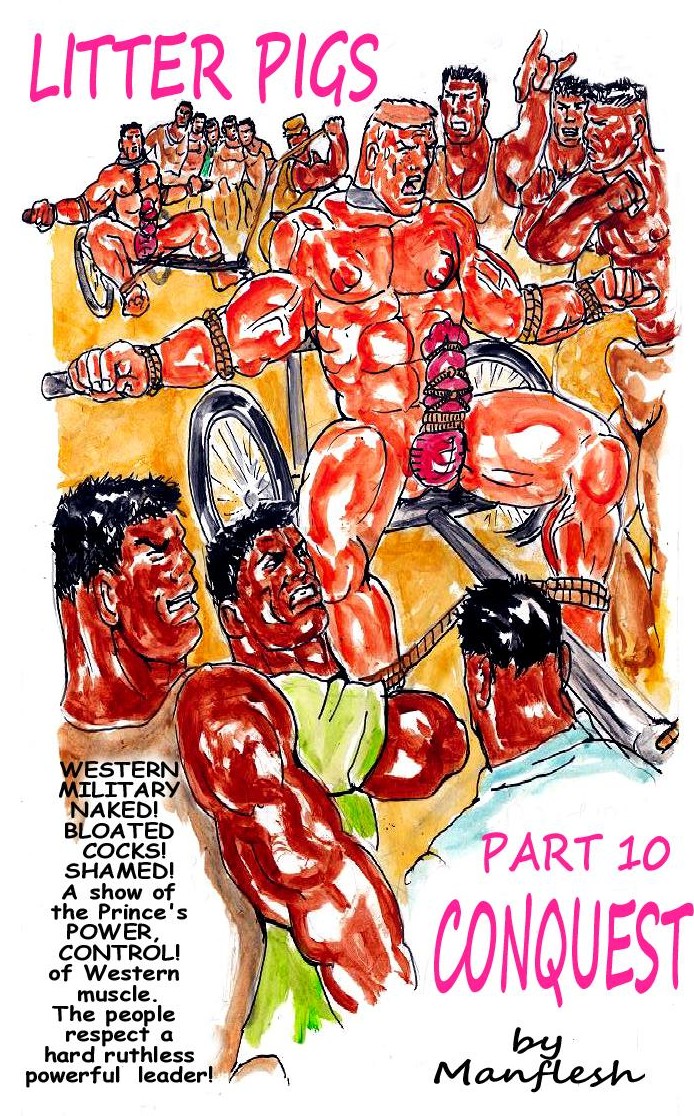 11 SLAVERY PART 1. ONCE ELITE JOCKS GOING MISSING AND ARE TURNED INTO FUCK AND WORK HORSES IN THE MIDDLE EAST. THEY ARE MADE TO WORSHIP BROWN ARAB COCK. DETECTIVE JESSE BUMMER GOES LOOKING, BUT HIS SUPERIORS ARE IN ON THE SCAM. JESSE WILL FIND THEM AND JOIN THEM. "SOMETHING MUST BE DONE?", DETECTIVE JESSE BUMMER TOLD HIS SUPERIOR. "I HAVE TWO WEEKS LEAVE I MEAN TO SOLVE THIS", HE ADDED. BUT AFTER JESSE LEFT THE OFFICE HIS SUPERIOR CONTACTED THE PERPETRATORS HE WAS IN ON THE SCAM. "A DETECTIVE BUMMER IS GETTING TO CLOSE", HE WARNED THE PERPETRATORS. "WE WILL TAKE CARE OF HIM THIS END", THEY REPLIED.
AN UNDERCOVER CARGO PLANE HAD BEEN ARRANGED TO TAKE JESSE TO AFRICAN BUT IT WAS A TRAP. JESSE IS COSHED AND DARKNESS DESCENDS. JESSE IS STRIPPED, BOUND AND PUT IN WITH THE JOCK SLAVES. AFTER A FOURTEEN HOUR FLIGHT, THE NAKED SLAVES LAND ON THE OUT SKIRTS OF A FORTRESS CITY. THEY ARE LED LIKE NAKED BEAST THROUGH THE STREETS, THEIR MUSCULAR WESTERN FLESH SPAT ON BY SUPERIOR ARAB MALES. "COP YOU'RE A SLAVE NOW AND I WILL BREAK YOU GOOD", AN OVERSEER TELLS JESSE AS HE GRABS HIS NAKED HARD COCK. JESSE IS GRABBED BY THE OVERSEER WHO WILL SHOW JESSE HIS PLACE. "YOU ARE OWNED INSIDE AND OUT", HE INFORMS JESSE A A HE FISTS HIS ARSE. "IT IS ALL PART OF SLAVE TRAINING", HE ADDED. THE JOCKS COCKS ARE ROCK HARD AS THEY WATCH THE CUNTING OF THE COP. "YOU WILL DO THIS AND GET THIS", THE OVERSEER TELLS JOCKS AS HE FUCKS JESSE HARD. "SLAVE BOY YOU'RE JURIED AND READY TO BE FUCKED BY THE OTHER SLAVE BOYS", THE OVERSEER TELLS JESSE. JESSE'S HAIRY HOLE LOOKS LIKE A THE SLAVE JOCK HAS NO CHOICE BUT TO FUCK JESSE. JESSE WAS BUGGERED BY THE SLAVES HE COME TO SAVE.
THREE MONTHS LATER, JESSE HAD BECOME HALF BEAST, BROKEN TO SERVE HIS ARAB MASTERS EVERY COMMAND OR IT WAS HARD WHIPPING. WHEN EVER THERE IS A BREAK PERIOD, JESSE IS FUCKED BY THE OVERSEER, DISPLAYING ARAB DOMINANCE OVER THE WESTERN SLAVE MEAT. IN THE EVENING AFTER BEING FED, THE NAKED SLAVES ARE LOCKED IN THEIR PENS FOR THE NIGHT. JESSE IS TIED UP HELPLESS, SO THE OTHER SLAVES CAN USE HIS BUM CUNT FOR MAN SEX PRACTICE, MAKING JESSE VERY SORE. WATCHING AND STANDING PROUDLY ERECT TYLER COX THE MAN CHARACTER OF THE NEXT SLAVERY STORY. YOUNG SEXY ATHLETIC MALES KIDNAPPED, STRIPPED AND ENSLAVED FOR THE PLEASURE OF ARAB MASTERS. PLENTY OF OF GRAPHIC SEXUAL AND PHYSICAL ABUSE. €12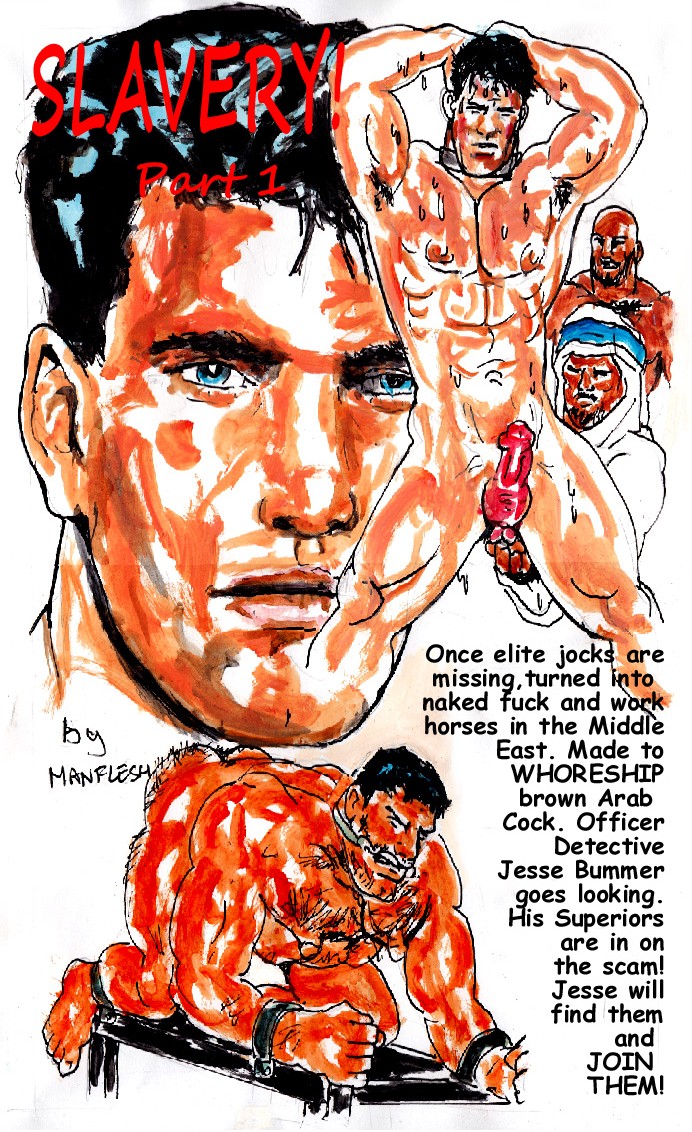 12 SLAVERY PART 2. TYLER COX, ATHLETE TOP JOCK OF WESTLOW HIGH, LOVED TO SHOW OFF HIS MUSCLES. SPOTTED, HE IS TAKEN ONE NIGHT WHILE DRIVING TO MEET A CHICK. TYLER WILL BE BROKEN IN. STRIPPED OF ALL HIS WESTERN WAYS, TURNED INTO A RUDE BEAST. TYLER IS VERY HORNY AND DRIVING TO MEET A CHICK WHEN HE IS STOPPED ON A DESERTED PART OF THE HIGH WAY BY TWO COPS. THE COPS TELL TYLER HE IS UNDER ARREST AND THEY STRIP HIM NAKED. TYLER IS IN SHOCK AS THE COPS GRAB HIM AND STRIP HIM. NAKED, TIED AND GAGGED, TYLER IS PUT INTO THE TRUNK OF THE POLICE CAR. A VERY SCARED TYLER IS DRAGGED INTO A HOLDING FACILITY IN THE MIDDLE OF NO WHERE. TYLER IS BENT OVER WITH HIS ARSE IN THEY ARE, WHILE THE COPS PUFFED LICE POWDER UP HIS ARSE. TYLER ALONG WITH OTHER NAKED BOUND CAPTIVES ARE GIVE A COLD DOUSING WITH A HOSE. THEY ARE MADE TO RUB EACH OTHER DRY NAKED FLESH TO FLESH. "ITS TIME FOR YOU ANIMALS TO EAT", A COP TELLS THEM AS THEY KNEEL NAKED AND BOUND. THEY ARE MADE TO EAT LIKE PIGS FROM A TROUGH. "PART OF YOUR DUTIES IS TO SUCK YOUR MASTER GET ON THE BED", A COP TELLS TYLER. HAVING NO CHOICE TYLER CLIMBS ONTO THE BED WITH A HUGE NAKED BLACK MAN. THE HUGE BLACK MAN HAS A GAFF THAT HE PUTS UP TYLER'S ARSE TO MAKE HIM SUCK HIS COCK.
THREE WEEKS LATER, THE NAKED BOUND SLAVES ARE TAKEN TO AN AIR STRIP TO BEARD A WAITING PLANE. THE PLANE, THE SLAVE TRANSPORTER TAKES OF ON ITS LONG JOURNEY EAST. THERE IS NO AIR CONDITIONER ON THE HOLD. AS THE HEAT BUILDS UP, THE SLAVES ARE GIVEN WATER DOSED WITH VIAGRA. ON ARRIVAL TYLER AND THE OTHER NAKED JOCKS ARE TAKEN INTO THE WALLED TOWN. NAKED WESTERNERS PARADED IN FRONT OF SUPERIOR ARAB MAN HOOD. TYLER'S COCK IS ROCK HARD, AND HE WONDERS WHILE HE FEELS SO HORNY. HE WONDERS IF HE LIKES BEING IN BONDAGE, BUT HE IS UNAWARE ABOUT THE VIAGRA IN THE WATER. "THERE IS A SUPERIORITY ABOUT YOU THAT NEEDS THRASHING OUT", A HUGE ARAB OVERSEER TELLS TYLER. TYLER IS STRUNG UP AND COLLARED, HE ALSO HAS HIS PUBES SHAVED OFF. HE IS THEN GIVEN A HARD THRASHING TO DEMONSTRATE HIS SLAVE STATE. TYLER IS FORCED TO FUCK THE ENSLAVED COP JESSE, TO SHOW HIM AND HIS FELLOW JOCK SLAVES THEY HAVE NO CONTROL OF THEIR SEXUALITY. ARAB MASTERS WILL CONTROL THEIR VERY FUNCTION. IT IS THE DAY OF THE AUCTION AND TYLER PUMPED UP WITH VIAGRA AND GRABBED AND TAKEN UP ON STAGE. HIS WHOLE FUTURE WILL BE IN THE HANDS OF THE ARAB MASTER WHO BUYS HIM. MORE YOUNG SEXY ATHLETIC MALES KIDNAPPED, STRIPPED AND ENSLAVED FOR THE PLEASURE OF ARAB MASTERS. PLENTY OF OF GRAPHIC SEXUAL AND PHYSICAL ABUSE. €12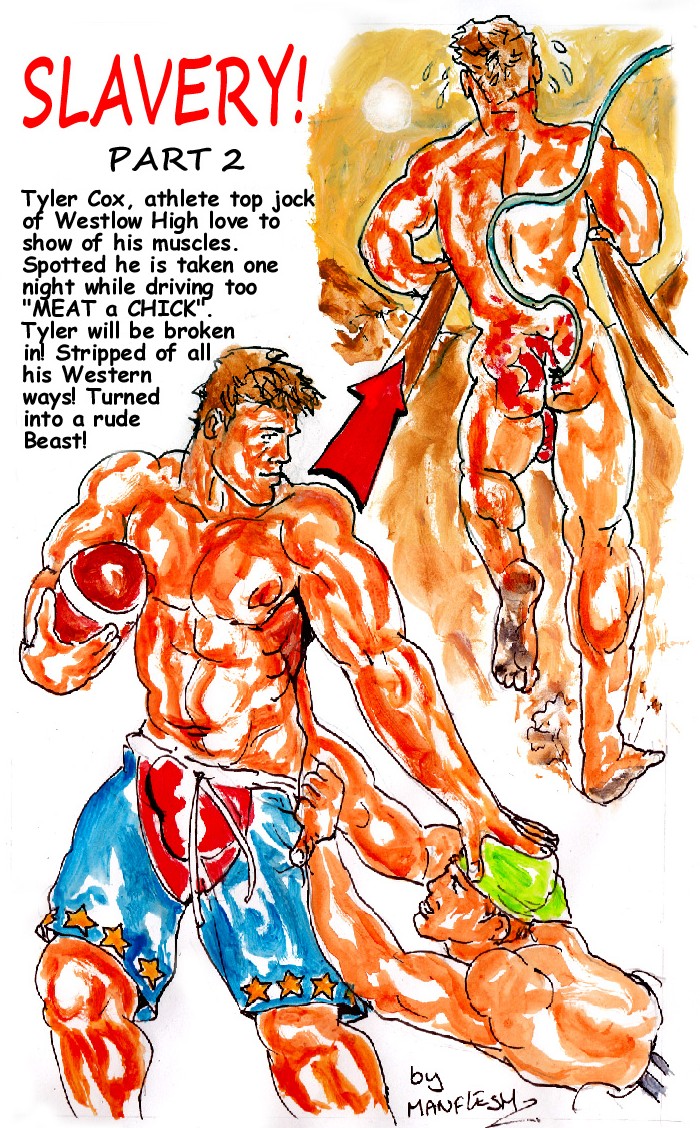 13 MILK BULLS PART 1. OFFICER ZEB BROLOSKI HAD BEEN SPOTTED BY AN AGENT SCOUTING FOR A MIDDLE EASTERN SYNDICATE. HE WAS WORKING HAMMERING IN FENCE POSTS AT HIS CABIN NEAR THE TOWN OR ROCK SPRINGS WHERE HE WAS SHERIFF. HIS BIG FLESH NIPPLES WERE IDEAL FOR THE MILK BULL PROGRAM. WATCHED THROUGH A TELESCOPE THE HUNKY COPY WAS AT HIS CABIN HAMMERING IN FENCE POSTS IN HIS UNDIES, HIS HUGE NIPPLES BOUNCING. OVER THE NEXT FEW DAYS ZEB WAS WATCHED AND HIS HABITS NOTED. ONE EVENING AS HE IS WANKING IN THE BARN THEY STRIKE. AS OFFICER ZEB CUMS HE DETECTS SHADOWS MOVING. WHAT THE FUCK ZEB THOUGHT AS THE SLAVE HANDLERS MOVED IN ON THEIR PREY. ZEB STOOD NO CHANCE HE WAS KNOCKED OUT. THE ZONKED OUT HUNK HAD STARTED HIS NEW LIFE AS A SLAVE BEAST. TIED UP THE HUGE HUNK IS TAKEN TO A WAITING VAN FOR HIS JOURNEY TO A PRIVATE DESERT RUNWAY WHERE AN PRIVATE JET WAITS. THE PLANE LOOKED FIRST CLASS ON THE OUTSIDE BUT INSIDE ITS A SLAVE CARRIER STRIPPED DOWN TO THE BARE METAL FRAME. FITTED WITH METAL SHIT POTS AND HANGING STRAP WORK FOR THE SLAVES. EXTRA FUEL FILED THE BACK HALF OF THE PLANE FOR THE SIXTEEN HOUR FLIGHT. DURING THE FLIGHT THE BEAST MEN'S TITS ARE CONTINUOUSLY INJECTED WITH FEMALE MILK BREAST HORMONES. WHEN THEY ARRIVE CROWDS OF EASTERNERS OGLE AT THE MUSCULAR WHITE TEATED BEASTS. LIVE STOCK TO BE WORKED AND MILKED. TO SHOW THE MAN BEASTS THEIR STATUS. THE ONCE PROUD WESTERNERS ARE MADE TO BEND OVER AND SHOW THE CROWD THERE ANUSES. ZEB WAS A COP WHO CONTROLLED PEOPLE, NOW HE WAS A NAKED BEAST WITH MILK TITS.
ENTERING THE CITY THEY ENTER A DIFFERENT WORLD. THERE IS NO TECHNOLOGY THERE ALL LABOUR IS SLAVE LABOUR. ZEB AND HIS FELLOW SLAVES ARE LED THROUGH THE STREETS PLUNGERS UP THEIR ANUSES MAKING THEN ORGASM MILK FROM THEIR HUGE TITS. THE RUDENESS OF IT ALL MADE THEIR COCKS ROCK HARD. ZEB, ZACK, AND GINGE ARE BROUGHT BEFORE THEIR MASTER AN OIL OLIGARCH SHEIK. A SELLER OF OIL TO THE WEST AND COLLECTOR OF MALE BEAST LABOUR FOR HIS DOMAIN. "PUT A MOUTH SPREADER ON THE BEAST" THE SHEIK ORDERED. ZEB IS ABOUT LEARN HIS PLACE IN THIS NEW WORLD, MOUTH OPEN AND READY FOR COCK SUCKING. ZEB IS GRABBED AND HIS MOUTH FORCED ONTO THE COCK OF THE SHEIK. ZEB IS FUCKED WHILE HE SUCKS THE SHEIKS COCK. "YOU'RE TO BE TRAINED TO FUNCTION AS A BEST", THE SHEIK TOLD ZEB. AT THE BEAST STABLES ZEB AND OTHERS HAVE STEEL ATTACHMENTS FITTED ON THEIR TITS, ALONG WITH TONGUE SUPPRESSORS. DWARFS RUN THE STABLE AND TAKE NO SHIT. "WE ARE YOUR MASTERS YOU CANNOT SPEAK HUMAN", THE DWARFS TOLD THEM. THE DWARFS ARE WELL EQUIPPED FOR THE JOB. HARD FUCKINGS FORCES OUT THE TIT MILK, AND THEY ARE MIKED FOUR TIMES A DAY. ZEB SWEATED UNDER A HOT SUN PUSHING A CORN GRINDER. ONCE HE WAS A COP, NOW A LEWD NAKED ANIMAL. WHAT NEW MISS ADVENTURES FOR THE HUNKY BEAR BUMMED MILK BEASTS AWAITS. SEXY ATHLETIC MALES KIDNAPPED, STRIPPED AND ENSLAVED FOR THE PLEASURE OF ARAB MASTERS. PLENTY OF OF GRAPHIC SEXUAL AND PHYSICAL ABUSE. €12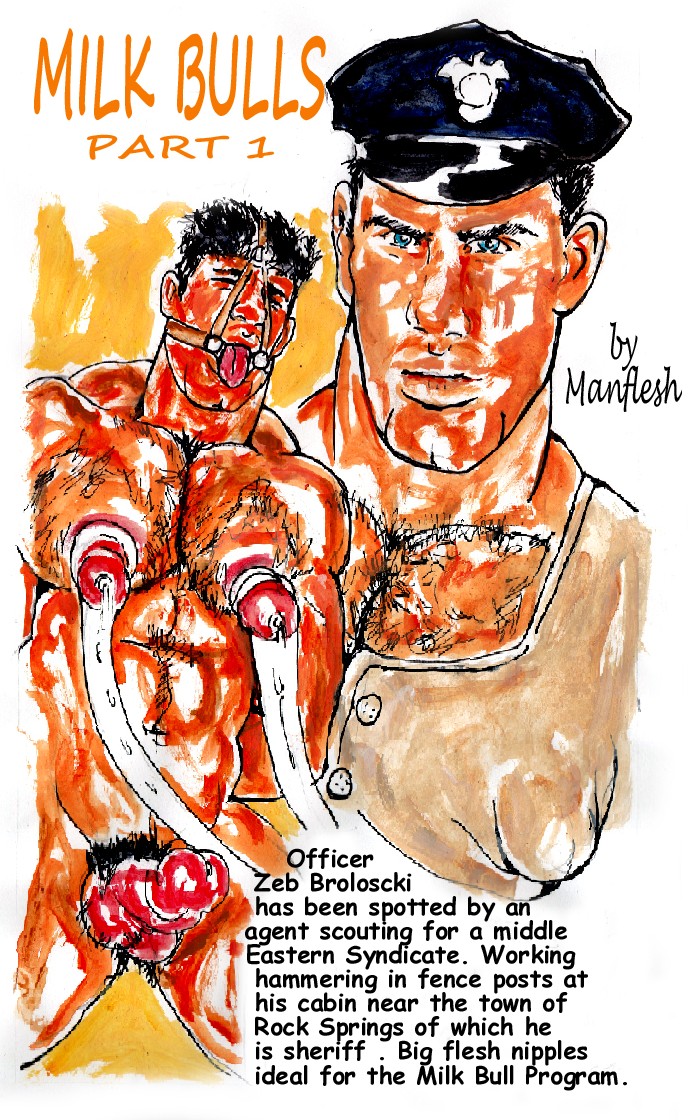 14 MUSCLE BONDAGE COP PART 1. BUCKY STEEL WAS A COP WITH A MISSION. HE WAS A HARD MAN AND A HARD COP. HE TRAINED HEAVY AND HARD, A MACHO MALE. HE LIKED BIMBOS AND ONE NIGHT STANDS, FUCK THEM HARD, THEN ONTO THE NEXT ONE. A COLLECTOR OF MANFLESH WANTED TO ENSLAVE BUCKY. HE WAS AN UNDER WORLD MEGA BILLIONAIRE, HE COULD PAY TO GET WHAT HE WANTED AND DID.
WHEN COP BUCKY STEEL GOT HOME FROM WORK HE WAS PLEASED TO SEE HE HAD A MISSED CALL ON HIS MOBILE. HE WAS EVEN MORE PLEASED THAT IT WAS FROM A FEMALE. STRIPPED TO HIS WHITE BRIEFS AND NOW HARD WITH EXCITEMENT, HE CALLED THE CHICK BACK. "I WANT YOU TO FUCK ME SO HARD", THE FEMALE VOICE TOLD BUCKY. "YES BABY MAKE, YOU SORE", BUCKY REPLIED. "I WANT YOU NAKED AND HARD, OUTSIDE MY DOOR", THE FEMALE VOICE SAID. THE FEMALE VOICE HE WAS LISTENING TO, WAS IN FACT A MAN'S VOICE, FED INTO A MACHINE, THAT CHANGED IT INTO ONE OF A FEMALE TEMPTRESS. COP BUCKY PUT ON A TANK TOP AND SWEAT PANTS AND GOT INTO HIS CAR. HE HAD BEEN GIVEN THE ADDRESS AND SPED TO MEET HIS FUCK FOR THE NIGHT. IT WAS ONE OF THOSE BUNGALOWS OUTSIDE OF TOWN. UP A LONG DIRT TRACK, ITS GARDEN THE DESERT, WHERE PEOPLE MINDED THEIR OWN BUSINESS, FAR FROM PREYING EYES. BUCKY STRIPPED OFF, ALREADY HARD WITH EXCITEMENT. HARD AND HORNY, THE MUSCULAR COP, KNOCKED ON THE DOOR, HIS COCK, ROCK HARD. THERE WAS A LOUD CRACK AS BUCKY WAS ATTACKED BY TWO HOODS, WIELDING CLUBS. ONE CLUBBED BUCKY TO THE BACK OF THE HEAD, STUNNING HIM. THE HALF CONSCIOUS NAKED COP, WAS NO MATCH FOR THE TWO HOODS, PARTICULARLY AS ONE HELD A GUN TO HIS HEAD. HIS COCK STILL ERECT, BUCKY WAS PULLED INTO THE SEEDY LOOKING INTERIOR, OF THE BUNGALOW. HANGING BY CHAINS FROM THE CEILING, WAS AN OMINOUS LOOKING CONSTRUCTION. A HEAVY WOODEN BOARD, WITH THREE HOLES IN IT. THEY WERE SOME WOODEN STOCKS, WITH ONE LARGE HOLE IN THE MIDDLE AND TWO SMALLER ONES EITHER SIDE, SLAVE STOCKS.
THE TWO HOODS LOCKED THE HELPLESS GROGGY BUCKY, IN THE SLAVE STOCKS AND SILENCED HIS PROTESTS, WITH A BALL GAG. "YOU ARE A NICE PEICE OF PRIME MEAT, YOUR MASTER, WILL PAY WELL FOR YOU", ONE OF THE HOODS SAID. "YOU ARE EXPENSIVE SEX MEAT AND NEED TO GET YOU READY", THE OTHER SAID. COP BUCKY TRAPPED IN THE SLAVE STOCKS WAS UNHOOKED FROM THE CEILING CHAINS AND BENT OVER ON THE FLOOR. HIS COP ARSE WAS FULLY EXPOSED AND ABOUT TO GET INVADED. NO MORE COP UNIFORMS FOR BUCKY, EX COP, NOW A SLAVE. "YOU ARE GOING TO GET MORE THAN THIS UP YOUR ARSE", ONE OF THE HOODS SAID, GLEEFULLY BRANDISHING A LARGE BLACK RUBBER BUTT PLUG. "YES, YOUR MASTERS COCK, AND HIS TOYS", THE OTHER SAID. BUCKY WAS PUT IN A LEWD, STAINLESS COCK CAGE AND A BLACK LEATHER BALL HARNESS, WITH A LARGE BLACK RUBBER BUTT PLUG FOR HIS ARSE. ALL HE WOULD EVER WEAR FROM THEN ON. BUCKY COULD NOT STOP HIMSELF GETTING ERECT, AS THE RESTRAINT HARNESS, WAS BUCKLED IN PLACE. BUCKY GROANED AS THE LARGE BLACK RUBBER BUTT PLUG, WAS FORCED INTO HIS ARSE AND BUCKLED IN PLACE. BUCKY WAS HUNG BACK ON THE CHAINS, CAGED AND PLUGGED. THE TWO HOODS LEERED AND ONE GRABBED BUCKY'S HARD COCK, SQUASHED INSIDE THE STAINLESS STEEL COCK CAGE, WHILE TIGHTENING THE RESTRAINING STRAP, ON THE BUTT PLUG. .
THE TWO HOODS LOOKED AT THEIR HANDY WORK AND DECIDED THEY COULD NOT JUST HAND OVER THE ENSLAVED COP. "LETS, BEAT ITS ARSE", ONE SUGGESTED, HOLDING A LARGE BLACK LEATHER PADDLE, WITH HOLES, TO MAKE IT MORE PAINFUL AND TO INFLICT MORE DAMAGE. "YES, TILL IT SPUNKS", THE OTHER REPLIED. THE TWO HOODS, TOOK TURNS, WHACKING BUCKY'S BUTT HARD, WITH FEARSOME LOOKING, BLACK, LEATHER, PADDLES. THE WHACKING PUSHED THE EMBEDDED BUT PLUG, DEEPER INTO BUCKY'S ANUS, AND HARD AGAINST HIS PROSTATE, MAKING HIM CUM. THE WELL BEATEN BUCKY, WAS TAKEN OUT OF THE SLAVE STOCKS, AND PUSHED TOWARDS A BEEF CARCASS LYING ON THE FLOOR. "YOUR TRANSPORT CONTAINER, TO YOUR MASTER", ONE OF THE HOODS TOLD HIM. A BLACK HOOD WAS STRAPPED ON BUCKY'S HEAD, BLIND FOLDING HIM. THEN A BALL GAG WAS PRESSED INTO HIS MOUTH AND TIED IN PLACE, SILENCING HIM. THEN THE ONCE COP, WAS PLACED INSIDE THE BEEF CARCASS. AFTER BEING SOWN INTO THE BEEF CARCASS, SLAVE BUCKY WAS TAKEN TO HIS MASTERS ABODE. AN OLD OIL INSTALLATION, THAT HAD BEEN TURNED INTO A FORTRESS. IN THE FORTRESS THE MASTER, HAD HIS NEW SLAVES, COCK HAIR REMOVED. THE NAKED EX COP WAS MANACLED TO A CAPSTAN, THAT WAS CONNECTED TO A DYNAMO. HE WAS FORCED UNDER CRUEL BLOWS OF THE WHIP, TO TURN THE DYNAMO WHEEL, TO PRODUCE ELECTRICITY. HE WAS WATCHED ALL THE TIME BY TWO OF THE MASTERS, MUSCLE MEN. WHILE A THIRD PLIED THE WHIP.
WHEN THE MASTER NOTICED THAT HIS NEW MUSCLE SLAVE HAD BEEN PLAYED WITH, HE WAS EXTREMELY ANGRY. NOBODY EVER TOUCHED HIS POSSESSIONS. THE HOODS FOUND, OUT THE HARD WAY, THEY WERE FOUND DEAD IN AN ALLEY. MALE PHYSICAL, AND SEXUAL DOMINATION AND ENSLAVEMENT MANFLESH STYLE. €15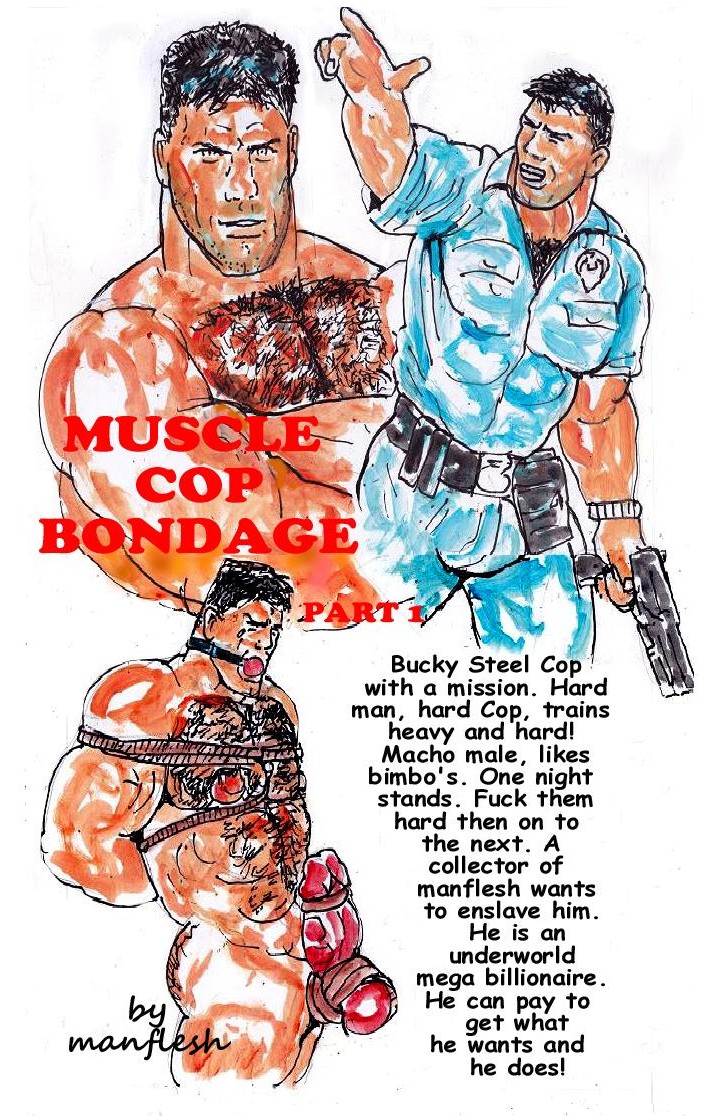 15 MUSCLE BONDAGE COP PART 2 PET TRAINING. HARD TRAINING, SORE MUSCLES, SORE ARSE AND DRUGS WOULD BE NEEDED TO BREAK EX COP, BUCKY STEEL'S SPIRIT. DOWN IN THE DEPTHS OF THE MASTER'S FORTRESS, WAS WHERE THE MUSCLE FLESH WAS KEPT, IN BETWEEN BEING USED BY THE MASTER. THE ONCE POWERFUL OFFICER OF THE LAWS WAS MADE TO SUCK AND CLEAN, THE MASTER'S COCK. "BITE, AND I PULL OUT YOUR TEETH", THE MASTER WARNED, HOLDING A PAIR OF PIPE PLIERS. THE EX COP WORE A BONDAGE MASK AND BALL GAG, TO MAKE HIM EASIER, TO CONTROL. BY PREVENTING HIM FROM TALKING AND SEEING WHAT WAS HAPPENING. HE WAS FORCED TO EXERCISE HARD, BY THE GUARDS. THE MASTER USED HIM AS A BEAST OF BURDEN, RIDING AROUND ON HIS BACK, AS HE WAS MADE TO CRAWL ON ALL FOURS. PART OF THE EX COPS DIET, WHERE RATS, THAT HE WAS MADE TO TAKE WHOLE, AT EACH MEAL TIME. THEY WERE REARED AT THE FORTRESS. AT LEAST TWICE A DAY, HIS GUARDS BOTH EX MILITARY, WHERE ALLOWED TO USE THE EX COPS MOUTH TO SUCK THEM OFF. BUCKY'S TRIANING, PART OF BREAKING HIM, CONTINUED. EX COP BUCKY, HAD NO CHOICE BUT TO COMPLY, AS ANY ONE WOULD. HEW AS FORCED TO CRAWL AROUND ON ALL FOURS, WITH STEEL SPRINGS BETWEEN THE MANACLES ON HIS WRISTS AND THIGHS. HE HAD A LARGE BUTT PLUG, WITH A HORSE HAIR TAIL, INSERTED IN HIS ARSE. HE WAS FORCED TO REPEATEDLY SUCK THE MASTER'S COCK.
MASKED AND GAGGED, HE DID NOT KNOW WHAT WAS COMING NEXT. WHEN IT WAS DONE, HE WAS UNMASKED, TO SEE THE FINISHED RESULTS. TWO LARGE, HEAVY, ROUND METAL WEIGHTS, WHERE HUNG FROM STEEL CLAMPS, ATTACHED TO STEEL RINGS THAT HAD PIERCED HIS NIPPLES. SWEATING FROM THE PAIN IN HIS NIPPLES, BUCKY, KNEW HE HAD TO HOLD OUT AND WAIT FOR AN OPPORTUNITY TO ESCAPE. BUCKY HAD HIS HANDS TIED TO A CROSS BAR HANGING FROM CHAINS AND LOWERED ONTO A LINE OF INCREASINGLY LARGER DILDOS. HE WAS ALSO FISTED BY THE GUARDS. HIS ARSE, HAD TO BE STRETCHED, TO ACCOMMODATE, THE MASTER'S, BULL SIZED COCK. WITH HIS ARSE SUFFICIENTLY STRETCHED, THE EX COP TOOK THE MASTER'S BULL SIZED COCK UP HIS ARSE CUNT. NEVER AGAIN WOULD HAS ARSE FULLY CLOSE.
BUCKY WAS ATTACHED TO A PONY CART AND FORCED TO TAKE THE MASTER FOR A RIDE. THE MASTER, TOOK THE EX CO NOW A SLAVE, OUT INTO THE DESERT. THE MASTERS GUARDS ASKED IF HE WANTED THEM TO FOLLOW AND GUARD HIM ON QUAD BIKES. HE TOLD THEM NO, HE WOULD TAKE THE SLAVE OUT INTO THE HILLS AND FUCK HIM, BEFORE RETURNING. ON THE HARD RIDE OUT TO THE HILLS, THE PONY TRAP SHOOK AS IT SPED, UNDER, NAKED SLAVE POWER, ACROSS THE ROUGH TERRAIN. BUCKY COULD SEE THAT THE JOLTING WAS SLOWLY UNDOING THE SCREW THAT FIXED HIM TO THE BAR ON THE PONY TRAP. AS THEY REACHED THE HILLS, TO ONE SIDE A FISSURE APPEARED, SLOWLY BECOMING WIDER AND DEEPER, LEADING INTO ONE OF MANY CANYONS. NOW, BUCKY THOUGHT, AS THE SCREW FIXING HIM TO THE BAR ON THE PONY TRAP, FINALLY CAME LOSE. BUCKY PULLED FREE AND SENT THE PONY CART AND HIS MASTER, OVER THE EDGE AND INTO THE FISSURE.
NOW NO LONGER A SLAVE, THE EX COP BUCKY PULLED HIS MOUTH GAG OFF. HE RAN NAKED THROUGH THE DESERT NIGHT, TO PUT AS MANY KILLOMETRES BETWEEN HIM AND HIS LIQUIDATED MASTERS DOMAIN. COP BUCKY, REACHED A DESERT ROAD, AND AFTER A COUPLE OF HOURS, A LORRY APPEARED. HE FLAGGED IT DOWN AND A HUGE BLACK GUY, DROPPED DOWN FROM THE CAB. BUCKY TOLD THE DRIVER HE WAS A COP AND HE HAD BEEN ENSLAVED, AND ASKED THE DRIVER TO TAKE HIM TO THE POLICE DEPARTMENT, IN THE NEAREST TOWN. ANOTHER HUGE BLACK BRUTE SNEAKED BEHIND BUCKY. THE HUGE BRUTE GRABBED BUCKY AND THRUST A PAD COVERED WITH KNOCK OUT DROPS, OVER HIS NOSE AND MOUTH. HE PASSED OUT. IT WAS OUT OF THE FRYING PAN AND INTO THE FIRE, EX COP BUCKY'S ENSLAVEMENT HAD JUST BEGAN. MORE MALE PHYSICAL, AND SEXUAL DOMINATION AND ENSLAVEMENT MANFLESH STYLE. €15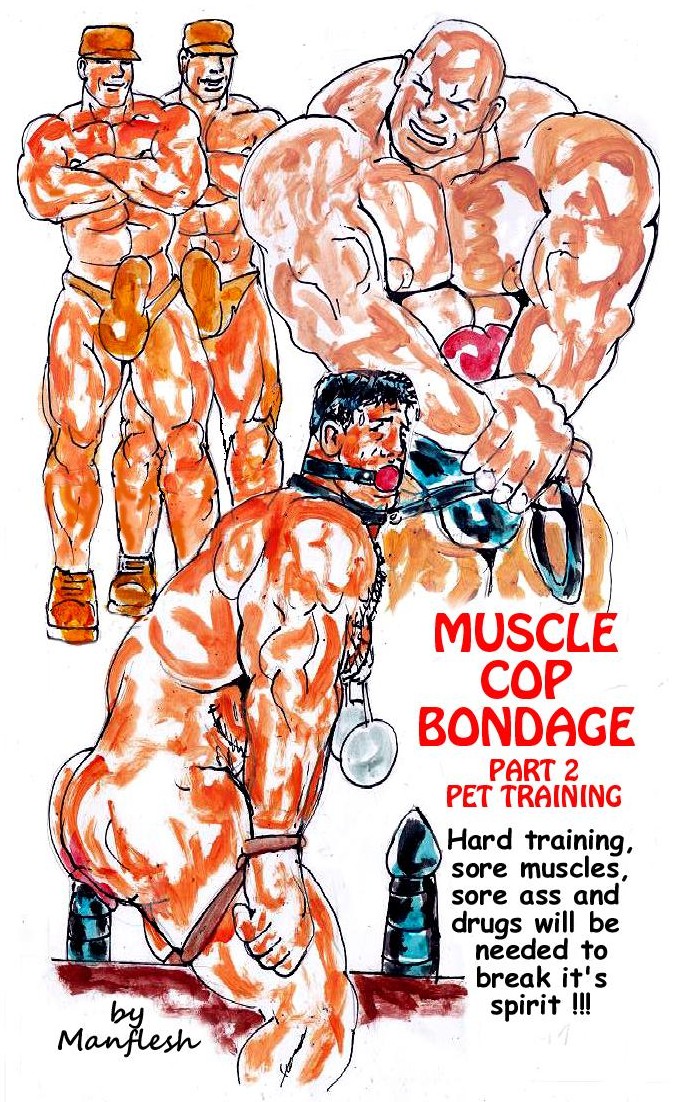 16 HONKY SLAVE COP PART 1, WHITE COP, BLACK COCK. A WHITE COP WAS FROM OUTSIDE THE BLACK STATES, CHASING CITIZENS FROM THE BLACK STATES, WHEN HE ENTERED THE BLACK STATES IN PURSUIT HE WOULD BE IN TROUBLE. THIS WAS COP PETE KUZAK'S STORY AND HE WAS IN TROUBLE.
COP PETE KUZAK LOVED HIS JOB, LIKE TO GET HIS MAN, HE WAS THE HARDEST COP IN HIS COUNTY. THE BEST IN HIS UNIT. HE WAS IN PURSUIT OF TWO BLACK HOODS, SPEEDING SOUTH, HE WAS GOING ALL OUT TO GET THEM. BUT HE PASSED OVER THE BOARDER INTO THE BLACK STATES. A BLACK STATES POLICE CAR, BLOCKED HIS PATH AND LET THE TWO HOODS SPEED OFF. COP KUZAK GOT OUT OF HIS CAR AND CONFRONTED THE TWO BLACK COPS. "I'M OUT TO GET THOSE HOODS", PETE TOLD ONE OF THE BLACK COPS. "YOU ARE IN OUT STATE NOW", THE BLACK COP REPLIED. "YOU TELL THE HONKY BITCH", THE OTHER BLACK COP SAID. "YOU ARE AN ILLEGAL ALIEN SLAVE", THE FIRST BLACK COP TOLD KUZAK. "FUCK YOU", PETE REPLIED. THEN WITHOUT WARNING, THE BLACK COP STRUCK OUT, PUNCHING KUZAK HARD IN THE FACE. THE OTHER BLACK COP JOINED IN THROWING PUNCHES. PETE DID NOT STAND A CHANCE AGAINST THE DOUBLE ATTACK. THE TWO BLACK COPS FISTS, SENT HIM CRASHING TO THE GROUND. THE BEATEN ONCE PROUD COP WAS STRIPPED NAKED, AND THERE WAS NOTHING HE COULD DO ABOUT IT. "HERE WHITIES ARE BUCK NAKED", ONE OF THE BLACK COPS SAID, GLEEFULLY AS HE HELPED STRIP PETE. THE NAKED ONCE PROUD POLICE OFFICE FROM THE NORTH, WAS NOW IN THE SOUTHERN STATES, A HONKY SNOW FLAKE, A NONE CITIZEN, TO BE OWNED BY MEN WITH HARD BLACK COCKS BETWEEN THEIR LEGS. HE WAS DRAGGED NAKED TO THEIR POICE CAR. EX COP KUZAK WAS SECURED IN THE BACK OF THE POLICE CAR. HIS ARMS WERE SECURED ABOVE HIS HEAD AND HIS LEGS WERE SECURED SPREAD WIDE EXPOSING EVERYTHING HE HAD IN A LEWD MANNER. THE ONCE PROUD COP, WAS JUST SLAVE MEAT.
WHEN THEY REACHED THE HONKY SLAVE FACILITY, KUZAK WAS CUFFED AND ROPE WAS TIED ROUND HIS NECK. KUZAK WAS DRAGGED BY THE COPS INTO THE HONKY SLAVE FACILITY, AND IN FRONT OF THE HUGE BLACK OVERSEER. "THE FIRST THING A BOY LEARNS, IS TO LICK HIS MATERS BOOTS", THE HUGE OVERSEER SAID, AS HE TUGGED ON THE ROPE AROUND KUZAK'S NECK. HAVING NO CHOICE, KUZAK HAD TO KNEEL DOWN AND LICK THE OVERSEERS BOOTS, IN TOTAL HUMILIATION. EX COP KUZAK, WAS THEN TIED SPREAD EAGLE IN AND X FRAME HARNESS, MADE OF CHAINS AND LEATHER STRAPS. HELPLESS AND SPREAD EAGLE. EX COP KUZAK HAD BLUE PASTE SMEARED ALL OVER HIS COCK HAIR. IT WAS A DEFOLIATE, IT KILLED THE ROOTS OF HIS COCK HAIR. SLAVES HAD NO BUSHES. THAT NIGHT, SLAVE KUZAK, HAD HIS FIRST TASTE OF SLAVE CHOW. A MIXTURE OF OFFAL, FRUIT, VEGETABLES, BREAD, ALL MIXED INTO A SLUDGE, LACED WITH STEROIDS, SLAVES WERE REQUIRED TO HAVE LARGE MUSCLES. FOR THREE MONTHS KUZAK AND OTHER WHITE SLAVES, TAKEN AT THE SAME TIME AS HE WAS, WHERE MADE TO EXERCISE TO EXTREME. STRONG MUSCLES MEANT THAT SLAVES COULD BE MADE TO WORK HARDER FOR THEIR BLACK MASTERS.
IT WAS THE DAY OF THE SLAVE AUCTION AND EX COP KUZAK WAS LED OUT ONTO THE AUCTION PLATFORM, IN FRONT OF A WAITING CROWD OF BLACK BUYERS. KUZAK WAS NAKED WITH A LEATHER LEASH AROUND HIS NECK AND HIS HANDS CUFFED BEHIND HIS BACK. HE HAD BEEN GIVEN SIX VIAGRA TABLETS, AND COULD NOT HIDE, HIS SHAMEFUL ERECTION. THE AUCTION HOUSE WAS EXPECTING STIFF COMPETITION, FROM THE BLACK BUYERS, FOR THIS PIECE OF HONKY MUSCLE FLESH, BEING AN EX COP MADE HIM EVEN MORE DESIRABLE. AS HIS AUCTION BEGAN, HE WAS DISPLAYED TO THE CROWD OF BUYERS BY TWO GUARDS. THEY GOT CHEERS FROM THE CROWD, BY SHOVING KUZAK'S OWN NIGHT STICK UP HIS ARSE. AS THE BIDDING INTENSIFIED, ONE OF THE GUARDS WANKED KUZAK'S COCK HARD, UNTIL HE MADE THE EX COP CUM. "SEE HOW IT SPURTS LOTS, YOU CAN MILK IT AND SELL ITS SEED", THE AUCTIONEER SAID. THE BIDDING BECAME EVEN MORE INTENSE AND KUZAK WAS SOLD TO THE HIGHEST BIDDER. BROUGHT LIKE A PIECE OF BEEF CATTLE, KUZAK WAS TAKEN TO THE PLANTATION OF HIS BLACK MASTER. WITH HIS HANDS STILL CUFFED BEHIND HIS BACK AND LEASHED BY THE NECK TO HIS MASTERS CART. HE WAS FORCED TO RUN BEHIND HIS MASTERS CART, THAT WAS PULLED BY TWO OTHER WHITE SLAVES. HE NOW FACED A LIFE OF HARD TOIL FOR HIS NEW MASTER. TOUGH MALE ON MALE ABUSE AND HUMILATION. GOOD BLACK ON WHITE DOMINATION ACTION. €15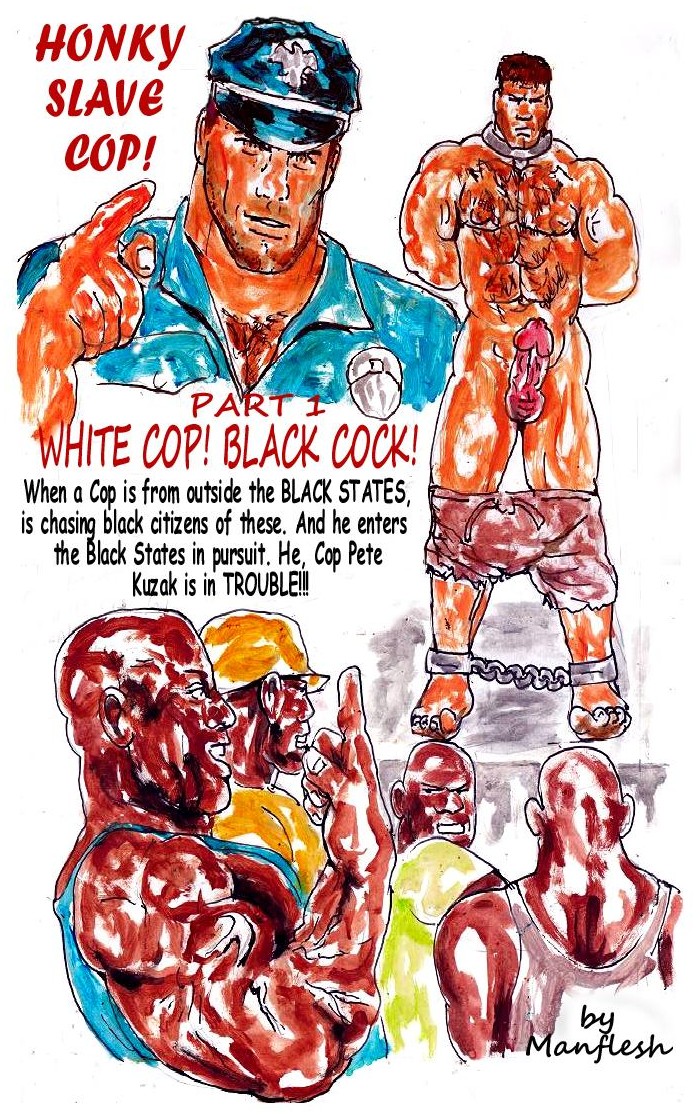 17 RAID RAIDED PART 1 TRAPPED. GUNS O'CONNER, AND PORKY POTTS, WERE TWO HARD LINE COPS, WERE GOING TO RAID A MALE HARD BONDAGE CLUB. ON THEIR OWN AND WITHOUT PERMISSION. BUT THE UNDER GROUND CLUB, WAS A WARREN OF PASSAGES, A FORTRESS. STRIPPED NAKED, THEY WERE ABOUT TO DISCOVER ALL ITS SECRETS. THE TWO HARD LINE COPS, GUNS AND PORKY, ALWAYS GOT THE MOST ARRESTS, AS WELL AS PARKING VIOLATIONS, AND JAY WALKING. THE TWO WANTED TO GET A BIG BUST. THEY DECIDED TO BUST A MALE BONDAGE CLUB, WITHOUT PERMISSION. SO WHEN THEIR SHIFT WAS OVER, THEY WENT IN GUN'S PRIVATE JEEP, TO THE AREA OF TOWN THE CLUB WAS IN. DOING IT OVER, WOULD SHOW OFF AND ENHANCE THEIR POLICE POWER.
THEY ENTERED A PASSAGE DESCENDING INTO THE DEPTHS, THEN A STAIR CASE, GOING DEEPER STILL. THEY FINALLY SAW A LIGHT AT THE FAR END OF ANOTHER TUNNEL. BUT THEY WERE BEING WATCHED, VIA HIDDEN CAMERA'S. THEIR LEWD FUTURE WAS ABOUT TO BEGIN. THE TWO COPS SAW A DOOR AHEAD AND AS THEY GOT NEAR IT, THE FLOOR OPENED, A TRAP. HUGE MAGNETS COLLECTED THE COPS WEAPONS, AS THEY FELL INTO THE DEPTHS. AT THE BOTTOM OF THE SHAFT, GUN'S FOUND A SMALL TUNNEL, WITH NO WAY BACK UP THE SHAFT THEY HAD FELL DOWN, THEY HAD NO CHOICE, THEY HAD ENTER THE TUNNEL. "NO WAY WE CAN GET UP THE SHAFT, THE TUNNEL IS THE ONLY WAY", GUN'S SAID, SO THEY TOOK THE TUNNEL TO SEE WHERE IT LED. A LITTLE WAY IN THE TUNNEL, IT TURNED INTO A PIPE, FORMED BY STEEL PLATES AND IT BECAME VERY HOT, MAKING BOTH COPS SWEAT. SMALL TRAP DOORS IN THE SIDE OF THE PIPE OPENED. HANDS, WEARING ARMOURED GLOVES, REACHED THROUGH THE SMALL TRAP DOORS, GRABBING AT THE GUN'S AND PORKY'S CLOTHES. AS THEY CRAWLED ON TRYING TO ESCAPE THE HANDS TEARING THEIR CLOTHING, EVEN MORE, SMALL TRAP DOORS OPENED, AND MORE ARMOURED GLOVES TORE THEIR CLOTHING TO SHREDS. THE LAST SCRAPS OF THEIR CLOTHING, WAS RIPPED FROM THEM, STRIPPING THEM BOTH NAKED, BESIDE THEIR SHOES. THEY CARRIED ON DOWN THE LONG PIPE, SWEATING LIKE PIGS IN THE HEAT, LIKE THE PIGS THEY WERE. MORE SMALL TRAP DOORS OPENED, AND ARMOURED HAND RIPPED THEIR SHOES OFF, WITH THEIR SHOES GONE THEY NOW BOTH STRIPPED BARE. "SHIT EVEN MY SHOES", GUN'S MOANED. "YOU WILL PAY FOR THIS", PORKY SAID ANGRILY.
THE TUNNEL OPENED INTO A ROOM. THE ROOM WAS FOURTEEN BY FOURTEEN FEET, WITH SHARP COBBLE STONES ON THE FLOOR. THE TWO COPS HOPPED AROUND MOANING, AS THE SHARP COBBLES HURT THEIR FEET. THE ONLY PART THAT DID NOT HURT THEIR FEET, WAS A FOUR FOOT, BY FOOT, RUBBER MAT, FIXED THE FLOOR. THE WALL OF THE ROOM WERE FOURTEEN FEET HIGH, BUT THE CEILING WAS ONLY SEVEN FEET ABOVE THEM, WHERE THERE WAS GALLERY CONCEALED, BY THE INKY BLACKNESS ABOVE. THE DOOR TO THE TUNNEL CLOSED SHUT, BEHIND THEM. DIM LIGHTS SHINED DOWN ON THE MAT. THE TWO WERE NOW STRIPPED AND HUMILIATED, BUT WORSE WAS TO COME. THEY SAW MOVEMENT ABOVE THEIR HEADS, BRUTES DRESSED ONLY IN LEATHER, STARING DOWN AT THEM. SHIT, THEY REALISED THEY WERE PRISONERS, AND THIS WAS THEIR CELL, SHIT, THEY WERE BEING TREATED LIKE BEASTS.
THE BRUTES IN LEATHER ABOVE WERE MEMBERS OF THE BONDAGE CLUB, THE TWO COPS HAD HOPED TO BUST, NOW THEY WERE THE PRISONERS OF THEM. THE LARGE GROUP OF BRUTES ABOVE WANKED THEIR HUGE COCKS AND COVERED THE TWO COPS WITH THEIR CUM. ONE OF THE MASTERS SHOUTED DOWN TO THE TWO NAKED PIGS. "YOU MAKE PORKY PIG CUM, BY LICKING ITS ARSE OR NO FOOD FOR YOU", THE MASTER ORDERED GUN'S. DISGUSTED HE WOULD NOT DO IT, BUT AFTER TWO DAYS WITHOUT FOOD, COP GUN'S HAD NO CHOICE, BUT TO LICK PORKY'S FAT ANUS. GAGGING, GUN'S CARRIED ON UNTIL HE MADE PORKY CUM. "NOW PORKY PIG LICK ARSE, PIG GUN'S PINK PIGGY CUNT", THE MASTER ORDERED FROM ABOVE. WITH HIS STOMACH RUMBLING COP GUN'S BENT OVER AND LET, COP PORKY RIM HIS ARSE UNTIL HE CUM. FOR A WHOLE WEEK THEY WERE MADE TO EAT RAW MEAT, AND DRINK THE MEMBERS PISS.
THE BONDAGE CLUB WAS OPEN TWENTY FOUR OURS A DAY TO ITS MEMBERS. WHEN THE TWO ENSLAVED COPS, TRIED TO GET ANY SLEEP, THEY WERE COVERED IN A BLANKET OF THE HORNY MEMBERS CUM. AT THE END OF THE WEEK THE TWO SLAVE PIGS WERE SHOT WITH DRUGGED HYPODERMIC DARTS, KNOCKING THEM OUT COLD. OUT COLD, THEY WERE READY FOR ROPING. HOT ND EROTIC MALE ON MALE ABUSE AND HUMILATION. GOOD COP DOMINATION ACTION. €15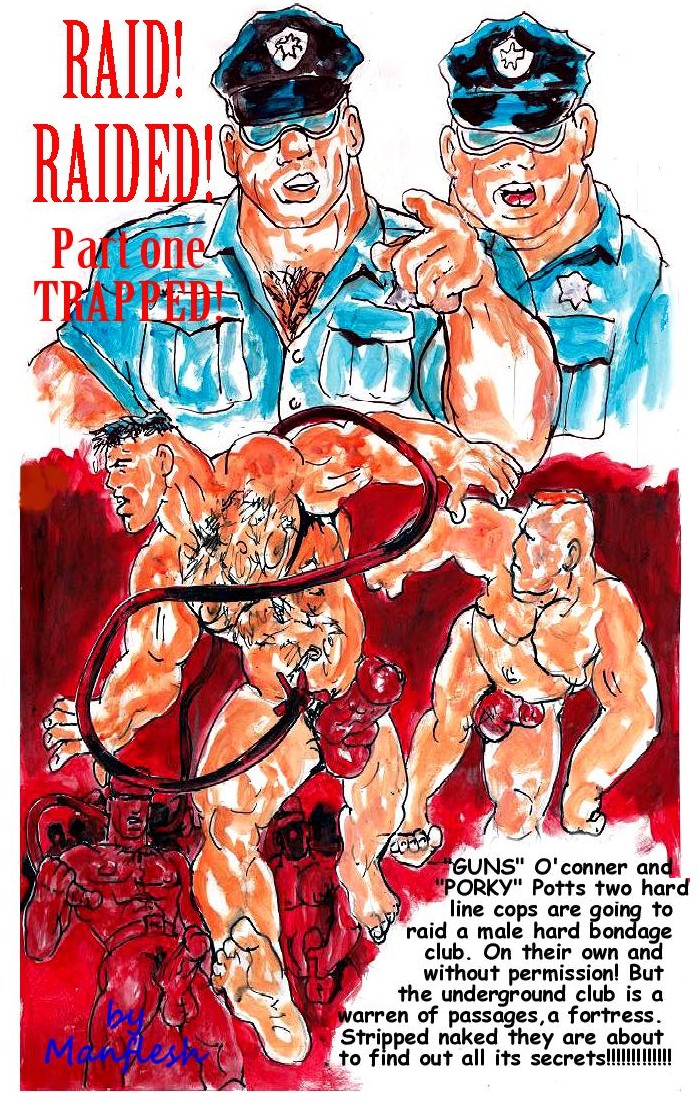 18 RAID RAIDED PART 2 ROPED. GUNS O'CONNER AND PORKY POTTS, WERE TIED JUST LIKE THE MEMBERS LIKED. PIG MEAT, READY FOR THEIR HANDS AND HARD COCKS, TO BE USED. COMING ROUND THE TWO EX LAW MEN FIND THEMSELVES ROPED IN BONDAGE. THEIR BODIES WERE BOUND TIGHT WITH THICK, COARSE, HEMP ROPES, AND THEIR COCK AND BALLS WERE ALSO TIED WITH SAME ROPE THAT KEPT THEIR COCKS EMBARRASSINGLY HARD, AND THEIR BALLS HELPLESSLY EXPOSED. A DOOR OPENED, AND TWO BIG BRUTES CAME IN. THE TWO BIG BRUTES, PUT THE COPS HATS ON THEIR HEADS. THE HATS WERE FILLED WITH THE MEMBERS SPUNK AND IT RAN DOWN THE COPS FACES AND THE BACKS OF THEIR HEADS. "THEY WILL STICK ON YOUR PIG HEADS NOW", ONE OF THE BIG BRUTES SNEERED, AS THEY BOTH LAUGHED. THE TWO ENSLAVED COPS, WERE FROG MARCHED THROUGH, MANY FLIGHTS OF STAIRS AND PASSAGE WAYS. THEN FINALLY TOWARDS, TWO LARGE METAL DOORS. THE TWO ENSLAVED COPS WERE THRUST THROUGH THE DOORS, WHERE OTHER MEMBERS OF THE BONDAGE CLUB WERE WAITING. "YOUR BODIES BELONG TO THE MEMBERS, PIG SLAVES", ONE OF THE MASTERS SHOUTED AT THEM. ALL THEIR NAKED COP FLESH WAS GROPED, LEAVING NO SPOT UNTOUCHED. THEY WERE LUMPS OF MEAT AND WOULD GET A HARD FUCKING. "I WILL STRETCH THIS BY USING YOU TRUNCHEON UP HERE", ONE OF THE MASTERS SNEERED, AS HE SPREAD PORKY POTTS ARSE CHEEKS WIDE. "YES IT WILL SURE FILL IT UP", ANOTHER ONE SNEERED.
A MASTER INJECTED GUN'S HARD ROPED COCK, FILLING IT WITH SYNTHOL. HE THEN WANKED PIG GUN'S COCK, UNTIL HE WAS ROCK HARD. GUN'S SWOLLEN ROPED COCK, GREW TO EIGHTEEN INCHES LONG. PIG, PORKY POTTS, WAS MADE TO KNEEL AND SUCK PIG GUN'S HUGELY BLOATED COCK. "AH, I WANT TO CUM BUT CAN'T CUM", PIG GUN'S MOANED, AS HE WAS FORCED TO ENDURE A LONG COCK SUCKING, BY HIS EX COP PARTNER. FUCK YOU", GUN'S SHOUTED ANGRILY AT OF THE MASTERS, AS ONE THE MASTERS CRUELLY CRUSHED AND TWISTED, GUN'S NIPPLES. PIG GUN'S DISCOVERED THAT TALKING BACK, BROUGHT MORE PAIN. "RESISTANCE WILL BE PUNISHED, WITH MORE PAIN", THE MASTER SAID AS HE WHIPPED GUN'S, WHILE, PIG, PORKY POTTS, CONTINUED TO SUCK, PIG GUN'S HUGELY BLOATED COCK. "YOUR MAN CUNT NEEDS AN UPGRADE", ANOTHER MASTER SNEERED, AS HE MOVED TOWARDS PIG GUN'S, CLUTCHING A SYRINGE. SYNTHOL WAS INJECTED IN BOTH THE PIG COP'S ARSES, DIRECTLY IN THE PROLAPSE, UNTIL THEY WERE THE SIZE OF CRICKET BALLS. THEIR, BOTTOM STATUS WAS NOW CLEAR FOR ALL TO SEE. IT SEEMED THE LONG ARM OF THE LAW WAS ABOUT TO BUST PIG GUN'S ARSE. ONE MASTER BENT PIG GUN'S OVER, WHILE ANOTHER FUCKED PIG GUN'S ANUS, WITH HIS OWN NIGHT STICK. "SEE HOW YOUR MAN CUNT SUCKS ON THE STICK", THE MASTER SNEERED AS HE MADE PIG GUN'S, SCREAM IN PAIN. IT WAS PORKY POTTS TURN NEXT, AS BOTH PIG COPS, WERE GIVEN A POKING, WITH THEIR NIGHT STICKS.
"I'M TAKING YOU TO THE GRINDER, YOU WILL SWEAT FOR YOUR FOOD", A MASTER TOLD, THE FUCKED AND WEARY PIG COPS. THE TWO COP PIGS, GROANED IN SHOCK, WHEN THEY SAW THE HUGE GRIND WHEEL, THEY WERE GOING TO BE MANACLED TO NAKED. THE COARSE HEMP ROPES, BINDING THEIR UPPER BODIES WAS REMOVED AS THEY WERE MANACLED TO A CAPSTAN, CONNECTED TO THE HUGE GRIND WHEEL. THE COARSE HEMP ROPES, BINDING THEIR COCKS, AND ARSES WAS LEFT IN PLACE. "PUSH I WANT TO SEE THOSE MUSCLES BULGE", A MASTER ORDERED. THEY HAD NO CHOICE BUT, TO PUSH THE CAPSTAN AND TURN THE HUGE GRIND WHEEL. DAY AFTER DAY THEY TRUDGED SLOWLY TURNING THE HUGE GRIND WHEEL. AFTER A WHILE PIGGY COULD NOT PUSH AND JUST HUNG ON LEAVING GUN'S DOING THE PUSHING. AFTER A HARD DAY TOILING ON THE GRIND STONE, THE EX COPS WERE TAKEN TO THEIR SLEEPING QUARTERS. THEY WERE ATTACHED TO LEADS AND FORCED TO CRAWL LIKE DOGS. THEY COMPLIED TOO EXHAUSTED TO RESISTS. IN THE EVENING THE TWO PIGS WERE TIED UP, ALONG SIDE OTHER CAPTURED COPS. THEIR COCKS AND BALLS, STRETCHED BY ROPES ATTACHED TO HOOKS IN THE CEILING. OUT OF THE SHADOWS HORNY MUSCLED MASTERS, MOVED TOWARDS THEM. IT WAS ARSE TRAINING, THE COP PIGS WERE FUCKED HARD, BY THE HORNY MUSCLE MASTERS. ALL PART OF THE BREAKING OF THE COP SLAVES. THEY WOULD BE SOLD TO A MR BIG, WHO OWNED A BIG SPREAD, WORKED BY SLAVES IN THE FAR SOUTH. MORE HOT AND EROTIC MALE ON MALE ABUSE AND HUMILATION. MORE GOOD COP DOMINATION ACTION. €15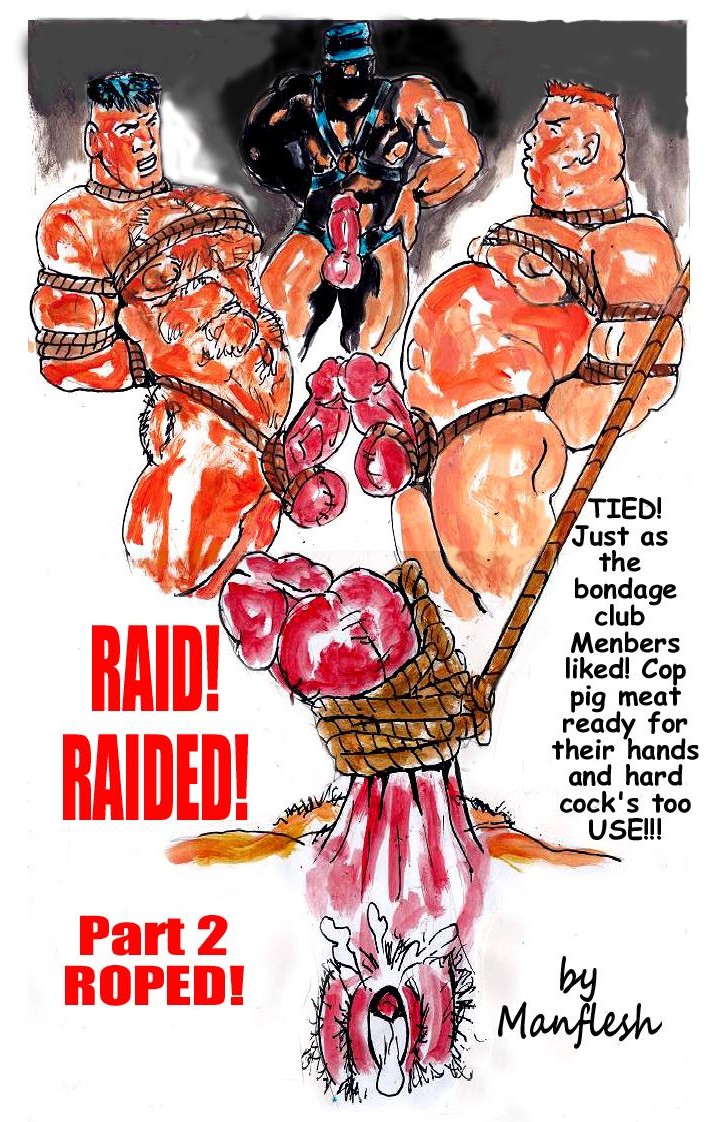 19 COP SLAVE THUG MASTER PART 1. SOME THUGS, TAKE THE LAW INTO THEIR OWN HANDS, OR COCKS. COP MITCH COLBEY , LOVED HIS BIG GUNS, OR MUSCLES. HE WAS ALWAYS SHOWING OFF IN THE POLICE GYM. HE EVEN POSED IN THE SHOWERS. "YOU SURE ARE ALL MAN, MITCH", ANOTHER COP SAID, ADMIRING MITCH'S MUSCLES, AS HE FLEXED THEM IN A POSE. "THAT'S WHAT I SAY", MITCH REPLIED. "I SURE AM THE STRONG ARM OF THE LAW", MITCH SAID, IN THE SHOWER AFTER THE GYM, AS HE FLEXED HIS BICEP, HIS COCK ROCK, HARD.
MITCH LOVED THE POWER OF HIS JOB, SHOWING THUGS, HE WAS THE BOSS, IN THIS TOWN. AS HE PATROLLED HE CAME ACROSS A THUG. THERE IS A BIG LOOKING BRUTE BET HE HAS SOMETHING TO HIDE, MITCH THOUGHT. HE'S A GOOD FOR NOTHING SON OF A BITCH", MITCH THOUGHT, AS HE AMBLED UP TO THE MOTHER FUCKER. A HUGE BLACK THUG, LEANING ON HIS CAR. THE HUGE, BLACK THUG, WAS STRIPPED TO THE WAIST WEARING, TATTY OLD SWEAT PANTS, THAT SAGGED LOW AT THE BACK, DISPLAYING ALMOST HALF OF HIS, HUGE BLACK BUTTOCKS. "WHAT DO YOU WANT", THE THUG ASKED, HE HAD A HUGE ERECTION, TENTING THIS SWEAT PANTS. "PULL UP THOSE TRACKS, YOUR BUM SHOWING, THAT'S AN INDECENCY FINE", MITCH REPLIED. MITCH PRESSED HIS NIGHT STICK BETWEEN THE THUGS LEGS, JUST BELOW THE HUGE BULGE IN HIS SWEAT PANTS. "NO LICENCE THAT'S ANOTHER FINE AND YOU WALK HOME", MITCH TOLD THE THUG, WHEN HE COULDN'T PRODUCE HIS LICENCE. THE HUGE BLACK THUG, CALLED TYRON, WAS ANGRY WITH MITCH, FOR HASSLING HIM AND IMPOUNDING HIS CAR. HE VOWED TO MAKE THE PIG, HIS FUCK SLAVE.
ONE FRIDAY NIGHT, SOME DAYS LATER, EVERYTHING WAS SET FOR PAY BACK. THE HUGE THUG, WAS WAITING OUTSIDE OFFICER MITCH'S HOME, OUT OF SIGHT, WAITING FOR HIM TO RETURN. WHEN OFFICER MITCH, REACHED HOME, HE RECEIVED A PHONE CALL. HE WAS GIVEN A TIP OFF, ABOUT A STASH OF DRUGS, IN A BAR, IN THE DESERT. THE CALLER WANTED TO KNOW, IF HE WOULD RESPOND, AND GAVE HIM THE CO-ORDINATES. HELL YES MITCH WOULD RESPOND. HE RUSHED TO HIS OWN CAR, BEING OFF DUTY HE DID NOT HAVE HIS SQUAD CAR, IT WAS AT THE POLICE STATION. THUG TYRON, HAD MADE THE CALL AND HE JUMPED IN HIS TRUCK, TO FOLLOW MITCH. MITCH ENTERED THE BAR IN THE DESERT AND FOUND HE HAD NO BACK UP. THE BAR WAS FULL OF HUGE BLACK BUCKS. HE STOOD TRANSFIXED AT THEIR SIGHT. THEN A HUGE FIGURE, GRABBED HIM FROM BEHIND. IT WAS THUG TYRON. THUG TYRON TRAPPED MITCH, IN HEAD LOCK, AND IN THE STRUGGLE, MITCH'S SHIRT WAS RIPPED OPEN, EXPOSING, HIS HAIRY, MUSCULAR CHEST. THUG TYRON, TOOK HIS PIG BITCH, INTO THE BACK YARD, WHERE, THE TOILETS WERE. "THIS WILL DO", THUG TYRON SAID, RIPPING MITCH'S SHIRT, RIGHT OFF. THE OTHER THUGS FOLLOWED, BUT GAVE TYRON PLENTY OF SPACE, OUT OF RESPECT FOR HIM. THEY WATCHED, THE START, OF THE BREAKING OF THE PIG. HIS GUN BELT QUICKLY FOLLOWED, HIS TORN SHIRT TOT HE FLOOR.
THUG TYRON USED THE REMNANTS OF MITCH'S TORN SHIRT, TO TIE THE PIGS ARMS BEHIND HIS BACK. COP MITCH, WAS THEN FORCED TO KNEEL AND SUCK THUG TYRON'S HUGE, BLACK COCK, IN FRONT OF ALL OF THE OTHER BLACK BUCKS. THUG TYRON SHOWED HIS RAW POWER. HE LIFTED THE COP PIG, OVER HIS SHOULDER, AND FORCED MITCH'S MOUTH, ONTO HIS HUGE COCK. "SUCK HARDER, PIG", THUG TYRON ORDERED. MITCH WAS FORCED TO COMPLY AND SUCKED THUG TYRON'S HUGE COCK HARD. AS THUG TYRON GOT CLOSE TO EJACULATION, HE PUT MITCH BACK IN HIS KNEES, FOR THE CLIMAX. AS MITCH SUCKED, THUG TYRON'S HUGE COCK, IT EXPLODED IN HIS MOUTH. MITCH HAD NO CHOICE BY TO SWALLOW, THUG TYRON'S SEED. WHEN THUG TYRON FINALLY STOPPED CUMING IN MITCH'S MOUTH, HE TORE MITCH'S TROUSERS OPEN, EXPOSING HIS BUTTOCKS. "TIME TO GET YOUR PIG ARSE SPANKED", THUG TYRON SAID, BRANDISHING A FEARSOME LOOK BLACK LEATHER PADDLE. THUG TYRON SPANKED MITCH'S ARSE MERCILESSLY, MAKING HIM GASP AND SOB IN PAIN. HUMILIATED COP MITCH, WAS FORCED TO STAND, AS THE BRUTAL SPANKING CONTINUED. HE STOOD THERE, FORCED TO ENDURE THE AGONY, BUT IT WAS TOO MUCH AND HE PISSED HIMSELF.
AFTER HIS BRUTAL SPANKING. COP MITCH WAS MADE TO KNEEL HIS ARSE RAISED IN THE AIR, FOR HIS PIG SEEDING TO BEGIN. THUG TYRON, FUCKED HIM FIRST, WITH HIS HUGE COCK. "THERE I IS FILMING YOU PIG", THUG TYRON SAID AS HE RECORDED THE EVENTS ON HIS PHONE. "FUCK THE PIG", ONE OF THE BLACK BUCKS, WATCHING SAID. "YES HARD", ANOTHER SHOUTED. THEIR COCKS HARD WITH EXCITEMENT, AS THEY WATCHED, ENCOURAGED, THUG TYRON, FUCKED THE PIG COP'S ARSE HARDED. THUG TYRON, RESTED MITCH'S SHOULDERS ON ONE OF THE TOILET PANS AND HELD HIS LEGS UP IN THE AIR, WHILE HE FUCKED MITCH'S ARSE EVEN HARDER. "YEAH TAKE IT BITCH", THUG TYRON SNEERED. SHOVED ON ONE OF THE TOILETS, THE SHAMED COP, ENDURED MORE ARSE CUNTING, LIKE SOME TWO BIT WHORE. THUG TYRON, PULLED PIG COP MITCH, OFF THE TOILET STILL IMPALED ON HIS HUGE COCK. THUG TYRON USED HIS COCK, STILL THRUST UP COP PIG MITCH'S ANUS, TO GUIDE HIM INTO THE BAR. MITCH WAS MADE TO CRAWL ON ALL FOURS, AS HIS ARSE WAS FUCKED AS HE MOVED, STEERED INTO THE BAR, BY THUG TYRON'S COCK. THE BLACK STUDS WATCHING, ALL SMILED AND STROKED THEIR HUGE COCKS. WHEN THUG TYRON HAD MITCH IN THE BAR FULL OF BLACK STUDS, HE PULLED HIS HUGE COCK OUT OF MITCH'S ANUS. THUG TYRON REPLACED IT WITH COP MITCH'S NIGHT STICK. AS THE PIG COP MITCH CRAWLED THROUGH THE BAR, WITH HIS NIGHT STICK IMPALED IN IS ARSE, AS THE BLACK STUDS PISSED ON HIM.
ALLOWED TO LEAVE, COP MITCH CRAWLED OUT OF THE BAR TOWARDS HIS CAR, PULLING THE NIGHT STICK OUT OF HIS ARSE. AS HE CRAWLED TO HIS CAR, HE LEFT A PUDDLE OF COCK SLIME, THAT OOZED FROM HIS ANUS. HOT AND EROTIC MALE ON MALE ABUSE AND HUMILIATION, BLACK ON WHITE ABUSE AND HUMILIATION. MORE GOOD COP DOMINATION ACTION. €15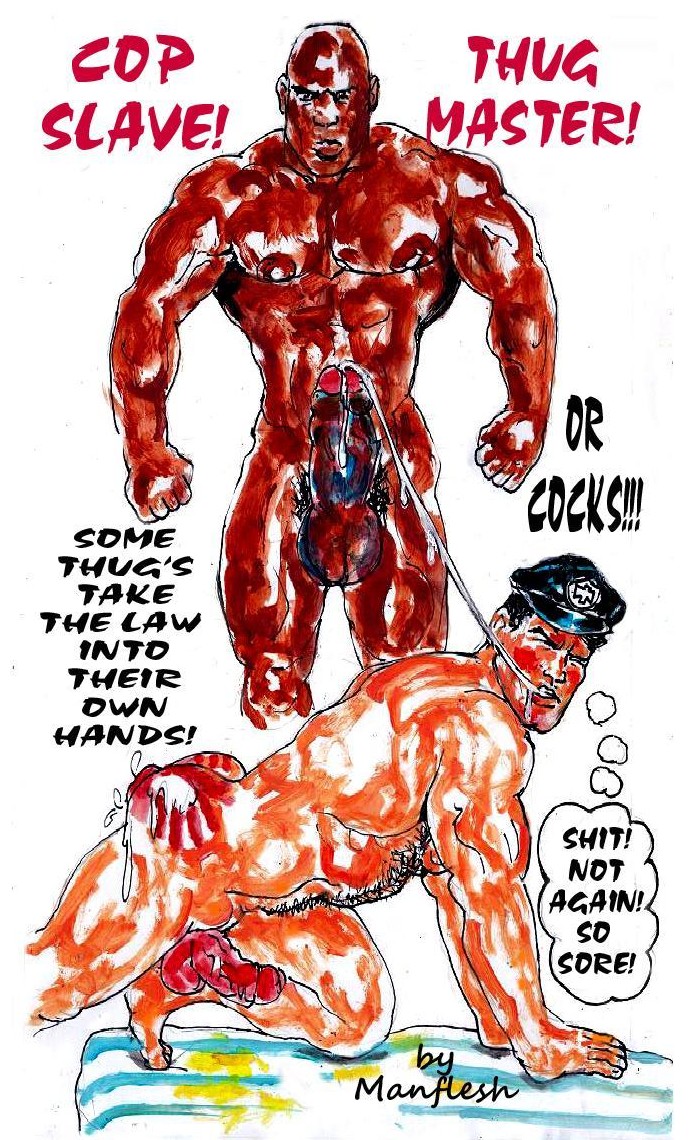 20 COP SLAVE THUG MASTER PART 2 BREAKING IN. AFTER HIS ORDEAL IN THE DESERT BAR, WITH THUG TYRON AND THE BLACK STUDS, COP MITCH WAS GLAD TO GET HOME. HE SHOWERED AND WENT TO BED. ALTHOUGH EXHAUSTED MITCH STRUGGLED TO SLEEP, AS HIS SORE, SWOLLEN WELL USED ANUS WAS NOW THE SIZE OF A BASE BALL. LITTLE DID HE REALISE, IT WAS DESTINED TO STAY THAT WAY, FROM NOW ON.
IN THE MORNING WHEN HE WAS OUT ON PATROL, HE HAD THE FEELING, THAT ALL THE BLACK STUDS, WERE THINKING ABOUT HIM BEING NAKED. AS EVERY ONE OF THEM HE PASSED, GAVE HIM LONG LUSTFUL GLANCES. NEAR THE END OF HIS SHIFT, MITCH GOT A CALL. TO HIS HORROR IT WAS THUG TYRON. MITCH WAS SHOCKED WHEN HE REALISED THAT THUG TYRON HAD HIS NUMBER. "PIG, YOUR ARE TO GO TO HOTEL SUNSET STRIP AT SEVEN O'CLOCK AND PAY FOR A ROOM, AND WAIT THERE", THUG TYRON'S VOICE SAID. "IF YOU DON'T, THEN YOUR FUCKING BY BLACK COCK, WILL GO ALL OVER THE INTERNET", THUG TYRON WARNED. "YES, OK,", MITCH REPLIED, FEELING SICK TO THE STOMACH. "YOU ALSO NEED TO BRING THE FOLLOWING", THUG TYRON ADDED.
MITCH ARRIVED AT HOTEL SUNSET STRIP AT SEVEN O'CLOCK CARRYING A BAG FILLED WITH THE ITEMS, HE WAS ORDERED TO BRING. MITCH ENTERED THE SHABBY HOTEL. I WAS TOLD TO BOOK ROOM ONE, HE TOLD THE JANITOR ON RECEPTION. HE PAID SIXTY DOLLARS FOR THE ROOM, THEN GROANED IT INWARDLY, WHEN HE REALISED IT WAS RIGHT OPPOSITE THE RECEPTION. MITCH REALISED ,THAT THE JANITOR, WOULD SEE THUG TYRON ENTER LATER. WHEN MITCH ENTERED THE ROOM, HE SAW A BED AND THE BED HAD A RUBBER MATTRESS AND PILLOW. MITCH GOT TO WORK, HE HAD HIS ORDERS. HE STRIPPED NAKED EXCEPT FOR HIS COP HAT. MITCH TOOK A RAZOR FROM HIS BAG AND USED IT TO SCRAPE HIS GROIN, REMOVING ALL HIS MAN BUSH, UNTIL HE WAS LIKE A PLUCKED TURKEY. IT WAS ALL PART OF HIS SHAMING, AS ONLY REAL MEN HAD PUBIC HAIR. ANOTHER ORDER FROM THUG TYRON WAS THE DILDO, MITCH HAD BEEN FORCED TO BUY, A HUGE BLACK, RUBBER, DILDO. THUG TYRON'S INSTRUCTIONS WERE THAT, MITCH WAS TO LUBRICATE IT AND FEED IT ALL THE WAY INTO HIS ANUS. MITCH GROANED AND BROUGHT TEARS TO HIS EYES, AS HE FORCED THE HUGE RUBBER MONSTER HOME. WITH THE HUGE DILDO IN PLACE, MITCH AND BEEN ORDERED TO WAIT ON THE BED AND PRESENT HIMSELF, LEGS WIDE OPEN, FOR WHEN THUG TYRON ARRIVED.
AT EIGHT O'CLOCK, THUG TYRON, ENTERED THE ROOM AND STRIPPED. HE LEERED AT THE LEWD SUBMISSIVE POSE, OF THE COP PIG, HIS HUGE, BLACK COCK, STIFFENING, UNTIL IT WAS STANDING TO ATTENTION. "PIG, CRAWL OVER HERE AND SUCK MASTER TYRON'S ,WEAPON", THUG TYRON ORDERED. MITCH CLIMBED OFF THE BED AND KNELT IN FRONT OF THUG TYRON AND STARTED TO SUCK HIS HUGE, BLACK COCK. "DEEPER PIG, I WANT TO SEE IT ALL IN YOUR COP PIG'S MOUTH, CUNT", THUG TYRON GROWLED. INTENT ON DEBASING AND HUMILIATING THE PIG COP MORE, THUG TYRON DRAGGED MITCH OUTSIDE THE ROOM, TO DEMONSTRATE HIS MASTERY OVER THE PIG COP, TO THE JANITOR. MITCH BEGGED, THUG TYRON NOT TO BUT HE WAS IGNORED. MITCH FELT SO ASHAMED, AS HE WAS FORCED TO SUCK THUG TYRON'S, HUGE, BLACK COCK, IN FRONT OF THE JANITOR. BUT HIS COCK WOULD NOT GO DOWN IT WAS ROCK HARD. THE JANITOR WATCHED, LICKING HIS LIPS. THE JANITOR HAD SEEN SUCH SEXUAL DOMINATION MANY TIMES BEFORE, A WHITE GUY DRESSED AS A COP, SUCKING A BLACK MASTER. THUG TYRON TOOK SLAVE MITCH, BACK INTO THE ROOM, AND ORDERED HIM TO BEND OVER. TYRON REMOVED THE DILDO FROM MITCH'S ANUS, AND SHOVED HIS HARD, BLACK, MEAT, DEEP INSIDE. THE JANITOR, WATCHED THE FUCKING SHOW, FROM THE DOORWAY, HIS COCK ON HEAT. MITCH WAS TOLD TO HOLD ONTO THE END OF THE BED. THE HUGE THUG THEN MOUNTED HIM, A RIDER FUCKING HIS COP MARE. "TAKE IT LIKE THE COP WHORE YOU ARE", THUG TYRON SNEERED AS HE RODE MITCH. "PLEASE NOT SO HARD", MITCH PLEADED. ALTHOUGH ASHAMED MITCH'S COCK LEAKED PRECUM AND THERE WAS NOTHING HE COULD DO ABOUT IT. MENTALLY AND PHYSICALLY HE WAS NO LONGER IN CONTROL OF HIS BODY.
THUG TYRON WAS TOO EXCITED AND JUST IGNORED MITCH. HE CLIMBED OFF MITCH AND THREW HIM ONTO THE BED ON HIS BACK. HE SPREAD MITCH'S LEGS APART AND POUNDED HIS ANUS WITH HIS HUGE, BLACK COCK, MAKING MITCH MOAN AND SOB. TO THE THUG, THE COPS ANUS, WAS A PUSSY. AFTER GIVING MITCH'S ANUS, COME PUSSY, A HARD POUNDING, THUG TYRON, DRAGGED HIM OFF THE BED. THUG TYRON, TRAPPED MITCH IN A FULL NELSON AND LIFTED HIM ONTO HIS HUGE BLACK COCK. "WITH MITCH IMPALED ON HIS HUGE, BLACK, COCK AND TRAPPED IN A FULL NELSON, THUG TYRON WAS READY FOR WHAT HE HAD IN STALL FOR MITCH NEXT. TO FURTHER HUMILIATE COP MITCH, THUG TYRON TOOK HIM OUT INTO THE HALL WAY AND HUMPED HIM IN THE MOST RUDE WAY, IMPALED ON HIS HUGE BLACK COCK AND TRAPPED INA FULL NELSON. GROANING, MITCH CLAMPED HIS LEGS AROUND THUG TYRON'S MUSCULAR THIGHS, TO TRY AND REDUCE THE PAINFUL PRESSURE ON HIS ANUS. BUT IT DID NOT WORK THAT WAY MITCH SQUIRMED HELPLESSLY, IMPALED ON THUG TYRON'S, HUGE, BLACK COCK. THUG TYRON FUCKED MITCH IN FRONT OF THE JANITOR UNTIL HE MADE MITCH CUM IN FRONT OF THE JANITOR, FOR THE JANITORS PLEASURE. THE JANITOR WATCH TRANSFIXED AND EXCITED HIMSELF AND SHOOTING ALMOST AS BIG A LOAD AS COP MITCH WHEN THEY BOTH CUM. "YOU FUCK YOUR PROSSIE HARD", THE JANITOR TOLD THUG TYRON.
THUG TYRON WAS FINISHED WITH COP MITCH FOR THE TIME BEING, SO HE PISSED ON COP MITCH, AS HE KNELT AT THUG TYRON'S FEET. "COVER YOU WITH MASTERS PISS", THUG TYRON SNEERED, AS HE PISSED ON COP MITCH. "SAY THANK YOU MASTER, IF YOU DON'T WANT YOUR COP MATES TO SEE YOU'RE A BLACK COCK LOVER", THUG TYRON ADDED, BRANDISHING HIS MOBILE PHONE, THAT HAD RECORDED EVERYTHING. "THANK YOU MASTER", MITCH SOBBED. THUG TYRON MADE COP MITCH COLLECT HIS UNIFORM FROM THE ROOM AND THREW HIM NAKED, OUT OF THE HOTEL. NAKED, DRIPPING PISS OFF HIS BODY AND CARRYING HIS UNIFORM. MITCH'S BOOTS HAND BEEN TIED LEWDLY TO HIS HARD, EXCITED, COCK AND THEY HUNG FROM IT, AS MITCH STUMBLED ACROSS THE HOTEL IN A STATE OF SHOCK. BLACK ON WHITE ABUSE AND HUMILIATION. EVEN MORE GOOD COP DOMINATION ACTION. €15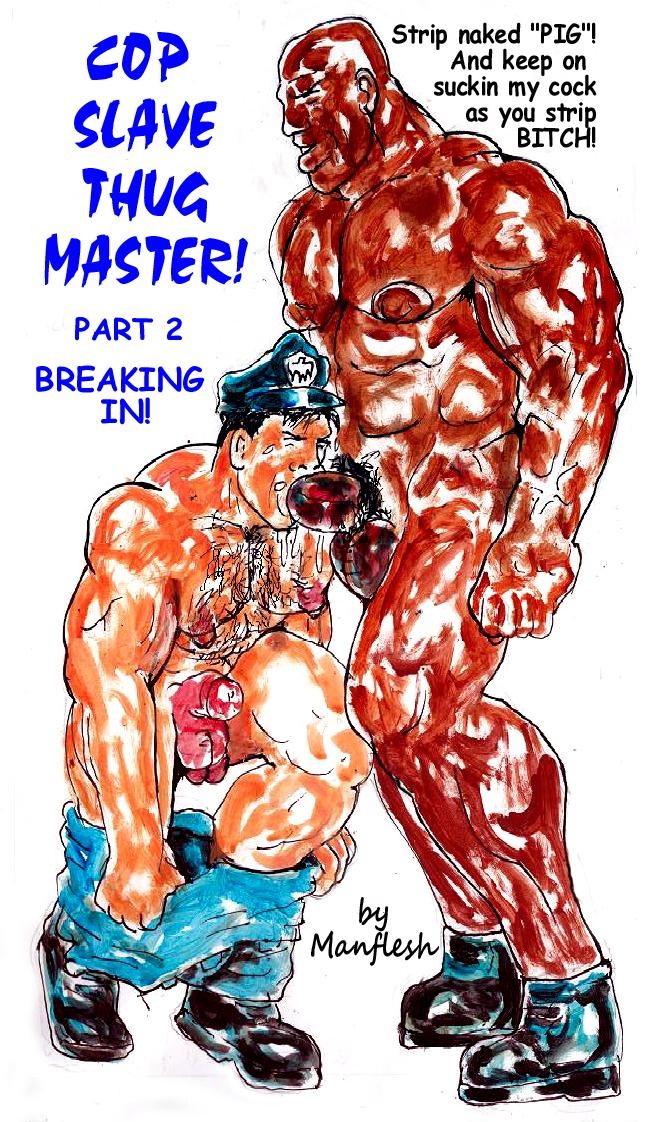 21 COP SLAVE THUG MASTER PART 3 NIPPLE HELL. THUG MASTER TYRON, MADE SLAVE COP MITCH, PAY FOR ANOTHER KNOCKING ROOM, AT ANOTHER RUN DOWN HOTEL. THUG TYRON, TOLD THE HOTELIER COME JANITOR, HE COULD PAW HIS WHORE UNTIL TYRON ARRIVED.
FROM HIS TRAILER CABIN, A COP WALKED OUT NAKED, INTO THE HOT NIGHT. IT WAS MITCH AND HE WAS WAITING FOR, THUG MASTER TYRON,TO ARRIVE. HE WAS ORDERED TO STAND NAKED, WITH HIS HANDS BEHIND HIS HEAD, COCK THRUST OUT, IN A SLAVE POSE. HE HAD NO CHOICE, TYRON HAD VIDEO EVIDENCE OF HIS MITCH GETTING HIS ANUS AND MOUTH FUCKED BY TYRON. SHIT, NOW HE WAS THUG TYRON'S BUM BOY, THE THOUGHT SHAMED MITCH, AND HIS HARD COCK SHAMED HIM EVEN MORE. THEN TYRON CAME OUT OF THE BUSHES HOLDING A STRANGE SPRING STEEL OBJECT, IT HAD THREE STEEL SPRINGS LINKED TOGETHER AT THE ENDS, THAT FORMED THREE LEGS. THE OTHERS ENDS HAD, STEEL NIPPLES RINGS ON THE ENDS OF TWO OF THEM AND A COCK RING ON THE END OF THE THIRD. THUG TYRON STARTED TO ATTACH THE TWO NIPPLES RINGS, TO MITCH'S NIPPLES, PIERCING THEM IN THE PROCESS. SHIT, HE HAS RINGED MY NIPPLES, MITCH THOUGHT, IN SHOCK AND PAIN, AS HE WATCHED. TYRON GRABBED MITCH'S PIERCED NIPPLES AND SQUEEZED AND TUGGED THEM CRUELLY. THIS MADE THE PAIN IN MITCH'S RINGED NIPPLES INCREASE. "I WANT MY BITCH, TO HAVE BITCH TITS", TYRON SAID, AS HE TUGGED AND SQUEEZED, MITCH'S RINGED NIPPLES. WHEN TYRON LET GO OF MITCH'S NIPPLES, HE FED MITCH'S COCK AND BALLS THROUGH THE COCK RING ON THE END OF THE THIRD SPRING. MITCH WINCED, AS HIS COCK, BALLS AND NIPPLES, WERE ALL TUGGED ON BY THE THREE STEEL SPRINGS LINKING THEM TOGETHER. THE HUMILITION AND PUNISHMENT DEVICE, WAS DOING ITS JOB OF KEEPING HIS RINGED NIPPLES HARD AND HIS COCK AND BALLS EXCITED AND HELPLESSLY PRESENTED.
THUG TYRON GRABBED HOLD OF THE TWO STEEL SPRINGS ATTACHED TO THE NIPPLES RINGS PIERCING MITCH'S NIPPLES. HE PULLED ON THEM STRETCHING THEM TIGHT, PAINFULLY TUGGING ON MITCH'S PIERCED NIPPLES, MAKING HIM GASP. TYRON KEPT PULLING UNTIL HE LIFTED MITCH OFF THE FLOOR MAKING HIM GROAN LOUDER, AS THE PRESSURE ON HIS RINGED NIPPLES, WAS INCREASED DRAMATICALLY. WITH MITCH HANGING IN THE AIR FROM STEEL SPRING PUNISHMENT DEVICE, THUG TYRON THRUST HIS HUGE BLACK COCK INTO MITCH'S ANUS. MITCH GROANED LOUDER WITH EACH THRUST, AS HE WAS FUCKED HARD BY TYRON, MAKING HIS ANAL MUSCLES BURN AND INCREASING THE STRAIN ON HIS NIPPLES. SATISFIED THUG TYRON DROPPED MITCH AND LEFT HIM LYING IN A DEBASED HEAP, AS HE SAUNTERED OFF. A LITTLE WHILE LATER, MITCH CRAWLED INTO HIS CABIN. SHIT I CAN STILL FEEL HIS COCK IN MY ARSE, MITCH THOUGH TO HIMSELF, AS CRAWLED TO HIS BED AND GINGERLY REMOVED THE CHAINS LINKING HIS NIPPLE RINGS AND COCK RING. HE DARED NOT REMOVE THE NIPPLE RINGS AND THE COCK RING, SCARED HE WOULD MAKE TYRON ANGRY. MITCH TRIED TO SLEEP BUT HIS COCK WAS HORNY, AND LEAKED COPIOUS AMOUNTS OF PRE-CUM.
TWO DAYS LATER, COP MITCH, GOT ANOTHER CALL FROM THUG TYRON. MITCH HAD NO CHOICE BUT TO OBEY HIM. MITCH PUT ON THE CHAIN ATTACHMENT, THAT LINKED HIS NIPPLES AND COCK RING AND TURNED THEM INTO THE PUNISHMENT DEVICE. THEN HE FORCED A BIG BLACK DILDO UP HIS ANUS. HE DRESSED IN HIS COP UNIFORM AND DROVE TO THE DESERT HOTEL. MITCH FELT DEBASED AND SHAMED, BUT HIS COCK WAS ROCK HARD. MITCH ENTERED THE HOTEL AND APPROACHED THE JANITOR AT THE DESK. "I'LL PAY FOR A ROOM", MITCH TOLD THE JANITOR. "I WAS TOLD TO EXPECT YOU", THE JANITOR REPLIED. "YOUR ROOM IS OPPOSITE THE DESK AND YOU ARE TO LEAVE THE DOOR OPEN, THEN STRIP NAKED AND KNEEL ON THE BED", HE ADDED. WITH NO CHOICE MITCH ENTERED THE SHABBY ROOM AND STRIPPED NAKED. SHIT HE'S WATCHING ME, MITCH THOUGHT IN HORROR, AS HE SAW THE JANITOR WATCHING AND LEERING, AS HE PLAYED WITH HIMSELF. MITCH FELT EVEN MORE ASHAMED, ALTHOUGH HIS COCK, WAS STILL ROCK HARD. HE KNELT ON THE BED AS INSTRUCTED THE STEEL SPRING PUNISHMENT DEVICE ATTACHED TO HIS NIPPLE RING AND COCK RING, CLEARLY VISIBLE, AS WAS THE END OF THE BIG BLACK DILDO THAT PROTRUDED FROM MITCH'S ANUS.
THE JANITOR WAS A HUGE HUNK OF MAN FLESH. HE ENTERED THE ROOM AND PULLED THE LARGE BLACK DILDO, OUT OF MITCH'S ANUS. "YOUR MASTER TYRON, SAID I COULD FINGER AND FIST YOU, WARM YOU UP FOR WHEN HE ARRIVES", THE JANITOR SAID. THE JANITOR TOOK GREAT PLEASURE IN FISTING MITCH FORCING HIS ARM DEEP INTO MITCH'S ANUS. MITCH WAS FISTED BY THE JANITOR, WAITING FOR HIS MASTER THUG TYRON. MITCH WAS NO LONGER THE STRONG ARM OF THE LAW, ESPECIALLY UNDER THE THUMB OF THUG TYRON AND HIS ILK. BUT AT LEAST THE JANITOR THOUGHT MITCH WAS A WHORE, DRESSED AS A COP, OR AT LEAST HE HOPED SO. WHEN THUG TYRON ARRIVED, HE INVITED THE JANITOR TO STAY AND JOIN HIM, IN A DOUBLE BUDDY FUCK OF THE WHORE COP MITCH. "JANITOR STAY AND WE CAN DOUBLE FUCK THE WHORE", THUG TYRON SAID. "YOU BETCHA", THE JANITOR REPLIED EAGERLY. NOO, MITCH THOUGHT TO HIMSELF IN HORROR, BUT HE WAS NO POSITION TO OBJECT. MITCH WAS ORDERED OFF THE BED AND TO SQUAT AND SUCK BOTH TYRON AND THE JANITOR, AT THE SAME TIME. ASHAMED BUT WITH LITTLE CHOICE, MITCH STARTED TO SUCK BOTH OF THEIR COCKS AND THEY FILLED AND STRETCHED HIS MOUTH. WITH THEIR EXCITEMENT UP, TYRON AND THE JANITOR PULLED THEIR COCKS OUT OF MITCH'S MOUTH AND DRAGGED HIM TO HIS FEET. THEN THEY BOTH FORCED THEIR HARD COCKS INTO HIS ANUS AT THE SAME TIME. MITCH COULD ONLY GROAN AND SOB, AS THE TWO BRUTES FUCKED HIS MAN CUNT HARD AND RAW. TO FINISH, THE TWO BRUTES GAVE THE WHORED CUM COP THEIR PISS. THEIR PISS IN HIS MOUTH, AND IN HIS WELL FUCKED AND STRETCHED ANUS.
MITCH WAS THEN MADE TO CLEAN THE ROOMS CARPET OF PISS AND CUM, USING HIS OWN UNDERWEAR, AS A MOP. WHILE TYRON AND THE JANITOR SAT AND WATCHED HIM DRINKING A BEER, THEIR COCKS STILL ROCK HARD. "WE SHOULD MAKE THIS A WEEKLY THING", THUG TYRON SAID, AS THEY CLINKED BEER BOTTLES. BLACK ON WHITE ABUSE AND HUMILIATION. EVEN MORE GOOD COP DOMINATION ACTION. €15 MORE BLACK ON WHITE ABUSE AND HUMILIATION ALSO WHITE ON WHITE ABUSE AND HUMILIATION. WITH EVEN GREAT COP DOMINATION ACTION. €15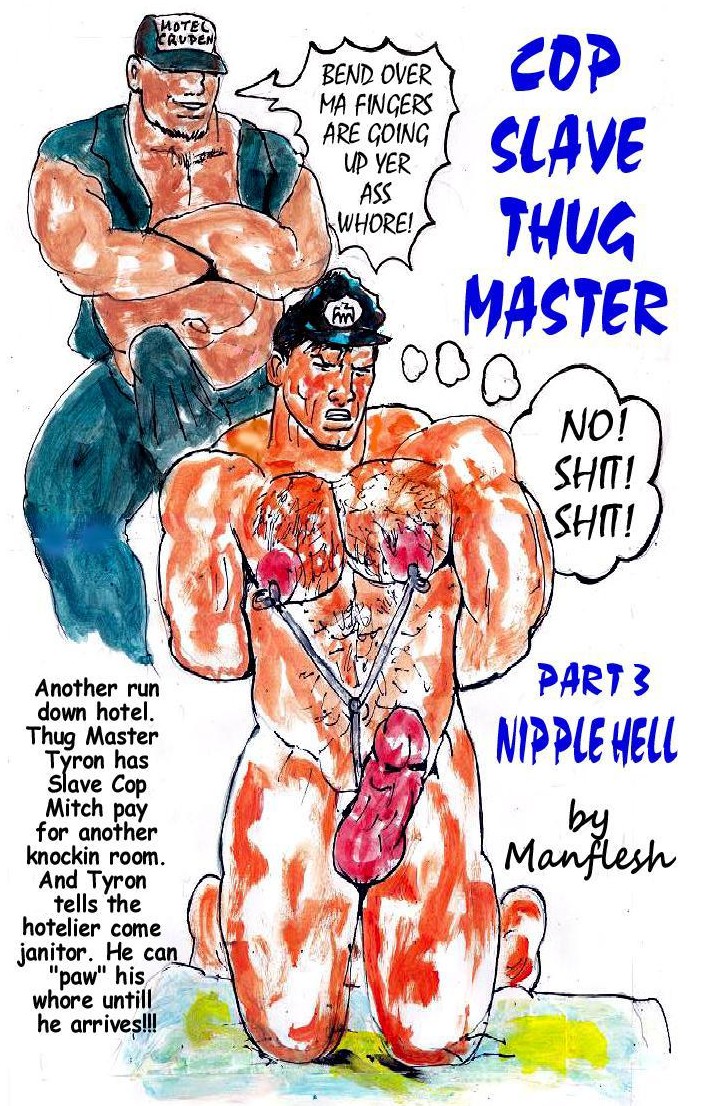 22 COP SLAVE THUG MASTER PART 4 SHAMED. MITCH GOT ANOTHER CALL FROM THUG TYRON. HE WAS ORDERED TO GO TO A FLAT IN THE BLACK GHETTO, WHERE WHITIES WERE NOT WELCOME. WHEN HE ARRIVED IN THE BLACK GHETTO, ALTHOUGH HE WAS DRESSED IN HIS UNIFORM, MITCH FELT AS THOUGH HE WAS NAKED. AS HE WAS WHITEY COP, UNDER A BLACK DOMINATOR. WHEN MITCH ENTERED THE FLAT, THUG TYRON WAS THERE WITH HIS TWO BUDDIES. THEY WERE ALL NAKED, WATCHING PORN ON THE TV, PUMPING THEIR LARGE BLACK COCKS. MITCH COULD NOT HELP NOTICING, THE HUGE BLACK COCK ON THE YOUNGEST BUCK. THEY ORDERED MITCH, THE PIG WHORE TO STRIP. A COP AND A BITCH, AND MY COCK HIS HARD, MITCH THOUGHT TO HIMSELF IN HORROR, AS HE STRIPPED. TYRON ORDERED HIM TO CRAWL OVER TO THEM , LIKE A PIG, HIS TONGUE OUT READY, TO SUCK TYRON'S DICK. "BET YA ARE ITCHING FOR IT, SAY YES", TYRON ORDERED. BASTARDS, MITCH THOUGHT. "YES MASTERS", HE SAID, AS CRAWLED TOWARDS THEM TONGUE OUT, KNOWING HE HAD NO CHOICE, BUT TO OBEY. AS THE SHAMED COP, SUCKED ON HIS MASTER'S COCK. TYRON LET HIS TWO BUDDIES FINGER AND FIST MITCH'S ANUS, STRETCHING IT READY, FOR A DOUBLE FUCK. "ITS COCK IS ROCK HARD", ONE OF THE BUCKS SNEERED. "YES HE WHORESHIPS BLACK COCK", THE OTHER TAUNTED. THE UP HOLDER OF THE LAW, WAS NOW A THUGS WHORE. "I'M STRAIGHT, MY ANUS IS PUSSY WHORED, MY COCK IS HARD, ITS GAY SHIT", MITCH THOUGHT TO HIMSELF IN HORROR.
WITH A ROPE TIED TO HIS BALLS, THE SORE BUMMED COP, WAS PUSHED INTO THE STREET NAKED, WEARING ONLY HIS COP HAT, ARMS TIED BEHIND HIS BACK. THE STREET WAS CROWDED WITH BLACK BUCKS. "TAMED THIS WHITEY MYSELF", TYRON SAID, AS HE HELD THE END OF THE ROPE TIED TO MITCH'S BALLS. "WELL FUCKED THEN", A BUCK IN THE CROWD SHOUTED. "ASS WELL STRETCHED", ANOTHER SAID. "A WHITEY WHORE DRESSED AS COP", A THIRD SAID. "OR UNDRESSED", A FOURTH QUIPPED. MITCH WAS TUGGED BY THE ROPE TIED TO HIS BALLS, THROUGH THE STREETS. HIS COCK SHAMEFULLY HARD, WHILE HE WAS WHIPPED BY TYRON. TYRON THRUST A WOODED POLE THROUGH MITCH'S ARMS, MAKING HIM THRUST OUT HIS CHEST AND WHITEY COCK OUT. AS MITCH WAS PULLED THROUGH THE CROWD WITH HIS COCK THRUST OUT. "FUCK THE WHORE", THE CROWD CHANTED. "FIRST HE CAN SUCK YOUR COCKS", TYRON SAID, AS HE MADE MITCH, KNEEL IN THE MIDDLE OF THE CROWD. MITCH AS FORCED TO SUCK THEIR BLACK COCKS, AS THEY QUEUED UP, EAGER TO TAKE THEIR TURN. TYRON LET ALL THE BLACKS ON THE STREET USE, TO USE SLAVE COP MITCH'S MOUTH TO DUMP THEIR COCK CUM IN. BUT THIS WAS ONLY THE BEGINNING OF HIS PUBLIC ORDEAL. WHEN MITCH HAD SUCKED ALL THEIR COCKS, HE WAS LIFTED UP AND HIS LEGS WERE SPREAD WIDE, IT WAS PARTY TIME. MITCH WAS THE CENTRE OF ATTENTION. NO COP HAD TO BE SURE, HAD AS MUCH COCK UP THEIR ARSE, AS COP MITCH.
AS SLAVE COP MITCH'S MAN PUSSY, WAS PUMMELLED INTO A RAW DISTENDED HONEY HOLE. THE RUDE SCENE WAS BEING WATCHED, BY A BLACK NEIGHBOUR HOOD COP. "YES A COP, YES COP MITCH COLBY, YES I KNOW THAT'S HIM", THE BLACK COP SAID INTO HIS RADIO. YES, INSTANT HARD LABOUR AND THROW AWAY THE KEY", HE ADDED, PICTURING MITCH, AS NAKED SLAVE, TOILING WITH WATER BUCKETS ON A YOKE. EVEN MORE BLACK ON WHITE ABUSE AND HUMILIATION ALSO WHITE ON WHITE ABUSE AND HUMILIATION. WITH EVEN GREAT COP DOMINATION ACTION. €15