MANFLESH GUEST ARTIST AND AUTHOR PAGE 5
The url is man-flesh1.blogspot.com
http://www.man-flesh1.blogspot.com

MANFLESH CFMN CLOTHED FEMALE NAKED MALE FEMALE ON MALE DOMINATION LIST

1 EASTERN BLOCK MILITARY SLAVE. SERGEI BARATOV ARMY LIEUTENANT IS REPORTS TO HIS COMMANDERS QUARTER ON NIGHT. THE COMMANDER ORDERS SERGEI TO STRIP NAKED ON THE PRETEXT THAT SERGEI'S BODY IS FIT FOR DUTY. HOWEVER THE COMMANDER HAD BEEN OGLING SERGEI BODY WHILE HE UNDERWENT PHYSICAL TRAINING IN JUST HIS UNDERWEAR ALONG WITH THE OTHER OFFICERS EVEN THOUGH THE WEATHER WAS REALLY COLD. THE COMMANDER WANTED TO FUCK SERGEI AND STARTS TO LICK SERGEI'S BUM. REVOLTED BY THE PROSPECT OF MALE SEX SERGEI REBELS AND ATTACKS HIS COMMANDER. SERGEI IS ARREST AND FOUND GUILTY ON A TRUMPED UP CHARGE OF LEWD BEHAVIOUR HE THEN MADE A MILITARY SLAVE.
SERGEI IS TAKEN BY TRAIN INA CATTLE TRUCK TO KRIVOY RAG. SERGEI IS THEN ATTACKED NAKED TO A PONY AND TRAP. A FEMALE OFFICER ARRIVED TO TAKE CHARGE OF HIM AND HE IS INFORMED THAT HE IS NOW A NAKED BEAST OWNED BY THE CFNM DIVISION. SHE INSERTS A LARGE STEEL ANUS BIT IN SERGEI'S ARSE AND THEN WHIPS HIM INTO A GALLOP. HE IS FORCED TO RUN AND PULL THE PONY TRAP MANY MILES UNTIL HE ARRIVED TIRED AND VERY SORE AT THE CFNM DIVISION BARRACKS AND HIS NEW LIKE A NAKED MALE SLAVE BEAST OF BURDEN. GRAPHIC COLOURED ARTWORK DEPICTING MALE DOMINATION HUMILIATION AND SUFFERING AT THE HANDS OF DOMINANT FEMALES. €10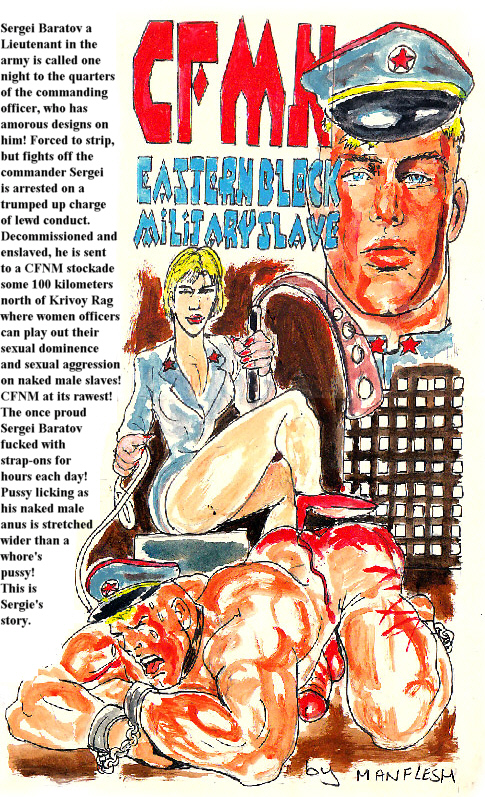 2 CFNM COP. STUD COP DAVVY IS SEARCHING FOR A MISSING COP JEFF DAVIDSON AND FOLLOWS A LEAD AFTER RECEIVING ANONYMOUS PHONE CALL TO MEET IN THE WARREN MAZE WHERE HE WILL FIND OUT WHAT HAPPENED TO JEFF. HE ENTERED THE MAZE CAREFULLY WONDERING WHO HE WAS GOING TO MEET. A TRAP DOOR OPENS IN THE FLOOR AND DROPS DAVVY INTO A STEEL WALLED ROOM. A SMALL PANEL OPENS IN THE DOOR AND TWO FEMALE EYES STARE AT HIM. "WELCOME STUD DAVVY TO ENSLAVEMENT", A MOCKING FEMALE VOICE SAID. FEMALE AMAZONS ENTER THE CELL AND STRIP HIM NAKED. ONE GIVES A FULL BLAST OF A CATTLE PROD TO THE BALLS THAT LEAVES HIM WRITHING ON THE FLOOR. SECURED HELPLESS ON A PLATFORM DAVVY IS MERCILESSLY LASHED FOR OVER AN HOUR. THE BEATING WAS ONLY THE START THE AMAZON THEN RAPES HIS ARSE WITH HER LARGE STRAP ON.
DAVVY IS HUNG FORM THE RAFTERS AND HAS HIS PUBES SHAVED OFF THEM WANKED AGAIN AND AGAIN UNTIL HIS COCK AND BALLS TURN PURPLE FORM OVER STIMULATION. THE EX-COP IS NOW A NAKED CAGED BEAST HE IS FED LUMPS OF CHEAP DOG FOOD LACED WITH STEROIDS AND VIAGRA. DAVVY HAS HIS BUT HOLES CLEANED OUT WITH SPONGE ON THE END OF A POLE SOAKED IN VINEGAR. DAVVY IS REUNITED WITH JEFF AT PARTY THROWN BY THE DOMINATRIX'S. THEY ARE MADE TO THE HOG ON THE SPIT AS IT ROASTS. THE EX-COPS GET AS HOT A THE HOG ALMOST ROASTING AS WELL AND ARE BASTED WITH PIG FAT. THEIR BURNT SKIN MAKES THEM SORE ON THE OUTSIDE. AFTER BEING MADE TO BOUNCE UP AND DOWN TWO AMAZON'S LARGE STRAP ONS THEY ARE QUICKLY SORE ON THE INSIDE AS WELL. THE SORE AND EXHAUSTED SLAVES ARE RETURNED TO THEIR KENNELS TO AWAIT THERE FATE. MORE GRAPHIC COLOURED ARTWORK DEPICTING MALE DOMINATION HUMILIATION AND SUFFERING AT THE HANDS OF DOMINANT FEMALES. €12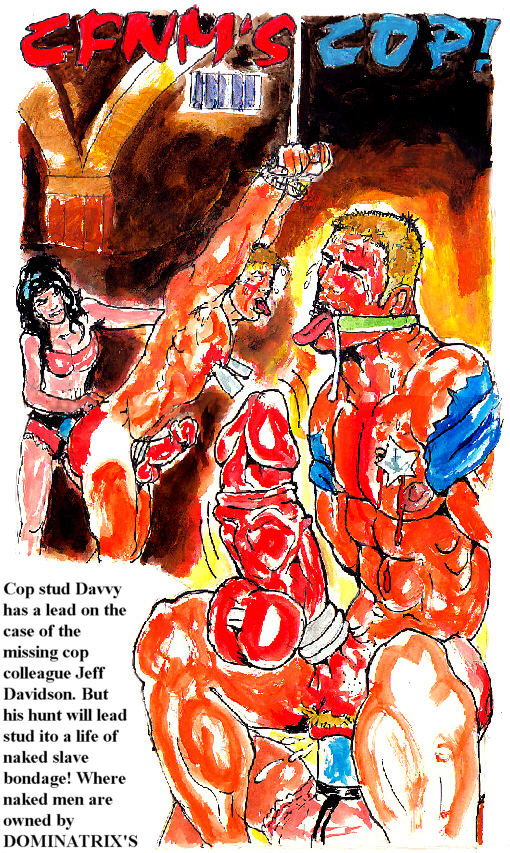 3 SUPERMAN SUPER SLAVE OF THE AMAZONS. THE AMAZONS LURE SUPERMAN TO THEIR PLANET AMAZONIA ON THE PRETEXT OF RELEASING MALE SLAVES. HOWEVER IT WAS JUST RUSE TO GET SUPERMAN TO THEIR PLANET AS THEY WANTED TO ENSLAVE HIM. AMAZONIA HAS A LARGE CONCENTRATION OF YELLOW K DUST THAT ROB SUPERMAN OF HIS POWERS. WEAKEN BY THE YELLOW K DUST SUPERMAN CRASHES TO THE GROAN AND IS AND ZAPPED BY ONE OF THE AMAZONS. THE AMAZONS STRIP THE HELPLESS SUPERMAN NAKED. SUPERMAN NOW A NAKED SLAVE BEAST IS TETHERED TO AN ORE WAGON WITH OTHER NAKED MALE SLAVES. THE AMAZONS USE BOUND NAKED MALE SLAVE AS BLACK SMITHS TO PRODUCE WEAPONS FOR THEM. SUPERMAN IS SECURED IN A FORGE AND THE BLACK SMITHS FIT MAN BEAST RINGS TO HIS NIPPLES AND STRETCH HIS COCK AND BALLS WITH SEVEN STEEL RINGS. ANOTHER STEEL RING IS ATTACHED TO HIS TIGHTLY STRETCHED PERINEUM FOR TETHERING WHEN STABLED.
NOW MAN BEAST RINGED SUPERMAN REJOINS THE OTHER SLAVES PULLING THE ORE WAGON. THE SLAVE ARE MADE TO PULL THE ORE ALONG THE GREAT ROAN THAT HAS REGULAR NIGHT STOPS THAT HAVE TETHERING POSTS AND SLAVE INDOCTRINATION PLATFORMS AS WELL. SUPERMAN IS TETHER TO THE PLATFORM BY HIS PERINEUM RING AND HAS HIS ARSE FUCKED HARD WITH A STRAP ON BY FIVE AMAZONS ALL TAKING THEIR TURNS TO RAPE THE ONCE SUPER HERO. BREAKFAST FOR SUPERMAN AND THE OTHER SLAVES IS LIVE SAND WORMS SOAKED IN ROIDS AND VIAGRA TO KEEP THEIR COCK HARD. WHEN THE ORE WAGON REACHES THE CITY SUPERMAN AND THE OTHER MALES SLAVE ARE RELEASED TO START THEIR LIFE AS MALE SLAVE BEASTS. THIRTEEN PAGES OF GRAPHIC COLOURED ARTWORK DEPICTING MALE DOMINATION HUMILIATION AND SUFFERING AT THE HANDS OF DOMINANT FEMALES. €12