FFF BATTLE-ANNALS HUMAN PONY SLAVE STORYBOOK PAGE
 
PONY GIRL AND PONY BOY ILLUSTRATED STORY BOOKS LIST
1. OLYMPIC PONY GIRL SLAVE. POTENTIAL GOLD MEDALLIST RUNNER HELEN MARSTON IN TRICKED INTO BECOMING THE PONY SLAVE OF A RICH YOUNG WOMAN CALLED DAPHNE DERVILLIER. HELEN IS TRAINED AND ABUSED BY TWO TWIN FEMALE TRAINERS WHO TURN HER INTO DAPHNE DERVILLIER'S CHAMPION PONY. HELEN WINS A RACE AGAINST A MALE PONY BOY DIABLO OWNED BY A RICH OLDER FRIEND OF DAPHNE DERVILLIER. THE PRIZE FOR THE WINNER IS THE OTHER ONE'S PONY. HELEN WINS AND NETS DAPHNE THE RICH PRIZE OF DIABLO AND IS REWARDED WITH HER NEW PONY NAME GOLDEN BLAZE. HER KNEW LIFE AS A HUMAN PONY SAVE IS JUST BEGINNING. THIS STORY FEATURES THE FEMALE PONY SLAVES SEXUAL AND PHYSICAL ABUSE AT THE HANDS OF HER FEMALE TRAINERS ILLUSTRATED BY JG. €7.00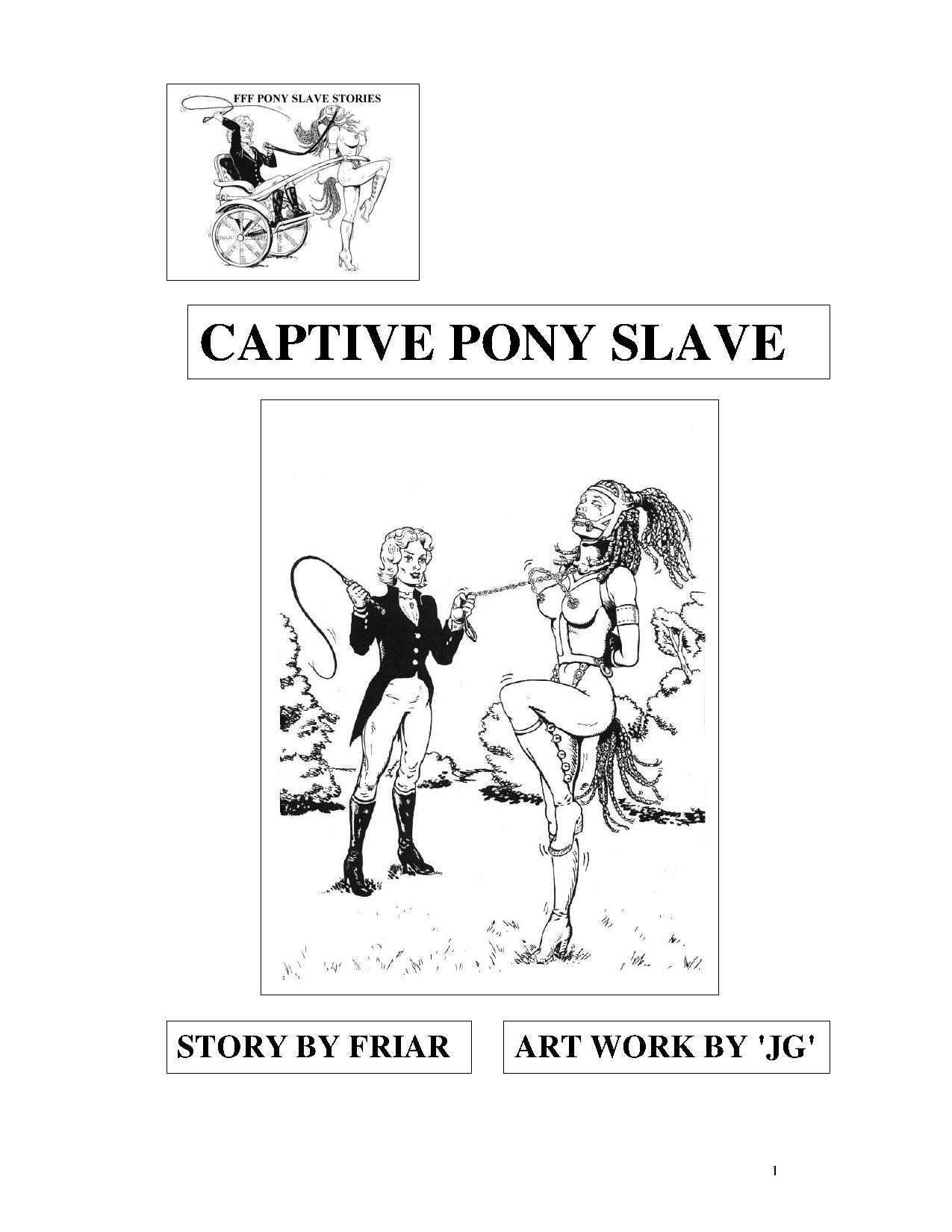 2. OLYMPIC PONY GIRL TWO RUN PONY RUN. HELEN MARSTON 'GOLDEN BLAIZE' SLAVERY CONTINUES. DAPHNE DERVILLIER HER MISTRESS ENTERS GOLDEN BLAIZE IN THE US HUMAN EQUESTRIAN SOCIETY GYMKHANA. DAPHNE DERVILLIER AND THE TWINS MAKE SURE HELEN WINS FIRST PRIZE. HELEN MISERY IS ON INCREASED WHEN SHE IS DISPLAYED IN THE WINNERS ENCLOSURE. HELEN DECIDED SHE NEEDED TO ESCAPE HER MISERABLE CAPTIVITY. HER THOUGH OF ESCAPE ARE RE-ENFORCED WHEN THE TWINS BRAND HER WITH DAPHNE DERVILLIER'S BRAND. HELEN DISCOVERED A WEAKNESS IN THE CHAIN BINDING HER TO HER STABLE WALL. SHE WORKED ON IT AND MANAGED TO BREAK IT. HELEN ESCAPED INTO THE DESERT, RUNNING BLINDLY in the HOPE OF FINDING A ROAD AND SAFETY IN THE OUTSIDE WORLD. HELEN NEARLY DIED OF THIRST BEFORE SHE WAS RECAPTURED, BY THE TWINS. HELEN WAS SEVERELY PUNISHED FOR TRYING TO ESCAPE. tHE TWINS CUT OFF HER BEAUTIFUL BLONDE HAIR AND HER MISTRESS DAPHNE DERVILLIER SENT HELEN THE DONKEY GIRL FARM FOR SIX MONTHS. SUPERBLY ILLUSTRATED BY JG. €7.00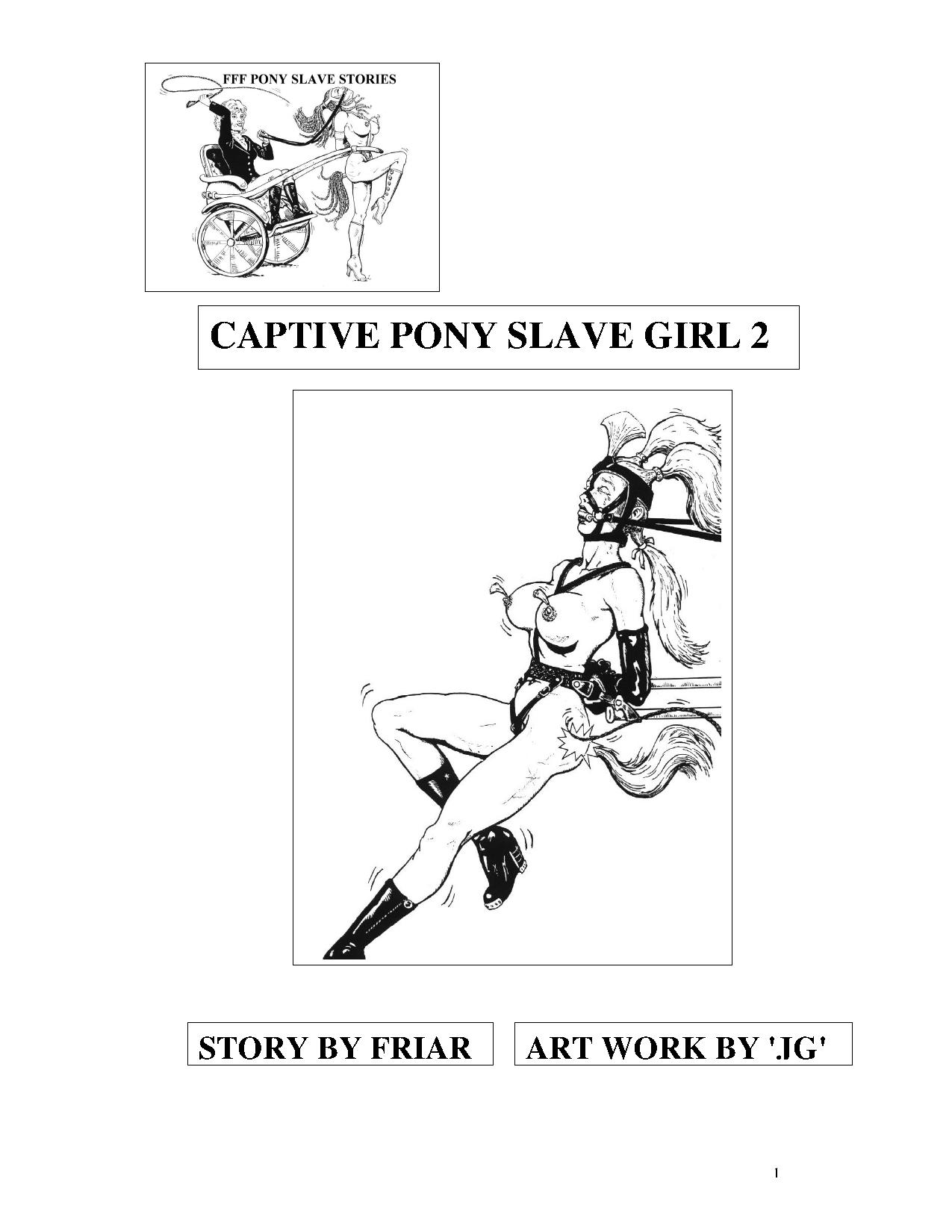 PONY BOY ILLUSTRATED STORY BOOK LIST


 
3. BONDED MALE PONY SLAVE. YURI A TWENTY-NINE YEAR-OLD EX RUSSIAN GYMNAST IS SOLD INTO SLAVERY TO THE WHETS SOCIETY (WORLD HUMAN EQUESTRIAN TRAINING SOCIETY) TO RAISE FOREIGN CURRENCY FOR THE EX COMMUNIST STATE. HE WAS PURCHASED BY ROSEANNE HERNANDES THE MATRIARCHAL HEAD OF THE WHETS SOCIETY FOR HER GRAND DAUGHTER MERCEDES HERNANDES AS AN EIGHTEENTH BIRTHDAY PRESENT.
MERCEDES QUICKLY TRAINS HER NOVICE MALE PONY SLAVE IN THE ARTS OF WALKING AND RIDING WITH HER AS HIS MOUNT. REWARDING HER NEW MALE PONY SLAVE FOR SUCCESS OR PUNISHING HIM FOR FAILURES WITH EQUAL GUSTO. SHE THEN INTRODUCES HER MALE PONY SLAVE TO CART TRAINING AND PUTS HIM THROUGH HIS PACES UNTIL HE MASTERED CART PULLING AND DRESSAGE.
PLEASED WITH HIS PROGRESS MERCEDES REWARDS YURI BY USING HIM FOR SEXUAL RELIEF. HE IS HEN PUNISHED FOR FAILING TO OBEY HER IMPLICIT ORDERS. YURI IS PUNISHED WITH PLEASURE, MADE TO EJACULATE AGAIN AND AGAIN, TO TEACH HIM OBEDIENCE. THIS FINALLY BREAKS AND SUBDUES YURI, PREPARING FOR HIS NEW LIFE AS HUMAN MALE PONY SLAVE, ILLUSTRATED BY JG. €7.00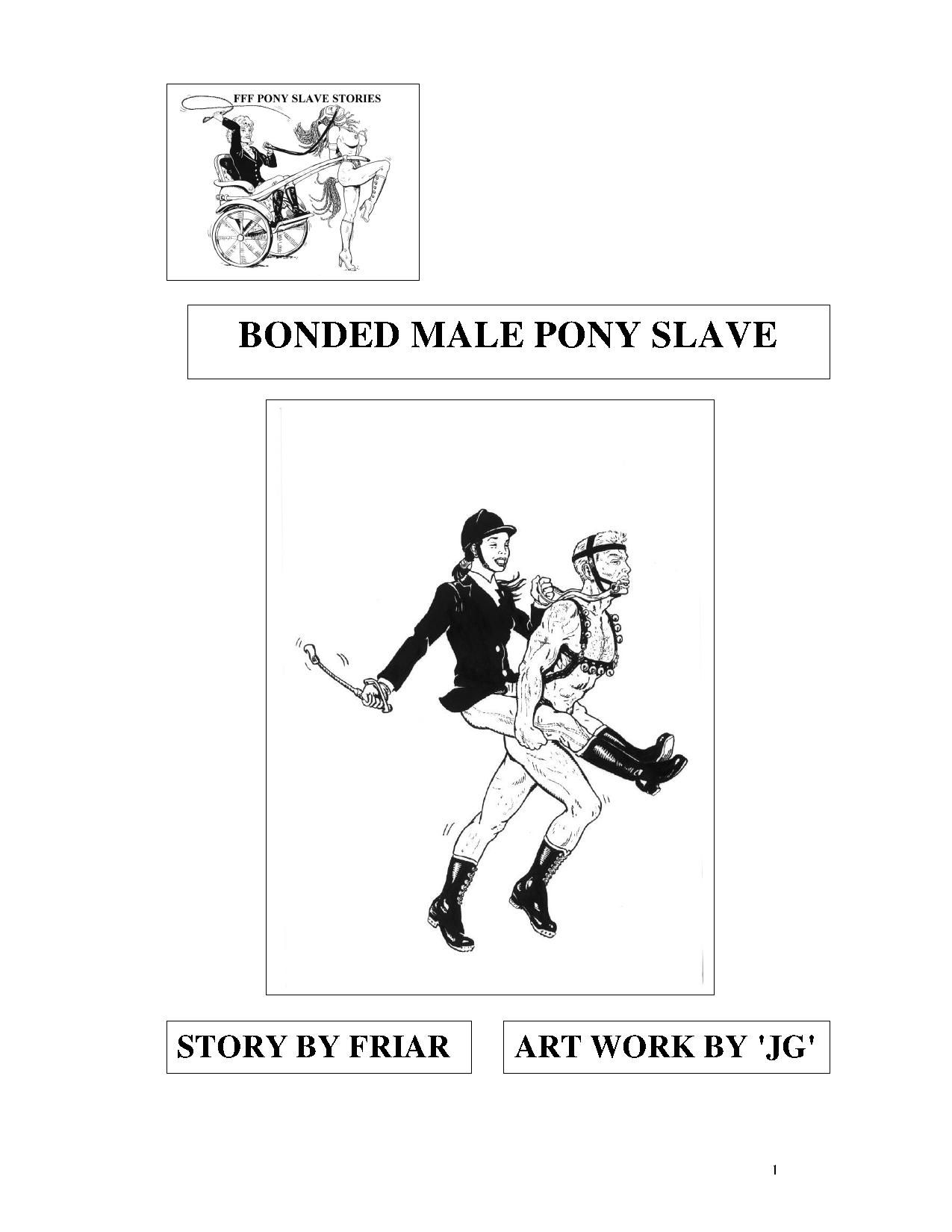 4 NOVICE MALE PONY SLAVE PART 1 BASIC TRAINING. MAXINE A FEMALE, HUMAN PONY SLAVE TRAINER AND MEMBER OF THE UK HUMAN PONY OWNERS CLUB, HAD A FEMALE PONY SLAVE CALLED BLOSSOM WHO SHE USED, TO HELP TRAIN OTHER HUMAN PONY SLAVE TRAINERS. SHE HAD TWO NEW POTENTIAL PONY SLAVE TRAINERS, ONE FEMALE AND THE OTHER MALE, OR SO SHE BELIEVED. THE FEMALE ONE, BARBARA, WAS IMPRESSED WITH MAXINE'S FACILITIES AND SIGHED UP FOR LESSONS WITH BLOSSOM. THE MALE ONE BRADLEY WAS NOT INTERESTED IN LEANING TO BE A PONY TRAINER, HE WANTED TO BE TRAINED AS MALE PONY SLAVE, AS THE IDEA HAD ALWAYS EXCITED HIM. SURPRISED, BUT PLEASED, AS MALE PONY SLAVES WERE RARE IN THE UK HUMAN PONY OWNERS CLUB, SHE AGREED TO TRAIN HIM AND MAKE HIM HER FIRST MALE PONY SLAVE, BUT ONLY IF HE WAS GOOD ENOUGH. HER GOAL NOW, WAS TO GET BARBARA AND BRADLEY BOTH FULLY TRAINED, SO THEY COULD ATTEND THE NEXT UK HUMAN PONY OWNERS CLUB OFFICIAL PONY CLUB DAY. AGAIN, THINGS DID NOT WORK OUT, QUITE LIKE, SHE EXPECTED.
MAXINE HAD AGREED TO TRAIN BRADLEY EVEN THOUGH HE WAS NOT A VERY GOOD PHYSICAL SPECIMEN, AS SHE WAS EAGER TO HAVE HER OWN MALE PONY SLAVE. BRADLEY WAS MIDDLE AGED, HE WAS TALL, WITH BROWN RECEDING HAIR, AND A SLIGHTLY CHUBBY BODY. DURING THEIR FIRST TRAINING SESSION, SHE GAVE HIM HIS PONY NAME, LITTLE WILLIE, BECAUSE OF HIS SMALL AND UNIMPRESSIVE COCK AND BALLS. MAXINE TRAINED BRADLEY HARD, IN HOW TO BE A MALE PONY SLAVE, TESTING HIS STAMINA AND RESOLVE TO THE LIMIT, WITH HER CROP AND HORSE WHIP AND TO PULL HER SMALL SULKY CART. BRADLEY WAS EXCITED BY HIS STERN AND EXHAUSTING TRAINING SESSIONS UNDER MAXINE'S MERCILESS WHIP HAND. AS THE WEEKS WENT BY HE GOT MORE ADEPT AND PHYSICALLY CAPABLE MALE PONY SLAVE, AND HE HAD PASSED HIS BASIC TRAINING TO BE A MALE PONY SLAVE. MAXINE WAS NOW SURE THAT HE WOULD TO HER FIRST MALE PONY SLAVE, BUT NEED MORE TRAINING, TO GET HIM TO BE A FULLY TRAINED MALE PONY SLAVE.
THEN SHE WAS CONTACTED BY LADY CARSTAIRS BROWNE THE CHAIR WOMAN OF THE UK HUMAN PONY OWNERS CLUB AND THE NUMBER ONE HUMAN PONY SLAVE TRAINER IN THE UK. LADY CARSTAIRS BROWNE HOSTED THE UK HUMAN PONY OWNERS CLUB OFFICIAL PONY CLUB DAYS AT HER FARM. SHE WAS ALSO THE PROUD OWNER OF TWO FULL TIME PONY SLAVES, AND LARGE COLLECTION OF HUMAN PONY EQUESTRIAN EQUIPMENT, INCLUDING A DOZEN OR MORE SULKY CARTS OF VARIED DESIGNS. IT WAS ANOTHER AIM OF MAXINE TO HAVE A FULL TIME PONY SLAVE, AS BLOSSOM WAS ONLY PART TIME AT PONY SLAVE, AT THE WEEKENDS. SHE HAD TOLD LADY CARSTAIRS BROWNE ABOUT BRADLEY OR LITTLE WILLIE, WHEN HIS TRAINING FIRST STARTED, SEEKING HER HELP AND ADVICE ON HOW TO TRAIN HIM. NOW LADY CARSTAIRS BROWNE, WAS LOOKING FOR HER HELP AS A RUSSIAN FEMALE TRAINER CALLED NATALYA WAS VERY INTERESTED IN MALE PONY SLAVES. SHE HAD ASKED LADY CARSTAIRS BROWNE TO LET HER SEE LADY CARSTAIRS BROWNE'S MALE PONY SLAVE STRIDER, BEING TRAINED AND HAVE A GO AT TRAINING HIM HERSELF AND ANY OTHER MALE PONY SLAVES SHE COULD GET TO ATTEND. IT WAS VERY SHORT NOTICE AND NONE OF THE OTHER TWO TRAINERS WITH MALE PONY SLAVES WERE FREE THAT DAY SO, LADY CARSTAIRS BROWNE ASKE MAXINE TO BRING LITTLE WILLIE TO THE FARM TO MEET NATALYA EVEN IF HE WAS ONLY BASICALLY TRAINED. MAXINE AGREED BUT IT LEFT HER WITH ONLY ONE MORE TRAINING DAY BEFORE THEY HAD TO GO TO LADY CARSTAIRS BROWNE'S FARM.
AS WELL AS ONLY BEING BASICALLY TRAINED LITTLE WILLIE HAD ONLY BEEN TRAINED BY HER AND NO OTHER PONY TRAINED. WITH NO TIME TO MAKE OTHER ARRANGEMENTS, MAXINE DECIDED SHE WOULD GET BARBARA HELP WHO SHE HAD BEEN INSTRUCTING TO TRAIN BLOSSOM HER FEMALE PONY SLAVE, TO GIVE LITTLE WILLIE THE EXPERIENCE OF BEING TRAINED BY ANOTHER TRAINER. BARBARA WAS DELIGHTED BY THE PROSPECT AND ON THE LAST TRAINING DAY AFTER INTRODUCING BARBARA TO LITTLE WILLIE AND INSTRUCTING HER IN THE DIFFERENCES BETWEEN TRAINING A FEMALE AND MALE PONY SLAVES, LET HER PUT LITTLE WILLIE THROUGH HIS PACES. MAXINE HAD NOT SPARED THE WHIP WITH LITTLE WILLIE IN HER TRAINING SESSIONS, BUT BARBARA WAS EVEN MORE SADISTIC WITH HER USE OF THE WHIP AND HER PHYSICAL DEMANDS ON LITTLE WILLIE. MAXINE KNEW IT WAS GOOD GROUNDING FOR THE MEETING WITH NATALYA AT LADY CARSTAIRS BROWNE'S FARM. GREAT FEMALE ON MALE DOMINATION WITH INTENSE PHYSICAL AND SEXUAL ABUSE OF THE MALE BODY, ILLUSTRATED BY Diablo (New artist to battle-annals).. €7.00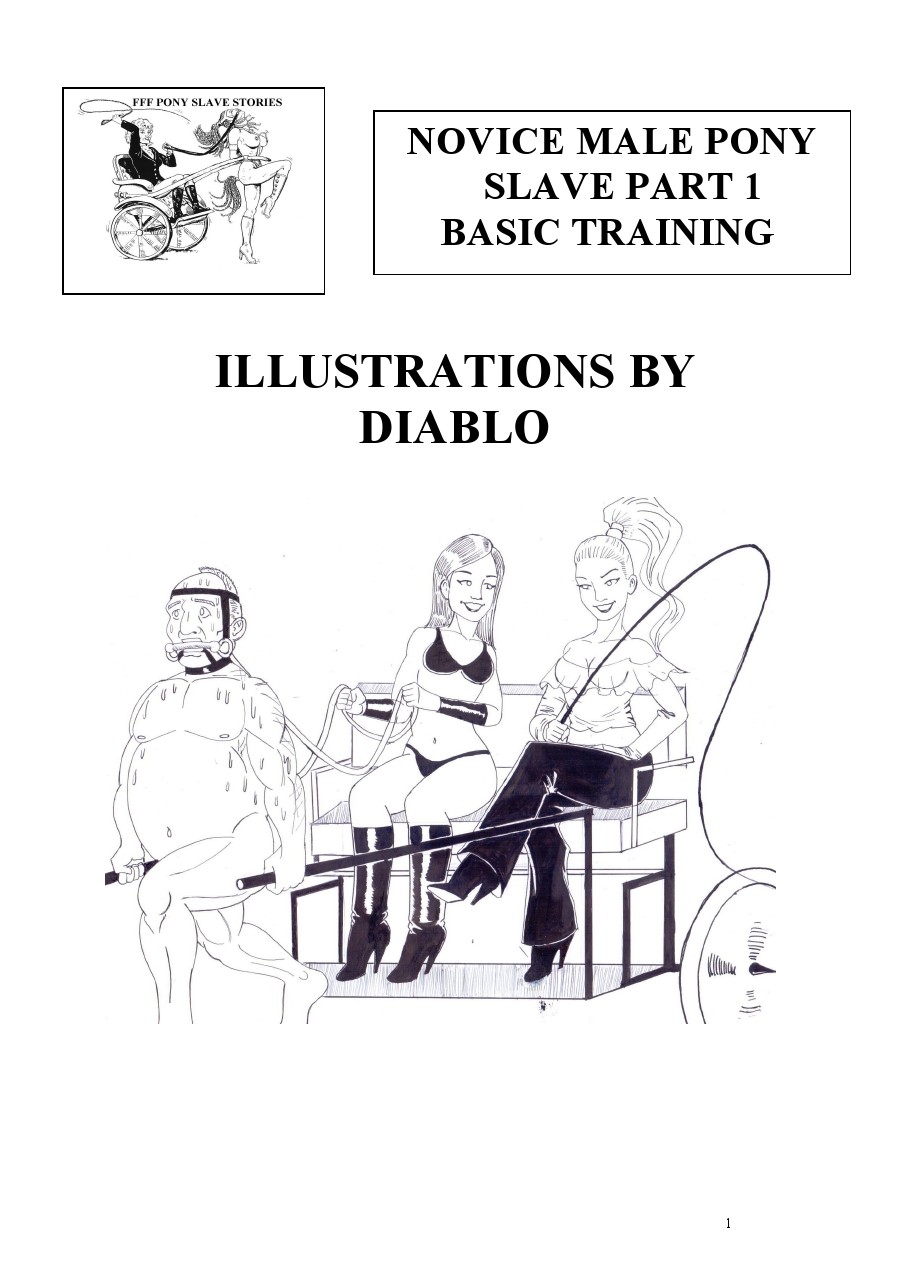 5 NOVICE MALE PONY SLAVE PART 2 LADY CARSTAIRS BROWNE'S FARM. LADY CARSTAIRS BROWNE HAD INVITED MAXINE AND BRADLEY, LITTLE WILLIE TO HER FARM, FOR A SMALL GATHERING, OF HUMAN PONY TRAINERS. A RUSSIAN FEMALE PONY TRAINER HAD ASKED LADY CARSTAIRS BROWNE, IF SHE COULD SHOW HER HOW, THE ENGLISH TRAINED, THEIR MALE PONY SLAVES, SHE WAS VERY INTERESTED IN LADY CARSTAIRS BROWNE'S MALE PONY SLAVE STRIDER, AND ANY OTHERS, SHE COULD GET TO BE PRESENT, WHEN SHE INTENDED TO VISIT. IT WAS SHORT NOTICE, BUT LADY CARSTAIRS BROWNE AGREED. THE ONLY OTHER MALE PONY SLAVE, AVAILABLE, TO ATTEND AT SHORT NOTICE, WAS LITTLE WILLIE. SO THAT WAS HOW MAXINE AND BRADLEY, LITTLE WILLIE, CAME TO BE INVITED TO LADY CARSTAIRS BROWNE'S FARM. LADY CARSTAIRS BROWNE WAS THE CHAIR WOMEN OF THE UK HUMAN PONY SLAVE OWNERS CLUB, AND IMPORTANT PERSON, IN THE HUMAN UK EQUESTRIAN PONY, COMMUNITY. MAXINE TRAINED LITTLE WILLIE EXTRA HARD IN THE SESSIONS LEFT, BEFORE THEY WENT TO LADY CARSTAIRS BROWNE'S FARM, KNOWING HE NEEDED ALL THE STAMINA HE COULD GET FOR THAT DAY.
THE TRAVELLED BY TRAIN TO THE STATION CLOSEST TO LADY CARSTAIRS BROWNE'S FARM. THE BAXTERS WERE ALREADY THERE, THEY HAD COME TO PURCHASE, MITSIE ONE OF LADY CARSTAIRS BROWNE'S FEMALE PONY SLAVES. ANTON, LADY CARSTAIRS BROWNE'S CHAUFFER, COME GROOM AND HANDY MAN WAS WITH THEM. THEY HAD TO WAIT A LITTLE WHILE FOR, NATALYLA, THE FEMALE, RUSSIAN PONY TRAINER, THE MAIN REASON, THEY WERE ALL THERE. ONCE SHE ARRIVED, ANTON DROVE THEM, TO LADY CARSTAIRS BROWNE'S FARM. THEY WERE GREETED BY LADY CARSTAIRS BROWNE, AND ANTON PREPARED LITTLE WILLILE TO PULL A PONY CART. ANTON HAD ALREADY PREPARED MITSIE AND STRIDER, TWO OF LADY CARSTAIRS BROWNE'S PONY SLAVES. WHILE ANTON PREPARED LITTLE WILLIE, THE BAXTERS TOOK MITSIE FOR ONE LAST RUN, BEFORE THEY PURCHASED HER. JUST BEFORE THE BAXTERS GOT BACK FROM THEIR RUN, ANTON BROUGHT LITTLE WILLIE TO WHERE EVERYONE WAITED. LITTLE WILLIE, WAS NOW ATTIRED IN LEATHER BRIDAL WEAR AND ATTACHED TO A SINGLE SEAT PONY TRAINING CART. MAXINE WAS GLAD TO SEE THAT ANTON HAD INCLUDED, A LEATHER CHASTITY HARNESS, THAT KEPT, LITTLE WILLIE'S COCK AND BALLS FULLY EXPOSED AND HIS COCK FULLY ERECT, BUT PREVENTED HIM, FROM EJACULATING. THE BAXTERS, LADY CARSTAIRS BROWNE, NATALYLA AND EVEN ANTON, ALL WANTED TO TAKE LITTLE WILLIE, OUT FOR A RUN. HOWEVER MAXINE LET LADY CARSTAIRS BROWNE TAKE LITTLE WILLIE OUT FIRST, EAGER FOR HIM TO EXPERIENCE OTHER TRAINERS AND COULD NOT THINK OF A BETTER ONE. WHILE LADY CARSTAIRS BROWNE TOOK LITTLE WILLIE OUR FOR A RUN. THE BAXTERS LET NATALYLA TAKE MITSIE OUT. NATALYLA ASKED MAXINE TO JOIN HER WHO ACCEPTED. WHILE THEY WERE TAKING MITSIE OUT, MAXINE DISCOVERED, THAT NATALYLA HAD AN ULTERIOR MOTIVE FOR BEING THERE. SHE WAS HUNTING FOR AN ESCAPED RUSSIAN, MALE PONY SLAVE, FOR THEIR RUSSIAN OWNER. ANTON WAS THAT ESCAPED MALE PONY SLAVE, NATALYLA ASKED MAXINE TO SAY NOTHING, FOR THE MOMENT.
AFTER LADY CARSTAIRS BROWNE, MAXINE LET JOHN BAXTER TAKE LITTLE WILLIE OUT FOR A RUN. JOHN BAXTER REALLY PUT LITTLE WILLIE THROUGH HIS PACES AND ENJOYED IT SO MUCH, HE WAS SURE HE DID NOT NOW WANT TO BUY MITSIE, AND TOLD HIS WIFE, LUCY BAXTER. SHE WAS VERY SCEPTICAL, BUT AFTER REALLY ENJOYING, TAKING LITTLE WILLIE OUT FOR RUN, THAT NOW ONLY A MALE PONY SLAVE, WOULD DO FOR THEM. MAXINE LET NATALYLA TAKE LITTLE WILLIE OUT NEXT TO HELP KEEP UP PRETENCES FOR THE MOMENT, AND OF COURSE TO GIVE LITTLE WILLIE EXPERIENCE, OF YET ANOTHER TRAINER. WHILE NATALYLA WAS TAKING LITTLE WILLIE FOR YET ANOTHER RUN, THE BAXTERS TOOK THE CHANCE TO LET LADY CARSTAIRS BROWNE KNOW THAT AS THEY COULD ONLY AFFORD, TO OWN ONE PONY SLAVE AND THAT ONE WOULD NOW HAVE TO BE A MALE PONY SLAVE, THEY WOULD NO LONGER BE, BUYING MITSIE. TO THEIR RELIEF LADY CARSTAIRS BROWNE WAS VERY UNDERSTANDING AND AGREED WITH THEM. SHE ALSO TOLD THEM, SHE WAS SORRY FOR THEM, AS ACQUIRING A MALE PONY SLAVE WAS VERY DIFFICULT. WHEN NATALYLA RETURNED, SHE REVEALED TO LADY CARSTAIRS BROWNE, THE REAL REASON SHE WAS THERE, THAT ANTON WAS IN FACT DIMITRI, AN ESCAPED RUSSIAN PONY SLAVE AND SHE WAS WORKING, ON BEHALF OF HIS OWNER. ANTON DENIED IT AT FIRST, BUT WAS FORCED TO CONFESS IT IN THE END. ANGERED LADY CARSTAIRS BROWNE, MADE ANTON HER PONY SLAVE INSTEAD OF HER BONDED TRAINER, SHE MADE HIM SIGN A NEW CONTRACT. LADY CARSTAIRS BROWNE TOLD NATALYLA SHE WOULD SELL HIM TO HER. THEY AGREED A PRICE AND LADY CARSTAIRS BROWNE, SAID SHE WOULD DRAW UP THE CONTRACT. BUT AT THAT POINT NATALYLA TOLD LADY CARSTAIRS BROWNE, THAT SHE HAD ALWAYS INTENDED TO BUY ANTON, BUT SHE HAD CHANGED HER MIND. SHE SUGGESTED THAT LADY CARSTAIRS BROWNE SELL ANTON OR DIMITRI TO THE BAXTERS. THE BAXTERS WERE DELIGHTED, WHEN LADY CARSTAIRS BROWNE AGREED. SO LADY CARSTAIRS BROWNE ALTERED THE CONTRACT, SHE HAD TO SELL MITSIE, TO SELLING DIMITRI, TO THE BAXTERS. THE BRIDAL WEAR AND CHASTITY HARNESS WERE REMOVED FROM LITTLE WILLIE AND FITTED TO DIMITRI, THE BAXTERS NEW PONY SLAVE. THE BAXTERS TOOK THEIR NEW MALE PONY SLAVE, FOR ITS FIRST RUN AND WERE MERCILESS WITH THE WHIP, REALLY PUTTING HIM THROUGH HIS PACES, AS NATALYLA THOUGHT AND HOPED THEY WOULD. SO BRADLEY'S FIRST VISIT TO LADY CARSTAIRS BROWNE'S FARM HAD BEN LONG AND EXHAUSTING BUT EXTREMELY EXCITING, AND HE AND MAXINE, COULD NOT WAIT TO COME BACK FOR A FULL GYMKNANA. MORE GREAT FEMALE ON MALE DOMINATION WITH INTENSE PHYSICAL AND SEXUAL ABUSE OF THE MALE BODY €4.00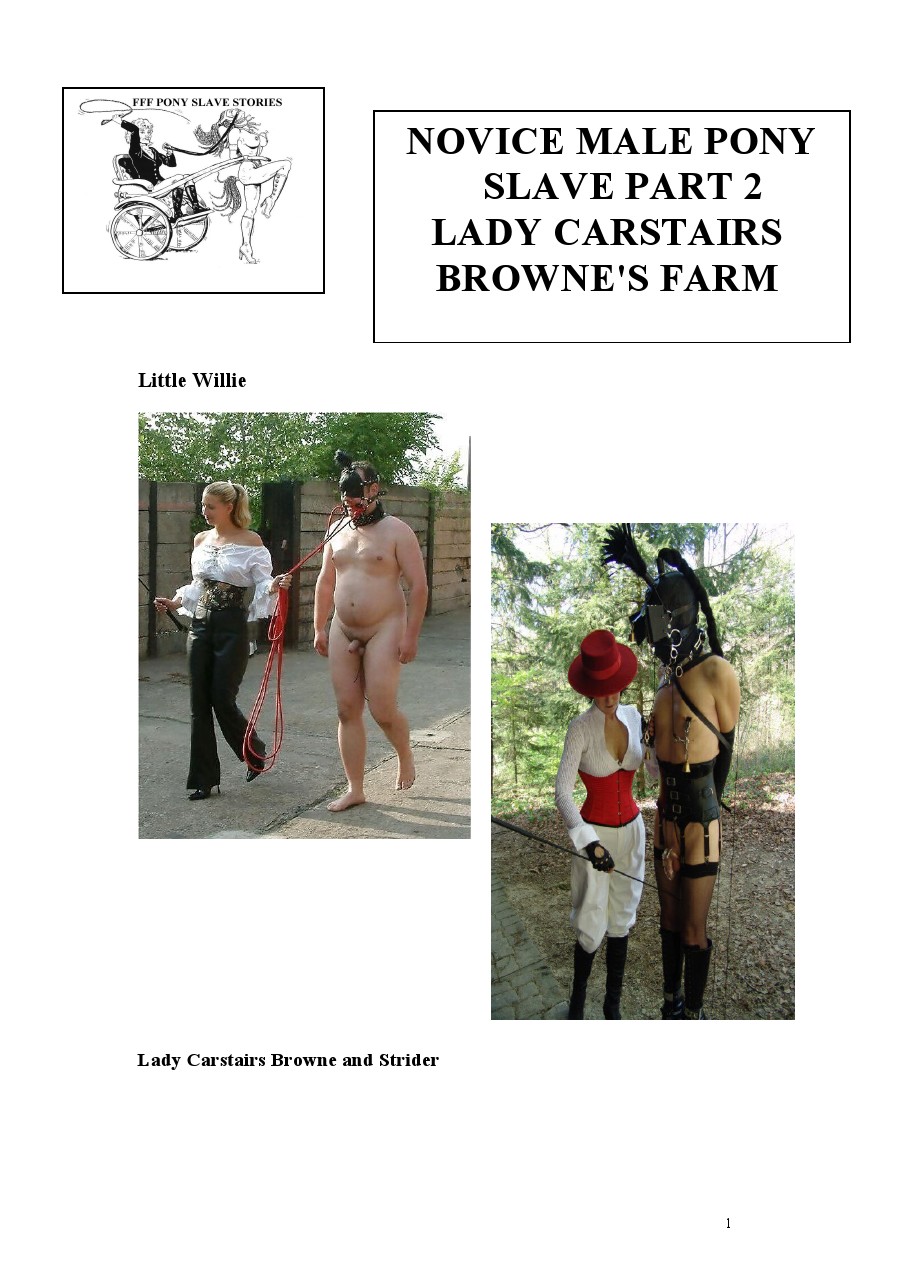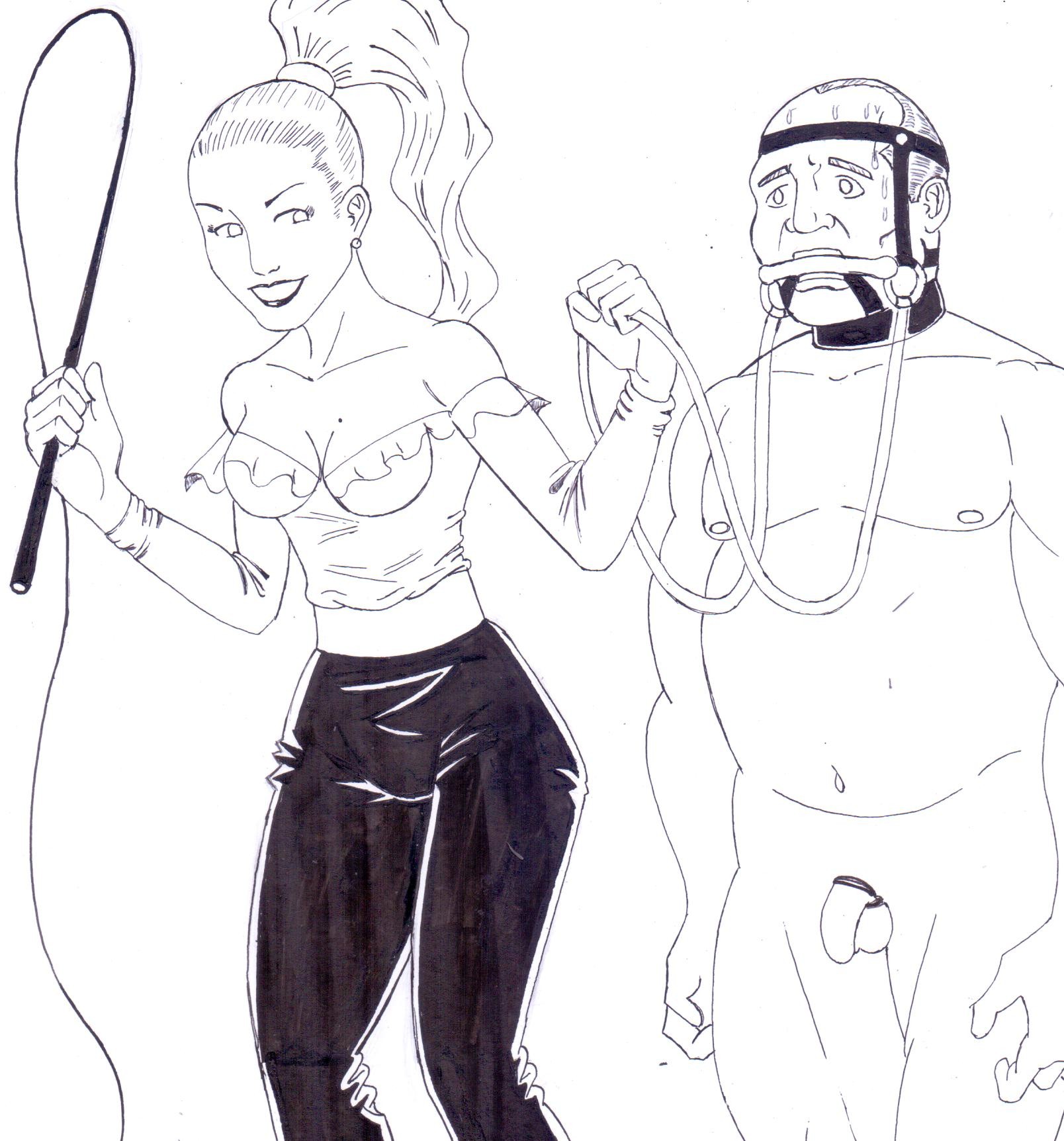 IMAGE FROM NOVICE MALE PONY SLAVE PART 1 BASIC TRAINING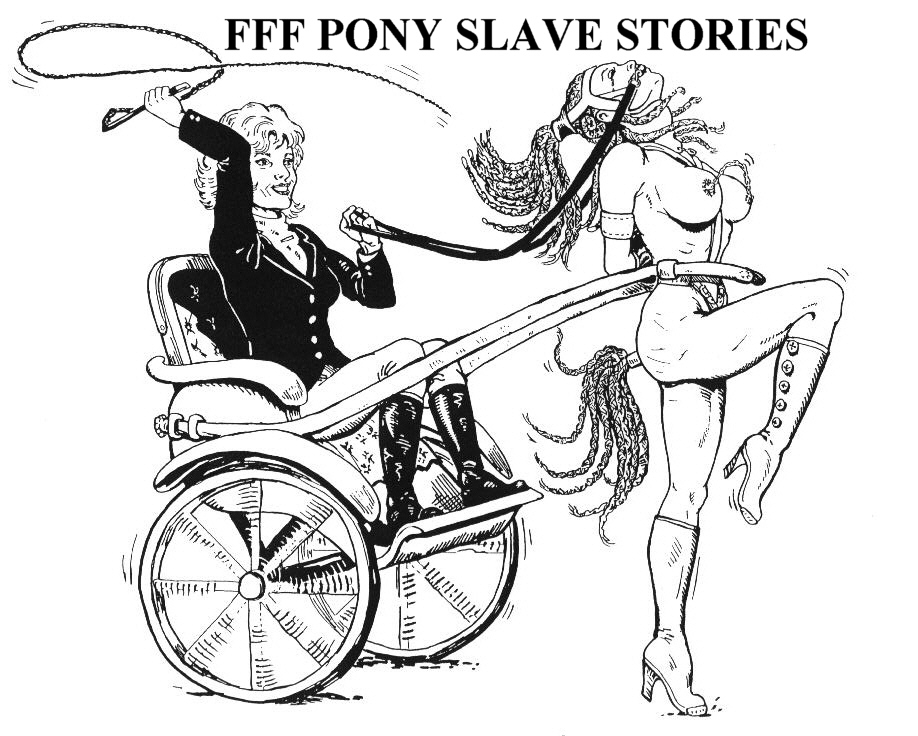 IMAGE FROM OYLIMPIC PONY SLAVE 1 BY JG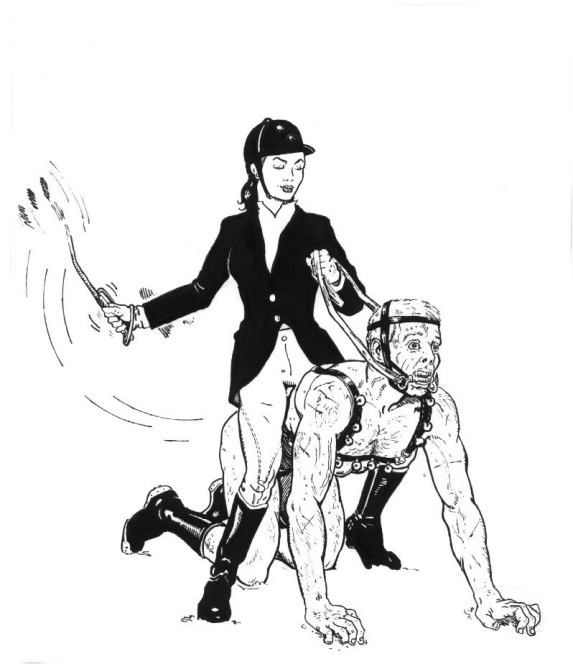 IMAGE FROM BONDED MALE PONY SLAVE BY JG