MANFLESH BATAMN DOMINATION ARTWORK AND COMIC BOOKS



1 BATNAPPED BY THE MOB PART 1. THE MOB NEED BUMMAN AND THROBIN AS THEY CALL THEM OUT OF THE WAY. CAPTURED THEY WILL TURN THEN INTO SEX SLAVES MAN WHORES USED AND MOB MEETINGS. BATMAN AND ROBIN HAD BEEN GIVEN A MAP BY AN INFORMER SHOWING THE LOCATION OF LARGE DRUG FACTORY. THE MAP SHOWED A WAY IN THROUGH A MAZE OF TUNNELS UNDER AN ABANDONED CHEMICAL FACTORY THE ONLY WAY INTO THE MOB FORTRESS. TO GET TO THE SECRET FACTORY THEY HAVE TO SWIM THOUGH RAW SEWAGE VIA SEWER AND STRIP DOWN TO THEIR UNDERWEAR TO DO SO. WHILE SWIMMING THROUGH THE SEWER THEIR UNDERWEAR IS SUCKED OFF LEAVING THEM NAKED. A HIDDEN CAMERA SPOTS THEM AS THEY FLOUNDER THROUGH THE SEWAGE. WHEN THE DYNAMIC DUE CLIMB OUT OF THE SEWAGE NAKED AND COVER IN RAW SEWAGE THEY ARE ATTACKED WITH WHIPS, TWO WHIPS WRAP AROUND EACH CRIME FIGHTERS NECK. THEIR HANDS ARE SECURED AND THE ONCE MIGHT CRIME FIGHTERS WITH COCK ERECT ARE JUST EXCREMENT COVERED BEASTS. THEY ARE TAKEN TO CELLAR AND MADE TO KNEEL THE CELLAR IS HALF OFFICE AND HALF MEDIAEVAL TORTURE CHAMBER. ONE OF THE CRIME CHIEFS TELL THEM THEY ARE TO BE BRANDED ON THE BUTTS WITH BAT SLAVE BRANDS SO ALL WILL KNOW WHO YOU ONCE WERE. BATMAN IS BRANDED FIRST FOLLOWED BY ROBIN BOTH SCREAMING AND PISSING THEMSELVES IN HELPLESS HORROR. THEIR PUBES ARE PULLED OUT WITH STICKY TOFFEE ON A STICK AS THE CRIME LORD WATCHES. THEIR SPIRALLY INTO WHOREDOM HAD BEGUN. HOT SEXY MALE DOMINATION AND HUMILIATION AS BATMAN AND ROBIN ARE ENSLAVED AND TURNED INTO SEX SLAVES MAN WHORES S. €10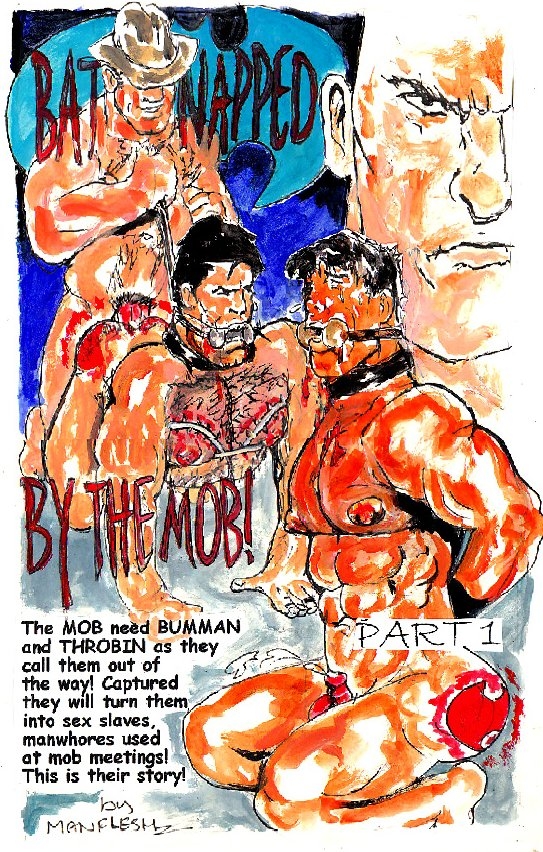 2 BATNAPPED BY THE MOB PART 2 BATMAN AND ROBIN'S ENSLAVEMENT AND DEBASEMENT CONTINUES. FROM NOW ON THE ONCE MIGHTY HERO'S SHOWER IN MOB PISS. THE DAYS OF BEING BATHED TOWELLED OFF BY ALFRED THE BUTLER AND WELL OVER. THE BRANDED ARSED DUO ARE TAKEN TO A SLAVE TRAINING ROOM FOR AN ARSE HOLE WORK OUT. ROBIN LOOKS ON IN HORROR AD BATMAN HAS HIS ARSE THRUST ON A HUGE HUGE RED DILDO. BATMAN AND ROBIN'S ARSE BOTH SUFFER INTENSELY ON THE HUGE RE DILDOS. THEIR SWOLLEN MAN CUNTS ARE RUBBED RAW AND VIAGRA FORCED DOWN THEIR THROATS, THE BASED DUO NO LONGER CONTROL THEIR SEX ORGANS THE MOD DOES.
WITH THEIR MAN CUNTS WELL STRETCHED THE SHAMED DUO ARE BROUGHT BEFORE THE MOB LEADERS TO FACE THEIR FIRST CUNTING AS MOB WHORES. FROM DYNAMIC TO CUNTED DUO THEY ARE FUCK BARE BACK BY THE HOODS. ALL THE HOODS HAD STEEL BALLS UNDER THEIR FORESKINS SO EACH SO EACH THRUST IS RAW AND SORE TO THE WHORED DUO. MOUTHS ARE STRETCHED WIDE TO SERVICE MONSTER COCKS. A VERY SHAMED BATMAN TAKES ALL COCK IN HIS MAN SIZED MOUTH, VIAGRA ADDS TO HIS HOMONISED SEXUAL OVERLOAD. PISS AND CUM ARE NOW PART OF THE DUOS STAPLE DIET. TIDE IN HARNESSES THE BONDAGED DUO ARE BUTT RUDE MUSCLE FLESH TO BREAK FROM COLTS TO FUCK MARES. THE SWOLLEN CUNTED DUO ARE TAKEN TO THEIR NEXT ASSIGNMENT. WHAT NEXT FOR THE DEFAMED DUO? THE MOB WANT THEIR FUCK WHORE AS BIG AS BEARS SO THEY ARE FORCE FED 40 000 CALORIES OF MOB CRUD A DAY. MORE HOT SEXY MALE DOMINATION AND HUMILIATION AS BATMAN AND ROBIN ARE ENSLAVED AND TURNED INTO SEX SLAVES MAN WHORES. €10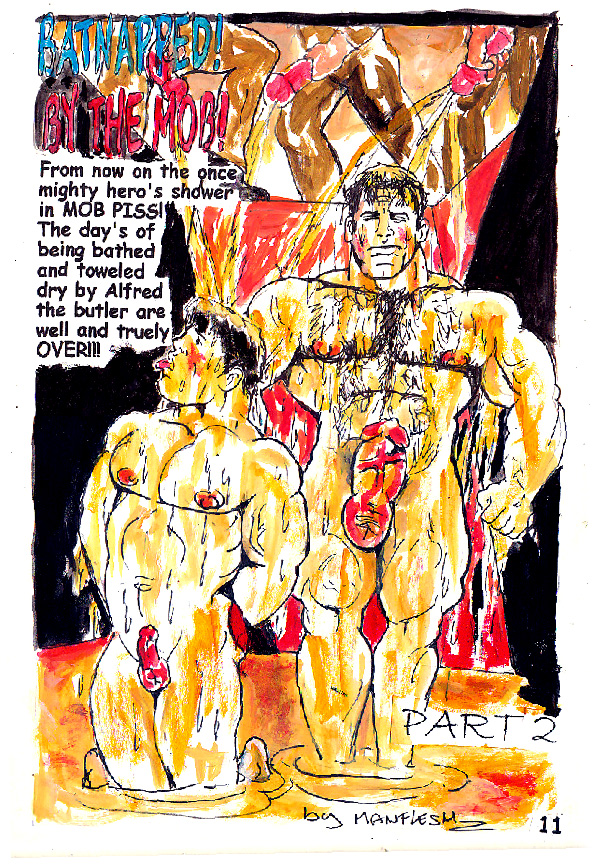 3 BATNAPPED BY THE MOB PART3. AS POLICE HQ IS AWARE OF THE LOW THE GREAT DUO HAVE FALLEN AND BEEN DEGRADED. THE POLICE TURN AND BLIND EYE TO THEM BEING PARADED IN THE STREET AS USED A FUCK WHORES BY THE MOB. MADE TO WEAR BAT HATS AND SHOCKED WITH A TAZER THEY ARE FORCED ONTO A PLATFORM WHERE A DOUBLE BAT SHAPED STOCKS IS WAITING FOR THEM. THEY ARE PLACED IN THE STOCK THEY HAVE NO ESCAPE FROM THE PUBLIC GANG BANG. CRIMINALS WHO WENT TO PRISON BECAUSE OF THE DYNAMIC DUO NOW FUCK THEM IN PUBLIC. THE BAT HATS ARE TAKEN AND SOLD FOR SOUVENIRS AS THEIR PUBLIC FUCKING BY CRIMINALS CONTINUE. HUNG FROM THE CEILING THE SORE HOLED DUO ARE BATHOLED WITH A HOG HAIRED DILDO. SEEING WHAT IS HAPPENING TO THE HAPLESS DUO IN THE CLUB THE POLICE DECIDE TO ACT. THE POLICE RAID THE CLUB AND TAKE BATMAN AND ROBIN AWAY BUT MAKE NO ARRESTS AND IGNORE THE DUO THANKS. BACK A POLICE HQ BAT MAN AND ROBIN ARE TOLD THEN TOOK THE LAW INTO THEIR OWN HANDS AND FALLEN INTO THE HANDS OF THE MOB. THE POLICE SAID THE DUO MADE THEM LOOK FOOLS SO THEY WILL BE MADE AN EXAMPLE OF WITH HARD LABOUR FOR LIFE. THE SHAMED DUO ARE MADE TO BEND OVER AND TAKE THE STRONG ARM OF THE LAW THEY ARE FISTED. THE NOW CONVICT DUO ARE TAKEN TO A PRISON FORTRESS DEEP IN THE LOUISIANA SWAMP LANDS. STEEL COCK CAGES ARE THEIR ONLY CLOTHING PLACING THEM AT THE BOTTOM OF THE PECKING ORDER. THE HAPLESS CONVICT DUO WONDER IF THEIR LIVES COULD GET ANY WORSE. MORE HOT SEXY MALE DOMINATION AND HUMILIATION AS BATMAN AND ROBIN ARE IMPRISONED AND USED AS SEX SLAVE MAN WHORES. €10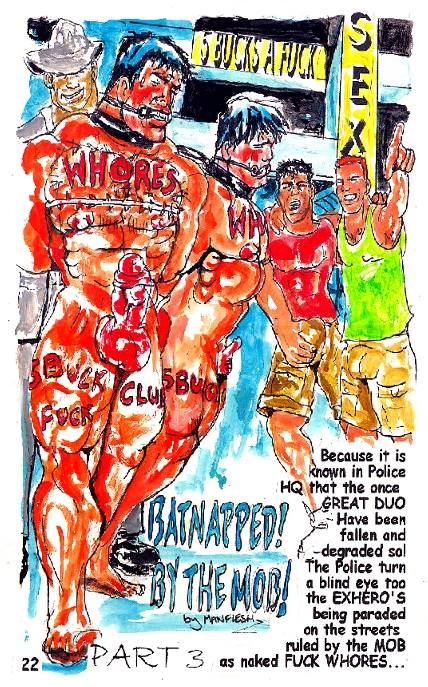 ​​​​​​​

4 BATNAPPED BY THE MOB PART4 PRISON. ONLY BATMAN AND ROBIN WERE ARRESTED IN THE RAID TO BE MADE AN EXAMPLE OF SENT TO PRISON. THEIR COCKS ARE SEALED IN CHASTITY IRON THEY ARE TO SERVE THE HARD INMATES. AS THE RUDE DUO ARE TAKEN INTO THE CAGE AREA. THE HORNY SEX CRAZED PRISON CONS THRUST OUT THEIR COCKS. YOU COULD FEEL THE SEX IN THE HOT AIR. ROBIN WAS THE FIRST TO BE GRABBED. BATMAN IS ALSO GRABBED AND THEY ARE BRUTALLY SODOMISED WHILE THE GUARD SMILES. THEY ARE BUM BOYS THE LOWEST IN THE PECKING ORDER. THE SORE BUMMED DUO ARE PASSED FROM CELL TO CELL AND REPEATEDLY FILLED WITH CON'S SEED. THEY ARE FUCKED BY THE WHOLE WING BEFORE BEING LED AWAY ON LEADS BY TWO GUARDS. THEY ARE TAKEN TO THE CAGED AREA THE HARD LABOUR CONS ARE KEPT IN LARGE PEN OPEN TO THE BAKING SUN ONLY COVERED WITH BARS. THE ONCE MIGHTY DUO ARE BOTTOM OF THE PECKING ORDER. SEX IS CONSTANT IN THE PEN EACH CON WANTING TO BE THE DOMINANT BULL AND MAKE OTHERS THEIR SISSY CUNTED BITCHES AS THE BUMMED DUO WERE FINDING OUT. BATMAN AND ROBIN ARE FORCED TO SUCK CON COCKS. THE STRONG ARM OF THE LAW NOW SERVER THE STRONG COCKS OF THE LAWLESS. IN THE DAY TIME THE TWO SORE EX HERO'S JOIN THE CHAIN GANG TO BE TURNED INTO NAKED BEASTS THROUGH HARD TOIL AND BRUTISH ANAL SERVITUDE. AS THEY DIG DITCHES UNDER THE SWELTERING SUN, NAKED, OWNED, OWNING NOTHING. SOBBING UNDER THE LASH IS THIS THE END OF THE ONE TIME DYNAMIC DUO. MORE HOT SEXY MALE DOMINATION AND HUMILIATION AS BATMAN AND ROBIN ARE ENSLAVED AND TURNED INTO NAKED BEASTS. €12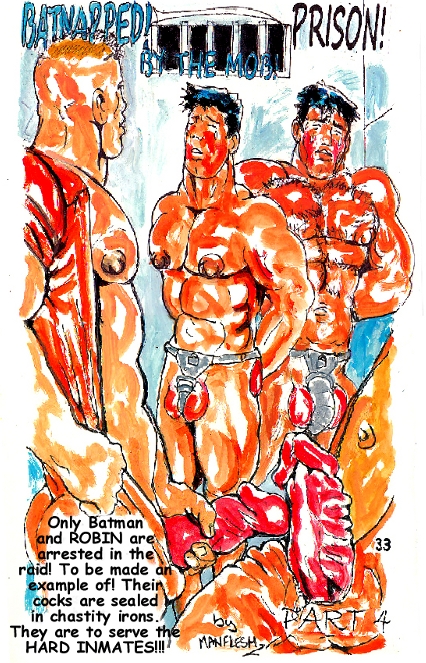 5 BATMAN AND ROBIN FUCK FIGHTS PART 1, ROBIN IS MISSING ABDUCTED. HOLY COW, THE BOY WONDER FIGHTING NAKED, ENSLAVED, FUCK FIGHTS. A SLAVE IN ARABIA, OWNED BY AND ARAB MASTER. CAN BATMAN RESCUE ROBIN OR WILL HE BE ENSLAVED AS WELL. ROBIN LIKED A BIT OF SIRFISTICATION. SUPPOSEDLY GOING TO EVENING CLASSES, BATMAN DID NOT KNOW WHAT KIND OF PLACES OR DIVES, BOY WONDER HAD BEEN GOING TO UNTIL. DRUGGED ROBIN WAS ABDUCTED. BRUCE, BATMAN DISCOVERED THE NEXT DAY THAT ROBIN'S BED HAD NOT BEEN SLEPT IN. A MONTH LATER BATMAN GOT A PHONE CALL, ROBIN WAS IN.
A MONTH PREVIOUSLY, A CARGO PLANE USED FOR LIVE STOCK WAS HEADING ACROSS THE ATLANTIC, HEADING EAST. HOLY CRAP, BOY WONDER NAKED, CHAINED, SITTING ON A CHAMBER POT IN THE CARGO PLANE. YOU ARE SLAVE NOW, OWNED BY AN ARAB MASTER, ITS FUCK FIGHTS FOR YOU, YOU CAN'T SPEAK BECAUSE A METAL PLATE HAD BEEN INSERTED IN YOUR MOUTH PRESSING DOWN ON YOUR TONGUE, ROBIN WAS TOLD BY AN ARAB SLAVER. ROBIN WAS CONVINCED THAT BATMAN WOULD RESCUE. "PISS WATER IS GOOD ENOUGH FOR YOU, NO WATER WILL BE WASTED ON YOU", THE ARAB SLAVER SAID AS HE MADE ROBIN DRINK HIS PISS. IT WAS THE CRIME BOSSES OF GOTHAM CITY THAT HAD TAKEN AND SOLD TO ARAB MASTERS. THEY WANTED BATMAN OUT OF THE WAY, ROBIN WAS THE TRAP, TO RID THEM OF THE MIGHTY DUO. OTHER LADS WERE PART OF THEIR FLESH TRANSACTION, FLESH FOR FUCK FIGHTS. THE PLANE LANDED UNDER A BLISTERING SUN, NAKED AND IN A CHAIN WITH OTHER YOUTHS, ROBIN WAS ANGRY AND IN FEAR, BUT MOSTLY IN FEAR.
THE TOWN OF ZAMISA, WAS A WARREN OF TWISTING STREETS OF MUD BRICK HOUSES. KNOWN FOR ITS STONE FIGHT FORTRESS STABLE ATTACHED TO AN ANCIENT ROMAN AMPITHEATRE. AS THEY WERE PARADED THROUGH THE STREETS NAKED AND ENSLAVED, THE NATIVE YOUTHS JEERED AND SPAT ON THEM. ROBIN SOBBED, WHERE WAS BATMAN. THE FUCK FIGHTER SLAVE AUCTION WAS HELD IN THE AMPITHEATRE A JOINING THE FIGHT STABLE. WHERE THE LORDS OF THE DESERT COULD BUY THE FUCK FIGHTERS. ROBIN AND THE OTHERS HAD TO JOG AROUND, ALL THEIR FLESH ON DISPLAY. ROBIN WAS SHOWN AND THE BIDDING BEGAN, ROBIN WAS SOLD FOR TWO HUNDRED THOUSAND DOLLARS.
THE NEXT DAY ROBIN WAS OILED ALONG WITH HIS ADVERSARY, WHO HAD BEEN A FUCK FIGHTER FOR TWO MONTHS, AND HAD WON MANY FIGHTS. ROBIN HAD NOT CHOICE BUT TO FIGHT, IF HE LOST HE WOULD BE TRULY FUCKED, FOR SURE. ROBIN WAS NAKED AND FIGHTING FOR HIS VIRGINITY, BUT FOUND IT HARD TO GET A PUNCH IN, WITHOUT THE SUPPORT OF BATMAN BESIDE HIM. ROBIN MANAGED TO LAND A PUNCH ON HIS OPPONENT, BUT HE DID NOT HAVE THE BARE KNUCKLE SKILLS. SUFFERING TWO BLACK EYES ROBIN WAS UNABLE TO BEAT HIS OPPONENT. THE CROWD SHOUTED FOR THE BLOND BRUISER TO FUCK THE FALLEN ROBIN THE CROWD WHOOPED AS THEY WATCHED ROBIN BEING FUCKED ALTHOUGH THEY DID NOT KNOW WHO HE WAS. ONLY THE LORDS OF THE DESERT KNEW THAT. LIKE ALL FUCK FIGHTERS ROBIN HAD A METAL BAR ACROSS HIS TONGUE SO HE COULD ONLY GRUNT IN PAIN LIKE A BEAST AND NOT MAKE WORDS. MORE SUPER HEROS ABDUCTED, ENSLAVED AND FORCED TO FIGHT. MALE ON MALE DOMINATION AND FIGHT ACTION. €15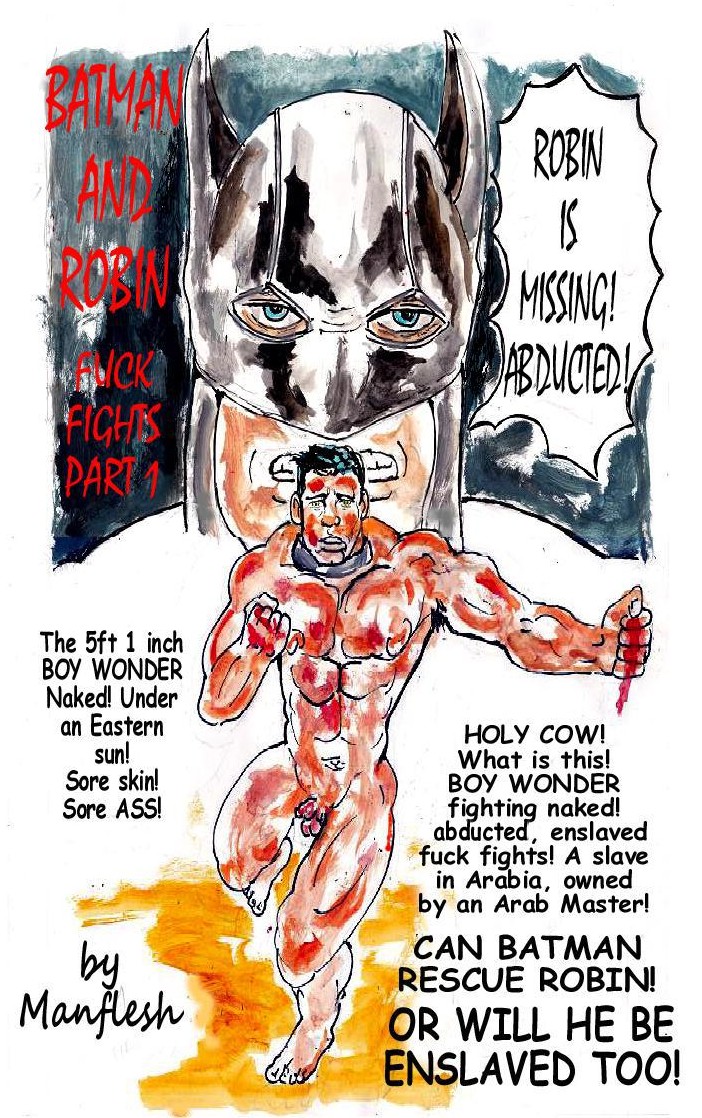 6 BATMAN AND ROBIN FUCK FIGHTS PART 2 BATMAN CUMMITH. IT WAS A MONTH AFTER ROBIN'S ABDUCTION. BATMAN HAD BEEN GIVEN AND ANONYMOUS LEAD, THAT ROBIN WAS IN ARABIA IN THE TOWN OF ZAMISA, SURROUNDED BY SAND. SO THINKING BEACH WEAR BATMAN DRESSED TO BLEND IN WITH THE NATIVES, A CAPE AND DRAWS. BATMAN REALISED HIS MISTAKE AS HE WALKED THROUGH THE TOWN AND EVERYONE LOOKED AT HIM. THE TOWN GUARDS QUICKLY SAW THROUGH BATMAN'S DISGUISE AND HE HAD TO RUN FOR IT. BATMAN THREW OFF HIS ROBE AS A BILLOWING CAPE WOULD HINDER HIS ESCAPE. BATMAN MANAGED TO HIDE FROM THE PURSUING GUARDS IN AN ALLEY WAY. BUT A GANG OF YOUTHS SPIED HIM THERE. BATMAN WAS GRABBED AND QUICKLY BOUND BY THE GANG OF NATIVE YOUTHS. THEY STRIPPED HIM OF HIS BOOTS AND DRAWS THAT THEY INTENDED TO SELL. THE YOUTHS ALERTED THE GUARDS. "HERE WE HAVE HIM", ONE SHOUTED. "YER WE CAUGHT HIM FOR YOU", ANOTHER SHOUTED. "HE WILL BE A SLAVE FOR THE FUCK FIGHTS, WE WILL ALLOW YOU TO WHIP HIM THROUGH THE STREETS", ONE OF THE GUARDS REPLIED. "MAKE SURE ITS ARSE IS RED AND SORE", HE ADDED HANDING THE YOUTHS HIS WHIP. THE NAKED WESTERNER WAS PARADED THROUGH THE STREETS WHIPPED BY THE YOUTHS. THE NATIVES LIKED TO SEE WESTERN SLAVES RUDELY DISPLAYED. THEY SPAT ON HIM TO SHOW THEIR SUPERIORITY. SUCH PUBLIC EXPOSURE AND RUDENESS HAD SUPERMAN'S COCK HARD AND LEAKING CUM.
BATMAN FINALLY ARRIVED AT THE SLAVE ENTRANCE TO THE FIGHT STABLES. HE WAS TAKEN TO THE FORGE. HE COULD ONLY WATCH AS A BRUTE OF AN IRON WORKER FORGED A STEEL BAR. WHAT COULD IT BE FOR. THE BAR OF STEEL WAS PUT IN SUPERMAN'S MOUTH, ACROSS HIS TONGUE. BATMAN WAS TIED TO AN X CROSS MADE OF BARED WIRE FOR A SOUND WHIPPING. THE SOUND WHIPPING BEGAN. AS BATMAN WAS WHIPPED HE SQUIRMED CAUSING THE BARBED WIRE TO CUT HIM. THE WHIP MASTER AND TOTAL CONTROL. HE QUICKLY TURNED THE ONCE MIGHTY BATMAN INTO A SOBBING CUM SPLATTERED BEAST. FEARING MORE WHIPPINGS ON THE BARBED WIRE X CROSS, BATMAN DID WHAT HE WAS TOLD. HE SUCKED ARAB COCK AND BALLS. ARAB PISS WOULD BE HIS DRINK FROM THEN ON. "DRINK MY PISS", A GUARD DEMANDED BRANDISHING HIS HUGE NAKED COCK. SUPERMAN WAS FORCED TO OBEY.
A MONTH PASSED. THE SLAVE ONCE KNOWN AS BATMAN HAD BEEN FILLED WITH STEROIDS, AND FORCED TO DO HARD LABOUR UNDER A BURNING SUN. HE HAD NOT SEEN ROBIN, WHO WAS OWNED BY ANOTHER DESERT LORD AT A NEARBY TOWN. BATMAN'S FIRST FIGHT WAS TOMORROW. BATMAN SAW HIS OPPONENT STRIDING TOWARDS HIM IN THE ARENA AS HE WAITED TO ENTER. HIS OWNER WAS WATCHING . HIS OPPONENTS OWNER WAS ALSO WATCHING WHO OWNED ROBIN AS WELL. ROBIN'S OWNER WANTED I OWN BATMAN TOO. BATMAN'S OWNER THOUGHT BATMAN WOULD WIN, AS HE ALWAYS DID FIGHTING CRIMINALS IN GOTHAM CITY. "I OWN ROBIN AND I WANT BATMAN TOO, SO THE WINNER OWNS BOTH SLAVES", ROBIN'S OWNER SAID MAKING A WAGER. "DONE, IF BATMAN WINS, I OWN YOUR SLAVE AND TEN BARS OF GOLD OR NO DEAL", BATMAN'S OWNER REPLIED. BATMAN;S SONIC HEARING ALLOWED HIM TO HEAR EVERY THING THE TWO OWNERS SAID. BATMAN REALISED IF HE WON HE MAY NEVER SEE ROBIN AGAIN. WILL BATMAN LOSE AND BE FUCKED SO HE CAN SEE ROBIN. BATMAN ABDUCTED, ENSLAVED AND FORCED TO FIGHT. MALE ON MALE DOMINATION AND FIGHT ACTION. €15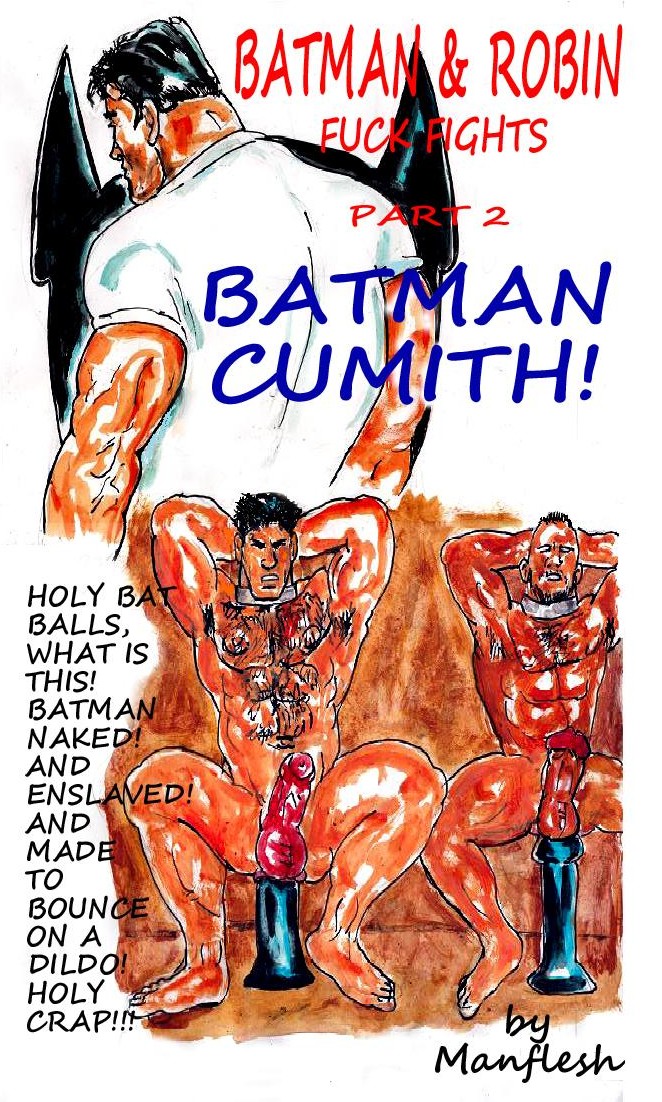 7 BATMAN AND ROBIN FUCK FIGHTS PART 3 ASS UP. BATMAN'S DILEMMA, WHAT COULD HE DO, DID IT MEAN TO SEE ROBIN AND PLAN A RESCUE THAT HE WOULD HAVE TO BE DEFLOWERED IN PUBLIC. BATMAN HAD TO LOSE AND GET FUCKED SO HE WOULD BE OWNED BY A NEW MASTER, THE ONE THAT OWNED ROBIN. FIRST BATMAN HAD TO SHOW HE WAS GOOD FIGHTER, SO THE FIGHT WOULD NOT BE STOPPED. BATMAN TOOK THE FIGHT TO HIS OPPONENT, THEN DROPPED HIS GUARD TO LET HIS OPPONENT GET A COUPLE OF HARD PUNCHES IN. HIS OPPONENT NEEDED TO LOOK LIKE A HARD FIGHTER WELL. IT WAS TIME TO SHOW HIS FIGHTING SKILL, ALL PART OF THE SHOW, TO GET WHERE ROBIN WAS. HE FLOORED HIS OPPONENT WITH A HIGH KICK. THEN BATMAN DELIBERATELY TOOK A HARD PUNCH TO THE JAW. HE FELL DAZED AND AWAITED THE FATE TO COME. THE MASTERS ARGUED OVER THE RESULT. "I DON'T LIKE THE WAY THIS HAS GONE", BATMAN'S MASTER SAID ANGRILY. "ITS OK, I WILL GIVE YOU TEN BARS OF GOLD AND MY WINNING SLAVE, BUT BATMAN IS MINE", ROBIN'S MASTER REPLIED. BATMAN FELT THE THRUST AND PAINFUL ENTRY, AS HIS OPPONENT THRUST HIS COCK DEEP, HIS ARSE WAS A CUNT NOW. BATMAN COULD ONLY REMAIN PASSIVE AND ENDURE THE PUBLIC LOSS OF HIS MANLINESS. BATMAN WAS FUCKED IN EVERY LEWD WAY IN FRONT OF THE CHEERING CROWD. BATMAN WAS MADE TO BOUNCE ON THE WINNERS COCK FOR ALL TO SEE. BUT HE HAD SUCCEEDED HE WAS NOW OWNED BY ROBIN'S MASTER.
BATMAN WAS CHAINED TO THE DESERT LORDS PALANQUIN, A SLAVE BEAST TO A NEW LORD. SWEAT DRIPPED OFF BATMAN'S NAKED FLESH, AS HE AND THE OTHER MUSCULAR SLAVES CARRIED THE HUGE BULK OF THEIR OWNER, MASTER, LORD. THE DESERT LORD TRAVELLED WITH JEEPS MANNED BY HIS GUARDS, TRUCKS FULL OF FOOD. ALSO A TENT ON A HUGE SLEDGE PULLED BY NAKED SLAVES. WHEN THEY STOPPED FOR THE NIGHT, BATMAN WAS MILKED, CREAM FOR THE DESERT LORDS COFFEE. BY THE EIGHTH MILKING, BATMANS COCK WAS RED RAW, SO THE GUARDS FUCKED HIM, TO GET OUT EVERY LAST DROP. THE NEXT DAY BATMAN SAW THE DESERT LORDS FORTRESS CITY AT LAST, WHERE ROBIN WAS. IT WAS OUT OF THE FRYING PAN AND INTO THE FIRE. BATMAN ENSLAVED AND FORCED TO FIGHT AND BE FUCKED WHEN HE LOST. MALE ON MALE DOMINATION AND FIGHT ACTION. €15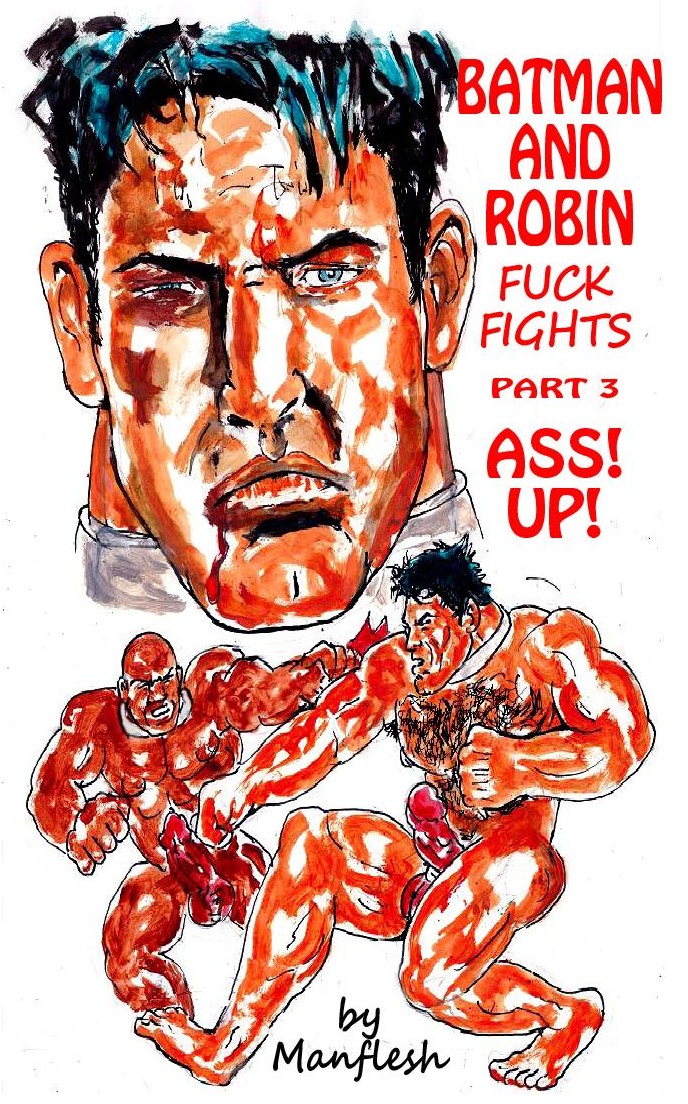 ​​​​​​​

8 BATMAN AND ROBIN FUCK FIGHTS PART 4 BROKEN. AS BATMAN ENTERED THE COURTYARD OF THE PALACE, ROBIN WAS THERE BEING MILKED. ROBIN'S ARSE RIM WAS SWOLLEN AND STRETCHED, BODY TANNED ALL OVER. HIS SMALL COCK WAS SPURTING OUT BALL JUICE CREAM FOR HIS MASTERS COFFEE. BATMAN'S COCK SPURTED AT THE RUDE, HOT SIGHT OF THE FUCKED ARSE OF HIS WARD ROBIN. BATMAN WAS MET BY HIS NEW MASTER THE DESERT LORD. ROBIN WAS PRONE TO FITS OF YOUTHFUL TEMPER, AND WAS QUICK TO JUDGE. HE WAS ANGRY WITH BATMAN FOR BEING NAKED, RUDE, ENSLAVED, AND UNABLE TO FREE HIM. THE MASTER WANTED TO SHOW ROBIN BATMAN'S LOWLY STATE. SHOW ROBIN THAT BATMAN WAS OWNED JUST LIKE HIM BY THE DESERT LORD. THE DESERT LORD ORDERED BATMAN TO SUCK HIS COCK IN FRONT OF ROBIN. BATMAN KNELT AND OBEYED, HE HAD NO CHOICE, OR ROBIN WOULD BE WHIPPED. BATMAN HAD TO SHOW ENTHUSIASM AND JOY AS HE SUCKED OFF THE MASTERS COCK. THE LARGE MEMBER HAD PEARLS INSERTED UNDER THE SKIN. HOW COULD BATMAN BE SO SHAMEFUL, ROBIN THOUGHT TO HIMSELF IN HORROR. BATMAN WAS SHOWN THE FUCK CHAIR THAT CONSISTED OF A WOODEN BASE WITH A LARGE HEAVY SPRING, WITH A HUGE DILDO ATTACHED TO IT. "YOU WILL SIT ON THE FUCK CHAIR, AND BOUNCE UP AND DOWN AS YOU WATCH ROBIN BEING FUCKED", THE DESERT LORD SAID LOUDLY. "IF YOU DO NOT THRUST HARD UP AND DOWN WITH JOY ON THE FUCK CHAIR, ROBIN WILL GET TWO HUNDRED LASHES", THE DESERT LORD WHISPERED TO VATMAN. HANDS TIED BEHIND HIS BACK, BATMAN SAT ON THE CHAIR. BATMAN BOUNCED UP AND DOWN ON THE FUCK CHAIR AS HE WATCHED ROBIN'S BUBBLE BUTT BEING ENTERED BY ONE OF THE GUARDS HARD, BROWN COCKS. AS THE GUARD THRUST INTO ROBIN'S ARSE, ROBIN MOANED AND PISSED HIMSELF. AS BATMAN BOUNCED UP AND DOWN AND WAS MADE TO CUM, HE COULD ONLY WATCH HELPLESSLY AS ROBIN WAS FUCKED HARD. BATMAN WAS REMOVED FROM THE FUCK CHAIR AND PUSHED TOWARDS ROBIN'S ARSE. BATMAN WAS ORDERED TO SUCK THE CUM OUT OF THE BOY WONDERS ROUND ARSE CHEEKS. HE HAD NO CHOICE BUT TO OBEY. "SUCK, SUCK", THE DESERT LORD ORDERED AND BATMAN RELUCTANTLY OBEYED.
THE DESERT LORD HAD ORGANISED A PRIVATE FUCK FIGHT. BEFORE IT STARTED BATMAN WAS MADE TO CRAWL AROUND DRINKING PISS FROM THE GUARDS COCKS. HE WAS FORCED TO COCK HIS LEG UP AND WEE LIKE A DOG. ROBIN WAS STRUNG UP SPREAD-EAGLE ON A WOODEN FRAME IN FRONT OF THE DESERT LORD, SO THE DESERT LORD COULD PAW HIS FLESH INSIDE AND OUT. BATMAN HAD TO FIGHT FOUR OPPONENTS, ALL SLAVES, WESTERNERS, IN THEIR LATE TWENTIES. ALL ENSLAVED FOR TEN YEARS, AND TURNED INTO THICKLY MUSCLED DUMB BRUTES. SOMETHING THE DESERT LORD INTENDED TO DO TO BATMAN. THE FOUR FIGHTERS ATTACKED BATMAN. BATMAN ATTACKED, ONE OF THEM TAKING HIM DOWN WITH A RUGBY TACKLE, THEN DOWNED A SECOND WITH A HIGH KICK TO THE BRUTES HEAD. BUT AS HE DEALT WITH THE FIRST TWO, THE SECOND TWO CLOSED IN. BATMAN COULD NOT COMPETE WITH FOUR BRUTES HITTING HIM FROM EVERY ANGLE. BATMAN COULD NOT STOP THE FOUR BRUTES GETTING THE UPPER HAND. HE WAS PUSHED AROUND LIKE A RAG DOLL. BATMAN BRUISED WAS WEAKENING. THEY KNOCKED HIM TO THE GROUND AND KICKED THE FIGHT OUT OF HIM. AS HIS ARSE WAS PAWED ROBIN COULD ONLY WATCH, BATMAN'S ARSE WAS NOW A CUNT. THE FOUR COCK FIGHTERS TOOK TURNS FILLING HIS ARSE WITH THEIR SEED. BATMAN AND ROBINS SUFFERING HAD ITENSIFIED AND WAS SURE TO GET WORSE. BATMAN AND ROBIN ENSLAVED AND FORCED TO FIGHT AND BE FUCKED WHEN THEY LOST. HIT MANFLESH MALE ON MALE DOMINATION AND FIGHT ACTION. €15