PIT BULL ILLUSTRATED COLOUR
FEMALE V FEMALE WRESTLING STORIES


 
1 THE NEWBIE'S TALE PART 1. PAULA WAS A YOUNG BLONDE FEMALE RECEPTIONIST, AT A TOP LONDON HOTEL, THE WESSEX HOTEL, IT WAS IN THE SEVENTIES. SHE HAD JUST STARTED HER SHIFT ON RECEPTION, WHEN A MOTOR BIKE COURIER ARRIVED TO DELIVER A PACKAGE FOR MR WESSEX THE HOTEL OWNER. PAULA THOUGHT HE LOOKED DIRTY AND A LITTLE SCRUFFY BUT QUITE CUTE. IT WAS A LONG DAY AS USUAL AND PAULA COULDN'T HELP THINKING ABOUT THE HUNKY BIKER. JUST AS HER SHIFT WAS ABOUT TO END, SHE WAS ASKED TO GO AND SEE THE BOSS, MR WESSEX, IN HIS OFFICE. AFTER ENQUIRING ABOUT HOW SHE LIKED THE JOB AND HOW SHE WAS DOING, MR WESSEX TOLD PAUL HE HAD AN OFFER TO MAKE TO HER. HE TOLD PAULA HE RAN A VERY EXCLUSIVE CLUB FOR RICH MALE CLIENTS HERE AT THE HOTEL AND NEEDED HER HELP, IF SHE WAS INTERESTED. HE TOLD HER HE RAN A FEMALE WRESTLING CLUB, FOR HIS RICH MALE CLIENTS TO WATCH. THERE WAS A CLUB MEETING THAT EVENING AND ONE OF HIS GIRLS COULD NOT MAKE, IT HE WONDERED IF SHE WOULD LIKE TO STEP IN, IN HER PLACE. MR WESSEX SHOWED PAULA A VIDEO OF A PREVIOUS CLUB SESSION OF YOUNG WOMEN WRESTLING AND TOLD PAULA, SHE WOULD BE PAID FOR HER SERVICES. PAULA THOUGHT THEY LOOKED LIKE THE FIGHTS SHE HAD AT SCHOOL, BUT WITH OUT THE SCRATCHING AND HAIR PULLING. PAULA DECIDED TO GIVE IT A GO, BUT TOLD MR WESSEX SHE DID NOT HAVE BIKINI AND WOULD NOT WRESTLE NUDE.MR WESSEX SAID, SHE WOULD BE ABLE TO BORROW A BIKINI AND WAS PLEASED SHE ACCEPTED. HE GAVE HER FIVE POUNDS, TO GET SOMETHING TO EAT AND TOLD HER TO RETURN, AT SIX THIRTY AND COME TO THE FUNCTION ROOM.
PAULA DECIDED WHEN SHE WAS OUT TO BUY A NEW RED PIECE SWIM SUIT INSTEAD OF BORROWING ONE, IT COST HER A LOT MORE THAN THE FIVE POUNDS MR WESSEX HAD GIVEN HER, BUT IT TURNED OUT TO BE A GOOD INVESTMENT, IN THE END. PAULA WENT TO THE FUNCTION ROOM AT SIX THIRTY AND PEERED IN, THERE WERE LARGE BLUE MATS ON THE FLOOR WITH A ROW OF CHAIRS DOWN ONE SIDE AND CAMERA ON THE OTHER. SHE ENTERED NOT HAPPY ABOUT THE CAMERA, BUT NOT WANTING TO BACK OUT NOW AFTER EXPENSE, AND WAS FOLLOWED IN BY MR WESSEX WITH AN ATTRACTIVE BRUNETTE. MR WESSEX INTRODUCED PAUL TO LINDA THE BRUNETTE AND TOLD PAULA, LINDA WOULD LOOK AFTER HER. LINDA TOOK HER TO MEET THE OTHER GIRLS THE OTHER WRESTLERS AND GET CHANGED. LINDA LEFT TO FIND OUT WHO WOULD BE FIGHTING WHO. SHE RETURNED SHORTLY WITH A LIST. PAUL THE BLONDE NEW COMER, WOULD TAKE ON KAT ANOTHER BRUNETTE, A REGULAR WITH LOTS OF EXPERIENCE. LINDA TOOK THE TWO GIRLS IN ROBES TO THE FUNCTION ROOM, TO MEET THE RICH MALE MEMBERS, OF MR WESSEX'S WRESTLING CLUB. PAULA STRIPPED DOWN TO HER NEW, ONE PIECE, RED, SWIM SUIT. KAT STRIPPED DOWN TO HER PINK BIKINI. LINDA INTRODUCED THE WRESTLERS. FIRST FROM BRISTOL, STANDING FIVE FOOT FIVE INCHES AND WEIGHING ONE HUNDRED AND TWENTY EIGHT POUNDS KAT, KAT STEPPED ONTO THE MATS IN HER PINK BIKINI. HER OPPONENT MAKING HER DEBUT FOR US TONIGHT, FROM JUST DOWN THE ROAD IN CHISWICK, STANDING FIVE FOOT SIX INCHES AND WEIGHING ONE HUNDRED AND FORTY POUNDS PLEASE WELCOME PAULA. BOTH WRESTLERS WERE APPLAUDED. PAULA HAD A TOUGH FIGHT WITH KAT AND AS SHE WAS A NOVICE SHE LOST BY TWO SUBMISSIONS, TO NIL, BUT WAS CONGRATULATED, ON HER GOOD PERFORMANCE.
PAULA WAS NOT HAPPY ABOUT LOSING, PARTICULARLY, AS IT HAD BEEN ON CAMERA. BUT KAT PERSUADED PAULA TO STAY WITH HER, TO WATCH THE OTHER WRESTLING MATCHES, TO GET SOME IDEAS, TO USE, AND TO SEE HOW THE OTHERS WRESTLED. PAULA AGREED, NOT FULLY HAPPY, BUT AS IT TURNED OUT SHE ENJOYED WATCHING THE OTHERS WRESTLE. FIRST WAS A RED HEAD, JULIE IN A GREEN AND BLUE STRIPPED BIKINI, AGAINST A BLONDE DEBBIE, IN A VERY SKIMPY BLUE BIKINI. IT WAS A VERY CLOSE TOUGH MATCH, WITH BOTH WRESTLERS GETTING ONE SUBMISSION EACH, BEFORE THE TIME RUN OUT AND THE MATCH WAS DECLARED A DRAW. THE NEXT MATCH WAS BETWEEN A BRUNETTE SUE, IN A METALLIC GOLD BIKINI, AGAINST KAREN, ANOTHER BRUNETTE, IN A SKIMPY PURPLE BIKINI. KAREN MANAGED TO GET THE FIRST FALL, BY PINNING SUE DOWN, FOR A FIVE COUNT. THE KAREN CAME BACK TRAPPING SUE IN A FULL NELSON AND FORCING SUE DOWN TO THE MATS. KAREN WHILE ON TOP MADE SUE'S BACK SUFFER ENOUGH TO SUBMIT. WHILE KAREN CELEBRATED HER EQUALISING SUBMISSION, SUE HAD TO RETIRE, BECAUSE HER BACK HURT TOO MUCH, MAKING KAREN THE WINNER.
NEXT WAS GINA WHO PAULA HAD THOUGHT SARCASTIC, WHILE THEY CHANGED. GINA HAD BLACK HAIR, AND WAS IN A WHITE BIKINI. HER OPPONENT A BLACK WOMAN, DONNA WAS IN A SHINY BLACK BIKINI. PAULA WANTED THE SARCASTIC GINA TO LOSE AND THOUGHT DONNA LOOKED THE MORE CAPABLE. THEY WRESLTED HARD AND GINA WON, BY TWO STRAIGHT, PAINFUL SUBMISSIONS. THAT WAS THE LAST MATCH OF THE EVENING AND MR WESSEX AND HIS GUEST DECIDED WHO THEY WANTED TO WRESTLE IN A FINAL MATCH, WHILE PAULA WAITED THINKING EVERY THING WAS OVER, FOR HER. TO PAULA'S SURPRISE, SHE WAS CHOSEN TO WRESTLE, THE WOMAN WHO HAD JUST LOST DONNA. THE MEN WANTED TO SEE THE NOVICE WRESTLING AGAIN. PAUL WAS DETERMINED TO TRY AND WIN THIS TIME. ALTHOUGH SHE WRESTLED BRAVELY AND HARD, SHE STILL LOST BY A PIN AND SUBMISSION. PAULA WAS NOT HAPPY AT LOSING AGAIN AND WHILE SHE CHANGED, SHE WAS NOT SURE WRESTLING WAS FOR HER. THEN AS SHE WAS LEAVING, SHE WAS TOLD MR WESSEX WANTED TO SEE HER AGAIN. ON HER WAY TO SEE MR WESSEX, SHE BUMPED INTO THE CAMERA MAN AND WITH A SHOCK, REALISED IT WAS THE BIKER, SHE HAD FANCIED, FROM THE MORNING. HE MADE HER OG RED AGAIN, LIKE SHE HAD IN THE MORNING. MR WESSEX THANKED PAULA FOR TAKING PART AND HANDED HER BROWN ENVELOPE, AND ASKED HER TO KEEP QUIET, ABOUT THE WRESTLING. IN THE ENVELOPE WAS FIFTY POUNDS AND THAT REMOVED PAULA'S DOUBT, ABOUT TAKING PART AGAIN, IT WAS MORE THAN TWO WEEKS WAGES, FOR SOME ROLLING AROUND ON MATS. THE CAMERA MAN, WAS IN RECEPTION WHEN PAUL GOT THERE, TO LEAVE AND OFFERED HER A RIDE HOME ON HIS MOTOR BIKE. PAULA HESITATED THEN ACCEPTED, IT WOULD BE A GOOD END TO GREAT AND PROFITABLE DAY. GREAT FEMALE V FEMALE WRESTLING ACTION, WITH TWENTY SIX FULL COLOUR ILLUSTRATIONS, BY PITBULL. €8.00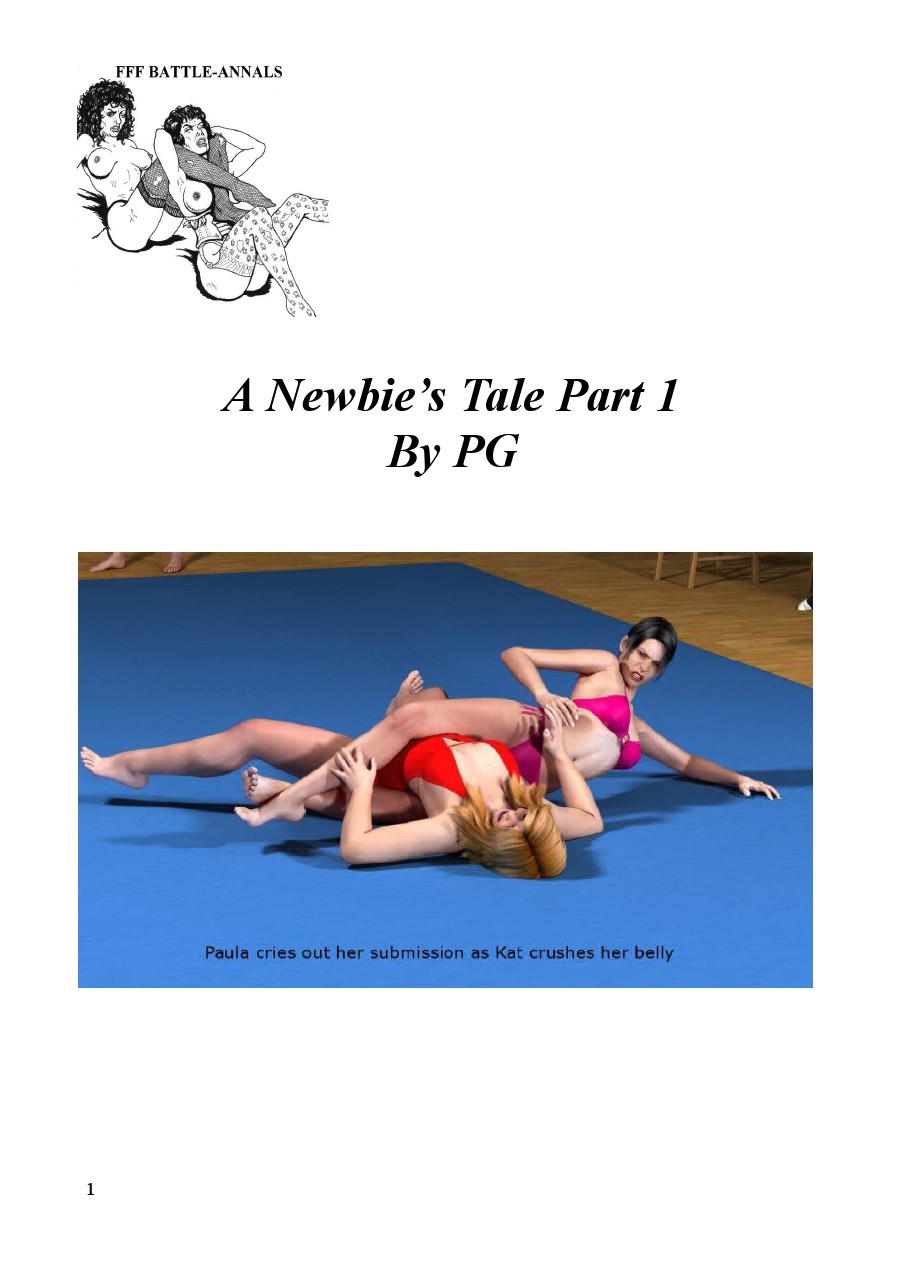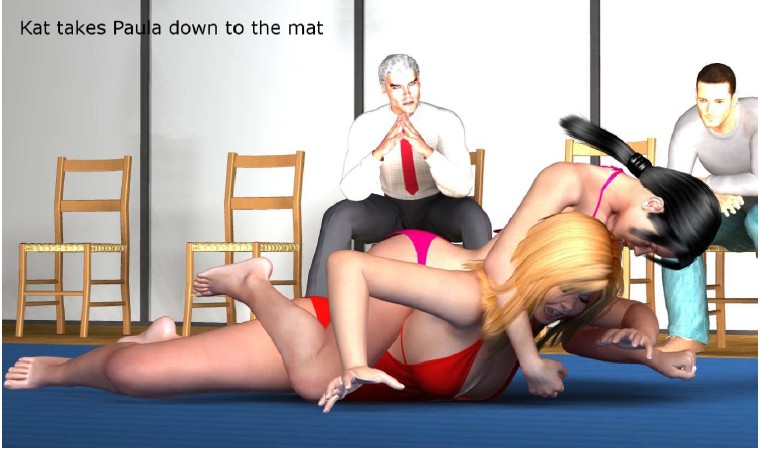 Image from the Newbie's Tale part 1