MANFLESH GUEST ARTIST AND AUTHORS PAGE

 
The url is man-flesh1.blogspot.com
http://www.man-flesh1.blogspot.com
MANFLESH SUPERMAN DOMINATION STORIES ARTWORK AND COMIC BOOKS
 
SUPERMAN DOMINATION COMIC BOOKS LIST

 
1 HOLIDAY IN HELL PART 1. SUPERMAN DECIDED TO TAKE A BREAK IN NAMIBIA. ON DESERTED BEACH HE STRIPS OF AND GOES FOR SWIM AND FIND HE HAS LOST ALL HIS POWERS. SUPERMAN WANDERS IN SEARCH OF HELP. HE EVENTUALLY FIND A FORTRESS AND LOOKS FOR HELP THERE BUT IS TAKEN PRISONER AND ENSLAVED INSTEAD. STRIPPED AND ABUSED A COCK REDUCE IS FIXED TO HIS PENIS AND HIS BALLS ARE MUTILATED. SUPERMAN IS SET TO WORK ON A MAIZE GRINDER MADE TO PUSH IT ROUND AND ROUND LIKE A BEAST. AS THE WEEKS PASS CONSTANT WHIPPINGS MAKE HIS COCK SMALLER AND HIS BALLS BIGGER AND FULLER. SUPERMAN IS RAPED BY THE GUARDS WHILE STILL HAVING TO PUSH THE MAIZE GRINDER. HE IS REMOVED FORM THE MAIZE GRINDER AND SUBJECTED TO MUCH MORE SEXUAL AND PHYSICAL ABUSE. SUPERMAN IS GIVE THE BIGGEST GUARD AND HUGE NUBIAN WHO REPEATEDLY RAPES HIM WITH HIS HUGE BLACK COCK. AFTER A FEW MONTHS SUPERMAN IS SOLD TO A WAR LORD AND AS HE IS DRAGGED THROUGH HE DESERT HIS POWERS RETURN AND HE ESCAPES. BACK HOME AS CLARK KENT HE LONGS FOR BIG BLACK MEAT WATCHING GAY PORN MOVIE OF BLACK ON WHITE GANG BANS WHITE SUING A LARGE DILDO ON HIMSELF. STILL AS CLARK KENT DRESSED IN ONLY BIN LINER HE ENTERS A BLACK ONLY GYM AND FLAUNTS HIMSELF IN FRONT OF THE BLACK GUYS THERE. NUMEROUS PAGES OF GRAPHIC MALE SEXY EROTIC DOMINATION COLOUR ARTWORK BY MANFLESH. €15.00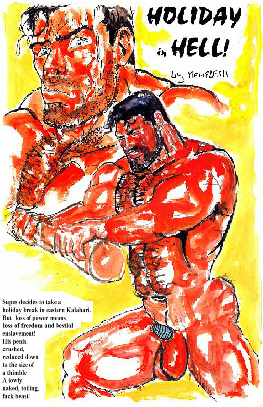 2 SUPER NAPPED SUPER WHORED. SUPERMAN IS DUPED INTO TRYING TO RESCUE A HUNK ATTACKED BY OTHER HUNKS SUPERMAN IS SPRAYED WITH A GREEN LIQUID THAT MAKE HIM WEAK AND IS CAPTURED BY THREE HOODS. SUPERMAN IS STRIPPED AND TAKEN TO A DUNGEON. A STEEL PIN WITH KRYPTONITE KNOBS IS RIVET INTO HIS BODY REDUCING HIS SUPER POWERS TO HUMAN STRENGTH. WITHOUT HIS SUPER STRENGTH SUPERMAN IS EASILY CONTROLLED BY TWO HOODS WHO SILENCE HIS WITH A BALL GAG. SECURED TO THE WALL IN HIS DUNGEON IS TOLD WHAT HIS FATE WILL BE. HE WILL TRAIN FOR FOUR HOURS A DAY ON THE WEIGHT PRESS MACHINE THEN BE SPANKED FOR TWO HOURS A DAY. HE WILL BE FUCKED AND SPONGE SHOVED UP HIS ARSE AND THEN INTO HIS MOUTH TO SUCK OUT THE CUM. WHEN NOT BEING FUCKED SUPERMAN WILL HAVE A STEEL HOOK DILDO SHOVED UP HIS ARSE. TO EXACT EVEN MORE CONTROL SUPERMAN IS GIVEN A LARGE DOSE OF ERECTION ENHANCED DRUG THAT MAKE HIS BIG AND HARD AS IF HE WAS LOOKING FORWARD TO HIS FIRST TWO HOURS OF SPANKING. SUPERMAN IS SPANKED MERCILESSLY WITH LARGE THICK LEATHER STROPS.
SUPERMAN IS THEN RELENTLESSLY FUCKED BY THE HOODS AND HIS ARSE FILLED WITH SEVERAL HOODS SPUNK AND MADE TO SHAMEFULLY COME HIMSELF. A LARGE SPONGE ON THE END OF A STICK IS RAMMED UP SUPERMAN'S ARSE AND THE PUSHED INTO HIS MOUTH AND FORCED TO SUCK THEIR CUM FROM IT. THE STEEL HOOK DILDO IS THRUST UP HIS ARSE AND SECURED TO THE BACK OF HIS BALL GAG WITH A LEATHER STRAP SO THE SLIGHTEST BODY MOVEMENT CAN BE FELT ON THE STEEL HOOK UP HIS ARSE. SUPERMAN IS FED DOG FOOD LACED WITH STEROIDS AND LEFT IN HIS DUNGEON. SUPERMAN HAS NIGHTMARES OF EXCITING AND HUMILIATING THINGS TO COME. TRAINED HARD SUPERMAN IS PUMPED FULL OF MUSCLE BUILDING STEROIDS THEN FUCKED AND PUMPED FULL OF MALE PROTEIN. THE RELENTLESS FUCKING BREAKS SUPERMAN TURNING HIM INTO THEIR SEXUAL WILING PLAY THING EVEN MADE TO FUCK THEIR COCK WITH HIS ARSE. HIGH ON POPPERS AND LASHED SUPERMAN IS MADE TO SUCK HIS OWN COCK AND LASHED UNTIL HE MAKES HIMSELF CUM.
NOW READY TO THE WHORE TO AND INTRODUCED TO HIS FIRST MASS FUCKING. SUPERMAN IS GROPED BY THE SEX HUNGRY HUNKS AND HIS BODY AND HEAD TOTALLY SHAVED LEAVING ONLY HIS KISS CURL. SUPERMAN IS FORCED TO SUCK THIRTY RAMPANT HUNKS COCKS AND SWALLOW THEIR SPUNK. SUPERMAN IS THEN HUNG IN A HARNESS AND FUCKED BY THEM ALL. WHEN THEY ARE FINISHED SUPERMAN IS FORCED TO MAKE HIMSELF CUM INF ROT OF THEM FOR THEIR ENTERTAINMENT. SUPERMAN'S FINAL HUMILIATION COME WHEN HE IS FORCED TO DRINK THE HUNKS PISS. THE ONCE MIGHTY SUPERMAN HAD BEEN TURNED INTO A HOMO WHORE. THIRTY PAGES OF GRAPHIC MALE SEXUAL COLOUR ACTION ANOTHER GREAT COLLECTION OF MANFLESH ARTWORK. €15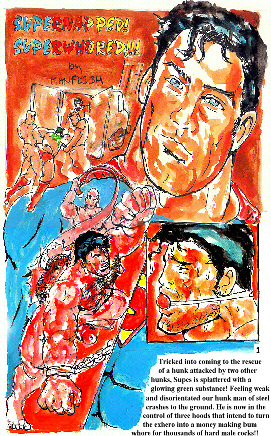 3 SUPERMAN IN CONNQUERED. SUPER VISITS A PRISON TO TALK TO PRISONERS HE HAS HELPED LOCK UP TO SEE THEM BEING REFORMED. WHILE TOURING THE PRISON A HOOD WORKING FOR THE PHANTOM DISGUISED AS A GUARD LURES SUPERMAN INTO A STRIP ISOLATION CELL. WAITING IN THE CELL FOR SUPERMAN IS THE PHANTOM SOME GREEN KRYPTONITE AND SUPER MAN IS OVERCOME. SUPERMAN TOOK WEAK TO RESIST IS STRIPPED AND HAS HIS NOSE BROKEN. A STEEL PLATE IS FIXED OVER HIS NOSE WITH KRYPTONITE SCREWS THAT KEEP SUPERMAN POWERLESS. SUPERMAN'S HEAD IS SHAVED AND THE PRISON COMPUTER RECORD ALTERED TO SHOW THE PRISONER IN THE CELL HAD BEEN SENTENCED TO HARD NAKED LABOUR. THE PHANTOM TAKES SUPERMAN'S CLOTHES AND HAIR TO THE PRISON INCINERATOR. THE NEXT MORNING SUPER MAN THE NEW CON IS COLLECTED BY PRISON VAN AND TAKEN ON A VERY LONG AND HOT JOURNEY TO A PRISON IN ARIZONA.
WITH NO TOILET FACILITIES SUPERMAN SOIL HIMSELF AND IS HOSED DOWN BY THE PRISON GUARDS. THE GUARD FIT A RING AROUND SUPERMAN'S COCK AND BEHIND HIS BALLS. HIS COCK HEAD IS PIERCED AND RING PLACED IN IT. A ROPE IS ATTACHED TO THE RING AND SUPERMAN IS TOPED TOGETHER WITH OTHER PRISONERS AND TAKEN TO THE QUARRY. HE IS FORCED TO PERFORM HARD LABOUR WHILE BEING WHIPPED BY THE GUARDS. A RANDY GUARD NOTICED SUPERMAN'S BUTCH HAIRY ARSE AND FUCKS HIM RELENTLESSLY MAKING SUPERMAN SUCK HIS COCK. SUPERMAN IS THEN PUT BACK TO WORK WITH CUM STILL DRIPPING FORM HIS ARSE. AFTER THE LONG EXHAUSTING DAY AT THE QUARRY SUPER MAN IS FORCED TO TROT HOME WITH THE OTHER NAKED PRISONERS. THE PRISONERS ARE MADE TO EAT FROM A TROUGH FILED WITH RIPE FRUIT AND OFFAL AND THE GUARDS PISS THAT IS MIXED INTO A PASTE. SUPERMAN IS CAGED WITH OTHER SEX HUNGRY PRISONERS WHO RAPE HIM REPEATEDLY WHILE THE GUARDS WATCH AND ENJOY THE SHOW.
THE NEXT MORNING SUPERMAN WAKES UP IN HIS BED AND WONDERED IF IT WAS ALL A BAD DREAM. THE HE SEES THE RING THROUGH HIS COCK HEAD AND THE PLATE ON HIS NOSE HELD WITH GREEN KRYPTONITE SCREW LEAVING HIM POWERLESS. THEN THE VOICE OF THE PHANTOM TELLS SUPERMAN THAT HE IS GOING TO MAKE SUPERMAN THE MOST HOMO HUNK IN THE GALAXY. SUPERMAN REALISES IT WAS NO DREAM AS HE HEARS THE PHANTOMS CRUEL LAUGHTER. TWENTY ONE PAGES OF GRAPHIC COLOUR MANFLESH MALE PHYSICAL AND SEXUAL HUMILIATION. €12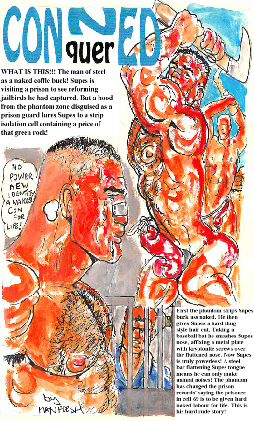 4 SUPERMAN IN SUPERPERV PART 1. THE MAN OF STEEL HAS FANTASIES ABOUT BEING DOMINATED BY OTHER MEN. SUPERMAN FINDS AND ARTICLE IN A BONDAGE MAGAZINE AN ISLAND WHERE MUSCULAR MEN CAN BE PERVERSELY DOMINATED. SUPERMAN DISGUISES HIMSELF WITH A NERDY HAIR CUT AND PAYS THE $50.000 FEE FOR THE TRIP AND PUTS ON KRYPTON EAR STUDS TO RECEIVE THE FULL THRILL A MORTAL WOULD GET. SUPERMAN ARRIVES AT A SECLUDED DESERT AIRFIELD. THE GUARDS ORDER SUPERMAN TO STRIP ALONG WITH THE OTHER MALES BOOKED ON THE TRIP. THEY ARE THEN BOUND WITH ROPES AND LED ONTO THE WAITING AIRCRAFT. ON BOARD THE AIRCRAFT THE NOW COMPLETE SLAVES ARE FITTED WITH MOUTH STRETCHERS AND NOTICE THAT THEIR SEAT ARE LARGE STEEL DILDOS. SUPERMAN AND EVERY OTHER SLAVE IS FORCED DOWN ONTO A DILDO BY THE GUARDS. IMPALED PAINFULLY ON THE DILDOS SUPERMAN AND THE OTHER SLAVE ARE FORCED TO SUCK THE GUARDS COCKS.
THE SLAVES ARE THEN SUBJECTED TO A NETTLE WHIPPING TILL THE CUM. SUPERMAN AND THE SLAVES ARE THEN FORCE FED A MIXTURE OF VIAGRA AND A MIND DRUG. ALL THE SLAVES BODY HAIR IS REMOVED LEAVING ONLY HAIR ON THE TOP OF THEIR HEADS AND THEY HAVE NIPPLE CLAMPS ATTACHED TO ENSURE THEE HAVE LARGER NIPPLES. SUPERMAN AND THE SLAVES ARE HERDER OFF THE AIRCRAFT TO START THEIR NEW LIFE OF SLAVERY ON THE ISLAND. TWELVE PAGES OF GRAPHIC COLOUR MANFLESH MALE PHYSICAL AND SEXUAL HUMILIATION. €10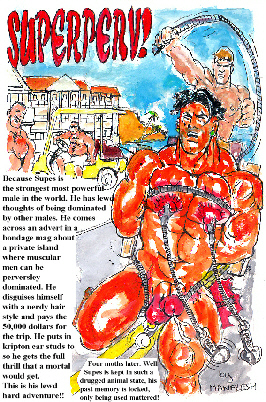 5 SUPERMAN IN SUPERPERV PART 2 MUSCLE SLAVE ISLAND. SUPES IS OGLED BY HORNY RICH HORNY MEMBERS ON THE ISLAND. SUPES'S MANACLES ARE REMOVED AS BEING NAKED AND WITH A TRACKING CHIP IN HIS ARSE AND GUARDS AROUND HE HAD NOW WHERE TO GO. SUPES IS IMMEDIATELY FUCKED IN FRONT OF THE HORNY MEMBERS. SUPES IS SEPARATED FROM THE OTHER NEW SLAVES AND TAKEN TO MALL WHERE YOUTHS ARE ALLOWED TO ABUSE HIM. SUPES ALONG WITH THE OTHER MAN BEASTS IS KEPT IN PENS AND FED AND HOUSED LIKE LIVE STOCK. SUPES IS TAKEN TO A TEXAN BILLIONAIRES PENT HOSE WHERE HE IS BOUND AND HIS COCK IS ABUSED. THE TEXAN BILLIONAIRES ORDERS HIS ASSISTANT PULLMAN TO BEND SUPES OVER AND RIDE HIM LIKE A MULE WHILE HE WATCHES. SUPES HAS TO SUCK THE TEXAN BILLIONAIRES COCK WHILE PULLMAN CONTINUES TO RAPE HIS ARSE.
THE GUARDS TAKE SUPES AWAY TO THEIR CAMP TELLING HIM HE HAS TO SERVE THEIR WHOLE PRIVATE ARMY. SUPES IS PULLED NAKED BY HIS TIT REINS FOR THE LONG EIGHT MILE JOURNEY. SUPES IS BOUND TO A LARGE TRUCK TYRE FOR HIS ARMY GANG BANG. THE GUARDS OF THE PRIVATE ARMY LINE UP TO FUCK SUPES IN TURN. WHEN THE GUARDS HAVE FINISHED FUCKING SUPES HE IS MADE TO SIT OF SHELL AND LICK THEIR COCKS. FINALLY SUPES IS CHAINED UPSIDE DOWN BY A GUARD READY FOR A NETTLE WHIPPING BEFORE ANOTHER SEEDING SESSION. ELEVEN PAGES OF GRAPHIC COLOUR MANFLESH MALE PHYSICAL AND SEXUAL HUMILIATION. €10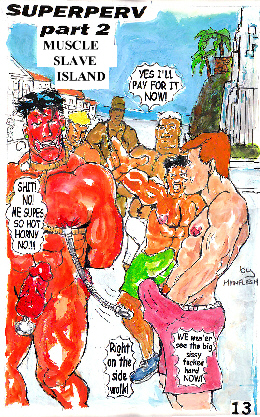 6 SUPERMAN AND THE BEAR MEN PART 1. SUPERMAN HAD TURNED DOWN THE BEAR MEN WHEN THEY ASKED HIM TO JOIN THEM. SO THEY DECIDE TO GET THEIR REVENGE BY CAPTURING AND ENSLAVING HIM. SUPERMAN IS DOWNED WITH A KRYPTON DART BY THE APPALACHIAN RIVER. TAKEN AWAY IN A VAN AND DUMPED IN JUST HIS SOILED UNDERWEAR AHEAD OF THE FOUR DAY MARCH TO THE BEAR MEN'S SEX CAMP IN THE APPALACHIAN MOUNTAINS. THE BEAR MEAN STRIP THEN STRIP SUPERMAN AND ATTACH A CANISTER CONTAINING MALE AND FEMALE STEROIDS TO INCREASE HIS BULK GROW MORE BODY HAIR AND ENLARGE HIS BUM AND ITS. AT THE FIRST DAY CAMP SUPERMAN IS PINNED KNEELING WITH HIS LEGS WIDE. SUPERMAN IS FORCE FED DOG FOOD AND ROTTEN APPLES TO INCREASE HIS BULK. SUPERMAN IS THEN REPEATEDLY FUCKED BY THE BEAR MEN. A DEFOLIANT GEL IS USED TO REMOVE SUPERMAN'S THICK BLACK HAIR LEAVING ONLY THE KISS CURL. SUPERMAN IS GIVEN A HARD BIRCHING AND WARNED IF HE DOES NOT OBEY HE WILL BE BEATEN FOR HOURS. FINALLY AFTER FOUR DAY SUPERMAN REACHED THE BEAR MEN'S' CAMP AND IS IMMEDIATELY PAWED AND MAULED BY ALL THE BEAR MEAN.
AFTER A WEEK OF FORCE FEEDING SUPERMAN WAS THE STAR OF THE DOUGHNUT JAMBOREE. HIS ARE WAS THE DOUGHNUT FOR THE BEAR MEN'S JAM THEIR SPUNK. SUPERMAN IS FUCKED BY ALL THE BEAR MEN AND BEAR CUBS ALL ONE HUNDRED AND THIRTY OF THEM FOR DAYS AD DAYS DISPLAYING THEIR SPUNKING PROWESS. FOR SUPERMAN THE NIGHT MARE HAD ONLY JUST BEGUN. ELEVEN PAGES OF GRAPHIC COLOUR MANFLESH MALE PHYSICAL AND SEXUAL HUMILIATION. €10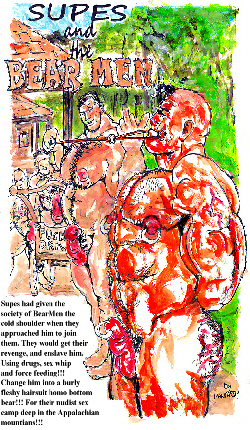 7 SUPERMAN SORELY BROKEN. SUPERMAN TRAVELLED TO A DESERT PLANET TO STOP ITS MILITARY RULER SUPERMAN IS OVERCOME BY ITS GRAVITY THAT ROBS HIM OF HIS SUPER POWERS. SUPERMAN IS TAKEN PRISONER AND INTERROGATED WITH NIPPLE PLAY THEN FOUND GUILTY AT A SHOW TRIAL. HE IS GIVEN TO THE WAR LORD FOR PRISONER CORRECTION USING NIPPLE CUNTIS MANIPULATION TO BE BROKEN AS PONY BEAST. SUPERMAN IS HANDER OVER TO A CADET FOR HIS PRISONER CORRECTION. THE CADET TAKES SUPERMAN INTO THE BACK OF A MILITARY TRANSPORT TRUCK AND MAKES SUPERMAN SIT ON A LARGE STEEL DILDO WHILE ABUSING SUPERMAN'S COCK BALLS AND ARSE. THE CADET THEN ATTACHES STEEL PIERCING RINGS TO SUPERMAN'S NOSE NIPPLES AND THE HEAD OF HIS COCK.
SUPERMAN IS DRIVEN THROUGH THE BAKING DESERT WITH THE STEEL DILDO UP HIS ARSE WHILE THE CADET CONTINUALLY ON RING AND RED SORE NIPPLES. THE CADET TIED A CORD TO SUPERMAN'S NIPPLE RINGS AND YANKS ON THE M FORCING SUPERMAN TO RIDE THE HUGE STEEL DILDO. IT TAKE FIVE HOURS TO REACH THE COMMANDERS FORTRESS FORCING SUPERMAN TO ENDURE FIVE HOURS OF NIPPLE ABUSE AND RIDING THE STEEL DILDO. AT THE FORTRESS THE CADET BRANDS SUPERMAN'S ARSE WITH A LARGE RED S ON EACH BUTTOCK. THE PAIN MAKE SUPERMAN BLACK OUT WHEN HE COMES ROUND HIS HAIR HAD BEEN SHAVED TO A MOHAWK AND BAR FIXED ACROSS HIS TONGUE SO HE CAN ONLY GRUNT.
SUPERMAN IS FORCED TO EAT SLUG LIKE GRUBS HIS FOOD FROM NOW ON THEN TIED TO A WHEELED FRAME FOR TRAINING. THE NAKED AROUSED CADET IS THE FIRST ONE TO RIDE THE BEASTS. THE CADET CLIMBS ON THE WHEEL FRAME BEHIND SUPERMAN AND THRUSTS HIS COCK INTO SUPERMAN'S ARSE. SUPERMAN IS FORCED TO RUN WITH THE CADET ON THE WHEELED FRAME WHILE THE CADET FUCKS HIM. SUPERMAN'S TIME A SLAVE BEAST PONY HAS ONLY JUST BEGUN. TWELVE EXCITING PAGES OF GRAPHIC COLOUR MANFLESH MALE PHYSICAL AND SEXUAL HUMILIATION. €12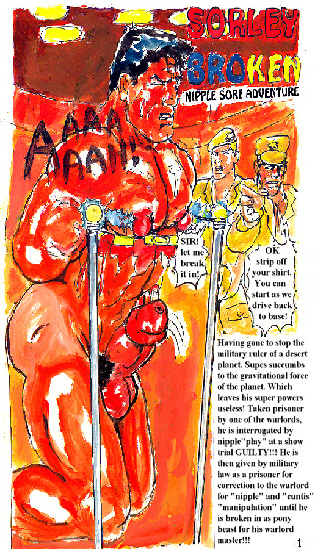 8 SUPERMAN IN THE ISLAND ID DON BASTRO. SUPERMAN LOOKING FOR A SPOT TO VACATION DISCOVERS AN ISLAND OF THE COAST OF COSTA RICO WHERE MEN ARE KEPT AS NAKED SLAVES. ANGRY SUPERMAN ATTACKS AND DESTROYS SOME OF THE PRISON CELLS. AN OVERSEER THROWS SOME MAGI GREEN DUST OVER SUPERMAN AND ROBS HIM OF HIS SUPER POWERS. THE OVERSEER STRIPS FOR THE OWNER OF THE ISLAND DON BASTRO. DON BASTRO LASHES OUT WHIT HIS CURLING AROUND SUPERMAN'S NECK MAKING HIS GASP. CHOKING SUPERMAN IS FORCED TO DRINK THE OVERSEERS PISS.
IN THE HOT BURNING SUN SUPERMAN IS PUT TO WORK IN THE QUARRY WITH CANON BALL TIED TO HIS BALLS TO STOP HIM ESCAPING. HE IS FORCED TO CRAWL TO THE QUARRY PULLING THE CANON BALL BEHIND HIM. WHEN AT THE QUARRY SUPERMAN IS TIED TO A CLEVERLY CONSTRUCTED CLEAR BOX WITH A HOLE FOR HIS PENIS T FIT INTO. SUPERMAN'S HAS TO THRUST HIS COCK INTO THE HOLE INSIDE THE CLEAR BOX CONTAINING WEEKS OF OTHER MALE SLAVES CUM. THE WHIP IS USED ON SUPERMAN TO MAKE HIM CUM IN THE CLEAR BOX IN FRONT OF THE OTHER TOILING NAKED SLAVES. THE LEERING SLAVES LINE UP TO FUCK SUPERMAN'S ARSE ONE AFTER THE OTHER.
SUPERMAN IS CRUELLY GAGGED WITH A MOUTH SPREADER COATED WITH GREEN KRYPTONITE THAT KEEPS HIM WEAK. SUPERMAN IS TIED TO THE GRINDING WHEEL. HE IS WHIPPED AND MADE TO TOIL ON THE BURNING SUN TURNING THE HUGE GRINDING WHEEL. AFTER WEEKS OF TOILING UNDER THE WHIP SUPERMAN TOIL HE IS DEBASED AN ANIMAL OWNED LIVE STOCK. EVERYDAY SUPERMAN HAS TO SUCK THE DON'S STALLION. AT NIGHT HE IS CHANGED AND SEEDED BY THE OVERSEER NA FILLED WITH REAL MANS CUM. FOURTEEN EXCITING PAGES OF GRAPHIC COLOUR MANFLESH MALE PHYSICAL AND SEXUAL HUMILIATION. €12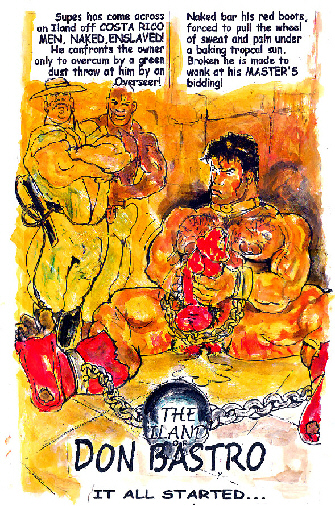 9 SUPERMAN GELDED PART 1. AN ARAB DICTATOR DISCOVERED SUPERMAN'S SECRET AND HAS CAPTURED HIM. SUPERMAN IS K CUFFED AND HELPLESS IN THE BURNING SUN. GUARDS SECURE HIS HEAD TO A STEEL FRAME. THE ARAB DICTATOR ENJOYS SEEING SUPERMAN MERCILESSLY MASTURBATED BY ONE OF HIS GUARDS. THE DICTATOR THEN ORDERS HIS GUARDS TO BEAT SUPERMAN'S ARSE WITH WOODEN PADDLES. THIS CARRIES ON FOR THREE DAY MILKING AND PADDLING IN THE BURNING SUN. THE HORSE GELDER IS SUMMONED AND CLAMPS A VICE CUT RINGER TO SUPERMAN'S MANHOOD. IN ONE QUICK ACTION IT IS DONE SUPERMAN IS GELDED AND A GREEN K RING IS INSERTED INTO THE HOLE WHERE HIS MAN HOOD USED TO BE. SUPERMAN'S MANHOOD IS COOKED AND SERVED IN A CHEESE SAUCE TO HIS ARAB OWNER. THE GREEN K RING SEALS HIS PEE HOLE AND STERIODS IN HIS DOG FOOD KEEP HIS MUSCLES BULKED. SUPERMAN IS FORCED TO TOIL NAKED UNDER THE BAKING SUN HIS MANHOOD TAKEN. SUPERMAN IS FORCED TO SUCK HIS MASTERS COCK. SUPERMAN'S MASTER ALSO RAPES HIM USING HIM FOR HIS PLEASURE. SUPERMAN IS DRAGGED ITO THE COURT YARD AND FUCKED BY ALL THE GUARDS.
SUPERMAN'S MASTER HAS HIS EYES ON ANOTHER SUPER HERO HE WANTS AS A SLAVE. THE ARAB DICTATOR PHONES BOY BLUNDER SUPERMAN'S YOUNG FRIEND AND LURES HIM TO HIS COMPOUND. THE DICATOR SHOWS A SHOCKED NAD ANGRY BOY BLUNDER WHAT HAS HAPPENED TO THE ONCE PROUD AND STRONG SUPER HERO.IT IS BOY BLUNDERS TURN NEXT. FIFTEEN EXCITING PAGES OF GRAPHIC COLOUR MANFLESH MALE PHYSICAL AND SEXUAL HUMILIATION SUPERMAN AS YOU HAVE NEVER SEEN HIM BEFORE. €12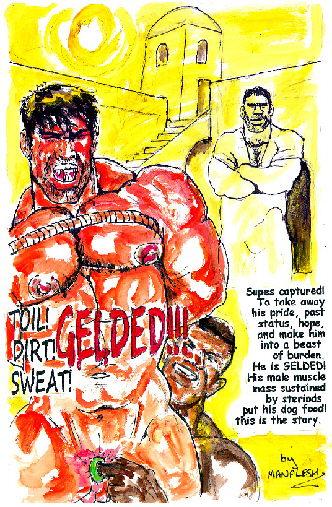 10 CLARK CUNT SUPER SISSY. A COMET PASSED CLOSE TO THE EARTH A LUMP OF KRYPTONITE. THE DUST IN THE ATMOSPHERE ROBS SUPERMAN OF HIS SUPER POWERS FOR UP TO TWO YEARS. EARTH BOUND SUPERMAN FEELS HEAT, COLD, PAIN, AND FEAR. HOMOSAPIENS ARE ABLE TO SUBDUE HIM AND TURN HIM INTO SISSY CLARK CUNT. OUT FOR SOME LATE NIGHT SHOPPING CLARK IS SCARED BY SOME NOISES AND HIDE SIN A DARK ALLEY WHERE HE IS CONFRONTED BY TWO HUGE BRUTES. GRABBED THE TIMID CLARK PISSES HIMSELF TO THE AMUSEMENT OF THE TWO BRUTES. THE TWO BRUTES STRIP AND INSPECT CLARK AND DECIDE TO KEEP HIM NAKED IN THEIR GYM. THEIR GYM IS IN A DARK ALLEY UNDER A WAREHOUSE VERY PRIVATE BRUTES ONLY. CLARK IS TIED NAKED TO A PILLAR AND INJECTED WITH ROIDS. CLARK IS GIVEN ROIDS AND MIND BENDING DRUGS. THE BRUTES TELL HIM 'YOU ARE A HOMO SISSY YOU ONLY CARE ABOUT GETTING HUGE YOU LOVE DOWN YOUR THROAT AND UP YOUR MAN CUNT' AND FORCE HIM TO SUCK THEIR COCKS. AFTER TWO DAYS OF THIS CLARK DOES NOT KNOW WHO HE IS.
SISSY CLARK IS TRAINED HARD FORCED TO PUSH VERY REP FOR MUSCLES MASS A HARD COCK UP HIS ARSE KEEPS HIM FROM SLACKING. CLARK IS FORCED TO SLEEP OVER A BARBELL LEGS SPREAD WIDE ARSE EXPOSED ALWAYS READY FOR CUNTING. A MOP IS ATTACHED TO CLARK'S MOUTH AND HE IS USED IN VERY LEWD WAY TO MOP UP SWEAT AND SPUNK FROM THE FLOOR. CLARK WITH NO MEMORY OF HIS PAST LIFE HAS BEEN TURNED INTO A MEGA MUSCLED DUMB NAKED HOMO SEXED ANIMAL. ONE NIGHT THE GYM DOOR IS LEFT OPEN AND CLARK ESCAPED NAKED IN THE DARK WARREN OF ALLEYS. CLARK IS FOUND BY DOMINANT MASTER WHO MAKES HIM HIS SLAVE AND BOUND TAKES HIM TO THE MUSCLE BONDAGE SM CLUB. ANOTHER MANFLESH SEXUAL AND PHYSICAL HUMILIATION AND DEBASEMENT OF SUPERMAN. €12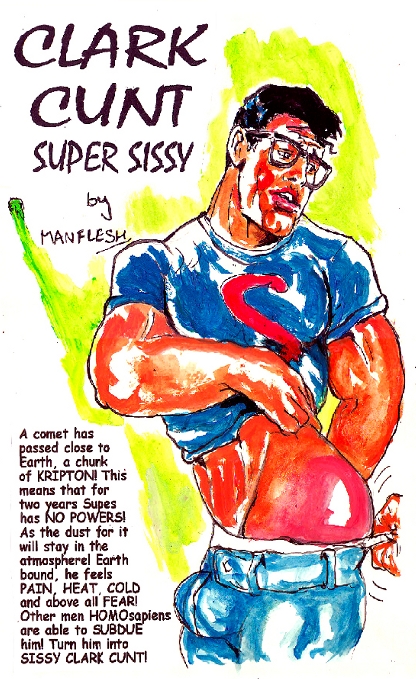 11 SUPERMAN ILLEGAL ALIEN PART1. HAVING DECLARED HIMSELF NOT AMERICAN TO APPEAR AS A WORLD CITIZEN SUPERMAN ALIENATED THE POWERFUL MILITARY. THEY MADE PLANS TO INCARCERATE THE SPACE CREATURE TO CAGE AND BREAK HIM LIKE AN ANIMAL. THEY COME FOR HIM ONE HOT SUMMER NIGHT WHEN HE IS RUDELY AWAKEN AND DARTED. THE DART CONTAIN K JUICE AND THE ONCE SUPER HERO IS EASILY OVER COME BY SPECIAL FORCES THEY START TO PREPARE HIM FOR HIS LIFE IN CAPTIVITY. THEY ATTACHED WEIGHT TO HIS NIPPLE AND MARCH HIM BOUND AND NAKED THROUGH THE STREETS IN FRONT OF LARGE GAWKING CROWDS. A HUGE WEIGHT HIS HUNG FROM HIS ANUS SO ALL CAN SEE UP HIS ARSE. THINGS GET WORSE AS A FUNNEL IS FORCED DOWN HIS THROAT SO HE CAN BECOME A PUBLIC TOILET. MALE MEMBERS OF THE PUBLIC LINE UP EAGERLY AND SUPERMAN IS FILLED WITH SO MUCH PISS HE CANNOT PISS IT OUT QUICK ENOUGH AND HIS STOMACH BLOATS. SUPERMAN IS TIED TO THE BACK OF AN ARMOURED TRUCK AND DRAGGED HUNDREDS OF MILES TO A SPECIAL FORCES ARMY BASE DEEP IN THE DESERT. AS THE HOT SUN BEAT DOWN SUPERMAN IS FORCED TO DRINK THE ONCE ADMIRING MALE PUBLIC'S PISS. THE HEAT INCREASES THE FURTHER SOUTH HE GOES TIED TO THE TRUCK A WHOLE PLATOON JEERS AT HIM. HIS COCK IS ERECT FROM THIRTY VIAGRA TABLETS PISSED DOWN HIS THROAT EVERY HOUR. THEY REMOVE THE FUNNEL AND SUPERMAN BECOMES SO THIRSTY HE HAS TO HOLD HIS TONGUE OUT TO TAKE IN PLATOONS CUM TO TRY AND QUENCH HIS RAGING THIRST. ON REACHING THE CAMP SUPERMAN IS TETHERED TO A POLE IN THE MIDDLE OF THE CAMP KAK PIT. SUPERMAN MOANS HIS COCK SPITTING PRE-CUM WATCHED BY THE PRIDE OF AMERICAN FORCES MANHOOD. ANOTHER GREAT MANFLESH STORY OF THE SEXUAL AND PHYSICAL HUMILIATION AND DEBASEMENT OF SUPERMAN. €12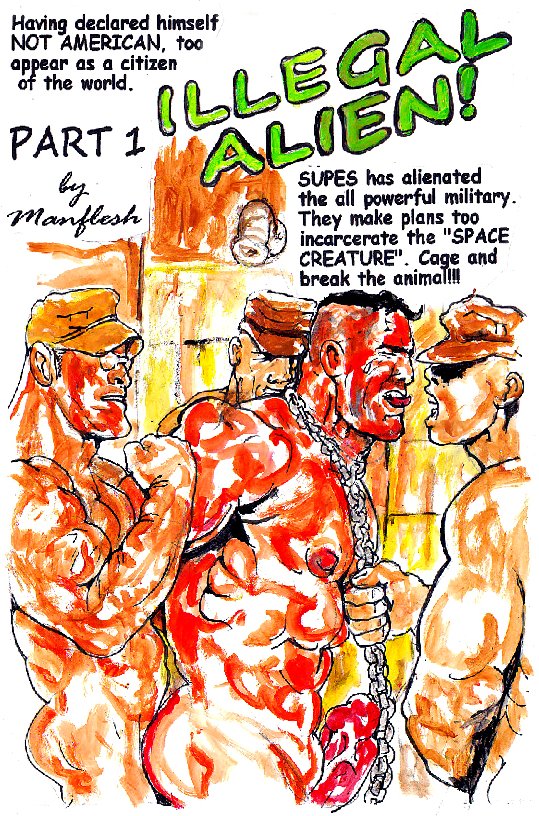 12 SUPERMAN ILLEGAL ALIEN PART 2 BREAK IT. SUPERMAN IS TETHERED IN THE ARMY CAMP KAK PIT SHOW THIS PIECE OF SHIT SUPERIOR ARMY WEAPONS A SOLDIER FUCKING SUPERMAN ORDERS TO THREE SOLDIERS WATCHING. YOU BETCHA THEY ALL REPLIED EAGER TO BREAK AND DEBASE SUPERMAN. NOT SUPERIOR NOW ALIEN BITCH ONE OF THE SOLDIER SNEER AS THEY FORCE SUPERMAN TO SUCK THEIR COCKS. THE ARMY KNOWS HOW TO INTERROGATE ALIENS THOROUGHLY. EACH SHIT ALIEN BITCH, THE SOLDIER SAID AS HE PLUNGED SUPERMAN'S HEAD INTO THE KAK PIT. ALL DAY LONG THE HOMOED ALIEN IS 'ARMY DRILLED' REPEATEDLY FUCKED AND MADE TO SUCK COCKS AS SENTRIES WATCH ITCHING TO TAKE THEIR TURN TO CUM UP THE ALIENS ARSE. YOUR PIG SHIT AND THAT'S ALL YOUR FOOD FROM NOW ON A SOLDIERS TELL SUPERMAN. THE SCARED SORE AND BEASTED EX SUPER HERO HAS NO CHOICE BUT TO OBEY LAPPING UP THE PIGS SHIT. SEE YOU ARE CONTROLLED NOW ALIEN THE SOLDIER SAID HIS BOOT ON SUPERMAN'S BACK AS HE EAST THE PIG SHIT.
THE ALIEN IS FITTED WITH AN IRON COLLAR CONTAINING A PELLET OF GREEN K. SUPERMAN'S MIND IS BOMBARDED WITH PAINS AS A SUPER HERO HE NEVER FELT. SORENESS, HEAT FROM THE BAKING SUN, RAW PAIN FROM HIS SWOLLEN FUCKED ANUS. GUT PAIN FORM FORCED FEEDING. BUT WORSE IS TO COME AS HE IS STRUNG UP. EACH ARMY GRUNT IS ALLOWED TO WHIP THE BEEFY ALIEN'S HOMO BUT WITH A CANE. AS THE HOURS GO BY SUPERMAN IS SO HOARSE FROM SCREAMING HE CAN ONLY SOB. THE SOLDIERS PHOTOGRAPH THEMSELVES JACKING OFF ON THE SHAMED ALIEN'S ARSE TO SHOW THEIR MALE SUPERIORITY. A VERY SORE HUMILIATED AND SCARED UNSUPERMAN IS DRAGGED TO THE COMMANDERS INTERROGATION ROOM. YET ANOTHER GREAT MANFLESH STORY OF THE SEXUAL AND PHYSICAL HUMILIATION AND DEBASEMENT OF SUPERMAN. €12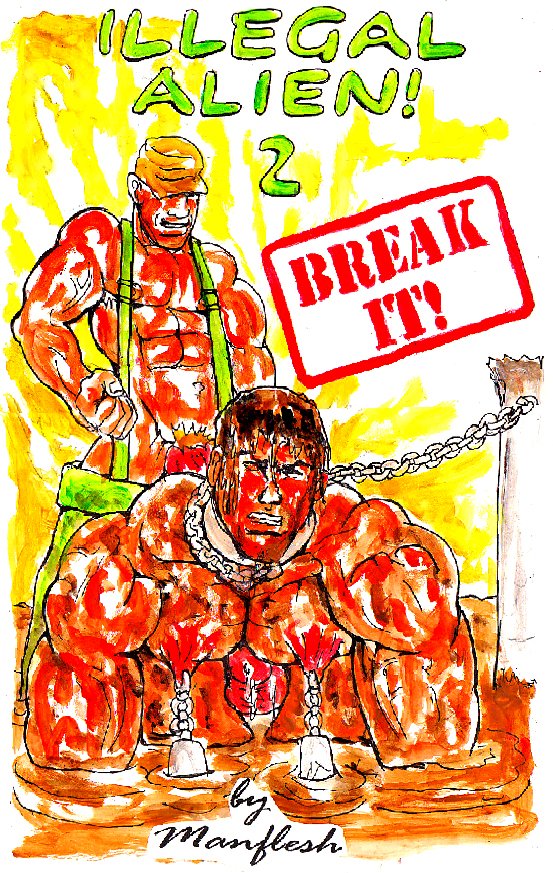 13 SUPERMAN ILLEGAL ALIEN PART 3 BREAK IT MORE. THE ONCE SUPERMAN NOW ILLEGAL ALIEN IS SECURED TO A SPECIALLY DESIGNED CHAIR THAT WILL ALLOW THE MILITARY TO GET HIM SQUEALEE CLEAN INSIDE AND OUT. THE MILITARY STRIP DOWN TO THEIR HATS AND BOOTS TO GIVE THE ALIEN A SCRUB INSIDE AND OUT. THE MILITARY MAKE THE ONCE SUPERMAN SORE INSIDE AND OUT WITH THEIR SCRUBBING. "THIS WILL OPEN UP YOUR PENAL PASSAGE", ONE OF THE LEERING MARINES TOLD THE SHOCKED AND HORRIFIED ONCE SUPERMAN. HE IS BRANDISHING A FEARSOME LOOKING IMPLEMENT THAT WILL BE INSERTED IN THE ALIEN'S URETHRA. THE MARINE INSERTS THE STRANGE AND AWESOME INFLATABLE DEVICE INTO THE SQUIRMING ALIEN'S URETHRA. AIR IS PUMPED INTO THE INFLATABLE DEVICE AND QUICKLY HAS THE ONCE SUPERMAN SOBBING LOUD. IT STRETCHES THE ONCE MIGHTY HUNKS COCK INTO A LUMP OF TENDERIZED, RAW PAINED HORSE SIZED COCK. THE MILITARY KEEP ON INFLATING THE INFLATABLE DEVICE THEY NEED TO KNOW HOW FAR THE ALIEN'S COCK CAN BE STRETCHED FOR WEAPON ADVANCEMENT. "NOW THAT YOUR ALIEN COCK LOOKS LIKE A MONSTER PUSS MAGGOT, ITS TIME TO MAKE YOUR ANUS LIKE A COWS CUNT IN LABOUR", THE LEERING MARINE DELIGHTED IN TELLING THE ONCE SUPERMAN NOW ILLEGAL ALIEN AS ANOTHER FORCED THE INFLATABLE DEVICE INTO THE ALIEN'S ANUS. IT IS INFLATED UNTIL THE ALIEN'S ARSE IS STRETCHED TO THE SIZE OF A GRAPEFRUIT. THE MARINES TAKE TURNS FUCKING DEBAUCHING HIS ONCE VIRGIN SORE STRETCHED ANUS.
AFTER AN INTEGRATION OF FORTY SEEDINGS A MARINE TELLS THE ONCE SUPERMAN IT IS TIME TO CUT HIS CIVILIAN HAIR. THE ILLEGAL ALIEN IS DRAGGED BY HIS HAIR LEAVING A TRAIL OF ARSE SLIME. "ONLY LEAVE HAIR ON THE TOP OF HIS HEAD?", A MARINE TELLS THE MARINE BARBER. THE ONCE SUPERMAN IS COVERED IN HAIR DEFOLIANT AND WILL BE LEFT WITH HAIR ONLY ON THE TOP OF HIS HEAD HIS MOVIE STYLE LOOK GONE FOREVER. THE ILLEGAL ALIEN IS LED DOWN INTO A BASEMENT WHERE THERE IS A CONCRETE BOX WITH WALL TWO FEET THICK HIS HOME FOR THE NEXT THREE MONTHS. ANOTHER GREAT INSTALLMENT OF A MANFLESH STORY OF THE SEXUAL AND PHYSICAL HUMILIATION AND DEBASEMENT OF SUPERMAN. €12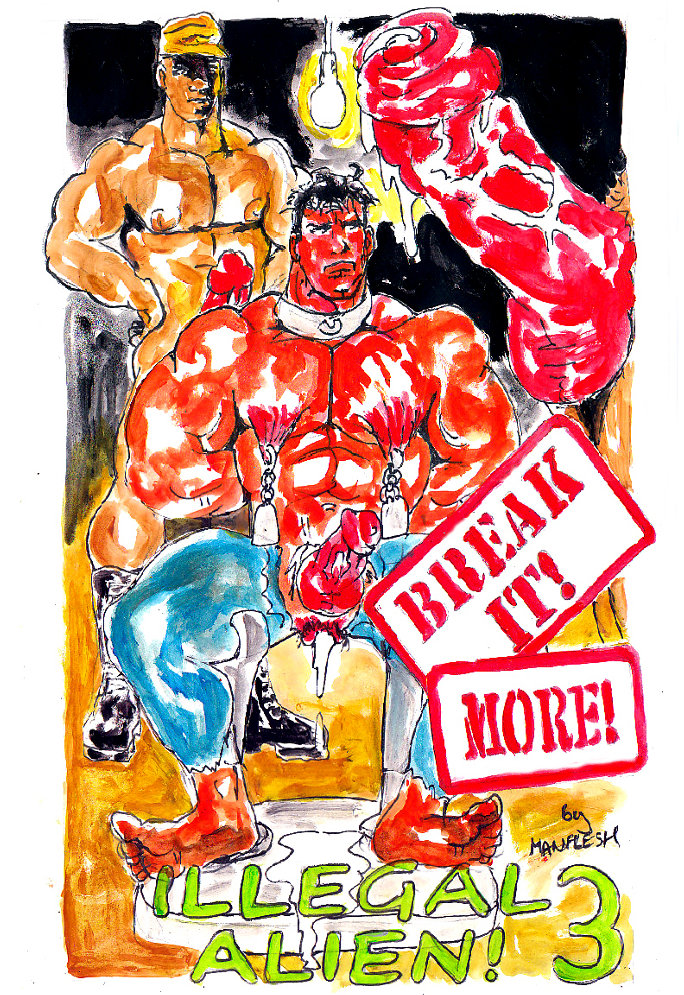 14 SUPES SLAVE OF ROME PART 1. AN UNDER WORLD CRIME BOFFIN CREATED A TIME PORTAL THAT SENT SUPERMAN BACK IN TIME TO ANCIENT ROME. THERE HE HAS NO SUPER POWERS ONLY MUSCLE. ENSLAVED HE IS SENT NAKED TO THE MINES. SUPERMAN BREAKS INTO A CRIME SYNDICATES HEAD QUARTERS AND DEMAND TO KNOW WHAT THEIR CRIME BOFFIN IS DOING. THE BOFFIN TELLS SUPERMAN HE HAS SOMETHING THAT WILL TAKE HIM TO ANCIENT ROME. THE BOFFIN OPERATES THE TIME PORTAL THAT SUCKS SUPERMAN INTO IT. THE KRYPTON ENERGY BUBBLE WITHIN THE PORTAL REMOVES HIS SUPER POWERS. CLOTHES CANNOT PASS THROUGH THE PORTAL AND PEEL OFF AS SUPERMAN IS SUCKED THROUGH. THE TIME PORTAL REALLY WORKS AND SUPERMAN FINDS HIMSELF IN ANCIENT ROME NAKED AND WITHOUT HIS SUPER POWERS. SUPERMAN IS DESPERATE TO GET BACK TOT HE FUTURE BUT WITHOUT HIS SUPER POWERS HE IS STRANDED.
SUPERMAN SEARCHES AROUND AND FINS SOME OLD RAG AND CORD THAT HE MAKES INTO A LOIN CLOTH BUT IT IN NOT BIG ENOUGH TO COVER HIS HUGE BALLS THAT POKED OUT OF THE SIDES. SUPERMAN ENTERS THE TEAMING STREETS OF ROME IN HIS BRIEF LOIN CLOTH. SUPERMAN IS SPOTTED BY MEN BELONGING TO MARCUS GRAPISS. THEY SEIZE SUPERMAN IN AN ALLEY OUT NUMBERED HE IS OVER POWERED. HID LOIN CLOTH RIPPED OFF. DUST, DIRT, HEAT, HE FEELS ALL AS HE IS DRAGGED NAKED THROUGH THE STREETS. SUPERMAN IS TAKEN BEFORE MARCUS GRAPISS IN HIS MANSION IN THE PALATINE. I CLAIM YOU BARBARIAN WHOSE TONGUE CANNOT BE UNDERSTOOD AS MY PROPERTY I WILL TRAIN YOU HARD SLAVE MARCUS GRAPISS INFORMS SUPERMAN. YOU WILL BE TAUGHT YOUR PLACE MARCUS GRAPISS TELLS SUPERMAN AS HE SLAPS HIM.
SUPERMAN HIS BOUND AND SUSPENDED FROM THE A CEILING BEAM WITH ONE LEG RAISED SO HIS ARSE IS SPREAD AND EXPOSED. HIS CAPTOR BRUTUS AND EX GLADIATOR STRIPS READY TO GIVE THE NEW SLAVE A TASTE OF THE LASH. MARCUS SETTLES DOWN TO WATCH THE NEW SLAVES ARSE WHIPPED RED RAW. MARCUS'S COCK IS ROCK HARD SUPERMAN WILL HURT INSIDE AS WELL BEFORE THE HOUR IS OUT. MARCUS WATCHED SUPERMAN'S BLOODIED ARSE BEING ABUSED HIS COCK STOOD HARD AS ROMAN IRON. SUPERMAN CON ONLY SQUIRM AS HE IS FUCKED WITH THE IRON WHIP SHAFT IT IS BEING MADE READY FOR MARCUS'S WEAPON. MARCUS HANDED HIS ROBES TO A RETAINER AND CALLED FOR ONE OF HIS MILITARY HELMET. DONNING IT HE SLAMS HIS COCK UP BARBARIAN SUPERMAN'S MAN CUNT. SUPERMAN IS NOW ROMAN OWNED INSIDE AND OUT. YET ANOTHER GREAT STORY OF THE SEXUAL AND PHYSICAL HUMILIATION AND DEBASEMENT OF SUPERMAN. €12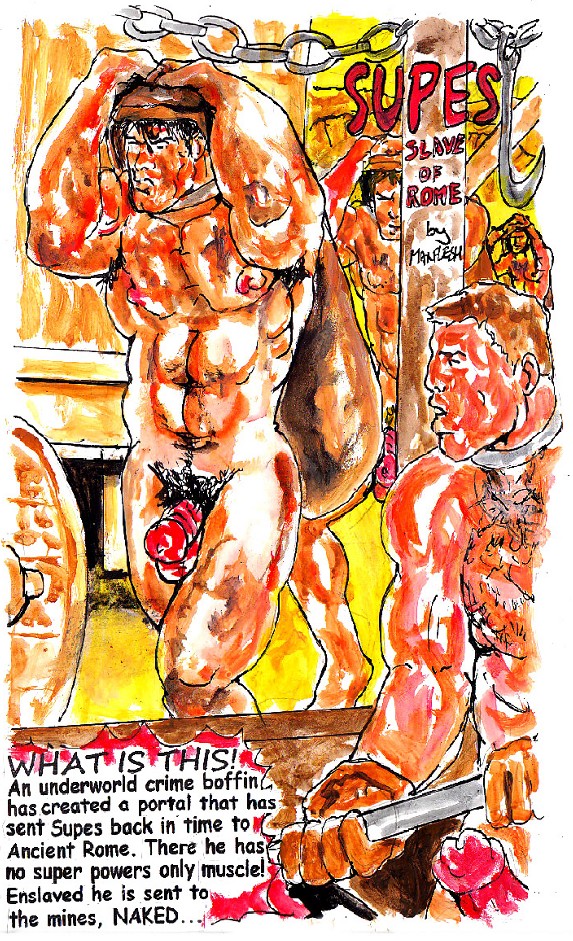 15 MUSCLE BONDAGE SUPES PART 1. SUPES THE ALL POWERFUL, CRAVES DANGER, HUMILIATION, SUBJECTION. EACH NIGHT HE WETS THE BED WITH CUM. HAS HAS TO DO SOMETHING. SO REPLIES TO AN ADVERT IN BUTT MUSCLE WEEKLY AND SETS OUT TO BE CONQUERED. SUPES MAKES A GADGET THAT WILL INJECT A SLIVER OF KRIPTONITE INTO HIS BODY. HE SETS THE GADGET TO RETRACT THE SLIVER LATER, STORING IT SAFELY, ONLY WITH ITS USE CAN THE KRIPTONITE SLIVER BE REMOVED. SUPES THE DONS THE TWO PIECES OF CLOTHING HE HAD BEEN ORDERED TO BY A MICRO THIN MACINTOSH AND BOOTS.
SUPES WALKS OUT INTO THE HOT SUMMER NIGHT THE CONCRETE UNDER FOOT STILL BAKING FROM THE SUN. HIS COCK IS STUCK OUT AS HE THINKS ABOUT THE MUSCLE FLESH THAT WILL CONQUER HIM. SUPES DESCENDS VIA A MAN HOLE COVER INTO THE UNDER GROUND TUNNELS BENEATH THE CITY. AFTER WHAT SEEMS MILES SUPES SEES A DOOR AHEAD HE HAS ARRIVED. WHEN HE REACHES THE DOOR A VOICE FROM WITHIN VIA A THIN SLIT IN THE DOOR ORDERS HIM TO STRIP NAKED AT ONCE. SUPES HIS COCK THROBBING OBEYS. WAVES OF LUST TAKE OVER HIS MUSCLE FLESH. HE HAD NEVER FELT SO TURNED ON. HE STANDS NAKED, PROUD, AND ERECT. WANK YOURSELF BOY THE VOICE COMMANDS. "SIR YES, SIR", SUPES REPLIES AND OBEYS. TURNED ON BY THE LEWDNESS OF THE SITUATION SUPES NUTS BOIL AND SUPES SHOOTS OUT WAVE AFTER WAVE OF HOT STICKY CUM FROM HIS ROCK HARD COCK. AS SUPES COCK ERUPTED HUGE MUSCLE MEN POUR OUT OF THE TUNNELS, HUGE IN EVERY WAY.
"ON YOUR KNEES SLAVE", ONE OF THE MUSCLE MEN ORDERS FLOORING SUPES WITH A HUGE PUNCH. ON ALL FOURS THE MUSCLE BITCH IS MADE TO SUCK ALL. SUPES IS GIVEN A HARD WHIPPING AS TWO OF THE MUSCLE BRUTES SET LIGHT TO HIS CLOTHES. WITH HIS CLOTHES GONE SUPES HAS NOTHING TO WEAR HOME. ONE OF THE CAPTAINS OF THE MUSCLE STABLE TAKES SUPES IN HAND. YOU'RE OWNED BY THE MUSCLES TABLE NOW THE CAPTAIN INFORMS SUPES. TRAIN YOU BOY KEEP YOU IN A CAGE AS HE APPLIES THE WHIP. GRABBED AND HELD FAST HIS SUPES HAIR IS TORN OUT AND HIS GENITALS RINGED. TAKE HIM DEEP INTO THE TRAINING ROOM THE CAPTAIN COMMANDS. IN A FEW MONTHS YOU WILL BE A DOCILE MEGA MUSCLE FUCK BEAST THE CAPTAIN INFORMS SUPES AS HE IS DRAGGED AWAY. SUPES MUSCLES BONDAGE HAD JUST BEGUN. ONE MORE GREAT STORY OF THE SEXUAL AND PHYSICAL HUMILIATION AND DEBASEMENT OF SUPERMAN. €12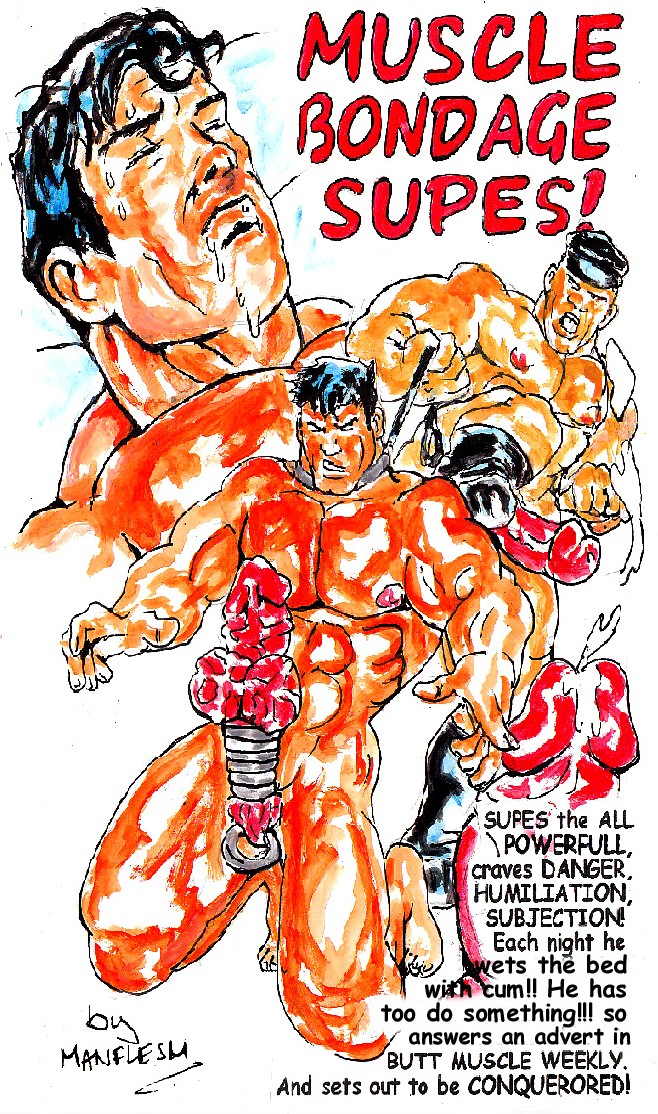 16 SUPES SLAVE OF ROME PART 2. MARCUS GRAPISS ORDERS SUPERMAN TO BEEN THROWN INTO THE SLAVE PAN FULL OF NAKED COCK HARD GAULS. ONE OF MARCUS'S MEN THROWS SUPERMAN OVER THE BALUSTRADE INTO THE SLAVE PEN. LUCKILY SUPERMAN LANDED IN SOME SOFT DIRT BUT THE COCK HARD GAULS WILL MAKE HIM VERY SORE. SUPERMAN IS GRABBED BY THE NAKED GAULS THEIR HARD COCKS READY FOR SPEARING. MARCUS WATCHES AS THE GAULS ATTACK THE ARSE AND MOUTH OF THE NEW SLAVE WHOSE TONGUE CANNOT BE UNDERSTOOD. HE NEEDS TO KNOW HIS PLACE IN THE PECKING ORDER AND IT IS VERY LOW. THE GAULS ARE EAGER TO USE THEIR WEAPONS ON THE ARRIVAL AND SHOW HIM HIS PLACE. NOT ONLY IS HIS ARSE HOLE STRETCHED WIDE BUT HIS CAKE HOLE AS WELL. MARCUS IS PLEASED, FUCKING THE NEW SLAVE WILL KEEP THE GAULS FROM FIGHTING AMONG THEMSELVES OR ATTACKING THE GUARDS.
MARCUS TAKES THE SLAVES TO THE MINES HIMSELF TO SHOW HIS POWER OVER THE SLAVES AND HIS WEALTH TO THE CITIZENS. AS THEY GO THROUGH THE STREETS MARCUS ALLOWS THE CITIZENS TO FEEL THE SLAVES FLESH. WITH HANDS STIMULATING THEIR ARSE'S SUPERMAN AND THE OTHER SLAVES GET ROCK HARD BONERS. THESE ARE WANKED AND THEY CUM IN PUBLIC. THE WAY TO THE MINES IS LONG TREK THROUGH THE COUNTRY SIDE MARCUS ORDERS HIS GUARDS TO UNHOOK THE SLAVE WITH THE THICK BUTT AND DARK HAIR, SUPERMAN. WITNESSED BY ALL MARCUS FUCKS SUPERMAN SLAVE ARSE DISPLAYING HIS POWER OVER WHAT HE OWNED. SUPERMAN DEBASEMENT AS A ROMAN SLAVE CONTINUES. ANOTHER GREAT STORY OF THE SEXUAL AND PHYSICAL HUMILIATION AND DEBASEMENT OF SUPERMAN ANCIENT ROME STYLE. €12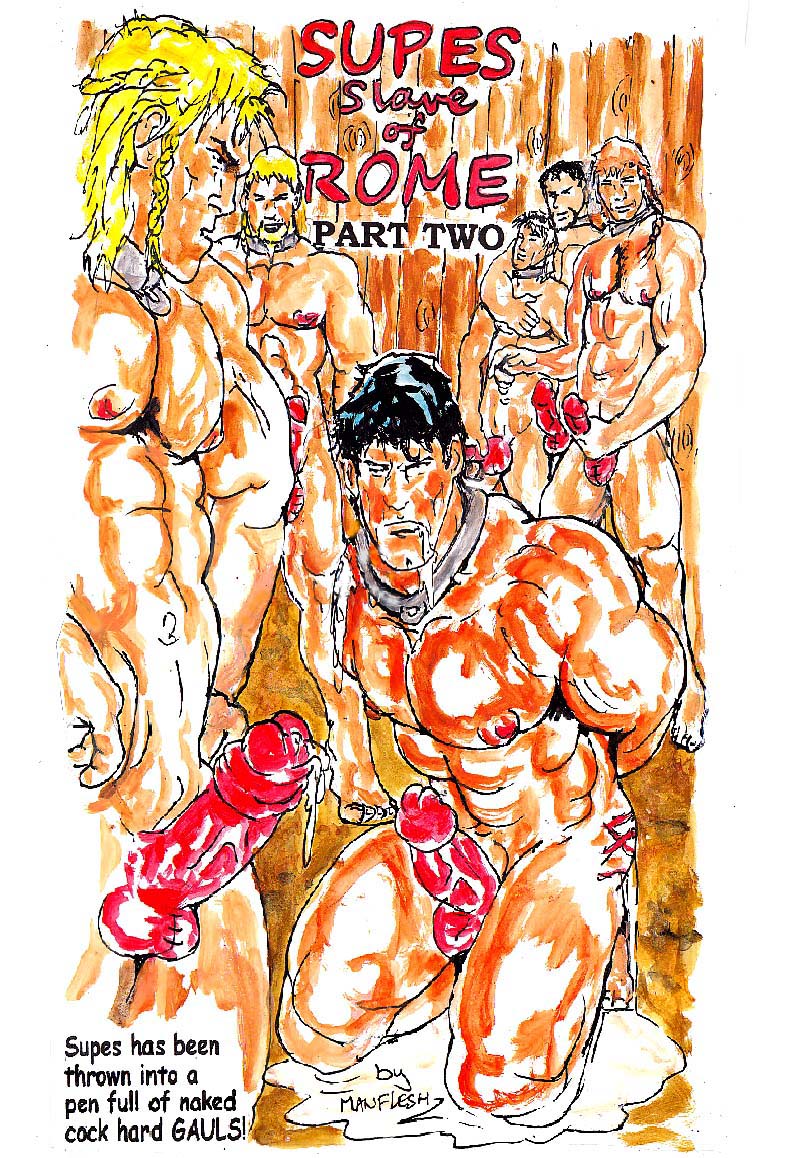 17 MUSCLE BONDAGE SUPES PART 2. A WEEK HAS PAST. SUPES HAS BEEN FED PIG SWILL WITH LARGE AMOUNTS OF STEROIDS. HE HAS OUT ON SIXTY POUNDS MUSCLE BULK . HE IS LED TO A ROOM FOR MUSCLE BULK TRAINING. THE GUARDS HAVE TAZERS. HE CANNOT RESIST, ESCAPE HIS FATE. SUPES TELL THE GUARDS HE HAS A JOB TO GO TO. HE DOESN'T HAVE A JOB NOW THE GUARD TELL HIM. THEY SHOW HIM A RECORDING OF AN ADVERT POSTED ON THE WORLD WIDE WEB WITH THE MESSAGE.
HI
I AM A POOFDA AND HAVE QUIT MY JOB TRAIN AND WORK CHEEKS SPREAD IN A HARD HOMO MUSCLE GYM.
CLARK KENT.
THREE DAYS EARLIER DRUGGED TO THE EYE BALLS. SUPES WAS FILMED DOING LEWD HOMO SEX, AND TOLD TO SAY ALL HIS MALE FEELINGS. HE IS ALSO TOLD HE HAD NO WHERE TO LIVE AS HIS DIGS HAVE BEEN TORCHED
SUPES IS WHIPPED WITH LEATHER THONGS. MAKING HIS FLESH RED AND RAW. WITH STEEL PEGS ATTACHED TO HIS SORE FLESH. SUPES IS TAKEN INTO ONE OF THE MANY TRAINING ROOMS. FULL OF SUCKLE BOUND COCK HARD MEMBERS. ONE OF THE MEN SPEARS SUPES ARSE WITH HIS MAN MEAT. SUPES IS FORCED TO DO HEAVY REP AFTER REP OF SQUATS WITH THE BRUTES COCK THRUSTING IN HIS ARSE. HE STILL HAS THE PEGS ON HIS BACK FOR EXTRA DISCOMFORT. SUPES IS A MUSCLE MARE HIS MAN CUNT DRIPPING SORE AND STRETCHED. HIS LEGS IN AS MUCH PAIN AS HIS ARSE. HE IS TAKEN TO THE HACK SQUAT MACHINE EQUIPPED WITH AN ARSE STRETCHER. SUPES MOANS FORCED TO TRAIN, NO PAIN NO GAIN. LEGS SO SORE AND SWOLLEN HE CAN HARDLY STAND. SUPES IS USED AS THE CLUBS FUCK WHORE. WITH ONLY HUMAN STRENGTH HE HAS NO WAY OF ESCAPE.
SUPES IS TAKEN TO A HUGE PIT VIA A STAIR CASE CONNECTING TO THE SUB LEVELS BELOW. THE GUARD TELLS SUPES THAT AT EACH LEVEL THERE IS A DIFFERENT LEVEL OF BONDAGE TO BREAK HIM IN. SUPES IS MADE TO ENTER THE ROOM CRAWLING BACKWARDS. GRABBED HE IS OUT OVER A HUGE LEATHER MASTER'S KNEE. TO BE SPANKED LIKE A NAUGHTY BOY.
THE HUMILIATION OF THE SPANKING MADE SUPES COCK ROCK HARD. THE SPANKING GOES ON FOR TWO HOURS AND SUPES HIS TOLD THAT UNLESS HE WANTS THE SPANKING TO CONTINUE HE MUST KNEEL WITH HIS ARSE IN THE AIR AND PLEAD TO BE FUCKED. PLEASE FUCK ME MASTER SUPES BEGS. SUPES MUSCLES BONDAGE CONTINUES. ANOTHER GREAT STORY OF THE SEXUAL AND PHYSICAL HUMILIATION AND DEBASEMENT OF SUPERMAN. €12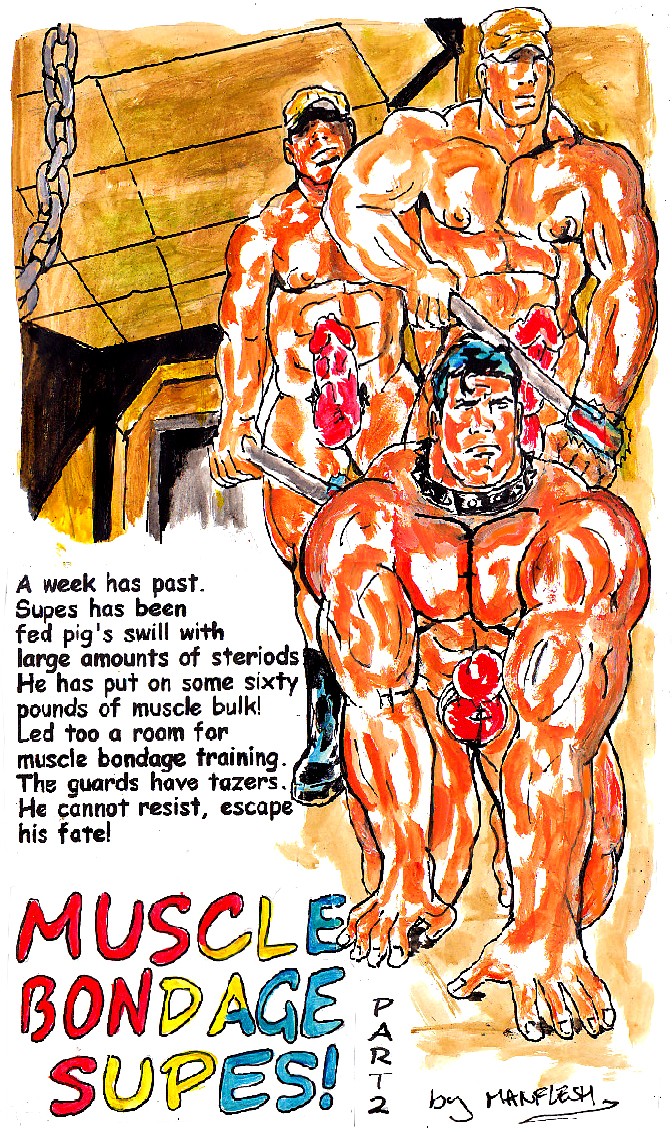 18 SUPES SLAVE OF ROME PART 3 THE MINES. AT THE MINES HEAVY LEG IRONS THINKING OF TRYING TO MAKE A QUICK ESCAPE. NEWLY CHANGES SUPES HAD ALREADY CAUGHT THE EYE OF AN OVERSEER. WHEN THEY REACH THE MINES SUPES HAS NO WAY OF ESCAPE, DIRTY NAKED AND SORE HE CAN ONLY TAKE EACH MOMENT AS IT COMES. LEG IRONS ARE PUT ON IN THE SMITHY. SUPES IS SINGLED OUT BY THE OVERSEER. CRAWL TO ME ON YOUR KNEES THE OVERSEER ORDERS. THE OTHER SLAVES GLOATED AS SUPES WAS SINGLED OUT AGAIN FOR SEX AND HAD TO SUCK THE OVERSEERS COCK. SUPES IS DRAGGED TO A TABLE UNDER AND AWNING BY THE OVERSEER AND WAS BUGGERED IN FRONT OF THE LUST FILLED COCK HARD SLAVES. THE OVERSEER THEN ORDERED SUPES BACK INTO THE LINE AND INTO THE MINES.
THE TUNNELS IN THE MINES WERE HOT AND HUMID AND IN SOME PLACES BARELY THREE FEET HIGH. DEEP IN THE MINE THE ORE WAS TAKEN TO A LARGE CAVERN. SUPES IS ONE OF THE DONKEY MEN. LARGE MUSCLED BEASTS THAT TAKE THE ORE OUT TO THE SMELTING OVENS. MOVE FASTER OR YOUR PHALLUS WILL BE WHIPPED RAW AN OVERSEER WARNED. THE HARD MUSCLE THROBBING WORK MADE THE SLAVES RAVENOUSLY HUNGRY. SUPES FOUGHT WITH OTHER BRUTES FOR THE BEST PLACE AT THE FEEDING TROUGHS. THE OVERSEER AND GUARDS LIKE TO WATCH SPECTACULAR PERFORMANCES FR THEIR EVENING ENTERTAINMENT. SLAVE SUPES WAS TO BE THE CENTRE OF ATTENTION AND IS ABUSED BY THE OVER SEER IN FRONT OF THE GUARDS. A HUGE THRACIAN JOINED THE ENTERTAINMENT AND THRUSTS HIS HUGE FIST INTO A BRONZE BOWL OF GOOSE FAT. SUPES ARSE WAS POUNDED HARD AS HE WAS FISTED BY THE HUGE THRACIAN. OPEN HIM READY FOR SEEDING THE EXCITED GUARDS SHOUTED. THE HUGE THRACIAN THEN THRUST HIS FOURTEEN INCH COCK UP TO THE HILT IN SUPES ARSE. THE OVERSEER WAS HARD AND S READY. THE OVERSEER WRAPPED GOLD CHAIN ROUND HIS COCK AND RAPED SUPES. WILL SUPES BE A SLAVE IN TIME FOR ALL TIME!?. SUPERMANS DEBASEMENT AS A ROMAN SLAVE JUST CONTINUES. YET ANOTHER GREAT STORY OF THE SEXUAL AND PHYSICAL HUMILIATION AND DEBASEMENT OF SUPERMAN ANCIENT ROME STYLE. €12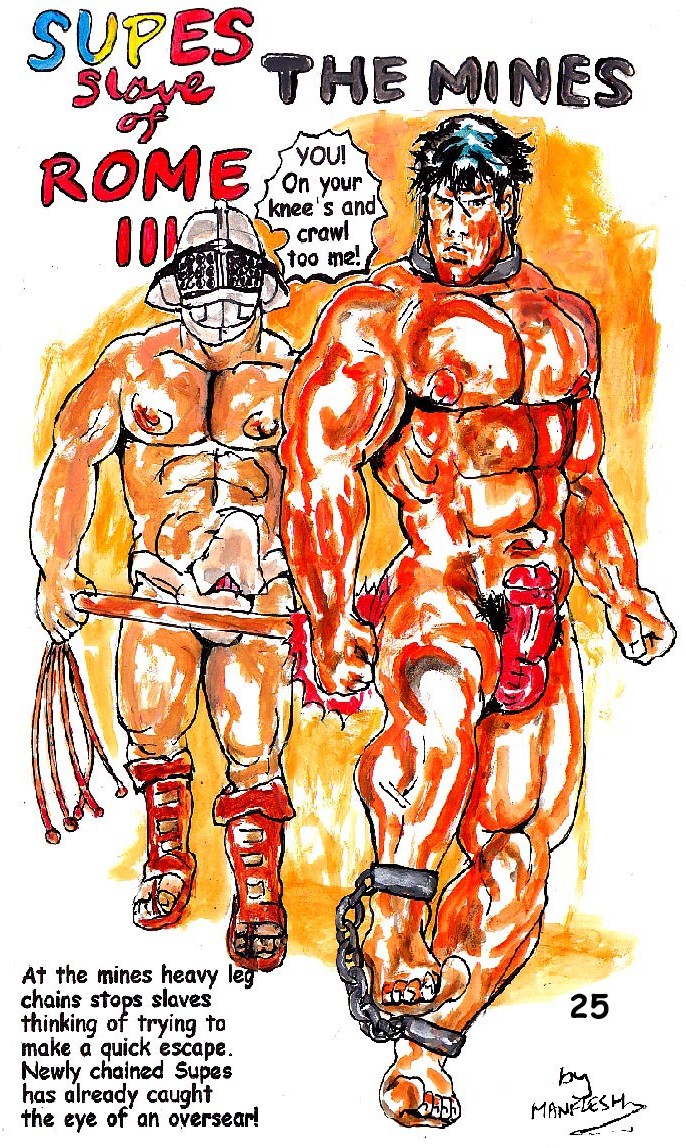 19 SUPERMAN STEEL CONTAINED PART 1. SUPERMAN HAD BEEN SENT TO CHECK THE STRENGTH OF A NEW PRISON FOR VIOLENT CRIMINALS. WHILE THERE HER LOSES HIS SUPER POWERS, AND THE COMPUTER WRONGLY IDENTIFIES HIM AS A WANTED CRIMINAL. HAVING NO SUPER POWERS TO PROVE WHO HE IS HE BECOMES A PRISONER. SUPERMAN FELT A SURGE OF POWER AND CRASHED INTO A SEWAGE PIPE SMASHING IT AND ALL HIS SUPER POWERS VANISHED. SUPERMAN'S HEAD AND COSTUME WAS COVERED IN RAW SEWAGE. DAZED AND CONFUSED SUPERMAN PLACED HIS SOILED COSTUME IN WHAT HE THOUGHT WAS A LOCKER, BUT HE WAS WRONG IT WAS THE DISPOSAL CHUTE. THEN HE WENT FOR A SHOWER TO REMOVE THE SEWAGE FROM HIS HAIR AND MUSCULAR FLESH. WHEN HE RETURNED HE FOUND HIS COSTUME GONE SO LOOKED AROUND FOR SOMETHING TO WEAR. ALL HE COULD FIND WERE ALL HE COULD FIND WAS AN ORANGE NYLON CONVICT SUIT. AS SUPERMAN PUTS IT ON GUARDS RUSH IN ZAPPER AT THE READY. SUPERMAN TELL THE GUARDS THAT HE IS NOT A PRISONER BUT THEY IGNORE HIM AND ATTACK HIM WITH THEIR ZAPPERS. THE ONCE SUPER HERON NOW AN APPREHENDED PIECE OF JAIL MEAT WAS TAKEN TO THE WARDEN. GROGGY FROM THE ZAP GUNS, SUPERMAN'S CHUNKY JAIL BIRD ARSE IS ON DISPLAY, SOMETHING HE WOULD HAVE TO GET USE TO.
SUPERMAN COMES ROUND IN THE WARDEN'S OFFICE. THE WARDEN TELLS SUPERMAN HE IS DIRK HYMEN FACE TEN YEARS HARD LABOUR. SUPERMAN TELL THE WARDEN HE IS NOT HIM. THE WARDEN TELLS SUPERMAN THAT THE COMPUTER SAYS HE IS AND SUPERMAN GETS ANGRY. SUPERMAN GRABS THE COMPUTER AND SMASHES IT ON THE FLOOR BEFORE THE GUARDS CAN STOP HIM. THE GUARDS SUBDUE SUPERMAN AND THE WARDEN TELLS HIM HE IS GOING TO PAY. THE WARDEN ORDERS THE GUARDS TO BED SUPERMAN OVER THE TABLE AND TO CAVITY SEARCH HIM FIRST. AFTER TWO HOURS OF GUT WRENCHING FISTING SUPERMAN MOANS AND BLACKS OUT. SUPERMAN IS FLIPPED ONTO HIS BACK AND LAY THERE WITH HIS ARSE WIDE OPEN AND HIS LEGS LIKE JELLY. THE WARDEN ORDERS THE GUARDS TO BRING HIM A TOILET CHAIN, CUFF AND PLIERS. THE HEAVY TOILET CHAIN IS FORCED THROUGH SUPERMAN'S CONVICT COCK HEAD AND CLAMPED IN PLACE WITH THE PLIERS BY THE WARDEN. "CHAINED LIKE A BEAST YOU ARE", THE WARDEN SNEERED. SUPERMAN IS GIVEN A SHAVING UP TO HIS HEAD AND COVERED WITH A HAIR DEFOLIANT TO STOP RE-GROWTH FOR EIGHTEEN MONTHS. A URINAL FACE GAG IS RIVETED TO HIS EARS HE IS NOW READY FOR NEW HIS LIFE IN THE DEPTHS BELOW. THAT WILL STOP YOUR PRATTLE THE WARDEN TOLD SUPERMAN. "YOU ARE FOR THE LOWER LEVEL THE BEAST POUND", HE SAID.
TRAPPED WITH NOW WAY OUT, HIS OUT BURST OF FRUSTRATION HAS GOT HIM DEEPER IN TROUBLE. THE GUARDS MADE SUPERMAN DRINK THE PISS OF THE OTHER JAIL BIRDS ON THE WAY TO THE DEEP ZONE. THE SHAME OF SUPERMAN'S LEWD BONDAGE HAD MADE HIS COCK ROCK HARD. ROBBED OF HI SUPER POWERS AND MISTAKEN AS A CONVICT SUPERMAN HIS IS SADISTICALLY AND SEXUALLY ABUSED BY THE PRISON GUARDS. GRAPHIC EROTIC MALE ON MALE ACTION AS SKILFULLY DRAWN BY MANFLESH AS ONLY HE CAN DO. €12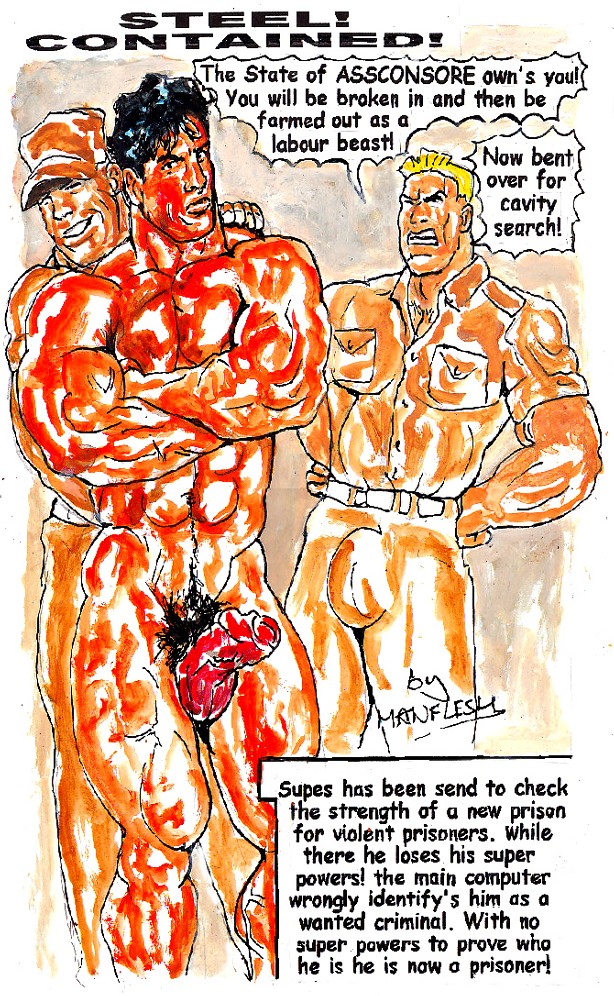 20 SUPERMAN STEEL CONTAINED PART 2 JAIL BIRD. TRAPPED WITHOUT HIS SUPER POWERS IN THE HIGH SECURITY SUBTERRANEAN PENITENTIARY SUPERMAN IS SURROUNDED BY NAKED MUSCLE BEASTS, WHERE THE TOUGHEST, HARDEST RULE. ALL WANTING TO FUCK HIS CHUNKY BUT AND URINAL FITTED FACE. EVERY MUSCLE DADDY WANTING TO OWN THE NEW MUSCLE MARE INSIDE AND OUT. SUPERMAN IS TAKEN INTO THE DEEP ZONE. THE DEEP STRIP COMPOUND A HELL HOLE FOR BEAST LIKE YOU THE GUARD TELLS SUPERMAN. SUPERMAN CHOKED, NOW A NAKED CON IMPRISONED IN A CAGE FULL OF COCK HARD CONS. THE SUB LEVELS OF THE PENITENTIARY ARE VERY HOT. GUARDS WERE JUST SHORTS, BOOTS, AND CAPS AND CARRY POWERFUL ZAPPERS. ITS THE HARDEST MEANEST CONS THAT RULE DOWN THERE. IN HERE I OWN YOU A MUSCLES DADDY TOLD SUPERMAN, IN HERE YOU SERVE ME. CON SUPERMAN WAS TAKEN DEEPER INTO THE MUSCLE CON'S DOMAIN, FORTUNATELY THEY DID NOT KNOW WHO ONCE HE WAS. IN THERE IT WAS THE CON GANG LEADER WHOSE WORD WAS LAW. SUPERMAN WAS CHAINED BY HIS COCK CHAIN TO THE GRINDER A LARGE WHEEL LIKE A SHIP'S CAPSTAN THAT IS USED FOR EXERCISE AND PUNISHMENT. THE MUSCLE DADDY ORDERED SUPERMAN TO GRAB AND PUSH THE GRINDER. CON SUPERMAN SWEATS AS HE PUSHES THE HEAVY GRINDER SO THE CONS GIVE HIS A PISS SHOWER. MUSCLE TOILET SUPERMAN CAN ONLY TAKE IT HIS NEW ROLE.
SUPERMAN WAS SLUNG OVER A TABLE FOR A HEAVY POUNDING. "WATCH ME TAKE MY PROPERTY", THE MUSCLE DADDY BOASTED. ANOTHER GANG LEADER CHALLENGED FOR THE RIGHT TO CON SUPERMAN'S ARSE. THE MUSCLE DADDY ACCEPTED THE CHALLENGE TELLING THE OTHER GANG LEADER WIN AND THE BITCH WAS HIS. WATCHING BENT OVER A TABLE SUPERMAN'S ARSE SPAT OUT SEED HE WAS A BITCH IN THIS MUSCLE FLESH HELL HOLE. THE MUSCLE DADDY FOUGHT THE OTHER GANG LEADER HARD AND IT LOOKED LIKE SUPERMAN'S ARSE WOULD REMAIN THE PROPERTY OF THE MUSCLE DADDY. BUT THE TABLES STARTED TO TURN AND IT LOOKED LIKE THE OTHER GANG LEADER GAVE MORE THAN HE GOT. THE FIGHT ENDED, HIS HEAD CUT THE MUSCLE DADDY IS OUT COLD. SUPERMAN WS PULLED LIKE A DOG INTO THE OTHER GANG LEADERS DOMAIN.
MUSCLE BITCH SUPERMAN WAS ORDERED ONTO THE CUM STAINED MATTRESS IN HIS GANG LEADERS CELL. THE GANG LEADER MOUNTED AND FUCKED SUPERMAN HARD IN FRONT OF THIS WATCHING MEN. AFTER THE HARD FUCKING SUPERMAN WAS FORCED TO SPREAD HIS ARSE CHEEKS WIDE TO SHOW THE GANG LEADERS MEN HIS SEED FILLED MANGINAL. SUPERMAN HIS IS SADISTICALLY AND SEXUALLY ABUSED BY THE OTHER PRISONERS. MORE GRAPHIC EROTIC MALE ON MALE ACTION AS SKILFULLY DRAWN BY MANFLESH AS ONLY HE CAN DO. €12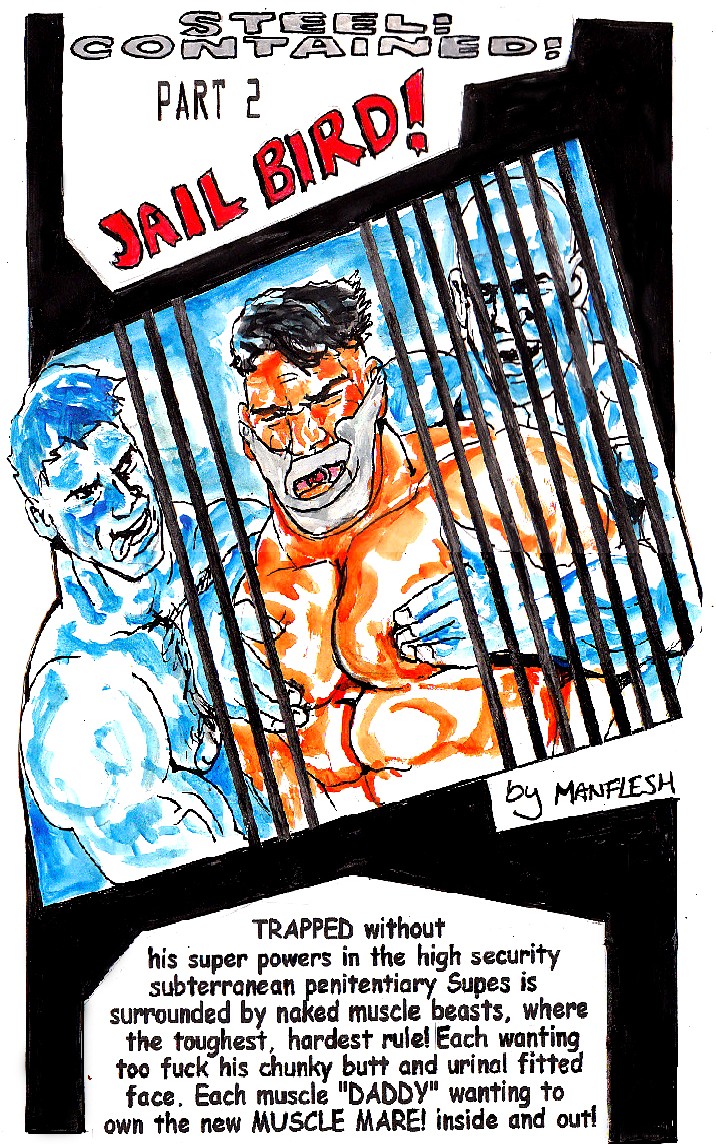 21 SUPERMAN OWNED BY A BLACK MASTER SUPER MULED. THE SOUTHER STATES OF THE US BECAME A BLACK RULE TERRITORY, AND WHITES ENTERING THE TERRITORY WERE ENSLAVED. SUPERMAN FLIES OVER AND IS SHOT WITH A BLUNDERBUSS BY A FARMER. SOME OF THE SHOTS CONTAINED GREEN KRYPTONITE. SUPERMAN FALLS TO THE GROUND AND IS CAPTURED. HE IS STRIPPED NAKED AND ENMULED. AS HE PASSES OVER THE SOUTHERN STATES SUPERMAN IS HIT BY A FARMES BLUNDERBUSS, SOME OF THE PELLETS CONTAIN GREEN KRYPTONITE, WEAKENED SUPERMAN FALLS TO THE GROUND. THE FARMER SEES THE GREEN PELLETS HAVE WEAKENED THE MAN OF STEEL. THE FARMER HAD BEEN FORCED TO SELL HIS PLOUGH BULL AND THIS STUNNED HUNK WOULD REPLACE IT. THE FARMER STRIPS SUPERMAN AND IS IMPRESSED BY THE BEASTS NAKED MUSCLES. WEAK FROM THE GREEN KRYPTONITE EMBEDDED IN HIS BACK SUPERMAN IS TOO WEAK TO STOP THE FARMER, WHO LIFTS HIM UP AND CARRIES HIM INTO THE BARN. SUPERMAN IS THRUST ONTO THE POINT OF AN ANVIL AND HIS ARSE IS STUCK TIGHT. THE FARMER HEATS UP A PIECE STEEL PIPE THEN CLAMPS IT BETWEEN SUPERMAN'S COCK AND BALLS. THE FARMER HAD EMBEDDED A PIECE OF GREEN KRYPTONITE IN THE PIPE TO STOP SUPERMAN REGAINING HIS SUPER POWERS.
SUPERMAN HAS A STEEL BAR FIXED IN HIS MOUTH TO STOP HIM TALKING. THE HE IS COLLARED, HAND CUFFED, NOW HE IS READY TO WORK. "ALIEN BEAST TIME FOR YOU TO TOIL?", THE FARMER TELLS SUPERMAN. SUPERMAN REFUSES TO PULL THE PLOUGH. THE FARMER STABS HIS BULL STUBBING GUN HARD UP SUPERMAN'S ARSE. WITH THE POWER ON VOLTS SURGE FROM THE PROBE AND HIT SUPERMAN'S PROSTATE MAKING HIM CUM. FOUR AN HOUR THE FARMER USES THE STUDDING GUN TO MAKE SUPERMAN CUM. SUPERMAN'S COCK AND BALLS SWELL AND GO PURPLE FROM ALL THE ORGASMS. AS SUPERMAN'S COCK AND BALLS RETURN TO NORMAL THE FARMER HAS AN IDEA. HE USES A TATTOO GUN TO PUT OWNERS MARKS ON CATTLE TO COLOUR SUPERMAN'S SEX ORGANS MAKING THEM PURPLE BLACK. "THIS WILL MAKE YOU LOOK LIKE A BEAST?", THE FARMER SAID AS HE USED THE TATTOO GUN ON SUPERMAN. "YOUR COCK, BALLS AND CUNT ARE NOW THE COLOUR OF BULLS SEX ORGANS", THE FARMER TOLD SUPERMAN. A BROKEN SOBBING SUPERMAN IS EASILY CONTROL BY USE OF THE WHIP. "TIME FOR BEDDING", THE FARMER TELLS SUPER MAN AND PUSHED HIM INTO A PIG PEN. THE FARMER WEARING ONLY GREEN WADERS ENTERED THE PIG PEN. AS HE FUCKS SUPERMAN, SUPERMAN IS FORCED TO EAT PIG SWILL. MASTERED HE CUMS AGAIN AND AGAIN. SUPERMAN IS ENSLAVED AND PUT TO WORK AND ABUSED PHYSICALLY AND SEXUALLY BY THE BLACK FARMER. EROTIC DOMINANT BLACK ON WHITE MALE ABUSE. €12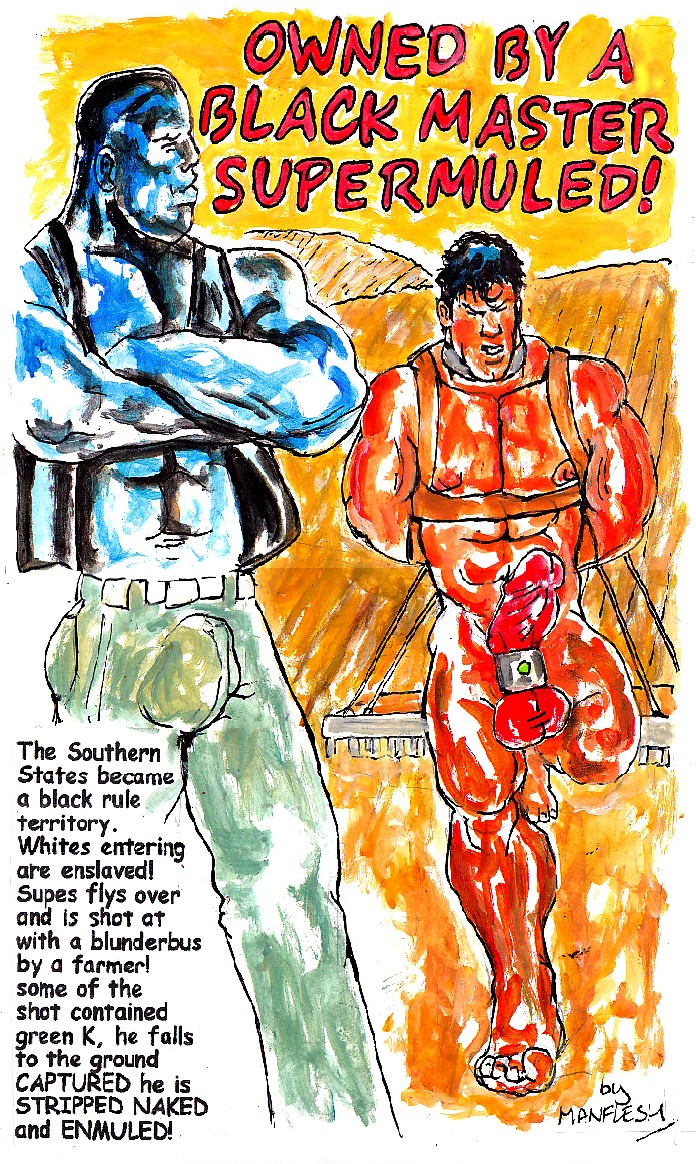 22 SUPERMAN SIDE SHOW SEX PUPPET. PAY YOUR TEN BUCKS, STRIP OFF, PULL THE STRINGS AND FUCK THE PUPPET. SUPERMAN HAD HEARD ABOUT LEWD GOING ON AT A FAIR. RUN BY MOBSTERS. THEY ARE READY FOR HIM. "YOU DO LEWD ACTS I'M SHUTTING YOU DOWN", SUPER MAN TOLD THE MOBSTERS RUNNING THE FAIR. "WE THINK YOU SHOULD BE PART OF THE SHOW", THE MOBSTERS REPLY. A BRUTE WITH GIGANTIC BALLS RUSHES OUT AND THROWS A BOLAS AT SUPERMAN. THE BOLA'S BALLS CONTAIN GREEN KRYPTONITE AND SUPERMAN FALLS TO THE EARTH IN AGONY. WEAK THE ONCE ALL POWERFUL SUPER HERO IS STRIPPED NAKED. THE CAPTURED, NAKED, WEAKENED, RUDE HUNK IS DRAGGED INTO ONE OF THE TENTS. SUPERMAN'S ARMS AND LEGS ARE SECURED WITH ROPES CONTAINING GREEN KRYPTONITE. SUPERMAN'S BODY IS LET TOTALLY NAKED AND EXPOSED. "YOU'RE A GLOVE PUPPET NOW?", A MASKED MOBSTERS TELLS SUPERMAN AS HE FORCES HIS ARM DEEP INTO SUPERMAN'S ARSE. "FILL HIS CUNT", THE MASKED MOBSTER ORDERS. SUPERMAN IS PLOUGHED HARD A FUCK PUPPET CONTROLLED BY HIS NEW MASTERS. "I WILL MAKE BIG BUCK OUT OF YOU SUPER WHORE", THE MASKED MOBSTERS TELLS SUPERMAN. SECURED BY ROPES LIKE A PUPPET SUPERMAN IS HELPLESS.
WHEN A CROWD OF COCK HARD YOUTHS POUR IN SUPERMAN SHUDDERS. SUPERMAN WAS HAVING NONE OF IT NO WAY. THE YOUTHS ARE GIVEN THORN COVERED STICK TO BEAT SUPERMAN RAW. ONE OF THE YOUTHS IS AMAZED BY THE SIZE OF SUPERMAN'S PURPLE BUM CUNT AFTER THEY HAD BEAT HIM INTO SUBMISSION. HUNG UP LIKE A PIECE OF MEAT THE ONCE PROUD, PERFECT IMAGE OF MANHOOD IS NOW A FAGGOT SUCKING WHORE. A CUM SUCKING BITCH FOR STREET PUNKS. AFTER BEING RAVAGED BY THE STREET PUNKS THERE IS SO MUCH SEED IN SUPERMAN'S SWOLLEN TUMMY THAT IT SPURTS OUT OF HIS STRETCHED ARSE. TWO OF THE SIDE SHOW OWNERS DOUBLE FUCK SUPERMAN'S WELLS STRETCHED ARSE HOLE, ALL HIS MANLY PRIDE GONE. HANDS TIDE WITH ROPES CONTAINING GREEN KRYPTONITE SUPERMAN IS THRUST INTO A METAL BOX. THIS IS WHORE SUPERMAN'S NEW HOME. HIS STAPLE DIET REAL MEN;S CUM. SUPERMAN IS TRAPPED AND ENSLAVED BY THE MOB ABUSED PHYSICALLY AND SEXUALLY AS THE SIDE SHOW SEX PUPPET. €12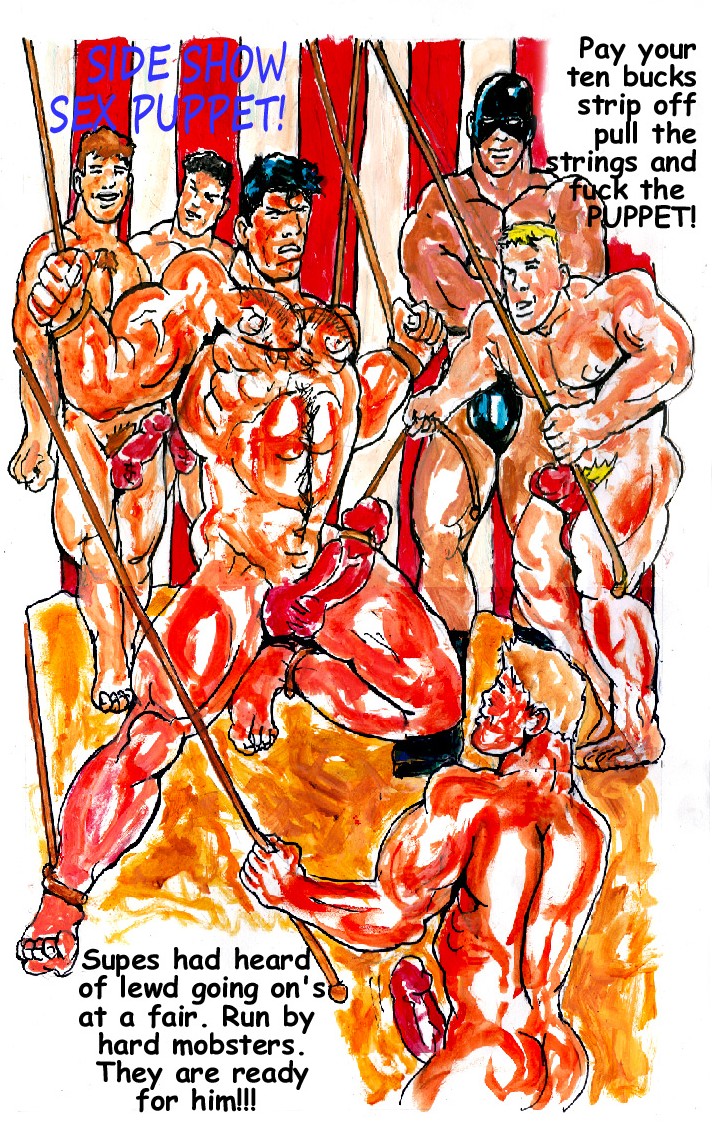 23 SUPERMAN NATIONAL SERVICE PART 1. DUE TO A HUGE SOLAR FLARE SUPERMAN HAD LOST HIS SUPER POWERS. HE IS FORCED INTO DOING NATIONAL SERVICE. DRILL INSTRUCTOR PADDY O'BRIAN IS A BRUTAL TYRANT. HE IS GOING TO BREAK THE ONCE MIGHTY MAN OF STEEL, MAKING HIM HIS ARSE LICKING BITCH. SET DEEP IN THE DESERT CAMP BRUTE FORCE IS NO ORDINARY TRAINING CAMP. IT IS A PLACE WHERE CRIMINALS ARE SENT. WHERE HARD MEN WHO NEED BREAKING ARE SENT. A TALL FIGURE BIGGER THAN THE REST IS IN THE LINE UP OF NEW RECRUITS. PADDY O'BRIAN ORDERD SUPERMAN TO STRIP CALLING HIM DONKMAN. PADDY O'BRIAN BERATED DONKMAN FOR BEING TO SLOW THEN ORDERED HIM TO REMOVE HIS DRAWS. SUPERMAN PROTESTED THAT IS WAS NOT RIGHT. PADDY O'BRIAN ORDERED SUPERMAN NOW NAKED TO BEND OVER. "YOU THINK YOU ARE ARE ABOVE EVERYONE, HERE YOU HAVE NOT RIGHTS?", PADDY O'BRIAN TOLD SUPERMAN.
PADDY O'BRIAN ORDERED THE OTHER RECRUITS TO TRIP TO THE WAIST AND MAN HANDLE THE NAKED DONKMAN. "YOU NEED HARD LABOUR, SHOVELLING SHIT", PADDY O'BRIAN TOLD DONKMAN AND THE OTHER RECRUITS ABUSED HIM AND BEAT HIS ARSE WITH A WHIP. TWO RECRUITS GRAB THE ONCE HERO AND THREW HIM INTO A TRENCH FULL OF SHIT. "FROM NOW ON YOU ARE THE SHIT SHOVELLER, NO CLOTHES, YOU EAT SWILL FROM A BUCKER", PADDY O'BRIAN TOLD SUPERMAN. "I WILL BREAK THAT HIGH AND MIGHTY ATTITUDE", HE ADDED AS SUPERMAN NOW DONKMAN WAS FORCED TO SHOVEL SHIT NAKED. THE LEWDNESS OF IT GAVE SUPERMAN A RAGING HARD ON HIS COCK WOULD NOT GO DOWN.
THE RECRUITS ARE GIVE SOME R AND R TIME TO HUMILIATE THE FALLEN HERO. ONE OF THE RECRUITS LASSOED SUPERMAN'S HARD COCK AND TUGGED IT. WITH HIS THROBBING COCK LASSOED, SUPERMAN LOST HIS FOOTING. THE SHIT ON THE SHOVEL HITS HIM FULL IN THE FACE AND THE CROWD ROARED WITH LAUGHTER. SUPERMAN WAS MOVED TO A POST FOR TETHERING. THE RECRUITS USED BROOMS TO MOVE HIM, WELL HE WAS A FILTHY SAVAGE BEAST. "RECRUITS NEW WEAPON PRACTICE", PADDY O'BRIAN BELLOWED AS A RECRUIT GAVE SUPERMAN AN ENEMA, FILLY HIS ARSE AND BOWELS WITH CLEANING FLUID. IT QUICKLY DAWNED ON SUPERMAN WHAT WEAPON PRACTICE WAS, AS HE EJECTED THE CLEANING FLUID FROM HIS SWOLLEN BOWELS. THE FIRST RECRUIT SLAMMED HIS WEAPON INTO SUPERMAN ARSE, DISPLAYING HIS MANLY HARDNESS IN FRONT OF THE OTHERS. THE ONCE MIGHTY HERO FUCKED BY ARMY RECRUITS. HOODLUMS HE WOULD HAVE TAKEN INTO CUSTODY STRETCH HIS ARSE HOLE. SUPERMAN WAS MADE TO SUCK OFF PADDY O'BRIAN, ALL PART OF HIS BREAKING IN. "GOING TO TEACH YOU REAL GOOD", PADDY O'BRIAN TOLD SUPERMAN AS HE SUCKED HIS COCK. PADDY O'BRIAN USED PHYSICAL AND SEXUAL ABUSE TO BREAK SUPERMAN. €12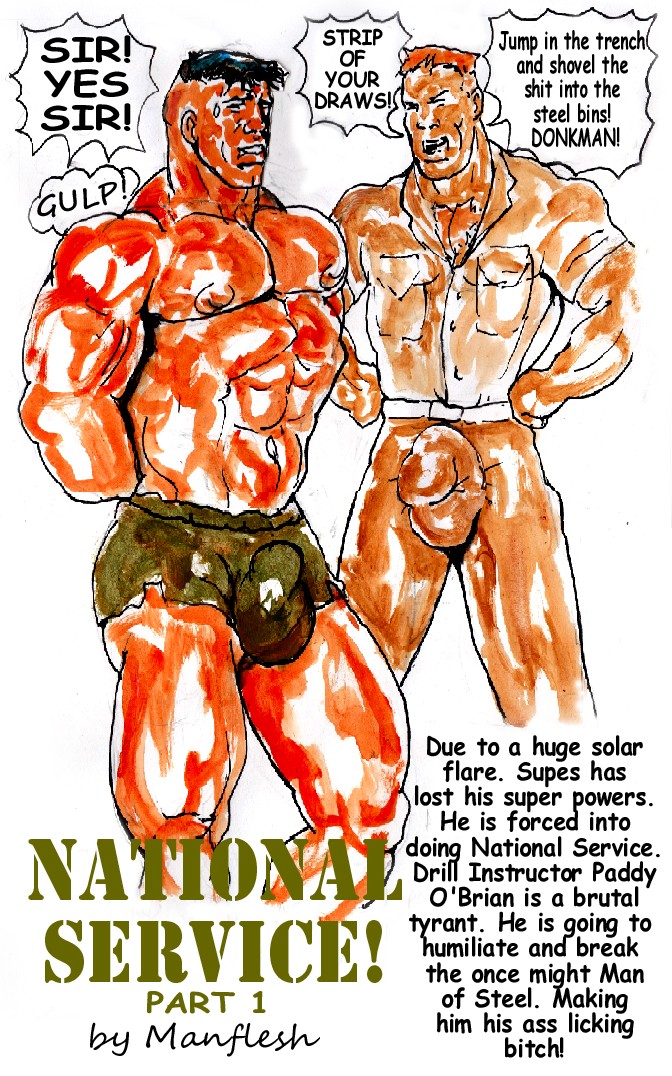 24 SUPERMAN INTERROGATION PART 1. THE MILITARY WANT TO CONTROL THE MAN OF STEEL AS THEIR WEAPON. TO CONTROL HIM THEY MUST BREAK HIM, SHOW THEIR SUPERIORITY OVER HIM. USE THEIR MUSCLE TO CONTROL HIS MUSCLES. AT THE FORTRESS ON A PLATEAU IN THE GRAND CANYON. THE MAN OF STEEL ARRIVED BY HELICOPTER. HIS SUPER POWERS INOPERATIVE, HE IS DRAGGED TO A CHAMBER FOR CORRECTION. A WOOZY SUPERMAN AWOKE. AWAKE SUPERMAN COULD NOT UNDERSTAND WHILE HE HAD NO SUPER POWERS AND A HUGE ERECTION, ALSO WHY HE WAS A PRISONER. "YOU ARE OWNED BY THE MILITARY, WE WILL BREAK YOU, TAME YOU, YOU WILL BE BENT TO OUR WILL", LIEUTENANT DOBBS TOLD SUPERMAN. BY THE TIME I'M FINISHED WITH YOU, YOU WILL BE BENT FOR GOOD", LIEUTENANT DOBBS SAID AS HE RIPPED THE TOP OF SUPERMAN'S UNDERWEAR OFF HIS CHEST AND SHOULDERS.
THE LIEUTENANT RUBBED HIMSELF ON SUPERMAN'S EXPOSED BACK WHILE REACHING ROUND AND SQUEEZING SUPERMAN'S NIPPLES. HE INJECTS SUPERMAN'S NIPPLES WITH PREGNANT SOW DNA, AND SUPERMAN'S NIPPLES BEGAN TO SWELL. SUPERMAN'S SWOLLEN TITS WERE READY FRO ACTION. "ON;Y THE START JUST YOU WAIT?", LIEUTENANT DOBBS SAID AS HIS MEN ATTACHED WEIGHTED SHARP STEEL NIPPLE CLAMPS TO SUPERMAN'S SWOLLEN NIPPLES. "READY FOR YOUR NEXT LESSON?", LIEUTENANT DOBBS ASKED AS SUPERMAN SQUIRMED IN PAIN. THINGS WERE ABOUT TO HEAT UP FOR SUPERMAN. "TIME FOR MY PETS?", LIEUTENANT DOBBS SAID, REACHING FOR TWO GLASS VIALS OF FIRE ANTS. LIEUTENANT DOBBS PLACED THE GLASS VIALS FILLED OF FIRE ANTS OVER SUPERMAN'S SWOLLEN NIPPLES. SUPERMAN WAS STRIPPED NAKED HE WAS IN PAIN FROM THE FIRE ANTS BITING HIS NIPPLES AND HIS COCK WAS HARD LEAKING CUM. "LOOK AT YOUR COCK S&M MAKES YOU HARD?", LIEUTENANT DOBBS SAID. "TIME TO HEAT UP YOUR BUT MAKE IT RED RAW", HE ADDED AS SUPERMAN WAS SECURED LEGS SPREAD WIDE. "I'M SWEATING YOU NEED MORE BEATING",LIEUTENANT DOBBS SAID AFTER BEATING SUPERMAN'S BUTT FOR HALF AN HOUR. HE ORDERED HIS MEN TO CARRY ON.
AFTER ANOTHER HOUR OF BEATING SUPERMAN IS IN A STUPOR HIS SWOLLEN ARSE HUNG LIKE AN OVER RIPE PLUM. HE WAS READY FOR HIS NEXT ORDEAL. THIS WILL AWAKE SUPERMAN WITH A JOLT, AN ARSE LIP SPREADER WITH A FIRE ANTS INSIDE, LIEUTENANT DOBBS THOUGHT TO HIMSELF. LIEUTENANT DOBBS APPLIED THE ARSE LIP SPREADER TO SUPERMAN'S ANUS. A SHARP PAIN IN HIS ARSE LIPS WOKE SUPERMAN WITH A JOLT. THE PAIN INFLICTED BY THE BITING JAWS OF THE FIRE ANTS SENT WAVES OF PAIN UP SUPERMAN'S ARSE. RACKED IN PAIN HE SOBBED VIOLENTLY. "WOULD YOU LIKE ME TO REMOVE THE ARSE SPREADER FROM YOUR ANUS AND PUT SOME CREAM ON IT?", LIEUTENANT DOBBS ASKED. "BEG FOR IT?", HE ADDED. "PLEASE SIRE, I NEED CREAM SIR", SUPERMAN SOBBED IN REPLY. A VERY SORE SUPERMAN WAS RELEASED AND TAKEN TO ANOTHER CELL, THAT CONTAINED A RUBBER MATTRESS WITH CHAIN. HIS NEXT ORDEAL WAS ABOUT TO BEGIN. THE MILITRAY USE MORE PHYSICAL AND SEXUAL ABUSE TO BREAK SUPERMAN. €12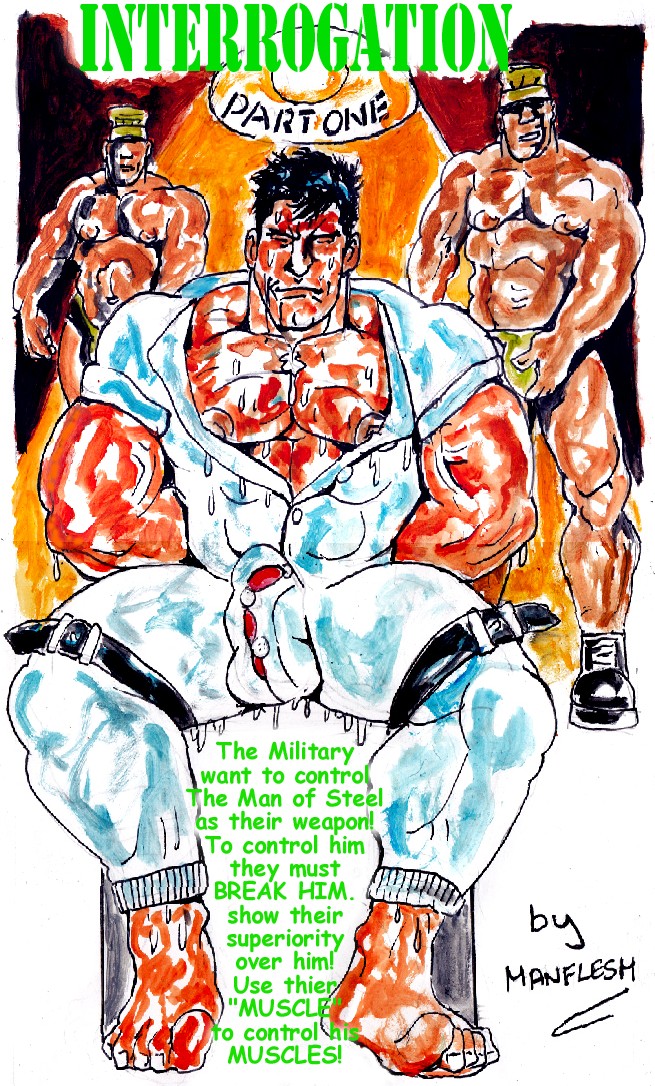 25 SUPERMAN INTERROGATION PART 2 MORE PAIN TO CUMM. SUPERMAN MUST LEARN THAT HIS MIND AND BODY IS OWNED BY THE SUPERIOR US MILITARY, IN THE FORM OF LIEUTENANT DOBBS. WHEN HE HAS BROKEN SUPERMAN, THE ANIMAL WILL TAKE THE LIEUTENANTS COCK UP ITS ARSE. SUPERMAN IN STRAPPED TO A MATTRESS AND A MACHINE DRIVEN BUTT BUSTER IS LINED UP WITH HIS ARSE. IT LOOKS LIKE SUPERMAN IS IN FR A SLEEPLESS NIGHT AS THE MACHINE STARTS TO FUCK HIM RELENTLESSLY. BEFORE LIEUTENANT DOBBS RETIRED FORT HE NIGHT HE ORDER HIS MEN TO SPEED UP THE MACHINE SO THE ALIENS MOANS COULD BE HEARD FROM THEIR DORMITORY, AS THEY GAVE THEIR MANLY WEAPONS A HARD RUBBING. LIEUTENANT DOBBS IS ALL MAN NO LICKING TITS AND VAG FOR HIM, HE LIKES SEX HARD AND MANLY. THE SCREAMS AND WHIMPERS OF SUPERMAN MAKE THEM ALL MORE EXCITED AS TWO OF THE LIEUTENANT'S MEAN SUCK AND LIKE HIS COCK.
THE NEXT MORNING SUPERMAN'S ARSE IS SO SWOLLEN IT WOBBLED. TODAY HIS TRAINING WOULD BE TAKEN TO A NEW LEVEL. SUPERMAN HAD A CHIP INSERTED IN HIS BALL SACK. WHEN IT WAS ACTIVATED GREEN KRYPTONITE STOPPED HIS SUPER POWERS. IT WAS ACTIVATED AND LEFT ON UNTIL HE WAS BROKEN. THE HELPLESS SUPERMAN IS DRAGGED AWAY FOR A HAIRCUT. THE ELECTRIC CLIPPERS BUZZED AND SUPERMAN WAS POWERLESS TO PREVENT THE REMOVAL OF HIS GREAT LOCKS. WITH A MILITARY HAIRCUT AND APPLICATION OF PERMANENT HAIR ROOT REMOVAL, HE WOULD NEVER HAVE A CIVILIAN HAIR CUT AGAIN. SUPERMAN'S ARMPIT HAIR AND PUBES WERE REMOVED NEXT LEAVING HIM DENUDED FROM THE BACK OF HIS NECK TO HIS GROIN. SUPERMAN HAD STEEL BALLS HUNG FROM HIS TITS AND TESTICLES READY FOR HIS NEXT ORDEAL.
LIEUTENANT DOBBS WATCHED AS SUPERMAN WAS TETHERED TO A RUNNING MACHINE. A JOLT FOR A TAZER MADE HIM JUMP ON QUICK. THE HEAVY STEEL BALLS SEND WAVES OF PAIN FROM HIS NIPPLES UP TO HIS BRAIN. WITH STEEL BALLS HANGING FROM HIS SEED BALLS, SUPERMAN IS IN FOR A PAINFULLY SORE TIME. AS SUPERMAN RAN HIS NAKED PROTRUDING PARTS WERE YANKED BY THE STEEL BALLS, MAKING HIM ORGASM. POOR SUPERMAN HAD NO CONTROL OVER HIS SEXUAL ORGANS.
FOR THREE DAYS SUPERMAN HUNG SECURED NAKED IN A HARNESS. HE IS GIVEN ONLY VIAGRA AND WATER. HE WAS VERY HUNGRY, HIS BODY AND MIND READY FOR INDOCTRINATION. "FROM NOW ON YOUR ONLY FOOD WILL BE CUM, SO GET READY TO SUCK", LIEUTENANT DOBBS TOLD SUPERMAN. "IF YOU BITE YOUR TEETH WILL BE PULLED OUT", LIEUTENANT DOBBS WARNED. HUNGRY WITH NO CHOICE SUPERMAN BECAME A COCK SUCKERING, DICK LICKING HOMO BITCH. THREE HOURS LATER HE HAD SUCKED THE CUM FORM EVERY SOLDIER ON THE BASE.
THE ONCE MIGHTY MAN OF STEEL WAS TETHERED IN A PIG PEN, OPEN TO THE HEAT OF THE DAY AND THE COLD OF THE NIGHT. A BALL GAG WITH A TUBE FIXED TO HIS HEAD PERMANENTLY FEEDS HIM WITH MILITARY SPERM FROM A LARGE KEGS. THE MEN WANK INTO THE KEGS FOUR TIMES A DAY. THE SIGHT OF SUPERMAN BEING SCREWED BY THE BOAR REALLY MAKES THEIR COCK SPURT. THE MILITRAY USE MORE PHYSICAL AND SEXUAL ABUSE TO BREAK SUPERMAN. €12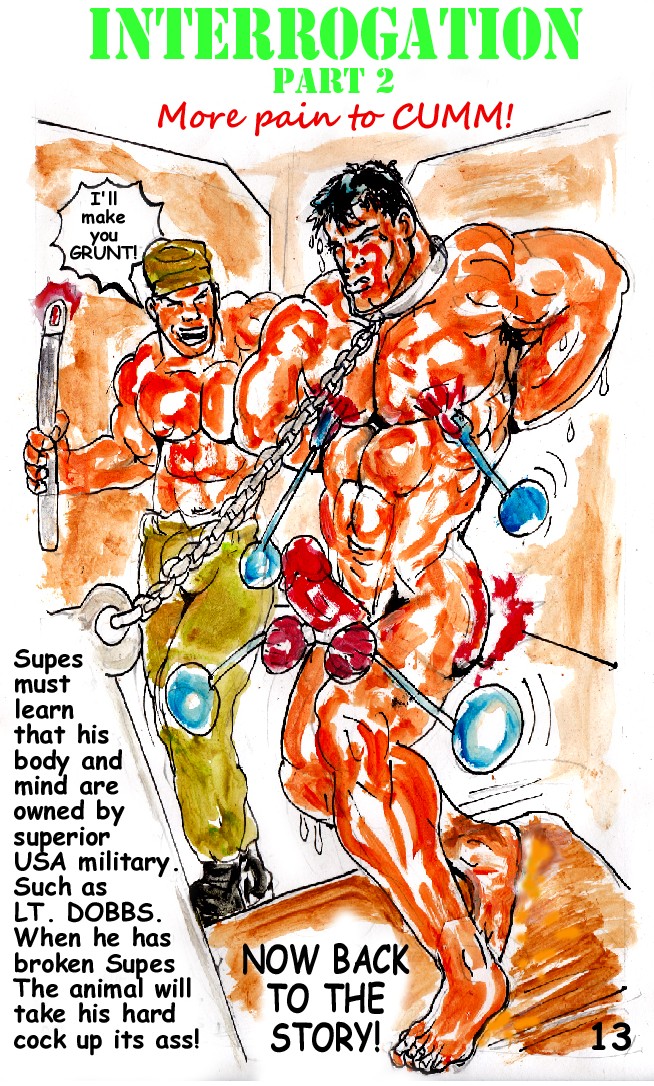 26 CLARK KENT MURDERED SUPERMAN. CLARK KENT IS TAKEN OUT INTO THE STREETS BY THE POLICE CUFFED NEAR NAKED AND BRUISED. HE HAD BEEN SEEN BY THREE HOODS SELLING WEED WHO WITNESSED HIM THROWING SUPERMAN'S UNIFORM INTO THE METROPOLIS'S NORTH RIVER. THE POLICE INTENDED TO GET TO THE BOTTOM OF IT AND GET TO CLARK'S BOTTOM THEY WILL. HE WILL BE TAKEN TO ALL THE PLACES WITNESSES HAVE SEEN HIM HANG OUT. LIKE CUM'S LEATHER BAR FOR A FULL REPLAY OF HIS LEWD HABITS.
ARMED POLICE BROKE INTO CLARK KENT'S ROOM AND FOUND HIM A LEWD STATE. METROPOLIS WAS HAVING ONE OF ITS HEAT WAVES. CLARK SWEATS AS HE SLEEPS HAVING LOST HIS SUPER POWERS FOR THE LAST THREE MONTHS. IT WAS CAUSED BY GREEN ASTEROID DUCT IN THE ATMOSPHERE THAT COULD HANG AROUND FOR MONTHS. HE HAD TO GET RID OF HIS SUPERMAN CLOTHES AS HIS BODY BECAME FLESHIER. HE COULD NOW FEEL HEAT AND COLD. AS THE POLICE ENTER HIS APARTMENT HE WAS ABOUT TO FEEL PAIN. WITH NO SUPER POWERS CLARK IS NO MATCH FOR THE POLICE SWAT TEAM WHO MAN HANDLE HIM IGNORING HIS PLEASE TO COME QUIETLY. THE POLICE TELL CLARK HE IS CHARGED WITH THE MURDER OF SUPERMAN. SUPERMAN IS DRESSED IN A PRISON SMOCK THE BOTTOM HALF CUT OFF. CLARK IS LED THROUGH THE STREET BY TWO HUGE POLICE OFFICERS MAHONEY AND POLOSKI, WHO ENCOURAGE THE YOUTHS ON THE STREET TO SPIT ON HIM. SOME EVEN TAKE MOBILE PHOTO IMAGES OF HIS SPIT SPLATTERED VIRTUALLY NUDE, LEWD STATE.
AT POLICE HEAD QUARTERS CLARK IS DRAGGED INTO A LIFT THAT TAKE HIM DEEP BELOW. HE IS INTERROGATED BY THE POLICE. "YOU KILLED SUPERMAN, ADMIT IT", A POLICE OFFICE DEMANDED. SUPER MAN DENIED THE CHARGE. CLARK LOST HIS TEMPER AND LET RIP ATTACKING THE POLICE AND SMASHING A COMPUTER WITH HIS FEET. WITH HIS HANDS CUFFED BEHIND HIM CLARK HAD NO CHANCE AND WAS QUICKLY OVER POWERED BY THE POLICE. THE DAMAGE CAUSED TO THE COMMANDERS OFFICE WILL LABEL CLARK AS A VIOLENT BEAST, WHO HAD TO BE BROKEN HARD. "TIE HIM TO THE DESK AND SPREAD HIS LEGS WIDE ITS TIME TO INTERROGATE HIM HARD", THE COMMANDER SAID TO OFFICER MAHONEY WHO WAS EAGER TO GET STUCK IN. CLARK IS ATTACKED BY MAHONEY AND POLOSKI. MAHONEY FIST FUCKED CLARK THEN SHOVED A SPIKED DILDO STICK UP CLARK'S ARSE UNTIL HE PASSED OUT. "TAKE HIM TO THE CLUB TO SHOW PEOPLE HOW SLUTTY HE IS", THE COMMANDER ORDERED. WHEN CLARK CAME ROUND HE NO LONGER HAD THE PRISON SHIRT ON. HE WAS NAKED AND COLLARED, WITH A DILDO IN HIS ARSE. MAHONEY AND POLOSKI HAD STRIPED DOWN TO LEATHER COD PIECES. THEY WERE GOING TO TAKE CLARK TO THE CUM CLUB, TO SHOW THE MEMBERS HOW LEWDLY DEPRAVED HE WAS. ANOTHER CLASSIC MANFLESH SEXUAL AND PHYSICAL HUMILIATION AND DEBASEMENT OF SUPERMAN. €12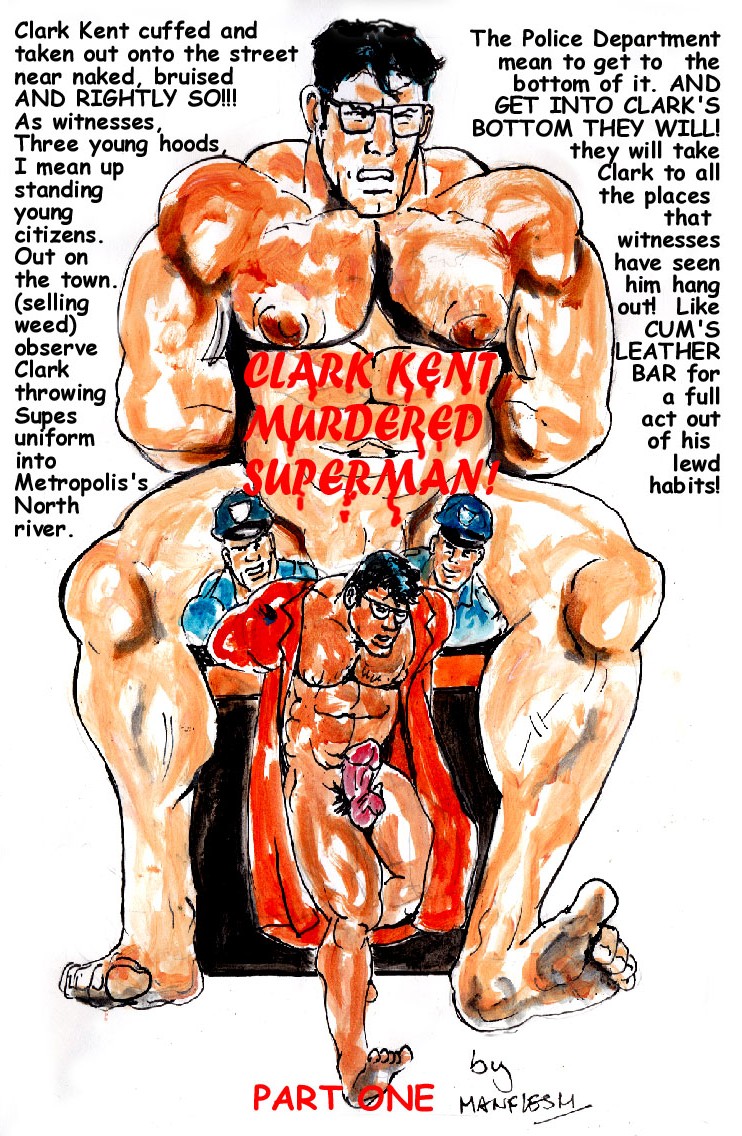 27 CLARK KENT MURDERED SUPERMAN PART 2. MADE TO CRAWL THROUGH THE STREETS NAKED CLARK / SUPERMAN ARRIVED AT THE ENTRANCE TOP THE CUM CLUB. HE WAS MADE TO SHIT AND PEE IN THE KERB LIKE A DOG. HE WAS ABOUT TO ENTER A WORLD OF BRUTAL MAN ON MAN SEX. TWO HUGE BRUTES GRABBED CLARK AND DRAGGED HIM DOWN A DESCENDING PASSAGE INTO THE CUBS PLAY AREA. "BITCH WELCOME TO YOUR NEW HOME", ONE OF THE BRUTES SAID. "FOUR EYES SURE IS HUNKY", THE OTHER SAID. CLARK'S ARMS ARE RESTRAINED AND STRETCHED ABOVE HIS HEAD SO ONLY HIS TOES TOUCHED THE FLOOR. HIS COCK BUSH WAS TORN OUT WITH A STICK COVERED IN STICKY RESIN. CLARK'S STRETCHED FLESH WAS WHIPPED RED RAW. THE LASHES OF THE WHIP HAD BEEN DIPPED IN WARM WATER CONTAINING CHILLI JUICE. THERE WAS NO PART OF HIS BODY THAT WAS NOT RED RAW. MANY OF THE CUM CLUB MEMBERS WERE COPS AND ENJOYED THEIR INTERROGATION OF CLARK. CLARK / SUPERMAN'S SORE FLESH IS RUBBED HARD BY ALL THE MEMBERS. FINGERS WERE THRUST UP HIS ANUS MAKING HIS COCK SELL AND FORCING HIM TO ORGASM. NIPPLE CLAMPS WERE ATTACHED TO CLARK'S SORE, RED RAW NIPPLES. MAKING HIM MOAN ALOUD. "TIME TO WHORESHIP OUR COCKS", ONE OF THE MEMBERS ORDERED YANKING ON THE CHAIN CONNECTED TO CLARK'S NIPPLE CLAMPS. IF CLARK STOPPED SUCKING OFF THE MEMBERS THE CHAIN ON THE CLAMPS WERE TUGGED HARD. "SUCK A REAL MAN'S COCK JAIL BIRD", ONE OF THE MEMBERS ORDERED. CLARK'S MACHO PRIDE WAS LOST AS HIS MOUTH WAS USED AS A CUNT FOR REAL MEN'S COCKS.
CLARK WAS HUNG UPSIDE DOWN BY ONE LEG LIKE A SLAB OF PRIME BEEF, HIS MUSCULAR BUT READY FOR BASTING. A THOROUGH INTERROGATION OF HIS ANUS WAS ABOUT TO BEGIN. CLARK IS FUCKED RAW AND HE HAD TO TAKE AS HE HAD NO WAY OF PROVING HE DIDN'T KILL SUPERMAN. CLARK COULD NOT SAY HE WAS SUPERMAN AS SUPERMAN WITH SUPER POWERS HIS BLOOD WAS DIFFERENT FORM THE CLARK BLOOD THAT WAS MORTAL NOW. HE HAD LET SOME OF HIS SUPER BLOOD BE KEPT ON RECORD WHEN HE UNCOVERED A FALSE SUPERMAN ON ONE OF HIS PREVIOUS ADVENTURES. CLARK WAS TAKEN TO THE CLUBS LATRINE. HE WAS ABOUT TO BECOME THE CLUBS TOILET ANIMAL, AND WHORESHIP THE MEMBERS COCK JUICE. A PIPE FROM THE URINAL DRAIN WAS CONNECTED TO CLARK'S MOUTH AND SUED BY THE MEMBERS. CLARK COULD ONLY TAKE WHAT WAS COMING, AND COME IT DID. LITRE AFTER LITRE CAME DOWN THE PLUG INTO HIS GUT. STERIODS AND VIAGRA WERE ADDED TO THE MIX. AFTER A WEEK THE ONCE AND MIGHTY SUPERMAN'S BODY HAD SWELLED UP INTO A BALL OF MUSCLE FLESH. A SCOOPED BOWL IS ATTACHED TO SUPERMAN'S HEAD JUST BELOW HIS CHIN TO ALLOW REAL MEN TO PISS IN. "YOU ARE BEING TAKEN ONTO THE STREETS FOR REAL MEN TO PISS IN YOUR MOUTH", A COP ONE OF THE MEMBERS TOLD CLARK. "DOWN ON ALL FOURS LIKE THE DOG YOU ARE", HE ORDERED. THING COULD ONLY GET WORSE FOR ONCE SUPER EX-HERO AS HE MADE TO CRAWL AROUND THE STREETS AND LET MAN PISS IN HIS MOUTH. ANOTHER CLASSIC MANFLESH SEXUAL AND PHYSICAL HUMILIATION AND DEBASEMENT OF SUPERMAN CONTINUES. €12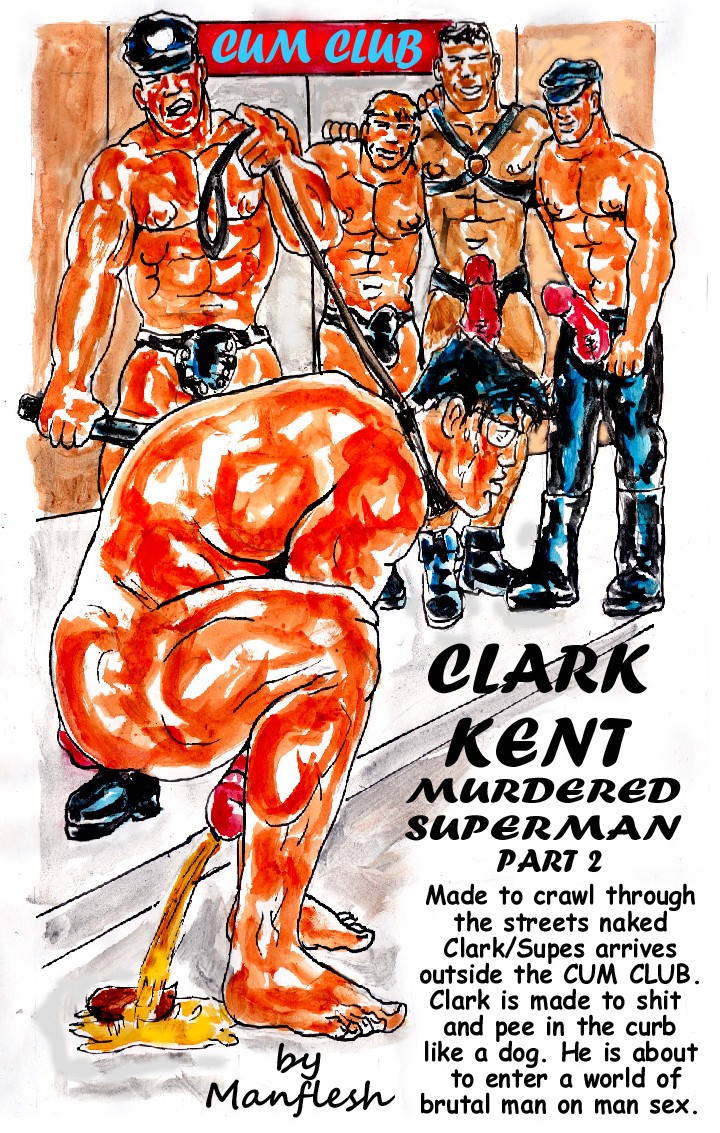 28 SUPERMAN HOLIDAY HELL PART 2 BACK FOR MORE. SUPERMAN WOKE UP IN AN ORGASMIC SWEAT, HE NEEDED A FIX, HIS HOLIDAY IN HELL. HAVE DEVISED A PLAN SUPERMAN TOOK A RUCK SACK WITH HIM. HAVING WORKED OUT WHERE TO LAND HE PICKED OUT A PLACE RULED BY A A HARSH WAR LORD. HE STRIPPED TOOK OUT A BAG FORM HIS RUCK SACK AND OUT HIS SUIT IN IT, THEN HID THE BAG UNDER A ROCK. SUPERMAN TOOK OUT FROM HIS RUCKSACK AND OUT ON, HIKING BOOTS, SOCK, A SKIMPY PINK SATIN TOP AND SHORTS. LEFT IN HI RUCK SACK WAS A COPY OF WORLD GAY GUIDE BOOK AND TWO HUNDRED DOLLARS. SUPERMAN TOOK A CAPSULE CONTAINING ENOUGH GREEN KRYPTONITE TO LEAVE HIM WITH HUMAN POWERS ONLY FOR TWO WEEKS.
AS PLANNED HE HAD BEEN SPOTTED BY THE WAR LORDS MEN AND HAD MAD QUITE AN IMPRESSION. HARD BRUTES READY TO PUT ME IN MY PLACE, I'M LEAKING PRE-CUM, SUPERMAN THOUGHT TO HIMSELF AS HE WAS CONFRONTED BY THREE OF THE WAR LORDS MEN. "BET YOU ARE A BENDER", ONE OF THE THREE SAID AS HE STRIPPED SUPERMAN, WHILE THE OTHER TWO WENT THROUGH HIS RUCK SACK. "HE IS NO MAN HIS BUM IS OUR CUNT", HE ADDED. "THE BOSS WILL WANT HIM", ONE OF THE OTHER WAR LORDS MEN SAID WHEN HE DISCOVERED THE WORLD GAY GUIDE BOOK. SUPERMAN WAS TIED TO THE FRONT OF THEIR JEEP. AS THE JEEP BOUNCED ACROSS THE ROUGH TERRAIN, SUPERMAN'S ARSE BURNED FROM THE HARD COCONUT STUFFED IN IT.
WE THEY ARRIVED AT THE WAR LORDS FORTRESS, SUPERMAN WAS UNTIED AND TAKEN BEFORE THE WAR LORD. A GIANT BRUTE OWNER OF ALL HER SURVEYED. "THIS IS THE BITCH BOSS", ONE OF THE WAR LORDS MEN SAID. "WE CAN PROVE OUR MALENESS ON IT", ANOTHER SAID. "WORK IT SORE, FUCK IT SORE", THE WAR LORD REPLIED. THE WAR LORD ORDERED SUPERMAN TO KNEEL. GRINNING THE WAR LORD REMOVED HIS COMBAT TROUSERS. HIS WEAPON WAS HARD AND READY FOR ACTION. SUPERMAN THRUST HIS OPEN MOUTH FORWARD. SUPERMAN WAS MADE TO TAKE THREE COCK AT A TIME. SUPERMAN TOOK ALL THREE COCK AT THE SAME TIME AND HIS STRETCH PUSSY MOUTH WAS FUCKED RAW. SUPERMAN WAS DRAGGED TO A DATE PRESSED AND CHAINED TO IT. "MAKE YOU LOOK MORE MANLY?", ONE OF THE WARLORDS MEN SAID AS HE CUT OFF SUPERMAN'S HAIR. SLAVE DID NOT HAVE MAN BUSHES S THAT WAS REMOVED TOO. SUPERMAN'S NOSE WAS BROKEN AND ONLY A CURL OF HIS HAIR WAS LEFT RUINING HIS FILM START LOOKS. SUPERMAN WAS COVERED IN DONKEY SHIT MIXED WITH COCONUT OIL. "YOUR ONLY COVERING FROM NOW ON DONKEY SHIT?", THE WARD LORD SAID. SUPERMAN'S BRAIN WISHED THAT HE HAD STAYED AT HOME, BUT HIS COCK WAS ROCK HARD. AFTER A HARD DAY PUSHING THE GRINDER. SUPERMAN'S ARSE WAS GROUND HARD. THIS WAS ONLY THE START OF A VERY LONG HOLIDAY IN HELL. ANOTHER GREAT MANFLESH STORY OF THE SEXUAL AND PHYSICAL HUMILIATION AND DEBASEMENT OF SUPERMAN. €12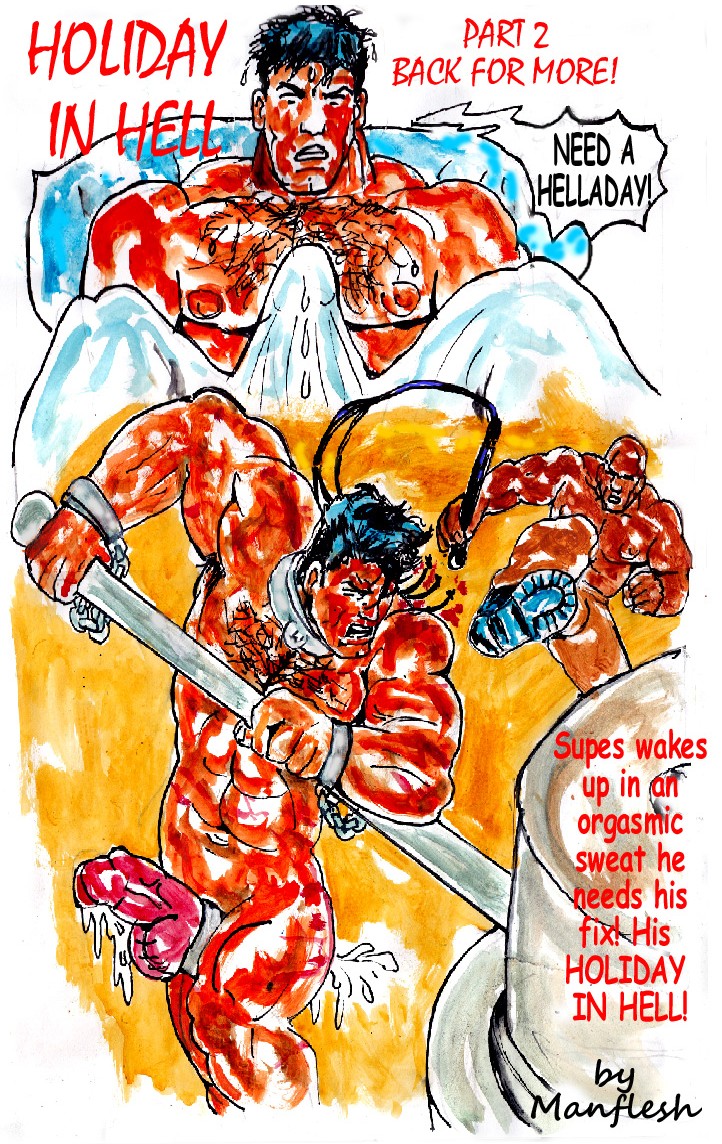 29 SUPERMAN FALL FROM GRACE. WHAT HAS HAPPENED THE ONCE MIGHTY MAN OF STEEL IS IN PRISON. NAKED, HUMBLED, HOMO SUCKING THE COCK OF A PRISON GUARD, HIS OWN COCK LEWDLY ERECT. SUPERMAN HAD BEEN FLYING OVER EASTERN BRUTENSTAN WHEN HE LOST HIS SUPPER POWERS AND CRASHED TO EARTH. HE HAD TO HIDE HIS SUPER SUIT AND FIND A WAY OUT OF THE COUNTRY. BRUTENSTAN WAS A STATE RUN BY THE ARMY WITH AN IRON FIST. SUPERMAN STOLE A PEASANTS PANTALOONS FROM A WASHING LINE. BUT TEN MILES ON HE WAS CAUGHT AND TAKEN TO A HARD LABOUR CAMP.
LOSING POWERS SUPERMAN CRASHED TO THE EARTH. NO-ONE MUST KNOW IT WAS HIM SO HE REMOVES HIS COSTUME AND BURIES IT. SUPERMAN GRABBED SOME PANTALOONS HE SAW ON A LINE AND RUSHED OFF. AS NIGHT FELL SUPERMAN'S LUCK RAN OUT AND HE WAS CAPTURED BY AN ARMY PATROL. THE SOLDIERS ACCUSE SUPERMAN OF BEING A WESTERN SPY AND ORDER HIM TO KEEP HIS HANDS UP OR BE SHOT ON THE SPOT. ONE SOLIDER RIPPED SUPERMAN'S PANTALOONS AND TIED A ROPE ROUND HIS BALLS AND THE OTHER END TO THE JEEP. SUPERMAN HAD NO CHOICE BUT TO KEEP HIS ARMS RAISE WHILE HE TROTTED ON AFTER THE JEEP, WITH HIS COCK AND BALLS RUDELY DISPLAYED. THERE WAS NO ESCAPE FROM THIS LEWD MISFORTUNE.
AFTER SIX GRUELLING HOURS, THE ONCE POWERFUL SUPER HERO IS DRAGGED INTO HIS NEW HOME A PRISON. PRISON SUPERMAN IS TAKEN BEFORE THE COMMANDER OF THE HOUSE OF CORRECTION, A HUGE MEAN LOOKING BRUTE OF A MAN. "GIVE YOU A DEEP CAVITY SEARCH, REAL HARD", THE COMMANDER TOLD SUPERMAN. "CHECK YOU CUNTEE FOR DRUGS", HE ADDED REMOVING HIS TROUSERS, INTENT ON FUCKING SUPERMAN, WHO WAS HELD DOWN BY TWO GUARDS. THE COMMANDER EXPLAINED THE RULES TO SUPERMAN AS HE FUCKED HIM, HE HAD NO RIGHTS. SUPERMAN HAD TO SUCK A SOLDIERS COCK WHILE THE COMMANDER FUCKED HIM. SUPERMAN COULD ONLY TAKE THE BEASTING, HE HAD TRULY REACHED ROCK BOTTOM. SUPERMAN'S MOUTH AND ARSE CUNT ARE USED HARD BY THE COMMANDER AND TWO GUARDS. TAUGHT HARD HE IS OWNED INSIDE AND OUT. WITH SEED DRIPPING FROM HIS ARSE PRISONER SUPERMAN WAS DRAGGED TO ONE OF THE PRISON PENS. WHERE BRUTES ARE KEPT LIKE ANIMALS. SUPERMAN WAS THROWN INTO THE MASS OF HARD NAKED MUSCLE FLESH. IT WAS OUT OF THE FRYING PAN INTO THE FIRE FOR SUPERMAN AS IT WAS FRESH MEAT FOR THE PRISONERS TO SAMPLES. "FRESH MEAT FOR OUR PRICKS", THE PRISONERS SAID EAGERLY AS THEY GATHERED ROUND SUPERMAN.
SUPERMAN WAS FUCKED ONE BY ONE BY THE OTHER BRUTISH PRISONERS. THE GUARDS COULD SEE THAT THE WESTERNER WAS BEING WELL BROKEN IN BY THE OTHER PRISONERS. THEY KNEW HE WOULD SOON BE A NAKED WORK BEAST LIKE THE REST OF THEM. THIS WAS THE START OF ANOTHER GREAT MANFLESH STORY OF THE SEXUAL AND PHYSICAL HUMILIATION AND DEBASEMENT OF SUPERMAN. €12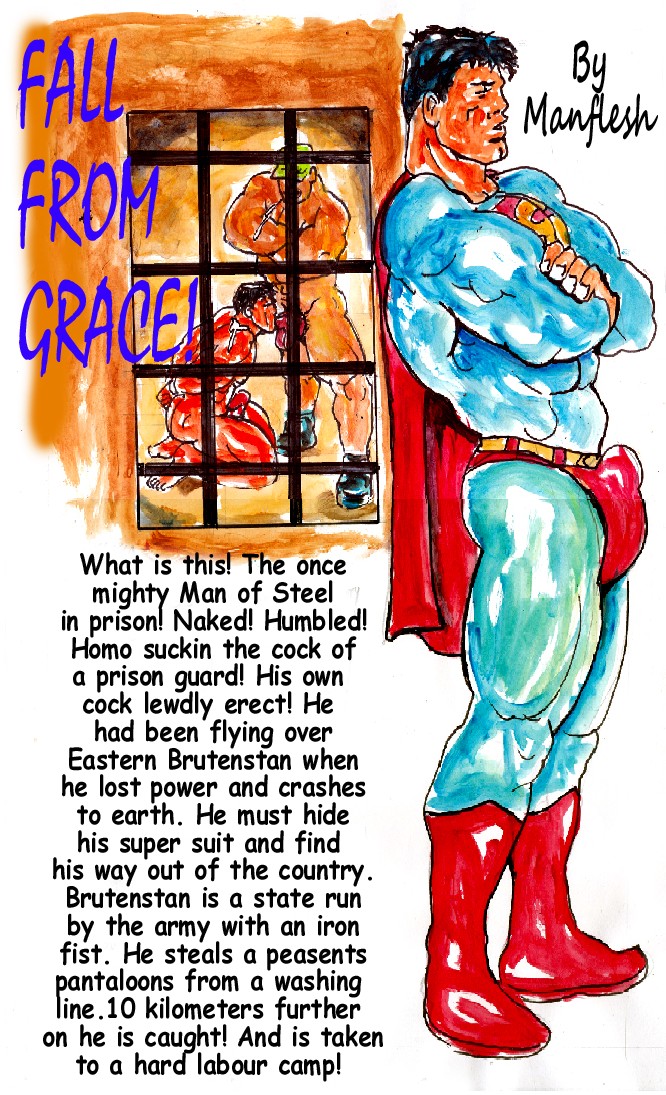 30 THE VAMPIRE LORD PART 3. THE LATEST MANFLESH MIND CONTROL FIEND THE VAMPIRE LORD MAKES SUPERMAN HIS LATEST VICTIM. WE FIND SUPERMAN RUNNING THROUGH AN EAST EUROPEAN WOOD, HIS CLOTHES SLASHED FROM HIM, HAVING BEEN ATTACKED BY A WHILE FLYING OVER HEAD. HIS MIND HAD BEEN ALTERED TO FORGET HIS SUPER POWERS AND HE CRASHED TO THE GROUND. AS HE FLEW OVER THE FOREST, SUPERMAN FELT AS IF SOMETHING POWERFUL WAS BLOCKING HIM MIND. HE WAS MADE TO THINK HE COULD NOT FLY. IT WAS AS IF HIS SUPER POWERS HAD BEEN SWITCHED OFF. HE CRASHED TO THE GROUND, HIS CAPE WAS RIPPED TO SHREDS BY THE BRANCHES OF THE TREE THAT BROKE HIS FALL.
SUPERMAN WAS ATTACKED BY A CREATURE OF THE NIGHT, THE VAMPIRE LORD. HE RIPPED OFF SUPERMAN'S TUNIC AND FANGED HIM, SUCKING OUT A PINT OF BLOOD. WITH A PINT OF BLOOD TAKEN, SUPERMAN RAN IN A GAME OF CATCH AND SUCK. HE WAS CAUGHT AND HIS TIGHTS AND DRAWS RIPPED OFF. SUPERMAN'S LEGS WERE GRABBED AND HE WAS PULLED UP, AND LEGS SPREAD, DISPLAYING HIS ANUS. A SECOND PINT OF BLOOD WAS TAKEN FROM SUPERMAN'S ANUS. THE VAMPIRE LORD LIKED TO PLAY WITH HIS BLOODED MEAT. WITH TWO POINTS OF BLOOD SUCKED, SUPERMAN QUICKLY DROPPED LIGHT HEADED, EXHAUSTED. THE THIRD PINT OF BLOOD WAS TAKEN FROM SUPERMAN'S COCK. BIT BY BIT IT WAS DRAINED OF BLOOD. THREE PINTS OF BLOOD HAD BEEN TAKEN. TOTALLY NAKED EVEN HIS BOOTS REMOVED, SUPERMAN RAN. HIS COCK SKIN, LIMP AND DANGLING, A KNOT TIED IN IT STOPPED IT REFILLING WITH BLOOD. HIS COCK HAIR HAD FALLEN OUT IN SHOCK. THE SUPERMAN FELT FEINT AND STOPPED, HE HAD TO TAKE WHAT WAS COMING. SUPERMAN'S LEGS WERE GRABBED AND LIFTED UP AGAIN BEFORE BEING SPREAD WIDE. SUPERMAN FELT A SHARP PAIN AS THE VAMPIRES CANINES SANK INTO HIS BALLS, DRAINING THEM OF BLOOD. WITH FOUR PINTS OF BLOOD TAKEN, SUPERMAN CAN ONLY STUMBLE ON, THEN HE FELL DIZZY WITH LOSS OF BLOOD.
THE VAMPIRE LORD FUCKED THE FALLEN HERO, WHO WAS NOW JUST A DRINK BAR AND FUCK WHORE. A BROKEN PIECE OF LIVE STOCK. HAVING FILLED THE ONCE MIGHTY MAN OF STEELS INNARDS WITH HIS HIS THICK SLIMY VAMPIRE CUM. THE LUMP OF MEAT FULL OF PRIME BLOOD, SUPERMAN WAS CARRIED BACK TO THE VAMPIRE'S CASTLE. THE VAMPIRE LORD WANTED SUPERMAN TO PUT ON MORE SLABS OF BLOOD RICH MUSCLE. SO AS WALL AS FORCED TRAINING, SUPERMAN HAD TO EAT FIFTY KILO OF DEER A DAY, BONES AND ALL. SUPERMAN ROBBED OF HIS SUPER POWERS BY MIND CONTROL, WAS ATTACKED AND DRAINED OF BLOOD AND ENSLAVED BY A MIND CONTROL VAMPIRE. A NEW MANFLESH TWIST ON HUMILIATION AND DEBASEMENT OF SUPER MAN. €12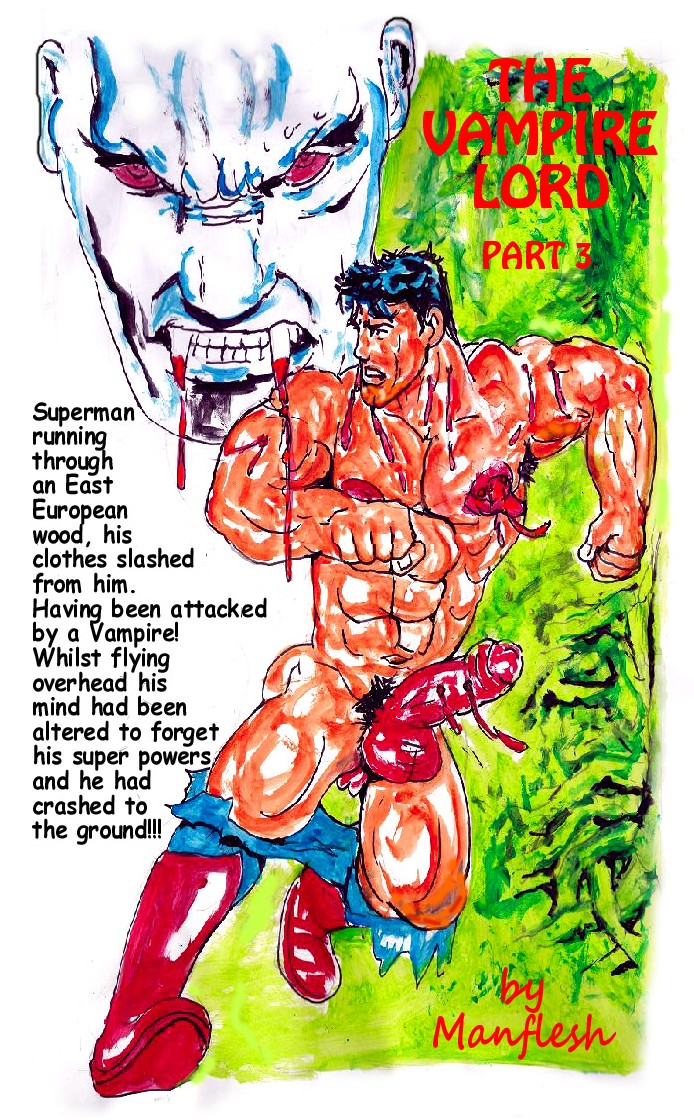 31 SUPERMAN ASYLUM PART 1. A SUNNY MORNING THAT WOULD SOON TURN INTO A SUMMER HEAT WAVE. A DAY THAT WOULD CHANGE SUPERMAN FOREVER. SUPERMAN HAD BEEN SUMMOND TO THE PENTAGON BY THE COMMANDER IN CHIEF HOLT BANNER. SUPERMAN ENTERED AND WENT DEEP INTO THE BOWLS OF THE PENTAGON. TWO GUARDS TOOK SUPERMAN DEEPER IN. THEY TOOK HIM TO THE COMMANDER IN CHIEF HOLT BANNER. "WE HAVE A NEW WEAPON", THE COMMANDER IN CHIEF TOLD SUPERMAN. "AGAINST YOU HE", ADDED AS HE SHOWED SUPERMAN A SMALL DEVICE WITH A RED SWITCH IN HIS HAND. THE COMMANDER IN CHIEF STOOD UP AND USED THE NEW WEAPON ON SUPERMAN FIRING AT HIS HEAD ENCASING IT IN CLOUD OF GREEN KRYPTONITE GAS. SUPERMAN INHALED THE KRYPTONITE SPRAY AND WAS INCAPACITATED. "STRIP IT NAKED", THE COMMANDER IN CHIEF ORDERED.
THE GUARDS GRABBED SUPERMAN. SUPERMAN TRIED TO FIGHT BACK BUT WAS TOO WEAK. SUPERMAN'S CAPE WAS REMOVED FIRST, NEVER TO BE WORN AGAIN. HIS TOP WAS PULLED OFF NEXT AND HIS NIPPLES SQUEEZED GIVING HIM AN ERECTION. "IT LOVES IT, ITS GOT AN ERECTION", ONE OF THE GUARDS SAID POINTING AT SUPERMAN'S HUGE BONER. "HOMO ALIEN", THE OTHER SNEERED. SUPERMMAN'S HANDS WERE CUFFED BEHIND HIS BACK. THE CUFFS HAD CHIPS OF GREEN KRYPTONITE IN THEM TO PREVENT HIS SUPER POWERS RETURNING. HIS BOOTS WERE NEXT REVEALING SIZE SIXTEEN FEET. "ANIMALS DON'T WEAR BOOTS", THE COMMANDER IN CHIEF SAID. "THE BITCH SURE HAS A HARD ON", HE SNEERED. THE ALIEN'S TRUNKS WERE REMOVED NEXT. ONE OF THE GUARDS GRABBED SUPERMAN'S HARD COCK THROUGH HIS TIGHTS. "SHIT ITS LEAKING PINTS OF PRE-CUM", HE GASPED. SUPERMAN'S TIGHTS WERE YANKED OFF. THOSE ALONG WITH THE REST OF HIS CLOTHING WOULD BE PUT IN A GLASS CASE ON A TROPHY WALL. SUPERMAN WAS STRIPPED NAKED. THE HUMILLIATED ONCE MAN OF STEEL, HIS COCK SWINGING ERECT IN ALL ITS RUDE GLORY.
"BEND IT OVER SO WE CAN SEARCH IT FOR WEAPONS", THE COMMANDER IN CHIEF ORDERED. "I WANT A DEEP SEARCH", HE ADDED. "BUT FIRST I WANT ITS COCK BUSH FOR MY TROPHY WALLS, WHIP IT OFF", THE COMMANDER IN CHIEF ORDERED. SUPERMAN'S COCK HAIR WAS TIED TO THE STRANDS OF THE WHIP. WHEN THE WHIP WAS CRACKED IT PULLED OUT HIS COCK HAIR BY THE ROOTS. THIS WAS REPEATED SEVERAL TIMES. SUPERMAN'S LEGS WERE SHACKLED BY HIS ANKLES TO A STEEL PLATE IN THE FLOOR. SUPERMAN WATCHED AS HIS CLOTHING AND COCK HAIR WAS PUT IN DISPLAY CASES SPECIALLY MADE FOR THEM. SUPERMAN REALISED THIS HAD ALL BEEN PLANNED IN ADAVNCE. THE ONCE MIGHTIEST BEING ON THE PLANET WAS NOW A NAKED PRISONER. THE REALISATION MADE SUPERMAN SHAKE AND HIS COCK DRIBBLED PRE-CUM. THE GUARDS FUCKED THE ANIMAL DEEP. THE GUARDS HAD NO PROBLEM FUCKING SUPERMAN AS HE WASN'T HUMAN. SUPERMAN FELT WAVES OF BITCH HEAT, NEVER HAVING HAD SEX BEFORE. HE WAS FUCKED BY THE GUARDS AND MADE TO SUCK THEIR COCKS. HIS PENT UP SEXUAL FRUSTRATIONS FORCED HIM TO CUM. HAVING THE ALIEN INSEMINATED HE WAS NOW READY TO GO TO THE HIGH SECURITY ASYLUM. HOME TO THE HARDEST MEANEST CRIMINALS. BUT BEFORE THAT A DILDO COATED WITH RED CHILLY JUICE WAS STUFFED UP HIS ARSE. SUPERMAN TRAPPED AND IMPRISONED BY THE US MILITARY. STRIPPED, SEXUALLY AND PHYSICALLY ABUSED TO MAKE HIM READY FOR THE HIGH SECURITY ASYLUM. HIS NEW LIFE FROM NOW ON. €12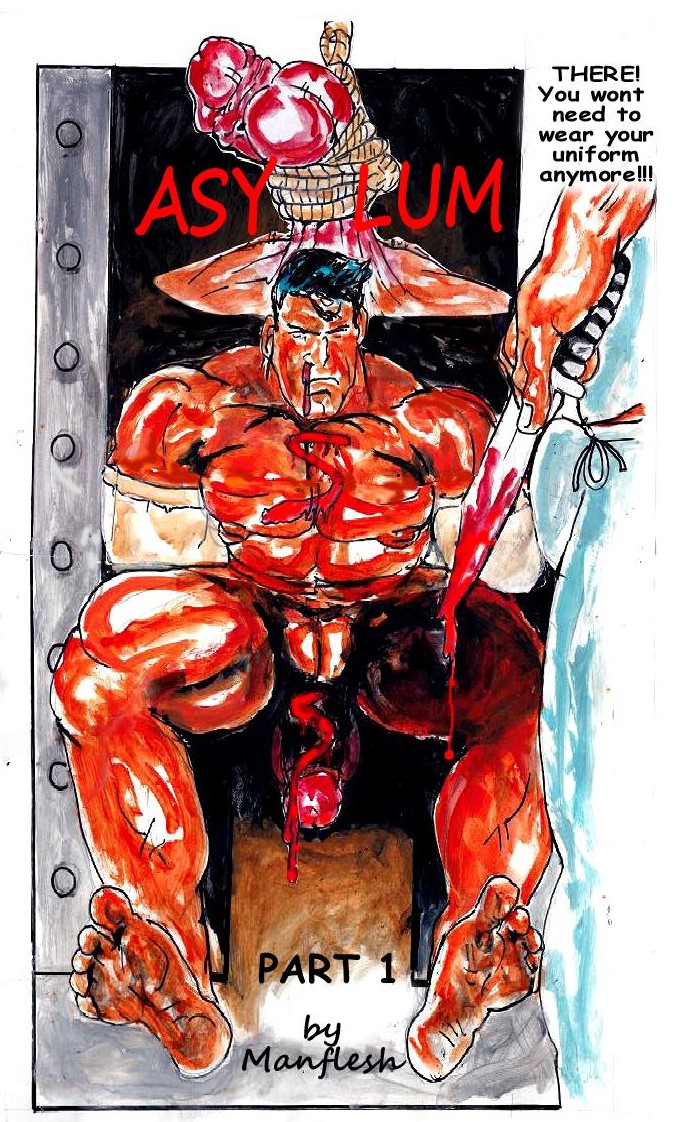 32 SUPERMAN ASYLUM PART 2 BRUTAL INCARCERATION. THE ASYLUM A FORTRESS BUILT BY THE ARMY FOR MOST THE DANGEROUS, VIOLENT, BRUTES IN THE USA. THE PRISONERS WERE KEPT NAKED, THEY WERE GUARDED BY MALE NURSES, HARD MEN WHO WERE ALLOWED TO USE THE PRISONERS AS THEY PLEASED. SEXUAL DOMINANCE WAS USED TO CONTROL THE NAKED ANIMALS, WHO WERE NOW JOINED BY THE FALLEN SUPER HERO SUPERMAN. THE FACILITY WAS ON A PLATEAU IN THE GRAND CANYON, OUT OF BOUNDS TO EVERYONE BUT THE ARMY. A VERY RUDE, DISGRACED AND FEARFUL SUPERMAN WAS TAKEN FROM A HELICOPTER INTO HIS NEW HOME, WITH NAKED FEET ON THE HARD CONCRETE HIS ERECTION VISIBLE TO EVERYONE. SUPERMAN WAS TAKEN THROUGH THE BUILDING TO THE LIFT, THAT DESCENDED HUNDREDS OF FEET BELOW THE ASYLUM. SUPERMAN WAS MET BY A GROUP OF OFF DUTY GUARDS. THE MARINES WERE ALLOWED TO GROPE THE ALIENS SEX ORGANS. "THE NASTY BEAST LIKES HIS BUM TICKLED ONE OF HIS GUARDS SAID AS THEY BOTH TEASED SUPERMAN'S ARSE WITH THEIR RIFLE POINTS, AS THE LIFT DESCENDED.
DEEP UNDER GROUND SUPERMAN WAS TAKEN TO THE WARDENS OFFICE. "WELL THE ALIEN IS NICELY UNWRAPPED", THE WARDEN SAID AS SUPERMAN WAS LED IN BY THE GUARDS. SUPERMAN WAS KICKED TO THE FLOOR, TRAPPED IN HIS USURPER BODY, S PRISONER OF HIS BODY AND THE ASYLUM. "YOU HAVE NO RIGHTS", THE WARDEN TOLD SUPERMAN. THE ARMY GUARDS LEFT THE ROOM AS TWO HUGE NURSES ENTERED. "GRAB HIM, PUT HIM OVER THE DESK AND HOLD HIM DOWN", THE WARDEN ORDERED AS HE FLEXED A BAMBOO CANE IN HIS HANDS. THE WARDEN GRINNED, HE WAS ABOUT TO ADMINISTER A HARD BUTT BLISTERING CANING. THE NURSES UNLOCKED THE LINKS BETWEEN SUPERMAN'S CUFFS AND HELD HIM DOWN. HIS CUFFS REMAINED ON HIS WRISTS AND STILL CONTAINED THE GREEN KRYPTONITE. "THAT'S TEN LASHES, NOW FORTY MORE WITH A PADDLE", THE WARDEN SAID AFTER CANING SUPERMAN'S ARSE. "SWELL YOUR ARSE TO TWICE ITS SIZE", THE WARDEN ADDED BRANDISHING THE LEATHER PADDLE. THE WARDEN PADDLED SUPERMAN'S ARSE HARD WITH THE LEATHER PADDLE. "TRY AND MOVE OF THE TABLE AND I WILL CUT YOUR BALLS OFF", THE WARDEN WARNED. "TIME TO PLOW THAT ALIEN HOMO ARSE OF YOURS", THE WARDEN ADDED AFTER DELIVERING THE FORTY LASHES WITH THE LEATHER PADDLE. THE WARDEN THRUST HIS COCK INTO ALIEN'S MAN CUNT. THE NURSES WOULD BE UP IT AS WELL, ALL PART OF THEIR NURSING TREATMENT TO COME. AS HIS ARSE WAS POUNDED SUPERMAN CAME LIKE A BITCH ON HEAT, HIS MIND ASHAMED, BUT HIS BODY IN LUST. WAS HE A BUM BOY NOW. "GRAB HIM, TAKE IT TO THE SCRUBBING PLANT AND SCRUB IT DOWN", THE WARDEN ORDERED AFTER FUCKING SUPERMAN HARD. "THEN TOO ITS CELL ", HE ADDED.
DRAGGED TO THE SCRUBBING ROOM BY THE NURSES, SUPERMAN WAS IN FOR A ROUGH TIME. SUPERMAN WAS CUFFED AND HIS NAKED BODY HOISTED OFF THE FLOOR, AND LEFT HANGING LIKE A LUMP OF MEAT. HIS BODY WAS SCRUBBED HARD BY THE NURSES WITH SCRUBBING BRUSH AND A BASS BROOM. A HOSE WAS PRESSED UP SUPERMAN'S ARSE AND TURNED ON FULL. SUPERMAN MOANED AS HIS STOMACH SWELLED TO THE SIZE OF A FOOTBALL. THE NURSES LAUGHED AT THE IMPREGNATED FALLEN HERO. WITH HIS SKIN RAW AND HIS INNARDS AS WELL, THE BEAST WAS TAKEN TO ITS CELL, ON A LEASH LIKE A DOG. SUPERMAN'S IMPRISONMENT BY THE US MILITARYCONTINUES. WITH MORE SEXUALLY AND PHYSICALLY ABUSE AS HE ARRIVES AT THE HIGH SECURITY ASYLUM. HIS NEW HOME FROM NOW ON. €12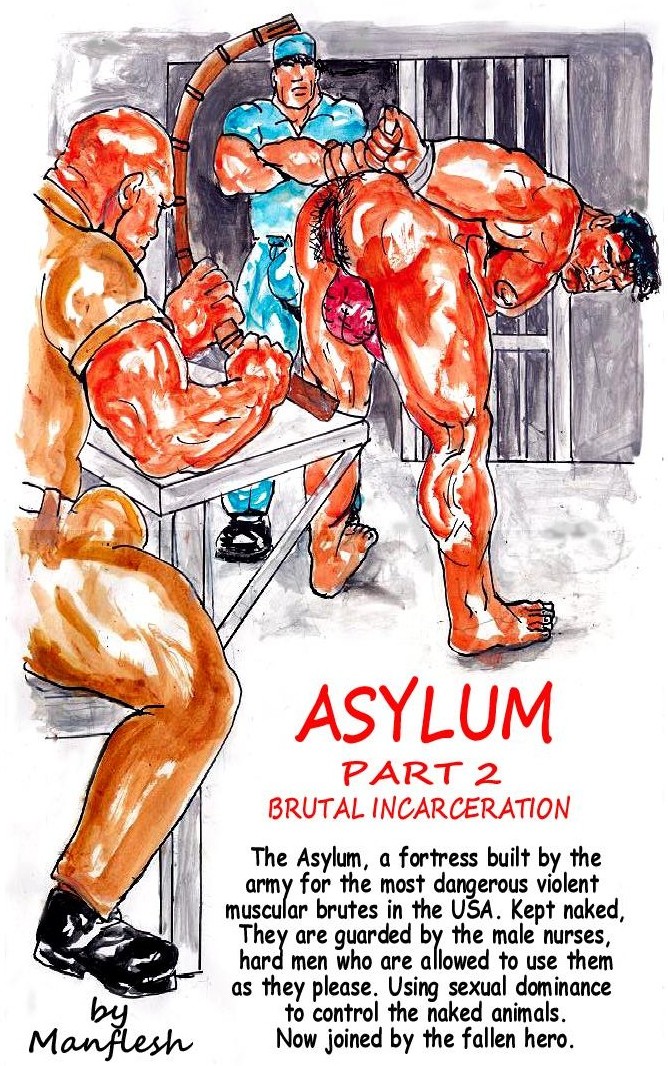 33 SUPERMAN ASYLUM PART 3 DOCTORED. THE DOCTOR WAS THERE TO GIVE DRUGS TO THE PATIENT, PRISONER, BEAST, FOR THE INTEREST OF THE MILITARY ESTABLISHMENT. HE WOULD GIVE THE ALIEN ANYTHING THE FORCE WANTED. STEROIDS THAT WERE GIVEN TO HORSES, TWENTY VIAGRA A DAY. MIND CHANGING DRUGS. A GREEN KRYPTONITE PELLET INTO THE MUSCLE WALL OF ITS FUCK ARSE HOLE. SUPERMAN WAS LAST SEEN BEING DRAGGED FROM THE SHOWERS BY TWO ORDERLEY'S. AFTER A RAW SCRUB SUPERMAN WAS TAKEN TO HIS NEW HOME. AN ALL STEEL CELL WITH AN ALL STEEL BED, WITH ALL STEEL LEG AND ARMS CLAMPING DEVICE. A STRUGGLING SUPERMAN WAS LOCKED FAST TO THE ALL STEEL BED BY THE TWO ORDERLEY'S. ONE ORDERLEY FUCKED SUPERMAN'S ARSE WHILE THE OTHER APPLIED STEROIDS PASTE TO HIS COCK. SUPERMAN HAD TO SUCK THE ORDERLEY'S COCK. DEEP PENETRATION ENSURED SUPERMAN WAS TAKING THE STEROIDS DOWN HIS THROAT. IN THE FUTURE ALL MEDICATION WOULD BE ADMINISTERED THIS WAY. SUPERMAN WAS FORCE FED WITH PIGS SWILL WITH ADDED STEROIDS. AS HE WAS FORCE FED, HE WAS GIVEN A CONVICT CUT. THE BEAST WAS LEFT TO SLEEP BY THE TWO ORDERLEY'S.
THE NEXT MORNING AFTER ANOTHER FORCE FEEDING, SUPERMAN WAS TAKEN TO THE DOCTOR'S SURGERY. "WHAT A FINE SPECIMEN", THE DOCTOR SAID. "I WILL MAKE SOME ENHANCEMENTS", HE ADDED. SUPERMAN WAS STRAPPED INTO AN EXAMINATION CHAIR WITH HIS LEGS RAISED AND SPREAD. HE WAS TOLD HE WAS HAVING A TETANUS INJECTION. BUT IT WAS AN AMOEBA GREEN KRYPTONITE ORGANISM THAT WOULD TRAVEL AROUND HIS ANAL RING, HALTING HIS ABILITY TO REGENERATE HIS SUPER POWERS, EVEN IN FULL SUN LIGHT. A SERUM OF LIVE CELLS FROM THE TEATS OF A COW, COMBINED WITH CELLS FROM THE PENIS OF A BULL, WERE INJECTED INTO ALIEN SUPERMAN'S NIPPLES. HIS NIPPLES SWELLED INTO PENILE TEATS OOZING PENILE MILK. KEPT NAKED, NO LONGER SUPER, OUR FALLEN HERO STARTED TO GROW HAIR ON HIS CHEST AND BUM. HIS COCK HAIR HAD ALREADY BEEN PERMANENTLY REMOVED.
A WEEK LATE ALIEN SUPERMAN WAS TAKEN TO THE STAFF CANTEEN TO PROVIDE THE STAFF WITH SERVICES OF A RICH PROTEIN FEED. "I'M GOING TO SUCK IT RAW", ONE OF THE EAGERLY AWAITING MARINES SAID. "ME TOO", THE OTHERS AT THE TABLE SAID. USED LIKE LACTATING COW, SUPERMAN HAD TO ENDURE THE SLURPS AND BITES OF THE US MARINES. THE EAGER COMBATANTS WOULD WANT TO BOAST THAT THEY SUCKED THE TEATS OF THE ONCE MOST POWERFUL BEING ON THE PLANET. THE ORDERLEY'S ASKED THE MARINES IF THEY WOULD PAY A BRIBE TO FUCK THE ALIEN. THAT NIGHT A LINE OF HORNY MARINES PAID THEIR TWENTY DOLLARS AND FUCKED THE ALIENS ARSE RAW.
THE ALIEN SUPERMAN WAS GIVEN A NEW ORDERLEY GUARD, THINGS WERE ABOUT TO GET HARDER. THE TWO ORDERLEY'S HAD BEEN ARRESTED FOR ABUSE OF THE THEIR POSITION, AND WOULD JOIN THE ALIEN SUPERMAN. SUPERMAN'S IMPRISONMENT BY THE US MILITARYCONTINUES. WITH MORE SEXUALLY AND PHYSICALLY ABUSE AT THE HIGH SECURITY ASYLUM AT THE HANDS OF HIS ORDERLIES AND THE DOCTOR. €15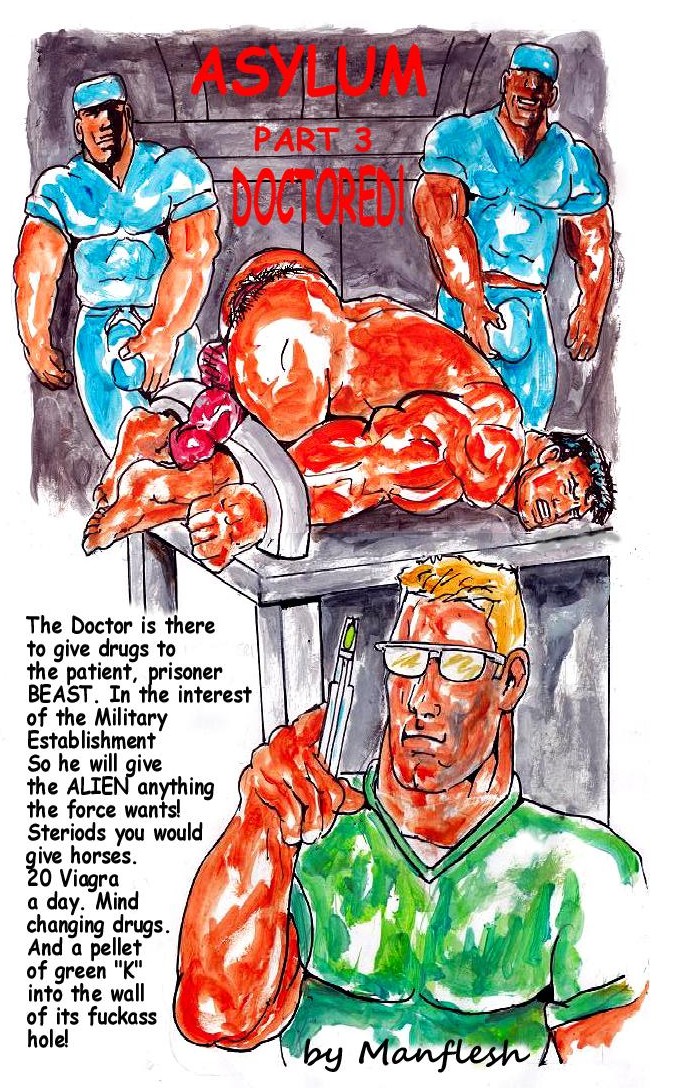 34 ASYLUM PART 4 YES MASTER. SUPERMAN'S NEW ORDERLY HAD AN EXEMPLARY RECORD. TOP BULLY AT SCHOOL. JAIL FOR G B H AT THIRTEEN. HIGH SECURITY STRIP CELL AT EIGHTEEN, WITH TEN COUNTS OF BUGGERY AGAINST THE HARDEST CONS, LEAVING THEM RAW AND SORE. AS SUPERMAN WAS ABOUT TO FIND OUT. ORDERLY WAS NOT THE RIGHT WORD. LIFE FELON DANUS CRUD, WAS AN IDEAL THUG TO BREAK THE ALIEN. HE WAS TAKEN WAS TAKEN UNDER HEAVY GUARD TO THE COMMANDER. "COMMANDER WE HAVE THE ONE CALL DANUS AS YOU INSTRUCTED SIR", ONE OF THE GUARDS TOLD THE COMMANDER. THE ASYLUM COMMANDER APPRAISED THE HUGE LUMP OF MUSCLE, AND THOUGHT HE WOULD DO. "I HAVE A PROPOSITION FOR YOU, WHICH I THINK YOU WILL LIKE", THE COMMANDER TOLD DANUS. "WE ARE GOING TO GIVE YOU THE JOB OF BREADING THE ALIEN", THE COMMANDER ADDED. "I'M OFFERING YOU IN YOUR CELL MM ROOM, HARD PORN, HAMBURGERS, STEROIDS, A WATER BED, AND TWO EX GUARD ORDERLY'S, ALL YOURS", THE COMMANDER STATED. "OK, I WANT A KNIFE AND KNOTTED ROPE", DANUS REPLIED.
HE WAS TAKEN DEEP UNDER GROUND, THAT HELD SUPERMAN, AND TWO ORDERLY GUARDS, WHO WERE ABOUT TO GET A RUDE AWAKENING. THE GLOATING BEHEMOTH TURNED TO THE GUARDS AND MAKE HIS POSITION CLEAR. HE WAS LORD, KING THERE. HE WOULD BREAK THE TWO EXGUARD ORDERLY'S FIRST, MAKE THEM DO HIS EVERY WISH. FUCK THEM RAW, BEFORE HE TURNED TO THE ALIEN. DANUS CONFRONTED THE TWO EXGUARD ORDERLY'S NOW NAKED. "I'M YOUR MASTER SLAVES", HE TOLD THE NOW NAKED EXGUARD ORDERLY'S AS HE CHOKED THEM BOTH WITH ONE ARM. NO MATCH FOR THE BRUTE, BOTH EXGUARD ORDERLY'S HAD THEIR FORESKINS CUT OFF. DANUS WANTED TO MAKE A JOCK STRAP OUT OF THEM. "RIGHT PUPPIES CRAWL", DANUS ORDER CRACKING THE KNOTTED ROPE. HE HAD PUT HIS MARK ON THEM, BLACK EYES ON HIS BITCHES. IN HIS LUXURY CELL, DANUS FLOGGED THEM, HIS PUPS, INPRINTING HIS DOMINANCE ON THEM. AS A BONDAGE PORNO FILM PLAYED ON THE SCREEN, DANUS SEEDED HIS BITHCES HARD.
DANUS HAD THE VOICE CODES TO OPEN EVERY CELL. HE ENTERED THE CELL OF THE ONCE SUPER ALIEN. "I AM YOUR MASTER ALIEN, I WILL BREAK YOU, BEAT YOU SORE INSIDE AND OUT", DANUS TOLD SUPERMAN. WITHOUT HIS SUPER POWERS SUPERMAN WAS NO MATCH FOR DANUS. "I AM STRONGER THAN YOU ALIEN", DANUS STATED AS HE KNOCKED SUERMAN DOWN WITH ONE PUNCH. "YOU WILL ALWAYS HAVE A BLACK EYE, MY TRADE MARK", HE ADDED AS HE PUNCHED SUPERMAN AGAIN. "I'M TAKING YOU TO ONE OF THE INTERROGATION ROOMS", DANUS STATED AS HE HELD SUPERMAN'S HAIR AND BRANDISHED HIS KNIFE. SUPERMAN WAS MADE TO CRAWL, HIS NAKED FLESH FLOGGED, HIS COCK LEAKING CUM. "YOU WILL NEVER WEAR CLOTHES AGAIN, I WILL MARK YOU SO ALL WILL KNOW WHO YOU ARE", DANUS SAID. "FIRST I WILL SHAVE YOUR CHEST", HE ADDED. USING HIS KNIFE, DANUS MARKED SUPERMAN'S CHEST AND COCK WITH A LARGE RED S.
SUPERMAN'S IMPRISONMENT BY THE US MILITARYCONTINUES. WITH MORE SEXUALLY AND PHYSICALLY ABUSE AT THE HIGH SECURITY ASYLUM AT THE HANDS OF HIS ORDERLY AND THE BRUTE DANUS. €15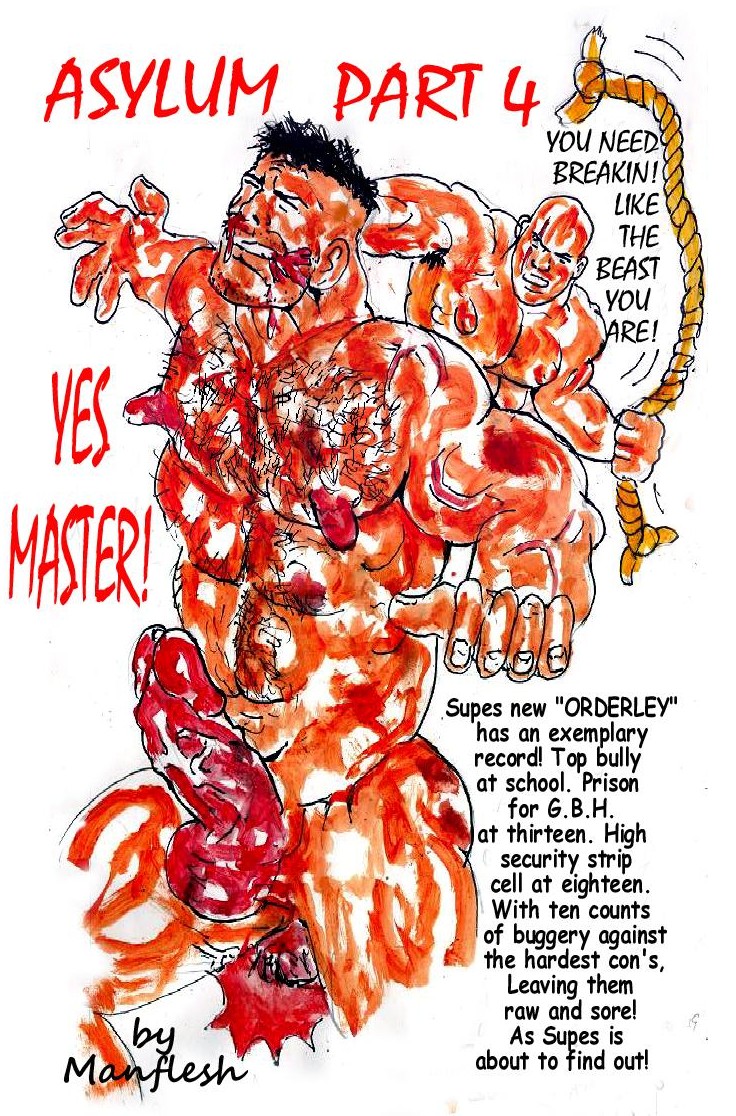 35 SUB SUPER PART 1. WHILE BATTLING ANOTHER ALIEN, SUPERMAN'S POWER HAD BEEN SUCKED FROM HIM. HE NOW ONLY HAD THREE TIMES HUMAN STRENGTH, NO OTHER POWERS AND WAS OPEN FOR CONQUEST. WITH ONLY THREE TIMES HUMAN STRENGTH SUPERMAN WAS NOW NOT A MEMBER OF THE SUPER HEROES. THE OTHER SUPER HEROES TOLD SUPERMAN THAT, SUPERMAN SUB MAN NO LONGER HAD ANY POWERS, AND WAS NO LONGER ONE OF THEM. THEY DEMANDED HE REMOVE HIS SUPERHERO UNIFORM AS IT WAS NO LONGER HIS. STRIPPED OF HIS POWERS AND NOW STRIPPED OF HIS UNIFORM, HUMILIATED BY COLLEAGUES AND ONCE EQUALS, SUPERMAN WAS NOW JUST A MUSCLE HUNK. SUPERMAN REMOVED HIS UNIFORM BUT REFUSED TO HAND OVER HIS TOP TO PRESERVE HIS DIGNITY. IT WAS A VERY ANGRY HARD OF HEART BEING THAT LANDED, BANISHED FROM THE SUPER HERO HQ, SUB SUPERMAN. IT WAS TIME TO TAKE FOR HIMSELF.
SUPERMAN WRAPPED HIS TOP AROUND HIS WAIST AND WALKED THROUGH THE CRIMINAL DISTRICT OF TOWN THROUGH THE BACK ALLEYS AND PRIVATE CLUBS, WHERE CRIMINAL COLLECTED CHECKED THEIR NIGHT TAKINGS. SUB SUPERMAN NEEDED SOME OF THEIR LOOT. ENTERING A BASEMENT SUB SUPERMAN DISTURBED A GROUP OF JEWEL THIEVES. JUST WHAT HE NEEDED WEALTH TO SET HIMSELF UP, LOTS OF IT. SUB SUPERMAN STOLE THEIR JEWELS AND ONE OF THE THIEVES CHINO TROUSERS TO WEAR. WITH SLEEVES TORN OF HIS TOP AND THE THIEVES JEWELS, HE WENT IN SEARCH OF A FENCE. THE FENCE TOLD SUB SUPERMAN HE COULD NOT BUY HIS JEWELS AS HE DID NOT KNOW HIM. NOW WITHOUT MORALS SUB SUPERMAN WAS OUT TO GET MONEY AT ANY COST. "I WILL LET YOU SUCK MY COCK", SUB SUPERMAN TOLD THE FENCE. THE FENCE AGREED AND SUB SUPERMAN LET HIM SUCK HIS LARGE COCK. SUB SUPERMAN WAS PROUD OF HIS FUCK MEAT AND HAD NO SCRUPLES, SUING IT TO GET WHAT HE WANTS. THE DIAMONDS MADE SUB SUPERMAN THREE HUNDRED THOUSAND DOLLARS. THAT AND COUPLE MORE TAKING FROM THIEVES BROUGHT HIM THE LEASE TO WAREHOUSE WITH A LARGE BASEMENT, AND ALL THE EQUIPMENT TO TURN IT INTO A HARD CORE GYM AND MALE BROTHEL. .
A YOUTH ANSWERED AN ADVERT IN THE PAPERS FOR A CLEANER AT THE CLUB. MEMBERS OF SUB SUPERMAN'S CLUB LEERED THROUGH THE GLASS WALL OF THE SHOWERS AS HE INTERVIEWED A YOUNG GUY FOR THE JOB OF A CLEANER AT HIS CLUB. SUB SUPERMAN CARRIED OUT THE INTERVIEW IN JUST HIS JOCK AND MADE THE YOUNG GUY STRIP TO HIS JOCK FOR THE INTERVIEW. SIR I AM SO WILLING AND STRONG THE YOUNG GUY TOLD SUB SUPERMAN. IMPRESSED SUB SUPERMAN TOLD THE YOUNG GUY HE WAS SURE HE WOULD WORK HARD. HIS YOUNG CLEANER BILLY, WAS AN ASPIRING BODY BUILDER AND TRAINED AT THE CLUB. SUPERMAN TOLD THE YOUNG ASPIRING BODY BUILDER THAT HE NEEDED A SPECIAL POTION TO HELP WITH HIS TRAINING, ALL THE TOP BODY BUILDERS SPURTINGS TO GET BIG MUSCLES GROWTH. BILLY AGREED EAGER TO BE LIKE SUB SUPERMAN AND THE OTHER TOP BODY BUILDERS. THE SPECIAL POTION WAS NOT WHAT BILLY WAS EXPECTING. "MAKE YOU GROW", SUB SUPERMAN TOLD BILLY. SUB SUPERMAN INSEMINATED THE YOUTH FIRST FILLING HIS HOLE WITH HIS SEED. SUB SUPERMAN THEN CHARGED THE OTHER MEMBERS 20 DOLLARS TO WORK OUT THEIR COCKS ON THE YOUNG MAN NOW A CUM RAG.
AS SUB SUPERMAN RAKED IN THE CASH, THE MOB WERE PLANNING TO GET RID OF HIM. ONE OF THEM TOLD THE OTHERS THAT HE HAD AN INSIDER AT THE CLUB WHO WOULD TURN OF THE SECURITY SYSTEM OFF IN THE MIDDLE OF THE NIGHT. THEY LIKED THE IDEA AND AGREED. LATER THAT NIGHT BILLY LET IN MEMBERS OF THE MOB, WHO ATTACKED SUB SUPERMAN WHILE HE WAS SLEEPING NAKED. SUB SUPERMAN WAS KNOCKED UNCONSCIOUS AND TAKEN PRISONER BY THE MOB. SUB SUPERMAN'S TONGUE WAS SEWN TO HIS LOWER JAW TO MAKE HIM DUMB. THE MOB KNEW A RULER IN THE MIDDLE EAST WITH A LOVE FOR HUGE NAKED WESTERN DUMB BEASTS. A FILM WAS SENT OVER TO SHOW THE ARAB LORD THE BEAST IN ALL ITS LEWD GLORY. THE MOB LEADER TOLD THE ARAB LORD AFTER SEEING THE FILM THAT HE THOUGHT HE WOULD LIKE THE BEAST. YES, THE ARAB LORD REPLIED, I DO IT IS HUGE AND HAIRY WITH BIG BUTT CHEEKS. NEITHER THE MOB OR RULER KNEW THAT THE BEAST WAS ONCE SUPERMAN.
AN ANIMAL CARGO FREIGHT PLANE FLEW OVER THE VAST EASTERN DESERT AND IN ITS HOLD WAS THE ONCE MIGHTY BEING, NOW A NAKED ENSLAVED BEAST. SUB SUPERMAN WAS THRUST FROM THE CARGO PLANE, NAKED WITH WITH HIS HANDS TIED. THE SUN BAKING HIS NOW NON SUPER FLESH. THERE AWAITING HIM WAS HIS MASTER RIDING A BLACK STALLION, LEADING A DONKEY WITH DILDO ATTACHED TO ITS SADDLE. SUB SUPERMAN WAS FORCED TO ENDURE A TWO HOUR RIDE AROUND PART OF THE ARAB MASTERS DOMAIN, TIED TO THE DONKEY, ASTRIDE THE DILDO ON ITS SADDLE. SUB SUPERMAN WITH HIS ARSE RED, RAW AND THROBBING IN PAIN, WAS MADE TO BOW TO HIS MASTER, WHO OWNED HIS BODY INSIDE AND OUT, AS SUB SUPERMAN WAS ABOUT TO FIND OUT. THE ONCE MIGHTY SUPERMAN ENSLAVED AND ABUSED BY AN ARAB MASTER. €15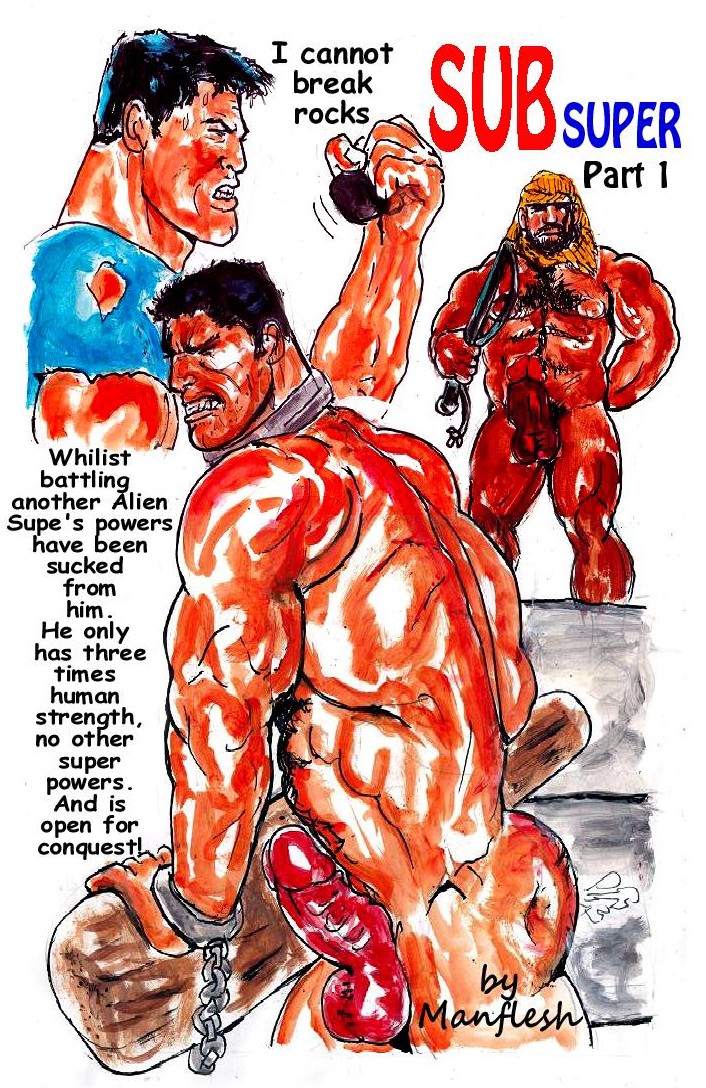 36 SUB SUPERMAN'S MANDRASAT PART 1. LACKING SUPER POWERS, BUT STILL WITH THE STRENGTH OF THE THREE HUMANS. SUB SUPERMAN HAD GONE TO WORK ON THE MIDDLE EAST OIL FIELDS. BUT HIS MUSCLES HAD CAUGHT THE EYES OF MANDRASAT. SO IT BEGAN. AS SUB SUPERMAN BOARDED THE PLANE FOR THE MIDDLE EAST, THE OWNER OF THE AIRLINE LORD SHARMAZ, SAW THE SIX FOOT FOUR INCH WESTERNER ENTER THE AIRCRAFT. HE TOLD HIS FREEMAN AND AIR STEWARD TARAN TO INVITE THE HUNK TO JOIN HIM IN HIS PRIVATE QUARTERS. TARAN ASKED SUB SUPERMAN TO JOIN THE OWNER IN FIRST CLASS AND SUB SUPERMAN WAS HAPPY TO AGREE. LORD SHARMAZ ENTERTAINED SUB SUPER MAN. TO PASS THE TIME HE ASKED SUB SUPERMAN TO TELL HIM ABOUT HIMSELF. SUB SUPERMAN TOLD LORD SHARMAZ A LITTLE ABOUT HIMSELF. "SO YOU HAVE NO FAMILY AND ARE 26, I'M SURE YOU WILL MAKE LOTS OF MONEY, I'M SURE OF IT", LORD SHARMAZ SAID RECAPPING ON WHAT SUB SUPERMAN HAD TOLD HIM, SUB SUPERMAN THANKED HIM. "WE HAVE A STOP OVER AT FORTRESS TUBA FOR REFUELLING, YOU MUST BE MY GUEST THERE", LORD SHARMAZ TOLD SUB SUPERMAN. WHEN THE PLANE LANDED SUB SUPERMAN WAS TOLD TO GO TO ANOTHER PART OF THE AIRFILED WHERE THERE WAS A VIP LOUNGE HE COULD REST IN, WHILE THE AIRCRAFT WAS BEING REFUELLED. IT WAS REALLY HOT AND SUB SUPERMAN WAS LOOKING FORWARD TO A COOL SHOWER AND ICED BEER. HE DID NOT NOTICE THAT LORD SHARMAZ HAD RUSHED AHEAD OF HIM. WHEN SUB SUPERMAN ENTERED THE BUILDING HE COULD SEE A DOOR AHEAD SLIGHTLY OPEN. AS HE ENTERED THERE WAS A FLASH OF PAIN BLACKNESS. SEATED AND WATCHED THE HUNK CRASH TO THE FLOOR WAS LORD SHARMAZ, GENERAL MAMOOT, TARAN AND SEVERAL GUARDS.
TWO OF THE HUGE GUARDS ROUGHLY REMOVED SUB SUPERMAN'S CLOTHING. "I LOOK FORWARD TO FUCKING IT, WHEN ITS BEEN SHAVED", LORD SHARMAZ SAID. LORD SHARMAZ ORDERED THE COLONEL TO CUFF THE BEASTS ARMS BEHIND ITS BACK AND STUFF ITS MOUTH WITH A CLOTH SOAKED IN POPPERS TO MAKE IT DOPEY. "A THOROUGH BRED", LORD SHARMAZ SAID EXAMINING SUB SUPERMAN'S NAKED BODY AND HIS HUGE COCK. "YOU WILL GET IT TO MOUNT MANY MARES", THE GENERAL REPLIED. "HA, HA, NO, ONE HAND MILKING CAN BE USED TO IMPREGNATE TWENTY BROOD MARES IMPORTED FROM RUSSIA", LORD SHARMAZ SAID. "TIGHT, SOON TO BE SORE AND OPEN", COLONEL MAMOOT SAID AS HE FINGERED SUB SUPERMAN'S ARSE, THAT WAS SOON TO BE HIS MANCUNT. LORD SHARMAZ TOLD THE COLONEL THAT TARAN AND THE GUARD WOULD FUCK SUB SUPERMAN FIRST. THEN HE WOULD BE SHAVED, DOUCHED AGAIN AND DELIVERED TO THE COLONELS QUARTERS. "HE WILL BE TAMED, IF HE REBELS, HE WILL BE PULLING ONE OF THE CARTS IN THE COPPER MINES, AND ITS WILL AND THOUGHTS OF ESCAPE WILL BE CRUSHED", LORD SHARMAZ STATED. LORD SHARMAZ SPOKE. HAVE YOUR SOLDIERS STRIP TO THE WAIST AND REMOVE THEIR BOOTS, HE WANTED THEM TO BE READY AFTER THE SLAVES DOUCHING. "DO AS MASTER SHARMAZ ORDERS", THE GENERAL COMMANDED. "I WANT IT DOUCHED THREE TIMES", LORD SHARMAZ ORDERED. SUP SUPERMAN WAS DRAGGED ROUGHLY TO HIS FEET. A HARD BACK HAND SLAP BROUGHT SUB SUPERMAN TO FULL AWARENESS. HIS EARS AND EYES SWELLED AS HE WAS GRABBED BY THE HAIR. HE REALISED WITH HORROR THAT HE WAS BARE ARSE NAKED AND BOUND.
SUB SUPERMAN WAS DRAGGED AWAY TO THE LATRINE AND LOCKER ROOM, WHERE FOUR GUARDS HAD JUST SHOWERED. THEY ROARED WITH LAUGHTER AND THEIR COCKS GOT HARD. "NOW HE IS WAS GOING TO BE DOUCHED AND PURGED FOR RAPING BY TARAN THE LORDS FREEMAN", THE SENIOR GUARD TOLD THE GUARDS WHO HAD JUST SHOWERED. "BUT WHEN HE RETURNS FOR DEPLETING HE IS YOURS TO FUCK", HE ADDED. THIS WAS SPOKEN IN ARABIC, AND SUB SUPERMAN WAS OBLIVIOUS TO IT AS HE DID NOT SPEAK THE LANGUAGE. SUB SUPERMAN WAS LIFTED OFF THE FLOOR AND HIS LEGS SPREAD WIDE BY TWO GUARDS, WHILE A THIRD PRESSED THE NOZZLE OF A PIPE ATTACHED TO A FOAM FILED CYLINDER INTO SUB SUPERMAN'S ARSE. FOAM WAS BLASTED INTO SUB SUPERMAN'S ARSE FILLING IT BEFORE IT WAS ALLOWED TO DRAIN OUT TAKING ANY SHIT WITH IT. "THAT'S IS IT, DO IT THREE TIMES, CLEAN AND RAW", THE SENIOR GUARD SAID. SUB SUPERMAN WAS FORCED TO ENDURE THE DOUCHING THREE TIMES, UNTIL HE WAS CLEAN AND RAW. EVEN HIS STOMACH WAS EMPTIED OF THE MEAL HE HAD EATEN ON THE PLANE. IT WAS SLAVE SWILL FOR SUB SUPERMAN FROM NOW ON. SUB SUPERMAN WAS THEN WASHED BY THE GUARDS. HE WAS NOW SHAMED, TERRIFIED, IN SHOCK, DEGRADED, HIS BODY OWNED.
SUB SUPERMAN WAS DRAGGED BACK TO THE COLONEL'S OFFICE. "YOUR OLD LIFE IS DEAD, YOU ARE A SLAVE FOREVER", LORD SHARMAZ TOLD SUB SUPERMAN, WHILE TARAN AND THE GUARDS STRIPPED FOR ACTION. SUB SUPERMAN WAS HELD DOWN AND MILKED BY THE GUARDS. THEN MADE TO EAT HIS OWN CUM, AND WAS ABOUT TO FEEL THE CUM OF A SUPERIOR UP HIS ARSE. WITH NO SUPER POWERS SUB SUPERMAN COULD ONLY TAKE WHAT WAS COMING. SUB SUPERMAN WAS HELD WIDE WHILE A HUGE COCK WAS SLAMMED INTO HIS ARSE. ONE HARD THRUST THEN, THRUST, PAIN, THRUST AS HE WAS FUCKED. THE AIR STEWARD FROM THE PLANE WAS THE FIRST TO FUCK SUB SUPERMAN. THE PLANE ON WHICH SUB SUPERMAN ARRIVED A FREE MAN. THE FIRST OF MANY ENDLESS POUNDINGS ALL PART OF HIS TRAINING AND LIFE TO COME. THE ONCE MIGHTY SUPERMAN ENSLAVED RAPED AND ABUSED BY AN ARAB MASTER. €15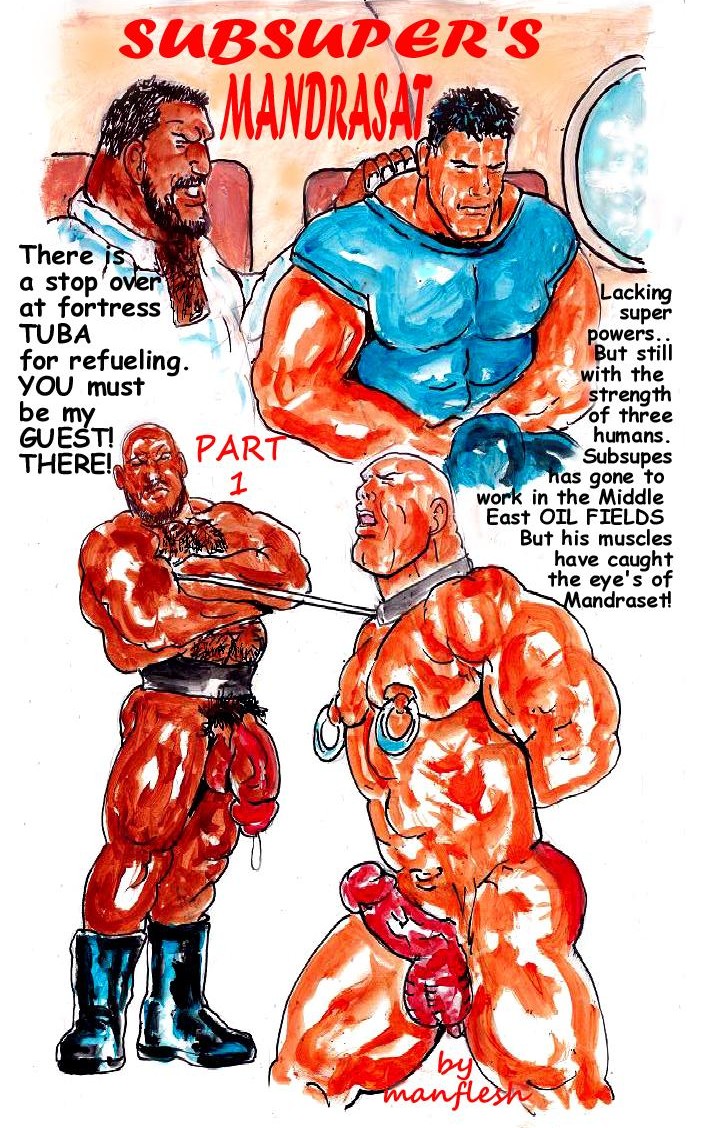 37 SUB SUPERMAN'S MANDRASAT PART 2 SHAVED. MEN LIKE SUB SUPERMAN WERE THE MUSCLE FLESH THAT MANDRASAT CRAVED. BIG MUSCLES MEANT HARD LABOUR, A HARD ARSE TO FUCK. ALL THE BODY OF A SLAVE HAD TO BE ON SHOW, HENCE HAIR WAS PERMANENTLY REMOVED. THE STORY CONTINUED WITH SUB SUPERMAN'S ARSE BEING POUNDED BY TARAN. THEY WERE WATCHED BY SOLDIERS, HARD AND READY. WHEN TARAN FINISHED, SUB SUPERMAN WAS FORCED TO SUCK AND CLEAN TARAN'S COCK, TASTING HIS OWN ARSE JUICES. LORD SHARMAZ WHO WAS WATCHING, GAVE THE SOLDIERS THEIR TURN AND THEY FUCKED SUB SUPERMAN. "WHEN YOU HAVE FILLED ITS ARSE WITH SEED, TAKE IT FOR SHAVING", LORD SHARMAZ ORDERED AS HE LEFT. TARAN TOLD THE SOLDIERS TO GIVE SUB SUPERMAN ANOTHER ROUND OF FUCKING THEN, MEET HIM WITH THE SLAVE IN THE LATRINES. THE SOLDIERS WENT TO TOWN ON SUB SUPERMAN. HIS ARSE WAS DOUBLE FUCKED, MAKING IT DOUBLE SORE, AS HIS HARD COCK SPURTED SEED. WITH HIS ARSE FILLED WITH ARAB CUM, A SORE SHAGGED OUT SUB SUPERMAN, WAS DRAGGED TO THE SHOWERS COME LATRINES, LEAVING A TRAIL OF CUM BEHIND.
THE SOLDIERS YANKED ON SUB SUPERMAN'S THICK HAIR AS THEY DRAGGED HIM. BUT AFTER TODAY, THEY WOULD NOT BE ABLE TO PULL HIS HAIR. TARAN MET THEM AT THE LATRINES. "HE HAS ENOUGH CUM UP HIS ARSE TO GREASE HALF THE TRUCKS ON THE BASE", TARAN SAID. SUB SUPERMAN WAS BENT OVER BY THE GUARDS AND HAD HIS BUTTOCKS SPREAD. ONE OF GUARDS GRABBED A BOTTLE WITH A LONG THIN APPLICATOR TUBE ATTACHED TO THE TOP, THAT HE PRESSED UP SUB SUPERMAN'S ARSE. THE GUARD SQUEEZED THE BOTTLE FORCING THE CONTENTS INTO SUB SUPERMAN'S ARSE. THE APPLICATOR WAS FILLED TIME AND TIME AGAIN, UNTIL SUB SUPERMAN'S STOMACH BULGED. THEY HELD SUB SUPERMAN OVER THE TOILET AND WAITED UNTIL ENEMA VENTED THE CONTENTS OF HIS BOWELS INTO IT. "EXCELLENT, NOW TIE IT TO THE BENCH", TARAN ORDERED. ONCE A SUPER HERO, THEN SUB SUPERMAN GOING TO WORK ON A OIL RIG, NOW A SLAVE. A NAKED, FUCKED SLAVE, WAS TIED TO THE WOODEN BENCH BY THE GUARDS. FIRST SUB SUPERMAN'S CHEST HAIR WAS REMOVED. HIS STOMACH WAS SHAVED NEXT. SLAVE SUB SUPERMAN COULD ONLY WATCH HELPLESSLY, AS EVEN HIS MANLY CROTCH HAIR WAS TAKEN FROM HIM. WORSE WAS TO COME. SUB SUPERMAN WAS RETIED ON HIS STOMACH AND TREATED LIKE A DUMB ANIMAL AS THE HAIR ON ARSE WAS REMOVED. SUB SUPERMAN WAS UNTIED AND MADE TO KNEEL WHILE HIS HEAD HAIR WAS SHAVED OFF BY GUARDS. HE HAD TO LEARN THAT SLAVES HAD TO BE HAIRLESS WITH ALL THEIR FLESH ON DISPLAY.
FULLY SHAVED OF ALL HIS HAIR, SUB SUPERMAN WAS DISPLAYED TO TARAN. "TAKE HIM TO THE SHOWER", TARAN ORDERED. THE NAKED, FUCKED AND ENSLAVED EXHERO, NOW JUST A MUSCLE BEAST, WAS DRAGGED TO THE SHOWERS BY THE GUARDS. IN THE SHOWERS SLAVE SUB SUPERMAN WAS SHAVED YET AGAIN, WITH A RAZOR. "GIVE YOUR FLESH A CLOSER SHAVE SLAVE, MAKE YOUR FLESH RAW", A GUARD SAID AS HE HELD SUB SUPERMAN AND SHAVED HIS BODY EVEN CLOSER WITH A RAZOR. IT WAS BEGINNING TO SINK IN THAT BEING SHAVE RUDE RAW, THAT ALL HIS FLESH WAS ENSLAVED, SUB SUPERMAN WAS ABOUT TO REBEL. THE ONCE MIGHTY SUPERMAN ENSLAVEMENT CONTINUED, HE SUFFERED RAPING, BODY SHAVING, AND AN ENEMA AT THE HANDS OF HIS ARAB MASTER AND GUARDS. €15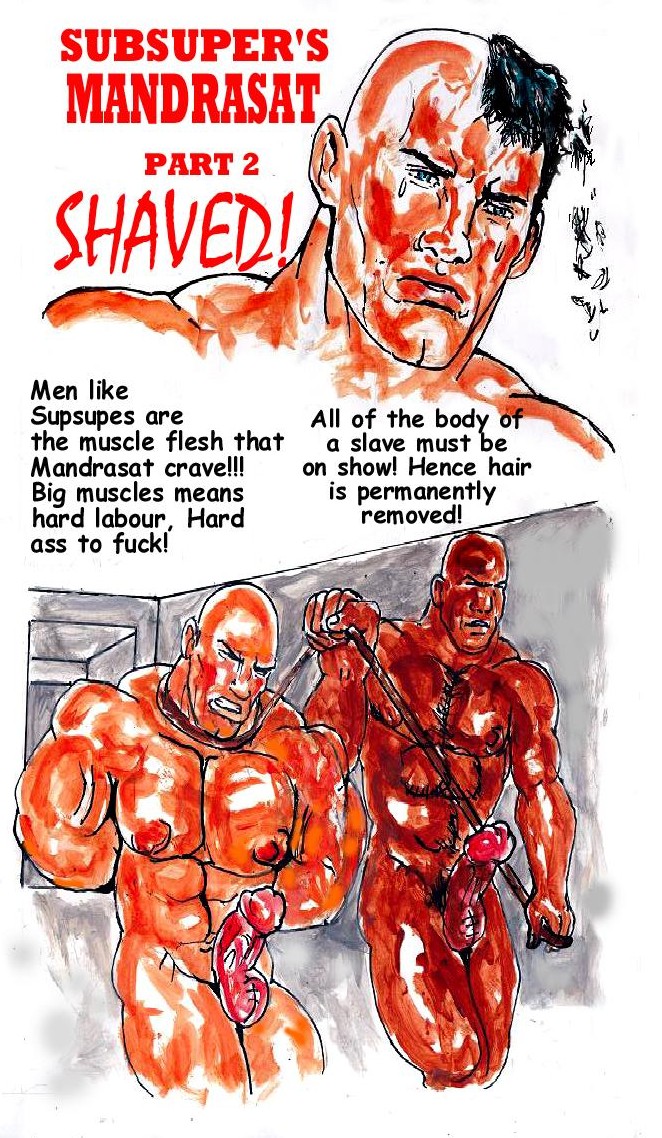 38 SUB SUPERMAN'S MANDRASAT PART 3, NO HIDING PLACE. CAN THE EX SUPER HERO, SUB SUPERMAN, A NAKED, FUCKED SLAVE, TAKE ON THE MIGHT OF MANDRASAT. SUB SUPERMAN THE ONCE HERO, NOW A NAKED BALD SLAVE, WAS UNDER THE SHOWERS BEING SHAVED BY GUARDS WITH RAZORS. ONE GUARD FISTED SUB SUPERMAN'S ANUS, AND SHAVED THE INSIDES. SUB SUPERMAN'S VIRGINAL ANUS WAS DEEP TONGUED, MAKING HIM CUM. BEING A SLAVE MEANT THAT SUB SUPERMAN HAD NO CONTROL OF HIS SEXUAL FUNCTIONS. UNDER THE SHOWERS, SLAVE SUB SUPERMAN, WAS PAWED ALL OVER BY THE GUARDS, LIKE THE ANIMAL HE WAS BECOMING. THERE WAS A FINAL WASH UNDER THE SHOWERS WITH WASH CLOTHS, AND THEN THE PRIZE ANIMAL COULD ONLY TAKE WHAT WAS COMING. AFTER HIS SHOWER, SLAVE SUB SUPERMAN, KNOWN TO THE GUARDS ONLY AS AN OIL RIG WORKER WHOSE NAME WAS NOT IMPORTANT, WAS DRIED HARD WITH A HESSIAN TOWEL. AN AMBER MUSK OIL WAS RUBBED OVER EVERY PART OF HIS FLESH.
SUB SUPERMAN WAS GETTING MORE AND MORE ANGRY. SUB SUPERMAN COULD TAKE NO MORE AND EXPLODED, ATTACKING THE GUARDS. SUB SUPERMAN ESCAPED THE GUARDS AND TRIED TO FLEE. HOWEVER NAKED, AND WITH NO SUPER POWERS HE HAD NO CHANCE AND WAS QUICKLY CAPTURED AGAIN. SUB SUPERMAN WAS ORDERED TO SUCK GUARD MUFDA'S COCK. THERE WAS NO WAY OUT, HE HAD TO DO AS HE WAS COMMANDED. A SLAVE HAD NO CHOICE. SUB SUPERMAN WAS TOLD TO GRAB MUFDA'S BUTTOCKS AND SUCK DOWN HARD. HE OBEYED AND WAS REWARDED WITH A MOUTHFUL OF MUFDA'S CUM. SUB SUPERMAN WAS MADE TO SUCK ALL THE GUARDS COCKS, AND THEY ALL DEMANDED SECONDS. IT HAD ONLY BEEN A SHORT TIME SINCE HE HAD LEFT THE PLANE, AND HE WAS NAKED, FUCKED, BALD AND TERRIFIED AT WHAT WAS TO COME.
AFTER SUB SUPERMAN HAD BEEN MADE TO FILL HIS STOMACH WITH THE GUARDS SPUNK, HE WAS TAKEN TO THE COLONELS OFFICE. SUB SUPERMAN WAS TAKEN INTO THE PRESENCE OF THE COLONEL, WHO WAS HARD AND READY FOR HIM. THE GUARDS DISPLAYED EVERY INCH OF THE SLAVE SUB SUPERMAN. HOW THE MIGHTY HAD FALLEN. SUB SUPERMAN WAS MADE TO SIT ON THE COLONEL'S COCK, SLAVE BITCH SUB SUPERMAN COULD ONLY LIVE ONE SORE MINUTE AT A TIME. NONE OF THEM OF HIS CHOOSING. ALSO TWO COLONEL'S MEN WERE ABOUT TO JOIN IN. THE ONCE MIGHTY SUPERMAN ENSLAVEMENT CARRIED ON, AND HE SUFFERED MORE RAPING, BODY SHAVING, AT THE HANDS OF HIS ARAB COLONEL AND GUARDS. €15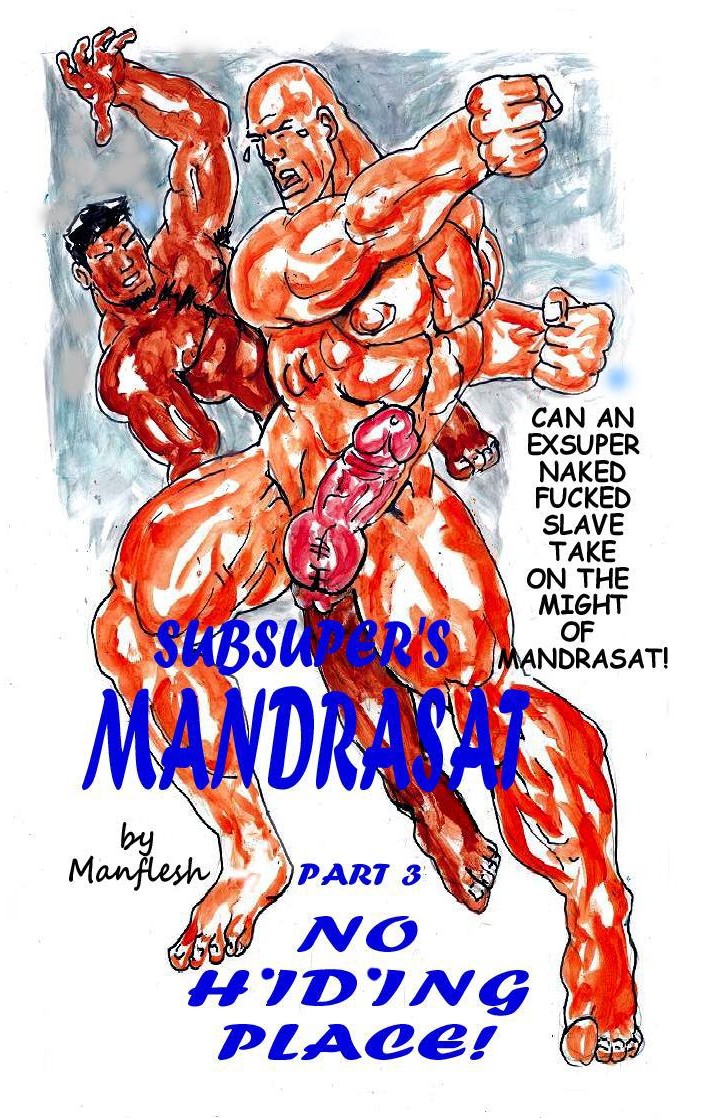 39 SUB SUPERMAN'S MANDRASAT PART 4 DEEPER INTO SLAVERY. SUP SUPERMAN'S SUFFERING CONTINUED AT THE HANDS OF THE COLONEL AND HIS MEN. THE COLONEL HAD SUB SUPERMAN TIED TO HIS BED WITH HIS LEGS SPREAD WIDE, READY TO TAKE A HARD FUCKING. SUB SUPERMAN COULD ONLY STARE BACK IN FEAR, HE WAS IN FOR MORE ARSE POUNDING. THE COLONEL A BLOCK OF SOLID MUSCLE LAY ON TOP OF SUB SUPERMAN AND THRUSTED INTO SUB SUPERMAN'S CUNT. THE COLONEL GRABBED SUB SUPERMAN BY THE EARS AS THE THRUSTED HARD AND FAST. THE COLONEL HAD A BATTERING RAM OF A COCK, ITS SHAFT WAS LINED WITH PEARLS FOR GREATER IMPACT, IT THRUSTED DEEP, DEEPER, INTO THE ENSLAVED SUB SUPERMAN'S ARSE. SUB SUPERMAN WAS TURNED OVER AND DEEP TONGUED BY THE COLONEL. "SNOG YOU REAL GOOD", THE COLONEL SAID AS HE DEEP TONGUED SUB SUPERMAN. THE COLONEL THEN SWITCHED HIS ATTENTION TO SUB SUPERMAN'S COCK. HE STARTED TO SUCK THE SLAVES COCK. SUB SUPERMAN COULD ONLY WATCH AS HIS COCK WAS WANKED AND SUCKED BY THE COLONEL. THE COLONEL WAS SHOWING THE SLAVE HE HAD NO CONTROL OF HIS BODY, AS HE MADE SUB SUPERMAN CUM. "HOLD ITS HEAD, AND SQUEEZE ITS NOSE SO ITS MOUTH WILL OPEN", THE COLONEL TOLD HIS MEN. THE COLONEL WANTED TO SHOOT HIS SPUNK INTO SUB SUPERMAN'S MOUTH. SUB SUPERMAN'S MOUTH WAS FORCED OPEN BY THE COLONEL'S MEN AND THE COLONEL SHOT HIS SPUNK INTO SUB SUPERMAN'S MOUTH. SUB SUPERMAN GAGGED IN SHOCK AS HIS MOUTH WAS FILLED WITH THE COLONEL'S SPUNK.
SUB SUPERMAN WAS UNTIED AND BENT OVER ONE OF THE GUARDS KNEE FOR A BARE ARSE CANNING. SUB SUPERMAN SQUIRMED AS HIS ARSE WAS CANNED RED RAW. A LEATHER BELT WAS USED NEXT, THE RED RAW BELTING OF THE BIG WESTERNER DEMONSTRATED ARAB SUPERIORITY. THE NEW SLAVE SUB SUPERMAN'S RED RAW ARSE PUNISHMENT CONTINUED WITH A HAND BEATING. THE COLONEL SAT ON THE EDGE OF THE BED WATCHING HIS MEN USING THE SLAVES BODY HARD AND ROUGH. THEY RAPED HIM, WHILE TUGGING AND SQUEEZING HIS COCK AND BALLS. THE COLONEL WAS READY TO GIVE THE WESTERNERS BUM HOLE ANOTHER POUNDING. SUB SUPERMAN HAD HIS HANDS TIED BEHIND HIM AND WAS DRAGGED TO THE COLONEL'S WAITING, ERECT COCK. SUB SUPERMAN WAS LOWERED ONTO THE COLONEL'S COCK AND FUCKED HARD. ALL OF THE GUARDS TOOK TURNS UP SLAVE SUB SUPERMAN'S ARSE, IN A JOINT FUCK SESSION WITH THE COLONEL. A YOUNG RECRUIT HAD BEEN ORDERED TO TELL THE COLONEL THAT THE PLANE TO MANDRASAT WOULD BE READY IN A HOUR. LITTLE DID HE REALISE WHAT HE WAS IN FOR. HE FOUND SUB SUPERMAN IMPALED ON THE COLONEL'S COCK. "SIR, I HAVE BEEN TOLD TO TELL YOU THE PLANE FOR MANDRASAT WILL I READY IN A HOUR", THE YOUNG NAKED RECRUIT SAID AS SHE SALUTED THE COLONEL. "SIR, I HAVE BEEN TOLD TO REPORT TO YOU NAKED", THE NAKED RECRUIT ADDED. THE COLONEL ORDERED THE RECRUIT TO FUCK SUB SUPERMAN'S ARSE. "NOW THRUST IN AND OUT HARD", THE COLONEL COMMANDED, THE NAKED NEW RECRUIT FUCKED SUB SUPERMAN'S ARSE. AS SUB SUPERMAN'S DOUBLE ARSE FUCKING WAS CONTINUED, THE YOUNG RECRUIT WAS TAKEN TO THE CHANGING ROOM FOR A MAKE OVER.
WHEN THE HOUR WAS UP THE WELL FUCKED, SORE ARSED, SUB SUPERMAN, NOW ENSLAVED, WAS TAKEN OUT OF THE AIRPORT TO THE WAITING PLANE. HE HAD ENTERED THE AIRPORT A FREE MAN, HE LEFT, NAKED, HAIRLESS, FUCKED RAW. "MANDRASAT, WILL BREAK YOU, YOU WILL BE REBORN A SLAVE", THE COLONEL TOLD SUB SUPERMAN AS HE WAS DRAGGED TO THE PLANE. AS A CAGED SUB SUPERMAN WAS WINCHED IN TO THE PLANE, ANOTHER JOINED HIM. THE YOUNG RECRUIT, BOTH ENSLAVED AND BOUND FOR MANDRASAT. THE ONCE MIGHTY SUPERMAN ENSLAVEMENT CONTINUED, AND HE SUFFERED MORE RAPING, CHASTISEMENT, AT THE HANDS OF HIS ARAB COLONEL AND HIS GUARDS. €15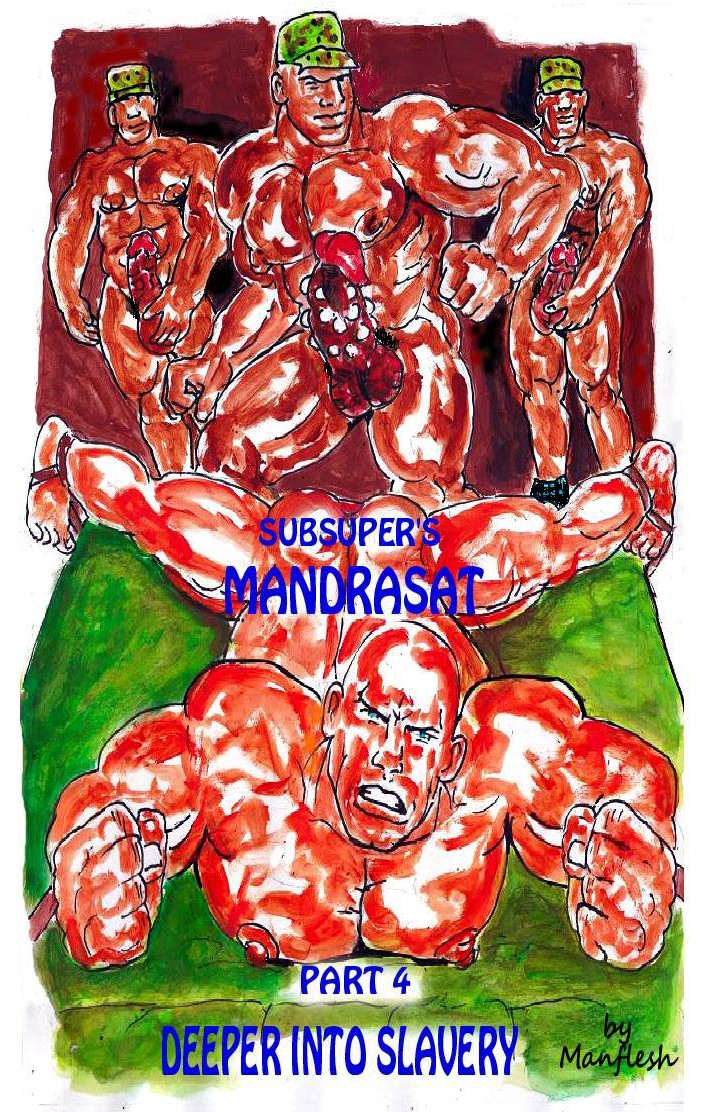 40 SUB SUPERMAN'S MANDRASAT PART 5, YOUR LIFE NOW. SUB SUPERMAN AND THE YOUNG ENSLAVED RECRUIT WERE IN THE AIRCRAFT. BEFORE THE DOOR OF THE AIRCRAFT WAS CLOSED, THE YOUNG RECRUIT WAS SHOVED INTO THE CAGE WITH SUB SUPERMAN. IN THE SMALL STEEL CAGE, NAKED FLESH WAS PRESSED AGAINST NAKED FLESH, AS THE GUARDS THREW LEWD COMMENTS AT THEM. THEY BRAGGED TO EACH OTHER ABOUT BEING UP BOTH OF THE SLAVES ARSE CUNTS. AS THE DOORS CLOSED THE ENGINES OF THE PLANE BURST INTO LIFE, THE AIR STEWARD TARAN, APPROACHED THE TWO MUSCULAR SLAVES, WITH A PAIR OF HYPODERMICS, THESE WERE TO KNOCK THE TWO BEAST OUT, WHO WOULD WAKE UP IN MANDRASAT.
SUB SUPERMAN CAME ROUND OUT OF A DREAM, A NIGHTMARE. HE WAS NOT IN HIS BED, HE WAS STANDING UPRIGHT, SPREAD EAGLE, GAG IN HIS MOUTH. HE SCREAMED BUT THEY WERE MUFFLED BY THE GAG. THE DOOR BURST OPEN AND LORD SHARMAZ AND HUGE MAN ENTERED, ZARAK. "ZARAK, MY SLAVE IS AWAKE", LORD SHARMAZ SAID. SUB SUPERMAN SHUDDERED, HE WAS SIX FOOT FOUR INCHES TALL AND TWO HUNDRED AND SEVENTY POUNDS OF MUSCLE. THE MONSTER BEFORE HIM WAS SEVEN FOOT TALL AND THREE HUNDRED AND SEVENTY POUNDS OF MUSCLE. EVEN MORE ALARMING, HIS COCK WAS HUGE. SUB SUPERMAN WAS TREATED TO BATH OF THE GIANT'S PISS WATER. ZARAK THREW BUCKETS OF HIS PISS ALL OVER SUB SUPERMAN, EVEN IN HIS FACE, MAKING HIM GULP AND SPLUTTER. "LORD AND MASTER SHARMAZ SAID, YOUR LIFE AS YOU KNEW IT HAS ENDED, YOU ARE NOW FOREVER A SLAVE, NAKED, FOR THE REST OF YOUR LIFE", ZARAK TOLD SUB SUPERMAN. AS HE SPOKE ZARAK PISSED ON SUB SUPERMAN WHO WAS ALREADY DRENCHED WITH HIS PISS, AND NOW A MAN SLAVE.
ANOTHER DOOR OPENED IN ANOTHER WALL. ANOTHER WESTERNER WAS DRAGGED IN SCREAMING, BY TWO NAKED SLAVES WEARING GOLD RINGS LIKE THE HUGE BRUTE ZARAK. THE WESTERNER HAD HIS HANDS CUFFED BEHIND HIM AND WAS PULLED INTO THE ROOM BY HIS COCK AND BALLS. HE WAS A PILOT, THE MUSCULAR WESTERNER HAD BEEN TAKEN WHILE OUT FOR A RUN IN THE DESERT NEAR HIS BASE. THE PILOT NEEDED TO BE PUNISHED, HE HAD ATTACKED AN OVERSEER, INSTEAD OF SUCKING HIS COCK. ZARAK TWISTED THE PILOTS NIPPLES AND LIFTED HIM INTO THE AIR BY THEM, MAKING HIM SCREAM. SLAVE SUB SUPERMAN COULD ONLY WATCH. THE PILOT WAS PUT IN A STEEL BODY CAGE, WITH A ELECTRIC CABLE ATTACHED TO IT. WHEN THE ELECTRICITY WAS TURNED ON, HE SCREAMED AS HIS NAKED FLESH WAS SHOCKED WITH BOLTS OF ELECTRICITY. "YOU WANT THIS EVERY DAY SLAVE?", ZARAK ASKED THE PILOT AS HE SCREAMED IN AGONY. SUB SUPERMAN WATCHED WITH A FEELING OF HELPLESSNESS, HE COULD SEE HIMSELF IN THE WESTERN PILOTS PLACE. "WALK ON ALL FOURS BEAST", ZARAK ORDERED. THE NAKED SUBDUED PILOT WAS FORCED TO CRAWL ON HIS HANDS AND KNEES, WITH A LEAD, LIKE A DOG. "THINK YOU WILL NEED THE BOX AGAIN FOR THE NEXT NINE DAYS?", ZARAK ASKED HIS HUGE COCK STANDING TO ATTENTION AS HE STOOD OVER THE KNEELING HUMBLED PILOT. "MASTER, I WILL SUCK YOUR COCK", THE PILOT REPLIED EARNESTLY. LORD SHARMAZ GOT TWO ARAB SLAVES TO DISROBE HIM. LORD SHARMAZ WAS BUILT LIKE A SILVER BACK GORILLA. "ZARAK, ENJOY, BUT DO NOT KILL HIM", LORD SHARMAZ TOLD ZARAK AS THE PILOT SUCKED ZARAK'S HUGE COCK.
LORD SHARMAZ GLOATED AS HE PAWED AND FELT SUB SUPERMAN'S FLESH, HIS NAKED PROPERTY. "HE WILL SPEND FIVE DAYS PULLING HEAVY CARTS, UNDER THE LASH AND UNDER THE HOT SUN", LORD SHARMAZ SAID TO SUB SUPERMAN, REFERRING TO THE PILOT. "YOU WILL JOIN HIM, BUT FIRST ANOTHER SHAVING AND PURGING UNDER THE HANDS AND HARD COCKS OF MY BERSERKING BLACK SLAVES, WHIPPING YOUR FLESH AND STRETCHING YOUR ARSEHOLE", HE ADDED. LORD SHARMAZ RUBBED HIS HANDS ALL OVER SUB SUPERMAN'S NAKED FLESH, FORCING THE ONCE SUPER HERO TO ORGASM AGAIN AND AGAIN. THE ENSLAVED PILOT COULD NOT TAKE ALL THE CUM EXPLODING OUT OF ZARAK'S MIGHTY BULL SIZED COCK, AND IT SPLATTERED ALL OVER HIS UPPERBODY AND FACE.
BOTH SLAVES WERE CUFFED. THE HUGE MAN BEAST ZARAK HOISTED BOTH SLAVES ONTO HIS SHOULDERS. HE KEPT THEM IN PLACE USING HIS HUGE FINGERS UP THEIR ARSES, TAKING THEM TO HELL. LORD SHARMAZ GRINNED AS HE WATCHED, HE WANTED THE WESTERN SLAVES BROKEN BEFORE HE FUCKED THEM, AND THEY WERE MADE TO PERFORM SEXUAL ACTS FOR HIS SATISFACTION. THE ONCE MIGHTY SUPERMAN ENSLAVEMENT CONTINUED, AND HE SANK LOWER AND WAS DRIVEN DEEPER INTO SUBMISSION IN MANDRASAT WITH MORE RAPING, CHASTISEMENT, AT THE HANDS OF THE HUGE ZARAK. €15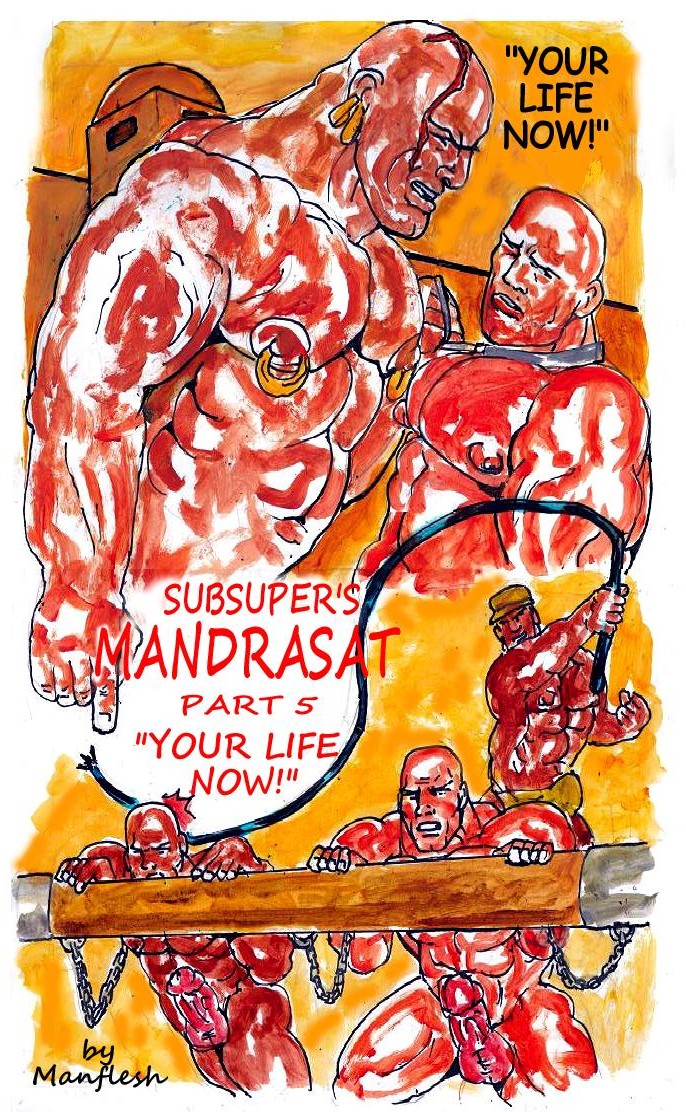 41 SUB SUPERMAN'S MANDRASAT PART 6 HELL ON EARTH. THE DAY AFTER SUB SUPERMAN'S FIRST ENCOUNTER WITH ZARAK CAME ROUND IN HIS ANIMAL CAGE AFTER BEING DOUSED WITH COLD WATER. SUB SUPERMAN STRUGGLED AGAINST HIS RESTRAINTS, HOWLING INTO HIS GAG. THE PILOT WAS GIVEN THE SAME TREATMENT. HOWLING NUBIANS GRABBED THEM AND PULLED THEM FROM THEIR CAGES, IN A GRABBING AND WHIPPING FRENZY. AS NUBIAN HANDS PAWED HIS BODY AND THE WHIP LASHED HARD, SUB SUPERMAN'S GAG WAS RIPPED FROM HIS MOUTH SO HE COULD SCREAM. THEY WERE TAKEN THROUGH THE FORTRESS, IN THE FORGE IRON COLLARS WERE ATTACHED TO THEIR NECKS. THEIR ORDEAL CONTINUED, NUBIANS POUNDED THEIR BELLIES WITH HARD PUNCHES, WHILE ANOTHER CONTINUED TO WHIP THEM HARD. THEY WERE WHIPPED THROUGH CORRIDORS INTO A LARGE COURT YARD. THE LORD OF MANDRASAT WAS WATCHING FROM ABOVE. A HUGE NUBIAN SQUATTED IN THE SANDS HIS HUGE COCK SNIFFING THE AIR. "BRING THE BIG WESTERNER HERE TO ME", HE BARKED IN ARABIC.
SUB SUPERMAN WAS GRABBED AND DRAGGED TO THE HUGE NUBIAN, HIS LEGS WERE SPREAD WIDE AND HE WAS IMPALED ON THE HUGE NUBIANS HUGE COCK. AS THE HUGE NUBIAN SHAFTED SUB SUPERMAN'S ARSE, AS SUB SUPERMAN OPENED HIS MOUTH TO SCREAM, IT WAS CRAMMED WITH ANOTHER LARGE NUBIAN COCK. THE ARSE GANG FUCKING CONTINUED FOR TWO HOURS. SUB SUPERMAN AND THE PILOT GOING IN AND OUT OF CONSCIOUSNESS. THEY WERE FUCKED ANIMALS, FUCKED BY BEASTS. SO FAR FROM HIS ONCE SUPER SELF. WHEN THE ASSAULT ENDED, THEY WERE DRAGGED TO THEIR FEET, CHOKING AND CRYING. A HEAVY TRESTLE TABLE HAD BEEN HAULED INTO THE COURT YARD. THE LORD OF MANDRASAT LOOKED DOWN ON THEM GRINNING FROM ABOVE. THE LORD AND MASTER SHAMAZ ORDERED THAT THE LARGEST OF THE WESTERNERS WAS TO BE STRAPPED FACE DOWN ON THE TRESTLE TABLE. HE WAS GIVEN A HARD BEATING ON HIS ARSE, TO MAKE IT CHERRY RED, AS CUM FARTED FROM HIS WELL FUCKED ARSE. LORD SHARMAZ BARKED AND ORDER. A HAND CART BEARING A LARGE IRON CAULDRON, FULL OF HOT COALS, WAS DRAGGED TOWARDS, THE BOUND, NAKED, FUCKED, ENSLAVED, EX SUPER HERO. THE NUBIANS HAULING THE CAULDRON ON THE HAND CART, WERE LED BY A DWARF WITH A MONSTER SIZED COCK. THE DWARF SHOWED SLAVE, SUB SUPERMAN, THE SIZZLING BRANDING IRON. FEAR LIKE HE HAD NEVER KNOWN GRIPPED SUB SUPERMAN. THE NUBIANS, ALTHOUGH SLAVES, GIGGLED AT WHAT WAS ABOUT TO HAPPEN, THEY WERE HIGHER IN THE PECKING ORDER. THUS, WHILE WASHING AND SHAVING SUB SUPERMAN, THEY COULD FUCK HIM AS WELL.
THE DWARF BRANDED SUB SUPERMAN'S BUTTOCKS WITH THE SIZZLING BRANDING IRON, WITH A LARGE M. THE SEARING PAIN AND MANIC FEAR, MADE SUB SUPERMAN PISS HIMSELF. THE PILOT HAD HIS BUTTOCKS BRANDED NEXT. LORD SHARMAZ WATCHING FROM ABOVE VIA BINOCULARS, BARKED ANOTHER ORDER. "SEND IN THE CART". AS THE TWO SORE BUMMED WESTERNERS MOANED IN AGONY. A CART ENTERED THE COURT YARD, PULLED BY TWO OTHER WESTERNERS. THE TWO NEWLY BRANDED SLAVES, SUB SUPERMAN AND THE PILOT WERE PUT ON ON FUCK ARSE POLES FOR A ROUGH RIDE TO THE QUARRY. BRANDED, NAKED, SCREWED, THE TWO NEW SLAVES WERE FORCED TO BREAK ORE UNDER THE BLAZING SUN. IT WAS ONLY THE START OF THE BREAKING OF THESE SLAVES. EVERY PART OF THEIR LIVES, IN THE HANDS OF OTHERS. BEING LARGER, SUB SUPERMAN HAD A LARGER SLEDGE HAMMER. THE ONCE MIGHTY SUPERMAN ENSLAVEMENT REACH NEW DEPTHS IN MANDRASAT AT THE HANDS LORD SHARMAZ. WITH MORE RAPING, BEATING AND BRANDING. €15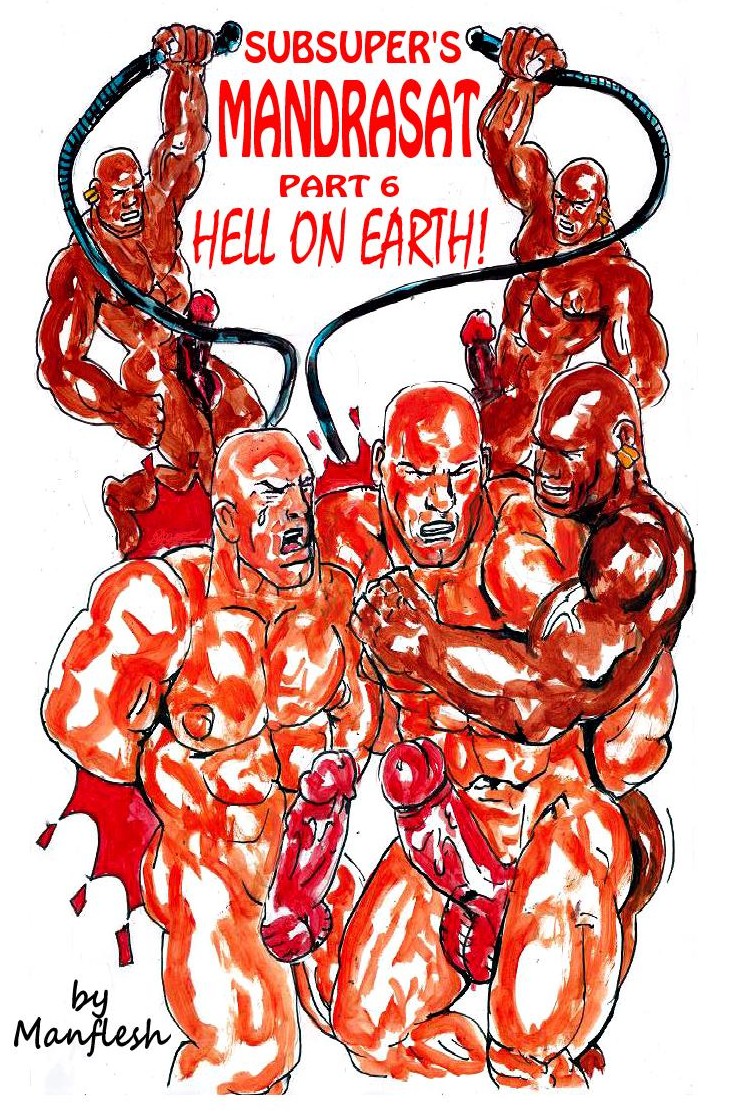 42 SUB SUPERMAN'S MANDRASAT PART 7 ZARAK. AS SUB SUPERMAN WAS PULLED ALONG A STONE CORRIDOR, ZARAK'S MONSTER SIZED COCK SLAPPED AGAINST HIS FACE. HE WAS BEING TAKEN ZARAK'S HOME, HIS CELL. ZARAK'S HOME, HIS CELL, CONTAINED A HUGE BED WITH A BLACK LEATHER MATTRESS AND PILLOW. TV CAMERA'S WERE TRAINED ON THE BED. THERE WAS A SINK, A SHOWER, A STORAGE SHELF, AND A FOOD SLUDGE TAP. THE FOOD SLUDGE CONSISTED OF MEAT, OFFAL, FISH, FRUIT, AND STEROIDS. SUB SUPERMAN HAD ARRIVED AT HIS NEW HOME. ZARAK LIFTED SUB SUPERMAN WITH HIS MIGHTY ARMS AND TOSSED HIM ONTO THE BED, TO BEGIN SUB SUPERMAN'S TRAINING, USING HIS HUGE ERECT WEAPON. "I KNOW YOU GAVE THE COLONEL, AND HIS GUARDS, YOUR MOUTH AND ARSE, SO HE WOULD NOT HURT YOU ANYMORE", ZARAK TOLD SUB SUPERMAN AS HE LAY ON THE BED. "I CAN HURT YOU WORSE THAN ALL OF THEM PUT TOGETHER", HE ADDED. ZARAK THRUST FORWARD HARD, UNTIL HIS COCK SLAPPED AGAINST SUB SUPERMAN'S COCK. HE THEN CLASPED BOTH WITH A GIANT FIST, BEFORE WANKING THEM HARD. THE HARD WANKING MADE BOTH COCKS ERUPT WITH SPUNK, ZARAK TOWERED OVER SUB SUPERMAN, AND SPAT AGAIN AND AGAIN, INTO SUB SUPERMAN'S FACE, TO SHOW HIS SUPERIORITY. IT WAS ALL PART OF BREAKING IN A SLAVE.
ZARAK GROPED SUB SUPERMAN ALL OVER HIS NAKED BODY.HE CHEWED SUB SUPERMAN'S HARD NIPPLES, WHILE WANKING HIS HARD COCK. HE FINGERED SUB SUPERMAN ANUS AND ASSAULTED HIS PROSTATE, MAKING SUB SUPERMAN SQUIRM AND MOAN IN PAIN AND EXCITEMENT. THEN ZARAK SUCKED SUB SUPERMAN'S COCK DRY, WHILE FISTING HIS ANUS. ZARAK STOOD UP LEAVING SUB SUPERMAN SORE AND DRAINED. THE ONCE SUPER HERO COULD ONLY WATCH AS ZARAK COLLECTED A METAL CAN FROM THE SHELF. WHAT NEXT, SUB SUPERMAN THOUGHT TO HIMSELF IN FEAR. ZARAK ROLLED SUB SUPERMAN ONTO HIS BELLY. SUB SUPERMAN FELT THE SHOCK OF A HARD JAB, AS THE STEEL NOZZLE OF THE CAN WAS THRUST IN HIS ANUS. ZARAK USED THE CAN TO SHOOT LUBRICATION INTO SUB SUPERMAN'S ANUS. SUB SUPERMAN SQUEALED AS HE TRIED TO STOP WHAT WAS ABOUT TO HAPPEN. ZARAK IGNORED SUB SUPERMAN'S SQUEALS AND SLAPPED HIS BUTTOCKS, UNTIL THEY WERE BRIGHT RED. SUB SUPERMAN BURIED HIS FACE IN THE BED, HOPING NOT TO INCUR MORE PAIN, BUT FOR HIS MOANS HE WAS GIVEN ANOTHER THIRTY, MIGHTY SLAPS. ZARAK BELLOWED LIKE A BULL AS HE THRUSTED HARD AND DEEP, PLOUGHING HIS HORSE SIZE DICK DEEP INTO SUB SUPERMAN'S INNARDS. PAIN, ON PAIN, AND SEXUAL STIMULATION. SUB SUPERMAN'S COCK WAS HARD, AND RUBBED RAW, AS HE THRASHED FROM THE MERCILESS PLOUGHING AND GRINDING OF HIS ANUS. THE WALLS OF HIS COLON, STRETCHED BY THE SIX INCH WIDE, BEAST COCK. SUN SUPERMAN'S MANLY PRIDE WAS TAKEN BY ZARAK, MASTER OF HIS BODY AND MIND. HOWLING LIKE A PRIMAL BEAST, ZARAK ERUPTED, BARRAGE AFTER BARRAGE SEEKING SUB SUPERMAN'S PROSTATE. THE BATTERING LIKE A BITCHES EGGS WHEN HE FOUND IT. SHAMED, SUB SUPERMAN'S DEEPEST PARTS SUBMITTED TO ZARAK'S POWER. THE ONCE MIGHTY SUPERMAN ENSLAVEMENT REACHED BOTTOM IN MANDRASAT AT THE HANDS ZARAK WITH RAPING, BEATING AND TOTAL SUBMISSION. €15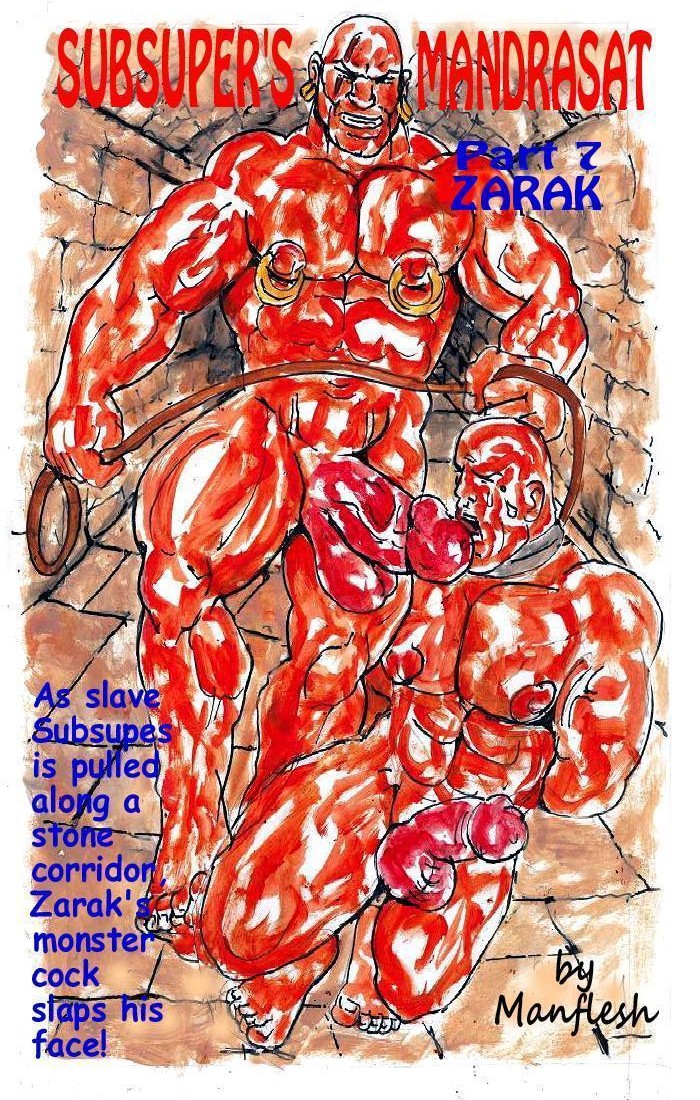 43 SUPERMAN PRISON SHAME PART 1. HAVING LOST HIS POWERS IN A FIGHT WITH ANOTHER BEING, THE GOVERNOR OF METROPOLIS HAD SUPERMAN ARRESTED, BECAUSE OF THE DESTRUCTION OF MANY BUILDINGS. THE GOVERNOR WANTED TO GIVE HIM THE MAXIMUM SENTENCE, NAKED HARD LABOUR FOR LIFE. AS A PRISON INMATE SUPERMAN'S ONLY EMBELLISHMENTS WOULD BE, CHAINS LONG ENOUGH TO WORK A PICK, A PLOUGH, AND HEAVY CORN GRINDER.
AN ALIEN HAD COME FROM THE FAR OUTER PLANETS, TO METROPOLIS TO FIGHT SUPERMAN. THE ALIEN DEFEATED SUPERMAN, TOOK HIS UNIFORM, LEAVING HIM NAKED IN THE RUBBLE OF A DESTROYED BUILDING. SUPERMAN HAD LOST THE FIGHT AND ALSO LOST ALL HIS SUPER POWERS. AFTER PASSING OUT, SUPERMAN CAME ROUND. WHEN SUPERMAN AWOKE HE FOUND HE WAS TIED TO A HOSPITAL BED IN ONLY A THIN JOCK STRAP, WATCHED BY TWO ARMED GUARDS. A DOCTOR ARRIVED AND RIPPED SUPERMAN'S FLIMSY JOCK OFF . HE THEN WANKED THE HELPLESSLY BOUND EX SUPER HERO, UNTIL HE CUM, WATCHED BY THE TWO ARMED GUARDS. THE DOCTOR COLLECTED SUPERMAN'S CUM IN BOWL, AS IT NEEDED TO BE STUDIED. "IT SURE LOVES BEING WANKED", ONE OF THE GUARDS SAID SMILING. "I BET IT LOVES IT UP THE ARSE", THE OTHER REPLIED.
THE GOVERNOR WAS TALKING WITH THE OF THE MILITARY ABOUT SUPERMAN. "WE SHOULD SEND IT TO THE MAXIMUM SECURITY PRISON IN DEATH VALLEY", THE MILITARY COMMANDER SAID. "BUT FIRST WE SHOULD PARADE IT THROUGH THE STREETS NAKED AND SHAMED, TO SHOW THAT WE THE HUMANS ARE IN CHARGE", HE ADDED. "YOU ARE SO RIGHT COMMANDER", THE GOVERNOR REPLIED. FIRST, PART OF STEEL FILE WAS WELDED INSIDE SUPERMAN'S MOUTH, FLATTENING SUPERMAN'S TONGUE TO THE FLOOR OF HIS MOUTH. NOW HE COULD NO LONGER TALK ONLY MAKE GRUNTING NOISES. THE ONE TIME SUPER HERO, NOW WITH NO POWERS, ARRESTED AND NAKED, WAS DRAGGED THROUGH THE STREETS NAKED AND SHAMED FOR ALL TO SEE. SUPERMAN THE EX HERO WAS SURROUNDED BY A CROWD, WANTING TO TOUCH AND GROPE HIS NAKED FLESH. YOUTHS WHACKED SUPERMAN WITH STICKS, ALL OVER HIS NAKED BODY. HIS COCK WAS SWOLLEN AND ERECT, HAVING BEEN INJECTED WITH VIAGRA SERUM. HE WAS THEN PARADED BEFORE THE METROPOLIS FOOT BALL TEAM. "ON YOUR KNEES ALIEN, YOU ARE GOING TO SERVICE THE COCK OF THE TOP JOCKS, OF THE METROPOLIS FOOTBALL TEAM", ONE OF HIS MILITARY GUARDS ORDERED. "ON YOUR KNEES BITCH", THE GUARD ADDED, FORCING SUPERMAN DOWN TO HIS KNEES, IN FRONT OF THE FIRST IN A LINE OF FOOTBALL JOCKS. THE JOCK HAD NO SHORTS ON AND HIS COCK WAS ROCK HARD. SUPERMEN STARTED TO SUCK THE JOCK'S COCK. THE JOCK TOOK OUT HIS PHONE AND FILMED SUPERMAN SUCKING HIS COCK AND THE RECORDING WENT VIRAL. ONE BY ONE SUPERMAN HAD TO SUCK EVERY COCK IN THE LINE. AFTER EACH JOCK HAD CUM IN HIS MOUTH, THEY WIPED THEIR COCKS ON HIS NAKED FLESH. THE OTHER ALIEN HAD TAKEN HIS POWERS. NOW HIS MANLINESS WAS SUCKED AWAY.
SUPERMAN WAS BEING TRANSPORTED IN AN ARMOURED PRISON VAN. HIS CHAIR WAS BOLTED TO THE FLOOR AND HE WAS SECURED TO THE CHAIR BY HIS LEGS. HE HAD STEEL COLLAR AROUND HIS NECK, AND STEEL CUFFS ON HIS WRISTS. CHAINS WERE LINKED BETWEEN HIS COLLER AND HIS CUFFS. IT SEEMED THE GUARDS HAD FOUND A WAY TO PASS THE TIME. THEY TOOK DELIGHT IN FISTING SUPERMAN. ONE FORCED HIS ARM RIGHT IN AND GRABBED SUPERMAN'S PROSTATE, HE USED HIS FINGERS TO MILK IT. THIS FORCED SUPERMAN TO CUM AGAIN AND AGAIN. THE PRISON VAN, EVENTUALLY ARRIVED AT DEATH VALLEY MAXIMUM SECURITY PRISON. THE GUARDS DRAGGED THE NAKED ALIEN INSIDE, HE WAS ABOUT TO START HIS NAKED LABOUR FOR LIFE. HE WAS HANDED OVER TO A PRISON GUARD AND TAKEN TO SEE THE WARDEN. "I'VE BEEN WAITING FOR YOU", THE WARDEN TOLD SUPERMAN, AS HE STARTED TO UNDRESS, HIS HUGE COCK WAS ALREADY ROCK HARD. HE WANTED TO MAKE A SORE ARSED BITCH, OF THE ONCE SUPER HERO. "BEND OVER THAT CHAIR, I'LL DRILL THAT ALIEN PRIDE OUT OF YOU", THE WARDEN ORDERED. SUPERMAN BENT OVER THE CHAIR AND THE WARDEN FUCKED HIM UP THE ARSE, MAKING HIM GROAN IN PAIN. HE WAS TAKEN AWAY TO HIS CELL WITH THE WARDENS CUM DRIPPING FROM HIS ARSE. THE EX SUPER HERO PASSED BRUTES, WHO LEWDLY SHOWED THEIR CARNAL LUST. "SURE GOING TO FUCK IT RAW", ONE SHOUTED. "ME TOO", ANOTHER SHOUTED. THE ONCE MIGHTY SUPER HERO MINUS HIS POWERS WAS IMPRISONED AND SUFFERED SEXUAL ABUSE AND RAPE, AND LIFE OF HARD LABOUR. €15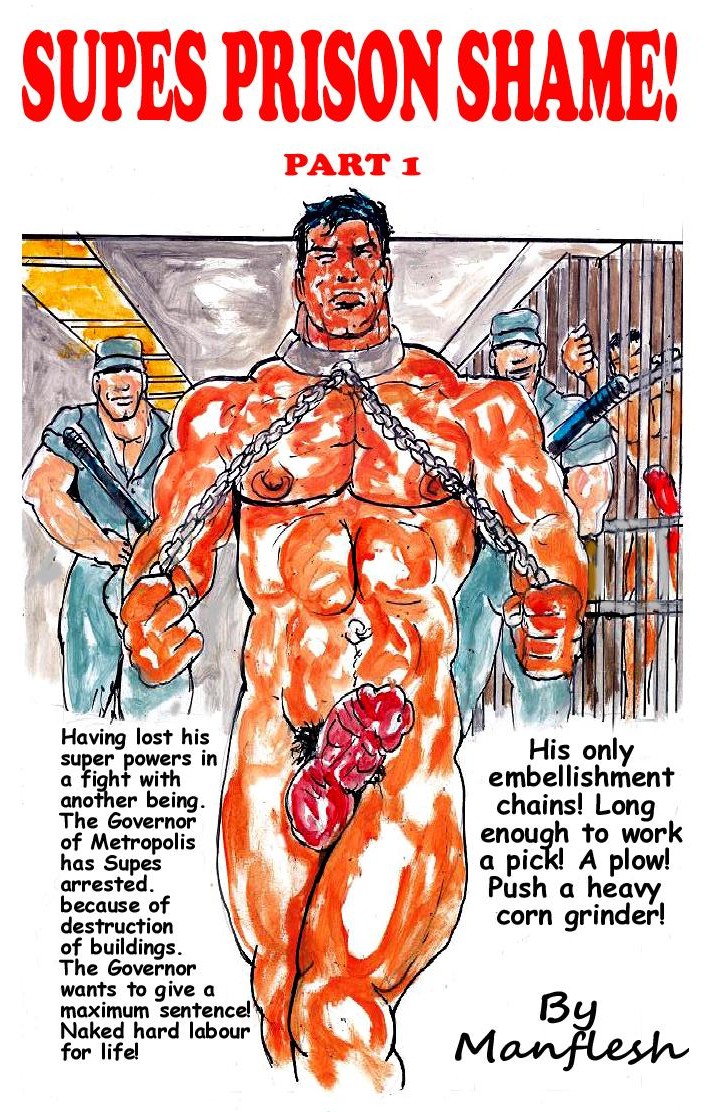 44 SUPERMAN PRISON SHAME PART 2 IN THE MAXIMUM SECURITY PRISON, IN DEATH VALLEY, WHERE SUPERMAN WAS NOW A PRISONER. MEN THERE WERE NAKED BEASTS, PREVENTED FROM ESCAPING BY THE GUARDS. BUT IN THIS PRISON, TOP DOGS OF THIS DOMAIN, CONTROLLED THEIR BITCHES, WITH THEIR CHOSEN WEAPONS, THEIR COCKS. THE SHAMED, EX SUPERMAN, NOW A PRISONER, WAS TAKEN TO HIS CELL. "YOUR HOME CAGED BEAST", THE GUARD TOLD HIM. ALL THE CELL CONTAINED WAS A STAINLESS STEEL PLUG HOLE, TO PISS AND SHIT IN, AND A FOUR FOOT BY THREE FOOT, RUBBER MAT, TO SLEEP ON. SO THERE HE WAS, HIS FIRST NIGHT IN PRISON NAKED. IT WAS A HOT AS AN OVEN, WHAT WOULD THE DAY BRING. "YOU'LL BE SHITTING OUT LOTS OF CUM HERE", A GUARD SNEERED, FROM OUTSIDE THE CELL, AS HE WATCHED SUPERMAN SQUATTING OVER THE PLUG HOLE, HAVING A SHIT.
FIRST THING IN THE MORNING, EX SUPERMAN, WAS GIVEN A HAIR CUT. THEN HAIR DEFOLIATE, WAS APPLIED TO THE SIDES OF HIS HEAD AND THE LOWER HALF OF HIS FACE. IT WAS TO ENSURE THAT ONLY THE HAIR ON THE TOP OF HIS HEAD, WOULD GROW BACK. HIS COCK'S MAN BUSH, WAS GIVEN THE SAME TREATMENT. HE WAS TAKEN TO THE EATING HALL, AND MADE TO CRAWL TO ONE OF THE FEEDING TROUGHS. AS HE ATE THE SWILL, CONSISTING OF, MEAT, FISH, VEGETABLES, FRUIT, AND STEROIDS. ONE OF THE BULLS, A TOP DOG, GROPED, EX SUPERMAN'S PENIS. "YOU'RE ONE OF MY FUCK PUPS, I'LL OWN YOU, HAVE POWER OVER YOUR HOLES", THE BULL SNEERED. THERE WAS NO HELP FROM THE GUARDS. THEY WATCHED GRINNING, WITH BULGES SWELLING IN THEIR PANTS. BULLS HAD SPECIAL PRIVILEGES, ONE WAS CONTROLLING THE ONES THEY MASTERED. THE BULL MADE EX SUPERMAN, GROAN AND ORGASM, FOR ALL TO SEE AND HEAR.
EX SUPERMAN ALONG WITH THE OTHER BEASTS WERE WORKED HARD LIKE BEASTS OF BURDEN, YOKED AND MADE TO CARRY HEAVY LOADS OR ORE. WHIPS WERE USED ON THE NAKED CONVICTS TO KEEP THEM TOILING HARD. THEY WERE LIGHT WHIPS THAT STUNG, THE FLESH BUT NOT HEAVY ENOUGH TO CUT THE SKIN AND LEAVE SCARS. BUT TO DEMOSTRATE TO THESE ANIMALS, THEIR BEASTLY STATE. THE BRUTES WERE GIVEN DIFFERENT HARD LABOUR TASKS, DURING THE LONG DAY, TO ENSURE, ALL THEIR MUSCLES WERE GIVEN A SORE TIME. EX-SUPERMAN HAD TO TURN THE WINDLASS THAT GROUND THE ORE. ALL PART OF THEIR LIFE SENTENCE. EX SUPERMAN WAS NOW HOUSED IN THE MAIN BLOCK, BACK IN HIS CELL HE HAD A SHIT AND GOT READY TO SLEEP. HOWEVER, BULLS HAD KEYS TO THE CELLS. ONE HAD SENT FOUR OF HIS GANG TO GET THE NEW CONVICT, SO HE COULD SEED THE MUSCLES BITCH'S ARSE. THE GUARDS, WATCHING VIA SURVEILLANCE CAMERAS, TURNED A BLIND EYE. THEY ENJOYED WATCHING THE ACTION. EX SUPERMAN, WAS GRABBED AND DRAGGED OUT OF HIS CELL. HE WAS TAKEN TO ONE OF THE BULLS CELL. THE CONS IN THE CELLS THEY PASSED, MADE LEWD CALLS, AT THE MUSCLE MARY, BEING TAKEN FOR A HARD POUNDING.
THE BULLS CELL WAS SPACIOUS, CONTAINING ALL THE LUXURIES OF HIS POWER. HE WAS A MONSTER OF A BRUTE, HORNY AND HARD. EX SUPERMAN WAS THROWN DOWN BEFORE HIM. THE BULL MADE EX SUPERMAN SUCK HIS COCK. EX SUPER MAN WAS IN PRISON, AND A PRISONER OF PRISONER'S, HE HAD NO CHOICE. GRABBED BY THE GANG MEMBERS EX SUPERMAN WAS THRUST ONTO THE BULLS, HARD PRICK. WHILE THE BULL, FUCKED EX SUPERMAN'S ARSE, THE GANG MEMBERS WERE ALLOWED FUCK EX SUPERMAN'S MOUTH, AND FILL IT FULL OF THEIR SPUNK. WITH HIS ARSE FARTING OUT COME AND HIS STOMACH FULL OF THE SAME, EX SUPERMAN, WAS MADE TO CRAWL BACK TO HIS CELL. OTHER CONVICTS SPURTED THEIR CUM OVER, THE RAVAGED ONCE SUPER HERO, FROM THEIR CELLS, AS CRAWLED PASSED IN SHAME. THE ONCE MIGHTY SUPER HERO STILL MINUS HIS POWERS, IMPRISONED, SUFFERING SEXUAL ABUSE AND RAPE, AND A LIFE OF HARD LABOUR. €15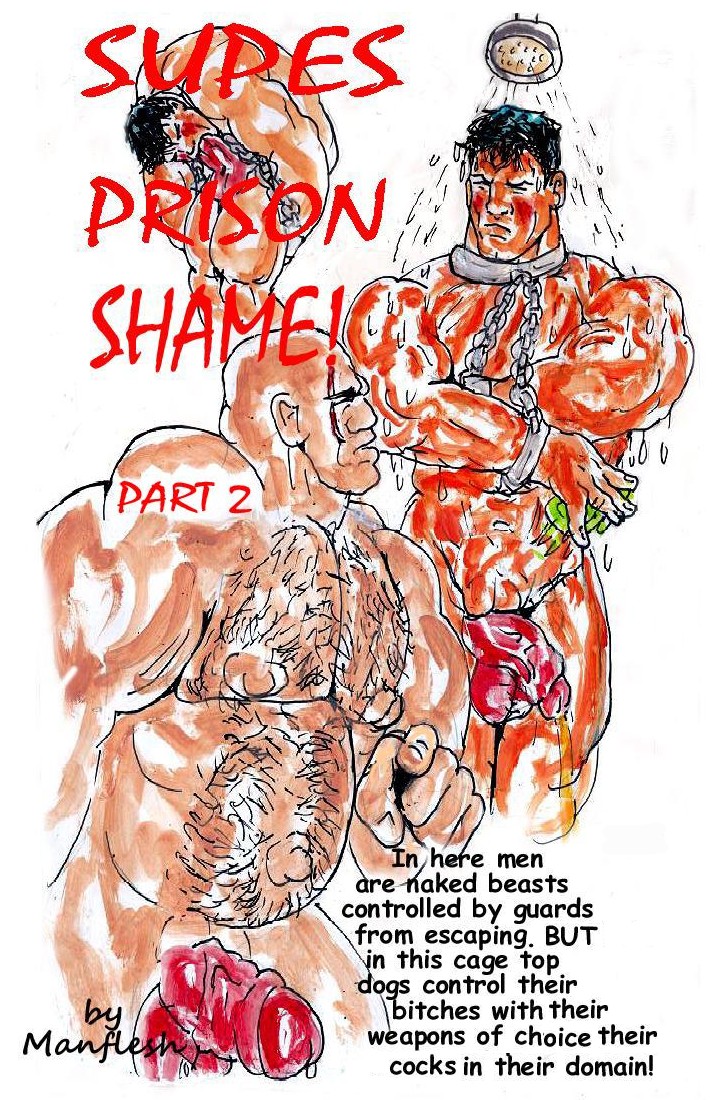 45 BLACK SUPERMAN PART 1. THE IMP AN EVIL MISCHIEVOUS, MAGICAL CREATURE, HAD BEEN AT WORK. SUPERMAN WOKE UP NAKED, IN A SHABBY ROOM, IN THE SOUTHERN STATES. THERE WAS SMALL MIRROR ON THE BED AND A LARGER ONE LEANING AGAINST THE TIN WALL OF THE HUT. SUPERMAN PICKED UP THE SMALL MIRROR AND LOOKED IN IT, HE WAS SHOCKED BY THE FACE REFLECTED, HIS FACE BUT WITH DARK SKIN. "SHIT, I'M BLACK", HE GASPED OUT LOUD IN SHOCK. SUPERMAN STOOD UP AND LOOKED IN THE LARGE MIRROR, AND WAS SHOCKED TO SEE, THE REST OF HIS BODY HAD THE SAME DARK SKIN AS HIS FACE. HIS COCK WAS A MUCH DARKER COLOUR THAN THE REST OF HIS BODY, AND WAS AS BIG AS A TIN CAN. HE DROPPED THE SMALL MIRROR AND IN SHATTERED, CUTTING HIS TOE. SUPERMAN GASPED IN SHOCK AGAIN, AS HE REALISED HE HAD LOST HIS SUPER POWERS.
SUPERMAN WOKE UP IN A TIN SHACK WOOZY AND NAKED, WONDERING WHY AND HOW HE GOT THERE. HE SAW A SMALL MIRROR AND PICKED IT UP. HE WAS SHOCKED TO SEE A DARK FACE, HIS OWN FACE. SHIT I'M BLACK, SUPER THOUGHT IN SHOCK AS HE STARTED AT HIS BLACK FACE IN THE SMALL MIRROR. THIS MUST BE A TERRIBLE DREAM, I MUST WAKE UP FROM THE BAD DREAM, SUPERMAN THOUGHT DESPERATELY. STILL IN SHOCK, SUPERMAN STOOD UP AND STARED IN A LARGE MIRROR LEANT AGAINST THE TIN WALL OF THE SHACK. SHIT I'M BLACK ALL OVER, HE THOUGHT IN HORROR, AS HE STARTED AT HIS FULL REFLECTION. SUPERMAN WAS SO SHOCKED BY HIS REFLECTION HE DROPPED THE SMALL MIRROR. IT SHATTERED A PIECE STUCK IN HIS TOE AND MADE IT BLEED. SHIT MY FOOT IS CUT, MUST HAVE NO SUPER POWERS ANY MORE", HE THOUGHT REELING IN SHOCK. THE ONLY CLOTHING IN THE SHABBY TIN SHACK, WAS A PAIR OF DUNGAREES. SUPERMAN HAD NO CHOICE BUT TO PUT THEM ON. SUPERMAN PUT THEM ON, PULLING THEM OVER HIS LARGE BLACK BUTT.
SUPERMAN LEFT THE TIN HUT AND FOUND HE WAS IN A SHANTY TOWN. THE HEAT OF THE SUN BEAT DOWN ON HIS BODY, NOW HE HAD LOST HIS SUPER POWERS. NOT ONLY HAD THE IMP TRANSPORTED HIM TO THIS SOUTHERN STATES LABOUR CAMP, BUT BACK IN TIME TO WHEN WHITES CONTROLLED THE SOUTH WITH STRONG HANDS. "HEY YOU BLACKIE, GET YOUR BLACK ASS TO THE WORK GANG", A GUARD SHOUTED DOWN FROM A WATCH TOWER. SUPERMAN STARED UP IN CONFUSION AND THEN OVER TO A LINE OF OTHER BLACK MEN, AND MORE GUARDS WITH THEM, AND REALISED HE HAD NO CHOICE BUT TO OBEY. SUPERMAN JOINED THE LINE OF BLACK MEN. "NOW ALL STRIP NAKED FOR INSPECTION", A GUARD ORDERED. "SHIT, NO WAY, SUPERMAN REPLIED, HIS ARMS CROSSED IN DEFIANCE. "HOW DARE YOU, YOU BLACK MONKEY", THE GUARD CURSED. "GUARDS", HE SHOUTED. THREE GUARDS RUSHED OVER WITH WOOODEN BATONS, AND WASTED NO TIME, IN KNOCKING SUPERMAN TO THE GROUND. "TAKE THAT YOU BLACK BEAST", THYE SHOUTED, AS THEY RAINED DOWN BLOWS ON HIM. SUPERMAN WAS STRIPPED NAKED AND DRAGGED AWAY BY THE THREE GUARDS. ALL BLACK BUCKS LIKE HIM, HAD TO WORK NAKED, BECAUSE OF THE HEAT, AND BECAUSE THEY WERE PAID DOUBLE THE AVERAGE WAGE TO DO SO. PAID WELL, BLACK WORKERS HAD TO BEHAVE IN THIS ALL MALE ENVIRONMENT, OR ELSE. THE GUARDS DRAPED SUPERMAN'S NAKED BODY OVER AN OIL DRUM. HE WAS HELD IN PLACE BY TWO OF THE GUARDS WHILE THE THIRD, WHIPPED HIS THICK BLACK, BUTT, CHEEKS, RED RAW.
HE WAS TAKEN TO THE ORE MINE TO JOIN THEY OTHER BLACK WORKERS ON THE WORK GANG, WHO WHERE ALREADY TOILING HARD. "NOW GET TO WORK, I WANT TO SEE YOU GET THOSE BUNS COVERED IN SWEAT", A GUARD ORDERED, WHACKING SUPERMAN'S RED, RAW, BLACK BUTT, WITH HIS BATON. SUPERMAN WAS FORCED TO TOIL NAKED UNDER THE BLAZING SUN. THE ORE WAS PUT INTO WAGONS AND PUSHED TO THE STOCK YARD BY THE NAKED WORK GANG. AS SUPERMAN STRUGGLED TO PUSH ONE OF THE FULL ORE CARTS, HIS BODY SWEATING HEAVILY IN THE BURNING SUN, TWO OF THE GUARDS THAT HAD PUNISHED HIM, WERE WATCHING HIM. "THAT BLACK BUCK, IS THE ONE WE HAD TO WHIP", ONE OF THEM SAID. "WHAT A THICK BUTT, IT HAS", HE ADDED. "YES, I THINK IT NEEDS A SERVICE", THE OTHER REPLIED. AT THE END OF THE DAY THE WEARY BLACK WORKERS WERE RETURNED TO THEIR HUTS. EXHAUSTED AFTER HIS LONG DAY TOILING, SUPERMAN USED HIS DAY'S PAY TO BUY FOOD AND A PILLOW. AS SUPERMAN SETTLED DOWN TO SLEEP, MENACING FIGURES APPEARED AND ENTERED HIS HUT. TWO OF THE GUARDS GRABBED THE NAKED, BLACK HUNK, WHILE OTHERS UNDRESSED, THEIR FUCK MEAT, HARD AND INCHING, FOR MAN CUNT. SUPERMAN'S BLACK BOTTIE, WAS FUCKED HARD. THE GUARDS EAGER TO DISPLAY THEIR HARD MANLINESS, IN THE BLACK BUCKS HOMONIZED ARSE. WHEN THE GUARDS HAD FINISHED, THEY LEFT, LAUGHING, LEAVING SUPERMAN EXHAUSTED AND COVERED IN THEIR CUM, WITH THEIR CUM LEAKING FROM HIS ARSE, SUPERMAN KNEW HE MUST ESCAPE AND GET OUT OF TOWN. SUPERMAN FORCED TO WORK AND OBEY THE WHITE GUARDS WHILE BEING SEXUALLY AND PHYSICALLY ABUSE BY THEM, USED LIKE THEIR PROPERTY. €15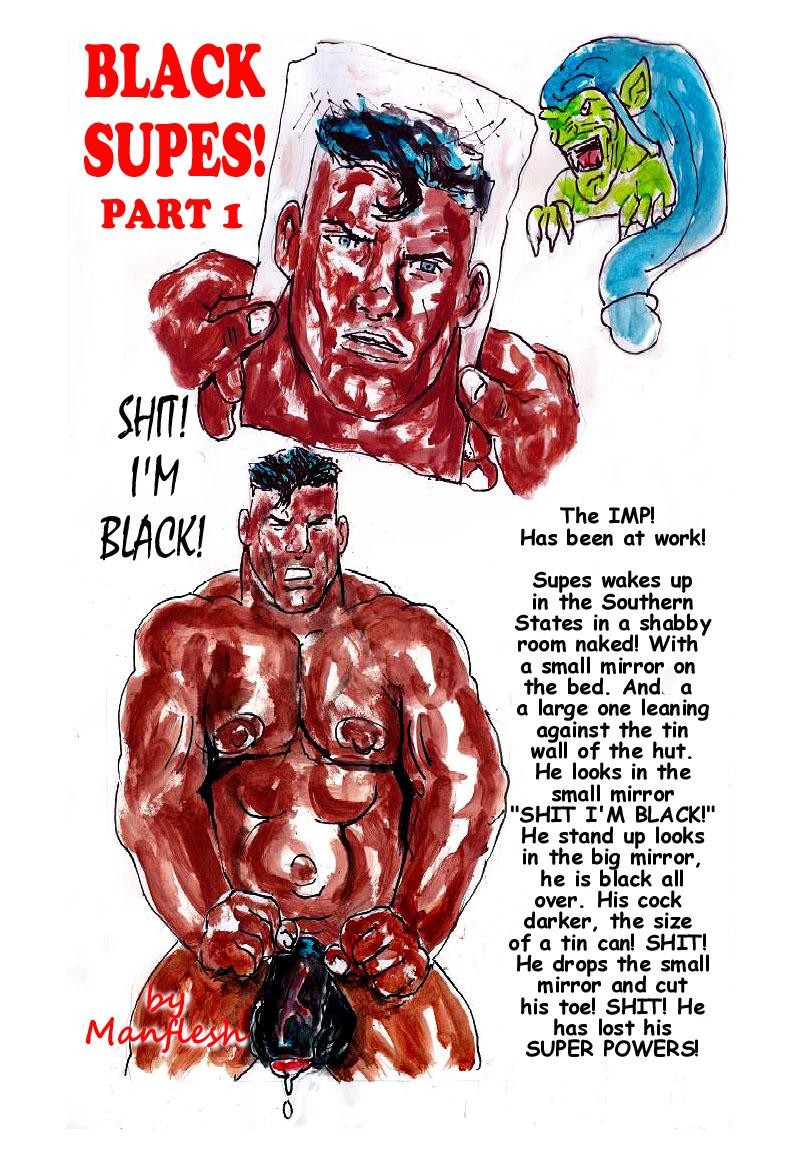 46 BLACK SUPERMAN PART 2 RINGED BEAST. BLACK SUPERMAN WAS ABOUT TO RUN FAR AWAY FROM TOWN, IF ONLY HE KNEW WHAT HE WAS GOING TO RUN INTO. AS THE DAY DAWNED, BLACK SUPERMAN ESCAPED FROM THE WORK CAMP. HIS MUSCLES WERE SORE FROM THE HARD WORK. HIS BUM WAS SORE FROM THE GUARDS COCKS. EVEN SO, HE COVERED A GREAT DISTANCE IN THREE DAYS, BY WHICH TIME HIS FOOD AND WATER HAD RUN OUT. GETTING MORE DESPERATE AS THE DAY WORE ON, FINALLY HE SPOTTED A FARM. HE WONDERED IF HE WOULD BE ABLE TO WORK THERE FOR FOOD AND PAY. BLACK SUPERMAN COVERED IN SWEAT APPROACHED THE FARM HOUSE. THE TWO OWNERS CAME OUT AND LOOKED DOWN ON HIM FROM THE PORCH. "HI, I'M LOOKING FOR WORK, NEED MONEY WILL WORK HARD", HE TOLD THE TWO OWNERS. "YES BOSS, BOSSES", HE ADDED. THEY WERE MASTER BEAR AND MASTER KANE. "I HEARD THAT YOU SHOULD ONLY EMPLOY A BLACK BUCK IF HE HAD A HARD COCK, THEN YOU KNOW HE WILL WORK HARD", BOSS BEAR TOLD BLACK SUPERMAN. "YES, SO STRIP BOY, OR YOU CAN TRY THE NEXT FARM FORTY KILOMETRES AWAY", BOSS KANE SAID. BLACK SUPERMAN KNEW HE WOULD NEVER MAKE IT THAT FAR. SUPERMAN NOW A BLACK BUCK, HAD NO CHOICE. HE REMOVED HIS ONLY PIECE OF CLOTHING, IN FRONT OF THE LEERING, LUSTING, MASTERS, OF THE FARM FOR THEIR EXAMINATION. "HANDS BEHIND YOUR HEAD", BOSS KANE ORDERED. AS BLACK SUPERMAN STOOD WITH HIS HAND BEHIND HIS HEAD, HIS BLACK FLESH WAS GROPED BY BOSS KANE. THE KANE GRABBED HIS THICK BLACK PENIS, AND TO BLACK SUPERMAN'S SHAME, HE GOT A BONER. KANE STARTED TO WANK BLACK SUPERMAN AND HIS BODY SHOOK IN SHAME, AS HIS COCK GOT BIGGER AND BIGGER. BOSS KANE, WANKED BLACK SUPERMAN HARD AND MADE HIM CUM. "VERY THICK, YOU ARE HIRED", BOSS KANE SAID AS HE INSPECTED BLACK SUPERMAN'S THICK SPUNK.
BLACK SUPERMAN WAS ORDERED TO GO INTO THE FARM HOUSE. "WE ONLY HAVE CHAIRS FOR US", BOSS KANE SAID AS HE SAT AT A TABLE. "WE ONLY HAVE KNIVES AND FORKS FOR US", BOSS BEAR SAID. "YOU WILL HAVE TO EAT FROM A BOWL ON THE FLOOR", BOSS KANE ADDED. VERY HUNGRY, BLACK SUPERMAN HAD NO CHOICE, AND GOBBLED UP THE SWILL IN THE BOWL. THE FOOD WAS DRUGGED AND BLACK SUPERMAN KEELED OVER. THE GRINNING RANCH OWNERS GRABBED THEIR PRIZE BEAST AND CARRIED THE LUMP OF BLACK MUSCLE TO THE BARN. BLACK SUPERMAN WAS TIED TO A POST IN THE BARN. AS THE NAKED, DRUGGED, BLACK BEAST, SLEPT. BOSS KANE, FORGED A HORSE BIT, FOR THEIR ANIMALS MOUTH. WHEN BLACK SUPERMAN WOKE, HE FOUND HE A FORM OF HORSE BIT LOCKED IN PLACE. NOW HE COULD ONLY MAKE ANIMAL GRUNTS. BOSS KANE AND BOSS BEAR LIFTED AND SPREAD BLACK SUPERMAN'S LEGS APART AND KEEP THEM IN PLACE WITH CHAINS ATTACHED TO HIS THIGHS. WITH HIS LEGS HELD WIDE, A DOUGH NUT RING WAS SLIPPED DOWN THE LENGTH OF HIS LARGE, BLACK, COCK AND BEHIND HIS LARGE, BLACK, BALLS. THIS KEPT HIS LARGE, BLACK, COCK HARD, AND STOPPED HIS BIG, BLACK, BALLS, FROM RETREATING INTO HIS BODY. BLACK SUPERMAN GRUNTED IN PAIN AS HIS COCK HEAD WAS PIERCED AND A LARGE STEEL RING FITTED AND CLAMPED UP. THEN HIS NIPPLES WERE PIERCED AND STEEL RINGS FITTED AND CLAMPED UP. BLACK SUPERMAN WAS NOW A RINGED BEAST. "WE CAN PULL THESE RINGS, AS WE FUCK YOU", BOSS KANE SAID, AS HE CLAMPED THE LAST NIPPLE RING IN PLACE. BOSS KANE THEN TUGGED ON BLACK SUPERMAN'S NIPPLE RINGS, MAKING HIM GRUNT IN PAIN, UNTIL HE BROUGHT TEARS TO HIS EYES.
BLACK SUPERMAN'S MASTERS, STRIPPED OFF, THEIR COCKS WERE HARD AND ERECT. BOSS KANE WAS THE FIRST TO WHIP BLACK SUPERMAN'S ANUS, TO ENSURE IT ENLARGED, FOR A HARD, SORE, FUCKING. THEN IT WAS BOSS BEAR'S TURN WITH THE WHIP. BLACK SUPERMAN'S MANCUNT WAS SWOLLEN FROM THE PAINFUL WHIPPING, A PURPLE RED COLOUR, AND NOW THE SIZE OF AN ORANGE. ITS SORE OPENING WAS ABOUT TO BE PIERCED, OPENED, STRETCHED AND POUNDED. BOSS BEAR WAS THE FIRST TO FUCK THEIR BEAST. IT NEEDED TO BE BROKEN IN, TO FEAR AND RESPECT ITS MASTERS. LEARN TO OPEN ITS LEGS WIDE, FOR THE FARM BOSSES, CUNT POUNDERS. PAIN, SHAME, CUNTED BEAST, FUCK", BOSS KANE SAID, AS HE POUNDED BLACK SUPERMAN'S MANCUNT.
BOSS CANE HAD ADAPTED A COW MILKING MACHINE, TO USE ON THE BEAST, BLACK SUPERMAN. HE WAS STRAPPED INTO THE MILKING MACHINE. ONE OF THE TEATS SUCKERS WAS CUT WITH A SLIT TO FIT BLACK SUPERMAN'S COCK RING. HE WAS LEFT IN BARN, STRAPPED IN THE MACHINE, BY THE TWO BOSSES, TO BE MILKED ALL THROUGH THE NIGHT. SUPERMAN FORCED TO WORK AND BOSS KANE AND BOSS BEAR, WHILE BEING SEXUALLY AND PHYSICALLY ABUSE BY THEM, USED LIKE THEIR PROPERTY. €15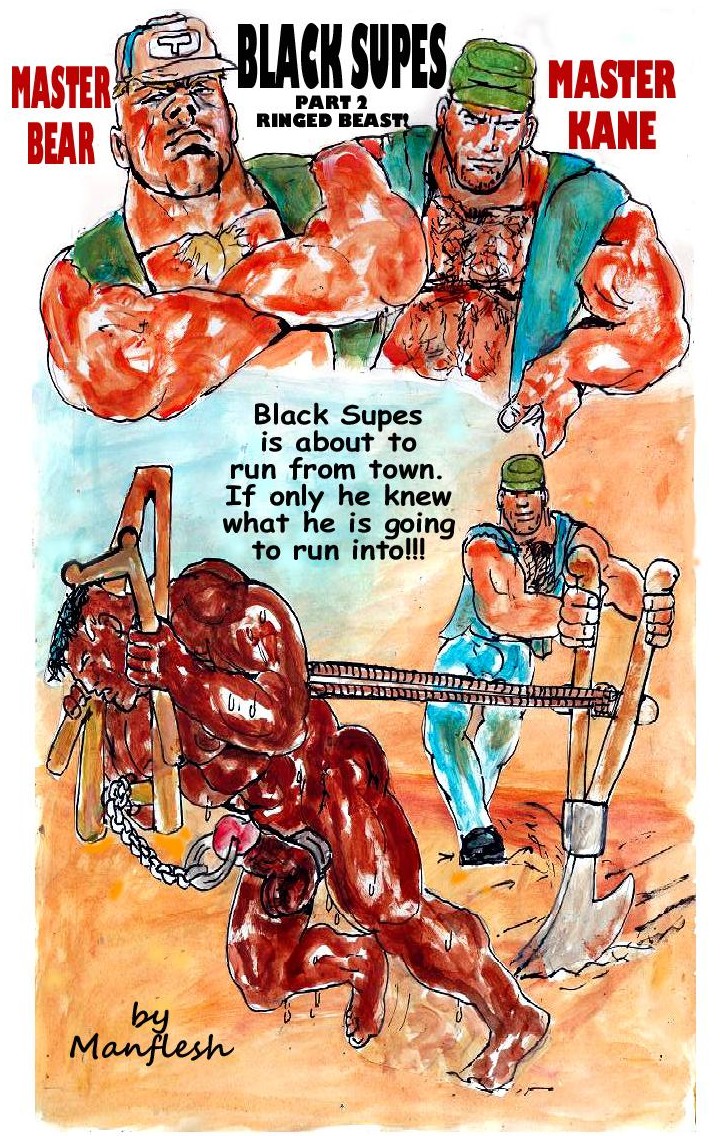 47 BLACK SUPERMAN PART 3 SORE. IT WAS MORNING AT MASTER KANE'S AND MASTER BEAR'S FARM. MASTER KANE THREW THEIR NEW WORKER, COME SLAVE, BLACK SUPERMAN, INTO THE PIG PEN. BLACK SUPERMAN HAD NO CHOICE HE HAD TO EAT WITH THE PIGS. THE BOSS OF THE PEN, WAS A HUGE BOAR PIG CROSS, MALE. ALL IN THE PEN, HAD TO SUBMIT TO HIM, EVEN BLACK SUPERMAN. THE HUGE BOAR, MOUNTED BLACK SUPERMAN AND IMPALED HIM WITH ITS EIGHTEEN INCH PRICK. "THE BOAR SURE LIKES SEEDING THE NEW SOW", BOSS KANE SAID, AS HE STOOD WATCHING THE BOAR FUCK BLACK SUPERMAN. "YEAH, EACH MEAL TIME, THE BLACK SOW WILL TAKES ITS MEAL, IN THE PIG PEN, AND GET FUCKED BY THE BOAR", BOSS BEAR SAID.
BLACK SUPERMAN WAS USED TO PLOUGH THE FIELDS. HE WAS MADE TO PULL THE HEAVY METAL PLOUGH, WITH A COCK SHAPED METAL POLE UP HIS ARSE. BLACK SUPERMAN PLOUGHED, AS HE WAS PLOUGHED BY THE POLE ON THE PLOUGH. AS THE PLOUGHING CONTINUED BLACK SUPERMAN, THRUST HIS NAKED BODY FORWARDS, JOLTING THE METAL POLE UP HIS ARSE. IT MADE HIS COCK SWELL TO ENORMOUS PROPORTIONS. WHEN MASTER BEAR'S TURN TO GUIDE THE PLOUGH BEAST APPROACHED. MASTER KANE PULLED THE METAL POLE OUT OF BLACK SUPERMAN'S ARSE, AND THRUST HIS OWN POLE INTO THE BEASTS MAN CUNT. BOSS BEAR TOOK OVER AND THE METAL POLE WAS TRUST BACK INTO BLACK SUPERMAN'S ARSE, AND HE MADE BLACK SUPERMAN, CONTINUE PLOUGHING. AS BLACK SUPERMAN PULLED THE PLOUGH THE STEEL POLE JOLTED HIS ARSE, AND CUM FROM BOSS KANE'S FUCK, SPURTED OUT OF HIS ARSE, AS HE TOILED. AT THE END OF A SORE AND PAIN RACKED DAY, BLACK SUPERMAN COULD HARDLY MOVE. HIS BLACK PELT WAS COVERED IN SWEAT. IT WAS TIME FOR BOSS BEAR TO FUEL BLACK SUPERMAN'S MAN CUNT, WITH A HARD SEEDING.
IN THE EVENING BLACK SUPERMAN WAS BACK IN THE PIG PEN, FEEDING WITH THE PIGS. HE HAD BEEN FIXED IN A FUCK FRAME BY BOSS KANE AND BOSS BEAR. THE FUCK FRAME, HELD HIM TRAPPED IN THE IDEAL POSITION TO BE FUCKED BY THE BOAR. THE BROTHERS WATCHED, AS BLACK SUPERMAN WAS FUCKED BY THE BOAR. "NEXT, WE WILL MILK THE BLACK BEAST, IN THE BARN", BOSS BEAR, TOLD BOSS KANE. AFTER FEEDING AND BEING FUCKED BY THE BOAR, BLACK SUPERMAN WAS DRAGGED TO THE BARN. THERE WAS A MILKING FRAME, WAITING FOR HIM THERE. BLACK SUPERMAN WAS CUFFED TO THE MILKING FRAME LEAVING HIM HELPLESS. BLACK SUPERMAN'S BALLS WERE GRABBED BY BOSS BEAR. THE MILKING OF BLACK SUPERMAN HAD BEGAN. AFTER BOSS BEAR, BOSS KANE TOOK HIS TURN AND MILKING BLACK SUPERMAN'S BALLS. BETWEEN THEM THEY PRODUCED A BUCKET LOADS OF DOUBLE CREAM, TO BE SOLD BY THE CHURN. BLACK SUPERMAN WAS LEFT DRAINED AND EXHAUSTED, CUFFED TO THE MILKING FRAME.
THE IMP AN EVIL MISCHIEVOUS, MAGICAL CREATURE WHO GOT SUPERMAN INTO THIS PREDICAMENT IN THE FIRST PLACE APPEARED. HE DESTROYED THE MILKING CAGE, FREEING BLACK SUPERMAN. A MICRO SECOND LATER, THE IMP HAD TRANSPORTED BLACK SUPERMAN TO A SLAVE MARKET IN THE MIDDLE EAST. HIS NAKED BLACK PELT ON LEWD DISPLAY IN THE BURNING SUN SURROUNDED BY A CROWD OF ARAB BUYERS. SUPERMAN FORCED TO CONTINUE WORKING FOR BOSS KANE AND BOSS BEAR, WHILE BEING SEXUALLY AND PHYSICALLY ABUSED BY THEM, USED LIKE THEIR PROPERTY. €15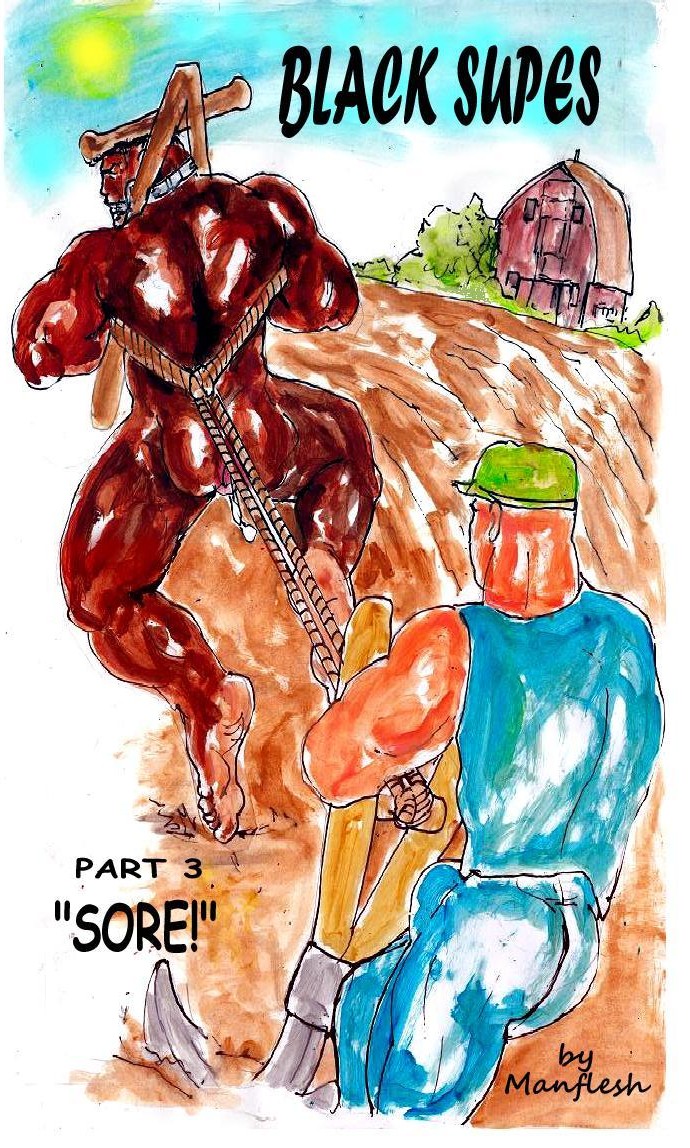 48 SUPERMAN ROGUE MAN PART 1. SUPERMAN LOST HIS SUPER POWERS AND WAS BOOTED OUT OF THE SUPER LEGION OF HEROES. HE STILL CRAVED THE ADRENALIN IT ONCE PROVIDED, SO HE WENT ON A ROAD TRIP IN THE MIDDLE EAST, LOOKING FOR DANGER AND ANYTHING ELSE HE COULD FIND THERE.
WHEN SUPERMAN LOST HIS SUPER POWERS HE WAS CONFRONTED BY OTHER MEMBERS OF THE SUPER LEGION OF HEROES. "YOU CAN NO LONGER WEAR THAT UNIFORM?", BATMAN TOLD HIM. "STRIP HIM?", BATMAN ORDERED. THE OTHER MEMBERS OF THE SUPER LEGION OF HEROES, RIPPED SUPERMANS SUPER SUIT OFF, STRIPPING HIM NAKED. "GET OUT", BATMAN ORDERED, ONCE SUPERMAN WAS NAKED. FUCK THEM ALL, SUPERMAN THOUGHT TO HIMSELF. EX-SUPERMAN WAS SENT FROM THE SUPER LEGION SHIP, ORBITING BEHIND THE MOON, BY A WORM HOLE CHUTE, BACK TO EARTH. SUPERMAN LANDED NAKED AND ENRAGED. ONLY I MATTER NOW, I WILL DO WHAT I WANT, TAKE FROM THE WORLD, GO AND MAKE IT MINE, HE THOUGHT TO HIMSELF. SUPERMAN OR THE ALIEN THAT WAS SUPERMAN, SAW A DRUG LORD ON A MOBILE. THE DRUG LORD HAD WHAT SUPERMAN NEEDED, CLOTHES, MONEY. WITH MONEY, CAME POWER, TO DO WHAT YOU WANT. EXSUPERMAN GRABBED THE DRUG LORD AND EASILY OVER POWERED HIM. ALTHOUGH EXSUPERMAN HAD LOST HIS SUPER POWERS, HE WAS STILL TWICE AS STRONG, AS NORMAL HUMAN BEINGS. HE STRIPPED THE THUG, TAKING HIS CLOTHES AND MONEY. AFTER A MONTH OF NIGHTS FILLED WITH RELIEVING THUGS OF MONEY, CLOTHES, DRUGS. SUPERMAN, NOW ROGUE MAN, PURCHASED A MOTOR BIKE. HE HAD THOUSANDS OF DOLLARS IN CASH AND DIAMONDS HIDDEN IN HIS SHOES.
ROGUE MAN CROSSED THEATLANTIC BY PLANE, HEADING FOR TIRIS ZEMMOUR, A AREA OF HOT DESERT, THAT WAS PRETTY LAWLESS AND ONLY THE STRONG AND HARDEST RULED. ROGUE MAN RODE OFF ON HIS MOTOR BIKE AND WAS WAVED OFF BY THE CREW OF THE CARGO PLANE. THEY WERE UNLOADING GUNS, TO SELL TO THE LOCAL WAR LORDS. AS HE RODE THROUGH THE DESERT, ROGUE MAN ENJOYED THE VIBRATIONS FROM THE MOTOR BIKE ENGINE. ROGUE MAN HOISTED UP HIS T-SHIRT AND YANKED THE FRONT OF HIS JEANS DOWN. THE VIBRATIONS MADE HIS COCK ENLARGE AND HE CUM AGAIN AND AGAIN. BUT THE HILLS HAD EYES AND HE WAS BEING WATCHED. THE SUN WAS SETTING WHEN ROGUE MAN CAME TO AN INN, AT THE FOOT OF A HILL. ON THE SUMMIT OF THE HILL, WAS THE FORTRESS OF THE LOCAL WAR LORD. ROGUE MAN TOOK A ROOM AND WAS EATING HIS EVENING MEAL SERVED BY A BOY IN AN APRON. WHEN THE BOY RETURNED TO THE KITCHEN, ROGUE MAN NOTICED THE YOUNG GUY WAS NUDE UNDER HIS APRON THE SIGHT OF THE NUDE BACK OF THE YOUNG BOY AND HIS BOG COCK, HANGING DOWN, MADE ROGUE MAN HARD. "GIVE ME TEN DOLLARS AND HIM ONE DOLLAR?", THE INN OWNER SAID. "THEN YOU CAN JIG, JIG, ALL NIGHT", HE ADDED. ROGUE MAN FUCKED THE BOY FOR HOURS WATCHED BY THE INN KEEPER. AFTER WATCHING FOR AN HOUR THE INN KEEPER, WENT TO THE COURTYARD AND EMPTIED THE PETROL TANK, OF ROGUE MAN'S MOTOR BIKE. HE THEN WENT UP TO THE FORTRESS TO SEE THE WAR LORD.
THE NEXT MORNING ROGUE MAN FOUND HE HAD RUN OUT OF PETROL. THE INN KEEPER TOLD ROGUE MAN, TO GO UP TO THE FORTRESS AND THE WAR LORD WOULD SELL HIM SOME PETROL. ROGUE MAN WAS FORCED TO PUSH THE HEAVY MOTOR BIKE, ALL THE WAY UP TO THE FORTRESS, IN THE BLAZING HEAT. ROGUE MAN WAS SWEATING HEAVILY, BY THE TIME HE GOT THERE. ROGUE MAN WAS TAKEN TO THE WAR LORD WHO WAS SAT ON NAKED A SLAVE. ROGUE MAN TOLD THE WAR LORD HE NEEDED TO BUY SOME PETROL. "I WILL NOT SELL YOU PETROL", THE WAR LORD, TOLD ROGUE MAN. "BUT IF YOU WORK ON MY CORN GRINDER FOR A DAY, I WILL GIVE YOU ALL YOU NEED", THE WAR LORD ADDED. "WELL OK, I NEED THE PETROL", ROGUE MAN REPLIED, NOT HAPPY WITH THE OFFER, BUT HAVING NO CHOICE. ROGUE MAN WAS TAKEN TO THE COURT YARD AND WAS SHOWN THE CORN GRINDER. "HERE IT IS, START PULLING, IF YOU WANT THE PETROL?", THE WAR LORD SAID. ROGUE MAN STARTED PULLING THE CORN GRINDER, NOT EXPECTING IT TO BE SO HARD. WHEN HE WAS SUPERMAN NOTHING LIKE THIS WAS HARD. ROGUE MAN STARTED TO SWEAT AGAIN, AS THE SUN BEAT DOWN MERCILESSLY. AN HOUR PASSED, BY WHICH TIME, HE WAS SWEATING BUCKETS. ROGUE MAD STRIPPED OFF HIS TOP AND HE ASKED THE WAR LORD FOR WATER. "DRINK?", THE WAR LORD SAID, AS HE GAVE ROGUE MAN, A SKIN OF WATER. ROGUE MAN DRANK DEEPLY, HE WAS VERY THIRSTY. THE WATER HAD BEEN DRUGGED. THE DRUGGED ROGUE MAN, WAS STRIPPED NAKED, BY ONE OF THE WAR LORD'S GUARDS. THEN HE WAS TAKEN TO THE SMITHY, WHERE THE BLACK SMITH, WAITED BESIDE, A HOT, BURNING, FORGE. MALE DOMINATION AND SLAVERY. €15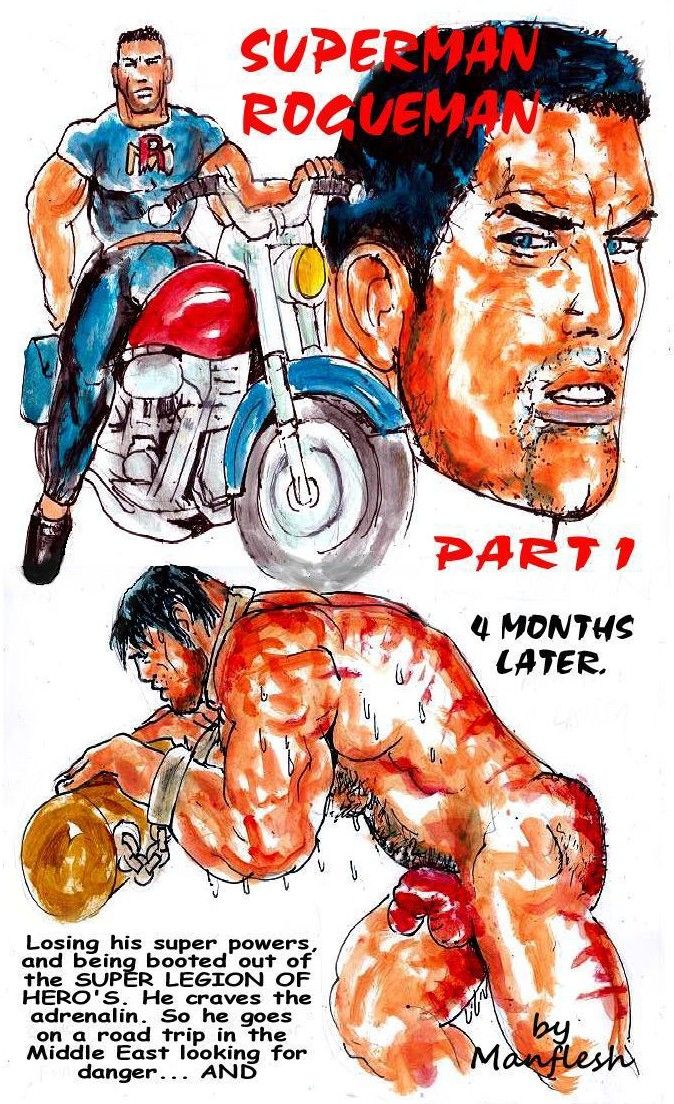 49 SUPERMAN ROGUE MAN PART 2. FROM THE GREATEST BEING ON THE PLANET, TO A NAKED ABUSED BEAST. OWNED, LOWER THAN PEASANT. ROGUE MAN AWOKE FROM HIS DRUGGED STATE, TO FIND HIMSELF NAKED AND ERECT. HE COULD NOT TALK ONLY MAKE ANIMAL NOISES, A METAL PLATE HAD PINNED HIS TONGUE DOWN. "I OWN YOU BEAST, ITS NAKED TOIL, YOUR BODY OWNED, I AM YOUR MASTER?", THE WAR LORD TOLD HIM. THE WAR LORD WANTED HIM BROKEN, SO LONG A DEHUMANIZATION BEGAN. ROGUE MAN WAS PISSED ON AND BIRCHED CONTINUALLY, AS HE WAS FORCED TO TURN THE CORN GRINDER. AS HE TOILED NAKED UNDER THE HOT SUN. A GUARD CAME OUT OF THE FORTRESS, INTO THE BAKING SUN. THE GUARD WAS NAKED AND HARD, HIS FUCK MEAT WANTING SATISFACTION. THE DUSKY GUARD THRUST HIS MEAT DEEP INTO ROGUE MAN'S MOUTH, DEEPLY PUMPING THE SLAVES, STRETCHED JAW. TURNING THE ONCE MIGHTY HERO INTO A COCK SUCKER, HIS GUT FILLED WITH SPERM. MORE NAKED GUARDS LINED UP, READY TO HAVE THEIR COCKS SUCKED.
THREE MONTHS LATER AFTER HEAVY TOILING AND BEING FORCE FED, ROGUE MAN HAD BEEN BULKED UP LIKE A FARM BULL. "LORD HE SEEMS, NOT TO BE TRULY BROKEN?", ONE OF THE GUARDS, TOLD THE WAR LORD. "WE SHALL HAVE A LITTLE PARTY", THE WAR LORD REPLIED. "ITS A PARTY FOR YOU AND A HARD ONE?", A GUARD TOLD ROGUE MAN. ROGUE MAN WAS DRAGGED INTO THE WAR LORDS BANQUETING HALL BY TWO GUARDS. WHERE HE WAS TO BE THE ENTERTAINMENT. ROGUE MAN WAS SHOCKED. IN THE HALL WAS HIS BIKE, OR WHAT WAS LEFT OF IT. IT STARTED TO SINK IN, THAT HE HAD LOST CONTROL AND THINGS WERE ABOUT TO GET WORSE. ROGUE MAN WAS TIED FACE DOWN AND HELPLESS TO HIS ONCE PRIZED BIKE. A CAMEL SKULL AND RIB CAGE HAD BEEN ATTACHED TO THE BIKE. ROGUE MAN WATCHED IN FEAR AS THE WAR LORD STRIPPED OFF HIS ROBE, HE WAS HARD AND READY. "TIME TO SHOW YOU THE HARDNESS OF SUPERIORITY", THE WAR LORD SAID, WITH AN EVIL GRIN. THE WAR LORD SPREAD ROGUE MAN'S LEGS WIDE AND SLAMMED, HIS HUGE COCK, INTO ROGUE MAN'S ARSE. THE WAR LORD FUCKED ROGUE MAN HARD, AS HIS GUARDS WATCHED AND LEERED. THE PAIN AND SHAME BROUGHT ROGUE MAN TO TEARS, AS HE WAS WHORED AND WAS ROBBED OF HIS MALE PRIDE. ALL THE GUARDS TOOK TURNS TO FUCK ROGUE MAN. ROGUE MAN GROANED PAINFULLY, AS THE FIFTH ONE FUCKED HIM, HE WAS SO SORE. ROGUE MAN'S ARSE, HAD BECOME A CUNT, A PUSSY. THE GUARDS CALLED HIM ALL SORTS OF NAMES. "ASBA ALA SORMEK", "GET A PENIS IN YOUR VAGINA" "YA GAZAMA", "FUCK YOU" "AIRI BETIZKA", "MY PENIS IS IN YOUR ASS" "MALHAT", "BITCH" BUT IT WAS NOT OVER FOR ROGUE MAN'S SORE ARSE. ROGUE MAN WAS UNTIED FROM THE BIKE AND HIS HAND WERE RETIED BEHIND HIS BACK. ROGUE MAN WAS THEN MADE TO FUCK THE ONE OF THE GUARDS COCK WITH HIS ARSE, THE GUARD ORDERED HIM TO BOUNCE UP AND DOWN ON HIS COCK. ALL THE LEERING GUARDS WATCHING, DEMANDED A TURN AND DEMANDED HE BOUNCE UP AND DOWN ON THEIR COCKS.
SIX MONTHS AFTER ROGUE MAN HAD BEEN CAPTURED AND ENSLAVED, HE WAS UP FOR AUCTION. HE WAS DISPLAYED LEWDLY ON A PEDESTAL, ARMS TIED ABOVE HIS HEAD, LEGS TIED TOGETHER AT THE ANKLES. POTENTIAL BUYERS AND THE PUBLIC COULD INSPECT HIM AND HIS MUSCULAR FLESH WAS GROPED ALL OVER IN THE MOST BESTIAL MANNER. MORE MALE DOMINATION AND SLAVERY. €15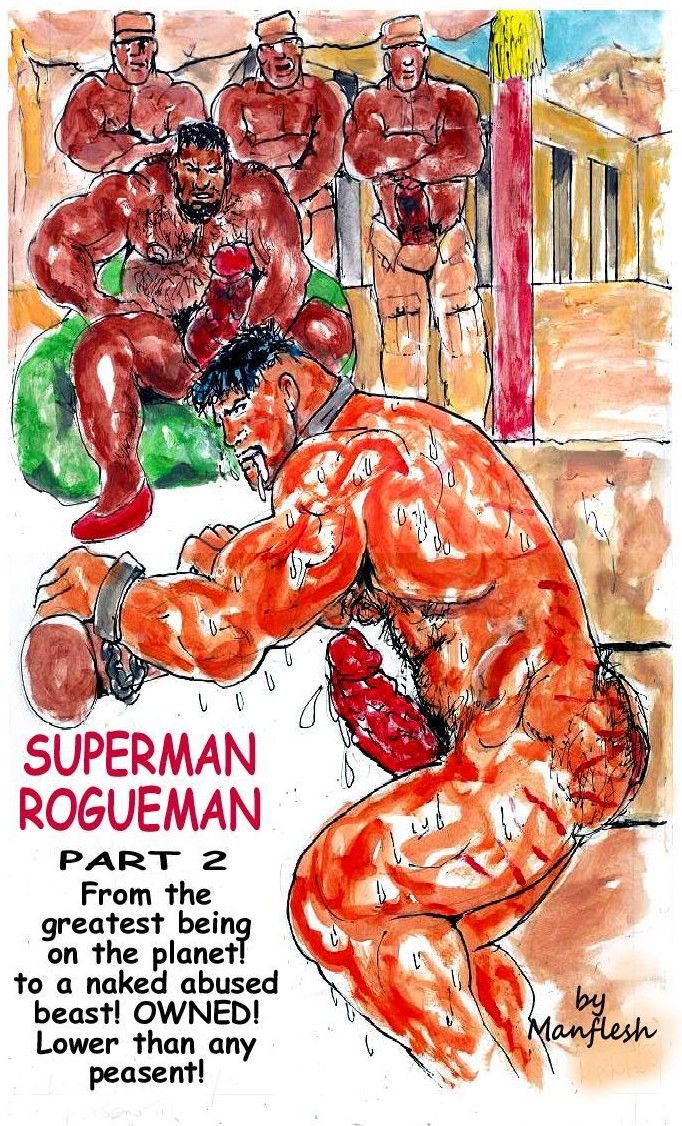 50 BLACK SUPERMAN PART 4. BLACK SUPERMAN WAS TRANSPORTED BY THE IMP TO A SLAVE AUCTION IN THE MIDDLE EAST. HE BLINKED IN SURPRISE, WHO WOULD BUY HIM, WHAT PAIN AND HUMILIATION WOULD HE BE IN FOR.
ZARAK THE PULVERISER, TYRANT LORD OF THE DESERT FORTRESS OF MANCAZA, WAS AT THE AUCTION. HE HAD BEEN TOLD ABOUT THE BLACK BUCK, BY WHO HE COULD NOT REMEMBER, THE IMP WAS THE LIKELY CULPRIT. ZARAK PURCHASED BLACK SUPERMAN AND DRAGGED HIS SHAMED AND NAKED MUSCULAR FLESH, THROUGH THE STREETS TO HIS WAITING JEEP. THE JEEP HAD A HUGE DILDO MOUNTED ON THE BONNET. BLACK SUPERMAN WAS MADE TO IMPALE HIS ARSE ON THE HUGE DILDO FOR THE LONG BUMPY RIDE TO ZARAK'S FORTRESS. THE GYRATIONS ON THE HUGE DILDO KEPT BLACK SUPERMAN'S COCK, HARD AND DRIPPING. AS SOON AS THEY REACHED ZARAK'S FORTRESS A SORE BLACK SUPERMEN, WAS PULLED BY THE RINGS IN HIS NIPPLES AND COCK HEAD, INTO HARD LABOUR. BLACK SUPERMAN WAS FORCED TO CARRY BARRELS OF OIL FROM ONE SIDE OF THE COURT YARD TO THE OTHER, IN THE BURNING SUN, WHILE GUARDS TUGGED HIM BY HIS NIPPLES AND COCK RINGS, JUST LIKE A PUPPET. THE TYRANT WATCHED, HE WANTED THE BLACK BUCK TO BE EVEN BIGGER, BEFORE HE MATED WITH HIM. SO BLACK SUPERMAN WAS FORCED TO CARRY TWO OIL BARRELS, TWICE THE WEIGHT. ALSO TWICE THE PAIN AND MUSCLE BUILDING TOIL. EVERY AFTERNOON, BLACK SUPERMAN, WAS PULLED BY HIS TITS AND WHIPPED. FOR FOUR GRUELLING HOURS, PUSHING A CORN GRINDER, HIS BLACK BUTTOCKS CRUNCHING TOGETHER, UNDER THE STRAIN. EVERY HALF HOUR, HE WAS TURNED AROUND AND MADE TO GO IN THE OTHER DIRECTION. BLACK SUPERMAN GOT TO KNOW THAT AFTER EIGHT CIRCUITS, HE WAS PUT IN HIS PEN AND FED. BLACK SUPERMAN WAS MADE TO EAT THE ENTIRE CONTENTS OF HIS SLUDGE FILLED TROUGH, BY THE GUARDS, THE MASTER LIKED HIS BITCHES THICK ARSED.
BLACK SUPERMAN WAS TAKEN BEFORE THE TYRANT. PULLED BY THE GUARDS WITH HIS HANDS CUFFED BEHIND HIS BACK, BLACK SUPERMAN, COULD ONLY TAKE WHAT WAS COMING, FROM THE HANDS AND COCK OF THE TYRANT. THE TYRANT SAT ON A HUGE BLUE CHAIR, AND WAS NAKED, HE HAD A HUGE ERECTION, AS HE EYED BLACK SUPERMAN HUNGRILY. BLACK SUPERMAN WAS MADE TO KNEEL IN FRONT OF THE TYRANT, WHILE THE GUARDS ALL WATCHED. THE TYRANT TEASED BLACK SUPERMAN'S RIGHT NIPPLE, WHILE HE FONDLED, HIS HUGE HARD COCK. THE GUARDS COCKS WERE ALL HARD AND OUT OF THEIR TROUSERS, WAITING FOR THE FUN TO BEGIN. THE GUARDS COULD NOT JOIN IN, BUT THEY COULD WATCH AND WANK AS THEIR MASTER AND RULER, WHO CONTROLLED LIFE AND DEATH, FUCKED HIS LATEST TROPHY, WITH HIS EIGHTEEN INCH PULVERIZER. "I LIKE TO FUCK FOR HOURS, MY SEED UP YOUR BUM, IN YOUR BELLY?", THE TYRANT SAID, AS HE FUCKED BLACK SUPERMAN HARD. THE GUARDS WATCHED, WANKING THEMSELVES HARD. THE DEPTH OF THE EIGHTEEN INCH PULVERISER, PULVERISED, BLACK SUPERMAN'S G SPOT, HIS PROSTATE. THE GLAND THAT RELEASED CUM FLUID. IT RELEASED BLACK SUPERMAN'S SEMEN, PRODUCING SEVERAL ORGASMS, SHOOTING OUT IN SHAME. TO END BLACK SUPERMAN'S FIRST DRILLING BY THE TYRANT. THE GUARDS WERE ALLOWED TO WANK AND CUM OVER BLACK SUPERMAN'S BODY. BLACK SUPERMAN WAS DRAGGED OUT OF THE FORTRESS AND THE TYRANT'S CHAMBER, INTO THE COURT YARD, BY THE GUARDS IN A MOST LEWD WAY, WITH HIS LEGS SPREAD WIDE AND THE TYRANT'S CUM RUNNING FROM HIS ANUS. HE WAS DRAPED OVER THE POLE OF THE CORN, CRUSHER, HIS MASTER'S CUM STILL DRIPPING FROM HIS ANUS, FOR THE NIGHT AND FOR EVERY NIGHT AFTER THAT. BLACK SUPPERMAN ENSLAVED, ABUSED AND FUCKED BY HIS ARAB OWNER, IN THE GREAT STYLE OF MANFLESH. €15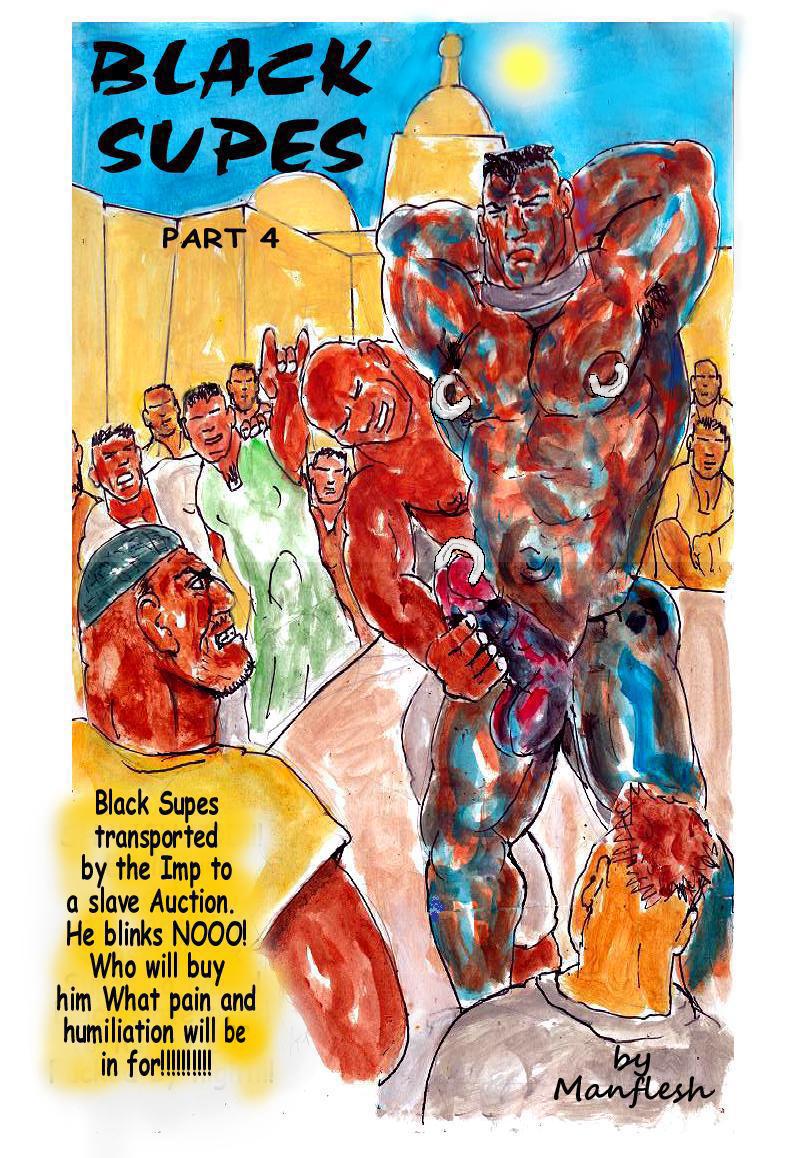 51 MANDRASAT PART 2 SUPERMAN, SUPER SLAVE. AFTER BEING TOLD OF A MISSING PLATOON, DEEP IN THE MIDDLE EAST, SUPERMAN SET OUT TO FIND THEM. BUT SUPERMAM FOUND OUT, THAT HE WAS IN FOR PAIN, NAKED TOIL, HE WOULD BE STRIPPED OF HIS DIGNITY. HIS MOUTH AND ARSE, USED FOR THE PLEASURE, OF HIS ARAB MASTERS.
THREE DAYS AFTER THE MARINE PLATOON WENT MISSING, IN THE MIDDLE EAST CLOSE TO MANDRASAT, (CONTINUED FROM MANDRASAT PARTS 1 A AND B, ON THE MANFLESH, MILITARY DOMINATION STORIES LIST) SUPERMAN WAS ASKED TO FIND THEM. HE FLEW TO THE MIDDLE EAST AND CAME ACROSS THEIR SMASHED JEEPS, IN MANDRASAT. SUPERMAN THEN FLEW DOWN INTO ONE THE MAIN COURTYARDS OF MANDRASAT. BUT THEY WERE NOT ALARMED, IT WAS AS IF, THEY WERE EXPECTING HIM. AS HE LANDED SUPERMAN WAS AMBUSHED WITH GREEN KRYPTONITE DUST. A WET MUD BALL CONTAINING GREEN KRYPTONITE DUST, WAS THROWN AT SUPERMAN. IT HIT HIM EXPLODED AND COVERED HIM ALL OVER, WITH GREEN KRYPTONITE DUST. THAT FLOORED, THE ONCE MIGHTY MAN OF STEEL. TWO BLACK TRUSTEES, WEARING SPIKED GLOVES, PAINTED WITH KRYPTONITE, TORE AT SUPERMAN'S SUIT. HE WAS STRIPPED NAKED. HE WAS NOW IN MANDRASAT, STRIPPED NAKED, NO LONGER SUPERMAN. HE WAS NOW MANFLESH TO BE PROCESSED. SUPERMAN WAS DRAGGED AWAY, BY A ROPE TIED TO HIS ANKLE.
SUPERMAN WAS QUICKLY COLLARED, BEFORE HIS SUPER POWERS COULD RETURN. THE COLLAR CONTAINED ENOUGH KRYPTONITE, TO PREVENT HIS SUPER POWERS, FROM RETURNING. SUPERMAN'S ARMS WERE SECURED TO A POST, LEAVING HIM HELPLESS. A ROPE WAS TIED TO HIS BALLS AND THEY WERE STRETCHED TIGHT, READY FOR A SLEEVE. GREEN PASTE WAS APPLIED TO HIS BALLS, TO REMOVE THE HAIR. STEEL SLEEVES, WERE FITTED TO SUPERMAN'S BALLS, SEPARATING THEM AND STRETCHING THEM TIGHT. SUPERMAN WAS NOW JUST AN OBJECT FOR USE. THE TWO BLACK TRUSTEES, USED HIM LIKE THE PIECE OF MEAT, HE NOW WAS. THEY TOOK TURNS SUCKING HIS COCK, FORCING THE ONCE NOBLE MAN OF STEEL TO ORGASM AGAIN AND AGAIN. HE WAS NO LONGER IN CONTROL OF HIS BODY. SUPERMAN WAS GIVEN A SEVER HAIR CUT AND GREEN DEFOILATE, THE SAME AS WAS, USED ON HIS BALLS. IT WAS SMEARED ON THE REST OF HIS MAN HOOD AND THE SIDES AND BACK OF HIS HEAD. IT WOULD ENSURE THE HAIR NEVER GREW BACK. THE WHIP MASTER ARRIVED AND SUPERMAN WAS FREED FROM THE POST, BUT HAD HIS ARMS TIED BEHIND HIS BACK. HIS LEGS WERE THEN BOUND TO A SHORT STEEL T SHAPED POST, RENDEING HIM HELPLESS, BEFORE THE WHIP MASTER. THE WHIP MASTER UNCOILED HIS WHIP AND STARTED THE THRASH SUPERMAN WITH IT. THE NAKED EX HERO'S NAKED FLESH, FELT THE FIRST STING OF THE WHIP. SUPERMAN CRIED OUT AND WRITHED IN PAIN, AS HE WAS MERCILESSLY WHIPPED, BY THE WHIP MASTER. THE WHIP MASTER FINALLY STOPPED, BUT ONLY TO RAPE THE EXHERO'S ARSE. IN A COURTYARD IN MANDRASAT, THE ONCE MIGHTY MAN OF STEEL, WAS TURNED INTO A BITCH, FOR ARAB COCK.
LATER IN THE WHIP MASTERS CHAMBER, SUPERMAN WAS TIED TO A WHIP FRAME. HIS ARSE CONTINUED TO BE BEATEN, HARD, FOR ANOTHER HOUR, WITH A HUGE WOODEN PADDLE. IT LEFT SUPERMAN'S ARSE LIKE A RED BALLOON, SWOLLEN AND THROBBING. HE WAS MADE TO CRAWL, TO THE WHIP MASTERS BED. "GET ON THE BED BUM BOY". THE WHIP MASTER ORDERED. "THAT IS YOUR NEW NAME", HE TOLD SUPERMAN. "YES MASTER", SUPERMAN, NOW BUM BOY, REPLIED FEARFULLY. SUPERMAN CAPTURED AND ENSLAVED, SEXUALLY AND PHYSICALLY ABUSED, BY HIS ARAB MASTERS. €15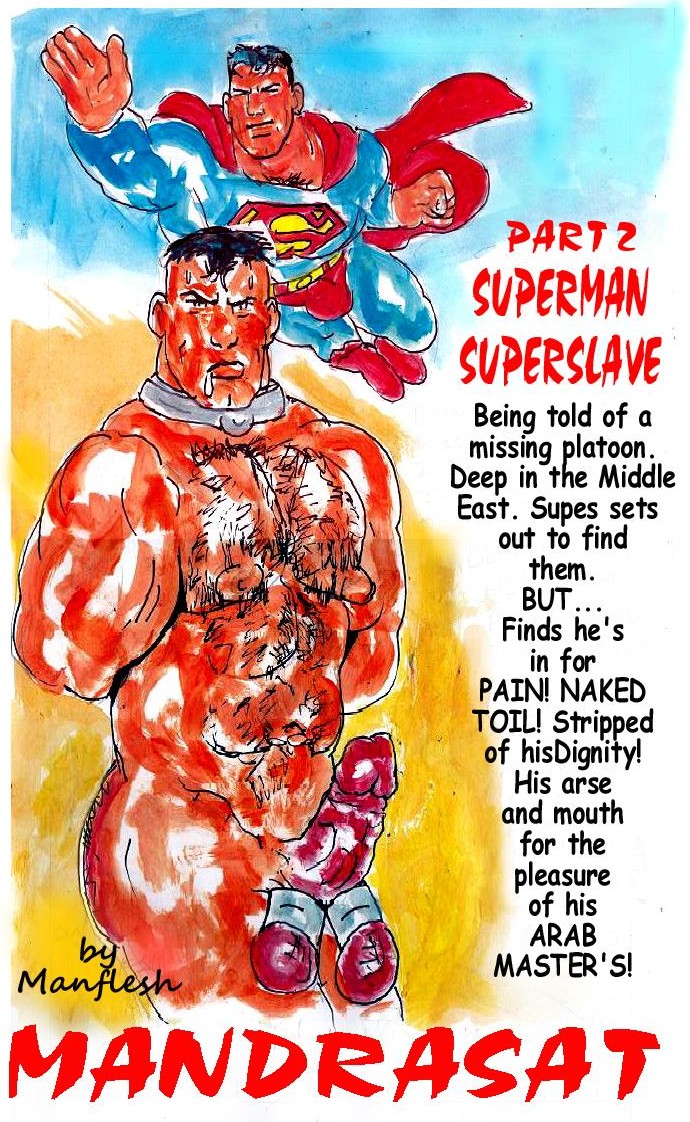 52 MANDRASAT PART 3 SEE SAW SUPERMAN'S SORE. IT WAS THE NEXT DAY, SUPERMAN, NOW BUTT BOY, WAS EATING A BOWL FULL OF SLAVE SLUDGE, HEAVILY LACED WITH STEROIDS. AT THE SAME TIME, HE WAS BEING FUCKED BY THE WHIP MASTER. HE NEEDED TO GET USE TO IT, IN MANDRASAT HIS ARSE HOLE WAS A MANCUNT. "EAT UP BOY READY FOR YOUR TOIL AND PAIN", THE WHIP MASTER SAID, AS HE FUCKED BUM BOY. BUM BOY WAS TAKEN TO ONE OF THE FORGES. THICK NIPPLE RINGS, WERE PUT THROUGH HIS NIPPLES. SO THE SUPERMAN LOGO FROM HIS SUIT, COULD BE SHOWN TO ILLUSTRATE, HIS ENSLAVED, SHAMED STATE.
AFTER A FUCK AND A FEED, SLAVE SUPERMAN, NOW BUT BOY, WAS TAKEN FOR A RUN MANDRASAT STYLE. HE HAD HEAVY WEIGHT ARMOUR PLATE, ON HIS ARMS FOR A FULL BODY WORK OUT. HE WAS TIED TO A POST WITH ANOTHER SLAVE AND MADE TO RUN AROUND AND AROUND THE POST UNDER THE CRACK OF THE WHIP. THE OTHER SLAVE TURNED OUT TO BE LIEUTENANT TYLER ONE OF THE MISSING MARINES, SUPERMAN HAD BEEN SENT TO FIND. LIEUTENANT TYLER GASPED WHEN HE SAW AND REALISED THAT SUPERMAN HIMSELF WAS A SLAVE. HE COULD ALSO SEE THAT SUPERMAN WAS WELL FUCKED. WHEN HIS WORK OUT WAS FINISHED SUPERMAN NOW BUM BOY WAS INTRODUCED THE MEN HE WAS SENT TO FIND. BUM BOY WAS MADE TO KNEEL IN FRONT OF THEM, HE REALISED THEY WERE THE MISSING PLATOON, BY THE WHIP MASTER. SUPERMAN, NOW BUM BOY, WAS SIX FOOT FOUR INCHES, OF MUSCLE, REDUCED SLAVE SUCKER. BUM BOY, SUCKED TO SURVIVE. HE HAD BEEN WARNED THAT HIS BALLS WOULD BE CUT OFF, IF HE DID NOT SUCK. THE WHIP MASTER MADE BUM BOY SUCK LIEUTENANT TYLER'S COCK, THE FIRST OF THE WHOLE PLATOON. EVERY MEMBER OF THE PLATOON WAS ALLOWED TO HAVE THEIR COCK SUCKED, BY THE ONCE SUPER HERO. THAT MADE THEIR HARD COCKS, EVEN HARDER. FOR BUM BOY THIS WAS ONLY THE BEGINNING. BUM BOY WAS BENT OVER, DISPLAYING HE WELL USED ARSE HOLE. I THINK HE KNEW, WHAT WAS COMING. HE WOULD BE FUCKED BY THE WHOLE PLATOON, STARTING WITH LIEUTENANT TYLER. THE MEN HE HAD COME TO RESCUE, WOULD HAVE THEIR COCKS UP HIS ARSE.
BUM BOY WAS PUT TO WORK TURNING THE CORN GRINDER WITH LIEUTENANT TYLER, IN THE BLAZING SUN, DRIVEN ON, BY THE WHIP, OF THE WHIP MASTER. AFTER A DAY OF TOIL, BUM BOY WAS TAKEN INTO AN UNDERGROUND ARENA, WHERE THE MASTERS OF MANDRASAT, HAD THEIR ENTERTAINMENTS. TODAY THAT WAS THE EXSUPER HERO'S ARSE, THAT WAS ABOUT TO GET A BUMMING. SUPERMAN STARED IN FEAR AT A SEE SAW, ATTACHED TO ONE END WAS A LARGE RUBBER COCK. SUPERMAN WAS THRUST ONTO THE RUBBER COCK, FIXED TO ONE END OF A SEE SAW. ONE OF THE MASTERS OF MANDRASAT SAT ON THE OTHER END OF THE SEE SAW. THE SEE SAW WENT UP AND DOWN WITH SUPERMAN IMPALED ON THE LARGE RUBBER COCK. EACH TIME THE SUPERMAN'S END OF THE SEE SAW HIT THE GROUND THE LARGE RUBBER COCK WAS THRUST DEEPER INTO SUPERMAN'S ARSE. SUPERMAN WAS SOON MOANING AND GROANING AND TO THE DELIGHT OF THE MASTERS OF MANDRASAT, HIS COCK SPURTED FIERCELY. BUT THEY STILL THOUGHT SUPERMAN NEEDED MORE BREAKING, SO HE WAS SENT TO THE MINES.
TO SHAME THE EX SUPER HERO EVEN MORE, HIS COCK WAS CRUSHED INTO A COCK CAGE, MAKING HIS COCK THE SMALLEST IN MANDRASAT. SUPERMAN TOILED IN THE MINES WITH HIS COCK SQUEEZED INTO THE COCK CAGE. NOT ONLY DID HIS SORE AND SWOLLEN MUSCLES, FILL WITH BLOOD. BUT HIS ARSE WAS SWOLLEN AND SORE WITH COCK, THE GUARDS COCKS. SUPERMAN'S ENSLAVEMENT CONTINUED, WITH MORE SEXUAL AND PHYSICAL ABUSE, BY HIS ARAB MASTERS. €15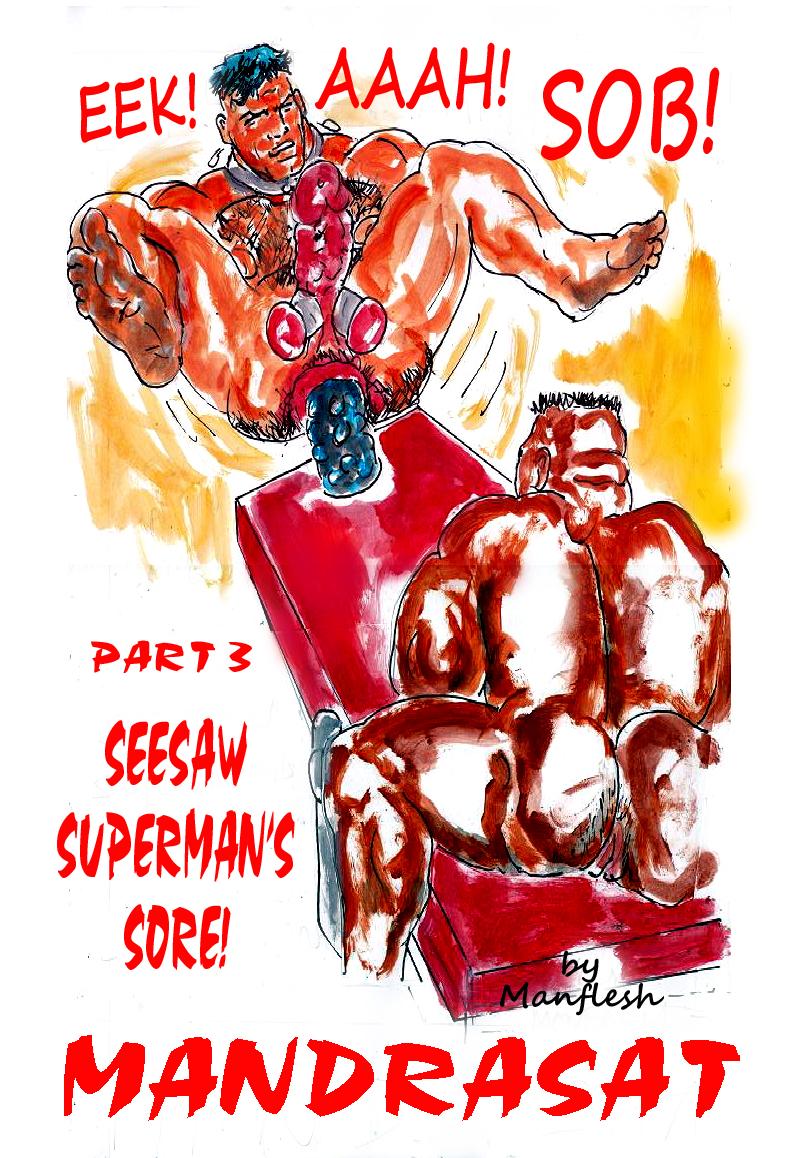 53 SUPERMAN AND THE BEAR MEN PART 2. AS THE COCK CROWED, IT WAS SIX MONTHS ON AND SUPERMAN WAS STILL IN THE PAWS OF THE BEAR MEN MASTERS. SUPERMAN SLAVE CUB WAS BECOMING LIKE THEM. IN REGARDS TO THE DAY, THIS WAS WHAT HAPPENED IN THE DAY OF SUPER SLAVE CUB. SUPERMAN WOKE UP CHAINED, AS HE WAS VERY NIGHT. KICKED TO MAKE HIM FULLY AWAKE, THE SLAVE CUB WAS NEEDED TO TAKE CARE OF THREE OF THE BEAR MENS MORNING WOOD. BIG DADDY BEAR WAS THE FIRST TO GET HIS BEAR WOOD SERVED, HE PLUNGED HIS COCK, INTO CUB SUPERMAN'S MOUTH. UNCHAINED SUPERMAN TOOK CARE OF THE BEAR MENS MORNING WOOD. WHILE SUCKING THE BIG DADDIES COCK, HE WAS MOUNTED FROM BEHIND FOR A CUNTING, BY ANOTHER. A THIRD SUCKED SUPERMAN SLAVES COCK. MADE TO ORGASM, THEIR BEAR CUB WAS BITCHED. SLAVE CUB SUPERMAN BECAME THE CENTRE OF ATTENTION, AS THE THREE BEAR MEN, SHOT THEIR LOADS ALL OVER HIM. NEXT THE BEAR CUB SUPERMAN HAD TO GIVE THE BEAR MASTER, A TONGUE BATH EVERY MORNING, WATCHED BY THE OTHERS. THE ONCE SUPER HERO NOW A BEAR CUB SLAVE, HIS ONLY DRINK WAS BEAR MAN'S PISS, THAT WAS STRONGER THAN ANY BEER. BEAR CUB SUPERMAN GOT PLENTY OF IT. BEAR CUP SUPERMAN WAS SO UNDER THEIR CONTROL, SUCH A LAP DOG, HE ALLOWED THEM TO SIT ON HIS FACE AND HE LICKED THEIR ARSES IN SUBMISSION. BEAR CUB SUPERMAN BITCH, WAS MADE TO CLEAN THE BEAR CUBS ARSES EVERY DAY, TWICE A DAY IN FACT. WHEN LUNCH OR DINNER TIME ARRIVED. BEAR CUB SUPERMAN WAS MADE TO EAT, HIS DAILY STEROID AND VIAGRA FILLED, DOG FOOD SWILL. WHILE THE BEAR ATE OF SUPERMAN'S BROAD BACK. THE BEAR CUBS SPUNK HAD BEEN ADDED TO HIS DOG FOOD.
SUPERMAN BEAR CUB WAS TASKED WITH DOING HARD LABOUR, IN FRONT OF HIS FELLOW BEAR MEN. AS HE LABOURED FILLING A CAN OF BEAR SLURRY. THE BEAR MEN WATCHED AND MASTURBATED, AH HE SWEATED AND TOILED, COCK HARD, DRIPPING PRECUM. WHEN HE FALTERED, A HARD WOODEN COCK, WAS INSERTED INTO HIS SWOLLEN HOLE. THEN HE WAS ORDERED TO CONTINUE, KNOWING HE WOULD CUM, FROM THE MOVEMENT OF THE DILDO IN HIS ANUS. WHEN HE WAS FINISHED BEAR CUB SUPERMAN, HAD TO SERVICE THE BEAR MEN AGAIN. HE WAS MADE TO ADOPT WIDE VARIETY OF SEXUAL POSITIONS, SUCKING COCK BEING FISTED, SUCKING FEET, ALL A BEAR WHORE SHOULD. AT THE END OF THE DAY HE WAS ALOUD TO PISS TO ORDER. THEN THE DADDY BEARS, GAVE SLAVE CUB SUPERMAN, A FUCK AND A TONGUE BATH, BEFORE BED. BEAR CUB SUPERMAN WAS CHAINED FACE DOWN SPREAD EAGLE FOR THE NIGHT. WHEN NIGHT FELL, THE CUBS CAME OUT TO PLAY, WITH THEIR TOY, BEAR CUB SLAVE, SUPERMAN. FIFTEEN PAGES OF GRAPHIC COLOUR MANFLESH MALE PHYSICAL AND SEXUAL HUMILIATION. €15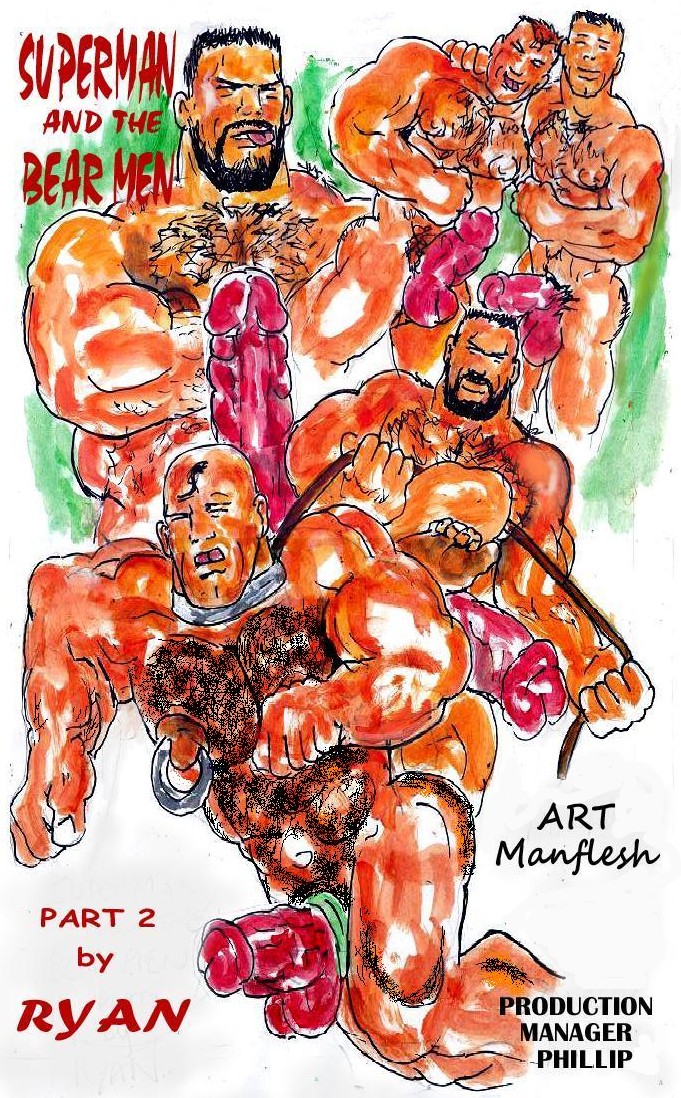 54 SUPERMAN THE LABOURER. IT HAPPENED SO QUICKLY, THE SUMMER HEAT NEVER LEFT. GLOBAL WARMING ARRIVED, LEAVING LARGE COASTAL AREAS UNDER WATER. CROP FIELDS BECAME DESERTS, THE NEW ORDER WAS MANUAL LABOUR, MACHINES WERE NOT USED, TO HELP REDUCE CARBON EMMISIONS. SUPERMAN LOST HIS SUPER POWERS AND HAD NO CHOICE BUT TO BECOME LABOURER TO SURVIVE. IN THE NEW ORDER, ALL LABOURERS TOILED NAKED, TO ALLOW GUARDS TO ENSURE THEY WERE NOT STEALING. ALSO THERE WAS NO WATER, FOR WASHING CLOTHES, THEY WERE TREATED MORE LIKE BEASTS.
SUPERMAN, NOW EX-SUPERMAN IN REALITY, HEADED SOUTH, TO A QUARRY IN THE SOUTH. STONE WAS IN GREAT DEMAND, BEING USED TO BUILD WALLS TO FORTIFY AND PROTECT TOWNS. IN A WORLD WHERE MUSCLE POWER WAS THE ONLY WAY FOR BUILDING WORK TO BE DOWN, MALE SWEAT WAS THE MAIN COMODITY, NOT OIL FOR MACHINES LIKE CARS AND PLANES. THE MASTERS NOW, WERE THE PEOPLE WHO RAN THE WORK GANGS, THE NEW OLIGARCHS. THEY ALL BUT OWNED THE MUSCLE FLESH, OF THEIR MUSCULAR WORKERS.
WHEN SUPERMAN REACHED THE QUARRY TO OFFER HIS LABOUR, THE GUARDS ORDERED HIM TO STRIP. ONCE NAKED THE A GUARD PICKED ON SUPERMAN, SENSING HE WAS DIFFERENT TO THE OTHER BRUTES, NOT LIKE THEM. THAT HE WAS NOT A BRUTE. THE GUARD GRABBED, SUPERMANS AMPLE COCK AND BALLS. SUPERMAN WAS NOT USED TO BEING HANDLED IN SUCH A LEWD MANNER AND HIS COCK GOT ROCK HARD. TO THE AMUSEMENT OF SOME OF THE OTHER NAKED LABOUR BRUTES. SUPERMAN WAS DEEMED SATISFACTORY TO BE A LABOUR BRUTE. SUPER WAS THEN TOLD, ALL CHOSEN BRUTES HAD THEIR PUBIC HAIR PERMANENTLEY REMOVED. SUPERMAN OBJECTED ANGRILY, BUT WAS GRABBED BY ONE GUARD WHILE ANOTHER ARMED WITH A KNIFE AND SOME GREEN DEFOLIATE PASTE. THE GUARD USED THE KNIFE TO TRIM SUPERMAN'S PUBIC HAIR THEN COVERED HIS COCK AND BALLS WITH THE GREEN DEFOLIATE PASTE. IT WAS RUBBED IN HARD AND WHEN REMOVED, REMOVED ALL TRACES OF SUPERMAN'S PUBIC HAIR FOREVER. ALL THE SCRAPING AND RUBBING, MADE SUPERMAN'S HARD, EXCITED, COCK SPUNK. ALL NEW LABOURERS FOR THE QUARRY WERE TREATED IN A SHEEP DIP, GUARDS USED BROOMS TO SCRUB THE LABOURERS. THEY WERE ALL TREATED ONCE A WEEK, THEIR ONLY FORM OF WASHING. THE SLEEPING QUARTERS CONSISTED OF ROOMS WITH MATS TO SLEEP ON AND BUCKETS, TO PISS AND SHIT IN.
LATER THAT NIGHT LABOURER EX SUPERMAN WAS GRABBED BY THE GUARDS. SUPERMAN WAS PLACED ON A FUCK BENCH AND THE GUARDS TOOK TURNS TO FUCK SUPERMAN, TURNING HIM INTO A SISSY. SHOCKED EX SUPERMAN COULD ONLY TAKE WHAT WAS COMING. THIS WAS WITNESSED BY OTHER HORNY LABOURERS WHO ENJOYED THE LEWD SCENE. THE LABOURERS WERE HARD COCKED, SEXY MEN. WATCHING THE SEXING OF THE BIG SISSY, BROUGHT OUT THE ANIMAL LUST IN THEM, MAKING THEM EAGER TO BUM FUCK WITH THE OTHER LADS. THE LABOURERS WATCHING WANKED WHILE THEY WATCHED THE BIG MUSCLED SISSY GETTING A HARD POUNDING BY THE GUARDS. THE NEXT MORNING, AS SUPERMAN AND THE OTHER LABOURERS, ATE THEIR GRUEL. WHILE SUPERMAN ATE THE SLUDGE MADE OF MEAT OFFAL, FRUIT, FISH HEADS, WITH ADDED STEROIDS, TO MAKE THE LABOURERS WORK HARDER. THE OTHER LABOURERS FINGERED, THE SISSY'S ARSE AND COCK. "SISSY BOY LIKES IT?", THE LABOURER GROPING SUPERMAN'S HARD COCK, SAID. "HE SURE DOES", ONE NOW FORCING ALL THE FINGERS OF ONE HAND IN HIS ANUS REPLIED.
SISSY BOY OR NOT SUPERMAN WORKED AS HARD, AS THE ROUGH BRUTES, HE WAS ONE OF THEM. "GOING TO HAVE THAT ARSE OF YOURS, SISSY BOY", ONE OF THE BRUTES TOLD SUPERMAN, AS THEY TOILED. ONCE AGAIN AFTER A LONG SLOG UNDER A HOT SUN. EX SUPERMAN, NOW A SISSY WAS GIVEN ANOTHER HARD FUCKING BY THE GUARDS, WITH TWO COCKS UP HIS ARSE, AND ANOTHER DEEP IN HIS THROAT. AFTER BEING FUCKED RAW BY THE GUARDS, SISSYFIED, LABORER EX SUPERMAN WAS THROWN TO THE WOLVES. THROWN TO THE OTHER BRUTES, SO THEY COULD USE THEIR WEAPONS ON HIM. LABOURER MEN, WHO WORKED HARD, PLAYED HARD, REALLY FUCKING EXSUPERMAN SISSY. "DIRTY FUCKER SURE LIKES COCK", ONE THE BRUTES SAID, AS HE WATCHED EXSUPERMAN SISSY, BEING FUCKED, BY ONE LARGE COCK, WHILE SUCKING ANOTHER. WHAT EVER HIS PAST THIS WAS NOW FOR EXSUPERMAN, SISSY LABOURER. HARD NAKED TOIL AND HARD FUCKING UP THE ARSE. EXSUPERMAN SISSY LABOURER WAS MADE TO TOIL IN A FRILLY PINK FEMALE APRON, COCK CONSTRAINED IN A PUNISHMENT CAGE.DEBASEMENT OF SUPERMAN INTO A LABOURER TURNED INTO A SISSY BY THE HARD COCKS OF THE GUARDS AND THE OTHER LABOURES. €15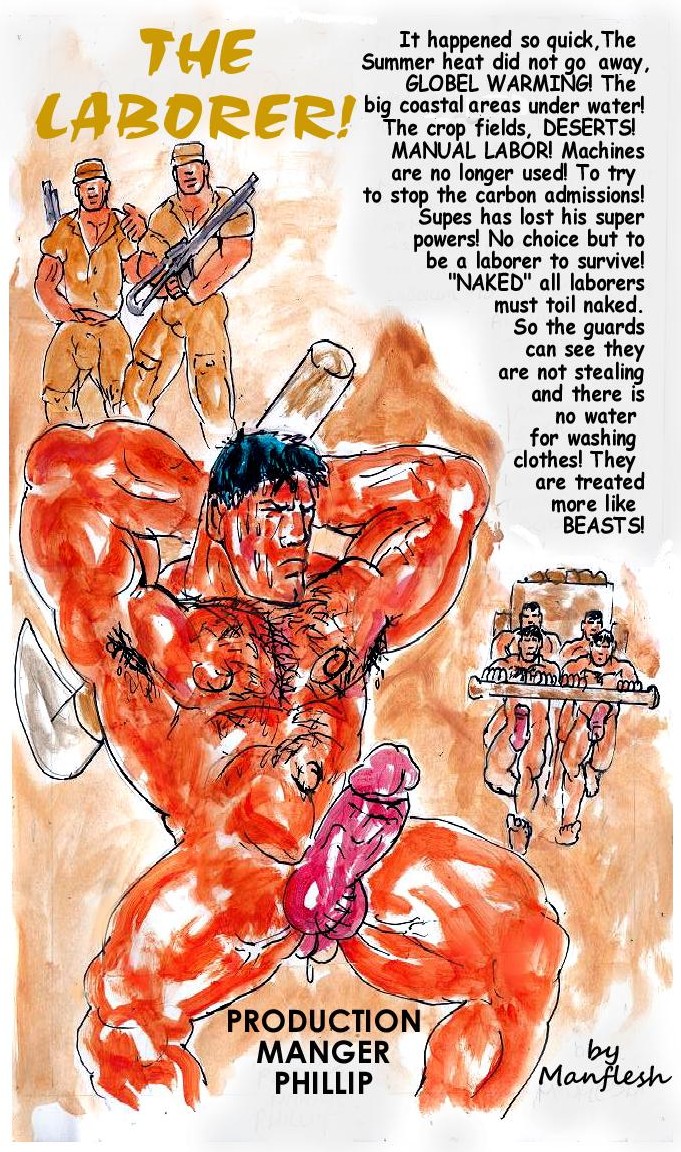 55 SUPERMAN ENSLAVED PART 1 THE ENSLAVEMENT FORTRESS. A NAKED MUSCLE MAN WAS BEING PULLED BY HIS COCK. THE IMP WAS BACK. THE IMP HAS TAKEN SUPERMAN BACK, THREE THOUSAND YEARS, INTO A KINGDOM OF SLAVERS AND TOILING, SWEATING SLAVES.
SUPERMAN AWOKE IN THE DESERT NAKED, HE WAS BEING WATCHED, BY A BAND OF ARMED SLAVERS. HE HAD NO SUPER POWERS. SUPERMAN WAS GRABBED AND HIS COCK GROPED UNTIL IT WAS HARD. THEN IT WAS CHECKED OUT, BY ONE THE SLAVERS, WITH THE BLADE OF HIS SWORD. "MMM, NICE SLAVE COCK?", THE SLAVER SAID, AS HE PROBED SUPERMAN'S COCK, WITH HIS SWORD. THE SLAVERS, TAKE SUPERMAN, AS THEIR CAPTIVE SLAVE. THEY APPLIED A STEEL COCK STRETCHER TO SUPERMAN'S COCK, TO KEEP IT FULLY HARD. THEY THEN TIED A ROPE TO HIS HARD COCK AND PULLED HIM ALONG BY IT, AFTER THEIR CAMELS. SUPERMAN FOUND HE COULD UNDERSTAND THE SLAVERS SPEECH, IT WAS THE IMPS DOING. SOON SUPERMAN WAS VERY THIRSTY, AS THEY TRAVELLED IN THE BLAZING SUN. I NEED WATER", SUPERMAN TOLD THE SLAVER, WHOSE CAMEL HE WAS TIED TO. THE SLAVER DISMOUNTED AND YANKED HARD ON THE ROPE TIED TO SUPERMAN'S COCK. "ON YOUR KNEES, YOU WANT WATER, I'LL GIVE YOU WATER", THE SLAVER SAID. HE MADE SUPERMAN KNEEL. THE SLAVER THRUST HIS COCK IN SUPERMAN'S MOUTH AND MADE HIM DRINK HIS PISS. SUPERMAN HAD NO CHOICE IT WAS DRINK THE SLAVERS PISS, OR BE PARCHED. AS THEY TRAVELLED ON A LARGE FORBIDDING BUILDING LOOMED OUT OF THE BLAZING SUN. THEY HAD ARRIVED AT THE ENSLAVEMENT FORTRESS, A PLACE OF SORE SLAVE MUSCLES AND ARSES.
ONCE INSIDE THE ENSLAVEMENT FORTRESS, SUPERMAN WAS TAKEN BEFORE THE SLAVE MASTER. "WELL ,WELL, SUCH A FINE MUSCLE BEAST?", THE SLAVE MASTER SAID, LEERING, AS HE LOOKED AT SUPERMAN'S NAKED BODY. WHEN SUPERMAN DID NOT RESPOND, THE SLAVE MASTER HAD ONE OF HIS OVERSEERS, PUNCH AND KNOCK SUPERMAN TO THE FLOOR. "YOU CALL ME MASTER?", THE SLAVE MASTER STATED. "YES MASTER?", SUPERMAN SAID, WITH A GROAN.
SUPERMAN WAS PUSHED INTO A ROOM AND SAW WHAT WAS IN STORE FOR HIM. THE ROOM WAS FILLED WITH OTHER SLAVES, ALL BEING TRAINED IN SEXUAL ACTS. ONE WAS BEING MADE TO SUCK LARGER AND LARGER STEEL DILDOS, MOUNTED ON A WHEEL. ANOTHER HUNG BY HIS ARMS, HAD TO RIDE A HUGE DILDO, THRUSTING HIMSELF ON AND OFF, UNDER THE WHIP OF AN OVERSEER. ANOTHER OVERSEER WAS THRUST A GIANT DOUBLE HEADED DILDO, INTO HELPLESS SLAVES ARSE. HE WAS ABOUT TO GET FULLY STUFFED, LIKE THE OTHER SLAVES. IN A SIDE ROOM SUPERMAN, WAS TIED TO A FUCK STAND. A DOUCHE WAS INSERTED INTO HIS ANUS AND FILLED WITH WATER. THE WATER WAS REPLACED WITH CAMEL FAT, LEAVING SUPERMAN'S ARSE AND TUMMY BLOATED. THE SLAVE MASTER THEN SHOWED SUPERMAN, HIS HUGE, HARD, COCK. THE SLAVE MASTER THEN MOUNTED SUPERMAN LIKE BULL WOULD MOUNT A COW. THE SLAVE MASTERS HUGE COCK MADE SUPERMAN GROAN IN PAIN AND EVEN THE CAMEL FAT DID NOT LUBRICATE HIS ANUS, ENOUGH TO STOP IT BURNING. "ROOM IN HERE FOR YOU TOO?", THE SLAVE MASTER, TOLD ONE OF THE OVERSEERS. THE OVERSEER THRUST HIS LARGE COCK INTO SUPERMAN'S ARSE AT THE SAME TIME. THIS ENSURED THAT SLAVES HAD STRETCHED ARSE LIPS, SO A MASTER COULD FUCK THEM TO THE HILT IN ONE GO. WHILE SUPERMAN WAS FUCKED BY TWO COCKS, THE SLAVE MASTERS AND ANOTHER OVERSEERS. HE HAD TO SUCK TWO OVERSEERS COCKS, IN HIS MOUTH AT THE SAME TIME. A FOUR WAY SERVICE WITH ARSE AND MOUTH.
THREE MONTHS PASSED, SUPERMAN THE SLAVE WAS NOW TURNING A CAPSTAN ORE GRINDER WITH OTHER NAKED SLAVES. SUPERMAN'S CROTCH HAIR HAD BEEN PULLED OUT. HIS COCK HEAD WAS PIERCED AND A HUGE IRON RING INSERTED. PREVENTING HIM, FROM FUCKING ANYONE. BUT HIS ARSE WAS REGULARLY FUCKED BY OTHERS. IN THEIR UNDER GROUND CELLS, THE SLAVES WERE FED FROM ABOVE. AT FEEDING TIME, FEEDING TUBES, MADE FROM THE TANNED COCKS AND BALLS SACKS OF CAMELS. WERE HUNG FROM THE LOW CEILING. SUPERMAN AND THE OTHER SLAVES, HAD TO SUCK ON THESE, TO GET THEIR FOOD AND DRINK. SUPERMAN'S COCK, WAS MILKED FOUR TIMES A DAY, BY SPECIALLY TRAINED MILKING YOUTHS. THE MILKING YOUTHS ALSO FUCK HIM, AS HARD THEY CAN. THE ONCE MIGHTY, NOW SHAMED AND CUNTED BY ARAB YOUTHS. SUPERMAN WAS PARADED IN FRONT OF THE SLAVE MASTER IN CHAINS, BY AN OVERSEER, TO DECIDE HIS FUTURE. "YES ITS READY FOR THE AUCTION", THE SLAVE MASTER SAID. "YES ITS WELL BROKEN IN", THE OVERSEER SAID. SUPERMAN HAD A METAL TAG WITH THE NUMBER 173, ATTACHED TO THE RING IN HIS COCK HEAD. THEN HE WAS SENT IN A CART, WITH OTHER SLAVES, TO THE AUCTION. SUPERMAN A THOUSAND YEARS FROM HIS OWN TIME, WOULD HAVE TO TAKE WHAT EVER CAME IN HIS HOMO SEXED ARSE. HIS LIFE NOW A SLAVE TO ARAB MASTERS. SUPERMAN'S ENSLAVEMENT HAD JUST BEGUN, HE NOW FACED EVEN MORE SEXUAL AND PHYSICAL ABUSE, BY HIS ARAB MASTERS. €15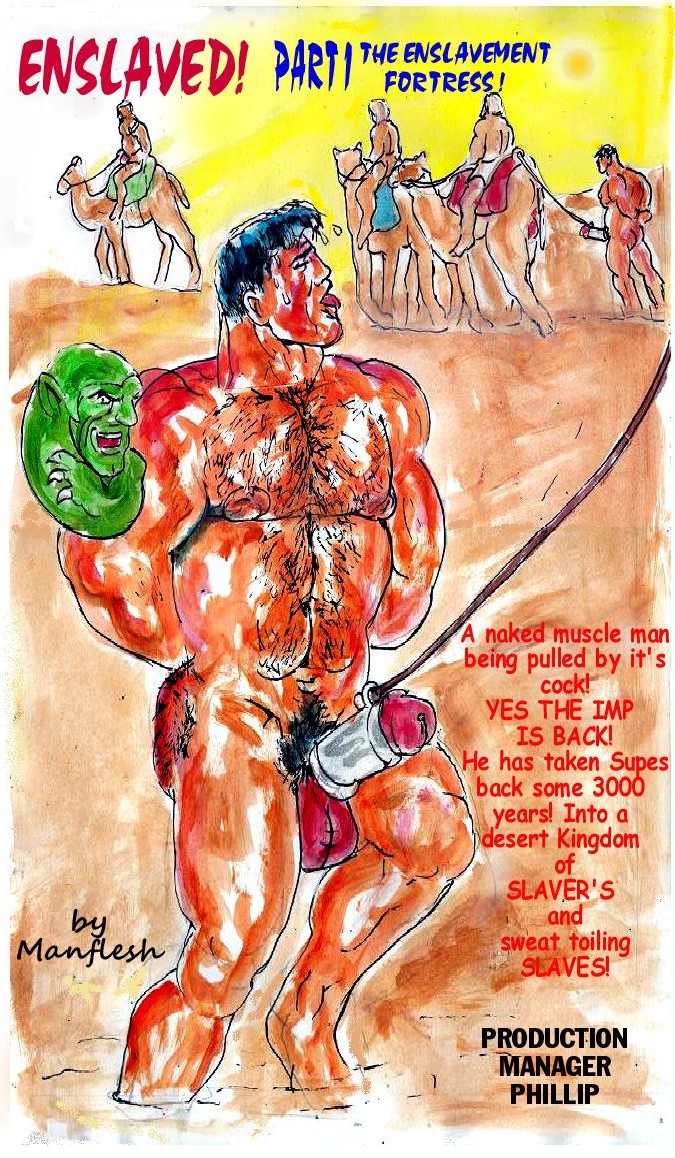 56 SUPERMAN THE LIVING STATUE. AN ARAB MASTER WANTED A LIVING STATUE OF THE FARNESE HERCULES, HE WANTED SUPERMAN AS HIS FARNESE HERCULES. SUPERMAN ENSLAVED BECAME THE ARAB MASTERS FARNESE HERCULES LIVING STATUE, WITH HIS MAN HOOD REDUCED TO THE SIZE OF GREEK STATUES MAN HOOD.
SUPERMAN WAS CONTACTED BY AN ARAB RULER. "I WANT TO BRING MY PEOPLED OUT OF SLAVERY INTO THE WORLD. I WANT TO PHOTOGRAPH YOU IN FRONT OF AN ANCIENT STATUE", THE ARAB RULER TOLD SUPERMAN. SUPERMAN WAS HAPPY TO OBLIGE AND FLEW TO THE MIDDLE EAST. SUPERMAN DID NOT REALISE WHAT WAS IN STORE FOR HIM, AT THE HANDS OF THE ARAB RULER. SUPERMAN LANDED IN THE COURT YARD OF THE ARAB RULERS PALACE AND MET WITH THE ARAB RULER. SUPERMAN WAS ATTACKED FROM BEHIND. A WHIP WHIRLED THROUGH THE AIR, AND WRAPPED SEVERAL COILS AROUND SUPERMAN'S NECK. THE WHIP WAS COATED WITH GREEN KRYPTONITE. "MINE" THE ARAB RULER GLOATED AS THE WHIP CHOKED SUPERMAN AND THE GREEN KRYPTONITE, STRIPPED HIM OF HIS SUPER POWERS. WEAK, NO POWERS, SUPERMAN THOUGHT, AS HE CRUMPLED TO THE GROUND. SUPERMAN WAS DRAGGED AWAY. IT WAS THE ARAB RULER THAT NOW HAD POWER OVER SUPERMAN. SUPERMAN WAS DRAGGED TO AN OPERATING THEATRE. SUPERMAN WAS TIED TO THE OPERATING TABLE, WITH CUFFS COVERED WITH GREEN KRYPTONITE. THE GREEN KRYPTONITE COVERED WHIP THONGS, WERE STILL WRAPPED, TIGHTLY ROUND HIS NECK. WIHOUT HIS SUPER POWERS SUPERMAN WAS JUST A BIT OF A DUMB JOCK. AN ARAB SURGEON STOOD READY, A SCALPEL IN HIS HAND. THE HORRIFIED MAN OF STEEL WAS STRIPPED NAKED, HIS CLOTHES CUT AWAY, BY THE ARAB SURGEON, LEAVING HIS MIGHTY COCK, RUDELY ERECT. "NO, … NO, NO", SUPERMAN SOBBED, AS THE ARAB SURGEON STARTED TO OPERATE ON HIS MIGHTY COCK. THE ARAB SURGEON GOT TO WORK REMOVING MOST OF SUPERMAN'S ONCE FOURTEEN INCH COCK. SUPERMAN CONTINUED TO SOB, NOW HIS COCK AND BALLS WERE, AS SMALL, AS A NEW BORN BABIES. HE WAS DRAGGED TO A CELL TO RECOVER.
TWO WEEKS LATER. SUPERMAN MAN, HIS NOW TINY COCK AND BALLS HEALED. HE NOW HAD A TINY ONE INCH ERECTION. THE ARAB RULER WAS VERY PLEASED WITH THE RESULTS. "YOU ARE NOW MY LIVING STATUE". HE TOLD SUPERMAN. THE ONCE MIGHTY MAN OF STEEL, NOW NAKED, SHAMED. HE WAS ABOUT TO SHOW THE ARAB PEOPLE, THE POWER THEIR RULER HAD, AND SHOW THIS WHITEE SLAVE, WITH A TINY COCK, BEING USED AS A PONY. SUPERMAN WAS FORCED TO PULL THE ARAB RULER, IN A PONY CART, AS HIS HUMAN PONY SLAVE. SHAMED, CAN IT GET ANY WORSE, SUPERMAN THOUGHT TO HIMSELF IN HORROR, AS HE WAS PARADED THROUGH THE STREETS, AS THE ARAB RULERS PONY SLAVE. ONLY MEN WERE ALLOWED ON THE STREETS. WHEN THEY SAW THE WESTERNER, THEY ALL WANTED TO GROPE ITS RUDE FLESH AND MORE. THEIR BROWN COCKS LUSTING FOR ITS THICK BUTT CHEEKS. SUPERMAN SQUIRMED IN FEAR AND DISGUST, AS ARAB HANDS GROPED HIM ALL OVER. OH NO I'M BEING WANKED SUPERMAN, THOUGHT AS ONE ARAB GRABBED AND WANKED HIS TINY COCK. "SEE MY COCK IS A HUNDRED TIMES BIGGER", THE ARAB SNEERED, AS HE WHIPPED HIS OWN HARD COCK OUT.
EVERY NIGHT SUPERMAN'S ARMS WOULD BE MANACLED TO THE WALL IN THE ARAB THE RULERS BEDROOM. EVERY NIGHT THE ARAB RULER WOULD FUCK HIS LIVING STATUE HARD. UNLIKE WESTERNERS THE ARABS REGARDED SLAVES AS ANIMALS, SO THE ARAB RULERS GUARDS, WERE ALLOWED TO WATCH HIM FUCK HIS NEW SLAVE. SUPERMAN WAS HORRIFIED THAT THE GUARDS COULD WATCH, AS HE WAS FUCKED AND MADE TO CUM, BY THE ARAB RULERS HUGE COCK. THE RULER NASIR ALSO LET HIS GUARDS FUCK HIS NEW SLAVE. HE ENJOYED THE SPECTACLE OF SEEING SUPERMAN, FUCKED BY HIS GUARDS, AS HE ALSO HAD TO SUCK THE GUARDS COCKS. ONLY NASIR AND HIS OVERSEER, KNEW THE NEW SLAVE WAS SUPERMAN. HE'D HAD THE ARAB SURGEON, LIQUIDATED, AFTER OPERATING ON SUPERMAN. AT A BANQUET THE RULER DISPLAYED HIS LIVING STATUE, ALONG SIDE THE MARBLE ONE, THE FARNESE HERCULES, TO ALL HIS HONOURED GUESTS. SUPERMAN THE LIVING STATUE, HAD A WATER PIPE THRUST IN HIS MOUTH, ALLOWING THEM TO WATCH IT PEE, AS IF IT WAS A LIVING FOUNTAIN AS WELL. SUPERMAN ENSLAVEMENT AS A LIVING SATUE HAD JUST BEGUN, HE NOW FACED MORE SEXUAL AND PHYSICAL ABUSE, BY HIS ARAB MASTER. €15