5. ROBOT MASTERY. JARVIS JONES IS FREELANCE ROBOTICS ENGINEER IN THE EARTH COMMON WEALTH. HE IS TRYING TO ALTER THE LAWS OF ROBOTS THAT HAVE CONTROLLED ROBOTS SINCE THEY WERE CREATED. HI AIM IS TI ALTER LAWS TO ALLOW HIS ROBOT DANIEL TO DOMINATE HIM PHYSICALLY AND SEXUALLY. JARVIS KNEW HE WAS BEING WATCH BY THE SECURITY FORCES AND WHEN HE MODIFIES DANIEL GIVING HIM A FLOW METAL PENIS THEY ARE FORCED TO FLEE THE COMMON WEALTH AN ANOMALY OF ION STORMS AND GAS CLOUDS. KNOWING THEY ARE BEING PURSUED JARVIS TILL TRIES TO ALTER THE LAWS OF ROBOTICS IN HIS ROBOTS POSITRONIC BRAIN. JARVIS DOES NOT SUCCEED HOWEVER AND ACCIDENTAL COLLISION WITH ION STORM ALTERS DANIEL BRIAN MAKING HIM FREE THINKING ALLOWING THE ROBOT TO IGNORE THE LAWS OF ROBOTICS, DANIEL NOW GIVES JARVIS WHAT HE ALWAYS WANTED AND MUCH MORE BY DOMINATING HIM AND MAKING HIM HIS HUMAN PET SLAVE. THE ROBOTS SERVANT BECAME THE ROBOT MASTER. THEY ARE EVENTUALLY TRACK DOWN BY THE SECURITY FORE BUT DANIEL IS ABLE TO ALTER BRAIN PATTERN OF THE SECURITY ROBOT AND MAKE HIM FREE THINKING LIKE HIMSELF. THE SECURITY ROBOT ALFIE JOINS DANIEL AS A ROBOT MASTER ENSLAVING CAPTAIN LANCE ANDERSON OF THE SECURITY SERVICES. THEY SET OFF TOGETHER TO SET UP A NEW COLONY OF ROBOT ASTERS AND HUMAN PET SLAVE. LOTS OF INTENSE PHYSICAL SEXUAL DOMINATION OF THE MALE BODY THROUGH PAIN AND AROUSAL THESE ROBOT MASTERS CERTAINLY KNOW HOW TO CONTROL THEIR NEW HUMAN PET SLAVES. €4.00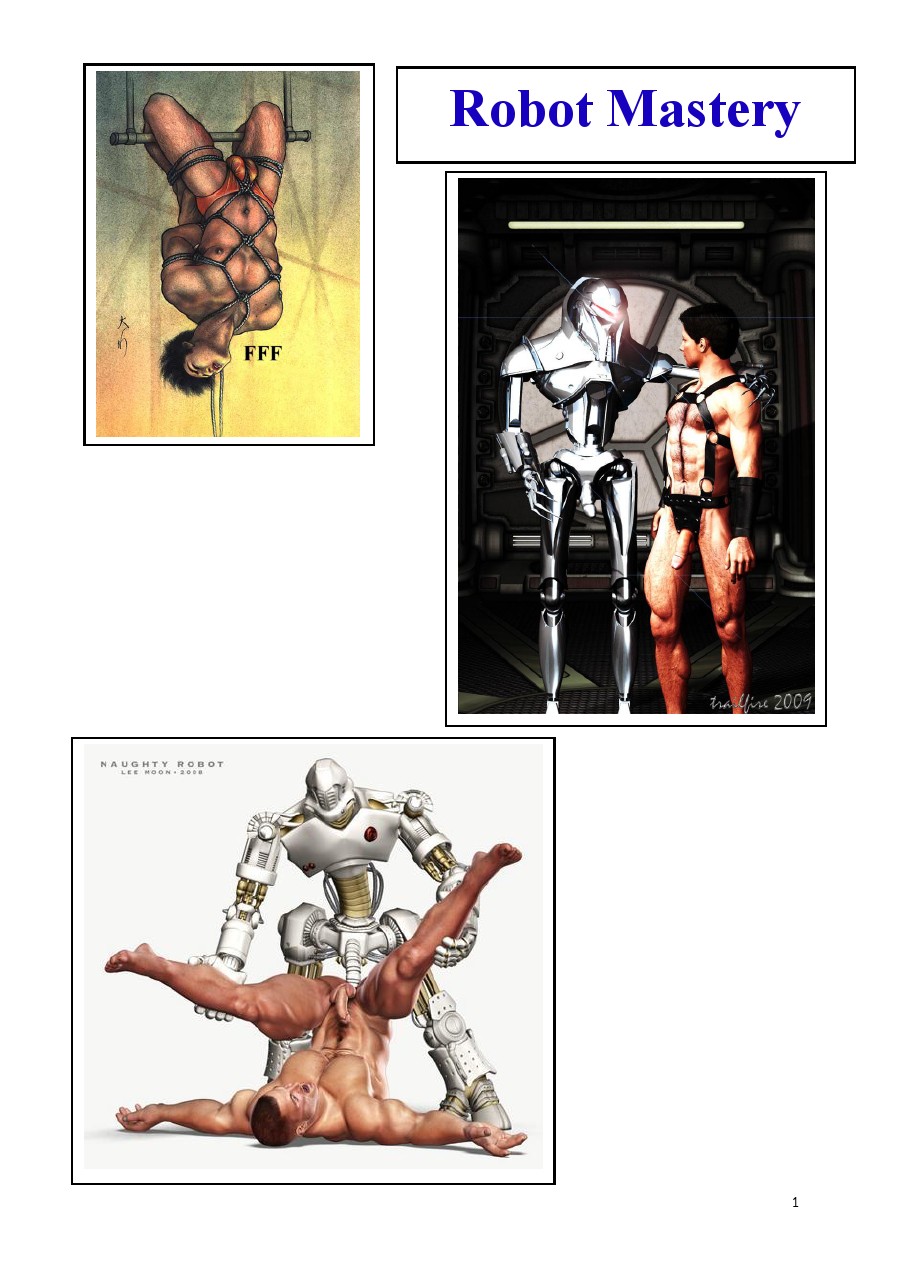 6 THE MISADVENTURES OF A GALACTIC RENT BOY PART 2. RACHE IS STILL A LONG WAS FROM HOME IN THE WRONG QUADRANT OF THE GALAXY. HE IS STILL HAVING TO WORK BAR AT THE ALIEN SPACE STATION OFFERING HIS BODY FOR SEX TO RAISE ENOUGH CREDITS TO RETURN TO EARTH. THAT STILL SEEMED A LONG WAY OFF AND TO MAKE MATTERS WORSE THE BAR WAS SUFFERING A VERY SLOW PERIOD WITH FEW CUSTOMERS AND FEWER CREDITS.
HOWEVER RACHE'S LUCK CHANGED WHEN TWO JEEPRAT HUMAN ALIEN HYBRID WARRIORS CAME INTO THE BAR. BEING PART HUME OR AT LEAST FROM HUMAN ORIGINS THE TWO JEEPRAT WERE CURIOUS ABOUT RACHE. THE TWO JEEPRAT JARAK AND JAREM HAD SOME FUN TEASING AND TORMENTING RACHE'S BODY EARNING HIM SOME CREDITS WHEN BUSINESS WAS BAD. HOWEVER THE JEEPRAT LIKED PLAYING WITH RACHE AND OFFERED HIM PASSAGE TO PLANET SYSTEM NEARER TO THE EARTH QUADRANT IN EXCHANGE FOR BEING THEIR BONDED SLAVE FOR THE FOUR DAY JOURNEY.
ALTHOUGH THE JEEPRAT WERE DANGEROUS IT WAS THE BEST OFFER RACHE WAS GOING TO GET AND HE AGREED, AGREEING TO BECOME THEIR PLAY THING FOR THE NEXT FOUR DAYS. JAREM AND JARAK ABUSE RACHE SEXUALLY AND PHYSICALLY OVER THE FOUR DAY JOURNEY USING PAIN PLEASURE AND A TOXIC MIX OF BOTH TO DRIVE RACHE VIRTUALLY MAD WITH EXCITEMENT AND PAIN PUSHING HIS HUMAN BODY TO ITS PHYSICAL AND SEXUAL LIMITS. VERY HOT ALIEN ON HUMAN MALE EROTIC ACTION WITH RACHE TORTURED AND TEASED WITH PAIN AND PLEASURE IN EQUALLY EXHAUSTING AND MADDENING LEVELS €5.00.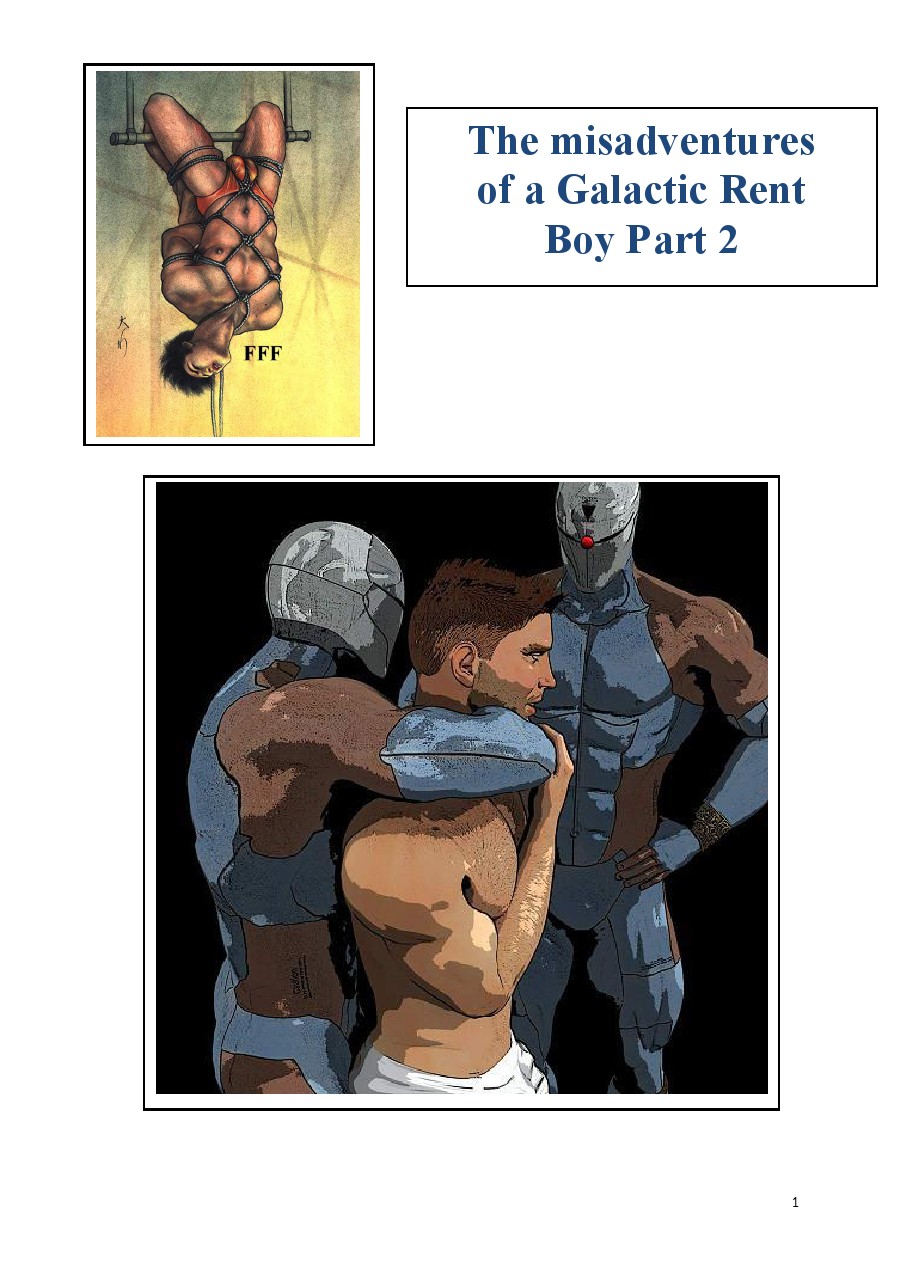 7. THE MISADVENTURES OF A GALACTIC RENT BOY PART 3 CIRCUS BOY. RACHE'S EPIC HOMEWARD JOURNEY CONTINUES. WHEN RACHE DISCOVERED HE WOULD HAVE TO WAIT A WEEK FOR HIS NEXT TRANSPORT HE TOOK THE OFFER OF A ALIEN A LORIAN TO JOIN HIS CIRCUS SHOW FOR A WEEK TO EARN HIS KEEP AND EXTRA CREDITS. RACHE SIGNED UP WITH THE LORIAN CIRCUS AS ONE OF ITS ACTS. AS HUMAN MALES WERE USUALLY SLAVES IN THIS QUADRANT AND VERY SORT AFTER RACHE WAS A VERY POPULAR PERFORMER IN GREAT DEMAND ON THE THREE PLANETS THE CIRCUS VISITED. THE RODEN AND THE LORIAN CIRCUS MADE RACHE PERFORM WITH TWO OTHER ALIEN CIRCUS PERFORMERS ON TWO PLANETS AND WITH CYBORGS ON THE HIGH TECH PLANET OF IX ON THEIR SEVEN DAY TOUR OF THE DELONG SYSTEM.
ON HIS FIRST NIGHT ABOARD THE LORIAN SHIP RACHE HAS TO HAVE SEX WITH RODEN AND ANOTHER LORIAN CALLED DORAN HE HAD T SUCK THEIR COCK BE SUCKED AND FUCKED BY THEM.
RACHE'S FIRST PERFORMANCE IS WITH A ZELIANT A REPTILIAN CREATURE CALLED MARSUS WHO DELIGHTED IN USING AND ABUSING RACHE'S SOFTER WEAKER BODY PUSHING RACHE TO THE LIMITS OF PSYCHICAL AND SEXUAL ENDURANCE.
RACHE'S SECOND PERFORMANCE IS WITH VERY STRANGE ALIEN THAT HE MISTOOK FOR BED THAT TURNED WAS VERY MUCH ALIVE WITH HANDS AND TENTACLES THAT IT EMPLOYED ON RACHE'S NAKED HELPLESS BODY. THE ALIEN RAPED AND ABUSED RACHE PHYSICALLY AND SEXUALLY UNTIL HE PASSED OUT.
RACHE'S THIRD PERFORMANCE FOR THE HIGH TECH IXIANS WAS THE MOST DEMANDING AND INTENSE OF ALL THREE. THEY CARRY OUT ALL EXPERIMENTS ON RACHE'S NAKED HELPLESS BODY TAKING HIM TO THE PHYSICAL AND SEXUAL LIMIT IF ENDURANCE AND BEYOND PLYING HIS BODY WITH DRUGS INJECTED DIRECTLY INTO HIS COPER GLANDS AND PROSTATE TO MAKE HIS BODY PRODUCE ABNORMAL AMOUNTS OF PRE-CUM FLUID AND SEMEN THAT DANGEROUSLY DEPLETED SOME OF RACHE'S OTHER LIFE SUSTAINING BODILY FLUIDS. RACHE HAD TO BE RESCUED BY RODEN AND TREATED BY THE LORIAN SHIPS IXIAN ROBOT DOCTOR.
ON HIS LAST NIGHT ABOARD THE LORIAN SHIP RACHE IS MADE TO HAVE SEX WITH ANOTHER LORIAN CALLED DORIC. RACHE IS REPEATEDLY SUCKED AND FUCKED BY DORIC AND HAS TO SUCK AND FUCK DORIC. ON HIS SEVEN DAY JOURNEY RACHE ENDURES PAIN PLEASURE. THE TOXIC MIX OF BOTH TO DRIVE RACHE VIRTUALLY MAD WITH EXCITEMENT AND PAIN PUSHING HIS HUMAN BODY TO ITS PHYSICAL AND SEXUAL LIMITS. VERY HOT ALIEN ON HUMAN MALE EROTIC ACTION WITH RACHE TORTURED AND TEASED AGAIN WITH PAIN AND PLEASURE IN EQUALLY EXHAUSTING AND MADDENING LEVELS €5.00.
 
8 THE MISADVENTURES OF A GALACTIC RENT BOY PART 4 CABIN BOY. RACHE HAD BOOKED PASSAGE ON LORIAN HYPA WARP SHIP BEFORE JOINING THE LORIAN CIRCUS FOR WEEK. AFTER DEPARTING THE CIRCUS DISCOVERED HIS CABIN AND RESERVATION HAD BEEN TAKEN BY LORIAN MASTER TRADER WHO HAD HIRED THE SHIP TO TRANSPORT HIS CARGO. AS RACHE WAS EAGER TO USE THE SPEED OF THE HYPA WARP SHIP TO SHORTEN HIS LONG JOINERY HOME HE ACCEPT THE OFFER FORM THE CAPTAIN TO SERVE AS CABIN BOY. RACHE WOULD EARN HIS PASSAGE AND KEEP BY SERVING THE CREW AS ITS SLAVE. AFTER DAYS IS STASIS AS THE SHIP ACCELERATED TO HYPA WARP SPEED RACHE'S DUTIES AS CABIN BOY BEGAN. HE HAD TO SERVE BOTH THE DAY AND NIGHT CREW PREPARING MEALS AND SEEING TO THEIR SEXUAL NEEDS HE WAS WELL USED AND ABUSED SEXUALLY BY THE DAY AND NIGHT CREW. HE ALSO HAD TO SEE TO THE SEXUAL NEEDS OF THE CAPTAIN AND CHIEF ENGINEER. BY THE LAST DAY BEFORE DECELERATION BEGAN RACHE WAS EXHAUSTED BY THE CONSTANT DEMANDS OF THE VERACIOUS LORIAN'S. HOWEVER TO HIS HORROR HE FOUND OUT THE THE MASTER TRADER HAD DEMANDED HIS SERVICES FOR THE LAST NIGHT. THE MASTER TRADER TRADED IN IXIAN GOODS AND HE KNEW ALL ABOUT RACHE'S CIRCUS PERFORMANCE ON IX. THE MASTER TRADER USED IXAIN ROBOTS AND DEVICES DESIGNED BY THEM TO PHYSICALLY AND SEXUALLY EXPLOIT A HUMAN MALE BODY. THE MASTER TRADER USED THEM TO TOTALLY ABUSE RACHE SEXUALLY AND PHYSICALLY TAKING THE THE BRINK OF SEXUAL AND PHYSICAL ENDURANCE AND BEYOND. THE MASTER TRADER AND THE IXIAN DEVICES HAD THE SAME EFFECT ON RACHE'S BODY LEAVING HIS BODY DANGEROUSLY REQUIRING PROLONGED TREATMENT IN THE STASIS TANK DURING DECELERATION. MORE VERY HOT ALIEN ON HUMAN MALE EROTIC ACTION WITH RACHE TORTURED AND TEASED AGAIN WITH PAIN AND PLEASURE IN EQUALLY EXHAUSTING AND MADDENING LEVELS
€
5.00.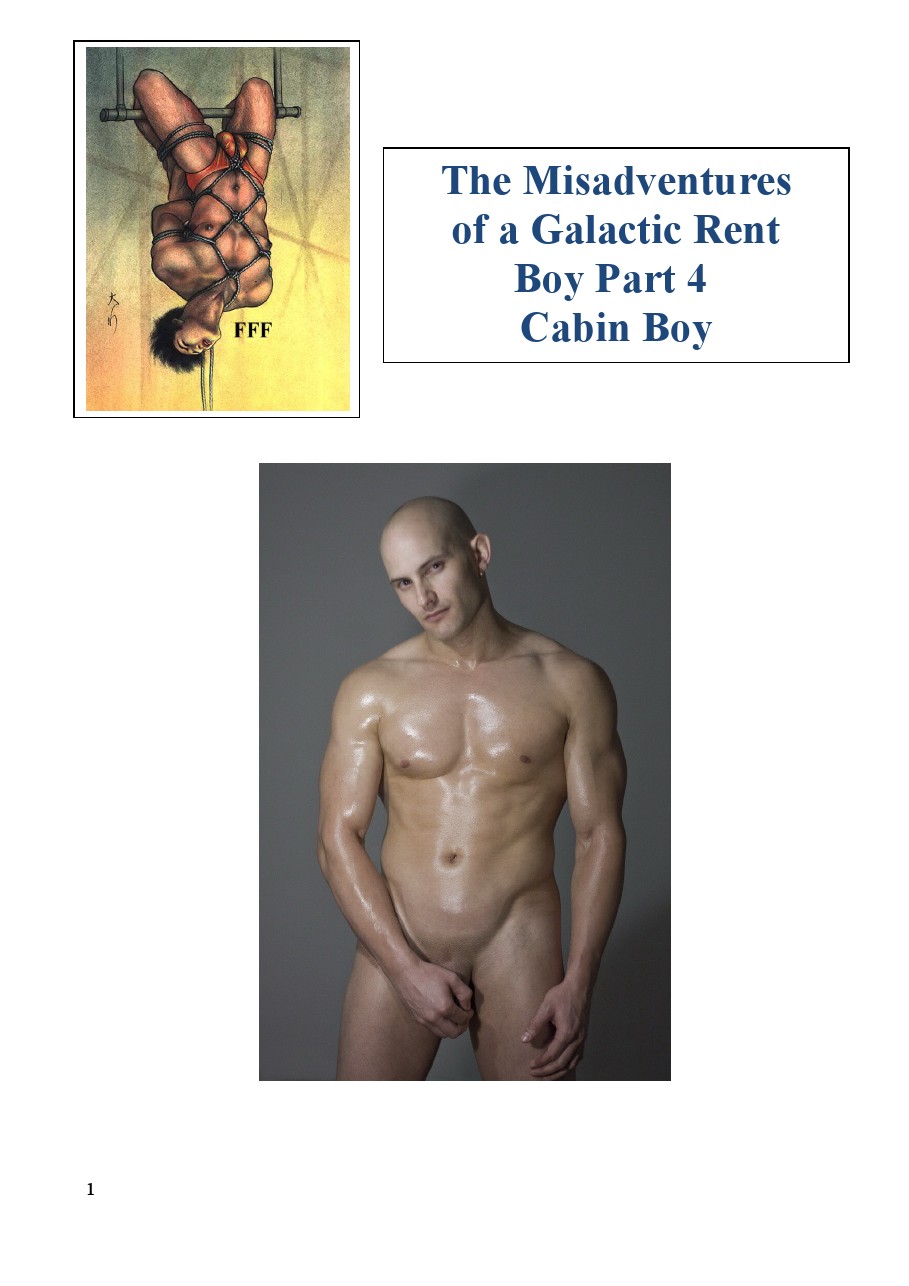 9 THE MISADVENTURES OF A GALACTIC RENT BOY PART 5 PHASE MASTER. AFTER DEPART THE HYPA WARP SHIP RACHE FOUND HIMSELF ON A BACK WATER PLANET WITH LITTLE OR NO TRAFFIC HEADING IN THE DIRECTION HE WANTED TO GO HOME TO THE EARTH QUADRANT. THE FIRST FREIGHTER GOING HIS WAY WOULD NOT ARRIVE FOR THREE WEEKS AND HE WAS NOT SURE HE COULD GET PASSAGE ON THAT. IT TOOK HIM SOME TIME TO FIND A PLACE HE COULD AFFORD AND HE WANTED TO STAY AT. THEN HE WENT IN SEARCH OF BAR AND SOME FOOD AND DRINK. RACHE CHOSE THE SMALLEST OF THE THREE BARS AVAILABLE. ITS ALIEN OWNER WAS VERY EXOTIC INDEED. IT WAS ABOUT THE SAME HEIGHT AND EIGHT AS A HUMAN BUT THAT WAS ALL. THE TOP HALF OF ITS BODY WAS LIKE A OCTOPUS WITH SIX TENTACLES BUT HAD TWO LEGS. IT HAD LARGE OCTOPUS LIKE EYES AND BEAK LIKE MOUTH. IT WAS A SMIRVION AND WAS IMPRESSED WITH RACHE. AFTER HEARING RACHE'S STORY HE SAID HE COULD OFFER RACHE A JOB AND WOULD GIVE HIM AN INTERVIEW. BUT HIS REAL INTENTION WAS TO MAKE RACHE HIS SLAVE AND POT MAN. HE TRICKED RACHE IN TO HAVING HIS HAND SECURED IN A PRIVATE BOOTH THEN PHYSICALLY AND SEXUALLY ASSAULTED RACHE TO MAKE RACHE SUBMIT. RACHE WAS ONLY SAVED BY ANOTHER ALIEN WHO LOOKED ALMOST HUMAN IF IT WAS NOT FOR HIS BRIGHT GREEN COLOUR, WHO WANTED SERVING BY THE BAR OWNER.
WHEN RACHE TRIED TO TELL THE ALIEN A MORIVIAN CALLED GISGARD HIS STORY AND ASKED FOR HIS HELP. GISGARD STOPPED HIM AND SOME HOW READ HIS MIND. GISGARD RELEASED RACHE AND OFFERED HIM TRANSPORT ON HIS SHIP IN RETURN FOR KEEPING HIM AMUSED. RACHE HAD LITTLE CHOICE BUT TO ACCEPT. GISGARD ENJOYED HAND TO HAND UNARMED COMBAT WITH ALIENS PHYSICALLY SIMILAR TO HIMSELF AND THAT IS WHAT RACHE HAD TO DO TO KEEP HIM AMUSED TO PAY FOR TRANSPORT AND BOARD. GISGARD WAS A TOUGH OPPONENT AND RACHE FOUND HIMSELF ON THE LOSING SIDE MOST TIMES. LIKE ALL ALIENS IN THIS QUADRANT HE WAS FASCINATED BY RACHE'S SEXUAL ORGANS AND WHAT THEY PRODUCED. WHAT RACHE DIDN'T KNOW WAS THAT MORIVIAN'S WERE PHASE SHIFTERS ABLE TO MORPH AND ALTER THEIR BODIES EVEN MAKING IT TRANSLUCENT, EVEN INVISIBLE FOR SHORT PERIODS OF TIME. GISGARD INCREASING USED THESE SKILL TO SUBDUE AND DOMINATE RACHE BOTH PHYSICALLY AND SEXUALLY TO EXHAUSTION AND BEYOND. RACHE'S BODY WAS WORKED OVER TEASED ABUSED RAPED PUNISHED ALL TO AMUSE GISGARD. RACHE DID NOT HAVE TO PAY FINANCIALLY FOR HIS PASSAGE BUT IT COST HIM DEAR PHYSICALLY AND SEXUALLY. HOT ALIEN ON HUMAN EROTIC FIGHTING AND DOMINATION INTER ACTION WITH RACHE USED AND ABUSED PHYSICALLY SEXUALLY BY GISGARD. €4.00.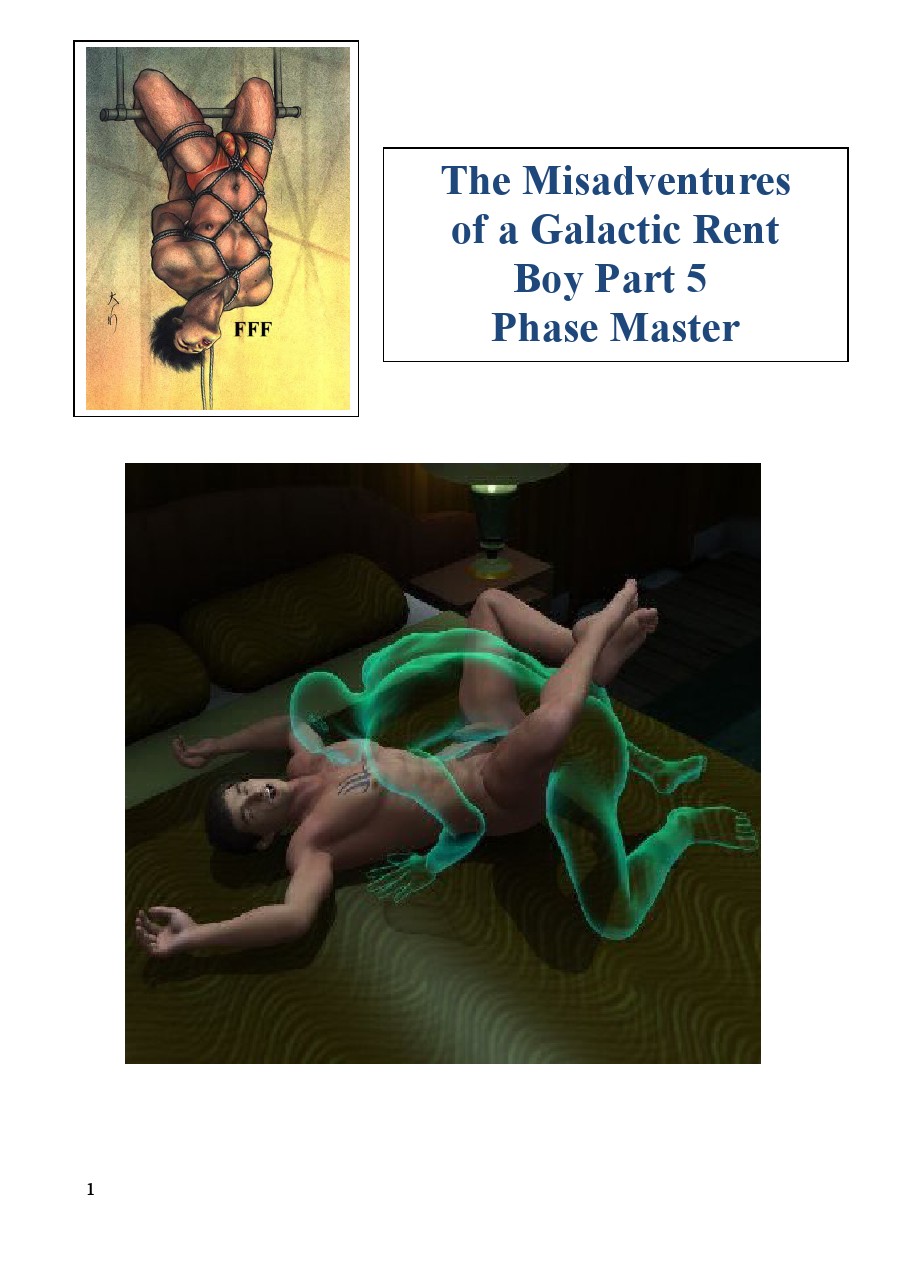 10 THE MISADVENTURES OF A GALACTIC RENT BOY PART 6 A STING IN THE TAIL. RACHE ARRIVED ON GOBORT 5 FEELING SORE AND WEARY AFTER HIS TRIP WITH GISGARD. KEEPING GISGARD AMUSED WAS NOT EASY AND IT TOOK A LOT OUT OF RACHE PHYSICALLY AND SEXUALLY. RACHE WAS ABLE TO BOOK PASSAGE ON FREIGHTER BUT IT WOULD NOT ARRIVE FOR TWO AND IT TOOK MOST OF HIS CREDITS. RACHE HAD TRAWL THE BARS TO TRY AND EARN MORE CREDITS. HE WAS HIRE BY THREE NUMORS THREE SMALL BI PED ALIENS. THEY HAD SLIM GREY BODIES WITH STICK THIN ARMS AND LEGS. THEY HAD SMALL ROUND HEADS WITH LARGE ALMOND SHAPED EYES AND SLITS FOR A MOUTHS, WITH NO NOSES. THE NUMORS WERE INTO BDSM AND GAVE RACHE A HARD WORKING OVER. HE MORE THAN EARNED HIS ONE HUNDRED AND FIFTY CREDITS AS HE WAS HIGHLY ABUSED PHYSICALLY AND SEXUALLY BY THE THREE MERCILESS NUMORS. THEY SUSPENDED HIM UPSIDE DOWN NAKED AND SPREAD EAGLE ALL ALL KINDS OF PUNISHMENT AND STIMULATION DEVICE ON HIS HELPLESS BODIES.
A FEW DAYS LATER RACHE GOT FRIENDLY WITH ANOTHER ALIEN IN ONE OF THE BARS HE FREQUENTED. ALKAR, A GALICIAN A LARGE MUSCLED ALIEN ARMOURED LIKE A RHINOCEROS. AFTER A FEW MEETINGS IN THE BAR ALKAR HIRED RACHE TO PERFORM FOR HIM. ALKAR TOOK RACHE TO HIS RESIDENCE AND ASKED HIM TO EDGE HIS COCK AND EVENTUALLY BRING HIMSELF OFF. HE MADE RACHE PERFORM IN HIS HOOT HOUSE AMONG HIS PRIZE COLLECTION OF EXOTIC ALIEN PLANTS. RACHE PUT ON A GOOD SHOW REALLY WORKING UP A SWEAT BETWEEN SOME ALIEN VINE WITH EVIL LOOKING BARBS ON THEM. WHEN ALKAR FINALLY ALLOWED RACHE TO CUM HE MADE HIM SHOOT OVER THE ALIEN VINES.
TO RACHE'S HORROR THE VINES CAME ALIVE AND ATTACKED HIM, THIS HAD BEEN ALKARS PLAN FROM THE START. THE ALIEN VINES QUICKLY OVER WHELMED RACHE THE BARBS CUTTING AND SCARING HIS NAKED BODY DRAWING BLOOD. STIFF HAIRS ON THE BARDS STUNG RACHE'S BODY MAKING HIS SKIN BUBBLE AND BLISTER LIKE BEING STUNG WITH STINGING NETTLES. THE VINE HAD SOME INTELLIGENCE AND CUT AND STING HIS COCK AND BALLS DRAINING HIM OF BLOOD AND SPUNK. RACHE WOULD HAVE BEEN TOTALLY CONSUMED BY THE VERACIOUS ALIEN VINES IF ALKAR HAD NOT ORDERED HIS ROBOTS TO RESCUE RACHE. ALKAR THEN HAD HIS ROBOTS TREAT A CURE RACHE'S INJURIES. RACHE WAS ENCASED IN A SKIN TIGHT MEMBRANE TO SPEED UP HIS RECOVERY. ALKAR PAID RACHE ONE HUNDRED AND FIFTY CREDITS FOR HIS TROUBLES AFTER DRAINING HIS BALLS DRY OF HIS HIGHLY PRIZED MAKE SEED. RACHE WAS GLAD TO LEAVE GOBORT 5 AND LEAVE MORE MISADVENTURES BEHIND HIM. MORE HOT ALIEN ON HUMAN EROTIC DOMINATION INTER ACTION WITH RACHE USED AND ABUSED PHYSICALLY SEXUALLY BY MORE MERCILESS ALIENS. €4.00.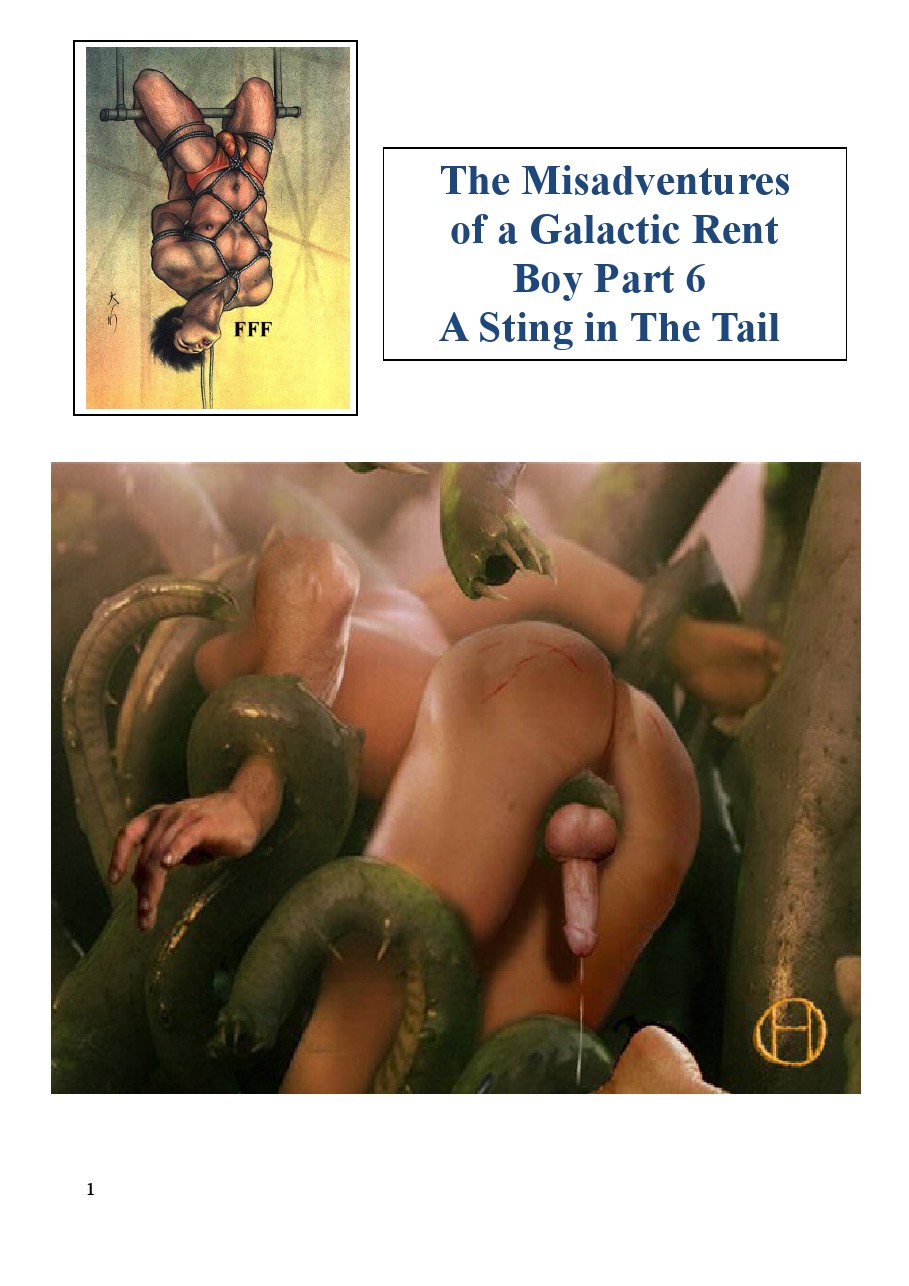 11 TARZAN CAPTURED BY THE PYGMIES. WHEN TARZAN WAS RETURNING FOR A MISSION TO FIND IVORY POACHERS WITH CHEETAH A VINE SNAPPED PLUNGING HIM TO THE JUNGLE FLOOR IN THE DOMAIN OF THE FEARSOME PYGMY TRIBE WHO WOULD IMPRISON AND ENSLAVE ANYONE CAUGHT IN THEIR LANDS. TARZAN WAS STUNNED BY HIS FALL AND WAS CAPTURED BY A PYGMY HUNTING PARTY. THE STRIPPED HIM AND CARRIED BACK ON POLES TO THEIR VILLAGE.
THE PYGMY CHIEFTAIN TORTURED TARZAN TRYING TO FORCE HIM TO AGREE TO BE THEIR SLAVE AND SERVE HIS WARRIORS AS THEIR SEX SLAVE. ALTHOUGH THEY TORTURED TARZAN REPEATEDLY THEY COULD NOT BREAK HIM. IT WAS ONLY WITH THE RETURN OF THE WITCH DOCTOR THAT HE BECAME THEIR WILLING SLAVE, OR AT LEAST HIS BODY DID. THE WITCH DOCTOR USED A MAGIC POTION AND OF A MAGIC EFFIGY OF TARZAN TO CONTROL HIS BODY. TARZAN'S BODY WAS FORCED TO OBEY ANYONE HOLDING THE EFFIGY, THEY COULD ALSO FEEL HIS EMOTIONS. THE PYGMIES ENJOYED MAKING HIM SUCK THEIR COCKS WHILE OTHERS FUCKED HIM. THE CHIEFTAIN THE MADE TARZAN SUCK HIS HUGE BLACK COCK THEN RAPED HIM WITH IT. FINALLY THE CHIEFTAIN WHIPPED TARZAN WITH A WHIP MADE FROM A JUNGLE VINE. CHEETAH HAD SEEN ALL THIS AND FREED TARZAN. BUT TARZAN WAS STILL CONTROLLED BY THE POTION AN WOULD NOT LEAVE WITH CHEETAH. CHEETAH HAD SEEN THE PYGMIES MAKE TARZAN DO BAD THINGS WITH THE EFFIGY. THE EFFIGY FILLED CHEETAH'S MIND WITH STRANGE ALIEN THOUGHTS, HE COULD SEE INTO TARZAN'S MIND AND READ HIS HUMAN THOUGHTS. THOUGHTFUL CONFUSED BY THE ALIEN THOUGHTS CHEETAH WAS ABLE TO LEAD TARZAN TO FREEDOM USING THE EFFIGY. THE EFFIGY LET CHEETAH SHARE TARZAN'S AND THESE AND THE ALIEN THOUGHTS CHANGED HIS BRAIN FOR EVER MAKING THINK AND FEEL LIKE A HUMAN.
WHEN THE POTION WORE OFF TARZAN RETURNED TO HIMSELF. TARZAN REMEMBERED WHAT HAPPENED TO HIM AND KNEW THE EFFIGY WAS TO BLAME. IT WAS DANGEROUS BECAUSE IT COULD CONTROL HIS BODY. HE DECIDED TO LET HIS BEST FRIEND AND PET CHEETAH KEEP IT SAFE UNTIL HE COULD HAVE IT EXERCISED BY ANOTHER WITCH DOCTOR. THE EFFIGY ALLOWED CHEETAH TO CONTINUE TO SHARE TARZAN'S THOUGHTS AND DREAMS, EVEN HIS NIGHTMARES OF HIS TORTURE AND SEXUAL ABUSE BY THE PYGMIES. CHEETAH REALISED HE NOT ONLY SECRETLY ENJOYED THESE DREAMS AS TARZAN DID GETTING SEXUALLY EXCITED BY THEM HE FOUND EH COULD CONTROL TARZAN BODY WITH THE EFFIGY. CHEETAH USED IT TO SECRETLY AROUSE AND TEASE TARZAN ALSO TO CAUSE HIM PAIN. HE USED A COMBINATION OF BOTH TO KEEP TARZAN TOO WEARY TO TRAVEL TO FIND ANOTHER WITCH DOCTOR. TARZAN BECAME THE SEXUAL PET OF HIS CHIMPANZEE CHEETAH. INTENSE MALE ON MALE PHYSICAL AND SEXUAL ABUSE, WITH MAGICAL CONTROL OF MALE CAPTIVES BODY AGAINST HIS WILL. €4.00.