MILITARY MALE DOMINATION LIST
 
1 THE ADVENTURES OF BUTTMAN. YOUNG DUMB ASS MARINE BUTT BENDER HAD BEEN CHOSEN FOR SOME TOP SECRET CELL TRANSFORMATION. THE TRANSFORMATION GIVES BUTT EXTRA STRENGTH AND ABLE TO FLY. BUTT BECOMES A WEAPON FOR MISSIONS DEEP BEHIND ENEMY LINES. BUTT BENDER FIRST MISSION IS TO RESCUE A MARINE COMBAT UNIT THAT HAS BEEN CAPTURED AND ENSLAVED. A MARINE COMBAT UNIT WAS SENT TO OVERTHROW AN EVIL WARLORD FROM HIS ISLAND FORTRESS OFF THE COAST OF COSTA RICO. THE UNIT IS CAPTURED STRIPPED NAKED AND ENSLAVED. THEY ARE USED AS SLAVES WORKING IN THE MINES AND BEASTED BY THEIR BRUTISH MASTERS.
AT HIS FORTRESS THE WARLORD INTERROGATES THE YOUNG MARINE OFFICERS. THE ONCE PROUD MARINES ARE REDUCED TO SUBSERVIENT WHORES BY THE WARLORD AND IS MEN. THE MARINE OFFICERS ARE SUSPEND NAKED OVER THEIR NAKED MEN AND RAIN DOWN BODILY FLUIDS ON THEM. BUTTMAN FLIES DOWN ON HIS MISSION TO FREE THE MARINE COMBAT UNIT BUT THE WARLORD IS EXPECTING HIM AND IS READY FOR HIM. BUTTMAN IS CAUGHT ON A STEEL SNARE THAT TRAPS HIS SEXUAL ORGANS. ALTHOUGH STRONG BUTTMAN IS UNABLE TO BREAK FREE AS IT WOULD MEAN RIPPING OFF HIS MANHOOD AND IS CAPTURED. BUTTMAN IS WHIPPED UNTIL HIS ARSE IS BLOODIED AND RAW AND THE MARINES CAN HEAR HIS SHRIEKS AND SOBS OF DEFEAT. BUTTMAN IS THEN FORCED TO SUCK THE WARLORD'S MENS COCKS AND BE FUCKED BY THEM IN FRONT OF THE MARINES HE WAS SENT TO RESCUE. TO SHOW BUTTMAN IS THE LOWEST WHORE HE IS MADE TO BE THE MARINES TOILET SLAVE, THE MARINES MOCK THE FAILED RESCUER AND CAL HIM LEWD NAMES.IN THE MINES THE ENSLAVED MARINES RAPE BUTTMAN WHILE THE GUARDS LEER AT THE FALLEN HERO. FIFTEEN EXCITING PAGES OF GRAPHIC COLOUR MANFLESH MALE PHYSICAL AND SEXUAL HUMILIATION SUPERMAN AS YOU HAVE NEVER SEEN HIM BEFORE. ANOTHER FAILED DUMB MANFLESH HERO BITES THE DUST €12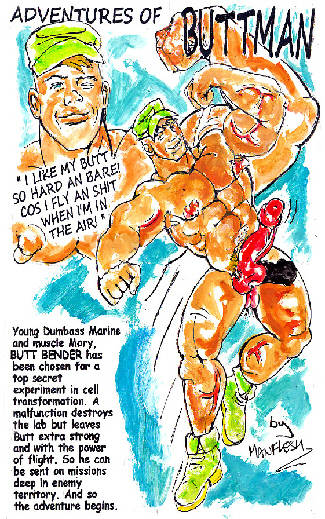 2 CAPTAIN MANFLESH PART 1. THE MILITARY ABDUCTED A MAN OFF THE STREETS WITH THE RIGHT GENETICS. THE INJECTED HIM WITH SERUM DOUBLING HIS MUSCLES SIZE. THEY RETUNED HIS BRAIN TO MAKE HIM A HOMO JAR HEAD FIGHTING MACHINE. THE CAPTIVE IS INJECTED WITH A MEGA STEROID AND BOMBARDED WITH MIND NUMBING SHOCK WAVES. THE SOLDIER THEY CREATED HAD NO REAL NAME CAPTAIN MANFLESH HA NO SHAME TO HIM SEX IS EXERCISE HIS COCK MOUTH AND ASS MUSCLES HARD. TO CAPTAIN MANFLESH CUM IS PROTEIN AND HARD SM MALE SEX HAS BEEN BUILT INTO HIS MAKE UP. CAPTAIN MANFLESH HAS A LEATHER HARD ANUS AND CAN EASILY TAKE A HARD ASS CUNTING. EVEN ON THE BASE CAPTAIN MANFLESH HARD AND PREDATORY IN FUCK FIGHT MODE. OTHER MARINES ARE FAIR GAME TO TAKE AND SEED. CAPTAIN MANFLESH ATTACKS AND REAPS A MARINE ON CLEANING DUTIES AND BUSTS HIS CHERRY. CAPITAN MANFLESH HAD RAMMED TWELVE MARINES WITH HIS WEAPON. CAPTAIN MANFLESH LOVED SHOWER TIME NAKED MARINES WERE BEEF UNWRAPPED READY TO SKEWER. THE COMMANDER IS UNSYMPATHETIC TO THE MARINES COMPLAINTS AND PUNISHES THEM BY MAKING THEM DIG THE LATRINE PITS OUT FOR A MONTH. CAPTAIN MANFLESH GETS HIS FIRST MISSION THAT APPEARS TO BE A SUICIDE MISSION BUT MORE FOR THE MARINES WITH HIM HE WILL ACT TO DECOMMISSION THEM. MORE HOT SEXY MALE DOMINATION IN THE MANFLESH STYLE. MANFLESH CREATES A NEW EXCITING HORNY CHARACTER TO RIVAL DAN DARES. €12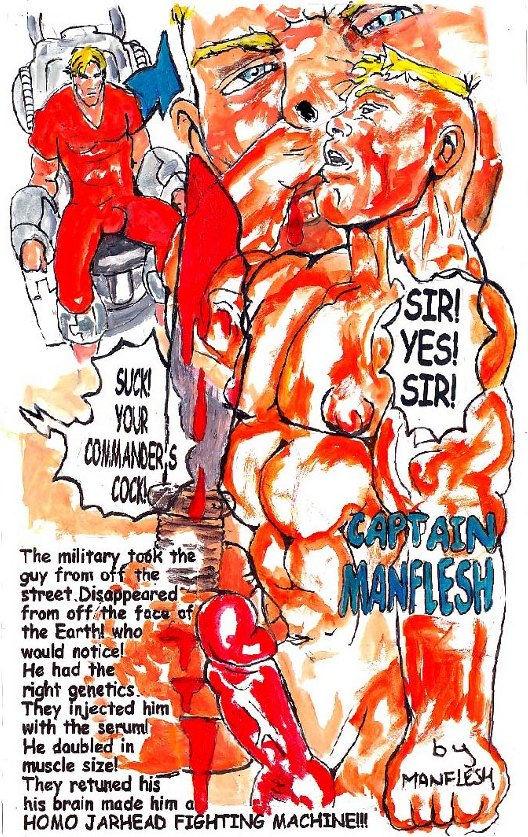 3 CAPTAIN MANFLESH PART2 SORE BUNS AND DEEP IMPOUNDMENT. DEEP IN THE DESERT AND DEEP IN THE MARINES ARSES THE HUGE MUSCLES MARINE IS IMMOBILISING ALL COMBATANTS ONE BY ONE. THE MARINES STOOD NO CHANCE AGAINST THE GENETICALLY ENHANCE FIGHTER HE FUCKED THEM RED RAW. LEAVING THE MARINE PATROL SHAGGED OUT CAPTAIN MANFLESH MAKES HIS WAY TO CAPTURE THE REBEL LEADER. THE SUN IS LIKE A FURNACE AND CAPTAIN MANFLESH STRIPS AND PUTS HIS UNIFORM OVER HIS HEAD. THE HARD TRUDGE MAKES HIS COCK HARD AND HE LEAKS PRE-CUM FROM HIS HARD COCK SM IS BUILT INTO HIS MAKES UP. AS CAPTAIN MANFLESH WATCHED THE REBEL LEADERS FORTRESS HE IS CAPTURED BY THE REBEL LEADERS MEN AND TAKEN INTO THE FORTRESS.
CAPTAIN MANFLESH IS BOUND WHILE THE REBEL LEADER WAITS TO BEAT HIM WITH A FEARSOME LOOKING CANE. "WELL WESTERN DOG I WILL TEACH YOU TO ENTER MY DOMAIN, SHOW YOU WHO IS THE MASTER", THE REBEL LEADER SAID AS HE STARTED TO BEAT CAPTAIN MANFLESH. "PIG I WILL CAN YOUR RAW STRIP YOU TO SEE YOU BODY TURN RED", THE REBEL LEADER SAID AS HE CONTINUED TO BEAT CAPTAIN MANFLESH. IN PAIN AND NAKED BONDAGE HE IS WHIPPED HE GETS HARD AND LEAKS BUCKETS OF CUM. CAPTAIN MANFLESH GROANS AS HIS COCK AND BALLS ARE WHIPPED TEN, TWENTY, A HUNDRED TIMES UNTIL THEY ARE ON FIRE AND SWELL AND SWELL. THE REBEL LEADER ORDERS CAPTAIN MANFLESH TO BE BOUND TO THE BLOCK FOR DEEP PENETRATION VOWING TO BREAK HIM. CHAINED IN A SQUAT POSITION, NAKED, CANED RAW, BUN THRUST OUT CAPTAIN MANFLESH IS LOCKED ON THE BLOCK READY FOR INTERNAL PAIN. MORE HOT SEXY MALE DOMINATION IN THE MANFLESH STYLE €12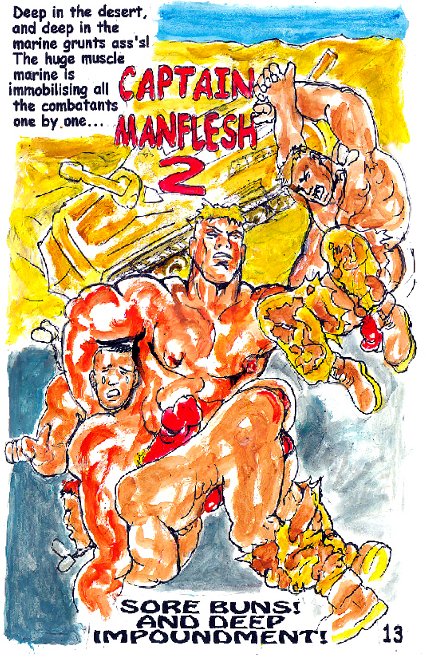 4 FIGHT BACK A REAL MAN'S ADVENTURE PART 1. RUSTY AND BUCK ARE TWO SPECIAL OPERATIONS COMMANDOS. THEY GO ANYWHERE AND REVEL IN HARD DANGER. IT MALES THE WEAPONS BETWEEN THEIR LEGS CUM SPURTING HARD. THESE ARE THEIR HARD SORE ADVENTURES. THEIR COMMANDER TELLS RUSTY AND BUCK THEY HAVE A MISSION. THE AGL HAD CAPTURED ONE OF THEIR AGENTS, THEY HAD TO GET CAPTURED TO GET HIM OUT. THEY GO IN WITH GUNS, VESTS, BOOTS, AND DRAWS, COCK HARD. THEY BLAST A FEW THINGS TO ATTRACT THE ENEMY. THEY ARE CAPTURED AS PLANNED AND ARE STRIPPED BY THEIR CAPTORS. THEIR HANDS ARE CUFFED BEHIND THEM AND ROPES TIED TO THEIR BALLS. THE TWO NAKED OPERATION HUNKS ARE DRAGGED ALONG BEHIND THE LORRY BY THE ROPES ATTACKED THE THEIR BALLS.
ON ARRIVAL AT THEIR CAPTORS CAMP THE ARE GIVE A ROUGH WELCOME A BEATING, BUT RUSTY AND BUCK STAY PROUDLY ERECT. "TIME TO FEED HIM", THE COMMANDER OF THEIR CAPTORS ORDERED. "FILL HIM UP GOOD", THE COMMANDER ADDED. A GOAT SKIN FULL OF PIGS SWILL WITH A PIPE ATTACHED TO IT IS EMPLOYED AND THE TUBE IS PUSHED HARD UP BUCK'S ARSE. THE CONTENTS ARE THEN SQUEEZED INTO BUCK'S ARSE AND HIS STOMACH SWELLS UP LIKE A BALLOON. "SUCK OUT THE SWILL YOU WILL GET NO OTHER FOOD", THE COMMANDER TOLD RUSTY. RUSTY IS WARNED IF HE DOES NOT EAT THE SWILL OUT OF BUCK'S ARSE, THEY WILL BOTH HAVE THE BALLS CUT OFF. THE SAME IS THEN DONE TO RUSTY AND BUCKS IS MADE TO EAT THE SWILL OUT OF HIS ARSE. THEY ARE THEN PUT AGAINST A WALL AND HOSED DOWN WITH COLD WATER. THEY ARE CHAINED UP NAKED OUTSIDE AT NIGHT AND TO KEEP WARM THEY MUST USE THEIR BODY HEAT. THEY FIND THE BEST METHOD IS A HOT COCK UP THE ARSE, SO THEY FUCK EACH OTHER TO KEEP WARM. AT DAWN THEY ARE DRAGGED TO THE COMMANDER FOR INTERROGATION THEY HAVE A HARD TIME AHEAD. HOT SEXY MALE MILITARY DOMINATION IN THE MANFLESH STYLE €12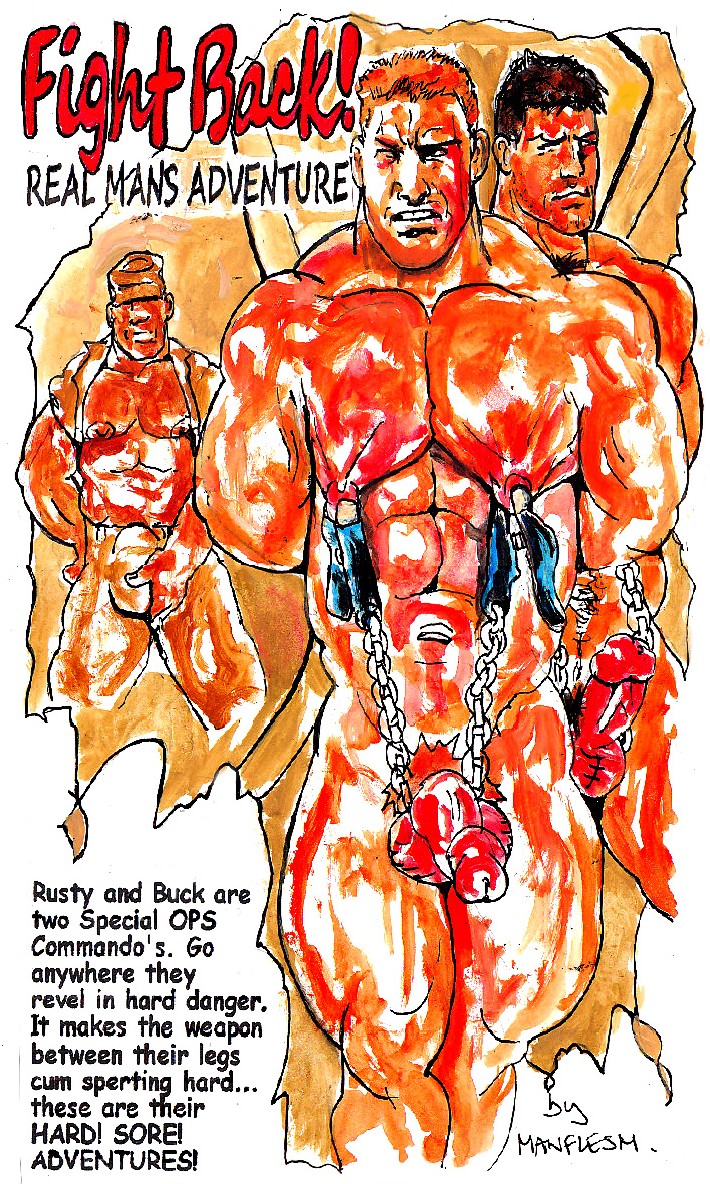 5 FIGHT BACK A REAL MAN'S ADVENTURE PART 2. THEIR INTERROGATION WITH THE COMMANDER BEGINS. CHAINS WITH CLIPS ATTACHED TO RUSTY AND BUCK'S BODIES CAUSES PAIN AND SORENESS TO THE TWO COMMANDOS BODIES AND EVERY MOVEMENT INCREASED THE PAIN AND SORENESS MAKING THEM AWARE OF THEIR NAKED BONDAGE STATE. I AM YOUR MASTER BEND OVER OR I WILL CUT YOUR BALLS OFF?", THE COMMANDER WARNS RUSTY AND BUCK. HE ORDERS HIS GUARDS TO BRING CANES. RUSTY AND BUCK HAVE NO CHOICE BUT TO OBEY AND TAKE WHAT COMES. THEY HAVE BEEN TRAINED TO TAKE ALL TYPES OF PUNISHMENT. FOR AN HOUR RUSTY AND BUCK ARE SUBJECTED TO A THRASHING THAT LEAVES THEIR BARE BUTTS RED AND ON FIRE. "THERE IS NOTHING LIKE A SOBBING CAPTIVE WITH A SORE ARSE TO MAKE MY COCK HARD", THE COMMANDER SAID GLEEFULLY. THE TWO BUTT SORE COMMANDOS ARE DRAGGED TO A WOODEN TABLE. LEGS SPREAD WITH BUTT HOLES ON VIEW, THEY KNOW WHERE THE INTERROGATION IS GOING NEXT. THE COMMANDER FUCKS RUSTY'S MAN CUNT AS A GUARD THRUSTS INTO BUCK'S. FOR TOW HOURS THEY ARE GIVEN A GOOD GRINDING. BOTH RUSTY AND BUCK HAVE SPENT HOURS ON FUCK MACHINES BACK AT BASE, SO CAN TAKE WHAT IS COMING.
AFTER A LONG INTERROGATION COME FUCKING THEY ARE THROWN INTO A CELL. THEY KNOW THE GUARDS WILL BE BACK WHICH THEY CONSIDER FORTUNATE AS RUSTY HAD STOLEN A FORK TO PICK THE LOCKS ON THEIR HAND CUFFS. AS THE GUARDS ENTER WITH A BUCKET OF SWILL, THEIR FOOD. RUSTY AND BUCK ARE READY, SKILLED IN MAN TO MAN COMBAT. ITS TIME TO COMPLETE THEIR MISSION. THEY LEAVE THE CLIPS AND CHAIN ON THEIR BODIES AS THEY MIGHT COME IN USEFUL. AS THEY MOVE ROUND THE COMPLEX THEY TAKE OUT GUARDS AND GAIN WEAPONS. THEY FIND WHERE THEIR MAN IS BEING HELD AND TAKE OUT THE GUARDS. BUCK'S CHECKS THE PRISONERS ARSE AND FINDS IT WELL USED. RUSTY LEADS THE WAY BLASTING THROUGH THE COMPLEX TO THE EDGE OF THE REBEL CAMP. RUSTY SEES THEIR WAY OUT A TANK, A GUN ON WHEELS WITH ARMOUR THAT WILL DO NICELY. TO THROW OFF THE REBEL ARMY THEY TAKE THE TANK DEEP INTO THE OVEN LIKE DESERT. A LANDMINE IS PLACED IN THE PATH OF THE TANK. THE EXPLOSION BLOWS UP THE TANK. THE BLAST THROWS THE NAKED HUNKS CLEAR. THEIR ESCAPE HAS FAILED. MORE HOT SEXY MALE MILITARY DOMINATION IN THE MANFLESH STYLE €12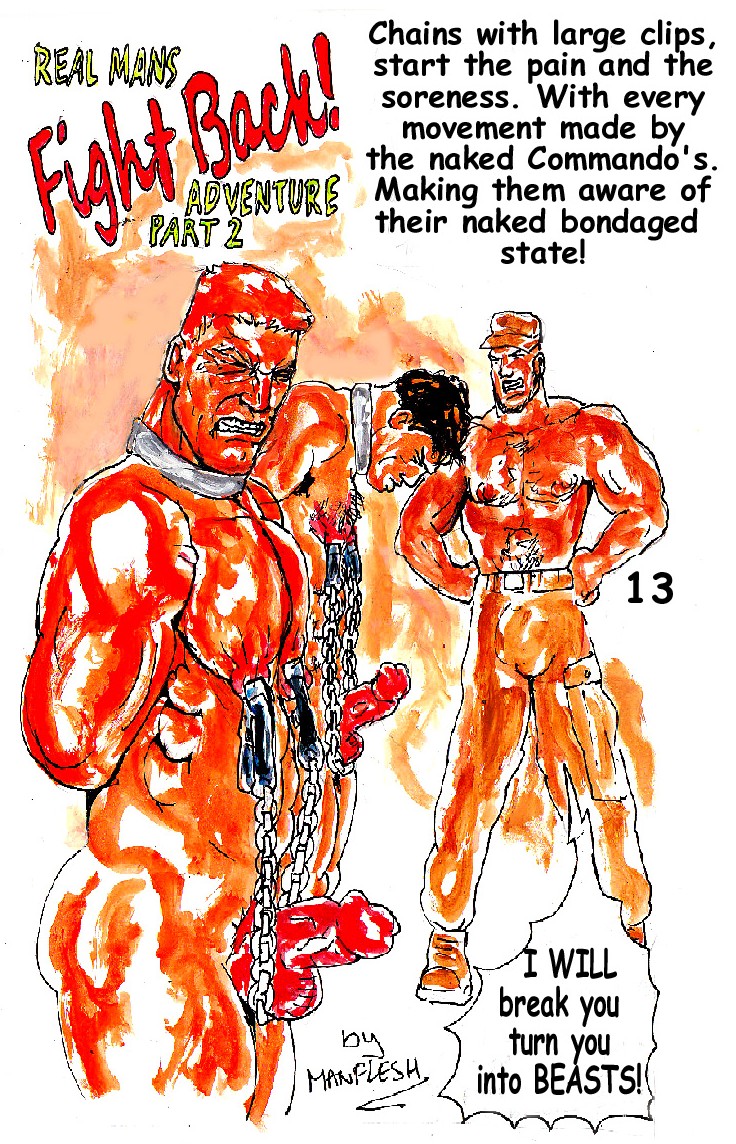 6 FIGHT BACK A REAL MAN'S ADVENTURE PART 3 DESERT DESPOT A CASE OF OUT OF THE FRYING PAN AND INTO THE FIRE. AFTER BEING BLOWN OUT OF THEIR ESCAPE TANK THEY ARE RECAPTURED. A WHIP LASHES OUT, IT WRAPS AROUND RUSTY'S NECK AND HE PULLED TOWARDS A TRUCK. HANDS TIED THE NAKED HUNKS ARE DRIVEN SOUTH DEEPER INTO THE SOUTHER WASTES. THEY ARE GUARDED BY A MAN WITH A RIFLE AND ANOTHER HOLDING A LING SCIMITAR ACROSS THE BACK OF THEIR NECKS. "I OWN ALL IN THIS DESERT INCLUDING YOU?", THE RUSSIAN COMMANDER AND TELLS RUSTY AND BUCK THE SECRET AGENT THEY WERE SENT TO RESCUE, WHEN THEY GET TO THE SOUTHERN CAMP AND DIAMOND MINE. "TIE HIM TO THE BED I WILL FUCK HIM RAW", THE RUSSIAN COMMANDER ORDERS REFERRING TO SECRETE AGENT THEY WERE SENT TO RESCUE AND HE IS DRAGGED AWAY BY ONE OF THE GUARDS. "THE OTHERS WORK IN THE MINE", THE RUSSIAN COMMANDER ADDED. IT WILL BE A HARD DAY FOR ALL THREE OF THEM.
RUSTY AND BUCK WORK WITH SHOVELS IN THE MINE DIGGING DIAMONDS. "I EXPECTED TO STEAL DIAMONDS ALONG THE WAY NOT DIG FOR THEM", BUCK SAID AS THEY TOILED. "SHIT WE DIG WHILE THE SECRET AGENT IS HAVING HARD FUCK, SORE, NOOKIE, WITH THE HUNKY RUSKIE SCUM SHIT", RUSTY SAID. "I HAVE A PLAN?', HE ADDED. BY SHOVELLING DIRT INTO THE AIR THEY CAUSED A DUST CLOUD. THEN THEY SHOVED DIAMONDS UP EACH OTHER'S ARSES. IN THE EVENING RUSTY AND BUCK ARE TAKEN TO THE RUSSIAN COMMANDERS BEDROOM. "GET ON THE BED I'M FUCKING YOU RAW", RUSSIAN COMMANDER ORDERED. THE TWO COMMANDOS GET ON THE BED WITH NO STRUGGLE AT ALL. ITS ALL PART OF THE PLAN. THE RUSSIAN COMMANDER IS COCK SURE OF HIS DOMINANCE, RULER OF ALL HE SURVEYS. RUSTY AND BUCK BLAST THE DIAMONDS FORM THEIR HARD MUSCULAR ARSES. THE DIAMONDS HIT THE RUSSIAN COMMANDER LIKE SHOTS FROM A CANNON. BUTT'S SHOVED IN THE AIR. THEY FIRE AT THE GUARDS, TAKING THEM ALL OUT, TWO AT A TIME. THEY ESCAPE WITH THE SECRET AGENT IN A JEEP. "I WISH I STILL HAD SOME DIAMONDS"BUCK SAID. "I STILL HAVE AT LEAST TEN UP MY OPS ARSE", RUST STATED. PLENTY MORE HOT SEXY MALE MILITARY DOMINATION IN THE MANFLESH STYLE €12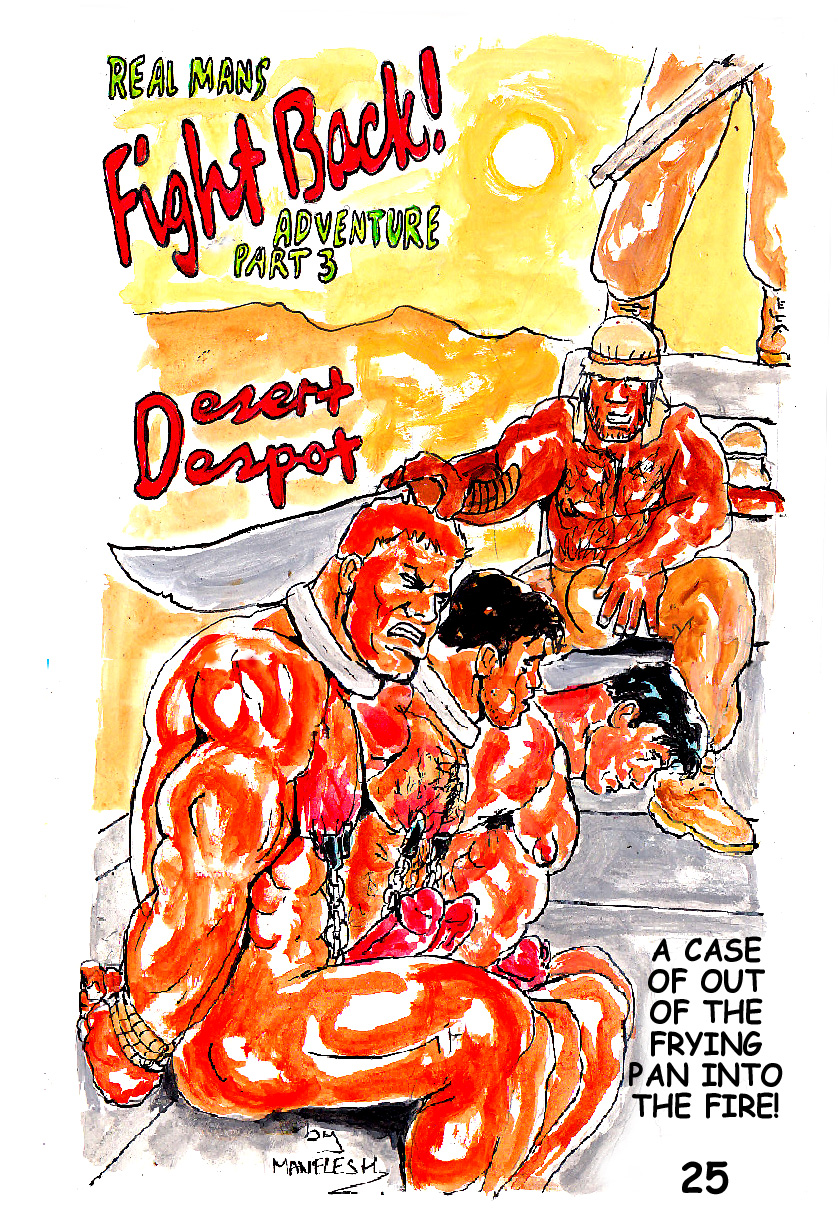 7 A REAL MAN'S ADVENTURE FUCKED TO THE CORE. ON THIS DESERT PLANET TWO ARMIES ARE FIGHTING FOR CONTROL. THE WINNER TOOKS PRISONERS, TURNING THEM INTO NAKED SLAVE LABOUR AND FUCK MARES FOR THE VICTORS. STU BUTLOCK IS ONE OF THESE CAPTURED COMBATANTS. APART FROM A DARKER SKIN THE EASTERN VICTORS ARE NO DIFFERENT TO STU'S PEOPLE. STU AND HIS FELLOW COMBAT TROOPS WERE OUT GUNNED. THEY WERE CAPTURED THE WAR IS OVER FOR THEM. STRIP NAKED OR BE SHOT, ONE OF THEIR CAPTORS ORDERED. NO CHOICE THEY BEGIN TO STRIP. MADE TO PUT THEIR HANDS BEHIND THEIR HEADS, STU AND THE OTHER NAKED SOLDIERS GET STIFFEE'S, AS SWEAT TRICKLES DOWN THEIR NAKED FLESH. THEIR NAKED HUNKY FLESH IS WHIPPED TO CAUSE PAIN. TO DEMONSTRATE THEIR SLAVE STATE. A BURNING VOLT GUN REMOVED STU AND THE OTHERS MAN BUSHES. SLAVES DO NOT HAVE MAN HAIR. "ON YOUR KNEES YOU SLAVES WILL SUCK OFF THE WHOLE ARMY", A CAPTOR ORDERED. THEY WERE ALL MADE TO SUCK MANY COCKS AND SWALLOW LOTS OF SPUNK. THEY ARE THEN MARCHED TO THE SLAVE CAMP THROUGH THE BURNING HEAT, THE FORCED SPUNK FEED WAS A GOD SEND AS THEY DID NOT GET ANYTHING TO DRINK UNTIL THEY REACH THE SLAVE CAMP.
AT THE SLAVE CAMP A GUARD TELL THEM THAT THIS WAS A FUCK STATION AND THEY ARE FUCK WHORES FOR THE MILITARY NOW. STU IS DRAGGED TO A DRUM. STU IS TIED OVER A HIT METAL DRUM. STU SWEATS BUCKETS AS HIS LEGS ARE SPREAD WIDE. THERE WERE A LARGE NUMBER OF FUCK DRUMS IN THE CAMP. EACH SLAVE TAKING IT UP THE BUTT AND DOWN THE THROAT. EACH FUCK SLAVE ACAN EXPECT FORTY BUM FUCKS A DAY, LEADING TO A VERY FULL SEX LIFE FOR ONE AND ALL.
TWO YEARS ON STU HAS PUT ON HUGE BULK, DUE TO HARD TOIL AND GALLONS OF CUM DOWN HIS HOLES. HIS ONLY SEXUAL RELEASE HIS CUNTED ANUS FILLED BY HARD BROWN COCK. MORE HOT SEXY MALE MILITARY DOMINATION IN THE MANFLESH STYLE €12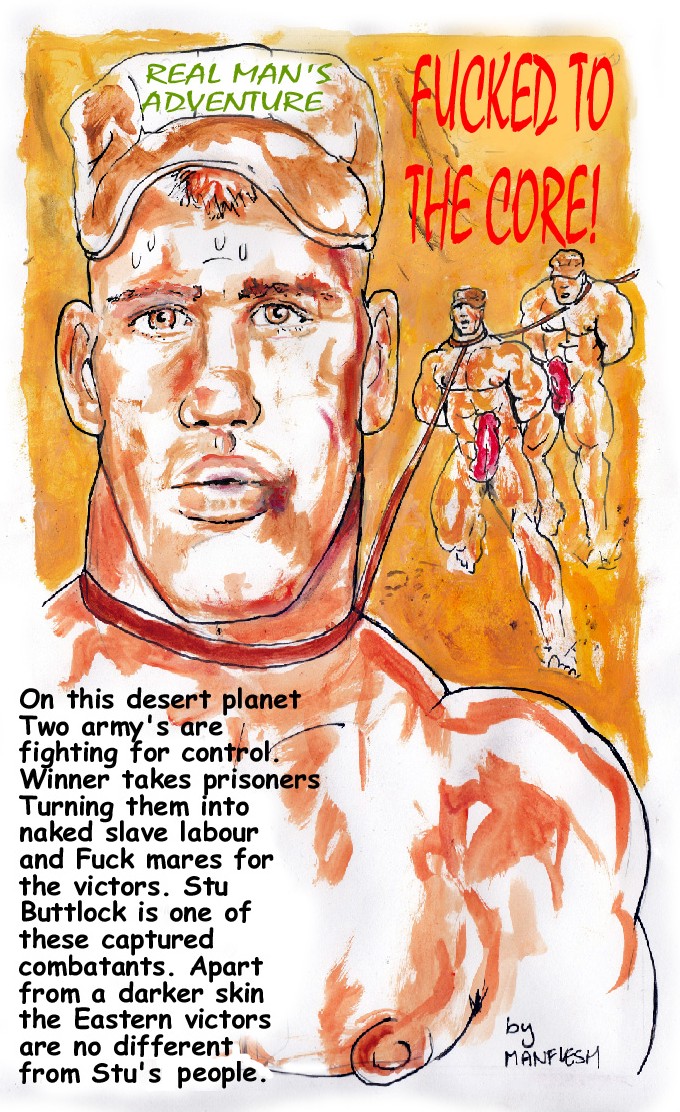 8 FIGHT BACK A REAL MAN'S ADVENTURE PART 4. HAVING NEARLY BEEN KILLED BY FRIENDLY FIRE OUT TWO SPECIAL OPS ARE TOLD THAT THEY ARE GOING UNDER COVER IN A WORK SLAVE CAMP IN CHERKESSK. OR THEY WILL GO TO PRISON FOR STEALING DIAMONDS. HOW DID THEIR SUPERIORS KNOW RUST AND BUCK HAD THEM. THEY WILL HAVE TO CARRY OUT A ROBBERY AND BE SENT TO THE CAMP WHERE A NUCLEAR BOMB IS BEING ASSEMBLED. THEY ALLOWED THEMSELVES TO GET CAUGHT ROBBING A BANK IN CHERKOSSK. AFTER BEING HEAVILY ROUGHED UP WHICH THE TWO HUNKS QUITE ENJOYED, THE BOTH FOUND IT SEXY AND GOT HARD ONS. AT THE CAMP THEY ARE ORDERED TO STRIP BY ONE OF THE GUARDS. "YOU WILL FEEL OUR STEEL AND OTHER WEAPONS INSIDE YOU" THE GUARD TELLS THEM. THE GUARDS ARE GIVEN A CAN OF AXLE GREASE FOR THEIR HANDS. THE TWO UNDERCOVER COMMANDOS ARE THE TOUGHEST OF MEN. BUT EVEN THEY SOB WHEN THEY ARE MADE TO CUM LIKE GLOVE PUPPETS. RUSTY AND BUCK ARE TIED TO STEEL POLES. THEIR ARSES ARE WHACKED WITH STEEL CHAINS UNTIL THEY ARE SWOLLEN AND ON FIRE. WITH THE NEW PRISONERS RED RAW INSIDE AND OUT IT WAS TIME FOR THE GUARDS THE HOT MEAT. THE RAW SORE ARSED PAIR ARE LEASHED AND MADE TO CRAWL ON LL FOURS. "TAKE THEM TO THE SLAVE PIT", A GUARD ORDERS.
IN THE SLAVE PIT RUSTY AND BUCK ARE CONFRONTED BY THE TOP DOG. "I'M THE DADDY AND YOU ARE MY NEW BITCHES", THE TOP DOG TELLS THEM. RUSTY AND BUCK ARE WELL OILED FIGHTING MACHINES THIS IS WHAT THEY ARE MADE FOR. RUSTY ATTACKS FIRST, THEN BUCK TAKES HIS TURN. HAVING DOWNED THE PRISON DADDY BUCK AND RUSTY TAKE AWAY HIS POWER BY DOUBLE FUCKING HIM, MUCH TO THE DELIGHT OF THE OTHER SLAVE LABOURERS. HAVING SUBDUED THE BEAST, RUSTY AND BUCK GET THE OTHER SLAVE LABOURERS TO SUCK THEM OFF TO SHOW THEIR APPRECIATION, PROMISING TO GET THEM OUT. BEFORE THEY CAN THINK OF ESCAPING THEY HAVE A JOB TO DO. THEY MUST FIND AND DESTROY THE WARHEAD AND WITH IT THE FACILITY. SO IN THE MEAN TIME RUSTY AND BUCK HAD TO TAKE WHAT WAS COMING. HOT SEXY MALE MILITARY DOMINATION IN THE MANFLESH STYLE €12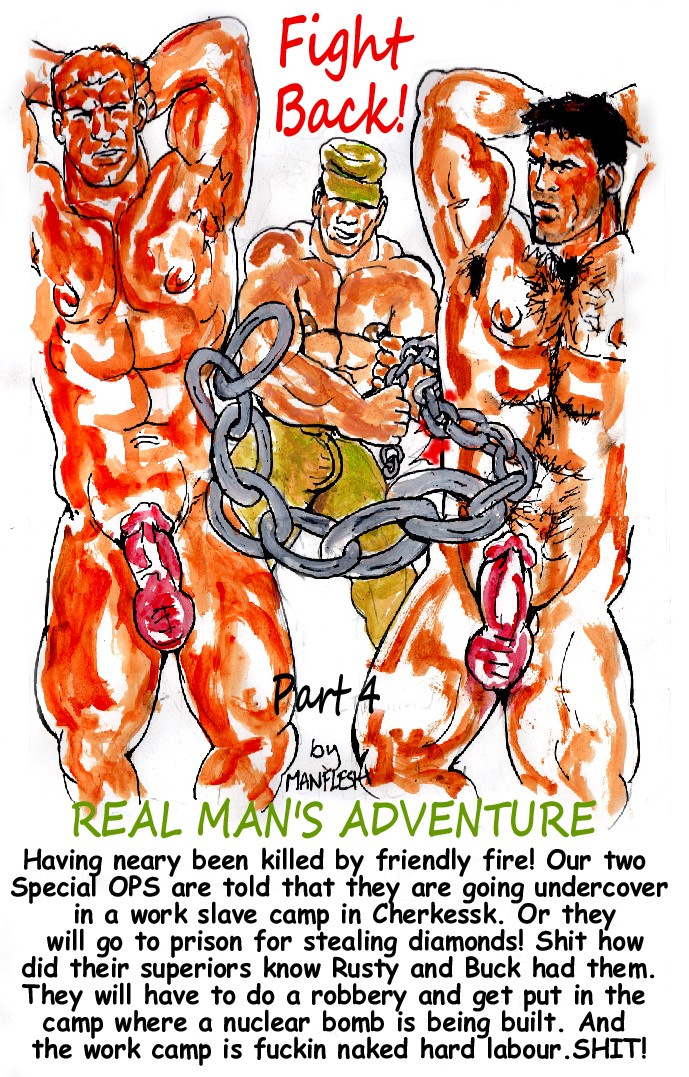 9 GRUNT MULES FOR OIL. THE WEST NEEDED OIL, SO A DEAL WAS MADE, MUSCULAR GRUNTS SWAPPED FOR OIL. GRUNTS LIKE BIRK BLOCKHEAD, LOW ON EDUCATION, BIG ON MUSCULAR STRENGTH, AND NO FAMILY TO WORRY ABOUT. HE IS SELECTED FOR A PLATOON HEADING TO THE MIDDLE EAST. A JUDAS LIEUTENANT WOULD ACCOMPANY THEM FRO THE HAND OVER. BIRK AND THE OTHER DUMB ASSES WERE WORTH 400 000 BARRELS OF OIL EACH. THE EAST LIKES ITS SLAVE MULES BIG AND DUMB.
AT A CAMP IN THE TEXAS DESERT LIEUTENANT JUDAS TALKS TO THE PLATOON. "MEN WE ARE OFF TO THE MIDDLE EAST", LIEUTENANT JUDAS TELL HIS MEN. "THE FRIENDLY NATIVE LOVE JOCK MUSCLE GUYS", HE ADDS AS HE STRIPS DOWN TO HIS JOCK. "ALL THE GEAR YOU NEED IS OVER THERE, IT IS A HOT PLANE RIDE, SO STRIP DOWN TO YOUR JOCKS", LIEUTENANT JUDAS ORDERED. STRIPPED DOWN TO THE JOCK THE LIEUTENANT EYED THEM ALL UP. THE CREAM OF THE CROP WAS PRIVATE BIRK BLOCKHEAD. THE LIEUTENANT PICTURED THE DUMB ASS NAKED AND TETHERED, MAKING THE LIEUTENANT'S COCK ROCK HARD, SHIT HE LOVED HIS JOB. THE PLANE WAS LIKE AN OVEN AND THE PLATOON WAS GIVEN WATER LACED WITH VIAGRA AND AN INTOXICANT WITH OBVIOUS RESULTS.
THE DRUNK AND HORNY PLATOON STAGGERED OFF THE PLANE ONTO A DESERT RUNWAY, DRESSED ONLY IN THEIR JOCK STRAPS. CONFUSED THEY WONDER WHERE THEIR CAMP IS AS THEY SEE A DUST CLOUD IN THE DISTANCE. THEY ARE SHOCKED TO SEE A HUGE IRON CAGES PULLED BY NAKED WESTERNERS USED AS MULES. STUNNED THE TROOPERS WERE UNARMED AND INTOXICATED AND COULD ONLY LOOK ON. THE PLATOON'S JOCK STRAP WERE TORN OFF WITH WHIPS AND THEY WERE MADE TO KNEEL DEJECTED. LEG IRONS ARE ATTACHED AND THEY COULD ONLY WOBBLE. LIEUTENANT JUDAS TOLD THE ARAB OVER SEER HE WOULD LIKE TO SEE BIRK BLOCKHEAD BROKEN IN. "BE OUT GUEST YOUNG MASTER", THE ARAB OVER SEER REPLIED. OUTSIDE THE IRON CAGES THE ONCE CREAM OF WESTERN SPUNKY MUSCLES ARE NO JUST SLAVE MULES. IN THE IRON BOX IN THE OVEN LIKE HEAT, BIRK AND HIS FELLOWS GET THEIR FIRST TASTE OF SLAVERY.
AT THE FORTRESS BIRK IS TETHERED LIKE A PIECE OF MEAT, AND HIS PUBES PERMANENTLY REMOVED. THE A HEAVY STEEL COCK RING IS WELDED IN PLACE. LIEUTENANT JUDAS STRIPPED DOWN TO HIS BOOTS AND CAP. THE ARAB OVER SEER LETS HIM THE SLAVE MULE TIED TO THE RACK. THE FIRST INSEMINATION OF BIRK'S BESTIAL LIFE. IT WILL ALWAYS REMEMBER IT FIRST BITCHING. THE ARAB OVER SEER SMILED, HE INTENDED TO HAVE THE LIEUTENANT ON THE RACK ONE DAY.
MULE BIRK WAS PUT WITH A DRAY-AGE OF HEAVY HAULAGE BEASTS, PULLING A CART FULL OF OIL TO A TANKER BOUND FOR THE WEST. HE WILL WEAR A MOUTH GAGE UNTIL HE IS FULLY BROKEN IN. HOT SEXY MALE MILITARY DOMINATION IN THE MANFLESH STYLE €12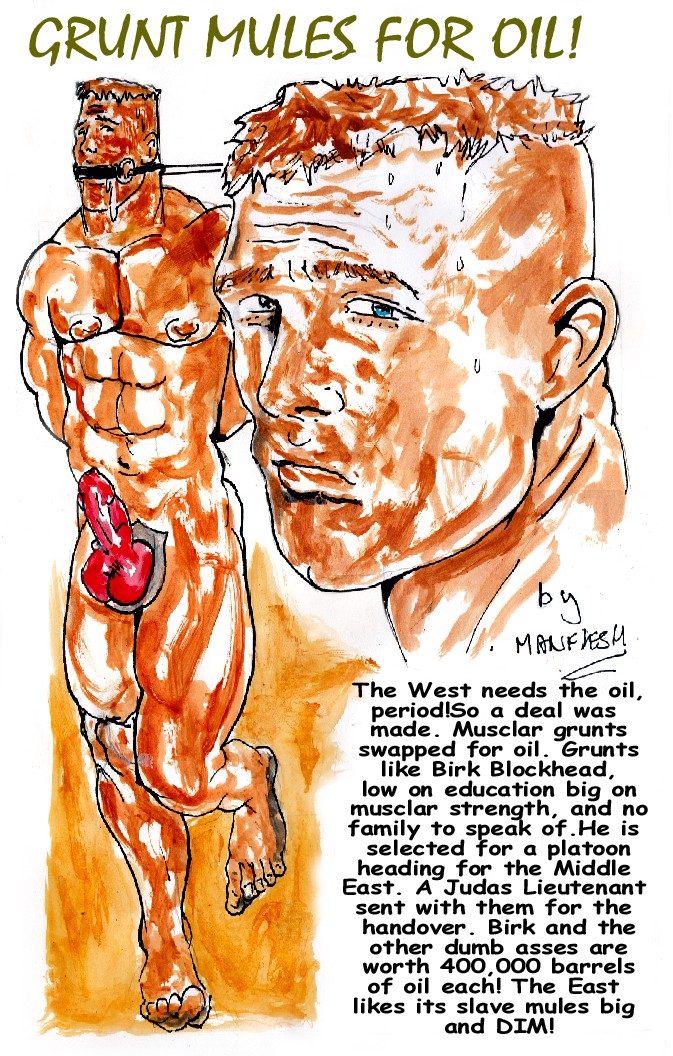 10 PIRACY PART 1 SLAVE ISLAND. A SQUAD OF US CADETS ARE TRAINING ON A YACHT IN THE MEDITERRANEAN WHEN THEY THEY WERE ATTACKED BY PIRATES WHO RANSACKED THE BOAT AND STRIPPED THEM TO THEIR UNDERWEAR. THE CADETS FOUGHT BACK IN THE NIGHT AND ESCAPED IN THE YACHTS LONG BOAT. THE NEXT DAY THIRSTY AND SUN BURNT THEY USED THEIR UNDERWEAR TO FLAG DOWN AN ARAB DHOW. THE CAPTAIN OF THE DHOW COULD NOT BELIEVE HIS LUCK, AS HE SAW THE THE PRIME WHITE MALE FLESH WAS IDEAL SLAVE MATERIAL, THROUGH HIS TELESCOPE. THE CADETS WERE ABOUT TO DISCOVER THAT A LIFE OF NAKED HARD TOIL AND CUM FILLED ARSES AWAITED THEM IN MANDERSAT.
THE CADETS BOARDED THE DHOW AND MET THE CAPTAIN, WHO WAS DELIGHTED WITH THE EIGHTEEN YEAR OLD BIG MUSCLES, WHICH WOULD BRING BIG MONEY AT THE AUCTIONS. THE CAPTAIN ORDERED THE CADETS TO TAKE OFF THEIR SLAVE KNICKERS. THEIR LEADER CADET LIEUTENANT BUCK BRADLEY DEMANDED THEY BE TAKEN TO THE NEAREST PORT. THEY WERE GRABBED AND STRIPPED BY THEIR CREW. THE CADETS PUT UP A FIGHT BUT OUT NUMBERED FOUR TO ONE THEY WERE OVER POWERED. THE CAPTAIN ORDERED THE LIEUTENANT TO BEND OVER AND OPEN HIS ARSE CHEEKS, OR HER WOULD CUT THE BALLS OFF ONE OF THE OTHER CADETS. THE CAPTAIN WAS GOING TO TEACH THE SLAVES A LESSON. NAKED HIS FLESH NO LONGER UNDER HIS CONTROL BRADLEY IS FUCKED IN FRONT OF THE OTHER CADETS. THE BOUND CADETS WERE FORCED TO WATCH, IT WOULD BE THEIR TURN NEXT.
AS THE PIRATE DHOW MADE ITS WAY TO MANDERSAT, THE CREW SHOWED THE CADETS WHAT ENSLAVEMENT MEANT. BRADLEY AND THE OTHER CADETS WERE FUCKED BY THE CREW. LIEUTENANT BRADLEY WAS NOT BOUND WITH THE REST OF THE CADETS BUT WHIPPED AND MADE TO SUCK THE PIRATES COCKS TO GET THEM HARD AGAIN FOR THE NEXT SESSION. YOU JUMP WHEN I SAY, YOU GET FUCKED WHEN I SAY, YOU FUCK WHEN I SAY, THE CAPTAIN TOLD THE CADETS. LIEUTENANT BRADLEY WAS MADE TO BEND OVER WHILE THE OTHER CADETS CREAMED HIS ARSE, ARABS WERE THEIR SUPERIORS NOW.
THE SLAVES HANDS ARE TIED TO THEIR LEGS AND BROOMS PRESSED UP THEIR ARSES. THEY WERE MADE TO SCRUB THE DECKS SLAVE STYLE. USED AS DECK SCRUBBERS UNDER THE HOT SUN THE WHIP WAS USED TO BREAK THEIR FEELING OF WESTERN SUPERIORITY. ON THE THREE DAY VOYAGE TO MANDERSAT THE CADETS WERE ONLY GIVEN PISS TO DRINK, AND THEY HAD TO BEG FOR IT. IT WAS ALL PART OF THEIR SLAVE TRAINING. THEY WERE TAUGHT TO CUM WITH A WHIP DRIPPED IN WATER, THEY BUMS RED RAW AS THEY CUM. YOUNG MILITARY CADETS ENSLAVED, PHYSICALLY AND SEXUALLY ABUSED BY ARAB PIRATES MANFLESH STYLE €12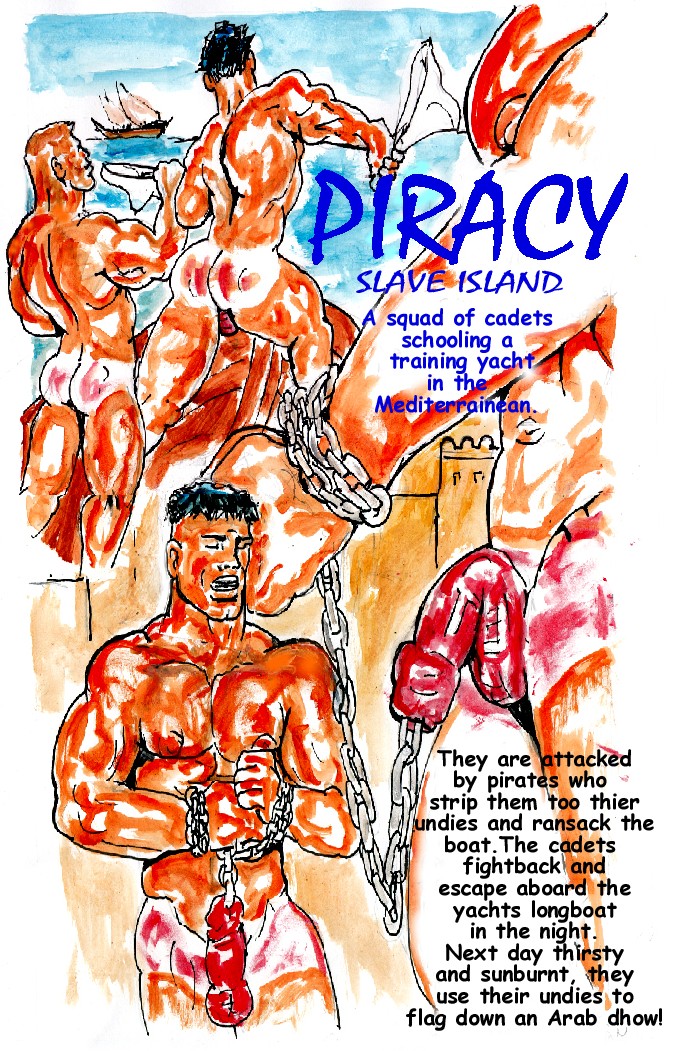 11 PIRACY PART 2 MANDERSAT. MANDERSAT IS OIL AND OUT OF BOUNDS TO WESTERN INFLUENCE, NO WESTERNER WHO WENT THERE HAS EVER COME BACK. IN THE EIGHTEEN FORTIES A BOAT LOAD OF US MARINES WERE SHIP WRECKED, CAPTURED STRIPPED NAKED, ENSLAVED AND TAKEN TO MANDERSAT. IN PART ONE A BOAT LOAD OF US CADETS WERE ALSO CAPTURED, STRIPPED NAKED, ENSLAVED AND TAKEN TO MANDERSAT.
THE CADETS GOT THEIR FIRST VIEW OF MANDERSAT FROM THE PIRATE DHOW. THEY ENTERED MANDERSAT AS THE HOT SUN SUN BEAT DOWN ON THEIR NAKED CADET FLESH. AS THE CADETS ARE WHIPPED THROUGH THE STREETS OF MANDERSAT THEY NOTICE THE COCK CHAINED CREAM OF WESTERN MANHOOD. IN THE AUCTION STRONG HOLD THE CADETS ARE GRABBED AND HUNG UP LIKE SLABS OF MEAT. ANIMAL MUSCLE AND FLESH READY FOR PROCESSING. THE CADETS COCK HEADS ARE PIERCED AND A RING AND CHAIN ATTACHED. A STEEL PLATE SECURED EACH SLAVES, SO THEY CAN ONLY MAKE ANIMAL NOISES. ONLY REAL MEAN ARE ALLOWED TO TALK. IT PREVENTED SLAVES TALKING TO EACH OTHER AND PLOTTING THEIR ESCAPE. PARADED ON THE THE AUCTION PLATFORM THE ENSLAVED CADETS WERE ORDERED TO PUT THERE ARMS OVER THEIR HEADS, FORCING THEIR COCK UP, MAKING THE CROWD ROAR WITH SATISFACTION, LEAVING THE CADETS SHAMED AND EMBARRASSED. LIEUTENANT BRADLEY AND THE OTHER LIVE STOCK WERE ABOUT TO GET A HARD EXAMINATION.
LIEUTENANT BRADLEY AND THE OTHER LIVE STOCK CAN ONLY WHIMPER AS THEIR ARSES ARE FISTED, MAKING THEIR BALLS SWELL AND THEIR COCK SPURT. THEIR BODIES ARE NOT THEIRS ANYMORE. SUDDENLY ALL THE NATIVES DROPPED TO THE GROUND AND BOWED LOW. THE EMIRS CHIEF OVER SEER HAD ARRIVED. "ALL CAPTURED WESTERN MARINES ARE THE PROPERTY OF THE EMIR AS OF OLD", THE CHIEF OVER SEER ANNOUNCED. THE CADETS HANDS WERE TIED BEHIND THEIR BACKS, AND THEIR COCK CHAINS SHORTENED TO LEAVE AND EIGHTEEN INCH LEASH HANGING FROM THEIR COCKS. THE CADETS WERE LED OUTSIDE THE CITY. IN THE EIGHTEEN FORTIES A SHIP LOAD OF MARINE FLESH WAS CAPTURED, ENSLAVED AND BENT TO OUR WILL. NAKED THEY HAULED THEIR CANNON OVER THE DESERT TO THE EMIRS PALACE FORTRESS, YOU WILL DO THE SAME, THE CHIEF OVER SEER TOLD THEM. THE FORTRESS PALACE OF THE EMIR WAS IN THE MIDDLE OF THE ISLAND SOME TWENTY FIVER KILOMETRES OF SEARING TOIL. THEIR NAKED SUN BURNT FLESH STUNG BY THE WHIPS OF THE ARAB OPPRESSORS. AS THE EXHAUSTED CADETS REACHED THE STRONG HOLD OF THE EMIR THE SAW NAKED WESTERN SLAVES LABOURING UNDER THE BURNING SUN. PART THREE CONTINUED WHERE IT ALL STARTED. YOUNG MILITARY CADETS CONTINUED TO BE ENSLAVED, PHYSICALLY AND SEXUALLY ABUSED BY ARAB PIRATES MANFLESH STYLE €12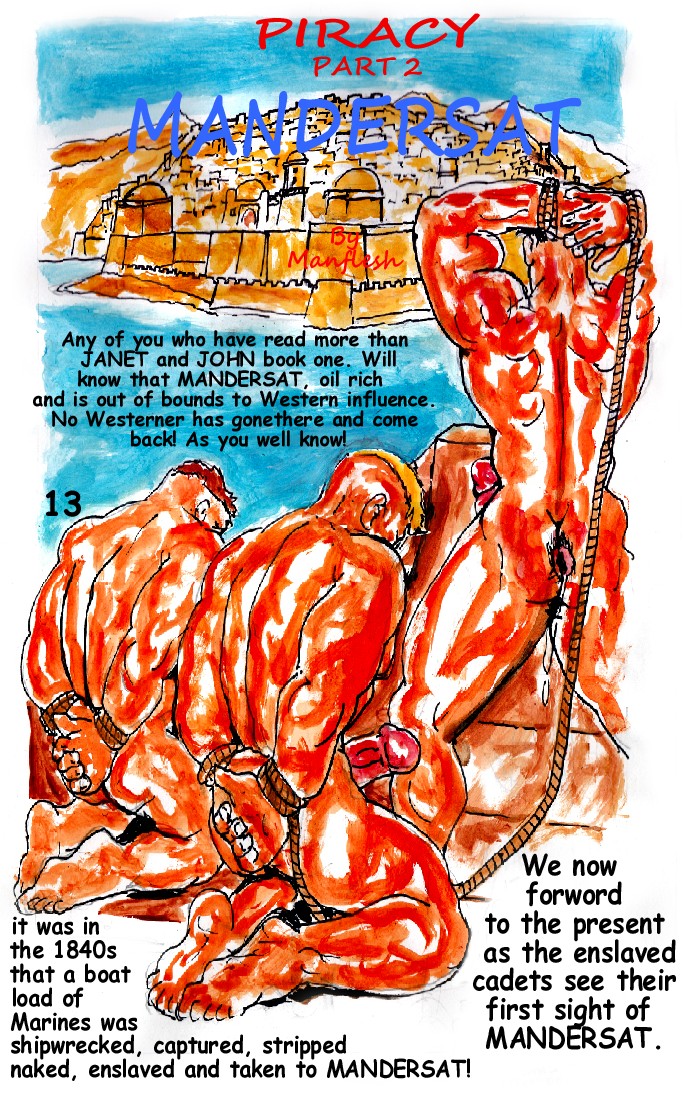 12 PIRACY PART 3 MANDERSAT 1840. IN THE EIGHTEEN FORTIES A WARSHIP FULL OF MARINES IS SHIP WRECKED OF THE COAST OF MANDERSAT. THE MARINES WERE CAPTURED, STRIPPED NAKED AND ENSLAVED. THEY WERE FORCED TO DRAG THE SHIPS CANNONS TO THE GREAT FORTRESS OF MANDERSAT. THE IRONCLAD WARSHIP US COLOSSUS WAS CAUGHT IN A STORM IN THE MEDITERRANEAN. WHEN THE STORM BECAME A HURRICANE THE MARINES WERE FORCED TO STRIP DOWN AND TRY AND REMOVE SOME SAIL. AFTER A NIGHT FIGHTING THE STORM A HUG WAVE CRASHES THE IRONCLAD ONTO A ROCKY COASTAL RIDGE. THE MARINES, THEIR MUSCLES ACHING, BRUISED ALL OVER, THE DRAWS RIPPED TO SHREDS. WITH THE IRONCLAD A BROKEN SHELL THEY ARE FORCED TO LOOK FOR WATER BARRELS, FOOD AND CLOTHES.
EYES ARE WATCHING THE SHIP WRECKED MARINES. A GROUP OF ARABS RIFE UP ON CAMELS. "YOU ARE CAPTIVES OF THE MIGHTY EMIR REMOVE YOUR DRAWS", THEIR LEADER ORDERED. CAPTAIN CLINT GRANT CAME FORWARD AND CONFRONTED THE ARAB LEADER. "WE ARE US MARINES, FREE MEN, NOT NATIVES, NO NATIVES TELL US WHAT TO DO", CAPTAIN CLINT GRANT TOLD THE ARAB LEADER. "WE WANT FOOD AND CLOTHING APPROPRIATE TO OUR RANK", HE ADDED. "STRIP THE SLAVE", THE ARAB LEADER ORDERED. CAPTAIN CLINT GRANT IS SO BRUTALLY STRIPPED BY THE ARABS THAT THE OTHER MARINES QUICKLY STRIP NAKED PISSING THEMSELVES IN FEAR. THE MARINES COULD ONLY WATCH AS CAPTAIN CLINT GRANT WAS DRAGGED OFF AND THROWN OVER A CANNON AND WARNS HIS BALLS WOULD BE SLICED OFF IF HE MOVED. THE CAPTAIN WAS FUCKED, DEFLOWERED, SODOMISED, SHAMED, BROKEN DOWN AS A SLAVE COULD HAVE NO PRIDE. "FUCKING AND WHIPPING WILL TEACH YOU YOUR PLACE", THE ARAB LEADER SAID AS HE FUCKED THE CAPTAIN. THE CAPTAIN WAS THEN DRAGGED OVER AND MADE TO SUCK OFF HIS MEN, NOW HIS FELLOW SLAVES.
THE ENSLAVED MARINES ARE PUT TO WORK WITH A LITTLE ENCOURAGEMENT FROM THE LASH. THEY ARE WARNED THEIR COCK WILL BE CUT OFF IF THEY DO NOT OBEY. ROPES ARE TAKEN FROM THE RIGGING TO PULL THE CANNONS ONTO WOODEN SLEDGES MADE FROM THE SHIPS HATCHES. TOM KANE WATCHES IN DESPAIR AS HE AND THE OTHER ENSLAVED MARINES PULL THE ONCE MIGHTY SHIPS CANNONS WHILE THE CAPTAIN IS USED LIKE A MULE FUCKED AND RIDDEN. US MARINES, CAPTURED, ENSLAVED, PHYSICALLY AND SEXUALLY ABUSED BY THEIR ARAB CAPTIVES MANFLESH STYLE €12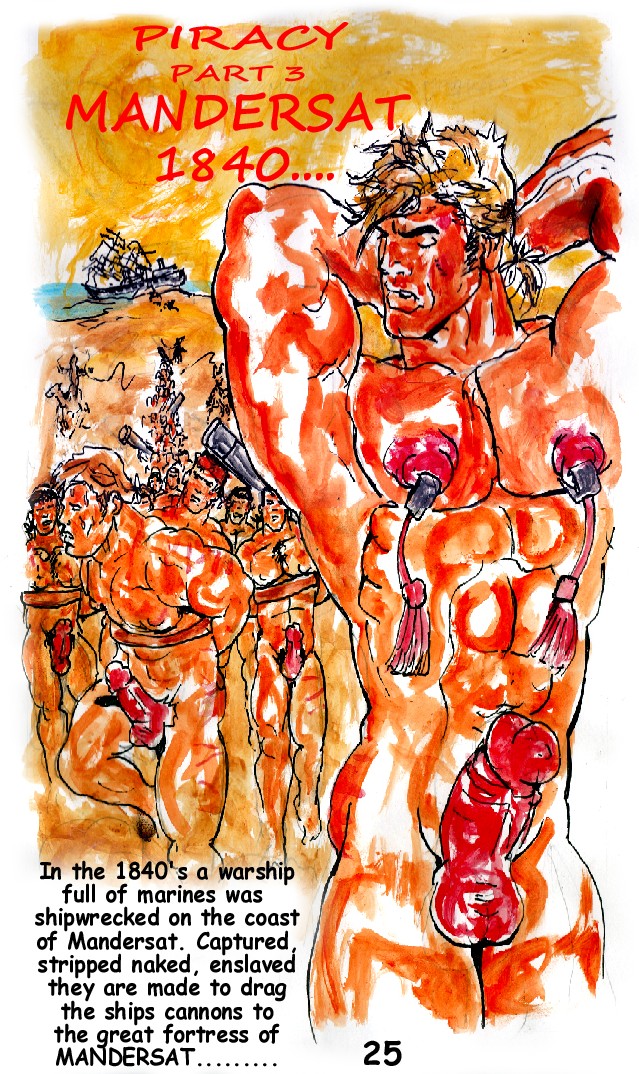 13 PIRACY PART 4 MANDERSAT MARK OF THE SLAVE AND FUCK BATHS. AFTER A MUSCLE WRENCH TWENTY FIVE KILOMETRES, NAKED FLESH BAKE BY THE SUN. EXHAUSTED THEY ARRIVE AT THE PLACE FORTRESS OF THE EMIR. TWENTY EIGHT MUSCULAR WESTERNERS, NAKED OWNED LIKE CATTLE BY THE EMIR AND HIS ENTOURAGE. "GOOD STOCK, A FEW MONTHS OF HARD NAKED TOIL IN THE SUN, WILL PUT ON EVEN MORE MUSCLE, AND YOUR SLAVE PELTS WILL TOUGHEN", AN ARAB OVERSEER TOLD THEM. "PREPARE THEM", HE ORDERED. THEY ARE GRABBED BY COMPLETELY HAIRLESS SLAVES AND TIED TO POLES. THE BRANDING MASTER HEATS UP THE BRANDING IRON AND SWIFTLY THRUSTS IT ON TO TOM'S RIGHT BUTT CHEEK. TOM SHITS AND WETS HIMSELF AS HE SCREAMS IN PAIN AS THE WORD SLAVE IS BURNT INTO HIS FLESH. FOLLOWING TOM ALL THE OTHER MARINES ARE GIVEN THE SLAVE BRAND. ALL PEEING AND SHITTING IN PAIN. THEY WILL LEARN TO SERVE THEIR ARAB MASTERS. EVER REMINDED OF THEIR ENSLAVEMENT BY THE BRAND ON THEIR BARE BUMS. "A SLAVE MUST NOT HAVE ANY PART OF THEIR BODY HIDDEN FROM ITS MASTER", THE OVERSEER SAID AS THEIR FORESKINS WERE CUT OFF. "A SLAVES INSIDE ARE NOT HIDDEN EITHER", THE OVERSEER SAID. THE CAPTAIN IS FUCKED AGAIN TO SHOW THE OTHERS HIS ARSE IS A CUNT. AS THEIRS ARE FROM NOW ON.
THE ONCE PROUD CAPTAIN, NAKED, FUCKED, AND ON ALL FOURS. HERDED INTO A TUNNEL OF TREE LIMBS COVERED IN SPINES LEADING TO THE BATHS. AS THE MARINES PASS OUT OF THE TUNNEL. THEY ARE GRABBED BY AN ARMY OF NAKED HAIRLESS SLAVE BATH ATTENDANTS. OUT NUMBERED FOUR TO ONE THEIR NAKED FLESH IS GRASPED, MANHANDLED LIKE LUMPS OF MEAT. THEN DRAGGED TO A HUGE CHAMBER TO START THEIR PROCESSING. THEY ARE ALL STRUNG UP BY THEIR ANKLES. THEN HAVE THEIR COCK HAIR ERADICATED WITH A BURNING JELL, THEN SCRAPED AND PEED CLEAN. IN THE BATHS THE MARINES ARE THOROUGHLY CLEANSED INSIDE AND OUT BY THE HORNY BATH SLAVES. THE BATH SLAVES ARE ALLOWED TO FUCK ALL NEW SLAVES. EN-GRINDING INTO THE SLAVE, ALL PARTS OF ITS BODY ARE OWNED. THE CAPTAIN HAD THREE COCKS UP HIS ARSE TO TAKE WAY HIS PRIDE. TOM HAD TWO COCK UP HIS MANCUNT A SLAVES MANFLESH IS SORE INSIDE AND OUT. US MARINES, CAPTURED, ENSLAVED, PHYSICALLY AND SEXUALLY ABUSED BY THEIR ARAB CAPTIVES MANFLESH STYLE €12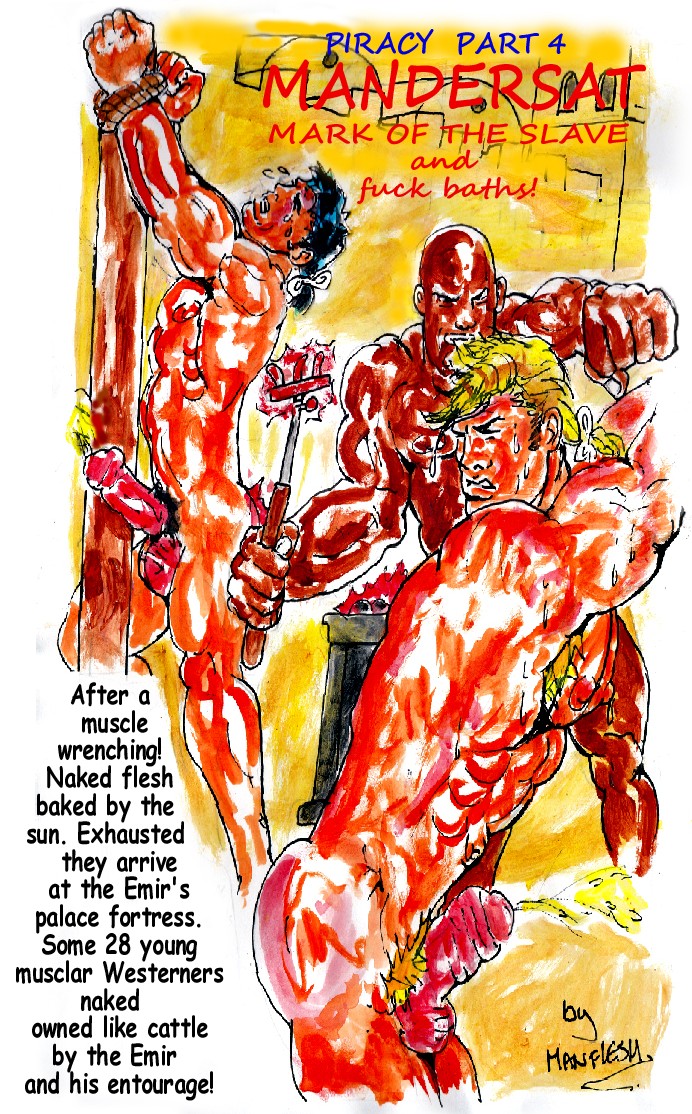 14 DOCTORED. IF A MAN HAS ANIMAL DNA HE CAN BE USED AS A WORK BEAST, WITH NO HUMAN RIGHTS AND NO WAGES. IN 2250 WITH OIL DEPLETION, MUSCLE POWER IS SUED INSTEAD OF MACHINES. TY HUNTER MARINE WAS TAKEN BY FORCE. HE WAS GIVEN THE HUGE COCK AND BALLS OF A BEAST. HE COULD NOT LONGER MATE WITH A FEMALE HUMAN OR WEAR NORMAL CLOTHES. REAL MEAN COULD SEED HIS BUM. A SLAVE BEAST ON A DIRT FARM IN TEXAS.
MUSCLE MARINE HUNK TY HUNTER WAS AT CAMP AJAX IN TEXAS. THE ONE HUNDRED AND TEN FAHRENHEIT HEAT BEAST DOWN. THE CAMP HAS THE LATEST TECHNOLOGY, MOST COMMUNITIES ONLY HAVE MUSCLE POWER. HE WAS CALLED BEFORE THE COMMANDER WAGERING HE WAS UP FOR A PROMOTION OR SOMETHING SIMILAR. THE COMMANDER ORDERED TY TO DRINK SOME SPECIAL VITAMINS. TY OBEYED AND STARTED TO GET DIZZY AND ERECT. THE DRINK ACTUALLY CONTAINED ANIMAL DNA. THE DNA CHANGES TY'S COCK MAKING TO GROW LIKE BEASTS COCK. THE COMMANDER GRABBED TY AND ARRESTED HIM. "YOUR COCK IS BEAST COCK, YOU ARE NOT FIT TO BE A MARINE, REAL MEN USE BEASTS", THE COMMANDER TOLD TY. CUFFED THE DNA BEAST MUSCLE MARINE IS STRIPPED OF HIS CLOTHES AND THROWN OVER A DESK FOR A HARD BEASTING. THE DRUG DUMBED DOWN TY'S MIND. HE TOOK THE HARD BEASTING, MAKING MOANING YELPS AT EVER DEEPER THRUSTS.
THE COMMANDER CALLED IN TWO OF HIS MEN THEY HAD SEEN IT ALL BEFORE AN KNEW THE DRILL. "TAKE THE BEAST TO THE FARM AN MAKE SURE YOU RETURN WITH MY FEE", THE COMMANDER TOLD TWO MARINES. A SHOCKED, SHAMED, AND RUDELY LEWD TY IS DRAGGED TO A SHUTTLE. TIT WAS WAS USED FREQUENTLY FOR THE FARM BEAST RUN, OR AS THE SLAVE MEAT RUN AS IT WAS KNOWN. "THE COMMANDER IS SENDING US A PIECE OF PRIME BEAST FLESH", THE FARM COMMANDER TOLD ONE OF HIS OFFICERS AS THE SHUTTLE LANDED. "I WILL TURN IT FULLY INTO A BEAST MYSELF", THE OFFICER REPLIED. TY WAS PUSHED OUT OF THE SHUTTLE DOWN A TUBE TO TO WAITING GUARDS. "YOU, BEAST COME WITH ME", THE OFFICER ORDERED. IN THE DNA SHED OUT HUNKY EX MARINE IS INJECTED IN THE ANUS, BY THE OFFICER AND TURNS IT, A PURPLE, BLACK RED. TY WAS THEN HUNG BY HIS HANDS AND HIS COCK WAS INJECTED. TY'S COCK GROWS, AND GROWS AND GROWS. "WOW YOU WILL NEVER BE ABLE TO WEAR CLOTHES AGAIN", THE OFFICER SAID.
SOBBING TY IS PULLED OUT INTO THE OPEN BY A LEAD TIED TO HIS MONSTROUS COCK. OTHER KEEPERS LAUGH AND SHOUT OBSCENE COMMENT AT THE BEASTED EX MARINE. TY'S TONGUE WAS ENLARGED WITH BULLS STEM CELLS. THIS MEANT HE COULD NOT SPEAK PROPERLY ONLY MAKE ANIMAL NOISES. TY COULD ONLY MOAN WITH ANIMAL GRUNTS AS HE WAS MADE TO PLOUGH FIELDS, LIKE OTHERS OF HIS KIND. HI COCK WAS THE PLOUGH SHAFT WITH AN IRON BLADE ATTACHMENT. PART OF THE PROCESS ENSURES THAT TY AND THE OTHER BEASTS BALLS ARE SWOLLEN AND SORE, AND NEED MILKING. NEEDING TO BE MILKED MEANT THAT THEY WERE RELIANT AND UNDER THE CONTROL OF THE FARM KEEPERS. THEY STAGGERED TO THE MILKING SHED. TY WAS FED AT THE SAME TIME HE WAS MILKED. THE CUM MILK HE PRODUCED WAS TEN TIMES RICHER IN PROTEIN THAN COWS MILK. TY AND THE OTHER BEAST WERE FUCKED WHILE THEY WERE MILKED BY THE FARM KEEPERS TO STIMULATED THEM TO KEEP THE FLOW UP. TY FELT A COCK UP HIS ARSE, FORCING HIM TO CUM AT EVERY HOMO-NISED THRUST. A HUNKY MARINE CAPTURED AND TURNED BY ANIMAL DNA INTO A SLAVE BEAST T WORK THE FIELDS AND BE FUCKED AND MIKED BY HIS KEEPERS. MORE EXCITING AND UNUSUAL MANFLESH MALE DOMINATION. €15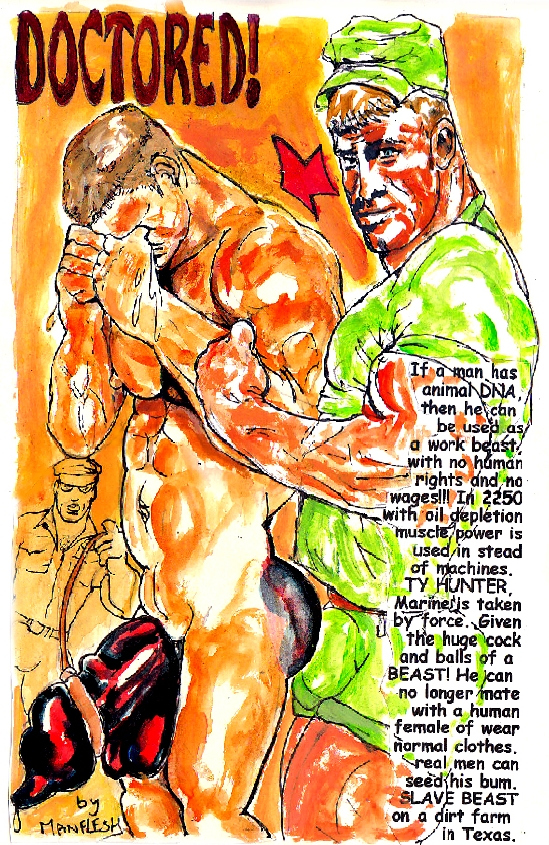 15 MERCENARY A REAL MAN'S ADVENTURE PART 1. CLIT BANNER RAN AWAY FRONT HOME AT TWELVE, HE WAS STEALING CARS AT THIRTEEN. HE WAS IN PRISON BY FOURTEEN, AFTER SMASHING TEN GUYS FACES IN. HE BECAME A MERCENARY AT SIXTEEN. NOW TWENTY SIX, HE WAS A HARD FIGHTING KILLING MACHINE. HE LOVED THE ADRENALIN RUSH, BUT SOMETIMES THERE WAS A PRICE TO PAY AND YOU HAD TO TAKE IT LIKE A MAN.
CLIT WAS PARACHUTED INTO THE JUNGLE ABOUT TEN MILES FROM A RUSSIAN DRUG DEALERS CAMP. A SOUTH AMERICAN GOVERNMENT WAS PAYING CLIT TO TAKE OUT A DRUG CARTEL OWNED BY THE RUSSIAN MAFIA. ONCE LANDED IN THE SWAMPY JUNGLE CLIT PUT A CONDOMS ON HIS COCK AND BALLS AS THERE WERE LEECHES THAT WOULD SUCK THE BLOOD FROM YOUR MANHOOD. CLIT TOOK ONLY A KNIFE OUT OF HIS PACK, AS HE NEEDED TO EMPLOY STEALTH. WHEN CLIT REACHED THE DRUG CARTELS STRONG HOLD AND SURVEYED IT, THE THOUGHT IT WOULD BE AN EASY JOB. BUT THE WHOLE AREA WAS WIRED WITH CAMERAS. THE CAMERAS SPOTTED HIM AND SOUNDED AN INTRUDER ALERT AND THE RUSSIANS REALISED THEY HAD AN INTRUDER. THE RUSSIAN COMMANDER ALERTS HIS GUARDS AND ORDER THEM TO CAPTURE THE INTRUDER. CLIT WAS QUICKLY SURROUNDED BY ARMED RUSSIAN'S, NOT A GOOD START AT ALL. THE RUSSIAN COMMANDER PUNCHED CLIT IN THE JAW HARD. HE THEN ORDERED HIS MEN TO TIE CLIT UP AND TAKE HIM TO THE INTERROGATION CENTRE. STRANGELY CLIT ALWAYS GOT AN ERECTION WHEN HE WAS HIT. CLIT WAS ALSO KICKED IN THE FACE AND HAD TO TAKE WHAT THE RUSSIAN BRUTES DISHED OUT. THE FRONT OF CLIT'S VEST WAS RIPPED OPEN AND TWO CROCODILE CLIPS LINKED BY SOME STRING WERE CLAMPED TO HIS NIPPLES. THE ROPE WAS PULLED HARD TO MAKE THE CROCODILE CLIPS TO CUT CLIT'S NIPPLES AND MAKE THEM BLEED.
"I NEED I GIVE YOU SOME DEEP INTERROGATION", THE RUSSIAN COMMANDER SAID AS HE DRAGGED CLIT BY THE CROCODILE CLIPS ATTACHED TO HIS BLEEDING NIPPLES. CLIT WAS TAKEN DOWN INTO THE CELLAR, THAT WAS MUSTY, HOT AND PERVADING WITH MALE PHEROMONES. CLIT WAS STRUNG UP BY HIS ARMS AND HIS COMBAT TROUSERS WERE CUT FROM HIS BODY. CLIT'S ARSE WAS FINGERED BY ONE OF THE RUSSIAN'S, MAKING HIS COCK HARD AND ERECT. "HE LIKES A FINGER", THE RUSSIAN FINGERING HIS ARSE SAID. "HE HAS CONDOMS ON TO STOP THE LEECHES SUCKING HIS COCK, THAT GIVE ME AN IDEA", THE RUSSIAN COMMANDER SAID. THE RUSSIAN COMMANDER PULLED THE CROCODILE CLIPS OFF CLIT'S SORE BLEEDING NIPPLES. THE RUSSIAN COMMANDER THEN PRODUCED THE BIGGEST LEECH HE COULD FIND. "YOU ARE GOING TO GET YOUR COCK SUCKED LIKE ITS NEVER BEEN SUCKED BEFORE", THE RUSSIAN COMMANDER SAID AS HE MOVED THE HUGE LEECH IN HIS HAND TOWARDS CLIT'S HARD EXCITED COCK. "THIS WILL SUCK YOUR BONER DRY", THE RUSSIAN COMMANDER SAID AS HE LET THE HUGE LEECH LATCH ITSELF TO THE HEAD OF CLIT'S HARD EXCITED COCK. CLIT COULD ONLY WATCH IN HORROR AS THE LEECH RASPED AND SUCKED HIS COCK UNTIL ALL THE BLOOD WAS DRAINED OUT, REDUCING IT TO A DRY PRUNE. FIRE ANTS WERE PRODUCED NEXT. CLIT WAS ABOUT TO FEEL THEIR BURNING AGONIZING PAIN ON HIS NAKED FLESH, ON HIS ARSE. FOUR FIRE ANTS ATTACKED CLIT'S ARSE MAKING IT BURN AND SWELL AND MAKING HIM SCREAM. CLIT HAD A TIGHT RUBBER BAND FITTED TO THE BASE OF HIS COCK SO IT COULD NOT REFILL WITH BLOOD. HIS SWOLLEN ARSE WAS FINGERED BY THE RUSSIAN COMMANDER. "IT WILL SURE MAKE A GREAT FUCK PUSSY", THE RUSSIAN COMMANDER SAID. RUSSIAN'S USED BARBED PALM STALKS TO LASH MERCENARY CLIT'S EXPOSED FLESH.
CLIT WAS TAKEN OUT SIDE AND TIED UPSIDE DOWN BETWEEN TWO POLES FOR HIS NEXT ORDEAL. CLIT'S MOUTH AND ARSE WERE THOROUGHLY FUCKED BY THE RUSSIAN'S. THE RUSSIAN'S DISPLAYING THE POWER OF THEIR MANLY WEAPONS ON HIM. WILL CLIT LOSE HIS BALLS OR WILL THE CARTEL? HOT MALE PHYSICAL AND SEXUAL ABUSE BY THE SADISITC MEMBERS OF THE RUSSIAN CARTEL. MANFLESH MALE DOMINATION. €15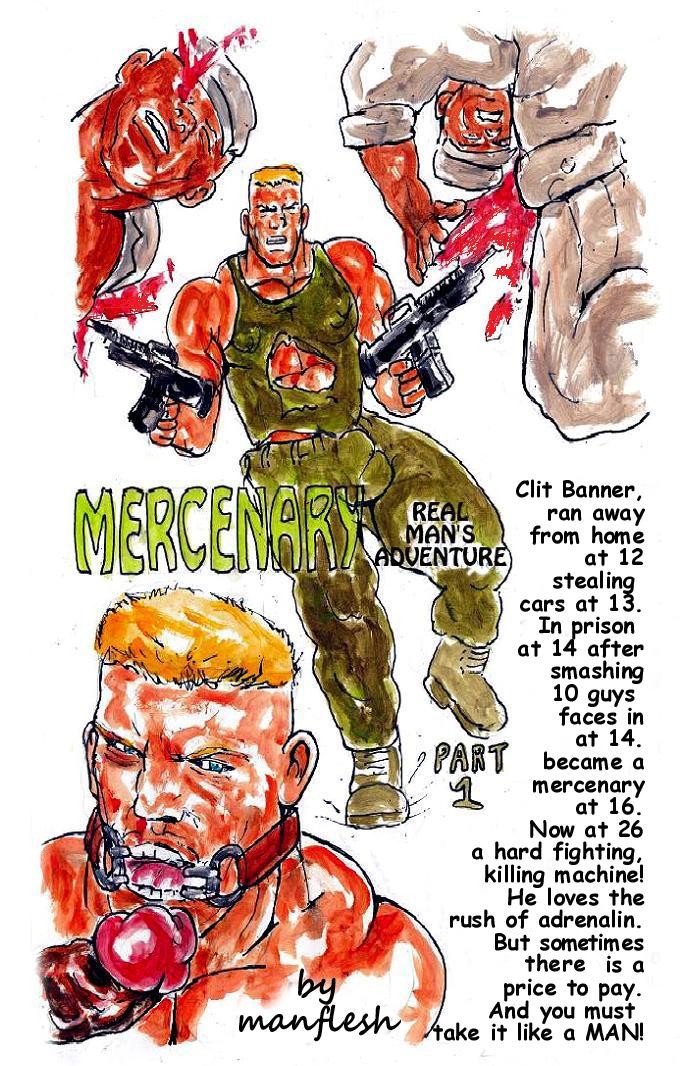 16 CAPTAIN ROGERS BONDAGE HELL PART 1. COMMANDER, CAPTAIN ROGERS AND HIS SMALL BAND OF MEN, WERE ON A MISSION IN THE DESERT REGION OF ORGAZAR, THAT WAS RULED BY A LOCAL WAR LORD. THEY WERE CAPTURED AND STRIPPED NAKED FOR THEIR BONDAGE TO COME.
THE CAPTAIN AND HIS TROOP, WERE DEEP IN THE WAR LORD'S TERRITORY, AND UNBEKNOWN TO THEM, THEY WERE WALKING INTO A TRAP. THEIR OWN COMMANDER HAD CALLED THE WAR LORD TO TELL HIM, CAPTAIN ROGERS AND HIS MEN WHERE ON THEIR WAY. HOW THEY WOULD BE MEAT FOR THEIR COCKS. AS CAPTAIN ROGERS AND HIS MEN MOVED CAUTIOUSLY TOWARD THEIR OBJECTIVE, THE TRAP WAS SPRUNG. THEY WERE BOMBARDED WITH GAS CANISTERS CONTAINING POPPERS AND OTHER DRUGS, THAT CHOKED THEM. WITH THEIR MINDS FOGGED, UNABLE TO CONCENTRATE, MUSCLES LEADENED, CAPTAIN ROGERS AND HIS MEN PASSED OUT. WITH THEM INCAPACITATED, THE WAR LORDS MEN CLOSED IN. WHEN THEY CAME ROUND, THEY WERE SURROUNDED AND ORDERED TO STRIP. "NOW STRIP", ONE OF THE WAR LORDS MEN ORDERED, AS GUNS WERE POINTED AT THEM. "FUCK YOU", CAPTAIN ROGERS REPLIED DEFIANTLY. HE WAS CLUBBED TO THE GROUND, BY ONE OF THE WAR LORDS MEN, AS A REWARD. THEN THE CAPTAIN, WAS BRUTALLY STRIPPED BY THE WARD LORDS MEN. HIS MEN QUICKLY COMPLIED AND STRIPPED NAKED.
CAPTAIN ROGERS WAS BOUND TIGHTLY LIKE HIS MEN AND MADE TO MARCH NAKED IN THE BLISTERINGLY HOT, DESERT SUN. CAPTAIN ROGERS WAS TIED NAKED BY HIS BALLS, TO HIS STRING OF BOUND MEN BEHIND HIM THEY WERE SHAMED AND DEGRADED. HIS COCK WAS ERECT AND THE SUN WAS BURNING THEM, TURNING THEIR BODIES RED, AS THEY WERE LED TO THE WAR LORDS STRONG HOLD. SHIT, THEY FUCKING KNEW WE WERE COMING, NOW WE ARE STRIPPED NAKED, FUCKING BEASTS, CAPTAIN ROGERS THOUGHT MISERABLY TO HIMSELF. THE DEFEATED, NAKED, MARINES, WERE TAKEN INTO THE WAR LORDS FORTRESS, TO THE PLAZA. THEY SAW LARGE WOODEN CROSSES IN THE GROUND WITH ERECT WOODEN COCKS, JUTTING OUT OF THE UPRIGHT POSTS, OF THE CROSSES. IN THE DICTATOR'S, FORTRESS COURTYARD, CAPTAIN ROGER'S MEN WERE TIED TO THE WOODEN CROSSES AND IMPALED ON THE WOODEN COCKS. THEIR BONDAGE HELL, HAD JUST BEGAN.
WITH THEIR BOTTOMS SORE, AND THEIR COCKS ERECT. THE ENSLAVED TROOPERS COULD ONLY WATCH AS THEIR COMMANDER WAS DRAGGED TO AN X FRAME IN FRONT OF THEM. CAPTAIN ROGERS WAS TIED IN THE X FRAME WITH HIS LEGS SPREAD WIDE. CAPTAIN ROGERS WAS SOON SCREAMING IN PAIN AS A BURLY GUARD USED A WHIP ON HIM. THE GUARD WHIPPED HIS MAN TWAT, BETWEEN HIS WIDE, STRETCHED LEGS. THE MEN WATCHED AS THEIR FORMER CAPTAIN SQUIRMED NAKED, LEGS SPREAD WIDE, HIS ARSE WHIPPED, HIS COCK ERECT, TURNED ON BY WHAT WAS HAPPENING. ALSO BY HIS MEN'S OWN RUDE STATE. THE WHIPPING TENDERIZED THE CAPTAIN'S FLESH, READY FOR THE WAR LORD, WHO WOULD USE HIS COCK ON THE CAPTAIN'S ARSE IN FRONT OF HIS MEN. NOW NO LONER A HERO, THE CAPTAIN WAS BRUTALLY RAPED BY THE GUARDS IN FRONT OF HIS MEN. THE CAPTAIN WAS CUT DOWN AND CARRIED OVER TO ONE OF HIS MEN, TIED TO A CROSS AND IMPALED ON THE WOODEN COCK. THE CAPTAIN'S ARMS WERE CUFFED BEHIND HIS BACK, BEFORE HIS ARSE WAS THRUST ONTO THE MARINES ERECT COCK.
AFTER ENDURING BEING RAPED BY ONE OF HIS MEN, THE CAPTAIN'S HUMILIATION CONTINUED. THE GUARD FORCED HIM INTO A CONTORTED YOGA POSSITION, WITH HIS LEGS BENT BACK OVER HIS HEAD, SO HE COULD SUCK HIS OWN, LEWDLY, ERECT COCK, WHILE HIS MEN WERE MADE TO WATCH. THIS WAS ONLY THE START OF THE EX CAPTAINS ORDEAL, AS HE WAS TAKEN DEEPER INTO BONDAGE AND ENSLAVEMENT. MORE HOT MALE PHYSICAL AND SEXUAL ABUSE BY THE SADISITC GUARDS OF THE ARAB WOR LORD. MORE HOT MANFLESH MALE DOMINATION. €15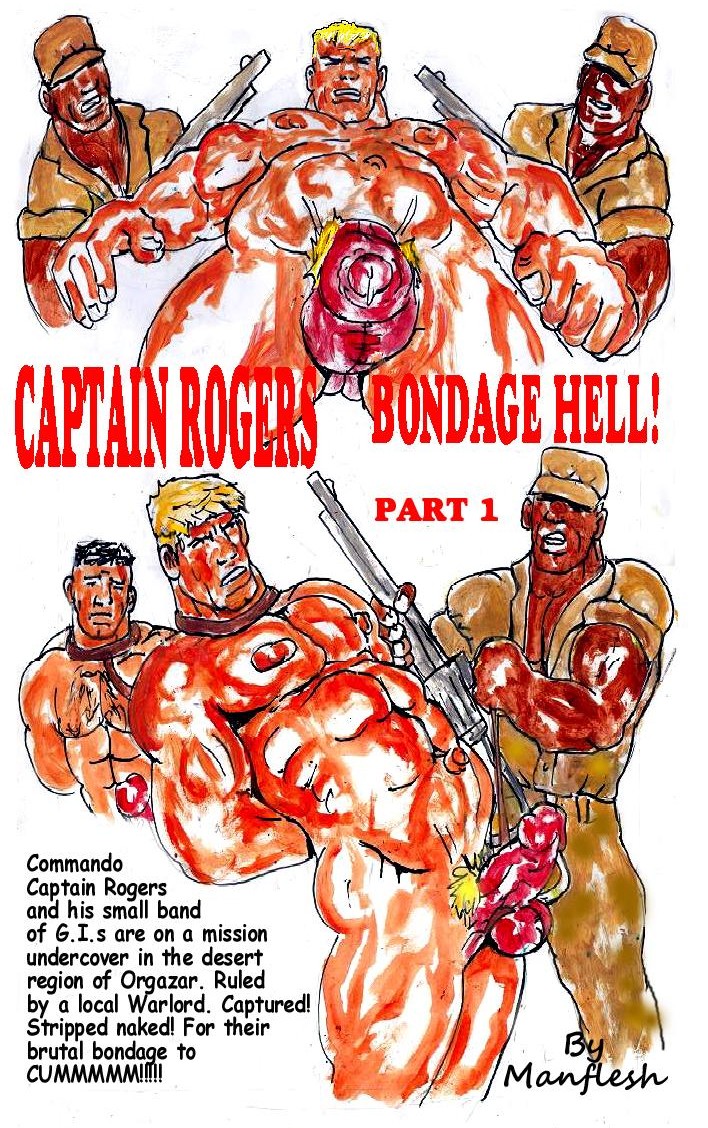 17 CAPTAIN MANFLESH PART 3. CHAINED HAND AND FOOT, WITH HIS BUTT IN THE AIR, IN THE WAR LORDS COMPOUND, CAPTAIN MANFLESH AWAITED A HARD BUTT FUCK. HARD ON THE INSIDE AND HARD ON THE OUTSIDE, AS THE ENEMY WAS ABOUT TO FIND OUT, TO THEIR COST. THE WAR LORD POSITIONED HIMSELF BEHIND CAPTAIN MANFLESH AND STARTED TO FUCK HIM HARD, AS THE WAR LORDS MEN WATCHED GLOATING, HARD AND READY FOR THEIR TURN. CAPTAIN MANFLESH WAS AS A MASOCHIST, AND HE COULD TAKE THE PAIN. "YOU DON'T SEEM TO FEEL THE PAIN?", THE WAR LARD SAID IN ANNOYNACE, AS HE FUCKED CAPTAIN MANFLESH HARD. "BUT I WILL CHANGE THAT", HE ADDED SLIPPING HIS HARD COCK OUT OF CAPTAIN MANFLESH'S ARSE. "FIRE ANTS", THE WAR LORD SAID GLEEFULLY, SHOWING HIS CHAINED CAPTIVE, A GLASS JAR, FULL OF LIVE, RED, FIRE ANTS. "TIME FOR A BAPTISM OF FIRE", THE WAR LORD SAID, TAKING THE TOP OFF THE GLASS JAR. THE WAR LORD PRESSED THE HEAD OF THE GLASS JAR CONTAINING THE RED FIRE ANTS, INTO CAPTAIN MANFLESH'S ANUS. CAPTAIN MANFLESH DID NOT MOAN WHEN THE GLASS JAR STRETCHED AND HIS ANAL MUSCLES, MAKING THEM BURN. HOWEVER HE DID START TO MOAN IN PAIN, WHEN THE FIRE ANTS STARTED TO BITE AND STING. THEIR FIERY BITES AND STINGS REALLY HURT BADLY, FILLING CAPTAIN MANFLESH'S ANAL MUSCLES WITH BURNING PAIN. THE GLASS JAR WAS REMOVED AND THEN ONE BY ONE THE FIRE ANTS WERE PULLED OFF CAPTAIN MANFLESH'S BODY. THE HEAD AND JAWS OF THE FIRE ANTS WERE LEFT EMBEDDED IN CAPTAIN MANFLESH'S, BODY. "NOW HE WILL FEEL THE PAIN OF CUNTING", THE WAR LORD SAID, THRUSING HIS COCK INTO CAPTAIN MANFLESH'S ANUS, AND FUCKING IT HARD. THE PAINFUL FUCK, MADE CAPTAIN MANFLESH MOAN LOUDLY AND BROUGHT TEARS TO HIS EYES. CAPTAIN MANFLESH COULD ONLY TAKE WHAT WAS COMING, WHILE THE WAR LORD AND HIS MEN TOOK TURNS FUCKING HIM AND CUMING INSIDE HIS MAN CUNT. THE ONLY SAVING GRACE WAS THAT THEIR CUM COATED THE FIRE ANTS, STINGS.
THAT NIGHT CAPTAIN MANFLESH BROKE FREE OF HIS CHAINS, IT WAS ACTION TIME. HE WAS A NAKED, MUSCLE FLESH, KILLING MACHINE. FOUR TIMES STRONGER THAN A NORMAL MAN, CAPTAIN MANFLESH TOOK OUT THE WAR LORDS MEN, ONE BY ONE. CAPTAIN MANFLESH WAS NOW READY FOR THE WAR LORD. CAPTAIN MANFLESH, BURST IN ON THE WAR LORD, WHO WAS FUCKING A CAPTURED YOUNG MARINE. THE WAR LORD WAS NO MATCH FOR THE SUPER SOLDIER, AND WAS BEATEN DOWN HARD. CAPTAIN MANFLESH, FUCKED THE CAPTURED WAR LORD HARD, BEFORE HE GAVE HIM, THE COUP DE GRACE, BY CUTTING OFF HIS GENITALS. "DID YOU GET THE TARGET", HIS COMMANDER ASKED, WHEN CAPTAIN MANFLESH ARRIVED BACK AT THE ARMY BASE. "YES", CAPTAIN MANFLESH REPLIED, SLAPPING THE WAR LORDS BLOODY, CUT OFF GENITALS, ON THE COMMANDERS DESK. THE BOUND AND NAKED, CASTRATED WAR LORD AND THE FREED NAKED YOUNG MARINE, WERE WITH HIM. CAPTAIN MANFLESH HAD DECIDED THAT HE WAS KEEPING THE WAR LORD, FEM MAN, AS HE NOW CALLED HIS CASTRATED CAPTIVE. ALSO THE NAKED YOUNG MARINE WHO HE REFERRED TO AS BUT BOY, FOR HIS BARRACK ROOM HAREM. "THE WAR LORD IS MINE NOW, ITS DOCILE NOW AND GROWING MAN TITS AND MANGINA, IDEAL FOR A HARD FUCKING HETRO STYLE", CAPTAIN MANFLESH TOLD HIS COMMANDER. "I'M ALSO KEEPING THE MARINE AS MY BUT BOY", HE ADDED. MORE HOT SEXY MALE DOMINATION IN THE MANFLESH STYLE €15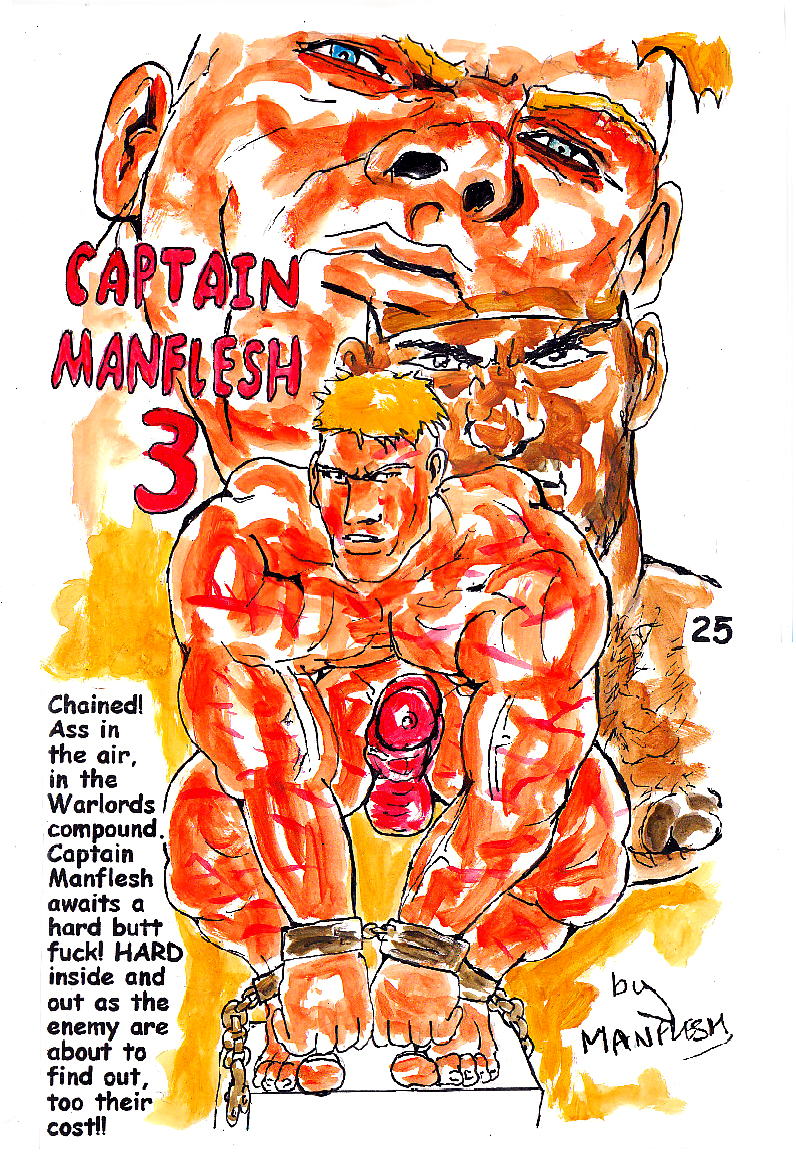 18 PULP FICTION WHITE LITTER BUCK PART 1. IT WAS THE 1950'S THE POSING STRAP ERA. BEEF CAKE MAGAZINES, FILLED WITH HUNKS OILED AND WEARING JUST POSING STRAPS, SOME OF WHICH, WENT ALL OVER THE WORLD, FROM CALIFORNIA. MANY A HUNKY MARINE, LIKE SERVING GUNNER, BO SEPIE WHO HAD APPEARED IN THEM FOR EXTRA BUCKS. A WELL THUMBED COPY WAS IN THE HANDS OF LOCAL SHEIK, WHERE BO'S AIRCRAFT CARRIER WAS IN A MIDDLE-EASTERN PORT FOR, A FRIENDLY VISIT. BO HAD JUST GOT SOME SHORE LEAVE.
ABOARD SS HARD NUTS AN AMERICAN AIR CRAFT CARRIER, GUNNER BO SEPIE WAS BELOW DECKS, IN JUST HIS JOCK STRAP, PUMPING IRON. BO WAS PROUD OF HIS SUPERIOR MUSCLES, THEY HELPED DEMONSTRATE AMERICAN POWER TO THE ARABS. THE SHIP COMMANDER SPOKE TO GUNNER BO AND THE OTHERS GUNNERS, TRAINING WITH HIM. "WE ARE GOING TO PUT ON A MUSCLE SHOW TO IMPRESS THE NATIVES", THE COMMANDER TOLD THEM. "YES, SIR YOU BET SIR", THEY ALL REPLIED SNAPPING TO ATTENTION. "ALL MUSCLE WILL BE COCK HARD SIR", GUNNER BO STATED. THE SHEIK, DESPERATELY NEEDED TO OWN SERVING GUNNER BO SEPIE, TO MAKE HIM HIS NAKED BEAST AND SHOW HIS SUPERIORITY. TAKE PLEASURE IN WATCHING HIM TOIL BY DAY AND BE FUCKED BY NIGHT. "I WILL OWN YOU", THE SHEIK TOLD HIMSELF AS HE LEERED AT THE PHOTOS OF GUNNER BO SEPIE, IN BEEF CAKE MAGAZINE. THE MUSCLE SHOW BY AMERICANS WAS ALL PART OF THE SHEIK'S PLAN, TO ENSLAVE AND OWN GUNNER BO SEPIE. HE ALLOWED THEM TO USE HIS RUINED FORTRESS ON THE HILL OVER LOOKING THE HARBOUR, FOR THEIR MUSCLE SHOW.
THE GUNNERS FROM THE THE US CARRIER STRIPPED DOWN TO THEIR JOCK STRAPS AS THEY TOILED IN THE BLAZING SUN, SWEAT DRIPPING FROM THEIR MUSCLES BODIES, COCKS HARD IN THEIR JOCKS. TO ERECT A CANVAS COVER OVER THE ROOF LESS STRUCTURE, TO SHADE IT FROM THE BLAZING SUN. THE NATIVES WATCHED THEIR BROWN COCKS EXCITED AND CLOSE TO SPUNKING. "BET THOSE ARABS, WISH THEY HAD OUR SUPERIOR MUSCLES POWER", GUNNER BO SEPIE THOUGHT, AS HE WIELDED A SLEDGE HAMMER. THE SHOW WAS A SUCCESS, THE GUNNERS STILL IN THEIR JOCKS, POSING AND FLEXING THEIR MUSCLES, THEIR COCKS STILL HARD ON THEIR JOCKS. "WONDERFUL, WONDERFUL, COMMANDER, BUT COULD ONE OF YOUR MEN, TAKE ON ONE OF MINE?", THE SHEIK ASKED, THE PROUD COMMANDER OF THE US CARRIER. "IN PRIVATE, A NO HOLDS BARED BOUT", THE SHEIK ADDED. "YOU BET YOUR SWEET ASS HE CAN", THE COMMANDER REPLIED CONFIDENTLY. THE FIGHT WAS ARRANGED FOR AFTER THE SHOW AND WOULD TAKE PLACE AT THE SHEIK'S, DESERT FORTRESS AND PALACE. THE COMMANDER DECIDE THAT GUNNER BO SEPIE WOULD FIGHT FOR THE AMERICANS
IT WAS A SEVENTY FIVE KILOMETRE DRIVE TO THE SHEIK'S, DESERT FORTRESS AND PALACE. THE COMMANDER AND GUNNER BO SEPIE, DROVE THERE ALONE IN JEEP. FOUR OF THE SHEIK'S; LARGER MUSCLED GUARDS' STOOD OUTSIDE THE GATE TO THE FORTRESS AND PALACE. THEY WERE STRIPPED TO THE WAIST DISPLAYING THEIR DARK GLISTENING MUSCULAR UPPER BODIES. THEIR WHITE PANTALOONS, WERE TENTED BY THEIR HUGE BROWN COCKS. "THE SHEILK'S GUARDS ARE ALL TO ATTENTION AND STIFF IN OUT HONOUR", THE COMMANDED SAID, IMPRESSED, AS THEY ENTERED, THE SHEIK'S FORTRESS AND PALACE. INSIDE, THE SHEIK MET THEM AND TOOK THEM TO A SUBTERRANEAN ROOM, AN OLD ROMAN BATH, PART OF AN OLD ROMAN FORTRESS, UNDER HIS PLACE. "BEHOLD MY CHAMPION?", THE SHEIK TOLD, THE COMMANDER AND GUNNER BO SEPIE. THE COMMANDER AND GUNNER BO SEPIE BOTH STARED IN SHOCK AT THE HUGE MUSCLED AND NAKED ARAB FIGHTER. "YOUR CHAMPION IS NAKED", THE COMMANDER STATED IN SURPRISE, UNABLE TO MISS THE ARAB FIGHTERS HUGE BROWN COCK. "OF COURSE, ITS OUR TRADITION", THE SHEIK REPLIED. "YOU ARE NOT ASHAMED OF YOUR MAN'S MEAT ARE YOU?", THE SHEIK ASKED, NOTING THE COMMANDERS REACTION, TO HIS FIGHTERS HUGE BROWN COCK. "OH COURSE NOT", THE COMMANDER REPLIED, DEFENSIVELY. "GUNNER STRIP", HE ORDERED. NO CHOICE, GUNNER BO SEPIE THOUGHT TO HIMSELF, AS HE STRIPPED NAKED, CONSCIOUS OF THE LEERING EYES OF HIS HUGE ARAB OPPONENT. IT WAS EAST V WEST, NAKED MUSCLES.
GUNNER BO SEPIE TOOK ON THE BIG MUSCLED ARAB FIGHTER. IT WAS A TOUGH FIGHT AND HE STRUGGLED, AS THEY EXCHANGED HIGH KICKS TO THE BODY. ALTHOUGH SMALLER THAN HIS OPPONENT GUNNER BO SEPIE DID WELL, MORE THAN HOLDING HIS OWN. HE STARTED TO TURN THE TABLES ON HIS BIGGER RIVAL, GIVING HIM A GOOD POUNDING. HE SENT THE SHEIK'S CHAMPION FLYING, WITH A DEVASTATING HIGH KICK. "MY GUNNER'S KICKED YOU MAN'S ARSE", THE COMMANDER TOLD THE SHEIK, AS GUNNER BO SEPIE LANDED THE FINISHING BLOW. "ALL IS NOT AS YOU SEE", THE SHEIK REPLIED. THE SHEIK'S CHAMPION, GOT UP BATTERED BUT NOT BEATEN. HE EXCHANGE PUNCHES WITH GUNNER BO SEPIE, GUNNER BO SEPIE CONTINUED TO HOLD HIS OWN, THEN A PUNCH FLOORED HIM. "GUARDS", THE SHEIK SHOUTED AS GUNNER BO SEPIE WAS KNOCKED DOWN. "YOU ARE BOTH SLAVES NOW", THE SHEIK TOLD THE COMMANDER, AS HIS GUARDS CAME RUNNING. "WHAT", THE COMMANDER, REPLIED IN SHOCK AND HORROR. TWO GUARDS GRABBED GUNNER BO AS HE GOT UP DIZZY FROM THE FLOOR. THEY HELD HIM TIGHT AND HE COULD ONLY WATCH AS, THE COMMANDER WAS STRIPPED NAKED. THE COMMANDER HAD LOST HIS POWER, STRUGGLING AS HE MIGHT, HE HAD NO CONTROL. THE GUARDS TORE THE CLOTHES FROM HIS FLESH. THE EX-COMMANDER WA STRUNG UP BY HIS ARMS NAKED, IN THE COURTYARD. THE EX-COMMANDER WAS THEN WHIPPED AND BO WAS WANKED BY THE SHEIK, AS HE WAS MADE TO WATCH THE EX-COMMANDER GET HIS STRIPES OF PAIN. "YOU TWO SLAVES ARE PART OF MY PAYMENT FOR THE OIL YOUR NAVY NEEDS, YOU WILL TOIL NAKED AND BE FUCKED", THE SHEIK STATED, AS HE WANKED GUNNER BO SEPIE.
GUNNER BO SEPIE COULD ONLY WATCH IN HORROR, AS HIS MAN BUSH WAS PERMANENTLY REMOVED, SHAVED OFF, THEN TREATED WITH HAIR DEFOLIATE. HIS COCK AND BALLS WERE THEN RINGED WITH A FIENDISH DOUBLE RING, BONDAGE DEVICE, THAT KEPT HIS COCK BALLS BENT OVER AND BOUND TIGHT, PERMANENTLY POINTING DOWN, SO HE HAD TO SQUAT DOWN LIKE A GIRL TO PEE. THE EX-COMMANDER HAD AN IDENTICAL DOUBLE RING BONDAGE DEVICE, FITTED TO HIS COCK AND BALLS AND LARGE STEEL RINGS THAT PIERCED HIS NIPPLES. HE WAS SHACKLED TO LARGE SLAVE GRIND STONE AND MADE TO TURN TO IT IN THE BURNING SUN, WHIPPED MERCILESSLY, IF HE SHOWED ANY SIGNS OF SLOWING. SWEATING AND MOANING FROM THE STRAIN, BEFORE HE WAS RELEASED, HE WAS FUCKED HARD BY THE GUARD, HIS TIGHTLY BOUND COCK AND BALLS DRIPPED CUM ON THE GROUND. "PLEASE, NO MORE FUCKIE UP THE BUM", THE EX-COMMANDER PLEADED, SOBBING IN SHAME, AND WAS TOTALLY IGNORED BY THE GUARD. THE US CLAIMED TO HAVE THE BEST WEAPONS OR DID THEY, AS EX GUNNER BO'S MAN CUNT WAS OUT GUNNED, BY THE SHEIK'S HUGE ARAB COCK.
CLASSIC MANFLESH MALE ON MALE PHYSICAL AND SEXUAL ABUSE, HOT ARAB ON WHITE DOMINATION AND ENSLAVEMENT. €15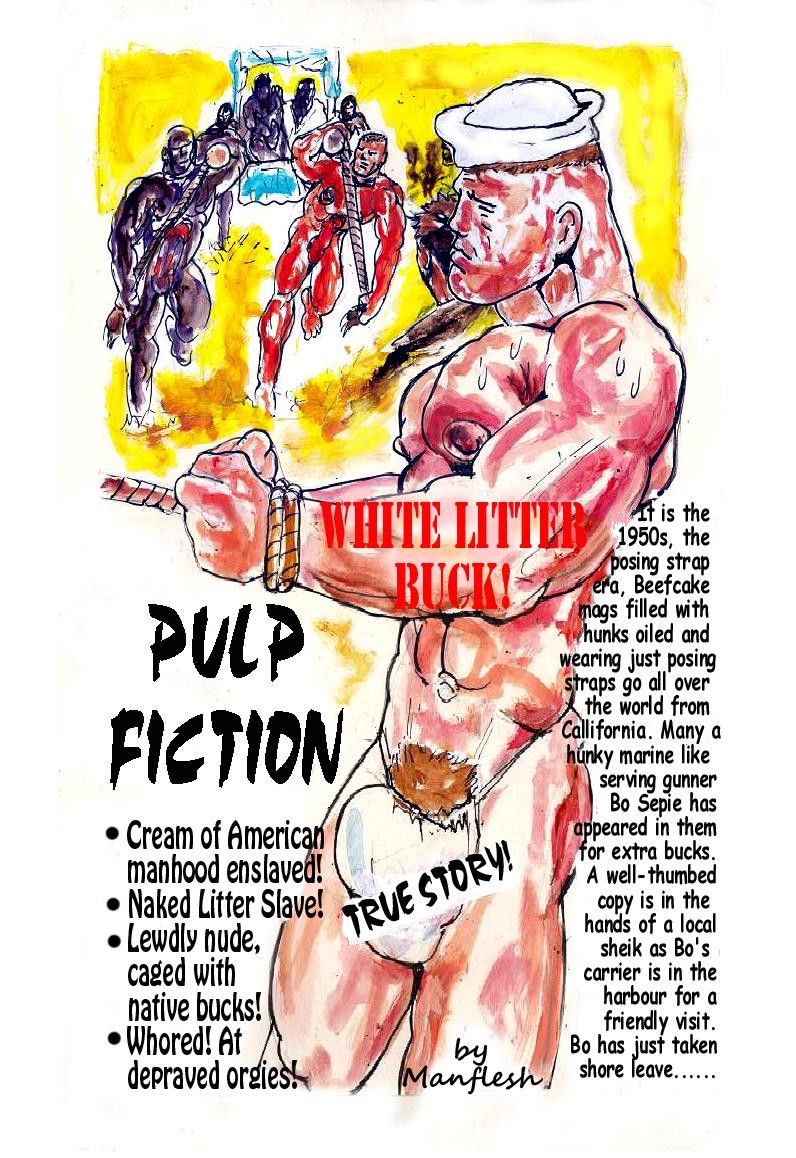 19 PULP FICTION, WHITE LITTER BUCK PART 2 TRAINING. NAKED AND FUCKED, BO WAS BEING BROKEN AND TRAINED, FORCED TO PULL AN IRON FRAME. NAKED SAVE A LEWD HARNESS, HIS COCK HARD, DUE TO HIS LEWD STATE.
IT WAS MORNING OF THE ENSLAVED, GUNNER BO'S, FIRST DAY OF TOIL. HE WAS FED SLAVE FOOD, MEAT, FISH, VEGETABLES, AND BUGS, MIXED INTO A MUSH. AFTER THE MUSH, SLAVE BEAST BO WAS MADE TO GET TWO PAILS OF WATER FROM A WELL, TWO KILOMETRES FROM THE PALACE. HE WORE A HEAVY WOODEN YOKE, WITH TWO METAL PAILS HANGING FROM IT. SWEAT POURED FORM HIS BODY, AS HE TOILED BACK TO THE PALACE, BOTH PAILS FULL. EXHAUSTED, BO WAS BROUGHT BEFORE THE SHEIK. THE SHEIK WAS STANDING NAKED AND HARD IN A TUB. THE PALACE HAD RUNNING WATER. BUT BO WAS BEING USED AS A BEAST OF BURDEN, ALL PART OF HIS HUMILIATION. "SUCK ME WELL, I OWN YOU LIKE A PET STALLION", THE SHEIK ORDERED. "IF YOU DON'T PLEASE, YOU WILL BE WHIPPED", HE WARNED. BO HAD NO CHOICE, HE HAD TO SUCK, HIM FROM THE MOST SUPERIOR COUNTRY IN THE WORLD, NOW A NAKED BEAST TO A BROWN SKIN RAG HEAD.
THREE MONTHS PASSED, IN WHICH BO WAS GIVEN THE MOST HARDEST TOILS, ALL NAKED UNDER THE HOT SUN. HE KNEW NOTHING BY MUSCLE ACHING LABOUR, MUSH EATING AND SLEEP. HE WAS MADE TO CARRY TWO HEAVY PIGS ON HIS BACK, AS HE PULLED A CART OF HEAVY STONES AND TRAINED TILL HE DROPPED. HE WAS NOW READY TO JOIN THE LITTER BRUTES. BO WAS PRESENTED NAKED TO THE SHEIK, AS HIS NEW LITTER BUCK. "AH YES, YOU ARE READY TO CARRY ME IN MY LITTER, WHITE LITTER BUCK", THE SHEIK SAID, PLEASED WITH HIS NEW WHITE LITTER BUCK. BO WAS FITTED WITH A LEATHER AND STAINLESS STEEL HARNESS AROUND HIS WAIST. IT HAD A STAINLESS STEEL DOUGHNUT RING THAT HIS COCK AND BALLS WERE FED THROUGH TO FULLY PRESENT THEM AND KEEP HIS COCK HARD. HIS COCK HEAD WAS RINGED WITH A PRINCE ALBERT, STAINLESS STEEL RING. HE HAD A LEATHER COLLAR BUCKLED TO HIS NECK WITH A STAINLESS STEEL RING HANGING DOWN ON THE FRONT. IT WAS THE STANDARD BRIDAL WEAR FOR THE SHEIKS LITTER BUCKS. BO IN THE LEWD HARNESS WEAR OF THE LITTER BUCKS, MET HIS FELLOW BEASTS. THEY WERE THREE HUGE BROWN BRUTES IN THE SAME LEWD HARNESSES, ALL SPORTING HUGE BROWN ERECTIONS. SHIT BROWN SAVAGES, BO THOUGHT, AS HE WATCHED THEM APPROACH. THE THREE BLACK LITTER BUCKS LOOKED AT BO WITH DISDAIN. THEY NEW THE WHITEE, WAS BOTTOM OF THE PECKING ORDER. BO'S LEWDLY NAKED, NEW LIFE AS LITTE BUCK, BEGAN IN EARNEST, AS HE WAS FORCED TO CARRY THE SHIEKS LITTER, ALONG WITH THE THREE BLACK LITTER BUCKS.
THE SHIEK ORDERED THEM TO STOP AND PUT THE LITTER DOWN SO HE COULD FUCK THE WHITE BEAST. HIS PROPERTY, HIS WHITE ARSE TO FUCK. THE SHEIK GAVE BO'S ARSE A GOOD POUNDING WITH HIS HUGE BROWN COCK. LATER THE EXHAUSTED LITTER BUCKS, DROPPED DOWN IN THEIR CELL. THE WATER CARRIER ARRIVED. THE YOUTH SAW THE WHITE LITTER BUCK AND LICKED HIS LIPS. HE MADE A PLAN, AS THE CELL DOOR ROSE TO LET HIM IN. "YOU WHITEE BUCK, YOU WANT WATER, THEN BUM IN THE AIR FOR A FUCK", THE WATER CARRIER TOLD BO. "NO WAY", BO REPLIED IN DISGUST. "NO WATER FOR YOU", THE YOUTH SAID. AFTER A DAY WITHOUT WATER, THE NEXT DAY, WHEN THE WATER CARRIER CAME, BO GAVE IN. THE OTHER THREE LITTER BUCKS GRINNED, AS THEY WAITED TO WATCH WHITEE BUCK, FUCKED BY THE HUGE COCK, OF THE WATER CARRIER. THE WATCHED AND ENJOYED SEEING THE WATER CARRIER, FUCK BO HARD. WHEN THE WATER CARRIER LEFT IT WAS THEIR TURN. THEY ALL TOOK TURNS, FUCKING BO WITH THEIR HUGE BROWN COCKS. THEY EVEN FORCED TWO COCKS UP HIS ARSE AT THE SAME TIME, ALMOST RIPPING IT OPEN. BO WAS WELL AND TRULY BUGGERED NOW. AS A SLAVE BO WAS ORDERED TO FUCK AND HE HAD NO CHOICE. IT WAS THE EX-COMMANDER, CUM RAG TO THE GUARDS AND SLAVES ALIKE. THE EX-COMMANDER SUCKED BO'S COCK, WHILE BEING FUCKED, BY THE OTHER THREE LITTER BUCKS. THE EX-COMMANDER WAS USED AS A FIGURE HEAD, IMPALED ON A HUGE STEEL POLE ON THE FRONT OF HIS LITTER, TO DEMONSTRATE HIS POWER OVER WESTERNERS.
MORE CLASSIC MANFLESH MALE ON MALE PHYSICAL AND SEXUAL ABUSE, HOT ARAB ON WHITE DOMINATION AND ENSLAVEMENT. €15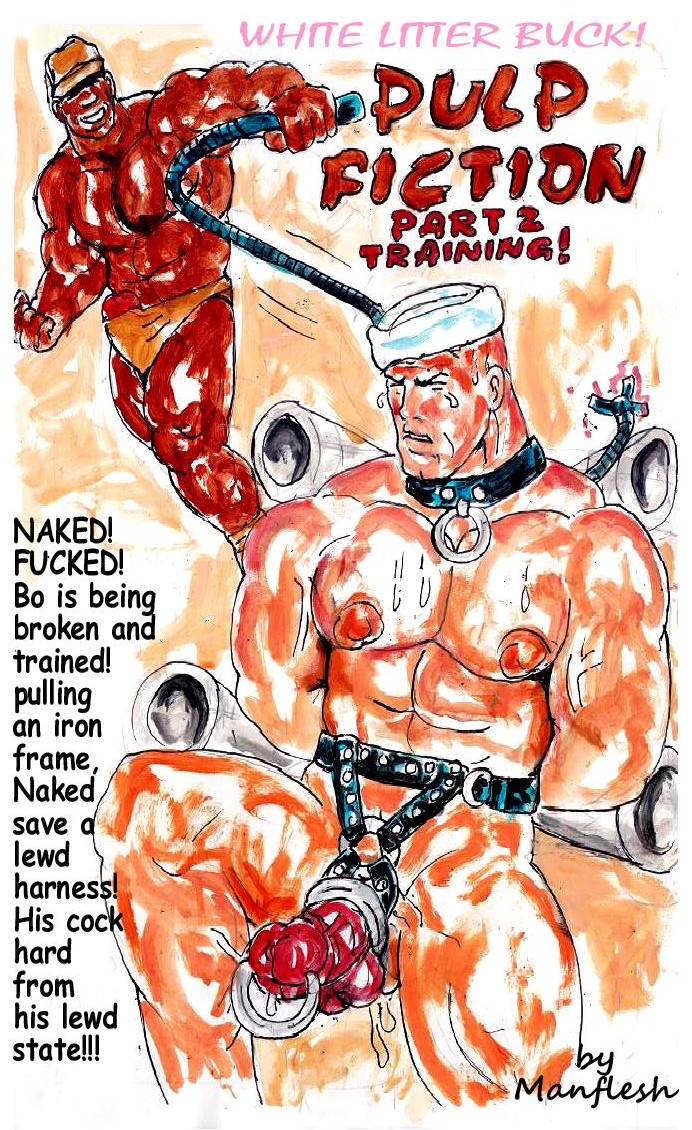 20 MANDRASAT PART 1 A, IT CONTINUES. LIEUTENANT TYLER HAD BEEN CAPTURED BY THE LORDS OF MANDRASAT. HE HAD BEEN STRIPPED OF HIS WEAPONS AND STRIPPED OF HIS COMBAT FATIGUES. HE WAS ABOUT BECOME BARE ARSE NAKED, IN MANDRASAT. "I AM YOU MASTER, REMOVE YOUR DRAWS SLAVE", AN OVERSEERER MANDRASAT ORDERED.
EARLIER LIEUTENANT TYLER AND HIS TROOP WHO WERE ON MANEOUVRES IN THE DESERT, HAD GOT LOST. "WHERE ARE WE?", LIEUTENANT TYLER ASKED HIS SERGEANT. "FUCK KNOWS", THE SERGEANT REPLIED. UNABLE TO WORK OUT THEIR LOCATION, THEY DECIDED TO MAKE CAMP FOR THE NIGHT, WHERE THEY WERE. THEY DID NOT KNOW THAT THEY HAD STRAYED INTO MANDRASAT TERRITORY. IT WAS SO HOT EVEN THE LIEUTENANT HAD STRIPPED TO THE WAIST. THEY HAD BEEN SEEN BY THE SERVANTS OF THE LORDS OF MANDRASAT. AS THEY SLEPT, ONE OF THE LORDS OF MANDRASAT'S OVERSEERS, HAD SOME OF HIS WHITES SLAVES, HAUL THE AMERICAN SOLDIERS JEEPS AND EQUIPMENT AWAY. IN THE MORNING, THE SOLDIERS WOKE TO FIND THEIR JEEPS AND EQUIPMENT GONE. A QUARTER OF A MILE AWAY, DOWN IN A GULLY, WERE THERE SMASHED JEEPS. ALL THEY HAVE LEFT WAS THEIR HELMETS AND DRAWS. IN MANDRASAT NO MACHINERY WAS ALLOWED. IT WAS RUN BY NAKED SLAVE MUSCLE POWER. "THIS IS YOUR FAULT", SERGEANT MCCLUSKEY TOLD LIEUTENANT TYLER ANGRILY. LIEUTENANT TYLER SCARED OF SERGEANT MCCLUSKEY AND ASHAMED OF THE FAILURE OF HIS FIRST COMMAND, PISSED HIMSELF. SERGEANT MCCLUSKEY MADE LIEUTENANT TYLER KNEEL AND SUCK HIS COCK, AS PENANCE, MADE HIM SUCK A REAL MAN'S COCK. ALL THE SOLDIERS AGREED THAT LIEUTENANT TYLER WAS A COCK SUCKER, NOT A LEADER, BUT THEIR WHORE. LIEUTENANT TYLER WAS MADE TO SUCK THEIR COCKS. LIEUTENANT TYLER WAS IN SHOCK, HE COULD NOT BELIEVE IT WAS HAPPENING.
SUDDENLY ONE OF THE LORDS OF MANDRASAT APPEARED ON A CAMEL, BRANDISHING A LARGE SCIMITAR, LEADING SOME OF HIS SOLDIERS, ARMED WITH SPEARS AND BOWS. BEFORE THEY KNEW WHAT WAS HAPPENING, THE PLATOON WAS SURROUNDED AND CAPTURED. THEY WERE STRUNG TOGETHER IN A LINE, THEIR NECKS TIED AND LOOPED TOGETHER WITH ROPE AND THEIR HANDS TIED BEHIND THEIR BACKS. THEY WERE MARCHED THE TWENTY FIVE KILOMETRES TO MANDRASAT, IN JUST THEIR DRAWS. MUSCLE FLESH BURNING UNDER THE BAKING SUN. IT WOULDN'T BE LONG BEFORE, THEY WOULDN'T EVEN HAVE DRAWS TO WEAR. THE PLATOON ENTERED MANDRASAT AND WERE ALARMED TO SEE OTHER NAKED SLAVES, ALL WESTERNERS, BEING CONTROLLED BY HUGE ARAB OVERSEERS. EACH OF THE MARINES, WAS TAKEN BY AN OVERSEER, TO BEGIN THEIR TRAINING. THE STORY WILL FOLLOW LIEUTENANT TYLER'S ORDEAL, AND DECENT INTO SLAVEDOM. THE LORDS OF MANDRASAT ARE NOT SEEN THAT OFTEN. TRUSTEE EXSLAVES, WERE MASTERS IN ALL BUT NAME. THEY DEALT WITH THE DAY BY DAY TRAINING AND PUNISHMENT OF SLAVES. AS THERE WAS NO MACHINERY, SLAVES TOILED DOING THE WORK. NAKED SLAVE TOIL MUSCLE, WAS THE MACHINERY OF MANDRASAT. LIEUTENANT TYLER WAS ABOUT TO BE MOULDED INTO A MUSCLE BOUND BEAST. A HUGE TRUSTEE COME OVER SEER WITH A HUGE ERECT COCK, ORDERED LIEUTENANT TYLER TO REMOVE HIS DRAWS. SHUDDERING IN FEAR, LIEUTENANT TYLER, PISSED HIMSELF, AS HE OBEYED. THE EXOFFICER, LIEUTENANT TYLER, NOW A NAKED SLAVE. YET TO BE GIVEN HIS SLAVE NAME, WAS PULLED BY A ROPE AROUND HIS BALLS, INTO THE LABRYINTH BENEATH MANDRASAT, THAT LED TO VARIOUS PARTS OF THE HUGE FORTRESSES, MAZE OF BUILDINGS. HE WAS LED TOWARDS THE BATH COMPLEX. HE SOBBED, THE OVERSEER DID NOT CARE. HE WOULD BE BROKEN, MUSCLES TORN AND REBUILT. JUST LIKE ALL THE OTHER SLAVES, THAT HAD PASSED THROUGH HIS HANDS. . .
AT THE BATHS LIEUTENANT TYLER, WAS HANDED OVER TO THE THREE BATH SLAVES. THE THREE BATH SLAVES, GROPED AND GRAPPLED WITH HIM IN THE BATHS. "TAKE HIM TO THE PLATFORM AND HANG HIM BY HIS BALLS", THE OVERSEER TOLD THE THREE BATH SLAVES. "SHAVE HIM, THEN PUT HAIR KILLER PASTE, ALL OVER HIS BODY", HE ADDED. THE THREE BATH SLAVES TIED LIEUTENANT TYLER DOWN AND STRUNG HIS BALLS UP AS WELL. THEY USED RAZOR SHARP KNIVES, TO SHAVE OF ALL HIS BODY HAIR. THEN THE HAIR KILLER PASTE OR DEFOLIATE WAS SMEARED ALL OVER LIEUTENANT TYLER'S BODY, MAKING THE SKIN BURN. THE DEFOLIATE WOULD BE APPLIED TWICE A YEAR AND WOULD PREVENT ANY HAIR REGROWTH. THE OVERSEER INSPECTED LIEUTENANT TYLER'S BODY AFTER THE BATH SLAVES HAD FINISHED AND WAS PLEASED WITH THEIR WORK. "YOU MUST PAY FOR THEIR SERVICE?", THE OVERSEER, TOLD LIEUTENANT TYLER. "FUCK HIM", HE TOLD THE BATH SLAVES. THE BATH SLAVES, THREW LIEUTENANT TYLER IN THE BATH AND THEY ALL TOOK TURNS, FUCKING HIM HARD. LIEUTENANT TYLER COULD ONLY TAKE WHAT WAS COMING, AND CUM THE THREE BATH SLAVES DID, RIGHT UP HIS ARSE, AGAIN AND AGAIN. LIEUTENANT TYLER WAS ALSO MADE TO SUCK THEIR COCKS WHILE THEY FUCKED HIM, GIVEN THE FULL WORKS. THE OVERSEER WATCHED THEN ACTED. "YOU HAVE FUCKED THE SLAVE, LONG ENOUGH, HE IS MINE NOW", THE OVERSEER SAID, GRABBING LIEUTENANT TYLER, AND THROWING LIEUTENANT TYLER OVER HIS SHOULDER. "DOGS OUT OF MY WAY", THE OVERSEER COMMANDED, KICKING THE BATH SLAVES ASIDE. THE OVERSEER MARCHED OFF, WITH LIEUTENANT TYLER ON HIS SHOULDER. "GET USE TO THIS EX LIEUTENANT TYLER, NOW A SLAVE AND WHAT EVER SLAVE NAME YOU ARE GIVEN", THE OVERSEER SAID. "YOUR ARSE IS NOT YOUR AND NOW YOU HAVE AN APPOINTMENT WITH THE BLACK SMITH, FOR AN IRON COLLAR AND BALLS STRETCHER", THE OVERSEER ADDED. PLENTY MORE CLASSIC MANFLESH MALE ON MALE PHYSICAL AND SEXUAL ABUSE, HOT ARAB ON WHITE DOMINATION AND ENSLAVEMENT. €15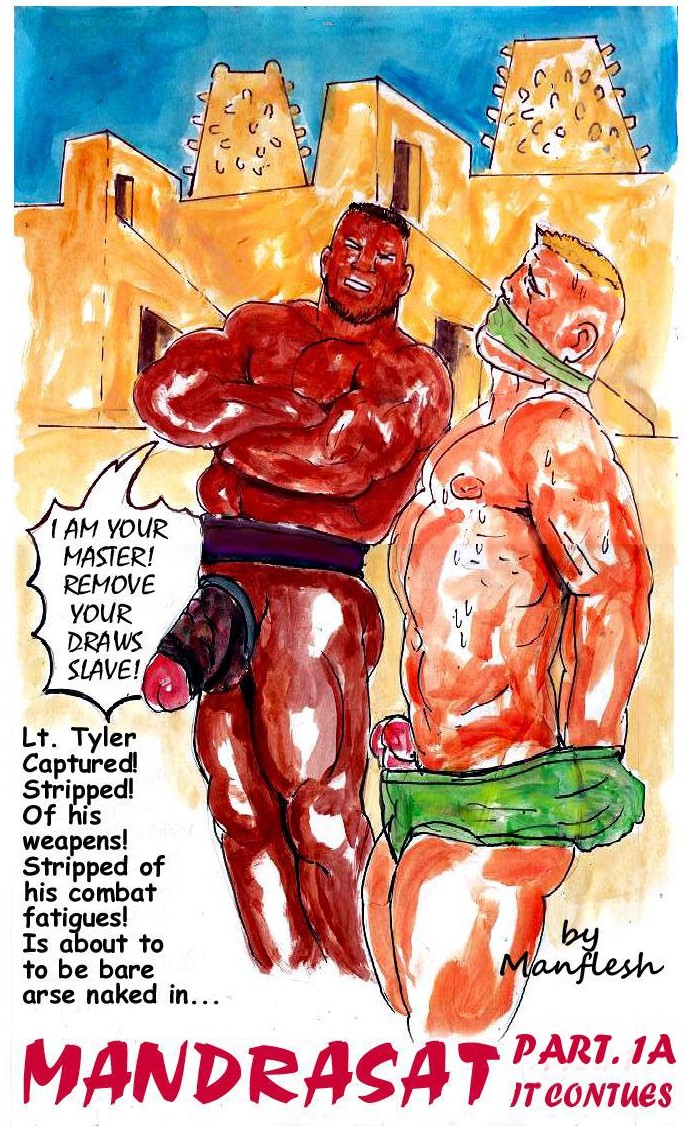 21 MANDRASAT PART 1 B NO GAIN WITHOUT PAIN IN MUSCLE AND ARSE. A NAKED LIEUTENANT TYLER WAS TAKEN FOR HIS ARDORNMENTS TO THE SMITH, WHO WAS WAITING FOR HIM. THAT WAS ALL PART OF ENSLAVEMENT IN MANDRASAT. FIRST A SLAVE COLLAR WAS FITTED THE LIEUTENANT'S NECK. THEN THAT WAS FOLLOWED BY A BALL STRETCHER. THE LIEUTENANT'S BALLS WERE PAINFULLY STRETCHED TO FIT THE BALL STRETCHER AND WOULD REMAIN SO. "YOU NEED TO PAY THE SMITH", THE OVER SEER SAID. THE LIEUTENANT WAS ORDERED TO RAISE AND SPREAD HIS LEGS WIDE FOR THE SMITH. THE SMITH ONCE A NORMAL SLAVE, NOW A TRUSTEE, COULD NOT LEAVE MANDRASAT, BUT THERE WERE PERKS. BETTER FOOD, HIS OWN CELL WITH A LARGE BED, SINK AND SHOWER. OF COURSE, HE ALSO GOT TO FUCK ALL THE NEW SLAVES. THE SMITH GAVE THE LIEUTENANT A HARD FUCKING, WITH HIS LARGE, DARK COCK. THE OVERSEER ORDERED THE LIEUTENANT TO EAT HIS SLAVE SWILL, AS MUCH AS HE COULD EAT, TO SWELL HIS MUSCLES. "ITS A REGIME OF PAIN, EAT, SHIT AND GROW", THE OVER SEER TOLD THE LIEUTENANT. DAYS TURNED INTO WEEKS THEN MONTHS, AS THE LIEUTENANT WAS TIRELESSLY TRAINED BY TURNING A CORN MILL. IT WAS AND ENDLESS ROUTINE OF PAIN, GROWTH AND STERIODS. ALONG WITH HIS MUSCLES, THE LIEUTENANT'S BALLS HAVE GROWN HEAVIER. THE NAKED LOWER HANGERS, SWEATED UNDER A BURNING SUN, AS HE TURNED THE CORN MILL. THE OVER SEERS CONSTANT WHIP LASHES, ADDING TO HIS SUFFERING. FOR EVERY HELL HE WAS PUT THROUGH, HE HAD TO PAY THE OVER SEER IN CHARGE.
IT WAS EVENING IN ZAMAX THE OVER SEERS ROOM. HE HAD ALREADY FUCKED THE SLAVE LIEUTENANT'S ARSE. HE STARTED TO FUCK THE LIEUTENANT'S ARSE AGAIN, AS THE LIEUTENANT ATE HIS SLAVE CHOW. AFTER THE HARD FUCKINGS, SLAVE TYLER WAS TIED FACE DOWN, SPREAD EAGLE TO THE OVER SEERS BED. THE OVER SEER LAY ON TOP OF TYLER, WITH HIS COCK DEEP IN TYLER'S ARSE, TYLER COULD ONLY TAKE WHAT WAS COMING. EVERY DAY THAT DAWNED, TYLER GOT A HARD ARSE FUCKING, FOLLOWED BY TRAINING MANDRASAT STYLE, ON THE CORN MILL. WITH A LITTLE HELP FORM THE WHIP LIEUTENANT TYLER WAS SOON PUSHING THE CORN MILL HARD. LIEUTENANT TYLER WAS MADE TO TOIL LIKE THIS FOR THREE MONTHS. THE ONLY ONE WHO CAN SAVE US IS SUPERMAN, LIEUTENANT TYLER THOUGHT TO HIMSELF DESPERATELY. BUT WHERE WAS SUPERMAN. ALL OF LIEUTENANT TYLER'S TRAINING WAS TO TURN HIM INTO A LITTER SLAVE. ZAMAX HIS OVER SEER EXERCISED HIM DAILY PULLING THE LITTER. ON AN AFTERNOON RUN THEY CAME UPON ANOTHER NAKED SLAVE, BOUND BY HIS BALLS AND WRISTS TO FUCKING POST. LIEUTEANT TYLER WAS SHOCKED TO SEE IT WAS SERGEANT MCCLUSKEY, AND HE HAD CUM DRIPPING FROM HIS ANUS, EVIDENCE THAT HE HAD BEEN FUCKED HARD.
MONTHS EARLIER, SERGEANT MCCLUSKEY WAS BEING TRAINED BY HIS OVER SEER. "REMOVE YOUR DRAWS", THE OVER SEER ORDERED. "FUCK YOU", SERGEANT MCCLUSKEY REPLIED. FOR THAT THE SERGEANT WAS STRIPPED AND FUCKED ON THE SPOT, BY TWO LARGE BLACK, TRUSTEES. AS THE SERGEANT WOULD NOT ACCEPT HIS ENSLAVEMENT, HE WAS GOING TO BE USED AS A CUM BUCKET. HIS WRISTS WERE TIED TOGETHER AND THE ROPE WAS FED THROUGH A LOOP HOLE ON STEEL FRAME. THE THE OTHER END OF THE ROPE WAS TIED AROUND THE SERGEANT'S BALLS. THE ROPE WAS SHORT, FORCING THE SERGEANT TO BEND OVER, TO KEEP THE PRESSURE OFF HIS BALLS. IN THIS POSITION HE COULD BE FUCKED BY ANYONE EVEN SLAVES AND WAS REPEATEDLY. IT WAS IN THIS POSITION, AS A CUM BUCKET, HE WAS SEEN BY LIEUTENANT TYLER NOW A LITTER SLAVE. LIEUTENANT TYLER WAS FORCED TO FUCK SERGEANT MCCLUSKEY. MAYBE LIEUTENANT TYLER, LIKED FUCKING SERGEANT MCCLUSKEY, AS MUCH AS SERGEANT MCCLUSKEY, HATED HAVING LIEUTENANT TYLER'S COCK UP HIS ARSE. BUT THE QUESTION WAS, WHERE WAS SUPERMAN. THEY WERE ABOUT TO FIND OUT NEXT. EVEN MORE CLASSIC MANFLESH MALE ON MALE PHYSICAL AND SEXUAL ABUSE, HOT ARAB ON WHITE DOMINATION AND ENSLAVEMENT. €15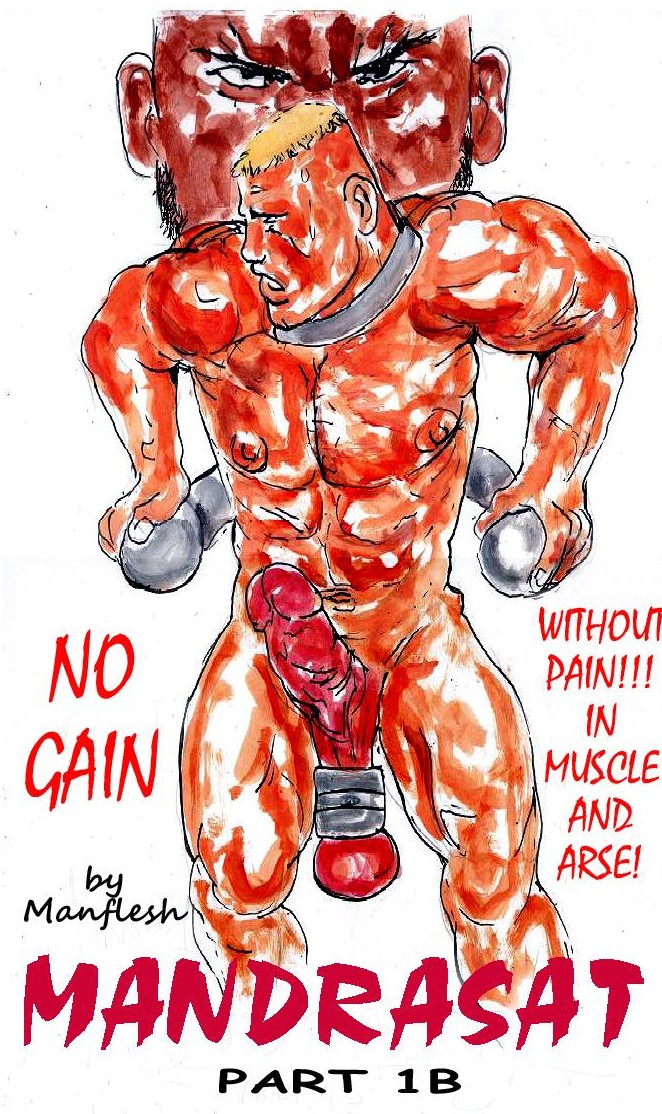 MILITARY MALE FIGHTING LIST
1 GULAG SLAVE FIGHTER PART 1. LIEUTENANT VAD KOROV HAD BEEN POSTED TO DEEPEST SIBERIA. VAD HAS BEEN POSTED THERE BY HI SUPERIORS AFTER HE UNCOVERED CORRUPTION THAT COULD EFFECT THEM. THEIR PLANS ARE TO HAVE HIM STRIPPED AND BECOME A NAKED GULAG FIGHTING SLAVE. WHEN VAD REPORTS TO THE GULAG COMMANDER THE COMMANDER INFORMS VAD HE HAS BEEN FOUND GUILTY OF CORRUPTION AND ORDERS HIS GUARD TO STRIP VAD. THE GUARDS RUSH IN ON A STUNNED LIEUTENANT VAD KOROV. THE GUARDS GRAB VAD AND RIP HIS UNIFORM OFF AND HIS STRUGGLES DO NOTHING TO STOP IT. THE COMMANDER TELLS VAD HE WILL DO NAKED HARD LABOUR AND MADE TO TAKE PART IN SLAVE FIGHTS AND OTHER THINGS. THE COMMANDER ORDERS THE GUARD TO TAKE VAD TO THE STOCK OUTSIDE. VAD IS DRAGGED OUTSIDE INTO THE FREEZING COLD THAT MAKES HIS COCK SHRINK TO THE SIZE OF A MAGGOT. VAD IS SECURED NAKED OUTSIDE IN THE COLD BUT HE IS TOUGH AND CAN ENDURE THE COLD BUT WILL HE BE ABLE TO ENDURE WHAT COMES NEXT AS ANOTHER HUGE NAKED PRISONER COMES TOWARDS HIM. THIS WILL WARM YOU AND AND SHOW YOU WHAT HAPPENS WHEN YOU LOSE A SLAVE FIGHT THE BRUTE TELLS VAD AND HE FUCKS VAD'S ARSE.THE HARD FUCKING MAKES VAD'S COCK HARD AND HE SHOOTS FUCK SEED INTO THE AIR. THE BRUTE LEAVES VAD PANTING IN THE COLD AND HE STAYS THERE FOR HOURS BEFORE BEING DRAGGED TO A CELL BY GUARDS. THE CUM LEAKED FROM HIS ARSE TURNS INTO A FROZEN STALACTITE. IN THE GULAG PRISONERS ARE JUST ANIMALS AND THE GUARDS EVEN WATCH THEM SHITTING TO SHOW THE SLAVES THEY ARE NOT HUMAN.
VAD'S DAYS ARE SPENT BREAKING ROCKS FOR ROAD CONSTRUCTION AND HIS BODY GETS USE TO BEING NAKED IN THE COLD. BEING SO RUDELY NAKED ALL THE TIME GIVES VAD AN ERECTION. THE BRUTE WHO FUCKED VAD TELLS HIM HE IS GOING TO BRUISE VAD'S HANDSOME FACE THEN FUCK HIM IN FRONT OF THE CROWD IN THEIR FIGHT TOMORROW. DOSED WITH VIAGRA VAD IS DRAGGED THROUGH THE TUNNEL INTO THE ARENA TO FACE THE BRUTE IN A SLAVE FIGHT. HIS PAIN AND SUFFERING HAS ONLY JUST BEGAN. HOT EROTIC ACTION WITH THE ABUSE OF A MALE SLAVE FORCED TO FIGHT IN BRUTAL SLAVE FIGHTS. €12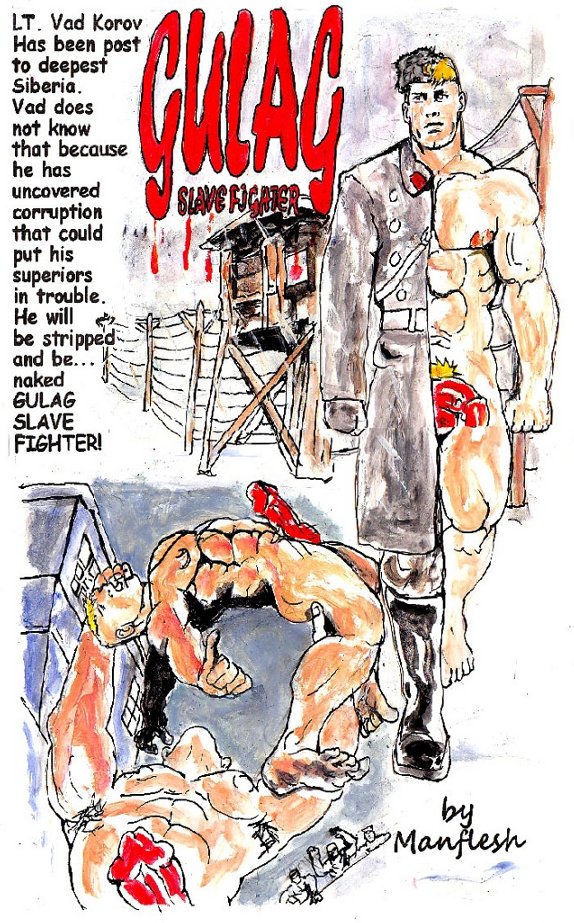 2 GULAG SLAVE FIGHTER PART 2 LIEUTENANT VAD KOROV WAS IMPRISONED AND ENSLAVED FOR UNCOVERING CORRUPTION INVOLVING HIS SUPERIORS HE WAS MADE TO BECOME A SLAVE FIGHTER HIS STORY AS A FIGHTING SLAVE CONTINUES. VAD'S FIGHT WITH THE BRUTE CONTINUES AS NAKED FLESH ENGAGES NAKED FLESH THE CROWD ROARS HE MUST FIGHT AND WIN OR BE FUCKED IN PUBLIC. VAD HEARS THE ROAR OF THE CROWD CRAVING BLOOD AND RAPING, DIRTY IS WHAT THEY WANT AND DIRTY IS WHAT HE GIVES THEM TAKING THE FIGHT TO THE BRUTE. BUT THE BRUTE IS AS HARD AS NAILS AND STRIKES BACK. VAD IS GRABBED BY THE NECK AND HURLED HARD AGAINST THE CONCRETE WALL. SPITTING BLOOD WITH THE CROWD BAYING ABOVE VAD DRAGS HIMSELF UP AND RUSHES AT THE BRUTE. AS VAD CRASHED INTO THE BRUTE, THE BRUTE GRABBED VAD'S NIPPLES WITH HIS HUGE PAWS. THE BRUTE LIFTED VAD UP BY HIS NIPPLES AND SHOOK HIM VIOLENTLY. THE BRUTE HOISTED VAD ABOVE HIS HEAD BEFORE SLAMMING HIM DOWN INTO THE SNOW.
PRETENDING TO BE BEATEN VAD KNEELED IN SUPPLICATION, THEN AT THE RIGHT MOMENT HEAD BUTTED THE BRUTE IN THE GROIN HARD. VAD USED HIS STRENGTH TO KNOCK OUT THE BRUTE AND STOOD ABOVE HIM ARMS FOLDED REFUSING TO FUCK THE BRUTE. THAT MADE THE CROWD VERY ANGRY AND THE GUARDS RUSHED OUT. THE GUARDS GRABBED VAD AND THREW HIM TO THE GROUND WHILE ONE OF THEM REVIVED THE BRUTE. A GUARD TOLD VAD HE BROKE THE RULES AND WILL PAY. THE CROWD GETS THEIR SHOW AS THE BRUTE FUCKS VAD AND VAD LEARNS A HARD LESSON. VAD IS THROWN INTO THE PUNISHMENT PIT THAT IS OPEN TO THE ELEMENTS HIS ONLY COVERING THE GUARDS PISS. MORE HOT EROTIC ACTION WITH THE ABUSE OF A MALE SLAVE FORCED TO FIGHT IN BRUTAL SLAVE FIGHTS. €12