FFF MALE V MALE FIGHTING STORIES LIST
 
1. CHALLENGE ACCEPTED PART 1. WRESTLING CORRESPONDENCE BETWEEN TWO MALE WRESTLERS LEADS TO A CHALLENGE BEING ISSUED AND ACCEPTED. THE GUYS MEET AND HAVE A HARD EXCITING GRAPHIC BATTLE. HARD MALE ACTION IN LONG TOUGH SEXY COCK FIGHT. €4.00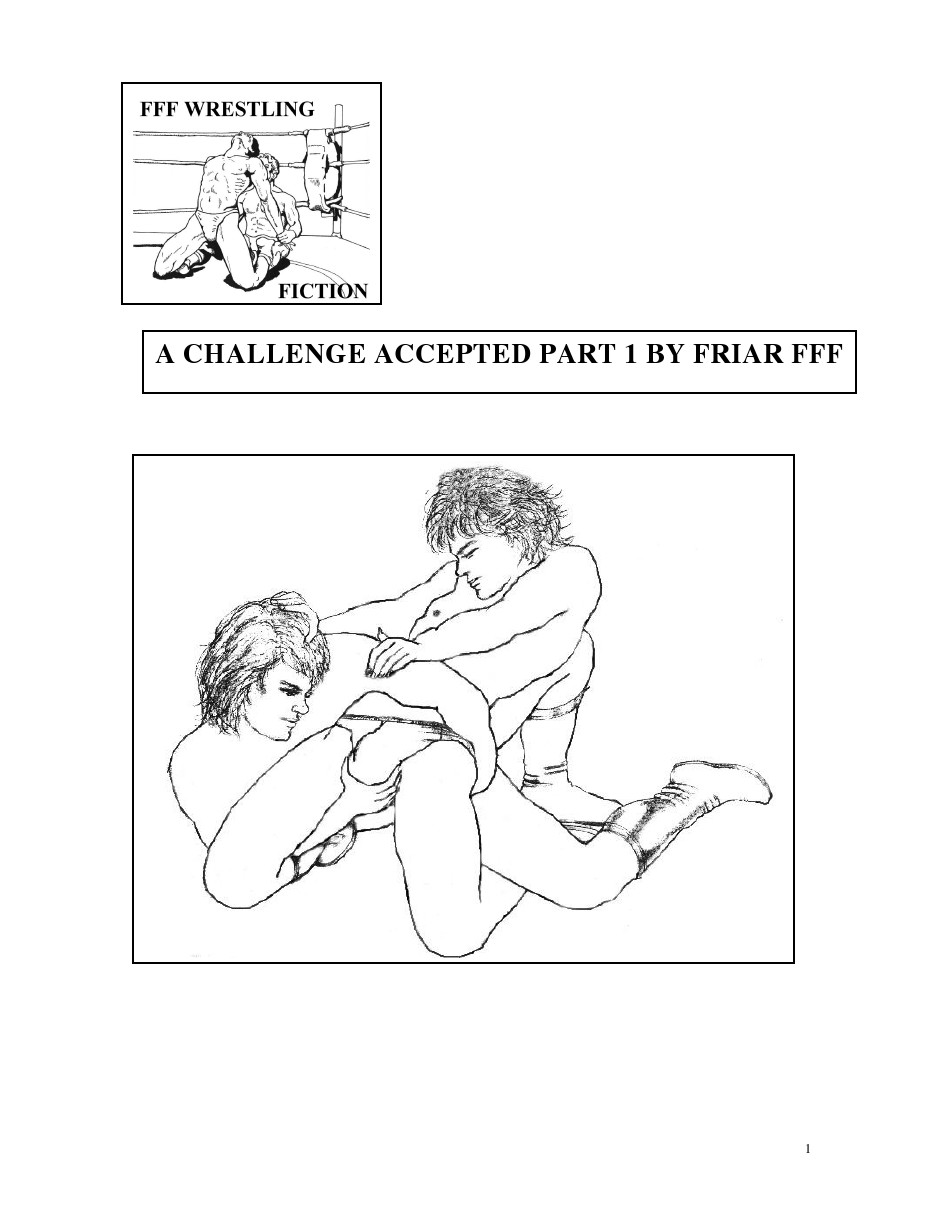 2. CHALLENGE ACCEPTED PART 2. THE TWO MALE WRESTLERS MEET AGAIN. THEY THEN ARRANGE TO MEET FOR A REMATCH, AND ANOTHER HARD GRAPHIC SEXY COCK FIGHT TAKES PLACE. AT THIS MATCH THEY ARRANGE ANOTHER MATCH AND PLAN TO EACH BRING A MATE WITH THEM. HARD SEXY ACTION AS THEY WORK EACH OTHER OVER PHYSICALLY AND SEXUALLY IN ANOTHER LONG HARD COCK FIGHT. €3.00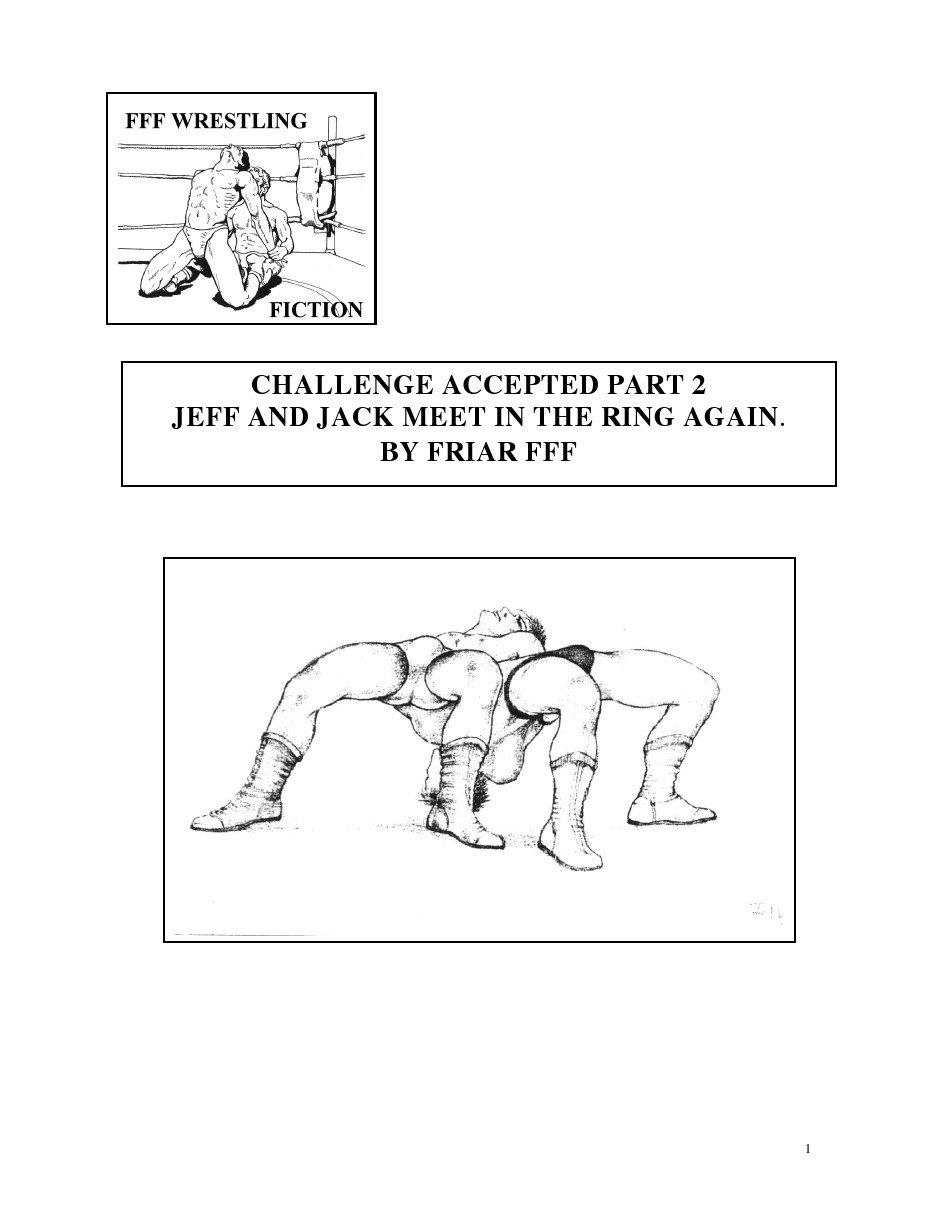 3. CUM INTO MY RING A WRESTLING CHALLENGE. A CHALLENGE TO WRESTLE IS ISSUED AND EXCEPTED OVER THE INTERNET. WHEN THE TWO GUYS MEET IN A DEEP BASEMENT GYM. A LONG HARD NHB DOWN AND DIRTY BATTLE TAKES PLACE. TOUGH HARD AND PLENTY OF LENGTHY SEXY MALE ACTION. €4.00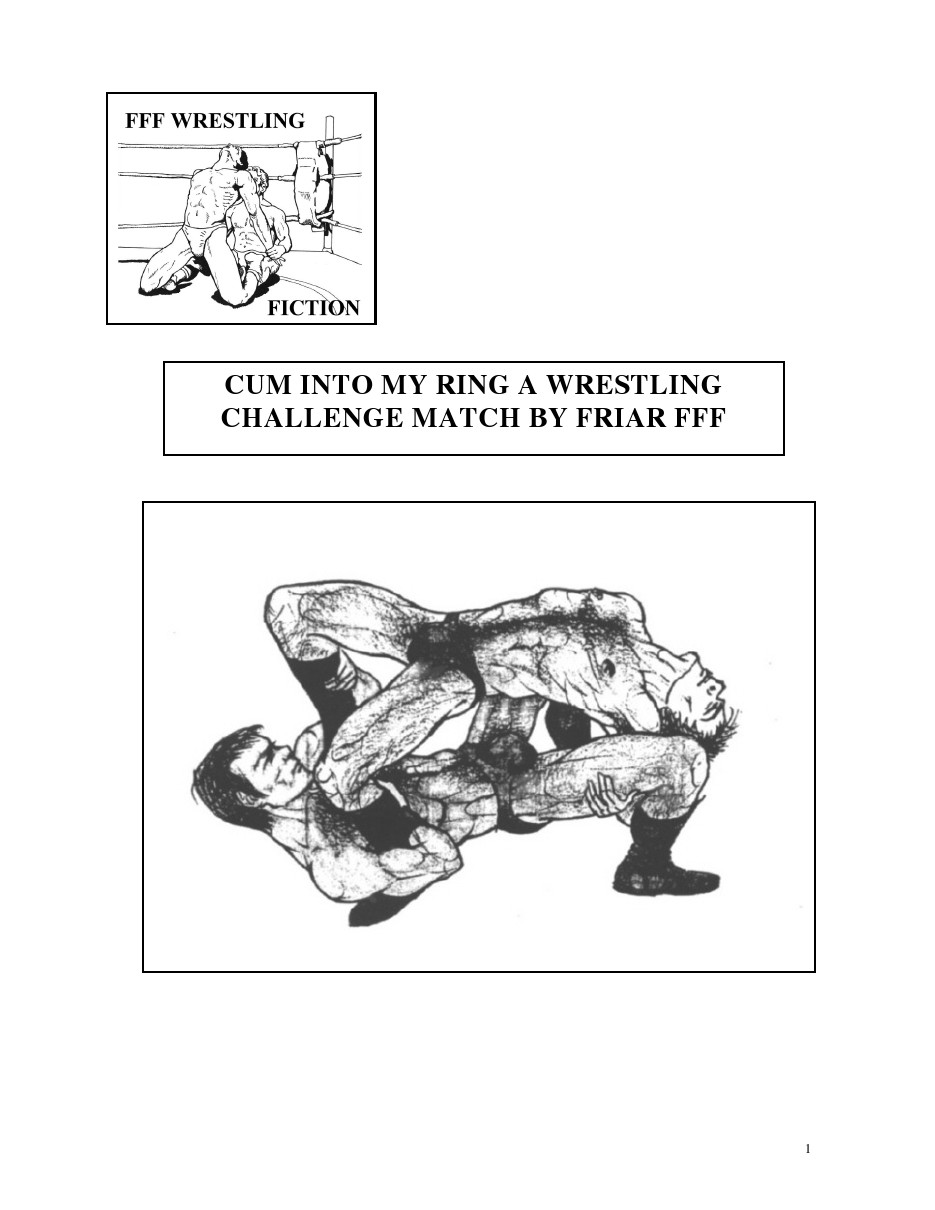 4. THE ADVENTURES OF A CORRESPONDENCE WRESTLER PART 2 DOUBLE TROUBLE. LUKE ANSWERS HIS SECOND REPLY FROM TWO GUYS WHO ISSUE A CHALLENGE TO WRESTLE BOTH OF THEM. LUKE ACCEPTS THE CHALLENGE AND TAKES ON THE GUYS ONE AT A TIME. HE IS SOUNDLY BEATEN BY BOTH OF THEM AND HAS TO WRESTLE BOTH OF THEM TOGETHER AS A PENALTY. TOUGH SEXY COCK FIGHTS WITH HARD GRAPHIC ACTION AND LUKE ON THE RECEIVING END AGAIN. HIS FIRST WRESTLING ENCOUNTER WITH OTHER GUYS WILL BE ONE LUKE WILL NEVER FORGET. €5.00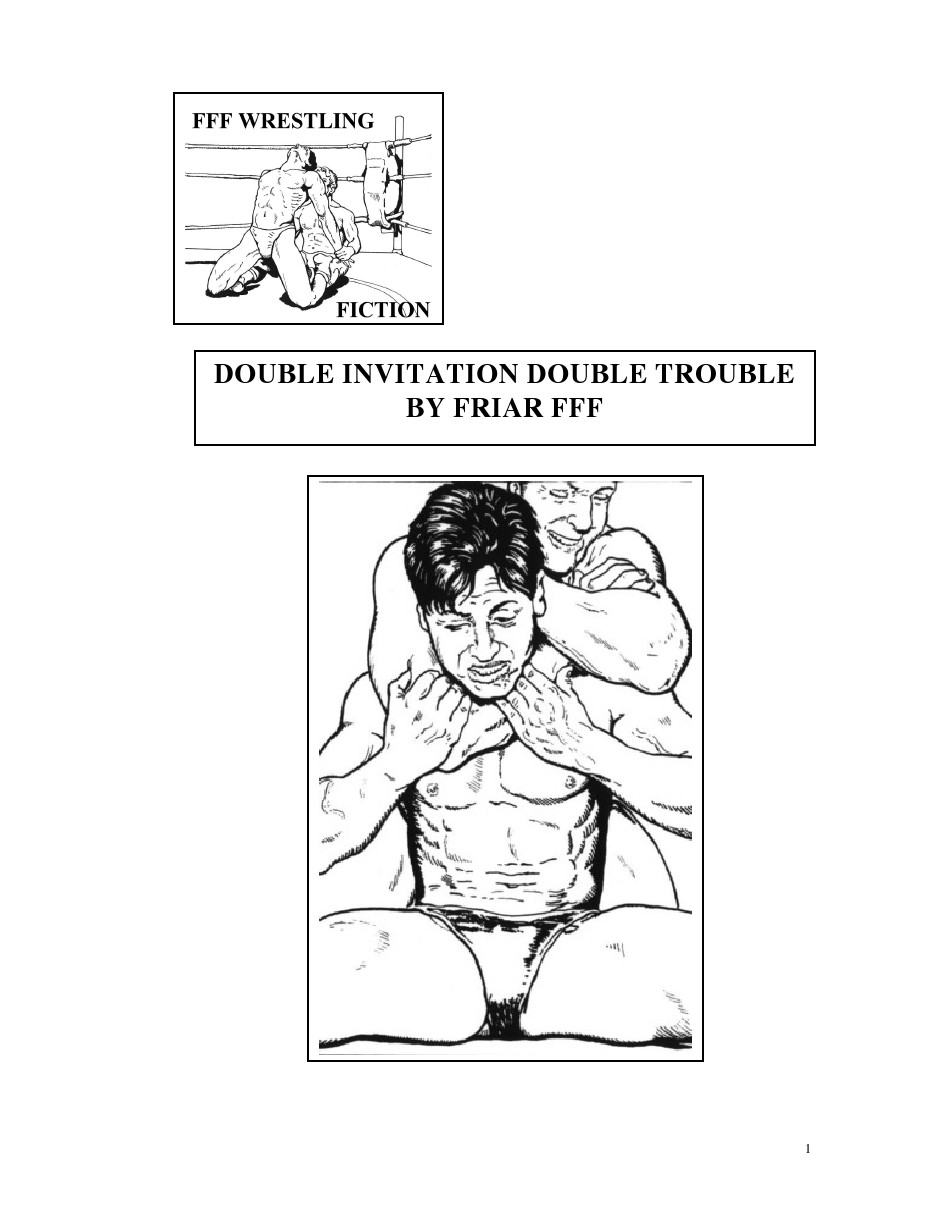 5. BLACK ON WHITE SQUASH JOB PART 1. JAMES A SHORT TOUGH WHITE WRESTLER ANSWERS JASON'S A LARGER VERY MUSCULAR COLOURED WRESTLERS AD. FEATURES JASON WRESTLING WITH HIS TWO FLAT MATES BARRY AND CRAIG. TOUGH THREE WAY ACTION WITH SOME VERY ROUGH SEXY TWO ON ONE ACTION. HE THEN GOES TO MEET JASON. FOR A LONG HARD TOUGH BRUTAL BOUT WITH JAMES TAKING A GOOD HAMMERING PHYSICALLY AND SEXUALLY. LONG BUT VERY EXCITING STORY AND ONLY PART 1. €5.00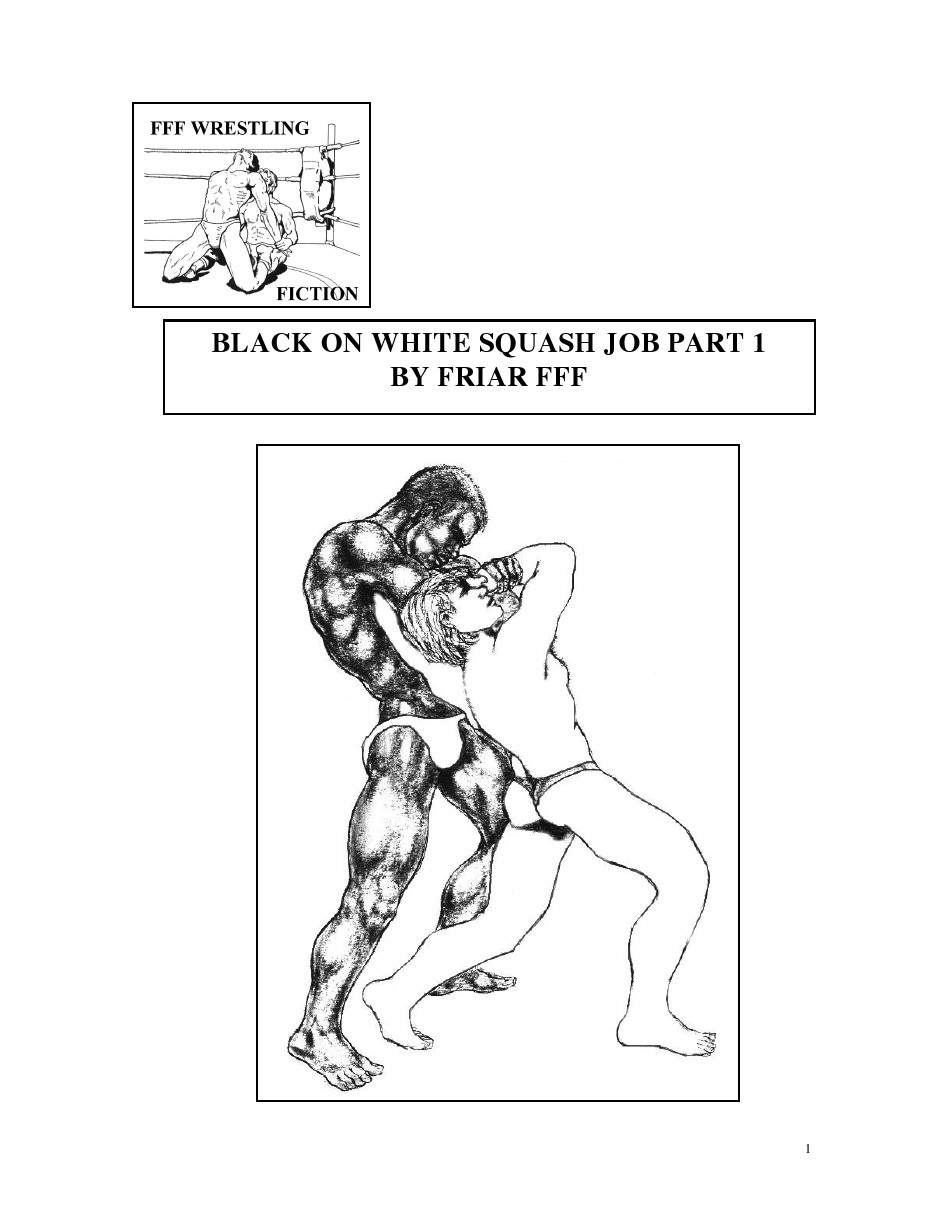 6. THEIR FIRST FIGHT. TWO GUYS MEET FOR THEIR FIRST MATCH. PHILLIP IS HEAVY AND WELL BUILT. STEVE IS MUCH LIGHTER AND THINNER. IT SEEMS AN UNEVEN MATCH THE ADVANTAGE IS WITH THE BIGGER HEAVIER GUY. HOWEVER STEVE GIVES PHILLIP A RUN FOR HIS MONEY BEFORE PHILLIP FINALLY OVERCOMING HIS SMALLER LIGHTER OPPONENT. TOUGH SEXY ACTION WITH BOTH WRESTLERS PUTTING EACH OTHER THROUGH THEIR PACES. PHILLIP FORCES A TKO EJACULATION FROM STEVE BEFORE JERKING OFF INTO HIS BEATEN OPPONENTS FACE. €4.00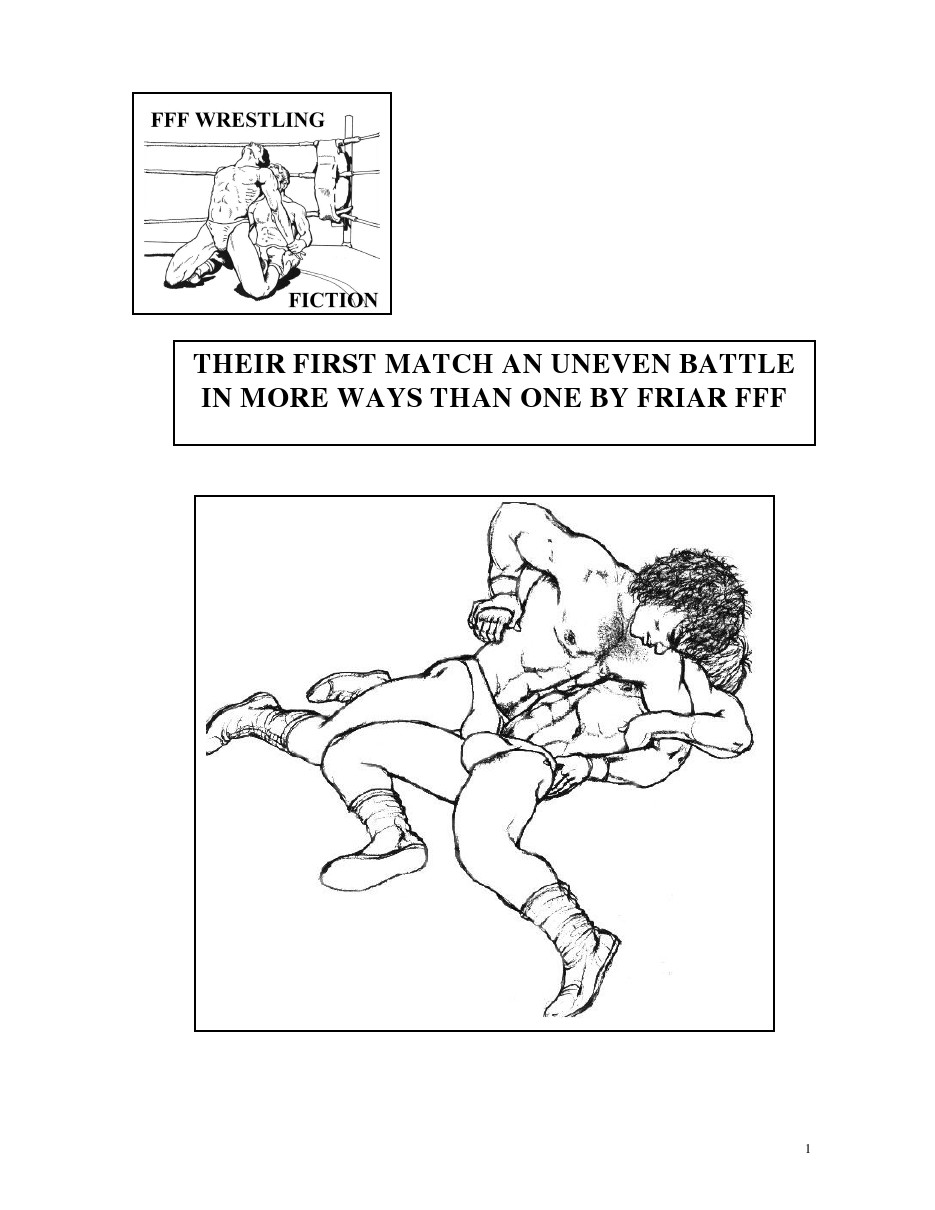 7. THEIR FIRST TAG MATCH. PHILLIP AND STEVE ARRANGE A TAG MATCH. PHILLIP IS PARTNERED BY TOM A TOUGH HEAVIER PAST OPPONENT OF STEVE FORMING THE BAD GUYS TEAM. STEVE IS PARTNERED BY PAUL A YOUNG BLONDE WRESTLER WITH A SWIMMERS BUILD FORMING THE GOOD GUYS TEAM. a TOUGH UNCOMPROMISING WRESTLING MATCH TAKES PLACE WITH NO QUARTER GIVEN BY EITHER TEAM. HOT SEXY AND SOMETIMES BRUTAL MALE V MALE ACTION WITH TKO'S ON BOTH SIDES. THE LONG HARD MATCH SWINGS BACK AND FORTH KEEPING THE READER GUESSING AS TO WHICH TEAM TRIUMPHS IN THE END. €5.00.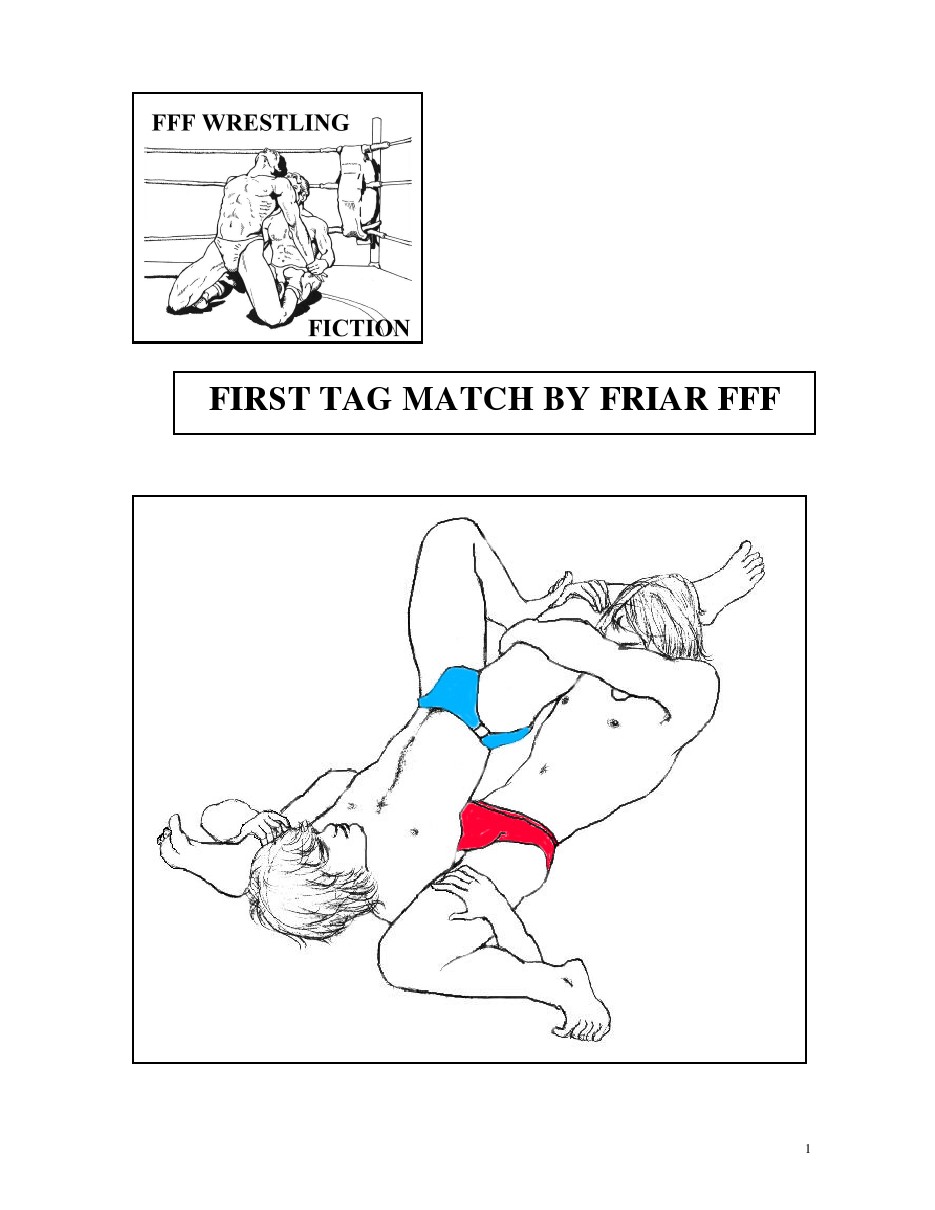 8. HIS SECOND FIGHT. PHILLIP TAKES ON STEVE'S YOUNGER PARTNER PAUL IN A ONE TO ONE MATCH. PHILLIP'S OUT FOR REVENGE OR HIS DEFEAT AT THE HANDS OF STEVE AND PAUL. PHILLIP USES HIS WEIGHT AND STRENGTH ADVANTAGE TO PUT HIS YOUNGER OPPONENT THROUGH THE WRINGER. a LONG TOUGH SEXY BATTLE OF ATTRITION IN WHICH PHILLIP DOES NOT GET IT ALL HIS WON WAY, BUT TRIUMPHS AND GIVES PAUL A GOOD WORK OVER. IT IS A CLASSIC OLDER GUY V YOUNGER GUY STRENGTH AND EXPERIENCE VERSES YOUTH AND STAMINA. €5.00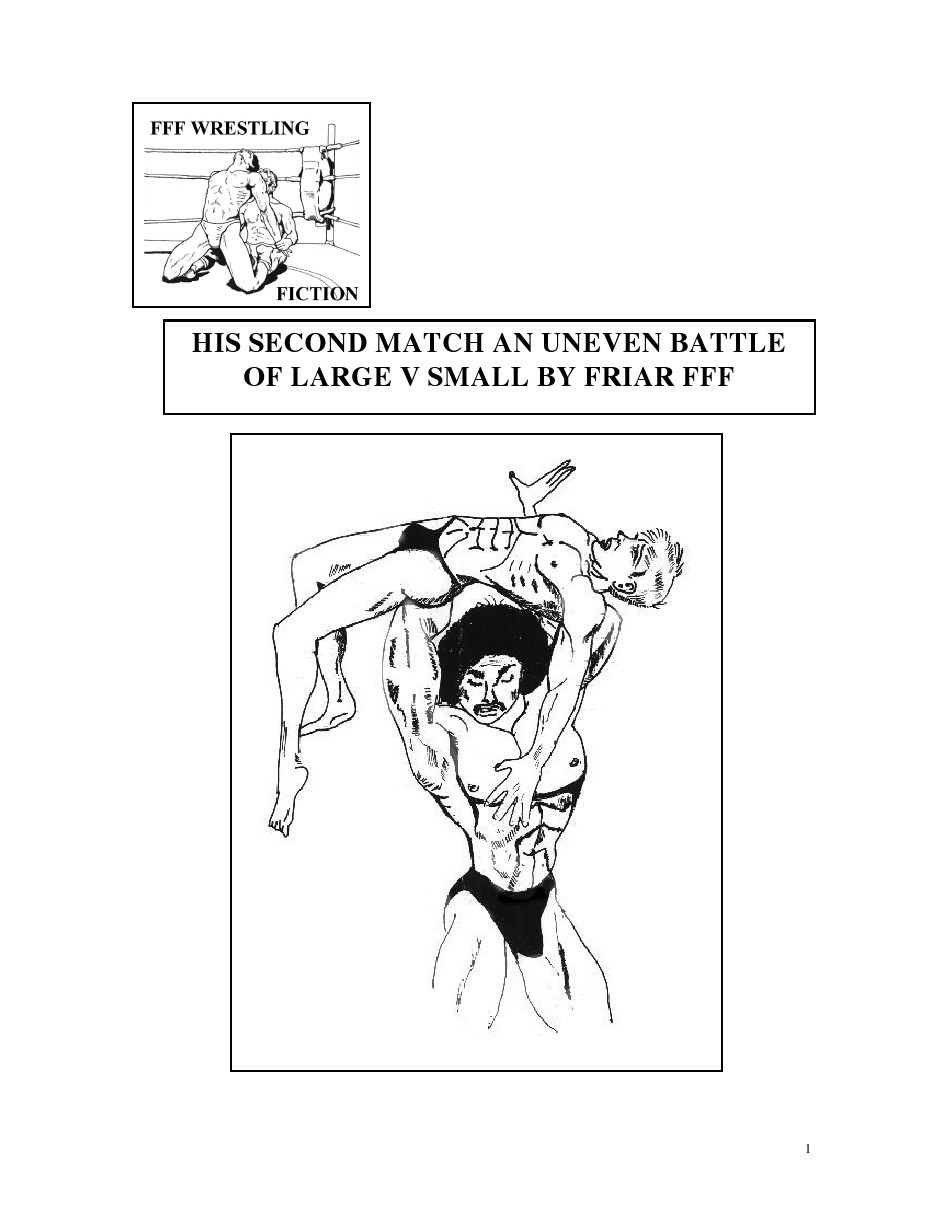 9. TRAVEL LODGE WRESTLING ADVENTURES. MICHAEL A 47 YEAR OLD WRESTLERS BOOKS INTO A TRAVEL LODGE IN STRATFORD-UPON AVON FOR BUSINESS MEETING NOT KNOWING ANYONE IN THE AREA. HE SIGNS ON THE INTERNET ONTO A WRESTLING CHAT LINE USING HIS LAPTOP COMPUTER. HE GETS CHATTING TO TWO YOUNG WRESTLERS AND IS DELIGHTED TO FIND THEY LIVE LOCALLY AND HE INVITES THEM OVER FOR SOME WRESTLING. HE ENDS UP WRESTLING MARC AND JUSTIN THE TWO HOT HORNY YOUNG WRESTLES SEPARATELY AND THEN BOTH TOGETHER. MARC AND JUSTIN INSIST ON WRESTLING FOR STAKES NAMELY MICHAEL TO BE THEIR FUCKING BOY IF HE LOSES. MICHAEL AGREES AND IS BEATEN BY THE TWO HOT YOUNG WRESTLERS WHO KEEP THEIR WORD AND BOTH FUCK HIM LONG AND HARD. HOT HORNY WRESTLING ACTION WITH ONE OLDER GUY PITTED AGAINST TWO YOUNGER GUYS WHO REALLY WORK HIM OVER PHYSICALLY AND SEXUALLY. €3.00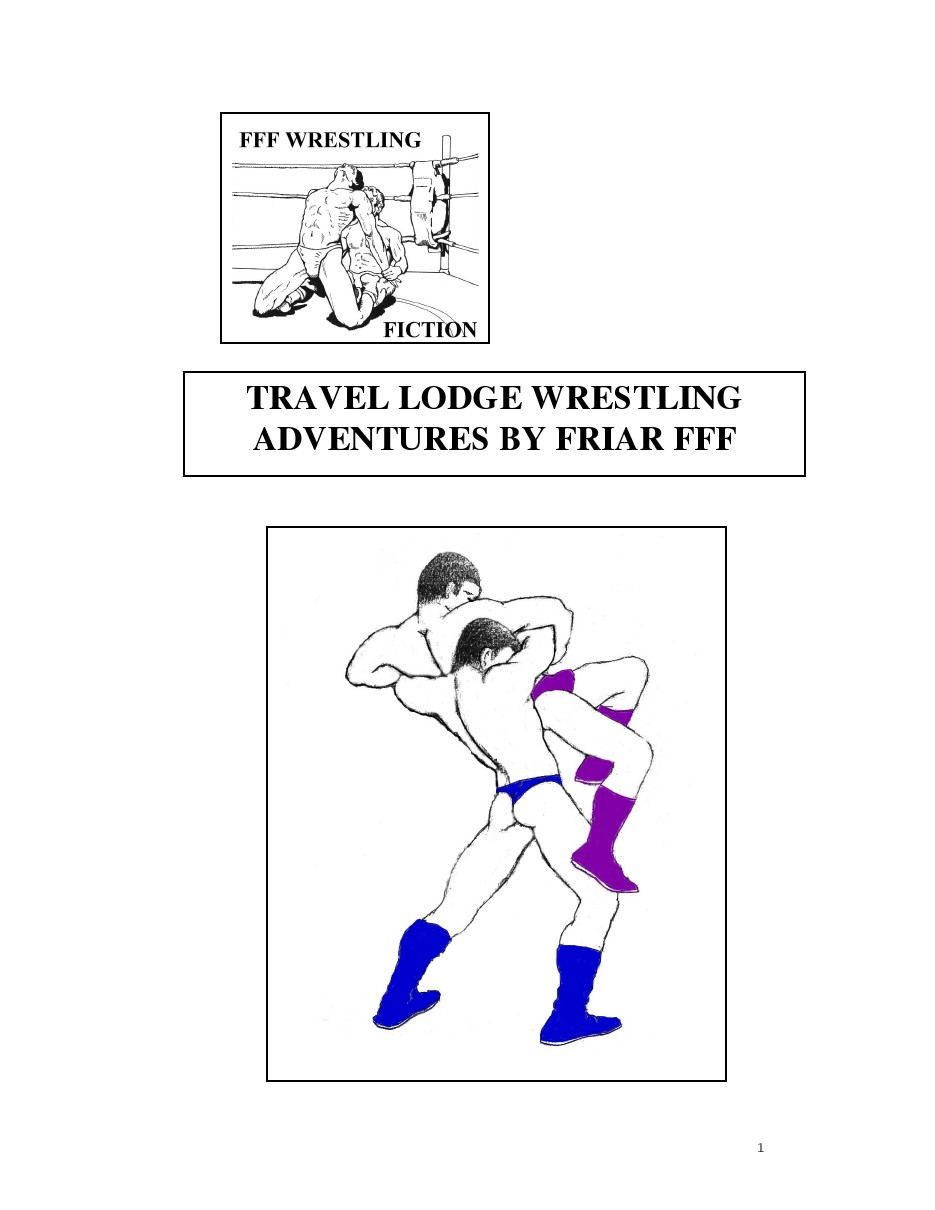 10. YOUNG WRESTLING BUCK MEETS HIS MATCH. RICHARD A YOUNG GOOD LOOKING FIT AND SEXY WRESTLER ANSWERED AN AD OF AN OLDER EXPERIENCED WRESTLER. HE DIDN'T PREFER OLDER GUY BUT HAD WRESTLED SEVERAL KNOWING HE COULD BEAT THE AND FUCK THEM WHEN THEY LOST. RICHARD W AS ATTRACTED TO STAN'S AD AS STAN CLAIMED HE LIKED WRESTLING AND BEATING YOUNGER GUYS. STAN DIDN'T REALISE HE WAS BEING SET UP BY STAN AND THE OLDER WRESTLERS HE HAD BEATEN AND FUCKED. RICHARD MEETS STAN AND HE IS SO CONFIDENT THAT THEY AGREE TO HIGH STAKES. THE WINNER COULD DO ANYTHING TO THE LOSER THEY WANTED TO. UNDER RICHARD'S RULES IT MEANT FUCKING THE LOSER.
BUT HE FOUND OUT THAT UNDER STAN'S RULES FAR MORE WAS AT STAKE. STAN BEAT RICHARD IN A TOUGH HOT SEXY WRESTLING MATCH. THEN STAN CLAIM'S HIS PRIZE FIRST FUCKING RICHARD AND THEN SUBJECTING HIM TO SOME SERIOUS GUT PUNISHMENT. HOT EXCITING MALE WRESTLING ACTION WITH SOME TOUGH GUT PUNISHMENT. €5.00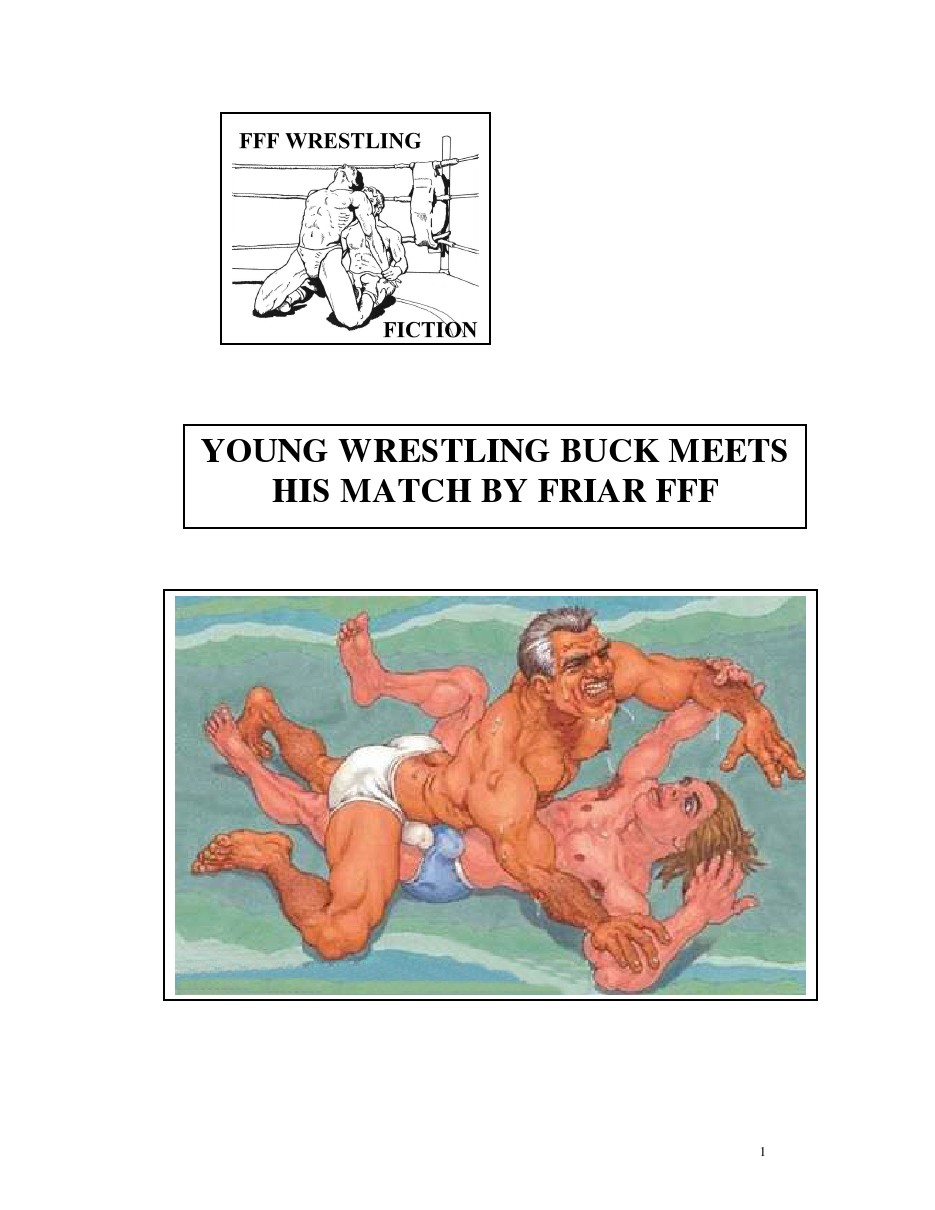 11. HIS THIRD MATCH. FRIAR RETURNS TO THE GYM TO TAKE ON RICK A TOUGH WELL-MUSCLED YOUNG WRESTLER. RICK HAS HIS PARTNER, A YOUNG GOOD LOOKING BLONDE GUY CALLED SEAN WITH HIM. FRIAR SLOWLY TAKES RICK APART ROUND BY ROUND ALTHOUGH HE DOESN'T HAVE IT ALL HIS OWN WAY TAKING A LOT OF PUNISHMENT FORM THE TOUGH YOUNG MUSCLE STUD. FRIAR REALLY MAKES RICK SUFFER IN RETALIATION, SO MUCH S THE SEAN INTERVENES TO HELP RICK FRIAR WORKS SEAN OVER AS WELL MAKING HIM SUFFER IN FRONT OF HIS PARTNER RICK. HE THEN WORKS ON RICK AGAIN AND TIES HIM TO THE CORNER POST BEFORE WORKING SEAN OVER EVEN MORE. HE THEN SUBJECTS THEN BOTH TO SOME HOT SEXUAL ABUSE. AFTER ABUSING THEM AND SLATING HIS SEXUAL THIRST. FRIAR SAT DOWN IN HIS CORNER AND NODS OFF. HE WAS WOKE BY THE TWO YOUNG WRESTLERS STANDING IN FRONT OF HIM. ITS NOW THEIR TURN TO ABUSE HIM. TOUGH MALE WRESTLING ACTION WITH PLENTY OF PHYSICAL AND SEXUAL ABUSE AND SOME DOUBLE-TEAMING AS WELL. €5.00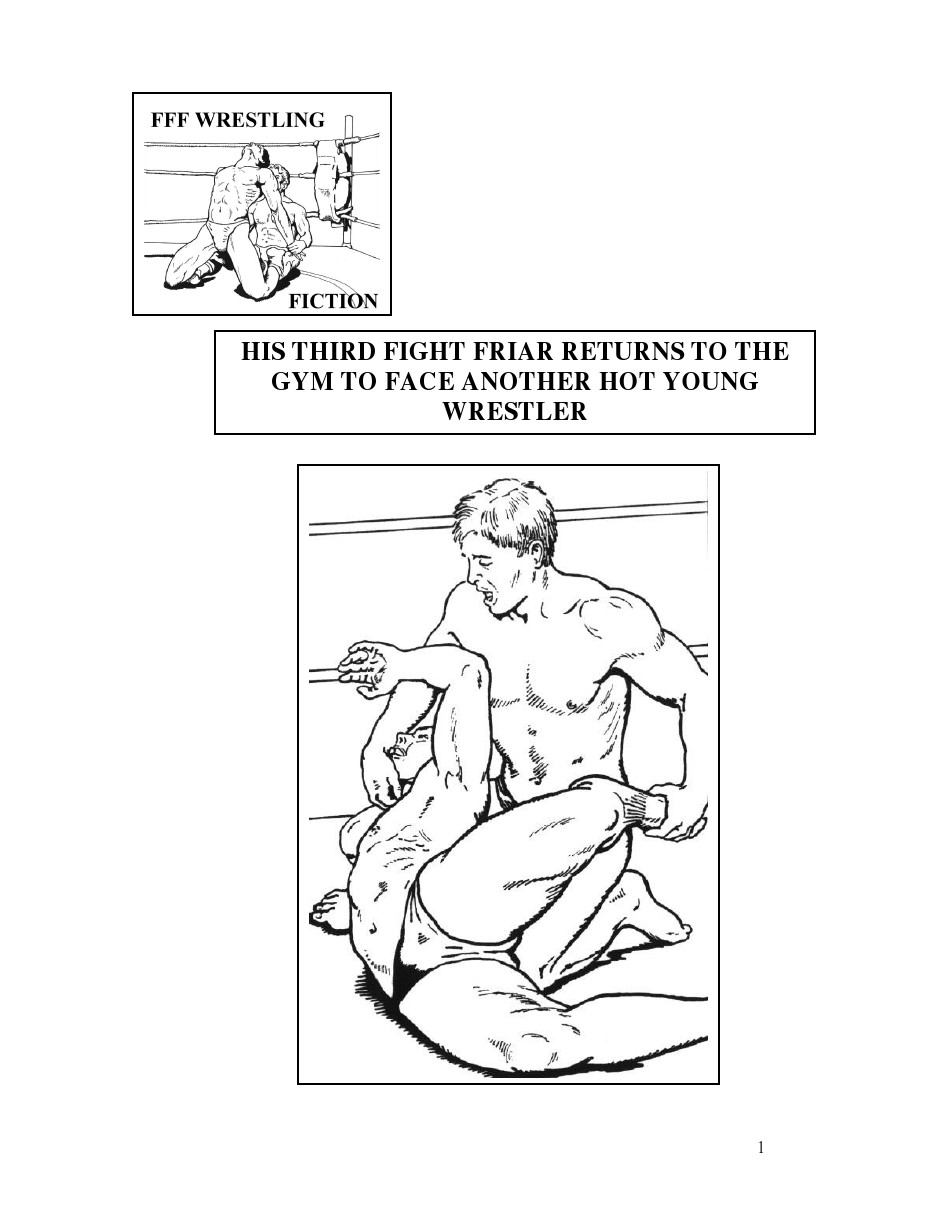 12. APPRENTICE BOY CHALLENGE PART 2. JAMES A NINETEEN YEAR-OLD APPRENTICE ENGINEER GETS PUT ON A TECHNICAL TRAINING COURSE IN LONDON. JAMES IS ALSO A KEEN IF NOT HIGHLY EXPERIENCED MALE WRESTLER, AND DECIDES TO GET SOME WRESTLING EXPERIENCE WHILE ALSO INCREASING HIS TECHNICAL KNOWLEDGE. JAMES CHECKS INTO A GAY HOTEL IN LONDON AND HIRES A MALE CONTACT 'BODY SLAM' WHO SPECIALISES IN WRESTLING. BODY SLAM IS LARGER, MUCH STRONGER THEN JAMES AND HIGHLY EXPERIENCED. AFTER WRESTLING AND BEING WELL BEATEN BY BODY SLAM. JAMES WRESTLES WITH SHANE THE HOTEL'S YOUNG AUSTRALIAN NIGHT PORTER. JAMES AND SHANE HAVE LONG HOT HORNY AND EXHAUSTING MATCH. THEY WRESTLE FOR JACK OFF AND SUCK, THEN EVEN HIGHER STAKES. JAMES LOSES AND FORCED TO SUCK SHANE OFF AND JACK OFF. FINALLY SHANE HAS HIS WAY WITH THE YOUNG APPRENTICE WRESTLER. JAMES SUFFERS ANOTHER LONG DRAINING SEXY DEFEAT FOR THE SECOND NIGHT RUNNING. HARD TOUGH WRESTLING ACTION, WITH PLENTY OF PHYSICAL AND SEXUAL ABUSE. €5.00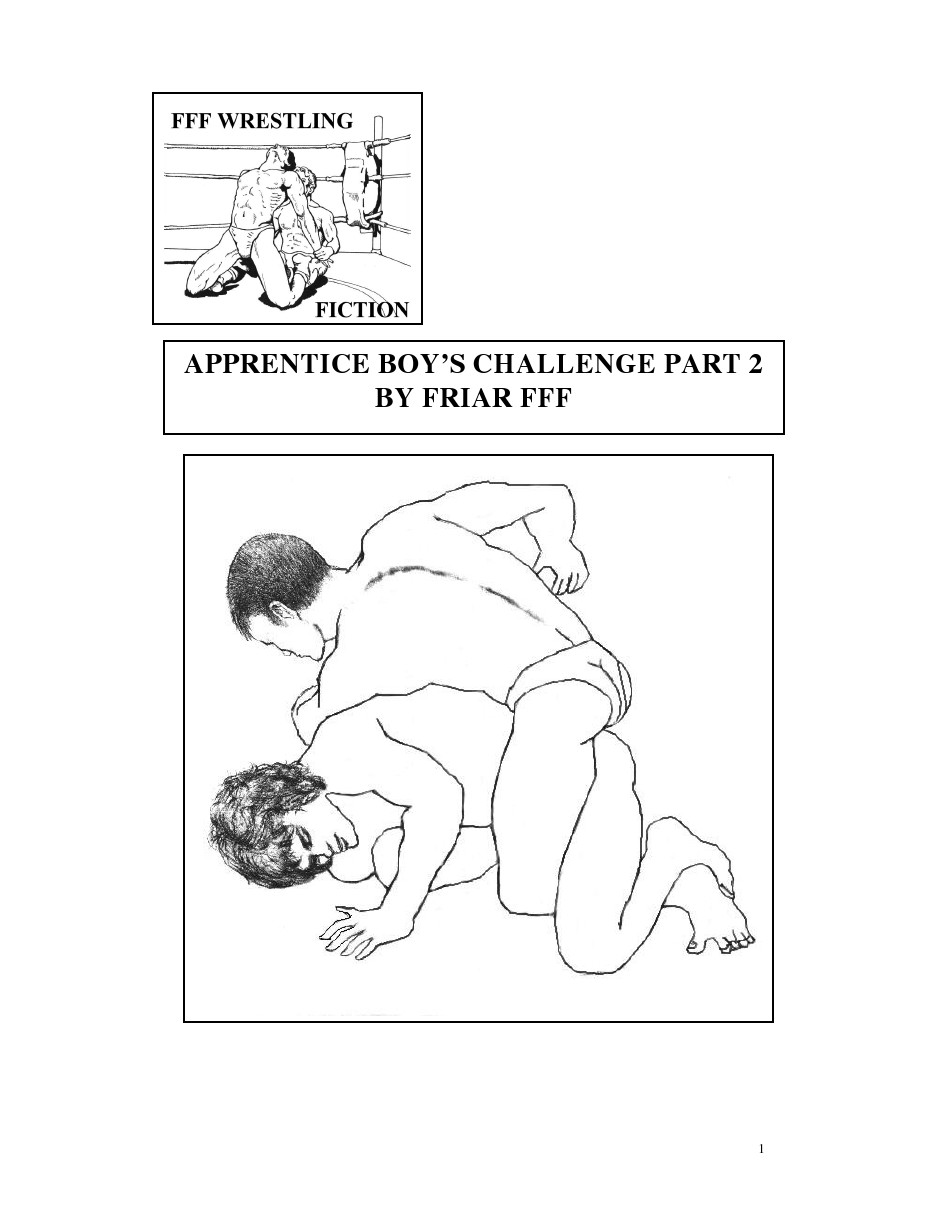 13 PROFESSIONAL SQUASH JOB. TOUGH FIRST BOUT FOR A YOUNG NOVICE TEENAGE, ENGLISH WRESTLER, ON THE INDEPENDENT PRO-WRESTLING CIRCUIT, IN THE US. THE BOUTS ARE PRIVATE, FOR WEALTHY PROMOTERS WITH THEMSELVES OR ONLY FEW FRIENDS PRESENT. DIRK A NINETEEN YEAR-OLD NOVICE 'CUTE ANGEL' TAKES ON LARRY DEMO MAN, OLDER, LARGER, STRONGER, MEAN, HIGHLY EXPERIENCED, PRO-WRESTLER. DEMO MAN SQUASHES HIS YOUNG TEENAGE NOVICE OPPONENT REALLY WORKING CUTE ANGEL OVER BOTH PHYSICALLY AND SEXUALLY. OLDER GUY WORKING OVER CUTE YOUNG GUY LOTS OF PAIN AND SUFFERING BY THE TEENAGE ROOKIE AND SEXUAL DOMINANCE BY HIS OLDER STRONGER OPPONENT. DIRK IS OFFERED MORE CASH TO WRESTLE WITH THE RICH PROMOTER OF HIS FIRST BOUT. HE DOMINATES GERALD THE RICH PROMOTER AT HIS HOME, WORKING HIM OVER, GETTING TWO FORCED EJACULATIONS FROM THE OLDER GUY. HOWEVER GERALD TRICKS DIRK INTO AGREEING TO BE PUT IN A BOSTON AS A PRACTICE. GERALD GIVES DIRK ONE HELL OF A WORK OVER WITH SOME HEAVY BALL PUNISHMENT AND TWO FORCED EJACULATIONS IN RETURN. VERY TOUGH, GRAPHIC, MALE ON MALE, PHYSICAL AND SEXUAL ACTION. €4.00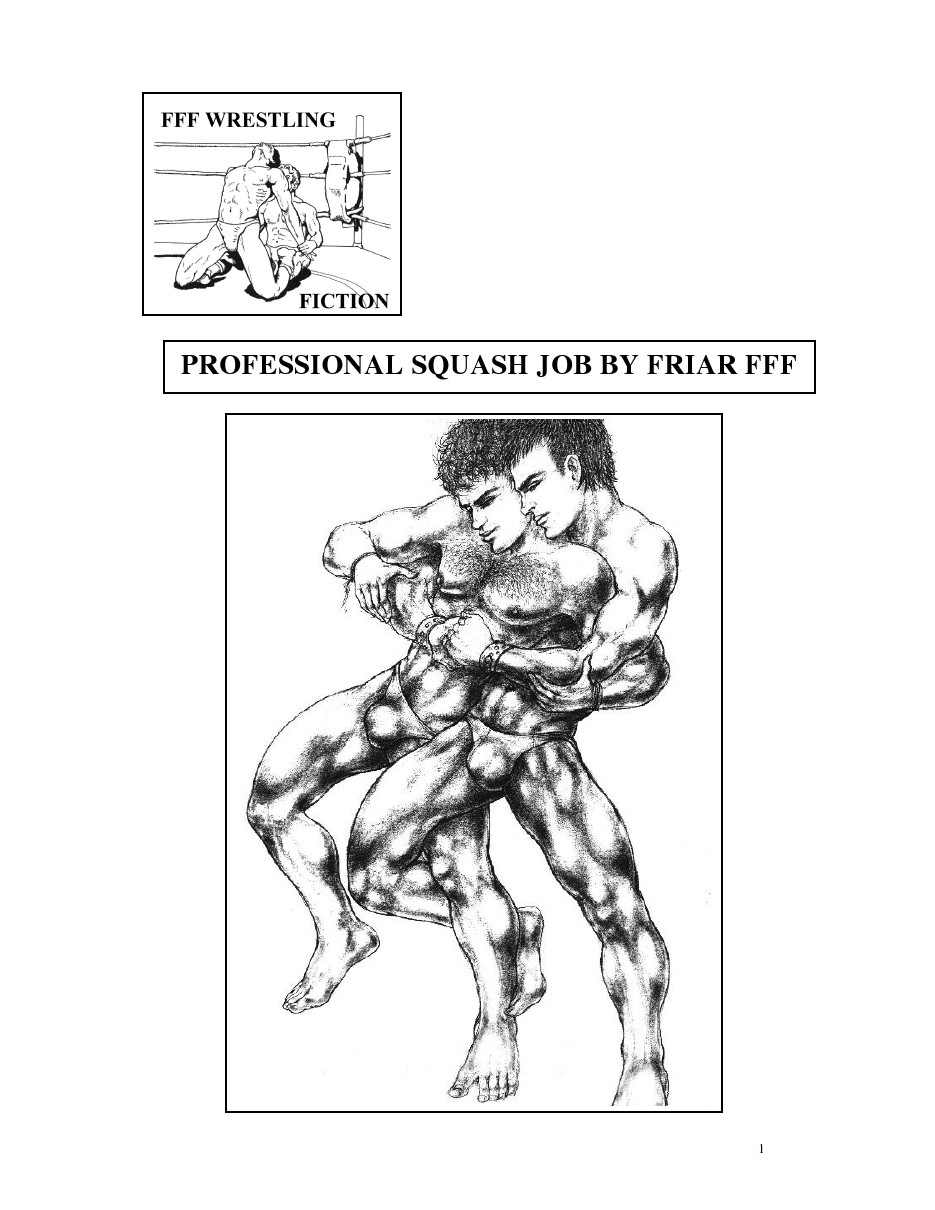 14. ANOTHER SQUASH JOB. DIRK RELATES HIS FIRST ADVENTURE IN THE INDEPENDENT PRO-WRESTLING CIRCUIT FIGHTING AS CUTE ANGEL AND LOSING A SQUASH JOB AGAINST DEMON MAN TO HIS BEST FRIEND. BRAD IS INTRIGUED AND EXCITED BY DIRK'S STORY EVEN A LITTLE JEALOUS. IT FIRES HIS INTEREST IN WRESTLING AND BRAD AND DIRK HAVE MANY BED WRESTLES, WITH THE WINNER DEMANDING SEXUAL FORFEITS. LARRY RANG WHILE THEY WERE BED WRESTLING TO OFFER DIRK ANOTHER MATCH THIS TIME BY A DIFFERENT SPONSOR MAX, AGAINST AN OPPONENT NEARER HIS OWN AGE, BUILD AND SKILL LEVEL. DIRK CUTE ANGEL TOOK ON KYLE COLLEGIATE KID THIS TIME ASSUMING THE ROLE OF HEEL USING COLLEGIATE KID AS THE JOBBER. CUTE ANGEL DOES A GREAT JOB OF WORKING COLLEGIATE KID OVER BOTH PHYSICALLY AND SEXUALLY. CUTE ANGEL REALLY ABUSES COLLEGIATE KID PLAYING AS GOOD A HEEL AS HE DID A JOBBER TO DEMO MAN. MAX THE SPONSOR OFFERS DIRK AND KYLE MORE MONEY OF THEY TAKE PART IN THREE WAY APARTMENT STYLE MATCH WITH HIM. THE BOYS ACCEPT AND TURNS AT DOUBLE TEAMING EACH OTHER. MAX IS FIRST TO BE DOUBLE-TEAMED. DIRK SUFFERS THE FATE SECOND AND THEN FINALLY KYLE. MAX AND KYLE ENJOYED DOUBLE-TEAMING DIRK THEY GIVE HIM SOME MORE, TOUGH MALE ON MALE PHYSICAL AND SEXUAL ACTION HIGHLY EROTIC IN PLACES. €4.00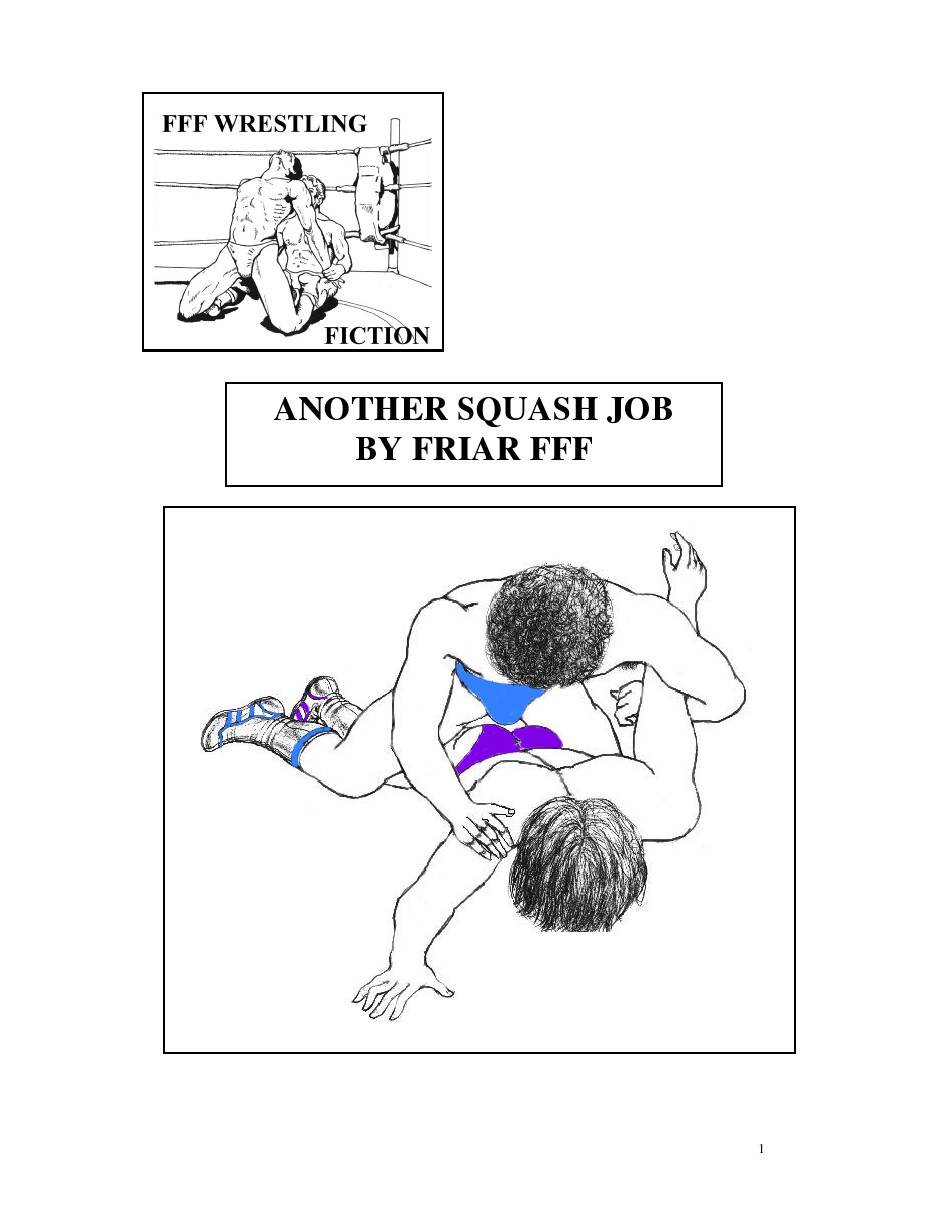 15 TAG TEAM SQUASH JOB. DIRK AGREES TO A TAG MATCH WITH HIS BEST FRIEND BRAD AGAINST KYLE COLLEGIATE KID AND HIS FRIEND JOSHUA. ITS BRAD'S AND JOSHUA'S FIRST BOUT FOR THE INDEPENDENT PRO-WRESTLING CIRCUIT. BRAD USES THE RING NAME THE YOUNG PRETENDER, AND JOSHUA TAKES LITTLE DEVIL. DIRK, CUTE ANGEL THOUGHT HE WAS PARTNERING BRAD, YOUNG PRETENDER, AGAINST KYLE COLLEGIATE KID, AND JOSHUA, LITTLE DEVIL. HOWEVER THE SPONSORS HAD OTHER IDEAS, WANTING DIRK AND KYLE TO WRESTLE AGAINST THEIR BEST FRIENDS. IT WAS CUTE ANGEL AND LITTLE DEVIL, AGAINST COLLEGIATE KID AND YOUNG PRETENDER. DIRK AND JOSHUA SOUNDLY THRASH KYLE AND BRAD TO WIN THE MATCH THE BULK OF THE PRIZE MONEY. THEY REALLY WORK KYLE AND BRAD OVER WITH PLENTY OF DOUBLE-TEAMING. LARRY THE PROMOTER SUGGESTS THEY WRESTLE A SECOND SESSION AND ALL FOUR AGREE. DIRK GET IN TROUBLE EARLY ON AND IS DOUBLE TEAMED BY KYLE AND BRAD. JOSHUA REFUSE TO COME AND ASSIST HIM, HE REALLY WANTED TO WRESTLE AGAINST DIRK AND WORK HIM OVER. DIRK GETS WELL ABUSED AND DOUBLE TEAMED BY KYLE AND BRAD. FINALLY TO AD INSULT TO INJURY JOSHUA JOINS KYLE AND BRAD THE OPPOSITION AND THEY TRIPLE TEAM DIRK. DIRK TAKES AND EVEN HARD WORK OVER AND TRIPLE TEAMING. TOUGH, GRAPHIC, AND EROTIC MALE ON MALE ACTION. €5.00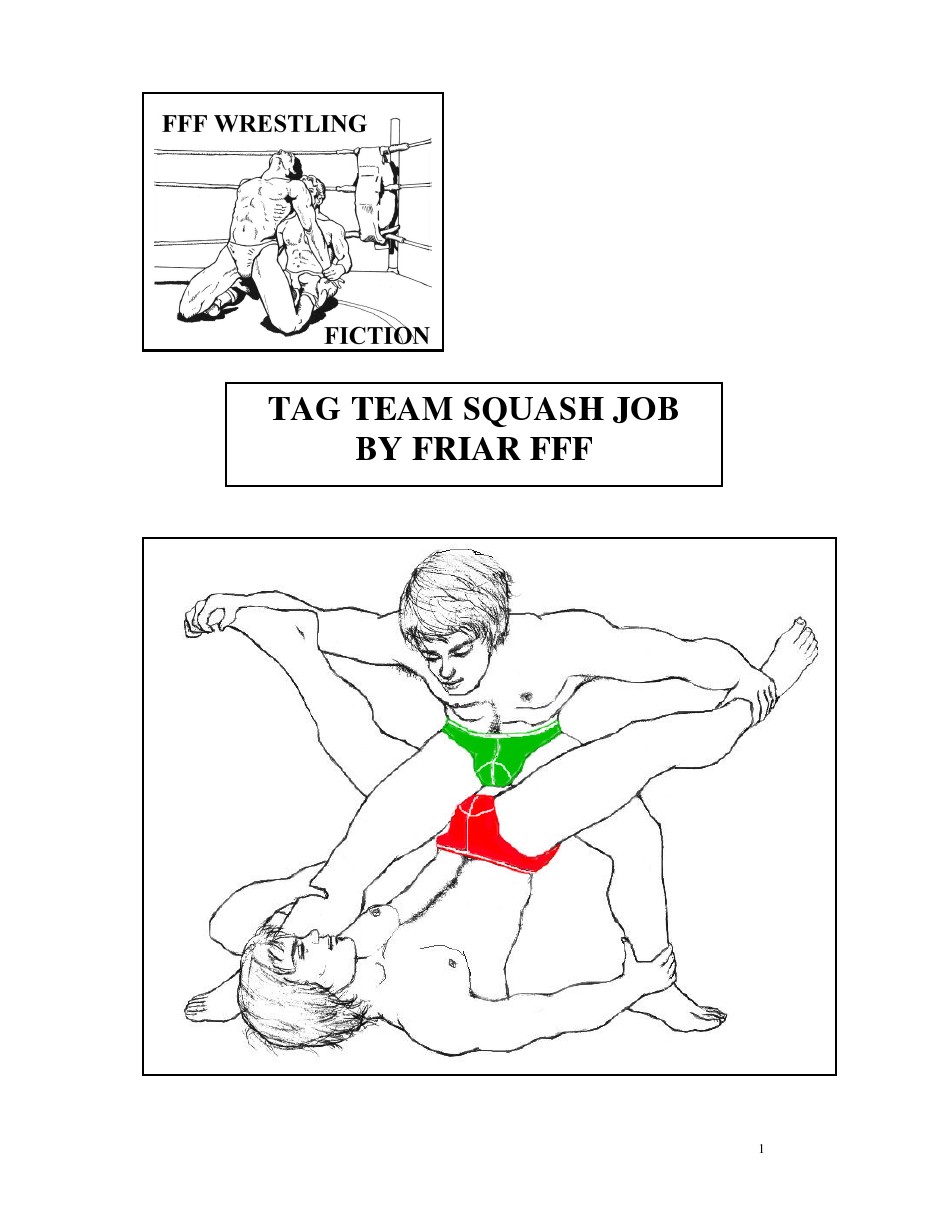 16 APPRENTICE BOY CHALLENGE PART 3. . JAMES A NINETEEN YEAR-OLD APPRENTICE ENGINEER AND WRESTLER, FINDS HIMSELF ON ANOTHER TRAINING COURSE IN LONDON AT EVEN SHORTER NOTICE THAN LAST TIME. HE DECIDED TO STAY AT THE SAME GAY HOTEL HOPING TO DO SOME WRESTLING. HE COULDN'T ARRANGE ANYTHING AT SHORT NOTICE BUT HE HOPED TO WRESTLE WITH THE AUSTRALIAN NIGHT PORTER AGAIN IF ALL ELSE FAILED. HOWEVER SHANE THE NIGHT PORTER WAS ON HOLIDAY VISITING HIS FAMILY IN AUSTRALIA. ALL SEEMED LOST UNTIL JAMES MET A GUY IN THE GAY PUB NEAR BY WHO RECOGNISED HIM FROM LAST TIME HE'D BEEN THERE. LEO TURNED OUT TO BE A FIT ATHLETIC EX-GYMNAST. ALTHOUGH NOT AN EXPERIENCED WRESTLER HE HAD WRESTLED WITH SANE AND REALLY WANTED TO WRESTLE JAMES.
JAMES WRESTLED LEO IN HIS HOTEL ROOM SHOWING LEO HOW TO PUT ON HOLDS THEN LET LEO PRACTICE THEM ON HIM. THEY THEN WRESTLED COMPETITIVELY WITH JAMES TAKING THE FIRST SUBMISSION PUTTING LEO THROUGH THE RINGER. THEN LEO MANAGED TO TURN THE TABLES ON JAMES AND MAKE HIM SUFFER TO GET THE EQUALISING SUBMISSION. JAMES MADE LEO PAY TAKING THE THIRD AND WINNING SUBMISSION, MAKING LEO SURRENDER THE MATCH. LEO ASKED JAMES FOR ONE MORE SESSION TO SE IF HE COULD GET ANOTHER SUBMISSION OUT OF HIM. THEY WRESTLED AGAIN AND LEO MANAGED TO GET JAMES DOWN WITH SOME DIRTY LOW BLOWS AND THEN KEEP HIM DOWN. LEO THEN WORKED JAMES OVER BIG TIME. HOT MALE ON MALE EROTIC ACTION, TOUGH SUBMISSIONS, FORCE EJACULATIONS, GUT PUNISHMENTS, AND NASTY CBT ACTION. €5.00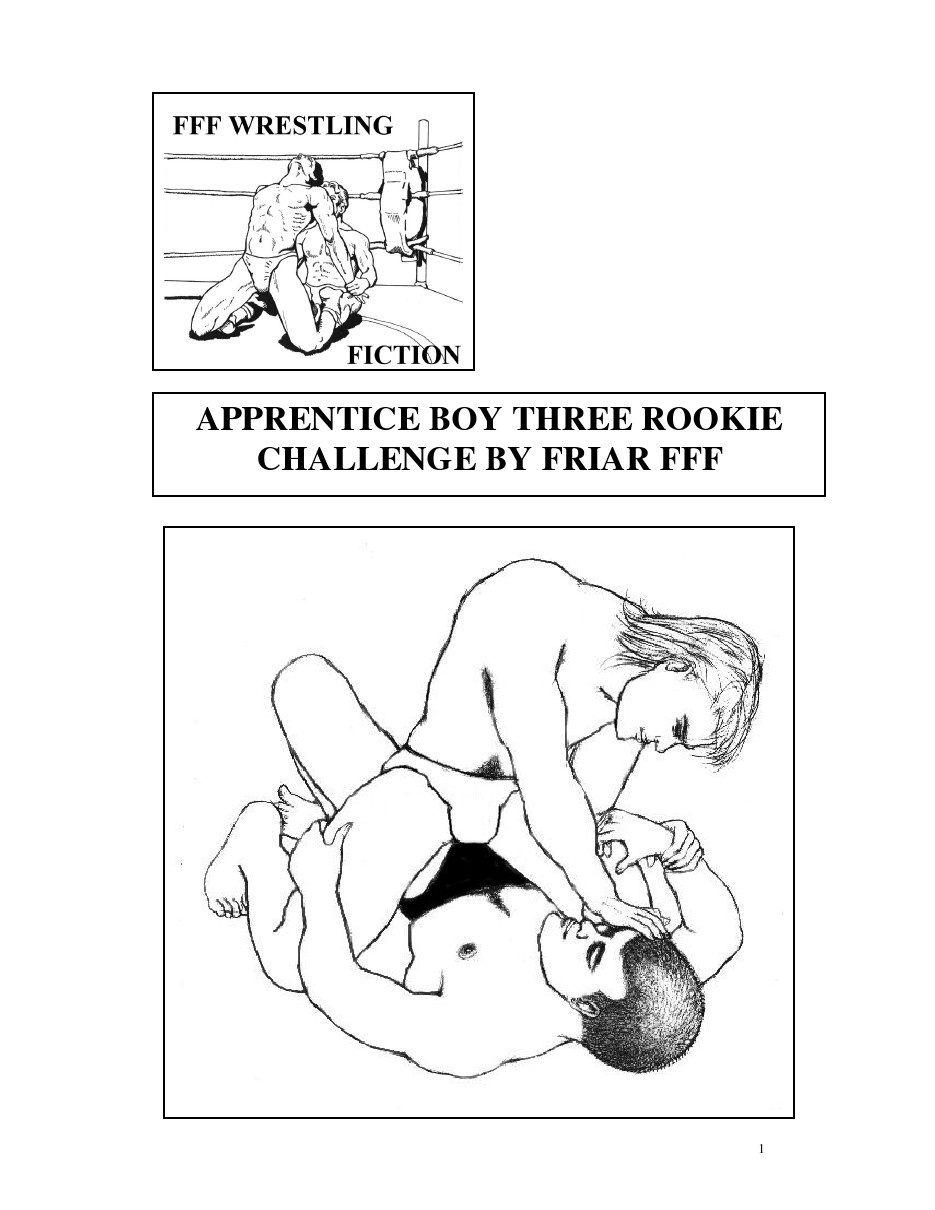 17. REVENGE SQUASH JOB. DIRK CUTE ANGEL GET HIS CHANCE TO GET HIS OWN BACK ON JOSHUA LITTLE DEVIL, FOR BETRAYING HIM IN THEIR TAG MATCH AGAINST KYLE COLLEGIATE KID AND BRAD YOUNG PRETENDER. WHEN A NEW PROMOTER ASKS THEM TO APPEAR IN A THE INDEPENDENT PRO-WRESTLING CIRCUIT WRESTLING VIDEO. THE NEW PROMOTER TURNED OUT TO BE A WOMAN WHO WAS COMMISSIONING THE VIDEO MATCH AS SURPRISE PRESENT FOR HER GAY SON'S EUAN'S EIGHTEENTH BIRTHDAY.
DIRK ENJOYED WORKING THE CUTE SEXY JOSHUA OVER MAKING HIM SUFFER FOR BETRAYING HIM IN THEIR TAG MATCH AND HELPING BRAD AND KYLE TRIPLE TEAM HIM. DIRK NOT ONLY POCKETS THE PRIZE MONEY OFFERED BY THE FEMALE PROMOTER BUT WAS ALSO HIRED BY HER TO WRESTLE HER SON EUAN AS DIRK OR CUTE ANGEL WAS HIS FAVOURITE THE INDEPENDENT PRO-WRESTLING CIRCUIT WRESTLER. DIRK WAS PAID WELL TO SHOW EUAN MOVES AND HOLDS AND LET EUAN BEAT HIM.
DIRK WAS DISGUISED AS A BELL BOY TO GET INTO EUAN'S ROOM. WHEN EUAN REALISED WHO HE WAS, DIRK TOLD EUAN HE WAS ANOTHER PRESENT FROM HIS MOTHER THEN SHOWED HIM THE HAND CUFFS AND BOX OF SEX TOYS HE HAD BROUGHT. EUAN TURNED OUT TO BE A QUICK LEARNER AND GAVE DIRK A GOOD WORK OVER. EUAN THEN HANDCUFFED DIRK TO THE BED AND SUBJECTED HIM TO MORE SEXUAL AND PHYSICAL ABUSE USING THE SEX TOYS ON DIRK. EUAN DIDN'T GET IT QUITE ALL HIS OWN WAY AS DIRK MANAGED TO TURN THE TABLES ON HIM IN THE END AND GAVE EUAN HIS OWN PERSONAL BIRTHDAY PRESENT. TOUGH SEXY MALE ON MALE WRESTLING ACTION AND EROTIC KINKY MALE ON MALE PHYSICAL AND SEXUAL ABUSE. €5.00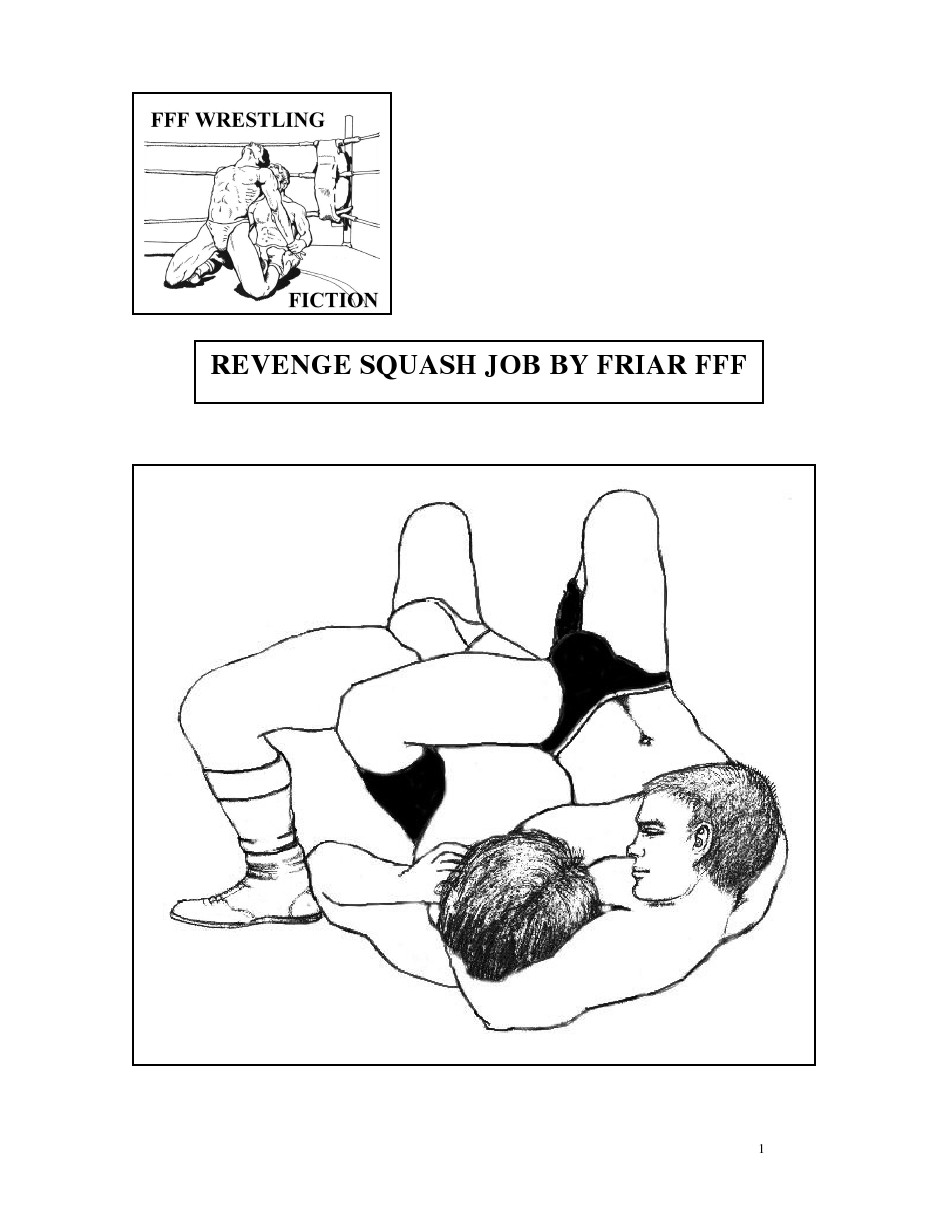 18. CYPRIOT ENCOUNTERS PART 1. IAN A THIRTY SOMETHING GAY WRESTLER WITH A LIKING FOR GUT PUNISHMENT IS ON HOLIDAY IN CYPRUS. AS CYPRUS WAS NOT A POPULAR GAY HOLIDAY DESTINATION IAN WASN'T EXPECTING ANY WRESTLING ACTION WHILE THERE. HOWEVER TO HIS SURPRISE AND DELIGHT HE MET GAY ENGLISH TWINS ON HOLIDAY THERE WHO IT TURNED OUT WHERE ALSO INTO WRESTING AND GUT PUNISHMENT.
IAN WRESTLED THE TWINS GLYN AND GRANT ON THE BEACH BEATING BOTH OF THEM INDIVIDUALLY, GETTING PAINFUL AND EXCITING SUBMISSIONS FROM THEM. THEY THEN TOOK HIM ON TOGETHER AND MADE HIS SUBMIT THIS TIME AND INFLICTED SOME GUT PUNISHMENT. THE TWINS WERE IMPRESSED BY JUST HOW MUCH IAN CAN TAKE AND HOW MUCH HE ENJOYED DOING IT THAT THEY INSIST ON SEEING HIM AGAIN FOR SOME MORE FUN BEFORE THEY FLY HOME. THEY ARRANGE TO MEET IAN IN A SMALL BAR THAT HAS YOUNG GAY BARMAN RUNNING IT IN THE EVENINGS.WHEN IAN ARRIVED GRANT AND GLYN WERE ALREADY THERE AND HAD BEEN INDULGING IN SOME PUNCHING GAMES WITH ANDREW THE YOUNG GAY BARMAN.
IAN JOINED THEM AND GOT INVOLVED IN THE PUNCHING GAMES. ANDREW ALSO GOT INVOLVED AGAIN AS HE CLEARLY TURNED ON BY THE PUNCHING GAMES BUT WAS NOT UP TO THE TWINS OR IAN'S STANDARD, AND CANNOT KEEP UP. IAN DEFEATED BOTH TWINS AGAIN INDIVIDUALLY, BUT THIS TIME AT GUT PUNISHMENT. THEY TOOK HIM ON AGAIN THIS TIME TOGETHER AND HE STILL BEAT THEM. THEN THE TWINS INSISTED ON WORKING IAN OVER TO SEE HOW MUCH HE CAN TAKE. THEY REALLY GO TO WORK ON IAN GUTS BUT THEY CANNOT MAKE HIM CONCEDE.
THE TWINS ARE SO TURNED ON BY IAN RESISTANCE AND THE EXCITEMENT OF PUNISHING HIM THAT THEY TAKE HIM BACK TO THEIR APARTMENT FOR AN EVEN TOUGHER SESSION. THE TWINS GIVE IAN A LONG GUT PUNISHING WORK OVER THAT FINALLY BREAKS HIM AND HE AGREES TO THEIR SEXUAL FORFEIT. THE TWINS REALLY FUCK IAN AND THEMSELVES TO EXHAUSTION. IAN WOKE UP FIRST IN THE EARLY HOURS AND TOOK HIS REVENGE ON THE TWINS FUCKING AND GUT PUNISHING THEM BEFORE BIDDING THEM FAREWELL AND SAFE JOURNEY BACK TO THE UK. TOUGH AND EROTIC MALE V MALE WRESTLING AND GUT PUNISHING ACTION. £4.0019. CYPRIOT ENCOUNTERS PART 2. IAN ARRANGES A MATCH WITH ANDREW THE YOUNG BARMAN AFTER THE TWINS GRANT AND GLYN GO HOME. IAN MEETS ANDREW IN HIS APARTMENT FOR AFTERNOON OF TOUGH, SEXY EXCITING WRESTLING. FIRST THEY PRACTICE ALLOWING ANDREW TO LEARN THE HOLDS AND MOVES AND HOW TO GET OUT OF THEM. AS ANDREW HAD ALWAYS HAD ALWAYS FANTASISED ABOUT WORKING A LARGER, STRONGER, GUY OVER WHILE WRESTLING, IAN AGREED TO WRESTLE ANDREW WITHOUT RESISTING SO IAN COULD REALISE HIS FANTASY.
ANDREW GIVES IAN ONE HELL OF A WORK OVER, MARVELLING AT JUST HOW MUCH PUNISHMENT IAN COULD TAKE. ANDREW FINISHED IAN OFF WITH A COMBINED KO AND TKO. AFTER A SHORT BREAK AND A COUPLE OF COLD BEARS THEY START AGAIN BUT THIS TIME THE WRESTLING IS COMPETITIVE. THIS TIME ITS ANDREW GET WORKED OVER AS ANDREW GET PAYBACK FORM THE PUNISHMENT INFLICTED ON HIM BY ANDREW. HOWEVER IAN DIDN'T GET IT ALL HIS OWN WAY. TOUGH SEXY EROTIC MALE ON MALE WRESTING ACTION, PITTING A SMALLER, LIGHTER, WRESTLER, AGAINST A LARGER, STRONGER ONE. €4 00.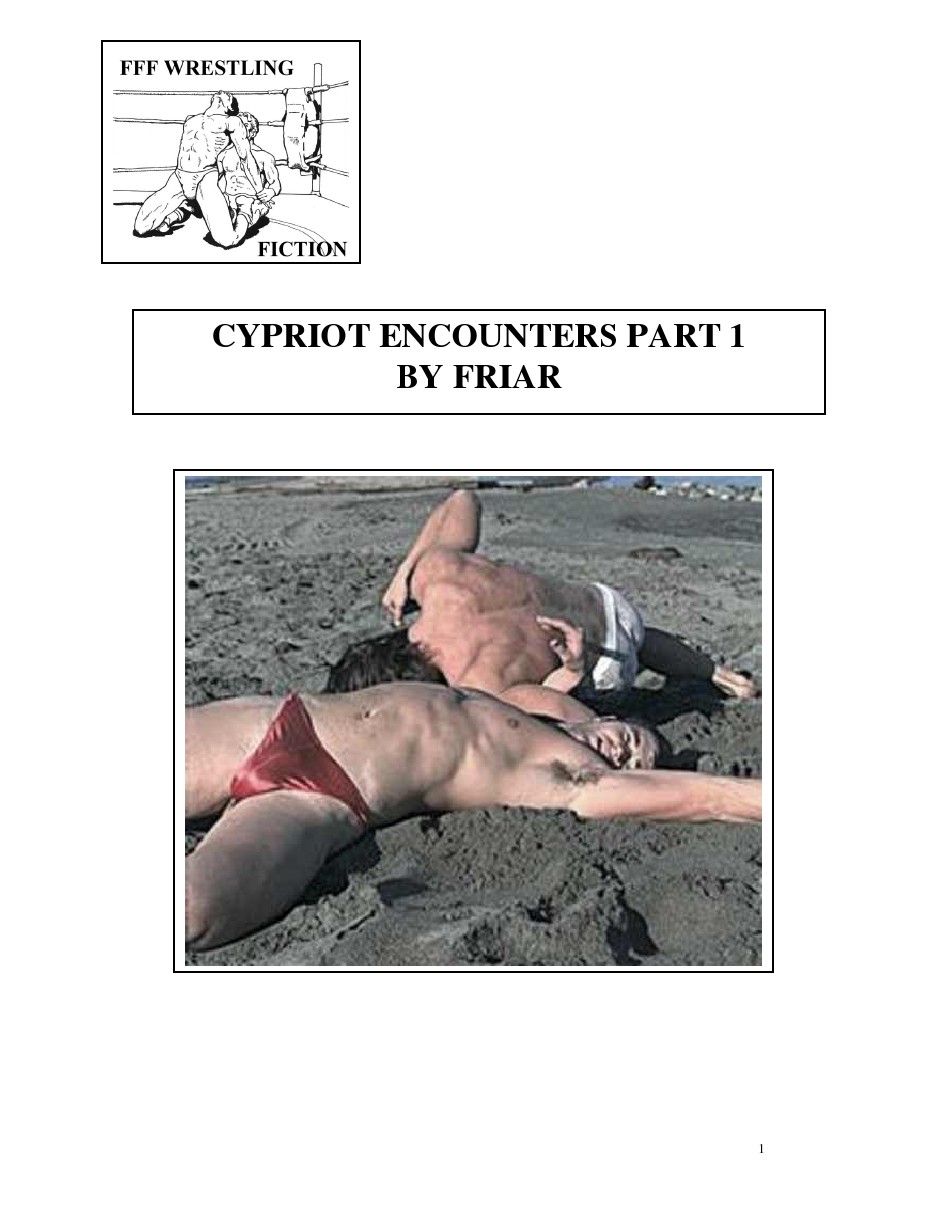 19. CYPRIOT ENCOUNTERS PART 2. IAN ARRANGES A MATCH WITH ANDREW THE YOUNG BARMAN AFTER THE TWINS GRANT AND GLYN GO HOME. IAN MEETS ANDREW IN HIS APARTMENT FOR AFTERNOON OF TOUGH, SEXY EXCITING WRESTLING. FIRST THEY PRACTICE ALLOWING ANDREW TO LEARN THE HOLDS AND MOVES AND HOW TO GET OUT OF THEM. AS ANDREW HAD ALWAYS HAD ALWAYS FANTASISED ABOUT WORKING A LARGER, STRONGER, GUY OVER WHILE WRESTLING, IAN AGREED TO WRESTLE ANDREW WITHOUT RESISTING SO IAN COULD REALISE HIS FANTASY.
ANDREW GIVES IAN ONE HELL OF A WORK OVER, MARVELLING AT JUST HOW MUCH PUNISHMENT IAN COULD TAKE. ANDREW FINISHED IAN OFF WITH A COMBINED KO AND TKO. AFTER A SHORT BREAK AND A COUPLE OF COLD BEARS THEY START AGAIN BUT THIS TIME THE WRESTLING IS COMPETITIVE. THIS TIME ITS ANDREW GET WORKED OVER AS ANDREW GET PAYBACK FORM THE PUNISHMENT INFLICTED ON HIM BY ANDREW. HOWEVER IAN DIDN'T GET IT ALL HIS OWN WAY. TOUGH SEXY EROTIC MALE ON MALE WRESTING ACTION, PITTING A SMALLER, LIGHTER, WRESTLER, AGAINST A LARGER, STRONGER ONE. €4 00.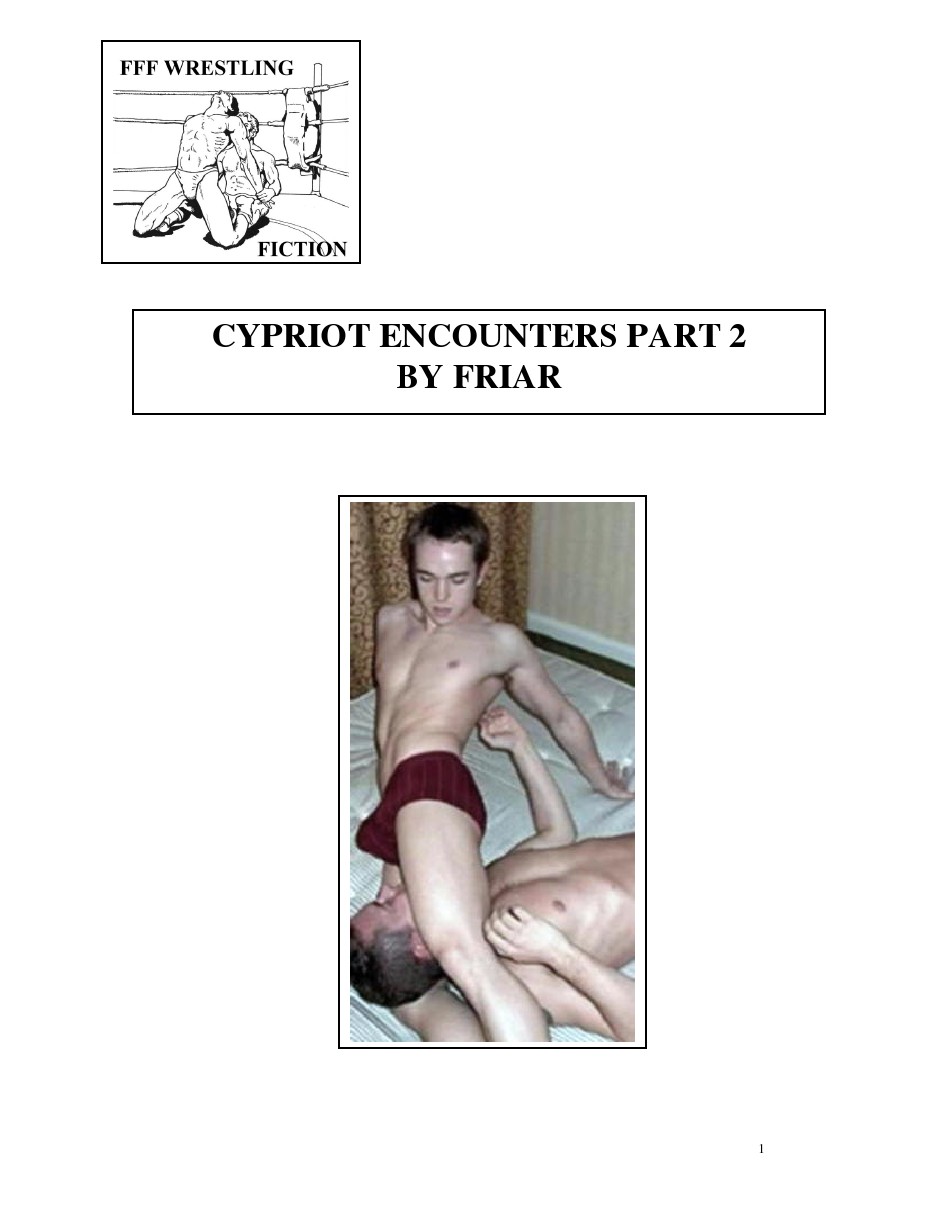 20. WRESTLING ENSIGN PART 1 FIRST ASSIGNMENT. BRAD REDENSKI A TWENTY-ONE YEAR OLD NEWLY QUALIFIED ENGINEERING OFFICER IS ASSIGNED TO AN ALIEN SPACE STATION IN A FAR QUADRANT OF THE GALAXY. BRAD FAILED MILITARY ACADEMY AND BUT RETAINED HIS KEEN INTEREST IN WRESTLING FROM HIS ACADEMY DAYS. HE WRESTLED SEVERAL SPACE MARINES AND SPACE FLEET OFFICERS ON HIS LONG VOYAGE TO THE DISTANT SPACE STATION. BRAD MISSED HIS WRESTLING WHEN HE WAS THE ONLY HUMAN ON THE SPACE STATION. THEN HE DISCOVERED THE ALTERANS VERSION OF THE GALACTIC WEB AND A GLADIATOR Or FIGHTER FORUM. BRAD MISSED WRESTLING SO MUCH HE PUT HIMSELF ON THE FORUM FOR BOUTS AGAINST NON HUMANS. BRAD HAD INDULGED IN SOME INTER SPECIES WRESTLING WHEN AT MILITARY ACADEMY AND HAD LOST BOTH TIMES, BUT THIS DIDN'T PUT HIM OFF.
BRAD'S FIRST BOUT WAS AGAINST A PASSING SOLARIAN TRADER. LEO DIDN'T LOOK PARTICULARLY CHALLENGING ON THE MATS BUT PROVED TO BE JUST THAT. HE SLOWLY BUT SURELY OVER POWERED BRAD MAKING HIM SUFFER IN PLENTY OF PAINFUL HOLDS. SENSING BRAD WAS BEATEN LEO STRIPPED OFF BRAD SPEEDOS. LEO AND ALL SOLARIAN'S WERE ASEXUAL AND HE WAS FASCINATED BY BRAD'S SEXUAL ORGANS. LEO STARTED TO EXPLORE BRAD'S NAKED BOY WHILE HE PUT HIM IN MORE HOLDS. LEO'S BODY TEMPERATURE WAS HIGHER THAN A HUMAN AND IT MADE HIS TOUCH EVEN MORE EXCITING FOR BRAD. LEO DROVE BRAD WILD WITH SEXUAL AROUSAL AND MADE HIM EJACULATE, LEAVING HIM BEATEN AND DRAINED ON THE MATS.
BRAD'S SECOND MATCH WAS AGAINST A YOUNG ALTERAN MAZURAT. ALTERAN'S WERE REPTILIAN CREATURES. THEIR BODIES WERE BI POLAR AND BROADLY SIMILAR TO HUMANS, BUT THEY WERE LITHE AND STRONG LIKE A SNAKES. ALTERANS WORE NO CLOTHING AND MAZURAT INSISTED BRAD FIGHT NUDE. MAZURAT'S SUPPLE REPTILIAN STRENGTH QUICKLY OVERCAME BRAD AND HE WAS MADE TO SUFFER IN NUMEROUS PAINFUL AND SEXUALLY EXCITING HOLDS. MAZURAT WAS FASCINATED BY BRAD'S NAKED BODY AND HE TEASED AND EXPLORED IT, MAKING BRAD HIGHLY AROUSED. BRAD WAS ABUSED PHYSICALLY AND SEXUALLY BY MAZURAT, RESULTING IN HIS TOTAL DEFEAT AND SEXUAL DRAINING AT THE HANDS OF THE REPTILIAN ALIEN. TOUGH SEXY AND EXCITING HUMAN V ALIEN WRESTLING WITH THE HUMAN BEING BEATEN AND ABUSED PHYSICALLY AND SEXUALLY. THE ALIENS MAY NOT BE GAY BUT THE DON'T TAKE ANY PRISONERS WHEN FIGHTING HOT SEXY MALE HUMANS LIKE BRAD. €4.00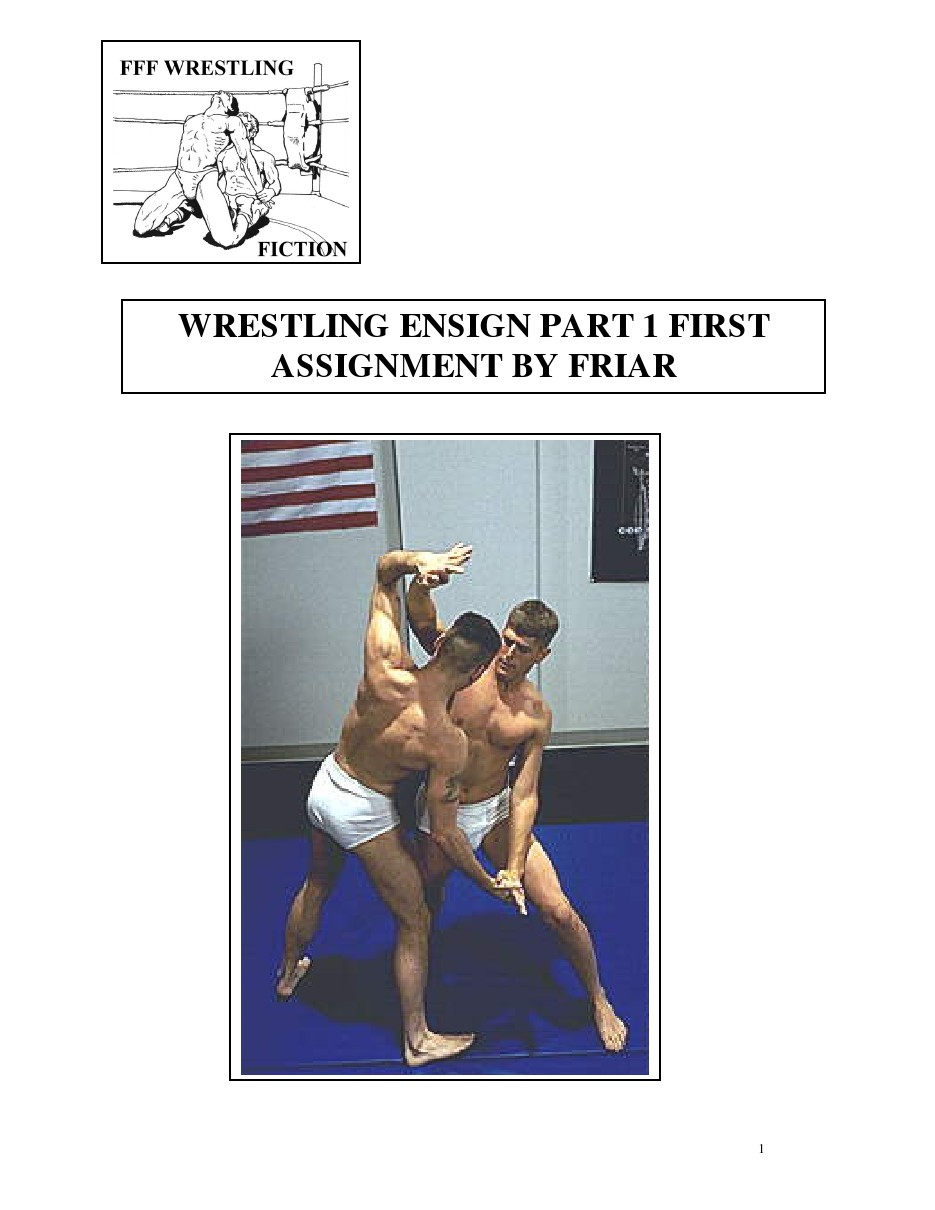 21. TWO WAY SQUASH JOB. DIRK WHO WRESTLES AS CUTE ANGEL FOR THE INDEPENDENT PRO-WRESTLING CIRCUIT WAS ON HIS BED WITH HIS PARTNER AND TAG PARTNER BRAD WHO WRESTLED AS YOUNG PRETENDER. HE TOLD BRAD ALL ABOUT HIS REVENGE MATCH WITH JOSHUA LITTLE DEVIL. JOSHUA BRAD AND KYLE COLLEGIATE KID HAD ALL TURNED ON DIRK IN THEIR FOUR WAY TAG MATCH AND BADLY DOUBLE TEAMED HIM. BRAD WAS IMPRESSED WITH DIRK'S ACCOUNT AND LOOKED FORWARD TO SEEING THE VIDEO. DIRK SAID ALL HE WANTED HIS REVENGE ON BRAD NEXT FOR BETRAYING HIM IN THE TOW WAY TAG MATCH. BRAD EXPECTED THEM TO FIGHT THERE AND THEN BUT DIRK WANTED TO DO IT IN THE RING ON VIDEO. SO THEY INDULGED IN SOME BREATH GAMES SMOTHERING EACH OTHER TO SEE WHO COULD LAST THE LONGEST. DIRK LOST AND WAS STRIPPED AND BOUND, BEFORE BEING SEXUALLY ABUSED AND DRAINED BY BRAD.
DIRK GOT A PHONE CAL THE NEXT DAY FROM LARRY JOHNSON THE ORGANISER OF FOR THE INDEPENDENT PRO-WRESTLING CIRCUIT. A SPONSOR WANTED DIRK TO FIGHT BRAD IN ANOTHER REVENGE MATCH AS THE FIRST ONE HAD BEEN SO EXCITING. DIRK COULDN'T BELIEVE HIS LUCK AND READILY ACCEPTED. HIS SPONSORS TURNED OUT TO BE EAUN FROM REVENGE SQUASH MATCH AND A YOUNG FRIEND RANDY WHO HAD BOTH ENJOYED THAT MATCH AND VIDEO SO MUCH THEY WANTED DIRK TO TAKE HIS REVENGE ON BRAD.
DIRK MET BRAD ON THE MATS AT FOR THE INDEPENDENT PRO-WRESTLING CIRCUIT GYM IN AN ALL OUT UNDERWEAR ONLY MATCH. DIRK AS CUTE ANGEL BEAT AND RALLY WORKED OVER BRAD AS YOUNG PRETENDER. DIRK MADE BRAD SUFFER BOTH PHYSICALLY AND SEXUALLY REALLY ENJOYING EXACTING HIS REVENGE ON HIS TAG PARTNER. IN ONE FINAL ACT OF DOMINATION DIRK MADE BRAD AGREE TO FORFEIT FOR LOSING TO BE DECIDED BY THE SPONSORS. EAUN AND RANDY THE SPONSORS DECIDE THEY WANT TO TAKE ON BRAD OR YOUNG PRETENDER ON THE MATS IN TAG MATCH. THEY WOULD BE IN FULL PRO-GEAR WITH BOOTS, BRAD JUST IN HIS CYCLE SHORTS. THEY COULD TAG BRAD COULD NOT. AT FIRST YOUNG PRETENDER TRIUMPHED TAKING SEXY, PAINFUL SUBMISSIONS FROM ANDY AND EAUN. THE TWO OF THEM ATTACKED YOUNG PRETENDER AND SLOWLY OVER CAME HIM TO TAKE THREE EQUALLY PAINFUL, SEXY SUBMISSIONS AND WIN THE MATCH. TOUGH, SEXY, YOUNG, ATHLETIC, GUY ON GUY, WRESTLING ACTION. €4.00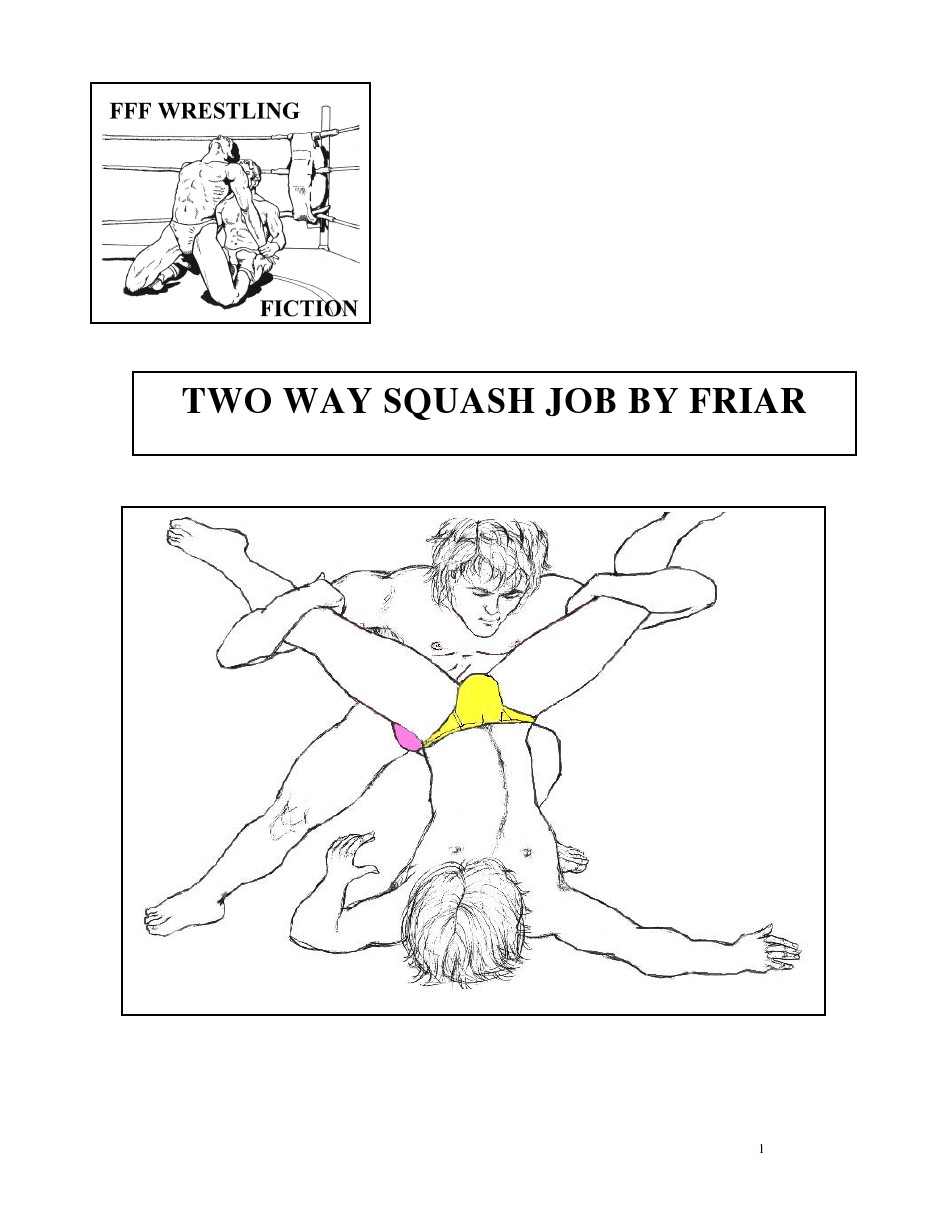 22. WRESTLING ENSIGN PART 2 ENTER THE LABYRINTH. . BRAD REDENSKI A TWENTY-ONE YEAR OLD NEWLY QUALIFIED ENGINEERING OFFICER WAS ASSIGNED TO AN ALIEN SPACE STATION IN A FAR QUADRANT OF THE GALAXY. BRAD WAS THE ONLY HUMAN ON THE STATION OF ALIEN REPTILIANS. AS KEEN WRESTLER BRAD HAD BEEN DELIGHTED TO FIND A GLADIATOR FIGHTER FORUM THAT HE GRATEFULLY JOINED PUTTING HIMSELF FORWARD FOR INTER-SPECIES MATCHES. BRAD A CURIOSITY AMONG THE ALTERAN REPTILIANS BE MAMMALIAN AND WARM BLOODED ALSO AS THEY WERE NON SEXUAL THEY WERE FASCINATED BY HIS SEXUAL ORGANS AND HOW THEY COULD BE USED TO TAKE TOTAL CONTROL OF HIM. BRAD HAD TWO INTERSPECIES MATCHES BRAD WAS STILL RECOVERING. ONE AGAINST AND ALTERAN AND ONE AGAINST A SOLARIAN. HE'D LOST BOTH JUST LIKE HIS TWO PREVIOUS INTER SPECIES MATCHES BACK AT THE ACADEMY. THEY HAD BOTH WORKED HIM OVER PHYSICALLY AND SEXUALLY, FASCINATED BY HIS SOFT AND VERY RESPONSE BODY AND SEXUAL ORGANS.
BRAD HAD HEARD WHISPERINGS AND POSTINGS ABOUT A SPECIAL FIGHT ARENA CALLED THE LABYRINTH THAT SPECIALISED IN INTER SPECIES FIGHTS. BRAD WAS KEEN TO FIND OUT MORE ABOUT THE LABYRINTH MAYBE EVENTUALLY EVEN TAKE PART IN ONE OF THEIR FIGHTS. BRAD DIDN'T HAVE TO WAIT LONG FOR AN INVITATION TO THE LABYRINTH. AN ALTERAN CALLED THE SENTINEL OFFERED BRAD A CHANCE TO FIGHT IN THE LABYRINTH IF HE PASSED THE ENTRANCE TEST A SPECIALLY ARRANGED INTER SPECIES MATCH. BRAD WAS PITTED AGAINST AN ALIEN SIMIAN PHYSICALLY TO APES AND CHIMPANZEES ON EARTH BUT MORE INTELLIGENT, SENTIENT. BRAD LOST AGAINST THE STRONG MORE AGGRESSIVE AND ANIMALISTIC ALIEN SIMIAN IN A HIGH STAKES MATCH. BRAD WAS THE SIMIAN'S PRIZE AND THE SIMIAN WHO HAD ALREADY PHYSICALLY AND SEXUALLY WORKED BRAD OVER IN THE BOUT HAD EVEN MORE FUN AT BRAD EXPENSE
ALTHOUGH HE LOST BRAD HAD PASSED THE TEST SENTINELS NEXT MATCH IN THE LABYRINTH WAS AGAINST TWO MORE ALIENS WHO BORE UNCANNY RESEMBLANCE TO NEANDERTHALS. BRAD WAS DEPOSITED IN THE MAZE LIKE INTERIOR OF THE LABYRINTH HE HAD WIN HIS WAY PAST THE TWO ALIEN NEANDERTHALS. BRAD PUT UP A BRAVE FIGHT BUT WAS NO MATCH FOR THE TWO STRONGER BRUTAL UNRELENTING ALIENS. BRAD IS WORKED OVER BY THE TWO ALIENS AND THEN TAKEN SEXUALLY BY THEM. HUMAN PITTED AGAINST TWO STRONGER ALIEN SPECIES WHO REALLY BEAT HIM AND SUBJECT HIM TO INTENSE PHYSICAL AND SEXUAL ABUSE. €4.00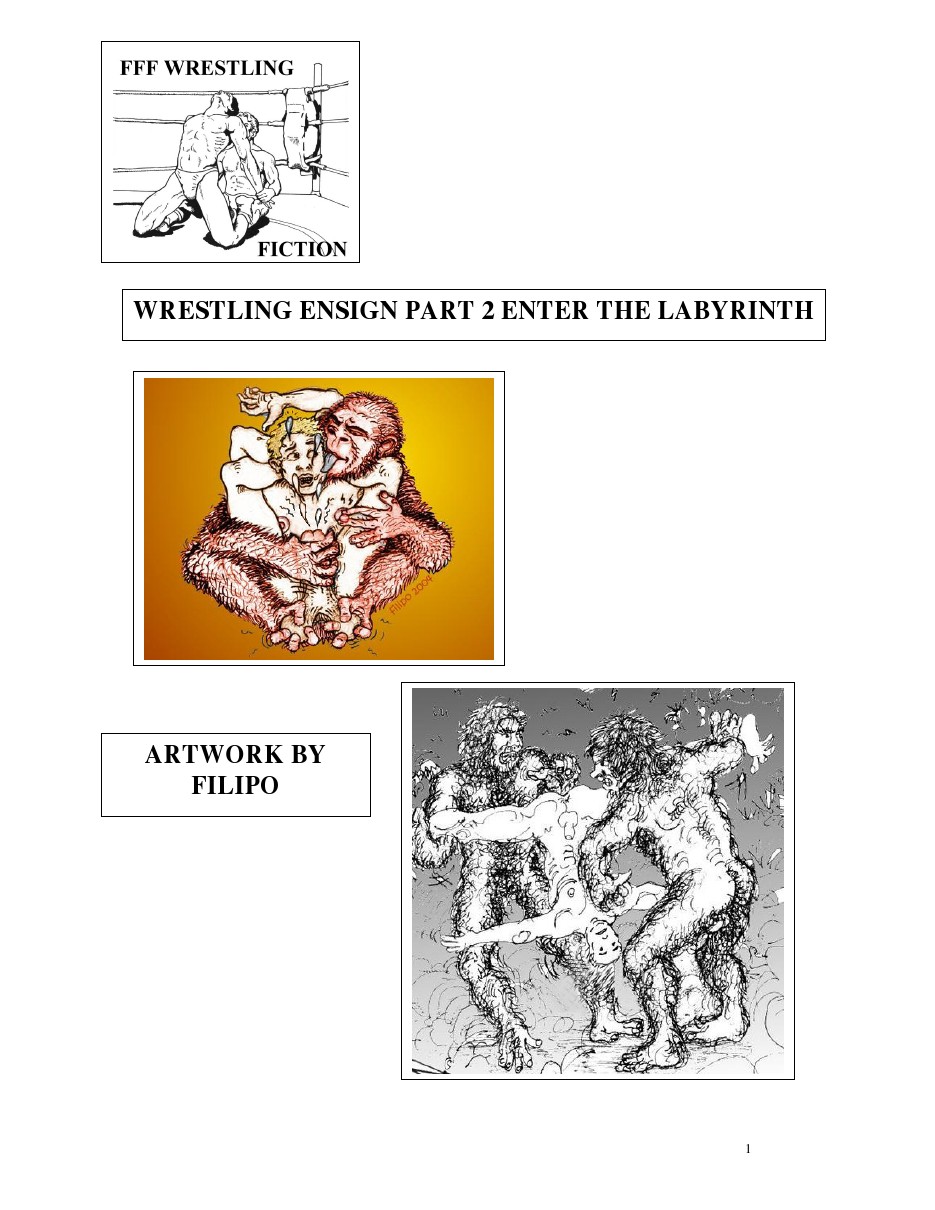 23 WELL HEELED JOBBER. COLIN AND OLDER, LARGER, MORE EXPERIENCED WRESTLER ANSWERS THE AD FROM YOUNGER, SLIMMER, FITTER AND LESS EXPERIENCED WRESTLER. DANIEL WAS LOOKING FOR AN OLDER GUY LIKE COLIN TO PUT HIM THROUGH HIS PACES AND TEST HIS LIMITS. COLIN WAS HAPPY TO COMPLY AND INVITED DANIEL TO HIS HOUSE TO WRESTLE FULLY INTENT ON GIVING DANIEL WHAT HE WANTED A REAL HEEL ON JOBBER WORK OVER. COLIN REALLY WENT TO TOWN ON DANIEL APPLYING A SERIES OF PUNISHING HOLDS TURNING THE YOUNGER WRESTLER EVERY WHICH WAY BUT LOOSE. GREAT MALE ON MALE ACTION WITH AN OLDER LARGER GUY, WORKING OVER A YOUNGER FITTER GUY, MAKING HIM SUFFER. TOUGH, HORNY, MALE WRESTLING ACTION. €3.00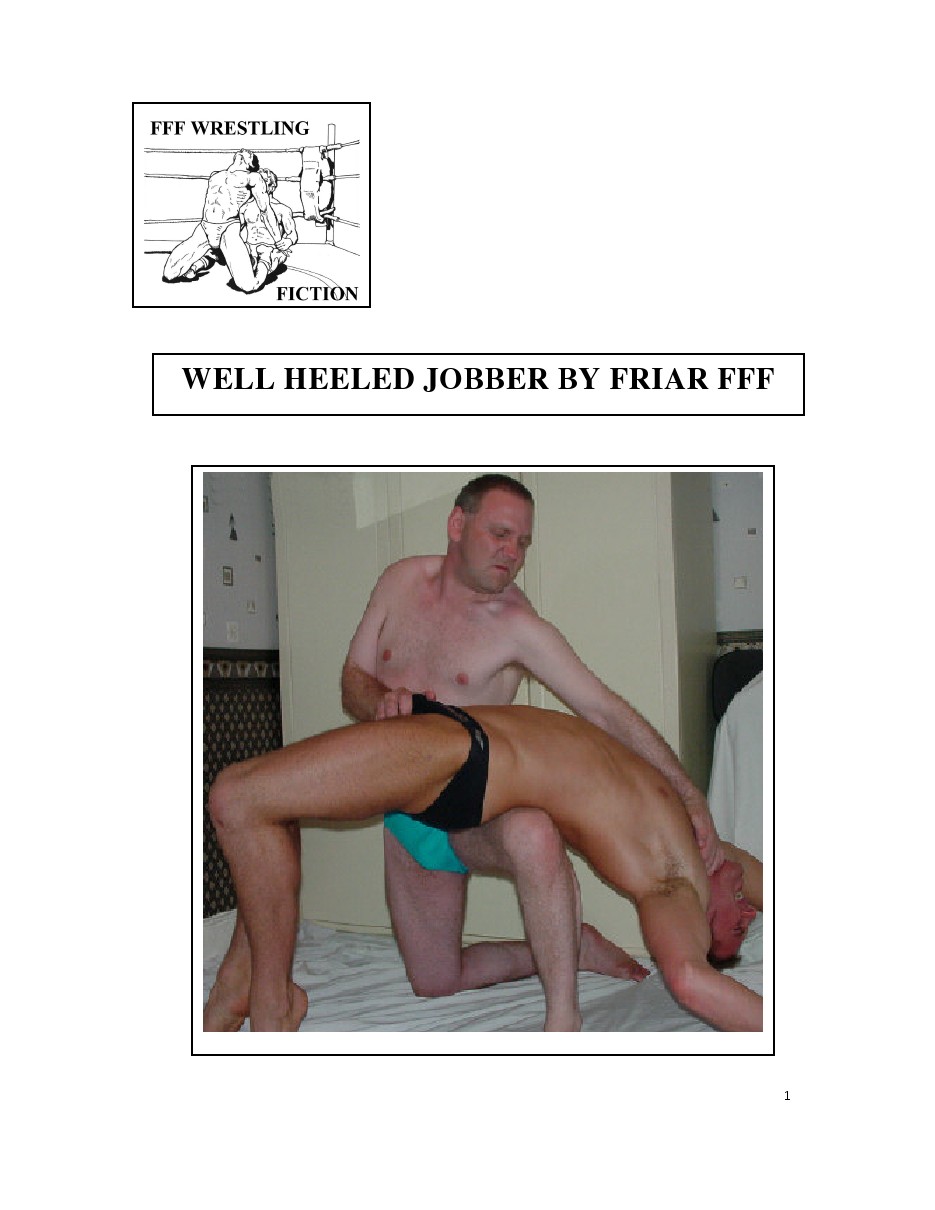 24 THE ADVENTURES OF A CORRESPONDENCE WRESTLER PART 3 HIGH STAKES MATCH. LUKE CONTACTS THE THIRD REPLY TO HIS AD TO HIS. SEBASTIAN CHALLENGES LUKE TO A NHB HIGH STAKE MATCH. IF LUKE LOOSES HE AGREED TO PLAY SOME BALL BUSTING GAMES WITH SEBASTIAN. SEBASTIAN TROUNCES LUKE REALLY WORKING HIM OVER OBTAINING MULTIPLE SUBMISSIONS. LUKE PLAYS A BALL BUSTING GAME WITH SEBASTIAN AND LOOSES SUFFERING SOME VERY PAINFUL BALL PUNISHMENT. LUKE WAS THEN FORCED TO SUCK SEBASTIAN'S COCK BEFORE SEBASTIAN GAVE LUKE HIS FINAL AND EVEN MORE PAINFUL REWARD FOR LOOSING BOTH THE WRESTLING AND THE BALL BUSTING GAMES. TOUGH PAINFUL MALE ON MALE NHB WRESTLING. ALSO A PAINFUL AND EROTIC MUTUAL BALL BUSTING SESSION. GRITTY, TOUGH EROTIC MALE AND MALE ACTION. €4.00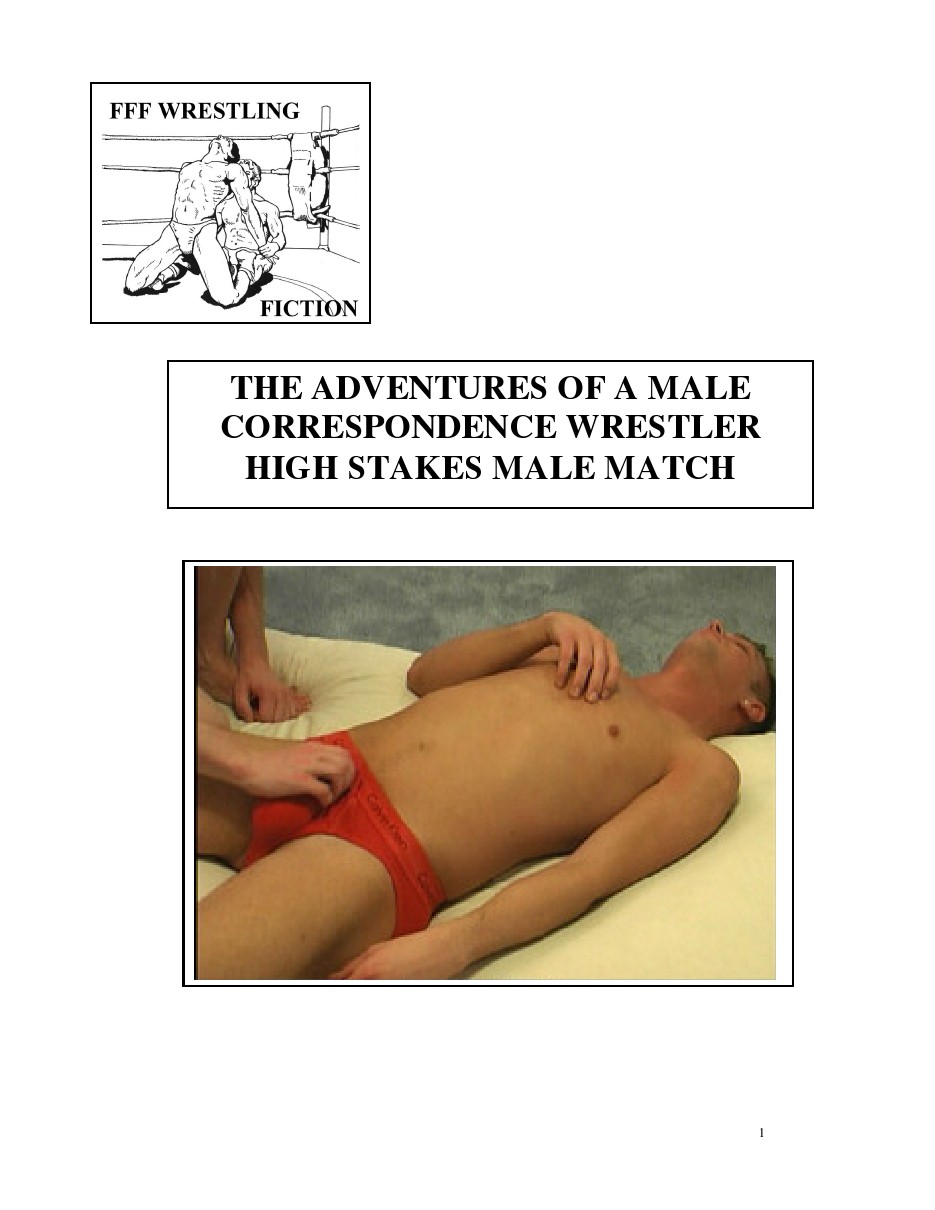 25. WRESTLING ENSIGN PART 3 HIGH STAKES ALIEN MATCH. BRAD REDENSKI A TWENTY-ONE YEAR OLD NEWLY QUALIFIED ENGINEERING OFFICER WAS ASSIGNED TO AN ALIEN SPACE STATION IN A FAR QUADRANT OF THE GALAXY. BRAD WAS THE ONLY HUMAN ON THE STATION OF ALIEN REPTILIANS. AS KEEN WRESTLER BRAD HAD BEEN DELIGHTED TO FIND A GLADIATOR FIGHTER FORUM THAT HE GRATEFULLY JOINED PUTTING HIMSELF FORWARD FOR INTER-SPECIES MATCHES BRAD IS OFFERED A SPECIAL SPONSOR MATCH BY TWO SPONSORS. A HIGH STAKES ALIEN MATCH WITH WINNERS TAKE ALL SPONSOR AND GLADIATOR ALIKE. HE IS THE GLADIATOR FOR ONE BRONSON THE ONLY OTHER HUMAN BRAD HAD MET IN ALTERAN SPACE. THE OTHER SPONSOR TAUPAU A DROVIAN. TAUPAU'S GLADIATOR WAS AN INSECTIOD CALLED CARSUS WITH TEN LIMBS AND SEGMENTED INSECT LIKE BODY. BRAD LOSES ALL THREE SUBMISSIONS TO CARSUS SUFFERING PHYSICAL AND SEXUALLY HUMILIATION AT ALIEN INSECTIOD'S HANDS. BRAD WAS THEN BOUND ABUSED AND TEASED BY TAUPAU WHO URGED HIM TO BECOME HIS HUMAN SLAVE BUT BRAD REFUSED AND TAUPAU LEFT BRAD TRUSSED UP AND THEN WORKED ON BRONSON AND MADE HM AGREE TO BE HS HUMAN SLAVES. CARSUS THE INSECTIOD ALIEN ESCAPED HIS CAGE AND TORTURED ABUSED BRAD HELPLESS BOUND BODY AND BRAD WAS ONLY RESCUED IN THE NICK OF TIME BY TAUPAU. HOT SEXY AND PAINFUL ABUSE OF THE HUMAN MALE BODY BY ALIENS. €4.00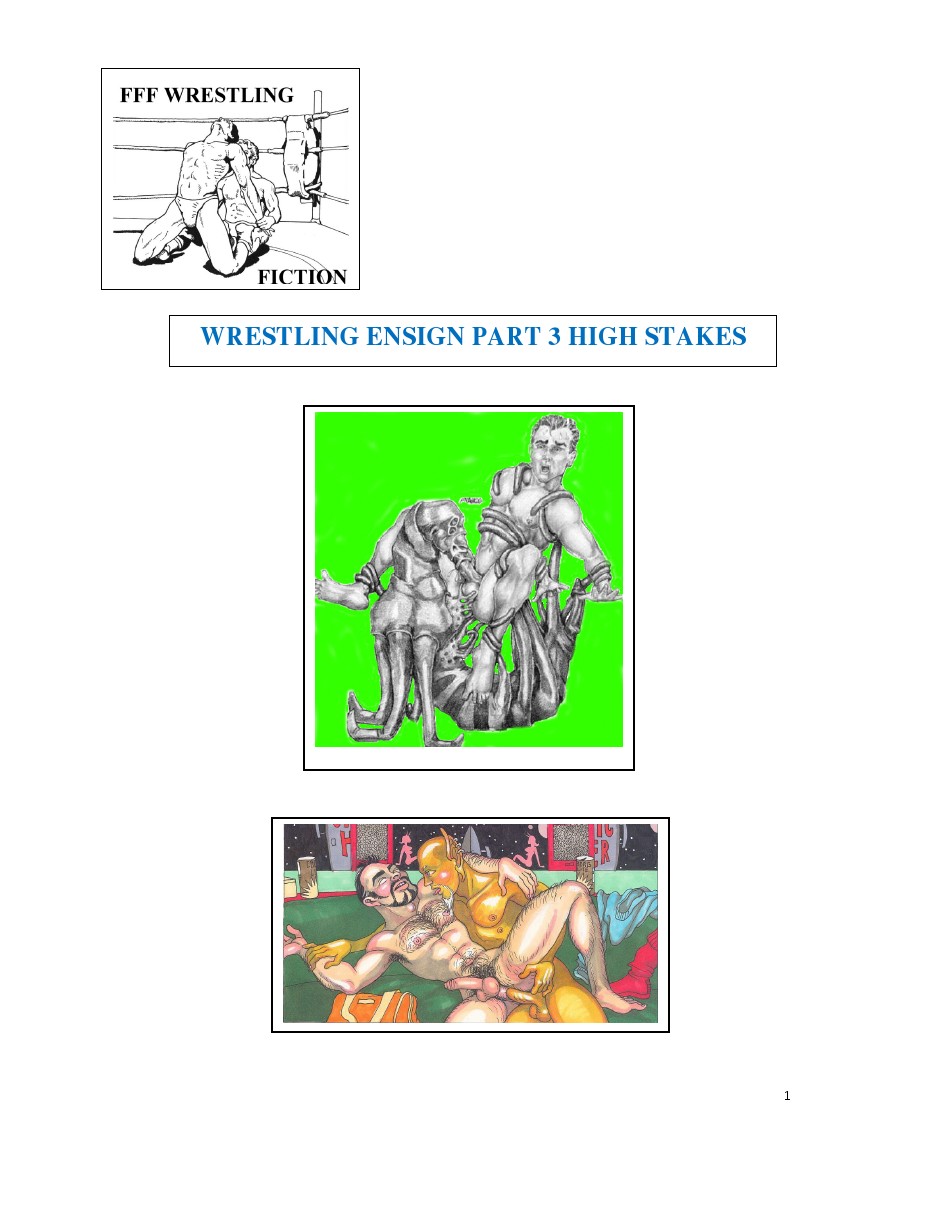 26. WRESTLING LIEUTENANT NEW CHALLENGES. NEWLY PROMOTED BRAD REDENSKI ENGINEERING LIEUTENANT NOW TRANSFERRED TO THE ALTERAN SPACE FLEET ACQUIRES AN ALTERAN ENGINEERING ENSIGN AS HIS ASSISTANT. BRAD NOT ONLY TRAINS MARJOS TO REPAIR TERRAN EMPIRE TECHNOLOGY HE ALSO INTRODUCES MARJOS TO INTER SPECIES WRESTLING. MARJOS A QUICK LEARN AT BOTH SOON TURNS HIS EARLY DEFEATS INTO VICTORIES. AS THEIR WRESTLING CONTINUES MARJOS TOTALLY DOMINATES USING BRAD AS HIS VIRTUAL SEX SLAVE.
MARJOS IS SENT ON MISSION DEEP INTO THE ALTERAN QUADRANT. WHILE MARJOS IS AWAY BRAD MEETS ONLY THE SECOND HUMAN HE HAD SEEN IN THE ALTERAN QUADRANT. GARRET IT TURNED WAS FROM THIS SECTION OF THE GALAXY BRED FROM CAPTIVES TAKEN GENERATIONS. GARRET WAS A SURPRISED TO SEE BRAD AS HE HAD NEVER MET WHAT HE CALLED OLD OR ORIGINAL HUMAN. GARRET CONSIDERED HIMSELF A NEW OR IMPROVED HUMAN. GARRET PROVED HIS PHYSICAL SUPERIORITY WHEN THEY WRESTLED BY EASILY AND CONVINCINGLY DEFEATING BRAD. BRAD GER BEATEN AND WORKED OVER BY HIS ALTERAN ASSISTANT AND GARRET THE NEW HUMAN. HOT SEXY AND PAINFUL ALIEN ABUSE OF THE HUMAN MALE BODY. €5.00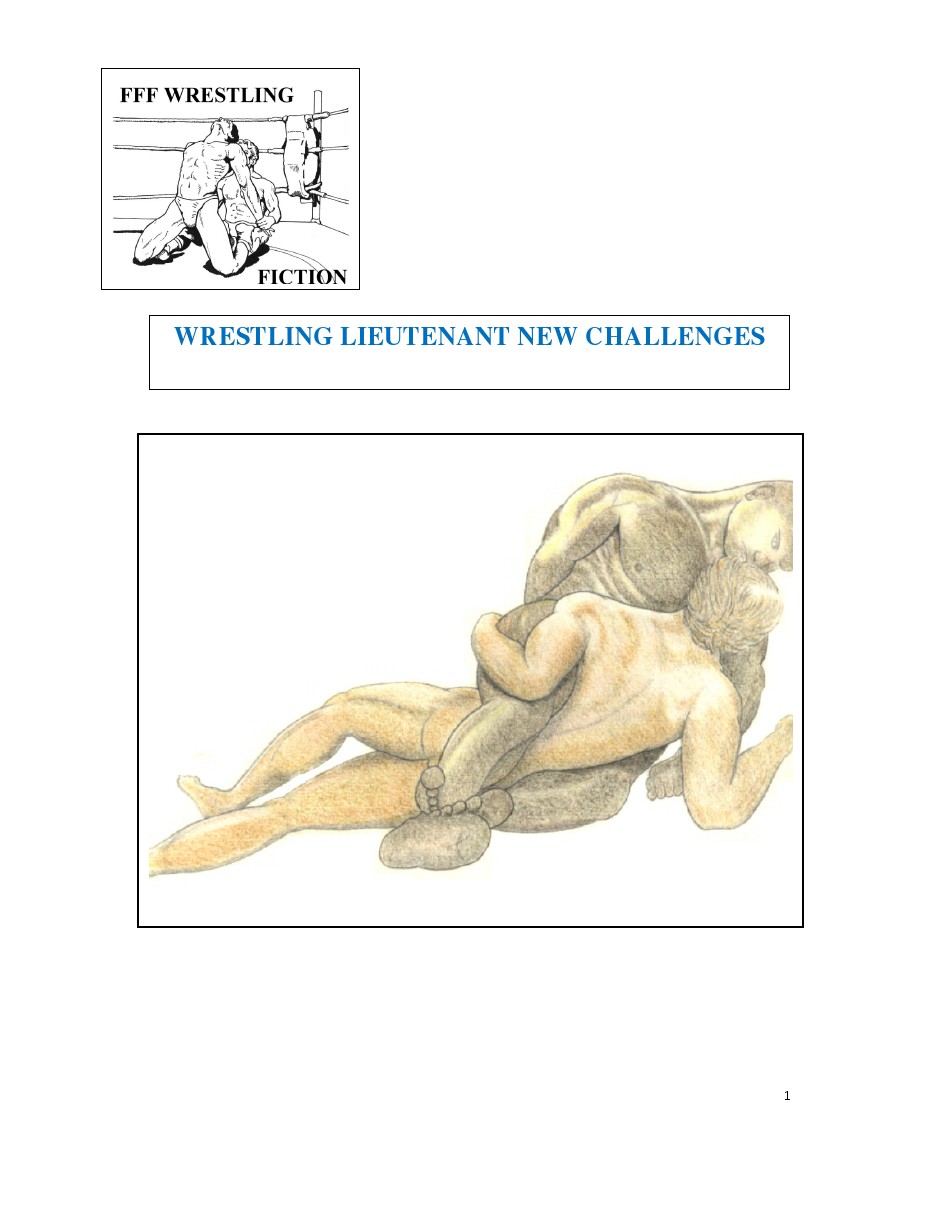 27 THE MISADVENTURES OF THE BEAT DOWN BEAR PART 1 INITIATION. DANNY THICKSET UK WRESTLER TAKES UP THE CHALLENGE FROM GABE A HUGE AMERICAN WRESTLER. NO NOT A SMALL WRESTLER HIMSELF DANNY IS DWARFED BY GABE SIZE AND AS PROMISED GETS THE TOUGHEST BEAD DOWN OF HIS WRESTLING CHALLENGES SO FAR. GABE'S HUG FORM AND WEIGHT ADVANTAGE COUPLED WITH HIS STRENGTH TURNS IT INTO A ONE WAY BEAT DOWN MATCH. GABE WORKS DANNY OVER IN NUMEROUS PAINFUL HOLDS AND PINS SLOWLY STRIPPING OF HIS WRESTLING GEAR. GABE OBTAINS MULTIPLE SUBMISSIONS FROM DANNY WHO HE PUNISHES MERCILESSLY. GABE USES HIS BUILT TO LITERALLY SQUASH THE LIFE AND RESISTANCE OUT OF DANNY MAKING HIM SUBMIT BOTH PHYSICALLY AND SEXUALLY. BIG STOCKY WRESTLER SQUASHED AND BEATEN DOWN BY AN EVEN BIGGER WRESTLER. GOOD MALE ON MALE PHYSICAL AND SEXUAL ACTION €3.00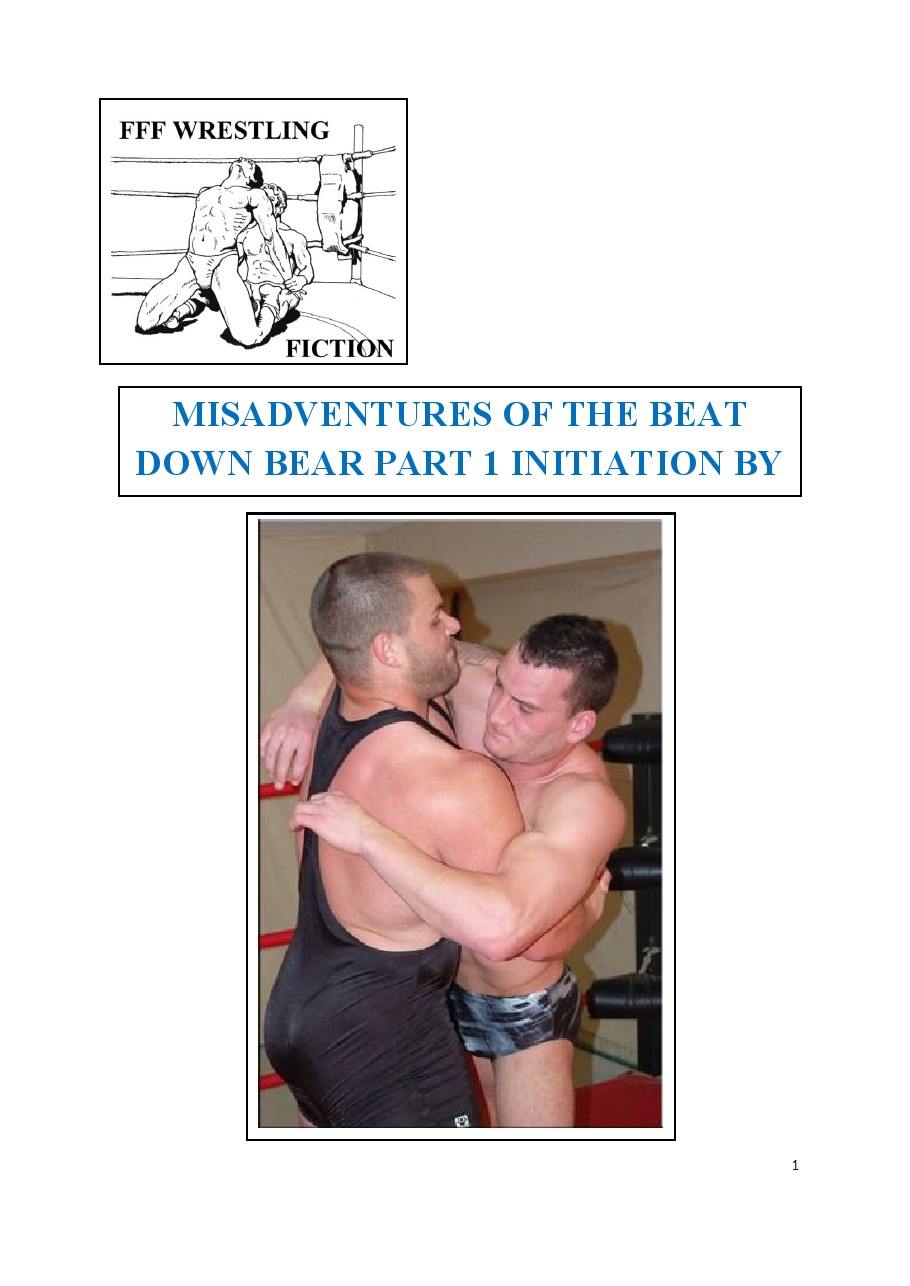 28 SELF PROCLAIMED COOL MAN TO MR PITIFUL PART 1 THE BEGINNING. BARRETT A FORTY SOMETHING DIVORCEE STRAIGHT MALE WHO WAS REFERRED TO BY HIS FRIENDS AS 'COOL MAN' NOT BECAUSE THEY THOUGHT LIKE HIMSELF HE WAS A COOL MAN NO BECAUSE HE WAS SUPERIOR ARROGANT AND PREJUDICE. HOWEVER BARRETT'S ARROGANCE PREJUDICE AND BOASTS OF BEING AN ACCOMPLISHED MMA FIGHTER WERE ABOUT TO COME BACK TO HAUNT HIM. ONE OF BARRETT'S FRIENDS SUGGESTS TO AM ILLEGAL MALE GLADIATORIAL FIGHTING ASSOCIATION THAT BARRETT WOULD MAKE A FINE GLADIATOR FOR THEM. THE UK ARM OF THE WORLD STREET FIGHTER GLADIATORS ACADEMY THE WSFGA ARRANGED FOR BARRETT TO BE ADDUCTED AND TRAINED AS ONE OF THEIR ILLEGAL BONDED GLADIATORS. BARRETT IS ABDUCTED BY THE WSFGA AND WAKED UP NAKED IN ONE OF THEIR CELLS. RICH SUCCESSFUL BUSINESS MEN ARE ALL MEMBERS OF THE WSFGA AND SPONSOR GLADIATORS IN BRUTAL BLOODY ILLEGAL NO HOLDS BARRED FIGHTS MANY EVEN TO THE DEATH. BRONSON THE HEAD TRAINER FOR THE UK WSFGA MAKES BARRETT UNDER GO A NAKED HUMILIATING PHYSICAL MEDICAL FOR THE WSFGA. LIKE ALL POTENTIAL AND WSFGA GLADIATORS HE IS KEPT NAKED ALL THE TIME EXCEPT WHEN FIGHTING FOR THE WSFGA IF FIGHTING GEAR IS REQUIRED. BRONSON THEN FORCES BARRETT TO TRAIN AND SPAR TO FOR WEEKS PREPARE HIMSELF FOR HIS INITIATION FIGHT FOR THE WSFGA. BARRETT KNEW HE HAD TO WIN OF AT THE VERY LEAST FIGHT WELL TO MEET THE WSFGA STANDARD TO BECOME A GLADIATOR AND OBTAIN A SPONSOR. IF HE LOOSES AND FIGHTS BADLY HE WILL BECOME ONE OF THE WSFGA SLAVE SERVING AND SERVICING THE OTHER WSFGA GLADIATORS.
BARRETT'S INITIATION FIGHT ANOTHER WSFGA NOVICE GLADIATORS WHO FIGHT BY THE RING NAME OF BRUISER. BARRETT HAS TO BEAT THE BRUISER TO GET A CHANCE TO BE A WSFGA GLADIATOR FIGHTING AS COOL MAN. THE FIGHT WILL BE WITNESSED BY TWO SPONSORS RICHARD SAMUEL'S AND MITCHELL LANDERS WHO WILL DECIDE IF BARRETT IS GOOD ENOUGH TO BECOME A WSFGA GLADIATOR. BARRETT HAS A LONG BLOODY AND BRUTAL FIGHT WITH BRUISER THAT HE LOSES. TO BARRETT'S SURPRISE AND RELIEF THE NEXT MORNING WHEN HE NET THE TWO SPONSORS THE OLDER OF THE TWO WAS PREPARED TO GIVE HIM A CHANCE AS HE ENJOYED SEEING BARRETT LOOSE. HOWEVER BARRETT'S RELIEF WAS SHORT LIVED WHEN HIS POTENTIAL SPONSOR RICHARD SAMUEL'S QUIZZED HIM ABOUT HIS SEXUALITY AND THEN TOLD HIM HIS PUNISHMENT FOR LOSING WAS TO SEXUALLY ASSAULTED AND ABUSED BY TWO OF THE MALE SLAVES. BARRETT HAD TO ENDURE THE HORROR, HUMILIATION SEXUALLY ABUSED AND ASSAULT BY TWO MAKE SLAVES WHO SHAMEFUL MAKE BARRETT SCREAM AND EJACULATE LIKE A HOT SLUT IN FRONT OF BRONSON AND RICHARD SAMUEL'S .
BARRETT STILL ONLY A POTENTIAL GLADIATOR IS MADE TO TRAIN FOR HIS FOR HIS FIRST OFFICIAL WSFGA MATCH. BARRETT HAS TO FIGHT THE SCORPION SPONSORED BY MITCHELL LANDERS THE SPONSOR WHO HAD BLACK BALLED HIS INITIATION FIGHT. THE SCORPION LOOKED AN EVEN TOUGHER AND CAPABLE GLADIATOR THAN BRUISER AND EVEN MORE WORRYING FOR BARRETT HE WAS GAY AND BARRETT COULDN'T HELP WONDER WHAT THE CONSEQUENCES OF LOOSING TO THE SCORPION WOULD BE BESIDE BEING MADE A SLAVE TO THE OTHER GLADIATORS. ALTHOUGH GAY THE SCORPION DIDN'T LOOK AT AT WEAK OF EFFEMINATE THE COMPLETE OPPOSITE. BARRETT FACED FIVE THREE MINUTES ROUNDS WITH THE SCORPION IN THE STEEL CAGE WHERE ANYTHING COULD HAPPEN AND WAS ALLOWED. BARRETT FOUGHT A LONG HARD BRUTAL AND BLOODY BOUT WITH THE SCORPION AND THE SCORPION USED VERY DIRTY TRICK OR SEXY MOVE AGAINST BARRETT TO DEFEAT HIM. BARRETT WAS SUBJECT TO INTENSE PHYSICAL AND SEXUAL ABUSE. THE SCORPION DRAGGED THE BATTERED AND DEFEATED BARRETT OUT OF THE CAGE AND INTO RING WHERE HE SECURED BARRETT IN THE ROPES TO GIVE HIM MORE PHYSICAL AND SEXUAL ABUSE. THE SCORPION EVE GOT HIS SECOND THE NAKED SLAVE BOBBY TO HELP HIM PUNISH AND ABUSE BARRETT. BARRETT WAS SUMMON BEFORE HIS SPONSOR MITCHELL LANDERS CERTAIN HE WOULD BE BLACK BALLED AND MADE A SLAVE. BUT WAS RELIEVED WHEN RICHARD SAMUEL'S TOLD BARRETT HE WOULD NOT BE HIS GLADIATOR BUT HE WOULD SPONSOR BARRETT AS HIS BONDED FIGHTER AS COOL MAN MAKING HIM A GLADIATOR WHEN HE WON HIS FIRST MATCH. LATER WHEN BARRETT LAY IN HIS CELL RESTING RECOVERING FROM HIS BRUTAL BOUT AND BEAT DOWN HE REALISED HIS LIFE HAD CHANGED FOR EVER HE WAS THE PROPERTY OF OTHER MEN AND NOW HAD TO FIGHT FOR THEM AND HIS NEW LIFE HAD ONLY JUST BEGUN. TOUGH BRUTAL BLOODY EROTIC MALE ON MALE FIGHTING ACTION. €4.00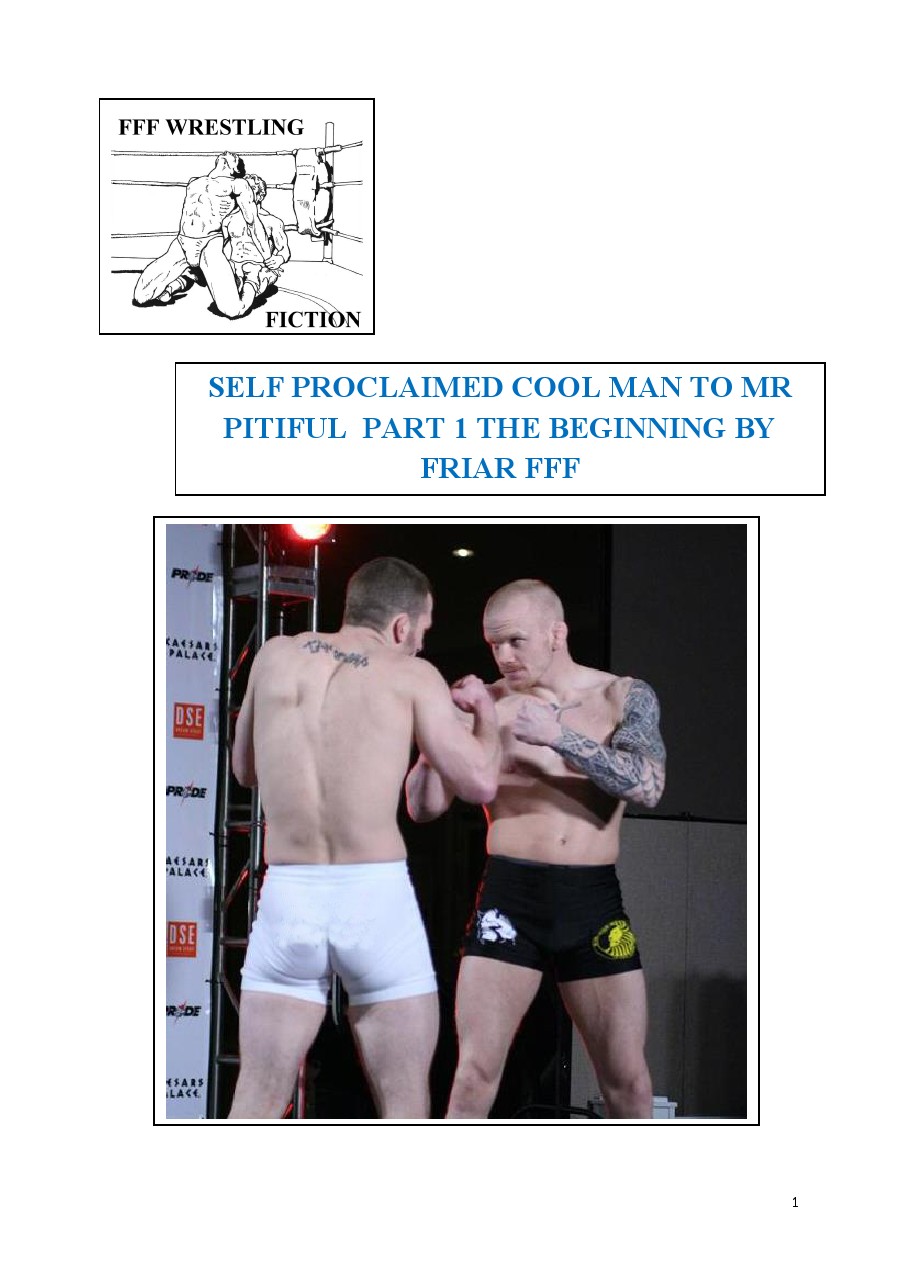 29 SELF PROCLAIMED COOL MAN TO MR PITIFUL PART 2 GRUDGING REALISATION. BARRETT THE SELF PROCLAIMED COOL MAN HAD BEEN KIDNAPPED AND ENSLAVED AS POTENTIAL GLADIATOR FOR WSFGA. BRONSON THE WSFGA USING A MIXTURE OF PHYSICAL AND SEXUAL ABUSE BARRETT WAS FORCED TO TRAIN AND SPAR TO FIGHT FOR THE WSFGA AS THE COOL MAN. IF HE WON HIS INITIATION BOUT HE WOULD OBTAIN A SPONSOR AND BECOME A WSFGA GLADIATOR IF NOT HE WOULD BECOME A SLAVE TO THE OTHER GLADIATORS. BARRETT LOST HIS INITIATION FIGHT SUFFERING MORE PHYSICAL AND SEXUAL ABUSE IN THE RING BUT A WOOD BE SPONSOR BUT RICHARD SAMUEL'S LIKED TO SEE BARRETT LOSE AND ARRANGED ANOTHER FIGHT FOR THE COOL MAN AGAINST THE SCORPION. BARRETT WAS BRUTALLY BEATEN AND ABUSED BY THE SCORPION IN THE RING AND LOSES THIS MATCH AS WELL AND IS SUBJECTED TO SEXUAL AND PHYSICAL ABUSE BY THE SCORPION AND HIS SECOND. RICHARD SAMUEL'S DOES NOT GIVE UP ON BARRETT BUT DOES NOT SPONSOR HIM AS A GLADIATOR BUT AS A BONDED FIGHTER. BRONSON MAKES BARRETT TRAIN AND SPAR FOR ANOTHER FIGHT RICHARD SAMUEL'S HAD ARRANGED FOR HIM AGAINST A YOUNGER STREET FIGHTER. BARRETT REFUSED TO FIGHT FOR RICHARD SAMUEL'S AND BRONSON THREATENED TO MAKE BARRETT A A SLAVE BUT RICHARD SAMUEL'S HAD A BETTER IDEA HOW TO MAKE BARRETT FIGHT. RICHARD SAMUEL'S GAVE TO AGREE TO FIGHT FOR HIM OR FIGHT THREE MALE SLAVES WHO WOULD HAVE THEIR SEXUAL WAY WITH HIM WHEN HE LOST. BARRETT FOOLISHLY REFUSED TO FIGHT FOR RICHARD SAMUEL'S AND HAD TO FIGHT THE THREE SLAVES. BARRETT WAS BEATEN AND ABUSED BY THE THREE SLAVES ALFIE, BOBBY THE SLAVES OF THE TWO FIGHTER HE HAD ALREADY FOUGHT AND A NEW HISPANIC SLAVE EDUARDO EVEN THOUGH HE DID NOT FIGHT BACK. THE THREE WAY PAINFUL BLOODY BEAT DOWN FORCED BARRETT TO AGREE TO FIGHT FOR RICHARD SAMUEL'S.
RICHARD SAMUEL'S TOLD BRONSON TO PREPARE BARRETT FOR THE FIGHT. BRONSON ALLOWED THE THREE SLAVES TO SEXUALLY ABUSE BARRETT AS ANOTHER PUNISHMENT FOR REFUSING TO FIGHT. ALFIE,. BOBBY AND EDUARDO AIDED BY BRONSON SUBJECT BARRETT TO A BRUTAL RAPING. BARRETT DRESSED IN RED KICK PANTS HAD TO FIGHT THE APTLY NAMED PSYCHO KID DRESSED IN NAVY KICK PANTS WITH PSYCHO KID IN WHITE LETTERS ON EACH LEG IN FRONT OF RICHARD SAMUEL'S AND MITCHELL LANDERS. THE PSYCHO KID WAS NOT A WSFGA GLADIATOR SO THE OUT COME OF THE FIGHT DID NOT EFFECT BARRETT'S STATUS IN THE WSFGA. BARRETT AS THE COOL MAN TOOK ON THE PSYCHO KID IN A LONG CLOSELY FOUGHT HARD BRUTAL AND BLOODY FIGHT UNFORTUNATELY THE PSYCHO KID MANAGES TO KO BARRETT AND WIN THE FIGHT. AS BARRETT RECOVERED FROM HIS INJURIES SUSTAINED IN IS FIGHT WITH THE PSYCHO KID HE REALISED HIS REFUSAL TO FIGHT FOR HIS SPONSOR WAS A STUPID ONE WHICH RESULT IN HIM BEING RAPED AND HAVING TO FIGHT AND LOSE ANYWAY SO NOT FIGHTING WAS CLEARLY NOT AN OPTION UNLESS HE WANTED T BE SAVE TO THE OTHER GLADIATORS. WHILE THE WEEKS PASSED AND BARRETT RECOVERED HE DID NOT LET JOSH HIS SLAVE SHAVE HIS FACE ALTHOUGH HER SHAVED THE REST OF BARRETT'S BODY AND HE GREW A BEARD.
BRONSON HAD BARRETT TRAIN AND SPAR HARD TO GET HIM BACK TO FIGHTING FITNESS FOR HIS NEXT FIGHT. BRONSON HAD BARRETT HOODED AND BOUND AND DRIVEN TO A HOUSE FOR HIS NEXT FIGHT. THE SPONSOR FOR BARRETT'S THIRD FIGHT WAS A SEVENTEEN YEAR OLD YOUTH CALLED AARON NIGHTLY THE SON OF ONE THE FOUNDERS OF THE WSFGA. AARON HAD BEEN SECRETLY WATCHING BARRETT FIGHT AND NOW WANTED HIM TO FIGHT ABDUL THE TURK WAS HIS PERSONAL GLADIATOR AND BODY GUARD. ABDUL THE TURK WAS A GIANT OF A MAN HEAVILY MUSCLES WHO TOWERED OVER BARRETT. BARRETT HAD TO WRESTLE FOR THREE PINS SUBMISSIONS OR A KNOCK OUT NAKED WITH ABDUL WHO WAS ALSO NAKED. ABDUL THE TURK GAVE BARRETT A BRUTAL WORK OVER REALLY PUNISHING HIM PSYCHICALLY AND SEXUALLY FOR HIS SADISTIC OWNER AND SPONSOR AARON NIGHTLY WHO LOVED TO SEE HIS GLADIATOR BEAT AND ABUSE OTHER FIGHTERS MAKING BARRETT SUBMIT AND THEN WINNING THE MATCH WITH A KO. AARON NIGHTLY ORDERED BRONSON TO BRING BARRETT ROUND SO ABDUL COULD KO HIM AGAIN. BARRETT WAS BROUGHT ROUND WITH SMELLING SALTS AND WHEN HER STOOD STILL CONFUSED HE WAS GRABBED AND CHOKED AND LIFTED OFF HIS FEET BY THE GIANT ABDUL THE TURK. FOLLOWING AARON'S ORDERS ABDUL RAPED BARRETT MAKING HIM SCREAM AS HE FUCKED BARRETT WITH HIS HUGE COCK TO THE SADISTIC DELIGHT OF AARON. AARON THEN PUNCHED KNEES AND SQUEEZED BARRETT'S BALLS UNTIL HE PASSED OUT. AARON THEN ORDERED ABDUL THE STRING BARRETT UP AND USE HIM AS A HUMAN PUNCH BAG. SMILING SADISTICALLY ABDUL OBEYED AND STRUNG BARRETT UP IN THE GARAGE AND BEAT THE SHIT OUT BARRETT PUNCHING AND KICKING EVERY PART OF HIS HELPLESS NAKED BODY.
IT TOOK BARRETT LONG TIME TO GET OVER HIS INJURIES INFLICTED ON BY THE GIANT ABDUL THE TURK. BARRETT KNEW HIS BODY WOULD EVENTUALLY RECOVER BUT HE WAS NOT SURE HE WOULD VERY GET OVER THE TRAUMA. BARRETT REALISED HE WAS EVEN MORE LIKE MR PITIFUL AND NOT LIKE HIS FIGHTING NAME THE THE COOL MAN WHICH WAS BY FAR THE CRUELLEST IRONY. MORE TOUGH BRUTAL BLOODY EROTIC MALE ON MALE FIGHTING ACTION. €3.00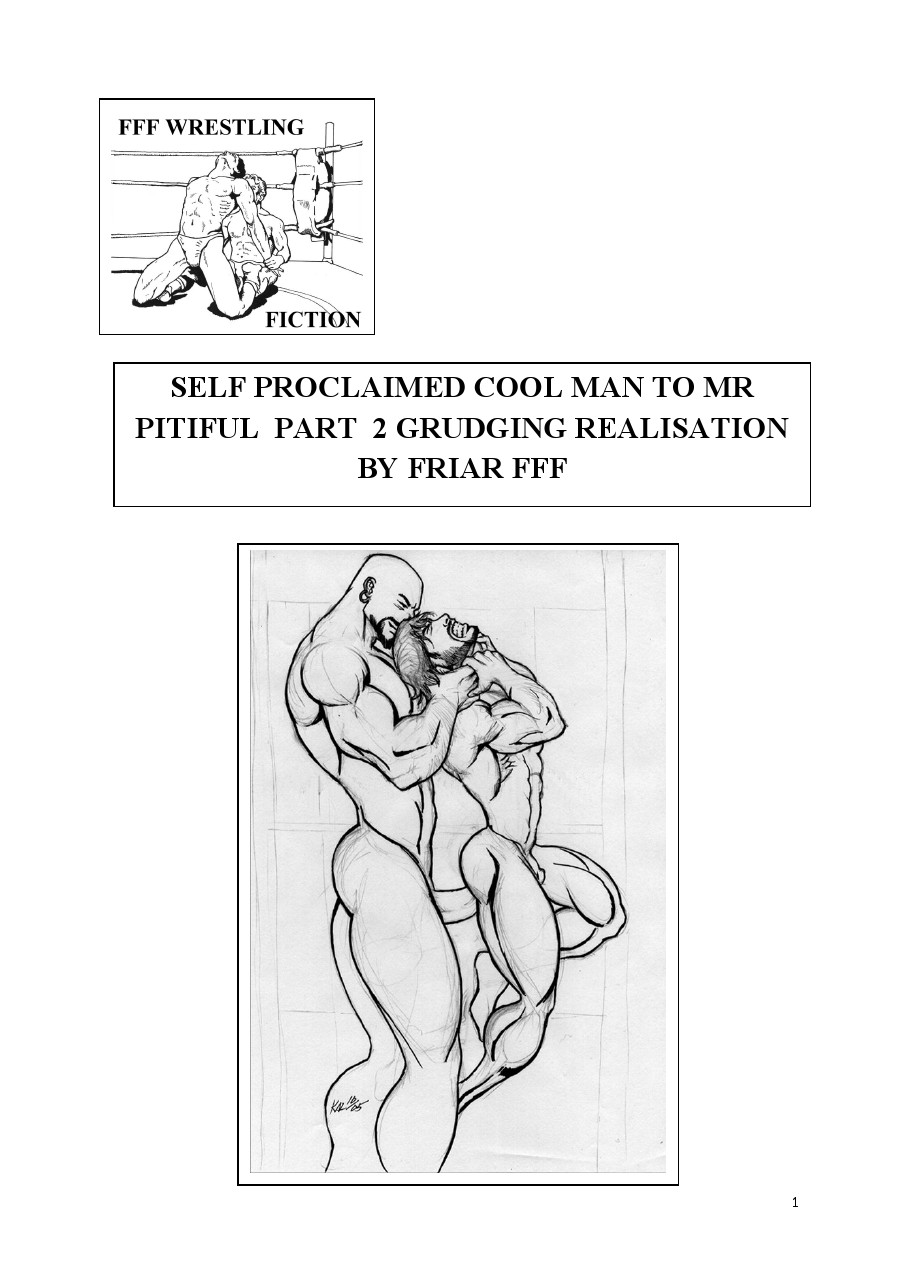 30 SELF PROCLAIMED COOL MAN TO MR PITIFUL PART 3 LESSONS IN HUMILITY. BARRETT HAD BARELY GOT OVER HIS FIGHT AND BEATING AND HUMILIATION AT THE HANDS OF ABDUL THE TURK TO BE GIVEN HIS NEXT MATCH BY BRONSON. AFTER HIS EASY DEFEATS BY THE PSYCHO KID AND ABDUL THE TURK BRONSON REALISED THAT BARRETT WAS NO MMA FIGHTER AND REALISED HIS BOASTS ABOUT PUTTING DOWN HIS MMA INSTRUCTOR WERE LIES. SO BRONSON HAD HATCHED PLOT TO GET BARRETT TO FIGHT HIS OLD MMA INSTRUCTOR. HE DID NOT TELL BARRETT HE WAS GOING TO FIGHT HIS OLD MMA INSTRUCTOR BUT HE DID TELL HIS MMA INSTRUCTOR JUST WHAT BARRETT HAD CLAIMED. BARRETT'S MMA INSTRUCTOR WAS MORE THAN PLEASE TO FIGHT BARRETT IN DISGUISE. ALL BRONSON TOLD BARRETT WAS THAT HE WAS THE BLACK AND WHITE SLAYER ANOTHER MMA FIGHTER. BARRETT SUFFERED ANOTHER BRUTAL AND HUMILIATING BEAT DOWN AND DEFEAT AT THE HANDS OF THE WHITE SLAYER HIS EX MMA INSTRUCTOR. THE WHITE SLAYER TAKE GREAT DELIGHT IN PUNISHING AND HUMILIATING HIS ARROGANT EX PUPIL. WHEN ITS IS CLEAR THAT BARRETT IS A HOPELESS MMA FIGHTER THE WHITE SLAYER USES WRESTLING MOVES AND PINS AND HOLDS TO MAKE BARRETT SUFFERING AND HUMILIATION EVEN MORE COMPLETE. THE BLACK AND WHITE SLAYER ONLY REVEALED HIS TRUE IDENTITY WHEN HER HAD GIVEN BARRETT A HARD BLOODY AND BRUTAL WORK OVER. WITH THE ASSISTANCE OF HIS SECOND ALFIE THE WHITE SLAYER SUBJECTED BARRETT TO ALL KINDS OF PHYSICAL AND SEXUAL ABUSE. BARRETT IS EXPOSED AND BRAGGING LIAR TO HIS SPONSOR AND IS MADE TO PAY BY HIS OLD MMA INSTRUCTOR WHO LEAVES HIM FEELING HE IS MR PITIFUL AND NOT THE COOL MAN. MORE TOUGH BRUTAL BLOODY EROTIC MALE ON MALE FIGHTING ACTION. €2.00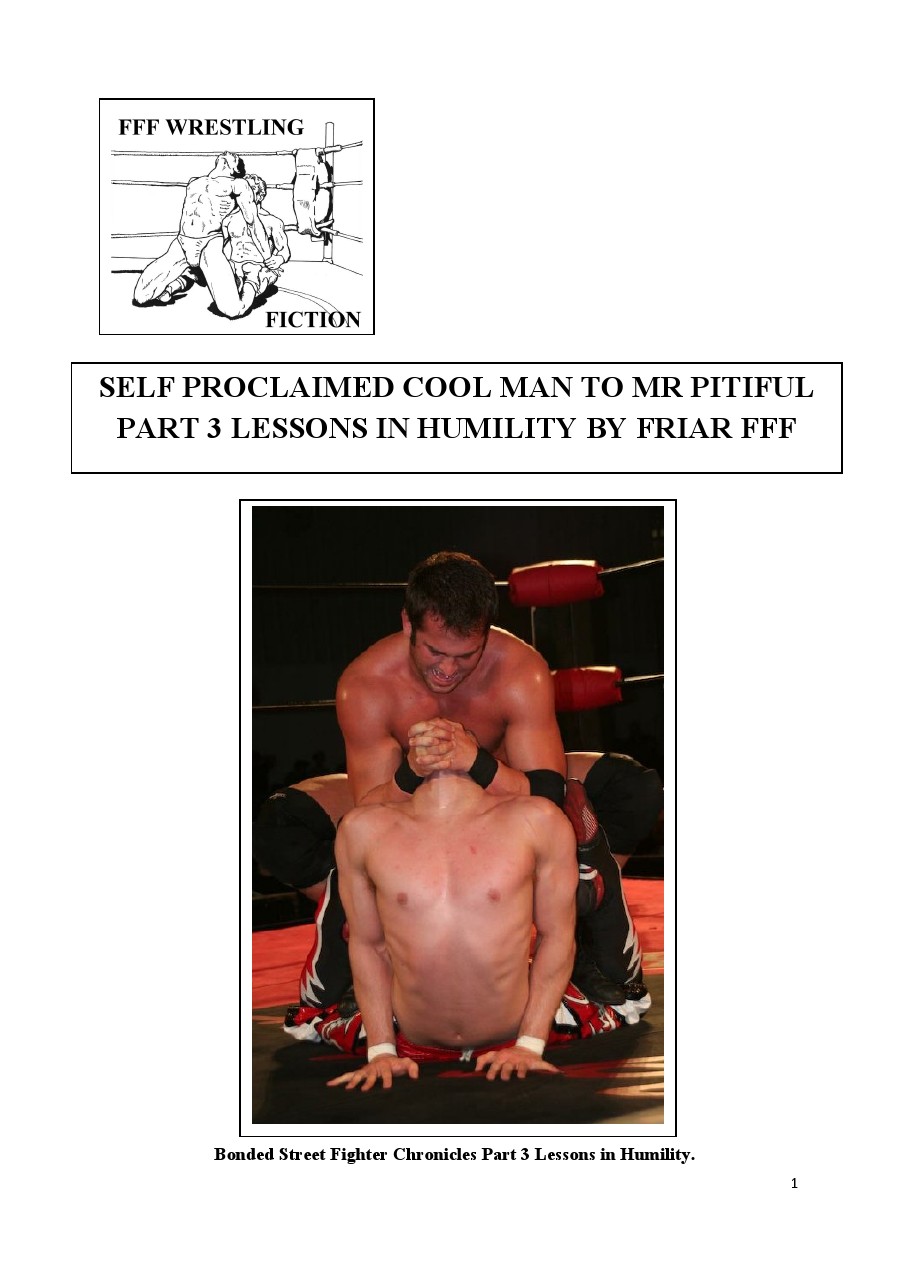 31 SELF PROCLAIMED COOL MAN TO MR PITIFUL PART 4 SWEET DREAMS AREN'T MADE OF THIS. WHEN BARRETT AWOKE THE NEXT MORNING AFTER HIS MAULING AND HUMILIATION AT THE HANDS OF HIS OLD MMA INSTRUCTOR ALTHOUGH STIFF HE WONDERED WHAT HAD HAPPENED TO THE CUTS AND BRUISES AS HE KNEW HE TAKEN ONE HELL OF A BEATING. BUT EVEN BRONSON JOSH AND DID NOT SEEMED SURPRISED THAT HE HAD NOT INJURIES. JOSH DELIVERED HIS BREAKFAST AND BRONSON SOME BOOTS AND TRUNKS ORDERING BARRETT TO PUT THEM ON AFTER BREAKFAST. TO BARRETT'S SURPRISE THE TRUNKS AND BOOTS WERE THE OLD TYPE WORN BY OLD WORLD OF SPORT BRITISH WRESTLERS. BARRETT LOOKED AT HIMSELF IN THE MIRROR IN THE OLD STYLED WRESTLING GEAR HE LIKED WHAT HE SAW HE HAD ALWAYS FANCIED HIMSELF AS A WORLD OF SPORT WRESTLER. BRONSON TOLD BARRETT HE HAD A VERY TOUGH MATCH FACING HIM AND HE HAD BETTER BE UP TO HIS BOASTING. WHEN BARRETT ASKED WHAT BOASTING. BRONSON TOLD HIM HIS BOASTING ON NATIONWIDE TV LAST SATURDAY ON WORLD OF SPORT WRESTLING THAT HE COOL MAN WAS THE BEST NEW GOOD GUY WRESTLER AND TO PROVE IT HE WOULD TAKE ON ANY THREE OF THE BEST BAD GUY WRESTLERS IN THE RING ONE AFTER THE OTHER. BARRETT WAS REALLY SHOCKED BY BRONSON'S ANSWER AS THE LAST WORLD OF SPORT WRESTLING ON TV WAS YEARS AGO. BRONSON TOLD BARRETT THAT JIM BREAKS, KENDO NAGASAKI AND SKULL MURPHY HAD ANSWERED HIS CHALLENGE. WHEN BARRETT TOLD BRONSON HE MUS BE MISTAKEN AS THESE WRESTLERS WRESTLED BACK IN THE SEVENTIES. TO BARRETT'S SHOCK BRONSON TOLD THAT THIS WAS THE SEVENTIES AND HIS LAST FIGHT MUST HAVE ADDLED HIS BRAINS.
THAT'S HOW BARRETT FOUND HIMSELF WEARING A RING JACKET WITH THE COOL MAN ON THE BACK DRIVING TO CROYDON TO WRESTLE ON ITV WORLD OF SPORT AGAINST JIM BREAKS, KENDO NAGASAKI AND SKULL MURPHY. WHEN BARRETT GOT INTO THE RING AT THE FAIRFIELD HALL HE COULDN'T BELIEVE WHAT HE WAS SEEING IN THE OPPOSITE CORNER WERE JIM BREAKS, KENDO NAGASAKI AND SKULL MURPHY AND EVEN GORGEOUS GEORGE WAS WITH KENDO NAGASAKI. STANDING NEXT TO THEM WAS KEN WALTON AND THE REFEREE BRIAN CRABTREE ALL LOOKING EXACTLY LIKE THEY DID BACK IN THE SEVENTIES. YET HE JOSH AND BRONSON WERE LIKE THEY WERE IN 2012 BUT UNLIKE HIM JOSH AND BRONSON DIDN'T SEEM SURPRISED THAT THEE APPEARED TO BE BACK IN THE SEVENTIES. BARRETT WAITED WHILE KEN WALTON TOLD THE EXCITED PACKED CROWD THAT THIS WOULD BE A TEN ROUND MATCH OF THREE MINUTES ROUNDS A THREE AGAINST ONE TAG MATCH COOL MAN AGAINST JIM BREAKS, KENDO NAGASAKI AND SKULL MURPHY. HE TOLD THE CROWD THAT THE MATCH WOULD BE DECIDED BY WHO GOT THE MOST SUBMISSIONS PINS OR FALLS ALL WRESTLERS WOULD GO THE FULL DISTANCE WITH ANY KNOCK OUTS ENDING THE BOUT.
BARRETT GETS BEATEN AND BATTERED FOR FOUR ROUNDS BY JIM BREAKS, KENDO NAGASAKI AND SKULL MURPHY EACH USING THEIR SPECIALITIES ON HIM TO MAKE HIM SUFFER AND TO HUMILIATE HIM AS MUCH AS POSSIBLE. BARRETT REALLY TAKES VISCOUS BEATING IN THE RING THAT ONLY THESE THREE BAD MEN OF BRITISH WORLD OF SPORT WRESTLING COULD HAND OUT WITH LITTLE REGARD TO THE RULES OR THE REFEREE. THEY USED EVERY DIRTY OR FOUL MOVE POSSIBLE TO PUNISH BARRETT FOR HIS BOASTING. THE BOUT NEVER WENT BEYOND ROUND FOUR AS THE REFEREE WAS KNOCKED OUT AND THE MATCH WAS ABANDONED WITH THE MATCH OFFICIALS COMING TO HIS RESCUE AS HE WAS BEING TRIPLED TEAMED BY JIM BREAKS, KENDO NAGASAKI AND SKULL MURPHY WHILE TRAPPED IN THE ROPES. BARRETT WAS TAKEN BACK TO HIS CELL BATTERED AND BRUISED HE HAD NOW TAKEN TO HUMILIATING BEATINGS FOR HIS BOASTING.
HOWEVER THE NEXT MORNING WHEN HE AWOKE IN IN STIFFNESS AND PAIN BUT IT WAS DOWN TO THE INJURIES FROM HIS MATCH WITH HIS OLD MMA INSTRUCTOR NOT HIS MATCH FOR WORLD OF SPORT. BARRETT DISCOVERED THAT IT WAS JUST A DREAM OR MORE LIKE A NIGHT MARE. IT SEEMED THAT BARRETT WAS MORE MR PITIFUL THAN COOL MAN EVEN IN HIS DREAMS OR NIGHT MARES. TWICE NOW BARRET'S BOASTING HAD COME BACK TO HAUNT HIM AND MAKE HIM SUFFER EVEN IN HIS DREAMS. MORE TOUGH BRUTAL BLOODY EROTIC MALE ON MALE FIGHTING ACTION. €2.00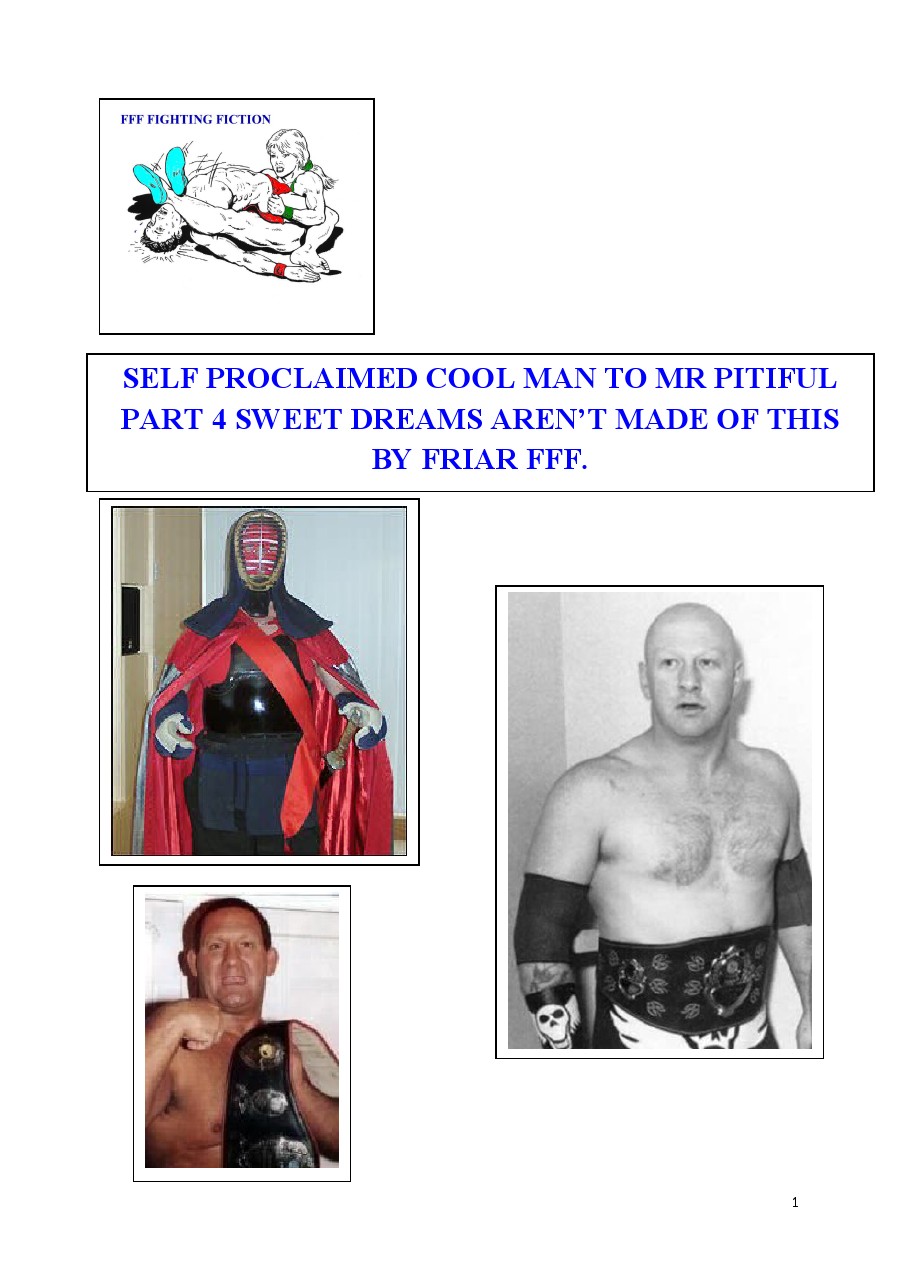 32 SELF PROCLAIMED COOL MAN TO MR PITIFUL PART 5 BRONSON'S TOY. A STING IN THE TAIL. IT TOOK SOMETIME FOR BARRETT TO GET OVER HIS MATCH WITH ABDUL THE TURK BUT HE FINALLY DID. BARRETT HAD BEEN SPARRING AND TRAINING FOR OVER A MONTH WITH OUT HIS SPONSOR SHOWING ANY INTEREST. AS RICHARD SAMUEL'S WAS PRE-OCCUPIED WITH A NEW SMOOTH FIGHTER HE AGREED TO LET BRONSON ARRANGE A MATCH BARRETT. BRONSON TOOK GREAT DELIGHT IN INFORMING BARRETT HE HAD ANOTHER MATCH THE TOUGHEST SO FAR AND HAD BARRETT TRAINING AND SPARRING EVEN HARD AGAINST THE TOUGHEST GLADIATORS. THE TRAINING GOT SO TOUGH AND EXHAUSTING BARRETT WONDERED IF HE COULD KEEP IT UP THEN BRONSON INFORMED HIM HE WAS TO UNDERGO SOME SPECIAL TRAINING FOR HIS NEXT MATCH. TO BARRETT'S HORROR IS SPECIAL TRAINING TURNED OUT TO BE BEING RAPED AND ABUSED BY SOME OF THE MALE SLAVES. AS HIS SPECIAL TRAINING PROGRESSED BARRETT WAS REPEATEDLY RAPED BY SLAVE AND GLADIATORS ALIKE SUBJECTED TO EVER LARGE COCKS AND DILDOS. THIS WAS TO LOOSEN UP HIS ARSE FOR HIS MATCH AGAINST THE FEARSOME FIGHTER THE FISTER WHO EARNED HIS RING NAME FOR DOING WHAT HE WAS CALLED TO THE FIGHTERS HE DEFEATED. THE FISTER'S CALLING CARD WAS NOT ONLY TO BE HIS OPPONENTS BUT TO HUMILIATED THEM COMPLETELY. BRONSON PITTED BARRETT AGAINST BIGGER MEANER GLADIATORS WHO WERE ALLOWED TO RAPE HIM WHEN THE BEAT HIM SUFFERING THE DOUBLE TRAUMA OF A HARD EAT DOWN AND RAPING. BARRETT'S SPECIAL TRAINING CULMINATED WITH HIM BEING RAPE WITH A HUGE FIST SHAPED BLACK RUBBER DILDO TO MAKE HIM AS READY AS HE COULD BE FOR HIS MATCH WITH THE FISTER.
BARRETT'S FIGHT WITH THE FISTER TURNED OUT TO BE HIS MOST ONE SIDED TOTAL BEAT DOWN AND HUMILIATION OF HIS SHORT FIGHTING CAREER. THE FISTER SUBJECTED BARRETT TO A BRUTAL BEATING SUBJECTING HIM TO TERRIBLE PHYSICAL AND SEXUAL ABUSE IN THE RING AND AFTER THE MATCH BY BRUTALLY FISTING BARRETT WHILE HE WAS HELPLESSLY TIED IN THE CORNER ROPES. BARRETT WAS LEFT SICKENED AND VIOLATED BY WHAT HAD HAPPENED TO HIM REALLY PITIFUL MR PITIFUL WONDERING WHAT FUTURE LAY IN STALL FOR HIM AT THE HANDS OF THE SADISTIC BRONSON AS RICHARD SAMUEL'S HIS SPONSOR HAD SEEMED TO HAVE ABANDONED HIM. BARRETT SUFFERED HIS MOST BRUTAL AND SADISTIC ABUSE YET AS BRONSON'S TOY. €2.00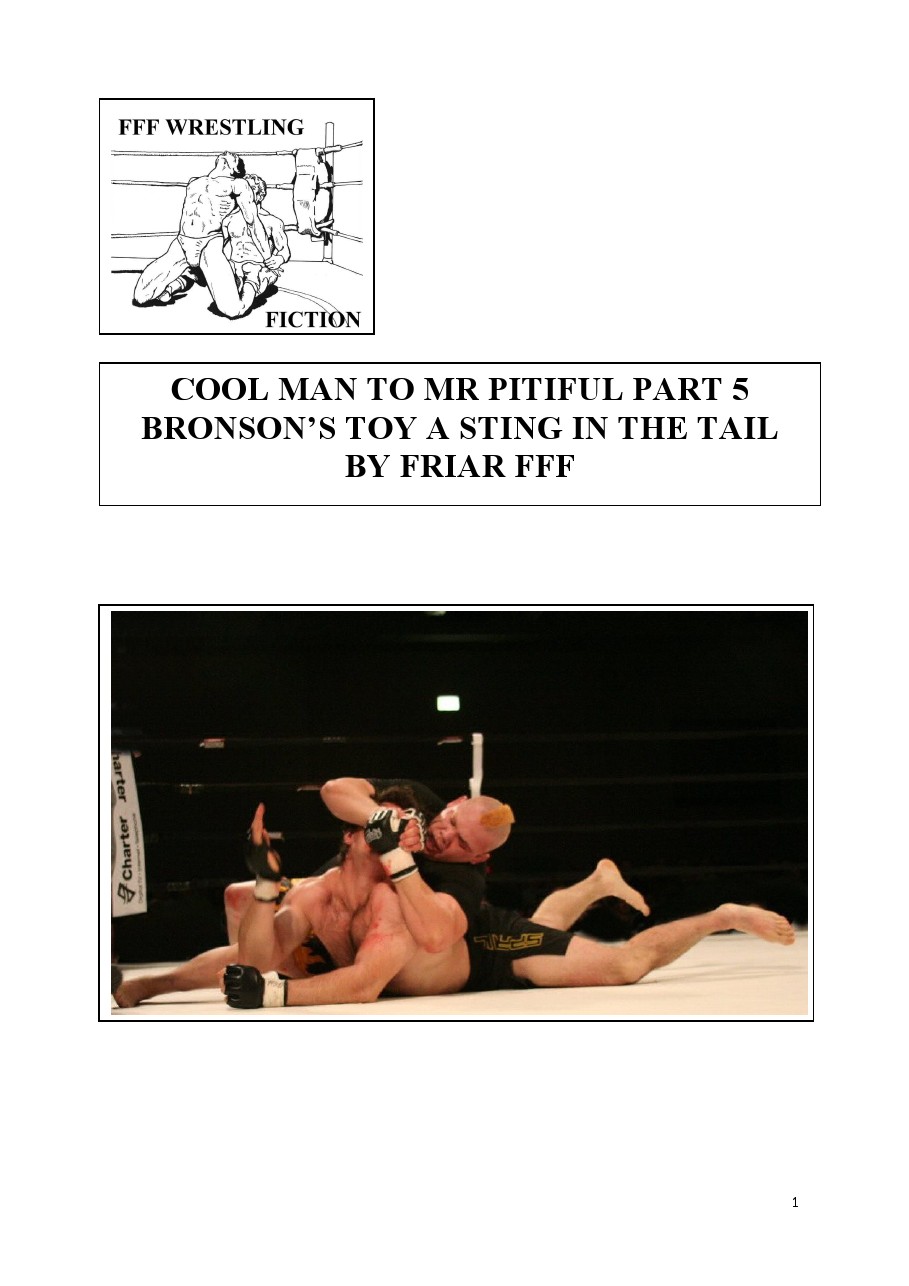 33 SELF PROCLAIMED COOL MAN TO MR PITIFUL PART 6 BACK FROM THE ABYSS. IT TOOK A LONG WHILE FOR BARRETT TO GET OVER THE TRAUMA OF HIS BRUTAL FIGHT AND THE CONSEQUENCES WITH THE FIST. BARRETT ALSO HAD THE CONSTANT WORRY OF WHAT BRONSON HAD IN STALL FOR HIM NEXT. BARRETT WAS SURE IS SPONSOR RICHARD SAMUEL'S HAD ABANDONED HIM AND LEFT HIM TO BRONSON'S TENDER MERCIES. BARRETT WAS SURPRISED AND RELIEVED WHEN RICHARD SAMUEL'S APPEARED OUTSIDE HIS CELL WITH BRONSON. RICHARD SAMUEL'S TOLD BARRETT HE HAD ACQUIRED FOUR NEW GLADIATORS AND EH WOULD BE FIGHTING ONE OF THEM THAT AFTERNOON. BARRETT WAS RELIEVED THAT RICHARD SAMUEL'S WAS BACK AND HAD NOT ABANDONED HIM. JOSH BROUGHT HIS FIGHTING GEAR WITH HIS LUNCH A BRIEF TIGHT FITTING PAIR OF ROYAL BLUE SPEEDOS AND A PAIR OF ROYAL BLUE AMATEUR WRESTLING SHOES. BARRETT KNEW HIS FIGHT WOULD BE A WRESTLING MATCH BUT AGAINST HOW TOUGH AND OPPONENT. BARRETT'S OPPONENT TURNED OUT TO BE A YOUNGER SMALLER ASIAN RANAJAY WHOSE RING NAME WAS THE ASIAN TIGER CUB. RICHARD SAMUEL'S TOLD BARRETT IF HE DID WELL AND WON AGAINST RANAJAY THERE MIGHT EVEN BE A SMALL REWARD FOR HIM. THE FIGHT WAS SO SEE HOW MANY THREE MINUTE ROUNDS IT TOOK ONE OF THEM TO GET THE BEST OF THREE PINS OR SUBMISSIONS
THIS WAS THE FIRST FIGHT THAT BARRETT WAS CONFIDENT HE COULD WIN AGAINST A SMALLER LIGHTER AND YOUNGER GUY WITH LESS FIGHTING EXPERIENCE AND NO WSFGA EXPERIENCE. BARRETT'S CONFIDENCE IS REWARDED AND HE DOES WELL AGAINST RANAJAY WHO FIGHTS BACK WELL BUT IS NO MATCH FOR BARRETT'S WEIGHT, STRENGTH AND EXPERIENCE. ALTHOUGH HE DID NOT GET EVERYTHING HIS OWN WAY AS RANAJAY CAUGHT HIM WITH SOME HARD BLOWS HE MADE RANAJAY SUFFER AND HIS ARROGANCE AND RACIST ATTITUDE QUICKLY RETURNED. BARRETT TOOK THE FIRST SUBMISSION FROM RANAJAY WITH A PUNISHING CAMEL CLUTCH ABUSING RANAJAY PHYSICALLY AND RACIALLY. BARRETT CONTINUED TO PUNISH RANAJAY WITH NUMEROUS PAINFUL HOLDS AND PINS. RANAJAY CAME BACK IN ROUND TWO TUNING THE TABLES ON BARRETT FOR A WHILE AND MAKING HIM SUFFER BUT BARRETT REGAINED CONTROL AND REALLY WENT TO TOWN ON RANAJAY TAKING THE SECOND SUBMISSION WITH A BRUTALLY APPLIED BOSTON CRAB. BARRETT KEPT RANAJAY IN THE PUNISHING HOLD AND ADDED TO HIS SUFFERING BY PAINFULLY SQUEEZING RANAJAY'S BALLS. RANAJAY WAS ONLY SAVE FROM HIS THIRD AND FINAL SUBMISSION BY THE BELL. ALTHOUGH BARRETT HAD TECHNICALLY WON THE BOUT RANAJAY IS FORCED TO FIGHT FOR THE THIRD AND LAST POINT.
BARRETT WAS COCKY AND ARROGANT WHEN HE STARTED ROUND THREE AND PAID THE PRICE. RANAJAY GOT HIM DOWN AND KEPT HIM DOWN WITH A BRUTAL POUNDING. AFTER ALONG WORK OVER RANAJAY GOT BARRETT IN REVERSE HEAD SCISSORS AND SPREAD HIS LEGS WIDE REALLY MAKING BARRETT SUFFER BUT HE COULDN'T GET BARRETT TO SUBMIT. RANAJAY PAINFULLY SQUEEZED BARRETT;S BALLS TO MAKE BARRETT SUBMIT. RANAJAY WAS HAPPY AT GETTING THE LAST SUBMISSION FROM BARRETT EVEN THOUGH HE LOST. HOWEVER BRONSON SOON TAUGHT RANAJAY WHAT HAPPENED TO GLADIATORS WHEN THEY LOST IN THE WSFGA. BRONSON BEAT RANAJAY TILL HE PASSED OUT THAN GAVE HIM TO HIS SECOND ALFIE THE SLAVE FOR THE NIGHT. RICHARD SAMUEL'S CONGRATULATED BARRETT ON HIS FIRST WIN AS AS WFSGA GLADIATOR AND TOLD HIM HE HAD ANOTHER FIGHT AGAINST ANOTHER OF HIS NEW GLADIATORS AND IF BARRETT WON HE WOULD REWARD HIM.
WHEN JOSH BROUGHT HIM HIS GEAR THE NEXT LUNCH TIME HE BROUGHT THE SAME PAIR OF TIGHT ROYAL BLUE SPEEDOS FOR BARRETT TO WEAR BUT NO BOOTS. RICHARD SAMUEL'S HAD ANOTHER YOUNG ASIAN GLADIATOR FOR BARRETT TO FIGHT. HE WAS ASHWIN THE SENEGAL PYTHON WHO WAS ALMOST AS TALL AS RANAJAY BUT NOT A MUSCULAR AS BARRETT BUT BARRETT THOUGHT HIS WIRY BODY LOOKED MORE OF A CHALLENGE THAN RANAJAY. THE CHALLENGE WAS THE SAME AS WITH RANAJAY THE FIRST ONE TO GET THREE PINS OR SUBMISSIONS. IT WAS GOING TO BE A TOUGHER FIGHT THAN WITH RANAJAY AS THEY WOULD BE FIGHTING IN SIDE A STEEL CAGE WITH ALL TE BRUTAL ACTION ASSOCIATED WITH CAGE FIGHTS. BARRETT WAS STILL CONFIDENT HE COULD BEAT THIS YOUNGER LIGHTER ASIAN GLADIATOR. WHEN THEY GOT TO GRIPS ASHWIN WAS STRONGER THAN RANAJAY BUT NOT AS STRONG AS BARRETT AND IT WASN'T LONG BEFORE BARRETT WAS PUNISHING ASHWIN. WITH HIS SUCCESS BARRETT'S ARROGANT AND RACIST ATTITUDE QUICKLY SURFACED AND HE PHYSICALLY AND RACIALLY ABUSED THE ASIAN GLADIATOR. BARRETT GOT HIS FIRST SUBMISSION WITH VERY PAINFUL SINGLE LEG BOSTON.
BARRETT CONTINUED TO DOMINATE ASHWIN WORKING ON HIS YOUNG BACK WITH ALL THE PUNISHING BACK MOVES. BARRETT DEMANDED ASHWIN'S SUBMISSION BUT HE WAS SAVED BY THE BELL. IN ROUND TWO ASHWIN ATTACKED BARRETT FIRST BUT TO NO AVAIL AS BARRETT TRAPPED HIM IN BEAR HUG. BARRETT WORKED ASHWIN OVER WITH HIS PAINFUL BEAR HUG PUNISHING HIS ALREADY ACHING BACK. ASHWIN ESCAPED THE BEAR HUG BY PUNCHING BARRETT'S THROAT AND THE KICKED HIM IN THE BALLS WHEN HE WAS DOWN. ASHWIN PINNED BARRETT BENEATH HIM THEN REVERSED THE PIN KEEPING BARRETT IMMOBILISED. ASHWIN POUNDED BARRETT'S BELLY AND BALLS WITH HIS FIST FINALLY FORCING BARRETT TO SUBMIT. ASHWIN NOW IN CONTROL SLAMMED BARRETT FACE FIRST INTO THE STEEL CAGE MAKING BARRETT'S NOSE BLEED. ASHWIN THEN TRAPPED BARRETT IN A PAINFUL CAMEL CLUTCH AND PUNISHED HIM WITH IT DEMANDING HIS SUBMISSION SEVERAL TIMES AND BARRETT WAS ONLY SAVED FROM DEFEAT BY THE BELL ENDING ROUND TWO. IN ROUND THREE ASHWIN DOWNED BARRETT WITH A CLOTHES LINE THEN MADE HIS NOSE BLEED AGAIN WITH A KNEE TO THE HEAD. WHEN ASHWIN DRAGGED BARRETT UP BY HIS HAIR HE DOWNED ASHWIN WITH HARD PUNCH TO THE BELLY.
BARRETT KNEED ASHWIN IN THE HEAD MAKING HIS NOSE BLEED THEN TRAPPED HIM IN A CHOKE HOLD AND SLOWLY CHOKED THE LIFE OUT OF HIM. ASHWIN ONLY ESCAPED WITH BACK HEEL TO BARRETT'S BALLS. BUT ASHWIN COULD NOT GET BACK INTO THE FIGHT BARRETT KEPT CONTROL BRUTALLY PUNCHING ASHWIN DOWN AND SMOTHERING HIM BEFORE STARTING ON HIS BACK WITH BODY SLAMS AND BACK BREAKERS TO GET ASHWIN TO THE POINT OF SUBMISSION ONLY TO BE SAVED BY THE BELL. ROUND FOUR STARTED HARD WITH ASHWIN AND BARRETT EXCHANGING BLOWS TO THE BELLY AND BALLS. THE FIGHT MOVE BACK AND FORTH UNTIL BARRETT GOT ASHWIN DOWN IN A CROSS KNEE BACK BREAKER. BARRETT PUNISHED ASHWIN IN THE BACK BREAKER WITH PUNCHES TO THE BELLY AND NOSE UNTIL ASHWIN WAS FORCED TO SUBMIT. RICHARD SAMUEL'S CONGRATULATED BARRETT ON HIS SECOND WIN AND SAID HE WOULD HAVE TO CONSIDER HIS REWARD. ASHWIN;S REWARD FOR LOSING WAS TO BE GIVEN TO HIS SECOND THE SLAVE EDUARDO FOR THE NIGHT. ALTHOUGH BARRETT WAS RELIEVED AND ELATED AT HIS VICTORIES AND RICHARD SAMUEL S RENEWED INTEREST IN HIM BUT THIS ALL DISAPPEARED WHEN BRONSON REMINDED HIM THAT IT WOULD BE SHORT LIVED AND HE WOULD BE HIS TOY AGAIN MAKING BARRETT FEEL LIKE MR PITIFUL INSTEAD OF A WINNING GLADIATOR. BARRETT WAS THE WINNER THIS TIME BUT STILL SUFFERED HARD BEATING. MORE TOUGH BRUTAL BLOODY EROTIC MALE ON MALE FIGHTING ACTION. €2.00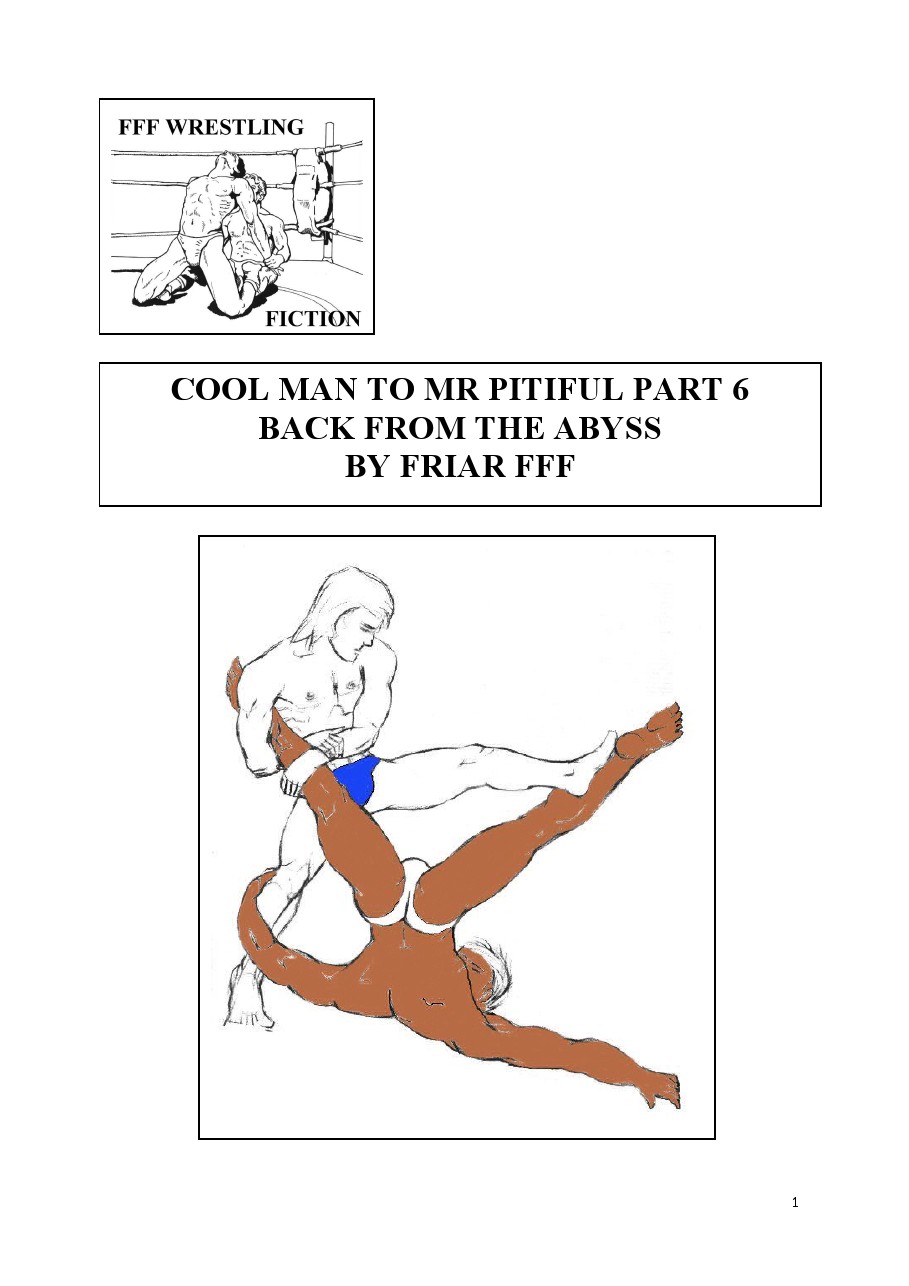 34 SELF PROCLAIMED COOL MAN TO MR PITIFUL PART 7 REALITY CHECK. BARRETT WAS RESTED AND ALLOWED TO RECOVER AFTER HIS DOUBLE WIN AGAINST RICHARD SAMUEL'S TWO NEW YOUNG ASIAN GLADIATORS RANAJAY THE ASIAN TIGER CUB AND ASHWIN THE SENEGAL PYTHON. RICHARD SAMUEL'S HAD PROMISED BARRETT A REWARD FRO HIS DOUBLE WIN BUT NOTHING HAD HAPPENED YET HE'D NOT EVEN SEEN HIS SPONSOR SINCE THE TWO FIGHTS. THEN RICHARD SAMUEL'S AND BRONSON ACCOMPANIED BY A GOOD LOOKING BLOND FEMALE DRESSED IN A BRIGHT BLUE KIMONO CAME TO BARRETT'S CELL. THE BLOND FEMALE CALLED LAURA WAS BARRETT'S REWARD. THEY FUCKED HARD AND BARRETT MADE LAURA ORGASM THREE TIME BEFORE THEY BOTH CUM TOGETHER. ALTHOUGH WEARY LAURA DIDN'T WANT BARRETT TO STOP FUCKING HER SO BARRETT CONTINUED BUT HIS COCK STARTED TO SOFTEN. STILL HUNGRY FOR MORE SEX LAURA PUT A COCK RING ON BARRETT'S COCK AND MADE HIM HARD AGAIN WITH HER MOUTH SO HE COULD CONTINUE TO FUCK HER. BARRETT FUCKED LAURA TO ANOTHER ORGASM THEN STARTED TO SLOW DOWN WEARY FROM THE EXHAUSTING SEX AND HIS TWO HARD FIGHTS. FRUSTRATED LAURA ROLLED THEM OVER AND STARTED TO RIDE BARRETT'S COCK KEPT HARD BY THE COCK RING. BARRETT WEARY LOST COUNT OF HOW MANY MORE ORGASMS LAURA HAD AS SHE RODE HIS COCK BUT DURING HER FINAL ORGASM LAURA CLAMPED HER CUNT MUSCLES TIGHT ROUND BARRETT'S COCK AND MAD HIS CUM AS WELL. THE NEXT MORNING BARRETT WOKE TO FIND HIS ARMS SECURED TO BARS OF THE CELL AND WHILE BRONSON WATCHED LAURA ABUSED HIS COCK AND BALLS DOING AL THE THINGS TO HIM HE HATED THAT HIS EX HAD DONE TO HIM.
BARRETT'S TRAINING RESUMED THAT AFTERNOON FOR HIS NEXT FIGHT. THE NEXT MORNING AFTER BREAKFAST BARRETT PUT ON THE WRESTLING GEAR JOSH HAD BROUGHT HIM. BRIEF WHITE SPEEDOS WITH A SILVER PATTERN AND RED AND BLACK PATENT LEATHER BOOTS. BARRETT'S NEXT FIGHT FOR WSFGA WAS AGAINST TWO MALE WRESTLERS A FATHER AND SOME TAG TEAM. THE SON MICHAEL WORE FULLER FIT TIGHT WHITE TRUNKS BLUE KNEE PADS AND WHITE BOOTS. HE HAD SHORT BROWN HAIR AND LOOKED ABOUT EIGHTEEN OR NINETEEN. THE FATHER GERALD WAS THICKER SET THAN HIS SON BUT WEARING THE SAME WHITE TRUNKS, BLUE KNEE PADS AND WHITE BOOTS. HIS HAIR WAS SHORT AND BROWN BUT WITH MANY GREY FLECKS IN IT. HE LOOKED IN HIS MID THIRTIES OR EARLY FORTIES. "BARRETT HAD TO FIGHT THE TWO NEW GLADIATORS GERALD AND MICHAEL CALLED THE DEMOLITION TEAM IN A NO HOLDS BARRED HANDICAP TWO ON ONE PIT MATCH. BARRETT STARTED AGAINST MICHAEL AND HE THOUGHT HE WOULD HAVE THE SAME SUCCESS HE HAD AGAINST THE TWO YOUNG ASIAN GLADIATORS. HE STARTED WELL DOWNING MICHAEL WITH KNEE TOT HE BELLY AND HEAD BUT WHEN HE TRIED TO FOLLOW IT BY STOMPING MICHAEL ON THE CANVAS MICHAEL GRABBED HIS BOOT AND UPENDED BARRETT.
MICHAEL WAS UP QUICKER THEN BARRETT AND FLUNG HIM INTO THE ROPES THE DOWN BARRETT WITH A DOUBLE DROP KICK TO THE CHEST. MICHAEL TAGGED GERALD WHO TOOK OVER. GERALD STARTED TO WORK ON BARRETT WHILE HE WAS DOWN WITH BOOT DROPS TO HIS BACK THEN STOMPS TO THE BELLY WITH HIS LEGS RAISED AND SPREAD. GERALD TAGGED MICHAEL SWAPPING PLACES BUT BEFORE HE LEFT THE RING THE BOTH DOUBLE TEAMED BARRETT BOOT STOMPING HIS CHEST AND UPPER BODY. MICHAEL DRAGGED BARRETT UP BY HIS HAIR AND POSTED HIM AGAINST THE TURNBUCKLES. BARRETT WAS DOWNED BY THE POSTING AND MICHAEL STOMPED HIS UPPER BODY TAUNTING HIM TO GET UP AND WRESTLE. BARRETT COUNTERED BY PUNCHING MICHAEL IN THE BALLS. DOWN AND IN PAIN BARRETT WAS UNABLE TO STOP MICHAEL TAGGING GERALD. GERALD ATTACHED BARRETT AS HE GOT TO HIS FEET. GERALD GAVE BARRETT TWO POSTING THE SLAMMED FOREARM SMASHED AND PUNCHES INTO BARRETT'S UP BODY AS HE HUNG IN THE CORNER ROPES. ANOTHER TAG AND MICHAEL TOOK OVER PUNISHING BARRETT IN THE CORNER THEN TRAPPING HIM IN PAINFUL COMBINATION HOLD OF HEAD LOCK AND BODY WRECKER. MICHAEL USED THE HOLD TO TRY AND MAKE BARRETT SUBMIT THEN GERALD JOIN HIM FOR SOME TOUGH BRUTAL DOUBLE TEAMING. BARRETT WAS ONLY SAVED BY THE BELLS.
BARRETT GRAPPLED WITH GERALD BARRETT STARTED WELL BUT WAS DOWN WITH TWO HARD BODY CHECKS THEN PUNISHED AS HE LAY ON THE CANVAS. GERALD TAGGED MICHAEL AND THEY DOUBLE TEAMED BARRETT WITH STOMPS TO THE BACKS OF HIS THIGHS AND BELLY. MICHAEL TRAPPED BARRETT IN FIGURE FOLD HEADLOCK AND PUNISHED HIM WITH IT. WHEN BARRETT WOULDN'T SUBMIT GERALD JOINED MICHAEL AND THE REALLY PUNISHED BARRETT. MICHAEL APPLIED AND VERY TIGHT AND PAINFUL ROLL OVER PRESS SQUEEZING BARRETT'S BALLS TRYING TO MAKE HIM SUBMIT BUT BARRETT WAS SAVED BY THE BELL AGAIN. GERALD STARTED FOR THE DEMOLITION TEAM AND QUICKLY HAD BARRETT IN TROUBLE PUNISHING HIM WITH BODY SLAMS AND OTHER PAINFUL HOLDS USING BODY BLOWS TO FINALLY MAKES BARRETT SUBMIT. THE DEMOLITION TEAM CONTINUED TO SWAP PLACES PUNISHING THE DOWNED HELPLESS BARRETT UNTIL THE BELL ENDED THE ROUND. BARRETT THEN BATTLE ON WITH MICHAEL AND CAME BACK MAKING MICHAEL RETREAT AND FINALLY TRAPPING MICHAEL IN PUNISHING BEAR HUG AND MICHAEL WAS ONLY SAVE BY GERALD COMING TO HIS RESCUE. FREED BY HIS FATHER MICHAEL PUNISHED BARRETT FORCING A SECOND SUBMISSION FROM HIM. THE BOUT WENT DOWN HILL FOR BARRETT AFTER THAT WITH THE DEMOLITION TEAMS TAKING TURNS TO PUNISH HIM AND DOUBLE TEAMING HIM AS WELL FORCING A FINAL THIRD PAINFUL HUMILIATING SUBMISSION FROM HIM.
BLOODIED BRUISED AND BEATEN BARRETT HAD BEEN PHYSICALLY ABUSED BY THE FATHER AND SON TAG TEAM NOW THEY SEXUALLY ABUSED HIM TO THE DELIGHT OF THE LEERING SPECTATORS. BARRETT WAS FORCED TO SUCK THEIR COCK AND THEY BOTH TOOK TURNS FUCKING HIM EVEN THEIR SECOND JOINED IN THE HUMILIATING FUN. THE FINAL HUMILIATION CAME WHEN BARRETT WAS TAKEN BACK TO HIS CELL AND BRONSON ORDERED JOSH THE SLAVE TO FUCK BARRETT. BARRETT WAS THE LOSER AGAIN BIG TIME BUT STILL SUFFERING HARD HUMILIATING BEATINGS AND ABUSE MAKING HIM FEEL MORE AND MORE LIKE MR PITIFUL. MORE TOUGH BRUTAL BLOODY EROTIC MALE ON MALE FIGHTING ACTION. €2.00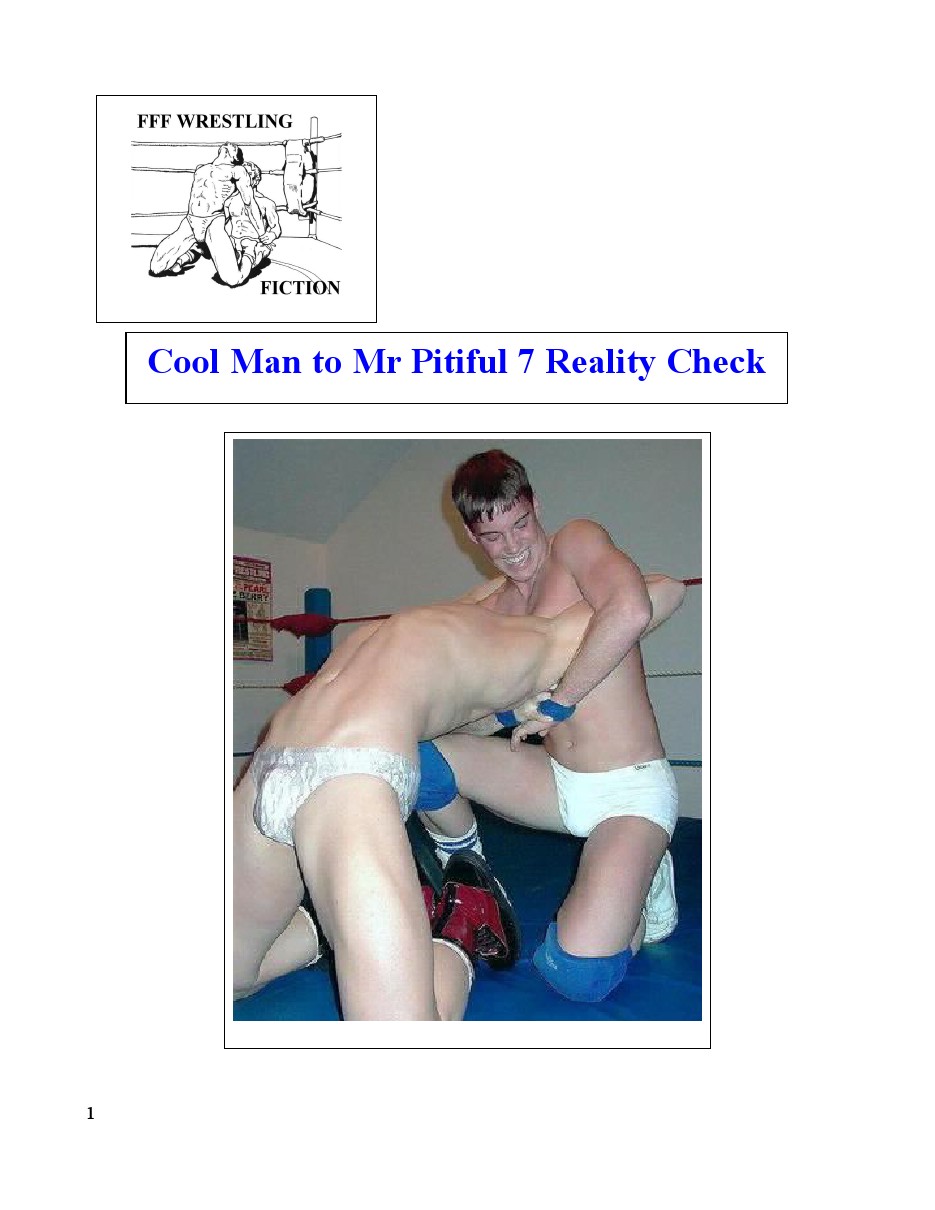 35 SELF PROCLAIMED COOL MAN TO MR PITIFUL PART 8 BRONSON GETS PERSONAL. IT HAD BEEN A MONTH SINCE BARRETT COOL MAN WAS DEFEATED, HUMILIATED AND ABUSED BY THE DEMOLITION TAG TEAM OF FATHER AND SON. RICHARD SAMUEL'S HAD LOST INTEREST IN HIM AGAIN AND HE WAS LEFT ONCE MORE AT THE TENDER MERCY OF BRONSON. BRONSON HAD HIM SPARRING WITH NICOLAY THE HUGE RUSSIAN GLADIATOR. BARRETT WONDERED IF IT WAS A PUNISHMENT AS MUCH AS TRIANGING AS HE WAS WELL BATTERED BY THE HUGE RUSSIAN. BUT BRONSON INFORMED IT WAS NECESSARY FOR HIS NEXT FIGHT. BRONSON TOLD BARRETT THAT HE WOULD BE FIGHTING THE ALL TIME CHAMPION GLADIATOR OF THE WSFGA IN A SPECIAL BODY BREAKING NO RULES WRESTLING MATCH. BRONSON CONTINUED TO TRAIN BARRETT HARD AGAINST NICOLAY AND THE NUBIAN A HUGE BLACK GLADIATOR. ON THE DAY OF THE FIGHT BARRETT WAS INFORMED THAT THE FIGHT WOULD BE AT A SPONSORS HOUSE AND HE WAS ESCORTED IN A CAR BY BRONSON NICOLAY AND THE NUBIAN. THE SPONSOR WAS LORD HURTLEY A FOUNDING MEMBER OF THE WSFGA. THE FIGHT WAS TO TAKE PLACE IN A BASEMENT ROOM OF HIS HOUSE. BARRETT WAITED IN HIS TIGHT BLUE SPEEDOS AND BOOTS ON THE LARGE ARE OF MATTING IN FRONT OF THREE COUCHES WHERE LORD HURTLEY AND HIS GUESTS ALL SAT ON THE THREE COUCHES WAITING. BARRETT WONDERED WHO THE ALL TIME CHAMPION GLADIATOR WAS AND WHAT HE WAS LIKE AS BRONSON HAD LEFT HIM WITH NICOLAY AND THE NUBIAN AND WENT TO FETCH THE MYSTERIOUS ALL TIME CHAMPION GLADIATOR.
BARRETT STARED IN SHOCK WHEN BRONSON RETURNED DRESSED IN BLACK SPEEDOS ON WITH BRIGHT YELLOW FLUORESCENT PANELS IN THE SIDES AND BLACK LEATHER WRESTLING BOOTS. "YES YOU YUPPIE WANKER I AM THE ALL TIME CHAMPION GLADIATOR I WON MY FREEDOM FIGHTING AS THE DESTROYER", BRONSON STATED. KNOWING HE WAS FACING A HEAVY BEATING WITH NO MERCY BARRETT CHARGED BRONSON BUT BOUNCED OFF HIS SOLID BODY. WHEN HE TRIED AGAIN BRONSON GRABBED BARRETT LIFTED HIM UP SPINNING HIM FORTY FIVE DEGREES BEFORE BRINGING BARRETT DOWN ACROSS HIS KNEE IN A BACK BREAKER. THE DESTROYER THAN TRAPPED BARRETT IN A CROSS SHOULDER BACK BREAKER. THE FIGHT WENT DOWN HILL FOR BARRETT AFTER THAT WITH BODY SLAMS, BODY STOMPING, AND BRUTAL BOSTON. THE DESTROYER THEN HUMILIATED AND ABUSED BARRETT IN FRONT OF THE LORD HURTLEY AND HIS GUESTS BEFORE PUNISHING HIM WITH A CAMEL CLUTCH. BARRETT REALLY PUNISHED BARRETT WHILE HE HAD HIM IN THE CAMEL CLUTCH PUNISHING HIS NIPPLES AND POUNDING HIS BELLY. BRONSON THE DESTROYER THEN STARTED TO ABUSE BARRETT'S LARGE FEET BENDING AND BEATING THEM MERCILESSLY. BRONSON CONTINUED TO BEAT AND ABUSE BARRETT SHOWING HIM NO MERCY. A BEAR HUG VIRTUALLY CRUSHED THE LIFE OUT OF BARRETT. A VICIOUS BODY SCISSOR CONTINUED BARRETT'S SUFFERING AS HE HAD TO ENDURE BRUTAL BELLY PUNCHING AND CLAWING. BRONSON POUNDED AND SQUEEZED BARRETT'S SLAB LIKE PECS UNTIL HE PASSED OUT. BRONSON THEN SWITCHED TO ABUSING BARRETT'S NIPPLES, COCK AND BALLS TO THE DELIGHT OF LORD HURTLEY AND HIS GUESTS WHEN BARRETT BECAME AROUSED BY THE ABUSE UNTIL HE PASSED OUT AGAIN.
WHEN BARRETT CAME TOO BRONSON THE DESTROYER PUNISHED HIM WITH A FULL NELSON. THEN MADE IT WORSE BY COMBINING IT WITH A CRUSHING BODY SCISSORS FOLLOWED BY A PAINFUL GRAPEVINE. BRONSON CONTINUED HIS MERCILESS PUNISHMENT OF BARRETT PINNING HIM AND BEATING HIM TO HIS FACE WAS BLOODIED AND BRUISED. BRONSON HUMILIATED BARRETT BY MAKING BARRETT ADMIT THAT BRONSON WAS THE BEST FIGHTER AND MADE HIS SUCK HIS COCK IN FRONT OF LORD HURTLEY AND HIS GUESTS. BRONSON THEN FUCKED BARRETT LONG AND HARD IN FRONT OF LORD HURTLEY AND HIS GUESTS. THEN BARRETT AS THE LOSER WAS FORCED TO SUCK LORD HURTLEY'S COCK. BARRETT ALSO HAD TO SERVICE FOUR OF LORD HURTLEY'S GUESTS SUCKING TWO OF THEIR COCKS WHILE THE OTHER TWO FUCKED HIM. BARRETT WONDERED IF HE WOULD EVER GET OVER WHAT HAD HAPPENED TO HIM AND WHAT OTHER DEPRAVITIES BRONSON HAD IN MIND FOR HIM. NO LONGER COOL MAN HE REALLY WAS MR PITIFUL. €2.00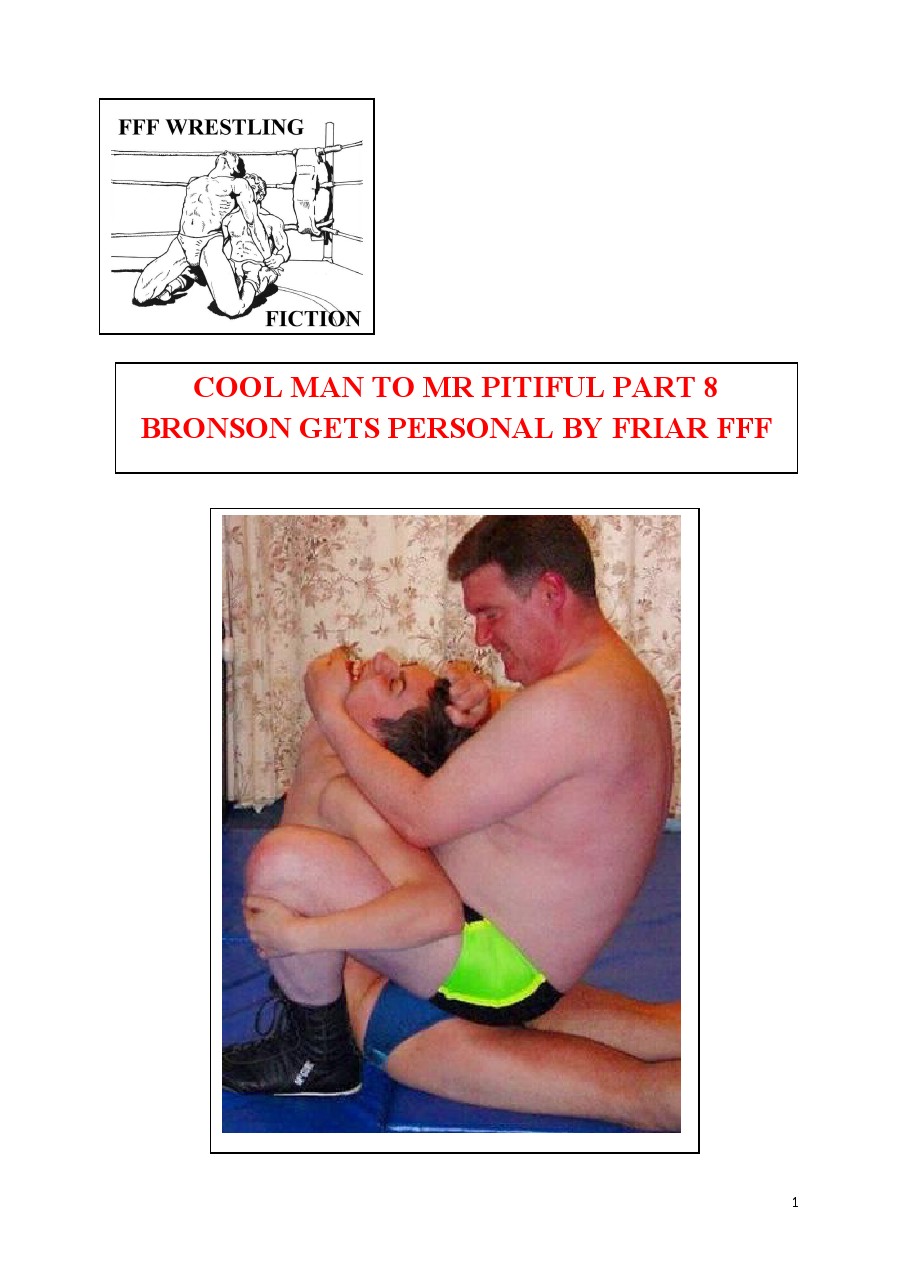 36 SELF PROCLAIMED COOL MAN TO MR PITIFUL PART 9 DEADLY CHALLENGES. TWO WEEKS PASSED AFTER BARRETT'S HUMILIATION AND DEBASEMENT BY BRONSON FOR LORD HURTLEY BEFORE BRONSON ARRANGED ANOTHER FIGHT FOR BARRETT. BARRETT HAD BEEN PARADED NAKED WITH ALL THE OTHER GLADIATORS FOR MITCHELL LANDERS AND HIS GIRL FRIEND CYNTHIA TO CHOOSE TWO GLADIATORS TO FIGHT FOR THEM. BARRETT HAD BEEN PAWED AND INSPECTED BY CYNTHIA LIKE ALL THE OTHER GLADIATORS BUT PERSUADED BY MITCHELL AND BRONSON NOT TO CHOOSE BARRETT WHEN SHE SAID SHE QUITE LIKED HIM. BRONSON TRAINED BARRETT HARD FOR ANOTHER TWO WEEKS PARTICULARLY IN BOXING THEN TOLD HIM A SPONSOR AND A NEW FIGHT FOR HIM. BARRETT WAS SURPRISED TO FIND THAT HIS SPONSOR WAS CYNTHIA. CYNTHIA HAD PAID BRONSON AND THE WSFGA TO KIDNAP AND TRAIN AS AS WSFGA FIGHTER YOUNG CHINESE WAITER CALLED JIAN-HENG SO HE COULD FIGHT WITH A JIAN-HENG GLADIATOR IN DEADLY SERIES OF FIGHTS TO MAKE A SNUFF VIDEO. CYNTHIA HAD REQUESTED THAT BARRETT COOL MAN BE THE WSFGA GLADIATOR. BARRETT WAS TOLD HE WOULD HAVE TO FIGHT JIAN-HENG CYNTHIA'S GLADIATOR FOR THE WSFGA IN THREE TOUGH POTENTIALLY DEADLY FIGHTS. THEIR FIRST FIGHT WAS A BRUTAL ANYTHING GOES BOXING MATCH. BARRETT'S FIGHTING GEAR WAS BRIEF FLUORESCENT PINK POUCH WITH A BLACK WAISTBAND AND FLUORESCENT PINK SIX OUNCE BOXING GLOVES. JIAN-HENG WAS SIMILARLY CLAD IN A BLACK JOCK STRAP AND RED SIX OUNCE LEATHER BOXING GLOVES.
THEY FOUGHT A HARD UNCOMPROMISING BRUISING AND BLOODY BATTLE OF ATTRITION. BARRETT DID WELL MAKING JIAN-HENG SUFFER BUT SUFFERING IN RETURN BOTH KNOCKING EACH OTHER DOWN. THEN JIAN-HENG PUT BARRETT DOWN SCORING A KO. HOWEVER BRONSON REVIVED BARRETT WITH SMELLING SALTS AND ORDERED HIM TO FIGHT ON. BARRETT MANAGED TO FEND OFF JIAN-HENG'S ATTACK AND THEN DOWNED HIM WITH A HARD RIGHT BUT AS HE CLOSED ON ON HIS DOWNED OPPONENT TO FINISH HIM OFF JIAN-HENG CAUGHT HIM WITH A KICK TO THE THROAT FOLLOWED BY A KICK TO THE HEAD THAT GOT A SECOND AND WINNING KO. ALTHOUGH BARRETT HAD TAKEN A BEATING AND BEEN KO'D AND WAS STIFF AND BRUISED HE WAS STILL EXPECTED TO FIGHT WITH JIAN-HENG THE NEXT EVENING IN WHAT BRONSON TOLD THEM WOULD BE AN EVEN TOUGHER AND BRUTAL FIGHT THAN THE BRUTAL ANYTHING GOES BOXING MATCH. BARRETT WONDERED WHAT COULD BE TOUGHER THAN THE BOXING MATCH AND ASSUMED IT WOULD BE A BARE KNUCKLE FIGHT AND THOUGHT THAT IDEA WAS CONFIRMED WHEN HIS FIGHTING GEAR WAS A BRIEF TIGHT FITTING PAIR OF LIGHT BLUE PVC BRIEFS. WHEN BRONSON LED BARRETT TO THE OBSERVATION ROOM AND JIAN-HENG WAS SIMILARLY ATTIRED IN RED PVC BRIEFS HE WAS SURE IT WOULD BE A BARE KNUCKLE FIGHT ON HE HAD TO WIN AS LOSING DID NOT BEAR THINKING ABOUT. HOWEVER IT WAS NOT A BARE KNUCKLE FIGHT BARRETT AND JIAN-HENG WEARING HARD RUBBER CAESTUS MODERN EQUIVALENTS OF THE ANCIENT ROMAN AND GREEK WOODEN AND IRON CAESTUS.
THE CAESTUS HAD TWO USES TO PROTECT THE FIGHTERS HANDS AND TO INCREASE THE STRIKING AND IMPACT POWER OF THEIR PUNCHES. THE FIGHT STARTED WELL FOR BARRETT AND HE BATTERED JIAN-HENG WITH HIS DENSE RUBBER CAESTUS KNOCKING HIM DOWN. HOWEVER JIAN-HENG FENDER OFF BARRETT WITH A KICK TO THE BELLY ALLOWING HIM TO GET UP. WHEN THE FIGHT RESTARTED BARRETT CONTINUED TO BATTER JIAN-HENG WITH HIS CAESTUS. A BLOW TO JIAN-HENG'S SOLAR-PLEXUS LEFT JIAN-HENG HELPLESS ON HIS KNEES A CAESTUS TO THE HEAD KNOCKED JIAN-HENG DOWN KO'ING HIM. WHEN JIAN-HENG WAS REVIVED AND THE FIGHT CONTINUED BARRETT CONTINUED TO POUND JIAN-HENG WITH HIS CAESTUS BUT JIAN-HENG MANAGED TO COUNTER WITH A HIGHT KICK TO THE HEAD THAT DOWNED BARRETT. WHEN THE FIGHT RESTARTED THE POUNDED AND BATTERED EACH OTHER WITH THEIR CAESTUS A PUNCH TO THE JAW DOWNED JIAN-HENG AGAIN. IT TOOK SEVERAL ATTEMPTS FOR JIAN-HENG TO GET UP AND FIGHT BUT WHEN HE DID HE WAS NO MATCH FOR BARRETT WITH HIS VISION IMPAIRED BY A SWOLLEN EYE AND HARD BLOW TO HIS EAR KNOCKED HIM OUT COLD. BARRETT HAD MANAGED TO WIN THE SECOND FIGHT AND BRING THE SCORE TO ONE WIN EACH. THEIR THIRD FIGHT WAS SUPPOSED TO HAPPEN THE NEXT DAY BUT JIAN-HENG'A INJUIRES PREVENTED THAT. IT WAS A COUPLE OF WEEK LATER THAT HE FINALLY MET JIAN-HENG IN THEIR THIRD AND LAST FIGHT THAT BRONSON HAD PROMISED THEM WOULD BE EVEN MORE BRUTAL AND SADISTIC THAN THE CAESTUS MATCH.
WHEN THE DAY OF THE FIGHT ARRIVED BARRETT WONDERED WHAT COULD BE WORSE THAN THE TOUGH NO RULES BOXING AND THE BRUTAL CAESTUS MATCH HIS ATTIRE FOR THE MATCH AS THIN PAIR OF BLACK COTTON BRIEFS NOT MUCH BIGGER THAN A THONG JIAN-HENG WORE A WHITE PAIR. BRONSON DELIGHTED IN INFORMING THEM THEY WOULD BE FIGHTING WITH MODERN REPLICAS OF THE MEDIEVAL MACE. THE MACES WERE SIMILAR TO THE MEDIEVAL MACE WITH A WOODEN HANDLE WITH A NYLON ROPE ATTACHED TO DENSE BLACK RUBBER BALL ON THE END OF THE NYLON ROPE, THE BALLS WERE MADE OUT OF THE SAME TOUGH RUBBER AS THE CAESTUS AND ARE CAPABLE OF INFLICTING SERIOUS IF NOT CRITICAL INJURIES. THEY WOULD FIGHT UNTIL ONE OF THEM WAS UNABLE TO CONTINUE THEN THE SPONSOR CYNTHIA WOULD DECIDE THE FATE OF THE LOSER ANCIENT ROMAN STYLE WITH THUMBS UP OR DOWN. THUMB UP AND THE DOWNED GLADIATOR CAN BE KO'D OR IF ALREADY KO'S ALLOWED TO FIGHT AGAIN A THUMB DOWN MEANT THE GLADIATOR MUST DIE. EACH ARMED WITH A MACE BARRETT AND JIAN-HENG POTENTIALLY TO THE DEATH.
THE FOUGHT HARD BOTH NOW DESPERATE TO WIN EXCHANGING HARD BLOWS FROM THE MACES THAT HURT EVEN MORE THAN THE CAESTUS. BARRETT TOOK THE INITIATIVE TAKING THE FIGHT TO JIAN-HENG AND SEEMED TO BE SLOWLY WEARING HIM DOWN. THEN JIAN-HENG DOWNED BARRETT WITH TWO BLOWS TO THE HEAD DROPPING HIM TO HIS KNEES. AS JIAN-HENG TRIED TO FOLLOW UP THE BLOWS BARRETT CAUGHT HIM WITH BLOW TO THE SOLAR PLEXUS AND THE DROPPED JIAN-HENG TO HIS KNEES. TWO BLOWS TO THE HEAD DOWNED JIAN-HENG BUT WHEN BARRETT TRIED TO EXPLOIT THE POSITION JIAN-HENG CAUGHT HIM IN THE SOLAR PLEXUS. THEY FOUGHT HARD THE FIGHT GOING BACK AND FORTH LEAVING THEM BOTH BLOODED AND BRUISED. THEN HARD BLOWS TO HIS NOSE THROAT AND SOLAR PLEXUS MAKING HIS ARMS GO LIMP LEAVING HIM DEFENCELESS. JIAN-HENG FOLLOWED UP WITH TWO BLOWS TO BARRETT'S BELLY AND ONE TO HIS BALLS DISARMING BARRETT AND DROPPING HIM TO HIS KNEES. MORE HARD BOWS TO THE BODY MADE BARRETT CRUMPLE TO THE MATS. BARRETT LAY HELPLESS ON HIS BACK AS JIAN-HENG BATTERED HIM WITH HIS MACE. BARRETT SOMEHOW MANAGED TO ROLL OVER ONLY TO BE BATTERED BY JIAN-HENG'S MACE AGAIN. BRONSON BELIEVING BARRETT TO BE FINISHED ASKED CYNTHIA FOR HER VERDICT AND SHE GAVE A THUMBS DOWN. CYNTHIA ORDERED JIAN-HENG TO STRIP BARRETT AND ROLL HIM ONTO HIS BACK TO FINISH HIM.
AFTER STRIPPING AND ROLLING BARRETT OVER JIAN-HENG TO A FEW SECONDS TO GET HIS BREATH BACK THEN PICKED UP BOTH MACES INTENDING TO USE THE TO FINISH BARRETT. THE TIME TAKEN ALLOWED BARRETT TO RECOVER AND REGAIN SOME BODY MOVEMENT AND BREATH ALTHOUGH HE REMAINED STILL HOPING TO SURPRISE JIAN-HENG. WHEN JIAN-HENG RAISED BOTH MACES ABOVE HIS HEAD AND STARTED TO BRING THEM DOWN ON BARRETT, BARRETT LURCHED UP AND KNEED JIAN-HENG IN THE BALLS. ANOTHER KNEE TO THE HEAD TOTALLY IMMOBILISED JIAN-HENG. BARRETT KNELT OVER JIAN-HENG AND LOOKED UP AT CYNTHIA WHO GAVE THE THUMBS DOWN. BARRETT STRIPPED JIAN-HENG NAKED THEN USED BOTH MACES TO BATTER HIS HELPLESS NAKED BODY UNTIL HE DIED IN A DEATH RATTLE. BARRETT HAD WON AND SURVIVED AND SHOULD HAVE BEEN HAPPY MORE LIKE COOL MAN HOWEVER CYNTHIA HAD SAID SHE MIGHT TRY TO BY HIM AND BARRETT KNEW IF HE WAS OWNED BY CYNTHIA AND MITCHELL LANDERS HE WOULD INDEED BE MR PITIFUL. MORE TOUGH BRUTAL BLOODY EROTIC MALE ON MALE FIGHTING ACTION. €2.00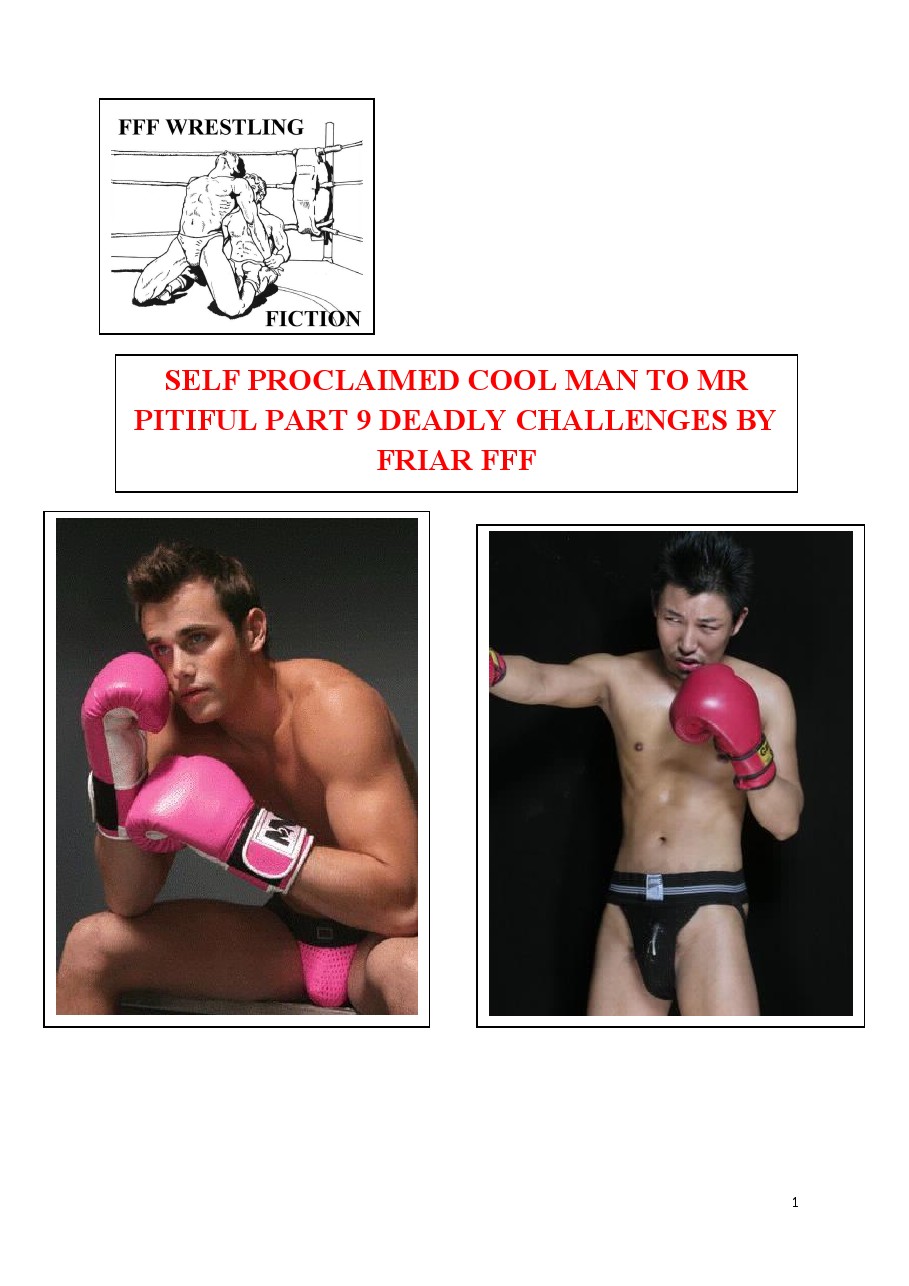 37 A CHALLENGE ACCEPTED REUNION PART 1. JEFF CARY AND JACK COLES HAD WRESTLED A COUPLE OF TIMES MANY YEARS AGO WHEN JEFF LIVED IN THE UK. THEY LOST CONTACT AND JEFF HAD MOVED TO CYPRUS A FEW YEARS AGO AND THE LAST PERSON JEFF EXPECTED TO MEET IN BAR WAS JACK COLES. JACK COLES WAS ON HOLIDAY IN CYPRUS AND JEFF WAS LUCKY ENOUGH TO MEET HIM. AFTER DISCUSSING OLD TIMES THE DECIDED IT WAS TOO GOOD CHANCE TO MISS AND DECIDE TO WRESTLE IN JACK'S ROOM THE NEXT DAY. THEY MET BY THE POOL IN JACK'S HOTEL AND RETIRED TO HIS ROOM FOR SOME WRESTLING BOTH HOPING TO RECAPTURE THE EROTIC TOUGH WRESTLING SESSIONS THEY HAD MANY YEARS AGO. DRESSED IN TIGHT BRIEF SPEEDOS THEY GET TO GRIPS IN JACK'S HOTEL ROOM.
THEY SOON GOT BACK INTO THEIR OLD STYLE NO HOLD BARRED ANYTHING GOES TOUGH AND EROTIC WRESTLING. JACK GOT THE FIRST SUBMISSION IN TOUGH CLOSE GRAPPLE. JEFF TOOK THE NEXT TWO SUBMISSION IN AN EVEN TOUGHER UNCOMPROMISING BATTLE. THEN MAKING JACK SUFFER WITH TOUGH BRUTAL HOLDS GOT A THE THIRD SUBMISSION. JACK MANAGED TO PULL ONE SUBMISSION BACK WITH TOUGH BOSTON CRAB. JACK CONTINUED TO DOMINATE THE MATCH WEARING JEFF DOWN WITH FULL NELSONS AND BODY SLAMS. JACK GOT THE EQUALISING POINT WEAKENING JEFF WITH A SCHOOLBOY PIN AND KNOCKING HIM OUT WITH A CROTCH SMOTHER. JACK REMOVED JEFF''S SPEEDOS WHILE HER OUT AND DRAPED HIM OVER HIS KNEE IN A CROSS KNEE BACK BREAKER. JACK REALLY PUNISHED JEFF'S NAKED BODY WITH THE CROSS KNEE BACK BREAKER MAKING HIM SUBMIT TO TAKE THE LEAD. WHEN JACK TRIED TO EXPLOIT JEFF'S WEAKEN STATE A GET ANOTHER SUBMISSION JEFF DOWNED HIM WITH A LOW BLOW. JEFF TURNED THE TABLE SON JACK GETTING HIM IN PAINFUL REVERSE HEAD SCISSORS AND PUNISHING HIM WITH THE BRUTAL HOLD. WHEN JEFF STARTED ON JACK'S BALLS HE FORCED JACK TO SUBMIT. JEFF KEPT JACK IN THE REVERSE HEAD SCISSOR AND START TO PLAY WITH JACK'S HARD COCK PULLING HIS SPEEDOS DOWN AND WORKING ON HIS NAKED COCK. JACK WANKED AND SUCKED JACK'S COCK TAKING THE FIFTH AND WHAT HE BELIEVED TO BE THE WINNING POINT WITH TKO BY FORCED EJACULATION. JEFF LEFT JACK FLAT OUT AND HEAD FOR THE SHOWER.
WHEN JEFF CAME OUT OF THE SHOWER JACK WAS BACK UP AND READY TO CONTINUE. THEY STARTED OF GRAPPLING ARMS AND SHOULDERS LOCKED THEN JACK GOT JEFF IN A BEAR HUG. JACK WEAKENED JEFF WITH THE BEAR HUG THEN DROPPED HIM DOWN ONTO HIS RIGHT THIGH THAT WAS THRUST BETWEEN JEFF'S LEGS PUNISHING JEFF'S BALLS. JACK GOT JEFF IN A BODY SCISSOR TRAPPING JEFF'S ARMS AT HIS SIDE LEAVING HIM HELPLESS. JACK CRUSHED JEFF'S BODY WITH HIS BRUTAL SCISSORS AND STARTED TO WORK ON JEFF'S COCK NEEDING A SUBMISSION AND TKO TO WIN. JACK MERCILESSLY WORKED THE BODY SCISSORS PUNISHING JEFF'S ABDOMINALS WITH HARD BLOWS FORCING JEFF TO SUBMIT. JACK RETURNED TO WANKING JEFF'S COCK. JACK MERCILESSLY EDGED JEFF A;MOST DRIVING JEFF WILD WITH EXCITEMENT BEFORE TAKING A TKO BY FORCED EJACULATION. THE MATCH WAS OVER JACK HAD WON SIX FIVE AS JEFF WAS TO EXHAUSTED TO CARRY ON. JEFF AND JACK BOTH HAD TO ADMIT THEIR REUNION HAD BEEN A GREAT AND EXCITING. MORE HARD MALE ACTION IN ANOTHER LONG TOUGH SEXY COCK FIGHT. €2.00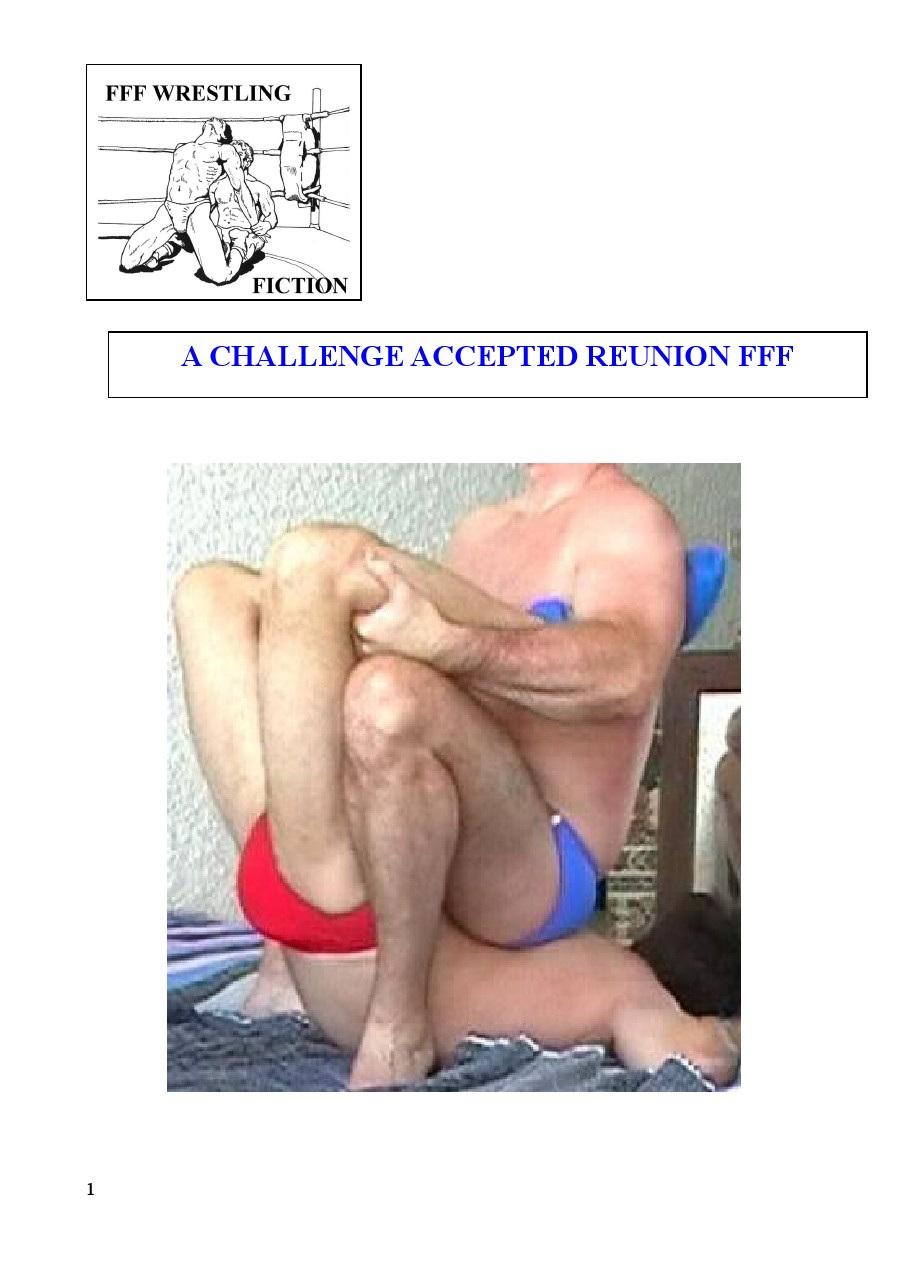 38 A CHALLENGE ACCEPTED REUNION PART 2. AFTER THEIR FIRST REUNION WRESTLING AT JACK'S HOTEL, THAT JEFF LOST AFTER NEARLY BEATING JACK. JEFF DECIDED TO TAKE JACK TO A LITTLE USED SECLUDED BEACH HE NEW FOR THEIR SECOND REUNION WRESTLING MATCH. JACK WAS IMPRESSED WITH THE SECLUDED BEACH THINKING IT PERFECT FOR WRESTLING. JACK ALSO SURPRISED JEFF WITH THERE GEAR FOR THEIR SECOND MATCH TWO PAIR OF VERY BRIEF, TIGHT FITTING AND VIRTUALLY BACKLESS SPEEDOS. JACK CHOSE BLUE FOR HIMSELF AND WHITE FOR JEFF AS THE GOOD GUY LOSER AS HE LIKED TO CALL HIM AFTER THEIR FIRST REUNION MATCH. THINGS STARTED WELL FOR JACK AND HE TOOK THE FIRST TWO SUBMISSIONS THE FIRST BY A PIN FOLLOWED BY A CROTCH SMOTHER TO WEAKEN JEFF ENOUGH FOR JACK TO GET THE SECOND SUBMISSION FROM A TOUGH PUNISHING BODY SCISSORS.
WITH JACK RIDING HIGH CONVINCED HE WAS ONTO ANOTHER VICTORY OVER JEFF, THAT IS WHEN JEFF TURNED THE TABLES. CATCHING JACK BY SURPRISE WITH A HEEL STOMP TO HIS CHEST WHILE HE KNELT IN THE SAND READY TO START. DOWNED AND IMMOBILISED BY THE HEEL STOMP JACK WAS UNABLE TO STOP JEFF GETTING HIM IN A BOSTON CRAB. JEFF USED THE PAINFUL BOSTON TO MAKE JACK SUBMIT AND PULL ONE POINT BACK. TAKING A TIP FROM JACK, COPYING WHAT JACK HAD JUST DONE TO HIM JEFF GAVE JACK NO TIME TO GET OVER HIS FIRST SUBMISSION TRAPPING JACK IN A PAYBACK BODY SCISSORS. JEFF MADE HIS BODY SCISSOR JUST AS TOUGH AS PUNISHING AS JACK'S TO GET HIS SECOND SUBMISSION FROM JACK. JEFF EVEN WORKED MERCILESSLY ON JACK'S COCK AND BALLS TO FORCE A SUBMISSION. HAVING JACK HELPLESS IN HIS BODY SCISSORS WITH JACK FULLY ERECT FROM HIS ATTENTIONS TO JACK'S COCK AND BALLS JEFF DECIDE TO GO FOR A TKO FOR THIS THIRD POINT. JEFF WORKED ON JACK'S HARD EXCITED COCK TAKING A TKO BY FORCED EJACULATION TO TAKE THE LEAD IN THE MATCH.
WHEN THEY STARTED AGAIN AFTER RESTING AND COOLING DOWN IN THE SEA JEFF AGAIN CAUGHT JACK BY SURPRISE THIS TIME TRAPPING HIM IN A BEAR HUG. JEFF PUNISHED JACK BACK WITH HIS BEAR HUG BEFORE TAKING HIM DOWN TO THE SAND WITH A THIGH DROP TO JACK'S BALLS. WITH JACK DOWN IN THE SAND AND ROLLING AROUND IN AGONY JEFF CAUGHT HIM WITH A KNEE DROP TO THE BELLY. WITH JACK WINDED JEFF EASILY PINNED HIM FOR A FIVE COUNT TO TAKE ANOTHER POINT FROM JACK. JUST LIKE JACK HAD DONE JEFF TURNED THE PIN INTO A CROTCH SMOTHER. JEFF KEPT JACK IN THE CROTCH SMOTHER UNTIL HE PASSED OUT ADDING A KO TO HIS TKO. WHILE JACK WAS OUT FOR THE COUNT JEFF STRIPPED OFF HIS SPEEDOS AND TEASED JACK'S COCK TO MAKE IT STIFF BEFORE ROLLING HIM OVER AND GETTING ON TOP TO FORCE JACK'S NAKED COCK INTO THE WET SAND. HE THEN USED JACK'S SPEEDOS TO SECURE JACK'S ARMS BEHIND HIS BACK AND THEN ROLLED HIM ON TO HIS BACK AND APPLIED ANOTHER BODY SCISSORS.
A FEW MINUTES LATER WHEN JACK CAME ROUND JEFF TOLD JACK HE WANTED HIM TO CONCEDE THE MATCH AND MADE JACK SUFFER WITH HIS BODY SCISSORS. WHEN JACK WOULDN'T CONCEDE JEFF GRABBED HIS COCK AND STARTED TO TEASE IT PUSHING HIM TOWARDS ANOTHER EJACULATION. JACK TRIED TO RESIST BUT HAD NO CHOICE IN THE END TO SUBMIT OR SUFFER ANOTHER TKO. HOWEVER JEFF STILL WANTED MORE DEMANDING THAT JACK NOT ONLY CONCEDE THE MATCH TO HIM BUT HIS SURRENDER HIS ARSE AS WELL FOR A FUCKING. WHEN JACK WOULD DO NEITHER JEFF RELEASED JACK FROM THE BODY SCISSORS AND TRAPPED JACK IN ANOTHER BOSTON. JEFF USED THE BOSTON AND JACK'S OLD FAVOURITE SELF MADE CUSTOM MOVE THE BOLDON CRAB TO MAKE JACK CONCEDE THE MATCH AND HIS ARSE. THE BOLDON CRAB ENTAIL PULLING THE COCK BACK PAINFULLY TIGHT BETWEEN THE LEGS. TRAPPED AND PUNISHED BY BOTH HOLDS JACK HAD NOT CHOICE BUT TO CONCEDE THE MATCH AND HIS ARSE. JEFF WAS DELIGHTED AT EVENING THE SCORE AT ONE MATCH EACH AND TOOK GREAT DELIGHT IN FUCKING JACK IN THE SEA AFTER MAKING JACK GET HIM HARD FIRST WITH HIS MOUTH.
JEFF GAVE JACK AND GOOD HARD FUCKING AND WHEN HE SENSED JACK WAS CLOSE TO EJACULATION HE WANKED JACK'S COCK FORCING HIM OVER THE EDGE TO MAKE JACK CUM FOR A SECOND TIME. LATER AFTER RESTING THEY WET BACK INTO THE SEA AND JEFF OBLIGE JACK BY SUCKING HIS COCK. WHEN JACK COULDN'T CUM JEFF MADE JACK SUCK HIS COCK INSTEAD. JACK SUCKED JEFF'S COCK HARD AND TEASED AND ABUSED HIS BALLS TO MAKE JEFF CUM REALLY HARD. THEN JACK FINISHED THE OCCASION OFF BY FUCKING JEFF AND MAKING HIM CUM AGAIN. IT HAD BEEN A GREAT SECOND REUNION WRESTLING MATCH AND THEY WERE NOW EVEN ONE MATCH A PIECE WITH EVERYTHING TO BE DECIDED IN THEIR THIRD AND FINAL REUNION WRESTLING MATCH. EVEN MORE HARD MALE ACTION IN ANOTHER LONG TOUGH SEXY COCK FIGHT. €1.50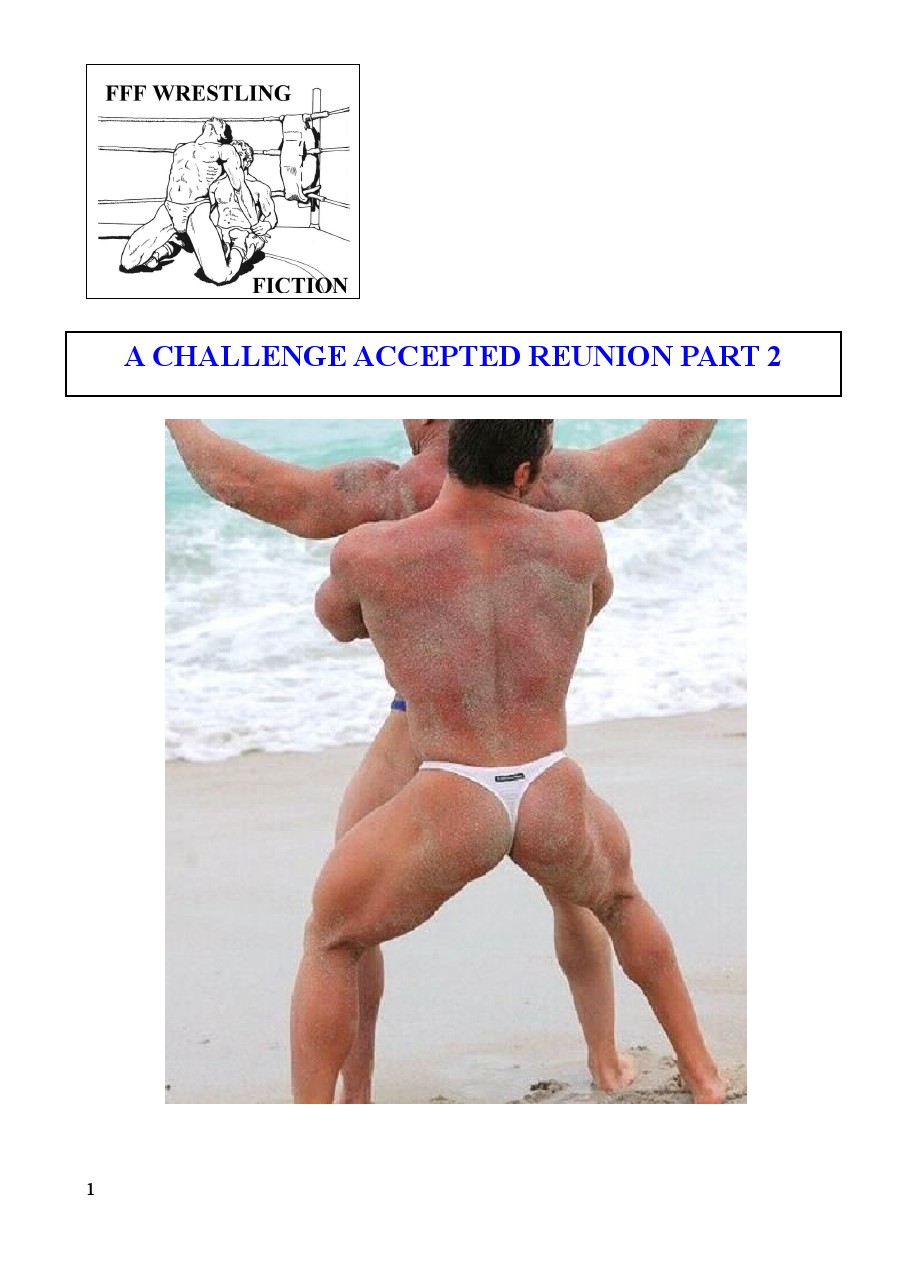 39 A CHALLENGE ACCEPTED REUNION PART 3 THE DECIDER. JEFF WAS OUT FOR REVENGE AFTER LOSING THE SECOND REUNION MATCH SO CONVINCINGLY. JACK WAS OUT TO CONTINUE HIS SUCCESS IN THE SECOND REUNION MATCH. IT WAS NOW ONE MATCH ALL WITH ALL THE WRESTLE FOR. BOTH JACK AND JEFF WERE CONFIDENT THEY WOULD WIN THE THIRD AND FINAL REUNION MATCH. IT WAS HELD IN JACK'S HOTEL ROOM AND WAS BRIEF ONLY MATCH. JEFF SUPPLIED THE BRIEF THIS TIME BRIEF SEXY ONES LIKE THEY USE TO WEAR TO WRESTLE YEARS AGO..
THEY FOUGHT HARD BUT JEFF MANAGED TO TAKE THE FIRST POINT BY KO WEARING DOWN AND DEFEATING JACK WITH FIRST A CAMEL CLUTCH, HEAD SCISSORS AND CROTCH SMOTHER. JEFF ALSO CLAIMED JACK RED BRIEFS AS A FORFEIT MAKING JACK WRESTLE NAKED FROM THEN ON. THE BOUT STARTED AFTER A SHORT BREAK TO ALLOW JACK TO RECOVER WHEN THEY STARTED AGAIN JACK TOOK THE FIGHT BACK TO JEFF PUNISHING HIM WITH A KICK TO THE GROIN AND A HARD PUNCH TO THE BELLY, HE THEN TRAPPED JEFF IS A HEAD LOCK. JACK USED THE HEAD LOCK UNTIL HE HAD JEFF ALMOST UNCONSCIOUS. JACK THEN PUNISHED JEFF WITH A BODY SCISSORS, NIPPLE ABUSE, FOLLOWED BY BELLY PUNCHES TO MAKE JEFF SUBMIT. FINALLY JACK USED COCK AND BALLS ABUSE TO MAKE JEFF SUBMIT. JACK TOOK JEFF'S GREEN BRIEFS AS A FORFEIT EVENING THINGS THAT WAY. IT WAS NOW ONE POINT ALL AND ONE MATCH ALL WITH EVERYTHING STILL TO WRESTLE FOR. THERE WAS ANOTHER SHORT BREAK FOR JEFF TO RECOVER THIS TIME BEFORE THE MATCH STARTED AGAIN
THEY STARTED GRAPPLING SHOULDER TO SHOULDER EXCHANGING KNEES TO THE UPPER BODY. JEFF PUT JACK DOWN WITH A KNEE TO THE GROIN. A FOREARM SMASH TO THE CHEST AND AN ELBOW TO THE SOLAR PLEXUS ENSURED JACK WAS SUBDUED. JEFF POUNDED JACK WITH DOUBLE ARMS BLOWS TO THE BACK AND RABBIT PUNCHES TO THE KIDNEYS. JEFF TRAPPED JACK IN A DOUBLE REVERSE ARM STRETCH STRETCHING AND STRAINING JACK'S ARMS AND SHOULDERS. JEFF THEN TRAPPED, WEAKENED AND SUBDUED JACK IN A FULL NELSON. JACK USED TO THE FULL NELSON TO PUNISH JACK AND WEAKEN HIM MORE. JEFF THEN ROLLED JACK OVER STILL IN THE FULL NELSON AND APPLIED A BODY SCISSORS AS WELL. JEFF USED THE COMBINATION HOLD TO PUNISH JACK UNTIL HE GOT HIS SECOND POINT AND FIRST SUBMISSION. ALTHOUGH HE WAS NOW EFFECTIVELY WON THE BOUT TWO POINT TO ONE JEFF DID NOT STOP OR RELEASE JACK HE WANTED THE THIRD POINT FOR A THREE POINT TO ONE THRASHING.
JEFF KEPT JACK IN THE COMBINATION HOLD PUNISHING HIM MORE UNTIL HE FELT JACK'S BODY GO LIMP. JACK RELEASED JACK AND WAITED FOR HIM TO COME ROUND THINKING OF WHAT MOVE TO TO SUE TO GET HIS THIRD SUBMISSION FROM JACK. JEFF SMILED WHEN HE DECIDE WHAT HOLD TO USE AND HE ROLLED JACK ONTO HIS BELLY AND CLIMBED ON HIS BACK PINNING JACK'S LIMP ARMS BENEATH HIS KNEES. JEFF SPREAD JACK'S LEGS AND REACHED BETWEEN THEM TO GRAB JACK'S COCK. JEFF GOT JACK'S COCK NICE AND HARD READY TO APPLY JACK'S OLD FAVOURITE CUSTOMISED HOLD THE BOLDEN CRAB. JEFF PULLED JACK'S HARD COCK BACK BETWEEN HIS LEGS STRETCHING IT TIGHT A SQUEEZING JACK'S BALLS IN THE PROCESS. ALTHOUGH JACK RUTHLESSLY APPLIED THE HOLD REALLY MAKING JACK SUFFER JACK STILL REFUSED TO SUBMIT. A HARD SPANKING OF JACK'S NAKED BUTTOCKS WHILE STILL TRAPPED IN THE PAINFUL BOLDEN CRAB FINALLY CONVINCED JACK TO SUBMIT. JEFF WAS NOW CHAMPION AND TOP WRESTLER WINNING BY THREE SUBMISSIONS TO ONE. JEFF CLAIMED HIS PRIZE FOR WINNING TAKING HIS REVENGE ON JACK FOR THE HARD FUCKING JACK GAVE JEFF WHEN HE LOST THE SECOND REUNION MATCH.
JEFF MADE JACK SUCK HIS COCK THEN FUCKED JACK HARD. JEFF STARED BY GETTING JACK IN ANOTHER DOUBLE REVERSE ARM STRETCH AND PRESSING HIS COCK DEEP INTO JACK'S ARSE, RECREATING JEFF'S LOSING POSITION IN THEIR FIRST EVER MATCH. JEFF FUCKED JACK HARD STILL TRAPPED IN THE REVERSE ARM STRETCH UNTIL HE FINALLY MADE JACK CUM HARD BY CUMING IN JACK'S ARSE. JEFF THEN TRAPPED JACK IN A CAMEL CLUTCH AND FUCKED JACK HARD AGAIN TO A SECOND SHATTERING EJACULATION TAKING A FOURTH SUBMISSION BY TKO A FORCED EJACULATION. JEFF FINALLY PINNED JACK EXHAUSTED BODY DOWN AND GAVE HIS NAKED BUTTOCKS ANOTHER HARD SPANKING JUST TO RUB HIS VICTORY IN. YET EVEN MORE HARD MALE ACTION IN ANOTHER LONG TOUGH SEXY COCK FIGHT. €1.50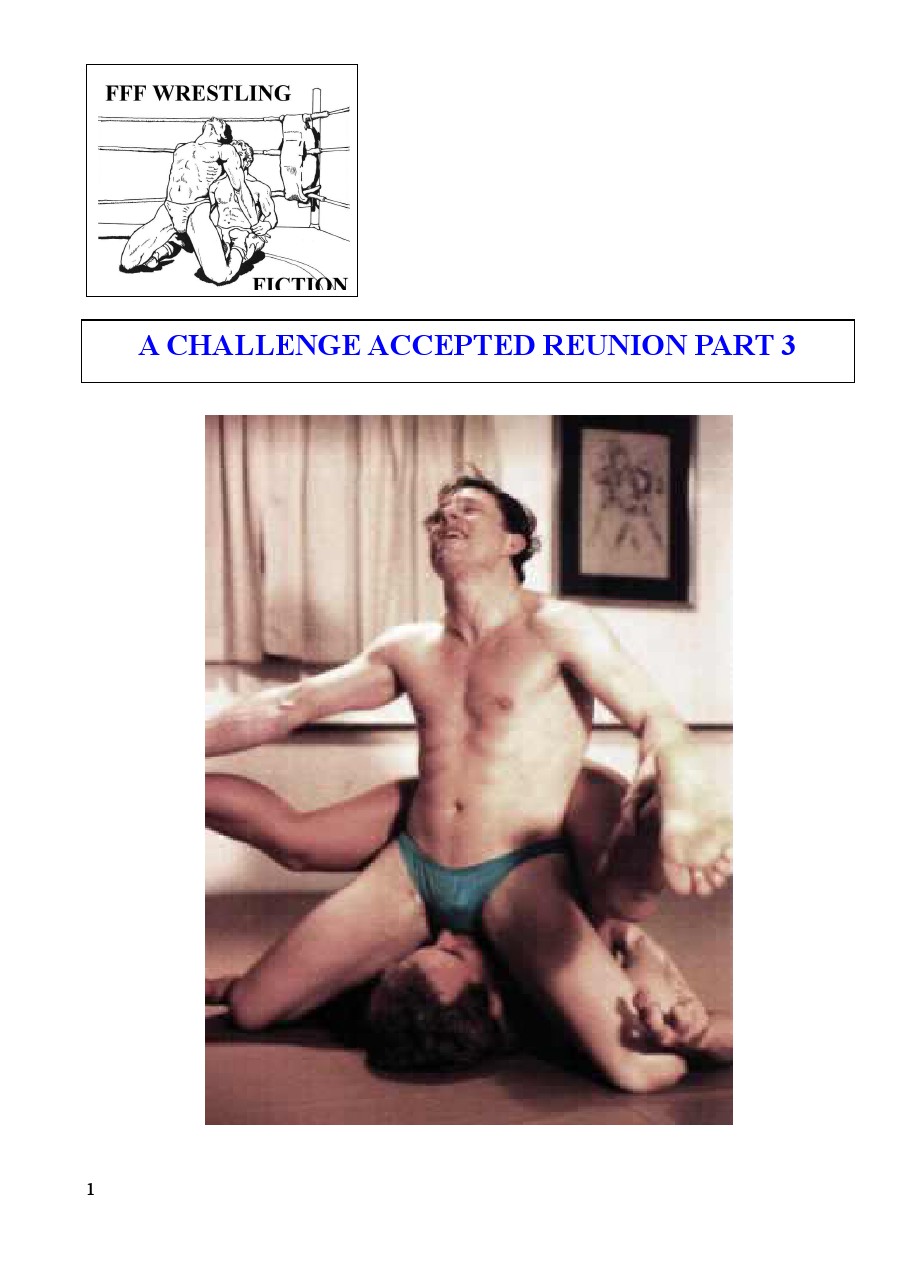 40 WRESTLING LIEUTENANT TWO NEW HUMAN CHALLENGERS FOR THE LABYRINTH. LIEUTENANT BRAD REDENSKI'S ALIEN WRESTLING ADVENTURES ON AN ALIEN SPACE STATION CONTINUE. BRAD WAS INFORMED BY COLONEL MAJHAA HIS COMMANDING OFFICER THAT A DELEGATION OF THREE HUMANS FROM THE TERRAN SPACE FEDERATION WERE COMING TO THE SPACE STATION TO COLLECT AN ALTERAN ENGINEER TO WORK IN TERRAN SPACE, THE NEXT STEP IN ENGINEER EXCHANGE PROGRAM HE WAS PART OF. ENSIGN MARJOS HIS FIRST ALTERAN ASSISTANT WOULD BE THE ALTERAN ENGINEER GOING TO WORK IN TERRAN SPACE AND HE WAS RETURNING WITH A REPENTANCE FOR BRAD TO TRAIN. BRAD WAS PLEASED AND EXCITED AT THE RETURN OF MARJOS AND WONDERED WHAT HIS REPLACEMENT WOULD BE LIKE. BRAD AND MARJOS HAD WRESTLED EACH OTHER AND MARJOS HAD BEEN THE BETTER WRESTLER. BRAD HOPED TO HAVE ANOTHER MATCH WITH HIM BEFORE HE DEPARTED TO TERRAN SPACE. HE WAS ALSO LOOKING FORWARD TO MEET SOME HUMANS FROM HIS OWN QUADRANT. THE TERRAN DELEGATION WAS MADE UP OF THREE MAN AND ADMIRAL HIS PILOT AND HIS PERSONAL AIDE A SPACE MARINE. THE SENTINEL SPONSOR OF INTER SPECIES FIGHTING ON THE SPACE STATION IN THE LABYRINTH HAD ALSO HEARD OF THE TERRAN DELEGATION AND ASKED BRAD WHO HE HAD ARRANGED FIGHTS FOR IF HE COULD GET THE HUMANS COMING TO THE SPACE STATION TO FIGHT IN THE LABYRINTH.
MARJOS AND HIS REPLACEMENT JADOK WERE THE FIRST TO ARRIVE AND BRAD DIDN'T HAVE TO WORRY HE GOT HIS MATCH WITH MARJOS AND HE ENDED WRESTLING MARJOS AND JADOK TOGETHER HE DOUBLED TEAMED HIM AND WORKED HIM OVER PHYSICALLY AND SEXUALLY DRAINING HIM DRY. WHEN BRAD MET CAPTAIN ROBERT JAMERSON AND MASTER SARGENT ELI BENNET ADMIRAL DECKERS PILOT AND SPACE MARINE PERSONAL ASSISTANT AND HE TOLD THEM WHAT HE DID AS THE ONLY HUMAN ON THE ALIEN SPACE STATION SARGENT ELI BENNET WAS EAGER TO WRESTLE AND ALTERAN FOR THE LABYRINTH AND CAPTAIN JAMERSON WAS HAPPY TO WRESTLE BRAD FOR THE LABYRINTH. THE SENTINEL AND ARRANGE THE TWO MATCHES IMMEDIATELY IN THE LABYRINTH. THE SENTINEL INTRODUCED CAPTAIN JAMERSON AND SARGENT ELI BENNET TO ARAS AND OTHER MEMBERS OF THE LABYRINTH WHO HAD COME TO WATCH THE OLD HUMAN V OLD HUMAN MATCH AND THE HUMAN V ALTERAN MATCH. BRAD WRESTLED WITH CAPTAIN JAMERSON FIRST IN A TOUGH MATCH WHICH THEY ABUSED EACH OTHER PHYSICALLY AND SEXUALLY AND CAPTAIN JAMESON MANAGED TO WIN TWO ONE. SARGENT ELI BENNET THEN TOOK ON MARJOS IN TOUGH HUMAN V ALTERAN FIGHT. IT WAS A LONG HARD BATTLE AND TO EVERYONES SURPRISE BESIDES SARGENT ELI BENNET, HE TOTALLY DOMINATED BEATING AND ABUSING MARJOS THREE NIL. MORE HOT SEXY AND PAINFUL ALIEN ABUSE OF THE HUMAN MALE BODY. €5.00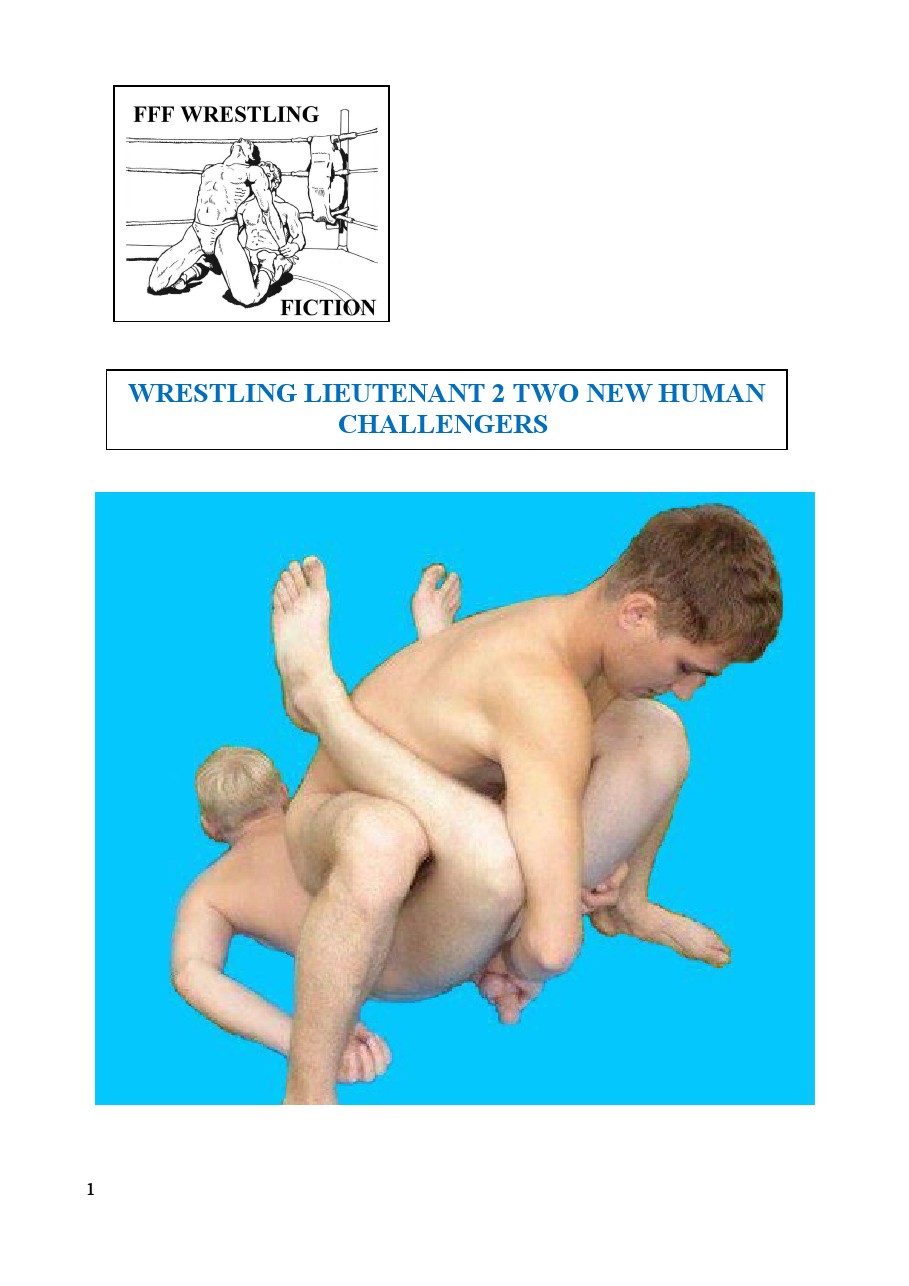 41 UNEXPECTED CHALLENGE. JEFF DECIDED TO HAVE A WEEKS HOLIDAY ON GRAN CANARIA WHERE HE USE TO GO ON HOLIDAY BEFORE HE MOVED TO CYPRUS. WHILE CRUISING THE DUNE ON HIS SECOND DAY HE BUMPED INTO THE LAST PERSON HE EXPECTED TO MEET THEIR JACK. IT WAS ANOTHER PLEASANT SURPRISE FOR BOTH OF THEM. THEY WERE BOTH EAGER TO WRESTLE BUY JACK THOUGH IT WAS TOO HOT SO JEFF SUGGESTED SOME NAKED COCK TO COCK FIGHT IN A SHADED DELL HE KNEW IN THE DUNES. JACK DECIDED TO BE ON TOP FIRST, THEY FOUGHT COCK TO COCK HARD BUT JACK GOT THE UPPER HAND AND MADE JEFF CUM FIRST. JACK FELT IT WAS TOO HOT TO PLAY ANOTHER ROUND AND DECIDED TO FUCK JEFF FOR LOSING INSTEAD WHEN HE HAD COOLED DOWN. JACK FUCKED JEFF HARD AND MADE HIM CUM AGAIN BEFORE COMING IN JEFF'S ARSE. JACK THEN SPANKED JEFF'S NAKED BUTTOCKS WHO WAS TOO WEARY RESIST. THE ARRANGED TO MEET AT JEFF'S BUNGALOW AS THERE WAS MORE ROOM IN THE AFTERNOON IN COUPLE OF DAYS TIME JACK'S LAST FULL DAY.
THEY MET AND WRESTLED IN JEFF'S BUNGALOW. AFTER ALONG STRUGGLE, JEFF TOOK THE FIRST POINT WITH BODY SCISSORS AND NIPPLE AND COCK ABUSE. JACK GOT THE SECOND POINT TO MAKE IT EVEN WITH A CROSS KNEE BACK BREAKER AND BALL ABUSE. JACK THEN TOOK THE THIRD POINT AND THE MATCH BY WEAKENING JEFF WITH A CROTCH SMOTHER. JACK TRAPPED THE WEAKENED JEFF IS A REVERSE HEAD SCISSORS AND SQUEEZED JACK HEAD UNTIL HE PASSED OUT. JACK ALSO ABUSED JEFF'S COCK AND BALLS MAKE JEFF CUM HARD TAKING A TKO, QUICKLY FOLLOWED BY A KO WITH HIS CRUSHING THIGHS. JACK MADE JEFF SUCK HIS COCK AND THEN HE FUCKED HIM HARD MAKING HIM CUM AGAIN BEFORE HE CUM IN HIS ARSE TO UNDERLINE HIS VICTORY. HARD MALE EROTIC WRESTLING AND COCK FIGHT ANOTHER LONG TOUGH SEXY WRESTLING MATCH. €1.50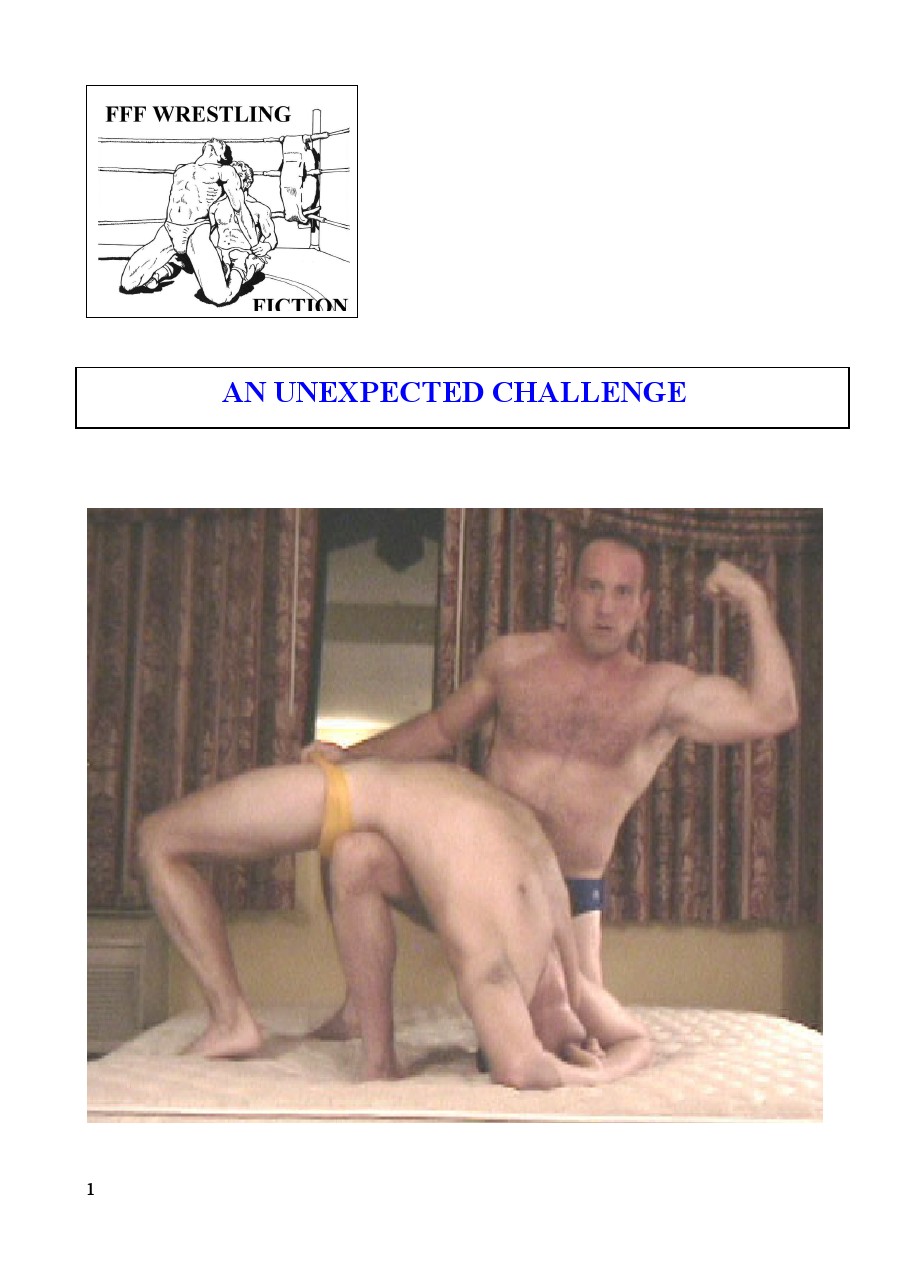 42 A MUCH TOUGHER CHALLENGE. UNEXPECTED PERSONAL BUSINESS TOOK JEFF BACK TO THE UK. WHEN HE DISCOVERING HE WOULD HAVE TO SPEND A NIGHT IN A HOTEL AT MANCHESTER AIRPORT BEFORE HIS RETURN FLIGHT TO CYPRUS. JEFF ARRANGED TO MEET JACK IN HIS HOTEL ROOM FOR A WRESTLING MATCH. IT WAS SHORT NOTICE BUT JACK MADE THE LONG JOURNEY AS HE WAS ALWAYS EAGER TO WRESTLE WITH JEFF. JEFF HAD DECIDED TO GO ALL OUT AGAINST JACK THIS TIME FROM THE START AND WIPE THE FLOOR WITH HIM. THE TASK WAS MADE MUCH EASIER AS THE LONG JOURNEY MADE JACK TIRED. JEFF MADE JACK EVEN MORE WEARY BY GETTING HIM TO HELP HIM MOVE THE BED AND FURNITURE TO MAKE A AREA TO WRESTLE. HE THEN MADE THEM START AFTER A QUICK CUP OF COFFEE GIVING JACK NO TIME TO REST AND RECOVER. JEFF ATTACKED WITHOUT PAUSE SUBDUING JACK WITH KNEE TO THE BELLY AND A FOREARMS SMASH TO THE CHEST, THEN DROPPED HIM WITH HARD KNEE TO THE HEAD. JACK THEN TRAPPED JACK IN A SCHOOLBOY PIN AND AFTER A LENGTHY STRUGGLE, TOOK THE FIRST FALL WITH A FIVE SECOND PIN. JEFF DID NOT RELEASE JACK FROM HIS PIN, HE PRESSED HIS BUGLING CROTCH INTO JACK'S FACE MAKING IT A CROTCH SMOTHER. JEFF KEPT THE CROTCH SMOTHER ON RIDING OUT JACK'S FRANTIC STRUGGLES UNTIL JACK PASSED OUT, TAKING THE SECOND POINT BY KO WITH CROTCH SMOTHER.
WHILE JACK WAS STILL UNCONSCIOUS JEFF PUT JACK LIMP BODY IN A BACK BREAKER ACROSS HIS KNEE. JEFF BENT JACK'S LIMP BODY TIGHTLY OVER HIS KNEE AND WAITED FOR HIM TO COME ROUND. WHEN JACK WAS CONSCIOUS JEFF PUNISHED JACK'S BACK WITH HIS CROSS KNEE BACK BREAKER LOOKING FOR A SUBMISSION AND POINT NUMBER THREE. WHEN JACK REFUSED TO SUBMIT, JEFF POUNDED JACK'S STRETCHED BELLY WITH HIS FISTS AND MERCILESSLY ABUSED HIS NIPPLES. ALTHOUGH JACK'S BELLY AND NIPPLES TURNED RED FROM ABUSE HE STILL REFUSED TO SUBMIT. DETERMINED JEFF STARTED TO ABUSE JACK'S BALLS WITH A COMBINATION OF BALL AND BELLY ABUSE. AN ELBOW TO THE SOLAR PLEXUS MADE JACK'S BODY GO LIMP AND MORE BRUTAL BELLY ABUSE FINALLY MADE HIS SUBMIT, TAKING POINT THREE. NOT PAUSING IN HIS ATTACK AND BRUTAL DOMINATION OF JACK, JEFF ROLLED HIM OFF HIS KNEE THEN TRAPPED HIM IN A BOSTON CRAB. JEFF TORTURED JACK'S LOWER BACK WITH THE PAINFUL BOSTON, FINALLY FORCING A PAINFUL SUBMISSION FROM HIM AND TAKING THE FOURTH POINT AND THE MATCH. JEFF HAD WON BUT WAS NOT FINISHED WITH JACK, HE INTENDED TO ABUSE EVEN MORE BOTH PHYSICALLY AND SEXUALLY. HE KEPT JACK IN THE BOSTON FOR A LITTLE WHILE TORMENTING HIS LOWER BACK SOME MORE. THEN JACK TRAPPED JACK'S CHEST BETWEEN HIS THIGHS IN A CRUSHING BODY SCISSORS. JACK ASKED JEFF IS HEW WAS LOOKING FOR A FIFTH POINT BUT JEFF TOLD JACK HE WAS JUST RUBBING HIS DEFEAT IN. JEFF ABUSED JACK'S UPPER BODIES WITH HIS THIGHS MAKING HIM WEAKER, THEN DEMANDED HIS TOTAL SURRENDER AND SURRENDER OF HIS TRUNKS. JACK HELD ON BRAVELY BUT HE WAS EVENTUALLY FORCED TO COMPLY.
JEFF EAGERLY STRIPPED JACK NAKED FREEING HIS EXCITED COCK, THEN MADE JACK KNEEL AND SUCK HIS COCK. JEFF MADE JACK SUCK HIM TO EJACULATION. THEN ORDERED JACK TO SUCK HIS COCK HARD AGAIN SO HE COULD FUCK HIM. WHEN HIS COCK WAS HARD JEFF MADE JACK LUBRICATE HIS COCK AND THEN FUCKED HIM HARD. JEFF DIDN'T STOP FUCKING JACK UNTIL HE MADE HIM CUM THEN JUST AS EXCITED EJACULATED IN JACK. WHEN THEY HAD BOTH RECOVERED FROM THE EXHAUSTING SEXUAL EXERTION, JEFF TOOK HIS FINAL REVENGE ON JACK WITH NAKED CROSS KNEE SPANKING. JACK ARSE WAS RED AND SORE BY THE TIME JEFF FINISHED SPANKING IT. THE SPANKING HAD MADE JACK SOFT COCK STIFF AGAIN. JEFF MADE JACK SUCK HIS COCK HARD SO HE COULD FUCK JACK IN THE SHOWER. JEFF FUCKED JACK HARD IN THE SHOWER AND MADE HIM CUM AGAIN BEFORE EJACULATING INSIDE HIM A SECOND TIME. WHEN THEY HAD BOTH RECOVERED JACK CONCEDED THAT THIS HAD BEEN A MUCH TOUGHER CHALLENGE FOR HIM. MORE HARD MALE EROTIC WRESTLING AND COCK FIGHTING ANOTHER LONG TOUGH SEXY WRESTLING MATCH WITH JACK COMING OFF THE WORSE THIS TIME BOTH PHYSICALLY AND SEXUALLY. €1.50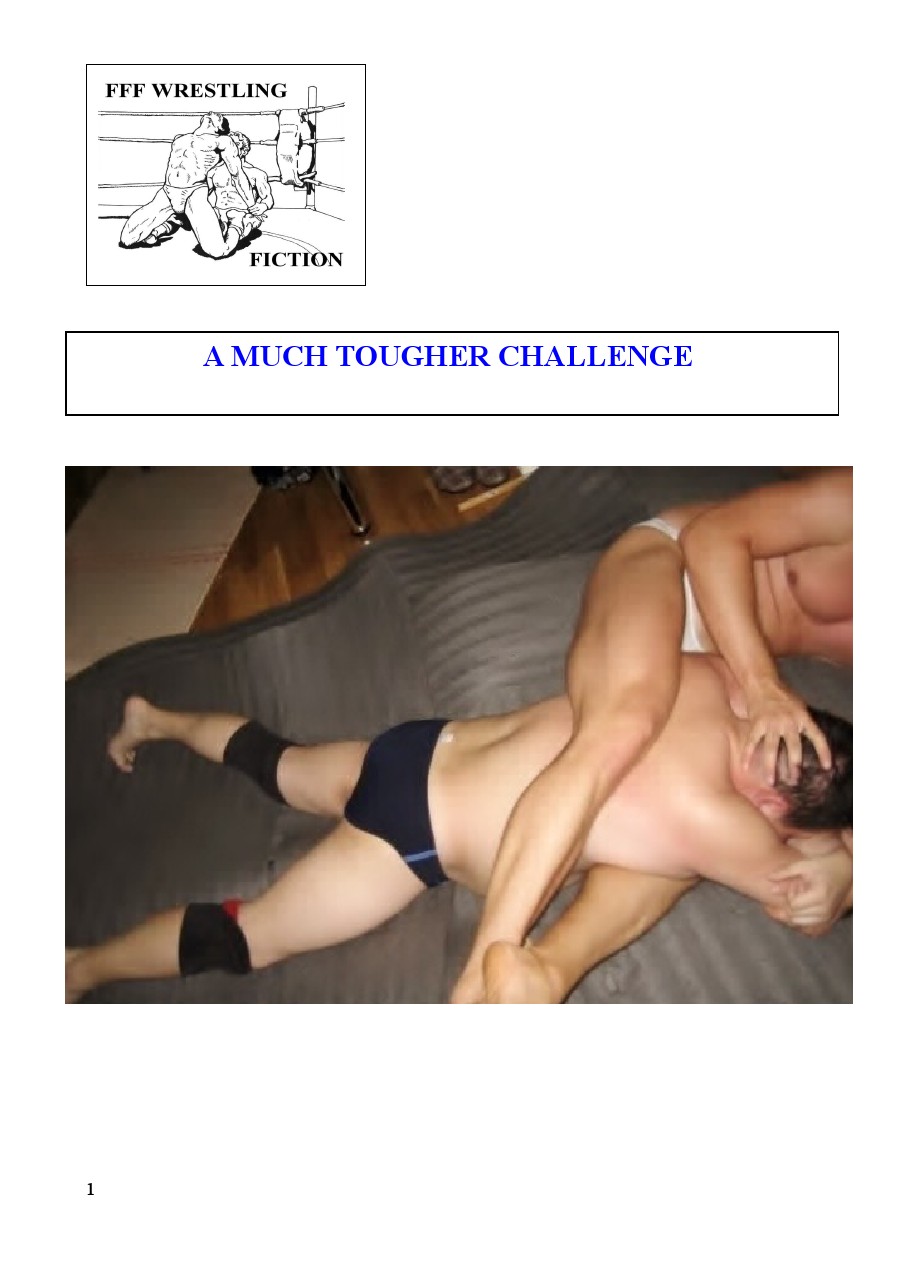 43 SELF PROCLAIMED COOL MAN TO MR PITIFUL PART 10, BOUND FOR HELL, THEN A LUCKY REPRIEVE. IT TOOK BARRETT SOME TIME TO GET OVER HIS ALMOST FATAL FIGHT AGAINST JIAN HENG, CYNTHIA'S GLADIATOR. BUT HIS RECOVERY WAS PLAGUED WITH CONSTANT NIGHT MARES, ABOUT CYNTHIA, WANTING TO PURCHASE HIM, COOL MAN AS HER GLADIATOR. BY AS HIS TRAINING AND TIME PROGRESSED HE FORGOT ABOUT IT. AS HE TRAINED BARRETT NOTICED THAT NICOLAY WAS RECEIVING LOTS OF EXTRA TRAINING. RICHARD SAMUELS, HAD ARRANGED A FIGHT AGAINST A RUSSIAN WSFGA GLADIATOR, ( WORLD STREET FIGHTER GLADIATORS ACADEMY ) CALLED ALYOSHENKA, THE RUSSIAN BEAR. BUT ON THE DAY OF THE BIG FIGHT, NICOLAY WAS TOO ILL TO FIGHT AND COOL MAN WAS THE ONLY WSFGA GLADIATOR, AVAILABLE TO TAKE NICOLAY'S PLACE. THAT WAS HOW BARRETT FOUND HIMSELF FACING, ALYOSHENKA, THE RUSSIAN BEAR. ALYOSHENKA, THE RUSSIAN BEAR, WAS LARGER, HEAVIER, STRONGER AND MORE SKILLED, THAN COOL MAN. COOL MAN'S UNSCHEDULED FIGHT AGAINST ALYOSHENKA, THE RUSSIAN BEAR, TURNED INTO A VICIOUS BEAT DOWN. ALYOSHENKA REALLY PUNISHED AND ABUSED BARRETT, TO THE DELIGHT OF THE CROWD OF WSFGA MEMBERS. WHEN ALYOSHENKA WAS PROCLAIMED THE WINNER, AFTER TOTALLY TROUNCING COOL MAN, HE SUBJECTED HIM TO MORE PHYSICAL AND SEXUAL ABUSE. HE GOT HIS SECOND SASHA, A YOUNG MUSCULAR RUSSIAN FIGHTER, TO HELP HIM. BARRETT WAS FORCED TO SUCK BOTH THEIR COCKS AND WAS RAPED BY THEM BOTH, TO THE DELIGHT OF THE CROWD.
LONG AFTER BARRETT'S DEFEAT AND HUMILIATION, BY ALYOSHENKA AND SASHA. RICHARD SAMUELS WAS HOSTING A BIG WSFGA FIGHT, ALMOST EVERY MEMBER OF THE WSFGA, WAS PRESENT, INCLUDING ALYOSHENKA, SASHA AND THEIR RUSSIAN PROMOTER, ANATOLY. CYNTHIA AND JOAN HER BEST FIGHTER AND TRAINER WERE ALSO PRESENT. ONE OF THE TOP BILLED FIGHTERS, ARRIVAL HAD BEEN DELAYED SO THE FIGHT HAD TO BE DELAYED. CYNTHIA TOOK THE OPPORTUNITY TO FINALLY PERSUADE RICHARD SAMUELS, TO SELL COOL MAN TO HER. ANATOLY HAD TOLD CYNTHIA THAT SASHA HAD WANTED TO FIGHT IN A UK WSFGA MATCH, BUT NO FIGHTER COULD BE SPARRED TO FIGHT HIM. CYNTHIA SUGGESTED THAT HE FIGHT COOL MAN, HER NEW WSFGA GLADIATOR, IT WOULD BE HIS LAST FIGHT AND SASHA'S FIRST FIGHT FOR THE UK, WSFGA. IT WOULD ALSO PASS THE TIME AND MAKE UP FOR THE DELAYED BIG FIGHT. IT WAS AGREED AND COOL MAN HAD TO FIGHT SASHA, IN A WSFGA RULES WRESTLING MATCH. BARRETT WAS FAR FROM HAPPY WHEN, HE WAS TOLD HE HAD BEEN SOLD TO CYNTHIA, HIS WORSE FEAR. EVEN MORE SO WHEN HE WAS TOLD HE HAD TO FIGHT SASHA FOR HER. BARRETT TOOK ANOTHER HUMILIATING BEAT DOWN AT SASHA'S HANDS SUFFERING MORE PHYSICAL AND SEXUAL ABUSE. WHEN SASHA HAD TOTALLY DEFEATED COOL MAN, HE MADE BARRETT SUCK HIS COCK AND THEN FUCKED BARRETT. TO FURTHER HUMILIATE COOL MAN, HE ASKED FOR VOLUNTEER TO MILK COOL MAN DRY. CYNTHIA VOLUNTEERED HER BEST FIGHTER JOAN. JOAN TOOK GREAT DELIGHT IN TOTALLY DRAINING COOL MAN, AND INFORMING HIM HE WAS FACE MANY MORE BEAT DOWNS AND DRAININGS, AS CYNTHIA'S FIGHTER. FINALLY SASHA GOT COOL MAN TO SUCK HIS SECOND, JOSH OFF, IN FRONT OF THE CROWD OF WSFGA MEMBERS. WHEN THAT FINAL HUMILIATION WAS OVER, SASHA, PUT COOL MAN OUT HIS MISERY, BY KNOCKING HIM OUT.
WHEN THE COOL MAN CAME ROUND IN HIS CELL, HE WAS VISITED BY CYNTHIA AND JOAN AND WAS TOLD WHAT HE COULD EXPECT AS HER FIGHTER, IN HER FEMALE UNDER GROUND FIGHT LEAGUE. A JOBBER FOR FEMALE OPONENTS, TO ENTERTAIN THE FEMALE MEMBERS OF HER, FEMALE UNDER GROUND FIGHT LEAGUE. BARRETT WAS HORRIFIED, HE FACED AND EVEN WORSE FUTURE THAN HIS TIME AS A WSFGA BONDED GLADIATOR. BUT FORTUNATELY, HE WAS RESCUED FROM THE TERRIBLE FATE, BY AN ARMED POLICE RAID THAT CAPTURED AND ARRESTED, ALMOST ALL, THE MEMBERS OF THE UK WSFGA AND SHUT IT DOWN FOR EVER. BARRETT WAS FREED AND HOPED HIS BONDED UNDER GROUND FIGHT DAYS, WERE OVER FOR GOOD. MORE TOUGH BRUTAL BLOODY EROTIC MALE ON MALE FIGHTING ACTION. €3.00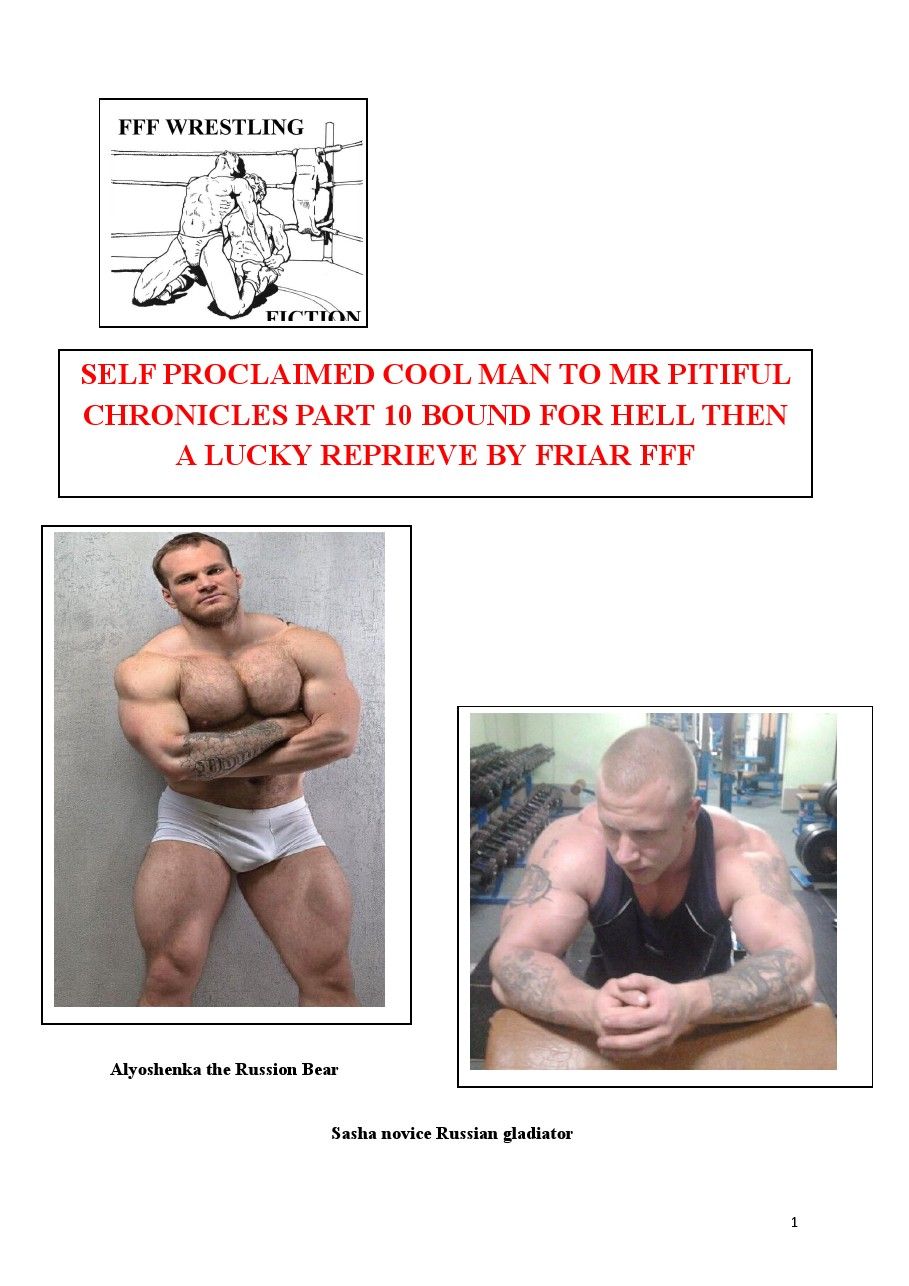 44 THE RETURN OF THE SELF PROCLAIMED COOL MAN TO MR PITIFUL PART 1. BARRETT AKA THE COOL MAN WAS AN EX SLAVE FIGHTER, COME GLADIATOR, FOR THE (WORLD STREET FIGHTER GLADIATORS ACADEMY) THE WSFGA. HE HAD BEEN FREED BY THE POLICE FROM HIS ENSLAVEMENT TO THE WSFGA, AS A GLADIATOR. THE WSFGA HAD BEEN CLOSED DOWN AND ALL BUT A HANDFUL OF ITS MEMBERS IMPRISONED. THAT HAD BEEN SIX YEARS AGO. BARRETT NOW RAN HIS OWN COMPANY, THANKS TO THE CRIMINAL COMPENSATION AWARD. BARRETT HAD THOUGHT, HE'D PUT HIS SLAVE FIGHTING DAYS AND WSFGA DAYS BEHIND HIM. BARRETT WAS ON HIS FIRST HOLIDAY SINCE STARTING HIS OWN COMPANY, IN SOUTHERN IRELAND. HE GOT LOST AND WAS LOOKING FOR SOMEONE TO ASK DIRECTIONS WHEN HIS CAR WAS STOPPED BY THE GARDA. WHEN HE TRIED TO ASK DIRECTIONS, HE WAS TOLD HE WAS STOPPED FOR SPEEDING AND DANGEROUS DRIVING. HE TRIED TO ARGUE BY GOT NOWHERE. WHEN THEY CHECKED ON HIS INDENTITY, THEY SAW IN HIS RECORDS, EVERYTHING ABOUT BEING A WSFGA SLAVE FIGHTER. THEY HAD BEEN LOOKING FOR SOMEONE THEY COULD FORCE TO FIGHT IN A BARE KNUCKLES BOXING MATCH, WITH THE IRISH GYPSY BARE KNUCKLE CHAMPION. HIS OPPONENT FROM EASTERN EUROPE HAD BEEN REFUSED ENTRY TO THE COUNTRY. WITH HIS WSFGA FIGHTING BACK GROUND HE WAS THE IDEAL CANDIDATE. THE POLICE OFFICERS CHANGED THE CHARGES TO POSSESSING DRUGS AND DRUG DEALING AFTER PLANTING DRUGS IN HIS CAR. THEY MADE HIM AN OFFER TELLING HIM THEY KNEW ABOUT HIS PAST IN THE WSFGA. IF HE FOUGHT THE GYPSY CHAMPION, THEY WOULD DROP ALL CHARGES. BARRETT DID NOT WANT TO GET INVOLVED IN ILLEGAL FIGHTING AGAIN, AS HE WAS NOW OLDER THAN HIS WSFGA DAYS, ALSO HE BEEN A VERY POOR WSFGA GLADIATOR. BUT THE POLICE WERE ADAMANT AND BARRETT RELUCTANTLY AGREED WHEN THE POLICE OFFICES TOLD HIM IT WOULD BE A ONE OFF FIGHT WITH NO OTHER OBLIGATIONS. SO BARRETT AGREED AND DROVE WITH THEM TO A FARM, WHERE THE BARE KNUCKLE FIGHT, WAS WAITING TO TAKE PLACE.
AT THE FARM THE POLICEMEN INTRODUCED BARRETT TO THE FARM OWNER DERMOT. DERMOT WAS NOT IMPRESSED WITH THE LOOK OF BARRETT NOT EVEN WHEN THE POLICEMEN TOLD HIM THAT BARRETT WAS AN EX WSFGA GLADIATOR. STILL NOT PLEASED DERMOT HAD DECLAN THE FIGHT ORGANISER, CHECK WITH A OLD MEMBER OF THE WSFGA, TO SEE IF THE COOL MAN WAS REALLY AN EX WSFGA GLADIATOR, HE SOUGHT HIM OUT. UNFORTUNATELY FOR BARRETT, THAT OLD MEMBER OF THE WSFGA, TURNED OUT TO BE LORD HURTLEY. LORD HURTLEY WAS HAPPY TO CONFIRM THAT THE COOL MAN WAS INDEED AN EX WSFGA GLADIATOR. HE EVEN WENT AS FAR TO IMPLY THAT HE HAD BEEN VERY GOOD WSFGA GLADIATOR. BARRETT WAS HORIFIED TO SEE LORD HURTLEY AGAIN, HIS CONFIRMATION THAT THE COOL MAN WAS AN EX WSFGA GLADIATOR, AND A GOOD ONE, WHEN HE KNEW IT WAS NOT TRUE. SATISFIED, DERMOT AND ALLOWED THE FIGHT TO GO AHEAD SO BARRETT HAD TO FIGHT QUINN, THE IRISH GYPSY, BARE KNUCKLE CHAMPION.
DECLAN ANNOUNCED THE CHANGE OF FIGHTER, THAT QUINN WOULD NOW FIGHT THE COOL MAN, AN WSFGA GLADIATOR. THERE WERE MOANS AND GRUMBLES, BUT THE CHANGE OF FIGHTER WAS ACCEPTED. SO BARRETT AKA THE COOL MAN, FOUGHT BARE KNUCKLE FIGHT AGAINST QUINN THE IRISH GYPSY, BARE KNUCKLE CHAMPION. THE TWO POLICE OFFICERS SHAMUS AND KIERAN ACTED, AS THE COOL MAN'S SECONDS. BARRETT WAS OLDER AND OUT OF CONDITION COMPARED TO WHEN HE WAS A WSFGA GLADIATOR AND QUINN WAS A TOUGH AND BRUTAL FIGHTER, SO HE STRUGGLED FROM THE START. THE ONLY THING THAT STOPPED BARRETT BEING QUICKLY OVER WHELEMED AND BEATEN, WAS THAT QUINN WAS BRAWLER WITH FEW BOXING SKILLS ALLOWING BARRETT TO LAND PUNCHES AND BLOCK MOST OF QUINN'S. BUT BARRETT STILL SUFFERED A SLOW AND BRUISING BEAT DOWN, AND WORSE, BY QUINN'S ANGER AND FRUSTRATION AT NOT BEING ABLE TO END THE FIGHT QUICKLY. BATTERED BRUISED AND BLOODIED AND KNOCKED DOWN SEVERAL TIMES, BARRETT WAS KNOCKED DOWN ONE LAST TIME AND UNABLE TO MEET THE COUNT. BARRETT'S NEW FIGHT HAD BEEN NO MORE SUCCESSFUL THAN HIS OLDER FIGHTS, FOR THE WSFGA. AFTER HE WAS JUST GLAD IT WAS OVER AND HE LEFT IRELAND THAT DAY, VOWING NEVER TO RETURN. BARRETT HOPED IT WAS, AS THE IRISH POLICE OFFICERS TOLD HIM, A ONE OFF FIGHT, WITH NO OTHER COMMITMENTS. AS THE WEEKS PASSED, BARRETT STARTED TO BELIEVE HE HAD GOT AWAY WITH THE ONE FIGHT. THEN ONE EVENING WHEN HE GOT HOME, HE WAS SHOCKED TO FIND LORD HURTLEY, WAITING FOR HIM IN HIS FLAT.
LORD HURTLEY WANTED BARRETT TO BECOME A PART TIME BONDED FIGHTER FOR HIM THE UNDERGROUND EUROPEAN FIGHT FEDERATION THE UEEF, THE REPLACEMENT FOR THE WSFGA. BARRETT REFUSED AND THEY ARGUED WHEN BARRETT, TRIED TO THROW LORD HURTLEY OUT AND CALL THE POLICE, HE WAS KNOCKED OUT FROM BEHIND. WHEN BARRETT CAME ROUND, HE WAS LYING NAKED ON HIS BED. LORD HURTLEY EDUARDO AND ALFIE WHERE WITH HIM, TWO FORMER SLAVE BOYS OF THE WSFGA, NOW LORD HURTLEY'S ASSISTANTS. BARRETT WAS SHOCKED TO FIND HIMSELF NAKED AND EVEN MORE SHOCKED, WHEN LORD HURTLEY TOLD BARRETT, HE HAD SEXUALLY EXPLICIT PHOTOS OF BARRETT WITH EDUARDO AND ALFIE. THEY WOULD SENT TO HIS FRIENDS AND WORKERS, IF HE DID NOT AGREE TO BE A BONDED FIGHTER FOR THE UEEF. BARRETT HAD LITTLE CHOICE BUT TO AGREE. LORD HURTLEY TOLD BARRETT THAT HIS UEEF FIGHT TRAINER WOULD CONTACT HIM AND ARRANGE HIS TRAINING. THEN LORD HURLTEY HAD EDUARDO AND ALFIE PHYSICALLY AND SEXUALLY ABUSE BARRETT AGAIN, TAKING MORE COMPROMISING PHOTOS, AS LESSON IN OBEDIENCE. BARRETT WAS ONCE AGAIN IN THE CLUTCHES OF THE UNDERGROUND FIGHT MAFIA. MORE BLOODY EROTIC MALE ON MALE FIGHTING ACTION. €3.00