18. WHITE SLAVE BOY PART 5. ENJOY THE SUFFERINGS A WHITE SLAVE BOY AS HE RETURNS FROM HIS INAUGURATION AND IS FORCE TO WRESTLE A SHE MALE BEFORE BEING GANG RAPED BY THEM. MORE HOT, PAINFUL AND EROTIC FEMALE ON MALE DOMINATION ACTION. €3.50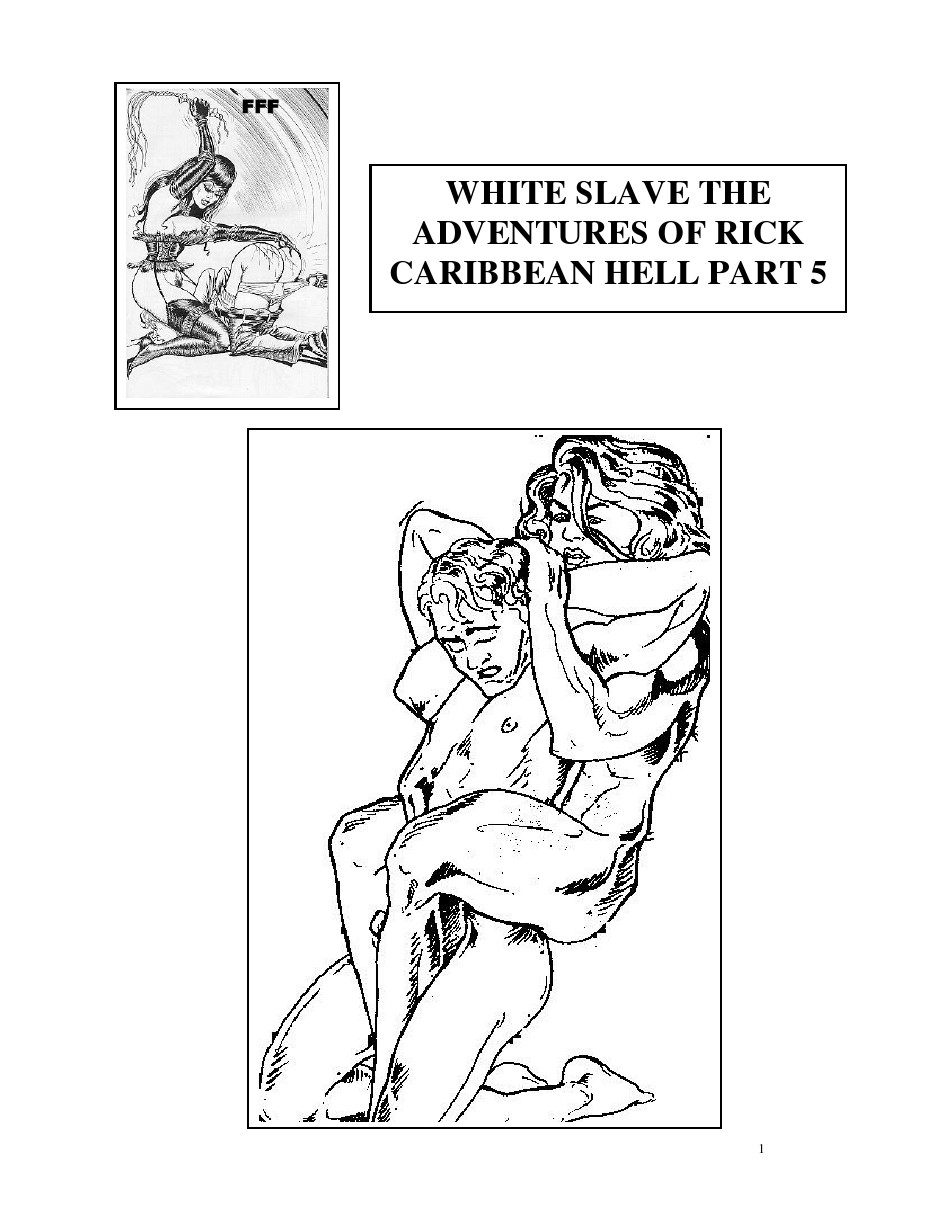 19. WHITE SLAVE BOY PART 6. RICK THE WHITE SLAVE BOY IS MADE TO WRESTLE TWO OTHER SLAVES SEAN AND GLENN. HE EASILY BEAT BOTH GLENN AND SEAN. SEAN AND GLENN ARE PUNISHED WITH PADDLE AND TAWSE FOR LOSING. RICK IS THEN MADE TO WRESTLE SEAN AND GLENN TOGETHER IF HE LOSES HE FACE A PUNISHMENT SESSION AT THE HANDS OF GLENN AND SEAN DIRECTED BY THE TWO OF SHE HIS MISTRESSES MAIDENS. RICK LOSES AND HIS THRASHED AND HOT WAX POURED ON HIS NAKED BOYD AS A PUNISHMENT FOR LOSING. MORE EROTIC AND PAINFUL MALE SUFFERING AT THE HANDS OF DOMINANT FEMALES . €4.00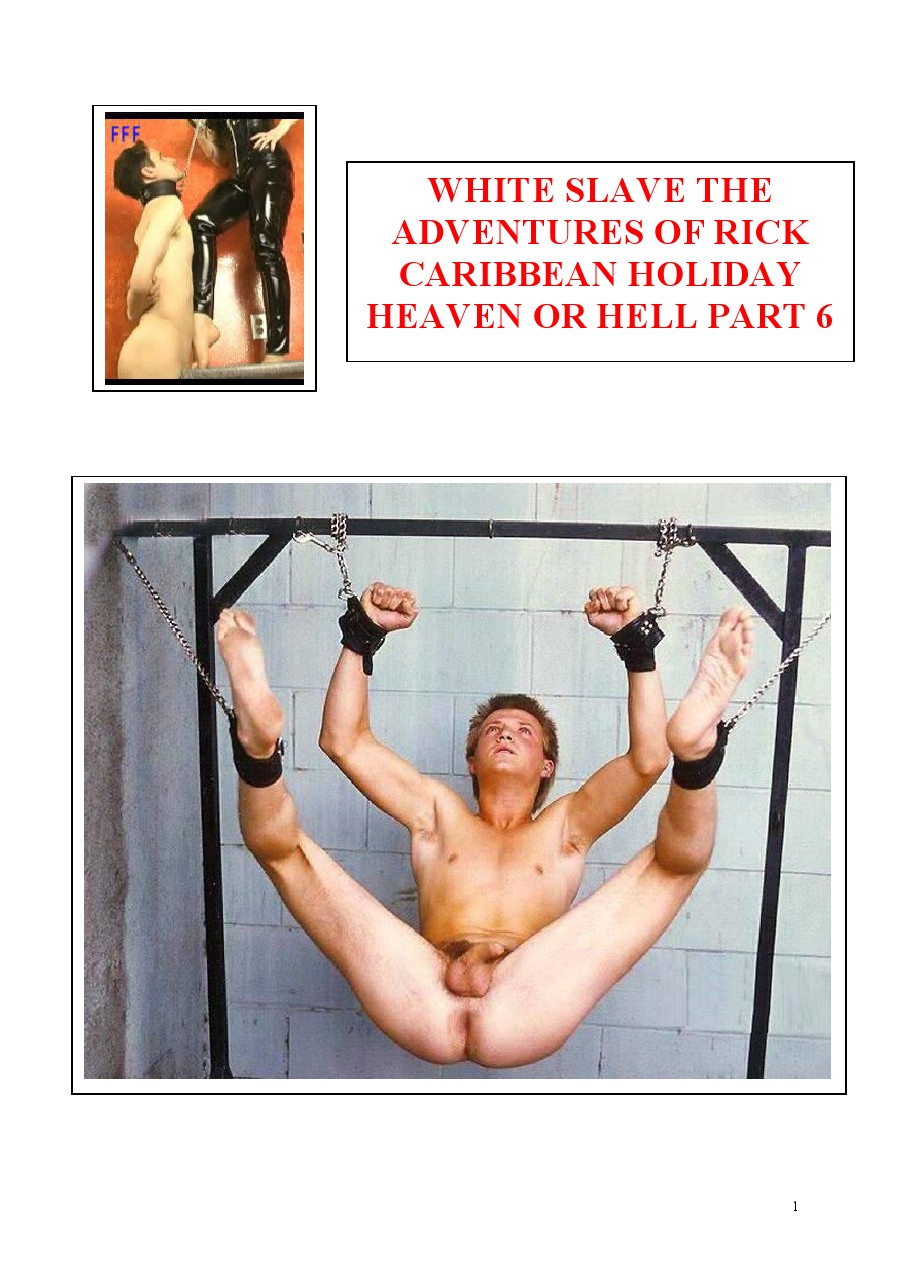 20 CFNM COACH A CLOTHED FEMALE NAKED MALE FEMALE DOMINATION STORY. SAM A TEENAGE SPORTING UNDER GRADUATE APPLIES FOR A SUMMER COACHING JOB AT GIRLS SCHOOL. SAM GETS AN INTERVIEW WITH THE HEAD MISTRESS AND ALL GOES WELL UNTIL THE MEDICAL WITH THE SCHOOL NURSE WHEN THE HEAD MISTRESS STAY WHILE THE NURSE CONDUCTS SAM'S MEDICAL WITH SAM IN THE NUDE. THE HEAD MISTRESS TOLD SAM THAT HE WOULD BE COACHING HIS DAUGHTER AND ANOTHER GIRL WHOSE MOTHER THEY MET IN HER OFFICE. THEY MADE SAM UNDERTAKE A SWIMMING AND ATHLETIC TESTS WHILE STILL NAKED. WHEN SAM PASSED ALL HE WAS OFFER THE POST AND THEN TOLD IT WAS AT THE SUMMER CAMP OF THE CFNM SOCIETY AND THAT'S WHY THEY KEPT HIM NAKED AS A TEST TO SEE IF HE WOULD BE WILLING TO BE NAKED AS CFNM STOOD FOR CLOTHED FEMALE NAKED MALE AND ALL MALES IN THE SOCIETY WERE NAKED AT ALL TIMES IN FRONT OF THE FEMALES. SAM ALTHOUGH EMBARRASSED AND NOT TOO SURE HOW HE WOULD COPE BEING NAKED IN FRONT OF WOMEN AND GIRLS STILL TOOK THE POST AS IT WAS PAID WELL.
SAM HAD SOME EMBARRASSING AND EXCITING ADVENTURES WHILE COACHING KATHERINE AND DAPHNE'S DAUGHTERS, DEBORAH AND SAMANTHA. HE HAD TO SHARE A TENT WITH THE SCHOOL NURSE JANICE WHO WAS ALSO A MEMBER OF THE CFNM SOCIETY. IT TOOK HIM SOMETIME TO GET USE TO BEING NAKED IN FRONT OF ALL THE FEMALES. IN THE EVENINGS THE SOCIETY HELD WHAT THEY CALLED TUGS OF WARE BETWEEN ANY MALE WHO HAD AN ERECTION THAT DAY. THE MALES MEN AND BOYS HAD TO LINE UP AND MASTURBATE THE MALE WHO CAME LAST WAS SPANKED BY ONE OF THE FEMALES. SAMANTHA AND DEBORAH USE TO TEASE SAM ABOUT IT AND HIS GENITALS. ATHEY MADE HIM WRESTLE WIT THEM PRACTISING TO WRESTLE WITH DEBORAH'S OLDER BOTHER GEORGE. BOTH GIRLS WERE MUCH BETTER WRESTLERS THAN SAM AND BEAT HIM EASILY TEASING AND ABUSING HIM PHYSICALLY AND SEXUALLY SINGLY AND TOGETHER. SAM ENJOYED SEEING THE GIRLS WRESTLE GEORGE AND LOSE HOPING THEY WOULD BE TAKEN DOWN A PEG OF TWO. BUT THEN THE GIRLS CHALLENGED GEORGE TO A TWO ON ONE TAG MATCH WITH FORFEITS FOR THE LOSER. GEORGE ACCEPTED AND DID WILL TO START WITH BUT THEN THE GIRLS TURNED THE TABLE ON HIM AND MADE HIS SUBMIT THREE TIMES TO WIN THE MATCH.
SAM GOT HARD WATCHING THE WRESTLING AND WAS INCLUDED IN THE DAYS TUG OFF WAR CONTEST HIS FIRST AND HE CAME LAST AND WAS SPANKED JANICE THE NURSE. GEORGE'S FORFEIT WAS ANOTHER EXCITING SPECTACLE SAMANTHA AND DEBORAH SHAVE HIS HAIRY BODY COMPLETELY INCLUDING HIS PUBIC HAIR. JANICE THE NURSE MADE SAM WRESTLE HER EVERY EVENING AFTER THAT MAKING HIM HER SLAVE FOR THE NIGHT IF HE LOST. SAM LOST EVERY TIME AND EVENTUALLY BECAME HER PERMANENT LAVE FOR THE HOLIDAY. THE HARD TRAINING WITH SAMANTHA AND DEBORAH AND THE WRESTLING AND DEMANDING SEX TOOK THEIR TOLL OF SAM AND BY THE TIME THE HOLIDAY WAS ENDING HE LOST QUITE A BIT IF WEIGHT.
THE GIRLS PASSED THEIR ENTRANCE EXAMS FOR THE US SPORTING UNIVERSITY THANKS TO SAM'S COACHING AND HE WAS GIVEN A HANDSOME BONUS. THE LAST NIGHT THERE WAS A CELEBRATION PARTY HELD AND SAMANTHA AND DEBORAH THANKED SAM BY SHAVING HIS UPPER BODY AND PUBIC HAIR. THEY ALSO MADE HIM PLAY A LAST GAME OF TUG OF WAR AGAINST ANOTHER TEENAGE BOY DERRICK AND SAM LOST AGAIN AND WAS SPANKED BY JANICE AGAIN. HOWEVER THIS TIME HE WAS SPANKED DAPHNE, KATHERINE AND DEBORAH AND SAMANTHA WHO GAVE HIM SIX EACH LEAVING HIS BUM RED AND SORE. SAM WAS DISAPPOINTED WHEN THE HOLIDAY ENDED AS HE HAD GOT USE TO THE CFNM LIFE STYLE AND QUITE LIKED IT. ON THE TRAIN BACK TO LONDON WITH JANICE SHE TOLD HIM SHE LIKED TO TEST AND EXPERIMENT ON NAKED MALE BODIES AND HAD A MATURE OLDER MALES SLAVE SHE USED FOR THIS. JANICE TOLD SAM SHE WOULD LIKE HIM TO BE HER YOUNG MALE TEST SUBJECT AND SAM AGREED.
WHEN SAM GOT BACK TO HIS LODGINGS BEING SO SUE TO BEING NAKED NEVER GOT DRESSED WHEN HE WENT INTO THE KITCHEN FOR BREAKFAST AND SURPRISED HIS TWO FEMALE FLAT MATES. WHEN SAM TOLD THEM WHY THEY MADE HIM TELL THEN WHAT HAD HAPPENED TO HIM AND ALL HE COULD ABOUT THE CFNM SOCIETY. THEY LOVED THE IDEA AND CONTACTED JANICE THE NURSE AND KEPT SAM NAKED WHEN HE WAS IN THE FLAT AND ON A STRICT DIET AND MADE SURE HE KEPT HIS BODY SHAVED CLEAN. THEY ALSO HELPED WITH HER EXPERIMENTS MAKING SAM WHERE A MALE CHASTITY BELT. THE SUMMER JOB HAD CHANGED SAM AND HE WAS NOW THE CFNM COACH. EROTIC DOMINATION AND CONTROL OF MALES IN A CFNM ENVIRONMENT. €4.00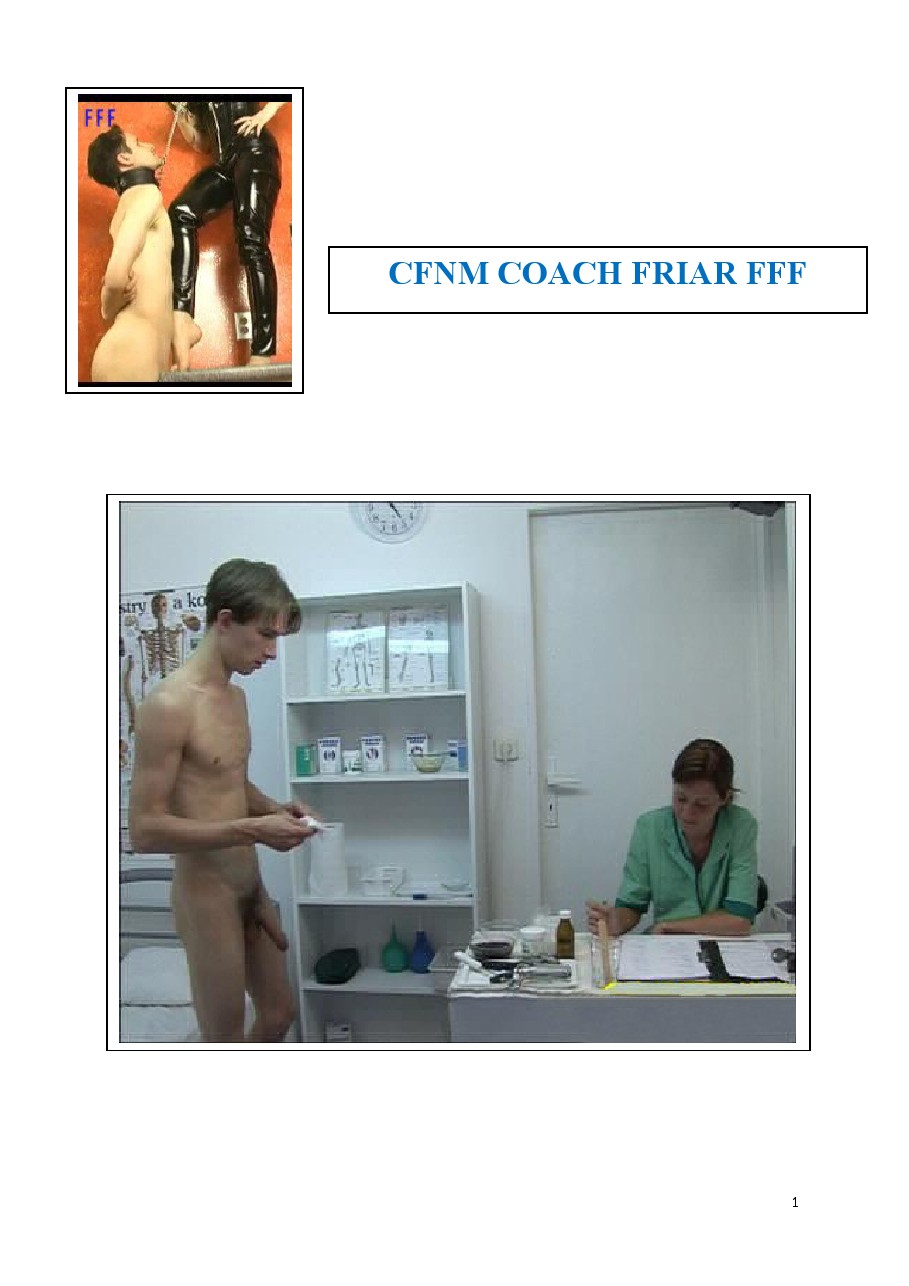 21 THE SISTERS OF NO MERCY. SARAH AND RACHEL ARE THE SELF STYLED SISTERS OF NO MERCY, FEMALE DOMINANTS. SARAH THE OLDER SISTER WAS IN HER FORTIES, WHO LIKED TO DOMINATE MEN HER OWN AGE OR OLDER, WHILE RACHEL THE YOUNGER SISTER IN HER EARLY TWENTIES AND LIKED TO DOMINATE MEN AROUND HER OWN AGE OR YOUNGER. MARTIN A MALE SUBMISSIVE IN HIS LATE FIFTIES HAD ALWAYS WANTED TO BE DOMINATED BY A YOUNG DOMINANT FEMALE. HE MADE CONTACT WITH THE SISTERS OF NO MERCY HOPING TO BE INVITED TO BE THE YOUNGER SISTER RACHEL'S SUBMISSIVE. BUT SHE DID NOT SEEMED INTERESTED ALTHOUGH SARAH WAS KEEN TO MAKE HIM HER SUBMISSIVE. THEN OUT OF THE BLUE A LITTLE WHILE LATER RACHEL TOLD MARTIN SHE WANTED HIM TO BE HER SUBMISSIVE TO SEE WHAT IT WAS LIKE DOMINATING AN OLDER MAN, ONE OLDER ENOUGH TO BE HER FATHER. SARAH HAD ALSO DECIDED TO SEE WHAT IT WAS LIKE DOMINATING A YOUNGER MALE. RACHEL HAD PROVIDED HER WITH ONE OF HER YOUNGEST AND NOVICE TEENAGE SUBMISSIVE JOSHUA.
MARTIN ARRIVED FIRST FOR A SESSION WITH RACHEL ASSISTED BY HER OLDER SISTER SARAH. RACHEL ASSISTED BY SARAH REALLY TEASE AND TORTURE MARTIN MERCILESSLY, WITH PHYSICAL AND SEXUAL ABUSE. THEY USE A SELECTION OF THE DOMINATION EQUIPMENT AND PLAY THINGS ON MARTIN, STARTING WITH HIM SECURED IN A BONDAGE HARNESS. MARTIN'S UPPER BODY AND GENITALS ARE SHAVED, HE IS CHASTISED, RAPED WITH VIBRATORS AND DILDO. HIS COCK AND BALLS ARE TEASED AND ABUSED WITH A VACUUM DEVELOPER. MARTIN IS THEN STRETCHED IN A TORTURE WRACK AND A RUBBER HOSE USED TO BEAT HIS BODY AND A BONGER TO ABUSE HIS COCK AND BALLS. THEY ENDED MARTIN'S SOLO SESSION BY LOCKING HIM IN WOODEN STOCKS AND FUCKING HIS ARSE WITH A LARGE DILDO ATTACHED TO A HYDRAULIC PISTON, AND VENUS 2000 COCK MILKER ATTACHED TO HIS COCK.
SARAH THEN ASSISTED BY RACHEL MOVE ON TO JOSHUA THE YOUNG TEENAGE NOVICE SUBMISSIVE. SARAH DID NOT LIKE JOSHUA'S HAIRY BODY AND THEY SHACKLE HIM BY HIS ARMS TO SUSPENDED CHAINS. SARAH AND RACHEL THEN SHAVED HIS BODY AND GENITALS CLEAN. THEN THEY DECIDED TO SHAVE OFF EVERY HAIR ON HIS BODY. JOSHUA IS SHACKLED TO THE WALL BY HIS ARMS AND RAPE HIM WITH FINGER DILDO AND STRAP ONS. JOSHUA IS THE SPREAD EAGLE WITH LEG AND ARM SPREADER BARS AND SUSPEND UPSIDE DOWN BY A HOIST. SARAH AND RACHEL USE A CAT OF NINE TAILS AND CROP ON HIS NAKED BODY AND GENITALS. THEY END JOSHUA'S SOLO SESSION IN THE TREADMILL MAKING HIM RUN A GIANT TREAD MILL TO TURN IT FASTER ENOUGH TO LIGHT A LIGHT BULB. THEY SUE THE CAT OF NINE TAILS TO MAKE HIM RUN FAST ENOUGH TO LIGHT THE LIGHT BULB.
SARAH AND RACHEL FINISH WITH JOINT SESSION WITH MARTIN AND JOSHUA SHACKLED OVER GYM HORSE, WHILE THEY CANE THEIR NAKED BUTTOCKS MERCILESSLY. BRUTAL AND EROTIC ABUSE OF YOUNG AND OLDER MALES BY OLDER AND YOUNGER FEMALE DOMINANTS. MARTIN AND JOSHUA SUFFER LONG AND HARD AT THE HANDS OF THE SISTERS OF NO MERCY. €4.00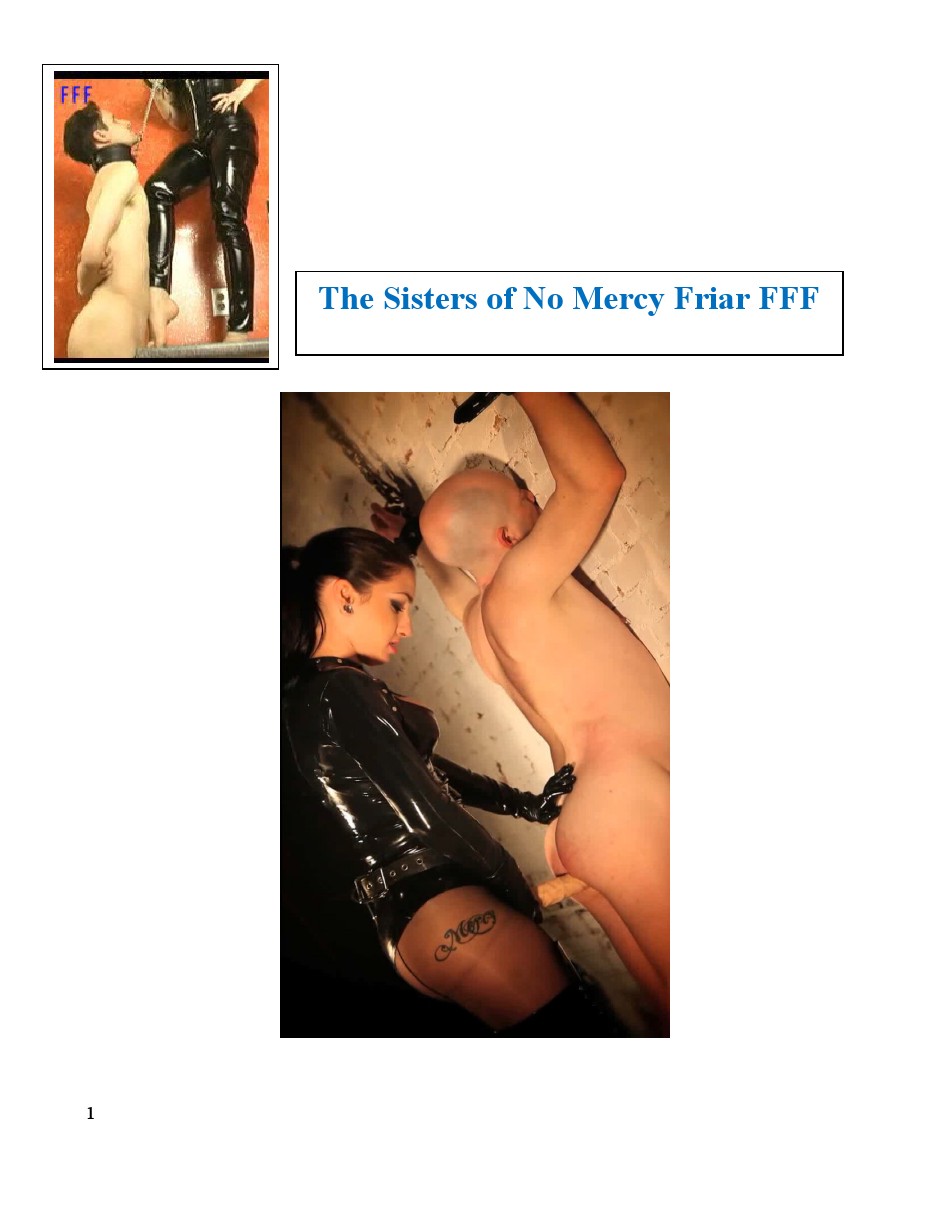 22 WHITE SLAVE BOY PART 7. RICK WAS BEING PHYSICALLY AND SEXUALLY ABUSED BY TWO SLAVES GLENN AND SEAN AFTER LOSING TO THEM IN A WRESTLING MATCH ORGANISED BY FELICE AND JAMMA, TWO OF THE RULING MISTRESSES SHEBA'S MAIDENS. RICK WAS TAKEN FROM THE TWO SLAVES BY SOME SHE MALES SLAVES LED BY LYNN. RICK THOUGHT HE WAS BEING RESCUED BUT THE SHE MALES ONLY WANTED TO ABUSE HIM AS WELL. THE SIX SHE MALES ALL TOOK TURNS FUCKING HIM LED BY SHEBA'S NEWEST SHE MALE SLAVE TUTU A BLACK SHE MALE WHO HAD ONCE BEEN OWNED BY THE HONOURABLE ASHLEY GRIMES NOW A DEBTOR AND SLAVE OF SHEBA.
THE NEXT MORNING RICK WAS ESCORTED BY FELICE HIS PERSONAL MISTRESS AND JAMMA TO AN AUDIENCE WITH SHEBA THE RULING MISTRESS. SHEBA INFORMED RICK HE WOULD NOT LONGER BE HER CHAMPION FIGHTING SLAVE AND WAS BEING REDUCED TO LOWEST SLAVE TO BE THE PERSONAL SLAVE OF HER YOUNG WARD ANNE WHO WAS ARRIVING FROM ENGLAND. JAMMA AND FELICE WOULD HELP ANNE LEARN HOW TO DOMINATE MALE SLAVES PRACTISING ON RICK AND RUSSELL JAMMA'S FORMER PERSONAL SLAVE. RUSSELL WAS ALSO REDUCED TO LOWEST SLAVE AND REASSIGNED AS FELICE'S PERSONAL SLAVE. JAMMA AND FELICE DRILLED THEIR TWO MALE SLAVES TESTING AND HONING THEIR EQUESTRIAN SKILL AS PERSONAL STEEDS WITH SADDLES AND BRIDLES TAKING THEM FOR A LONG TIRING RIDE IN THE HOT CARIBBEAN SUN SHINE. THEY THEN TOOK THEM FOR AN EVEN MORE TIRING CART TREK, EACH OF THEM PULLING A SMALL SULKY CART TO AND THROUGH THE HOT STEAMING JUNGLE.
JAMMA AND FELICE WHERE NOT SATISFIED WITH THE SLAVES PERFORMANCE PARTICULARLY RUSSELL WHO HAD MUCH MORE EXPERIENCE AS A PONY SLAVE. THEY WERE MADE TO WRESTLE EACH OTHER TO GIVE RUSSELL A CHANCE TO EVEN THINGS AS RICK WAS THE MORE EXPERIENCED WRESTLER. THE LOSER WOULD FACE THE MORE SERIOUS PUNISHMENT FOR THEIR POOR PERFORMANCES. RICK EASILY BEAT RUSSELL AND RUSSELL AS A REWARD WAS THRASHED WITH RIDING CROPS RECEIVE TWELVE STOKES TO HIS NAKED BODY FROM BOTH MAIDENS, THEN SENT TO THE SLAVE DORMITORY TO SUFFER AT THE HANDS OF THE OTHER MALE SLAVES AS HE WAS NOW JUST ONE OF THE LOWEST MALE SLAVES. JAMMA AND FELICE BOTH KNEW HE WOULD BE RAPED AND ABUSED ALL NIGHT BY THE OTHER MALES SLAVES IN REVENGE FOR THE CRUEL THINGS HE HAD DONE AS PRIVILEGED SLAVE. RICK WAS SENT TO THE SHE MALE SLAVES QUARTERS FOR THE NIGHT. HE WAS RAPED BY ALL SIX AGAIN AND HAD TO SUCK ALL SIX OF THEIR COCKS NUMEROUS TIMES. MORE PAINFUL MALE SUFFERING AT THE HANDS OF DOMINANT FEMALES. €4.00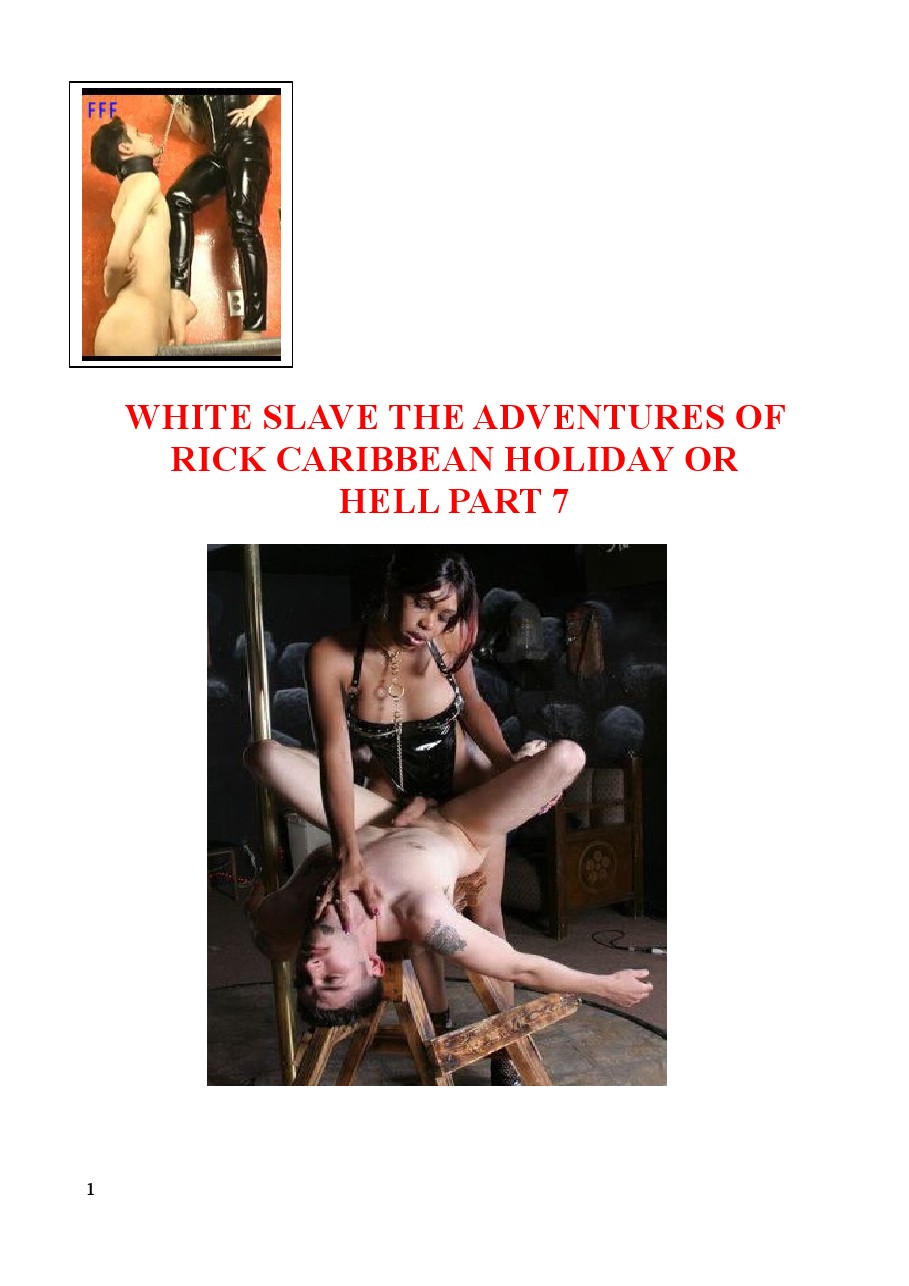 23 WHITE SLAVE BOY 8. AFTER SPENDING THE NIGHT WITH SHEBA'S SHE MALE SLAVES WHO REPEATEDLY RAPED HIM AND USED HIM FOR THE SEXUAL PLEASURE, RICK WAS TAKEN BY HIS PERSONAL MISTRESS FELICIA TO MEET SHEBA AND HER YOUNG NIECE AND WARD ANNE. ANNE WAS GOING TO BE SHEBA'S HEIR AND NEED TO LEARN HOW TO BE A DOMINIXTRIX AND SUCCESSFULLY DOMINATE MALE SLAVES. RICK WOULD BE ANNE PERSONAL SLAVE FOR THE DAY WHILE SHE LEARNED ALL SHE COULD ABOUT BEING A DOMINIXTRIX IN ONE DAY. FELICE AND JAMMA TWO OF SHEBA'S MAIDENS WOULD TEACH ANNE ALL THEY COULD ALLOWING HER TO PRACTICE ON RICK'S AND RUSSELL JAMMA'S PERSONAL MALE SLAVE, BODIES. LATER THAT DAY ANNE'S CRUEL SADISTIC HALF BROTHER WOULD ARRIVE, HIS FATE AS A DEBTOR LIKE HIS FATHER ASHLEY GRIMES ANNE'S UNCLE WOULD BE TO BE ENSLAVED AND BECOME ANNE'S PERSONAL SLAVE.
FELICE AND JAMMA INSTRUCT ANNE ON NUMEROUS WAYS TO ABUSE THE BODIES OF MALE SLAVES BOTH SEXUALLY AND PHYSICALLY. THEY INSTRUCT ANNE OF BEATING WITH A RIDING CROP, COCK AND BALL ABUSE. SHE IS SHOWN HOW TO MAKE MALES SLAVES EDGE AND HOW TO EXCITEMENT SEXUALLY PUSHING THE THE BRINK OR EJACULATION, WITHOUT RELEASE. SHE LEARN HOW TO MAKE THEM PERFORM SEXUAL ACTS ON EACH OTHER TO MAKE EACH OTHER EJACULATE. FELICE TUTORED ANNE IN EQUESTRIAN SKILLS HOW TO TRAIN AND CONTROL MALE PONIES, MAKING THEM PERFORM AND RESPOND TO THEIR MISTRESS WILL. RICK AND RUSSELL'S BODIES SUFFER AS ANNE IS TUTORED IN THE WAY OF A FEMALE DOMINIXTRIX. THE TWO MALE SLAVES ARE SODOMISED, RAPED, WHIPPED, MILKED DRY, RUN RAGGED AS MALE PONIES. MORE PAINFUL MALE SUFFERING AT THE HANDS OF DOMINANT FEMALES. €4.00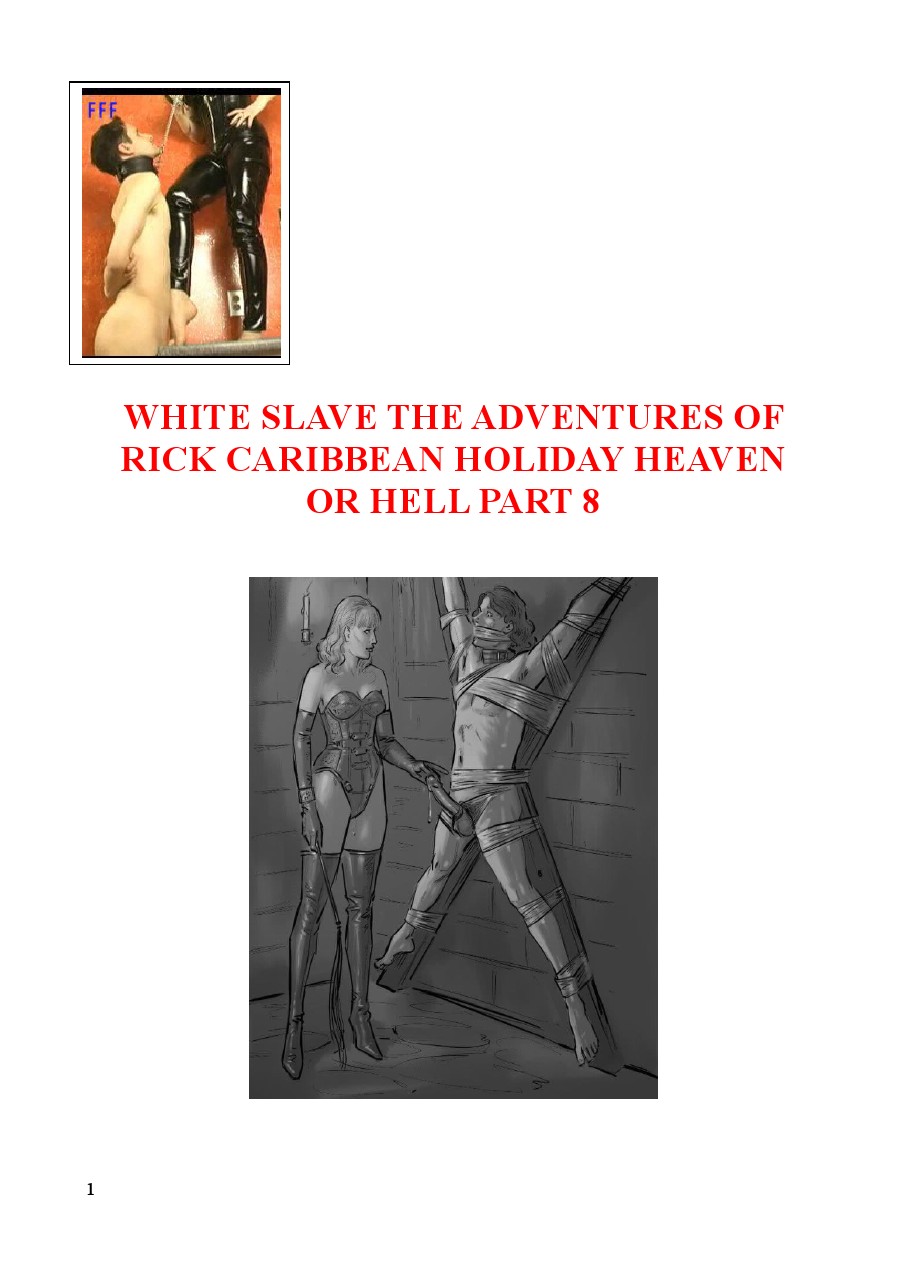 24 CFNM LODGER TO MALE SEXUAL PLAY THING. DWAYNE YOUNG MALE ELECTRICIAN SECURES A NEW JOB AWAY FROM HOME IN LONDON AND HE HAS TO TAKE LODGINGS. HE LODGED WITH MARY FIFTY SOMETHING WIDOW WHO TAKES IN A LODGERS TO MAKE ENDS MEET SINCE HER HUSBAND DIED. AL THOUGHT THE HOUSE IS QUITE SMALL DWAYNE FOUND HIS LODGINGS COMFORTABLE AND LADY LADY CARING AND A GOOD COOK. AFTER A FEW WEEKS DWAYNE NOTICED THAT MARY WAS TAKEN OBTAINING A PHYSICAL ATTRACTION TO HIM, ALWAYS TRYING TO CATCH SEMI NAKED ON HIS BEDROOM OR NAKED IN THE BATHROOM. IN THE END SHE WOULD SIT TALKING TO HIM WHILE HE WAS IN THE BATH LOOKING UNASHAMEDLY AT HIS NAKED BODY IN THE CLEAR WATER. THAT PROMPTED DWAYNE TO ASK MARY IF SHE WANTED TO RETURN THE FAVOUR AND ET HIM SEE HER NAKED, BUT SHE JUST SMILED. THAT HAD BEEN ON THE THURSDAY EVENING. ON THE SATURDAY EVENING AFTER TEA, MARY SURPRISED DWAYNE BY TELLING HIM SHE WOULD BE WILLING TO RETURN THE FAVOUR AND LET HIM SEE HER NAKED. DWAYNE THOUGHT THEY WOULD BOTH STRIP OFF BUT MARY HAD OTHER IDEAS. A GAME OF STRIP POKER THE LOSER TO STRIP AND STAY NAKED FOR THE WINNER THE REST OF THE WEEKEND. DWAYNE AGREED AND THEY PLAYED A LONG CLOSE GAME OF STRIP POKER THAT WENT TO THE LAST HAND WITH MARY IN JUST HER PANTIES AND DWAYNE DOWN TO HIS UNDERPANTS. MARY WON AND WAS DELIGHTED THAT SHE WOULD HAVE DWAYNE NAKED FOR THE REST OF THE WEEKEND. DWAYNE ASKED TO PLAY AGAIN DOUBLE OR QUITS. BUT MARY WOULD ONLY PLAY AGAIN IF THE STAKES WERE RAISED TO QUITS IF DWAYNE WON, AND HIM BEING NAKED IN THE HOUSE FROM THEN ON. DWAYNE RELUCTANTLY AGREED AS HE REALLY WANT TO SO SEE MARY NAKED, AND AS THE GAME HAD BEEN VERY CLOSE THOUGHT HE COULD WIN. HOWEVER HE LOST TO MARY DELIGHT KNOWING HE WOULD HAVE TO BE NAKED FOR HER ALL THE TIME FROM THEN ON.
MARY DELIGHTED IN HER POWER OVER DWAYNE HAVING HIM NAKED ALL THE TIME, SHE HAD DONE THAT SAME WITH HER HUSBAND BEFORE HE HAD DIED. HER PLANS FOR DWAYNE WERE NOW THE SAME AS THEN TO SUE HIS AS HER NAKED MALE PLAY THING TO AMUSE HER AND SATISFY HER NEEDS. MARY TEASED AND SEXUALLY ABUSED AND USED DWAYNE'S NAKED BODY EVERY EVENING. THAT EVENING THINGS STARTED LIGHTLY, WANKING HIM, FINGER FUCKING HIM, FUCKING HIS ARSE WITH A VIBRATOR. SHE WAS RESTING HIM SEE HOW LONG HE COULD LAST AS SHE WANTED HIM TO FUCK HER TO MULTIPLE ORGASMS. AS THE DAYS PASSED MARY MADE DWAYNE FUCK HER UNTIL HE WAS EXHAUSTED THEN USED A STRAP ON TO FUCK HIM UP THE ARSE. MARY WAS RELIVING ALL THE THINGS SHE USE TO DO TO HER HUSBAND AND REPEATING THEM ON THE LODGER DWAYNE. AS NOW HER CFNM MALE PLAYTHING. EROTIC USE AND USE OF YOUNG NAKED MALE BY AN OLDER FULLY CLOTHED FEMALE. EXCITING FEMALE ON MALE SEXUAL DOMINACE. €4.00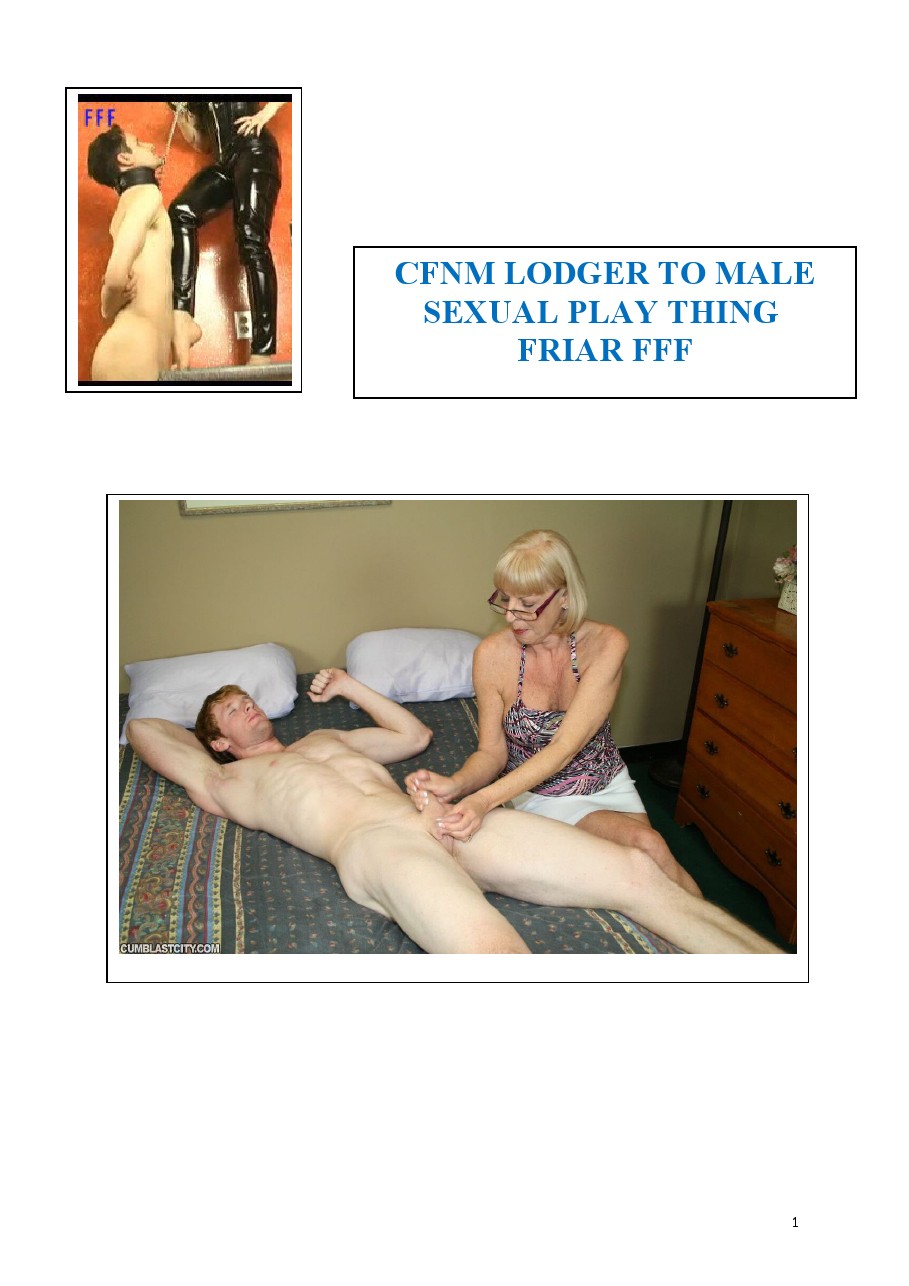 25 LADIES BEAT DOWN JOBBER. AARON AKA THE SHAVED BULL AFTER HIS DEFEAT AND INTENSE PHYSICAL AND SEXUAL ABUSE, AT THE HANDS OF, RACHEL, AKA RACHEL IRON THIGHS, STORY NUMBER 68 ON THE MIXED WRESTLING STORIES LIST. AARON BECAME PROFESSIONAL WRESTLING JOBBER, FOR HIRE ,FOR FEMALE OPPONENTS, WHO WANTED, TO BEAT UP AND ABUSE A MALE OPPONENT. HE ALSO OFFERED HIS SERVICES, AS A MALE SUBMISSIVE, TO FEMALE DOMINANTS, WHO ENJOYED PHYSICALLY AND SEXUALLY ABUSING MALE SUBMISSIVE'S, BODIES. AARON HAD CHANGED HIS NAME FROM THE SHAVED BEAR, TO THE SHAVE JOBBER. HIS FIGHT WITH RACHEL IRON THIGHS, HAD MADE HIM POPULAR AMONG THE FEMALE DOMINATION COMMUNITY. THAT AND POSITIVE REVIEWS, OF THE FEW SESSIONS HE HAD, HAD, WITH FEMALE DOMINANTS, ATTRACTED HIM, TO A MOTHER DAUGHTER PAIR, OF FEMALE DOMINANTS, REBECCA AND MELANIE. THEY WERE SO IMPRESSED WITH AARON THAT THEY WANT TO BOOK HIM FOR A DOUBLE SESSION, WHERE THEY COULD DO WHAT THEY LIKED TO HIS BODY. AARON ACCEPTED, AS IT WAS TOO MUCH MONEY TO TURN DOWN. BUT WONDERED IF HE HAD MADE THE WRONG CHOICE, WHEN THEY TOLD HIM THEY WOULD MAKE HIM EARN EVERY PENNY OF HIS FEE.
REBECCA AND MELANIE WHERE TWO LARGE AND HEAVY, TOTALLY SADISTIC, FEMALE DOMINANTS. THEY REALLY DID MAKE AARON EARN EVERY PENNY AND MORE. THEY SUBJECTED AARON'S BODY TO A HEAVY HELPLESS BEAT DOWN. A MERCILESS WHIPPING OF HIS BODY, PARTICULARLY HIS COCK AND BALLS. THEY TOOK GREAT DELIGHT, IN ABUSING HIS BENT COCK CAUSED, BY A PENILE FRACTURE, WHILE RACHEL IRON THIGHS, RODE HIM, MISSIONARY STYLE. THEN THEY REALLY WENT TO TOWN ON HIS COCK AND BALLS, IN A LONG INTENSE, CBT SESSION, USING A COCK BOX AND THEIR STILETTO HEALS, ON HIS COCK AND BALLS. THEY ALSO POUNDED HIS COCK AND BALLS WITH BONGERS, BEFORE USING THEIR HEELS ON HIS BALLS AGAIN. THEY FINISHED THE CBT SESSION, BY SOUNDING AND USING A PIN WHEELS ON AARON'S BENT COCK. THEIR LAST SADISTIC ACT WAS TO BRING AARON OFF, TO SEE IF THEY HAD SUCCEEDED IN MAKING HIM PRODUCE RED SPUNK, THE GOAL OF THEIR INTENSE CBT SESSION. THEY WERE MORE THAN PLEASED WITH THEIR RESULTS.
INTENSE PHYSICAL AND SEXUAL TORTURE OF A MALE BY TWO SADISTIC FEMALE DOMINANTS, WITH HEAVY CBT ACTION. £4.00