BISEXUAL AND FORCED BISEXUAL STORYBOOKS PAGE
'battle annals bisexual stories extracts' blog


http://battleannalsbistoriesextracts.blogspot.com
BISEXUAL AND FORCED BISEXUAL STORYBOOKS LIST
1. HIGH STAKES CHALLENGE. ALAN REPLIES TO JAMES AND ANNE'S WRESTLING ADVERT IN A WRESTLING CORRESPONDENCE MAGAZINE. JAMES OFFERED TO WRESTLE OTHER MEN FOR HIS WIFE ANNE. IF HIS CHALLENGER WON THEN HE COULD FUCK ANNE. ALAN AGREED TO MEET AND FIGHT JAMES IN FRONT OF ANNE AND AGREED THE STAKES. WHEN ALAN GOT TO JAMES AND ANNE'S HOUSE HE DISCOVERED THE STAKE WERE A LOT HIGHER THAN HE THOUGHT. IF HE WON HE WOULD STILL GET TO FUCK ANNE IN FRONT OF JAMES. IF JAMES WON THEN ALAN WOULD HAVE TO SUCK HIS COCK IN FRONT OF ANNE. ALAN AGREE THINKING HE WOULD EASILY BEAT JAMES.
JAMES AND ALAN WRESTLE ALAN IS EASILY BEATEN BY ALAN AND HAS TO SUCK JAMES COCK MUCH TO ANNE'S DELIGHT. HOWEVER ANNE HAD EVEN HIGHER STAKES IN MIND FOR ALAN THAN JUST SUCKING HER HUSBANDS COCK. THEY SODOMISE AND DILDO FUCK HIM TO MAKE HIM READY TO TAKE JAMES'S COCK. ALAN RAVISHED BY JAMES AND ANNE, FORCING HIM TO INDULGE IN FORCED BISEXUAL ACTS. HOT FORCED BISEXUAL ACTION WITH MALE BEING SEXUALLY AND PHYSICALLY HUMILIATED BY A MALE AND FEMALE COUPLE. €4.00
Story extract available to read, on the battle annals bisexual stories extracts blog, link at the top of the page.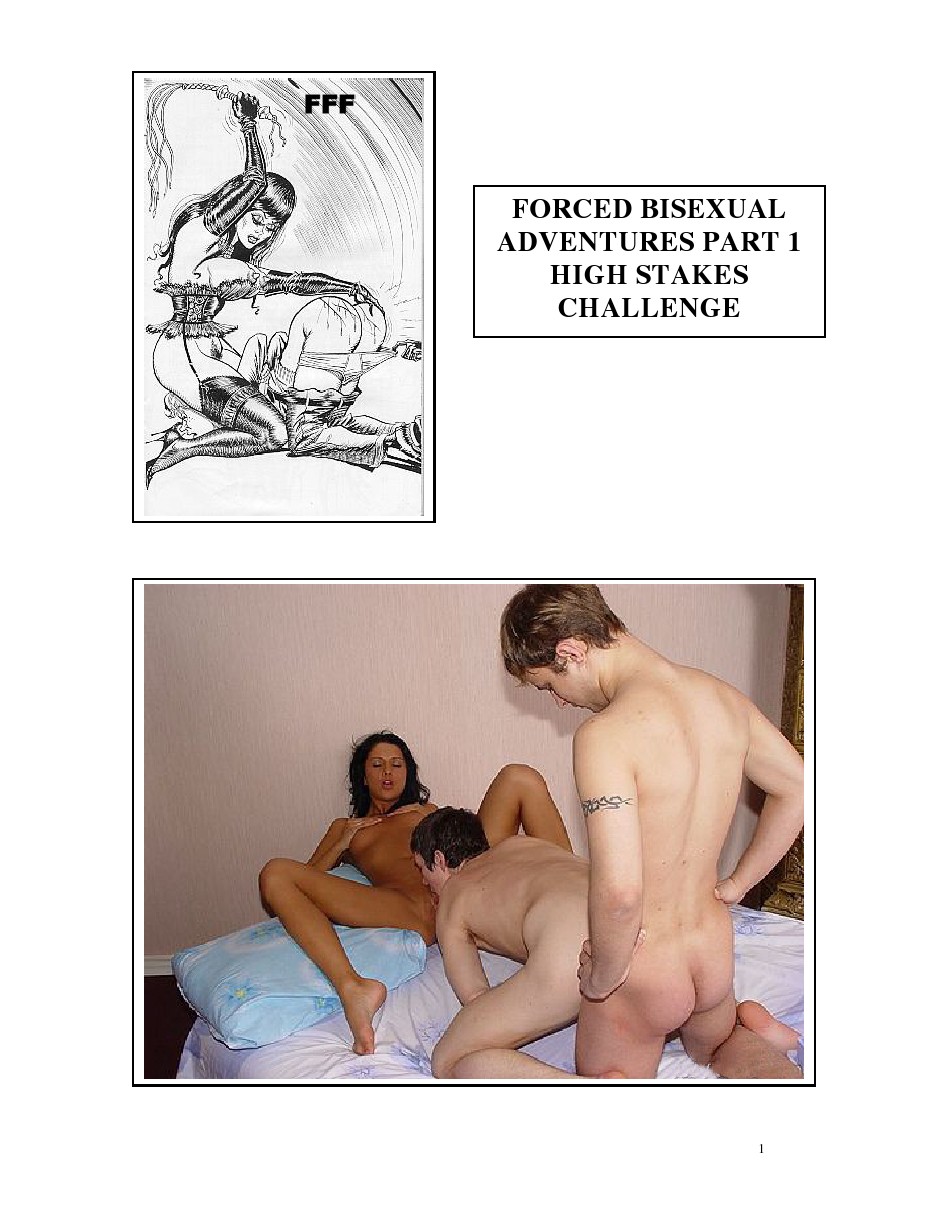 2. TURNED BI BY BURGLARS. TODD 21 YEAR-OLD UNDER GRADUATE WHO DID HOUSE SITTING IN BETWEEN TERMS TO HELP PAY FOR UNIVERSITY. THE HOUSE HE SITTING WAS IN CHELSEA AND WAS BROKEN IN BY BURGLARS. THE THREE BURGLARS TWO MEN AND A WOMEN BEAT UP AND SEXUALLY ASSAULTED. THE WOMAN MADE TODD SUCK THE MEN'S COCK AND MADE THE MEN FUCK TODD. SADIE THE SADISTIC FEMALE BURGLAR USED AND MENTAL AND PHYSICAL TORTURE TO MAKE TODD ENJOY SUCKING AND BEING FUCKED BY HER TWO MALE ACCOMPLICES. SHE REALLY ENJOYED TURNING HETEROSEXUAL MEN BISEXUAL AND SHE SUCCEEDED WITH TODD.
TODD SOUGH COUNCIL LING AFTER HIS ORDEAL AND KNEW HE WAS CHANGED BUT STRUGGLED TO COME TO TERMS WITH BEING BISEXUAL. WHEN HE CONFESSED TO HIS ROOM MATE ROBERT AND HIS GIRLFRIEND MAXINE TO BEING BISEXUAL AND LIKE BEING DOMINATED BY A COUPLE THE FEMALE IN PARTICULAR. MAXINE IMMEDIATELY STARTED TO DOMINATED HIM AND MADE HIM SUCK ROBERT'S COCK. SHE ALSO MADE TODD LET ROBERT FUCK HIM. AFTER ROBERT AND MAXINE HAD THEIR SEXUAL WAY WITH TODD SEVERAL TIMES, MAXINE CONVINCED TODD TO BECOME A BISEXUAL RENT BOY FOR COUPLES INSTEAD OF A HOUSE SITTER. HOT BLOODED HETEROSEXUAL YOUNG MAN TURNED BISEXUAL. LOTS OF HOT BISEXUAL ACTION WITH TODD SUCKING AND BEING FUCKED BY THREE DIFFERENT MEN. €4.00
Story extract available to read, on the battle annals male fighting stories extracts blog, link at the top of the page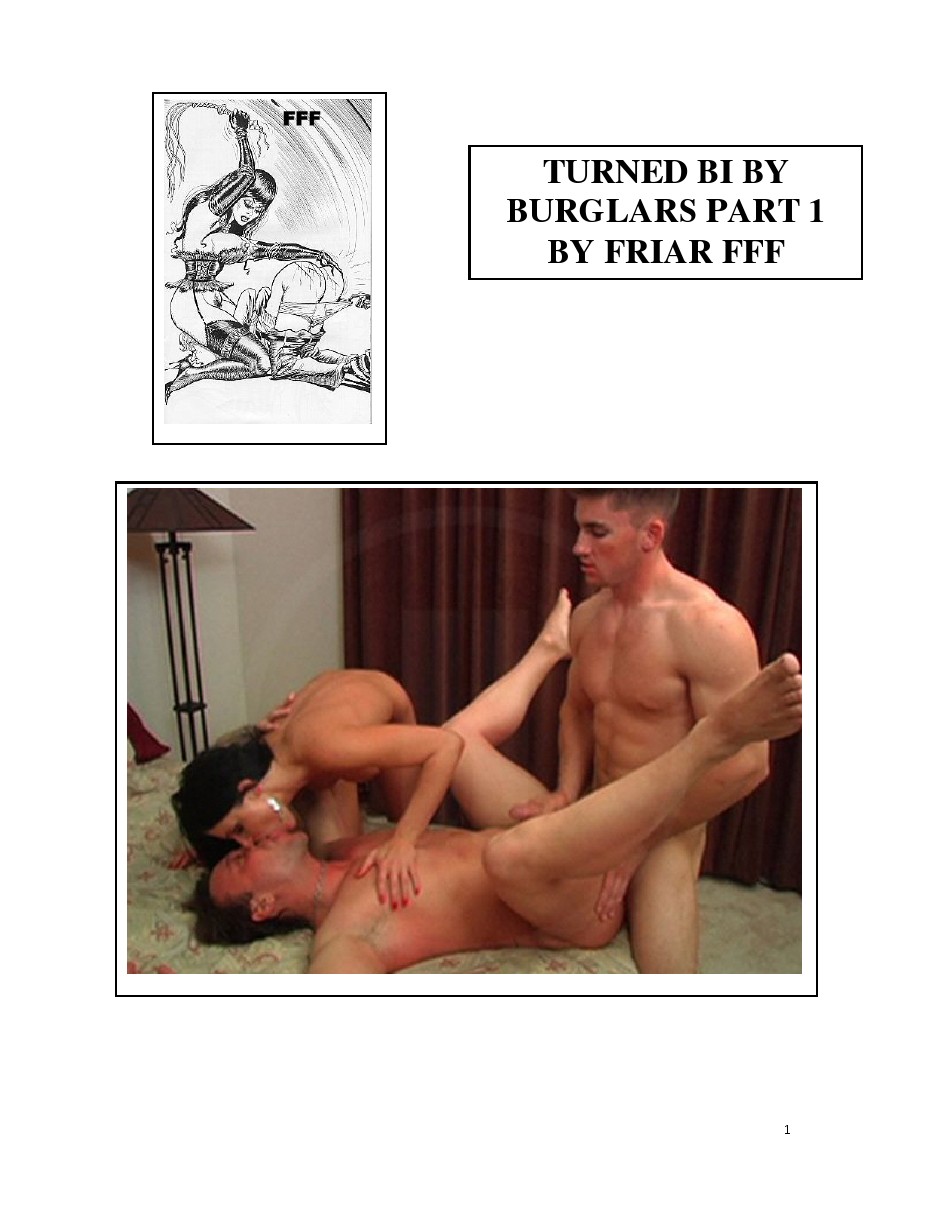 3. GRAN CANARIAN SEXUAL ADVENTURES. ALAN FROM HIGH STAKES WRESTLING CHALLENGE TRAVELS TO GRAN CANARIA FOR MORE BISEXUAL ADVENTURES. ALAN MEETS AND OLDER GERMAN COUPLE SIGMUND AND MADELENA IN THE DUNES AT MASPALAOMOS. THEY INDULGE IN SOME THREE WAY BISEXUAL ACTION. MADELENA MAKES ALAN SUCK SIGMUND'S COCK AND ALLOW SIGMUND TO FUCK HIM. MADELENA RIDES ALAN'S COCK AND GET HIM TO FUCK HER WHILE SIGMUND FUCK ALAN AGAIN. SIGMUND AND MADELENA FUCK ALAN TO EXHAUSTION IN FRONT OF A SMALL CROWD OF EXCITED ONLOOKERS.
A YOUNG ENGLISH COUPLE JOHN AND ALICE ARE IN THE CROWD OF ONLOOKERS. THEY TELL ALAN THAT THEY HAVE ALWAYS WANTED TO HAVE SOME BISEXUAL FUN WITH ANOTHER MAN. JOHN HAD ALWAYS WANTED TO KNOW WHAT IT WAS LIKE TO HAVE ANOTHER MAN SUCK HIS COCK AND TO FUCK ANOTHER MAN. ALAN AGREES TO SUCK JOHN COCK AND TO LET JOHN FUCK HIM. AFTER SUCKING JOHN'S COCK AND LETTING HIM FUCK HIM ALICE RIDES ALAN AS COCK. SE THEN GET S ALAN TO FUCK HER WHILE JOHN FUCKS ALAN AGAIN. ALAN IS FUCKED INTO UNCONSCIOUSNESS BY JOHN AND ALICE THEY LEAVE HIM LYING NAKED AND ASLEEP IN THE DUNES.
ALAN'S THIRD BISEXUAL ADVENTURE IS WITH SIGMUND AND MADELENA'S THREE GRAND CHILDREN CLAUS, ULRICH TWIN BROTHERS AND THERE SISTER GABRIELLA. CLAUS ULRICH AND GABRIELLA COME TO ALAN'S APARTMENT IN THE EARLY HOURS OF THE MORNING. THE THREE GERMAN SIBLINGS WERE INTRIGUED BY THEIR GRAND PATENTS STORY ABOUT ALAN AND CAME FOR SOME BISEXUAL ACTION OF THEIR OWN. ALAN AHS TO SUCK ULRICH AND CLAUS AND THEN LET THEM TAKE TURNS FUCKING HIM. MADELENA RIDES ALAN'S COCK TO MANY ORGASM THEN DONS A STRAP ON AND FUCKS HIM HARD. THEN ALL THREE PUNISH AND TEASE ALAN'S HELPLESS EXHAUSTED BODY MERCILESSLY. GREAT BISEXUAL ACTION WITH ONE MALE SUBMISSIVELY SERVICING OTHER MALES AND FEMALE TO ORDER. €4.00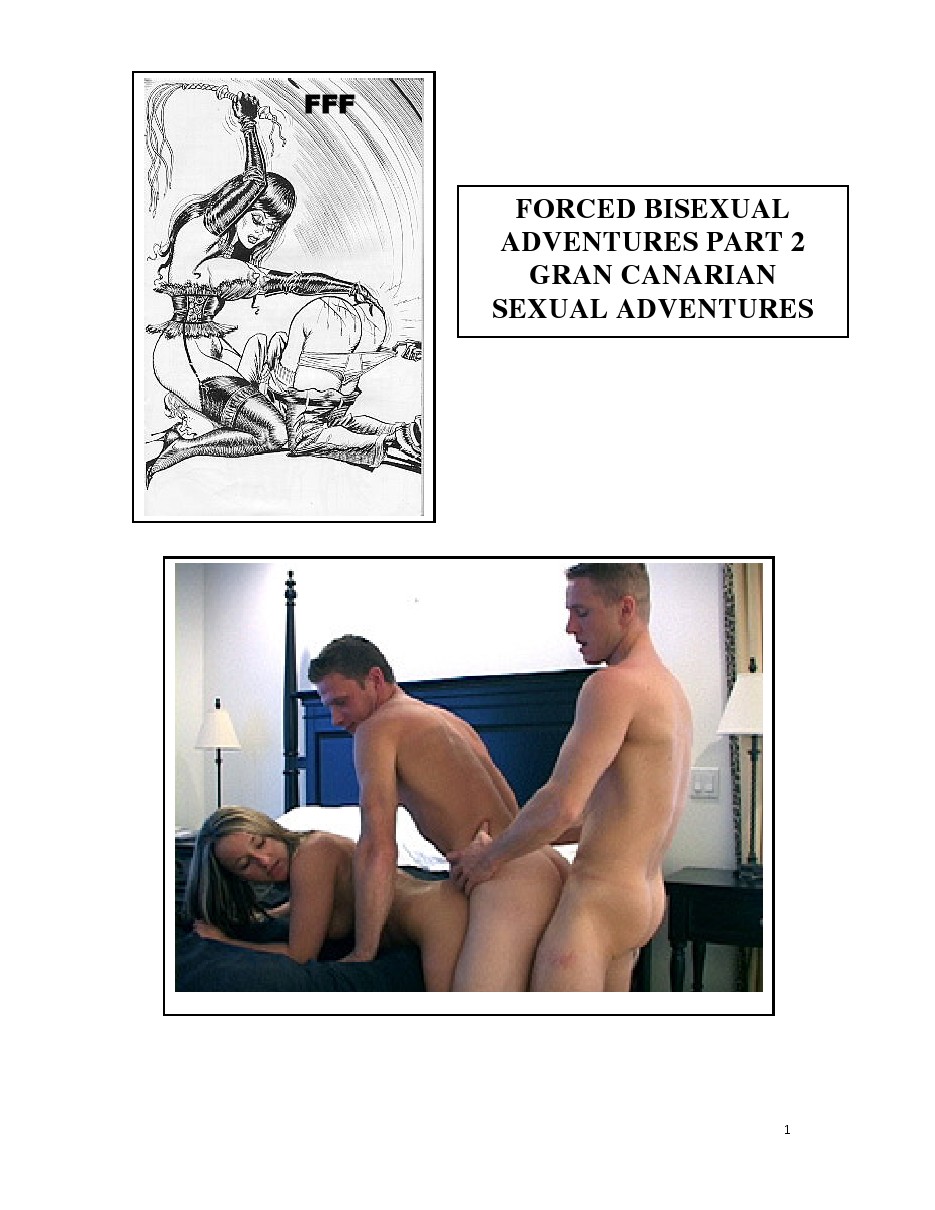 4. THE LONDON FETISH CLUB PART 1. ALAN FROM HIGH STAKES WRESTLING AND GRAN CANARIA ADVENTURES FINDS THE LONDON ARM OF THE FETISH CLUB IN HAMBURG THAT SIGMUND TOLD HIM ABOUT. ALAN LIKE WHAT HE SAW AND JOINED THE CLUB PROVIDING THE INFORMATION REQUIRED. ALAN FIRST VISIT TO THE CLUB WAS ON ITS NEXT MONTHLY SATURDAY NIGHT SPECIALS. LITTLE DID ALAN KNOW THAT HIS FIRST VISIT WOULD SEE HIM DOMINATED AND FORCED INTO SEXUAL ACTS WITH SEVERAL MEN AND WOMEN.
TWO PRETTY RECEPTIONISTS RACHEL AND MICHELLE TOLD ALAN ALL ABOUT THE CLUB AND THE THREE WAY HE COULD ENTER. THE FIRST WAS FULLY CLOTHED MEANING HE WAS NOT AVAILABLE UNLESS HE MADE THE FIRST MOVE, THE SECOND WAS IN UNDERWEAR MEANING HE WAS AVAIL ABE BUT ON BY CONSENT. THE THIRD WAS NAKED MEANING HE WAS AVAILABLE WITH OR WITHOUT CONSENT.
ALAN CHOSE TO LOOK ROUND FULLY CLOTHED AND WHILE DOING SO MET AN OLD COUPLE MAVIS AND ARTHUR. THEY SEDUCED AND STRIPPED ALAN NAKED BOTH HAVE SE WITH HIM. WEARY FROM SEX WITH MAVIS AND ARTHUR HE DECIDED TO GO BACK TO RECEPTION. ALAN FORGOT HE WAS NOW NAKED A PRIZE FOR ANYONE WHO WANTED HIM. ON HIS WAY BACK TO RECEPTION HE MET MARTHA A MIDDLE AGED WOMAN AND TWO TEENAGERS ROBERT AND DAVID HE'D SEEN THEM ALL AT RECEPTION. MARTHA MADE ALAN SUCK ROBERT AND DAVID'S COCK UNTIL THEY BOTH CUM IN HIS MOUTH.
ALAN MADE IT BACK TO RECEPTION INTENDING TO LEAVE BY WAS INTERCEPTED BY A BLACK COUPLE ELLICE AND EARL. THE DRAGGED HIM OFF TO THE HARNESS ROOM AND SECURED WIDE OPEN IN THE LEATHER HARNESS. ALAN WAS RAPED BY EARL AND ELLICE. ELLICE FORCED A STAINLESS STEEL BUT PLUG UP ALAN'S ARES AND CONNECTED OT TENS UNIT. SHE CONNECTED ANOTHER ONE TO THE STEEL COCK ON HIS COCK AND LEFT HIM BALL GAGGED. THEY LEFT HIM TIED IN THE HARNESS FUCKING HIM SELF WITH THE STAINLESS STEEL BUT PLUG WITH A STAINLESS STEEL ROD FORCED INTO HIS COCK TO STOP HIM CUMMING. ALAN WAS LEFT LIKE THIS AS ENTERTAINMENT FOR THE OTHER CLUB MEMBERS.
ALAN WAS FINALLY RESCUED BY MICHELLE ONE OF THE RECEPTIONIST A HOUR OR SO AFTER BEING LEFT HELPLESS IN THE HARNESS. MORE EXCITING FORCED BISEXUAL ACTION WITH A MALE BEING USED AS THE SEXUAL PLAYTHING OF BOTH FEMALE AND MALE. €3.00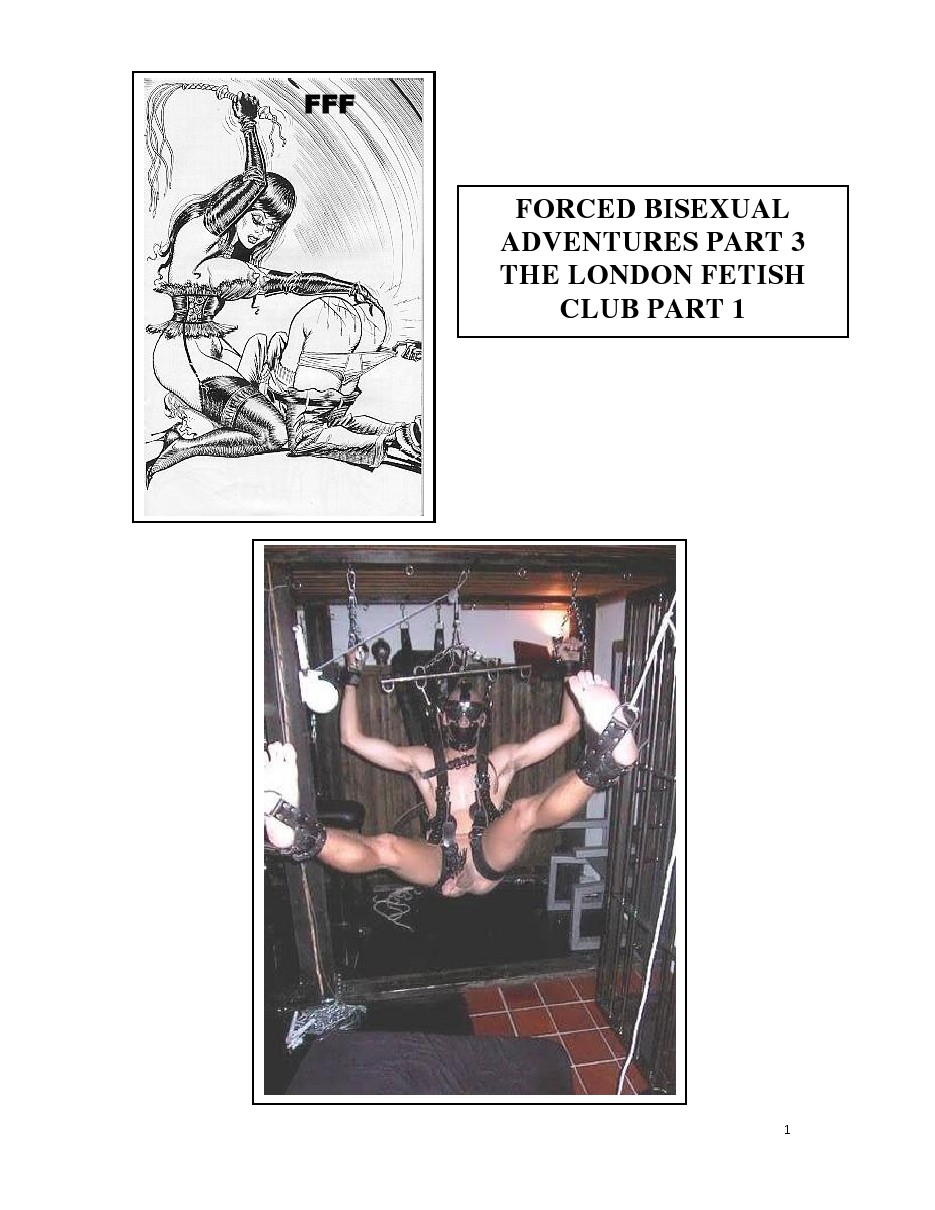 5 HIGH STAKES WRESTLING CHALLENGE BISEXUAL DOMINATION OF THE MALE. MAX A SWITCH WHO COULD BE DOMINANT OR SUBMISSIVE ACCEPTED THE CHALLENGE OF A BDSM COUPLE PETER AND MAURINE, HUSBAND AND WIFE. MAURINE WAS PETER'S FEMALE SLAVE. PETER CHALLENGED MAX TO HIGH STAKE WRESTLING MATCH AGAINST PETER AND MAURINE. IF MAX WON HE WOULD HELP PETER DOMINATE MAURINE. HOWEVER IF PETER AND MAURINE WON THEN HE WOULD BECOME THEIR SLAVE AND PETER WOULD TEACH MAURINE HOW DOMINATE A MALE SAVE MAX. MAX KNEW HIS HIGH STAKES GAMBLE WAS A MISTAKE FROM THE START AS PETER AND MAURINE BOTH OUT WEIGHED HIM AND EASILY BEAT HIM INTO SUBMISSION. ALTHOUGH MAX PUT UP A BRAVE FIGHT ENDURING PLENTY OF PAIN HE HAD TO SUBMIT IN THE END AND TO MAURINE. MAX HAD GAMBLED AND LOST AND WAS NOW PETER AND MAURINE'S MALE SLAVE THE SLAVE OF A FEMALE SLAVE.
MAX WAS TIDE DOWN SPREAD EAGLE AND PETER SHOWED MAURINE HOW TO DOMINATE AND PUNISH A MALE SLAVE, FORCING MAX TO ENSURE INTENSE PHYSICAL AND SEXUAL ABUSE. MAX WAS BROKEN AND HIS SWITCH DAY OVER FOR EVER. NOW A CONFIRMED SUBMISSIVE, PETER AND MAURINE'S MALE SLAVE. MALE ABUSED AND DEFEAT BY MALE AND FEMALE WRESTLING TEAM AND FORCED TO BECOME THEIR SLAVE. TORTURED AND ABUSED TURNED INTO A BISEXUAL MALE SLAVE TO PROVIDE PHYSICAL AND SEXUAL AMUSEMENT TO BOTH MEN AND WOMEN. MALE BEATEN AND ABUSED AND FORCED INTO BISEXUAL ACTION. €3.00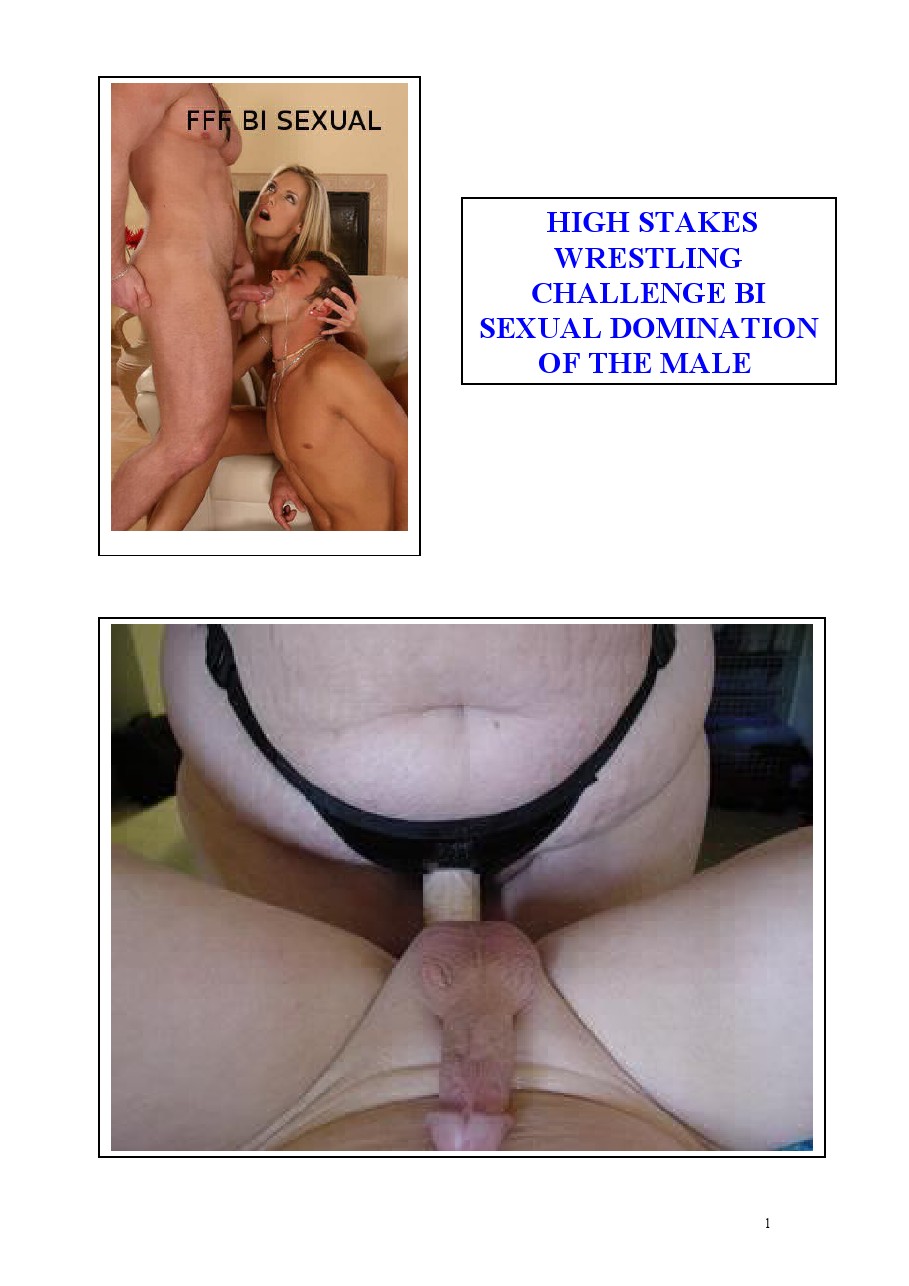 6 THE LONDON FETISH CLUB PART 2 SPIT ROAST GANG BANG. ALAN FROM HIGH STAKES WRESTLING AND GRAN CANARIA ADVENTURES SECOND VISIT TO THE LONDON FETISH CLUB. ALAN'S SECOND VISIT WAS TWO MONTHS AFTER HIS FIRST DUE TO LAST MINUTE WORK COMMITMENT MADE HIM MISS THE PREVIOUS MONTHS FETISH CLUB MEETING. THIS TIME ALAN WAS TAKEN BY A BLACK FEMALE DOMINANT SARAH TO HER FLAT FOR A SEX PARTY. HAND CUFFED IN JUST HIS BRIEFS. AT THE FLAT SARAH MADE ALAN LAY ON A BED AND SECURED ALAN'S ARMS BY THE CUFFS TO A CHAIN ON THE WALL. SHE THEN AMUSED HERSELF SEXUALLY ABUSING HIS NAKED BODY WHILE SHE WAITED FOR HER GUESTS TO ARRIVE. WHEN HE GUESTS DID ARRIVE THEY TURNED OUT BE THREE YOUNG VERY WELL ENDOWED BLACK MEN, LEROY, EROLL AND WINSTON. THEY STRIPPED WHILE SARAH RELEASED ALAN, HE WAS GOING TO BE THEIR WHITE BITCH BOY WHORE TAKING THE HUGE DICKS ANALLY AND ORALLY. IT WAS GOING TO BE A SPIT ROAST GANG BANG WITH IS MOUTH AND ARSE ON THE MENU.
SARAH MADE ALAN SUCK ALL THREE OF THEIR DICKS THEN ENJOYED WATCHING THEM TAKE TURNS FUCKING ALAN'S ARSE. THEN SHE MADE ALAN SUCK THEIR DICKS UNTIL THEY CUM IN HIS MOUTH, THE FUCK HIM AGAIN BARE BACK AND FILL HIS ARSE WITH THEIR SPUNK. ALAN WAS FORCED TO SERVICE THEIR BLACK DICKS ANALLY AND ORALLY TO SARAH'S DELIGHT. SHE HELPED TO PHYSICALLY AND SEXUALLY ABUSE HIS BODY DRAINING HIM DRY. WHEN HER GUESTS LEFT SARAH RE-SECURED ALAN'S ARMS AND RAPED HIS ARSE WITH A LARGE STRAP ON DILDO. SHE MERCILESSLY ABUSED HIS COCK WITH ICE CUBES AND A COCK RING THEN RODE HIS COCK TO SEVERAL SHATTERING ORGASMS. HIS DUTY PERFORMED ALAN WAS THEN TAKEN BACK TO THE CLUB. EVEN MORE EXCITING FORCED BISEXUAL ACTION WITH A MALE BEING USED AS THE SEXUAL PLAYTHING FOR THREE YOUNG BLACK DICKS ALL ORCHESTRATED BY SARAH FEMALE FORCED BISEXUAL MALE SUBMISSION TO MALE AND FEMALE DOMINANCE. €3.00