BATTLE-ANNALS MIXED WRESTLING STORYBOOKS PAGE


New mixed storybook extracts blog 'battle-annals mixed fighting stories extracts' read extracts from the mixed storybooks available here on the new blog

http://battleannalsmixedfight.blogspot.com
BATTLE-ANNALS MIXED WRESTLING STORYBOOKS LIST 61-70
61 Adventures of a correspondence wrestler part 3 mother daughter act. Luke got his third match via his add, this time against two large heavy built females, Brenda and Chantel a mother and daughter. Luke wrestled the mother Brenda first and gets worked over and abused by her, turning his match into a squash job. She punishes Luke physically and sexually, with multiple submissions and knock outs. He then has to wrestle Chantel the daughter and is easily beaten and abused by her to several submissions, she also abused him physically and sexually. Brenda and Chantel them double team Luke making him suffer again. at their punishing hands. Male jobber and submissive beaten and abused, by two female heels and dominants. €3.00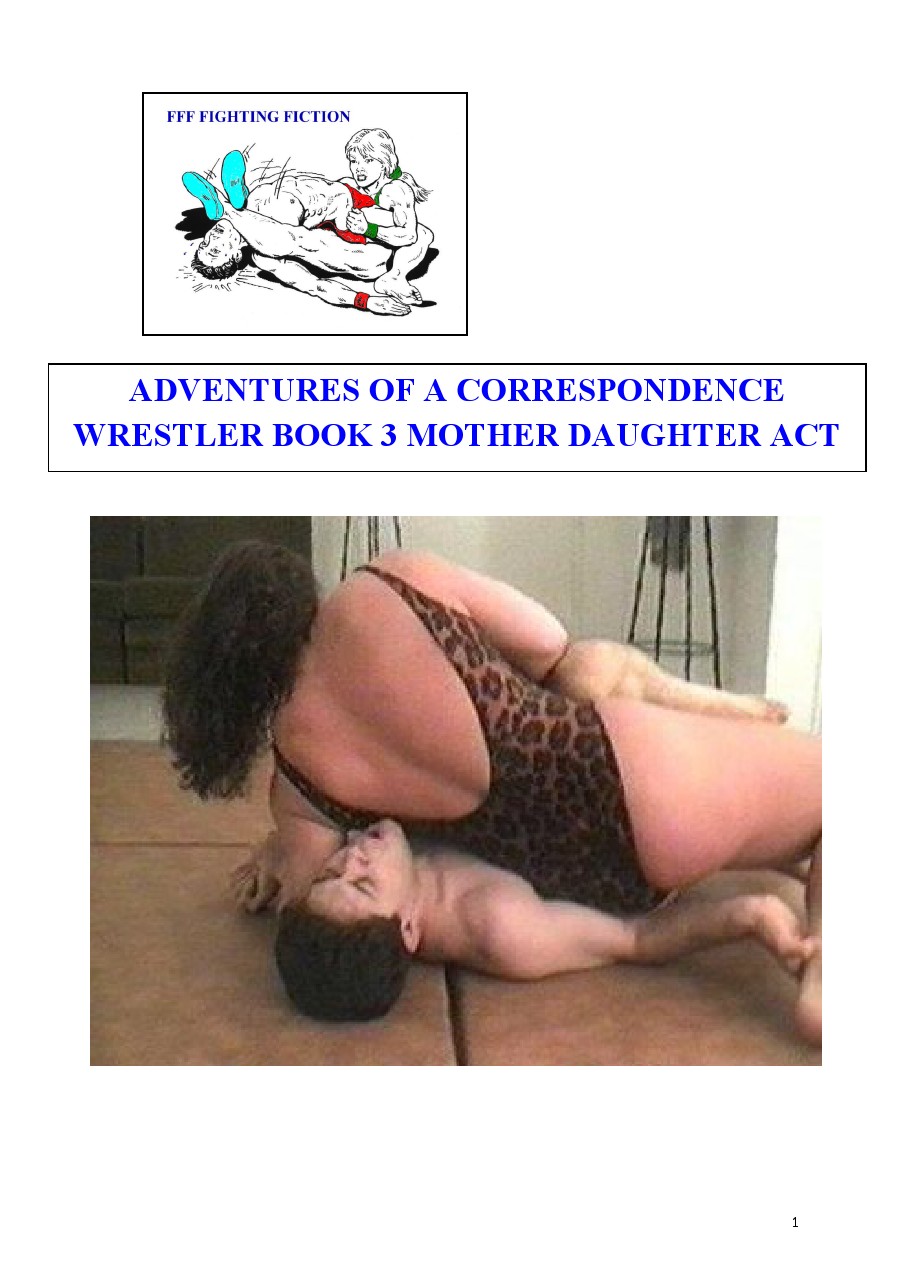 62 The tough girl part 4 the black widow devours. After beating and abusing Zack who helped Sharon become the black widow, by giving her a black singlet, Sharon the black widow takes on Marcus a gay wrestling friend of Zack's. Marcus who was much smaller and lighter than Sharon, was not sure about wrestling a female for the first time, as there was no sexual attraction in it for him. Once on the mats with the black widow her realised it was a mistake but by then it was too late. The black widow was able to over power Marcus from the start and give his a hard work over both physically and sexually. Sharon took great delight in making Marcus surrender to her and become her play thing. Her sadistic pleasure seemed untameable, raping his cock and anus, making him cum repeatedly, even though he got no sexual pleasure out of wrestling a woman. Marcus was totally devoured by the black widow. More great female on male brutal physical and erotic action with the male suffering at the hands of tough dominant female the black widow kicking gay male arse. €3.00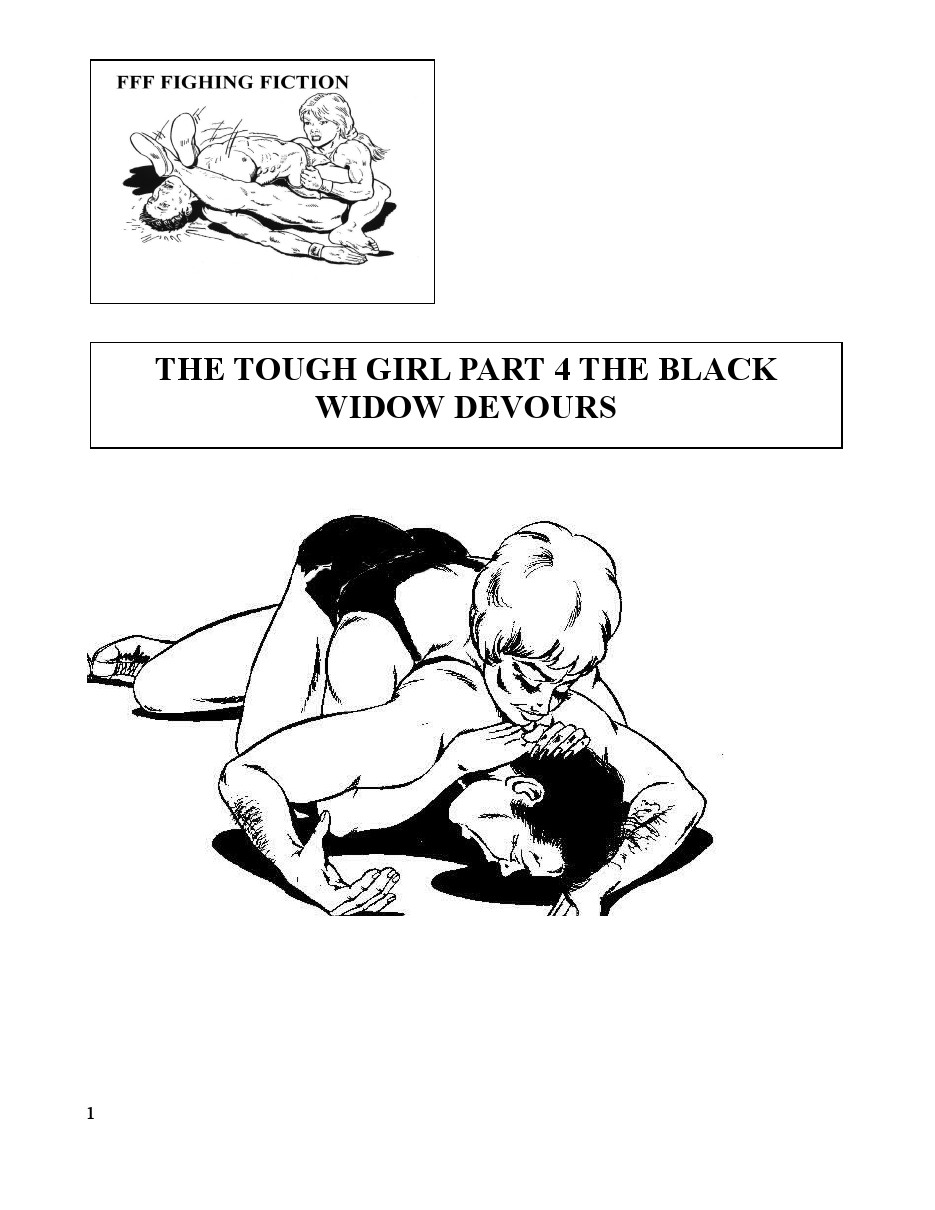 63 Vacation challenges part 3. (continued from vacation challenges part 1 and 2 on the mixed illustrated wrestling story books list. Jeff, Anne, Jack, and Ingrid four wrestling friends had gone to Ibiza on holiday, at some wrestling friends villa. Their first holiday away together, the villa had wrestling mats and they enjoyed some good wrestling fun between themselves. They also met Earl and Stephanie and a black American couple of wrestlers, friends of the villa owners. They had some good wrestling experiences with them. Then they had run in with four Germans, staying at another villa over towels on sunbeds. Anne dumped their towels in the pool and was challenged by one of the females to a fight. Tt was a trick to get her to their villa, where she was worked over by all four of them. Jeff was also worked over by them, when he went in search of Anne. Anne, Jeff, Jack, and Ingrid wanted revenge for Anne and Jeff. Earl volunteered, to got and see the four Germans, to arrange a four way match, between the two English and German couples to settle the bad feeling.
Earl went to the German's villa and ended up wrestling and beating the two German males Curt and Randal, before he could arrange the four way match at the English couples apartment. Earl told the English couple he had arranged the four way match for them, the said Stephanie was meeting a Spanish guy called Sebastian who had wanted to wrestle with her for years and was coming to meet her and asked if Stephanie and Sebastian could use the mats in their apartment. The English couple agreed and were able to watch Stephanie wrestle with Sebastian. it was tough exciting match with Sebastian taking the first point but with Stephanie coming back to take, the next two points and the match.
When the four Germans, Curt, Helena, Randal, and Valma arrived for their four way match against Anne, Jeff, Jack, and Ingrid, Earl and Stephanie acted as referees. The four couples agreed to four bouts of no-holds barred fighting with the winners taking all. The winners could do what they liked to the losers. Anne took on Helena first in a brutal and sexy fight to the finish. Anne beat Helena then abused her physically and sexually in front of the other Germans and the two Americans, to make her revenge more satisfying. Ingrid then took on Randal. It was a tough brutal mixed fight which Ingrid won convincingly. Ingrid and Jack then subjected Randal to physical and sexual abuse, in front of the other Germans and the two Americans. The two English women had won their fights now it was up to the two English men to try and do the same. Some good tough mixed fighting, followed by more tough physical and sexual nhb action all the way. €4.00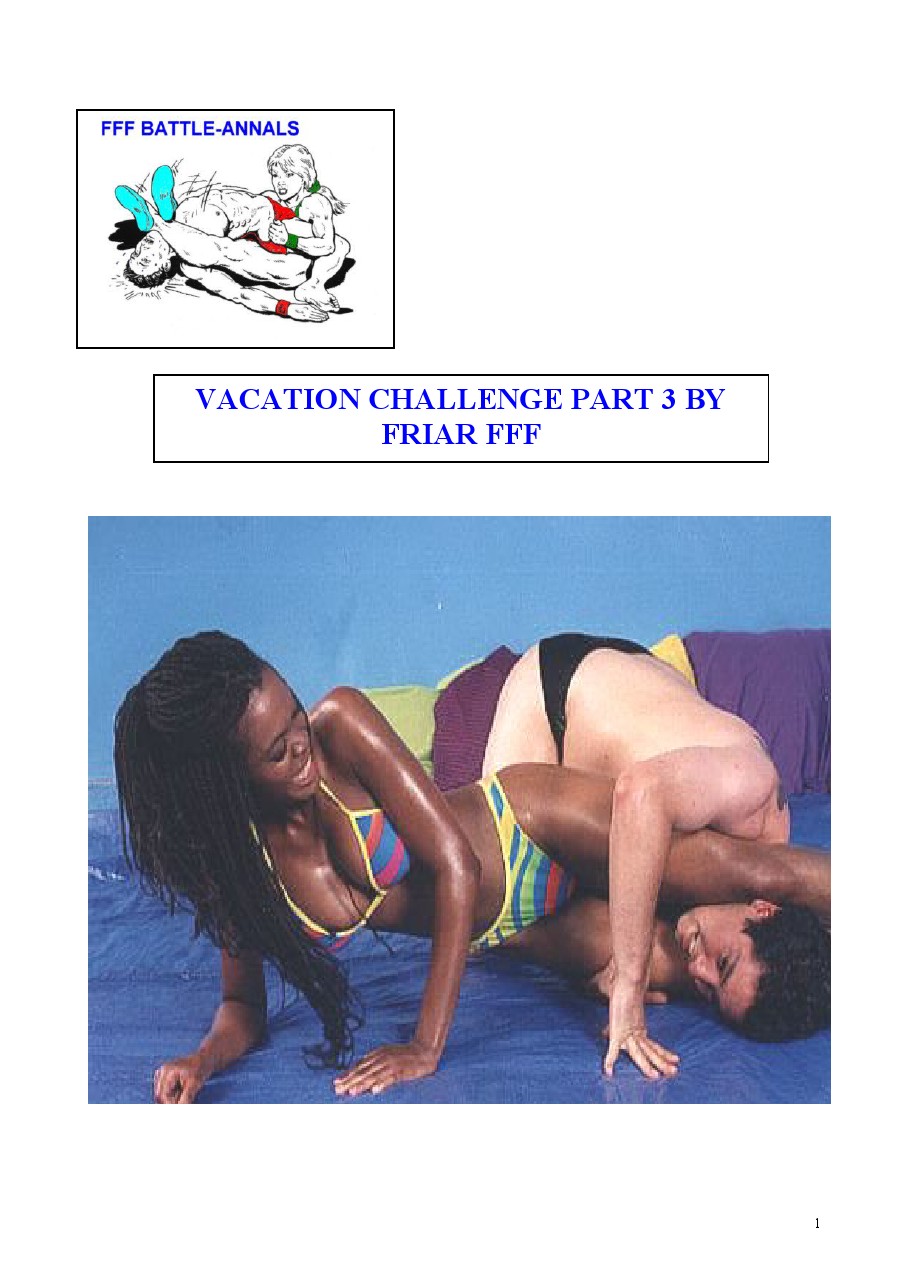 64 Vacation challenges part 4 (continued from vacation challenges 3) in the first half of the four way match of Germany v England, with Anne, Jeff, Jack, and Ingrid, against Helena, Curt, Valma, and Randal. The match referees were Earl and Stephanie two American wrestling friends. Anne took on and beat Helena then abused her physically and sexually, as it was the agreed the winner could do what they liked to the loser. Ingrid then took on Randal and beat him and with the help of Jack abused him sexually and physically. Now it was up to Jack and Jeff to take on the two remaining Germans Valma and Curt.
Jack wrestled Valma first and took the first point and her bikini. Valma hit back and took the second and equalising point and Jack's speedos. Jack managed to get the third and winning point after a tough fight. He was rewarded with being able to abuse Valma physically and sexually with Ingrid and Anne's help. Jeff took on Curt last and after a tough fight he got the first point, but quickly lost the second and equalising point and his speedos to Curt who took a brutally painful submission from him. Jeff then put up a brave battle but was slowly overcome and made to submit to another brutally painful submission. Jeff was then physically and sexually abused by all the four Germans. Some some good tough mixed fighting followed by more tough physical and sexual nhb action all the way. €3.00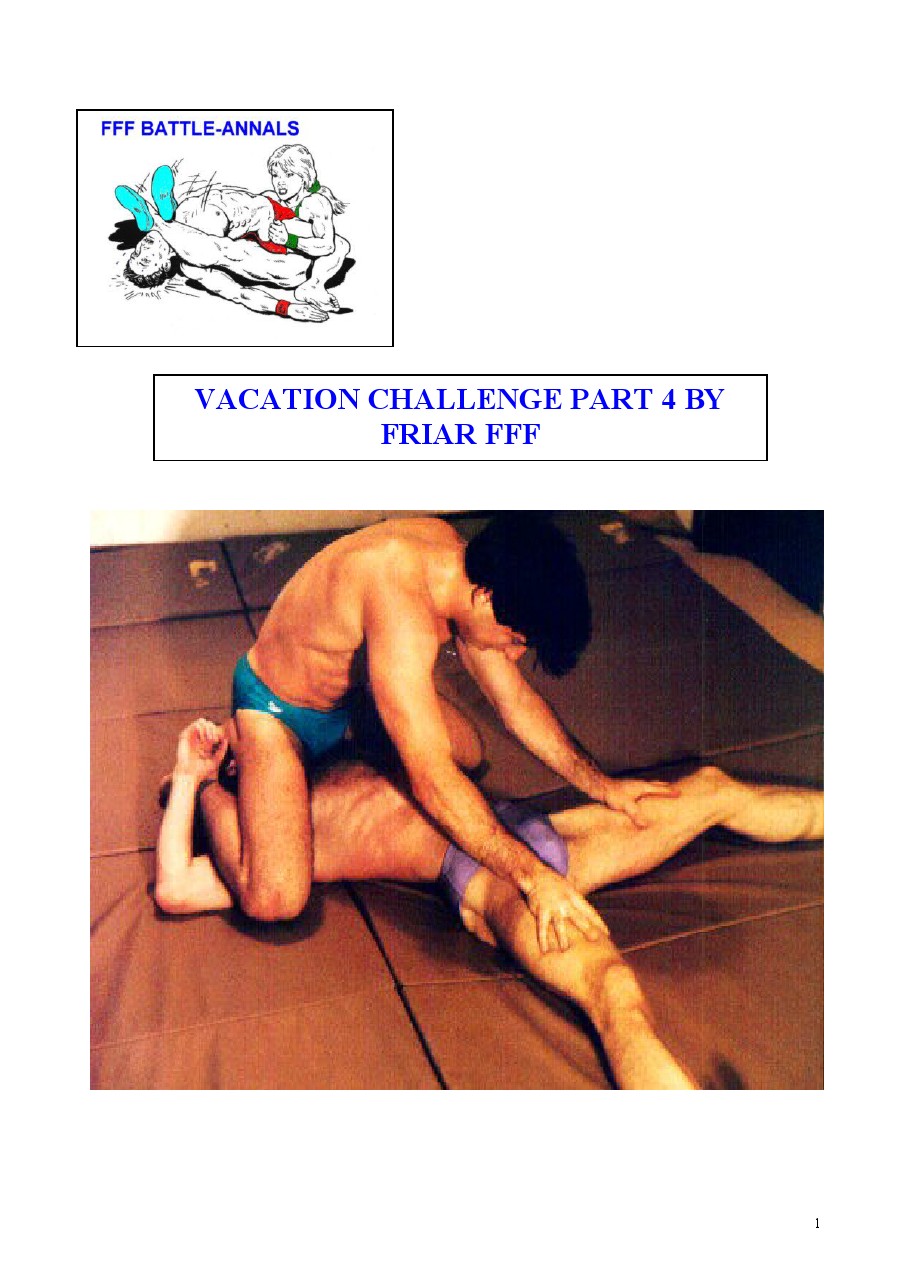 65 Female wrestling endurance squash job. Bruce a bisexual wrestler, met a female fan of male v male and mixed wrestling, a on gay male wrestling site. Jackie had always wanted two watch two men fight, involving gut punch and a low blow dirty moves. She had tried to get two male wrestlers to fight for her, but could only find one a wrestler named Drew. So Jackie asked Bruce if he would fight Drew for her, while she watched. Tt was agreed and a date set for the match, at her house, while her husband Donald was away on business. Unfortunately Drew had to cancel two days before, when he came down with shingles. Jackie and Bruce were both disappointed and did not want to waste the day that had been arranged for a long time. Bruce suggested endurance strip wrestling, Jackie would try out holds on him, to make his submit, slowly stripping him each time he did, as he was not allowed to resist. Jackie eagerly agreed warning Bruce she would use gut punching on him and low blows and dirty moves.
Bruce travelled to Jackie's house and they had a long afternoon of tough endurance wrestling. Jackie turned out to be a sadistic heal and the session was a complete squash job. Jackie really worked Bruce over with a variety of pins and submission holds until she had stripped him naked and obtained his complete surrender. Jackie then continued her physical and sexual abuse of Bruce using him, as her virtual body slave and sexual play thing. Tough female on male physical and sexual abuse, including cfnm, cbt, gut punching, spanking and milking. €4.00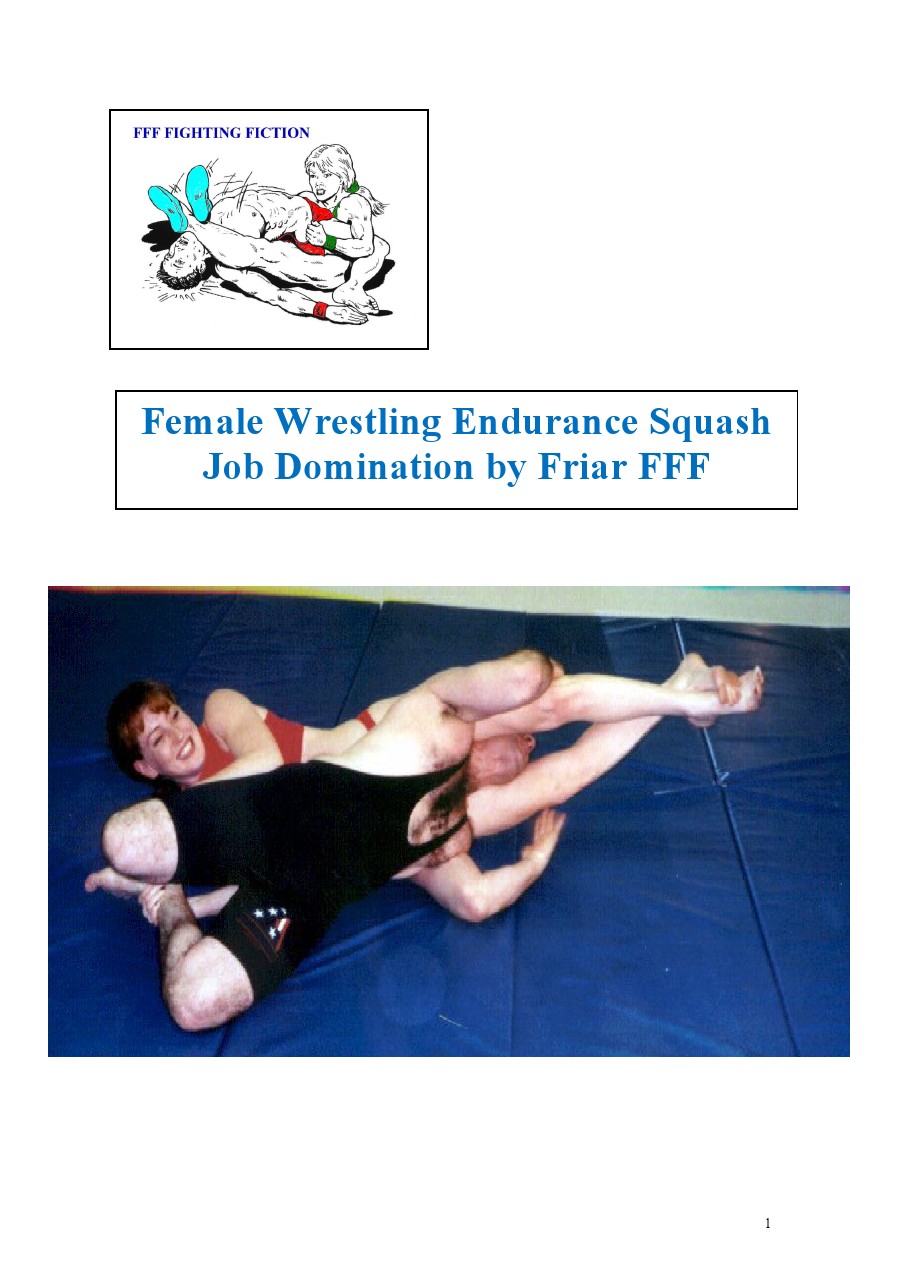 66 The tough girl part 5 double demolition for the black widow. Having taken on and beaten all three kinds of male wrestlers, she wondered who to wrestle next maybe a female opponent, it certainly would be a new challenge. Then she remembered Zack's story about wrestling an older couple from horn church, Richard and Judy. Taking on a couple, that would be different and her first match against a female. Sharon arranged a have a match with both of them at there home. As Richard and Judy Wrestled in underwear only, they were not happy with Sharon as the black widow wearing boots. They only agreed when Sharon told them, they could tag, taking turns against her.
Sharon took on Judy first, eager to get to grips with another female, for the first time. Judy was heavier than Sharon and she initially struggled, when she wrestled Judy. Finding Judy heavier and just as strong if not stronger, than she was, Sharon decided to use tactics against Judy, instead of trying to match her strength and weight. Sharon let herself appear to be pushed back and down but at the last moment flipped Judy head over heels to the mats. Things went right down hill for Judy after that. Sharon weakened her, with a Boston crab and then kept her subdued with stomps punches and kicks. Then Sharon tried to pin Judy and only after several painful bum drops, could she get Judy's arms down. Sharon pinned and smothered Judy until she was close to KO. But Sharon let her go and tag Richard, so she could wrestle with him. Richard fared even worse than Judy against Sharon. Sharon boots made short work of him, with boots and stomps and full weight tramples. Sharon easily got Richard down and pinned him, then took pleasure in smothering him, until he was unable to resist. Sharon switched to a reverse face pin and abused his helpless nipples, belly and balls, until he was forced to submit. Sharon stripped Richard of his briefs, before she allowed him to tag Judy. Sharon dropped Judy to the mats and used her boots to weaken her, enough to get Judy in a camel clutch. Sharon punished and weakened Judy with the camel clutch, before releasing her and switching, to a body scissors. Sharon used her crushing body scissors, to break Judy's resistance and make her submit. Sharon claimed Judy's white bar and panties, before she let her tag Richard.
Richard who had already been made to submit by Sharon, was now at an even greater disadvantage, of being naked. Angered Richard leapt at Sharon hoping to bowl her over, but with a lucky instinctive raised knee, Sharon caught him in the balls and dropped him to the mats. Sharon used her boots to stomp and trample Richard into the mats. Sharon then trapped Richard in a Boston and punished his back with the painful hold. Sharon kept the hold on, until she made Richard submit, then went for another submission, punishing his back again, with a camel clutch. She drew another embarrassing and painful submission from Richard, in front of his wife Judy. Having beaten and made Richard to submit twice and made Judy also submit, Sharon assumed the wrestling was over for the day. But angry at being so easily beaten Judy challenged Sharon to a naked wrestle with Sharon, without her boots, as she was convinced Sharon's boots had given her, an unfair advantage. Sharon accepted the challenge, but insisted on wrestling Richard first, as no tag had been made.
Sharon easily over come weakened and abused Richard making him suffer with a reverse head scissors. Sharon crushed Richard's head with her thighs and punched and squeezed his balls drawing another submission and a total surrender from him. Sharon let Richard crawl and tag Judy, then they locked up arms and shoulders in a test of arm strength. Sharon slowly forced Judy's arms back then made her retreat across the mats. When Judy's belly was completely exposed, by her bent back upper body, Sharon drove her knee into it hard, quickly followed by a knee to Judy's naked cunt. As Judy dropped to the mats in pain, she punched Sharon in the cunt dropping her to her knees. Pained and angered Sharon hit back, with slaps to Judy's face and punched to her left breast and belly. When Judy was down, Sharon applied a hammer lock to Judy's right arm, and dragged her up by it, then kneed Judy in the right breast. Sharon got the winning submission from Judy with a crushing head scissors. Sharon then switched to a reverse head scissors, to continue to crush Judy's head and allow her, to abuse Judy's tits and cunt. When Sharon had abused Judy's tits and cunt, she spun back round and used her hard excited nipples and hard pubic mound, to sexually dominate Judy to several orgasm, before finally cuming hard herself. Great female on male and female on female wrestling, physical abuse and sexual abuse, tough erotic merciless wrestling. €3.00.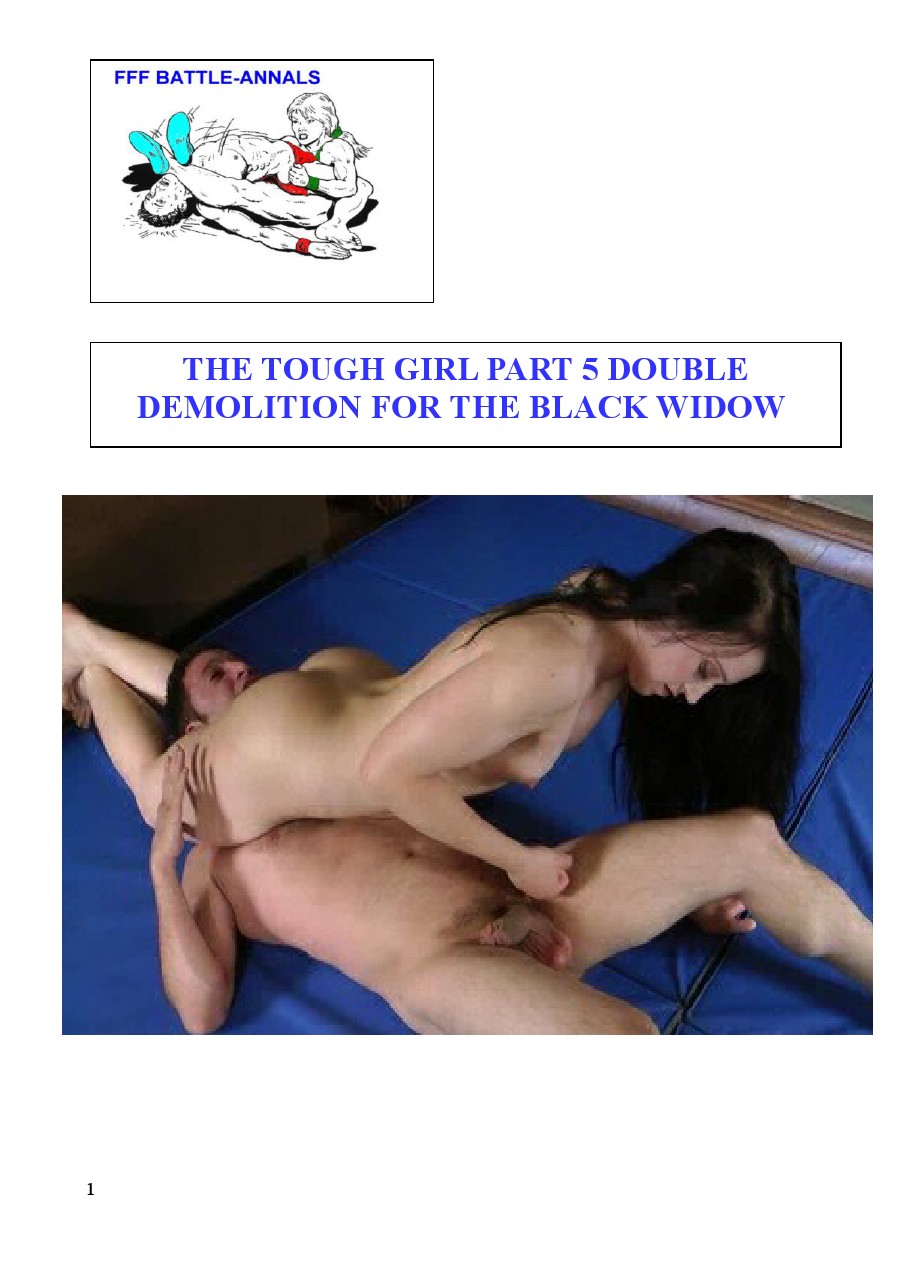 67 Cock crunch squash job. Aaron was a thick set, avid mixed wrestler, in his mid fifties, He had never lost against a female opponent. Although he came close to a draw once. He liked a tough match with a female opponent, even to be tested to the limits, but the eventually triumphant, in the end, when he would fuck his female opponent, as the winner. He'd had a dozen victories up to this point, and he was interested in meeting a female opponent, that promised to be more than a match for him. Aaron's ring name was the shaved bull, due to his stocky, slightly chubby, build and shaved body and pubes. Aaron was 5' 11" 105 kg, his chest and pubes were shaved clean. The female opponent, he was interested in, called herself Rachel iron thighs. Rachel was 6'1", 125 kg, with long brown hair. Rachel stated that her two main weapons, were her large smothering breasts and huge iron, hard thighs. They were used to destroy any male opponent, that would dare to take her on. Rachel looked every part of it, in her profile photo. Like Aaron she was unbeaten against male opponents. They decided to have a cam session on skype, to check they were like their profile photos. Rachel was even more impressive on cam, than her photos, she was just in her underwear and her large heavy body, was fully displayed. Rachel made Aaron who was fully dressed, strip this underwear, so she could see him properly. They were both satisfied that they were like their profiles and agreed to a bout, to see who would win and retain their unbeaten record, against the opposite sex. The terms of their bout where, wrestling all in, with no rules, no quarter, and winner takes all.
Aaron went to Rachel's flat for their bout. When he arrived, she was already dressed in her wrestling gear. After showing Aaron round her flat. Rachel made Aaron strip to his underwear in font of her, that was how he had agreed to wrester her. They then went to her mat room, the second bedroom in her flat for the bout. In the flesh Rachel was very impressive, she was taller heavier than Aaron and he was not a small man, by any means. That was when Aaron realised that this was going to be his toughest match ever. When they started he was not mistaken. Rachel was so strong and heavy, Aaron could make no impression on her and he knew he was in trouble. Things went down hill rapidly for Aaron at this point, and he was made to quickly submit and then KO'd. The bout was lost then and there, that quickly, his record gone. but the match was far from over. Rachel took great pleasure in extracting more submissions and KO's from Aaron, with painful punishing and embarrassing holds. Rachel stuck to the agreed terms of the bout, wrestling all in, with no rules, no quarter, and winner takes all. When Rachel had totally subdued Aaron, she took him to her bedroom to have more fun with him, abusing him physically and sexually for her own pleasure. She raped him anally and then used his drained cock, as human dildo, to experience several shattering orgasms. The last one was so intense, she got so excited, her huge bulk, crunched Aaron's cock, leaving him with a penile fracture.
Aaron's was defeat by Rachel, it changed his wrestling life forever. After getting out of hospital for an operation in his fractured penis, he was left with permanent curvature of his penis, this made sex difficult and painful. As his unbeaten record was gone, coupled with a buried masochistic streak that came to the fore, after his humiliating defeat by Rachel, Aaron still wrestled female opponents, but no longer to win. Now he offered himself as a jobber, to lose to them and was very popular, even more popular with them, than when he fought to win. He changed his profile name from the shaved bear, to the shaved jobber bear. Intense mixed fighting action, with graphic female on male physical and sexual abuse. €3.00.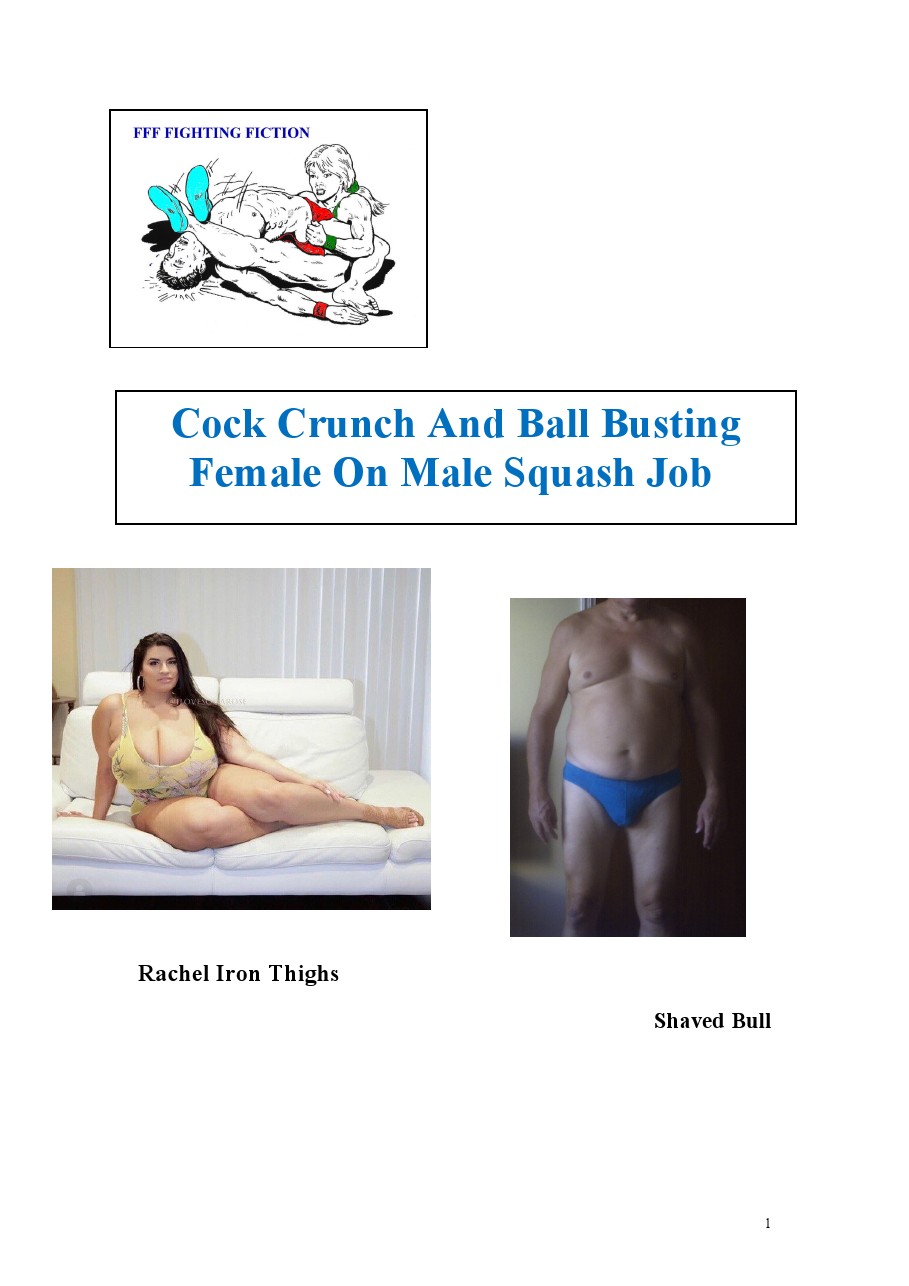 68 Ladies high stakes challenge. Rachel was happy to meet a gay wrestler called Marcus in the Admiral Duncan pub, in Soho again. She told him she wanted to thank him, for introducing her, to his straight wrestling friend Zack. They had wrestled after her friends and Marcus left the pub that time and she had enjoyed it. Rachel told him she would like to wrestle Zack again and Marcus offered to give her his mobile number. Then Rachel told Marcus what she would really like to see, was two guys wrestling for her. Marcus told that even though he liked wrestling guys, doing it in front of a female, as he was gay, was not a turn on for him. She told him what she really wanted was to see was a gay guy, wrestle a straight guy, for top, winner takes all. Marcus said that he liked that idea, but was sure Zack wouldn't like the top bit, being straight. But you would if Zack would, Rachel asked Marcus and he said, he would. So Rachel took Zack's number and thought she had a way to make Zack do it. She phoned Zack and reminded him of their last meeting, when he taught her how to wrestle and let her practice on him, to the extent where she beat him. She told him, she wanted to wrestle him again and for real this time, to beat him properly and was available Saturday afternoon. Zack told her, he was already wrestling two Russian twins on Saturday afternoon, who were going home the next day and could not to put off. Rachel convinced Zack to wrestle her after the Russians, had gone and he agreed. That suited her, as he would be weary, from wrestling them and make it easier for her to win. She intended to badger Zack into wrestling her, for high stakes. When Rachel got to Zack's on the Saturday afternoon, he was still wrestling the Russians and answered to door in boots and tight red speedos. He was sweating and his body showed all the signs, of some tough treatment, by the two Russians. When Zack let Rachel in the Russians were showering and over coffee, he told Rachel what had happened. They had both beaten him and given him a tough time and things just over run. The two Russians left, promising to wrestle her next time they were in London,
While Rachel changed Zack showered and slipped on some briefs, how Rachel preferred him to wrestle with her. When they stood on the mats, Zack warned her that this would be a competitive match, not like last time. Rachel told him that was what she wanted and she was confident, she would win. That was when Rachel asked Zack, if he would wrestle for stakes. Zack arrogantly told her any she wanted to name. So Rachel told him best of three, winner names the stakes, Zack agreed. Then Zack told Rachel every thing the Russians had done to him and to where, that information was a great help to Rachel and she used it to her advantage. They knelt on the mats and locked arms and shoulders in a test of strength. Although stiff and weary, Zack was still strong, stronger than her. Then Rachel glanced down at his red, sore, belly and realised locked up, as they were, how exposed it was. Rachel drove her knee into it hard and it was the start of a long painful down fall, for Zack. Rachel made sure she targeted all the parts of Zack's body, the Russians had made suffer. She forced two, long, painful, submissions from Zack, to win the match. So Zack now had to accept her stakes, as she won. Then Rachel insisted on taking the third point, by making Zack suffer, until he could pin him, to win three nil. Rachel enjoyed telling Zack the stakes. There were two, firstly she wanted to watch two men wrestle each other, in front of her, one gay the other straight, one in briefs him, and one in speedos Marcus. The winner would be allowed to dominate the loser. Zack was not worried, as he had not lost to Marcus before. But this time Rachel told Zack, that he would have to do anything that Marcus told him. Zack was still not worried, as he was confident he could win. The second was to spank him, a man over her knee. Rachel enjoyed spanking Zack until her hands hurt and his buttocks were red. Then she removed his briefs and used a slipper, on his buttocks, until they were dark red and burning. Finally Rachel rolled Zack over and took great pleasure, in teasing and abusing his cock and balls, that had already suffered at the hands of the Russians.
Zack met Rachel and Marcus in the Admiral Duncan pub, the next Saturday, and they went to Marcus's flat to wrestle for Rachel. They used Marcus's mats, in the smaller of his two bedrooms. It was going to be gay against straight, speedos, against briefs, as Rachel had requested. They started off Marcus in purple speedos and Zack in a brief red cotton slip. Zack was not a hundred percent, as he was still suffering the after effects of his wrestling the Russian twins and Rachel, not to mention the painful things, Rachel did to him, when she beat him. Zack and Marcus locked up and grappled, exchanging knees, to the body. Zack managed to sweep Marcus's legs from under him and get him down, then he beat him back down, with double over hand blows to the back. Zack got Marcus in an arm lock, trying to make him submit. Marcus countered with hard punch to Zack's balls. Zack had to let go, to grab his aching balls, freeing Marcus. When Zack straightened up, Marcus, drove his forearm into Zack's chest. That made Zack bend over in pain. Marcus dragged Zack up by the hair and drove his fist into Zack's belly. Marcus hammer locked Zack's arm and demanded his submission. He drove his knee into Zack's belly, when Zack refused. Zack crumpled and was trapped in a head scissors. Marcus kept Zack in the head scissors, until he was too weak to move, then trapped him in a crotch smother. Already weakened by the head scissors, it was not long before Zack was close to passing out. As ever when he was beaten and made to suffer, Zack got excited. his cock was tenting his briefs and Marcus freed Zack's hard cock, from his briefs. Marcus grabbed Zack's cock and started to wank it. Rachel asked Marcus to milk Zack dry and Marcus did. The strain of cuming also made Zack pass out. So Marcus got a TKO and KO, in one go.
The double defeat meant that Zack had technically lost the match two nil. However Marcus was happy to carry on, to let Zack try and even the scores. Rachel was enjoying the sexy tough fight, so she let them continue. After a short break they started again. Zack had been badly weakened by the KO and the TKO, so when they locked up and grappled again, Marcus was able to force Zack's shoulders right back, until his belly was protruding and fully exposed. A hard blow doubled Zack up and dropped him. Marcus ground his knee in Zack's battered and bruised belly, really punishing it. Marcus got Zack in another head scissors and crushed his head. going for the final submission with Zack in his head scissors, Marcus punched Zack's belly where he'd kneed it. Marcus demanded Zack's submission, and Zack refused, so Marcus punched him in the balls. That made Zack submit. Delighted Rachel removed Zack's briefs, while he was still in the head scissors. Zack then had to suck Marcus's cock while, Rachel raped him with a vibrator, to open up his anal muscles, to be fucked by Marcus. While Zack as fucked hard by Marcus, Rachel teased his nipples and wanked his cock. When Marcus finally cum in Zack's arse, Rachel made Zack cum hard. This high stakes match changed Zack forever and he became jobber for male, and female opponents, enjoying being worked over and abused by them.
Intense male on male and female on male fighting action, with graphic female on male and male on male physical and sexual abuse. €3.00.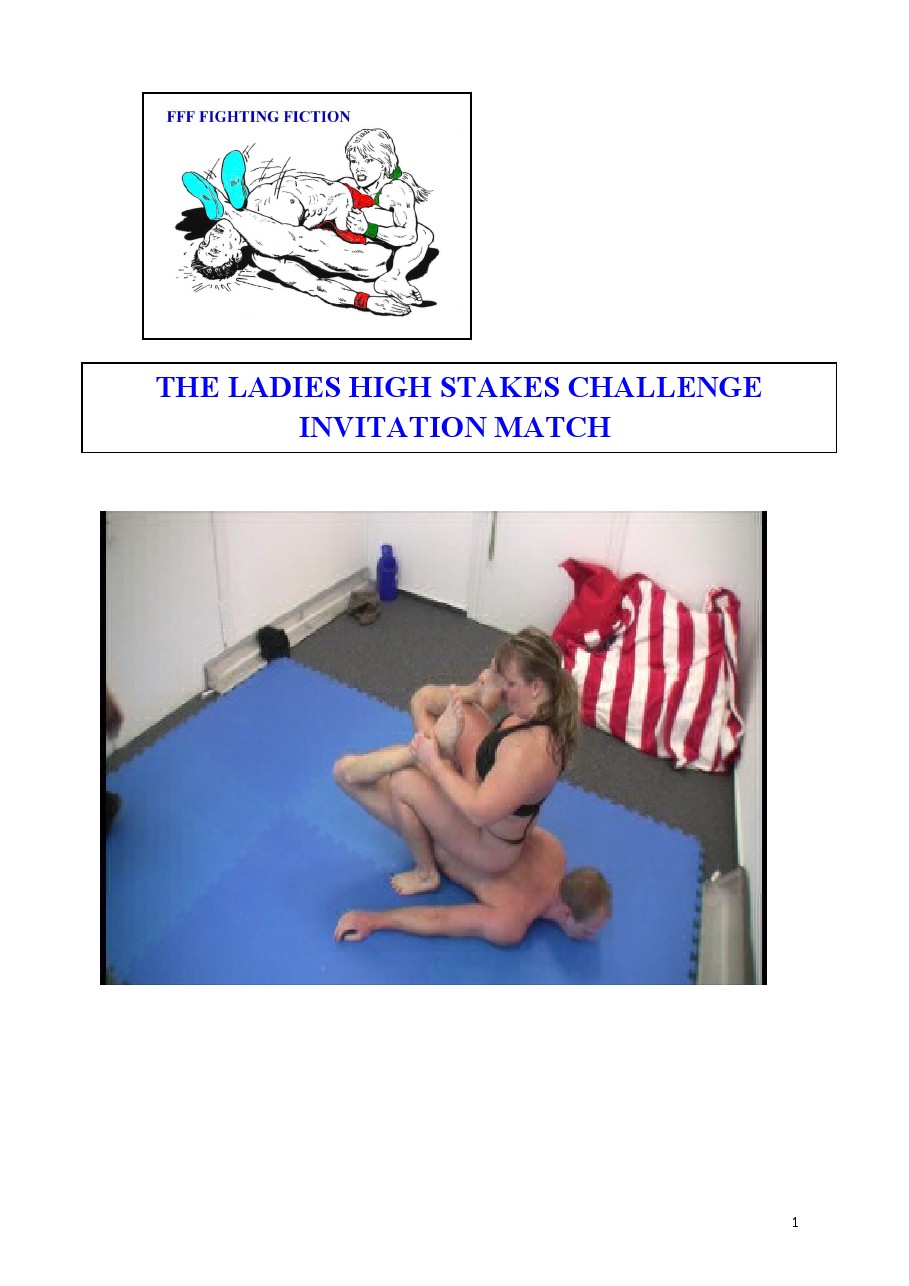 69 Jodies toy. Jodie Forester was twenty seven, 5' 10", weighing 80kg. Jodie liked to dominate men, particularly at wrestling. She was always looking for new opponents or victims. She had recently come across a DVD, featuring wrestlers from a local male wrestling club, that had been active until a couple of years ago. One wrestler caught her fancy, who went by the wrestling name, battle boy. She pretended to be an old fan, to befriend the battle boy, whose real name, was Robert Wilson. Battle boy was twenty two, 5' 6", 65kg. Jodie thought he looked younger than his age, in his age late teens. She slowly got Robert to agree to wrestle with her, pretending that she had never wrestled a man before. Robert agreed and started down the road to become Jodies toy.
When they wrestled Jodie used he weight and height advantage, to slowly wear Robert down, applying many painful punishing holds. As Robert was dominated and punished by Jodie, it brought back old memories of being punished, by male opponents, that in the end had made Robert excited, enjoying being punished. That was why he stopped being a professional wrestler. Now Jodie was dominating and punishing him, he got excited again. Jodie did what she did to all her male opponents, totally abused and dominated them. Robert ended up naked and helpless, forced to agree to let Jodie do what ever she wanted to him. She liked to ridicule his small cock, and really enjoyed making him cum. Jodie made him come back a week later, when they did strip wrestling. Using a series of painful punishing holds, Jodie stripped Robert naked. When he was naked Jodie made Robert wrestle for his pubes and shaved them off, when she made his submit again. She then used more holds on him, to dominate and abuse him, vicious carpet burns added to the pain and suffering caused by the holds.
The next time Jodie made Robert strip naked and let her apply various painful holds to him. She kept it up until Robert was stiff and exhausted, then finished their session by spanking him. To dominate him even more and make him even more submissive, Jodie used a dildo, to rape his bum. This left Robert painfully excited and desperate to cum, and Jodie sadistically milked his balls dry. This was all part of Jodie;s plan to make Robert, her favourite male wrestling toy. Her final lesson came, next time, when she made Robert wrestle another of her male opponents. George, he was older, bigger and heavier, than Robert. She made them wrestle for top, the loser having to suck the winner cock. George easily wore Robert down and made him submit, so he was forced to suck George's cock, in front of Jodie, who was delighted. Jodie then knew Robert was totally submissive to her, just how she wanted him. When George had gone, Jodie got out her leather play things and rode Robert like a human pony, really paddling his naked buttocks with a leather paddle. Robert was now Jodies toy.
Great female on male wrestling with physical and sexual abuse also male on male wrestling with physical and sexual abuse. €3.00.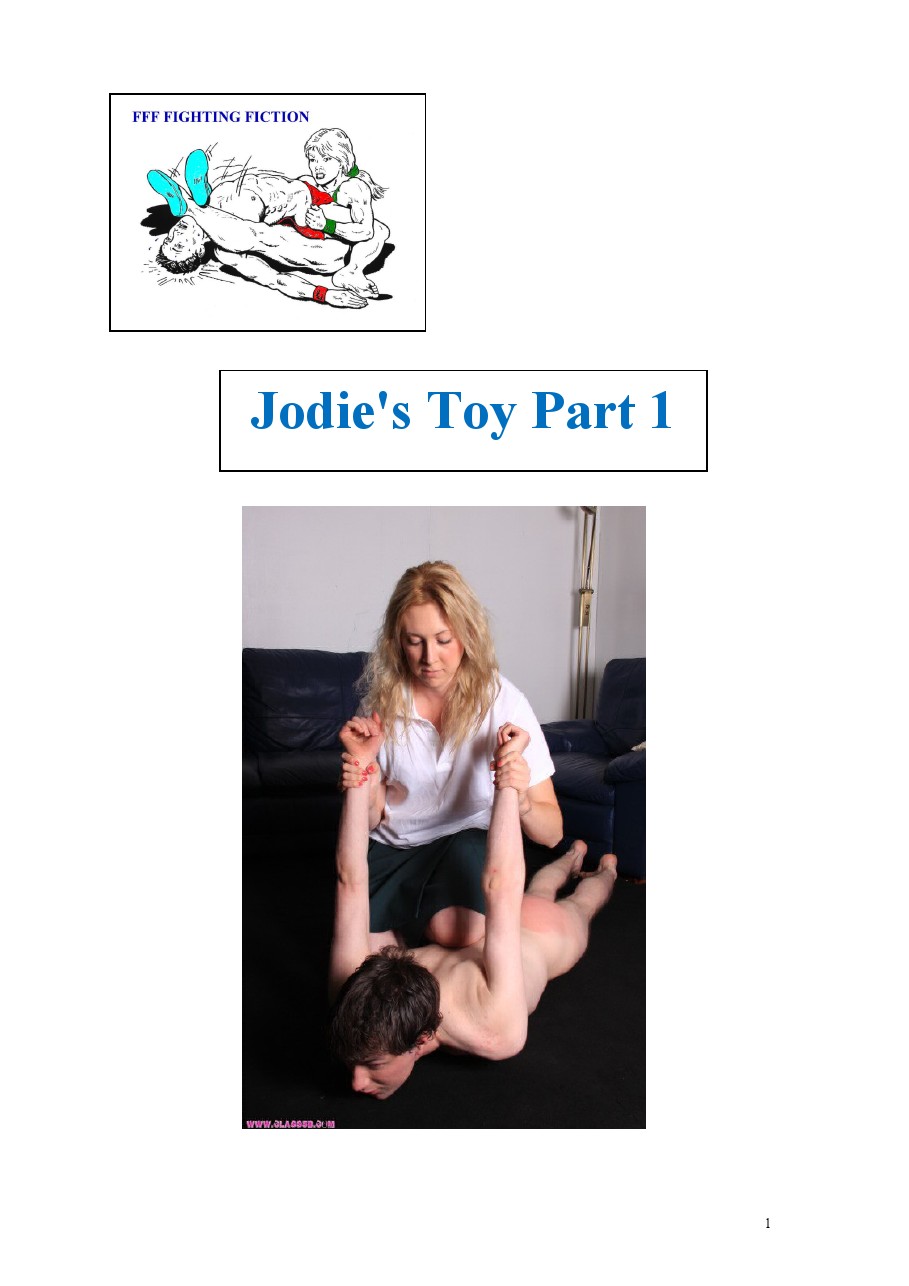 70 The young male wrestlers nemesis, Janet Brookes a thirty something large and strong female wrestler, who specialised in wrestling smaller and weaker male opponents, so she could use and abuse their male bodies. She relied that fact, that most male wrestlers, were arrogant enough, to think they could easily beat, any female opponent, what ever their size and strength was. The other fact that helped her attract plenty of male opponents, was she did not charge them, like nearly all the other female wrestlers who wrestled male opponents. She didn't need or want there money just their bodies to abuse. She had mainly took on older male opponents, but her last opponent had been much younger Craig was only twenty one. He was 5' 6" 130lb slim body and blond hair, compared to her, 5' 11" and 175 lbs and very confident to the extent of being cocky. She goaded him, as they corresponded by email into an ever more tougher challenge Craig remained cocky, even when she was towering over her. He did not last long Janet broke him quite quickly and subjected him to long painful and humiliating beat down. That gave her a taste for young male wrestlers and she started to groom, another younger light weight wrestler Justin. Justin was 5' 4" 125lb slim, with a stunningly fit, hairless body. He had a handsome young face, with a lightly petulant stare. Justin thought he was god's gift to women, older women, older women who doted over him. His weakness was, although he was a good wrestler, having been a top wrestler in high school and college, he now thought that he was much better wrestler, than he was. He would charge older females to wrestle with him, knowing only too well, how eager they were to get their hands on, his near naked, sexy, young body. Justin loved being a heel, making them, his jobber. Janet had seen his profile on the wrestling sites, he always used the same photo, which she liked, in just in a pair of tight whities, his hairless slim body beautifully displayed, as he ruffled his quiffed hair, and gave his petulant smile. Justin was like most female wrestlers, he wanted to be paid to wrestle, only difference being, he wanted older females to pay him, so they could wrestle him. He liked beating them, being the heel, just like the female wrestlers, really liked beating, the men, being their heel, that they made pay, to wrestle them. However for few exclusive opponents, who paid for the privilege, he would let them beat him, be their jobber. That was Janet's way in or she hoped.
Janet had been corresponding with Justin, trying to convince him, to wrestle her, for nothing. She accused Justin of being afraid to wrestle her. He told Janet he was not afraid to wrestle any woman, but he wanted paying, he said he was worth it. Then Janet tried another angle. She challenged Justin to a wrestling match and if he could beat her, she would pay his normal fee, but only if he beat her. She hoped her psychology would work and it did. As Justin, as a heel always beat his female opponents, unless he let them win, playing the jobber. He thought it was easy money and agreed to the match. Janet told Justin she had mats and they could wrestle at her place and he agreed. Justin asked Janet how she wrestled, she told him, just like in her profile photo, black lycra shorts, red singlet top and black and red wrestling boots. Justin told Janet he did the same, wrestling in just his white briefs, like his profile photo. No boots Janet asked him. I don't need boots to win against a female opponent, Justin told her arrogantly. That pleased Janet, another male lamb to the slaughter. To turn the screw some more, she told him, she had never lost against, a male opponent, which was true. He bragged he had never lost against a female opponent, in a competitive match and he would beat her. He told her he just hoped, she would not to too upset, when it happened. They agreed to the match on the following Wednesday afternoon.
Janet made just, as short work of Justin, as she had of Craig. But Justin's suffering and humiliation was considerably longer. First Janet, crushed Justin down the mats in test of arm strength. Then she punished Justin with a head scissors and double hammer lock, combination. Annoyed at being made to submit and get hard when Janet punished him, Justin he leapt at her hoping to take Janet by surprise. Janet just caught him and crushed his body with a bear hug. She kept the pressure on until Justin went limp, all but his cock, that was bulging from him being helplessly punished by Janet. Justin went down again, as was dragged up by Janet. When they started again, she dropped him with a kick to the balls. Janet cruelly stomped Justin, until he would get up. As he got up she trapped him in full Nelson. She pressured the Nelson making him submit. Janet kept Justin in the Nelson and forced his down then added a body scissors to the Nelson. Janet enjoyed making Justin suffer with the painful combination hold. He just crumpled to the mats when she finally freed him. Janet got him in a head lock next. Janet pressured it until Justin went limp. She got him in a roll over press and body scissors combination and made him suffer, until he submitted. She kept him like that and spanked his tight stretched buttocks. That got another submission. Then Janet turned her attention to Justin's balls. A couple of hard punches filled them with sickening pain. The ball punches forced another submission from Justin. Then Janet sadistically grabbed and squeezed Justin's aching balls. Her ball squeezing made Justin scream in pain and pass out.
While Justin was out Janet put him on his back and climbed on top of him. She pinned his arms down and spread his legs wide with a grapevine. When he came round, Janet used the grapevine to make him submit again. Janet then slide down Justin's limp body and forced his legs in the full splits, getting a screaming submission from. Janet kept Justin in the splits even though he had submitted. She grabbed and squeezed his exposed and helpless balls. Justin submitted, conceded the match, but Janet would not stop. Janet made Justin scream again and that made her more sadistic, as she loved to make me scream. She did not stop, until she made Justin pass out. Janet freed Justin from the splits and trapped him in a cross knee back breaker. With him limp, she was able to apply it very tight. The tight back breaker made Justin shudder and squirm, when he came round. It also stretched his abdominals tight. Janet started to pound Justin's tightly stretched abdominals with her fist. Janet did not stop, until her fist was sinking deep, into Justin's belly, risking serious injury. Then she ran her hand, all over Justin's battered and bruised abdominals, making him wince and moan. Being so helplessly and mercilessly abused, made Justin hard. So Janet grabbed and squeezed that. Hard slaps followed until Justin was squirming, his cock on fire. Janet upped the ante even more, by teasing Justin's burning cock with her finger, until he was on the brink of ejaculation. Justin begged her to stop and not make him cum. Janet obliged by punching his balls, telling him that should get his cock down. But it was still defiantly hard when she grabbed it. It seemed Justin was just like the perverted older men she wrestled turned on by ball pain. Janet grabbed and squeezed Justin's aching balls, until he passed out.
Janet rolled Justin off her knee and went is search of some toys and lubricant, to use on him. She came back shortly with a vibrator and massage bonger and some lubricant. The vibrator was for fucking Justin and the bonger was to use on his cock and balls. The bonger had rubber ball on a spring steel arm, with a wooden handle. Janet got Justin's limp body, back over her knee and made sure his cock was hard again. When Justin came round Janet showed him the bonger she was going to use on his cock and balls. Justin was helpless to resist as Janet pulled his briefs down exposing his cock and balls. They were already red from abuse. Although horrified Justin was so hard his cock was angled back up, towards his belly. Janet whacked Justin's cock and balls with the bonger, increasing the pain in both his cock and balls with every blow. She soon had Justin shuddering and groaning helplessly. Janet knew if she kept it up she would make him cum and that's what she did. When she made Justin cum hard, she was satisfied, she had fully busted both his balls. It was too much for him and he passed out again. Janet rolled his limp body off her knee. Janet stripped Justin naked and got on his chest. She bent his legs back towards his head bending him right over, so she could lock his legs under her arms. This left his arse completely exposed. Janet used the lubricated vibrator to open up his tight anus, while he was still unconscious. When Justin came round Janet started to rape him properly, making him squirm, until his anal muscle relaxed and stretched enough to accept the vibrator. As the vibrator took control of Justin's body, getting him more and more excited. Janet delighted in telling him she was going to take his arse cherry. Janet made sure this ejaculation was even more longer and exhausting than the last one. She made Justin pass out again proving she was indeed the male nemesis. Tough erotic female on male fighting action, with the female totally defeating, dominating and humiliating her younger, smaller, male opponent €3.00.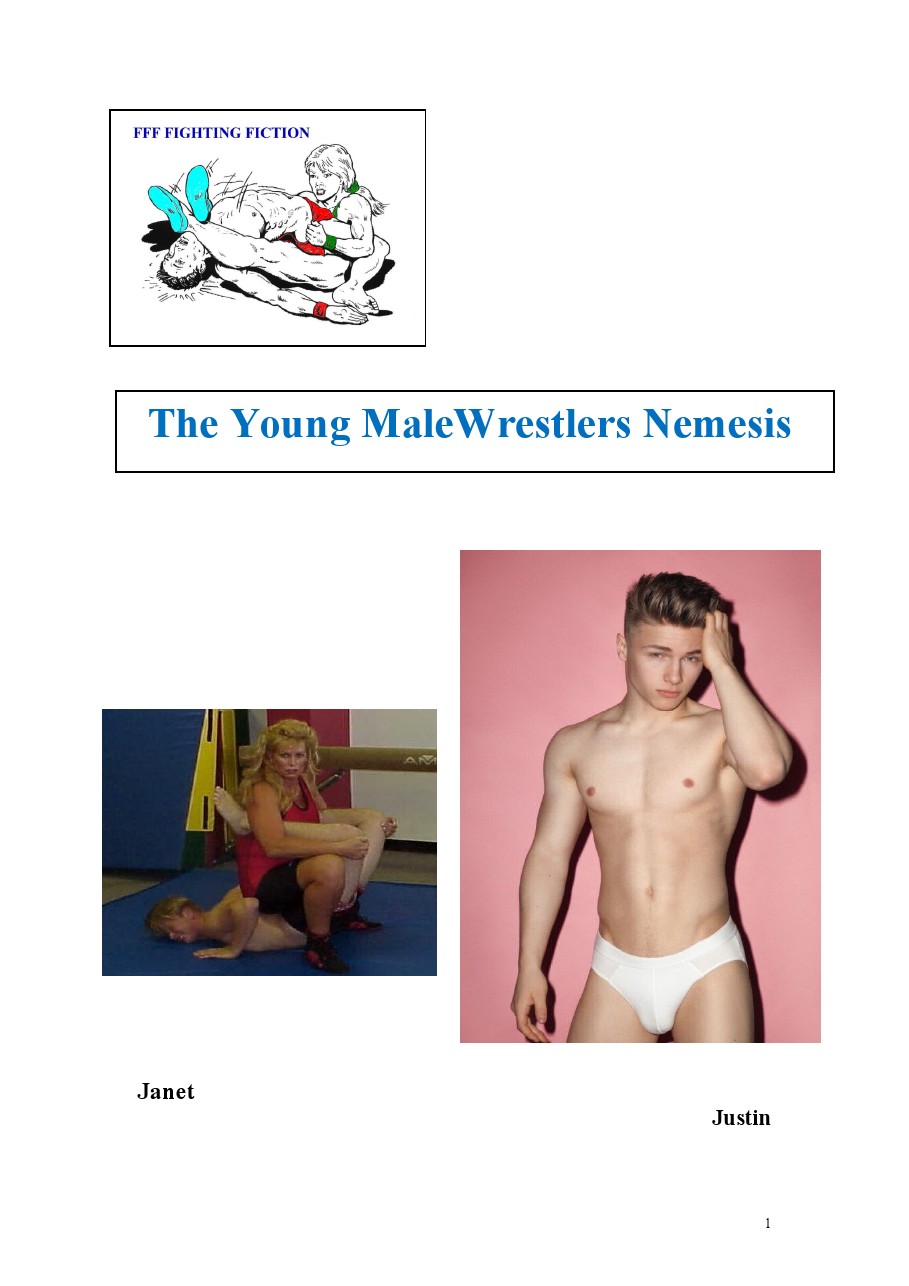 71 The ladies wrestling, beat down and milking toy. Martin, was a fifties something, keen wrestler of both men and women. Although he mainly wrestled men, as finding females to wrestle, was very difficult. So he was very surprised when two woman approached him, telling him, they were looking for a male wrestling partner. So Martin was more that happy to offer his services, as a male wrestling opponent. He was keen and competent wrestler, but enjoyed being tested and punished, in painful holds. That was exactly what the two women, Sophie and Flora, wanted, as they really enjoyed, beating, abusing and punishing, male wrestlers, as Martin found out, when he met them for his first session, at the gym, they wrestled at. They told they wrestled, all in and showed, no mercy, to their male opponents and they also, wrestled naked. Most important, it was a sex fight. For him to win, he not only had to beat them, but fuck them, and fill them with his spunk. They had, not only to beat him, they had to make sure, he could not fill them with his spunk, by draining him, dry. Martin was still happy, to meet and wrestle with them and agreed to meet them, at their gym.
When they started wrestling Sophie and Flora, took turns against him, resting while, could not. The ladies turned out to be true, to their word and showed, him no mercy. They slowly beat him down and over powered him, subjecting him to painful holds, weakening holds. They particularly liked, punishing his cock and balls. Also true to their word, they took every opportunity, to use every means, to make him cum, to drain him dry. They took great pleasure, in working him over mercilessly, punishing his cock and balls, wanking and gut punching, him cruelly, to force numerous ejaculations, until he was dry and then sadistically, dry cuming him, several times to exhaustion and KO. They rode his cock, using it as a human dildo. Although very painful and humiliating, Martin found he enjoyed it and was ready for more and eagerly, agreed to meet them again, but this time, at their house, to wrestle, on their huge double bed. They were even more merciless, this time taking him, on both, at the same time, so he suffered even more, than the first time. They battered and abused him, as well, as riding his cock. They raped him, raping his arse with a vibrator and strap on dildo. He was made to cum, until he was drained dry, then dry cumed repeatedly, while they rode his cock and raped him, to total exhaustion and KO. Sophie and Flora made Martin their male wrestling jobber, come wrestling, dummy and milking boy. They hired him out, to other female wrestlers, as a jobber, come wrestling dummy and milking boy. He was very popular in great demand. All in hard mixed wrestling, with females physically and sexually abusing, their male opponent. €3.00