MANFLESH SUPERMAN FIGHTING STORIES ARTWORK AND COMIC BOOKS PAGE
The url is man-flesh1.blogspot.com
http://www.man-flesh1.blogspot.com


MANFLESH SUPERMAN FIGHTING COMIC BOOKS LIST
1. SUPERMAN FIGHTS OF SHAME PART 1. SUPERMAN IS TRICKED INTO A FIGHT HIS DRINK AND FOOD HAD BEN DRUGGED TO ROB HIM OF HIS SUPER POWERS AND GIVE HIM A HUGE ERECTION. AN ARAB RULER TRICKS SUPERMAN INTO FIGHTING IN THE ARENA. THE ARAB RULER INFORMS SUPER MAN HE MUST STRIP TO HIS BLUE PANTYHOSE. SUPERMAN'S EXCITED STATE IS OBVIOUS TO THE JEERING CROWD HIS COCK BULGING MASSIVELY IN HIS BRIEFS. SUPERMAN IS ATTACKED BY A HUGE BRUTAL ARAB OPPONENT AND WITHOUT HIS SUPER POWERS THE HE IS VULNERABLE LIKE ANY OTHER MAN. STRIPED OF HIS SUPER POWERS SUPERMAN IS NO MATCH FOR THE HUGE ARAB FIGHTER. THE HUGE ARAB FIGHTER PUNISHES SUPERMAN WITH A BEAR HUG AND MAKE HIS LOWER HIS UNDERWEAR TO THE DELIGHT OF THE CROWD. THE ARAB FIGHTER THEN INVERTS THE BEAR HUG AND USE HIS TONGUE TO PROBE SUPERMAN'S MAN CUNT. THE HUGE ARAB THEN RAPES SUPER SO EXCITING THE CROWD THAT THEY SPUNK OVER SUPERMAN'S BODY.
THE ARAB RULER TELLS SUPERMAN AFTER LOSING THAT HE HAS TWO MORE FIGHT TO REDEEM HIMSELF. HE ALLOWS SUPERMAN TO COVER HIS MODESTY WITH A SMALL G STRING. AFTER EACH FIGHT THE RULER HOLDS A BANQUET FOR THE VICTOR. AS A LOSER SUPERMAN IS CHAINED TO THE SPIT HANDLE AND MADE TO TURN THE SPIT HANDLE OF THE ROASTING MEAT. AS SUPERMAN TURNS THE SPIT OTHER GUESTS RIP HIS G STING OF LEAVING HIM NAKED AND AROUSED. THE ARAB RULER AND GUEST WATCH AS A NAKED KITCHEN SLAVE FUCKS SUPERMAN'S ARSE WITH A HARD GREEN PLANTAIN TO AD TO THE DEFEATED HERO'S SHAME. TEN PAGES OF HOT COLOUR GRAPHIC MALE PHYSICAL AND SEXUAL ACTION AND ABUSE. €10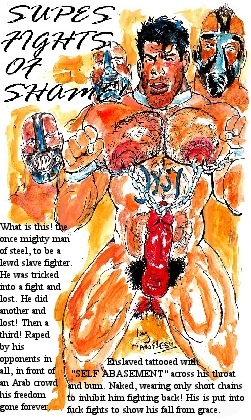 2 SUPERMAN FIGHTS OF SHAME PART 2. SUPERMAN'S SHAME CONTINUES LOSING FIGHTS MEANT LOSING HIS MANLINESS. SUPERMAN IS FORCED TO FIGHT AGAIN BUT AS A CUNTED BUM BOY HE IS ONLY ALLOWED TO WEAR SILK FEMALE PINK UNDERWEAR.
SUPERMAN HAS NO MORE SUPER SKILLS AND CANNOT MATCH UP TO HIS TOUGH OPPONENT. THE EXCITED CROWD ENJOY SEEING SUPERMAN BEATEN AND HUMILIATED PARTICULARLY WHEN HE HIS IS MILKED OVER HIS OPPONENT'S KNEE. BEING DOMINATED AROUSED SUPERMAN AND HE WAS PARADE ROUND THE ARENA AND SHAMED IN FRONT OF THE CROWD. WHILE HIS VICTORIOUS OPPONENT FUCKS SUPERMAN HE IS FORCED TO SUCK THE SPECTATORS COCKS. SUPERMAN MOUTH IS FELLED WITH SPECTATORS' SPUNK AND HIS HAIR IS DRENCHED IN IT. SUPERMAN IS MARCHED TO THE BANQUET HALL AND CHAINED TO THE ROASTING SPIT HANDLE. A SEAT AND HARNESS IS BUCKLED TO HIS LOWER BACK. A NAKED KITCHEN SLAVE MOUNTS THE SEAT AND SUPERMAN. SUPERMAN HAS TO TURN THE ROASTING SPIT WHILE THE NAKED KITCHEN SLAVES TAKE TURNS FUCKING HIM. SUPERMAN'S SHAME SEEMS TO KNOW NO BOUNDS. TEN PAGES OF HOT COLOUR GRAPHIC MALE PHYSICAL AND SEXUAL ACTION AND ABUSE. €10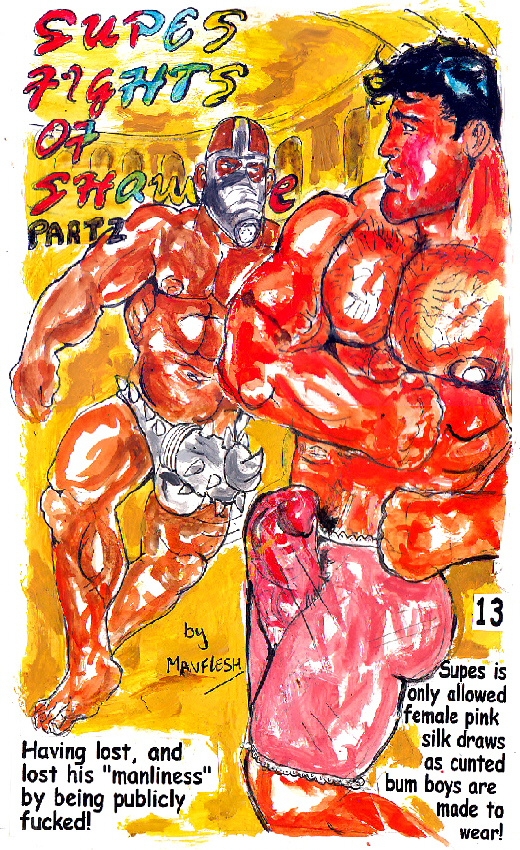 3 SUPERMAN FIGHTS OF SHAME PART 3. SUPERMAN HUMILIATING ORDEAL CONTINUES. SUPERMAN FACES HIS THIRD FIGHT A FIGHT HE MUST WIN OR SUFFER ENSLAVEMENT. SUPERMAN IS SHAVED OF HIS BODY HAIR AND COVER HIS HAIRLESS BODY IN FRESH CAMEL DUNG. WITHOUT HIS SUPER POWERS SUPERMAN ALSO DOES NOT HAVE HIS FIGHTING SKILLS AND STRUGGLES AGAINST HIS VICIOUS OPPONENT. BLOWS LAND ON SUPERMAN HE HIS GRABBED BY THE BALLS AND CARRIED AROUND THE ARENA. TO THE EXCITED CROWDS DELIGHT SUPERMAN IS TURNED UPSIDE DOWN AND HIS OPPONENT WARNS SUPERMAN TO GOBBLE HIS COCK OR HE WILL BITE SUPERMAN'S BALLS OFF. THE CROWD WANKS AS SUPERMAN GOBBLES HIS OPPONENT SUPERMAN IS THEN FORCED TO SUCK THE SPUNK OUT OF THE CROWDS BIG THROBBING COCKS. SUPERMAN IS THEN FUCKED WITH TWELVE INCHES OF ARAB COCK. SORE AND TRAUMATISED BY HIS DEFEAT AND RAPING SUPERMAN HAS HIS HANDS SECURED AND IS RUN TO THE BANQUET AND WHIPPED BY YOUTHS ALL THE WAY.
AT THE BANQUET HALL SUPERMAN IS TIED TO A SADDLE HE SCREAMS AS HIS BALLS ARE BRANDED WITH A 'SS' BRAND THAT STANDS FOR SUPES SLAVE. SUPERMAN HAS ALL HIS HAIR REMOVED TO DEMONSTRATE HIS SLAVE STATE GREEN KRYPTONITE IS MIXED WITH DEFOLIANT TO MAKE THE HAIR LOSS PERMANENT. SUPERMAN'S NIPPLES ASE PIERCED AND STEEL RINGS CONTAINING GREEN KRYPTONITE ARE ATTACHED TO HIS NIPPLES. A PRICE ALBERT STEEL RING CONTAINING GREEN KRYPTONITE IS ATTACHED TO PIERCES HIS COCK HEAD. ALL THE GUESTS AT THE BANQUET ARE ALLOWED TO FUCK SUPERMAN'S ARSE. SUPERMAN IS NOW A SLAVE HIS OWNERS MAKE HIM PLOUGH THE FIELDS BY DAY WHILE ARAB COCKS PLOUGH HIS ARES AT NIGH LEAVING HIM SORE BY DAY AND NIGHT. MORE PAGES OF GRAPHIC COLOUR MANFLESH MALE PHYSICAL AND SEXUAL HUMILIATION. €10