SAPPER JUNIOR GUEST WRITER STORYBOOK PAGE
SAPPER JUNIOR GUEST WRITER STORYBOOK LIST 1-18
1. LIFE UNDER JACINDA. A BATTLE OF THE SEXES BETWEEN AN AUSTRALIAN POSTMAN AND POSTWOMAN DOUG AND JACINDA. JACINDA AND DOUG ARE RIVAL AT WORK AND REALLY DISLIKE EACH OTHER. DOUG IS THE UNION REP FOR THE POSTAL WORKERS AND JACINDA DOESN'T BELIEVE IN UNIONS OR SEE THE NEED FOR THEM. DOUG HAS NOTHING BUT SCORN FOR JACINDA AND THE FEELING IS MUTUAL. DOUG ALSO HAD A GIRLFRIEND MABEL WHO IS ALSO A POSTAL WORKER.
EVERYONE IS SURPRISED WHEN JACINDA ASKED DOUG TO HELP HER LAY A NEW GARDEN PATH, AND EVEN MORE SURPRISED WHEN DOUG ACCEPTED. JACINDA USED THE OCCASION TO SEDUCE DOUG BOTH SEXUALLY AND PHYSICALLY, BY DOMINATING HIS SEXUALLY AND BEATING HIM AT BOXING. JACINDA KEEPS DOUG A PRISONER IN HER HOUSE WITH THE HELP OF HER COUSIN JENNY SHE CONTINUES TO BEAT HIM AT BOXING AND DOMINATING HIM SEXUALLY. HER GOAL WAS TO SUBJUGATE HIM COMPLETELY AND MAKE HIM HER SUBMISSIVE HOUSE BOY A VIRTUAL FEMALE.
WHEN SHE HAD ALMOST SUCCEEDED SHE INVITED DOUG'S GIRLFRIEND MABEL AND HIS FRIEND JASON TO HER HOUSE ONE AFTERNOON. JACINDA GOADS AND SHAMES DOUG IN FRONT OF MABEL AND JASON AND JENNY SO MUCH THAT DOUG TURNS ON HER. THEY FIRST DECIDE TO BOX TO THE WAGER BEING THAT DOUG COULD GO IF HE WON OR WOULD CONCEDE TO BEING JACINDA'S HOUSE BOY IF HE LOST. THEN JASON SUGGESTED THEY WRESTLE INSTEAD. THE WAGER IS THEN INCREASED AS DOUG MABEL AND JASON THINK DOUG WILL WIN, TO NOT ONLY DOUG BECOMING HOSE BOY IF HE LOST BUT SIGNING OVER HIS HOUSE TO JACINDA AND LEAVING THE UNION. THE REWARD FOR WINNING FOR DOUG WAS HS FREEDOM, ALL HIS MONEY BACK AND JACINDA JOINING THE UNION.
THEY FIGHT A HARD UNCOMPROMISING WRESTLING MATCH WHERE JACINDA TOTALLY DEFEAT DOUG IN FRONT OF MABEL AND JASON JENNY. JACINDA THE WINNER TAKES ALL AND HER ULTERIOR MOTIVE THEN BECOMES CLEAR AS SHE VIRTUAL ENDS THE UNION AT WORK. A LONG TOUGH BATTLE OF THE SEXES WITH THE MALE BEING BEATEN AND SUBDUE PHYSICALLY AND SEXUALLY BY A SUPERIOR FEMALE. €6.00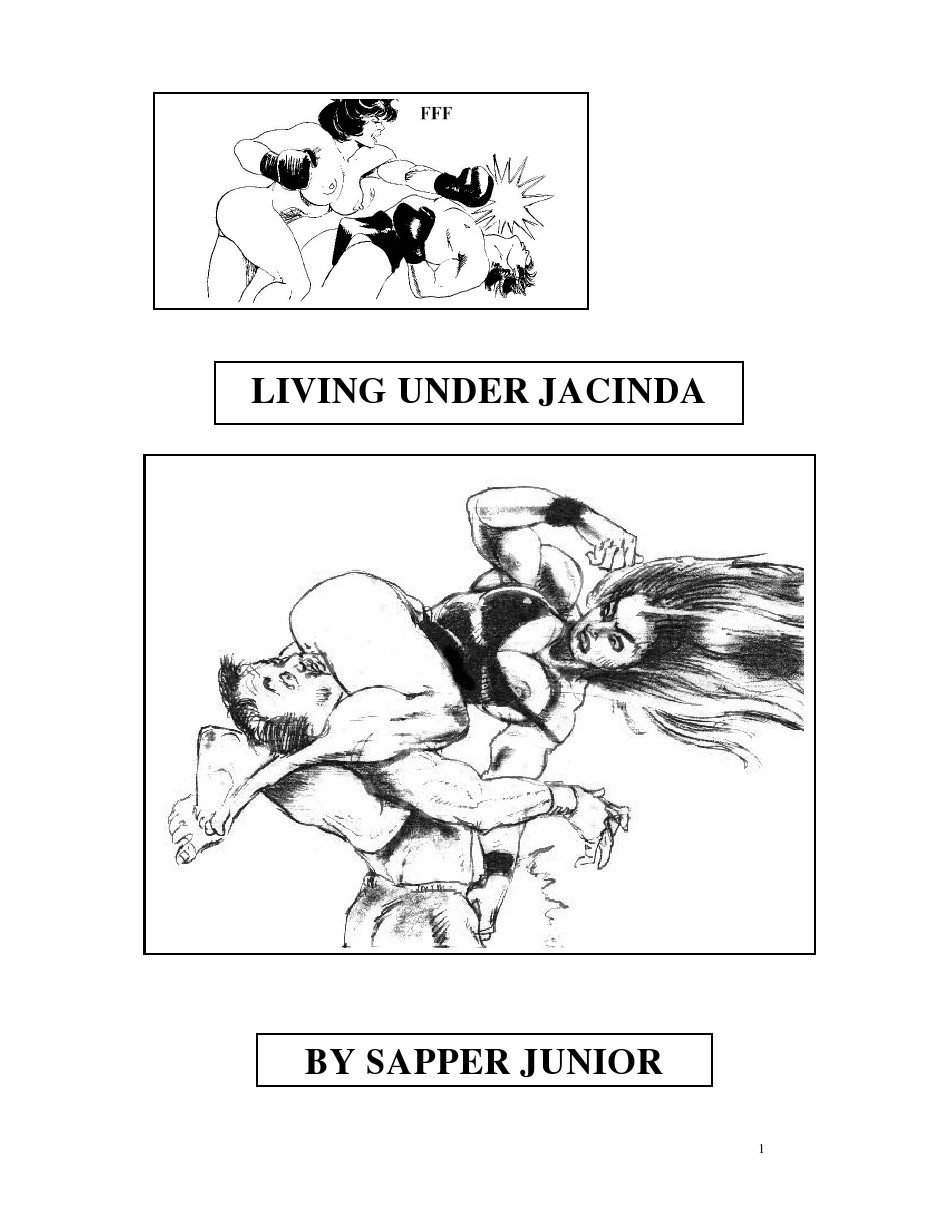 2. BOSSES BOSSY DAUGHTER. THE BARR FAMILY BOB, MARY AND RICHARD ATTEND A SOCIAL EVENT IN GERMANY HOSTED BY HER GUNTER THE CONTROLLING GERMAN OWNER OF GUNTER SPORTS, THE ENGLISH SPORTS SHOPS WERE RUN BY BOB BARR. RICHARD DIDN'T WANT TO BE THERE AND LOATHED KLAUS GUNTER'S DAUGHTERS FIFTEEN STEFKA JUTTA. MARY BARR RICHARD'S MOTHER ALSO DIDN'T WANT TO BE THERE AND SHE REALLY DISLIKED HANNA GUNTER KLAUS' WIFE. BUT AS THE KLAUS GUNTER WAS THE BOSS THEY HAD NO CHOICE.
THE CHILDREN SET UP AM IMPROMPTU BOXING RING AND START BOXING. THIS SOON TURNS INTO A TOURNAMENT INSTIGATED BY STEFKA AND JUTTA. SEVERAL BOUTS AND FOUGHT GIRL V GIRL AND GIRL V BOY UNTIL ONLY STEFKA GUNTER AND KRISTEN A DUTCH BOY ARE LEFT IN THE FINAL. A FUN BOXING MATCH HAD TURNED DEADLY SERIOUS INTO A GERMANY V HOLLAND FINAL. AFTER ALONG TOUGH BLOODY BOXING MATCH STEFKA FINALLY BEAT KRISTEN. RICHARD ALONG WITH THE DUTCH BOYS PARENTS HAD CHEERED FOR KRISTEN AGAINST ALL THE OTHERS THERE BEING GERMAN CHEERING FOR STEFKA.
HE WAS SURE STEFKA HAD CHEATED TO WIN AND CONFRONTED STEFKA WITH T HE FACT. STEFKA CHALLENGES RICHARD TO A BOXING MATCH AND ANOTHER LONG HARD GIRL V BOY BOXING MATCH, STEFKA V RICHARD ENSUES. STEFKA BEATS RICHARD TO THE DISMAY OF HIS PARENTS PARTICULARLY MARY BARR. BEING BEATEN DOMINATED BY STEFKA LEFT RICHARD DAZED AND CONFUSED. HE IS THEN VIRTUALLY SEDUCED BY JUTTA STEFKA'S YOUNGER SISTER. THE DISAPPEAR INTO THE WOOD TO WRESTLE ALTHOUGH JUTTA IS SMALLER AND MUCH YOUNGER THAN RICHARD SHE BEATS HIM AND WRESTLING AND DOMINATES HIM EVEN MAKING HIM CUM. THEY EMERGE LATER FROM THE WOOD WITH RICHARD ONLY IN HIS UNDERPANTS AND JUTTA ON HIS SHOULDERS.
WHEN THE GET THE GUNTER'S HOUSE AND REJOIN THEIR FAMILIES MARY BARR'S DISLIKE FOR HANNA GUNTER BOILS OVER WHEN SHE SAW RICHARD HER SON WHO HAD ALREADY LOST TO ONE GUNTER DAUGHTER STEFKA, BEING DOMINATED AND VIRTUALLY NAKED WITH THE GUNTER'S SECOND DAUGHTER JUTTA ON HIS SHOULDERS. SHE ENDED UP FIGHTING HANNA GUNTER IN LONG HOT AND SOMETIMES BRUTAL CAT FIGHT.
HANNA EASILY BEAT AND DOMINATED MARY PHYSICALLY AND SEXUALLY. BOB TRIED TO HELP HIS WIFE BUT WAS ATTACKED BY AND BEATEN DOWN TO THE FLOOR BY STEFKA. THE STORY ENDS WITH THE WHOLE BARR FAMILY BEING PINNED UNDER A GUNTER FEMALE, RICHARD UNDER JUTTA BOB HIS FATHER UNDER STEFKA AND MARY HIS MOTHER UNDER HANNA.
A GREAT MIXED FIGHTING STORY WITH GIRLS AND WOMEN OUT BOXING AND WRESTLING BOYS AND MEN. €6.00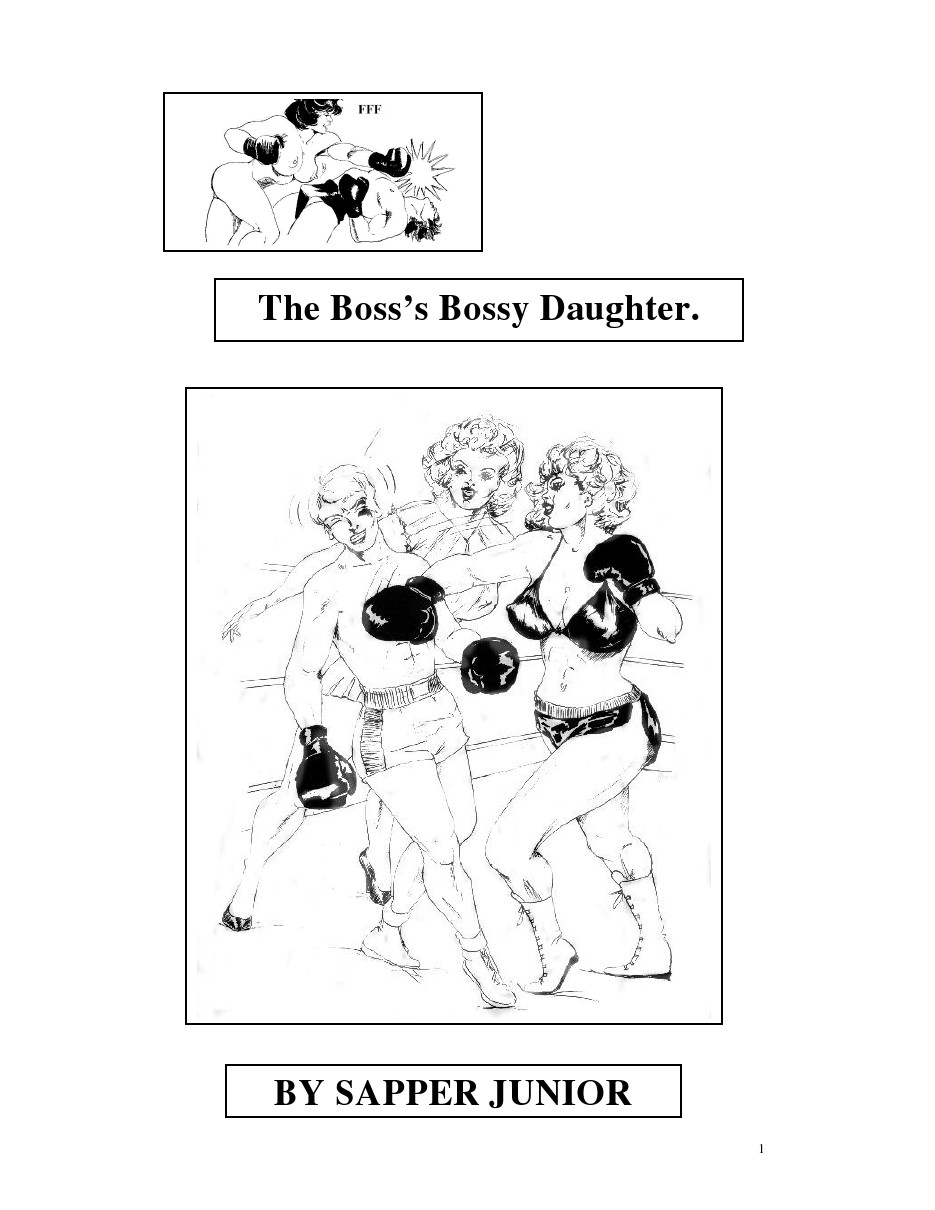 3. SMALLER BUT STRONGER. YOUNG 18-YEAR OLD MALE FIT SPORTING ENGLISH TEENAGE ENGLISH BOY CHRIS, WHO IS ADORED AND LOOKED UP TO BY HIS YOUNGER SISTER CASSANDRA. THAT IS UNTIL TRACEY A 18 YEAR OLD FEMALE SPORTING AMERICAN TEENAGER TRACEY ARRIVES. SHE QUICKLY REPLACES CHRIS AS CASSANDRA'S HERO FIGURE. THE SPUNKY AMERICAN TOMBOY CHALLENGED CHRIS TO A GAME OF TENNIS AND EASILY BEATS HIM, WHILE CASSANDRA WATCHED. SHE DID THIS SEVERAL TIME JUST IT RUB IT IN GLORYING IN HER VICTORIES, UNTIL THEY WERE SWORN ENEMIES.
TRACEY ALSO BEATS CHRIS AT FIGHTING UNTIL SHE CAN EASILY BEAT AND SUBDUE HIM TO HER WILL. SHE CALLS HIM CHRISTINE TELLING HIM HE'S MORE OF A GIRL THAN SHE IS. SHE HUMILIATES HIM IN FRONT OF HIS FRIENDS BEATING THEM AT A GIRLS V BOYS FOOTBALL GAME AND THE AT FIGHTING IN FRONT OF THE PLAYERS JUST TO RUB THE LESSON IN. CHRIS IS BEATEN, DOMINATED, SUBDUED AND FINALLY FEMINISED BY THE AMERICAN GIRL. €5.00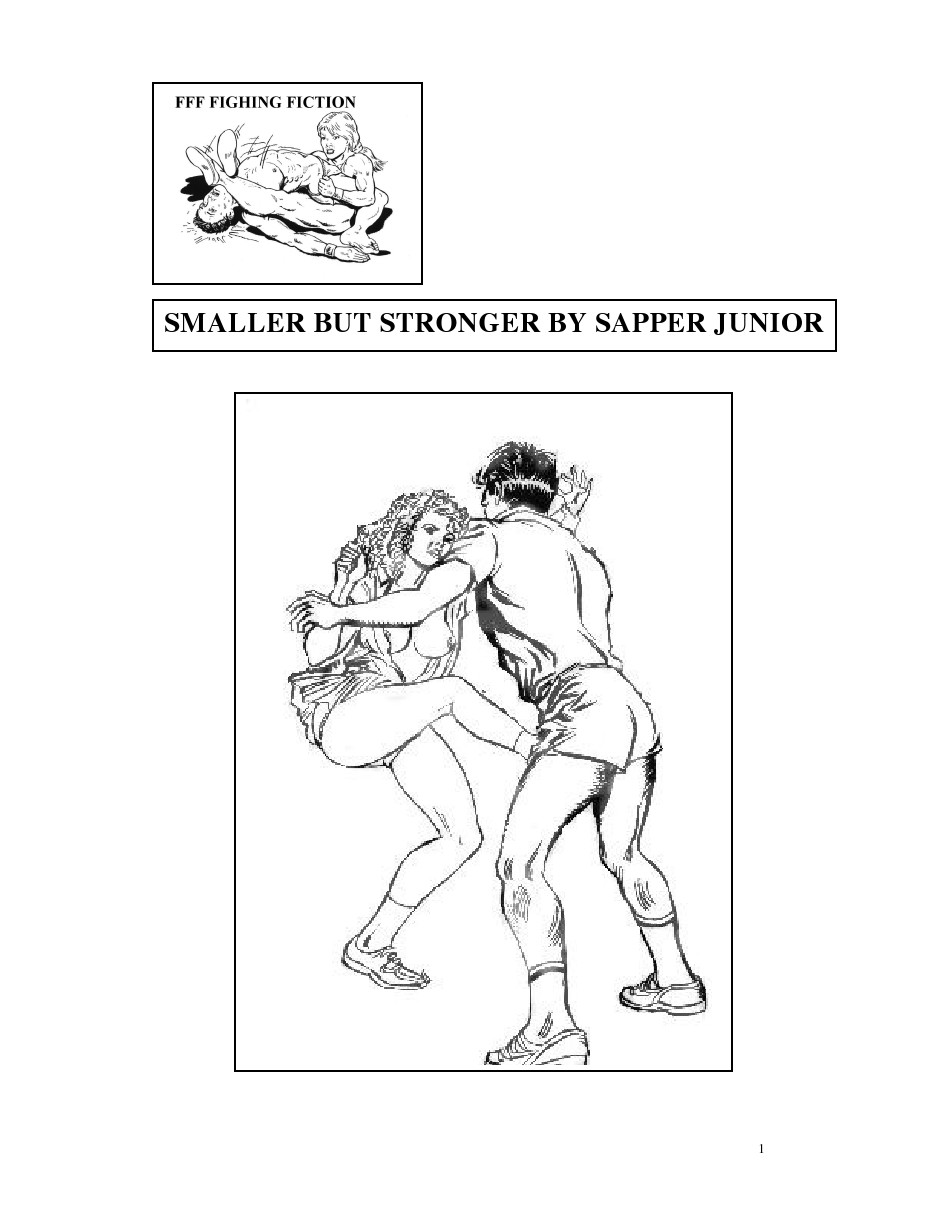 4. LIZ'S GIRL FEMININE THIGHS IN COMBAT. BILLY TEENAGE COLLEGE BY RETURNS HOME FROM COLLEGE TO HIS DEAD PARENTS HOUSE, TO FIND HIS AUNT VICTORIA AND HER DAUGHTER LIZ LIVING THERE. LIZ IS A STRONG ATHLETIC WILLFUL SPUNKY TEENAGE GIRL. SHE CLIMBS ON TOP OF BILLY IN HIS ROOM AND CHALLENGES HIM TO TRY AND GET HER OFF HIM, THE PRIZE BEING HIS ROOM IF HE FAIL TO UNSEAT HER FROM HIS CHEST. HE FAILS BUT KEEPS HIS ROOM WHEN LIZ FAILS TO GET HIM OFF HER IN THE RETURN CHALLENGE. BILLY ENDS OF FIGHTING LIZ SEVERAL TIMES LOSING EACH ONE, ONE IN FRONT OF A YOUNG BOY AND GIRL. LIZ TOTALLY DEFEATS, DOMINATES, AND SUBDUES BILLY TO HER WILL. MORE FEMINISING OF A WEAKER MALE FROM SAPPER JUNIOR. €5.00
This Sapper junior classic story has been used to create a fully illustrated colour comic book by battle-annals guest author and artist Peters1967. Part 1 has 82 pages with 220 colour images, story number three on the peters1967 comic strip mixed fighting stories list.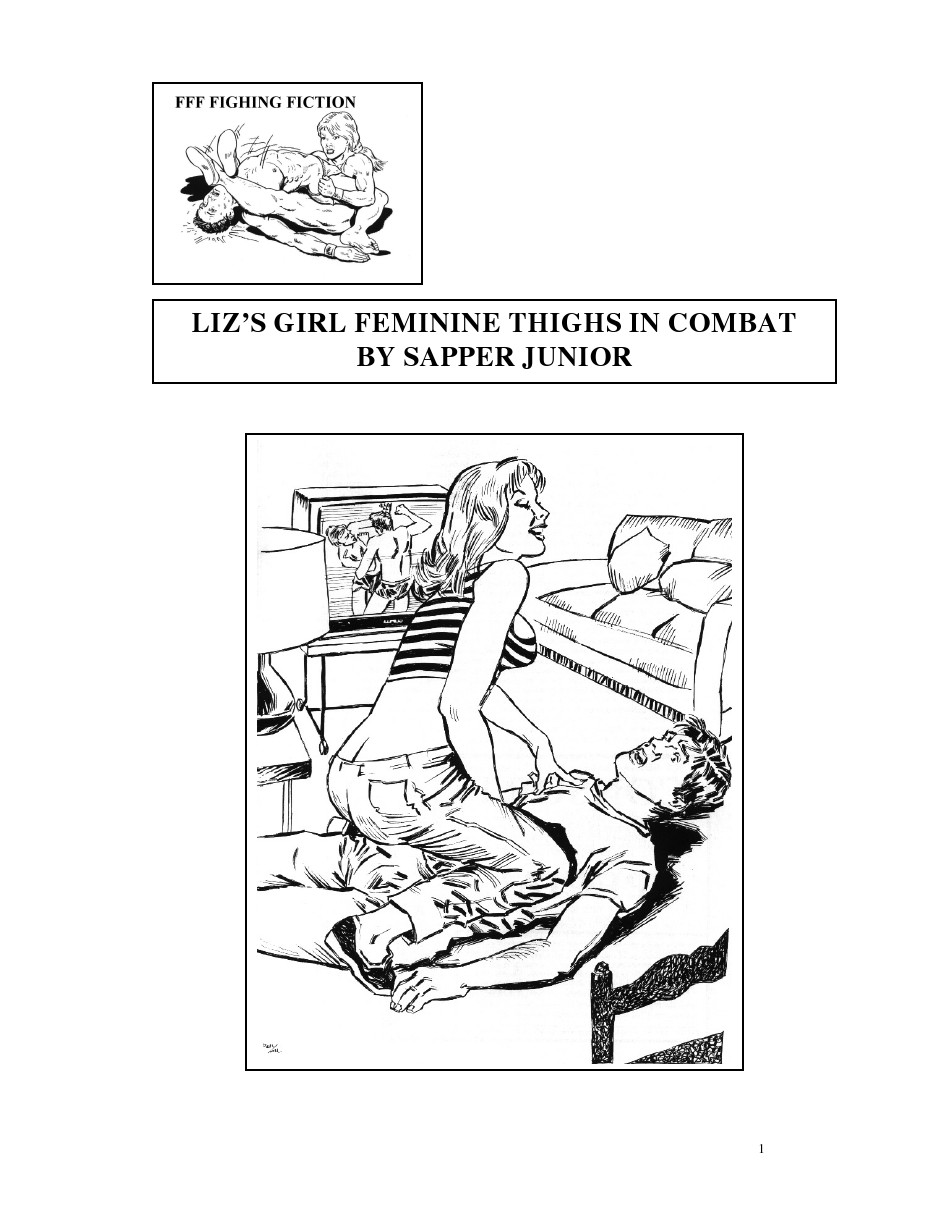 5 A WOMANS LAW. STAN A YOUNG NEW YORK LAWYER GETS A NEW SECRETARY ILSA. ILSA IS A STRONG MINDED ATHLETIC MODERN WOMAN. STAN DISCOVERS THAT ILSA IS A BETTER LAWYER THAN HIM AND SHE HELPS HIM WITH HIS CASES BUT FAIL TO INFORM HIS BOSS WHO'S WORK HAD MADE THE DIFFERENCE. ILSA IS AGGRESSIVE AND COMPETITIVE, FIRST SHE CHALLENGES STAN TO A TENNIS MACH AND SOUNDLY BEAT HIM IN FRONT OF OTHER PLAYERS ON THE COURTS. ISLA DISCOVERED STAN'S LIKE FOR MIXED WRESTLING BY CATCHING HIM DRAWING PICTURE WHEN HE SHOULD HAVE BEEN WORKING ON THE LATEST CASE. ILSA CHALLENGES STAN TO A TEST OF STRENGTH AND THE DISCOVER SHE IS MUCH STRONGER THAN STAN. ILSA TOLD STAN ABOUT A BOY CALLED TAD SHE BEAT AT FIGHTING AND DOMINATED. ILSA AND STAN FIGHT ISLA BEATS AND DOMINATES STAN. STAN TOLD ILSA ABOUT THE TWO GIRLS WHO BEAT HIM AT FIGHTING AND DOMINATED HIM GAIL AND TANIA. ILSA FINALLY CHALLENGES STAN TO A FIGHT TO DECIDE WHO OFFICE IT IS AND WHO IS THE LAWYER AND WHO IS THE SECRETARY. ILSA EASILY BEATS AND DOMINATES STAN. SHE TAKES HIS JOB AND BECOMES THE LAWYER. HE BECOMES HER SECRETARY. BUT SHE TAKES MORE THAN THAT SHE TAKE HIS MALE IDENTITY MAKING HIM DRESS IN HER CLOTHES. FEMINISING OF A WEAKER OLDER MALE BY A YOUNGER SUPERIOR FEMALE. €6.00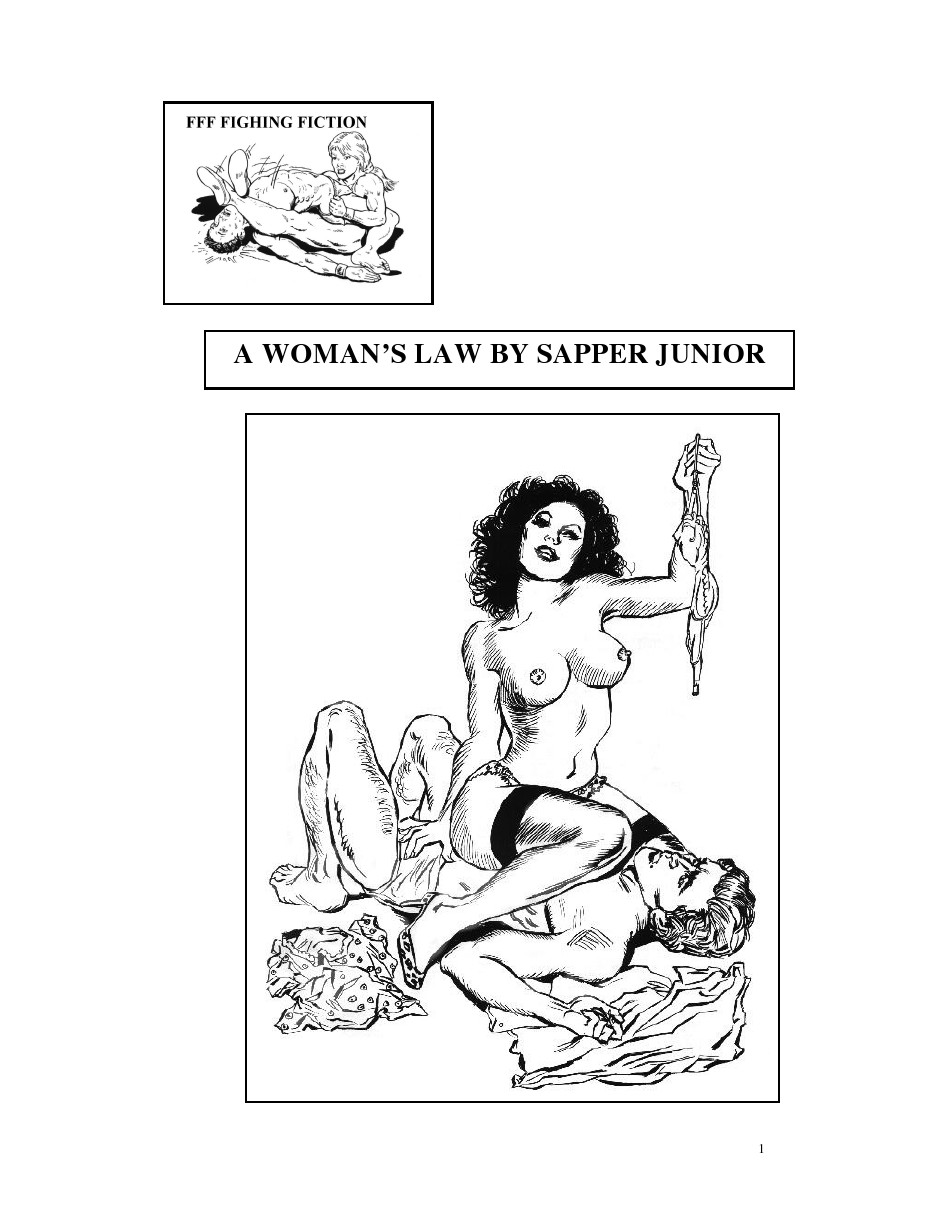 6 SHY OF GIRLS. BILLY, AN EIGHTEEN YEAR-OLD BOY WAS INVITED HIS KIM SIXTEEN YEAR-OLD NEIGHBOURS BIRTHDAY PARTY. BILLY AND KIM HAD BEEN FRIENDS SINCE CHILDHOOD. THEIR FRIENDSHIP HAD LESSENED SINCE THE WERE BOTH TEENAGERS WITH BILL PREFERRING READING AND KIM COMPETITIVE FIELD SPORTS. WHEN YOUNGER, THEY HAD WRESTLED AND FOUGHT IN THEIR BACK GARDENS. KIM HAD WON MOST OF THE WRESTLING AND FIGHTING BEING MORE AGGRESSIVE, SHE ENJOYED REMINDING BILLY ABOUT THERE FIGHTS AND HOW SHE USED TO WIN. BILLY HAD RECENTLY TAKEN UP KARATE AND WAS NOT PLEASED BY KIM DRAGGING UP THEIR PAST FIGHTS AND HE VICTORIES. HE WAS CONFIDENT OF BEATING HER NOW HE COULD DO KARATE AND SHE WAS ONLY A GIRL.
THEY FOUGHT A LONG HARD BATTLE OF THE SEXES AND KIM SOUNDLY BEAT BILLY COMPLETELY DOMINATING HIM, PHYSICALLY AND SEXUALLY. THEY HAD MORE FIGHTS WHERE KIM WON AND CONTINUED TO BEAT BILLY AND DOMINATE HIM. THEY WERE DISTURBED BY BIFF THE LOCAL SCHOOL BULLY, AFTER A LONG PHYSICALLY AND SEXUALLY EXHAUSTING EXCITING FIGHT. BIFF WAS WITH HIS YOUNGER SISTER TAMI. BIFF WAS THERE TO MAKE KIM SUFFER FOR BULLYING HIS YOUNGER SISTER TAMI. CHALLENGES WERE EXCHANGED AND A BOXING MATCH STARTED BETWEEN BIFF AND KIM. BIFF USING HIS FISTS AND TOOK THE ADVANTAGE GIVING KIM BAD TIME, MAKING HER SUFFER.
KIM PERSUADED BIFF TO WRESTLE HER AND SHE TURNED THE TABLES ON HIM, BEATING AND MAKING HIM SUFFER THIS TIME. KIM PARTICULARLY ENJOYED BEATING BIFF IN FRONT OF HIS YOUNGER SISTER TAMI. TAMI HAD ADMIRED HER OLDER BROTHER BIFF AND HAD HOPED SHE COULD MAKE KIM SUFFER, BUT SHE ENDED UP ADMIRING KIM INSTEAD.
BIFF TRIED TO SAVE FACE BY FIGHTING AGAIN SWITCHING FROM WRESTLING BACK TO BOXING HOPING TO USE HIS FISTS TO SUBDUE KIM. HOWEVER KIM TURNED THE TABLES ON BIFF BEATING HIM AT BOXING, AND DOMINATING IN FRONT OF HIS YOUNGER SISTER TAMI. TAMI WAS MESMERISED BY KIM AND HE ABILITY TO BEAT BOYS AT FIGHTING. TAMI FOUGHT BILLY AND BEAT HIM IN FRONT OF KIM AND BIFF CHEERED ON BY KIM AND HER OLDER BROTHER. IT WAS THE LAST STRAW FOR BILLY A HUMILIATING DEFEAT AT THE HANDS OF TAMI. DEFEAT AND DOMINATION OF TWO OLDER BOYS, BY TWO YOUNGER GIRLS, LOTS OF PHYSICAL AND SEXUALLY EXCITING GIRL ON BOY ACTION. 7.50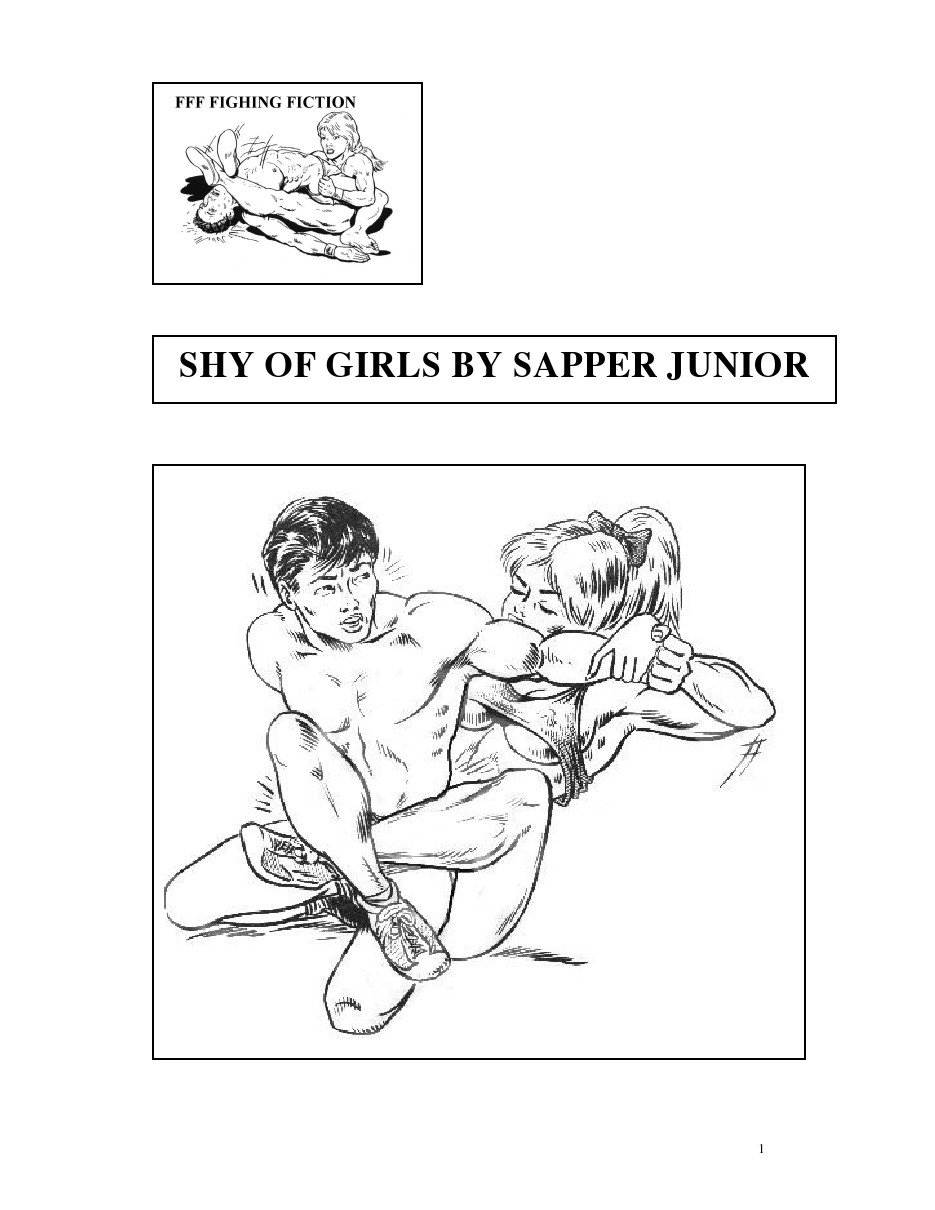 7. MORE OF LIZ'S GIRL. LIZ YOUNGER STRONGER ATHLETIC WILLFUL SPUNKY TEENAGE GIRL CONTINUES TO BEAT AND HUMILIATE HER OLDER MALE COUSIN BILLY. SHE DOMINATES HIM PHYSICALLY AND SEXUALLY ROBBING HIM OF HIS MALE IDENTITY. SHE COMPLETELY DEFEATS AND HUMILIATES HIM IN FRONT OF HIS GIRL FRIEND JULIE CAUSING PHYSICAL AND MENTAL INJURIES. LIZ DOESN'T GET IT ALL HER OWN WAY AND GETS HER COMEUPPANCE FOR GOING TO FAR FROM HER MOTHER A SPANKING IN FRONT OF BILLY AND JULIE. CLASSIC FEMINISING OF A WEAKER MALE FROM SAPPER JUNIOR. €3.50
This Sapper junior classic story has been used to create a fully illustrated colour comic book by battle-annals guest author and artist Peters1967. Part 3 has 124pages with over 200 colour images, story number four on the peters1967 comic strip mixed fighting stories list.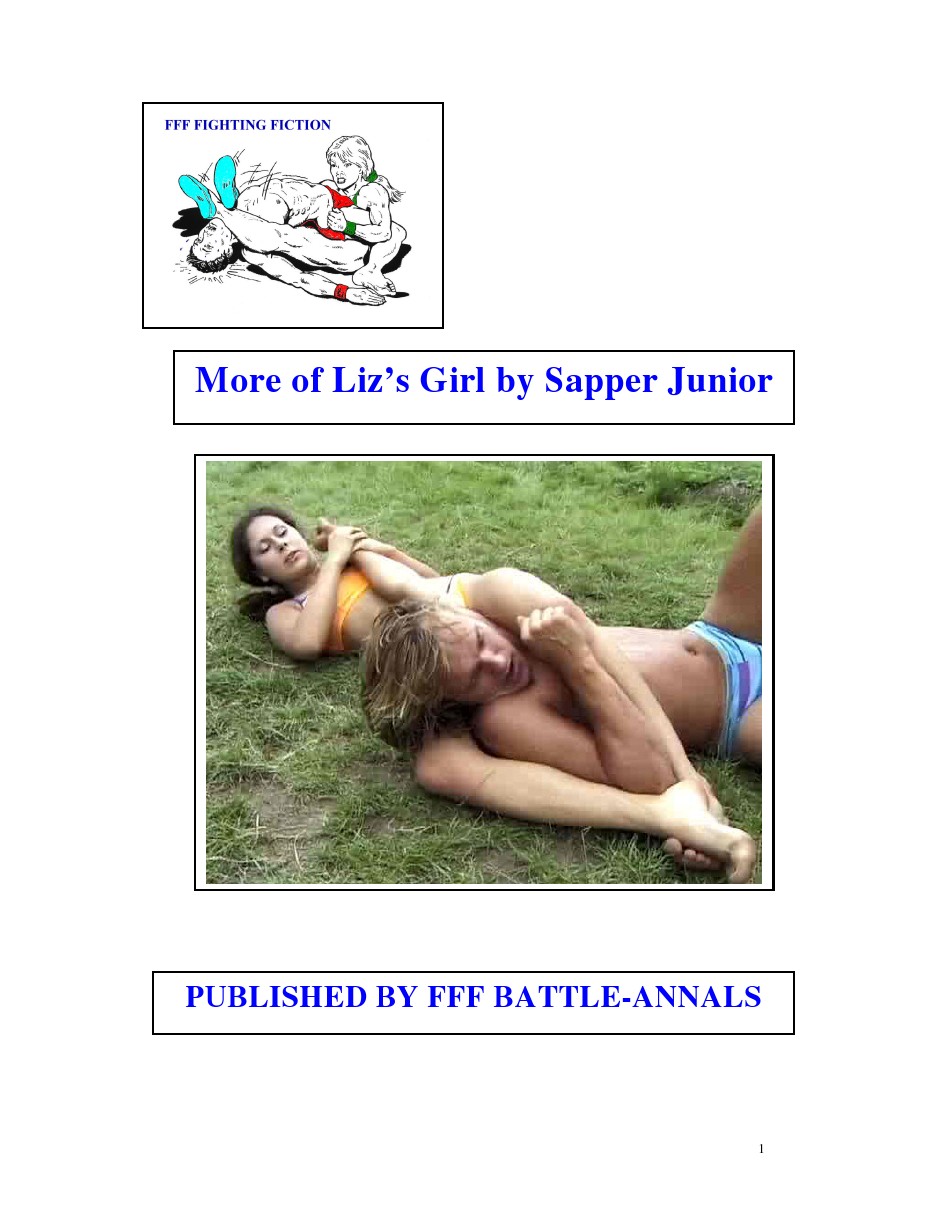 8. THE BETTER MAN. CHRIS AND NAOMI A YOUNG MARRIED COUPLE FALL FOUL OF A YOUNGER TOUGH SPUNKY FEMALE CZECH PLAYER TENNIS NATALINA THEY MET AT THEIR LOCAL TENNIS CLUB. NAOMI WAS THE TALK OF THE TENNIS CLUB A VERY GOOD AND PHYSICAL PLAYER WHO WAS BEATEN EVERYONE AT THE CLUB MALE AND FEMALE PLAYERS ALIKE. THEY WATCH THEIR FRIENDS DAVID AND VICKY PLAY AND WITNESS VICKY TOTALLY BEAT AND HUMILIATE HER HUSBAND DAVID. CHRIS WAS CONVINCED THAT NATALINA HAD SOMETHING GOT DO WITH THE KILLER INSTINCT VICKY HAD ADOPTED WITH REGARD TO HER HUSBAND DAVID.
AT A PARTY CHRIS AND NAOMI LEARN THAT ACTUALLY THEY HAD A FIGHT AND DAVID LOST TO VICKY. CHRIS WAS DOUBTFUL VICKY COULD HAVE BEATEN DAVID IN A REAL FIGHT, BUT NATALINA AND VICKY WERE ADAMANT. AN AMERICAN SAUL TOLD THEM THAT WOMEN BEATING MEN A T FIGHTING WAS NOT THAT UNUSUAL AND TOLD THEM A COUPLE OF STORIES OF MAN LOSING TO WOMEN. NATALINA TOUGH COCKY YOUNG CZECH PLAYER KEPT CONTRADICTING LORDING IT OVER CHRIS THAT LED TO THEM ARM WRESTLING. NATALINA BEAT CHRIS AFTER ALONG STRUGGLE AND LORDED IT OVER HIM EVEN MORE. UNBEKNOWN TO CHRIS NATALINA HAD BEEN SEDUCING HIS WIFE NAOMI AND WHEN HE FINALLY CAUGHT THEM ANOTHER ARM WRESTLING BATTLE TOOK PLACE. CHRIS BET NATALINA €20 SHE WOULD LOSE. TO EVERYONE'S SURPRISE AND NAOMI RELIEF CHRIS BEAT NATALINA. NATALINA WAS VERY ANGRY AT LOSING AND DIDN'T WANT TO PAY THEN IT WAS SUGGESTED IT WAS THE BEST OF THREE AS NATALINA HAD ONE THE FIRST ROUND THE OTHER NIGHT EQUALISING WITH THE SECOND. THE THIRD ARM WRESTLED WAS SET THEN CHRIS DEMANDED A KISS FOR WINNING. THE TOUGH SEXY CZECH GIRL TONGUE FUCKED THE OLDER, WEAKER, LESS EXPERIENCED, ENGLISH MALE, OPPONENT ALMOST TO EJACULATION. HAVING SEXUALLY SUBDUED HER MALE OPPONENT EASILY BEAT HIM. THIS LED CHRIS DOWN A SLIPPERY SLOPE WHERE HE ENDED UP FIGHTING NATALINA FOR REAL AND LOSING NOT ONLY HIS DIGNITY AND MALE PRIDE BUT HIS WIFE AND HIS MALE IDENTITY. ANOTHER CLASSIC SAPPER JUNIOR STORY WITH THE WEAKER MALE BEING TOTALLY DOMINATED BY A STRONGER SUPERIOR FEMALE. €8.00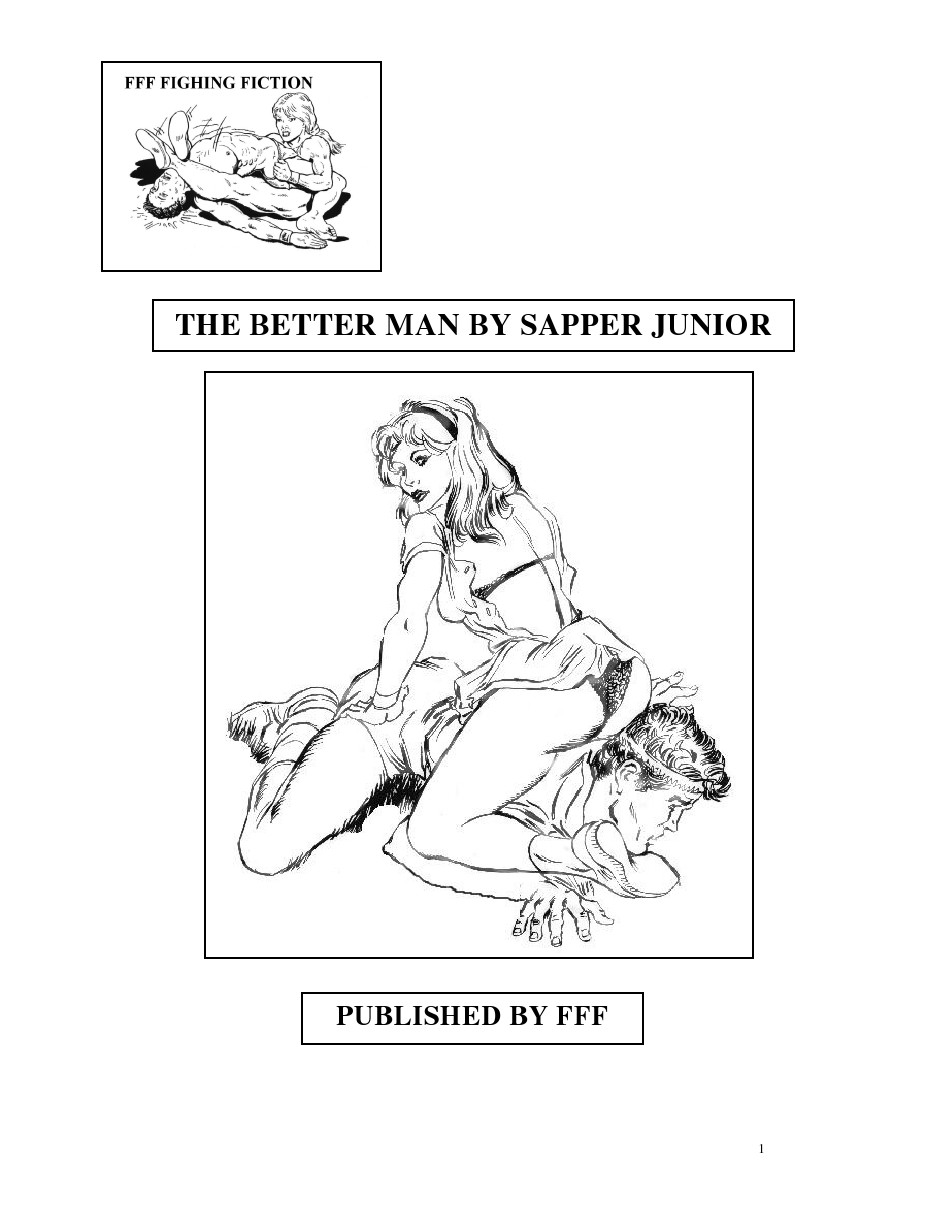 9. A SAPPER JUNIOR SHORT STORY COMPENDIUM. THREE SHORT STORIES BY SAPPER JUNIOR. THE PILLOW FIGHTRESSES. GOODBYE CONFIDENT BOY. THE SLOANE AT SWISH. €4.00
THE PILLOW FIGHTRESSES. TWO SISTERS BETH AND AMY, FIGHT AND BEAT TWO BROTHERS COLIN AND PHIL. THE TWO RICH SOPHISTICATED SISTERS STOP AT THE BROTHERS COLIN AND PHIL'S PARENTS FARM FOR BED AND BREAKFAST ONE NIGHT. THEY LIKED IT SO MUCH THEY STAYED FOR SEVERAL DAYS. THE FIRST TROUBLE STARTED WITH A N ARGUMENT BETWEEN THE YOUNGER BROTHER PHIL AND THE YOUNGER SISTER AMY OVER PHIL'S HORSE. THE ARGUMENT ESCALATED INTO A WRESTLING MATCH. AMY BEAT PHIL AND WOULD HAVE HUMILIATED HIM COMPLETELY IN FRONT OF BETH HER SISTER AND COLIN HIS BROTHER IF COLIN HADN'T PULLED HER OFF. LATER THAT EVENING HE DISCOVERS PHIL AND AMY HAVING A PILLOW FIGHT. AGAIN AMY BEATS PHIL AND STARTS TO HUMILIATE HIM IN FRONT OF BETH AND COLIN. WHEN COLIN TRIED TO STEP IN BETH STOPPED HIM AND THEY HAD PILLOW FIGHT OF THEIR OWN. COLIN LOST TO BETH AS HIS BROTHER PHIL LOST TO BETH SISTER AMY. BOTH PILLOW FIGHTS BECAME WRESTLING MATCHES WITH THE GIRLS BEATING THE BOYS AT THAT AS WELL. AN EXCITING MIXED WRESTING BATTLE WITH THE GIRLS BEATING AND MASTERING THE BOYS AND THE TRADITIONAL SAPPER JUNIOR STYLE.
GOODBYE CONFIDENT BOY. ROBERT WAS BEATEN IN A RACE EVERY NIGHT HE RODE HOME BY A GIRL MONICA. SHE WOULD ALWAYS RACE SILENTLY UP BEHIND HIM AND PASS HIM. HOWEVER HARD ROBERT TRIED HE JUST COULD CATCH AND BET MONICA. ALTHOUGH MONICA ANNOYED ROBERT HE WAS SEXUALLY ATTRACTED AND EXCITED BY MONICA. ONE THIS FATEFUL AFTERNOON AFTER ANOTHER DEFEAT HIS MIND FIRMLY ON MONICA'S SEXY ATHLETIC ALL FEMALE BODY, HE STOPPED AND ENTER A WOOD TO PLAY WITH HIMSELF TO EASE THE SEXUAL TENSION BROUGHT ON BY THE SIGHT OF MONICA'S SEXY BODY RACING BY HIM. TO HIS HORROR HE FINDS MONICA WAS WATCHING HIM FROM UNDER A TREE NEAR BY. AFTER TAUNTS AND GIBES FORM MONICA THAT FIGHT AND MONICA EASILY BEATS ROBERT, OVERPOWER AND MASTERING HIM ROBBING HIS MALENESS WITH HER STRONG SUPERIOR FEMALE BODY.
THE SLOANE AT SWISH. ROBERT A WRITER FOR FGM AND CLAWS POPPED IN TO SWISH HOPING TO TALK TO BRUCE THE EDITOR BUT HIS TOLD BY ANNABEL THE FEMALE ASSISTANT, WHO ROBERT RECOGNISED AS ROSS THE ARTIST GIRL FRIEND FROM HER DRESS AND MANNER CLEARLY A SLOANE RANGERETTE. ROBERT DISLIKED SOPHISTICATED SNOBBISH SLOANES. THEIR SHORT CONVERSATION ONLY HELPED TO CONFIRM HIS DISLIKE OF THIS TYPE OF WOMAN. WHEN SHE CRITICISED THE SPELLING AND GRAMMAR IN HIS STORIES.
A FEW DAYS LATER ANNABEL CALLED AND ROBERTS HOME IN THE EVENING EXTENSIVELY TO DELIVER A COPY OF THE NEW CLAWS AND FIGHTING GIRLS MONTHLY MAGAZINES. ROBERT WAS A HOME WITH HIS GIRL FRIEND ESME. ANNABEL CONTINUED TO BELITTLE ROBERT IN FRONT OF HIS GIRL FRIEND. ROBERT TRIED TO THROUGH ANNABEL OUT OF THEIR HOUSE BUT FAILED. THEN HE REALISED THAT ANNABEL WAS TRYING TO SEDUCE HIS GIRL FRIEND ESME, AND TO HIS HORROR ESME WAS RESPONDING TO SOPHISTICATED DOMINANT SLOANE FEMALE MANNER. NOW VERY ANGRY AND WORRIES ROBERT FIGHTS ANNABEL AND IS BEATEN BY HER. THEY HAD WAGERED HER DIAMOND BRACELET AGAINST HIS FATHER'S EXPENSIVE WATCH. ROBERT IS NOT ONLY BEATEN AND MASTERED BY ANNABEL, HE LOSER HS WATCH TO HER HIS MALE PRIDE AND HIS GIRL FRIEND ESME. ANOTHER GREAT SAPPER JUNIOR FEMALE TOTAL VICTORY OVER A MALE .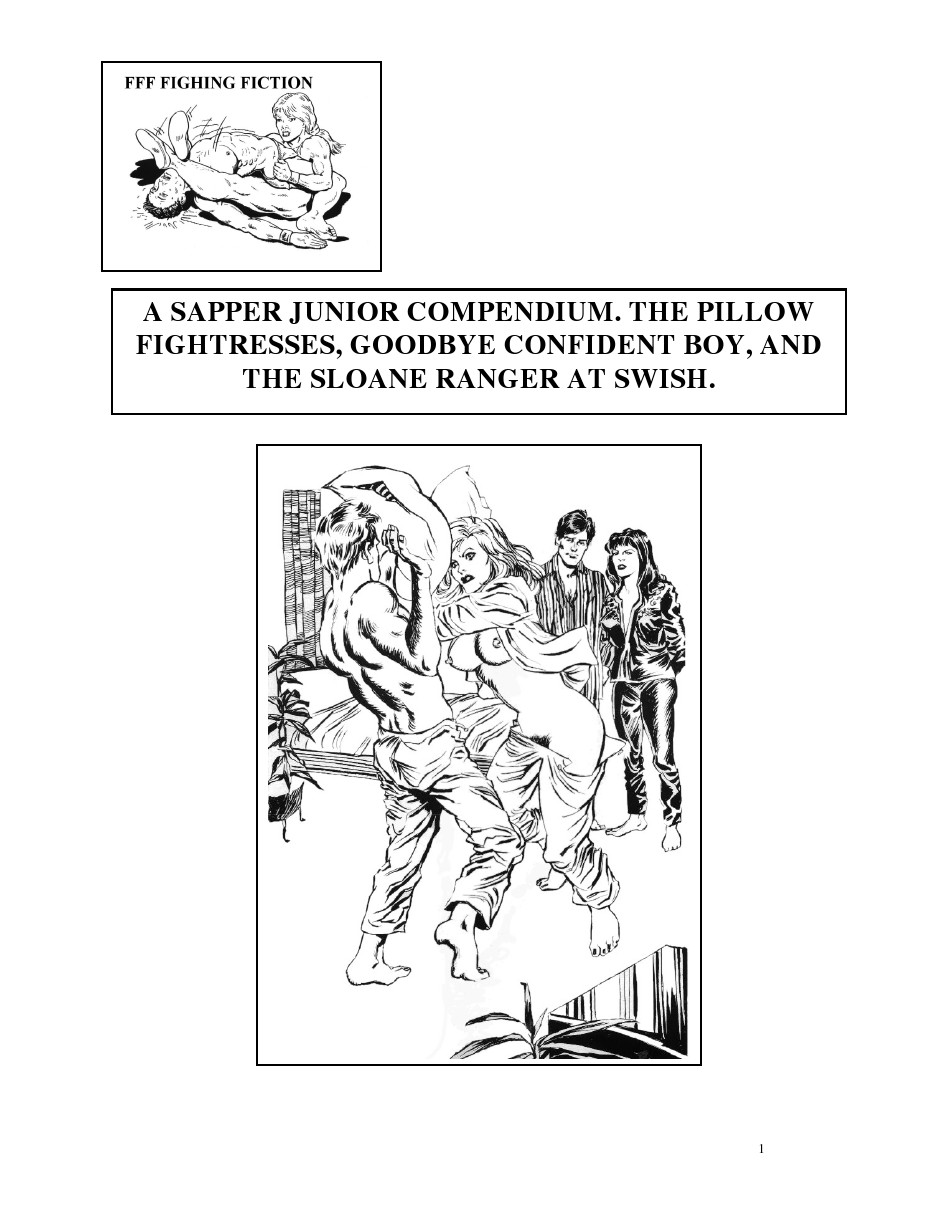 10 A SAPPER JUNIOR SHORT STORY DOUBLE BILL. LOST CHANCES AND FAILED DREAMS AND TOO BIG FOR HER KNICKERS WRITTEN UNDER THE PSEUDONYM RUONI PREAPS. €4.00
LOST CHANCES AND FAILED DREAMS. MATTHEW FAILED TO WIN HIS FIRST LOVE MELINDA MANY YEAR AGO. THEY KEPT IN TOUCH ON AND OFF OVER THE YEARS. HE RANG MELINDA ON HER BIRTHDAY TO CONGRATULATE HER AND SHE INVITED HIM TO COME AND STAY WITH HER AND HER FAMILY. SO NOW YEARS LATER, MATTHEW FOUND HIMSELF VISITING MELINDA AGAIN HOPING TO REKINDLE SOME OF HIS LOST LOVE AND FAILED DREAMS. MELINDA WASN'T HOME WHEN MATTHEW ARRIVED JUST HER TWO DAUGHTERS DELPHINE AND PRUNELLA. TO MATTHEWS SURPRISE THE TWO GIRLS WERE BOXING. HE WATCHED DELPHINE BEAT HER OLDER SISTER PRUNELLA QUITE BRUTALLY. WATCHING THE TWO GIRLS FIGHT HAD EXCITED MATTHEW AND REMINDED HIM OF SOME OF HIS WRESTLES WITH MELINDA. WHEN THE FIGHT BECAME ONE SIDE AND TURNED TO BLATANT BULLYING MATTHEW STOPPED IT. DELPHINE WS INCENSED BY MATTHEW'S INTERVENTION AND COCKED HER FIST AT HIM. MATTHEW ASKED JOKINGLY IF SHE WAS CHALLENGING HIM. DELPHINE TO HIS SURPRISE SAID SHE WAS. SHE THEN GOADED HIM INTO BOXING WITH HER.
DELPHINE GO THE BETTER OF MATTHEW DESPITE BEING YOUNGER AND SMALLER, AND THE FIGHT WAS NEVER FINISHED AS MELINDA ARRIVED AND STOPPED IT. AT DINNER THAT NIGHT WITH MELINDA, HER TWO GIRLS AND HER HUSBAND NIGEL MELINDA LET SLIP ABOUT THE OLD BARN WHERE THEY HAD WRESTLED TOGETHER MANY YEARS BEFORE. NIGEL AND THE GIRLS WHERE EAGER TO HERE ABOUT THE OLD BARN BUT MATTHEW WAS TOO EMBARRASSED TO TELL THEM.
MATHEW MET MELINDA AGAIN SHE TOOK HIM TO THE OLD BARN IT WAS STILL THERE. SHE REMINDED MATTHEW OF WHEN THEY HAD WRESTLED MANY YEARS BEFORE AND HOW SHE HAD BEATEN HIM KEEPING HIM PINNED UNDER FOR AGES. MATTHEW WOULDN'T HAVE IT AND THEY ENDED UP WRESTLING AGAIN. MELINDA BEAT MATTHEW ALL OVER AGAIN REALLY DOMINATING HIM AND LOVING IT.
MATTHEW RETURNED FOR A THIRD TIME TO FIND NIGEL AWAY FOR THE WEEKEND. MELINDA MADE IT CLEAR SHE WANTED TO WRESTLE HIM AGAIN TO SEE WHO THE STRONGER SEX WAS. HOWEVER THEY WERE DISTURBED BY HER TWO YOUNG DAUGHTERS. MATTHEW AND DELPHINE ARGUE AND SHE CHALLENGED HIM TO ANOTHER BOXING MATCH BU MATTHEW REFUSED THEN SHE CHALLENGED HIM TO A WRESTLING MATCH. MATTHEW WAS UNABLE TO REFUSE WITHOUT LOSING FACE IN FRONT OF MELINDA. AT FIST MATTHEW DID WELL STAYING ON TOP OF DELPHINE WITH HER FIGHTING TO GET HIM OFF. BUT AS THE MATCH CONTINUED THE PLACES WERE REVERSED. DELPHINE EASILY BEAT AND MASTERED MATTHEW IN FRONT OF MELINDA TOTALLY HUMILIATING HIM. THAT WAS THE LAST TIME MATHEW SAW MELINDA.
TOO BIG FOR HER KNICKERS. A YOUNGER SISTER JUSSIE ARGUED WITH HER OLDER BROTHER RICHARD OVER WHO WOULD DO THE DISHES. RICHARD HAD ALWAYS TEASED AND TORMENTED HIS YOUNGER SISTER JUSSIE. BUT NOW SHE WAS AT THE AGE WHERE SHE REFUSED TO TAKE IT. SHE CHALLENGED RICHARD TO A TENNIS MATCH TO DECIDE. RICHARD REFUSED KNOWING JUSSIE WAS A FAR BETTER TENNIS PLAYER. HE JOKINGLY OFFERED TO BOX HER TO DECIDE WHO WOULD WASH UP. JUSSIE AGREED MUCH TO HER BROTHER'S SURPRISE. JUSSIE BEAT HER BROTHER TO HER PARENTS AND EVERYONE ELSE'S SURPRISED. RICHARD FOUND IT HARD TO LIVE DOWN HIS DEFEAT AGAINST HIS YOUNGER SISTER AND HE WAS TAUNTED AT SCHOOL BY OTHER BOYS.
THEY BOXED AGAIN. JUSSIE BEAT RICHARD AGAIN THIS TIME EVEN MORE CONVINCINGLY. RICHARD WAS FORCED TO FIGHT JUSSIE A THIRD TIME IN A DESPERATE BID TO RECOVER HIS MALE PRIDE. SHE WANTED TO BOX AGAIN RICHARD WANTED TO WRESTLE. THEY TOSSED FOR IT AND RICHARD WON. IT WAS LONG TOUGH HARD FOUGHT BATTLE WHICH JUSSIE EVENTUALLY ONE MUCH TO RICHARD'S HUMILIATION AS SHE LORDED IT OVER HIM FOR ALONG TIME.
(This Sapper junior classic short story has been used to create a fully illustrated colour comic book in two parts by battle-annals guest author and artist Peters1967. Part 1 has 22 pages with 22 colour images, story number one on the peters1967 comic strip fighting stories list. Part 2 has 51 pages with nearly a hundred color images, story number two on the peters1967 comic strip fighting stories list.)
TWO MORE EXCITING SAPPER JUNIOR STORIES WITH FEMALE AND YOUNGER ONES IN PARTICULARLY OVER POWERING OLDER MALES. €4.00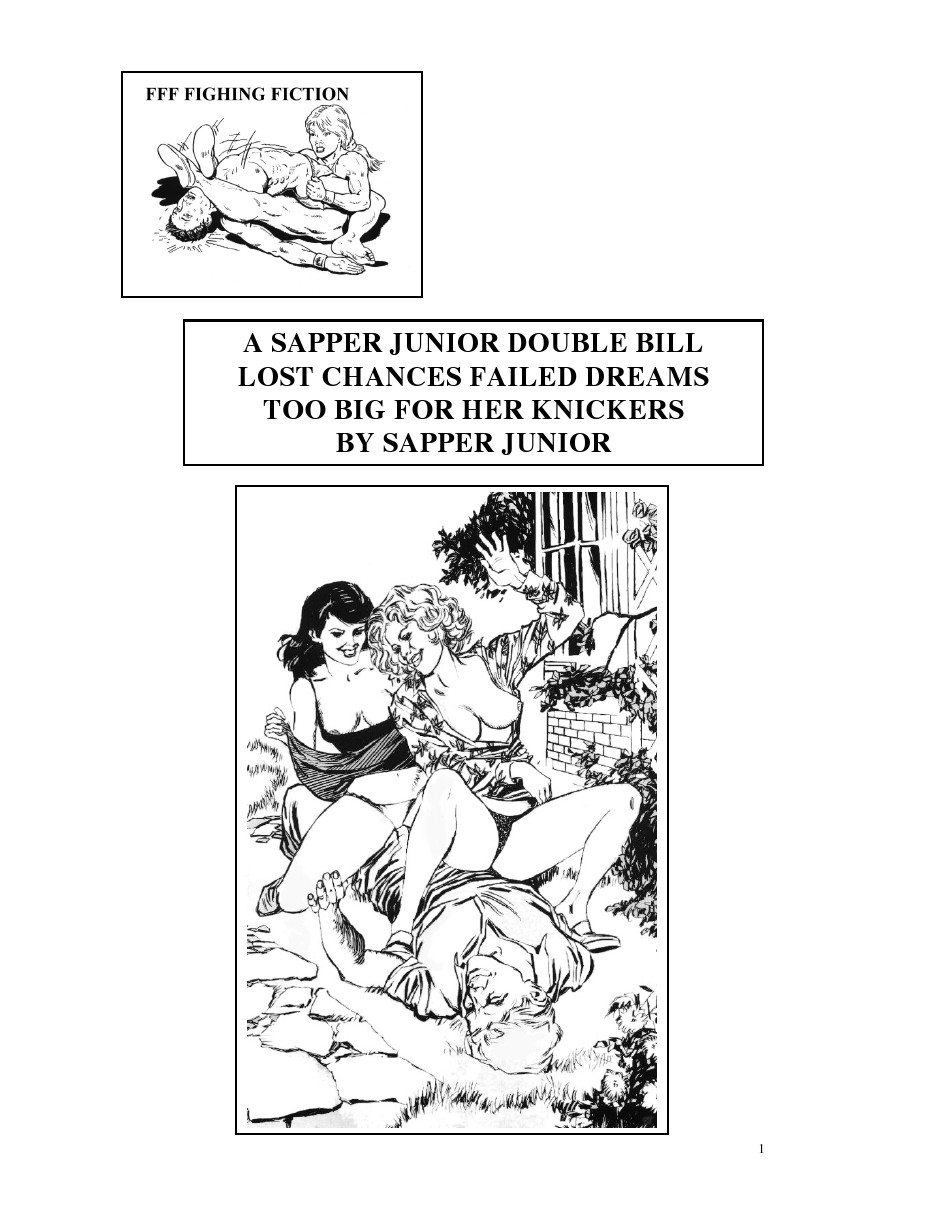 11 GAME SET AND SLAVE. MARY ENGLISH FEMALE TENNIS STAR IS BEATEN AT WIMBLEDON BY A COCK YOUNG AMERICAN GIRL JANATHEA. IF LOSING TO THE YOUNGER COCKY AMERICAN GIRL WAS NOT BAD ENOUGH, WHEN RETURNING FROM THE SHOWERS SHE FOUND JANATHEA IN HER CHANGING ROOM ON A PANTY RAID. SHE ACTUALLY CAUGHT JANATHEA WITH A PAIR OF HER KNICKERS. MARY DEMANDED THEM BACK AND STRUGGLE A FIGHT ENSUED. A TOUGH FEMALE V FEMALE WRESTLING BATTLE ERUPTED AS MARY AND JANATHEA FOUGHT OVER MARY'S KNICKERS. MARY MANAGED TO RETAIN HER KNICKERS AND HOLD OFF JANATHEA, BUT ONLY JUST. THE FIGHT PETERED OUT BUT THEY DECIDED TO CARRY ON ANOTHER DAY AS THERE WAS THE FEAR OF BEING DISCOVERED AND JANATHEA WAS DETERMINED TO HAVE MARY'S KNICKERS TO ADD IT THE COLLECTION OF SUCH TROPHIES FROM OTHERS SHE HAD BEATEN. MARY GAVE JANATHEA HER NUMBER SO THEY COULD ARRANGE T MEET AND FINISH THE FIGHT FOR MARY'S KNICKERS.
WHEN JANATHEA RETURNED TO HER CHANGING ROOM SHE DISCOVERED A BALL BOY HOLDING HER TENNIS SKIRT. ROD THE BALL BOY ADMITTED HE WAS AFTER A SOUVENIR. JANATHEA TAUNTED HIM FOR BEING WEAK AND FURTIVE AND TRYING TO STEAL THEM. ROD TOLD HER HE WOULD HAVE ASKED BUT HE'D SEEN HER FIGHTING WITH MARY. JANATHEA ASKED ROD IF HE WANTED TO FIGHT HER AND HE AGREED. ROD TOLD JANATHEA THAT HE HAD FOUGHT WITH HIS FEMALE COUSIN AND LOST EVERY TIME WITH HIS COUSIN SITTING ON HIM. JANATHEA FIGHT ROD AND QUICKLY OVER POWERS THE WEAKER, TIMID, ENGLISH BOY IN POWERFUL BEARHUG. JANATHEA MASTERED ROD PHYSICALLY AND SEXUALLY DRAINING HIM DRY.
THE NEXT DAY AFTERNOON BEATING ROD AGAIN IN HER HOTEL ROOM, AT THE SAVOY, JANATHEA PHONED MARY TO ARRANGE TO CONTINUE THEIR FIGHT FOR MARY'S PANTIES. JANATHEA WAS ACTUALLY SAT ON ROD'S FACE WHEN SHE RANG MARY. MARY WAS AGHAST AS SHE KNEW ROD'S MOTHER, BUT JANATHEA JUST TOLD MARY THAT ROD WAS HER SLAVE. JANATHEA TOOK GREAT DELIGHT TELLING MARY JUST WHAT SHE WAS DOING TO ROD. MARY GAVE JANATHEA THE DIRECTIONS TO HER PLACE. JANATHEA ARRIVED THE NEXT AFTERNOON. JANATHEA AND MARY WRESTLE AGAIN, IN A LONG UNRELENTING BATTLE OF FEMALE AGGRESSION. THE FIGHT SWITCHES BACK AND FORTH BUT JANATHEA EVENTUALLY BEATS HE OLDER ENGLISH RIVAL NOT ONLY PHYSICALLY BUT SEXUALLY.
TWO TOUGH AND SEXY FEMALE FIGHTS WITH A YOUNGER AMERICAN FEMALE BEATING HER OLDER ENGLISH RIVAL. ALSO A MIXED WRESTLE WITH THE ENGLISH BOY LOSING TO THE STRONGER AMERICAN GIRL. €3.00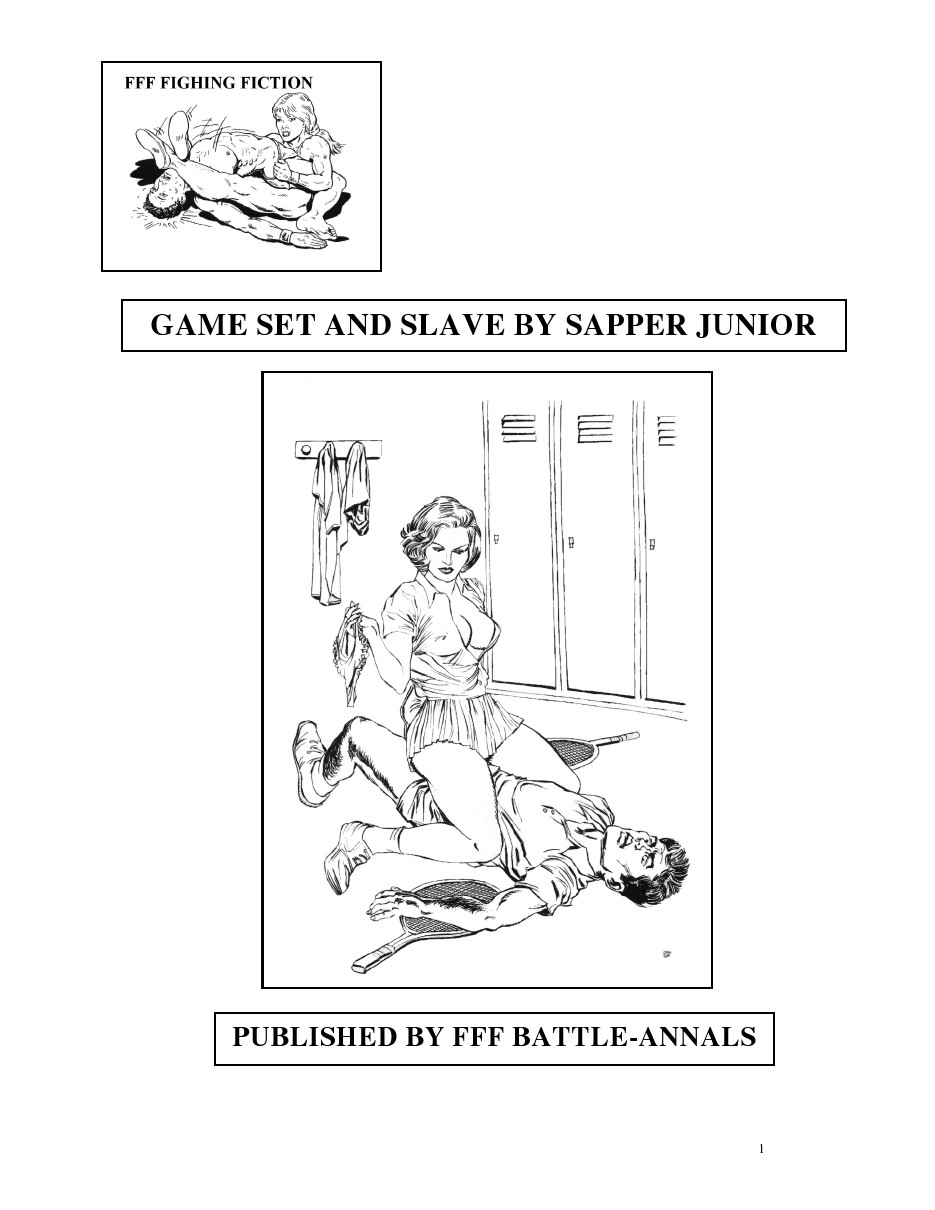 12 SAPPER JUNIOR PAIR OF SHORT STORIES. WHO WEARS THE PANTS NOW, AND FAILING THE TEST.
WHO WEARS THE PANTS NOW. TWO TEENAGE BOYS KEN AND MIKE WRESTLE IN PARK AND ARE SPIED ON BY THREE TEENAGE GIRLS LEILA PARKER, LEE JANE DAGNALL, AND ZOE MAXWELL. THE GIRLS TEASE KEN AND MIKE AND THERE ARE ANGRY EXCHANGES BETWEEN THE GIRLS AND THE BOYS. ZOE CHALLENGES KEN TO A WRESTLING MATCH. KEN FIFTEEN BEATS ZOE THIRTEEN. AFTER KEN'S VICTORY MIKE TAUNTS THE GIRLS SHOUTED BOYS ARE BEST. ANGRY LEE JANE FIFTEEN CHALLENGES SIXTEEN YEAR-OLD MIKE TO A FIGHT. LEE JANE TOTALLY DEFEATS AND COMPLETELY HUMILIATES MIKE. GOOD MIXED WRESTLING ACTION WITH LEE JANE REALLY MAKING MIKE SUFFER.
FAILING THE TEST. COLIN BLENCOE EIGHTEEN HAS A DATE WITH TANYA SHIELDS WHO HE HAD ADMIRED FOR AGES. THE SELF-CONFIDENT SPORTING TANYA ARRIVED AT COLIN'S HOUSE AND INVADES HIS BEDROOM, CATCHING HIM IN JUST IS UNDERWEAR. SHE THINKS HE IS ONE OF THE NOW SPORTING WEAK BOYS WHO LIKE TO WATCH STRONG SPORTING GIRLS LIKE HERSELF. SHE MAKES COLIN BRUSH HER HAIR TEASING HIM ABOUT GETTING EXCITED. SHE MAKES HIM TAKE OF HER SKIRT THREATENING TO REMOVE HIS UNDERPANTS IF HE REFUSED TO. SHE STRIPS OFF HIS VEST AND INFORMS COLIN THAT TO GO OUT WITH HER, HE MUST BEAT HER AT WRESTLING. THEY WRESTLE AND TANYA BEATS AND SUBDUES COLIN AND TELLS HIM HE IS TOO WEAK TO BE HER BOY FROND BUT CAN BE HER SLAVE. GREAT SEXY MIXED WRESTING WITH THE GIRL BEATING AND MASTERING THE BOY. ANOTHER TWO GOOD MIXED WRESTLING SHORT STORIES BY SAPPER JUNIOR. €2.00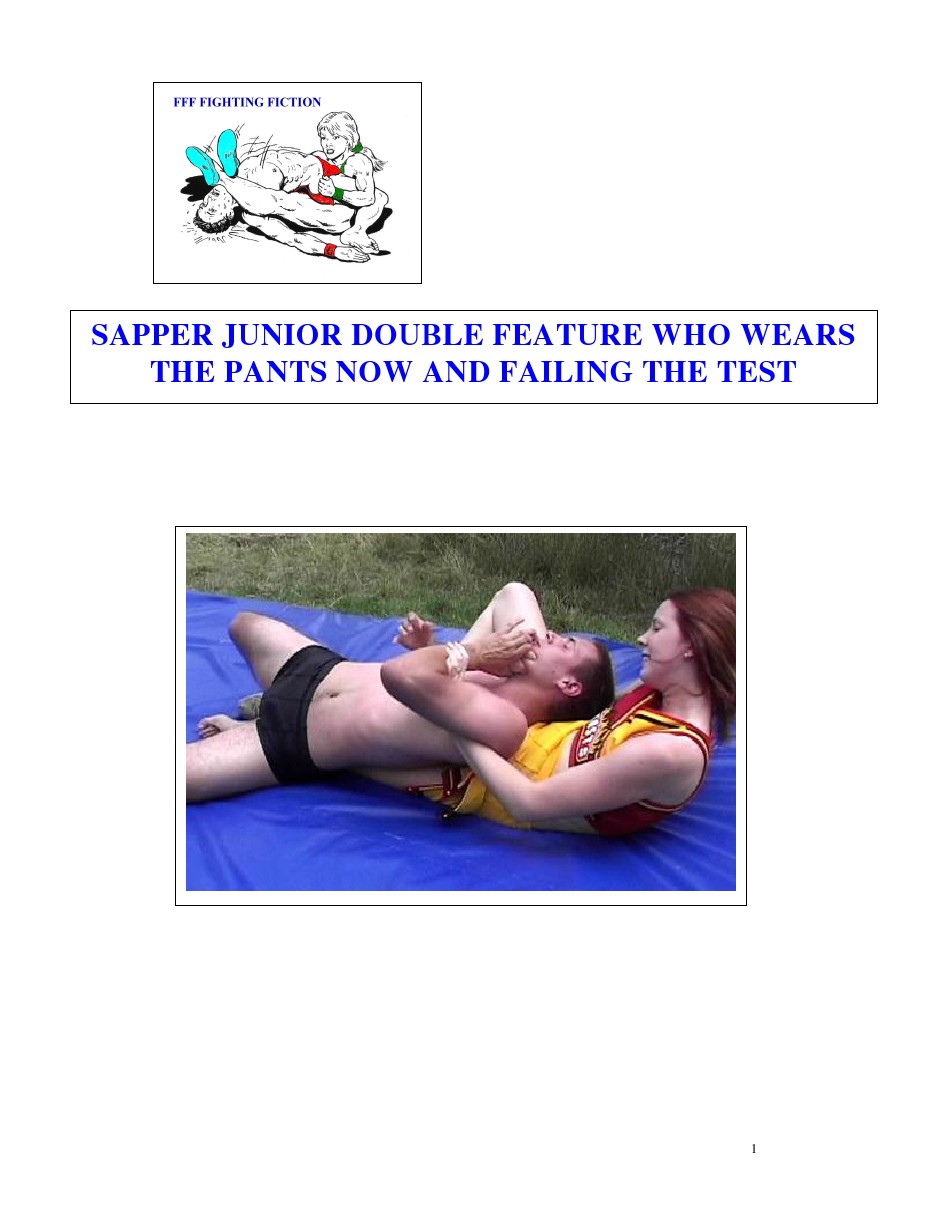 13 TO BE A GOOD LOSER. FURZLES HAD ALWAYS BEEN AND EXCLUSIVE BOYS SCHOOL. HOWEVER IN THE LAST FEW YEARS IT HAD GONE CO-ED AND HAD ADMITTED GIRLS. FROM THE VERY OUTSET THERE HAD BEEN FIERCE RIVALRY BETWEEN THE BOYS AND THE GIRLS. IT NO MORE TRUE ON THE SPORTS FIELD. SPORTS DAY WAS ALWAYS A DAY OF INTENSE RIVALRY. THE BOYS RESENTED THE GIRLS SPUNKY SWANKY SUPERIOR MUST WIN OR DIE ATTITUDE. FURZLES BOYS HAD ALWAYS BEEN TAUGHT TO PLAY THE GAME IN THE BEST SPORTING TRADITION. TWO MEMBERS OF THE OPPOSITE FACTIONS BOYS AND GIRLS CLASHED IN A BRUTAL ALL OUT BATTLE OF THE SEXES. BRIAN TINDALL, SCHOOL CAPTAIN FOR THE BOYS. RONA TAYLOR FOR THE GIRLS. RIVALRY STARTED IN THE DISCUS. THE TROUBLE ERUPTED THAT EVENING AT A VILLAGE DANCE. THE TWO CAME TO BLOWS AND A FIST FIGHT ENSUED. FIRST RONA GOT THE UPPER HAND HURTING AND SHOCKING BRAIN TINDAL AND THE BOYS. HE WAS EIGHTEEN AND BIGGER THAN SIXTEEN YEAR-OLD RONA. THEN BRIAN MADE A COME BACK AND STARTED TO HURT RONA. THEY WERE BATTLING TOE TO TOE WHEN THE FIGHT WAS STOPPED BY THE VILLAGE POLICEMEN.
HOWEVER THE SPORT MASTER AND SPORTS MISTRESS ALLOWED THEM TO CONTINUE THEIR FIGHT IN THE SCHOOL GYM. THIS TIME INSTEAD OF BOXING THE TWO TEENAGERS WRESTLED. AGAIN RONA TOOK THE LEAD DOMINATING BRIAN. THEN BRIAN MADE A COME BACK AND GOT ON TOP OF RONA AND IT LOOKED LIKE HE'D WON. BUT SHE SIMPLY REFUSED TO SUBMIT. AND THEY FOUGHT ON UNTIL SHE WORE BRAIN DOWN AND BEAT HIM. SHE REALLY MADE HIM SUFFER, HUMILIATING HIM IN FRONT OF THE TWO SPORTS TEACHERS. BRIAN COULDN'T LIVE DOWN HIS DEFEAT AND HAD TO FIGHT RONA AGAIN. SHE BEAT HIM EVEN EASIER THIS TIME AND HUMILIATED HIM IN FRONT OF THE WHOLE SCHOOL. SHE MADE BRIAN PARADE NAKED ROUND SCHOOL WITH HER PERCHED ON HIS SHOULDERS.
TOUGH, BRUTAL MIXED FIGHTING ACTION WITH THE FEMALE BEATING DOMINATING AND HUMILIATING HER OLDER LARGER MALE OPPONENT. ANOTHER GREAT MIXED FIGHTING STORY FROM SAPPER JUNIOR, ILLUSTRATED BY JG. €10.00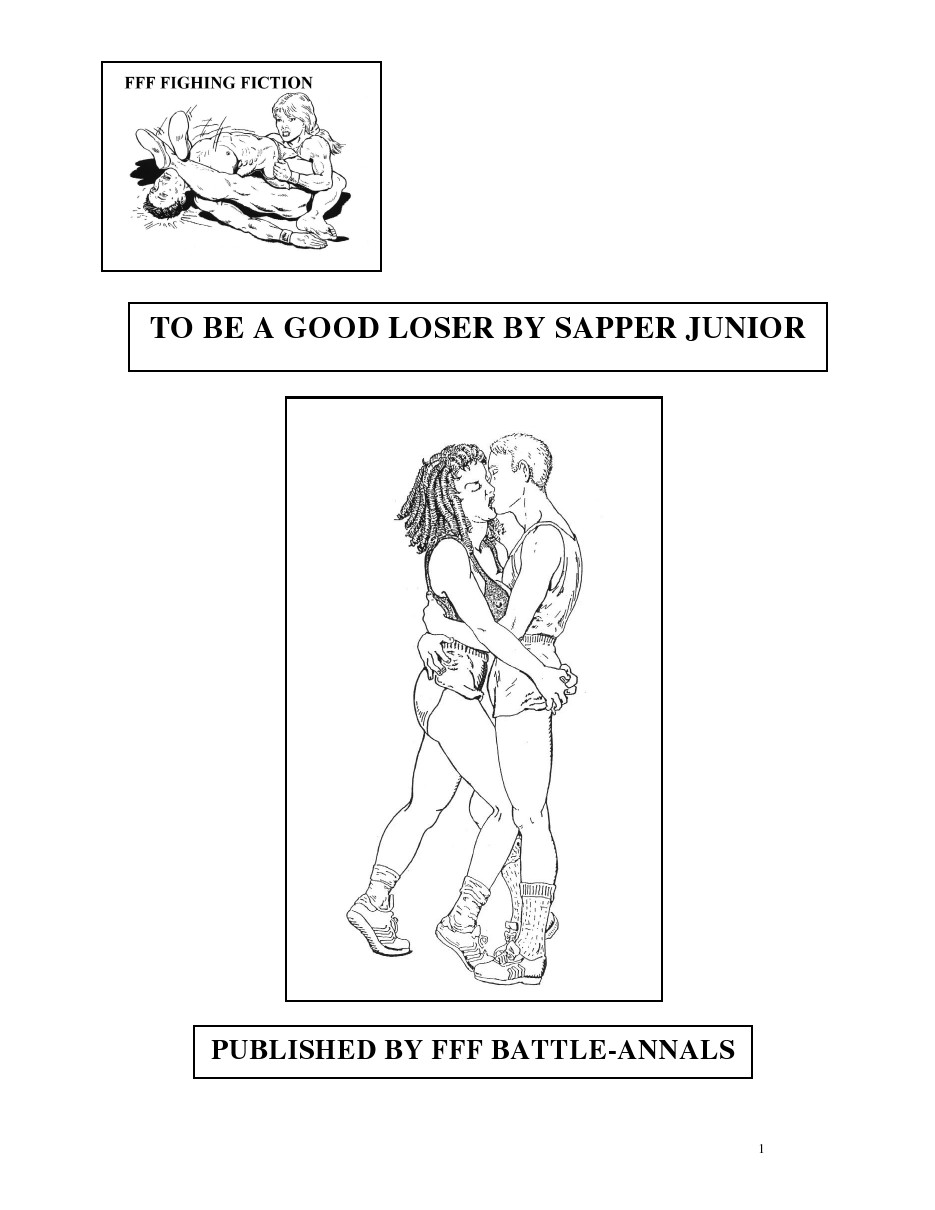 14 KNICKERS RULE THE GARDEN. ROBERT A SEVENTEEN YEAR-OLD BOY TAKES A DISLIKE TO THE TWELVE YEAR-OLD DAUGHTER AINSLEY, OF THE FRIENDS HE AND HIS PARENTS WERE VISITING. OBJECTING TO HER RAUCOUS NOISY BEHAVIOUR WHILE PLAYING ON A TREE SWING IN THE GARDEN. ROBERT WAS ALSO SHOCKED TO SEE AINSLEY SHAMELESSLY SHOWING OF HER SCHOOLGIRL KNICKERS WHEN HER SHORT SCHOOL SKIRT WAS RAISED UP BY HER VIOLENT MOTIONS ON THE TREE SWING. ALTHOUGH SHOCKED ROBERT COULDN'T KEEP HIS EYES OFF AINSLEY'S KNICKERS. AINSLEY'S BAD BEHAVIOUR CONTINUED OVER THE DINNER TABLE AND AFTERWARDS IN THE LOUNGE. SHE KEPT SHOWING OFF HER KNICKERS TO ROBERT KNOWING HE KEPT LOOKING AT THEM. AFTER ARGUING AINSLEY WHACKED ROBERT WITH A CUSHION AND ESCAPED INTO HE GARDEN. ROBERT CHASED AINSLEY INTO THE GARDEN AND CONFRONTED HER. RATHER THAN BACKING DOWN OR BEING SCARED, AISNLEY CHALLENGED ROBERT OT A FIGHT. ROBERT RELUCTANTLY AGREED AND THEY WRESTLED ON THE LAWN. AINSLEY TURNED OUT TO BE A TOUGH AND MORE CAPABLE OPPONENT THAN ROBERT THOUGHT. AINSLEY WAS SCATHING OF ROBERT'S LACK OF FIGHTING ABILITY AND CHALLENGED HIM TO A PROPER FIGHT FURTHER DOWN THE GARDEN OUT OF SITE OF THE HOUSE AND THEIR PARENTS
ROBERT AGREED AND AINSLEY CAJOLED ROBERT TO FIGHTING JUST LIKE HER IN THEIR UNDERWEAR. AINSLEY THE SPUNKY TWELVE YEAR-OLD BEAT AND BESTED ROBERT THE SEVENTEEN YEAR-OLD. FURTHER TO ROBERTS SHAME HIS DEFEAT BY AINSLEY WAS WITNESSED BY TWO YOUNG GIRLS FROM THE NEIGHBOUR HOOD AINSLEYS' FRIENDS JODY AND SHELLY. ALSO FINALLY AINSLEY'S AND ROBERTS PARENTS. ROBERT IS BEATEN AND HUMILIATED IN FRONT OF HIS OWN PARENTS BY A TWELVE YEAR-OLD GIRL. ANOTHER CLASSIC SAPPER JUNIOR FEMALE BEATING HUMILIATING AND MALE. GREAT MIXED FIGHTING ACTION. ANOTHER MALE ROBBED OF HIS SEXUALITY BY A FEMALE. GRAPHICALLY ILLUSTRATED BY JG. €10.00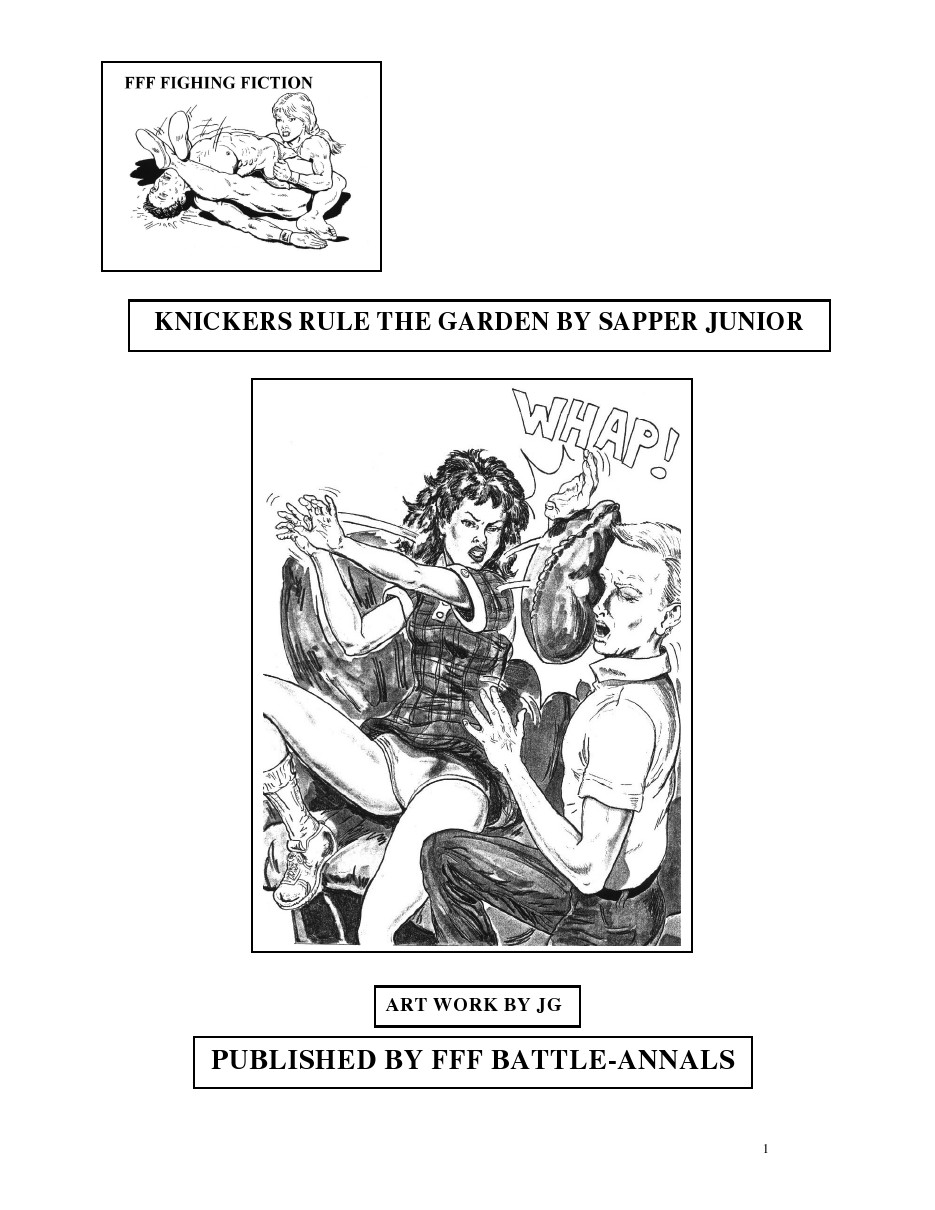 15 A SAPPER JUNIOR TRIPLE SHORT STORYBOOK. YOUNG SPUNKIES. CONVERSION TO THE FEMININE. CLOTHES LINE CONFRONTATION.
YOUNG SPUNKIES. JACK BARRINGTON A TV STAR OF YOUNG SPUNKIES IS VISITS JENNY THE LATEST OF A STRING OF GIRL FRIENDS. HE MEETS ZOLA HER YOUNGER SISTER WHO BOASTS ABOUT BEATING ONE OF EH NEIGHBOURS AN OLDER BOY CALLED WILLY DUDLEY. JACK IS ARMOURED WITH THE SPUNKY CONFIDENT YOUNG SCHOOL GIRL. WHO TEASES HIM AND EXCITES HIM WITH HER PROVOCATIVE BEHAVIOUR, SHOWING OF HER KNICKERS UNDER SHORT SCHOOL SKIRT. SHE BOLDLY SAT ON JACK'S LAP DEMANDING A KISS AND PRESSED HER BUM INTO HIS HARD COCK. JENNY WALKED IN ON THEM AND HAS A VIOLENT ROW WITH ZOLA. THE NEXT DAY WHEN JACK ARRIVED AT JENNY'S HOUSE HE SAW ZOLA AND ANOTHER GIRL TEASE SOME BOYS WHO WERE TRYING TO PLAY FOOTBALL. ZOLA'S CONFRONTATION WITH ONE BOY LEAD TO A FIGHT. JACK WATCHED THE FIGHT AND SAW ZOLA NOT ONLY BEAT THE BOY WHO TURNED OUT TO BE WILLY DUDLEY BUT REALLY HUMILIATED HIM BY SITTING ON HIS FACE AND MAKING HIM SURRENDER TO HER. THIS INCIDENT WAS WITNESSED BY ZOLA'S FRIEND THE OTHER BOYS, THE BOYS MOTHER AND THREE STUDENTS TWO FEMALE AND ONE MALE.
WHEN JENNY HEARD ABOUT ZOLA'S WIN AND SHE COULD SEE HOW ENTHRALLED JACK WAS WITH HER SHE CHALLENGED ZOLA TO A NEWSPAPER FIGHT. JACK WITNESSED THE VICIOUS NEWSPAPER FIGHT WITH ZOLA AND JENNY SWIPING EACH OTHER WITH ROLLED UP NEWSPAPERS. ZOLA TROUNCED HER SISTER AND REDUCED HER TO TEARS. LATER WHEN JENNY WENT TO JACK ROOM SHE FOUND ZOLA MOUNTED ON TOP OF JACK ON HIS BED. ZOLA HAD NOT ONLY BEATEN HER SISTER JENNY BUT TAKEN AND MASTER HER NE BOY FRIEND AND TV STAR JACK BARRINGTON. SHE WAS INDEED A REAL YOUNG SPUNKY. THIS SHORT STORY HAS FOUR ILLUSTRATIONS.
CONVERSION TO THE FEMININE. CAROLE LE MAY A RICH YOUNG GIRL RETURNED TO HE BEDROOM AFTER SHOWERING AND DISCOVERED THE NEW STABLE BOY BOB RIFLING HER DRAWS. BOB WAS CAUGHT RED HANDED AND ADMITTED HE WAS LOOKING FOR MONEY. ALTHOUGH STILL NAKED FROM THE SHOWER, SHE LOCKED THEM IN AND OFFERED BOB CHOICE, HE COULD BE PUNISHED BY HER OR SHE WOULD TELL HER FATHER THE MAJOR. BO CONFIDENT RETORTED THAT CAROLE WAS NOT BIG ENOUGH TO PUNISH HIM. SHE CHALLENGES BOB TO NAKED FIGHT. BOB FOOLISHLY AGREED AND IS EASILY BEATEN AND DOMINATED BY CAROLE. CAROLE THOUGHT THAT BOB WAS SO WEAK AND SUBSERVIENT TO HER THAT HE SHOULD BE A GIRL, SO SHE FEMINISES HIM AND TURNING HIM INTO ROBERTA THE NEW STABLE GIRL.
CLOTHES LINE CONFRONTATION. FRANK OWNED THE UPSTAIRS FLAT OF TWO FLAT BUILDING AND SHARED THE GARDEN WITH GILLIAN THE OWNER OF THE BOTTOM FLAT. FRANK DISLIKED THE ARROGANT SNOOTY GILLIAN. HIS PET HATE RELATED TO THE SHARED WASHING LINE, GILLIAN WAS ALWAYS FILLING IT WITH HER WASHING LEAVING LITTLE OR NO SPACE FOR FRANK TO HANG HIS WASHING. TO HIS DISMAY HIS GIRLFRIEND BETTY BECAME FRIENDS WITH GILLIAN AND ALWAYS VISITED HER FIRST BEFORE COMING TO FRANKS FLAT, MANY TIMES KEEPING HIM WAITING A LONG TIME. THE NEXT TIME HE SAW BETTY ARRIVE HE CONFRONTED HER AND MANAGED TO WORM HIS WAY INTO GILLIAN'S FLAT WITH HER. THAT WAS HIS FIRST MISTAKE GILLIAN AND BETTY AT GILLIAN'S SUGGESTION TIED HIM AND LEFT HIM BOUND WHILE THEY CHATTED AND DRANK SOME WINE. AFTER THAT FRANK TRIED TO PERSUADE TO STOP SEEING GILLIAN BUT BETTY REFUSED.
THINGS CAME TO THE BOIL THE DAY GILLIAN ENTERTAINED SOME FRIENDS AND PLAYED VERY LOUD MUSIC. SEEING BETTY ARRIVE WAS THE LAST STRAW FOR FRANK. HE BURST INTO GILLIAN'S FLAT MAKING AL KINDS OF THREATS ABOUT THE MUSIC. GILLIAN WAS UNIMPRESSED AND THEY ENDED UP FIGHTING IN FRONT OF BETTY AND GILLIAN'S OTHER GUESTS. FRANK STRUGGLED TO RESIST GILLIAN AND TEMPERS FRAYED EVEN MORE BET WERE LAID BETWEEN THE FIGHTERS. FRANK FOUGHT GILLIAN FOR HIS FLAT, GILLIAN OFFERED AN EXPENSIVE BRACELET AS HIS PRIZE IF SHE LOST. GILLIAN EASILY BEAT AND HUMILIATED FRANK. THE FIGHT COST HIM DEAR HIS FLAT HIS MALE PRIDE AND HIS GIRLFRIEND BETTY.
THREE MIXED SAPPER JUNIOR FIGHTING STORIES WITH THE FEMALES BESTING AND HUMILIATING THE MALE OPPONENTS IN THE BEST SAPPER JUNIOR TRADITION. €4.00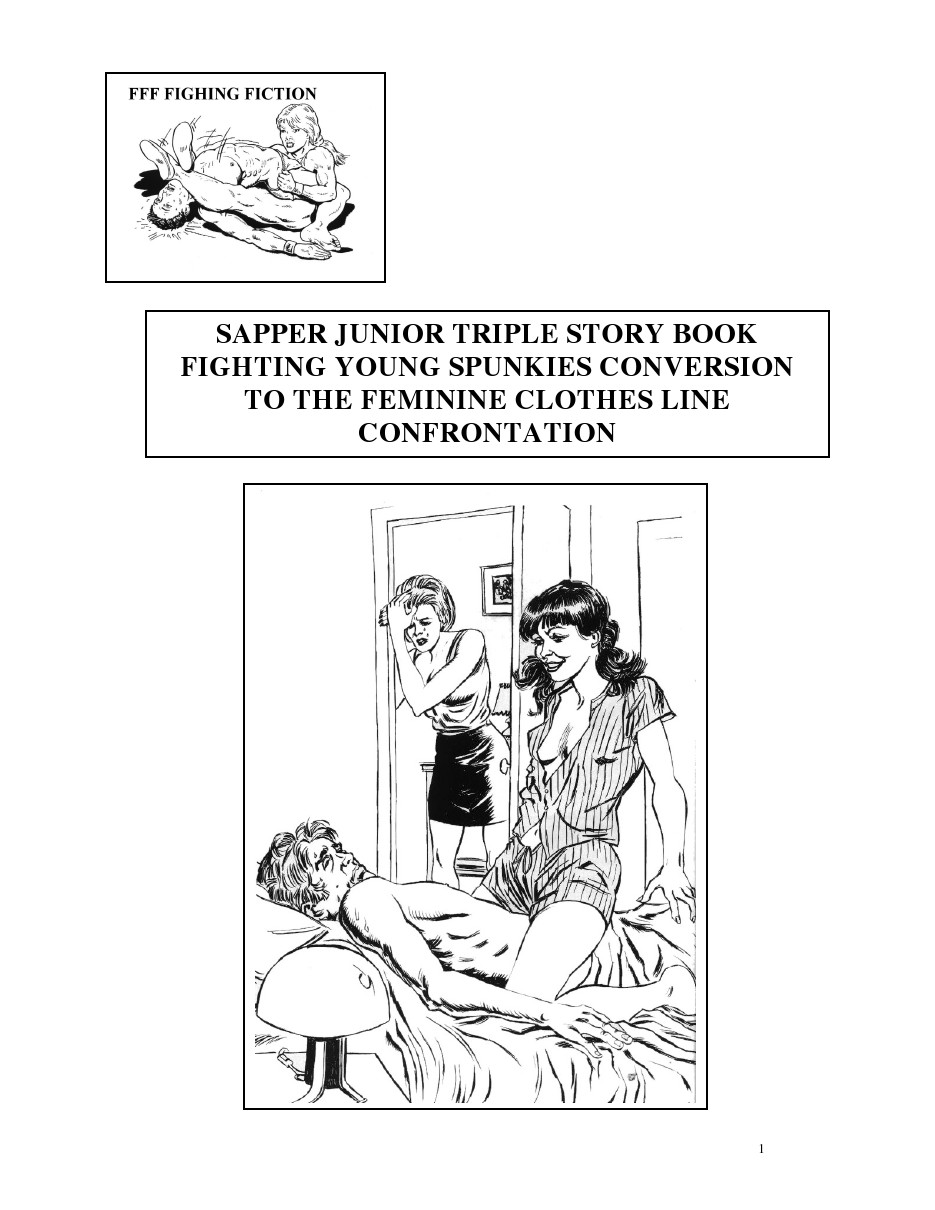 16 LOSS OF IDENTITY. PETER MERRIHEW WAS NINETEEN AND ENGAGED TO LUCINDA HUNTER DUNN ALSO NINETEEN. PETER PARENTS WERE MEETING LUCINDA'S PARENTS COLONEL HUNTER DUNN AND HIS WIFE. LUCINDA WAS A HEAD STRONG MODERN SPORTY GIRL AND WAS DETERMINED TO BE THE DOMINANT ONE IN THE RELATIONSHIP. SHE DISLIKED THE IDEA OF HAVING TO CHANGE HER NAME TO HER HUSBANDS. LUCINDA HAD BEATEN PETER AT TENNIS AND WAS THE LEADER IN THEIR SEXUAL RELATIONS. SHE WANTED PETER TO CHANGE HIS NAME TO HERS AND CHALLENGED HIM TO FIGHT FOR IT. THEY WRESTLED FOR THE RIGHT TO THEIR MARRIED SURNAME IN FRONT OF THEIR PARENTS. THE TOUGH WRESTLING BOUT GOES ONE WAY THEN THE OTHER BUT EVENTUALLY LUCINDA BEATS PETER AND WINS THE RIGHT TO MAKE THEIR MARRIED SURNAME HUNTER DUNN.
PETERS PARENTS ARE MORTIFIED BY THE RESULT AND SID PETER'S FATHER SUGGESTED THEY HAVE A BOXING MATCH TO DECIDE THE MARRIED SURNAME AS HE WAS SURE PETER WOULD WIN A BOXING MATCH. PETER AND LUCINDA BOX IN TOUGH HARD MATCH AND LUCINDA BEATS PETER AGAIN, TO ENSURE THEIR MARRIED SURNAME WILL BE HUNTER DUNN. LUCIDA IS DETERMINED THAT PETER WITH BE THE FEMININE AND SUBMISSIVE PARTNER I THEIR MARRIES CARRY OUT THE CHORES AND MAKING HER A GOOD WIFE. ANOTHER GREAT SAPPER JUNIOR STORY OF SUPERIOR FEMALE MALE BESTING A MALE PHYSICALLY THEN ASSUMING HIS ROLE AS THE HEAD OF THE FAMILY. GREAT MIXED WRESTLING AND BOXING ACTION WITH ORIGINAL ILLUSTRATIONS FROM THE SWISH. €4.00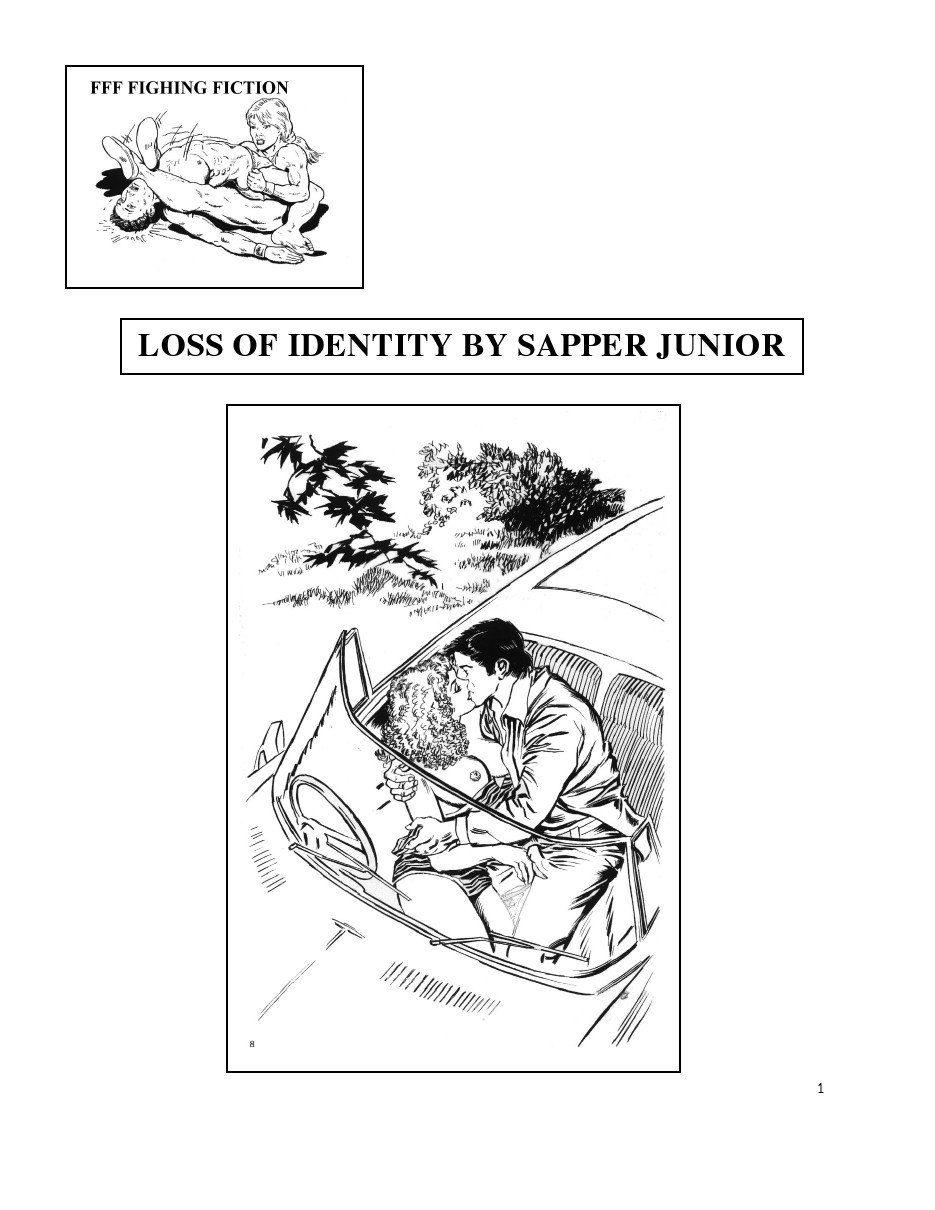 17 SAPPER JUNIOR PAIR OF SHORT STORY STORYBOOK. THE BLACK AND WHITE MUSCLE SHOW AND CAUGHT BY GIRLS.
BLACK AND WHITE MUSCLE SHOW. SPUNKY YOUNG TOMBOY CHRISSIE BEAT HER OLDER BROTHER PETER AT WRESTLING. SHE WAS DETERMINED TO BE THE STRONGEST FIGHTER AND BE ABLE TO BEAT OTHER GIRLS PARTICULARLY BLACK GIRLS WHO WERE THE BEST FIGHTERS. CADDY AND LEONIE TWO BLACK SISTERS AND FEMALE FIGHTERS WRESTLED EACH OTHER AND THE OLDER SISTER CADDY OWN. CADDY TOLD HER SISTER THAT SHE LIKED TO WRESTLE AND BEAT BOYS AND LEONIE LIKED THE IDEA. CADDY POINTED OUT A BOY CALLED ROGER PETER'S FRIEND AND SAID THAT PETER WAS QUITE AWED WITH HER BODY. CADDY DECIDED TO PICK ON ROGER AND FORCE HIM INTO A FIGHT. CADDY EASILY BESTS ROGER CHEERED ON AND ENCOURAGED BY ALL THE GIRLS WATCHING.
PETER A PREFECT RUSHED T BREAK UP THE FIGHT AND RESCUE HIS FRIEND ROGER. PETER DEMANDED CADDY RELEASE ROGER. CADDY REFUSED AND WHEN PETER TRIED TO DRAG CADDY OFF HIS FRIEND LEONIE ATTACKED PETER. PETER TIRED TO BEAT LEONIE BY BOXING AND WAS SUCCESSFUL AT FIRST. HOWEVER LEONIE MANAGED TO TURN THE TABLES ON HIM AND GET HIM DOWN. CHRISSIE IS TOLD B ANOTHER GIRL THAT TOW BOYS ARE FIGHT TWO GIRLS AND ONE OF THE BOYS WAS HER BROTHER PETER. BY THE TIME CHRISSIE GOT THE FIGHT LEONIE HAD WON AND HAD PETER IN A HEADLOCK. WHEN LEONIE MADE PETER KISS HER KNICKERS TOTALLY HUMILIATING HIM CHRISSIE ATTACKED LEONIE.
LEONIE AND CHRISSIE FOUGHT LONG AND HARD IN A CLOSE FIGHT THAT CHRISSIE FINALLY MANAGED TO WIN. ONE OF SEVERAL VICTORIES AGAINST THE TOUGH BLACK GIRL. TOUGH EXCITING FEMALE ON MALE AND FEMALE ON FEMALE FIGHTING IN THE SAPPER JUNIOR TRADITION.
CAUGHT BY GIRLS. GEORGE A TWENTY SIX YEAR-OLD MAN WAS UMPIRING A CRICKET MATCH. HOWEVER HIS ATTENTION WAS DRAWN TO WHERE TWO GIRLS WERE CHASING A BOY. THEY CORNED THE BOY THEN THE TALLER GIRL STARTED WRESTLING WITH THE BOY AND WAS BEATING AND TEASING HIM. BY THE TIME THE GAME FINISHED THE GIRL HAD THE BOY DOWN WAS STRADDLING HIM. GEORGE DECIDED TO GO HOME VIA THE THREE YOUNGSTERS EVEN THOUGH IT WAS OUT OF HIS WAY. GEORGE ASKED THEN WHAT THE FIGHT WAS ABOUT. JANET THE GIRL TOLD GEORGE SHE FOUGHT BOYS AND ALWAYS WON. GEORGE SCOFFED AND TOLD JANET SHE COULDN'T BEAT HIM. HE CHALLENGED JANET BUT JANET WAS HESITANT AND ONLY AGREED WHEN GEORGE SAID HE WOULD PAY JANET €10 IF SHE GOT HIM DOWN. GEORGE TOLD JANET SHE WOULD ONLY GET €10 IF HE GOT HIM DOWN AND KEPT HIM DOWN WHICH SHE WOULDN'T. JANET COUNTED THAT IF SHE KEPT HIM DOWN HE WOULD PAY HER €20. JANET BEAT AND HUMILIATES GEORGE. PAUL THE BOY IS JEALOUS OF GEORGE TAKING HIS PLACE UNDER JANET. THE SECOND GIRL CORAL TAKES THE OPPORTUNITY AND WRESTLES AND BEATS PAUL.
THE NEXT SUNDAY GEORGE AND HIS WIFE RUBY WERE WAYLAID BY JANET AND CORAL WHO DEMANDED €2 TO LET THEM PASS. RUBY ANGRY REFUSES AND ENDS UP FIGHTING JANET. JANET FINALLY BEATS RUBY IN FRONT OF GEORGE. RUBY ASKED GEORGE FOR HELP TO THE DELIGHT AND AMUSEMENT OF JANET AND CORAL JANET TOLD RUBY GEORGE COULDN'T HELP HE AS SHE ALREADY BEAT HIM AT FIGHTING. ANOTHER SAPPER STORY WITH GIRLS BEATING BOYS AND A YOUNGER GIRL BEATING A MAN AND HIS WIFE. €5.00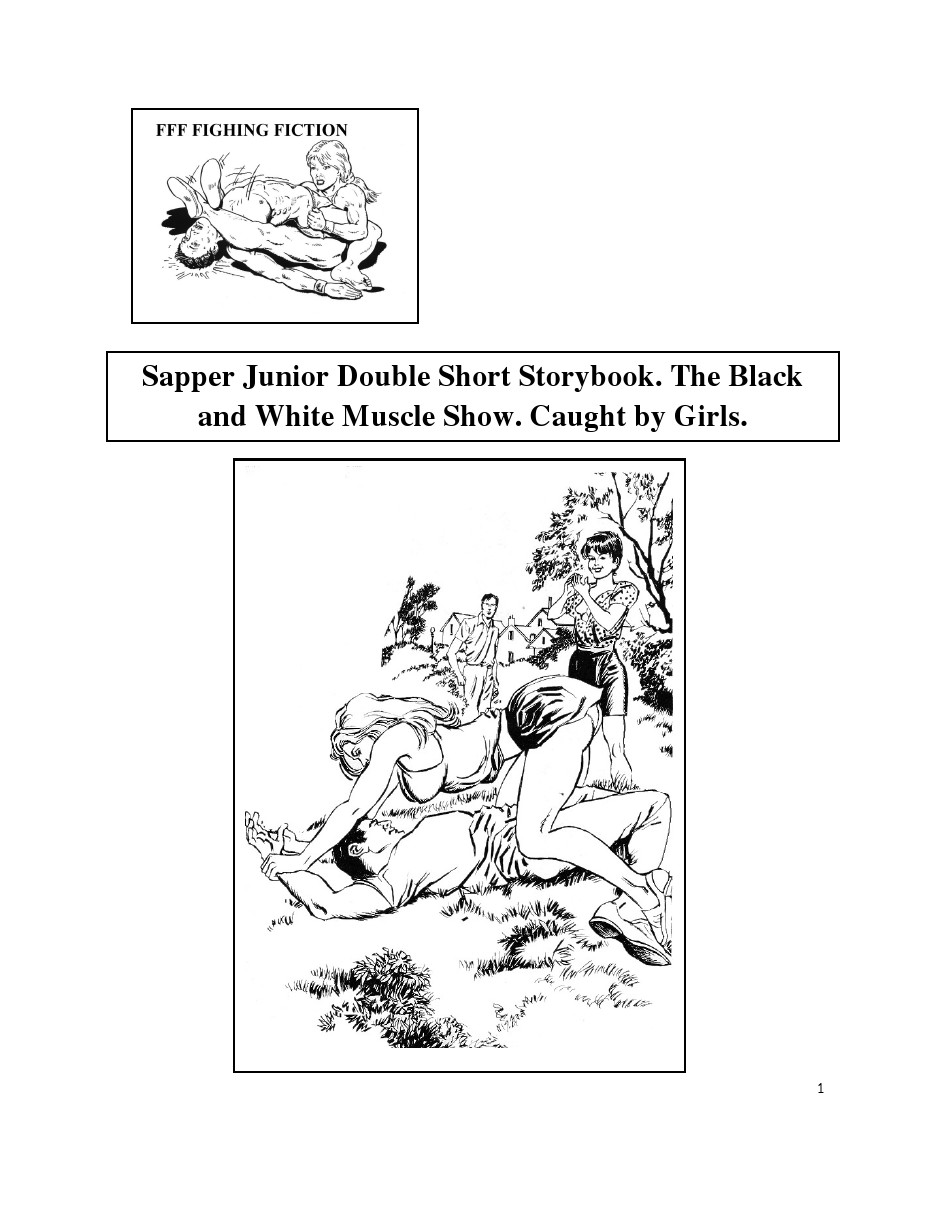 18 SAPPER TRIPLE STORYBOOK 2. THE FRENCH WOMAN V THE AUSTRALIAN BOY. THE WRESTLING MATCH. BULLIES USUALLY WIN.
THE FRENCH WOMAN V THE AUSTRALIAN BOY. A YOUNG AUSTRALIAN MAN IN PARIS FOR THE FIRST TIME MEETS GABY A SOPHISTICATED FRENCH WOMAN IN THE LOUVRE MUSEUM STUDYING A SCULPTURE OF TWO NAKED GREEK MALE WRESTLERS. THEY STRIKE UP A CONVERSATION ABOUT WRESTLING AND GABY INVITED HIM BACK TO HER FLAT TO SEE HER COLLECTION WRESTLING SCULPTURE AND PHOTOS SKETCHES. ALL DEPICTED MEN WRESTLING WOMEN AND THE WOMEN BESTING AND HUMILIATING THE MAN CAUGHT HIS EYE AND PHOTO. THE BOY TOLD GABY THE IMAGES WERE AMUSING BUT FANTASY AND WOMEN COULDN'T DO THOSE SORT OF THINGS TO MAN IN REAL LIFE. GABY ASKED THE BOY IF HE HAD EVER WRESTLED BEFORE AND PROMPTLY CHALLENGED HIM TO WRESTLING MATCH.
THEY WRESTLED IN THEIR UNDERWEAR AND GABY QUICKLY OVERWHELMED THE BOY AND MADE HIM SUFFER IS SOME HOLD PHYSICALLY AND SEXUALLY FOR LONG TIME REDUCING HIM TO TEARS AND TAUNTING HIM EVEN MORE TIME. SHE TOLD HIM HE SHOULD BE A GIRL WAS A GIRL. AFTER THEY SHOWERED AND SHE DRAINED HIM SEXUALLY SHE DRESSED HIM AS GIRL WHAT HE SHOULD BE AND WAS. ANOTHER MALE FEMINISED BY SAPPER JUNIOR SUPERIOR FEMALE.
THE WRESTLING MATCH REMINISCENCES OF A YOUNG MAN WRESTLING A YOUNG WOMEN IN THE SUMMER AND LOSING TO HER NOT ONLY PHYSICALLY BUT SEXUALLY AS WELL AND HE LOST MUCH MORE. ANOTHER MALE TOTALLY CONQUERED BY A SAPPER FEMALE.
BULLIES USUALLY WIN. THE JAMES FATHER AND SON PETER AND PAUL HAD TO ATTEND THE STREET COMMITTEE MEETING WITHOUT SILVIA WIFE AND MOTHER AND HAD TO FACE THE BOSSY FORMIDABLE JANE BAXTER. TO MAKE SURE THE COUNCIL DIDN'T SITE ONE THE PROPOSED LARGE TREES IN FRONT OF THERE HOUSE EXACTLY WHERE JANE BAXTER WANTED IT TO GO. PAUL HAD ANOTHER REASON TO GO TO BAXTER'S HOUSE TO HAVE IT OUT WITH THEIR DAUGHTER DRUSILLA WHO HAD BEEN BULLYING HIS YOUNGER SISTER JENNY AT SCHOOL AND GET HER TO STOP. PETER AND JANE COULDN'T AGREE WHERE THE TREE WOULD GO AND IN THE END JANE SUGGESTED THEY WRESTLE AND THE LOSER GET THE TREE IN FRONT OF THEIR HOUSE. PETER AGREED THEN LOST AND LOST TO THE ATHLETIC TENNIS PAYING JANE ASKED TO BE GIVEN ANOTHER CHANCE JANE AGREED BUT WARNED THERE WOULD BE ANOTHER PENALTY TO PAY IF PETER LOST AGAIN. PETER LOST AGAIN AND JANE DELIGHTED IN TAKING HIS MAKE PRIDE AWAY BY MAKING HIM CUM AND MAKING HIM HER SLAVE .
PAUL THE SON HAD FARED LITTLE BETTER WITH DRUSILLA HE ENDED UP WRESTLING HER AND LOSING AND AGREE TO BE HER SAVE AS WELL. THE BAXTER HAD GREAT RESULT OF THE EVENINGS CONTESTS NO TREE AND MOTHER AND DAUGHTER HAD A MALE SLAVE EACH TO AMUSE THEMSELVES WITH. THE JAMES ENDED UP STUCK WITH THE TREE WITH HUSBAND AND SON SLAVE TO MOTHER AND DAUGHTER, PAUL DIDN'T STOP DRUSILLA BULLY HIS SISTER JENNY HE ENDED BEING BULLIED BY HER AS HER SLAVE. TWO MALE SOUNDLY AMD COMPLETELY SUBDUED BY TWO SAPPER FEMALES. €5.00