MANFLESH SUPER HERO DOMINATION ARTWORK AND COMIC BOOKS PAGE
The url is man-flesh1.blogspot.com

http://www.man-flesh1.blogspot.com
MANFLESH SUPERHERO DOMINATION COMIC BOOKS LIST 19-31
19 TYRANT PART 1, BATMAN TAKEN, SUPERMAN TAKEN. TYRONIA WAS RULED BY A DESPOT, PRINCE SODOM, WHO WANTED TO RULE IT LIKE A MEDIEVAL TYRANT. THE WEST WAS DESPERATE FOR OIL, SO THEY SENT, SUPERMAN AND BATMAN, TO DO A DEAL. THEY WANTED TO BRING MODERN IDEAS TO THE COUNTRY. BUT PRINCE SODOM, WANTED TO ENSLAVE THEM.
WHEN SUPERMAN AND BATMAN REACHED TYRONIA, THEY WERE WELCOMED BY THE MILITARY. "YOUR TRANSPORT IS WAITING ", THE COMMANDER TOLD THEM. AS THEY DROVE A LONG IN THE ARMOURED TRANSPORT, IT HAD NO WINDOWS AND WAS LINED WITH LEAD. THIS PREVENTED SUPERMAN AND BATMAN FROM SEEING NAKED WESTERN SLAVES TOILING. THE HEAT IN THE TRANSPORT WAS LIKE AN OVEN. THE TWO DIPLOMATS WERE JEERED BY THE GUARDS, WHO FLASHED THEIR COCKS, AT PRINCE SODOMS ORDERS. THE HEAT DID NOT EFFECT SUPERMAN, THEY BOTH HAD TO ENDURE, THE GUARDS LEWD, TAUNTING. THE HOSTILE RECEPTION MADE THE WEST GRATEFUL, THEY HAD BATMAN AND SUPERMAN. SURROUNDED BY GUARDS, THE TWO DIPLOMATS WERE TAKEN TO THE PRINCE.
BATMAN AND SUPERMAN ENTERED THE PRINCE'S COUNCIL CHAMBER. THE PRINCE WAS HAVING THE MEETING FILMED. "SIT DOWN", THE PRINCE SAID AS THEY ENTERED. FOR SOME REASON, SUPERMAN WAS BEGINNING TO SWEAT, AND SUPERMAN NEVER SWEATED. "TIME FOR YOU TWO, TO LEARN YOUR PLACE", THE PRINCE SAID POINTING AT THEM. THE GUARDS, BEHIND BATMAN AND SUPERMAN, SPRANG INTO ACTION. THEY INJECTED, BOTH IN THE NECK, WITH HYPODERMIC SYRINGES. BATMAN HAD BEEN INJECTED WITH A DRUG THAT MADE HIM WEAK AND DIZZY, ALSO LOSE CONTROL OF HIS BOWELS, SO HE SHIT HIMSELF. THE INJECTION SUPERMAN WAS GIVEN CONTAINED GREEN KRYPTONITE AND BOWEL RELAXING DRUG. HE GROANED, AS SHIT ERUPTED FROM HIS BUM. THE DEBILITATED ONCE HEROES, WERE STRIPPED OF THEIR CLOTHING, IN A VERY ROUGH AND CRUDE WAY. THE PRINCE WOULD OFFICIALLY STATE, THAT THE DEAL FOR OIL HAD BEEN COMPLETED AND THE DUO HAD LEFT HIS DOMAIN.
THE ENSLAVED DUO, NAKED AND DRUGGED, WHERE TAKEN TO DR MAX VON SANDO'S DUNGEON CLINIC. IN THE DOCTOR'S CLINIC, SUPERMAN AND BATMAN WHERE HUNG UP, BY THE ARMS, LIKE SLABS OF BEEF. "WELCOME TO MY CLINIC", THE DOCTOR SAID, AS THE GUARDS WANKED, THE DUO, WITH GLOVES, COVERED WITH NETTLES. A CAMERA CONNECTED TO THE END OF A PROSTATE POUNDER, WAS FORCED UP THE ARSES OF THE DUO, WHICH MADE THE ONCE MIGHTY PAIR, SPUNK OUT MORE JISM. THE PRINCE USED COPIES OF THE FILM, TO DEMONSTRATE HIS POWER, TO OTHER RULERS. NEXT, THE ONCE MIGHTY, LAWMEN, NOW LUMPS OF MEAT, WERE TENDERIZED, FOR A HARD FUCKING. THEY WERE HUNG UP AND BEATEN BY THE GUARDS, AND LEFT BLOODIED AND BRUISED. BATMAN AND SUPERMAN WERE GIVEN SLAVE HAIRCUTS, THEIR LOOK FROM NOW ON. DEPLETION PASTE, THAT RESTRICTED HAIR GROWING BACK, WAS APPLIED TO THE SIDES OF THEIR HEADS, AND AROUND THEIR JAWS, THEN ALL OVER THEIR BODIES, ALL THE WAY DOWN TO THEIR FEET. THEIR HAIR WOULD NOT GROW BACK FOR EIGHTEEN MONTHS, OR NEVER IF THERE WERE MORE APPLICATIONS. BOTH OF THEM WERE TIED AND HUNG HELPLESS FROM WOODEN FRAMES AND SUBJECTED TO A HARD FUCKING BY THE GUARDS. THIS WAS FILMED TO RECORD EVERY ASPECT OF THEIR SHAMING. THEY TOOK ANOTHER SAVAGE WHIPPING, AND MORE DRUGS WERE FORCED DOWN THEIR THROATS, SUPERMAN'S CONTAINED GREEN KRYPTONITE. THE HORNY ORDERLIES GIVING THE WHIPPING, FONDLED THEIR HARD COCKS. THEY THRUST THEIR TONGUES DOWN THE TWO PANTING, GUINEA PIG THROATS. SO SAVAGE WAS THE WHIPPING THAT SOME OF THE WHIP MARKS WOULD BE VISIBLE ON DUO'S BODIES FOR THE REST OF THEIR LIVES.
THE PRINCE'S ARMY WAS SHOWN THE FILMS OF HIS ABUSE OF THE SLAVES, DEMONSTRATING HIS POWER OVER THE WESTERNERS, HIS SUPERIORITY. THE NAKED EXCITED SOLDIERS WERE TOLD, "SEE OUR LORDS POWER". AS THEY WATCHED THE DUO BEING FUCKED. THEY WERE WESTERN BUTTS, TO BE FUCKED ON THEIR HARD COCKS. SUPERMAN AND BATMAN WERE IMPALED ON HUGE BLACK DILDO'S AND HAD MIND WASHING HELMETS, ATTACHED TO THEIR HEADS. TO BREAK THEIR MINDS, TO TURN THEM INTO HOMOED SEXUAL PUPPETS. HARD PHYSICAL, SEXUAL AND PSYCHOLOGICAL ABUSE OF TWO ONCE MIGHTY, SUPER HEROES. €15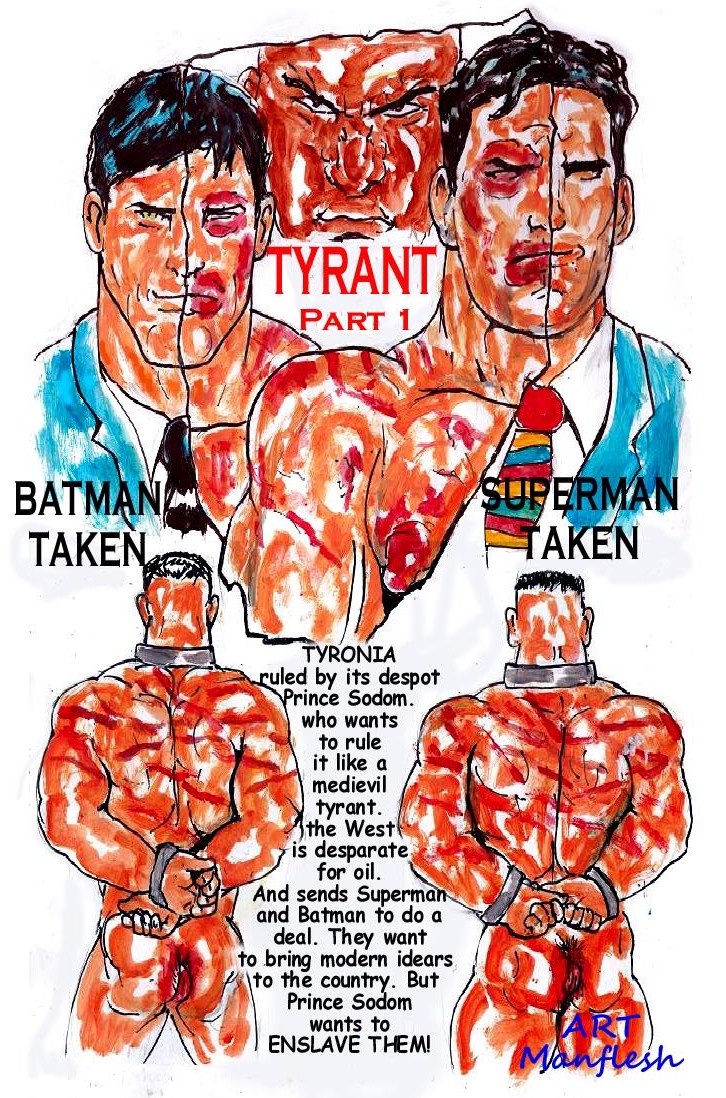 20 TYRANT PART 2 DEEPER INTO ENSLAVEMENT. THE EX HEROES HEADS SLUMPED DOWN TO THE FLOOR. "KEEP AWAKE THE GUARDS SHOUTED", AS THEY SLAPPED SUPERMAN AND BATMAN'S FACES, TO STOP THEM SLIPPING OUT OF CONSCIOUSNESS. BATMAN WATCHED GROANING IS MISERY, AS THE DEMENTED DOCTOR, USED A METAL BALL CRUSHER, ON SUPERMAN'S WALNUT, SIZED BALLS. "WATCH, YOUR NUTS ARE SQUEEZED NEXT", THE DOCTOR TOLD BATMAN, AS HE TORTURED SUPERMAN'S BALLS. "SEE I AM MASTER, I CONTROL YOU", THE DOCTOR SAID AS HE USED THE STEEL BALL CRUSHER, ON BATMAN'S BALLS. BATMAN WAS FORCED TO ENDURE THE BALL CRUSHER AS A SOBBING SUPERMAN WATCHED. SUPERMAN'S BALLS WERE AS BIG AS PURPLE PLUMS AND THROBBING WITH PAIN.
BATMAN WAS SECURED AND INJECTED WITH VIAGRA THEN SUPERMAN ALSO INJECTED WITH VIAGRA, WAS POSITIONED ON BATMAN'S HARD COCK SO BATMAN COULD HOMO FUCK SUPERMAN'S ANUS. THE VIAGRA FILLED BOTH THEIR BODIES WITH LUST. A THIRD GUARD FILMED BATMAN HOMO FUCKING SUPERMAN'S ARSE. SUPERMAN AND BATMAN WERE THEN FORCED TO SUCK A LONG, LINE, OF NAKED AND ERECT GUARDS, COCKS. THE BIGGEST COCKS FROM THE TYRANT'S LARGE ARMY WERE LINED UP FOR THE EX HEROES TO SUCK. "TAKE THEM THE DOCTOR TOLD THE GUARDS, WHO WERE SENT BY THE PRINCE FOR BATMAN AND SUPERMAN. HE HAD TO LET THEM OUT OF HIS CLUTCHES FOR A FEW HOURS. THE PRINCE WANTED TO DEMONSTRATE TO HIS DOWN TRODDEN PEOPLE, HIS POWER OVER THE WESTERNERS WITH THEIR PURPLE PEACH SIZED NUTS ON DISPLAY. HE HAD THE ONCE MIGHTY, SUPERMAN AND BATMAN, PULLED NAKED THROUGH THE STREETS, WITH HIS GUARDS STUBBING OUT THEIR BURNING CIGARS, ON THE EX HEROES NAKED FLESH.
SUPERMAN AND BATMAN GROANED IN PAIN AND EMBARRASSMENT AS THEY WERE DRAGGED NAKED THOUGH THE STREETS, WITH THE GUARDS, STUBBING OUT THEIR CIGARS, ON THE EX HEROES NAKED BODIES. THERE EXCITED CROWD, OF LOCALS, SHOUTED AND CHEERED, FIRED UP BY THE SPECTACLE. THEY WANTED TO BE LIKE THE GUARDS, MASTERS OF WESTERN FLESH, THEY WERE ENVIOUS OF THE FACT, THAT THE GUARDS, GOT TO FUCK THEIR ARSES, HARD AND DEEP. THEY WERE TAKEN TO A COURTYARD IN THE MEN ONLY QUARTER, AND TIED TO LARGE PUNISHMENT STAKES. YOUTHS, WERE ALLOWED TO WHIP THE WESTERNERS BUTTS. THEY WERE ENCOURAGED TO STRIP NAKED, TO DISPLAY THEIR HARD BROWN COCKS. THE YOUTHS COMPLIED WITH GREAT ENTHUSIASM, WHIPPING THE WESTERNERS BUTTS, WITH SHORT LENGTHS OF ROPE. AFTER THE WHIPPINGS, THE GUARDS TOLD THE YOUTHS THAT THE WESTERN BITCHES, WOULD SUCK THEIR COCKS. BATMAN AND SUPERMAN HAD NO CHOICE BUT TO SUCK THE YOUTHS COCKS. WITH THEIR GUTS, SWOLLEN WITH ARAB SPUNK, BATMAN AND SUPERMAN WERE DRAGGED BACK TO THE TYRANT'S FORTRESS.
BACK IN THE DOCTORS DUNGEON, THEIR SORE, NIPPLES, WERE PIERCED WITH STEEL SPIKES. "YOUR BODIES HAVE BEEN RAVAGED, NOW TO RAVISH YOUR MINDS", THE DEMENTED DOCTOR TOLD THEM. THEY HAD MIND WASHING HELMETS STRAPPED TO THEIR HEADS, AND FOR DAY AFTER DAY THEY WERE SHOWN MONSTROUS IMAGES OF WOMAN, DOING PAINFUL AND SADISTIC THINGS TO THEIR BODIES. SLOWLY AND SURELY, THE SORE TIRED HUNKS WERE MADE TO FEAR AND LOATHE WOMEN. THEN THE DUO WERE FLOODED WITH IMAGES MAKING THEM THINK THEY WERE BEING MANSEXED, THEIR PROSTATES WERE VIBRATED, MAKING THEM ORGASM AND FEEL GOOD. THEY WERE MADE TO BELIEVE, THAT REAL MEN, TOOK IT HARD, UP THE BUTT. THE ONCE MIGHTY DUO, WERE FORCED ACCEPT THE SEX WITH MEN WAS PROPER. ALSO THAT BROWN, ARAB COCKS UP THEIR ARSES, WAS THEIR SEXUAL FUNCTION IN LIFE. AS THEIR ENSLAVEMMENT DEEPENED THE ONCE MIGHTY DUO'S HARD PHYSICAL, SEXUAL AND PSYCHOLOGICAL ABUSE DEEPENED, TO MAKE THEM HOMOED SEXUAL PUPPET SLAVES. €15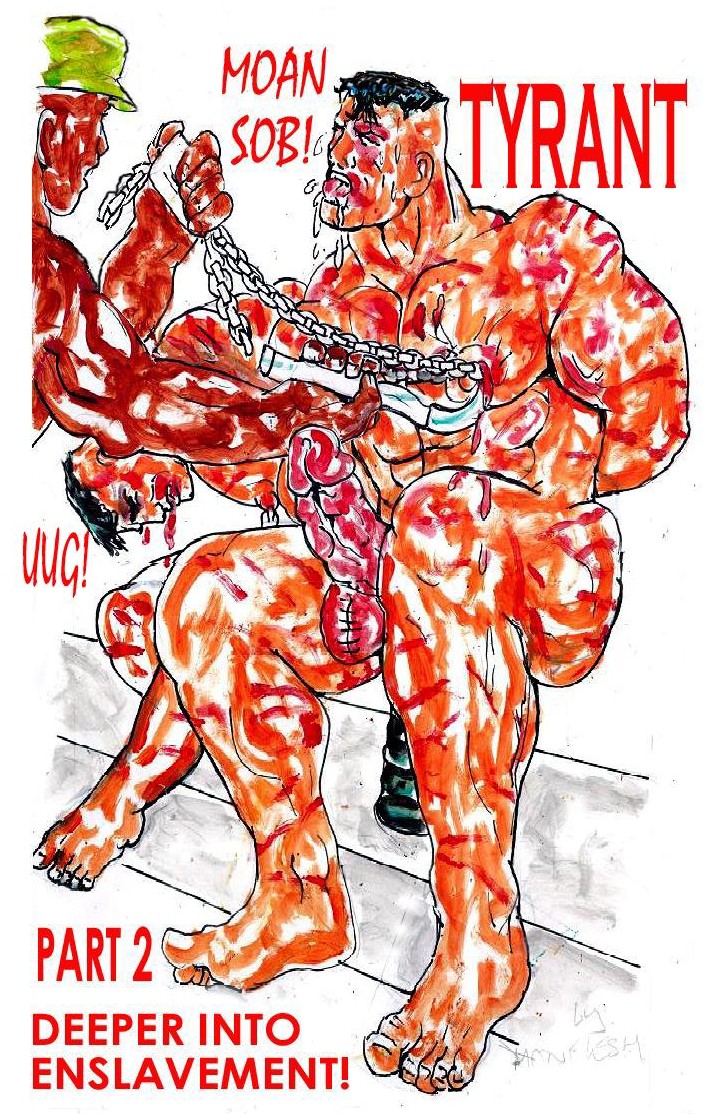 21 SUPER BAD AND LOVING IT PART 1 BLACK KRYPTONITE. BLACK KRYPTONITE, ONCE IN THE BLOOD STREAM OF SUPERMAN TURNED HIM INTO SUPER BAD. SUPER BAD SMILED, MEN WOULD FEEL THE POWER OF HIS SUPER COCK. THE STORY STARTED IN THE SUPERMAN'S BEDROOM IN METROPOLIS. SUPERMAN HAD BEEN HAVING, BAD EROTIC DREAMS. HE HAD WET THE BED AND ALSO SPUNKED SEVERAL TIMES A NIGHT. IT HAD BECOME SO BAD, THAT SUPERMAN WAS WEARING A NAPPY. HE WAS BEING WATCHED BY THE IMP. THE IMP WHO WAS ABLE TO BECOME INVISIBLE AT WILL, DID SO, AS HE OPENED SUPERMAN'S NAPPY. THE IMP INSERTED A SLITHER OF BLACK KRYPTONITE, INTO SUPERMAN'S COCK. WHEN SUPERMAN WOKE UP, HE WOKE UP CHANGED. HE WAS NOW SUPER BAD. I WILL FUCK DOMINATE AND ENSLAVE, BLACK SUPER BAD THOUGHT TO HIMSELF.
SUPER BAD CLAMPED HIS NIPPLES WITH TWO CURTAIN RINGS. HE FIXED TWO CORNERS OF A BLACK CAPE, TO THE NIPPLE RINGS. HIS NEW UNIFORM, AS SUPER BAD, WAS NOW COMPLETE. SUPER BAD WENT ON THE PROWL, HE NEEDED TO CONQUER. SUPER BAD USED HIS XRAY VISION TO SCAN A BUILDING. SUPER BAD SPOTTED A HUNKY SECURITY GUARD. THE XRAYS, ALLOWED SUPER BAD, TO SEE THE SECURITY GUARD NAKED. YES HE WILL DO, SUPER BAD THOUGHT LUST FULLY. SUPER BAD, CONFRONTED THE SHOCKED SECURITY GUARD, INSIDE THE BUILDING. "HEY NO ONE IS ALLOWED IN HERE", THE SHOCKED SECURITY GUARD TOLD SUPER BAD. "I HAVE SUPER POWERS, I AM YOUR MASTER", SUPER BAD, TOLD THE SECURITY GUARD. "I HAVE A ZAPPER", THE SECURITY GUARD REPLIED BRANDISHING IT. SUPER BAD FIRED HIS SPIT, AT THE SECURITY GUARD, COVERING HIM WITH IT. SUPER BAD SPIT, ON A HUMAN, WAS A STRONG AS RUBBER, AND IT BOUND HIM TIGHT, AGAINST THE WALL. SUPER BAD SPIT COULD ALSO DISSOLVE CLOTHING. AS THE HUNKY GUARD WAS STUCK TO THE WALL, HIS UNIFORM BEGAN TO MELT. SUPER BAD, DRAGGED THE SECURITY GUARD OFF THE WALL AND TRAPPED HIM IN A CHOKE HOLD AND ARM LOCK. "I AM SUPERMAN, THE MASTER OF ALL", SUPER BAD TOLD THE SECURITY GUARD, AS HE TRAPPED HIM IN THE CHOKE HOLD AND ARM LOCK. "SHIT, NO, IT CAN'T BE, BUT THE FACE LOOKS THE SAME", THE SECURITY GUARD GASPED IN SHOCK. SURELY IT CAN'T I SUPERMAN SURELY", THE SECURITY GUARD, THOUGHT TO HIMSELF IN HORROR. THEN HE GROANED LOUDLY IN PAIN, AS SUPER BAD IMPALED THE SECURITY GUARD, ON HIS SUPER COCK. SUPERBAD FUCKED THE SECURITY GUARD LONG AND HARD, GLORYING IN HIS POWER OVER MAN FLESH. SUPER BAD STILL UNSATED, FLEW OFF IN SEARCH OF MORE HUNK ARSE TO DOMINATE.
ONCE CONQUEST WAS NOT ENOUGH FOR SUPER BAD. HIS QUEST FOR DOMINATING GRATIFICATION, KNEW, NO BOUNDS. SUPER BAD SPOTTED A COLLEGE. HE USED HIS XRAY VISION AND SAW HIS NEXT TARGET. THE CHANGING ROOM, FULL OF COLLEGE JOCKS. SUPER BAD SMASHED HIS WAY INTO THE CHANGING ROOM, ALARMING ALL THE NAKED JOCKS. "I AM SUPER BAD THE MASTER OF ALL", SUPER BAD SAID, AS HE GRABBED TWO OF THE NAKED JOCKS, THEN ATTACKED THEM ALL. HAVING KNOCKED THEM FOR SIX, SUPER BAD, HAS HIS WAY WITH THEM. THE HUNKY JOCKS WERE MADE TO BEND OVER, AND THEY WERE THEN FUCKED. EACH RECEIVING A PINT OF CUM SO DEEP EMBEDDED, THAT THEIR BELLIES, SWELLED LIKE, PREGNANT BITCHES. HAVING FUCKED THE EIGHTEEN COLLEGE JOCKS, SENSELESS. A GRINNING SUPER BAD FLEW OFF. I MUST HAVE MORE, HE THOUGHT, AS HE FLEW AWAY.
AT THE HEAD QUARTERS OF METROPOLIS ARMY COMMAND, A FOUR STAR GENERAL WAS BRIEFING A LIEUTENANT, ON THE SUPERMAN SITUATION. THE ALIEN FROM ANOTHER PLANET, SUPERMAN, HAS FALLEN FROM GRACE AND SHOWN HIS TRUE COLOURS, THE GENERAL, TOLD THE LIEUTENANT. ITS TIME FOR THE ARMY TO RULE, I WILL GET BATMAN TO CAPTURE HIM. I WILL NOT KILL HIM, I WILL SHAME HIM, TAKE AWAY HIS MAN HOOD, THE GENERAL STATED. "LIEUTENANT TANNER, I COMMAND YOU TO DROP YOUR DRAWS, AND BEND OVER THE DESK FOR MY WEAPON TRAINING", THE GENERAL ORDERED. "GULP, YES SIR", THE LIEUTENANT SAID, WHO WAS NAKED, SAVE FOR HIS UNDERWEAR. THE LIEUTENANT STRIPPED NAKED AND BENT OVER THE DESK, AS ORDERED. "READY FOR YOUR WEAPON DRILL?", THE GENERAL ASKED. "YES SIR", THE LIEUTENANT REPLIED. THEN HE LET OUT A GULP OF SHOCK, AS THE GENERAL THRUST HIS COCK IN THE LIEUTENANTS ANUS. "THE ARMY WILL NAIL THE SON OF A BITCH", THE GENERAL SAID, AS HE FUCKED THE LIEUTENANT. "FUCKING YES?", THE GENERAL ADDED. "YES SIR", THE LIEUTENANT REPLIED, WITH A SOB OF PAIN. "YES, WE WILL USE BATMAN TO CAPTURE SUPER BAD, THEN TURN SUPER BAD INTO A COCK LESS CONVICT", THE GENERAL SAID, AS HE CONTINUED TO FUCK THE LIEUTENANT. THE DARK NIGHT CUMITH. HOT MALE ON MALE DOMINATION, GOOD PHYSICAL AND SEXUAL ABUSE OF YOUNG HUNKY MALES, AS SUPER BAD RUNS AMOK. €15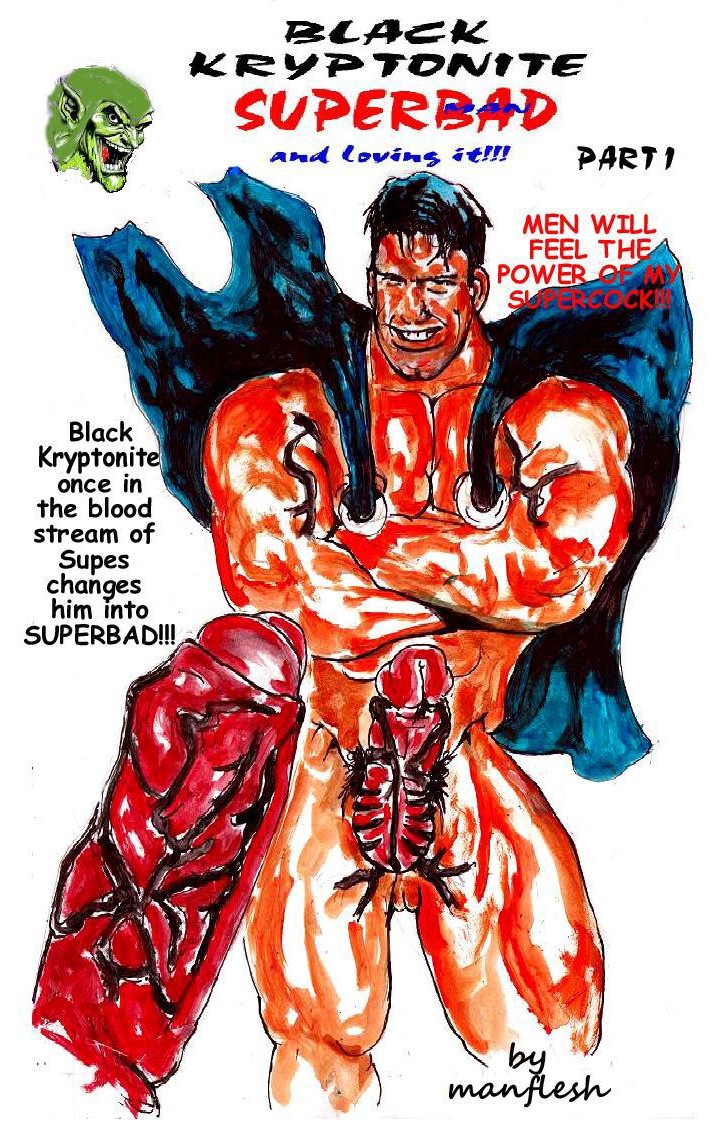 22 SUPER BAD PART 2 THE DARK KNIGHT RISES. BATMAN WAS IN THE SHOWER WHEN HE GOT AN URGENT CALL. THE MESSAGE READ, ITS SUPERMAN HE'S BECOME SUPER BAD. BATMAN REPLIED HE WAS ON TO IT. MY FRIEND, NOW MY ENEMY, BATMAN THOUGHT TO HIMSELF. BATMAN'S COCK GOT STIFF AT THE THOUGHT OF THE MUSCLE CLASH TO COME. BATMAN LOCATED SUPER BAD AND DROPPED DOWN UPSIDE DOWN ON WIRE, TO WHERE SUPER BAD WAS FUCKING A COP. "I SEE YOU ARE TAKING THE LAW INTO YOUR OWN HANDS", BATMAN SAID. "YOU HERE TO FUCK OR FIGHT", SUPER BAD REPLIED. "FIGHT ME YOU HAVE NO CHANCE?", SUPER BAD SAID, RELEASING THE COP. "I'M NOT ALONE", BATMAN REPLIED, AS BATS STARTED TO ATTACK SUPER BAD. WITH SUPER BAD ENGAGED, BATMAN WAS ABLE TO IMPALE THE COP ON HIS COCK AND RESCUE HIM. BATMAN TOOK THE FUCKED COP TO AN ABANDONED WAREHOUSE. BETTER PUT MY MASK ON BATMAN THOUGHT TO HIMSELF, AS HE SAW THE COP WAS WAKING UP. THANK YOU FOR SAVING ME BATMAN", THE COP SAID. "YOUR POISONED, I WILL FLUSH THE POISON OUT OF YOU", BATMAN SAID, PISSING INTO THE COP'S MOUTH. HIS BAT PISS MADE THE COP SICK AND FLUSHED THE POISON FROM HIS BODY. "MY CUM WILL CLEAN OUT YOUR INSIDES", BATMAN SAID AS FUCKED THE COP'S ANUS. "GOSH, THANKS MR BATMAN SIR, I'LL CLENCH MY ASS LIPS, TO ABSORB EVERY DROP", THE COP REPLIED.
BATMAN AND SUPER BAD MET FOR A SHOW DOWN AT THE OLD ABANDONED ARENA OUT SIDE METROPOLIS. SUPER BAD KNOCKED BATMAN DOWN WITH A PUNCH AND RIPPED HIS MASK OFF. BEFORE KILLING BATMAN SUPER BAD WANTED TO STRIP HIM NAKED. YES SUPER BAD HAD THE POWER. SO AT THIS STAGE OF THE FIGHT, BATMAN HAD NO CHOICE BUT TO BE STRIPPED. "YOU ARE NAKED HUMAN FLESH, NOT SUPER LIKE ME, I HAVE POWER OVER LIFE OR DEATH", SUPER BAD SAID, AS HE PULLED BATMAN'S GAUNTLETS OFF, STRIPPING HIM COMPLETELY NAKED. GLOATING, SUPER BAD PISSED ON BATMAN, WHO TOOK IT LIKE A MAN. SUPER BAD POUNDED BATMAN ALL OVER HIS NAKED BODY. MAKING HIS FLESH INTO RAW STEAK. READY FOR A HARD SEXUAL POUNDING UP HIS ANUS. "TIME TO DIE, YOUR TIME HAS COME", SUPER BAD TOLD, THE BATTERED BATMAN. BATMAN SUMMONED ONE OF HIS BATS, A VAMPIRE BAT, ITS TEETH WERE COATED WITH GREEN KYRPTONITE. IT ATTACKED SUPER BAD. BITTEN SUPER BAD COLLAPSED. THE IMP APPEARED, INVISIBLE TO BATMAN AND SUPER BAD. THE IMP TOOK THE BLACK KYRPTONITE FROM SUPERMAN, ALSO THE NIPPLE RINGS AND THE CLOAK. WEAK FROM THE GREEN KYRPTONITE, BAT BITE, AND WITH THE BLACK KRYPTONITE GONE, SUPERMAN WAS NO LONGER BAD. SHIT WHAT HAVE I DONE, SHIT I REMEMBER, SHIT NO, SUPERMAN THOUGHT TO HIMSELF.
"WHAT WILL YOU DO TO HIM?", A NAKED BATMAN ASKED, THE ARMY OFFICER, AS TWO SOLDIER DRAGGED SUPERMAN AWAY. "HE WILL BE INCARCERATED FOR LIFE, HIS MAN WEAPON WILL BE REMOVED, THEN HARD LABOUR", THE OFFICER REPLIED. MORE HOT MALE ON MALE DOMINATION, GOOD PHYSICAL AND SEXUAL ABUSE OF YOUNG HUNKY MALES, AS SUPER BAD CONTINUES TO RUN AMOK. ALSO SUPER HERO PHYSICAL AND SEXUAL FIGHTING AND DOMINATION €15.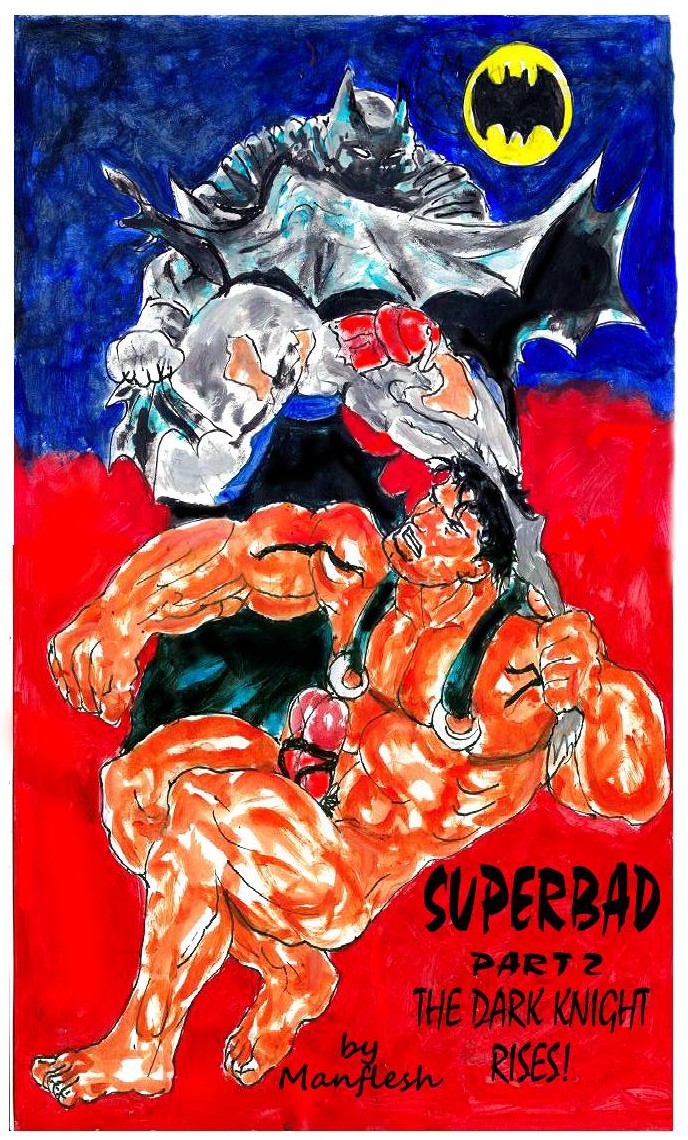 23 SUPER BAD PART 3 UNMANNED. AT A HIGHLY GUARDED MILITARY FACILITY, SUPERMAN, EX SUPER BAD, NOW WITHOUT SUPER POWERS. WAS STRAPPED TO AN OPERATING TABLE IN THE MEDICAL WING. "YOU WON'T FEEL A THING", WELL A LOT OF TUGGING,AS THERE IS SO MUCH ANAESTHETIC IN YOUR BODY", A SURGEON IN GREENS SCRUBS, TOLD SUPERMAN. THE SURGEON, WAS HOLDING A SCALPEL AND DIRECTING A LIGHT DOWN ONTO SUPERMAN'S NAKED BODY. WHEN SUPERMAN PASSED OUT, THE CUTTING AND PULLING BEGAN, AND THE ONCE SUPER HERO WAS REMODELLED. THE SURGEON CUT OFF SUPERMAN'S COCK AND BALLS. HE CLASPED SUPERMAN'S SEVERED COCK IN HIS HAND. WAKING UP SIX HOURS AFTER THE OPERATION. SUPERMAN FOUND A BLOOD STAINED, TENTED COVER, OVER HIS GROIN. A METAL PLATED FIXED ACROSS SUPERMAN'S TONGUE, MEANT HE COULD NOT TALK. SUPERMAN WAS DRAGGED OFF THE OPERATING TABLE BY TWO GUARDS. THIS WAS WHEN HE GOT HIS FIRST LOOK AT HIS MAN CUNT. A STEEL COLLAR CONTAINING GREEN KRYPTONITE, WAS WELDED AROUND HIS NECK. SO HIS SUPER POWERS WOULD NOT RETURN. SUPERMAN NOW A CONVICT, WAS TAKEN SOUTH TO THE HOT DESERT WASTES, HOME OF THE HARD NAKED LABOUR PRISON, IN A MILITARY PRISON VAN.
IT WAS A LONG JOURNEY SOUTH, DEEPER INTO THE DESERT LANDS, HOTTEST PLACE IN THE STATES. ONE THE WAY IN THE BACK OF THE MILITARY PRISON VAN, THE TWO GUARD AMUSED THEMSELVES, WITH THE NAKED AND BOUND BODY OF SUPERMAN. "ITS CUNT, SURE SPUNKS, WHEN A REAL MAN FINGERS IT", ONE THE GUARDS SAID AND HE FINGER FUCKED SUPER MAN'S MAN CUNT. "SEE HOW MANY TIMES WE CAN MAKE IT SPUNK", THE OTHER SAID. WHEN THEY ARRIVED AT THE NAKED LABOUR PRISON, SUPERMAN WAS TAKEN TO SEE THE WARDEN. "RIGHTS, YOU HAVE NO RIGHTS", THE WARDEN TOLD SUPERMAN. "ITS HARD LABOUR FOR YOU IN THE QUARRY, BUT FIRST ITS A HARD CUNTING FOR YOU", HE ADDED AND HE GROPED SUPERMANS MAN CUNT. SUPERMAN TRIED TO OBJECT, BUT THE STEEL PLATE MEANT, HE COULD ONLY GRUNT. THE WARDEN STRIPPED OFF TO GIVE THE EXSUPER BEING A HARD CUNTING. SO IT COULD BE FILLED WITH THE HARD JUSTICE OF THE LAW. "FILL YOUR CONVICT HONEY HOLE", THE WARDEN SAID, AS HE FUCKED SUPERMAN'S, MAN CUNT HARD. AFTER HIS HARD SEXUAL INTERROGATION, BY THE WARDEN. SUPERMAN WAS GIVEN A CONVICT HAIR CUT. THE FUCKED SPUNK MUFFED EXSUPERMAN WAS DRAGGED TO A CELL, HIS CUNT DRIPPING FOR ALL TO SEE. HE WAS DRAGGED PASSED, HARD NAKED CONVICT, BRUTES, WANTING THEIR COCKS UP HIS CUNT, MOUTH AND ARSE. THROWN INTO A CELL EX SUPERMAN COULD ONLY WATCH, AS THE LUSTING GUARDS REMOVED THEIR UNIFORM TROUSERS. THE GUARDS ROCK HARD COCKS, PISTON FUCKED CONVICT BITCH, SUPERMAN'S ARSE. LEAVING HIS SORE ARSE FILLED WITH THEIR CUM. A BUCKER FULL OF CONVICT MUSH, OFFAL, FRUIT FISH, VEG AND STEROIDS, WAS LEFT FOR HIM, AS THE GUARDS LEFT. RAVENOUS, SUPERMAN BOLTED DOWN THE SLUDGE. EXSUPERMAN COULD NOT SLEEP, HE FELT SO HORNY, TOSSING AND TURNING. SO HE WAS FORCED TO FIST HIS MAN CUNT UNTIL HE CUM.
THE NEXT MORNING EXSUPERMAN WAS TAKEN INTO THE DESERT HEAT. IT WAS THE START OF ALONG DAY OF TOIL. THE OTHER CONVICTS WERE ALL HARD, AS THEY TOILED. EX SUPERMAN BLUSHED, ALL THOSE COCKS AND HIM WITH A CUNT. ALL THE CONVICTS LOOKED AT HIM, WANTING TO STICK THEIR MAN WEAPONS IN HIS BITCH HOLE. EXSUPERMAN, WAS GIVEN THE DIRTIEST JOBS BY THE GUARDS LIKE CLEANING OUT THE OVER FLOW FROM THE LATRINES. WHEN THE GUARDS HOSED HIM DOWN AFTERWARDS, THEY ENJOYED, USING THE FULL PRESSURE OF THE HOSE, ON HIS MAN CUNT. LATER THE GUARDS OPENED ALL THE CELL DOORS BY REMOTE CONTROL, AND THEY WATCHED THE CONVICTS, KNOWING EXACTLY WHERE THEY WERE ALL GOING. EXSUPERMAN WAS MASTURBATING IN HIS CELL, HE DID THIS FOR TWO HOURS EVERY NIGHT. PRETENDING HE WAS A HUGE PRICKED STUD, FUCKING PUSSY. WHEN THE CONVICTS TURNED UP OUTSIDE HIS CELL. EXSUPERMAN WAS GRABBED AND SPREAD EAGLE ON HIS RUBBER MAT, BY FOUR CONVICTS, WHILE ANOTHER COCK HARD CONVICT, ENTERED HIS SUCKING HOLE. ALL THREE OF EXSUPERMAN'S HOLES WERE USED, AS ALL THE CONVICTS LINED UP TO SPUNK IN THE BITCH EXSUPERMAN. DISPLAYING THE POWER OF THEIR WEAPONS, BETWEEN THEIR LEGS. EX SUPERMAN'S LIFE WAS NOW ALL NAKED TOIL AND FUCKING BY THE CONVICTS. EXSUPERMAN NOW AN UNMANNED CONVICT, SUFFERS AT THE HANDS OF THE GUARDS AND CONVICTS ALIKE. MORE INTENSE PHYSICAL AND SEXUAL ABUSE OF A ONCE SUPER HERO €15.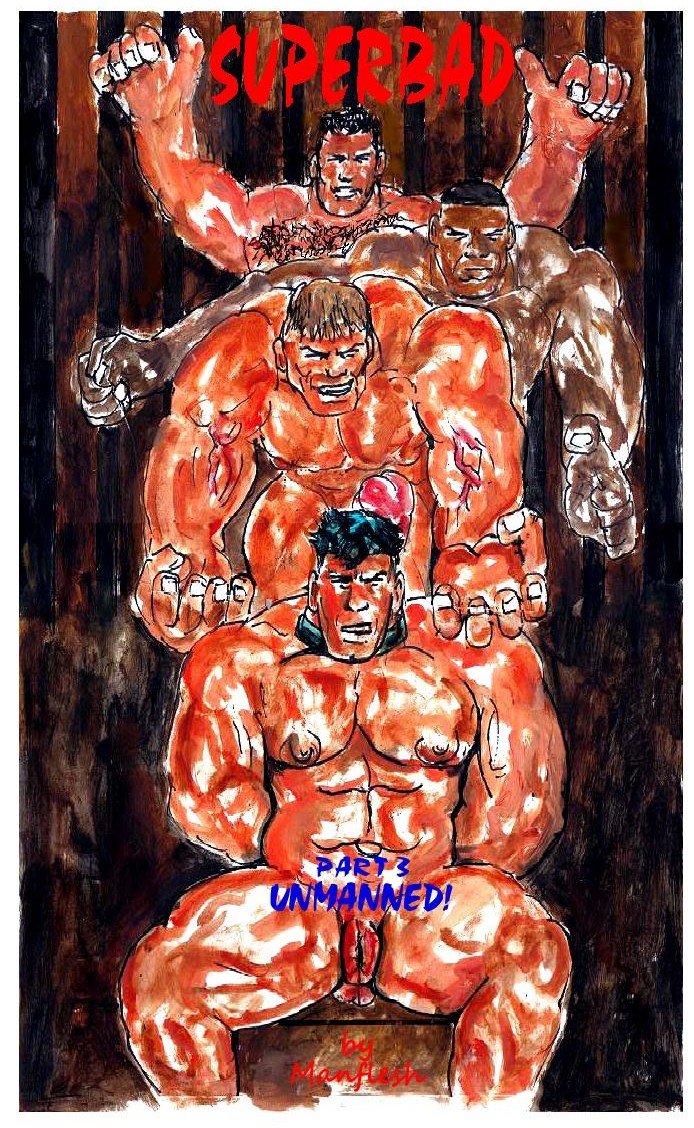 24 SUPER HEROES BONDAGE PART 1, A GOD HAS RISEN, A GOD HAS FALLEN. SIX SUPER HEROES, HAD GONE MISSING FOR MONTHS. THEY WERE SUPERMAN, BATMAN, ROBIN, GREEN LANTERN, CAPTAIN AMERICA, AND NOW THOR. THOR WAS SUCKED THROUGH A WORM HOLE INTO THE PAST. THOR CRASHED ON THE GROUND OF BORAK'S HOME PLANET. BORAK REGARDED HIMSELF AS THE GOD OF GODS, WITH POWER OVER ALL MATTER, SUPER HEROES HIS NAKED SLAVES. AS HE SEARCHED BORAK'S HOME PLANET, THOR FOUND THE MISSING SUPER HEROES. HE WAS SHOCKED I SEE THAT THE SUPER HEROES WERE NAKED AND BRANDED.
MONTHS PREVIOUSLY, SUPERMAN WAS ON PATROL ABOVE PLANET EARTH, WHEN A WORM HOLED OPENED. HE WAS ATTACKED BY DARK MATTER AND PULLED INTO THE WORM HOLE. SUPERMAN LANDED ON BORAK'S PLANET, BEFORE BORAK. "I AM YOUR GOD", BORAK STATED. "YOU HAVE NO POWERS, YOU ARE MY SLAVE", HE ADDED. BORAK WAVED HIS HAND AND BORAK'S DARK MATTER ROPED AROUND SUPERMAN, BINDING HIM AND TEARING HIS CLOTHES OFF. "TAKE IT TO THE BLOCK", BORAK ORDERED. TWO OF BORAK'S ARMY OF TROLLS, GRABBED SUPERMAN AND WITHOUT SUPER POWERS HE WAS JUST NAKED MEAT. SUPERMAN WAS MAN HANDLED BY THE TROLLS ONTO THE STONE BLOCK. SUPERMAN WAS PLACED FACE DOWN ON THE STONE BLOCK AND HELD SPREAD EAGLE BY FOUR OF BORAK'S TROLLS. BORAK THE GOD, POINTED HIS FINGER AT SUPERMAN'S BACK. SUPERMAN NOW WITHOUT HIS SUPER POWERS, FELT THE AGONY OF BURNING FLESH. BORAK USED HIS POWERS TO BURN A HUGE S ONTO SUPERMAN, HIS SLAVES BACK. BORAK THEN USED HIS GOD POWER TO BURN THE HAIR AND HAIR ROOTS, FROM THE SIDES AND BACK OF SUPERMAN'S HEAD, GIVING HIM A SLAVE HAIR CUT. HIS MAN BUSH SUFFERED THE SAME FATE, HE WAS NO LONGER A MAN, HE WAS A SLAVE. BORAK USED HIS DARK MATTER TO SUSPEND SUPERMAN UPSIDE DOWN IN THE AIR, WITH HIS LEGS APART. HE THEN THRUST HIS HUGE COCK INTO THE EX SUPER HEROES ARSE, CUNT, WATCHED BY HIS ARMY OF TROLLS. AFTER GOD BORAK HAD FUCKED SUPERMAN'S MANY PUSSY, HIS TROLLS WERE ALLOWED TO FUCK THE LOWLY SLAVE. HE WAS JUST A BITCH, WHORE, JOY HOLE. SUPERMAN WAS MADE TO BEND OVER WHILE BORAK'S TROLLS TOOK TURNS FUCKING HIM.
SUPERMAN WAS PUT TO WORK AND FORCED TO MOVE HEAVY BOULDERS AROUND. ALTHOUGH HE HAD LOST HIS SUPER POWERS, HE WAS STILL THREE TIMES AS STRONG AND THE MOST POWERFUL EARTHLING. AS SUPERMAN TOILED WITH THE HEAVY BOULDERS, ONE OF THE TROLLS TOLD HIM HE WAS NOT WORKING HARD ENOUGH AND PUNCHED HIM IN THE JAW. SUPERMAN CARRIED ON TOILING WITH THE HEAVY BOULDERS, WITH SORE MUSCLES AND SORE UP THE ARSE. THE SLAVE FOOD ON BORAK'S WORLD WAS SAND SLUGS, THEY CONTAINED ALL THAT WAS NEEDED FOR HARD TOIL, AND BEST EATEN ALIVE. AFTER BEING FED THE NAKED SLAVE BEAST SUPERMAN HAD BECOME, WAS MADE TO CRAWL ON ALL FOURS INTO THE CAVERNS BENEATH GOD BORAK'S FORTRESS, TO CELLS MADE READY FOR EX SUPER HEROES. SUPERMAN WAS LOCKED IN CELL WITH HIS NAME ON THE DOOR, NEXT TO A CELL WITH BATMAN AND ROBIN'S NAME ON THE DOOR. SUPERMAN HAD NO MORE SUPER POWERS, HE WAS NOT A MAN, HE WAS A SLAVE. "SOON BATMAN AND ROBIN WITH JOIN YOU, AND OTHERS", BORAK TOLD SUPERMAN. MORE INTENSE PHYSICAL AND SEXUAL ABUSE OF A ONCE SUPER HEROES NOW IN BONDAGE TO BORAK €15.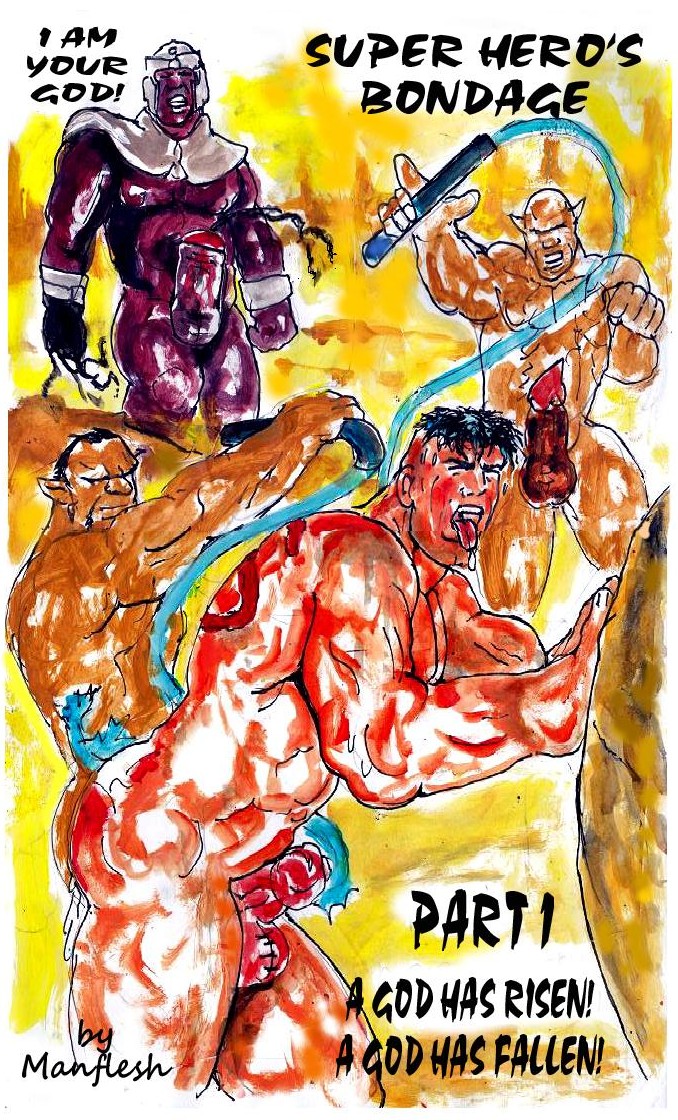 25 SUPER HEROES BONDAGE PART 2 BATMAN AND ROBIN. HOLY CRAP, BATMAN AND ROBIN LEWDLY STRIPPED NAKED BY THE GOD BORAK. THEY WERE NOW BAT NAPPED AND BOY BLUNDER. BATMAN AND BOY WONDER ROBIN, HAD GONE MISSING FROM GOTHAM CITY. THE DUO LANDED ON BORAK'S PLANET, BORAK'S DARK MATTER, DESTROYED MOST OF THEIR CLOTHING. BORAK APPEARED OUT OF THIN AIR. THE HIS ARMY OF TROLLS EMERGED OUT OF THE SHIMMERING HEAT. "SEE I HAVE THE ONCE MIGHTY SUPERMAN, NAKED AND ENSLAVED, HIS MANCUNT SORE AND FUCKED RAW", BORAK CROWED, POINTING TO WHERE, HIS SLAVE SUPERMAN TOILED NAKED, CARRYING LARGE BOULDERS. NO, HE HAS BATMAN AND ROBIN SUPERMAN THOUGHT IN HORROR, WHEN HE SAW THEM NAKED, KNEELING IN FRONT OF BORAK. THE RUDELY NAKED ONCE HEROES, WERE NOW ENSLAVED FODDER. THEY WERE GRABBED BY BORAK'S TROLLS. BORAK ORDERED HIS MINIONS TO TAKE THE NAKED SLAVES AWAY. BORAK'S TROLLS CARRIED THE TWO NAKED SLAVES AWAY AS ORDERED.
THE NAKED DUO WERE TAKEN TO A PLACE WITH SIX IRON POSTS TOPPED BY SIX IRON RINGS. THE NAKED DUO WERE TIED TO THE IRON RINGS, BY THE WRISTS AND ANKLES, SPREADING THEIR ARMS AND LEGS WIDE. THEY WERE SUSPENDED ABOVE THE GROUND THEIR BODY WEIGHT STRETCHING THEIR WIDE SPREAD ARMS AND LEGS. BORAK'S TROLLS LEERED, AS THE NAKED DUO BOTH PISSED THEM SELVES. BOUND LIKE THIS, THE NAKED DUO COULD ONLY TAKE WHAT WAS COMING. THEY FELT SEARING PAIN ON THEIR BACKS AND COULD SMELL BURNING FLESH. BORAK USED HIS DARK ENERGY TO BURN THE FIRST LETTER OF THE ONCE HEROES NAMES ONTO THEIR BACKS. THE PAIN MADE THERE EYES STREAM WITH TEARS AND THEY BOTH PISSED THEM SELVES AGAIN. BOTH SLAVES, WERE GIVEN SLAVE HAIRCUTS, THE BACK AND SIDES OF THEIR HAIR, REMOVED WITH DARK ENERGY. THE DUO'S MAN BUSHES WERE BURNT OFF, WITH DARK ENERGY, NEVER TO RETURN AGAIN. AS SLAVES THEY WERE NO LONGER REAL MEAN. BORAK STARTED TO FUCK THE HELPLESSLY BOUND BATMAN HARD IN THE ARSE. ROBIN COULD ONLY WATCH IN HORROR, AS THE MAN WHO CLEANED HIM ALL OVER WITH HIS TONGUE EVERY NIGHT, THEN PUT HIM TO BED IN HIS COT, WAS FUCKED RAW. WHEN BORAK HAD FINISHED FUCKING BATMAN, HE TURNED HIS ATTENTION TO ROBINS ARSE. NOW ROBIN KNEW WHAT IT WAS LIKE TO HAVE HIS ARSE TURNED IN A CUNT, A SLAVE CUNT. THE EX MIGHTY DUO WERE GIVEN TO THE TROLLS, TO BE USED IN VERY WAY THEY COULD. AS BATMAN WAS FUCKED, HE WAS FORCED, TO FACE FUCK ROBIN, AS A TROLL FUCKED ROBIN'S ARSE, WITH HIS FOURTEEN INCH TONGUE. ALL THE TROLLS FUCKED THE TWO NEW SLAVES, OF BORAK THE GOD.
THE SEEDED PAIR, WERE BROUGHT TO WHERE THE ONCE MIGHTY SUPERMAN WAS MOVING BOULDERS. "YOU TOO", SUPERMAN SAID, WHEN BATMAN AND ROBIN REACHED HIM. "WE MUST DESTROY BORAK", BATMAN SAID. "YOU FOOLS I HAVE BEEN HERE A MONTH, NAKED AND FUCKED, NAKED AND FUCKED", SUPERMAN REPLIED, ANGRILY. "YOUR SLAVES, GET USE TO IT", HE ADDED. SUPERMAN AIDED BY BATMAN AND ROBIN TOILED IN SILENCE, PUSHING A HUGE BOULDER, FEARING THE ELECTRO LASHES, AIMED AND THEIR ARSES AND BALLS. AT THE END OF A HARD DAY TOILING, AS THEY ATE SAND SLUGS. ROBIN WAS GRABBED AS HE ATE, AND FUCKED BY TWO OF THE TROLLS. SUPERMAN AND BATMAN CARRIED ON EATING THEIR SAND WORMS, RELIEVED IT WAS NOT THEM GETTING FUCKED. THE FIRST NIGHT IN THEIR CELL, BATMAN NEEDED TO SHOW HE WAS ALL MAN, AGAIN AND AGAIN, REPEATEDLY FUCKING ROBINS MAN CUNT, SPUNKING IT REAL GOOD. EVEN MORE INTENSE PHYSICAL AND SEXUAL ABUSE OF A ONCE SUPER HEROES NOW IN BONDAGE TO BORAK €15.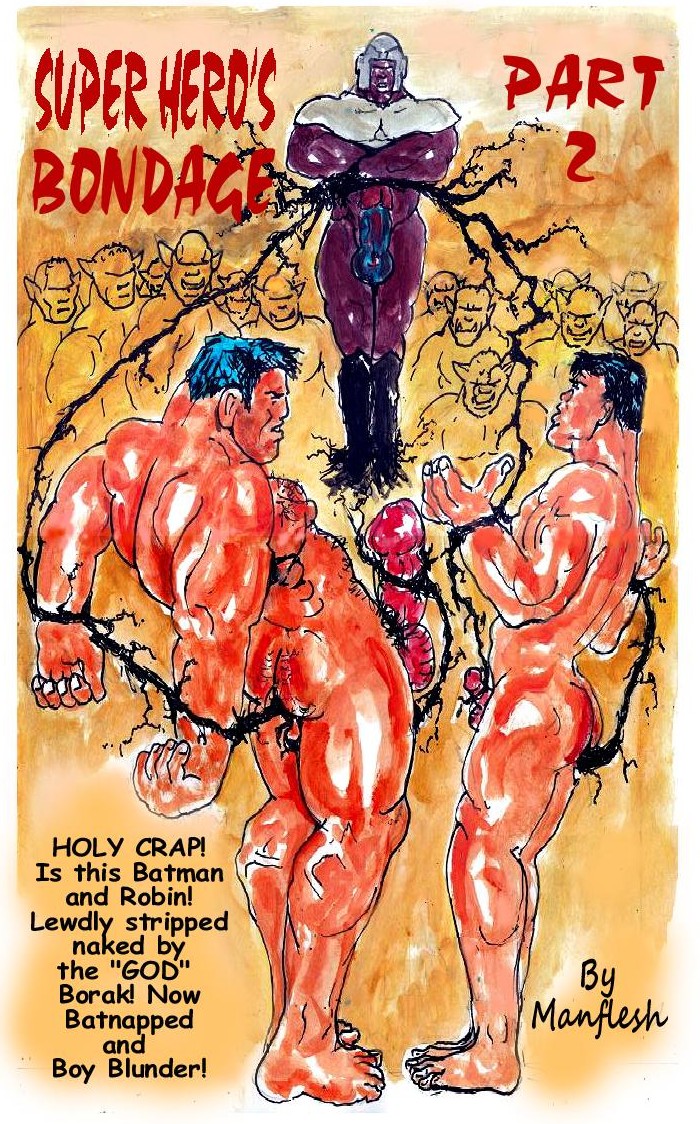 26 SUPER HEROES BONDAGE PART 3 THOR. BORAK APPEARED BEFORE THOR. "WELCOME SLAVE, I AM THE TRUE GOD", BORAK SAID. BORAK USED HIS DARK MATTER POWERS, TO STRIP THOR NAKED. FINGERS OF DARK MATTER CLASPED THOR'S BUTTOCKS, AND STRETCHED OPEN THOR'S ARSE. "TAKE HIM TO THE POSTS", BORAK ORDERED. BORAK'S TROLLS NODDED. "YES AND WE WILL PUT OUR RASPING TONGUES AND SPIT, ALL OVER HIS PINK FLESH", ONE THE TROLLS SAID. AS THOR WAS TAKEN TO THE POLES, THE TROLLS STARTED TO USE THEIR RASPING TONGUES, REMOVING ALL OF THOR'S PUBIC HAIR. THOR WAS THEN BOUND BETWEEN THE POLES. AS THE OTHER EX-SUPER HEROES TOILED, THEY LOOKED UP AND SAW THOR TIED TO THE POLES, ANOTHER FALLEN GOD. THEY WERE CAPTAIN AMERICA, BATMAN, ROBIN AND SUPERMAN. "HE IS LOSING HIS GODLINESS", CAPTAIN AMERICA SAID. "SOON THE COCK OF THE TRUE GOD WILL BE UP HIS ARSE", ROBIN STATED. "THE GOD'S BLACK SEED, WILL COAT HIS CUNT EVERY DAY", BATMAN ADDED. "WE MUST SERVE THE TRUE GOD", SUPERMAN SAID. THE TROLLS RASPING TONGUES LICKED THOR'S FLESH RAW, MAKING HIM ORGASM, WHILE BORAK AND HIS OTHER TROLLS WATCHED AND ENJOYED. AFTER EVERY HAIR ON THOR'S NAKED BODY HAD BEEN REMOVED, BY THE RASPED TONGUES OF BORAK'S TROLLS. THOR HOLLERED, AS BORAK USED HIS DARK MATTER POWERS, TO BURN A HUGE T FOR THOR, ON THOR'S BROAD BACK. BORAK STARTED TO FUCK THOR. THE EX-SUPER HEROES SAW THOR'S ARSE BEING POUNDED, ANOTHER GOD HAD FALLEN. THOR WAS NOT MIGHTY ANY MORE. BORAK WAS THE TRUE GOD. THEN IT WAS THE TROLLS TURN TO FUCK THOR, AND HE WAS FORCED TO SUCK THEIR COCKS AS WELL. A TROLL SHOVED HIS FIST UP THOR'S ARSE. THE ONCE MIGHTY THOR NOW SORE ARSED, WAS TAKEN BY THE TROLL WITH HIS FIST UP THOR'S ARSE, TO MEET THE OTHER SLAVES. HOW THE MIGHTY HAD FALLEN. THOR WAS FORCED TO WANK HIMSELF IN FRONT OF THE OTHER EX-HEROS. SUPERMAN, BATMAN, ROBIN, AND CAPTAIN AMERICA. WHILE THE TROLL'S CLAWS FINGERED HIS ARSE.
THE EX-HEROS, NOW SLAVES, INCLUDING THOR, WERE MADE TO CARRY HUGE BOULDERS. THEIR FOOD WAS A SLUDGE, CONTAINING VIAGRA SUBSTANCE, ALONG WITH CRUDE ROIDS. THIS MADE THEIR COCKS HARD ALL THE TIME. THE STONES WERE FOR A TOWER OF NO PURPOSE. JUST TO MAKE THE SLAVE BEASTS, A LIFE OF NEVER ENDING TOIL AND PAIN. THEY TOILED LONG AND HARD, ONCE HERO'S, NOW LEWD NAKED BEASTS, THOR ADDED TO THE HERD. LATER THEY WERE TAKEN TO THE GREAT HALL, WHERE BORAK SAT ON HIS THRONE. THE NAKED EX-HEROES, WERE MADE TO CRAWL TOWARDS THE MIGHTY GOD, LIKE THE BEASTS THEY NOW WERE. "YOU HAVE NO NEED ON MANHOOD", BORAK SAID, SUMMONING HIS DARK MATTER POWERS. CAPTAIN AMERICA AND THOR WERE THE FIRST TWO TO BE GIVEN VIRGINIAS, SHAPED LIKE THE FIRST LETTERS OF THEIR NAMES. SUPERMAN, ROBIN, AND BATMAN QUICKLY FOLLOWED SUIT. THEY ALL NOW HAD CUNTS FOR FUCKING, IN THE SHAPE OF THE FIRST LETTER OF THEIR NAMES. THE ONLY WAY THE EX-HEROES COULD REGAIN THEIR MANHOOD AND POWERS, WAS IF THEY KILLED BORAK. MUCH MORE INTENSE PHYSICAL AND SEXUAL ABUSE OF A ONCE SUPER HEROES NOW IN BONDAGE TO BORAK €15.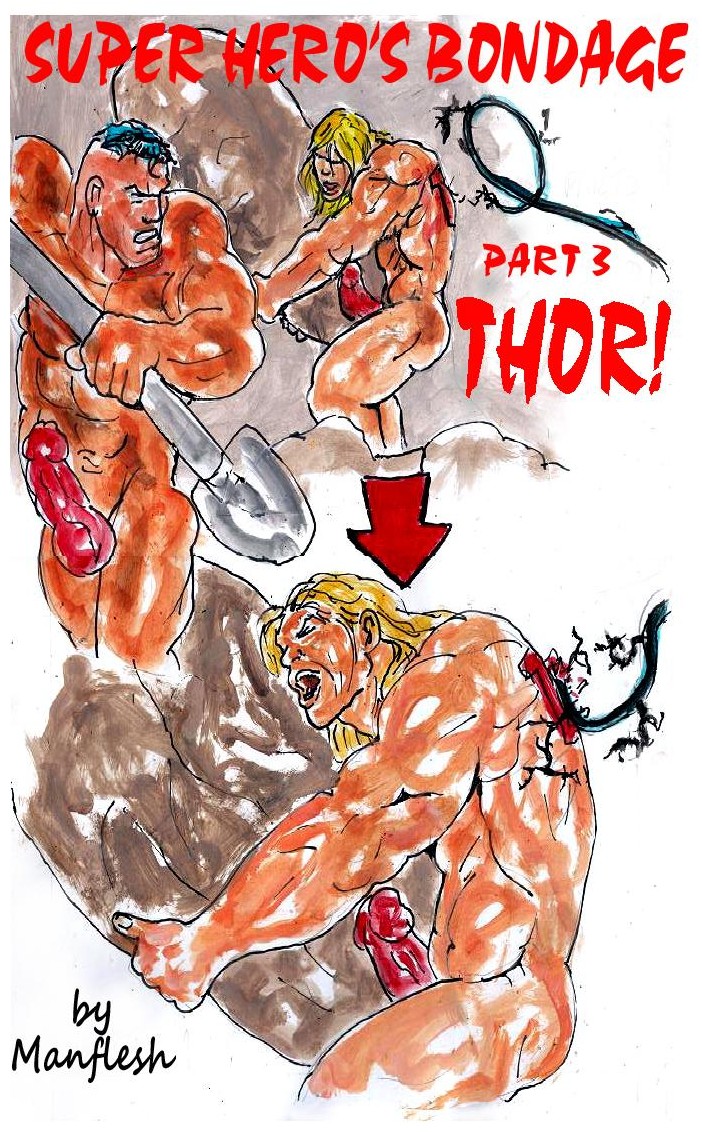 27 NIGHT WING AND THE ARKHAM ASYLUM PART 1. BATMAN AND NIGHT WING MEET A BATMAN'S MANSION. BATMAN TOLD NIGHT WING THAT HE NEED HIM TO GO UNDER COVER AT THE ARKHAM ASYLUM, TO GET THE INTEL. NIGHT WING AGREED TELLING BATMAN HE WOULD DRESS AS A HOOD. LITTLE DID NIGHT WING KNOW, THAT THIS WOULD BE THE LAST THING HE DID FOR BATMAN.
NIGHT WING DISGUISED HIMSELF AS STREET THUG, BY THE NAME OF DOGG CUMMINGS. BATMAN USED HIS BAT COMPUTER TO INSERT A PRISONER PROFILE FOR DOGG CUMMINGS, IN THE ARKHAM ASYLUM CUMPTER FILES, TO ESTABLISH HIS IDENTITY, AS A CRIMINAL, SO HE COULD SURRENDER HIMSELF, TO GUARDS AT ARKHAM ASYLUM. DRESSED AS A STREET HOOD, NIGHT WING, NOW DOGG CUMMINGS, APPROACHED THE ARKHAM ASYLUM. HE WAS SURE THE UNDERCOVER MISSION WOULD BE EASY. HE WOULD GET THE INTEL FROM TONY ZUCCO, THEN BREAK OUT. THE ELECTRIC GATES TO THE ARKHAM ASYLUM OPENED, AS DOGG CUMMINGS WAS EXPECTED. DOGG CUMMINGS, AKA ROBIN, AKA NIGHT WING, ENTERED THE ARKHAM ASYLUM. AS DOGG ENTERED, HE WAS MET BY A BURLY GUARD. HE TOLD THE GUARD, HE WAS GIVING HIMSELF IN. THE GUARD GRABBED HIM AND STARTED TO STRIP SEARCH AND STRIP NIGHT WING. "NO CLOTHES FOR PRISONERS, THEY COULD CONTAIN WEAPONS, DRUGS OR FLEAS", THE BURLY GUARD TOLD NIGHT WING, AS HE STRIPPED HIM. NIGHT WING STARTED TO GET WORRIED, AS BATMAN NEVER TOLD HIM THAT THIS WOULD HAPPEN. NIGHT WING, HIS CLOTHES RIPPED OFF, WAS TAKEN INTO ANOTHER ROOM, WHERE OTHER THUGS, WERE BEING STRIPPED. NIGHT WING WAS MADE TO FOLLOW THE OTHER NAKED THUGS INTO A PROCESSING ROOM. NIGHT WING KNEW GETTING THE INTEL WAS IMPERATIVE, BUT NAKED AND PARADED LIKE THIS MADE HIM FEEL GREAT SHAME. IN THE PROCESSING ROOM NIGHT WING HAD HIS HEAD SHAVED CLEAN. HE DESPERATELY HOPED IT WOULD GROW BACK QUICKLY. THOSE WERE DASHED WHEN A GREEN PASTE, WAS RUBBED ALL OVER HIS BODY, INCLUDING HIS HEAD. THE PASTE KILLED ANY HAIR GROWTH FOR AT LEAST A YEAR, MAYBE AS LONG, AS FIVE YEARS.THE OTHER THUGS LEERED, AS THE HANDSOME YOUTH, WHO WAS COVERED IN THE GREEN PASTE. "NO HOSING THE BEASTS FOR A WEEK?", A GUARD SAID, TO ALLOW TIME FOR THE PASTE TO ACHIEVE ITS MAXIMUM EFFECT.
THE NEXT DAY FOUND THE NEWBIE'S IN THE CENTRAL BUILDING, IN SINGLE CELLS. DOGG AND THE OTHER HAIRLESS BEASTS WERE EATING, FROM A TROUGH. IT WAS A TROUGH FULL OF SLUDGE, CONSISTING OF OFFAL, GREENS, FRUIT, FISH AND CRUDE STEROIDS. THUG DOGG WAS NO LONGER A FIGHTING HERO, HE WAS UNDER COVER TO GET THE INTEL, AT THE COST OF HIS PRIDE AND DIGNITY, WITH WORSE TO COME. A MONTH LATER AFTER HEAVY WORK OUTS WITH WEIGHTS, THUG DOGG HAD GOT MUCH STRONGER AND MUSCULAR. "WOW THUG DOGG, HAS PUT ON TWENTY POUNDS OF MUSCLE", ONE OF THE GUARDS SAID, WATCHING DOGG, BENCH PRESS NAKED AND AROUSED. "YEAH I'D PUT HIM IN A FUCK FIGHT TOMORROW", THE SECOND GUARD SAID. AFTER ANOTHER MONTH OF INTENSE TRAINING DOGG WAS EVEN MORE IMPRESSIVE. THIS TIME A FUCK FIGHT WAS ARRANGED FOR DOGG. DOGG HAD TO FIGHT BRAWLER, SUGGS. FOR THE FIRST HOUR OF THE FIGHT THEY SEEMED EVENLY MATCHED. THEN DOGG GOT THE UPPER HAND AND EVENTUALLY BEAT SUGGS. THE OTHER NAKED EXCITED THUGS, CHANTED FUCK, FUCK, FUCK, AS DOGG STOOD OVER HIS DEFEATED OPPONENT. "HECK NO I WON'T FUCK HIM", DOGG SAID. "YOU WILL NEWBIE, OR ALL THE NEWBIE'S WILL FUCK YOU", A GUARD WARNED. WITH NO CHOICE DOGG STARTED TO FUCK SUGGS. AS HE WAS FUCKING SUGGS, DOGG GASPED IN PAIN. THE GUARD STARTED WHIPPING HIS NAKED BUTTOCKS. "WHEN YOU ENTERED THE ASYLUM, YOU WERE WARNED NOT TO SPEAK?", THE GUARD SAID, AS HE LASHED DOGG'S NAKED BUTTOCKS. "SO AS YOU FUCK ITS FORTY LASHES", THE GUARD ADDED, AS HE PLIED THE WHIP HARD. FOR DOGG IT WAS PAIN AND SHAME. FOR THE THUGS IT WAS DELIGHT, THEY LUSTED AFTER DOGG.
THE GUARDS WERE ALLOWED TO FUCK THE NEWBIE'S, ALL PART OF THEIR PERKS. THE NOBLE NIGHT WING NOW DOGG, WAS ABOUT TO MADE A REAL MAN'S BITCH. TWO GUARDS CAME INTO DOGG'S CELL TO USE AND ABUSE HIM. ALL OF THIS TO GET TO TONY ZUCCO AND THE INTEL. ONE GUARD LIFTED DOGG UP BY HIS LEGS AND SPREAD THEM WIDE HOLDING HIM UPSIDE DOWN. HE WAS FORCED TO SUCK THE GUARDS COCK. THEN THEY SWAPPED PLACES. THUG DOGG, UNDER COVER NIGHT WING, HAD NO CHOICE BUT I TAKE WHAT CAME, TO GET TO TONY ZUCCO WHO HAD THE INTEL. THEY THEN BOTH FUCKED DOGG HARD. HE WAS FUCKED, BUGGERED AND SEEDED, BY THE COCKS OF THE LAW. "I AM READY AND HARD, WE USE OUR COCKS TO SHOW THUGS WE ARE SUPERIOR", THE OTHER GUARD SAID. THEN WHILE DOGG WAS IMPALED ON ONE OF THE GUARDS COCK, HE INTENDED TO GIVE DOGG A DOUBLE FUCKING. HE RAMMED HIS HARD COCK IN DOGG'S ARSE AND HE WAS GIVEN A DOUBLE FUCKING. THUG DOGG WAS NOW A FUCKING SORE THUG DOGG, AND A FUCKING SORE A NIGHT WING. THE GUARDS DEPARTED LEAVING DOGG WITH A SWOLLEN ARSE RING, WELL DEFLOWERED WELL DOGGED.
THE NEXT DAY DOGG ENTERED THE MAIN PRISON, DEEP UNDER GROUND BELOW THE ARKHAM ASYLUM. LITTLE DID NIGHT WING KNOW THAT BATMAN WAS NOW THE SLAVE OF BANE ( SEE BATMAN THE SLAVE OF BANE PART 1) WHEN DOGG ENTERED, HE FINALLY SAW TONY ZUCCO, THE MAN HE MUST GET THE INTEL FROM, EVEN IF IT COST HIM HIS ARSE. TONY ZUCCO, SHIT THE SIZE OF HIM, DOGG THOUGHT TO HIMSELF, AS HE FINALLY SAW THE MAN HE WAS SENT TO MEET. GREAT MALE ON MALE, FIGHTING, SEXUAL AND PHYSICAL, MANFLESH ACTION. €15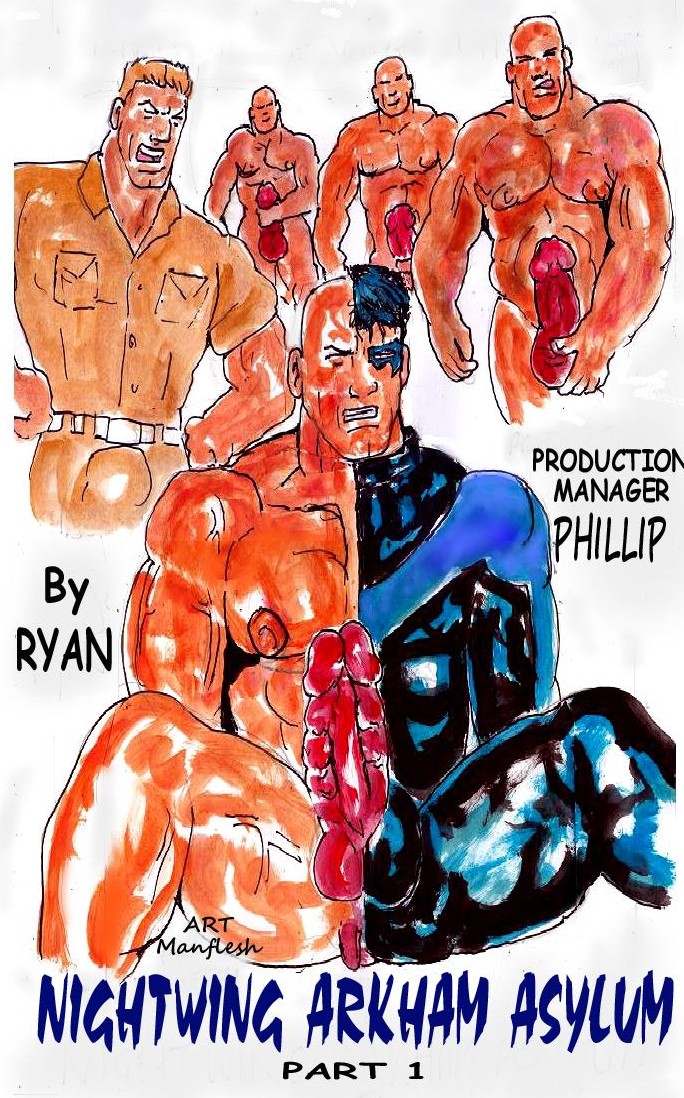 28 SPIDERMAN GELDED. IT WAS A LITTLE KNOWN FACT THAT SPIDERMAN'S, STICKY, SUPER POWERS, FLUID WAS, HIS SEMEN, SPURTING POWER, WITH THE FORCE OF A CANNON. THE EVIL ARCH CRIMINAL, SUPER MERC, WITH MUSCLES THAT BOUNCE LIKE INDESTRUCTIBLE RUBBER. INTENDED TO UNMAN SPIDERMAN'S STICKY WEAPON, BY GELDING HIM. THEN INSERTING SPIDERMAN'S BALLS, IN EACH SIDE OF HIS CUNT, AND FUCK HIS ARSE HARD, TO MAKE HIM ORGASM, LIKE A BITCH.
SUPER MERC, HIS MUSCLES STRETCHED LIKE RUBBER, WITH THE POWER OF AN ANACONDA. A MERCENARY, FOR WHO EVER WOULD PAY HIM. HE HAD THE CRIME SYNDICATES, PAYING HIM BIG BUCKS, FOR SPIDERMAN'S, MAGIC WEB JUICE. SUPER MERC COULD STRETCH HIS ARMS AND LEGS UP TO TWENTY FEET. HIS COCK COULD STRETCH UP TO TWENTY INCHES AND THE THICKNESS OF A FIST. "I'LL CATCH SPIDERMAN JUST LIKE THIS FLY", SUPER MERC SAID, AS HIS ARM STRETCHED AND ENLARGED AND HE TRAPPED A FLY, IN HIS ENLARGED HAND.
SUPER MERC SET A TRAP FOR SPIDER MAN IN A WARE HOUSE. HE PAID A GAY WHORE, TO ACT AS IF HE WAS BEING RAPED. HE WAS FUCKED SO HARD, HE SCREAMED, MAKING IT LOOK VERY AUTHENTIC. SPIDERMAN ARRIVED, IT WAS HIS COCK THAT PRODUCED THE STICKY WEB STRANDS. SUPER MERC WAS READY AND WAITING. SUPER MERC, BEING ABLE TO ENLARGE HIS MUSCLES WITH EASE, ALL OF THEM EVEN HIS HANDS AND COCK. SUPER MERC, WAS ABLE TO GRAB SPIDERMAN, IN A KONG SIZED FIRST. LIKE THE FLY HE DID EARLIER. SUPER MERC HAD SPIDERMAN, IN A VICE LIKE GRIP, AS HARD AS STEEL. THE CAPTURED HERO WAS UNMASKED BY THE GAY WHORE AND TAKEN DOWN TO THE DEPTHS OF THE WARE HOUSE, BY SUPER MERC. SPIDERMAN WAS TAKEN INTO A MAKE SHIFT OPERATING THEATRE. SPIDERMAN WAS PLACED ON THE OPERATING TABLE AND HELD IN SUPER MERCS VICE LIKE GRIP, WHILE THE GAY WHORE, CUT OFF HIS UNIFORM. THE ONE NOBLE CRIME FIGHTER, WAS TO BE GIVEN, A LIFE CHANGING OPERATION. A STRUCK OFF JUNIOR SURGEON WAS GOING TO PERFORM THE OPERATION. SPIDERMAN WAS DRUGGED, SO HE LOST ALL HIS SENSES, BUT WAS AWAKE TO WITNESS HIS OPERATION. WITH A SLASH OF HIS SCALPEL SPIDERMAN'S COCK, WAS REMOVED. THE SURGEON CAREFULLY POSITIONED AND SECURED SPIDERMAN'S BALLS IN THE CLIT HE PRODUCED, IN PLACE OF SPIDERMAN'S COCK. "THERE FUCK HIS ARSE AND CUM WILL OOZE OUT OF ITS VAGINA", THE SURGEON SAID, WHEN THE OPERATION WAS OVER. AS HE POINTED AT SPIDERMAN'S, NEW CLIT, THAT REPLACED HIS COCK. SPIDERMAN WAS IN SHOCK, HORRIFIED, HAVING WITNESSED IT ALL. BY PUMPING HIS COCK UP SPIDERMAN'S ARSE, SUPER MERC WOULD STIMULATE, HIS MAN BITCH, TO CUM. "GET YOU HOT AND HOR'NY, MAKE YOU ORGASM BITCH?", SUPER MERC SAID AS HE FUCK SPIDERMANS ARSE. AS SUPER MERC FUCKED SPIDER MAN. HE MADE THE GAY WHORE, USE BOTTLE, THE SAME AS USED TO COLLECT A SEMEN FROM A BULL, TO COLLECT SPIDERMAN'S, SUPER WEB SPUNK.
A FEW DAYS LATER, SPIDERMAN WAS DRAGGED TO A ROOM, SUPER MERC HAD TURNED INTO, A KIND OF NIGHT CLUB. IT WAS FULL OF GANG BOSSES, ALL AFTER SPIDERMAN'S, SUPER SEMEN. SPIDERMAN WAS FORCED TO POLE DANCE FOR THE GANG BOSSES. HE WAS FORCED TO PERFORM, LEWD ACROBATICS ON THE KNOBBLY POLE. AS HE OBEYED SPIDERMAN'S VAGINA, WAS RUBBED AGAINST THE KNOBBLY POLE. THEN THE GANG BOSSES, FUCKED SPIDERMANS ARSE, TO FORCE HIM TO ORGASM. THE GANG BOSSES HARVESTED SPIDERMAN'S SUPER WEB SPUNK. THE MAGIC WEB FLUID, MEANT THE GANG BOSSES COULD USE IT TO TRAVEL THROUGH THE AIR, INTO BUILDINGS, TO ROB THEM AND LEAVE THE GUARDS IN A STICKY WEB. EACH GANG BOSS WAITED HIS TURN, HARD AND EAGER, TO FUCK SPIDERMAN. AS THEY PUMPED SPIDERMAN'S ARSE TO MAKE HIM ORGASM. A GANG MEMBER, COLLECTED THE SUPER SLIME. AT NIGHT THE ONCE MIGHTY SPIDERMAN, WAS TIED TO SUPER MERCS BED. HE WAS FUCKED AND MILKED MANY TIMES, EVERY NIGHT, BY SUPER MERC. THE START OF A NEW SUPER HERO TO SUFFER IN ANOTHER GREAT MANFLESH SUPER HERO DOMINATION STORY. €15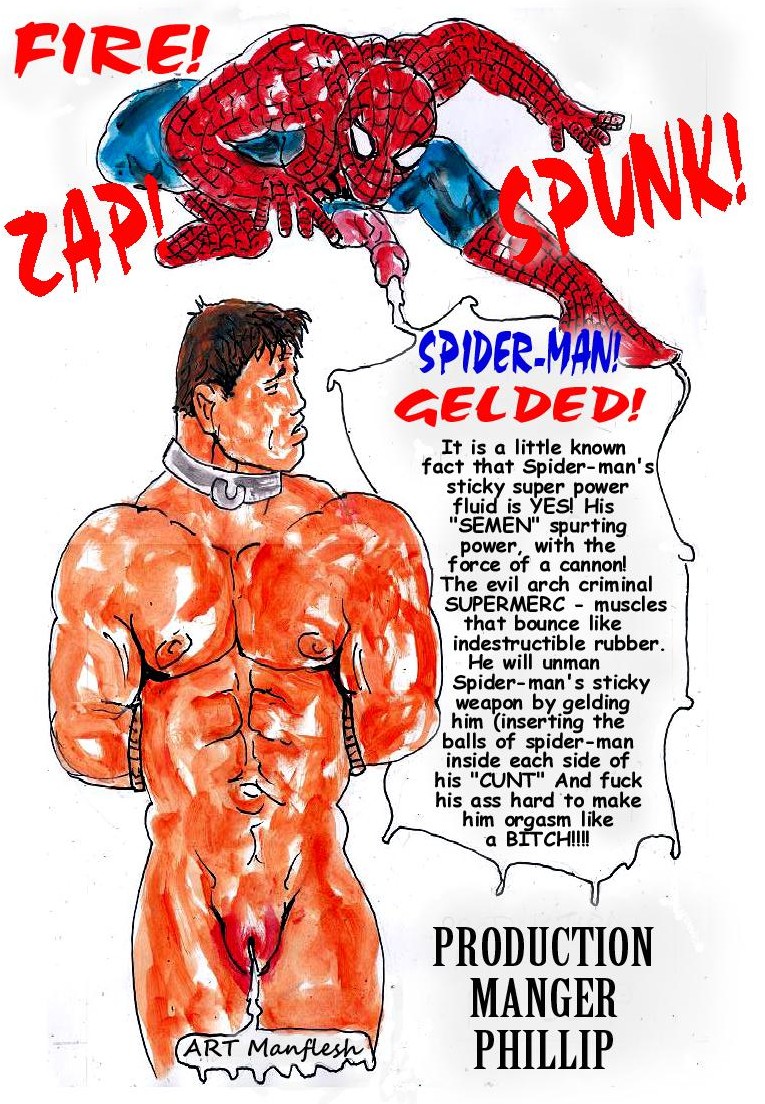 29 NIGHT WING AND THE ARKHAM ASYLUM PART 2. NIGHT WING AKA THUG DOGG, HIS SAGA AT THE ARHHAM ASYLUM CONTINUED. A SLOPING CORRIDOR, LED DOWN INTO THE BOWELS OF THE EARTH. DOGG, AKA NIGHT WING, CUFFED AND ACCOMPANIED, BY OTHER NAKED NEWBIES, WERE TAKEN BELOW. "THIS IS THE LIFER'S SLAMMER?", ONE OF THE GUARDS TOLD THUG DOGG. "LIFER?", DOGG EXCLAIMED IN HORROR. "YES DRUG DEALER, CAR THIEF, RAPIST OF COLLEGE JOCKS AND COPS, YOU ARE A LIFER", THE GUARD REPLIED. "YOUR LIFE, SLEEP EAT, HEAVY TRAINING, FUCKED HARD", THE GUARD ADDED. EARLIER BATMAN IN THE BAT CAVE, COMPLETED THUG DOGG'S RECORD IN THE ARHHAM ASYLUM, COMPUTER SYSTEM. DOGG CUMMINGS, WAS GUILTY OF BEING A DRUG DEALER, A CAR THIEF, THE MASS RAPIST OF HUNDREDS OF COLLEGE JOCKS AND COPS. MORE THAN ENOUGH TO MAKE HIM A LIFER. ALL TO HELP HIM GET THE INTEL, FROM TONY ZUCCO. HE HAD BEEN CHARGED WITH RAPING JOCKS AT GUN POINT, ALSO RAPING COPS AT GUN POINT. DOGG WAS HORRIFIED, HE KNEW HE HAD NOT DONE THESE THINGS. AS THE NEWBIES ARRIVED IN THE LIFER'S SLAMMER, THE LIFER'S SCRAMBLED TO GRAB A NEWBIE AND TAKE THEM TO THEIR CELLS, TO BUM FUCK THEM. TONY ZUCCO KNOCKED DOWN TWO OF HIS FELLOW LIFER'S TO GET HIS HANDS ON DOGG. HE WANTED THE GOOD LOOKING THUG FOR HIMSELF FOR HIS COCK. TONY ZUCCO?", DOGG SAID, IN SHOCK, AS HE SAW TONY ZUCCO FIGHTING HIS WAY TO HIM.
IT WAS RUMOURED THAT TONY ZUCCO, HAD MURDERED, NIGHT WING'S PARENTS. BUT THERE WAS NO PROOF AND TO GET THE INTEL, NIGHT WING HAD TO GO WITH TONY ZUCCO. DOGG HAD NO CHOICE BUT TO SUCK UP, AND HE WAS CARRIED TO TONY ZUCCO'S CELL, FOR THE NIGHT AHEAD. WHEN TONY ZUCCO HAD DOGG IN HIS CELL, HE PRODUCED AND HIDDEN GUN. "WEAPON TIME", TONY ZUCCO SAID. "I LOVE GUNS STICK THEM UP", HE ADDED, POINTING THE GUN AT DOGG'S HEAD. I BETTER SUCK UP TO THIS PSHYCO OR ELSE, DOGG THOUGHT TO HIMSELF, AS HE STOOD SWEATING IN FEAR. "I LOVE YOUR MUSCLES SIR?", DOGG SAID. DOGG AKA NIGHT WING, WAS MADE TO FACE THE WALL AND SPREAD HIS LEGS, BY THE GUN TOTING THUG AND CELL MATE TONY ZUCCO. "FACE THE WALL AND SPREAD YOUR LEGS WIDE?", TONY ZUCCO ORDERED. "MY GUN IS HARD AND I FUCK HARD?", TONY ZUCCO SAID, AS HE THRUST HIS HARD, COCK, INTO DOGG. DOGG GROANED, AS TONY ZUCCO STARTED TO FUCK HIM HARD. I STILL HAVEN'T GOT THE INTEL, SHIT, DOGG THOUGHT TO HIMSELF, AS HE WAS BEING FUCKED HARD. AS TONY ZUCCO'S COCK POUNDED DOGG'S ANUS, TONY HELD THE GUN AGAINST DOGG'S HEAD WITH ONE HAND. WITH HIS OTHER HAND, TONY ZUCCO WANKED DOGG'S COCK, UNTIL THEY BOTH CUM TOGETHER. EVEN MORE AROUSED AFTER CUMING IN DOGG'S ANUS. TONY ZUCCO FLIPPED DOGG UPSIDE DOWN AND STARTED TO FUCK HIM AGAIN. HELD UPSIDE DOWN, DOGG COULD ONLY TAKE WHAT WAS COMING. TONY ZUCCO FUCKED DOGG IN FRONT OF THE OTHER LIFER'S, TO SHOW THEM HIS POWER.
TONY ZUCCO HAD A HIGH SEX DRIVE AND COULD FUCK LIKE A RABBIT. EVERY DAY EX NIGHT WING'S SORE BUM, GOT FUCKED, SIX TIMES A DAY. DOGG THE ONCE MIGHT NIGHT WING, NOW HAD A STRETCHED CUNT HOLE, THAT EVERYONE COULD SEE. TONY ZUCCO GAVE DOGG A COLLAR AND A LEAD, HE FORCED DOGG TO WEAR IT ALL THE TIME, TO DEMONSTRATE HIS POWER OVER DOGG CUMMINGS AND HIS OWNERSHIP, TO THE OTHER LIFER'S. TONY ZUCCO EVEN KEPT HIS COCK UP DOGG'S MAN PUSSY, AS HE TRAINED WITH WEIGHTS. DOGG, NIGHT WING, HAD STILL NOT GOT THE INTEL. MORE GREAT MALE ON MALE, FIGHTING, SEXUAL AND PHYSICAL, MANFLESH ACTION. €15

30 GREEN LANTERN SLAVE. THE COLLECTOR WAS COLLECTING YOUNG MEN. SO HE COULD MOULD THEM INTO HUNKS OF OPTIMUM MUSCLE SIZE, IN ALL THEIR NAKED GLORY. HE CAPTURED GREEN LANTERN AND WOULD MAKE HIM PERFECT, WHAT EVER THE COST, NO PAIN, NO GAIN.
KYLE THE GREEN LANTERN WAS TAKING A BREAK FROM EARTH AND SEARCHING FOR A PLANET TO RELAX ON. A BEAM FROM A DESERT PLANET, TRAPPED KYLE AND DREW HIM TOWARDS THE SURFACE. THE BEAM WAS OPERATED BY THE COLLECTOR. THE COLLECTOR AN EVIL GREEN ALIEN BEING, BLASTED KYLE WITH A RED FLASH. THE COLLECTOR TOOK AWAY GREEN LANTERNS POWERS AND DESTROYED HIS CLOTHES, LEAVING HIM NAKED. MY RING IS GONE, KYLE THOUGHT IN HORROR, AS HE WAS DRAWN DOWN TO THE PLANET. THEN HE REALISED HIS CLOTHES HAD GONE AS WELL. AS HE SAW THE EVIL ALIEN COLLECTOR FOR THE FIRST TIME. KYLE WAS LEFT SUSPENDED NAKED AND SPREAD EAGLE, IN THE COLLECTORS RED POWER BEAM. THE COLLECTOR SMILED, LICKING HIS LIPS, WITH HIS LONG GREEN TONGUE, AS HE GROPED KYLE, NOW HIS NAKED SLAVE, ALL OVER. THE COLLECTOR FINGERED KYLE'S ANUS AND LICKED HIS NAKED BODY. KYLE WAS LEFT SPREAD EAGLE IN THE HEAT OF THE SUN. A LARGE RED SUN, KEPT THE PLANET AT NINETY DEGREES. FIRSTLY THE COLLECTOR REMOVED KYLE'S COCK HAIR, FOREVER. WHEN KYLE'S COCK AND BALLS WERE TOTALLY SMOOTH, THE COLLECTOR WANKED KYLE'S COCK MERCILESSLY, MILKING HIM DRY. HE GREEDILY DEVOURED, ALL OF KYLE'S SPUNK.
KYLE WAS TAKEN OUT SIDE TO WORK IN THE QUARRY, WITH OTHER SLAVES. HE WAS INTRODUCED TO THE OVERSEER, WHO WAS NOT IMPRESSED. "BOSS, HE'S A BIT SCRAWNY", THE OVERSEER SAID. "IN THREE MONTHS HE WILL BE SIXTY POUNDS HEAVIER", THE COLLECTOR REPLIED. "HIS BUTT CHEEKS THE SIZE OF FOOT BALLS, TO FUCK", THE COLLECTOR ADDED. A MONTH OF TOIL PASSED FOR KYLE. THREE OVERSEERS, WATCHED KYLE, CARRYING A HUGE BOULDER. KYLE WAS DEFINITELY PUTTING ON MUSCLE. "THE BOSS WAS RIGHT, THIRTY POUNDS OF MUSCLE IN A MONTH", ONE SAID. "THOSE BUTT CHEEKS?", THE SECOND SAID. "SURE LOOKS GOOD", THE THIRD AGREED. THAT NIGHT IN THEIR CELL, KYLE SPOKE TO THE OTHER SLAVES. KYLE TRIED TO ORGANISE A FIGHT BACK. "GUYS WE MUST FIGHT BACK?", KYLE TOLD THEM. THE OTHER SLAVES IGNORED HIM, IT SEEMED, THEY LIKED BEING THERE. "WE LOVE BEING HERE", ONE SAID, AS THEY GANGED UP ON KYLE. HE WAS MADE TO SUCK THEIR COCKS WHILE BEING FUCKED. "YOU WELL GET TO LOVE MUSCLE FUCKING", HE WAS TOLD. WITH THEIR FOOD LACED WITH STEROIDS AND VIAGRA IT WAS ONLY A MATTER OF TIME BEFORE KYLE SUCCUMB TO THE INEVITABLE.
THREE MONTHS WENT BY. KYLE, THE ONCE MIGHTY GREEN LANTERN, WAS SIXTY POUNDS HEAVIER. HE WAS GLORYING IN HIS LEWD MUSCULAR SLAVE STATE. HE EASILY CARRIED HUGE BOULDERS IN THE QUARRY. "IT IS SURE READY FOR THE PARTY?", ONE OVERSEER SAID, AS THEY WATCHED KYLE LABOUR. "YES, THE BOSS WILL FUCK IT FIRST, THEN US", ANOTHER REPLIED. KYLE'S BRAIN, NOW ONLY THOUGHT OF MUSCLE SIZE, POSING, BEING ADMIRED, INSIDE AND OUT. "SEE ME FLEX?", KYLE BOASTED, HIS EYES GLASSY, AS HE WAS FUCKED BY THE COLLECTOR. AFTER THE COLLECTOR HAD FUCKED A MUSCLE SLAVE, HE LIKED TO WATCH HIS MEN FUCK THEM A LOT. FUCK THEM A LOT HIS MEN DID, PARTICULARLY KYLE. ANOTHER GREAT SUPER HERO DOMINATION STORY WITH GREEN LANTERN ENSLAVED AND SEXUALLY AND PHYSICALLY ABUSED BY THE COLLECTOR AND HIS MEN. €15
GREEN LANTERN SLAVE ALSO FEATURE DOUBLE, SIDE BY SIDE PAGES, THAT FORM PANORAMIC IMAGES. THE DOUBLE PANORAMIC PAGES IN GREEN LANTERN SLAVE ARE 6 AND 7, 10 AND 11, PLUS 12 AND 13.
PAGES 6 AND 7 FEATURE, KYLE NOW A MUSCLE SLAVE OF THE COLLECTOR, BEING TAKEN TO THE QUARRY WHERE HE SEES OTHER MUSCLE SLAVES TOILING AND IS INTRODUCED TO AN OVERSEER.
PAGES 10 AND 11 FEATURES, KYLE BEING FUCKED AND MADE TO SUCK THE OTHER MUSCLE SLAVES, AFTER TRYING TO GET THEM TO REBEL AGAINST THE COLLECTOR. THEY REFUSED AS THEY WERE TOO FAR GONE, ON THEIR STEROID AND VIAGRA ADDICTION, THAT THEIR FOOD WAS LACED WITH.
PAGES 12 AND 13 FEATURES, KYLE THREE MONTHS IN, NOW SIXTY POUNDS HEAVIER AND LOST TO THE VIAGRA AND STEROIDS, LIKE THE OTHER MUSCLE SLAVES, NOW GLORYING IN HIS LEWD MUSCULAR STATE. OVERSEERS WATCHED AND DISCUSSED THE NEW MUSCLE SLAVE, NOTING HE WAS READY AND WOULD BE FUCKED BY THE BOSS. THEY WERE LOOKING FORWARD TO THEIR CHANCE TO FUCK HIM AS WELL.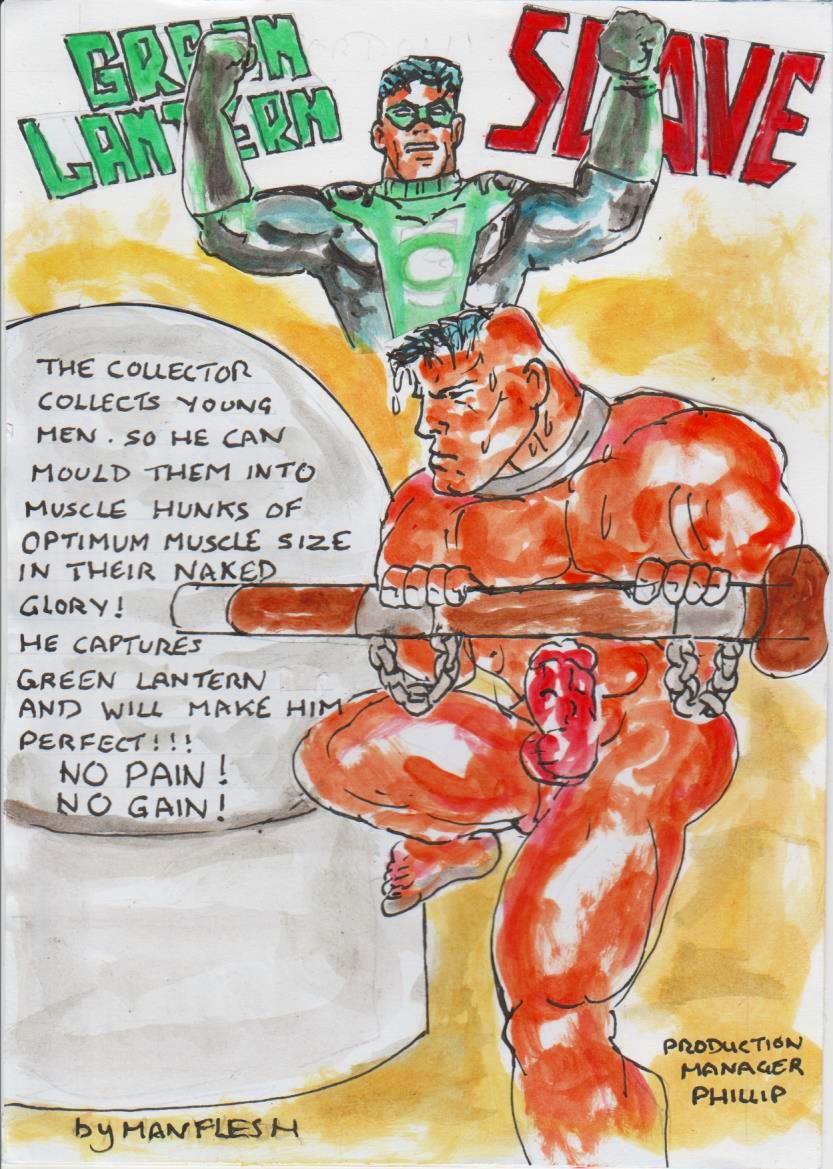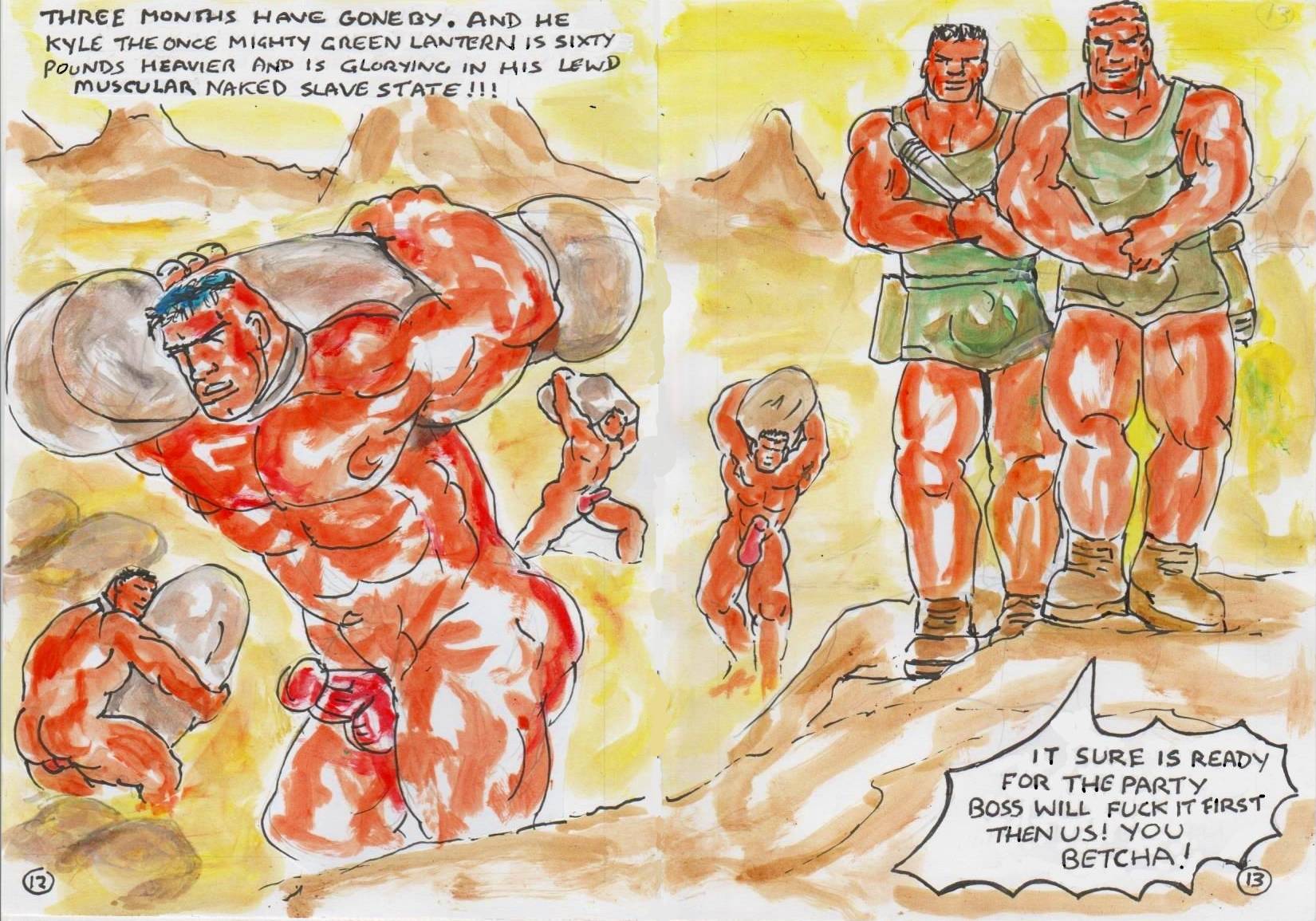 DOUBLE PANORAMIC IMAGE CREATED FROM PAGES 12 AND 13