MANFLESH CENTURION F INSPIRED DOMINATION AND FIGHTING ARTWORK AND COMIC BOOKS PAGE
The url is man-flesh1.blogspot.com
http://www.man-flesh1.blogspot.com
MANFLESH CENTURION F INSPIRED STORIES LIST
1 CENTURION F'S OSMAN PART 1. OSMAN WAS A TOP KIRKPINAR OIL WRESTLING CHAMPION. BUT WHEN YOU ARE OWNED BY THE SULTAN SULEYMAN, HE MADE THE RULES AND HE HAD HIS FAVOURITES AND IT WAS NOT OSMAN. "YOU HAVE WON ONCE AGAIN", SULEYMAN TOLD OSMAN AND HE KNELT IN FRONT OF THE SULTAN. "I FOUGHT FOR HONOUR OH MIGHT ONE", OSMAN REPLIED. OSMAN WAS SECURED AND WHIPPED BY THE SULTAN. A FIGHTER LIKE OSMAN WAS USE TO PAIN AND BEING KISSED BY THE SULTAN'S WHIP, HIS COCK BECAME ROCK HARD. "THANK YOU LORD", OSMAN SAID AS HE WAS WHIPPED BY THE SULTAN. AFTER WHIPPING OSMAN THE SULTAN REACHED INTO HIS DRAWS AND MASTURBATED HIM. MAKING OSMAN SHOOT HIS SEED AGAIN AND AGAIN. SHOWING THAT HE THE SULTAN CONTROLLED OSMAN'S BODY TOTALLY. OSMAN WAS ORDERED TO PERFORM A VACUUM POSE AS THE SULTAN PULLED DOWN HIS DRAWS. OSMAN A KIRKPINAR FIGHTER WAS PROUD OF HIS BODY. HE WAS NOT ASHAMED OF HIS COCK BALLS, AND HARD BUTTOCKS. SULEYMAN THE SULTAN WAS HIS MASTER, HIS LORD AND OSMAN MUST PLEASE HIM.
SECURED HELPLESSLY BY HIS ARMS AND LEGS CHAINED BETWEEN TWO PILLARS, OSMAN GRIMACED AS YANISH THE SULTAN'S FAVOURITE KIRKPINAR FIGHTER ENTERED, CARRYING A LEATHER PADDLE. SULEYMAN HAD GIVEN YANISH PERMISSION TO PUNISH OSMAN FOR BEATING YANISH IN THE KIRKPINAR. FOR THE NEXT THREE DAYS YANISH REPEATEDLY BEAT OSMAN'S ARSE, REVIVING HIM WITH COLD WATER. LEAVING OSMAN'S BUTT CHEEKS FILLED WITH BLOOD, RED RAW, SORE, WEAKENING HIM FOR THE FORTHCOMING CONTEST. OSMAN WAS ALSO DRUGGED WITH DOPE AND VIGARA.
IN THE SULTAN'S PRIVATE ARENA, ALL KIRKPINAR FIGHTERS WERE TOLD THERE WAS A FIGHT FOR THE CHAMPIONSHIP. OSMAN WAS DRAGGED OUT INTO THE SULTAN'S PRIVATE ARENA, HE WAS DRUNK, BUT WHEN YOU ARE CHAMP YOU HAVE TO FIGHT. INTO THE ARENA STRODE YANISH NOW COCK SURE HE COULD BE THE NEW CHAMPION, AS OSMAN HAD BEEN WEAKENED. YANISH GRABBED OSMAN BY HIS HAIR AND WRISTS, AND THREW HIM TO THE GROUND. GLORIFYING IN HIS NEW FOUND MASTERY. THIS WAS NO NORMAL CONTEST. A SEXUAL TENSION FILLED THE AIR. YANISH GRABBED OSMAN'S OIL SOAKED COMBAT SHORTS, AND PULLED THEM OFF. A STRUGGLING DOPED OSMAN COULD NOT STOP THE DISHONOURING ACT. YANISH PUT THE DRUGGED CHAMPION IN LEWD HOLDS. THAT MADE THE WATCHING LUST FILLED HORNY WRESTLER'S COCKS ROCK HARD, AND THROBBING WITH HOT BLOOD. EACH WRESTLER WANKED THE ONCE PROUD CHAMPION'S COCK. HE WAS NOW JUST A PIECE OF MEAT. HE NO LONGER HAD THEIR RESPECT. YANISH HAD HUMBLED OSMAN THE ONCE PROUD CHAMPION WRESTLER. HOT EROTIC FIGHTING AND DOMINATION INTERACTION BETWEEN HORNY KIRKPINAR WRESTLERS AS THEIR FORMER CHAMPION IS HUMBLED IN FAVOUR OF THE SULTAN'S FAVOURITE. €12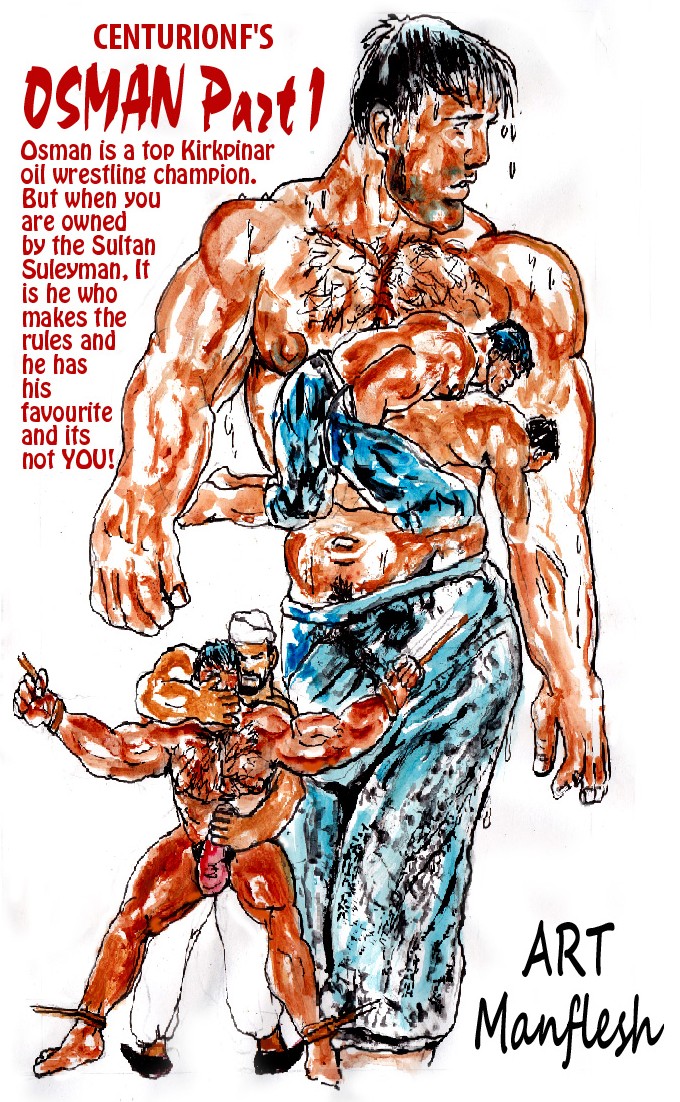 2 SOLDIERS WHIPPED IN AN X FRAME. A COLLECTION OF FOURTEEN MILITARY BASED WHIPPING IMAGES COMMISSIONED BY F B CENTURION F. FOURTEEN GRAPHIC MANFLESH MILITARY WHIPPING IMAGES, INCLUDING RUSSIAN ON AMERICAN POW, ARAB ON WESTERN PRISONER. AND BLACK ON WHITE PRISONER. SOME OF MANFLESH'S BEST EROTIC, BLOODY AND SADISTIC WHIPPING IMAGES €15
3 KORAK SON OF TARZAN PART 1 KORAK MEETS BEZ. KORAK SON OF TARZAN REGARDED HIMSELF AS KING, AND WANTED EVERY GIRL IN THE JUNGLE TO BE HIS TO IMPREGNATE. BEZ A MUSCLE HUNK OF A HUNTER, DRESSED IN JOCK STRAP AND BOOTS ENTERED KORAK'S JUNGLE. KORAK SON OF TARZAN WANTED TO IMPREGNATE EVERY GIRL IN THE JUNGLE. IF HE FOUND ONE ALONE IN THE TREE HE RAPED HER. THE GOOD LOOKING ONES HE ENSLAVED FOR HIS HAREM, SPOILED AND OUT CAST FROM THEIR TRIBE THEY HAD LITTLE CHOICE. KORAK LOVED TO BE ON HIS BACK SUCKING ONE CUNT AND FUCKING ANOTHER AT THE SAME TIME.
KORAK'S GOAL WAS TO DRIVE OUT ALL OTHER MALES FROM HIS KINGDOM. CAPTURED MEAN HAD TWO CHOICES TO SERVE HIM OR LOSE THEIR BALLS. FOR THE FEW THAT CHOSE TO SERVE HIM, THEY HAD TO APPROACH KORAK ON THEIR KNEES AND SUCK HIS COCK AND SWALLOW, IN FRONT OF THE WOMEN OF HIS HAREM. HIS MALE SLAVES WERE BRANDED ON THE FOREHEAD. THE ONES KORAK LIKED HAD TO SERVE HIM A FRESH BANANA PROTEIN BREAKFAST EVERY MORNING. A BANANA THAT THEY WANKED OVER WHILE KORAK WATCHED, WITH A GIRL ON EACH ARM. THOSE WHO REFUSED WERE TIED HIGH IN THE VINES, THEN FUCKED HARD AND WANKED RAW. WHEN THEY EJACULATED KORAK WOULD CUT OFF THEIR BALLS. KORAK WOULD LAUGH AS THEY WERE CUT DOWN AND SENT BACK TO THEIR VILLAGE, NOW NO USE TO THEIR WOMAN FOLK.
ONE DAY KORAK WAS FUCKING HIS FAVOURITE MAIDEN AGAINST A TREE. CLOSE TO ORGASM KORAK LOOKED AROUND THE TREE. HE SAW BEZ STANDING THEIR IN JOCK STRAP AND JUNGLE BOOTS MUSCLES GLISTENING IN THE SUN LIGHT. KORAK HAD NEVER SEEN SUCH AN AMAZING GUY IN HIS LIFE BEFORE, AND SHOT HIS WAD INTO THE MAIDEN. ENRAGED AT ANOTHER IN HIS DOMAIN, KORAK FOUGHT WITH THE IMPOSTOR. BUT BEZ WAS SIX FOOT ELEVEN INCHES OF MUSCLE. HE GRABBED AND SHOOK KORAK LIKE A RAG DOLL. THE MAIDEN WAS IMPRESSED AND AROUSED BY THE SPECTACLE. KORAK HAD BEEN WEAKENED BY HIS CUM SHOT. HE WAS OVER POWERED BY THE BIGGER AND STRONGER BEZ. BEZ GOT A CHOKED HOLD ON KORAK FROM BEHIND AND MADE HIM BLACK OUT. WHEN KORAK CAME ROUND HIS ARMS WERE AROUND BEZ'S NECK AND HIS LEGS HELD IN BEZ'S HUGE ARMS. BEZ HAD HIS COCK UP KORAK'S ARSE AND WAS FUCKING HIM IN FRONT OF HIS GIRLS. THE ARROGANT AND SADISTIC KORAK WAS MADE TO TAKE SOME OF HIS OWN MEDICINE. GRAPHIC MANFLESH MALE ON MALE PHYSICAL AND SEXUAL ABUSE ACTION. €15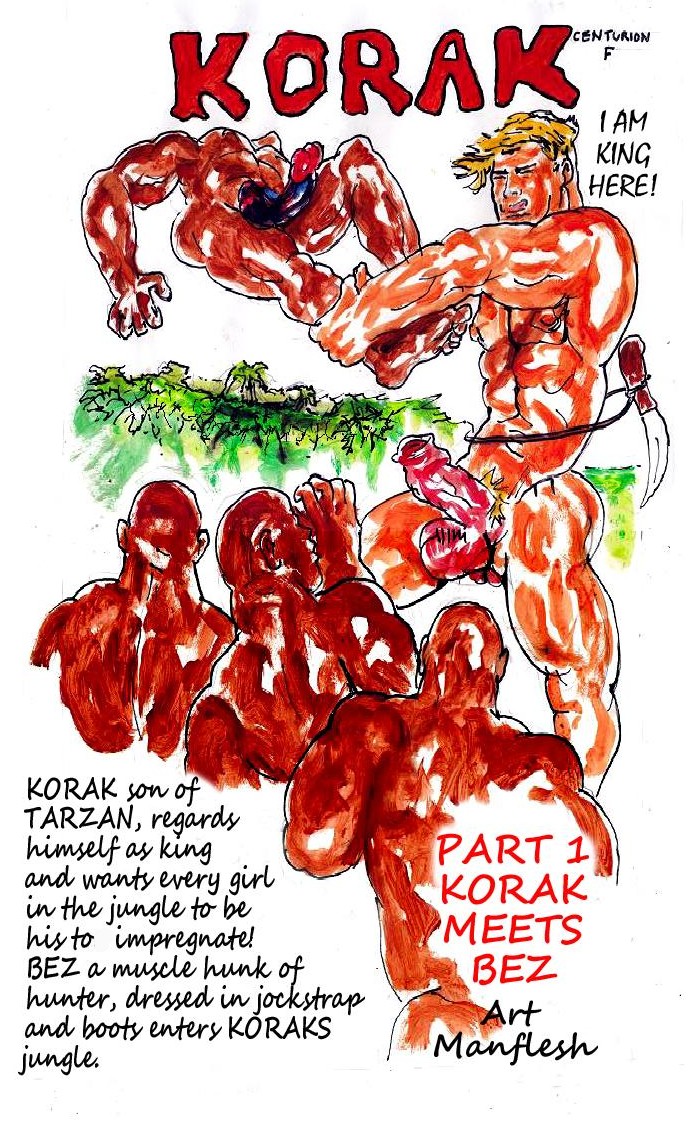 4 RED AND JED DEPARTMENT BX PART 1.. RED AND JED, CLOSE MARINE BUDDIES WITH BIG TRAPS PECS AND LATES. ALWAYS POSING WITH ARMS AROUND EACH OTHERS NECKS, BOTH HAD NUMBER ONE HAIRCUTS. RED WAS GINGERY GOLD, JED WAS BLACK HAIRED, BOTH WERE BLUED EYED WITH TRAP DOOR EARS. RED AND JED COULD HAVE ANY GIRL, THEY FUCKED THE SAME ONE AT THE SAME TIME. THE OTHER GUYS IN THEIR UNIT LOVED THEM AND THEY LOVED EACH OTHER HARD. THEIR FAVOURITE GAME WAS TO PUNCH EACH OTHERS COCK AND BALLS, THE ONE WHO CUM FIRST LOST. JED PUNCHED RED, THEN RED PUNCHED JED, UNTIL RED MADE JED CUM. "YOU LOST, YOU SUCK ME", RED SAID. JED WENT DOWN ON HIS BUDDY AND SUCKED HIM OFF. THEIR SUPERIOR OFFICER SERGEANT BRAGG WATCHED FROM THE DOOR. IT WAS ONLY TESTOSTERONE. HE HAD BEEN TOLD BY THE US DEPARTMENT BX TO LOOK OUT FOR ALPHA MALES, FOR AN EXPERIMENT AT THEIR TOP SECRET ARMY LABORATORY. RED AND JED WERE JUST THE JOB.
THE NEXT THING RED AND JED KNEW, THEY WERE REGAINING CONSCIOUSNESS AT THE DEPARTMENT OF BX RESEARCH CENTRE, THEY HAD BEEN KNOCKED OUT IN THEIR SLEEP. TRANSPORTED IN A DRUGGED STATE, DEPARTMENT BX, HAD TO FIRST CARRY OUT SOME TESTS ON THE GUYS TO SEE IF THEY WERE SUITABLE. THEY WERE BOTH TIED NAKED IN X-FRAMES AND MILKED. NAKED GIRLS WERE HIRED FOR THE JOB, TESTING HOW MANY TIMES THE TWO CUM IN AN HOUR, AND HOW MUCH THEY SHOT. NEXT THEY WERE MILKED BY BODY BUILDERS. THE GUYS GAVE MORE MILK FOR THE MEN, SO THEY WERE WHIPPED BY NAKED BLACK BODY BUILDERS, DOUBLING THEIR LAST AMOUNT OF SPUNK. THE GUYS WERE GIVEN SPECIAL MUSCLE AND GENITAL ENHANCING STERIODS. WHEN THEY WERE IN THE SHOWERS TOGETHER, THEY GROPED AND WANKED EACH OTHER OFF, ENJOYING THEIR INCREASED MUSCLE SIZE. CAMERAS WATCHED AS THEY WANKED EACH OTHER OFF.
THEY HAD TO FIGHT EACH OTHER. THEY WERE TOLD THAT THEIR SPEED AND STRENGTHS WERE BEING TESTED. IN REALITY DEPARTMENT BX WANTED TO KNOW THEIR TESTOSTERONE LEVEL AND AGGRESSION. THEY FOUGHT NAKED. RED SCORED A KICK AGAINST JED'S JAW WHICH DAZED HIM. THEY HAD FOUGHT THIS WAY MANY TIMES. JED DID WHAT THEY DID WHEN ONE OF THEM LOST, SPREAD HIS LEGS AND SUCKED IN HIS BELLY. RED KICKED JED HARD IN THE BOLLOCKS AND JED SHOT A GEYSER OF SPUNK.
DEPARTMENT BX WANTED TO CHECK THE PROSTATE REACTION OF THEIR STERIODS ENHANCED GENITALIA, WITH HUNDRED KILO SQUATS WITH A BARBELL. SERGEANT BRAGG LAY SHIRT LESS WITH HIS FIST RAISED SO HE COULD FIST THE GUYS AS THEY SQUAT. RED WENT FIRST, AS HE REACHED THE LOWER PART OF THE SQUAT SERGEANT BRAGGS FIST WAS FORCED UP HIS ARSE. THEN JED HAD A GO. IT WAS A COMPETITION THE ONE WHO SHOT FIRST WAS THE WINNER. RED SHOT ON HIS SIXTH FIST THRUSTING AND JED ON HIS SEVENTH. "I WIN, YOU LOSE JED", RED SAID. AS A REWARD RED WAS OFFERED ANY OF THE NAKED GIRLS STANDING IN A ROW. BUT RED CHOSE HIS BUDDY. HE HELD HIM IN HIS HUGE ARMS, PILE DRIVING DEEP WITH HIS COCK. JED'S FACE WAS IN AGONY, BUT HE WAS LOVING EVERY MINUTE OF IT. JED SUCKED RED'S COCK. JED'S FACE WAS STICKY WITH RED'S CUM AS HE LICKED BUDDY'S BALLS. RED SHOT AGAIN AND AGAIN. GRAPHIC MANFLESH MALE ON MALE PHYSICAL AND SEXUAL ACTION. €15
5 KORAK SON OF TARZAN PART 2. WHO WOULD BE LORD OF THE JUNGLE, CAN KORAK TAKE BACK POWER AND CAN BEZ KEEP HIS BALLS. KORAK HAS COME ROUND STILL TRAPPED IN BEZ'S BEAR HUG WITH HIS ARMS AROUND BEZ'S NECK AND BEZ'S COCK UP HIS ARSE. BEZ'S COCK SHOT UP KORAK'S ARSE FILLING IT WITH HIS CUM, WHILE KORAK'S COCK SHOT BETWEEN THEIR SWEATY RIPPLING CHESTS. AS BEZ SHOWED OFF HIS MUSCLES, THE MEN AND GIRLS WORSHIPPED THE LIVING GOD. KORAK CRAWLED AWAY DEFEATED, IN THE JUNGLE IT WAS SURVIVAL OF THE FITTEST. KORAK WATCHED FROM THE TREE TOPS AS ONE OF THE BRAVES LICKED BEZ'S COCK AND BALLS, SO HE WOULD BE PRIMED TO IMPREGNATE ONE OF THE GIRLS. HOWEVER IF THE WANKER MISJUDGED AND MADE BEZ CUM. HE WAS GIVEN SIXTY LASHES. THE OTHER BRAVES LOVED THIS, AND WANKED ON THEIR KNEES IN RESPECT TO THE JUNGLE GOD BEZ. KORAK WATCHED WANKING, AS BEZ WHIPPING THE WANKER.
KORAK KNEW THE WAYS OF THE JUNGLE. ONE DAY AS BEZ WAS LIFTING BOULDERS TO KEEP IN SHAPE. KORAK DROPPED HEAVY WEIGHTED NETTING OVER BEZ FROM THE TREES ABOVE. A LARGE STONE ATTACHED TO THE TOP OF THE NET KNOCKED BEZ OUT. BEZ WAS TIED IN KORAK'S FAVOURITE POSITION SPREAD HIGH IN THE TREES. ALLOWING KORAK TO GLIDE DOWN AND FIST BEZ'S ARSE. KORAK FUCKED BEZ WITH HIS KNIFE AT THE READY. WHEN BEZ CUM KORAK WAS GOING TO CUT OFF HIS BALLS. BUT THE BLACK MAMBA MEN REVERED BEZ AS A GOD. AN ARROW TIPPED WITH A JUNGLE SEDATIVE WAS SHOT INTO THE BOYS BUTTOCKS AND HE FELL OUT COLD TO THE JUNGLE FLOOR. BEZ'S BALLS WERE SAVED. KORAK WAS TIED IN THE WHIPPING FRAME, AND BEZ WHIPPED KORAK HARD AS THE BLACK MAMBA MEN WANKED OUT FOUNTAINS OF CUM. BEZ FLEXED HIS MUSCLES IN KORAK'S FACE AND KORAK SHOT HIS LOAD AND SOBBED IN SHAME. "MAKE YOU MY PUPPY DOG", BEZ TOLD KORAK. KORAK'S FAVOURITE GIRL ALAYA WAS THEN BROUGHT OUT IN FRONT OF HIM. BEZ FUCKED ALAYA IN FRONT OF KORAK. KORAK ADMIRED BEZ'S WIDE RIPPLING BACK IN ACTION AND GOT HARD AGAIN. AFTER BEZ CUM IN ALAYA, HE CUT KORAK LOOSE. KORAK DROPPED IN FRONT OF BEZ AND SLOBBERED ON HIS COCK AND BALLS, CLEANING THE SPUNK AND CUNT JUICE FROM BEZ'S COCK. BEZ DID A DOUBLE BICEP VICTORY POSE HIS ABS PULLED IN TIGHT. MORE GRAPHIC MANFLESH MALE ON MALE PHYSICAL AND SEXUAL ABUSE ACTION. €15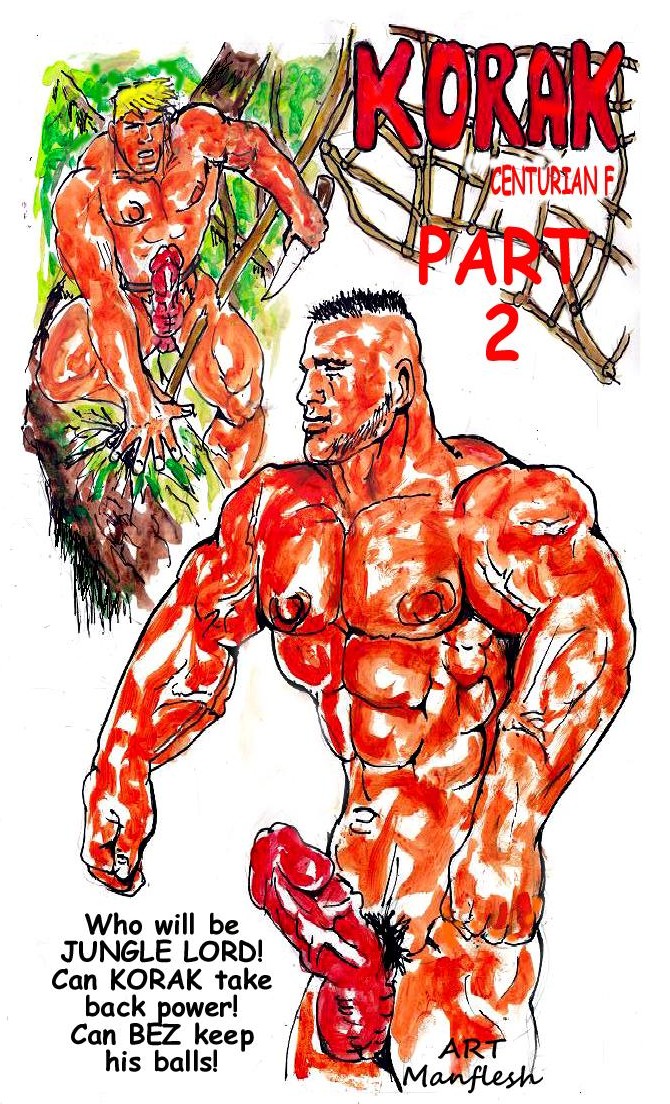 6 RED AND JED CAPTURED IN IRAQ PART 1. RED AND JED WERE ON A SURVEILLANCE MISSION DEEP BEHIND ENEMY LINES. THEY WERE ENGAGED IN A FAVOURITE PASS TIME, JERKING OFF. THE GUY WHO CUM FIRST HAD TO BLOW THE OTHER. RED'S HAND BROUGHT JED OFF, SO JED WENT DOWN ON RED. THE TWO HORNY SOLDIERS WERE READY FOR MORE ACTION. "YOU LOST", RED SAID. "THERE IS NOBODY FOR HUNDREDS OF KILOMETRES AND I WANT HARD ACTION", HE ADDED. AS RED FUCKED JED, THEY DID NOT REALISE THEY WERE BEING WATCHED. JUST AS JED SHOT UP JED'S ARSE A GUN WAS POKED INTO RED'S THICK NECK. THEY WERE SURROUNDED BY A YOUNG IRAQI PLATOON, HARD MEN, HARD FOR WESTERN ARSE AND MOUTH. ONE FUCKED RED'S ARSE, WHILE ANOTHER FED JED BROWN IRAQI COCK DOWN HIS THROAT. JED TRIED TO SWALLOW HIS IRAQI'S CUM SHOT, BUT HE COULDN'T TAKE IT ALL, OR WAS REFUSING TO. HE GOT A HARD HIT IN THE MOUTH, MAKING CUM FLY FROM DICK AND MOUTH. THE TWO MARINES NAKED SAVE FOR THEIR CAPS AND BOOTS, WITH THEIR HANDS TIED, WERE DRAGGED TO THE IRAQI'S TRUCK. THEY WERE GOING TO BE DRAGGED NAKED BEHIND THE TRUCK, TO THE IRAQI'S HEAD QUARTERS. AS THEY WERE DRAGGED THROUGH THE DESERT UNDER A BAKING SUN, THEY WERE ABOUT FIND WORSE WAS TO COME.
THE TRUCK STOPPED IN A VILLAGE. THE IRAQI LIEUTENANT CALLED TO A GROUP OF NATIVE YOUTHS WATCHING. THAT THE TWO WITH THE LONGEST COCKS COULD MOUNT RED AND JED AND FUCK THEM ALL THE WAY TO THE NEXT VILLAGE. RED AND JED WERE FUCKED BY THE TWO NATIVE YOUTHS ALL THE WAY TO THE NEXT VILLAGE, TO THE MARINES DISMAY. TWO OTHER NATIVE YOUTHS, BEAT THE MUSCLE MARINES JUST LIKE THEY WOULD BEAT A BEAST. IT WAS NOT THE PAIN OF BUT MORE THE SHAME OF IT. WHEN THE IRAQI'S CAME ACROSS A CROWD OF PEOPLE. THE ALREADY SHAMED, SORE, AND WHORED MARINES, RED AND JED, WERE WANKED IN FRONT OF THEM. THE CROWD ADDED THEIR SPIT AND GOB, COVERING THEIR NAKED FLESH. FOR THE LAST NINE KILOMETRES TO THE IRAQI COMMAND POST THEY WERE GIVEN A BUMPY RIDE. ON DONKEYS, IMPALED ON DILDOS FIXED TO THE SADDLES. ON ARRIVAL AT THE IRAQI COMMAND CENTRE THE RAW ARSED RED AND JED WERE DRAGGED DOWN INTO THE INTERROGATION ROOM. WHERE THE CAPTAIN AND MASTER OF INTERROGATION TORTURE WAITED. GRAPHIC MANFLESH MALE ON MALE PHYSICAL AND SEXUAL ABUSE ACTION. €15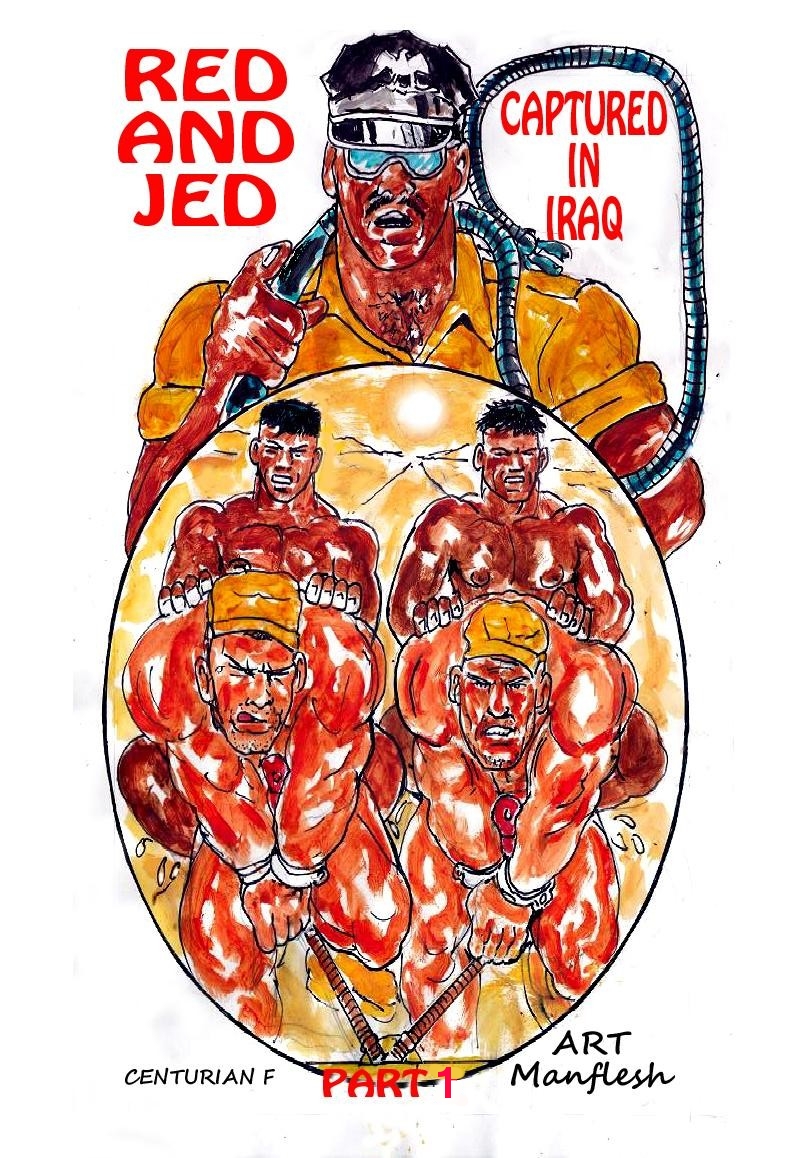 7 RED AND JED CAPTURED IN IRAQ PART 2 INTERROGATION. THEIR INTERROGATION BEGAN. IN THE DUNGEON UNDER THE COMMAND CENTRE, RED WAS TIDE TO AN X FRAME. JED WAS SAT ON A CHAIR WITH AN IRON DILDO ATTACHED TO IT. "I WILL FIND OUT ALL YOU KNOW", THE CAPTAIN AND MASTER OF INTERROGATION SAID. JED WATCHED WHILE A GUARD WHIPPED RED'S BODY PAYING PARTICULAR ATTENTION TO RED'S COCK HEAD. "YOU'RE NEXT, I BET YOU ARE HARD THINKING ABOUT IT", THE CAPTAIN TOLD JED AS SHE STROKED JED'S HARD COCK. A VERY SORE RED COVERED IN WELTS WAS UNTIED FROM THE X FRAME. SORE RED WAS ABOUT TO FIND HIS ANUS WAS ABOUT TO FEEL EVEN WORSE PAIN. AN IRON COCK WITH A STING. A SCORPION INSIDE A DILDO SHAPED STEEL CAGE WITH ITS STING EXTENDED. JED WAS GIVEN A THOROUGH THRASHING WITH THE WHIP. RED'S ANAL MAN PUSSY WAS BEING STUNG BY THE SCORPION AND HIS ARSE PINCHED BY ITS PINCERS. BUT THEY REFUSED TO TALK.
HAVING GIVEN NOTHING AWAY RED AND JED ARE TIED TOGETHER AN SUSPENDED BY THEIR ARMS AND THEIR HARD COCKS BOUND TOGETHER WITH ROPE FOR A DOUBLE WHIPPING. HANGING LIKE HUNKS OF BEEF IN A KNACKERS YARD, TIED PENIS TO PENIS, THEIR BALLS THICK WITH SEED. AS THEIR NAKED EXPOSED FLESH WAS WHIPPED BY TWO OF THE BIGGEST IRAQI SOLDIERS IN JUST THEIR UNDERWEAR. THE WHIPPING JUST EXCITED THEM UNTIL THEY BOTH EJACULATED, NOT THE DESIRED EFFECT. "TIE THE RED HEAD ONE TO THE IRON BED STEAD", THE CAPTAIN ORDERED. JED WAS THRUST ONTO THE CHAIR WITH THE STINGER UP HIS ANUS. RED WAS MANACLED TO AN IRON BED WITH WHAT LOOKED LIKE AN ELECTRICAL DEVICE ATTACHED. THERE WAS ANOTHER WAY TO TORTURE, NOT ALLOW THE HORNY RED TO CUM. MEANWHILE THE SCORPION'S STINGER WAS HARD AT WORK INSIDE JED'S SORE, INFLAMED ANUS. RED WAS FORCE FED THIRTY VIAGRA TABLETS. RED'S WAS IN AGONY, HIS COCK SO SWOLLEN IT WAS ABOUT TO BURST. "TELL ME THE CODE WORDS OR ANOTHER THIRTY VIAGRA TABLETS", THE CAPTAIN WARNED. "I'LL TELL, I'LL TELL", RED MOANED. "NO MORE PLEASE, THE CODE WORD IS IRON MAIDEN 69". RED ADDED. THE CAPTAIN PULLED THE LEVER ON THE SIDE OF THE IRON BED STEAD BED DOWN. RED SCREAMED AND LURCHED UP YANKING ON HIS BONDS AS HIS BODY WAS ZAPPED WITH ELECTRICITY MAKING HIS CUM HARD. RED AND JED'S ORDEAL WAS ONLY JUST BEGINNING. MORE GRAPHIC MANFLESH MALE ON MALE PHYSICAL AND SEXUAL ABUSE ACTION. €15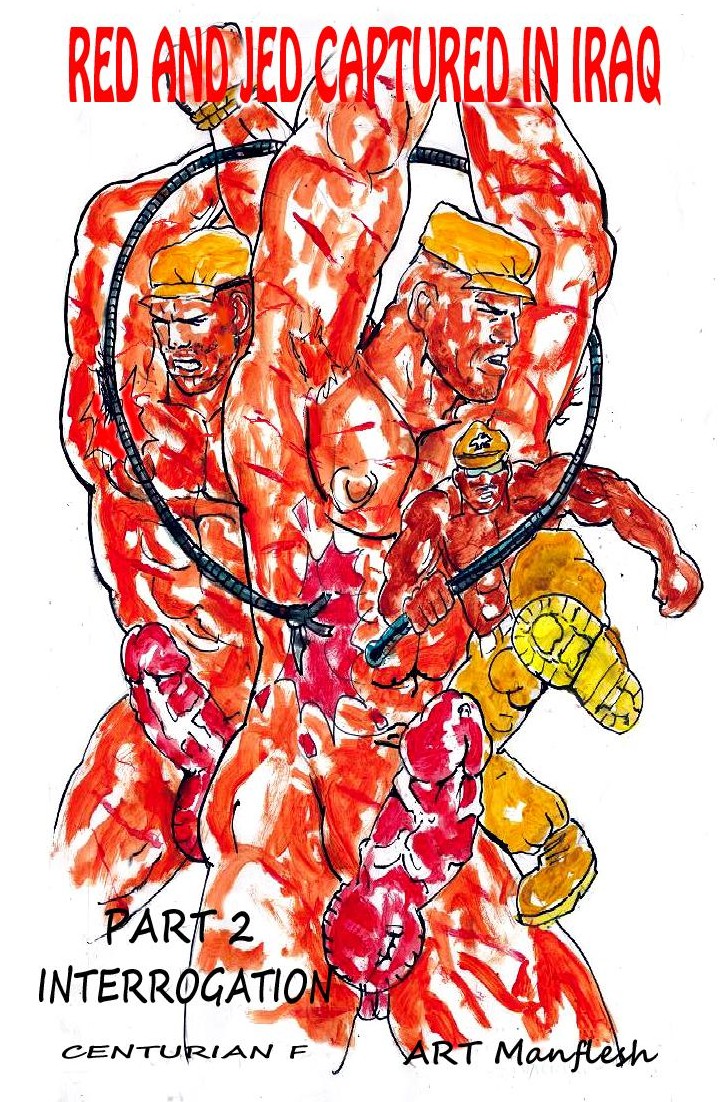 8 SHARPE'S BREAKING. MAJOR RICHARD SHARPE OF THE 95 RIFLES HAD BEEN CAPTURED BY THE FRENCH ARMY WHO SUBJECTED HIM TO PHYSICAL AND SEXUAL TORTURE TO BREAK HIM. A COLLECTION OF SIX GRAPHIC IMAGES BY MANFLESH OF HOW MAJOR RICHARD SHARPE WAS BROKEN BY THE FRENCH.
THE COVER FEATURES SHARPE TIED NAKED IN AN X FRAME WITH A THORN INSERTED IN HIS COCK WITH A SMALL FRENCH FLAG ON THE END, WHILE A FRENCH SOLDIER WHIPPED HIM IN FRONT OF A JEERING FRENCH BRIGADE, WHO JEERED BECAUSE HE HAD AN ERECTION. .
1 SHARPE HAD HIS HANDS TIED BEHIND HIS BACK AND BRITCHES REMOVED AND WAS SUCKED OFF BY A SERIES OF FRENCH SOLDIERS, IN FRONT OF THE FRENCH BRIGADE. THEY JEERED AS HE WAS MADE AND KEPT HARD AND REPEATEDLY DRAINED OF HIS SEED.
2 SHARPE WAS TIED SPREAD EAGLE IN AN X FRAME IN JUST HIS BRITCHES SHARPE WAS WHIPPED TO THE CHEST AND BACK BY TWO FRENCH SOLDIERS, THEY JEERED AT THE EXCITED BULGE IN HIS BRITCHES.
3 SHARPE IN JUST HIS BOOTS HAD HIS NIPPLES AND BALLS PIERCED WITH LONG CRUEL THORNS, BY A FRENCH SOLDIER. WHILE HE WAS FORCED TO SALUTE AND SHOUT "VIVE LA FRANCE".
4 SHARPE WAS FUCKED UP THE ANUS BY A FRENCH SOLIDER AND MADE TO EJACULATE IN FRONT OF JEERING FRENCH SOLDIERS AND WAS FORCED TO SAY "I'M A FRENCHIZ WHORE".
5 SHARPE WAS FORCED TO SUCK THE FRENCH BRIGADE COMMANDERS COCK IN FRONT OF THE WHOLE BRIGADE. "A HUNDRED MORE COCKS TO SUCK LOOK SHARPISH", THE BRIGADE COMMANDER SAID. THE WHOLE BRIGADE WAITED EAGERLY TO HAVE THEIR COCKS SUCKED BY MAJOR RICHARD SHARPE.
6 AFTER SHARPE HAD SUCKED ALL THE BRIGADES COCKS. ITS COMMANDER SAID "VIVE LA FRANCE", AS HE USED A KNIFE TO CARVE THE LETTERS POW ON SHARPE'S CHEST, TO SIGNIFY HIS TOTAL SURRENDER AND BREAKING BY THE FRENCH ARMY. GREAT MALE PHYSICAL AND SEXUAL ABUSE MANFLESH STYLE. €10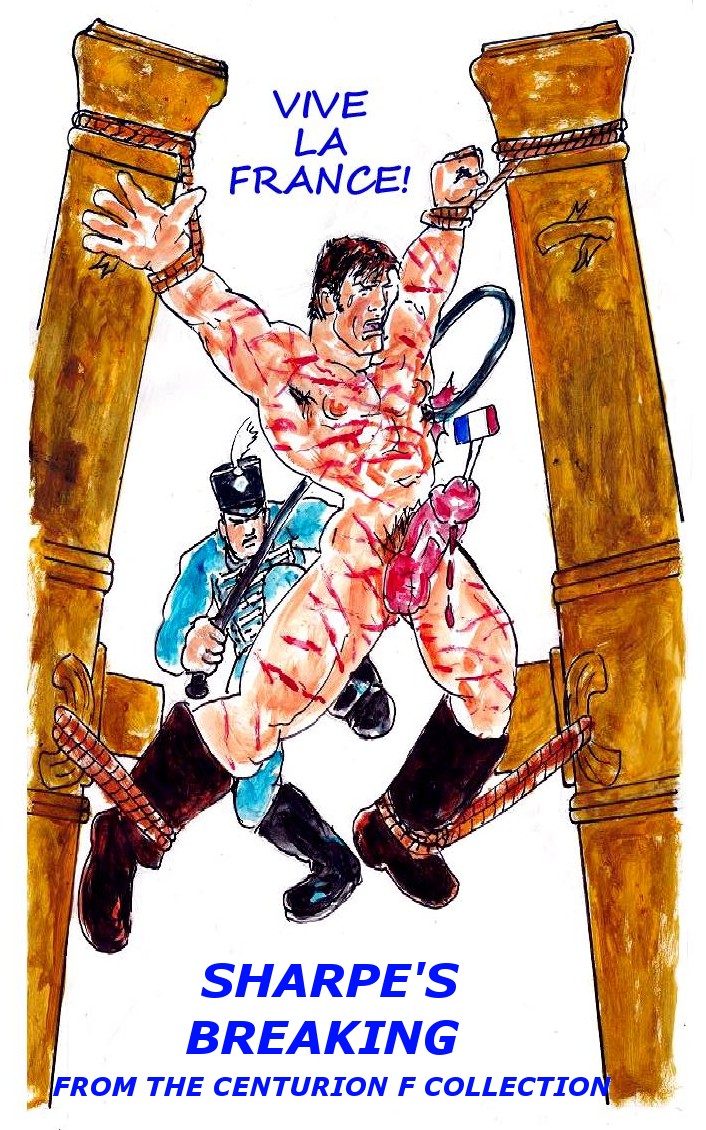 9 KORAK SON OF TARZAN PART 3. KORAK WAS FUCKING A VILLAGE GIRL, HE HAD TIED TO A TREE. HIS BROAD BACK, HARD ARSE AND THICK THIGHS, SLAMMED DEEP INTO HER SHAPELY BODY, AGAIN AND AGAIN. KORAK THOUGHT HE WAS THE MIGHTY ONE, WHILE HE FUCKED THE GIRL. BEZ WAS WATCHING HIS BOY. BEZ WAS A REAL MAN NEVER WANKED, HIS COCK OOZED PRE-CUM AS HE WATCHED. HE DECIDED THE BOY HAD TO BE TAUGHT A LESSON. JUST AS KORAK WAS ABOUT TO SHOOT, BEZ PUT ONE OF HIS BIG ARMS AROUND KORAK, AND PULLED HIM OFF THE GIRL. "NO, WANT TO FILL CUNT", KORAK PROTESTED IN FRUSTRATION, AND SPURTED INTO THE AIR. KORAK WAS ROPED SPREAD EAGLE BETWEEN TWO TREES BY BEZ. KORAK SOBBED AS BEZ GAVE HIM A GOOD THRASHING, IT HURT BUT ALSO TURNED HIM ON. BEZ MADE KORAK CUM AGAIN AND AGAIN AS HE THRASHED HIM. BIG NATIVE MEN WATCHED FROM THE TREES AS THEY WANKED EACH OTHER OFF.
FINISHED BEZ SAUNTERED OFF, LEAVING KORAK TIED BETWEEN THE TREES. HE KNEW THE VILLAGE WOMEN WOULD WHIP KORAK WITH VINES AND SUCK HIS COCK. BEZ WATCHED KORAK BEING WHIPPED BY ONE GIRL, WHILE ANOTHER SUCKED ON HIS COCK. BEZ WAS IN THE LONG GRASS FONDLING ONE NATIVE GIRL, WHILE ANOTHER SUCKED HIS HUGE COCK. "SEE KAZAH COMES LORD", THE GIRL TOLD BEZ. KAZAH WAS THE TWENTY SEVEN YEAR OLD CHIEF OF THE BRAVES. HE APPROACHED AND KNELT, THIGHS WIDE, BALLS VISIBLE BENEATH HIS LOIN CLOTH. "I BEG A FAVOUR GREAT WHITE LORD", KAZAH SAID. BEZ GRABBED KAZAH'S BALLS. "SPEAK TO ME", BEZ ORDERED AS HE HELD KAZAH'S BALLS. "THE MEN WISH TO TEACH KORAK RESPECT", KAZAH REPLIED. "CAN WE HAVE HIM FOR THREE DAYS IN OUR SACRED MALE COMPOUND", HE ADDED. "I LOVE MY BOY AND DON'T WANT THE MEN TO HARM HIM", BEZ SAID AS HE PLAYED WITH KAZAH'S COCK. ONE OF THE NATIVE GIRLS HAD GONE, THE OTHER WAS ABOUT TO LICK AND KISS LORD BEZ'S COCK. "WE UNDERSTAND, OH MIGHTY ONE, BUT WE KNOW HOW TO DEAL WITH YOUNG MEN", KAZAH REPLIED. HE RIPPED OFF HIS LOIN CLOTH DISPLAYING HIS HUGE, THROBBING, MAN MEAT. NO-ONE EVER SAID NO TO THAT. "GIVE ME YOUR TRIBUTE JUICE KAZAH AND YOU MAY HAVE HIM", BEZ SAID. KAZAH THRUST HIS COCK FORWARD AND SHOT HUGE LOAD OF CUM OVER BEZ'S CHEST. IMPRESSED, BEZ SHOT OVER THE GIRL'S FACE, ALSO HER HAIR AND TITS. KAZAH STRODE INTO THE JUNGLE WITH KORAK SLUNG OVER HIS BROAD BACK, WHILE SOME BRAVES WATCHED GRINNING LEWDLY. MORE GRAPHIC MANFLESH MALE ON MALE PHYSICAL AND SEXUAL ABUSE AND ACTION. €15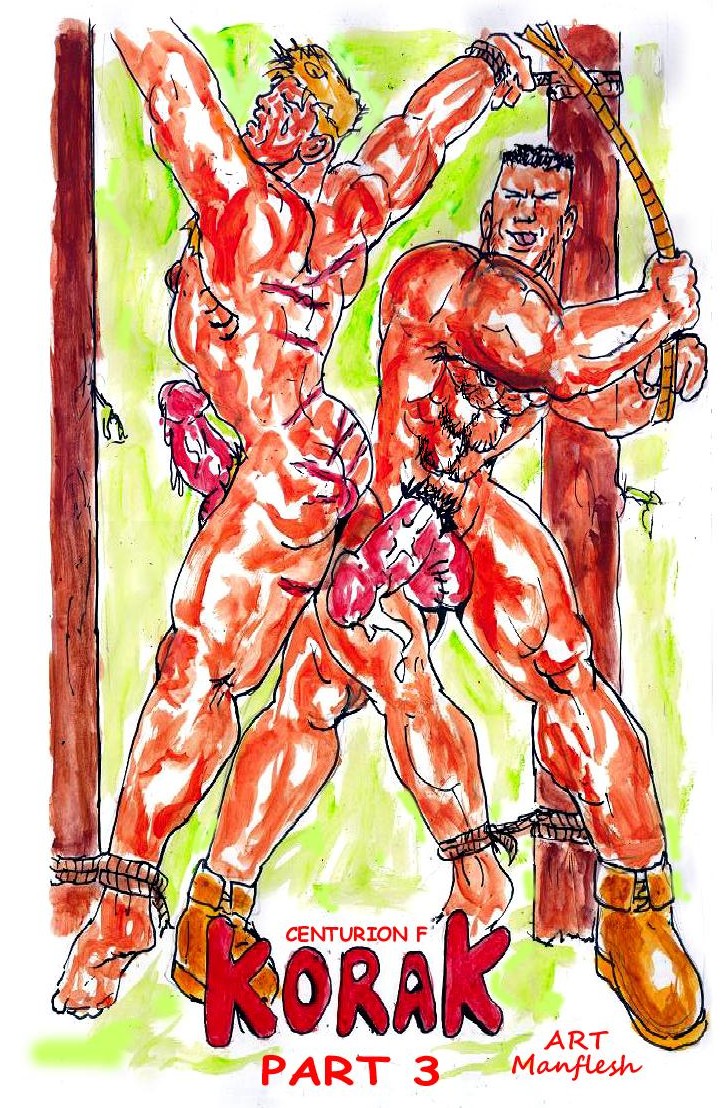 10 SHERIFF WADE AND THE WOODS GANG. CALE WADE WAS A YOUNG, GOOD LOOKING, SHERIFF, AND FASTEST ON THE DRAW. HE WAS LOVED BY THE LADIES, AND POPULAR WITH THE MEN. HE WOULD BRING OFF ANY GUY, HE ARRESTED.
WADE WAS SITTING ON HIS HORSE, BEHIND A RUSTLER, HE HAD CAPTURED. THE RUSTLER WAS WANKING WADE, AS WADE WANKED THE RUSTLER. WADE HAD HIS GUN AGAINST THE MAN'S NECK, AND HIS HARD COCK AGAINST HIS ARSE. "OK, I DID IT, PLEASE LET ME CUM", THE MAN BLURTED OUT, AS WADE WANKER HIS COCK. IT WAS A COCKED GUN, AND A COCKED COCK, THAT RULED THE WEST. WADE OFTEN PLAYED POKER IN THE TOWN SALOON, LATE AT NIGHT. IT WAS QUIET AND THE AIR WAS FULL OF SMOKE. HE WAS PLAYING WITH ANOTHER COWBOY AND THE SMELL OF TESTOSTERONE, WAS RIFE. THE COWBOY REACHED UNDER THE TABLE AND JACKED WADE OFF, UNTIL HIS HAND WAS COVERED IN WADE'S HOT, CUM. WHEN WADE LEFT THE SALOON THE MOON WAS OUT. IN AN ALLEY WAY, WADE SPOTTED ELI WOOD, HAVING A PISS. ELI WAS ONE OF THE FOUR WOOD BOTHERS, FROM THE TOSSING BRONCO RANCH, AND HE WAS WANTED FOR MURDER. SHERIFF WADE STUCK HIS GUN IN ELI'S BACK. ELI RAISED HIS HANDS, AND THE GUN GIVEN TO HIM BY HIS PA HIT THE DUST. WADE KNELT IN FRONT OF ELI. AND PUSHED HIS GUN UNDER ELI'S BALLS SACK. "CARRY ON PISSING, I WANT YOUR PISS", WADE ORDERED, TAKING HOLD OF ELI'S COCK. WADE DIRECTED ELI'S PISS INTO HIS MOUTH. WADE TOOK ELI TO THE JAIL AND TIED HIM NAKED EXCEPT FOR HIS BOOTS AND SPREAD, ON THE BARS OF A CELL. WADE GAVE ELI A HARD WHIPPING. IT WAS A WAIT OF THREE DAYS FOR THE TRAIN TO CAME, TO TAKE ELI WOODS TO YUMA PRISON. SHERIFF WADE LET THE COWBOYS AND THE BAD BOYS IN TOWN, HAVE THEIR WAY WITH ELI. ELI WAS TIED TO THE CELL BARS, WITH JUST HIS BOOTS ON AND WHIPPED AND WANKED, BY COWBOYS AND BAD BOYS OF THE TOWN. SHERIFF WADE GOT HARD AS HE WATCHED, ENJOYING THE WHIPPING AND HARD WANKING OF ELI.
A VEILED LADY IN BLACK ENTERED THE JAIL, SHE WAS THE WIDOWER OF THE SMALL HOLDER, ELI SHOT DEAD. "SHERIFF, I NEED TIME WITH ELI WOODS", THE WOMAN SAID OFFERING WADE MONEY. SHE PAID WADE, FOR TIME WITH ELI WOODS. THE WOMAN LET ELI FUCK HER HARD. "ELI, GIVE ME YOUR BABY", SHE SHOUTED, AS ELI THRUST INTO HER. "I'M FULFILLED", THE WOMAN SIGHED AS SHE WALKED AWAY FROM THE JAIL, LEAVING ELI NAKED IN HIS CELL, WITH A SMILE AND A HARD COCK, DRIBBLING SPUNK. SHERIFF WADE STARED AT ELI, LICKING HIS LIPS, HE WAS HOOKED ON SPUNK. SHERIFF WADE KNELT DOWN IN FRONT OF THE CELL AND SUCKED ELI'S HARD COCK. "OH, YEAH, YOU ARE A GREAT COCK SUCKER SHERIFF", ELI SIGHED. "I'M HARD AND READY TO FIRE AGAIN", HE PANTED. A GUN WAS POINTED AT SHERIFF WADE, AS HE SUCKED ELI'S WOOD'S, HARD COCK. IT WAS ELI WOOD'S BROTHER SAMSON. "ME NEXT, SHERIFF", SAMSON SAID, SMILING, POINTING HIS GUN AT WADE. SAMSON FREED ELI AND THEY TOOK SHERIFF WADE TO THEIR RANCH, THE TOSSING BRONCO RANCH. AT THE WOODS RANCH SHERIFF WADE, WAS STRIPPED AND TIED SPREAD, FOR A HARD WHIPPING. "THAT'S IT SON, WHIP IT HARD", ELI'S PA SAID, AS HE WATCHED ELI, WHIPPING SHERIFF WADE. BY THE TIME ELI HAD FINISHED WHIPPING WADE, HIS BACK WAS A MESS AND HIS HEAD HUNG DOWN AND HIS BODY SAGGED, HIS PRIDE HAD BEEN TAKEN. "I THINK HE'S LOOSENED, READY FOR FILLING", ELI SAID, HIS COCK HARD, WITH EXCITEMENT. "SURE SON, GO IN DEEP AND HARD", ELI'S PA REPLIED. ELI SAT ON A SADDLE AND FORCED WADE ON HIS HARD COCK, IN JUST HIS HAT, BOOTS, WITH HIS STAR PINNED TO HIS NAKED CHEST. ELI FUCKED WADE, AS HIS PA AND BROTHERS WAITED THEIR TURN. THE WOODS GANG TURNED SHERIFF WADE IN THE TOSSING BRONCO RANCH, WHORE. THEY FORCED HIM, TO SUCK THEIR COCKS, WHILE FUCKING HIM AND WANKING HIM HARD. THE BRANDED WADE WITH TOSSING BRONCO BRAND, A LARGE T. WADE CLENCHED HIS TEETH AND WINCED AS THE BRAND SEARED HIS FLESH, BUT HE WAS LOVING IT, SHOOTING CUM, AS ONE OF THE MEN HELD HIS BALLS.
WADE NAKED, SAVE FOR HIS HAT, BOOTS, AND SHERIFF'S BADGE, PINNED TO HIS CHEST, WITH HIS HANDS TIED BEHIND HIS BACK, WAS LED BEHIND A MULE. HE WAS BEING SOLD TO A MEXICAN LAND OWNER, FRIEND, CALLED, GYPO GONZALEZ. "PLEASE DO NOT LET GYPO HAVE ME, I BEG YOU", WADE PLEADED. THEY JUST LAUGHED AT THE NAKED SLAVE, THE SHERIFF HAD BECOME. IN THE DISTANCE THEY COULD HEAR THE TRAIN TO YUMA, PUFFING AWAY. GRAPHIC MANFLESH WESTERN MALE ON MALE PHYSICAL AND SEXUAL ABUSE AND ACTION. €15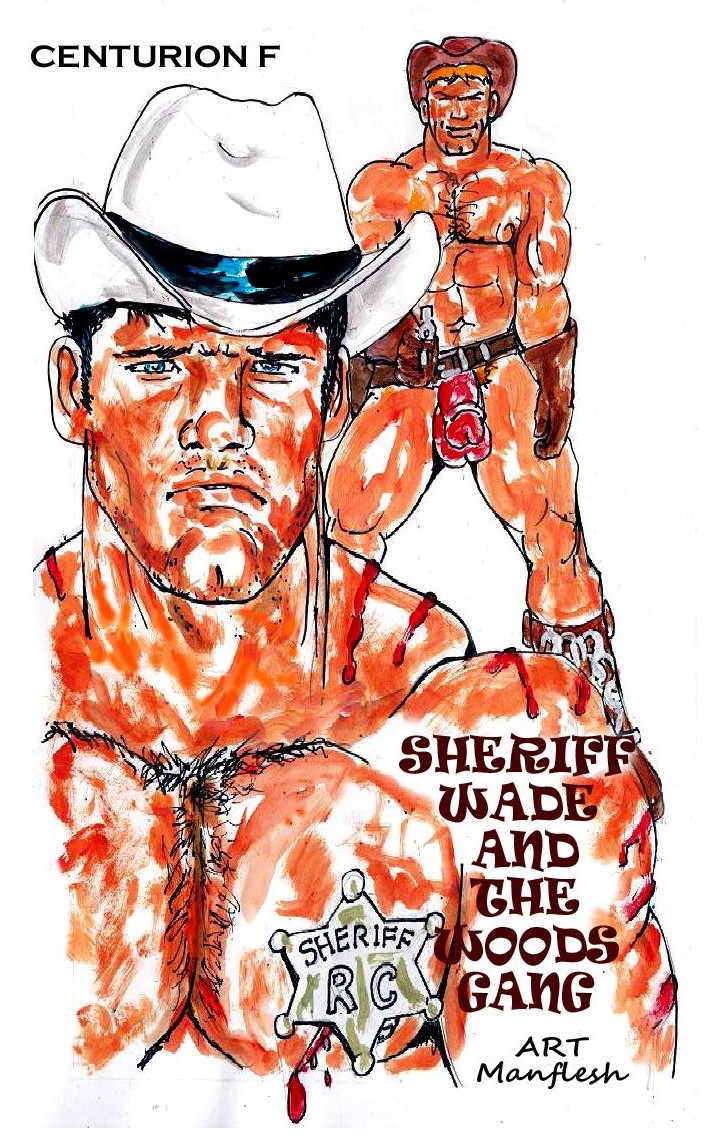 11 RED AND JED POLICE INTERROGATION. RED AND JED WERE HAVING SOME FUN WITH A YOUNG BODY BUILDER AND HIS GIRL FRIEND. THEY HAD STRIPPED HIS GIRL FRIEND NAKED AND THE YOUNG BODY BUILDER, TO HIS BASE BALL CAP AND TRAINERS. HIS HANDS WERE TIED BEHIND HIS BACK AND HIS ANKLES TIED TOGETHER. HE WAS SAT ON A CRATE WATCHING RED AND JED HAVING FUN WITH HIS GIRL FRIEND. RED HELD THE GIRLS ARMS BEHIND HER, WHILE JED GAVE HER THE FUCK OF HER LIFE. "FEEL THE WEAPON OF A HARD ARMY MAN", JED SAID, AS HE FUCKED HER HARD, LEAVING HER SORE, RAW AND WHORED. THE YOUNG BODY BUILDER WAS HARD AND DRIPPING, AS HE WATCHED HIS GIRL FRIEND BEING RAPED. WOW THAT'S WHAT I WANTED TO DO", HE THOUGHT TO HIMSELF. JED SHOT HIS LOAD AND THE GIRL SCREAMED IN ORGASM. RED CUM AS HE WATCHED. JED FILLED WITH TESTOSTERONE, PUNCHED THE YOUNG BODY BUILDER.
THE ARMY ROUTINELY COVERED UP RAPE CASES TO ENSURE THE ARMY'S REPUTATION WAS NOT TARNISHED AND ALSO THEIR PERSONNELS RECORD. HOWEVER THAT DID NOT STOP A LOCAL POLICE INVESTIGATION. RED AND JED WERE TAKEN TO THE LOCAL POLICE STATION FOR QUESTIONING. RED WAS TIDE BETWEEN STEEL TWO POSTS IN THE COUNTY POLICE OFFICE, STRIPPED TO THE WAIST. HE WAS QUESTIONED WITH A WHIP, BY OFFICER STEVE TREVOR. STEVE TREVORS WHIP, LEFT BLOOD WELTS ALL OVER RED'S BACK. JED WAS THEN TIED BETWEEN THE STEEL POSTS, IT WAS NOW HIS TURN TO BE INTERROGATED, SOME HARD QUESTIONING WITH THE WHIP. LIKE HIS BUDDY HIS NAKED BACK IT FELT THE PAIN AND THE CUTS. COCKY YOUNG OFFICER, STEVE TREVOR, HATED THE MILITARY AND LAID THE WHIP ON HARD. RED WAS THEN TIED IN HIS PLACE WITHOUT HIS CAP AND WITH HIS COMBAT TROUSERS OPEN. THIS TIME OFFICER TREVOR MADE SURE HIS WHIP CURLED ROUND RED'S BODY TO WHIP HIS CHEST, COVERING IT IN BLOODY WELTS AS WELL. RED'S HARD COCK FREED FROM HIS OPEN TROUSERS, STOOD TO ATTENTION, HE WAS LOVING THE LASHING. THEN JED WAS TIED IN THE FRAME, TO HAVE HIS CHEST WHIPPED WITHOUT HIS CAP AND HIS COMBAT TROUSERS OPEN. JED'S COCK GOT HARD AND ESCAPED HIS OPEN TROUSERS, SHOWING HE WAS LOVING THE LASHING AS WELL.
RED WAS RETURNED TO THE FRAME, THIS TIME NAKED SAVE FOR HIS BOOTS. OFFICER TREVOR HAD STRIPPED DOWN TO HIS CAP OF AUTHORITY, HIS BOOTS, GUN BELT, WATCH AND OF COURSE HIS DARK GLASSES. HE WAS THE MAN, HE WAS IN CHARGE. OFFICER TREVOR WHIPPED RED'S CHEST, RED LOVED THE WHIPPING, HIS HARD PROUD COCK, FILLED WITH TESTOSTERONE, MADE HIM EJACULATE HARD. JED TOOK RED'S PLACE IN JUST HIS BOOTS AND HIS NAKED EXCITED, BODY WAS WHIPPED HARD, HIS COCK EXTREMELY HARD AND EXCITED. OFFICE TREVOR HAD RED BACK IN THE FRAME AND HE HELD THE LIT END OF HIS CIGAR MILLIMETRES FROM ONE OF RED'S PECS. "I'LL MAKE YOU CUM SOLDIER", OFFICE TREVOR SAID. OFFICER TREVOR, STUBBED HIS CIGAR END INTO RED'S NIPPLE. "AWE STEVE", RED SIGHED IN EXCITEMENT, AS HE EJACULATED AND SHOT ONTO THE OFFICERS CHEST. IT WAS JED TURN IN THE FRAME. "I KNOW HOW TO MAKE BAD BOYS SHOUT FOR ME IN THIS TOWN", OFFICER TREVOR SAID, AS HE HELD HIS LIT CIGAR, CLOSE TO JED'S BOLLOCKS. "AWE STEVE YOU BASTARD", JED GASPED EXCITEDLY, EJACULATING, AS OFFICER STEVE TREVOR, STUBBED THE CIGAR END INTO JED'S BALL SACK. THE QUESTIONING AND INTERROGATION OVER, OFFICE STEVE TREVOR WAS DRESSED AGAIN, HE WAS SAT AT HIS DESK, HE HAD JUST WRITTEN HIS REPORT. THE REPORT READ, NO CASE TO ANSWER. STEVE'S HARD COCK WAS OUT OF HIS TROUSERS AND HE WANKED OVER THE TART'S PICTURE, AS HE SEALED THE REPORT ENVELOPE, CLOSED FOR GOOD, WITH HIS OWN CUM.
LATER THAT EVENING RED AND JED WERE BACK OUTSIDE, IN TANK TOPS, PANTS AND BOOTS. THEY WERE WALKING WITH DOM, THE GIRLS BOY FRIEND, ARM IN ARM BETWEEN THEM, HEADING FOR DOM'S PICK UP TRUCK. THEY WERE GOING TO TEACH DOM THE WAYS OF MEN. MORE GRAPHIC MANFLESH MALE ON MALE PHYSICAL AND SEXUAL ABUSE ACTION. €15