MANFLESH MALE COP DOMINATION ARTWORK AND COMIC BOOKS PAGE

MALE COP DOMINATION STORIES 17-32 LIST

17 RAID RAIDED PART 1 TRAPPED. GUNS O'CONNER, AND PORKY POTTS, WERE TWO HARD LINE COPS, WERE GOING TO RAID A MALE HARD BONDAGE CLUB. ON THEIR OWN AND WITHOUT PERMISSION. BUT THE UNDER GROUND CLUB, WAS A WARREN OF PASSAGES, A FORTRESS. STRIPPED NAKED, THEY WERE ABOUT TO DISCOVER ALL ITS SECRETS. THE TWO HARD LINE COPS, GUNS AND PORKY, ALWAYS GOT THE MOST ARRESTS, AS WELL AS PARKING VIOLATIONS, AND JAY WALKING. THE TWO WANTED TO GET A BIG BUST. THEY DECIDED TO BUST A MALE BONDAGE CLUB, WITHOUT PERMISSION. SO WHEN THEIR SHIFT WAS OVER, THEY WENT IN GUN'S PRIVATE JEEP, TO THE AREA OF TOWN THE CLUB WAS IN. DOING IT OVER, WOULD SHOW OFF AND ENHANCE THEIR POLICE POWER.
THEY ENTERED A PASSAGE DESCENDING INTO THE DEPTHS, THEN A STAIR CASE, GOING DEEPER STILL. THEY FINALLY SAW A LIGHT AT THE FAR END OF ANOTHER TUNNEL. BUT THEY WERE BEING WATCHED, VIA HIDDEN CAMERA'S. THEIR LEWD FUTURE WAS ABOUT TO BEGIN. THE TWO COPS SAW A DOOR AHEAD AND AS THEY GOT NEAR IT, THE FLOOR OPENED, A TRAP. HUGE MAGNETS COLLECTED THE COPS WEAPONS, AS THEY FELL INTO THE DEPTHS. AT THE BOTTOM OF THE SHAFT, GUN'S FOUND A SMALL TUNNEL, WITH NO WAY BACK UP THE SHAFT THEY HAD FELL DOWN, THEY HAD NO CHOICE, THEY HAD ENTER THE TUNNEL. "NO WAY WE CAN GET UP THE SHAFT, THE TUNNEL IS THE ONLY WAY", GUN'S SAID, SO THEY TOOK THE TUNNEL TO SEE WHERE IT LED. A LITTLE WAY IN THE TUNNEL, IT TURNED INTO A PIPE, FORMED BY STEEL PLATES AND IT BECAME VERY HOT, MAKING BOTH COPS SWEAT. SMALL TRAP DOORS IN THE SIDE OF THE PIPE OPENED. HANDS, WEARING ARMOURED GLOVES, REACHED THROUGH THE SMALL TRAP DOORS, GRABBING AT THE GUN'S AND PORKY'S CLOTHES. AS THEY CRAWLED ON TRYING TO ESCAPE THE HANDS TEARING THEIR CLOTHING, EVEN MORE, SMALL TRAP DOORS OPENED, AND MORE ARMOURED GLOVES TORE THEIR CLOTHING TO SHREDS. THE LAST SCRAPS OF THEIR CLOTHING, WAS RIPPED FROM THEM, STRIPPING THEM BOTH NAKED, BESIDE THEIR SHOES. THEY CARRIED ON DOWN THE LONG PIPE, SWEATING LIKE PIGS IN THE HEAT, LIKE THE PIGS THEY WERE. MORE SMALL TRAP DOORS OPENED, AND ARMOURED HAND RIPPED THEIR SHOES OFF, WITH THEIR SHOES GONE THEY NOW BOTH STRIPPED BARE. "SHIT EVEN MY SHOES", GUN'S MOANED. "YOU WILL PAY FOR THIS", PORKY SAID ANGRILY.
THE TUNNEL OPENED INTO A ROOM. THE ROOM WAS FOURTEEN BY FOURTEEN FEET, WITH SHARP COBBLE STONES ON THE FLOOR. THE TWO COPS HOPPED AROUND MOANING, AS THE SHARP COBBLES HURT THEIR FEET. THE ONLY PART THAT DID NOT HURT THEIR FEET, WAS A FOUR FOOT, BY FOOT, RUBBER MAT, FIXED THE FLOOR. THE WALL OF THE ROOM WERE FOURTEEN FEET HIGH, BUT THE CEILING WAS ONLY SEVEN FEET ABOVE THEM, WHERE THERE WAS GALLERY CONCEALED, BY THE INKY BLACKNESS ABOVE. THE DOOR TO THE TUNNEL CLOSED SHUT, BEHIND THEM. DIM LIGHTS SHINED DOWN ON THE MAT. THE TWO WERE NOW STRIPPED AND HUMILIATED, BUT WORSE WAS TO COME. THEY SAW MOVEMENT ABOVE THEIR HEADS, BRUTES DRESSED ONLY IN LEATHER, STARING DOWN AT THEM. SHIT, THEY REALISED THEY WERE PRISONERS, AND THIS WAS THEIR CELL, SHIT, THEY WERE BEING TREATED LIKE BEASTS.
THE BRUTES IN LEATHER ABOVE WERE MEMBERS OF THE BONDAGE CLUB, THE TWO COPS HAD HOPED TO BUST, NOW THEY WERE THE PRISONERS OF THEM. THE LARGE GROUP OF BRUTES ABOVE WANKED THEIR HUGE COCKS AND COVERED THE TWO COPS WITH THEIR CUM. ONE OF THE MASTERS SHOUTED DOWN TO THE TWO NAKED PIGS. "YOU MAKE PORKY PIG CUM, BY LICKING ITS ARSE OR NO FOOD FOR YOU", THE MASTER ORDERED GUN'S. DISGUSTED HE WOULD NOT DO IT, BUT AFTER TWO DAYS WITHOUT FOOD, COP GUN'S HAD NO CHOICE, BUT TO LICK PORKY'S FAT ANUS. GAGGING, GUN'S CARRIED ON UNTIL HE MADE PORKY CUM. "NOW PORKY PIG LICK ARSE, PIG GUN'S PINK PIGGY CUNT", THE MASTER ORDERED FROM ABOVE. WITH HIS STOMACH RUMBLING COP GUN'S BENT OVER AND LET, COP PORKY RIM HIS ARSE UNTIL HE CUM. FOR A WHOLE WEEK THEY WERE MADE TO EAT RAW MEAT, AND DRINK THE MEMBERS PISS.
THE BONDAGE CLUB WAS OPEN TWENTY FOUR OURS A DAY TO ITS MEMBERS. WHEN THE TWO ENSLAVED COPS, TRIED TO GET ANY SLEEP, THEY WERE COVERED IN A BLANKET OF THE HORNY MEMBERS CUM. AT THE END OF THE WEEK THE TWO SLAVE PIGS WERE SHOT WITH DRUGGED HYPODERMIC DARTS, KNOCKING THEM OUT COLD. OUT COLD, THEY WERE READY FOR ROPING. HOT ND EROTIC MALE ON MALE ABUSE AND HUMILIATION. GOOD COP DOMINATION ACTION. €15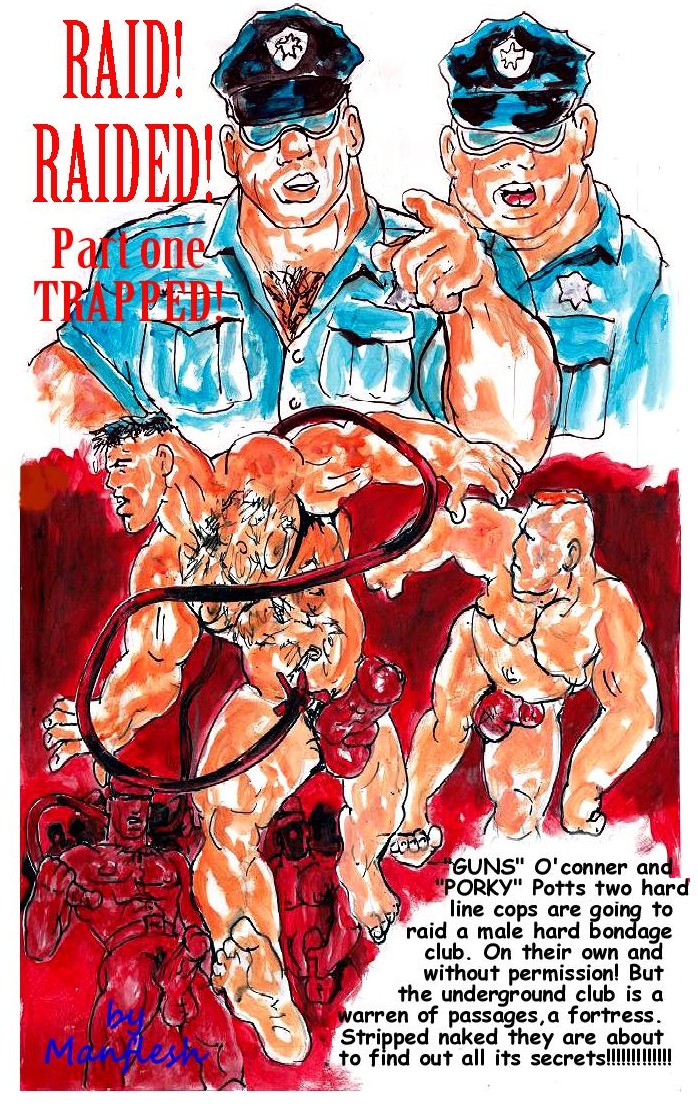 18 RAID RAIDED PART 2 ROPED. GUNS O'CONNER AND PORKY POTTS, WERE TIED JUST LIKE THE MEMBERS LIKED. PIG MEAT, READY FOR THEIR HANDS AND HARD COCKS, TO BE USED. COMING ROUND THE TWO EX LAW MEN FIND THEMSELVES ROPED IN BONDAGE. THEIR BODIES WERE BOUND TIGHT WITH THICK, COARSE, HEMP ROPES, AND THEIR COCK AND BALLS WERE ALSO TIED WITH SAME ROPE THAT KEPT THEIR COCKS EMBARRASSINGLY HARD, AND THEIR BALLS HELPLESSLY EXPOSED. A DOOR OPENED, AND TWO BIG BRUTES CAME IN. THE TWO BIG BRUTES, PUT THE COPS HATS ON THEIR HEADS. THE HATS WERE FILLED WITH THE MEMBERS SPUNK AND IT RAN DOWN THE COPS FACES AND THE BACKS OF THEIR HEADS. "THEY WILL STICK ON YOUR PIG HEADS NOW", ONE OF THE BIG BRUTES SNEERED, AS THEY BOTH LAUGHED. THE TWO ENSLAVED COPS, WERE FROG MARCHED THROUGH, MANY FLIGHTS OF STAIRS AND PASSAGE WAYS. THEN FINALLY TOWARDS, TWO LARGE METAL DOORS. THE TWO ENSLAVED COPS WERE THRUST THROUGH THE DOORS, WHERE OTHER MEMBERS OF THE BONDAGE CLUB WERE WAITING. "YOUR BODIES BELONG TO THE MEMBERS, PIG SLAVES", ONE OF THE MASTERS SHOUTED AT THEM. ALL THEIR NAKED COP FLESH WAS GROPED, LEAVING NO SPOT UNTOUCHED. THEY WERE LUMPS OF MEAT AND WOULD GET A HARD FUCKING. "I WILL STRETCH THIS BY USING YOU TRUNCHEON UP HERE", ONE OF THE MASTERS SNEERED, AS HE SPREAD PORKY POTTS ARSE CHEEKS WIDE. "YES IT WILL SURE FILL IT UP", ANOTHER ONE SNEERED.
A MASTER INJECTED GUN'S HARD ROPED COCK, FILLING IT WITH SYNTHOL. HE THEN WANKED PIG GUN'S COCK, UNTIL HE WAS ROCK HARD. GUN'S SWOLLEN ROPED COCK, GREW TO EIGHTEEN INCHES LONG. PIG, PORKY POTTS, WAS MADE TO KNEEL AND SUCK PIG GUN'S HUGELY BLOATED COCK. "AH, I WANT TO CUM BUT CAN'T CUM", PIG GUN'S MOANED, AS HE WAS FORCED TO ENDURE A LONG COCK SUCKING, BY HIS EX COP PARTNER. FUCK YOU", GUN'S SHOUTED ANGRILY AT OF THE MASTERS, AS ONE THE MASTERS CRUELLY CRUSHED AND TWISTED, GUN'S NIPPLES. PIG GUN'S DISCOVERED THAT TALKING BACK, BROUGHT MORE PAIN. "RESISTANCE WILL BE PUNISHED, WITH MORE PAIN", THE MASTER SAID AS HE WHIPPED GUN'S, WHILE, PIG, PORKY POTTS, CONTINUED TO SUCK, PIG GUN'S HUGELY BLOATED COCK. "YOUR MAN CUNT NEEDS AN UPGRADE", ANOTHER MASTER SNEERED, AS HE MOVED TOWARDS PIG GUN'S, CLUTCHING A SYRINGE. SYNTHOL WAS INJECTED IN BOTH THE PIG COP'S ARSES, DIRECTLY IN THE PROLAPSE, UNTIL THEY WERE THE SIZE OF CRICKET BALLS. THEIR, BOTTOM STATUS WAS NOW CLEAR FOR ALL TO SEE. IT SEEMED THE LONG ARM OF THE LAW WAS ABOUT TO BUST PIG GUN'S ARSE. ONE MASTER BENT PIG GUN'S OVER, WHILE ANOTHER FUCKED PIG GUN'S ANUS, WITH HIS OWN NIGHT STICK. "SEE HOW YOUR MAN CUNT SUCKS ON THE STICK", THE MASTER SNEERED AS HE MADE PIG GUN'S, SCREAM IN PAIN. IT WAS PORKY POTTS TURN NEXT, AS BOTH PIG COPS, WERE GIVEN A POKING, WITH THEIR NIGHT STICKS.
"I'M TAKING YOU TO THE GRINDER, YOU WILL SWEAT FOR YOUR FOOD", A MASTER TOLD, THE FUCKED AND WEARY PIG COPS. THE TWO COP PIGS, GROANED IN SHOCK, WHEN THEY SAW THE HUGE GRIND WHEEL, THEY WERE GOING TO BE MANACLED TO NAKED. THE COARSE HEMP ROPES, BINDING THEIR UPPER BODIES WAS REMOVED AS THEY WERE MANACLED TO A CAPSTAN, CONNECTED TO THE HUGE GRIND WHEEL. THE COARSE HEMP ROPES, BINDING THEIR COCKS, AND ARSES WAS LEFT IN PLACE. "PUSH I WANT TO SEE THOSE MUSCLES BULGE", A MASTER ORDERED. THEY HAD NO CHOICE BUT, TO PUSH THE CAPSTAN AND TURN THE HUGE GRIND WHEEL. DAY AFTER DAY THEY TRUDGED SLOWLY TURNING THE HUGE GRIND WHEEL. AFTER A WHILE PIGGY COULD NOT PUSH AND JUST HUNG ON LEAVING GUN'S DOING THE PUSHING. AFTER A HARD DAY TOILING ON THE GRIND STONE, THE EX COPS WERE TAKEN TO THEIR SLEEPING QUARTERS. THEY WERE ATTACHED TO LEADS AND FORCED TO CRAWL LIKE DOGS. THEY COMPLIED TOO EXHAUSTED TO RESISTS. IN THE EVENING THE TWO PIGS WERE TIED UP, ALONG SIDE OTHER CAPTURED COPS. THEIR COCKS AND BALLS, STRETCHED BY ROPES ATTACHED TO HOOKS IN THE CEILING. OUT OF THE SHADOWS HORNY MUSCLED MASTERS, MOVED TOWARDS THEM. IT WAS ARSE TRAINING, THE COP PIGS WERE FUCKED HARD, BY THE HORNY MUSCLE MASTERS. ALL PART OF THE BREAKING OF THE COP SLAVES. THEY WOULD BE SOLD TO A MR BIG, WHO OWNED A BIG SPREAD, WORKED BY SLAVES IN THE FAR SOUTH. MORE HOT AND EROTIC MALE ON MALE ABUSE AND HUMILIATION. MORE GOOD COP DOMINATION ACTION. €15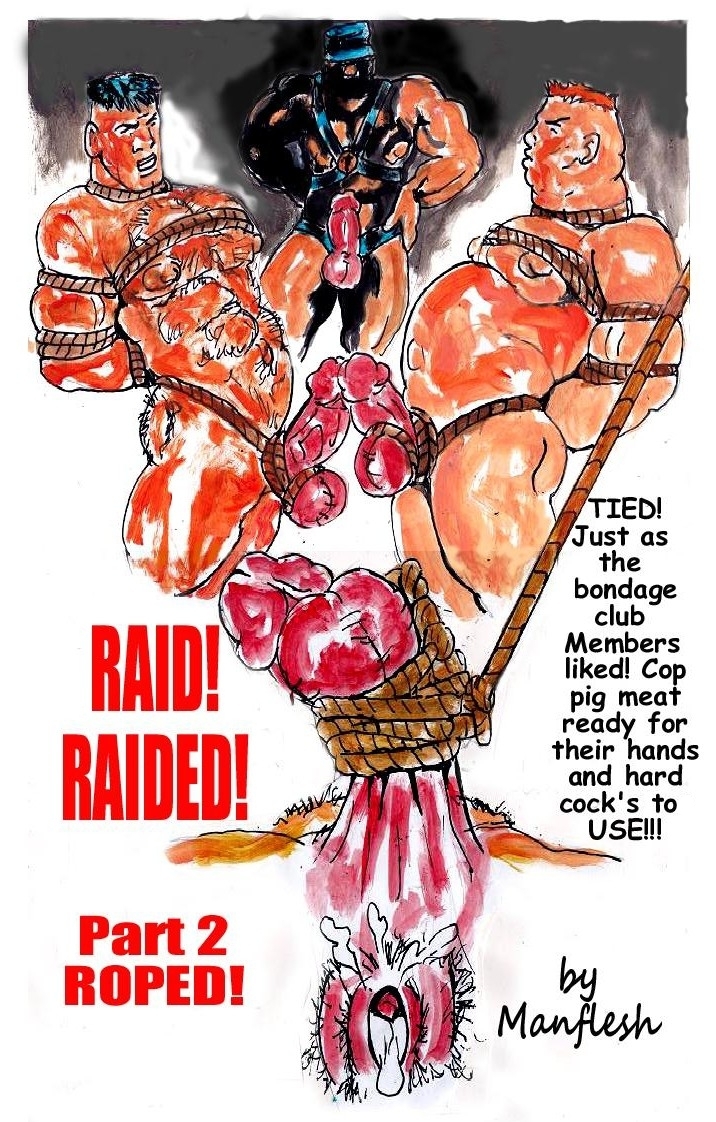 19 COP SLAVE THUG MASTER PART 1. SOME THUGS, TAKE THE LAW INTO THEIR OWN HANDS, OR COCKS. COP MITCH COLBEY , LOVED HIS BIG GUNS, OR MUSCLES. HE WAS ALWAYS SHOWING OFF IN THE POLICE GYM. HE EVEN POSED IN THE SHOWERS. "YOU SURE ARE ALL MAN, MITCH", ANOTHER COP SAID, ADMIRING MITCH'S MUSCLES, AS HE FLEXED THEM IN A POSE. "THAT'S WHAT I SAY", MITCH REPLIED. "I SURE AM THE STRONG ARM OF THE LAW", MITCH SAID, IN THE SHOWER AFTER THE GYM, AS HE FLEXED HIS BICEP, HIS COCK ROCK, HARD.
MITCH LOVED THE POWER OF HIS JOB, SHOWING THUGS, HE WAS THE BOSS, IN THIS TOWN. AS HE PATROLLED HE CAME ACROSS A THUG. THERE IS A BIG LOOKING BRUTE BET HE HAS SOMETHING TO HIDE, MITCH THOUGHT. HE'S A GOOD FOR NOTHING SON OF A BITCH", MITCH THOUGHT, AS HE AMBLED UP TO THE MOTHER FUCKER. A HUGE BLACK THUG, LEANING ON HIS CAR. THE HUGE, BLACK THUG, WAS STRIPPED TO THE WAIST WEARING, TATTY OLD SWEAT PANTS, THAT SAGGED LOW AT THE BACK, DISPLAYING ALMOST HALF OF HIS, HUGE BLACK BUTTOCKS. "WHAT DO YOU WANT", THE THUG ASKED, HE HAD A HUGE ERECTION, TENTING THIS SWEAT PANTS. "PULL UP THOSE TRACKS, YOUR BUM SHOWING, THAT'S AN INDECENCY FINE", MITCH REPLIED. MITCH PRESSED HIS NIGHT STICK BETWEEN THE THUGS LEGS, JUST BELOW THE HUGE BULGE IN HIS SWEAT PANTS. "NO LICENCE THAT'S ANOTHER FINE AND YOU WALK HOME", MITCH TOLD THE THUG, WHEN HE COULDN'T PRODUCE HIS LICENCE. THE HUGE BLACK THUG, CALLED TYRON, WAS ANGRY WITH MITCH, FOR HASSLING HIM AND IMPOUNDING HIS CAR. HE VOWED TO MAKE THE PIG, HIS FUCK SLAVE.
ONE FRIDAY NIGHT, SOME DAYS LATER, EVERYTHING WAS SET FOR PAY BACK. THE HUGE THUG, WAS WAITING OUTSIDE OFFICER MITCH'S HOME, OUT OF SIGHT, WAITING FOR HIM TO RETURN. WHEN OFFICER MITCH, REACHED HOME, HE RECEIVED A PHONE CALL. HE WAS GIVEN A TIP OFF, ABOUT A STASH OF DRUGS, IN A BAR, IN THE DESERT. THE CALLER WANTED TO KNOW, IF HE WOULD RESPOND, AND GAVE HIM THE CO-ORDINATES. HELL YES MITCH WOULD RESPOND. HE RUSHED TO HIS OWN CAR, BEING OFF DUTY HE DID NOT HAVE HIS SQUAD CAR, IT WAS AT THE POLICE STATION. THUG TYRON, HAD MADE THE CALL AND HE JUMPED IN HIS TRUCK, TO FOLLOW MITCH. MITCH ENTERED THE BAR IN THE DESERT AND FOUND HE HAD NO BACK UP. THE BAR WAS FULL OF HUGE BLACK BUCKS. HE STOOD TRANSFIXED AT THEIR SIGHT. THEN A HUGE FIGURE, GRABBED HIM FROM BEHIND. IT WAS THUG TYRON. THUG TYRON TRAPPED MITCH, IN HEAD LOCK, AND IN THE STRUGGLE, MITCH'S SHIRT WAS RIPPED OPEN, EXPOSING, HIS HAIRY, MUSCULAR CHEST. THUG TYRON, TOOK HIS PIG BITCH, INTO THE BACK YARD, WHERE, THE TOILETS WERE. "THIS WILL DO", THUG TYRON SAID, RIPPING MITCH'S SHIRT, RIGHT OFF. THE OTHER THUGS FOLLOWED, BUT GAVE TYRON PLENTY OF SPACE, OUT OF RESPECT FOR HIM. THEY WATCHED, THE START, OF THE BREAKING OF THE PIG. HIS GUN BELT QUICKLY FOLLOWED, HIS TORN SHIRT TOT HE FLOOR.
THUG TYRON USED THE REMNANTS OF MITCH'S TORN SHIRT, TO TIE THE PIGS ARMS BEHIND HIS BACK. COP MITCH, WAS THEN FORCED TO KNEEL AND SUCK THUG TYRON'S HUGE, BLACK COCK, IN FRONT OF ALL OF THE OTHER BLACK BUCKS. THUG TYRON SHOWED HIS RAW POWER. HE LIFTED THE COP PIG, OVER HIS SHOULDER, AND FORCED MITCH'S MOUTH, ONTO HIS HUGE COCK. "SUCK HARDER, PIG", THUG TYRON ORDERED. MITCH WAS FORCED TO COMPLY AND SUCKED THUG TYRON'S HUGE COCK HARD. AS THUG TYRON GOT CLOSE TO EJACULATION, HE PUT MITCH BACK IN HIS KNEES, FOR THE CLIMAX. AS MITCH SUCKED, THUG TYRON'S HUGE COCK, IT EXPLODED IN HIS MOUTH. MITCH HAD NO CHOICE BY TO SWALLOW, THUG TYRON'S SEED. WHEN THUG TYRON FINALLY STOPPED CUMING IN MITCH'S MOUTH, HE TORE MITCH'S TROUSERS OPEN, EXPOSING HIS BUTTOCKS. "TIME TO GET YOUR PIG ARSE SPANKED", THUG TYRON SAID, BRANDISHING A FEARSOME LOOK BLACK LEATHER PADDLE. THUG TYRON SPANKED MITCH'S ARSE MERCILESSLY, MAKING HIM GASP AND SOB IN PAIN. HUMILIATED COP MITCH, WAS FORCED TO STAND, AS THE BRUTAL SPANKING CONTINUED. HE STOOD THERE, FORCED TO ENDURE THE AGONY, BUT IT WAS TOO MUCH AND HE PISSED HIMSELF.
AFTER HIS BRUTAL SPANKING. COP MITCH WAS MADE TO KNEEL HIS ARSE RAISED IN THE AIR, FOR HIS PIG SEEDING TO BEGIN. THUG TYRON, FUCKED HIM FIRST, WITH HIS HUGE COCK. "THERE I IS FILMING YOU PIG", THUG TYRON SAID AS HE RECORDED THE EVENTS ON HIS PHONE. "FUCK THE PIG", ONE OF THE BLACK BUCKS, WATCHING SAID. "YES HARD", ANOTHER SHOUTED. THEIR COCKS HARD WITH EXCITEMENT, AS THEY WATCHED, ENCOURAGED, THUG TYRON, FUCKED THE PIG COP'S ARSE HARDED. THUG TYRON, RESTED MITCH'S SHOULDERS ON ONE OF THE TOILET PANS AND HELD HIS LEGS UP IN THE AIR, WHILE HE FUCKED MITCH'S ARSE EVEN HARDER. "YEAH TAKE IT BITCH", THUG TYRON SNEERED. SHOVED ON ONE OF THE TOILETS, THE SHAMED COP, ENDURED MORE ARSE CUNTING, LIKE SOME TWO BIT WHORE. THUG TYRON, PULLED PIG COP MITCH, OFF THE TOILET STILL IMPALED ON HIS HUGE COCK. THUG TYRON USED HIS COCK, STILL THRUST UP COP PIG MITCH'S ANUS, TO GUIDE HIM INTO THE BAR. MITCH WAS MADE TO CRAWL ON ALL FOURS, AS HIS ARSE WAS FUCKED AS HE MOVED, STEERED INTO THE BAR, BY THUG TYRON'S COCK. THE BLACK STUDS WATCHING, ALL SMILED AND STROKED THEIR HUGE COCKS. WHEN THUG TYRON HAD MITCH IN THE BAR FULL OF BLACK STUDS, HE PULLED HIS HUGE COCK OUT OF MITCH'S ANUS. THUG TYRON REPLACED IT WITH COP MITCH'S NIGHT STICK. AS THE PIG COP MITCH CRAWLED THROUGH THE BAR, WITH HIS NIGHT STICK IMPALED IN IS ARSE, AS THE BLACK STUDS PISSED ON HIM.
ALLOWED TO LEAVE, COP MITCH CRAWLED OUT OF THE BAR TOWARDS HIS CAR, PULLING THE NIGHT STICK OUT OF HIS ARSE. AS HE CRAWLED TO HIS CAR, HE LEFT A PUDDLE OF COCK SLIME, THAT OOZED FROM HIS ANUS. HOT AND EROTIC MALE ON MALE ABUSE AND HUMILIATION, BLACK ON WHITE ABUSE AND HUMILIATION. MORE GOOD COP DOMINATION ACTION. €15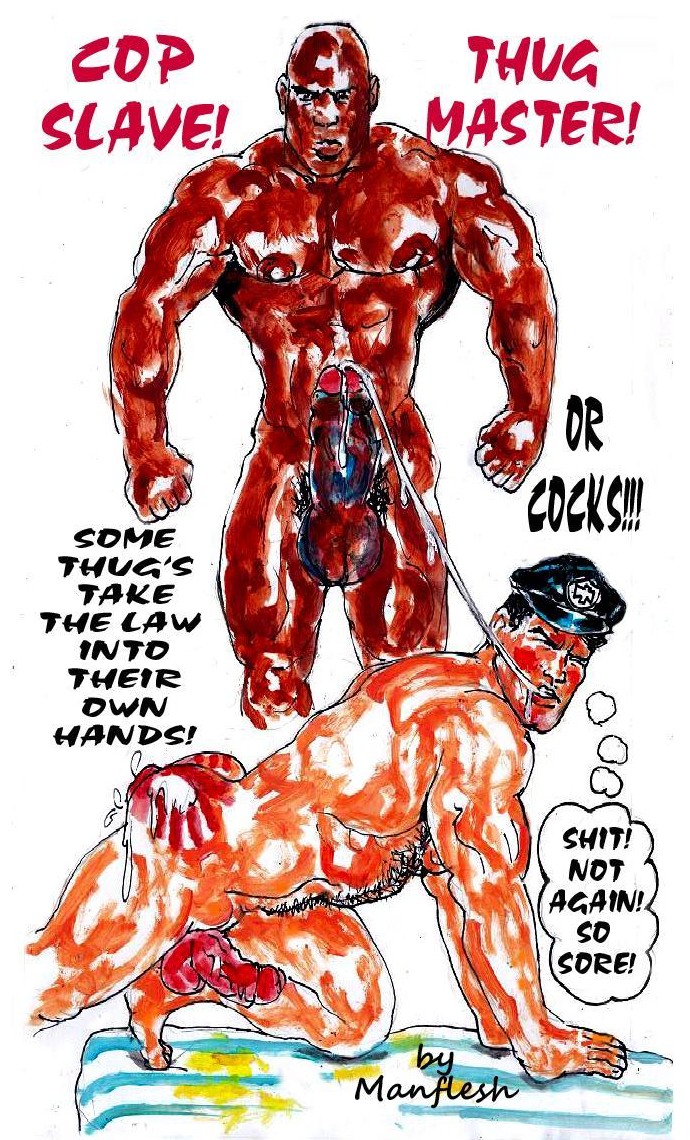 20 COP SLAVE THUG MASTER PART 2 BREAKING IN. AFTER HIS ORDEAL IN THE DESERT BAR, WITH THUG TYRON AND THE BLACK STUDS, COP MITCH WAS GLAD TO GET HOME. HE SHOWERED AND WENT TO BED. ALTHOUGH EXHAUSTED MITCH STRUGGLED TO SLEEP, AS HIS SORE, SWOLLEN WELL USED ANUS WAS NOW THE SIZE OF A BASE BALL. LITTLE DID HE REALISE, IT WAS DESTINED TO STAY THAT WAY, FROM NOW ON.
IN THE MORNING WHEN HE WAS OUT ON PATROL, HE HAD THE FEELING, THAT ALL THE BLACK STUDS, WERE THINKING ABOUT HIM BEING NAKED. AS EVERY ONE OF THEM HE PASSED, GAVE HIM LONG LUSTFUL GLANCES. NEAR THE END OF HIS SHIFT, MITCH GOT A CALL. TO HIS HORROR IT WAS THUG TYRON. MITCH WAS SHOCKED WHEN HE REALISED THAT THUG TYRON HAD HIS NUMBER. "PIG, YOUR ARE TO GO TO HOTEL SUNSET STRIP AT SEVEN O'CLOCK AND PAY FOR A ROOM, AND WAIT THERE", THUG TYRON'S VOICE SAID. "IF YOU DON'T, THEN YOUR FUCKING BY BLACK COCK, WILL GO ALL OVER THE INTERNET", THUG TYRON WARNED. "YES, OK,", MITCH REPLIED, FEELING SICK TO THE STOMACH. "YOU ALSO NEED TO BRING THE FOLLOWING", THUG TYRON ADDED.
MITCH ARRIVED AT HOTEL SUNSET STRIP AT SEVEN O'CLOCK CARRYING A BAG FILLED WITH THE ITEMS, HE WAS ORDERED TO BRING. MITCH ENTERED THE SHABBY HOTEL. I WAS TOLD TO BOOK ROOM ONE, HE TOLD THE JANITOR ON RECEPTION. HE PAID SIXTY DOLLARS FOR THE ROOM, THEN GROANED IT INWARDLY, WHEN HE REALISED IT WAS RIGHT OPPOSITE THE RECEPTION. MITCH REALISED ,THAT THE JANITOR, WOULD SEE THUG TYRON ENTER LATER. WHEN MITCH ENTERED THE ROOM, HE SAW A BED AND THE BED HAD A RUBBER MATTRESS AND PILLOW. MITCH GOT TO WORK, HE HAD HIS ORDERS. HE STRIPPED NAKED EXCEPT FOR HIS COP HAT. MITCH TOOK A RAZOR FROM HIS BAG AND USED IT TO SCRAPE HIS GROIN, REMOVING ALL HIS MAN BUSH, UNTIL HE WAS LIKE A PLUCKED TURKEY. IT WAS ALL PART OF HIS SHAMING, AS ONLY REAL MEN HAD PUBIC HAIR. ANOTHER ORDER FROM THUG TYRON WAS THE DILDO, MITCH HAD BEEN FORCED TO BUY, A HUGE BLACK, RUBBER, DILDO. THUG TYRON'S INSTRUCTIONS WERE THAT, MITCH WAS TO LUBRICATE IT AND FEED IT ALL THE WAY INTO HIS ANUS. MITCH GROANED AND BROUGHT TEARS TO HIS EYES, AS HE FORCED THE HUGE RUBBER MONSTER HOME. WITH THE HUGE DILDO IN PLACE, MITCH AND BEEN ORDERED TO WAIT ON THE BED AND PRESENT HIMSELF, LEGS WIDE OPEN, FOR WHEN THUG TYRON ARRIVED.
AT EIGHT O'CLOCK, THUG TYRON, ENTERED THE ROOM AND STRIPPED. HE LEERED AT THE LEWD SUBMISSIVE POSE, OF THE COP PIG, HIS HUGE, BLACK COCK, STIFFENING, UNTIL IT WAS STANDING TO ATTENTION. "PIG, CRAWL OVER HERE AND SUCK MASTER TYRON'S ,WEAPON", THUG TYRON ORDERED. MITCH CLIMBED OFF THE BED AND KNELT IN FRONT OF THUG TYRON AND STARTED TO SUCK HIS HUGE, BLACK COCK. "DEEPER PIG, I WANT TO SEE IT ALL IN YOUR COP PIG'S MOUTH, CUNT", THUG TYRON GROWLED. INTENT ON DEBASING AND HUMILIATING THE PIG COP MORE, THUG TYRON DRAGGED MITCH OUTSIDE THE ROOM, TO DEMONSTRATE HIS MASTERY OVER THE PIG COP, TO THE JANITOR. MITCH BEGGED, THUG TYRON NOT TO BUT HE WAS IGNORED. MITCH FELT SO ASHAMED, AS HE WAS FORCED TO SUCK THUG TYRON'S, HUGE, BLACK COCK, IN FRONT OF THE JANITOR. BUT HIS COCK WOULD NOT GO DOWN IT WAS ROCK HARD. THE JANITOR WATCHED, LICKING HIS LIPS. THE JANITOR HAD SEEN SUCH SEXUAL DOMINATION MANY TIMES BEFORE, A WHITE GUY DRESSED AS A COP, SUCKING A BLACK MASTER. THUG TYRON TOOK SLAVE MITCH, BACK INTO THE ROOM, AND ORDERED HIM TO BEND OVER. TYRON REMOVED THE DILDO FROM MITCH'S ANUS, AND SHOVED HIS HARD, BLACK, MEAT, DEEP INSIDE. THE JANITOR, WATCHED THE FUCKING SHOW, FROM THE DOORWAY, HIS COCK ON HEAT. MITCH WAS TOLD TO HOLD ONTO THE END OF THE BED. THE HUGE THUG THEN MOUNTED HIM, A RIDER FUCKING HIS COP MARE. "TAKE IT LIKE THE COP WHORE YOU ARE", THUG TYRON SNEERED AS HE RODE MITCH. "PLEASE NOT SO HARD", MITCH PLEADED. ALTHOUGH ASHAMED MITCH'S COCK LEAKED PRECUM AND THERE WAS NOTHING HE COULD DO ABOUT IT. MENTALLY AND PHYSICALLY HE WAS NO LONGER IN CONTROL OF HIS BODY.
THUG TYRON WAS TOO EXCITED AND JUST IGNORED MITCH. HE CLIMBED OFF MITCH AND THREW HIM ONTO THE BED ON HIS BACK. HE SPREAD MITCH'S LEGS APART AND POUNDED HIS ANUS WITH HIS HUGE, BLACK COCK, MAKING MITCH MOAN AND SOB. TO THE THUG, THE COPS ANUS, WAS A PUSSY. AFTER GIVING MITCH'S ANUS, COME PUSSY, A HARD POUNDING, THUG TYRON, DRAGGED HIM OFF THE BED. THUG TYRON, TRAPPED MITCH IN A FULL NELSON AND LIFTED HIM ONTO HIS HUGE BLACK COCK. "WITH MITCH IMPALED ON HIS HUGE, BLACK, COCK AND TRAPPED IN A FULL NELSON, THUG TYRON WAS READY FOR WHAT HE HAD IN STALL FOR MITCH NEXT. TO FURTHER HUMILIATE COP MITCH, THUG TYRON TOOK HIM OUT INTO THE HALL WAY AND HUMPED HIM IN THE MOST RUDE WAY, IMPALED ON HIS HUGE BLACK COCK AND TRAPPED INA FULL NELSON. GROANING, MITCH CLAMPED HIS LEGS AROUND THUG TYRON'S MUSCULAR THIGHS, TO TRY AND REDUCE THE PAINFUL PRESSURE ON HIS ANUS. BUT IT DID NOT WORK THAT WAY MITCH SQUIRMED HELPLESSLY, IMPALED ON THUG TYRON'S, HUGE, BLACK COCK. THUG TYRON FUCKED MITCH IN FRONT OF THE JANITOR UNTIL HE MADE MITCH CUM IN FRONT OF THE JANITOR, FOR THE JANITORS PLEASURE. THE JANITOR WATCH TRANSFIXED AND EXCITED HIMSELF AND SHOOTING ALMOST AS BIG A LOAD AS COP MITCH WHEN THEY BOTH CUM. "YOU FUCK YOUR PROSSIE HARD", THE JANITOR TOLD THUG TYRON.
THUG TYRON WAS FINISHED WITH COP MITCH FOR THE TIME BEING, SO HE PISSED ON COP MITCH, AS HE KNELT AT THUG TYRON'S FEET. "COVER YOU WITH MASTERS PISS", THUG TYRON SNEERED, AS HE PISSED ON COP MITCH. "SAY THANK YOU MASTER, IF YOU DON'T WANT YOUR COP MATES TO SEE YOU'RE A BLACK COCK LOVER", THUG TYRON ADDED, BRANDISHING HIS MOBILE PHONE, THAT HAD RECORDED EVERYTHING. "THANK YOU MASTER", MITCH SOBBED. THUG TYRON MADE COP MITCH COLLECT HIS UNIFORM FROM THE ROOM AND THREW HIM NAKED, OUT OF THE HOTEL. NAKED, DRIPPING PISS OFF HIS BODY AND CARRYING HIS UNIFORM. MITCH'S BOOTS HAND BEEN TIED LEWDLY TO HIS HARD, EXCITED, COCK AND THEY HUNG FROM IT, AS MITCH STUMBLED ACROSS THE HOTEL IN A STATE OF SHOCK. BLACK ON WHITE ABUSE AND HUMILIATION. EVEN MORE GOOD COP DOMINATION ACTION. €15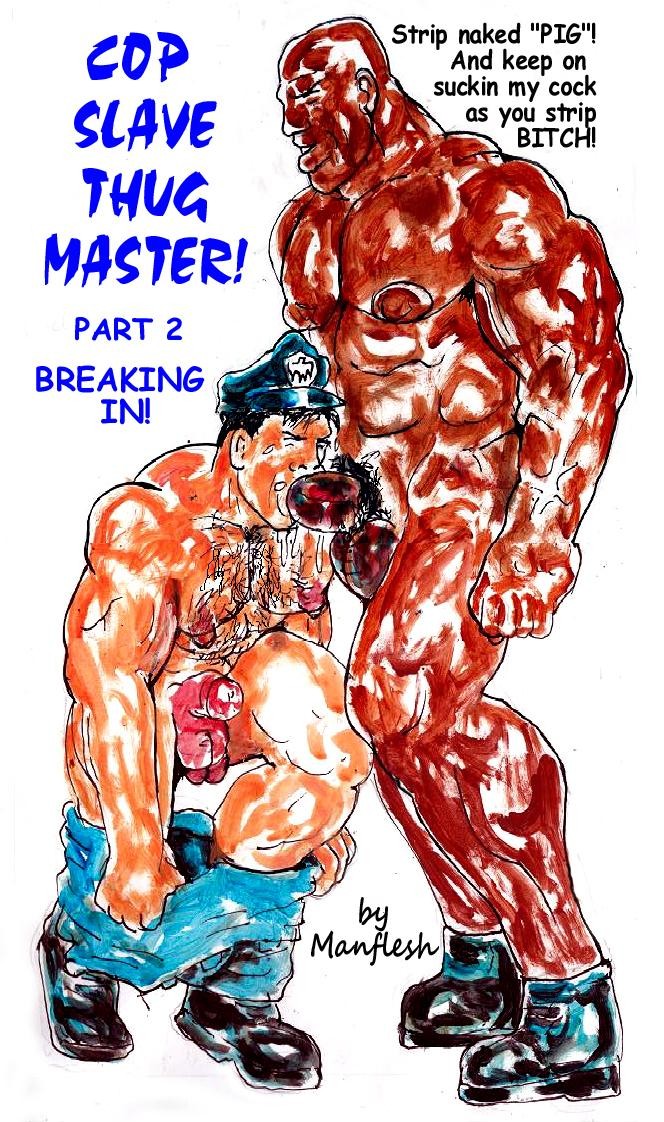 21 COP SLAVE THUG MASTER PART 3 NIPPLE HELL. THUG MASTER TYRON, MADE SLAVE COP MITCH, PAY FOR ANOTHER KNOCKING ROOM, AT ANOTHER RUN DOWN HOTEL. THUG TYRON, TOLD THE HOTELIER COME JANITOR, HE COULD PAW HIS WHORE UNTIL TYRON ARRIVED.
FROM HIS TRAILER CABIN, A COP WALKED OUT NAKED, INTO THE HOT NIGHT. IT WAS MITCH AND HE WAS WAITING FOR, THUG MASTER TYRON,TO ARRIVE. HE WAS ORDERED TO STAND NAKED, WITH HIS HANDS BEHIND HIS HEAD, COCK THRUST OUT, IN A SLAVE POSE. HE HAD NO CHOICE, TYRON HAD VIDEO EVIDENCE OF HIS MITCH GETTING HIS ANUS AND MOUTH FUCKED BY TYRON. SHIT, NOW HE WAS THUG TYRON'S BUM BOY, THE THOUGHT SHAMED MITCH, AND HIS HARD COCK SHAMED HIM EVEN MORE. THEN TYRON CAME OUT OF THE BUSHES HOLDING A STRANGE SPRING STEEL OBJECT, IT HAD THREE STEEL SPRINGS LINKED TOGETHER AT THE ENDS, THAT FORMED THREE LEGS. THE OTHERS ENDS HAD, STEEL NIPPLES RINGS ON THE ENDS OF TWO OF THEM AND A COCK RING ON THE END OF THE THIRD. THUG TYRON STARTED TO ATTACH THE TWO NIPPLES RINGS, TO MITCH'S NIPPLES, PIERCING THEM IN THE PROCESS. SHIT, HE HAS RINGED MY NIPPLES, MITCH THOUGHT, IN SHOCK AND PAIN, AS HE WATCHED. TYRON GRABBED MITCH'S PIERCED NIPPLES AND SQUEEZED AND TUGGED THEM CRUELLY. THIS MADE THE PAIN IN MITCH'S RINGED NIPPLES INCREASE. "I WANT MY BITCH, TO HAVE BITCH TITS", TYRON SAID, AS HE TUGGED AND SQUEEZED, MITCH'S RINGED NIPPLES. WHEN TYRON LET GO OF MITCH'S NIPPLES, HE FED MITCH'S COCK AND BALLS THROUGH THE COCK RING ON THE END OF THE THIRD SPRING. MITCH WINCED, AS HIS COCK, BALLS AND NIPPLES, WERE ALL TUGGED ON BY THE THREE STEEL SPRINGS LINKING THEM TOGETHER. THE HUMILITION AND PUNISHMENT DEVICE, WAS DOING ITS JOB OF KEEPING HIS RINGED NIPPLES HARD AND HIS COCK AND BALLS EXCITED AND HELPLESSLY PRESENTED.
THUG TYRON GRABBED HOLD OF THE TWO STEEL SPRINGS ATTACHED TO THE NIPPLES RINGS PIERCING MITCH'S NIPPLES. HE PULLED ON THEM STRETCHING THEM TIGHT, PAINFULLY TUGGING ON MITCH'S PIERCED NIPPLES, MAKING HIM GASP. TYRON KEPT PULLING UNTIL HE LIFTED MITCH OFF THE FLOOR MAKING HIM GROAN LOUDER, AS THE PRESSURE ON HIS RINGED NIPPLES, WAS INCREASED DRAMATICALLY. WITH MITCH HANGING IN THE AIR FROM STEEL SPRING PUNISHMENT DEVICE, THUG TYRON THRUST HIS HUGE BLACK COCK INTO MITCH'S ANUS. MITCH GROANED LOUDER WITH EACH THRUST, AS HE WAS FUCKED HARD BY TYRON, MAKING HIS ANAL MUSCLES BURN AND INCREASING THE STRAIN ON HIS NIPPLES. SATISFIED THUG TYRON DROPPED MITCH AND LEFT HIM LYING IN A DEBASED HEAP, AS HE SAUNTERED OFF. A LITTLE WHILE LATER, MITCH CRAWLED INTO HIS CABIN. SHIT I CAN STILL FEEL HIS COCK IN MY ARSE, MITCH THOUGH TO HIMSELF, AS CRAWLED TO HIS BED AND GINGERLY REMOVED THE CHAINS LINKING HIS NIPPLE RINGS AND COCK RING. HE DARED NOT REMOVE THE NIPPLE RINGS AND THE COCK RING, SCARED HE WOULD MAKE TYRON ANGRY. MITCH TRIED TO SLEEP BUT HIS COCK WAS HORNY, AND LEAKED COPIOUS AMOUNTS OF PRE-CUM.
TWO DAYS LATER, COP MITCH, GOT ANOTHER CALL FROM THUG TYRON. MITCH HAD NO CHOICE BUT TO OBEY HIM. MITCH PUT ON THE CHAIN ATTACHMENT, THAT LINKED HIS NIPPLES AND COCK RING AND TURNED THEM INTO THE PUNISHMENT DEVICE. THEN HE FORCED A BIG BLACK DILDO UP HIS ANUS. HE DRESSED IN HIS COP UNIFORM AND DROVE TO THE DESERT HOTEL. MITCH FELT DEBASED AND SHAMED, BUT HIS COCK WAS ROCK HARD. MITCH ENTERED THE HOTEL AND APPROACHED THE JANITOR AT THE DESK. "I'LL PAY FOR A ROOM", MITCH TOLD THE JANITOR. "I WAS TOLD TO EXPECT YOU", THE JANITOR REPLIED. "YOUR ROOM IS OPPOSITE THE DESK AND YOU ARE TO LEAVE THE DOOR OPEN, THEN STRIP NAKED AND KNEEL ON THE BED", HE ADDED. WITH NO CHOICE MITCH ENTERED THE SHABBY ROOM AND STRIPPED NAKED. SHIT HE'S WATCHING ME, MITCH THOUGHT IN HORROR, AS HE SAW THE JANITOR WATCHING AND LEERING, AS HE PLAYED WITH HIMSELF. MITCH FELT EVEN MORE ASHAMED, ALTHOUGH HIS COCK, WAS STILL ROCK HARD. HE KNELT ON THE BED AS INSTRUCTED THE STEEL SPRING PUNISHMENT DEVICE ATTACHED TO HIS NIPPLE RING AND COCK RING, CLEARLY VISIBLE, AS WAS THE END OF THE BIG BLACK DILDO THAT PROTRUDED FROM MITCH'S ANUS.
THE JANITOR WAS A HUGE HUNK OF MAN FLESH. HE ENTERED THE ROOM AND PULLED THE LARGE BLACK DILDO, OUT OF MITCH'S ANUS. "YOUR MASTER TYRON, SAID I COULD FINGER AND FIST YOU, WARM YOU UP FOR WHEN HE ARRIVES", THE JANITOR SAID. THE JANITOR TOOK GREAT PLEASURE IN FISTING MITCH FORCING HIS ARM DEEP INTO MITCH'S ANUS. MITCH WAS FISTED BY THE JANITOR, WAITING FOR HIS MASTER THUG TYRON. MITCH WAS NO LONGER THE STRONG ARM OF THE LAW, ESPECIALLY UNDER THE THUMB OF THUG TYRON AND HIS ILK. BUT AT LEAST THE JANITOR THOUGHT MITCH WAS A WHORE, DRESSED AS A COP, OR AT LEAST HE HOPED SO. WHEN THUG TYRON ARRIVED, HE INVITED THE JANITOR TO STAY AND JOIN HIM, IN A DOUBLE BUDDY FUCK OF THE WHORE COP MITCH. "JANITOR STAY AND WE CAN DOUBLE FUCK THE WHORE", THUG TYRON SAID. "YOU BETCHA", THE JANITOR REPLIED EAGERLY. NOO, MITCH THOUGHT TO HIMSELF IN HORROR, BUT HE WAS NO POSITION TO OBJECT. MITCH WAS ORDERED OFF THE BED AND TO SQUAT AND SUCK BOTH TYRON AND THE JANITOR, AT THE SAME TIME. ASHAMED BUT WITH LITTLE CHOICE, MITCH STARTED TO SUCK BOTH OF THEIR COCKS AND THEY FILLED AND STRETCHED HIS MOUTH. WITH THEIR EXCITEMENT UP, TYRON AND THE JANITOR PULLED THEIR COCKS OUT OF MITCH'S MOUTH AND DRAGGED HIM TO HIS FEET. THEN THEY BOTH FORCED THEIR HARD COCKS INTO HIS ANUS AT THE SAME TIME. MITCH COULD ONLY GROAN AND SOB, AS THE TWO BRUTES FUCKED HIS MAN CUNT HARD AND RAW. TO FINISH, THE TWO BRUTES GAVE THE WHORED CUM COP THEIR PISS. THEIR PISS IN HIS MOUTH, AND IN HIS WELL FUCKED AND STRETCHED ANUS.
MITCH WAS THEN MADE TO CLEAN THE ROOMS CARPET OF PISS AND CUM, USING HIS OWN UNDERWEAR, AS A MOP. WHILE TYRON AND THE JANITOR SAT AND WATCHED HIM DRINKING A BEER, THEIR COCKS STILL ROCK HARD. "WE SHOULD MAKE THIS A WEEKLY THING", THUG TYRON SAID, AS THEY CLINKED BEER BOTTLES. BLACK ON WHITE ABUSE AND HUMILIATION. EVEN MORE GOOD COP DOMINATION ACTION. €15 MORE BLACK ON WHITE ABUSE AND HUMILIATION ALSO WHITE ON WHITE ABUSE AND HUMILIATION. WITH EVEN GREAT COP DOMINATION ACTION. €15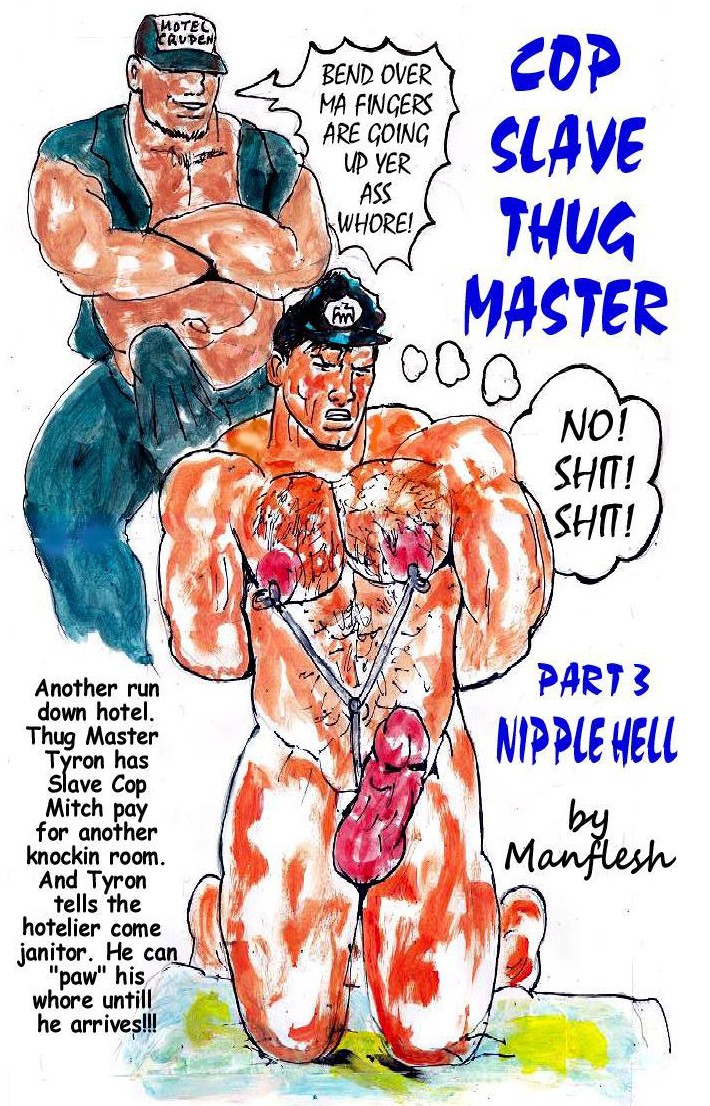 22 COP SLAVE THUG MASTER PART 4 SHAMED. MITCH GOT ANOTHER CALL FROM THUG TYRON. HE WAS ORDERED TO GO TO A FLAT IN THE BLACK GHETTO, WHERE WHITIES WERE NOT WELCOME. WHEN HE ARRIVED IN THE BLACK GHETTO, ALTHOUGH HE WAS DRESSED IN HIS UNIFORM, MITCH FELT AS THOUGH HE WAS NAKED. AS HE WAS WHITEY COP, UNDER A BLACK DOMINATOR. WHEN MITCH ENTERED THE FLAT, THUG TYRON WAS THERE WITH HIS TWO BUDDIES. THEY WERE ALL NAKED, WATCHING PORN ON THE TV, PUMPING THEIR LARGE BLACK COCKS. MITCH COULD NOT HELP NOTICING, THE HUGE BLACK COCK ON THE YOUNGEST BUCK. THEY ORDERED MITCH, THE PIG WHORE TO STRIP. A COP AND A BITCH, AND MY COCK HIS HARD, MITCH THOUGHT TO HIMSELF IN HORROR, AS HE STRIPPED. TYRON ORDERED HIM TO CRAWL OVER TO THEM , LIKE A PIG, HIS TONGUE OUT READY, TO SUCK TYRON'S DICK. "BET YA ARE ITCHING FOR IT, SAY YES", TYRON ORDERED. BASTARDS, MITCH THOUGHT. "YES MASTERS", HE SAID, AS CRAWLED TOWARDS THEM TONGUE OUT, KNOWING HE HAD NO CHOICE, BUT TO OBEY. AS THE SHAMED COP, SUCKED ON HIS MASTER'S COCK. TYRON LET HIS TWO BUDDIES FINGER AND FIST MITCH'S ANUS, STRETCHING IT READY, FOR A DOUBLE FUCK. "ITS COCK IS ROCK HARD", ONE OF THE BUCKS SNEERED. "YES HE WHORESHIPS BLACK COCK", THE OTHER TAUNTED. THE UP HOLDER OF THE LAW, WAS NOW A THUGS WHORE. "I'M STRAIGHT, MY ANUS IS PUSSY WHORED, MY COCK IS HARD, ITS GAY SHIT", MITCH THOUGHT TO HIMSELF IN HORROR.
WITH A ROPE TIED TO HIS BALLS, THE SORE BUMMED COP, WAS PUSHED INTO THE STREET NAKED, WEARING ONLY HIS COP HAT, ARMS TIED BEHIND HIS BACK. THE STREET WAS CROWDED WITH BLACK BUCKS. "TAMED THIS WHITEY MYSELF", TYRON SAID, AS HE HELD THE END OF THE ROPE TIED TO MITCH'S BALLS. "WELL FUCKED THEN", A BUCK IN THE CROWD SHOUTED. "ASS WELL STRETCHED", ANOTHER SAID. "A WHITEY WHORE DRESSED AS COP", A THIRD SAID. "OR UNDRESSED", A FOURTH QUIPPED. MITCH WAS TUGGED BY THE ROPE TIED TO HIS BALLS, THROUGH THE STREETS. HIS COCK SHAMEFULLY HARD, WHILE HE WAS WHIPPED BY TYRON. TYRON THRUST A WOODED POLE THROUGH MITCH'S ARMS, MAKING HIM THRUST OUT HIS CHEST AND WHITEY COCK OUT. AS MITCH WAS PULLED THROUGH THE CROWD WITH HIS COCK THRUST OUT. "FUCK THE WHORE", THE CROWD CHANTED. "FIRST HE CAN SUCK YOUR COCKS", TYRON SAID, AS HE MADE MITCH, KNEEL IN THE MIDDLE OF THE CROWD. MITCH AS FORCED TO SUCK THEIR BLACK COCKS, AS THEY QUEUED UP, EAGER TO TAKE THEIR TURN. TYRON LET ALL THE BLACKS ON THE STREET USE, TO USE SLAVE COP MITCH'S MOUTH TO DUMP THEIR COCK CUM IN. BUT THIS WAS ONLY THE BEGINNING OF HIS PUBLIC ORDEAL. WHEN MITCH HAD SUCKED ALL THEIR COCKS, HE WAS LIFTED UP AND HIS LEGS WERE SPREAD WIDE, IT WAS PARTY TIME. MITCH WAS THE CENTRE OF ATTENTION. NO COP HAD TO BE SURE, HAD AS MUCH COCK UP THEIR ARSE, AS COP MITCH.
AS SLAVE COP MITCH'S MAN PUSSY, WAS PUMMELLED INTO A RAW DISTENDED HONEY HOLE. THE RUDE SCENE WAS BEING WATCHED, BY A BLACK NEIGHBOUR HOOD COP. "YES A COP, YES COP MITCH COLBY, YES I KNOW THAT'S HIM", THE BLACK COP SAID INTO HIS RADIO. YES, INSTANT HARD LABOUR AND THROW AWAY THE KEY", HE ADDED, PICTURING MITCH, AS NAKED SLAVE, TOILING WITH WATER BUCKETS ON A YOKE. EVEN MORE BLACK ON WHITE ABUSE AND HUMILIATION ALSO WHITE ON WHITE ABUSE AND HUMILIATION. WITH EVEN GREAT COP DOMINATION ACTION. €15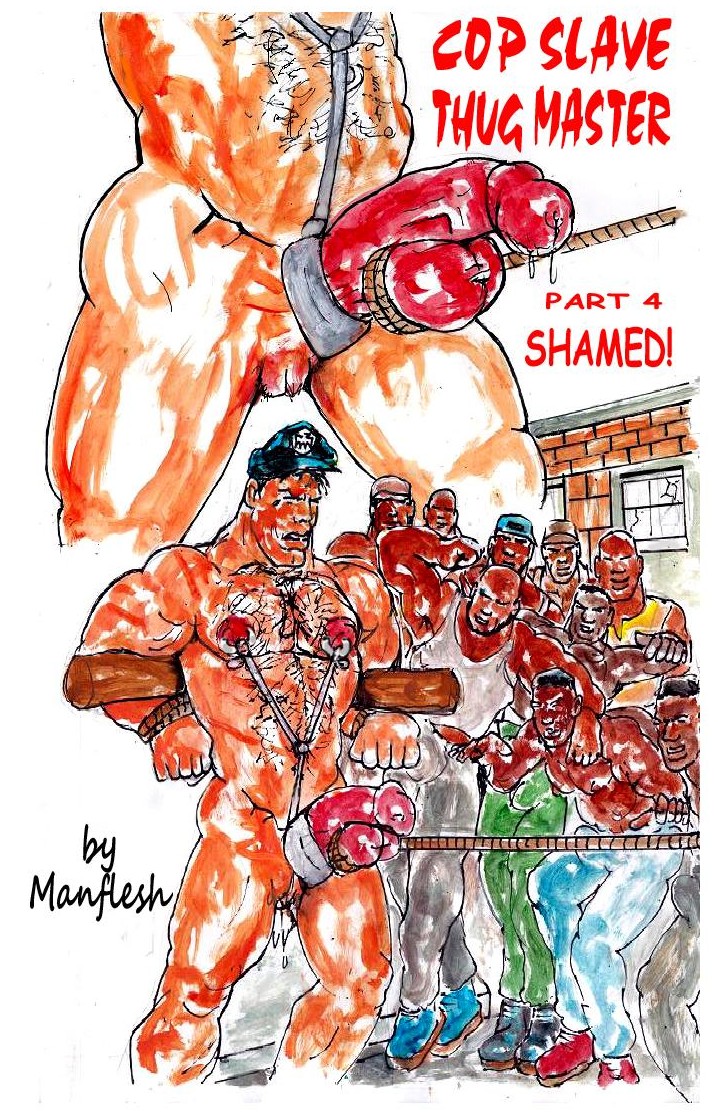 23 COP MILKED, THICK ARM OF THE LAW AND THICK COCK, SORE. COP DIRK BROCK, NICK NAMED, THE BULL, WAS A MAS HIS MUSCLE, ON HIS I PHONE, COULD LEAD TO DANGER. HE WAS KNOWN AS BULL, FOR HIS SIZE. ALSO BECAUSE HE PACKED A WEAPON, ANY BULL WOULD BE PROUD OF.
HIGHWAY PATROL MAN DIRK, WAS A PROUD YOUNG COCKY POLICEMAN, PUMPING UP IN THE PRECINCT GYM. HE ENJOYED SENDING OUT LOTS OF SELFIES OF HIMSELF, ON HIS I PHONE. MORE THAN JUST CHICKS, ENJOYED HIS BODY. HE HAD COME TO THE ATTENTION, OF A MIDDLE EASTERN SHEIK, LOOKING FOR WHAT WOULD BE HIS LATEST ACQUISITION. THE SHEIK LIKED TO SELL, THE MUSCLE MEN'S CUM SEED, BACK TO BUYERS IN THE WEST. NAKED, BOUND MUSCLE COP, SLAVES, THEIR CUM SEED, FULL OF STEROIDS, MILKED, IN HIS MILKING STATION. "MMM THE WANGER ON THAT, BULL, I WANT THAT BULL FOR MY MILKING STATION", THE SHEIK SAID, POINTING AT BULL, ON THE SCREEN. LIKE OTHER LOCAL RULERS, THE SHEIK HAD A STABLE. HIS STABLE WAS FULL OF MUSCLE COPS. WHAT THE SHEIK WANTED, HE GOT.
WHILE ON PATROL INVESTIGATING A BACK ALLEY, HE WAS ATTACKED AND OVER POWERED, BY A GANG, OF HIRED THUGS. THEY DRUGGED HIM, AND STRIPPED HIM, THEN TIED A BAG OVER HIS HEAD. BULL WAS STRAPPED NAKED ON A STEEL FRAME, IN THE HOLD, OF CARGO PLANE, THAT FLEW HIM TO THE MIDDLE EAST. THE CARGO PLANE, ALSO CONTAINED, SOME OF THE SHEIK'S OTHER PRIZED BEASTS, RACE HORSES. BULL'S MEATY, MUSCLED ARSE, WAS INJECTED WITH HORMONES, FOUR TYPES OF ROIDS, AND SEDATIVES, FOR THE FLIGHT. ONCE IN THE MIDDLE EAST, BULL WAS REMOVED FROM THE PLANE AND PARADED, NAKED AND BOUND, IN FRONT OF THE SHEIK. THE BAG HAD BEEN REMOVED BUT, HE WAS SILENCED WITH A BALL GAG. BULL COULD ONLY GROAN, AS THE SHEIK INSPECTED HIS NAKED BODY AND GROPED HIS COCK. THE SHEIK ATTACHED BULL TO HIS SLAVE LITTER, THAT WAS PULLED BY OTHER MALE SLAVES. THE SHEIK TOOK BULL THROUGH THE TOWN, TO PARADE HIM IN FRONT OF THE LOCALS. "YOU WILL BE MY NEW PRIZE, PRODUCER OF SPERM", THE SHEIK SAID, AS HE WANKED BULL, AS THEY PASSED THROUGH THE CROWDS, OF LOCALS. "YOUR LIFE WILL BE BUILDING YOUR MUSCLES, WITH HARD LABOUR, YOU'LL BE BUM FUCKED, BY MY GUARDS, AS YOU TOIL AND ARE MILKED", THE SHEIK ADDED. BULL MOANED, AS HE CUM AND THE CROWD OF LOCALS, CHEERED.
ON ARRIVAL BEAST BULL ,WAS TAKEN TO THE SMITHEE. BULL WAS CHAINED TO THE ANVIL, WHILE A HEAVY STEEL SLAVE COLLAR, WAS FIXED TO HIS BULL NECK. THEN ALL OF BULL'S MAN BUSH AND HAIRS ON HIS BOLLOCKS, WAS PERMANENTLY REMOVED, WITH A BURNING PASTE. NEXT HIS BALLS WERE STRETCH AND PUT THROUGH METAL SLEEVES, TO KEEP THEM SWOLLEN, BLOATED WITH BLOOD. TO ENSURE THEY CONTAINED MORE SEED TO MILK. HE WAS THEN BRANDED WITH B FOR BULL AND THE NUMBER 36, FOR THE THIRTY SIXTH BEAST, OF THE SHEIK. NOW BRANDED, BULL WAS TAKEN TOWARDS THE STABLES, UNDER THE WHIP OF A OVERSEER, IN THE BLAZING SUN. THE OVERSEERS WHERE WAITING FOR BULL. THEY WERE ABOUT TO BEGIN BULL'S BREAKING IN. ONE OVERSEER GRABBED BULL, AND THRUST HIS HUGE COCK, INTO BULL'S PRISTINE BUM HOLE, SPEARING IT MERCILESSLY. THIS WAS ALL PART OF NEW BEASTS BREAKING IN, HARD AND ROUGH. HIS BALL GAG WAS REMOVED, SO HE COULD SUCK ANOTHER OVERSEERS COCK. THE OVERSEERS TOOK TURNS, FUCKING AND BEING SUCKED BY BULL. UNTIL SPUNK FLOWED OUT OF HIS MOUTH AND ANUS ONTO THE HOT SAND. THIS WAS A GUARANTEED WAY TO BREAK, IN THE BULL MUSCLE COP. "YOU WILL BE A MILK COW, WHORE NOW?", ONE OF THE OVERSEERS SNEERED, AS THEY CONTINUED TO FUCK HIM AND BE SUCKED BY HIM.
NOW BROKEN IN BULL WAS CONNECTED UP TO THE SHEIK'S MILKING STATION. THE SHEIK AND AN OVERSEER, WHERE THERE TO WITNESS, BULL'S FIRST MILKING. THE SHEIK WATCHED SMILING AS BULL, EYES CROSSED, SPURTED HIS FIRST LOAD, DOWN THE TUBE, INTO THE MILK COLLECTOR. THE SHEIK DELIGHTED, SHOUTED, "MORE",. WITH A BUT PLUG RUBBING AND TEASING HIS PROSTATE, BULL CUM AGAIN. "MASTER HE SURE IS A SPUNKER?", THE OVERSEER SAID. THE NEXT DAY AFTER HIS FIRST MILKING SESSION, BULL WAS PUT TO WORK IN THE QUARRY. HE WAS FORCED TO HAUL, HEAVY BASKETS OF ORE, STRAPPED TO HIS BACK, IN THE BLAZING SUN. BULL ALSO HAD TO SERVICE THE OVERSEERS AND LET THEM FUCK HIM. HE WAS THEM PUT BACK TO WORK WITH PICK, TO TOIL, IN THE BURNING SUN. BULL JUST LIKE ALL THE OTHER COP, MILK BULLS, SPURTED ALL THE MORE INTO THE MILKING STATION, WHEN STIMULATED UP THE ARSE, BY OVERSEERS COCK. THIS WAS TO BE HIS NEW LIFE. MUSCULAR MALE COPS KIDNAPPED, STRIPPED AND ENSLAVED, FOR THE PLEASURE OF A ARAB MASTER. PLENTY OF OF GRAPHIC SEXUAL AND PHYSICAL ABUSE AS HIS MILK COW. €12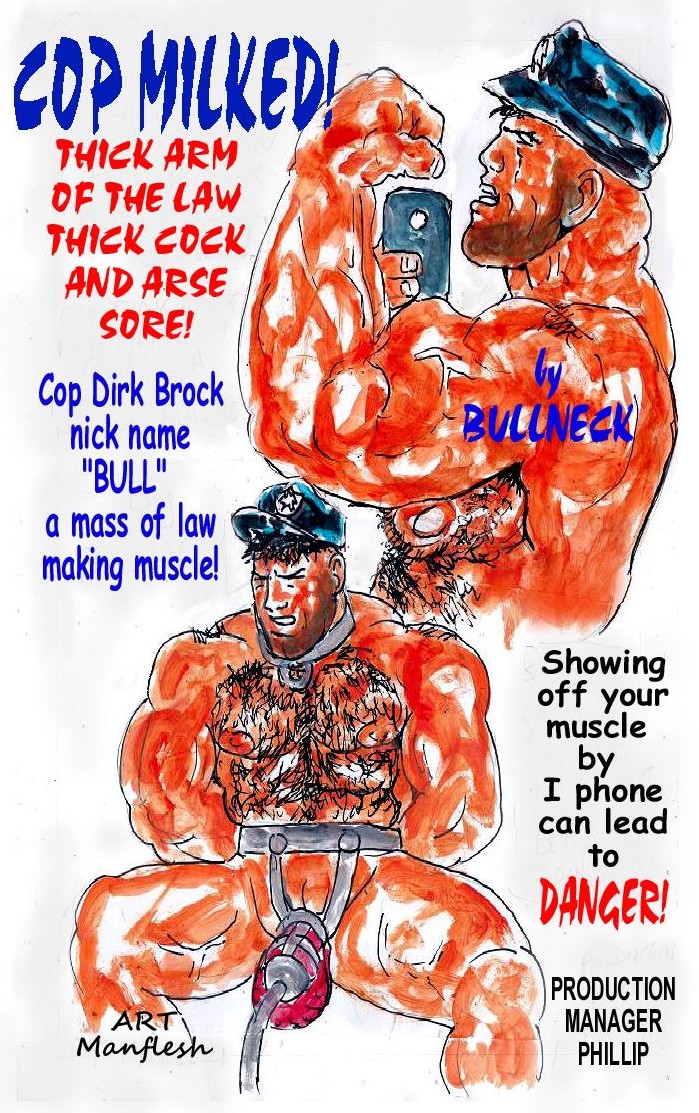 24 COP STACEY, BAR CODE SLAVE PART 1. COP STACEY WAS ONLY FIVE FOOT, TWO INCHES, TALL, BUT HE HAD THE MUSCLE MASS, OF A SIX FOOTER. THE MOB HAD WANTED HIM OUT OF THE WAY. THEY GOT THEIR WAY, HE NOW HAD A SLAVE BAR CODE TATTOOED, ON THE BACK OF HIS NECK. THIS WAS THE STORY OF HIS DOWN FALL.
COP STACEY WAS IN THE GYM, ADMIRING HIMSELF, AFTER A WORK OUT. I'M LOOKING DO GOOD, HE THOUGHT TO HIMSELF. SO BIG, AS HE FELT HIS HARD COCK. HIS COCK WAS NOT, AT FOUR INCHES. HIS HEIGHT WAS NOT TALL, BUT HE WAS AS WIDE, AS A SIX FOOT, SIX INCH, MUSCLE MAN, WITH A BUTT, AS THICK AND WIDE. THE MOB NEEDED TO GET RID OF STACEY. HE WAS ABOUT TO GIVE EVIDENCE IN COURT, ON MOB, KING PINS. THEY KNEW HE WAS A BODY BUILDING FANATIC, AND MADE THEIR PLANS ACCORDINGLY. THE MOB HAD FINGERS IN THE GYM AND COULD ARRANGE FOR OTHER MEMBERS OF THE GYM, TO VACATE THE GYM, SO THEIR MEN COULD CARRY OUT THE PLAN. AFTER A HARD WORK OUT COP STACEY GLOWED IN THE PUMP, FROM HIS TRAINING. HE WAS UNAWARE OF WHAT WAS ABOUT TO HAPPEN. THREE OF THE MOBS, HUGE THUGS, ENTERED THE LOCKER ROOM, BEHIND COP STACEY. THEY ATTACKED, HUGE FISTS FLYING. THEY OVER WHELMED COP STACEY. THEY KNOCKED HIM OUT, THE MOB RULED, IT WAS LIGHTS OUT, FOR COP STACEY. THE THUGS STRIPPED COP STACEY NAKED, AND PUT HIS CLOTHES IN A BAG, TO BE DESTROYED. "SHIT, THE SIZE OF HIS BUTT, THE SIZE OF TWO FOOTBALLS", ONE OF THE THUGS SAID, WHEN THEY HAD COP STACEY NAKED. HE WILL SURE GET SOME HAMMERING", ANOTHER ONE SAID. NAKED COP STACEY WAS TAKEN OUT THE BACK DOOR OF THE GYM, INTO ONE OF THE MOBS LIMOS. STACEY WAS NOW NO LONGER A COP, AND HE WOULD NO LONGER WEAR CLOTHES. IN THE LIMO THE EX COP WAS MAN HANDLED BY THE MOBSTERS, IT WAS SOMETHING, HE WOULD HAVE TO GET USE TO. STACEY WAS PUT ON HIS BACK ON THE FLOOR OF THE LIMO AND HIS LEGS LIFTED UP HIGH AND BENT RIGHT OVER, TO EXPOSE HIS NAKED BUTT. "WELCOME THE MOB SLAVE", ONE OF THE MOB BOSSESS, SAID, AS HE TOTED A MACHINE GUN. "BOSS HE SURE HAS A THICK COCK LOVING BUTT", ONE OF THE MOBSTERS SAID, POINTING AT STACEY'S SWOLLEN BUTT HOLE. AS THE OTHER ONE, HELD STACEY'S RAISED AND LEGS BENT BACK, OVER HIS HEAD.
STACEY WAS TAKEN TO THE OLD ASBESTOS FACTORY, NOW THE MOBS HEAD QUARTERS. THE MOBSTERS FROG MARCHED STACEY, DOWN INTO THE DEPTHS. STACEY WAS SECURED NAKED AND FACE DOWN, TO A STEEL TABLE, BY HIS ARMS AND LEGS. THEN A BAR CODE WAS TATTOOED TO THE BACK OF HIS NECK. "YOUR A SLAVE NOW?", THE MOB BOSS, TOLD STACEY, AS HE WATCHED THE BAR CODE, BEING TATTOOED TO THE BACK OF STACEY'S NECK. STACEY NOW A BARE CODED SLAVE, WAS MADE TO WORK OUT IN FRONT OF THE MOB BOSS AND OTHER MOBSTERS. HE WAS MADE TO PUMP HEAVY WEIGHTS ON EACH REP AND LOWERED HIMSELF, HE WAS IMPALED ON A MOBSTERS COCK. "BOYS SHAG IT HARD, IT WILL GET MORE AND WORSE, WHERE IT IS GOING", THE MOB BOSS SAID. "YOU BETCHA BOSS", THE MOBSTERS REPLIED EAGERLY, THEIR COCKS ALL HARD AND RARING TO GO. THE MOBSTERS ALL TOOK TURNS IMPALING STACEY ON THEIR COCKS, WHILE ONE STOOD IN FRONT OF STACEY, WANKING HIS HUGE COCK, UNTIL IT SPUNKED ALL OVER STACEY'S FACE. THE MOB BOSS ENJOYED THE SHOW, AS COP STACEY, NOW A SPUNKED SLAVE, WAS GIVEN A HARD FUCKING, WORK OUT.
STACEY WAS TAKEN SOUTH, TO THE SLAVE MARKETS, TO BE SOLD. FELONS WITH BAR CODES ON THEIR NECKS, WERE SLAVES FOR LIFE. ONCE STACEY ARRIVED HE WAS PARADED IN FRONT OF THE WARDEN. "TAKE IT TO HAVE ITS COCK HAIR REMOVED AND FOR DELOUSING", THE WARDEN ORDERED. STACEY WAS HUNG BY HIS ARMS AND LEGS BY CHAINS, FROM A STEEL RAIL, SPREADING HIS ARMS AND LEGS, SO HIS GROIN WAS EXPOSED. STACEY WATCHED SOBBING, AS A GUARD APPLIED SOME BURNING GREEN PASTE, TO STACEY'S PUBIC HAIR. IT WOULD DESTROY HIS MAN BUSH FOR GOOD. THIS WAS DONE TO ALL THE SLAVES. MOST OF THE SLAVES NEVER SHOWERED, THEY SWEATED TO CLEAN THEIR PELTS. THEN STACEY WAS TAKEN TO THE AUCTION, TO BE SOLD. THE GUARDS PLACED STACEY IN SEVERAL LEWD POSITIONS, AS THE BIDDING BEGAN, MAKING THE BIDS FOR HIM FIERCE. SLAVE STACEY WAS SOLD AND RENAMED SUCK. HE HAD BEEN SOLD TO A MISTER REAMER, A BUILDER SUPPLYING CONSTRUCTION MATERIALS. ON THE DRIVE TO HIS NEW HOME, SLAVE STACEY, WAS CLAMPED IN STEEL FRAME, PART OF AND ADAPTED FRONT SEAT.STACY LAY BETWEEN HIS NEW OWNERS LEGS AND WAS FORCED TO EARN HIS NEW NAME, BY SUCKING HIS NEW OWNERS COCK, ALL THE WAY HOME. PLENTY OF MALE ON MALE SEXUAL AND PHYSICAL ABUSE, MANFESH STYLE. €15
COP STACEY COP HAS THE NEW FEATURE OF SIDE BY SIDE PAGES, THAT FORM A PANORAMIC IMAGES. THE PANORAMIC PAGES IN COP STACEY ARE 6 AND 7 AND 10 AND 11.
PAGES 6 AND 7 FEATURE COP STACEY NAKED IN THE MOBS LIMO, BEING OGLED AND ABUSED BY THE MOBSTERS.
PAGES 10 AND 11 FEATURE COP STACEY FORCED TO DO WEIGHT LIFTING WITH A HEAVY BAR. WHILE MOBSTERS TOOK TURNS FUCKING HIS ARSE. ONE MOBSTER STOOD IN FRONT OF COP STACEY, TAUNTING COP STACEY, WITH HIS HUGE, HARD COCK, UNTIL HE CUMS IN COP STACEY'S FACE. THIS WAS ALL WITNESSED BY THE MOB BOSS.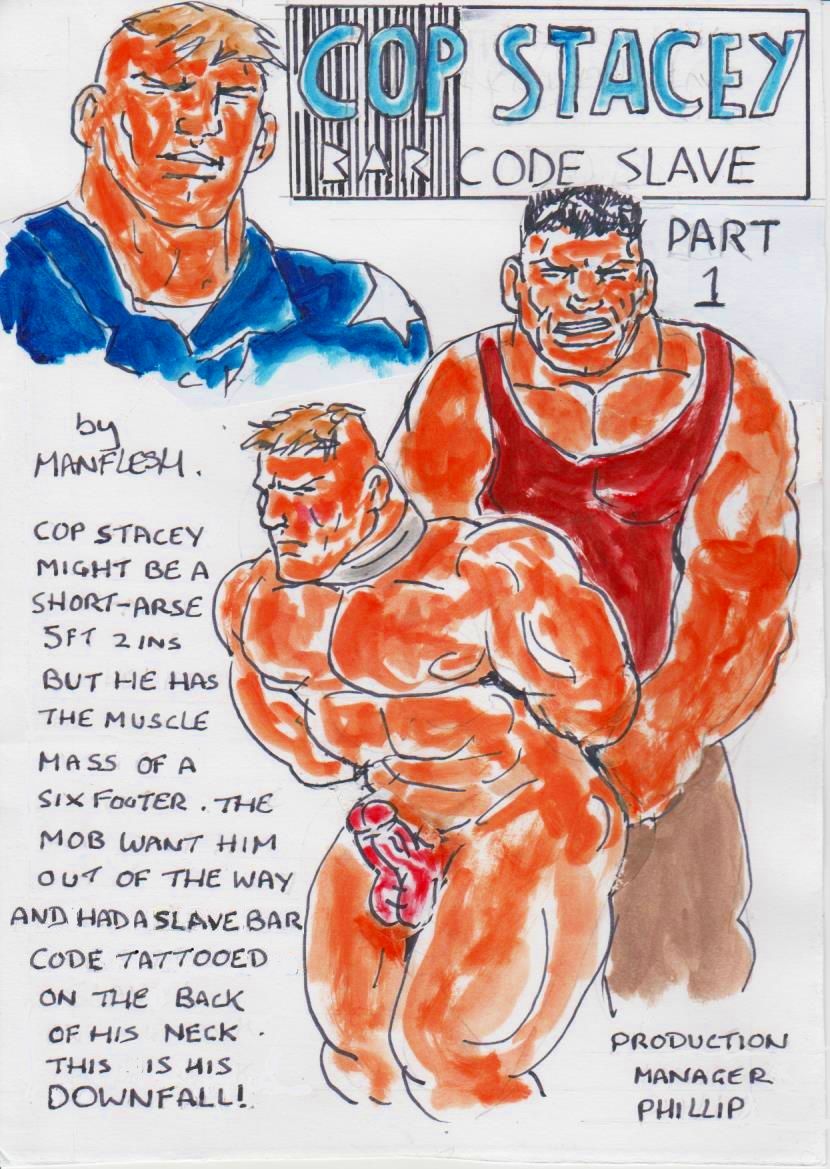 COVER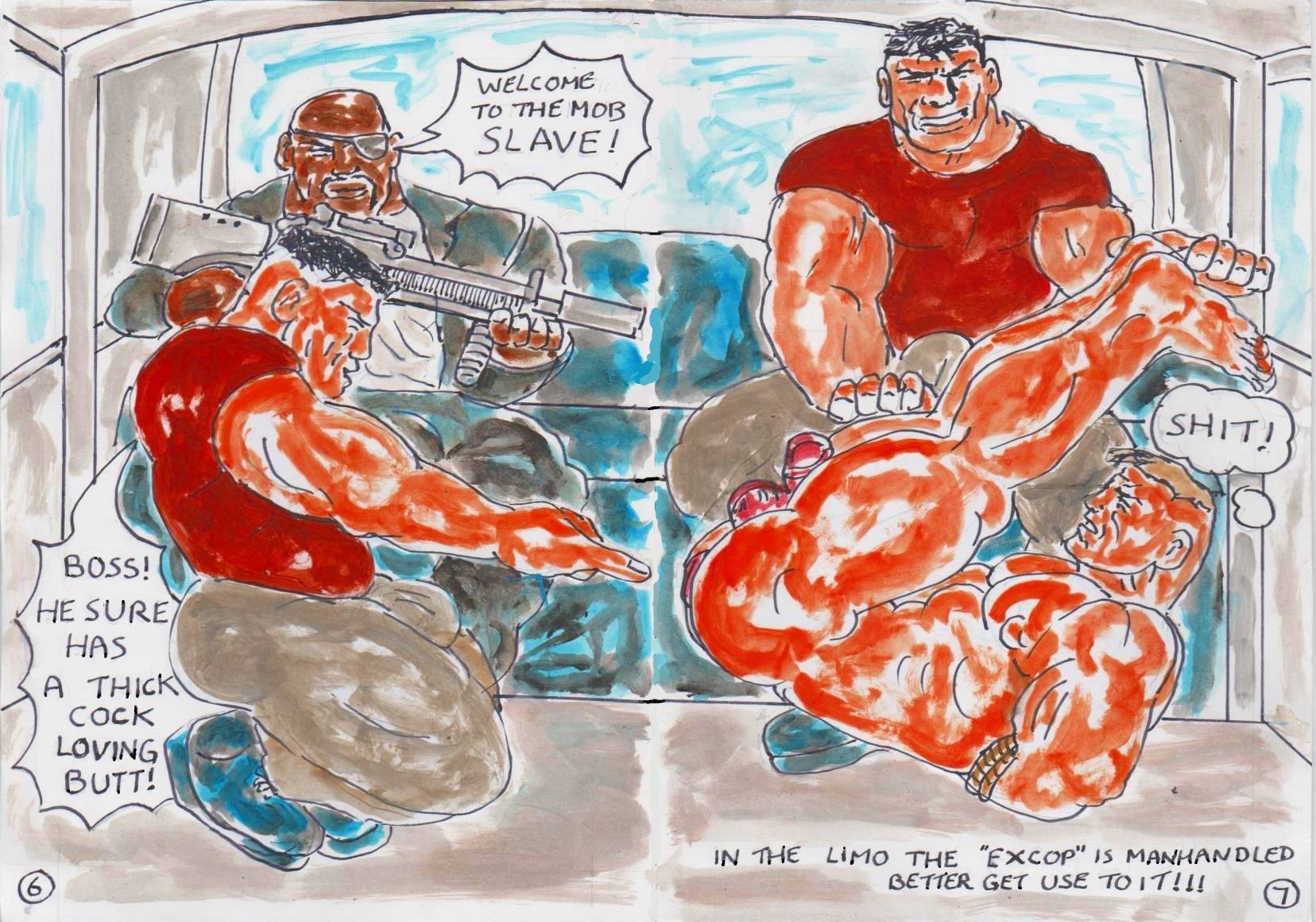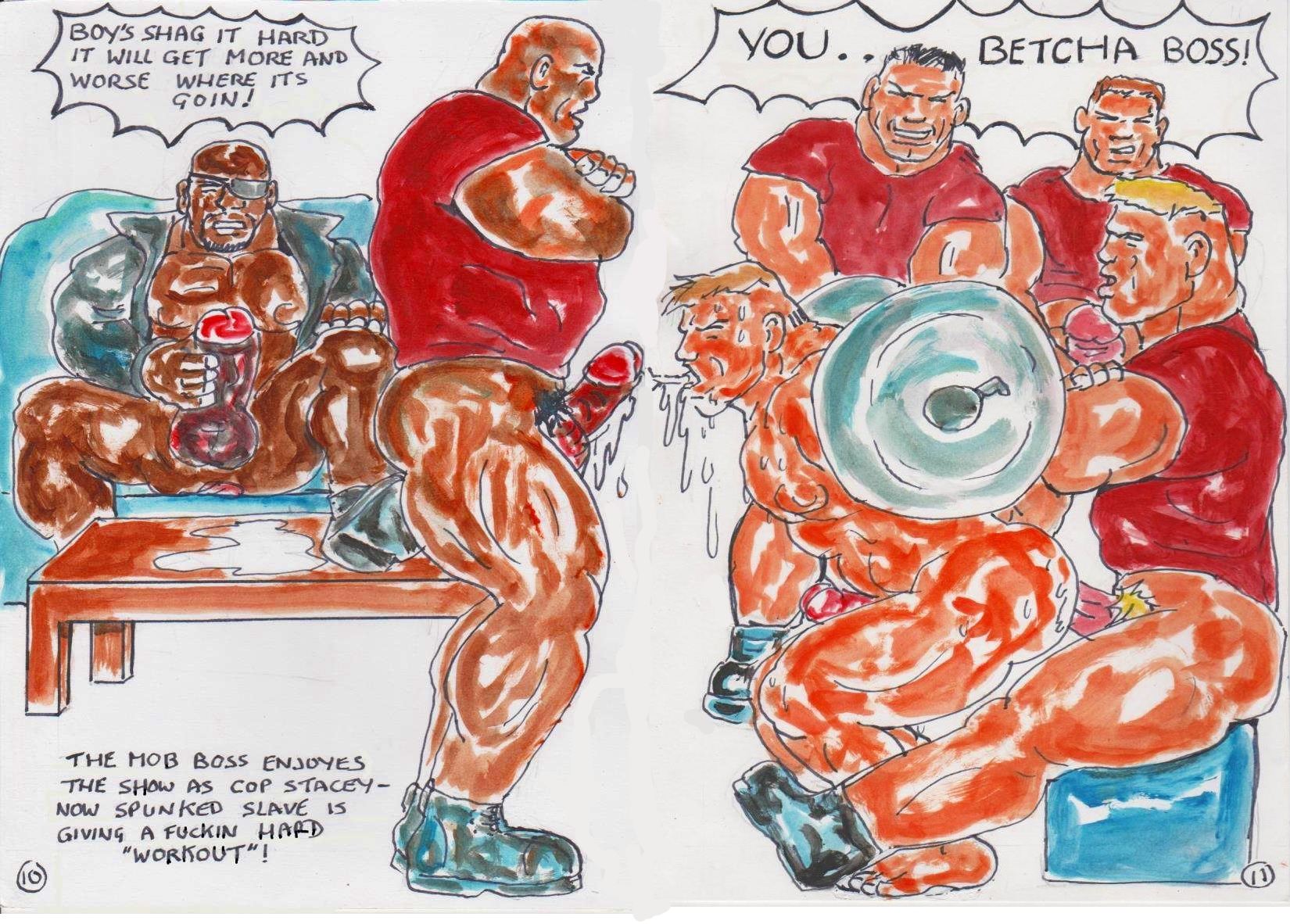 Panoramic images formed by pages 6 and 7 and 10 and 11 of Cop Stacey
ALL OF THE DOUBLE PAGES HAVE BEEN MADE INTO SINGLE PANORAMIC IMAGE FILES AND WILL BE SENT WITH COPIES OF THIS COMIC BOOK, WHEN ORDERED.
25 SLAVE RUGBY 2240. IN THE YEAR 2240, ANYONE WHO HAD MUSCLE SIZE AND YOU HAD FALLEN OUT WITH THE LAW, THEY WOULD BE ENSLAVED. POLICE COMMANDO OWEN, HAD BEEN STITCHED UP AND WOULD BECOME A SLAVE RUGBY, GLADIATOR. RUBY SLAVES WERE ALWAYS NAKED. THEIR COCKS RINGED BETWEEN THEIR BALLS, TO A RING BELOW THEIR ANUS. IF THEY WON A MATCH, THEIR COCKS WERE UNLOCKED AND THEY FUCKED THE LOSERS. IF THEY LOST, THEY WERE FUCKED BY THE WINNERS.
OWEN WAS A GOOD COP. BUT SOMETIMES A COP, COULD BE TOO GOOD, SQUEAKY CLEAN, WHO DIDN'T MAKE FRIENDS. HE WAS ABOUT TO NAME, NAMES, OF FELLOW COPS, SELLING DRUGS. THOSE COPS WERE OUT, TO TAKE HIM OUT. OWEN WAS ATTACKED IN HIS OWN SLEEP POD, IN JUST HIS UNDIES. ALTHOUGH SURPRISED OWEN FOUGHT BACK. BUT AGAINST THREE OPPONENTS, HE WAS KNOCKED OUT. WHEN OWEN AWOKE HE WAS PINNED TO HIS BED NAKED, THE LAST REMNANT OF HIS UNDIES WERE BEING RIPPED OFF. "ONLY REAL MEN HAVE COCK HAIR", ONE OF HIS ASSAILAENTS TOLD HIM, AS HE PERMANENTLY REMOVED OWEN'S COCK HAIR, WITH A DEFOLIATE GEL. TO MAKE SURE THAT COP OWEN, WOULD NOT BE ABLE TO TESTIFY, AGAINST HIS FELLOW COPS. THE WORD SLAVE WAS TATTOOED ACROSS HIS CHEST. HIS NAME WAS THEN TATTOOED, JUST OVER HIS COCK. "YOU WILL BE A SLAVE NOW FOR LIFE", ONE HIS ASSAILANTS SAID, AS HE TATTOOED SLAVE, ON OWEN'S CHEST. OWEN STRUGGLED DESPERATELY, DENYING HE WAS A SLAVE. TO CONVINCE OWEN HE WAS A SLAVE, WITH NO RIGHTS. HE WAS FUCKED GOOD AND HARD. THAT MADE OWEN SHOOT AND SHOOT, GOOD FOR WHAT WAS GOING TO HAPPEN NEXT. ALL SLAVES HAD THEIR COCKS PULLED BETWEEN THEIR BALLS AND FIXED TO A RING BELOW THEIR ANUS. OWEN SUFFERED THE SAME FATE. AS A RUGBY SLAVE, YOU DID GET TO FUCK IF YOU WON. THEN ENSLAVED, SHAMED, EXCOP, OWEN, WAS TAKEN OUT ONTO THE STREETS. HE WAS TAKEN NAKED THROUGH THE CROWDED STREETS AND MANY OF THE CITIZENS, GOT A HARD ON WATCHING, THE NAKED SLAVE GO BY. YOUTHS WERE EVEN ALLOWED TO FUCK PRACTICE, WITH THE NAKED SLAVES ANUS. SLAVE, EXCOP, OWEN, HAD TO SUFFER THE INDIGNITY, OF HAVING STRANGERS COCKS, THRUST UP HIS ARSE.
IT WAS OWEN'S FIRST GAME AND HE WAS UP AGAINST THE BEARS. THE BEARS WERE NAKED, BURLEY, TOUGH, OPPONENTS AND THE GAME PLAY WAS BRUTAL. OWEN KICKED A BEAR IN THE BALLS, TO GET PAST HIM AND SCORE A TRY. ALTHOUGH SLAVE OWEN MANAGED TO GET A TRY, IN HIS FIRST GAME, HIS TEAM DID NOT SCORE AGAIN AND THEY LOST. BY THE END OF THE GAME THEY HAD LOST BY 15 TRYS. AS THE WINNERS, THE BEARS COCKS, WERE UNLOCKED. IT WAS FUCK TIME, THE BEARS HAD A GREAT TIME, FUCKING THE LOSERS HARD. INCLUDING OWEN. HIS NEW LIFE, AS A SLAVE RUGBY PLAYER, HAD NOT STARTED WELL. PLENTY MORE OF MALE ON MALE SEXUAL AND PHYSICAL ABUSE, MANFESH STYLE. €15
SLAVE RUGBY 2240 HAS THE FEATURE OF SIDE BY SIDE PAGES, THAT FORM PANORAMIC IMAGES. THE PANORAMIC PAGES ARE 4 AND 5, 12 AND 13, 14 AND 15.
PAGES 4 AND 5 FEATURES OWEN TIED TO HIS BED HAVING HIS COCK HAIR PERMANENTLY REMOVED AND SLAVE TATTOOED ON HIS CHEST
PAGES 12 AND 13 FEATURES OWEN KICKING ONE OF HIS OPPONENTS FROM THE BEARS, IN THE BALLS, TO SCORE A TRY.

PAGES 14 AND 15 FEATURES OWEN'S TEAM LOSING BY 15 TRYS AND HIS TEAM AND OWEN BEING FUCKED BY THE WINNERS, THE BEARS.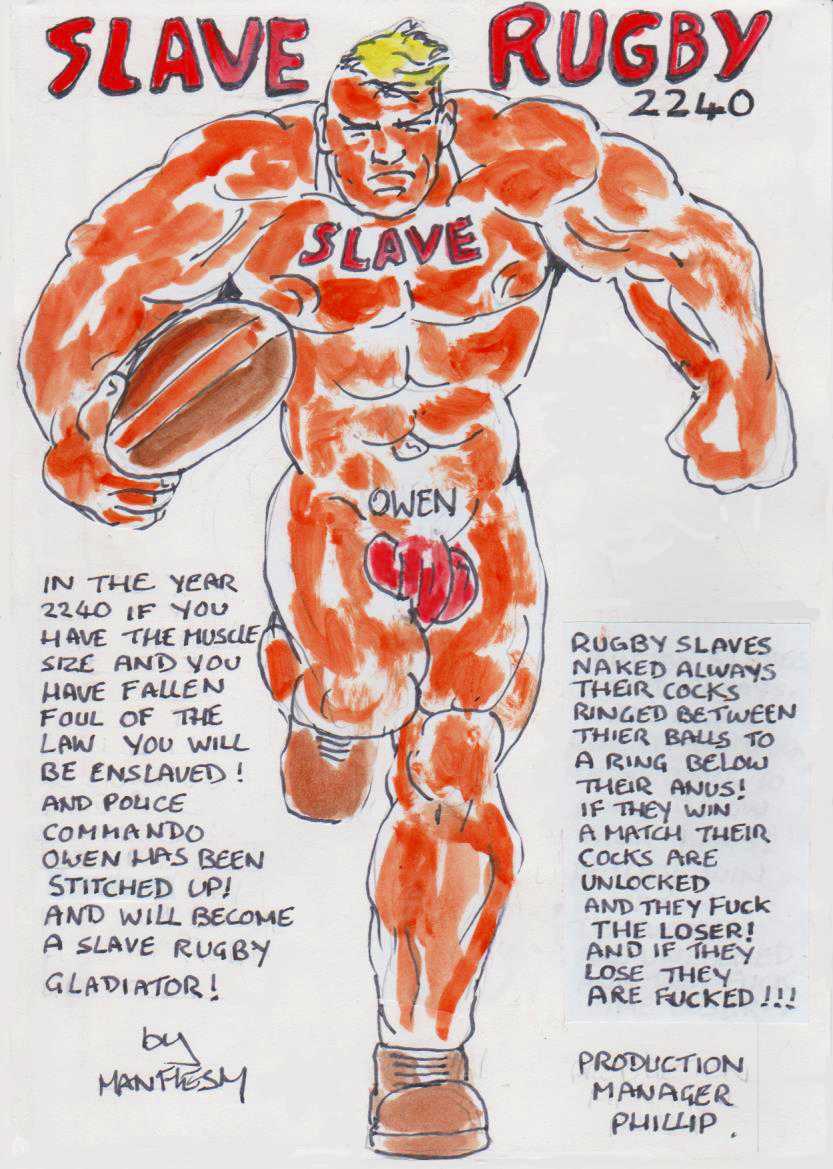 COVER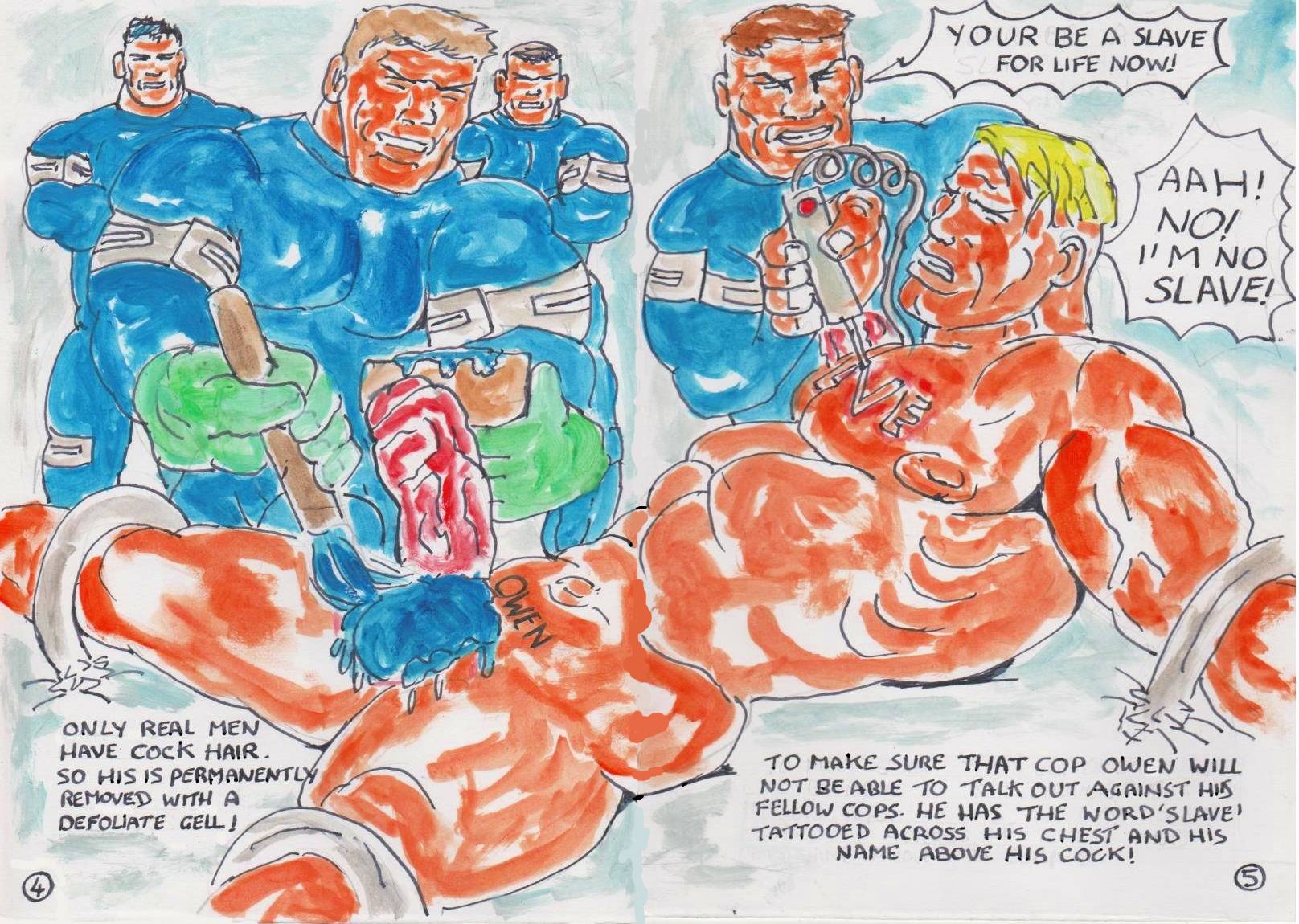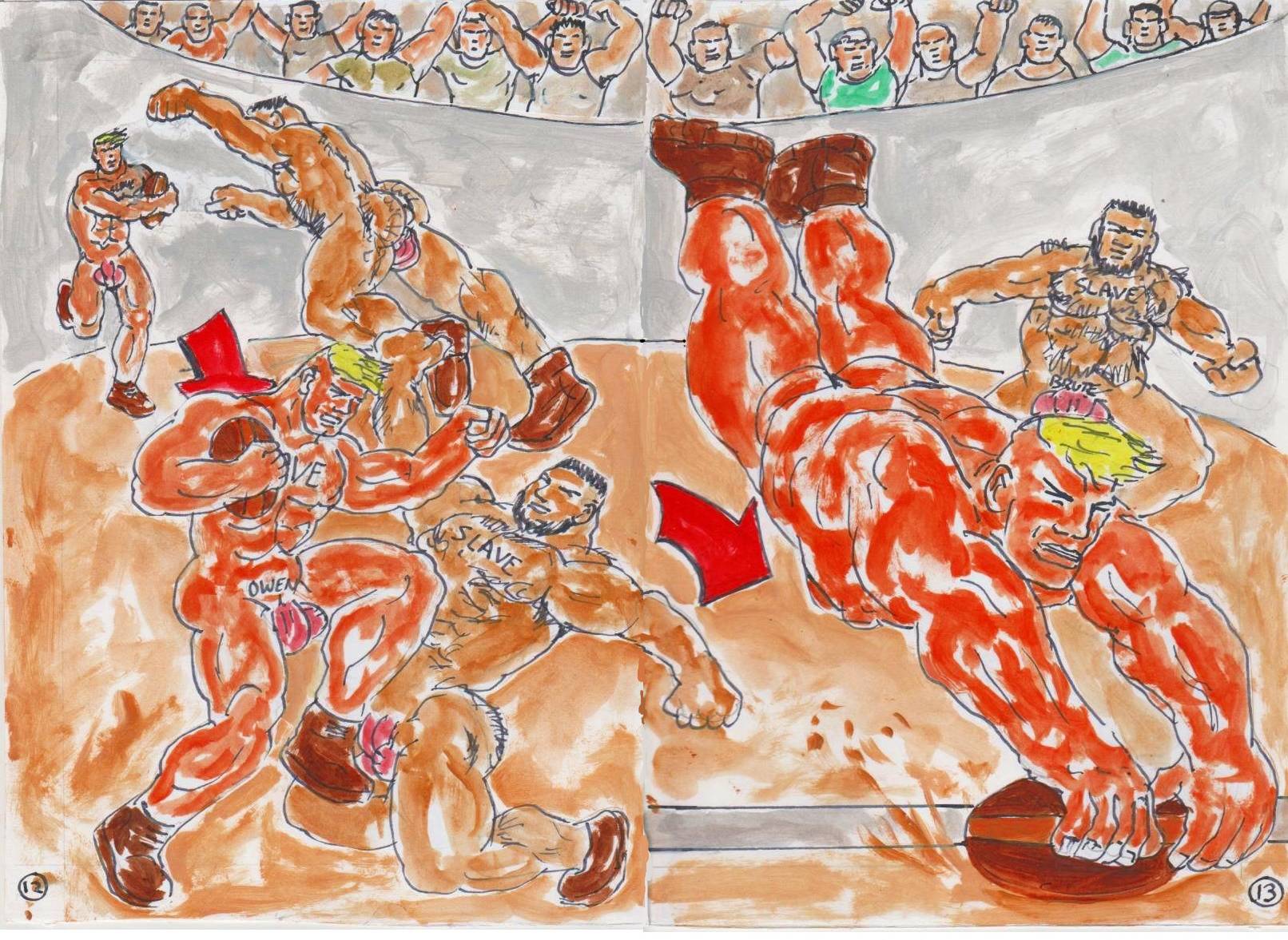 DOUBLE PANORAMIC IMAGES CREATED FROM PAGES 4 AND 5 AND 12 AND 13
ALL OF THE DOUBLE PAGES HAVE BEEN MADE INTO SINGLE PANORAMIC IMAGE FILES AND WILL BE SENT WITH COPIES OF THIS COMIC BOOK, WHEN ORDERED.
26 RICKSHAWED COP PIG. DETECTIVE STU HANLIN, AN AMERICAN COP, HAD BEEN SENT TO KOREA UNDER COVER. A FEW OTHER WESTERNER'S, HAD GONE MISSING. WHAT THEY HAD IN COMMON, WERE THEY, WERE ALL, HUGE BEEFY, GUYS. DETECTIVE STU, WAS WALKING INTO, ROCK HARD DANGER.
IT SEEMED A LOCAL WAR LORD, IN THE FAR SOUTH OF KOREA WITH NO LINKS TO THE GOVERNMENT, WAS THE INSTIGATOR. HOWEVER STU WAS ON HIS OWN, AS THE WAR LORD, WAS TOO POWERFUL, LEAVING THE GOVERNMENT POWER LESS. HE COULD GO IN, BUT IT WOULD BE ON HIS OWN HEAD. STU STRIPPED AND COVERED HIMSELF IN MUD, TO STOP THE GUARD DOGS, FROM SMELLING HIS SCENT. HE HID HIS CLOTHES AND ONLY IN HIS UNDERWEAR, WITH HIS TRANSMITTER, HE WENT INTO THE WAR LORDS, VAST DOMAIN, SURROUNDED BY, A MANGROVE SWAMP. AS HE WADED THROUGH THE MUD AND WATER, HE SANK INTO A DEEP HOLE. HE DRAGGED HIMSELF UP, OUT OF THE SUCKING MUD, PULLING IS UNDERWEAR OFF AND LOSING HIS TRANSMITTER. AFTER TOILING FOR TWO DAYS, STU NOW HUNGRY, REACHED THE WAR LORDS COMPOUND. HE WAS INSTANTLY SURROUNDED, BY THE WAR LORDS GUARDS, WHO TRAINED THEIR GUNS, ON HIM. THE GUARDS, MARCHED STU NAKED THROUGH, THE STREETS. THEY ALLOW YOUTHS, WHO WOULD ONE DAY BECOME GUARDS, TO WHIP THE INTRUDER, THROUGH THE STREETS. THERE WERE NO CARS, ONLY VAST DIRT ROADS. STU WAS ABOUT TO FIND OUT A SHOCKING TRUTH. WHEN THEY REACHED, A CROSS ROADS. STU WAS SHOCKED TO SEE, TWO RICKSHAWS, DRIVEN BY THE WAR LORDS GUARDS, BEING PULLED, BY TWO YOUNG, MUSCULAR, NAKED WESTERN MALES. HE REALISED THAT NAKED MUSCULAR, MALE WESTERNERS, WERE BEING USED, AS RICKSHAW BEAST PIGS. STU WAS ABOUT TO MEET THE OWNER, HIS OWNER, THE WAR LORD.
STU WAS HOSED DOWN AND BROUGHT INTO THE PRESENCE OF THE WAR LORD. THE WAR LORD, WAS VERY PLEASED WITH THE NAKED MUSCULAR COP, PARADED BEFORE HIM. THE WARLORD GOT ROCK HARD AND WAS READY TO FUCK. "FILL YOU WITH STEROIDS, MAKE YOU, THE SIZE, OF AN OX BEAST", THE WARLORD SAID, AS HE FUCKED STU'S ARSE, WITH HIS HUGE COCK. STU, NOW CALLED OX, WAS FORCE FED WITH PLENTY OF STEROIDS, ADDED TO HIS SWILL. THREE GRUELLING MONTHS LATER, STU WAS NOW THREE HUNDRED AND FIFTY POUNDS OF, MUSCLES OX. HE WAS PULLING A RICKSHAW, FILLED WITH BRICKS, FOR THE WALLS, OF THE EVER EXPANDING COMPOUND. STU LABOURED HARD ALL DAY, PULLING THE BRICK FILLED RICKSHAW, UNDER THE WHIPS OF THE GUARDS, WHO DELIGHTED IN, WHIPPING HIS TENDER, WELL, FUCKED ANUS. HIS COCK HARD, FROM THE SADISTIC WHIPPING OF HIS ANUS, THE PEELED HEAD PIERCED, BY A LARGE STEEL COCK RING. IN THE EVENING, THE NAKED WESTERN SLAVES, WERE BROUGHT INTO ONE OF THE HALLS, FOR GROPING AND FUCKING. THEY WERE LINED UP NAKED ON A PLATFORM, IN FRONT OF THE GUARDS, THEIR NAKED RAVAGED ANUS'S ON DISPLAY AND WITHIN EASY REACH. "YOU SLAVES WILL ONLY CUM, BY OUR THRUSTING FISTS AND COCKS?", ONE OF THE GUARDS SAID, AS HE FISTED, OX'S ARSE. THE OTHER WESTERNER SLAVES SUFFERED THE SAME TREATMENT. OX, LIKE ALL THE OTHER MUSCLE SLAVES, WAS UNABLE TO FUCK, DUE TO THE LARGE COCK RING, PIERCING HIS COCK HEAD. HE COULD ONLY TAKE COCK. AFTER THE FISTING, THE MUSCLES SLAVE WERE SECURED BY STEEL COLLARS, IN FUCKING PENS, SO THE GUARDS CAN FUCK THEM. THE WAR LORD WATCHED, AS THEY WERE FUCKED, BY THE GUARDS. WITH TONGUE SUPPRESSORS FITTED, ALL THEY COULD DO WAS GRUNT. MORE GREAT MALE ON MALE AND COP DOMINATION ACTION MANFLESH STYLE. €15
RICKSHAWED COP PIG HAS FIVE SETS OF DOUBLE PAGES THAT FORM PANORAMIC IMAGES. THESE PAGES ARE
PAGES 4 AND 5 FEATURES, STU BEING MARCHED NAKED THROUGH THE COMPOUNDS STREETS, BEING WHIPPED, BY LOCAL YOUTHS, WITH THE WAR LORDS, GUARDS, BLESSING.
PAGES 6 AND 7 FEATURES, NAKED AND BOUND STU AT CROSS ROADS, HE WAS SHOCKED TO SEE, NAKED WESTERNERS BEING USED, AS RICKSHAW BEASTS.
PAGES 8 AND 9 FEATURES, STU STILL NAKED AND BOUND, AFTER BEING HOSED DOWN AND PARADED IN FRONT OF THE WAR LORD, WHO WAS HAPPY WITH HIS NEW SLAVE, HIS HUGE COCK, BULGING TO PROVE IT. ALSO THE WAR LORD, TELLING STU, HE WAS GOING TO FILL HIM WITH STEROIDS AND MAKE HIM THE SIZE OF A OX BEASTS, AS HE FUCKED STU.
PAGES 10 AND 11 FEATURES, STU FORCE FED WITH STEROIDS, IN HIS SWILL, FOR THREE MONTHS. HE WAS NOW CALLED OX, THREE HUNDRED AND FIFTY POUNDS OF MUSCLE OX. HE WAS MADE TO TOIL, PULLING A RICKSHAW, FULL OF BRICKS, FOR THE COMPOUNDS WALLS, UNDER THE WHIPS OF THE GUARDS.
PAGES 14 AND 15 FEATURES, STU ON HIS HANDS AND KNEES, CHAINED BY THE NECK, IN A SLAVE FUCK PEN, WITH OTHER WESTERNER SLAVES, BEING FUCKED, BY THE GUARDS, WHILE THE WAR LORD WATCHED. THEY WERE ALL FITTED, WITH TONGUE SUPPRESSORS, SO THEY COULD ONLY GRUNT.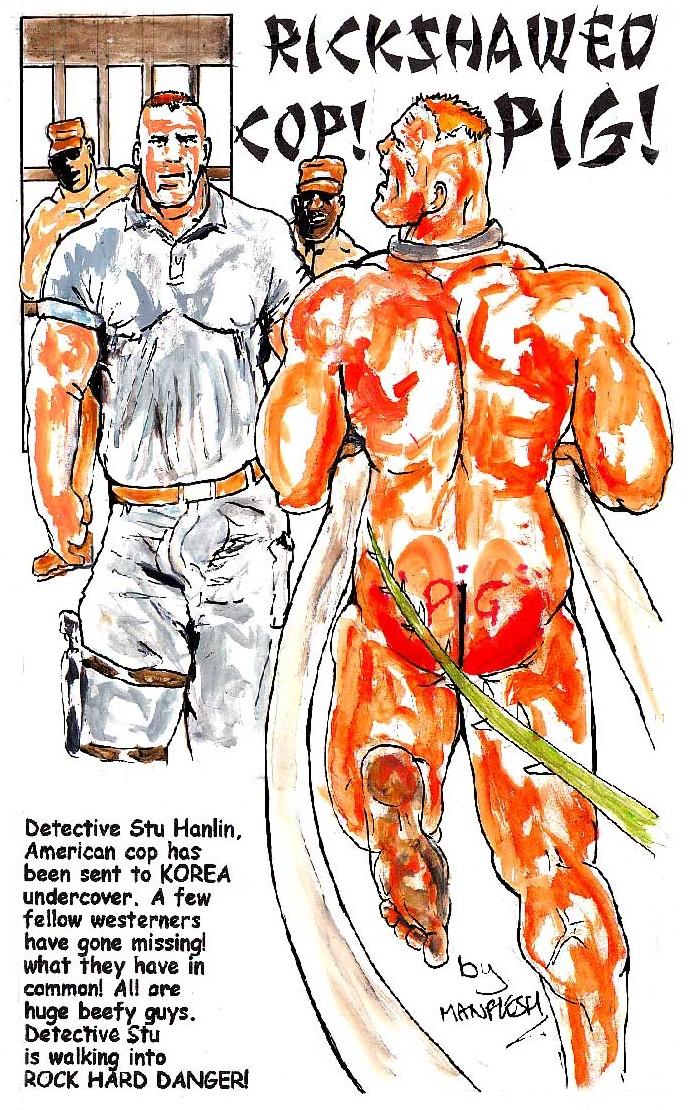 COVER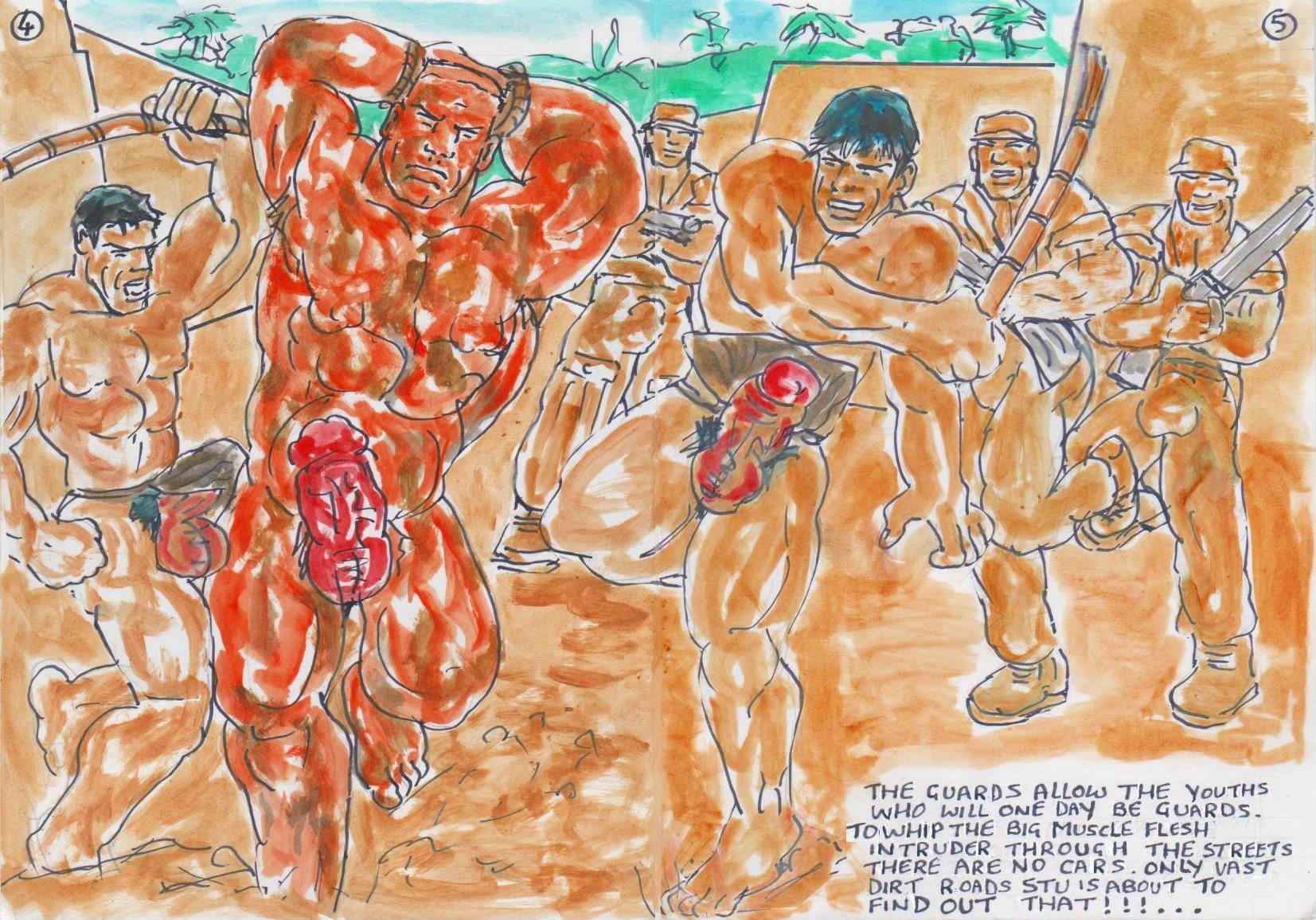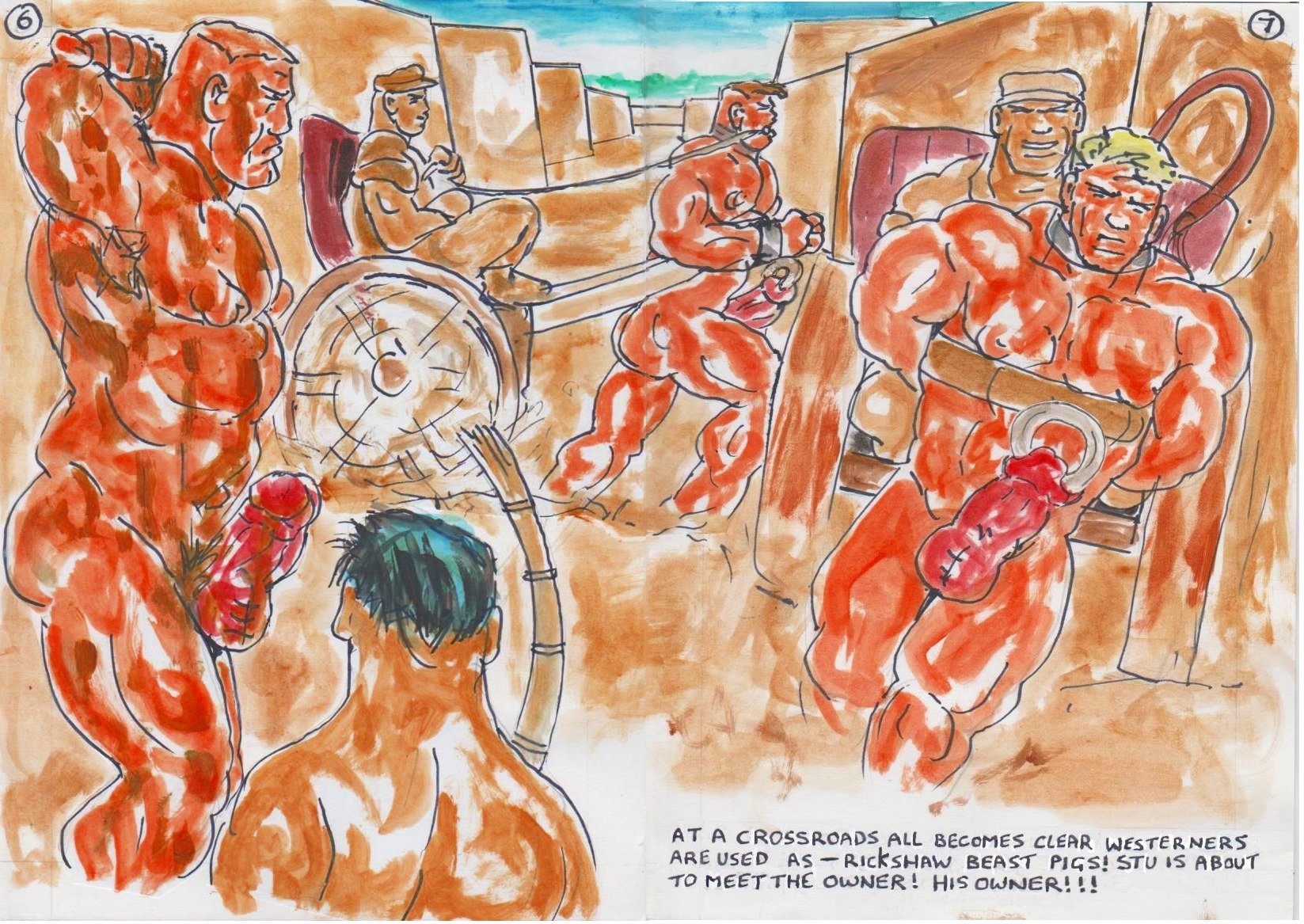 DOUBLE PANORAMIC IMAGES CREATED FROM PAGES 4 AND 5 AND 6 AND 7
ALL OF THE DOUBLE PAGES, HAVE BEEN MADE INTO SINGLE PANORAMIC IMAGE FILES AND WILL BE SENT WITH COPIES OF THE COMIC BOOK, WHEN ORDERED.