MANFLESH SUPERMAN DOMINATION STORIES ARTWORK AND COMIC BOOKS


The url is man-flesh1.blogspot.com
http://www.man-flesh1.blogspot.com
MANFLESH SUPERMAN DOMINATION COMIC BOOKS LIST PAGE 3 37-48
37 SUB SUPERMAN'S MANDRASAT PART 2 SHAVED. MEN LIKE SUB SUPERMAN WERE THE MUSCLE FLESH THAT MANDRASAT CRAVED. BIG MUSCLES MEANT HARD LABOUR, A HARD ARSE TO FUCK. ALL THE BODY OF A SLAVE HAD TO BE ON SHOW, HENCE HAIR WAS PERMANENTLY REMOVED. THE STORY CONTINUED WITH SUB SUPERMAN'S ARSE BEING POUNDED BY TARAN. THEY WERE WATCHED BY SOLDIERS, HARD AND READY. WHEN TARAN FINISHED, SUB SUPERMAN WAS FORCED TO SUCK AND CLEAN TARAN'S COCK, TASTING HIS OWN ARSE JUICES. LORD SHARMAZ WHO WAS WATCHING, GAVE THE SOLDIERS THEIR TURN AND THEY FUCKED SUB SUPERMAN. "WHEN YOU HAVE FILLED ITS ARSE WITH SEED, TAKE IT FOR SHAVING", LORD SHARMAZ ORDERED AS HE LEFT. TARAN TOLD THE SOLDIERS TO GIVE SUB SUPERMAN ANOTHER ROUND OF FUCKING THEN, MEET HIM WITH THE SLAVE IN THE LATRINES. THE SOLDIERS WENT TO TOWN ON SUB SUPERMAN. HIS ARSE WAS DOUBLE FUCKED, MAKING IT DOUBLE SORE, AS HIS HARD COCK SPURTED SEED. WITH HIS ARSE FILLED WITH ARAB CUM, A SORE SHAGGED OUT SUB SUPERMAN, WAS DRAGGED TO THE SHOWERS COME LATRINES, LEAVING A TRAIL OF CUM BEHIND.
THE SOLDIERS YANKED ON SUB SUPERMAN'S THICK HAIR AS THEY DRAGGED HIM. BUT AFTER TODAY, THEY WOULD NOT BE ABLE TO PULL HIS HAIR. TARAN MET THEM AT THE LATRINES. "HE HAS ENOUGH CUM UP HIS ARSE TO GREASE HALF THE TRUCKS ON THE BASE", TARAN SAID. SUB SUPERMAN WAS BENT OVER BY THE GUARDS AND HAD HIS BUTTOCKS SPREAD. ONE OF GUARDS GRABBED A BOTTLE WITH A LONG THIN APPLICATOR TUBE ATTACHED TO THE TOP, THAT HE PRESSED UP SUB SUPERMAN'S ARSE. THE GUARD SQUEEZED THE BOTTLE FORCING THE CONTENTS INTO SUB SUPERMAN'S ARSE. THE APPLICATOR WAS FILLED TIME AND TIME AGAIN, UNTIL SUB SUPERMAN'S STOMACH BULGED. THEY HELD SUB SUPERMAN OVER THE TOILET AND WAITED UNTIL ENEMA VENTED THE CONTENTS OF HIS BOWELS INTO IT. "EXCELLENT, NOW TIE IT TO THE BENCH", TARAN ORDERED. ONCE A SUPER HERO, THEN SUB SUPERMAN GOING TO WORK ON A OIL RIG, NOW A SLAVE. A NAKED, FUCKED SLAVE, WAS TIED TO THE WOODEN BENCH BY THE GUARDS. FIRST SUB SUPERMAN'S CHEST HAIR WAS REMOVED. HIS STOMACH WAS SHAVED NEXT. SLAVE SUB SUPERMAN COULD ONLY WATCH HELPLESSLY, AS EVEN HIS MANLY CROTCH HAIR WAS TAKEN FROM HIM. WORSE WAS TO COME. SUB SUPERMAN WAS RETIED ON HIS STOMACH AND TREATED LIKE A DUMB ANIMAL AS THE HAIR ON ARSE WAS REMOVED. SUB SUPERMAN WAS UNTIED AND MADE TO KNEEL WHILE HIS HEAD HAIR WAS SHAVED OFF BY GUARDS. HE HAD TO LEARN THAT SLAVES HAD TO BE HAIRLESS WITH ALL THEIR FLESH ON DISPLAY.
FULLY SHAVED OF ALL HIS HAIR, SUB SUPERMAN WAS DISPLAYED TO TARAN. "TAKE HIM TO THE SHOWER", TARAN ORDERED. THE NAKED, FUCKED AND ENSLAVED EXHERO, NOW JUST A MUSCLE BEAST, WAS DRAGGED TO THE SHOWERS BY THE GUARDS. IN THE SHOWERS SLAVE SUB SUPERMAN WAS SHAVED YET AGAIN, WITH A RAZOR. "GIVE YOUR FLESH A CLOSER SHAVE SLAVE, MAKE YOUR FLESH RAW", A GUARD SAID AS HE HELD SUB SUPERMAN AND SHAVED HIS BODY EVEN CLOSER WITH A RAZOR. IT WAS BEGINNING TO SINK IN THAT BEING SHAVE RUDE RAW, THAT ALL HIS FLESH WAS ENSLAVED, SUB SUPERMAN WAS ABOUT TO REBEL. THE ONCE MIGHTY SUPERMAN ENSLAVEMENT CONTINUED, HE SUFFERED RAPING, BODY SHAVING, AND AN ENEMA AT THE HANDS OF HIS ARAB MASTER AND GUARDS. €15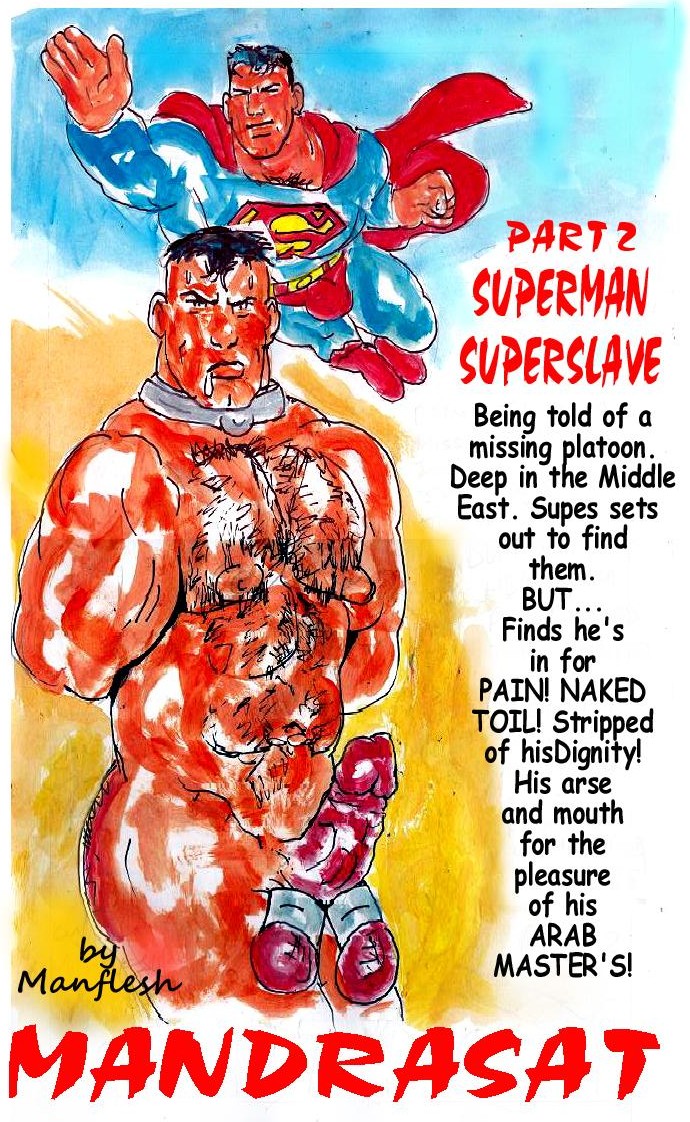 38 SUB SUPERMAN'S MANDRASAT PART 3, NO HIDING PLACE. CAN THE EX SUPER HERO, SUB SUPERMAN, A NAKED, FUCKED SLAVE, TAKE ON THE MIGHT OF MANDRASAT. SUB SUPERMAN THE ONCE HERO, NOW A NAKED BALD SLAVE, WAS UNDER THE SHOWERS BEING SHAVED BY GUARDS WITH RAZORS. ONE GUARD FISTED SUB SUPERMAN'S ANUS, AND SHAVED THE INSIDES. SUB SUPERMAN'S VIRGINAL ANUS WAS DEEP TONGUED, MAKING HIM CUM. BEING A SLAVE MEANT THAT SUB SUPERMAN HAD NO CONTROL OF HIS SEXUAL FUNCTIONS. UNDER THE SHOWERS, SLAVE SUB SUPERMAN, WAS PAWED ALL OVER BY THE GUARDS, LIKE THE ANIMAL HE WAS BECOMING. THERE WAS A FINAL WASH UNDER THE SHOWERS WITH WASH CLOTHS, AND THEN THE PRIZE ANIMAL COULD ONLY TAKE WHAT WAS COMING. AFTER HIS SHOWER, SLAVE SUB SUPERMAN, KNOWN TO THE GUARDS ONLY AS AN OIL RIG WORKER WHOSE NAME WAS NOT IMPORTANT, WAS DRIED HARD WITH A HESSIAN TOWEL. AN AMBER MUSK OIL WAS RUBBED OVER EVERY PART OF HIS FLESH.
SUB SUPERMAN WAS GETTING MORE AND MORE ANGRY. SUB SUPERMAN COULD TAKE NO MORE AND EXPLODED, ATTACKING THE GUARDS. SUB SUPERMAN ESCAPED THE GUARDS AND TRIED TO FLEE. HOWEVER NAKED, AND WITH NO SUPER POWERS HE HAD NO CHANCE AND WAS QUICKLY CAPTURED AGAIN. SUB SUPERMAN WAS ORDERED TO SUCK GUARD MUFDA'S COCK. THERE WAS NO WAY OUT, HE HAD TO DO AS HE WAS COMMANDED. A SLAVE HAD NO CHOICE. SUB SUPERMAN WAS TOLD TO GRAB MUFDA'S BUTTOCKS AND SUCK DOWN HARD. HE OBEYED AND WAS REWARDED WITH A MOUTHFUL OF MUFDA'S CUM. SUB SUPERMAN WAS MADE TO SUCK ALL THE GUARDS COCKS, AND THEY ALL DEMANDED SECONDS. IT HAD ONLY BEEN A SHORT TIME SINCE HE HAD LEFT THE PLANE, AND HE WAS NAKED, FUCKED, BALD AND TERRIFIED AT WHAT WAS TO COME.
AFTER SUB SUPERMAN HAD BEEN MADE TO FILL HIS STOMACH WITH THE GUARDS SPUNK, HE WAS TAKEN TO THE COLONELS OFFICE. SUB SUPERMAN WAS TAKEN INTO THE PRESENCE OF THE COLONEL, WHO WAS HARD AND READY FOR HIM. THE GUARDS DISPLAYED EVERY INCH OF THE SLAVE SUB SUPERMAN. HOW THE MIGHTY HAD FALLEN. SUB SUPERMAN WAS MADE TO SIT ON THE COLONEL'S COCK, SLAVE BITCH SUB SUPERMAN COULD ONLY LIVE ONE SORE MINUTE AT A TIME. NONE OF THEM OF HIS CHOOSING. ALSO TWO COLONEL'S MEN WERE ABOUT TO JOIN IN. THE ONCE MIGHTY SUPERMAN ENSLAVEMENT CARRIED ON, AND HE SUFFERED MORE RAPING, BODY SHAVING, AT THE HANDS OF HIS ARAB COLONEL AND GUARDS. €15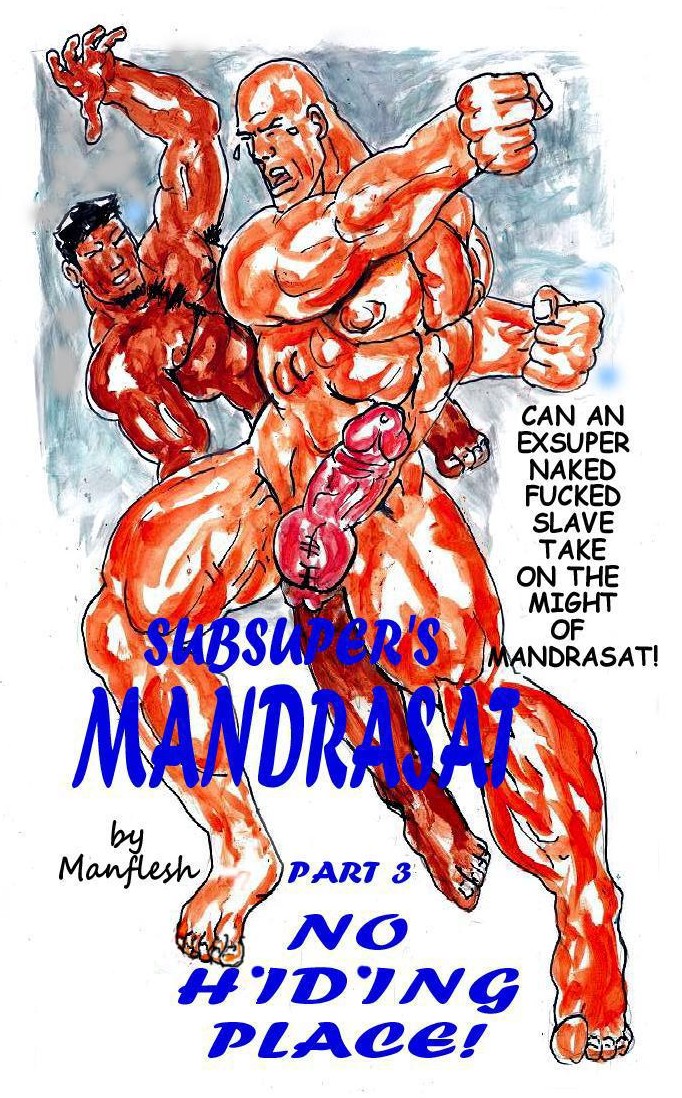 39 SUB SUPERMAN'S MANDRASAT PART 4 DEEPER INTO SLAVERY. SUP SUPERMAN'S SUFFERING CONTINUED AT THE HANDS OF THE COLONEL AND HIS MEN. THE COLONEL HAD SUB SUPERMAN TIED TO HIS BED WITH HIS LEGS SPREAD WIDE, READY TO TAKE A HARD FUCKING. SUB SUPERMAN COULD ONLY STARE BACK IN FEAR, HE WAS IN FOR MORE ARSE POUNDING. THE COLONEL A BLOCK OF SOLID MUSCLE LAY ON TOP OF SUB SUPERMAN AND THRUSTED INTO SUB SUPERMAN'S CUNT. THE COLONEL GRABBED SUB SUPERMAN BY THE EARS AS THE THRUSTED HARD AND FAST. THE COLONEL HAD A BATTERING RAM OF A COCK, ITS SHAFT WAS LINED WITH PEARLS FOR GREATER IMPACT, IT THRUSTED DEEP, DEEPER, INTO THE ENSLAVED SUB SUPERMAN'S ARSE. SUB SUPERMAN WAS TURNED OVER AND DEEP TONGUED BY THE COLONEL. "SNOG YOU REAL GOOD", THE COLONEL SAID AS HE DEEP TONGUED SUB SUPERMAN. THE COLONEL THEN SWITCHED HIS ATTENTION TO SUB SUPERMAN'S COCK. HE STARTED TO SUCK THE SLAVES COCK. SUB SUPERMAN COULD ONLY WATCH AS HIS COCK WAS WANKED AND SUCKED BY THE COLONEL. THE COLONEL WAS SHOWING THE SLAVE HE HAD NO CONTROL OF HIS BODY, AS HE MADE SUB SUPERMAN CUM. "HOLD ITS HEAD, AND SQUEEZE ITS NOSE SO ITS MOUTH WILL OPEN", THE COLONEL TOLD HIS MEN. THE COLONEL WANTED TO SHOOT HIS SPUNK INTO SUB SUPERMAN'S MOUTH. SUB SUPERMAN'S MOUTH WAS FORCED OPEN BY THE COLONEL'S MEN AND THE COLONEL SHOT HIS SPUNK INTO SUB SUPERMAN'S MOUTH. SUB SUPERMAN GAGGED IN SHOCK AS HIS MOUTH WAS FILLED WITH THE COLONEL'S SPUNK.
SUB SUPERMAN WAS UNTIED AND BENT OVER ONE OF THE GUARDS KNEE FOR A BARE ARSE CANNING. SUB SUPERMAN SQUIRMED AS HIS ARSE WAS CANNED RED RAW. A LEATHER BELT WAS USED NEXT, THE RED RAW BELTING OF THE BIG WESTERNER DEMONSTRATED ARAB SUPERIORITY. THE NEW SLAVE SUB SUPERMAN'S RED RAW ARSE PUNISHMENT CONTINUED WITH A HAND BEATING. THE COLONEL SAT ON THE EDGE OF THE BED WATCHING HIS MEN USING THE SLAVES BODY HARD AND ROUGH. THEY RAPED HIM, WHILE TUGGING AND SQUEEZING HIS COCK AND BALLS. THE COLONEL WAS READY TO GIVE THE WESTERNERS BUM HOLE ANOTHER POUNDING. SUB SUPERMAN HAD HIS HANDS TIED BEHIND HIM AND WAS DRAGGED TO THE COLONEL'S WAITING, ERECT COCK. SUB SUPERMAN WAS LOWERED ONTO THE COLONEL'S COCK AND FUCKED HARD. ALL OF THE GUARDS TOOK TURNS UP SLAVE SUB SUPERMAN'S ARSE, IN A JOINT FUCK SESSION WITH THE COLONEL. A YOUNG RECRUIT HAD BEEN ORDERED TO TELL THE COLONEL THAT THE PLANE TO MANDRASAT WOULD BE READY IN A HOUR. LITTLE DID HE REALISE WHAT HE WAS IN FOR. HE FOUND SUB SUPERMAN IMPALED ON THE COLONEL'S COCK. "SIR, I HAVE BEEN TOLD TO TELL YOU THE PLANE FOR MANDRASAT WILL I READY IN A HOUR", THE YOUNG NAKED RECRUIT SAID AS SHE SALUTED THE COLONEL. "SIR, I HAVE BEEN TOLD TO REPORT TO YOU NAKED", THE NAKED RECRUIT ADDED. THE COLONEL ORDERED THE RECRUIT TO FUCK SUB SUPERMAN'S ARSE. "NOW THRUST IN AND OUT HARD", THE COLONEL COMMANDED, THE NAKED NEW RECRUIT FUCKED SUB SUPERMAN'S ARSE. AS SUB SUPERMAN'S DOUBLE ARSE FUCKING WAS CONTINUED, THE YOUNG RECRUIT WAS TAKEN TO THE CHANGING ROOM FOR A MAKE OVER.
WHEN THE HOUR WAS UP THE WELL FUCKED, SORE ARSED, SUB SUPERMAN, NOW ENSLAVED, WAS TAKEN OUT OF THE AIRPORT TO THE WAITING PLANE. HE HAD ENTERED THE AIRPORT A FREE MAN, HE LEFT, NAKED, HAIRLESS, FUCKED RAW. "MANDRASAT, WILL BREAK YOU, YOU WILL BE REBORN A SLAVE", THE COLONEL TOLD SUB SUPERMAN AS HE WAS DRAGGED TO THE PLANE. AS A CAGED SUB SUPERMAN WAS WINCHED IN TO THE PLANE, ANOTHER JOINED HIM. THE YOUNG RECRUIT, BOTH ENSLAVED AND BOUND FOR MANDRASAT. THE ONCE MIGHTY SUPERMAN ENSLAVEMENT CONTINUED, AND HE SUFFERED MORE RAPING, CHASTISEMENT, AT THE HANDS OF HIS ARAB COLONEL AND HIS GUARDS. €15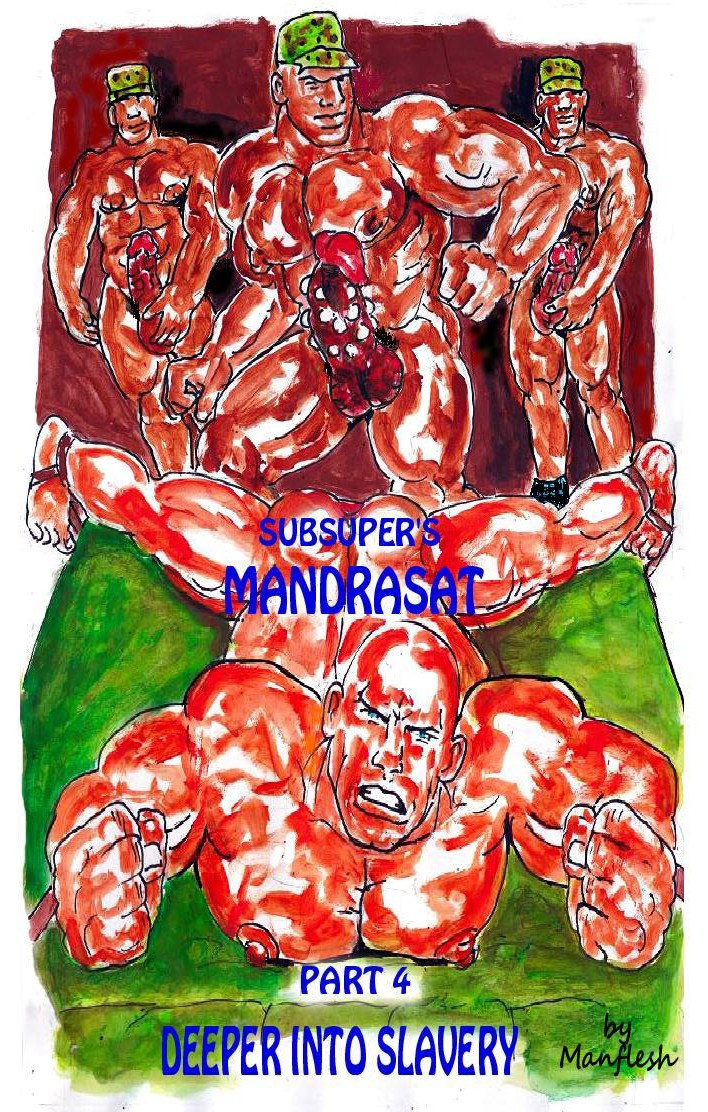 40 SUB SUPERMAN'S MANDRASAT PART 5, YOUR LIFE NOW. SUB SUPERMAN AND THE YOUNG ENSLAVED RECRUIT WERE IN THE AIRCRAFT. BEFORE THE DOOR OF THE AIRCRAFT WAS CLOSED, THE YOUNG RECRUIT WAS SHOVED INTO THE CAGE WITH SUB SUPERMAN. IN THE SMALL STEEL CAGE, NAKED FLESH WAS PRESSED AGAINST NAKED FLESH, AS THE GUARDS THREW LEWD COMMENTS AT THEM. THEY BRAGGED TO EACH OTHER ABOUT BEING UP BOTH OF THE SLAVES ARSE CUNTS. AS THE DOORS CLOSED THE ENGINES OF THE PLANE BURST INTO LIFE, THE AIR STEWARD TARAN, APPROACHED THE TWO MUSCULAR SLAVES, WITH A PAIR OF HYPODERMICS, THESE WERE TO KNOCK THE TWO BEAST OUT, WHO WOULD WAKE UP IN MANDRASAT.
SUB SUPERMAN CAME ROUND OUT OF A DREAM, A NIGHTMARE. HE WAS NOT IN HIS BED, HE WAS STANDING UPRIGHT, SPREAD EAGLE, GAG IN HIS MOUTH. HE SCREAMED BUT THEY WERE MUFFLED BY THE GAG. THE DOOR BURST OPEN AND LORD SHARMAZ AND HUGE MAN ENTERED, ZARAK. "ZARAK, MY SLAVE IS AWAKE", LORD SHARMAZ SAID. SUB SUPERMAN SHUDDERED, HE WAS SIX FOOT FOUR INCHES TALL AND TWO HUNDRED AND SEVENTY POUNDS OF MUSCLE. THE MONSTER BEFORE HIM WAS SEVEN FOOT TALL AND THREE HUNDRED AND SEVENTY POUNDS OF MUSCLE. EVEN MORE ALARMING, HIS COCK WAS HUGE. SUB SUPERMAN WAS TREATED TO BATH OF THE GIANT'S PISS WATER. ZARAK THREW BUCKETS OF HIS PISS ALL OVER SUB SUPERMAN, EVEN IN HIS FACE, MAKING HIM GULP AND SPLUTTER. "LORD AND MASTER SHARMAZ SAID, YOUR LIFE AS YOU KNEW IT HAS ENDED, YOU ARE NOW FOREVER A SLAVE, NAKED, FOR THE REST OF YOUR LIFE", ZARAK TOLD SUB SUPERMAN. AS HE SPOKE ZARAK PISSED ON SUB SUPERMAN WHO WAS ALREADY DRENCHED WITH HIS PISS, AND NOW A MAN SLAVE.
ANOTHER DOOR OPENED IN ANOTHER WALL. ANOTHER WESTERNER WAS DRAGGED IN SCREAMING, BY TWO NAKED SLAVES WEARING GOLD RINGS LIKE THE HUGE BRUTE ZARAK. THE WESTERNER HAD HIS HANDS CUFFED BEHIND HIM AND WAS PULLED INTO THE ROOM BY HIS COCK AND BALLS. HE WAS A PILOT, THE MUSCULAR WESTERNER HAD BEEN TAKEN WHILE OUT FOR A RUN IN THE DESERT NEAR HIS BASE. THE PILOT NEEDED TO BE PUNISHED, HE HAD ATTACKED AN OVERSEER, INSTEAD OF SUCKING HIS COCK. ZARAK TWISTED THE PILOTS NIPPLES AND LIFTED HIM INTO THE AIR BY THEM, MAKING HIM SCREAM. SLAVE SUB SUPERMAN COULD ONLY WATCH. THE PILOT WAS PUT IN A STEEL BODY CAGE, WITH A ELECTRIC CABLE ATTACHED TO IT. WHEN THE ELECTRICITY WAS TURNED ON, HE SCREAMED AS HIS NAKED FLESH WAS SHOCKED WITH BOLTS OF ELECTRICITY. "YOU WANT THIS EVERY DAY SLAVE?", ZARAK ASKED THE PILOT AS HE SCREAMED IN AGONY. SUB SUPERMAN WATCHED WITH A FEELING OF HELPLESSNESS, HE COULD SEE HIMSELF IN THE WESTERN PILOTS PLACE. "WALK ON ALL FOURS BEAST", ZARAK ORDERED. THE NAKED SUBDUED PILOT WAS FORCED TO CRAWL ON HIS HANDS AND KNEES, WITH A LEAD, LIKE A DOG. "THINK YOU WILL NEED THE BOX AGAIN FOR THE NEXT NINE DAYS?", ZARAK ASKED HIS HUGE COCK STANDING TO ATTENTION AS HE STOOD OVER THE KNEELING HUMBLED PILOT. "MASTER, I WILL SUCK YOUR COCK", THE PILOT REPLIED EARNESTLY. LORD SHARMAZ GOT TWO ARAB SLAVES TO DISROBE HIM. LORD SHARMAZ WAS BUILT LIKE A SILVER BACK GORILLA. "ZARAK, ENJOY, BUT DO NOT KILL HIM", LORD SHARMAZ TOLD ZARAK AS THE PILOT SUCKED ZARAK'S HUGE COCK.
LORD SHARMAZ GLOATED AS HE PAWED AND FELT SUB SUPERMAN'S FLESH, HIS NAKED PROPERTY. "HE WILL SPEND FIVE DAYS PULLING HEAVY CARTS, UNDER THE LASH AND UNDER THE HOT SUN", LORD SHARMAZ SAID TO SUB SUPERMAN, REFERRING TO THE PILOT. "YOU WILL JOIN HIM, BUT FIRST ANOTHER SHAVING AND PURGING UNDER THE HANDS AND HARD COCKS OF MY BERSERKING BLACK SLAVES, WHIPPING YOUR FLESH AND STRETCHING YOUR ARSEHOLE", HE ADDED. LORD SHARMAZ RUBBED HIS HANDS ALL OVER SUB SUPERMAN'S NAKED FLESH, FORCING THE ONCE SUPER HERO TO ORGASM AGAIN AND AGAIN. THE ENSLAVED PILOT COULD NOT TAKE ALL THE CUM EXPLODING OUT OF ZARAK'S MIGHTY BULL SIZED COCK, AND IT SPLATTERED ALL OVER HIS UPPER BODY AND FACE.
BOTH SLAVES WERE CUFFED. THE HUGE MAN BEAST ZARAK HOISTED BOTH SLAVES ONTO HIS SHOULDERS. HE KEPT THEM IN PLACE USING HIS HUGE FINGERS UP THEIR ARSES, TAKING THEM TO HELL. LORD SHARMAZ GRINNED AS HE WATCHED, HE WANTED THE WESTERN SLAVES BROKEN BEFORE HE FUCKED THEM, AND THEY WERE MADE TO PERFORM SEXUAL ACTS FOR HIS SATISFACTION. THE ONCE MIGHTY SUPERMAN ENSLAVEMENT CONTINUED, AND HE SANK LOWER AND WAS DRIVEN DEEPER INTO SUBMISSION IN MANDRASAT WITH MORE RAPING, CHASTISEMENT, AT THE HANDS OF THE HUGE ZARAK. €15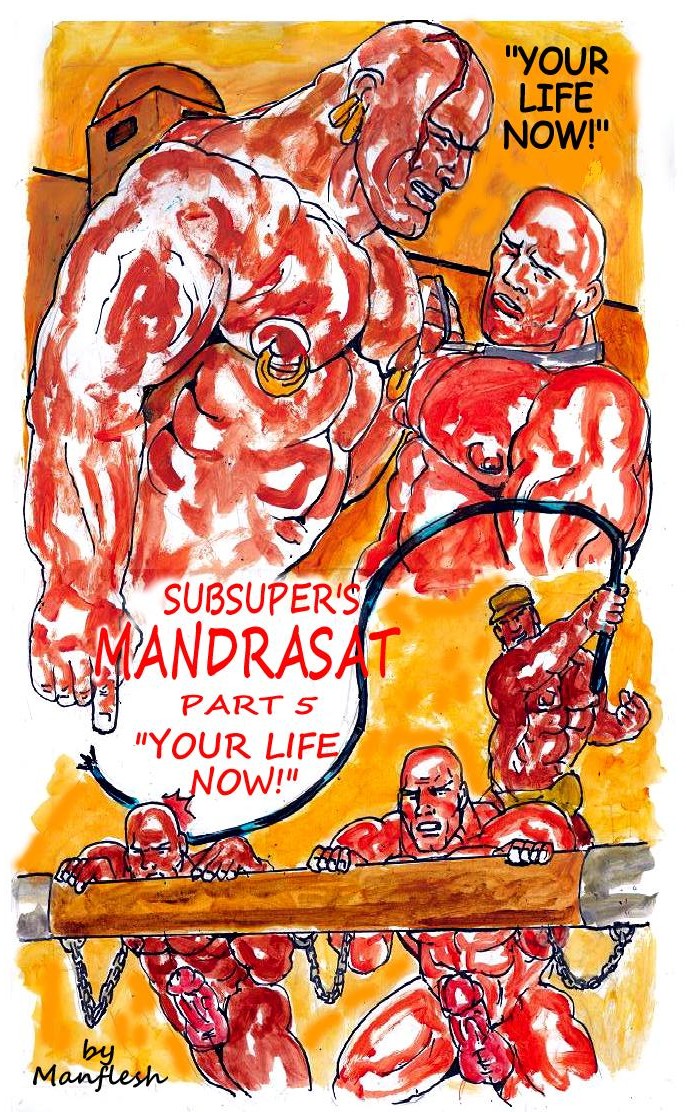 41 SUB SUPERMAN'S MANDRASAT PART 6 HELL ON EARTH. THE DAY AFTER SUB SUPERMAN'S FIRST ENCOUNTER WITH ZARAK CAME ROUND IN HIS ANIMAL CAGE AFTER BEING DOUSED WITH COLD WATER. SUB SUPERMAN STRUGGLED AGAINST HIS RESTRAINTS, HOWLING INTO HIS GAG. THE PILOT WAS GIVEN THE SAME TREATMENT. HOWLING NUBIANS GRABBED THEM AND PULLED THEM FROM THEIR CAGES, IN A GRABBING AND WHIPPING FRENZY. AS NUBIAN HANDS PAWED HIS BODY AND THE WHIP LASHED HARD, SUB SUPERMAN'S GAG WAS RIPPED FROM HIS MOUTH SO HE COULD SCREAM. THEY WERE TAKEN THROUGH THE FORTRESS, IN THE FORGE IRON COLLARS WERE ATTACHED TO THEIR NECKS. THEIR ORDEAL CONTINUED, NUBIANS POUNDED THEIR BELLIES WITH HARD PUNCHES, WHILE ANOTHER CONTINUED TO WHIP THEM HARD. THEY WERE WHIPPED THROUGH CORRIDORS INTO A LARGE COURT YARD. THE LORD OF MANDRASAT WAS WATCHING FROM ABOVE. A HUGE NUBIAN SQUATTED IN THE SANDS HIS HUGE COCK SNIFFING THE AIR. "BRING THE BIG WESTERNER HERE TO ME", HE BARKED IN ARABIC.
SUB SUPERMAN WAS GRABBED AND DRAGGED TO THE HUGE NUBIAN, HIS LEGS WERE SPREAD WIDE AND HE WAS IMPALED ON THE HUGE NUBIANS HUGE COCK. AS THE HUGE NUBIAN SHAFTED SUB SUPERMAN'S ARSE, AS SUB SUPERMAN OPENED HIS MOUTH TO SCREAM, IT WAS CRAMMED WITH ANOTHER LARGE NUBIAN COCK. THE ARSE GANG FUCKING CONTINUED FOR TWO HOURS. SUB SUPERMAN AND THE PILOT GOING IN AND OUT OF CONSCIOUSNESS. THEY WERE FUCKED ANIMALS, FUCKED BY BEASTS. SO FAR FROM HIS ONCE SUPER SELF. WHEN THE ASSAULT ENDED, THEY WERE DRAGGED TO THEIR FEET, CHOKING AND CRYING. A HEAVY TRESTLE TABLE HAD BEEN HAULED INTO THE COURT YARD. THE LORD OF MANDRASAT LOOKED DOWN ON THEM GRINNING FROM ABOVE. THE LORD AND MASTER SHAMAZ ORDERED THAT THE LARGEST OF THE WESTERNERS WAS TO BE STRAPPED FACE DOWN ON THE TRESTLE TABLE. HE WAS GIVEN A HARD BEATING ON HIS ARSE, TO MAKE IT CHERRY RED, AS CUM FARTED FROM HIS WELL FUCKED ARSE. LORD SHARMAZ BARKED AND ORDER. A HAND CART BEARING A LARGE IRON CAULDRON, FULL OF HOT COALS, WAS DRAGGED TOWARDS, THE BOUND, NAKED, FUCKED, ENSLAVED, EX SUPER HERO. THE NUBIANS HAULING THE CAULDRON ON THE HAND CART, WERE LED BY A DWARF WITH A MONSTER SIZED COCK. THE DWARF SHOWED SLAVE, SUB SUPERMAN, THE SIZZLING BRANDING IRON. FEAR LIKE HE HAD NEVER KNOWN GRIPPED SUB SUPERMAN. THE NUBIANS, ALTHOUGH SLAVES, GIGGLED AT WHAT WAS ABOUT TO HAPPEN, THEY WERE HIGHER IN THE PECKING ORDER. THUS, WHILE WASHING AND SHAVING SUB SUPERMAN, THEY COULD FUCK HIM AS WELL.
THE DWARF BRANDED SUB SUPERMAN'S BUTTOCKS WITH THE SIZZLING BRANDING IRON, WITH A LARGE M. THE SEARING PAIN AND MANIC FEAR, MADE SUB SUPERMAN PISS HIMSELF. THE PILOT HAD HIS BUTTOCKS BRANDED NEXT. LORD SHARMAZ WATCHING FROM ABOVE VIA BINOCULARS, BARKED ANOTHER ORDER. "SEND IN THE CART". AS THE TWO SORE BUMMED WESTERNERS MOANED IN AGONY. A CART ENTERED THE COURT YARD, PULLED BY TWO OTHER WESTERNERS. THE TWO NEWLY BRANDED SLAVES, SUB SUPERMAN AND THE PILOT WERE PUT ON ON FUCK ARSE POLES FOR A ROUGH RIDE TO THE QUARRY. BRANDED, NAKED, SCREWED, THE TWO NEW SLAVES WERE FORCED TO BREAK ORE UNDER THE BLAZING SUN. IT WAS ONLY THE START OF THE BREAKING OF THESE SLAVES. EVERY PART OF THEIR LIVES, IN THE HANDS OF OTHERS. BEING LARGER, SUB SUPERMAN HAD A LARGER SLEDGE HAMMER. THE ONCE MIGHTY SUPERMAN ENSLAVEMENT REACH NEW DEPTHS IN MANDRASAT AT THE HANDS LORD SHARMAZ. WITH MORE RAPING, BEATING AND BRANDING. €15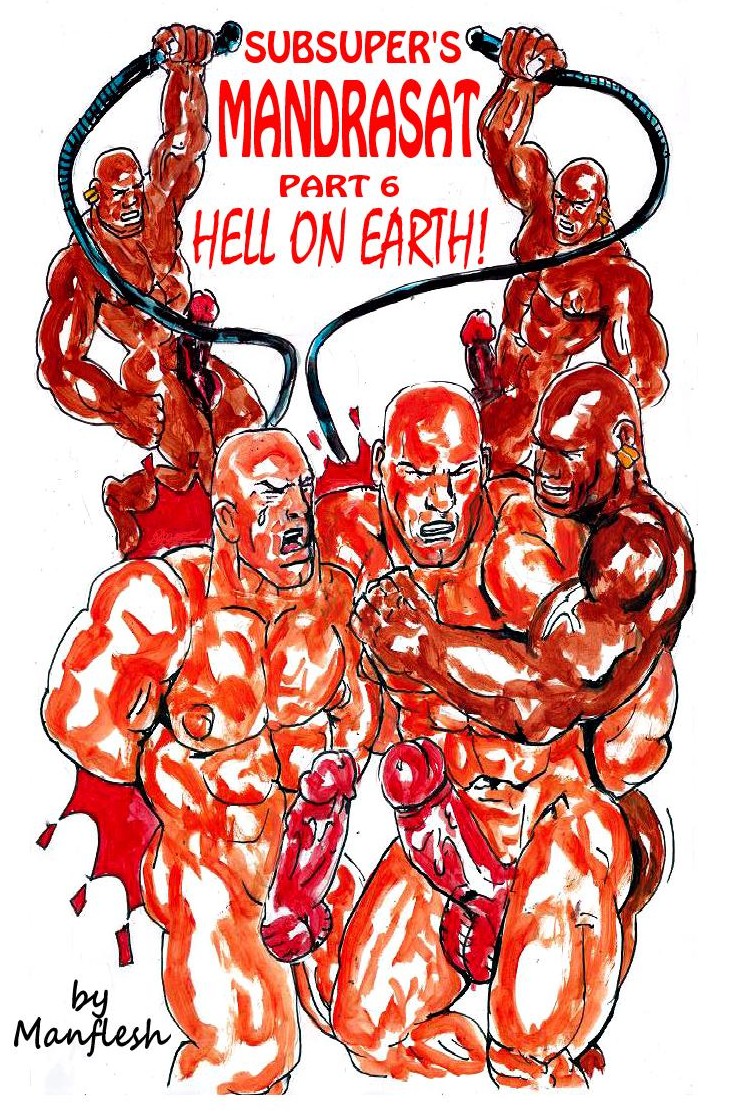 42 SUB SUPERMAN'S MANDRASAT PART 7 ZARAK. AS SUB SUPERMAN WAS PULLED ALONG A STONE CORRIDOR, ZARAK'S MONSTER SIZED COCK SLAPPED AGAINST HIS FACE. HE WAS BEING TAKEN ZARAK'S HOME, HIS CELL. ZARAK'S HOME, HIS CELL, CONTAINED A HUGE BED WITH A BLACK LEATHER MATTRESS AND PILLOW. TV CAMERA'S WERE TRAINED ON THE BED. THERE WAS A SINK, A SHOWER, A STORAGE SHELF, AND A FOOD SLUDGE TAP. THE FOOD SLUDGE CONSISTED OF MEAT, OFFAL, FISH, FRUIT, AND STEROIDS. SUB SUPERMAN HAD ARRIVED AT HIS NEW HOME. ZARAK LIFTED SUB SUPERMAN WITH HIS MIGHTY ARMS AND TOSSED HIM ONTO THE BED, TO BEGIN SUB SUPERMAN'S TRAINING, USING HIS HUGE ERECT WEAPON. "I KNOW YOU GAVE THE COLONEL, AND HIS GUARDS, YOUR MOUTH AND ARSE, SO HE WOULD NOT HURT YOU ANYMORE", ZARAK TOLD SUB SUPERMAN AS HE LAY ON THE BED. "I CAN HURT YOU WORSE THAN ALL OF THEM PUT TOGETHER", HE ADDED. ZARAK THRUST FORWARD HARD, UNTIL HIS COCK SLAPPED AGAINST SUB SUPERMAN'S COCK. HE THEN CLASPED BOTH WITH A GIANT FIST, BEFORE WANKING THEM HARD. THE HARD WANKING MADE BOTH COCKS ERUPT WITH SPUNK, ZARAK TOWERED OVER SUB SUPERMAN, AND SPAT AGAIN AND AGAIN, INTO SUB SUPERMAN'S FACE, TO SHOW HIS SUPERIORITY. IT WAS ALL PART OF BREAKING IN A SLAVE.
ZARAK GROPED SUB SUPERMAN ALL OVER HIS NAKED BODY.HE CHEWED SUB SUPERMAN'S HARD NIPPLES, WHILE WANKING HIS HARD COCK. HE FINGERED SUB SUPERMAN ANUS AND ASSAULTED HIS PROSTATE, MAKING SUB SUPERMAN SQUIRM AND MOAN IN PAIN AND EXCITEMENT. THEN ZARAK SUCKED SUB SUPERMAN'S COCK DRY, WHILE FISTING HIS ANUS. ZARAK STOOD UP LEAVING SUB SUPERMAN SORE AND DRAINED. THE ONCE SUPER HERO COULD ONLY WATCH AS ZARAK COLLECTED A METAL CAN FROM THE SHELF. WHAT NEXT, SUB SUPERMAN THOUGHT TO HIMSELF IN FEAR. ZARAK ROLLED SUB SUPERMAN ONTO HIS BELLY. SUB SUPERMAN FELT THE SHOCK OF A HARD JAB, AS THE STEEL NOZZLE OF THE CAN WAS THRUST IN HIS ANUS. ZARAK USED THE CAN TO SHOOT LUBRICATION INTO SUB SUPERMAN'S ANUS. SUB SUPERMAN SQUEALED AS HE TRIED TO STOP WHAT WAS ABOUT TO HAPPEN. ZARAK IGNORED SUB SUPERMAN'S SQUEALS AND SLAPPED HIS BUTTOCKS, UNTIL THEY WERE BRIGHT RED. SUB SUPERMAN BURIED HIS FACE IN THE BED, HOPING NOT TO INCUR MORE PAIN, BUT FOR HIS MOANS HE WAS GIVEN ANOTHER THIRTY, MIGHTY SLAPS. ZARAK BELLOWED LIKE A BULL AS HE THRUSTED HARD AND DEEP, PLOUGHING HIS HORSE SIZE DICK DEEP INTO SUB SUPERMAN'S INNARDS. PAIN, ON PAIN, AND SEXUAL STIMULATION. SUB SUPERMAN'S COCK WAS HARD, AND RUBBED RAW, AS HE THRASHED FROM THE MERCILESS PLOUGHING AND GRINDING OF HIS ANUS. THE WALLS OF HIS COLON, STRETCHED BY THE SIX INCH WIDE, BEAST COCK. SUN SUPERMAN'S MANLY PRIDE WAS TAKEN BY ZARAK, MASTER OF HIS BODY AND MIND. HOWLING LIKE A PRIMAL BEAST, ZARAK ERUPTED, BARRAGE AFTER BARRAGE SEEKING SUB SUPERMAN'S PROSTATE. THE BATTERING LIKE A BITCHES EGGS WHEN HE FOUND IT. SHAMED, SUB SUPERMAN'S DEEPEST PARTS SUBMITTED TO ZARAK'S POWER. THE ONCE MIGHTY SUPERMAN ENSLAVEMENT REACHED BOTTOM IN MANDRASAT AT THE HANDS ZARAK WITH RAPING, BEATING AND TOTAL SUBMISSION. €15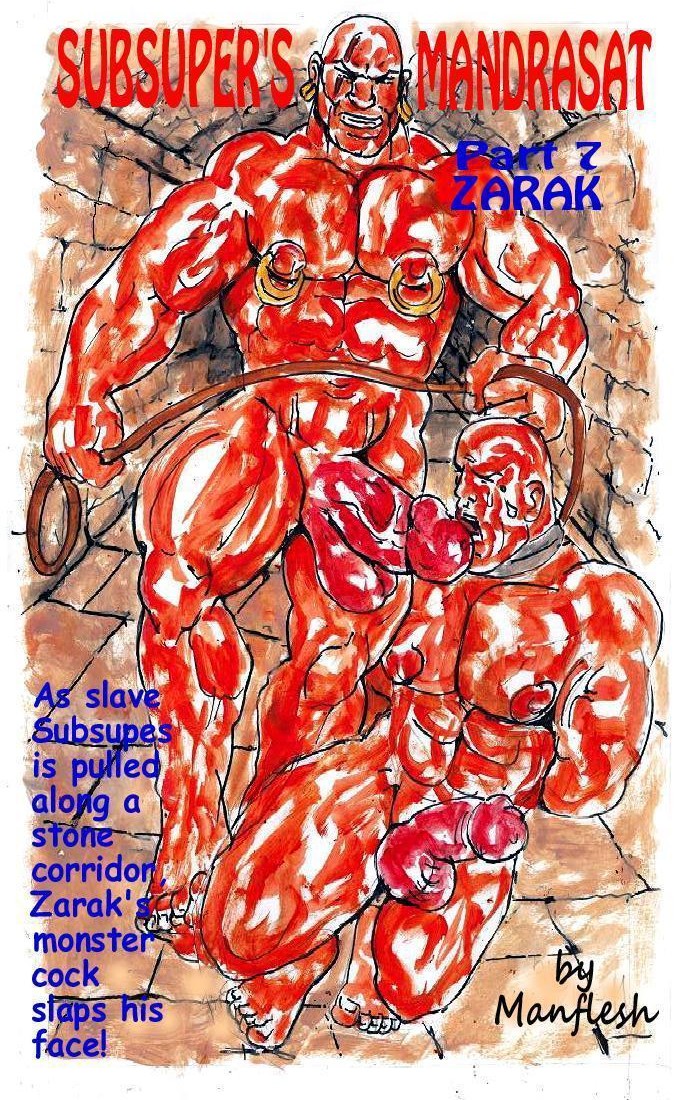 43 SUPERMAN PRISON SHAME PART 1. HAVING LOST HIS POWERS IN A FIGHT WITH ANOTHER BEING, THE GOVERNOR OF METROPOLIS HAD SUPERMAN ARRESTED, BECAUSE OF THE DESTRUCTION OF MANY BUILDINGS. THE GOVERNOR WANTED TO GIVE HIM THE MAXIMUM SENTENCE, NAKED HARD LABOUR FOR LIFE. AS A PRISON INMATE SUPERMAN'S ONLY EMBELLISHMENTS WOULD BE, CHAINS LONG ENOUGH TO WORK A PICK, A PLOUGH, AND HEAVY CORN GRINDER.
AN ALIEN HAD COME FROM THE FAR OUTER PLANETS, TO METROPOLIS TO FIGHT SUPERMAN. THE ALIEN DEFEATED SUPERMAN, TOOK HIS UNIFORM, LEAVING HIM NAKED IN THE RUBBLE OF A DESTROYED BUILDING. SUPERMAN HAD LOST THE FIGHT AND ALSO LOST ALL HIS SUPER POWERS. AFTER PASSING OUT, SUPERMAN CAME ROUND. WHEN SUPERMAN AWOKE HE FOUND HE WAS TIED TO A HOSPITAL BED IN ONLY A THIN JOCK STRAP, WATCHED BY TWO ARMED GUARDS. A DOCTOR ARRIVED AND RIPPED SUPERMAN'S FLIMSY JOCK OFF . HE THEN WANKED THE HELPLESSLY BOUND EX SUPER HERO, UNTIL HE CUM, WATCHED BY THE TWO ARMED GUARDS. THE DOCTOR COLLECTED SUPERMAN'S CUM IN BOWL, AS IT NEEDED TO BE STUDIED. "IT SURE LOVES BEING WANKED", ONE OF THE GUARDS SAID SMILING. "I BET IT LOVES IT UP THE ARSE", THE OTHER REPLIED.
THE GOVERNOR WAS TALKING WITH THE OF THE MILITARY ABOUT SUPERMAN. "WE SHOULD SEND IT TO THE MAXIMUM SECURITY PRISON IN DEATH VALLEY", THE MILITARY COMMANDER SAID. "BUT FIRST WE SHOULD PARADE IT THROUGH THE STREETS NAKED AND SHAMED, TO SHOW THAT WE THE HUMANS ARE IN CHARGE", HE ADDED. "YOU ARE SO RIGHT COMMANDER", THE GOVERNOR REPLIED. FIRST, PART OF STEEL FILE WAS WELDED INSIDE SUPERMAN'S MOUTH, FLATTENING SUPERMAN'S TONGUE TO THE FLOOR OF HIS MOUTH. NOW HE COULD NO LONGER TALK ONLY MAKE GRUNTING NOISES. THE ONE TIME SUPER HERO, NOW WITH NO POWERS, ARRESTED AND NAKED, WAS DRAGGED THROUGH THE STREETS NAKED AND SHAMED FOR ALL TO SEE. SUPERMAN THE EX HERO WAS SURROUNDED BY A CROWD, WANTING TO TOUCH AND GROPE HIS NAKED FLESH. YOUTHS WHACKED SUPERMAN WITH STICKS, ALL OVER HIS NAKED BODY. HIS COCK WAS SWOLLEN AND ERECT, HAVING BEEN INJECTED WITH VIAGRA SERUM. HE WAS THEN PARADED BEFORE THE METROPOLIS FOOT BALL TEAM. "ON YOUR KNEES ALIEN, YOU ARE GOING TO SERVICE THE COCK OF THE TOP JOCKS, OF THE METROPOLIS FOOTBALL TEAM", ONE OF HIS MILITARY GUARDS ORDERED. "ON YOUR KNEES BITCH", THE GUARD ADDED, FORCING SUPERMAN DOWN TO HIS KNEES, IN FRONT OF THE FIRST IN A LINE OF FOOTBALL JOCKS. THE JOCK HAD NO SHORTS ON AND HIS COCK WAS ROCK HARD. SUPERMEN STARTED TO SUCK THE JOCK'S COCK. THE JOCK TOOK OUT HIS PHONE AND FILMED SUPERMAN SUCKING HIS COCK AND THE RECORDING WENT VIRAL. ONE BY ONE SUPERMAN HAD TO SUCK EVERY COCK IN THE LINE. AFTER EACH JOCK HAD CUM IN HIS MOUTH, THEY WIPED THEIR COCKS ON HIS NAKED FLESH. THE OTHER ALIEN HAD TAKEN HIS POWERS. NOW HIS MANLINESS WAS SUCKED AWAY.
SUPERMAN WAS BEING TRANSPORTED IN AN ARMOURED PRISON VAN. HIS CHAIR WAS BOLTED TO THE FLOOR AND HE WAS SECURED TO THE CHAIR BY HIS LEGS. HE HAD STEEL COLLAR AROUND HIS NECK, AND STEEL CUFFS ON HIS WRISTS. CHAINS WERE LINKED BETWEEN HIS COLLAR AND HIS CUFFS. IT SEEMED THE GUARDS HAD FOUND A WAY TO PASS THE TIME. THEY TOOK DELIGHT IN FISTING SUPERMAN. ONE FORCED HIS ARM RIGHT IN AND GRABBED SUPERMAN'S PROSTATE, HE USED HIS FINGERS TO MILK IT. THIS FORCED SUPERMAN TO CUM AGAIN AND AGAIN. THE PRISON VAN, EVENTUALLY ARRIVED AT DEATH VALLEY MAXIMUM SECURITY PRISON. THE GUARDS DRAGGED THE NAKED ALIEN INSIDE, HE WAS ABOUT TO START HIS NAKED LABOUR FOR LIFE. HE WAS HANDED OVER TO A PRISON GUARD AND TAKEN TO SEE THE WARDEN. "I'VE BEEN WAITING FOR YOU", THE WARDEN TOLD SUPERMAN, AS HE STARTED TO UNDRESS, HIS HUGE COCK WAS ALREADY ROCK HARD. HE WANTED TO MAKE A SORE ARSED BITCH, OF THE ONCE SUPER HERO. "BEND OVER THAT CHAIR, I'LL DRILL THAT ALIEN PRIDE OUT OF YOU", THE WARDEN ORDERED. SUPERMAN BENT OVER THE CHAIR AND THE WARDEN FUCKED HIM UP THE ARSE, MAKING HIM GROAN IN PAIN. HE WAS TAKEN AWAY TO HIS CELL WITH THE WARDENS CUM DRIPPING FROM HIS ARSE. THE EX SUPER HERO PASSED BRUTES, WHO LEWDLY SHOWED THEIR CARNAL LUST. "SURE GOING TO FUCK IT RAW", ONE SHOUTED. "ME TOO", ANOTHER SHOUTED. THE ONCE MIGHTY SUPER HERO MINUS HIS POWERS WAS IMPRISONED AND SUFFERED SEXUAL ABUSE AND RAPE, AND LIFE OF HARD LABOUR. €15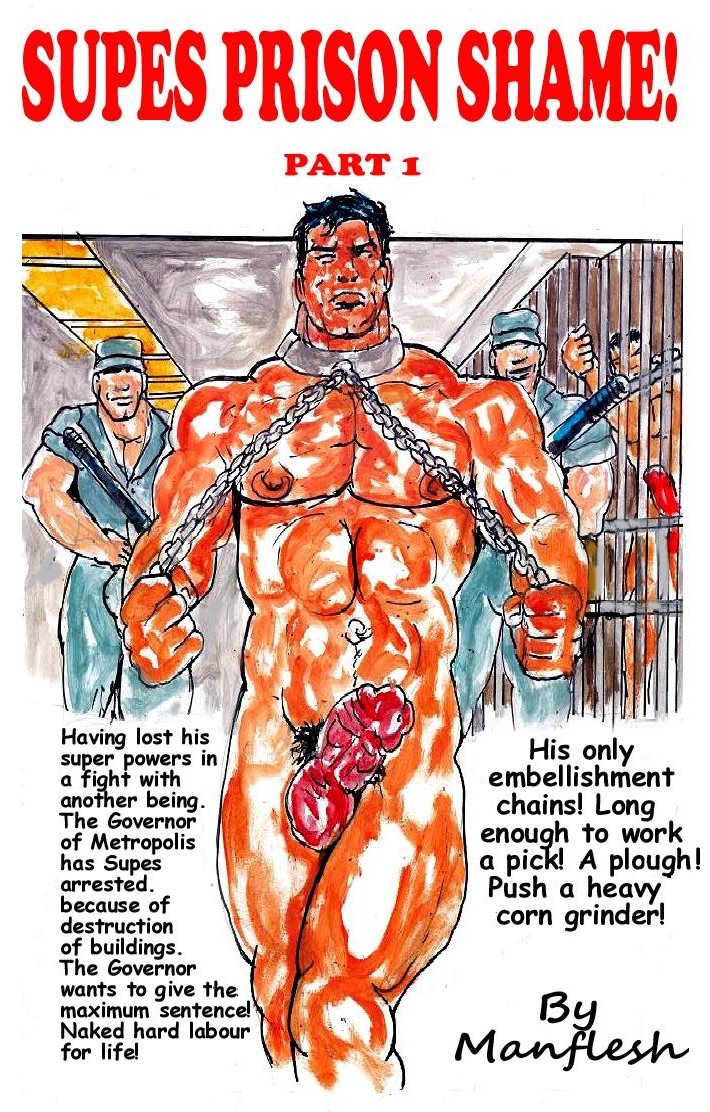 44 SUPERMAN PRISON SHAME PART 2 IN THE MAXIMUM SECURITY PRISON, IN DEATH VALLEY, WHERE SUPERMAN WAS NOW A PRISONER. MEN THERE WERE NAKED BEASTS, PREVENTED FROM ESCAPING BY THE GUARDS. BUT IN THIS PRISON, TOP DOGS OF THIS DOMAIN, CONTROLLED THEIR BITCHES, WITH THEIR CHOSEN WEAPONS, THEIR COCKS. THE SHAMED, EX SUPERMAN, NOW A PRISONER, WAS TAKEN TO HIS CELL. "YOUR HOME CAGED BEAST", THE GUARD TOLD HIM. ALL THE CELL CONTAINED WAS A STAINLESS STEEL PLUG HOLE, TO PISS AND SHIT IN, AND A FOUR FOOT BY THREE FOOT, RUBBER MAT, TO SLEEP ON. SO THERE HE WAS, HIS FIRST NIGHT IN PRISON NAKED. IT WAS A HOT AS AN OVEN, WHAT WOULD THE DAY BRING. "YOU'LL BE SHITTING OUT LOTS OF CUM HERE", A GUARD SNEERED, FROM OUTSIDE THE CELL, AS HE WATCHED SUPERMAN SQUATTING OVER THE PLUG HOLE, HAVING A SHIT.
FIRST THING IN THE MORNING, EX SUPERMAN, WAS GIVEN A HAIR CUT. THEN HAIR DEFOLIATE, WAS APPLIED TO THE SIDES OF HIS HEAD AND THE LOWER HALF OF HIS FACE. IT WAS TO ENSURE THAT ONLY THE HAIR ON THE TOP OF HIS HEAD, WOULD GROW BACK. HIS COCK'S MAN BUSH, WAS GIVEN THE SAME TREATMENT. HE WAS TAKEN TO THE EATING HALL, AND MADE TO CRAWL TO ONE OF THE FEEDING TROUGHS. AS HE ATE THE SWILL, CONSISTING OF, MEAT, FISH, VEGETABLES, FRUIT, AND STEROIDS. ONE OF THE BULLS, A TOP DOG, GROPED, EX SUPERMAN'S PENIS. "YOU'RE ONE OF MY FUCK PUPS, I'LL OWN YOU, HAVE POWER OVER YOUR HOLES", THE BULL SNEERED. THERE WAS NO HELP FROM THE GUARDS. THEY WATCHED GRINNING, WITH BULGES SWELLING IN THEIR PANTS. BULLS HAD SPECIAL PRIVILEGES, ONE WAS CONTROLLING THE ONES THEY MASTERED. THE BULL MADE EX SUPERMAN, GROAN AND ORGASM, FOR ALL TO SEE AND HEAR.
EX SUPERMAN ALONG WITH THE OTHER BEASTS WERE WORKED HARD LIKE BEASTS OF BURDEN, YOKED AND MADE TO CARRY HEAVY LOADS OR ORE. WHIPS WERE USED ON THE NAKED CONVICTS TO KEEP THEM TOILING HARD. THEY WERE LIGHT WHIPS THAT STUNG, THE FLESH BUT NOT HEAVY ENOUGH TO CUT THE SKIN AND LEAVE SCARS. BUT TO DEMONSTRATE TO THESE ANIMALS, THEIR BEASTLY STATE. THE BRUTES WERE GIVEN DIFFERENT HARD LABOUR TASKS, DURING THE LONG DAY, TO ENSURE, ALL THEIR MUSCLES WERE GIVEN A SORE TIME. EX-SUPERMAN HAD TO TURN THE WINDLASS THAT GROUND THE ORE. ALL PART OF THEIR LIFE SENTENCE. EX SUPERMAN WAS NOW HOUSED IN THE MAIN BLOCK, BACK IN HIS CELL HE HAD A SHIT AND GOT READY TO SLEEP. HOWEVER, BULLS HAD KEYS TO THE CELLS. ONE HAD SENT FOUR OF HIS GANG TO GET THE NEW CONVICT, SO HE COULD SEED THE MUSCLES BITCH'S ARSE. THE GUARDS, WATCHING VIA SURVEILLANCE CAMERAS, TURNED A BLIND EYE. THEY ENJOYED WATCHING THE ACTION. EX SUPERMAN, WAS GRABBED AND DRAGGED OUT OF HIS CELL. HE WAS TAKEN TO ONE OF THE BULLS CELL. THE CONS IN THE CELLS THEY PASSED, MADE LEWD CALLS, AT THE MUSCLE MARY, BEING TAKEN FOR A HARD POUNDING.
THE BULLS CELL WAS SPACIOUS, CONTAINING ALL THE LUXURIES OF HIS POWER. HE WAS A MONSTER OF A BRUTE, HORNY AND HARD. EX SUPERMAN WAS THROWN DOWN BEFORE HIM. THE BULL MADE EX SUPERMAN SUCK HIS COCK. EX SUPER MAN WAS IN PRISON, AND A PRISONER OF PRISONER'S, HE HAD NO CHOICE. GRABBED BY THE GANG MEMBERS EX SUPERMAN WAS THRUST ONTO THE BULLS, HARD PRICK. WHILE THE BULL, FUCKED EX SUPERMAN'S ARSE, THE GANG MEMBERS WERE ALLOWED FUCK EX SUPERMAN'S MOUTH, AND FILL IT FULL OF THEIR SPUNK. WITH HIS ARSE FARTING OUT COME AND HIS STOMACH FULL OF THE SAME, EX SUPERMAN, WAS MADE TO CRAWL BACK TO HIS CELL. OTHER CONVICTS SPURTED THEIR CUM OVER, THE RAVAGED ONCE SUPER HERO, FROM THEIR CELLS, AS CRAWLED PASSED IN SHAME. THE ONCE MIGHTY SUPER HERO STILL MINUS HIS POWERS, IMPRISONED, SUFFERING SEXUAL ABUSE AND RAPE, AND A LIFE OF HARD LABOUR. €15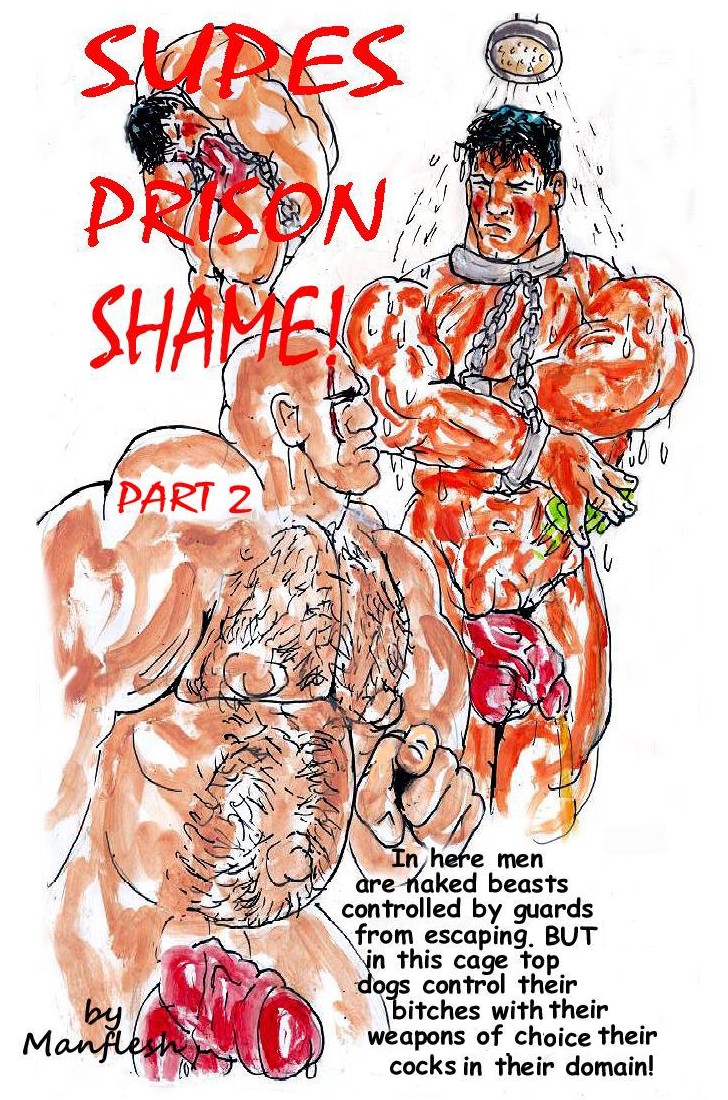 45 BLACK SUPERMAN PART 1. THE IMP AN EVIL MISCHIEVOUS, MAGICAL CREATURE, HAD BEEN AT WORK. SUPERMAN WOKE UP NAKED, IN A SHABBY ROOM, IN THE SOUTHERN STATES. THERE WAS SMALL MIRROR ON THE BED AND A LARGER ONE LEANING AGAINST THE TIN WALL OF THE HUT. SUPERMAN PICKED UP THE SMALL MIRROR AND LOOKED IN IT, HE WAS SHOCKED BY THE FACE REFLECTED, HIS FACE BUT WITH DARK SKIN. "SHIT, I'M BLACK", HE GASPED OUT LOUD IN SHOCK. SUPERMAN STOOD UP AND LOOKED IN THE LARGE MIRROR, AND WAS SHOCKED TO SEE, THE REST OF HIS BODY HAD THE SAME DARK SKIN AS HIS FACE. HIS COCK WAS A MUCH DARKER COLOUR THAN THE REST OF HIS BODY, AND WAS AS BIG AS A TIN CAN. HE DROPPED THE SMALL MIRROR AND IN SHATTERED, CUTTING HIS TOE. SUPERMAN GASPED IN SHOCK AGAIN, AS HE REALISED HE HAD LOST HIS SUPER POWERS.
SUPERMAN WOKE UP IN A TIN SHACK WOOZY AND NAKED, WONDERING WHY AND HOW HE GOT THERE. HE SAW A SMALL MIRROR AND PICKED IT UP. HE WAS SHOCKED TO SEE A DARK FACE, HIS OWN FACE. SHIT I'M BLACK, SUPER THOUGHT IN SHOCK AS HE STARTED AT HIS BLACK FACE IN THE SMALL MIRROR. THIS MUST BE A TERRIBLE DREAM, I MUST WAKE UP FROM THE BAD DREAM, SUPERMAN THOUGHT DESPERATELY. STILL IN SHOCK, SUPERMAN STOOD UP AND STARED IN A LARGE MIRROR LEANT AGAINST THE TIN WALL OF THE SHACK. SHIT I'M BLACK ALL OVER, HE THOUGHT IN HORROR, AS HE STARTED AT HIS FULL REFLECTION. SUPERMAN WAS SO SHOCKED BY HIS REFLECTION HE DROPPED THE SMALL MIRROR. IT SHATTERED A PIECE STUCK IN HIS TOE AND MADE IT BLEED. SHIT MY FOOT IS CUT, MUST HAVE NO SUPER POWERS ANY MORE", HE THOUGHT REELING IN SHOCK. THE ONLY CLOTHING IN THE SHABBY TIN SHACK, WAS A PAIR OF DUNGAREES. SUPERMAN HAD NO CHOICE BUT TO PUT THEM ON. SUPERMAN PUT THEM ON, PULLING THEM OVER HIS LARGE BLACK BUTT.
SUPERMAN LEFT THE TIN HUT AND FOUND HE WAS IN A SHANTY TOWN. THE HEAT OF THE SUN BEAT DOWN ON HIS BODY, NOW HE HAD LOST HIS SUPER POWERS. NOT ONLY HAD THE IMP TRANSPORTED HIM TO THIS SOUTHERN STATES LABOUR CAMP, BUT BACK IN TIME TO WHEN WHITES CONTROLLED THE SOUTH WITH STRONG HANDS. "HEY YOU BLACKIE, GET YOUR BLACK ASS TO THE WORK GANG", A GUARD SHOUTED DOWN FROM A WATCH TOWER. SUPERMAN STARED UP IN CONFUSION AND THEN OVER TO A LINE OF OTHER BLACK MEN, AND MORE GUARDS WITH THEM, AND REALISED HE HAD NO CHOICE BUT TO OBEY. SUPERMAN JOINED THE LINE OF BLACK MEN. "NOW ALL STRIP NAKED FOR INSPECTION", A GUARD ORDERED. "SHIT, NO WAY, SUPERMAN REPLIED, HIS ARMS CROSSED IN DEFIANCE. "HOW DARE YOU, YOU BLACK MONKEY", THE GUARD CURSED. "GUARDS", HE SHOUTED. THREE GUARDS RUSHED OVER WITH WOODEN BATONS, AND WASTED NO TIME, IN KNOCKING SUPERMAN TO THE GROUND. "TAKE THAT YOU BLACK BEAST", THEY SHOUTED, AS THEY RAINED DOWN BLOWS ON HIM. SUPERMAN WAS STRIPPED NAKED AND DRAGGED AWAY BY THE THREE GUARDS. ALL BLACK BUCKS LIKE HIM, HAD TO WORK NAKED, BECAUSE OF THE HEAT, AND BECAUSE THEY WERE PAID DOUBLE THE AVERAGE WAGE TO DO SO. PAID WELL, BLACK WORKERS HAD TO BEHAVE IN THIS ALL MALE ENVIRONMENT, OR ELSE. THE GUARDS DRAPED SUPERMAN'S NAKED BODY OVER AN OIL DRUM. HE WAS HELD IN PLACE BY TWO OF THE GUARDS WHILE THE THIRD, WHIPPED HIS THICK BLACK, BUTT, CHEEKS, RED RAW.
HE WAS TAKEN TO THE ORE MINE TO JOIN THEY OTHER BLACK WORKERS ON THE WORK GANG, WHO WHERE ALREADY TOILING HARD. "NOW GET TO WORK, I WANT TO SEE YOU GET THOSE BUNS COVERED IN SWEAT", A GUARD ORDERED, WHACKING SUPERMAN'S RED, RAW, BLACK BUTT, WITH HIS BATON. SUPERMAN WAS FORCED TO TOIL NAKED UNDER THE BLAZING SUN. THE ORE WAS PUT INTO WAGONS AND PUSHED TO THE STOCK YARD BY THE NAKED WORK GANG. AS SUPERMAN STRUGGLED TO PUSH ONE OF THE FULL ORE CARTS, HIS BODY SWEATING HEAVILY IN THE BURNING SUN, TWO OF THE GUARDS THAT HAD PUNISHED HIM, WERE WATCHING HIM. "THAT BLACK BUCK, IS THE ONE WE HAD TO WHIP", ONE OF THEM SAID. "WHAT A THICK BUTT, IT HAS", HE ADDED. "YES, I THINK IT NEEDS A SERVICE", THE OTHER REPLIED. AT THE END OF THE DAY THE WEARY BLACK WORKERS WERE RETURNED TO THEIR HUTS. EXHAUSTED AFTER HIS LONG DAY TOILING, SUPERMAN USED HIS DAY'S PAY TO BUY FOOD AND A PILLOW. AS SUPERMAN SETTLED DOWN TO SLEEP, MENACING FIGURES APPEARED AND ENTERED HIS HUT. TWO OF THE GUARDS GRABBED THE NAKED, BLACK HUNK, WHILE OTHERS UNDRESSED, THEIR FUCK MEAT, HARD AND INCHING, FOR MAN CUNT. SUPERMAN'S BLACK BOTTIE, WAS FUCKED HARD. THE GUARDS EAGER TO DISPLAY THEIR HARD MANLINESS, IN THE BLACK BUCKS HOMONIZED ARSE. WHEN THE GUARDS HAD FINISHED, THEY LEFT, LAUGHING, LEAVING SUPERMAN EXHAUSTED AND COVERED IN THEIR CUM, WITH THEIR CUM LEAKING FROM HIS ARSE, SUPERMAN KNEW HE MUST ESCAPE AND GET OUT OF TOWN. SUPERMAN FORCED TO WORK AND OBEY THE WHITE GUARDS WHILE BEING SEXUALLY AND PHYSICALLY ABUSE BY THEM, USED LIKE THEIR PROPERTY. €15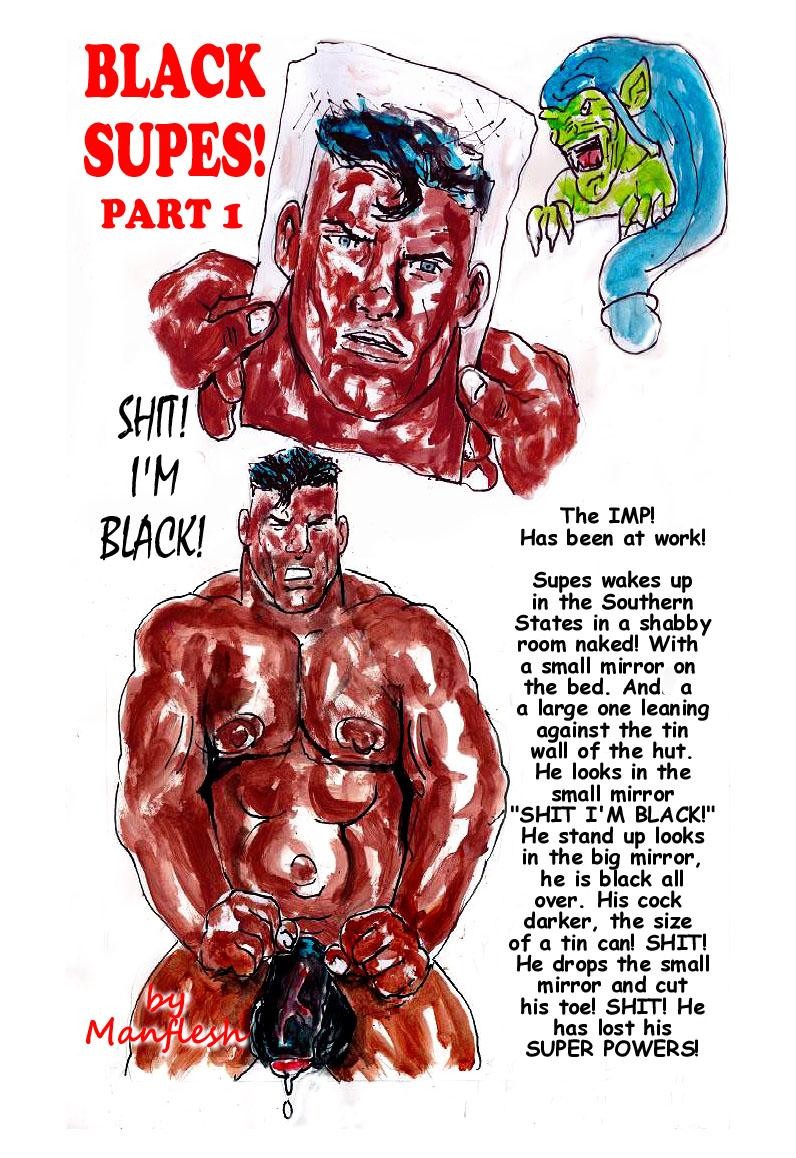 46 BLACK SUPERMAN PART 2 RINGED BEAST. BLACK SUPERMAN WAS ABOUT TO RUN FAR AWAY FROM TOWN, IF ONLY HE KNEW WHAT HE WAS GOING TO RUN INTO. AS THE DAY DAWNED, BLACK SUPERMAN ESCAPED FROM THE WORK CAMP. HIS MUSCLES WERE SORE FROM THE HARD WORK. HIS BUM WAS SORE FROM THE GUARDS COCKS. EVEN SO, HE COVERED A GREAT DISTANCE IN THREE DAYS, BY WHICH TIME HIS FOOD AND WATER HAD RUN OUT. GETTING MORE DESPERATE AS THE DAY WORE ON, FINALLY HE SPOTTED A FARM. HE WONDERED IF HE WOULD BE ABLE TO WORK THERE FOR FOOD AND PAY. BLACK SUPERMAN COVERED IN SWEAT APPROACHED THE FARM HOUSE. THE TWO OWNERS CAME OUT AND LOOKED DOWN ON HIM FROM THE PORCH. "HI, I'M LOOKING FOR WORK, NEED MONEY WILL WORK HARD", HE TOLD THE TWO OWNERS. "YES BOSS, BOSSES", HE ADDED. THEY WERE MASTER BEAR AND MASTER KANE. "I HEARD THAT YOU SHOULD ONLY EMPLOY A BLACK BUCK IF HE HAD A HARD COCK, THEN YOU KNOW HE WILL WORK HARD", BOSS BEAR TOLD BLACK SUPERMAN. "YES, SO STRIP BOY, OR YOU CAN TRY THE NEXT FARM FORTY KILOMETRES AWAY", BOSS KANE SAID. BLACK SUPERMAN KNEW HE WOULD NEVER MAKE IT THAT FAR. SUPERMAN NOW A BLACK BUCK, HAD NO CHOICE. HE REMOVED HIS ONLY PIECE OF CLOTHING, IN FRONT OF THE LEERING, LUSTING, MASTERS, OF THE FARM FOR THEIR EXAMINATION. "HANDS BEHIND YOUR HEAD", BOSS KANE ORDERED. AS BLACK SUPERMAN STOOD WITH HIS HAND BEHIND HIS HEAD, HIS BLACK FLESH WAS GROPED BY BOSS KANE. THE KANE GRABBED HIS THICK BLACK PENIS, AND TO BLACK SUPERMAN'S SHAME, HE GOT A BONER. KANE STARTED TO WANK BLACK SUPERMAN AND HIS BODY SHOOK IN SHAME, AS HIS COCK GOT BIGGER AND BIGGER. BOSS KANE, WANKED BLACK SUPERMAN HARD AND MADE HIM CUM. "VERY THICK, YOU ARE HIRED", BOSS KANE SAID AS HE INSPECTED BLACK SUPERMAN'S THICK SPUNK.
BLACK SUPERMAN WAS ORDERED TO GO INTO THE FARM HOUSE. "WE ONLY HAVE CHAIRS FOR US", BOSS KANE SAID AS HE SAT AT A TABLE. "WE ONLY HAVE KNIVES AND FORKS FOR US", BOSS BEAR SAID. "YOU WILL HAVE TO EAT FROM A BOWL ON THE FLOOR", BOSS KANE ADDED. VERY HUNGRY, BLACK SUPERMAN HAD NO CHOICE, AND GOBBLED UP THE SWILL IN THE BOWL. THE FOOD WAS DRUGGED AND BLACK SUPERMAN KEELED OVER. THE GRINNING RANCH OWNERS GRABBED THEIR PRIZE BEAST AND CARRIED THE LUMP OF BLACK MUSCLE TO THE BARN. BLACK SUPERMAN WAS TIED TO A POST IN THE BARN. AS THE NAKED, DRUGGED, BLACK BEAST, SLEPT. BOSS KANE, FORGED A HORSE BIT, FOR THEIR ANIMALS MOUTH. WHEN BLACK SUPERMAN WOKE, HE FOUND HE A FORM OF HORSE BIT LOCKED IN PLACE. NOW HE COULD ONLY MAKE ANIMAL GRUNTS. BOSS KANE AND BOSS BEAR LIFTED AND SPREAD BLACK SUPERMAN'S LEGS APART AND KEEP THEM IN PLACE WITH CHAINS ATTACHED TO HIS THIGHS. WITH HIS LEGS HELD WIDE, A DOUGH NUT RING WAS SLIPPED DOWN THE LENGTH OF HIS LARGE, BLACK, COCK AND BEHIND HIS LARGE, BLACK, BALLS. THIS KEPT HIS LARGE, BLACK, COCK HARD, AND STOPPED HIS BIG, BLACK, BALLS, FROM RETREATING INTO HIS BODY. BLACK SUPERMAN GRUNTED IN PAIN AS HIS COCK HEAD WAS PIERCED AND A LARGE STEEL RING FITTED AND CLAMPED UP. THEN HIS NIPPLES WERE PIERCED AND STEEL RINGS FITTED AND CLAMPED UP. BLACK SUPERMAN WAS NOW A RINGED BEAST. "WE CAN PULL THESE RINGS, AS WE FUCK YOU", BOSS KANE SAID, AS HE CLAMPED THE LAST NIPPLE RING IN PLACE. BOSS KANE THEN TUGGED ON BLACK SUPERMAN'S NIPPLE RINGS, MAKING HIM GRUNT IN PAIN, UNTIL HE BROUGHT TEARS TO HIS EYES.
BLACK SUPERMAN'S MASTERS, STRIPPED OFF, THEIR COCKS WERE HARD AND ERECT. BOSS KANE WAS THE FIRST TO WHIP BLACK SUPERMAN'S ANUS, TO ENSURE IT ENLARGED, FOR A HARD, SORE, FUCKING. THEN IT WAS BOSS BEAR'S TURN WITH THE WHIP. BLACK SUPERMAN'S MANCUNT WAS SWOLLEN FROM THE PAINFUL WHIPPING, A PURPLE RED COLOUR, AND NOW THE SIZE OF AN ORANGE. ITS SORE OPENING WAS ABOUT TO BE PIERCED, OPENED, STRETCHED AND POUNDED. BOSS BEAR WAS THE FIRST TO FUCK THEIR BEAST. IT NEEDED TO BE BROKEN IN, TO FEAR AND RESPECT ITS MASTERS. LEARN TO OPEN ITS LEGS WIDE, FOR THE FARM BOSSES, CUNT POUNDERS. PAIN, SHAME, CUNTED BEAST, FUCK", BOSS KANE SAID, AS HE POUNDED BLACK SUPERMAN'S MANCUNT.
BOSS CANE HAD ADAPTED A COW MILKING MACHINE, TO USE ON THE BEAST, BLACK SUPERMAN. HE WAS STRAPPED INTO THE MILKING MACHINE. ONE OF THE TEATS SUCKERS WAS CUT WITH A SLIT TO FIT BLACK SUPERMAN'S COCK RING. HE WAS LEFT IN BARN, STRAPPED IN THE MACHINE, BY THE TWO BOSSES, TO BE MILKED ALL THROUGH THE NIGHT. SUPERMAN FORCED TO WORK AND BOSS KANE AND BOSS BEAR, WHILE BEING SEXUALLY AND PHYSICALLY ABUSE BY THEM, USED LIKE THEIR PROPERTY. €15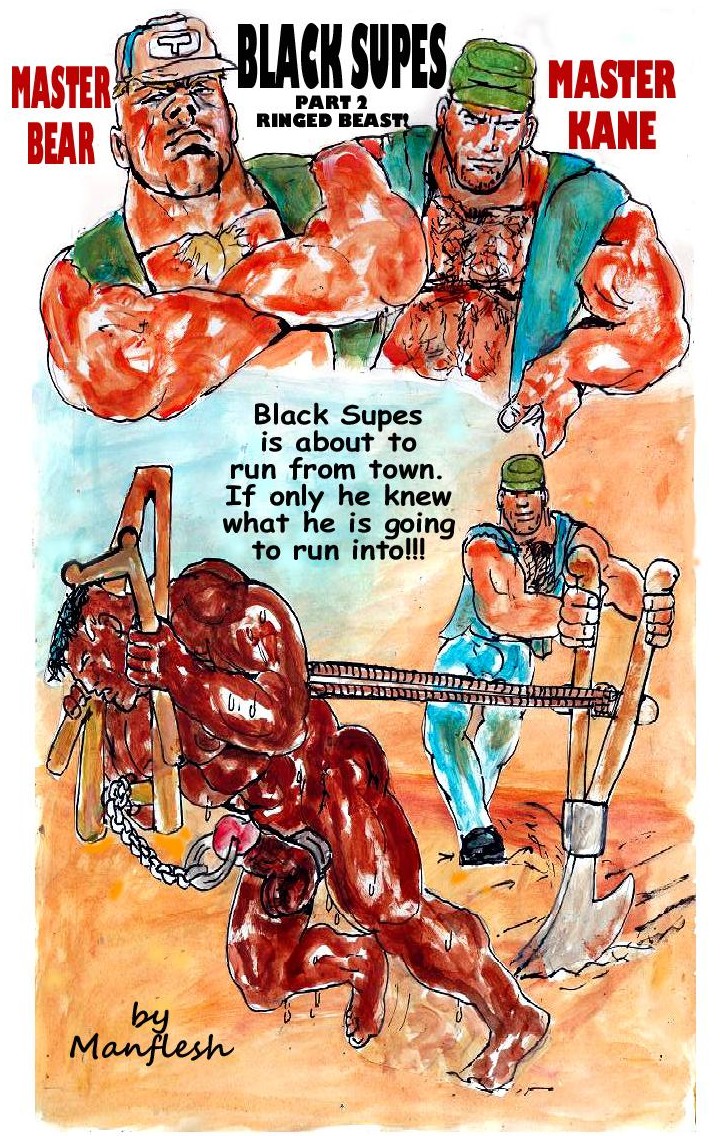 47 BLACK SUPERMAN PART 3 SORE. IT WAS MORNING AT MASTER KANE'S AND MASTER BEAR'S FARM. MASTER KANE THREW THEIR NEW WORKER, COME SLAVE, BLACK SUPERMAN, INTO THE PIG PEN. BLACK SUPERMAN HAD NO CHOICE HE HAD TO EAT WITH THE PIGS. THE BOSS OF THE PEN, WAS A HUGE BOAR PIG CROSS, MALE. ALL IN THE PEN, HAD TO SUBMIT TO HIM, EVEN BLACK SUPERMAN. THE HUGE BOAR, MOUNTED BLACK SUPERMAN AND IMPALED HIM WITH ITS EIGHTEEN INCH PRICK. "THE BOAR SURE LIKES SEEDING THE NEW SOW", BOSS KANE SAID, AS HE STOOD WATCHING THE BOAR FUCK BLACK SUPERMAN. "YEAH, EACH MEAL TIME, THE BLACK SOW WILL TAKES ITS MEAL, IN THE PIG PEN, AND GET FUCKED BY THE BOAR", BOSS BEAR SAID.
BLACK SUPERMAN WAS USED TO PLOUGH THE FIELDS. HE WAS MADE TO PULL THE HEAVY METAL PLOUGH, WITH A COCK SHAPED METAL POLE UP HIS ARSE. BLACK SUPERMAN PLOUGHED, AS HE WAS PLOUGHED BY THE POLE ON THE PLOUGH. AS THE PLOUGHING CONTINUED BLACK SUPERMAN, THRUST HIS NAKED BODY FORWARDS, JOLTING THE METAL POLE UP HIS ARSE. IT MADE HIS COCK SWELL TO ENORMOUS PROPORTIONS. WHEN MASTER BEAR'S TURN TO GUIDE THE PLOUGH BEAST APPROACHED. MASTER KANE PULLED THE METAL POLE OUT OF BLACK SUPERMAN'S ARSE, AND THRUST HIS OWN POLE INTO THE BEASTS MAN CUNT. BOSS BEAR TOOK OVER AND THE METAL POLE WAS TRUST BACK INTO BLACK SUPERMAN'S ARSE, AND HE MADE BLACK SUPERMAN, CONTINUE PLOUGHING. AS BLACK SUPERMAN PULLED THE PLOUGH THE STEEL POLE JOLTED HIS ARSE, AND CUM FROM BOSS KANE'S FUCK, SPURTED OUT OF HIS ARSE, AS HE TOILED. AT THE END OF A SORE AND PAIN RACKED DAY, BLACK SUPERMAN COULD HARDLY MOVE. HIS BLACK PELT WAS COVERED IN SWEAT. IT WAS TIME FOR BOSS BEAR TO FUEL BLACK SUPERMAN'S MAN CUNT, WITH A HARD SEEDING.
IN THE EVENING BLACK SUPERMAN WAS BACK IN THE PIG PEN, FEEDING WITH THE PIGS. HE HAD BEEN FIXED IN A FUCK FRAME BY BOSS KANE AND BOSS BEAR. THE FUCK FRAME, HELD HIM TRAPPED IN THE IDEAL POSITION TO BE FUCKED BY THE BOAR. THE BROTHERS WATCHED, AS BLACK SUPERMAN WAS FUCKED BY THE BOAR. "NEXT, WE WILL MILK THE BLACK BEAST, IN THE BARN", BOSS BEAR, TOLD BOSS KANE. AFTER FEEDING AND BEING FUCKED BY THE BOAR, BLACK SUPERMAN WAS DRAGGED TO THE BARN. THERE WAS A MILKING FRAME, WAITING FOR HIM THERE. BLACK SUPERMAN WAS CUFFED TO THE MILKING FRAME LEAVING HIM HELPLESS. BLACK SUPERMAN'S BALLS WERE GRABBED BY BOSS BEAR. THE MILKING OF BLACK SUPERMAN HAD BEGAN. AFTER BOSS BEAR, BOSS KANE TOOK HIS TURN AND MILKING BLACK SUPERMAN'S BALLS. BETWEEN THEM THEY PRODUCED A BUCKET LOADS OF DOUBLE CREAM, TO BE SOLD BY THE CHURN. BLACK SUPERMAN WAS LEFT DRAINED AND EXHAUSTED, CUFFED TO THE MILKING FRAME.
THE IMP AN EVIL MISCHIEVOUS, MAGICAL CREATURE WHO GOT SUPERMAN INTO THIS PREDICAMENT IN THE FIRST PLACE APPEARED. HE DESTROYED THE MILKING CAGE, FREEING BLACK SUPERMAN. A MICRO SECOND LATER, THE IMP HAD TRANSPORTED BLACK SUPERMAN TO A SLAVE MARKET IN THE MIDDLE EAST. HIS NAKED BLACK PELT ON LEWD DISPLAY IN THE BURNING SUN SURROUNDED BY A CROWD OF ARAB BUYERS. SUPERMAN FORCED TO CONTINUE WORKING FOR BOSS KANE AND BOSS BEAR, WHILE BEING SEXUALLY AND PHYSICALLY ABUSED BY THEM, USED LIKE THEIR PROPERTY. €15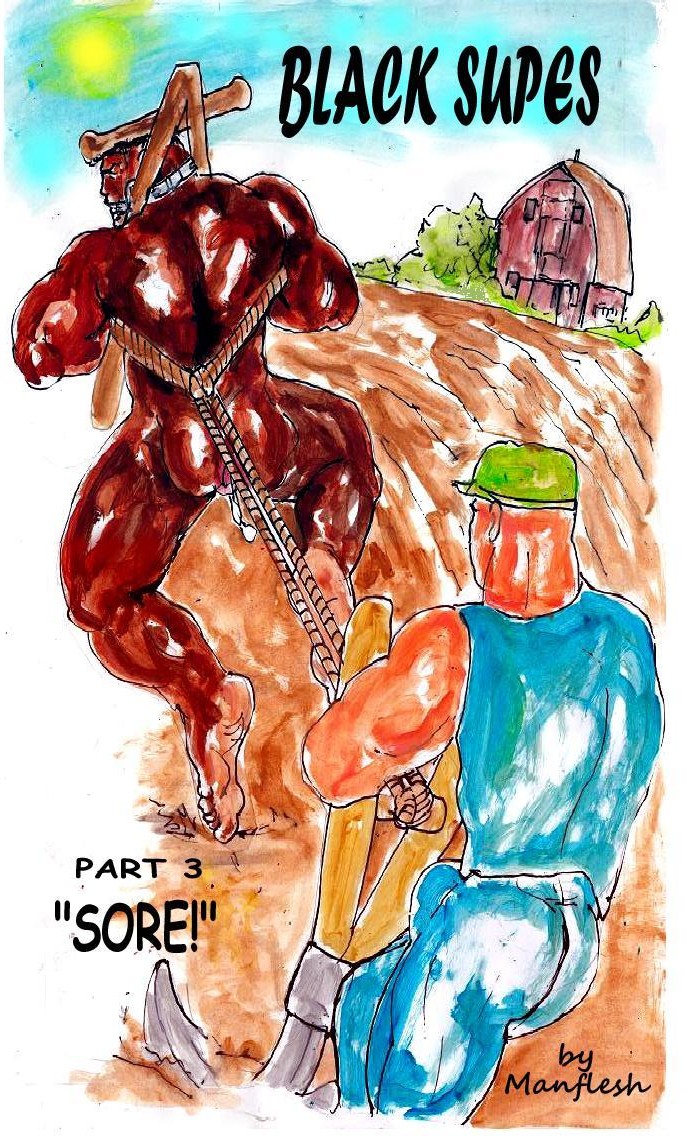 48 SUPERMAN ROGUE MAN PART 1. SUPERMAN LOST HIS SUPER POWERS AND WAS BOOTED OUT OF THE SUPER LEGION OF HEROES. HE STILL CRAVED THE ADRENALIN IT ONCE PROVIDED, SO HE WENT ON A ROAD TRIP IN THE MIDDLE EAST, LOOKING FOR DANGER AND ANYTHING ELSE HE COULD FIND THERE.
WHEN SUPERMAN LOST HIS SUPER POWERS HE WAS CONFRONTED BY OTHER MEMBERS OF THE SUPER LEGION OF HEROES. "YOU CAN NO LONGER WEAR THAT UNIFORM?", BATMAN TOLD HIM. "STRIP HIM?", BATMAN ORDERED. THE OTHER MEMBERS OF THE SUPER LEGION OF HEROES, RIPPED SUPERMANS SUPER SUIT OFF, STRIPPING HIM NAKED. "GET OUT", BATMAN ORDERED, ONCE SUPERMAN WAS NAKED. FUCK THEM ALL, SUPERMAN THOUGHT TO HIMSELF. EX-SUPERMAN WAS SENT FROM THE SUPER LEGION SHIP, ORBITING BEHIND THE MOON, BY A WORM HOLE CHUTE, BACK TO EARTH. SUPERMAN LANDED NAKED AND ENRAGED. ONLY I MATTER NOW, I WILL DO WHAT I WANT, TAKE FROM THE WORLD, GO AND MAKE IT MINE, HE THOUGHT TO HIMSELF. SUPERMAN OR THE ALIEN THAT WAS SUPERMAN, SAW A DRUG LORD ON A MOBILE. THE DRUG LORD HAD WHAT SUPERMAN NEEDED, CLOTHES, MONEY. WITH MONEY, CAME POWER, TO DO WHAT YOU WANT. EXSUPERMAN GRABBED THE DRUG LORD AND EASILY OVER POWERED HIM. ALTHOUGH EXSUPERMAN HAD LOST HIS SUPER POWERS, HE WAS STILL TWICE AS STRONG, AS NORMAL HUMAN BEINGS. HE STRIPPED THE THUG, TAKING HIS CLOTHES AND MONEY. AFTER A MONTH OF NIGHTS FILLED WITH RELIEVING THUGS OF MONEY, CLOTHES, DRUGS. SUPERMAN, NOW ROGUE MAN, PURCHASED A MOTOR BIKE. HE HAD THOUSANDS OF DOLLARS IN CASH AND DIAMONDS HIDDEN IN HIS SHOES.
ROGUE MAN CROSSED THE ATLANTIC BY PLANE, HEADING FOR TIRIS ZEMMOUR, A AREA OF HOT DESERT, THAT WAS PRETTY LAWLESS AND ONLY THE STRONG AND HARDEST RULED. ROGUE MAN RODE OFF ON HIS MOTOR BIKE AND WAS WAVED OFF BY THE CREW OF THE CARGO PLANE. THEY WERE UNLOADING GUNS, TO SELL TO THE LOCAL WAR LORDS. AS HE RODE THROUGH THE DESERT, ROGUE MAN ENJOYED THE VIBRATIONS FROM THE MOTOR BIKE ENGINE. ROGUE MAN HOISTED UP HIS T-SHIRT AND YANKED THE FRONT OF HIS JEANS DOWN. THE VIBRATIONS MADE HIS COCK ENLARGE AND HE CUM AGAIN AND AGAIN. BUT THE HILLS HAD EYES AND HE WAS BEING WATCHED. THE SUN WAS SETTING WHEN ROGUE MAN CAME TO AN INN, AT THE FOOT OF A HILL. ON THE SUMMIT OF THE HILL, WAS THE FORTRESS OF THE LOCAL WAR LORD. ROGUE MAN TOOK A ROOM AND WAS EATING HIS EVENING MEAL SERVED BY A BOY IN AN APRON. WHEN THE BOY RETURNED TO THE KITCHEN, ROGUE MAN NOTICED THE YOUNG GUY WAS NUDE UNDER HIS APRON THE SIGHT OF THE NUDE BACK OF THE YOUNG BOY AND HIS BOG COCK, HANGING DOWN, MADE ROGUE MAN HARD. "GIVE ME TEN DOLLARS AND HIM ONE DOLLAR?", THE INN OWNER SAID. "THEN YOU CAN JIG, JIG, ALL NIGHT", HE ADDED. ROGUE MAN FUCKED THE BOY FOR HOURS WATCHED BY THE INN KEEPER. AFTER WATCHING FOR AN HOUR THE INN KEEPER, WENT TO THE COURTYARD AND EMPTIED THE PETROL TANK, OF ROGUE MAN'S MOTOR BIKE. HE THEN WENT UP TO THE FORTRESS TO SEE THE WAR LORD.
THE NEXT MORNING ROGUE MAN FOUND HE HAD RUN OUT OF PETROL. THE INN KEEPER TOLD ROGUE MAN, TO GO UP TO THE FORTRESS AND THE WAR LORD WOULD SELL HIM SOME PETROL. ROGUE MAN WAS FORCED TO PUSH THE HEAVY MOTOR BIKE, ALL THE WAY UP TO THE FORTRESS, IN THE BLAZING HEAT. ROGUE MAN WAS SWEATING HEAVILY, BY THE TIME HE GOT THERE. ROGUE MAN WAS TAKEN TO THE WAR LORD WHO WAS SAT ON NAKED A SLAVE. ROGUE MAN TOLD THE WAR LORD HE NEEDED TO BUY SOME PETROL. "I WILL NOT SELL YOU PETROL", THE WAR LORD, TOLD ROGUE MAN. "BUT IF YOU WORK ON MY CORN GRINDER FOR A DAY, I WILL GIVE YOU ALL YOU NEED", THE WAR LORD ADDED. "WELL OK, I NEED THE PETROL", ROGUE MAN REPLIED, NOT HAPPY WITH THE OFFER, BUT HAVING NO CHOICE. ROGUE MAN WAS TAKEN TO THE COURT YARD AND WAS SHOWN THE CORN GRINDER. "HERE IT IS, START PULLING, IF YOU WANT THE PETROL?", THE WAR LORD SAID. ROGUE MAN STARTED PULLING THE CORN GRINDER, NOT EXPECTING IT TO BE SO HARD. WHEN HE WAS SUPERMAN NOTHING LIKE THIS WAS HARD. ROGUE MAN STARTED TO SWEAT AGAIN, AS THE SUN BEAT DOWN MERCILESSLY. AN HOUR PASSED, BY WHICH TIME, HE WAS SWEATING BUCKETS. ROGUE MAD STRIPPED OFF HIS TOP AND HE ASKED THE WAR LORD FOR WATER. "DRINK?", THE WAR LORD SAID, AS HE GAVE ROGUE MAN, A SKIN OF WATER. ROGUE MAN DRANK DEEPLY, HE WAS VERY THIRSTY. THE WATER HAD BEEN DRUGGED. THE DRUGGED ROGUE MAN, WAS STRIPPED NAKED, BY ONE OF THE WAR LORD'S GUARDS. THEN HE WAS TAKEN TO THE SMITHY, WHERE THE BLACK SMITH, WAITED BESIDE, A HOT, BURNING, FORGE. MALE DOMINATION AND SLAVERY. €15