GEORGE 'G' MIXED FIGHTING STORIES PAGE
New mixed storybook extracts blog 'battle-annals mixed fighting stories extracts' read extracts from the mixed storybooks available here on the new blog
http://battleannalsmixedfight.blogspot.com
GEORGE 'G' MIXED FIGHTING STORIES LIST
1 FAMILY WRESTLING PARTS 1 AND 2.
PART 1
THE NELSON FAMILY HAS A SECRET THEY ARE ALL WRESTLERS IN THE FAMILY PROFESSIONAL WRESTLING FEDERATION. THE FATHER DALE NELSON 36 RING RECORD IS 14 MATCHES WON AND 2 LOST IN THE SENIOR DIVISION AND RANKED SECOND. THE MOTHER VIVIAN NELSON 25 RING RECORD IS 14 WINS AND 2 LOSSES AND IS RANKED SIXTH IN THE SENIOR DIVISION. THE DAUGHTER MONICA 18 WHO HAD RECENTLY JOINED THE SENIOR DIVISION HER RING RECORD IS 1 WIN AND NO LOSSES AND E JUNIOR DIVISION RECORD WAS 13 WINS TO TWO LOSSES. THE SON BRAD 15 RING RECORD 8 WINS TO TWO LOSSES IN THE JUNIOR DIVISION AND IS RANKED FOURTH.
DALE 36 IS CALLED TO THE RING FIRST AND IS SHOCKED WHEN HIS OPPONENT IS HIS DAUGHTER MONICA 18 IN A FATHER V DAUGHTER MATCH. DALE IS SLOW TO START BUT THEN ATTACKS MONICA NEARLY MANAGING TO PIN HER TWICE. MONICA WHO REALISES HE FATHER IS WRESTLING TO WIN AND BEAT HER FIGHT BACK AS HARD AS HE CAN. MONICA DOWNS DALE WITH AHEAD KICK AND PUNISHES HIS LEG UNTIL DALE IS ABLE TO GRAB THE ROPES AND FREE HIMSELF. THEY BATTLE ON FOR 18 MINUTES AND APPLY PUNISHING HOLD TE EACH OTHER. MONICA KEEPS WORKING ON DALE'S LEGS SLOWING HIM DOWN. MONICA BODY SLAMS AND POSTS DALE TO LEAVE HIM DOWN IN THE CENTRE OF THE RING. MONICA APPLIES A STANDING LEG LOCK TO DALE'S ALREADY HEAVILY PUNISHED LEG. MONICA PUNISHES DALE WITH THE STANDING LEG LOCK FOR SEVERAL MINUTES THE APPLIES A FIGURE FOUR LEG LOCK AND MAKES DALE HE FATHER SUBMIT. THE SAME NIGHT VIVIAN WON PINNING HER OPPONENT BRIDGET O'RILLEY IN ONLY SIX MINUTES. BRAD BEAT THE NUMBER 2 CONTENDER JACK GARNS 17 WITH A BOSTON CRAB AFTER 18 MINUTES OF HARD WRESTLING.
PART 2
WITH SUMMER OVER THE WRESTLING SEASON STARTS AGAIN FOR THE NELSON FAMILY. AFTER HIS FEAT BY HIS DAUGHTER MONICA DALE IS NOW RANKED FOURTH IN THE SENIOR DIVISION. MONICA HAD MOVED UP FROM UNRANKED TO FIFTEENTH IN THE SENIOR DIVISION AFTER HER WIN AGAINST DALE. VIVIAN IS NOW RANKED FIFTH IN THE SENIOR DIVISION AFTER HER WIN OVER BRIDGET O'RILLEY. BRAD THANKS T HIS WIN AGAINST THE SECOND CONTENDER JACK GARNS HAS REPLACED HIM AS SECOND CONTENDER FOR THE JUNIOR DIVISION.
BRAD 15 WRESTLES FIRST EASILY PINNING HIS OPPONENT THE LOW RANKED BRIDGETT LOUIS 17 IN JUST FIVE MINUTES. DALE 36 WRESTLES NEXT TAKING ON MARK CLARK 24 RANKED EIGHT IN THE SENIOR DIVISION. DALE AND MARK BATTLE IT OUT WITH 42 MINUTES OF TOUGH WRESTLING UNTIL DALE SLAMS AND PINS MARK FOR A THREE COUNT.
NEXT UP IS MONICA 18 AGAINST ELAINE MACAFEE 28 RANKED NINE IN THE SENIOR DIVISION. ALTHOUGH OLDER ELAINE IS NO MATCH FOR MONICA AND IS FORCED TO SUBMIT TO A FIGURE FOUR LEG LOCK AFTER ONLY 12 MINUTES.
VIVIAN 35 HER BOUT IS THE MAIN EVENT OF THE EVENING AGAINST NICK VALTERI 24 RANKED SECOND IN THE SENIOR DIVISION. NICK VALTERI ATTACKS AND BATTERS VIVIAN WITH KICK AND CLOTHES LINES AND A SUPLEX. FOR FIVE MORE MINUTES NICK KNEE LIFTS, ELBOW DROPS, AND BODY SLAMS. NICK THEN TRAPS VIVIAN IN A PUNISHING CAMEL CLUTCH BUT VIVIAN REFUSES TO SUBMIT AND MANAGES TO GRAB THE ROPES TO FREE HERSELF. VIVIAN WEARY AND BATTERED ONLY MANAGES TO GET UP AT 18 OF A TWENTY COUNT. NICK SHOWS NO MERCY AND BATTERS VIVIAN FOR FIVE MINUTES BEFORE POSTING HER. GOING FOR THE WIN NICK CHARGES INTT HE CORNER WHERE VIVIAN WAS SLUMPED AGAINST THE ROPES. AS NICK FLIES THROUGH THE AIR UNABLE TO STOP VIVIAN DROVE HER ELBOW INTO NICK HEAD SNAPPING HIS HEAD BACK AND LET HIS CRASH INTO THE TURNBUCKLES. NICK IS NOW DOWN AND TAKES A POUNDING FROM VIVIAN SLOWLY WEARING HIM DOWN UNTIL SHE MAKES HIM SUBMIT WITH A ROMEO CEILING HOLD.
TOUGH MIXED WRESTLING ACTION FROM G €2.00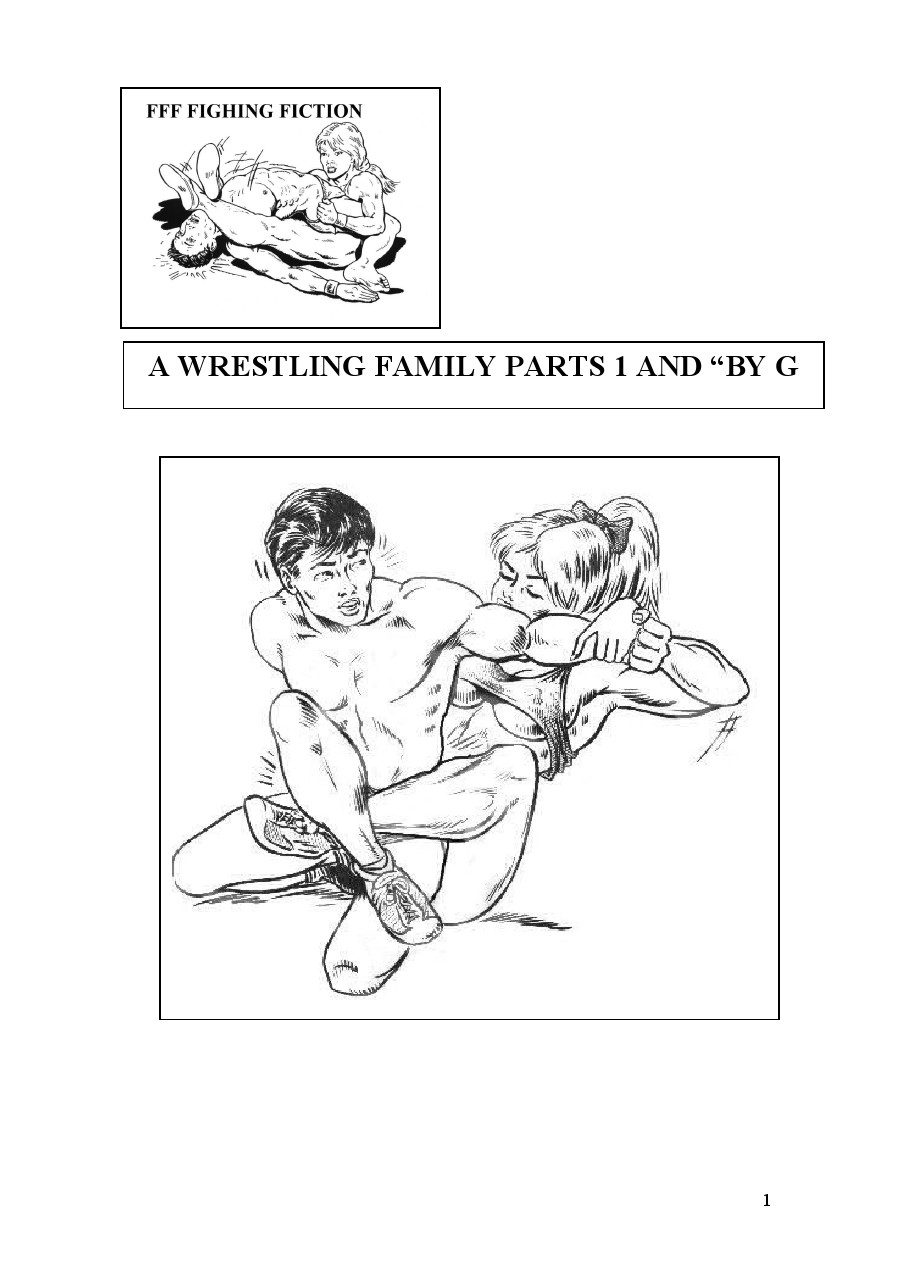 2 FAMILY WRESTLING PARTS 3, 4 AND 5.
PART 3
DALE 36 REMAINS AS THE NUMBER 4 RANKED WRESTLER IN THE SENIOR DIVISION. VIVIAN 35 MOVES UP TO BE AHEAD OF DALE AD THE THIRD CONTENDER OF THE SENIOR DIVISION. MONICA IS HE WIN MOVES HER UP TO THE NINTH CONTENDER OF THE SENIOR DIVISION. BRAD 15 HIS WIN MAKE HIM THE NUMBER ONE CONTENDER OF THE JUNIOR DIVISION.
MONICA WRESTLES FIRST WRESTLING MAX KLIMMER 36 THE SIX CONTENDER OF THE SENIOR DIVISION. MAX ALTHOUGH LARGER THAN MONICA SHE MANAGES TO HOLD HER OWN AGAINST HIM AND THEY WRESTLER HARD FOR 12 MINUTES. MONICA PUT MAX ON HS BACK WITH A BODY SLAM AND TRAPS HIM A FIGURE FOUR LEG LOCK GETTING ANOTHER SUBMISSION WITH THE PAINFUL HOLD.
DALE WRESTLES NEXT AGAINST AMY LYNN FERGUSON 19 WITH TOW YEARS EXPERIENCE IN THE SENIOR DIVISION WINNING 8 MATCHES AND FOUR LOSES AND IS RANKED THIRTEENTH. IT TAKE DALE ONLY 4 MINUTES TO OVERWHELM AMY LYNN KNOCKING HER OUT WITH A SLEEPER HOLD.
VIVIAN TAKES ON AN UNRANKED WRESTLER KEN RUSSELL. VIVIAN EASILY DEFEATS KEN IN JUST NINE MINUTES FINISHING WITH A BULL DOGGING AND CEILING HOLD.
BRAD WRESTLES IN THE MAIN EVENT OF THE NIGHT AGAINST THE CHAMPION OF THE JUNIOR DIVISION JASON RILEY 17. BRAD AND JASON WRESTLE HARD APPLYING TOUGH HOLDS AND POUNDING EACH OTHER FOR SEVENTEEN MINUTES BUT BRAD HAD BEEN INFLICTING MORE PUNISHMENT ON JASON FOR LAST FEW MINUTE. BRAD DOWNS JASON WITH A WHIP TO THE ROPES AND KNEE TO THE BELLY. BRAD APPLIED A CHIN LOCK AND PRESSED HIS KNEE INTO JASON'S BACK MAKING HIM SUFFER BUT JASON REFUSED TO SUBMIT. BRAD BODY SLAMS JASON THREE TIMES THEN PINS HIM FOR A THREE COUNT TO WIN AND BECOME JUNIOR DIVISION CHAMPION.
PART 4.
DALE REMAINS AS THE FIFTH RANKED WRESTLER OF THE SENIOR DIVISION. VIVIAN IS NOW RANKED THIRD IN THE SENIOR DIVISION. MONICA HAD MOVES UP TO SIXTH CLOSE TO HER FATHERS RANKING. BRAD IS NOW THE JUNIOR DIVISION CHAMPION.
BRAD WRESTLES FIRST FOR THE NELSON FAMILY AGAINST AMY MONTGOMERY 16 THE NEW NUMBER TWO CONTENDER. BRAD BEAT AMY AFTER 17 MINUTES WITH AN ABDOMINAL STRETCH.
VIVIAN WRESTLED NEXT AGAINST MADELINE FERGUSON MAKING THE NUMBER TWO CONTENDER. VIVIAN MADE MADELINE SUBMIT WITH A BOSTON CRAB AFTER ELEVEN MINUTES OF TOUGH RING ACTION.
MONICA WAS NEXT AGAINST MIKE MONTGOMERY 34 RANKED FOURTH FATHER OF AMY WHO HAD JUST LOST AGAINST BRAD. AS THEY HOOK UP MIKE IS CLEARLY WORRIED BY MONICA'S STRENGTH. MONICA TAKES CONTROL OF THE MATCH AND PUNISHES MIKE FOR NINE MINUTE UNTIL HIS SWEATING AND IN PAIN AND FINISHED HIM OFF WITH HER INFAMOUS FIGURE FOUR LEG LOCK BEATING THE NUMBER FOUR CONTENDER.
DALE TAKES ON HEIDI HARRIS. AS THEY LOCK UP HEIDI TRAPS DALE IN A PAINFUL HAMMERLOCK AND KEEPS HIM IN IT FOR A COUPLE OF MINUTES UNTIL HE IS ABLE TO REACH THE ROPES. HEIDI PUNISHES DALE AGAIN TRAPPING IN A PAINFUL SURFBOARD. DALE ONLY ESCAPES BY USING THE ROPES AGAIN. WHEN HEIDI ATTACKS AGAIN DALE SLAMS HER TO THE RING TWICE. THEY WRESTLE ON GIVING AND TAKING PAINFUL HOLS FOR HOLDS FOR 35 MINUTES NEITHER ABLE TO GET THE OTHER TO SUBMIT. AFTER ANOTHER 10 MINUTES HEIDI TAKES CONTROL SLAMMING DALE REPEATEDLY TO THE RING.AS HEIDI TRIES FR ANOTHER BODY SLAM DALE SCOOPS HEIDI UP INSTEAD AND SLAMS HER THEN PINS HER FOR A THREE COUNT WITH A SPADDLE ROLL PIN TO WIN THE MATCH ON THE POINT HE LOOKED LIKE LOSING.
PART 5
DALE IS GIVEN A SURPRISE TITLE SHOT FOR THE SENIOR DIVISION AGAINST THE CHAMPION TINA TINARRI. BRAD 15 THE JUNIOR CHAMPION TAKES ON JEREMY ALLEN 17 RANKED SIXTH IN THE JUNIOR DIVISION JEREMY'S RING RECORD IS 17 WIN AND 9 LOSSES. JEREMY DOMINATES THE MATCH AND BRAD FOR THE FIRST 15 MINUTES NEARLY PINNING BRAD SEVERAL TIMES. JEREMY POSTS THE WEARY BATTERED CHAMPION AND THEN CHARGES INTO THE CORNER TO CRUSH BRAD INTO THE TURNBUCKLES. BUT AT THE LAST SECOND BRAD MOVES ASIDE AND JEREMY CRASHES INTO THE TURNBUCKLES. BRAD STOMPS AND BODY SLAMS JEREMY REPEATEDLY THEN MAKE HIM SUBMIT WITH AN OVERHEAD CEILING HOLD.
VIVIAN 35 RANKED 3 TAKES ON LYNN RENOLDS 19 WHO'S RING RECORD IS 19 WINS AND 3 LOSSES. THIRTEEN MINUTES INTO THE MATCH AFTER SOME HARD FOUGHT WRESTLING VIVIAN MANAGES TO PIN LYNN TO TAKE THE MATCH.
MONICA 18 RANKED NUMBER SIX TAKES ON THE NUMBER 4 CONTENDER NICK LABELLA 22. IT TAKES MONICA ONLY 3 MINUTES T GET A SUBMISSION FROM NICK WITH HER FAVOURITE HOLD THE FIGURE FOUR LEGS LOCK.
THE FINAL MATCH IS THE FWL SENIOR TITLE MATCH BETWEEN DALE AND THE CHAMPION TINA TINARRI. TINA ATTACKS DALE WHILE HIS BACK IS TURNED AND BEFORE THE BELL IS SOUNDED. SHE MONKEY FLIPS HIM TO THE RING THEN TRAPS HIM IN A HEAD SCISSORS. DALE IS PUNCHES IN THE HEAD SCISSOR FOR TWO MINUTES BEFORE HE CAN GET TO THE ROPES. TINE TRAPS DALE IN HAMMERLOCK AND CROSS FACE WHICH SHE CHANGES TO A STANDING SURFBOARD. TINA PUNISHES DALE UNTIL HE CAN GET TO THE ROPES AGAIN. TINE FORCE DALE INTO A CORNER AND DRIVES HER KNEE INTO HIS BELLY AND PRESSES HER FOREARM INTO HIS NECK CHOKING HIM. THE REFEREE MAKES TINE BREAK THE HOLD AND DALE SLUMPS TO THE RING IN THE CORNER. THE REF COUNTS DALE WHO JUST MANAGES TO PULL HIMSELF UP AT 12. TINA CONTINUES TO BATTER AND POUND DALE BODY SLAMMING HIM TO THE MAST WITH NO ATTEMPT TO PIN HIM. AS TINE FINALLY TRIES TO FINISH OF DALE HE REVERSES THE POSITION BY BULL DOGGING TINA TO THE RING. DALE THEN PILE DRIVES TINA'S HEAD INTO THE RING BEFORE WEARILY PINNING HER FOR A THREE COUNT. DALE WINS AND BECOMES THE NEW SENIOR DIVISION CHAMPION.
MORE TOUGH MIXED WRESTLING ACTION FROM G €3.00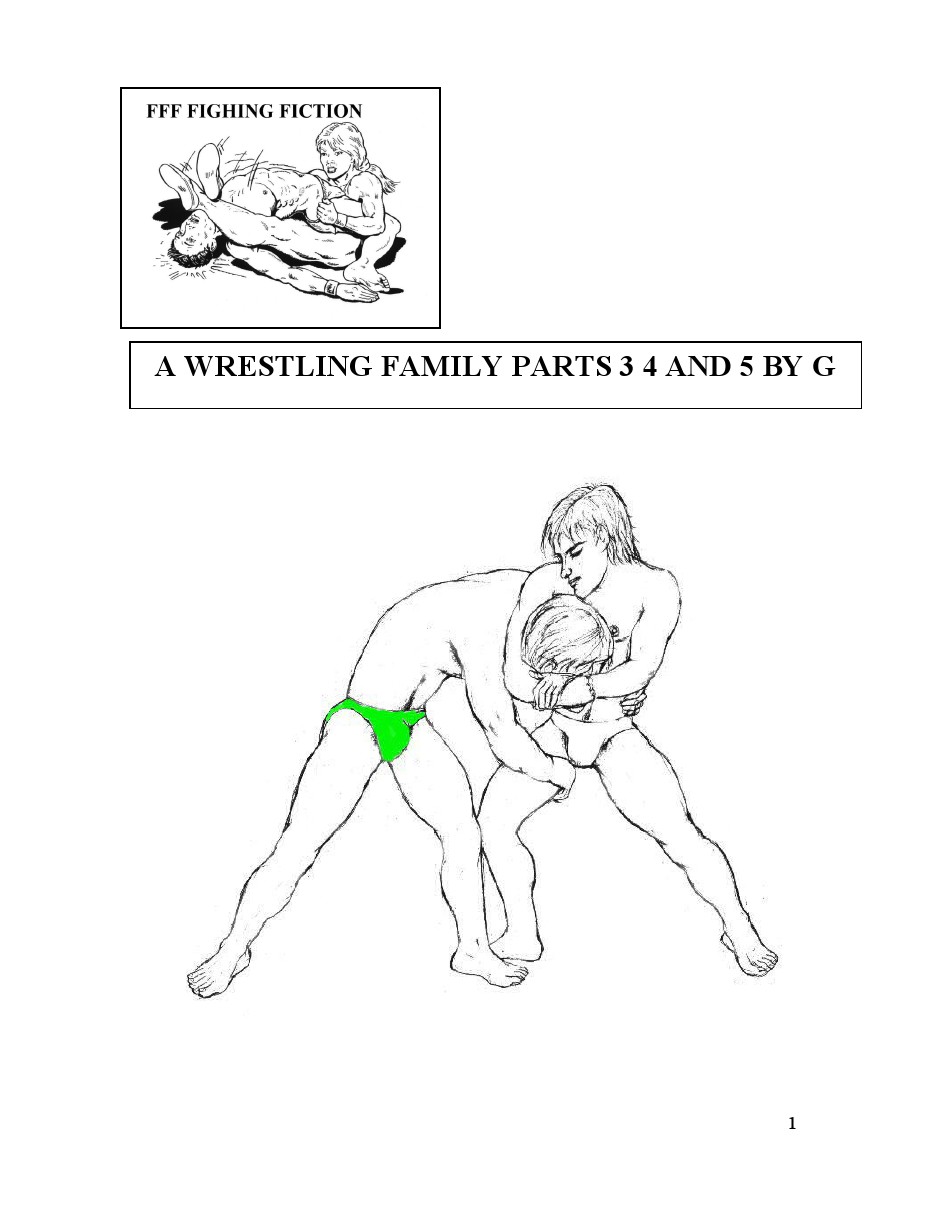 3 FAMILY WRESTLING PART 6.
MONICA 18 WRESTLE CINDY RYAN 28. BOTH BATTLE BACK AND FORTH FOR OVER TWENTY MINUTES UNTIL MONICA IS ABLE TO TRAP A WEARY CINDY IN HER FAVOURITE FIGURE FOUR LEG LOCK TO WIN BY SUBMISSION.
VIVIAN TAKES ON TWO TIME SENIOR CHAMPION LARRY PORTER 44. VIVIAN DOMINATES THE MATCH AND LARRY PINS HIM TO WIN IN JUST OVER 9 MINUTES.
DALE THE SENIOR CHAMPION DEFENDS HIT TITLE AGAINST UNRANKED ESTELLE MASSEY 40. DALE POUNDS ESTELLE FOR 7 MINUTES THEN KO'S HER WITH A SLEEPER HOLD TO WIN.
BRAD NOW 16 JUNIOR CHAMPION TAKES ON ASHLEY HARRIS 15 HIS GIRL FRIEND. ASHLEY BATTERS AND POUNDS BRAD FOR 22 MINUTES INTO A PAINFUL SUBMISSION TO WIN THE TITLE AND BECOME THE NEW JUNIOR CHAMPION.
MORE TOUGH MIXED WRESTLING ACTION FROM G €2.00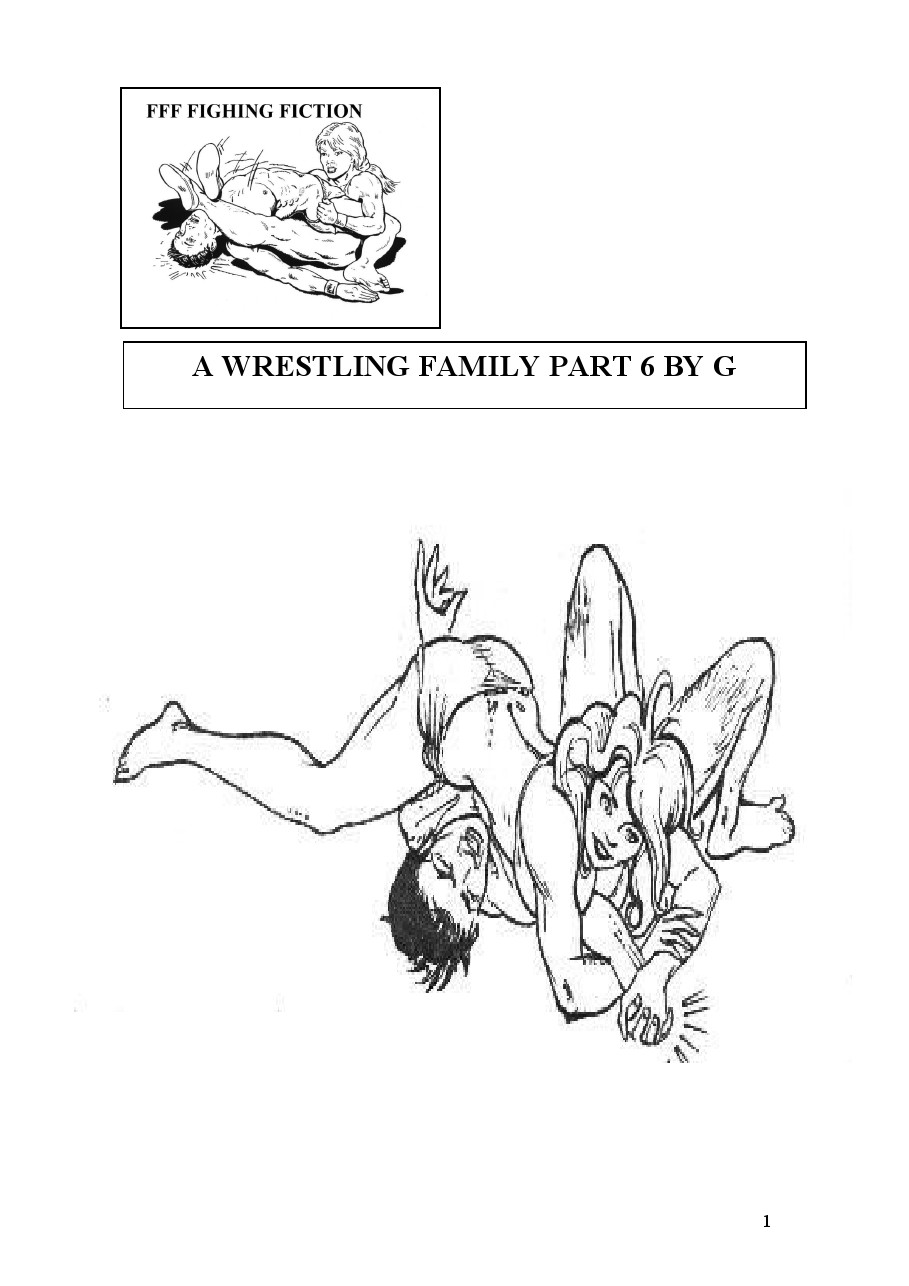 4 FAMILY WRESTLING PART 7. A NEW FAMILY THE LEES JOINS THE LEAGUE FROM THE WEST COAST. THEIR DAUGHTER LACY LYN LEE 14 TAKES ON HECTOR RIVERA 14. AFTER JUST SEVEN MINUTES LACY LYN MAKES HECTOR SUBMIT WITH A COBRA CLUTCH.
VIVIAN TAKES ON THE FATHER TODD LEE 31. TODD BATTERS VIVIAN FOR 11 MINUTES BEFORE MAKING HER SUBMIT TO A CROSS SHOULDER BACK BREAKER.
MONICA 18 TAKES ON THE SON JAMES LEE 18. JAMES ATTACKS MONICA AND TURNS INTO A ONE SIDE MATCH REALLY MAKING MONICA SUFFER BEATING HER WITH HER OWN FAVOURITE THE FIGURE FOUR LEG LOCK.
DALE SENIOR DIVISION CHAMPION 36 TAKES ON THE MOTHER SUE LYN LEE 29 THE LA LEAGUE CHAMPION. SUE LYN ATTACKS DALE AND MAKES HIM SUFFER WITH ATTACKS ON HIS BELLY SUBJECTING HIM TO ONE FORM OF PAINFUL GUT PUNISHMENT AFTER THE OTHER. SUE LYN FINISHED DALE OFF WITH A BRUTAL AB CLAW MAKING HIM SUBMIT AFTER ONLY JUST OVER THREE MINUTES SHE IS THE NEW SENIOR DIVISION CHAMPION. THE LEE FAMILY HAVE CERTAINLY LEFT THEIR MAKE ON THE NELSONS.
BRAD 17 AND EX JUNIOR DIVISION CHAMPION HAS A REMATCH WITH THE NEW CHAMPION ASHLEY HARRIS 16 HIS EX GIRLFRIEND AS CHANCE TO WIN BACK HIS TITLE. BRAD TAKES CONTROL OF THE MATCH PUNISHING ASHLEY WITH BODY AND LEGS HOLDS BUT HE CANNOT GET ASHLEY TO SUBMIT. BRAD CONTINUES TO MAKE ASHLEY SUFFER BUT NEVER QUITE GETTING THREE COUNT TO WIN. AFTER MORE THAN TWELVE MINUTES BRAD HAS ASHLEY ON THE POINT OF DEFEAT AND IS ABOUT TO SLAM HER ONCE AGAIN WHEN SHE BULL DOGS HIM TO THE RING. ASHLEY BODY SLAMS BRAD AND THEN START TO PUNISH HIM TAKING CONTROL OF THE MATCH AFTER BEING CLOSE TO DEFEAT. SHE WEAKENS AND EARS BRAD DOWN FINALLY TRAPPING HIM IN AN ABDOMINAL STRETCH THAT SHE APPLIES MERCILESSLY. WHEN BRAD WILL NOT SUBMIT ASHLEY APPLES AND AB CLAW THE BRAD'S STRETCH GUTS. THE ADDED PAIN AND SUFFERING MAKES BRAD SUBMIT BUT ASHLEY DOES NOT RELEASE BRAD AND CONTINUES TO MAKE HIM SUFFER WITH THE BRUTAL COMBINATION HOLD. ASHLEY HAD RETAINED HER TITLE AND BEATEN BRAD AGAIN.
EVEN MORE TOUGH MIXED WRESTLING ACTION FROM G €3.50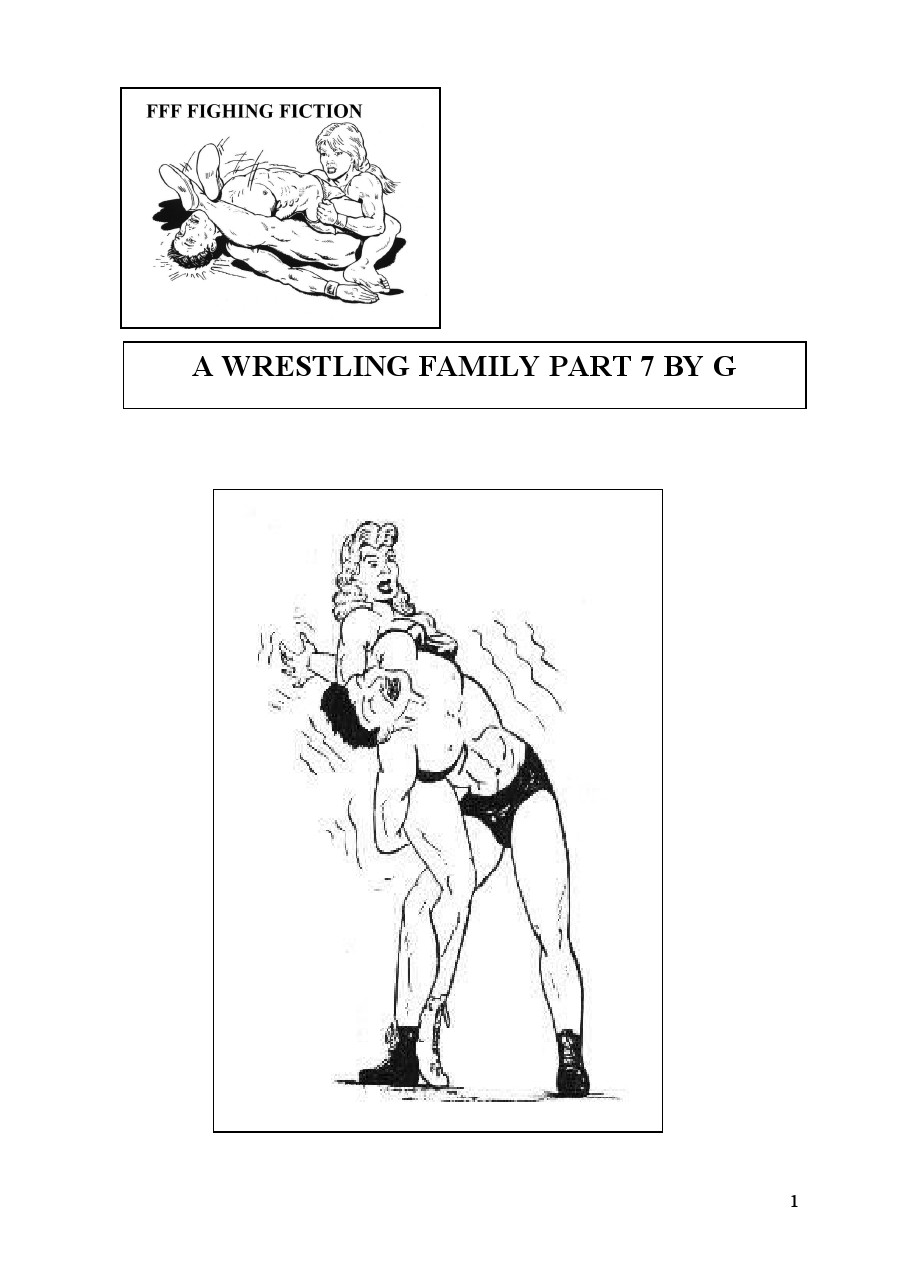 5 FAMILY WRESTLING PART 8. THE NELSON FAMILY HAS FALLEN FROM GRACE AND ARE ALL LOWLY RANKED WRESTLERS IN THE LEAGUE THIER CONTINUANCE AS WRESTLER IN THE FAMILY PROFESSIONAL WRESTLING V FEDERATION DEPEND ON THEIR IMPROVED PERFORMANCES .
BRAD 18 TAKES ON STUART GREEN 37. STUART STARTS OF WELL AND BRAD LOOKS IN LINE FOR ANOTHER DEFEAT. AFTER BEING WORKED ON FOR 4 MINUTES BRAD CATCHES STUART WITH AN ELBOW STRIKE TO THE BELLY. BRAD TURNS THE TABLES AND WORKS ON STUART AND TWO MINUTES LAT MAKE HIM SUBMIT IN A BOSTON CRAB.
VIVIAN 36 TAKES ON JULIE GREEN 36 WIFE OF STUART GREEN. VIVIAN QUICKLY AND EASILY BEATS JULIE TO WIN THE MATCH.
MONICA BEATS HELEN WARD NEXT AND DALE GET A FORTUNATE SUBMISSION FROM REBECCA ADAMS AFTER A LONG HARD FOUGHT MATCH.
THE NELSON FAMILIES WRESTLING FORTUNES IMPROVE SLIGHTLY BUT AS LOW RANKED WRESTLERS THEY ARE STILL AT THE MERCY OF THE PROMOTER. PROMOTER HAD NEW IDEA A TAG TEAM DIVISION AND THE NELSONS AND LINED UP FOR IT.
THE FIRST TAG MATCH IS BETWEEN KEN AND JUDIE RUSSELL AGAINST TIM AND WILLIAM LEWIS. THE LEWIS BROTHERS WIN THE LONG HARD FOUGHT MATCH THREE FALLS TO ONE.
NEXT IN THEIR FIRST TAG TEAM MATCH DALE AND BRAD NELSON TAKE ON VIVIAN AND MONICA NELSON IN A SPECIAL INTER FAMILY BOUT. DALE STARTS AGAINST VIVIAN AND IS SOON IN TROUBLE HE POUNDED AND BEATEN REPEATEDLY BY HIS WIFE AND DAUGHTER AND PREVENTED FORM TAGGING. VIVIAN FINALLY GETS DALE'S SUBMISSION WITH A CROSS KNEE BACK BREAKER. WHEN THE MATCH RESTARTS DALE TAGS BRAD AND BRAD TURNS THE MATCH AROUND PUNISHING HIS MOTHER. WITH HIS FATHER TOO WEARY TO HELP HIM BRAD HAS TO WRESTLE ALONE AND WHEN HER TIRES HE GETS DOUBLE TEAMED Y HIS MOTHER AND SISTER. ON THE BRINK OF BEING MADE TO SUBMIT AFTER REPEATED DOUBLE TEAMING BRAD IS RESCUED BY HIS FATHER NOW ABLE TO GET BACK IN THE MATCH ON THE POINT OF SUBMITTING TO VIVIAN. WITH VIVIAN DOWN BRAD TRIES TO TAG HIS FATHER BUT IS ATTACKED BY MONICA HIS SISTER. HOWEVER MONICA'S ATTACK DRIVES BRAD INTO HIS DALE WHO MAKES THE TAG. DALE DOWNS MONICA WITH A DOUBLE DROP KICK AND THEN STARTS ON VIVIAN SUPLEXES HER FOUR TIMES. DALE THEN PINS VIVIAN FOR A THREE COUNT TO TAKE THE SECOND FALL.
WHEN THE MATCH RESTARTS DALE TRAPS VIVIAN IN A CAMEL CLUTH SHE IS RESCUED BY MONICA WHO INTERVENES WITH KICK TO THE BACK OF DALE'S NECK. BRAD ENTERS THE RING TO TAKE ON HIS SISTER AND IS DOWNED WITH HIGH KICK FROM HER TO HIS HEAD. MONICA HELPS HER MOTHER UP AS BRAD AND DALE BOTH LAY FLAT OUT IN THE RING. MOTHER AND DAUGHTER PIN FATHER AND SON. MONICA PINS DALE AND VIVIAN PINS BRAD BUT THE ONLY GET A TWO COUNT. THE LADIES WIN THE GUYS AND SEND THEM CRASHING TOGETHER. MONICA AND VIVIAN TRAP DALE AND BRAD IN CROSS KNEE BACK BREAKERS THEN SUPLEX THEM AGAIN. VIVIAN PUTS BRAD IN A PAINFUL ABDOMINAL STRETCH AND REALLY MAKE HIM SUFFER. MONICA TRAPS DALE IN A MEXICAN DEATH LOCK. THE LADIES PUNISH THE MEN BUT THE MEN WILL NOT SUBMIT. IN RESPONSE VIVIAN APPLIES AND ABDOMINAL CLAW TO BRAD'S PAINFULLY STRETCHED ABDOMINALS. MONICA INCREASED THE PRESSURE OF HER MEXICAN DEATH LOCK. VIVIAN MAKE BRAD SUBMIT AFTER 18 MINUTES BT DALE STILL REFUSES TO SUBMIT. MONICA INCREASES DALE'S SUFFERING AND MAKES HIM SUBMIT. MONICA RELUCTANTLY RELEASES HER FATHER AFTER KEEPING IN THE MEXICAN DEATH LOCK EVEN AFTER HIS SUBMISSION. MOTHER AND DAUGHTER HAVE WON THE INTER FAMILY TAG MATCH.
EVEN MORE TOUGH MIXED WRESTLING ACTION FROM G €3.50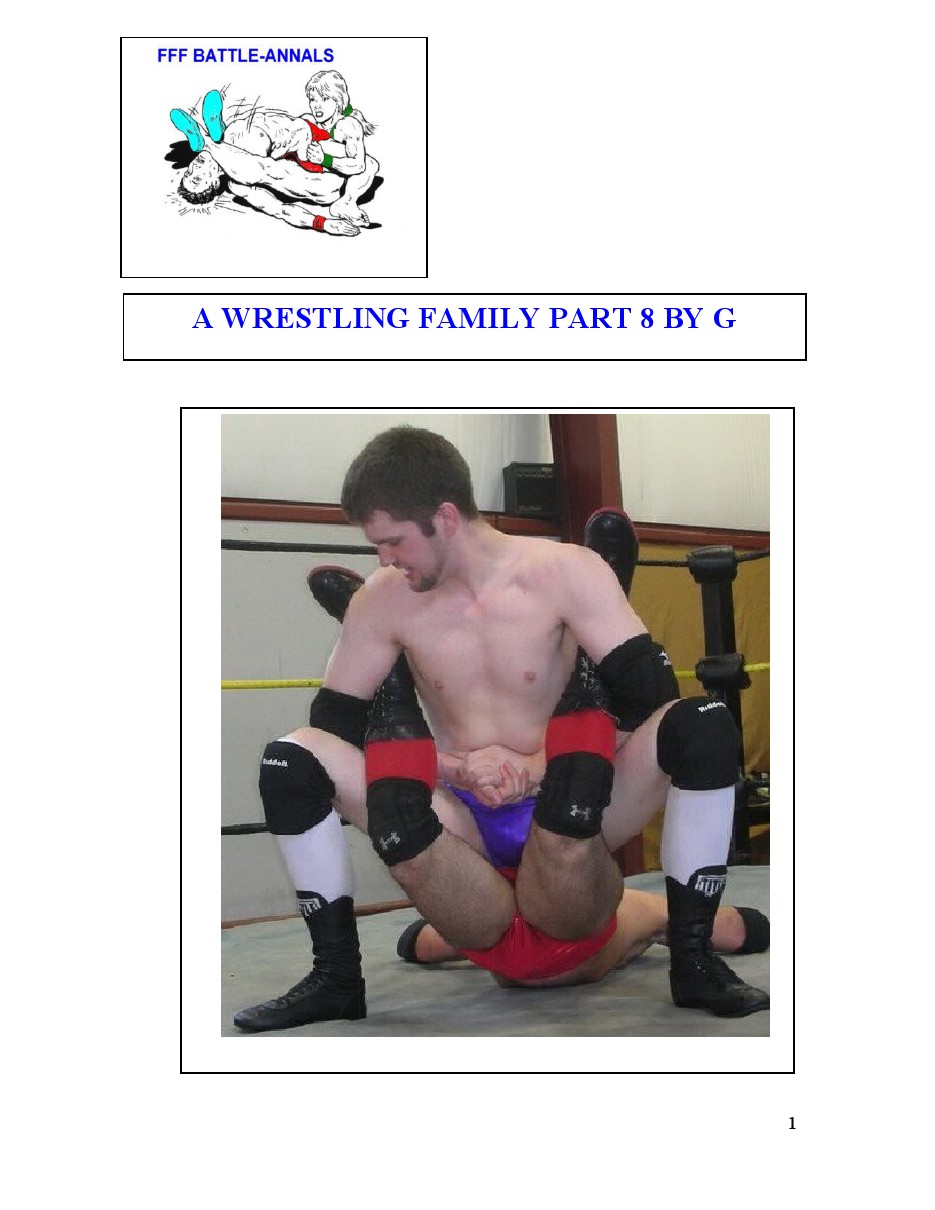 6 PRO TEENS PART 1 AND 2.
PART 1
THE PWF PRIVATE WRESTLING FEDERATION ARENA IS FILLED FOR A SPECIAL CARD OF PRO WRESTLING FEATURING YOUNG WRESTLERS OF THE YOUTH DIVISION. WRESTLING TONIGHT IS JASON BECK 14 A BLOND BLUE EYED TENTH GRADER. JASON HAD WRESTLED 7 TIMES WITHOUT BEING DEFEATED. JASON'S OPPONENT IS MEGAN STEWART 13 SHE HAD WRESTLED TWICE AND HAS 2 WINS THIS WILL BE HER THIRD MATCH.
AS THEY LOCK UP MEGAN TRAPS JASON IN A HAMMERLOCK AND JASON FLIPS HER OVER HIS HEAD TO BREAK FREE. JASON GRABS HER CHIN FORM BEHIND AND PRESSES HIS KEEN INTO HER BACK MAKING MEGAN SUFFER BUT AFTER SOME SUFFERING SHE USES THE ROPES TO ESCAPE. THEY CARRY ON EXCHANGING HOLDS AND BLOWS. AFTER A FEW MINUTES MEGAN POSTS JASON AND TRIED TO SLAM HIM INTO THE CORNER POST BUT HE DRIVES HIS BOOT INTO HER CHEST. JASON APPLIES A STEP OVER TOE HOLD BU MEGAN LUCKILY ESCAPES USING THE ROPES. THE BATTLE ON GIVING AND TAKING FOR ANOTHER TWENTY MINUTES. JASON HAD BEEN MAKING MEGAN SUFFER TOWARD THE END WITH PAINFUL HOLD HE THEN SLAMS HE THREE TIMES AND TRIES FOR A THREE PIN BUT MEGAN KICKS OUT AT THE COUNT OF TWO. JASON POSTS MEGAN AND WAIT TO CATCH HER AND SLAM HE AGAIN. HOWEVER MEGAN TAKES JASON DOWN WITH A SURPRISE FLYING CROSS BODY KNOCKING HIM DOWN AND PUNISHING HIM WHILE HE'S DOWN. MEGAN THROWS JASON ALL AROUND THE RING MAKING HIM SUFFER THAN TRAPS HIM IN AN ABDOMINAL STRETCH. IN EXTREME PAIN INITIALLY JASON REFUSES TO SUBMIT BUT IS FORCED TO CONCEDE THE MATCH TO MEGAN THE END IN THE END.
PART 2
CHEERLEADER, WRESTLER& STUDENT. MEREDITH RUSSELL, MATTIE TO HER FRIENDS IN THE LEADER OF THE CHEERLEADERS FOR CHESTERWOOD MIDDLE SCHOOL AND ALSO A WRESTLER FOR THEM. CHESTERWOOD AND WRESTLING CENTRAL VALLEY JUNIOR HIGH. MATTIE 103 lb TAKES ON PAUL TAXEN 98 lb LAST YEARS CHAMPION. MATTIE BATTLES WITH PAUL TRYING TO PIN HIM DOWN IN A FIERCE STRUGGLE AND EVENTUALLY BEATS THE FORMER CHAMPION.
MATTIE THEN TAKES DEAN MC CANE 15 ON IN A PWF PRO TEENS MATCH. THEIR MATCH IS THIRD ON THE BILL. DEAN IS UNDEFEATED HIS RECORD 9 WINS AND NO LOSSES. THEY LOCK AND GRAPPLING HARD DEAN TRAPS MATTIE IN A FULL NELSON AND PUNISHES HER WITH IT FOR A COUPLE OF MINUTES. BUT SHE FINALLY ESCAPES AND STAGGERS DEAN WITH BOOT TO THE CHIN. SHE CLAMPS ON A HEADLOCK AND PULLS DEAN DOWN TO THE CANVAS. MATTIE PUNISHES DEAN WITH THE HEADLOCK UNTIL HE MANAGES TO GET HER IN A HEAD SCISSORS. MATTIE FINALLY MANAGES TO ESCAPE THE HEAD SCISSORS THEN DEAN WORKS REPEATEDLY ON HER ARM PUNISHING IT SHE MANAGES TO GET TO THE ROPES AND BREAK THE ARM LOCK. DEAN GES FOR MATTIE BUT SHE WHIPS HIM INTO THE ROPES AND KNEES HIM IN THE BELLY WHEN THE ROPES END HIM FLYING BACK ACROSS THE RING. MATTIE DROPS DEAN TO THE RING WHERE HE LAYS FACE DOWN SHE DELIVERS A LEG DROP TO HIS BACK. MATTIE TRAPS DEAN IN A SINGLE LEG BOSTON AND PUNISHES HIM WITH IT UNTIL HE MANAGES TO GRAB THE ROPES. DEAN IS SLOW TO START TRYING TO BUY TIME TO RECOVER ANGERED MATTIE CHARGES AT DEAN BUT IS DROPPED BY A DOUBLE FOOTED FLYING KICK TO HER CHEST PERFORMED AT THE LAST MOMENT. MATTIE IS DOWNED AND SHORT OF BREATH. DEAN TRAPS MATTIE IN ANOTHER HEAD SCISSORS AND PUNISHES HER WITH IT FOIL ALL ATTEMPTS TO BREAK THE HOLD KEEPING MATTIE DOWN WITH BELLY PUNCHES. DEAN PINS MATTIE DOWN AND ALMOST GETS A THREE COUNT. THREE TIES HE TRIES AND GRABS HER TIGHTS TO TRY AND GET THE THREE COUNT BUT MATTIE SHOUTS TO THE REFEREE AND DEAN HAS TO BREAK THE HOLD.
THEY BATTLE ON FOR 14 MINUTES EXCHANGE HOLDS AS THE MATCH SWINGS BACK AND FORTH. DEAN THEN POSTS MATTIE AND WHEN HE TRIES TO REPEAT THE MOVE SHE REVERSE IT AT THE LAST SECOND POSTING HIM FACE FIRST INTO THE TURNBUCKLES. MATTIE MOVES ITO THE CORNER BEHIND DEAN AND KNEES DEAN IN THE BACK DROPPING HIM THE HIS KNEES. MATTIE DRAGS DEAN UP AND SUPLEXES HIM THEN BODY SLAMS HIM. MATTIE GRABS DEANS HEAD AND SOFTENS HIM UP SOME MORE WITH KNEES TO THE BACK. MATTIE THEN MANAGES TO GET DEAN IN A MEXICAN DEATH LOCK. THE PAIN IS TOO MUCH AND MATTIE MAKES DEAN SUBMIT. MORE TOUGH MIXED WRESTLING ACTION FROM G €3.50
STORY EXTRACT AVAILABLE TO READ, ON THE BATTLE ANNALS MIXED FIGHTING STORIES EXTRACTS BLOG, LINK AT THE TOP OF THE PAGE.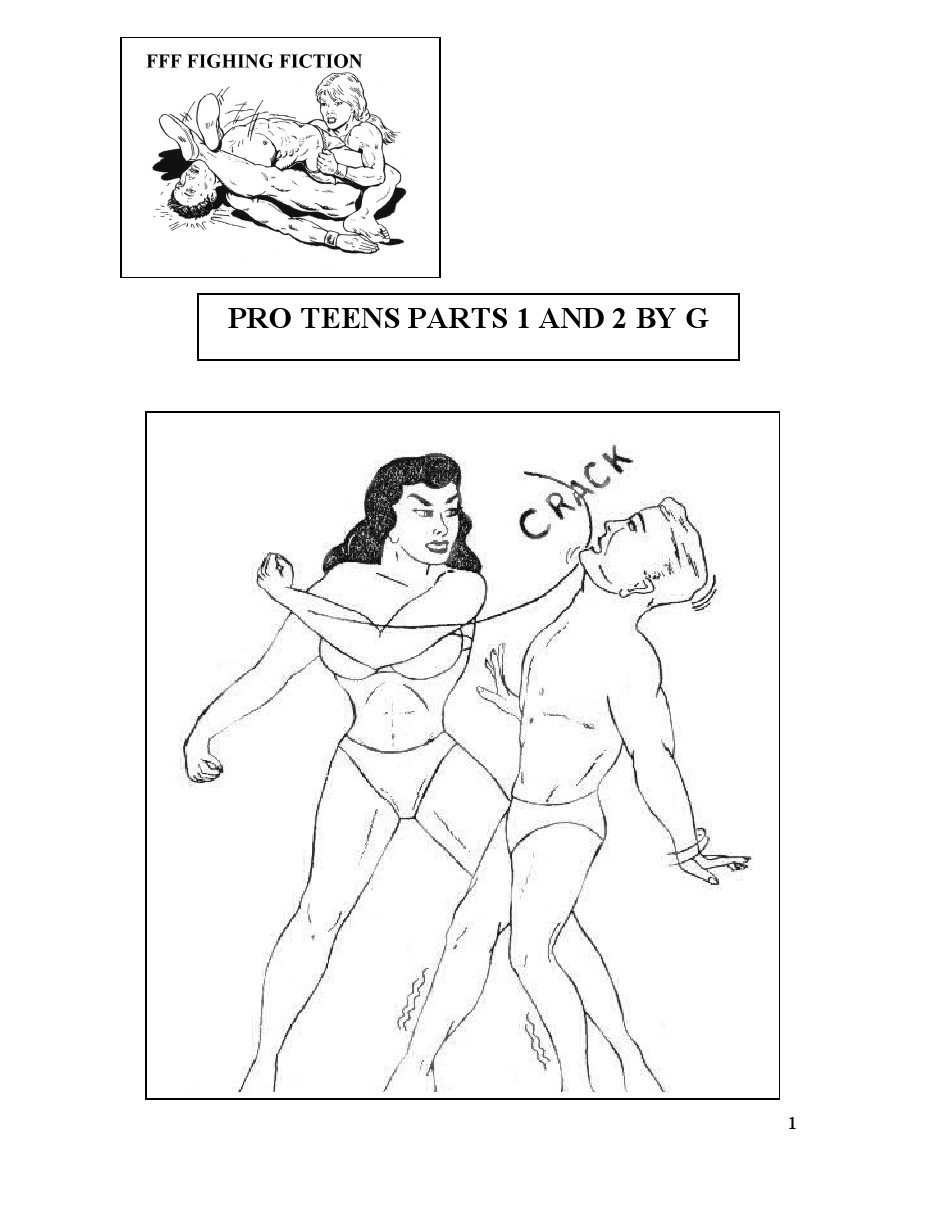 7 CHAMPIONSHIP BOXING. CORY THUNDER AT 26 IS THE INTERGENDER WORLD BOXING CHAMPION. CORY 5' 10" AND A 164 lbs DEFENDS HIS TITLE FOR THE EIGHT TIME AGAINST MARK HAZEL 23 5' 9" AND 161 lbs. MARK IS FAST RISING STAR HAVING BEING UNDEFEATED IN NINETEEN FIGHTS. THE FIRST ROUND IS QUITE SLOW AND CORY WINS IT ON POINTS. IN ROUND TWO THEY EXCHANGE PUNCHES THEN CORY GETS THE UPPER HAND PUMMELLING MARK WITH A FLURRY OF HARD TELLING PUNCHES THAT LAYS HI OUT COLD AND HE FAILS TO BEAT THE COUNT. CORY'S WINNING STREAK CONTINUES FOR SIX MONTHS AS HE DISPATCHES EL DE MEXICO THE MEXICAN CHAMPION. ISABELLA TARKINGTON BRITISH CHAMPION. THE NUMBER THREE CONTENDER JASON SUMMERS. HIS LAST VICTORY WAS AGAINST SANDY COMBS THE CANADIAN DESTROYER.
HIS NEXT CHALLENGERS IS VALERY CUSACK 19 113 lbs POLISH MIDDLE WEIGHT CHAMPION. CARY ATTACKS VALERY FAST AND HARD KEEPING HER ON THE DEFENSIVE IN THE CORNER. ALTHOUGH DAUNTED BY CORY'S SPEED SHE STILL MANAGES TO KEEP OUT OF MAJOR TROUBLE. AS CORY SLOWED THE PACE OF THE FAST ACTION OF ROUND ONE VALERY PUNISHES HIM WITH BODY PUNCHES AND ESCAPES FORM THE CORNER. THEY EXCHANGE PUNCHES AND CORY TRIES TO TAKE VALERY DOWN BUT SHE LAND MORE HARD BODY SHOTS THAT DROP CORY TO HIS KNEES. CORY GETS BACK UP AT THE CUNT OF FIVE STILL SHAKY. VALERY ATTACKS AND DRIVES CORY INTO THE CORNER LANDING MORE HARD BODY SHOTS THAT PUT CORY DOWN AGAIN AND CORY ONLY MANAGES TO GET UP BY NINE.
CORY COMES OUT FOR ROUND 2 STILL WOBBLY AND SHAKEN AFTER FRANTIC WORK FROM HIS CORNER FOLLOWING HIS DOUBLE KNOCK DOWN IN ROUND 1. VALERY IS MERCILESS POUNDING CORY'S BODY AND HEAD KNOCKING HIM DOWN AND OUT TO BECOME THE NEW WORLD CHAMPION. CORY FOUND IT HARD TO COME TO TERMS WITH HIS DEFEAT AT THE HANDS OF A TEENAGE GIRL IN SUCH A QUICK TIME AND HIS SCORNFUL TRAINER HAD NI SYMPATHY. TOUGH BOXING ACTION WITH CORY SUCCUMBING TO A TOUGH FEMALE TEENAGE BOXER SUFFERING THE INDIGNITY OF BEING KO'D. €2.00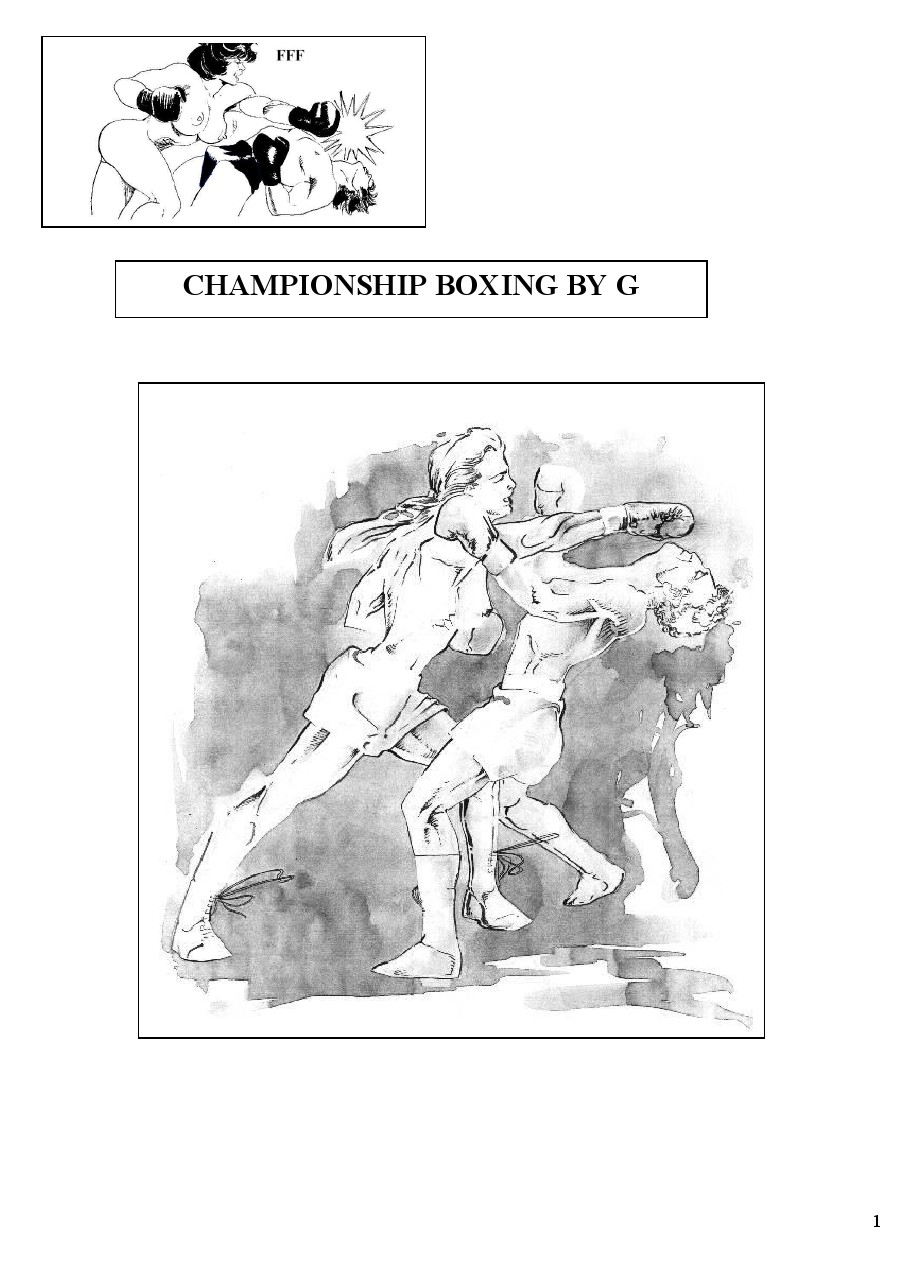 8 BACK TO THE FIFTIES. THIS STORY IS THE RECOLLECTIONS OF ONE OF THE GREATEST WRESTLING COMMENTATORS GORDON SOLIE WHO RECALLED THE NIGHT IN LITTLE ROCK IN PACKED HOUSE OF EXPECTANT FANS ALL WAITING TO SEE A MIXED TAG MATCH FOR THE VACANT ARKANSAS TAG TEAM CHAMPIONSHIP. THE MALE TEAM IN WHITE TRUNKS ANTONINA ROCCA AND ARGENTINA APOLLO. THEIR OPPONENTS IN BLACK TIGHTS MILDRED BURKE AND JUNE BUYERS. MILDRED BURKE AND JUNE BUYERS ATTACK ANTONINA ROCCA AND ARGENTINA APOLLO WHILE THEIR BACKS ARE TURNED AND ARE WALKING BACK TO THE CORNER WITH FOREARM SMASHES TO THE BACK OF THEIR NECKS. ROCCA DROPS TO HIS KNEES AND AND STOMPED BY BURKE WHILE APOLLO HIS DRIVEN FACE FIRST INTO THE TURNBUCKLES AND BEATEN WITH FOREARMS AND ELBOW SMASHES. THE LADIES PUMMEL BOTH MALE WRESTLERS AS THE REFEREES FAIL TO STOP THE FEMALE WRESTLERS. IN THE CONFUSION ROCCA IS LEFT LYING ON THE CANVAS WHILE BURKE AND BUYERS DOUBLE TEAM APOLLO. APOLLO IS WHIPPED ACROSS THE RING AND KICKED PUNCHED AND KNEE HIS BACK. BURKE LIFTS APOLLO UP AND SLAMS HIM DOWN ACROSS BUYER WAITING KNEE IN A VERY PAINFUL CROSS KNEE BACK BREAKER. THEN BUYERS AND BURKE DOUBLE SUPLEX APOLLO FURTHER PUNISH HIS BACK. WHILE THE REFEREE ARGUES WITH BURKE TRYING TO GET HER OUT OF THE RING BUYER TRAPS APOLLO IN A BOSTON FURTHER PUNISHING HIS BACK. BUYERS FORCES APOLLO TO SUBMIT WITH HER PAINFUL BOSTON.
WHEN THE MATCH RESTARTS APOLLO HAS RECOVERED ENOUGH TO TAKE THE FIGHT TO BUYERS AND WORKS HER OVER MAKING HER SUFFER BEFORE MARCHING HER TO HIS CORNER AND TAGGING ROCCA. ROCCA TAKES OVER AND SLAMS BUYERS ACROSS THE RING INTO HER OWN CORNER THEN CATCHES THE GIRLS IN MID TAG. HE DRAGS BURKE INTO THE RING AND POUNDS HER UNTIL SHE IS DIZZY AND DISORIENTATED AND HE TAGS APOLLO. APOLLO CONTINUES TO POUND BURKE INTO SUBMISSION AND GETS THE EQUALISING FALL WITH A SHOULDER PIN. THE MATCH IS NOW EVEN ONE FALL EACH.
WHEN THE MATCH RESTARTS APOLLO AND BURKE LOCK ARMS IN A TEST OF STRENGTH. AS THEY STRUGGLE BURKE KICK APOLLO BETWEEN THE LEGS. BURKE STOMPS APOLLO AS HE ROLLS AROUND THE RING IN AGONY. SHE CONTINUES TO STOMP APOLLO ALL THE WAY BACK TO HIS CORNER WHERE HE MAKES THE TAG WITH ROCCA. AS ROCCA ENTERS THE RING BUYER'S BOOTS SLAM INTO HIS CHEN AND NECK THE LADIES ALSO MADE THE TAG. ROCCA IS SEND STUMBLING BACK OVER HIS PARTNER AND CRASHES INTO THE TURNBUCKLE. BUYERS DRAGS ROCCA OUT HO HIS CORNER AND SUPLEXES HIM . SHE THEN SUBJECTS HIM TO FIVE MINUTES OF BEATING WITH STOMPS KICKS, PUNCHES AND SUPLEXES. BUYERS TRAPS ROCCA IN NUMEROUS PAINFUL HOLDS AND THEN GETS HIM IN PARTICULARLY PAINFUL FIGURE FOUR LEG LOCK TAUNTING HIM TO SUBMIT BUT ROCCA HOLD ON. UNABLE TO TAG WITH HIS INJURED LEG ROCCA IS EASY PREY FOR BUYERS WHO SUPLEXES HIM AND THEN TAPS HIM IN A BOSTON. ROCCA STILL REFUSES TO SUBMIT DESPITE THE PUNISHING PAIN OF THE BOSTON. BUYERS TRAPS ROCCA IN A SLEEPER HOLD AND PRESSURES IT UNTIL HE IS LIMP IN HER ARMS. BUYERS DIDN'T SEE HER PARTNER BURKE TRAP APOLLO IN THE SAME HOLD BEHIND HER. THE REF CHECKED ROCCA'S ARM LIFTING IT UP AND ANNOUNCED BUYERS AND BURKE THE WINNERS WHEN IT DROP BACK LIMP. MILDRED BURKE AND JUNE BUYERS WHERE NOW THE NEW ARKANSAS TAG TEAM CHAMPIONS. ALTHOUGH A FICTIONAL ACCOUNT OF GREAT MIXED WRESTLING BOUT ITS ONE EVERYONE WOULD HAVE LIKED TO HAPPEN AND WITNESS. TOUGH BRUTAL MIXED WRESTLING ACTION WITH THE LADIES PROVING SUPERIOR. €2.00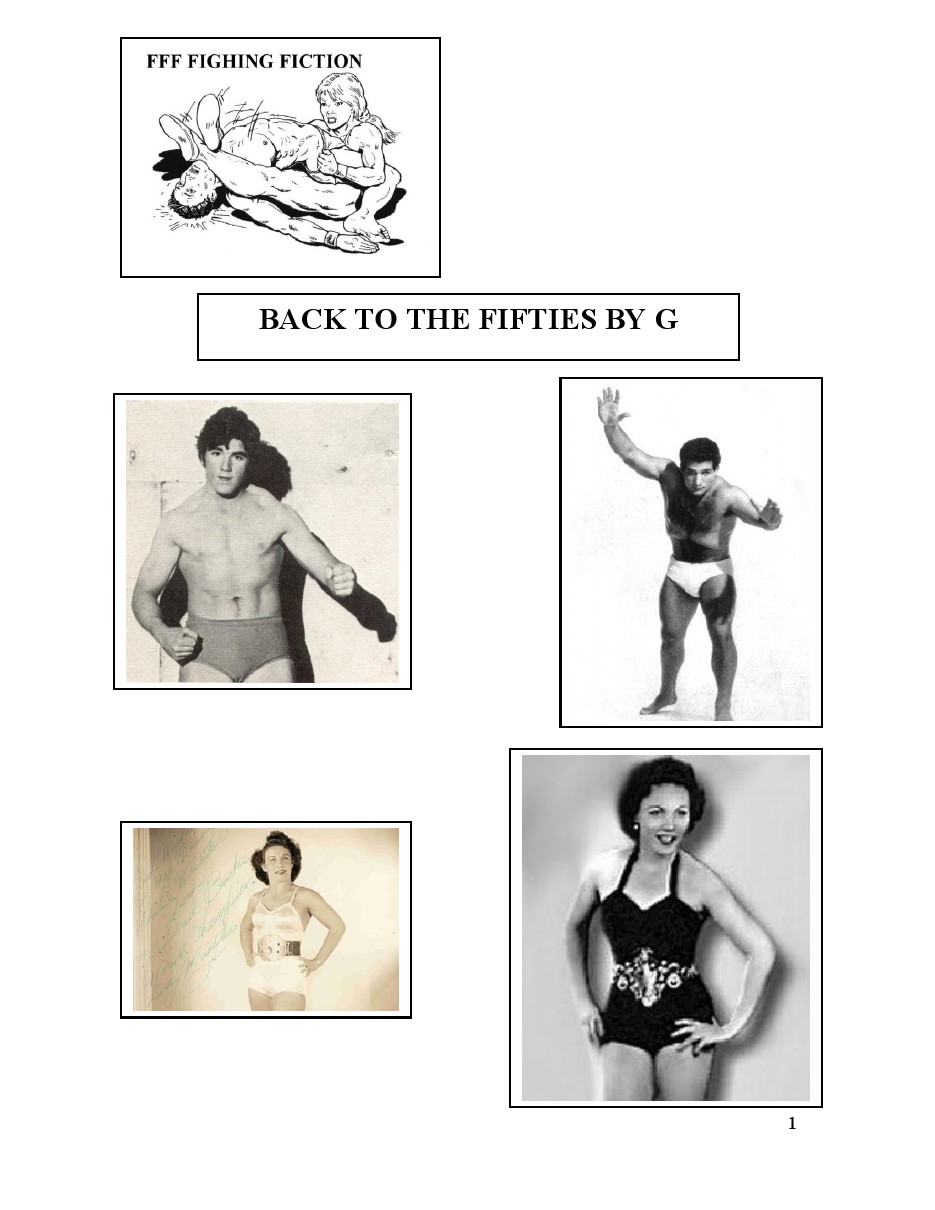 9 FAMILY WRESTLING A SPECIAL MATCH. THE NELSONS A WRESTLING FAMILY TWENTY YEAR OLD DAUGHTER MONICA IS OFFERED A SPECIAL MATCH BY HER PROMOTER A DOUBLE HANDICAP MATCH AGAINST TWO OLDER SENIOR MALE WRESTLERS SHE HAD TO DEFEAT BOTH OF THEM TO WIN BUT EITHER OF THEM CAN DEFEAT HER TO WIN. AFTER A FAMILY DISCUSSION IT AGREED TO LET MONICA TAKE THE OFFER. HER OPPONENTS WILL BE VANCE MCCOOL FORTY TWO YEARS OLD AND GENO CONFORTTI FORTY. THEY WRESTLE A S COOL AND COMFORTABLE AND ARE FIVE TIMES WORLD TAG TEAM CHAMPIONS. MONICA IS WRESTING FOR THE MONEY A BIG PURSE IF SHE CAN BEAT BOTH OF THEM AND THE MEN ARE WRESTLING FOR A GOOD PAYOUT AND THE CHANCE TO CONTINUING WRESTLING PROFESSIONALLY. THE REFEREE INTRODUCES THE WRESTLERS AS THEY STAND IN THE RING. MONICA IS DRESSED IN PURPLE BRA AND PANTIES WITH GOLD FLAMES ACROSS THEM BLACK FISHNET STOCKINGS AND SHINY PURPLE BOOTS AND RING JACKET. VANCE AND GENO WEAR HIGH CUT LIGHT BLUE SPANDEX TRUNKS WITH SHINY BLUE WRESTLING BOOTS AND BLUE RING JACKETS. "LADIES AND GENTLEMEN THIS IS THE MAIN EVENT IT IS A SPECIAL HANDICAPPED/TAG TEAM MATCH", THE REFEREE ANNOUNCED. "IN THE RED CORNER NEEDING TO BEAT BOTH MEN TO WIN THE MATCH SHE IS ONE OF THE STARS OF THE FAMILY WRESTLING LEAGUE PLEASE WELCOME TWENTY YEAR OLD OLD MONICA NELSON", HE ADDED. "AND IN THE BLACK CORNER HER OPPONENTS; THEY ARE THE FIVE TIME WORLD TAG TEAM CHAMPIONS VANCE MC COOL AND GENO CONFORTTI COOL & COMFORTABLE!!!" , THE REFEREE STATED.
GENO STARTS FOR THE MEN'S TEAM HE BATTERS MONICA DOWN USING THE TURNBUCKLES AND A BACK BREAKER AND JUST FAILS TO GET A THREE COUNT. GENO DOSEN'T RELENT POUNDING MONICA FOR ANOTHER FIVE MINUTES THEN DRAGS HER DOWN IN A HEAD LOCK TRYING TO PIN HER SHOULDERS MONICA BRIDGES MANAGING TO KEEP HER SHOULDERS OF THE MATS TO DENY HIM A THREE COUNT. MONICA GETS GENO IN A HEAD SCISSORS AND SQUEEZED HIM UNTIL HE RELEASED HER HEAD NOW MONICA WORK ON GENO POSTING HIM AND KNEEING HIM IN THE BELLY BEFORE FLIPPING OVER TO LAND ON HIS BACK. SHE THEN POUNDS AND STOMPS HIM HIM MERCILESSLY BEFORE TRAPPING HIM IN A SLEEPER HOLD. MONICA PRESSURES THE HOLD UNTIL GENO IS PANICKING AND CLOSE TO PASSING OUT AND CRIES OUT HIS SUBMISSION BUT MONICA IGNORES HIM. MONICA KEEPS THE CHOKE HOLD ON UNTIL GENO PASSED OUT THEN DROOPS HIS LIMP BODY OVER THE TOP ROPES AND TRAPS HIS ARMS WITH THE MIDDLE ROPES. MONICA THEN RUSHED TO THE BLACK CORNER AND WHIPS VANCE OVER THE TOP ROPE AND INTO THE RING. WITH VANCE FLAT ON HIS BACK MONICA ATTACKS ROLLING VANCE ONTO HIS BELLY AND BRUTALLY STOMPS HIS LOWER BACK. MONICA THEN TRAPS VANCE IN PAINFUL CAMEL CLUTCH AND PUNISHES HIM WITH IT THEN MOVES HER HANDS FROM HIS CHIN TO HIS NECK AND STARTED TO CHOKE HIM UNTIL VANCE SCREAMED FOR HELP FROM THE REFEREE WHO DRAGGED MONICA OF VANCE. BUT MONICA DOES NOT RELENT GIVING VANCE A PUNISHING SUPLEX THAT LEFT HIM MOTIONLESS.
MONICA THAN APPLIED A FIGURE FOUR LEG LOCK SHE REALLY MAKES VANCE SCREAM IN PAIN BUT RELEASED HIM BEFORE HE COULD SUBMIT. MONICA THEN LITERALLY POUNDED VANCE INTO UNCONSCIOUSNESS WITH HER FOREARM BEFORE SLAPPING HIM CONSCIOUS AGAIN. ONLY TO TRAP HIM IN A COBRA CHOKE HOLD THAT SHE PUNISHES VANCE WITH UNTIL HE PASSED OUT. MONICA HUNG VANCE NEXT TO GENO ON THE ROPES BOTH STILL UNCONSCIOUS. MONICA HAD WON IN ON TWENTY TWO MINUTES IN A DOUBLE HANDICAP MATCH AGAINST TWO FIVE TIME WORLD CHAMPION MALE TAG TEAM WRESTLERS. TOUGH BRUTAL MIXED WRESTLING ACTION WITH A YOUNGER FEMALE WRESTLER PUNISHING AND HUMILIATING TWO OLDER MALE WRESTLERS. €2.00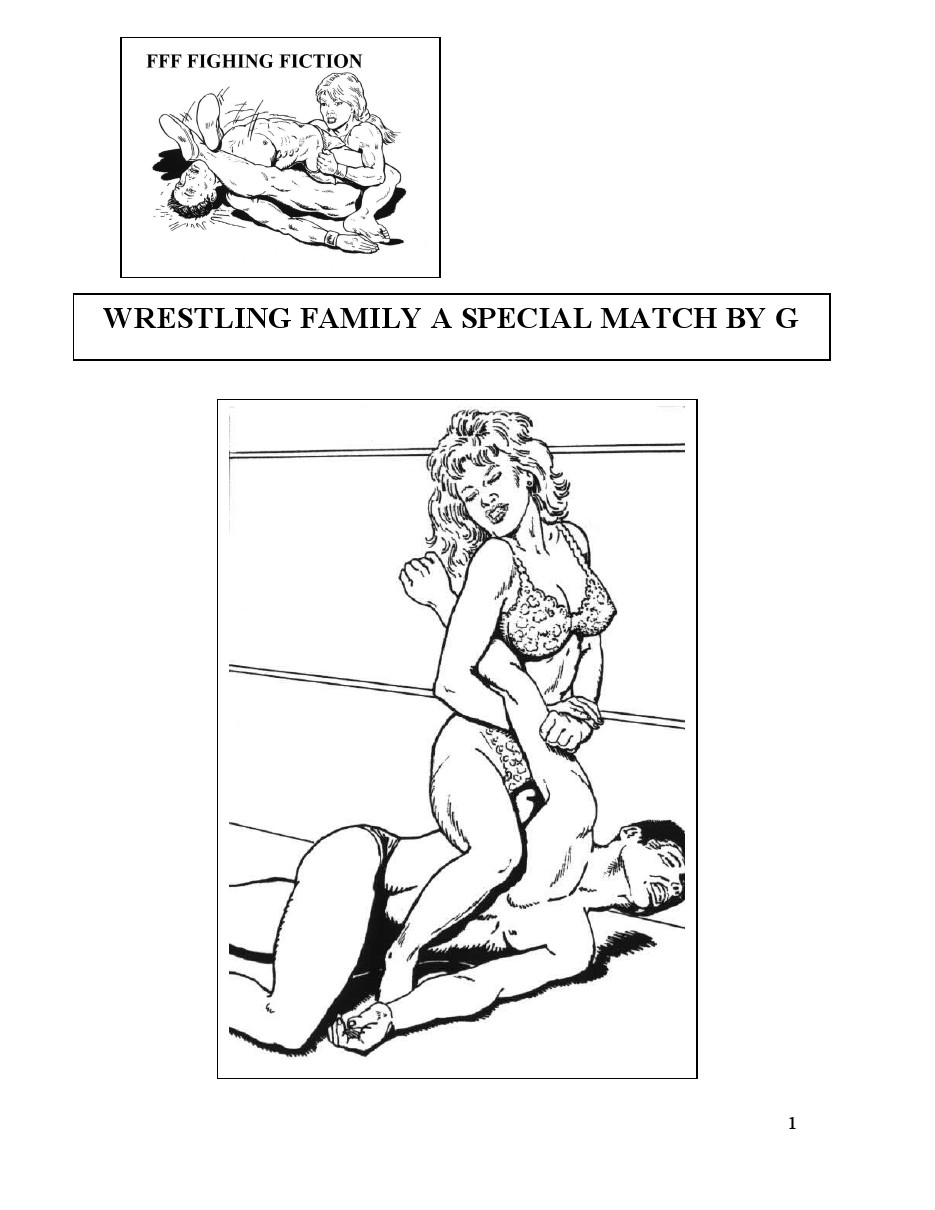 10 A TIME TO REMEMBER A FIFTIES TITLE MATCH. THIS STORY IS THE RECOLLECTIONS OF ONE OF THE GREATEST WRESTLING COMMENTATORS GORDON SOLIE WHO RECALLED ON MATCH THAT STOOD OUT FROM ALL THE OTHER HER HAD WITNESSED. THIS MATCH WAS BACK IN THE WINTER OF 1950 IN CHICAGO HE WAS COMMENTATING FOR THE RADIO. THE PACKED WRESTLING CARD INCLUDED THE TWO MAIN EVENT OF THE EVENING LOU THESZ WAS TO DEFEND THE WORLD HEAVY WEIGHT TITLE AND JUNE BUYERS WAS TO WRESTLE FOR THE WORLD WOMEN'S TITLE. THE PACKED CROWD WERE EAGERLY AWAITING THE FIRST OF THE TWO MAIN BOUTS HAVING ENJOYED THE WARM UP MATCHES ON THE CARD HOWEVER THE SNOW HAD BEEN REALLY BAD FOR DAYS AND BOTH LOU THESZ AND JUNE BUYERS OPPONENTS WERE UNABLE TO TRAVEL TO CHICAGO. WITH THOUSANDS OF PEOPLE EAGER TO SEE A CHAMPIONSHIP TITLE BOUT THEY HAD PAID FOR THE PROMOTERS KNEW THEY HAD TO DO SOMETHING. AFTER TWENTY MINUTES OF DELAY WITH THE CROWD SHOUTING FOR THEIR MONEY BACK IT WAS SUGGESTION BY JUNE BUYERS THAT SAVE THE DAY FOR THE PROMOTERS. SHE SUGGESTED SHE WRESTLE LOU THESZ IN TITLE BOUT FOR BOTH THEIR TITLES. IT TOOK A LITTLE WHILE FOR THE PROMOTERS AND BOTH CAMPS TO AGREED AS MIXED WRESTLING WAS AN UNHEARD OF THING NOT ONLY PROFESSIONALLY BUT IN SCHOOLS AND AMATEUR CLUBS. BUT WITH NEAR RIOT ON THEIR HANDS FORM THE ANGRY CROWD BOTH CAMPS AND THE PROMOTERS AGREED. IT WAS AN UNDER THE TABLE PAYMENT OFFER BY THE PROMOTERS THAT CLINCHED THE DEAL IN THE AND AND THE FIRST MIXED PROFESSIONAL WRESTLING MATCH WAS ABOUT TO BE FOUGHT INDEED THE FIRST MIXED PUBLIC WRESTLING MATCH EVER. JUNE BUYERS ATTACKED LOU THESZ POUNDING AND BATTERING HIM AROUND THE RING SHOWING NO MERCY GIVING HIM NO CHANCE TO RECOVER OR DEFEND HIMSELF AND IT LOOKED TO THE SHOCKED CROWD THAT SHE WAS GOING TO DEFEAT THE MALE HEAVY WEIGHT WRESTLING CHAMPION OF THE WORLD IN A QUICK ONE WAY BEAT DOWN. HOWEVER LOU THEZE MANAGED TO LAND LOW BLOW TO JUNE BUYERS PUT HER DOWN BUT KICK FORM HER ALSO PUT HIM DOWN THE CROWD SHOUTED AND CHEERED AS BOTH CHAMPION WERE DOWN ON THE CANVAS. LOU THESZ IS THE FIRST UP AND POSTS AND DROP KICKS JUNE BUYERS INTO THE ROPES WHERE SHE GET CAUGHT. TAKING REVENGE LOU THESZ MERCILESSLY POUNDS JUNE BUYER'S HELPLESS BODY UNTIL THE REFEREE IS ABLE TO FREE HER FROM THE ROPES. EVEN THAN LOU THESZ CONTINUED TO PUNISH JUNE BUYERS REPEATEDLY SLAMMING HER INTO THE CANVAS BEFORE GOING FOR A THREE COUNT THAT JUNE BUYERS JUST MANAGED TO KICK OUT OF AT THE VERY LAST MOMENT AND GET BACK ON HER FEET.
THE TWO CHAMPIONS CONTINUE THEIR FOR ANOTHER THIRTY MINUTES THE ACTION BRUTAL AND MERCILESS. AS LOU THESZ TIRED JUNE BUYERS WENT IN FOR THE KILL SENSING VICTORY AND POUNDED AND WEAKENED LOU THESZ GETTING HIM DOWN AGAIN. WITH THE MALE HEAVYWEIGHT WRESTLING CHAMPION DOWN THE FEMALE CHAMPION TRAPS HIM IN A BOSTON CRAB AND REALLY MAKES HIM SUFFER. JUNE BUYERS APPLIES THE BOSTON MERCILESSLY AND AFTER MINUTES OF SUFFERING LOU THESZ WAS FORCED TO SUBMIT AND SURRENDER HIS WORLD HEAVY WEIGHT TITLE TO JUNE BUYERS. JUNE BUYERS HAD ONE THE FIRST MIXED PROFESSIONAL WRESTLING TITLE BOUT AND WAS NOT THE WORLD HEAVY WEIGHT WRESTLING CHAMPION. GORDON SOLIE SAID THE STORY OF HOW LOU THESZ GOT HIS TITLE BACK WAS JUST AS INTERESTING BUT AS THEY SAY THAT WAS ANOTHER STORY. TOUGH BRUTAL MIXED WRESTLING ACTION WITH THE FEMALE PROVING SUPERIOR. €2.00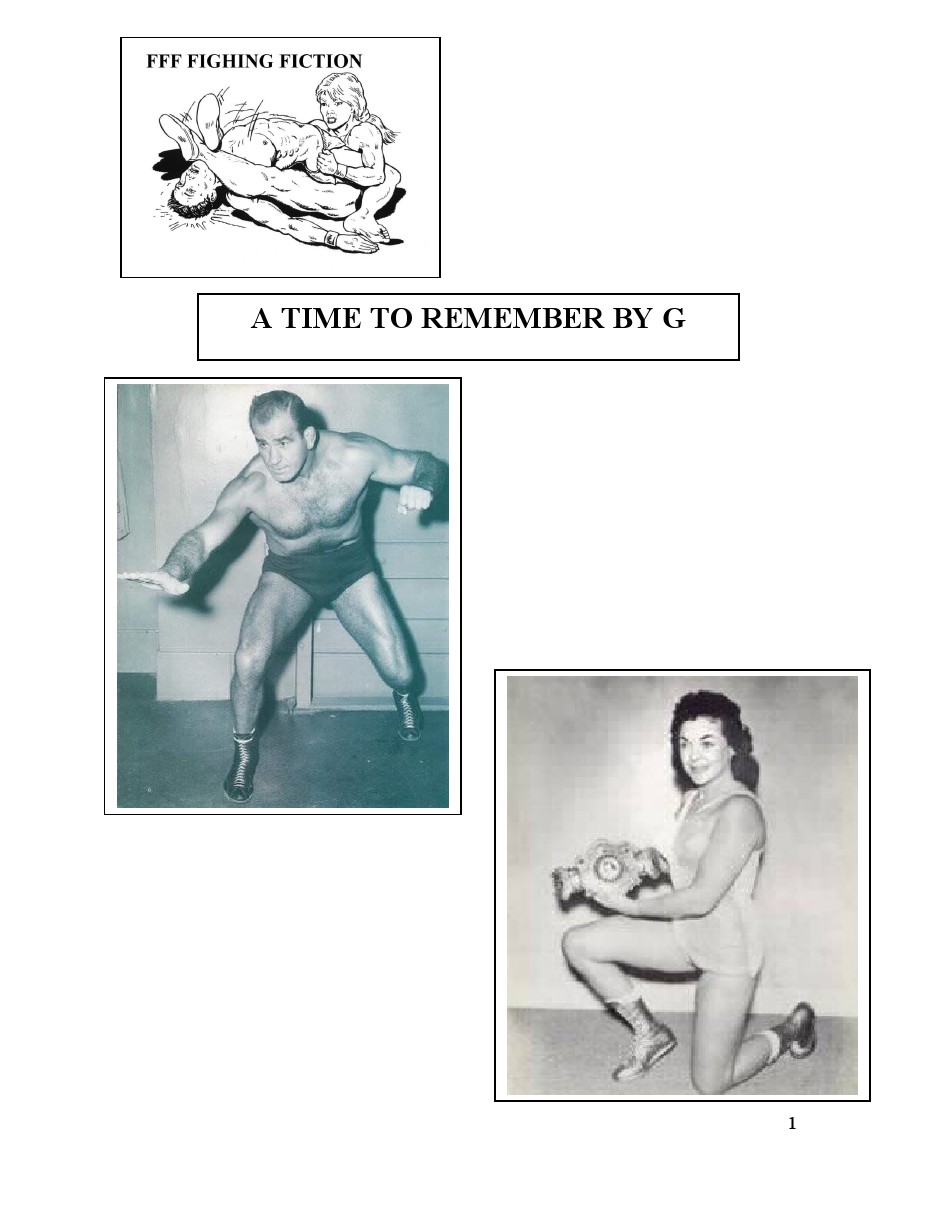 11 BROTHERS IN BATTLE . CLAYTON THE CRUSHER COX OR TRIPLE C EX WORLD CHAMPION WAS DOWN ON HIS LUCK HE LOST HIS WORLD CHAMPION BELT TO TWENTY ONE YEAR OLD ROB ROY IN VERY QUICK TIME, HIS REMATCH WAS AND EVEN WORSE AFFAIR AND CLAYTON WONDERED IF HE WOULD EVER MAKE AN EFFECTIVE COME BACK. HOWEVER THE PROMOTER INFORMED CLAYTON THAT HIS WAS STILL VERY POPULAR AND CLAYTON WAS SURPRISED WHEN THE PROMOTER MAKE HIM AN OFFER HE HAD BEEN HOPING FOR BUT NOT EXPECTING. THE PROMOTER WANTED TRIPLE C BACK AS PART OF A TAG TEAM. THE NEXT SURPRISE WAS HIS TAG PARTNER 18 YEAR OLD JEREMY COX CLAYTON'S YOUNGER BROTHER. INITIALLY TRIPLE C WAS AGAINST IT BUT WHEN JEREMY TOLD HIM HE WAS HIS HERO AND HAD ALWAYS WANTED TO WRESTLE WITH HIM TRIPLE C CHANGED HIS MIND. THE TRAIN HARD FOR SIX WEEKS AND THEIR FIRST MATCH IS AGAINST TWO SEASONED VETERANS BLACK JACK BRODY AND HIS PARTNER MAJOR DIGGS. JEREMY GETS THE FIRST PIN AGAINST MAJOR DIGGS BUT THEN IS BADLY DOUBLED TEAMED BY BLACK JACK BRODY AND MAJOR DIGGS AND DIGGS GETS A PIN EVENING THE SCORE. THEN CLAYTON CRUSHER COX BATTERS BLACK JACK BRODY AND MAJOR DIGGS INTO SUBMISSION TO WIN.
AFTER ANOTHER EIGHT STRAIGHT WINS THE PROMOTER PITS THEM AGAINST A TOUGH FEMALE TAG TEAM OF BETTY SLADE AND PENNY BARTON. JEREMY STARTS AGAINST BETTY SLADE AND STRUGGLES AGAINST HER EXPERIENCE WHEN HE TAGS TRIPPLE C POUNDS BETTY SLADE INTO THE RING BUT LETS HER ESCAPE AND TAG AS HE GOES TO TAG JEREMY. PENNY BARTON DROPS TRIPLE C WITH A HARD PUNCH THE PUNISHING HIM MERCILESSLY FINALLY GETTING A SUB MISSION A MEXICAN DEATH LOCK. WHEN THEY START AGAIN PENNY IS EXPECTING A EASY VICTORY BUT TRIPLE C GETS HER IN A BEAR HUG AND PUNISHING HER HER WITH IT BEFORE SLAMMING HER AND THEN EVENING THE MATCH WITH A ROLL OVER PIN. PENNY WAS TWO BATTERED TO CARRY ON SO BETTY SLADE HAD TO TAKE ON TRIPLE C AND JEREMY BY HERSELF. THEY BOTH WORK ON HER POUNDING HE AROUND THE RING AND JEREMY GETS THE WINING POINT WITH A FIGURE FOUR LEG LOCK. THE CLAYTON BROTHERS MOVE UP THE RATING HOPING FOR A TITLE SHOT. TOUGH MERCILESS MIXED AND MALE V MALE TAG WRESTLING. €2.00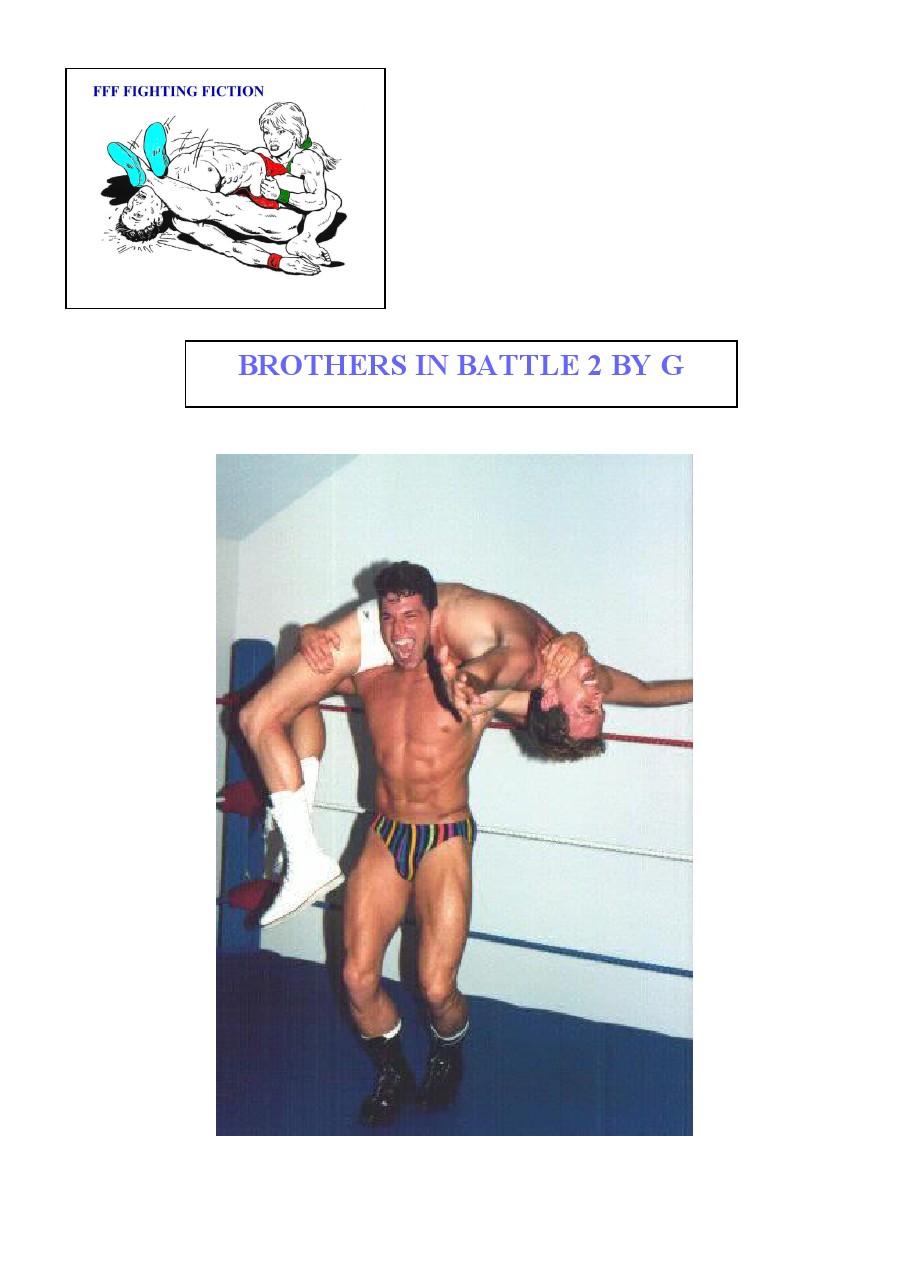 12 RISE TO THE TITLE BROTHERS IN BATTLE PART 2. AFTER BEATING PENNY AND BETTY THE BOYS RANKING IMPROVES. JEREMY AND CLAYTON TRAIN HARD AND THEIR TRAINING PAYS OFF. THE SLOWLY BUT SURELY WORK THERE WAY THROUGH EVERY TAG TEAM IN FRONT OF THEM UNTIL THE GET A SHOT AT THE WORLD TITLE AGAINST HUSBAND AND WIFE TEAM DAVID AND PATTY ANNE STEEL. JEREMY TAKES ON PATTY ANNE FIRST THEY BATTLE HARD AND LONG WITH PATTY ANNE GENERALLY GETTING THE BETTER OF IT THEN JEREMY TURNS THE TABLE AND TAKES A THREE COUNT FALL WITH PARRY ANNE ROLLED UP IN A BALL. PATTY ANNE' NECK WAS INJURED AND SHE HAD TO RETIRE, LEAVING DAVID TO BATTLE ON ALONE. CLAYTON AND JEREMY EASILY WORE DOWN DAVID TO TAKE THE TITLE AND THE BELTS. THE NEW WORLD CHAMPS DEFENDED THEIR TITLE AND BELTS AGAINST ALL COMERS OVER THE NEXT FEW MONTHS SEEING OFF FOURTEEN CHALLENGES.
THE TWO BROTHERS WERE THEN OFFER A MILLION DOLLAR TO DEFEND THEIR TITLE AT THE OLYMPICS IN BEIJING CHINA AGAINST TWO ASIAN CHALLENGERS. THEIR OPPONENTS TURNED OUT TO BE TWO BEAUTIFUL EIGHTEEN YEAR OLD FEMALES CHINESE PROVINCIAL CHAMPIONS. THE BOYS THOUGHT THEY HAD AN EASY MATCH BUT IT WAS NOT TO BE. THE BOYS HAVE BEEN SET UP AND THE GIRLS GO TO TOWN ON THEM WORKING THEM OVER MERCILESSLY PUNISHING THEM PHYSICAL AND SEXUALLY TO WIN SEVERAL SUBMISSIONS TO TAKE THEIR TITLE THEIRS BELT AND THEIR MALE PRIDE. MORE TOUGH MERCILESS MIXED TAG WRESTLING €2.00