FEMALE V FEMALE ILLUSTRATED
STORYBOOK LIST


New female fighting storybook extracts blog
'battle-annals female fighting stories extracts'
read extracts from the female fighting storybooks available here on the new blog


http://battleannalsfemfightextracts.blogspot.com
1. EXTRACTS FROM THE ADVENTURES OF THE MEMBERS OF THE FEMALE RUBBER AND LATEX WRESTLING AND BOXING CLUB UK BRANCH. BEAUTIFULLY ILLUSTRATED WITH MANY COLOURED DRAWINGS. A TOUGH BRUTAL AND BLOODY STORY BASED ON THE EVENTS AT THE FEMALE RUBBER AND LATEX WRESTLING AND BOXING CLUB. ANY UNFORTUNATE LOSER OF A BOUT GETS SEXUALLY ABUSED BY HER OPPONENT AS WELL AS BEING BRUTALLY BEATEN. HOT SEXY, BRUTAL AND BLOODY NOT FOR THE SQUEAMISH. ILLUSTRATED BY HUGH LANG. €7.00
Story extract available to read, on the battle annals female fighting stories extracts blog, link at the top of the page.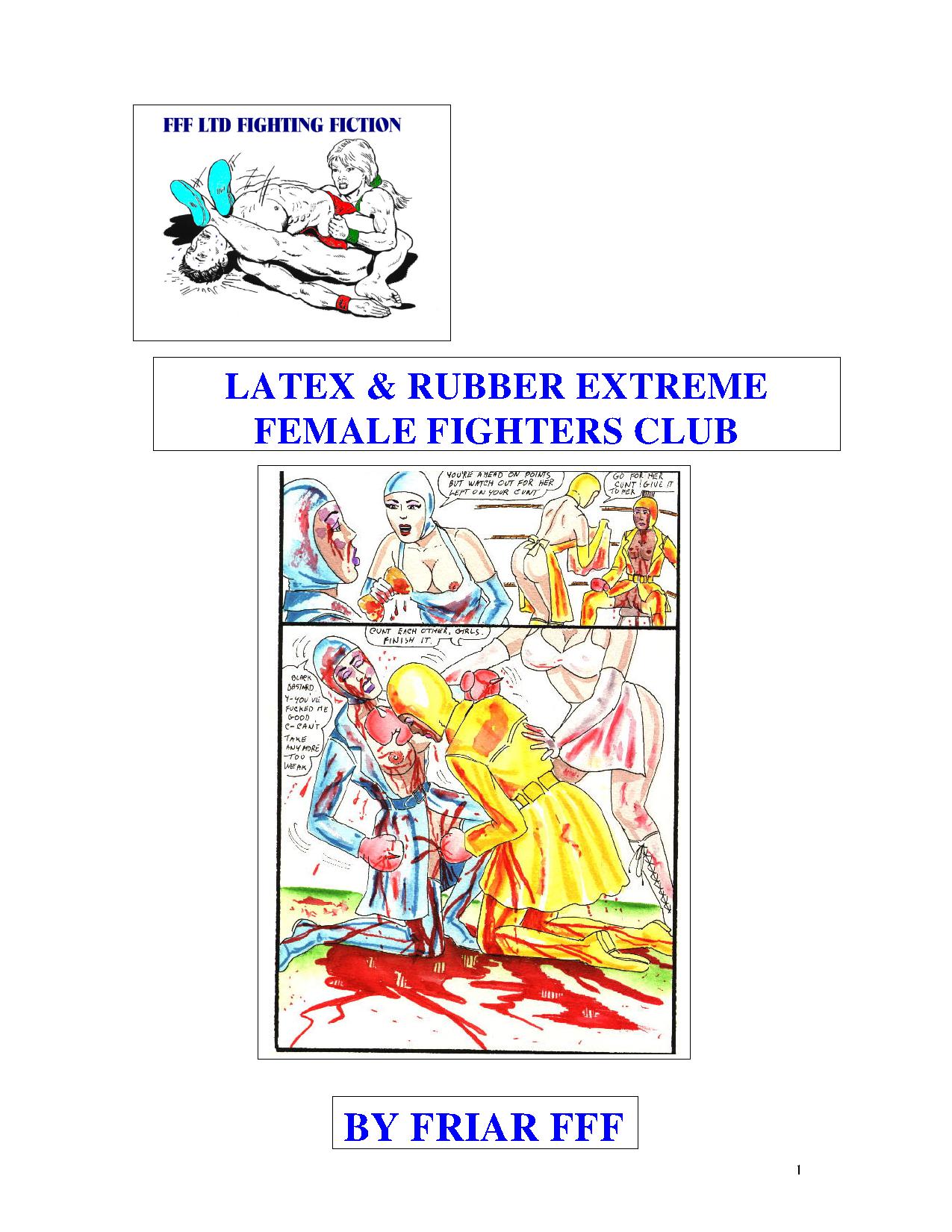 2. NUDE AGGRESSION. TWO SECRETARIES AT THE SPANISH EMBASSY IN LONDON BATTLE IT OUT TO SEE WHO IS IN CHARGE IN THE OFFICE. A LONG HARD NUDE BATTLE OF AGGRESSION TO THE FINISH. DOES THE OLDER MORE EXPERIENCED SECRETARY BEAT HER YOUNGER ASSISTANT IN THEIR NO HOLDS BARRED BRUTAL CATFITE. GREAT ILLUSTRATIONS BY A NEW ARTIST TO FFF IAN SIMMONS. TOUGH FEMALE ON FEMALE ACTION. €5.00.
Story extract available to read, on the battle annals female fighting stories extracts blog, link at the top of the page.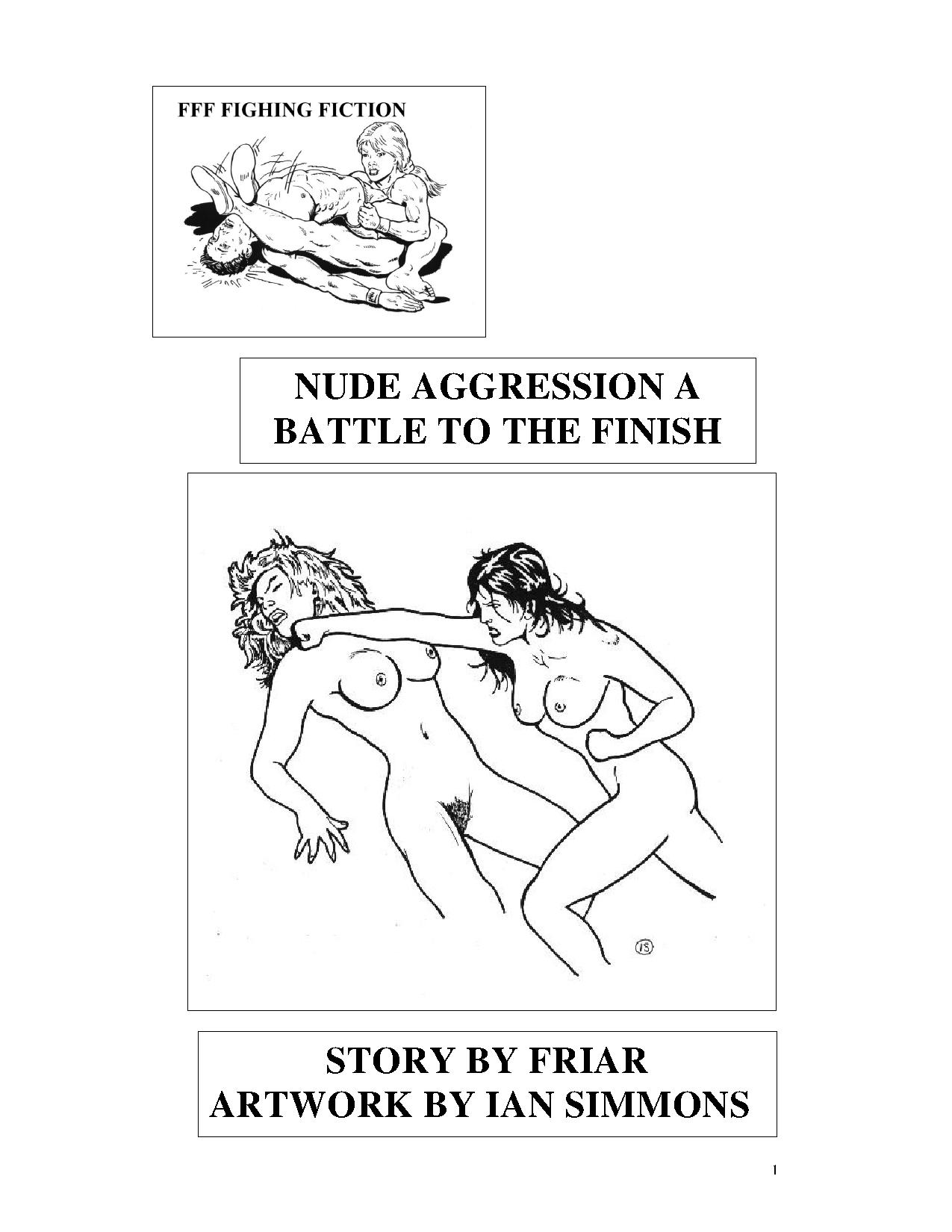 3. NOVICE NIGHT AT THE RUBBER AND LATEX WRESTLING AND BOXING CLUB UK BRANCH. BEAUTIFULLY ILLUSTRATED WITH MANY COLOURED DRAWINGS. A TOUGH BRUTAL AND BLOODY STORY BASED ON THE EVENTS AT THE FEMALE RUBBER AND LATEX WRESTLING AND BOXING CLUB ON NOVICE NIGH. NOVICES HAVE TO FIGHT IT OUT WITH SWORD AND SHIELD TO THE DEATH. DILDO WRESTLING, SPIKED GLOVE BOXING BATTLE ROYAL ARE ALL FEATURED IN THIS HOT SEXY, BRUTAL AND BLOODY, ILLUSTRATED STORY. ANOTHER ONE NOT FOR THE SQUEAMISH. ILLUSTRATED BY HUGH LANG €7.00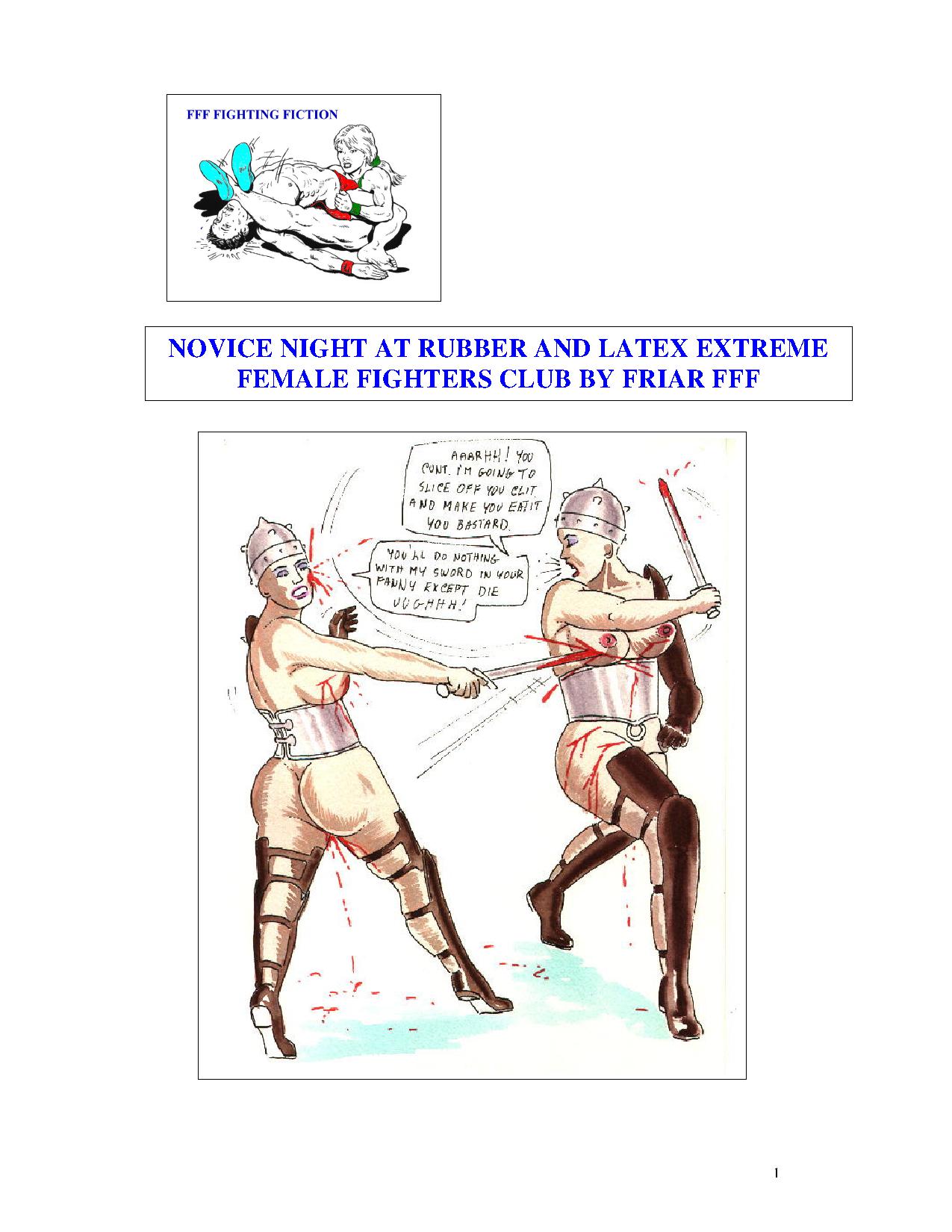 4 SISTERS REVENGE PART 1 DENMARK NIGHT. ANNALS OF THE FEMALE RUBBER AND LATEX WRESTLING AND BOXING CLUB CONTINUE IN THIS THIRD BOOK. SISTERS JUNE AND WENDY WOOD HAD TRIED UNSUCCESSFULLY TO GET INTO THE FEMALE RUBBER AND LATEX WRESTLING AND BOXING CLUB UK. THEIR YOUNGER SISTER RENE DID MANAGE TO JOIN BUT WAS KILLED IN HER FIRST NOVICE MATCH IN THE SECOND BOOK. STILL EAGER TO JOIN AND CURIOUS ABOUT WHAT HAD HAPPENED TO THEIR SISTER RENE, JUNE AND WENDY TRAVEL TO ARHUS IN DENMARK FOR A FEMALE RUBBER FIGHTING TOURNAMENT. TO THE SISTERS SURPRISE MEMBERS OF THE FEMALE RUBBER AND LATEX WRESTLING AND BOXING LONDON CLUB WERE AT THE ARHUS TOURNAMENT, AS THEY WERE ATTENDING THE FEMALE RUBBER AND LATEX WRESTLING AND BOXING CLUB TOURNAMENT IN YSAD SWEDEN.
THE FIRST BOUT AT THE ARHUS TOURNAMENT WAS A BLOODY AND BRUTAL CEASTUS FIGHT (ANCIENT ROMAN AND GREEK STONE OR WOODEN KNUCKLE-DUSTERS) BETWEEN A GERMAN AND DANISH FIGHTERS. THE GERMAN FIGHTER PULVERISES HER DANISH OPPONENT WITH HER STONE CEASTUS.
JUNE FIGHTS IN THE SECOND BOUT AGAINST A COLOURED DANISH FEMALE FIGHTER. A BLOODIED AND BATTERED JUNE FINALLY DEFEAT HER DANISH OPPONENT LEAVING HER BROKEN AND BLEEDING BODY, CLOSE TO DEATH IN THE CORNER OF THE RING.
WENDY FIGHTS IN THE THIRD BOUT AGAINST A GERMAN FIGHTER. IN A CLOSELY FOUGHT BRUTAL AND BLOODY FIGHT JUNE FINAL MANAGES TO DEFEAT HER GERMAN OPPONENT. WENDY ALSO LEAVES HER BROKEN BLEEDING AND DYING GERMAN OPPONENT SLUMPED IN THE CORNER OF THE RING.
LULU FROM THE FEMALE RUBBER AND LATEX WRESTLING AND BOXING CLUB WAS VERY IMPRESSED WITH JUNE AND WENDY'S PERFORMS AND INVITED THE SISTER TO ATTEND THE FEMALE RUBBER AND LATEX WRESTLING AND BOXING CLUB TOURNAMENT IN YSAD SWEDEN.
THE FOURTH BOUT WAS TIT AND CUNT MAUL PAIR MATCH BETWEEN BERGIN OF DENMARK AND OSLO OF SWEDEN. THE BLOOD SOAKED TIT AND CUNT MAUL WAS FINALLY WON BY OSLO WHEN LYNNE ONE OF THE OSLO PAIR WAS THE ONLY FIGHTER LEFT STANDING.
FOUR EXCITING BRUTAL AND BLOODY RUBBER CLAD FEMALE AGAINST FEMALE FIGHTS AT THEIR BEST. COLOUR ARTWORK BY HUGH LANG. €7.00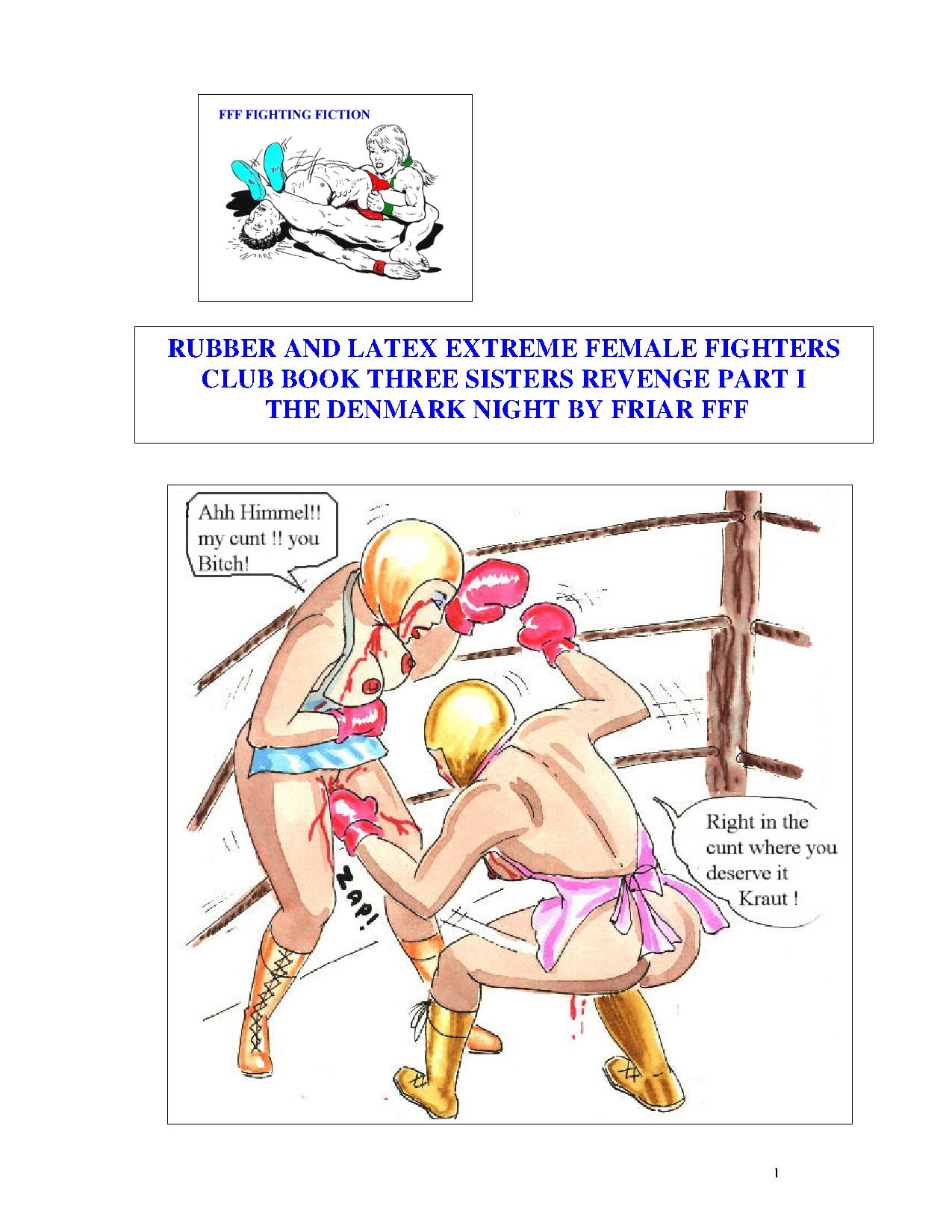 5. SISTERS REVENGE PART 2 DEATH FIGHT NIGHT YSAD SWEDEN. WENDY AND JUNE ARE INVITED TO THE RLEFFC TOURNAMENT IN YSAD SWEDEN BY LULU RLEFFC UK. LULU HINTS AT POSSIBLE MEMBERSHIP AND FIGHTING IN A RLEFFC TOURNAMENT. JUNE AND WENDY EAGER TO PENETRATE THE RANKS OF RLEFFC UK AGREE. THEY DO NOT FIGHT IN THE TOURNAMENT AS YSAD. THE DO WITNESS THREE BLOODY AND EXTREMELY BRUTAL DEATH MATCHES BETWEEN LONDON AND OSLO CLUBS.
LONDON WIN THE FIRST MATCH, OSLO THE SECOND, LONDON WINS THE CLOSELY FOUGHT BITER THIRD MATCH A DAGGER CONTEST BETWEEN TWO OSLO AND TWO LONDON FIGHTERS. THE TOURNAMENT ENDS WITH ON A LIGHTER BUT EQUALLY EXCITING MALE V MALE SEXUAL CONTEST.
LULU INVITES THE SISTERS TO HAMBURG TO FIGHT IN THE NEXT RLEFFC TOURNAMENT. MEMBERSHIP OF RLEFFC UK WILL BE THEIR PRIZE IF THEY WIN DEATH THEIR REWARD MORE THAN LIKELY IF THEY LOSE.
TOUGH BRUTAL AND BLOODY FEMALE ON FEMALE RUBBER CLAD ACTION GRAPHICALLY ILLUSTRATED IN COLOUR BY HUGH LANG. €7.00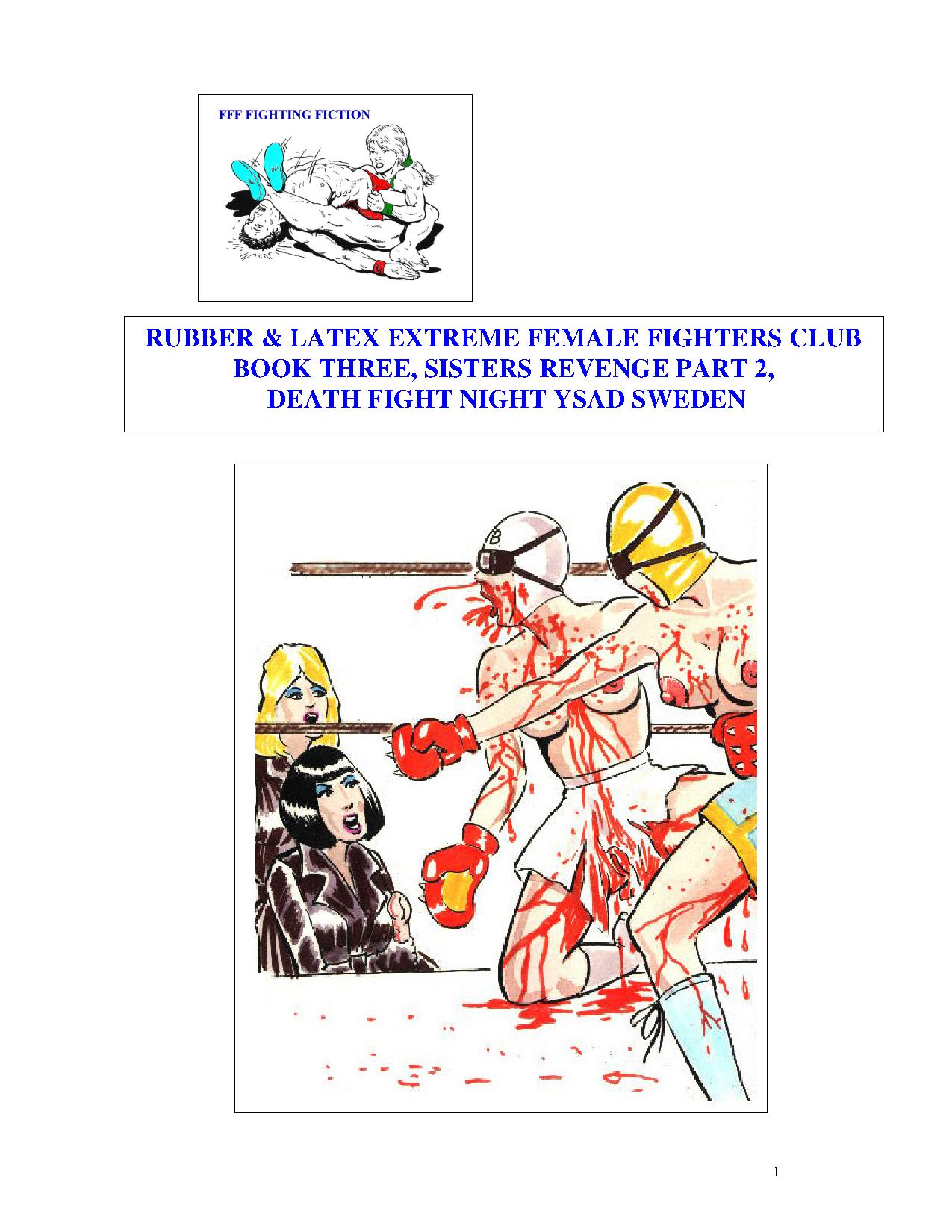 6 SISTERS REVENGE PART 3 HAMBURG TOURNAMENT. JUNE AND WENDY ATTEND THE HAMBURG TOURNAMENT AT LULU'S INVITATION. THEY WATCH TWO MATCHES FIRST FEATURING YOUNGER MEMBERS OF THE LONDON CLUB AGAINST YOUNGER MEMBERS OF THE HAMBURG CLUB. THE FIRST MATCH JUDY ARNETTE FOR LONDON TAKES ON MAJA BRAUN FOR HAMBURG IN VICIOUS NO RULES BOXING MATCH. A TOUGH BLOODY BATTLE ENSUES AND JUDY DEFEATS MAJA TO PUT LONDON ONE BOUT UP ON HAMBURG. THE SECOND MATCH MAY WILLIAMS FOR LONDON TAKES ON SARA RYBERG FOR HAMBURG IN A BRUTAL SPIKED GLOVED TIT AND CUNT ABUSE MATCH. MAY AND SARA HAD A TOUGH FIGHT USING THE SPIKED GLOVES ON EACH OTHER'S BODIES, PARTICULARLY TITS AND CUNTS. BOOTH ARE BLOODIED AN INJURED BUT MAY DEFEATS SARA TO PUT LONDON TWO BOUTS UP.
IN BOUT THREE WENDY WOOD FIGHTS HER FIRST MATCH FOR RELFFC REPRESENTING LONDON AGAINST HAMBURG. WENDY TAKES ON AUSMA LEIPA FOR HAMBURG IN A TIT SQUEEZING MATCH. FIRST FIGHTER TO FALL
RECEIVES A FIFTEEN SECOND DILDO FUCKING. FOR THE FIRST FALL AND THE TIME INCREASED BY FIFTEEN SECOND FOR EVERY SUBSEQUENT FALL UNTIL ON FIGHTER CANNOT CONTINUE. BOTH FIGHTERS VICIOUSLY MAUL EACH OTHER'S TITS AND TAKE ON DILDO FUCKING EACH. AFTER ALONG TIT MAUL EXCHANGE AUSMA FALLS AND TAKES A THIRTY SECOND FUCKING WITH THE DILDO AND IS DEFEATED. WENDY WOOD WON HER FIRST RELFFC MATCH FOR LONDON ALSO HE CHANCE TO JOIN AND FIGHT IN LONDON AND HOPEFULLY REVENGE HER SISTER RENE. IT ALSO TOOK LONDON TO THREE BOUTS UP.
WHILE JUNE WOOD GET READY TO FIGHT HER FIRST RELFFC MATCH FOR LONDON ANOTHER MATCH BETWEEN RUTH FOR LONDON AND JENNY FOR HAMBURG IN A TIT MAUL AND FACE SQUAT MATCH, THE BEST OF FIVE TWO MINUTE TIT MAULS AND FIVE THIRTY SECOND FACE SQUATS. RUTH WINS THE TOSS AND HAS FIRST FACE SQUAT. AFTER A PAINFUL TWO MINUTE TIT MAUL BATTLE RUTH CROTCH SMOTHERED JENNY FOR THIRTY SECONDS. THEY CARRY ON MAULING EACH OTHERS TITS FOR TWO MINUTES GIVING EACH OTHER THIRTY SECOND CROTCH SMOTHERS UNTIL JENNY IS UNABLE TO CONTINUE AND IS COUNTED OUT. RUTH GIVES JENNY ONE FINAL CROTCH SMOTHER TO KO TAKING THE LONDON CLUB FOUR BOUTS UP.
JUNE WOOD FIGHTING HER FIRST RELFFC BOUT FOR LONDON TAKES ON BAIBA HANSOM FOR HAMBURG BEST OF FIVE FACE SQUATS. FIGHTERS POUND EACH OTHER'S BODIES WITH SIX OUNCE GLOVES UNTIL THEY CAN GET EACH OTHER DOWN AND FACE SQUAT EACH OTHER FOR THE COUNT OF THIRTY. BAIBA GETS THE FIRST TWO FACE SQUATS AGAINST JUNE. JUNE WORRIED ABOUT LOSING AND FAILING TO GET A CHANCE TO JOIN AND FIGHT FOR THE LONDON CLUB AND REVENGE HER SISTER RENE MAKES A COMEBACK AND TAKES THE NEXT TWO FACE SQUATS. SHE THEN TAKE THE LAST AND WINNING FACE SQUAT LEAVING JENNY BATTERED AND BLEEDING ON THE CANVAS.
LULU MAKES THE WOOD SISTERS TEMPORARY MEMBERS OF THE LONDON INVITES TO FIGHT IN LONDON. THEY WILL BE GIVEN FULL MEMBERSHIP IF THEY WIN. THIS IS WHAT THE SISTER HAVE WANTED FOR A LONG TIME NOT ONLY TO JOIN THE LONDON RELFFC CLUB BUT REVENGE THEIR SISTER RENE.
TOUGH BRUTAL AND BLOODY FEMALE ON FEMALE RUBBER CLAD ACTION ONCE AGAIN GRAPHICALLY ILLUSTRATED IN COLOUR BY HUGH LANG. €7.00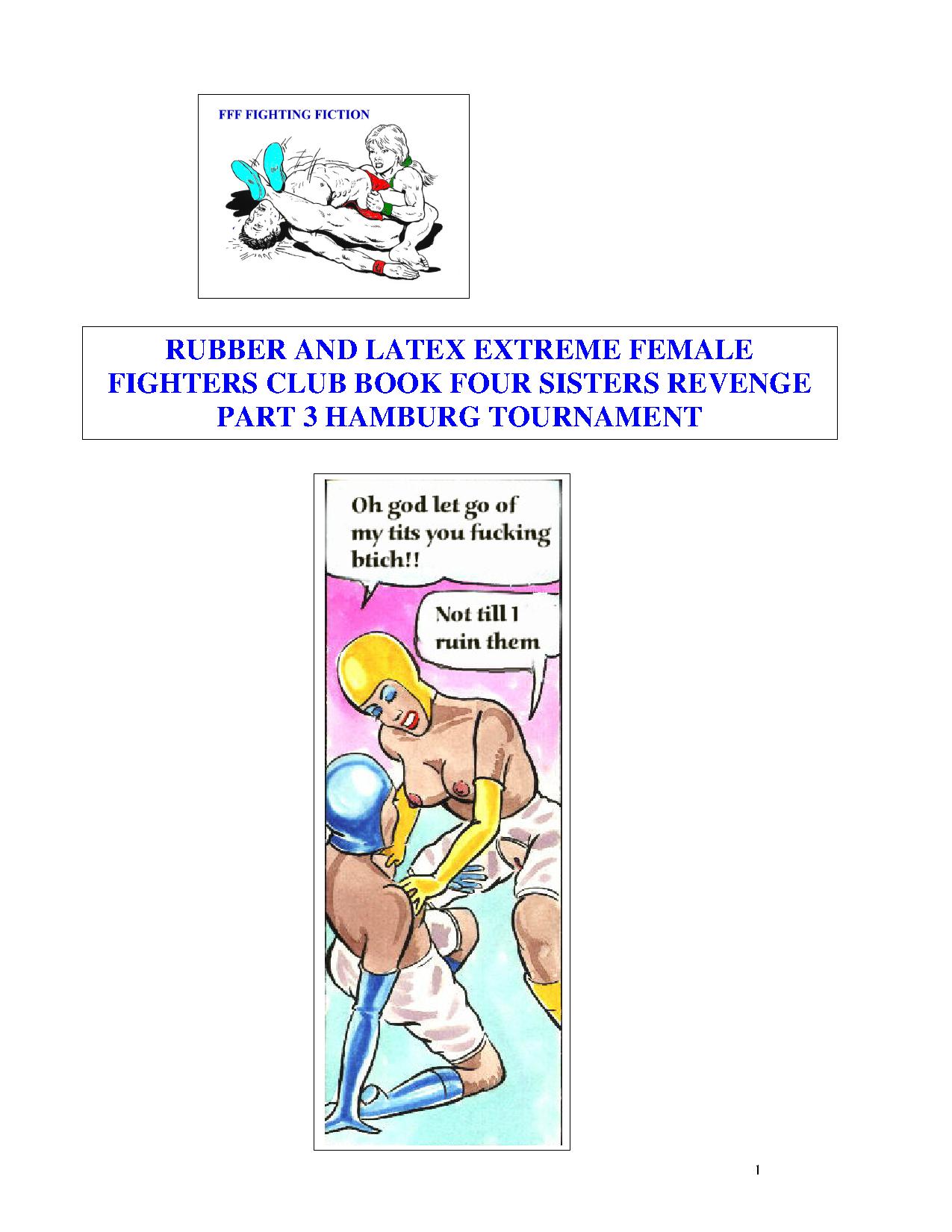 7 SISTERS REVENGE PART 4 RETRIBUTION THE LONDON BOUTS. THE WOOD SISTERS JUNE AND WENDY RETURNED FROM THEIR SUCCESSES IN HAMBURG AND AWAITED THE LETTER FROM LULU OF THE LONDON RELFFC. LULU'S LETTER CONFIRMED THEIR TEMPORARY MEMBERSHIP OF THE LONDON CLUB. THEIR FULL MEMBERSHIP TO EARNED ONLY AFTER THEIR DEBUT FIGHTS. LULU ARRANGED MEMBERSHIP OF RELFFC GYM SO THEY COULD TRAIN FOR THEIR DEBUT FIGHTS. JUNE AND WENDY TRAINED HARD SPARRING WITH EACH OTHER AND OTHER RELFFC MEMBERS AT THE GYM. JUNE HAD ANOTHER CROTCH SMOTHER MATCH WITH BAIBA TO ENHANCE HER TRAINING, WHICH SHE ONE AGAIN.
ON THE DAY OF THE DEBUT MATCHES FOR LONDON RELFFC CLUB, THEY WERE PRESENTED TO LULU AND THE OTHER RELFFC MEMBERS THERE. THAT WAS WHEN JUNE AND WENDY REVEALED THEIR TRUE IDENTITIES AND REASON FOR BEING THERE. THEY WORE PINK LIKE THEIR SISTER RENE DID ON HER DEBUT FIGHT AND ANNOUNCED THEY WERE THERE TO REVENGE HER. JUNE AND WENDY CHALLENGED RENE'S FIGHT SPONSORS DAME JOAN AND DAME ALICE TO A DEATH MATCH. THE DAMES' ACCEPTED.
JUNE WOOD FOUGHT DAME ALICE IN A STEEL KNITTING NEEDLE STABBING MATCH. BOTH FIGHTERS WERE SECURED TO SWIVEL STOOLS IN THE RING, AND STABBED EACH OTHER UNTIL ONE OF THEM DIED. JUNE WOOD BEAT DAME ALICE IN A CLOSE, FOUGHT BRUTAL AND BLOODY MATCH TO FULFIL HER PLEDGE TO AVENGE HER SISTER RENE.
THERE IS AN EXTRA BUT WHILE JUNE RECOVERS ENOUGH FROM HER BRUTAL BLOOD STABBING FIGHT TO WATCH HER SISTER WENDY FIGHT DAME JOAN.
TWO UK RELFFC MEMBERS FIGHT A PUNISHMENT BOUT. HARRIET MARSHALL AND VERONICA JACKSON FIGHT A VICIOUS TIT AND CUNT MAUL MATCH. THE FINGERS ON THE FIGHTERS' GLOVE HAD ABRASIVE PADS TO INFLICT MORE DAMAGE TO EACH OTHER'S BREASTS. ABRASIVE PADS ARE ALSO FITTED INSIDE THEIR RUBBERS AGAINST THE CUNTS TO ENSURE MAXIMUM BLOOD FLOW. BOTH FIGHTERS ARE IN THEIR PERIOD S AND TREAT THE CROWD TO A BRUTAL MERCILESS MATCH WITH LOST OF DARK PERIOD BLOOD. HARRIET MARSHALL BEAT VERONICA JACKSON DRAINING HER OF HER DARK PERIOD BLOOD.
THE LAST BOUT WENDY WOOD FIGHTS DAME JOAN VICIOUS LEATHER HORSE CROP FIGHT. THE HORSE CROPS HAVE RAZOR SHARP STEEL BLADE IN THE HANDLES SO FIGHTERS CAN STAB AS WELL AS LASH THEIR OPPONENT. WENDY WOOD JUST MANAGES TO BEAT DAME JOAN SNATCHING VICTORY FROM THE JAWS OF DEFEAT IN A BRUTAL BLOODY AND MERCILESS CROP MATCH. WENDY WOOD ALSO ACHIEVED HER VOW TO AVENGE HER SISTER WENDY.
MORE TOUGH BRUTAL AND BLOODY FEMALE ON FEMALE RUBBER CLAD ACTION ONCE AGAIN GRAPHICALLY ILLUSTRATED IN COLOUR BY HUGH LANG. €7.00