WORMSEYE GUEST WRITER STORYBOOK PAGE
New female fighting storybook extracts blog
'battle-annals female fighting stories extracts' read extracts from the female fighting storybooks available here on the new blog


http://battleannalsfemfightextracts.blogspot.com
WORMSEYE GUEST WRITER STORYBOOK LIST
1 WORMSEYE MIXED WRESTLING DOUBLE SHORT STORYBOOK STUDENT DAYS AND A QUESTION OF AUTHORITY.
STUDENT DAYS PART 1 DAVID YOUNG GUY STAYING AT S COLLEGE ON WORK PLACEMENT. THE ONLY OTHER OCCUPANT IS A YOUNG NINETEEN YEAR-OLD WOMAN CALLED BECKY. BECKY WAS A WELL KNOWN MAN CHASE OR DELIGHTED IN GETTING MEN WITH GIRL FRIENDS INTO TROUBLE BY SEDUCING THEM. BECKY WAS DETERMINED TO DO THE SAME KNOWING THE GUY HAD A GIRL FRIEND. SHE KEPT FLIRTING AND COMING INTO HIS ROOM BUT DIDN'T HAVE ANY SUCCESS UNTIL SHE DROPPED THE BOMBSHELL ABOUT HIS MIXED WRESTLING MAGAZINES. APPARENTLY CLAIRE WHO HAD SHARED A HOUSE WITH HIM AND HAD SEEN HIS MAGAZINES. DAVID WAS EMBARRASSED WONDERING WHAT BECKY THOUGHT ABOUT HIS SECRET FETISH AND WHAT SHE WOULD DO.
BECKY DEMANDED TO SEE THEM AND LOOKED THROUGH THEM COMMENTING ON SOME OF THE PICTURES IN THE MAGAZINE OF A WOMAN SITTING ON A MANS FACE. SHE SAID SHE WOULDN'T MIND DOING THAT AND ONE THING LED TO ANOTHER AND BECKY ENDED UP FACE SITTING DAVID ON HIS BED. TO DAVID'S DELIGHT BECKY GAVE HIM A LONG AND EXCITING FACE SITTING SESSION THAT DAVID. AND WOULD WHISK HIM AWAY FOR SIMILAR SATISFYINGLY EXCITING TREATMENT ON MANY OCCASIONS AFTERWARDS.
STUDENT DAYS PART 2 CLASSES ESPANOLES ESPECIALES. DAVID WOULD REGULARLY MEET A SPANISH STUDENT MARIOLAAND PAY HER TO TALK SPANISH WITH HIM TO HELP HIM IMPROVE HIS SPANISH. CASH WAS TIGHT FOR THE SPANISH STUDENT LIVING IN THE UK AND DAVID'S PAYMENT MADE LIFE EASIER FOR HE WAS TRANSLATING GERMAN MIXED WRESTLING VIDEO CATALOGUES INTO ENGLISH. HE'S BEEN OFFERED WORK TRANSLATING SPANISH MIXED WRESTLING VIDEOS BUT KNEW HIS SPANISH WS NOT GOOD ENOUGH. HE HAD THE IDEA TO SEE IF MARIOLA WAS INTERESTED AS IT WOULD EARN HER SOME MONEY. HE WAS A LITTLE CONCERNED HOW SHE MIGHT REACT BUT IT GAVE IT A GO.
MARIOLA AS IT TURNED OUT WAS INTERESTED SO HE SENT HER A SAMPLE CATALOGUE BY EMIL AND TOLD HER TO CHECK OUT THE COMPANIES WEB SITE. WHEN THEY MET AGAIN MARIOLA WAS VERY EXCITED AS SHE HAD CHECKED OUT THE WEB SITE AND WAS HAPPY TO TRANSLATE THE CATALOGUES FOR ME. I SHOWED MARIOLA MORE SAMPLES OF THE SPANISH VIDEO CATALOGUES ON MY COMPUTER AND SHE MADE THE REVELATION THAT SHE REALLY LIKE THIS SORT OF THIN. SHE ALSO SAID THAT SHE USED TO WRESTLE WITH HER COUSIN AND MISSED IT NOW SHE WAS IN ENGLAND. DAVID OFFERED TO WRESTLE HER IF SHE WANTED TO MARIOLA DID. THEY WRESTLED AND MARIOLA ENDED UP PUTTING DAVID IN EVERY KIND OF WRESTING HOLD.
STUDENT DAYS PART 3 OLGA'S SLAVE. DAVID WAS SHORT OF MONEY AND THE RENT WAS DUE. HIS LAND LADY OLGA CAME ROUND TO DISCUSS REPAIR REQUIRED TO HIS HOUSE. AFTER AGREEING WHAT NEED DOING DAVID TOLD OLGA HE COULDN'T AFFORD TO PAY THE RENT THAT MONTH. HE ASKED IF HE COULD PAY IF OFF BY WORKING FOR HER AS WHEN THEY HAD BEEN DISCUSSING HIS HOUSE REPAIR OLGA HAD TOLD HIM SHE HAD A FEW PROPERTIES THAT NEEDED REPAIRING. OLGA SAID SHE WAS SURE THERE WAS SOMETHING SHE COULD FIND FOR HIM TO DO TO HELP PAY OFF THE RENT.
A FEW DAYS LATER SHE ARRANGED TO MEET HIM AT ONE OF HER HOUSES. HOWEVER RATHER THAN WORK ON THE HOUSE OLGA MADE DAVID KNEEL IN FRONT OF HER AND LICK HER BOOTS. SHE MADE DAVID DO ALL SORTS OF THINGS AS HER SLAVE FACE SITTING, RIDING HIM LIKE A HORSE AND PUTTING HIM IN VARIOUS PAINFUL WRESTLING HOLDS.
A QUESTION OF AUTHORITY. JOHN WAS CALLED INTO THE OFFICE BY HIS FEMALE BOSS AND INFORMED THAT HIS FEMALE SUPERVISOR ANGELA HAD MADE COMPLAINTS BOUT HIM. JULIA HIS BOSS AFTER QUESTIONING JOHN ABOUT THE MATTER CALLED ANGELA HIS SUPERVISOR INTO THE OFFICE. JULIA TOLD ANGELA AND JOHN THAT THEN NEED TO SORT THIS PROBLEM OUT. ANGELA SUGGESTED JULIA USE HER SPECIAL MANAGEMENT METHOD TO SORT OUT THE AFFAIR JULIA AGREED. JOHN WAS TOLD TO REPORT TO THE CONFERENCE ROOM THAT EVENING. TO JOHN'S SHOCK HER SPECIAL MANAGEMENT METHOD TURNED OUT TO BE WRESTLING. JOHN WOULD HAVE TO WRESTLE ANGELA. EVEN MORE EMBARRASSING JULIA MADE JOHN STRIP TO HIS UNDERPANTS. ANGELA WIPED THE FLOOR WITH JOHN. JOHN WAS WELL WORKED OVER BY ANGELA WHO PUT HIM IN NUMEROUS PAINFUL AND HUMILIATING HOLDS. GOOD MIXED WRESTLING ACTION BY WORMSEYE €7.00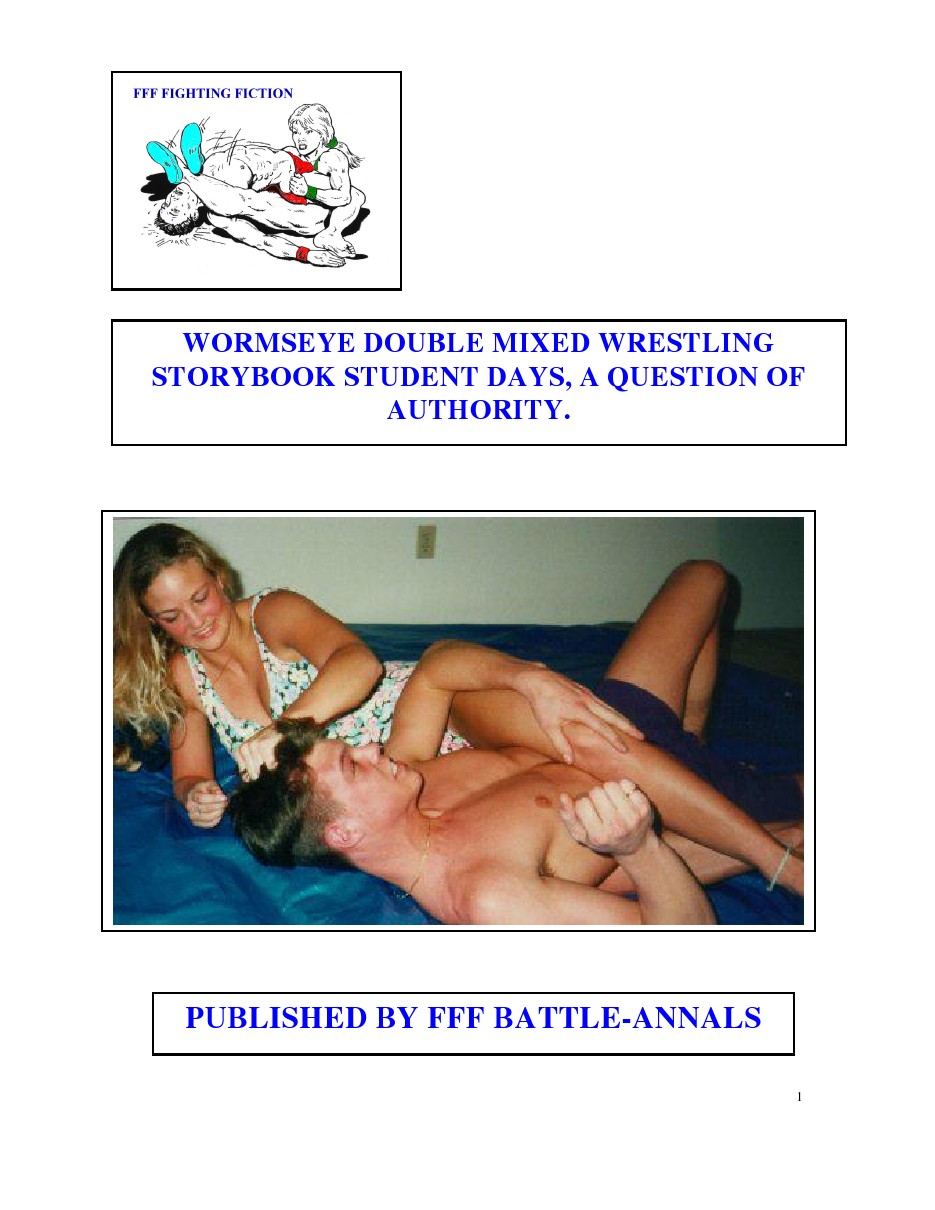 2 WORMSEYE MIXED BOXING DOUBLE SHORT STORYBOOK THE ADMISSIONS ASSISTANT AND STUCK FOR CASH.
THE ADMISSIONS ASSISTANT. TREVOR TIRES TO ENROLL IN NEW COLLEGE AFTER LEAVING HIS LAST UNIVERSITY AFTER A VERY BAD FIRST YEAR. IT HAD ALL BEN HIS OWN FAULT BUT HE WASN'T ABOUT TO ADMIT THAT TO THE TWO LECTURERS MONIKA AND SONJA. SHE WAS FAR FROM PLEASED OR SATISFIED WITH TREVOR'S APPLICATION AND SAID HEW AS BEING REFEREED TO THE ADMISSIONS ASSISTANT. ROBERT WAS TOLD TO REPORT TO ROOM 667 IN BUILDING. WHILE ON THE WAY TO ROOM 667 HE IS ATTACKED FORM BEHIND AND A BAG PLACED OVER HIS HEAD HIS ARMS TIED BEHIND HIS BACK HEW AS THEN CARRIED SOMEWHERE AND DUMP ON THE FLOOR BY HIS TOW ASSAILANTS. HIS ASSAILANTS STRIPPED TREVOR TO HIS UNDERPANTS BEFORE FREE HIS ARMS. HE FOUND HIMSELF IN THE LECTURE HALL WITH GYM MATS SPREAD OVER THE FLOOR.
HIS ASSAILANTS TURNED OUT TO BE THE TWO LECTURES MONIKA AND SONJA. HE WAS INTRODUCED TO BECKY A NINETEEN YEAR-OLD GIRL IN A BOXING ROBE AND WEARING RD BOXING GLOVES. BECKY WAS THE ADMISSIONS ASSISTANT AND HE WOULD HAVE TO BOX HER. THE ONLY WAY TREVOR WOULD BE ADMITTED TO THE NEW COLLEGE WAS TO FIGHT AND BEAT BECKY. TREVOR HAD LITTLE CHOICE AND HAD TO FIGHT BECKY. BECKY TURNED OUT TO BE JUNIOR BOXING CHAMPION OF HER HOME TOWN AND GAVE TREVOR A RIGHT POUNDING. BUT TREVOR HAD MORE TROUBLE HIS OLD LECTURER CHRISTINA ENTERED THE LECTURE HALL WEARING GLOVES AND GIVES HIM ANOTHER GOOD POUNDING.
STUCK FOR CASH. TERRY AND POOR STUDENT IS DESPERATE TO GET SOME PAID WORK TO HELP HIM GET THROUGH COLLEGE. BUT ALL THE JOBS ARE EITHER TOO LOW PAID OR TWO LONG HOURS TO ALLOW HIM TO COMPLETE HIS COLLEGE WORK AS WELL. THE JOB CENTRE FEMALE ASSISTANT ASKS IF HE NEEDS HELP. TERRY EXPLAINED HIS PROBLEM AND THAT HE NEEDS A JOB WITH SHOT HOURS AND HIGH PAY. THE ASSISTANT ASKS IF HE WAS PREPARED TO DO ANYTHING FOR CASH. IF SO THEN HE SHOULD RETURN IN THE LUNCH HOUR. TERRY MEETS THE FEMALE ASSISTANT IN THE LUNCH HOUR SHE EXPLAINED THAT SHE BELONGS TO. THERE IS ANOTHER WOMAN WITH MARGIT WITH ELSIE THE ASSISTANT. OVER COFFEE THEY ASK HIM IF HAS DONE ANY BOXING, TERRY REPLIED HE HADN'T. THEY EXPLAIN THEY RUN A VIDEO PRODUCTION COMPANY THAT SPECIALISE SEMI-EROTIC MIXED BOXING BOUTS AND ARE ALWAYS LOOKING FOR NEW TALENT. TERRY IS OFFERED 1000 EUROS IF HE WILL STAR IN AN HOUR LONG BOXING VIDEO. THEY SHOW HIM SOME SHORT EXCERPTS FROM THE PRODUCTIONS. TERRY ASKED WHO HE WOULD HAVE TO FIGHT. AS THEY WANTED TO MAKE A FILM OF TWO WOMEN AGAINST ONE MAN HE WOULD BE BOXING ELSIE AND MARGIT. TERRY DIDN'T RELISH THE IDEA OF FIGHTING BOTH WOMEN AT THE SAME TIME BUT THEM MONEY OFFERED MADE UP HS MIND.
TERRY MEETS ELSIE AND MARGIT AT THE CAMPUS GYM HER WAS SUPPLIED WITH BOXING GLOVES AND BOXING SHORTS, THEY WORE BOXING GLOVES AND SKIMPY NAVY BIKINI BOTTOMS A THIRD FEMALE, LIZ WHO WOULD BE FILMING THE MATCH WAS ALSO INVOLVED. ELSIE AND MARGIT GIVE TERRY A REAL TROUNCING HIS 1000 EUROS WERE EARNED THE HARD WAY. €6.00
Story extract available to read, on the battle annals female fighting stories extracts blog, link at the top of the page.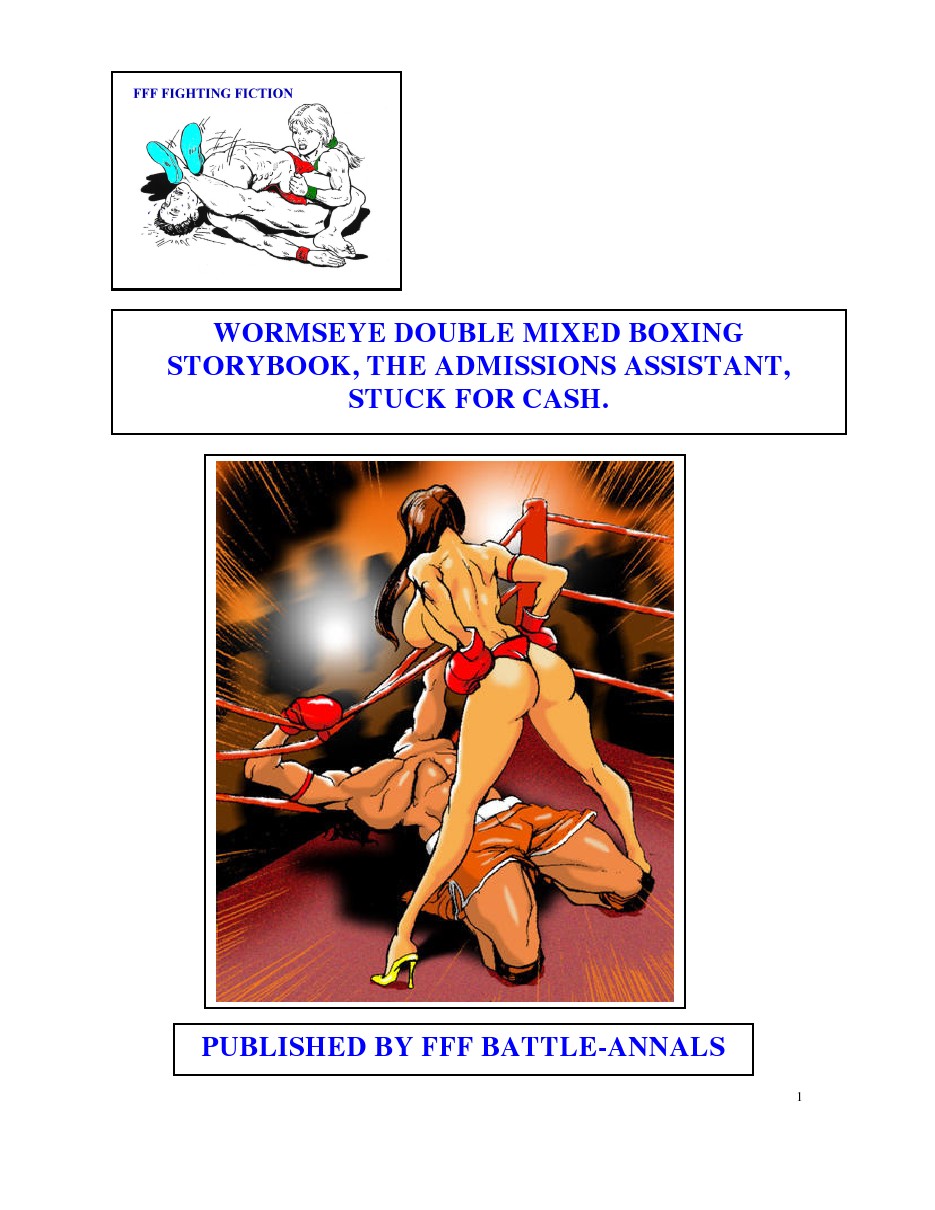 3 WORMSEYE MIXED WRESTLING DOUBLE SHORT STORYBOOK CAN YOU KEEP A SECRET AND CRIME DOESN'T PAY.
CAN YOU KEEP A SECRET. A YOUNG GUY SHARING A WEEKEND CABIN WITH FRIENDS ACCIDENTALLY SEES TWO FEMALE FRIEND BOTH WRESTING ANOTHER GUY AND REALLY MAKING HIM SUFFER ALTHOUGH IT WAS CLEAR THE GUY LOVED IT. HE RECOGNISED THE TWO FEMALES BINE AND ANCHA BUT NO THE GUY. HE SLIPPED AWAY QUIETLY THINKING HE'D NOT BEEN SEEN. HOWEVER A WEEK LATER HE BUMPED IN BINE SHE ASKED HIM IF HE'D ENJOYED THE WEEKEND. HE REPLIED HE DID IF A LITTLE SHEEPISHLY. THEN BINE SAID THEY KNOW HE SAW THEM WRESTLING THE OTHER GUY. SHE ASKED COULD THEY TRUST HIM NOT TO TELL ANYONE ELSE. HE HAD ALWAYS FANTASISED ABOUT WRESTLING AGAINST WOMEN AND BEING BEATEN BY THEM. SO HE SAID HE WOULDN'T SAY ANYTHING IF THEY DID THE SAME SORE OF THING TO HIM. RATHER THAN THINKING HIM A PERVERT BINE LOVED THE IDEA. HE ENDED UP WRESTLING BOTH BINE AND ANCHA TOGETHER. THEY EASILY OVERPOWERED HIM. STRIPPED AND PUT THROUGH ALL SORTS OF HOLDS AND SUBJECTED TO PHYSICAL AND SEXUAL ABUSE AT THEIR HANDS, LOVING EVERY SECOND. GOOD TWO ON ONE FEMALE ON MALE MIXED WRESTLING AND DOMINATION ACTION.
CRIME DOESN'T PAY. SELMA A FEMALE HOP ASSISTANT IS IN THE WAREHOUSE HAVING A SMOKE BREAK WHEN TWO MALE SHOP ASSISTANTS MARCH A YOUNG MALE SHOPLIFTER INTO THE WAREHOUSE AND LOCK HIM IN THE OFFICE. THE TWO MALE ASSISTANTS WERE CLOSE TO THE END OF THEIR SHIFT SO SELMA OFFERED TO RING THE POLICE AND WATCH THE SHOPLIFTER UNTIL THE POLICE ARRIVED. THE REAL REASON SALMA DID IT WAS BECAUSE SHE REALISED SHE COULD HAVE SOME FUN WITH THE YOUNG MAKE SHOPLIFTER. SO WHEN THE TWO MALE ASSISTANTS LEFT SHE PHONED HER FRIEND ANJA. WHEN ANJA ARRIVED THEY JUST WAITED WATCHING THE YOUNG SHOP LIFTER KNOWING HE WAS GROWING MORE CONCERNED AND MORE IMPATIENT AT BEING KEPT WAITING. FINALLY WHEN HE SEEMED RESIGNED TO HIS FATE OF WAITING A LONG TIME, THEY STARTED TO UNDRESS IN FRONT OF HIM AS HE STARED BACK AT THEM THROUGH THE WINDOW OF THE OFFICE. SALMA AND ANJA STRIPPED DOWN TO THEIR KNICKERS THEY COULD SE THE YOUNG SHOPLIFTER WAS ENJOYING THE SHOW AND WAS AROUSED. SO THEY TAPPED ON THE WINDOW AND INDICATED THAT HE SHOULD STRIP AS WELL. WHEN THE YOUNG SHOPLIFTER HAD REMOVED HIS CLOSES SALMA UNLOCKED THE DOOR AND LET HIM OUT OF THE OFFICE.
THE MOMENT THE YOUNG MAN WAS OUT OF THE OFFICE SALMA AND ANJA ATTACK HIM. THEY BOTH PIN HIM AND SIT ON HIS FACE. TONI ANOTHER FEMALE ASSISTANT CAME INTO THE WAREHOUSE AND SAW SALMA AND ANAJ SITTING ON THE YOUNG GUYS FACE SMOTHERING HIM. WHEN THEY GOT OFF THE GUYS FACE TONI DRAGGED HIM UP BY THE HAIR AND TRAPPED HIS HEAD BETWEEN HER THIGHS. THE THREE WOMEN PUT THE YOUNG SHOPLIFTER THROUGH A VARIETY OF PAINFUL AND HUMILIATING HOLDS. THEY ARE JOINED BY ANOTHER FEMALE ASSISTANT ANDREA CAME AND JOINED IN THE FUN. SHE STRIPPED DOWN AND DONNED SOME BOXING GLOVES, THE YOUNG SHOPLIFTER WAS FORCED TO DON GLOVES AND FIGHT ANDREA. ANDRE BATTERED THE GUY AND FINALLY KNOCKS HIM OUT. GREAT FEMALE ON MALE ACTION WITH OUT NUMBER MALE BEING BEATEN AND HUMILIATED. €6.00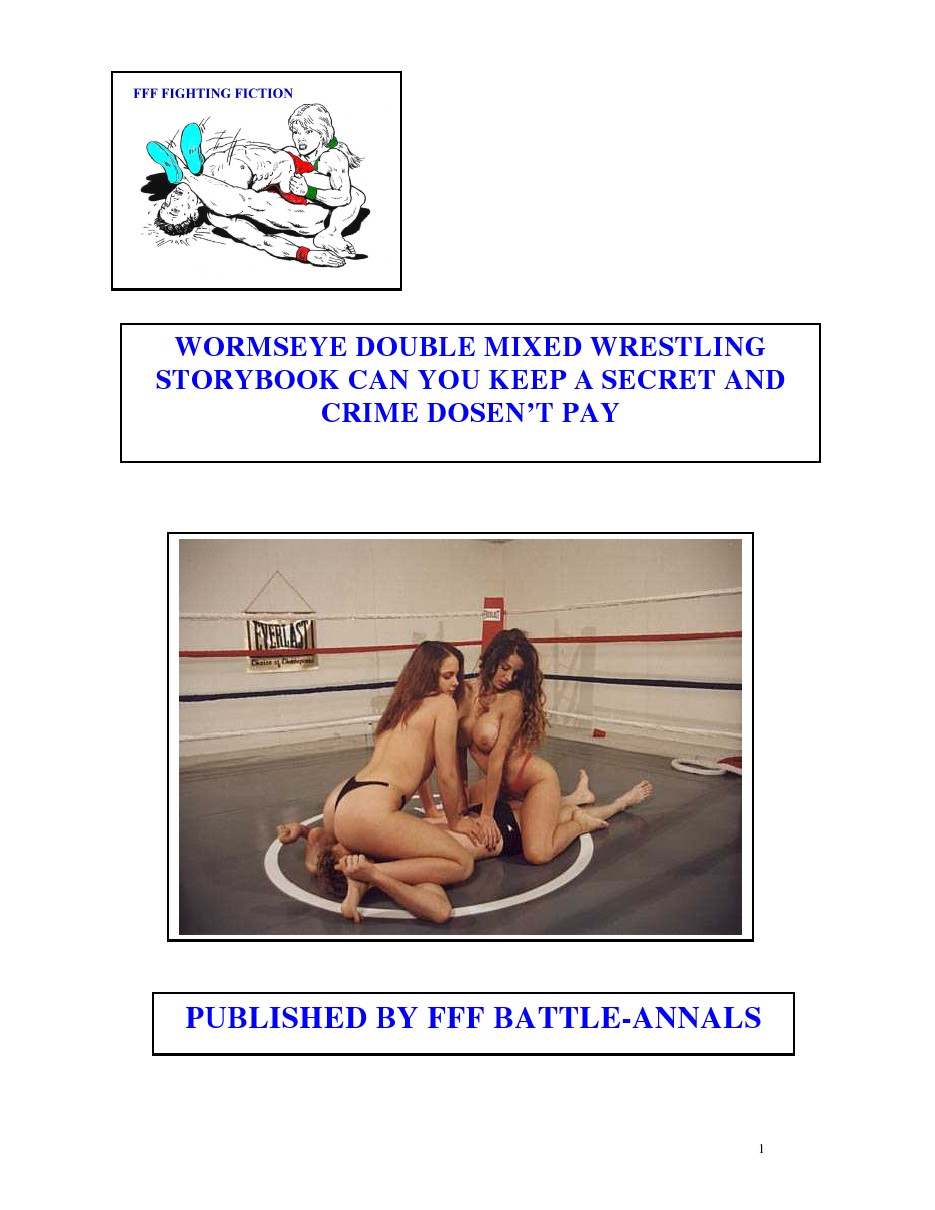 4 WORMSEYE MIXED BOXING DOUBLE STORYBOOK BUXOM ADVENTURES PART 1 AND ZIGLINDA'S FIGHTING GIRLS.
BUXOM ADVENTURES. A GUY AND HIS OLDER FEMALE FRIEND IRIS CHECKOUT HAMBURG'S NIGHT LIFT AND END UP IN A BAR THAT PROMOTES EROTIC MIXED WRESTLING AND BOXING MATCHES. IT SEEMED CUSTOMERS WERE ENCOURAGED TO ENTER THE RING AND BOX OR WRESTLE. THEY WATCH AND ENJOY ONE MIXED BOXING MATCH AND THEN THEY DECIDE T HAVE A BOXING MATCH. IRIS BATTERS AND BASHES HIM REPEATEDLY TO THE DELIGHT OF THE CROWD. HE REALLY GETS WORKED OVER IN SEVERAL ROUNDS OF HARD ONE SIDED MIXED BOXING. IRIS HAD LITTLE RESPECT FOR THE RULES AS SHE BATTERS HIM TO KO. THIS ALSO INCLUDES AN ACCOUNT OF HOW IRIS CAUGHT AND HUMILIATED A YOUNG MALE PEEPING TOM ONE DAY WHILE SHE WAS SUN BATHING AT A LAKE GREAT SUBJECTING HIM TO AL KINDS OF EROTIC FEMALE DOMINATION. GOOD MIXED FIGHTING AND DOMINATION ACTION.
ZIGLINDA'S FIGHTING GIRLS. SIMON A MALE SALES REP WAS CHECKED INTO A HOTEL ON A FRIDAY NIGHT FOR A SALES MEETING ON THE SATURDAY MORNING. SIMON WAS DRINKING IN THE HOTEL BAR WHEN HE WAS APPROACHED BY THREE WOMEN. THE THREE GOOD LOOKING WOMEN SANDRA ROSIE AND JANA OPENLY FLIRTED WITH SIMON AND HE WAS THINKING ABOUT HAVING AN EXCITING NIGHT WITH ALL THREE OF THEM IN HIS HOTEL ROOM. HOWEVER THE WOMEN HAD OTHER IDEAS AND TOOK HIM TO PACE THEY KNEW TO HAVE FUN AS THEY PUT IT WITH ALL THREE OF THEM. SIMON WAS SMOTHERED WHEN THEY ARRIVED AT THE THEY WERE TAKING HIM TO, WHEN HE CAME ROUND HE WAS TIED IN CHAIR AND WATCHED FEMALES WRESTLING AND DOMINATING SMALLER MEN TO UNCONSCIOUSNESS WITH VARIOUS TOUGH PAINFUL HOLDS.
SIMON WAS FORCED TO BOX SANDRA WHO POUNDED HIM TO MATS WITH TOUGH PAINFUL PUNCHES. THEN SIMON HAD TO BOX JANA JANE QUICKLY BATTERED SIMON TO A KO. SIMON WAS REVIVED WITH A BUCKET OF WATER AND HAD TO BOX WITH ROSIE. ROSIE MADE VERY SHORT WORK OF SIMON KNOCKING HIM OUT COLD. TO AD INSULT TO INJURY SIMON FOUND OUT THAT THE WOMAN HAD MADE A DVD OF HIS BOXING SO THE WHOLE WORLD COULD SHARE IN HIS HUMILIATION. TOUGH MIXED BOXING WITH THE MALE BEING BEATEN AND BATTERED BY THE THREE FEMALES. €7.00