MANFLESH CFMN CLOTHED FEMALE NAKED MALE FEMALE ON MALE DOMINATION ARTWORK AND COMIC BOOKS PAGE
The url is man-flesh1.blogspot.com
http://www.man-flesh1.blogspot.com
MANFLESH CFMN CLOTHED FEMALE NAKED MALE FEMALE ON MALE DOMINATION LIST
1 EASTERN BLOCK MILITARY SLAVE. SERGEI BARATOV ARMY LIEUTENANT IS REPORTS TO HIS COMMANDERS QUARTER ON NIGHT. THE COMMANDER ORDERS SERGEI TO STRIP NAKED ON THE PRETEXT THAT SERGEI'S BODY IS FIT FOR DUTY. HOWEVER THE COMMANDER HAD BEEN OGLING SERGEI BODY WHILE HE UNDERWENT PHYSICAL TRAINING IN JUST HIS UNDERWEAR ALONG WITH THE OTHER OFFICERS EVEN THOUGH THE WEATHER WAS REALLY COLD. THE COMMANDER WANTED TO FUCK SERGEI AND STARTS TO LICK SERGEI'S BUM. REVOLTED BY THE PROSPECT OF MALE SEX SERGEI REBELS AND ATTACKS HIS COMMANDER. SERGEI IS ARREST AND FOUND GUILTY ON A TRUMPED UP CHARGE OF LEWD BEHAVIOUR HE THEN MADE A MILITARY SLAVE.
SERGEI IS TAKEN BY TRAIN INA CATTLE TRUCK TO KRIVOY RAG. SERGEI IS THEN ATTACKED NAKED TO A PONY AND TRAP. A FEMALE OFFICER ARRIVED TO TAKE CHARGE OF HIM AND HE IS INFORMED THAT HE IS NOW A NAKED BEAST OWNED BY THE CFNM DIVISION. SHE INSERTS A LARGE STEEL ANUS BIT IN SERGEI'S ARSE AND THEN WHIPS HIM INTO A GALLOP. HE IS FORCED TO RUN AND PULL THE PONY TRAP MANY MILES UNTIL HE ARRIVED TIRED AND VERY SORE AT THE CFNM DIVISION BARRACKS AND HIS NEW LIKE A NAKED MALE SLAVE BEAST OF BURDEN. GRAPHIC COLOURED ARTWORK DEPICTING MALE DOMINATION HUMILIATION AND SUFFERING AT THE HANDS OF DOMINANT FEMALES. €10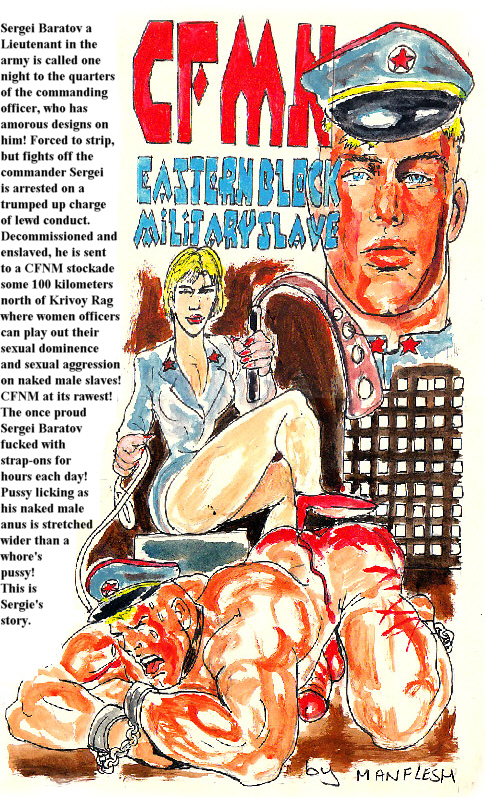 2 CFNM COP. STUD COP DAVVY IS SEARCHING FOR A MISSING COP JEFF DAVIDSON AND FOLLOWS A LEAD AFTER RECEIVING ANONYMOUS PHONE CALL TO MEET IN THE WARREN MAZE WHERE HE WILL FIND OUT WHAT HAPPENED TO JEFF. HE ENTERED THE MAZE CAREFULLY WONDERING WHO HE WAS GOING TO MEET. A TRAP DOOR OPENS IN THE FLOOR AND DROPS DAVVY INTO A STEEL WALLED ROOM. A SMALL PANEL OPENS IN THE DOOR AND TWO FEMALE EYES STARE AT HIM. "WELCOME STUD DAVVY TO ENSLAVEMENT", A MOCKING FEMALE VOICE SAID. FEMALE AMAZONS ENTER THE CELL AND STRIP HIM NAKED. ONE GIVES A FULL BLAST OF A CATTLE PROD TO THE BALLS THAT LEAVES HIM WRITHING ON THE FLOOR. SECURED HELPLESS ON A PLATFORM DAVVY IS MERCILESSLY LASHED FOR OVER AN HOUR. THE BEATING WAS ONLY THE START THE AMAZON THEN RAPES HIS ARSE WITH HER LARGE STRAP ON.
DAVVY IS HUNG FORM THE RAFTERS AND HAS HIS PUBES SHAVED OFF THEM WANKED AGAIN AND AGAIN UNTIL HIS COCK AND BALLS TURN PURPLE FORM OVER STIMULATION. THE EX-COP IS NOW A NAKED CAGED BEAST HE IS FED LUMPS OF CHEAP DOG FOOD LACED WITH STEROIDS AND VIAGRA. DAVVY HAS HIS BUT HOLES CLEANED OUT WITH SPONGE ON THE END OF A POLE SOAKED IN VINEGAR. DAVVY IS REUNITED WITH JEFF AT PARTY THROWN BY THE DOMINATRIX'S. THEY ARE MADE TO THE HOG ON THE SPIT AS IT ROASTS. THE EX-COPS GET AS HOT A THE HOG ALMOST ROASTING AS WELL AND ARE BASTED WITH PIG FAT. THEIR BURNT SKIN MAKES THEM SORE ON THE OUTSIDE. AFTER BEING MADE TO BOUNCE UP AND DOWN TWO AMAZON'S LARGE STRAP ONS THEY ARE QUICKLY SORE ON THE INSIDE AS WELL. THE SORE AND EXHAUSTED SLAVES ARE RETURNED TO THEIR KENNELS TO AWAIT THERE FATE. MORE GRAPHIC COLOURED ARTWORK DEPICTING MALE DOMINATION HUMILIATION AND SUFFERING AT THE HANDS OF DOMINANT FEMALES. €12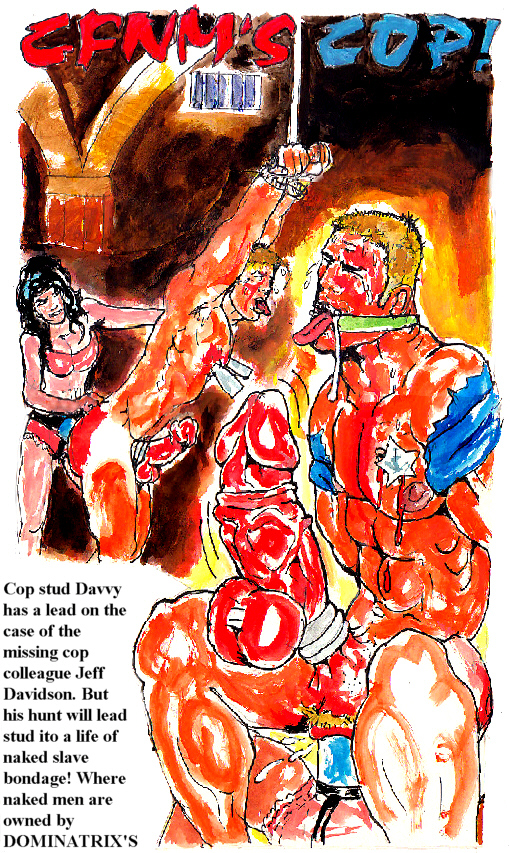 3 SUPERMAN SUPER SLAVE OF THE AMAZONS. THE AMAZONS LURE SUPERMAN TO THEIR PLANET AMAZONIA ON THE PRETEXT OF RELEASING MALE SLAVES. HOWEVER IT WAS JUST RUSE TO GET SUPERMAN TO THEIR PLANET AS THEY WANTED TO ENSLAVE HIM. AMAZONIA HAS A LARGE CONCENTRATION OF YELLOW K DUST THAT ROB SUPERMAN OF HIS POWERS. WEAKEN BY THE YELLOW K DUST SUPERMAN CRASHES TO THE GROAN AND IS AND ZAPPED BY ONE OF THE AMAZONS. THE AMAZONS STRIP THE HELPLESS SUPERMAN NAKED. SUPERMAN NOW A NAKED SLAVE BEAST IS TETHERED TO AN ORE WAGON WITH OTHER NAKED MALE SLAVES. THE AMAZONS USE BOUND NAKED MALE SLAVE AS BLACK SMITHS TO PRODUCE WEAPONS FOR THEM. SUPERMAN IS SECURED IN A FORGE AND THE BLACK SMITHS FIT MAN BEAST RINGS TO HIS NIPPLES AND STRETCH HIS COCK AND BALLS WITH SEVEN STEEL RINGS. ANOTHER STEEL RING IS ATTACHED TO HIS TIGHTLY STRETCHED PERINEUM FOR TETHERING WHEN STABLED.
NOW MAN BEAST RINGED SUPERMAN REJOINS THE OTHER SLAVES PULLING THE ORE WAGON. THE SLAVE ARE MADE TO PULL THE ORE ALONG THE GREAT ROAN THAT HAS REGULAR NIGHT STOPS THAT HAVE TETHERING POSTS AND SLAVE INDOCTRINATION PLATFORMS AS WELL. SUPERMAN IS TETHER TO THE PLATFORM BY HIS PERINEUM RING AND HAS HIS ARSE FUCKED HARD WITH A STRAP ON BY FIVE AMAZONS ALL TAKING THEIR TURNS TO RAPE THE ONCE SUPER HERO. BREAKFAST FOR SUPERMAN AND THE OTHER SLAVES IS LIVE SAND WORMS SOAKED IN ROIDS AND VIAGRA TO KEEP THEIR COCK HARD. WHEN THE ORE WAGON REACHES THE CITY SUPERMAN AND THE OTHER MALES SLAVE ARE RELEASED TO START THEIR LIFE AS MALE SLAVE BEASTS. THIRTEEN PAGES OF GRAPHIC COLOURED ARTWORK DEPICTING MALE DOMINATION HUMILIATION AND SUFFERING AT THE HANDS OF DOMINANT FEMALES. €12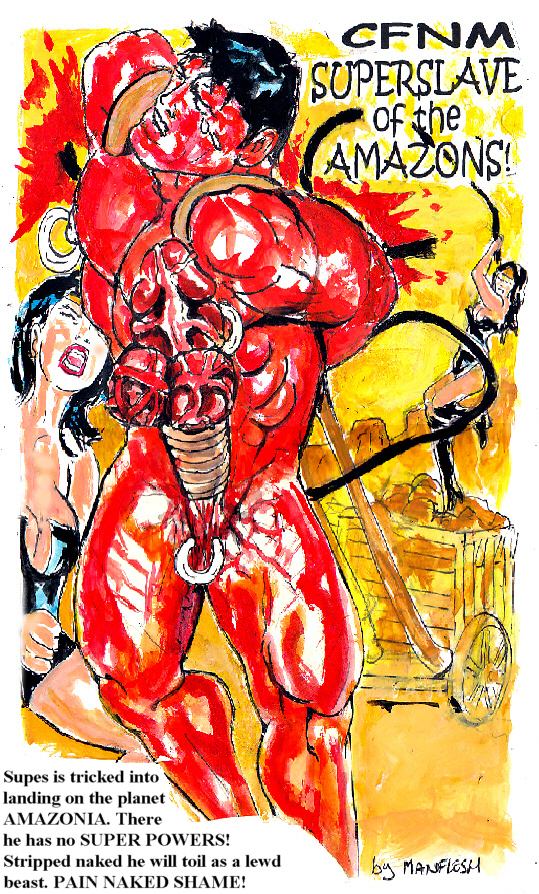 4 THE ADVENTURES OF SERGEANT MCCLUSKEY PART 1, A PULP FICTION REAL MAN'S ADVENTURE. SERGEANT MCCLUSKEY WAS KNOCKED OFF HIS SHIP AT THE BATTLE OF MID WAY, AND WAS WASHED ASHORE ON A TROPICAL ISLAND. THE ISLAND WAS RULED BY A TRIBE OF SAVAGE AMAZONS. SERGEANT MCCLUSKEY WOULD BE STRIPPED NAKED AND ENDURE HARD LABOUR. HE WOULD ALSO HAVE TO FUCK THEM ALL UNTIL HIS COCK WAS RED RAW.
SERGEANT MCCLUSKEY WOULD STRIP WITH HIS MEN WHEN LOADING THEIR GUN, ON THEIR SHIP. HE ALSO JOINED HIS MEN IN BREEDING A BROAD, PAYING HIS FULL SHARE. ALSO MORE THAN OFTEN WHEN HE JOINED HIS MEN FUCKING A WHORE HE WOULD PAY FIVE DOLLAR FULL NIGHT PRICE HIMSELF. IT WAS BELIEVED BUT NEVER CONFIRMED THAT IT WAS A HIT FROM MCCLUSKEY'S WEAPON THAT SUNK THE GOONS SHIP, THAT TURNED THE BATTLE OF MID WAY. STRIPPED TO THE WAIST IN PANTS AND HELMET, SERGEANT MCCLUSKEY BLASTED THE GOONS SHIP WITH HIS GUN. THE SHOCK WAVE CAUSED BY THE HUGE BLAST FROM THE GOONS SHIP HIT MCCLUSKEY'S SHIP. SERGEANT MCCLUSKEY'S PANTS WERE RIPPED OFF AND HE WAS FLUNG OVER BOARD. ONCE IN THE WATER SERGEANT MCCLUSKEY USED HIS TORN PANTS TO MAKE A FLOAT. SERGEANT MCCLUSKEY WAS PLEASED TO SEE THE NIP BOAT GOING DOWN. BUT THEN HE REALISED HIS OWN SHIP HAD MOVED ON AND LEFT HIM BEHIND. NAKED BAR HIS HELMET AND BOOTS, SERGEANT MCCLUSKEY BATTLED HIS WAY THROUGH THE SURF TO WASH UP ON THE BEACH OF A NEARBY ISLAND.
AS SERGEANT MCCLUSKEY GOT TO HIS FEET, SCANTLY CLAD WOMEN APPEARED FROM THE JUNGLE. SOME WERE CARRYING CLUBS, OTHERS CARRIED WHIPS. "WOW BROADS WITH BARE TITS, SERGEANT MCCLUSKEY THOUGHT EXCITEDLY, HIS COCK HARD IN APPRECIATION. BUT THEY ATTACKED SERGEANT MCCLUSKEY WITH CLUBS KNOCKING DOWN AND OVER POWERING HIM. "TIE THE BEAST UP", THE AMAZON WITH THE WHIP ORDERED. WITH HIS HANDS TIED BEHIND HIS BACK SERGEANT MCCLUSKEY WAS FORCED TO RUN BY THE WOMEN, HIS NAKED ARSE WHIPPED, WITH WHIPS MADE OF JUNGLE CREEPERS, COATED WITH TREE RESIN. HE TRIED BUT FAILED TO AVOID THE BLOWS TO HIS NAKED ARSE. BACK AT THE AMAZON VILLAGE THE NAKED GUNNER, SERGEANT MCCLUSKEY, WAS TIED TO A BAMBOO POST. A PIPE ATTACHED TO IT WAS THRUST IN HIS MOUTH. HE WAS THEN WHIPPED WITH A VINE, WITH STINGING HAIRS, UNTIL HIS ARSE AND BACK WERE INFLAMED. AFTER HIS WHIPPING SERGEANT MCCLUSKEY WAS FORCED TO SWALLOW ALL THE AMAZON'S PISS. THE POST SERGEANT MCCLUSKEY WAS TIED TO, HAD A BOWL ON THE TOP AND THE PIPE IN HIS MOUTH WAS CONNECTED TO THE BOTTOM OF THE BOWL. AMAZONS KEPT POURING BOWLS OF THEIR PISS INTO THE BOWL ON THE POST, FORCING SERGEANT MCCLUSKEY TO SWALLOW IT OR CHOKE. TO HIS HORROR EVEN WHEN HIS STOMACH WAS FULL THEY KEPT POURING. SERGEANT MCCLUSKEY WITH HIS GUT BLOATED WAS TAKEN OFF OF THE POST. HE WOULD HAVE TO GET USE TO THE AMAZON'S PISS, AS IT WAS THE ONLY WATER HE WOULD BE GIVEN TO DRINK.
SERGEANT MCCLUSKEY'S LEGS WERE SPREAD PART AND TIED TO TWO POSTS THAT KEPT THEM WIDE PART. THE AMAZON'S THEN DANCED AROUND THEIR CAPTIVE, PISSING ON HIM. SERGEANT MCCLUSKEY. ONCE A HARD MAN, ONCE A FUCKER OF BROADS, WAS NOW CONTROLLED LIKE A LAP DOG. SHIT, THEY ARE PISING ON ME AND MY COCK IS ROCK HARD SHIT, SERGEANT MCCLUSKEY THOUGHT TO HIMSELF IN HORROR. THEN A HORN FROM A WATER BUFFALO, WAS THRUST HARD UP SERGEANT MCCLUSKEY'S ARSE. THE AMAZONS THEN STARTED TO PISS IN IT, AND SERGEANT MCCLUSKEY SOBBED AND CRIED IN PAIN AND HUMILIATION, AS HIS GUTS SWELLED EVEN MORE. SERGEANT MCCLUSKEY HAD A HARNESS FITTED TO TURN HIM INTO A DRAFT ANIMAL OR BULLOCK. THE TOP OF THE HARNESS WAS CLAMPED ROUND HIS CHEST WHILE THE BOTTOM WAS CLAMPED ROUND HIS WAIST. HIS COCK AND BALLS WERE FED THROUGH A HOLD ON THE FRONT OF THE LOWER HALF OF THE HARNESS AND IMMOBILISED. "YOU WILL WORK OFF YOUR PISS FILLED GUT LIKE THE BEAST YOU ARE", ONE OF THE AMAZONS SAID. SHIT I'M JUST A NAKED FUCKING BEAST, SERGEANT MCCLUSKEY THOUGHT TO HIMSELF. "YOU WILL WORK HARD, OR BE CUT TO PIECES", ANOTHER WORNED, BRANDISHING A KNIFE, AND APPLYING TWO CUTS TO SERGEANT MCCLUSKEY'S CHEEK, AS A WARNING. SERGEANT MCCLUSKEY OR BEAST MCCLUSKEY AS HE NOW WAS, STARTED HIS TOIL, AS THE TROPICAL SUN BEAT DOWN, HIS FUCK WEAPON STICKING OUT LEWD AND HARD. THE ENCOURAGEMENT OF THE WHIP MADE HE STRAINED AND PULLED THE PLOUGH MADE OF WHALE BONE. SERGEANT MCCLUSKEY'S BACK, BUTTOCKS AND THICK THIGHS, WERE BURNT BY THE BAKING SUN, ALSO SO SORE FROM THE LASH AS HE TOILED ON AND ON.
WITH THE PLOUGING DONE, SERGEANT MCCLUSKEY WAS DRAGGED BACK TO THE VILLAGE AND MADE TO PISS, WITH HIS LEG COCKED UP, LIKE THE DOG HE WAS. HE WAS THEN PISSED ON BY THE AMAZONS TO SHOW THEIR POWER. THEN SERGEANT MCCLUSKEY WAS FORCED TO FUCK ALL THE AMAZONS, AND EVERYTIME HE HAD TO CUM. SERGEANT MCCLUSKEY FUCKED THIRTEEN OF THEM AND EACH CUNT HAD TO BE FILLED WITH SPUNK. WITH HIS COCK SORE SERGEANT MCCLUSKEY BEGGED TO FUCK NO MORE AMAZONS. BUT THE AMAZONS JUST CRUELLY TEASED, HIS RED SORE COCK. AFTER TWO WEEKS OF THIS SERGEANT MCCLUSKEY SAW A SHIP OFF SHORE AND USING A LARGE TREE TRUNK, HE WAS ABLE TO ESCAPE. HE DID NOT MENTION THE AMAZON WOMEN, WHO WOULD. HOT FEMALE ON MALE DOMINATION, WITH GRAPHIC, PHYSICAL AND SEXUAL ABUSE. €15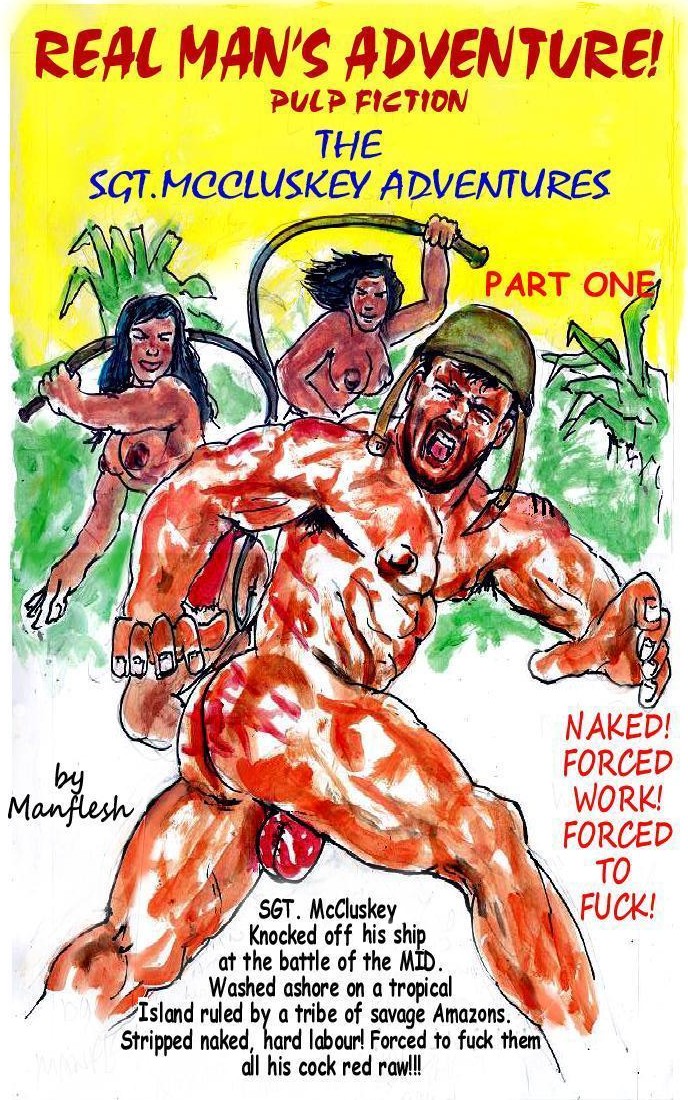 5 THE ADVENTURES OF SERGEANT MCCLUSKEY PART 2 SHANGHAI LILL. THE FLEET WAS IN TOWN IN SHANGHAI, SERGEANT MCCLUSKEY WAS OUT TO GET A BROAD IN SHANGHAI WITH HIS BUDDIES. BUT IT WAS HE WHO WAS SHANGHAIED. IN A BROTHEL HIS TWO BUDDIES QUICKLY PAIR UP WITH A WHORE EACH, WHILE SERGEANT MCCLUSKEY TRIED TO DECIDE WHICH ONE TO BED. THEN A CURTAIN WAS PULLED ASIDE AND A BEAUTIFUL CHINESE WOMAN IN A SEXY RED DRESS APPEARED. "HE BIG BOY, YOU LIKE, YOU COME AND SEE SHANGHAI LILL", SHE SAID. "FUCK YEAH", SERGEANT MCCLUSKEY REPLIED AND FOLLOWED HER BEHIND THE CURTAIN. AS HE ENTERED, HE WAS KNOCKED OUT WITH A LEATHER COSH, FILLED WITH IRON PELLETS, FROM BEHIND. OUT COLD, SERGEANT MCCLUSKEY WAS DRAGGED INTO THE WORLD OF SHANGHAI LILL.
IN THE SUBTERRANEAN VAULTS OF SHANGHAI LILL'S ESTABLISHMENT, SERGEANT MCCLUSKEY AWOKE AND FOUND HE WAS NAKED AND CHAINED. HIS ANUS WAS BEING STRETCHED WIDE AND DEEP BY A POLE ATTACHED TO THE CEILING, WITH A CLAW ON ITS BASE, THAT WAS UP HIS ARSE. SERGEANT MCCLUSKEY'S FEET WERE OFF THE GROUND AND ALL HIS BODY WEIGHT, WAS PRESSING THE CLAW UP HIS ARSE. THE CHINESE WOMEN IN THE SEXY RED DRESS, SHANGHAI LILL, WAS THERE WATCHING HIM. SHANGHAI LILL GRABBED SERGEANT MCCLUSKEY'S COCK AND WANKED IT HARD, SO IT SWELLED WITH BLOOD. THE EVIL DOMINATRIX THRUST A HOLLOW SILVER TUBE DOWN INSIDE SERGEANT MCCLUSKEY'S COCK. MAKING HIM GROAN IN PAIN. TWO OF SHANGHAI LILL'S GUARDS REMOVED SERGEANT MCCLUSKEY FROM THE POLE AND CUFFED HIS HANDS UNDER HIS BUM. AS SOME OF THE DOMINATRIX'S HAND MAIDS WATCHED. SERGEANT MCCLUSKEY WAS MADE TO CRAWL WITH AN IVORY TUSK UP HIS ARSE. THE HAND MAIDENS TITTERED, AT THE SIGHT OF THE WESTERNERS HAIRY BUM. THE DOMINATRIX USED HER WHIP ON SERGEANT MCCLUSKEY'S BACK AND BUM. ALTHOUGH THE WHIPPING WAS PAINFUL AND EMBARRASSING, HIS COCK GETTING HARD WAS EVEN MORE EMBARRASSING. SHANGHAI LILL APPLIED THE WHIP MERCILESSLY FORCING SERGEANT MCCLUSKEY TO DANCE FOR IN HIS PRONE POSITION. WHEN SHANGHAI LILL FINALLY STOPPED WHIPPING SERGEANT MCCLUSKEY, HER GUARDS TOOK OVER. THEY FORCED SERGEANT MCCLUSKEY TO MOUNT SERIES OF LARGE BLACK RUBBER DILDOS FIXED TO A TABLE TOP. HE WAS MADE TO MOUNT EACH ONE IN TURN IMPALING HIS ARSE ON THEM. SHANGHAI LILL'S GUARDS USED WHIPS TO MAKE SERGEANT MCCLUSKEY BOUNCE UP AND DOWN ON THEM, FUCKING HIS OWN ARSE. AFTER THAT EXHAUSTING ANAL ORDEAL, SHANGHAI LILL ORDERED HER GUARDS TO TAKE SERGEANT MCCLUSKEY TO HER THRONE ROOM. THERE SERGEANT MCCLUSKEY WAS PLACED ON A SEAT FIT FOR A MAN.
THE SEAT WAS MADE OF STONE THERE WERE TWO STEEL ANKLE CUFFS ATTACHED BY CHAINS TO THE LEGS OF THE STONE CHAIR, TO SECURE THE OCCUPANTS LEGS. IN THE CENTRE OF THE SEAT OF THE STONE CHAIR WAS A LARGE STONE DILDO. SERGEANT MCCLUSKEY WAS FORCED TO MOUNT THE LARGE STONE DILDO AND HIS LEGS WERE SECURED IN THE STEEL ANKLE CUFFS. SERGEANT MCCLUSKEY'S ARMS WHERE THEN TIED BEHIND HIM, TO TOTALLY IMMOBILISING HIM. THE DOMINATRIX'S HAND MAIDENS STARTED TO ATTACH PEGS TO SERGEANT MCCLUSKEY'S BALLS. EACH PEG HAD LENGTH OF CORD ATTACHED TO IT. THE DOMINATRIX'S HAND MAIDENS, DID NOT STOP UNTIL SERGEANT MCCLUSKEY'S BALLS WERE COVERED WITH PEGS. THE DOMINATRIX'S HAND MAIDENS PULLED THE CORDS TIGHT, TUGGING ON THE PEGS AND STRETCHING THE SKIN OF SERGEANT MCCLUSKEY'S SCROTUM. SERGEANT MCCLUSKEY WATCHED IN HORROR AS THE CORDS GOT TIGHTER AND THE PEGS STRETCHED THE SKIN OF HIS SCROTUM, TIGHTER AND TIGHTER. THEN SHANGHAI LILL ORDERED HER MAIDENS TO PULL HARDER. THEY ALL YANKED HARD ON THE CORDS, RIPPING THE PEGS FROM SERGEANT MCCLUSKEY'S BALLS, MAKING HIM SCREAM IN PAIN. THE SHOCK AND PAIN MADE SERGEANT MCCLUSKEY, RAM HIS ARSE HARD ONTO THE LARGE STONE DILDO. BALLS BURNING WITH PAIN AND HIS VIOLATED ARSE SORE, SERGEANT MCCLUSKEY WAS REMOVED FROM THE STONE CHAIR, BUT HIS ARMS REMAINED TIED BEHIND HIS BACK. HE WAS MADE TO SIT WHILE SHANGHAI LILL'S HAND MAIDENS, TOOK TURNS WANKING HIS HARD COCK AND MAKING HIM CUM. BY THE TIME THEY HAD ALL HAD A TURN, HIS COCK WAS VERY SORE AND HE FELT EXHAUSTED. WEARILY HE WONDERED WHAT WOULD HAPPEN NEXT.
SERGEANT MCCLUSKEY WAS BOUND WITH TWO BAMBOO POLES THAT COMBINED WITH THE ROPES BINDING HIS BODY, FORMED FRAME. ONE WAS PUSHED THROUGH HIS ARMS BEHIND HIS BACK, WITH HIS ARMS SECURED HANGING BACK OVER THE POLE. THE OTHER WAS TIED TO HIS LEGS JUST BELOW HIS BUTTOCKS. THE FRAME WOULD ENABLE HIM TO PULL A RICK SHAW. THE TOUGH USA GUNNER WAS TO BE A RICKSHAW BOY, A NAKED RICK SHAW BOY. THE DOMINATRIX MADE SERGEANT MCCLUSKEY PULL THE RICK SHAW NAKED THROUGH THE STREETS. WHEN THE LOCALS SAW THE NAKED ENSLAVED WESTERNER PULLING THE RICK SHAW, THEY SPAT ON HIM AND THREW DUNG AT THE HUMILIATED WESTERN GUNNER. SERGEANT MCCLUSKEY'S HUMILIATION CONTINUED, AS THE CROWDS ON THE STREET USED ANY MUCK THEY COULD FIND, TO THROW AT, THE ENSLAVED AMERICAN GUNNER SERGEANT. THE CROWDS ADMIRIED SHANGHAI LILL'S CONTROL OVER THE SHAMED NAKED, WESTERNER. SERGEANT MCCLUSKEY SPOTTED A MARKET STALL FULL OF GOURDS, HE RAN STRAIGHT AT IT. THEN SIDE STEPPED, CRASHING THE RICK SHAW INTO THE STALL OF CANNON BALLS SIZED GOURDS AND WAS ABLE TO BREAK FREE OF THE RICK SHAW. FLEEING, SERGEANT MCCLUSKEY MADE HIS WAS DOWN TO THE SEA WHERE HE SPOTTED A BOAT CLOSE TO SHORE IN THE BAY. HE HOPED THEY COULD TAKE HIM TO HIS BATTLESHIP. BUT THE JUNK IN THE BAY BELONGED TO FAH LO SOUEE, THE DAUGHTER OF FU MANCHU. SERGEANT MCCLUSKEY USED THE BAMBOO POLE STILL SECURED UNDER HIS ARMS, AS A FLOAT, TO HELP HIM PADDLE TO THE WAITING JUNK. MORE HOT FEMALE ON MALE DOMINATION, WITH GRAPHIC, PHYSICAL AND SEXUAL ABUSE. €15
6 THE ADVENTURES SERGEANT MCCLUSKEY PART 3. SERGEANT MCCLUSKEY IN THE HANDS OF FAM LO SUEL, FU MANCHU'S DAUGHTER. AFTER ESCAPING FROM THE CLUTCHES OF SHANGHAI LILL, SERGEANT MCCLUSKEY SWAM OUT TO THE JUNK IN THE HARBOUR. NAKED BAR HIS HELMET HE WAS PULLED ABOARD, BY TWO BRUTISH CHINAMEN. LITTLE DID HE KNOW THE BOAT BELONGED TO FAM LO SUEL, FU MANCHU'S DAUGHTER. "I NEED A LIFT TO MY SHIP?", SERGEANT MCCLUSKEY TOLD THE BRUTISH CHINAMEN. BUT THEY JUST GRABBED HIM AND BOUND HIS ARMS BEHIND HIS BACK, THEN TOOK HIM TO MEET THE CAPTAIN.
FOR SERGEANT MCCLUSKEY IT WAS OUT OF THE FRYING PAN AND INTO THE FIRE. HE WAS NAKED AND BOUND, ON THE FLAG SHIP OF THE NOTORIOUS, FAM LO SUEL, THE EVIL DAUGHTER OF FU MANCHU. SHE WAS EAGER TO GET HERE HANDS ON THE NAKED HUNK'S MUSCULAR FLESH, AND BEND HIM TO HER WILL. SERGEANT MUCCLUSKEY WAS FORCED TO KNEEL IN FRONT OF FAM LO SUEL, AS SHE SAT ON HER DRAGON THROWN. "I AM FAM LO SUEL, THE DAUGHTER OF FU MANCHU, LORD OF ALL THE WORLD", FAM LO SUEL TOLD THE SERGEANT. "YOU ARE A NAKED AMERICAN SLAVE, OF OUR GREAT EMPIRE. "YOU WILL BE TRAINED TO SERVE ME", SHE ADDED. SERGEANT MCCLUSKEY WAS GRABBED BY THE BRUTISH CHINAMEN, THEY RAISED HIS LEGS AND SPREAD THEM WIDE, LEWDLY DISPLAYING HIS ARSE HOLE. FAM LO SUEL, WAS HOLDING A GNARLED WOODEN CLUB. THE EVIL RULER, THRUST THE GNARLED END OF THE CLUB, UP SERGEANT MCCLUSKEY'S ARSE. THIS GIRL HAD NO REGARD FOR 1940'S MALE SUPERIORITY COMPLEXES. SHE WANKED HIM, WHILE HIS LEGS WERE SPREAD WIDE BY THE BRUTISH CHINAMEN AND THE GNARLED WOODEN CLUB WAS THRUST IN HIS ARSE. SHE PULLED AND SQUEEZED, HER EVIL KNEW NO BOUNDS. SHE WAS DETERMINED TO MILK HIM DRY. WHEN FAM LO SUEL, HAD WANKED SERGEANT MCCLUSKEY'S COCK DRY, SHE WOUND STEEL WIRE AROUND SERGEANT MCCLUSKEY'S COCK TO FORM A COCK CAGE. SERGEANT MCCLUSKEY HAD BEEN MILKED DRY, AND HAD HIS COCK COMPRESSED AND ENCAGED, REDUCED TO A TWO INCH STUMP. HE WAS FORCED TO SCRUB THE DECK BY FAM LO SUEL, WHO TOLD HIM, HE WOULD FEEL HER WHIP IF HE SLACKED. SERGEANT MCCLUSKEY SCRUBBED THE DECKS HE WAS NOW A SCRUBBER AND HE GROANED, AS FAM LO SUEL'S WHIP LASHED HIS BACK. AS SERGEANT MCCLUSKEY CONTINUED TO SCRUB THE DECK, FAM LO SUEL STARTED TO TARGET HIS ARSE THAT STILL HAD THE GNARLED CLUB THRUST IN IT.
WHEN SERGEANT MCCLUSKEY FINISHED SCRUBBING THE DECK ONE OF THE BRUTISH CHINAMEN BOUND HIS ARMS TOGETHER. THEN SERGEANT MCCLUSKEY WAS SUSPENDED UPSIDE DOWN, BY HIS LEGS, FROM ONE OF THE JUNKS LOWER SAIL BEAMS. THIS ENSURED THAT ALL OF SERGEANT MCCLUSKEY'S NAKED FLESH WAS NOW AVAILABLE TO FAM LO SUEL. SERGEANT MCCLUSKEY WAS HUNG BY HIS LEGS, LIKE A PIECE OF BEEF. WHILE THE CRUEL DOMINATIX ADDED MORE WELTS TO SERGEANT MCCLUSKEY'S PELT, WITH HER WHIP. SHE TARGETED HIS TIGHTLY BOUND AND SHRUNKEN COCK AND RED SORE, SWOLLEN BALLS. FAM LO SUEL REMOVED THE THICK METAL WIRE AROUND SERGEANT MCCLUSKEY'S COCK, MAKING HIM SCREAM WHEN THE BLOOD RUSHED BACK INTO HIS COCK. FAM LO SUEL USED SPIKED GLOVE TO BRUTALLY SQUEEZE SERGEANT MCCLUSKEY'S SORE COCK. AFTER ABUSING SERGEANT MCCLUSKEY'S SORE COCK, FAM LO SUEL RAMMED THE SPIKED GLOVE ALL THE WAY INTO SERGEANT MCCLUSKEY'S ARSE. SERGEANT MCCLUSKEY SCREAMED AS HIS COCK HUNG DOWN LIKE A BALLOON FILLED WITH WATER, SORE AND THROBBING. AFTER FAM LO SUEL HAD, HAD HER FUN WITH SERGEANT MCCLUSKEY'S ARSE, HE WAS TAKEN DOWN AND HIS SORE AND BATTERED ARSE WAS SPREAD WIDE, BY TWO BRUTISH CHINAMEN. SERGEANT MCCLUSKEY STARED IN HORROR AT FAM LO SUEL, WHO HAD A RED HOT BRANDING IRON IN HER HAND. SHE WAS GOING TO BRAND HIS BUTT WITH THE WORD SLAVE. THEN A FIRE BOMB FROM A KOREAN JUNK, SMASHED INTO THE DECK, BLOWING SERGEANT MCCLUSKEY INTO THE AIR, AND INTO A NEW ADVENTURE. MORE HOT FEMALE ON MALE DOMINATION, WITH GRAPHIC, PHYSICAL AND SEXUAL ABUSE.€15.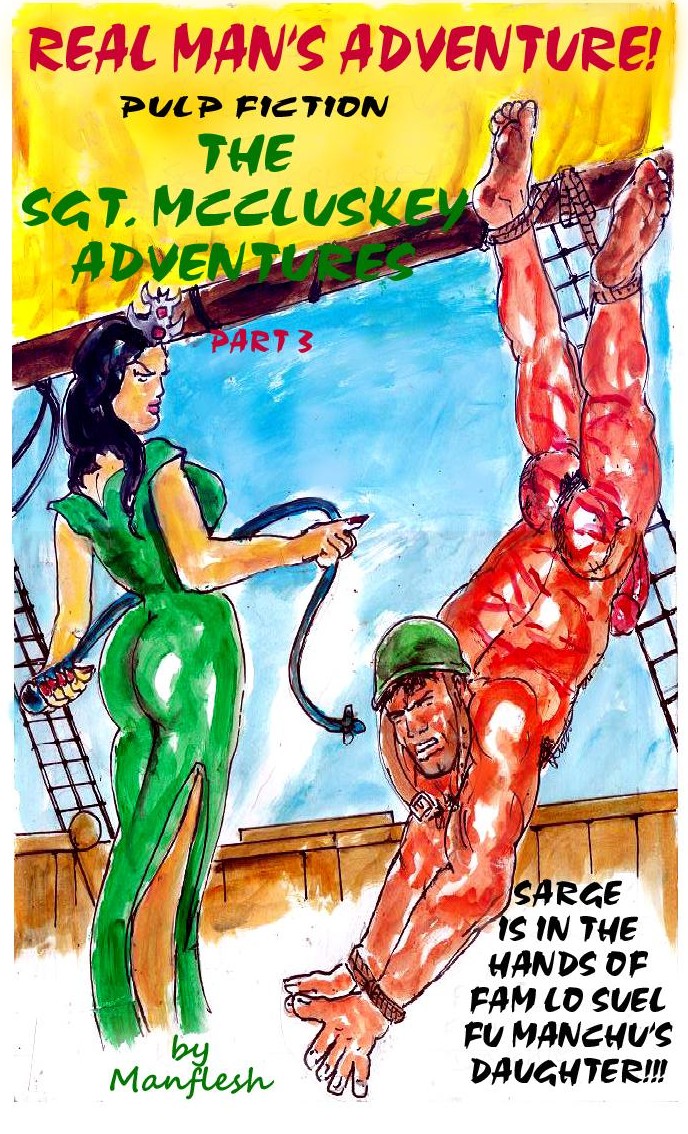 7 THE ADVENTURES OF SERGEANT MCCLUSKEY PART 4. DURING A RAID TO BLOW UP A GERMAN GUN EMPLACEMENT, ON SICILY. SERGEANT MCCLUSKEY, HELD HIS POSITION AND OPENED FIRE, ON THE OVER WHELMING FORCE OF NAZI'S, SO HIS MEN COULD ESCAPE. THEY DID, BUT HE WAS CAPTURED.
"RIGHT MEN, WE WILL DESTROY THE GUN EMPLACEMENT, FIRING ON OUR ALLIED FLEET?", SERGEANT MCCLUSKEY, TOLD HIS MEN, AS HE GAVE THEM A PEP TALK, ON THE IMMINENT RAID. "LETS GIVE THEM HELL", SERGEANT MCCLUSKEY SAID, WHEN THEY WERE IN THE LANDING CRAFT, APPROACHING THE BEACH. "RIGHT LADS, LETS GO IN LAND AND TAKE THEM FROM BEHIND", SERGEANT MCCLUSKEY SAID, AS HE LED HIS MEN OFF THE BEACH. HOWEVER, A LITTLE WHILE LATER THEY WERE CONFRONTED, BY A LARGE GERMAN FORCE, INCLUDING TANKS. "WE ARE OUT GUNNED, YOU GET BACK TO THE LANDING CRAFT", SERGEANT MCCLUSKEY TOLD HIS MEN. "I WILL HOLD THEM OFF", HE ADDED. THE GERMANS, DID NOT FIRE ON HIM, SO HE DECIDED TO CHARGE THEM, USING HIS FISTS. SERGEANT MCCLUSKEY, WAS OVER POWERED BY NUMBERS, BUT AT LEAST HE LET HIS MEN ESCAPE. TWO GIANT, GERMAN GOONS, GRABBED HIM. SERGEANT MCCLUSKEY, WAS TAKEN, TO GERMAN HEAD QUARTERS. "THINK YOU ARE SUPERIOR?", A GERMAN COMMANDANT SHOUTED. "DOG, WE ARE THE MASTER RACE", THE COMMANDANT SNEERED, AS HE HIT SERGEANT MCCLUSKEY, IN THE FACE WITH HIS BATON. "TAKE HIM TO THE DUNGEON?", THE COMMANDANT ORDERED.
IN THE DUNGEON, SERGEANT MCCLUSKEY WAS TIED TO A BEAM AND STRIPPED NAKED. SERGEANT MCCLUSKEY'S SHIRT WAS TORN OFF, THEN THE REST OF SERGEANT MCCLUSKEY'S CLOTHES, WERE CUT FROM HIS BODY, BY THE TWO GOONS. THIS MADE SERGEANT MCCLUSKEY'S COCK RUDELY ERECT. "NICE THICK ARSE, CHEEKS?", ONE OF THE GOONS SAID, PAWING SERGEANT MCCLUSKEY'S BUTTOCKS. THE NEXT DAY THE COMMANDANT ENTERED, WITH A BLOND, NAZI FRAULEIN. SHE SMILED AND LICKED HER LIPS, AS SHE EYED, THE BOUND AND NAKED US SERGEANT. "HE SWINE, I WILL KILL HIM?", THE COMMANDANT SAID. "I WANT HIM AS MY PET?", THE FRAULEIN SAID. "HE IS WELL ENDOWERED DEAR, WHAT WILL YOU DO WITH HIM?", THE FRAULEIN ASKED, AS SHE FONDLED, SERGEANT MCCLUSKEY'S, HARD COCK. "CLAUDIA HE WILL I SHOT?", THE COMNANDANT REPLIED. "IF YOU LOVE ME, I COULD HAVE A VERY GOOD TIME WITH HIM", CLAUDIA SAID. "IF HE FAILS, YOU CAN SHOOT HIM CARL", SHE ADDED, AS SHE CONTINUED TO FONDLE SERGEANT MCCLUSKEY'S, HARD COCK. "WELL THEN CLAUDIA, WHEN I DELIVER HIM TO YOU, I WILL HAVE MADE HIM DOCILE, A PUPPY, DESPERATE AND ANXIOUS TO PLEASE", THE COMMANDANT REPLIED. COMMANDANT CARL, TOOK A SEAT. HE ORDERED THE GOONS, TO TURN SERGEANT MCCLUSKEY'S, NAKED, MUSCLE FLESH, INTO HAMBURGER. AN HOUR LATER, SERGEANT MCCLUSKEY WAS MOANING, THEN CRYING, THEN SCREAMING. "COMMANDANT I WILL MAKE HIM A GLOVE PUPPET?", ONE OF THE GOONS BOASTED, AS HE SHOVED HIS FIST UP, SERGEANT MCCLUSKEY'S ARSE. THE GOON MADE SERGEANT MCCLUSKEY DANCE IN AGONY WATCHED BY THE COMMANDANT, UNTIL, SERGEANT MCCLUSKEY, WAS SCREAMING FOR MERCY. WHEN THE GOON FINALLY STOPPED AND LET SERGEANT MCCLUSKEY DOWN, SERGEANT MCCLUSKEY HAD HIS HANDS, TIED BEHIND HIS BACK AND WAS FORCED TO KNEEL IN FRONT OF THE COMMANDANT.
SERGEANT MCCLUSKEY'S FLESH, WAS ON FIRE AND HIS ARSE WAS NOW ON FIRE. "PLEASE I'LL DO ANYTHING", SERGEANT MCCLUSKEY PLEADED. "YOU WILL?", THE COMMANDANT REPLIED. "YOU WILL SUCK THEIR COCKS", THE COMMANDANT SAID, POINTING, AT HIS TWO GOONS WHO WERE BOTH RUBBING THEIR BULGING GROINS. SERGEANT MCCLUSKEY, WAS HORRIFIED BUT HAD NO CHOICE. ONE GOON GOT HIS COCK OUT AND IT WAS COVERED WITH SWASTIKA, TATTOOS. "FUCK HIS MOUTH HARD", THE COMMANDANT ORDERED, AS SERGEANT MCCLUSKEY SUCKED THE GOON'S COCK. "SHOW YOUR SUPERIORITY", HE ADDED. SERGEANT MCCLUSKEY HAD TO SUCK BOTH GOONS COCKS, AS THE COMMANDANT WATCHED. THE GOONS THEN FORCED BOTH THEIR COCKS INTO SERGEANT MCCLUSKEY'S MOUTH, AT THE SAME TIME AND HE HAD TO SUCK THEM. THE COMMANDANT GOT HIS COCK OUT AND MADE SERGEANT MCCLUSKEY'S THRUST HIS ANUS, ONTO THE COMMANDANT'S HUGE COCK. "GATHER ALL THE PLATOON AND TELL THEM THEY ARE ON FUCK DUTY?", THE COMMANDANT SAID, AS SERGEANT MCCLUSKEY FUCKED THE COMMANDANT'S COCK WITH HIS ANUS. "GET THEIR COCK GUNS, FIRING INTO ENEMY ARSE", HE ADDED. "YES MY COMMANDANT", ONE OF THE GOONS, REPLIED. BEFORE SERGEANT MCCLUSKEY WAS HANDED OVER TO THE DOMINATRIX, CLAUDIA, HE HAD TO BE PURGED OF HIS MALE PRIDE. THE WAS ACHIEVED BY THE WHOLE PLATOON FUCKING HIS ARSE. "SEE MY WEAPON FIRES DEEP?", ONE OF THE GERMAN SOLDIERS FUCKING SERGEANT MCCLUSKEY'S ARSE SAID, AS HE FILLED IT WITH HIS SEED.
HOT FEMALE ON MALE DOMINATION AND MALE ON MALE DOMINATION, WITH GRAPHIC, PHYSICAL AND SEXUAL ABUSE. €15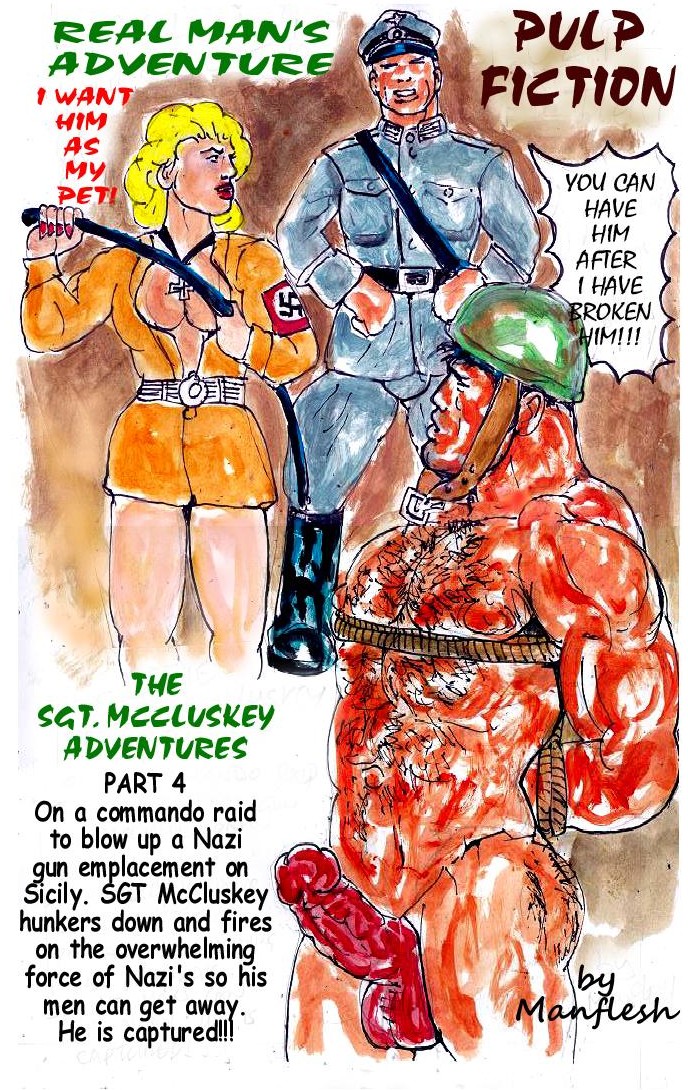 8 THE ADVENTURES OF SERGEANT MCCLUSKEY PART 5. SERGEANT MCCLUSKEY STILL PRISONER OF THE GERMANS, WAS NAKED SAVE FOR HIS HELMET AND A SHEER, LEWD, FEMALE, NEGLIGEE THAT LOOKED REDICULOUS, ON HIS MUSCLED, HAIRY BODY. SERGEANT MCCLUSKEY'S COCK WAS TIED BY A LENGTH OF ROPE. A BLOND FEMALE GUARD, CALLED INGRID WAS HOLDING THE ROPE. INGRID WAS STUNNING AND WORE A BRIEF BROWN DRESS, WITH SWASTIKA SYMBOLS ON THE FRONT OVER HER LARGE BREASTS. "I AM YOU WARDEN, COME WITH ME I WILL MAKE YOU READY TO SERVE", INGRID TOLD SERGEANT MCCLUSKEY, AS SHE LED HIM BY THE BALLS. SHE LED SERGEANT MCCLUSKEY DOWN A CORRIDOR. AT THE END OF THE CORRIDOR, SERGEANT MCCLUSKEY, WAS PULLED INTO A ROOM, CONTAINING A BED, WITH BLACK LEATHER SHEETS AND PILLOWS. THERE WERE ALSO BLACK LEATHER CORDS, HANGING FROM ROPES ATTACHED TO THE CEILING. SERGEANT MCCLUSKEY'S COCK WAS HARD WITH LUST FROM BEING SO LEWDLY DRESSED AND LOOKING AT THE STUNNING INGRID. "STRIP, I WILL SHAVE YOU, READY FOR WHEN MISTRESS CLAUDIA ARRIVES?", INGRID SAID. SERGEANT MCCLUSKEY REMOVED THE NEGLIGEE, THINKING TO HIMSELF, HE HAD NO CHOICE, OR HE WOULD BE KILLED. HE THEN KNELT ON THE BED AND ALLOWED INGRID, TO REMOVE THE ROPE FROM HIS HARD, EXCITED COCK. INGRID TIED SERGEANT MCCLUSKEY'S ARMS, TO LEATHER CORDS, ATTACHED TO THE TOP OF THE BED, SECURING HIS ARMS. INGRID THEN PROCEEDED TO TIE SERGEANT MCCLUSKEY'S LEGS, TO THE LEATHER CORDS ATTACHED TO THE HANGING ROPES. SEGEANT MCCLUSKEY WAS NOW TIED TO THE BED, WITH HIS LEGS RAISED AND SPREAD WIDE, LEAVING HIS ARSE FULLY DISPLAYED. INGRID ENTERED THE ATTACHED BATHROOM, LEAVING SERGEANT MCCLUSKEY, TIED TO THE BED. INGRID, RETURNED WITH SOAP, WATER AND A RAZOR. INGRID USED THE RAZOR TO REMOVE ALL OF SERGEANT MCCLUSKEY'S COCK AND ANAL HAIR.
CLAUDIA ENTERED. "I OWN YOU BEAST?", CLAUDIA TOLD SERGEANT MCCLUSKEY. BEING SHAVED BY INGRID, KEPT SERGEANT MCCLUSKEY HARD. CLAUDIA WAS PLEASED WITH, SERGEANT MCCLUSKEY'S GENITALS AND ANUS, THAT WERE NOW SHAVED SMOOTH, AS A BABIES BOTTOM. CLAUDIA STARTED TO LICK AND WANK, SERGEANT MCCLUSKEY'S COCK, MAKING HIM EVEN MORE EXCITED, FILLING HIS COCK, WITH HORNY BLOOD. CLAUDIA WENT INTO THE BATHROOM AND RETURNED WITH A LARGE HYPODERMIC NEEDLE AND SYRINGE. CLAUDIA PLUNGED IT INTO THE SERGEANT MCCLUSKEY'S BODY, JUST BELOW HIS BALLS. IT MADE HIS COCK SWELL EVEN MORE. CLAUDIA FREED SERGEANT MCCLUSKEY. "YOU WILL FOLLOW ME ON YOUR KNEES BEAST", CLAUDIA ORDERED, BRANDISHING A WHIP. SERGEANT MCCLUSKEY HAD NO CHOICE, IF HE DISOBEYED HE WOULD BE DEAD MEAT. SERGEANT MCCLUSKEY FOLLOWED CLAUDIA, ON HIS KNEES, INTO ANOTHER ROOM, WITH A RAISED PLATFORM. ON THE PLATFORM, THERE WAS A MATTRESS AND A POLE TO ATTACH HIS LEASH. THERE WERE ROWS OF CHAIRS IN FRONT OF THE PLATFORM AND MIRRORS ON THE WALLS. "THIS WILL BE YOUR BED, YOU WILL KNEEL, HANDS BEHIND YOUR HEAD, TONGUE OUT BEAST", CLAUDIA ORDERED. WHEN SERGEANT MCCLUSKEY WAS KNEELING ON THE BED AS ORDERED, INGRID TIED A DOG COLLAR AND LEASH, TO HIS NECK AND THEN TIED THE END OF THE LEASH TO THE POLE. INGRID STARTED TO STROKE SERGEANT MCCLUSKEY'S SWOLLEN COCK. SERGEANT MCCLUSKEY SQUIRMED, EACH STROKE FELT LIKE HUNDREDS OF NEEDLES SLICING INTO HIS FLESH. SERGEANT MCCLUSKEY'S COCK WAS IN AGONY. INGRID STRIPPED OFF SHE WAS THE PREDATOR AND SERGEANT MCCLUSKEY HER PREY. INGRID OPENED HER LEGS WIDE AND ORDERED SERGEANT MCCLUSKEY TO MOUNT HER. SERGEANT MCCLUSKEY FUCKED INGRID HARD AND BECAME VERY DESPERATE TO CUM. BY THE INJECTION HE GOT FROM CLAUDIA UNDER HIS BALLS, STOPPED HIM FROM SPURTING AND HE WAS IN AGONY. INGRID JUST KEPT DEMANDING, THAT SERGEANT MCCLUSKEY FUCK HER HARDER.
CLAUDIA RETURNED WITH A WHIP AND MOUNTED THE PLATFORM. CLAUDIA STARTED TO WHIP SERGEANT MCCLUSKEY'S ARSE, AS HIS ANIMAL THRUSTS ENTERED, INGRID'S SUCKING VIRGINA. SERGEANT MCCLUSKEY WAS DESPERATE TO CUM BUT UNABLE TO, HIS COCK WAS ON FIRE. INGRID GOT OFF THE PLATFORM, SO CLAUDIA COULD WHIP THE ENSLAVED, AMERICAN'S, SORE, RAW, BLOATED COCK. AFTER CRUELLY WHIPPING SERGEANT MCCLUSKEY'S COCK, CLAUDIA SAT DOWN WITH A CIGARETTE. "COME HERE DOG?", CLAUDIA ORDERED. SERGEANT MCCLUSKEY, WAS MADE TO CRAWL ON ALL FOURS, LIKE THE DOG HE WAS. CLAUDIA OPENED HER ROBE AND ORDERED SERGEANT MCCLUSKEY, TO LICK HER VIRGINA, WITH HIS PUPPY DOG TONGUE. SERGEANT MCCLUSKEY WAS FORCED TO OBEY.
MORE HOT FEMALE ON MALE DOMINATION, WITH GRAPHIC, PHYSICAL AND SEXUAL ABUSE. €15.