MALE V MALE FIGHTING STORIES PAGE

There is a new male fighting storybooks extracts blog
'battle annals male fighting stories extracts' blog
read extracts from the male fighting storybooks available here on the new blog


http://battleannalsmalefightstories.blogspot.com
MALE V MALE FIGHTING STORIES LIST 1-27
1. CHALLENGE ACCEPTED PART 1. WRESTLING CORRESPONDENCE BETWEEN TWO MALE WRESTLERS LEADS TO A CHALLENGE BEING ISSUED AND ACCEPTED. THE GUYS MEET AND HAVE A HARD EXCITING GRAPHIC BATTLE. HARD MALE ACTION IN LONG TOUGH SEXY COCK FIGHT. €4.00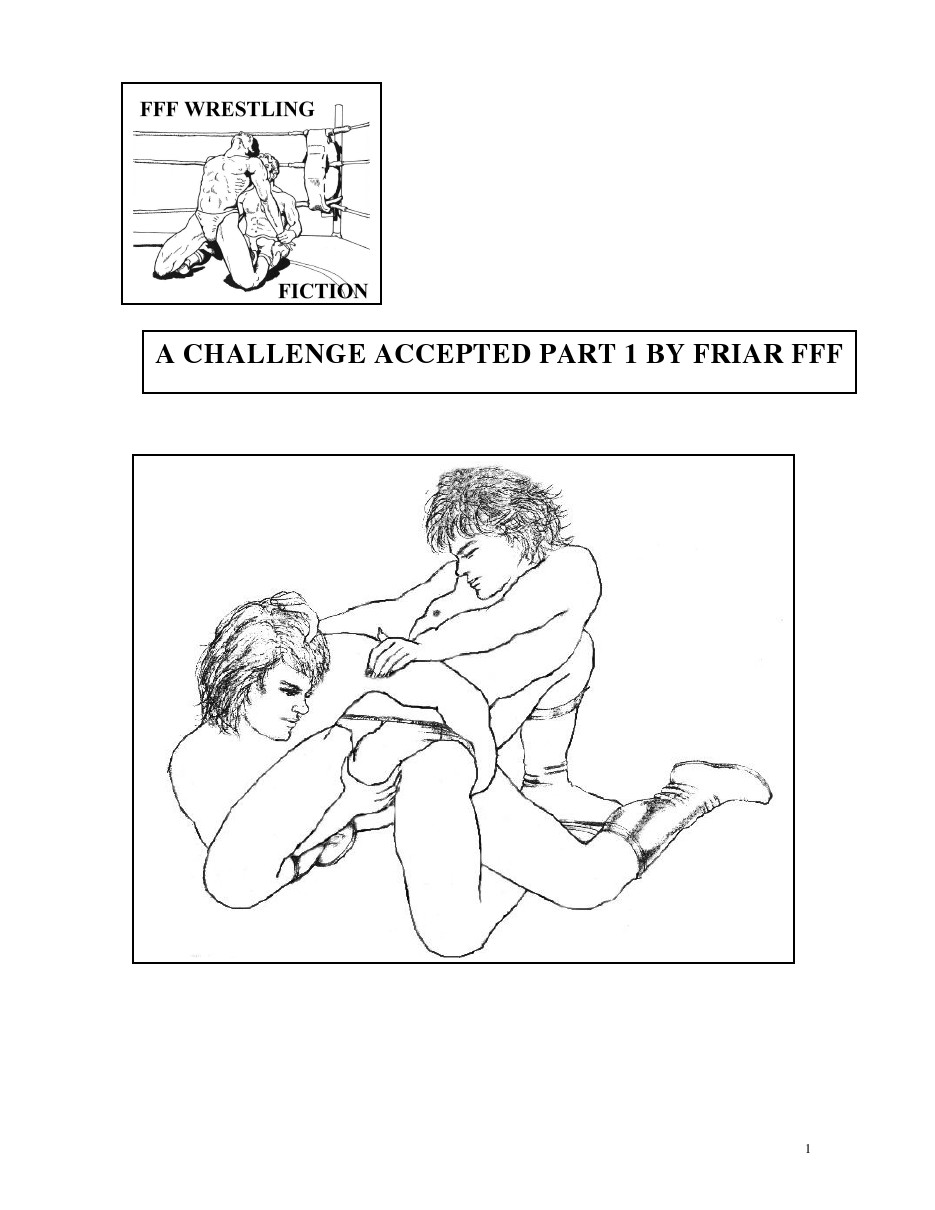 2. CHALLENGE ACCEPTED PART 2. THE TWO MALE WRESTLERS MEET AGAIN. THEY THEN ARRANGE TO MEET FOR A REMATCH, AND ANOTHER HARD GRAPHIC SEXY COCK FIGHT TAKES PLACE. AT THIS MATCH THEY ARRANGE ANOTHER MATCH AND PLAN TO EACH BRING A MATE WITH THEM. HARD SEXY ACTION AS THEY WORK EACH OTHER OVER PHYSICALLY AND SEXUALLY IN ANOTHER LONG HARD COCK FIGHT. €3.00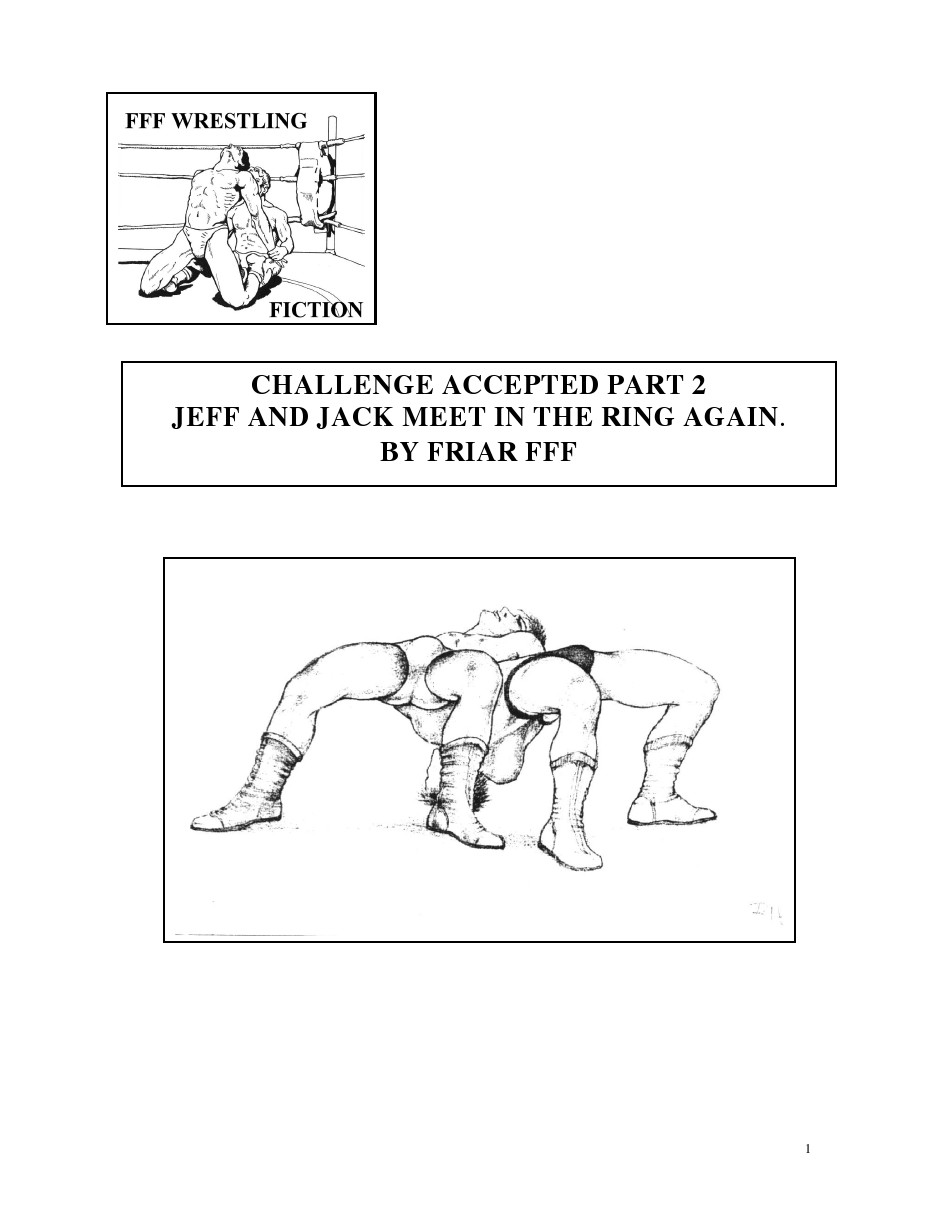 3. CUM INTO MY RING A WRESTLING CHALLENGE. A CHALLENGE TO WRESTLE IS ISSUED AND EXCEPTED OVER THE INTERNET. WHEN THE TWO GUYS MEET IN A DEEP BASEMENT GYM. A LONG HARD NHB DOWN AND DIRTY BATTLE TAKES PLACE. TOUGH HARD AND PLENTY OF LENGTHY SEXY MALE ACTION. €4.00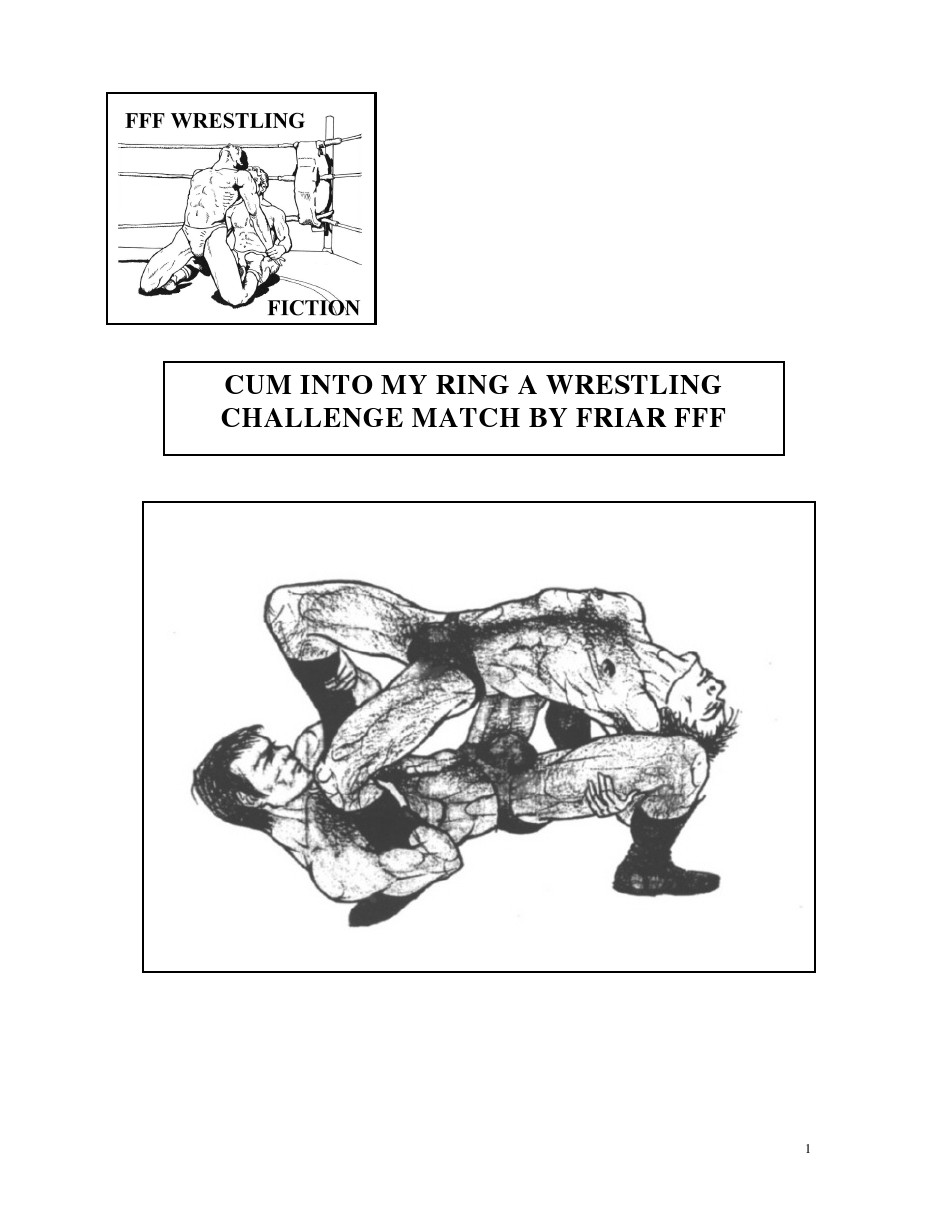 4. THE ADVENTURES OF A CORRESPONDENCE WRESTLER PART 2 DOUBLE TROUBLE. LUKE ANSWERS HIS SECOND REPLY FROM TWO GUYS WHO ISSUE A CHALLENGE TO WRESTLE BOTH OF THEM. LUKE ACCEPTS THE CHALLENGE AND TAKES ON THE GUYS ONE AT A TIME. HE IS SOUNDLY BEATEN BY BOTH OF THEM AND HAS TO WRESTLE BOTH OF THEM TOGETHER AS A PENALTY. TOUGH SEXY COCK FIGHTS WITH HARD GRAPHIC ACTION AND LUKE ON THE RECEIVING END AGAIN. HIS FIRST WRESTLING ENCOUNTER WITH OTHER GUYS WILL BE ONE LUKE WILL NEVER FORGET. €5.00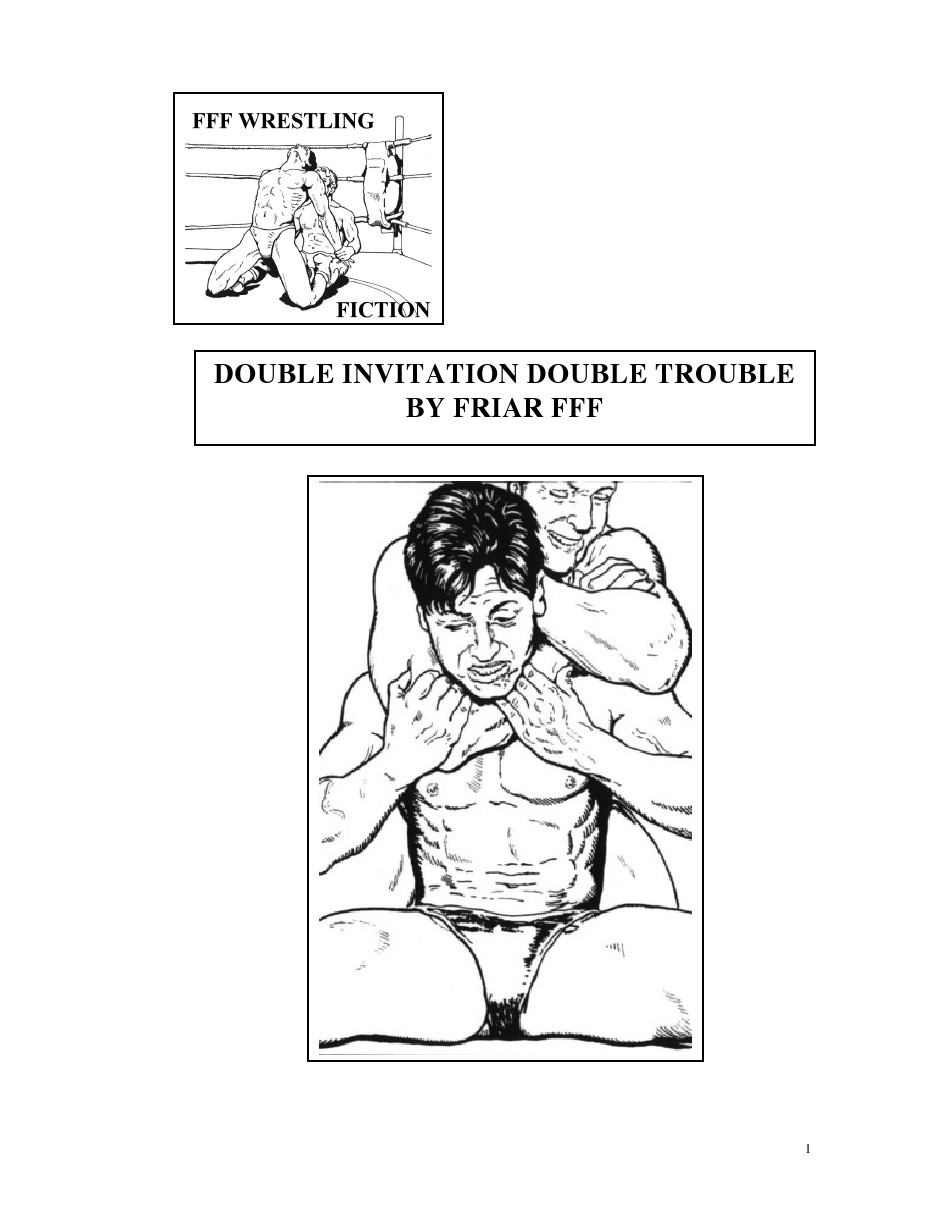 5. BLACK ON WHITE SQUASH JOB PART 1. JAMES STORY. JAMES A SHORT TOUGH WHITE WRESTLER ANSWERS JASON'S A LARGER VERY MUSCULAR COLOURED WRESTLERS AD. FEATURES JASON WRESTLING WITH HIS TWO FLAT MATES BARRY AND CRAIG. TOUGH THREE WAY ACTION WITH SOME VERY ROUGH SEXY TWO ON ONE ACTION. HE THEN GOES TO MEET JASON. FOR A LONG HARD TOUGH BRUTAL BOUT WITH JAMES TAKING A GOOD HAMMERING PHYSICALLY AND SEXUALLY. LONG BUT VERY EXCITING STORY AND ONLY PART 1. €5.00
Story extract available to read, on the battle annals male fighting stories extracts blog, link at the top of the page.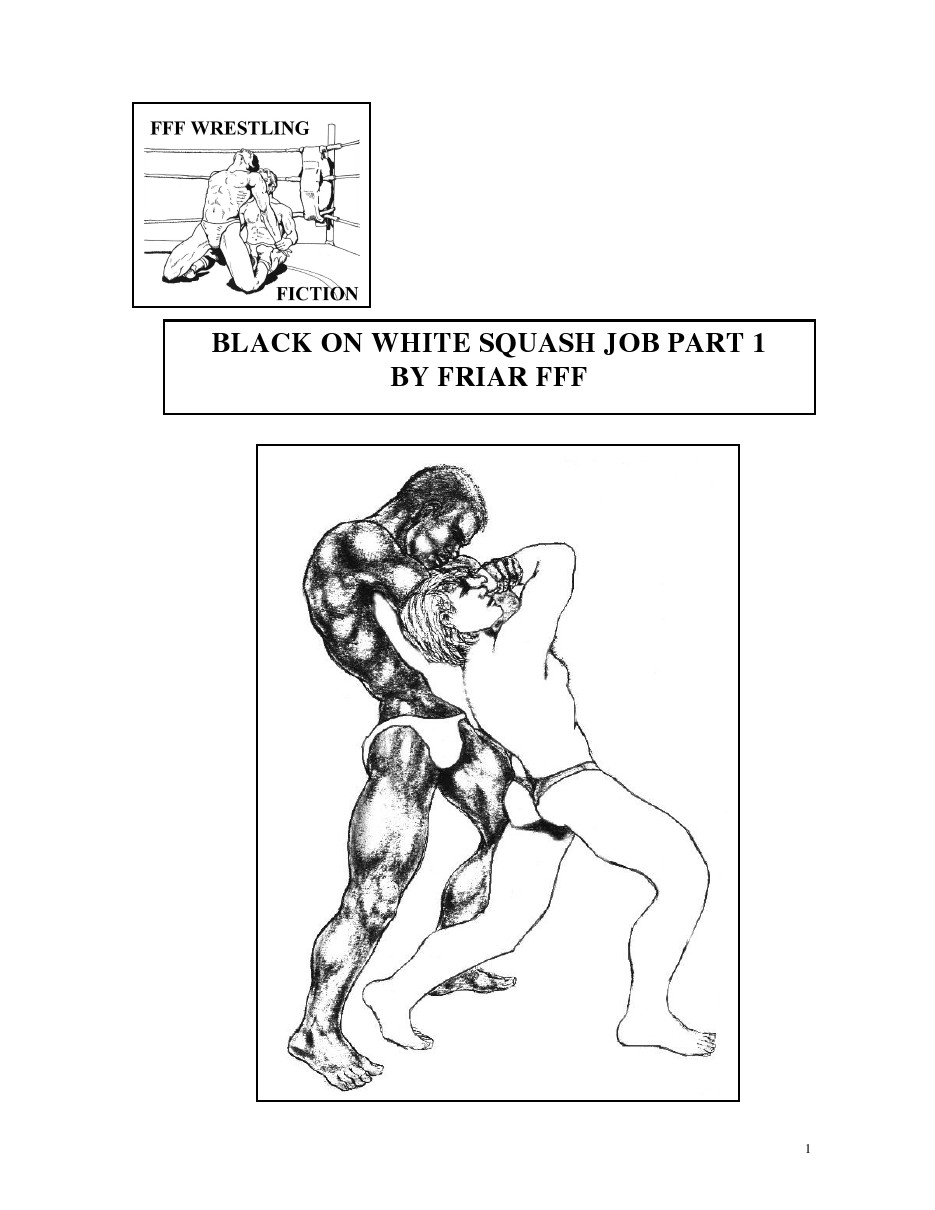 6. THEIR FIRST FIGHT. TWO GUYS MEET FOR THEIR FIRST MATCH. PHILLIP IS HEAVY AND WELL BUILT. STEVE IS MUCH LIGHTER AND THINNER. IT SEEMS AN UNEVEN MATCH THE ADVANTAGE IS WITH THE BIGGER HEAVIER GUY. HOWEVER STEVE GIVES PHILLIP A RUN FOR HIS MONEY BEFORE PHILLIP FINALLY OVERCOMING HIS SMALLER LIGHTER OPPONENT. TOUGH SEXY ACTION WITH BOTH WRESTLERS PUTTING EACH OTHER THROUGH THEIR PACES. PHILLIP FORCES A TKO EJACULATION FROM STEVE BEFORE JERKING OFF INTO HIS BEATEN OPPONENTS FACE. €4.00
7. THEIR FIRST TAG MATCH. PHILLIP AND STEVE ARRANGE A TAG MATCH. PHILLIP IS PARTNERED BY TOM A TOUGH HEAVIER PAST OPPONENT OF STEVE FORMING THE BAD GUYS TEAM. STEVE IS PARTNERED BY PAUL A YOUNG BLONDE WRESTLER WITH A SWIMMERS BUILD FORMING THE GOOD GUYS TEAM. a TOUGH UNCOMPROMISING WRESTLING MATCH TAKES PLACE WITH NO QUARTER GIVEN BY EITHER TEAM. HOT SEXY AND SOMETIMES BRUTAL MALE V MALE ACTION WITH TKO'S ON BOTH SIDES. THE LONG HARD MATCH SWINGS BACK AND FORTH KEEPING THE READER GUESSING AS TO WHICH TEAM TRIUMPHS IN THE END. €5.00.
Story extract available to read, on the battle annals male fighting stories extracts blog, link at the top of the page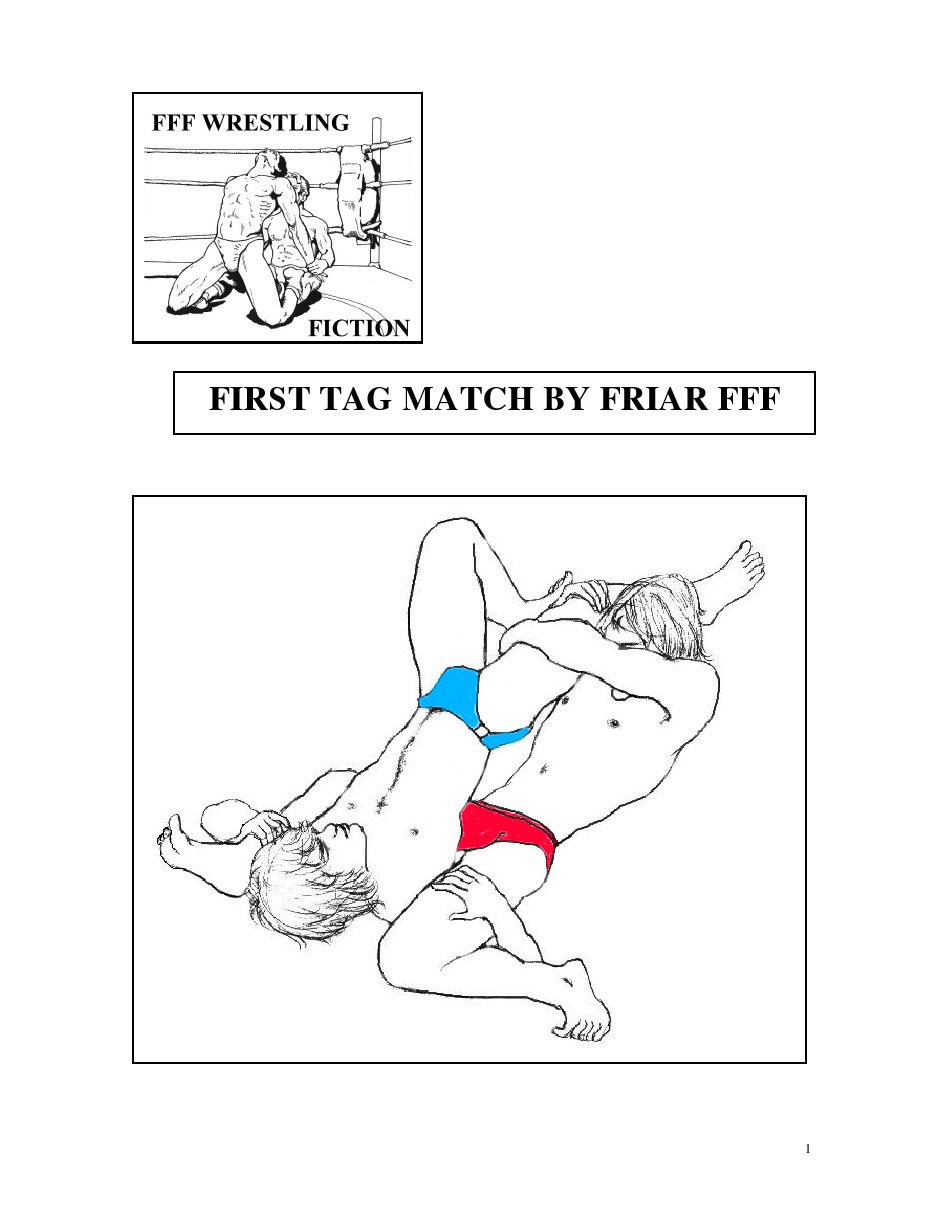 8. HIS SECOND FIGHT. PHILLIP TAKES ON STEVE'S YOUNGER PARTNER PAUL IN A ONE TO ONE MATCH. PHILLIP'S OUT FOR REVENGE OR HIS DEFEAT AT THE HANDS OF STEVE AND PAUL. PHILLIP USES HIS WEIGHT AND STRENGTH ADVANTAGE TO PUT HIS YOUNGER OPPONENT THROUGH THE WRINGER. a LONG TOUGH SEXY BATTLE OF ATTRITION IN WHICH PHILLIP DOES NOT GET IT ALL HIS WON WAY, BUT TRIUMPHS AND GIVES PAUL A GOOD WORK OVER. IT IS A CLASSIC OLDER GUY V YOUNGER GUY STRENGTH AND EXPERIENCE VERSES YOUTH AND STAMINA. €5.00
Story extract available to read, on the battle annals male fighting stories extracts blog, link at the top of the page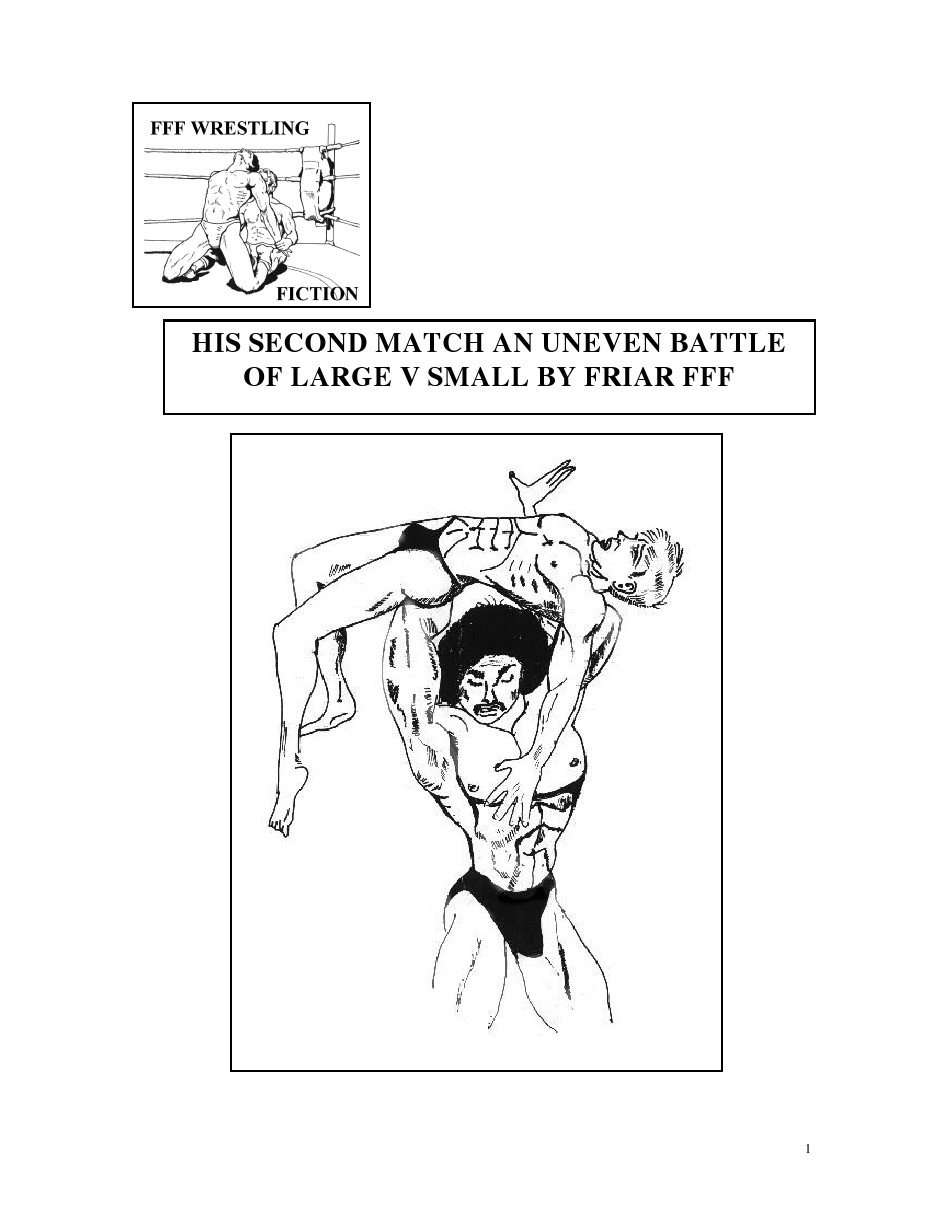 9. TRAVEL LODGE WRESTLING ADVENTURES. MICHAEL A 47 YEAR OLD WRESTLERS BOOKS INTO A TRAVEL LODGE IN STRATFORD-UPON AVON FOR BUSINESS MEETING NOT KNOWING ANYONE IN THE AREA. HE SIGNS ON THE INTERNET ONTO A WRESTLING CHAT LINE USING HIS LAPTOP COMPUTER. HE GETS CHATTING TO TWO YOUNG WRESTLERS AND IS DELIGHTED TO FIND THEY LIVE LOCALLY AND HE INVITES THEM OVER FOR SOME WRESTLING. HE ENDS UP WRESTLING MARC AND JUSTIN THE TWO HOT HORNY YOUNG WRESTLES SEPARATELY AND THEN BOTH TOGETHER.
MARC AND JUSTIN INSIST ON WRESTLING FOR STAKES NAMELY MICHAEL TO BE THEIR FUCKING BOY IF HE LOSES. MICHAEL AGREES AND IS BEATEN BY THE TWO HOT YOUNG WRESTLERS WHO KEEP THEIR WORD AND BOTH FUCK HIM LONG AND HARD. HOT HORNY WRESTLING ACTION WITH ONE OLDER GUY PITTED AGAINST TWO YOUNGER GUYS WHO REALLY WORK HIM OVER PHYSICALLY AND SEXUALLY. €3.00
Story extract available to read, on the battle annals male fighting stories extracts blog, link at the top of the page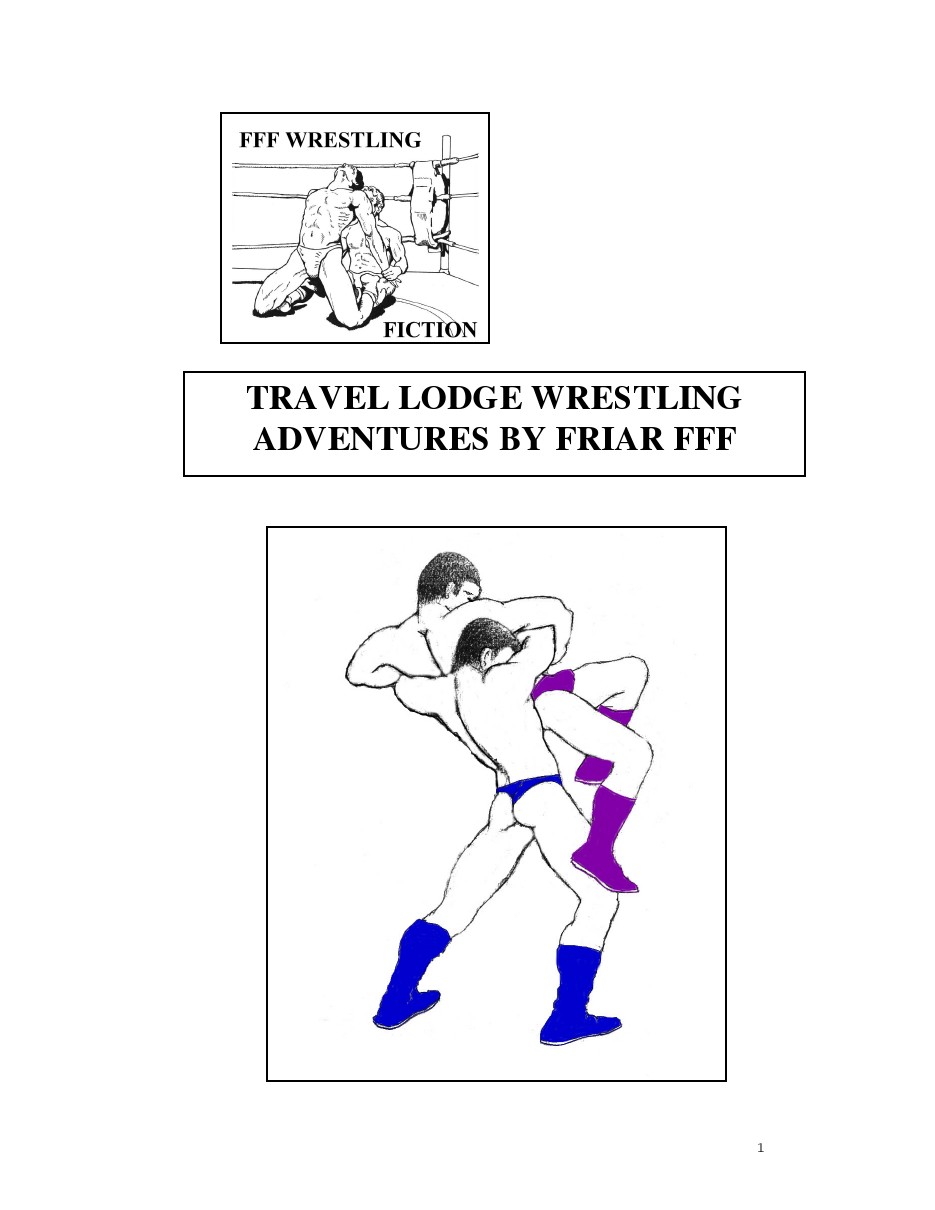 10. YOUNG WRESTLING BUCK MEETS HIS MATCH. RICHARD A YOUNG GOOD LOOKING FIT AND SEXY WRESTLER ANSWERED AN AD OF AN OLDER EXPERIENCED WRESTLER. HE DIDN'T PREFER OLDER GUY BUT HAD WRESTLED SEVERAL KNOWING HE COULD BEAT THE AND FUCK THEM WHEN THEY LOST. RICHARD W AS ATTRACTED TO STAN'S AD AS STAN CLAIMED HE LIKED WRESTLING AND BEATING YOUNGER GUYS. STAN DIDN'T REALISE HE WAS BEING SET UP BY STAN AND THE OLDER WRESTLERS HE HAD BEATEN AND FUCKED. RICHARD MEETS STAN AND HE IS SO CONFIDENT THAT THEY AGREE TO HIGH STAKES. THE WINNER COULD DO ANYTHING TO THE LOSER THEY WANTED TO. UNDER RICHARD'S RULES IT MEANT FUCKING THE LOSER.
BUT HE FOUND OUT THAT UNDER STAN'S RULES FAR MORE WAS AT STAKE. STAN BEAT RICHARD IN A TOUGH HOT SEXY WRESTLING MATCH. THEN STAN CLAIM'S HIS PRIZE FIRST FUCKING RICHARD AND THEN SUBJECTING HIM TO SOME SERIOUS GUT PUNISHMENT. HOT EXCITING MALE WRESTLING ACTION WITH SOME TOUGH GUT PUNISHMENT. €5.00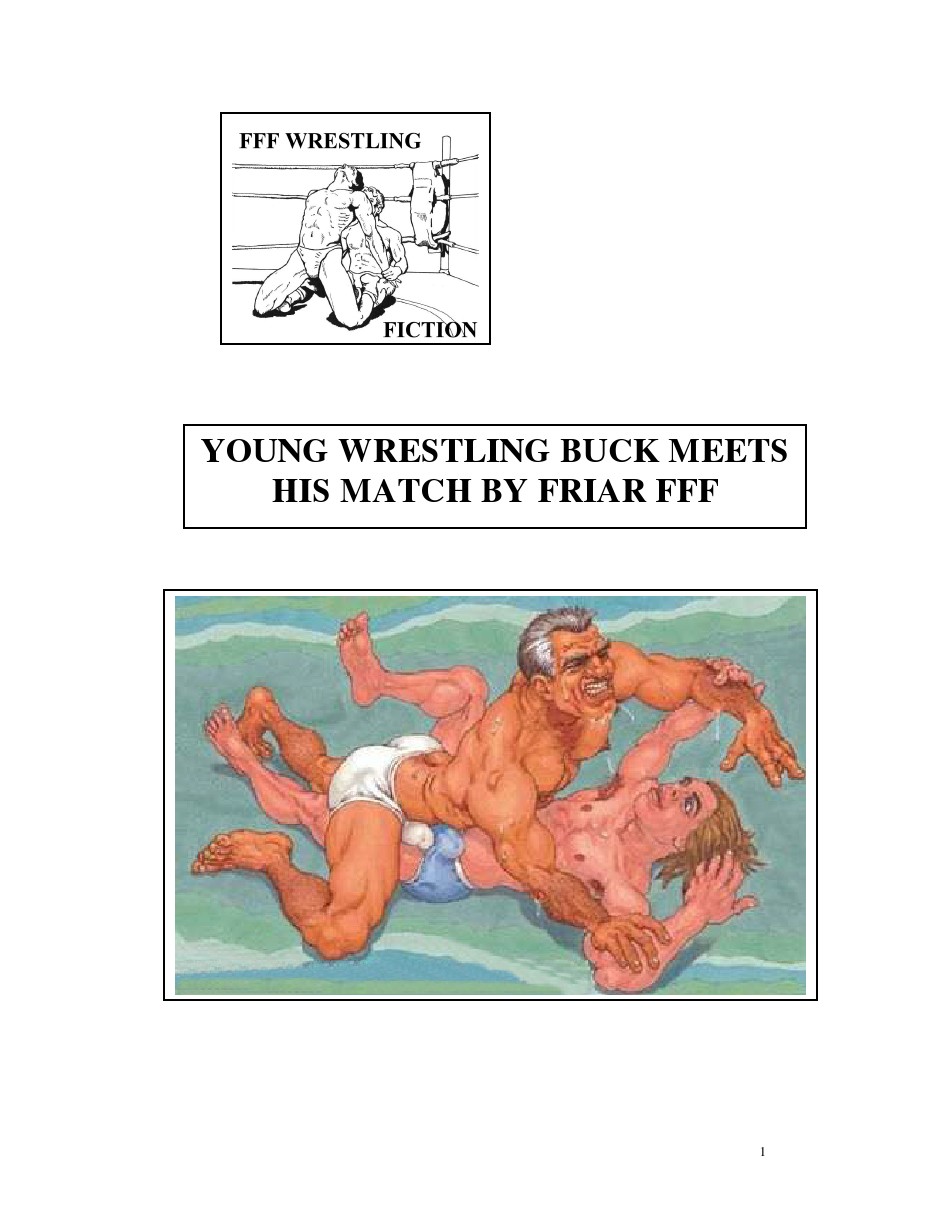 11. HIS THIRD MATCH. FRIAR RETURNS TO THE GYM TO TAKE ON RICK A TOUGH WELL-MUSCLED YOUNG WRESTLER. RICK HAS HIS PARTNER, A YOUNG GOOD LOOKING BLONDE GUY CALLED SEAN WITH HIM. FRIAR SLOWLY TAKES RICK APART ROUND BY ROUND ALTHOUGH HE DOESN'T HAVE IT ALL HIS OWN WAY TAKING A LOT OF PUNISHMENT FORM THE TOUGH YOUNG MUSCLE STUD. FRIAR REALLY MAKES RICK SUFFER IN RETALIATION, SO MUCH S THE SEAN INTERVENES TO HELP RICK.
FRIAR WORKS SEAN OVER AS WELL MAKING HIM SUFFER IN FRONT OF HIS PARTNER RICK. HE THEN WORKS ON RICK AGAIN AND TIES HIM TO THE CORNER POST BEFORE WORKING SEAN OVER EVEN MORE. HE THEN SUBJECTS THEN BOTH TO SOME HOT SEXUAL ABUSE. AFTER ABUSING THEM AND SLATING HIS SEXUAL THIRST.
FRIAR SAT DOWN IN HIS CORNER AND NODS OFF. HE WAS WOKE BY THE TWO YOUNG WRESTLERS STANDING IN FRONT OF HIM. ITS NOW THEIR TURN TO ABUSE HIM. TOUGH MALE WRESTLING ACTION WITH PLENTY OF PHYSICAL AND SEXUAL ABUSE AND SOME DOUBLE-TEAMING AS WELL. €5.00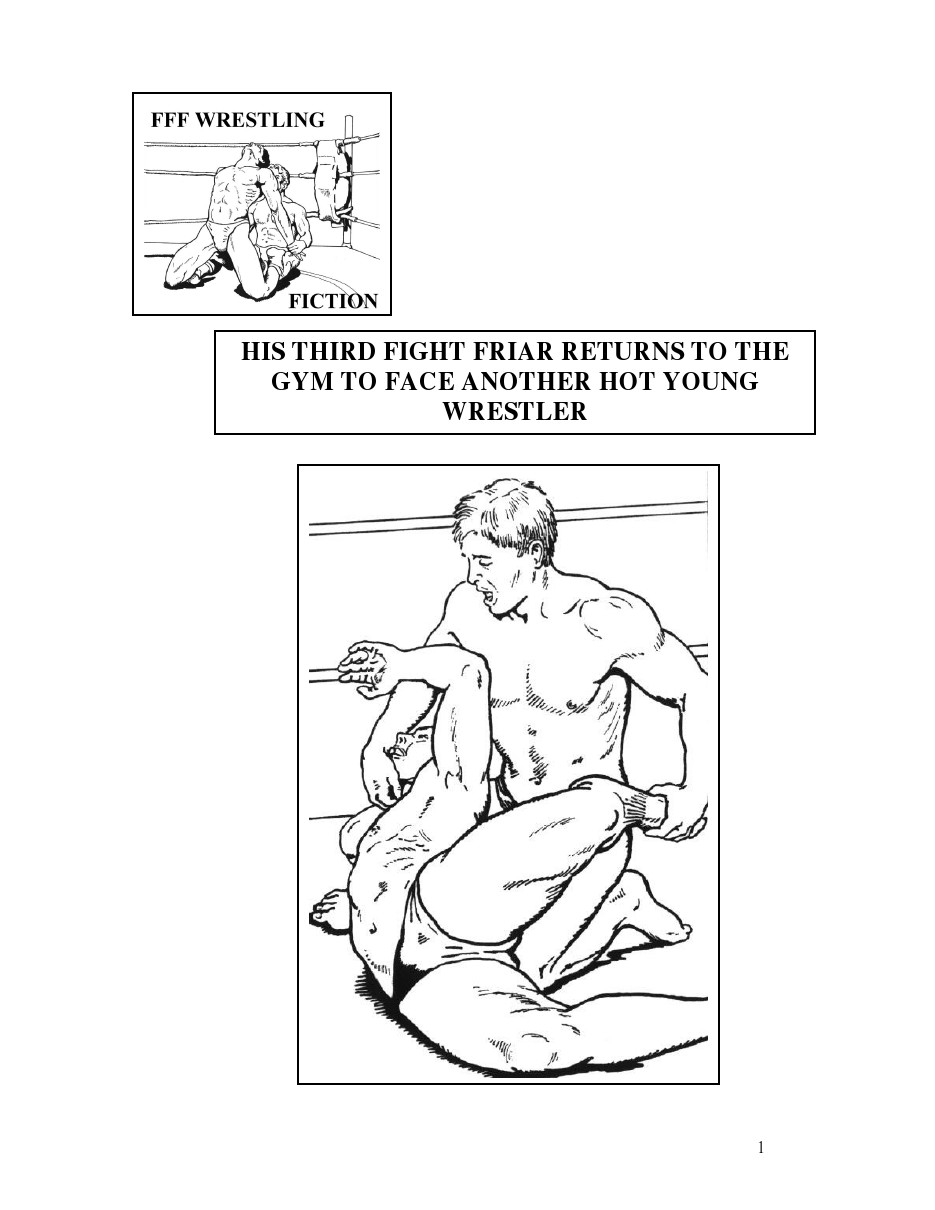 12. APPRENTICE BOY CHALLENGE PART 2. JAMES A NINETEEN YEAR-OLD APPRENTICE ENGINEER GETS PUT ON A TECHNICAL TRAINING COURSE IN LONDON. JAMES IS ALSO A KEEN IF NOT HIGHLY EXPERIENCED MALE WRESTLER, AND DECIDES TO GET SOME WRESTLING EXPERIENCE WHILE ALSO INCREASING HIS TECHNICAL KNOWLEDGE. JAMES CHECKS INTO A GAY HOTEL IN LONDON AND HIRES A MALE CONTACT 'BODY SLAM' WHO SPECIALISES IN WRESTLING. BODY SLAM IS LARGER, MUCH STRONGER THEN JAMES AND HIGHLY EXPERIENCED. AFTER WRESTLING AND BEING WELL BEATEN BY BODY SLAM. JAMES WRESTLES WITH SHANE THE HOTEL'S YOUNG AUSTRALIAN NIGHT PORTER.
JAMES AND SHANE HAVE LONG HOT HORNY AND EXHAUSTING MATCH. THEY WRESTLE FOR JACK OFF AND SUCK, THEN EVEN HIGHER STAKES. JAMES LOSES AND FORCED TO SUCK SHANE OFF AND JACK OFF. FINALLY SHANE HAS HIS WAY WITH THE YOUNG APPRENTICE WRESTLER. JAMES SUFFERS ANOTHER LONG DRAINING SEXY DEFEAT FOR THE SECOND NIGHT RUNNING. HARD TOUGH WRESTLING ACTION, WITH PLENTY OF PHYSICAL AND SEXUAL ABUSE. €5.00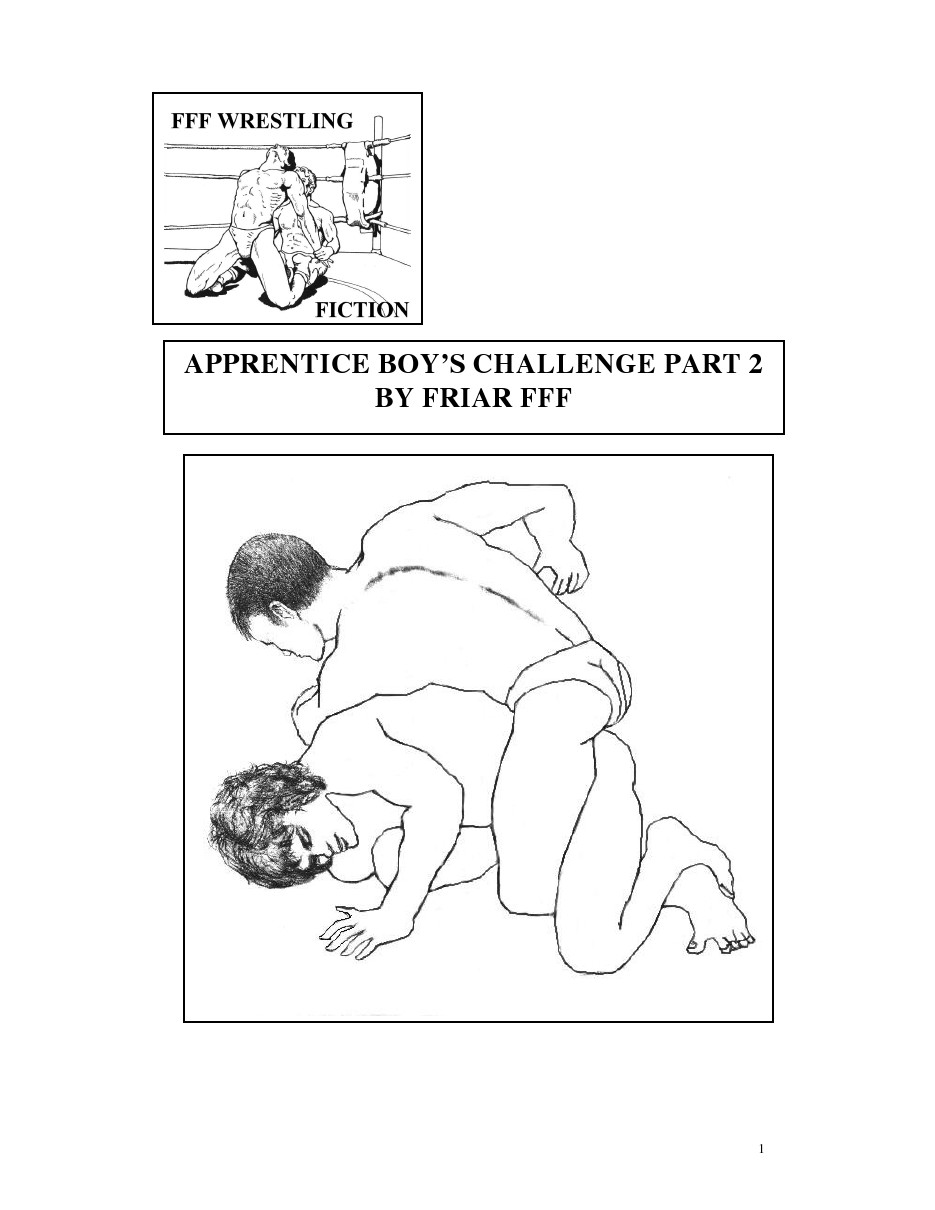 13 PROFESSIONAL SQUASH JOB. TOUGH FIRST BOUT FOR A YOUNG NOVICE TEENAGE, ENGLISH WRESTLER, ON THE INDEPENDENT PRO-WRESTLING CIRCUIT, IN THE US. THE BOUTS ARE PRIVATE, FOR WEALTHY PROMOTERS WITH THEMSELVES OR ONLY FEW FRIENDS PRESENT. DIRK A NINETEEN YEAR-OLD NOVICE 'CUTE ANGEL' TAKES ON LARRY DEMO MAN, OLDER, LARGER, STRONGER, MEAN, HIGHLY EXPERIENCED, PRO-WRESTLER. DEMO MAN SQUASHES HIS YOUNG TEENAGE NOVICE OPPONENT REALLY WORKING CUTE ANGEL OVER BOTH PHYSICALLY AND SEXUALLY. OLDER GUY WORKING OVER CUTE YOUNG GUY LOTS OF PAIN AND SUFFERING BY THE TEENAGE ROOKIE AND SEXUAL DOMINANCE BY HIS OLDER STRONGER OPPONENT. DIRK IS OFFERED MORE CASH TO WRESTLE WITH THE RICH PROMOTER OF HIS FIRST BOUT. HE DOMINATES GERALD THE RICH PROMOTER AT HIS HOME, WORKING HIM OVER, GETTING TWO FORCED EJACULATIONS FROM THE OLDER GUY. HOWEVER GERALD TRICKS DIRK INTO AGREEING TO BE PUT IN A BOSTON AS A PRACTICE. GERALD GIVES DIRK ONE HELL OF A WORK OVER WITH SOME HEAVY BALL PUNISHMENT AND TWO FORCED EJACULATIONS IN RETURN. VERY TOUGH, GRAPHIC, MALE ON MALE, PHYSICAL AND SEXUAL ACTION. €4.00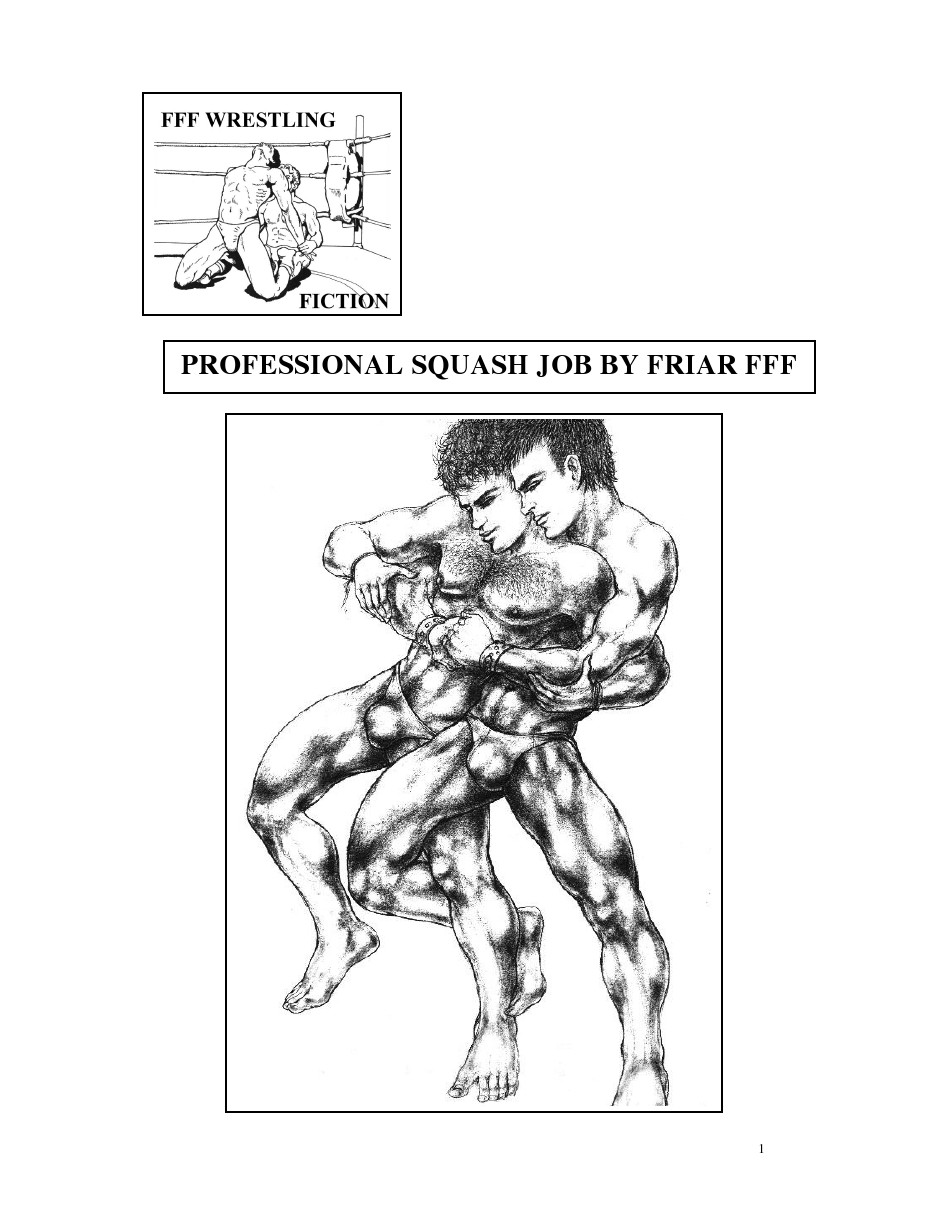 14. ANOTHER SQUASH JOB. DIRK RELATES HIS FIRST ADVENTURE IN THE INDEPENDENT PRO-WRESTLING CIRCUIT FIGHTING AS CUTE ANGEL AND LOSING A SQUASH JOB AGAINST DEMON MAN TO HIS BEST FRIEND. BRAD IS INTRIGUED AND EXCITED BY DIRK'S STORY EVEN A LITTLE JEALOUS. IT FIRES HIS INTEREST IN WRESTLING AND BRAD AND DIRK HAVE MANY BED WRESTLES, WITH THE WINNER DEMANDING SEXUAL FORFEITS. LARRY RANG WHILE THEY WERE BED WRESTLING TO OFFER DIRK ANOTHER MATCH THIS TIME BY A DIFFERENT SPONSOR MAX, AGAINST AN OPPONENT NEARER HIS OWN AGE, BUILD AND SKILL LEVEL. DIRK CUTE ANGEL TOOK ON KYLE COLLEGIATE KID THIS TIME ASSUMING THE ROLE OF HEEL USING COLLEGIATE KID AS THE JOBBER. CUTE ANGEL DOES A GREAT JOB OF WORKING COLLEGIATE KID OVER BOTH PHYSICALLY AND SEXUALLY. CUTE ANGEL REALLY ABUSES COLLEGIATE KID PLAYING AS GOOD A HEEL AS HE DID A JOBBER TO DEMO MAN. MAX THE SPONSOR OFFERS DIRK AND KYLE MORE MONEY OF THEY TAKE PART IN THREE WAY APARTMENT STYLE MATCH WITH HIM. THE BOYS ACCEPT AND TURNS AT DOUBLE TEAMING EACH OTHER. MAX IS FIRST TO BE DOUBLE-TEAMED. DIRK SUFFERS THE FATE SECOND AND THEN FINALLY KYLE. MAX AND KYLE ENJOYED DOUBLE-TEAMING DIRK THEY GIVE HIM SOME MORE, TOUGH MALE ON MALE PHYSICAL AND SEXUAL ACTION HIGHLY EROTIC IN PLACES. €4.00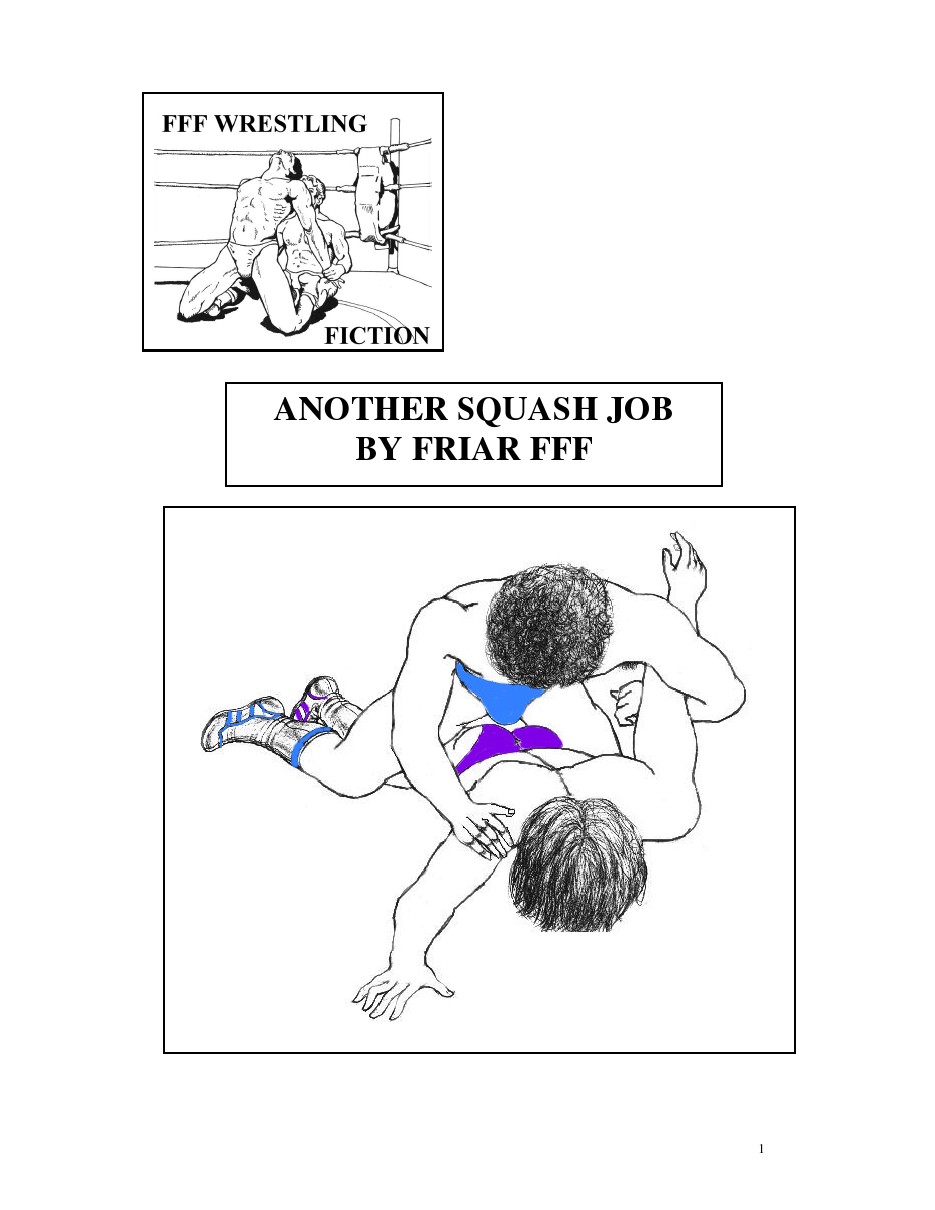 15 TAG TEAM SQUASH JOB. DIRK AGREES TO A TAG MATCH WITH HIS BEST FRIEND BRAD AGAINST KYLE COLLEGIATE KID AND HIS FRIEND JOSHUA. ITS BRAD'S AND JOSHUA'S FIRST BOUT FOR THE INDEPENDENT PRO-WRESTLING CIRCUIT. BRAD USES THE RING NAME THE YOUNG PRETENDER, AND JOSHUA TAKES LITTLE DEVIL. DIRK, CUTE ANGEL THOUGHT HE WAS PARTNERING BRAD, YOUNG PRETENDER, AGAINST KYLE COLLEGIATE KID, AND JOSHUA, LITTLE DEVIL. HOWEVER THE SPONSORS HAD OTHER IDEAS, WANTING DIRK AND KYLE TO WRESTLE AGAINST THEIR BEST FRIENDS. IT WAS CUTE ANGEL AND LITTLE DEVIL, AGAINST COLLEGIATE KID AND YOUNG PRETENDER. DIRK AND JOSHUA SOUNDLY THRASH KYLE AND BRAD TO WIN THE MATCH THE BULK OF THE PRIZE MONEY. THEY REALLY WORK KYLE AND BRAD OVER WITH PLENTY OF DOUBLE-TEAMING.
LARRY THE PROMOTER SUGGESTS THEY WRESTLE A SECOND SESSION AND ALL FOUR AGREE. DIRK GET IN TROUBLE EARLY ON AND IS DOUBLE TEAMED BY KYLE AND BRAD. JOSHUA REFUSE TO COME AND ASSIST HIM, HE REALLY WANTED TO WRESTLE AGAINST DIRK AND WORK HIM OVER. DIRK GETS WELL ABUSED AND DOUBLE TEAMED BY KYLE AND BRAD. FINALLY TO AD INSULT TO INJURY JOSHUA JOINS KYLE AND BRAD THE OPPOSITION AND THEY TRIPLE TEAM DIRK. DIRK TAKES AND EVEN HARD WORK OVER AND TRIPLE TEAMING. TOUGH, GRAPHIC, AND EROTIC MALE ON MALE ACTION. €5.00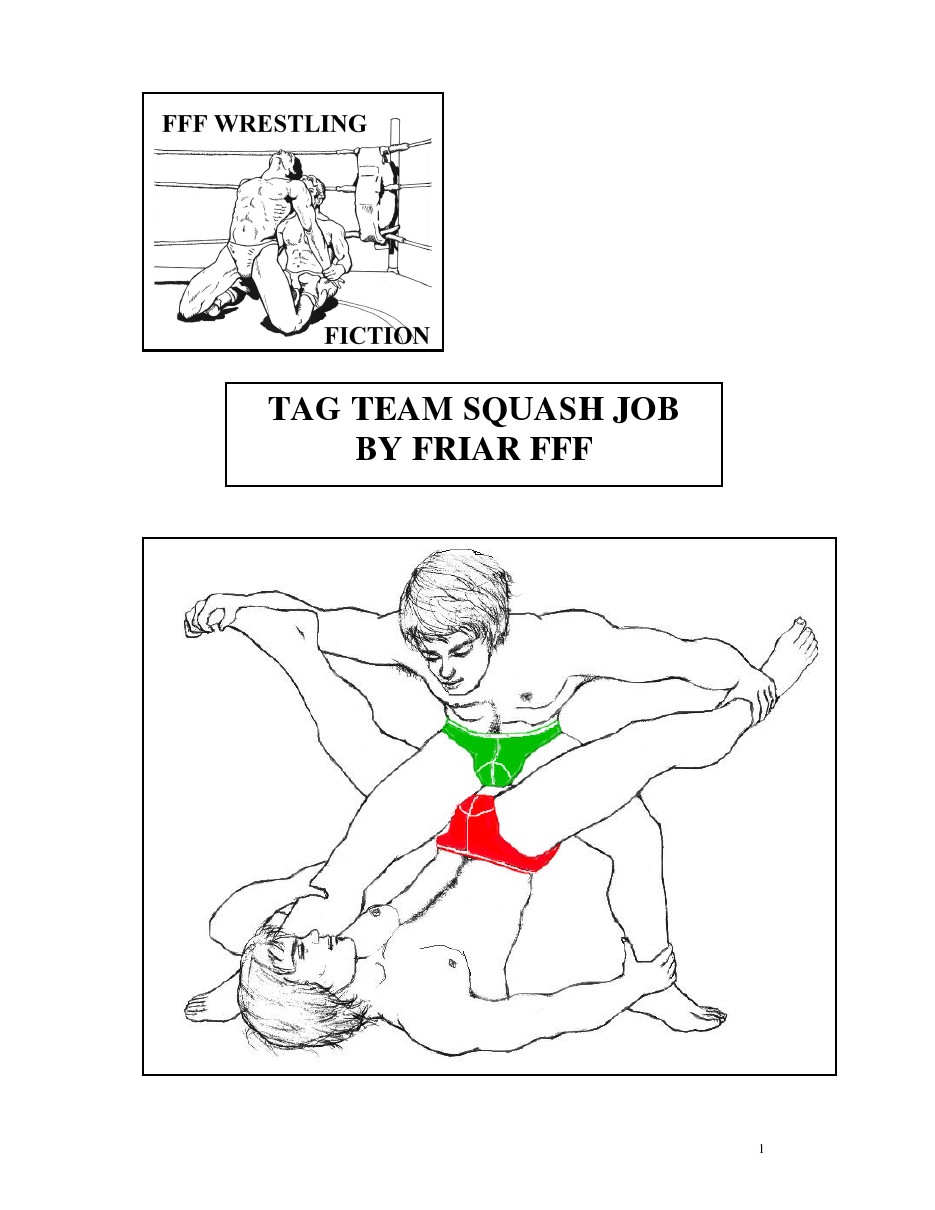 16 APPRENTICE BOY CHALLENGE PART 3. JAMES A NINETEEN YEAR-OLD APPRENTICE ENGINEER AND WRESTLER, FINDS HIMSELF ON ANOTHER TRAINING COURSE IN LONDON AT EVEN SHORTER NOTICE THAN LAST TIME. HE DECIDED TO STAY AT THE SAME GAY HOTEL HOPING TO DO SOME WRESTLING. HE COULDN'T ARRANGE ANYTHING AT SHORT NOTICE BUT HE HOPED TO WRESTLE WITH THE AUSTRALIAN NIGHT PORTER AGAIN IF ALL ELSE FAILED. HOWEVER SHANE THE NIGHT PORTER WAS ON HOLIDAY VISITING HIS FAMILY IN AUSTRALIA. ALL SEEMED LOST UNTIL JAMES MET A GUY IN THE GAY PUB NEAR BY WHO RECOGNISED HIM FROM LAST TIME HE'D BEEN THERE. LEO TURNED OUT TO BE A FIT ATHLETIC EX-GYMNAST. ALTHOUGH NOT AN EXPERIENCED WRESTLER HE HAD WRESTLED WITH SANE AND REALLY WANTED TO WRESTLE JAMES.
JAMES WRESTLED LEO IN HIS HOTEL ROOM SHOWING LEO HOW TO PUT ON HOLDS THEN LET LEO PRACTICE THEM ON HIM. THEY THEN WRESTLED COMPETITIVELY WITH JAMES TAKING THE FIRST SUBMISSION PUTTING LEO THROUGH THE RINGER. THEN LEO MANAGED TO TURN THE TABLES ON JAMES AND MAKE HIM SUFFER TO GET THE EQUALISING SUBMISSION. JAMES MADE LEO PAY TAKING THE THIRD AND WINNING SUBMISSION, MAKING LEO SURRENDER THE MATCH.
LEO ASKED JAMES FOR ONE MORE SESSION TO SE IF HE COULD GET ANOTHER SUBMISSION OUT OF HIM. THEY WRESTLED AGAIN AND LEO MANAGED TO GET JAMES DOWN WITH SOME DIRTY LOW BLOWS AND THEN KEEP HIM DOWN. LEO THEN WORKED JAMES OVER BIG TIME. HOT MALE ON MALE EROTIC ACTION, TOUGH SUBMISSIONS, FORCE EJACULATIONS, GUT PUNISHMENTS, AND NASTY CBT ACTION. €5.00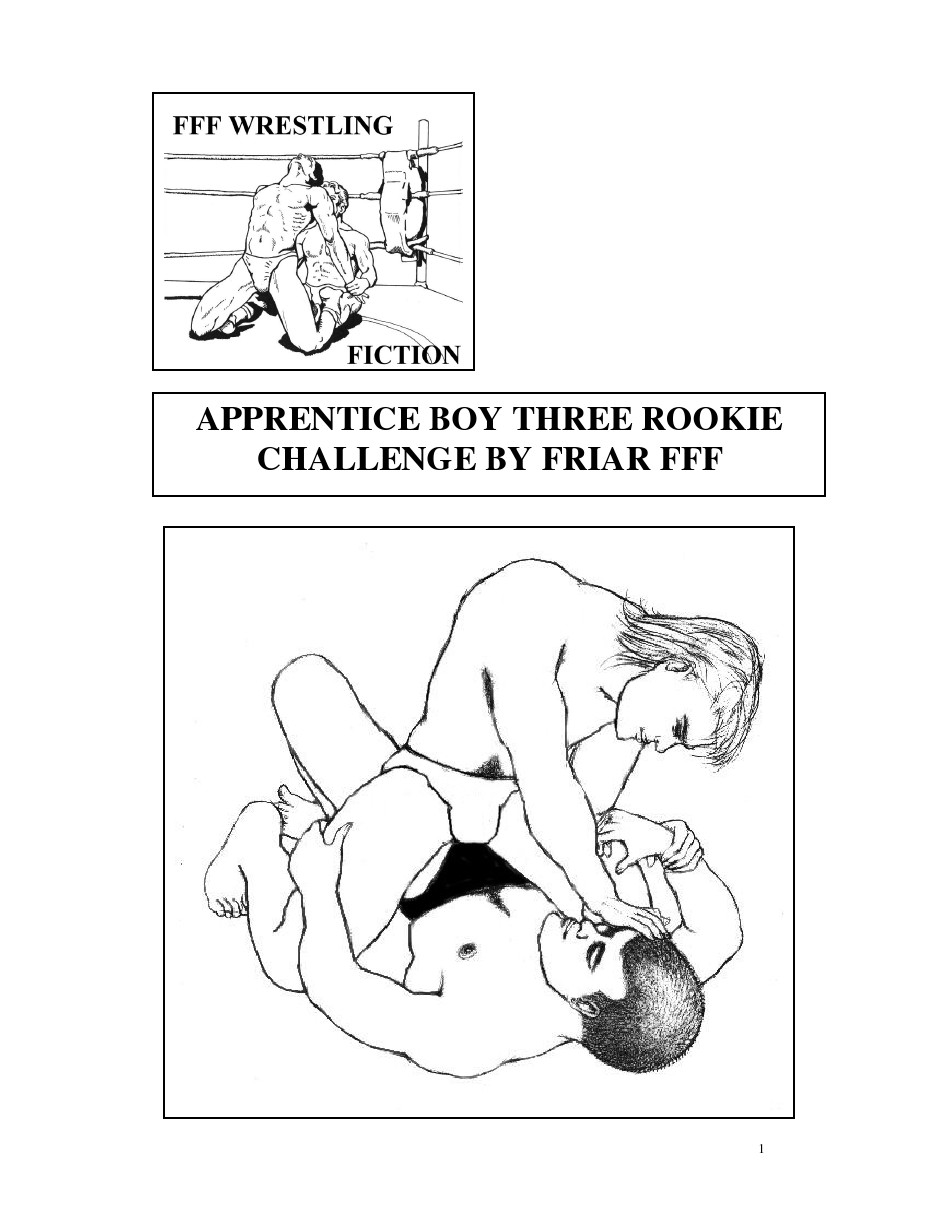 17. REVENGE SQUASH JOB. DIRK CUTE ANGEL GET HIS CHANCE TO GET HIS OWN BACK ON JOSHUA LITTLE DEVIL, FOR BETRAYING HIM IN THEIR TAG MATCH AGAINST KYLE COLLEGIATE KID AND BRAD YOUNG PRETENDER. WHEN A NEW PROMOTER ASKS THEM TO APPEAR IN A THE INDEPENDENT PRO-WRESTLING CIRCUIT WRESTLING VIDEO. THE NEW PROMOTER TURNED OUT TO BE A WOMAN WHO WAS COMMISSIONING THE VIDEO MATCH AS SURPRISE PRESENT FOR HER GAY SON'S EUAN'S EIGHTEENTH BIRTHDAY.
DIRK ENJOYED WORKING THE CUTE SEXY JOSHUA OVER MAKING HIM SUFFER FOR BETRAYING HIM IN THEIR TAG MATCH AND HELPING BRAD AND KYLE TRIPLE TEAM HIM. DIRK NOT ONLY POCKETS THE PRIZE MONEY OFFERED BY THE FEMALE PROMOTER BUT WAS ALSO HIRED BY HER TO WRESTLE HER SON EUAN AS DIRK OR CUTE ANGEL WAS HIS FAVOURITE THE INDEPENDENT PRO-WRESTLING CIRCUIT WRESTLER. DIRK WAS PAID WELL TO SHOW EUAN MOVES AND HOLDS AND LET EUAN BEAT HIM.
DIRK WAS DISGUISED AS A BELL BOY TO GET INTO EUAN'S ROOM. WHEN EUAN REALISED WHO HE WAS, DIRK TOLD EUAN HE WAS ANOTHER PRESENT FROM HIS MOTHER THEN SHOWED HIM THE HAND CUFFS AND BOX OF SEX TOYS HE HAD BROUGHT. EUAN TURNED OUT TO BE A QUICK LEARNER AND GAVE DIRK A GOOD WORK OVER. EUAN THEN HANDCUFFED DIRK TO THE BED AND SUBJECTED HIM TO MORE SEXUAL AND PHYSICAL ABUSE USING THE SEX TOYS ON DIRK. EUAN DIDN'T GET IT QUITE ALL HIS OWN WAY AS DIRK MANAGED TO TURN THE TABLES ON HIM IN THE END AND GAVE EUAN HIS OWN PERSONAL BIRTHDAY PRESENT.
TOUGH SEXY MALE ON MALE WRESTLING ACTION AND EROTIC KINKY MALE ON MALE PHYSICAL AND SEXUAL ABUSE. €5.00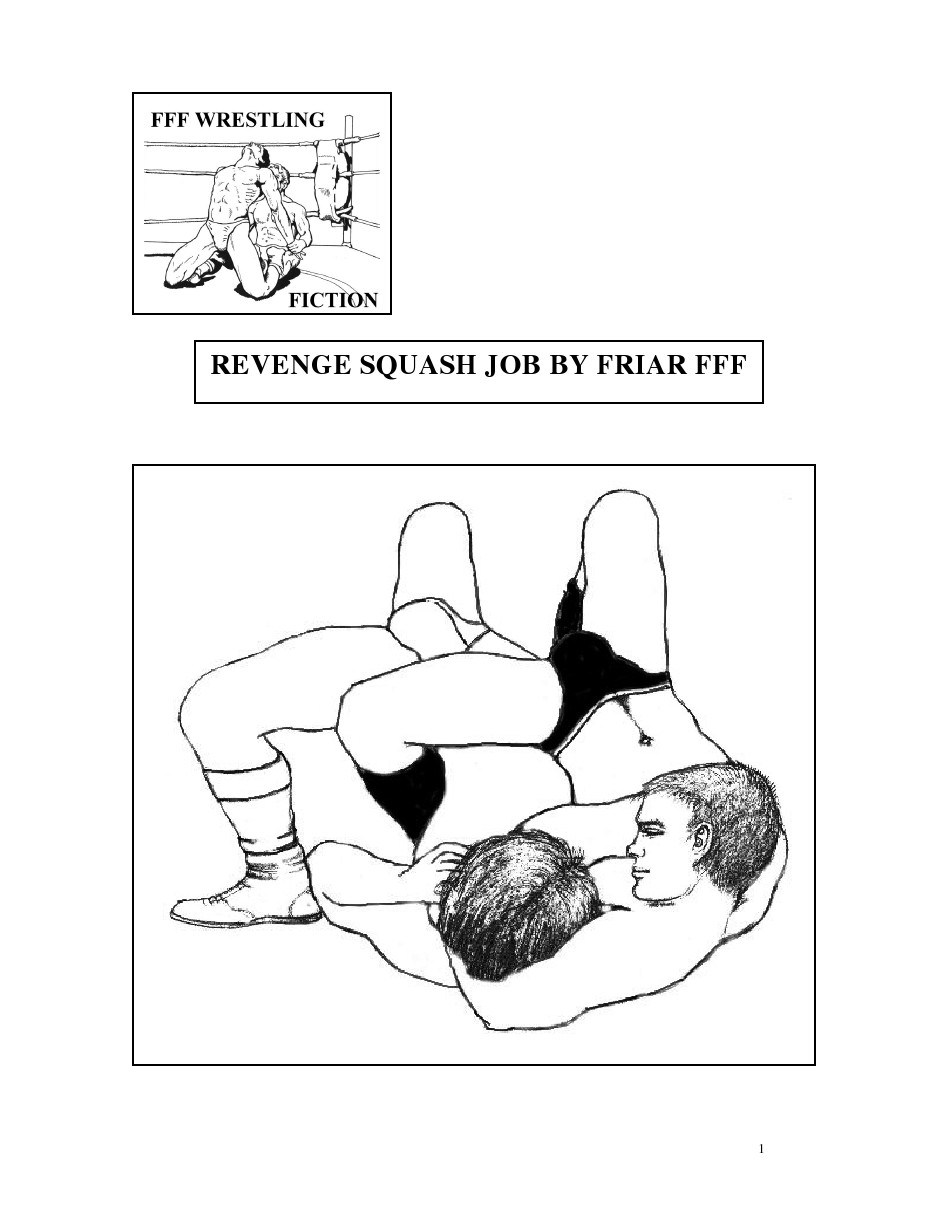 18. CYPRIOT ENCOUNTERS PART 1. IAN A THIRTY SOMETHING GAY WRESTLER WITH A LIKING FOR GUT PUNISHMENT IS ON HOLIDAY IN CYPRUS. AS CYPRUS WAS NOT A POPULAR GAY HOLIDAY DESTINATION IAN WASN'T EXPECTING ANY WRESTLING ACTION WHILE THERE. HOWEVER TO HIS SURPRISE AND DELIGHT HE MET GAY ENGLISH TWINS ON HOLIDAY THERE WHO IT TURNED OUT WHERE ALSO INTO WRESTING AND GUT PUNISHMENT.
IAN WRESTLED THE TWINS GLYN AND GRANT ON THE BEACH BEATING BOTH OF THEM INDIVIDUALLY, GETTING PAINFUL AND EXCITING SUBMISSIONS FROM THEM. THEY THEN TOOK HIM ON TOGETHER AND MADE HIS SUBMIT THIS TIME AND INFLICTED SOME GUT PUNISHMENT. THE TWINS WERE IMPRESSED BY JUST HOW MUCH IAN CAN TAKE AND HOW MUCH HE ENJOYED DOING IT THAT THEY INSIST ON SEEING HIM AGAIN FOR SOME MORE FUN BEFORE THEY FLY HOME. THEY ARRANGE TO MEET IAN IN A SMALL BAR THAT HAS YOUNG GAY BARMAN RUNNING IT IN THE EVENINGS.
WHEN IAN ARRIVED GRANT AND GLYN WERE ALREADY THERE AND HAD BEEN INDULGING IN SOME PUNCHING GAMES WITH ANDREW THE YOUNG GAY BARMAN.
IAN JOINED THEM AND GOT INVOLVED IN THE PUNCHING GAMES. ANDREW ALSO GOT INVOLVED AGAIN AS HE CLEARLY TURNED ON BY THE PUNCHING GAMES BUT WAS NOT UP TO THE TWINS OR IAN'S STANDARD, AND CANNOT KEEP UP. IAN DEFEATED BOTH TWINS AGAIN INDIVIDUALLY, BUT THIS TIME AT GUT PUNISHMENT. THEY TOOK HIM ON AGAIN THIS TIME TOGETHER AND HE STILL BEAT THEM. THEN THE TWINS INSISTED ON WORKING IAN OVER TO SEE HOW MUCH HE CAN TAKE. THEY REALLY GO TO WORK ON IAN GUTS BUT THEY CANNOT MAKE HIM CONCEDE.
THE TWINS ARE SO TURNED ON BY IAN RESISTANCE AND THE EXCITEMENT OF PUNISHING HIM THAT THEY TAKE HIM BACK TO THEIR APARTMENT FOR AN EVEN TOUGHER SESSION. THE TWINS GIVE IAN A LONG GUT PUNISHING WORK OVER THAT FINALLY BREAKS HIM AND HE AGREES TO THEIR SEXUAL FORFEIT. THE TWINS REALLY FUCK IAN AND THEMSELVES TO EXHAUSTION.
IAN WOKE UP FIRST IN THE EARLY HOURS AND TOOK HIS REVENGE ON THE TWINS FUCKING AND GUT PUNISHING THEM BEFORE BIDDING THEM FAREWELL AND SAFE JOURNEY BACK TO THE UK. TOUGH AND EROTIC MALE V MALE WRESTLING AND GUT PUNISHING ACTION. €4.00
19. CYPRIOT ENCOUNTERS PART 2. IAN ARRANGES A MATCH WITH ANDREW THE YOUNG BARMAN AFTER THE TWINS GRANT AND GLYN GO HOME. IAN MEETS ANDREW IN HIS APARTMENT FOR AFTERNOON OF TOUGH, SEXY EXCITING WRESTLING. FIRST THEY PRACTICE ALLOWING ANDREW TO LEARN THE HOLDS AND MOVES AND HOW TO GET OUT OF THEM. AS ANDREW HAD ALWAYS HAD ALWAYS FANTASISED ABOUT WORKING A LARGER, STRONGER, GUY OVER WHILE WRESTLING, IAN AGREED TO WRESTLE ANDREW WITHOUT RESISTING SO IAN COULD REALISE HIS FANTASY.
ANDREW GIVES IAN ONE HELL OF A WORK OVER, MARVELLING AT JUST HOW MUCH PUNISHMENT IAN COULD TAKE. ANDREW FINISHED IAN OFF WITH A COMBINED KO AND TKO. AFTER A SHORT BREAK AND A COUPLE OF COLD BEARS THEY START AGAIN BUT THIS TIME THE WRESTLING IS COMPETITIVE. THIS TIME ITS ANDREW GET WORKED OVER AS ANDREW GET PAYBACK FORM THE PUNISHMENT INFLICTED ON HIM BY ANDREW. HOWEVER IAN DIDN'T GET IT ALL HIS OWN WAY. TOUGH SEXY EROTIC MALE ON MALE WRESTING ACTION, PITTING A SMALLER, LIGHTER, WRESTLER, AGAINST A LARGER, STRONGER ONE. €4 00.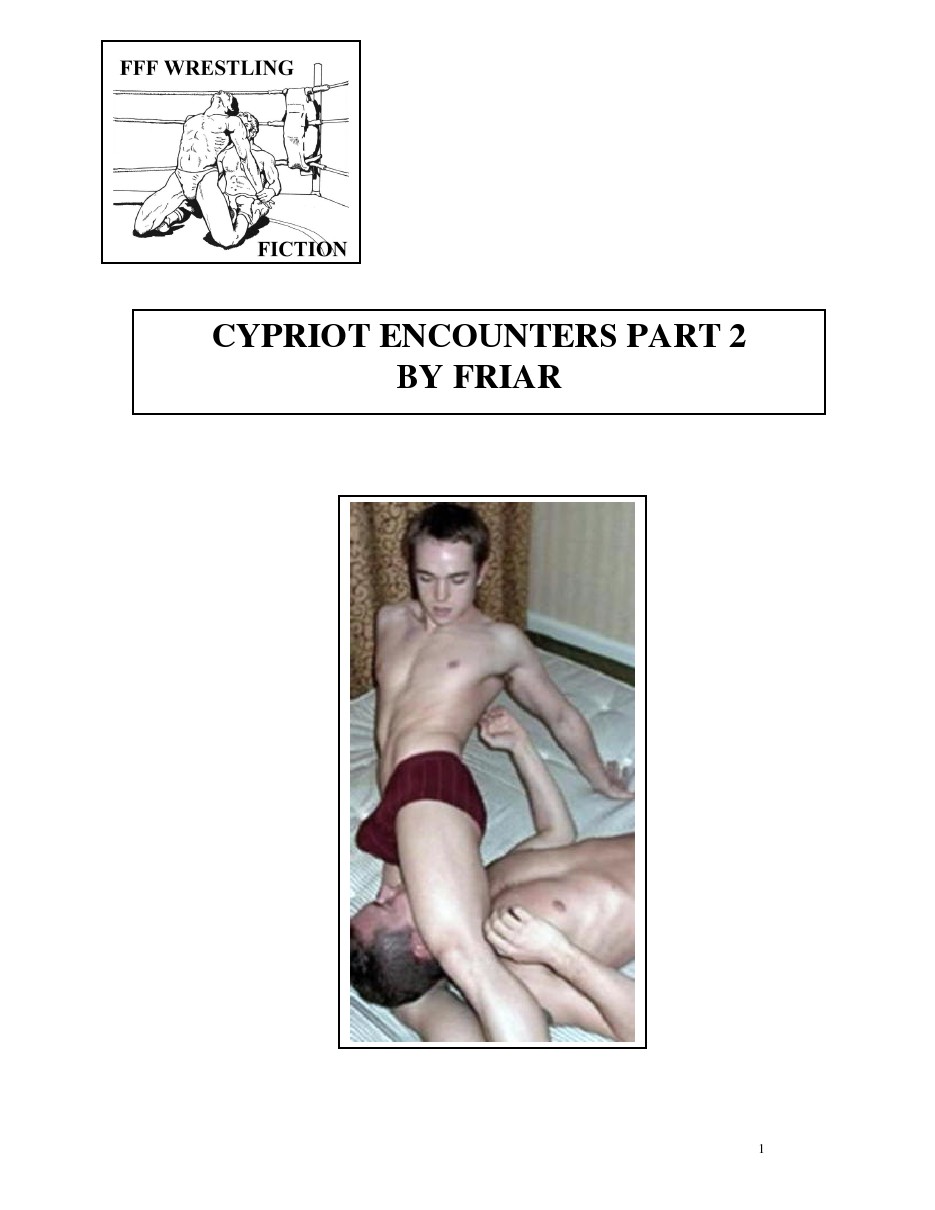 20. WRESTLING ENSIGN PART 1 FIRST ASSIGNMENT. BRAD REDENSKI A TWENTY-ONE YEAR OLD NEWLY QUALIFIED ENGINEERING OFFICER IS ASSIGNED TO AN ALIEN SPACE STATION IN A FAR QUADRANT OF THE GALAXY. BRAD FAILED MILITARY ACADEMY AND BUT RETAINED HIS KEEN INTEREST IN WRESTLING FROM HIS ACADEMY DAYS. HE WRESTLED SEVERAL SPACE MARINES AND SPACE FLEET OFFICERS ON HIS LONG VOYAGE TO THE DISTANT SPACE STATION. BRAD MISSED HIS WRESTLING WHEN HE WAS THE ONLY HUMAN ON THE SPACE STATION. THEN HE DISCOVERED THE ALTERANS VERSION OF THE GALACTIC WEB AND A GLADIATOR Or FIGHTER FORUM. BRAD MISSED WRESTLING SO MUCH HE PUT HIMSELF ON THE FORUM FOR BOUTs AGAINST NON HUMANS. BRAD HAD INDULGED IN SOME INTER SPECIES WRESTLING WHEN AT MILITARY ACADEMY AND HAD LOST BOTH TIMES, BUT THIS DIDN'T PUT HIM OFF.
BRAD'S FIRST BOUT WAS AGAINST A PASSING SOLARIAN TRADER. LEO DIDN'T LOOK PARTICULARLY CHALLENGING ON THE MATS BUT PROVED TO BE JUST THAT. HE SLOWLY BUT SURELY OVER POWERED BRAD MAKING HIM SUFFER IN PLENTY OF PAINFUL HOLDS. SENSING BRAD WAS BEATEN LEO STRIPPED OFF BRAD SPEEDOS. LEO AND ALL SOLARIAN'S WERE ASEXUAL AND HE WAS FASCINATED BY BRAD'S SEXUAL ORGANS. LEO STARTED TO EXPLORE BRAD'S NAKED BOY WHILE HE PUT HIM IN MORE HOLDS. LEO'S BODY TEMPERATURE WAS HIGHER THAN A HUMAN AND IT MADE HIS TOUCH EVEN MORE EXCITING FOR BRAD. LEO DROVE BRAD WILD WITH SEXUAL AROUSAL AND MADE HIM EJACULATE, LEAVING HIM BEATEN AND DRAINED ON THE MATS.
BRAD'S SECOND MATCH WAS AGAINST A YOUNG ALTERAN MAZURAT. ALTERAN'S WERE REPTILIAN CREATURES. THEIR BODIES WERE BI POLAR AND BROADLY SIMILAR TO HUMANS, BUT THEY WERE LITHE AND STRONG LIKE A SNAKES. ALTERANS WORE NO CLOTHING AND MAZURAT INSISTED BRAD FIGHT NUDE. MAZURAT'S SUPPLE REPTILIAN STRENGTH QUICKLY OVERCAME BRAD AND HE WAS MADE TO SUFFER IN NUMEROUS PAINFUL AND SEXUALLY EXCITING HOLDS. MAZURAT WAS FASCINATED BY BRAD'S NAKED BODY AND HE TEASED AND EXPLORED IT, MAKING BRAD HIGHLY AROUSED. BRAD WAS ABUSED PHYSICALLY AND SEXUALLY BY MAZURAT, RESULTING IN HIS TOTAL DEFEAT AND SEXUAL DRAINING AT THE HANDS OF THE REPTILIAN ALIEN. TOUGH SEXY AND EXCITING HUMAN V ALIEN WRESTLING WITH THE HUMAN BEING BEATEN AND ABUSED PHYSICALLY AND SEXUALLY. THE ALIENS MAY NOT BE GAY BUT THE DON'T TAKE ANY PRISONERS WHEN FIGHTING HOT SEXY MALE HUMANS LIKE BRAD. €4.00
Story extract available to read, on the battle annals male fighting stories extracts blog, link at the top of the page.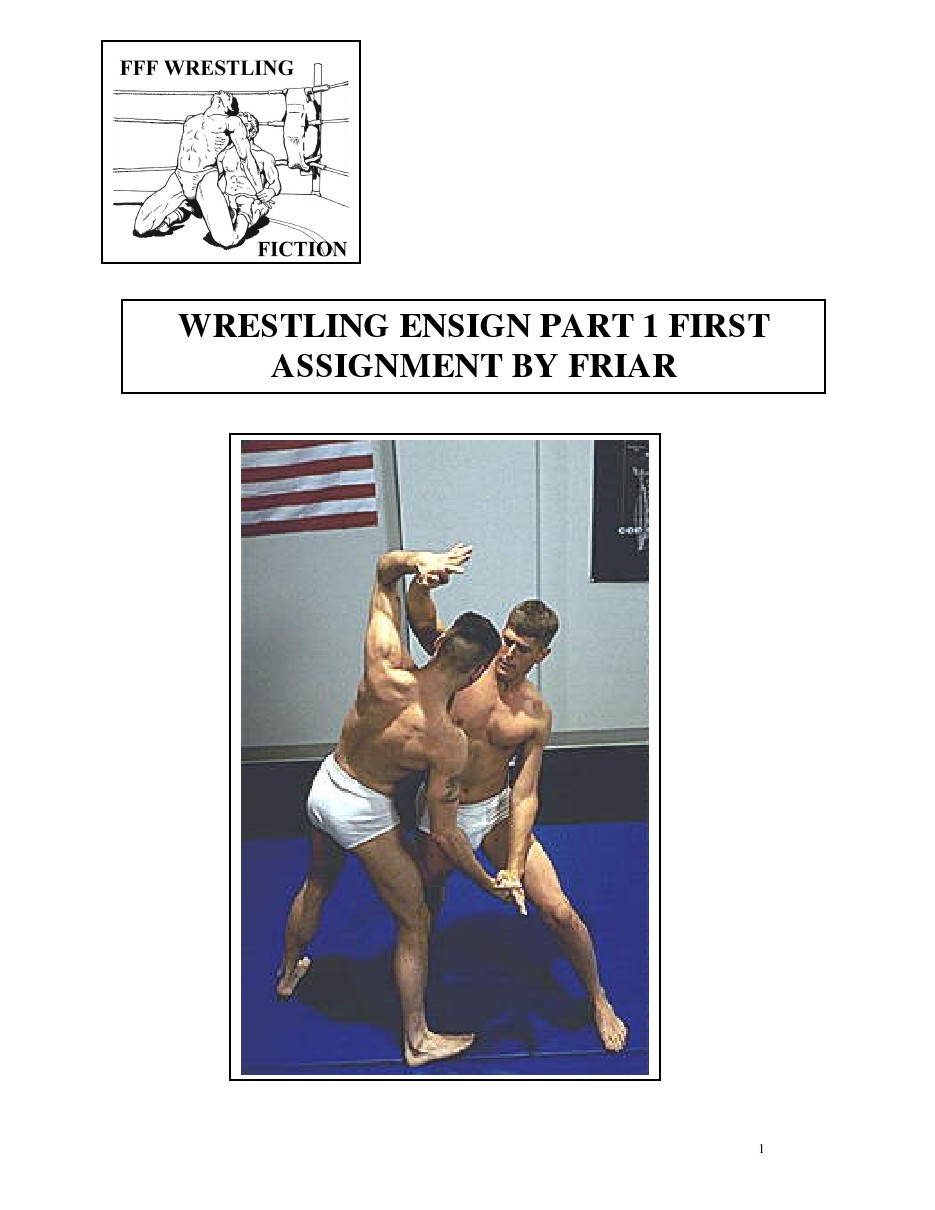 21. TWO WAY SQUASH JOB. DIRK WHO WRESTLES AS CUTE ANGEL FOR THE INDEPENDENT PRO-WRESTLING CIRCUIT WAS ON HIS BED WITH HIS PARTNER AND TAG PARTNER BRAD WHO WRESTLED AS YOUNG PRETENDER. HE TOLD BRAD ALL ABOUT HIS REVENGE MATCH WITH JOSHUA LITTLE DEVIL. JOSHUA BRAD AND KYLE COLLEGIATE KID HAD ALL TURNED ON DIRK IN THEIR FOUR WAY TAG MATCH AND BADLY DOUBLE TEAMED HIM. BRAD WAS IMPRESSED WITH DIRK'S ACCOUNT AND LOOKED FORWARD TO SEEING THE VIDEO. DIRK SAID ALL HE WANTED HIS REVENGE ON BRAD NEXT FOR BETRAYING HIM IN THE TOW WAY TAG MATCH. BRAD EXPECTED THEM TO FIGHT THERE AND THEN BUT DIRK WANTED TO DO IT IN THE RING ON VIDEO. SO THEY INDULGED IN SOME BREATH GAMES SMOTHERING EACH OTHER TO SEE WHO COULD LAST THE LONGEST. DIRK LOST AND WAS STRIPPED AND BOUND, BEFORE BEING SEXUALLY ABUSED AND DRAINED BY BRAD.
DIRK GOT A PHONE CAL THE NEXT DAY FROM LARRY JOHNSON THE ORGANISER OF FOR THE INDEPENDENT PRO-WRESTLING CIRCUIT. A SPONSOR WANTED DIRK TO FIGHT BRAD IN ANOTHER REVENGE MATCH AS THE FIRST ONE HAD BEEN SO EXCITING. DIRK COULDN'T BELIEVE HIS LUCK AND READILY ACCEPTED. HIS SPONSORS TURNED OUT TO BE EAUN FROM REVENGE SQUASH MATCH AND A YOUNG FRIEND RANDY WHO HAD BOTH ENJOYED THAT MATCH AND VIDEO SO MUCH THEY WANTED DIRK TO TAKE HIS REVENGE ON BRAD.
DIRK MET BRAD ON THE MATS AT FOR THE INDEPENDENT PRO-WRESTLING CIRCUIT GYM IN AN ALL OUT UNDERWEAR ONLY MATCH. DIRK AS CUTE ANGEL BEAT AND RALLY WORKED OVER BRAD AS YOUNG PRETENDER. DIRK MADE BRAD SUFFER BOTH PHYSICALLY AND SEXUALLY REALLY ENJOYING EXACTING HIS REVENGE ON HIS TAG PARTNER. IN ONE FINAL ACT OF DOMINATION DIRK MADE BRAD AGREE TO FORFEIT FOR LOSING TO BE DECIDED BY THE SPONSORS. EAUN AND RANDY THE SPONSORS DECIDE THEY WANT TO TAKE ON BRAD OR YOUNG PRETENDER ON THE MATS IN TAG MATCH. THEY WOULD BE IN FULL PRO-GEAR WITH BOOTS, BRAD JUST IN HIS CYCLE SHORTS. THEY COULD TAG BRAD COULD NOT.
AT FIRST YOUNG PRETENDER TRIUMPHED TAKING SEXY, PAINFUL SUBMISSIONS FROM ANDY AND EAUN. THE TWO OF THEM ATTACKED YOUNG PRETENDER AND SLOWLY OVER CAME HIM TO TAKE THREE EQUALLY PAINFUL, SEXY SUBMISSIONS AND WIN THE MATCH. TOUGH, SEXY, YOUNG, ATHLETIC, GUY ON GUY, WRESTLING ACTION. €4.00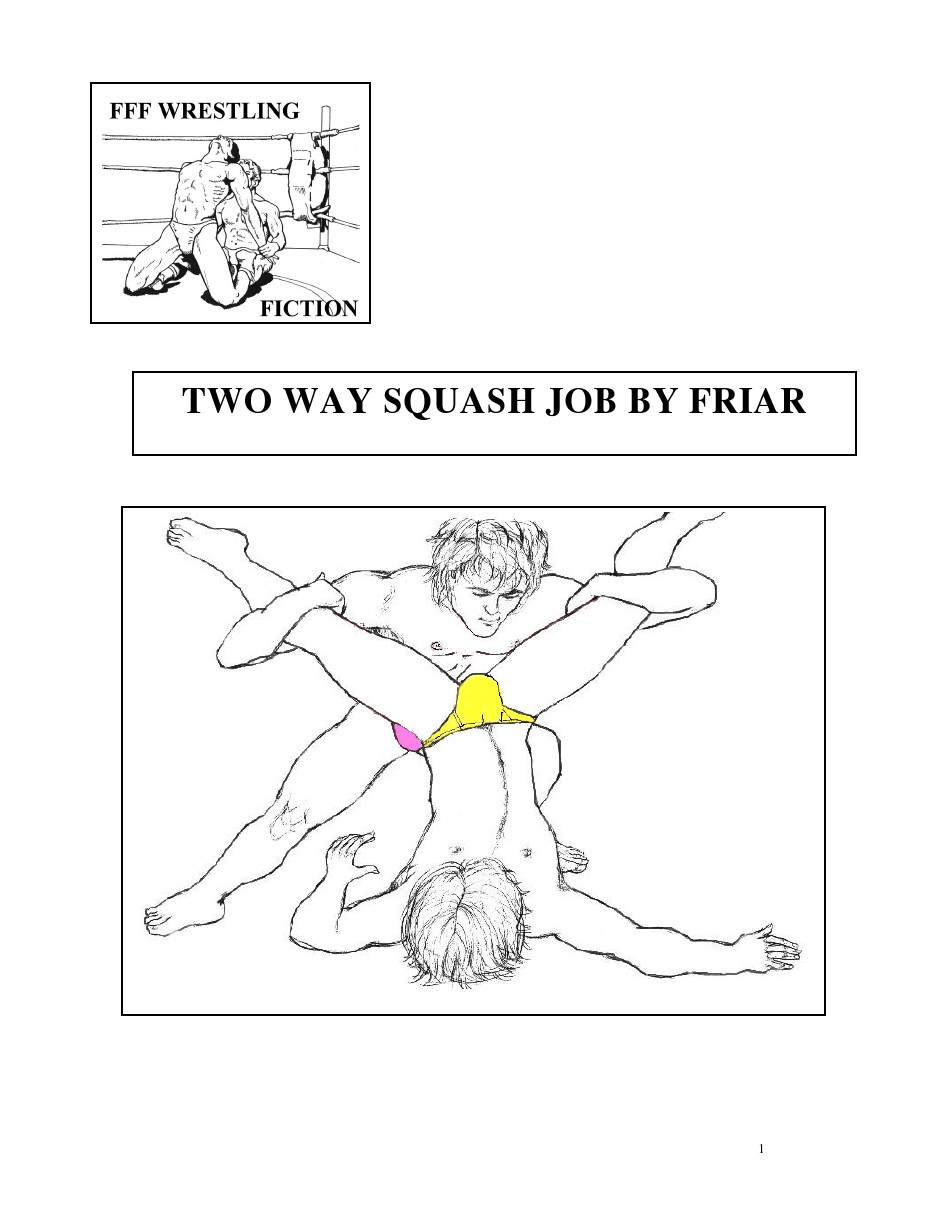 22.WRESTLING ENSIGN PART 2 ENTER THE LABYRINTH. . BRAD REDENSKI A TWENTY-ONE YEAR OLD NEWLY QUALIFIED ENGINEERING OFFICER WAS ASSIGNED TO AN ALIEN SPACE STATION IN A FAR QUADRANT OF THE GALAXY. BRAD WAS THE ONLY HUMAN ON THE STATION OF ALIEN REPTILIANS. AS KEEN WRESTLER BRAD HAD BEEN DELIGHTED TO FIND A GLADIATOR FIGHTER FORUM THAT HE GRATEFULLY JOINED PUTTING HIMSELF FORWARD FOR INTER-SPECIES MATCHES. BRAD A CURIOSITY AMONG THE ALTERAN REPTILIANS BE MAMMALIAN AND WARM BLOODED ALSO AS THEY WERE NON SEXUAL THEY WERE FASCINATED BY HIS SEXUAL ORGANS AND HOW THEY COULD BE USED TO TAKE TOTAL CONTROL OF HIM. BRAD HAD TWO INTERSPECIES MATCHES BRAD WAS STILL RECOVERING. ONE AGAINST AND ALTERAN AND ONE AGAINST A SOLARIAN. hE'D LOST BOTH JUST LIKE HIS TWO PREVIOUS INTER SPECIES MATCHES BACK AT THE ACADEMY. THEY HAD BOTH WORKED HIM OVER PHYSICALLY AND SEXUALLY, FASCINATED BY HIS SOFT AND VERY RESPONSE BODY AND SEXUAL ORGANS.
BRAD HAD HEARD WHISPERINGS AND POSTINGS ABOUT A SPECIAL FIGHT ARENA CALLED THE LABYRINTH THAT SPECIALISED IN INTER SPECIES FIGHTS. BRAD WAS KEEN TO FIND OUT MORE ABOUT THE LABYRINTH MAYBE EVENTUALLY EVEN TAKE PART IN ONE OF THEIR FIGHTS. BRAD DIDN'T HAVE TO WAIT LONG FOR AN INVITATION TO THE LABYRINTH. AN ALTERAN CALLED THE SENTINEL OFFERED BRAD A CHANCE TO FIGHT IN THE LABYRINTH IF HE PASSED THE ENTRANCE TEST A SPECIALLY ARRANGED INTER SPECIES MATCH. BRAD WAS PITTED AGAINST AN ALIEN SIMIAN PHYSICALLY TO APES AND CHIMPANZEES ON EARTH BUT MORE INTELLIGENT, SENTIENT. BRAD LOST AGAINST THE STRONG MORE AGGRESSIVE AND ANIMALISTIC ALIEN SIMIAN IN A HIGH STAKES MATCH. BRAD WAS THE SIMIAN'S PRIZE AND THE SIMIAN WHO HAD ALREADY PHYSICALLY AND SEXUALLY WORKED BRAD OVER IN THE BOUT HAD EVEN MORE FUN AT BRAD EXPENSE
ALTHOUGH HE LOST BRAD HAD PASSED THE TEST SENTINELS NEXT MATCH IN THE LABYRINTH WAS AGAINST TWO MORE ALIENS WHO BORE UNCANNY RESEMBLANCE TO NEANDERTHALS. BRAD WAS DEPOSITED IN THE MAZE LIKE INTERIOR OF THE LABYRINTH HE HAD WIN HIS WAY PAST THE TWO ALIEN NEANDERTHALS. BRAD PUT UP A BRAVE FIGHT BUT WAS NO MATCH FOR THE TWO STRONGER BRUTAL UNRELENTING ALIENS. BRAD IS WORKED OVER BY THE TWO ALIENS AND THEN TAKEN SEXUALLY BY THEM. HUMAN PITTED AGAINST TWO STRONGER ALIEN SPECIES WHO REALLY BEAT HIM AND SUBJECT HIM TO INTENSE PHYSICAL AND SEXUAL ABUSE. €4.00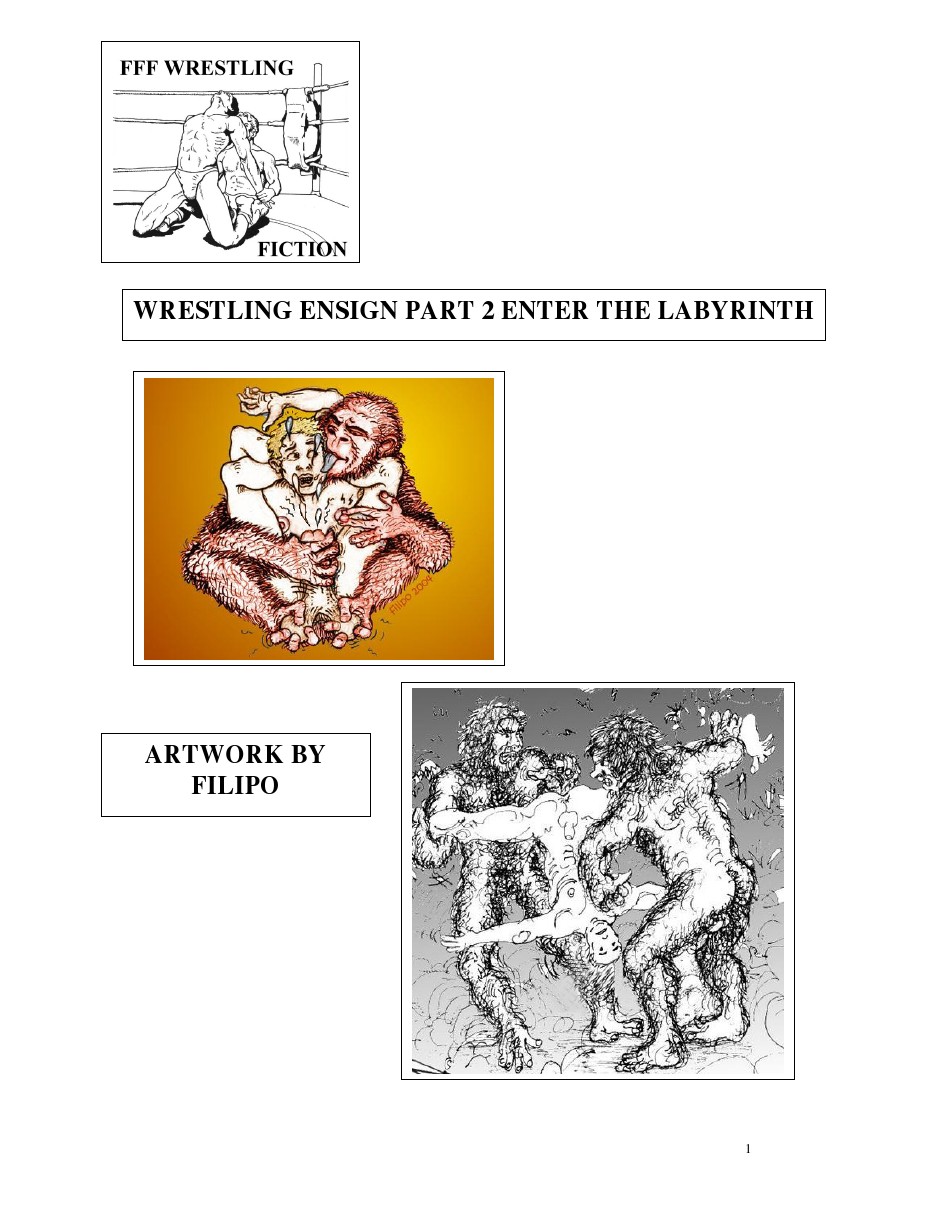 23 WELL HEELED JOBBER. COLIN AND OLDER, LARGER, MORE EXPERIENCED WRESTLER ANSWERS THE AD FROM YOUNGER, SLIMMER, FITTER AND LESS EXPERIENCED WRESTLER. DANIEL WAS LOOKING FOR AN OLDER GUY LIKE COLIN TO PUT HIM THROUGH HIS PACES AND TEST HIS LIMITS. COLIN WAS HAPPY TO COMPLY AND INVITED DANIEL TO HIS HOUSE TO WRESTLE FULLY INTENT ON GIVING DANIEL WHAT HE WANTED A REAL HEEL ON JOBBER WORK OVER. COLIN REALLY WENT TO TOWN ON DANIEL APPLYING A SERIES OF PUNISHING HOLDS TURNING THE YOUNGER WRESTLER EVERY WHICH WAY BUT LOOSE. GREAT MALE ON MALE ACTION WITH AN OLDER LARGER GUY, WORKING OVER A YOUNGER FITTER GUY, MAKING HIM SUFFER. TOUGH, HORNY, MALE WRESTLING ACTION. €3.00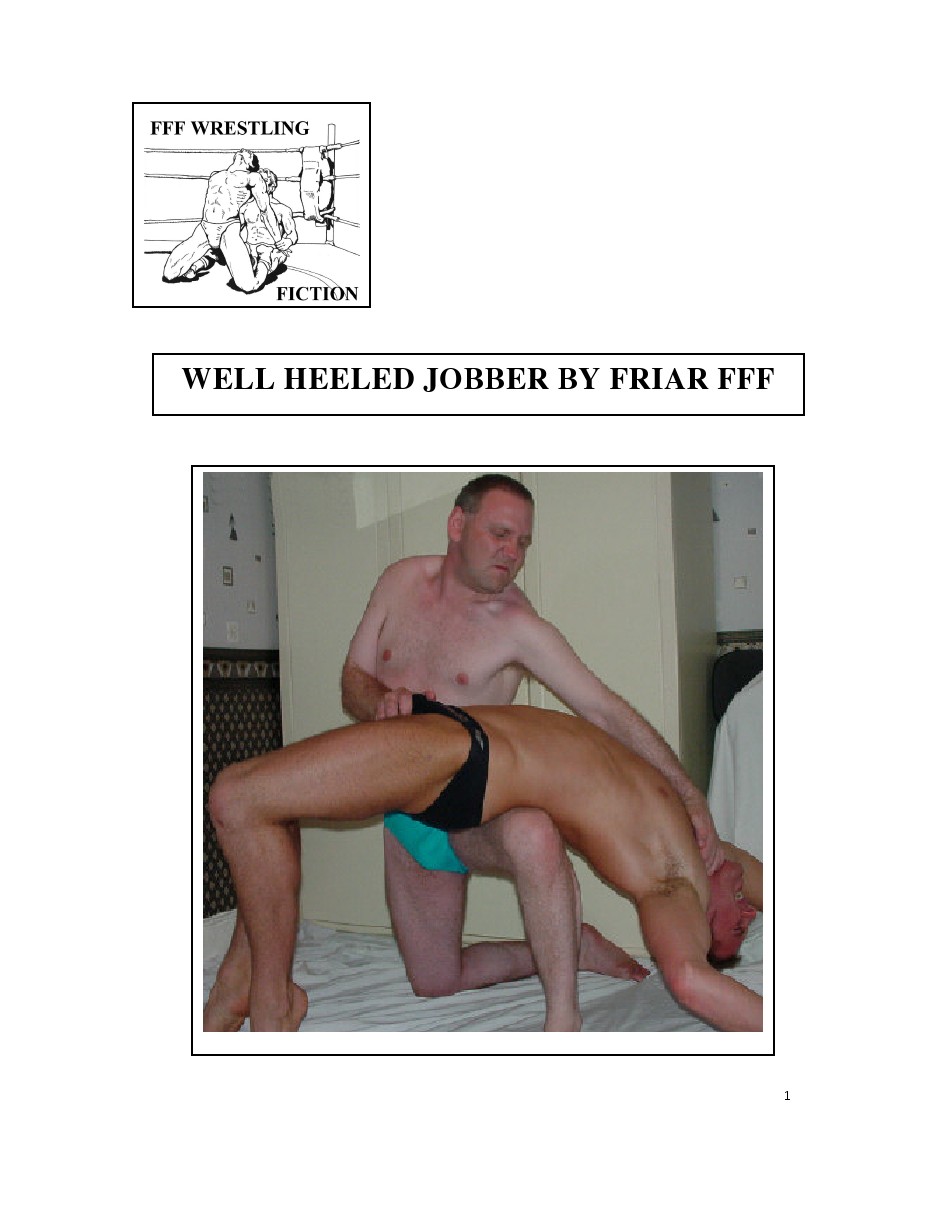 24 THE ADVENTURES OF A CORRESPONDENCE WRESTLER PART 3 HIGH STAKES MATCH. LUKE CONTACTS THE THIRD REPLY TO HIS AD TO HIS. SEBASTIAN CHALLENGES LUKE TO A NHB HIGH STAKE MATCH. IF LUKE LOOSES HE AGREED TO PLAY SOME BALL BUSTING GAMES WITH SEBASTIAN. SEBASTIAN TROUNCES LUKE REALLY WORKING HIM OVER OBTAINING MULTIPLE SUBMISSIONS. LUKE PLAYS A BALL BUSTING GAME WITH SEBASTIAN AND LOOSES SUFFERING SOME VERY PAINFUL BALL PUNISHMENT. LUKE WAS THEN FORCED TO SUCK SEBASTIAN'S COCK BEFORE SEBASTIAN GAVE LUKE HIS FINAL AND EVEN MORE PAINFUL REWARD FOR LOOSING BOTH THE WRESTLING AND THE BALL BUSTING GAMES. TOUGH PAINFUL MALE ON MALE NHB WRESTLING. ALSO A PAINFUL AND EROTIC MUTUAL BALL BUSTING SESSION. GRITTY, TOUGH EROTIC MALE AND MALE ACTION. €4.00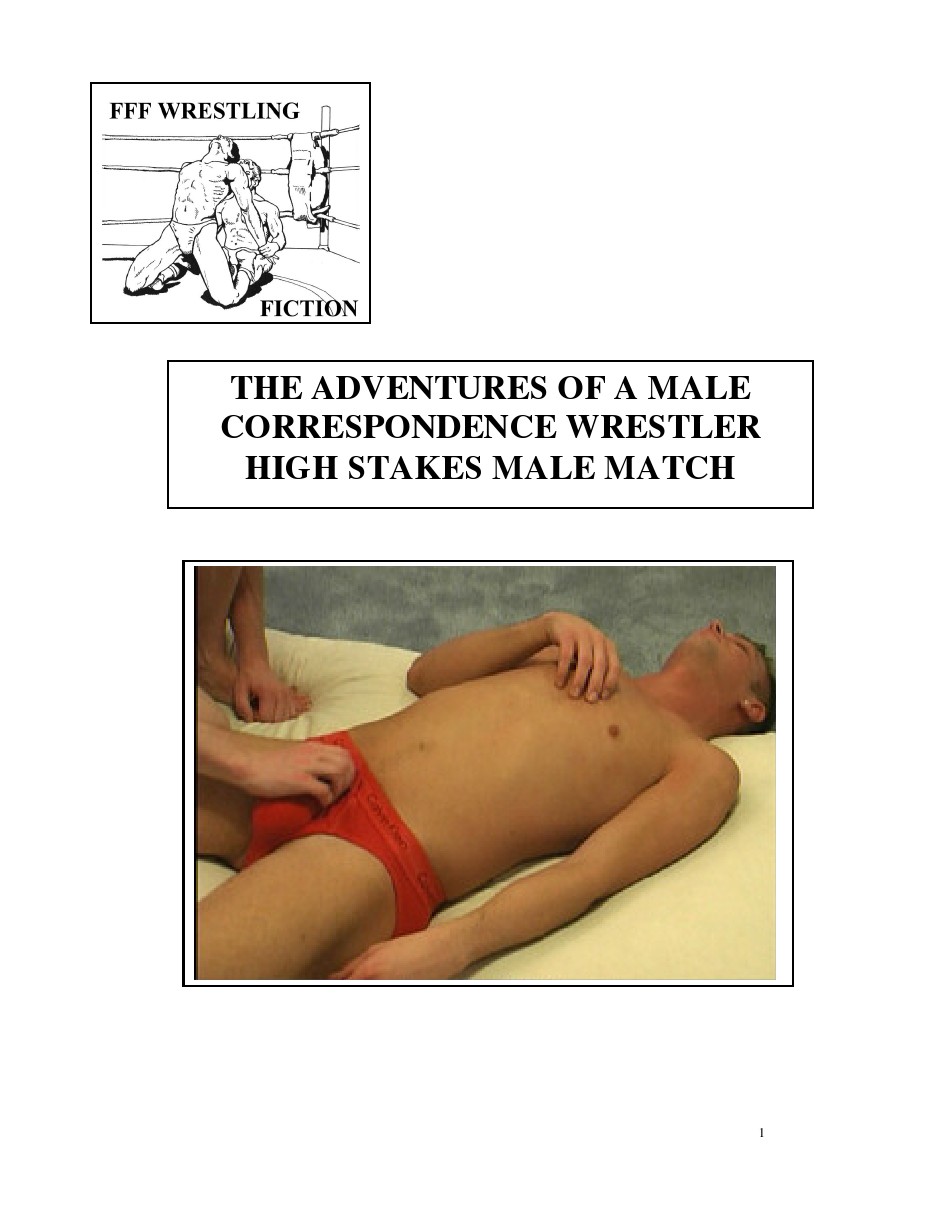 25. WRESTLING ENSIGN PART 3 HIGH STAKES ALIEN MATCH. BRAD REDENSKI A TWENTY-ONE YEAR OLD NEWLY QUALIFIED ENGINEERING OFFICER WAS ASSIGNED TO AN ALIEN SPACE STATION IN A FAR QUADRANT OF THE GALAXY. BRAD WAS THE ONLY HUMAN ON THE STATION OF ALIEN REPTILIANS. AS KEEN WRESTLER BRAD HAD BEEN DELIGHTED TO FIND A GLADIATOR FIGHTER FORUM THAT HE GRATEFULLY JOINED PUTTING HIMSELF FORWARD FOR INTER-SPECIES MATCHES BRAD IS OFFERED A SPECIAL SPONSOR MATCH BY TWO SPONSORS. A HIGH STAKES ALIEN MATCH WITH WINNERS TAKE ALL SPONSOR AND GLADIATOR ALIKE. HE IS THE GLADIATOR FOR ONE BRONSON THE ONLY OTHER HUMAN BRAD HAD MET IN ALTERAN SPACE. THE OTHER SPONSOR TAUPAU A DROVIAN. TAUPAU'S GLADIATOR WAS AN INSECTIOD CALLED CARSUS WITH TEN LIMBS AND SEGMENTED INSECT LIKE BODY. BRAD LOSES ALL THREE SUBMISSIONS TO CARSUS SUFFERING PHYSICAL AND SEXUALLY HUMILIATION AT ALIEN INSECTIOD'S HANDS. BRAD WAS THEN BOUND ABUSED AND TEASED BY TAUPAU WHO URGED HIM TO BECOME HIS HUMAN SLAVE BUT BRAD REFUSED AND TAUPAU LEFT BRAD TRUSSED UP AND THEN WORKED ON BRONSON AND MADE HM AGREE TO BE HS HUMAN SLAVES. CARSUS THE INSECTIOD ALIEN ESCAPED HIS CAGE AND TORTURED ABUSED BRAD HELPLESS BOUND BODY AND BRAD WAS ONLY RESCUED IN THE NICK OF TIME BY TAUPAU. HOT SEXY AND PAINFUL ABUSE OF THE HUMAN MALE BODY BY ALIENS. €4.00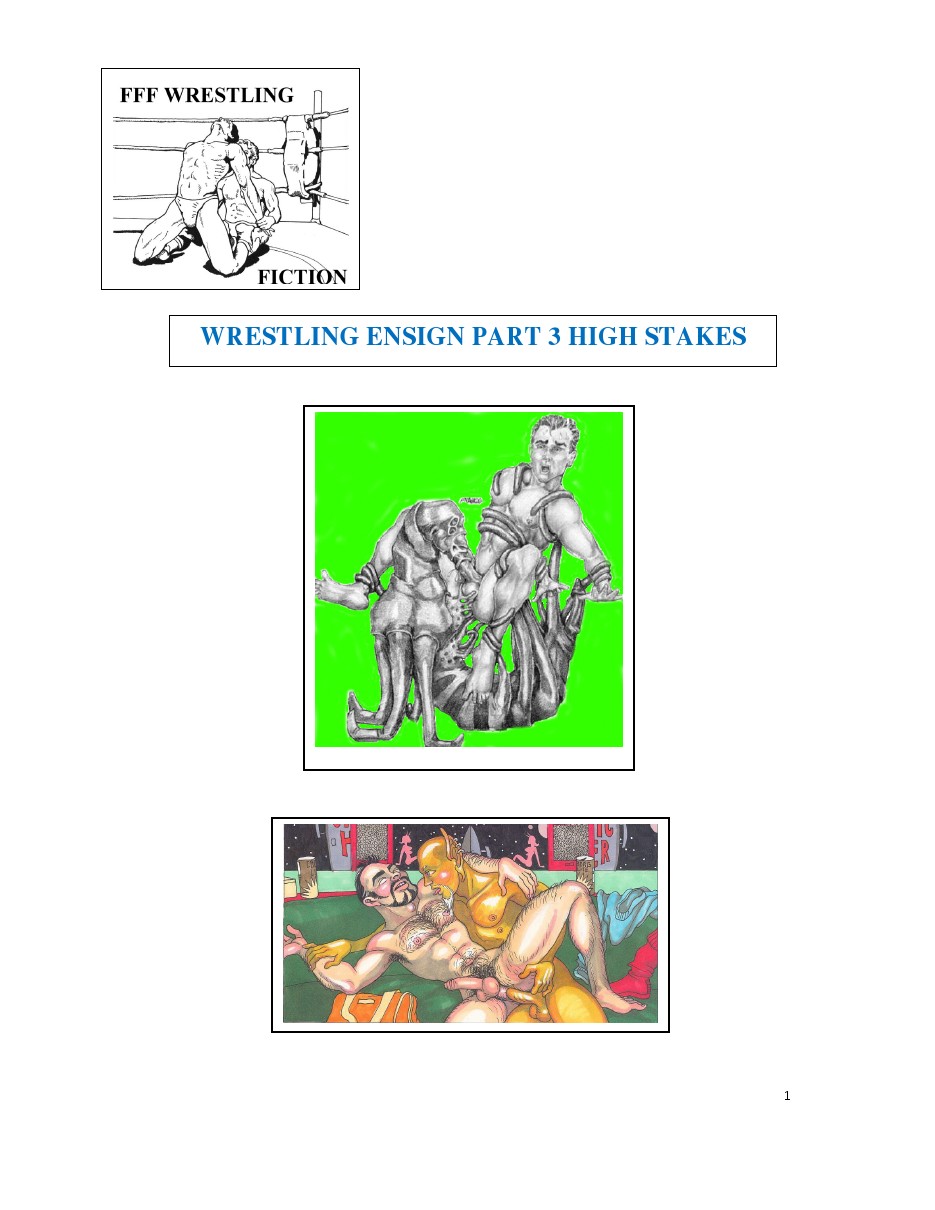 26. WRESTLING LIEUTENANT NEW CHALLENGES. NEWLY PROMOTED BRAD REDENSKI ENGINEERING LIEUTENANT NOW TRANSFERRED TO THE ALTERAN SPACE FLEET ACQUIRES AN ALTERAN ENGINEERING ENSIGN AS HIS ASSISTANT. BRAD NOT ONLY TRAINS MARJOS TO REPAIR TERRAN EMPIRE TECHNOLOGY HE ALSO INTRODUCES MARJOS TO INTER SPECIES WRESTLING. MARJOS A QUICK LEARN AT BOTH SOON TURNS HIS EARLY DEFEATS INTO VICTORIES. AS THEIR WRESTLING CONTINUES MARJOS TOTALLY DOMINATES USING BRAD AS HIS VIRTUAL SEX SLAVE.
MARJOS IS SENT ON MISSION DEEP INTO THE ALTERAN QUADRANT. WHILE MARJOS IS AWAY BRAD MEETS ONLY THE SECOND HUMAN HE HAD SEEN IN THE ALTERAN QUADRANT. GARRET IT TURNED WAS FROM THIS SECTION OF THE GALAXY BRED FROM CAPTIVES TAKEN GENERATIONS. GARRET WAS A SURPRISED TO SEE BRAD AS HE HAD NEVER MET WHAT HE CALLED OLD OR ORIGINAL HUMAN. GARRET CONSIDERED HIMSELF A NEW OR IMPROVED HUMAN. GARRET PROVED HIS PHYSICAL SUPERIORITY WHEN THEY WRESTLED BY EASILY AND CONVINCINGLY DEFEATING BRAD. BRAD GER BEATEN AND WORKED OVER BY HIS ALTERAN ASSISTANT AND GARRET THE NEW HUMAN. HOT SEXY AND PAINFUL ALIEN ABUSE OF THE HUMAN MALE BODY. €5.00
27 THE MISADVENTURES OF THE BEAT DOWN BEAR PART 1 INITIATION. DANNY THICKSET UK WRESTLER TAKES UP THE CHALLENGE FROM GABE A HUGE AMERICAN WRESTLER. NO NOT A SMALL WRESTLER HIMSELF DANNY IS DWARFED BY GABE SIZE AND AS PROMISED GETS THE TOUGHEST BEAD DOWN OF HIS WRESTLING CHALLENGES SO FAR. GABE'S HUG FORM AND WEIGHT ADVANTAGE COUPLED WITH HIS STRENGTH TURNS IT INTO A ONE WAY BEAT DOWN MATCH. GABE WORKS DANNY OVER IN NUMEROUS PAINFUL HOLDS AND PINS SLOWLY STRIPPING OF HIS WRESTLING GEAR. GABE OBTAINS MULTIPLE SUBMISSIONS FROM DANNY WHO HE PUNISHES MERCILESSLY. GABE USES HIS BUILT TO LITERALLY SQUASH THE LIFE AND RESISTANCE OUT OF DANNY MAKING HIM SUBMIT BOTH PHYSICALLY AND SEXUALLY. BIG STOCKY WRESTLER SQUASHED AND BEATEN DOWN BY AN EVEN BIGGER WRESTLER. GOOD MALE ON MALE PHYSICAL AND SEXUAL ACTION €3.00