MANFLESH MALE V MALE FIGHTING ARTWORK AND COMIC BOOK PAGE

The url is man-flesh1.blogspot.com
http://www.man-flesh1.blogspot.com
MANFLESH MALE V MALE FIGHTING LIST
1 BUTT FIGHTER PART 1. SPACE COP REECE SPUNKTON IS ABDUCTED AND SOLD INTO SLAVERY TO BE A BUT FIGHTER ON THE PLANET URANIUS. PART ONE RECOUNTS REECE SPUNKTON'S TRAINING AND HIS FIRST FIGHT AS A BUTT FIGHTER IN THE ARENA AGAINST THE ONE EYED CYCLOPS. ENJOY REECE'S TOUGH AND SADISTIC TRAINING AND EVEN MORE BRUTAL AND SADISTIC FIRST MATCH ACTION GRAPHICALLY ILLUSTRATED BY MANFLESH. GREAT COLOUR ARTWORK €10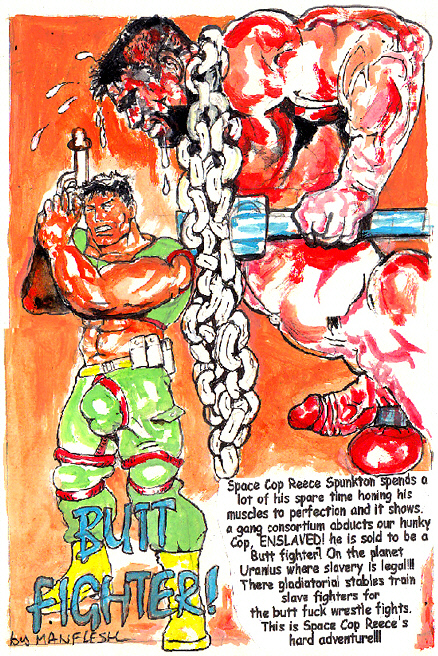 2 BUT FIGHTER PART 2. SPUNK SHOWER. REECE SPUNKTON IS ABUSED AND HUMILIATED BY THE ONE EYED CYCLOPS. REECE SPUNKTON IS THEN PUNISHED AND TRAINED HARDER BY HIS SADISTIC TRAINER. REECE SPUNKTON GROWS LARGER AND STRONGER DEVELOPING A SADISTIC STREAK OF HIS OWN ABUSING THE NEW BUT FIGHTER SLAVES. REECE SPUNKTON RHINO REECE HIS NEW RING NAME HAD HIS FIRST TRUE BUT FIGHTER BOUT HIS TOUGH BRUTAL AND EROTIC SECOND BOUT SWINGS BACK AND FORTH AS THEY FIGHT TO SEE WHO WILL WIN AND WHO WILL BE THE BITCH. MORE HOT BRUTAL AND EROTIC MALE ON MALE ACTION GRAPHICALLY ILLUSTRATED BY MANFLESH. MORE GREAT COLOUR
ARTWORK €10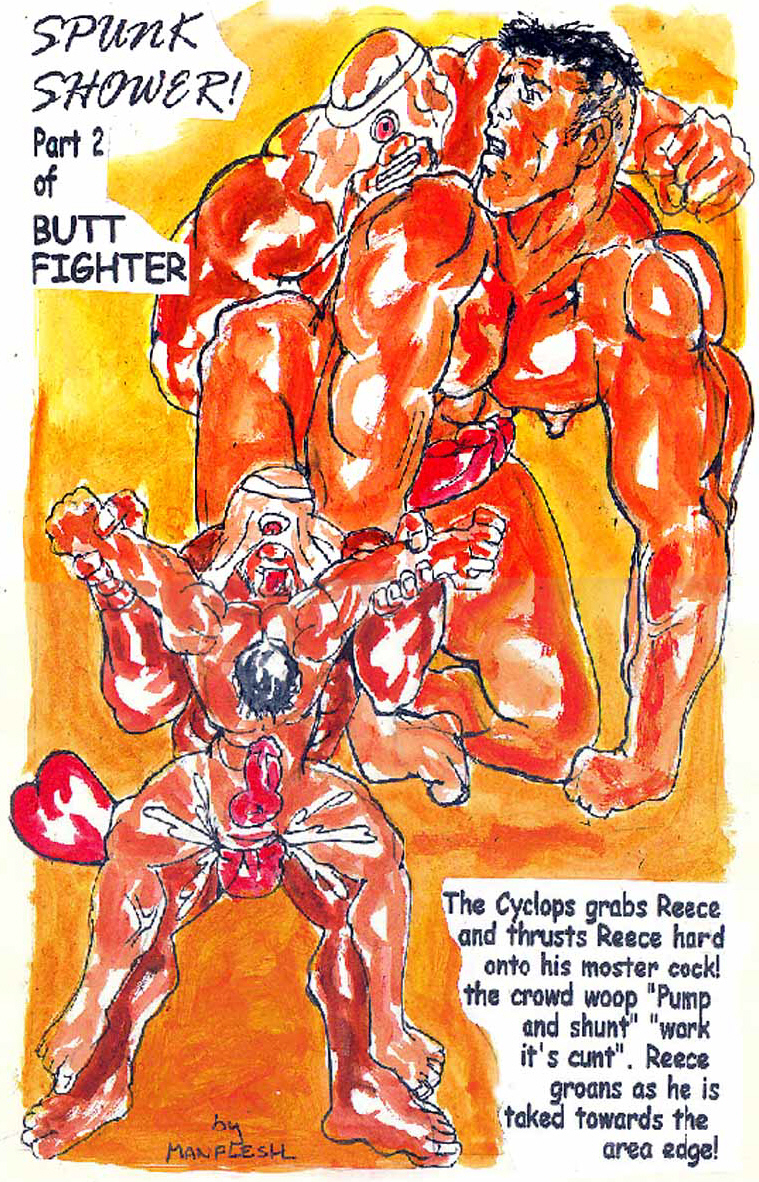 3 BUTT FIGHTER OWNED BY THE MOB. HIGH SCHOOL WRESTLING JOCK ZAK LIKED TO DATE OLDER WOMEN AND IMPRESS THEM BY TAKING THEM TO THE CASINO. BUT ZAK'S HIGH LIFE AND FREQUENT VISITS TO THE CASINOS LEFT HIM IN HEAVY DEBT TO THE MOB. WHEN HE MADE HIS NEXT VISIT TO THE CASINO WITH ANOTHER OLDER WOMAN CONQUEST HE WAS DRAGGED AWAY BY THE MOB HEAVIES TO SEE THE BOSS. THE BOSS HAS ZAK STRIPPED AND THROWN INTO A ANIMAL CAGE HE HAS TO FIGHT FOR THE MOB. ZAK HAS TO FACE A GIANT RUSSIAN OPPONENT IN A BASEMENT CAR PARK IN FRONT OF LEERING MALE SPECTATORS. THE GIANT RUSSIAN EASILY OVER COMES ZAK STRIPPING HIS AND SUBJECTING HIM TO PHYSICAL AND SEXUAL ABUSE. HELPLESS ZAK HAD TO TAKE THE GIANT RUSSIAN'S GIANT COCK WHILE THE SPECTATORS ENJOY THE SHOW. HOT BRUTAL AND EROTIC MALE ON MALE ACTION GRAPHICALLY ILLUSTRATED IN COLOUR BY MANFLESH. ANOTHER GREAT MANFLESH EROTIC COLOUR COMIC BOOK. €10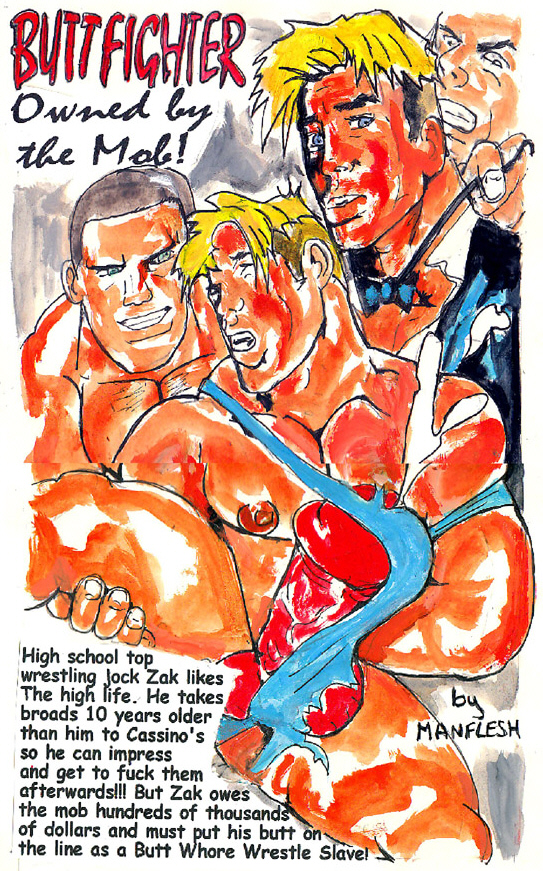 4 RECTINIUS THE GLADIATOR IN BLOOD SAND AND SEX. RECTINIUS HAD TO CHOSE BETWEEN A GLADIATOR AND THE MINES HE CHOSE TO BE A GLADIATOR. RECTINIUS IS PARADED NAKED THROUGH THE STREETS WITH OTHER GLADIATORS TO THE LANISTAE GLADIATOR STABLE. THEY MEET THE LANISTAE TRAINER WHO INSPECT THERE BOYD BOTH PHYSICALLY AND SEXUALLY. THEY ARE FORCE TO TRAIN HARD WORKING THEIR MUSCLES AND SEXUAL ORGANS ALIKE IT IS IMPORTANT THAT GLADIATORS CAN BOTH FIGHT AND FUCK IN EQUAL MEASURE. AFTER MONTHS OF TRAINING THEY ARE TESTED WITH THE SWORDS ON THE PLATFORM THEY HAVE TO FIGHT A TRAINED GLADIATOR. RECTINIUS BESTS THE GLADIATOR AND SHOW HIS DOMINANCE BY PISSING ON HIS DOWN BODY. RECTINIUS'S SUCCESS IS SEEN BY THE EMPEROR CAESAR COMMODUS DEMANDED RECTINIUS FOR HIS PRIVATE HAREM. THEN NEXT DAT RECTINIUS IS TAKEN TO PALACE ON THE PALATINE. EMPEROR CAESAR COMMODUS ORDERS RECTINIUS TO KILL A HELPLESS NAKED SLAVE WITH A SWORD. RECTINIUS HAS TO OBEY AND THEN COVER HIS NAKED BODY WITH THE SLAVES' BLOOD BEFORE PLEASURING THE EMPEROR WITH HIS MOUTH. EMPEROR CAESAR COMMODUS TELLS RECTINIUS HE MUST FIGHT ONE OF HIS ELITE GUARD WEARING STEEL CAESTUS ON THEIR HANDS. THE LOSER WOULD BE FUCKED RAW BY ALL THE OTHER GLADIATORS. RECTINIUS'S NEW LIFE HAD ONLY JUST BEGUN. HOT COLOUR GRAPHIC MALE PHYSICAL AND SEXUAL ACTION ANCIENT ROMAN STYLE ANOTHER GREAT MANFLESH WORK. €10.00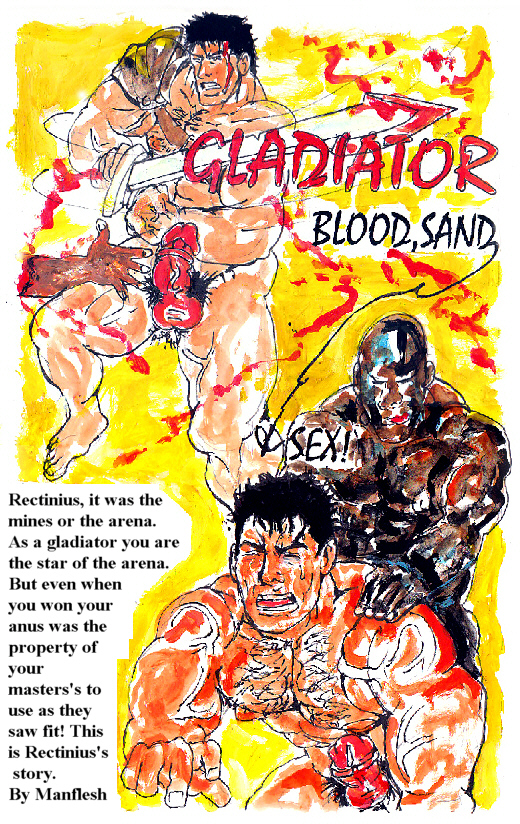 5 RECTINIUS THE GLADIATOR IN BLOOD SAND AND SEX PART 2 PANKRATION. RECTINIUS FIGHTS ONE OF THE EMPEROR'S CAESAR COMMODUS ELITE GUARDS. BOTH WEAR STEEL CAESTUS ON THE FISTS. A TOUGH BRUTAL AND BLOODY BATTLE ENSUES THAT RECINIUS WINS. HE HAS WON THE RIGHT TO FUCK THE GUARD. THE EMPEROR CAESAR COMMODUS WILL NOT LET ONE OF HIS GUARD BE FUCKED BY A GLADIATOR AND A SLAVE HE ORDERS TWO HUGE NUBIAN SLAVE TO FUCK RECTINIUS INSTEAD. THE EMPEROR CAESAR COMMODUS THEN LETS ALL HIS GUARDS FUCK RECTINIUS BEFORE PISSING ON RECTINIUS POSING AS IF HE HAD BEATEN RECTINIUS. IT IS THE EMPEROR CAESAR COMMODUS WHO DECIDES WHO HAS WON. MORE HOT COLOUR GRAPHIC MALE PHYSICAL AND SEXUAL ACTION ANCIENT ROMAN STYLE ANOTHER GREAT MANFLESH WORK. €10.00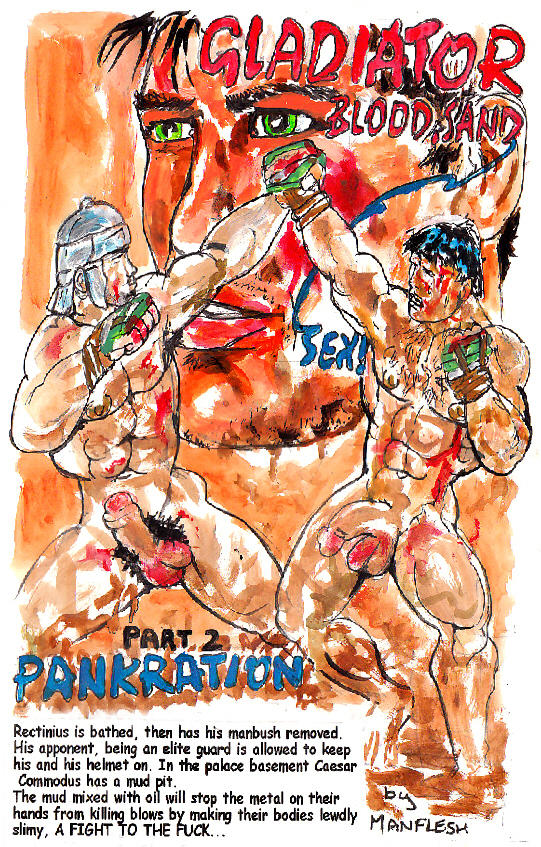 6 PRIVATE WRESTLE STABLE SLAVE. KYLE YOUNG JAIL BIRD AND SEX HUSTLER AND WRESTLER IS FINDING TIMES HARD EVEN HIS HOT BODY IS NOT COMMANDING THE PRICE IT USED TO. HE HEARS ABOUT A MUSCLE STABLE WERE STUDS LIKE HIMSELF COULD LIVE LIKE KINGS PERFORMING IN FRONT OF ADORING CROWDS. KYLE FIND THE FORTRESS LIKE ESTABLISHMENT AND GETS MUCH MORE THAN HE BARGAINED FOR. KYLE MEETS THE BOOS AND IS SURE HE WILL IMPRESS AS HE HAD NEVER FAILED TO SO BEFORE. THE BOSS INITIALLY IMPLIES THAT THIS WILL BE THE CASE THE ATTACKS KYLE WITHOUT WARNING. THE BOSS TELLS KYLE THAT HE NOW OWNS HIM. KYLE IS NO MATCH FOR THE CHAMPION WRESTER AND HIS BEATEN AND STRIPPED READY FOR HIS FIRST LESSON IN HARD BUMMING.
THE BOSS FUCKS KYLE IN FRONT OF LEERING GUARDS TELLING KYLE JUST WHAT IS GOING TO HAPPEN TO HIM. AFTER HIS FUCKING AT THE HANDS OF THE BOSS HE IS THROWN IN THE EXERCISE VAULT WITH CUM STILL DRIPPING FROM HIS BUM. TAD ANOTHER HOT SEXY WRESTLE SLAVE GOES FOR KYLE. KYLE FIGHTS BACK AGAINST TAD AND THE GRABS HIS BALLS TO THE DELIGHT OF THE CHEERING GUARDS. THEY BATTLE HARD BUT KYLE MANAGES TO MAKE TAD SUBMIT. WITH THE TRAINING SESSION OVER KYLE IS FORCED TO EAT FROM A TROUGH WITH OTHER NAKED SLAVE WRESTLERS. TEN PAGES OF HOT COLOUR GRAPHIC MALE FIGHTING AND SEXUAL DOMINATION ACTION. €10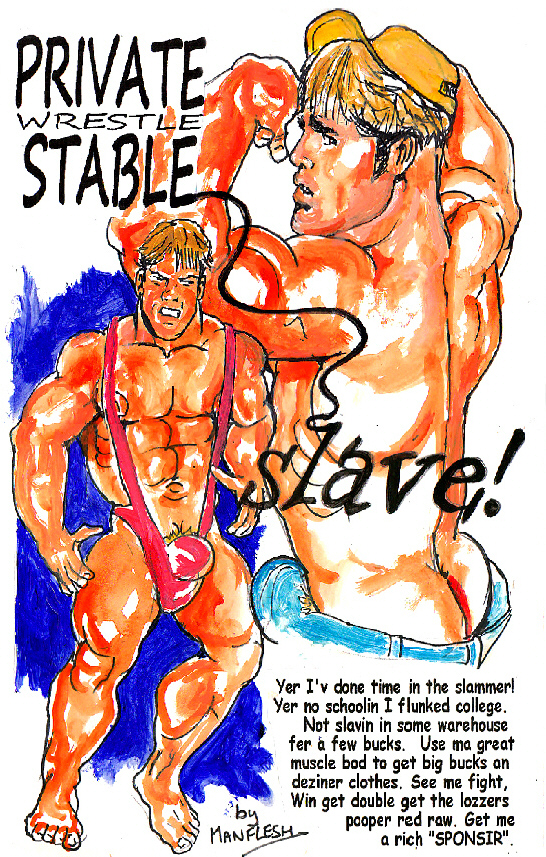 7 PRIVATE WRESTLE STABLE SLAVE PART 2 FUCK FIGHTS. KYLE'S ADVENTURES CONTINUE. FIGHTS FOR SLAVES LIKE KYLE ARE HELD IN AN UNDER GROUND DOMED ARENA WHERE PUNTERS CARS SURROUND THE FIGHTERS. KYLE IS READY TO FIGHT IN A TINY WRESTLE POUCH AND EAR PROTECTORS AND HAS THE WORD PROSTITUTE TATTOOED ON HIS ARSE AS PUNTERS CAN FUCK HIM AFTER THE FIGHT. KYLE NOT WANTING TO BE FUCK ATTACKED AND KNOCKED DOWN HIS FUCK FIGHT OPPONENT. BUT KYLE'S OPPONENT ANOTHER WRESTLE WHORE WAS NO PUSHOVER AND HIT BACK RIPPING KYLE'S SUIT OFF. AS KYLE AND HIS OPPONENT GRAPPLE IT OUT THE OTHER WRESTLE LADS ARE ORDERED TO ADD OIL AND SAND TO THE ARENA. AS THEY GRAPPLED THEIR COCK LEAKED LOTS OF PRE-CUM FLUID EAGERLY WATCHED BY THE MASTURBATING CROWD. THE TWO WRESTLE WHORES SLUG IT OUT BRUISING EACH OTHER'S FACES. KYLE LOCKED ONTO HIS OPPONENT AND SQUEEZED HIM TRYING TO SQUEEZE THE FIGHT OUT OF HIS OPPONENT BEFORE HE TIRED. WITH HIS OPPONENT DOWN AND HELPLESS BENEATH HIM KYLE RAMS HIS COCK INTO HIS OPPONENT FUCKING HIM HARD. KYLE KNEW HE WAS THE CHAMP AS HE CONTINUED TO FUCK HIS BEATEN OPPONENT WHILE CONSCIOUS OF THE EYES OF THE EXCITED MEN WATCHING WERE ON HIM AS THE WANKED THEIR EXCITED COCKS.
THE BOSS HELD KYLE'S ARM HIGH AS THE CHEERING CROWD WHOOPED AND KYLE SMILED ENJOYING HIS VICTORY. KYLE'S SMILE VANISHED WHEN THE BOOS SHOUTED, "BID FOR HIM". A HUGE BEAR MAKES THE HIGHEST BIG AND BRUTALLY FUCKS KYLE AND THEN KYLE IS RAPED BY A STRING OF LEERING MEN FILLING HIS ARSE WITH THEIR MAN SEED. KYLE'S FIST FUCK FIGHT HAD NOT TURNED OUT LIKE HE EXPECTED. TEN PAGES OF HOT COLOUR GRAPHIC MALE FIGHTING AND SEXUAL DOMINATION MANFLESH ACTION. €10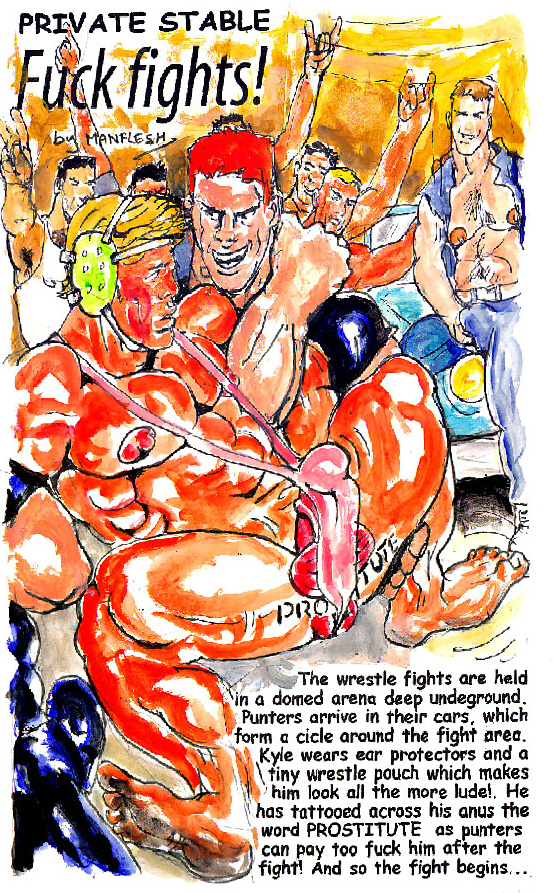 8 PANKRATION ALL WAR GAMES PART 1. YOUNG PRIAPUS PLOWMAN HAD BEEN ENTERED IN THE OLYMPIC GAMES SACRED WAR GAMES BY HIS MASTER PHALLUS OF SPARTA. PRIAPUS TRAINS AS HE WORKS IN THE FIELDS NAKED PROUD TO BE A MALE FIGHTER. PRIAPUS FUCKS HIS BEATEN OPPONENTS HARD. PRIAPUS'S MATERS TEL HIM HE HAD BEEN ENTERED IN THE OLYMPIC GAMES IN FRONT OF THE GODS AND ORDER HIM TO FIGHT ANOTHER OPPONENT GUYAN. PRIAPUS HAD TO FIGHT GUYAN IN THE MUD PIT. GUAN TEEL PRIAPUS THAT WHEN HE IS SPENT HE WILL FUCK HIM RAW. THEY COVER THEMSELVES IN MUD THE LORD NEEDED A FIT TEAM TO WIN AND WINNING THE GAMES WAS EVERYTHING. PRIAPUS AND GUYAN FIGHT PANKRATION IS BOXING WRESTLING AND EVERY OTHER FORM OF FIGHTING COMBINED. PRIAPUS GRAB GUYAN'S HAIR AND THROWS HIM OVER HIS SHOULDERS AND THE BATTLE RAGES.
THREE HORS LATER THEY ARE STILL FIGHTING. PRIAPUS DOES NOT KNOW THE MEANING OF GIVING IN. PRIAPUS BEATS GUYAN AND IS ORDERED TO FUCK HIM BY PHALLUS. PRIAPUS THRUSTS HIS CO KIN GUYAN BUT IS SO WEARY HE NEARLY PASSES OUT. PHALLUS ORDERS PRIAPUS AND GUYAN ON THE ALTER AND HIS MEN TO PUT ON THEIR WARM HELMETS AND HARD WEAPONS VOWING THE MAKE TO MAKE PRIAPUS CUM. PHALLUS THRUSTS HIS COCK INTO PRIAPUS AND MAKES PRIPUS'S HARD COCK FUCK GUYAN. ALL THE FIGHTING MEN ARE ALLOWED TO SEED PRIAPUS'S WHOLE GIVING IT A GOOD WORK OVER. THE ORDEAL MAKES PRIAPUS FEEL GOOD HIS MUSCLES PUMPED HIS ARSE PUMPED WITH WARRIOR SEED MORE THAN READY TO DO BATTLE AT THE WAR GAMES IN OLYMPUS BEFORE THE GODS. FIFTEEN PAGES OF HOT COLOUR GRAPHIC MALE FIGHTING AND SEXUAL DOMINATION MANFLESH ACTION. €12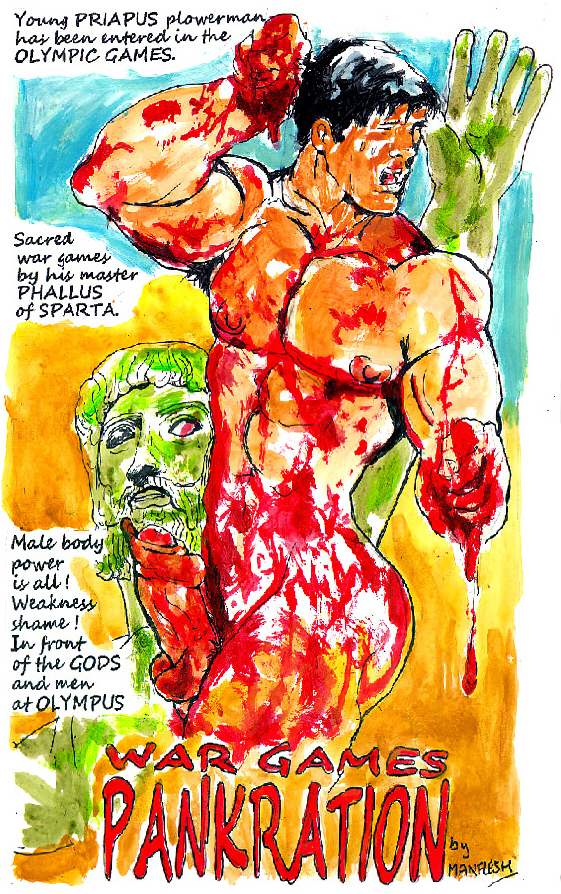 9 PANKRATION ALL WAR GAMES PART 2. PRIAPUS AND HIS FRIEND CLITRUS A RUNNER MAKE THEIR WAY TO OLYMPIA TO COMPETE IN THE WAR GAMES HEATS THAT ARE SET BY THE JUDGES OVER A TWO MONTH PERIOD. WHEN THEY ARRIVE IN OLYMPIA THEY SIT ON THE HUGE BRONZE PHALLUSES AND MAKE THEIR OFFERING OF SPUNK TO THE GOD DIONYSUS. THEY MOUNT THE HUGE BRONZE PHALLUSES AND MAKE A HUGE OFFERING OF SPUNK TO THE GOD DIONYSUS MUCH TO THE DELIGHT OF THE CROWD. THEY DECIDE TO SLEEP IN THE HOPLITODROMIAN. THE HOPLITODROMIAN'S ARE WARRIORS THAT RUN NAKED AND HARD IN ARMOUR. THEIR COCKS ARE IRON HARD FROM SO MUCH RAPING AND PILLAGING THEY ARE COVERED IN WARTY LUMPS THE BOYS ARE IN FOR A HARD TIME. WHEN THE HOPLITODROMIAN'S DISCOVER PRIAPUS AND CLITRUS THEY FUCK THEM HARD AND LONG. THE HARD SEX MAKES PRIAPUS MORE THAN READY FOR THE TRIALS. WHEN PRIAPUS ENTERS THE PALAESTRA HIS FOR HIS FIRST FIGHT HE IS TOLD HE IS FIGHTING PHAROS AND TO OIL UP. WHEN THE FIGHT STARTS PHAROS KNOCKS PRIAPUS SO HARD THAT PRIAPUS IS IMPALED ON THE HUGE COCK OF A VICTORY STATUE. PRIAPUS FIRED UP LEAPS OFF THE BRONZE COCK INTO THE ATTACK. PRIAPUS BEATS PHAROS TO WIN BUT DOES NOT STOP WHEN ORDERED. PRIAPUS IS WHIPPED BY THE JUDGES FOR FAILING TO OBEY. HOWEVER PRIAPUS WAS STILL ALLOWED TO FUCK PHAROS THE LOSER AND WINING IS EVERYTHING. FOURTEEN PAGES OF HOT COLOUR GRAPHIC MALE FIGHTING AND SEXUAL DOMINATION MANFLESH ACTION. €12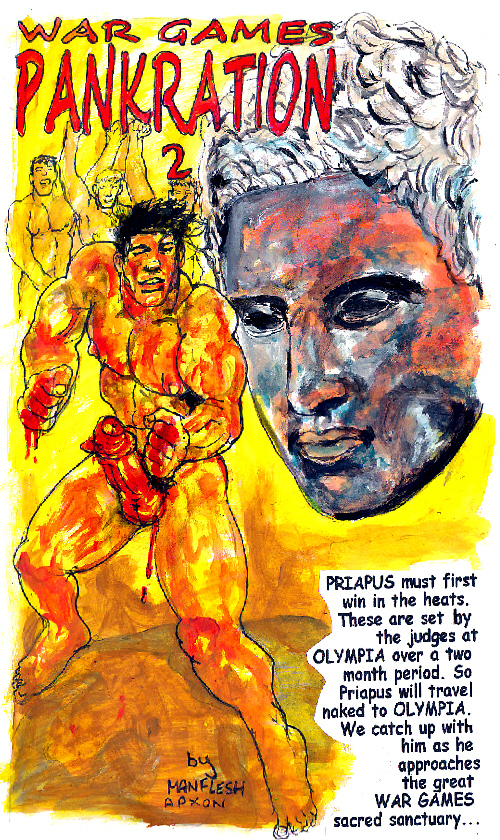 10 CAGE FUCK PART 1. WITH LIMITED OPPORTUNITIES TO MAKE MONEY TRAILER TRASH JOCKS ARE FORCED TO MAKE CASH IN THE FLESH UNDERGROUND FIGHT IN CAGE FUCK WHERE WINING EARNS YOU MONEY AND LOSING GETS YOU FUCKED. TRAILER TRASH JOCK JOE HICKS OWES THOUSANDS OF DOLLAR IN BACK RENT ON HIS TRAILER AND FORCED TO FIGHT IN CAGE FUCK OR BE FORCED IN SLAVE GANGS FOR LIFE. ALL CAGE FUCK FIGHTS ARE IN THE NUDE AND JOE IS FORCED TO STRIP AND REMAIN NAKED. HE HIS HELD DOWN WHILE A COCK RING FITTED WITH A TRACKING DEVICE IS FORCED ONTO HIS COCK USED TO LOCATE AND RECAPTURE ANY BEASTS THAT TRY TO ESCAPE. NEXT HICKS IS TAKEN TO THE SMITHY WHERE A STEEL RING IS INSERTED IN HIS COCK HEAD WHILE TIED DOWN HE SCREAMS IN PAIN. HICKS IS THEN TAKEN TO THE STABLING ROOM WHERE THE USE OF THE RING IN HIS COCK HEAD IS MADE OBVIOUS. OTHER CAGE FUCK BEASTS WITH THEIR ARMS SECURED BEHIND THEIR BACK HAVE THE COCKS TETHERED VIA THE STEEL COCK HEAD RINGS TO A RING IN THE FLOOR. BEFORE CAGE FUCK FIGHTS TAKE PLACE PUNTERS ARE ALLOWED TO CHECK THE MERCHANDISE. SECURED LIKE THE OTHER CAGE FUCK BEASTS HICKS CANNOT STOP THE RICH KIDS PAWING HIM BET ON HIM TO SHOW THEIR POWER OVER LOW LIFE TRASH.
HICKS IS TAKEN TO THE CAGE DEEP IN THE CENTRE OF THE STABLE COMPLEX. IT HAS HEAVY STEEL BARS LIKE A MAXIMUM SECURITY PRISON. IT IS HOT LIT BY AN AMBER TINGED LAMP. HICKS DOES NOT LIKE THE LOOK OF HIS OPPONENT WHO IS A SEASON FIGHTER. HIS OPPONENT DOES NOT WASTE TIME ATTACKING HICK AND DRAWING FIRST BLOOD. KNOCKED DOWN HICK IS ROLLED OVER AND LEWDLY WANKED IN FRONT OF THE BAYING CROWD. HICK IS FORCED TO LEARN FAST OR BECOME CUNT FODDER. HICK IS ABLE TO GRAB AND THROW HIS OPPONENT AS HE GROPES HIS HARD EXCITED COCK. BUTE FORCE AND A KNEE TO THE HEAD ENSURE HICKS IS TAKEN DOWN. STUNNED HICKS COMES AROUND WITH A JOLT AS HE FEELS A HARD WEAPON THRUST INTO HIS MAN CUNT. SOBBING IN SHAME HICKS IS CUNTED IN FRONT OF THE BAYING CROWD ONLY A SMALL PART OF THE PAIN TO COME. THIRTEEN EXCITING PAGES OF HOT COLOUR GRAPHIC MALE FIGHTING AND SEXUAL DOMINATION MANFLESH ACTION. €12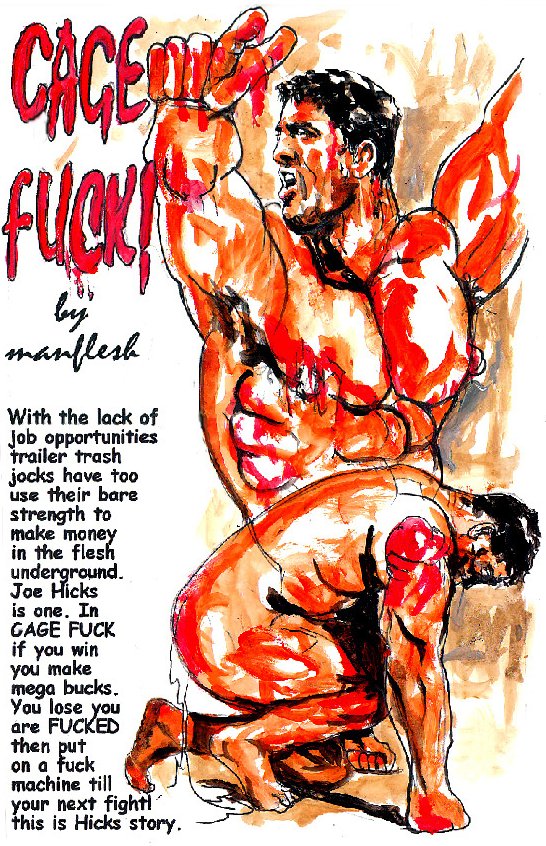 11 CAGE FUCK PART 2. THE LOSER JOE HICKS DRAGGED LIKE A PIECE OF HANGING MEAT TO THE COCK MACHINE ROOM HE FACES HIS FIRST LESSON FOR LOSING A FIGHT. HICKS IS PLACED IN STEEL STOCKS AS CLIENTS PAYING A HUNDRED DOLLARS CROWD IN THE WATCH THE POUNDING PUNISHMENT. THE CROWD WATCH AS HICK'S IS POUNDED BY THE FUCK MACHINE. FOR FIFTY DOLLARS EXTRA THEY CAN MILK HIM AND THEY DO AGAIN AND AGAIN. AFTER THREE DAYS WITH A VERY SORE BUT HOLE HICKS IS ESCORTED TO HIS FIGHT. HE IS THROWN IN THE CAGE THE FLOOR IS COVERED WITH POWDERED CLAY WITH HEAT LAMPS ABOVE. AS THE FIGHTERS SQUARE UP THE HEAT LAMPS MAKES THEM SWEAT MAKING THE POWDERED RED CLAW WET AND STICKY. AS THEY GRAPPLED THE HEAT LAMPS MADE THEIR SEAT COVERED NAKED BODIES TURN THE CLAY TO A STICKY SOUP COVERING THEM ALL OVER. HICKS IS DETERMINED NOT TO BE FUCKED THIS TIME HE SQUEEZES THE MAN'S HEAD BETWEEN HIS HARD LEGS AND THROWS HIM. HICKS IS FILLED WITH WINNERS LUST AND PUTS HE IS THE DOMINANT MALE. HE PUTS HIS FOOT ON THE EXHAUSTED FOE HARD AND READY TO LET THE CROWD SEE S CHAMPION FUCK. THE CROWD WHOOP AS THE VICTORY HICKS BUM FUCKS THE BLOND BITCH.
HICK IS TAKEN TO THE MANAGERS OFFICE. THE MANAGER TELLS HICKS THAT A RICH SHEIKH WANTS HIM FOR HIS OWN STABLE SO HE IS OF TO THE MIDDLE EAST. HICKS IS PUT IN A FREIGHT PLANE NAKED AND CHAINED. HE IS NAKED CHAINED BEAST TO FIGHT FOR AND BE PLEASURED BY HIS BROWN ARAB MASTER. ELEVEN EXCITING PAGES OF HOT COLOUR GRAPHIC MALE FIGHTING AND SEXUAL DOMINATION MANFLESH ACTION. €10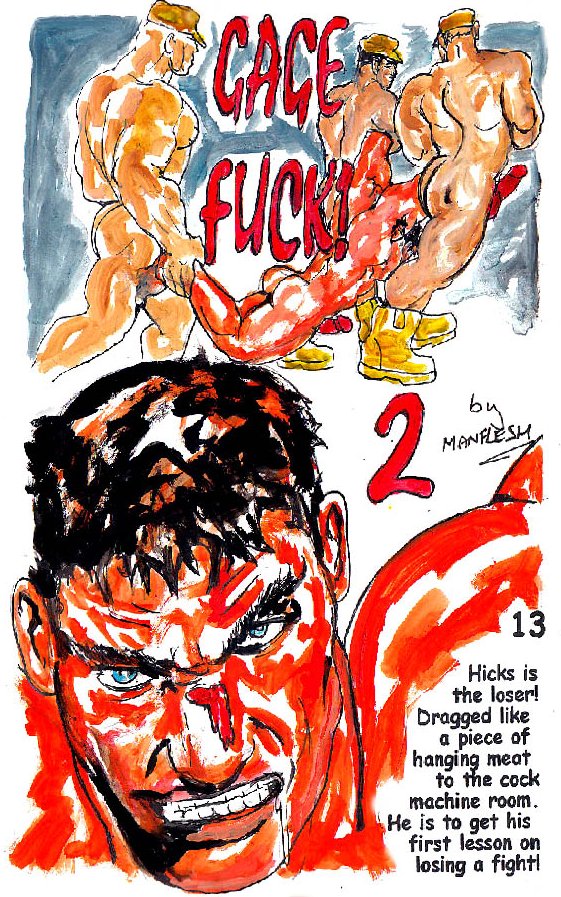 12 CAGE FUCK PART 3. THE FREIGHT PLANE LANDS AND A NAKED JOE HICKS IS HIT BY THE FURNACE LIKE HEAT OF THE ARABIAN DESERT WHEN THE CARGO DOORS ARE OPENED. ARAB MEN GAWK IN LUST AT THE NAKED SLAVE FIGHTER. THE CITY OF SUPERIOR PHALLAZ IS A MIX OF HIGH TECH MODERN AND TRADITIONAL BUILDINGS. IN PHALLAZ OIL MEANS POWER AND NAKED ENSLAVED WESTERNERS ARE A STATUS SYMBOL WHICH WESTERN GOVERNMENT TURN A BLIND EYE TO. HICKS STABLE OVERSEER SMILES AS HE PARADES HICKS THROUGH THE STREETS NAKED AND YOKED TO SHOW HE IS NOTHING BUT A PRIZE BEAST. AT THE BEAST STABLES TWO GUARDS COME BATH ATTENDANTS GRAB HICKS REMOVE THE YOKE AND DRAG HIM DEEPER INTO THE LANISTAE. INSIDE THE BATHS HICKS IS CHAINED TO THE FLOOR TO A HUGE IRON RING ROUND HIS NECK READY FOR A HARD SCRUBBING INSIDE AND OUT. SOAP ON HARD ARAB COCK WILL CLEAN INSIDE YOUR BUN ONE OF THE GUARDS TELL HICKS AS HE COATS HIS COCK WITH SOAP. NAKED AND CHAINED IN AN ARAB COUNTRY HICKS CAN ONLY TAKE WHAT IS COMING A HARD FUCKING. THE SCRUBBING SHOWS HICKS THAT HE IS A PIECE OF MANFLESH WITH NO CONTROL OF HIS OWN BODY OWNED INSIDE AND OUT. HICKS IS THROWN INTO THE PLUNGE POOL TO RINSE OFF THEN YANKED BY THE CHAIN LIKE A DOG ON A LEAD.
HICKS IS TAKEN THE SLAVE FIGHTER QUARTERS. THE BATH HOUSE, THE TRAINING AREA AND FIGHTING QUARTERS ARE THREE CONNECTED COMPOUNDS SEPARATED FROM THE OUTSIDE WORLD BY A SERIES OF GUARDED STEEL GATES. NOT WANTING TO BE A BUM BOY HICKS GRABS A SLAVE FIGHTER AND FUCK HIM TO SHOW ALL HIS ALPHA MALE STATUS. THE TRAINER LOOKS ON GRINNING BY FUCKING HICKS IS LEARNING HE IS A COARSE NAKED ANIMAL. THE TRAINING AREA IS IN THE INNER MOIST COURTYARD WHERE HE IS TRAINED HARD UNDER THE BURNING SUN WITH OTHER FIGHTING SLAVES. THEY ARE EVEN MADE TO MASTURBATE FOR THE AMUSEMENT OF ARAB SPECTATORS. THE TRAINER ORDERS HICKS TO FIGHT A HUGH BLACK FIGHTING SLAVE HIS ORDEAL JUST KEEPS GETTING WORSE. AS A NAKED CHAINED BEAST HE HAS TO FIGHT FOR HIS BROWN ARAB MASTER. THIRTEEN EXCITING PAGES OF HOT COLOUR GRAPHIC MALE FIGHTING AND SEXUAL DOMINATION MANFLESH ACTION. €12
13 BOXER PART 1. WITH ALL THE GANGS OF DELINQUENT YOUTHS ON THE STREET IT WAS ONLY A MATTER OF TIME BEFORE THE POLICE CAPTURED THEM AND SOLD THEM OF THE RICH ARABS FOR THEIR NAKED FIGHT FUCK STABLES. THIS IS JONNY'S STORY. JONNY RAPID UP FOR ASSAULT. HE HAS SPENT THE LAST SIX MONTHS USING THE PRISON GYM, HIS FOOD FULL OF STEROIDS. MAKING HIM MORE AGGRESSIVE AND MUSCULAR. HE HAS MADE THE GRADE. UNBEKNOWN TO HIM HE IS READY FOR SALE TO A ARAB FIGHT STABLE. A GUARD TOLD JONNY TO REMOVE HIS PRISON CLOTHS AS HE WAS GOING ON A LONG JOURNEY. THE GUARD KNOCKS JONNY TO THE GROUND AND CUFFS HIS ARMS BEHIND HIS BACK AND PUT A SLAVE COLLAR ON HIM. THE GUARD GAGS JONNY TO KEEP HIM QUIET AND LEAD HIM THROUGH THE PRISON TO THE HELIPAD ON THE ROOF. JONNY IS ANXIOUS AT BEING TOTALLY NAKED. ABOARD THE HELICOPTER THE GUARD MAKES JONNY SUCK HIS COCK. THE GUARD TELLS JONNY HE HAD BETTER GET USE TO BEING ORDERED ABOUT. WHERE HE IS GOING IF HE DISOBEYS AND ORDER HE WILL GET A HUNDRED LASHES.
THEY LAND AT A DESERT RUNWAY CONTAINING A LARGE TRANSPORT PLANE. JONNY IS PUSHED INTO THE CARGO HOLD WITH OTHER FELONS. JONNY SAW SOMETHING THAT MADE HIM TREMBLE WITH FEAR. JONNY AND THE OTHER FELONS ARE FORCED ONTO HUGE RUBBER DILDO. THEY ARE LOCKED IN LEG IRONS TO KEEP THEM IN PLACE. THIS WAS THEIR SEATING FOR THEIR FLIGHT TO THE MIDDLE EAST IT WILL BE ONE HELL OF A SORE RIDE. AS THE PLANE TOOK OFF THE VIBRATIONS FROM THE ENGINES MADE THE HUGE DILDOS QUIVER. JONNY AND THE OTHER PRISONERS MOAN AND EJACULATED AGAIN AND AGAIN. OUTSIDE THE AIRPORT IN THE CITY OF QINTAR THEY ARE HERDED THROUGH THE STREETS NAKED. AN OGLING CROWD WATCH THE NEW BATCH OF FUCK FIGHTERS EAGERLY. THE THREE NEW SLAVE FIGHTERS ARRIVE AND ARE INSPECTED ALL OVER. UNCUFFED AND UNGAGGED THE THREE ARE TOLD TO DO AS THEY ARE COMMANDED OR FACE A HUNDRED LASHES. THEY ARE UP FOR SALE. WHEN THE SALE STARTS THEY ARE ORDER TO FLEX SO ALL THEIR MUSCLES ARE VISIBLE. JONNY IS GRABBED BY A HUGE BRUTE WHO BROUGHT HIM. HE IS THE OVERSEER OF A NAKED FIGHT STABLE OWNED BY A WEALTH SHEIKH. JONNY IS TIED NAKED TO THE ROOF OF A JEEP SPREAD WIDE A NEW NAKED FIST FIGHTER FOR ALL TO SEE. WHEN THEY ARRIVE JONNY IS MAN HANDLES INTO THE FIGHT STABLE HIS LIFE AND HOME FROM NOW ON. HOT EROTIC ACTION WITH THE ABUSE OF A MALE SLAVE FORCED TO FIGHT. €12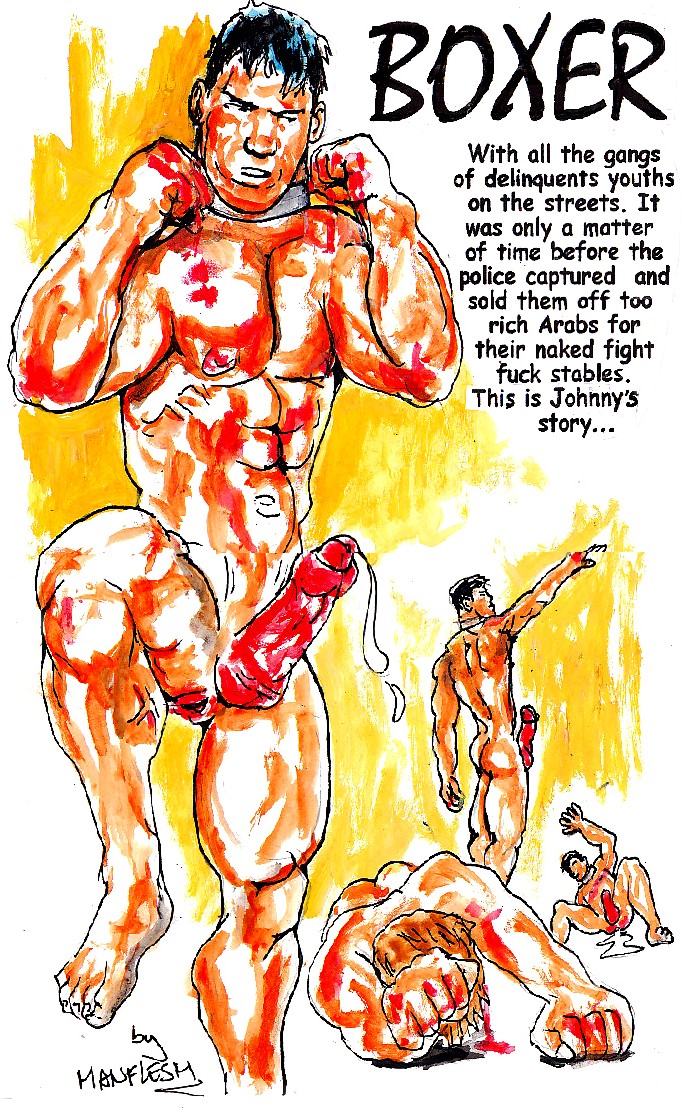 14 BOXER PART 2. JONNY RAPID WILL BE KEPT LIKE A PRIZED COLT. EACH PRINCE BEST THOUSANDS OF DOLLARS A FIGHT. THE FIRST REQUIREMENT WAS TO REMOVE JONNY'S PUBIC HAIR, HIS MASTER THE SHEIKH LIKES TO SEE HIS SLAVES SEX ORGANS FULLY EXPOSED. A HAIR REMOVER JELL IS APPLIED FOR GOOD MEASURE. COCONUT OIL IS APPLIED TO JOHNNY'S BODY. THE STICKY OIL MAKES HIS COCK ROCK HARD. JONNY IS READY NOW FOR A TRAINING MATCH. JONNY GOT THE FIRST BLOW IN DETERMINED THAT NO DUDE WAS GOING TO BEST HIM. BUT AS FAST AS LIGHTNING HIS OPPONENT HEAD BUTTED HIM HARD. WINDED JONNY IS SAT ON AND HIS FACE SUED AS A PUNCH BAG. THE GLOATING STUD THEN SHOVES HIS COCK IN JOHNNY'S MOUTH. BUT JONNY BITES HIS OPPONENTS COCK HARD. THE OVERSEER AND ONE OF THE OVER TRAINERS RUSH OVER. JONNY IS DRAGGED OUT INTO THE FIGHT STABLES COURT YARD. HE IS TIED TO A POLE FOR A HARD CANING. FEAR AND PAIN WILL TEACH HIM HE IS OWNED. BITING IS NOT ALLOWED, FIGHT WITH FISTS, FEET AND COCK THE OVERSEER TELLS JONNY. THE OVERSEER GIVES JONNY A HARD CANING. BUM ON FIRE COVERED IN WELTS, JONNY IS LEFT ALL DAY HANGING UNDER THE A BURNING SUN.
ONE MONTH LATER JONNY HAS BEEN BROUGHT TO ONE OF THE PALACES FOR HIS FIRST FIGHT. HIS OPPONENT IS A GERMAN SLAVE BUCK. THEY GLARED AT EACH OTHER, BOTH HAND BEEN PUMPED FULL OF STEROIDS. LED INTO THE SANDY FLOOR OF THE FIGHT AREA THEY ENGAGE AT ONCE. AS THEY FIGHT SWEAT MIXED WITH THE OIL ON THEIR BODIES ADDS TO THE ALREADY STICKY DIRT FLOOR. EACH NEEDS TO WIN AS THE LOSER GETS FUCKED. WHILE THEY HIT AND GRAPPLED. THEY ARE BOTH AWARE THEY ARE OWNED. AS SOME OF THEIR FELLOW FIGHTERS ARE MADE TO GRATIFY THE COCKS OF THEIR ARAB MASTERS. JONNY'S OPPONENT USES HIS FISTS, KNEES AND FEET AT THE SAME TIME. JONNY IS KNOCKED DOWN WINDED AT HIS OPPONENTS MERCY. HIS FIRST FIGHT IS NOT GOING VERY WELL AT ALL. MORE HOT EROTIC ACTION WITH THE ABUSE OF A MALE SLAVE FORCED TO FIGHT AND TO WIN OR BE FUCKED. €12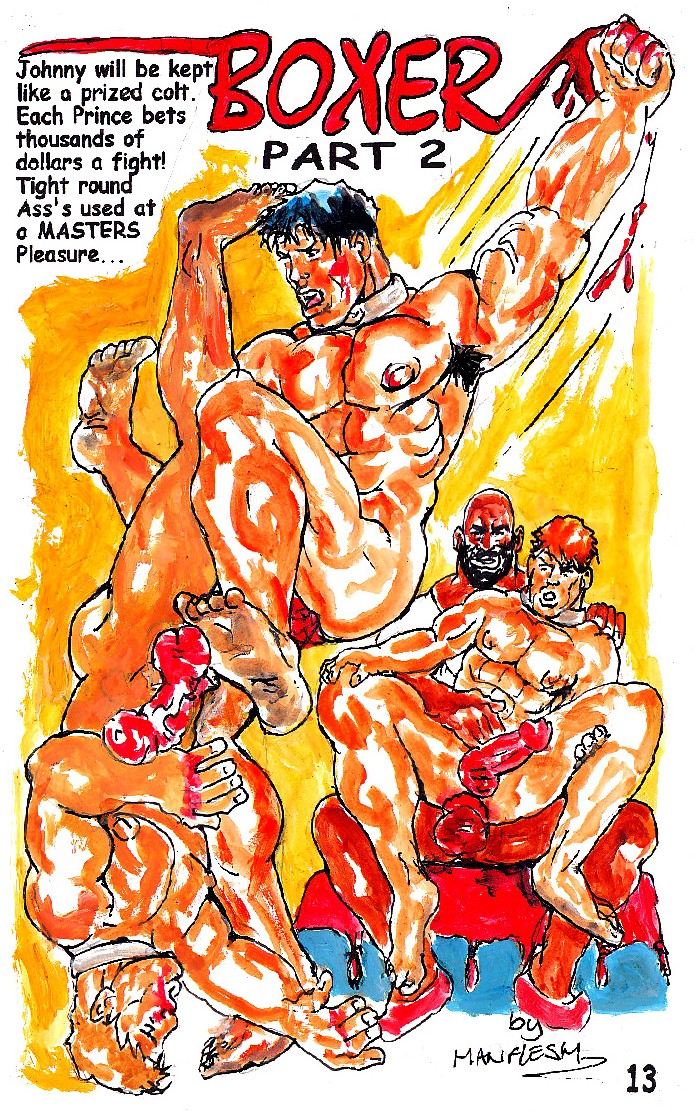 15 THE PUGILIST PART 1. THE TWENTY THIRD CENTURY A HOT HARSH WORLD. A WORLD WHERE THE STRONGEST TRIBE TAKES ALL. WARRIORS FIGHT OTHER TRIBES WARRIORS FOR THEIR CAMEL MEAT AND MILK. THIS PUGILIST ZAK'S STORY. THE DISPLAY STOCKS ARE MADE OF ELEPHANT BONES. PUGILISTS LIKE ZAK ARE NOT SLAVES. THEY ARE DISPLAYED AS DANGEROUS BEASTS. AS THEY HAVE ANIMAL STRENGTH. ZAK IS PROUD TO BE TOTEM OF HIS TRIBE. OTHER MEMBERS OF THE TRIBE FEED ZAK THEIR SEED TO GIVE HIM THEIR POWER FOR THE FIGHT TO COME, AND FEED ON THEM ZAK DOES. ZAK LAPS UP THE TRIBES CUM KNOWING IT WILL FEED HIS MUSCLES. MALE STRENGTH IS WHAT MATTERS IN THIS POST MACHINE WORLD. HE MATTERED. ON THE WAY TO THE ARENA ZAK'S TRIBE ENCOUNTERS ANOTHER TRIBE. THERE IS CONFRONTATION AND CONTACT. BOTH TRIBES WARRIORS RUB THEIR HARD COCKS TOGETHER MIXING THEIR SEED. MASTURBATING AND MIXING OF SEED SHOWS MATSHIP IT IS LESS COSTLY THAN WAR. ALL THE TRIBES CONVERGE ON THE ARENA, SACRED GROUND. "SEE THE ARENA, FIGHT, WIN, MAKE OUR TRIBE POWERFUL AND RICH", ZAK'S CHIEF TELLS HIS AS THEY SIGHT THE ARENA. IN THE ARENA THE MEN OF ZAK'S TRIBE DRINK FERMENTED CAMELS MILK. BELOW IN A ROOM UNDER THE ARENA ZAK'S NAKED FLESH IS OILED READY FOR HIS FIRST FIGHT.
ZAK STRODE INTO THE BAKING HEAT OF THE ARENA. FROM ANOTHER ENTRANCE CAME HIS OPPONENT. ZAK COULD SEE THAT HE HAD ONE MORE RING ON HIS COCK. MEANING HE HAD WON ONE MORE FIGHT THAN ZAK. THE MORE RINGS ON A WARRIORS COCK MEANS THE MORE FIGHTS HE'S WON. THE WARRIORS ATTACK THEY BOTH SLAM INTO EACH OTHER FOR A BRUTAL NO HOLD BARED FIGHT. LOSING IS NOT AN OPTION. ANYTHING IS ALLOWED AS THEY FIGHT TO SMASH EACH OTHER INTO THE GROUND. SPITTING SCRATCHING TO WIN AT ANY COST. FISTS ARE SUED EVERYWHERE TO THE HOOTS OF THE CROWD. HOW WILL ZAK FARE IN HIS ARENA FIGHT. HOT EROTIC ACTION WITH HUNKY EROTIC MALE WARRIORS FORCED TO FIGHT. €12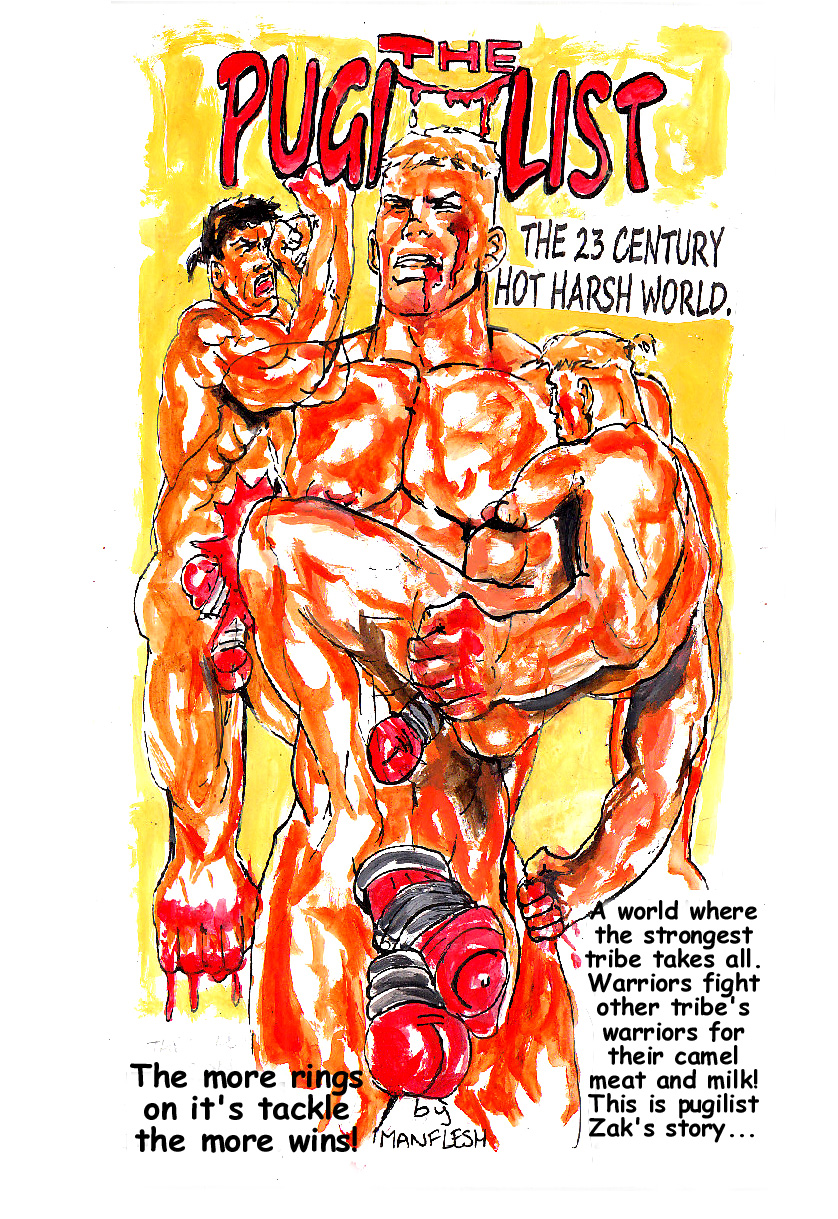 16 RUGBY BULLS 2230. BY THE YEAR 2230 RUGBY HAD BECOME A GLADIATORIAL SPORT. MALES LAVE SPECIALLY BRED FOR THEIR MUSCLE MASS HAVE THEIR BALLS ENLARGES AS THEY, PLAY, FIGHT, AND BATTLE NAKED. OWNED BY THE DOMINARES (WAR LORDS), THIS IS CLIT'S STORY. GROWN IN A SPORTS STABLE CLIT HAS NO SURNAME, AND WILL SOON HAVE ONLY A NUMBER (264). OVER THE NEXT TWO YEARS BULL GENETICS ARE INJECTED INTO HIS COCK AND BALLS. HIS BALLS ENLARGE TO THE SIZE OF GRAPE FRUITS. CLIT WAS READY FOR THE NEXT STAGE.
CLIT HAD BEEN SELECTED AS HE WAS THE BEST IN HIS POD. NOW CLIT ENTERED A HARDER, ROUGHER ANIMAL STABLE. CLIT'S MANHOOD WAS TESTED TO SEE IF HE HAD WHAT IT TAKES. "I AM YOUR TRAINER, I WILL MILK YOU UNTIL YOU ARE EMPTY?', HIS TRAINER TOLD CLIT. THE TRAINER MILKED CLIT UNTIL HE COULD GIVE NO MORE. THEN THE TRAINER FISTED CLIT TO GET OUT THE LAST SLUGS OF HIS CUM. THE STABLE COMPLEX BACKED ONTO THE COLOSSEUM AREA. WHERE FL4SH BATTLED FLESH, MUSCLE AGAINST MUSCLE, WHERE THE WINNERS BECOME HERO'S OF THE MOD. WHERE THE DOMINARES CONTROL ALL. "WIN AND YOU WILL BE OWNED BY A DOMINARE, BECOME A STAR", THE TRAINER TOLD CLIT.
THE TRAINER INTRODUCE CLIT TO OTHER PLAYERS. "HE IS A NEW PLAYER INITIATE HIM", THE TRAINER ORDERED. "TIME FOR BEDDING?', THE TRAINER ORDERED AFTER THE PLAYERS HAD INITIATED CLIT. CLIT WAS TAKEN A LARGE RUBBER MAT WHERE THE RUGBY BULLS SLEEP. CLIT KNEW WHAT WAS COMING NEXT, EACH RUGBY BULL EAGER TO SHOW HIS HARDNESS. THE OTHER RUGBY BULLS NEEDED TO MAKE SURE CLIT WAS HARD INSIDE. CLIT IS FORCED TO SUCK THEIR COCK WHILE OTHERS FUCK HIM. 2230 GLADIATORIAL RUGBY BALLS ARE MADE OF STEEL WITH A STEEL SPIKE. UNDER THE RULES MORE POINTS ARE SCORED IF THE SPIKE IS SHOVED UP AN OPPOSING PLAYERS ARSE.
THE PLAYERS LINE UP AS THE DOMINARES WATCH FROM THEIR BOX FOR THE GAME TO BEGIN. THE BALL WAS RELEASED AND THE GAMES BEGAN. CLIT GRABBED THE BALL AND PUSHED HIS WAY THROUGH THE OTHER TEAM, BUT CLIT DID NOT HOLD THE BALL FOR LONG. AN OPPONENT SHOVES THE STEEL SPIKE UP CLIT'S ARSE AS A DOMINARE WATCHED INTENTLY. DOMINARE TYRON WAS INTERESTED IN CLIT NUMBER 264. CLIT REGAINED THE BALL BUT IS ATTACKED ON ALL SIDES IN MID FIELD AND MADE AS IF TO DROP THE STEEL BALL. THEN FLEXING LIKE A COILED SPRING MUSCLES, CLIT LASHED OUT. TWO GLADIATORS WERE KNOCKED OUT AND CLIT HEADED FOR THE NEXT MAN BULL. CLIT SUCCESSFULLY ATTACKED THE MAN BULL. WITH HIS COCK UP THE BULL MAN'S ARSE AND THE SPIKE THRUST INTO HIS MOUTH THAT EARNED TEN POINTS, CLIT WON THE GAME FOR HIS FELLOW BEASTS. HE WOULD NEXT ENCOUNTER THE DOMINARE AND ALL THE BRUTAL HARDNESS THAT ENTAILED. HOT AND BRUTAL FIGHTING RUGBY PLAY GLADIATORIAL STYLE OF THE TWENTY SECOND CENTURY. €12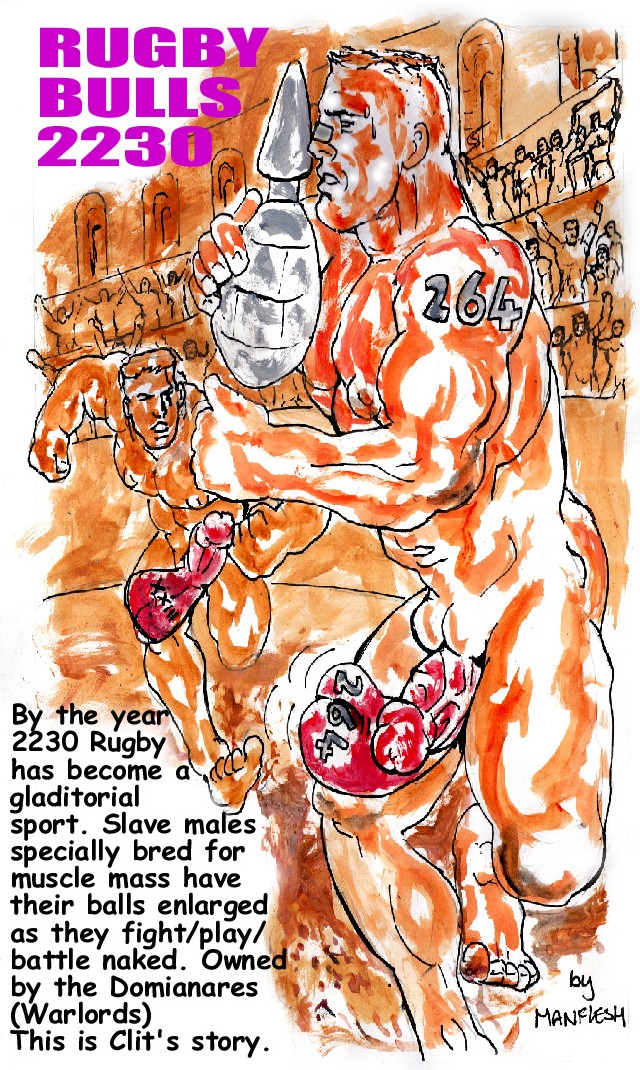 17 GANG WHORE FAIR PART 1. IN THE UNDER GROUND WARREN OF A EUROPEAN CITY, A CITY UNDER A CITY. HOT PRIMEVAL MUSCLES RULES. JARRO SECOND IN COMMAND HOPES HE WILL BE THE MASTER SOME DAY. BUT ANOTHER GANG HAS TAKEN OVER THE SECTOR. JARRO'S LIFE IS ABOUT TO GET HARDER. THE GANGS POWER IS FUEL, COAL, COAL IS POWER. THEY HAVE SEAMS DEEP UNDER THEIR DOMAIN. IT IS SO DEEP AND HOT THEY MUST WORK NAKED. THE COAL USED TO HEAT THEIR FURNACES IS ALSO USED TO BARTER FOR FOOD, JEANS AND BOOTS. THE BOSS BULL CAN SHAG ANY OF THE GANG AND HE DOES. IN THE PECKING ORDER ONLY THE BULL CAN FUCK JARRO AND HE DOES. THEY ARE ALL MAN SEXED HARD ARSE HUNGRY FUCKERS.
AT THE END OF THEIR SHIFT THEIR PELTS ARE COVERED IN COAL DUST MIXED WITH SWEAT. THE GANG TAKE THEIR COAL UP TO THEIR HAUNT. THE BULL CONFRONTS JARRO IN THE SHOWERS BEFORE THE WATER IS TURNED ON. BULL TOLD JARRO HE WOULD FUCK HIM IN FRONT OF THE MEN. JARRO TOLD THE BULL HE WOULD FIGHT HIM FOR TOP DOG. BULL ATTACKS FIRST A BARE KNUCKLE FIGHTER AS HARD AS NAILS. THOUGH THE SHOWERS ARE NOT ON THE FLOOR HAS AN INCH OF DIRTY WATER ON IT. BULL IS THE BETTER BRAWLER BUT JARRO IS FASTER AND GETS IN A HEAD BUT TO THE GUTS. BULL IS WINDED AND JARRO STRIKES OUT WITH HIS FOOT TO BULL'S NECK. BUT AS JARRO KICKS, BULL CRASHES DOWN ON JARRO'S LEG WITH HIS ELBOW. BULL THE GANG LEADER WAS BUILT LIKE A SILVER BACK GORILLA. HE CAN WEAR ANY MAN DOWN AS JARRO HAS FOUND TO HIS COST. NOW JARRO IS ABOUT TO PAY THE PRICE. LIKE SOME SAVAGE APE BULL ASSERTS HIS AUTHORITY UP JARRO'S ARSE. THE GANG MEMBERS ENJOY WATCHING AN ALPHA MALE GETTING FUCKED.
JARRO KNEW WHAT WAS COMING NET, TWO OF THE GANG WANT TO REPLACE JARRO AS SECOND IN COMMAND. JARRO WAS ABOUT TO SHOW HIS FIGHTING SKILLS. USING HIS FEET JARRO KNOCKS DOWN HIS OPPONENTS. HE MAY NOT BE TOP DOG BUT HE IS SECOND IN COMMAND. AS THE WATER COMES ON JARRO IS WASHED BY THE OTHER MEN TOP ALPHA DON'T HAVE TO WASH THEM SELVES. AS THE SHOWER A RIVAL GANG IN TUNNELING INTO THEIR WARREN. THE TWO TOP APLHA MALES ARE ABOUT TO FIND THEY ARE AT THE SORE BOTTOM OF THE PECKING ORDER. TOUGH BRUTAL GANG LIFE WITH HOT BRUTAL FIGHTING AND SEX. €12
18 FUCK FIGHTS PART 1. CHAD TYLER WAS A TOP WRESTLING JOCK AT COLLEGE, BUT HAD POOR GRADES. WHO DID THE ODD CONSTRUCTION JOB. HE OWED THE MOB, LARGE STANDING GAMBLING DEBTS.THE MOB CALLED IN HIS TAB. CHAD WAS NOW OWNED BODY AND SOUL. HE WAS JUST A BEAST USED IN FUCK FIGHTS. THE MOB MAKING MONEY FROM HIM, WINING OR LOSING FIGHTS.
CHAD WAS THE DARLING OF THE CAMPUS, A TOP JOCK WRESTLER. OTHER WRESTLERS LOOKED UP TO HIM. CHAD BEAT HIS LATEST OPPONENT, TO BE CHAMP AGAIN. "NO NEED TO DO MATHS CLASSES HEY COACH", CHAD SAID, AS HE SHOWERED, AFTER HIS VICTORY. "SURE THING CHAMP", HIS COACH REPLIED. THEN IT HAPPENED, CHAD'S SCHOOLING WAS OVER AND HE WAS OUT IN THE REAL WORLD. LABOURING JOBS, HARD WORK AND SHIT PAY. HE WAS DEEP IN DEBT DUE TO HIS GAMBLING AND HE WAS ABOUT TO MEET HIS NEMESIS. AS CHAD RETURNED TO HIS DIGS IN THE BRONX, A VAN WAS FOLLOWING HIM. THEN IN A SMALL SIDE STREET, THEY STRUCK. HE WAS GRABBED AND PUT IN THE BACK OF THE VAN. CHAD WAS TAKEN THE BOSSES WARE HOUSE, COME FORTRESS. THE TWO THUGS WHO ABDUCTED CHAD, CHAIN HIM UP AND STRIP HIM TO HIS UNDERWEAR. "YOUR DEBT HAD BEEN BROUGHT BY THE BOSS", ONE OF THE THUGS SAID, AS HE SLIPPED HIS HAND IN THE FRONT OF CHAD'S BRIEFS. "YEAH HE'S GOT BIG PLANS FOR YOU", THE OTHER SAID SLIPPING HAND IN THE BACK OF THE CHAD'S BRIEFS. SHIT, CHAD THOUGHT TO HIMSELF KNOWING HE WAS IN TROUBLE. CHAD WAS TAKEN TO THE BOSS, HIS OWNER. "AHH, MY PROPERTY, STRIP IT NAKED",THE BOSS SAID. THE THUGS STRIPPED CHAD NAKED. "I OWN YOU BOY", THE BOSS SAID, AS HE PAWED CHAD'S NAKED BODY, SQUEEZING HIS COCK, MAKING IT HARD. THE BOSS BENT CHAD OVER HIS KNEE AND GRABBED CHAD'S HARD COCK. AS THE BOSS WANKED CHAD'S HARD COCK THE TWO THUGS CANED HIS NAKED ARSE MERCILESSLY. YELLING IN PAIN FROM THE CANING, CHAD'S COCK WAS MILKED. AFTERWARDS CHAD, WAS THROWN INTO A CELLAR, HIS CAGE, WITH HIS ARMS CUFFED AND WEARING SLAVE COLLAR. HIS FOOD WAS DOG FOOD WITH STEROIDS, FOR THE ANIMAL HE NOW WAS.
TWO EVENINGS LATER CHAD WAS LED NAKED BY HIS BOSS AND HIS TWO THUGS, WITH HIS ARMS SECURED BEHIND HIS BACK. HE WAS LED BY A LEASH ATTACHED TO A DOUGH NUT RING, HIS COCK AND BALLS HAD BEEN FORCED THROUGH. HE WAS LED NAKED, COCK HARD, INTO THE FUCK FIGHTS ARENA. "FRIENDS WELCOME TO THE FUCK FIGHTS", HIS BOSS TOLD CHAD. CHAD HAD HIS ARMS RELEASED AND THE LEASH REMOVED FROM HIS DOUGHNUT RING. HE WAS THEN USHERED ONTO THE MATTED AREA, IN THE MIDDLE OF THE FIGHT ARENA. CHAD'S OPPONENT, WAS A FUCK FIGHTER FROM ANOTHER BOSSES STABLE. THE BRUTE WAS A THUG IN HIS THIRTIES, WITH OVER TWO HUNDRED WINS AND ONLY THIRTY LOSSES. WHEN THE WRESTLING STARTED IT WAS MORE LIKE PRANKRATION, BUT THEIR WAS NO EYE GOUGING OR STRANGLING ALLOWED. THE AIM WAS TO WIN AND FUCK THE LOSER. BUT CHAD'S ADVERSARY HATED THE RULES. HE KNOCKED CHAD DOWN WITH A HARD BLOW. "I'M CALLED THE STRANGLER", HE TOLD CHAD AS SHE STARTED TO CHOKE CHAD WITH ONE LARGE HAND. BUT THAT WAS AGAINST THE RULES AND HE WAS FORCED TO LET GO. MUST USE MY WRESTLING SKILLS, CHAD THOUGHT TO HIMSELF, AS HE GASPED AND TRIED TO GET HIS BREATH BACK. CHAD REALISED HE MUST KNOCK THE STRANGLER DOWN. HE HIT THE STRANGLER HARD, KNOCKING HIS HEAD BACK. "IS THAT THE BEST YOU CAN DO", THE STRANGLER SNEERED. CHAD ATTACKED WITH MORE HARD PUNCHES AND NEARLY PUT THE STRANGLER DOWN, BUT THEN WAS KNOCKED DOWN BY A BRUTALLY HARD PUNCH. AS CHAD LAY DAZED ON THE MATS, THE STRANGLER GRABBED HIM AND HOISTED UP BY HIS LEGS, THE STRANGLER DANGLED CHAD, BY HIS RIGHT LEG, THAT WAS LOCKED, UNDER THE STRANGLER'S LEFT ARM. THE STRANGLER GRABBED CHAD'S STIFF COCK AND SQUEEZE IT HARD, AS HE HUNG UPSIDE DOWN. THE STRANGLER THEN GRABBED BOTH OF CHAD'S LEGS AND POSITIONED CHAD, SO HIS LEGS WERE EITHER SIDE OF THE STRANGLER'S HIPS. HE THEN GRABBED CHAD'S HARD COCK WITH HIS RIGHT HAD AND CHAD'S BALLS WITH HIS LEFT HAND. THE STRANGLER SQUEEZED CHAD'S COCK AND BALLS, AS HE HELD CHAD UP BY THEM, SHOWING HIS BRUTE STRENGTH TO THE SPECTATORS.
THEN THE STRANGLER GAVE THE PAYING CROWD WHAT THEY WANTED, AS HE FUCKED CHAD HARD. AFTER ALONG HARD FUCK, THE STRANGLER TRAPPED CHAD IN A CAMEL CLUTCH. "YOU KNOW THIS HOLD BITCH", THE STRANGLER SNEERED, AS HE FORCED CHAD'S MOUTH OPEN. THE CROWD QUEUED TO FUCK THE LOSERS MOUTH FOR FIFTY DOLLARS. CHAD'S MOUTH WAS FILLED AGAIN AND AGAIN WITH THE SPECTATORS CUM. FOR ANOTHER TWENTY FIVE DOLLARS EACH, THE CROWD COULD COVER THE LOSER CHAD'S NAKED PELT WITH THEIR NUT JUICE, AND THEY SURE DID. AS CHAD WAS TRAPPED IN A REVERSE SURFBOARD AND FUCKED AGAIN BY THE STRANGLER, THE SPECTATORS NUT JUICE SPLASHED ALL OVER CHAD'S NAKED BODY. INDEBTED, HOT YOUNG, WRESTLING JOCK ABDUCTED AND FORCED TO FIGHT. TOUGH MALE ON MALE FIGHTING ACTION, WITH THE LOSER SUFFERING HEAVY PHYSICAL AND SEXUAL ABUSE. €15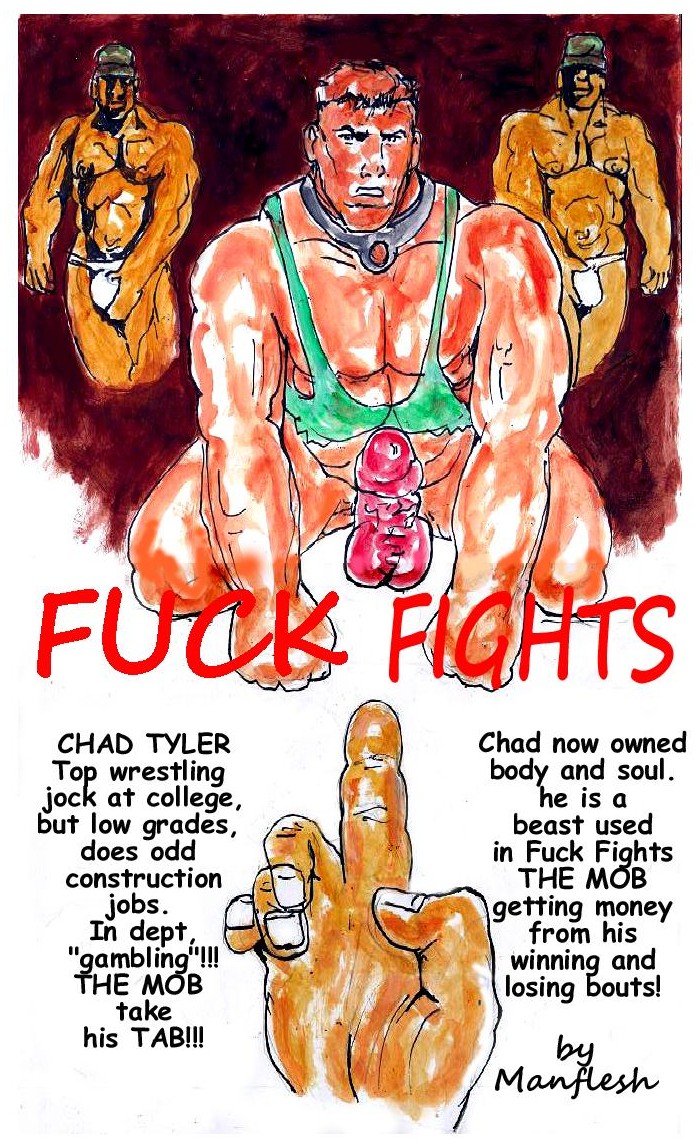 19 SLAVE BOXER PART 1. YOUTHS CAUGHT STEALING UNDER THE NEW NO TOLERANCE LAWS. WERE STRIPPED OF THEIR CITIZENSHIP AND ALL THEIR CLOTHES. THEN THEY WERE SOLD AS SLAVES. THIS IS ZACK'S STORY. WITH THE NEW INTOLERANCE LAWS IN PLACE, IT WAS NOT LONG BEFORE CAR THIEF ZACK SUGGS, WAS TAKEN OFF THE STREETS. HE WAS CAUGHT AND ARRESTED BY POLICE OFFICERS. UNDER THE NEW NO TOLERANCE LAWS HE WAS STRIPPED NAKED AND HIS HANDS WERE CUFFED. "GOT YOU AT LAST YOU FERAL BEAST, ITS NAKED ENSLAVEMENT FOR YOU", ONE OF THE ARRESTING OFFICERS TOLD ZACK. ZACK WAS TAKEN TO THE POLICE INCARCERATION DEPARTMENT, WHERE A SENIOR OFFICER, TOLD THE TWO POLICE OFFICERS ESCORTING HIM, TO TIE HIM TO A POST WITH THE OTHERS. "I'M NO FUCKING SLAVE", ZACK PROTESTED ANGRILY, WHEN HE HAD BEEN CHAINED TO POST BY A SLAVE COLLAR. "YOU NEED A LESSON", THE SENIOR OFFICER TOLD ZACK. HE TIED ZACK BY HIS ARMS TO THE POST AND THEN USED A CANE TO THRASH HIS NAKED ARSE. "A FEW DAYS OF HARD DISCIPLINE WILL SOON SCARE HIM INTO SUBMISSION", THE SENIOR OFFICER SAID AS ZACK, WAS CARRIED AWAY SOBBING, HIS ARSE CANED RED RAW.
THREE WEEKS LATER THE TWENTY YEAR OLD THUG IS ON A PLATFORM UP FOR SALE. THE PLATFORM WAS SURROUNDED BY CAMERAS, ALL LINKED TO THE INTERNET, HIS NAKED ASSETS, EXPOSED FOR ALL POTENTIAL BUYERS TO SEE. THE BIDDING STARTED, THERE WAS A BID OF TWENTY THOUSAND DOLLARS, THEN ANOTHER FOR THIRTY THOUSAND DOLLARS. ZACK WAS MADE TO PERFORM LEWD ACTS. SPREADING OPEN HIS ARSE CHEEKS, BENDING OVER AND WITH SOME HELP FROM A GUARD, SUCK HIS OWN COCK. INSTANTLY THERE WERE BIDS FOR, FORTY THOUSAND, FIFTY THOUSAND, AND THEN SIXTY THOUSAND DOLLARS. WITH ZACK DOING A HAND STAND AND THE GUARD WANKING HIS COCK, THE BIDS REACHED EIGHTY THOUSAND DOLLARS AND ZACK WAS SOLD.
THREE DAYS LATER, ZACK WAS IN A HOT MIDDLE EASTERN LAND, OWNED BY THE EMIR ZARAN. ZACK WAS NOW OWNED BY EMIR ZARAN. FOUR DAYS LATER, ZACK WAS BEING MADE READY FOR HIS FIRST FIGHT. HIS COCK THATCH, WAS PERMANENTLY REMOVED. HIS COCK WAS THEN WANKED TILL HARD, AND A METAL COCK RING PUT ON HIM. ZACK'S NAKED FLESH WAS OILED ALL OVER. THEN TO HIS SHAME, HIS ARSE HOLE WAS FILLED WITH COCONUT OIL, THE OVERSEER TAKING TIME TO MAKE SURE IT WAS. THEN ZACK WAS TAKEN TO THE EMIRS BANQUETING ROOM. IT HAD THICK RUBBER MATS ON THE FLOOR, FOR FUCK FIGHTING. ZACK FACED HIS ADVERSARY ON THE RUBBER MATS, A BLOND YOUTH, OWNED BY ONE OF THE OTHER LORDS IN ATTENDANCE. BOTH WORE GLOVES AND SLAVE COLLARS. EVERY LORD WAS ATTENDED BY HIS BED BUCK. THE FIGHT BEGAN, BOTH KNEW THEY MUST WIN, AS THE LOSER WOULD BE FUCKED RAW. THEY EXCHANGED BLOWS, FIGHTING A HARD ROUND ONE, BUT WITH GLOVES ON THEY COULD NOT GET IN CLOSE. IN ROUND TWO THE GLOVES CAME OFF AND NO HOLD BARRED PANKRATION FIGHT ENSUED. THE TWO BOXERS, ONCE HARDENED THIEVES, NOW OWNED LIKE STALLIONS, WHO WOULD BE WHIPPED IF THEY FAILED TO DO THEIR MASTERS BIDDING. WHY WAS ZACK DOING WHAT HE WAS TOLD. TO UNDERSTAND WE HAVE TO GO BACK A DAY TO WHEN ZACK MET HIS MASTER. THE DAY BEFORE, HIS FIRST FIGHT, ZACK WAS TAKEN TO THE MASTERS BONDAGE DUNGEON. THE OVERSEER GRINNED, AS ZACK WAS BOUND TO A FUCK FRAME, AND HAD HIS BOTTOM CANED UNTIL IT WAS RED RAW. THE MASTER THEN APPEARED, NAKED AND HUGELY ERECT. THE ARROGANT THIEF LEARNED THAT HE WAS A BUM FOR SUPERIOR ARAB BROWN COCK. THE MASTER FUCKED HIM HARD, SEEDING HIS ANUS FUCK PUSSY. YOUNG MALE OFFENDERS ENSLAVED AND SOLD TO RICH ARAB MASTERS, WHO TURN THEM INTO FUCK FIGHTERS. HARD MALE ON MALE FIGHTING ACTION AND MALE PHYSICAL AND SEXUAL ABUSE. €15.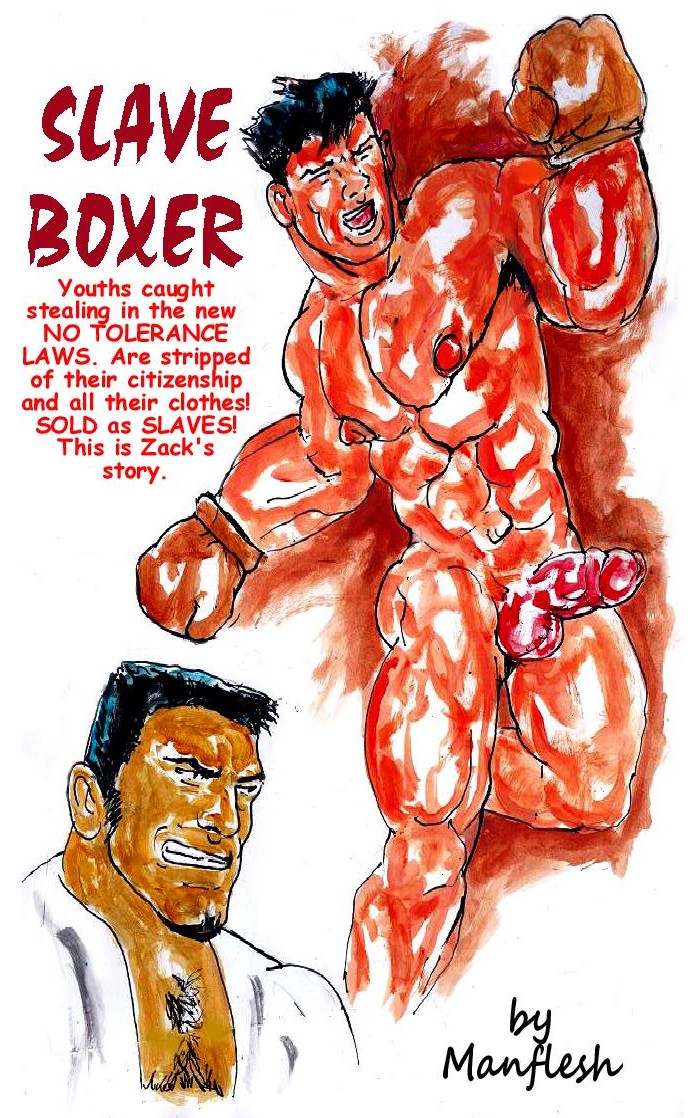 20 SLAVE BOXER PART 2 FISTS AND COCKS. ZACK'S NEW LIFE AS A SLAVE BOXER FOR THE EMIR CONTINUED. AS THE EMIR'S SLAVE BOXER, HE WAS FORCED TO FIGHT OTHER SLAVE BOXERS. ZACK FOUGHT WITHOUT GLOVES USING HIS NAKED FISTS. ZACK WAS USE TO USING THEM TO GET OUT OF TROUBLE. ZACK USED HIS FIST TO KNOCK HIS ADVERSARY DOWN THEN TRAP HIM IN A HEAD SCISSORS. BUT NASH HIS ADVERSARY WOULD NOT SUBMIT, AND ZACK PINNED HIM INSTEAD, BUT NASH GOT FREE. THEY LOCKED UP GRAPPLING, COCKS RUBBING TOGETHER ROCK HARD. NASH SUDDENLY GRABBED ZACK'S FOOT UNBALANCING HIM AND ZACK CRASHED TO THE FLOOR. WITH ZACK OFF BALANCE NASH SAW HIS CHANCE. NASH GRABBED BOTH OF ZACK'S ARMS FROM BEHIND. NASH HELD ZACK IMMOBILE WHILE HE MOUNTED HIM, ZACK THRUST DEEP AS HE BRED ZACK'S ARSE. ZACK'S ARSE WAS NOW A CUNNIE HOLE STRETCHED BY NASH'S WEAPON. ZACK USED ALL HIS STRENGTH, AND TWISTED AROUND. "YOU AIN'T SEEDED ME YET", ZACK SAID, AS HE HIT NASH FULL ON HIS JAW, KNOCKING HIM NEAR SENSELESS. ZACK THEN THREW NASH OVER HIS SHOULDER. HE DROPPED NASH TO THE FLOOR AND KICKED HIM IN THE HEAD. KICKING IN THE FACE WAS NOT ALLOWED. THE STABLE MASTER, BRANDISHING A CANE, GRABBED ZACK BY THE HAIR. ZACK WAS IN FOR A HARD THRASHING. THE STABLE MASTER BENT ZACK OVER IS KNEE AND USED THE CANE ON ZACK'S NAKED BUTTOCKS. THE WATCHING MASTERS AND THEIR MALE WHORES, COCKS, WERE ROCK HARD, AS THEY SAW ZACK'S WESTERN, WHITE BUTT, CHEEKS TURNED RED RAW BY THE STABLE MASTER.
AFTER ZACK'S PUNISHMENT AT THE HANDS OF THE STABLE MASTER, THE FIGHT CONTINUED. IT BECAME A SLUGGING MATCH AS BOTH FIGHTERS WANTED TO BE TOP DOG. THEY ROLLED AROUND, FISTS FLYING. NASH WAS MORE EXPERIENCED, HAVING BEEN A SLAVE BOXER FOR OVER A YEAR, CAUGHT ZACK IN A SLEEPER. THE SLEEPER PRESSED ON ZACK'S WIND PIPE, MAKING HIM DIZZY AND FAINT. IN A STUPOR ZACK COULD NOT STOP NASH, FROM COCK FUCKING HIS ARSE. NASH SEEDED ZACK, HE HAD WON. FOR LOSING THE MATCH ZACK'S ARSE WAS TO BE FILLED WITH ARAB SPUNK. ZACK WAS FORCED TO TAKE SUPERIOR ARAB COCK, WITH NO CHOICE BUT TO TAKE IT LIKE A WHORE. HE HAD TO ACCEPT HE WAS OWNED. ALL OF THE ARAB MEN WATCHING TOOK TURNS POUNDING ZACK'S CUNTING HOLE. AT THE SAME TIME ZACK WAS FORCED TO SUCK THEIR ARAB COCKS IN TURN. ZACK WAS SURE GETTING HIS PROTEIN AT BOTH ENDS.
ANOTHER PART OF ZACK'S TRAINING WAS TO PULL A BUGGY NAKED THOUGH THE STREETS, FOR ALL TO SEE. ZACK WOULD BE UNHOOKED FROM THE BUGGY AND THE NATIVE LADS WERE ALOUD TO FUCK ZACK'S MOUTH AND COME OVER HIS PELT. THE MASTER LIKED TO KEEP THE YOUTH OF THE TOWN HAPPY, AND DISPLAY HIS POWER OVER WESTERNERS. THE ARAB YOUTHS WERE ALSO ALLOWED TO WANK ZACK AND PISS ON HIM, TO SHOW THEIR SUPERIORITY.
ZACK A YOUNG MALE OFFENDER ENSLAVED AND SOLD TO RICH ARAB MASTERS, WHO TURNED HIM INTO FUCK FIGHTER. HARD MALE ON MALE FIGHTING ACTION AND MALE PHYSICAL AND SEXUAL ABUSE. €15.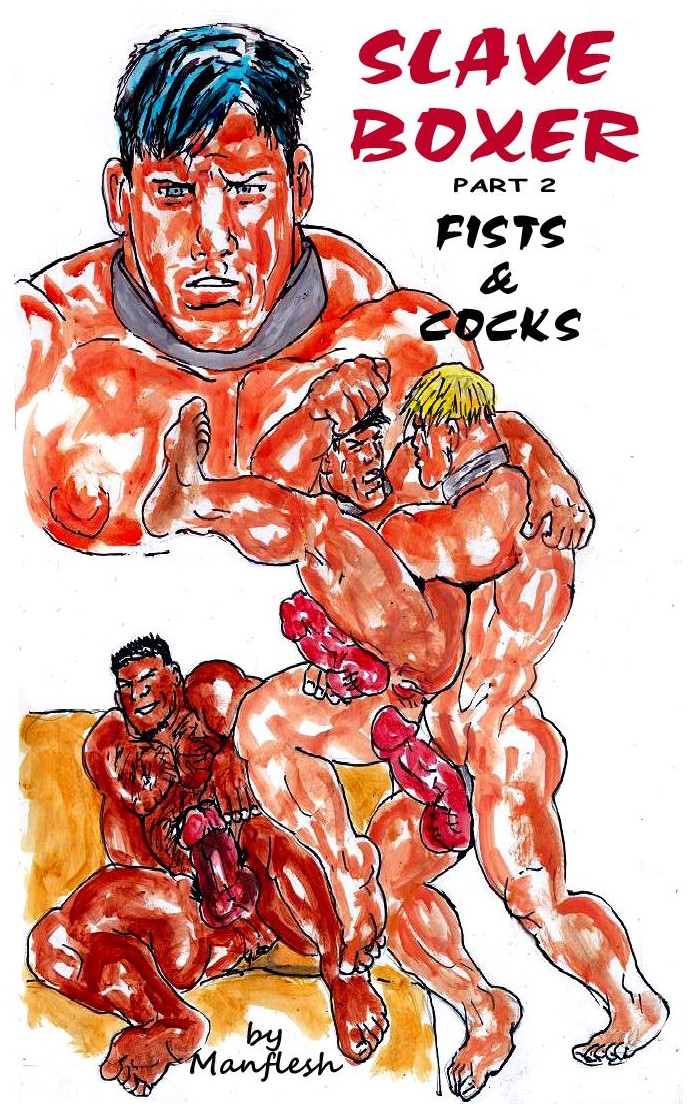 21 STREET FIGHTER CHANG CHI. CHANG CHI WAS A FRIEND OF CAPTAIN AMERICA. DARK FORCES WERE STIRRING. HIS SEED WAS NEEDED TO REVIVE AN ANCESTOR OF HIS. A FIGHT CONTEST HAD BEEN ARRANGED TO TRAP CHANG CHI, AS HE COULD NEVER RESIST A FIGHT CONTEST. THE FIGHT WAS TO BE HELD ON A JUNGLE ISLAND, IN A HUGE RUINED FORTRESS, OF THE ANCESTORS. CHANG CHI, LOVED TO SHOW OF HIS DOMINANCE, OVER OTHER MALE FIGHTERS. IT MADE HIS COCK ROCK HARD, AND DRIP PRECUM. THE FIGHT WAS SCHEDULED TO START AT DAWN, IN FORTRESS TEMPLE. AT DAWN, THE FIGHTER WERE INSTRUCTED THAT THEY WOULD FIGHT NAKED, WITH ONLY RIBBON SASHES, AROUND THEIR WAISTS. ALSO THAT THE WINNER WOULD FUCK THE LOSER. CHAN CHI HAD NO CHOICE HE HAD TO STRIP AND TIE A RIBBON SASH, AROUND HIS WAIST.
CHANG FIGHTS HIS FIRST OPPONENT HARD AND BEAT HIM, WINNING HIS FIRST FIGHT. CHANG DID WELL IN HIS SECOND FIGHT AND WAS WINNING WHEN HE WAS KNOCKED OUT WITH A CLUB FROM BEHIND WEALED BY A PRIEST. THE PRIESTS WHO NEEDED TO BRING BACK CHANG'S ANCESTORS, FROM THE DEAD, NEEDED CHANG'S, LIFE GIVING SPUNK. CHANG CAME ROUND NAKED, HANGING UPSIDE DOWN, ARMS TIED BEHIND HIS BACK, HIS LEGS SPREAD WIDE. SOME PRIESTS AND SOME MERCENARY SOLDIERS, WERE STARING AT HIM. THE PRIESTS HAD BROUGHT AN ARMY OF MERCENARIES, FOR THEIR MASTER, TO HELP HIM CONQUER THE WORLD. TWO OF THEM STARTED TO WANK CHANG'S COCK DRY , TO OBTAIN LOTS OF HIS LIFE GIVING SPUNK. TO MAKE CHANG PRODUCE MORE LIFE GIVING SPUNK, HIS ARSE WAS REPEATEDLY FUCKED, BY SOME OF THE MERCENARIES. ANOTHER MERCENARY COLLECTED CHANG'S, LIFE GIVING SPUNK IN A BOWL. HOURS PASSED AND EHW AS STILL BEING FUCKED AND MILKED OF HIS LIFE GIVING SPUNK.
THE PRIESTS ASTER REVEALED HIS FACE WHEN HE REMOVED A RITUAL ANIMAL MASK. HE HAD PLASTIC TUBE IN HIS MOUTH, WITH THE OTHER END IN THE BOWL FULL OF CHANG'S, LIFE GIVING SPUNK, AND WAS SUCKING IT ALL UP. "OVER THE NEXT FEW DAYS I WILL, SUCK OUT ALL HIS SEMEN", THE MASTER SAID. "HIS BALLS, WILL BE THE SIZE, OF DRIED PEAS", HE ADDED. WAS THIS THE STREET FIGHTERS DOOM. FOR CHANG TO BECOME A SPUNK LESS SLAVE. GREAT HARD FIGHTING, WITH HOT SEXUAL AND PHYSICAL ABUSE OF A TOUGH STREET FIGHTER WITH MERCILESS COCK MILKING TO VIRTUAL IMPOTENCY. €15
STREET FIGHTER CHANG CHI HAS FIVE SETS OF DOUBLE PAGES THAT FORM PANORAMIC IMAGES, THOSE PAGES ARE
PAGES 2 AND 3 FEATURES, CHANG CHI ON A BOAT TO A SPECIAL FIGHT CONTEST ON A JUNGLE ISLAND. HE COULD NO RESIST FIGHT CONTESTS, THEY MADE HIS EXCITED. HE WAS HARD, LOVING TO SHOW OFF HIS PROWESS AND DOMINANCE OVER OTHER MALES.
PAGES 4 AND 5 FEATURES, CHANG CHI AT DAWN THE NEXT DAY STRIPPING NAKED, AS HE WAS TOLD FIGHTERS, WOULD FIGHT IN ONLY RED SASHES. ALSO THE WINNER WOULD FUCK THE LOSER.
PAGES 6 AND 7 FEATURES, CHANG CHI FIGHTING AND WINNING HIS FIRST FIGHT.
PAGES 8 AND 9 FEATURES, CHANG CHI FIGHTING AND WINNING HIS SECOND FIGHT. THEN BEING KNOCKED OUT WITH A CLUB FROM BEHIND BY A PRIEST.
PAGES 14 AND 14 FEATURES, THE PRIEST MASTER REMOVING AN ANIMAL MASK. HE HAD A PIPE IN HIS MOUTH, THAT WAS ATTACHED TO CHANG CHI'S COCK, WHO BOUND AND HUNG UPSIDE DOWN. HE WAS DRAINING CHANG CHI'S BALLS. "OVER THE NEXT FEW DAYS I WILL, SUCK OUT ALL HIS SEMEN", THE MASTER SAID. "HIS BALLS, WILL BE THE SIZE, OF DRIED PEAS", HE ADDED. WAS THIS THE STREET FIGHTERS DOOM. FOR CHANG TO BECOME A SPUNK LESS SLAVE.
COVER
Panoramic images formed by pages 4 and 5 and 6 and 7
THE FIVE PANORAMIC IMAGES WILL BE SENT WITH THIS COMIC BOOK.