FFF CFNM STORIES CLOTHED FEMALE NAKED MALE PAGE
There is a new female on male domination storybooks extracts blog 'battle annals female on male domination and illustrated domination stories extracts' blog read extracts from the female on male domination storybooks available here on the new blog



'battle annals female domination stories extracts' blog
http://battleannalsfemaledominationstories.blogspot.com
FFF CFNM STORIES
CLOTHED FEMALE NAKED MALE LIST
1 CFNM COACH A CLOTHED FEMALE NAKED MALE FEMALE DOMINATION STORY. SAM A TEENAGE SPORTING UNDER GRADUATE APPLIES FOR A SUMMER COACHING JOB AT GIRLS SCHOOL. SAM GETS AN INTERVIEW WITH THE HEAD MISTRESS AND ALL GOES WELL UNTIL THE MEDICAL WITH THE SCHOOL NURSE WHEN THE HEAD MISTRESS STAY WHILE THE NURSE CONDUCTS SAM'S MEDICAL WITH SAM IN THE NUDE. THE HEAD MISTRESS TOLD SAM THAT HE WOULD BE COACHING HIS DAUGHTER AND ANOTHER GIRL WHOSE MOTHER THEY MET IN HER OFFICE. THEY MADE SAM UNDERTAKE A SWIMMING AND ATHLETIC TESTS WHILE STILL NAKED. WHEN SAM PASSED ALL HE WAS OFFER THE POST AND THEN TOLD IT WAS AT THE SUMMER CAMP OF THE CFNM SOCIETY AND THAT'S WHY THEY KEPT HIM NAKED AS A TEST TO SEE IF HE WOULD BE WILLING TO BE NAKED AS CFNM STOOD FOR CLOTHED FEMALE NAKED MALE AND ALL MALES IN THE SOCIETY WERE NAKED AT ALL TIMES IN FRONT OF THE FEMALES. SAM ALTHOUGH EMBARRASSED AND NOT TOO SURE HOW HE WOULD COPE BEING NAKED IN FRONT OF WOMEN AND GIRLS STILL TOOK THE POST AS IT WAS PAID WELL.
SAM HAD SOME EMBARRASSING AND EXCITING ADVENTURES WHILE COACHING KATHERINE AND DAPHNE'S DAUGHTERS, DEBORAH AND SAMANTHA. HE HAD TO SHARE A TENT WITH THE SCHOOL NURSE JANICE WHO WAS ALSO A MEMBER OF THE CFNM SOCIETY. IT TOOK HIM SOMETIME TO GET USE TO BEING NAKED IN FRONT OF ALL THE FEMALES. IN THE EVENINGS THE SOCIETY HELD WHAT THEY CALLED TUGS OF WARE BETWEEN ANY MALE WHO HAD AN ERECTION THAT DAY. THE MALES MEN AND BOYS HAD TO LINE UP AND MASTURBATE THE MALE WHO CAME LAST WAS SPANKED BY ONE OF THE FEMALES. SAMANTHA AND DEBORAH USE TO TEASE SAM ABOUT IT AND HIS GENITALS. AS THEY MADE HIM WRESTLE WITH THEM PRACTICING TO WRESTLE WITH DEBORAH'S OLDER BOTHER GEORGE. BOTH GIRLS WERE MUCH BETTER WRESTLERS THAN SAM AND BEAT HIM EASILY TEASING AND ABUSING HIM PHYSICALLY AND SEXUALLY SINGLY AND TOGETHER. SAM ENJOYED SEEING THE GIRLS WRESTLE GEORGE AND LOSE HOPING THEY WOULD BE TAKEN DOWN A PEG OF TWO. BUT THEN THE GIRLS CHALLENGED GEORGE TO A TWO ON ONE TAG MATCH WITH FORFEITS FOR THE LOSER. GEORGE ACCEPTED AND DID WILL TO START WITH BUT THEN THE GIRLS TURNED THE TABLE ON HIM AND MADE HIS SUBMIT THREE TIMES TO WIN THE MATCH.
SAM GOT HARD WATCHING THE WRESTLING AND WAS INCLUDED IN THE DAYS TUG OFF WAR CONTEST HIS FIRST AND HE CAME LAST AND WAS SPANKED JANICE THE NURSE. GEORGE'S FORFEIT WAS ANOTHER EXCITING SPECTACLE SAMANTHA AND DEBORAH SHAVE HIS HAIRY BODY COMPLETELY INCLUDING HIS PUBIC HAIR. JANICE THE NURSE MADE SAM WRESTLE HER EVERY EVENING AFTER THAT MAKING HIM HER SLAVE FOR THE NIGHT IF HE LOST. SAM LOST EVERY TIME AND EVENTUALLY BECAME HER PERMANENT LAVE FOR THE HOLIDAY. THE HARD TRAINING WITH SAMANTHA AND DEBORAH AND THE WRESTLING AND DEMANDING SEX TOOK THEIR TOLL OF SAM AND BY THE TIME THE HOLIDAY WAS ENDING HE LOST QUITE A BIT IF WEIGHT.
THE GIRLS PASSED THEIR ENTRANCE EXAMS FOR THE US SPORTING UNIVERSITY THANKS TO SAM'S COACHING AND HE WAS GIVEN A HANDSOME BONUS. THE LAST NIGHT THERE WAS A CELEBRATION PARTY HELD AND SAMANTHA AND DEBORAH THANKED SAM BY SHAVING HIS UPPER BODY AND PUBIC HAIR. THEY ALSO MADE HIM PLAY A LAST GAME OF TUG OF WAR AGAINST ANOTHER TEENAGE BOY DERRICK AND SAM LOST AGAIN AND WAS SPANKED BY JANICE AGAIN. HOWEVER THIS TIME HE WAS SPANKED DAPHNE, KATHERINE AND DEBORAH AND SAMANTHA WHO GAVE HIM SIX EACH LEAVING HIS BUM RED AND SORE. SAM WAS DISAPPOINTED WHEN THE HOLIDAY ENDED AS HE HAD GOT USE TO THE CFNM LIFE STYLE AND QUITE LIKED IT. ON THE TRAIN BACK TO LONDON WITH JANICE SHE TOLD HIM SHE LIKED TO TEST AND EXPERIMENT ON NAKED MALE BODIES AND HAD A MATURE OLDER MALES SLAVE SHE USED FOR THIS. JANICE TOLD SAM SHE WOULD LIKE HIM TO BE HER YOUNG MALE TEST SUBJECT AND SAM AGREED.
WHEN SAM GOT BACK TO HIS LODGINGS BEING SO SUE TO BEING NAKED NEVER GOT DRESSED WHEN HE WENT INTO THE KITCHEN FOR BREAKFAST AND SURPRISED HIS TWO FEMALE FLAT MATES. WHEN SAM TOLD THEM WHY THEY MADE HIM TELL THEN WHAT HAD HAPPENED TO HIM AND ALL HE COULD ABOUT THE CFNM SOCIETY. THEY LOVED THE IDEA AND CONTACTED JANICE THE NURSE AND KEPT SAM NAKED WHEN HE WAS IN THE FLAT AND ON A STRICT DIET AND MADE SURE HE KEPT HIS BODY SHAVED CLEAN. THEY ALSO HELPED WITH HER EXPERIMENTS MAKING SAM WHERE A MALE CHASTITY BELT. THE SUMMER JOB HAD CHANGED SAM AND HE WAS NOW THE CFNM COACH. EROTIC DOMINATION AND CONTROL OF MALES IN A CFNM ENVIRONMENT. €4.00
Story extract available to read, on the battle annals female on male domination stories extracts blog, link at the top of the page.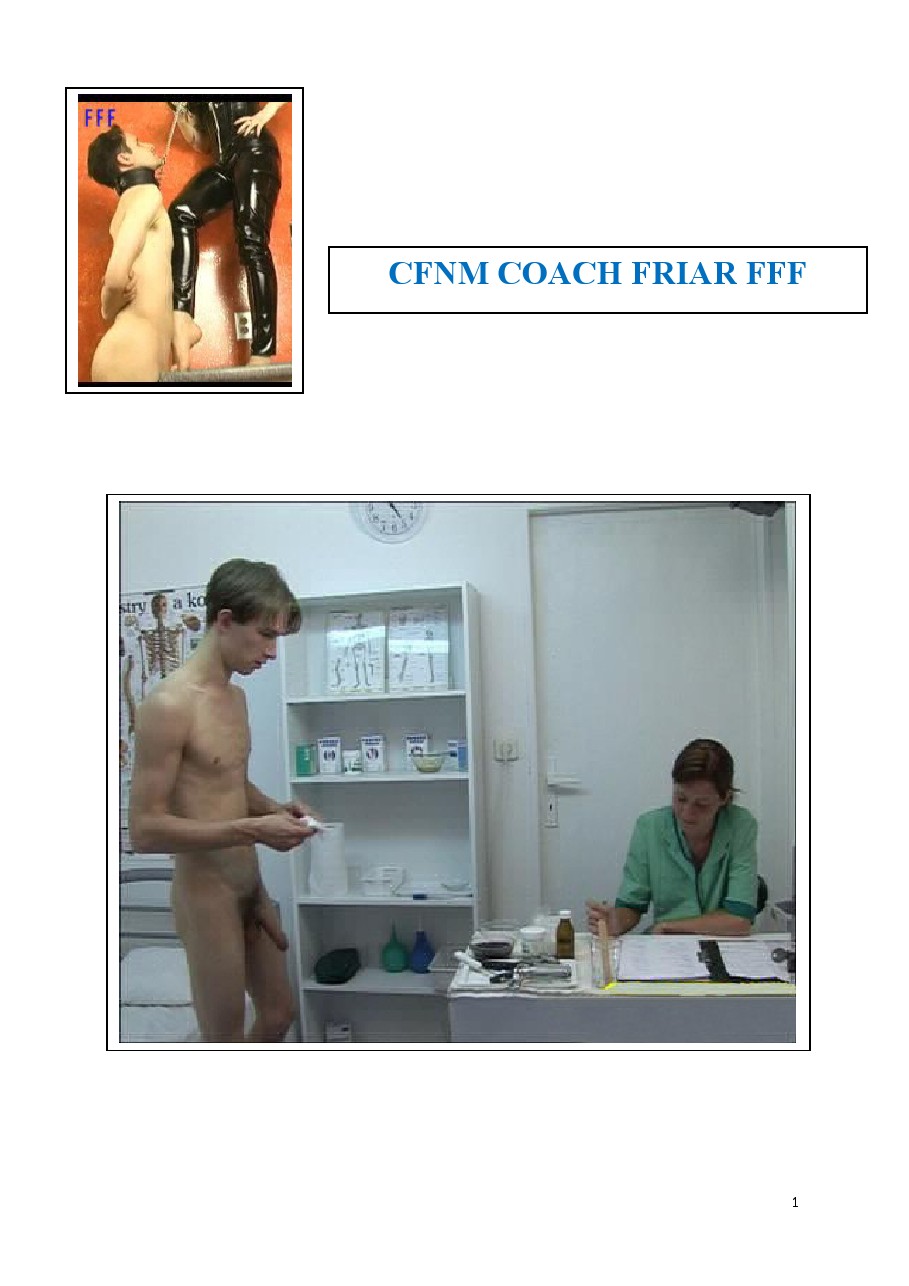 2 CFNM LODGER TO MALE SEXUAL PLAY THING. DWAYNE YOUNG MALE ELECTRICIAN SECURES A NEW JOB AWAY FROM HOME IN LONDON AND HE HAS TO TAKE LODGINGS. HE LODGED WITH MARY FIFTY SOMETHING WIDOW WHO TAKES IN A LODGERS TO MAKE ENDS MEET SINCE HER HUSBAND DIED. AL THOUGHT THE HOUSE IS QUITE SMALL DWAYNE FOUND HIS LODGINGS COMFORTABLE AND LADY LADY CARING AND A GOOD COOK. AFTER A FEW WEEKS DWAYNE NOTICED THAT MARY WAS OBTAINING A PHYSICAL ATTRACTION TO HIM, ALWAYS TRYING TO CATCH SEMI NAKED ON HIS BEDROOM OR NAKED IN THE BATHROOM. IN THE END SHE WOULD SIT TALKING TO HIM WHILE HE WAS IN THE BATH LOOKING UNASHAMEDLY AT HIS NAKED BODY IN THE CLEAR WATER. THAT PROMPTED DWAYNE TO ASK MARY IF SHE WANTED TO RETURN THE FAVOUR AND ET HIM SEE HER NAKED, BUT SHE JUST SMILED. THAT HAD BEEN ON THE THURSDAY EVENING. ON THE SATURDAY EVENING AFTER TEA, MARY SURPRISED DWAYNE BY TELLING HIM SHE WOULD BE WILLING TO RETURN THE FAVOUR AND LET HIM SEE HER NAKED. DWAYNE THOUGHT THEY WOULD BOTH STRIP OFF BUT MARY HAD OTHER IDEAS. A GAME OF STRIP POKER THE LOSER TO STRIP AND STAY NAKED FOR THE WINNER THE REST OF THE WEEKEND. DWAYNE AGREED AND THEY PLAYED A LONG CLOSE GAME OF STRIP POKER THAT WENT TO THE LAST HAND WITH MARY IN JUST HER PANTIES AND DWAYNE DOWN TO HIS UNDERPANTS. MARY WON AND WAS DELIGHTED THAT SHE WOULD HAVE DWAYNE NAKED FOR THE REST OF THE WEEKEND. DWAYNE ASKED TO PLAY AGAIN DOUBLE OR QUITS. BUT MARY WOULD ONLY PLAY AGAIN IF THE STAKES WERE RAISED TO QUITS IF DWAYNE WON, AND HIM BEING NAKED IN THE HOUSE FROM THEN ON. DWAYNE RELUCTANTLY AGREED AS HE REALLY WANT TO SO SEE MARY NAKED, AND AS THE GAME HAD BEEN VERY CLOSE THOUGHT HE COULD WIN. HOWEVER HE LOST TO MARY DELIGHT KNOWING HE WOULD HAVE TO BE NAKED FOR HER ALL THE TIME FROM THEN ON.
MARY DELIGHTED IN HER POWER OVER DWAYNE HAVING HIM NAKED ALL THE TIME, SHE HAD DONE THAT SAME WITH HER HUSBAND BEFORE HE HAD DIED. HER PLANS FOR DWAYNE WERE NOW THE SAME AS THEN TO SUE HIS AS HER NAKED MALE PLAY THING TO AMUSE HER AND SATISFY HER NEEDS. MARY TEASED AND SEXUALLY ABUSED AND USED DWAYNE'S NAKED BODY EVERY EVENING. THAT EVENING THINGS STARTED LIGHTLY, WANKING HIM, FINGER FUCKING HIM, FUCKING HIS ARSE WITH A VIBRATOR. SHE WAS RESTING HIM SEE HOW LONG HE COULD LAST AS SHE WANTED HIM TO FUCK HER TO MULTIPLE ORGASMS. AS THE DAYS PASSED MARY MADE DWAYNE FUCK HER UNTIL HE WAS EXHAUSTED THEN USED A STRAP ON TO FUCK HIM UP THE ARSE. MARY WAS RELIVING ALL THE THINGS SHE USE TO DO TO HER HUSBAND AND REPEATING THEM ON THE LODGER DWAYNE. AS NOW HER CFNM MALE PLAYTHING. EROTIC USE AND USE OF YOUNG NAKED MALE BY AN OLDER FULLY CLOTHED FEMALE. EXCITING FEMALE ON MALE SEXUAL DOMINANCE. €4.00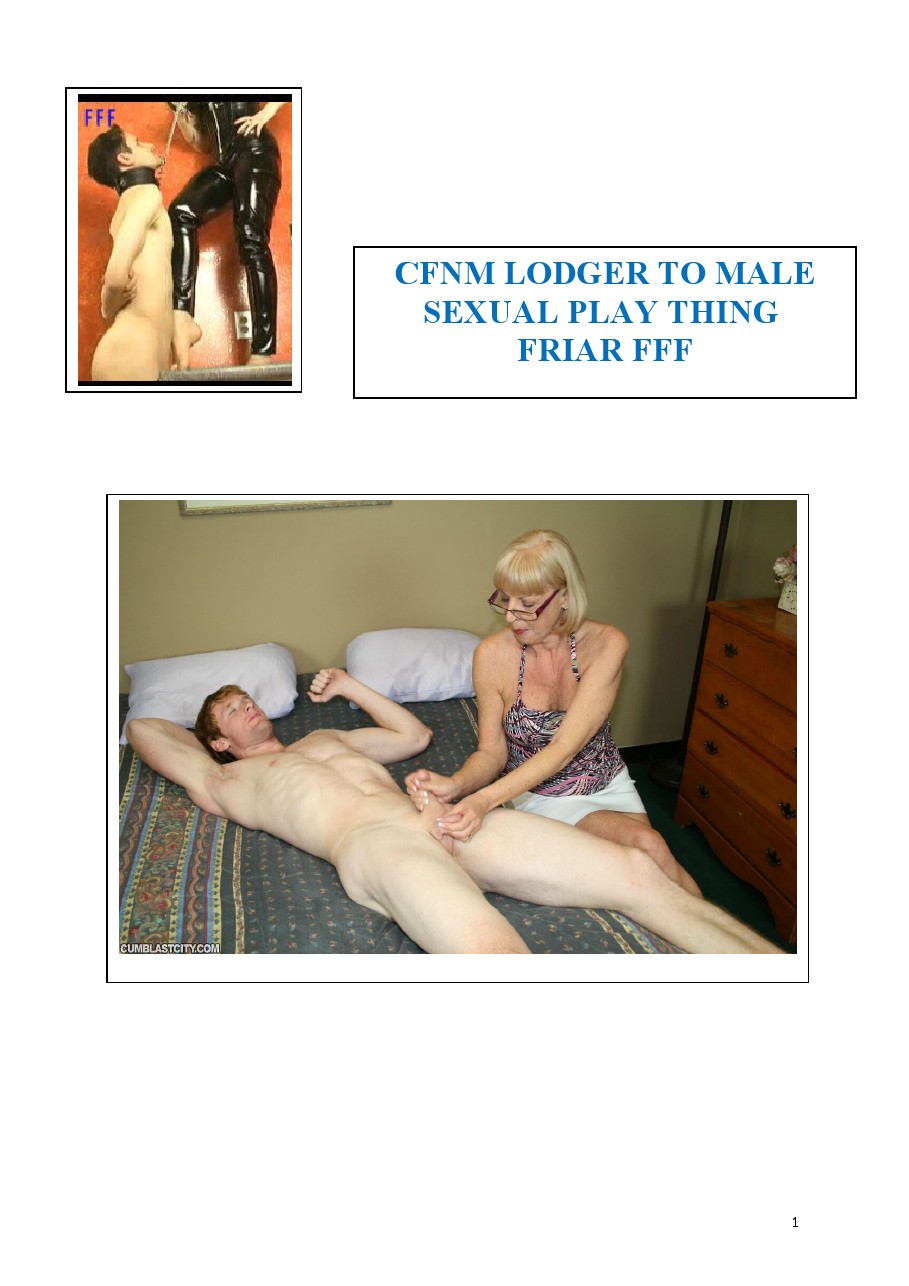 3 CFNM COMPENDIUM 1. COCK VIRGIN CFNM RAPE AND BEAT DOWN, AND CFNM SPIT ROAST PARTY.
1 COCK VIRGIN CFNM RAPE AND BEAT DOWN.
JESSIE AND EIGHTEEN YEAR OLD FRESHMAN STUDENT WAS PICKED UP IN THE STUDENT BAR BY AN OLDER WOMAN MASQUERADING AS A FEMALE STUDENT. PAMELA MADE A HABIT OUT OF PICKING UP VIRGIN MALE FRESHMAN STUDENTS, TO SEDUCE AND ABUSE. JESSIE WAS DESTINED TO BE HER LATEST VICTIM. PAMELA GOT JESSIE TO SNEAK HER INTO HIS ROOM IN THE HALL OF RESIDENCE THROUGH THE GROUND FLOOR WINDOW. ONCE INSIDE PAMELA WASTED NO TIME STRIPING JESSIE COMPLETELY NAKED ON HIS BED, WHILE REMAINING FULLY CLOTHED. PAMELA TOLD JESSIE SHE WAS GOING TO TAKE EVERY CHERRY HE HAD AND MORE, AND SHE DID JUST THAT. PAMELA THEN SET ABOUT ABUSING HIS NAKED BODY PHYSICALLY AND SEXUALLY. SHE WORKED ON HIS NIPPLES, COCK AND BALLS INDUCING EJACULATIONS FROM PAIN AND EXCITEMENT. THEN RAPED HIM ANALLY WITH VIBRATING DILDOS OF VARYING SIZES LEAVING HIM SPENT AND EXHAUSTED. PAMELA ROLLED THE EXHAUSTED JESSIE OVER AND THRASHED HIS BUTTOCKS WITH A LEATHER STRAP AND THEN USED A BONGER ON HIS BALLS AND HIS COCK TO FORCE ANOTHER EJACULATION. THEN SHE RAPED HIM A STRAP ON. GOOD FEMALE ON MALE PHYSICAL AND SEXUAL ABUSE AND CFNM ACTION.
2 CFNM SPIT ROAST PARTY.
JARRET A YOUNG APPRENTICE PLUMBER WAS PICKED UP IN PUB BY THREE FEMALE STUDENTS. WENDY, GAEL AND PHILLIPER. THEY CONVINCE HIM TO GO TO THEIR STUDENT ACCOMMODATION, WITH THE PROMISE OF SOME THREE WAY SEXY WITH THEM. HOWEVER WHEN THEY GOT HIM BACK TO THEIR FLAT THEY STRIPPED HIM NAKED WHILE REMAINING DRESSED. UNIMPRESSED WITH HIS BODY THEY STARTED TO ABUSE HIM. GAEL AND WENDY HELD HIS AMRS BEHIND HIM TEASING AND ABUSING HIS NIPPLES AND BUTTOCKS, WHILE PHILLIPER WANKED SUCKED HIS COCK, PUSHING HIM TO A FIERCE EJACULATION. PHILLIPER LUBRICATED JARRET'S COCK, BALLS AND ANUS FORCING HER FOREFINGER IN DEEP AND ALL AROUND BEFORE SWAPPING PLACES WITH GAEL. GAEL STARTED TO WAMK HIS NOW LUBRICATED COCK, WHILE WENDY AND PHILLIPER WORKED ON HIS NIPPLES AND ANUS. WENDY MERCILESSLY SODOMISED JARRET'S ANUS WHILE GAEL AND PHILLIPER HELPED PUSH HIM TOWARDS ANOTHER FIERCE EJACULATION. THEY CARRIED ON FOR A LONG TIME BEFORE DOUBLE FINGER FUCKING AND BALL ABUSE, FINALLY PUSHED JARRET TO A DRAINING EJACULATION.
WEARY AND DRAINED AFTER TWO FORCED EJACULATIONS, JARRET WAS TAKEN TO WENDY'S BED ROOM, SO SHE COULD RAPE HIM ANALLY WITH A VIBRATOR AND DILDO. WENDY STARTED WITH THE VIBRATOR MERCILESSLY RAPING HIS ANUS, BEFORE PRESSING IT AGAINST HIS PROSTATE, STIMULATING HIS MALE G SPOT AND KEEPING IT THERE, MILKING HIS BALLS OF SPUNK. PHILLIPER AND GAEL JOINED IN ABUSING JARRET'S NIPPLES AND BALLS, UNTIL THEY DRAINED HIS BALLS DRY WITHOUT HIM EJACULATING. THEN WENDY RODE JARRET'S HARD, COCK DRY COCK TO SEVERAL ORGASMS. HIS THREE WAY ABUSE CONTINUED AT THEIR HANDS, WITH WENDY CRUELLY POLISHING HIS COCK HEAD, WHILE PHILLIPER ABUSED HIS BALLS AND GAEL TORTURED HIS NIPPLES. THEY DID NOT STOP UNTIL THEY MADE JARRET PASS OUT. THEY LEFT HIM NAKED AND UNCONSCIOUS ON THE BED AND WENT IN SEARCH OF ANOTHER MALE TO SPIT ROAST AND RAPE. INTENSE CFNM ACTION WITH FEMALE ON MALE SEXUAL AND PHYSICAL ABUSE, INCLUDING CBT, ANAL RAPE MALE MILKING. €4.00