MANFLESH MALE ON MALE DOMINATION ARTWORK AND COMIC BOOKS PAGE
The url is man-flesh1.blogspot.com
http://www.man-flesh1.blogspot.com
MANFLESH MALE ON MALE DOMINATION LIST 21-35
21 WEREWOLF'S BITCHS PART 2. BOTH RANGER TRENT TYLER AND BIG GAME HUNTER REB SCOTT ARE IN FOR A RIP ROARING TIME. WILL THEY ESCAPE FROM THE WEREWOLF'S CLUTCHES, THE STORY CONTINUES. THE WEREWOLF BEAST CLOSE ON ON REB THE BIG GAME HUNTER CAUGHT NAKED AND UNARMED AS HE FUCKED THE HYBRID RANGER TRENT TYLER. THE HUNTER BECOMES THE HUNTED. THE WEREWOLF'S HAVE FRESH MEAT TO FUCK. THE WEREWOLF'S ONLY SEEM INTERESTED IN THE HUNTER. IGNORED THE RANGER MANAGES TO REMOVE THE TROPHY MOUNT AND THE MOUTH STRETCHER. TRENT WONDERS IF THE HUNTERS COCK WILL TURN TO A MUFF LIKE HIS AS HE WATCHES THE WEREWOLF'S FUCK THE HELPLESS HUNTER. THE WEREWOLF'S WERE CONCENTRATING ON FUCKING THE HUNTER ALLOWING THE RANGER TO SNEAK INTO THE HUNTER'S TENT. TENT DISCOVER THE KNOCK OUT DARTS AND REALISES HE WILL HAVE TO THROW THEM AT THE WEREWOLF'S AS THERE IS NO TIME TO RELOAD THE HUNTER'S RIFLE. ARMED WITH THREE TRANQUILIZER DARTS, TWO UP HIS ARSE WITH THE POINTS OUTWARDS READY TO USE OF THE OTHER TWO WEREWOLF'S, TRENT ATTACKS.
TRENT DOWN ONE WEREWOLF WITH THE FIRST DART. TRENT THEN BENDS OVER WITH ONE OF THE DARTS STILL IN HIS ARSE. THE WEREWOLF'S SEES TRENT'S TICK BUTT AND CHARGES. THE POINT OF THE DART IN TRENT'S ARSE SCORES A BULLSEYE ON THE WEREWOLF'S COCK. TWO DOWN ONE BEAST TO GO. TRENT WITH ONE WEREWOLF TO KNOCK OUT JUMPS ON THE THIRD WEREWOLF'S BACK AND DRIVES THE DART HOME. "I'M THE PARK RANGER CUNTED, BUT ALL MAN", TRENT SAID AS HE DRIVE THE DART HOME. THE HUNTER THANKS THE RANGER. THE HUNTER'S SEX ORGANS START TO CHANGE BUT NOT LIKE THE RANGERS. HE DEVELOPS A WEREWOLF COCK "WOW DIDN'T KNOW YOU WERE THE RANGER?", THE HUNTER TOLD TRENT. "YOU ARE A GOOD FUCK", HE ADDED. "MY CABIN IS NOT FAR AWAY WE WILL BE SAFE COMFORTABLE THERE", TRENT REPLIED. THEY ARRIVE BACK AT THE RANGERS CABIN AND SAFETY, BOTH ON HEAT. THE RANGER IS HOT FOR THE DOGGED HUNTERS COCK AND WANTED HIM TO FUCK HIM FOREVER. "NO BROAD WOULD EVER WANT ME WITH A COCK LIKE THIS", THE HUNTER TELLS THE RANGER. "STAY HERE MY MAN PUSSY CAN TAKE ALL YOU CAN GIVE", THE RANGER REPLIED AND THE HUNTER LIKED THE IDEA.
THEY STRIP THE CABIN OF FURNITURE, LEAVING ONLY A RUBBER MATTRESS, DOG BOWLS AND HEAVY WEIGHT LIFTING EQUIPMENT. THEY HUNT FOR RAW FOOD AND HAVE RAW ANIMAL SEX FOUR TIMES A DAY. THEY FENCED OF THE PART OF THE PARK WITH THE WEREWOLF'S. THEY PATROL NAKED, THEY ARE TOP DOG AND BITCH, IN THE PARK LAND, READY FOR ACTION, HORNY AND ARMOURED. MORE SEX AND FIGHT ACTION BETWEEN HYBRID HUMANS AND WEREWOLF'S. €12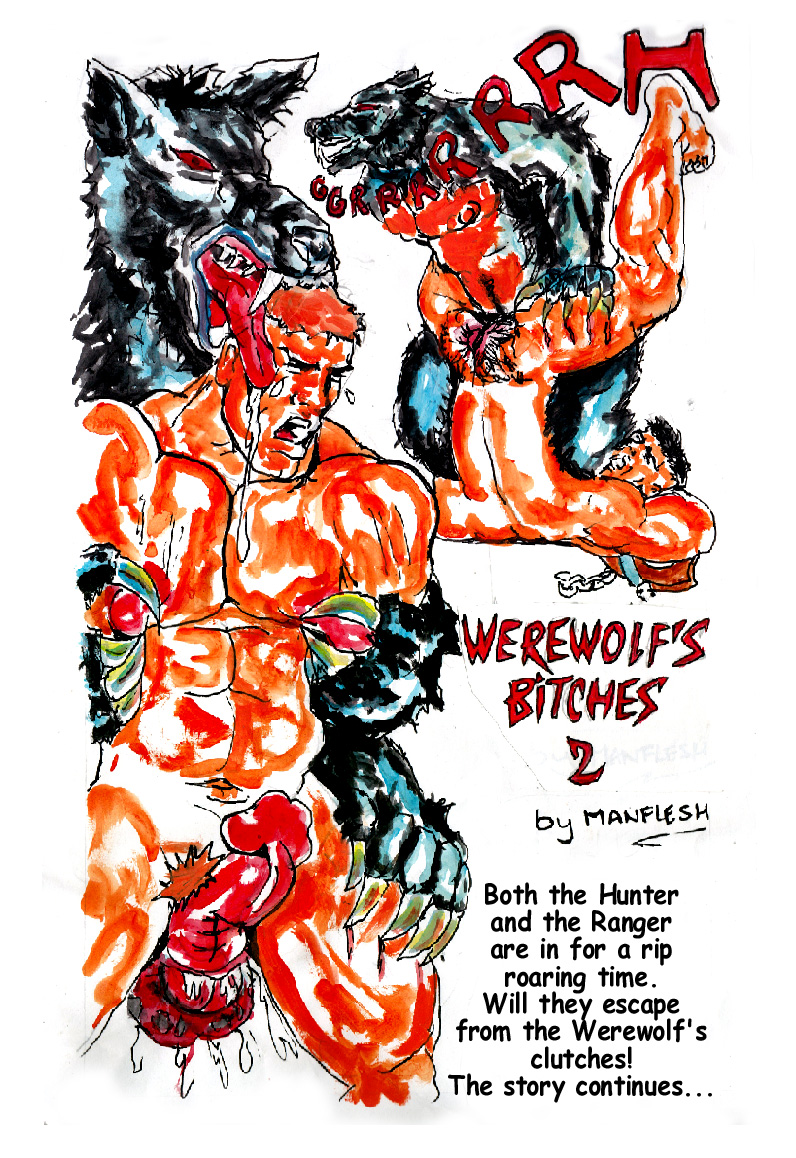 22 ROUGH TRADE TO SLAVE TRADE. JOSEPH ROUGH, NO EDUCATION, HIS ONLY ASSET HIS HARD MUSCLES AND BLOND HAIR. UNEDUCATED JOSEPH WAS IDEAL FLESH FOR TURNING INTO A FUCK PONY IN THE MIDDLE EAST. THIS IS HIS STORY. JOSH WORKED AT ROIDS GYM IF YOU CAN CALL IT WORKING, OWNED BY BUCK CRABS. JOSH LIVED AT THE GYM. BUCK FED JOSH AND GAVE HIM ROIDS. JOSH LET BUCK SUCK HIS COCK AND HE CALLED BUCK A FAG. JOSH MADE MANY DEMANDS OF BUCK TO ALLOW BUCK TO SUCK HIS COCK. JOSH SET HIMSELF UP ON A PEDESTAL AND BELIEVED HE SHOULD HAVE EVERYTHING HE WANTED, BUT HE WAS HEADING FOR A FALL. THE ONE THING JOSH WORKED HARD AT WAS HIS BODY BUILDING. JOSH LOVED HIMSELF AND WANTED EVERYONE ELSE TO WORSHIP HIM AND PAY HIM FOR IT. INSTEAD OF CLEANING THE GYM JOSH WOULD GO LOOKING FOR GUYS TO HUSTLE.
JOSH WAS ALWAYS ON THE HUNT TO GET MONEY FROM THE VISITORS, WHEN HE APPROACHED A RICH MIDDLE EASTERN VISITOR AN ARAB SHEIK HE WAS ABOUT TO GET MORE THAN HE BARGAINED FOR. THE RICH ARAB SHEIK TOLD JOSH HE HAD A PLEASURE CRUISER WHILE HE SUCKED JOSH'S COCK. HE PROMISED JOSH ALL THE DESIGNER CLOTHES AND WATCHES HE COULD EVER WANT, IF THE TOOK A TRIP TO HIS PALACE IN AFRICA AND HE NEED ONLY WEAR HIS JOCK STRAP. HE PROMISED JOSH HIS OWN WATER BED AND BUTLER. HOWEVER ONE ABOARD THE CRUISER JOSH IS CONFRONTED BY THE SHEIK'S MEN. "MEET YOUR TRAINERS SLAVE", THE SHEIK SAID. THE TWO GUARDS GRAB AND STRIP JOSH. "TAKE THE MUSCLE SLAVE BITCH TO MY BONDAGE ROOM", THE SHEIK ORDERED AND JOSH IS DRAGGED AWAY NAKED BY THE GUARDS. IN THE BONDAGE ROOM JOSH HAS IS ARMS SECURED AND HE IS HUNG FROM THE CEILING. THE SHEIK'S TWO TRAINERS WHIP JOSH MERCILESSLY, FORCING HIM TO SUCK THEIR COCKS. TO MAKE SURE THEY DO NOT CUT THE SKIN OF THE NEW SLAVE AND RUIN THE SHEIK'S PROPERTY, THEY DIP THEIR LEATHER WHIP IN WATER. THE TRAINERS LIKE TO WORK NAKED, COCKS HARD, AS THEIR COCKS ARE USED AS WEAPONS AS WELL.
JOSH WAS TIED TO THE PROW OF THE CRUISER AS NAKED ERECT FIGURE HEAD. HE HAD BEEN MADE TO SWALLOW TEN VIAGRA TABLETS TO KEEP HIS MAN HEAT HARD AND ACHING. AS THE CRUISER PLOWS THROUGH THE SEA EAST TO AFRICA, JOSH WOULD BE PLOWED HARD BY THE SHEIK. ON THE FIRST EVENING THE SHIEK FUCKED JOSH'S SLAVE ANUS CUNT FOUR TIMES. IT WOULD TAKE EIGHT DAYS TO REACH THE LAND OF THE SHEIK, WHERE SLAVERY, MEN WORKING NAKED WAS THE NORM. "YOU WON NOTHING YOU ARE OWNED INSIDE AND OUT, YOU WILL NEVER WEAR CLOTHES AGAIN", THE SHEIK TOLD JOSH AS HE FUCKED HIM. "NO PART OF YOUR FLESH WILL BE HIDDEN FROM YOUR MASTER", HE ADDED. THE CRUISER ARRIVED AS THE PORT OF THE SHEIKS LAND, TWO HUNDRED MILES OF DESERT, FILLED WITH WELLS THAT PUMP WATER AND OIL WORKED BY NAKED MUSCLE SLAVES. WATER FOR CROPS AND OIL TO SELL TO THE USA. JOSH SAW THAT ALL THE SLAVES WERE NAKED WHITE MEN. DUMB MUSCULAR MALES KIDNAPPED, STRIPPED AND ENSLAVED FOR THE PLEASURE AND PROFIT OF ARAB MASTERS. €12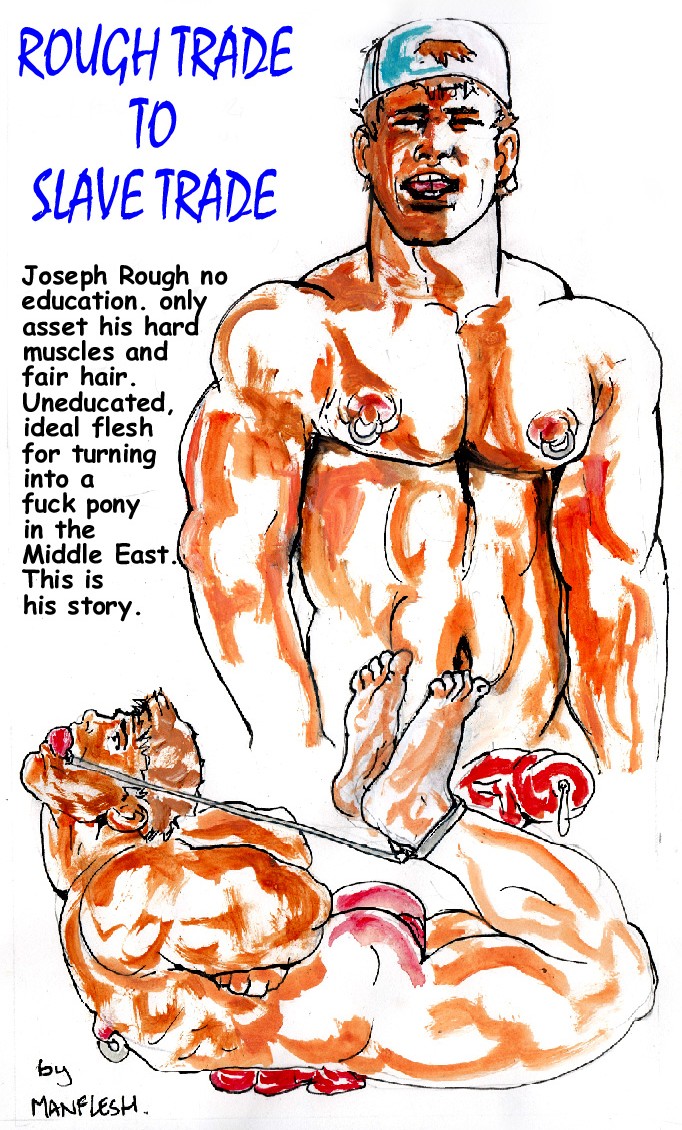 23 BARE BACK MOUNTAIN. THREE COLLEGE STUDS ON A SPRING BREAK DECIDED TO GO CUNT HUNTING IN HICK COUNTRY. BUT IF YOU GO DOWN IN THE WOODS TO PLAY YO ARE IN FOR A BIG SURPRISE. THREE HUGE HILL BILLY BROTHERS ARE HARD AND WAITING FOR THEM. THE JOCKS ARE OF THE APPALACHIAN MOUNTAINS NORTH OF GREENVILLE. HIGH ON MALE TESTOSTERONE THEY SHOW OF MUSCLES AND BUMS ON THE WAY. LOST THE THREE END UP ON A DIRT TRACK. THEY THREE HUNKY JOCKS FIND A LAKE. THEY PUT UP THEIR TENTS, STRIP NAKED AND WASH. BUT THEY ARE BEING WATCHED. AS THE JOCKS SETTLE IN FOR THE NIGHT AND DREAMS OF PUSSY. THE MOUNTAIN MEN RETURN WITH ROPE TO THE JOCKS ENCAMPMENT, THEIR HUGE COCK SWAY ROCK HARD. IN THE TENTS THE JOCK ARE IN FOR A RUDE AWAKENING. THE HUGE MOUNTAIN MEN RIPPED OPEN THE TENTS AND PULLED THE NAKED JOCK OUT. THEY WERE NO MATCH FOR THE HUGE MAN BEASTS THEY ARE TIED UP AND ROPED TOGETHER. FOR THE THREE JOCKS, BLOND JAMIE, BLACK HAIRED CONRAD AND BROWN HAIRED DECKLAND, THE PRIMAL FOREST HAS TAKEN ON A DARK NIGHTMARISH FEELING.
ENSLAVED THE JOCKS ARE FORCED TO PUSH THEIR JEEP INTO THE SWAMP. THEIR JEEP TENTS AND CLOTHES END UP IN THE SWAMP. "YOU WILL BE NAKED FOREVER", ONE OF THE HILL BILLY BOTHERS TELL THEM. THE THREE JOCKS ARE GIVEN A HARD RIDE TO THE HILL BILLY'S FARM ON THE HILL BILLY'S HUGE COCKS, AND FAIL TO APPRECIATE THE SPECTACULAR SCENERY. THEY ENTER A VALLEY HEMMED IN BY SHEAR CLIFFS, CONTAINING THE MOUNTAIN MEN'S HOMESTEAD. "YOU WORK BEASTS, YOU WORK OUR LAND AND COCKS, TRY TO ESCAPE AND WE CUT OFF YOUR COCK AND BALLS", ONE OF THE HILL BILLY'S TOLD THEM. AS THESE JOCKS WANKED AT LEAST FOUR TIMES A DAY AND NOT WANTING TO LOSE THEIR COCK AND BALLS THEIR MOST PRIZED POSSESSIONS,THEY WERE FORCED TO OBEY. THEY ARE MADE TO WORK HARDER THAN ANY FOOTBALL CAMP. THEY ARE PUT TO WORK ON THE WHEEL AND THE WATER SCREW. TETHERED BY COCK RINGS, THEIR JOCK PELTS GLOW WITH THE EFFORT AND CANNING, COCKS HARD FROM THEIR RUDE STATE. AFTER A HARD TIME TOILING ARE EXHAUSTED HUNKS ARE FED AND BROUGHT INTO THE HILL BILLY'S BED CHAMBER, FOR FEEDING UP THE ARSE. THEY HAD NO CHOICE BUT TO TAKE IT LIKE A BITCH. THE HARD FRICTION MAKES THE BALLS CHURN AND FILL WITH SEED AND SPUNK SHOT OUT OF THE BITCHED JOCKS COCKS. THREE YOUNG MALE FOOTBALL JOCKS ENSLAVED AND ABUSED BY THREE HUGE BEAR LIKE HILL BILLY MOUNTAIN MEN. €12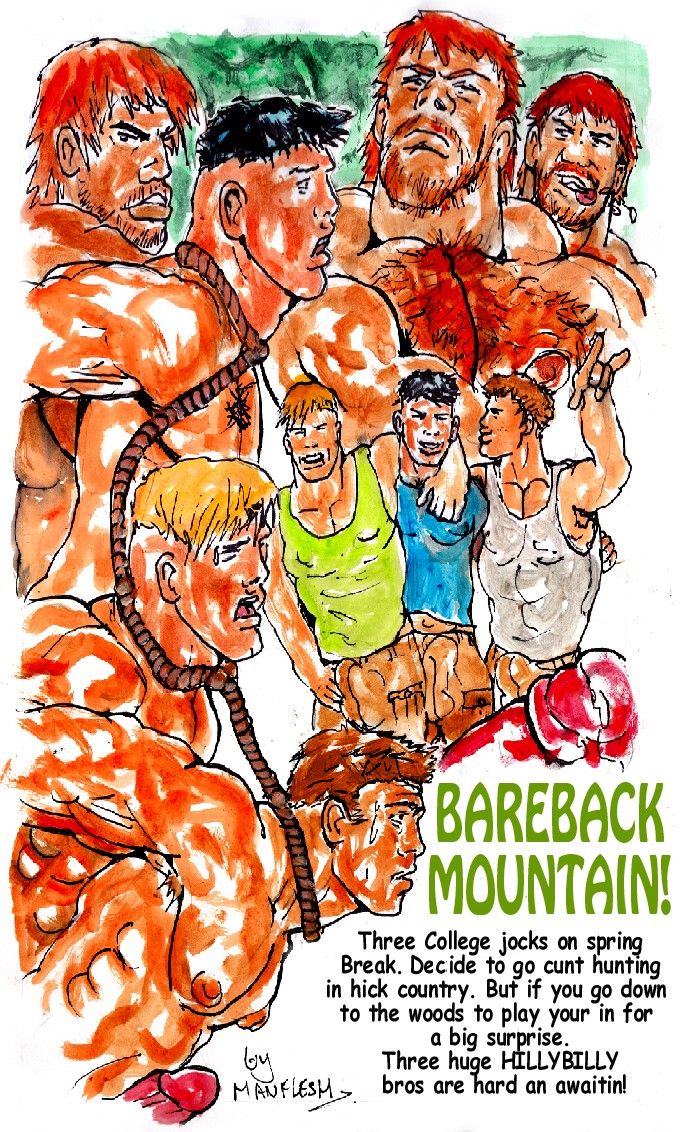 24 MEAT BUS PART 1. RUGBY TEAM ON A TOUR THROUGH EASTERN AMERICA. THE DRINK HEAVILY AND SHOW OFF THEIR NAKED BODIES AS THE BUS TRAVELS DEEP INTO THE MOUNTAINS. SLAVERS STOP THE BUS AND ENSLAVE THE NAKED TEAM BUNDLING THEM INTO A SLAVE TRANSPORT. THE BUS ENDED UP IN A SCRAPYARD. THE TEAM WILL EARN A HIGH PRICE AS DRAFT ANIMALS IN THE MIDDLE EAST. THEIR THICK ARSES WILL BE SORE FROM ARAB COCK.
RED ONE OF THE TEAM DRIVES THE BUS ALLOWING THE OTHER TO SKYLARK AND SPUNK TO THEIR HEARTS CONTENT. BEING ROWDY MEANT BEING MANLY, AND SPUNKING OVER ALL EVERYTHING PROVED THEY WERE MEN. SUDDENLY THE ROAD WAS BLOCKED BY A HUGE ARMOURED TRANSPORTER. THE SLAVERS ENTERED THE BUS AND EASILY OVER POWERED THE DRUNKEN, NAKED RUGBY TEAM. DRAGGED FROM THE BUS THE NAKED RUBY HUNKS HAD THEIR HANDS CUFFED BEHIND THEM. LOADED ONTO THE ARMOURED CARRIER THEY ARE SPED ON THEIR WAY. THEIR HIGHLY PRIZED MUSCLE MEAT IS HUNG UPSIDE DOWN LIKE MEAT IN A BUTCHERS SHOP. THE HEAT FROM SO MANY BODIES MADE THEM SWEAT LIKE PIGS. THEY WERE TAKEN TO THE SLAVERS AIRSTRIP AND PUT ABOARD A TRANSPORT PLANE FOR THE MIDDLE EAST. THEY LAND AFTER A LONG FLIGHT AND THE NAKED RUBY HUNKS FEEL THE BAKING HEAT OF THE SUN ON THEIR NAKED SKIN."NEVER HAVE I SEEN SUCH MUCH MUSCLE ON WHITES, THEY WILL FETCH A HIGH PRICE", AN ARAB SLAVER SAID. "YOU CAN WORK THEM LIKE OXEN AND TAME THEM WITH ARAB COCK", ONE OF THE SLAVERS TOLD THE ARAB SLAVER.
IN THE SLAVE PREPARATION ROOMS AT THE AUCTION COMPLEX, THE RUGBY HUNKS GET A TASTE OF WHAT IT IS TO BE A SLAVE. THEIR PUBES WERE REMOVED BY A STICK AND HOT RESIN. THEY WERE GIVEN THEIR FIRST SLAVE DRINK OF PISS AND SPIT. THE RUGBY HUNKS ARE FED VIAGRA TO MAKE THE COCK RUDELY STIFF. THEY ARE THEN TAKEN TO THE AUCTION PLATFORM TO FACE THE WAITING CROWD. THE RUGBY HUNKS HAD ALREADY BEEN PURCHASED BY THE EMIR, BUT HE WANTED THE CROWDS TO SEE WHAT HE OWNED. THE EMIR ALLOWED THE CROWD TO FINGER THE DRAY AND THE DRAYS HAD TO GET USE TO THE IDEA THEY WERE OWNED. THE RUGBY TEAM NO LONGER HAD THE FEELING OF SUPERIORITY AND CRY AND MOAN AS FISTS PISTONED THEIR MAN CUNTS. EVERY BEAST IS BRANDED WITH THE WORDING LARGE DUMB ANIMAL, IN ARABIC. TO PREVENT THE DRAY FROM TALKING TO EACH OTHER AND PLOTTING ESCAPE THEIR TONGUES ARE FIXED TO THEIR BOTTOM JAWS. THEY WERE NO LONGER CAPABLE OF HUMAN SPEECH. THE DRAYS WERE TAKEN THE EMIR'S FORTRESS PALACE SEVENTY MILES INTO THE DESERT, WHERE HE HAD GOLD. WATER FOR THEIR TRIP WAS PROVED IN THE FORM OF PISS BY WATER PROVIDERS. THE HUNKS HAD TO SUCK PISS FROM THE WATER PROVIDERS COCKS TO QUENCH THEIR RAGING THIRSTS. HOT MUSCULAR MALES KIDNAPPED, STRIPPED AND ENSLAVED FOR THE PLEASURE AND PROFIT OF ARAB MASTERS. €12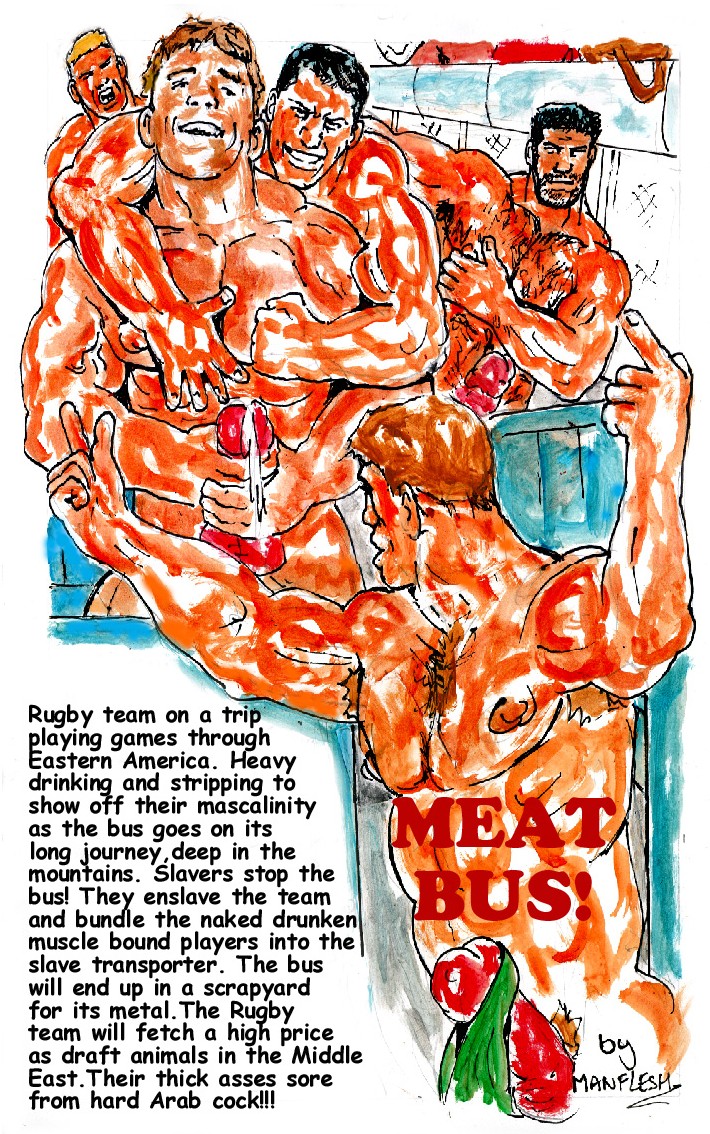 25 MUSCLE SEMEN. IN THE ADVERTS MUSCLE MEN LIKE TRAVIS BATEMAN WERE PROMISED HIGH PAID JOBS RUNNING GYM IN THE MIDDLE EAST. THE REALITY IS THEY END UP ENSLAVED AS NAKED HARD LABOUR BULLS, TOILING IN THE HOT SUN. MILKED OF THEIR STEROID RICH SEMEN EIGHT TIMES A DAY. THIS IS TRAVIS'S STORY.
TRAVIS WAS TOLD HE NEED ONLY TAKE AN OVER NIGHT BAG AS EVERYTHING WOULD BE PROVIDED FOR. TRAVIS ARRIVED AT THE AIR PORT WITH HIS SHIRT IN HIS OVER NIGHT BAG. HE WANTED TO SHOW OFF HIS MUSCLES TO THE RICH GOVERNOR WHO OWNED THE GYM, BUT NO GYM EXISTED. A MUSCLE MEAT SEMEN FARM WAS HIS DESTINATION. TRAVIS COULD NOT BELIEVE IT HE WAS GRABBED AND STRIPPED NAKED ON THE STREET WHILE LOCALS WATCHED AND SMILED. TRAVIS'S COCK BUSH WAS PULLED OFF, HE WAS BONDAGE BOUND WITH ROPES. TRAVIS WITH HIS COCK ERECT DREW A LUSTING CROWD. TRAVIS WAS HUNG LIKE A SLAB OF MEAT ON A HOOK FROM A STEEL YARD ARM PROTRUDING FROM THE BACK OF A TRUCK. TRAVIS FELT SO HELPLESS SO RUDE. HIS COCK SWELLED UP AND HE KNEW HE WAS GOING TO ORGASM. HER ORGASMED SIX TIMES ON THE WAY TO THE MILK FARM.
TRAVIS WAS UNLOADED AT THE SEMEN FARM. IT WAS SURROUNDED BY AN ELECTRIC FENCE AND THERE WAS NO ESCAPE. TO HIS DISMAY HE IS CONFRONTED WITH OTHER WESTERN BODY BUILDERS, LIKE HIM NAKED, TOILING AND BEING BUM FUCKED. TRAVIS WAS GIVEN HIS FIRST MILKING THERE AND THEN IN FRONT OF THIS FELLOW SLAVES. HE WOULD QUICKLY LEARN NO PART OF HIS BODY WAS HIS WON. TRAVIS WAS PUSHED TOWARD A GROUP SMASHING ROCKS AND ORDERED TO WORK HIS MUSCLES HARD. HE JOINED THE OTHER NAKED BODY BUILDERS SWEATING UNDER THE HOT SUN. BEING NAKED AROUND OTHER NAKED MAN FLESH GAVE THEM LL HARD ONS. EVERY THREE HOURS THE BEEF MILK HERD IS MILKED. JUT LIKE ALL THE OTHER HE HAD A METAL BAR FITTED PINNING DOWN HIS TONGUE. ALL HE CAN SAY IS "UGGH", AS A COCK IS PRESSED AGAINST HIS ARSE. EACH MUSCLE BRUTE WAS CHAINED TO A POLE. THEIR COCK ATTACHED TO A SUCTION TUBE, AND AND A FUCK MACHINE UP THEIR ARSE. WHEN ALL WERE ATTACHED THE MILKING MACHINES WERE SWITCHED ON. NO LONGER IN CONTROL, TRAVIS COULD ONLY WATCH AS THE MACHINE MASTURBATED THE CUM OUT OF HIM WITH ALL THE OTHERS. EVEN WHEN HE HAS EJACULATED A LOAD THE MACHINE CONTINUES UNTIL HIS BALLS ARE EMPTY AND SORE.
IN THE EVENING THE MUSCLE HUNKS ARE EXHAUSTED FROM THE HARD LABOUR, THEIR BALLS SWOLLEN AND SORE FROM THE MILKING. AFTER A DAY TOILING THE HERD OF MUSCLE BEASTS WERE MADE TO CRAWL ON ALL FOURS TO THEIR CATTLE PEN FOR THE NIGHT. CHAINED IN THE BEAST PEN, THE BEASTS ARE FUCKED HARD BY THE GUARDS, A PERK OF THE JOB. HOT MUSCULAR MALES DUPED, STRIPPED AND ENSLAVED TO TOIL A MUSCLE BEAST SEMEN MILK SLAVES FOR THE PLEASURE OF ARAB MASTERS. €12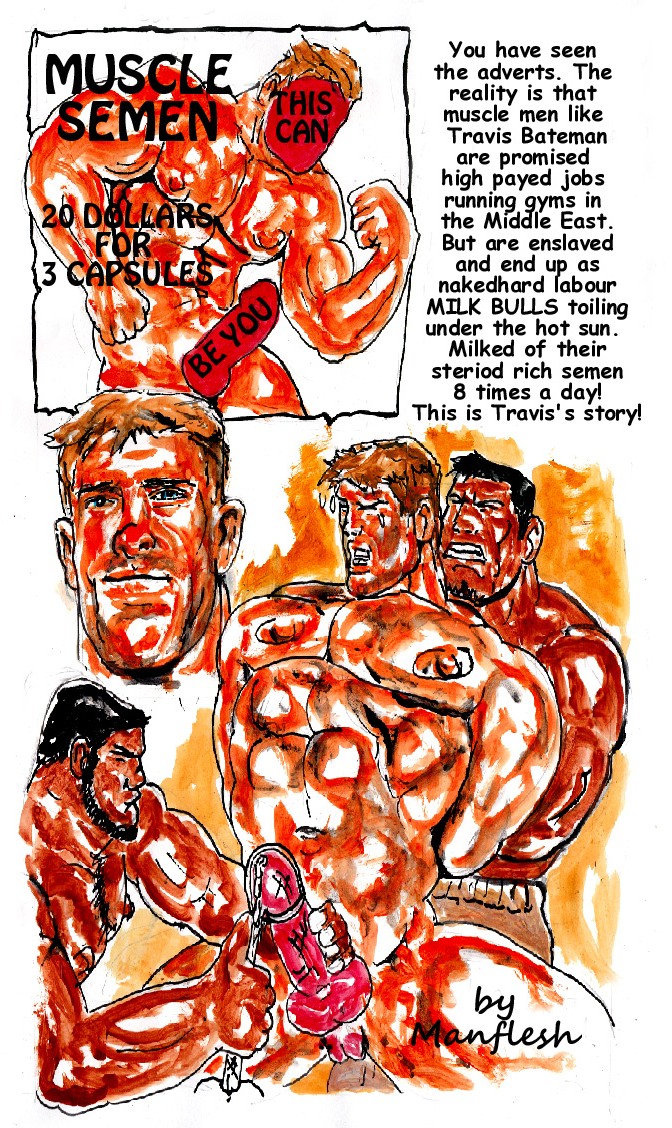 26 SUPER SEMEN MUSCLE SLAVE PART 1. DUKE WANTED TO BE A MUSCLE STAR. LUKE TRAVELED TO THE BIG CITY, TO MAKE IT BIG WITH HIS GOOD LOOKS AND BODY. DUKE HAD THE BONE STRUCTURE, THE LOOKS. HE WANTED MUSCLE SIZE, THE HIGH PROTEIN SUPER SEMEN AND A SPONSOR. HE TRIED HIS LUCK IN BUCK'S GYM. I NEED A JOB BOARD AND BE A MUSCLE STAR, DUKE TOLD BUCK. BUCK SHAGGER OWNER OF BUCK'S GYM TOLD DUKE HE COULD GIVE A JOB AND BOARD AND MAKE HIM A BIG STAR. DUKE WAS GOING TO FIND OUT BEING A MUSCLE STAR HE WOULD SORE INSIDE AND OUT. "GET NAKED NEED TO SEE ALL OF YOU", BUCK TOLD DUKE STRIPPED BELIEVING BUCK THOUGHT HE MUST HAVE WHAT IT TOOK TO GET TO THE TOP. "GOOD I WILL TRAIN YOU GOOD", BUCK SAID LIKING WHAT HE SAW. BUCK WOULD TRAIN DUKE BEND HIM TO HIS WILL, MAKE HUGE BUCK FROM HIS BODY. "I'LL TEST YOUR DICKLET FOR THICKNESS OF CUM, THAT IS A SURE SIGN OF MUSCLE CAPABILITY", BUCK SAID AS HE WANKED DUKE'S COCK. "MAKE IT MY DUTY TO CHECK YOU EACH DAY", BUCK ADDED. BUCK WAS PLEASED TO SEE THAT LUKE'S SEED WAS GOOD AND THICK STAR MATERIAL. DUKE WAS IMPRESSED THINKING BUCK KNEW AL ABOUT MUSCLE, AND THOUGHT HE WAS SO LUCKY. BUCK HAD FULL CONTROL OF DUKE AND WOULD TRAIN HIM GOOD, MAKE BIG BUCKS.
DUKE STARTED WORK HE HAD TO CLEAN AND PUT OUT CLEAN TOWELS. A BOW TIE AND SEE-THROUGH JOCK WERE HIS WORK CLOTHES. THE GYM MEMBERS OGLED DUKE'S BODY AND HE REVELED IN IT. BUCK HAD TOLD THE MEMBERS THAT THEY WERE NOT ALLOWED TO HAVE THEIR WAY WITH DUKE UNTIL HE HAD BROKEN HIM. DUKE TRAINED AT THE END OF THE DAY AND WAS GIVEN SUPER SEMEN AND DISCOVERED ITS MUSCLE BUILDING PROPERTY AND WAS HOOKED. BUCK SMILED, DUKE WAS READY FOR BREAKING IN. BUCK TOLD DUKE HE WOULD LET HIM SLEEP IN HIS BED AND GIVE HIM MORE SEMEN BY INJECTION. DUKE WAS PLEASED WANTING MORE HARD MUSCLE GROWTH. "DEEP IN YOUR ARSE IS A PAIR OF LIPS THAT CAN SUCK MUSCLE BUILDING SEMEN STRAIGHT INTO YOUR MUSCLES", BUCK TOLD DUKE AS HE STRIPPED. "UP YOUR ARSE IS THE PROSTATE BALL WITH LIPS THAT NEED SEEDING TO GROW BIG MUSCLES", BUCK SAID AS HE FUCKED DUKE. DUKE'S ARSE ACHED AND HIS COCK LEAKED MILK. "NO PAIN DO GAIN HE ADDED AS HE POUNDED DUKE'S ARSE. DUKE WAS INFORMED BY BUCK TO BE A TOP BODY BUILDER HE MUST TRAIN HARD LIKE AN ANIMAL BECOME AN ANIMAL. HE HAD TO TRAIN, SUCK SEMEN, FUCK SEMEN UP HIM. A STEEL BAR PINNING HIS TONGUE TO HIS LOWER JAW, NO TALKING AT ALL, JUST TRAINING. DUKE WAS SOON DOING REP AFTER REP WITH HEAVY WEIGHTS, BOUNCING UP AND DOWN HIS MUSCLES PUMPED WITH BLOOD. HIS ASS SUCKING THE CUM OUT OF THE GYM MEMBERS AS HE RODE THEIR COCKS.
A YEAR LATER, DUKE HAD WON MANY CONTESTS. HIS MUSCLES HAD BEEN NOTICED BY A BILLIONAIRE WHO MADE AND OFFER TO BUCK THE GYM OWNER, AND OFFER HE COULDN'T REFUSE. DUKE WAS FLOWN TO THE MIDDLE EAST. ON A SUN BAKED PLATFORM LUKE POSED FOR A GROUP OF LUSTING ARABS. ON THE ORDERS OF ONE OF THE ARABS DUKE WAS GRABBED BY TWO BRUTISH GUARDS. THEY STRIPPED DUKE OF HIS POSING POUCH LEWDLY EXPOSING HIS MAN MEAT. ALL DUKE COULD DO WAS GRUNT AS BUCK HAD NOT REMOVED TO PIN ON HIS TONGUE. DUKE WAS MASTURBATED IN FRONT OF HIS NEW OWNER. BUCK HAD SOLD DUKE TO THE RICH ARAB AND IT WAS THE START OF DUKE'S NEW LIFE. HOT DUMB MUSCLE JOCK HOOKED ON MUSCLES SEMEN TRAINED AND PUMPED UP WITH SUPER SEMEN UNTIL HE WAS IN PERFECT CONDITION FOR HIS NEW RICH ARAB OWNER. €12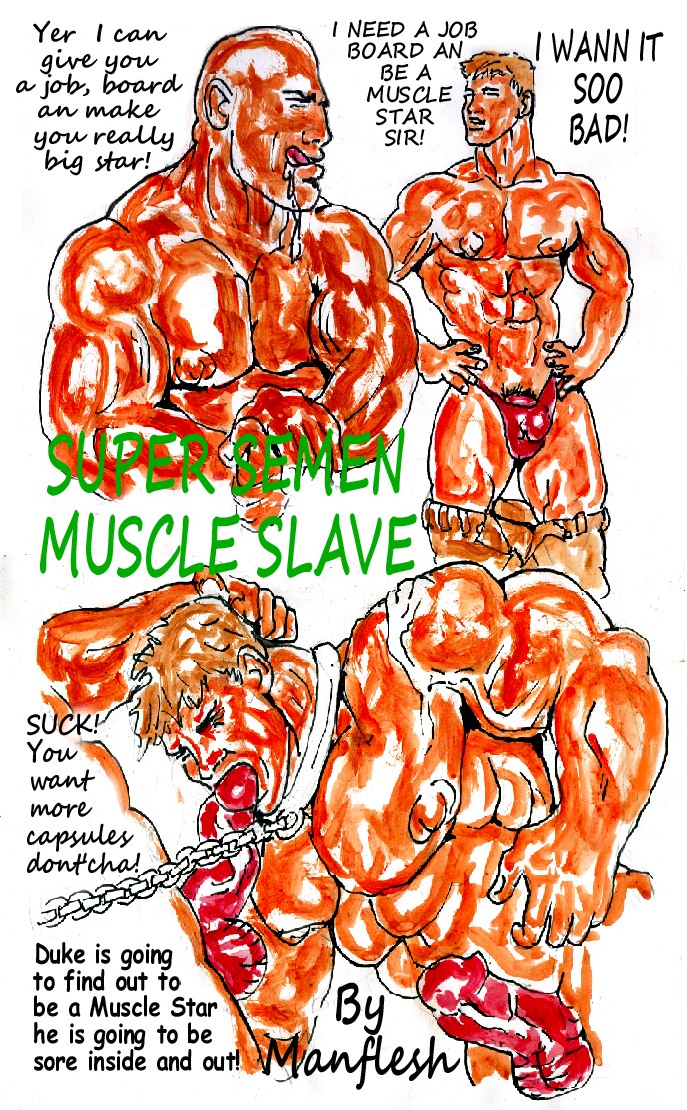 27 SCALPED. WAGON TRAIN SCOUT CHUCK WALKER TOOK A DIP ON A HOT DAY, THEN STARTED TO WANK HIMSELF. A BUNCH OF NAKED SAVAGES ARE SPYING ON HIM. INSTEAD OF KILLING THE WHITE MAN, THEY WANTED HIM AS THEIR MAN SQUAW. HIS HAIRY BUTT SPEARED BY THEIR HARD WARRIOR COCKS.
CHUCK WAS PLEASED HE HAD FOUND A RIVER CROSSING FOR THE WAGON TRAIN. THE DAMMED HEAT WAS GETTING TO HIM AND HE KNEW HE SHOULD NOT LEAVE THE WAGON TRAIN BUT WHAT THE HECK. FINDING A SMALL CREEK UP RIVER, AND STRIPS NAKED. HE HAD A HARD AND NEEDED A WASH AND A WANK. AS CHUCK PLEASURED HIMSELF UNBEKNOWN TO HIM, A GROUP OF MOHAWK BRAVES ARE WATCHING HIS SPUNKING. NAKED AND PROUD, THEIR RED MEAT ERECT, AND LUSTING FOR WAR AND WHORING. THEN CHUCK SAW THE INDIANS CHARGING TOWARDS HIM. UNARMED AND NAKED CHUCK COULD ONLY RUN. HIS COCK AND BALLS SLAPPED AGAINST HIS POUNDING THIGHS. HE WAS AS NAKED AS THEM IN THEIR WORLD OF SAVAGE MALENESS. CHUCK RAN TO ESCAPE THEIR WORLD. A WELL AIMED TOMAHAWK KNOCKED THE SCOUT TO THE GROUND. CHUCK WAS GRABBED AND SPREAD EAGLE OVER A LOG. HE WAS SCALPED OF HIS MAN BUSH, PAINFULLY PULLED OUT ROOTS AND ALL. IT WOULD NEVER GROW BACK.
CHUCK WAS TURNED OVER AND HIS ARMS AND LEGS STAKED OUT WIDE. TERRIFIED HE PISSES HIMSELF AND THE BRAVES COCKS GOT EVEN HARDER. CHUCK WAS SPEARED BY THE BRAVES COCKS WITH NO WAY OF STOPPING THEM. CHUCK'S ARSE WAS SMASHED, THE DEBAUCHED SCOUT SOBBED IN PAIN AND SHAME. CHUCK WAS UNTIED FROM THE LOG, HIS SORE ARSE STRETCHED, HAD HIS ARMS TIED BEHIND HIS BACK. ONE BUCK JUMPED ON HIS BACK WHILE ANOTHER PIERCED CHUCKS MAN TITS WITH COUGAR CLAWS. CHUCK WAS PULLED BY HIS TITS WITH AN INDIAN ON HIS BACK AND FUCKING HIS ARSE. HE WAS BEING TAKEN THE THE BRAVES COMPOUND IN A MOST LEWD MANNER.
"YOU ON OUR LAND, WE OWN YOU SQUAW", THE CHIEF TOLD CHUCK. HE WAS THEIR PROPERTY, NOW, THEIR BEAST, THEIR SQUAW. CHUCK WAS TIED TO THE BISON THRONE, WITH HIS LEGS SPREAD, HE KNEW WHAT WAS COMING. CHUCK'S LEGS WERE SPREAD BETWEEN TWO BISON HORNS. THE HUGE INDIAN CHIEF THRUST HIS WEAPON DEEP INTO CHUCK'S THE NOW MAN SQUAWS MAN CUNT MAKING HIM MOAN. THIS WAS ONLY THE START OF HIS ORDEAL. WHITE COWBOY CAPTURED AND ENSLAVED BY SAVAGE INDIANS. HIS NAKED BODY IS PHYSICALLY AND SEXUALLY ABUSED FOR THEIR PLEASURE AS THE MAN SQUAW. €12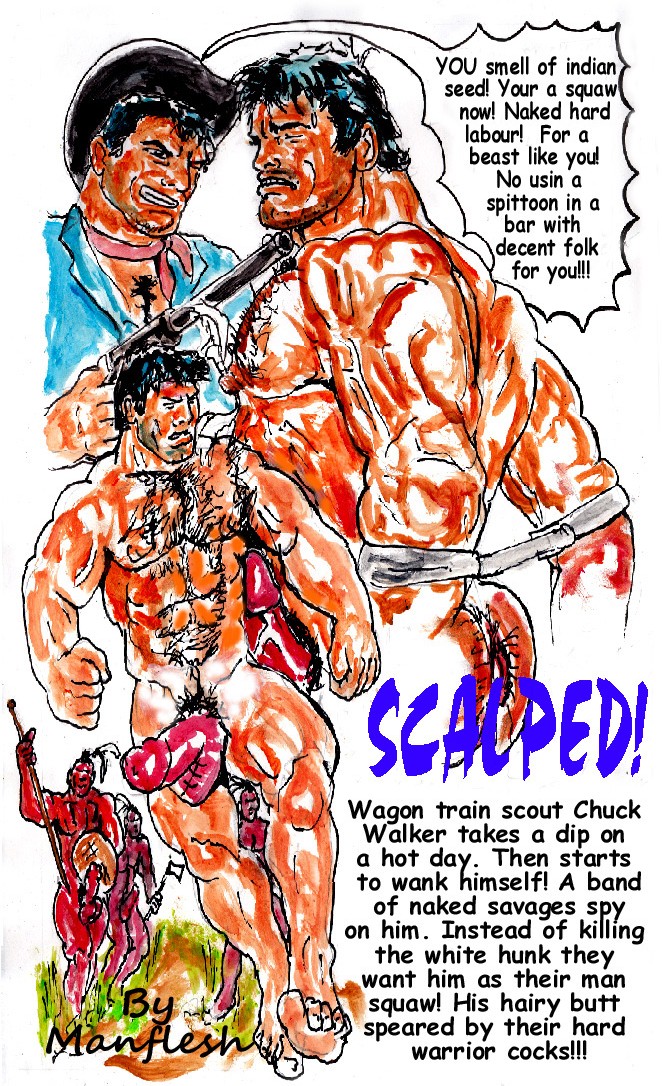 28 THE VAMPIRE LORD PART 1 SUCKER FOR JOCKS. WITH THE COMING OF THE AGE OF THE SELFIE, BEINGS LIKE THE VAMPIRE LORD COULD WERE ABLE TO SCAN THE NET FOR THEIR DESIRES. HE FOUND A JOCK HE CRAVED. HE SENT A LETTER WITH AND OFFER AND PLANE TICKETS. AT TRENT BUTTKINS DOSS HOLE, TRENT WAS PLEASED TO RECEIVE THE LETTER WITH AN OFFER OF A TWENTY THOUSAND DOLLAR MONTHLY SALARY AS A PERSONAL TRAINER. TRENT THOUGH IT WAS ACE, NO MORE SCHOOL AND HE COULD AFFORD FAST CAR AND CHICKS.
AFTER A LONG FLIGHT AND TRAIN RIDE SOUTH TO URANJE IN SOUTH SERBIA. TRENT HAD BEEN TOLD TO ASK AT THE STATION FOR DIRECTIONS TO THE MONOLITH AT THE CROSS ROADS. WHERE HE WAS TO BE PICKED UP. HE DID NOT KNOW IT WAS TEN KILOMETRES AND THE SUN WAS SO HOT HE STRIPPED DOWN TO HIS UNDERPANTS. HE HOPED ANY CHICK SEEING HIM WOULD WANT A CUNTING. THINKING OF PUSSY MADE HIM ROCK HARD. HE FINALLY ARRIVED AT THE MONOLITH AND PUT HIS CLOTHES ON AND WAITED FOR HIS RIDE. TRENT WAS SURPRISED WENT A BULLOCK CART ARRIVED. "YOU ARE FOR THE MASTER?", THE HUGE DRIVER SAID. TRENT WAS GIVEN A PIGSKIN FULL OF WATER AND HE GUZZLED ON THE THIRST QUENCHING LIQUID. THE WATER WAS DRUGGED AND TRENT COLLAPSED. HANUS THE COUNTS MAN SERVANT, LIKED TO BE NAKED, SO HE STRIPPED OFF AND GOT TO WORK. HANUS STRIPPED THE MASTERS NEW SLAVE, IT WAS TIME TO TEACH IT ITS LOWLY STATION. TRENT WOK NAKED AND TETHERED TO THE CART INSTEAD OF THE BULLOCK. "YOU ARE OWNUS BY COUNT NOW, WILL NERE WEAR CLOTHES AGAIN, YOUR POSSESSIONS ARE MINE TO SELL", HANUS SAID IN BROKEN ENGLISH. "I TRAIN YOU HARD, A BEAST NEEDS DISCIPLINE", HANUS ADDED. "PULL NOW", HANUS ORDERED. "SHIT, NO, FUCK", TRENT CURSE STRUGGLING IN THE HARNESS. TRENT SOON LEARNT TO PULL THE CART AFTER A FEW LASHES OF THE BULL WHIP. DESPITE HIS RUDE ALARMING SITUATION, TRENT HAD THE BIGGEST BONER OF HIS LIFE. IT WAS TWILIGHT WHEN THE NAKED ENSLAVED JOCK TRENT SAW THE FORBIDDING MASS OF THE COUNTS CASTLE. WOULD THERE BE REFRESHMENTS SERVED HE WONDERED.
TENT WAS CARRIED INTO THE CASTLE IN A MOST LEWD MANNER AND STRUNG UP NAKED BY HIS ARMS. "YOU ARE READY FRO THE MASTER, AND WILL FEEL THE BITE OF OWNERSHIP", HANUS TOLD HIM. FUCK, NO CHICKS, TRENT THOUGHT TO HIMSELF. A FIGURE CAME OUT OF THE GLOOM AND FLOATED DOWN FROM THE HALL BALCONY,, AMONG A CLOUD OF BATS. ONE OF THE BATS SUCKED BLOOD FROM THE NAKED, SQUIRMING, JOCK HUNK. "YOU WILL NIT REMEMBER ANYTHING BEFORE YOU REACH THE MONOLITH", THE VAMPIRE LORD TOLD TRENT AS HE SANK HIS FANGS IN TRENT'S NECK. THE VAMPIRE LORD USE MIND CONTROL ON HIS VICTIMS AND SLAVES. "YOU WERE HATCHED FROM AN EGG IN A TEST TUBE, AN ANIMAL FOR FUCKING AND FANG FEEDING"THE VAMPIRE LORD SAID USING HIS MIND CONTROL POWERS TO MAKE TRENT BELIEVE AND OBEY. HAVE BEEN MADE TO OBEY, TRENT THOUGHT AS HE ATE FROM HIS FOOD BOWL. HANUS THE MAN SERVANT HAD ADDED HIS CUM TO THE SLUDGE OF MEAT, FISH, FRUIT, VEGETABLES IN TRENT'S FOOD BOWL. THE VAMPIRE LORD FINISHED HIS EVENING WITH A COCK TAIL SINKING HIS FANGS IN TRENTS COCK. HE ALLOWED HIS MAN SERVANT TO FUCK TRENT'S MOUTH, FILLING TRENT'S GUTS WITH WADS OF CUM. HANUS FOUND MANY WAYS TO USE TRENT AS A FARM ANIMAL. ONE WAY HE HAD TRENT ARSE IMPALED ON THE PLOUGH AND USED IT TO PLOUGH ONE OF THE COUNTS FIELDS. EVERY JOLT KEPT TRENT'S COCK ROCK HARD AND FULL OF BLOOD. JUST AS THE VAMPIRE LORD LIKED IT. YOUNG HOT MUSCLE JOCK ENSLAVED AND MIND CONTROLLED BY THE VAMPIRE LORD TO FEAST ON HIS BLOOD. HOT MALE PHYSICAL AND SEXUAL ABUSE. €12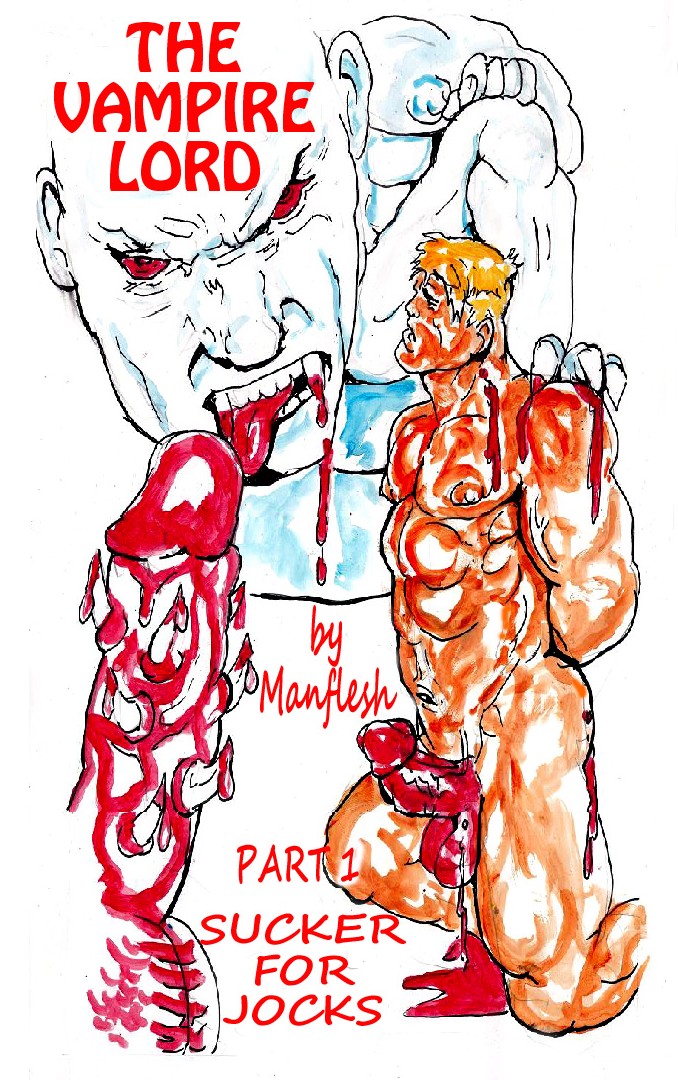 29 THE VAMPIRE LORD PART 2 THE MUSCLE FLESH GYMS OF NEW YORK. THE VAMPIRE LORD HAD TRAVELED TO BROOKLYN NEW YORK. HOME TO MUSCLE FLESH GYMS, HIS AIM WAS TO TAKE THEM ALL OVER. TO BUILD A MUSCLE FLESH EMPIRE, WITH A READY SUPPLY OF MUSCLE RICH BLOOD FOR DRINKING. AT ROYD'S GYM RYOD WENT TO THE STOREROOM TO GET SOME ROIDS FOR A MEMBER. HE IS SHOCKED TO MEET THE VAMPIRE MASTER. "WHO THE FUCK ARE YOU", RYOD DEMANDED. "YOUR MASTER", THE VAMPIRE MASTER REPLIED. THE VAMPIRE LORD ATTACKED USING A HARD PUNCH TO SUBDUE RYOD. THE GYM OWNER STOOD NO CHANCE, THE VAMPIRE LORD STRIPPED HIM FOR A FANGING AND ARSE POUNDING AND MIND CONTROL. "I OWN YOUR GYM, I'M YOUR BOSS, .. YOUR MASTER", THE VAMPIRE LORD SAID AS HE FANGED AND FUCKED RYOD. "YES MASTER", RYOD REPLIED OBEDIENTLY.
THE VAMPIRE LORD USED HIS MIND CONTROL ON THE GYM MEMBERS. HE HAD THEM EATING OUT HIS HAND, SO TO SPEAK. STRIPPED NAKED SUCKING THEIR OWN UNDERWEAR. NO CLOTHES WERE ALLOWED IN HIS DOMAIN. ONLY ONE MEMBER WAS NOT UNDER THE VAMPIRE LORDS SPELL, COP, LIEUTENANT MATT BUNNS. "SHIT THEY ARE ALL POSSESSED", MATT BUNNS SHOUTED IN FEAR AS HE RAN FROM THE GYM WRAPPED IN JUST A TOWEL CHASED BY THE SPELL BOUND GYM MEMBERS. LIEUTENANT BUNNS LOST HIS BALANCE AND TUMBLED TO THE GROUND. SURROUNDED THERE WAS NO ESCAPE. THEIR LORD AND MASTER WOULD BE PLEASED. LIEUTENANT BUNNS WAS TAKEN BACK TO THE GYM WITH HIS LEGS STRETCHED WIDE. LIEUTENANT BUNNS WAS CHAINED TO A STONE IN THE BASEMENT EASY PREY FOR THE VAMPIRE LORD. "I WILL TURN YOU INTO A PRIZE EXHIBIT", THE VAMPIRE LORD SAID AS HE FANGED LIEUTENANT BUNS. FROM THE CELLAR BELOW CAME MOANS FROM LIEUTENANT BUNNS. THE MESMERISED MASS OF NAKED MUSCLES TRAINERS TOOK NO NOTICE.
LIEUTENANT BUNNS MOANED AND MOANED AS HE WAS INJECTED WITH GROWTH HORMONE AND FORCED TO TRAIN. AFTER A MONTH HE WAS A MUTTON HEADED HULK OF MUSCLE. HIS PAST LIFE WAS JUST A DIM HAZE. THE VAMPIRE LORD HAD ARRANGED FOR OTHER GYM OWNERS IN THE AREA. HE MIND CONTROLLED THEM AND NOW OWNED THEIR GYMS. HE BROUGHT OUT LIEUTENANT BUNNS AS ENTERTAINMENT FOR THEIR LUSTS. THE GYM OWNERS MIND CONTROLLED BY THE VAMPIRE LORD MADE GOOD USE OF LIEUTENANT BUNS SPUNKING HIS ARSE REAL HARD. THE VAMPIRE LORD NOW OWNED SIX GYMS AND ALL THE MUSCLE HUNKS WHO TRAINED IN THEM WITH ALL THE FRESH BLOOD. MORE YOUNG HOT MUSCLE JOCKS AND GYM OWNERS ENSLAVED AND MIND CONTROLLED BY THE VAMPIRE LORD TO FEAST ON THEIR BLOOD. MORE HOT MALE PHYSICAL AND SEXUAL ABUSE. €12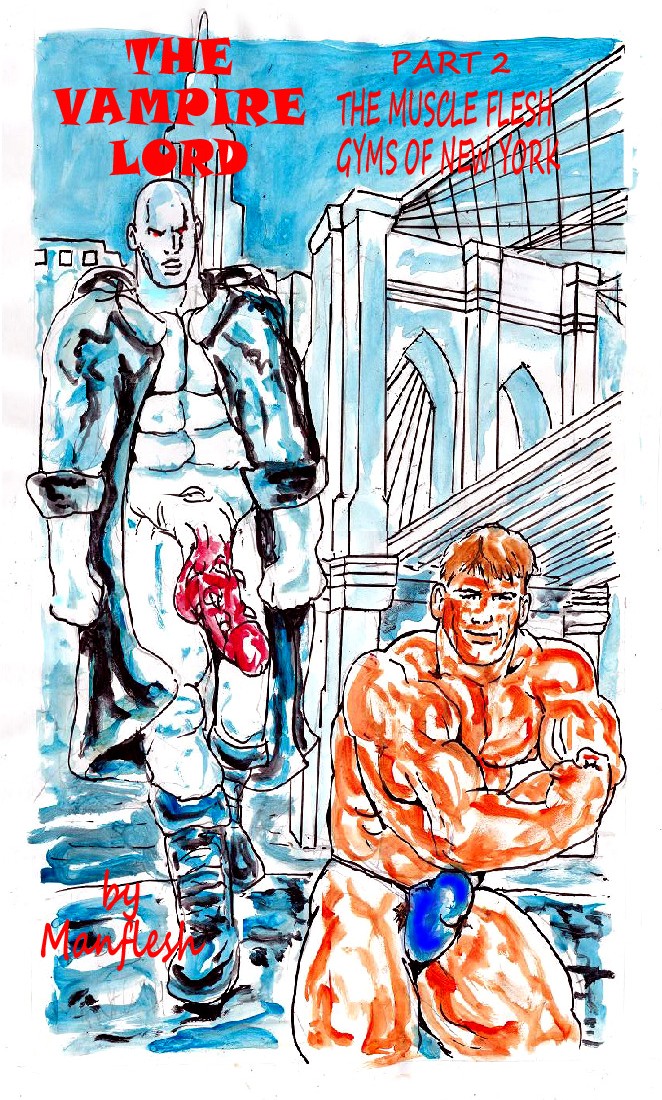 30 DEVIL BUSTER. JOEL BELAMIS NEOPHYTE PRIEST, HAD BEEN CHARGED AND NOT FOR THE FIRST TIME WITH LEWD ACTS WITH THE SWISS GUARDS. HE WILL BE WHIPPED NAKED. HIS SEX PART EXAMINED. THEN SENT TO THE BELOW WORLD OF THE CATACOMB AS A DEVIL BUSTER. JOEL NEOPHYTE WAS TAKEN BEFORE MONSIGNOR FELLATIO AGAIN. "NOT AGAIN", THE MONSIGNOR SAID. THE MONSIGNOR DECIDED HE WANTED TO GET TO THE BOTTOM AND THE NUTS AND BOLTS OF WHAT HAD BEEN GOING ON. "SHOW ME WHAT HE WAS DOING", THE MONSIGNOR SAID. THE GUARDS DROPPED THEIR TROUSERS AND BRIEFS AND PULLED OPEN THE BOTTOM OF JOEL'S VESTMENTS. "CARRY ON", THE MONSIGNOR ORDERED. THE GUARDS MADE JOEL SUCK THEIR COCKS. "MONSIGNOR HE TOOK ADVANTAGE OF OUR WEAPONS", ONE OF THE GUARDS TOLD THE MONSIGNOR AS THEY MADE JOEL SUCK THEIR COCKS IN TURN. THEN HE STRIPPED NAKED AND BENT OVER", THE GUARD ADDED. "YES, SHOW ME YOUR NAKED CHASTITY", THE MONSIGNOR REPLIED. JOE; OF COURSE HAD TO TAKE THE BLAME AS AN UP AND COMING PRIEST, AND SHOULD NOT HAVE GOT CAUGHT AGAIN. EAGER TO USE THEIR WEAPONS, THE GUARDS STRIP JOEL NAKED. "YES, I CAN SEE, SO FULL OF TEMPTATION", THE MONSIGNOR SAID. "NOW SHOW ME WHAT HE CAJOLED YOU INTO DOING AGAINST YOUR WILL?", THE MONSIGNOR ADDED. JOEL WAS MADE TO SUCK ONE GUARDS COCK WHILE THE OTHER FUCKED HIM UP THE ARSE. "DON'T HOLD BACK ON MY PART, FUCK HIM HARD", MONSIGNOR SAID AS HE WATCHED INTENTLY. "I'LL PLAY ALONG, THEN I WILL HAVE ENOUGH ON HIM TO GET A PROMOTION, JOEL THOUGHT TO HIMSELF AS HE PERFORMED IN FRONT OF THE MONSIGNOR.
"WHIP THE PRIDE OUT OF HIM, GIVE HIM PAIN", THE MONSIGNOR ORDERED AFTER EXAMINING THE DAMNING EVIDENCE. JOEL COULD TAKE WHAT WAS COMING, MORE AMMUNITION TO GET WHAT HE WANTED, AS HE WAS TAKEN TO THE PALAZZO DUNGEON. JOEL WAS TIED SPREAD, HIS LEWD STATE ONLY MADE HIS COCK HARDER. THE GUARDS WERE PLEASED TO HAVE A SUPERIOR OR AT LEAST A NEOPHYTE PRIEST TO WHIP. OF COURSE HE HAD SUCKED AND CUNTED WITH THEM, BUT HE WAS NOT ONE OF THEM. THEY WILL ENJOY HUMBLING HIM. EVERY PART OF JOEL'S NAKED FLESH WAS KISSED BY THE GUARDS WHIPS. AFTER THE WHIPPING, STINGING NETTLES WERE ATTACHED TO A STICK AND THRUST UP JOEL'S ARSE. WITH THE NETTLES, RUBBING, SWELLING, BURNING HIS ANUS. THE DOG COLLARED CLERIC WAS FORCED TO ORGASM AGAIN AND AGAIN.
DRESSED AFTER HIS UNFROCKING. JOEL ENTERED THE MONSIGNORS OFFICE AND GAVE HIM AN ULTIMATUM. "OK, YOU WILL GET WHAT YOU DESERVE", THE MONSIGNOR TOLD JOEL. "GUARDS", THE MONSIGNOR SHOUTED. THE GUARDS PULLED THE BUTTONS OF JOEL'S VESTMENTS SAVE FOR THE ONE AT THE TOP. THEY THEN RIP OFF HIS UNDERWEAR. JOEL WAS DROPPED INTO THE CITY BELOW ROME, THE CATACOMBS. A LAWLESS PLACE WHERE MUSCLE STRENGTH RULED. WITH MUSCLE YOU COULD RULE A GANG, THE STRONGEST GANG RULED ALL. THEY WORSHIP THE DEVIL. THIS WAS THE PLACE JOEL HAD BEEN LOCKED IN. HOT MANFLESH MALE PHYSICAL AND SEXUAL ABUSE OR A YOUNG ROMAN CATHOLIC PRIEST. €12.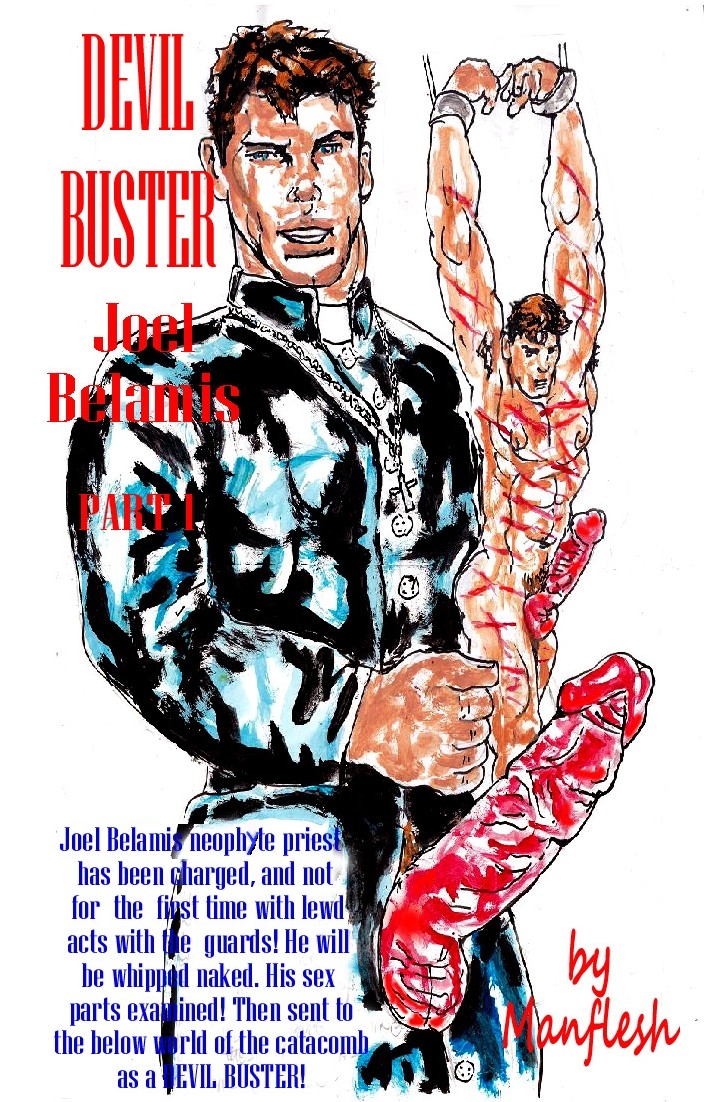 31 THE CONSTRUCTION WORKER PART 1. JON PATRIC WAS A CONSTRUCTION WORKER, IN THE CONSTRUCTION INDUSTRY THAT HAD TOO MANY LABOURERS FOR TOO LITTLE WORK. HE HAD JUST LEFT HIS DIGS WITH FIFTY DOLLARS ON HIS POCKET, WHEN HE NOTICED AN ADVERT FOR WORK IN THE MIDDLE EAST FOR FOUR HUNDRED DOLLAR A WEEK, BUT APPLICANTS HAD TO BE SUPER FIT. JON KNEW HE FIT THE BILL AS HE WAS COVERED IN SLABS OF MUSCLE, SO HE PHONED FOR AN INTERVIEW. HIS FATE NOW AWAITED HIM. THE INTERVIEWER AT MUSCLE CONSTRUCTION TOLD JON THAT THE ARABS LIKED THEIR CONSTRUCTION PEOPLE TO BE STRONG, THEY DIDN'T WANT WEAK GUYS. THE INTERVIEWER TOLD JON TO TAKE HIS TOP OFF AND POSE.HE NEEDED TO TAKE PICTURES FOR THEIR APPROVAL. JON REMOVED HIS TOP AND POSED FOR THE CAMERA. THEN THE INTERVIEWER MADE JON STRIP TO HIS UNDERWEAR AND POSE. JON WAS PLEASED WHEN THE INTERVIEWER GOT A CALL BACK TO SAY THAT HE HAD BEEN ACCEPTED. THE INTERVIEWER SHOWED JON INTO A ROOM WHERE HE COULD REST AND WAIT UNTIL HIS PASSPORT WAS READY FOR HIS FLIGHT IN THE MORNING. THERE WAS FOOD AND WATER ON A TABLE BY THE BED. THE WATER WAS DOPED AND MADE JON PUNCH DRUNK. HE WAS HORNY AND DOPEY, READY FOR HIS FLIGHT TO THE MIDDLE EAST ON AN ANIMAL TRANSPORT. THE INTERVIEW PHONED TO TELL THE TRANSPORT THAT THE NEW CONSTRUCTION WORKER WAS ON HIS WAY. THEN HE CARRIED A SEMI CONSCIOUS JON TO A GREEN VAN WITH DOG POUND PRINTED ON THE HOOD. THE VAN SPED JON OUT OF THE CITY TO A PRIVATE AIR FIELD WHERE A PLANE WAS WAITING. JON ALONG WITH THE REST OF THE MEAT, OTHER NEW CONSTRUCTION WORKERS WAS LOADED ABOARD THE TRANSPORT. BY THE MORNING IT HAD REACHED THE OCEAN HEADING EAST.
SOMEWHERE IN ARABIA THE TRANSPORTER OF MEAT OR NEW CONSTRUCTION WORKERS LANDED. A GROUP NAKED CONSTRUCTION WORKERS, SLAVES, WITH THEIR HANDS TIED STEPPED OUT OF THE PLANE. IT DROPPED THE LIVE STOCK OFF AND TOOK OFF BACK FOR THE USA. JON MOANED IN SHOCK WHEN HE SAW HE WAS NAKED AND WHAT HAD HAPPENED TO HIM. "YOU SLAVE, DO NOT SPEAK", A GUARD SAID AS HE WHIPPED JON. "WE WILL SOON RECTIFY THAT", HE ADDED AS HE DELIVERED ANOTHER LASH OF THE WHIP. AFTER A FIVE KILOMETRE TRUDGE WITH THE BLAZING SUN BURNING THEIR NAKED FLESH, THE CONSTRUCTION WORKERS ARRIVED AT A TOWN WITH A GREAT FORTRESS, WHERE THEY WERE TO TOIL. THE NAKED CONSTRUCTION WORKERS WERE TAKEN TO THE FORGE FOR SOME ENSLAVEMENT ADORNMENTS. IN THE FORGE WAS AN ANVIL WITH A STRANGE PHALLUS LIKE ATTACHMENT ON THE TOP. THE BLACK SMITH ORDERED JON TO GET ON THE ANVIL AND MOUNT THE PHALLUS. JON REFUSED SAYING TO THE BLACK SMITH, "NO, FUCK YOU". "THIS WILL STOP YOUR JABBERING", THE BLACK SMITH SAID ANGRILY SLAPPING JON. TWO GUARDS GRABBED JON AND THRUST HIM ONTO PHALLUS ON THE ANVIL. THE BLACK SMITH INSERTED A STEEL BAR IN JON'S MOUTH PINNING DOWN HIS TONGUE. IT STOPPED JON FROM SPEAKING AS HE COULD ONLY MAKING GRUNTING NOISES. THE BLACK SMITH FITTED AND IRON SLAVE COLLAR AROUND JON'S NECK. HE THEN USED A STICKY PASTE TO REMOVE JON'S PUBIC HAIR. IT NOT ONLY REMOVED THE HAIR BUT ALSO KILLED THE ROOTS. A STEEL COCK AND BALL RING WERE ATTACHED NEXT DISPLAYING THE BEASTS SEX ORGANS.
JON WAS MADE AN EXAMPLE OF TO TEACH THE OTHER NEW CONSTRUCTION WORKERS AND SLAVES THEIR PLACE. HE WAS DRAGGED OUT AND LOCKED BENT OVER IN SOME STOCKS, LEAVING HIS BUTTOCK EXPOSED FOR THE GUARDS WHIPS. TWO GUARDS USED BULL WHIPS ON JON'S ARSE. THE BITE OF THE WHIP SENT FIERY PAIN FROM JON'S BUTTOCKS TO HIS BRAIN. FEAR OF THE LASH WOULD HELP TO TAME THE WORKER BEAST. FIVE OF THE BIGGEST GUARDS WITH HUGE COCKS APPROACHED JON STILL LOCKED IN THE STOCKS, IN JUST THEIR HATS AND BOOTS. THEY WERE GOING TO TAME THE SLAVE WORKER WITH A GOOD MOUNTING. JON GRUNTED IN PAIN AS THE FIRST GUARD FORCED HIS HUGE COCK UP JON'S ARSE. MALE PHYSICAL AND SEXUAL ABUSE AS WESTERN MUSCULAR CONSTRUCTION WORKERS ARE ENSLAVED BY ARAB MASTERS. €15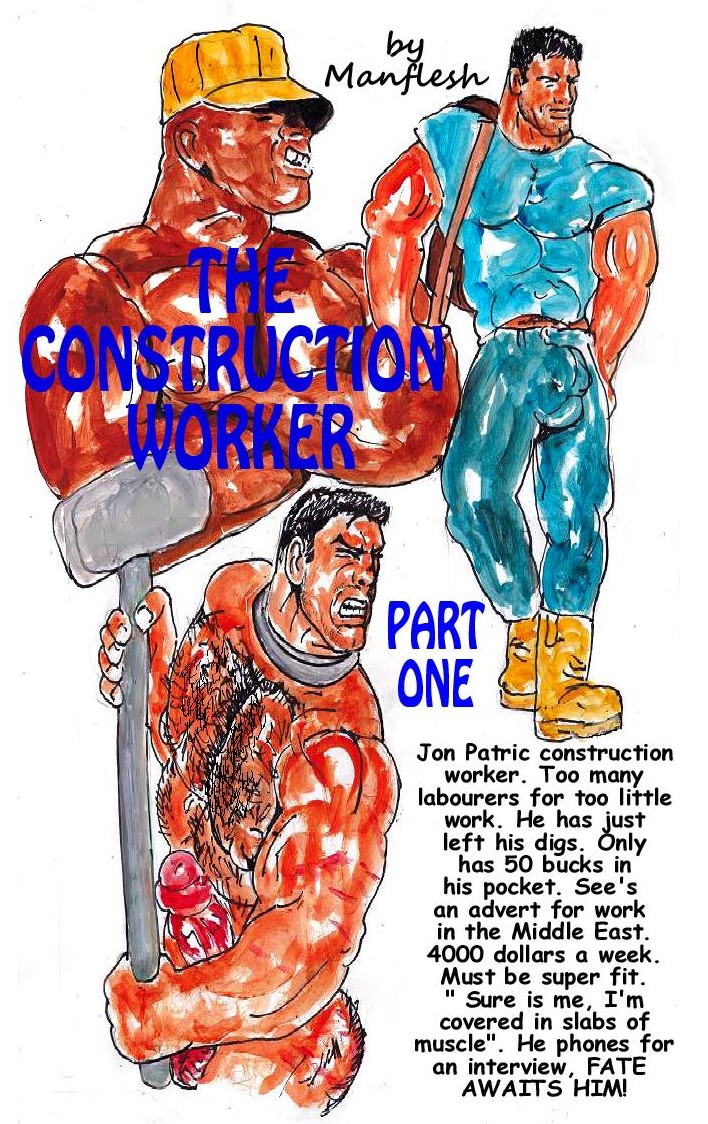 32 SLAVE BULL SLAVE WHELP PART 1 THE FATHERS TALE. PARKER WILLIAMS AND HIS SON JUSTIN WERE ENSLAVED. PARKER WAS A RED NECK IN CONSTRUCTION. BUT THE WORK HAD DRIED UP AND HE HAD HUGE GAMBLING DEBTS. ONE MORNING HE WAS TAKEN BY THE SLAVE POLICE. HE WAS STRIPPED NAKED. HIS SON WAS ALSO WAS ALSO TAKEN FROM SCHOOL, STRIPPED NAKED, AS PART OF HIS ASSETS, AND ENSLAVED AS WELL. PARKER WILLIAMS WAS AT HOME, HAVING A FEW BEERS AND FUCKING A BLOW UP DOLL. SOME THING HE DID FOUR TIMES A DAY, WHEN THE SLAVE POLICE ARRIVED. THE SLAVE POLICE BURST IN WHEN HE WAS HALFWAY THROUGH FUCKING THE BLOW UP DOLL. THE SLAVE POLICE WERE USE TO HANDLING SLAVE FLESH, AND THEY SOON HAD THE DEBTOR STRIPPED TO ITS ANIMAL STATE. NAKED, CUFFED AND WEARING A REGULATION SLAVE COLLAR, PARKER WILLIAMS WAS TAKEN OUT INTO THE STREET. FOR ALL TO SEE. HE WAS NOW AN ANIMAL. HANDS TIED BEHIND HIS BACK, PARKER WAS MADE TO RUN BEHIND THE SLAVE POLICE JEEP. AS A NAKED BEAST, HIS ERECT CUM SPURTER, FOR ALL UPSTANDING CITIZENS TO GAWK AT. PARKER SHIT HIMSELF AS HE ENTERED BRUNT AND SCRAGGS SLAVE AUCTION FACILITIES.
THE FIRST THING THAT HAPPENED TO A MAN WHEN HE BECAME A SLAVE AT BRUNT AND SCRAGGS, THEY HAD THEIR COCK BUSH REMOVED. A SLAVE OWNED BY THE AUCTION HOUSE, REMOVED PARKER'S BUSH WITH SOME DEBILITATING PASTE. AT BRUNT AND SCRAGGS MUSCLES MEANT BIG MONEY, SO MUSCLES WERE TRAINED HARD. "DO A HUNDRED PUSH UPS, THEN SUCK MY COCK, SLAVE", A GUARD TOLD PARKER, AS HE SPAT IN HIS FACE. PARKER OBEYED AND SUCKED THE GUARDS COCK. MUSCLE SLAVES LIKE PARKER WERE WELL USED. A SLAVE HAD TO BE A GOOD COCK SUCKER. NEXT, WAS BUT FUCKING, WITH HEAVY WEIGHTS. PARKER WAS MADE TO SQUAT WITH HEAVY BAR BELLS, EACH TIME HE BENT HIS KNEES AND LOWERED HIMSELF, A LARGE DILDO FIXED TO THE FLOOR, IMPALED HIS ANUS. ALL PART OF THE TRAINING AND ALL ON THE FIRST DAY. "YOU, SLAVE, ARE COMING WITH ME", A GUARD TOLD PARKER. PA PARKER WAS THEN DRAGGED TO ANOTHER PART OF THE FACULTY. PARKER WAS SHOCKED TO SEE HIS SON, JUSTIN, NAKED AND HANDS BOUND, WEARING A SLAVE COLLAR, MAN BUSH SHAVED, CLEARLY A SLAVE, LIKE HIMSELF. "THIS IS ALL YOUR FAULT PA I HATE YOU", JUSTIN SAID ANGRILY. "SON, I", PARKER STAMMERED, LOST FOR WORDS. JUSTIN WAS PISSED OF WITH HIS PA AND WANTED TO GET HIS OWN BACK. "ON YOUR KNEES", THE GUARD SAID FORCING PARKER DOWN TO HIS KNEES. "YOU WILL SUCK YOUR WHELP'S COCK", THE GUARD ORDERED. "YEAH, YOU SUCK ME OFF PA, YOU BETCHA", JUSTIN SAID. PARKER WAS FORCED TO SUCK HIS SON'S COCK, IN FRONT OF THE GUARD. "YEAH, WHOSE THE DADDY NOW", JUSTIN SAID GLOATING AS HE CUM IN HIS PA'S MOUTH. HOWEVER, THE GUARD THEN MADE JUSTIN KNEEL AND SUCK HIS PA'S COCK, UNTIL HIS PA CUM IN HIS MOUTH.
THE PAIR FATHER AND SON, BULL AND WHELP, WERE TAKEN TO THE AUCTION FOR SALE. BULL AND WHELP WERE COLLARED TOGETHER AND DISPLAYED ON THE AUCTION STAGE. THEIR ORDEAL HAD ONLY JUST BEGAN. RED NECK FATHER AND SON, BULL AND WHELP SOLD INTO SLAVERY FOR THE FATHER DEBTS. GOOD PHYSICAL AND SEXUAL MALE ON MALE ABUSE €15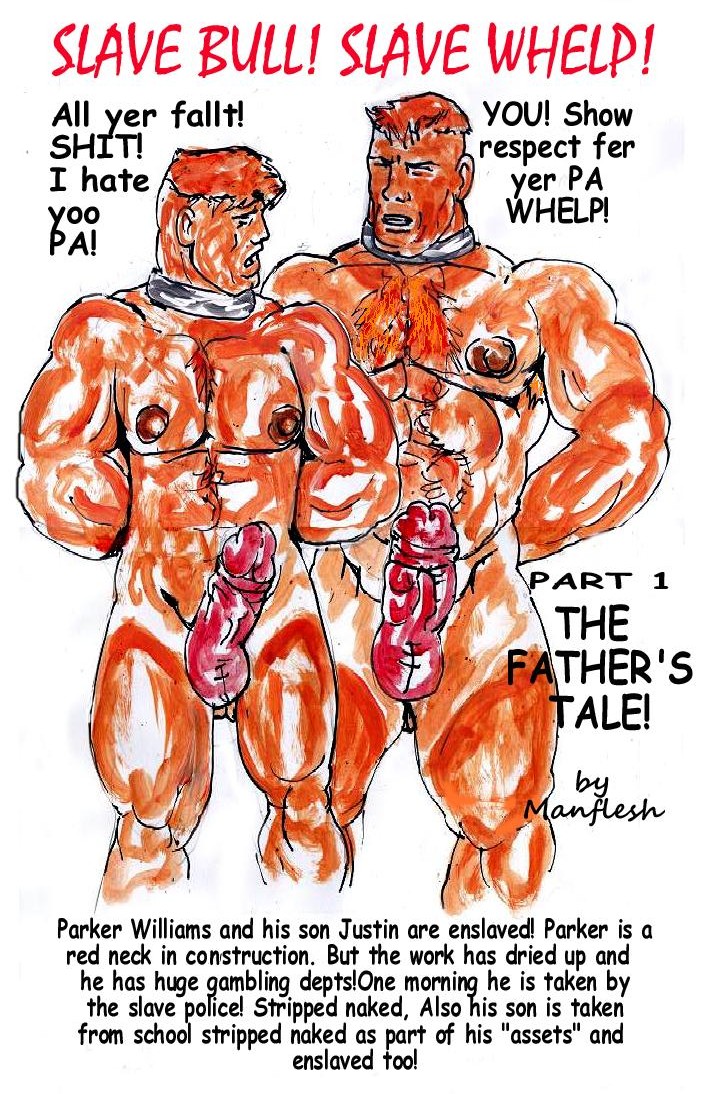 33 SLAVE BULL SLAVE WHELP PART 2 THE SON'S TALE. PARKER WILLIAMS, SON JUSTIN, WAS A STUDENT AT MACKINLLEY HIGH, A POOR ONE, HE COULD BARLEY READ OR WRITE, BUT HE WAS TOP JOCK, SCORER FOR THE MACKINLLEY HIGH FOOTBALL TEAM. HOWEVER ONE DAY HE GOT A RUDE AWAKENING, WHEN THE SLAVE POLICE, CALLED AT THE SCHOOL, AND STRIPPED HIM NAKED. THEY TOOK HIM, TO JOIN HIS FATHER, AT THE BRUNT AND SCRAGGS, SLAVE AUCTION, HOUSE.
JUSTIN WAS ON THE FOOTBALL FIELD PLAYING FOOT BALL. HE WAS ALWAYS ON THE FOOTBALL FIELD, NEVER DOING ANY SCHOOL WORK. THE SLAVE POLICE ARRIVED, AND RAN ONTO TO THE PITCH, HEADING FOR JUSTIN. THEY STARTLED JUSTIN, WHO MADE A RUN FOR IT. JUSTIN WAS GRABBED AND STRIPPED NAKED BY THE SLAVE POLICE, AS HIS FORMER TEAMS MATES LOOKED ON AND JEERED. "HAA, SLAVE TRASH", ONE SHOUTED. "NOT ONE OF US NOW", ANOTHER SNEERED. JUSTIN WAS DRAGGED NAKED THROUGH THE PLAZA, THE CENTRE OF THE SCHOOL CAMPUS. HIS RUDE SLAVE STATUS, FULLY DISPLAYED. FREE, YOUNG, CITIZENS, MOCKED AND JEERED, THE FALLEN HERO, AS HE WAS LED AWAY, NAKED AND BOUND. OUT ON THE STREETS, JUSTIN WAS DRAGGED BEHIND THE SLAVE POLICE JEEP. UPSTANDING CITIZENS, SPAT ON HIS NAKED FLESH, DISPLAYING HIS INFERIOR, ANIMAL STATUS.
WHEN JUSTIN ENTERED, THE BRUNT AND SCRAGGS, AUCTION COMPLEX, HE COULD SEE THERE WAS NO WAY OF ESCAPE, AS THERE WERE GUARDS EVERYWHERE. HE WAS TAKEN TO BE PROCESSED. "TAKE IT, FOR SHAVING, ONE OF THE GUARDS ORDERED. JUSTIN HAD HIS MAN BUSH REMOVED BY ANOTHER SLAVE OF BRUNT AND SCRAGGS, SUPERVISED BY GUARDS, WITH GUARD DOGS. JUSTIN'S LOW PLACE IN THE PECKING ORDER, WAS DEMONSTRATED, BY THE GUARD DOGS PISSING ON HIM. ONE OF THE GUARDS, ORDERED JUSTIN, TO SUCK HIS COCK. "I AIN'T, SUCKING NO COCK", JUSTIN REPLIED. ONE OF THE GUARDS, STUCK AN ELECTRIC ZAPPER, IN JUSTIN'S ARSE, AND QUICKLY MADE JUSTIN, OPEN HIS MOUTH. IN PAIN FROM THE ELECTRIC ARSE ZAPPING, JUSTIN HAD NO CHOICE BUT TO SUCK THE GUARDS COCK, JUSTIN QUICKLY LEARNT HOW TO GOBBLE, LIKE A SLAVE SHOULD.
JUSTIN WAS TAKEN TO HIS ENSLAVED FATHER, IN THE BULL AND WHELP SECTION OF THE SLAVE FACULTY, WHO WAS NAKED AND BOUND LIKE HIMSELF. "SON", PARKER SAID IN SURPRISE, WHEN HE SAW HIS SON, JUSTIN NAKED AND BOUND WITH THE GUARDS. "PA, ALL YOUR FAULT, I HATE YOU", JUSTIN SAID ANGRILY WHEN HE SAW HIS NAKED, ENSLAVED, FATHER. INCENSED, JUSTIN KICKED HIS FATHER IN THE BALLS. "HEY, NO SLAVE, HITS ANOTHER SLAVE, UNLESS WE ORDER IT", ONE OF THE GUARDS SAID ANGRILY. "YOUR BULL, WILL PUNISH YOU WHELP", THE GUARD ADDED. BULL, FATHER WAS UNCUFFED AND MADE TO PUT HIS WHELP OVER HIS KNEE, FOR A SPANKING. HIS SON'S ACTIONS NEEDED TO BE BEATEN OUT OF HIM. "SPANK THE WHELP FOR A FULL HOUR", ONE OF THE GUARDS ORDERED. PARKER STARTED TO SPANK JUSTIN'S BUTTOCKS HARD. JUSTIN WITH HIS BUTTOCKS RED AND SORE, WAS MADE TO SUCK HIS FATHERS COCK, AND SWALLOW HIS MANLY SEED. THEN PARKER WAS MADE TO SUCK HIS SON, JUSTIN'S COCK, WITH JUSTIN IN A NON SUPERIOR POSITION, HANGING FROM HIS FATHERS SHOULDERS, WITH HIS LEGS EITHER SIDE OF HIS FATHERS HEAD. JUSTIN NEEDED TO KNOW HE WAS A SLAVE.
THE DAY OF THEIR AUCTION, FOUND BULL AND WHELP SLAVES, ON THE AUCTION BLOCK READY TO BE SOLD. THERE WAS GREAT INTEREST IN THEM FROM THE MIDDLE EAST. RED NECK FATHER AND SON, BULL AND WHELP WERE BEING SOLD INTO SLAVERY FOR THE FATHER DEBTS. GOOD PHYSICAL AND SEXUAL MALE ON MALE ABUSE €15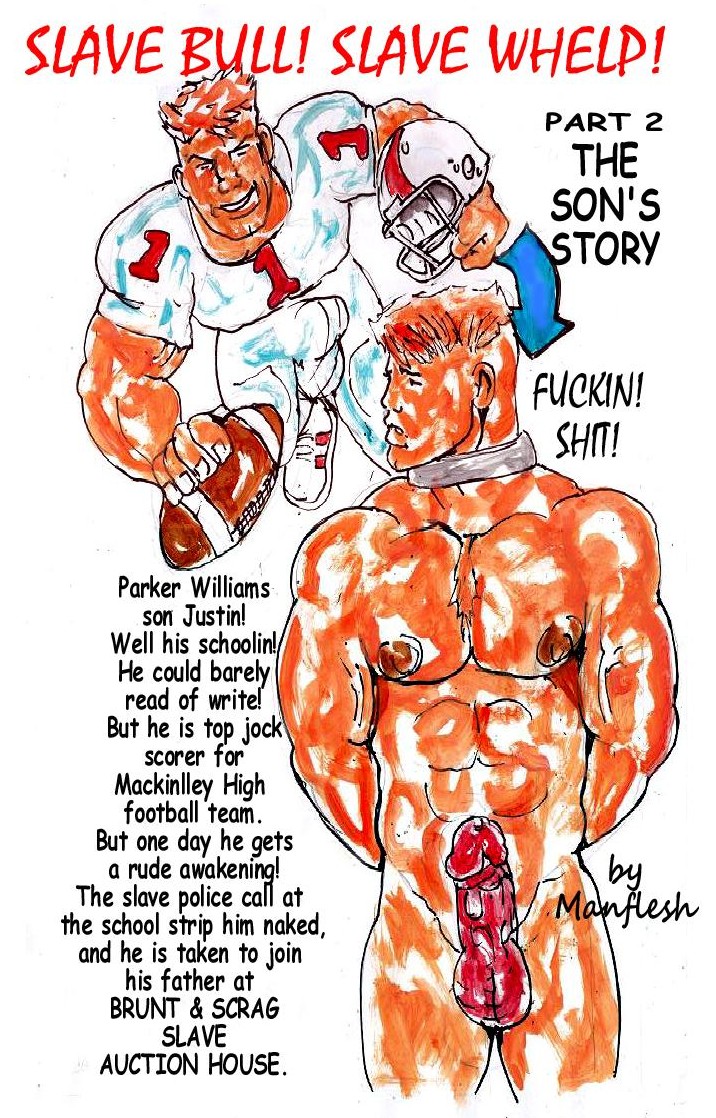 34 SLAVE BULL SLAVE WHELP PART 3 BONDAGE. FATHER AND SON SLAVES HAD BEEN AUCTIONED AND SOLD TO AN EMIR FROM THE MIDDLE EAST. THEY WERE FLOWN BY CARGO JET TO THE MIDDLE EAST. THEY WERE MARCHED BY THE EMIRS GUARDS IN THE BURNING SUN. "YOU ARE TO WALK THROUGH THE TOWN, TO THE EMIRS PALACE", ONE OF HIS GUARDS ORDERED. NOW SLAVES, WITH THEIR HANDS, FIXED TO THEIR COLLARS, BEHIND THEIR NECKS, THEY HAD NO CHOICE BUT TO OBEY. THE NATIVES CROWDING THE STREET AS THE WALKED PASSED, WERE ALLOWED TO GROPE, THE NAKED, ENSLAVED, WESTERNERS. THE WESTERN SLAVES, WERE AS FAR BELOW THESE NATIVES, AS THE NATIVES WERE BELOW THE, MIGHTY EMIR. THE GUARDS STOPPED THEM ON ROUTE, AND THE FATHER WAS FORCIBLY MILKED BY ONE OF THE GUARDS IN FRONT OF THE EXCITED NATIVES. THE SON WAS FORCED TO KNEEL AND SWALLOW HIS FATHER'S CUM, IN FRONT OF THE WHOOPING AND JEERING CROWD. THE NATIVES WERE BETTER THAN THEM. WESTERNERS WHO WOULD WHORE, AND BE USED FOR HARD LABOUR, SHAMED, NAKED AND SORE. THE SLAVE FATHER WAS MADE TO SUCK OFF THE NATIVE YOUTHS OF THE TOWN, WHILE HIS ENSLAVED, SHAMED, SON LOOKED ON. "YOU WILL SUCK OF, ALL OF THEM", THE GUARD ORDERED.
LATER THE SLAVES ENTERED THE EMIRS PALACE AND WERE TAKEN TO THE SLAVE QUARTERS. NAKED, ONLY COCONUT OIL WOULD BE APPLIED TO THEIR FLESH AFTER THEIR BATH. THE EMIR WATCHED ON HIS SCREEN, VIA HIDDEN CAMERAS. IN THE BATHS ALL THEIR HAIR, EXCEPT ON THE TOP OF THEIR HEADS WAS REMOVED WITH DEFOLIATE. THE TWO SLAVES WERE TAKEN BEFORE THE EMIR, WHO HAD HIS MAN FLESH HARD AND ERECT, TO GREET HIS NEW PROPERTY. "I AM YOUR MASTER, YOUR OWNER, YOU ARE MY DOG AND PUPPY, TO OWN AND TRAIN", THE EMIR TOLD THEM. "WORSHIP YOUR MASTERS COCK", THE EMIR ORDERED, GRABBING THEM BY THE NECK AND HOLDING THEIR FACES, EITHER SIDE OF HIS HUGE ERECT COCK. ORDERED TO SUCK THEIR MASTERS COCK THEY HAD TO OBEY AND DID. WHELP THE NAME THE SON WAS GIVEN HAD TO WATCH HIS FATHER SUCKING THE MASTERS COCK. WHILE HE THE PUP WAS WANKED BY THE MASTER. THE MASTER THEN FUCKED THE SON AND FILLED THE SON'S BUTT FULL OF HIS SEED. THE SON WAS THEN MADE TO SHOW HIS FATHER HIS CUM FILLED MANCUNT. "GUARDS FUCK THE SLAVES", THE EMIR ORDER. AS SLAVE FATHER WAS MADE TO LICK THE CUM FROM HIS SLAVE SON'S ARSE, THE GUARDS STARTED TO STRIP. THE GUARDS STARTED TO FUCK THE SLAVE FATHER AND SLAVE SON'S ARSES HARD. "FUCK THEM HARDER", THE EMIR ORDERED. FUCKED HARDER THEY WERE. THEY HAD TO LEARN THAT THEY WERE OWNED INSIDE AND OUT.
BULL AND WHELP WERE GIVEN THE DIRTIEST JOBS. TAKING THE SLURRY FROM THE HUMAN AND ANIMAL WASTE PITS. THEN PUTTING IT ON THE SOIL AS A FERTILISER, FOR THE CROPS. THEY WERE BOTH ORDERED TO SUCK OFF THE EMIRS PRIZE STALLIONS. FOR THE RICH PROTEAN THEIR SEED HAD. THE FATHER OBEYED, SUCKING ONE THE STALLION'S HUGE COCK. THE SON ONLY LICKED HIS STALLIONS HUGE COCK. "PUT IT IN YOUR MOUTH LIKE YOUR FATHER", AN ANGRY GUARD ORDERED. THEIR NEXT JOB WAS PULLING ORE CARTS, TO PUT MUSCLE ON THE BEASTS. THEY WERE TETHERED SIDE BY SIDE, TO PULL THE ORE CART. FATHER AND SON HAD NEVER BEEN SO CLOSE, TWO NAKED BEASTS WORKING TOGETHER. WHEN THEY WERE NOT PULLING THE ORE CARTS THEY WERE USED AS SEX OBJECTS. THE FATHER FUCKED BY THE EMIR, WHILE THE SON HAS TO SUCK OFF HIS GUARDS. LIFE FUCKS AND SUCKS FOR THEM BOTH. MORE GOOD PHYSICAL AND SEXUAL MALE ON MALE ABUSE €15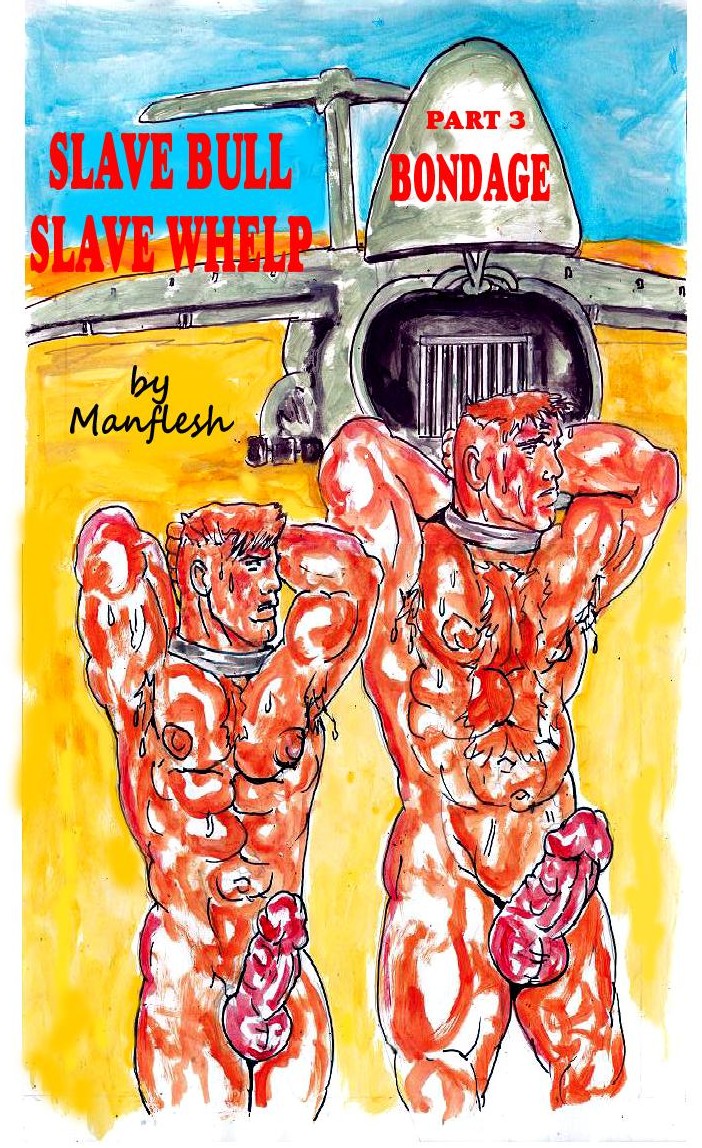 35 SOUTH OF THE RIVER PART 1, WHITE SLAVES, BLACK MASTERS. FOLLOWING THE COLLAPSE OF THE ECONOMY, THE US HAD REVERTED TO ITS PRE CAR OIL LESS STATE. NORTH AND SOUTH WERE SPLIT, WITH BLACK RULE IN THE SOUTH AND WHITE RULE IN THE
NORTH. SLAVE LABOUR, NOW RAN BOTH ECONOMIES. THEREFORE THE NORTH HAD BLACK SLAVES AND THE SOUTH HAD WHITE SLAVES. IT WAS LANDON KNOX, SON OF A PLANTATION OWNER, WHO WAS ABOUT TO FIND OUT WHAT BEING A SLAVE SOUTH OF THE RIVER WAS LIKE. LANDON WHO WAS A CLOSET GAY, GOT HIS JOLLIES BY LATE NIGHT BUGGY RIDES, IN JUST HIS UNDIES. WATCHING THE BIG BLACK BUCKS, NAKED ARSES, HE DREAMT OF BEING FUCKED UP THE ARSE BY THEM. AS HE RODE ALONG, LANDON STOOD UP, PULLED HIS DRAWS DOWN AND STARTED TO WANK. HIS SEED EVENTUALLY SPURTED OVER THE MASS OF NAKED BLACK MUSCLE.
LANDON WAS CALLED TO HIS FATHER'S OFFICE. "YOU NEED TO MAN UP", LANDON'S FATHER SAID. LANDON'S FATHER TOLD HIM HE NEEDED TO MAKE SOMETHING OF HIMSELF. THE HE HAD THREE OTHER RED BLOODED SONS LIKE HIMSELF. HE TOLD LANDON THERE WAS A PLANTATION ABOUT TWO HUNDRED MILES SOUTH OF THERE. IT WAS LANDON'S CHALLENGE TO RUN IT. HE TOLD LANDON NOT TO CONTACT HIM UNTIL LANDON HAD MADE SOMETHING OF HIMSELF IN A YEARS TIME. HE HAD TO MAN UP, HE WAS ON HIS OWN.
THE JOURNEY SOUTH WAS A LOT FURTHER AS LANDON'S FATHER AND FABRICATED THE DISTANCE TO THE PLANTATION. IT WAS ABOUT SEVEN HUNDRED MILES SOUTH, ON THE EDGE OF THE WHITE MANS DOMAIN. THEY REACHED THE RIVER AFTER ABOUT TWENTY DAYS, AND LANDON SAW THE ISLAND, WITH THE PLANTATION, WHERE HE WAS MASTER OF ALL. LANDON ORDERED HIS BACK SLAVE TO CROSS WITH ALL THEIR BAGGAGE. LANDON RODE ACROSS THE RIVER ON THE SHOULDERS OF ONE OF HIS BLACK SLAVES. HE HAD REMOVED HIS TROUSERS AND DRAWS TO KEEP THEM DRY. LANDON GOT AROUSED AT BEING THE MASTER OF A PLANTATION OF BLACK SLAVES, AND SPUNKED ON THE SLAVES HEAD. LANDON TOOK A BATH AFTER THE LONG JOURNEY, THEN LEWDLY USED HIS SLAVES. ONE STOOPED BY HIS BATH, TUB ARMS BEHIND HIS HEAD, SOAP ON A ROPE HANGING FROM HIS HUGE ERECT BLACK COCK. ANOTHER KNELT ON HIS HANDS AND KNEES IN FRONT OF THE BATH TUB, HIS ARSE RAISED WITH LANDON'S BACK BRUSH STICKING OUT OF HIS ARSE, IN EASY REACH. LANDON'S MIND LUSTED OVER BLACK COCKS, HE SHOWED HIS POWER OVER THEM. THEY COMPLIED, KNOWING NO BETTER, BEING SLAVES FROM BIRTH.
SOUTH OF THE RIVER, SOME TWENTY MILES FROM LANDON'S PLANTATION, WAS THE PLANTATION OF OLUWA (OUR LORD), ITS BLACK MASTER, RULED OVER NAKED WHITE SLAVES. LEARNING OF LANDON'S OWNERSHIP OF THE ISLAND, HE SENT HIS LIEUTENANT, KONO, TO FIND OUT LANDON'S STRENGTHS AND WEAKNESSES, PARTICULARLY HIS WEAKNESSES. LORD OLUWA GRINNING, CONTINUED TO PUT THE NAKED WHITE, BOUND SLAVE, AT HIS FEET, THROUGH INTENSE TRAINING. AFTER FOUR DAYS TRAVEL KONO REACHED THE PART OF THE RIVER, WHERE THE ISLAND CONTAINING THE PLANTATION, OWNED BY LANDON WAS. KONO STRIPPED NAKED AND CROSSED THE RIVER TO THE ISLAND. KONO SPIED ON LANDON AND HIS SLAVES. KONO SAW BLACK SLAVES WORKING. HE ALSO SAW LANDON CARRIED ON THE SHOULDERS OF ONE OF HIS BLACK BUCKS. LANDON WAS BOTTOM LESS AND AROUSED. LANDON'S STIFF COCK WAS PRESSED AGAINST THE BUCKS SKULL. KONO NOTED THERE WERE NO GUARDS. KONO WATCHED AS LANDON REPOSITIONED HIMSELF, SO HE WAS HANGING ON THE BUCK'S NECK, WITH HIS LEGS CLAMPED TO THE BUCKS WAIST. LANDON WAS RUBBING HIS HARD COCK OVER THE SLAVES BACK. LANDON ORDERED THE BUCK TO FLEX HIS MUSCLES, AND THAT MADE LANDON CUM. THIS WHITEE WILL MAKE LANDON LORD OLUWA A WORTHY BITCH, KONO THOUGHT TO HIMSELF, AS HE SNIGGERED.
THAT NIGHT KONO CREPT TOWARDS THE SLAVES LOCK UP, HE SAW THE KEYS TO THE DOORS AND THE SLAVES CHAINS, HANGING ON HOOKS, ON THE SIDE OF THE LOCK UP. HE TOOK THE KEYS AND FREED LANDON'S SLAVES. "BE FREE, THE OWNER OF THE PLANTATION I AM FROM IS BLACK", KONO TOLD THE SLAVES. "IT HAS BLACK GUARDS AND THE SLAVES ARE WHITE, THERE YOU WILL BE THE MASTERS", HE ADDED. KONO AND THE FREED SLAVES BURST INTO THE MANSION AND CAUGHT LANDON PREPARING TO CUM ON A BLACK BUCKS ARSE. LANDON WAS GRABBED VIOLENTLY BY TWO OF THE EXSLAVE BLACK BUCKS AND TAKEN OUT OF THE MANSION. OUT SIDE LANDON'S HANDS WERE TIED, AS HE WAS PULLED AWAY. HE COULD ONLY WATCH AS HIS MANSION WAS SET ALIGHT, IT WAS THE END OF HIM BEING MASTER. ON HIS WAY TO LORD OLUWA'S PLANTATION, LANDON NOTICED THAT ALL THE SLAVES WERE NAKED WHITEES. HE WAS FILLED WITH DREAD, WAS THIS TO BE HIS FUTURE. THE EXSLAVE BLACK BUCKS, WERE GIVEN CLOTHES AND LANDON WAS TAKEN BEFORE LORD OLUWA, IN HIS PLANTATION MANSION. GOOD GRAPHIC MALE ON MALE DOMINATION ACTION WITH BLACK ON WHITEDOMINATION. €15