BLOODY COMBAT STORIES PAGE
MALE V MALE BLOODY COMBAT STORIES LIST
1 ARENA FIGHTERS PART 1. THESE ARE THE CHRONICLES OF JARED IS AN ARENA FIGHTER A GLADIATOR IN THE WORLD IN THE NOT TOO DISTANT FUTURE AFTER THE CHAOS YEARS FOLLOWING THE GREAT WARS OF HUMANITY WHEN WAR AND DEATH BECAME TOO SOPHISTICATED AND HORRIBLE THE DESTRUCTIVENESS ALMOST COMPLETE IT COULD NOT CARRY ON IF THE HUMAN RACE WAS TO ENDURE. ISOLATED CITY STATES WERE ALL THAT REMAINED OF HUMANITY ON THE REDUCED HABITABLE PARTS OF THE WORLD AND THEY COULD NOT SPARE THE SCANT REMAINING RESOURCES TO BE SQUANDERED IN WARFARE. ALL TECHNOLOGICAL FORMS OF WAR AND AND THE MEANS TO WAGE TECHNOLOGICAL WAR BETWEEN THE CITY STATES WERE OUTLAWED. HOWEVER TO VENT THE HUMAN NEED FOR AGGRESSIVENESS AND VIOLENCE DUELS AND OTHER FORMS OF SINGLE COMBAT WERE INTRODUCED AS ARENA GAMES IN EVERY CITY STATE. THEY BECAME POPULAR PUBLIC EVENTS VERY QUICKLY AND WHERE WATCHED BY EAGER CITIZENS IN THE CITY STATES. JARED WAS BONDED GLADIATOR SIGNED UP FOR THIRTY FIGHTS IN THE ARENA ONLY GAINING HIS FREEDOM AND RETIREMENT WHEN HE COMPLETED HIS THIRTIETH FIGHT. THE CITY STATES ADOPTED A ROMAN WAY OF ARENA COMBAT AND LIVING.
JARED WAS TWENTY FIVE FROM BATH HIS HOME CITY IN THE UK WAS FACING HIS FINAL THIRTIETH FIGHT AGAINST THE EMPEROR'S CHAMPION GLADIATOR IN FRONT OF THE EMPEROR IN THE RULING CITY OF WHAT WAS NEW YORK IN THE FAMOUS NEW YORK ARENA. JARED'S SECRET LOVE LAURA A GLADIATRIX WAS ALSO FACE HER THIRTIETH FIGHT AGAINST THE EMPEROR'S CHAMPION GLADIATRIX. WHEN THEY ARRIVED IN NEW YORK THEY FIND THAT THE EMPEROR HAS MOVED THEIR FIGHTS FROM THE ARENA TO HIS PRIVATE ESTATE IN HIS PRIVATE AMPHITHEATER. THEY WOULD FIGHT IN FRONT OF THE EMPEROR AND HIS YOUNG WIFE ADELIA. JARED WAS ALSO SURPRISED TO FIND THAT HE WOULD NOT BE FIGHTING THE EMPEROR'S CHAMPION JASON TO THE DEATH WHAT WAS THE CUSTOM IN THE NEW YORK ARENA ADELIA HAD DECIDED THAT SHE WOULD CUT OFF THE LOSERS GENITALS AND THEY WOULD BE CONSCRIPTED INTO THE EMPEROR'S GELDED CORE. LAURA WOULD FIGHT TO THE DEATH AGAINST SONIA THE EMPEROR'S CHAMPION GLADIATRIX. JARED WAS ALSO INFORMED THAT HE WOULD NOT BE FIGHTING IN STANDARD GLADIATORIAL ARMOUR JUST BRIEFS SWORD AND HELMET. WHEN JARED IS PRESENTED TO THE EMPEROR AS HE REALISES HE AND LAURA ARE EXPECTED TO LOSE AND IT IS HIS LAST FIGHT HE ASKS THE EMPEROR TO GRANT HIM A BOON IF HE WINS TO MAKE HIM A PROFESSIONAL GLADIATOR FOR HIS HOME CITY OF BATH. THE EMPEROR AGREED AND JARED TOOK ON JASON IN THE EMPEROR'S PRIVATE AMPHITHEATER.
JARED HAD A LONG HARD BLOODY FIGHT WITH JASON THE EMPEROR'S YOUNG CHAMPION RECEIVING MANY WOUNDS BEFORE HE FINALLY OVERCAME JASON BESTING THE EMPEROR'S CHAMPION. AS IT WAS NOT A DEATH MATCH JARED WAITED WHILE ADELIA PERSONALLY CUT OFF JASON'S COCK AND BALLS. JARED WAS ALLOWED TO FUCK SONIA AS A REWARD FOR WINNING IT WAS STANDARD PRACTICE FOR WINNING GLADIATORS TO FUCK THE OPPOSING GLADIATRIX. JARED FUCKED SONIA HARD AND ROUGHLY RAPING HER TO THE DELIGHT OF THE EMPEROR AND ADELIA. THE EMPEROR THEN GRANTED JARED HIS BOON MAKING HIM THE PROFESSIONAL GLADIATOR FOR BATH. JARED THEN HAD TO WATCH LAURA FIGHT SONIA BOTH IS STANDARD GLADIATORIAL ARMOUR TO THE DEATH. IT WAS ANOTHER TOUGH AND BRUTAL FIGHT WITH MANY BLOODIED WOUNDS EXCHANGED BUT LAURA SLOWLY BESTED SONIA AND VIRTUALLY SLICING HER TO PIECES BEFORE SHE DIED. ENCOURAGED BY HER WIN AND JARED'S SUCCESS SHE ASKED TO BE GRANTED THE SAME BOON AS HIM AND BE MADE THE PROFESSIONAL GLADIATRIX FOR BATH. ADELIA THE EMPEROR'S WITH DECREED THAT ONLY IF THEY WERE PLEASED WITH JARED AND LAURA'S SEXUAL PERFORMANCE. JARED AND LAURA PUT ON A EXCITING EROTIC SHOW FUCKING LONG AND HARD TO GAIN LAURA HER BOON. A STORY OF BLOODY AND BRUTAL MALE ON MALE AND FEMALE ON FEMALE FIGHTING WITH HOT INTENSE EROTIC SEX FUELED BY BLOOD LUST AND BESTIAL EXCITEMENT. €3.00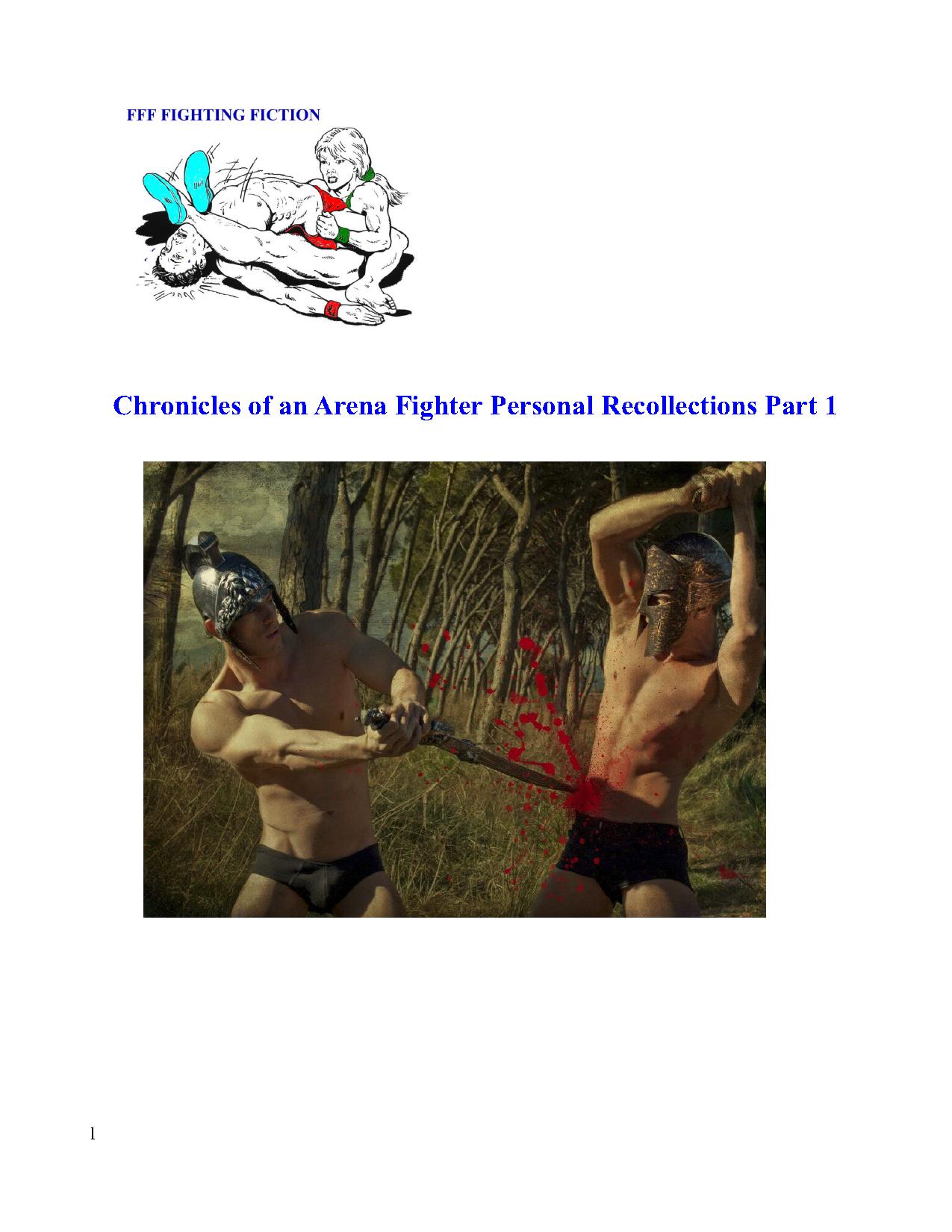 2 ARENA FIGHTERS PART 2. THIS IS THE SECOND PART OF JARAD'S CHRONICLE OF HIS LIFE AS SLAVE AND PROFESSIONAL GLADIATOR IN POST CHAOS WARS YEARS APOCALYPTIC WORLD RAVAGE BY MODERN WARFARE. JARAD LAURA HAD BOTH WON THEIR THIRTIETH AND LAST FIGHTS FOR THE EMPEROR IN NEW YORK THE CAPITAL CITY OF THE POST APOCALYPTIC WORLD OF CITY STATES. JARAD AND LAURA HAD REQUESTED A BOON FROM THE EMPEROR TO GRANT THEM THE RIGHT TO BE COME PROFESSIONAL GLADIATOR AND GLADAITRIX FOR JARAD HOME CITY OF BATH FOR BEATING THE EMPEROR'S CHAMPION GLADIATOR JASON AND HIS GLADAITRIX SONIA. ALTHOUGH NOW FREE THEY WERE THE EMPEROR'S CHAMPION UNTIL NEW CHAMPION COULD BE CHOSEN IN THE COLOSSEUM THE NEW YORK ARENA. THEY ALSO HAD TO OBTAIN ENOUGH COIN TO EQUIP THEMSELVES AS PROFESSIONAL GLADIATOR AND GLADAITRIX. SO THERE MOVE YORK WAS DELAYED. THIS SECOND ACCOUNT IS OF THEIR LAST DAYS IN NEW YORK SERVING THE EMPEROR AND EMPRESS.
TWO WEEKS AFTER THERE VICTORY FLAVIOUS THE EMPERORS GLADIATOR TRAINER AND DOCTORES CALLED ON THEM. HE INFORMED JARAD AND LAURA OF THEIR DUTIES AS THE TEMPORARY CHAMPIONS OF THE EMPEROR. LAURA WAS REQUIRED TO FIGHT IN THE COLOSSEUM AS THE EMPEROR'S CHAMPION AS THE GAMES TO CHOSE THE NEW CHAMPION GLADAITRIX WERE STILL TO COME. JARAD WAS REQUIRED TO REPORT TO EMPRESS FOR PRIVATE GLADIATORIAL DUTIES. FLAVIOUS TOLD THE THEY HAD FEW DAYS TO PREPARE THEMSELVES. JARAD AND LAURA SPENT WHAT COIN THEY HAD EQUIPPING HER WITH ARMOUR AND SWORD FOR HER FIGHT IN THE COLOSSEUM. THEY MANAGED TO STRETCH THEIR COIN TO OBTAIN TWO GLADIUS SHORT SWORDS FOR HIS PRIVATE GLADIATORIAL DUTIES WITH THE EMPRESS. LAURA FIRST FIGHT AS THE EMPEROR'S CHAMPION GLADAITRIX WAS AGAINST THREE BARBARIAN WOMEN. SHE WAS REPRESENT THE MILITIA OF THE FREE CITY STATES AGAINST THE BARBARIAN HORDES. LAURA DISPATCHED ALL THREE BARBARIAN WOMEN DELIVERING A SKILLED, DEADLY AND BLOOD SOAKED SPECTACLE FOR THE BAYING CROWDS IN THE COLOSSEUM. THE COLOSSEUM CROWD WERE DELIGHTED AND THE EMPEROR REWARDED LAURA WITH A LARGE BAG OF COIN.
JARAD'S PRIVATE GLADIATORIAL DUTIES TURNED OUT TO BE A PRIVATE FIGHT FOR AELIA THE EMPRESS AND HER GUEST THE NOBLE WOMAN SOPHIA. THE FIGHT WAS TO FIST BLOOD DRAWN AGAINST SOPHIA'S CHAMPION FIGHTER DARIUS A PROCESSIONAL MERCENARY FIGHTER. THEY FOUGHT NAKED JARAD WITH HIS GLADIUS SHORT SWORDS AND DARIUS WITH A BROAD SWORD AND A HIGHLY POLISHED STEEL BALDRIC. THE WINNER WOULD BE THE FIGHTER TO DRAW FIRST BLOOD AND HE WOULD BE REWARDED BY HAVING SEX WITH THE EMPRESS'S FEMALE SEX SLAVES. JARAD AND DARIUS BOTH FOUGHT HARD WITH SKILL AND DETERMINATION BUT JARAD FINALLY MANAGED TO DRAW FIST BLOOD. ANGERED AND HUMILIATED DARIUS ATTACKED JARAD FROM BEHIND BUT A WARNING FROM AELIA AND SOPHIA SAVED JARAD'S LIFE. TO MAKE DARIUS PAY FOR HIS COWARDLY TREACHERY JARAD GAVE DARIUS SEVERAL MORE BLOODY WOUNDS WITHOUT BEING TOUCHED HIMSELF JUST TO MAKE DARIUS'S HUMILIATION AND HIS VICTORY MORE COMPLETE. AELIA CONGRATULATED JARAD ON HIS WIN FOR HER AND INSTRUCTED HER FEMALES SLAVE WITH RED HAIR DESDEMONA TO LET JARAD FUCK HER. WITH HIS BLOOD UP FROM HIS VICTORY AND EAGER TO FUCK THE BEAUTIFUL RED HEAD JARAD DIDN'T NEED A SECOND INVITATIONS AND STARTED TO FUCK DESDEMONA HARD. SOPHIA SUGGESTED THAT DESDEMONA WAS NOT ENOUGH FOR JARAD AND AELIA INSTRUCT ANOTHER ONE HER HER FEMALES LAVES TO JOIN IN. AELIA ORDERED DELPHI A DARK SKINNED BEAUTY JOIN DESDEMONA. JARAD COULDN'T BELIEVE HIS LUCK TWO FEMALE SLAVES TO FUCK AND HE SET ABOUT FUCK THEM HARD CONFIDENT HE EASILY HANDLE THEM BOTH.
WHILE JARAD CONTINUED TO FUCK THEM HARD IN TURN HE ALSO HAD TO ENDURE THEIR ATTENTIONS TO HIS NAKED BODY. WHILE HE FUCKED ONE OF THEM THE TEASED HIS NIPPLE AND BALLS AND SODOMISED HIS ARSE WITH THEIR FINGERS AND AS JARAD'S EXCITEMENT GREW HE STARTED TO WONDER IF HE COULD HANDLE BOTH OF THEM. AELIA AND SOPHIA WERE ENJOYING SEEING JARAD STRUGGLE TO FUCK DELPHI AND DESDEMONA. THEY LIKED SEE THE FEMALE SLAVE SODOMISE JARAD AND SOPHIA SUGGESTED THAT IT WOULD BE GOOD TO SEE HER CHAMPION'S ARSE DEFLOWERED BY HER FEMALE SLAVES. AELIA ORDERED HER TWO REMAINING FEMALE SLAVES TO JOIN IN, TWO DARK SKINNED BEAUTIES, TWINS JENNA, AND TASHA. AELIA INSTRUCTED THEM TO USE OIL AND TOYS TO HELP ENSLAVE HER MALE CHAMPION. NOW JARAD HAD TO CONTEND WITH FOUR FEMALE SLAVES ALL HUNGRY FOR HIS COCK. WHILE HE FUCKED ONE ANOTHER ONE RAPED HIS ARSE WITH RUBBER DILDO AND THE OTHER TWO'S HANDS WERE ALL OVER HIS BODY. JARAD TRIED TO MAINTAIN CONTROL BUT IT WAS MUCH HARDER STRUGGLE AGAINST ALL FOUR SEXUALLY VERACIOUS FEMALE SLAVES. THE FOUR FEMALE SLAVE SEXUALLY AND PHYSICALLY ABUSED JARAD MERCILESSLY, SLOWLY WEARING HIM DOWN UNTIL HE WAS UNABLE TO RESIST THEIR ATTENTIONS AND WAS IN THEIR CONTROL. THEY OVERPOWERED JARAD AND MADE HIM THEIR SEX SLAVE A MALES SEX SLAVE OF FEMALES SLAVES TO THE DELIGHT OF AELIA THE EMPRESS. JARAD REALISED WHEN IT WAS TOO LATE THAT THIS HAD ALWAYS BEEN AELIA'S INTENTION THE TRAP SHE SET AND NOW HAD HIM IN.
AELIA AND SOPHIA ENJOYED WATCHING THE TOTAL ENSLAVEMENT AND DOMINATION OF HER CHAMPION GLADIATOR INTO THE FEMALE SLAVES MALE SEX SLAVE. WHEN HER SLAVE HAD FINISHED WITH JARAD AELIA AND SOPHIA DECIDED TO HAVE SOME FUN WITH JARAD THEMSELVES. AELIA MADE JARAD FUCK HER WHILE SOPHIA FUCKED HIS ARSE WITH A DOUBLE HEADED DILDO. THEY USED JARAD UNTIL HE WAS UNABLE TO PERFORM ANY MORE THAN ORDER HER GUARD TO TAKE HIM BACK TO HIS LODGINGS WITH TWO LARGE BAGS OF COIN HIS EARNING FOR HIS FIGHTING AND SEXUAL SERVICES. SEEING THE STATE OF JARAD LAURE USED THE COIN TO BUY WHAT THEY STILL NEEDED TO BE PROFESSIONAL GLADIATOR AND GLADAITRIX AND TRANSPORT TO BATH SO THEY COULD FINALLY ESCAPE THE CLUTCHES OF THE EMPRESS. ANOTHER STORY OF BLOODY AND BRUTAL MALE ON MALE AND FEMALE ON FEMALE FIGHTING WITH HOT INTENSE EROTIC SEX FUELLED BY BLOOD LUST AND BESTIAL EXCITEMENT, JARAD A MALE CHAMPION GLADIATOR HELPLESSLY SEXUALLY ENSLAVED AND ABUSED BY FEMALES. €3.00