SAPPER JUNIOR GUEST WRITER STORYBOOK PAGE
SAPPER JUNIOR GUEST WRITER STORYBOOK LIST 19-26
19 SAPPER JUNIOR DOUBLE STORYBOOK 1 TAKEN BY FORCE OF ARMS AND STRENGTH OF A GERMAN GIRL.
TAKEN BY FORCE OF ARMS. CYRIL HAD A PASSION FOR MIXED WRESTLING AND ARM WRESTLING LOVING SEEING WOMEN AND GIRLS WRESTLE AND ARM WRESTLE MEN AND BOYS AND BEAT THEM. HE PARTICULARLY LIKE SCHOOLGIRLS TO WHO IT SEEMED SECOND NATURE TO TAKE ON AND BEAT BOYS. CYRIL HAD SEVERAL MARRIED FRIENDS AND IT ALLOWED HIM TO INDULGE IN SOME WRESTLING WITH THERE DAUGHTERS AS A FRIENDLY UNCLE LOVING IT WHEN THEY GOT HIM DOWN AND SAT ON WHICH THE ALWAYS INVARIABLY DID. HE ALSO GOT INVITED TO PARTIES WHERE MEN AND WOMEN ARM WRESTLED EACH OTHER WITH THE WOMEN WINNING MORE OFTEN THAN NOT.
AT A FRIENDS PARTY CYRIL WITNESSED A SLIGHTLY INTOXICATED FIFTEEN YEAR-OLD GIRL CALLED LAUREN CHALLENGED THE ONLY MALE CLOSE TO HER AGE A SEVENTEEN YEAR-OLD BOY CALLED REUBEN TO ARM WRESTLE HER. REUBEN HAD BEEN STARING AT HER ALL EVENING AND HAD ASKED HER TO DANCE BUT SHE SCORNED HIM. LAUREN QUICKLY FORCED REUBEN'S ARMS DOWN. THE DISGRUNTLED BOY FOUGHT AGAIN GOING FOR BEST OF THREE. THE SECOND ARM WRESTLE WAS MUCH CLOSER AND REUBEN ALMOST FORCED LAUREN'S ARM DOWN, BEFORE SHE RECOVERED AND FORCED HIS ARM DOWN FOR A SECOND TIME. LAUREN THEN OFFERED TO MAKE IT BEST OF FIVE KNOWING REUBEN COULDN'T REFUSE. THIS TIME LAUREN RESTED HER FEET ON HIS WHILE SHE BEAT HIM TAKING TOTAL VICTORY.
CYRIL SAW THEM ARM WRESTLE AGAIN AT ANOTHER PARTY A FEW WEEKS LATER WITH BOTH FATHERS BETTING MONEY ON THE OUTCOME. LAUREN EASILY BEAT REUBEN AGAIN AND WHILE REUBEN'S FATHER PAID UP HE STATED THE LAUREN COULD BET REUBEN IN A REAL FIGHT. LAUREN ACCEPTED THE CHALLENGE AND THEN RUBEN AND REUBEN STARTED TO WRESTLE. THE FIGHT WEAVED BACK AND FORTH WITH THE LAUREN GETTING REUBEN DOWN. THEN REUBEN GOT LAUREN AND HE BOUNCED UP AND DOWN ON HER BREASTS WHEN SHE WOULDN'T GIVE IN. THE LAST STRAW FOR LAUREN WAS WHEN HE THRUST HIS HARD MANHOOD INTO HER FACE ENRAGED LAUREN GOT OUT FROM UNDER HIM. WHEN THE STARTED AGAIN LAUREN QUICKLY AND EASILY BEAT REUBEN MAKING HIM SURRENDER TO HER.
ANOTHER CLASSIC GIRL V BOY SAPPER JUNIOR FIGHT WITH THE BOY BEING MASTERED AND FORCED TO SURRENDER THE SUPERIOR GIRL.
STRENGTH OF THE GERMAN GIRL. ROGER AN AUSTRALIAN BOY ENDS UP FIGHTING ASTRID A GERMAN GIRL. HE HAD LOST AT TENNIS TOO HER IN THE AFTERNOON NOW IN THE EVENING HE GREW ANGRY WITH HER AND THEY FOUGHT AS LONG AND HARD IN A VERY BRUTAL FIGHT. ASTRID FINALLY BEATS AND DOMINATES ROBERT MAKING HIM WHERE HER CLOTHES MAKING ADMIT HE ENJOYED BEING A GIRL. ANOTHER SAPPER MALE BEAT AND MADE TO WEAR HIS SUPERIOR FEMALE CONQUERORS CLOTHES. €6.00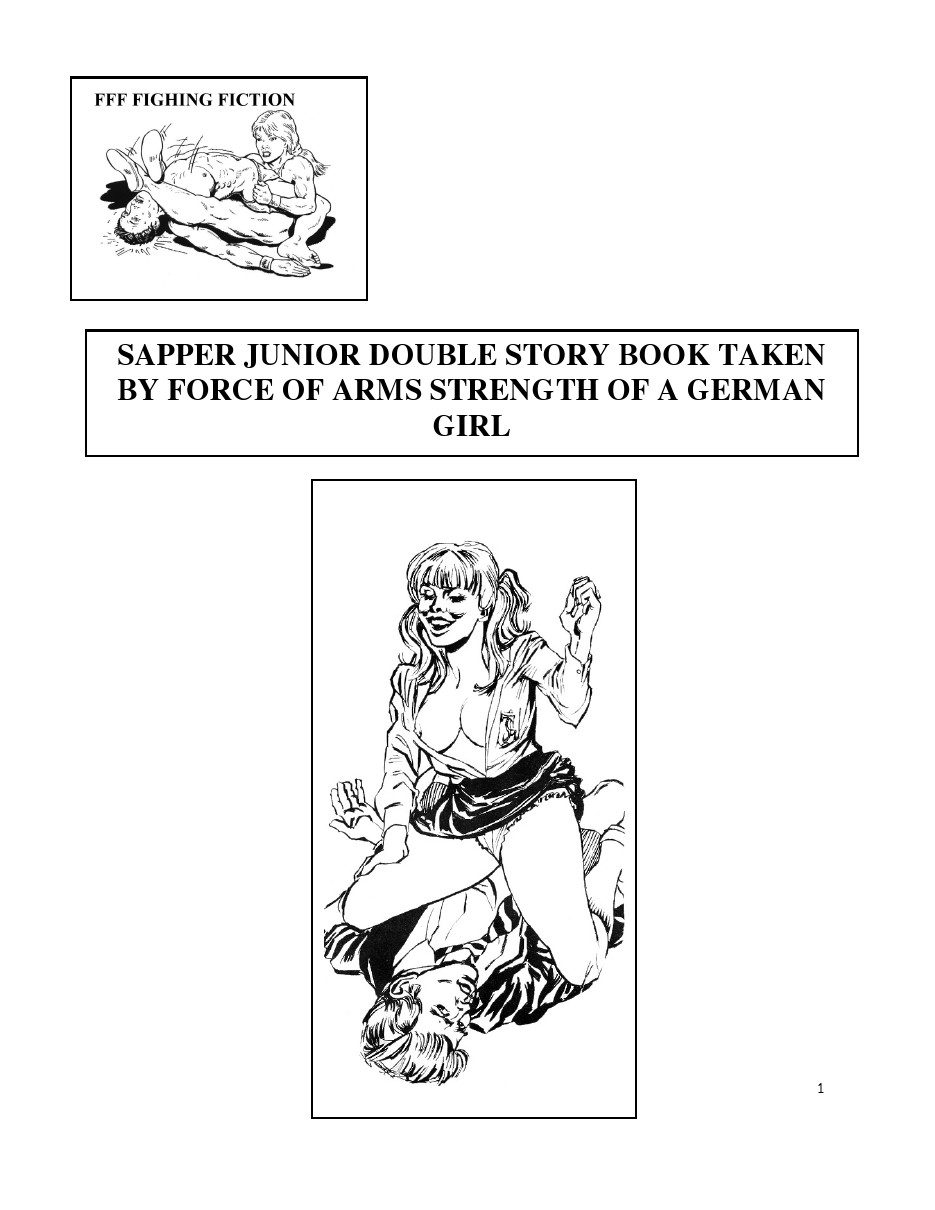 20 FALL OF THE SHAH OF BRA. RAMPENDEN LADIES COLLEGE NEWLY FORMED ROWING TEAM ARE USING THE CHANGING ROOMS AT THE ROWING CLUB WHEN THE HIGH SCHOOL BOY ARRIVED EVEN THOUGH IT WAS THE HIGH SCHOOL'S NIGHT TO USE IT. AFTER LOTS OF ARGUMENTS BANTER AND TAUNTS DIANA FOR RAMPENDEN AND LOMAX FOR THE HIGH SCHOOL FIGHT WHEN LOMAX REFUSED TO GIVE HER A FRILLY SLIP BACK HER WAS JOKING AROUND WITH. IT. DIANA BEATS LOMAX AND HUMILITIES HIM IN FRONT OF EVERYONE THERE. THIS LEADS TO MORE FIGHTS BETWEEN THE RAMPENDEN GIRLS AND THE HIGH SCHOOL BOYS. THE RAMPENDEN GIRL BEST THE HIGHS SCHOOL BOYS NOT ONLY ABUSING THEM PHYSICALLY BUT SEXUALLY AS WELL. DIANA TAKES AWAY LOMAX'S SEXUALITY MAKING HIM HIS GIRL. MORE YOUNG MALES MASTERED AND COWED BY SAPPER JUNIOR SUPERIOR YOUNG FEMALES. ILLUSTRATED BY PAYUL. €8 00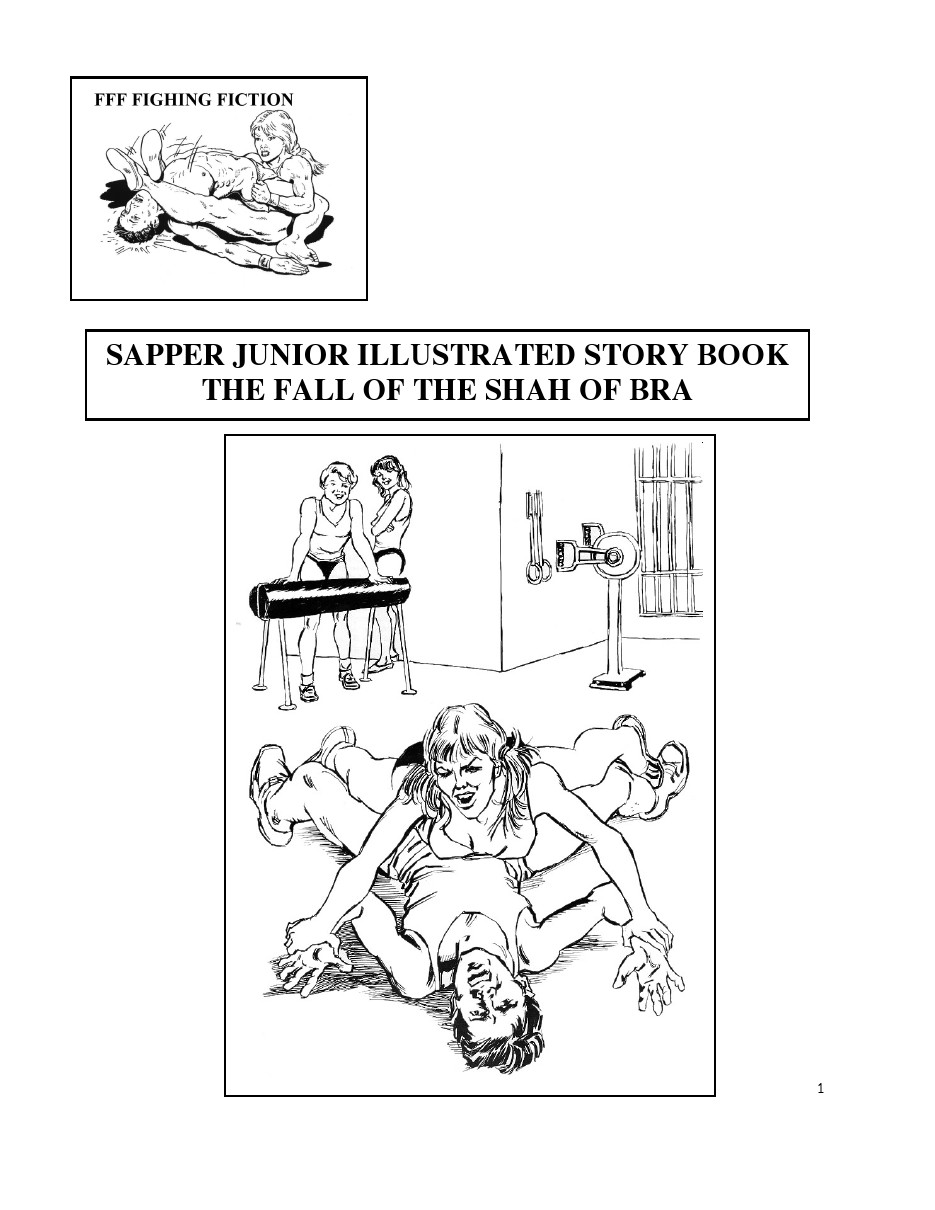 21 STRIP WRESTLING. GREG AND A YOUNG AMERICAN MAN IN LONDON WAS INVITED TO A PARTY IN MAYFAIR. WHEN HE ARRIVED EVERYONE WAS WATCHING A YOUNG MAN AND WOMAN WRESTLING GREG WATCHED THEM ALSO AND SAW THE WOMAN BEAT AND HUMILIATE THE MAN IN FRONT OF HIS GIRLFRIEND.
LATER AT THE SAME PARTY ANOTHER BRASH YOUNG WOMAN GILLIAN WAS TRY TO FIND A CHALLENGER FOR HER FRIEND RONA, SHE WAS LOOKING FOR A MAN TO WRESTLE RONA. GREG VOLUNTEERED. GREG MET HIS OPPONENT RONA 19 YEAR-OLD VERY ATHLETIC LOOKING, ABOUT HIS HEIGHT THE SPOIL RICH DAUGHTER OF SOME WEALTHY MAN. RONA LOOKED A CHALLENGE FOR ANYONE BUT GREG WAS CONFIDENT HE COULD BEAT HER.
GILLIAN EXPLAINED THAT THEY WOULD STRIP WRESTLE. THE RULES WERE WHEN ONE WRESTLER GOT THEIR OPPONENT IN PIN OR HOLD THEY COULD REMOVED THEIR OPPONENTS CLOTHES UNTIL THEIR OPPONENT GOT FREE. GREG TO SHOW HIS CONFIDENCE OFFERED A BET OF €50 AS WELL FOR THE WINNER. RONA AGREED BUT TOLD HIM TO MAKE IT €500. THE BET WAS AGREED.
BOTH YOUNG WRESTLERS BATTLED WITH EACH OTHER FIRST ONE THEN THE OTHER GETTING THE BETTER OF THEIR OPPONENT STRIPING OF SOME OF THEIR CLOTHES. WHEN RONA HAD GREG IN TROUBLE SHE BULLIED HIM INTO INCREASING THE BET TO €1000. THEN GREG HIS BACK AND GOT RONA DOWN TO REMOVED HER KNICKERS LEAVING HER IN HER SUSPENDERS BELT AND STOCKINGS. HE WAS JUST ABOUT TO FINISH HER AND CLAIM VICTORY WHEN SHE CAME BACK AND TRAPPED HIM IN A HEAD SCISSORS. RONA DESTROYED GREG WITH HER HEAD SCISSORS, STRIPPING HIM OF HIS CLOTHES, HIS MALE PRIDE HIM MONEY, TAKING AWAY HIS SEXUAL DIGNITY AS WELL. TOUGH, SPUNKY, SAPPER FEMALE, BESTING HER MALE OPPONENT IN EVERY WAY. €3.00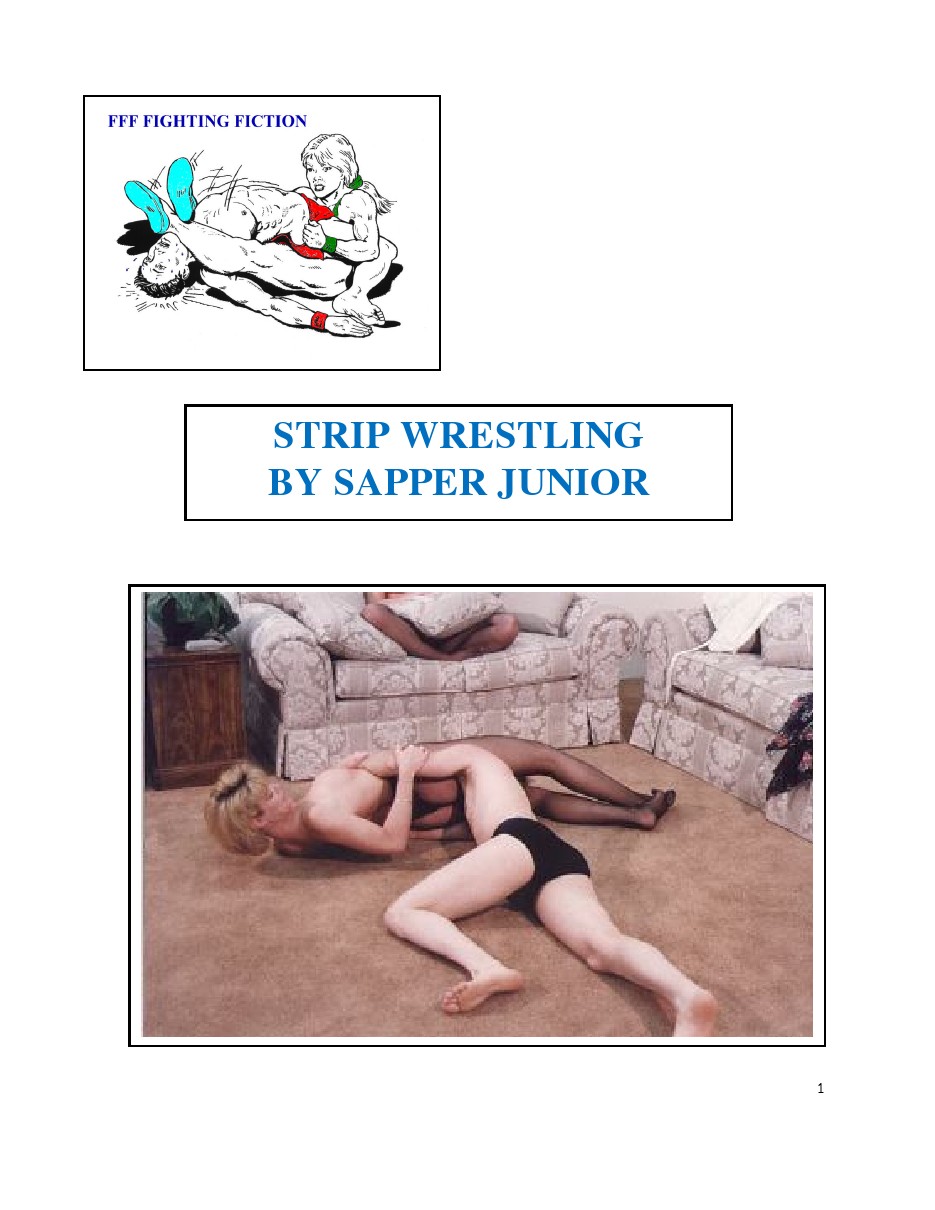 22. SAPPER JUNIOR DOUBLE STORYBOOK 2. BULLYING LITTLE BEAST AND SURVIVAL OF THE FITTER SEX.
BULLYING LITTLE BEAST. ROBERT AND RODNEY TWO YOUNG MALE COLLEGE STUDENTS TRAVEL UP TO LONDON TO MEET THE FRIEND OF RODNEY'S SISTER JACQUELINE AND HER FEMALE FRIEND FROM THE USA TAYLOR. WHEN RODNEY AND ROBERT GET TO JACQUELINE'S APARTMENT THEY FIND THAT JACQUELINE AND TAYLOR HAVE BEEN BOXING. JACQUELINE THEN FORCES A RELUCTANT RODNEY TO FIGHT HER AND HE BEATS AND HUMILIATES HIM. SO BOASTFUL ARE THE GIRLS OVER JACQUELINE'S WIN THAT ROBERT ENDS UP BOXING THE AMERICAN TAYLOR. THEY HAVE AVERY TOUGH BOXING MATCH AND TAYLOR MANAGES TO BEAT ROBERT AND THEN DOMINATES HIM JUST LIKE JACQUELINE DID TO RODNEY. BOTH GUYS FALL PREY TO THE BULLYING LITTLE BEASTS. ANOTHER SAPPER JUNIOR MIXED FIGHTING STORY WITH SUPERIOR GIRLS BEATING THE PANTS OF THE BOYS.
SURVIVAL OF THE FITTER SEX. THIS AN ACCOUNT OF A BATTLE OF THE SEXES BETWEEN FOUR RIVAL AIRLINE STAFF ON A REMOTE GREEK ISLAND. ON ONE SIDE WERE FEMALES GERMAN AND JAPANESE FOR LUFTHANSA AND JAL ON THE OTHER MALES FORM BRITISH AIRWAYS AND QANTAS. THINGS COME TO AHEAD ON THE BEACH WHEN THE JAL AND LUFTHANSA GIRLS BEAT A TEAM OF LOCAL GREEK BOYS AT VOLLEYBALL. THIS IS WITNESSED BY THE BA AND QANTAS BOYS WHO ARE ANNOYED BY THE BLATANT SHOW SWANKING AND BOASTING BY THE JAL AND LUFTHANSA GIRLS THAT THEY CHALLENGE THE GIRL TO VOLLEY BALL MATCH. AFTER HARD LONG FOUGHT BATTLE THE BOYS WIN THE VOLLEYBALL.
THE DISGRUNTLED GIRLS CHALLENGE THE BOYS TO A TUG OF WAR. ANOTHER HARD FOUGHT BATTLE ENSUES THIS TIME THE GIRLS WIN. BOTH SIDES KNOW ANOTHER CONTEST IS NEEDED TO DECIDE THINGS THEN ONE OF THE QANTAS BOYS SUGGESTED FIGHTING BOTH SIDES AGREE, FIVE BOYS THEN WRESTLER FIVE GIRLS. ANOTHER EVEN TOUGHER AN BRUTAL BATTLE TAKES PLACE. AT FIRST THE BOYS TAKE THE LEAD AND LOOK LIKE THEY WILL WIN THE WRESTING AND THE CONTEST. BUT THE GIRLS MANGE TO HOLD ON AND FINALLY BEAT THE BOYS TAKING THE WRESTLING CONTEST AND THE COMPLETION. TOUGH FEMALES V MALE RIVALRY AND FIGHTING WITH THE FEMALES PROVING SUPERIOR. IN THE SAPPER TRADITION AFTER THE GIRLS HAVE BEATEN AND DOMINATED THE BOYS PHYSICALLY THE DO SO SEXUALLY AS WELL. €6.00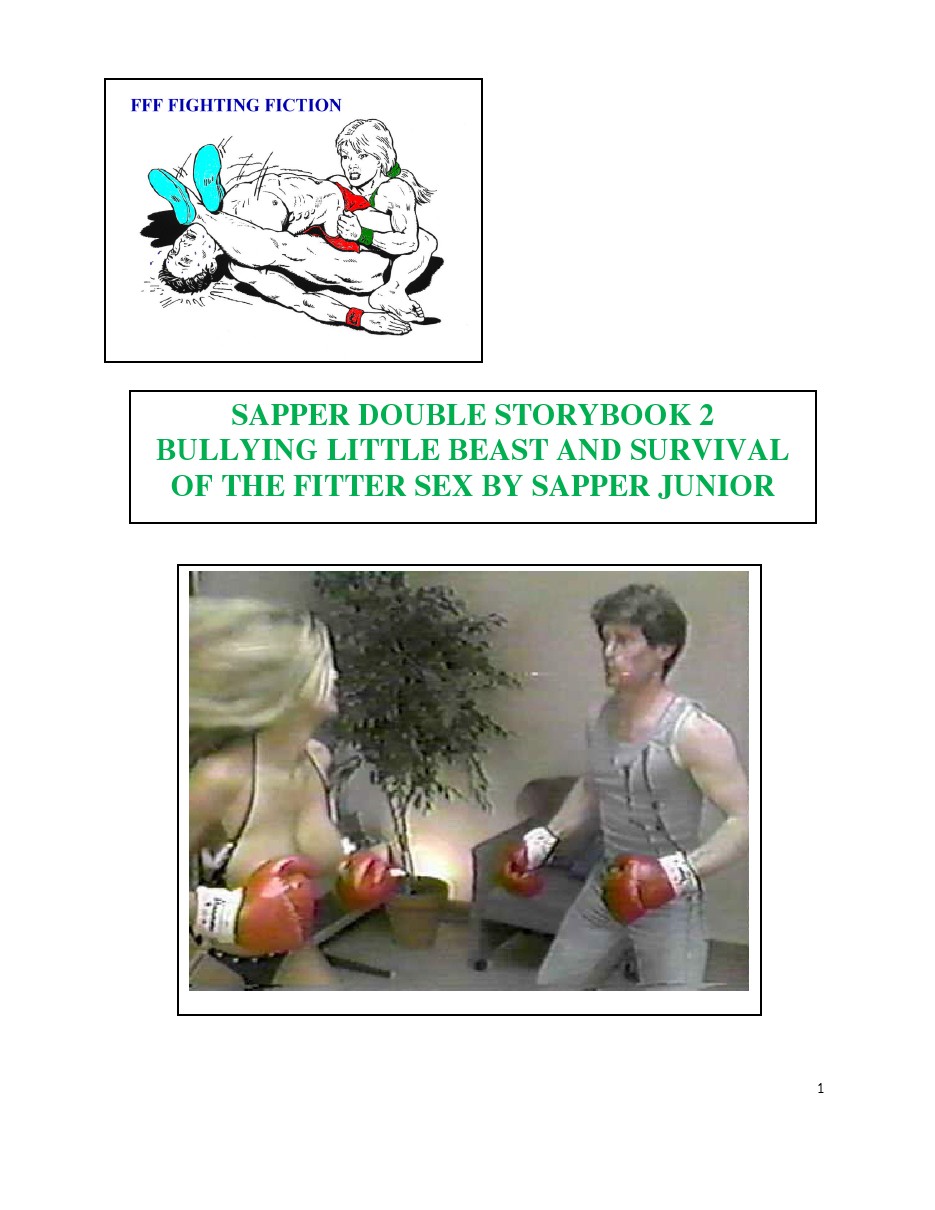 23. SAPPER JUNIOR DOUBLE STORYBOOK 3. BEATEN BY A GIRL AND THE GIRL NEXT DOOR.
BEATEN BY A GIRL. PETER A 17 YEAR OLD PREFECT ENDS UP IN A FIGHT WITH 14 YEAR OLD GEORGINA AFTER HE REPORTED HER FOR NOT WEARING REGULATION SCHOOL UNIFORM. GEORGINA CONFRONTS PETER IN THE WOOD BACKED UP AND WITNESSED BY HER 4TH FORM FRIENDS. BOTH FIGHTERS STRIPPED TO THEIR UNDERWEAR TO FIGHT. 14 YEAR OLD GEORGINA MANAGES TO BEAT AND HUMILIATE 17 YEAR OLD PETER IN FRONT OF HER 4TH FORM FRIENDS AND TWO FEMALE TEACHERS. GOOD MIXED SAPPER FIGHT WITH THE YOUNGER BETTER FEMALE BESTING THE OLD MALE.
THE GIRL NEXT DOOR. DENIS ENDS UP FIGHTING HIS NEW NEIGHBOURS YOUNG DAUGHTER GILLIAN AFTER CATCHING HER STEALING APPLES FROM THE TREE I HIS GARDEN. INSTEAD OF STOPPING SCRUMPING DENIS'S APPLES GILLIAN'S ASK HIM TO FIGHT HER. DENIS AGREES AND THE BOTH STRIP TO THEIR UNDERWEAR. SPUNKY AGGRESSIVE GILLIAN OVERWHELMS WEAK DENIS AND BEATS AND HUMILIATES HIM. SHE TOTALLY MASTERS HIM ROBBING HIM OF HIS MALE IDENTITY TURNING HIM INTO A GIRL. YOUNGER GIRL BEATING AND MASTERING AN OLDER BOY IN THE SAPPER JUNIOR TRADITION. €3.00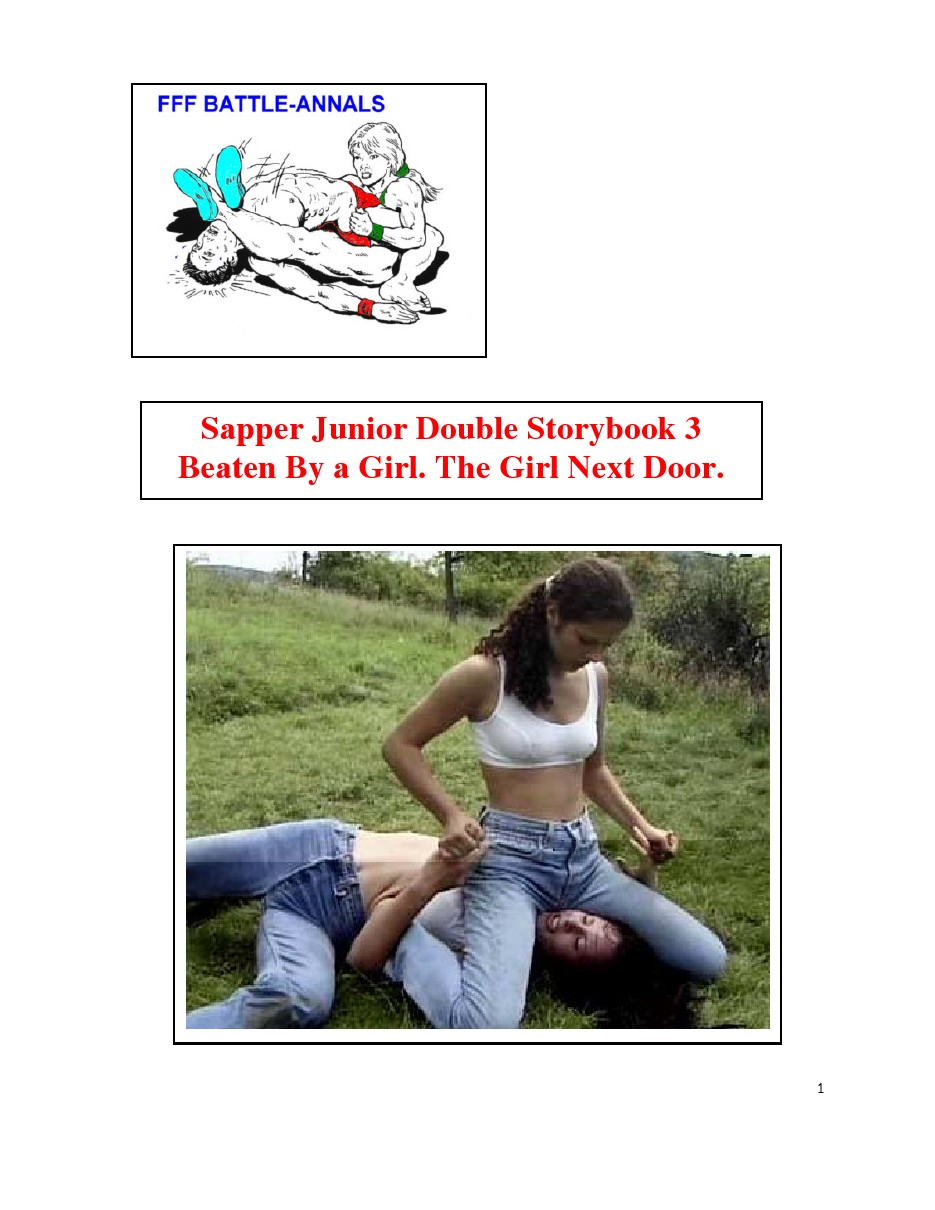 24 BULLIED BY ANGELA. BRENDAN A 19 YEAR-OLD MALE STUDENT TAKES ON ANGELA A 17 YEAR-OLD FEMALE STUDENT IN A PUBLIC A SIT FIGHT TO STOP ANGELA BULLYING HIS GIRL FRIEND SUE. IT WAS LONG BITTER AND DESPERATE BATTLE WITH BRENDAN KEEPING ANGELA DOWN FOR ALONG TIME BUT SHE FINALLY UNSEATED HIM. ANGELA. HOWEVER BRENDAN WAS UNABLE TO UNSEAT ANGELA AND LOST IN FRONT OF EVERYONE. SUE CONCERNED FOR BRENDAN WHO WAS BEING MOCKED BY MALE AND FEMALE STUDENTS ALIKE TALKED HIM INTO HAVING ANOTHER SIT FIGHT WITH ANGELA TO REGAIN HIS HONOUR AND MANHOOD.
THIS TIME BRENDAN FOUGHT EVEN HARDER STRUGGLING REALLY HARD TO KEEP ANGELA DOWN BUT SHE MANAGED STILL UNSEAT HIM. SHE EASILY KEPT HIM DOWN AGAIN AND THIS TIMED DEMANDED HIS TOTAL SURRENDER MAKING HIM ADMIT DEFEAT IN FRONT OF EVERYONE. ANGELA THEN ENJOYED HUMILIATING BRENDAN MENTALLY AND SEXUALLY IN FRONT OF EVERYONE. AFTER HAVING ALL THE FIGHT AND RESISTANCE TAKEN OUT OF HIM BY ANGELA BRENDAN BECAME HER SLAVE BEATEN EVERY TIME THE WRESTLED AGAIN. ANOTHER OLDER MALE DEFEATED MASTERED BY A YOUNGER BETTER FEMALE. GREAT SAPPER MIXED LONG SEXY EROTIC FACE SITTING ACTION. €4.00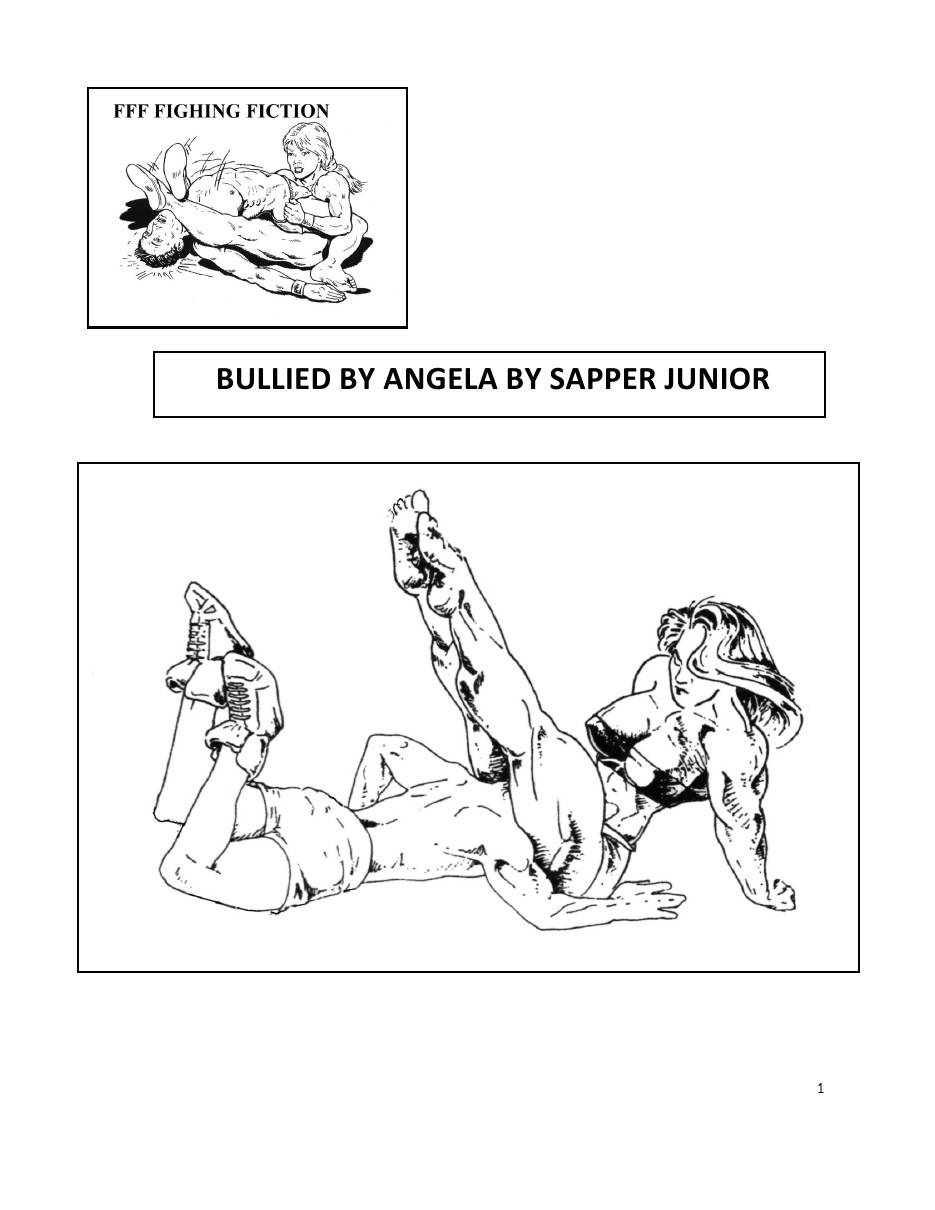 25 YOUNG MALES NEED PROTECTION. DAVID HAD BEEN INDULGING IN FUN WRESTLING WITH MONICA HIS A YOUNGER GIRL AND NEXT DOOR NEIGHBOUR. HE ENJOYED HIS WRESTLING PLAY FIGHT WITH MONICA EVEN THOUGH SHE WON MOST OF THEIR MATCHES IF NOT ALL OF THEM AS SHE WAS MUCH BETTER THAN DAVID EVEN THOUGH SHE WAS YOUNGER AND SHORTER THAN HIM. THEY USED TO WRESTLE VIRTUALLY EVERY AFTERNOON. THAT WAS UNTIL ONE OF THEIR WRESTLES WAS WITNESSED BY HIS SISTER KATE AND TWO OF HER FRIENDS AMY AND URSULA. .DAVID WAS BEING PINNED BY MONICA AND HIS SISTER AND THE OTHER GIRLS TAUNTED HIM. BOTH DAVID AND MONICA FOUGHT HARD AFTER THAT ANY IDEA OF PLAY GONE. DESPERATE NOT TO LOSE IN FRONT OF THE OTHER GIRLS DAVID MANAGED TO GET MONICA OFF AND IN TEMPER PUNCHED HER IN THE RIBS ALLOWING HIM TO PIN HER. DAVID KEPT MONICA PINED SHE COULDN'T GET HIM OFF BUT SHE REFUSED TO SUBMIT.
DAVID AVOIDED MONICA FOR SEVERAL DAYS NEVER COMING INTO THE GARDEN TO WRESTLE. MONICA WENT TO DAVID HOUSE IN THE END AND AFTER ARGUING OVER THEIR LAST FIGHT THE HAD ANOTHER LONG FIGHT THIS TIME MONICA NOT ONLY BEAT DAVID SHE TOTALLY DOMINATED HIM PHYSICALLY AND SEXUALLY. THE YOUNGER SHORTER GIRL TOTALLY OVER WHELMED THE OLDER TALLER BOY. SHE MADE DAVID HER VIRTUAL SLAVE MAKING HIM WEAR HER KNICKERS . ANOTHER OLDER SAPPER JUNIOR MALE TOTALLY BEATEN AND MASTERED BY A YOUNGER SAPPER JUNIOR FEMALE. GREAT PHYSICAL AND SEXUAL MIXED WRESTLING ACTION. €5.00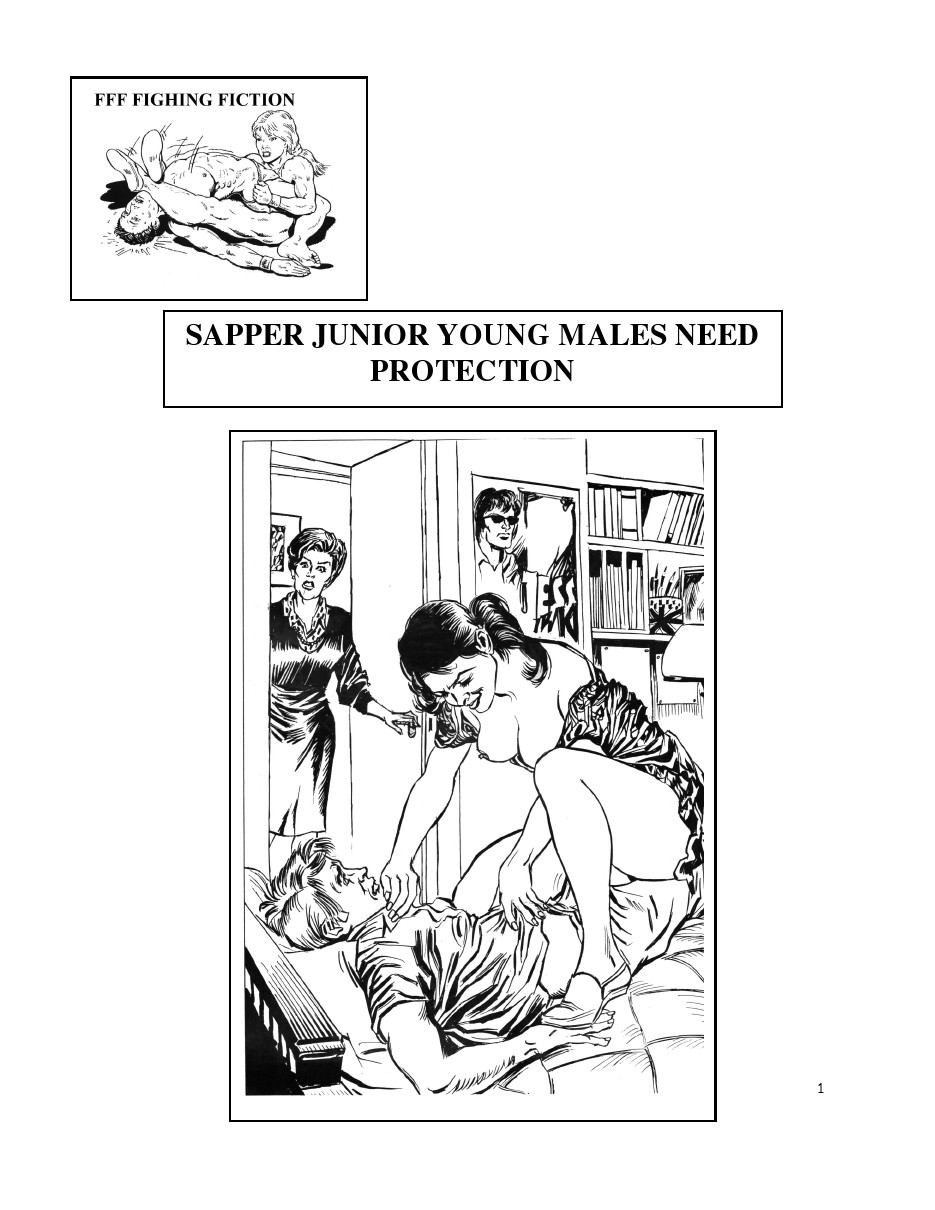 26 WHAT THE BUTLER SAW FEMALE V FEMALE ILLUSTRATED WRESTLING STORY. JOAN ANDERSON FEMALE SCHOOL TEACHER AND ANTI HUNT PROTESTER GOES TO CONFRONT LADY TASH GREAVELEIGH MASTER OF THE HUNT. OVER AFTERNOON TEA THEY CHAT ABOUT GYMKHANAS AND TASH SHOWS JOAN A COPY OF CLAWS AND THEY THEN REMINISCE ABOUT SCHOOL GIRL FIGHTS THEY HAD A SCHOOL THEY WERE BOTH EXCITED AT THE PROSPECT OF FEMALE WRESTLING . TASH INVITES JOAN TO STAY FOR DINNER. JOAN BRINGS UP THE SUBJECT OF HUNTING AND THE LAST ANTI HUNT PROTESTS. TASH CHALLENGES JOAN TO A WRESTLING MATCH WITH STAKES. IF TASH LOSES SHE HAS TO GIVE UP HUNTING IF JOAN LOSES SHE HAD TO JOIN THE HUNT. THE TWO WOMEN WRESTLE HARD WITH FIRST ONE THEM THE OTHER IN COMMAND. TASH FINALLY SUBDUES JOAN AND FORCES HER TO JOIN THE HUNT MUCH TO THE AMAZEMENT AND ANNOYANCE OF THE OTHER ANTI HUNT PROTESTERS. GOOD FEMALE V FEMALE WRESTLING ACTION ILLUSTRATED BY POYUL. €3.00