MILO GUEST WRITER STORYBOOK PAGE
MILO GUEST WRITER STORYBOOK LIST
1 A MATTER OF HONOUR. JEANANDI FEMALE BOXING SCHOOL WAS ASKED BY LADY AMANDA MERRIHEW TO TRAIN A FEMALE BARMAID ROSIE FRITTON FROM THE RED LION PUB UPCHURCH TO RE-ENACT A LEGENDARY BARE KNUCKLE FEMALE FIST FIGHT BETWEEN THE RED LION AND THE BLACK SWAN IN 1857. AN ACCOUNT OF THE EVENT HAD RECENTLY BEEN REDISCOVERED BY LOCAL HISTORIAN LADY AMANDA MERRIHEW. THE FIGHT WAS BETWEEN HETTY TORWHIILL BARMAID AT THE BLACK SWAN AND JENNY DELLOW POT GIRL AT THE RED LION, HETTY TORWHILL WON FOR THE BLACK SWAN. LADY AMANDA MERRIHEW SHOWED THE ACCOUNT TO THE CURRENT LANDLORD OF THE BLACK SWAN HARRY WALTERS WHO WAS REALLY TAKEN BY THE STORY AND WANTED TO ORGANISE A RETURN FIGHT FOR THE 150TH ANNIVERSARY. HIS WIFE NAOMI WAS VERY EAGER TO REPRESENT THE BLACK SWAN. ROSIE FRITTON BARMAID AT THE RED LION AGREED TO FIGHT FOR THE RED LION. ALTHOUGH JEANANDI TRAINED ROSIE FRITTON WELL NAOMI WALTERS PROVED THE BETTER FIGHTER IN HARD FOUGHT CONTEST IN FRONT OF THE VILLAGERS OF UPCHURCH. TOUGH BUXOM FEMALE V FEMALE BOXING ACTION. €4.00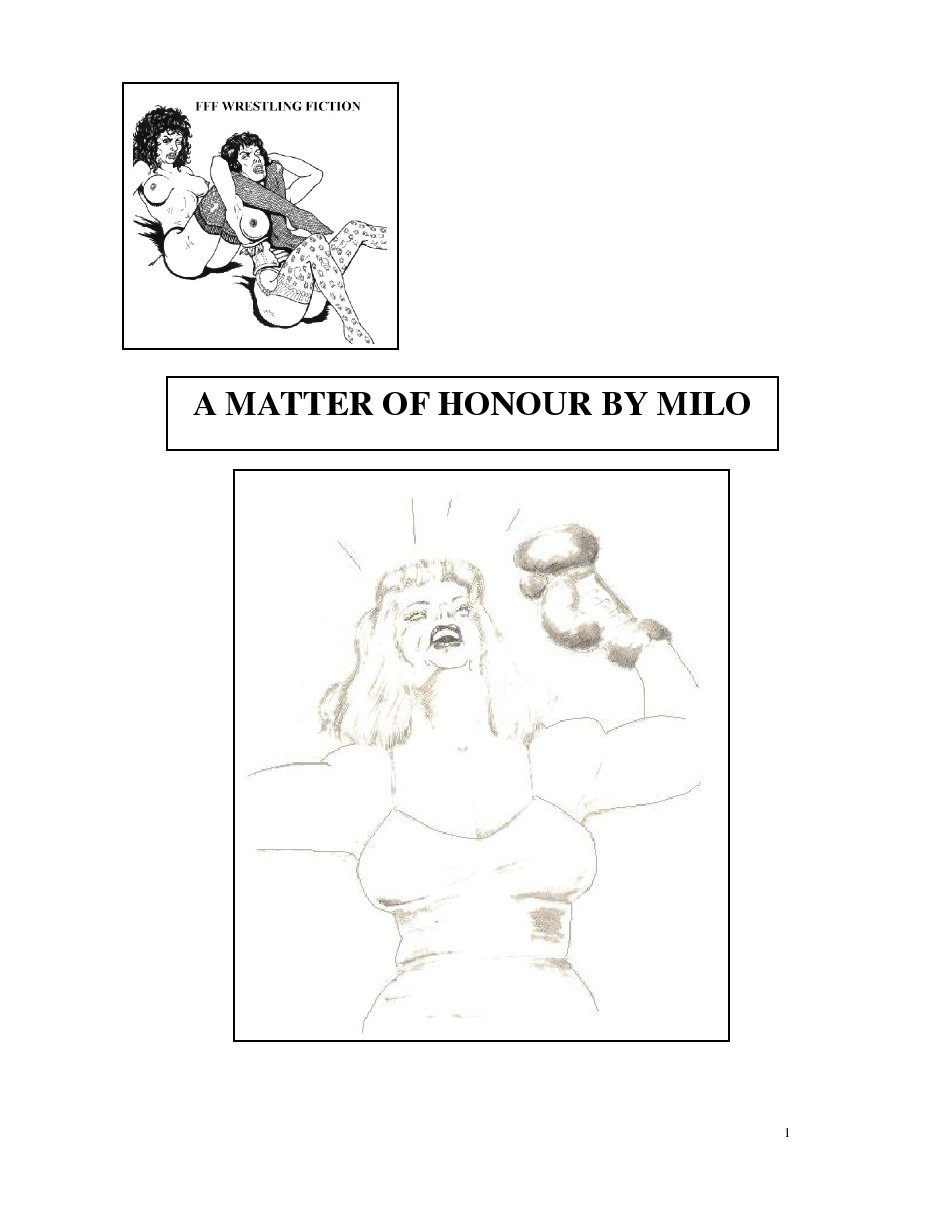 2 THERE'S SOMETHING FUNNY ABOUT PEOPLE. THE JEANANDI LADIES HAVE A RUN IN WITH THEIR NEIGHBOUR GINA FFOLIET JOHNSON AND THEIR ARCH ENEMY MADAME PAULINE HOOPER AND HER WILING COHORTS THE TWINS. MADAME PAULINE HOOPER AND THE TWINS KIDNAP GINA FFOLIET JOHNSON'S HUSBAND FRANK AND TRY TO BLACKMAIL GINA INTO DOING WHAT MADAME TOLD HERE. GINA HELPED BY DIANA OF JEANANDI RESCUE FRANK FORM THE CLUTCHES OF MADAME AND THE TWINS AND TOUGH CATFIGHT ENSUES. TOUGH BUXOM FEMALE V FEMALE FIGHTING ACTION. €3.00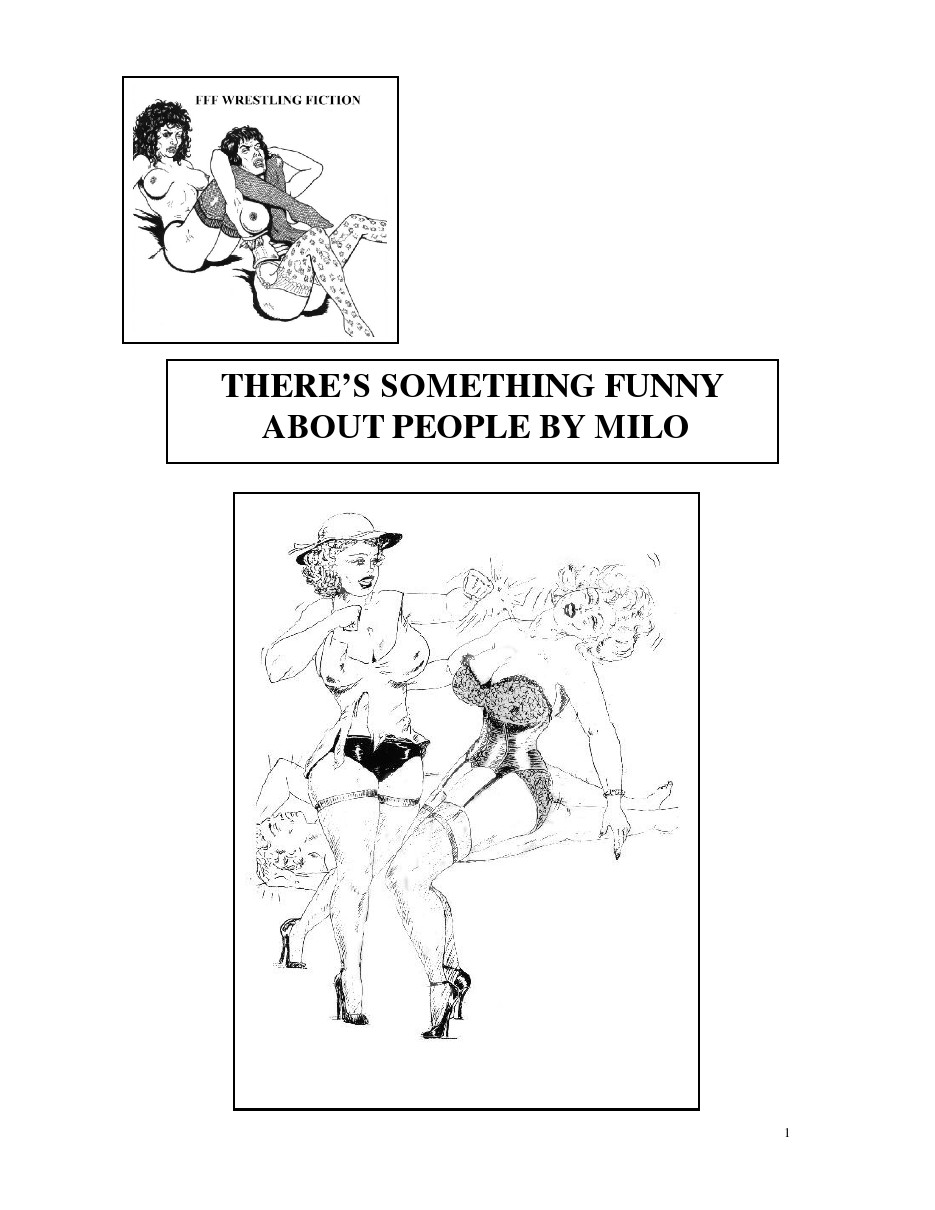 3 A CHALLENGE FOR MAGGIE. ENRICO HAD JUST BEATEN JEFF AT BOXING BY COUNT OUT. JEFF WAS SECONDED BY MAGGIE AND ENRICO BY NINA. MAGGIE ACCUSED NINA OF CHEATING BY COUNTING TOO FAST. THEY HAD AN HEATED ARGUMENT AND DECIDE TO SETTLE THING BY PUTTING ON THE GLOVES AND CLIMBING IN THE RING. NINA PROVED THE BEST BOXER OF THE TWO BUXOM FEMALE FIGHTERS AND SLOWLY BUT SURELY OVER SEVERAL HARD FOUGHT ROUNDS GAVE MAGGIE A SOUND DRUMMING AND WON THE MATCH EASILY. TOUGH AND BUXOM FEMALE V FEMALE BOXING ACTION €2.00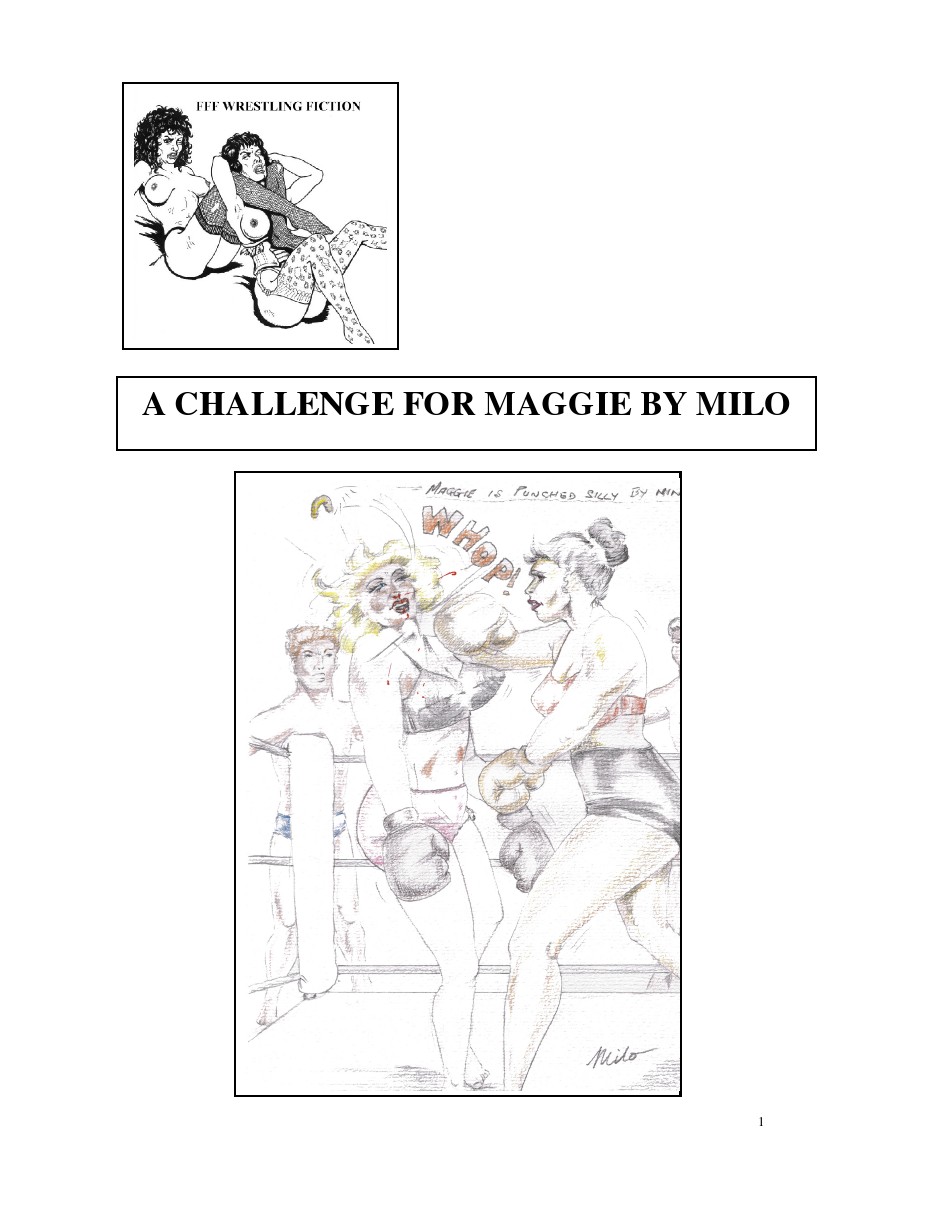 4 SWEET MELODY. CAROL JONES AND HER HUSBAND TUG WERE THE DOMESTIC HELP FOR MELODY AND JACK VENTI. CAROL DID NOT LIKE THE WAY THE BLONDE AND SEXY MELODY PLAYED UP TO TUG. WHEN CAROL FOUND MELODY BIKINI TOP AND BOTTOMS IN THEIR HOUSE IN THE GROUNDS OF THE VENTI LARGER HOUSE IT WAS THE LAST STRAW. SHE MARCHED INTO THE VENTI HOUSE AND HAD IT OUT WITH MELODY SLAPPING HER ROUND THE FACE. MELODY TOLD CAROL SHE WAS FIRED CAROL REPLIED THAT SHE WASN'T BUT MAY QUIT. CAROL PRODUCED TO PAIRS OF BOXING LOVES THAT TUG HER HUSBAND OWNED SHE TOLD MELODY THEY WERE GOING TO SETTLE THINGS BY BOXING. MELODY FIRST TOLD CAROL SHE WAS MAD THEN WHEN THAT DIDN'T WORK WARNED CAROL SHE HAD KARATE LESSONS. THEY STRIPPED DOWN TO THEIR KNICKERS TO BOX. CAROL MANAGED TO DROP MELODY TO HER KNEES WITH AN UPPERCUT. CAROL WAS SURPRISED A MELODY'S DEEP BREATHING THEN REALISED SHE WAS SEXUALLY AROUSED BY THEIR FIGHTING.
MELODY CAM BACK INTO THE FIGHT CLINCHING WITH CAROL AND WHEN CAROL PUSHED HER AWAY MELODY CAUGHT HER WITH A LEFT HOOK TO THE JAW THAT NEARLY PUT MELODY OUT. THEY CINCHED AGAIN STAGGERING ROUND BOTH CLOSE TO BEING KNOCKED OUT. CAROL STARTED TO PUNCH MELODY AGAIN AND GOT HER WITH A LEFT RIGHT COMBINATION THAT PUT HER DOWN AND OUT. CAROL COUNTED MELODY OUT AND STARED AT HER LYING GLOVE HANDS ON HER BELLY. THEN CAROL HAD AN IDEA AND USING ONE OF MELODY SEX TOYS A VIBRATOR STUCK IT IN MELODY'S CUNT AND PLACED HER GLOVE HANDS ON IT BEFORE TAKING A COMPROMISING PHOTO WITH HER DIGITAL CAMERA.
THE NEXT DAY WHEN MELODY CALLED CAROL WAS EXPECTING TO BE FIRED BUT MELODY ASKED CAROL WHAT HAPPENED AS HE WOKE UP WITH BOXING GLOVES ON,. CAROL TOLD MELODY THEY HAD BOXED AND SHE HAD KNOCKED MELODY OUT AND HAD A PHOTO TO PROVE IT. TO CAROL'S SURPRISE MELODY TOLD SHE HAD PURCHASE SOME GLOVES OF HER OWN AND WANTED A RETURN MATCH. GOOD AND BUXOM FEMALE V FEMALE BOXING ACTION €1.50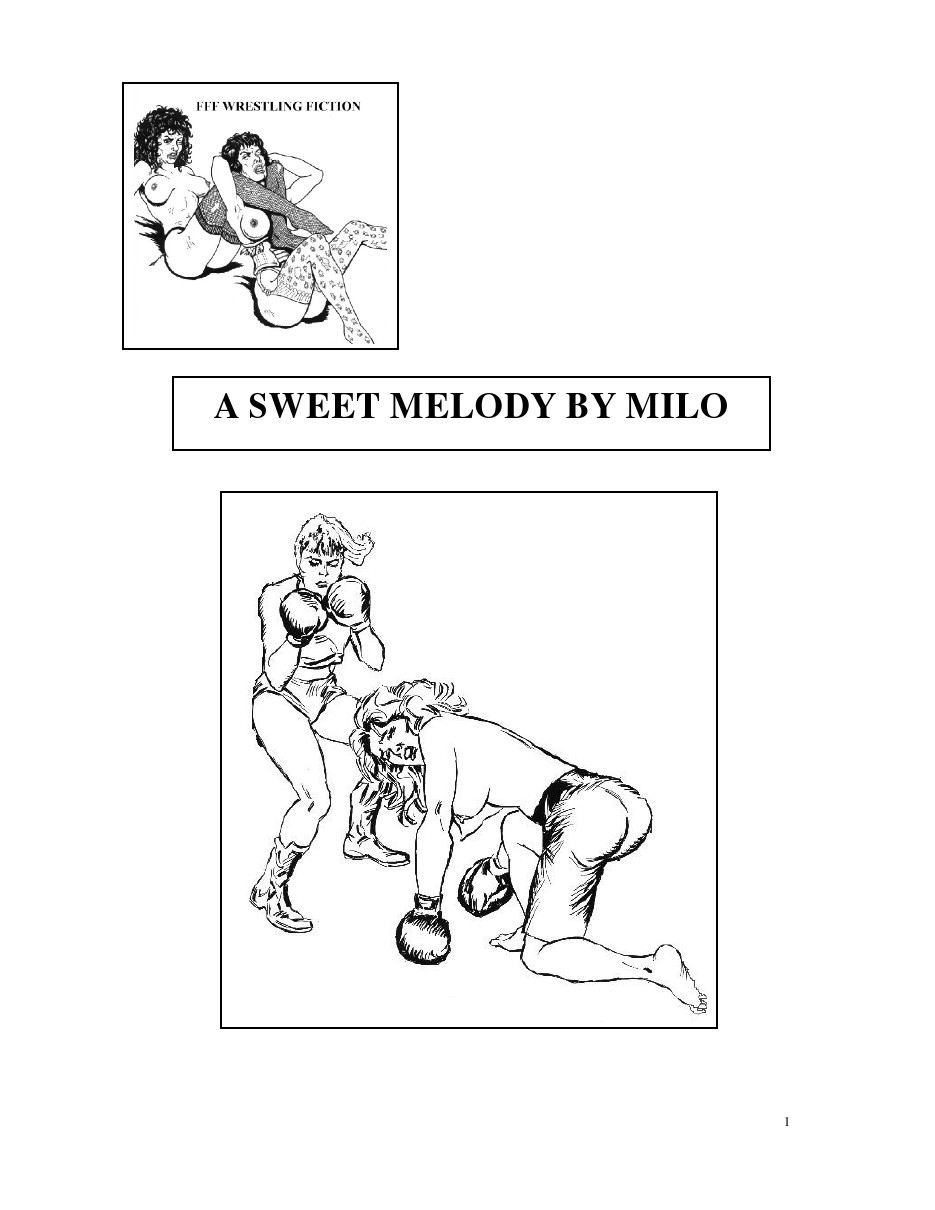 5 NOLA TRAMWISE STRIKES BACK. DOREEN DURRANT ALIAS GINGER OF JEANANDI WENT TO HELP LADY AMANDA OF UPCHURCH WITH HER SPRING CLEANING. AFTER FINISHING THE HOUSE AND BEFORE MOWING LADY AMANDA'S LAWN SHE WENT INTO TO UPCHURCH AND INTO THE BLACK SWAN WHERE THE FIGHT BETWEEN ROSIE FRITTON OF THE RED LION AND NAOMI WALTERS OF THE BLACK SWAN WHO FOUGHT A REMATCH OF A LEGENDARY FEMALE BOXING MATCH BETWEEN THE TWO VILLAGE PUBS.
NAOMI AND A FARMER WHO DOREEN HAD FLATTEND INTO A FLOWER BOX OUTSIDE THE BLACK SWAN AFTER ROSIE FRITTON LOST TO NAOMI RECOGNISED DOREEN. DOREEN ARGUED WITH THE FARMER AND NAOMI AND SHE WAS EJECTED BY NAOMI. DURING THE SCUFFLE OUTSIDE DOREEN KNOCKED NAOMI INTO THE SAME FLOWER BOX AND LEFT HER THERE RETURNING TO MOW LADY AMANDA'S LAWN. NAOMI FOLLOWED DOREEN TO LADY AMANDA'S HOUSE AND CONFRONTED HER ON THE LAWN.
THE TWO BUXOM WOMAN HAD A TOUGH FIGHT WRESTING AND BOXING EACH OTHER FINALLY NAOMI MANAGED TO KNOCK DOREEN OUT LEAVING HER LYING IN ONE OF LADY AMANDA'S FLOWER BEDS. A GREAT CAT FIGHT BETWEEN TWO BUXOM FIGHTING WOMAN WITH SEXY BOXING AND WRESTLING ACTION €2.00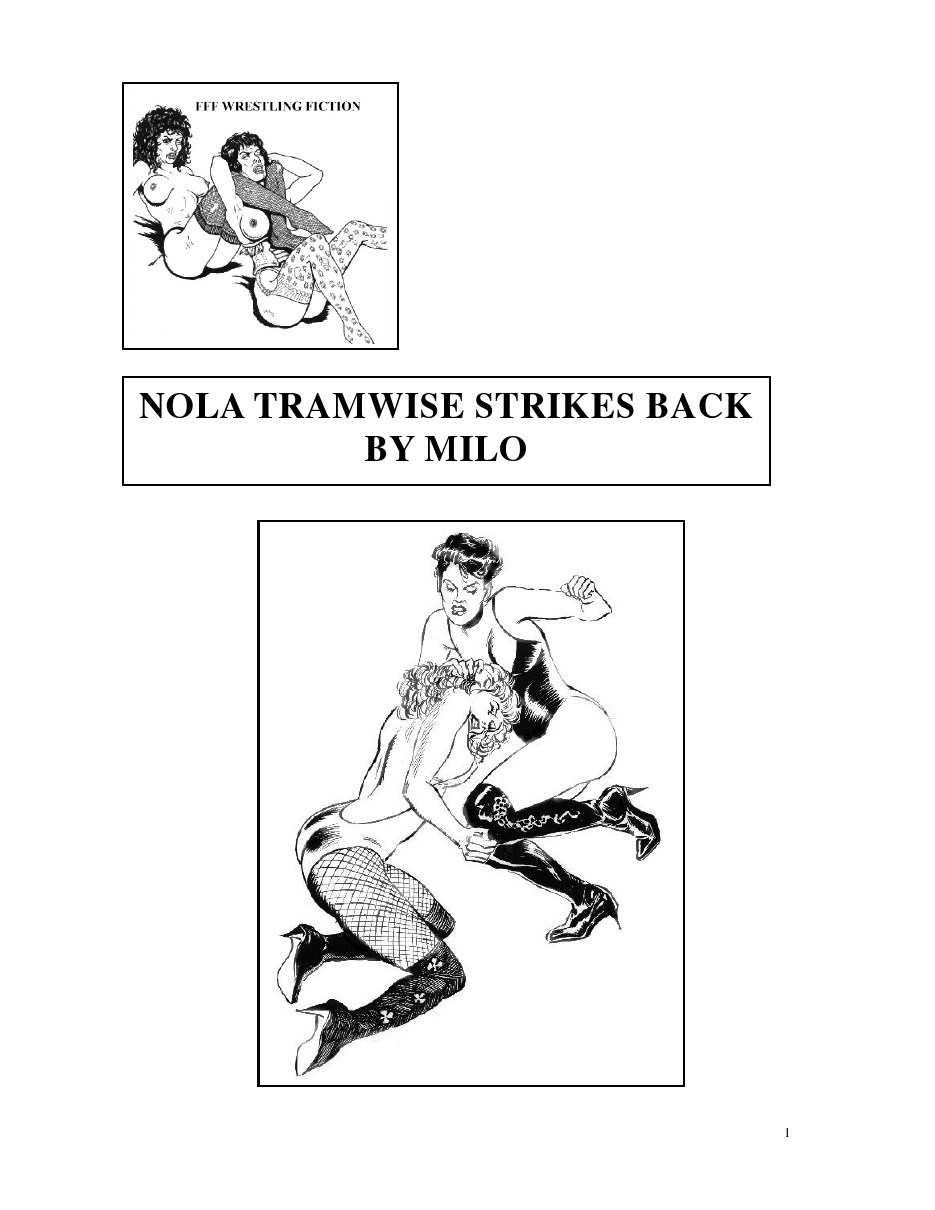 6 MELODY IN E CUPS. MELODY HAS A REMATCH WITH CAROL. TUG CAROL'S HUSBAND AND JACK MELODY'S HUSBAND BUILD AN IMPROMPTU RING OUT OF FOUR WOODEN POSTS AND ROPES .JACK SPARS WITH MELODY AS SHE TRAINS AND IS ACCIDENTALLY FLATTENED BY HER. ON THE SATURDAY AFTERNOON OF THE FIGHT CAROL AND TUG ARRIVE AT THE RING TO FIND MELODY AND JACK WAITING FOR THEM. JACK AND TUG EAGERLY GLOVED THEIR BUXOM FIGHTER'S IN TWELVE OUNCE GLOVES. THEY POUNDED EACH OTHER'S GLOVES IN ROUND ONE BUT MELODY WAS THE FIRST TO SCORE TO CAROL'S NOSE THEY EXCHANGED BLOWS BUT THE FIRST ROUND WAS MELODY'S.
IN ROUND TWO MELODY CAUGHT CAROL'S NOSE AGAIN AND DRAWS BLOOD SHE THEN PUNCHES HERSELF OUT AGAINST CAROL'S GLOVES. CAROL THEN ATTACKS SCORING WITH SEVERAL BLOWS AND TOW PARTICULARLY NASTY UPPERCUTS TO MELODY'S JAW THAT PUT HER DOWN ON HER KNEES. MELODY IS SAVED BY THE BELL BUT ROUND TWO WAS CAROL'S. ROUND THREE SAW CAROL HIT MELODY'S NOSE AND DRAW BLOOD. MELODY RETURNED THE FAVOUR MAKING CAROL'S NOSE BLEED AGAIN. THEY BATTLED IT OUT BUT CAROL GOT THE BETTER OF MELODY DRIVING HER BACK AGAINST THE ROPES AND LINED HER UP FOR THE KILLER PUNCH. BUT MELODY BOUNCED OFF THE ROPES MAKING CAROL'S PUNCH NONE EFFECTIVE. MELODY'S PUNCH FINISHED CAROL AND SHE CRUMPLED FALLING OUT OF THE RING TO THE GRASS. MELODY WAS ONLY HALF CONSCIOUS HERSELF AND THE AND WAS CARRIED TO THE SWIMMING POOL CHANGING HUT TO BE RIVED JACK. TUG CARRIED CAROL BACK TO THE HOUSE TO SEE TO HER.
JACK AND MELODY INVITED CAROL AND TUG TO DINNER AND THEIR BOUT WAS DISCUSSED AS IT WAS NOW ONE KO A PIECE A CHALLENGE WAS ISSUED FOR THIRD BOXING MATCH. TOUGH BUXOM FEMALE BOXING ACTION €3.00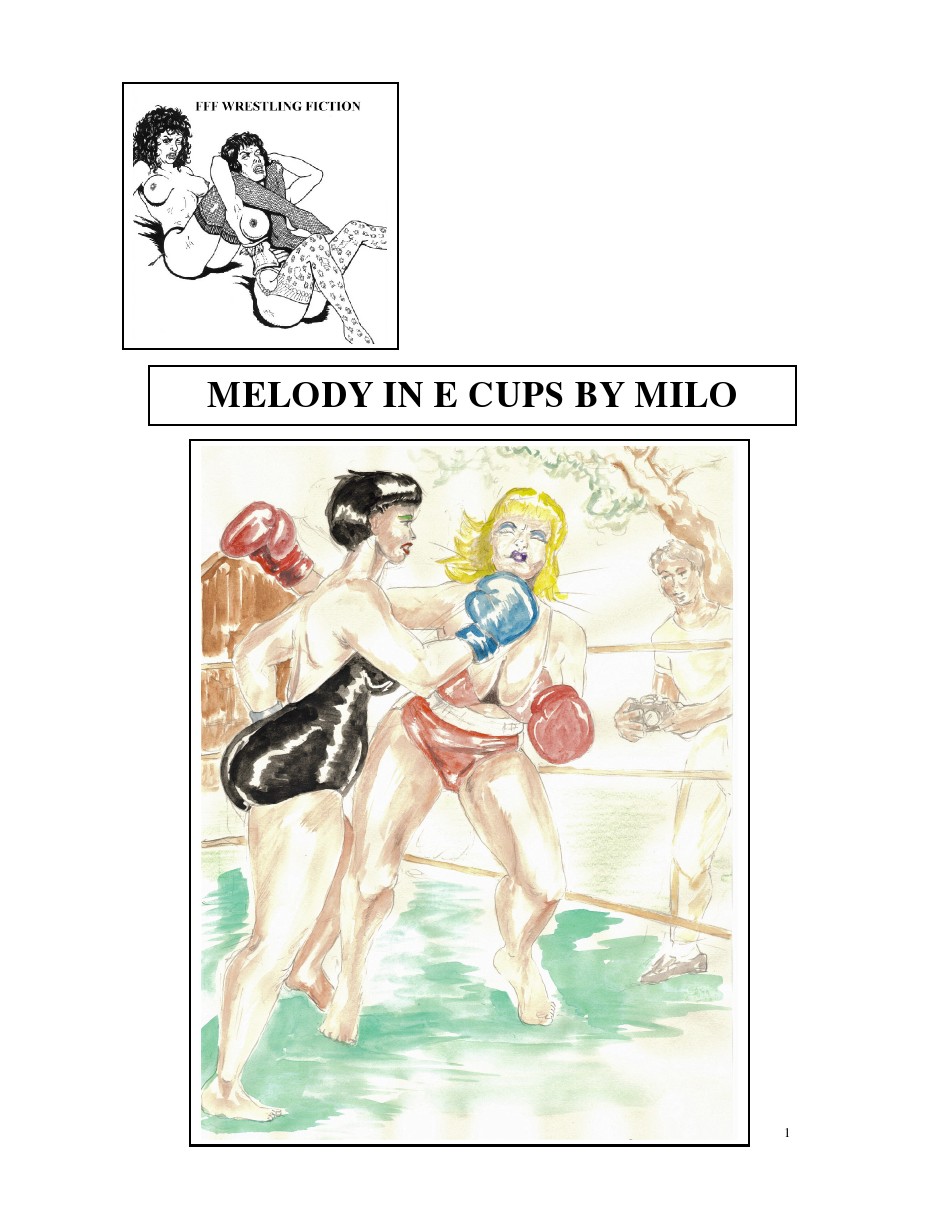 7 OH MAGGIE, MAGGIE OH. RITA HAD TO BREAK UP A FIGHT BETWEEN DOREEN AND JEAN AT JEANNDI AND THE FIGHT TURNED OUT OT BE OVER POLITICS DOREEN WAS SUPPORT THE LABOUR PARTY AND JEAN THE CONSERVATIVES. JEAN HAD SWAPPED DOREEN GINGERS LABOUR POSTER IN HER CAR WINDOW FOR ONE OF HER CONSERVATIVE POSTERS AND GINGER ONLY FOUND OUT AT LUNCH TIME WHEN HER NEIGHBOUR POINTED IT OUT. AN ENRAGED GINGER RUSHED BACK TO JEANNDI AND ATTACKED JEAN AS SHE CAME OUT OF THE GUM AND THEIR BATTLE THAT RITE BROKE UP BEGAN. GINGER GOT HER OWN BACK ON JEAN BY SWAPPING THE TORY POSTER IN HER BEDROOM WINDOW FOR A LABOUR POSTER. JEAN ONLY DISCOVERED IT WHEN THE LABOUR CANDIDATE CALLED AND THE HAD ANOTHER SET I NIN THE GYM AND RITA WAS FORCED TO BREAK IT UP AGAIN. ALGERNON CHOLMONDELY THE CONSERVATIVE CALLED NEXT AND WAS INVITED IN FOUR COFFEE AND ENDED UP REFEREEING A BOXING MATCH BETWEEN GINGER AND JEAN. THE FIGHT DIDN'T LAST LONG AS ALGERNON'S GIRL FRIEND CLARISSA ARRIVED AND TOOK HIM AWAY. THE FIGHT ERUPTED AGAIN AFTER ALGERNON LEFT BOTH BUXOM WOMEN CHAMPIONING THEIR CANDIDATE. . IT QUICKLY DESCENDED INTO A VIRTUAL BRAWL WITH AS MUCH WRESTLING AND CAT FIGHTING AS BOXING. GINGER FINALLY MANAGE TO KO JEAN AND THEN. SHE TIED JEAN HAND AND PULLED HE PANTIES DOWN AND USED ONE OF JEAN'S GARTERS TO SNAP PING AGAINST HER LARGE RUMP. JEAN WAS ONLY SAVED BY RITE WHO TOOK THE GARTER AWAY AND BROKE UP THE FIGHT. LATER WHEN THE ELECTION RESULTS WERE BROADCAST IT TURNED OUT THE TWO BUXOM GIRLS FIGHT HAD BEEN IN VEIN AS THE LIBERAL DEMOCRAT CANDIDATE WAS ELECTED. MORE GREAT BUXOM FEMALE FIGHTING ACTION FROM MILO. €3.00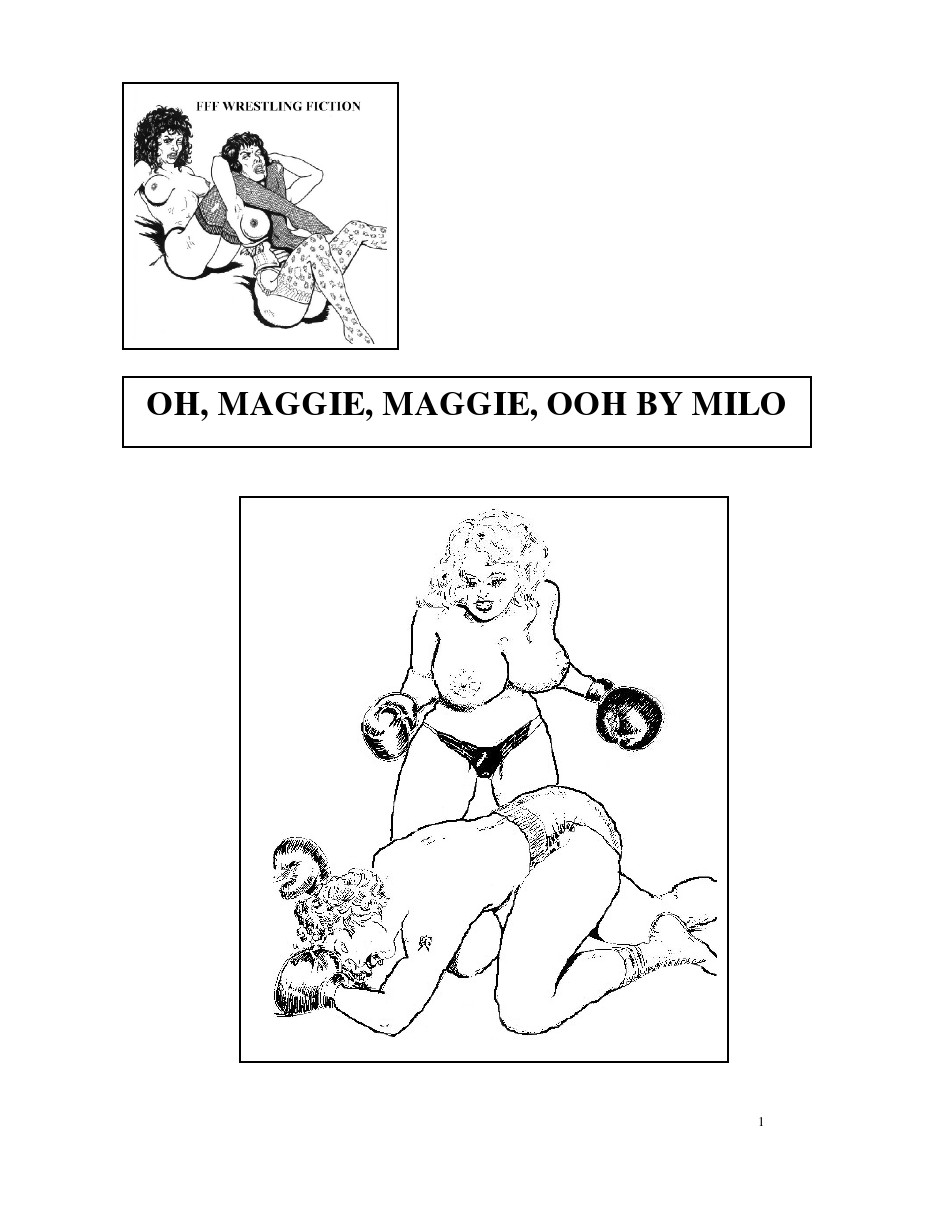 8 IN YOUR EASTER BONNET. JEAN SAW A LARGE PINK STRAW HAT SHE REALLY LIKED IN A SHOP WHERE SHE BROUGHT MOST OF HER THINGS AND ASKED THE WOMAN TO KEEP IT FOR HER FOR A FEW DAYS AND SHE WOULD BE BACK. HOWEVER THE NEXT DAY DOREEN GINGER WHEN TINTO THE SHOP AND LIKED THE HAT BUT WAS TOLD IT WAS ALREADY TAKEN. GINGER LIED TO THE HOP ASSISTANT TELLING HER SHE WAS COLLECTING IT FOR JEAN. WHEN JEAN PAID FOR THE HAT AND HEARD THAT THE DREADED DOREEN HAD COLLECTED IT FOR HERE SHE RACED ROUND TO GINGER HOUSE AND CONFRONTED HER IN HER KITCHEN. A FIGHT ERUPTED AND THEY ENDED UP BRAWLING ON THE KITCHEN TABLE. GINGER ENDED NEARLY CHOKING JEAN IN A STRANGLE HOLD UNTIL THEY FELL OFF THE TABLE AND SHE STRUCK HER HEAD ON SAUCEPAN KNOCKED OFF THE TABLE WHEN THEIR FIGHT STARTED. JEAN TRUSSED GINGER UP WITH HER WON GARTERS AND STOCKINGS. JEAN PUNISHED GINGER BREASTS UNTIL GINGER TOLD HER WHERE HER PRECIOUS HAT WAS. ONE JEAN HAD THE HAT SHE RUFFED GINGER UP SOME MORE AND DUMB A LARGE TRIFLE FROM THE FRIDGE ON HER HEAD AND LEFT HER THERE. ANOTHER GREAT BUXOM FEMALE BATTLE BETWEEN GINGER AND JEAN. €1.50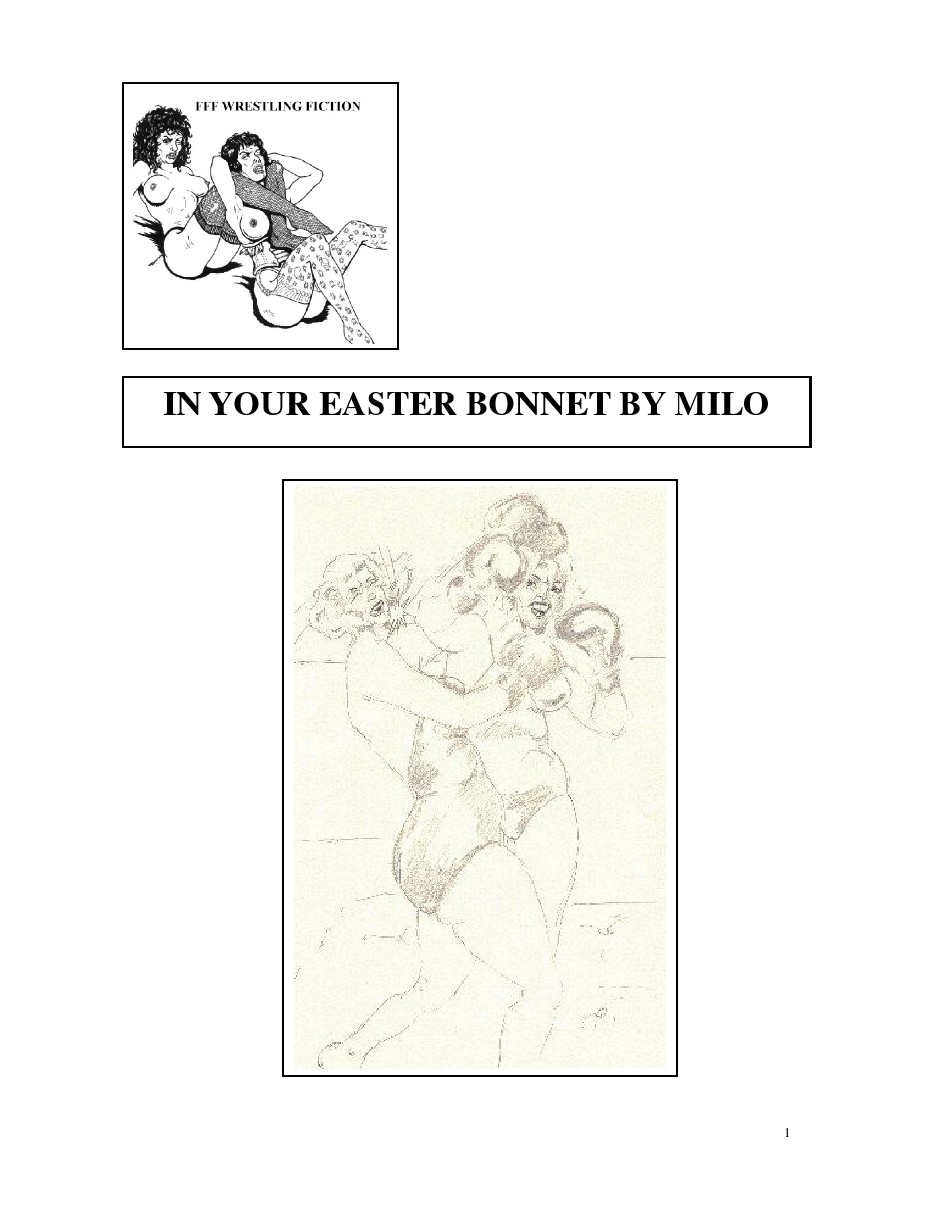 9 EVA'S BIG PUT DOWN. A TOUGH BUXOM FIGHT BETWEEN EVA AND LOREEN AFTER EVA HAD PUSHED HER LUCK TOO FAR OVER THE RELATIONSHIP BETWEEN LOREEN AND HARRY. THEY FOUGHT HARD BUT THE BLOND EVA WAS PUT DOWN TWICE IN ROUND TWO ONLY SAVE WHEN THE TIME CALLED THE END OF THE ROUND SLIGHTLY EARLY. IN ROUND THREE LOREEN MERCILESSLY PUNISHED EVA'S BREAST AND FINALLY PUT HER DOWN AND SHE WAS COUNTED OUT. TOUGH HARD AND EXCITING BUXOM FEMALE BOXING ANOTHER GREAT MILO STORY €2.50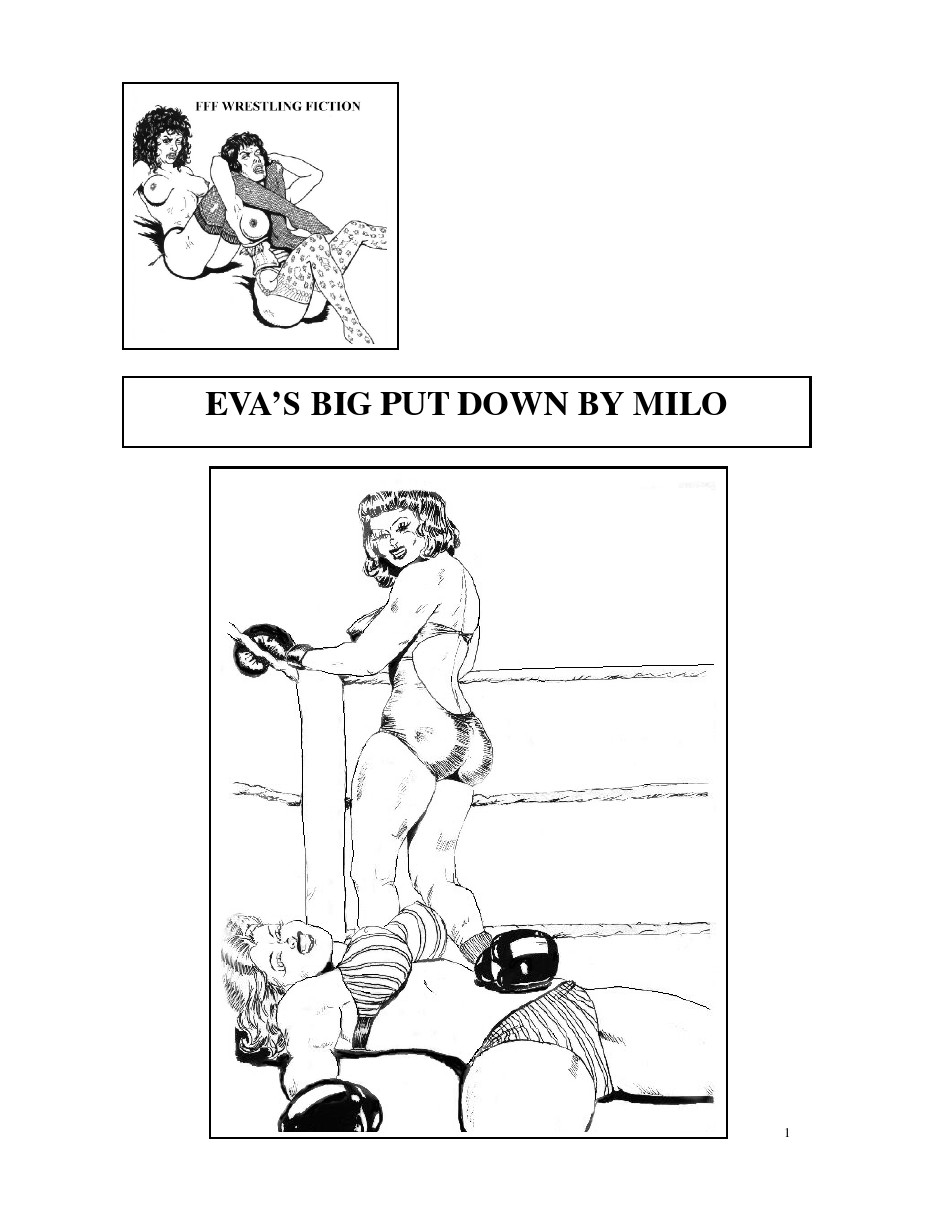 10 MILO'S BUXOM FIGHTING FEMALES PORT FOLIO 1. TWENTY TWO PAGES OF MILO'S BUXOM FIGHTING FEMALES, INCLUDING BOXING, WRESTLING, AND CAT FIGHTING. A GREAT COLLECTION OF MILO ARTWORK. €5.00