MIXED PHOTO FIGHTING STORYBOOKS PAGE
New mixed storybook extracts blog
'battle-annals mixed fighting stories extracts'
read extracts from the mixed storybooks available here on the new blog

http://battleannalsmixedfight.blogspot.com
MIXED PHOTO FIGHTING STORYBOOKS LIST
1 FICTION FRICTION. FRIAR BATTLES SONIA FERNANDES IN WHAT WAS SUPPOSED TO BE A FRIENDLY MATCH. UNFORTUNATELY FOR FRIAR SONIA GIVES HIM A RIGHT GOING OVER. TOUGH HUMOROUS MIXED ACTION. PHOTO STORY BOOK WITH ACCOMPANYING FULL COLOUR PRINTED PHOTOS. A MUST IF YOU ENJOY SEEING A MALE GET PASTED BY A SUPERIOR FEMALE. €5.00.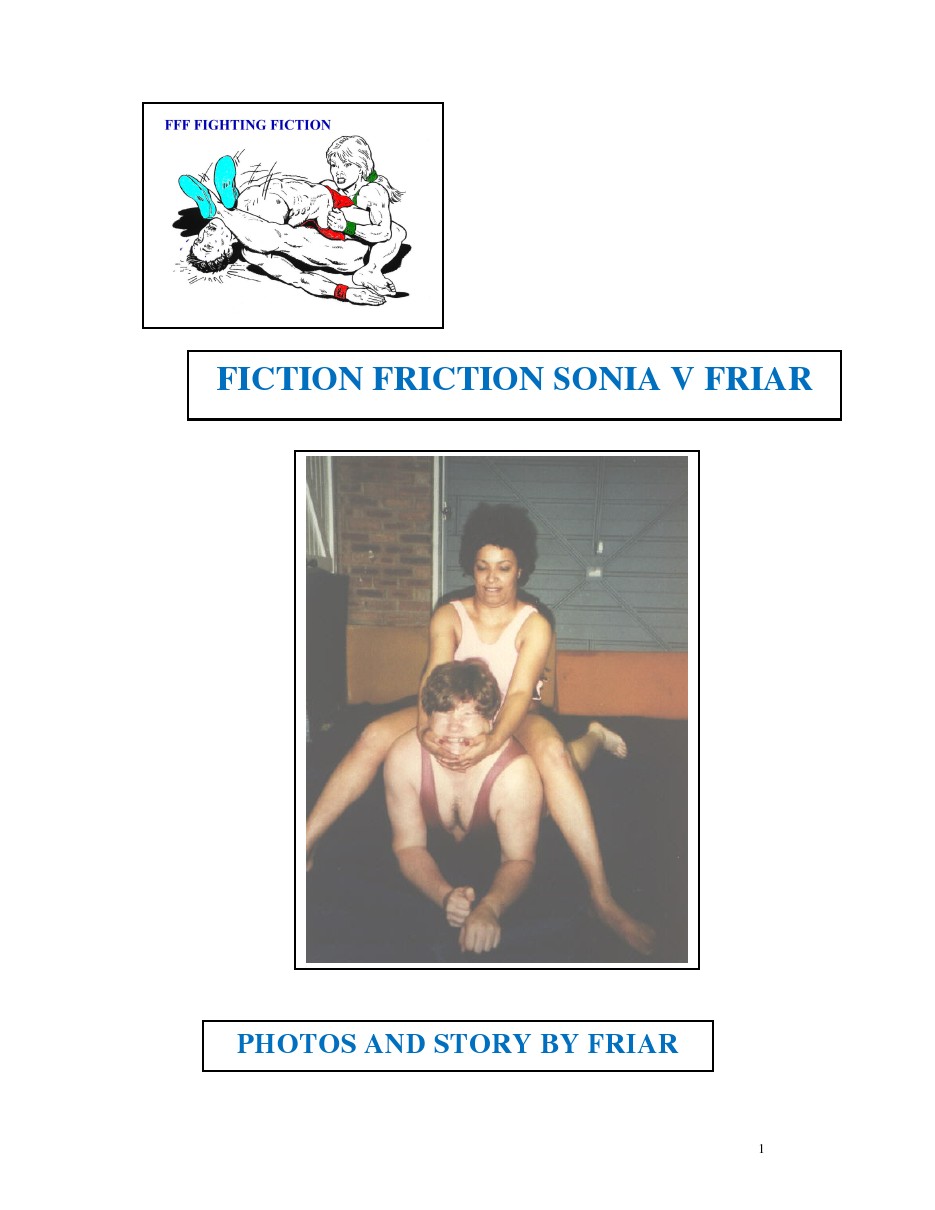 2. FANTASY MIXED WRESTLING SPIDERMAN V THE RIDDLER. THE UK MIXED FIGHTING CLUB HAS NEW CONCEPT TO ENTERTAIN IS MEMBERS AND SUPPORTERS MIXED FANTASY WRESTLING MATCHES BETWEEN SUPER HEROES AND SUPPER VILLAINS. SPIDERMAN FACES A FEMALE RIDDLER. IN A SET OF ROOMS OVERLOOKED BY VIEWING GALLERIES AND RECORDED ON DVD'S SPIDERMAN AND THE RIDDLER BATTLE IT OUT TO SE WHO IS BEST. THE RIDDLER DOMINATES THE BATTLE FROM THE START AND MAKES SPIDERMAN SUFFER PUNISHING WITH PAINFUL HOLDS AND MAKING SUFFER PHYSICAL AND SEXUAL ABUSE TO FOR FORCE HIM TO SUBMIT. SPIDERMAN IS FINALLY KO'S AND TRUSSED UP TO BE ABUSED EVEN MORE BY THE FEMALE RIDDLER. TOUGH MIXED ACTION WITH THE MALE GETTING FULLY WORKED OVER AND HUMILIATED BY THE FEMALE €5.00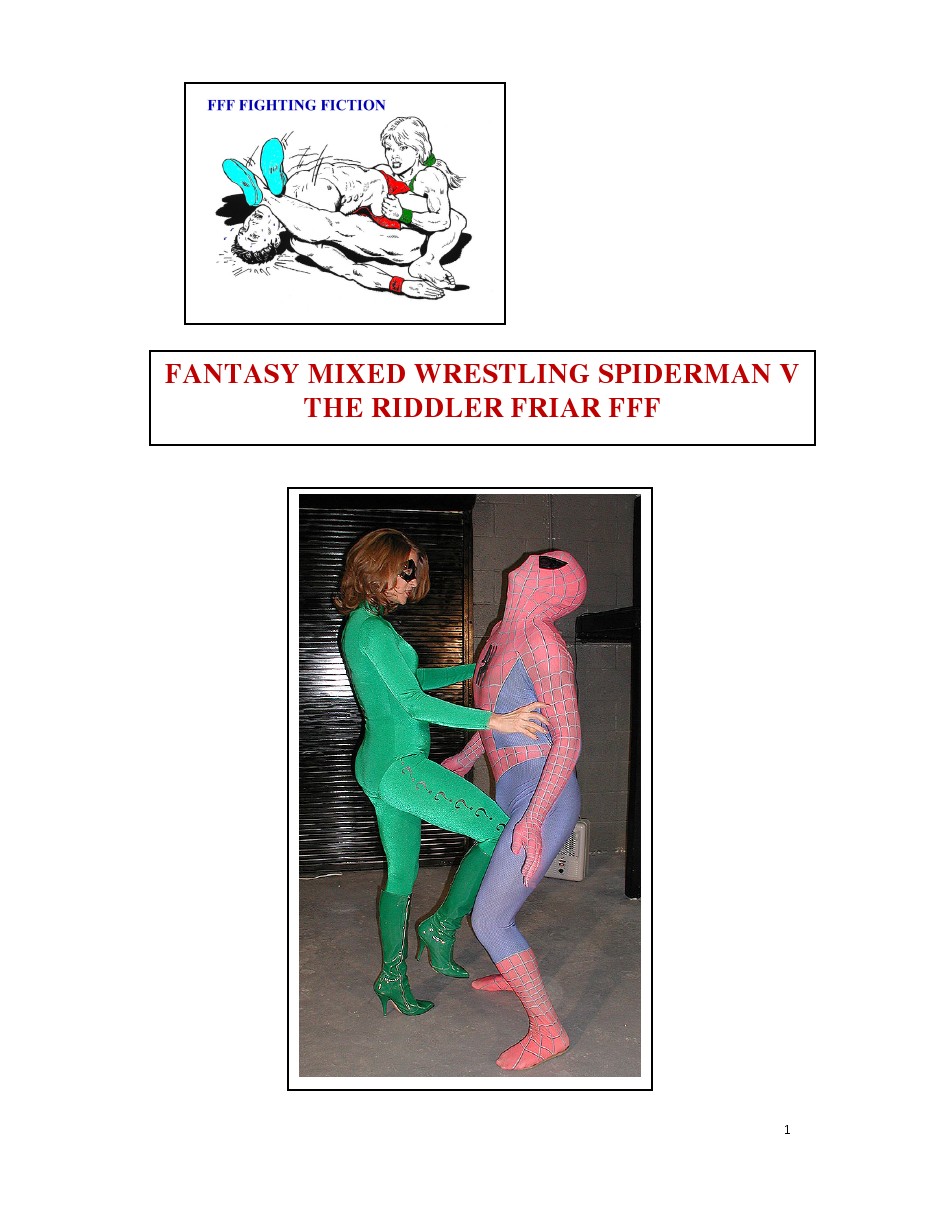 3. MIXED OIL WRESTLING EASY MONEY THE HARD WAY OR SO MARK THOUGHT. WHILE ON VACATION IN THE US MARK IS PERSUADE BY TWO STUNNING US WOMEN ANNE MARIE AND VICTORIA TO EARN SOME EXTRA MONEY BY MAKING A OIL WRESTLING DVD WITH THEM. MARK TAKES ON THE BLOND ANNE MARIE FIRST AND SHE GIVES HIS A REAL GOOD WORK OVER SUBJECTING TO HEAD LOCKS, ARM LOCKS, CAMEL CLUTCHES, BUM DROPS, KNEE DROPS, AND REPEATED BODY BLOWS DRAWING SEVERAL PAINFUL SUBMISSIONS FROM HIM. ANNE MARIE FINISHED MARK OFF WITH CHOKE HOLD THAT LEFT HIS OUT COLD.
MARK ONLY GOT FIVE MINUTES REST BEFORE HE HAD TO WRESTLE THE DARK HAIRED HISPANIC VICTORIA. WEAK AFTER HIS DEFEAT AT ANNE MARIE'S HANDS MARK QUICKLY SUCCUMBS TO VICTORIA'S TOUGH SYSTEMATIC ATTACK ON HIM. VICTORIA SUBDUES MARK WITH CHOKE HOLDS, BUM DROPS, BODY SCISSORS, DOUBLE REVERSE LEG PRESS, CROSS KNEE BACK BREAKER AND UNTOLD BODY BLOWS WITH PLENTY OF SUBMISSIONS. THE CROSS KNEE BACK BREAKER LEAVES MARK EXHAUSTED AND VICTORIA ENJOYS MAKING HIM SUFFER WITH SOME GUT PUNISHING PUNCHES TO HIS BELLY. SHE GETS A TKO BY MAKING MARK EJACULATE THEN ABUSES HIS BALLS TO MAKE HIM SURRENDER THE MATCH COMPLETELY. GREAT TOUGH SEXY HARD FOUGHT MIXED OIL WRESTLING WITH THE FEMALES DOMINATING AND BEATING THE MALE €5.00
STORY EXTRACT AVAILABLE TO READ, ON THE BATTLE ANNALS MIXED FIGHTING STORIES EXTRACTS BLOG, LINK AT THE TOP OF THE PAGE.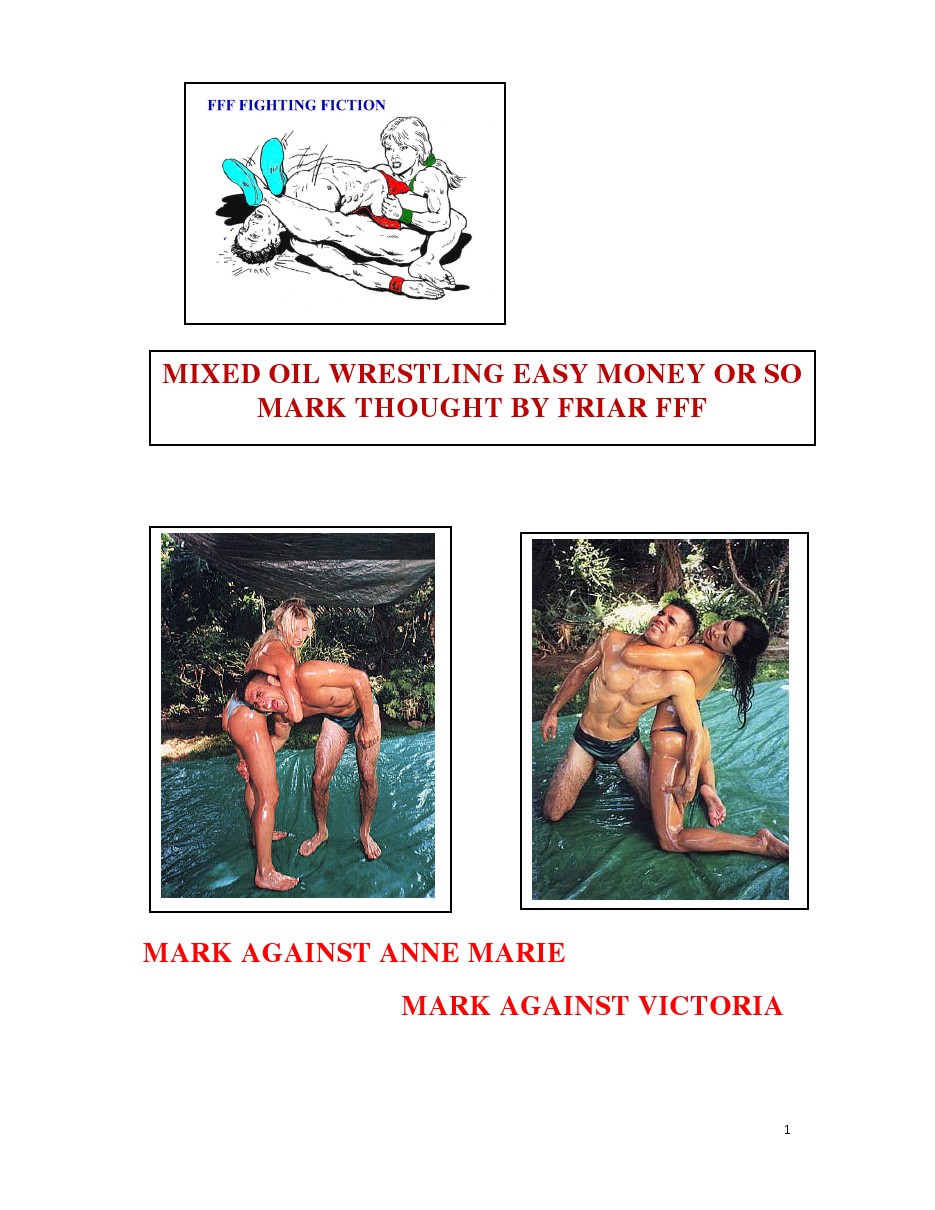 4 BALL BUSTED JOBBER. SPIKE THE RED DEVIL A MALE WRESTLING STAR MEETS TWO FEMALE FANS IN A PUB AFTER PERFORMING IN THE RING. HELEN AND HEATHER, TWIN SISTERS TALK SPIKE INTO GOING BACK TO THEIR PLACE AND HOOD WINK HIM INTO WRESTLING THEM. THE TWINS USE DIRTY MOVES TO SUBDUE SPIKE, THEN ABUSE HIM PHYSICALLY AND SEXUALLY. HIS BALLS GET BATTERED AND DRAINED DRY BY THEIR MERCILESS ABUSE. MORE TOUGH MIXED ACTION WITH THE MALE GETTING FULLY WORKED OVER AND HUMILIATED BY THE FEMALES €5.00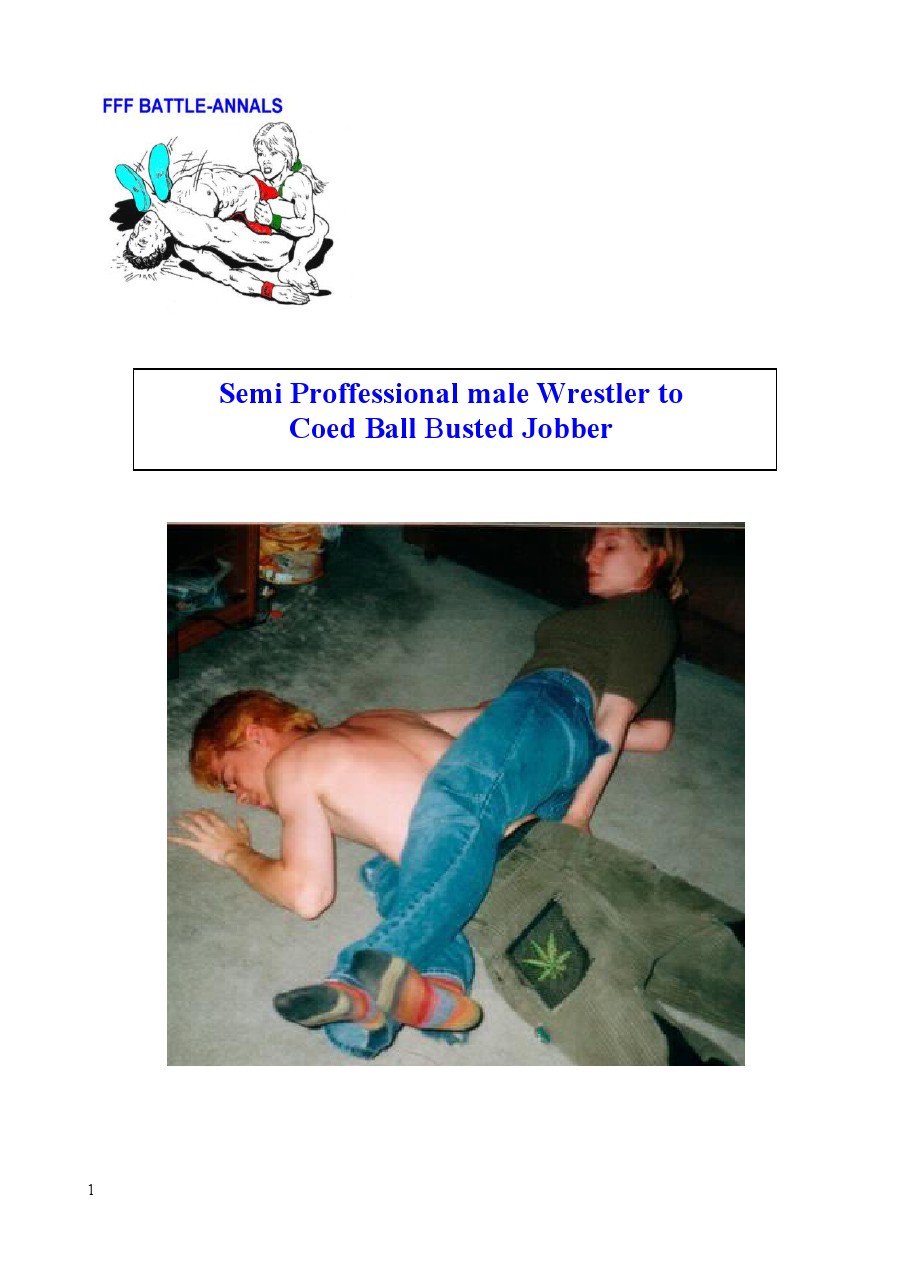 5 YOU ARE MY NEW WRESTLING SPARRING JOBBER BOY. JAY S YOUNG SLIM SUBMISSIVE MALE WRESTLER FINALLY PERSUADED INGRID A POPULAR FEMALE MODEL AND WRESTLER TO LET HIM WRESTLE HER. NOT IMPRESSED WITH JAY INGRID OFFERED HIM ONE CHANCE A NUDE ALL IN MATCH. IF HE IMPRESSED HER, SHE MIGHT LET HIM WRESTLE HERE ON A REGULAR BASIS AS SHE NEEDED A MALE SPARRING AND PRACTICE OPPONENT. JAY TOOK UP INGRID'S OFFER AND WENT TO HER PLACE AND WRESTLED WITH HER NAKED ON THE MATS.
INGRID WAS TALLER HEAVIER, STRONGER AND MUCH MORE EXPERIENCED THAN JAY. INGRID MADE SHORT WORK OF JAY EASILY BESTING HIM AND DECIDED TO PRACTICE HER SCISSORS SKILLS ON HIM. INGRID USED HER STRONG THIGHS AND SCISSORS SKILLS TO WORK JAY OVER IN A SERIES OF BRUTAL BODY SCISSORS. EACH TIME HER SCISSORS PUNISHED JAY'S BODY SHE MADE HIM PASS OUT. THEN SHE SWITCHED TO HEAD SCISSORS WORKING HIM MERCILESSLY OVER WITH THOSE GETTING EVEN KO'S. FINALLY INGRID SHOWED JAY WHAT SHE DID TO HER BEAT MALE OPPONENTS, BY TEASING AND ABUSE HIS BODY SEXUALLY, CRUELLY MILKING HIM DRY BEFORE SENDING HIM HOME WITH INSTRUCTIONS TO TURN UP EVERY WEEK AS HER NEW WRESTLING SPARRING AND JOBBER BOY. TOUGH MIXED WRESTLING WITH WEAK SUBMISSIVE MALE BEING DOMINATED AND ABUSED ON THE MATS BY A LARGER STRONGER FEMALE WRESTLER, WHO MAKE HIM HER PERMANENT WRESTLING SPARRING AND JOBBER BOY. €5.00