PIT BULL ILLUSTRATED COLOUR FEMALE V FEMALE WRESTLING STORIES PAGE

New female fighting storybook extracts blog 'battle-annals female fighting stories extracts' read extracts from the female fighting storybooks available here on the new blog
Battle Annals female fighting stories extracts
PIT BULL ILLUSTRATED COLOUR FEMALE V FEMALE WRESTLING STORIES LIST
1 THE NEWBIE PART 1. PAULA WAS A YOUNG BLONDE FEMALE RECEPTIONIST, AT A TOP LONDON HOTEL, THE WESSEX HOTEL, IT WAS IN THE SEVENTIES. SHE HAD JUST STARTED HER SHIFT ON RECEPTION, WHEN A MOTOR BIKE COURIER ARRIVED TO DELIVER A PACKAGE FOR MR WESSEX THE HOTEL OWNER. PAULA THOUGHT HE LOOKED DIRTY AND A LITTLE SCRUFFY BUT QUITE CUTE. IT WAS A LONG DAY AS USUAL AND PAULA COULDN'T HELP THINKING ABOUT THE HUNKY BIKER. JUST AS HER SHIFT WAS ABOUT TO END, SHE WAS ASKED TO GO AND SEE THE BOSS, MR WESSEX, IN HIS OFFICE. AFTER ENQUIRING ABOUT HOW SHE LIKED THE JOB AND HOW SHE WAS DOING, MR WESSEX TOLD PAUL HE HAD AN OFFER TO MAKE TO HER. HE TOLD PAULA HE RAN A VERY EXCLUSIVE CLUB FOR RICH MALE CLIENTS HERE AT THE HOTEL AND NEEDED HER HELP, IF SHE WAS INTERESTED. HE TOLD HER HE RAN A FEMALE WRESTLING CLUB, FOR HIS RICH MALE CLIENTS TO WATCH. THERE WAS A CLUB MEETING THAT EVENING AND ONE OF HIS GIRLS COULD NOT MAKE, IT HE WONDERED IF SHE WOULD LIKE TO STEP IN, IN HER PLACE. MR WESSEX SHOWED PAULA A VIDEO OF A PREVIOUS CLUB SESSION OF YOUNG WOMEN WRESTLING AND TOLD PAULA, SHE WOULD BE PAID FOR HER SERVICES. PAULA THOUGHT THEY LOOKED LIKE THE FIGHTS SHE HAD AT SCHOOL, BUT WITH OUT THE SCRATCHING AND HAIR PULLING. PAULA DECIDED TO GIVE IT A GO, BUT TOLD MR WESSEX SHE DID NOT HAVE BIKINI AND WOULD NOT WRESTLE NUDE.MR WESSEX SAID, SHE WOULD BE ABLE TO BORROW A BIKINI AND WAS PLEASED SHE ACCEPTED. HE GAVE HER FIVE POUNDS, TO GET SOMETHING TO EAT AND TOLD HER TO RETURN, AT SIX THIRTY AND COME TO THE FUNCTION ROOM.
PAULA DECIDED WHEN SHE WAS OUT TO BUY A NEW RED PIECE SWIM SUIT INSTEAD OF BORROWING ONE, IT COST HER A LOT MORE THAN THE FIVE POUNDS MR WESSEX HAD GIVEN HER, BUT IT TURNED OUT TO BE A GOOD INVESTMENT, IN THE END. PAULA WENT TO THE FUNCTION ROOM AT SIX THIRTY AND PEERED IN, THERE WERE LARGE BLUE MATS ON THE FLOOR WITH A ROW OF CHAIRS DOWN ONE SIDE AND CAMERA ON THE OTHER. SHE ENTERED NOT HAPPY ABOUT THE CAMERA, BUT NOT WANTING TO BACK OUT NOW AFTER EXPENSE, AND WAS FOLLOWED IN BY MR WESSEX WITH AN ATTRACTIVE BRUNETTE. MR WESSEX INTRODUCED PAUL TO LINDA THE BRUNETTE AND TOLD PAULA, LINDA WOULD LOOK AFTER HER. LINDA TOOK HER TO MEET THE OTHER GIRLS THE OTHER WRESTLERS AND GET CHANGED. LINDA LEFT TO FIND OUT WHO WOULD BE FIGHTING WHO. SHE RETURNED SHORTLY WITH A LIST. PAUL THE BLONDE NEW COMER, WOULD TAKE ON KAT ANOTHER BRUNETTE, A REGULAR WITH LOTS OF EXPERIENCE. LINDA TOOK THE TWO GIRLS IN ROBES TO THE FUNCTION ROOM, TO MEET THE RICH MALE MEMBERS, OF MR WESSEX'S WRESTLING CLUB. PAULA STRIPPED DOWN TO HER NEW, ONE PIECE, RED, SWIM SUIT. KAT STRIPPED DOWN TO HER PINK BIKINI. LINDA INTRODUCED THE WRESTLERS. FIRST FROM BRISTOL, STANDING FIVE FOOT FIVE INCHES AND WEIGHING ONE HUNDRED AND TWENTY EIGHT POUNDS KAT, KAT STEPPED ONTO THE MATS IN HER PINK BIKINI. HER OPPONENT MAKING HER DEBUT FOR US TONIGHT, FROM JUST DOWN THE ROAD IN CHISWICK, STANDING FIVE FOOT SIX INCHES AND WEIGHING ONE HUNDRED AND FORTY POUNDS PLEASE WELCOME PAULA. BOTH WRESTLERS WERE APPLAUDED. PAULA HAD A TOUGH FIGHT WITH KAT AND AS SHE WAS A NOVICE SHE LOST BY TWO SUBMISSIONS, TO NIL, BUT WAS CONGRATULATED, ON HER GOOD PERFORMANCE.
PAULA WAS NOT HAPPY ABOUT LOSING, PARTICULARLY, AS IT HAD BEEN ON CAMERA. BUT KAT PERSUADED PAULA TO STAY WITH HER, TO WATCH THE OTHER WRESTLING MATCHES, TO GET SOME IDEAS, TO USE, AND TO SEE HOW THE OTHERS WRESTLED. PAULA AGREED, NOT FULLY HAPPY, BUT AS IT TURNED OUT SHE ENJOYED WATCHING THE OTHERS WRESTLE. FIRST WAS A RED HEAD, JULIE IN A GREEN AND BLUE STRIPPED BIKINI, AGAINST A BLONDE DEBBIE, IN A VERY SKIMPY BLUE BIKINI. IT WAS A VERY CLOSE TOUGH MATCH, WITH BOTH WRESTLERS GETTING ONE SUBMISSION EACH, BEFORE THE TIME RUN OUT AND THE MATCH WAS DECLARED A DRAW. THE NEXT MATCH WAS BETWEEN A BRUNETTE SUE, IN A METALLIC GOLD BIKINI, AGAINST KAREN, ANOTHER BRUNETTE, IN A SKIMPY PURPLE BIKINI. KAREN MANAGED TO GET THE FIRST FALL, BY PINNING SUE DOWN, FOR A FIVE COUNT. THE KAREN CAME BACK TRAPPING SUE IN A FULL NELSON AND FORCING SUE DOWN TO THE MATS. KAREN WHILE ON TOP MADE SUE'S BACK SUFFER ENOUGH TO SUBMIT. WHILE KAREN CELEBRATED HER EQUALISING SUBMISSION, SUE HAD TO RETIRE, BECAUSE HER BACK HURT TOO MUCH, MAKING KAREN THE WINNER.
NEXT WAS GINA WHO PAULA HAD THOUGHT SARCASTIC, WHILE THEY CHANGED. GINA HAD BLACK HAIR, AND WAS IN A WHITE BIKINI. HER OPPONENT A BLACK WOMAN, DONNA WAS IN A SHINY BLACK BIKINI. PAULA WANTED THE SARCASTIC GINA TO LOSE AND THOUGHT DONNA LOOKED THE MORE CAPABLE. THEY WRESLTED HARD AND GINA WON, BY TWO STRAIGHT, PAINFUL SUBMISSIONS. THAT WAS THE LAST MATCH OF THE EVENING AND MR WESSEX AND HIS GUEST DECIDED WHO THEY WANTED TO WRESTLE IN A FINAL MATCH, WHILE PAULA WAITED THINKING EVERY THING WAS OVER, FOR HER. TO PAULA'S SURPRISE, SHE WAS CHOSEN TO WRESTLE, THE WOMAN WHO HAD JUST LOST DONNA. THE MEN WANTED TO SEE THE NOVICE WRESTLING AGAIN. PAUL WAS DETERMINED TO TRY AND WIN THIS TIME. ALTHOUGH SHE WRESTLED BRAVELY AND HARD, SHE STILL LOST BY A PIN AND SUBMISSION. PAULA WAS NOT HAPPY AT LOSING AGAIN AND WHILE SHE CHANGED, SHE WAS NOT SURE WRESTLING WAS FOR HER. THEN AS SHE WAS LEAVING, SHE WAS TOLD MR WESSEX WANTED TO SEE HER AGAIN. ON HER WAY TO SEE MR WESSEX, SHE BUMPED INTO THE CAMERA MAN AND WITH A SHOCK, REALISED IT WAS THE BIKER, SHE HAD FANCIED, FROM THE MORNING. HE MADE HER GO RED AGAIN, LIKE SHE HAD IN THE MORNING. MR WESSEX THANKED PAULA FOR TAKING PART AND HANDED HER BROWN ENVELOPE, AND ASKED HER TO KEEP QUIET, ABOUT THE WRESTLING. IN THE ENVELOPE WAS FIFTY POUNDS AND THAT REMOVED PAULA'S DOUBT, ABOUT TAKING PART AGAIN, IT WAS MORE THAN TWO WEEKS WAGES, FOR SOME ROLLING AROUND ON MATS. THE CAMERA MAN, WAS IN RECEPTION WHEN PAUL GOT THERE, TO LEAVE AND OFFERED HER A RIDE HOME ON HIS MOTOR BIKE. PAULA HESITATED THEN ACCEPTED, IT WOULD BE A GOOD END TO GREAT AND PROFITABLE DAY. GREAT FEMALE V FEMALE WRESTLING ACTION, WITH TWENTY SIX FULL COLOUR ILLUSTRATIONS, BY PITBULL. €8.00
Story extract available to read, on the battle annals male fighting stories extracts blog, link at the top of the page.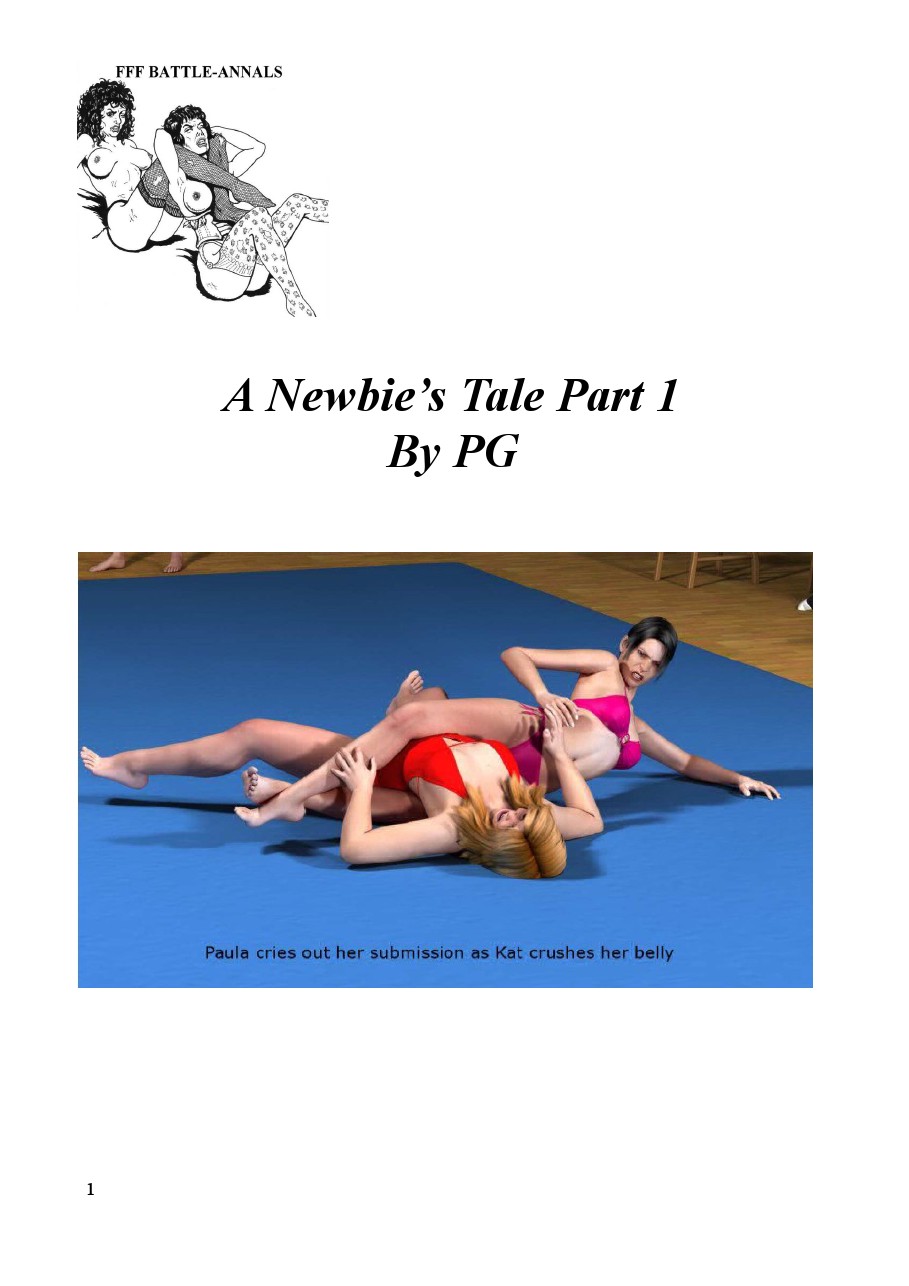 2 THE NEWBIE PART 2. PAULA RODE HOME ON THE BACK OF NICK'S MOTOR BIKE, AFTER HER FIRST EXPERIENCE OF WRESTLING, OTHER FEMALES AND GETTING PAID FOR IT. SHE GOT HOME LATE AND HER FATHER WAS NOT HAPPY, BUT SHE WAS.
PAULA'S NEXT DAY STARTED BAD WITH A RAIL AND BUS STRIKE SO SHE HAD CYCLE TO WORK. NICK PHONED TO REMIND HER THEY HAD A DATE THAT NIGHT. PAULA RUSHED HOME TO GET READY TO GO OUT WITH NICK. AFTER COMING BACK FROM THE PUB PAULA'S MOTHER TOLD HER, DONNA HAD PHONED AND LEFT A MESSAGE TO RING HER. NICK AS PROMISED, GAVE HER A LIFT TO WORK THE NEXT MORNING. PAULA PHONED DONNA IN THE AFTERNOON. DONNA INVITED PAULA TO A WRESTLING TRAINING SESSION. THE WRESTLING TRAINING SESSION, STARTED WITH SOME STRETCHING EXERCISES. THEN LINDA GAVE PAULA SOME WRESTLING LESSONS. PAULA WAS PUT THROUGH NUMEROUS PINS AND HOLDS BY LINDA. FINALLY PAULA MANAGED TO PIN LINDA DOWN. THEN SHE COULD NOT RESIST GIVING THE HANGING LEATHER PUNCH BAG, A COUPLE OF HITS, AND SHE WAS SURPRISED HOW MUCH IT MADE HER HANDS HURT. DAVID A KNOWLEDGEABLE FAN, SHE RECOGNISED FROM HER FIRST WRESTLING SESSION TOLD HER TO BIND HER WRISTS AND WEAR GLOVES. WHEN PAUL DID AND TRIED AGAIN, SHE IMPRESSED DAVID WITH HER PUNCHING SKILLS. THEN THE SESSION ENDED WITH A GROUP TRAINING SESSION.
IN THE PUB AFTERWARDS LINDA TOLD PAULA OF A NEW SHOW, THEIR GROUP OF FEMALE WRESTLERS WAS HAVING AGAINST ANOTHER GROUP OF FEMALE WRESTLERS FROM SCOTLAND. IT WAS GOING TO BE AT A PRIVATE VENUE OUTSIDE LONDON. IT WAS FOR A FULL WEEKEND WITH HOTEL ACCOMMODATION PAID FOR, BUT SHE WOULD HAVE TO MAKE HER OWN WAY THERE. FORTUNATELY NICK WAS GOING AND OFFERED TO TAKE HER.
HER BOSS MR WESSEX, GAVE HER THE FRIDAY OFF, WHEN SHE TOLD HIM ABOUT EVEN IT, THOUGH HE WAS NOT GOING HIMSELF.
NICK TOOK PAULA TO THE HOTEL NEAR BATH. THEY MET THE FOUR OTHERS GIRLS FROM HER TEAM IN THE BAR. ALTHOUGH THEY HAD SEPARATE ROOMS, NICK SPENT THE NIGHT WITH PAULA, GOING BACK TO HIS ROOM EARLY, SO NO ONE NOTICED. AFTER BREAKFAST, NICK TOOK PAULA TO THE VENUE, EARLY TO SET UP HIS GEAR. THE VENUE TURNED OUT TO BE A LARGE COUNTRY HOUSE, OWNED BY THE LEAD GUITARIST OF A FAMOUS ROCK BAND. IT WAS HE WHO LET THEM IN TO THE IMPRESSIVE HOUSE AND HE TURNED OUT TO BE LINDA'S HUSBAND. PAULA'S TEAM MET THE SCOTTISH TEAM, FOR A PHOTO SHOOT. THEN THE CAPTAINS LINDA AND MARY DECIDED WHO WOULD WRESTLE WHO.
THE FIRST MATCH WAS BETWEEN WENDY FOR SCOTLAND, A SMALL RED HEAD, IN ONE PIECE BLUE SWIM SUIT. HER OPPONENT FOR THE ENGLISH TEAM WAS LINDA, IN A STARS AND STRIPES BIKINI. THEY WRESTLED HARD AND LINDA OUTCLASSED WENDY, WINNING BY ONE FALL TO AN ARM BAR AND A SUBMISSION, TO A BODY SCISSORS.
THE SECOND MATCH WAS BETWEEN LORRAINE FOR SCOTLAND AND DEBBIE FOR ENGLAND, LORRAINE WORE, WHAT ALL THE SCOTTISH TEAM WORE, A ONE PIECE BLUE SWIM SUIT. DEBBIE WORE A TURQUOISE BIKINI. THEY STARTED OFF VIOLENTLY, PULLING EACH OTHERS HAIR AND THE REFEREE STOPPED THE MATCH, SAYING IT WAS NOT A CAT FIGHT. WHEN
THEY STARTED AGAIN LORRAINE TRAPPED DEBBIE IN AN ARM BAR AND FORCED HER DOWN TO THE MATS AND PINNED DEBBIE FOR THE FIRST POINT. THEN AFTER A TOUGH BATTLE LORRAINE GOT THE SECOND PIN, TO WIN FOR SCOTLAND.
NEXT WAS KIM WITH BLACK HAIR IN A WHITE BIKINI FOR ENGLAND AGAINST GINA FOR SCOTLAND A BLONDE IN A BLUE ONE PIECE. THEY WRESTLED HARD AND GINA GOT THE FIRST PIN. KIM EQUALISED THE MATCH WITH SUBMISSION ON GINA, A CHIN LOCK. THEN AFTER A LONG STRUGGLE GINA TOOK THE MATCH WITH A SUBMISSION, OF ARM BAR AND BODY SCISSORS ON KIM.
NEXT UP WAS DONNA FOR ENGLAND, A BLACK WOMAN IN A BLACK BIKINI, AGAINST MARY FOR SCOTLAND THEIR CAPTAIN. THEY WRESTLED HARD WITH MARY WINNING BY TWO SUBMISSIONS, A HAMMER LOCK AND A HEAD LOCK.
PAULA WAS IN THE FINAL MATCH AGAINST PENNY, FROM SCOTLAND. PAULA BLONDE AND THICK SET IN A BLACK BIKINI. PENNY EVEN BIGGER, WITH BROWN HAIR AND BLUE ONE PIECE. PENNY PULLED PAULA DOWN IN A HEAD LOCK AND TRAPPED HER IN A BODY SCISSORS, MAKING PAULA TAP OUT. PAULA MANAGED TO THROW PENNY OVER HER SHOULDERS AND TRAP HER IN A HEAD SCISSOR AND ARM BAR, TO GET THE EQUALISING SUBMISSION. THEN PENNY CHARGED AND KNOCKED PAULA DOWN AND PINNED HER. PAULA CLAMPED HER LEGS ROUND PENNY'S WAIST AND CRUSHED HER UPPER BODY. PENNY USED HARD BUM DROPS TO PAULA'S BELLY, TO BREAK THE BODY SCISSORS. THEN AFTER A LONG STRUGGLE WON THE MATCH WITH PIN. PENNY HELPED SCOTLAND THE GLASGOW GRAPPLERS, TO WIN THE CONTEST THREE MATCHES TO TWO. MORE GREAT FEMALE V FEMALE WRESTLING ACTION, WITH OVER THIRTY FULL COLOUR ILLUSTRATIONS, BY PITBULL. €8.00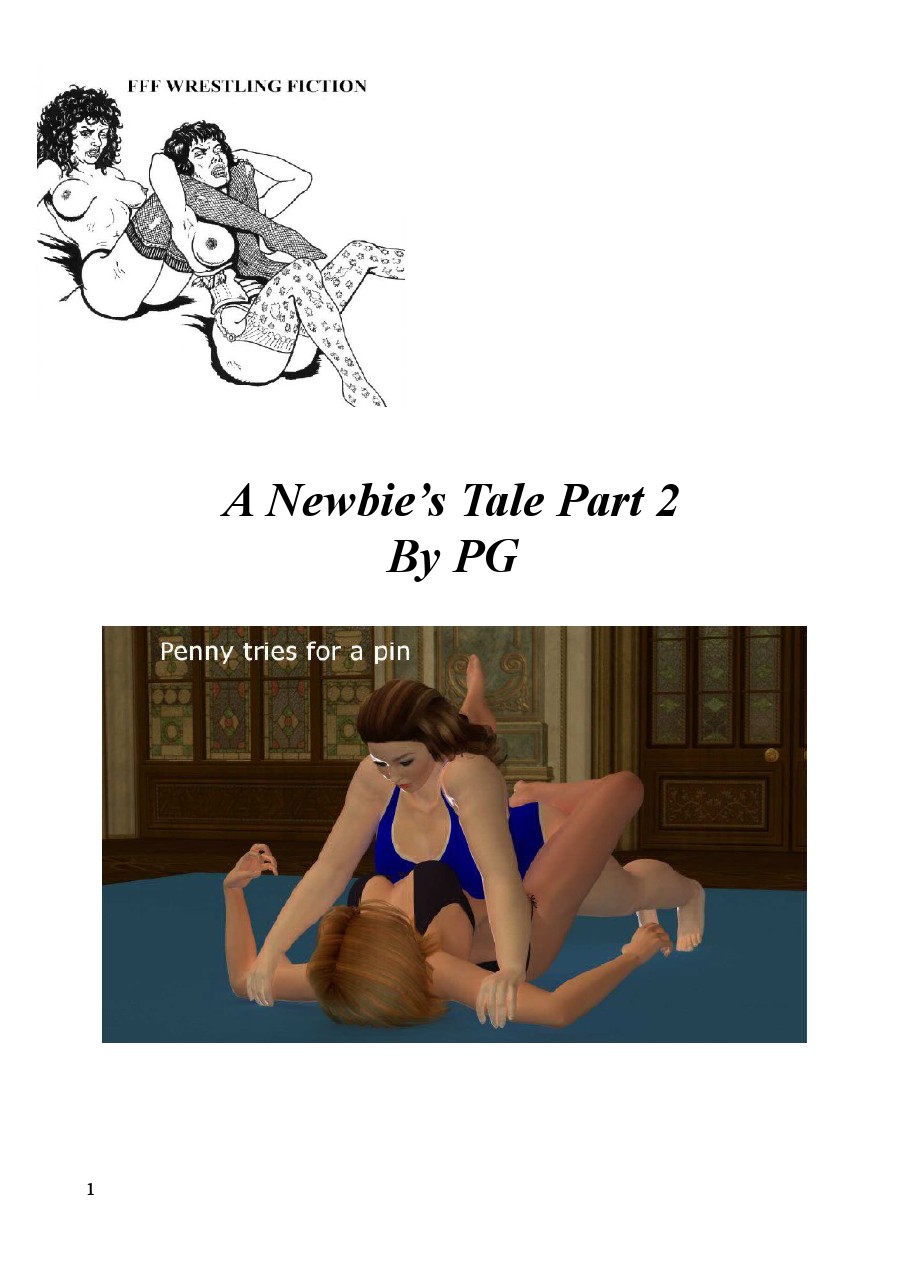 3 THE NEWBIE PART 3. THE NEXT DAY AFTER THE DISAPPOINTING PERFORMACE, AGAINST THE SCOTTISH WRESTLERS, PAULA WAS NOT VERY CHEERFUL, BUT DECIDED TO GO TO THE PUB WITH NICK. THAT TURNED OUT TO BE A PAINFUL MISTAKE. AS PAULA SAT IN THE PUB GARDEN, WHILE NICK WENT TO BUY SOME CIGARS, SHE WAS APPROACHED BY AN ANGRY FEMALE. THE ANGRY WOMAN TOLD PAULA SHE HAD A NERVE SHOWING HER FAT UGLY, FACE THERE. ALTHOUGH SHE DID NOT KNOW WHO THE WOMAN WAS, THE FAT JIBE ANGERED PAULA. BUT BEFORE PAUL COULD REACT, THE WOMAN PUNCHED HER IN THE NOSE. THEY DROPPED TO THE GROUND IN A VICIOUS CAT FIGHT. PAULA MANAGED TO TURN THE TABLES ON THE STRANGE WOMAN AND GAVE HER SOME GOOD PUNCHES, BEFORE SHE WAS DRAGGED OFF HER. PAULA WAS LEFT WITH A BLEEDING NOSE AND SCRATCHED FACE. SHARON WAS HER NAME, AS IT TURNED OUT HAD A BLOODY LIP AND BALLOONING EYE. PAULA'S REWARD FOR BEING ATTACKED UNPROVOKED BY SHARON, WAS TO BE BARED BY THE LAND LORD. AFTER THIS EMBARRASSING INCIDENT PAULA DECIDED TO TAKE UP AN EARLIER OFFER BY ONE OF THE CLUB MEMBERS DAVID, TO TEACH HER HOW TO BOX. DAVID GOT HER GLOVED UP, THEN GOT HER TO SPAR WITH A MALE BOXER, HE WAS ALSO TEACHING, CALLED STEVE. AFTER THAT DAVID WEEKS OF HARD TRAINING DAVID ASKED PAULA IF SHE WOULD LIKE TO PUT ALL SHE HAD LEARNED INTO PRACTICE A REAL FIGHT. IT WAS TO BE AT FEMALE BOXING TOURNAMENT IN GERMANY. PAULA WOULD BE PAIN HER EXPENSES AND SMALL PURSE FOR ANY FIGHT. PAULA ACCEPTED. SHE WAS GIVE SOME BOXING BOOTS AND SATIN TRUNKS, FOR A PHOTO SHOOT, FOR THE TOURNAMENT PROGRAM.
AT THE TOURNAMENT IN HAMBURG GERMANY, PAUL HAD TO FIGHT A GERMAN GIRL CALLED BEATE. BUT THAT WAS AFTER SHE HAD QUITE LONG WAIT IN THE LOCKER ROOM, FOR THE BOUTS BEFORE HER FIGHT, TO BE FINISHED. PAULA HAD A LONG HARD PAINFUL FIGHT WITH BEATE. AT THE START BEATE DOMINATED THEIR BOUT, BUT SHE DID NOT GET IT ALL HER OWN WAY. BEATE GOT FIRST BLOOD WITH PUNCH TO PAULA'S NOSE. PAULA COUNTERED WITH A POWERFUL BODY BLOW, THAT SHOOK BEATE. THEN BEATE MANAGED TO KNOCK PAULA DOWN WITH A HARD RIGHT. IT TOOK AND EIGHT COUNT FOR PAULA TO GET BACK UP, READY CARRY ON. BEATE ATTACKED, POUNDING PAULA'S GUARD WITH HER GLOVES. BUT PAULA MANAGED TO KEEP HER GUARD IN TACT. THEN PAULA DROVE A HARD PUNCH INTO BEATE'S LEFT BREAST AND REALLY HURT THE GERMAN GIRL, FORCING BEATE TO CLINCH PAULA HARD, IN DESPERATION. BEATE WAS SAVED BY THE BELL. IN THE NEXT ROUND, SHE REALLY WENT TO TOWN ON PAULA, POUNDING AND PUNISHING HER, SHE BLOODIED PAULA'S NOSE AGAIN, GOT REVENGE FOR HER ACHING BREAST AND FINALLY PUT PAULA DOWN. PAULA BRAVELY GOT BACK UP AND CONTINUED, BEATING THE COUNT. THIS TIME PAULA TURNED THE TABLES ON BEATE, GIVING HER A GOOD DRUMMING, RETURNING THE FAVOUR AND PUTTING BEATE DOWN. THEY BATTLED ON HARD, EXCHANGING BLOWS TO THE HEAD. PAULA HURT BEATE WITH BLOW TO HER RIGHT BREAST. THEY FOUGHT ON HARD, ROUND THREE ENDED WITH BOTH OF THEM STRUGGLING HARD. IN ROUND FOUR FEARING PAULA'S BODY BLOWS BEATE KEPT HER DISTANCE, LANDING LONG PUNCHES ON PAULA. BEATE MANAGED TO SCORE TO PAULA'S NOSE AND MAKE IT BLEED AGAIN. DESPITE THE BLOODY NOSE, PAULA SCORED WITH A HARD BODY BLOW. SHE TRAPPED BEATE IN A CORNER AND PUNISHED HER WITH ANOTHER BODY BLOW AND UPPER CUT. THEN PAULA TOOK A HARD HEAD BLOW THAT STAGGERED HER SLIGHTLY. AS SHE STUMBLED BACK BEATE HESITATED THEN ATTACKED. PAULA SOMEHOW MANAGED TO AVOID BEATE'S ATTACK AND LANDED A PUNCH TO BEATE'S JAW. THE BLOW STUNNED BEATE, THEN ANOTHER KNOCKED HER DOWN. BEATE COULD NOT CARRY ON AND PAULA WAS DECLARED THE WINNER. THE NEWBIE HAD WON HER FIRST BOXING MATCH. GREAT FEMALE ON FEMALE BOXING ACTION BY €8.00 PITBULL, WITH OVER THIRTY FIVE COLOUR ILLUSTRATIONS.