ANFLESH MALE ON MALE DOMINATION ARTWORK AND COMIC BOOK PAGE
The url is man-flesh1.blogspot.com
http://www.man-flesh1.blogspot.com
MANFLESH MALE ON MALE DOMINATION LIST 36-47
36 SOUTH OF THE RIVER PART 2 MANDONGO. LANDON WAS NOW IN LORD OLUWA'S PLANTATION. LANDON WAS FORCED TO STAND LIKE A MENIAL, WHILE HIS EX SLAVES CALLED HIM NAMES. "GONNA BE A WHITE BITCH", ONE SLAVE SAID. "SOON GONNA HAVE YER LIPS ON MA COCK", ANOTHER SAID. "MINE TOO", A THIRD SAID. "HAVE YOU GET UNDER THE TABLE AND SUCK MA COCK", THE FOURTH ONE SAID. LANDON HAD A BONER, AS HE WAS FORCED TO WATCH IN A SUBSERVIENT MANNER. EVEN THE OTHER HOUSE SERVANTS, WERE WHITE SLAVES AND NAKED. SHIT, HE WAS TURNED ON, SHIT HE WAS LEAKING COPIOUS AMOUNTS OF PRECUM. A BOWL OF FOOD WAS BROUGHT FOR LANDON TO EAT. IT WAS A SLUDGE OF MEAT, FISH, FRUIT, OFFAL AND STEROIDS. THE FUTURE SLAVE NEEDED MORE MUSCLES FOR THE HARD WORK AHEAD, TO TOIL AND BE FUCKED. LANDON RAVENOUS, GULPED DOWN THE SLUDGE. AS TWO BLACK BUCKS PISSED ON HIM.
LORD OLUWA GRABBED HOLD OF LANDON'S SHIRT AND HOISTED OFF HIS FEET. "I AM YOUR MASTER", LORD OLUWA SAID. "YOU ARE MY SLAVE, SPEAK IN SLAVE TALK", LORD OLUWA ORDERED. "AM BE SLAVE MASSA, YES, M MASSA I IS", LANDON REPLIED. "SHUCK YOUR CLOTHES, WHITEE SLAVES, ARE NAKED WORK BEASTS", LORD OLUWA ORDERED. "YES MASSA", LANDON REPLIED, FEELING SO SHAMED AND HORNY, AS HE REMOVED HIS SHIRT. "NOT FAST ENOUGH, MY CANE", LORD OLUWA, SAID ANGRILY PICKING UP HIS CANE. LANDON WAS GIVEN A GOOD BEATING, AND AS A SLAVE IT CERTAINLY WOULDN'T BE HIS LAST. QUICKLY LANDON UNDID HIS BOOT LACES, HIS SLAVES USE TO DO THAT FOR HIM. "YER CLOTHES WILL GO TO BLACK BUCKS, WHITEE SLAVES ARE NAKED. "YES MASSA", LANDON REPLIED, AS HE REMOVED HIS BOOTS. "BREECHES OFF", LORD OLUWA ORDERED, FORCING LANDON TO REMOVE HIS TROUSERS. "OFF WITH YOUR DRAWS", LORD OLUWA ORDERED. LANDON WAS FORCED TO REMOVE HIS BULGING UNDERWEAR. LANDON'S DECENT INTO SLAVERY, STARTED WITH FORCED NUDITY. LONDON HAD NO CHOICE AND SHUCKS HIS DRAWS. LANDON TRIED TO COVER HIS PINKIEE, WITH HIS HANDS. "NO COVERING, DISPLAY NOW", LORD OLUWA ORDERED. LANDON WAS NOW A SLAVE AND SLAVES ARE OWNED BEASTS, THEIR SEX ORGANS HAD TO BE PERMANENTLY DISPLAYED. LANDON OBEYED, PUTTING HIS HANDS ON HIS HEAD LETTING ALL OF THEM SEE HIS HARD EXCITED COCK. "BEND OVER AND SPREAD YOUR ARSE WIDE OPEN", LORD OLUWA ORDERED. HORRIFIED, LANDON BENT OVER AND SPREAD HIS ARSE CHEEKS WIDE. HIS EXSLAVES ALL POINTED AT HIS TIGHT HOLE AND SMILED. LORD OLUWA, STUCK TWO OF HIS MASSIVE FINGERS UP HIS NEW WHITE SLAVES ARSE, THEN A THIRD, MAKING LANDON, MOAN AND GASP. "CONTROLLED BY YOUR MASSA", LORD OLUWA SAID. ALTHOUGH PAINFUL IT EXCITED LANDON AND THE SAP IN HIS COCK STARTED TO RISE, AGITATED BY HIS MASTER'S THICK BLACK FINGERS. LANDON COULD NOT HELP HIMSELF AND HE EJACULATED IN AN ORGASMIC FRENZY. LANDON'S EXSLAVES WERE NOW ALLOWED TO FINGER AND FIST FUCK, HIS ENSLAVED WHITE ARSE.
LORD OLUWA SENT FOR HIS STABLE MASTER. THE STABLE MASTER WAS HUGE, MUSCLED BLACK BUCK, IN LEATHER THONG AND LEATHER BOOTS, HE WAS CARRYING A LEATHER SLAVE COLLAR AND LEASH. LORD OLUWA ORDERED THE STABLE MASTER TO PROCESS THE NEW SLAVE. "YES LORD", THE STABLE MASTER REPLIED. THE STABLE MASTER BUCKLED THE SLAVE COLLAR AROUND LANDON'S NECK. LANDON WAS NOW COLLARED NAKED SLAVE BEAST, BEING TAKEN TO THE STABLE BLOCK, FOR SLAVE PROCESSING. MORE GOOD GRAPHIC MALE ON MALE DOMINATION ACTION WITH BLACK ON WHITE DOMINATION. €15
37 SOUTH OF THE RIVER PART 3 WHITE ARSE BLACK COCK. LANDON ONCE A PLANTATION OWNER AND MASTER OF BLACK SLAVES, WAS NOW A WHITE SLAVE TO A BLACK MASTER AND PLANTATION OWNER LORD OLUWA. LANDON HAD BEEN WAITING FOR AN HOUR IN HIS MASTER'S BEDROOM, HOLDING A POT OF PIG GREASE AND A PIG PAW. HE WAS ABOUT TO GET PLUGGED BY HIS MASTER'S COCK.
EARLIER, LANDON WAS MADE TO STAND OUT SIDE IN THE HOT SUN, AS HIS SLAVE COLLAR WAS FORGED, BEFORE BEING FIXED IN PLACE WITH A HOT RIVET. NEXT LANDON'S COCK HAIR WAS REMOVED WITH A DEFOLIANT, IT WOULD NEVER GROW AGAIN. THIS WAS TO ALLOW A STEEL PENILE DEPRESSANT HARNESS TO BE FITTED TO HIS COCK AND BALLS. IT CONSISTED OF TWO STEEL RINGS LINKED TOGETHER BY A SHORT AND THIN STEEL BAR. THE LARGER OF THE TWO STEEL RINGS, FITTED OVER THE BALLS AND THE BASE OF THE COCK. THE WEARER'S COCK, WAS FED THROUGH THE SMALLER RING, THAT BENT THE COCK BACK ON ITSELF. IT WAS PAINFUL AND EFFECTIVE CHASTITY DEVICE. SLAVE LANDON WAS THEN ORDERED TO RUN ON THE SPOT, WHILE KONO THE CHIEF OVERSEER WATCHED. KONO ORDERED LANDON TO PICK HIS LEGS UP HIGHER. STILL NOT PLEASED, KONO TOOK A WHIP FROM THE BARN. "YOU ARE NOT USING ALL YOUR ENERGY, YOU NEED HELP?", KONO SAID, AS HE WHIPPED LANDON. ALTHOUGH EXHAUSTED LANDON HAD NO CHOICE BUT TO INCREASE HIS SPEED. FINALLY SATISFIED, KONO STOPPED WHIPPING LANDON AND LET HIM STOP.
A BUGGY WAS BROUGHT OUT OF THE BARN PULLED BY A NAKED, WHITE, MALE ,SLAVE PONY. KONO CLIMBED INTO THE BUGGY AND INVITED ONE OF LANDON'S EXSLAVES, NOW AN OVERSEER HIMSELF, TO JOIN HIM. LANDON WAS TETHERED TO THE SLAVE PONY FOR A NAKED RUN. THIS WAS TO DEMONSTRATE TO LANDON, HIS NAKED BEAST STATUS. THEY SET OFF WITH LANDON'S EXSLAVE ENJOYING THE VIEW OF HIS ONCE OWNER, NOW A NAKED BEAST, WITH THICK ARSE CHEEKS. THE EXSLAVE WAS VERY KEEN TO SHAG LANDON'S FUCK HOLE, HARD. BUT HE KNEW PLANTATION MASTER LORD OLUWA, WOULD BEAST HIM IT FIRST. AS THEY APPROACHED PART OF THE RIVER NEAR THE PROPERTY, LANDON SAW NAKED WHITE BUCKS, TOILING, AS THEY OPERATED A WATER WHEEL. THEY STOPPED AT THE WATER WHEEL AND LANDON WAS UNHITCHED FROM THE MALE PONY SLAVE. HE WAS CHAINED TO THE CAPSTAN OPERATING THE WATER WHEEL IN PLACE OF ONE OF THE OTHER WHITE SLAVES. THE BUGGY DEPARTED LEAVING LANDON TO TOIL ON THE WATER WHEEL. LANDON TOILED AWAY ON THE WATER WHEEL ENCOURAGED BY WHIP. A WEEK TURNED INTO THREE WEEKS AND THEN THREE MONTHS. THREE MONTHS LATER LANDON'S BODY HAD THIRTY POUNDS MORE MUSCLE AND NEW SLAVE HAIR CUT. WITH HIS THREE MONTHS TRAINING ON THE WATER WHEEL COMPLETE, LANDON WAS HITCHED TO A PONY TRAP AND HE HAD TO PULL IT BACK TO THE RESIDENCE. ON THE WAY HE SAW WHITE SLAVE BEASTS, TOILING IN THE FIELDS. ONCE BACK IN THE RESIDENCE, LANDON WAS TAKEN TO THE BARN, AND GIVEN A HARD SCRUB, BY THREE BLACK OVERSEERS. "THE BOSS WANTS THE SLAVE SCRUBBED RAW, FOR HIS DEFLOWERING", ONE OF THEM SAID SMILING, AS THEY SCRUBBED LANDON'S NAKED BODY.
BACK NOW TO WHERE LANDON WAS WAITING IN HIS MASTERS BEDROOM. LANDON HAS USED JELLIED PIG TROTTER ON HIS ANUS OPENING IT UP AND LUBRICATING IT. LORD OLUWA ENTERED AND STRIPPED, HIS FUCK WEAPON WAS HARD AND READY. LORD OLUWA GRABBED LANDON AND SHOVED HIM ONTO THE BED. LORD OLUWA RAISED LANDON'S LEGS HIGH AND SPREAD THEM WIDE. LORD OLUWA THRUST HIS HUGE MAN MEAT, UP TO THE HILT IN LANDON'S SLAVE WHORE, ARSE. LORD OLUWA POUNDED LANDON HARD. AS LORD OLUWA FUCKED THE SLAVE, HE MADE HIM GO DOWN STAIRS ON HIS HANDS. IT WAS A TRICKY TASK AND EVEN MORE DIFFICULT, WITH LORD OLUWA'S HUGE MAN MEAT POUNDING HIS ARSE. ONCE DOWN STAIRS, LORD OLUWA INVITED LANDON'S EXSLAVES TO FILL HIS WHITE SLAVE HOLES. THEY LINED UP EAGER TO USE HIS SLAVE MOUTH AND ARSE, HUGE, BLACK, COCKS, ROCK HARD. EVEN MORE GOOD GRAPHIC MALE ON MALE DOMINATION ACTION WITH BLACK ON WHITE DOMINATION. €15
38 SLAVE ISLAND PART 1. JOSH HAD BEEN ABDUCTED. JOCKS WITH LOW GRADES AND NO FIXED ABODE LABOURERS, WERE IDEAL FOR THE SLAVE ISLAND. SLAVE ISLAND WAS BASED ON ANCIENT ROME, WHERE THE RICH AND POWERFUL OWNED SLAVES.
ON A HOT SUMMER EVENING IN LOS ANGELES, JOSH WAS RETURNING TO HIS LODGINGS, FROM A CONTRUCTION JOB. WHEN HE WAS ATTACKED FROM BEHIND AND KNOCKED OUT WITH A CLUB. JOSH CAME ROUND ON A SHIP BOUND FOR SLAVE ISLAND. IN THE HOLD, IN A CAGE, AMONG, FOOD SUPPLIES, TIMBER, CLOTH AND LIVESTOCK, WERE TWO NAKED MUSCLED ANIMALS SLAVES, JOSH WAS ONE OF THEM. THE BOAT CARRYING JOSH AND THE OTHER SLAVE ZACK, HAD ALL THE MOD CONS, A POWERFUL ENGINE, RADAR COMPUTERS, BUT WAS MADE TO LOOK LIKE AN ANCIENT ROMAN SHIP. NOTHING MODERN, WAS ALLOWED TO BE ON SLAVE ISLAND. THE GUARDS WHO HAD BEEN IN MILITARY STYLE UNIFORMS, HAD CHANGED INTO ANCIENT ROMAN DRESS. NO MODERN CLOTHING, WAS ALLOWED TO BE WORN ON SLAVE ISLAND. JOSH AND ZACK WERE DRAGGED NAKED AND BOUND, THOUGHT THE STREETS OF THE ANCIENT ROMAN STYLE, PORT CITY. ALTHOUGH EMBARRASSED AT BEING NAKED, JOSH AND ZACK WERE AMAZED AT THE SITE OF ALL THE HUSTLE AND BUSTLE OF A TEAMING ANCIENT ROMAN STYLE CITY. THEY WERE BEING TAKEN TO THE SLAVE AUCTION HOUSE. AT THE SLAVE AUCTION HOUSE, THEY WERE THROWN NAKED, INTO A CAGE. THEIR TRAINER, A BURLY MAN, ORDERED THEM TO POSE LIKE SLAVES. "POSE, HANDS BEHIND YOUR HEADS, YOU ARE SLAVES BEASTS NOW", HE BARKED. "DO AS I SAY, OR YOU WILL BE WHIPPED", HE WARNED THEM. JOSH AND ZACK WERE FORCED TO OBEY, FLEXING THEIR BICEPS.
GRACCUS OWNER OF THE SLAVE AUCTION HOUSE, CHECKED OUT THE NEW MERCHANDISE. THICK MUSCLES, THICK COCKS, THICK BRAINS, GOOD, GRACCUS THOUGHT TO HIMSELF. HE WAS PLEASED WITH HIS PRIZE CATTLE, SURE THEY WOULD SELL WELL IN THE AUCTION. ALSO LORD VITELLIUS WOULD ATTEND THE AUCTION AND WOULD HONOUR THE AUCTION HOUSE, WITH A VISIT IN TWO DAYS, TO INSPECT THESE TWO NEW BEASTS. THE NEXT DAY JOSH AND ZACK WERE TAKEN TO THE SMITHY. THE SMITH A TRUSTEE, OWNED BY THE AUCTION HOUSE, SMIRKED AT THE TWO HUNKY SLAVES, READY FOR HIS IRON. "THIS ONE FIRST?", GRACCUS SAID, POINTING TO JOSH. JOSH WAS STRAPPED DOWN TIGHT, ON THE SLAVE HORSE. JOSH STARED BACK, IN FEAR, AS THE SMITH APPROACHED, WITH HIS RED HOT BRANDING IRON. THE BURNING PAIN OF THE BRANDING IRON, ON HIS BUTTOCK MADE JOSH GROAN AND SOB. BOTH SLAVES HAD BEEN TOLD THAT THEY COULD NOT SPEAK, UNLESS A MASTER TOLD THEM TO, IF THEY DID THEY WOULD GET THIRTY LASHES. HOWEVER, THEY WERE PERMITTED TO MOAN AND SOB. "YOUR NEXT BEAST?", GRACCUS TOLD ZACK, WHO GASPED IN SHOCK, AFTER WATCHING JOSH, BEING BRANDED. ZACK WAS STRAPPED DOWN AND BANDED AND IT WAS HIS TURN TO GROAN AND SOB. IT WAS A SORE, SOBBING, AND PISSING JOSH, THAT WAS HELPED BACK TO HIS CAGE. THE NEXT DAY THE NEWLY BRANDED SLAVES WERE MADE TO KNEEL NAKED, IN FRONT OF GRACCUS AND A SCRIBE. THE SCRIBE TOLD THEM, THEY HAD NEW ROMAN NAMES. JOSH'S NEW NAME WAS, PRIPUS, AND ZACK'S NEW NAME WAS, BUTTUS. "SAY YOU NEW NAMES?", GRACCUS ORDERED. "PRIPUS MASTER", JOSH REPLIED. "BUTTUS MASTER", ZACK REPLIED.
THE NEXT DAY FOUND PRIPUS AND BUTTUS TIED NAKED TO POSTS, FOR LORD VITELLIUS'S VISIT. LORD VITELLIUS WAS ACCOMPANIED BY RAMUS, A HUGE NAKED BLACK BUCK. "MAGNIFICENT BEASTS RAMUS?, OF COURSE WE WILL PROBE THEM FULLY", LORD VITELLIUS SAID, AS HE INSPECTED THE TWO NEW SLAVES. "YES MASTER, BUT NOT WITH YOUR MIGHTY COCK MASTER", RAMUS REPLIED. LORD VITELLIUS AND RAMUS, BOTH FONDLED AND PROBED THE TWO NAKED SLAVES LEWDLY, WATCHED BY GRACCUS. GOOD, HE WILL FIGHT FOR THEM AT THE AUCTION, GREAT PROFIT FOR THE AUCTION HOUSE, GRACCUS THOUGHT, AS HE WATCHED HIS TWO NEW SLAVES, FONDLED AND PROBED LEWDLY, BY LORD VITELLIUS AND RAMUS, WHO WERE BOTH REALLY ENJOYING THE EXPERIENCE. LORD VITELLIUS AND RAMUS DID NOT STOP UNTIL THEY HAD MILKED THE NEW SLAVES, NOT ONCE, TWICE, OR THREE TIMES, BUT FIVES TIMES. SATISFIED, LORD VITELLIUS WOBBLED OFF WITH RAMUS. "YOU ARE TRULY MAGNIFICENT MASTER?", RAMUS TOLD LORD VITELLIUS. THE TWO SLAVES WERE LEFT MILKED DRY, THEIR COCKS SWOLLEN RED RAW. GOOD GRAPHIC MALE ON MALE DOMINATION ACTION, ANCIENT ROMAN STYLE. €15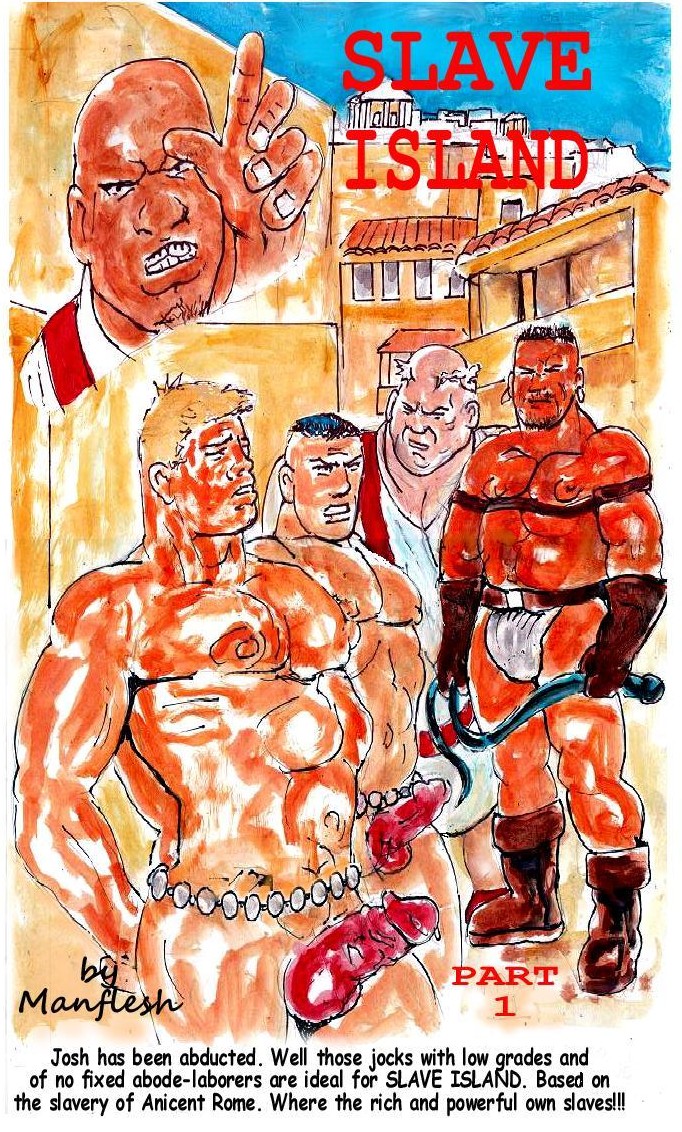 39 SLAVE ISLAND PART 2 GROPING HANDS. BEFORE THE AUCTION STARTED, THE CROWD WERE ALOUD TO CHECK OUT AND GROPE THE MERCHANDISE, COME MEAT. THAT IS EXACTLY WHAT HAPPENED TO PRIPUS AND BUTTUS, THEIR NAKED BODIES WERE GROPED ALL OVER, PARTICULARLY THEIR COCK AND BALLS.
ON SLAVE ISLAND, SLAVES WHERE MADE TO EAT FROM A DOG BOWL, LIKE THE BEASTS THEY WERE. PRIPUS AND BUTTUS WERE NO EXCEPTION. PRIPUS AND BUTTUS WERE DESTINED FOR SOME HARD GROPING, SO THEY WERE OILED ALL OVER, SO THEIR FLESH DIDN'T CHAFE. AS THEY WERE OILED. THEY WERE BOTH TERRIFIED OF WHAT WOULD BECOME OF THEM. FUCK TOY?, NAKED LABOURER?, A CARRIAGE NAKED POLE SLAVE ?". TO THEIR HORROR, THEIR ANUS'S WERE WELL OILED, AS WELL. LATER, PRIPUS WATCHED FROM HIS CAGE AS, YOUNG SLAVE CALLED ANUS, WAS TAKEN OVER TO A TAVERN OWNER. ANUS WAS IN TEARS, AT BEING DISPLAYED NAKED TO THE TAVERN OWNER. "HOW DARE HE CRY, WHIP HIM AND MAKE HIM CRAWL TO ME", THE TAVERN OWNER, SAID ANGRILY. A HARD WHIPPING QUICKLY MADE ANUS, READY TO SUCK THE TAVERN OWNER. ANUS WAS MADE TO KNEEL AND SUCK THE TAVERN OWNER DEEPLY. AS PRIPUS AND BUTTUS BOTH WATCHED FROM THEIR CAGE, THEY WERE MADE TO STAND WITH THE ARMS ON THEIR HEADS, WHILE THEY WERE WANKED OFF THROUGH THE BARS BY GROPING HANDS. A LEATHER DILDO WAS FORCED UP ANUS'S ANUS, FOR GOOD MEASURE, AS THE TAVERN OWNER CAME IN HIS MOUTH.
THE TAVERN OWNED BOUGHT ANUS. HE WOULD WORK, TAKING JARS OF PISS, TO THE FULLERS, FOR DYEING CLOTH. HE WOULD WEAR A TUNIC, THAT ONLY REACHED TO JUST BELOW HIS WAIST, HIS ARSE, COCK AND BALLS, ON PERMANENT DISPLAY. THE TAVERN OWNER INTENDED TO MAKE ANUS, POLE DANCE AT NIGHT, FOR THE TAVERN CUSTOMERS. HE WOULD SELL HIS ARSE, FOR DRACHMAS, TO PAYING CUSTOMERS, WHO WANTED HIS ARSE. ANUS WAS SOLD TO THE TAVERN OWNER. THE TAVERN OWNER DRAGGED ANUS, NAKED THROUGHT THE STREETS. MEANWHILE PRIPUS AND BUTTUS WERE MADE TO SUCK SPECTATORS AND CUSTOMERS COCKS, THEY DARED NOT REFUSE, OR THEY FACED A HARD WHIPPING. SUCKING COCK, SURE MADE THE TWO SLAVES COCKS, ROCK HARD. THEN PRIPUS AND BUTTUS WERE ORDERED TO BEND OVER AND PUSH THEIR ARSE'S THROUGH THE BARS, FOR THE SPECTATORS AND CUSTOMERS, TO FIST THEM. THEIR HARD COCKS WERE SOON DRIPPING PRE-CUM, MUCH TO THE DELIGHT OF THE SPECTATORS AND CUSTOMERS. A RICH CLIENT, ASKED FOR A PRIVATE VIEWING OF PRIPUS. "OH YES?", THE RICH CLIENT SAID, WHEN PRIPUS POSED BEFORE HIM, NAKED HANDS ON HIS HEAD. A LEATHER DILDO WAS FORCED UP PRIPUS'S ARSE, MAKING HIM HARD. IT EXCITED THE RICH CLIENT, WHO STROKED HIS HARD COCK. PRIPUS WAS FUCKED WITH THE DILDO AND IT SOON HAD HIM EJACULATING WADS OF THICK SPUNK, DEMONSTRATING HIS ANIMAL VIRILITY. "SUCK MY COCK SLAVE", THE RICH CLIENT ORDERED. "HANDS BEHIND YOU HEAD", HE BARKED. PRIPUS OBEYED AND STARTED TO SUCK THE RICH CLIENT'S, LARGE COCK. "THAT IS IT SLAVE, SUCK A REAL MAN'S COCK", THE RICH CLIENT SAID. AFTER MAKING THE RICH CLIENT CUM IN HIS MOUTH, PRIPUS WAS TAKEN BACK TO THE CAGES, PULLED BY HIS HARD COCK. IT WAS ALL PART OF HIS TRAINING FOR THE NEXT PART. PRIPUS WOULD BE SOLD, LIKE THE DUMB BEAST, HE HAD BECOME. MORE GOOD GRAPHIC MALE ON MALE DOMINATION ACTION, ANCIENT ROMAN STYLE. €15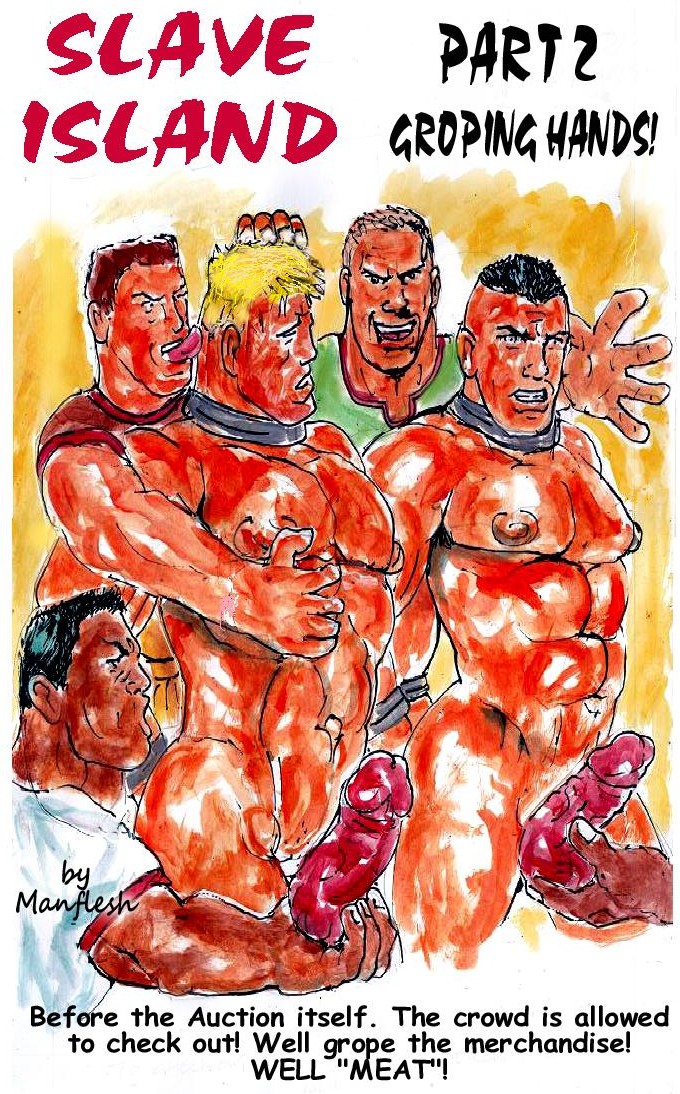 40 BAD BOY RACER TO SLAVE TROTTER. DUE TO THE INCREASE, OF BAD BOY RACERS IN THE UK. THE POLICE CAME UP WITH A GREAT WAY TO GET THEM OFF THE STREETS, AND OUT OF THE COUNTRY. THEIR FATE WAS TO BE NAKED SLAVES AND PULL RICKSHAWS FOR WEALTHY ARAB MASTERS. THIS IS RYAN'S STORY. THERE WOULD BE NO MORE DRUG SELLING, CAR STEALING, THEY WOULD BE ENSLAVED NAKED FOR LIFE. RYAN WAS STOPPED AND FRISKED BY THE POLICE, IN SEARCH OF ILLEGAL DRUGS. "YOU ARE NICKED?", ONE OF THE POLICE OFFICERS TOLD RYAN. "YOU CAN'T TOUCH ME I'M SEVENTEEN", RYAN PROTESTED, AS HE WAS THROWN AGAINST THE POLICE CAR, TO BE FRISKED. "RULES HAVE CHANGED", THE POLICE OFFICE SAID. "FUCK YOU PIG", RYAN REPLIED. "I BET THE KRAK IS UP HIS ARSE?", THE OTHER POLICE OFFICER SAID, AS HE PULLED RYAN TRACKIES DOWN AND PROBED HIS ANUS. PART OF THE NEW ORDERS, WERE THAT BAD BOY RACERS, WERE TO BE STRIPPED NAKED, AND THE DRUGS PULLED FROM THEIR BUMS. CAUGHT AND ARRESTED, RYAN WILL NEVER WEAR CLOTHES AGAIN. RYAN WAS STRIPPED AND CUFFED BY THE POLICE OFFICERS. "NOT SO COCKY NOW, NICKED AND KNICKERLESS", ONE OF THE POLICE OFFICERS SAID, AS HE CUFFED RYAN. "NICE ARSE", THE OTHER SAID, AS HE SLAPPED RYAN'S NAKED BUTTOCKS. "SHIT NO", RYAN MOANED IN DISBELIEF. RYAN WAS STRAPPED INTO THE BACK OF THE POLICE CAR, WITH HIS LEGS RAISED AND SPREAD WIDE, LEAVING HIS ARSE LEWDLY ON DISPLAY. HE COULD NOT HELP WETTING HIMSELF, INTO THE TRAY HE SAT ON. HE WAS DRIVEN TO THE POLICE STATION. THE POLICE STATION WAS A FORMER POWER STATION AND WAS SURROUNDED BY, A HIGH BARBED WIRE FENCING.
RYAN WAS TAKEN DOWN STAIRS TO THE PRISON OR HOLDING SECTION. RYAN WAS LOCKED NAKED IN A CELL. IT WAS VERY HOT DOWN THERE, IT WAS THE CATCHMENT FOR BAD BOY RACERS. "A HUGE PRISON GUARD CAME INTO RYAN'S HOLDING CELL. THE GUARD ORDERED RYAN TO BEND OVER. THE GUARD THEN STRIPPED DOWN TO HIS DRAWS AND LICKED HIS LIPS, AS HE LOOKED AT RYAN AND MADE RYAN, SPREAD HIS ARSE CHEEKS, WIDE. "MAYBE YOU HAVE DRUGS IN YOUR MOUTH?", THE GUARD SAID, AS HE EXPOSED HIS HUGE HARD COCK. "MY PROBE WILL FIND ANY DRUGS AND FLUSH THEM OUT", HE ADDED, GLANCING DOWN AT HIS HUGE HARD COCK. "OH SHIT NO", RYAN MOANED IN FEAR, BUT HE HAD NO CHOICE BUT TO SUCK THE GUARDS COCK. SHIT I'M A COP, COCK SUCKER, RYAN THOUGHT TO HIMSELF IN HORROR, AS HE SUCKED THE GUARDS COCK. IT WAS JUST THE START OF TAMING OF THE BAD BOY RACER. RYAN WAS MADE TO SUCK ALL THE GUARDS COCKS, TO SHOW HIM HE WAS A COLT, CONTROLLED BY MASTERS COCKS, WHILE THEY SUCKED HIS COCK. CONTINUOUS SUCKING, WOULD IMPRINT IN HIS THICK HEAD, THAT IS WAS NORMAL TO SUCK COCK AND HAVE YOUR COCK SUCKED. EVERY NIGHT ONE OF THE GUARDS ENTERED HIS CELL, NOT TO FUCK HIM. BUT TO GET HIM USE TO MALE ON MALE FLESH, BY LAYING NAKED ON TOP OF RYAN AND RUBBING THEIR BODIES TOGETHER.
FOR THE THREE MONTHS RYAN WAS KEPT IN THE PRISON. HE WAS FORCED TO WORK OUT WITH GREAT INTENSITY, WITH LONG SESSIONS ON THE RUNNING MACHINE. THOUGH HE DID NOT KNOW IT, HE WAS BEING TOUGHENED AND MADE MORE MUSCULAR, TO BECOME A SLAVE PONY. THE ONLY TIME HE SAW OTHER BAD BOY RACERS, WAS IN THE TWO HOUR HEAVY TRAINING SESSION, EACH DAY. THEY WERE NOT ALLOWED TO SPEAK AND WERE CLOSELY WATCHED. BY HOLDING RYAN IN DIFFERENT POSITIONS, WHEN HE WAS FED, MADE HIM KNOW, HE WAS BEING HANDLED, TO HELP TAME THE BEAST. THE ARAB RULER WAS SENT A VIDEO OF RYAN'S DEVELOPMENT. HE WOULD SOON SEND FOR HIM. BUT THE GUARDS HAD BEEN MAKING VIDEOS OF THEIR OWN, OF EACH OTHER, TO SEND TO CHICKS ON THE INTERNET. SOMEHOW THE ARAB RULER BUYING RYAN GOT HOLD OF ONE OF GUARD BRAD. THE ARAB RULER MADE A DEAL TO BUY GUARD BRAD AS WELL. RYAN AND EX GUARD BRAD WERE BOUND AND GAGGED NAKED, IMPALED ON LARGE DILDOS, IN A CARGO PLANES HOLD, FOR A SORE FLIGHT, TO THEIR BUYER THE ARAB RULER. DRAGGED OFF THE PLANE, BY ROPES TIED TO THEIR GENITALS, THAT MAKE THEM HARD. THE TWO NAKED WHITE SLAVES, ATTRACT A CROWD OF JEERING ARAB NATIVES, WHO TAUNT, THE RUDE BEASTS. EVEN LARGER CROWDS, LINE THE STREETS OF THE TOWN. THE TWO SLAVE FEEL TOO RUDE WITH THEIR ROCK HARD, COCKS, DISPLAYED TO THE LEERING CROWD. YOUNG WHITE MALE DELINQUENTS ENSLAVED AND TURNED INTO PONY SLAVES FOR RICH ARAB MASTERS. €15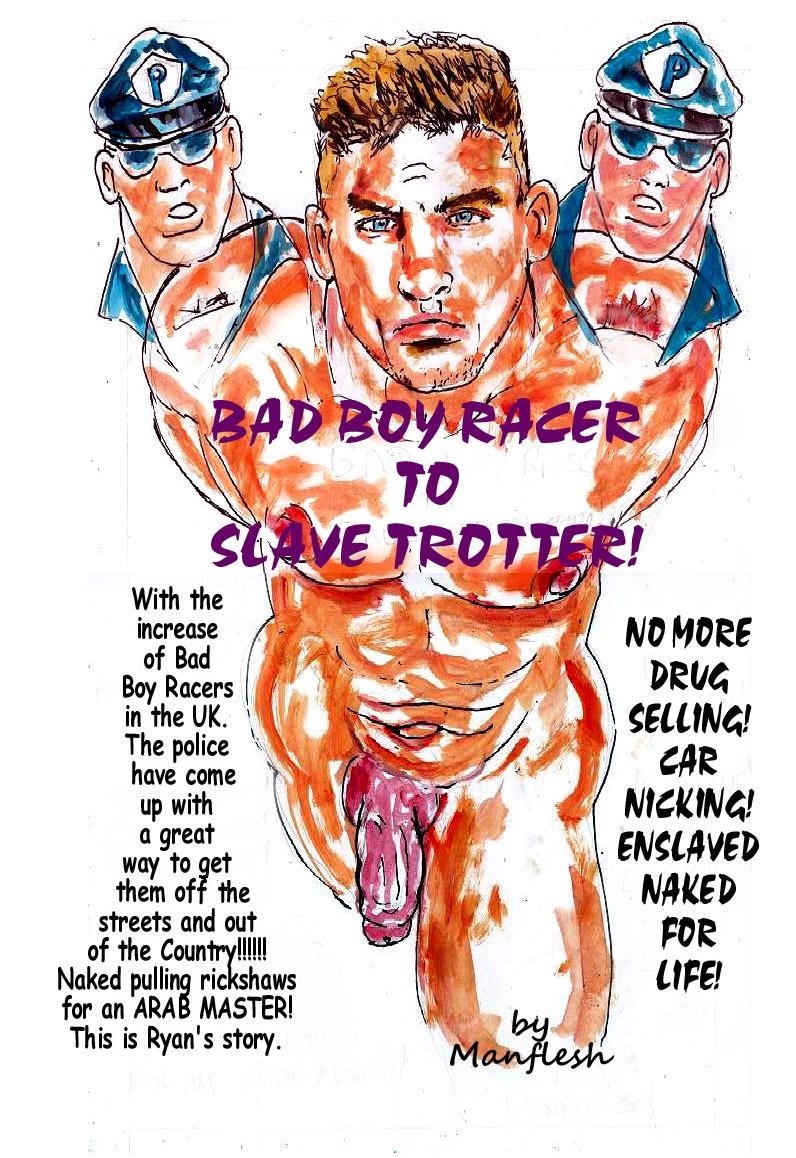 41 NAKED MALE BODY BUILDING FEDERATION NMBF. THE NAKED MALE BODY BUILDING FEDERATION, HAD STRICT RULES. NO CONTESTANT SHOULD HAVE AN IQ OF OVER 60. THEY MUST HAVE SPENT ALL THEIR TIME AT SCHOOL TRAINING. THEY SHOULD NOT BE ABLE TO READ AND WRITE. JOCKS ONLY. THE MUST UTILISE CATTLE DRUGS, TO INCREASE THEIR COCK AND BALLS SIZE. BY CONTEST TIME THEY WERE REQUIRED TO BE 12 INCHES, ROCK HARD. THEY WILL END UP OWNED BY RICH ARABS, LIKE A RACE HORSE. WHEN THEY CEASE TO WIN, NO MONEY FOR FAST CARS, ROLEX WATCHES THEY WOULD NOW BECOME WORK HORSES. THIS WAS BUCK'S STORY.
BUCK WAS POSING WITH HIS KNICKERS PULLED DOWN, IN FRONT OF THE JUDGES. FOR ENTRY INTO THE NAKED MALE BODY BUILDING FEDERATION. THE ONLY OTHER OPTION OPEN TO HIM WAS LABOURING. IF HE GOT SPONSORED BY NMBF, HE WOULD BE HOUSED AND FED. TRAINED AND GET THE DRUGS, PLUS LOTS OF MONEY. "YOU WILL LIVE WITHIN THE STABLE TRAIN, HARD AND NAKED ALL THE TIME, SO WE CAN CHECK YOUR PROGRESS", ONE OF THE JUDGES TOLD BUCK. "FIRST WE PHOTOGRAPH YOU ALL OVER, TO SEND TO A SPONSOR", THE OTHER JUDGE TOLD BUCK. "YEAH I'LL DO ALL I'M TOLD", BUCK SAID, AS HE POSED NAKED AND HARD, FOR THE PHOTOS. THE FEDERATION WAS HIDING A DIRTY SECRET. NMBF ALSO MEANT NAKED BODY BUILDING FENCE, SUPPLYING NAKED MUSCLE FOR THE ARAB MARKET. BUCK WAS INJECTED AND TRAINED HARD FOR THREE MONTHS. HE WAS VIDEOED CONSTANTLY EVERY WEEK, TO RECORD HIS PROGRESS. ABDUL HAZA WAS A MEGA RICH ARAB RULER, WHO COLLECTED MUSCLE FLESH. HE WAS PAYING FOR BUCK'S TRAINING. HE WATCHED HIS VIDEOS AND LUSTED AFTER HIM. THE DRUGS NOT ONLY MADE HARD MUSCLE MASS, CONTESTNATS, BUT HUGE COCKS AND FREQUENT EJACULATIONS DURING TRAINING.
TO STOP THE SLAVE BEASTS FROM TALKING TO EACH OTHER AND TO ENSURE THEY CONCENTRATED ON THEIR TRAINING. A TONGUE SUPPRESSOR WAS FITTED, TO ALL THEIR MOUTHS. ALL NMBF CONTESTANTS WERE MILKED FOUR TIMES A DAY. THEIR MILK WAS SOLD, AS A HIGH PROTEIN DRINK. BUCK ALONG WITH ALL THE OTHER BEAST, WAS INJECTED WITH BULL STEROIDS FOUR TIMES A DAY, BY A VETERINARY, WHO HAD BEEN STRUCK OFF, FOR SUPPLYING STEROIDS, TO BODY BUILDERS. THE VETERINARY WAS IN HIS ELEMENT, THE JOB PAID BETTER AND HE GOT TO GROPE THE BULLS. BUCK FOUND HE COULD HUMP MORE AND MORE WEIGHT AND WAS GETTING MORE AND MORE MUSCLE MASS. ABDUL COULD ACCESS LIVE FOOTAGE, OF HIS NAKED BEAST WHENEVER HE DESIRED. HE OWNED HIM INSIDE AND OUT AND WAITED TO HAVE HIM THE FLESH. THE BEASTS GOT VERY SWEATY AND DIRTY WHILE TRAINING HARD AND WHEN THE SESSION WAS OVER, THEY WERE HOSED DOWN BY THE GUARDS. THE BEASTS HAD TO STAND WITH ARMS RAISED AND BEHIND THEIR HEADS, LEGS SPREAD, HARD COCKS, STANDING TO ATTENTION AS THEY WERE HOSED DOWN. BATH TIME WAS FAVOURITE TIME FOR SPONSORS TO WATCH. AFTER LONG TIME TRAINING THE DAY OF THE COMPETITION ARRIVED AND ALL THE BEASTS WERE MADE TO PARADE AND PERFORM, STRIKING POSES, WHILE THE JUDGES WATCHED AND ACCESSED THEM. AN EXCITED CROWD LEERED AND LUSTED AFTER THEIR NAKED MUSCLE FLESH. WHEN THE RESULTS WERE ANNOUNCED, ABDUL MASTER OF HIS HUGE ARAB STATE, WAS FURIOUS, THAT BUCK, HIS BEATS HAD NOT WON. BUCK ONLY MANAGED FIFTH PLACE.
"YOU LOST A CUSTOMER", AN ANGRY GUARD TOLD BUCK. "ITS DUTY FOR YOU NOW, YOU WORK", HE ADDED. HIS DUTY WOULD BE TO THE FANS OF THE NMBF BEASTS AND SHOWS. THE FANS COME MUSCLE GROPE LOVERS, WERE ALWAYS EAGER TO BE SUCKED AND SUCK THE MUSCLE MEAT. READY TO PAY FOR THAT PRIVILEGE. SO BUCK HAD TO SUCK AND BE SUCKED BY THE FANS. BUCK WAS SUSPENDED UPSIDE DOWN BY HIS LEGS WITH HIS HANDS TIED BEHIND HIS, AND MADE TO SUCK THE FANS, WHILE THEY SUCKED HIM, THE GROPERS PAID GOOD MONEY FOR HANDS ON ACTION WITH BUCK. AS BUCK WAS A NON WINNER, HE WAS ALSO FORCED TO DO SLEEP OVERS. THIS ENTAILED BEING GROPED ALL NIGHT. AS HIS ARSE WAS OWNED BY HIS MASTER, IT WAS PROTECTED BY A STRAP ON DILDO, WITH AN ATTACHED BUT PLUG FITTED TO BUCK'S ANUS. DURING SLEEP OVER BUCK WAS SUCKED AND GROPED ALL NIGHT, AND MADE TO SUCK THE PAYING FANS.
HIS ARAB MASTER HAD PAID HANDSOMELY FOR BUCK'S MUSCLE FLESH, EVEN SENDING HIS PRIVATE JET, TO COLLECT HIS BEAST. AFTER A LONG FLIGHT, HIS MASTER WAS THERE TO MEET HIM UNDER THE BLAZING SUN. HIS MASTER HAD A HUGE ERECTION, AS HE INSPECTED HIS NEW MUSCLE BEAST. BUCK WAS NAKED, HANDS SECURED, A MASK OVER HIS NOSE AND MOUTH, HIS COCK LEWDLY ERECT. THERE WAS ALSO A RICK SHAW, COME HAND CART, WAITING FOR HIM. NAKED BUCK CUTLER, WAS ABOUT TO ENTER HIS NEW LIFE. A LIFE OF HARD SERVITUDE. YOUNG WHITE MALE DUMB MUSCLE JOCKS, ENSLAVED AND TURNED INTO MUSCLE BEASTS FOR RICH ARAB MASTERS. €15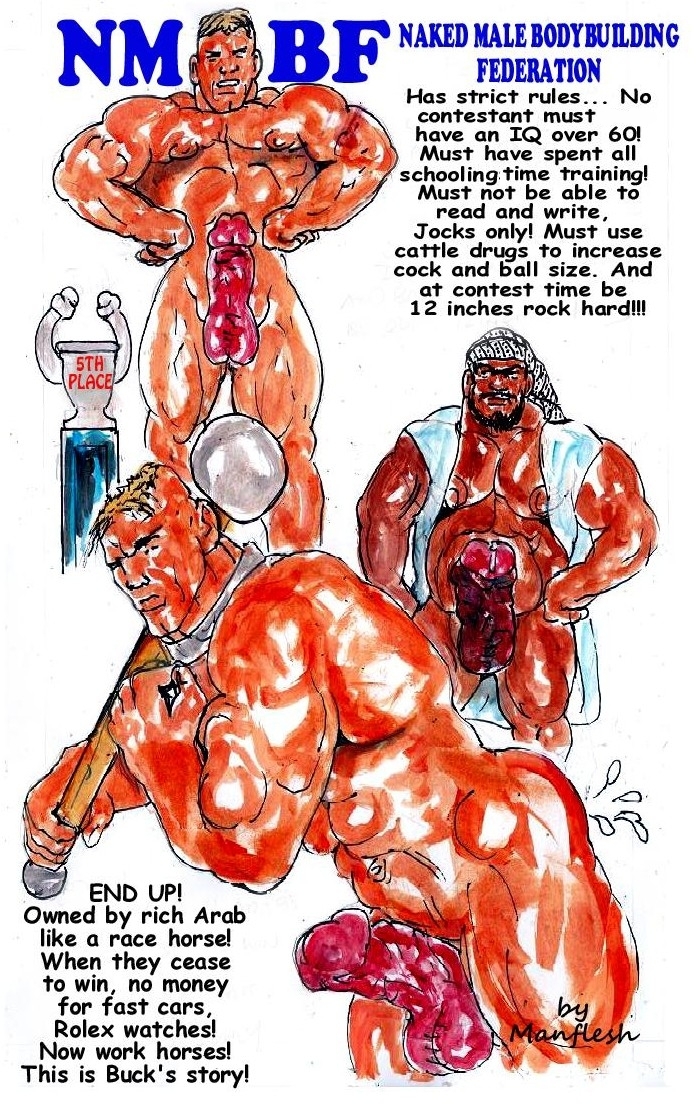 42 DELINQUENT JOCK FOR ARAB COCK. JOCK, JOSH HANSON WAS GREAT ON THE GRID IRON, BUT NEGLECTFUL OF HIS GRADES. UNDER THE NEW REGIME, NO GRADES, MEANT NO JOB, BEING INDENTURED, SOLD, ENSLAVED. HE COULD BARELY READ, WRITE, OR DO SUMS. ON JOSH'S EIGHTEENTH BIRTHDAY, HE WAS TAKEN BY THE INDENTURED POLICE AND STRIPPED IN FRONT OF HIS CLASS.
JOSS WAS IN CLASS, FOR HIS FINAL MARKS AT THE END OF SCHOOL. "HANSON F MINUS, YOU HAVE FAILED ALL EXAMS, YOU HAVE NO FUTURE", HIS TEACHER TOLD HIM. "I HAVE MUSCLE POWER I WILL MAKE BIG?", JOSH TOLD HIS TEACHER. BUT AT THAT MOMENT, THREE ENSLAVEMENT OFFICERS, ENTERED THE CLASS ROOM. THEY GRABBED JOSH AND STRIPPED HIM NAKED, IN FRONT OF HIS CLASS. MANY OF THE OTHER JOCKS IN THE CLASS, COCKS WERE HARD, AS THEY WATCHED JOCK JOSH, BEING DEGRADED. JOSH NOW NAKED AND SHAMED, WAS PUT OVER A DESK AND WAS GIVEN A SPANKING WITH LEATHER PADDLE, ALL PART OF HIS ENSLAVEMENT. HE WAS THEN DRAGGED OUT OF THE SCHOOL AND HUNG NAKED AND BOUND, LIKE A PIECE OF MEAT, ON THE BACK DOORS OF THE ENSLAVEMENT OFFICERS VAN, WITH ANOTHER ENSLAVED JOCK. JOSH WAS THEN DRIVEN LIKE THIS THROUGH THE STREETS, TO THE ENSLAVEMENT FACILITY. ONCE AT THE ENSLAVEMENT FACILITY JOSH WAS TAKEN WITH THE OTHER ENSLAVED JOCK, TO THE FILMING ROOM. HERE THE NEWLY ENSLAVED WERE FILMED, THE CAMERA WAS LINKED TO THE INTERNET. THE RECORDING OF JOSH AND THE OTHER ENSLAVED JOCK, WERE SENT TO ARAB SLAVE AUCTIONEERS, WHO PURCHASED ENSLAVED JOCKS, FOR THEIR SLAVE AUCTIONS. THEY WERE MADE TO ADOPT MORE AND MORE POSES, IN EVERY LEWD WAY, SO NOT ONE INCH OF THEIR NAKED FLESH, WAS HIDDEN FROM VIEW. THIS WOULD ENCOURAGE THE ARAB AUCTION HOUSES, TO MAKE GOOD BIDS ON THEM. THEY WOULD SOON BE READY FOR SHIPMENT, TO THEN MIDDLE EAST.
FIVE DAYS LATER, JOSH WAS ON BOARD A PLANE, OVER THE WESTERN SAHARA, ON ROUTE TO DJABA. IT WAS AN ARAB KINGDOM, THAT EMPLOYED NAKED MUSCLE POWER, TO RUN ITS ECONOMY. JOSH WAS IN FOR HARD TOIL AND HARD LABOUR. ONCE IN DJABA, THE SLAVES WERE TAKEN THROUGH THE TOWN, TO THE SLAVE AUCTION HOUSE. THE LOCALS LOVED IT, THAT THE WESTERNERS, WERE SLAVES AND THEY WERE SUPERIOR. THAT THE WESTERNERS WOULD TOIL NAKED, WITH ARAB COCK, UP THEIR, PUSSYFIED ARSES. JOSH WAS BOUND NAKED, ARMS OVER HIS HEAD, ON A DISPLAY FRAME FOR INSPECTION BY ARAB BUYERS. TWO POTENTIAL ARAB BUYERS DISCUSSED THE NEW WESTERN MUSCLE SLAVES FOR SALE, AFTER EXPECTING THEM ALL, ENDING WITH JOSH. "THIS IS THE BEST OF THE BATCH, WE CANNOT FUCK IT, BUT WE CAN SHOW IT, IT'S A SLAVE", ONE SAID. "YES WE CAN SHOW HIM, HE IS UNDER ARAB CONTROL FOREVER", THE SECOND ONE REPLIED. THE TWO ARAB BUYERS, OBSCENELY GROPED, JOSH'S BODY. THEY FINGERED HIS ANUS AND STUCK THEIR TONGUES IN HIS MOUTH, ABUSED HIS NIPPLES. JOSH'S COCK SEEMED TO LOVE, THE ROUGH STIMULATION. BUT JOSH WAS SHAMED, WHEN IT MADE HIS EXCITED COCK DRIPPED PRECUM. JOSH'S PREPARATION FOR HIS SLAVE AUCTION CONTINUED. AN AUCTION HOUSE OVERSEER, SUCKED AND HAND FUCKED JOSH HARD, TO GET HIM USE TO IT HAPPENING, HE HAD TO BE USE TO BEING ROUGHLY HANDLED, INSIDE AND OUT. THE OVERSEER REMOVED HIS COCK BUSH. IF HIS NEW MASTER WANTED TO REMOVE IT PERMANENTLY, HE COULD AND MUCH MORE. ON THE DAY OF HIS AUCTION, JOSH WAS PARADED ON THE AUCTION STAND, NAKED AND SHAMED. HE WAS HORRIFIED, AS THE CROWD ROARED. THEY HOOTED, CHEERED, AND YELLED, ALL BROWN ARAB COCKS THERE, WERE HARD. THE EMIR PURCHASED JOSH AND MADE HIM PUT ON A SHOW TO PLEASE THE CROWD. HE SENT HIS OVERSEER OUT INTO THE CROWD. "THE MASTER WANTS THE PEOPLE TO HAVE A SHOW, ARAB WEAPONS IN ACTION, THE EMIR'S OVERSEER, TOLD THE EXCITED CROWD. THE EMIR'S OVERSEER CALLED OUT TWO SPUNKERS, LADS WITH EIGHTEEN INCH COCKS, THAT WERE HARD AND READY. JOSH WAS MADE TO SUCK ONE SPUNKER, WHILE THE OTHER FUCKED HIS ARSE. HIS CUNTING IN FRONT OF A WATCHING ARAB CROWD, WAS ONLY THE START, OF A HARD FUTURE. A HARD FUTURE, OF NAKED TOIL, WITH COCK AND ARSE SEX. MORE DUMB MUSCLE JOCKS, ENSLAVED AND TURNED INTO MUSCLE BEASTS FOR RICH ARAB MASTERS. €15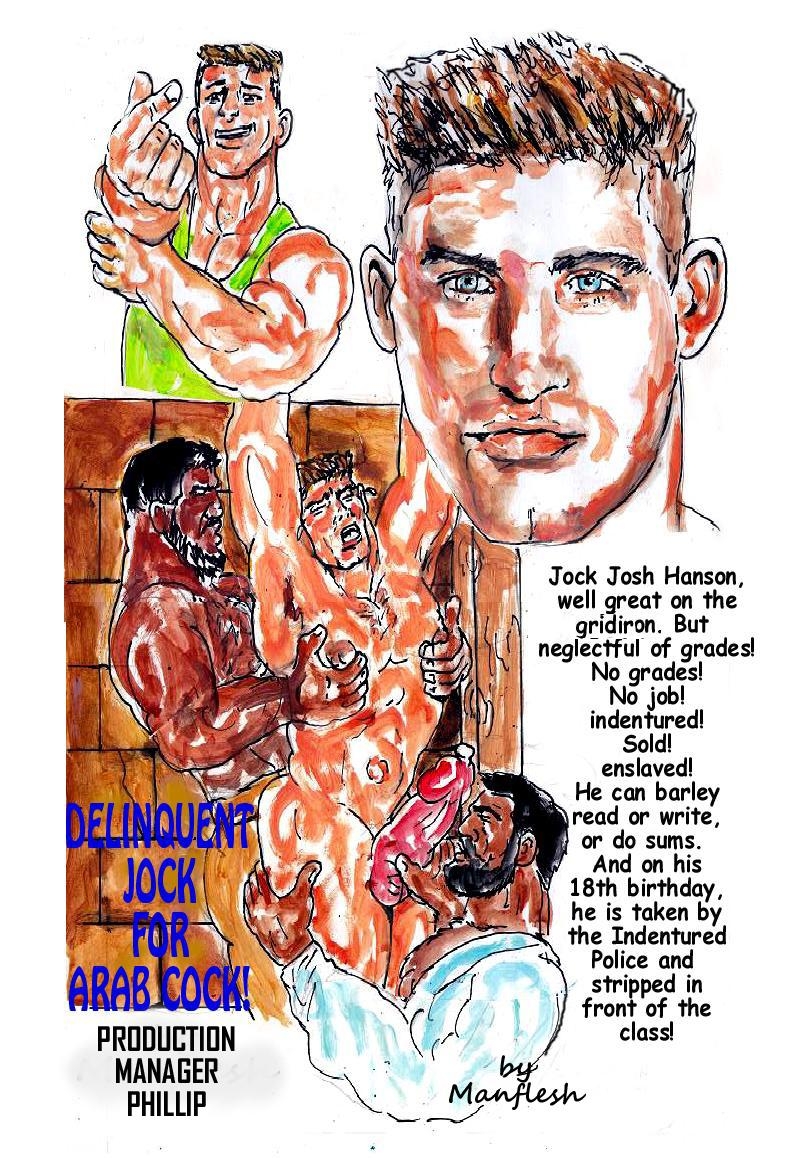 43 REFORMATORY PART 1. IT WAS TIME TO GET TOUGH ON BOY RACERS AND HOOLIGANS, AS TERRY DUGGINS WAS ABOUT TO FIND OUT.
TERRY DUGGINS A BAD BOY RACER, A DRUGS SELLER, WAS PULLED OVER BY THE POLICE AND SHAKEN DOWN. THEY CUT OPEN THE BACK OF HIS JOGGING PANTS TO CHECK HIS ARSE, FOR ILLEGAL DRUGS. "YES HEROINE UP ITS ARSE", THE COP SEARCHING, TERRY'S ANAL CAVITY, SAID, ON FINDING THE DRUGS. YOU WON'T NEED CLOTHES WHERE YOU ARE GOING, THE COPS SPECIAL REFORM UNIT", THE COP TOLD TERRY. STRIPPED NAKED, DRUG SELLER TERRY, WAS PUT IN THE BACK OF THE TRANSPORTER, FOR THE TWELVE HOUR DRIVE SOUTH, TO THE REFORMATORY. IT WAS PECOS IN THE HOT DESERT. TERRY WAS IMPALED ON LARGE STAINLESS STEEL DILDO, MOUNTED TO THE FLOOR OF THE TRANSPORTER, HIS LEGS WERE HELD UP AND SPREAD WIDE, BY STRAPS HANGING FROM THE ROOF. WHEN THEY ARRIVED THE NAKED BAD LAD, WAS TAKEN INTO THE MAIN FACILITY. TERRY WAS TAKEN TO THE WARDEN. THE WARDEN ORDERED TERRY TO SUCK TWO COPS DICKS. "FUCK NO?", TERRY SAID AND TOLD THE WARDEN TO FUCK OFF. NOT A WISE THING TO DO. THE WARDEN USED A ZAPPER ON TERRY, TO STUN HIM, WITH ELECTRIC SHOCKS. THE ELECTRIC SHOCKS, CHANGED TERRY'S MIND AND HE SOON ,WAS DEEP THROATING, TWO COPS AT ONCE.
AFTERWARDS TERRY WAS CUFFED TO A PUNISHMENT STAND, KNEELING WITH HIS ARMS SPREAD AND HELD WIDE, TIGHTLY SECURED BEHIND HIS BACK, LEAVING HIM COMPLETELY EXPOSED AND HELPLESS. THE WARDEN STOOD BEHIND TERRY AND STRIPPED OFF HIS SHIRT, FOR ACTION. SHIT, SHIT, TERRY THOUGHT TO HIMSELF FEARFULLY. "YOU NEED PROPER SCHOOLING, SIXTY LASHES OVER ONE HOUR?", THE WARDEN SAID, AS HE LASHED TERRY'S NAKED, BUTTOCKS HARD. AFTER THE SIXTY LASHES, TERRY WAS FREED FROM THE PUNISHMENT STAND AND MADE TO KNEEL IN FRONT OF THE WARDEN. HE HAD TO SUCK THE WARDEN'S COCK. "SUCK COCK OR MORE LASHES?", THE WARDEN WARNED, BRANDISHING HIS WHIP. TERRY OBEYED DUTIFULLY SUCKING THE WARDEN'S COCK. IN THE VETERINARY OFFICE A GREEN PASTE WAS RUBBED INTO TERRY'S GROIN. IT WAS A DEFOLIATE, NO MAN HAIR FOR THE REFORMATORY CONVICT. ALL PART OF HIS BEING BROKEN IN. THERE AS BARE A NEW BORN BABY?", THE VET SAID. THEN TERRY'S COCK WAS SQUEEZED INTO A TINY COCK CAGE. TERRY WAS TAKEN TO THE WARDEN, TO SHOW THE WARDEN HIS DEPLETED PUBES AND NEW COCK CAGE. "TAKE HIM TO THE WORK YARD", THE WARDEN ORDERED.
TERRY WAS TAKEN OUT TO ONE OF THE WORK YARDS. WHERE OTHER NAKED LADS, WITH COCKS CAGED, TOILED PUSHING AN AGGREGATE CRUSHER. AS TERRY TOILED HIS SORE, CLENCHED BUTTOCKS, WERE BURNT BY THE HOT, DESERT SUN. WHILE HE TOILED HE WAS WATCHED BY THE WARDEN, WHOSE COCK WAS ROCK HARD. AFTER A LONG DAY TOILING THE LADS ARE FED THEIR MUSH FROM A TROUGH. AS THE LADS ATE THEIR MUCH THE GUARDS FINGERED THEIR BUM HOLES. IT WAS ALL PART OF THE GUARDS PERKS. "THEY SURE LIKE THEIR CUNNY HOLES FINGERED?", ONE GUARD SAID, AS HE FINGERED ONE LADS ANUS. "FISTED TOO", ANOTHER GUARD REPLIED, AS HE FISTED TERRY'S ARSE. FOLLOWING HIS FEEDING AND LEWD MISS HANDLING, TERRY WAS SECURED TO A STEEL RESTRAINT FRAME, THAT LEFT HIM BENT OVER, WITH HIS ARMS AND LEGS RESTRAINED, LEAVING HIS ANUS EXPOSED AND READY TO BE RAVAGED. "BOY I'M GUNNA TEACH YOU RESPECT FOR THE LAW?", THE WARDEN SAID, AS HE STRIPPED NAKED TO RAVAGE TERRY, WITH HIS HUGE, HARD COCK. OH SHIT OH NO, TERRY THOUGHT IN HORROR, AS HE WATCHED THE WARDEN, STRIP NAKED. "SAY THANK YOU TO THE STRONG ARM OF THE LAW?", THE WARDEN SAID, AS HE POUNDED TERRY'S ARSE. "THANK YOU SIR", TERRY GASPED, SOBBING IN PAIN AND SHAME. HOT AND GRAPHIC MALE ON MALE PHYSICAL AND SEXUAL DOMINATION, OF YOUNG HOOLIGANS, WHO ARE MADE TO SERVE HARD TIME. €15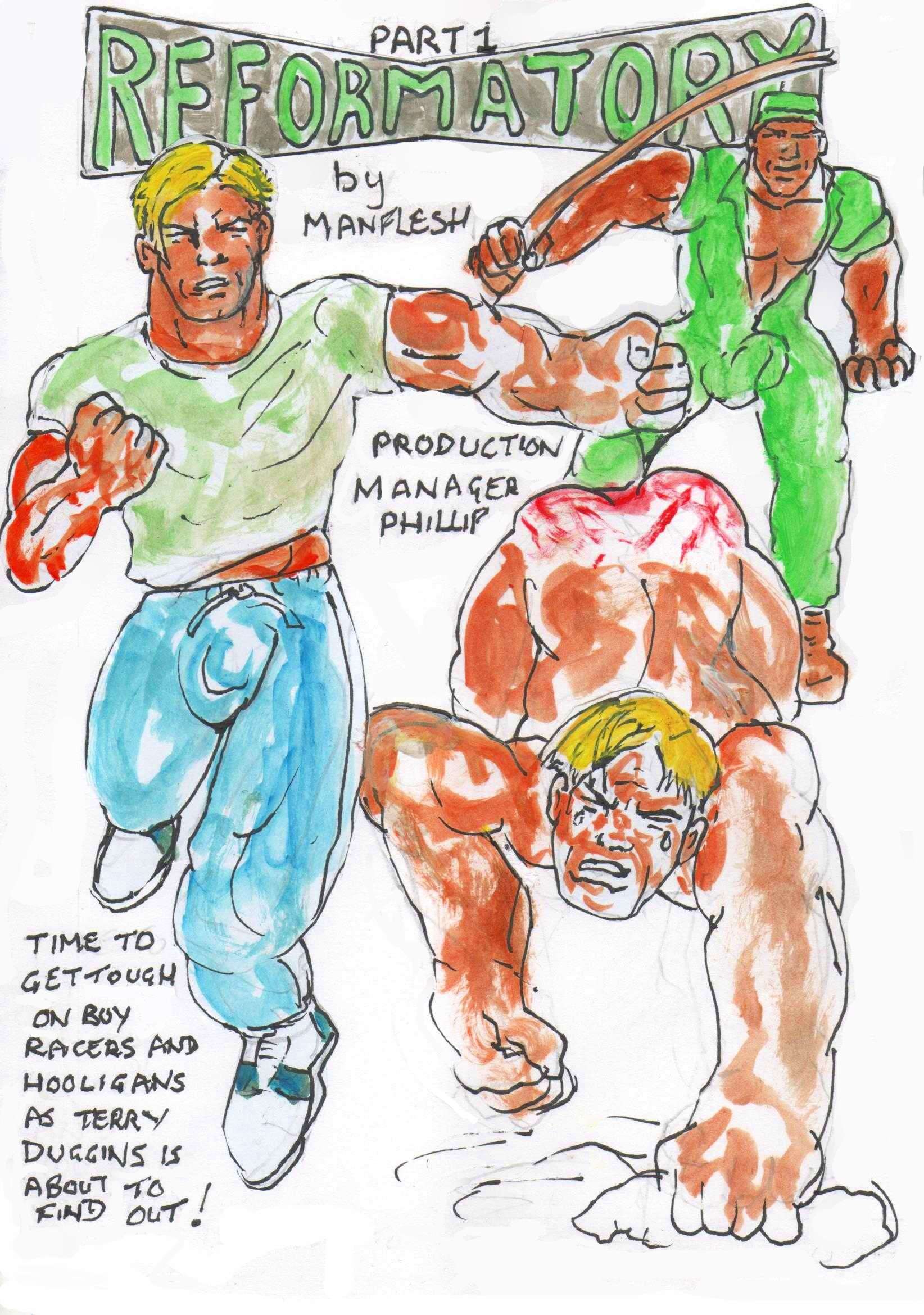 44 REFORMATORY PART 2 HOW LONG WILL TERRY BE IN NAKED SERVITUDE, AS THINGS WERE ABOUT TO GET WORSE. AS DAWN BROKE THE WARDEN FUCKED TERRY AGAIN. "FUCK YOUR ARSE BOY, SHOW THE POWER OF THE LAW, SAY THANK YOU SIR", THE WARDEN SAID. "THANK YOU SIR", TERRY GROANED, WITH TEARS IN HIS EYES, AS TERRY WAS FUCKED ON THE WARDENS BED. TERRY WAS TAKEN TO THE PRISON SHOWER BLOCK AND CHAINED SPREAD EAGLE IN A FRAME, BY HIS ARMS AND LEGS. TERRY WAS HOSED DOWN LIKE THE BEAST HE WAS. "RIGHT IN HIS STRETCHED BUM HOLE, FULL OF THE WARDENS SPUNK", ONE GUARD SAID, AS HE AIMED THE HOSE. "YES WITH COLD WATER", THE OTHER REPLIED. IT WAS TIME FOR TERRY'S MORNING FEED. TERRY COULD STILL FEEL WHERE THE WARDENS COCK, HAD BEEN IN HIS SORE ARSE. TERRY WONDERED IN FEAR, WHETHER THE WARDEN, WOULD FUCK HIM AGAIN TONIGHT. AS THE LADS ATE, TERRY TRIED TO BOAST ABOUT HIS NIGHT WITH THE WARDEN, BUT HE COULD NOT CONCEAL HIS REAL FATE, AT THE WARDENS HAND. "I FUCKED THE WARDEN HARD YEAH?", TERRY TOLD THE OTHERS. "WE ARE ALL COCK CAGED TOSSER, WE ALL HEARD YOU SCREAM, AS THE WARDEN BITCH YOU BUM", THE LAD BESIDE HIM SNEERED. "YOU'LL FIND THAT ALL PART OF YOUR TRAINING", HE ADDED. EVERY SATURDAY NIGHT THE LADS WERE FORCED TO FIGHT, FOR THE GUARDS ENTERTAINMENT. TERRY WAS NOT USE TO NAKED LAD ON LAD COMBAT, HAD TO PAY THE PRICE FOR LOSING. THE LOSER GOT FUCKED BY THE GUARDS. THE GUARDS WERE HARD AND READY AND FUCKED TERRY, MAKING HIM SUCK THEIR COCKS, AS WELL.
A YEAR PASSED, TERRY WAS NINETEEN AND IN GREAT SHAPE. IT WAS TIME TO SELL HIM TO THE HIGHEST BIDDER. SO HE WAS PHOTOGRAPHED IN EVERY POSITION. A CERTAIN AFRICAN DICTATOR PURCHASED TERRY, ONE LESS HOOLIGAN IN THE USA. TERRY WAS PUT ABOARD A TRANSPORT AIRCRAFT HEADING FOR AFRICA, CHAINED TO A BOLT IN THE FLOOR. BUT EVEN AFTER A YEAR, TERRY STILL HAD SOME FIGHT IN HIM. SCARED HE TRIED TO ESCAPE, BUT COULD BREAK HIS CHAINS. ON THE STREETS OF MACARBA, TWO OF THE DICTATORS SLAVES, GROPED TERRY. HE WAS NOW LOWER THAN THE TWO BLACK SLAVES. TERRY WAS FINGERED AND THE NATIVES WERE ALLOWED TO LICK HIS ARSE HOLE JUICES. TERRY WAS TAKEN TO THE DICTATORS PALACE. ALTHOUGH THE PALACE LOOKED TO BE MEDIEVAL, ITS SECURITY WAS HIGH TECH, LETHAL AT THE TOUCH OF A BUTTON. THE DICTATOR LICKED TERRY'S CAGED COCK, WHILE HE PLAYED WITH HIS HUGE BLACK DICK. AS THE DICTATOR GOT READY TO FUCK TERRY, HE ALLOWED TWO OF HIS SPUNKERS TO WARM UP TERRY'S ARSE. "I'M CUMING", THE FIRST SPUNKER SAID, AFTER FUCKING TERRY HARD. "I'M NEXT", THE SECOND ONE REPLIED. THEN TERRY WAS FUCKED BY THE AFRICAN DICTATOR, TAKING FOURTEEN INCHES, UP HIS STRETCHED ARSE HOLE. BUT AT LEAST THE DICTATOR HAD REMOVED HIS COCK CAGE. MORE HOT AND GRAPHIC MALE ON MALE PHYSICAL AND SEXUAL DOMINATION, OF YOUNG HOOLIGAN, WHO WAS MADE TO SERVE HARD TIME AND AN AFRICAN DICTATOR. €15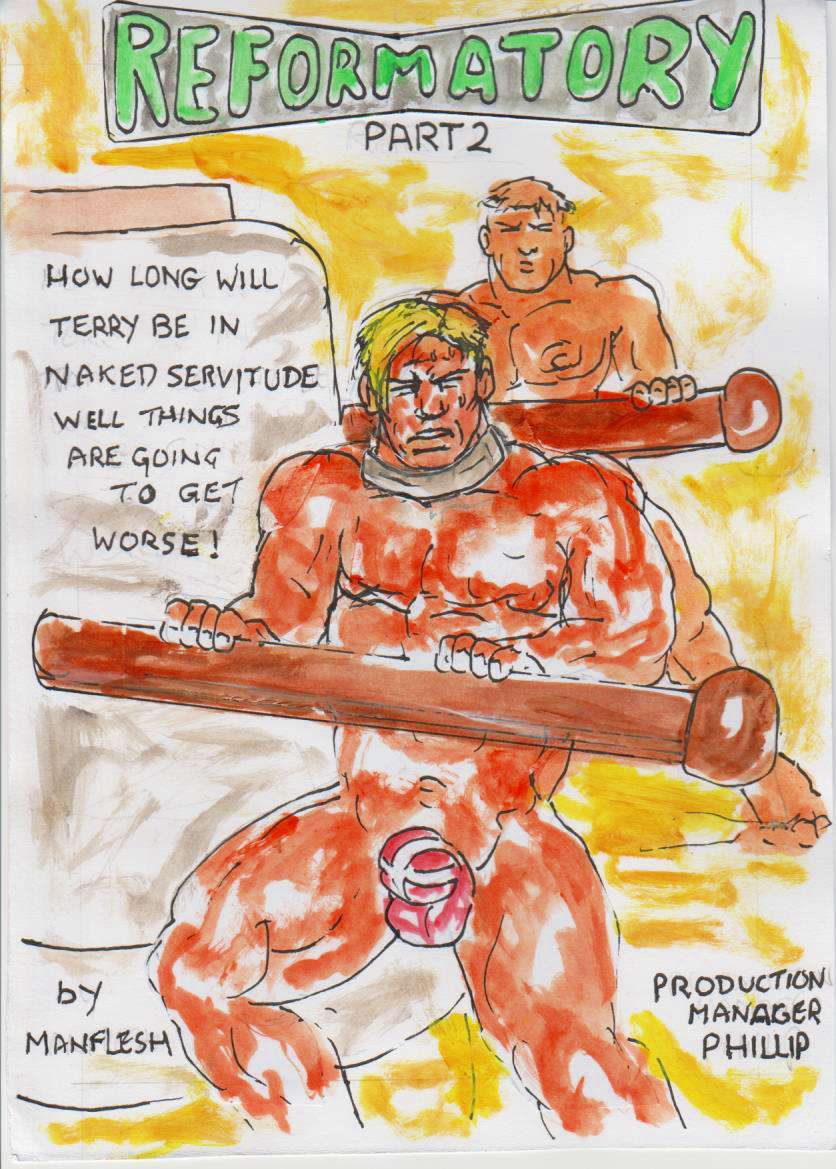 45 ANGUS, HIGH LANDER, TO LOW LANDER, PART 1. IT WAS IN THE TIME, LONG BEFORE THE WRITTEN WORD. ANGUS WAS A HIGH LANDER, A TWENTY THREE YEAR OLD WARRIOR. THE BEST IN HIS CLAN. CACLAN KING OF THE LOW LANDERS, HAD ANGUS CAPTURED, AND MADE THE NAKED, FUCKED SLAVE, OF THE LOW LANDERS, THE LOWEST.
ANGUS OF THE HIGH LANDERS CLAN, WAS WELL KNOWN, AS ONE OF THE BEST WARRIORS IN THE HIGH LANDS. HE EASILY DEFEATED HIS LOW LANDER ENEMIES, PUTTING THEM TO THE SWORD. CACLAN KING OF THE LOW LANDERS, INSTRUCTED HIS WARRIORS. "I WILL TAKE SOME POWER FROM THE HIGH LANDERS, CAPTURE ANGUS?", KING CACLAN TOLD HIS WARRIORS. "I WANT HIM ENSLAVED", HE ADDED. "YES LORD", HIS WARRIORS REPLIED. ANGUS SPIED A POOL, AFTER A LONG DAY TRAINING WITH HIS MEN, HIS MUSCLES ACHED. HE NEEDED AN INVIGORATING BATH, AND STRIPPED OFF BY THE POOL. BUT HE WAS BEING WATCHED, BY CACLAN KING OF THE LOW LANDERS MEN. ANGUS REMOVED HIS WEAPON BELT, CLAYMORE AND KILT, AS THE KING CACLAN'S MEN, CREPT UP ON HIM, FROM BEHIND. THE LOW LANDERS ATTACKED ANGUS WHO HAD ONLY HIS BARE KNUCKLES TO FIGHT THEM WITH, WHILE THEY WERE ARMED WITH WAR CLUBS. HIT FROM EVERY ANGLE, ANGUS WAS BEATEN TO THE GROUND. WITH ANGUS NOW UNCONSCIOUS ON THE GROUND, THE LOW LANDERS, EAGERLY GROPED HIS FLESH. THEY STARTED TO WANK HIS MANHOOD, FORCING THE UNCONSCIOUS ANGUS, TO GET HARD. THEY ALSO TOOK TURNS, FUCKING HIS MOUTH. THEN THE LOW LANDERS TOOK TURNS, RIDING THE FALLEN HIGH LANDERS COCK, WHILE FINGERING HIS ARSE HOLE, TO ENSURE THE UNCONSCIOUS HUNKS, COCK STAYED ROCK HARD. THEN THEY ALL CUM AND PISSED ALL OVER, HIS STILL UNCONSCIOUS BODY. ANGUS STILL UNCONSCIOUS, WAS TAKEN TO THEIR STONE FORTRESS, THE ENTRANCE HIDDEN BY A CAVE. THE FORTRESS WAS BUILT BY HIGH LANDER SLAVES AND FOREIGN SLAVES, OVER MANY YEARS OF TOIL.
IN THE FORTRESS ANGUS WAS PLACED UNCONSCIOUS BEFORE CACLAN, THE LOW LAND KING. LATER WHEN ANGUS CAME ROUND AND WAS SHOCKED TO BE NAKED, IN FRONT OF CACLAN, THE LOW LANDER KING. SHOCKED BY CACLAN'S HUGE COCK, THE SIZE OF A FOREARM WHEN ERECT. "LOW LANDERS OWN YOU NOW, SOON YOU WILL BE ONE OF US?", CACLAN SAID, AS HE GRASPED THE FIVE O'CLOCK SHADOW, ON ANGUS'S CHIN. CACLAN HOISTED ANGUS UP AND IMPALED ANGUS'S ANUS ON HIS HUGE COCK. CACLAN FUCKED ANGUS HARD, MAKING HIM SCREAM. THE LOW LANDERS CHEERED, AS CACLAN THEIR KING, FUCKED ANGUS THE HIGH LANDER HARD, IN FRONT OF THEM. "LOW LANDERS RULE, ALL HAIL KING CACLAN", THE LOW LANDERS CHANTED, AS CACLAN CONTINUED TO FUCK ANGUS. EVENTUALLY ANGUS WAS TAKEN OFF THE KINGS MANHOOD. HE STRUGGLED DEFIANTLY, IN VAIN, TO NO AVAIL, AS THE LOW LANDERS PIERCED HIS TITS AND MANHOOD. HE WAS THEN BOUND TO A WALL, ON A X FRAME, TO PERFORM SLAVE LABOR, LATER WITH OTHER SLAVES, WHO WERE ALSO BOUND TO THE WALL, ON X FRAMES. OHH MY POOR BUT HOLE, IS SO SORE AND INFLAMED, ANGUS THOUGHT, AS HE HUNG FROM THE X FRAME. HE WONDERED HOW LOW HE WOULD BECOME THERE, SOMEHOW HE KNEW, HE NEEDED TO ESCAPE. HUNKY TOUGH HIGH LAND WARRIOR, CAPTURED AND ENSLAVED. GREAT MANFLESH MALE DOMINATION ACTION, FEATURING PHYSICAL AND SEXUAL ABUSE. €15
ANGUS HIGH LANDER TO LOW LANDER PART ONE, INCLUDES THE NEW FEATURE OF SIDE BY SIDE OR PANORAMIC IMAGE PAGES. ANGUS HIGH LANDER TO LOW LANDER PART ONE FEATURES ONE DOUBLE PANORAMIC IMAGE PAGE.
PAGES 10 AND 11 FEATURES ANGUS BEING TAKEN TO THE LOW LANDER HIDDEN STONE FORTRESS, WITH IMAGES OF SLAVES, WORKING TO CONSTRUCT, THE STONE FORTRESS, OVER MANY YEARS. A PANORAMIC IMAGE FILE OF THESE TWO PAGES, WILL BE SENT WITH COPIES OF THE COMIC BOOK.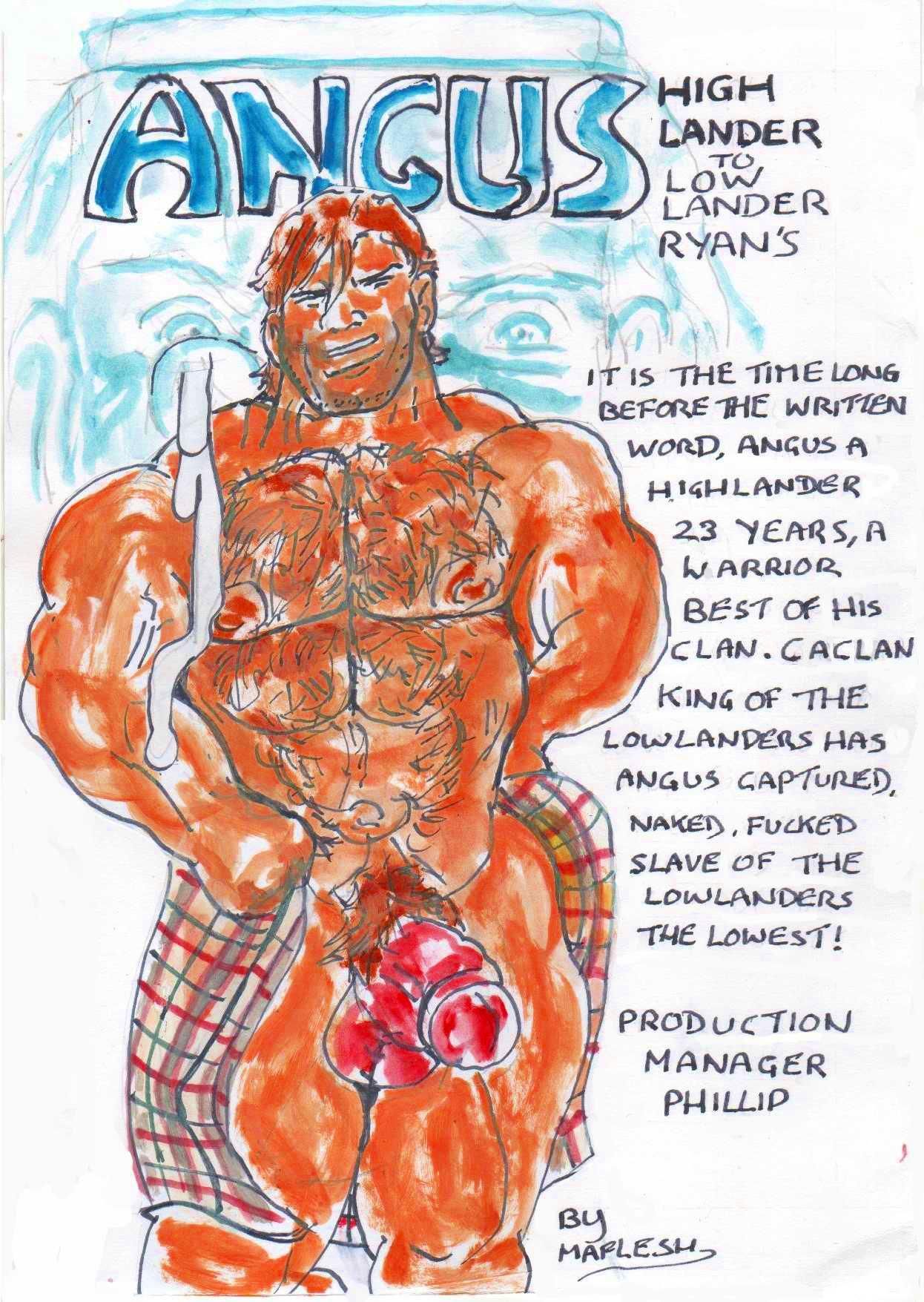 COVER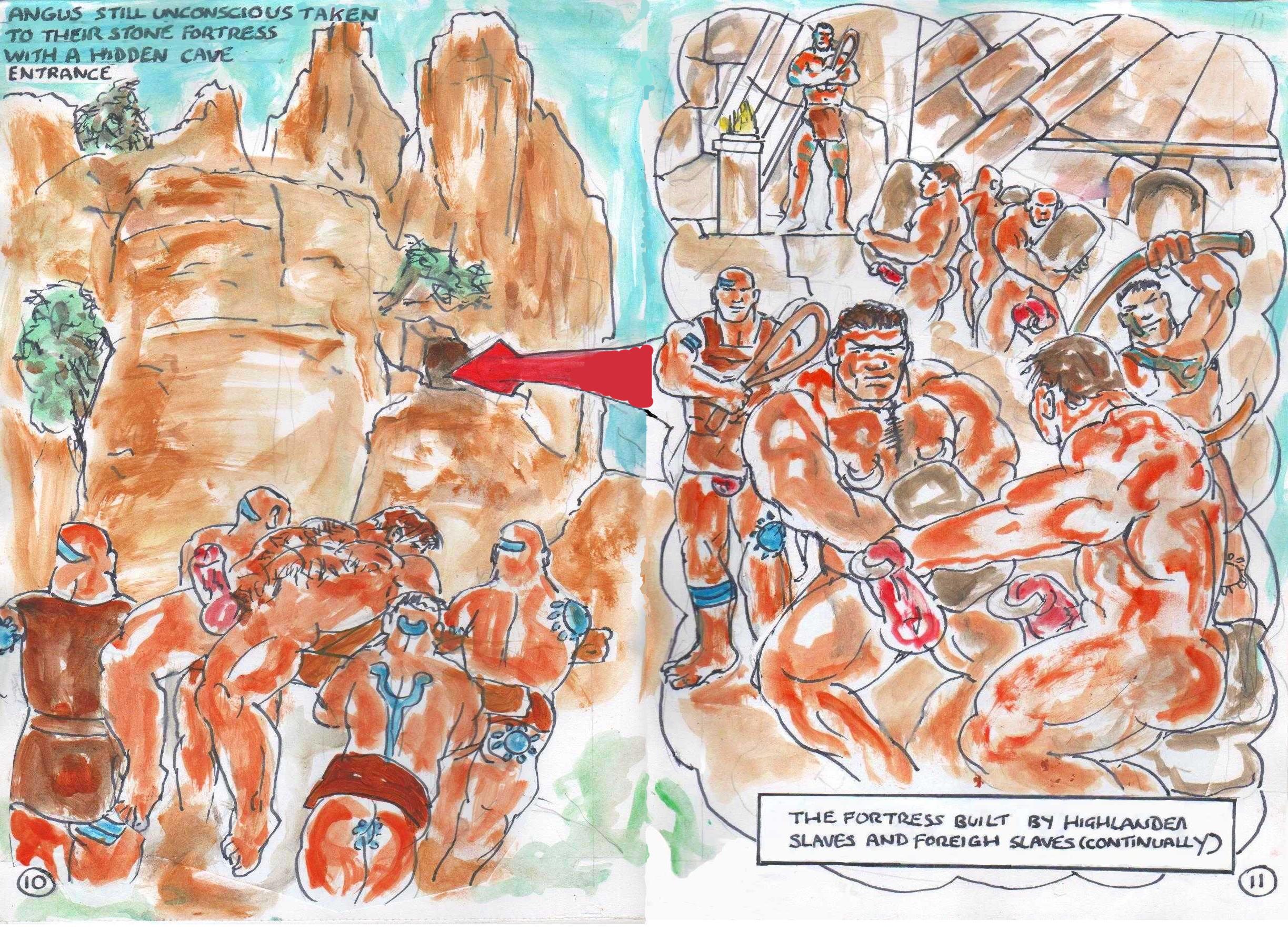 Panoramic image created from pages 10 and 11 from Angus Highlander to Low Lander part 1
THE DOUBLE PAGE HAS BEN MADE INTO PANORAMIC IMAGE AND WILL BE SENT WITH THE COMIC BOOK.
46 ANGUS HIGH LANDER TO LOW LANDER PART 2. THREE MONTHS HAD PASSED, SINCE ANGUS'S ENSLAVEMENT, BY THE LOW LANDERS. A TIRED ANGUS, SLAVE OF KING CACLAN, WAS TO BE MADE A LOW LANDER, AND LOSE HIS HIGH LANDER LOOKS. HE WAS GIVEN A SHORT MOHAWK HAIR CUT FIRST. THE ONCE MIGHTY HIGH LANDER, HAD ALL HIS BODY HAIR REMOVED. A DEFOLIANT MADE FROM POISON PLANT ROOTS, WOULD PREVENT HIS HAIR, FROM GROWING BACK. THEN ANGUS HAD TO ENDURE FOUR DAYS OF AGONY, AS HE WAS TATTOOED ALL OVER HIS BODY, EVEN AROUND HIS ARSE HOLE. THUS TRANSFORMED, ANGUS WAS TAKEN BY THE KINGS MEN IN FRONT OF CACLAN, THEIR KING. ANGUS WAS FORCED TO SUCK THE CACLAN'S MEN'S COCKS, FOR THE PLEASURE OF THE KING, WHO WATCHED FROM HIS THRONE, HIS HUGE COCK, HARD. AFTERWARDS ANGUS THE LOW LANDER SLAVE WAS DRAGGED BY LEASHES, ON HIS COCK RING AND NIPPLE RINGS, TO PERFORM SLAVE WORK. HE HAD A STONE DILDO UP HIS ARSE, TO ADD TO HIS DISCOMFORT AND SHAME. ANGUS WAS PUT TO WORK WITH OTHER SLAVES. HE WAS MADE TO CARRY HUGE SLABS OF ROCK ON HIS BACK, SPURRED ON BY THE WHIP OF A LOW LANDER GUARD. HE WAS ALSO MADE TO HAMMER THE HUGE ROCKS, INTO SMALLER ONES, TO USE ON THE BUILDING WORK, ON THE MOUNTAIN FORTRESS. ANGUS WAS MADE TO MIX UP MUD IN THE CLAY PIT, WITH HIS LEGS, TO BE USED TO MAKE BRICKS, UNDER THE WHIP OF A GUARD. ONCE THE BRICKS WERE MADE, ANGUS WAS FORCED TO CARRY LARGE NUMBERS OF THEM, ON WOODEN CARRY POLES. AT LUNCH ANGUS AND THE OTHER SLAVES, WERE FORCED TO EAT SLOPS FROM A PIG TROUGH. WHILE THE SLAVES ATE KNEELING IN FRONT OF THE PIG TROUGH, THEY WERE FUCKED BY THE GUARDS. SOME OF THE GUARDS ARGUED OVER WHO WOULD FUCK ANGUS FIRST. "I'M IN COMMAND, I'LL FUCK HIM FIRST", THE LARGEST AND TOUGHEST GUARD SAID. "I WANT TO FUCK HIM", ANOTHER PROTESTED. AS THEY ATE, ALL FOUR OF THE SLAVES, WERE DRILLED FROM BEHIND. ANGUS, BY THE LARGEST AND TOUGHEST ONE, THE KINGS, SECOND IN COMMAND.
AFTER HIS LONG DAYS TOIL, ANGUS WAS TAKEN BY KING CACLAN, TO HIS SECRET SEX DUNGEON. WHERE HE COULD PLAY WITH HIS PET. GROPE HIM, ABUSE HIS NIPPLES. USE A DILDO ON HIM TO RAPE HIM. ALSO THRUST HIS HUGE COCK IN ANGUS'S THROAT AND FUCK HIS SLAVE MOUTH. KING CACLAN MADE AUGUS SUCK HIS HUGE COCK, LONG AND HARD. THE KINGS SIZED DILDO UP HIS ARSE ANGUS'S ARSE AND PECS WERE BRANDED, WITH THE WORDS, CACLAN'S PET. NOW BRANDED, ANGUS WAS LEFT WITH OTHER SLAVES, HANGING FROM MANACLES ON THE WALL, WITH PRECUM LEAKING FROM THE HEAD OF HARD COCK. A STONE DILDO, THE SIZE OF KING CACLAN'S HUGE COCK THE UP HIS ARSE, HE DREAMT OF KING CACLAN'S NAKED BODY AND HUGE COCK. ANGUS'S ENSLAVEMENT AND HUMILIATION CONTINUED. GREAT MANFLESH MALE DOMINATION ACTION, FEATURING PHYSICAL AND SEXUAL ABUSE. €15
ANGUS HIGH LANDER TO LOW LANDER PART TWO, INCLUDES THE FEATURE OF SIDE BY SIDE PAGES OR PANORAMIC IMAGE PAGES. ANGUS HIGH LANDER TO LOW LANDER PART TWO FEATURES FOUR DOUBLE PANORAMIC IMAGE PAGES, THEY ARE
PAGES 6 AND 7, FEATURES ANGUS WORKING AS A SLAVE, CARRYING HUGE SLABS OF ROCK AND USING A HAMMER TO BREAK THE LARGER ROCKS UP TO USE FOR BUILDING MATERIAL.
PAGES 8 AND 9 FEATURES ANGUS WORKING IN THE MUD TO MAKE BRICKS AND CARRYING THE FINISHED BRICKS ON WOODEN CARRY POLES
PAGES 10 AND 11 FEATURES ANGUS AND OTHER SLAVES EATING FROM A PIG TROUGH WHILE BEING FUCKED BY THE GUARDS.
PAGES 12 AND 13 FEATURES ANGUS IN THE KINGS SECRET SEX DUNGEON, BEING GROPED, RAPED AND FACE FUCKED.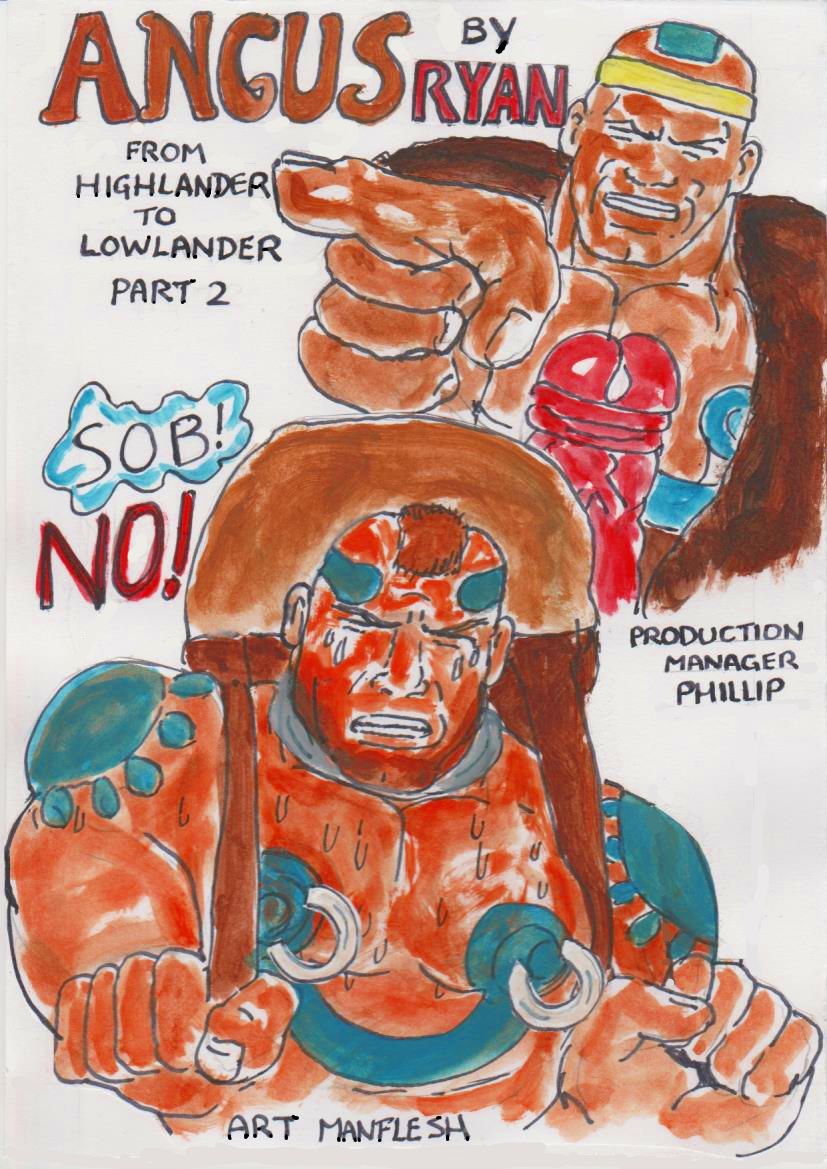 COVER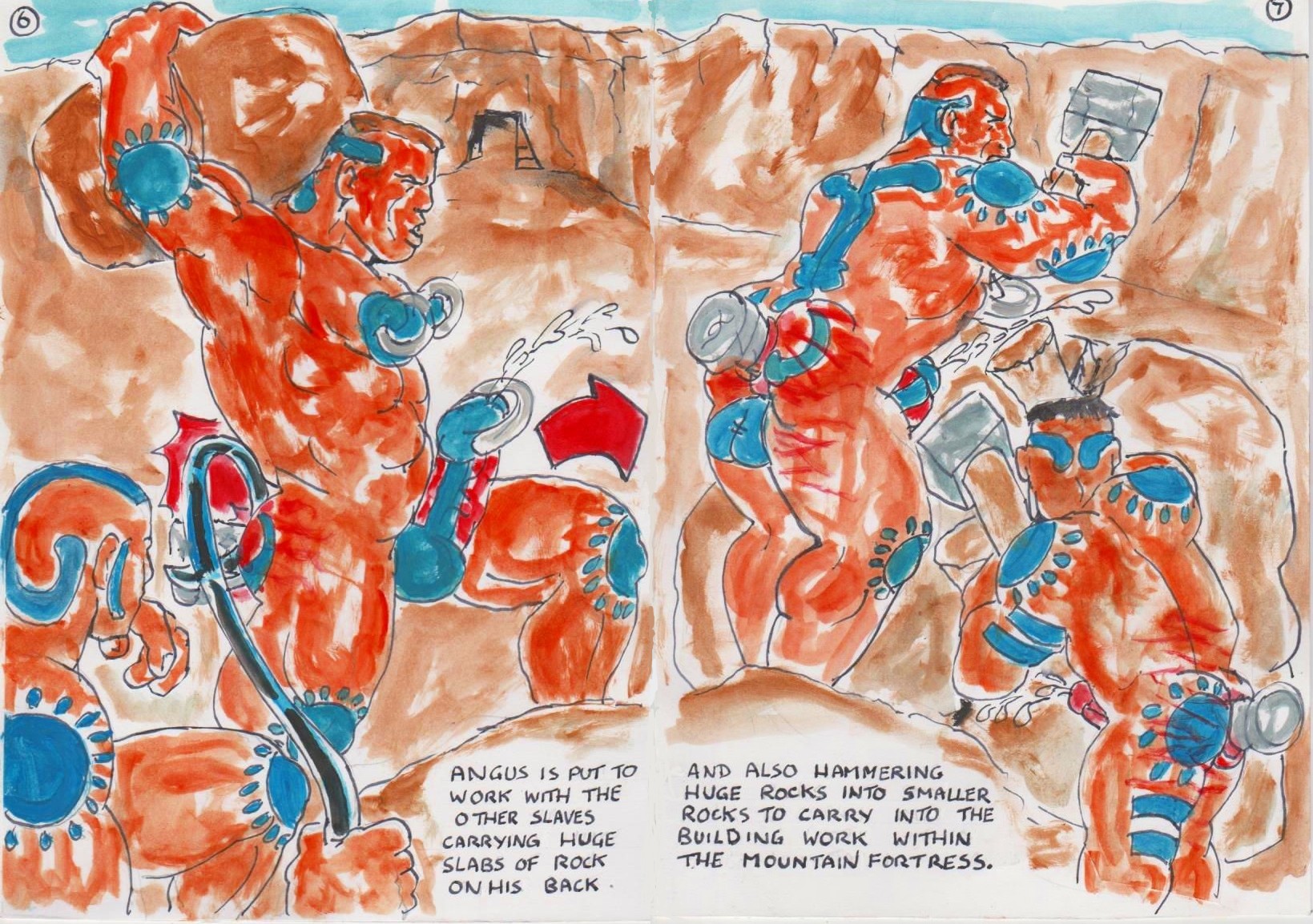 Panoramic images created from pages 6 and 7 and 8 and 9 from Angus Highlander to Low Lander part 2
THE DOUBLE PAGE HAS BEN MADE INTO PANORAMIC IMAGE AND WILL BE SENT WITH THE COMIC BOOK.
47 OUTLANDER PART 1. CLAN OUTLANDER JAMIE, HAD TAKEN THE BUCK FOR HIS CLAN. THE RED COAT CAPTAIN HAD JAMIE IN HIS GRASP. HE CRAVED TO BREAK JAMIE SEXUALLY, TO MAKE HIM, HIS WHORE AND BITCH. "I WILL SHOW YOU WHO IS A REAL MAN JAMIE, I WILL BREAK YOU, TAME YOU, WITH MY WHIP AND MY COCK", THE RED COAT CAPTAIN TOLD JAMIE.
JAMIE HAD ARRIVED AT DUNBLAIN PRISON TO PLEDGE HIMSELF, SO HIS LAIRD COULD BE FREE TO GOVERN HIS CLAN LANDS. "I CLAIM YE THE RIGHT, TO TAKE MY LAIRD'S PLACE IN CUSTODY, AS IS MA RIGHT", JAMIE TOLD THE RED COAT CAPTAIN. "I HEARD SO, BUT YOU MUST BE CHECKED FOR WEAPONS, BEFORE I LET YE LAIRD GO", THE RED COAT CAPTAIN REPLIED. "SO STRIP", THE RED COAT CAPTAIN ORDERED. "SEE I NAY GOT WEAPONS CAPTAIN", JAMIE SAID, OPENING HIS KILT AND EXPOSING HIS GENITALS. "NOW OFF WITH YOUR JERKING", THE RED COAT CAPTAIN ORDERED, HIS BRITCHES BULGING. "SEE NAY WEAPONS", JAMIE SAID, REMOVING HIS JERKIN. "GOOD, NO WEAPON THERE, BEND OVER THE DESK", THE RED COAT CAPTAIN SAID. "WHAT THE HELL", JAMIE SAID IN SHOCK AS HE BENT NAKED OVER THE DESK. "A PRISONER HID A DIRK UP HIS ARSE AND KILLED A GUARD", THE RED COAT CAPTAIN SAID. TO CHECK FOR WEAPONS, THE RED COAT CAPTAIN, EXPLORED JAMIE'S ANUS WITH HIS FINGER. THE FINGERING OF JAMIE'S MAN CUNT MADE HIM CUM. THE RED COAT CAPTAIN ORDERED JAMIE TO LICK THE FLOOR CLEAN OF HIS CUM. I MUST DO THIS FOR MINE LAIRD, JAMIE THOUGHT, AS HE LICKED UP HIS CUM. THE RED COAT CAPTAIN TOOK JAMIE DOWN TO THE DUNGEONS, NAKED. "WHERE BE MA CLOTHES", JAMIE PROTESTED. "THEY WILL BE USED, AS RAGS TO WASH THE HORSES", THE RED COAT CAPTAIN REPLIED. "YOU WILL NOT HAVE NEED OF CLOTHES HERE", HE ADDED.
JAMIE WAS CHAINED NAKED TO THE WALL OF THE DUNGEON BY A IRON ANKLE RING. "YE HAVE NA RIGHT, TO TREAT MA, AS A BEAST, NAKED", JAMIE PROTESTED ANGRILY. "YOU NEED TAMING", THE RED COAT CAPTAIN TOLD JAMIE. THE CAPTAIN CALLED TWO GUARDS TO THE DUNGEON. THE TWO GUARDS STRIPPED TO THE WAIST, IN THE HOT CELL. THE CAPTAIN ALSO REMOVED HIS SHIRT. JAMIE WAS TIED NAKED OVER A RAIL. THE GRINNING CAPTAIN APPROACHED JAMIE, CARRYING A HORSE BIT, ADAPTED FOR A MANS MOUTH. THE HORSE BIT WAS FITTED TO JAMIE'S MOUTH. THE MODIFIED HORSE BIT HAD BEEN DESIGNED, TO KEEP THE WEARERS MOUTH OPEN. WITH IT FITTED, THE PUNISHMENT BEGAN. THE CAPTAIN SO FILLED WITH LUST, WAS ABLE TO FACE FUCK, THE NATIVE SCOTS HUNK, WITH HIS HARD COCK. WITH HIS MOUTH KEPT OPEN BY THE HORSE BIT, JAMIE HAD NO CHOICE, BUT TOO ENDURE, THE FACE FUCK. THE TWO GUARDS SAW TO THE WHACKING OF JAMIE'S ARSE. AS IT WAS A MORE SADISTIC PUNISHMENT THE CAPTAIN CRAVED, RATHER THAN A SEXUAL ONE. WHAT HAD TO BE REMEMBERED WAS, THAT PRISONS, IN THOSE DAYS WERE, PLACES OF HARSH PUNISHMENT, ACCEPTED BY MASTER AND PRISONERS ALIKE. SO JAMIE HAD NO CHOICE.
JAMIE WAS TAKEN TO THE PRISON PUNISHMENT CELL, WHERE A CHAIN WITH AN IRON COLLAR WAS ATTACHED TO AN IRON POST. THE IRON COLLAR WAS ATTACHED TO JAMIE'S NECK, LIKE OTHER PRISONERS HE WAS MADE TO RUN ROUND THE POLE. HIS NAKED BUTTOCKS WERE WHIPPED BY THE CAPTAIN AS HE RAN ROUND THE POLE. THIS OFTEN CAUSED THE YOUNGER MORE VIRILE PRISONERS TO EJACULATE, IT CERTAINLY DID JAMIE. THE CAPTAIN HAD FOUND A SUPPLY OF MAGIC MUSHROOMS AND HAD ADDED THEM, TO JAMIE'S EVENING MEALS. THIS ALLOWED HIM TO DO THINGS TO JAMIE HE WOULD NOT REMEMBER. SO THE CAPTAIN COULD HAVE HIS LEWD LUSTING SATISFIED. ONE NIGHT IN THE PRISON PUNISHMENT ROOM, TO INCREASE JAMIE'S HUMILIATION AND SUFFERING, A WILD BOAR WAS STRAPPED TO JAMIE'S BACK, AS HE RAN ROUND THE POLE. THE BOARS HARD COCK, WAS TRUST UP JAMIE'S BUM. THE BOAR CUM UP JAMIE'S BUM, AS HE RAN ROUND THE POST. THAT MADE JAMIE'S COCK SPURT INTO THE NIGHT AIR. THE RED COAT CAPTAIN SPUNKED TOO, HE WAS NOT FINISHED WITH JAMIE. THE USE OF THE MAGIC MUSHROOMS MEANT THE CAPTAIN COULD PLAY WITH JAMIE AT NIGHT. HE WOULD FINGER JAMIE'S BUM AND LICK HIS COCK WHILE KISSING HIM. BUT HE WOULD NOT FUCK JAMIE. HE WANTED JAMIE BROKEN, BUT WITHOUT THE HELP OF THE MAGIC MUSHROOMS.
THE NEXT DAY JAMIE WAS TAKEN TO THE WHIPPING POST. THE RED COAT SOLDIERS WHERE THERE TO WATCH. THEY SAW THE CAPTAIN PULLING JAMIE BY THE WHIP, THAT WAS COILED ROUND THE TIP OF JAMIE'S HARD COCK. THE RED COATS JEERED JAMIE, OOGLING THE LADS THICK BUTTOCKS, ABOUT TO MADE RED RAW. "THAT BUM OF YOURS WILL BE RED RAW?", THE CAPTAIN TOLD JAMIE. MORE GREAT MANFLESH MALE DOMINATION ACTION, FEATURING PHYSICAL AND SEXUAL ABUSE. €15
OUTLANDER PART 1 INCLUDES THE FEATURE OF SIDE BY SIDE PAGES, THAT CREATE PANORAMIC IMAGES. OUTLANDER PART 1 FEATURES SIX SIDE BY SIDE PANORAMIC IMAGES. THEY ARE
PAGES 2 AND 3 FEATURES JAMIE BEING STRIP SEARCHED AND FOR HIDDEN WEAPONS, THEN HAVING TO ENDURE A BODY CAVITY SEARCH FOR HIDDEN WEAPONS BY THE RED COAT CAPTAIN.
PAGES 6 AND 7 FEATURES JAMIE CHAINED NAKED BY THE ANKLE IN HIS CELL PROTESTING HIS TREATMENT TO THE CAPTAIN. ALSO JAMIE BENT OVER A RAIL, WHILE THE CAPTAIN FITTED A SPECIALLY ADAPTED HORSE BIT, TO HIS MOUTH.
PAGES 8 AND 9 FEATURES JAMIE BENT OVER A RAIL WITH, THE HORSE BIT KEEPING HIS MOUTH OPEN, SO THE CAPTAIN COULD FACE FUCK HIM. ALSO TWO GUARDS STRIPPED TO THE WAIST, SADISTICALLY BEATING JAMIE'S ARSE.
PAGES 10 AND 11 FEATURES JAMIE IN THE DUNGEON PUNISHMENT ROOM, BEING FORCED TO RUN ROUND THE IRON POLE WHILE CHAINED TO IT BY THE NECK, AS THE CAPTAIN WHIPPED HIS NAKED BODY. THE CAPTAINS WHIP MADE JAMIE SPUNK.
PAGES 12 AND 13 FEATURES JAMIE RUNNING ROUND THE IRON POST WITH A WILD BOAR STRAPPED TO HIS BACK, WHILE BEING WHIPPED BY THE NAKED CAPTAIN, SPORTING A LARGE ERECTION. THE WILD BOARS HARD COCK, WAS THRUST INTO JAMES BUM AND THE BOAR CUM IN JAMIE'S BUM AS HE RAN ROUND THE POLE, THAT MADE JAMIE CUM. THE SIGHT CAUSED THE RED COAT CAPTAIN TO SHOOT AS WELL.
PAGES 14 AND 15 FEATURES JAMIE DRUGGED WITH MAGIC MUSHROOMS, BEING SEXUALLY ABUSED, BY THE RED COAT CAPTAIN. HIS COCK WAS FINGERED AND HIS COCK LICKED, WHILE THE CAPTAIN KISSED HIM. BUT THE CAPTAIN WOULD NOT FUCK JAMIE, HE WANTED HIM BROKEN WITHOUT THE HELP OF THE MAGIC MUSHROOMS. ALSO JAMIE BEING LED TO THE WHIPPING POST WITH HIS HARD COCK ATTACHED TO THE CAPTAINS WHIP. WHILE RED COAT SOLDIERS WATCHED AND JEERED. THE LADS BUTTOCKS WERE ABOUT TO BE MADE RED RAW.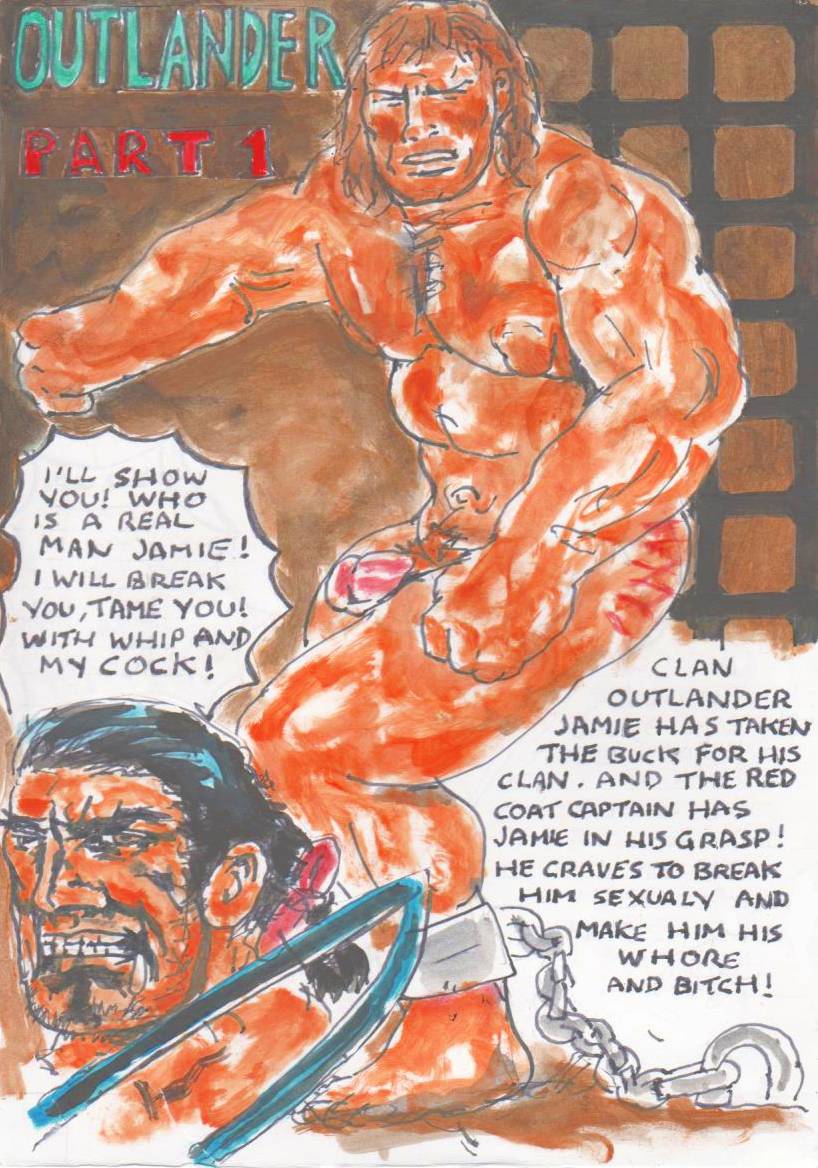 COVER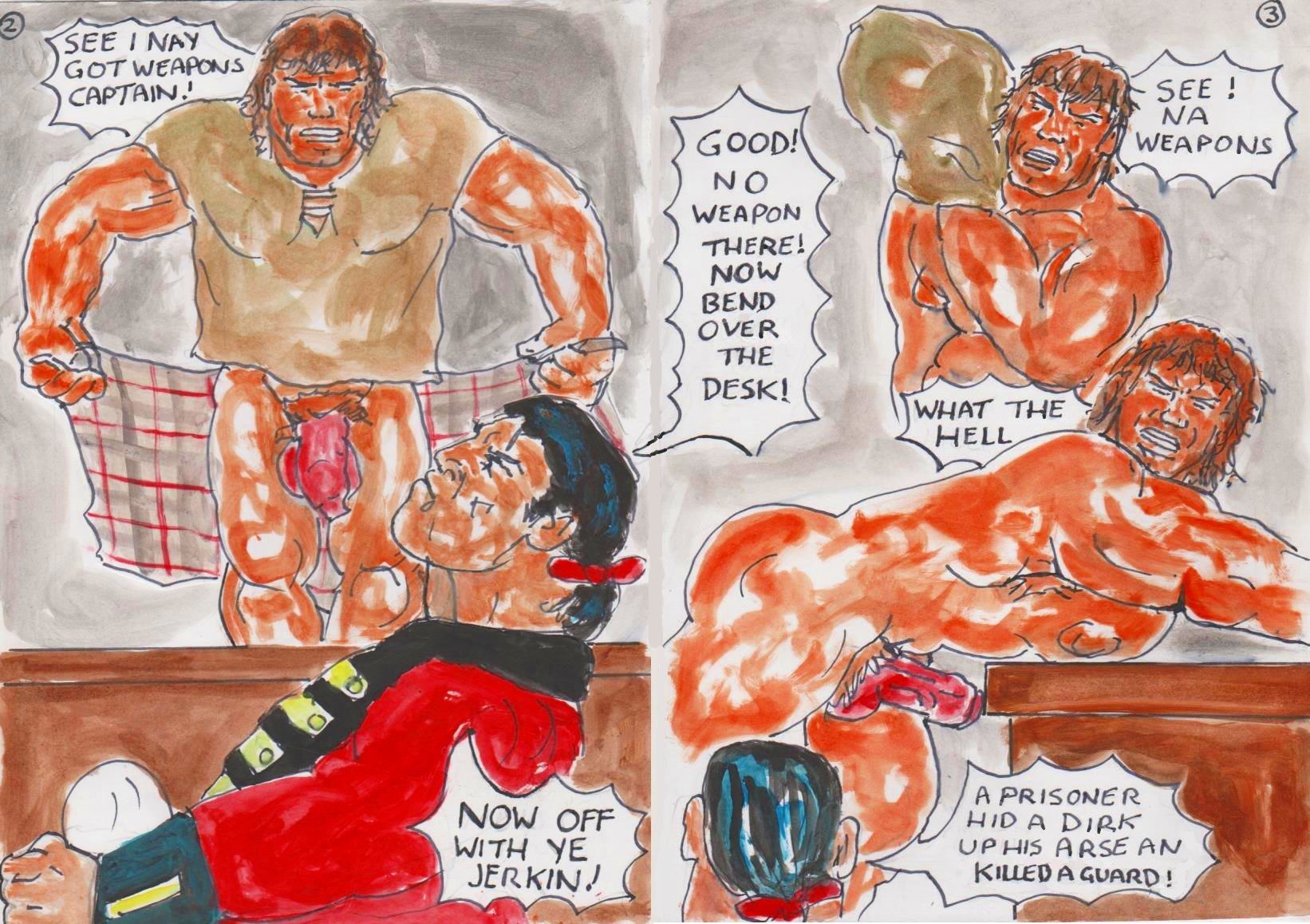 Panoramic images created from pages 2 and 3 and 6 and 7 of Outlander Part 1
PANORAMIC IMAGE FILES OF THESE 6 SETS OF PAGES, WILL BE SENT WITH COPIES OF THE COMIC BOOK.