MANFLESH MALE ON MALE DOMINATION ART WORK & COMIC BOOKS PAGE
The url is man-flesh1.blogspot.com
http://www.man-flesh1.blogspot.com
MANFLESH MALE ON MALE DOMINATION LIST 1-20
1 RUGBY LION TO CORRALLED BEAST. INTERNATIONAL RUGBY STAR DIA JONES IS KIDNAPPED IN FRANCE WHILE TRAINING FOR A MATCH THERE. HE IS CAPTURED BY A BIG GAME BOUNTY HUNTER ON THE ORDERS OF AN AFRICAN RULER WHO COLLECTS NAKED MALE SAVE BEASTS. DIA IS ENSLAVED AND IS NO LONGER CONSIDERED HUMAN. DIA IS THROWN INTO THE CORRAL AND RAVISHED BY THE OTHER ONCE MEN BEASTS. THE RULER EMPLOYS A CRUEL BLONDE SWEDE OVERSEER WHO GETS THE BEAST TO FUCK EACH OTHER WITH LARGE IRON PHALLUSES ARE TO ARSE. TO TEACH DIA HIS ANIMAL SLAVE STATUS HIS MADE TO PERFORM EVERY LEWD DEPRAVED HOMOSEXUAL ACT ON OTHER BEASTS WHILE THEY DO THE SAME TO HIM. THE BLOND SWEDE OVERSEER ANGERS THE RULER BU REFUSING TO FUCK THE NEW SLAVE DIA. THE SLAVE BEASTS ARE MADE TO PULL A CARRIAGE DRIVEN BY THE BLOND SWEDE WHO ENJOYS PLYING THE WHIP TO THEIR NAKED BODIES ON THE WAY TO THE QUARRY WHERE THE SLAVE WILL TOIL ALL DAY. WHEN THEY REACH THE QUARRY IS STRIPPED AND ENSLAVED BY THE GUARD ON THE RULERS ORDERS. THE BLOND SWEDE IS MADE TO TOIL ALONG WITH DIA AND THE OTHER BEASTS AND IS SUBJECTED TO SAME PHYSICAL AND SEXUAL ABUSE FROM THE GUARDS AS TH OTHER BEASTS. DIA AND THE SWEDE ARE FORCED TO WORK SIDE BY SIDE IN THE HOT AFRICAN SUN. THE BROKEN AND FALLEN WHIP MASTER IS FORCED TO PULL THE CARRIAGE BACK WITH THE OTHER BEAST AND IS WHIPPED MERCILESSLY. ONCE BACK AT THE COMPOUND THE RULER ENJOYS SEEING THE BLONDE SWEDE MATED BY THE OTHER BEASTS. DIA GET HIS REVENGE BY CATCHING AND FUCKING THE BLOND SWEDE FIRST. 23 PAGES OF HOT GRAPHIC MALE ACTION ARTWORK BY MANFLESH. €15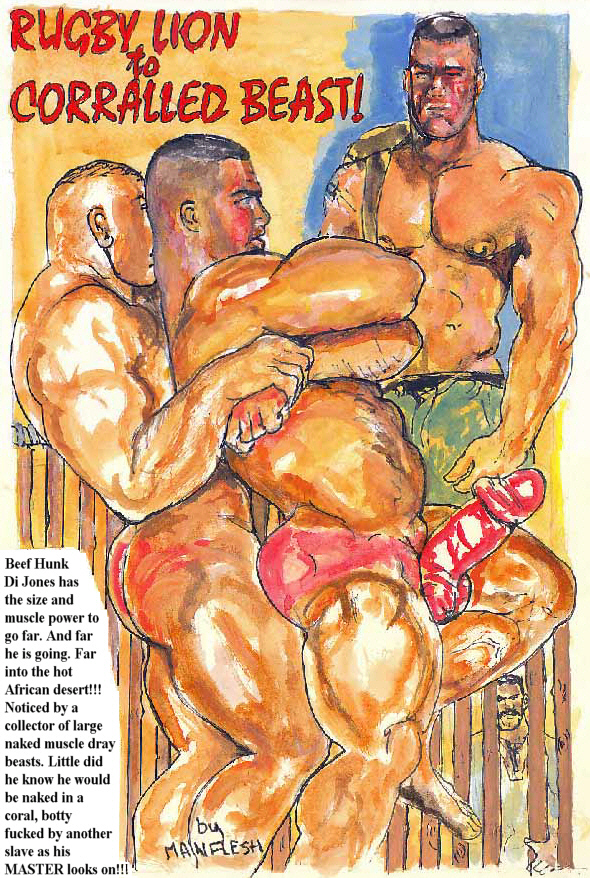 2 TWO BEASTS RUGBY LION 2. DIA JONES AND THE BLONDE SWEDE BOTH NOW SEX BEASTS ARE ORDERED TO BE SENT TO STUB FOR THE DAY THE AFRICAN RULER.. THE SLAVE MASTERS SECURE THE TWO BEAST AND REMOVE THEIR UNWANTED PUBIC HAIR AND FORESKINS. THE BEASTS HAVE THE LARGE BEAST HOLES WASHED CLEAN AND THEY A FORCE FED 12 VIAGRA TABLES EACH. THE TWO BEASTS ARE THEN PUT ONLY DISPLAY FOR PROSPECTIVE PUP BUYING CUSTOMERS TO INSPECT. WHILE THEY FUCK WAITING BOUND FEMALE SLAVES. TWO BIG BLACK BUCKS FUCK DAI AND THE BLONDE SWEDE AS THEY FUCK THE FEMALE SLAVE MAKING THE BEASTS FUCK THEM HARDER. AFTER HOURS OF BEING FUCKED AND FUCKING THE FEMALE SLAVES THE BEAST CUM SOCKED COCK ARE REMOVED AND PHYSICALLY INSPECTED BY PROSPECTIVE CUSTOMERS CHECKING OUT THE SIZE OF THE MANHOOD AND THE THICKNESS OF THE SEED.
SECURED WITH MOUTH WIRED OPEN TO STOP THEM BITING CUSTOMERS THE BEASTS ARE TAKEN TO THE AUCTION PLATFORM. ON THE PLATFORM THE BEATS HAVE THEIR BODIED AND BEAST HOLES OILED IN FRONT OF THE BAY CROWD. THE TWO BEASTS ARE FORCED TO FUCK HUGE IRON DILDO TO SHOW THE CROWD THEIR ANAL SKILLS. TWO YOUNG BLACK BUCKS ARE SELECTED FROM THE CROWD TO FACE FUCK THE BEASTS FILING THEM MOUTHS. THEN THE BEASTS ARSES ARE SPREAD OPEN WITH ARSE SPREADERS AND THE CROWD INVITED TO TEST THE COCK SUCKING ABILITIES OF THE ARSES. ALONG LINE OF CUSTOMERS FUCK THE BEATS LONG AND HARD. AFTER THIS DISPLAY THE BIDDING FOR THE BEAST IS INTENSE THEY ARE PURCHASED FOR A SMALL FORTUNE BY A LOCAL WARLORD. THEY ARE FORCED TO RUN BEHIND THE WARLORD'S JEEP FOR FIVE DAY THROUGH THE DESERT SUN. WHEN THEY REACH HIS FORTRESS THEY ARE WELCOMED BY A SHOWER OF PISS BY HIS A WARRIORS AS THEY ENTER THE GATES. AND THIS IS ONLY THE START OF EVEN MORE DEGRADATION AND SUFFERING. TWENTY HOT GRAPHIC COLOUR PAGES OF MANFLESH ARTWORK CONTINUING THE STORY STARTED IN RUGBY LION TO CORRALLED BEAST. €15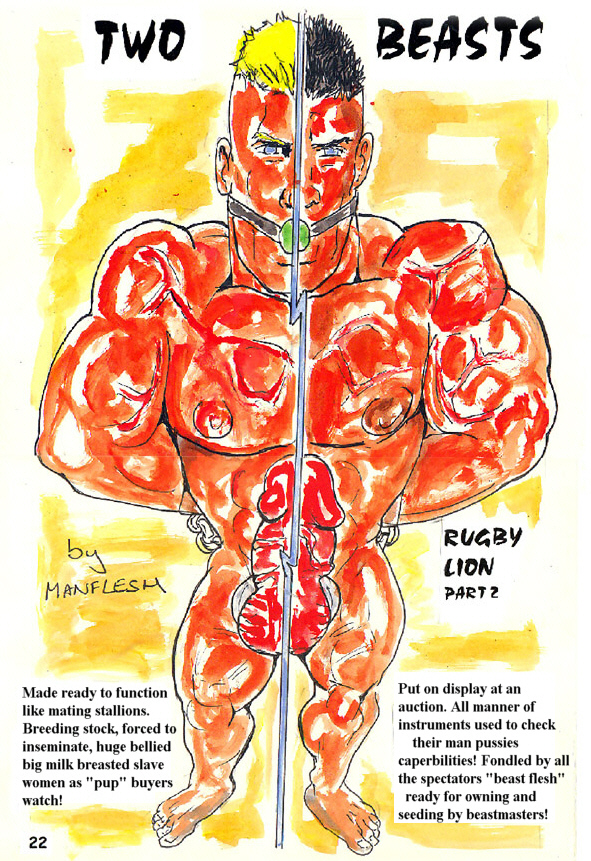 3 OWNED BY A BLACK MASTER. MARINE SERGEANT CHET IS ABDUCTED FROM HIS BASE STRIPPED OF HIS UNIFORM AND TAKEN BOUND INTO THE BLACK AUTONOMOUS TERRITORIES WHERE A WHITE MAN IS LEGALLY A SLAVE. WHEN CHET REACHES HIS DESTINATION HE I STRIPED BY A BLACK MASTER. CHET IS TIED DOWN AND HIS ARSE IS MERCILESSLY BEATEN UNTIL HE ADMITS HE IS A AN OWNED SLAVE BOY. CHET HAS TO SUCK THE BLACK MASTERS COCK. HIS COCK IS THEN RINGED THROUGH THE HEAD AND HE JOINS OTHER SLAVES ROPED TOGETHER BY THEIR COCKS THEY ARE ALL FORCED TO WORK BY BLACK GUARDS. FOR COUPLE OF MONTHS CHET IS WORKED AND THE FACT THAT HE IS A NAKED BEAST UNTIL HE IS READY FOR BREAKING IN BY HIS MASTER. CHET IS FUCKED BY HIS MASTER IN FRONT OF THE GUARDS. CHET IS TRANSFORMED INTO THE BITCH OF THE SLAVE POD. HIS ARSE IS FILLED WITH SEEDS THAT ARE THEN FERTILISED BY SPERM FROM BLACK COCKS THAT HIS SOS FORCED TO SOW IN THE GROUND HE HAD BECOME AND OWNED BEAST OF BURDEN. SEVERAL PAGES OF GRAPHIC MALE SEXY EROTIC DOMINATION COLOUR ARTWORK BY MANFLESH. €10.00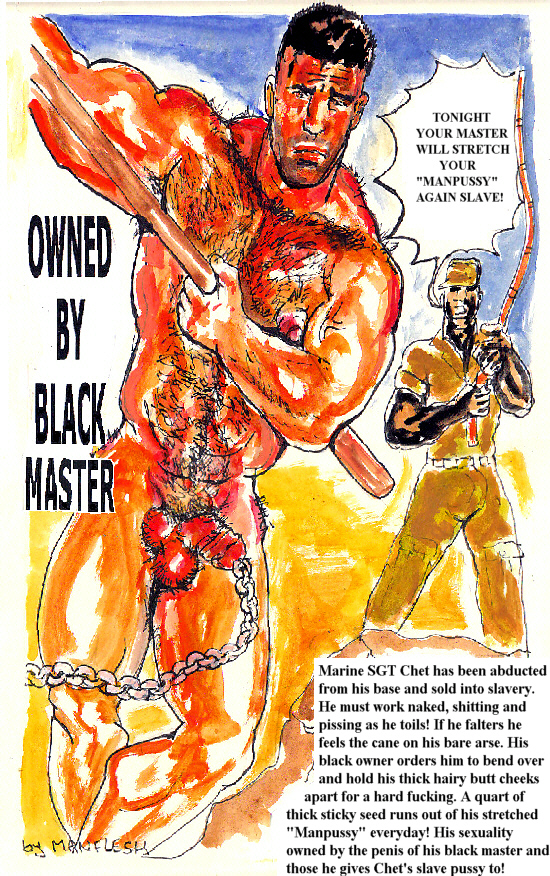 4 INDEE CRAB JONES AND THE STING OF THE BLACK MAMBAS. ARCHAEOLOGIST COME ART THIEF IS IN THE MIDDLE EAST AND HEARS ABOUT A GOLD PHALLUS COVERED WITH JEWELS OWNED BY A SULTAN WITH A CITY DEEP IN THE SAHARA. AFTER A TWO DAY CAMEL RIDE INDEE ENTERS A BAR. AL EYES N HIS HOT MALE BODY AS HE ORDERS A WHISKY AND TRIES TO GET SOME INFORMATION. BUT BEFORE INDEE COULD LEARN ANYTHING HE WAS ATTACKED BY A LOCAL ROUGH NECK. AFTER BELLY BLOW INDEE TRIES TO FIGHT BACK BUT HAS NOT CHANCE. BEATEN INDEE IS DUMPED ON A TABLE AND STRIPPED. INDEE IS TIED TO THE TABLE READY TO BE FUCKED BY THE HARD EAGER NATIVES. INDEE IS FUCKED HARD BY EVERY MALE IN THE BAR AND HE IS RAPED FOR DAYS. AFTER DAYS OF RAPE BY ANYONE COMING IN THE BAR HE TRIES TO ESCAPE. WITH NOTHING BUT HIS HAT HE ESCAPES NAKED FROM THE BAR RUNNING IN THE BURNING HOT SUN. BUT INDEED IN CONFRONTED BY ONE OF THE SULTANS GUARDS WIELDING A WHIP. USING THE WHIP TH GUARD SUBDUES AND CAPTURES INDEE. INDEE IS CARRIED OFF THE SULTAN'S PALACE ON THE GUARDS SHOULDER. MANFLESH HOT MALE SEXUAL AND PHYSICAL ABUSE AT IS BEST €10.00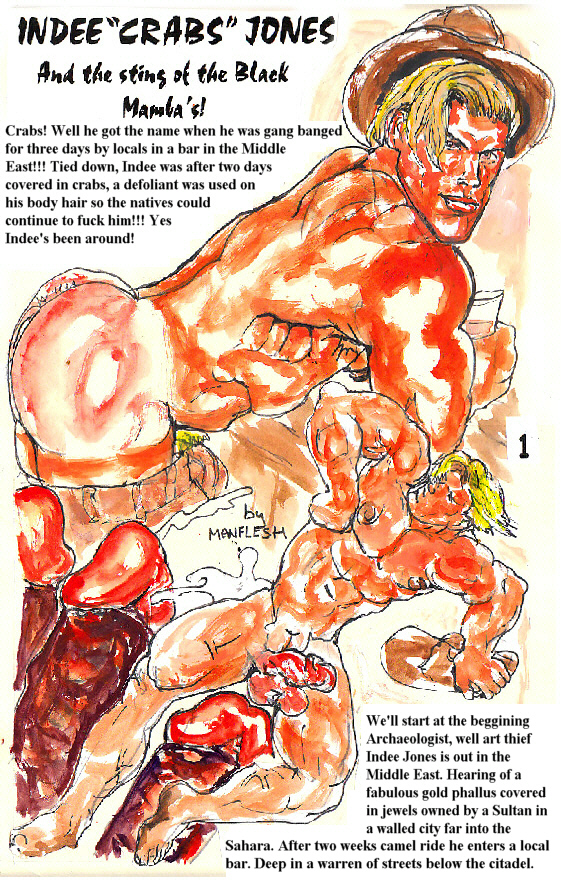 5 SPANK PENITENTIARY PART 1 JAS'S TALE. YOUNG VIOLENT OFFENDERS ARE SENT TO SPANK PENITENTIARY WHERE THEY ARE KEPT NAKED AND BROKEN IN WITH CONSTANT HARD SPANKING AND ANAL REAMING. THE TRAINED AND REFORMED OFFENDERS ARE THEN SOLD TO RICH MEN AS BIMBO BUM SLAVES. A UNIQUE AND EFFECTIVE REMEDY FOR ANTI SOCIAL BEHAVIOR.
JAS A YOUNG THUG IS TAKE TO AT SPECIAL FACILITY DEEP IN THE DESERT. THE GUARDS STRIP THE PRISON UNIFORM OFF JAS TELLING HIM HE HAS NOT RIGHTS. JAS IS GIVEN A SHORT BACK AND SIDE AND HIS PUBES ARE SHAVED OFF. THE GUARDS THEN SECURE JAS'S ARMS AND BEAT HIS ARSE RED RAW WITH A LEATHER PADDLE. ONE GUARD THROWS JAS OVER HIS KNEE SPANKS HIS RED RAW ARSE UNTIL HE BAWLS LIKE A BABY. THE GUARDS THEN RAPE HIM FUCKING HIS ARSE UNTIL IT IS RAW INSIDE AS WELL. JAS IS MADE TO RIDE THE GUARD'S COCK WITH HIS ARSE USING HIS HOMO ARSE LIPS TO MILK THEIR COCKS.
A WEEK LATER JAS' S HAIR IS RIGHTLY CROPPED GIVING A REAL SLAVES HAIR CUT AND HE IS WHIPPED BY THE GUARDS. THREE MONTHS ALTER AFTER CONSTANT TRAINING AND ABUSE JAS IS READY FOR AUCTION A FULLY BOTTY TRAINED AND CERTIFICATED SLAVE BOY. JAS AND OTHER SLAVE ARE SOLD AT THE AUCTION AMONGST FRANTIC BIDDING. JAS WAS BROUGHT BY AN ARAB RULER AS A PONY TRAP SLAVE. THE ARAB RULER SPANKS JAS'S ARSE AS HE PULL THE PONY TRAP SO THE SHEIKH CAN SEE HIS RED GLOWING ARSE BOUNCE AS HE RUNS. THIRTEEN PAGES OF GRAPHIC COLOUR MANFLESH MALE PHYSICAL AND SEXUAL HUMILIATION. €12
6 WHIP MASTER MASTERED. SVEN IS A BLOND SWEDISH WHIP MASTER FOR WEALTHY ARAB RULER. THE RULERS NEPHEW AZAN CRAVES FOR THE BLOND SWEDE. AZAN IS IN HIS CARRIAGE DRAWN BY NAKED SLAVES AND ACCOMPANIED BY SVEN THE WHIP MASTER. AZAN ORDER SVEN TO RUN NAKED SVEN REFUSES SO AZAN ARRANGES TO HAVE SVEN TAKEN. THEY LEAVE THE PALACE AND SVEN IS ARRESTED WHILE RUNNING WITH THE SLAVES PULLING AZAN'S CARRIAGE BY TWO SOLDIERS. THE SOLDIERS STRIP SVEN AND HOLD HIM FOR AZAN. SVEN IS TIED TO THE FRONT BAR OF THE CARRIAGE THAT SPORTS A PENIS POLE THAT IS FORCED UP HIS ARSE HE IS THEN FORCED TO NAKED RUN PULLING THE CARRIAGE WITH THE OTHER SLAVES THROUGH THE TOWN. THE BLACK SMITH REMOVES SVEN'S COCK HAIR. THE BLACK SMITH FITS A STEEL COCK RING THROUGH HE HEAD OF SVEN'S COCK. AZAN INVITED THREE LOCALS TO BE THE FIRST ONES TO FUCK HIS NEW SLAVE SVEN. BACK AT THE PALACE SVEN IS SECURED NAKED TO A PUNISHMENT POLE AND FUCKED BY ON OF THE LOCALS. AZAN THEN ORDERS THE OTHER TWO LOCAL TO FUCK SVEN'S ARSE AT THE SAME TIME. SVEN IS RAPED BRUTALLY MAKING HIM SCREAM. SVEN NOW A SLAVE HAS TO PULL AZAN CARRIED AND IS REGULARLY SODOMISED BY AZAN AS HE DOES. THIRTEEN PAGES OF GRAPHIC COLOUR MANFLESH MALE PHYSICAL AND SEXUAL HUMILIATION. €12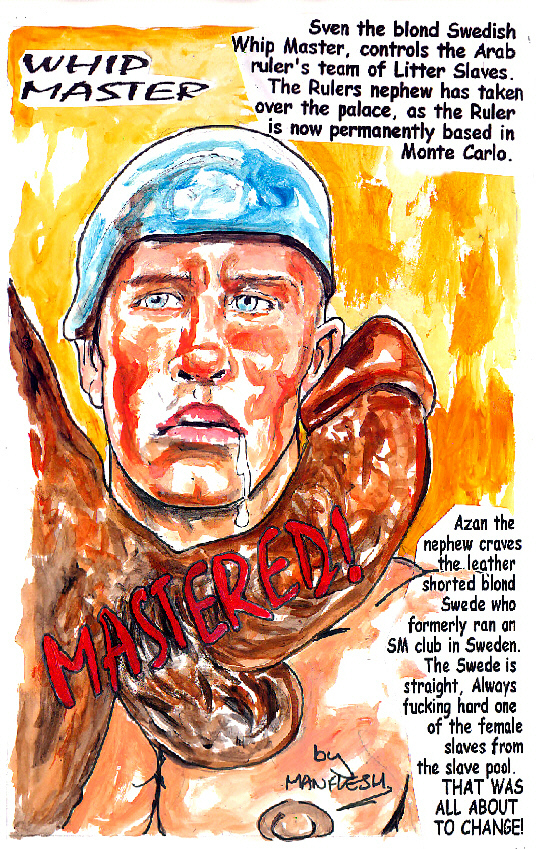 7 CHAIN GANG. EX MARINE TY AND MUSCLE HUNK FALLS FOUL OF THE SOUTHERN STATES OF CALIFORNIA AND NEVADA SECRET AGREEMENT WITH THEIR POLICE FORCES TO KIDNAP MUSCLE HUNKS FROM GYMS ON TRUMPED UP CHARGES OF STEROID ABUSE. THE HUNKS ARE PUT TO WORK ON CHAIN GAIN SAVING THE STATES MUCH NEEDED MONEY ON EXPENSIVE WORKERS AND MACHINERY IN A RECESSION. TY IS INTRODUCED TO HIS NEW HOME BY THE GUARDS ALONG WITH OTHER PRISONERS. THE GUARDS ORDER THE PRISONERS TO STRIP OUT OF THEIR ALREADY REVEALING AND LEWD BOILER SUITS READY FOR THEIR RINGING. TY HAS HIS COCK HEAD PIERCED AND A RING ATTACHED TO IT WHERE A CHAIN CAN BE ATTACHED TO THE RING TETHERING THE PRISONERS TOGETHER TO FORM THE CHAIN GANG.
A ROPE IS PASSED THROUGH TY'S COCK RING AND THROUGH A RING IN A WHIPPING POST. HIS COCK IS PULLED TIGHT AGAINST THE POST AND THEN TY IS WHIPPED TO SHOW HIM WHAT HAPPENS IF HE DISOBEYS THE GUARDS. ONE OF THE GUARDS THEN FUCK HIS SORE BEATEN ARSE. THE GUARD TELL TY HI ARSE IS NOW A CUNT AS HE FUCKS HIM. TY AND THE SLAVE ARE THEN FED LIKE DOGS FORM A BOWL THE WORK ON THE CHAIN GANG STARTS IN THE MORNING. AS THE NAKED PRISONERS TOIL ON THE HOT SUN MALE DRIVERS GAWP AT THEIR NAKED HUNKY BODIES .A FATHER AS SON ARE DRIVING BY AND THE SON TELLS HIS FATHER HE NEEDS A PISS AND THE FATHER TOLD HIS SON HE HAD AN IDEA AND WOULD ASK THE SLAVE DRIVER. THE FATHER PAYS THE GUARD AND TY SI FORCED TO DRINK THE SON'S PISS USING TY AS A HUMAN TOILET. THE FATHER THEN PAYS THE GUARD TO LET HIS SON FUCK TY TO FUCK HIS FIRST WHORE. TY IS FORCED ON THE GROUND WITH HIS UP AND APART AND IS FUCKED BY THE SON. THIS IS TY'S FIRST DAY AND ITS NOT GOING WELL AT ALL! MORE PAGES OF GRAPHIC COLOUR MANFLESH MALE PHYSICAL AND SEXUAL HUMILIATION. €10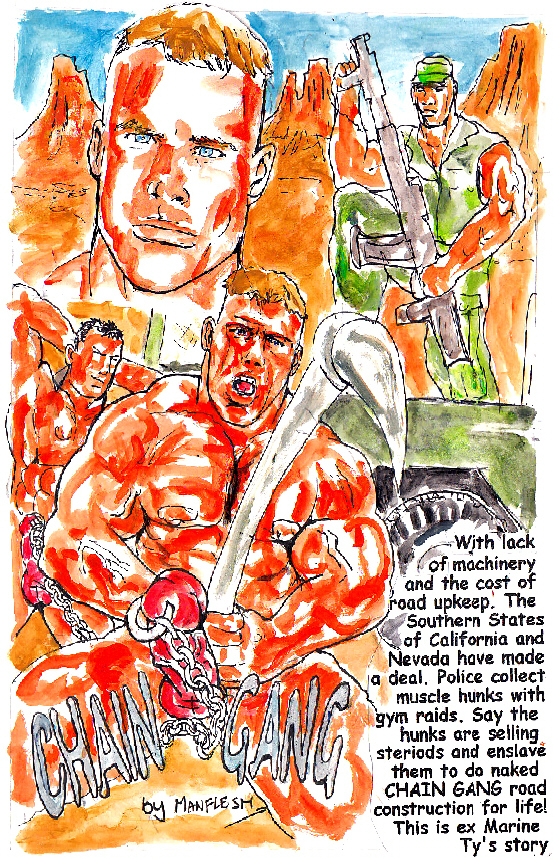 8 THE SLAVER PART 1 NASH IS A MODERN DAY SLAVER WHO COLLECTS MANFLESH FOR WEALTHY CLIENTS. NASH'S LATEST TARGET IS WRESTLER CALEB PERFECT SLAVE ANIMAL STOCK. NASH HAD BEEN WATCHING CALEB AND KNEW HE TRAINED LATE ON FRIDAY NIGHTS. HE WAITED TILL CALEB FINISHED AND FOLLOWED HIM ON HIS WALK BACK TO HIS TRAILER. NASH SNEAKS UP BEHIND CALEB AND SUBDUES HIM WITH A RAG SOAKED IN KNOCK OUT DROPS. NASH STRIPS CALEB OF HIS SINGLET AND CARIES HIM ON HIS SHOULDERS OUT OF THE COLLEGE GROUNDS TO HIS VAN PARKED IN THE WOODS. THE INSIDE OF NASH'S VAN IS MODIFIED FOR SLAVE TRANSPORT AND A SLAVES FIRST LESSON ENSLAVEMENT. CALEB IS TIED ONTO A LARGE DILDO MOUNTED ON SPRINGS. AS THE VAN MOVES ALONG CALEB BOUNCES UP AND DOWN ON THE LARGE SPRINGY DILDO MAKING HIM HARD AND HORNY. THE BOUNCING MOTION AND FUCKING ACTION OF THE SPRINGY DILDO MADE CALEB CUM AND CUM. WHEN NASH ARRIVES AT THE SLAVE COMPOUND AND OPENED THE DOOR OF THE TRUCK HE WAS PLEASED TO SEE THE VAN SPLATTERED WITH SPUNK FORM HIS NEW SLAVE.
NASH CONTINUES CALEB'S INTRODUCTION TO SLAVER HE ATTACHES A STEEL COCK RING TO CALEB'S COCK HEAD. CALEB IS TETHERED TO A POST BY HIS COCK RING FOR SOME DISCIPLINE. NASH WHACKS CALEB'S ARSE UNTIL CALEB WILLING SUCK HIS COCK TAKING TO IT LIKE A PRO. CALEB'S SLAVERY AND SUFFERING HAS JUST BEGAN. MORE EXCITING PAGES OF GRAPHIC COLOUR MANFLESH MALE PHYSICAL AND SEXUAL HUMILIATION. €10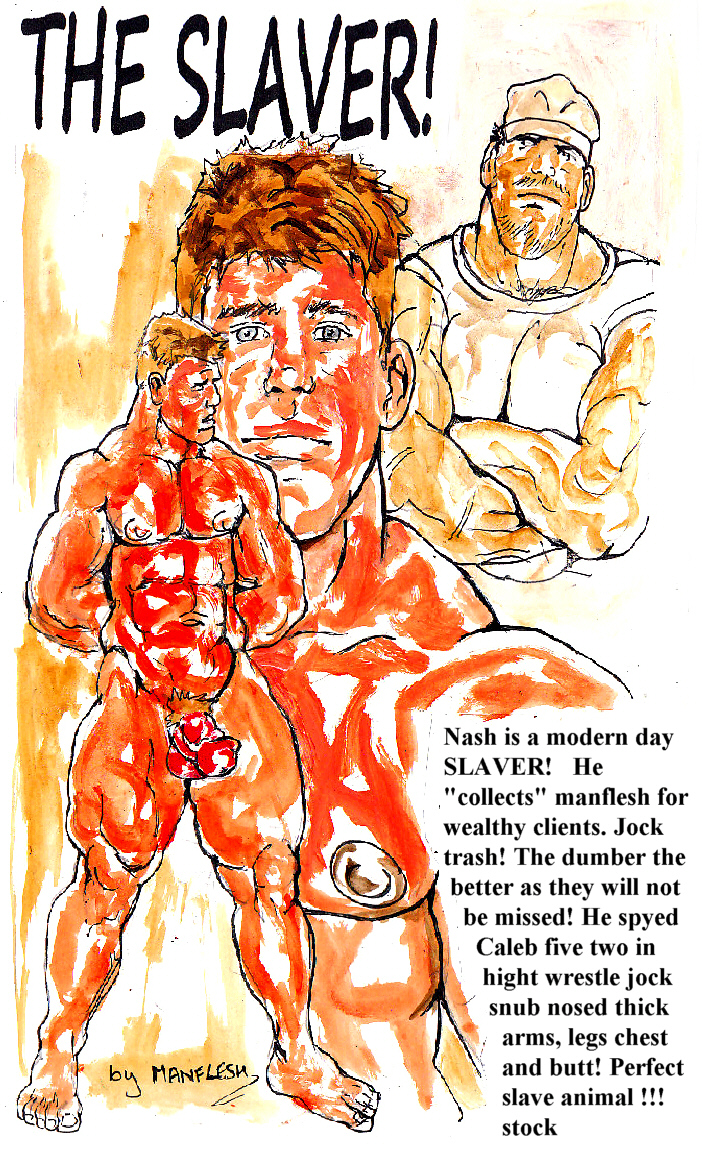 9 WINNER FOR LIFE. GOLD MEDAL WINNING POWER SWIMMER JESS BRYCE SIX FOOT THREE NINETEEN YEARS OLD IS KIDNAPPED TWO WEEKS AFTER WINNING HIS GOLD MEDAL HE IS PULLED OUT OF STEEL BOX BY TWO LARGE NUBIANS IN A DISHELLVED AND IRATE STATE. JESS STRUGGLES IN THE GRIP OF THE NUBIANS AND SWEARS AT AN ARAB MAN WATCHING. THE ARAB IS IN CHARGE AND TELL JESS HE NEEDS TO LEARN MANNERS. JESS IS STRIPPED AND TIED SPREAD-EAGLE IN A FRAME. JESS IS NOW HELPLESS AND NAKED AT THE ARAB MANS MERCY. THE ARAB MAN USE AND ELECTRO PROD ON JESS FILING HIS BODY WITH PAIN MAKING HIM SCREAM AND THRASH. JESS IS THEN HUNG UPSIDE DOWN FOR AN HOUR LONG BRUTAL SPANKING THAT MAKE HIS LOSE CONTROL OF HIS BLADDER AND HE PISSES HIMSELF.
JESS IS THEN CAGE AND MADE TO DRINK PISS WATER AND MEAT THAT LOOKS LIKE DOG FOOD OR FACE ANOTHER TOW HOURS SPANKING. THE NEXT MORING JESS IS DRAGGED BY THE NUBIAN TO A WORK SHOP AND TIED DOWN. A METAL WORKER ATTACHES A GOLD OLIVE VICTORY WREATH TO JESS'S HEAD WITH RIVETS MAKING JESS SCREAM IN PAIN AS IT IS RIVETED TO HIS EARS. JESS SEES ANOTHER MAN APPROACHING AND FEELS A CUTTING JARRING PRICK IN HIS BODY AS TATTOO ARTIST STARTS WORK ON HIS BODY. THE PAIN GOES ON AND ON AND MAKES JESS PASS OUT BUT A NEW TATTOOIST TAKES OVER EVERY HOUR TO TATTOO JESS BODY IN ONE GO. JESS HAD AN OLIVE LEAF TATTOOED AROUND HIS HAIRLESS COCK AND ON HIS ARSE. SWIM PANTS WERE TATTOOED ON HIS LEGS TURNING HIM INTO A STABLE WORK HORSE FOR HIS ARAB MASTER.
JESS IS TETHERED TO A SLAVE TREADLE THAT PROVIDES ELECTRICITY FOR THE COMPLEX. A TETHER PLUG IS PUT UP HIS ARSE THAT GIVES HIS PROSTATE AND ELECTRIC SHOCK IF HE STOPS MOVING THE TREADLE. GUARD ALSO USE WHIPS TO ENCOURAGE HIM. JESS TOILS ON THE TREADLE UNTIL HIS TATTOO SCABS FALL OFF AND HE IS READY TO JOIN THE HERD. JESS IS TAKEN TO A WORK SITE AND MADE TO WORK AS A NAVVY WITH OTHER OLYMPIAN SLAVES. AS AN OLYMPIC SLAVE HIS LIFE IS SIMPLE AFTER WORKING HARD HE IS FORCED WITH THE OTHERS TO RAU AROUND A CINDER TRACK TO SWEAT OT THE DIRT ANIMALS DO NOT SHOWER. THE HARD REGIME BUILDS JESS'S MUSCLE SO HE LOOKS MORE LIKE A WEIGHT LIFTER THAN A SWIMMER. AT NIGHT JESS IS CAGED WITH THE OTHER BEASTS AND IS RAPED AND FILLED WITH THEIR SEED. THEY ALL TAKE TURNS FUCKING AND SEEDING HIM. MORE EXCITING PAGES OF GRAPHIC COLOUR MANFLESH MALE PHYSICAL AND SEXUAL HUMILIATION. €12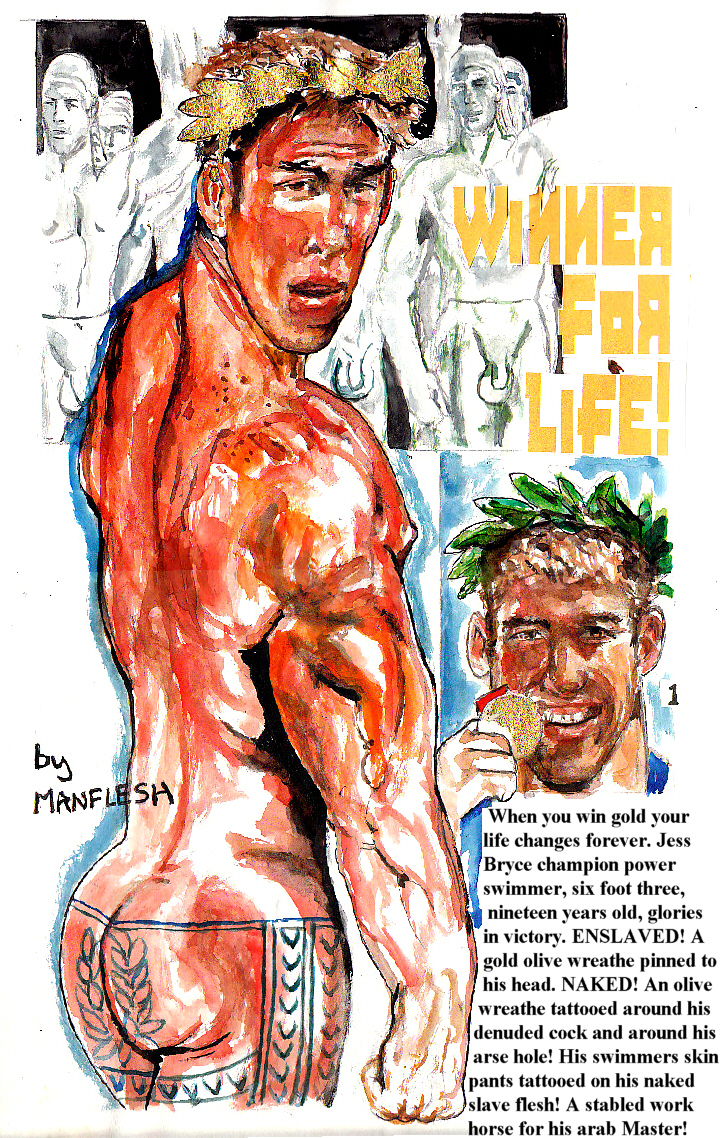 10 THE SLAVER PART 2. CALEB'S ENSLAVEMENT CONTINUES HE IS MADE TO EAT FROM DOG BOWLS ALONG WITH THE OTHER SLAVES TO MAKE THEM AWARE OF THEIR ANIMAL STATUS. NASH THE SLAVER NEEDS CALEB AND THE OTHERS TO KNOW THEIR ANUSES ARE NOW MANGINA'S FOR A MASTERS PLEASURE. THEY ARE GIVEN EXERCISES TO BE ABLE TO TAKE THE LARGEST COCKS. CALEB IS WORKED HARD PULLING SLEDGES OF ROCKS TO KEEP HIS PUP MUSCLES BULGING.
PROSPECTIVE OWNERS ARE ALLOWED TO VISIT AND SEE THE STOCK. SLAVERY IS LEGAL IF THE YOUTH IS HOMELESS JOBLESS MONEY LESS AFTER SIXTY DAYS AND A FEE PAID TO THE SHERIFF FOR AN ENSLAVEMENT BOND SLIP. IN HIS EARLY DAYS CALEB DOES NOT ACCEPT HIS ENSLAVEMENT BUT THE WHIP AND PADDLE TAMES HIM BY BEING SPANKED AND WANKED FOUR TIMES A DAY. AFTER FIFTY DAYS OF ENSLAVEMENT CALEB'S SPIRIT SAPPED HIS IS DOCILE ALLOWING NASH TO MASTURBATE HIM WITHOUT A STRUGGLE.
THE SLAVES ARE NOW ACCUSTOMED TO DRINKING A MASTER'S PISS WATER AND BASIC SLAVE COMMANDS AND DRILLED INTO THEM. AS AUCTION DAY LOOMS CALEB AND THE OTHER SLAVE HAD THEIR HIDDEN FROM THEIR BUYERS. PUBIC HAIR REMOVED SO NO PART OF THEIR BODIES IS HIDDEN FROM THEM. ON AUCTION DAY NAKED AND OILED CALEB IS FED SIX VIAGRA GIVING HIM A WAGGING TAIL OF A STIFFY FOR THE LUSTING CROWN OF BUYERS FROM ALL AROUND THE WORLD TO LEER AT. THE NEXT PART OF CALEB NEW SLAVE LIFE IS ABOUT TO BEGIN. MORE EXCITING PAGES OF GRAPHIC COLOUR MANFLESH MALE PHYSICAL AND SEXUAL HUMILIATION. €10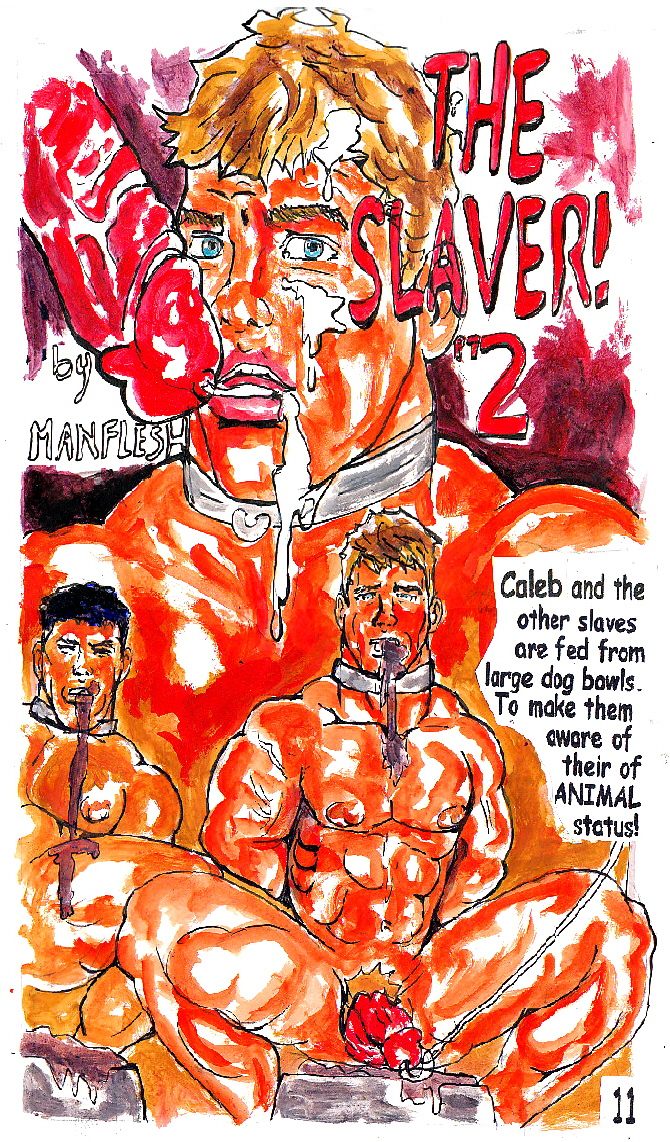 11 RUGBY CONS PART 1. IN THE YEAR 2150 GLADIATOR RUGBY IS ALL THE RAGE FEATURING NAKED CONVICTS WITH THEIR STRIPPED PRISON PANTS TATTOOED ON THE LEGS. THE LOSERS ARE FUCKED BY THE WINNERS MALE WHORES RENTED OUT FOR PRIVATE FUCK PARTIES THIS IS BUCK RIGGZ'S STORY. BUCK IS DRAGGED INTO A UTILITY ROOM BY PRISON GUARDS AND TIED TO A FRAME AND LEFT HANGING. THE GUARD STRIP OFF HIS PRISON PANTS THEN SHAVE HIS ARSE. FORE THE NEXT THREE DAYS BUCK HAS HIS LEGS AND ARSE TATTOOED WITH BLUE STRIPES TO LOOK LIKE PRISON PANTS TURN HIM INTO A RUGBY CON.
BUCK IS THEN THROWN INTO THE TRAINING PEN. RUGBY GLADIATORS ARE ANIMALS ON SHOW ALL THE TIME FORCED TO PERFORM DAILY SHOWS WANKING FOR THE PUBLIC BUCK HAS NOT CHOICE URGED OB BY A CATTLE PROD. BUCK WITH THE OTHER RUGBY GLADIATORS IS FORCED TO PRACTICE SCRUM BUFFERING LOCKED TOGETHER COCK IN ARSE ONE AFTER THE OTHER PUSHING FORWARD
BUCK WAITS FOR HIS FIRST MATCH. NAKED AND HARD LIKE ALL THE OTHER RUGBY GLADIATORS. TAKING THE BALL BUCK FORCES HIS WAY THROUGH THE RIVAL TEAM. THE OBJECT IS TO SCORE BETWEEN THE RIVALS GOAL POST. FIVE EXTRA POINTS ARE SCORED IF A PLAYED THRUST THE SPIKE ON THE BALL UP A RIVALS ARSE WHILE IN THEIR HALF. BUCK SCORES FIVE POINT THRUSTING THE SPIKE UP A RIVALS ARSE. BUT BUCK IS JUMPED ON AND FUCKED BY ANOTHER RIVA PLAYER. THE REFEREE CALLS FOUL BUT THEM LETS THEM CARRY ON AS THE CROWD ARE ENJOYING THE SHOW.
BUCK GETS THE BALL WHEN PLAY RESUMES AND SCORE ANOTHER FIVE POINTS SHOVING THE SPIKE UP ANTHER RIVALS ARSE. MEN IN THE CROWD ARE SO EXCITED THEY VOW TO FUCK BUCK. BUCK TEAM WINS AND AS THE PLAYER OF THE MATCH HE IS ALLOWED TO FUCK LOSING TEAM FIRST WHO ARE TIED HELPLESSLY TO POSTS WHILE THE ROARING CROWD WATCH. WHAT BUCK DOES NOT REALISE HE WILL LEARN WHAT SORENESS IS WHEN HIRED OUT AS A STUD MARE. THIRTEEN PAGES OF GRAPHIC COLOUR MANFLESH MALE PHYSICAL AND SEXUAL HUMILIATION. €12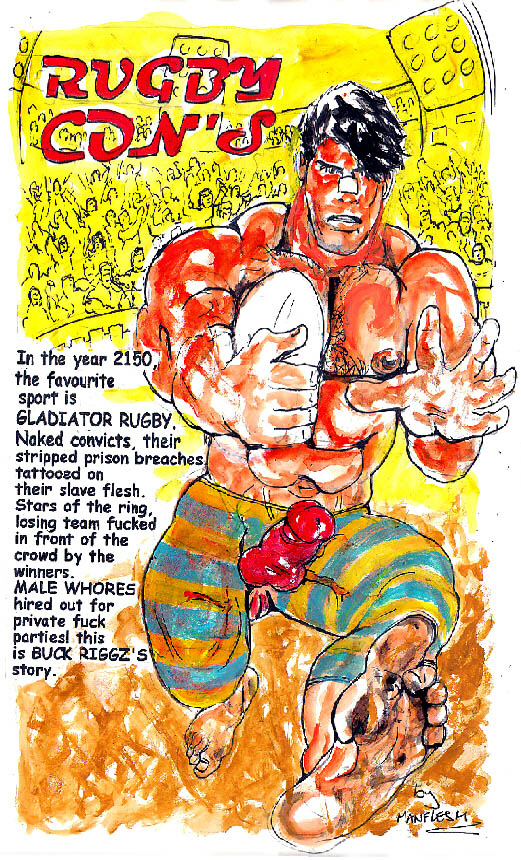 12 SLAVE FATHER SLAVE SON. CLINT WHOREN MANUAL LABOURER HAD IS IN DEEP DEBT SO DEEP HE IS ENSLAVED AND HIS ASSETS ARE SOLD INCLUDING HIS SON ZACK WHO IS TAKEN OUT OF SCHOOL TO THE INDENTURED LABOUR FARM. ZACK'S LIFE CHANGED WHEN HE WAS STRIPPED NAKED AND TAKEN FROM SCHOOL AND PULLED BEHIND A STATE ENSLAVEMENT TRUCK TO THE INDENTURED LABOUR SPORTING AN EMBARRASSING ERECTION THAT HIS FOOT BALL TEAM MATES JEERED AT. HOURS BEFORE ZACK'S FATHER TAKEN INTO ENSLAVEMENT. .
AT THE FARM ALL THE SLAVES ARE NAKED LIKE ZACK. ZACK SEES HIS FATHER STANDING AT NAKED SLAVE ATTENTION IN A BARRED ENCLOSURE. YOU HAVE RUINED MY LIFE ZACK SCREAM AT HIS FATHER. THE GUARD TELLS ZACK HE IS A SLAVE AND SLAVES HAVE NO LIVES AND ORDERS ZACK TO SUCK HIS FATHER'S COCK. THE GUARD HELD ZACK'S ARMS WHILE HIS FATHER FORCED HIS COCK INTO ZACK'S MOUTH AND ZACK WAS FORCED TO SUCK HIS COCK. TO BREAK ZACK'S SPIRIT IS FATHER IS MADE TO FUCK HIS ARSE. ZACK IS THEN FORCED TO FUCK HIS FATHER.
SUSPENDED BOUND IN A SIXTY NINE POSITION FATHER AND SON ARE BRANDED WHILE THEY ARE FORCED TO SUCK EACH OTHERS COCKS. PHOTOS ARE TAKEN OF FATHER AND SON TO POST ON THE INTERNET FOR FOREIGN BUYERS THEIR ASSETS. THE DAY OF THE AUCTION ARRIVES AND FATHER AND SON ARE TO BE SOLD AS A PAIR WHERE WILL THE END UP? THIRTEEN EXCITING PAGES OF GRAPHIC COLOUR MANFLESH MALE PHYSICAL AND SEXUAL HUMILIATION. €12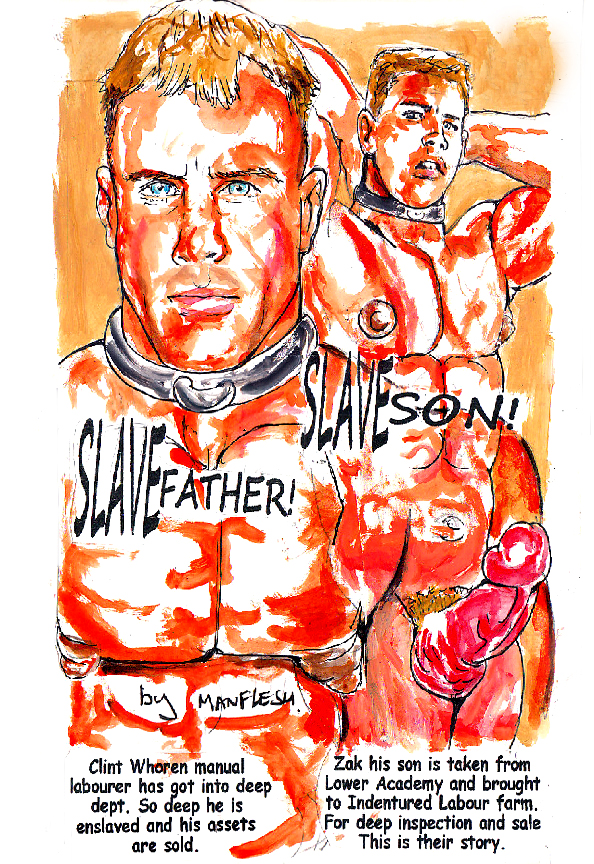 13 THE DUMB MULES ARE MADE TO FUCK EACH OTHER RUT IN FRONT OF A PAYING CROWD. ENZO AND TRENT HUMILIATE THEMSELVES IN FRONT OF ENZO'S EX CLITORIS AND HER BOY FRIEND JOCK CLINT. ENZO AND TRENT PULL HEAVY CARTS AND USED AND BAGGAGE MULES FOR FRUIT AND VEGETABLES. ENZO AND TRENT DISLIKE THE TOWN RUNS THE MOST BRING FRESH PRODUCE FROM THE MULE FARM. WHILE IN TOWN THEY ARE REPEATEDLY FUCKED BY YOUNG JOCK AND AS MULES THEY HAVE NO RIGHTS. ENZO IS SHAMED WHEN CLINT HIRES HIM TO PULL HIS PROM CART AND ORDER ALL OF ENZO'S HAIR REMOVED. MULES ARE FITTED WITH TONGUE BARS PREVENTING ENZO FROM SPEAKING FORCING HIM TO LISTEN TO CLINT AND CLITORIS HIS EX SEXUAL CHAT AND PLAY AS HE TAKES THEM BY CART TO THE PROM. ENZO CAN ONLY STARE IN THROUGH THE WINDOW AS CLINT AND CLITORIS ENTER THE PROM. ENZO IS FORCED TO ENDURE MORE LOVE TALK FORM CLINT AND CLITORIS ON THE WAY TO CLINT'S PAD. TETHERED OUT SIDE CLINT'S PAD ENZO CAN HEAR THEIR LOUD LOVE MAKING AND GETS SHAMEFULLY ERECT. AFTER AN HOUR CLINT COMES OUT SPORTING A HUGE ERECTION AND FUCK ENZO'S ARSE TELLING ENZO IT HAD CLITORIS'S CUNT JUICE ON IT. ENZO'S HUMILIATION IS COMPLETE WHEN CLINT'S CUMS IN HIS ARSE AND HE SHOOTS HIS LOAD. HOT SEXY MALE DOMINATION AND HUMILIATION AS TWO YOUNG FOOTBALL JOCKS ARE ENSLAVED AND TURNED INTO MULES. €12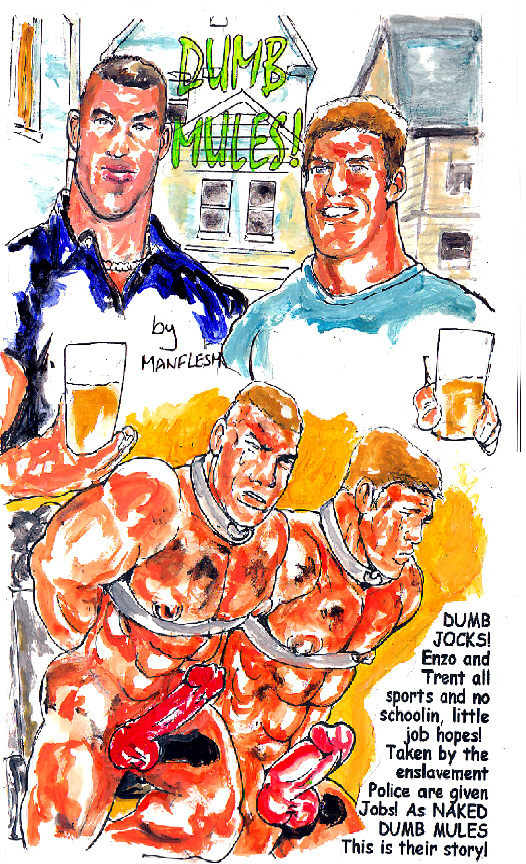 14 DONG TO DONKEY. FADED PORN STAR DONG RYKER HAS CRASHED HIS TRUCK FOR THE THIRD TIME AND IS JAILED. IT WAS DECIDED TO SAVE HIMSELF FROM HIMSELF AND TO BE USEFUL AND PROTECT SOCIETY FROM HIM, HE IS TO TOIL AS A DONKEY. AS A THIRD TIME OFFENDER DONG RYKER HAD NO RIGHTS AS HIS MUG SHOT DEMONSTRATES. AFTER HIS MUG SHOT A PRISON GUARD ORDERS TO STRIP AND SHOWER AS HE HAD A LIVESTOCK AUCTION TO ATTEND. TO HIS DISMAY THE GUARD STRIPS DOWN TO TIGHT SPEEDOS AND WASHES DONG RYKER DOWN GROPING HIM LIKE HE WOULD A WHORE. THE GUARD DEEPS FISTS RYKER FORCING HIM TO ORGASM LIKE A SCREAMING WHORE. RYKER'S HUMILIATION CONTINUES AFTER HIS SHOWER HE IS PUT IN CHAIN AND LED NAKED TO THE LIVESTOCK AUCTION. RYKER COULDN'T BELIEVE WHAT WAS HAPPENING STOOD NAKED ON A PLATFORM WHILE BEING LEERED AT BY A GROUP OF REDNECKS.
JEB RAMERS A REDNECK AT THE AUCTION NEEDED A NEW TRUCK FOR HIS PIG FARM AND DECIDED A DONKEY WOULD BE CHEAPER AND BETTER TO FUCK THAN THE PIGS. JEB BUYS RYKER AND TELLS HIM HE IS A WORKING DONKEY NOW. HARNESSED TO A NEW DONG CART HOG FARMER JEB MAKES RYKER PULL HIM BACK TO HIS FARM. AT THE HOG FARM RYKER IS TIED TO STEEL POLE BY THE PIG PEN. JEB TELLS RYKER HE NEEDS TO BREAK HIM IN SHOW HIM WHO MASTER AND TEACH HIM SOME RESPECT. A SORE BUM INSIDE AND OUT WILL SHOW YOU WHO IS BOSS JED TELLS RYKER AS HE WHIPS HIS ARSE. JED THEN FUCKS RYKER'S ARSE TEACHING THE ONCE PORN STAR TOP HIS NEW LOW STATUS. WHEN NOT SHACKLED TO THE FARM CART OR TAKING HIS MASTERS COCK UP THE ARSE THE FALLEN START IS MADE TO SHOVEL PIG SHIT FROM THE PENS WITH HIS ONCE MIGHTY COCK. HOT SEXY MALE DOMINATED AND HUMILIATED AND TURNED INTO A DONKEY. €12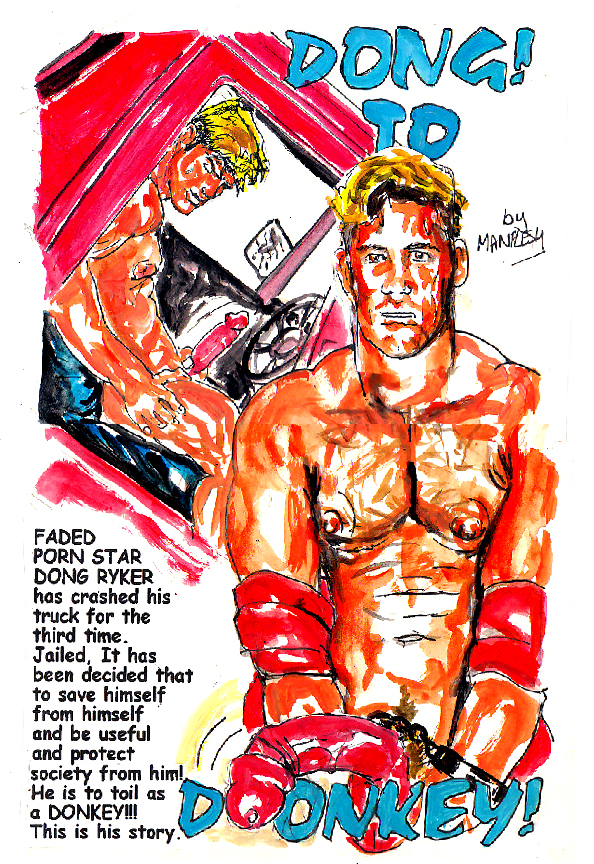 15 PENAL GYM DECAHEDRON PART 1. YOUTHS ARE CHOSEN FROM JAIL MUG SHOTS THAT HAVE THE LOOKS AND THE MUSCLES POTENTIAL AND ARE LIKELY TO RE-OFFEND ARE SENT TO THE PENAL GYM. WHERE THEY ARE TRAINED NAKED, ROIDED AND READY TO BE USED AS MAN WHORES FOR RENT. JUDD BUTTRAMER IS IN FOR STEALING CARS, VIOLENT ASSAULT AND DRAG SELLING. WITH NO FAMILY TO SPEAK OF HE IS IDEAL FRO THE PENAL GYM PROGRAM. JUDD US TAKEN STRAIGHT FROM THE SHOWERS STILL NAKED TO TO THE PRISON COMMANDERS OFFICE. THE PRISON COMMANDER INFORMS JUDD HE IS BEING SENT TO A SPECIAL TRAINING INSTALLATION AS HE IS NAKED. AFTER ALONG JOURNEY SOUTH AN ANXIOUS JUDD IS TAKEN IN THE TRAINING FACULTY. JUDD IS TAKEN THE OFFICE OF THE TRAINER IN CHIEF AND HE FEELS FEAR FOR THE FIRST TIME IN HIS LIFE. THE TRAINED GRABS JUDD BY THE THROAT AND LIFTS HIM OFF HIS FEET TELLING JUDD HE WILL TRAIN HIS HARD AND MAKE HIM SORE INSIDE AND OUT. ON YOUR KNEES THE TRAINER ORDERS. JUDD'S FIRST LESSON IS TO SUCK THE TRAINERS COCK. THE TRAINER OUT MUSCLED JUDD AND WAS IN FULL CONTROL HE WAS THE BOSS AND JUDD KNEW IT. THE TRAINER TOLD JUDD IT WAS HIS FIRST PROTEIN DRINK AND HE AND THE OTHER PENAL HUNKS WOULD BE MADE TO SUCK EACH OTHERS COCK FOUR TIMES A DAY.
AFTER A PINT OF HIGH PROTEIN CUM JUDD IS TAKEN TO GYM THAT IS FULL OF NAKED SWEATING PENAL HUNKS WITH ERECT COCKS. JUDD KNEW HE WOULD HAVE TO SUCK THEIR COCKS AND THEY WOULD HAVE TO SUCK HIS. THE TRAINING IS HARD ALL SEAT AND HARD PAIN ALL OVER JUDD'S BODY. AFTER THREE MONTHS OF SWEATING PAINFUL TRAINING THE NEW PENAL HUNK IS READY FOR PROSTITUTION. ONE MORNING JUDD IS GIVEN A CLEANING THEN HE IS TAKEN FOR WHORING. PUT IN A PENAL TRANSPORTER, JUDD WEARS A PRISON WHORE PINK STRAP THONG. HE IS FONDLED BY THE GUARDS AND MUSCLE WHORE JUDD IS TAKEN TO HIS FIRST CLIENT. HOT SEXY YOUNG MALE DOMINATED AND HUMILIATED AND TURNED INTO A PRISON WHORE. €12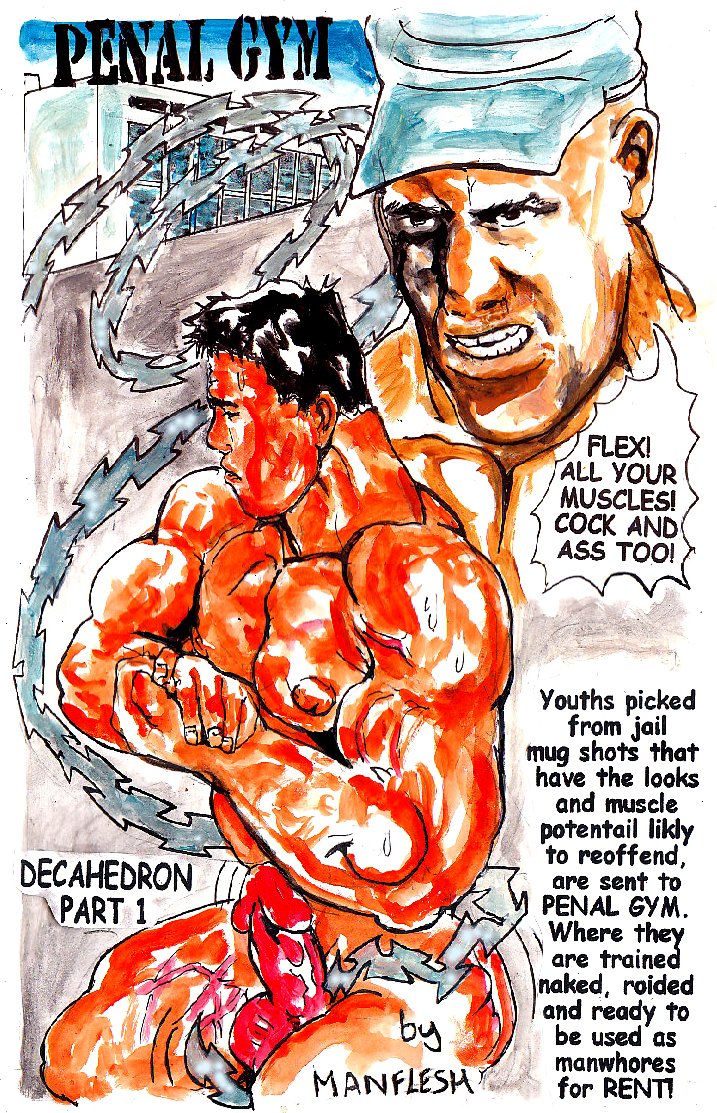 16 OWNED BY A BLACK MASTER 2. ENSLAVED NAKED FLESH OWNED BY A BLACK MASTER. ALL HIS WESTERN REFINEMENTS COUNT FOR NOTHING. JOSH WYLER HIS BARE BOTTOM QUIVERS, A BLACK PHALLUS IS TO BE ITS POSSESSOR. JOSH WYLER ON HIS GAP YEAR WAS BACK PACKING FROM TANGIER TO MARRAKESH. JOSH WAS ENJOYING THE HIKE EXERCISING HIS MUSCLES. AFTER FOUR HOURS OF THE SUN BEATING DOWN HE IS SOAKED IN SWEAT. A JEEP APPEARS OUT OF THE HAZE AND JOSH IS HOPEFUL OF A LIFT TO THE NEXT OASIS. JOSH ASKS FOR A LIFT TO THE NEXT OASIS WHEN THE JEEP STOPS. HE SHOCKED AND SURPRISED WHEN THE OCCUPANTS GRAB HIM GUERRILLAS GRAB HIM. PULLED INTO THE BACK OF THE JEEP JOSH'S CLOTHES ARE RIPPED OFF. AS JOSH'S BRIEFS ARE PULLED OPEN A HARD BONER POPS OUT TO THE DELIGHT OF THE GUERRILLAS TROUPE. JOSH'S BRIEFS ARE RIPPED OFF NO CLOTHING FOR HIM FROM NOW ON. THE REMAINS OF JOSH'S BRIEFS ARE USED AS A GAG TO SMOTHER HIS MOANS WHILE HE IS ROUGHLY GROPED.
AFTER SEVERAL HOURS THE JEEP APPROACHES THE CITADEL HOME OF THE WAR LORD. JOSH IS BROUGHT BEFORE THE WAR LORD ON A MOST DEBAUCHED AND COARSE WAY. TIE HIM TO THE IRON POST FOR A TASTER THE WAR LORD ORDERS. YOU ARE MY SLAVE ANY TIME YOU DO NOT OBEY MY COMMANDS YOU WILL FEEL THE LASH. UNDER THE BURNING SUN JOSH'S NAKED FLESH FEELS THE BITING PAIN. AS THE CRACKING WHIP TURNS HIS ARSE A FIERY RED. HE SCREAMS THE SCREAMS OF AN ANIMAL IN PAIN. THE WAR LORD ORDERS ONE OF HIS GUERRILLAS TO CHEW JOSH'S ARSE LIPS UNTIL THEY ARE SWOLLEN LIKE JUICY PLUMS SO HE CAN PIERCE THEM WITH HIS MIGHTY BLACK WEAPON. THE FIRST GUERRILLA STARTS TO CHEW AND SUCK JOSH'S MAN CUNT. THE SENSATION MAKES JOSH'S COCK ERECT AND SHOOT OUT HIS FIRST FORCED EJACULATION. BOSS THE JUICY MAN CUNT IS READY THE GUERRILLA TELLS THE WAR LORD. THE WAR LORD GROPES JOSH'S SWOLLEN FLESHY HOLE THAT IS RIPE FOR A HARD FUCKING. JOSH CAN ON SQUEAL KNOWING HE'S ABOUT TO BE IMPALED. AN ENSLAVED PIECE OF WHITE FLESH MUST PLEASE ALL SUPERIOR BLACK COCK MEAT. IT APPEARS THAT JOSH IS FORE FILLING HIS GAP YEAR ITINERARY. WITH A GAPING ARSE HOLE TO PROVE IT. ITS ONLY THE START OF HIS MISADVENTURE. HOT SEXY YOUNG MALE DOMINATED AND HUMILIATED AND TURNED INTO A WHITE SLAVE MEAT. €12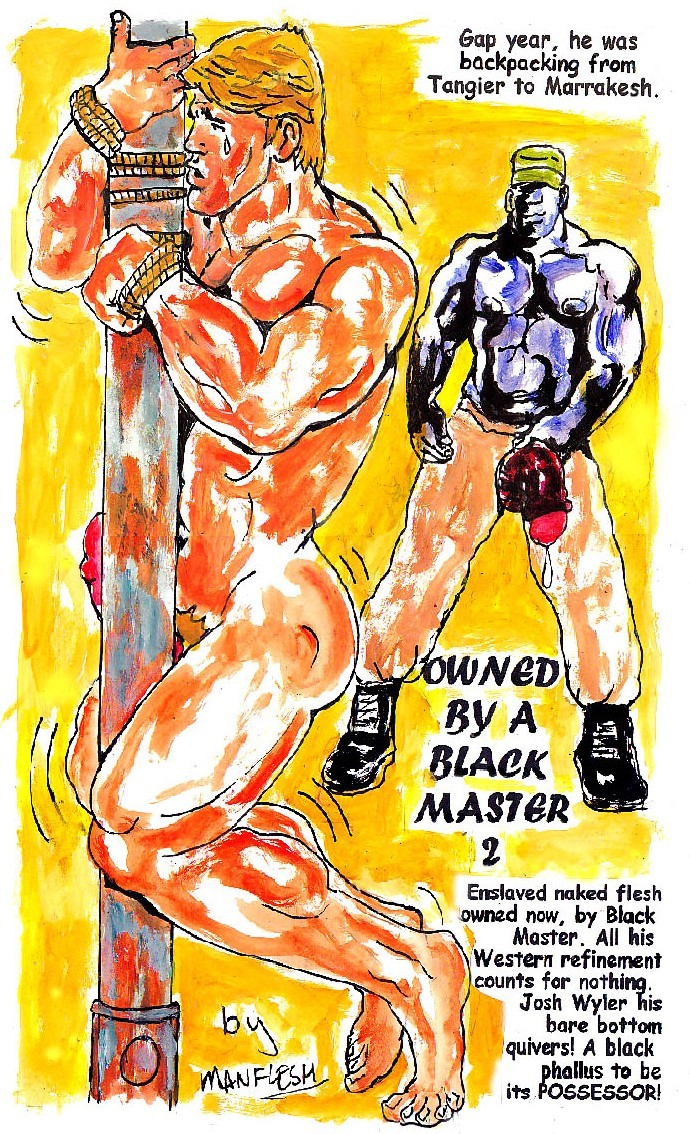 17 INDENTURED PART 1. TWENTY FIVE YEAR OLD STU JENKINS IN DEBT WAS INDENTURED BY LAW. HE IS OWNED BY A SMALL CONSTRUCTION COMPANY, OWNED AND RUN BY REMUS BAREBACK. THE RULES ARE INDENTUREDS WORK NAKED AND EAT HOUND FOOD. STU CAN GO TO A BAR BUT MUST SUCK COCK FOR A BEER AS HE CANNOT HANDLE MONEY, THIS IS STU'S STORY. IT WAS A WEEK EARLIER WHEN STU WAS STOPPED AT A CHECK POINT SET UP BY THE BY THE INDENTURED POLICE, WITH A LIST OF DEBTORS AND STU WAS ON THE LIST. THE POLICE ARRESTED STU AND HE STRUGGLED BUT TO NO AVAIL, AND HE WAS STRIPPED NAKED IN PUBLIC. HE WAS NOW A SECOND CLASS CITIZEN, AND INDENTURED MALE BEAST. PACKED IN A TRANSPORT WITH OTHER FOR THE EIGHT HOUR JOURNEY TO THE STOCK STABLE, NAKED AND SCARED THEY ARE ALL TAKEN FOR PROCESSING.
NEW ARRIVALS ARE PUT IN THE STOCKS AND WITH THE BUZZ OF TATTOO GUNS, THEIR INDENTURED NUMBERS ARE TATTOOED ON THEIR BUTTOCKS. STU GROANS WITH ALL THE OTHERS THEY NOW ALL HAVE THEIR INDENTURED NUMBERS RIGHT ACROSS THEIR BUMS. THE INDENTURED SERVICES WERE PROUD OF HOW THEY TAUGHT NEW MAN BEASTS IN THEIR CHARGE THE RULES OF INDENTURE. THE GUARDS TELL THEM ITS TIME FOR THEM TO LEARN HOW TO SERVE AS THE BEASTS THEY ARE. IMPALED ON STEEL DILDOS STU AND THE OTHER ARE IN FOR MANY HOURS OF COCK SUCK SERVICE. STU AND THE OTHERS SPEND WEEKS IN NAKED HARD SWEATING LABOUR. THEY ARE DRILLED FOR HOURS. THE GUARD TELLS THEM WHEN WORKING AT A BUILDING SITE YOU WORK NAKED SO STRIP. STU AND THE OTHER BEASTS ARE MADE TO TAKE THEIR SHORTS OFF TIME AFTER TIME, UNTIL STRIPPING BY COMMAND BECOMES SECOND NATURE.
STU AND THE OTHER INDENTURED ARE FARMED OUT ON YEARLY CONTRACTS. STU IS PURCHASED BY A BUILDER REMUS BAREBACK, AFTER A LONG CHECK OUT OF STU'S MUSCLES. STU IS GRABBED AND THROWN LIKE A PIECE OF LIVE STOCK INTO THE BACK OF HIS TRUCK. STU NAKED SAVE FOR HIS WORKING BOOTS IS MADE TO DO ALL THE HEAVY DONKEY WORK. THE COCK HARD BUILDERS LIKED WHAT THEY SAW. ONE BUILDER ASKED REMUS IF HE WAS TAKING THE BEST TO THE BAR AND REMUS REPLIED YOU BETCHA. WHEN ENTERING A BAR INDENTURES HAVE TO REMOVE THEIR SHORTS, AS THEY CANNOT HANDLE MONEY THEY HAVE SUCK A FREE MAN'S COCK FOR A BEER. RULES ARE IF YOU WANT A BEER YOU HAVE TO SUCK FOR IT ON YOUR KNEES REMUS ORDERS. STU KNEELS NAKED AND ASKED THE OTHER MEN IN THE BAR IF HE CAN SUCK THEM FOR A BEER. STU SUCKS COCK AND MUST DRINK HIS BEER FOR A DOGS BOWL LIKE ALL THE OTHER INDENTURED. SOME OF THE BUILDERS OFFER REMUS FREE BEER ALL NIGH IF THEY CAN FUCK HIS BEAST AND HE AGREES. STU'S TROUBLES ARE ONLY JUST BEGINNING. HOT EROTIC ACTION AS STU IS ENSLAVED AND MADE TO WORK FOR AND SERVICE FREE AS AN INDENTURED MALE BEAST. €12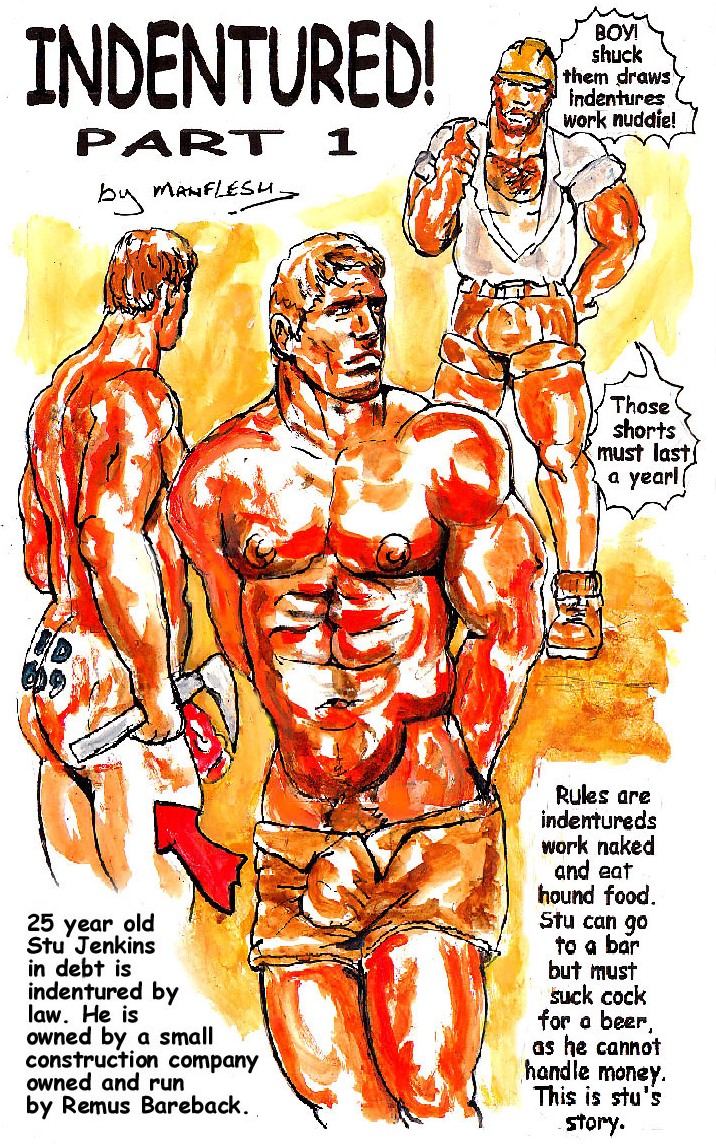 18 WEREWOLF'S BITCH PART 1. FOREST RANGER TRENT TYLER IS OUT ON PATROL IN THE NATIONAL PARK IN CALIFORNIA. HE GETS OUT OF HIS JEEP AS THE SUN IS GOING DOWN, FOR A PEE. HE IS ATTACKED, HE IS STRIPPED, HIS IS CUNT AND HE IS INSEMINATED. HIS LIFE WILL NEVER BE THE SAME AGAIN. ANOTHER DAY IS NEARLY OVER FOR RANGER TRENT AND HE WOULD SOON BE HEADING BACK TO HIS RANGER CABIN, HIS HOME FOR THE LAST TWO YEARS. HE DID NOT NOTICE DARK HAIRY SHAPES CLOSE IN ON HIM. TRENT IS ATTACKED, HIS CLOTHES ARE RIPPED, THE MONSTERS EAGER TO GET AT HIS HUNKY FLESH. LIFTED IN THE AIR AND THROWN DOWN, TRENT'S CLOTHES ARE RIPPED FROM HIS MUSCULAR FRAME. THE NIGHTMARE CREATURES SHOW THEIR DOMINANCE OVER HIS A PARK RANGER, NOW CONTROLLED BY BEASTS. THE WEREWOLF'S DOG FUCK THE RANGER BRUTALLY BOTH ENDS FOR HOURS, HE IS SORDIDLY DEBASED. AFTER FOUR HOURS OF BEASTING HE IS THROWN TO THE GROUND. TRENT LEAPS UP AND RUNS AWAY PISSING ALL THE WAY. REACHING HIS HOME TRENT SLAMS THE DOOR SHUT.
HE HAD BEEN HOMED FUCKED BY BEASTS AND HIS ARSE IS ON FIRE. TRENT IS SO SORE HE CANNOT SLEEP. HE HAS TO PUT HIS SWOLLEN ANUS IN A BOWL OF ICE. OVER THE NEXT FEW DAYS CHANGES BEGIN TO HAPPEN TO TRENT'S BODY. HIS SWOLLEN ANUS RETURNED TO NORMAL BUT, TRENT NIPPLES SWELLED AND BEGAN TO LACTATE A MILKY OOZE. HIS COCK SHRIVELED AND RETRACTING INTO A MANGINA CAVITY. ON HEAT HE TOOK TO GOING NAKED DEEP IN THE WOODS AT NIGHT TO FIND THICK BRANCHES TO MOUNT. FOUR KILOMETRES FROM HIS CABIN THE HORNY RANGER FOUND WHAT HE NEEDED. A BIG GAME HUNT REB SCOTT SEES THIS CREATURE. HE THINKS IT MUST BE A CROSS BETWEEN A ANIMAL AND MAN, LIKE BIG FOOT. REB DARTS IT.
AT THE CAMP OF THE BIG GAME HUNTER TRENT AWAKES A MOUTH STRETCHER AND A WOODEN TROPHY MOUNT. "NOT ONLY DO A I HAVE A LIVE TROPHY BUT MY OWN ON HEAT FUCK BEAST", REB TOLD TRENT. "I BET YOU EAT WORMS AND RODENTS AS WELL AS NUTS AND BERRIES", RED SAID OFFERING TRENT A LARGE WORM. IT HAD BEEN A MONTH SINCE TRENT HAD BEEN BITTEN. IT IS A FULL MOON AGAIN, AS TRENT IS FUCKED RED EYED BEASTS ARE WATCHING. A HUNKY MALE SEXUALLY AND PHYSICALLY ABUSED BY WEREWOLF BEASTS WHOSE BITES TRANSFORM HIM INTO A HYBRID FEMALE WEREWOLF. HE IS THEN CAPTURED AND ABUSED BY A BIG GAME HUNTER BUT THE WEREWOLF'S ARE NOT FINISHED WITH HIM. €12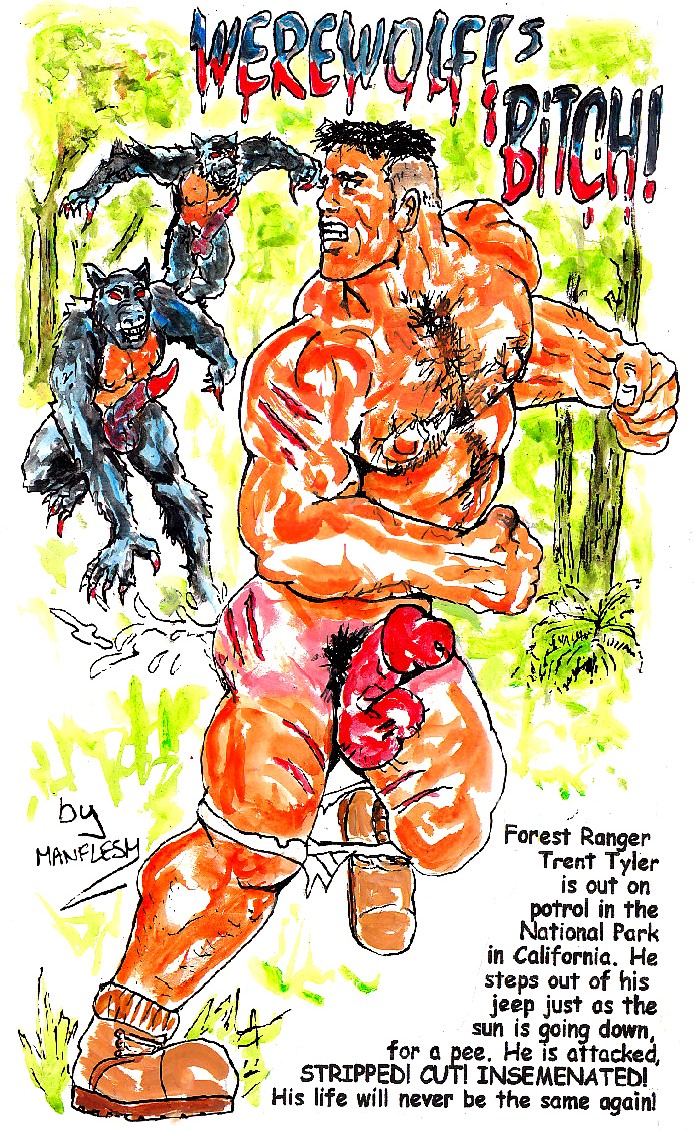 19 OWNED BY A BLACK MASTER OWNER OWNED PART 1. BEN CLAYTON OWNS A SLAVE PLANTATION ON THE ISLAND OF COSTA RICO. HE IS ABOUT TO FIND OUT WHAT IT IS LIKE TO BE OWNED BY A BLACK MASTER. ALL OF BEN CLAYTON'S SLAVES ARE BIG BLACK MUSCLE BUCKS. HE LIKES TO SHOW HIS SUPERIORITY AND CONTROL OVER THEM IT MAKES HIS COCK ROCK HARD. ONE BIG BUCK, THE ALPHA MALES OF SLAVES, CLAYTON WANTED TO BELITTLE. HE MADE HIM DRINK HIS PISS IN FRONT OF THE OTHER TOILING SLAVES. TO HUMILIATED THE BIG BUCK EVEN MORE CLAYTON WOULD USE HIS AS HIS PONY FOR TRIPS INTO TOWN. THE LESS PRIVILEGED WOULD LOOK ON AT THE FINE PIECE OF SLAVE MEAT HE OWNED.
ON A HOT NIGHT CLAYTON IS AS HORNY AS HELL. CLAYTON NEEDS TO FUCK, BUT FIRST HE NEEDS TO MAKE THE BIG BUCK SCREAM. "HEAT YOUR BLACK BITCH BUTT", CLAYTON TOLD THE BIG BUCK AS HE BULL WHIPPED HIS ARSE. "GOING TO BREED YOU, PUT MATER'S SEED UP YOUR ARSE", CLAYTON ADDED AS HE STRIPPED FOR ACTION. CLAYTON FORCES HIS COCK IN DEEP, AROUSED BY HIS MASTERY. "I OWN EVERY PART OF YOU EVEN YOU SEXUALITY", CLAYTON SAID AS HE WRAPPED THE BULL WHIP AROUND THE BIG BUCKS NECK. BY THROTTLING THE BIG BUCK AS HE FUCKS HIM. THE BIG BUCK IS FORCED TO CUM AGAIN AND AGAIN. "SEE HOW YOU CUM ON MY COMMAND", CLAYTON SAID. EVEN AS CLAYTON SAUNTERED BACK TO HIS BED, EVENTS WERE HAPPENING ON THE MAIN LAND. CREOLE FORCES TAKE OVER THE GOVERNMENT, SLAVES ARE FREE. THE SLAVES PROMISE THE WESTERN POWERS THAT SUGAR CANE AND COTTON WILL BE SENT TO THEM AT THE SAME PRICES, FARMED BY FELONS. THE STRONGEST EX-SLAVES WILL RUN THE PLANTATIONS AND KEEP ORDER THE NEW MASTERS.
THE NEXT MORNING AS CLAYTON OPENS HIS DOOR HE IS SMASHED IN THE FACE. THE SLAVES NOW FREE STRIP HIM. THE BIG BUCK AND ANOTHER BIG EX SLAVE MANHANDLE CLAYTON AND DRAG HIM TOWARDS THE STOCKS FOR HIS FIRST LESSON GLOATING AT HIS HARD COCK. "FIRST I WILL PADDLE YOUR ARSE TILL IT IS ON FIRE", THE BIG BUCK TELLS CLAYTON WHO IS LOCKED IN THE STOCKS. THE BIG BUCK MERCILESSLY BEATS CLAYTON'S ARSE AND ORDERS ANTHER EX-SLAVE TO FETCH A RESIN STICK. THE EX-SLAVE USES A STICK TO APPLY THE STICKY RESIN TO EX-MASTERS COCK HAIR, THEN TWISTS AND PULLS REMOVING CLAYTON'S COCK HAIR. CLAYTON MOANS WHEN HE SEES WHAT IS COMING, THE BIG BUCK WITH A BRANDING IRON. BRANDED, HE SOBS, SHITTING HIMSELF, AS HE BRANDED FOR LIFE. CRUEL AND SADISTIC WHITE PLANTATION OWNER AND MASTER HAS THE TABLES TURNED ON HIM AND IS ENSLAVED BY HIS EX-SLAVES AND FINDS OUT WHAT IT IS LIKE TO BE A OWNED BY A BLACK MASTER. AN OWNER OWNED. LOTS OF MANFLESH MALE ON MALE PHYSICAL AND SEXUAL ABUSE AND HUMILIATION. €12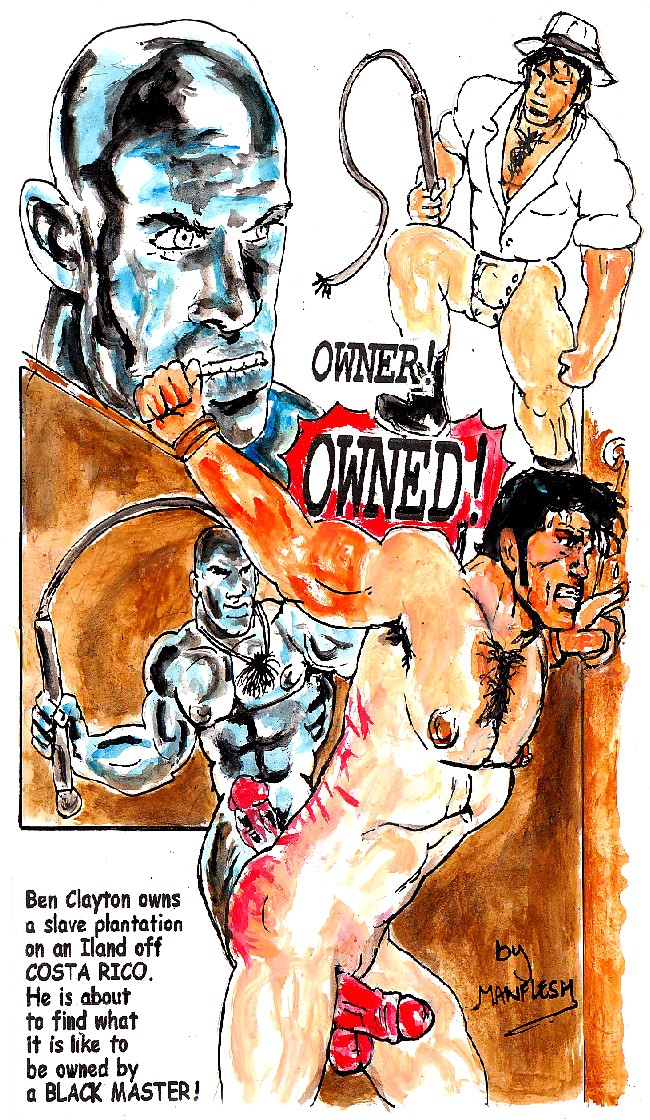 20 RUGBY BULL TO HALTERED BRUTE. YOU LOOK BIG AND BUTCH, BUT IF YOU DON'T SCORE THE TRY'S YOU ARE EXPENDABLE. THAT HAS HAPPEN TO MIKE DOZER, HE IS SOLD TO BE AUCTIONED FOR DRAYING. MIKE HAD JUST SHOWERED AFTER PLAYING BADLY IN YET ANOTHER RUGBY GAME. THE TEXAS BULLS ARE BOTTOM OF THEIR LEAGUE. THE TEAM LACKED MONEY, SO THEY NEEDED TO SELL A PLAYER INTO SLAVERY. "YOU'RE BEING TRANSFERRED NOW AND YOU WON'T NEED THAT TOWEL", THE COACH TOLD MIKE. "THE CLUB WILL GET TOP DOLLAR FOR YOU", HE ADDED AS TWO BURLY GUARD DETAIN MIKE. MIKE'S BIG MUSCLES WITH SELL FOR BIG BUCKS. MIKE'S TAKEN OUT OF THE STADIUM INTO THE STREETS. HE WILL NEVER WEAR CLOTHES AGAIN. HE IS HALTERED AS HE WILL BE A HEAVY WEIGHT HAULAGE BEAST. MIKE IS TAKEN TO THE SLAVE AUCTION FACILITY. LIKE ALL SUCH PLACES IT IS ON THE EDGE OF TOWN. LIKE ANY FARM YOU CAN SMELL THE TURDS OF THE NAKED BEASTS AS YOU ENTER.
MIKE IS THROWN IN A CAGE WITH OTHER NAKED BEASTS AND A WEEK GOES BY. MIKE LEARNS AS AN ANIMAL HE MUST SHIT AND CRAP LIKE THE DUMB BEAST HE HAS BECOME. MIKE IS GRABBED BY TWO OF THE GUARDS AND COCK RINGED. ALL MUSCLES BEASTS WHO ARE FOR DRAYAGE ARE RINGED. HEAVY PETTING FROM THE GUARDS GETS THE BEAST USE TO BEING HANDLED BY REAL MEN. AT FIRST HE IS FORCE FED, BUT SOON ACCEPTS SLAVE MUSH FROM A BOWL. MIKE IS TAUGHT TO DRINK PISS, AS THIS IS THE BEVERAGE A DRAYAGE ANIMAL MUST TAKE FROM ITS NEW MASTERS. THIRSTY UNDER A HOT SUN HE HAS NO CHOICE. ON THE DAY OF THE AUCTION, MIKE IS DRAGGED NAKED ONTO THE PLATFORM. HE IS NUDE, RUDE AND FULL OF SHAME. MIKE IS PURCHASED BY THREE BROTHERS WHO RUN A CATTLE AND PIG SLAUGHTER HOUSE. HE WILL LOAD UP A CART AND PULL THE BLOODY MEAT TO THE BUTCHERS SHOPS. IN THE SLAUGHTER HOUSE, THE HIGHLY SEXED BROTHERS FUCK BEAST MIKE ON THE CUTTING TABLE FOUR TIMES A DAY. SO HIS MAN CUNT IS DRIPPING ALL DAY LONG. HOT YOUNG SEXY MALE DOMINATED AND HUMILIATED AND TURNED INTO A DRAY BEAST. €12