MANFLESH STORY BOOKS PAGE
The url is man-flesh1.blogspot.com
http://www.man-flesh1.blogspot.com
There is a new male fighting storybooks extracts blog
'battle annals male fighting stories extracts' blog
read extracts from the male fighting storybooks available here on the new blog
http://battleannalsmalefightstories.blogspot.com
STORIES BY FRIAR ILLUSTRATIONS BY MANFLESH
MANFLESH STORY BOOKS LIST
1. APPRENTICE BOY CHALLENGE PART 1. JAMES A NINETEEN YEAR-OLD APPRENTICE ENGINEER GETS PUT ON A TECHNICAL TRAINING COURSE IN LONDON. JAMES IS ALSO A KEEN IF NOT HIGHLY EXPERIENCED MALE WRESTLER, AND DECIDES TO GET SOME WRESTLING EXPERIENCE WHILE ALSO INCREASING HIS TECHNICAL KNOWLEDGE. JAMES CHECKS INTO A GAY HOTEL IN LONDON AND HIRES A MALE CONTACT 'BODY SLAM' WHO SPECIALISES IN WRESTLING. BODY SLAM IS LARGER, MUCH STRONGER THEN JAMES AND HIGHLY EXPERIENCED. BODY SLAM REALLY WORKS JAMES OVER FORCING NUMEROUS PAINFUL SUBMISSIONS FROM THE YOUNGER WRESTLER. BODY SLAM DEMANDS AND GETS JAMES TOTALLY SUBMISSION AND MAKES JAMES SUCK HIS COCK, BEFORE TAKING THE ULTIMATE PRIZE FROM THE YOUNG WRESTLER. BODY SLAM LEAVES JAMES WELL AND TRULY OUT FOR THE COUNT, TOTALLY DRAINED SEXUALLY AND PHYSICALLY. HARD TOUGH WRESTLING ACTION, WITH PLENTY OF PHYSICAL AND SEXUAL ABUSE. GRAPHICALLY ILLUSTRATED BY MANFLESH €10.00
2. HOSTEL HOSTILITIES. ANDY A KEEN CYCLIST CHECKS INTO INTO A YOUTH HOSTEL AND FINDS HE HAS TO SHARE A DORMITORY WITH TWO OTHER GUYS. THEY WEREN'T IN THE EIGHT-BED DORMITORY ONLY THEIR BAGS. ANDY WAS TIRED FROM HIS LONG DAYS RIDE AND QUICKLY FELL ASLEEP. HE WAS AWAKEN SOME TIME LATER BY HIS TWO ROOMMATES ARGUING. THEY HADN'T SEEN HIM IN THE DARK NOT TURNING THE LIGHT ON AT HIS END OF THE DORMITORY. THEIR ARGUMENT QUICKLY TURNED INTO A WRESTLING MATCH AND ANDY WATCHED FROM THE SHADOWS ENJOYING IT. HE ENJOYS THEIR TOUGH HOT HORNY BATTLE SO MUCH SO, HE GASPS IN EXCITEMENT GIVING HIMSELF AWAY JUST AS ONE OF THE GUYS BEAT THE OTHER. HAVING BEEN DISCOVERED THE WINNER ASKED ANDY IF HE WANTS TO HAVE GO AND ANDY AGREED. ANDY HAD NEVER WRESTLED BEFORE BUT HAD ALWAYS BEEN TURNED ON BY THE IDEA. HE WRESTLES THE WINNER AND LOSES TO HIM. ANDY IS THEN IS DOUBLE TEAMED AND WORKED OVER BY BOTH GUYS. TOUGH HOT AND SEXY MALE ON MALE ACTION, WITH FORCED EJACULATIONS. GRAPHICALLY ILLUSTRATED BY MANFLESH €10.00 Story extract available to read, on the battle annals male fighting stories extracts blog, link at the top of the page.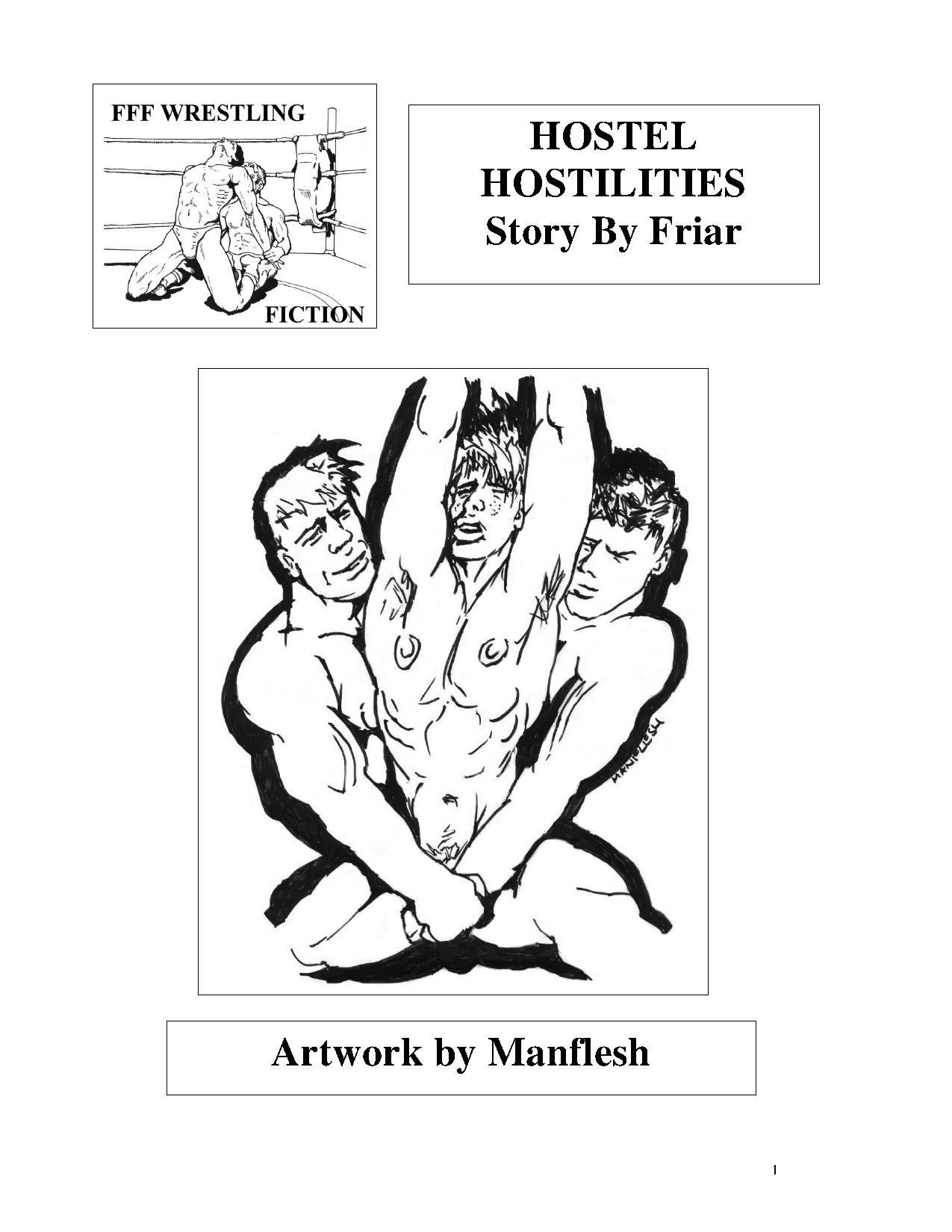 3 A PAINFUL LESSON FROM THE ERADICATOR. JEDD WAS A NINETEEN YEAR-OLD EX-CHAMPION HIGH SCHOOL WRESTLER. JEDD WAS 5' 11", 170 LBS, WITH HOT MUSCULAR BODY, THAT HE THOUGHT WAS REALLY HOT. THERE HAD BEEN NO-ONE HE COULDN'T BEAT, WHEN HE WAS A TOP HIGH SCHOOL WRESTLER, EVERYONE WHO HAD TRIED, HAD BEEN TAKEN DOWN. THIS MADE HIM OVER CONFIDENT AND ARROGANT. ALTHOUGH JEDD WANTED TO USE HIS SKILLS TO MAKE A LIVING, HE DID NOT WANT TO GO PROFESSIONAL. HE DID START TO APPEAR IN GAY WRESTLING VIDEOS, WHERE HE WAS A SUCCESSFUL AS HE HAD BEEN IN HIGH SCHOOL. IT WAS ALSO MUCH MORE FUN WITH VIRTUALLY NO RULES. THEN HE HEARD OF THE MODERN GLADIATORS OF THE RING, A WRESTLING PRODUCTION COMPANY, THAT MADE MORE HARD CORE ,GAY WRESTLING VIDEOS.
JEDD OFFERED HIS SERVICES TO THEM AND WHEN HE MET THE OWNER, CHAD WILLIAMS AND HIS HEAD TALENT SCOUT SCOTT BRADEY TO DISCUSS WRESTLING FOR THEM, JEDD WAS HIS USUAL ARROGANT SELF. HE WOULD NOT TAKE THEIR ADVICE AND HAVE HIS FIRST MATCH, WITH ONE OF THEIR LESS EXPERIENCED WRESTLERS. NO JEDD DEMANDED TO WRESTLE THEIR BEST WRESTLER, AS HE KNEW HE COULD BEAT HIM. JEDD OFFERED TO WRESTLE THEIR CHAMPION UNDER ANY RULES OR CONDITIONS. SO CHAD WILLIAMS DID EXACTLY THAT AND ARRANGED FOR JEDD TO WRESTLE THEIR CHAMPION THE ERADICTOR. SO JEDD ENDED UP WRESTLING THE ERADICATOR IN A NO HOLDS BARED, ANYTHING GOES, WINNER TAKES ALL MATCH. JEDD WAS STILL ARROGANT ON THE DAY, GOADING HIS OLDER HEAVIER RIVAL.
THE ERADICATOR DID EXACTLY WHAT CHAD WILLIAMS AND SCOTT BRADEY EXPECTED AND MORE. THE ERADICTOR GAVE JEDD A COMPLETE BEAT DOWN WITH NUMEROUS SUBMISSIONS AND KO'S AND A TKO BY FORCED EJACULATION. THE ERADICATOR TOTALLY DOMINATED AND SUBDUED JEDD, CHANGING HIM FROM AN ARROGANT SELF PROCLAIMED CHAMP, TO A SUBMISSIVE TOTAL JOBBER. GREAT MALE ON MALE PHYSICAL AND SEXUAL DOMINATION ACTION. AN OLDER HEAVIER MALE DOMINATING AND ABUSING A YOUNGER ARROGANT ONE. WITH GREAT ILLUSTRATIONS BY MANFLESH. €8.00
4 BAYOU BOY V THE ARMY SERGEANT, COUSIN V COUSIN. HOMER TOP A ARMY SERGEANT, RETURNED TO HIS BAYOU AFTER FIVE YEARS AWAY IN THE ARMY. WHILE HE WAS AWAY HIS FATHER AND UNCLE DIED LEAVING HIS YOUNGER COUSIN SHELBY IN CHARGE. HOMER FOUND THE BAYOU RUN DOWN AND HIS YOUNGER COUSIN LAZING ON HAMMOCK. WHEN HOMER CHALLENGED SHELBY ABOUTT HE RUN DOWN STATE OF THE BAYOU SHELBY GAVE HIM THE FINGER. THEY ENDED UP FIGHTING IN MUD PATCH, SHELBY NAKED AND HOMER IN JUST HIS BOXER SHORTS. THEY FOUGHT FOR CONTROL OF THE BAYOU IF SHELBY WON HOMER WOULD LEAVE FOR EVER AND IF HOMER WON SHELBY WOULD HELP HIM CLEAR UP THE BAYOU. THEY HAD LONG HARD, ALL IN AND DIRTY FIGHT IN THE MUD. SHELBY TURNED OUT TO BE A MUCH TOUGHER OPPONENT THAT HOMER THOUGHT HE WOULD BE.
SHELBY GAVE HOMER A BAD TIME MAKING HIM SUFFER WITH DIRTY MOVES, LOW BLOWS, BRUTAL HOLDS AND PINS. SHELBY GOT THE FIRST SUBMISSION AND HOMER WAS FORCED TO FIGHT BACK TO SAVE THE MATCH, SUFFERING LOTS MORE PHYSICAL AND SEXUAL ABUSE BEFORE FINALLY TAKING THE MATCH AND RECOVERING CONTROL OF THE BAYOU. TOUGH BRUTAL FIGHTING WITH PLENTY OF DIRTY MOVES AND LOW BLOWS, GREAT MALE ON MALE, PHYSICAL AND SEXUAL FIGHT ACTION. WITH MORE GREAT ILLUSTRATIONS BY MANFLESH. €8.00