GUEST AUTHOR SPHERE SUPER HEROINE ILLUSTRATED STORIES PAGE
GUEST AUTHOR SPHERE SUPER HEROINE ILLUSTRATED STORIES LIST
1 BINARY BABE'S LAST PHOTO SHOOT THE FIRST OF A FIVE PART SERIES, MEET BINARY BABE, A GORGEOUS AND INTELLIGENT SUPER HEROINE WITH THE POWER TO DEFEAT ANY VILLAIN OR DASTARDLY FOE WITH HER GADGETS. IT IS IN THIS STORY THAT SHE MEETS HER MATCH. A FORMER COLLEGE NEMESIS SETS OUT TO ENACT REVENGE ON THE CURVY BRUNETTE CRIME FIGHTER. BUT IS THIS SOMETHING MORE THEN SIMPLE REVENGE? IN THE FIRST OF A SAGA CHRONICLING THE RUIN AND DEFEAT OF SUPER HEROINES IN PERVERSE AND HORRIFIC WAYS, BINARY BABE WILL JUST BE THE FIRST CASUALTY OF MANY. WILL SHE ESCAPE HER FOE AND HIS PLANS TO PHOTOGRAPH HER IN NUMEROUS PORNOGRAPHIC POSES AND GYNECOLOGICAL CLOSE UPS? WILL SHE ESCAPE THE DISGUSTING OCTOPUS INTEND ON BREEDING WITH HER? READ ON TO FIND OUT. IF SHE DOESN'T SUCCEED, SHE WILL NOT ONLY LOSE HER GADGETS BUT A HELL OF A LOT MORE.
HOT AND EROTIC, WITH BRUTAL ABUSE. THE POOR HEROINES DEGRADATION ALL GRAPHICALLY ILLUSTRATED BEAUTIFULLY BY JOHN GALLAGHER JG IN FULL COLOUR. €10 SOON TO BE FOLLOWED BY COBRA WOMAN AND THE CELLULITE PROBLEM.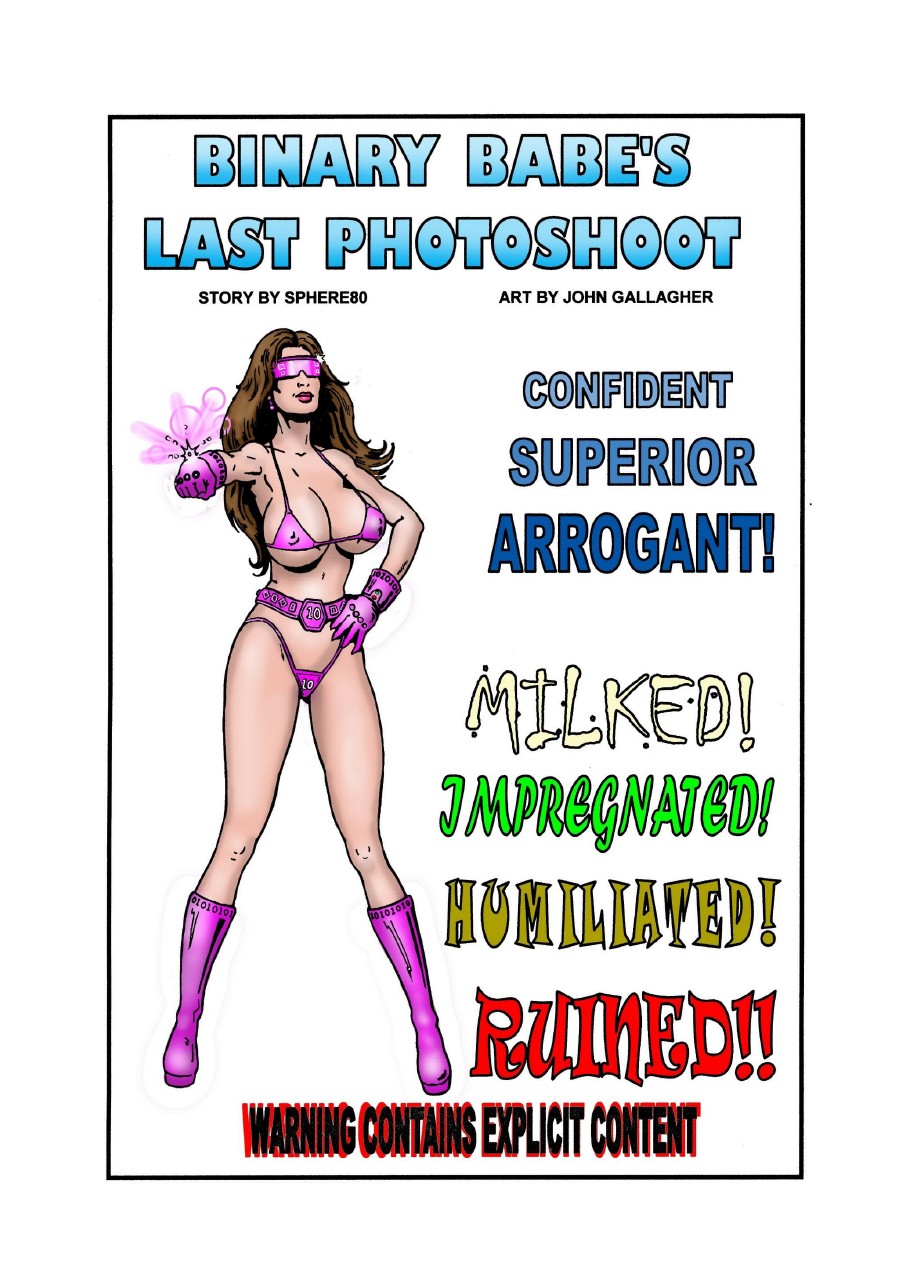 2 COBRA WOMAN THE SUPER HEROINES OF THE CITY ARE IN DISARRAY. JUNGLE GAL TEAMS UP WITH COBRA WOMAN, A HOT LATINA SUPER BABE WITH SUPER STRENGTH AND AN ASS TO DIE FOR IN ORDER TO AVENGE THEIR FALLEN COMRADE BINARY BABE.
BUT THINGS ARE NOT AS THEY SEEM, AND THE HOT BRAZILIAN BABE WILL GET MORE THEN SHE BARGAINED FOR AT THE HANDS OF AN EVIL BIOLOGIST AND HER NEFARIOUS SCHEMES. WILL SHE ESCAPE THE ENTRAPMENT AND AVOID A FATE WORSE THEN ANYTHING IMAGINABLE?
READ ON TO FIND OUT. THE STUNNING SEQUEL TO BINARY BABE'S LAST PHOTO SHOOT, ILLUSTRATED WITH OVER 20 AMAZING COLOURED ILLUSTRATIONS BY JOHN GALLAGHER JG €10