MANFLESH SUPERMAN DOMINATION STORIES ARTWORK AND COMIC BOOKS
The url is man-flesh1.blogspot.com
http://www.man-flesh1.blogspot.com
MANFLASH SUPERMAN DOMINATION COMIC BOOKS LIST 69-80
69 WRONG PLACE, AT THE WRONG TIME PART 2. SUPERMAN HAD BEEN SOLD TO THE ARABS.
AS SUPERMAN WAS ON HIS WAY TO PRISON, TIED SPREAD EAGLE, ON THE FRONT OF A N ARMY JEEP. AN ARAB SHEIK ASKED TO BY SUPERMAN TO BE HIS SLAVE. "YES OF COURSE YOU CAN BUY HIM", THE PRISON GOVERNOR, TOLD THE ARAB SHEIK. "I WILL HAVE HIM NOW?", THE SHEIK SAID. "I WILL HAVE HIM DIVERTED, TO ONE OF YOUR CARGO PLANES SHEIK", THE GOVERNOR REPLIED. INSTEAD OF GOING TO PRISON SUPERMAN WAS TAKEN TO AN AIR FIELD HAND HE WAS HANDED OVER TO HUGE ARAB. SUPERMAN WAS TRUST UP IN VERY ;WED POSITION, NAKED OVER A TOILET DUCK, IN THE HOLD, OF THE CARGO PLANE, FOR THE LONG JOURNEY TO ARABIA. ONCE IN ARABIA, SUPERMAN WAS TAKEN NAKED THROUGH THE STREETS, OF THE TOWN BELOW THE SHEIK'S CITADEL. THE SHEIK ALLOWED THE YOUNG MEN OF THE TOWN, TO LEWDLY GROPE THE NAKED FLESH, OF SLAVE SUPERMAN. SO THEY COULD DEMONSTRATE THEIR SUPERIORITY OVER HIM. EVEN MORE HUMILIATING, FOR SUPERMAN, A NINETY YEAR OLD MAN, WAS ALLOWED TO WANK HIM OFF. THEN TO MAKE IT EVEN WORSE. SUPERMAN WAS MADE TO SUCK OFF THE OLD MAN'S COCK, AS THE CROWD HOOTED AT HIS SHAME.
ONCE IN THE SHEIK'S CITADEL, SUPERMAN WAS GIVEN A BRUTE STYLE HAIR CUT. ALL OF HIS OTHER HAIR, WAS PERMANENTLY REMOVED, BY A DEFOLIANT PASTE, THAT KILLED ALL THE ROOTS, IT CAME INTO CONTACT WITH. SUPERMAN WAS THEN TAKEN FOR A SCRUB, INSIDE AND OUT. HE HAD NOT BEEN CUFFED, AS HE HAD NOWHERE TO RUN. HE WAS SCRUBBED ALL OVER, WHILE AN ENEMA, FILLED HIS BOWELS, TO WASH THEM CLEAN. HOW THE ONCE MIGHTY HAD FALLEN. AGAIN AND AGAIN THE HUMILIATED EX HERO, HAS HIS BUM HOLE, FLUSHED CLEAN. THE SHEIK HAD HIS NEW SLAVE, SUPERMAN WITH NO POWERS, TIED TO A RUNNING MACHINE. THE SHEIK SAT WITH HIS HUGE ENHANCED COCK, IN HIS SLAVES ARSE, FORCING SUPERMAN TO RUN. THE SHEIK WATCHED, ITS HUGE BACK AND BUTTOCKS SHAKING AS ITS RUNNING, FORCED SUPERMAN'S COCK, TO CUM AGAIN AND AGAIN. THE SORE EX HERO WAS NOW A TOILING OWNED FUCK BEAST, HIS LIFE NOW. AFTER FUCKING MUSCLES SLAVE SUPERMAN, THE SHEIK CALLED IN HIS SPUNKERS. THESE WERE YOUTHS, WHO WERE USED TO SPUNK OUT AND DILUTE THE SHEIK'S SEED. PREVENTING ANYONE USING THE SHEIK'S SEED, MAKING A RIVAL TO THE THRONE, WITH HIS SEED. THEY FLOOD SUPERMAN'S MAN CUNT, SO IT IS WELL FLUSHED. PURCHASED AND ENSLAVED BY AN ARAB SHEIK, SLAVE SUPERMAN WITH OUT HIS POWERS SUFFERS PHYSICAL AND SEXUAL PAIN AND HUMILIATION IN BEST TRADITIONS OF MANFLESH. €15
SUPERMAN WRONG TIME AT THE WRONG PLACE PART 2 HAS FOUR SETS OF DOUBLE PAGES THAN FORM PANORAMIC IMAGES, THOSE PAGES ARE
PAGES 4 AND 5 FEATURES, SUPERMAN BEING PARADED NAKED AND BOUND THROUGH THE STREETS OF THE TOWN BELOW THE SHEIK'S CITADEL. SUPERMAN BEING, LEWDLY BY YOUNG ARAB MEN, WITH THE BLESSING OF THE SHEIK.
PAGES 10 AND 111 FEATURES, SUPERMAN SHAVED NAKED BODY, HAVING A SCRUB INSIDE AND OUT. THE HUMILIATED EX HERO HAVING HIS BUM HOLE, REPEATEDLY, FLUSHED CLEAN.
PAGES 12 1ND 13 FEATURES, SUPERMAN NAKED AND TIED TO A RUNNING MACHINE. HE WAS FORCED TO RUN WITH THE SHEIK, SAT BEHIND SUPERMAN, AS HE RAN, WITH HIS HUGE ENHANCED COCK, IN SLAVE SUPERMAN'S ARSE. SUPERMAN;S HUG BACK AND BUTTOCKS SHAKING AS THE SHEIK'S COCK MADE HIM CUM REPEATEDLY.
PAGES 14 AND 15 FEATURES, SUPERMAN BEING FUCKED REPEATEDLY BY THE SHEIK'S SPUNKERS. THESE YOUNG ARABS FILLED SLAVE SUPERMAN'S MAN CUNT, WITH THEIR SEED, TO DILUTED THE SHEIK'S SEED PREVENTING ANYONE, USING THE SHEIK'S SEED, TO PRODUCE A RIVAL TO THE THRONE.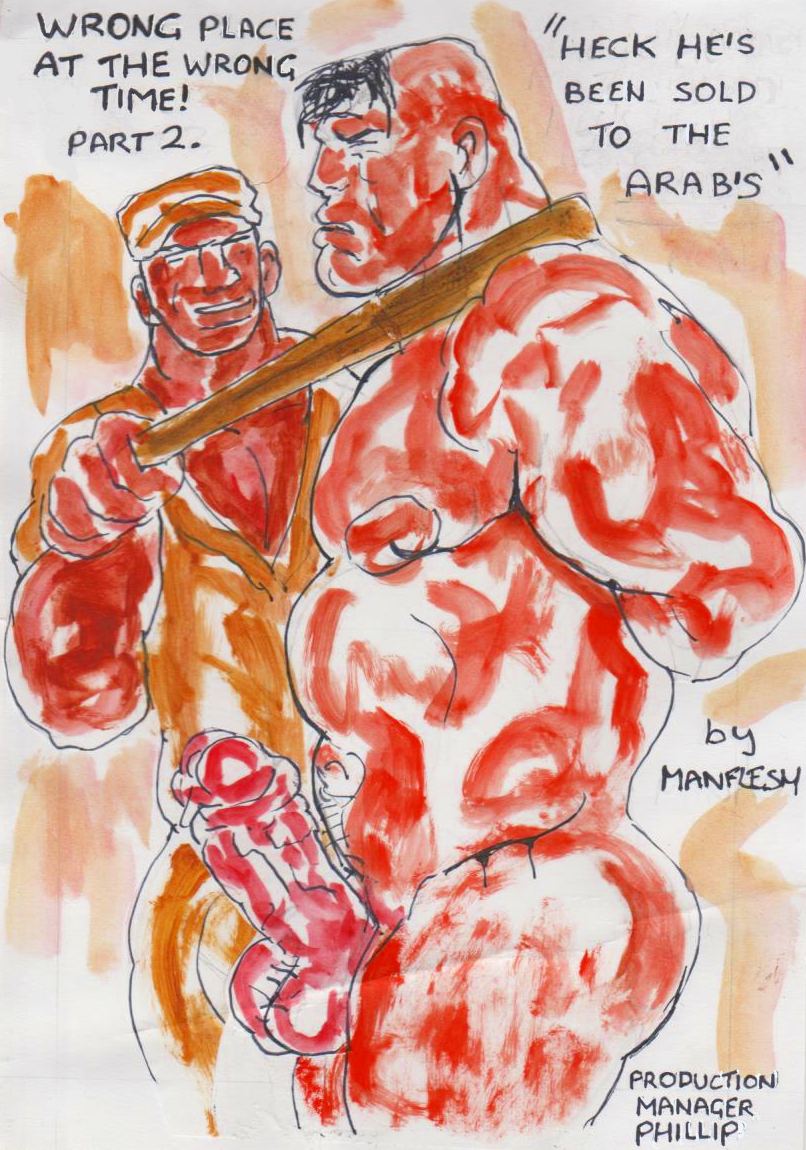 COVER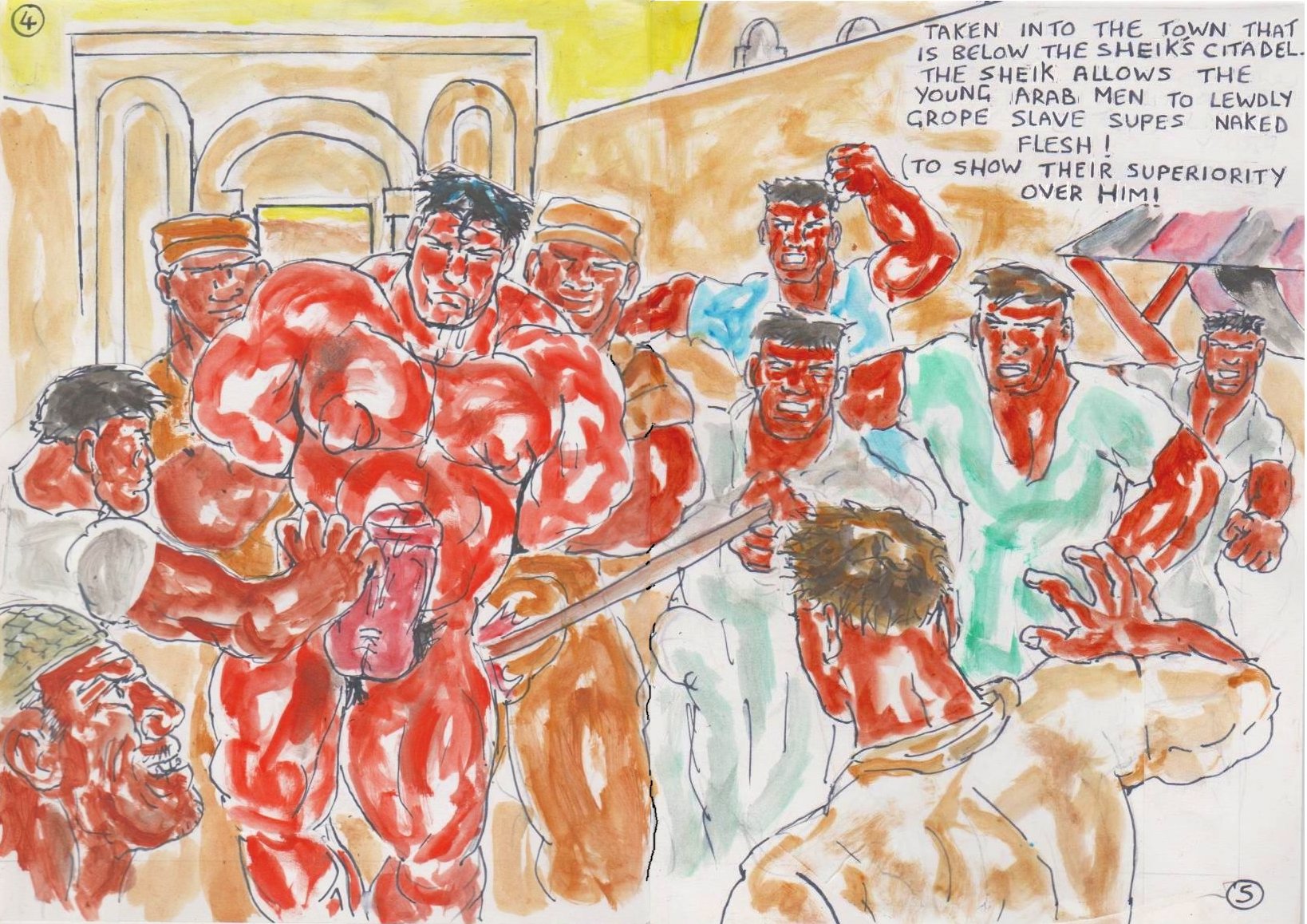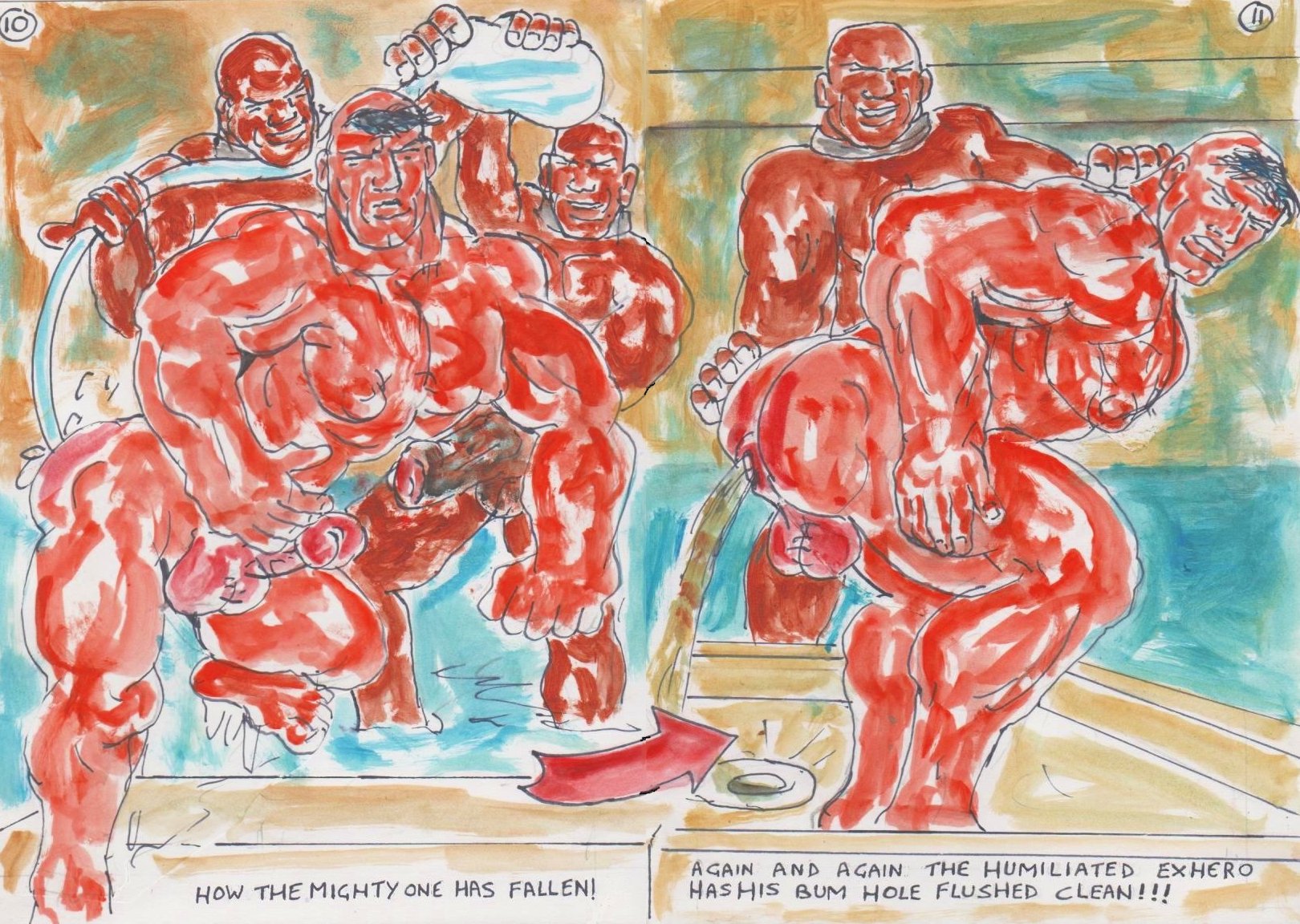 PANORAMIC IMAGES FORMED BY PAGES 4 AND 5 AND 10 AND 11
THE FOUR SETS OF DOUBLE PAGE PANORAMIC IMAGES, WILL BE SENT WITH THE COMIC BOOK.