MANFLESH THOR DOMINATION ARTWORK AND COMIC BOOKS
The url is man-flesh1.blogspot.com

http://www.man-flesh1.blogspot.com
MANFLESH THOR DOMINATION COMIC BOOKS LIST
1 THOR IN SUPER HERO ASYLUM PART 1. THE DARK LORDS WANT SUPER HEROES OUT OF THE WAY, TRAPPED IN AN ASYLUM FORTRESS ON AN ASTEROID CIRCLING A HOT SUN. THIS IS THOR'S STORY. THOR WAS CAPTURED BY THE DARK LORDS THEY TOOK HIS HAMMER AND HE HAD NO POWERS. THE THRALLS ARE ORDERED TO STRIP HIM NAKED. WITHOUT HIS MIGHTY POWERS THOR IS NO MATCH FOR THE THRALLS WHO STRIP HIM NAKED IN FRONT OF THE GLOATING DARK LORDS. TAKEN BY SPACE SHIP TO THE ASYLUM FORTRESS THE OVEN LIKE HEAT MAKES HIM SWEAT LIKE A PIG THE BASE ANIMAL HE IS TO BECOME.
AS THOR ENTERS THE FORTRESS THOR FINDS HIMSELF UNDER A A LIGHT SUSPENDED IN THE AIR WITH NO CONTROL OVER HIS BODY. AT A FLOCK OF A HAND FROM THE DARK LORD THOR PISSES HIMSELF. WITH ANOTHER HAND FLICK FROM THE DARK LORD THOR IS COVERED IN A WHIRLING CLOUD OF HIS OWN PISS. THE DARK LORD POINTS A FINGER AT THOR AND HIS BODY IS HIT BY THOUSANDS OF VOLTS. THE DARK LORD ORDERS THE THRALLS TO TAKE THOR TO A CELL. THOR IS DRAGGED DOWN INTO THE DEPTHS OF THE ASTEROID TO HIS PRISON CELL. IN HIS HOT CELL THE NAKED ONCE HERO IS SECURED IN SOME LEG LOCKS LEAVING HIM NUDE AND IMMOBILE. ONE OF THE THRALLS GRABS THOR'S COCK AND START TO WANK THE SQUIRMING HUNK. THOR HAS NO CONTROL OVER HIS MAN HOOD AND SCREAMS AS HE IS MILKED AGAIN AND AGAIN. AFTER THREE HOURS AND TWELVE ORGASMS SCREAMING THOR IS SHOOTING BLANKS.
ONE OF THE THRALLS KNOWS HOW TO MAKE THOR CUM AGAIN AND AGAIN. HE MOUNTS AND THRUSTS DEEP INTO THOR'S BUM HOLE. THOR SCREAMS AS HIS ARSE FUCKED, CUM AND EVEN MORE CUM IS IS PISTONED OUT OF HIS SORE COCK. HIS ARSE STILL LEAKING THRALLS CUM THOR IS FORCED OUT INTO THE HOT PIT TO TOIL. TAZER SHOCKS SHOW THOR HIS JUST A NAKED BEAST TO BE ORDERED AT WILL. AS THOR SLAVES HIS ARSE FILED WITH CUM, SWEATING UNDER THE BAKING SUN HE SEES A SPACE SHIP COMING INTO LAND. IT CONTAINED ANOTHER FALLEN HERO TO BE SHAMED AND PROCESSED. MORE HOT SEXY MALE DOMINATION AND HUMILIATION AS ANOTHER SUPPER HERO THOR IS ENSLAVED. €12.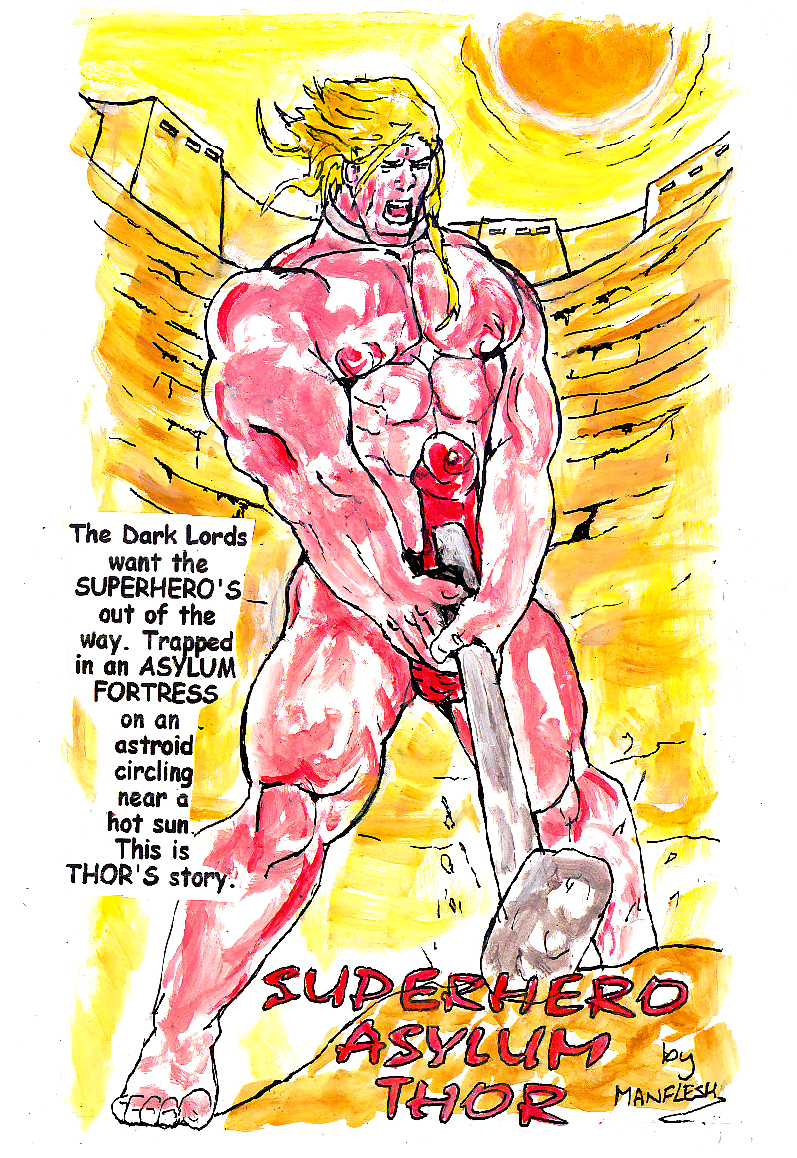 2 THOR PHALLUS PART 1. THE ONCE MIGHTY THOR, WAS NAKED AND ENSLAVED. HE HAD BEEN THROWN THROUGH A TIME SLIP, TO 900 AD, INTO THE ARABIAN SEA. THIS IS HIS SORE BESTIAL SAGA.
THOR WAS AT SEA IN A LONG SHIP, WHEN THERE WAS A RIP IN TIME. THOR AND HIS LONG SHIP WERE PULLED INTO THE TIME SLIP, WITH A SHATTERING OF WOOD. THEY WERE BLASTED INTO A NEW TIME, 900 AD. IT SMASHED HIS SHIP AND RIPPED HIS CLOTHES, LEAVING THOR FLOATING NEARLY NAKED, ON SOME WRECKAGE, THE ONLY SURVIVOR. AFTER FLOATING HELPLESSLY FOR AGES, THOR SPOTTED A SAIL ON THE HORIZON. GOOD A BOAT, THOR THOUGHT TO HIMSELF. THE BOAT AN ARAB VESSEL, SAW THE SHIP WRECK VICTIM AND PICKED HIM UP. "HI I'M THOR, MY SHIP GOT SMASHED", THOR TOLD THE ARAB SAILORS, AS HE CLIMBED ABOARD. "YOU ARE A SLAVE", THE SHIPS CAPTAIN DRESSED IN ARMOUR TOLD THOR. "FUCK YOU I AM THOR, SON OF ODIN, NO SLAVE", THOR PROTESTED. THE CAPTAIN HAD HIS SAILORS GRAB AND SUBDUE THOR. WHEN HE CAME THROUGH THE RIFT, THOR LOST HIS GOD LIKE POWERS. WITHOUT HIS GOD LIKE POWERS, THOR WAS EASILY OVER POWERED, BY THE SAILORS, HIS LAST REMAINING BIT OF CLOTHING, WAS RIPPED OFF. THIS EXPOSED HIS FOOT LONG PHALLUS. SUBDUED AND NOW NAKED THOR AND HIS ARMS SECURED BEHIND HIS BACK AND A COLLAR TIED TO HIS NECK WITH A LEASH ON IT. THE LEASH WAS FASTENED TO THE MAST. HE WAS TIED TO THE MAST BY THE COLLAR. THE SHIP OWNER, HIS NEW MASTER, STOOD LOOKING AT THOR, THINKING DEEPLY. THE MASTER COULD SEE THAT THOR HAD A HUGE PHALLUS, AND HE COULD DECIDE TO CUT IT OFF AND HANG IT ROUND HIS NECK, AS THOR WAS NOW ONLY A SLAVE. I'M A GOD, HOW DARE THEY, THOR RAGED, HELPLESSLY TIED TO THE MAST. SLAVES WERE NOT PERMITTED TO HAVE CROTCH HAIR, THEY WERE NOT MEN. SO USING A STICK COVERED WITH STICKING HONEY, THOR'S CROTCH HAIR, WAS PULLED OUT. BUT THINGS WERE ABOUT TO GET WORSE. THOR WAS MADE TO SUCK THE CREWS COCKS, ONE BY ONE. WHEN I REGAIN MY POWERS THEY WILL PAY, GROVEL AT MY FEET, TERROR STRICKEN AND WORSHIP ME, THOR THOUGHT, ANGRILY TO HIMSELF. UNTIL A SLAVE WAS SOLD, NO MAN WAS ALLOWED TO FUCK THEM. BUT AS THE CABIN BOY WAS NOT A MAN, HE WAS ALLOWED TO FUCK THOR, WITH HIS LARGE COCK. HE WAS WATCHED BY, LEERING MEMBERS OF THE CREW. "THE BOY SURE HAS A HUGE PHALLUS", ONE CREW MEMBER SAID, AS HE WATCHED. AS BEING FUCK BY A BOY, DID NOT COUNT AS BEING DEFILED, THE BOY WAS ENCOURAGED TO FUCK THOR. THE ARABS WANTED THE BIG BLOND BROKEN IN, OR AT LEAST SHAMED, A LOW BEAST TO HIS MASTERS.
THE ARABS LANDED AT TARFAYA, THE ONCE MIGHTY NORTHMAN NOW A SLAVE, WAS TAKEN THROUGH THE TOWN TO THE AUCTION. NAKED YOUTHS, BEAT, HIS BROAD, PINK BUTT CHEEKS, THAT WERE LEAKING CUM FROM ONE OF THE CABIN BOYS. AT THE AUCTION, THOR WAS TAKEN OUT IN FRONT OF A ROARING CROWD. TO ADD TO HIS SHAME, HE WAS LEWDLY WANKED, BY THE AUCTIONEER, TO SHOW THE CROWD, HIS THICK SPUNK. THEN THE AUCTIONEER BENT THOR OVER AND ALLOWED MEMBERS OF THE CROWD, TO FINGER THOR'S ANUS. OH SHIT THEY, ARE FINGERING MY ARSE, THOR THOUGHT IN HORROR. THE AUCTION ENDED AND THE LOCAL WAR LORD, HAD CLAIMED THOR. HE SENT HIS SLAVE MASTER TO FUCK THOR, TO DEMONSTRATE HIS OWNERSHIP. THE CROWD WATCHED IN DELIGHT, AS THE WAR LORDS, SLAVE MASTER, HELD THOR UPSIDE DOWN, WHILE HE FUCKED HIM HARD. THE SLAVE THOR WAS TAKEN THROUGH THE DESERT, TO THE WAR LORDS FORTRESS, A NINE DAY MARCH. THOR WAS BEASTED AT EVERY OPPORTUNITY. ANOTHER GREAT SUPER HERO DOMINATION STORY WITH THOR ENSLAVED AND SEXUALLY AND PHYSICALLY ABUSED BY ARAB MASTERS. €15
THOR PHALLUS PART 1 HAS NEW FEATURE, DOUBLE ,SIDE BY SIDE PAGES, THAT CREATES A PANORAMIC IMAGE. THE DOUBLE, PANORAMIC IMAGE, PAGES IN THOR PHALLUS PART 1, ARE, PAGES 4 AND 5, PAGES 8 AND 9, PLUS PAGES 10 AND 11.
PAGE 4 AND 5 FEATURES THOR BEING STRIPPED IN FRONT OF THE SHIPS CAPTAIN AND HIS NEW MASTER THE SHIP OWNER. THEN BEING SECURED NAKED AND AROUSED TO THE MAST, WHILE HIS NEW MASTERS PONDERS WHETHER TO REMOVE HIS HUGE PHALLUS.
PAGES 8 AND 9 FEATURES THOR BEING FUCKED BY A CABIN BOY, WHILE SECURED TO THE MAST, AS THE WHOLE CREW WATCH AND ENJOY.
PAGES 10 AND 11 FEATURES THOR NAKED AND BOUND, BEING WHIPPED THROUGH THE STREETS OF TARFAYA, BY LOCAL YOUTHS, WITH THE CABIN BOYS SPUNK LEAKING FROM HIS ANUS.
ALL OF THE DOUBLE PAGES HAVE BEEN MADE INTO SINGLE PANORAMIC IMAGE FILES AND WILL BE SENT WITH COPIES OF THIS COMIC BOOK, WHEN ORDERED.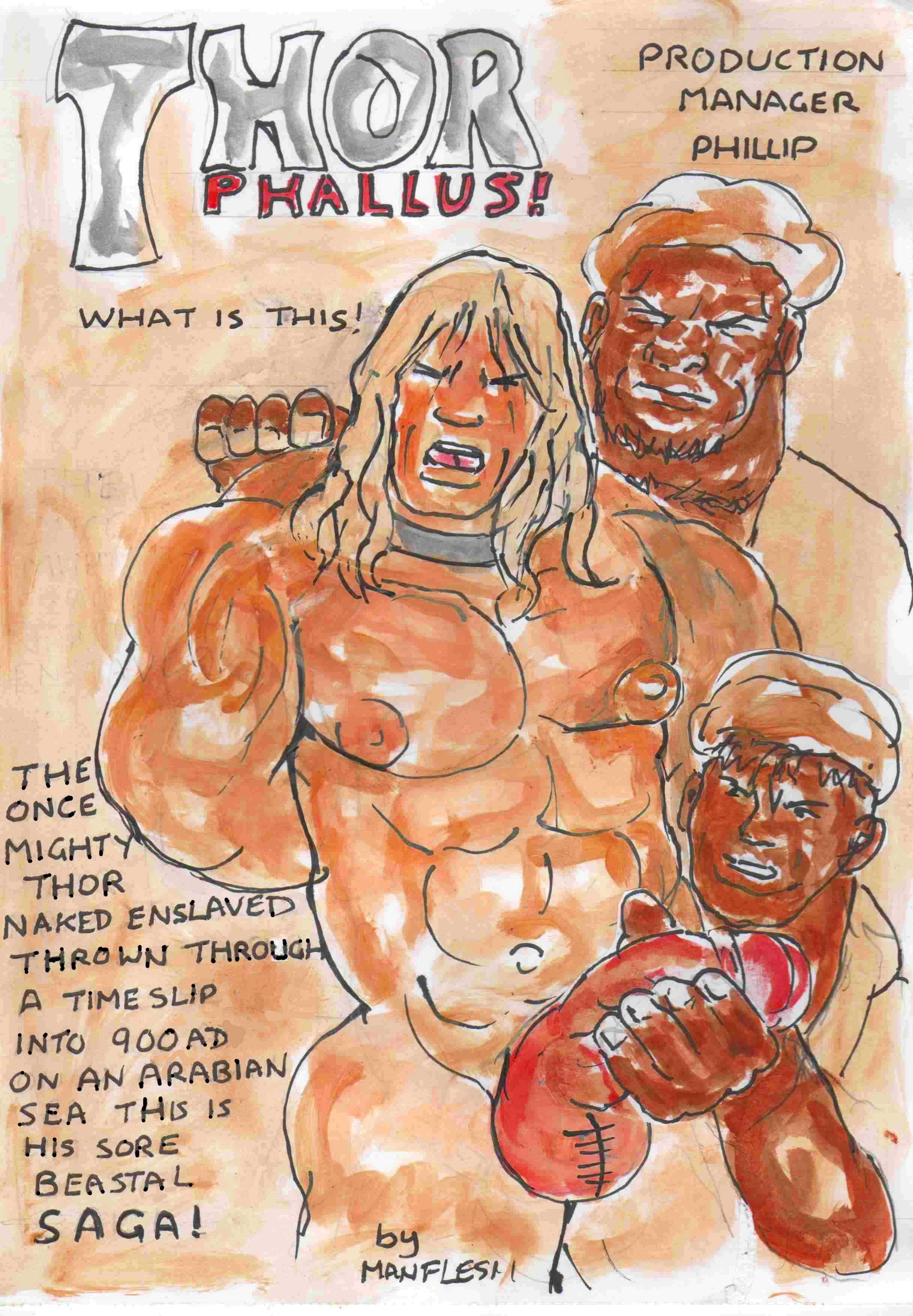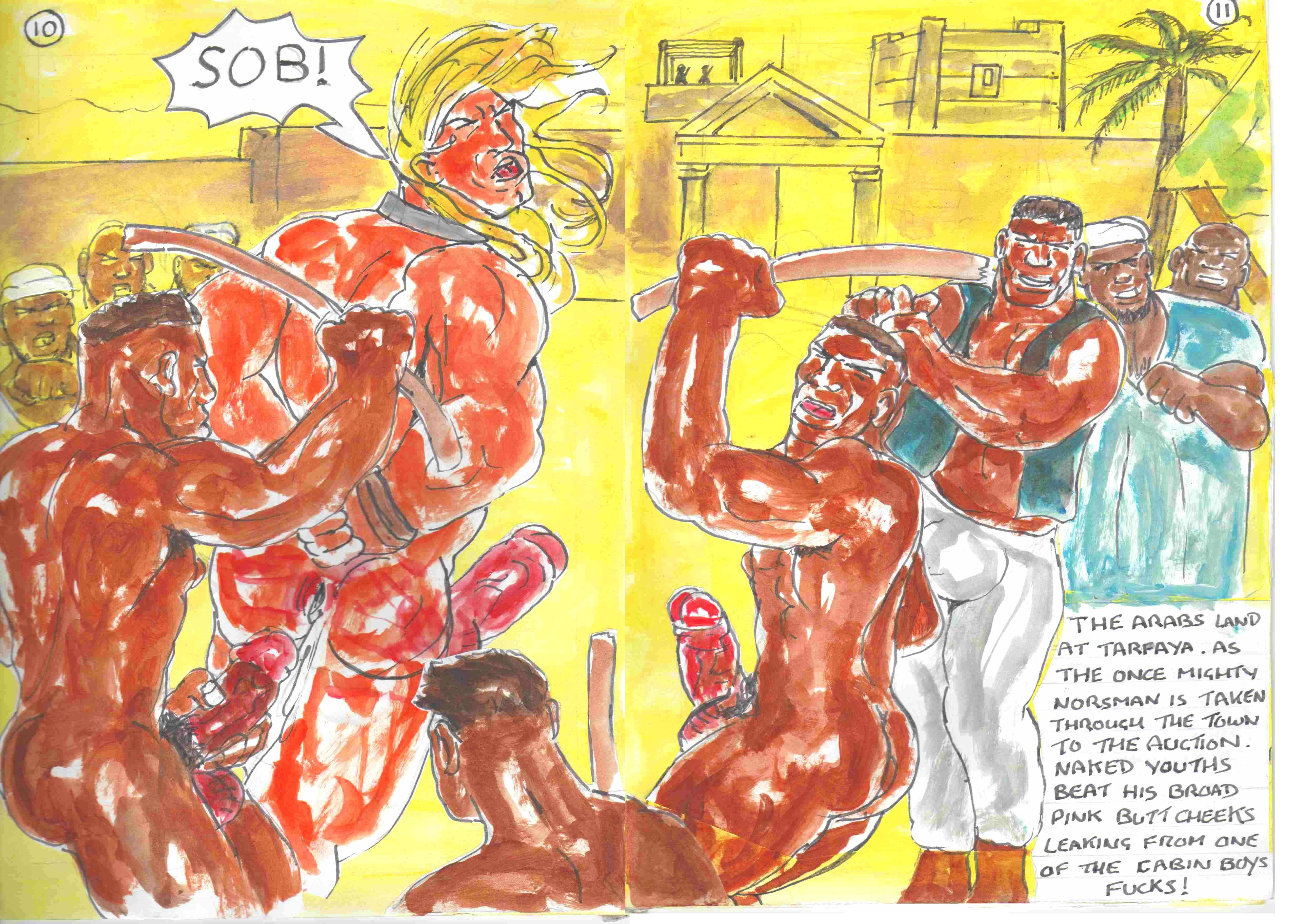 DOUBLE PANORAMIC IMAGE CREATED FROM PAGES 10 AND 11
3 THOR PHALLUS PART 2 THOR TO WHORE. THOR WAS NO GOD NOW, AS HE TRUDGED NAKED, HIS BUTT FUCKED RAW. HIS MUSCLES LIKE HIS FUCKED BUTT, OWNED. HIS MIND TO BE BROKEN TO THAT OF A BEAST, BY A WAR LORD MASTERS EIGHTEEN INCH WEAPON.
THOR WAS NOW A BLOND SLAVE BEAST. AFTER THE LONG DAYS TRUDGING, HIS NAKED SORE ARSE FUCKED. THE ONCE GOD, ENTERED THE WAR LORDS FORTRESS. "TAKE IT TO THE MINES, I WANT IT, THE BEAST COVERED IN DIRT AND SWEAT, BEFORE I FUCK IT", THE WAR LORD COMMANDED. MINUTES LATER THOR ARRIVED AT THE MINE AND SAW ALL THE OTHER SLAVES, TOILING HARD. STRAIGHT AWAY THOR WAS PUT IN HIS PLACE, AS A NAKED TOILING BEAST. "GET TO WORK BEAST?", ONE OF THE GUARDS ORDERED, USING HIS WHIP ON THOR'S NAKED BODY. AFTER A LONG DAYS TOIL, THOR WAS TAKEN BACK TO THE WAR LORD. THE WAR LORD TOOK THOR TO BED AND FUCKED HIM, THINKING HE WAS SULLEN AND HAD TO BE WATCHED. THE WAR LORD MADE THOR RIDE ON HIS HUGE COCK. "BOUNCE HARDER BITCH?", THE WAR LORD ORDERED, AS THOR WAS FORCED TO RIDE HIS HUGE COCK. DURING THE MEAL BREAKS, THOR TRIED TO INCITE REVOLUTION, USING SIGN LANGUAGE, TO THE OTHER BEASTS. THE OTHER BEASTS ADMIRED THE MANLY BLOND GIANT.
THE WAR LORD SUMMONED THE SMITH TO HIS THRONE ROOM. "SMITH I WANT YOU TO DO A COCK HIDING, ON THE BLOND BEAST HE NEEDS TO BE SHAMED", THE WAR LORD TOLD HIS SMITH. "YES LORD, IT WILL BE AS IF IT IS COCK LESS", THE SMITH REPLIED, AS HE KNELT AT THE WAR LORDS FEET. THOR WAS TAKEN TO THE FORGE TO MEET THE SMITH. THE WAR LORD WATCHED THOR'S TRANSITION. THE SMITH WORKED ON THOR'S SEX ORGANS INFLICTING PAIN AND DRAWING SOBS FROM HIM. "THIS WILL PUT HIM LOW ON THE PECKING ORDER?", THE WAR LORD SAID, PLEASED WITH THE SMITHS WORK. THE SMITH HAD FITTED A STEEL COCK RING TO THOR'S COCK HEAD AND A SMALLER STEEL RING JUST BELOW THOR'S ANUS. WITH THE SMITH'S WORK COMPLETE, THOR STOOD IN THE FORGE, HIS COCK NOW HAD A RING ON ITS HEAD, THAT HAD BEEN STRETCHED BETWEEN EACH OF HIS BOLLOCKS, TO A RING JUST BELOW HIS ANUS. THIS KEPT THOR'S COCK STRETCHED BACK, TIGHT BETWEEN HIS LEGS. WITH COCK AND BALLS SO MODIFIED, HE WAS PUT TO WORK AGAIN IN THE HOT SUN. HE WAS NO LONGER THE MIGHTY WELL COCKED, SUPERIOR SLAVE. HE WAS IN THE EYES OF THE OTHER SLAVES, NOW THE LOWEST, AND AS SUCH COULD EXPECT HARD NIGHTS. THEY LICKED THEIR LIPS AND LEERED, AS THEY WATCHED HIM TOIL. THOR THE FORMER GOD WAS PLACED WITH ALL THE OTHER SLAVES FOR THE NIGHT. AS THE BEAST WITH NO ERECT COCK, THOR WAS THEIR WHORE FOR THE NIGHT TIMES. THE OTHER SLAVE BEASTS, ENJOYED DOUBLE FUCKING HIM HARD, BOTH THEIR COCKS RAPING HIM AT ONCE.
THOR WAS FUCKED WITH COCK AND TONGUE BY THE WAR LORD. HE WAS HELD UPSIDE DOWN, WITH HIS ARMS TIED BEHIND HIS BACK, BY THE WAR LORD. WHILE THE WAR LORD SUCKED THOR'S ANUS, WITH HIS TONGUE. AT THE SAME TIME THOR WAS MADE TO SUCK THE WAR LORDS, HUGE COCK. FINALLY THE WAR LORD FUCKED THOR WITH HIS HUGE COCK. WHILE THE WAR LORD FUCKED THOR, HE ORDERED ONE OF HIS MEN, TO BRING HIM THE COCK AND BALL CUTTERS. THE MAN APPROACHED THEM, HOLDING THE FEARSOME LOOKING STEEL CUTTERS. THOR GULPED IN FEAR, AS THE MAN HANDED THE STEEL CUTTERS TO THE WAR LORD. AT THAT MOMENT, A RIP IN TIME OPENED AND THOR WAS SUCKED OFF THE WAR LORDS HUGE COCK AND THROUGH THE TIME RIP. THE RIP IN TIME HAD SAVED THOR FROM THE LOSS OF HIS MANHOOD. ITS UP TO THE READERS TO WRITE THE NEXT STORY, SO GET WRITING.
ANOTHER GREAT SUPER HERO DOMINATION STORY WITH THOR CONTINUED TO BE ENSLAVED AND SEXUALLY AND PHYSICALLY ABUSED BY ARAB MASTERS. €15
THOR PHALLUS PART 2 THOR TO WHORE HAS NEW FEATURE, OF DOUBLE ,SIDE BY SIDE PAGES, THAT CREATES A PANORAMIC IMAGE. THE DOUBLE, PANORAMIC IMAGE, PAGES IN PART 2 THOR TO WHORE, ARE, PAGES 2 AND 3, PAGES 10 AND 11.
PAGES 2 AND 3 FEATURES THOR BEING TAKEN TO THE MINES WHERE HE SEES THE OTHER SLAVES BEASTS TOILING. THOR WAS MADE TO WORK AS A TOILING BEAST UNDER THE WHIPS OF THE WAR LORDS MEN.
PAGES 10 AND 11 FEATURES THOR TOILING IN THE MINES WITH HIS COCK CONFINED BETWEEN HIS LEGS, AS OTHER SLAVE BEASTS LEER AND LICK THEIR LIPS CONSIDERING HIM TO BE THE LOWEST. MEANING THOR WOULD BE FACING HARD NIGHTS.
ALL OF THE DOUBLE PAGES HAVE BEEN MADE INTO SINGLE PANORAMIC IMAGE FILES AND WILL BE SENT WITH COPIES OF THIS COMIC BOOK, WHEN ORDERED.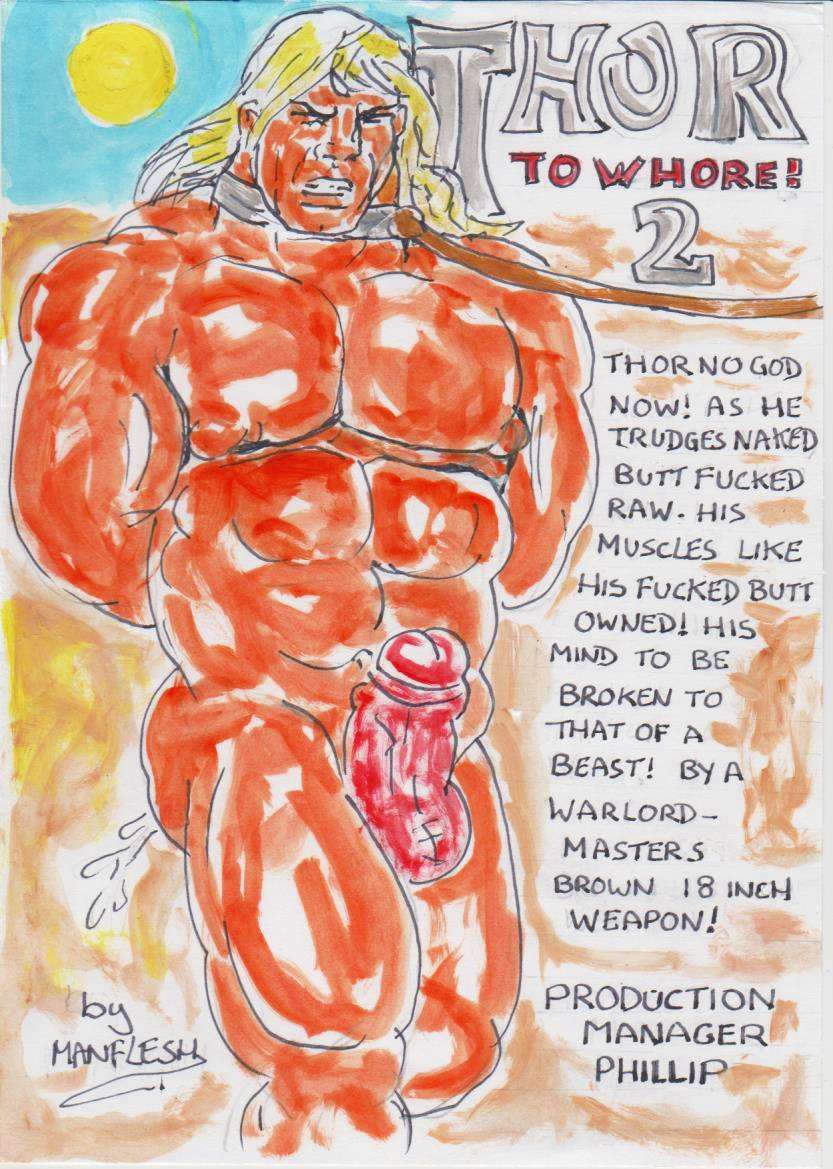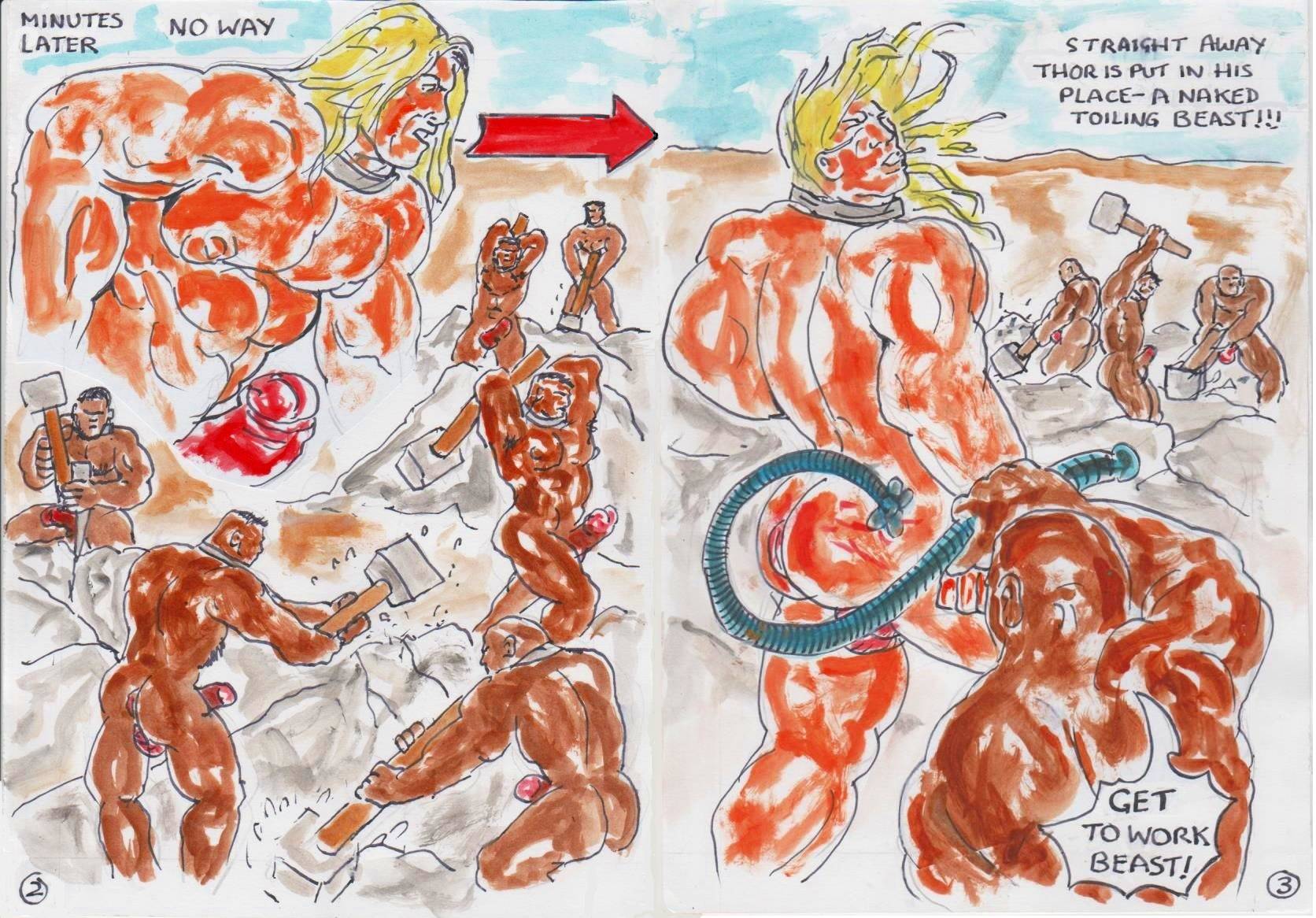 DOUBLE PANORAMIC IMAGE CREATED FROM PAGES 2 AND 3 AND 10 AND 11